When Disney's Grand Floridian Resort & Spa opened in 1988, it immediately became the "it" resort at Disney World.  The Grand Floridian is a deluxe level resort and considered the flagship among the Disney-owned resort properties.  Here in our Disney's Grand Floridian Resort & Spa review, we'll look at this resort, giving you our thoughts dining, transportation, rooms, pools, and more.  As usual, we'll have tons of photos and some video of the resort.
The Grand Floridian can be a divisive resort, and we get why that is.  There are lots of things to pick at here, but you can find lots of things to pick at almost any Disney World Resort.  What you won't find at practically every other Disney World resort is the price tag that goes along with these rooms.  And because of that, some of the issues with the resort are greatly magnified.  If you pay for perfection, you expect to receive it.  Now, what perfection is can be in the eye of the beholder, and that is what can create the division between Grand Floridian fans and detractors.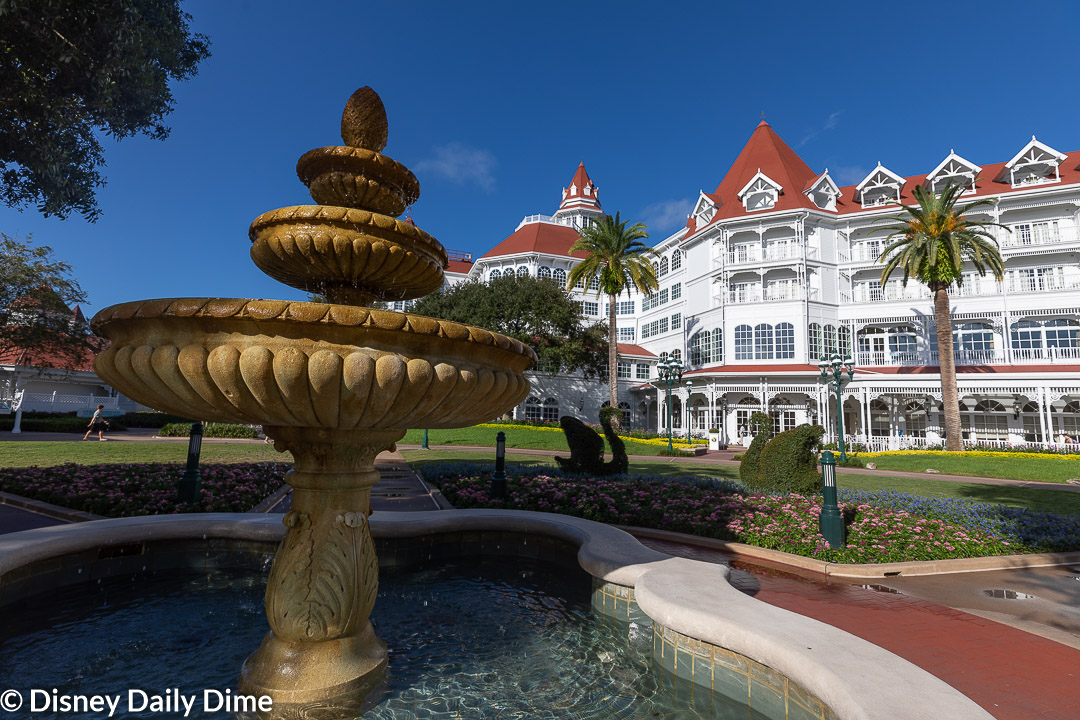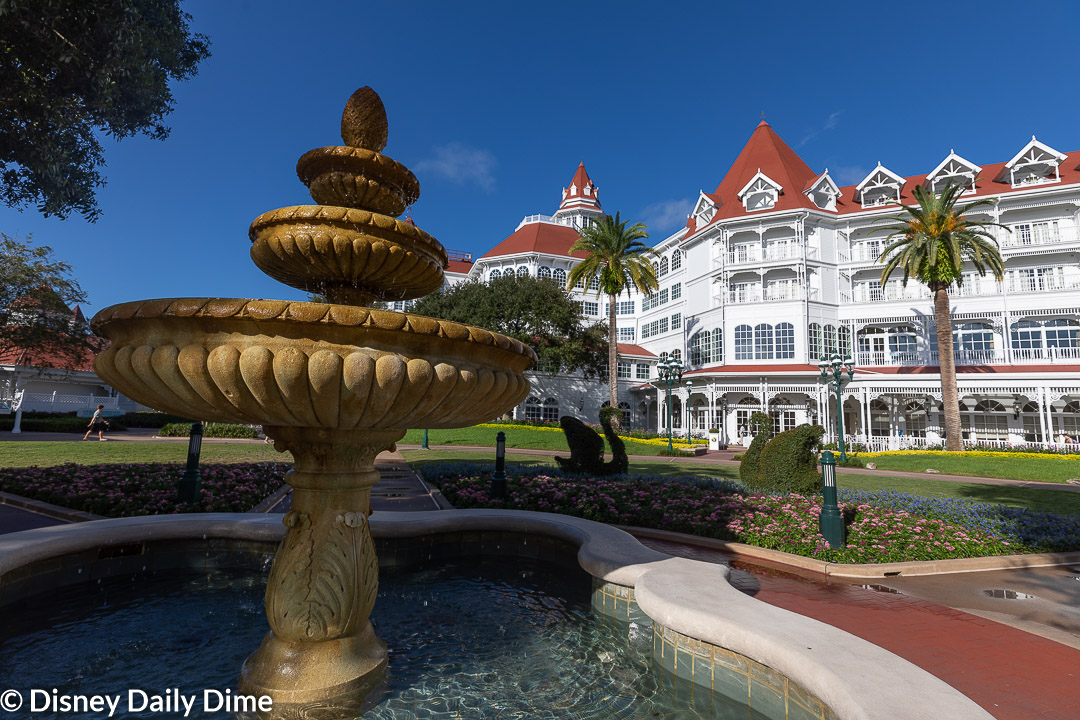 But we'll get into our thoughts on the pros and cons of Disney's Grand Floridian Resort & Spa in each relevant section of this review.  We don't want to get ahead of ourselves.
Carla and I have stayed here two times at this point.  The first time was pre-refurbishment and pre-Anna and Elsa.  When it was just the two of us, we had one view on the resort.  Fast forward to today with two kids, and it puts the resort in a different light.  We'll compare and contrast those two experiences in a few spots throughout our Grand Floridian Resort & Spa review.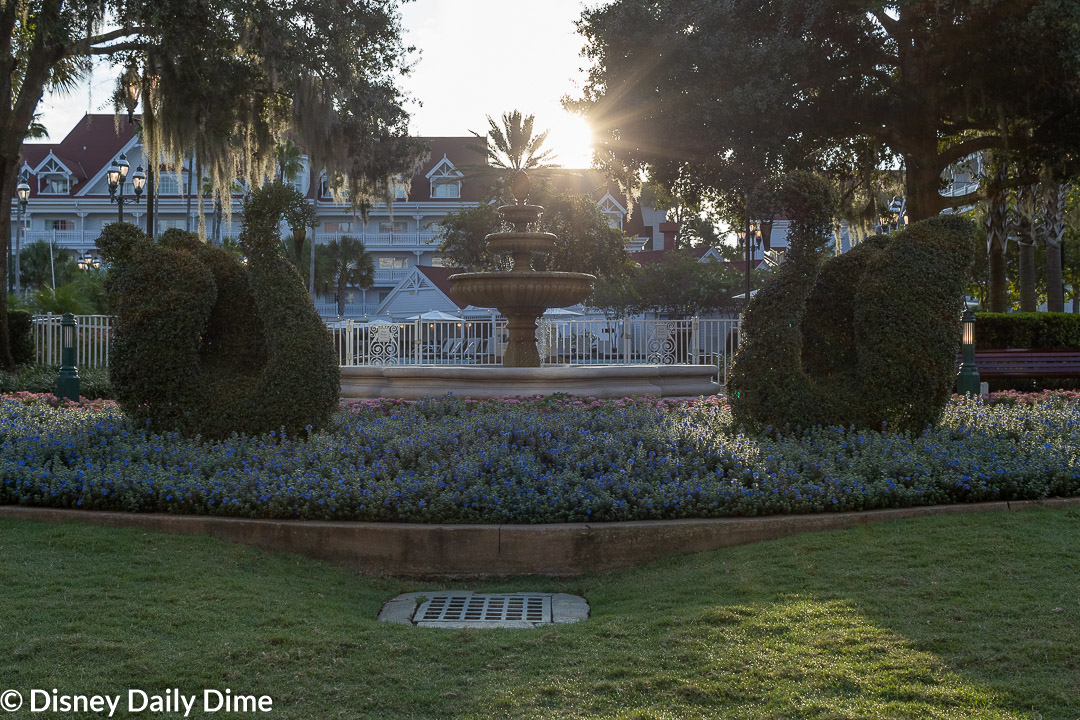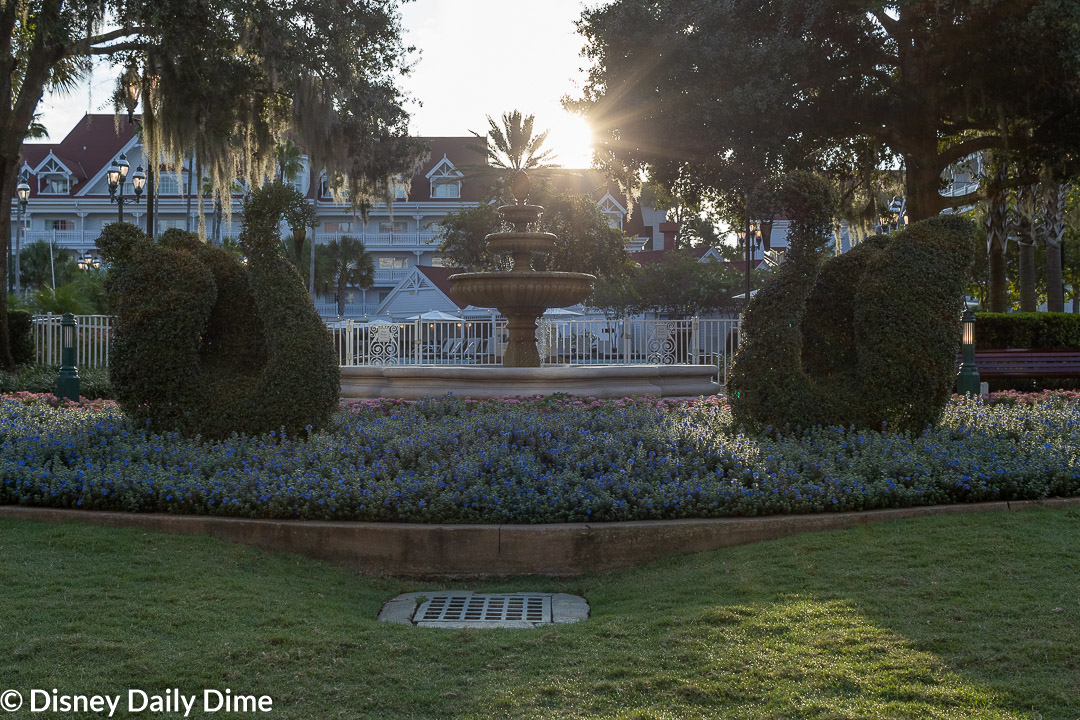 Disney's Grand Floridian Resort & Spa Overview
Disney's Grand Floridian Resort & Spa is a turn of the century themed resort.  More specifically, the resort is designed to reflect the stylings of Victorian-era beach resorts along the Florida coast.  The theme and overall design are done very well; however, the theme itself presented some problems for us that we'll discuss in a bit.
That said, there are some real highs when it comes to the resort's theme and design.  As far as Disney World properties go, the resort grounds are some of the most well maintained and designed we've seen.  Beautiful flowers, ample green space, and some well-done topiaries give you a sense of something special.
All of that greenery pops wonderfully when it is framed by the iconic looking white walls and red roof of the Grand Floridian buildings.  The exterior of the resort definitely gives the vibe of the flagship status that it carries at Disney World.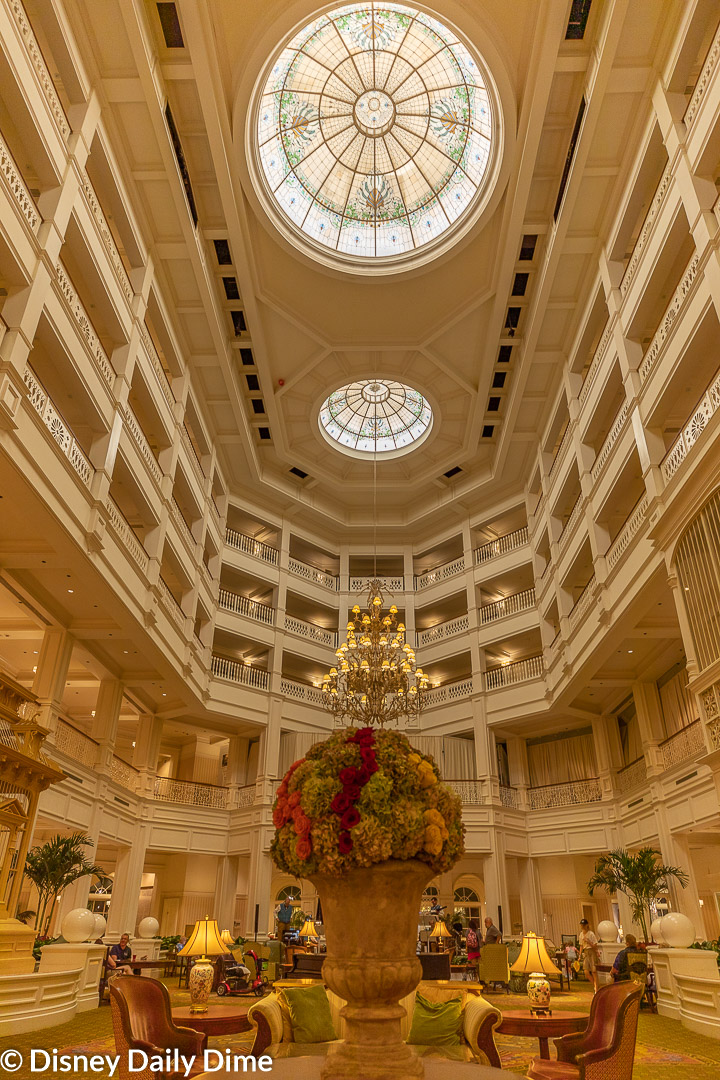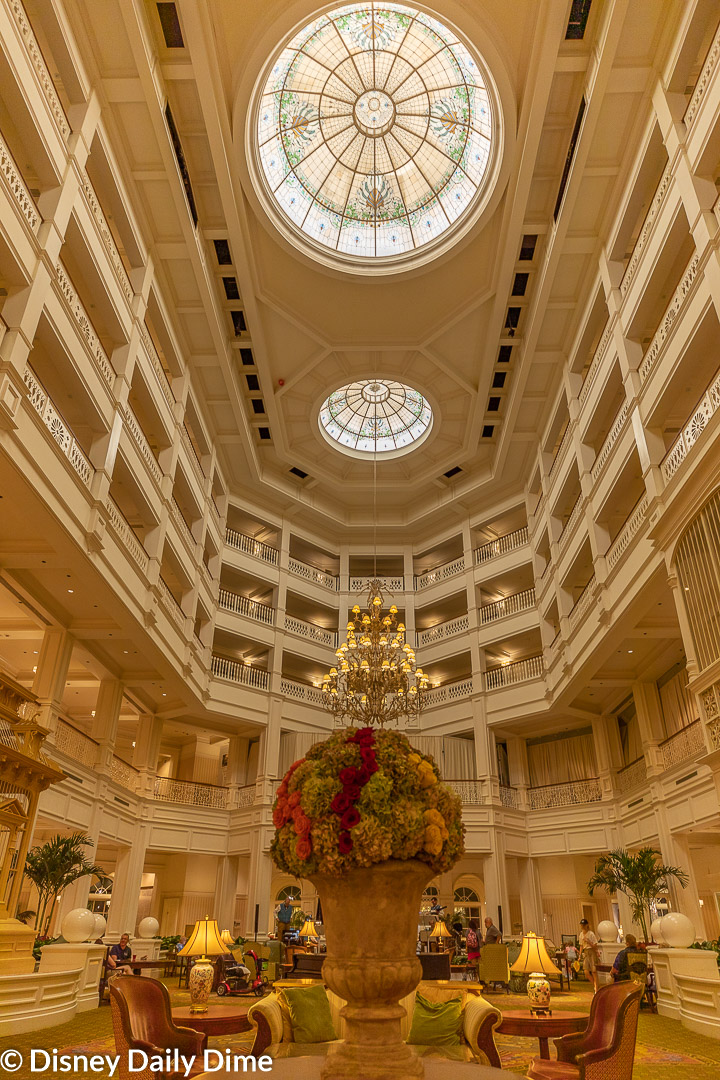 When you enter the resort, you'll find a five-story lobby, complete with beautiful elegance, but the Victorian theme does lend to it feeling a bit dated.  It's one of Disney's Grand Floridian Resort & Spa's significant conflicts:  trying to balance a classic Victorian feel but with modern amenities.  If it doesn't strike this balance, you might feel like you're just staying in an old hotel.
The lobby handles this with superb grace; however, the rooms suffer on this front.  But we'll get to the rooms later.  The lobby is a grandiose five stories tall, featuring elegance and charm, with just a touch of my grandmother's decorating style.
Featuring ornate chandeliers, a caged elevator, grand piano, and marble floors, the lobby is impressive.  There are other remarkable lobbies in Disney World, like Disney's Wilderness Lodge, but nothing like this.  This beautiful lobby is worthy the flagship status.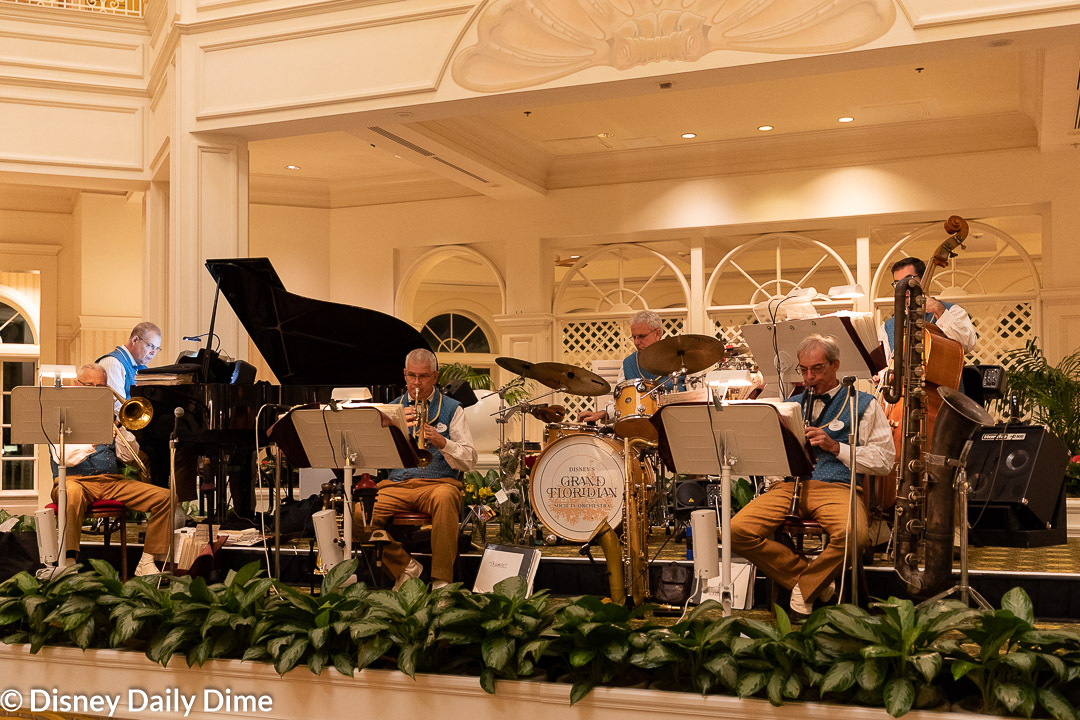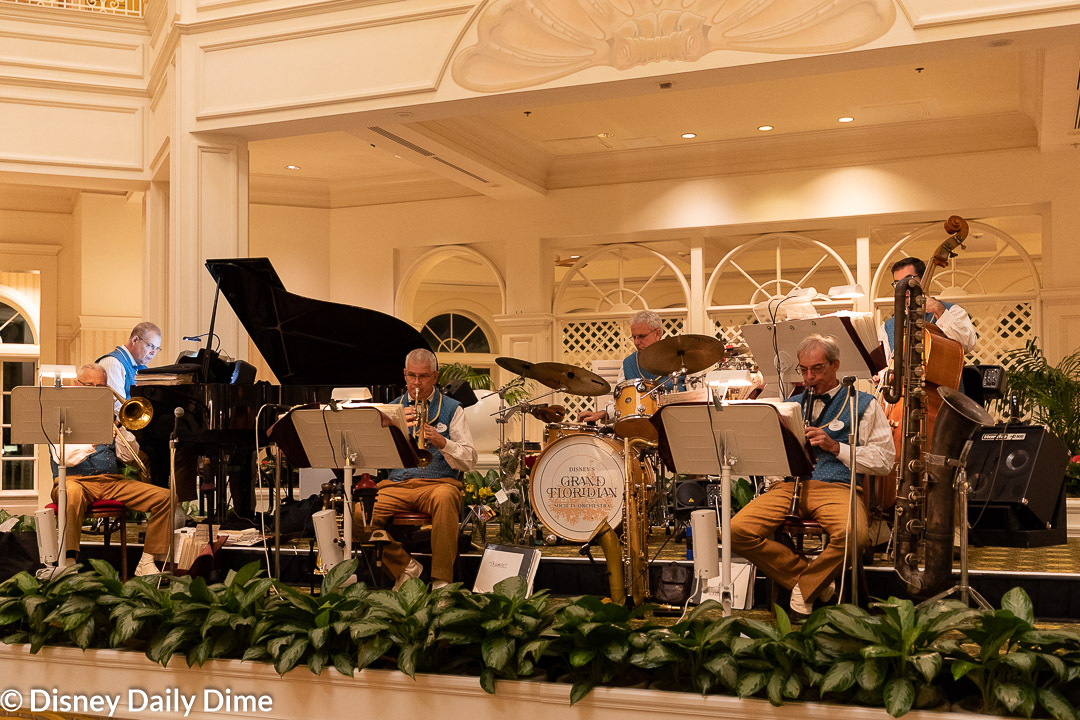 Another feature of the lobby that is one of our personal favorites is the Grand Floridian Society Orchestra.   Playing in the afternoons and evenings, these talented musicians provide a special atmosphere to the lobby and are not to be missed during your stay.
We'll have more detailed sections on dining, transportation, and rooms later in this resort review, so we won't go too deep here.  That said, the dining scene at Disney's Grand Floridian Resort & Spa is phenomenal!  You would be hard-pressed to find something better.  Transportation has several pluses, but a few minuses.  The rooms are a bit of an issue for us.  Believe it or not, we actually prefer the room before the refurbishment that took place in the late 2000s.  Again, we'll cover all this in more detail in the sections that follow.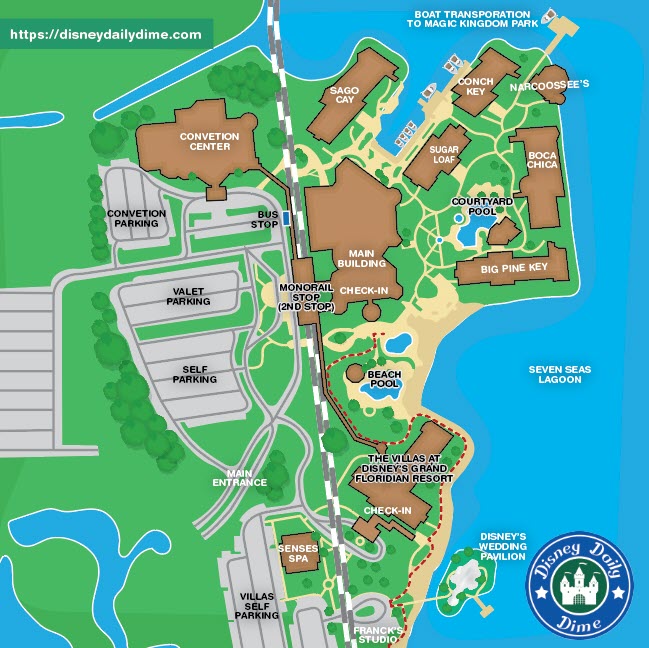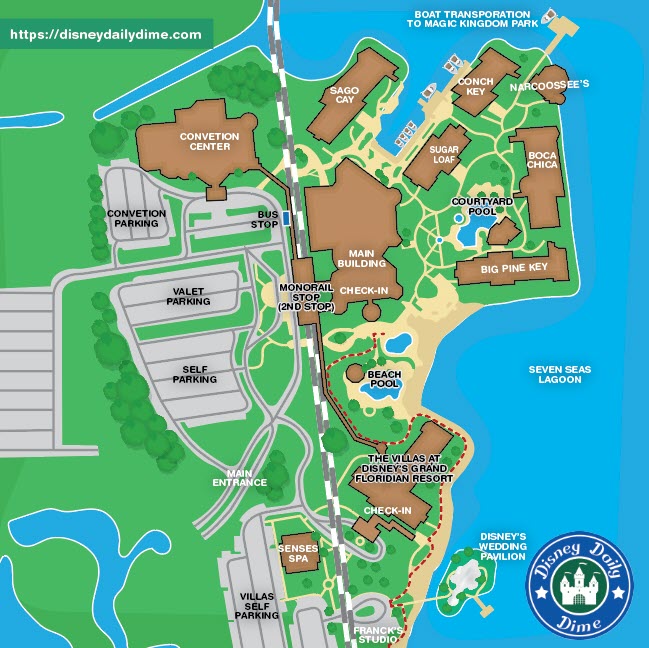 Staying at the Grand Floridian with Anna and Elsa also highlights some flaws that we didn't notice when we stayed here in 2005.  That first stay here, sans kids, was excellent.  Carla and I felt like we had an excellent stay.  We took the time to have a massage and ate at some of the high-end dining locations at the resort.  It was a trip for a couple without young kids, and we viewed it as a great experience.
Fast-forward 14 years and two kids later, and the perspective isn't as rosy.  Part of that is because of some of the changes in the rooms with the refurbishment, but in part is because of our changed perspective.  The Grand Floridian is not nearly as kid-friendly of a resort as other Disney World deluxe resorts.  Heck, there are other moderate resorts that are more kid-friendly.  In this regard, it suffers from some of the same issues we found at Disney's BoardWalk Inn.  And that is absolutely okay.  You just need to know what the resort is and isn't.
We'll delve into the issues with kids further as we go through the other sections of our Grand Floridian Resort & Spa review.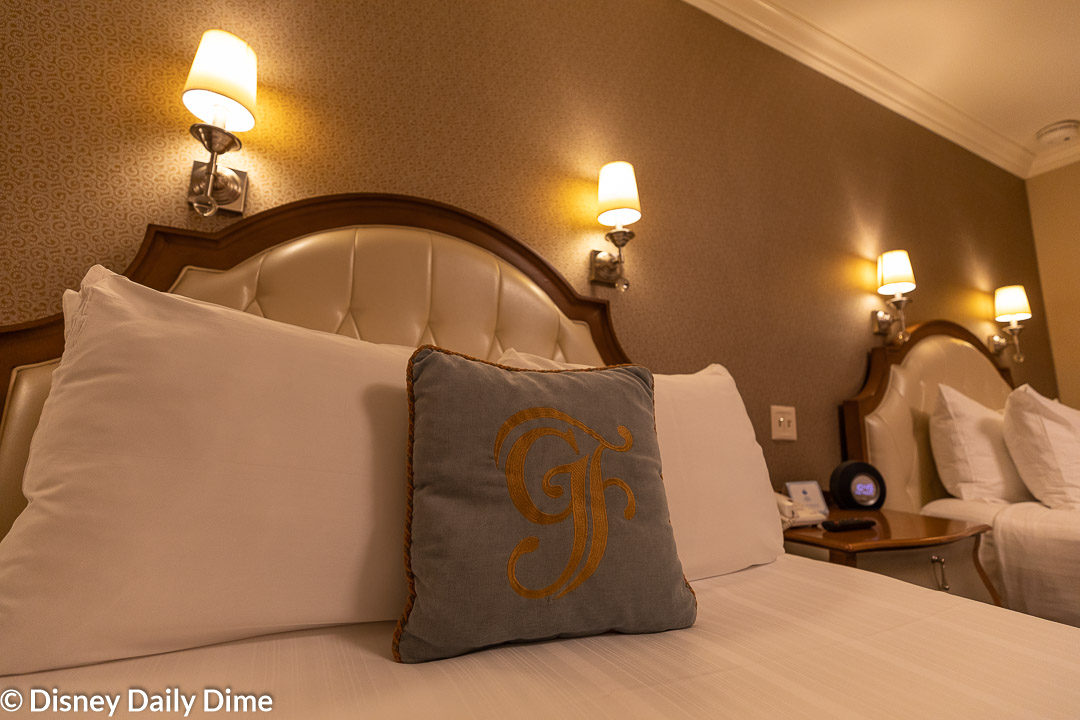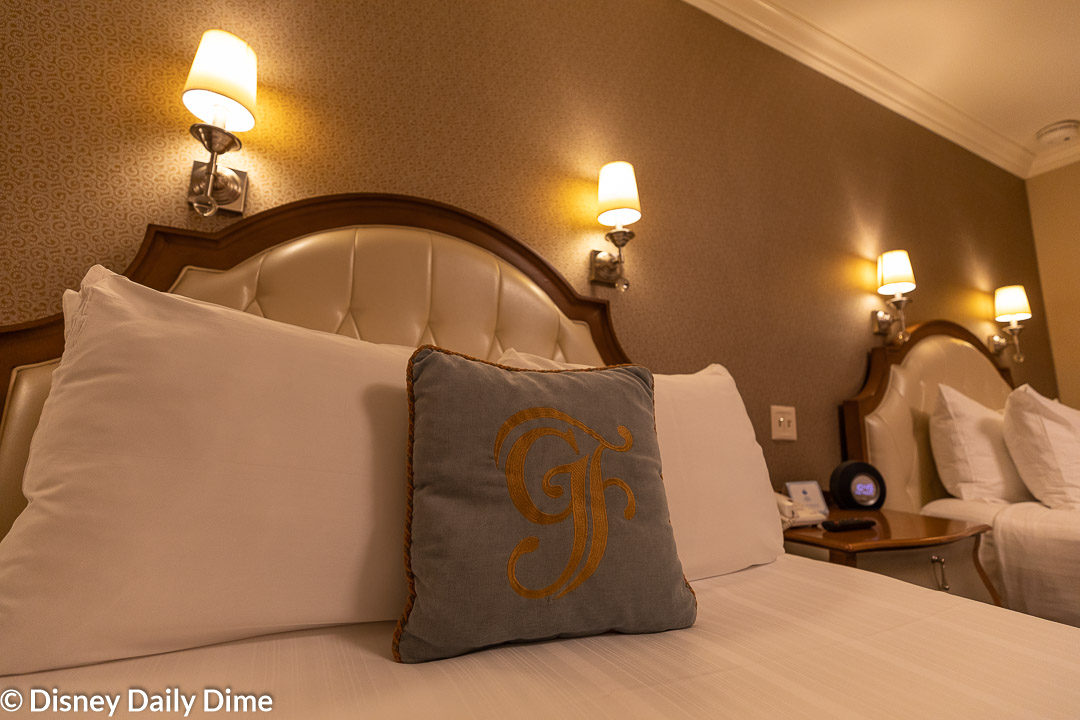 The Grand Floridian Has One of The Largest Assortments of Rooms
When it comes to the rooms at the Grand Floridian, the resort has a unique setup.  There are several rooms in the main building, but the vast majority of rooms are actually in outer buildings on the resort grounds.  All of the main building rooms are club level and come with the benefits of staying on that level.  They also come with the price.
There are five buildings out on the grounds that house additional rooms.  These buildings are not directly connected to the lobby, which Carla really dislikes.  For the price you are paying, the notion of having to walk in the rain doesn't sit well with her.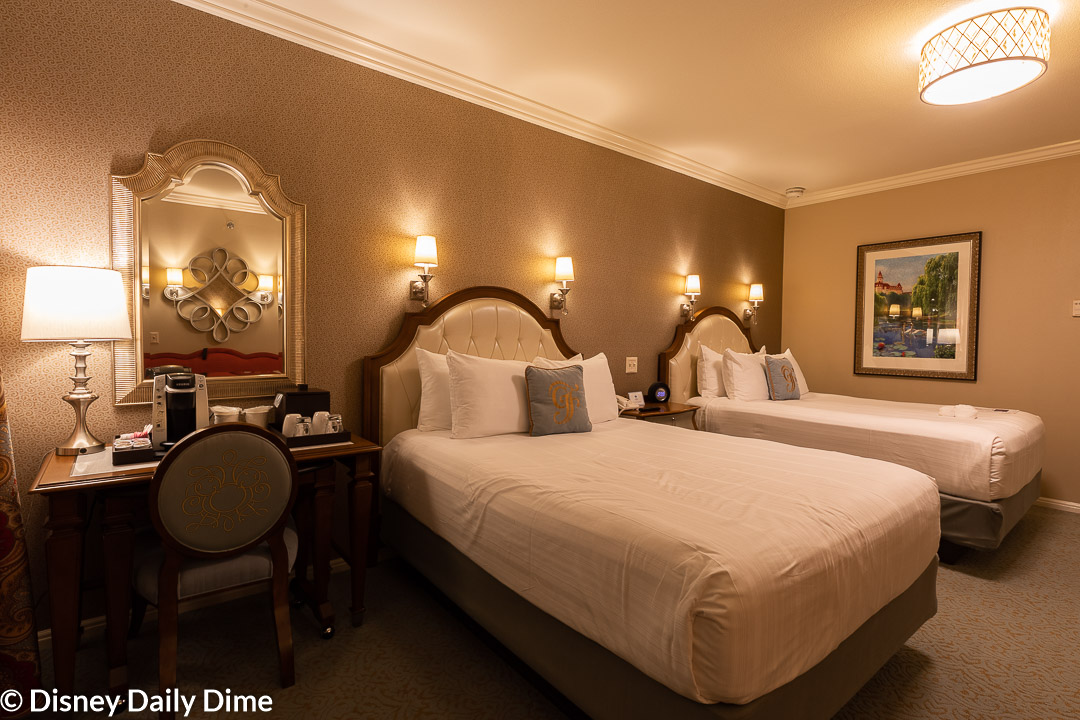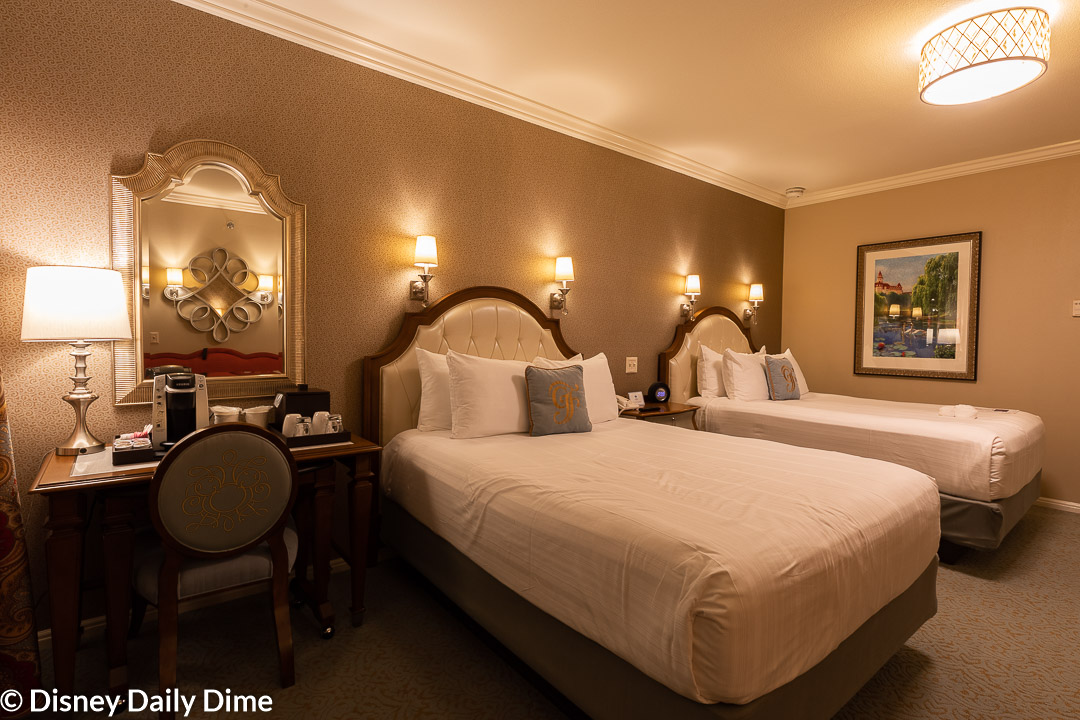 Most of the difference in the rooms come with the view you get and if you are in the main building or not.  Below are the various styles of rooms that are available at Disney's Grand Floridan Resort & Spa:
Outer Bldg – Garden View – ($639 – $964 per night)
Outer Bldg – Lagoon View – ($650 – $1,035 per night)
Outer Bldg – Standard Room – ($765 – $1,261 per night) includes club level access
Outer Bldg – Theme Park View – ($761 – $1,258 per night)
Outer Bldg – Deluxe Room – Garden View – (Couldn't find any availability to find prices)
Outer Bldg-1 BR-Park View – ($1,406 – $2,554 per night)
Outer Bldg-1 Bedroom Suite – ($1,390 – $2,537 per night)
Outer Bldg-2 Bedroom Suite – ($2,271 – $3,693 per night)
Main Bldg – Standard Room – ($1,005 – $1,650 per night)
Main Bldg – Theme Park View – ($1,133 – $1,880 per night)
Main Bldg – Deluxe King Room – ($1,061 – $1,814 per night)
All of the prices shown above are rack rate prices, excluding taxes and fees.  Disney frequently offers discounts that can get you in for less than this.  Do note that pricing changes from time to time, so check Disney's Grand Floridian Resort & Spa website for the most up to date pricing.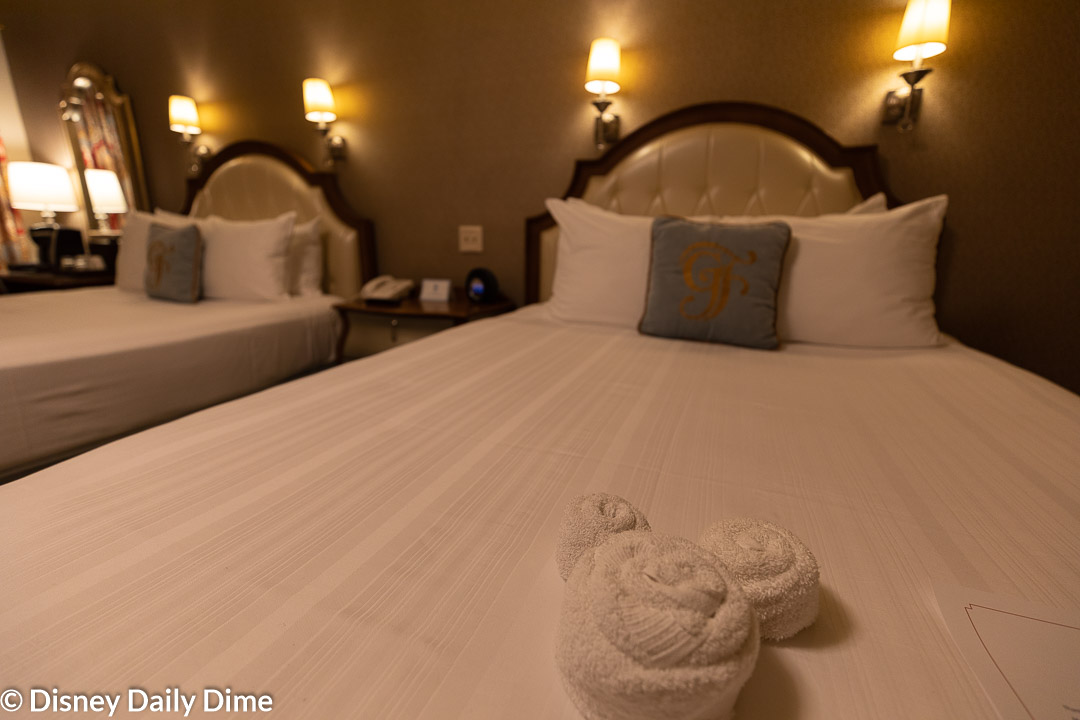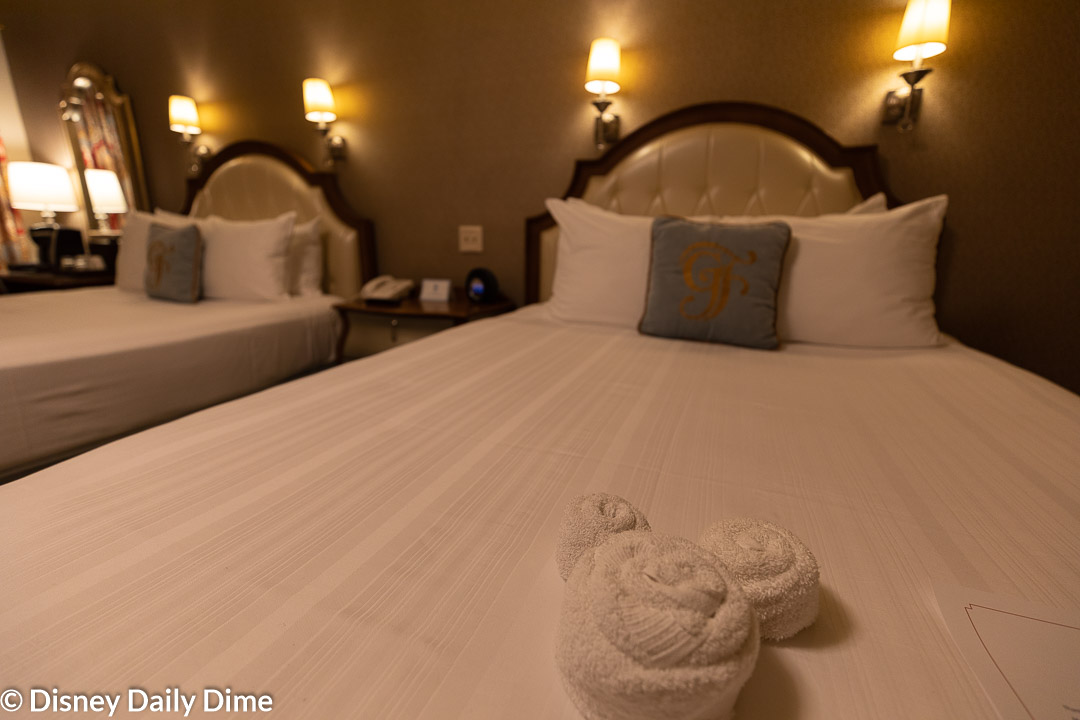 Before we talk about the rooms themselves, I did want to revisit how the room renovation impacted our view on them.  When we stayed here in 2005, the rooms were much more Victorian than they are today.  I wish we had pictures of the rooms back then, but alas, we don't.  Fortunately, Carla has a steel trap for a memory.  As she recalls, the rooms had a much more Victorian feel to them.  Lovely wallpaper, more ornate touches, it felt more authentic.  Some would say dated, but we didn't feel that way.
That said, the new rooms are beautiful, but they don't carry forward the look and feel of the lobby or main grounds in the same way.  And honestly, I don't see a ton of difference in them when compared to other deluxe resorts.
The standard room setup is two queen beds, a table with a chair.  As you can see in the pictures in this post, the room lacks most of the detailed and ornate touches you find in the lobby of the hotel.  Instead, they almost feel bland.  Like I said, not a ton of difference between this and the room we stayed in during our Beach Club Resort review.  As for the price difference, that's a problematic difference in value to justify.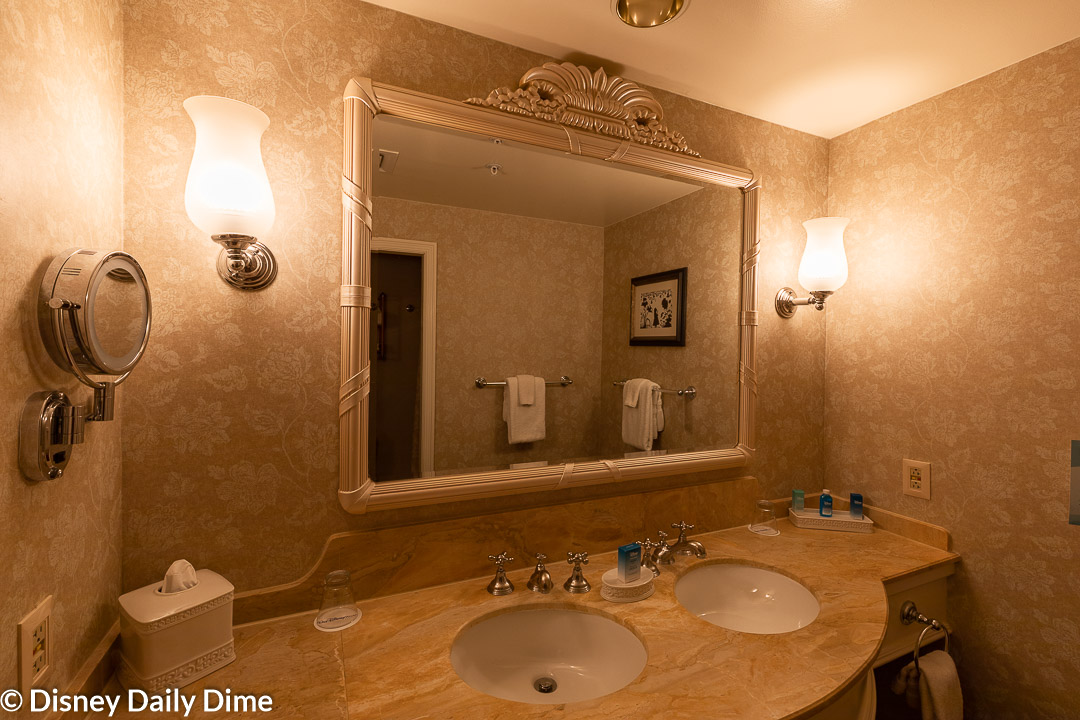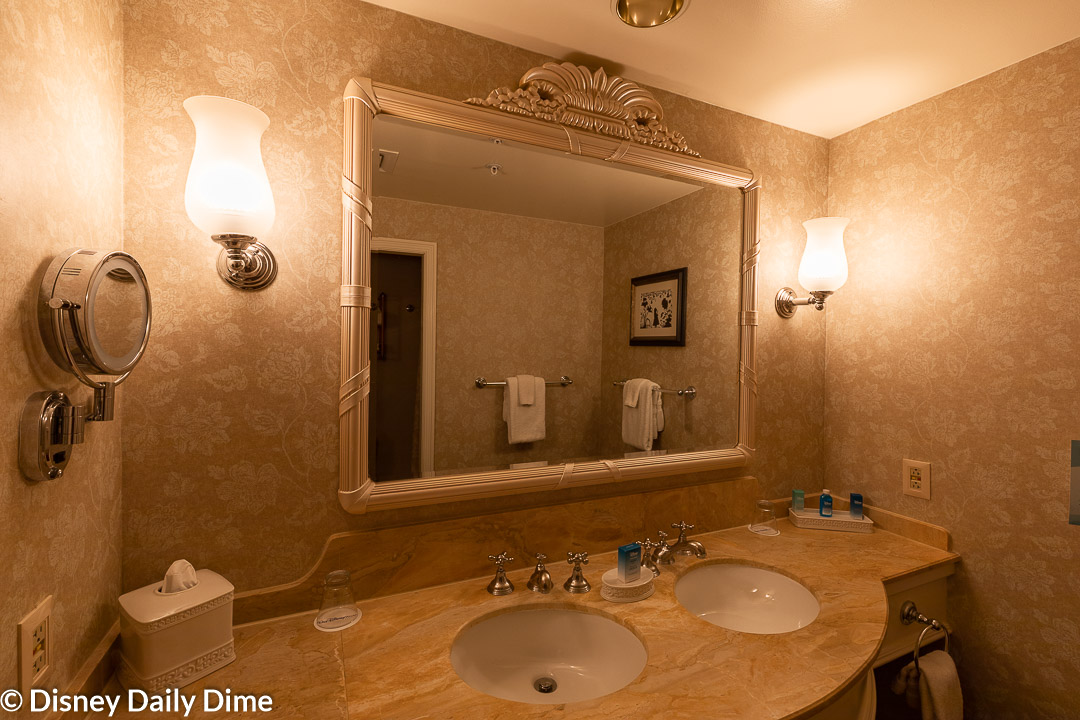 When you look at the room prices that we laid out above, the resort rooms have to be compared to what you would get in similarly priced luxury rooms off property.  Having stayed in other luxury hotels with similar, if not lower prices, the rooms don't hold up.  The picture we have here of the bathroom is a microcosm of this.  I can't think of any other high-end resort that would provide a plain porcelain bathtub like this.  This should be a large jetted tub you can relax and unwind in if you want.  And to be clear, I'm only talking about a standard room.  I get why some of the theme park view rooms cost so much.
Ultimately this is my biggest issue with the rooms at Disney's Grand Floridian Resort & Spa.  The value they present doesn't justify the price when compared to other Disney deluxe resorts or off property luxury resorts.  If you want a live view into the rooms, I've embedded our standard room tour video below.
For a Luxury Resort, The Grand Floridian Pool Situation is Not Up to Par
When it comes to the pools at Disney's Grand Floridian Resort & Spa, there are two options.  You have the feature pool, known as Beach Pool, and then the quiet pool called the Courtyard Pool.  This is another instance where we didn't feel the pools matched up with other Disney resorts or other luxury resorts.  There is a kiddie splash area known as The Captains Shipyard.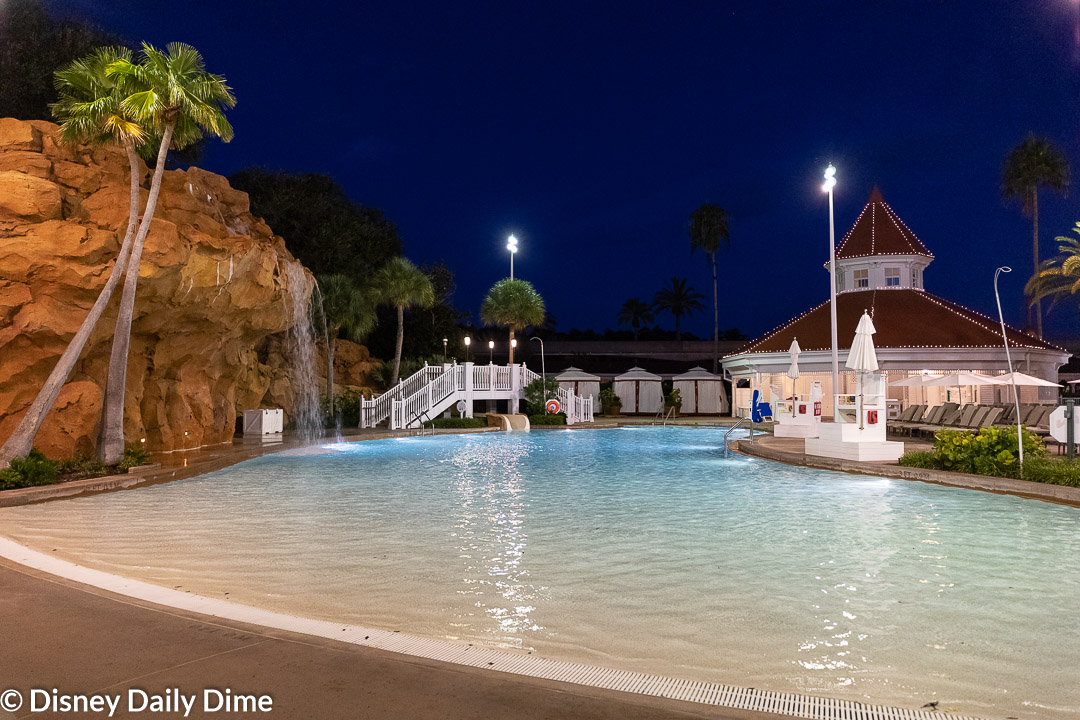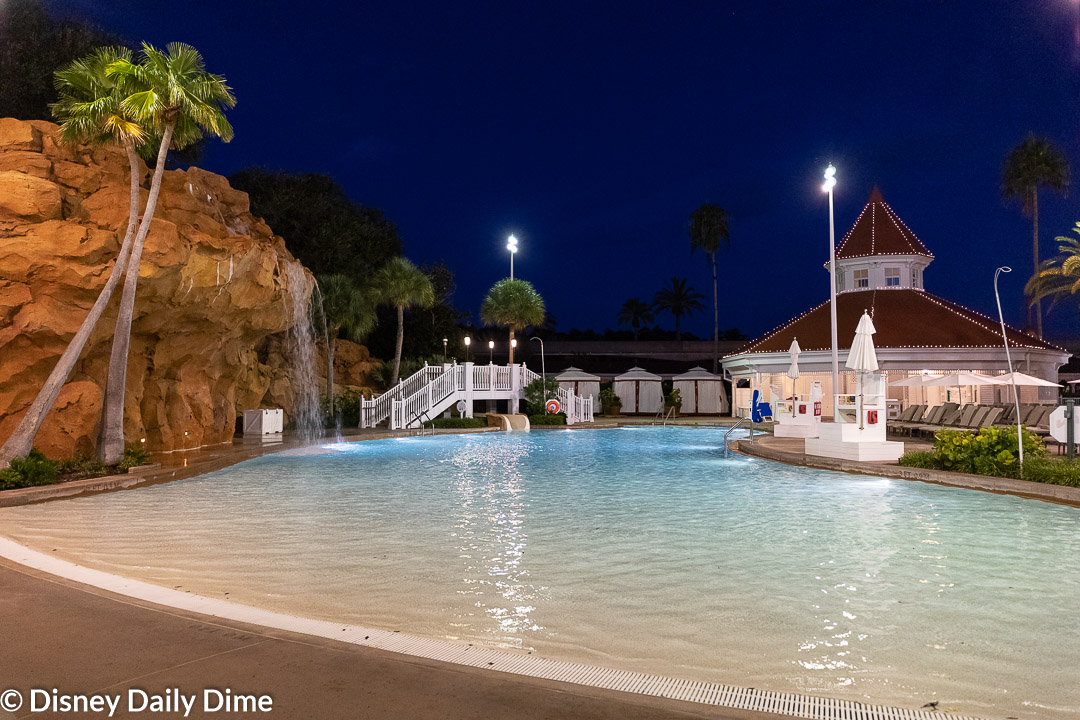 Beach Pool
If you think the picture we have here of the Beach pool is relatively simple, you would be correct.  But that's because the pool doesn't have a lot going on.  Beyond the slide and waterfall, the pool doesn't have much in the way of detail or theme.  There are several cabanas that line the pool area and help boost the high end feel the resort is going for.  That's great for couples, but for kids, not so much.  If it weren't for the slide, this pool would be on par with a feature pool at a value level resort.
The pool does have a great view of Seven Seas Lagoon.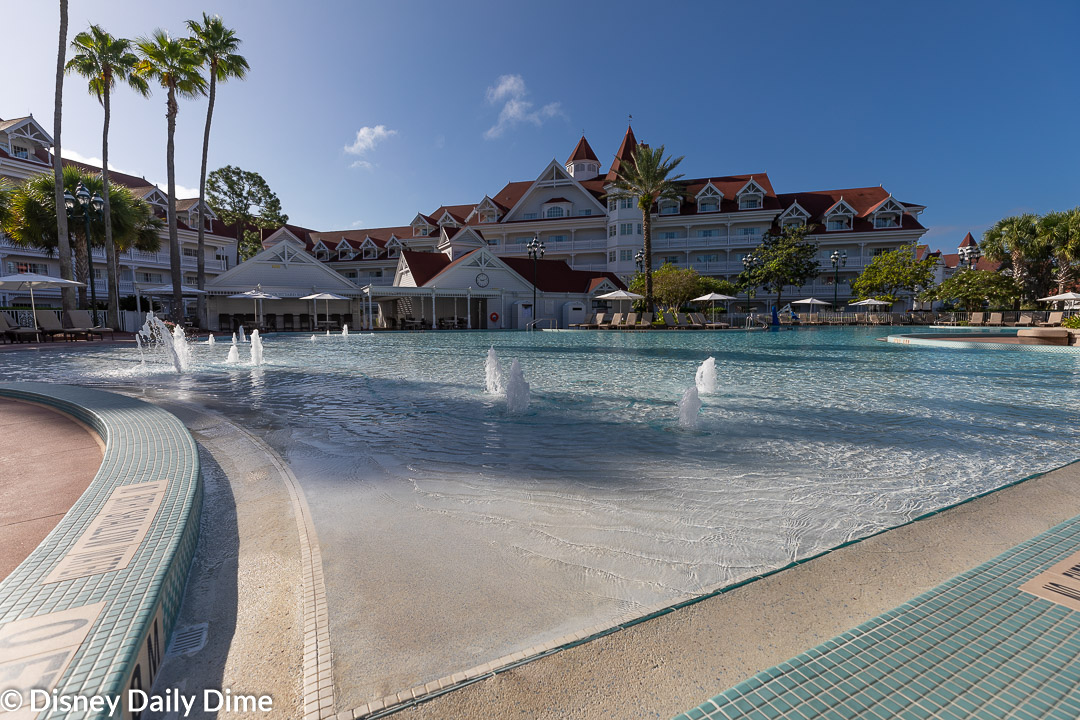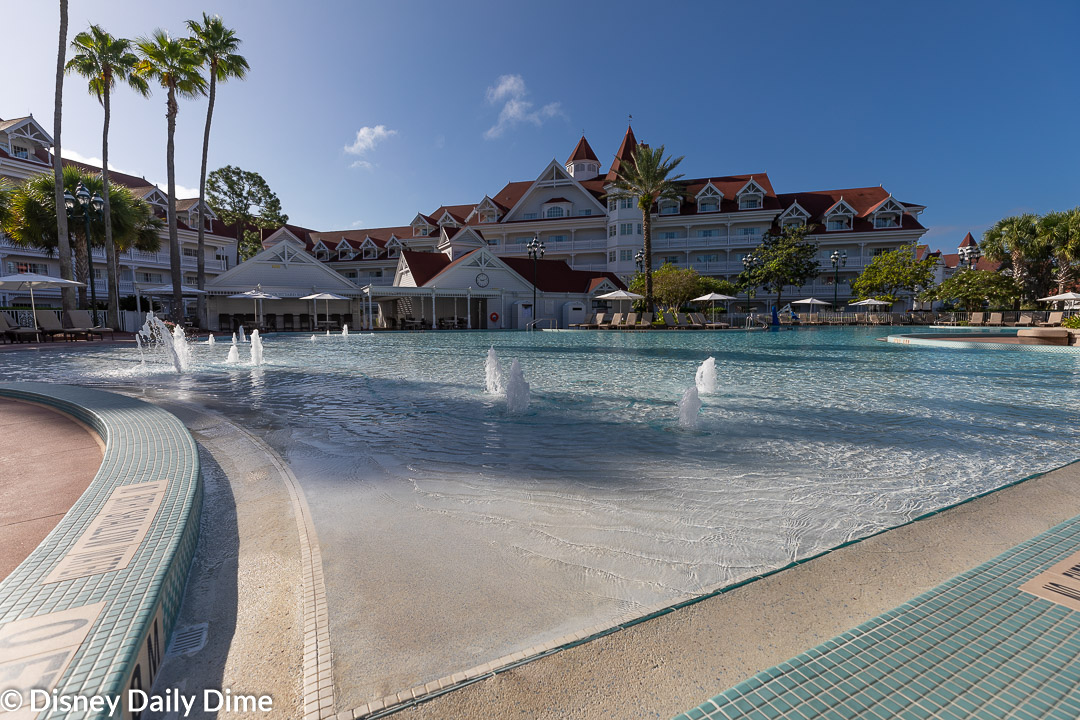 Courtyard Pool
The Courtyard pool has even less going on, which isn't atypical from other quiet pools at other deluxe resorts at Disney World.  But again, I go back to prices.  If you're going to pay this type of nightly rate, I want the quiet pool at a resort like the Grand Floridian to be above and beyond.
The Captains Shipyard
For some reason, I don't appear to have a picture of The Captains Shipyard splash area for little kids.  I know I took one, but maybe I accidentally erased it.  In any event, it's a good splash area for kids that gives them several options to play and splash around.  It has an Alice in Wonderland theme that is well done and integrates into the resort nicely.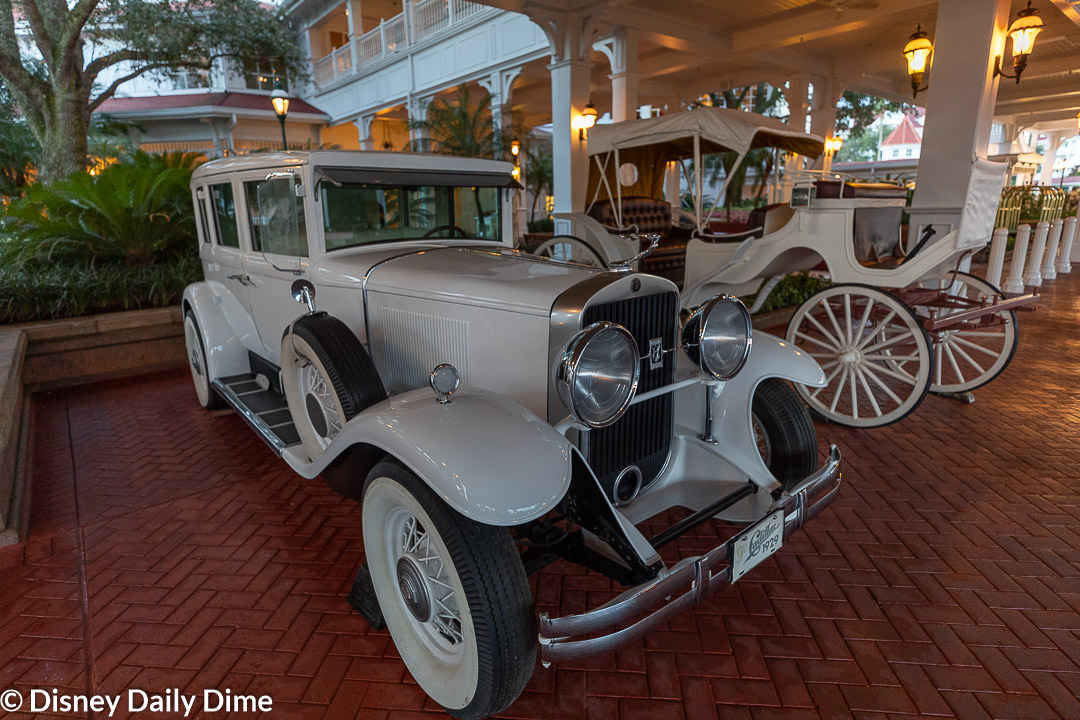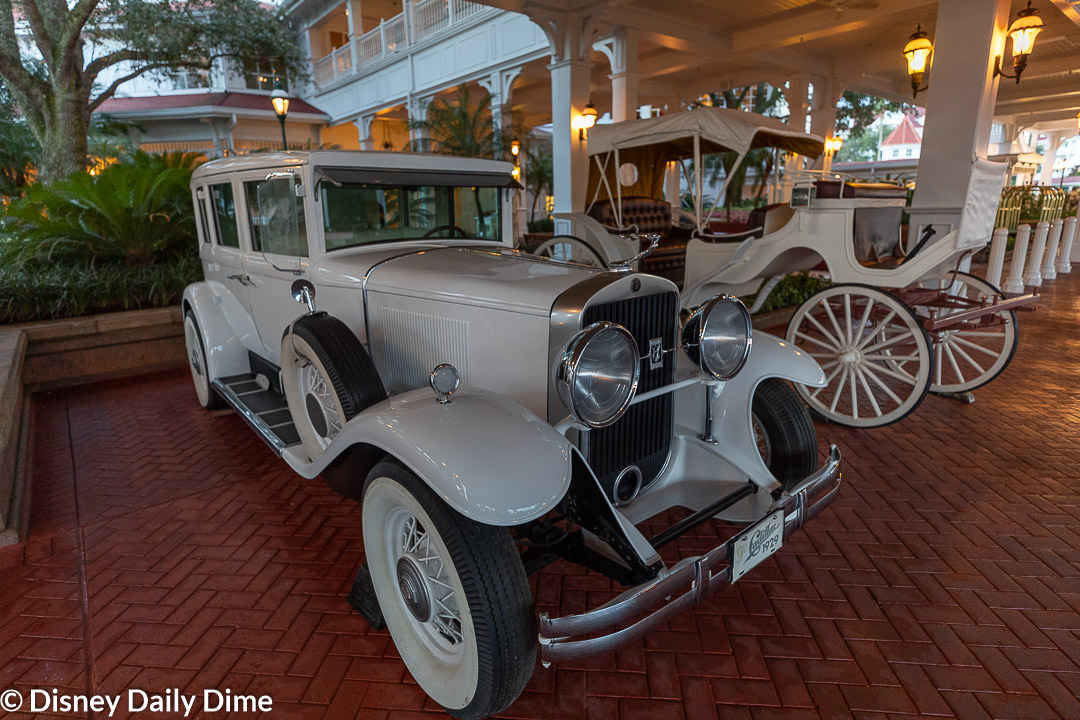 Disney's Grand Floridian Resort & Spa Transportation is a Mixed Bag
If you're looking to get to the parks from Grand Floridian Resort & Spa, you will probably think to yourself that there are some unbelievably great options and some very frustrating tradeoffs.  On the whole, the transportation options are primarily good and on par with almost any other Disney World deluxe resort.  But once again, the price you pay to stay here is significantly more…are you sensing a theme?
Monorail
The Grand Floridian is on the Magic Kingdom monorail loop.  This comes with a big plus and a slight negative.  The plus is that when you get on the monorail, you are only one stop from the Magic Kingdom, so you're at the park lickety-split.  Note that you will go through security before getting on the monorail so that is a benefit on the resorts on the monorail loop.
The strength of that convenience becomes a liability when you are returning to the resort.  That's because you are four stops away from getting back home when you board the monorail at Magic Kingdom.  Those four stops can take upwards of 20-30 minutes to make and get you back to your resort.  If you're heading back to the Grand Floridian from Magic Kingdom, you'll be better served by taking a boat or walking.  More on the walking part in a few paragraphs.
Getting to Epcot can be equally annoying.  From the resort, you are three stops away from the Transportation and Ticket Center (TTC), where you change to the Epcot monorail line.  That is another 15-25 minute monorail ride to get to the Epcot monorail.  From there, you have another 10 minutes to get to Epcot.  It's also one of the reasons we like the Polynesian better.  You're two stops from Magic Kingdom and you can walk to the TTC and directly board the Epcot monorail line.
We do acknowledge that coming back to the resort from Epcot is much quicker.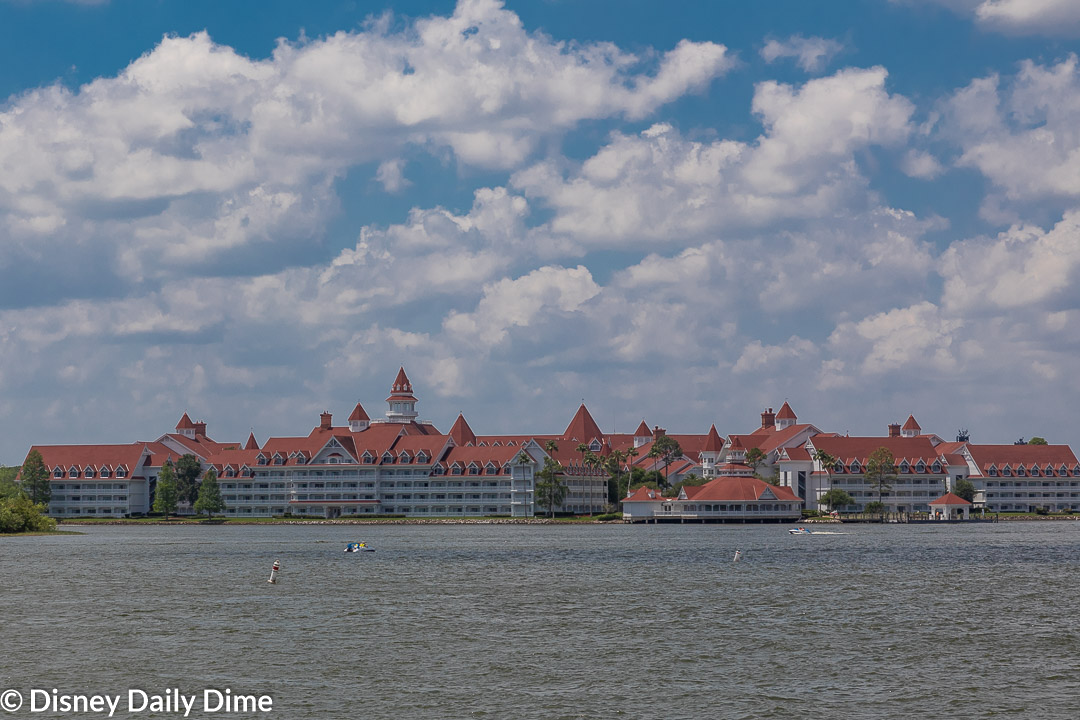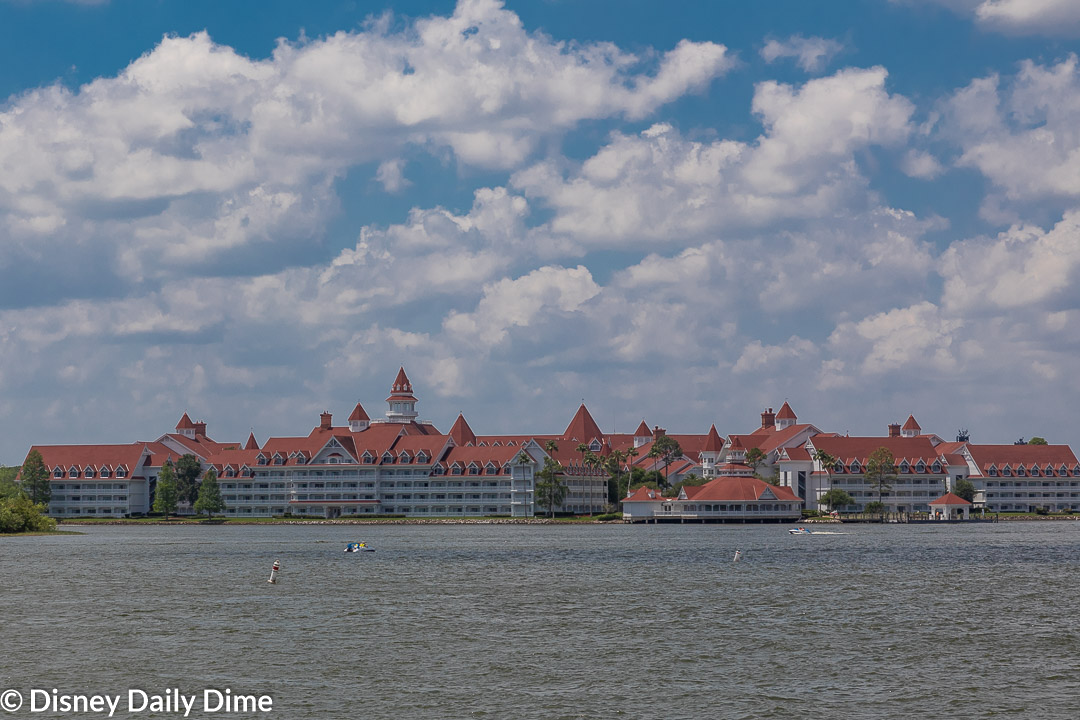 Bus
The bus service from the resort is standard Disney World transportation.  You'll find the bus stop along the walking path from the front of the resort to the convention center.  You can see it noted on our resort map towards the top of this post.
Before I get into my criticism of the bus transportation, let me say right away that this criticism is valid for almost every deluxe resort.
The clear negative associated with bus service at Disney's Grand Floridian Resort & Spa is the lack of dedicated bus service.  The bus routes are shared with neighboring resorts.  As I've said in most of our other resort reviews, for the price you are paying, having dedicated service would be more appropriate.  There are value resorts like Art of Animation and Pop Century that have dedicated bus service.
Depending on the time of year, occupancy, and other factors, how shared the bus routes are can vary.  This time we stayed at the resort we had experiences where the bus route was shared with only the Polynesian Resort.
This can make bus rides extremely long and possibly unpredictable.  Make sure you allow yourself enough time to get to the park if you have time-sensitive plans like an ADR or Fastpasses.
Buses are the best ways to get to Hollywood Studios and Animal Kingdom unless you are going to use Uber or maybe a Minnie Van.
Boat
There is a water launch at Grand Floridian Resort & Spa that will take you directly to and from Magic Kingdom.  Given what we just talked about with the monorail loop, you would be well served to use the boat to get back to the Grand Floridian. We highly recommend utilizing this form of transportation, especially if you are staying in the one of the buildings near the dock.  The ride is pleasant and the lines to get through security at the Magic Kingdom are dedicated to the boat passengers and move rapidly.
Walking
While staying here to write our Grand Floridian Resort & Spa review, Disney had recently started construction on a new walkway from the resort to Magic Kingdom.  When that walkway opens up, it will make getting to and from that park even easier.  It will probably be about a 10 minute walk along the front of Seven Seas Lagoon and means no waiting and fighting all the other people for the monorail resort loop at Magic Kingdom.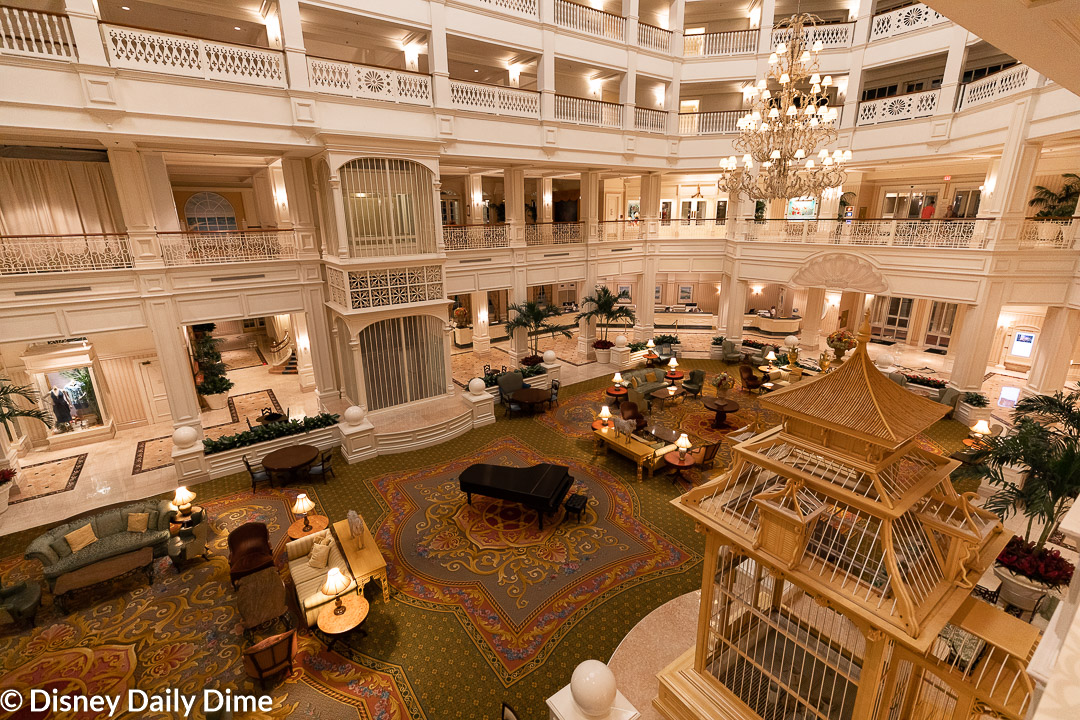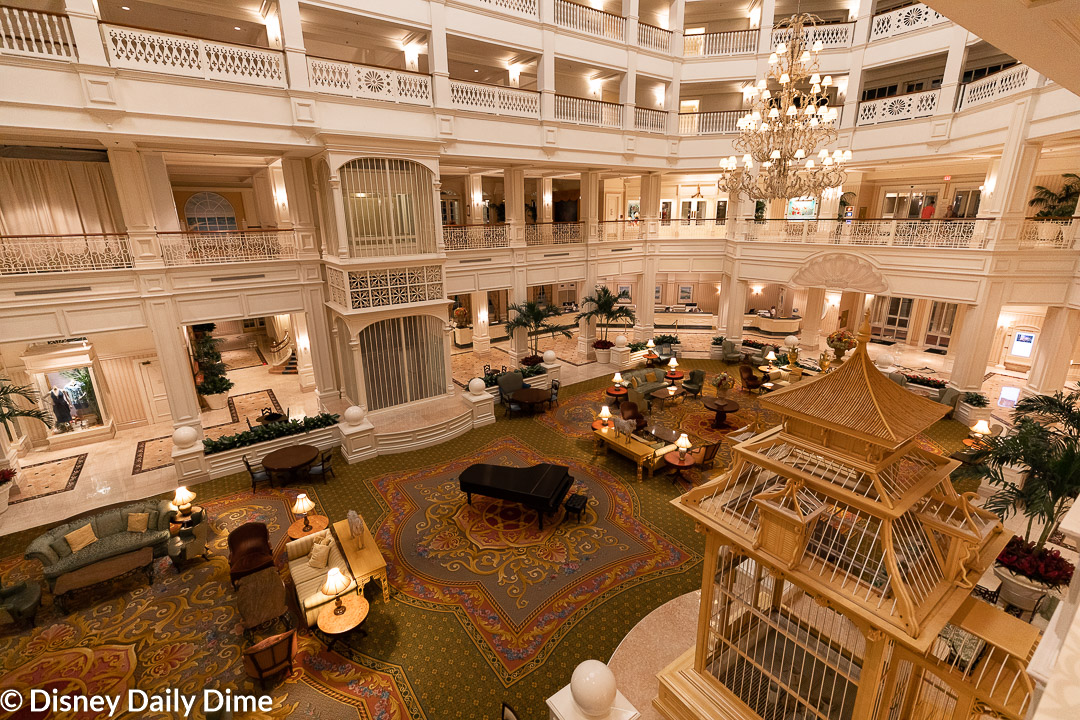 Disney's Grand Floridian Resort & Spa Dining Shines
If there is one place where Grand Floridian Resort & Spa excels in almost every area, it would be dining.  The resort features a handful of top-flight table service restaurant and a respectable counter service location.
The headliner dining location is Victoria & Albert's.  This restaurant has won AAAs Five Diamond award.  You'll find it cozy and intimate, as there are only about 20 tables available in the restaurant.  If you're looking for an over the top dining experience, you may want to consider the Chef's Table Dining Experience.  This is on Carla's and my bucket list for Disney World.
You should note that Victoria & Albert's has a strict dress code.  If you show up in shorts and flip flops, you won't be eating here.
The next table service location is Cítricos.  It's another signature dining restaurant at the resort, but not entirely on the same level as Victoria & Albert's.  Cítricos features American cuisine infused with Mediterranean flavors.
Why stop at two signature dining locations at the Grand Floridian?  Let's go for three!  That third excellent dining location is known as Narcoossee's.  It features a dining setting on Seven Seas Lagoon, with a great view of Magic Kingdom.  The menu brings seafood to the resort but also has some land-based fare if that is more of interest to you.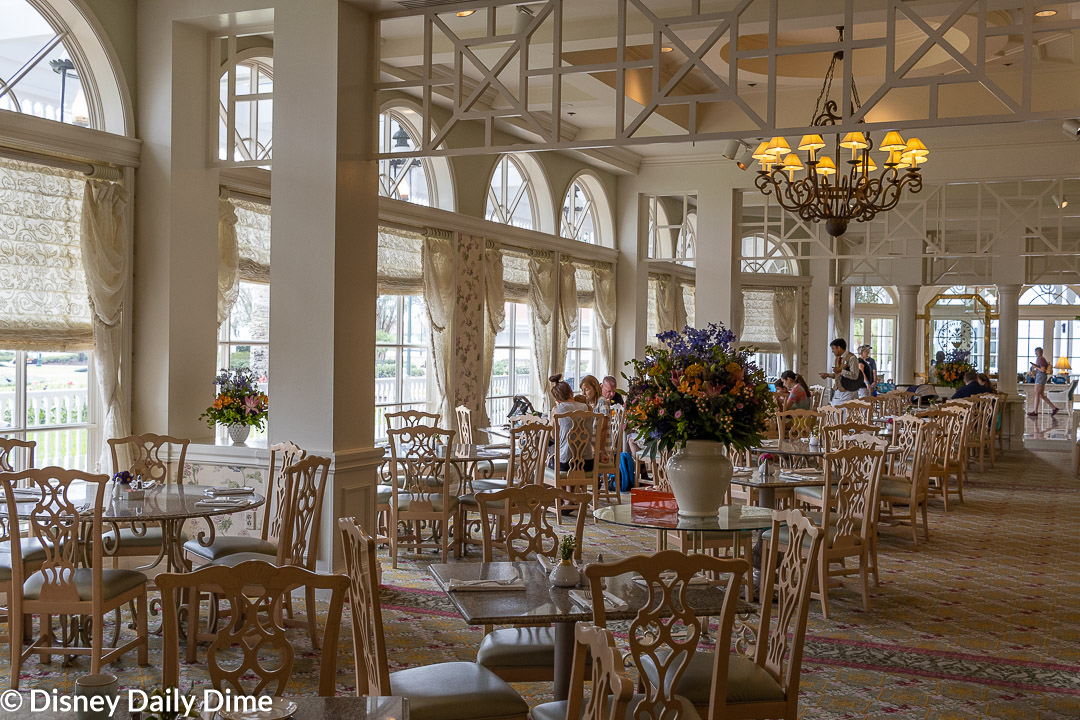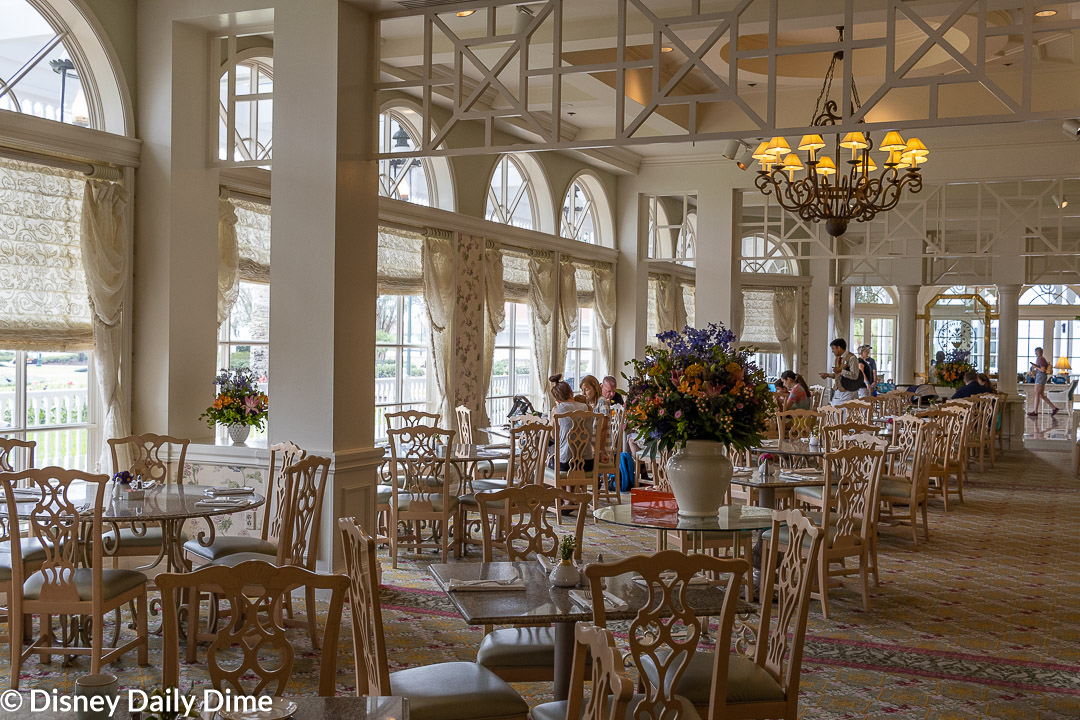 These first three dining options are only open for dinner.  If you're looking for a table service location for breakfast or lunch, you can stop in at the Grand Floridian Café.  You'll find it serves general American style food and in a Victorian setting.  If you get a seat along the windows, you can see the rose gardens and Courtyard pool.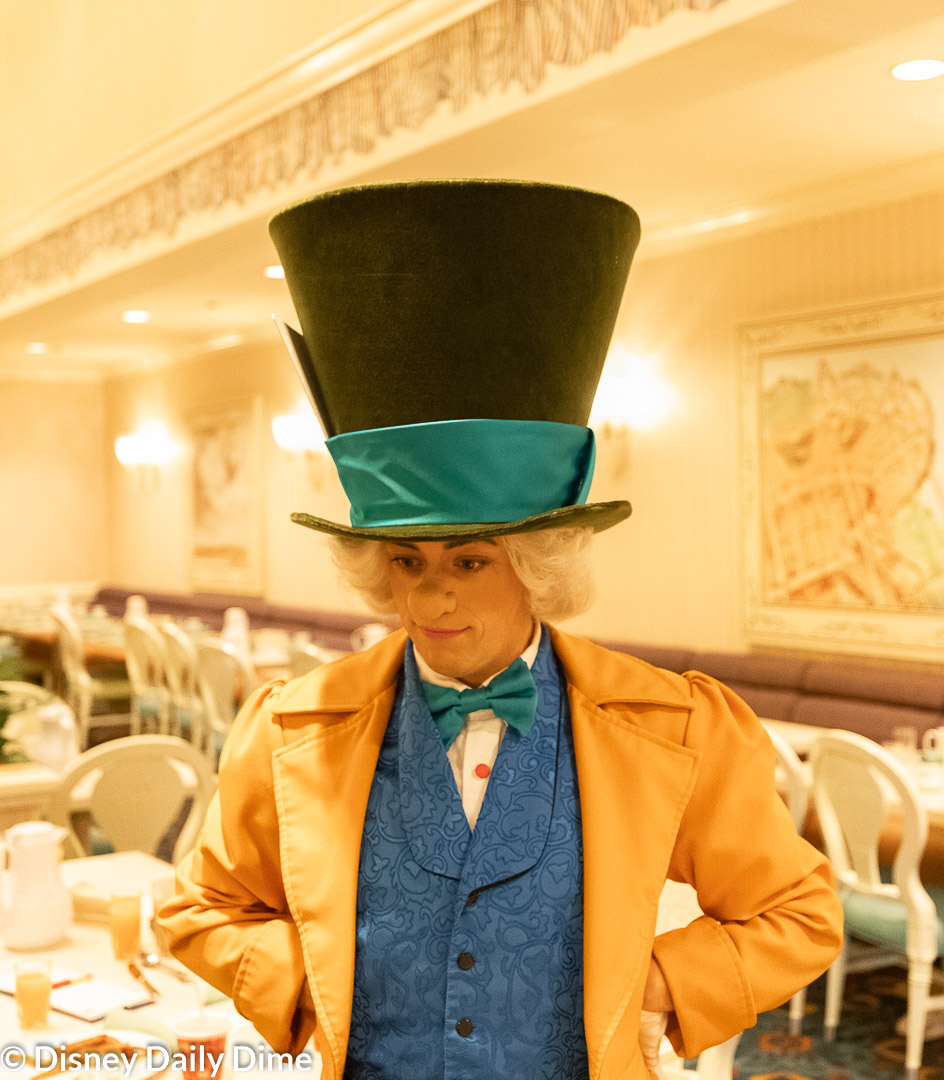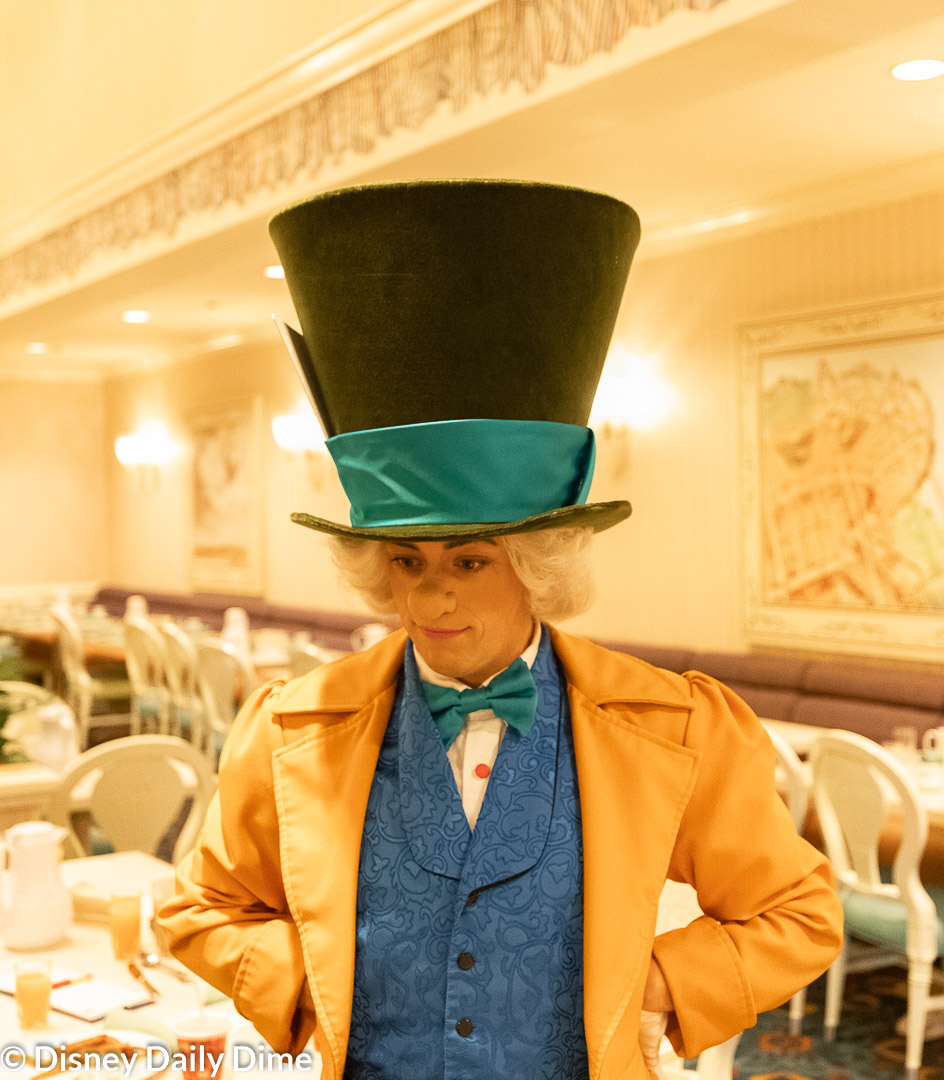 We will say that most of the dining options are very geared towards adults.  Fortunately, Disney was smart enough to put a more kid-friendly restaurant in the Grand Floridian.  That would be 1900 Park Fare, which is a character meal.  At the 1900 Park Fare breakfast you have the opportunity to meet Mary Poppins, Alice in Wonderland, The Mad Hatter, Tigger, and Winnie the Pooh.  Anna and Elsa loved this meal!  At dinner, you'll meet Cinderella, Prince Charming and other Disney characters.
If you're looking for something a little less expensive or faster, you'll want to stop by Gasparilla Island Grill.  It's the counter service location at Disney's Grand Floridian Resort & Spa.  We found that for a counter service location, the food was reasonably good.  Gasparilla is open 24/7 if you get a case of the late-night munchies.
In the main lobby, you'll find a lounge called Enchanted Rose that is themed to Beauty and the Beast.  Unfortunately, it was under construction when we stayed here, so we didn't get to stop by it.  We'll make sure to remedy that now that the lounge is open.
We will say that the dining scene here definitely skews towards adults, but the inclusion of 1900 Park Fare helps soften that hard edge against kids.  However, if you're a couple on a romantic getaway, this is a dining playland for you!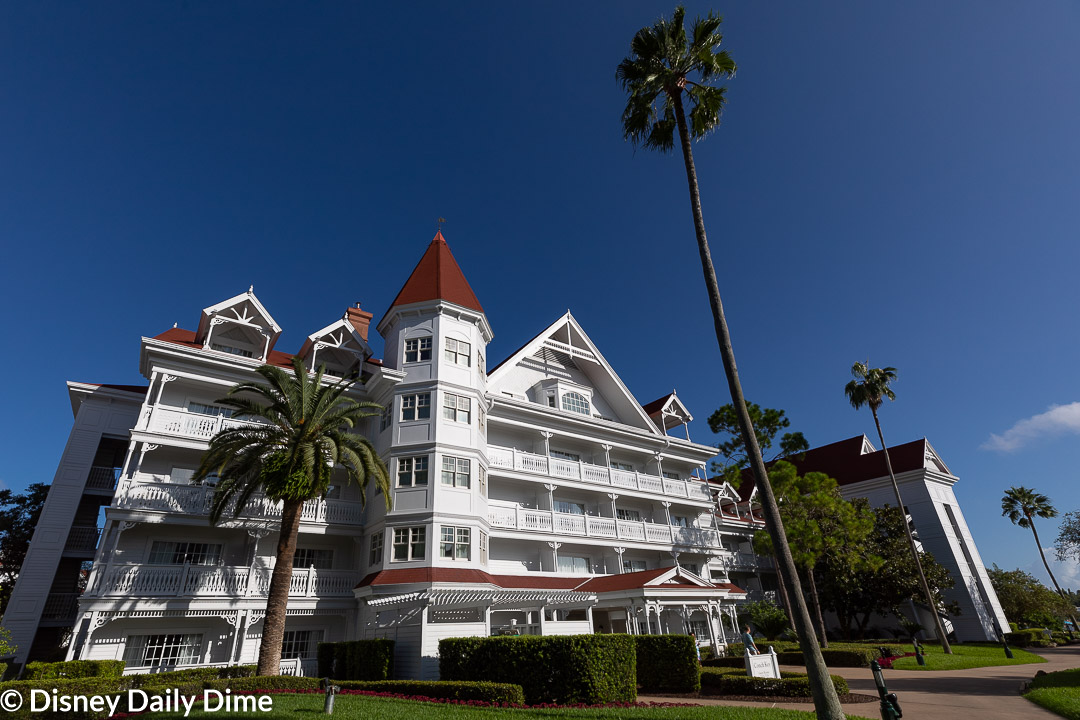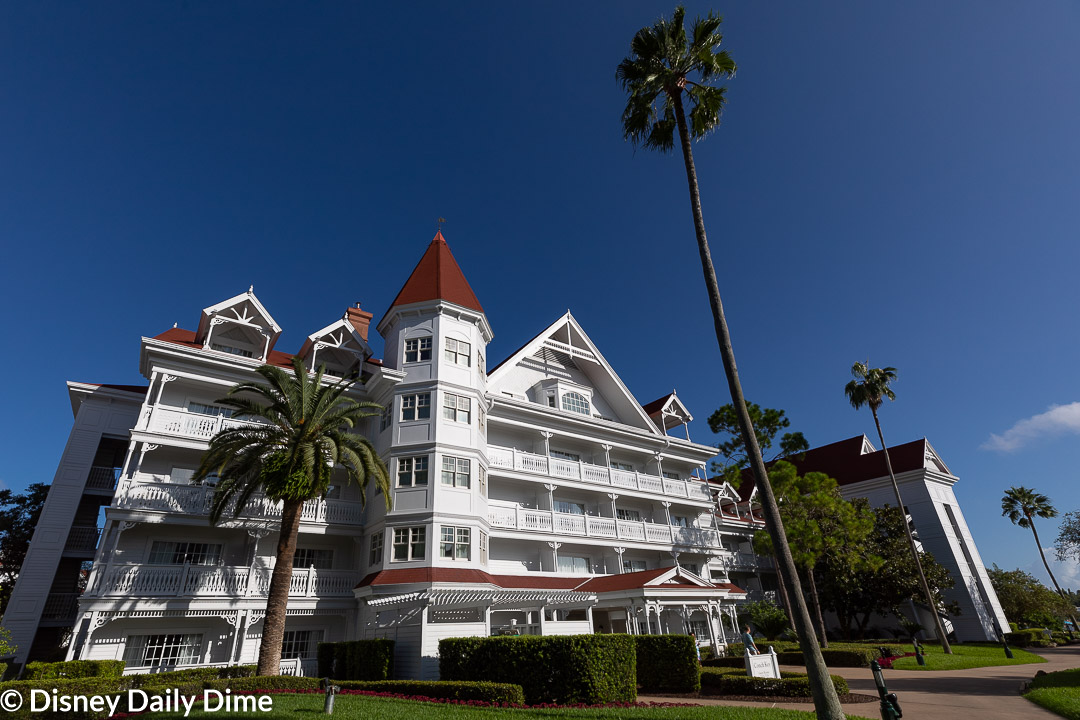 Disney's Grand Floridian Resort & Spa Amenities
The amenities available within Disney's Grand Floridian Resort & Spa are relatively standard for a deluxe level resort at Walt Disney World.  You'll find pools, which we discuss in more detail below, along with tennis courts, jogging trails, an arcade, and more.
The resort also has a general store.  You can park your vehicle at the resort; however, you do have to pay for parking.  Right now, it runs $25 per night at deluxe resorts.
Unlike most deluxe resorts, there is a full-service spa known as Senses at the Grand Floridian.  You can find the exercise area on the backside of Senses.
The resort rooms come with a standard setup consisting of:
Dresser
Wi-Fi Internet Access (access is free of charge)
Flat-panel TV
Laundry area (near the Tidal pool)
Mini refrigerator
Coffee maker
Ironing board and iron
Hairdryer
In-room safe
In addition to these in-room amenities, there is one other "amenity" that we think is worth knowing about.  As you probably know, every night Magic Kingdom features a fireworks show.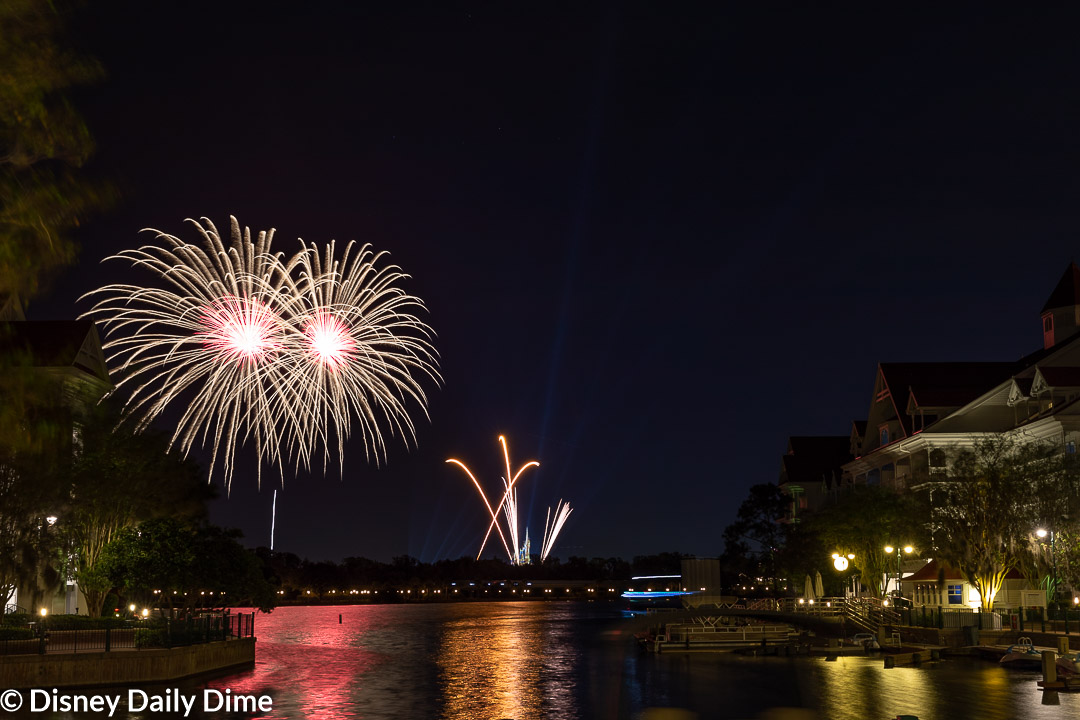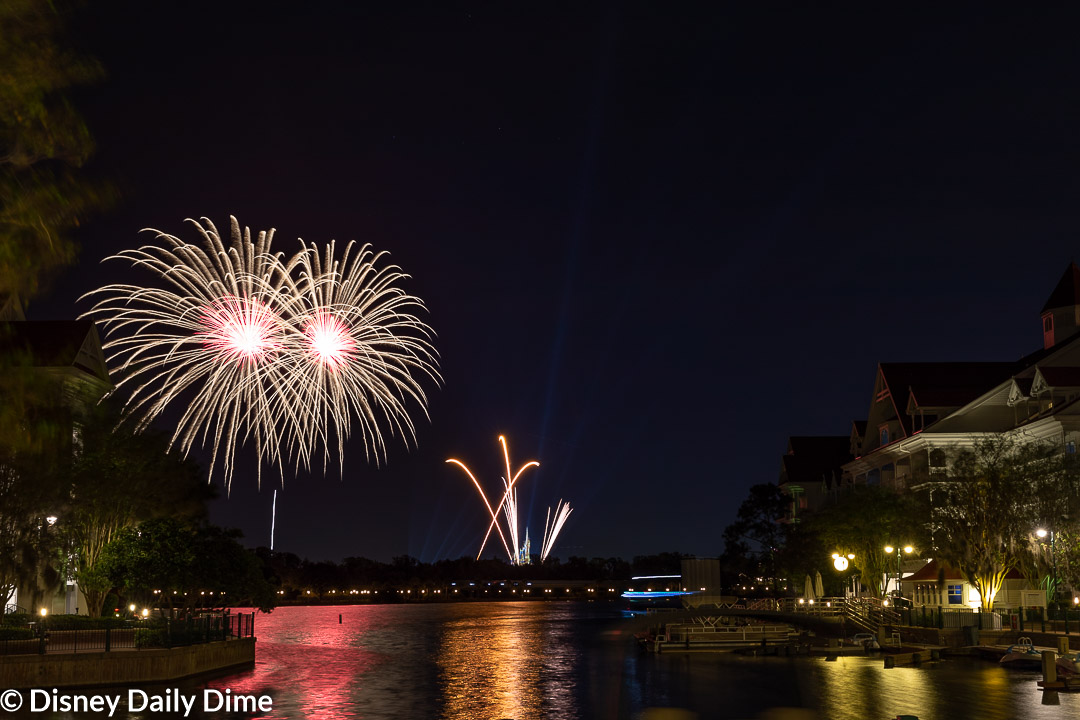 If you get over to Gasparilla Island Grill, you'll notice a waterway that points right at Cinderella Castle.  Grab yourself a seat here and you can catch the fireworks show.  It's complete with sound and a heck of a lot less crowded than being in Magic Kingdom.  Admittedly, you can't see the projections on Cinderella Castle, but it can still be a great way to end the night.  The picture above is a sample of how it looks.  We also made a video of the show when we were there.  You can find it on our YouTube channel.
Another feature at the Magic Kingdom area resorts is the Electrical Water Pageant.  Dating back to the opening year of Walt Disney World, this beloved tradition takes place nightly.  It is a simple but charming: a series of lighted floats navigate across the Seven Seas Lagoon complete with musical accompaniment that is also piped in at the resorts.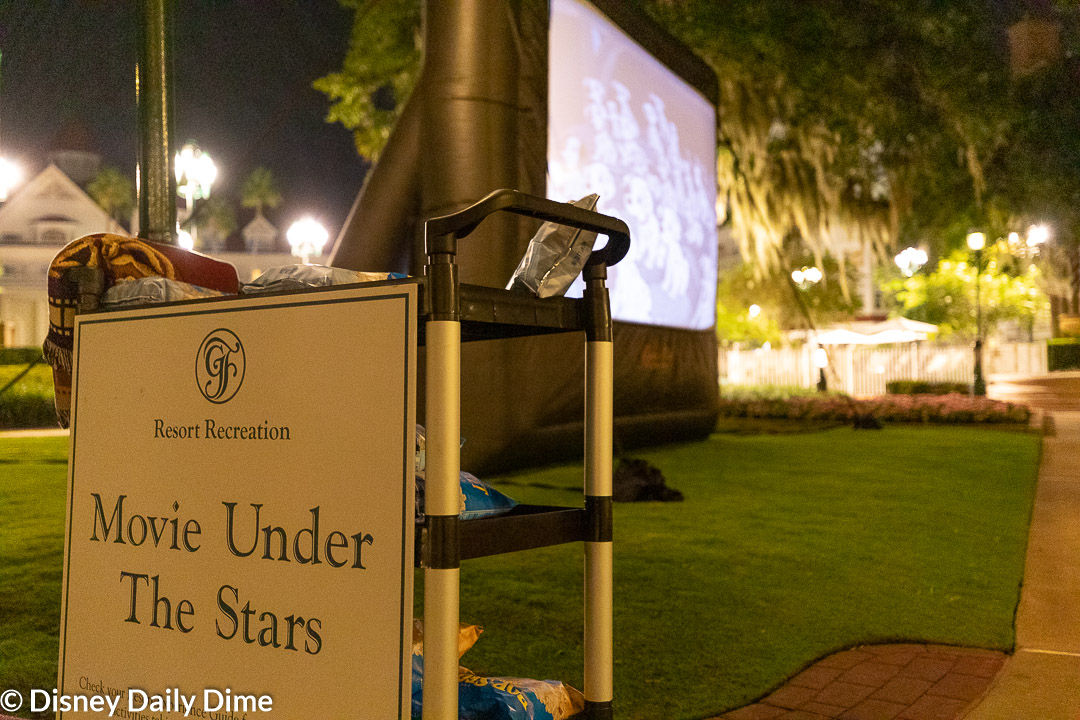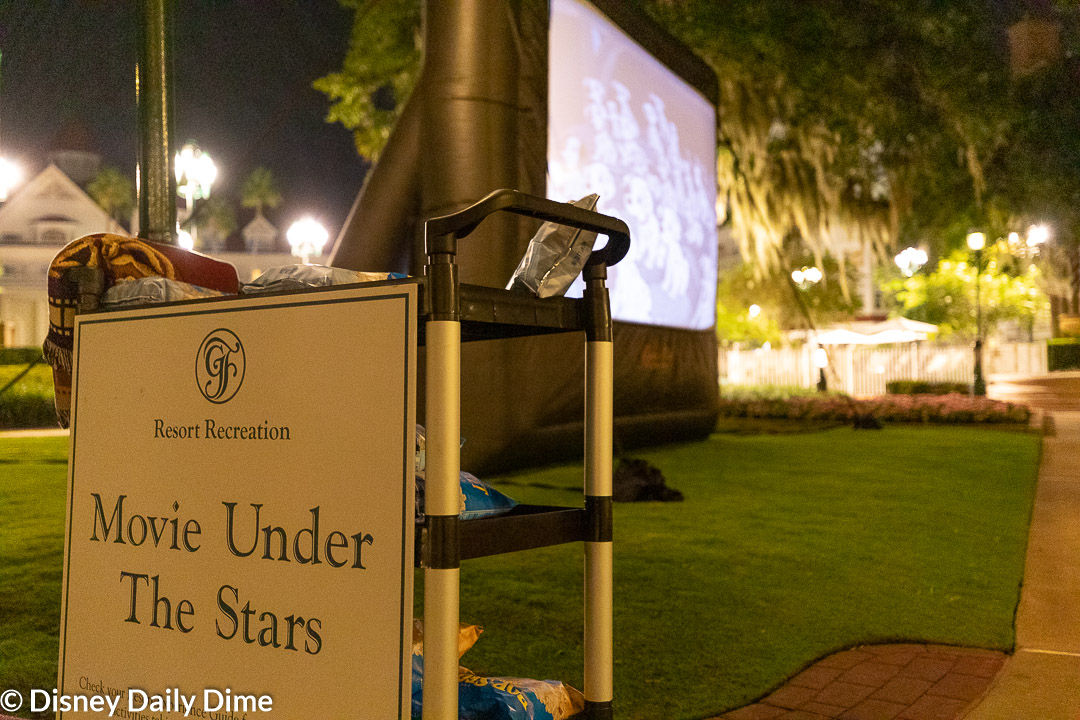 Recreation at Disney's Grand Floridian Resort & Spa
Disney's Grand Floridian Resort & Spa also features several recreational opportunities you may want to take advantage of.  These include:
Movies Under the Stars
Jogging Trail
Campfire with Smores
Playgrounds
Video Arcade
Poolside Activities
Tennis Courts
Basketball Courts
Marina
The recreation opportunities are plentiful at Grand Floridian.  One thing that is a plus is that almost all of these are free, except the games in the video arcade, marina rentals and s'mores.
In addition to what we have listed out above, the Grand Floridian has a marina on property.  You can rent boats here and schedule other excursions.
While it isn't exactly recreation, you can get some good walking in by beating a path to the various shops at the Grand Floridian.  There are great adult based options like Basin White and Curious Clothiers or kid-themed ones like M. Mouse Mercantile or a small version of the Bibbidi Bobbidi Boutique.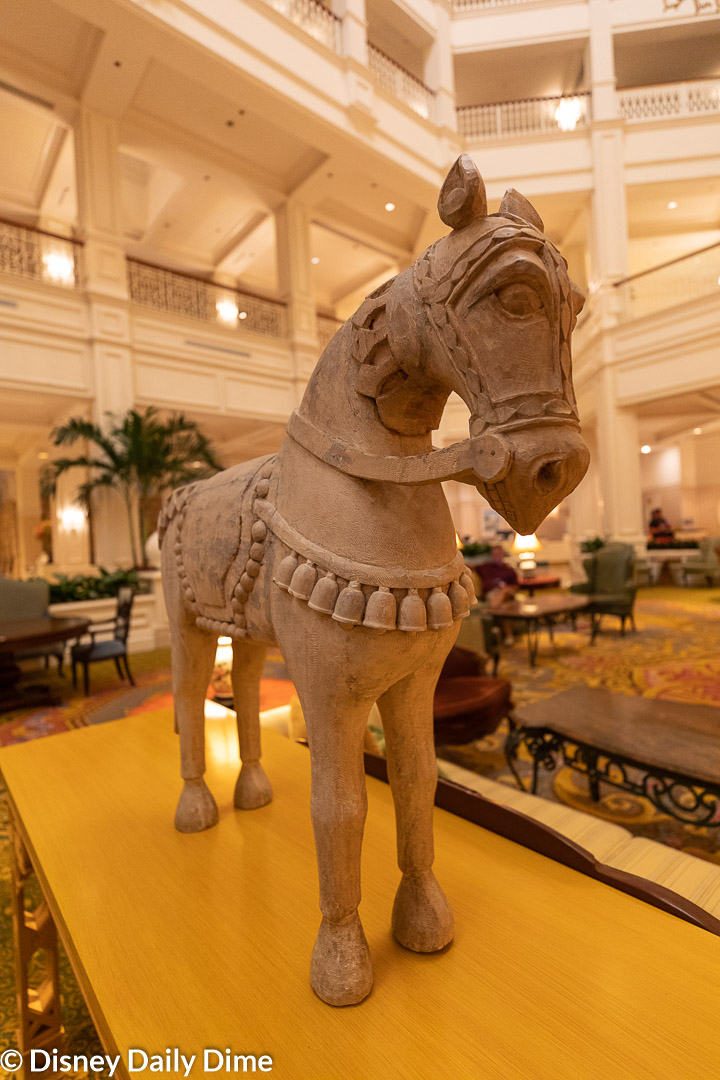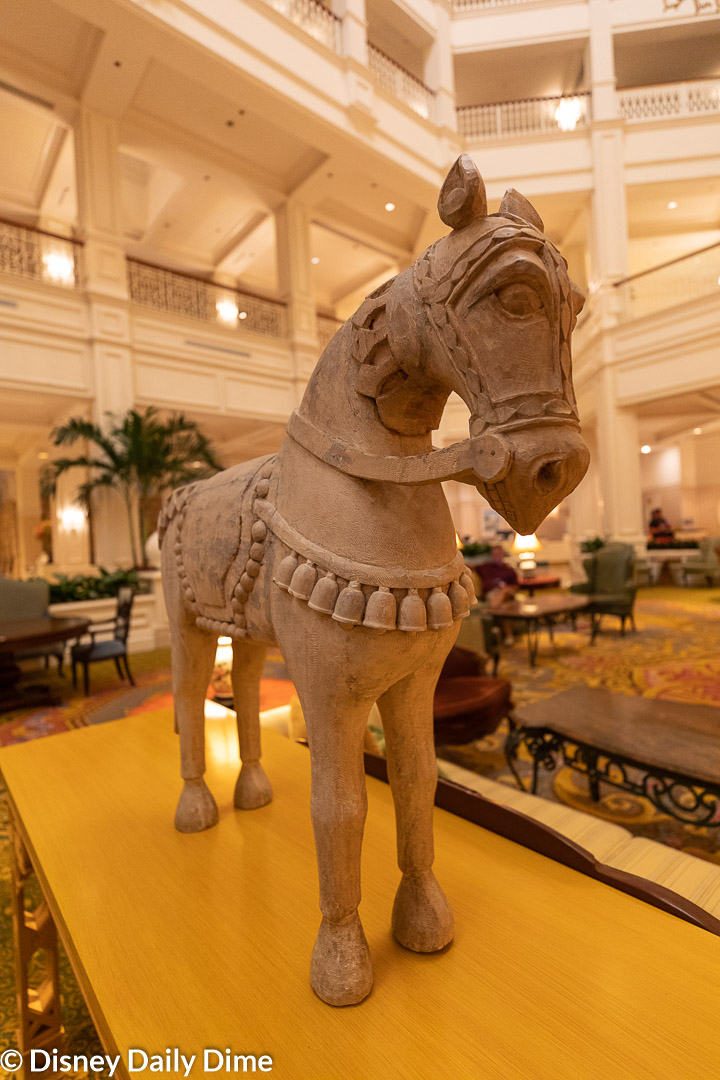 Disney's Grand Floridian Resort & Spa Can't Get Over the Price Comparison Hump
For all the elegance that the grounds and the lobby have, I can't help but compare the Grand Floridian to similar resorts.  As a point of comparison, we've stayed at two different Four Seasons resorts in the country, and frankly, for a comparable price, they blow away the Grand Floridian.  But beyond the similarities to other non-Disney hotels, we find better value at other Disney World resorts.
On the deluxe resort spectrum, I'd take Disney's Beach Club over the Grand Floridian.  It's a lower price, has a better pool, and still has a great location.  Now it's not all in favor of a resort like the Beach Club.  The dining is far better at the Grand Floridian, and being able to watch Happily Ever After from the resort is fantastic.  However, on balance, it isn't enough for me the justify the price you pay for the Grand Floridian.
We think this argument is especially valid if you have kids.  The reality is the Grand Floridian doesn't have a ton to offer kids.  Are there some things?  Absolutely, but many things like Bibbidi Bobbidi Boutique can be done without staying at the resort or other places in Disney World.  I'd also prioritize doing that at Magic Kingdom if you can.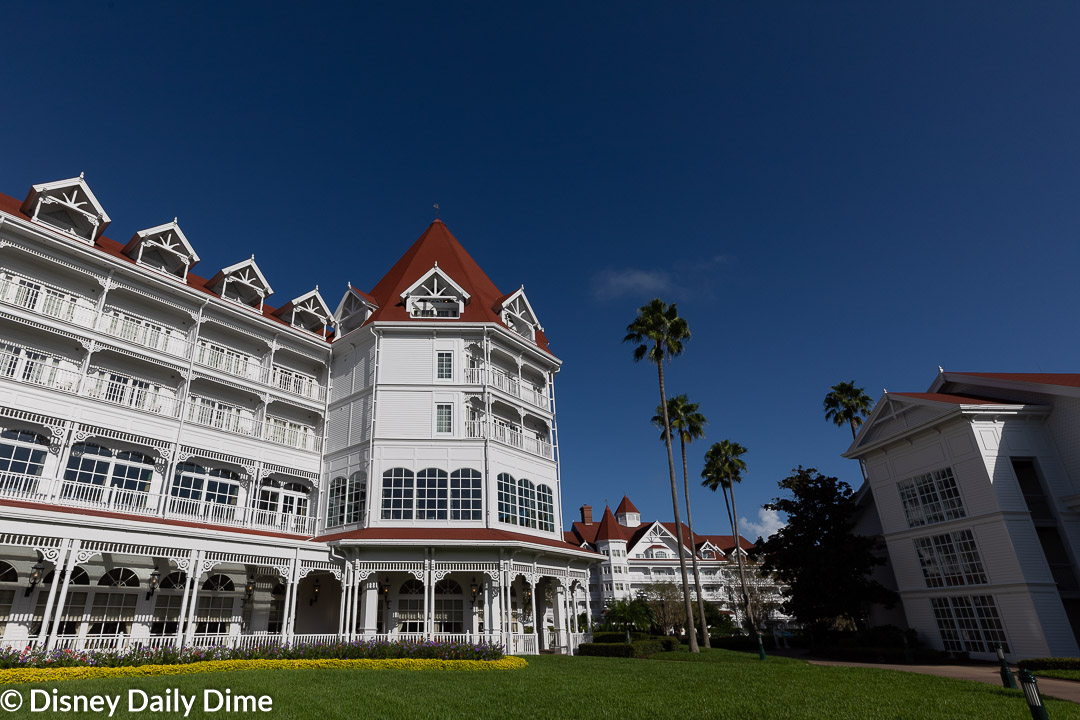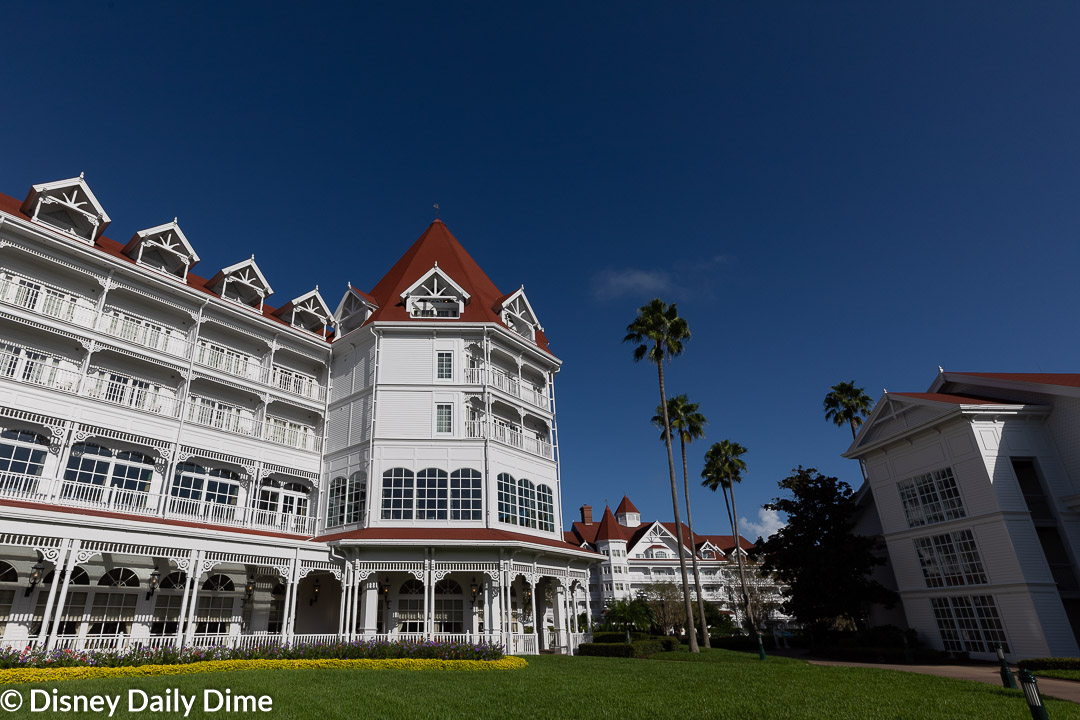 The interesting thing is that I'm not sure you would have gotten this same point of view from us before we had the kids.  When we stayed here in the mid-2000s, we thought the resort was fabulous for a couple on a romantic getaway.  The spa, décor, and dining made it excellent for that.  I guess you could say that we have moved on from that season of our life.  In our new season, our perspective has changed.
I think I can summarize my feelings in a few short words.  Is the resort beautiful?  Yes.  Does the beauty and amenity set justify the price?  Not even close.  And for that, it is one of our least favorite deluxe resorts at Disney World.  Instead, I would take some of the cash I save by staying at a lower cost resort and invest it in some of the unique backstage tours you can do at Disney World or other special dining or experiences on property.
Wrapping Up Our Disney's Grand Floridian Resort & Spa Review
With that, we'll bring our Grand Floridian Resort & Spa review to a close.  It's a resort that hits many highs but has one major issue that recurs because of the premium price you pay for the resort.
We hope you found our Grand Floridian Resort & Spa helpful.  If you did, we'd greatly appreciate it if you would share it on social media.  It helps get the word out on our blog and tells us we're doing something right.  Just use the social media sharing buttons on this page.