Disney's Wilderness Lodge is one of 10 deluxe resorts within Walt Disney World.  However, it is one of only four deluxe resorts located in the Magic Kingdom area.  In this post, we will give you our review of Disney's Wilderness Lodge.  This will include an overall resort review, while also hitting the highlights of the room options, pricing, dining, pools, amenities, and more.  As usual, we'll also try to load it up with pictures.
Our Disney's Wilderness Lodge review is part statements of fact so you understand what the resort is like, coupled with our opinion of the resort.  Sometimes that's a fine line to lay out in writing, but we think you'll be able to tell when we are interjecting our opinion into this review of Wilderness Lodge.
Two quick editorial notes.  This post is focused on the main part of Disney's Wilderness Lodge.  We're not reviewing the Copper Creek Villas or the Boulder Ridge Villas, as we didn't stay in either of these parts of the resort.  We'll happily save those for another stay here!
Second note.  We stayed at this resort for the first time over a Christmas break, so you'll see lots of pictures with holiday décor.  We have a Wilderness Lodge at Christmas review if you're interested in more Christmas specifics.  We'll swing back by here at some point to update this will more non-holiday themed pictures so you can get a feel for the look during normal times.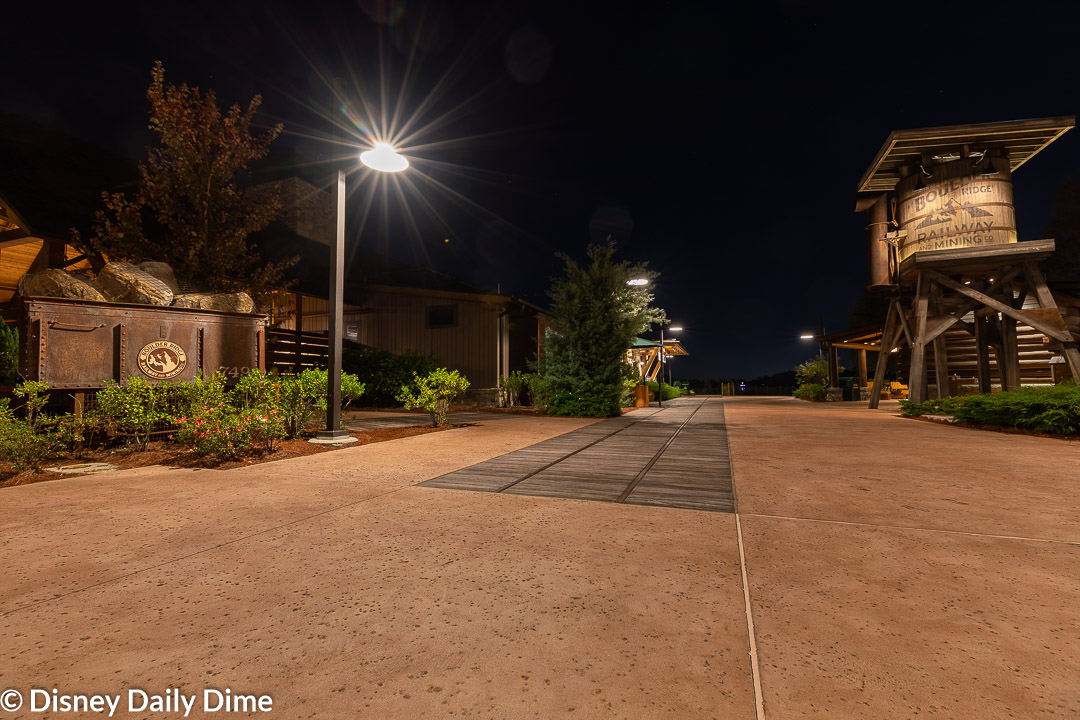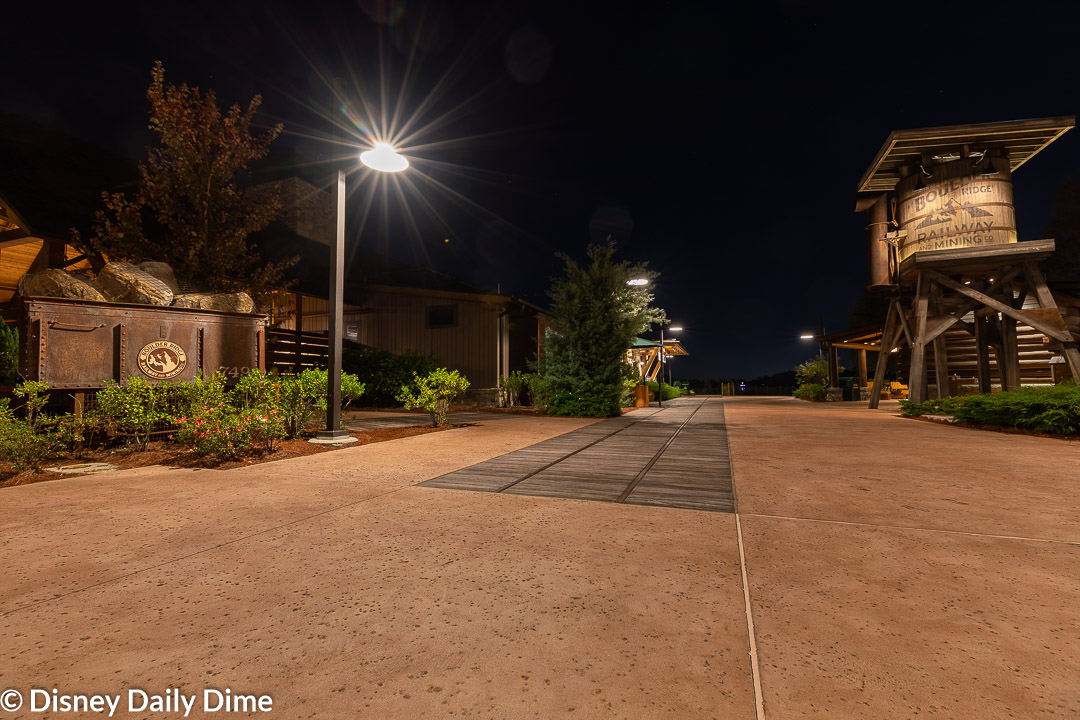 Disney's Wilderness Lodge Overview
As the name implies, Disney's Wilderness Lodge is about the wilderness.  Unlike Animal Kingdom Lodge, which touches on the wilds of Africa, Wilderness Lodge is about the American wilderness.  More specifically, it focuses on the Pacific Northwest of America.  At least that's what Disney's official website says.  However, there are many elements of the resort that feel more like generic western frontier to us.  More on that in a bit.  First, here is a map of the resort so you can get familiar with it if needed.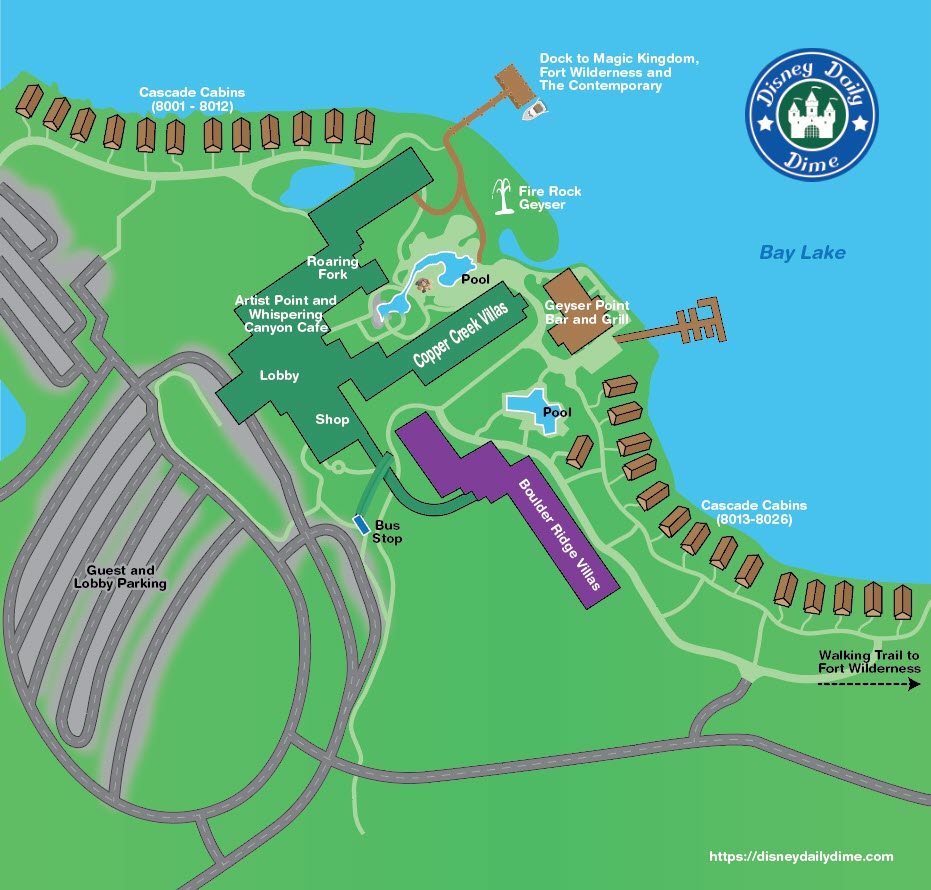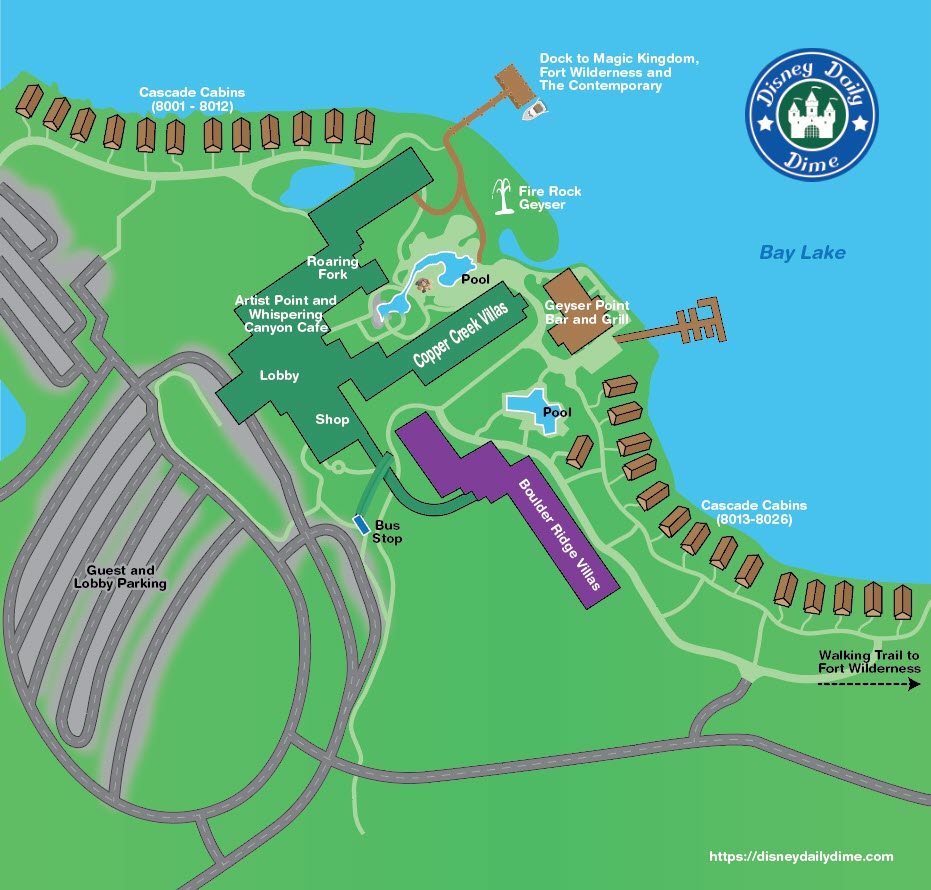 What does this theme mean for the exterior design?  You are going to find flourishing pines, majestic waterfalls, steams, walking trails and oh yeah…a geyser!  The exterior of the resort is adorned with features that do one of the best jobs in all of Disney World in transporting you to another place.  And that is what makes the resort special to us.  As you pull onto the resort grounds, it's as though a portal from the movie Stargate has opened up and you've been beamed to the other side of the continent.  The setup is that well done.
The geyser is a great monument to the National Parks.  It brings to mind the Old Faithful geyser located in Yellowstone National Park.  While Fire Rock Geyser (that's its name) isn't nearly as impressive a scale as Old Faithful, there's something fun about being able stop and watch it go off, especially in the morning.  We asked a cast member and they said the geyser goes off at the top of every hour during the day.  We've seen it go off as early as 7:00 AM.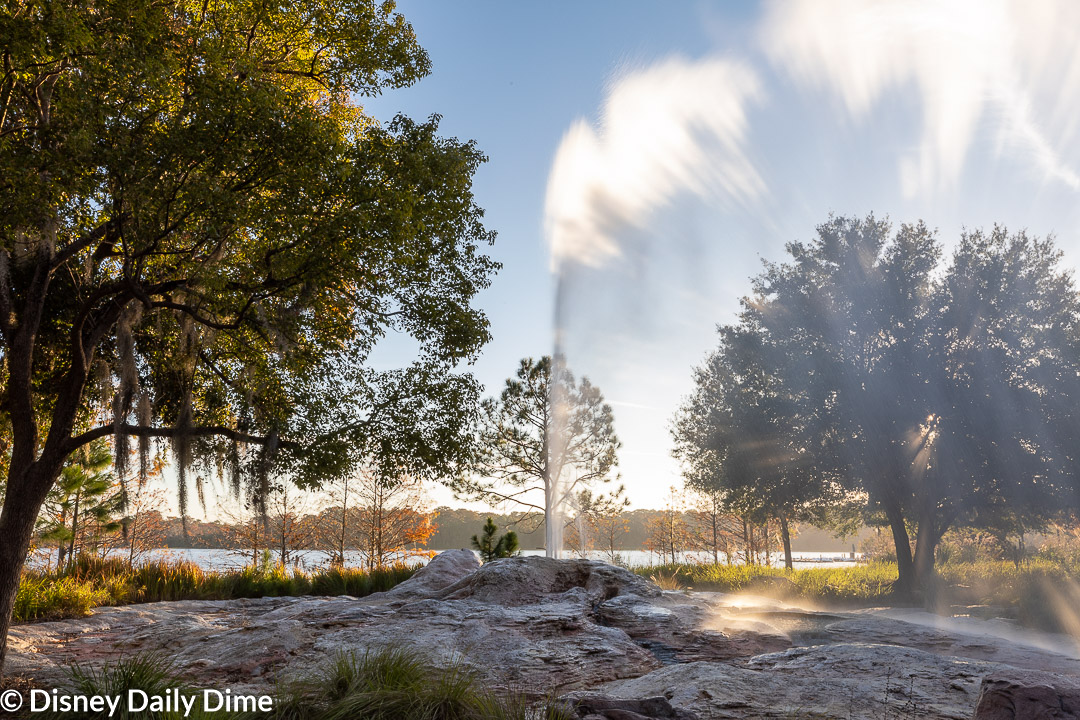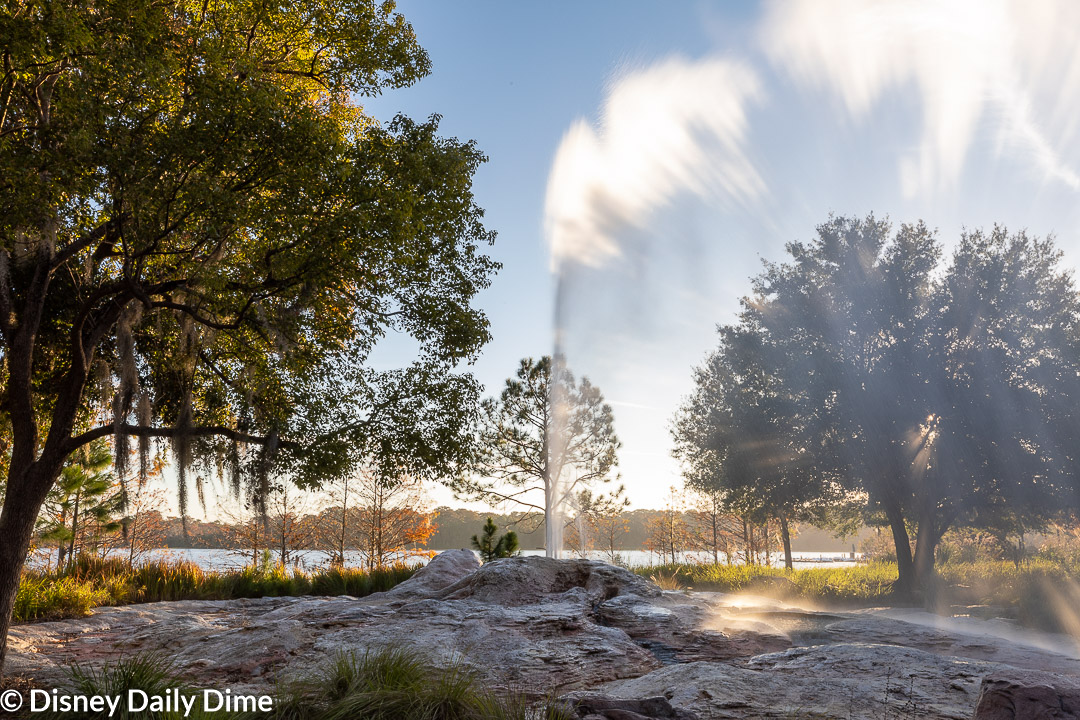 And yes, you might be wondering what Yellowstone (located in Wyoming) has to do with the Pacific Northwest?  It doesn't, but just roll with it.  Not every theme is going to be perfectly true to its roots and it's a fun touch.
Now, I'll be the first person to tell you that I grew up doing outdoorsy related activities, so the theming of Wilderness Lodge appeals to me at a deeper level.  If that isn't your thing, then the resort may not be as big a hit for you.  I will say Carla found it just as appealing as I did and she doesn't have what I would call a woodsman background!  Unless there is a spa in the woods that the bears are running.  But only if the bears ran a really good spa!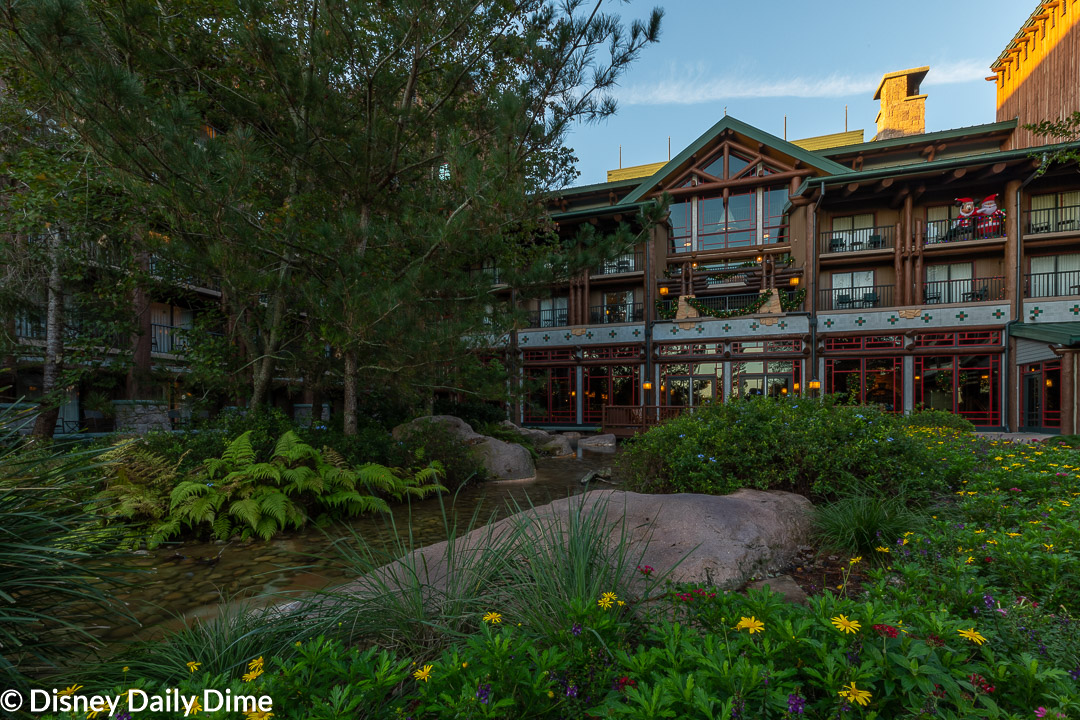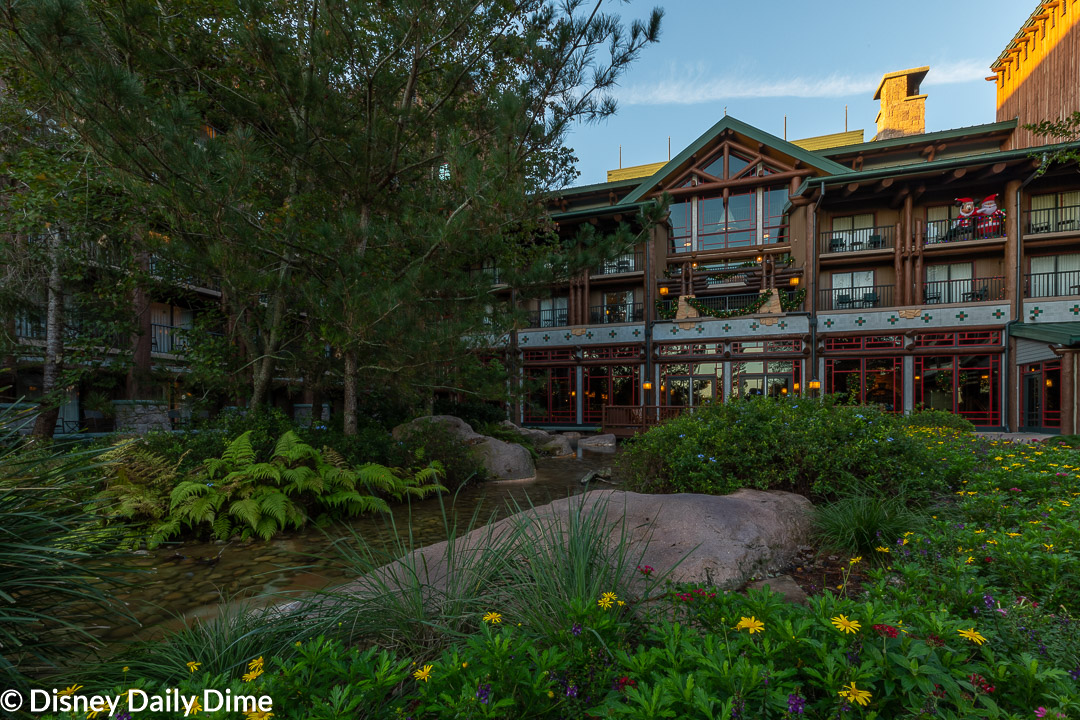 That said, the excellent theming continues on to the interior of Wilderness Lodge.  As Disney's own website says, the lodge design is "inspired by turn-of-the-century National Park lodges".  You're greeted by a mighty and wide open 8-story lobby, with sky scraping wood posts and beams.  The posts and beams work in conjunction with the ground to almost ceiling totem poles.  Together it all emotes the feeling of cabins and lodges nestled in the wild.
Chiseled into the wooded décor are carvings of various animals of the wild Northwest.  In addition to the totem poles, the lodge is also adorned with Native American headdresses and other appropriate décor.  There's even a fun little totem pole featuring Mickey, Donald and Goofy.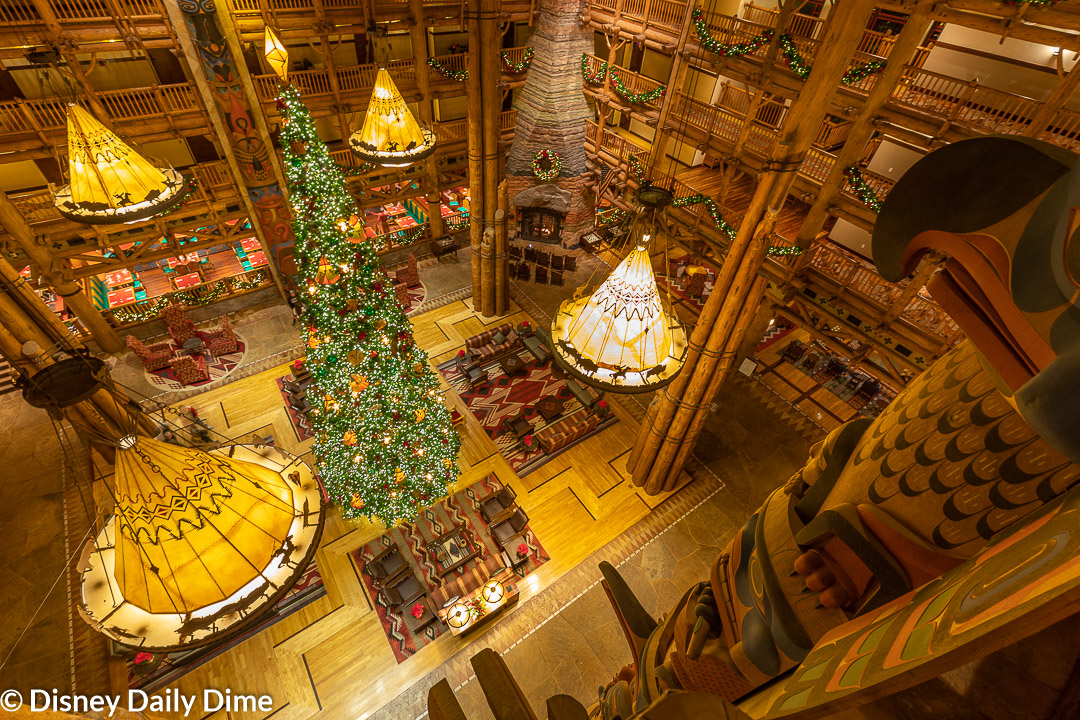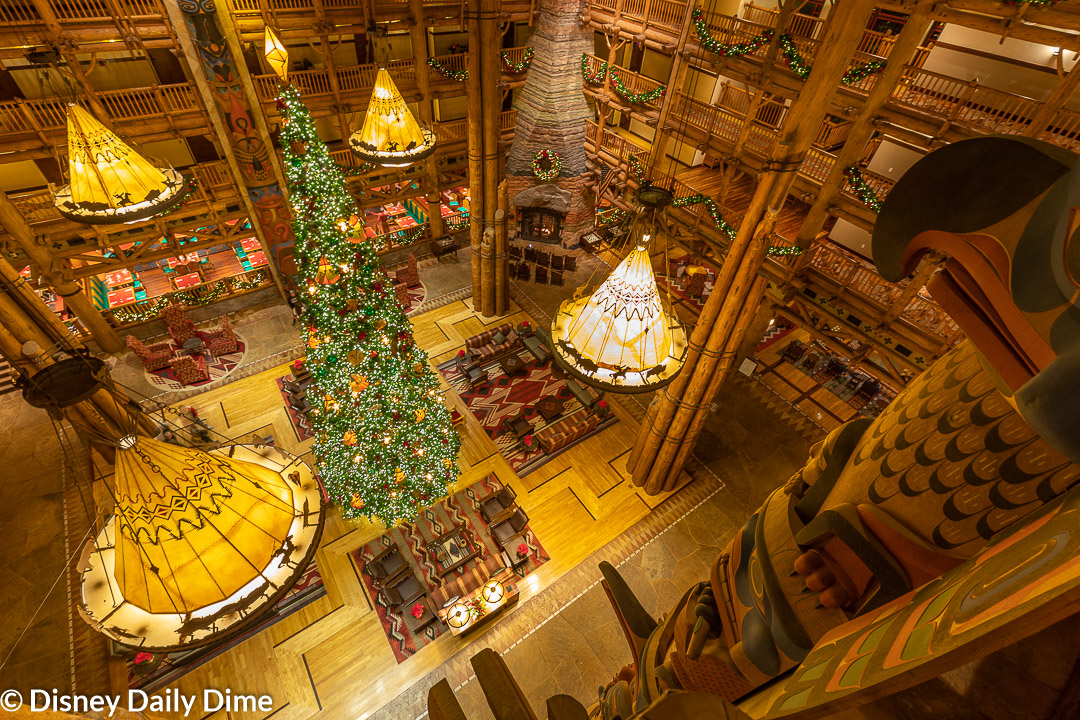 There are plenty of places to cozy up in the lodge, which is great for the winter but could also be a fun way to wind down any time of year.  Grab a seat in front of a grand fireplace that fits in perfectly with the grandeur of the lobby.  The seats are equally large, with two rows of rocking chairs in front of the fireplace.  It serves as a great focal point, when there isn't a giant Christmas tree in the lobby.
The 82-foot-tall fireplace's design is supposed to evoke images of the rock strata of the Grand Canyon.  Again, not sure what that has to do with the Pacific Northwest, but it doesn't bother us.  It's an impressive fireplace in any case.
There are also other seating areas with chairs that are so large you can just sit back and relax and disappear into them.  Or just take a nap if you so choose.  If you don't want to be out in the large open lobby, make your way up to one of the floors that surround the lobby.  They feature various little seating areas that are quieter and out of the way.  Some have their own fireplaces or games where you can relax in a smaller, more intimate setting.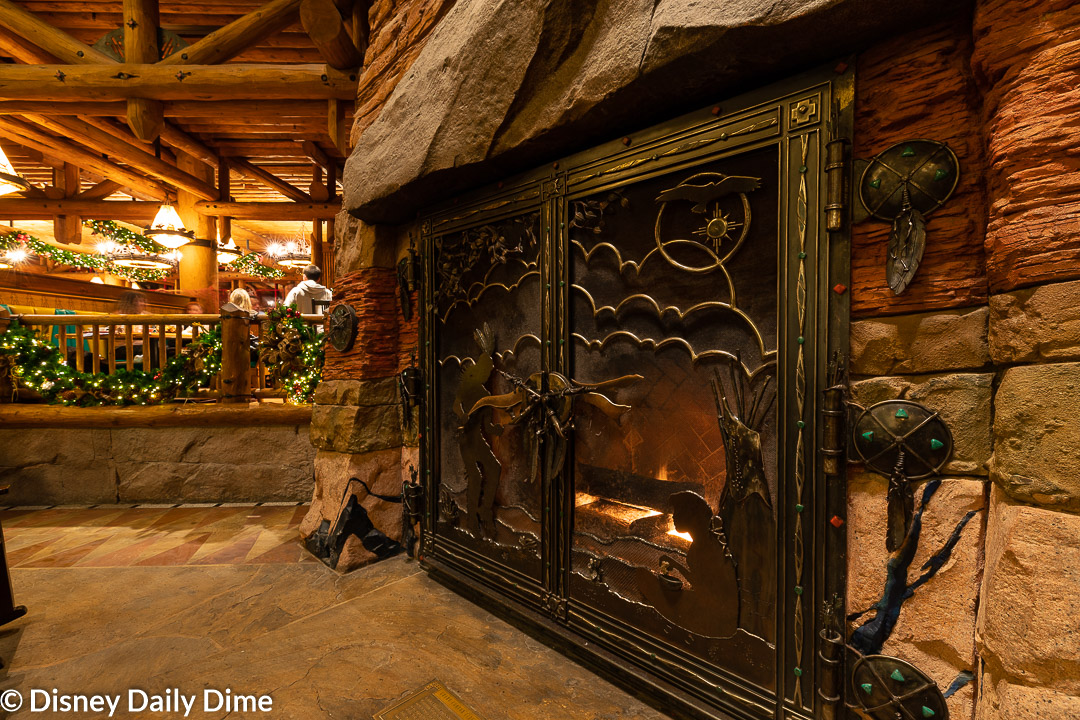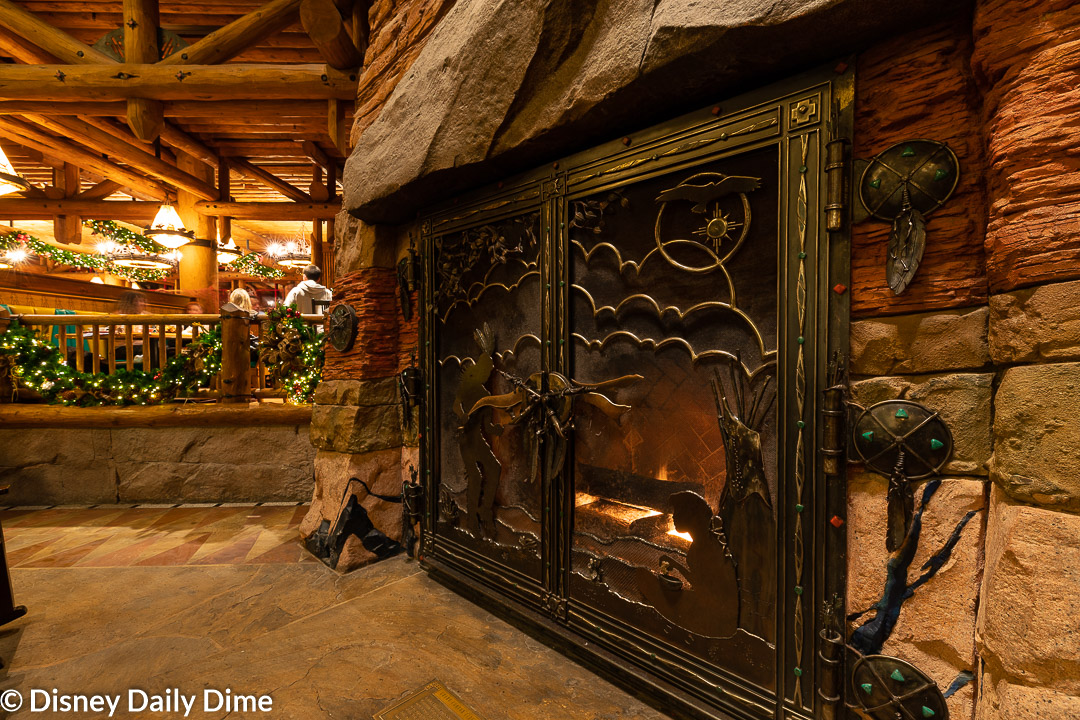 In addition to the great theming, we found Disney's Wilderness Lodge to be about exploration.  It partially ties into the theme, but it's also appears in how the resort is laid out and designed.  The resort is a good size, but not nearly as big as say, Port Orleans Riverside.  It is about a perfect size to explore, in our opinion.
If you like morning or evening strolls (because who wouldn't want to do that before or after walking 10+ miles in a theme park), this resort has all sorts of gems to be found.  Whether it is the aforementioned Fire Rock Geyser, gently rolling streams, train cars hauling large boulders, or a beautiful lakeside view, there's something to be found all over the resort.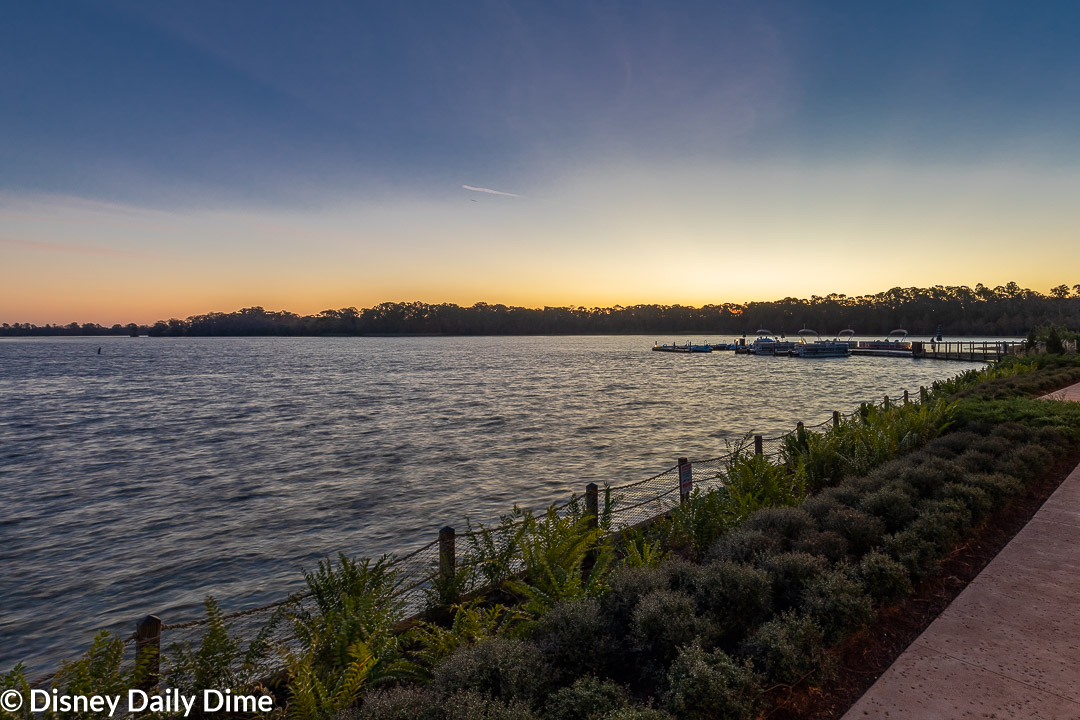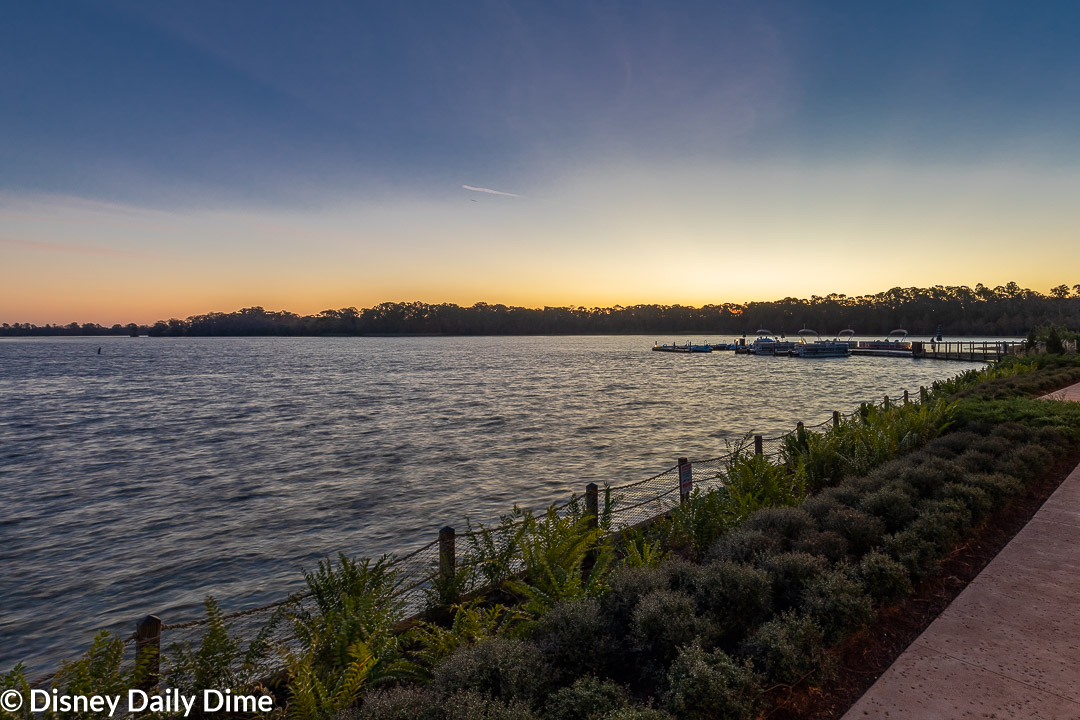 Taking a mile-long hike through the nature trail from Wilderness Lodge to Fort Wilderness is also an excellent way to escape.  You may not have thought that possible in Walt Disney World.
At the end of the day, Disney's Wilderness Lodge has a great theme for those that are fond of the outdoors.  If that suits your personality, we think you will love this resort.  Not a big outdoors person?  We think you will still probably enjoy the resort.  Maybe just not at the same high level.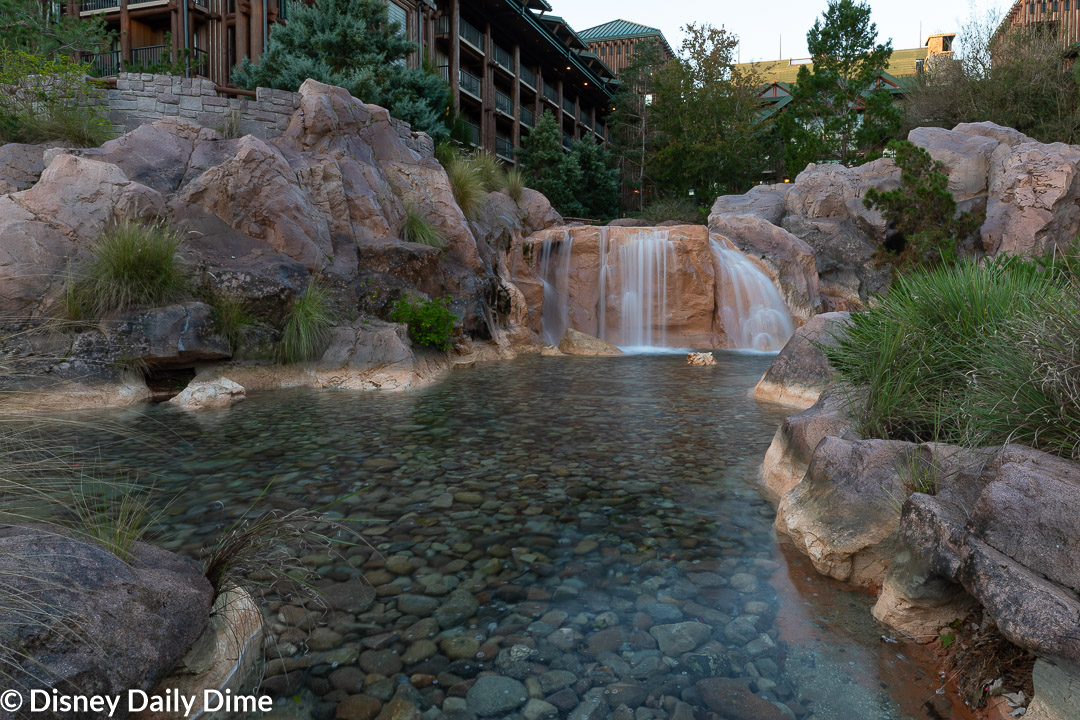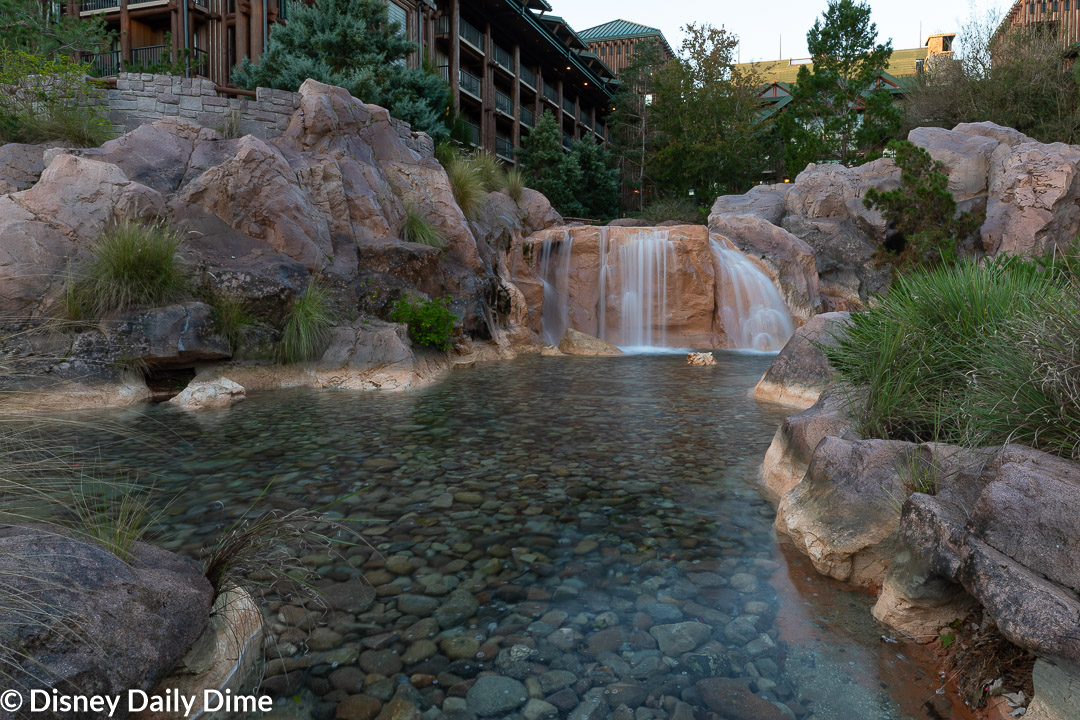 Disney's Wilderness Lodge Amenities
The amenities available within Disney's Wilderness Lodge are fairly standard for a deluxe level resort at Walt Disney World.  You'll find pools, which we discuss in more detail below, along with bike rentals, jogging trails, an arcade and more.
Wilderness Lodge also features a laundry area and general store.  Bus and boat transportation are available.  You can park your personal vehicle at the resort, however you do have to pay for parking.  Right now, it runs $24 per night at deluxe resorts.
Like all deluxe resorts, there is also a fitness center called Sturdy Branches Health Club.  We didn't get a chance to swing by there to check it out, so we aren't sure of the setup, but assume it to be similar to other deluxe resorts.  If so, it will have a good assortment of equipment to use.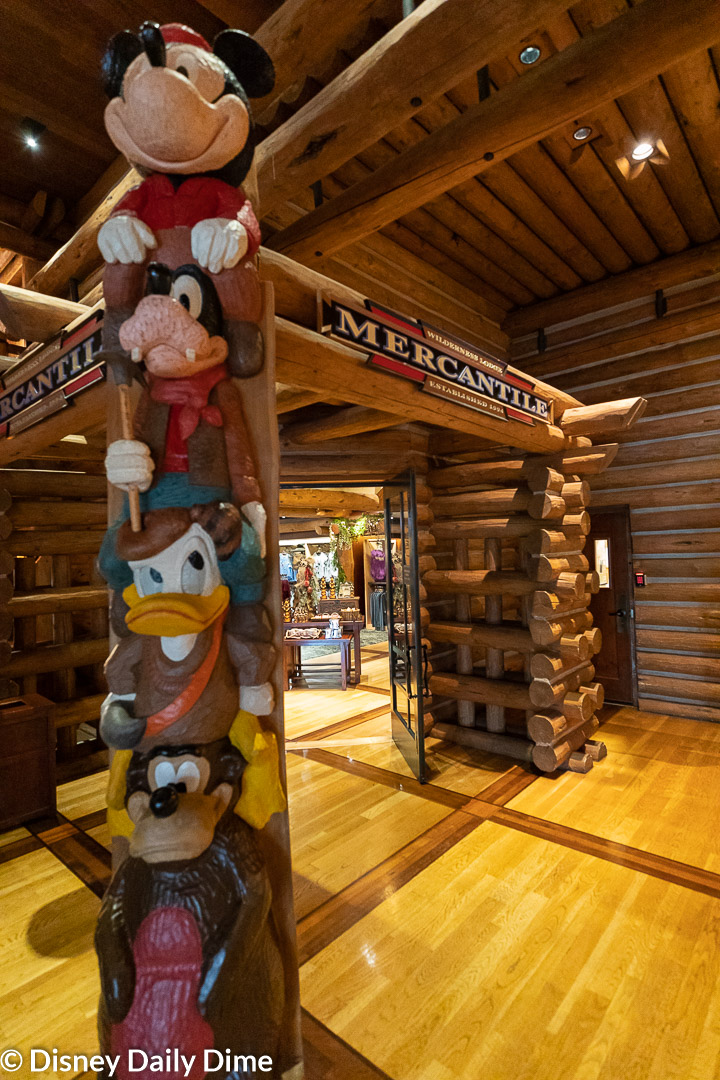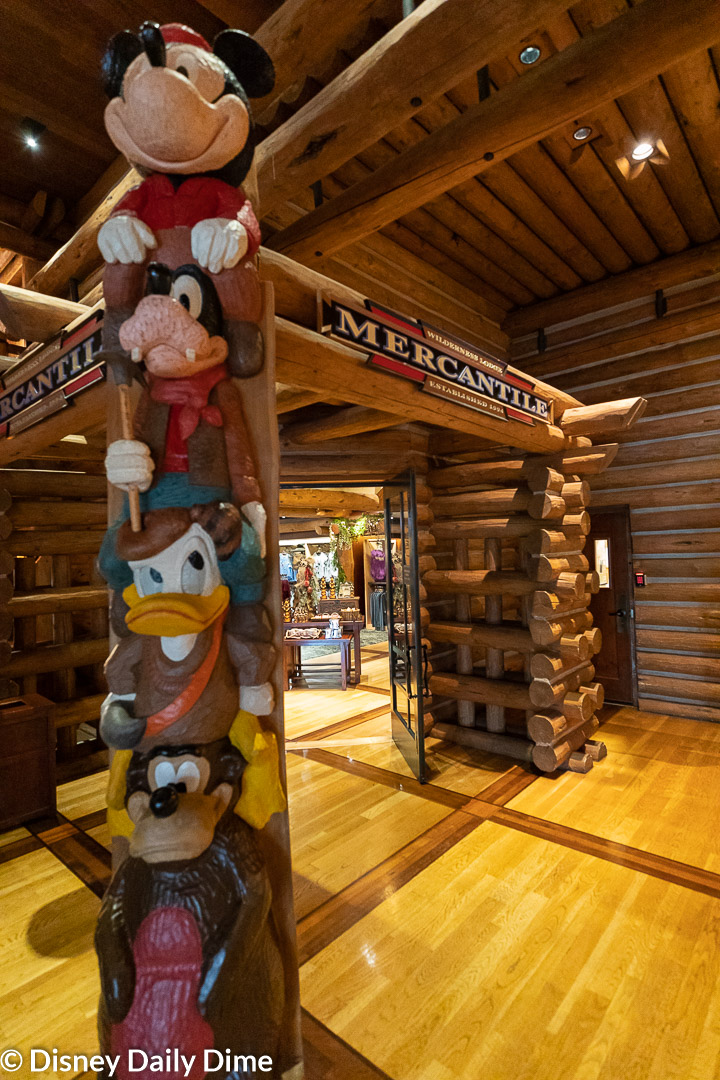 Also, like all the resorts on Bay Lake and Seven Seas Lagoon, you can watch the Electrical Water Pageant at night out on the water.
The resort rooms come with a standard setup consisting of:
Dresser
Small table with 2 chairs
Wi-Fi Internet Access (access is free of charge)
Flat-panel TV
Mini-fridge
Coffee Maker
Ironing board and iron
Hair dryer
In-room safe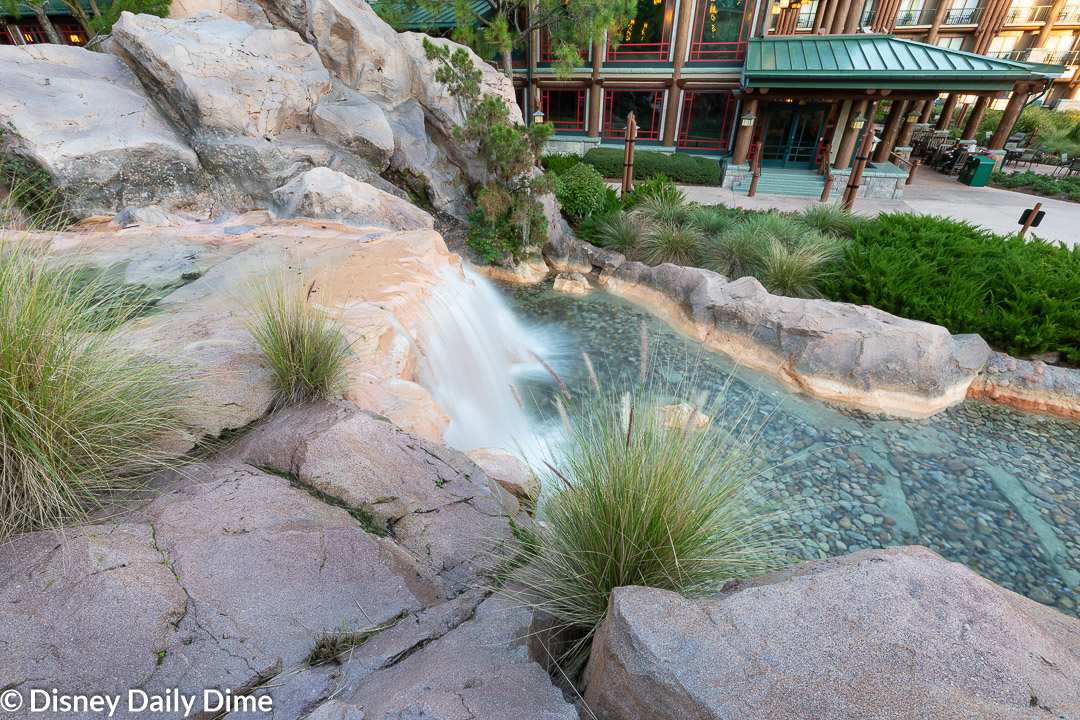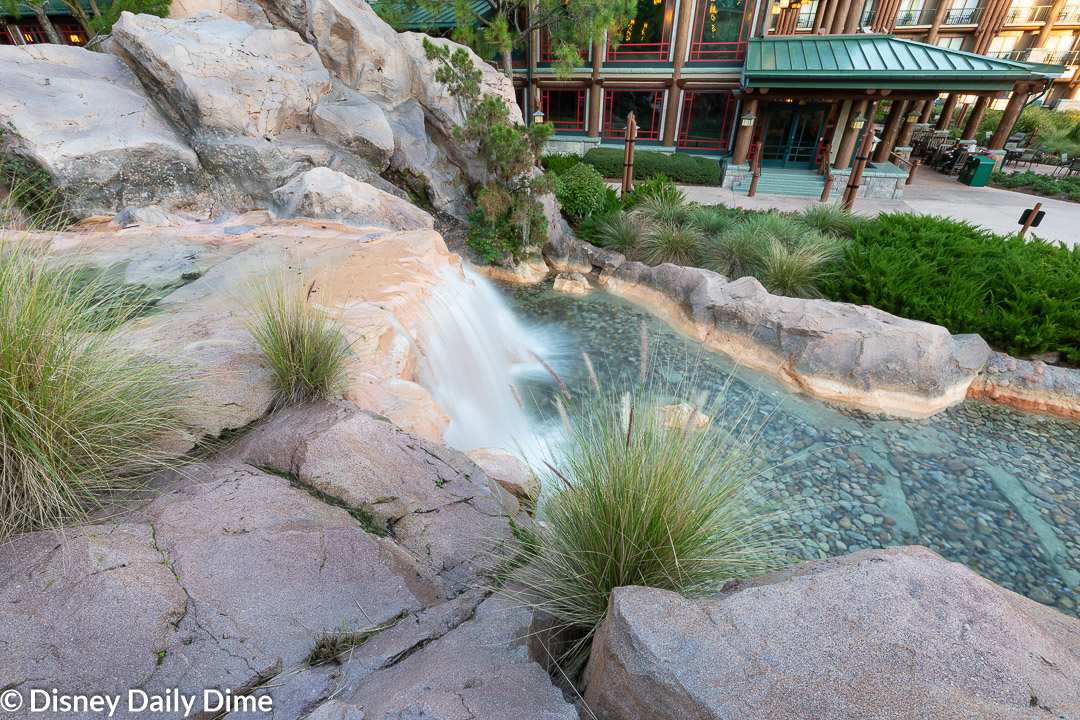 Disney's Wilderness Lodge Offers Several Room Options
As part of our Disney's Wilderness Lodge review we want to touch on the differing room options available to guests.  As you can image, we haven't stayed in all of these room types.  Far from it.  So much of what we'll discuss here are more just facts about the rooms.  If we've stayed in a room, we'll link to our more detailed review of that room once we write that post.  As of this writing we've only stayed in the Bunk Bed Rooms at Disney's Wilderness Lodge.
Within the resort, there are the following room types:
Standard View – ($325 – $577 per night)
Nature View – ($379 – $605 per night)
Nature View – Bunk Bed – ($434 – $629 per night)
Courtyard View – ($416 – $614 per night)
Courtyard View – Bunk Bed – ($440 – $663 per night)
Deluxe Room – ($691 – $1,122 per night)
Do note that pricing changes frequently, so check Disney's Wilderness Lodge website for the most up to date pricing.
There are some sub-types within these rooms (like getting rooms that sleep 5 or have a king-sized bed), but we won't delve too deeply into that here.  You can find all the room types on Disney's Wilderness Lodge website.  We did separate out the bunk bed options here as the pricing is meaningfully different.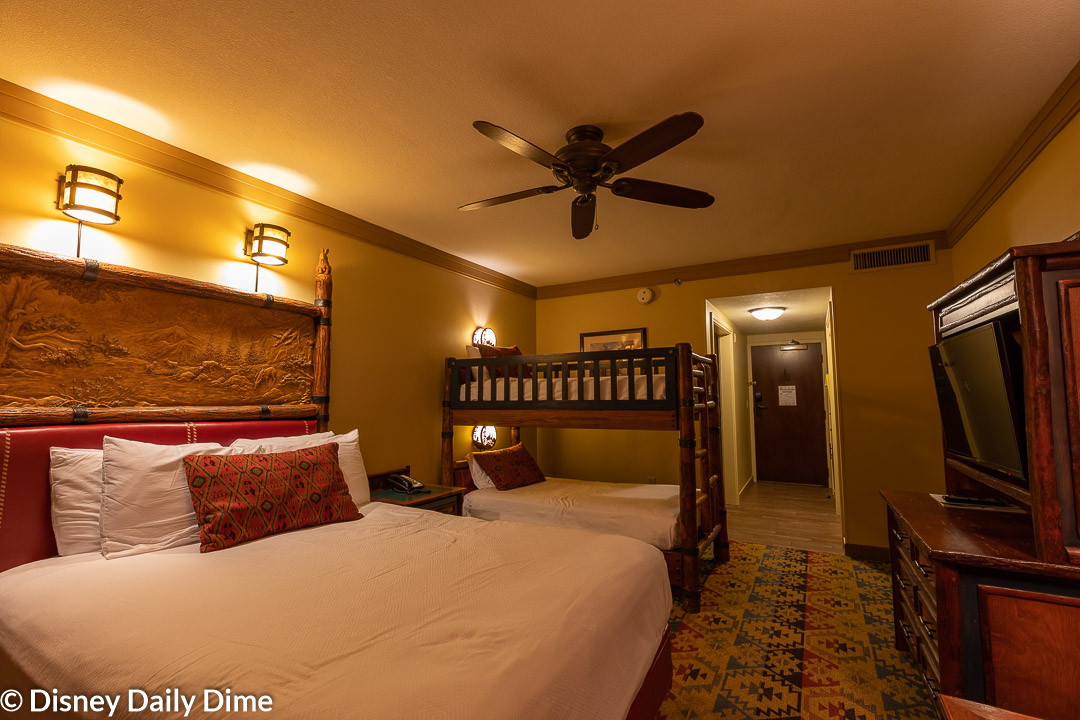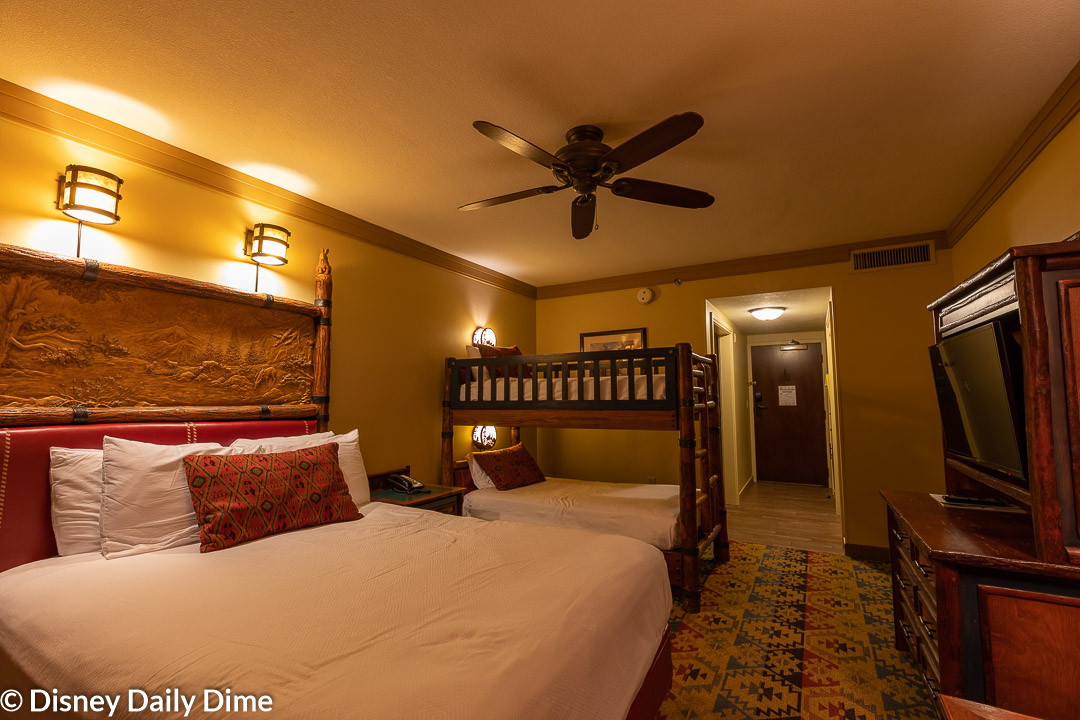 There are club level rooms available too, but only in deluxe or standard room configurations.  There are presidential and vice-presidential suites, but they are not listed on the Wilderness Lodge website, if you're interested in those.  Unfortunately, we weren't able to score an upgrade to those suites like we did with the BoardWalk Inn Sonora Suite.
Within the rooms of Disney's Wilderness Lodge, you'll find a fairly standard setup.  Almost all the rooms are 344 square feet.  The standard setup is two queen sized beds, with options at time of booking for a queen bed and one bunk bed or a single king-sized bed.  We'll save it for our more in-depth room review, but the bunk beds were a huge hit with Anna and Elsa.  Carla and I also appreciated not having to share beds with them, so we could all get a good night's sleep.
As per the norm at Disney World, the standard view is going to be looking out over a parking lot, road, driveway or roof.  The nature views have two options, both looking over the wooded areas surrounding Wilderness Lodge.  One view looks towards Magic Kingdom, while the other view looks towards the Wilderness Lodge Villas.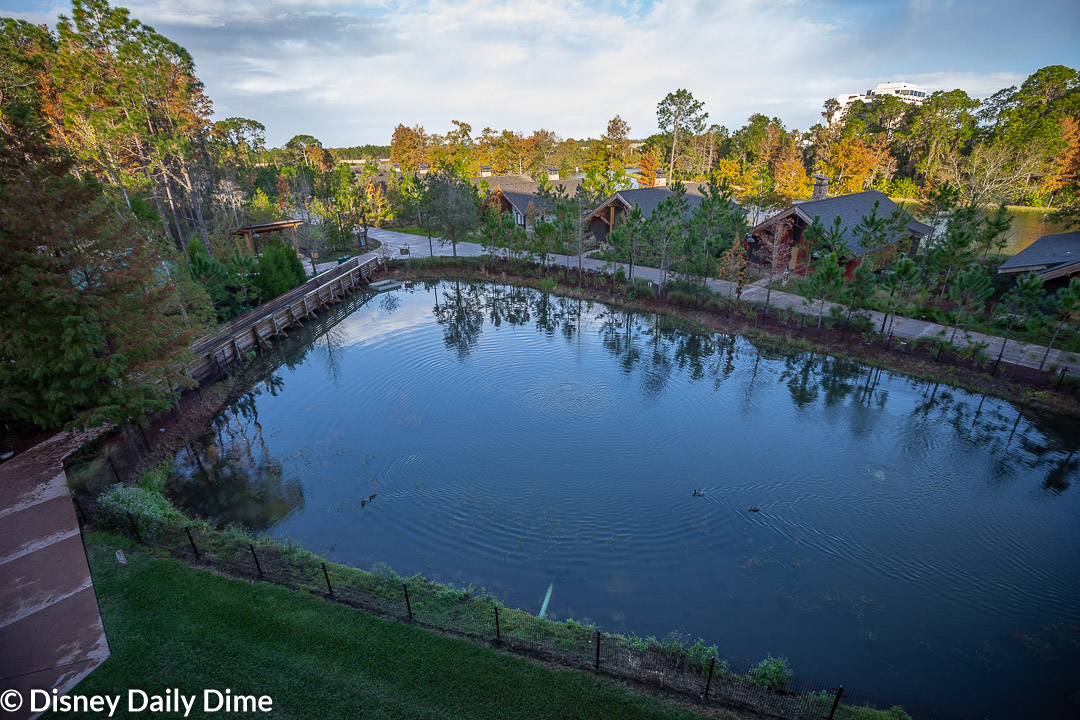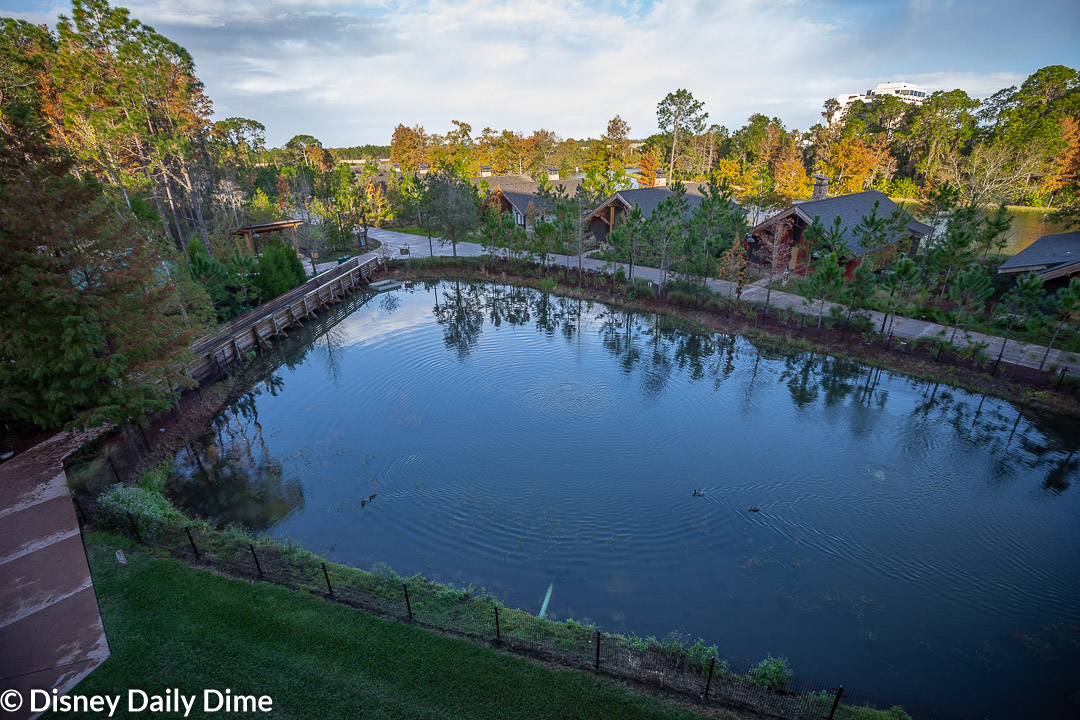 One word on the views toward Magic Kingdom.  Don't expect an actual view of the park.  We actually had one of these rooms and could barely see Cinderella Castle and part of Space Mountain.  The picture above is a view from that room.  If you are on a lower floor that view will rapidly disappear.
The last room view option available is the courtyard view.  Here you'll either find a view of Bay Lake, the Copper Creek Springs Pool, Fire Rock Geyser, or the Wilderness Lodge Villas Hidden Springs Pool.  You can request any of these types of views (assuming you paid for the courtyard view), but there is no guarantee of getting the exact view you want.
The rooms all come with a very rustic feel, including lots of raw looking wood.  The headboard of the bed has a wonderful nature scene "carved" into it.  You might even find some Disney characters in the room.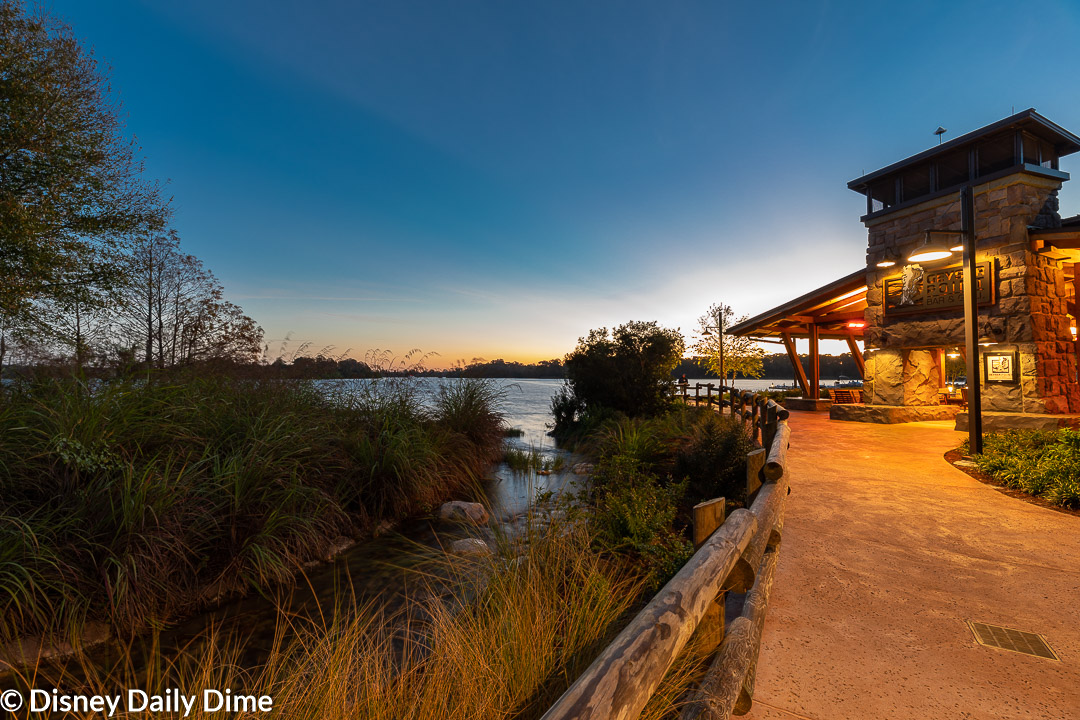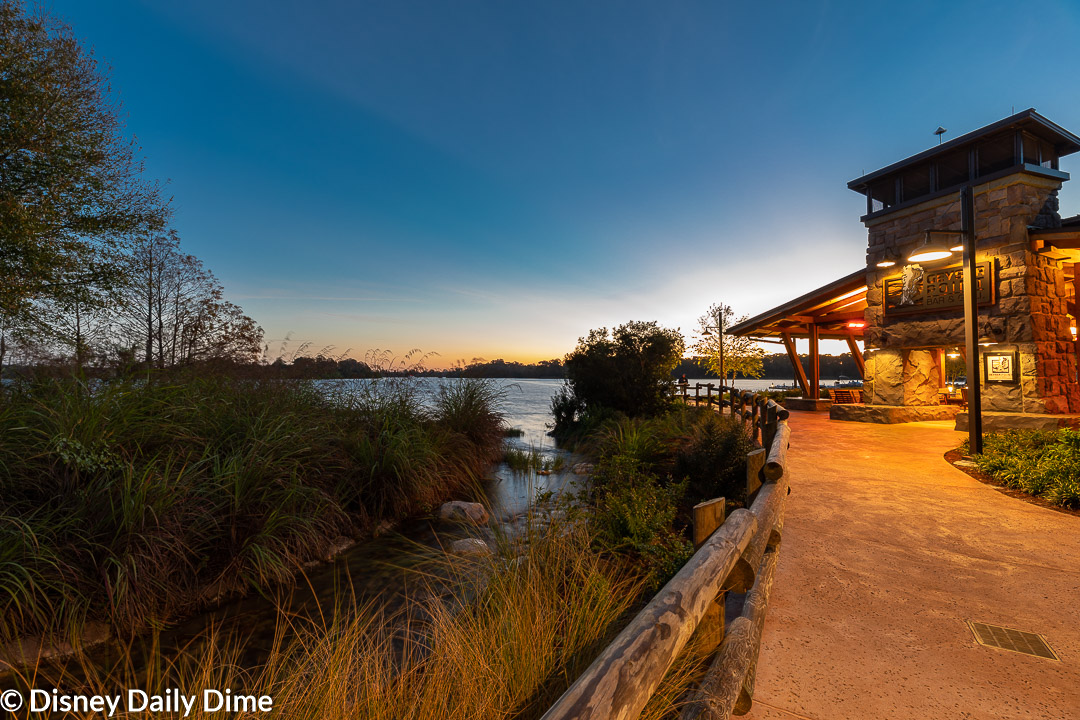 There aren't really bad rooms here in our opinion.  Making a trade off on cost will matter, as better views will cost you.  One thing we have seen on some other websites is to request a room with a door that opens to the lobby area.  By doing this you will be closer to the elevators.  However, we will say that we had friends on our trip with us whose room opened to the lobby.  They found the lobby to be noisy to the point they could hear it through the room door.  Now this was Christmas, so traffic was very high, but it's something you should be aware of.
If I did have one complaint about the rooms at Wilderness Lodge, it would be in its setup to support the various technology that we bring.  In other recently updated resorts, you will find an assortment of plugs (including USB plugs) to charge all your devices.  That's why its always good to carry a charging splitter like the one we have on our what to pack for Disney World page.  If you don't have a device like that, you will have to plug in some devices by the sink.  Minor thing, but for a deluxe level resort I expect better.
You Have Two Pool Options at Wilderness Lodge
Like the other deluxe resorts at Disney World, Wilderness Lodge has a well themed main pool and then a more laid-back quiet pool.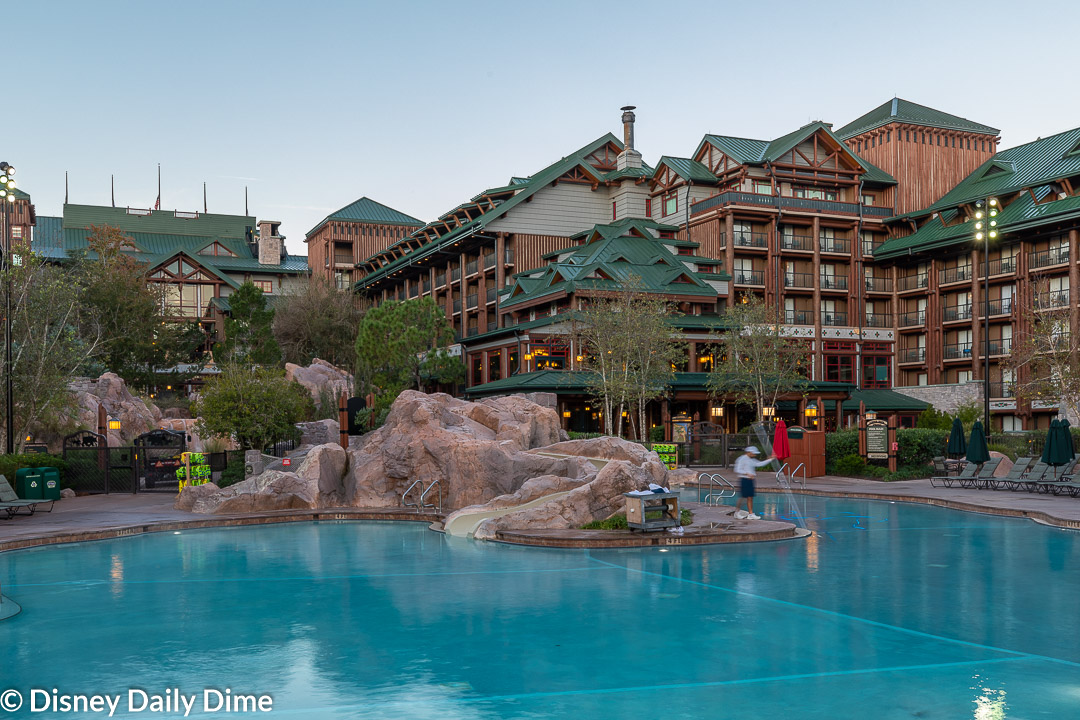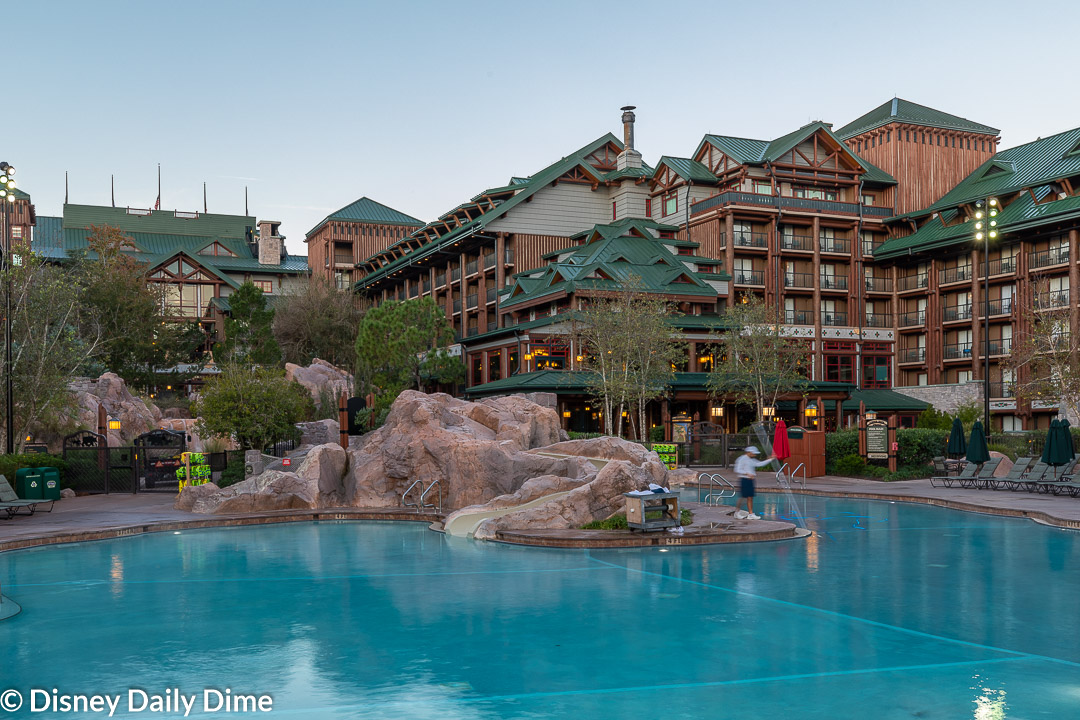 Copper Creek Springs Pool
The main pool, known as Copper Creek Springs Pool, has quite a thought-out design.  The pool actually begins as a quaint spring in the back of the resort lobby.  Bubbling up like a natural water feature the spring slowly builds into a small stream that creates this majestic waterfall, before it slowly flows into the pool.  The pool then appears to flow out into Bay Lake.  It doesn't in actuality, but it's a great visual from beginning to end that makes you feel like you're out for a swim in a natural water feature.  Well, outside of the thousands of guests at the resort, the heated pool water and chlorine.  But yeah, otherwise, a natural water feature for sure!
At the pool, there's a fun 67-foot-long slide carved out of the rock features of the pool.  In addition, there is a splash pad/kids play area right next to the pool.  You'll also find a hot tub to relax in.  Salon by the Springs is situated right by the pool too.  This is the small spa at Wilderness Lodge.  You can read about it more in the recreation section of this review.
We'd say the pool is really nice and fun, but not something that is over the top better than most of the other deluxe resorts.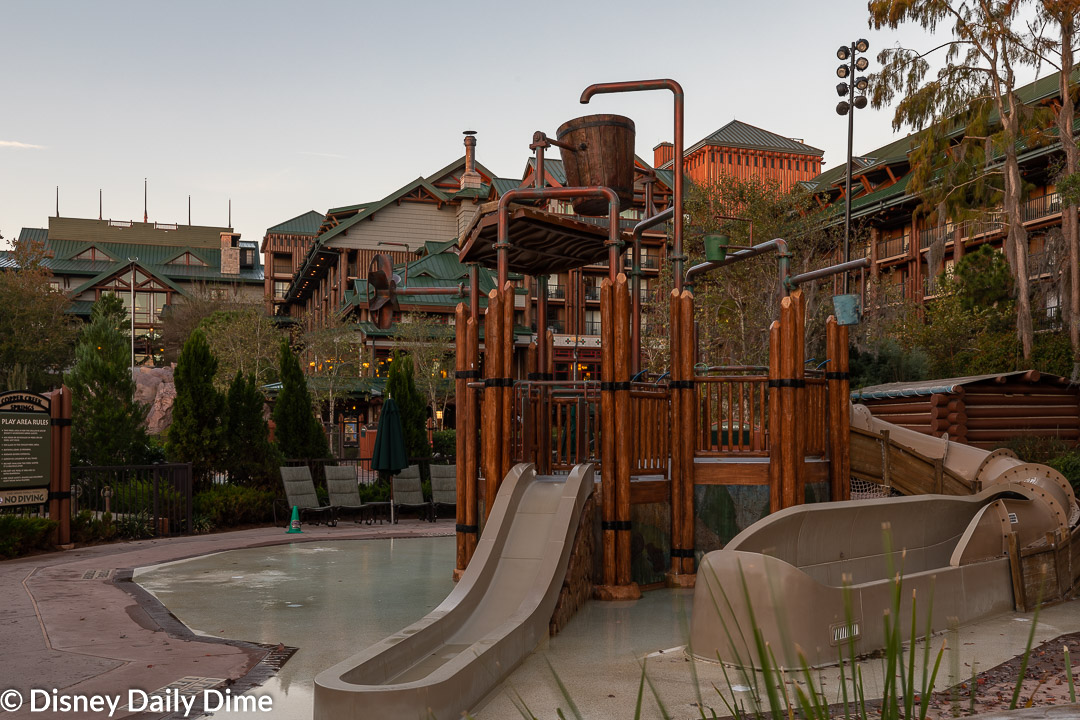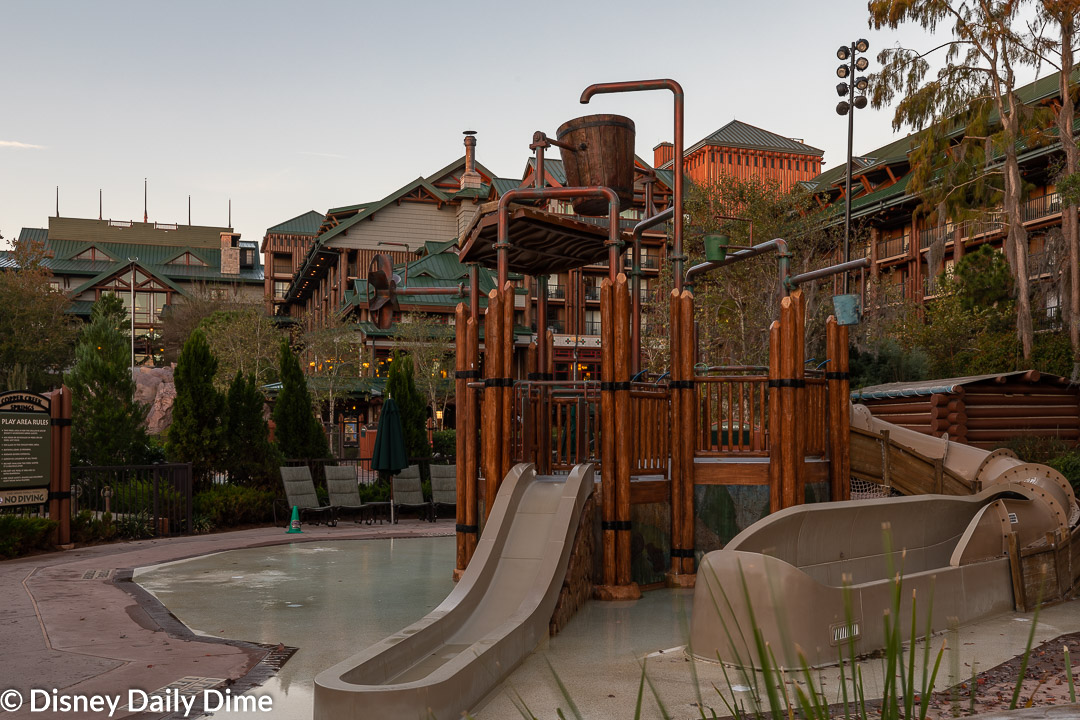 Boulder Ridge Cove Pool
If you head over towards the DVC Boulder Ridge Villas, you'll find the second pool on property.  But don't be fooled, this pool is for the use of all resort guests, not just those staying in the villas.
This pool is the "quiet" pool on property.  That means less kids and more time to chill and have some peace and quiet.  There are also less pool activities here; it's basically just a pool.  No slide, kids play area or the like near by.  There are plenty of places to catch some sun and relax though.  This is a healthy sized pool, so there's plenty of room to swim.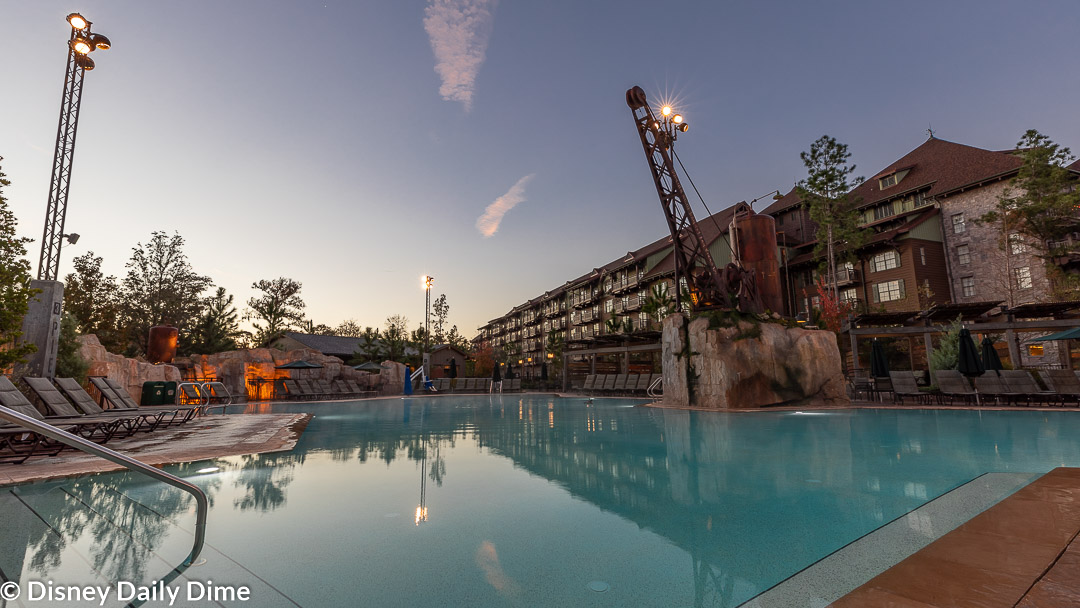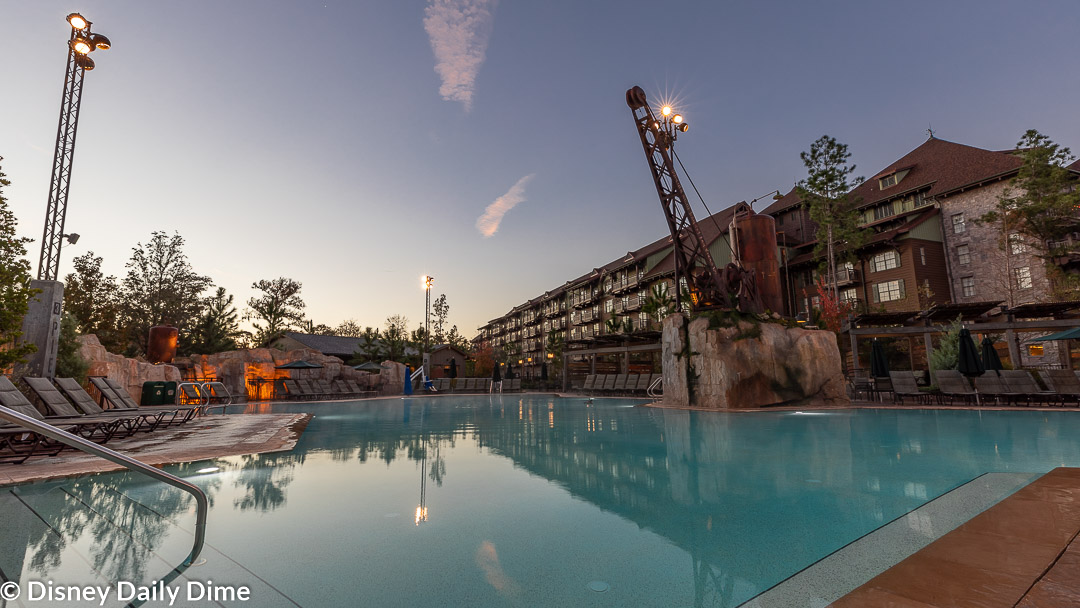 There are Two Transportation Options for You
Within the world of deluxe resorts in the Magic Kingdom area of Disney World there are the haves and have nots.  Those that have direct access to the monorail line and those that don't.  Disney's Wilderness Lodge is one of those resorts that fall into the have not category.  Does that mean it's a lesser resort?  We think not!
Bus
There is only one bus stop at Disney's Wilderness Lodge.  You'll find it to your left if you walk out the front doors of the resort.  You can use the lobby exit near the general store to find a more direct route to it.
One thing to note on bus service.  We've seen varying reports on if bus routes are shared with Fort Wilderness.  Some say it depends on time of year, while others have said they have not seen a sharing of bus routes.  Our experience was actually a mix.  We did have some bus routes that did make a stop at Fort Wilderness before heading to the park.  However, we had others that went straight to the park and bypassed Fort Wilderness.  So just know, that this may happen to you.  If it does, it will probably add another 5-10 minutes to your bus commute time.  Plan accordingly.
Buses run about every 20 minutes.  Remember, you can only get to the theme parks, Disney Springs and Fort Wilderness via bus.  You'll have to make a connection if you want to go anywhere else on a bus.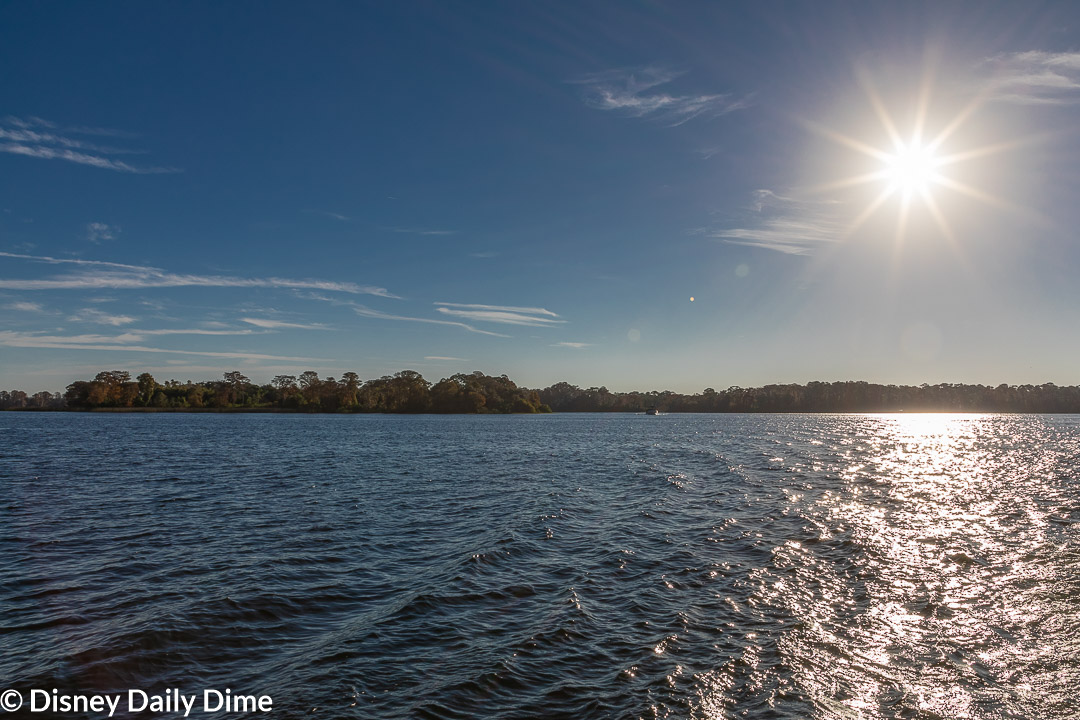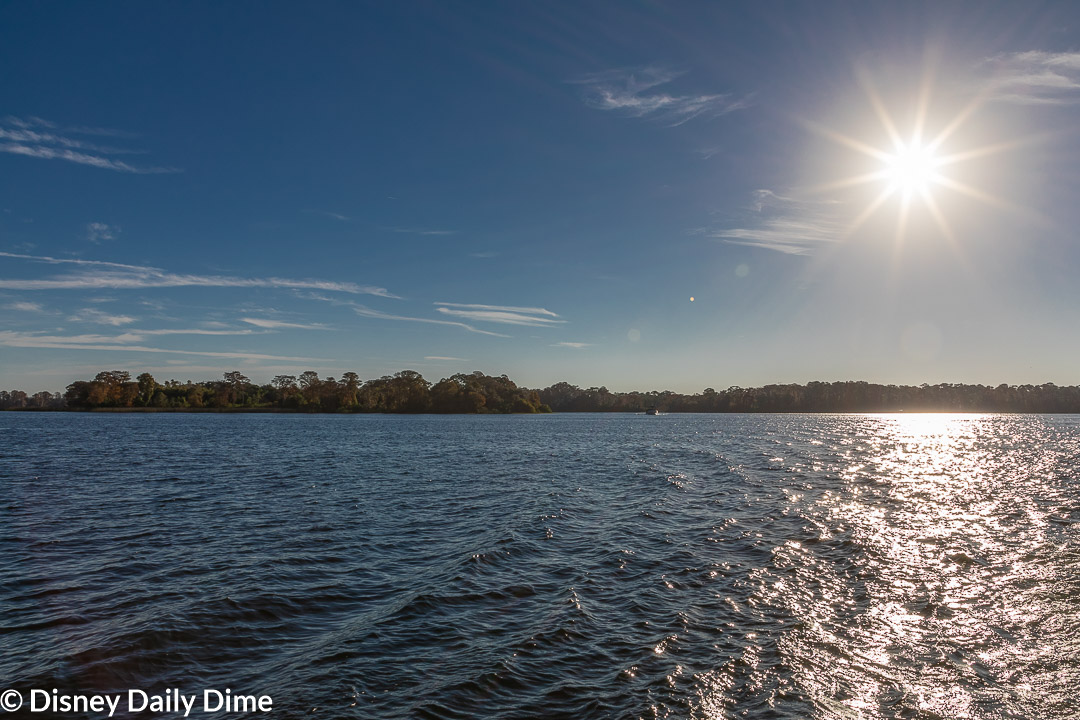 Boat
The boat transportation options at Wilderness Lodge are actually really awesome, even if they are limited in where they will take you.  Boats can take you directly from Wilderness Lodge to The Contemporary, Fort Wilderness, and Magic Kingdom.
There are two different boat launch sides, so make sure you know where you are lining up.  The launch on the left side of the dock takes you to Magic Kingdom, while the right side will take you to Fort Wilderness and The Contemporary.
Also note that varying sizes of boats run this little trip.  You'll find larger boats that can accommodate ECV (scooters) and smaller ones that cannot.  This may elevate your wait time if you need special assistance with an ECV.  Stollers and wheel chairs will have to be folded up for the smaller boat.
One anomaly we found here was that we took a boat to Magic Kingdom one day and still stopped at the Contemporary.  Not sure why that was, as all the other times it was a direct shot to Magic Kingdom.  Maybe they were running late or having boat issues, but something to be aware of.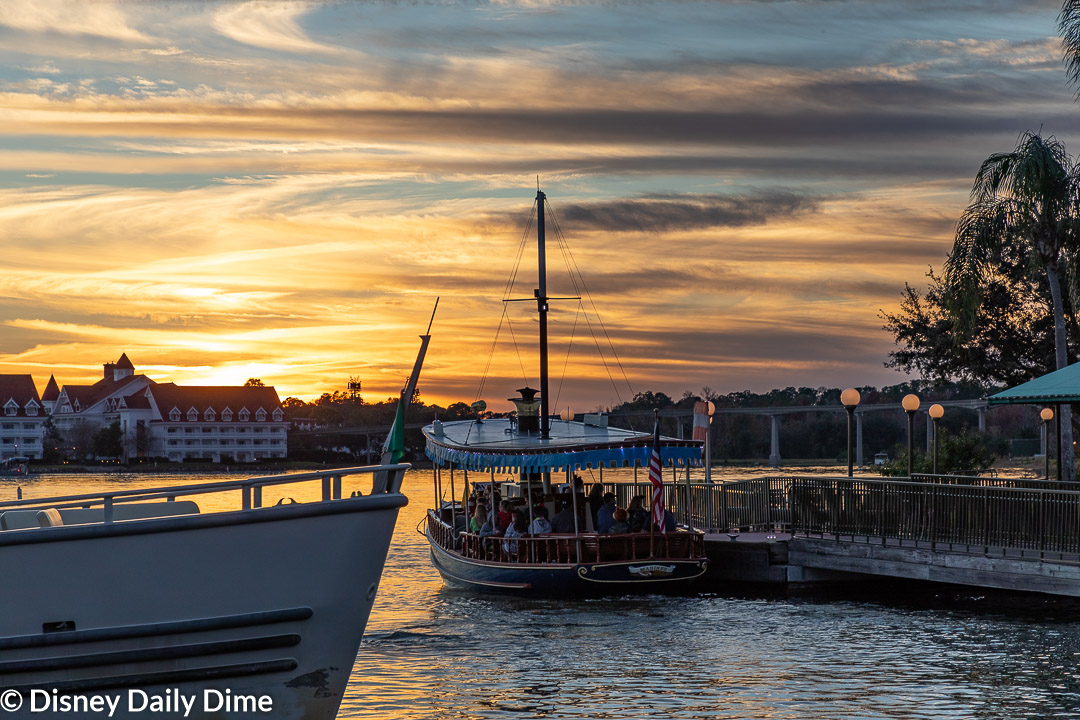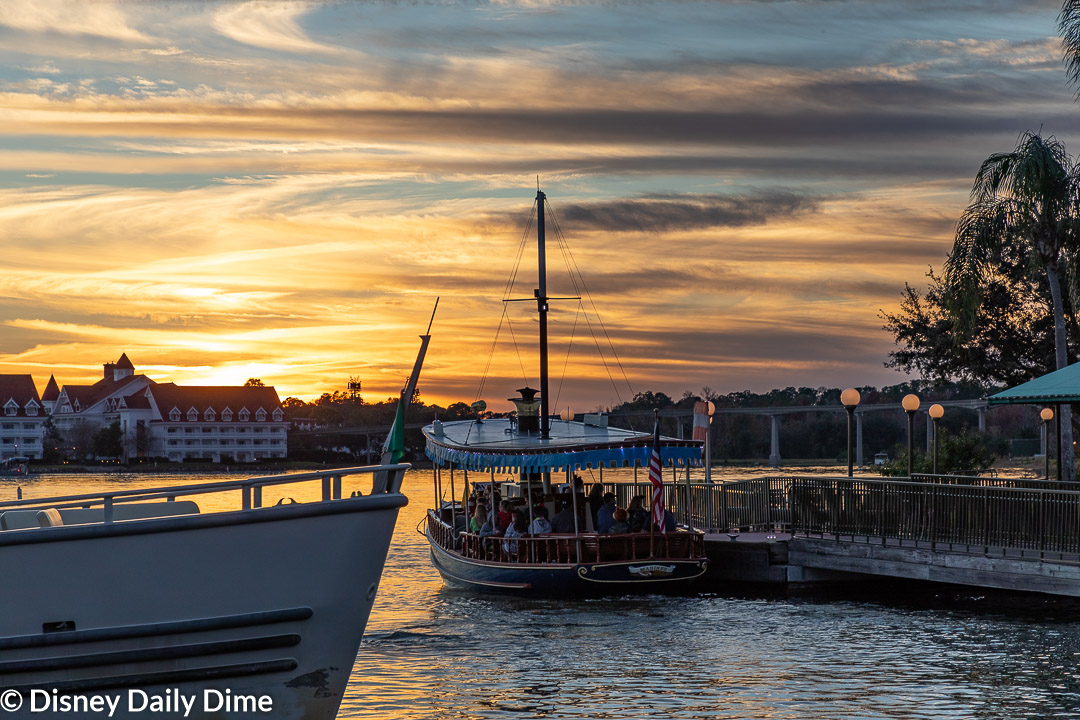 Now that we've dispensed with the logistical part of the boat transportation, I have to say taking a boat was greatness!  Getting to Magic Kingdom this way is so peaceful and beautiful.  If you can catch a sunrise or sunset voyage, you'll see some beautiful views.  It's just as convenient as the bus system, but we felt it was more predictable on schedule than the buses.  When given the choice, take the boat, you'll enjoy it far more than the bus.
One note though on taking a boat at winter time.  The water can be chilly, which makes the air above it chilly too!  You may want to make sure you are dressed warmly for the short ride back from and to the resort.
An advantage of the boats comes when clearing security around Magic Kingdom.  If you take a boat to Magic Kingdom, you will clear security to the park right at the boat dock in front of Magic Kingdom.  It will be only you and your shipmates going through this line.  Our experience was that the boat dock security line was much shorter than if you were trying to clear security with the thousands of other guests who arrived at Magic Kingdom via bus.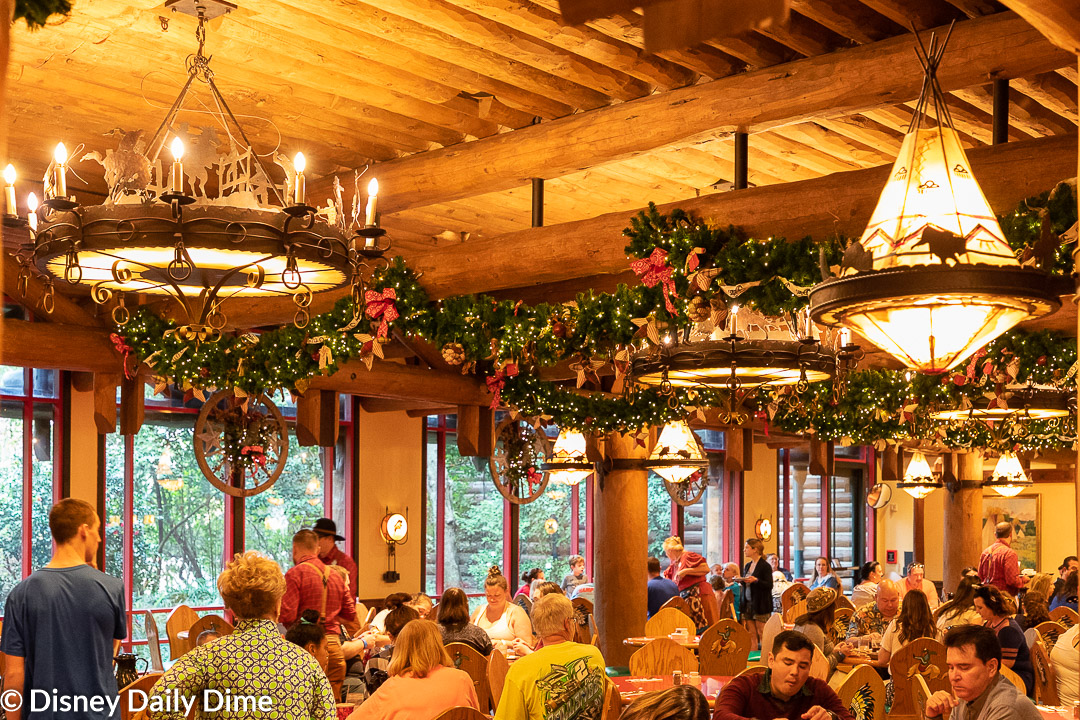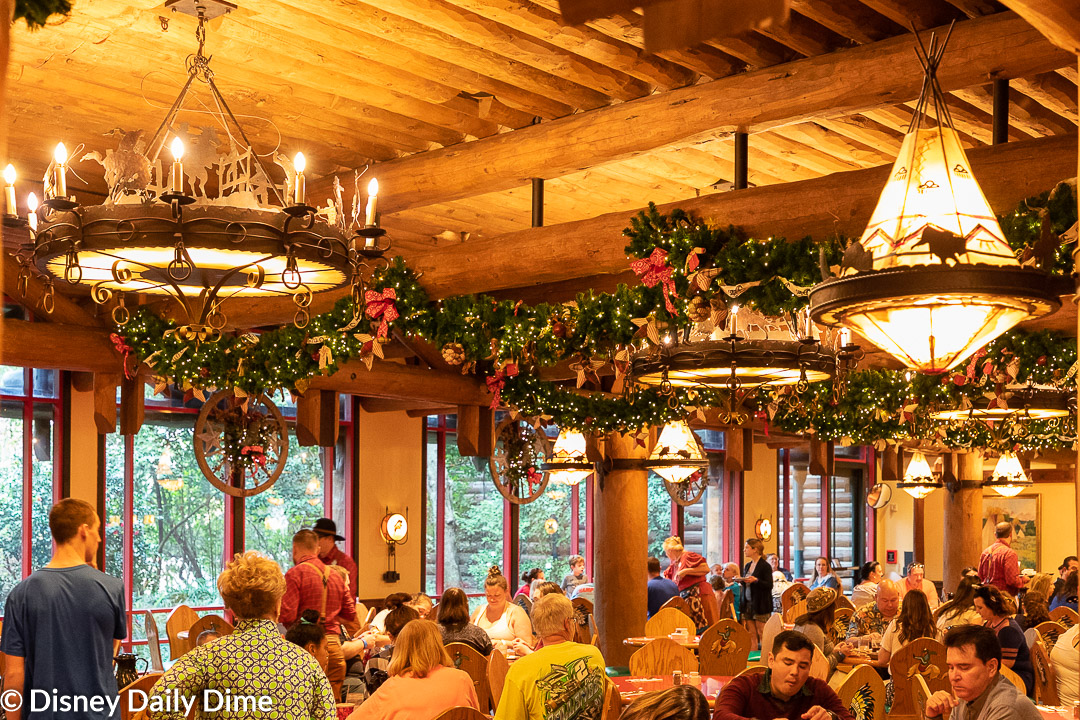 Dining is Plentiful and Diverse at Disney's Wilderness Lodge
As a deluxe resort at Disney World, Wilderness Lodge has a full array of dining options.  You'll find a lounge, table service and counter service options.  And good options at that.  Below will be the highlights on the dining options.  We'll link to our more in-depth food reviews as we post them.
The signature table service dining option at Wilderness Lodge is Storybook Dining at Artist Point.  Artist Point as a restaurant was redesigned and reopened in December of 2018.  This restaurant is now a character meal, featuring Snow White, Dopey, Grumpy and the Evil Queen.  However, this isn't your typical character meal buffet.  Artist Point features an excellent menu that is worthy of consideration.  Artist Point is only open for dinner.
While we haven't dined here yet, the early reviews we have see have been very positive!
Whispering Canyon Cafe is the other table service dining option at Wilderness Lodge.  Whispering Canyon is known for the antics and fun that the wait staff has with the guests.  If you are okay with some ribbing and good-natured fun, you'll enjoy this restaurant.  If you don't want to take part in it, just let your server know.  Note that it can get a little loud during your meal.  Breakfast, lunch and dinner are served here.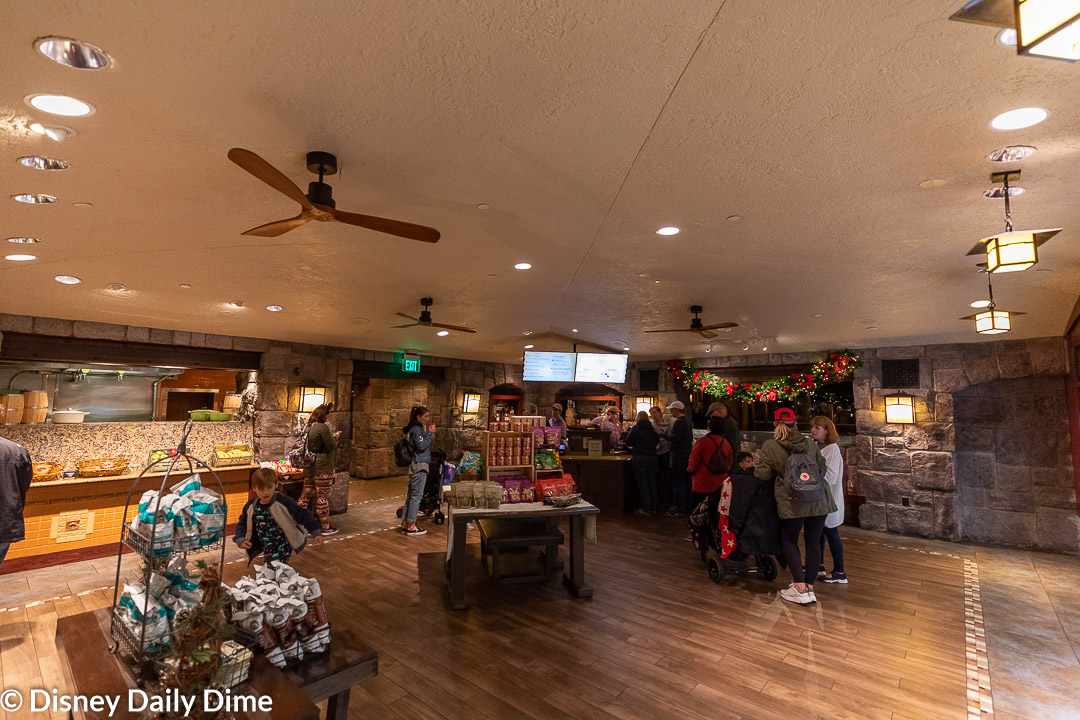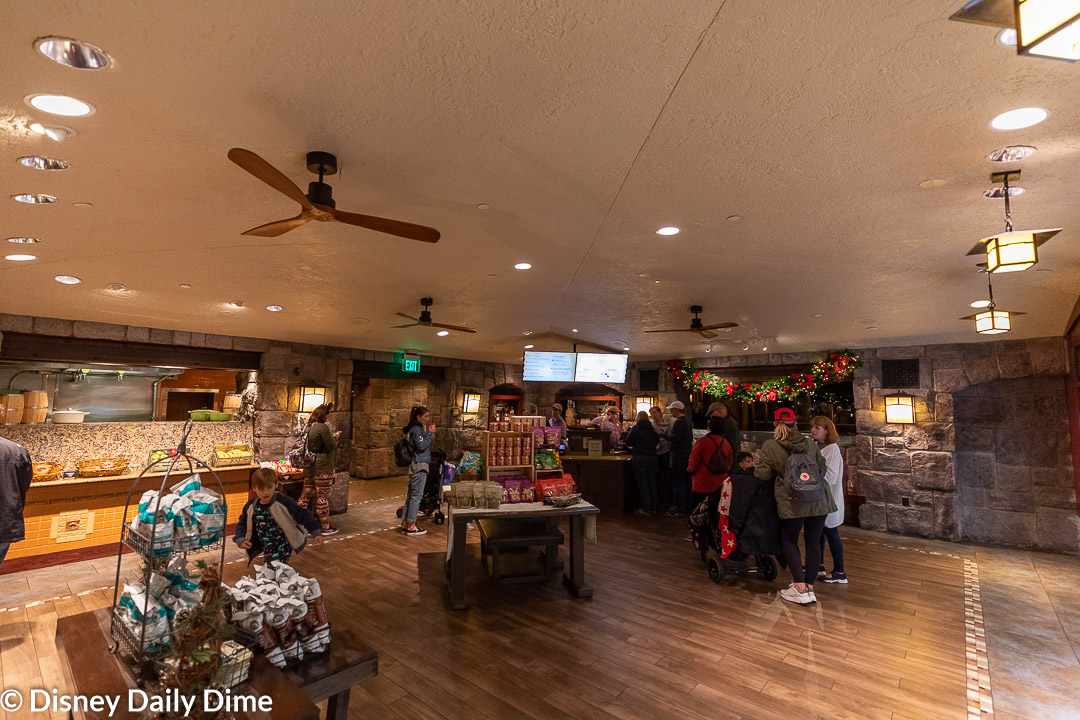 The counter service location within Wilderness Lodge is called Roaring Fork.  It a nice little quick service location, where you can get some standard fare for breakfast, lunch, and dinner.  We wouldn't consider the food unbelievable here, but for a quick service location there are some excellent options.  The dining area is pretty small though, so you may need to take food back to your room or wait for a table, depending on how busy it is.  This is also where you can refill you mug if you're on the dining plan.
Territory Lounge is a small bar area, right near Artist Point.  You can pop in here for a late evening drink to cap your day off.  They also serve small plates, snacks and a couple of desserts.
Out near the pool is Geyser Point Bar & Grill.  It's actually a trendy feeling little pool side bar and restaurant, that sits right along the water's edge of Bay Lake.  The restaurant is a big open-air venue, with TVs and a bar at its center, to go along with some small seating areas.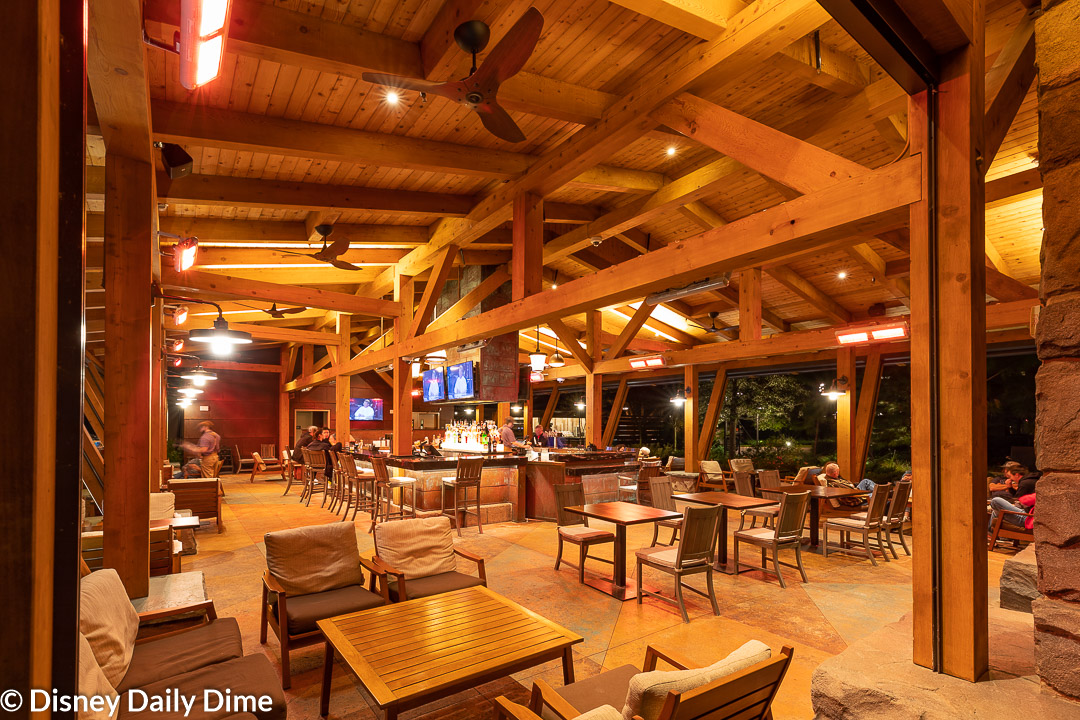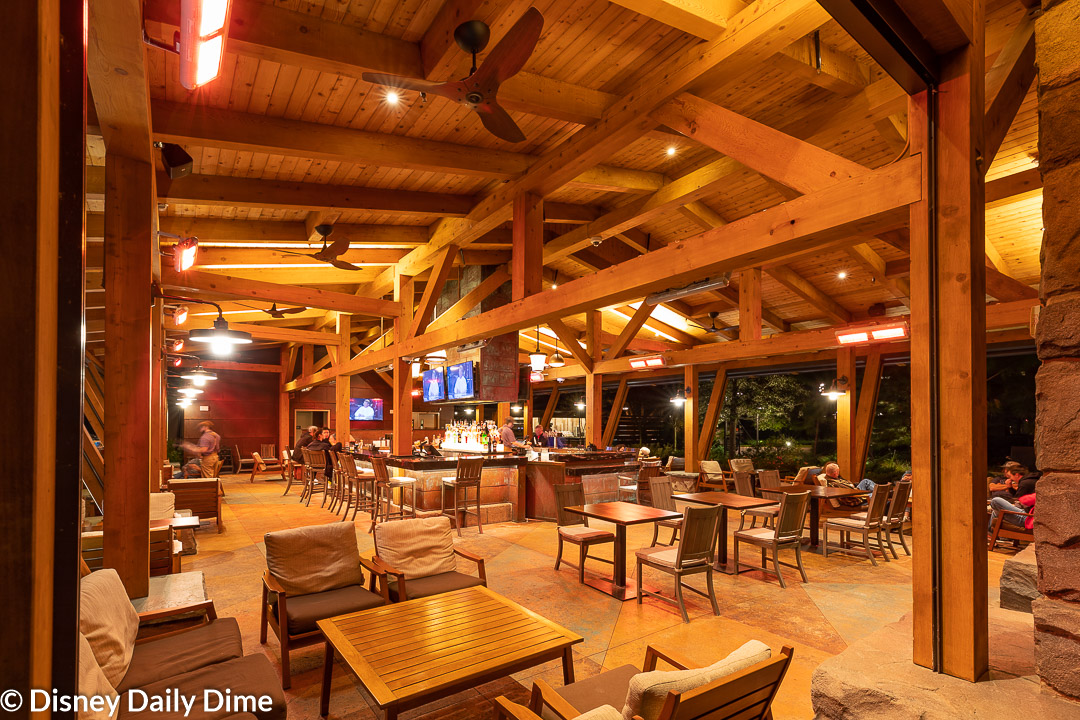 Recreation at Disney's Wilderness Lodge
Disney's Wilderness Lodge also features several recreation opportunities you may want to take advantage of.  Some are free, others are not.  These include:
Movies Under the Stars
Campfire with Smores
Bike Rentals
Boat Rentals
Finishing
Jogging Trail
Video Arcade
One point of differentiation for Disney's Wilderness Lodge is the "half spa", as we call it.  Only the Grand Floridian and Saratoga Springs have full spas within their resorts.  Next to the main pool, Wilderness Lodge has Salon by the Springs.  Here you can get manicures, pedicures, or hair services.  Sadly, massages are not available here.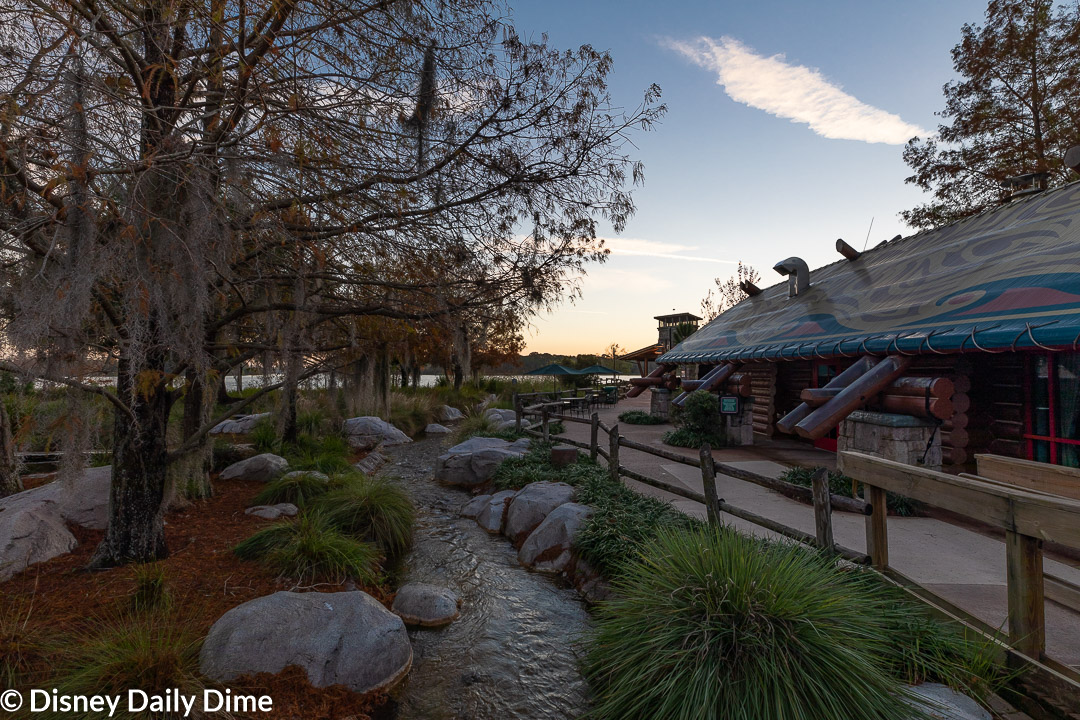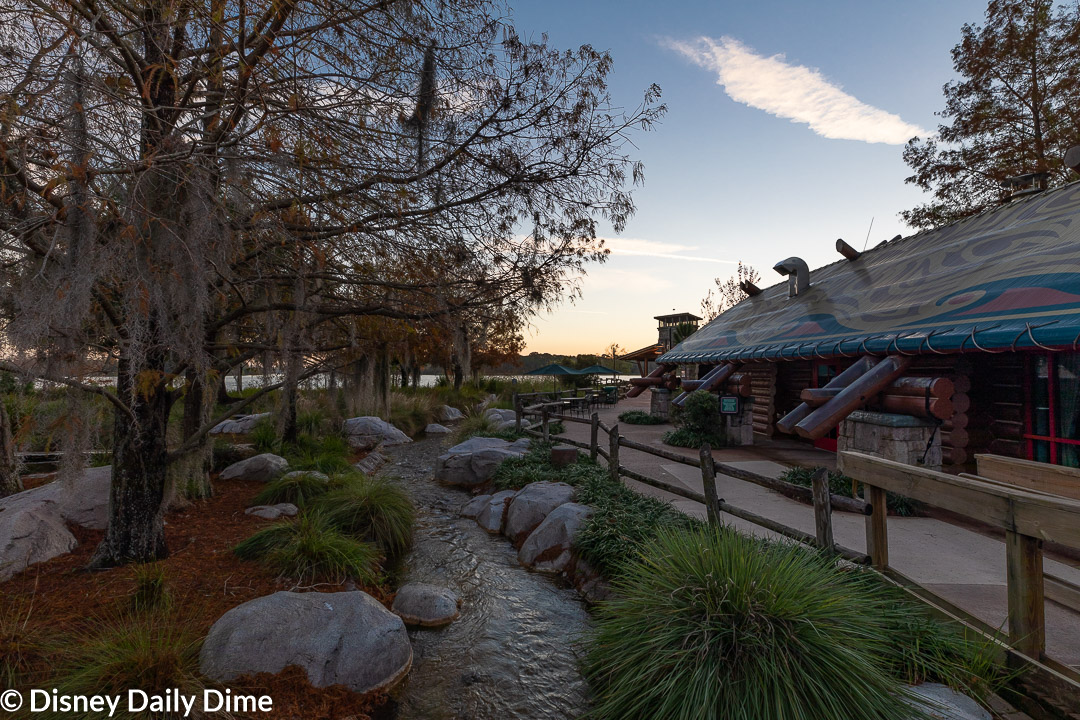 Disney's Wilderness Lodge Is For Everyone!
Needless to say, by now I think you can tell we are huge fans of the resort.  Our Wilderness Lodge review may feel more like a testimonial than real review.  If so, we apologize.  But this resort is that good!
We can't sing this resort's praises enough.  Up until now, with cost set aside I would have told you that the Polynesian Village is our favorite resort in all of Disney World.  However, now I might call it a toss-up.  When I factor in that the price difference between the two can be around $150 per night at rack rate prices for a standard room, Wilderness Lodge is the winner for me.  Go up the ladder on room type and that gap will grow larger.
This rustic and outdoorsy resort hits high notes in many facets that adults and kids will both enjoy.  From a theme execution perspective this is one of the best resorts we've been to.  Granted, we haven't been to all of them, but we've been to a lot.  And we've been to almost all the deluxe resorts, even if some of them were over 10 years ago.  It's hard to imagine many resorts topping Wilderness Lodge.
Kids will certainly enjoy the Copper Creek Springs pool and play areas.  And while the adults will appreciate the pool and enjoy it, the excellent cocktail and poolside dining options will make time while the kids are going crazy even more enjoyable.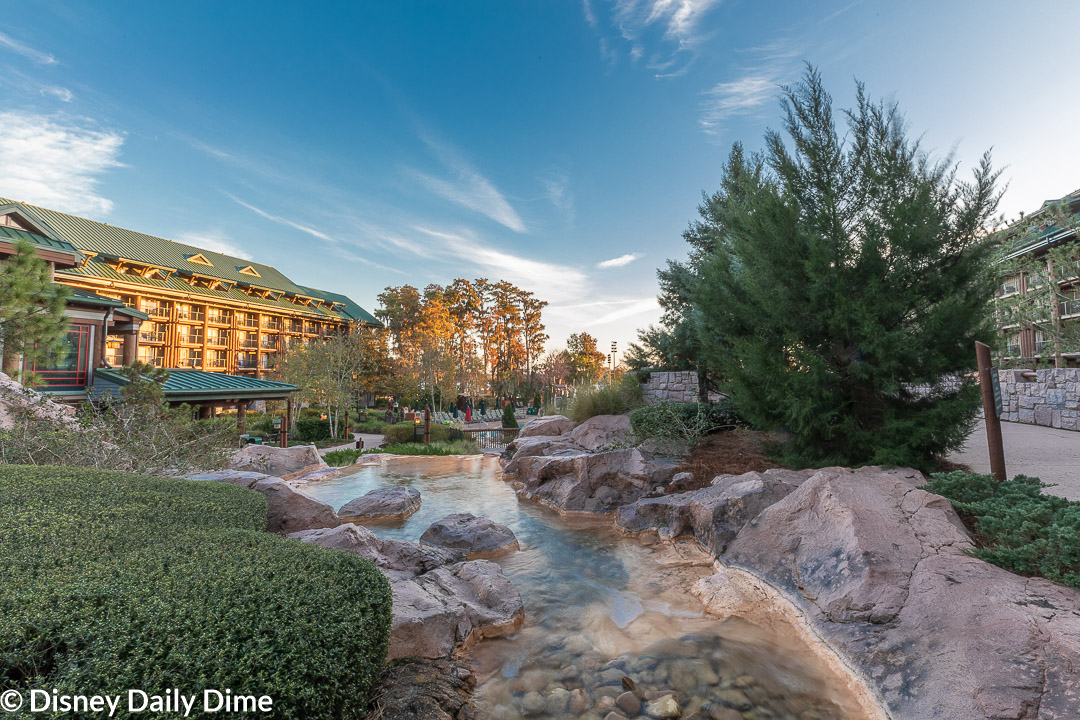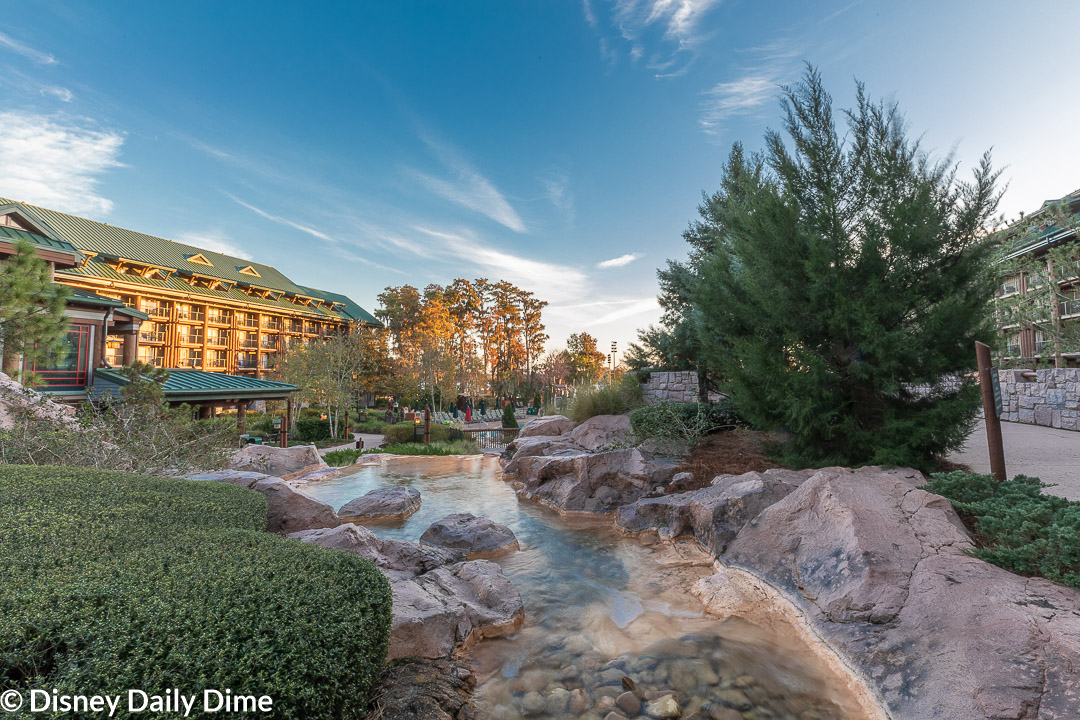 The interior dining options receive high marks, especially with the new Storybook Dining at Artist Point.  But don't sleep on places like Whispering Canyon Cafe or Roaring Fork.
While it doesn't have the monorail like other resorts in the Magic Kingdom area, we think that is a minor issue.  And the great experience of taking a boat to Magic Kingdom more than makes up for it, in our opinion.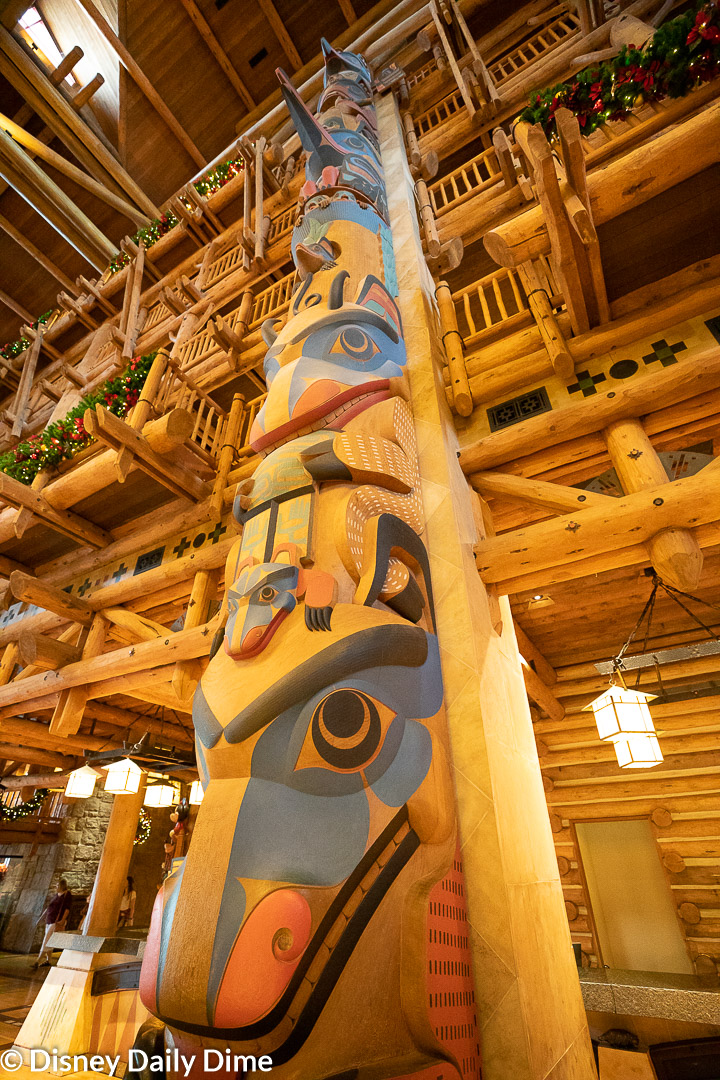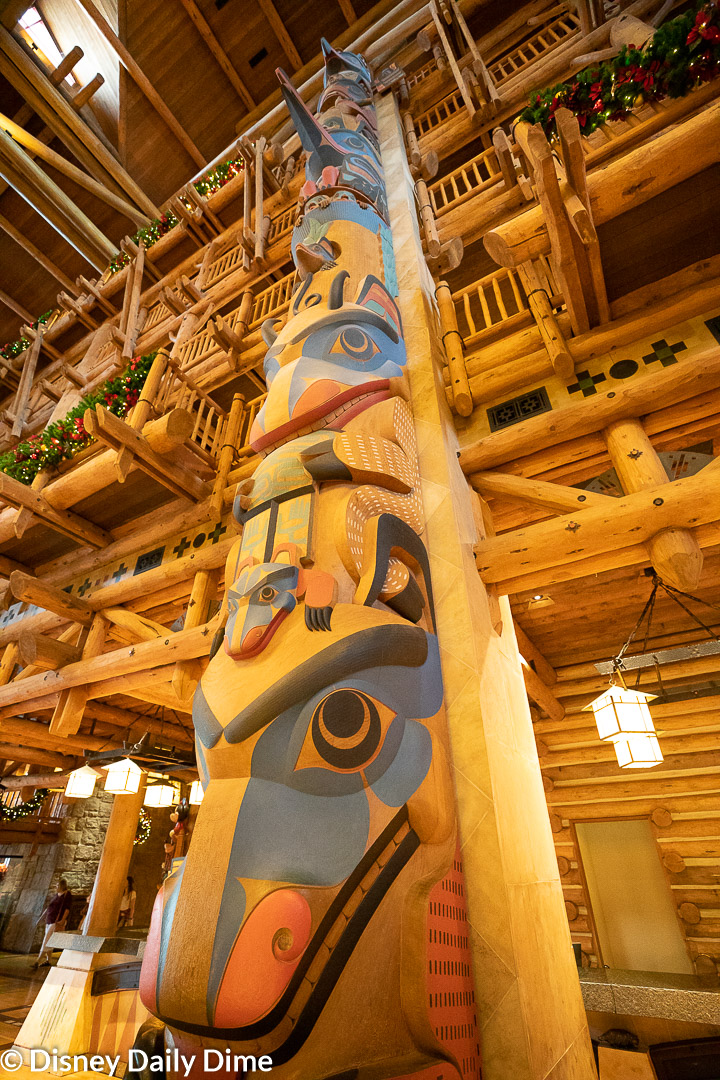 But what really sets this resort apart is the way it transports you out of Florida and into the West.  For a resort to be able to make you feel completely removed from a massive theme park complex, and place you squarely in the middle of national park setting is most impressive.  And for that, we think this resort is well worth considering if you want to stay at a higher end resort at Disney World.
One brief word on Christmas at Disney's Wilderness Lodge.  If you ever have the chance, we consider it a must do.  It was an unbelievable experience for us and we think it will be for you too.  Make sure you read that review to learn more about it.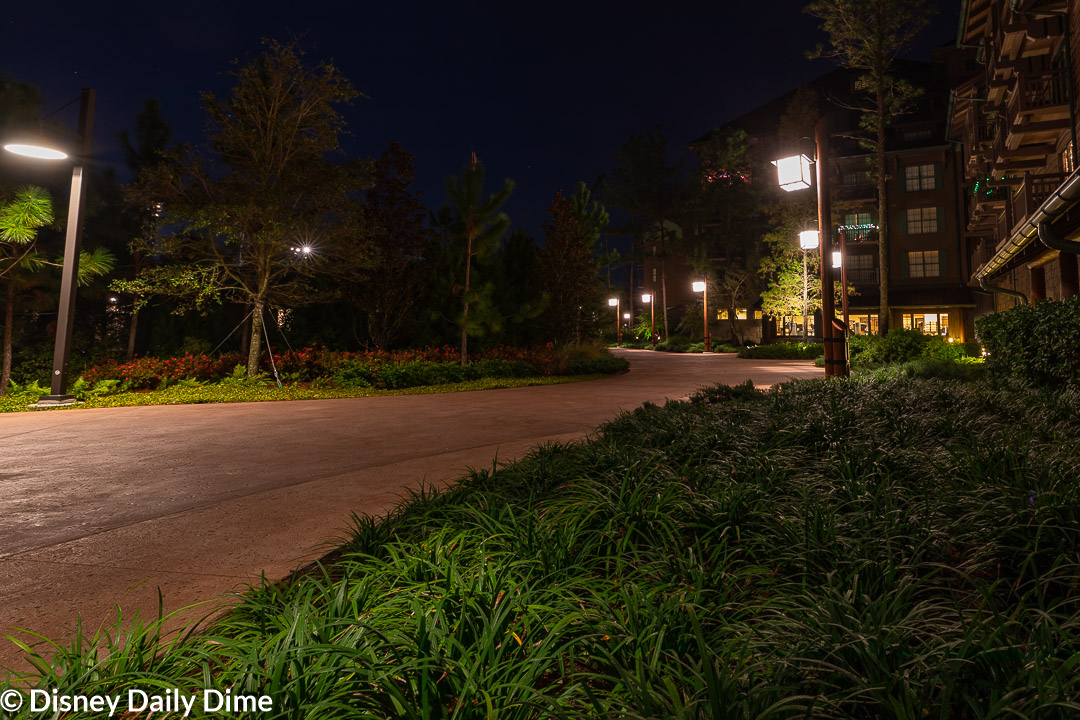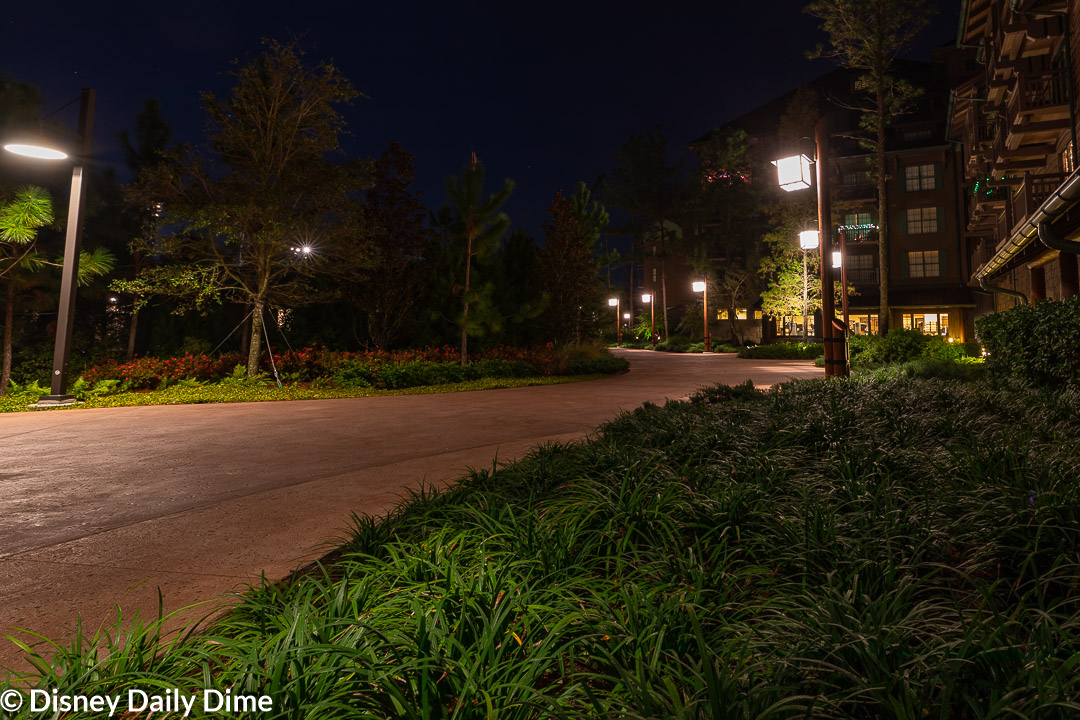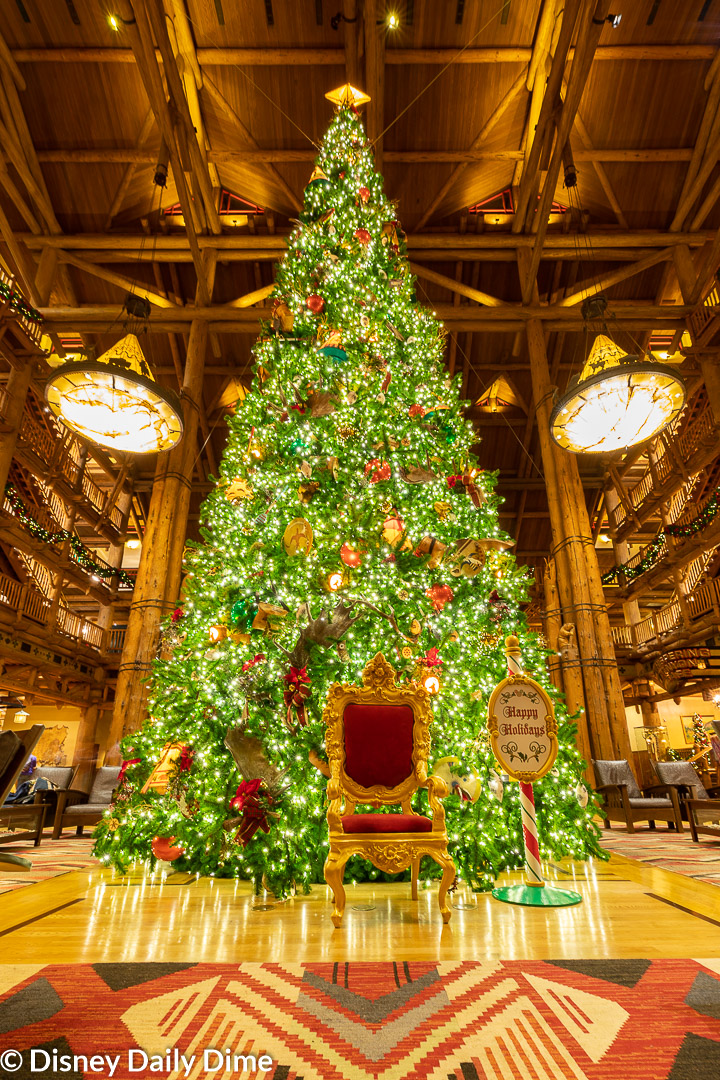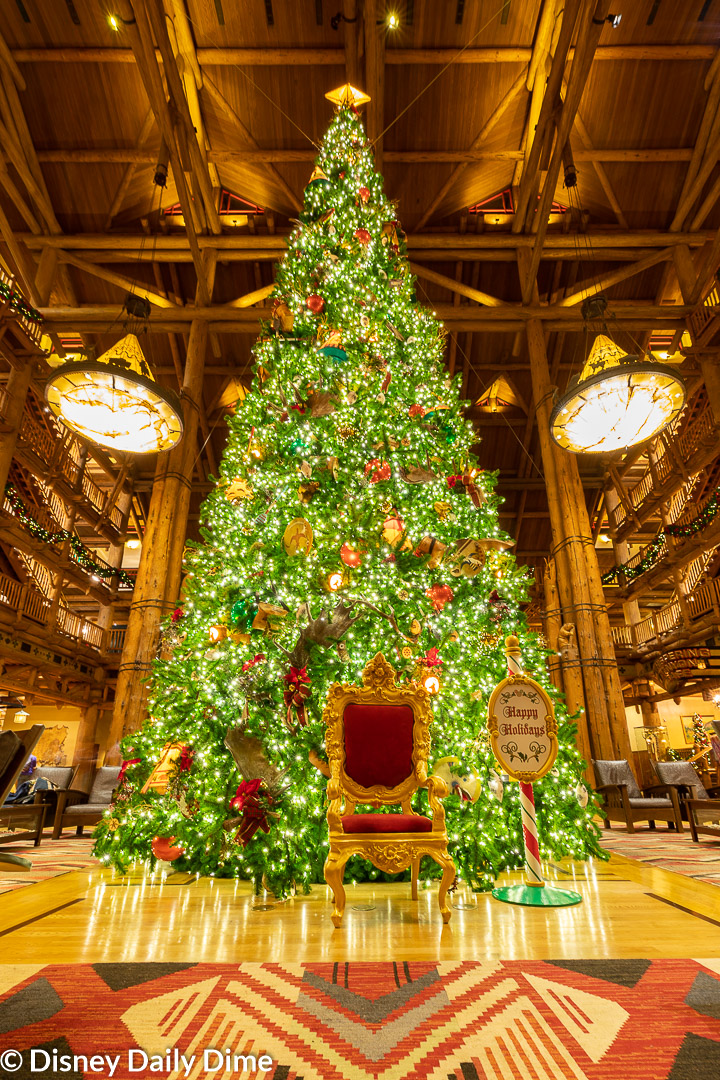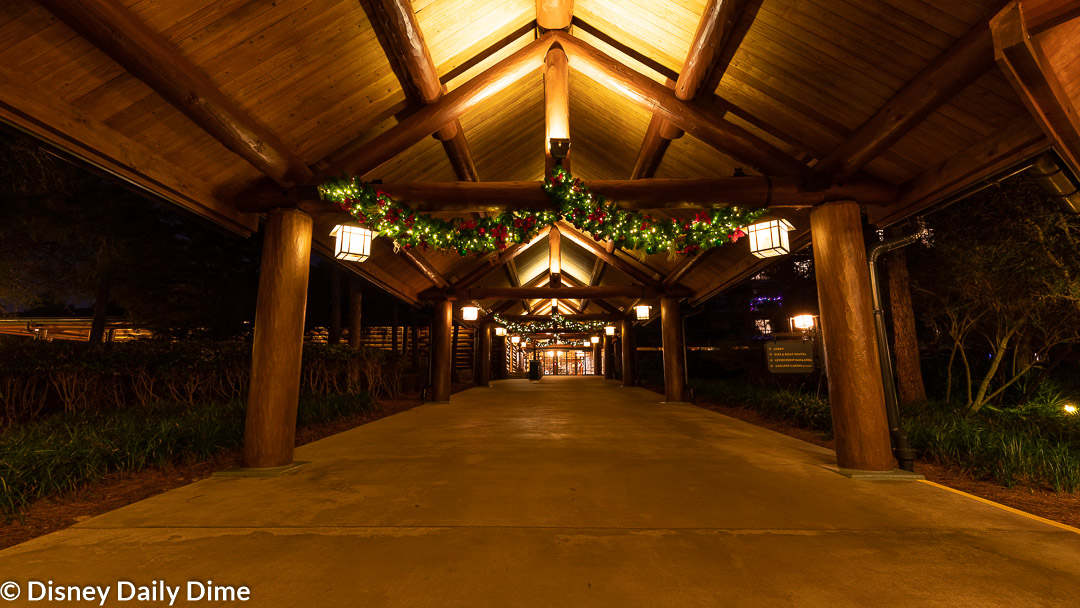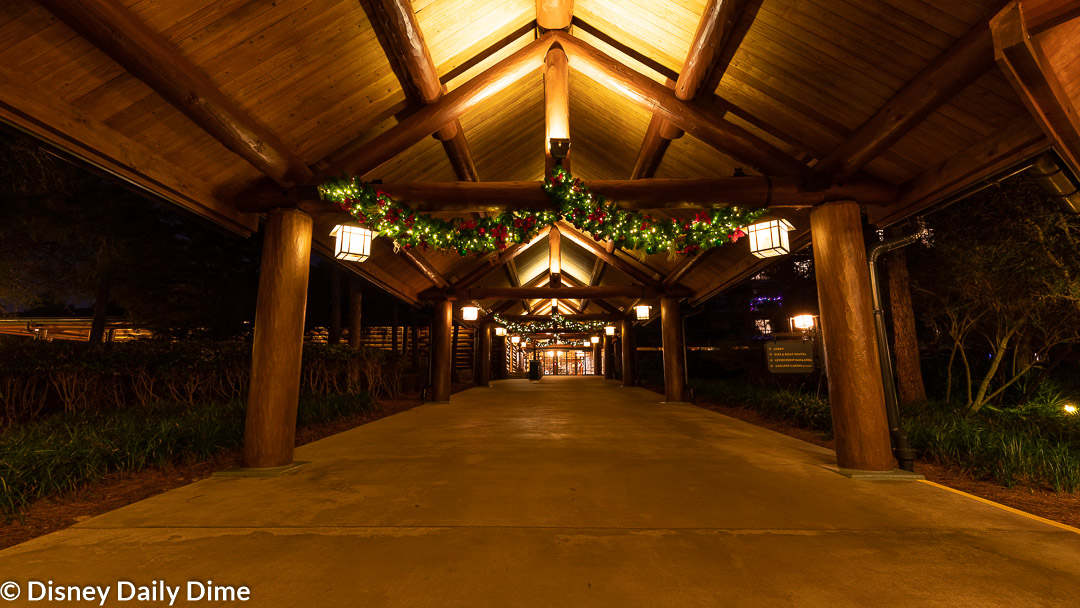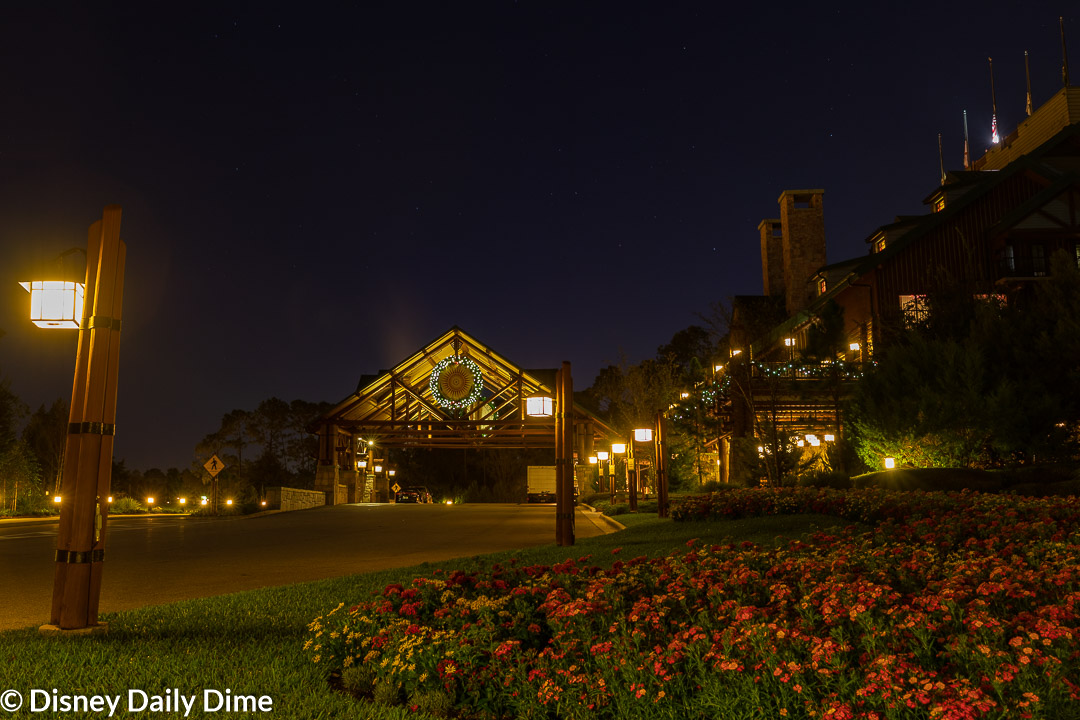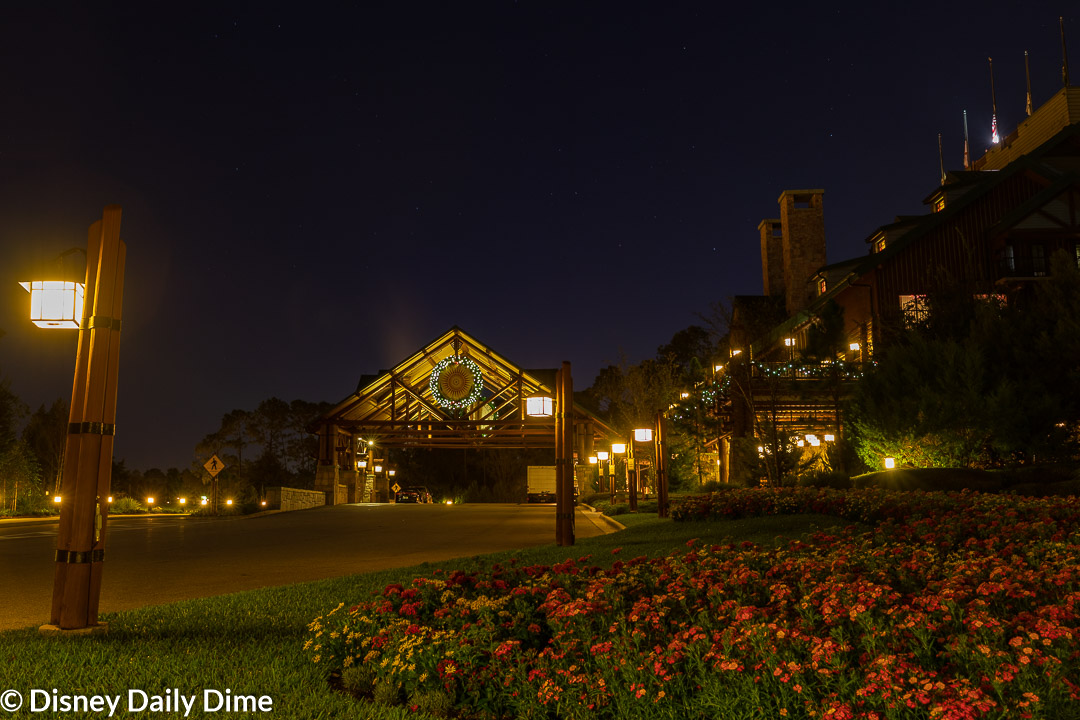 Wrapping Up
So that's it for our Disney's Wilderness Lodge review. There are lots of fabulous resorts that you can stay at while at Disney World.  Price point or not, Disney's Wilderness Lodge is definitely worth your consideration.  Do you have thoughts on Wilderness Lodge?  Things we missed or a different point of view? If so, drop down in the comments section and let us know your thoughts.
We hope you found our Disney's Wilderness Lodge review helpful. If you did we'd greatly appreciate it if you would share it on social media. It helps get the word out on our blog and makes us feels like we're doing something right. Just use the social media sharing buttons on this page.