Disney's Beach Club Resort opened in 1990 as one of the original four Disney World Epcot area resorts.  The design of the Beach Club was inspired by then Disney CEO Michael Eisner's childhood visits to various Northeast beach towns.  Here in our Disney's Beach Club Resort review, we'll cover our thoughts on the theming of the resort, room types, pricing, amenities, dining, and more.  As usual, this review will feature plenty of photos of the resort.
Disney's Beach Club Resort is a deluxe level Disney World resort that sits on Crescent Lake.  It has a sister resort known as Disney's Yacht Club Resort.  Many people actually consider them one resort, but they are technically two.  Beach Club is the fun-loving and chill sister in the resort relationship, while Yacht Club is the more formal resort of the two.  Being right next to each other comes with benefits, like the dining options of Yacht Club give Beach Club more options than your typical Disney World resort.  They also share more amenities, but we'll cover that later in our Beach Club Resort review.
If you aren't sure which is which, Disney's Beach Club Resort's exterior is painted a lovely light blue color, while the Yacht Club is more of a grey color.
With all that preamble out of the way, let's get on with our Disney's Beach Club Resort review.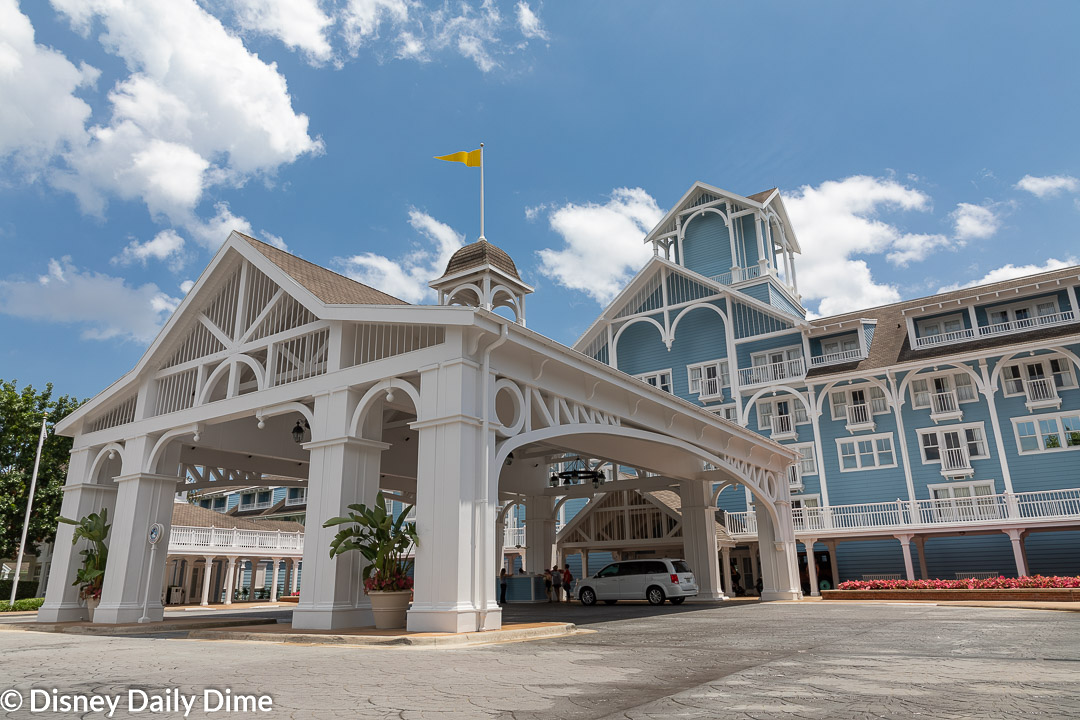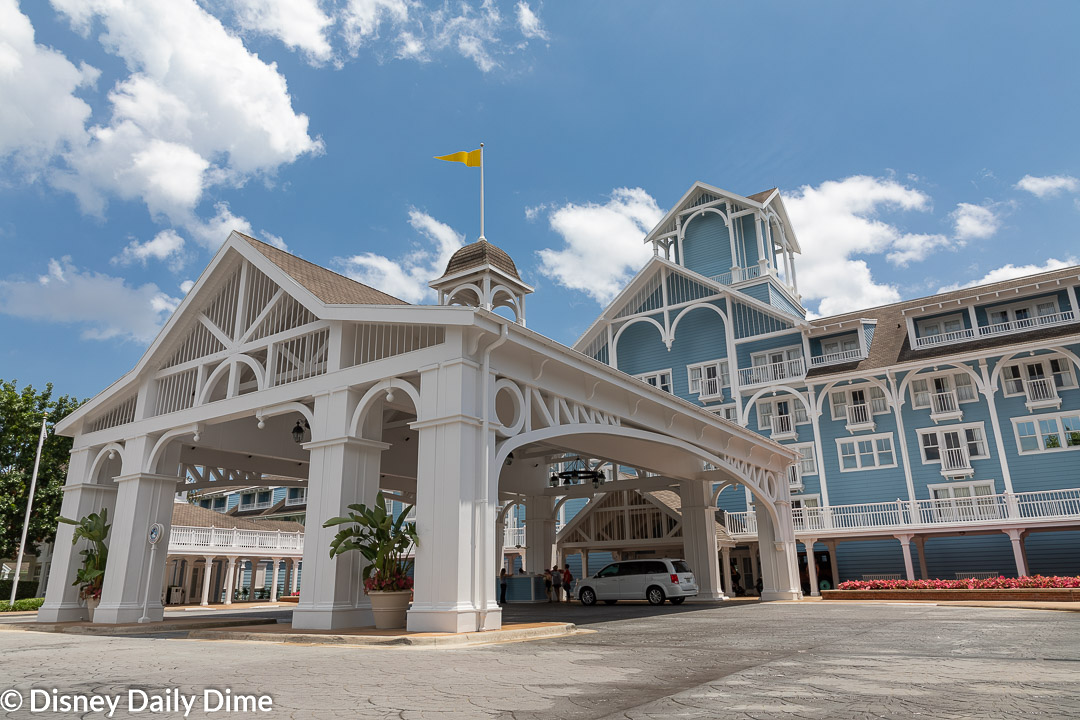 Disney's Beach Club Resort Overview
When you pull up to the front of Disney's Beach Club Resort, the beach style encapsulated us.  Now, maybe that is because we have spent plenty of vacations in a beach house with friends, but we think it is more than that.  The Robert AM Stern design has a lovely relaxed feel from the moment you pull up.  It welcomes you in and says, it's time to relax, in a way that most other Disney Resorts don't.  Not that the feel of those other resorts is bad, Beach Club just makes it feel like more of a vacation.
As you enter the lobby, you're greeted by an elegant but still relaxed décor set.  Again, it screams to me that "I'm on vacation," but not in a Billy Crystal in City Slickers way.  The lobby even smells like the ocean: fresh, clean and summery.  I'm not sure if they are piping that in or it's part of their cleaning regimen, but whatever they are doing works!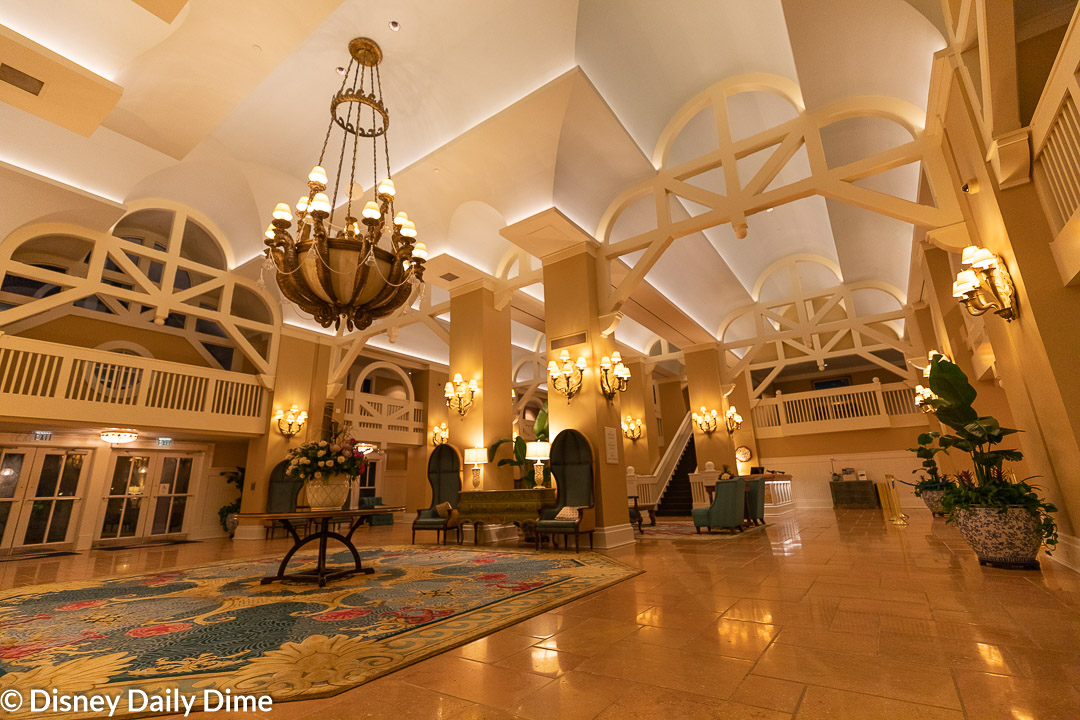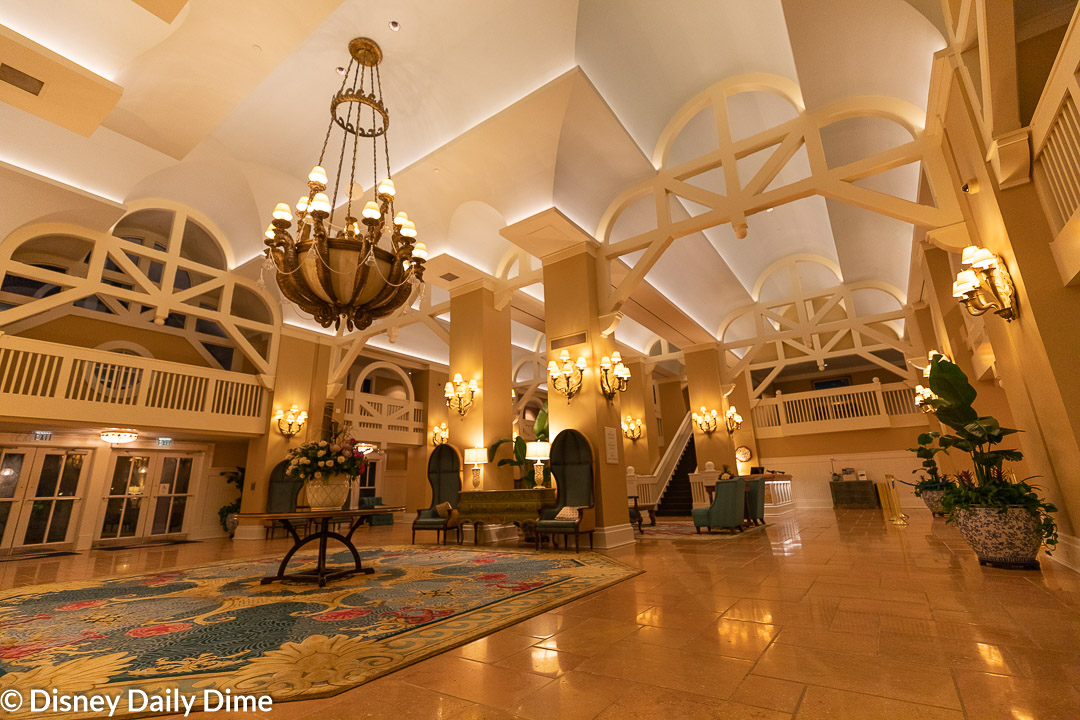 The fixtures continue the beach feeling, with seashells, starfish and the like tucked into the lobby décor.  There are even some well-placed and designed paintings throughout the resort.  I found the lobby especially great when walking around the resort taking these pictures.  Unfortunately, you have to be out and about at 5:00 in the morning to get the quiet peace you see here.  That may not be for everyone.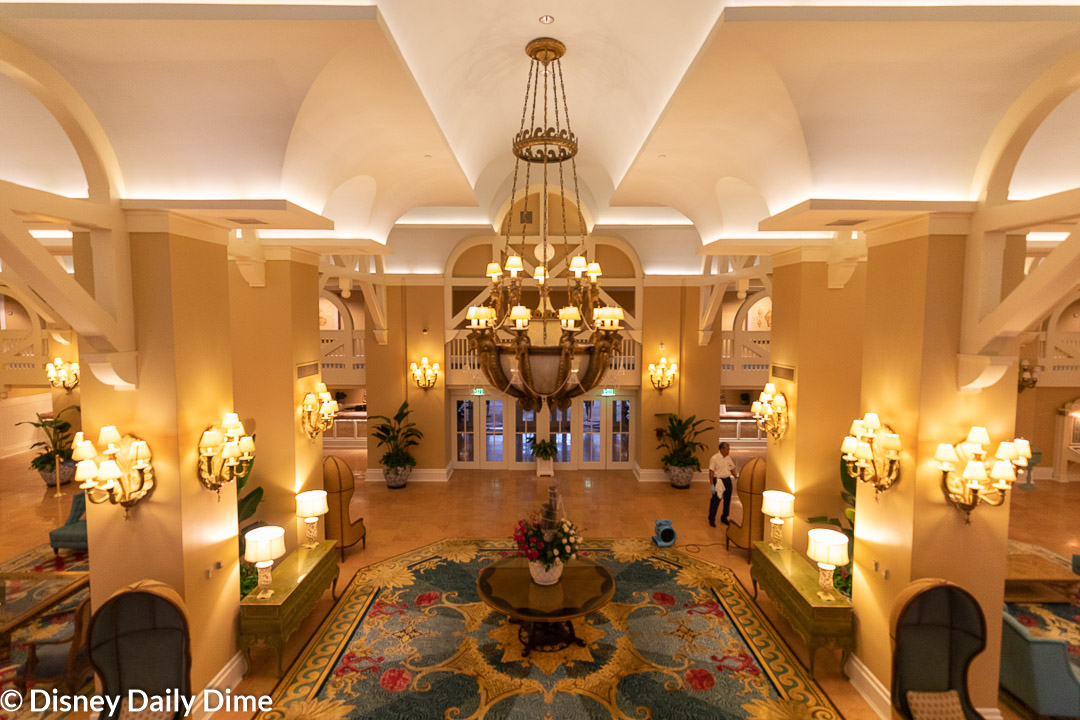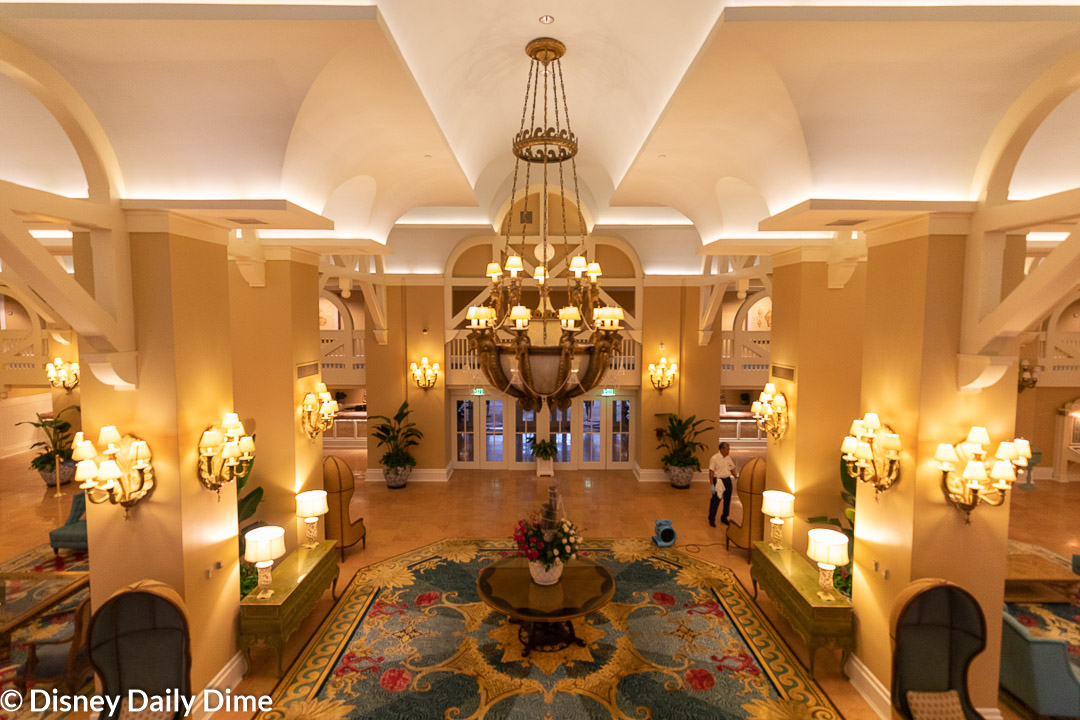 The feel of Disney's Beach Club Resort continues as you proceed outside.  From the sandy bottom pool (more on that in a bit) to the actual beach you can stroll along, the vibe is consistent and excellent.  While I don't advocate that you get up and take a 5:00 AM walk, taking a 6:00 or so stroll down the beach is absolutely something you should do.  The peace and quiet, juxtaposed with the sunrise was exquisite.
If you can't tell by now, our Beach Club Resort review is going to be a pretty positive piece.  I loved this resort, while I'd say Carla really liked it.  But if she's honest, she still likes Disney's Old Key West better.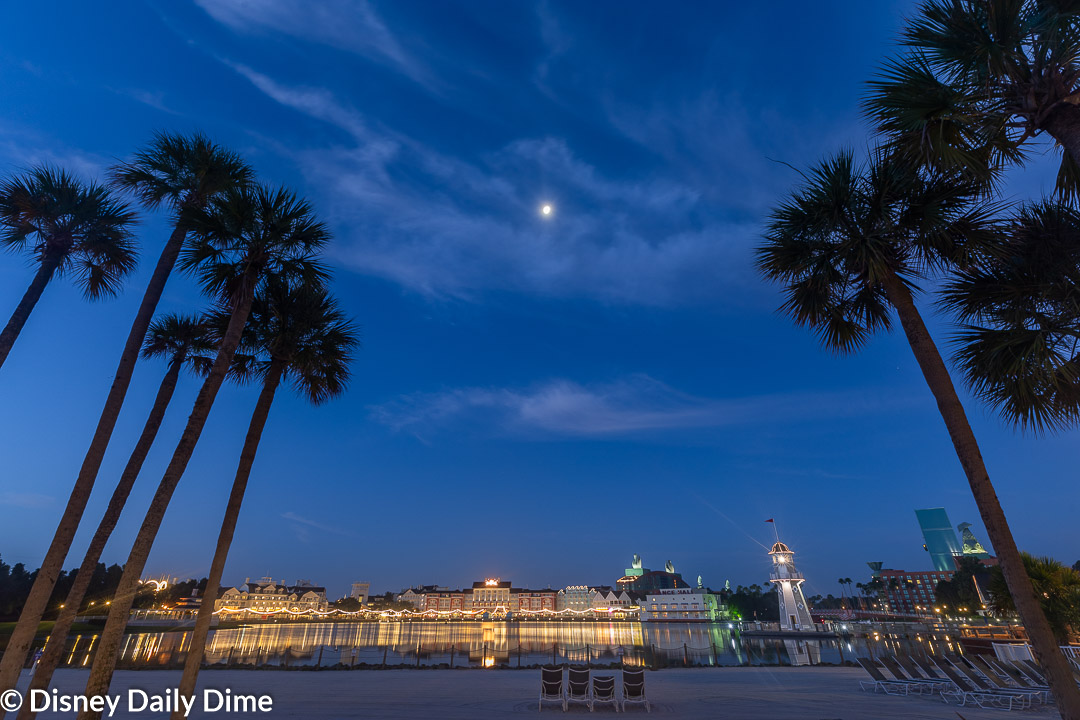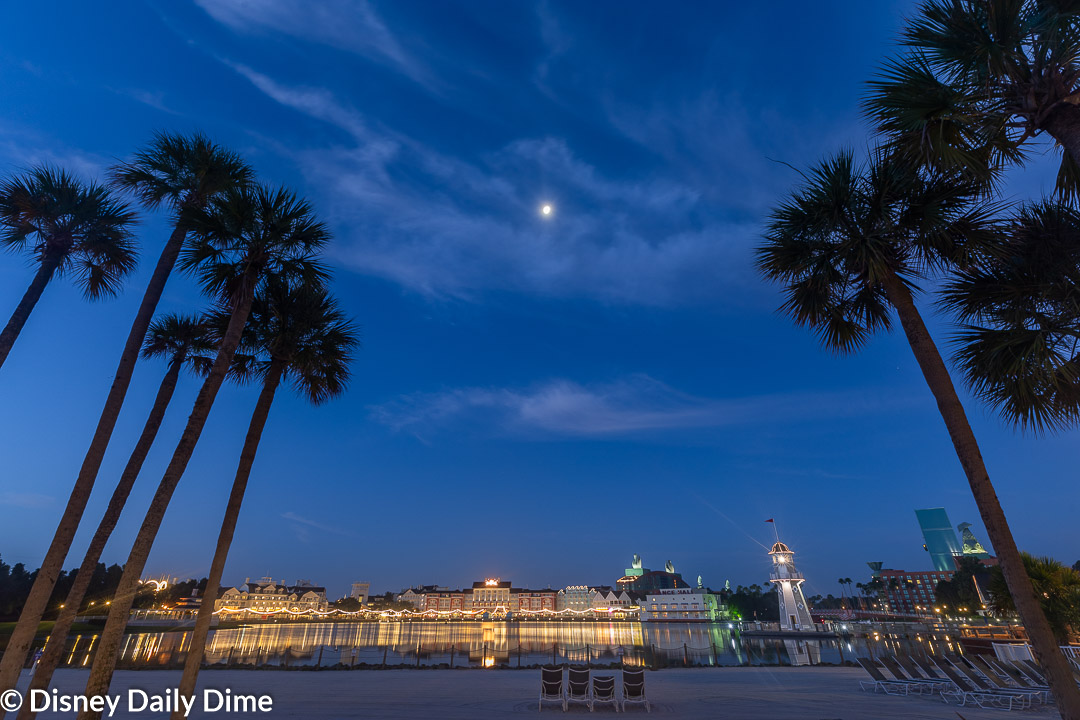 Being so close to the Yacht Club Resort, you might be concerned if the themes would clash.  I thought that they worked very well to complement each other, at least on the exterior of the resorts.  The way that the Beach Club blends with Yacht Club is executed very well.  Being able to walk down the beach to the boat launch or the pool makes it feel as though it is one reasonably homogeneous resort.
From a kid's perspective, Anna and Elsa both loved the Beach Club Resort.  For them, though, it was less about the theming, although they certainly picked up on the atmosphere that reminded them of some of our beach vacations.  As with most kids, it comes down to resort amenities, specifically the food and the pool.  We'll cover these more a bit later in our Disney's Beach Club Resort review, but let's say the resort does really well on these fronts.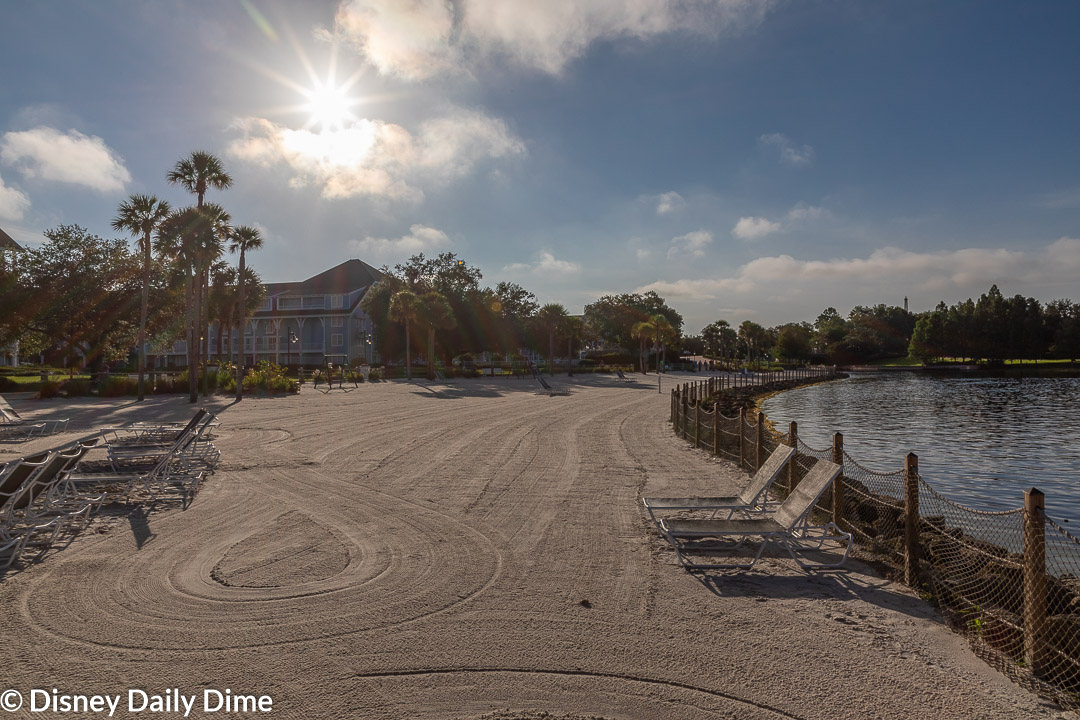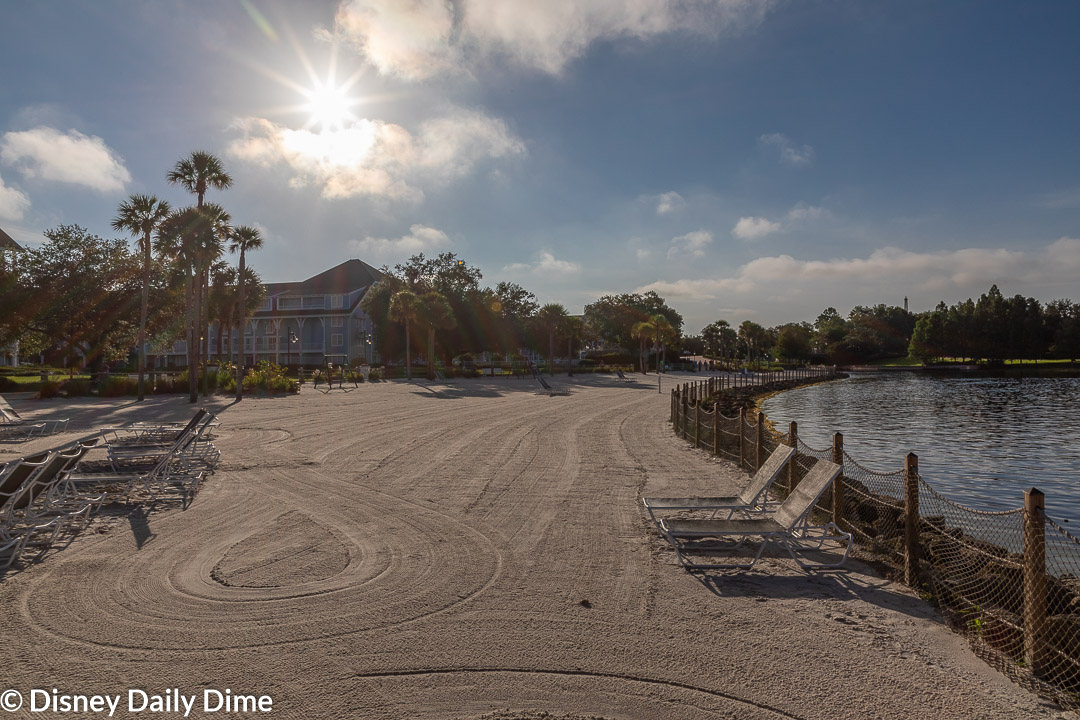 Continuing the whimsy of the lobby are the elevators.  No, not because they are some weird funhouse where they bounce up and down like Tower of Terror. Instead, they have the fun and unique touch of one of the Fab Five announcing your floor over the elevator speakers when you arrive.  Again, another one of those touches that Anna and Elsa loved.
From a pure theming and design perspective, Disney's Beach Club Resort hits some real high notes with us.  That's not to say it's all sunshine and roses, though.  There are some issues with the resort that we'll hit on as we continue our resort review.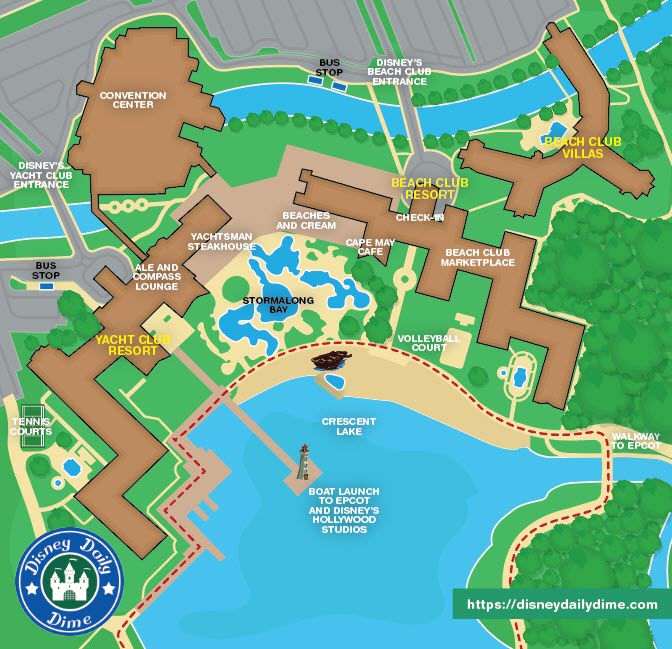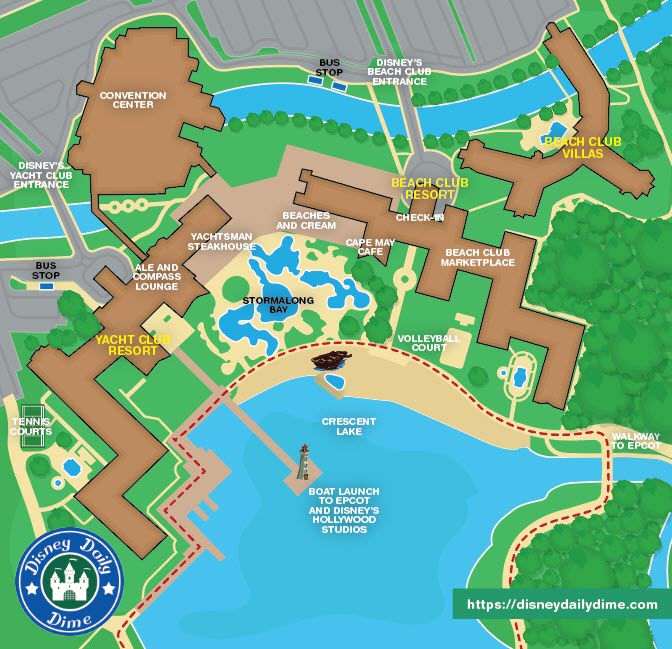 Disney's Beach Club Resort Amenities
The amenities available within Disney's Beach Club Resort are relatively standard for a deluxe level resort at Walt Disney World.  You'll find pools, which we discuss in more detail below, along with bike rentals, jogging trails, an arcade, and more.
The resort also has a general store.  You can park your vehicle at the resort; however, you do have to pay for parking.  Right now, it runs $25 per night at deluxe resorts.
Like all deluxe resorts, there is also a fitness center called Ship Shape Massage Salon Fitness. 
The resort rooms come with a standard setup consisting of:
Dresser
Wi-Fi Internet Access (access is free of charge)
Flat-panel TV
Laundry area (near the Tidal pool)
Mini refrigerator
Coffee maker
Ironing board and iron
Hairdryer
In-room safe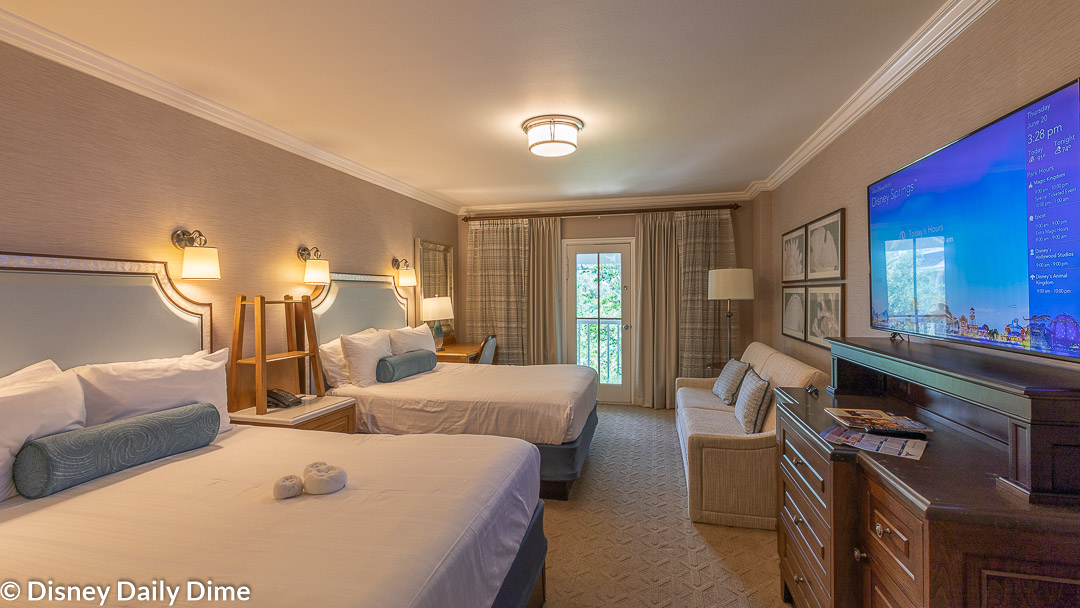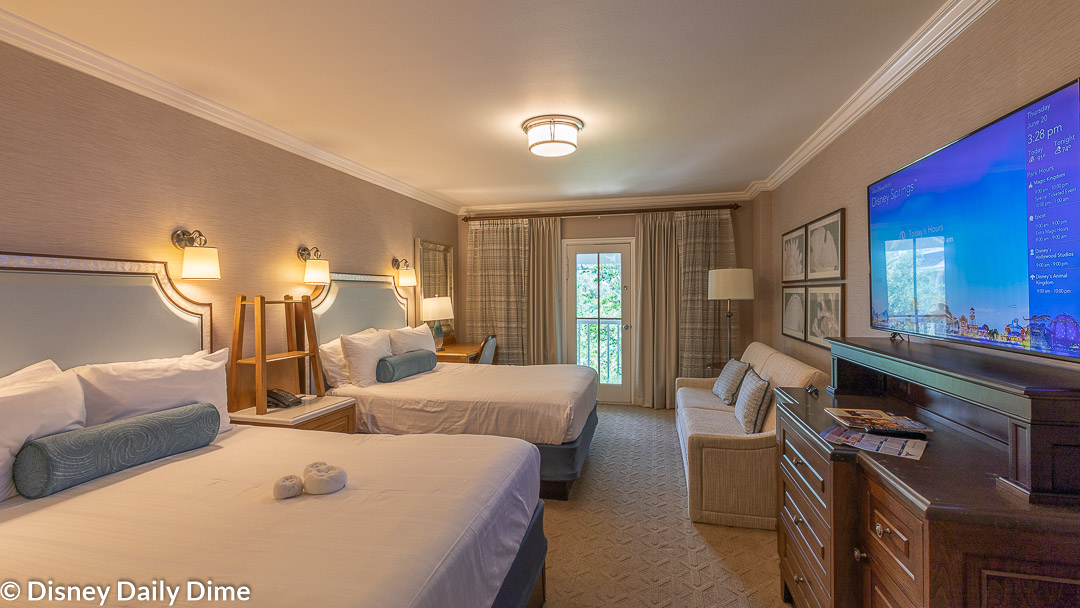 The Beach Club Features Standard Room Assortments for Disney World Resorts
The rooms at Disney's Beach Club Resort are fairly similar, with the main differences revolving around the room view and or the number of people that the room will sleep.  We'll discuss them in more depth in a minute, but pricing for these rooms ranges like this:
Standard View – ($440 – $752 per night)
Garden or Woods View – ($476 – $784 per night)
Water View – ($562 – $837 per night)
Deluxe Room – ($607 – $904 per night)
All of the prices shown above are rack rate prices.  Disney frequently offers discounts that can get you in for less than this.  Do note that pricing changes from time to time, so check Disney's Beach Club Resort website for the most up to date pricing.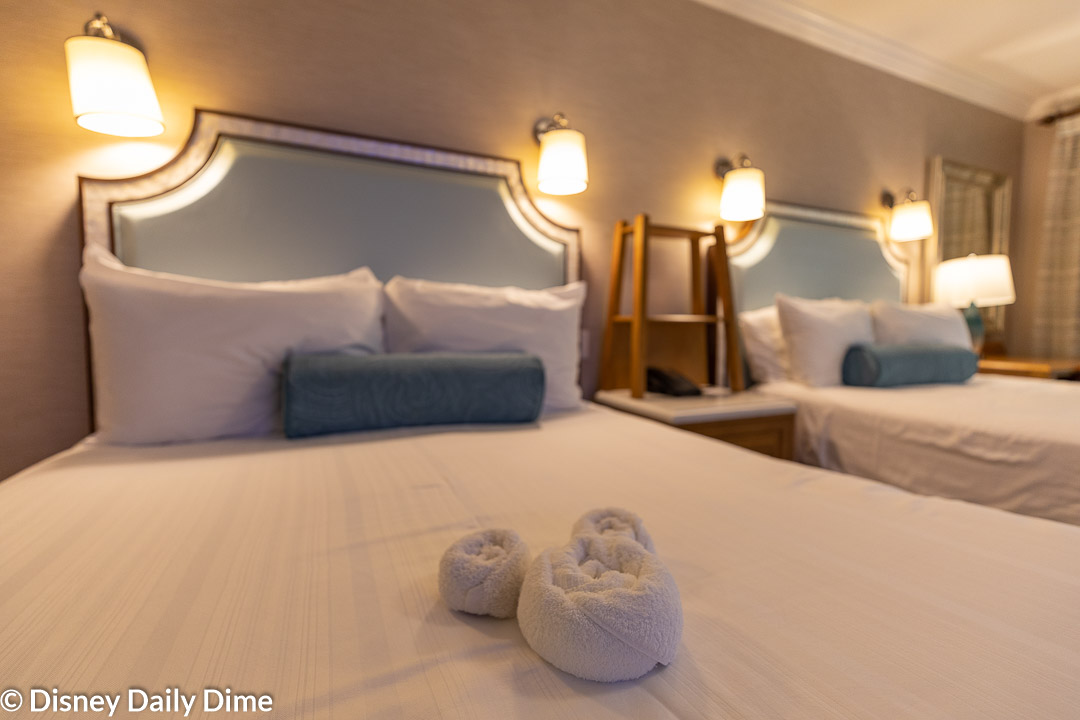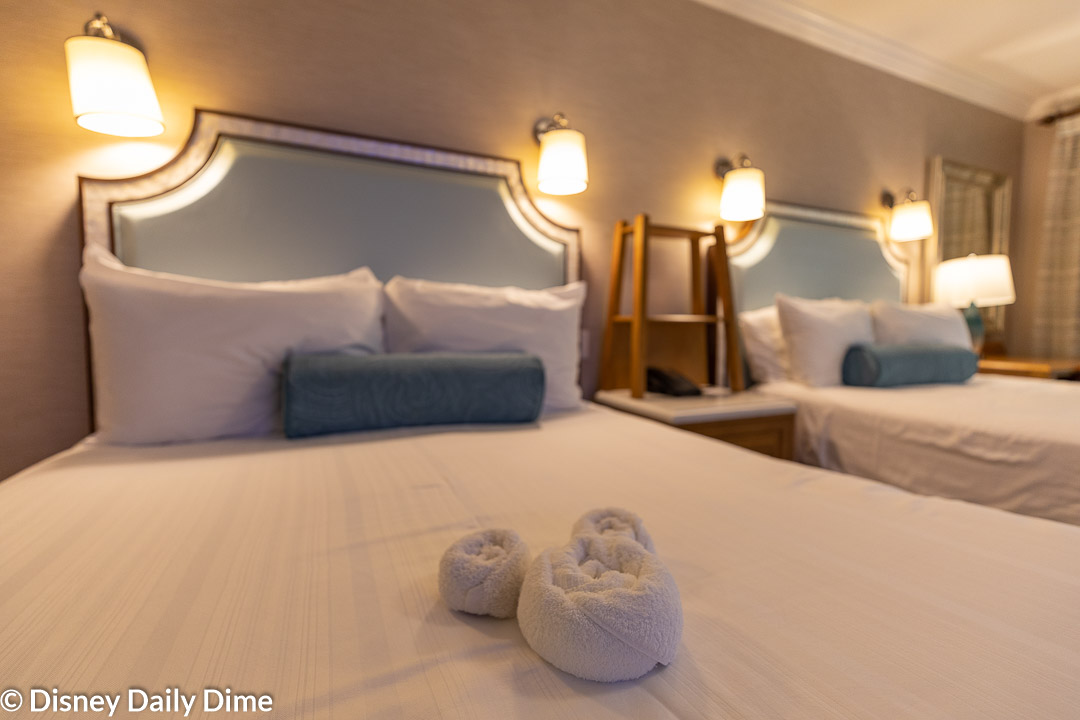 In addition to the rooms we listed above, you can also find Club Level rooms that are similar to these, but with Club Level perks.  There is a two-bedroom suite on the club level that can sleep up to seven people if you are looking for larger sleeping accommodations.
If you're looking for something a little more opulent, then you can check out the Presidential or Vice-Presidential Suites on the club level too.  We didn't have the opportunity to stay in these rooms (or the money), but if you want to get an idea of what they might be like, you can check out our stay in the Sonora Suite over at the BoardWalk Inn.  And no, we didn't pay for that room.  We were fortunate to receive a fantastic free upgrade!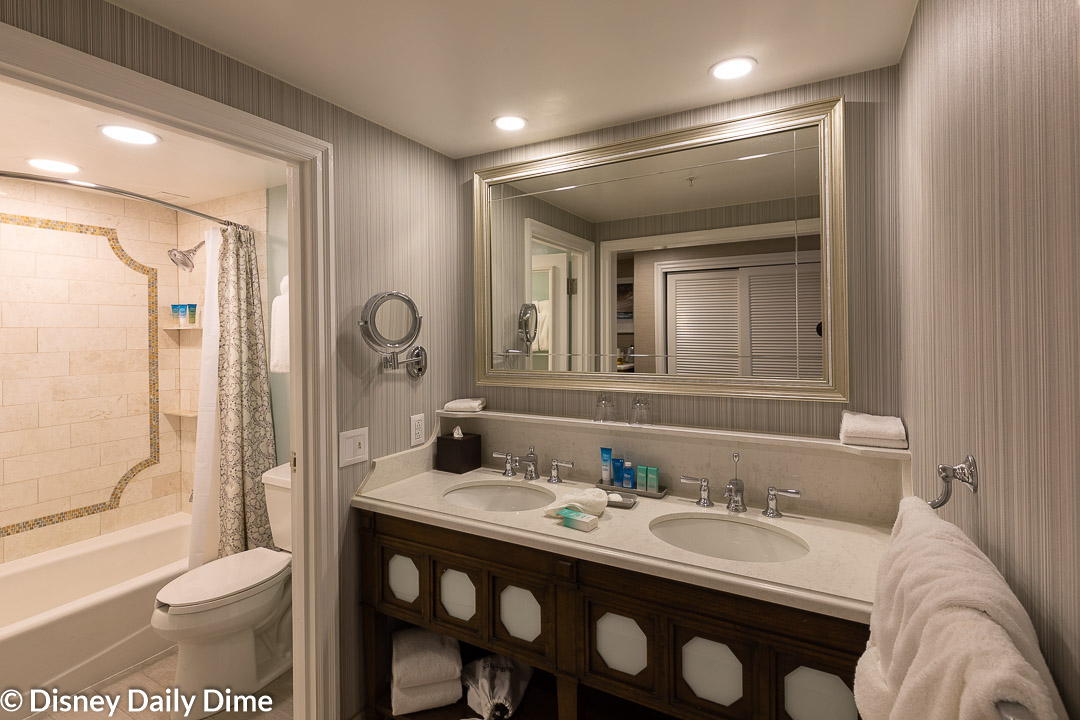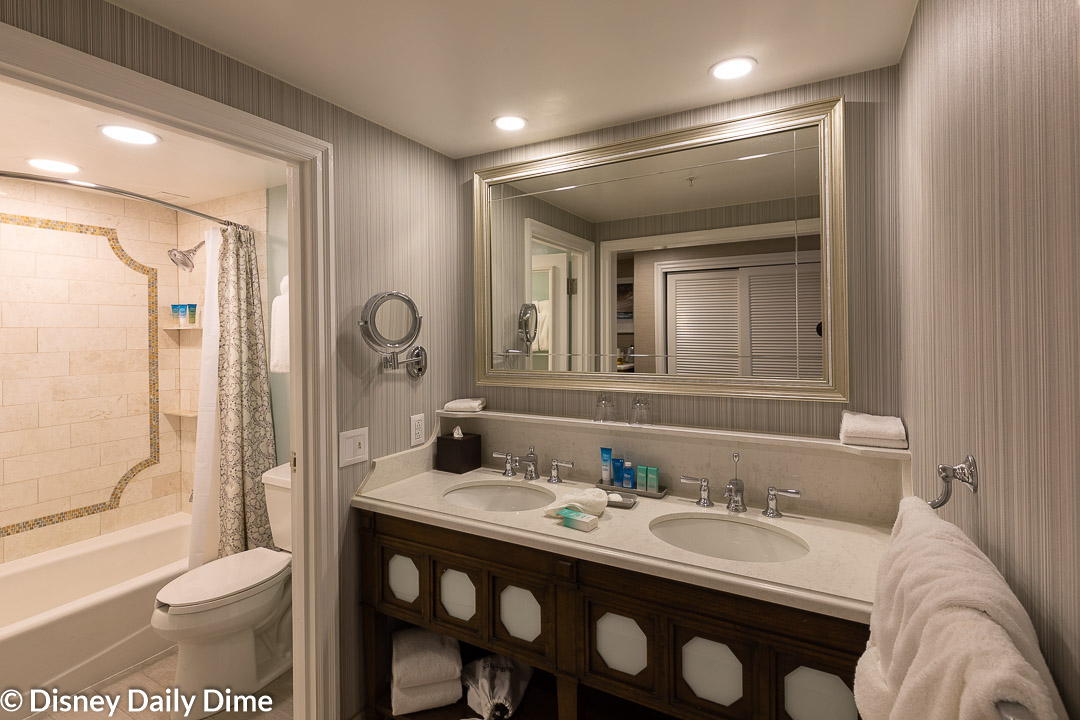 As for the room themselves, the Beach Club Resort was renovated back around 2015.  The rooms underwent a significant overhaul as part of that refurbishment.  As you can see in these pictures, the rooms feature clean lines and a simpler décor.  Some may criticize the rooms for being too modern or sleek, so much that they don't really remind you of the beach.  And that is could definitely be true based upon your own experience.
However, I will say, many of the beach houses we visit these days are being overhauled to attract visitors and are starting to look more like this and less like the beach houses of yesteryear.  The only difference is probably the presence of carpet.  Hardly any beach houses we see these days feature carpet.  Given Disney's focus on efficiencies for Mousekeeping, you'd think they would have taken advantage of the refurbishment and put in hardwood floors.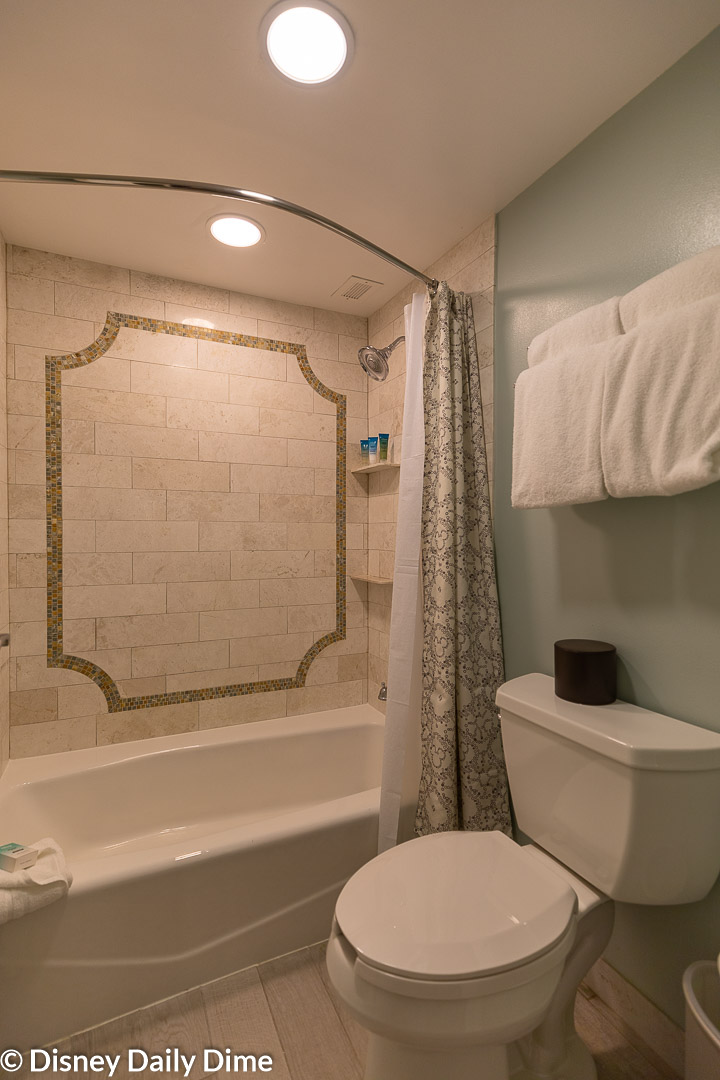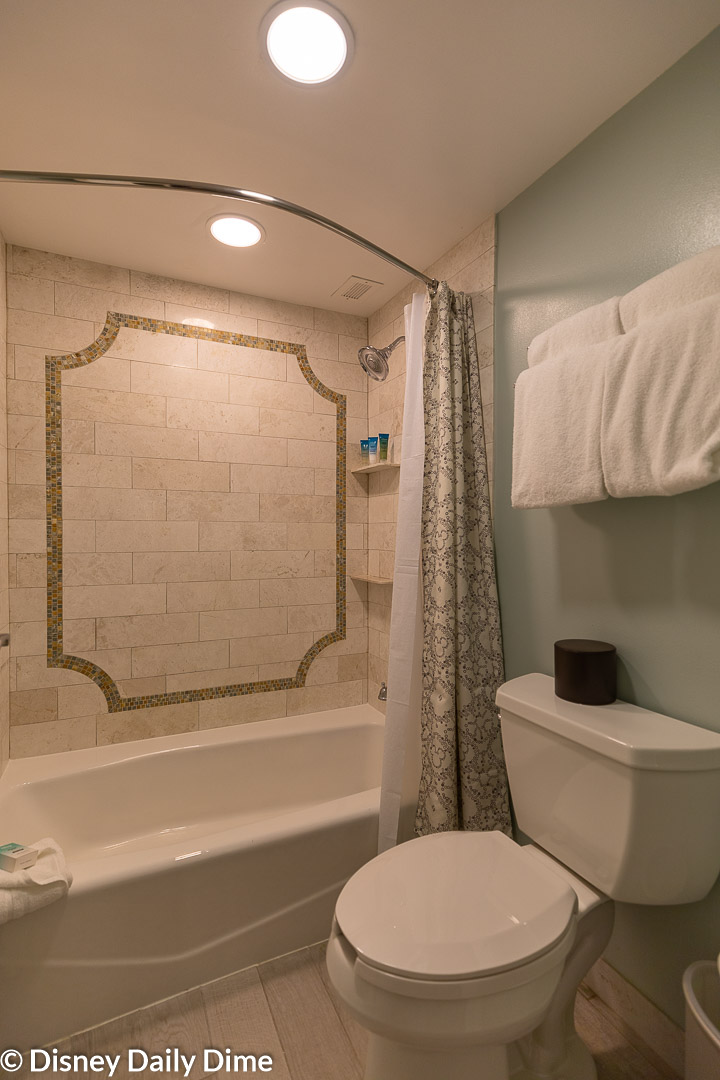 Nonetheless, I think you can find what you want to see in these rooms.  Are they pure to the Beach Club Resort theme of a beach town from the 1800s?  No.  Do they need to be?  Not in our opinion.  You can disagree with us, and that's just fine.  I think it is fair to say that the rooms could do something more to differentiate themselves from the off-site hotels you can find around Disney World, but the room is just one component of the resort.
Disney's Beach Club Resort Likely Features the Greatest Pool in All of Disney World
That isn't hyperbole, in our opinion.  Stormalong Bay was probably the high point of our Disney's Beach Club Resort review.  But I'm getting ahead of myself.  Within the confines of the Beach Club, you'll find three pools.  Technically, there is a fourth pool over at the Yacht Club that you can use if you like, but for the purposes of this review, we'll stick with the three pool on Beach Club proper.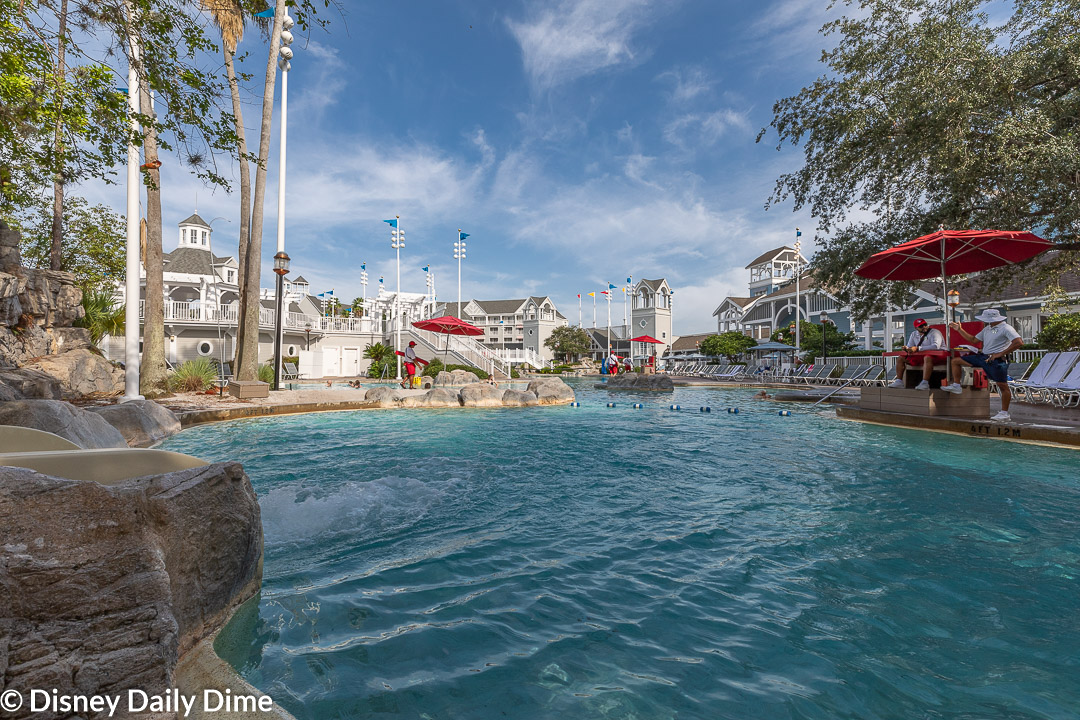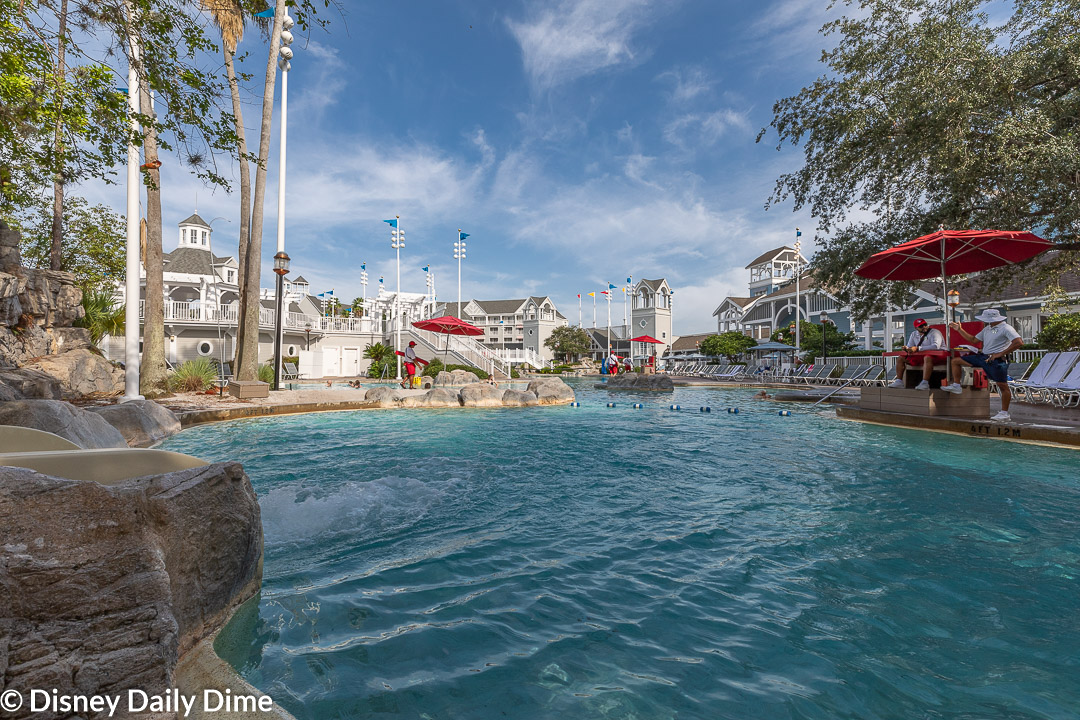 Stormalong Bay
Stormalong Bay is the signature element of Disney's Beach Club Resort, and the Yacht Club because they both share the pool.  What makes the pool so great?  Well, let's say that Stormalong Bay is more like a small waterpark, hidden inside a beach town resort pool.
Stuffed inside this large pool area, you'll find a large waterslide, lazy river, multiple pool areas, a fabulous pool bar, and a large elevated deck area where you can layout and relax.  Oh, did we mention that the pool has a sandy bottom?  Yes, it is like being at the beach!  The slide starts in the pirate shipwreck out on the front of Crescent Lake, which is a great touch.
This pool is so excellent that Disney requires you to scan your MagicBand to get into the pool area.  Upon doing so, the cast member that checks you in will give you a special wrist band.  You must wear the wristband while inside the pool area.  If they find you without one, you'll be asked to go back and check in.  If you aren't staying at the Beach Club or Yacht Club, you won't be getting in on the fun.  Don't even try.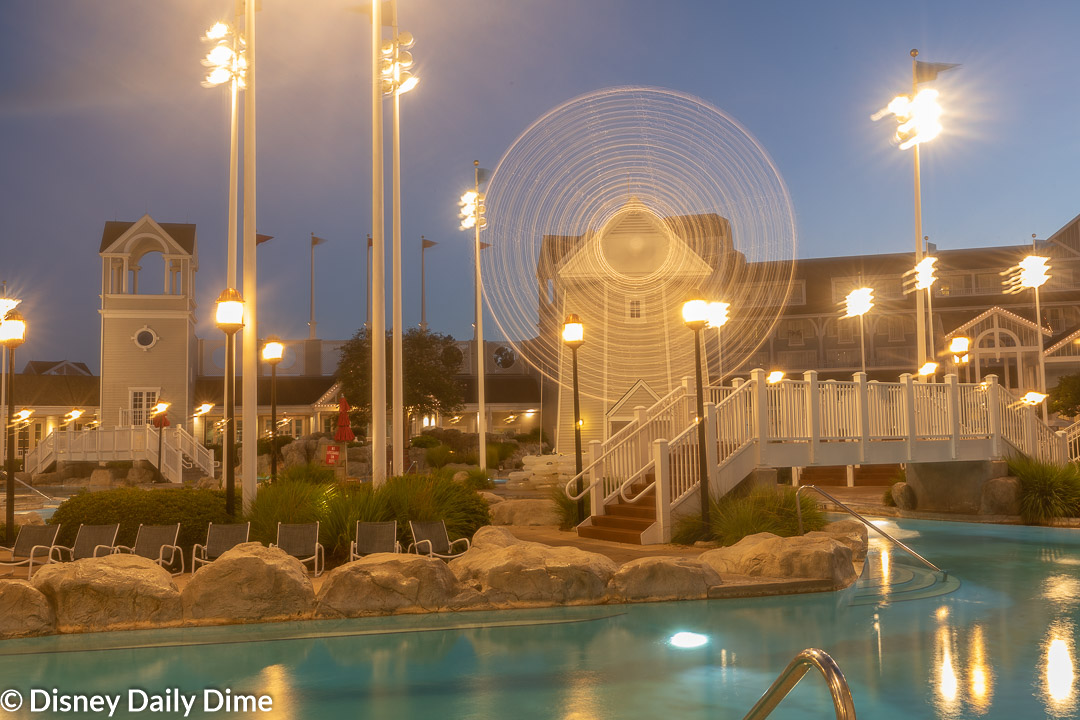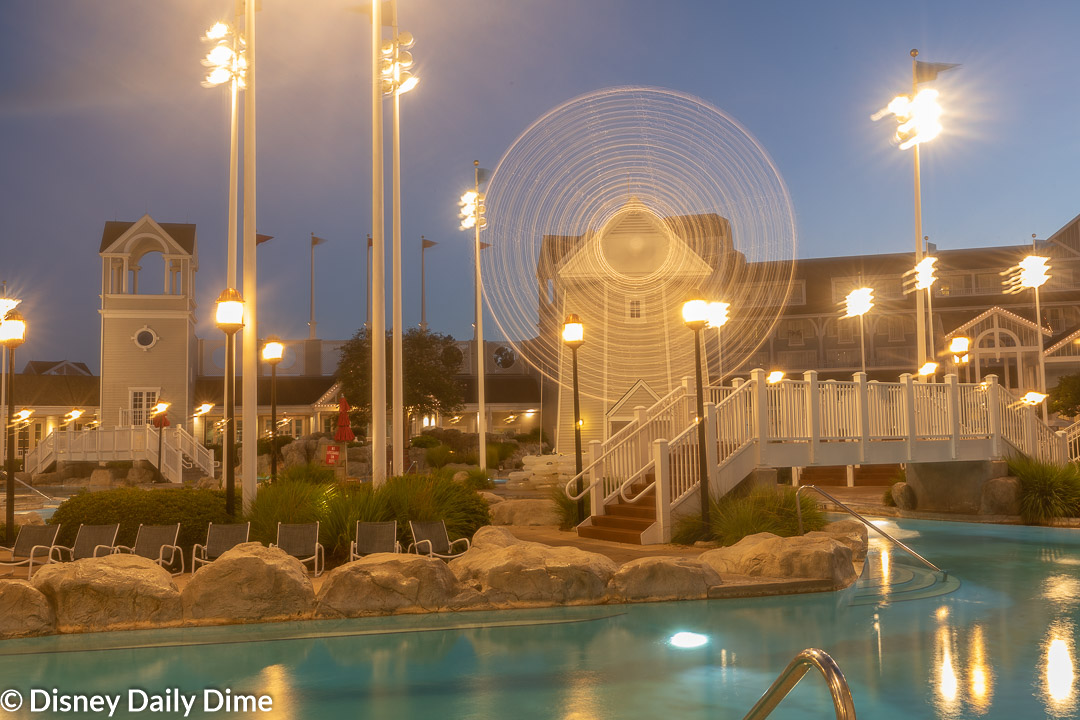 From a kid's point of view, Anna and Elsa loved this pool.  They wanted to go to it almost every day we stayed at the resort.  The 230-foot-long slide was a big hit with both of them, but the lazy river was more for Elsa (aka older kids).  I will say the lazy river is relatively deep.  I'd guess it's 7-foot-deep, and if your kids don't swim well or don't have a float, you may want to stay close to them.
The shallow part of the pool for kids is especially fun, compared to other resorts.  It features a sand bar where kids can get their sand pail and build a sandcastle, or they can take off into the sandy beach water and splash around.  All the while, parents can sit on the side with their drink of choice and watch them splash and have fun.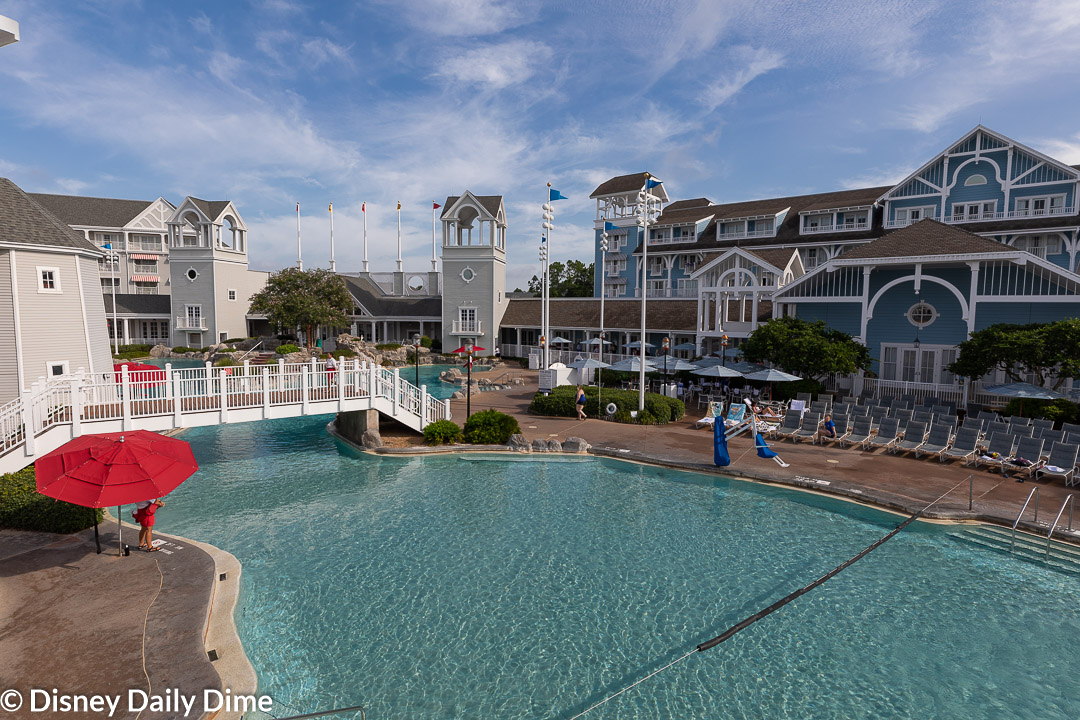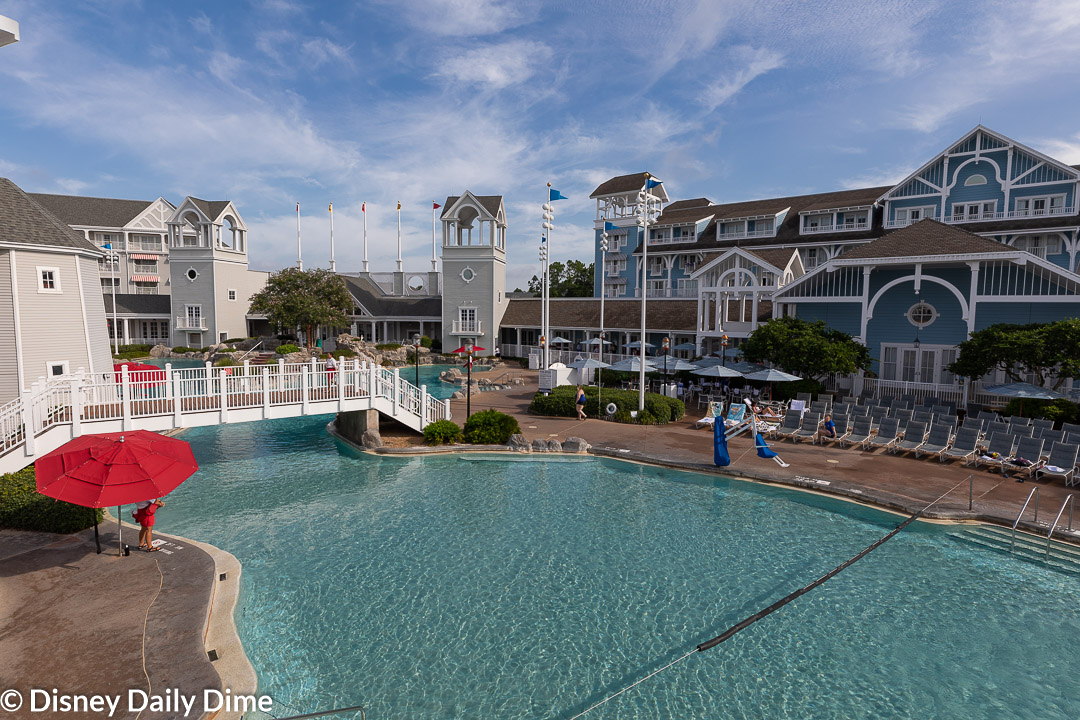 If you've read many of our resort reviews, I think you know we are not prone to overhyping things.  I can't tell you how freaking unbelievable this resort pool was.
We stayed at the Yacht Club back in 2014, but I wasn't able to go to Stormalong Bay with Carla and the girls back then.  Carla reminded me that I was playing golf with her dad.  Now that I've had a chance to enjoy the pool, I am disappointed that I missed out back then!  It's that good for both adults and kids.
Carla reminded me that when we stayed here back then, Anna and Elsa love the kiddie slides that are in the small kids' pools that is inside the pirate shipwreck.  The girls were 2 and 4 back then, and those little slides were perfect for them.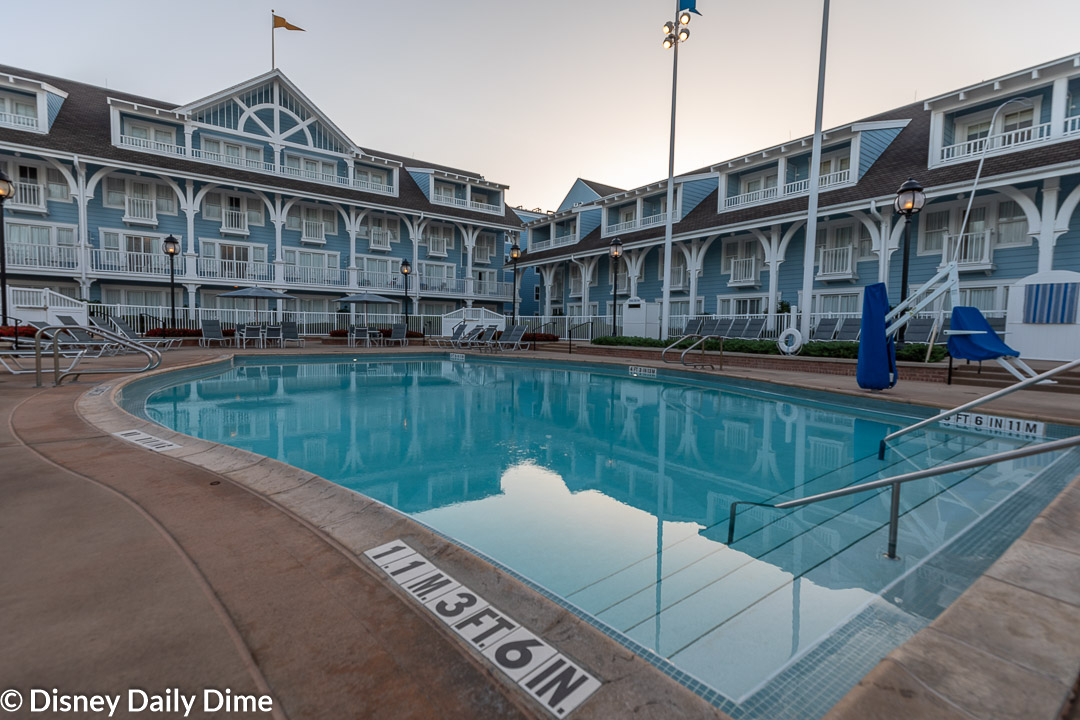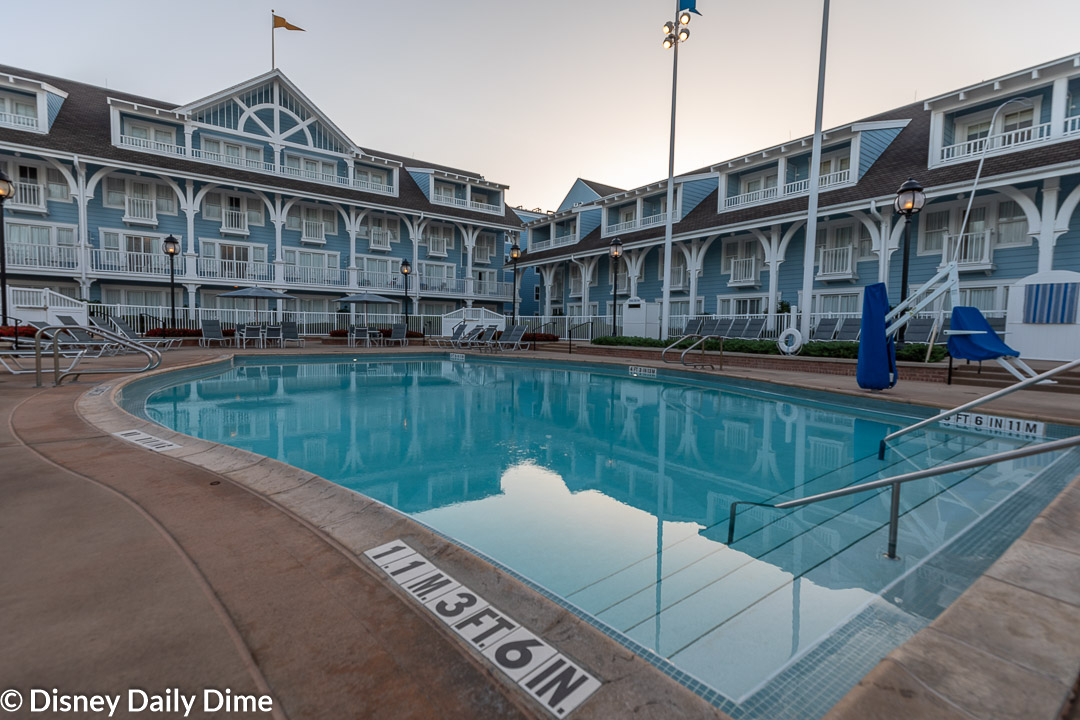 Tidal Pool
The Tidal pool at the Beach Club is a smaller pool when compared to some of the other "quiet pools" that we have seen at other resorts.  It also doesn't have much of a discernable theme for a resort pool.  What it lacks in size, I feel it makes up for in location.  You'll find the Tidal pool in a quaint little area on the backside of the Beach Club resort.  What is great about this is that you have a view of Crescent Lake.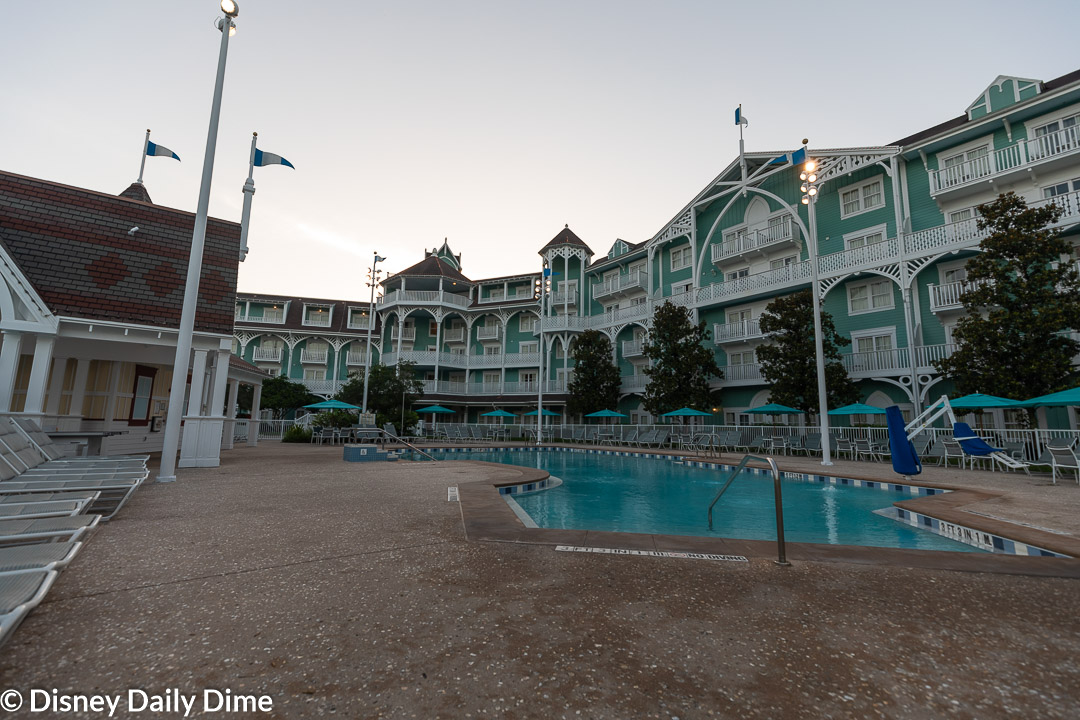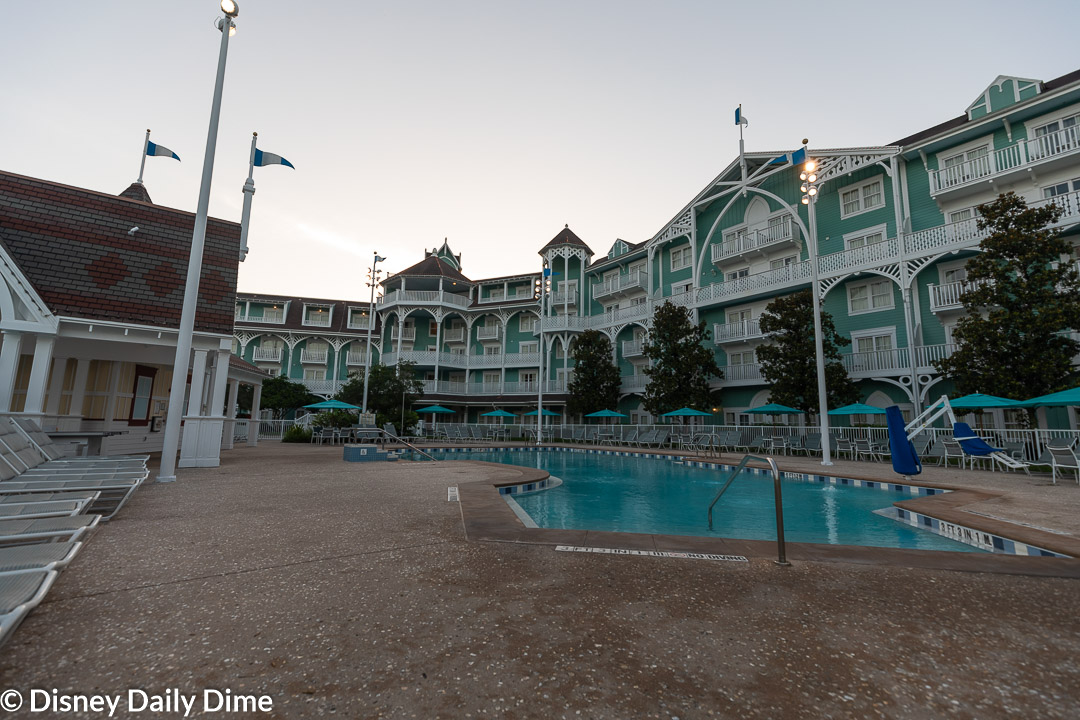 Dunes Cove Pool
We haven't talked about it but, situated with the main Beach Club Resort, are the Beach Club Villas at the Beach Club.  The Dunes Cove pool is located back in with the Villas.  What many resort guests don't realize is that this pool is available to all guests at the Beach Club, not just those staying in the villas.  It's a decent size pool and gets far less traffic if you're looking for a more peaceful area.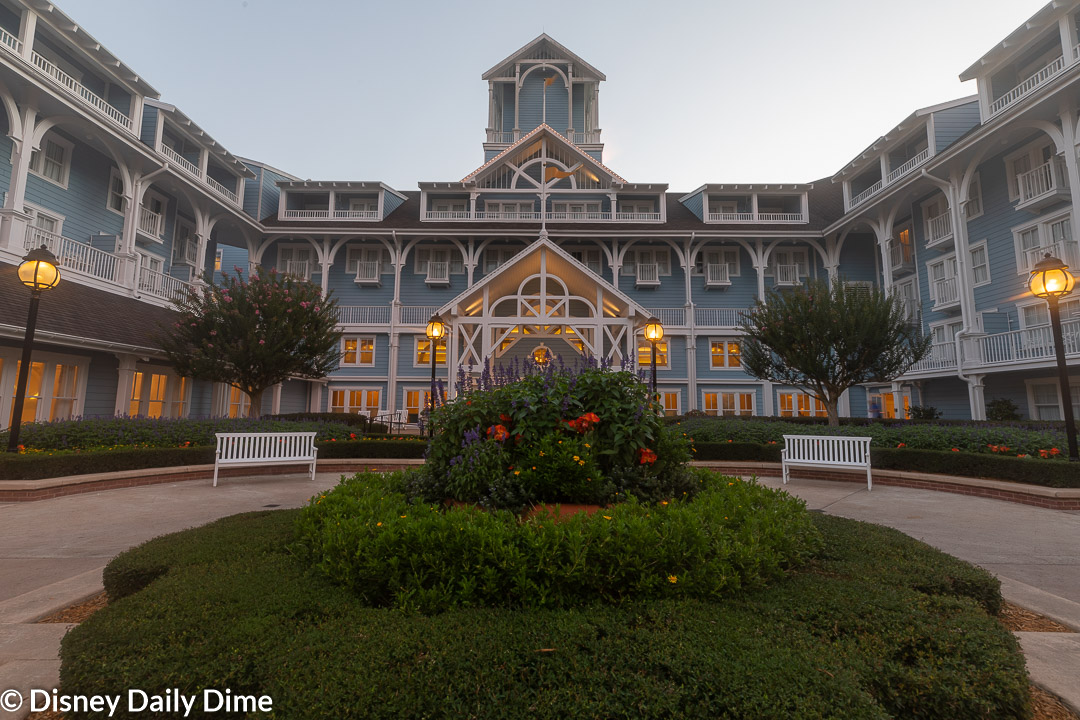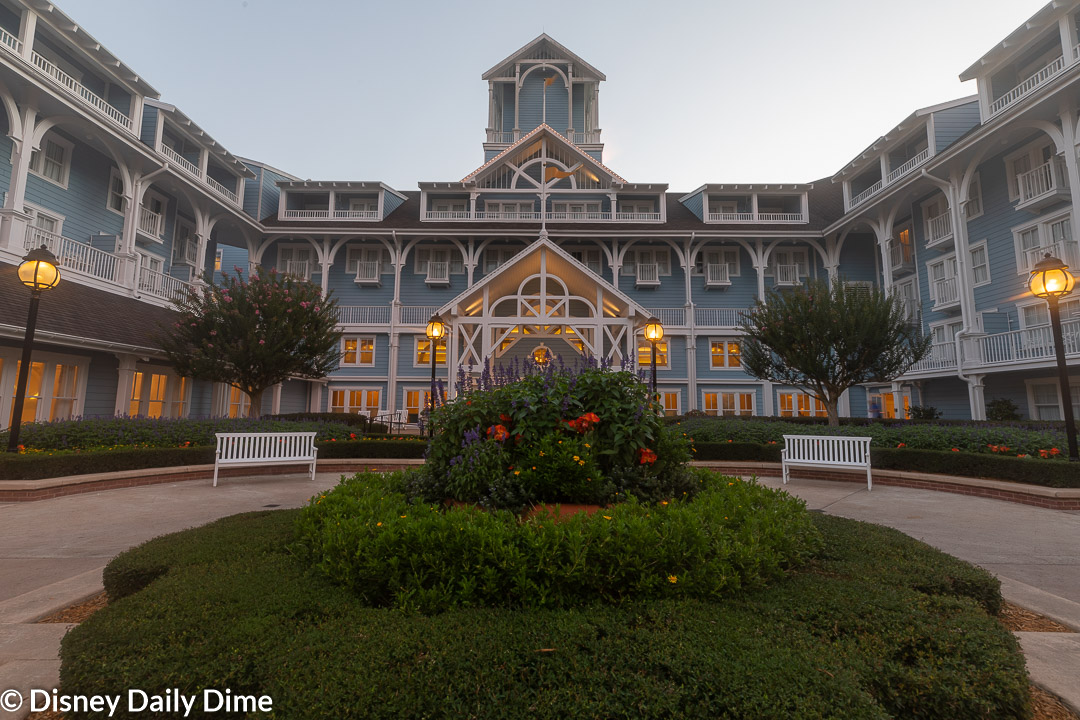 Disney's Beach Club Resort Transportation Has Some Plusses and One Clear Minus
When it comes to getting to the various Disney World parks, you'll find several transportation options at the Beach Club.  However, if we only focus on motorized transportation, we're missing out on one of the significant advantages of the resort.  That would be its location!  Because of where Disney's Beach Club Resort sits on Crescent Lake, some of the best transportation you have are your legs.  You can easily walk to Epcot in about 5 minutes, while Hollywood Studios is only about a 15-minute walk.
As for motorized transportation, you have access to bus service, boat, and the new Disney Skyliner.  We'll talk about each of these in the following paragraphs.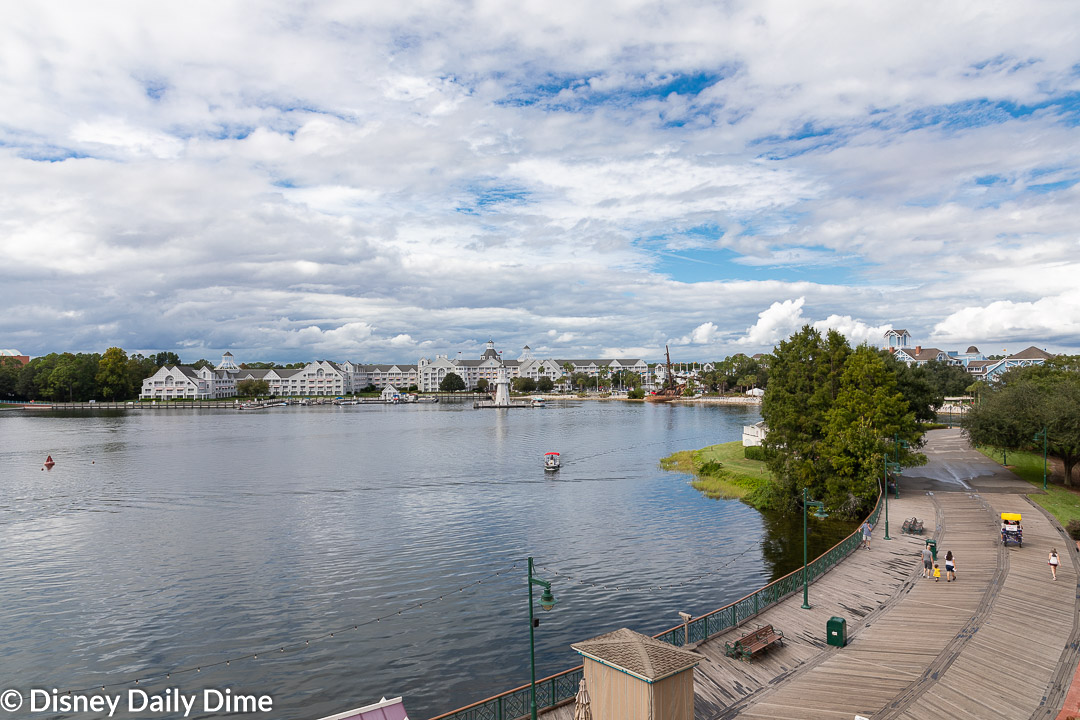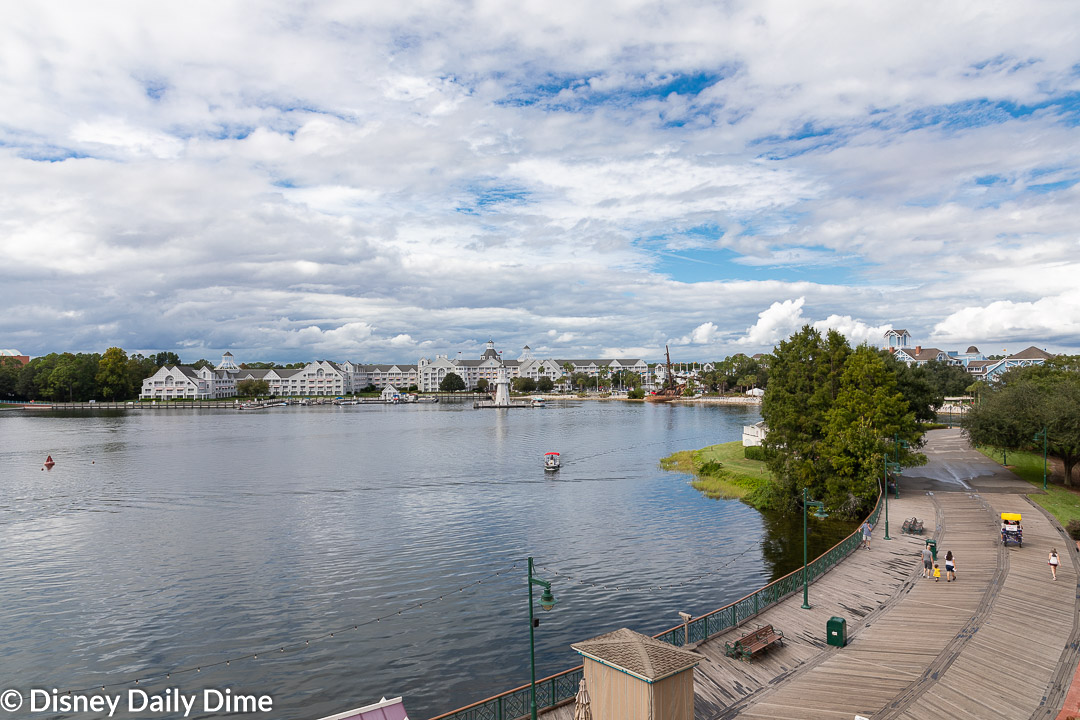 Bus
The bus service from the resort is standard Disney World transportation.  You'll find the bus stop out towards the parking lot.  You can see it noted on our resort map towards the top of this post.  If you exit the Beach Club via the front doors, stay to the left side of the entrance road and walk towards the parking lot to find the bus stop.
If there is one definite negative on transportation at the resort, it would be the lack of dedicated bus service.  The bus routes are shared with neighboring resorts (Yacht Club and BoardWalk Inn).  Shared bus routes aren't anything new at Disney World, but for the prices you pay to stay here you'd expect a better setup here.  There are value resorts like Art of Animation and Pop Century that have dedicated bus service.
We have seen others report that in slower times of the year, that the bus route is also shared with the Swan and Dolphin resorts.  We have never experienced that ourselves.  If this is the case, you may want to consider other transportation options, because it may take you an hour to get to a park.
You should note that there is no bus transportation to the front of Epcot from the resort.  You have to either walk or take a boat to the back entrance of Epcot and then walk to the front of the park.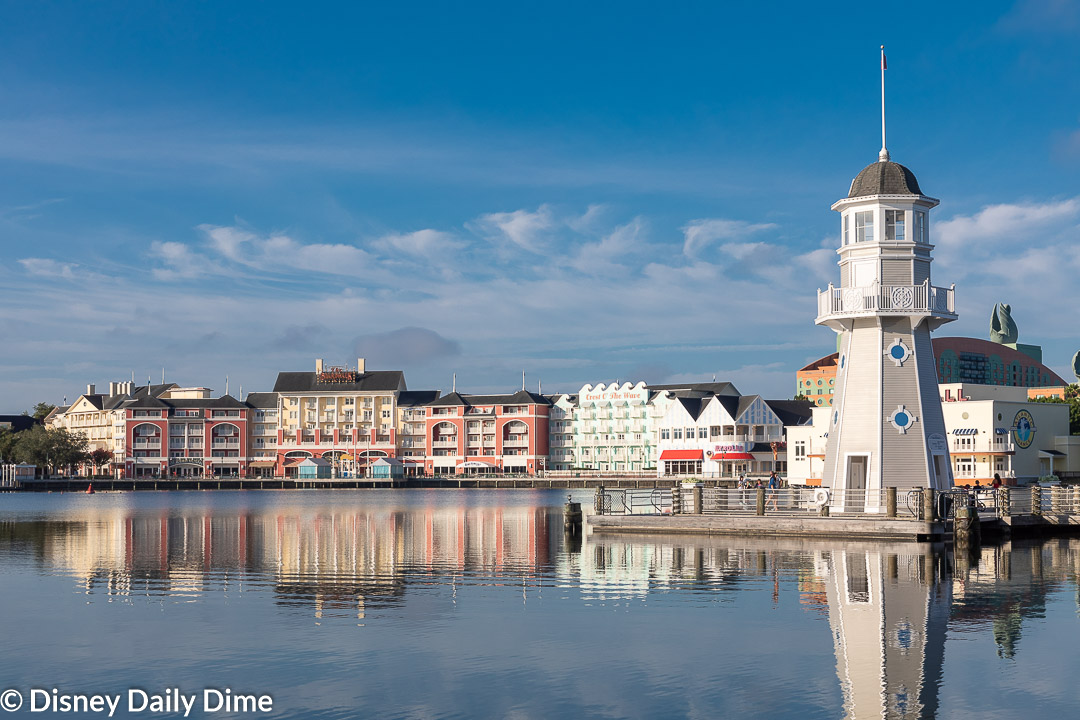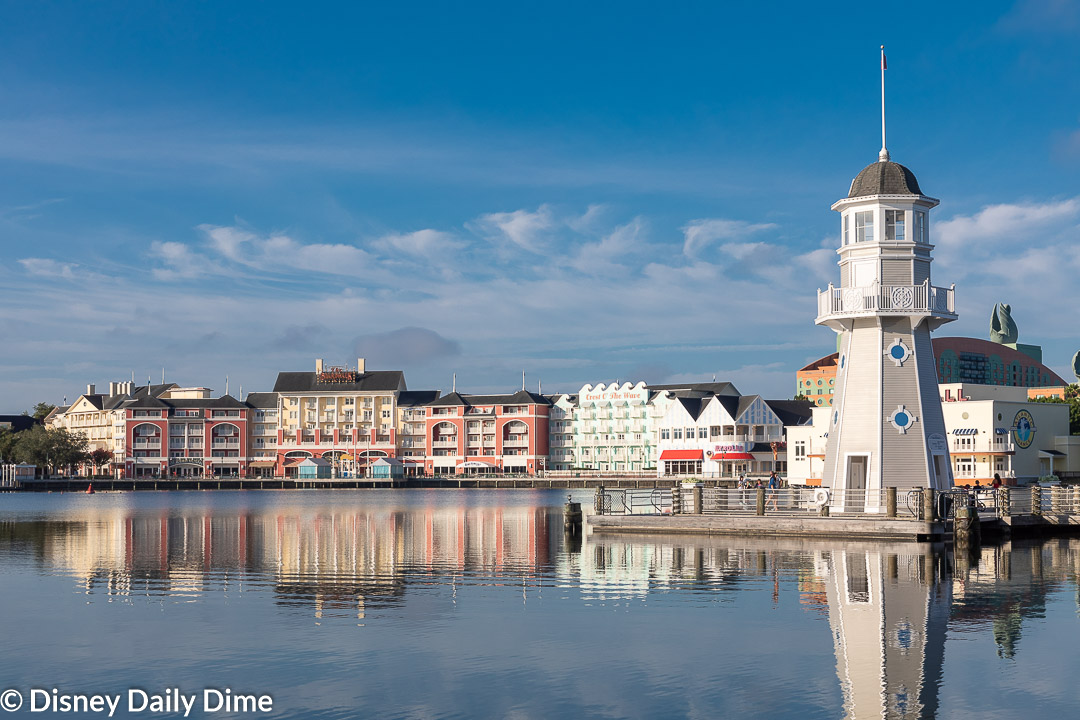 Boat
The boat service at Disney's Beach Club Resort is very accessible and can get you to either Epcot or Hollywood Studios.  For us, this is our preferred way to get to Hollywood Studios.  It's much quicker than taking a bus to the park, especially if there are 3+ resorts sharing the route.
You'll find the boat dock back behind the Yacht Club Resort.  Just exit the back of the resort and go down to the beachfront.  You'll see the grey lighthouse at the end of the pier on your right.  You'll also see plenty of boats running back and forth.  Just head that way.
Make sure you pay attention to which boat you take.  One side of the pier will take you to Epcot, while the other heads to Hollywood Studios.  There are plenty of signs telling you where to line up, just make sure you pay attention.  You don't want to head the wrong way.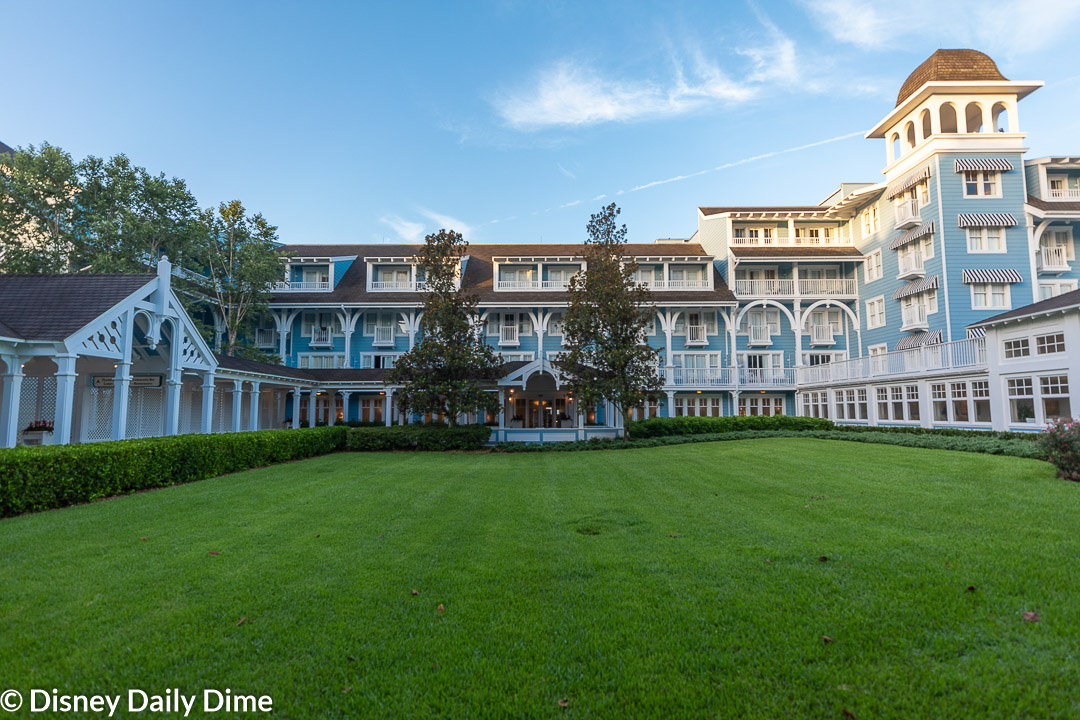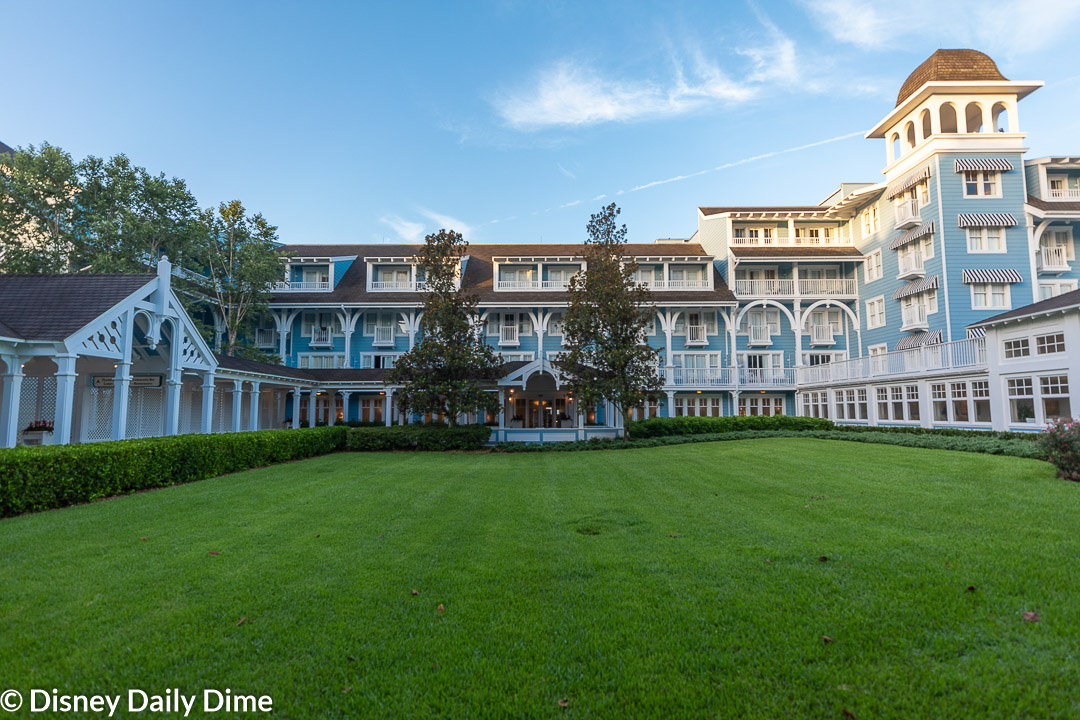 Disney's Skyliner
While not as convenient, if you are heading to Hollywood Studios or a few select resorts, you can hop a ride on the Skyliner.  You do have to walk over to Epcot to catch the gondola ride.  We don't recommend using the Skyliner to get to Hollywood Studios.  Between the walk to Epcot and all the connections you have to make, it's easier to either walk or take a boat.
If you are heading to Disney's Riviera Resort, Caribbean Beach, Art of Animation, or Pop Century, then the Skyliner is an excellent option.  Don't try to use this for changing resorts if you are doing a split stay, as there won't be room for your luggage.
Disney's Beach Club Resort Dining Features More Options Than Most Resorts, with Largely Great Quality
There are a plethora of options available for dining at the Beach Club.  You'll find the usual assortment of table service and quick service options, but the resort essentially features two times the options because you can take a couple of minute walk over to the Yacht Club to eat at the restaurants that are located there.  Since it is so close, we consider them to be equally available for resort guests.  We say the table service locations here really shine, but counter service is nothing to write home about.  Some might argue it should be avoided and we wouldn't disagree.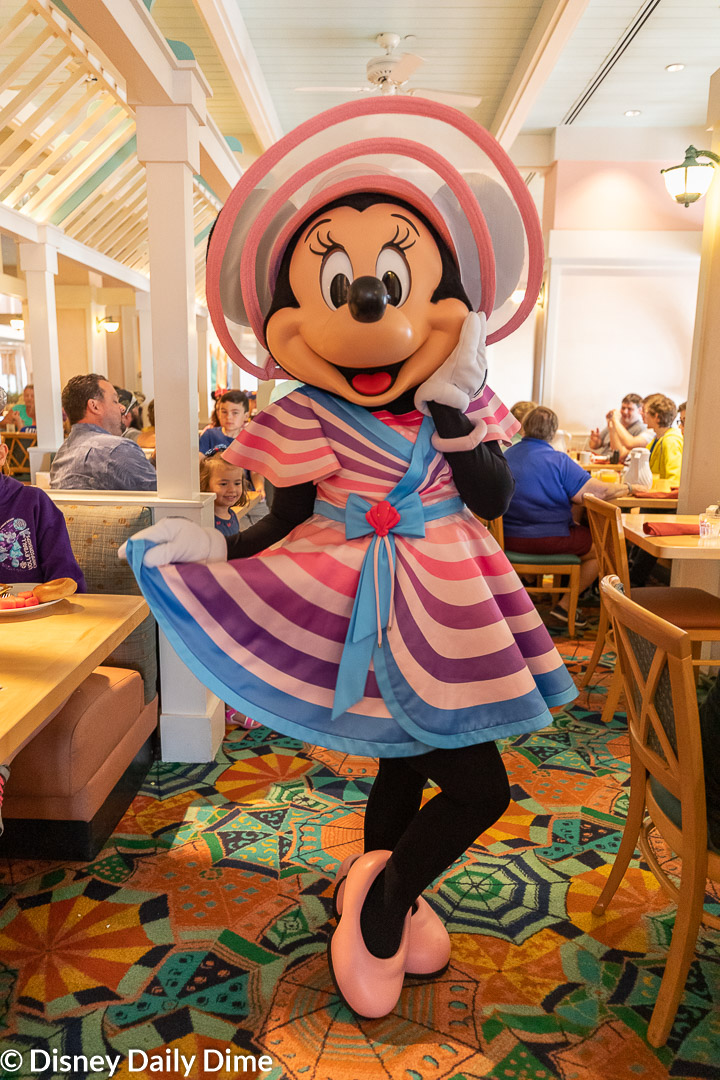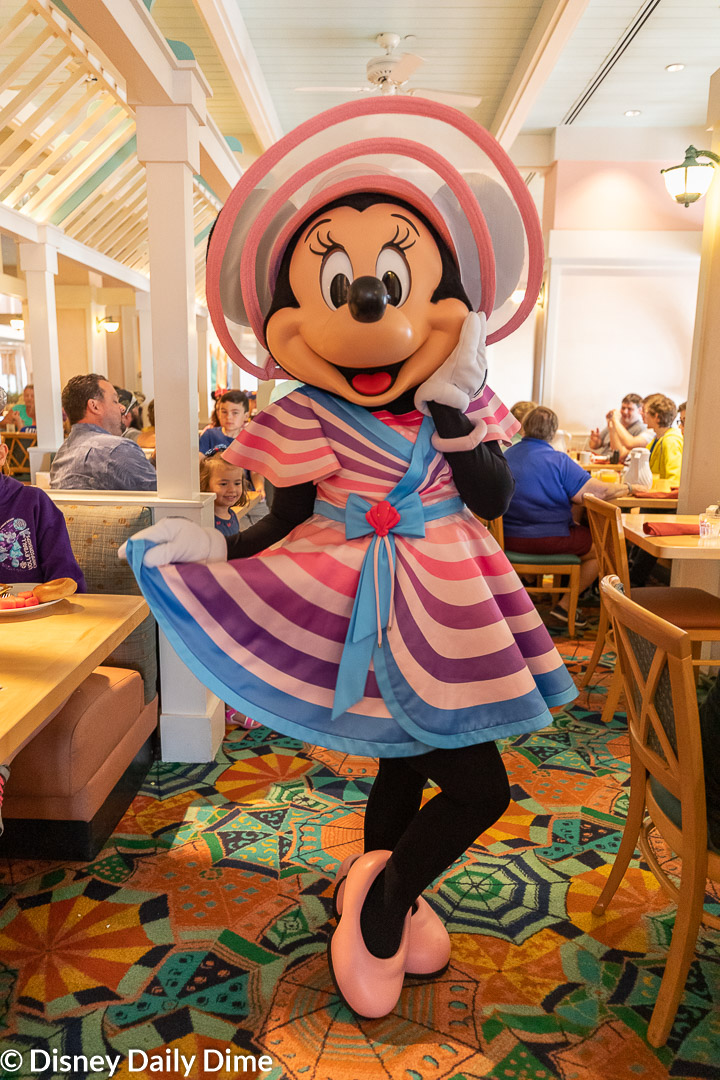 The Beach Club features Cape May Café as the table service option.  Cape May actually has two styles of meals.  For breakfast, you can join in for Minnie's Beach Bash Breakfast, which is a character meal.  You'll get to meet Goofy, Daisy, Donald, and Minnie during this character breakfast.  For dinner Cape May features a seafood buffet.  Characters do not meet at dinner.  They don't serve lunch here.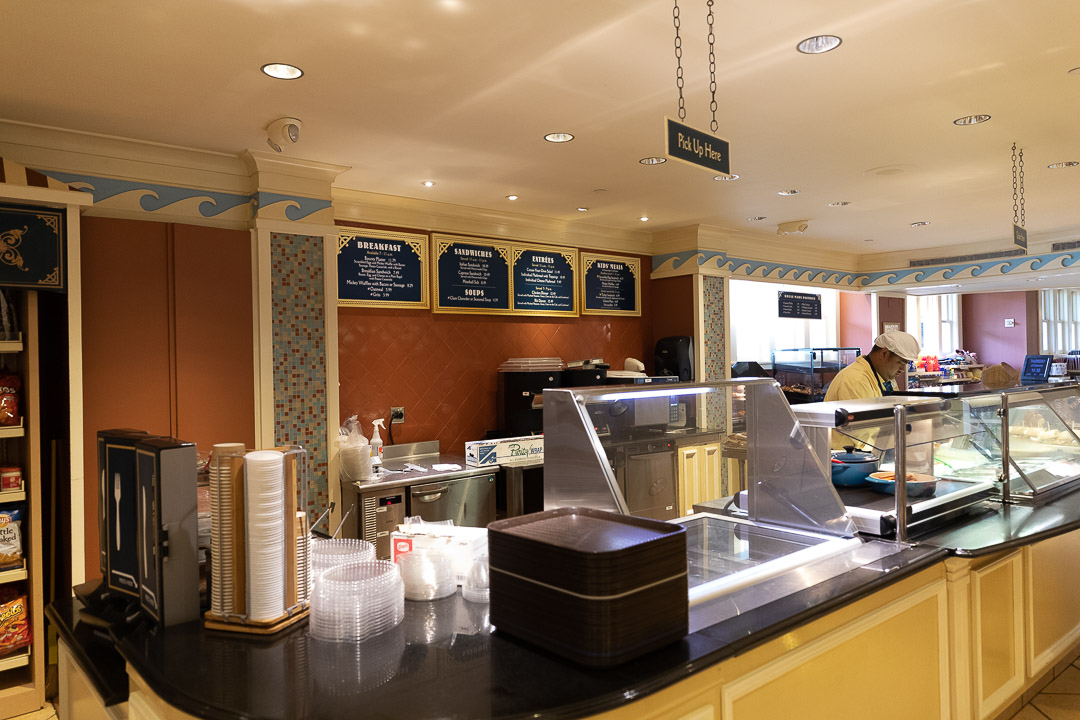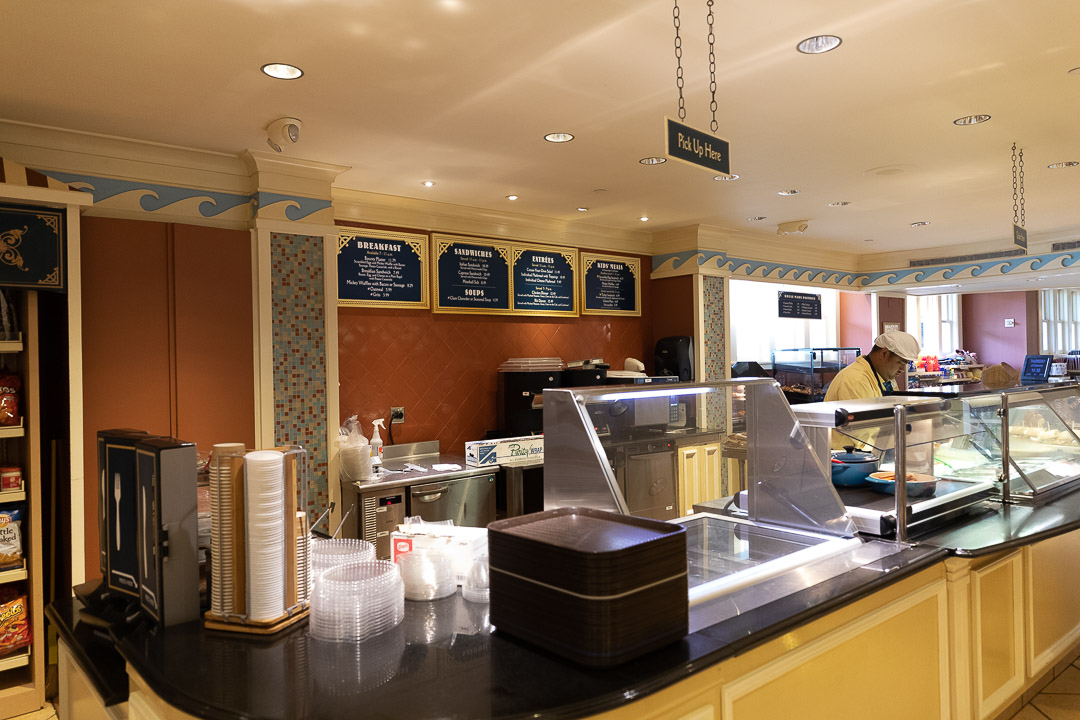 If you're looking for a counter service location, you can venture over to the Beach Club Marketplace.  We consider this a bit of a break glass in case of emergency option.  You can read more about it in our Beach Club Marketplace review.
Disney's Beach Club Resort is home to one of the more fun, sweet treat locations.  Beaches & Cream Soda Shop is themed to a 50s style soda shop.  You can find basic hamburgers and food here, but the real star is the shakes and ice cream you can get here.  The Kitchen Sink is a well-known dessert because of its size, but there are lots of other options here to try.  This is definitely a place you'll want to check out.
You can stop by Martha's Vineyard for a nightcap or if you have a case of late-night munchies.  This lounge is open late.
When hanging out at Stormalong Bay, you can grab a drink and a bite to eat at Hurricane Hanna's Waterside Bar and Grill.
That's all the options located within the physical confines of Disney's Beach Club Resort.  The next options are over at the Yacht Club.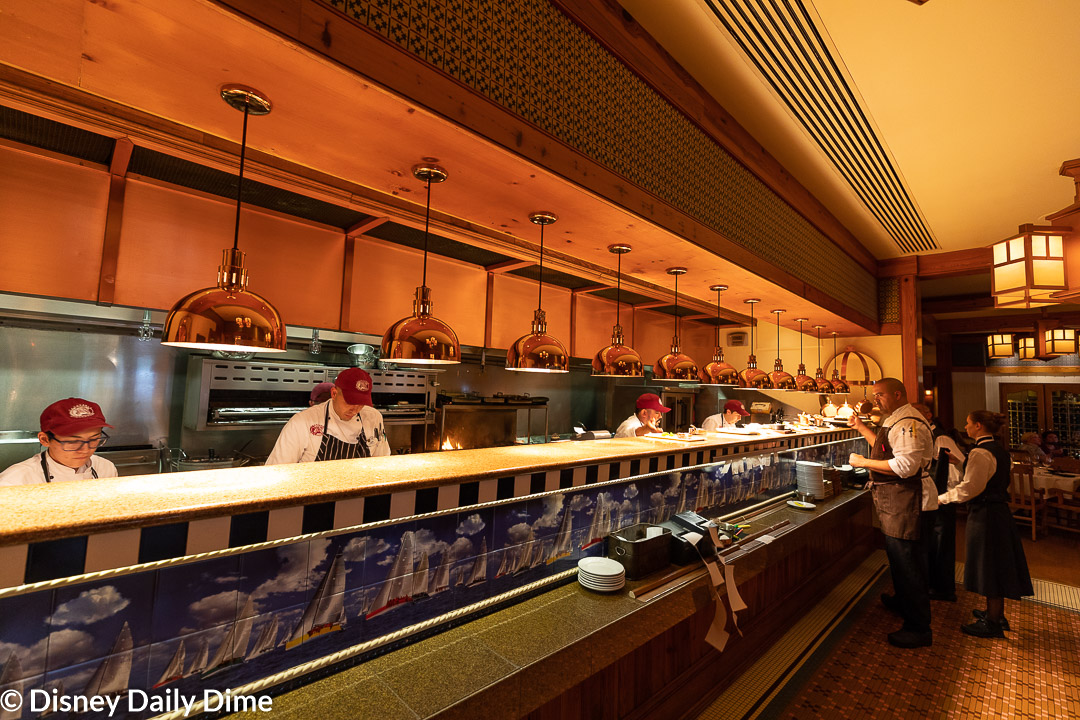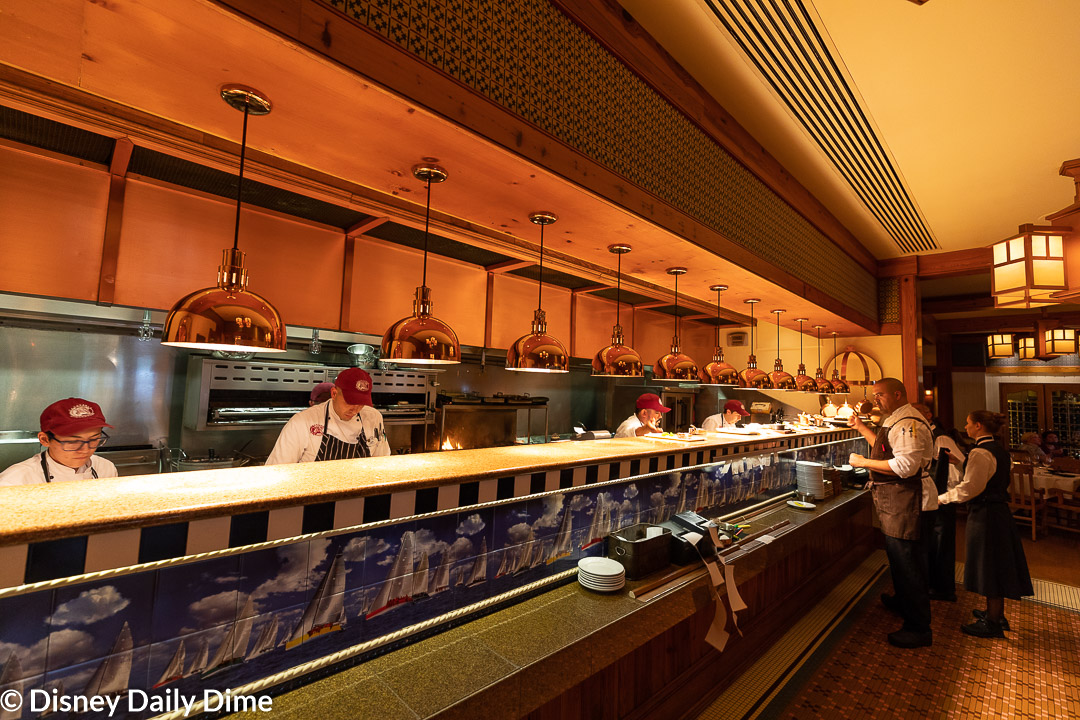 As part of our Disney's Beach Club Resort review, we knew we wanted to eat at Yachtsman Steakhouse.  This is a signature dining location at Disney World, so it is a little pricey, but we had a great experience here.  If you're looking for something upscale, you will do well to eat at Yachtsman.
There is another table service option at the Yacht Club known as Ale & Compass Restaurant.  It's a seafood restaurant, but unlike the dinner at Cape May Café, this is not a buffet.
On the counter service front, you can eat at The Market at Ale & Compass.  We did not have the chance to eat here, but we've heard mixed things about this restaurant.
Ale & Compass Lounge is the bar that is available at Yacht Club.  Given you have Martha's Vineyard at the Beach Club, we don't think you need to venture here for this.
If you think one bar is not enough, you can also stop by Crew's Cup Lounge.  This is located right next to Yachtsman Steakhouse, so if you want a pre or post-meal drink, you can stop by here.  However, this is a place you can also stop by to eat.  We didn't on this particular trip, but we have seen several good reviews of what you can get at Crew's Cup.
The last thing I think we should mention about dining at the Beach Club Resort has nothing to do with the resort itself.  Remember, you're a short walk away from the backside of Epcot.  That means you can walk right into World Showcase and have a ton of quality dining options available to you.  You can also walk over to Disney's BoardWalk Inn, or the Swan and Dolphin resorts, which have several great options available.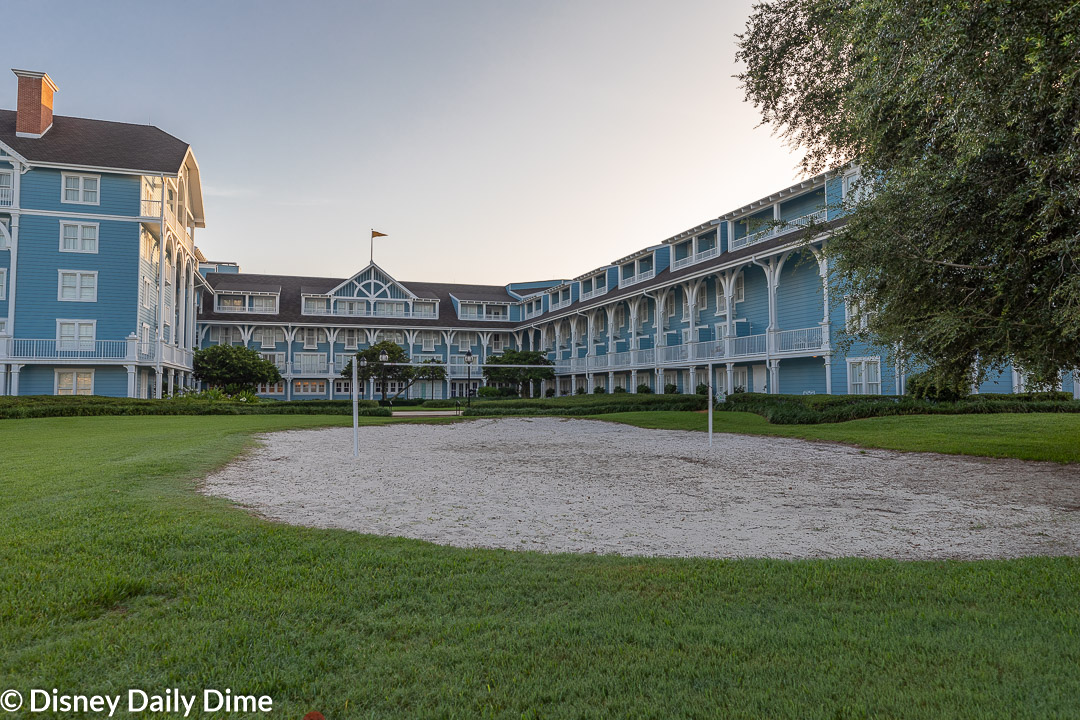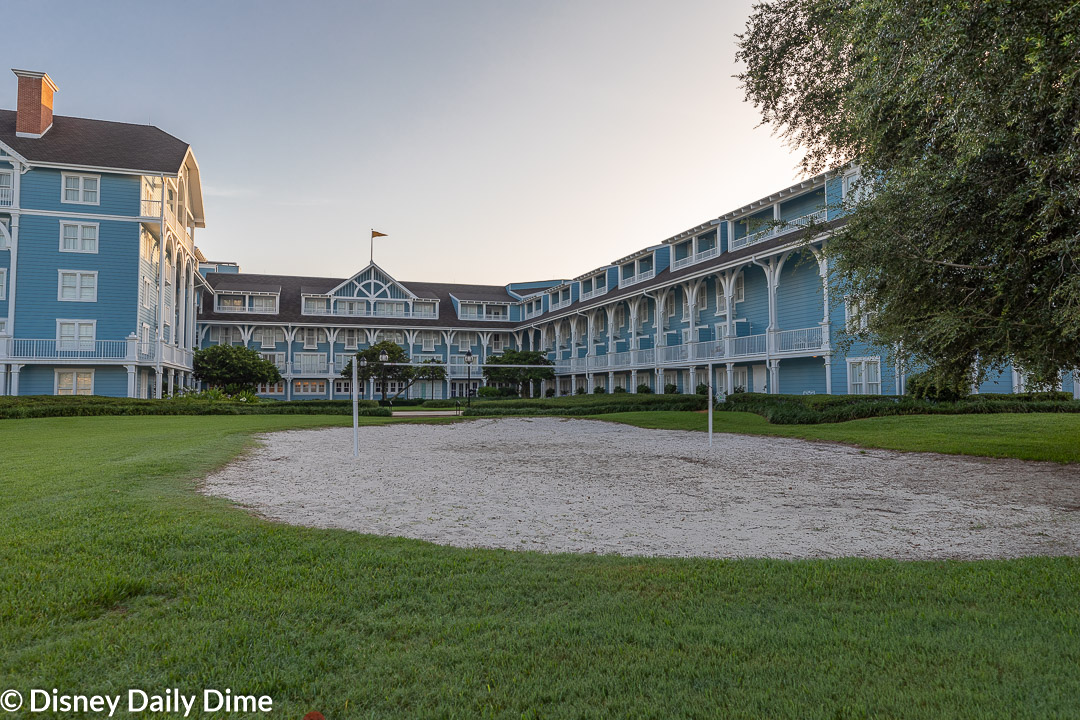 Recreation at Disney's Beach Club Resort
The Beach Club Resort also features several recreational opportunities you may want to take advantage of.  These include:
Movies Under the Stars
Jogging Trail
Campfire with Smores
Playgrounds
Video Arcade
Poolside Activities
Tennis Courts
Volleyball Court
Sand Volleyball Court
Bike Rentals
The recreation opportunities are plentiful at Beach Club.  One thing that is a plus is that almost all of these are free, except the games in the video arcade, s'mores, and bike rentals.
In addition to all the things that Disney shows on the Beach Club recreation list, there are other options that we think you should know about.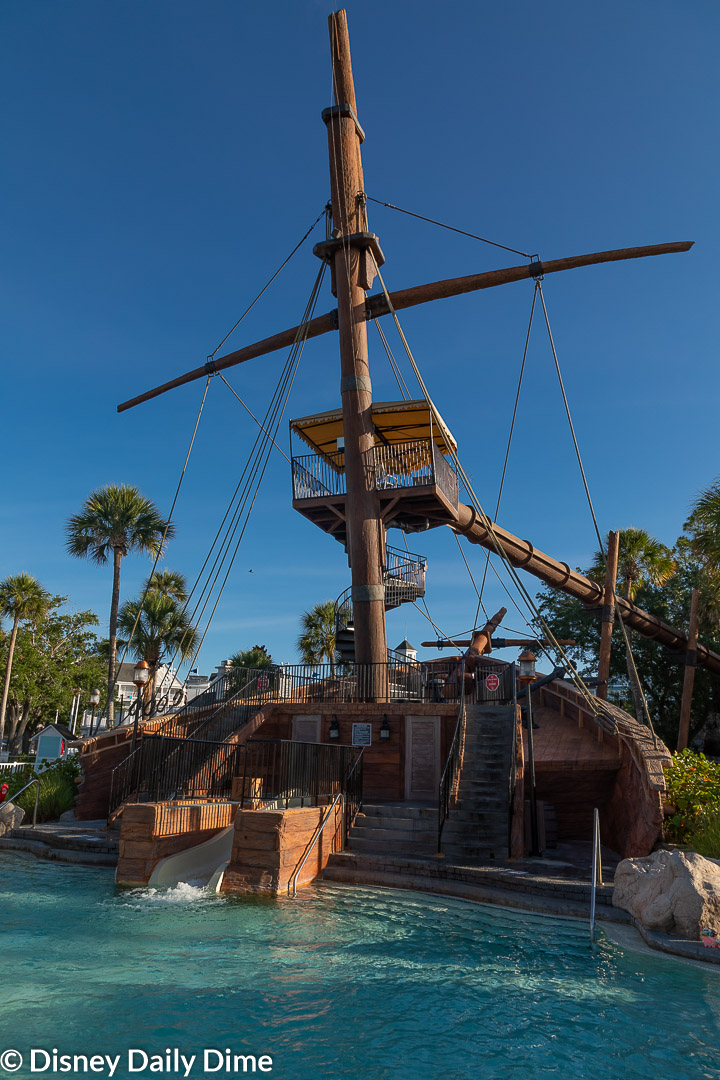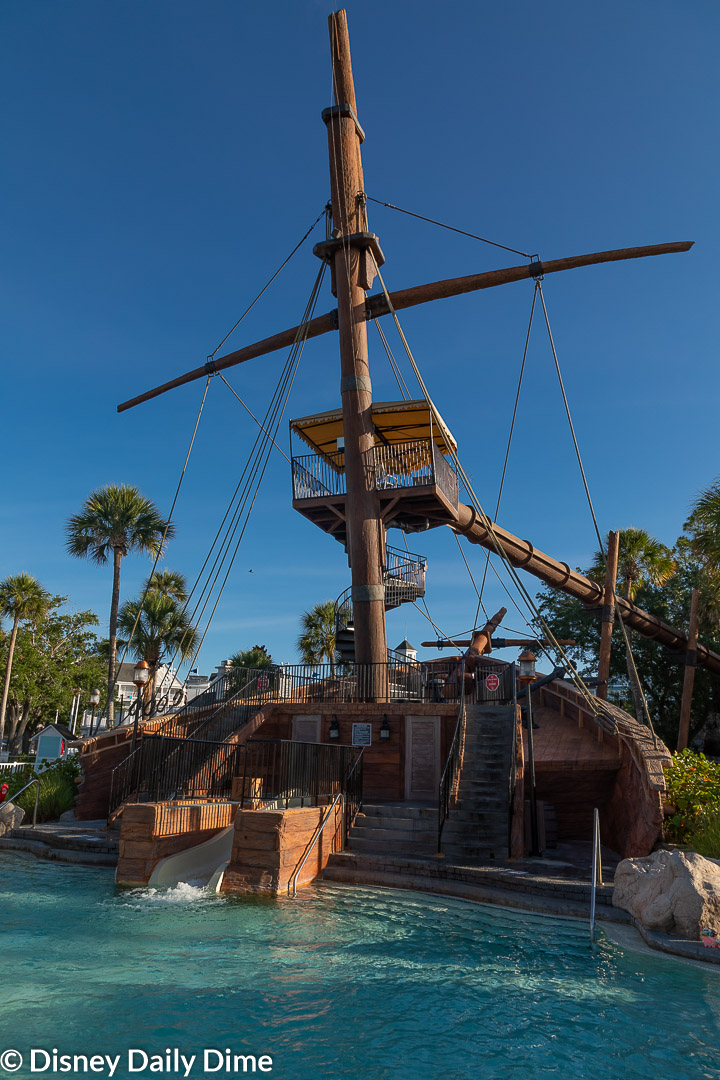 First off is the Fantasia Gardens and Fairways Miniature Golf course.  If you or your kids like miniature golf, you can get a round in while at Disney World.  The course is within walking distance of the Beach Club Resort.  It will take 10-15 minutes to get there.
One of the more unique things that your kids can do for fun is Mermaid Swim School.  Anna and Elsa did this at the Beach Club Resort and had a blast doing it.  We have a full post, with a video, reviewing their Mermaid Swim School experience.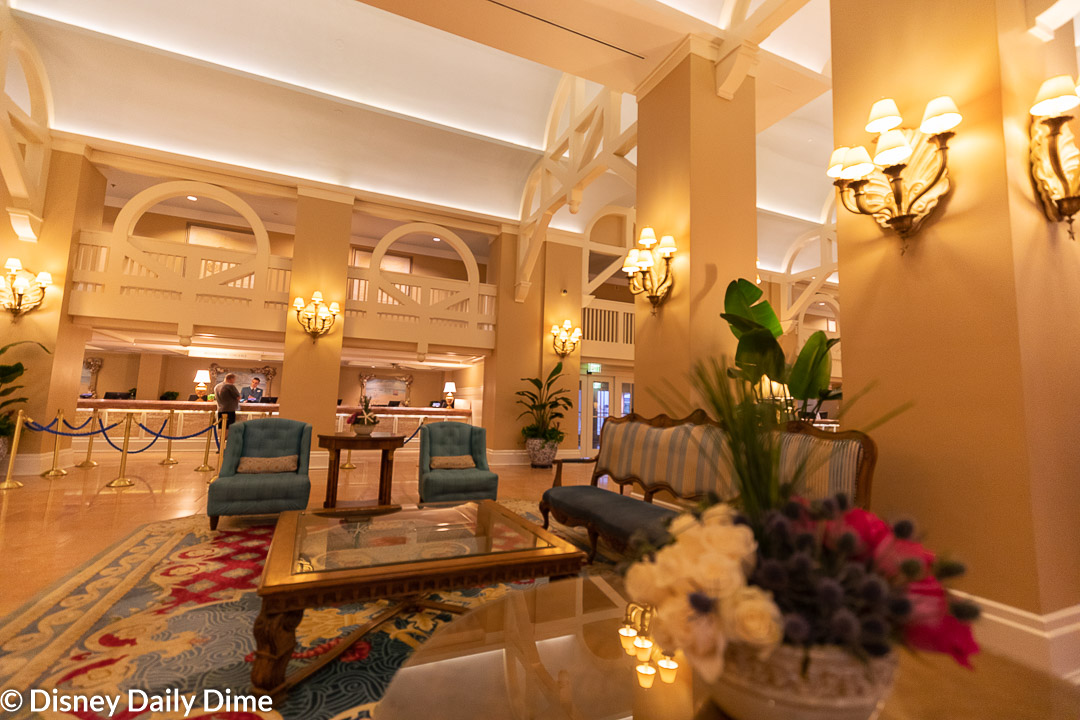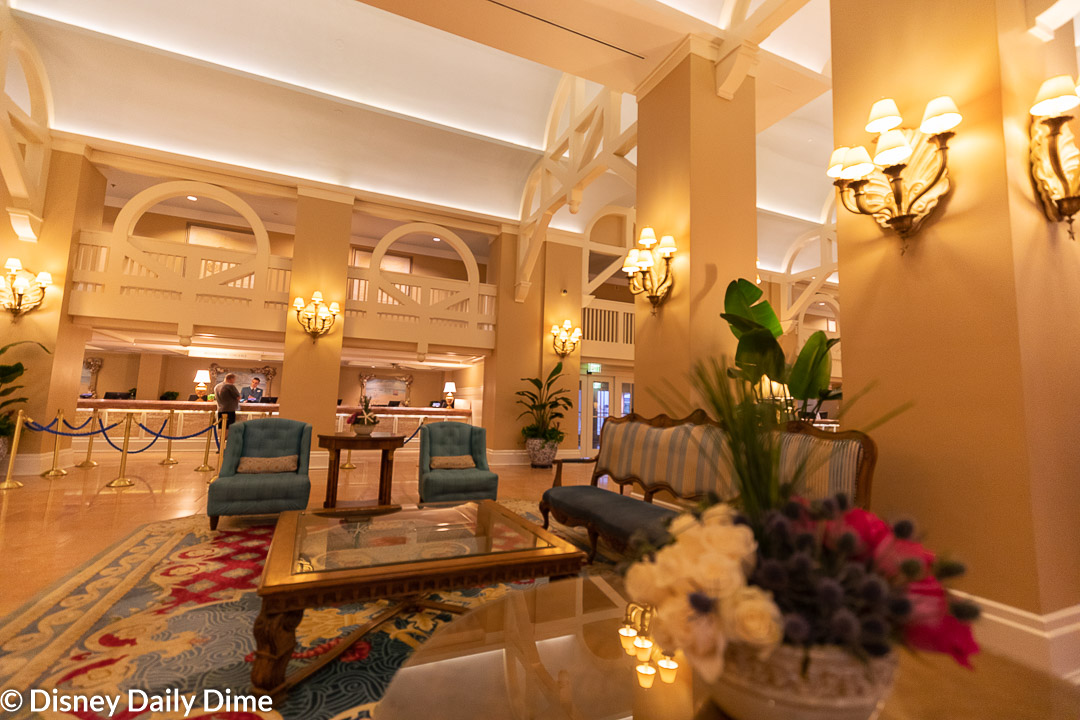 Disney's Beach Club Resort is One of the Best Deluxe Disney World Resorts
The odd thing about this review is that it is a bit of a reversal from our stay at Old Key West.  I like this resort more than Carla.  Not that she dislikes it, but Old Key West is a resort that just spoke to her.
From the well-appointed rooms to that laid-back beach resort vibe, Disney's Beach Club Resort resonated with me.  What sets it apart are the amenities, especially the pool.  The entirety of Stormalong Bay is fantastic.
At the various price points, I don't think there is any real reason to pay for anything more than a standard room.  Unless you have extra cash to burn, then feel free to pay up.  But the room views aren't what make this resort great.  A standard room will get you access to what matters.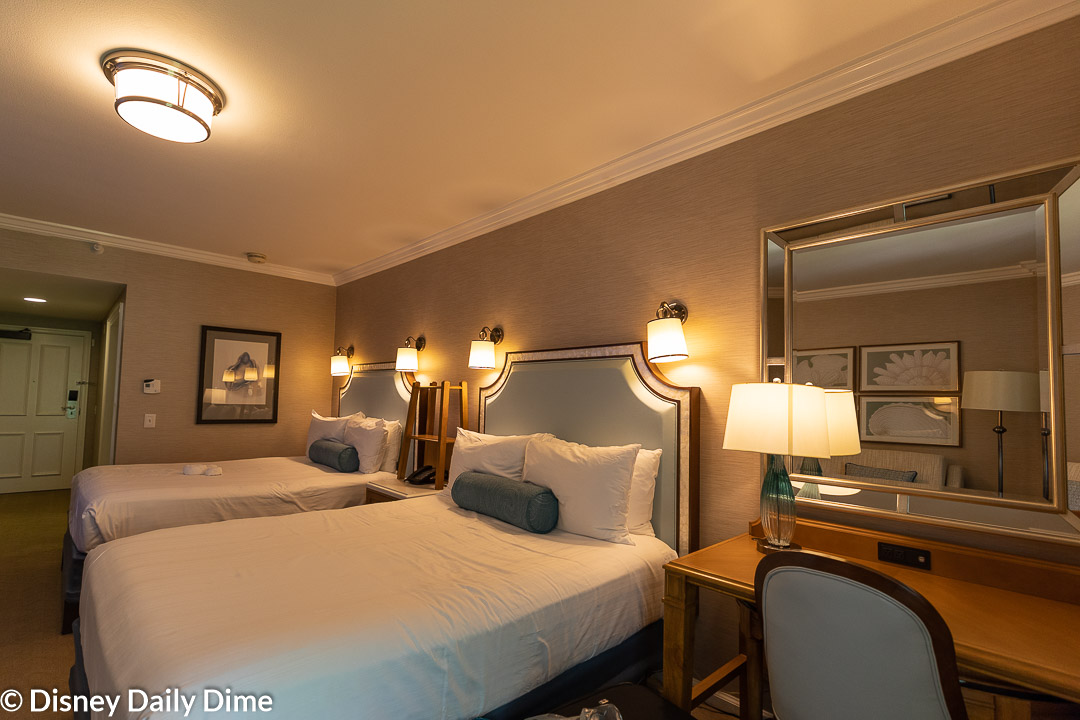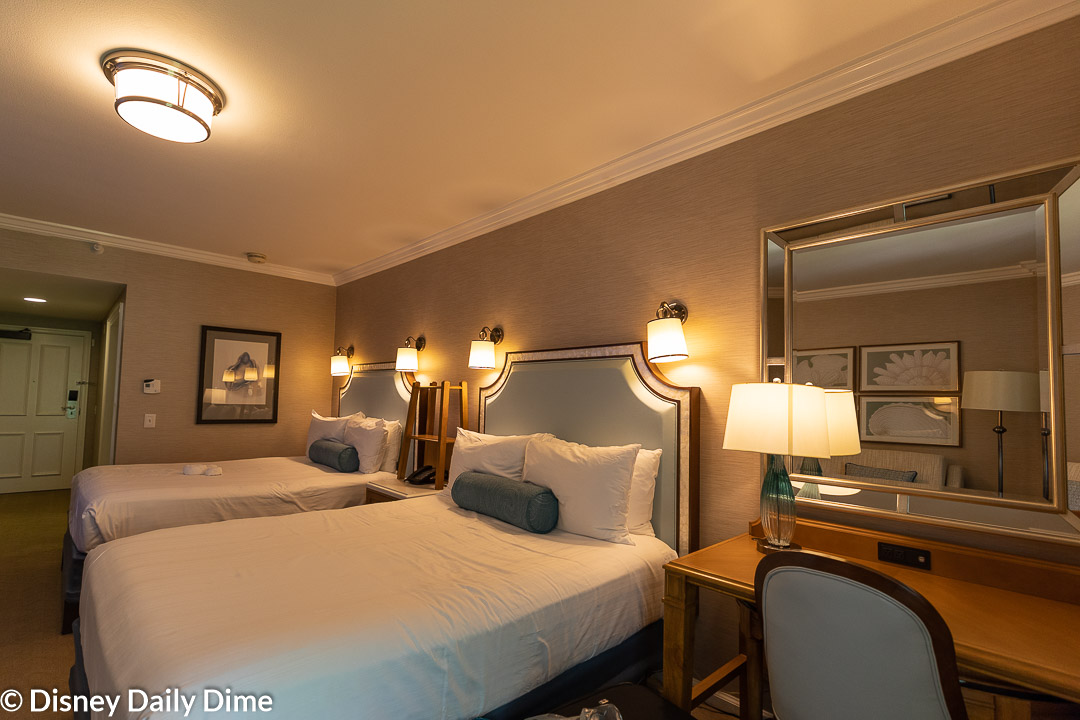 The location of the resort is also an important differentiator.  Sitting on Crescent Lake assures you of a short walk to Epcot and makes Hollywood Studios an easily accessible walk or boat ride.  It's hard to beat the convenience the resort brings.  Yes, Magic Kingdom and Animal Kingdom are a bit of a pain to get to because of the bus sharing situation, but there is no perfect resort.
Disney's Beach Club Resort also features several excellent dining options, even if the counter service is weak.  With its location on Crescent Lake, five resorts are in walking distance of each other.  This gives you a wealth of options for dining.  The Crescent Lake area is the only place on property with this many resorts in this close of a proximity.
If you're looking for a great resort, then this will do the trick.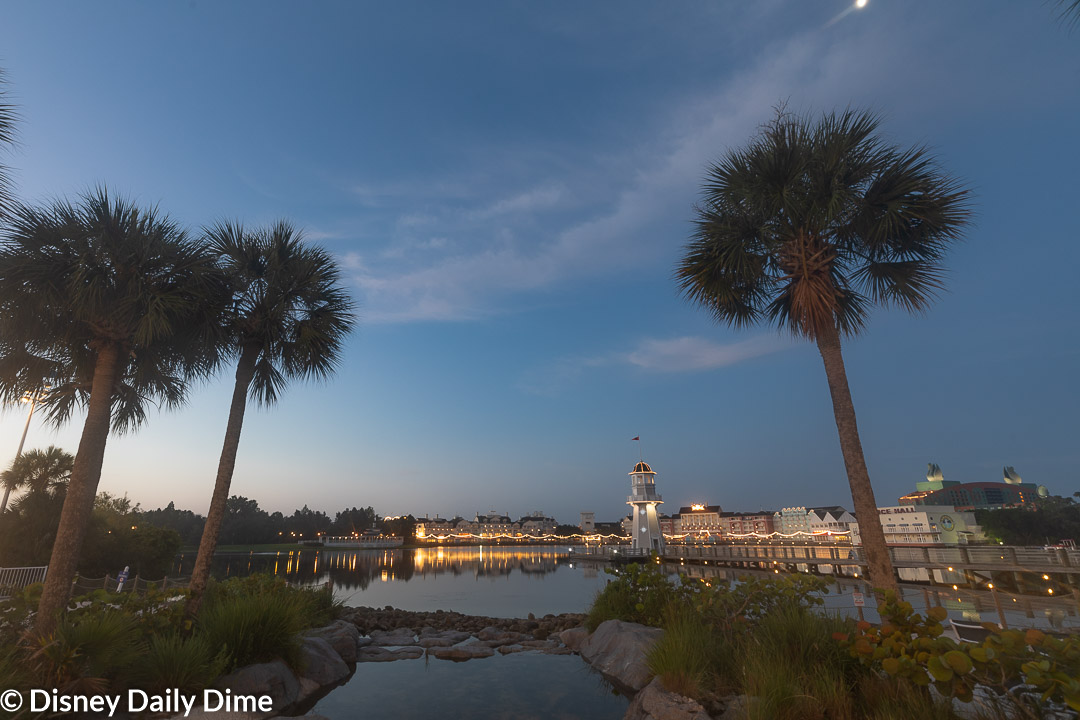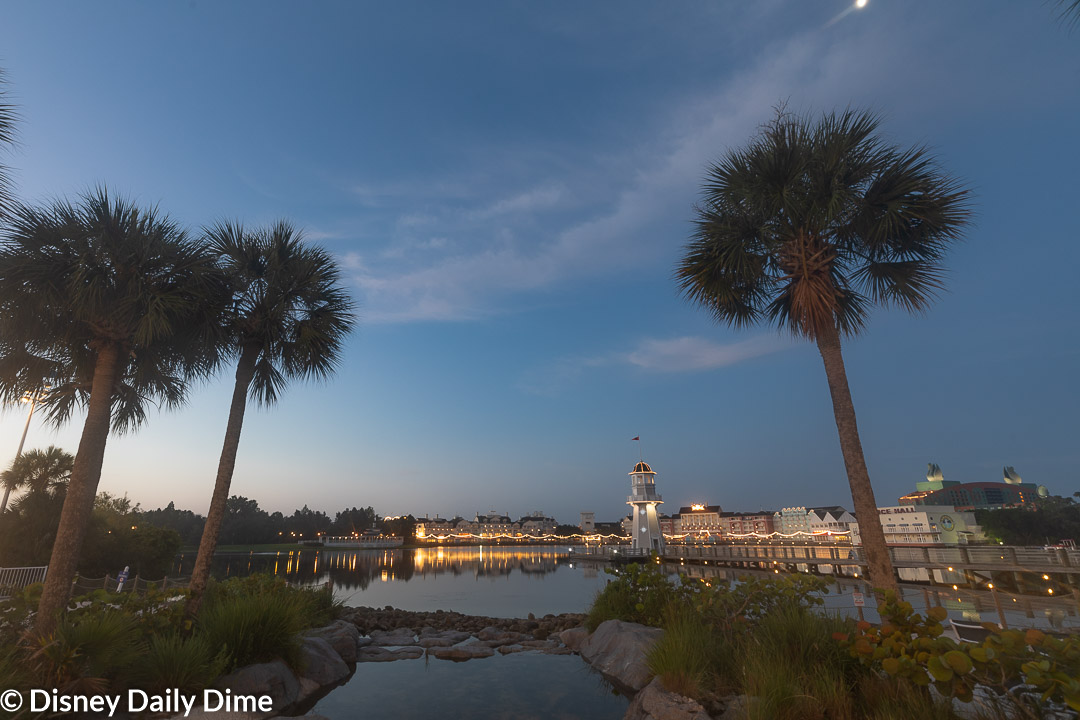 Wrapping Up Our Disney's Beach Club Resort Review
With that, we'll put the finishing touches on our Disney's Beach Club Resort review.  It's a fabulous resort that we think will appeal to lots of families.  If you like pools, food or plan on spending lots of time at Epcot and Hollywood Studios, you could probably stop your search right here.
We hope you found our Beach Club Resort review helpful.  If you did, we'd greatly appreciate it if you would share it on social media.  It helps get the word out on our blog and tells us we're doing something right.  Just use the social media sharing buttons on this page.