When it comes to entertainment, the Magic Kingdom's centerpiece events are their fireworks show and parades.  These are large scale productions that require hundreds of cast members on stage and off to put on.  And man does it show.  The downside of that is that showings are very limited, so if you want to catch one, you're going to have to plan a little bit.  You can't just stroll up and wait for the next show.  In this guide, we'll cover all the different Magic Kingdom fireworks show and parades that you need to know about!
In these shows, you'll have a chance to see and sometimes interact with characters.  Explore some great Disney songs and new music you haven't heard before.  They can also be a feast for the eyes, with fantastic color pallets, the glittering shower of light, and monstrous fire.
Do make sure you catch a show or two while you are on your visit.  They are part of what makes the Disney parks the best theme parks around, in our opinion.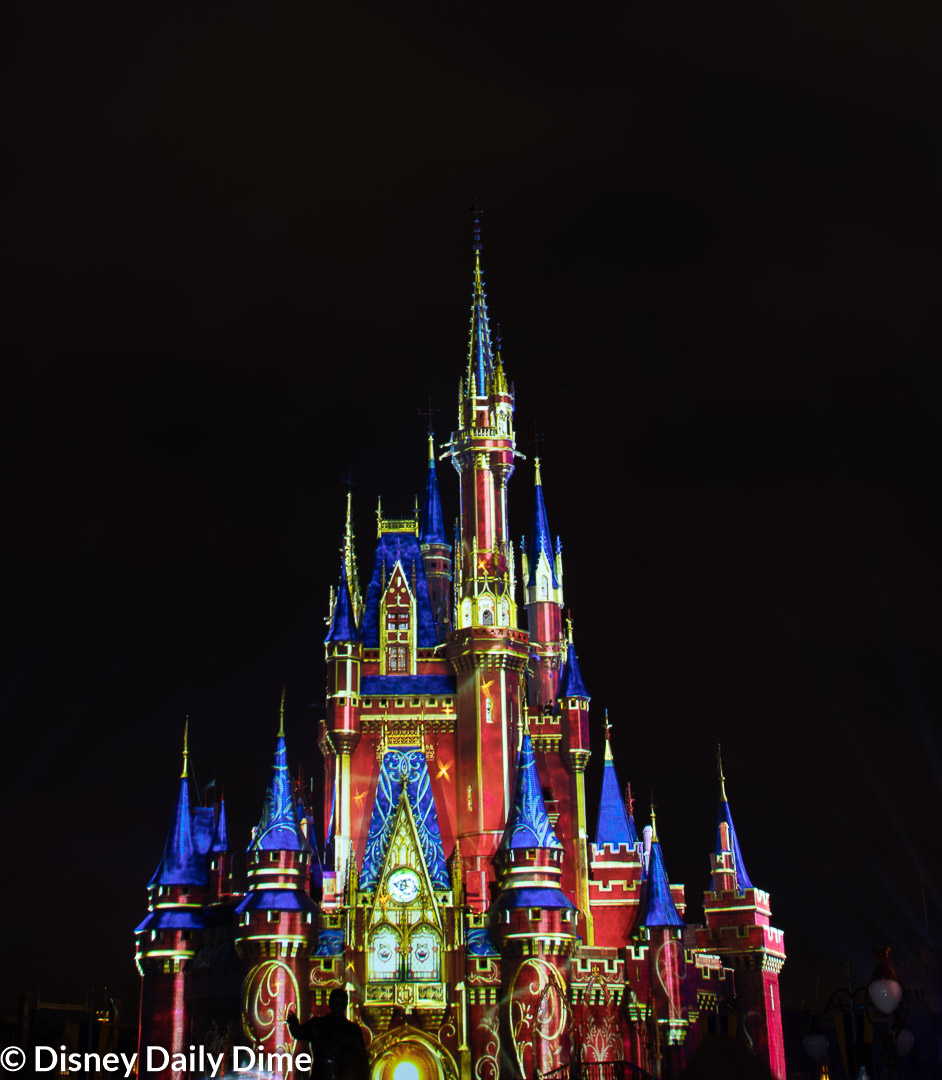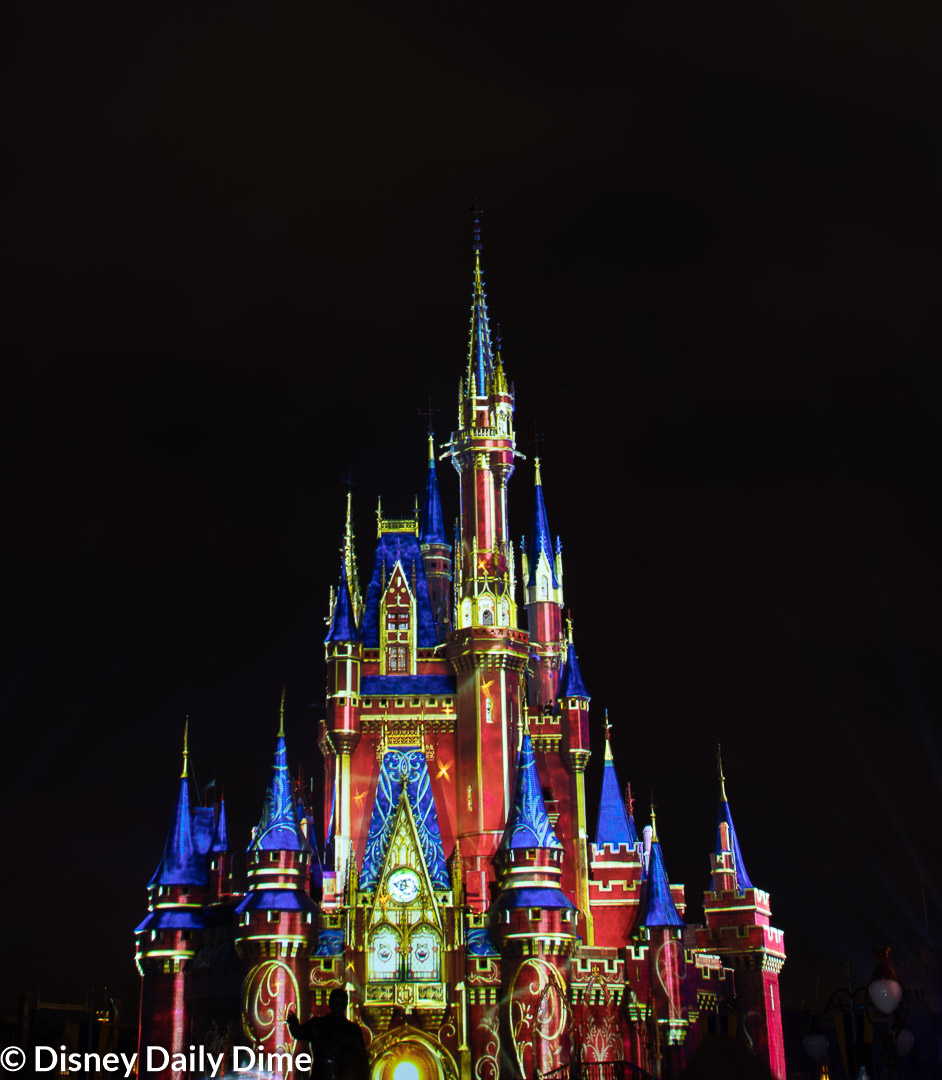 Happily Ever After
The signature fireworks show at Disney World, "Happily Ever After" is actually so much more than just a fireworks display.  When "Happily Ever After" replaced the long-running "Wishes" show in 2017, many long time Disney fans were greatly concerned.  Most of those concerns have been laid to rest, and "Happily Ever After" is now a must-see even for Disney World first-timers and long-timers.  Be warned, people start lining up for the Magic Kingdom fireworks show well in advance.  Like we're talking an hour or more.
It's 18 minutes of fireworks and magic on Cinderella Castle.  On Cinderella Castle, you ask?  Yes, the Imagineers have created an impressive show that uses state-of-the-art projections to display tales from a multitude of Disney animated films.  Some of the films covered are Aladdin, The Lion King, Moana, and Toy Story.  It includes 17 films in all.  I know you might think that projecting movies onto the castle would be odd, but it is truly amazing what they have created.
The magic of the projections come with how Disney uses the castle.  Rather than just taking a scene from a movie and projecting it onto the castle like a giant movie screen, they have edited the scene.  With the edit, Disney has lined up components of the scene onto sections of the castle.  The presentation makes the story more compelling, in our opinion.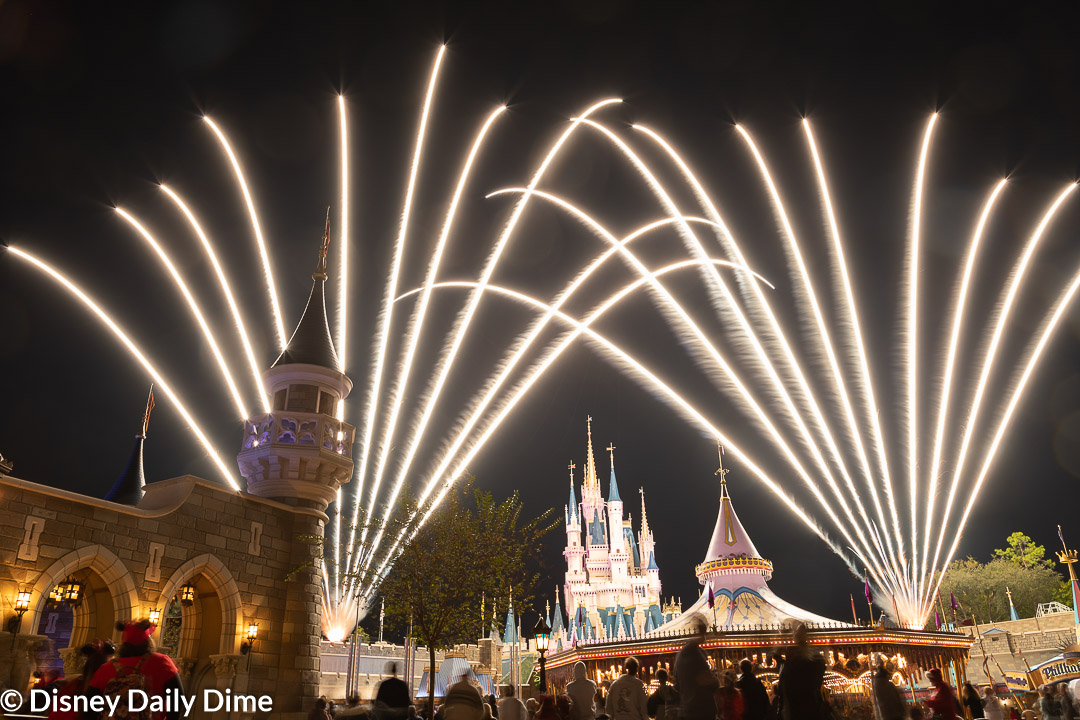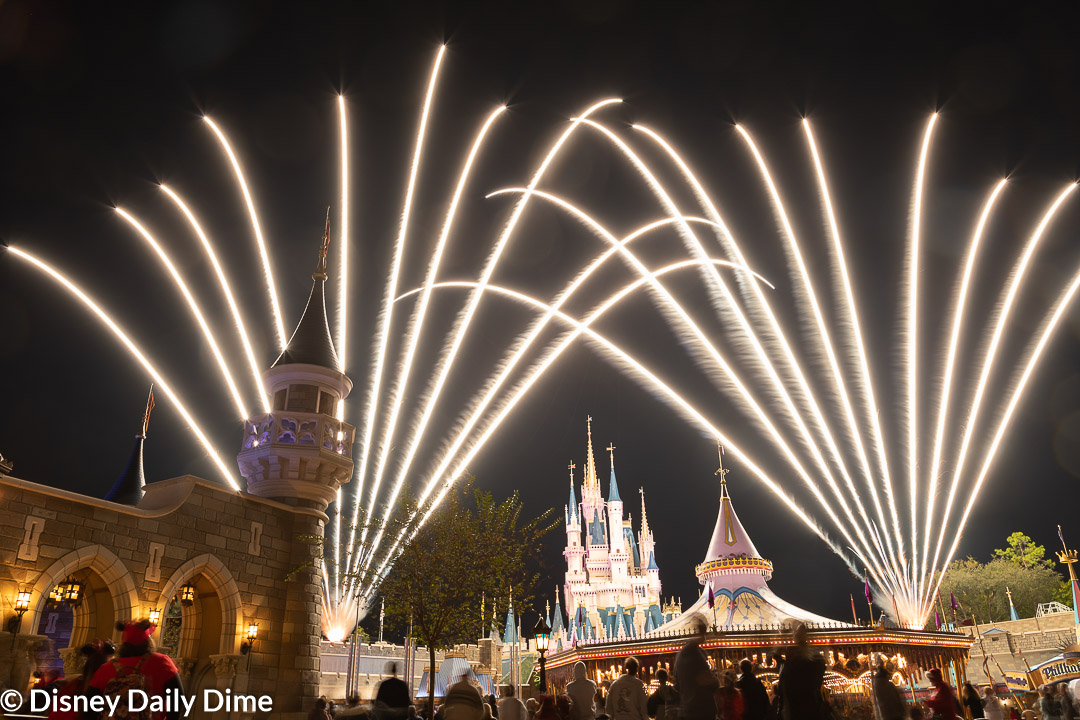 Also included are elements of lasers and glistening lights, all over the castle.  The musical score also features updated versions of many Disney classics.
The show is about 18 minutes long and usually kicks off at 9:00 PM, but check the park schedule for your day, as show times can change.
The best viewing places for the show are in the central hub, behind the "Partners" statue.  Try not to get sucked back down Main Street, as the buildings may obstruct your view of the fireworks that are more off to the side of the castle.  We've also enjoyed watching the show from behind the castle, near Be Our Guest, but you can't see the projections from here.  The benefit is you have smaller crowds.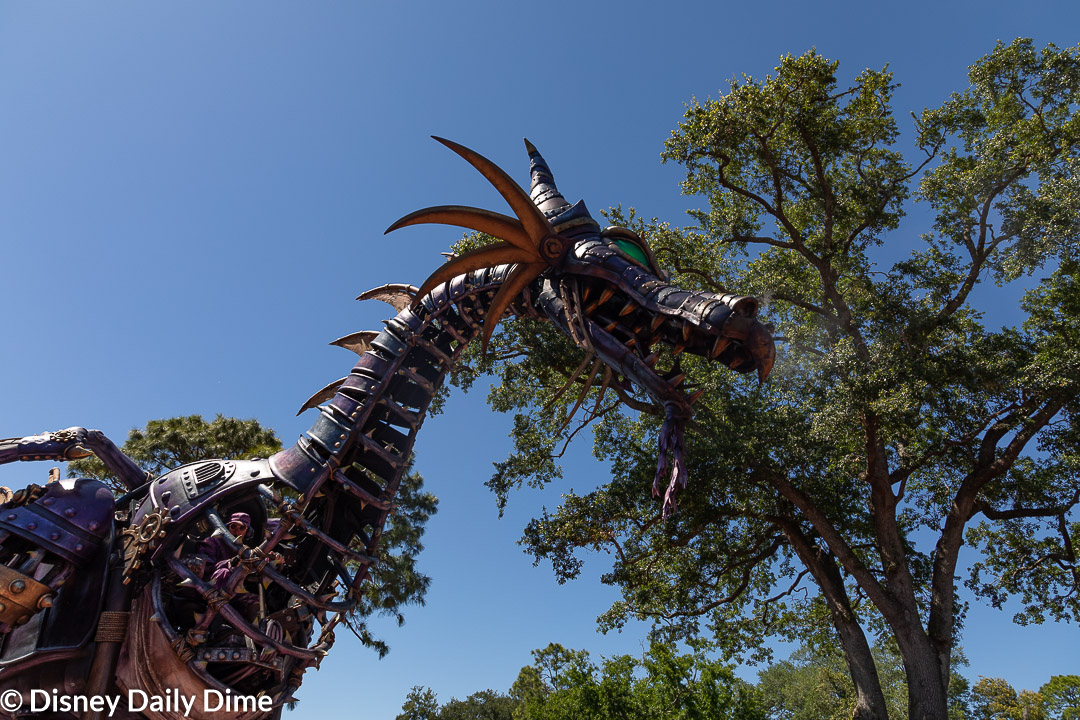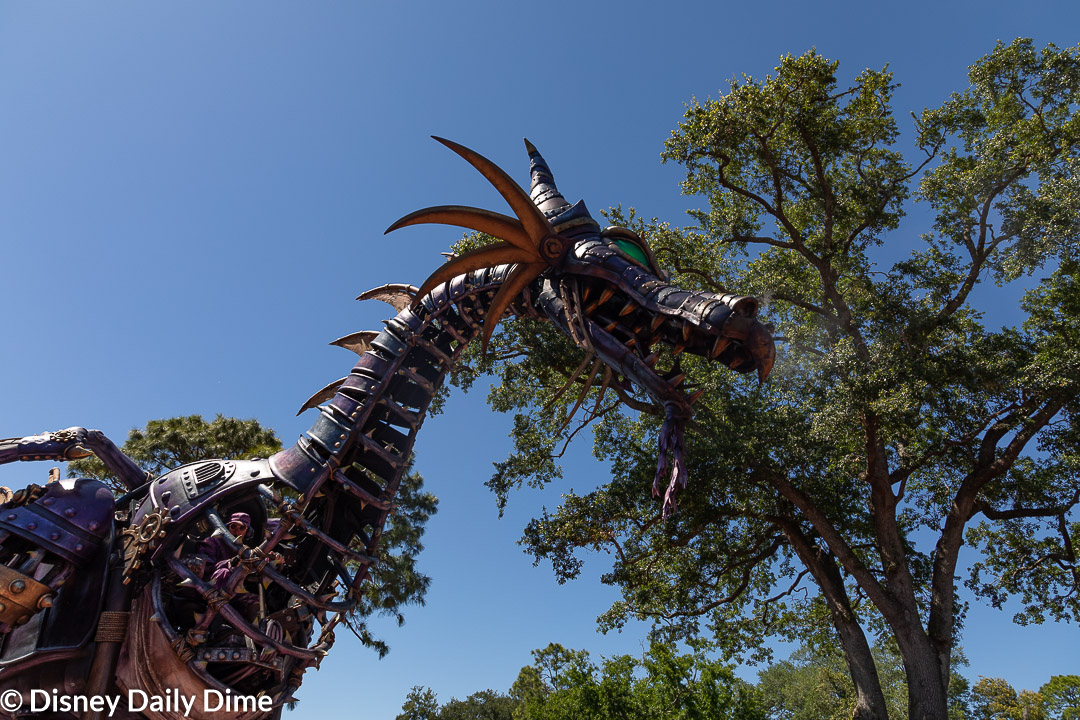 Disney Festival of Fantasy Parade
The Festival of Fantasy Parade is an ode to the world of Fantasyland, both new and old.  You'll see some of your favorite Disney characters, including a bevy of princesses.
At its core, this is a classic float parade, except these are some of the most elaborate floats you will ever find.  Complete with ornately designed gardens, swing, and pirate ships, these floats are working set pieces on wheels.  Oh, did we mention there's a fire breathing dragon (Maleficent, in dragon form)!
There's only one show per day for this parade, usually at 3:00 PM.  Make sure you check the park calendar for the day you are there to confirm showtimes.  If you're looking for prime seating, you'll need to line up 30 minutes to an hour beforehand.  Note that this parade begins in Frontierland and ends at Main Street, U.S.A, so you have many options of where to stand to watch this parade.  The show runs about 30 minutes in length.
Let the Magic Begin
Each morning, Mickey and his friends welcome park guests with a 5-minute show on the stage in front of Cinderella Castle.  Taking place about 5 minutes before the official park opening, the show concludes with Mickey letting guests storm the park in search of their first ride.  Look out for the wall of people headed to Seven Dwarfs Mine Train.
Mickey's Royal Friendship Faire
Mickey and his pals put on a Renaissance Faire for all the park guests as part of this show.  In addition to the Fab Five, Mickey invites Princesses Tiana and Prince Naveen, Anna and Elsa, Rapunzel and Flynn, and Olaf to join in the fun.
The show occurs multiple times a day; check the park calendar for exact hours.  The show lasts about 20 minutes.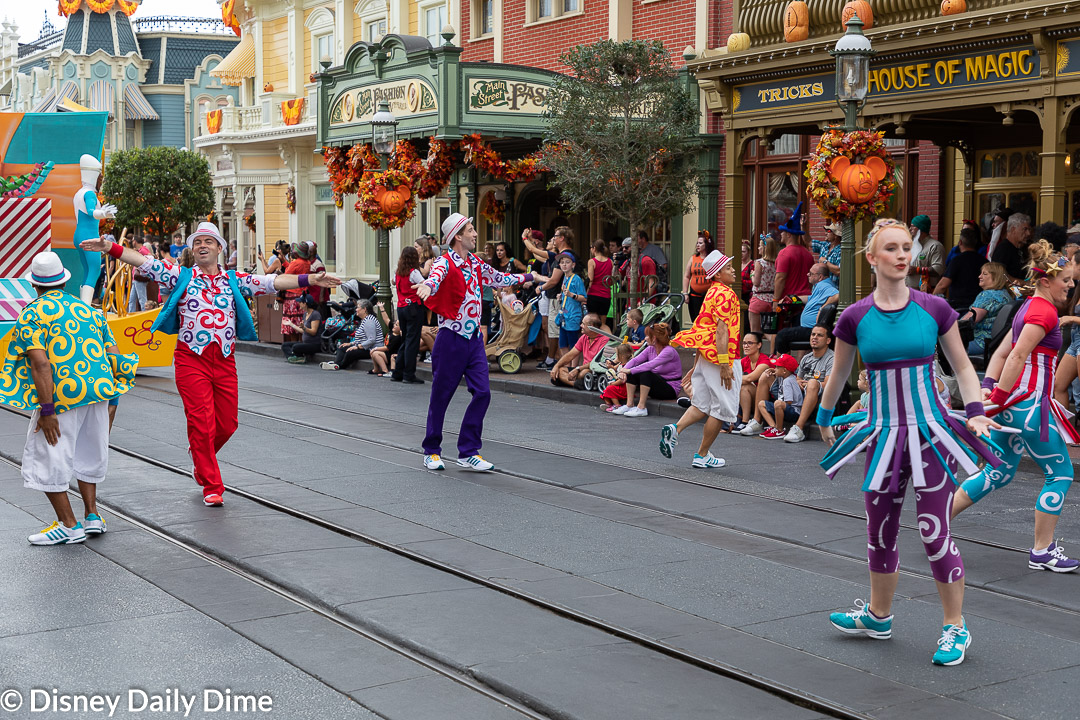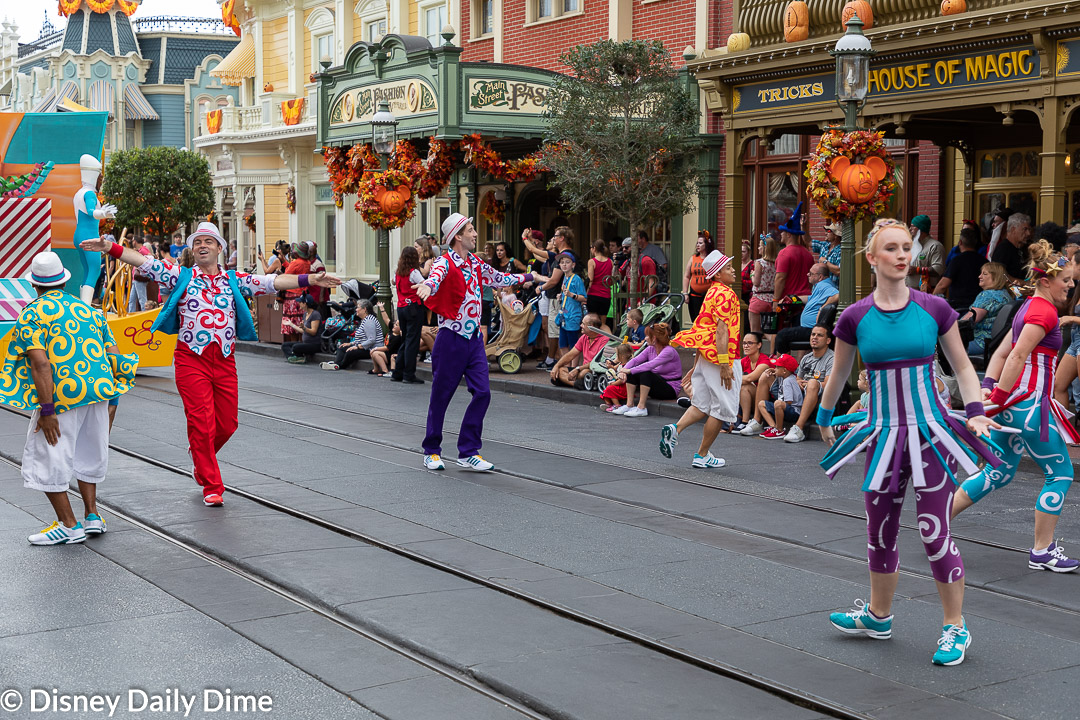 Move It! Shake It! Dance & Play It! Street Party
This street party starts in Main Street, U.S.A and works its way to the front of Cinderella Castle.  It has a few floats along with entertainers and Disney characters.  Once the show gets to the castle, all the floats stop moving, and guests are allowed to enter the streets to dance their booties off (I think I just heard my kids giggle) with the characters.  Disney tries to get some free social media promotion of the party by encouraging guests to pictures to social media using the hashtag #MoveitShakeitPics.
Characters in the party include Mickey and Minnie, along with Nick Wilde and Judy Hopps from Zootopia, Woody and Jessie from Toy Story, and more.
The party happens a few times a day and lasts for about 30 minutes.
Once Upon A Time
Join Mrs. Potts as she puts her son, Chip, to bed.  Every little child needs a bedtimes story, right?  In this case, Mrs. Potts recounts some of the signature moments from stories that begin with the classic line — "Once Upon A Time."
You'll be taken to far-off lands as scenes from some of your favorite Disney animated films―Cinderella, Peter Pan, Frozen, Alice in Wonderland and Beauty and the Beast―are projected onto Cinderella Castle.  It uses the same technology that we mentioned in our "Happily Ever After" discussion above.  There are some light fireworks for this show, but not many.  The show happens shortly after "Happily Ever After" and lasts for about 15 minutes.
Electrical Water Pageant
This water pageant doesn't happen in Magic Kingdom, rather just outside its gates on the waters of Seven Seas Lagoon.  The water pageant is constructed of 14 ships, with 25-foot-tall light stands that make the varying shapes of sea creatures.  An old school light show by Disney standards, its still fun to watch from either Magic Kingdom's entrance or the resorts around Magic Kingdom.
The water pageant usually gets started at 9:00 and is best visible from the following times from each specific location:
9:00 PM – Polynesian Resort
9:15 PM – Grand Floridian Resort
9:30 PM – Wilderness Lodge
9:45 PM – Fort Wilderness Resort and Campground
10:00 PM – Contemporary Resort
10:35 PM – Outside of Magic Kingdom park
These times should not be considered exact.  Grab a cocktail, if you're at a resort, head to the beach area, and relax while you wait.
Wrapping up our Magic Kingdom Fireworks Show and Parade Guide
And that's all the fireworks and parades at Magic Kingdom.  There are lots of good options here, so try and take in a show or two.  Definitely don't miss "Happily Ever After," especially if it's the only trip you'll take.