When it comes to Disney's BoardWalk Inn, this deluxe level resort certainly knows the number one rule of real estate.  Location, location, location…  But a prime location doesn't necessarily mean it is a great resort.  Here in on Disney's BoardWalk Inn review we'll go in depth on the theming, food, amenities and more to get at if we believe this a resort worth your consideration.
Like our other Disney World Resort reviews, our Disney's BoardWalk Inn review is part statements of fact so you understand what the resort is like, coupled with our opinion of the resort.  Sometimes that's a fine line to lay out in writing, but we think you'll be able to tell when we are interjecting our opinion into this review of the BoardWalk Inn.
One quick note related to this review.  Carla and I stayed at Disney's BoardWalk Inn on an anniversary get away.  Anna and Elsa didn't come with us on this trip, they were having a grand old time with grandma and grandpa.  To be honest, part of why we came here without the girls is because it just didn't strike us as a very kid friendly resort.  We'll revisit that though at the end of this post.  Because of that, we don't have as much of a kid point view in this review.  We'll come back with them at some point.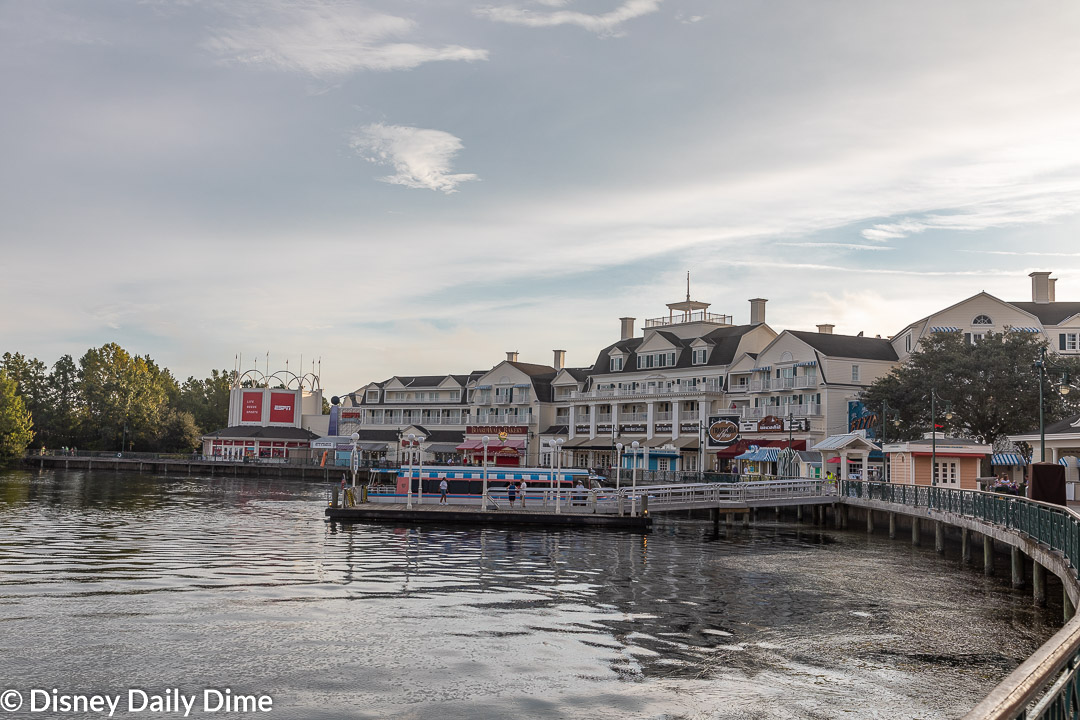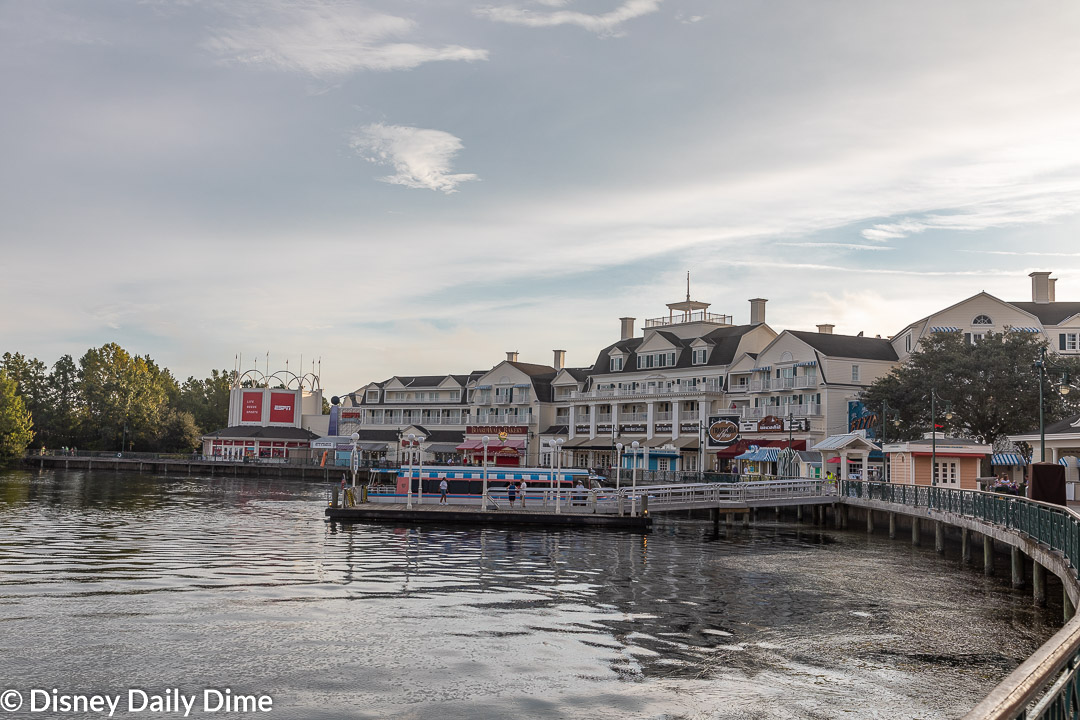 Disney's BoardWalk Inn Overview
So back to the location of Disney's BoardWalk Inn.  For sheer convenience to the various parks of Disney World, BoardWalk Inn may be the best.  Yes, it may be even better than the monorail-based resorts near Magic Kingdom.  Why so?  Well, from the BoardWalk Inn to Epcot is about a 5-minute walk.  Hollywood Studios is only about a 15-minute walk.  You're not going to find a level of convenience better than this at any other resort.  The Yacht and Beach Club are very close, but have a slightly longer walk to Hollywood Studios so, we give BoardWalk Inn the nod.
The sheer ability to not be beholden to the Disney bus system for two parks is a big deal.  Now, you do enter Epcot in the back of the park at the International Gateway.  This is great if you are going to one of the many festivals that Epcot hosts throughout the year.
As far as theme goes, Disney's BoardWalk Inn transports you to the early 1900s Atlantic City Boardwalk.  Situated along Crescent Lake, the BoardWalk hugs the shoreline by making a gentle curve.  This allows you to see all along the BoardWalk.  From an ambiance perspective, being on the actual boardwalk is what makes this resort.  The boardwalk itself is meant to remind you of Coney Island by featuring games, dining and other nightlife experiences.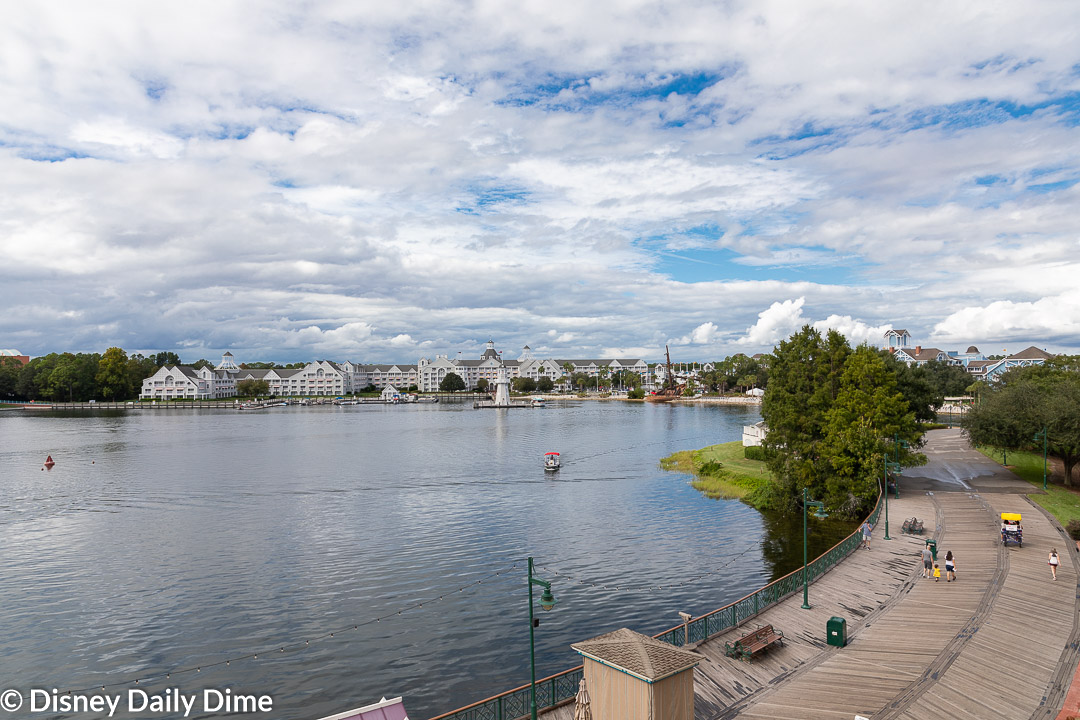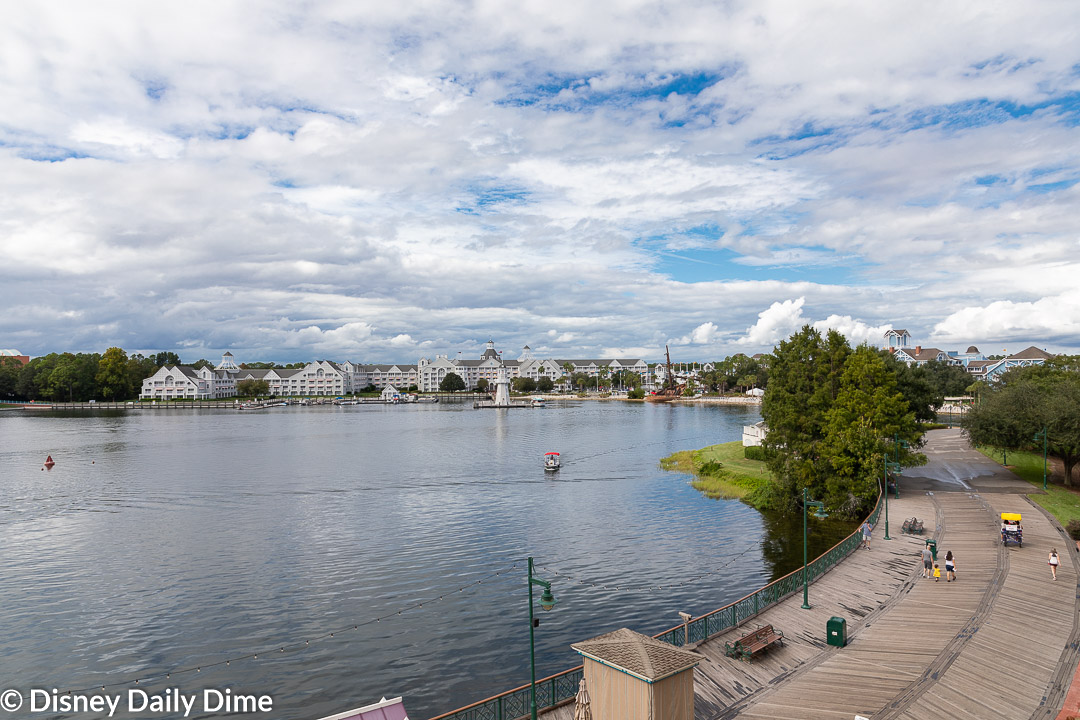 In addition to the views of the BoardWalk itself, you also have beautiful views across Crescent Lake towards the Yacht Club and Beach Club resorts.  It makes the Crescent Lake area feel all like a cozy set of small Northeastern towns around a lake.
The boardwalk is where almost all of the dining and shopping options are within the resort.  In addition, you'll find the entertainment of Jellyrolls and Atlantic Dance Hall.  More on those in a bit.  Needless to say, we are huge fans of the boardwalk itself.
If you move inside the resort, you'll find an elegant theme to the resort.  As you enter Disney's BoardWalk Inn, the lobby features a design and décor worthy of a deluxe resort.  Featuring fine details, like these ornate frames that show off the Disney park princess castles from around the world, to the ornate light fixtures or the miniature boardwalk replica, there's tons to feast your eyes on.  While maybe not as jaw dropping as the lobby at Wilderness Lodge, it is still something to behold.  In a lot of ways, it reminds us of the lobby over at Port Orleans Riverside because of the very stately feel to it, but this is definitely on another level.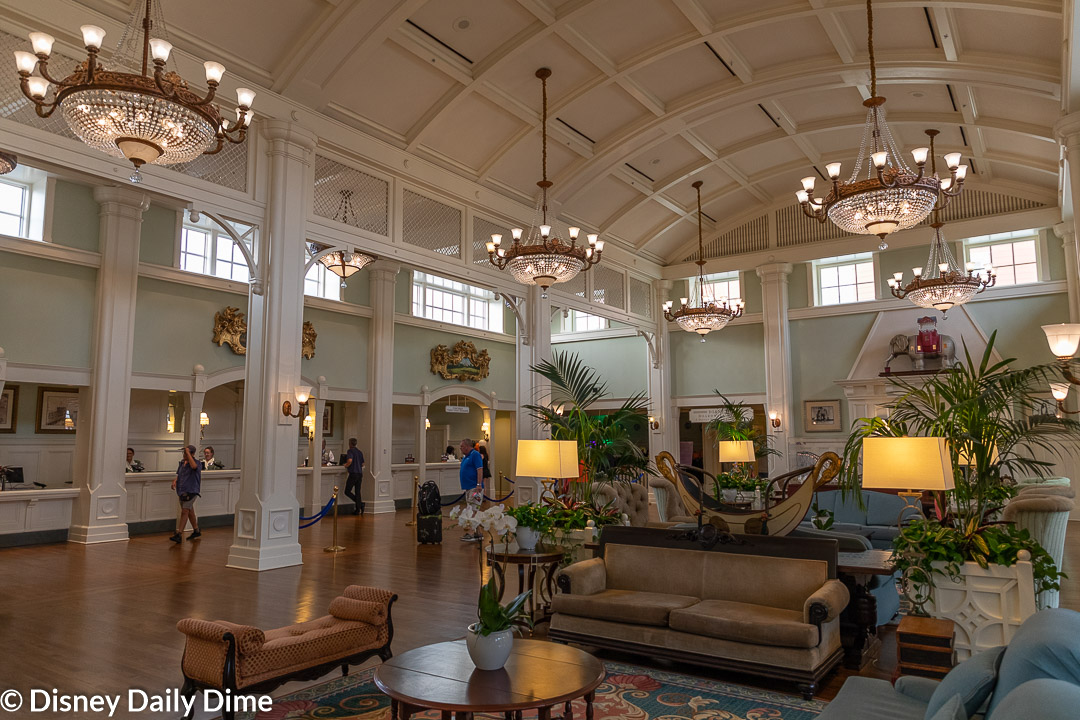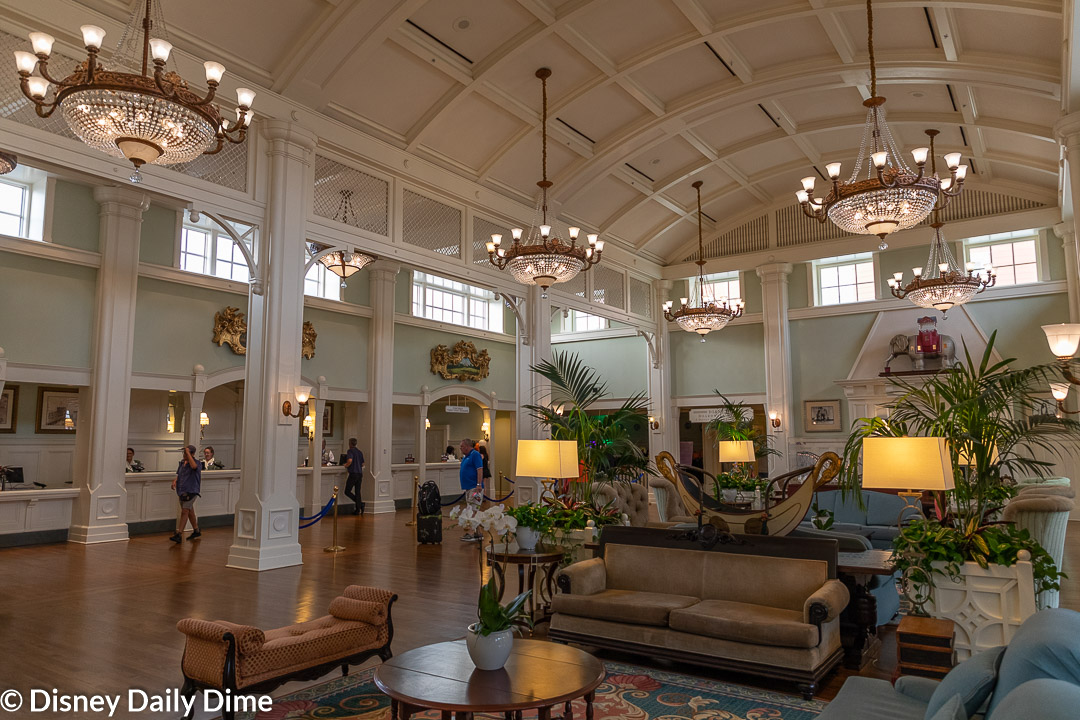 The theming continues throughout the common areas, where you'll find some beautiful artwork like the picture below.  Capturing the fun of a bygone era, this artwork shows what things were like around the turn of the century.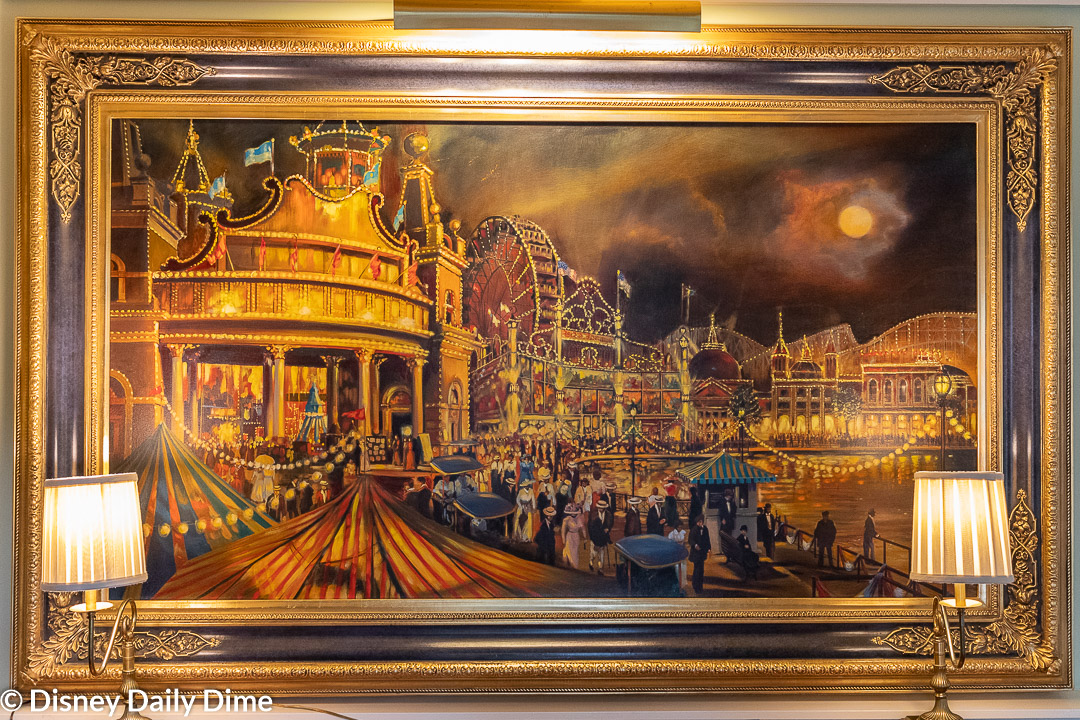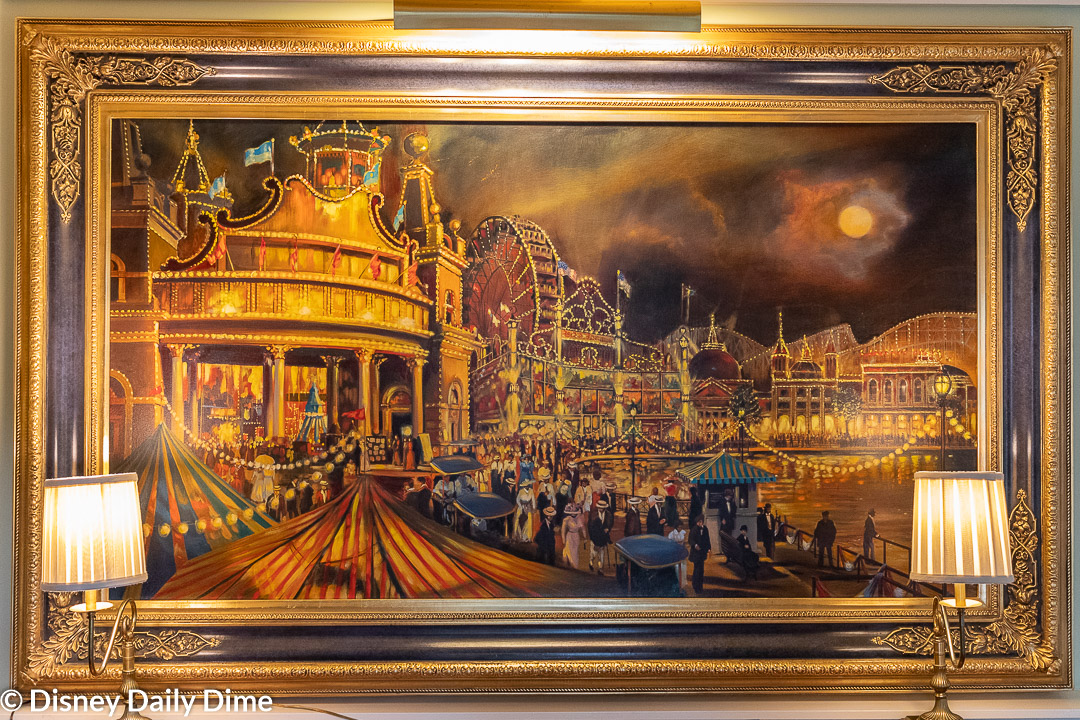 If you make your way out into the resort grounds, you'll find places that are away from all the activity on the boardwalk itself.  There are beautiful quiet gardens, where you can find a bench to sit on and relax.  And of course, there is a pool area with one creepy looking clown face.  More on that in a bit.
All in all, the theme of Disney's BoardWalk Inn is really well executed.  You'll find a graceful elegance of a time gone by.  If that type of theme is up our alley, then this resort is probably for you.
One thing to note about the BoardWalk Inn as it relates to the clientele it attracts.  This resort has a conference center attached to it, which can lend to attracting a disproportionate number of business travelers.  However, I have to say we didn't really notice it while we were there.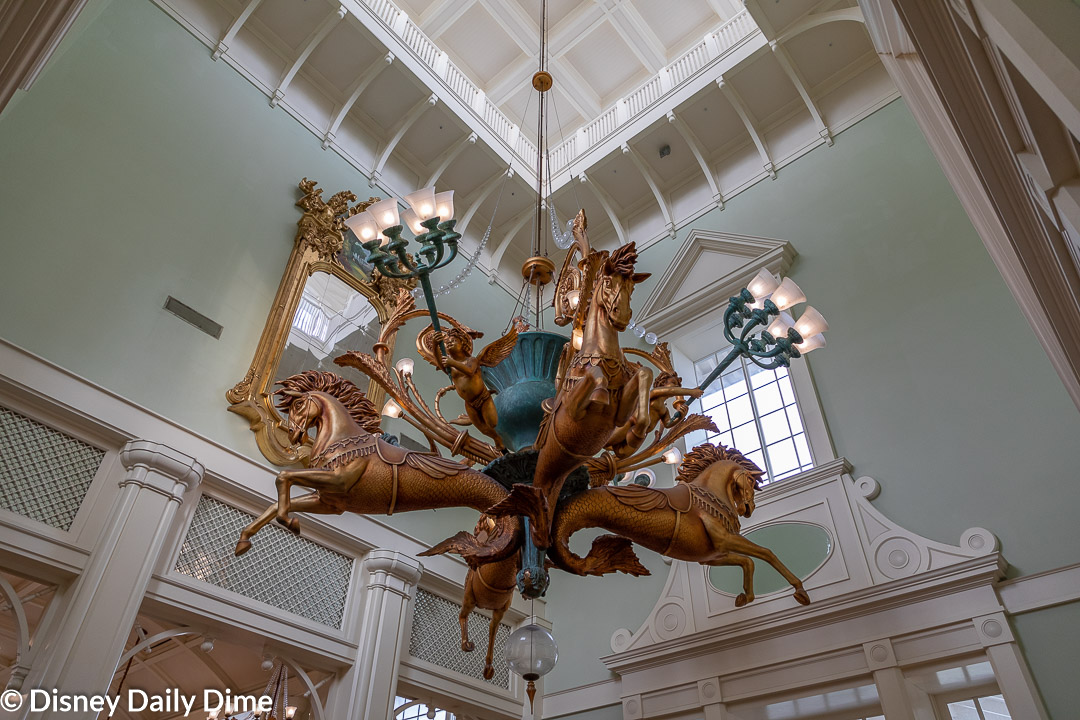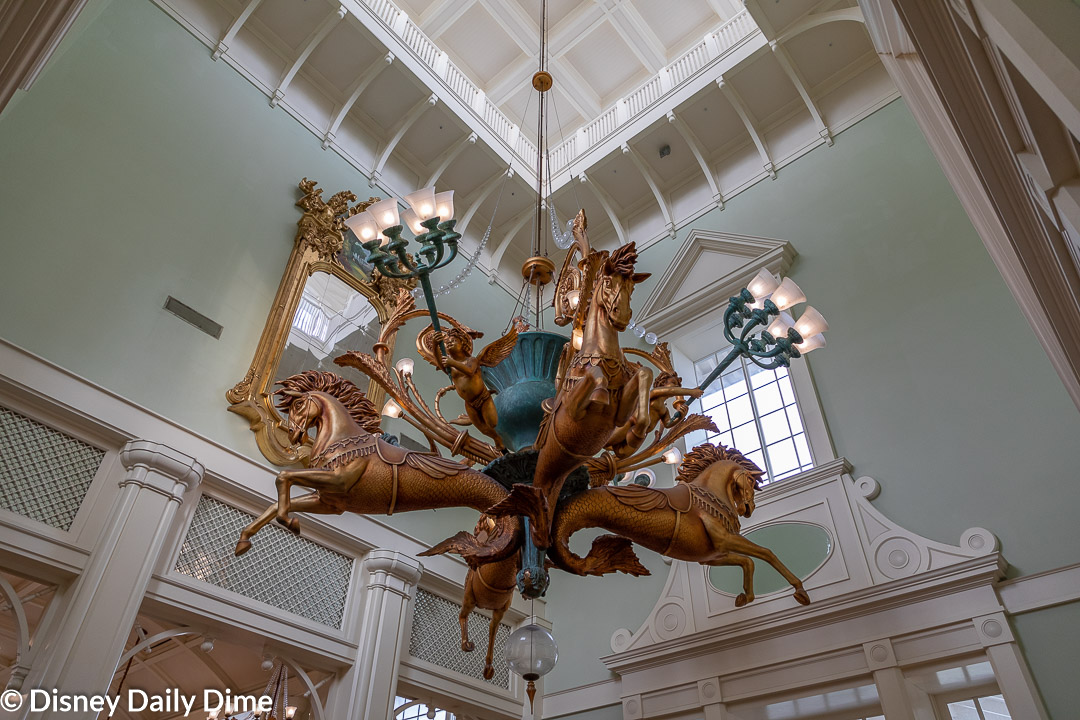 Disney's BoardWalk Inn Amenities
The amenities available within Disney's BoardWalk Inn are fairly standard for a deluxe level resort at Walt Disney World.  You'll find three pools, which we discuss in more detail below, along with bike rentals, jogging trails, an arcade and more.
If you need to do some basic shopping or laundry, Disney's BoardWalk Inn has laundry area and general store.  You can park your personal vehicle at the resort; however, you do have to pay for parking.  Right now, it runs $24 per night at deluxe resorts.
Like all deluxe resorts, there is also a fitness center available on property.  I popped in while walking the property and found it to be a good size with TVs available to watch while you run on the treadmill or use the elliptical.  Depending on the time of year, I'd suggest you run around Crescent Lake if you are going to jog.  Beyond that, they have an assortment of weights and more for your use.  The gym is located near Luna Park Pool if you are trying to find it on our resort map.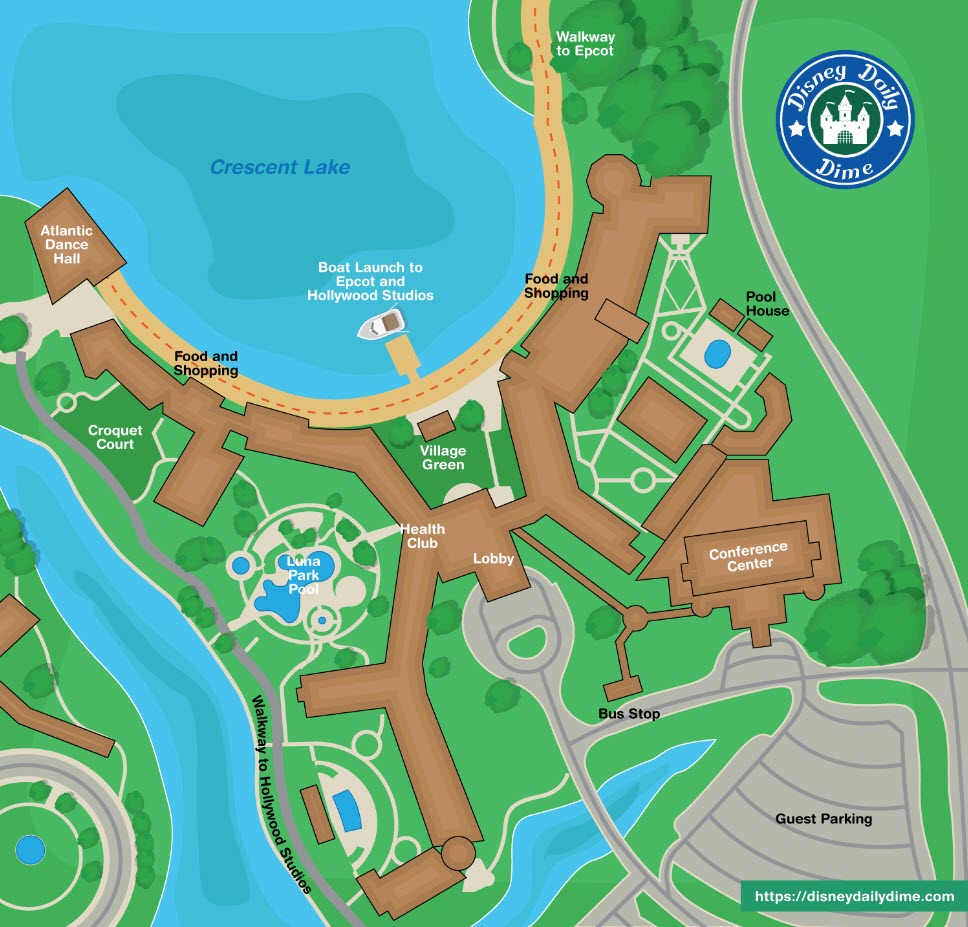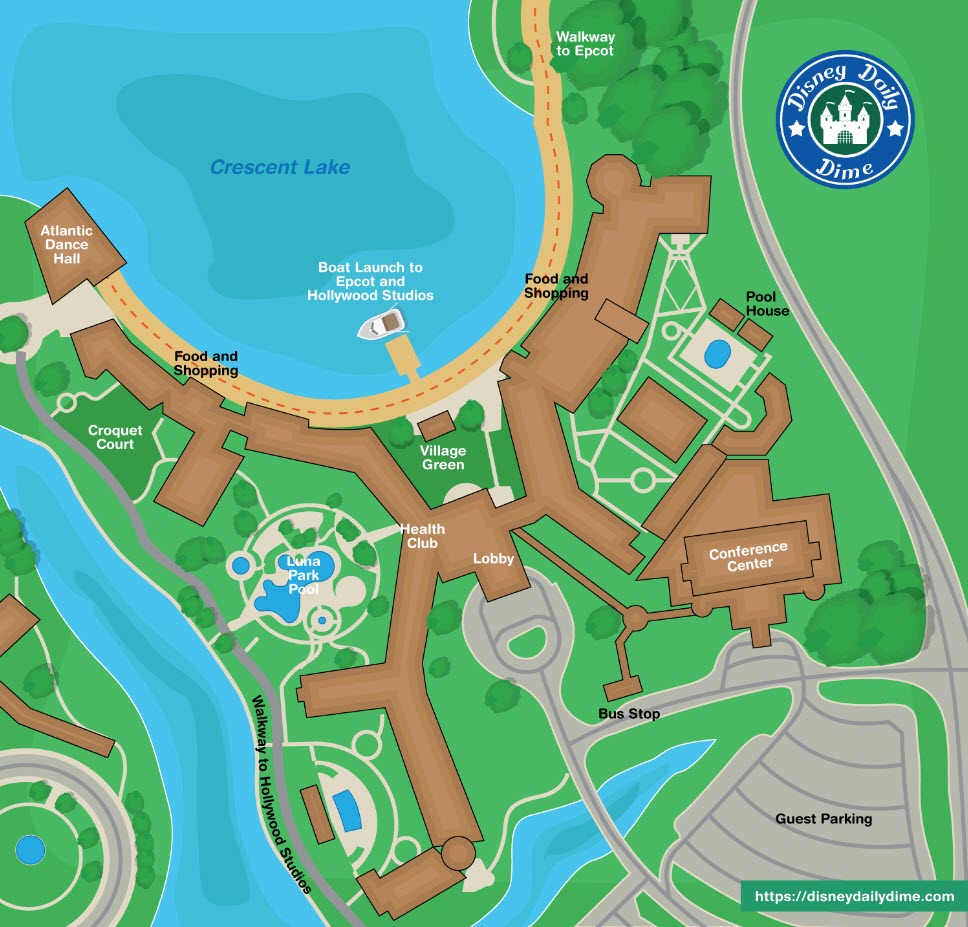 The resort rooms come with a standard setup consisting of:
Dresser
Sleeper Style Sofa
Table with 2 chairs
Wi-Fi Internet Access (access is free of charge)
Flat-panel TV
Mini-fridge
Coffee Maker
Ironing board and iron
Hair dryer
In-room safe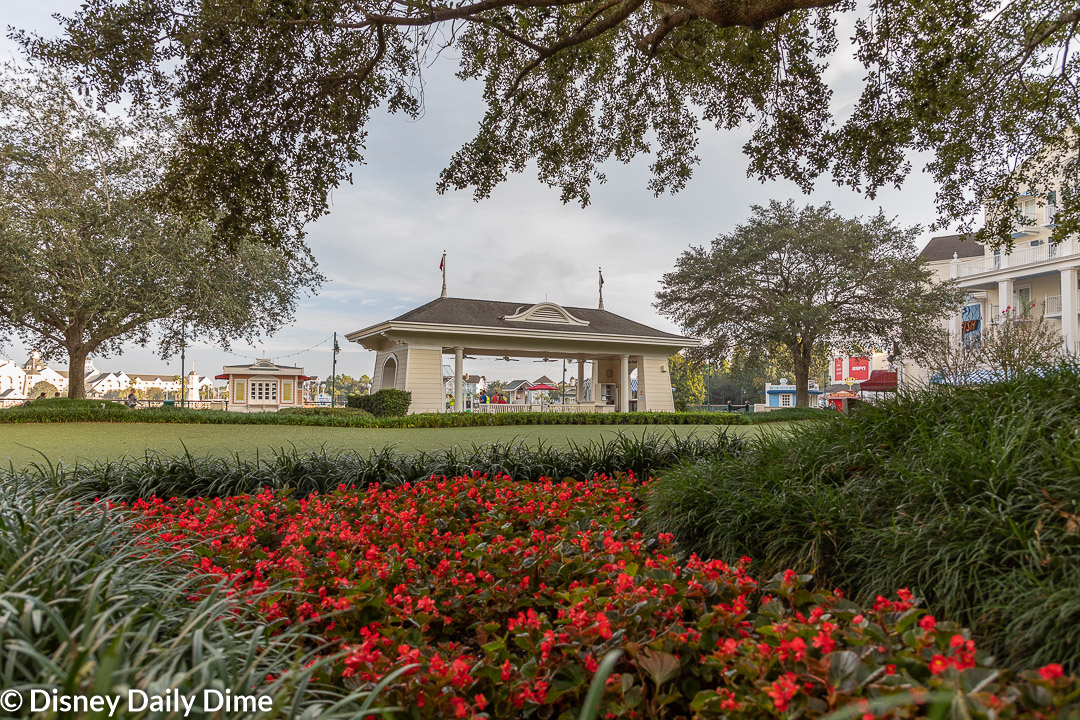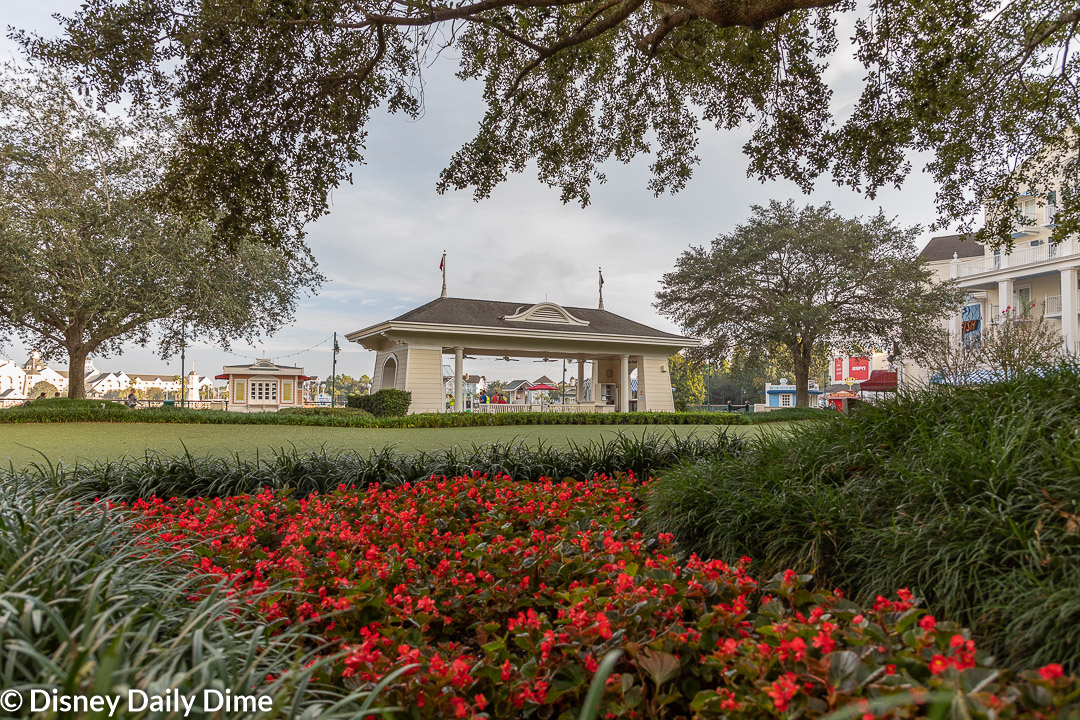 Disney's BoardWalk Inn Room Offerings Are Diverse
As part of our Disney's BoardWalk Inn review, we want to touch on the differing room options available to guests.  As you can image, we haven't stayed in all of these room types.  Far from it.  So much of what we'll discuss here are more just facts about the rooms or what we might read around the internet.  If we've stayed in a room, we'll link to our more detailed review of that room once we write that post.  You can read about the crazy story of how we wound up in the BoardWalk Inn Sonora Suite if you are interested.  It was disappointing to not see a normal resort room, but it was a whale of a room upgrade at Disney's BoardWalk Inn.  Because of that these room pictures may not perfectly line up with what the regular rooms at the resort look like.
Within the resort, there are the following room types:
Standard View – ($450 – $717 per night)
Water View – ($565 – $789 per night)
Garden View – ($476 – $742 per night)
Deluxe Room – ($790 – $1,218 per night)
Outer Building – Garden Room – ($849 – $1,309 per night)
Sonora Suite (Call Disney for Pricing)
Steeplechase Suite (Call Disney for Pricing)
Do note that pricing changes frequently, so check Disney's website for the most up to date pricing.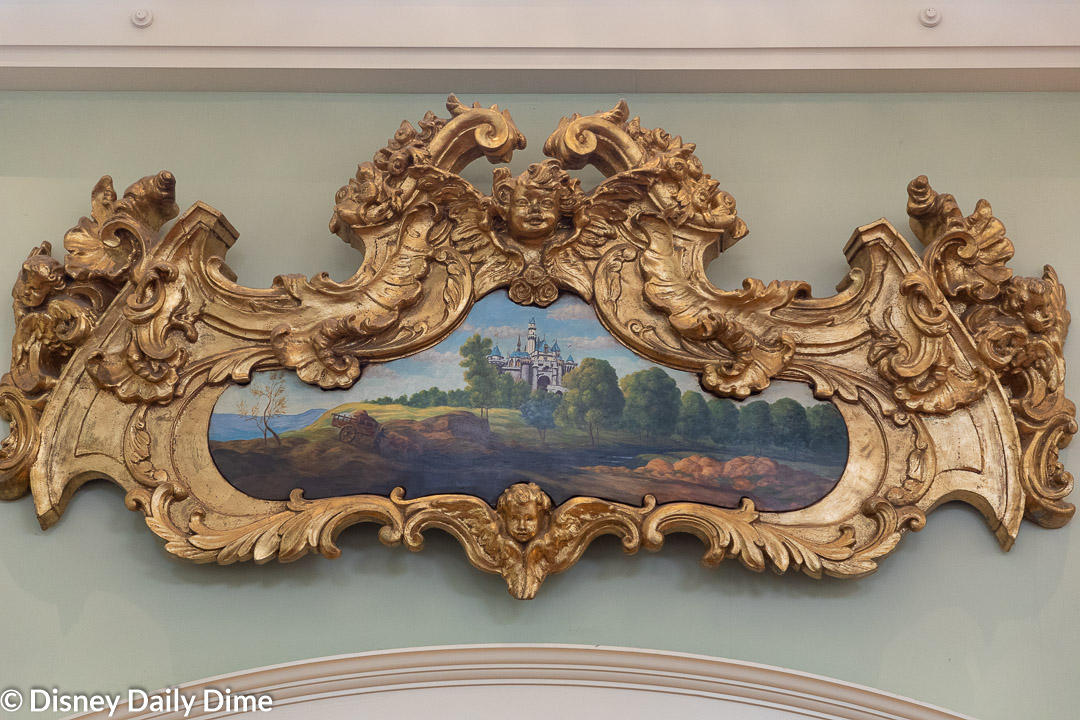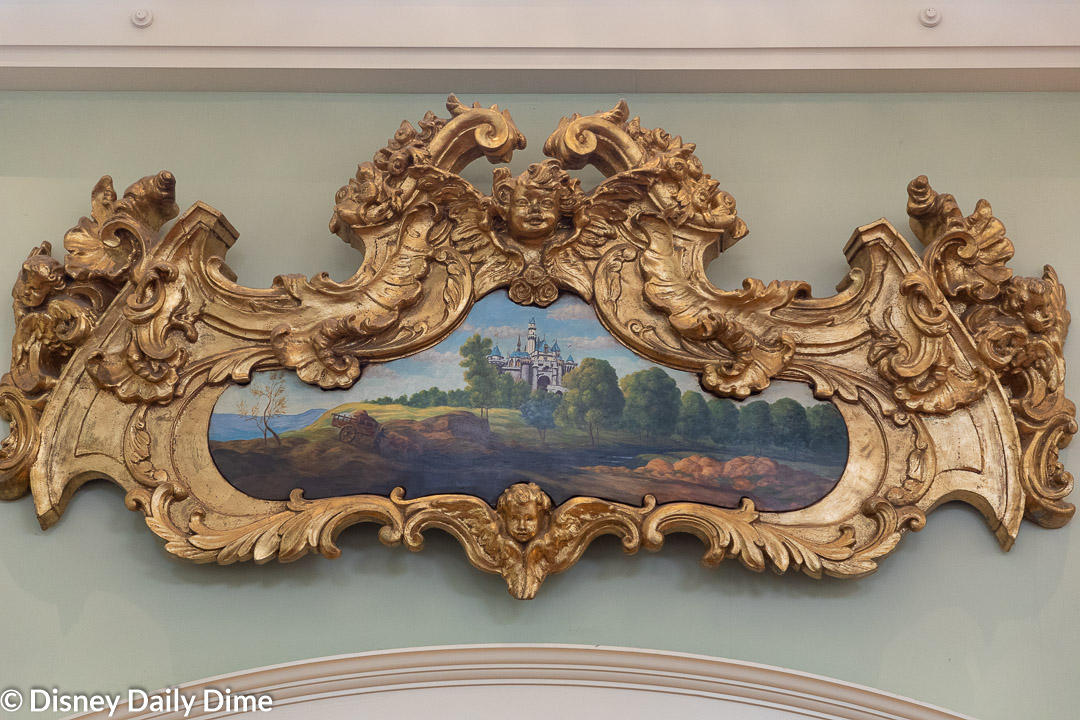 There are club level rooms available as well.  They are largely the same rooms, but with the added club level amenities.  We'll talk about that here in a moment.  You can find all the room types on Disney's BoardWalk Inn website.
Within the rooms of Disney's BoardWalk Inn, you'll find a fairly standard deluxe room configuration.  Almost all the rooms are 371 square feet.  The standard setup is two queen sized beds, with some rooms having an option of a king bed.
As with all the Disney World resorts, the standard view is going to look out over a parking lot, road, driveway, roof or some other uninteresting thing.  The water view room will provide a lookout over Crescent Lake, which is fantastic.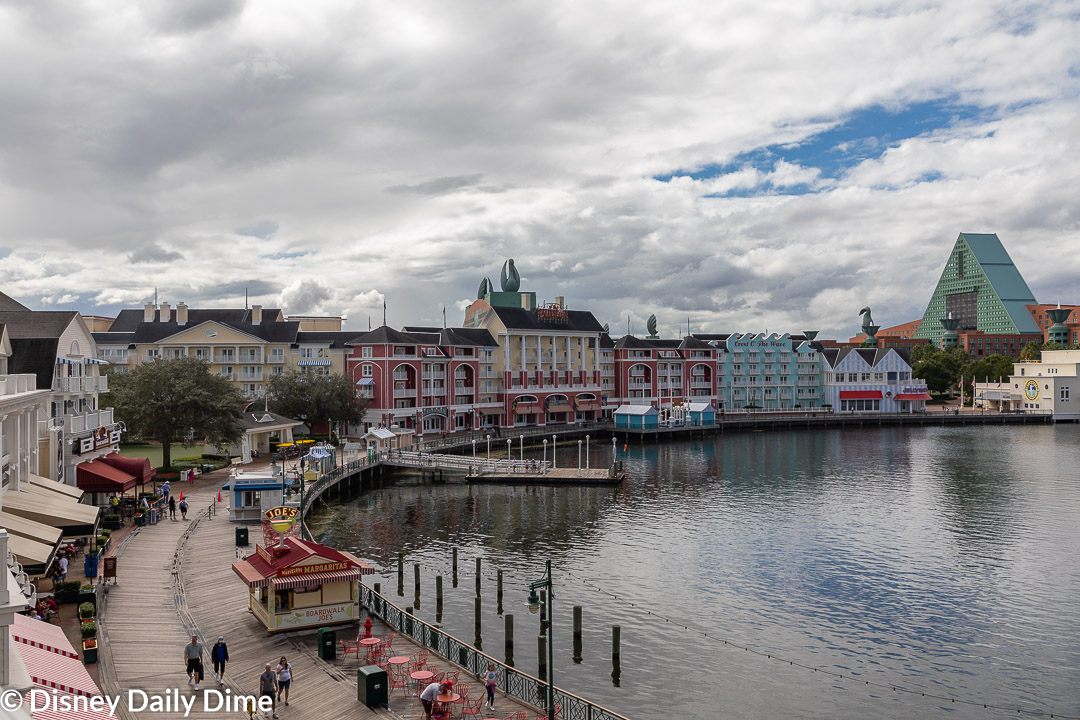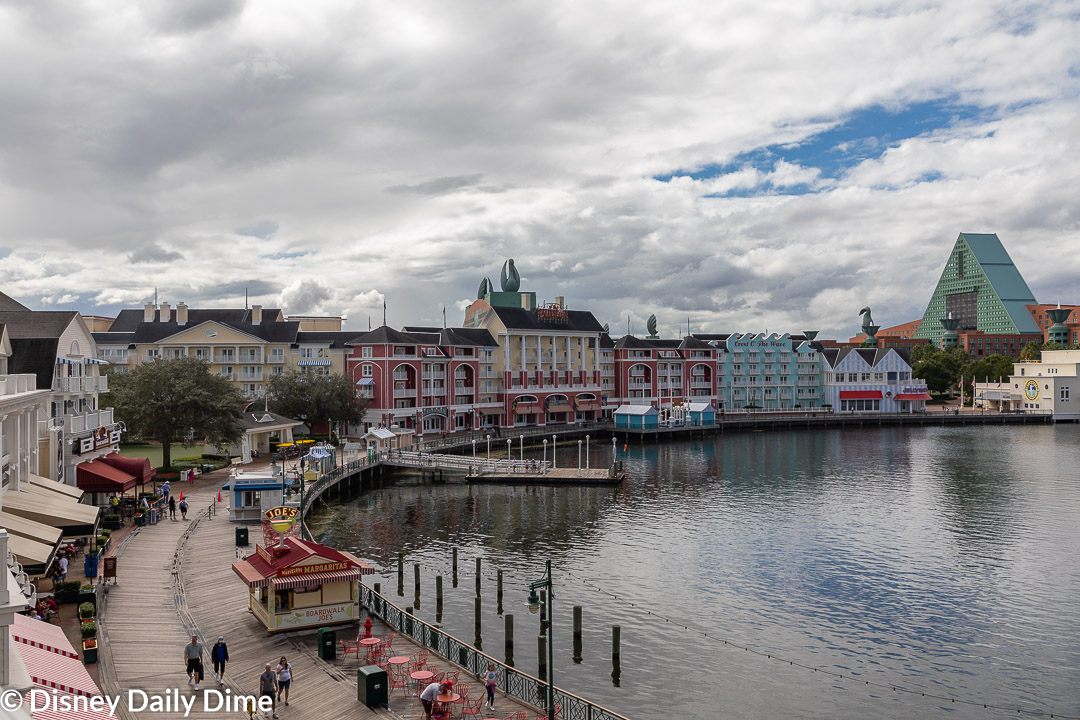 One note on those outer building garden rooms.  These rooms are designed for just two people, as they only have one king bed in them.  They set in more remote locations of the property, and lend themselves to couple on a romantic trip away, honeymooners, and the like.
All of the rooms feature a lovely turn of the century appointments, which means wallpaper and a somewhat muted color scheme.  Remember, the pictures we are showing are from a second wing of the Sonora Suite, which we think used to be a regular room until they commandeered it for the suite.  If you want some better pictures of the standard rooms, we suggest venturing over to Disney Tourist Blog.  Tom and Sarah always have great coverage of the resorts and pictures to boot.
In any case the rooms are lovely, but some people may find that they feel like they are staying at their grandparent's house, which we would understand.  It won't be for everyone and that probably means kids too.  If we're being honest, there isn't a whole lot to excite kids in these rooms outside of maybe the pool.  Speaking of that….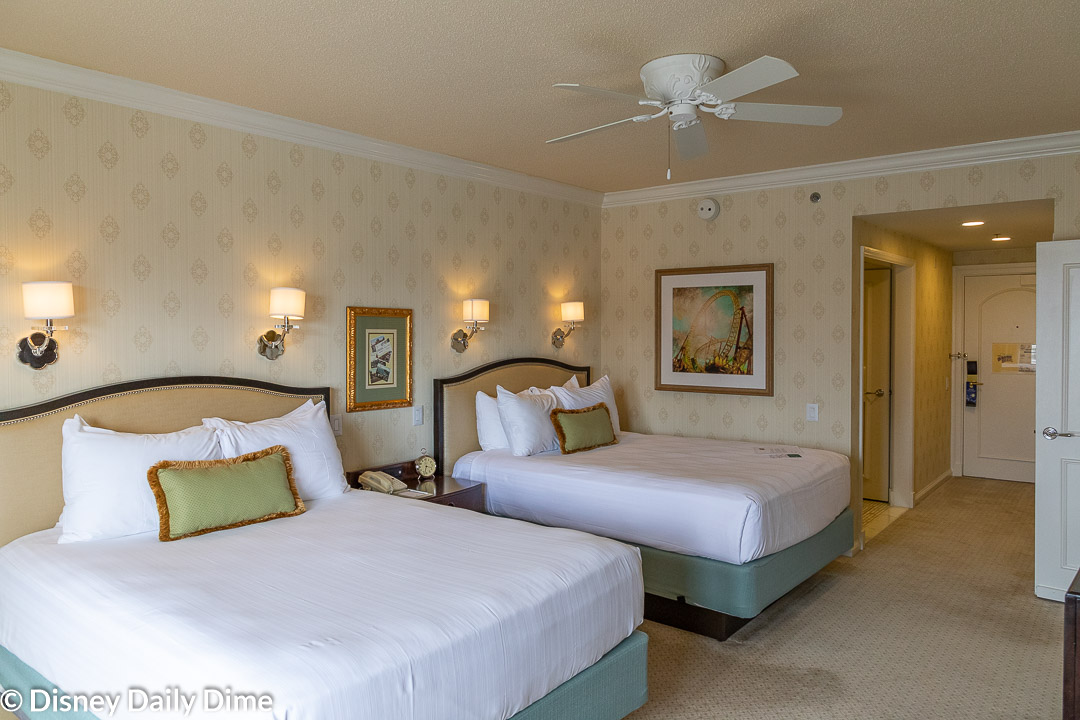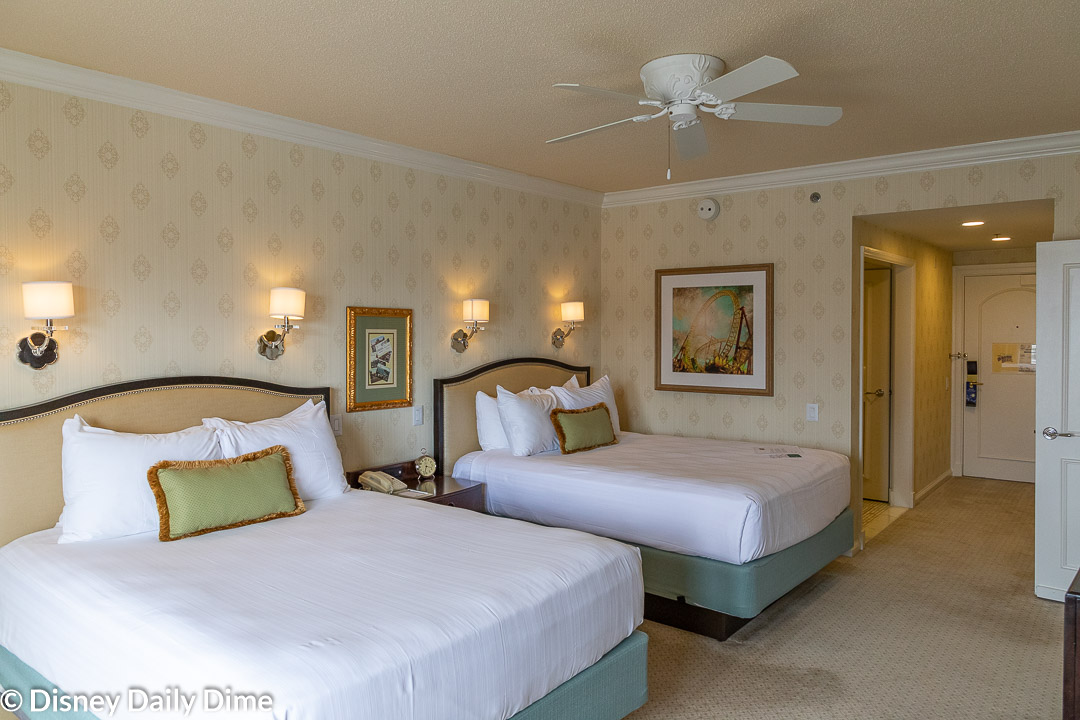 The BoardWalk Inn Has Three Pools to Choose From
Like the other deluxe resorts at Disney World, Disney's BoardWalk Inn has a well themed main pool and then a more laid-back quiet pool.  In the case of the BoardWalk Inn, it actually has two of these more laid-back pools.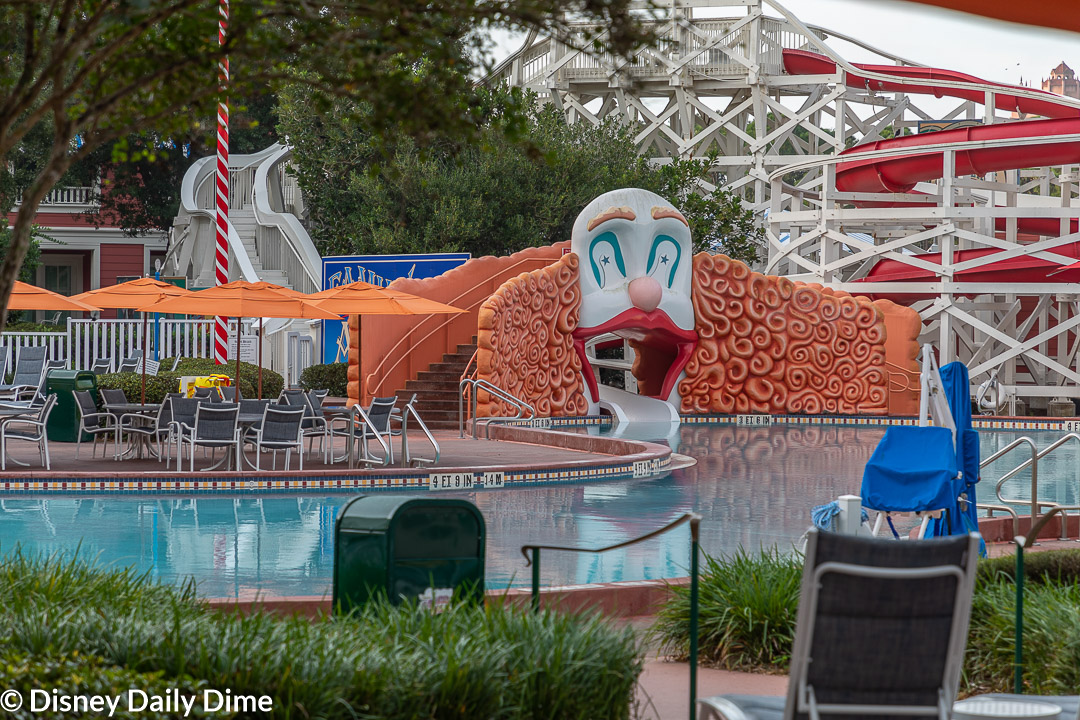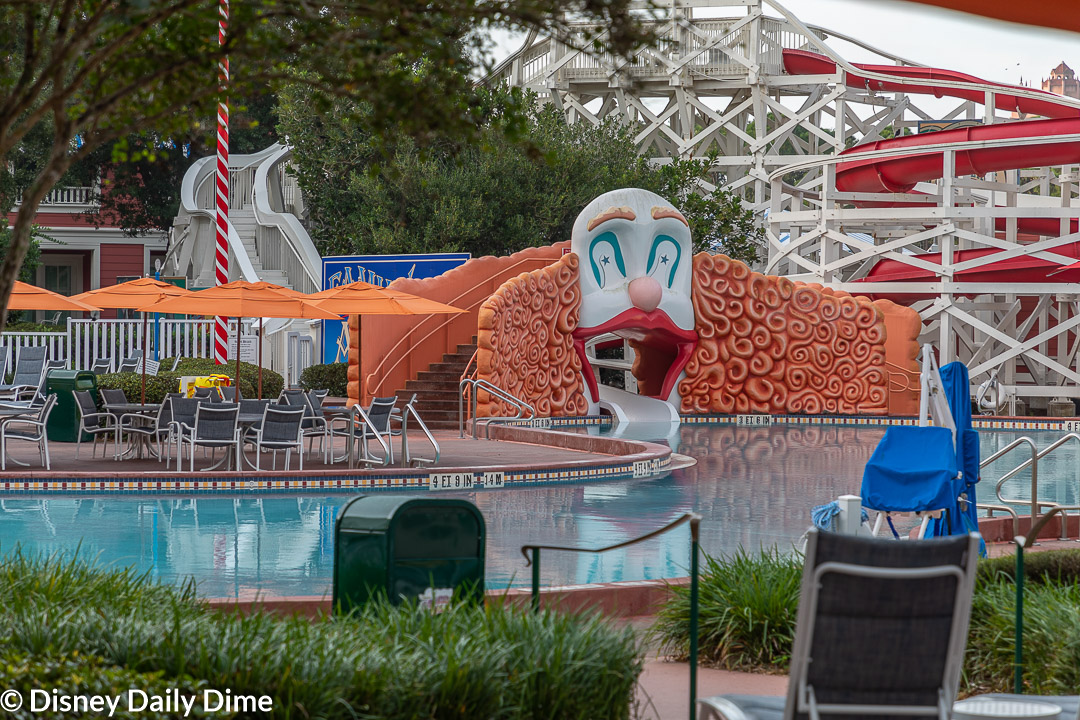 Luna Park Pool
The main pool over at Disney's BoardWalk Inn is known as Luna Park Pool.  The theming around this pool area is excellent.  You'll find the pool bar is designed to look like an era appropriate carousel.
In addition, the pool has a well-done pool slide that is known as Keister Coaster.  The main support of the slide is designed to look like an old-time wooden rollercoaster.  The white support trusses are used to support the main slide, but also add depth and interest to it.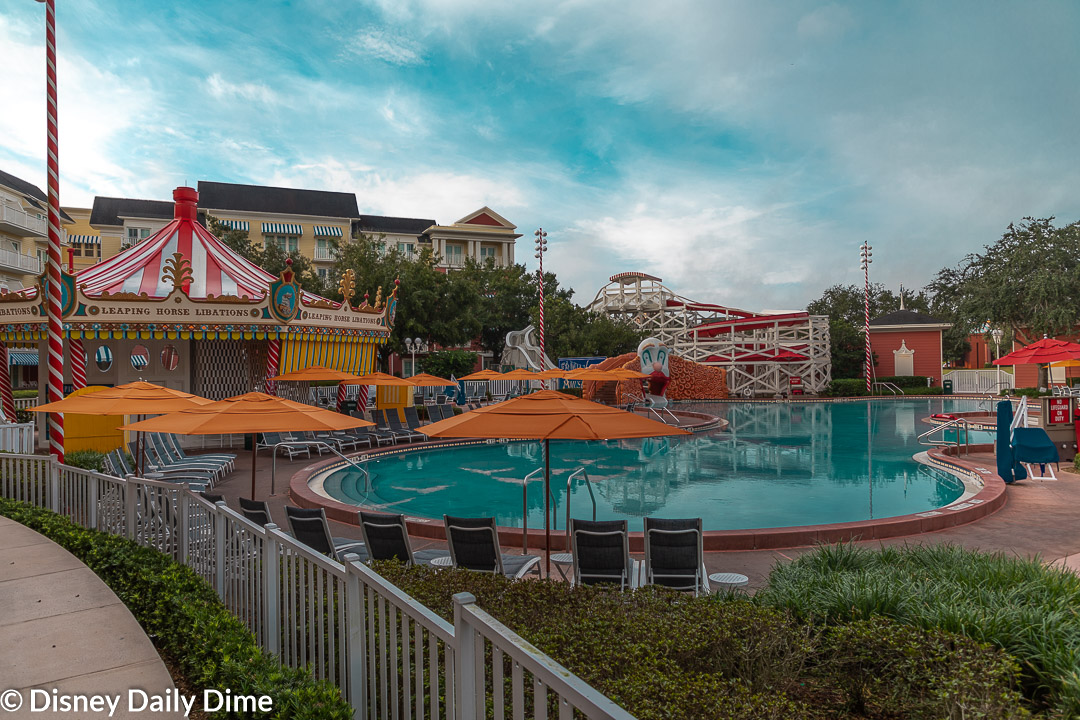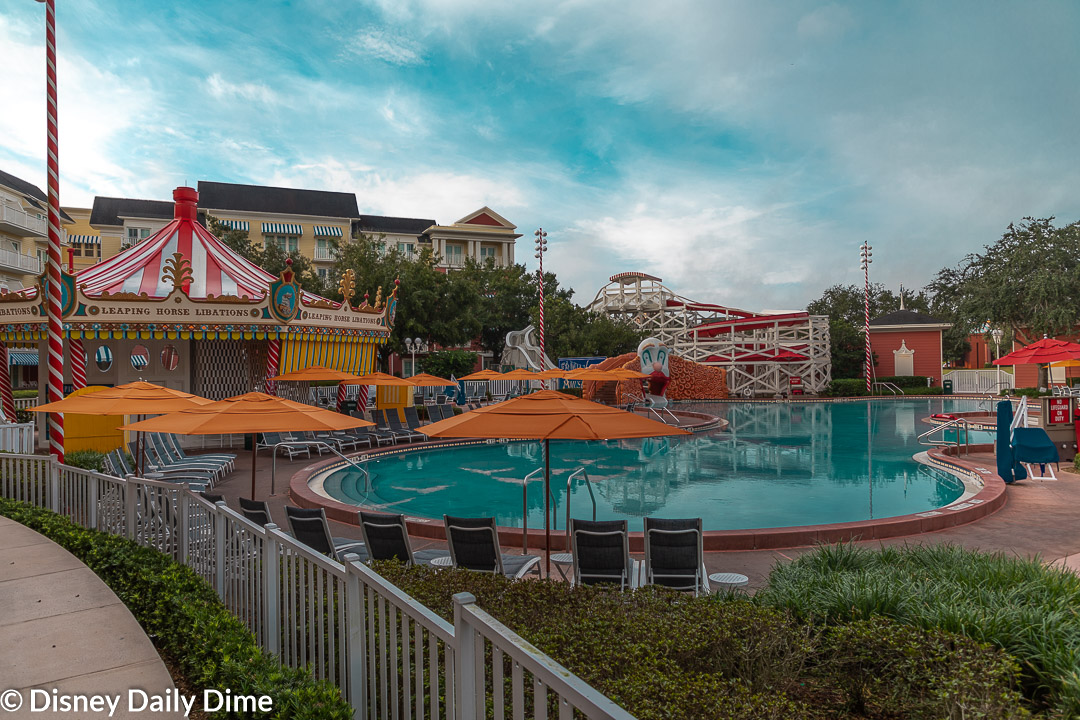 Now, the slide jettisons you out into the pool through the mouth of this creepy clown face.  While I would agree it is on point from a theme perspective for the BoardWalk Inn, it's just bizarre to me.  I can only envision it giving Anna and Elsa nightmares.  Some will find it fun; some will find it weird; you'll have to decide for yourself.
This pool area also features a hot tub and kids play area.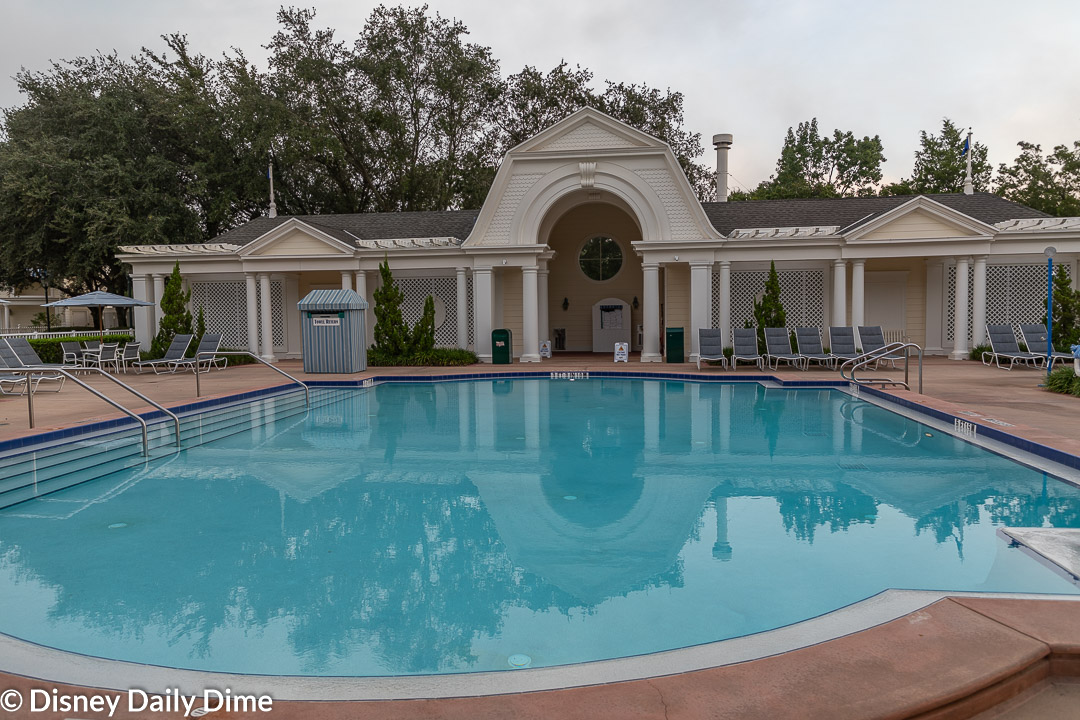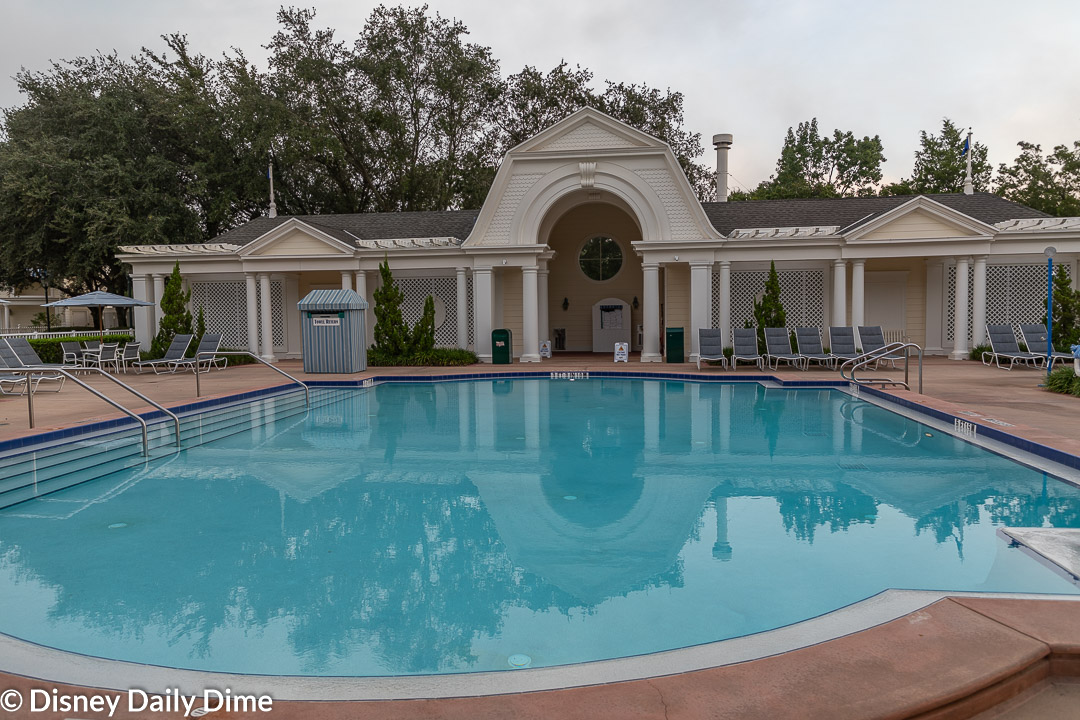 First is one that is over near the garden areas on the east side of the resort.  It has a hot tub several lounge chairs available for use.
The second pool is located back over amongst the DVC villas.  It is just a little to the south of the main pool area.  This pool also has a hot tub for your use.
There are Two Transportation Options for You, with a Third Coming Soon
With the convenience of the resort's location, there are still a few options for Disney transportation.  Right now, you will find bus and boat service from Disney's BoardWalk Inn.  However, coming this fall is the new Disney Skyliner.  This is a gondola system that will transport resort guests between Epcot, Hollywood Studios and a few of the Disney World resorts.  To pick the Skyliner up, you have to actually walk over to the International Gateway entrance at Epcot.
Bus
The bus service at Disney's BoardWalk Inn is fairly standard.  The only thing somewhat unusual about it is that there is no service to Epcot.  Given you can get to the park by walking or taking a boat, there is no need for a bus ride there.
You should note that during slower times of the year, bus service is usually shared with the other resorts around Crescent Lake.  The bus loop usually goes something like Swan – Dolphin – Yacht Club – Beach Club – BoardWalk.
You can pick the buses up out in front of the resort.  Refer to the resort map on this page to see exactly where.
Boat
The boat service for Disney's BoardWalk Inn runs on a loop that basically goes between Epcot and Hollywood Studios.  You can pick the boats up out on the boardwalk.  Make sure you pay attention to which side of the dock you get on, as the boats go in two directions.
Be aware that the boats also stop at the Yacht and Beach Club and the Swan and Dolphin resorts.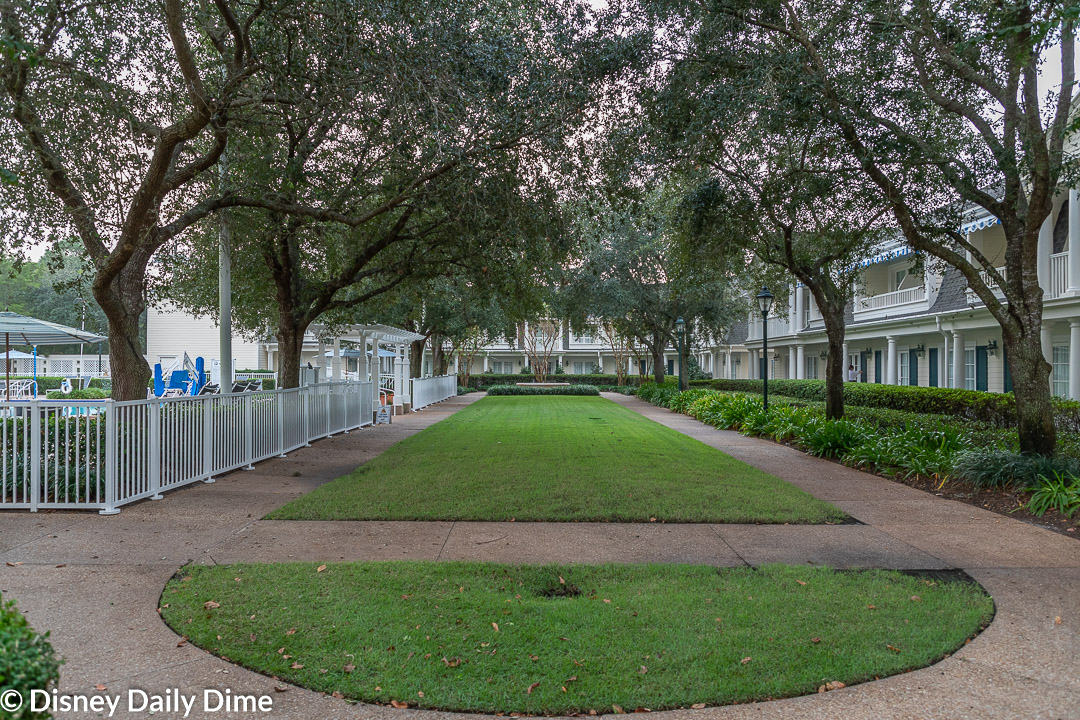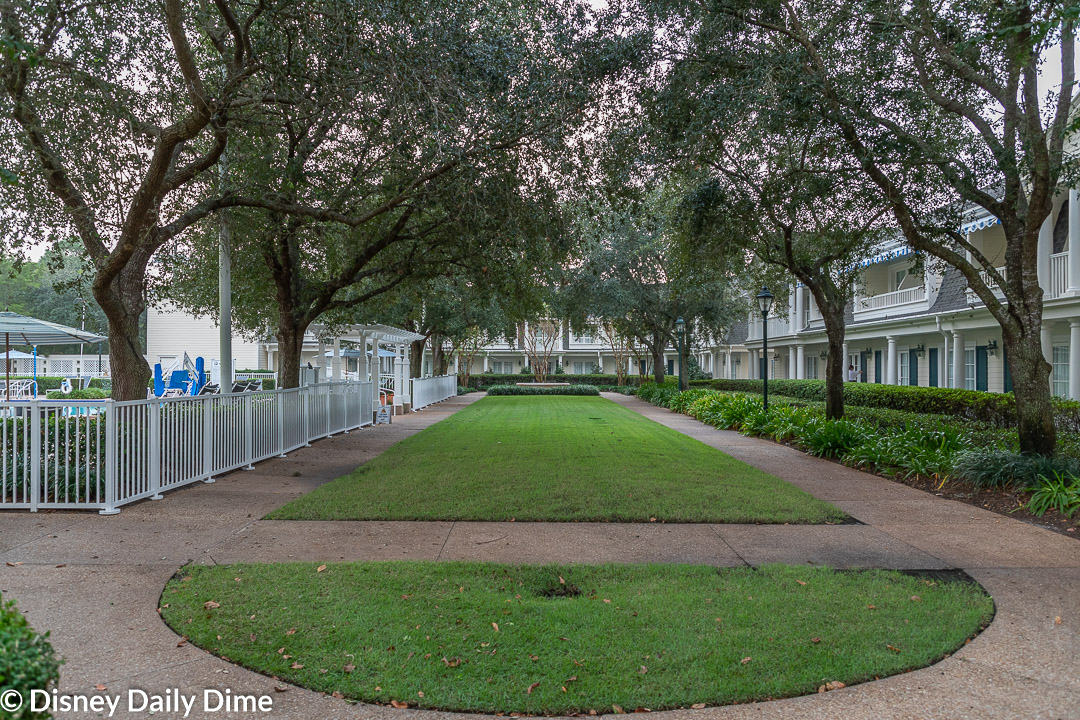 Down on the BoardWalk…Dining Options Are Plentiful
When you get down on the boardwalk (not exactly the song name, but now you're going to have that song stuck in your head), you will find a ton of options for eating, drinking and desserts.  It has one of the most robust dining lineups across all of the resorts at Disney World.  If you count the dining options over at Yacht and Beach Club that are only a 5-minute walk away, the dining roster is even more extensive.  Now, that's not to say all these places are each homeruns (we're looking at your ESPN Club), but there are definitely some winners here.  We'll run through the dining options quickly.
One thing that one of our Instagram followers pointed out that will be of interest for those of you with small kids.  To get from the resort level to the boardwalk itself, you have to go down stairs or cram into this one small elevator.  If you have a stroller, it's not the most convenient thing.  Once again, not quite kid friendly.
Full Meals
We will start low with the aforementioned ESPN Club.  It's basically a sports bar doubling as a restaurant.  If you want to catch a game while you are at Disney World, it will do, but don't go there for the food.  It can be lively here, especially if you catch it during a big sporting event like the World Series like we did.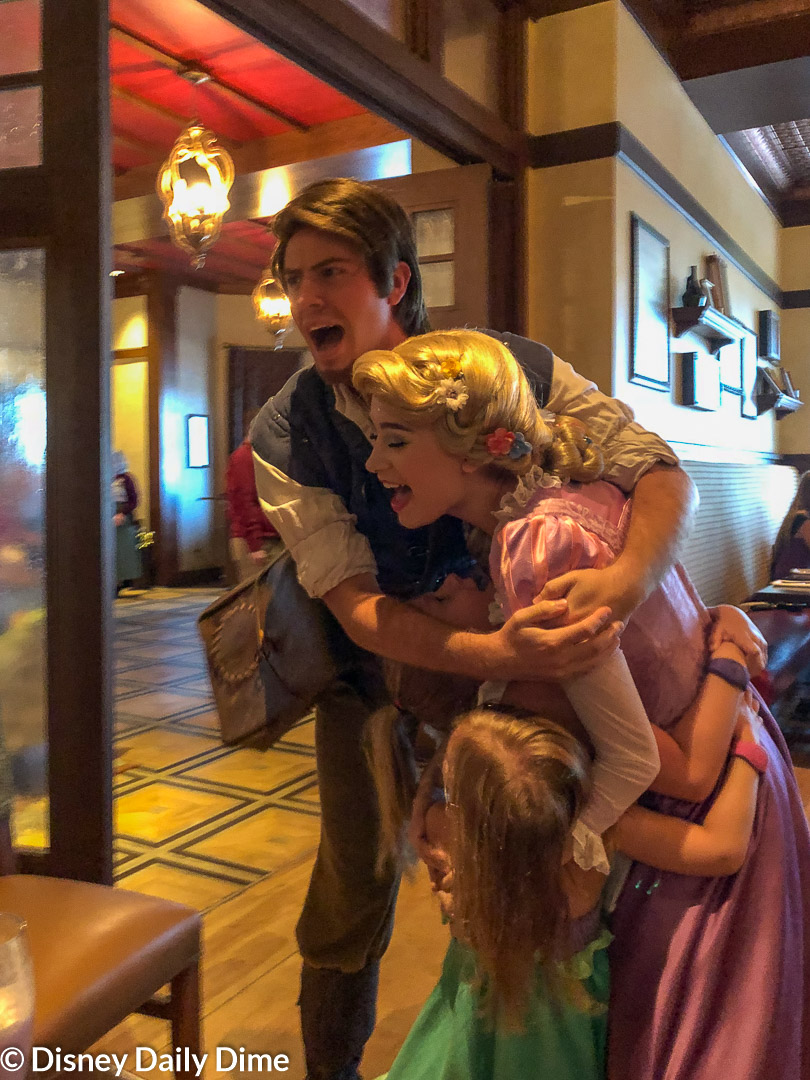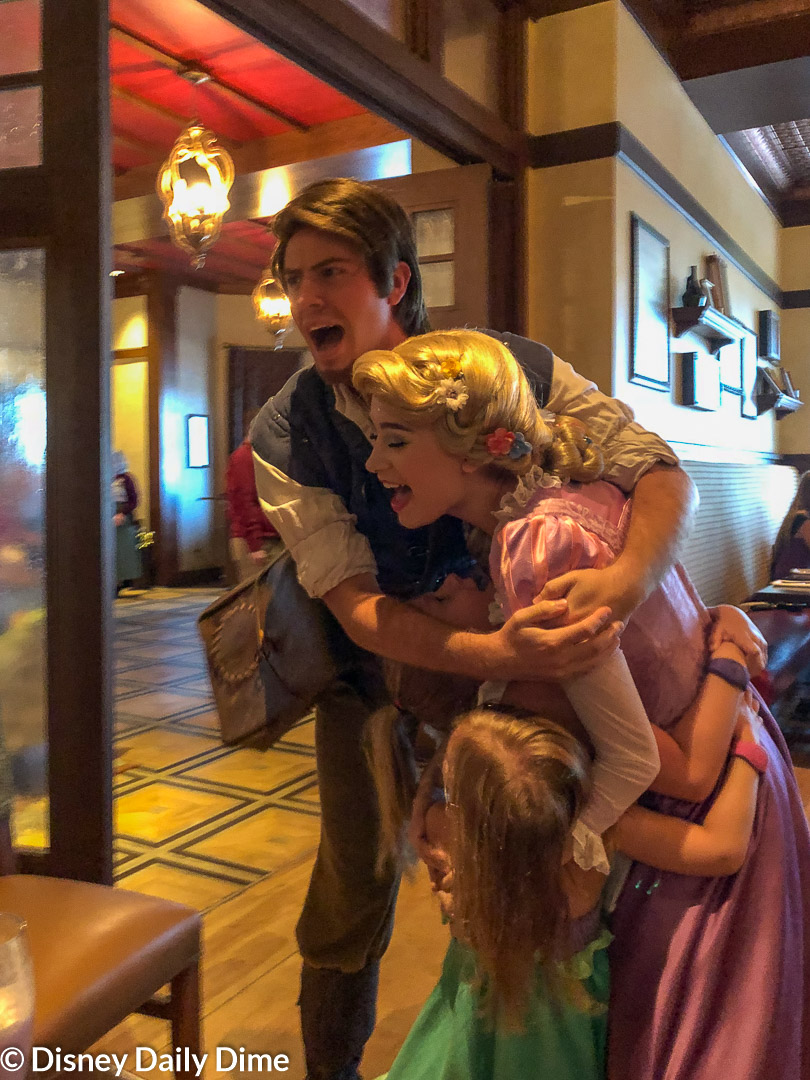 Trattoria al Forno is the Italian dining option on the boardwalk.  We haven't actually eaten here for dinner, but have read fairly good things about the restaurant.  However, we did enjoy breakfast at Trattoria al Forno.  Each morning they put on a character meal, known as the Bon Voyage Adventure Breakfast.  It features Rapunzel, Ariel, Flynn Rider and Prince Eric and is one of our favorite character meals around Disney World.  If you want to eat here for breakfast but not partake in the character meal, they can seat you in a separate dining room.  The same menu is offered.
Over at Big River Grille & Brewing Works, you'll be able to sample some craft beers while eating burgers, ribs and more.
Flying Fish is the Signature restaurant over at Disney's BoardWalk Inn.  As you might guess from the name, seafood is on the menu here.  I guess you could assume birds, or ducks, but that would seem, odd…  Give that it is a signature restaurant, you can't just stroll in here with shorts and a t-shirt on.  Make sure you review the dress code for Flying Fish.
As far as real meals go, the last place you can stop by is the Pizza Window.  Odd name, I know, but that is literally what it is.  No shop, no nothing, just a window that serves pizza.


Cocktails
If you're looking for just a drink before you head to a meal at Flying Fish or Trattoria Al Forno, you can pop into AbracadaBar.  Here you'll find a bar that takes you into a world of magic and illusions.
If you're not looking for the bar scene, but still want a cocktail (specifically a margarita), the you can stop by BoardWalk Joe's Marvelous Margaritas.
The Belle Vue Lounge is the only location not actually down along the boardwalk.  You can find cocktails and a few light pastries, muffins, etc in the mornings here.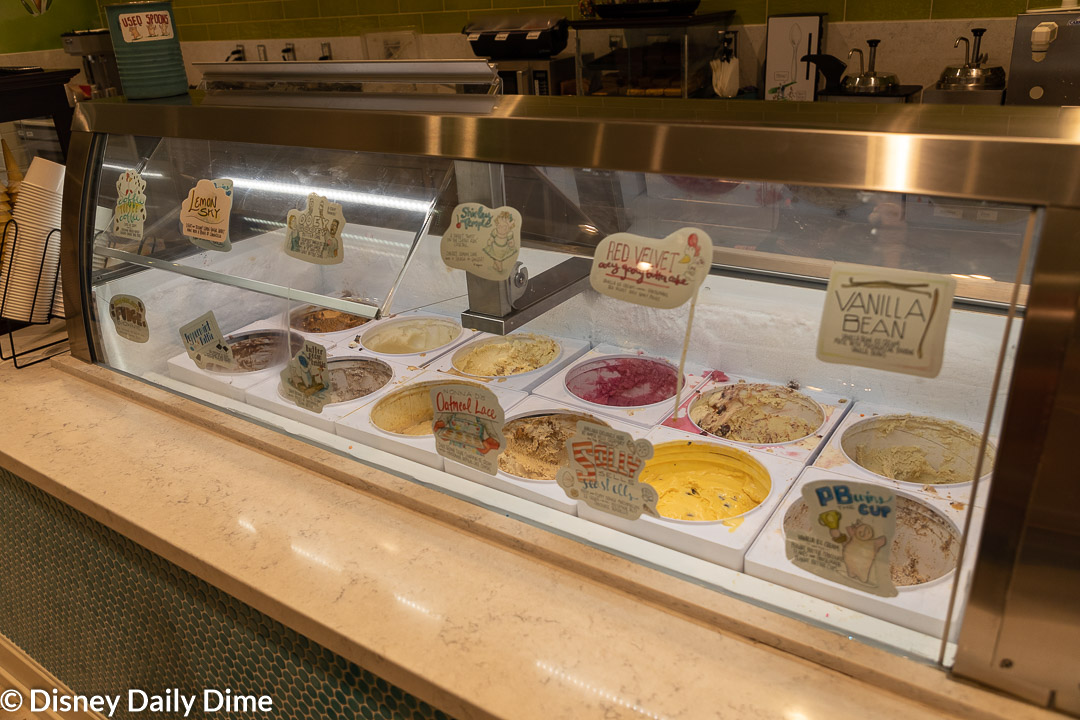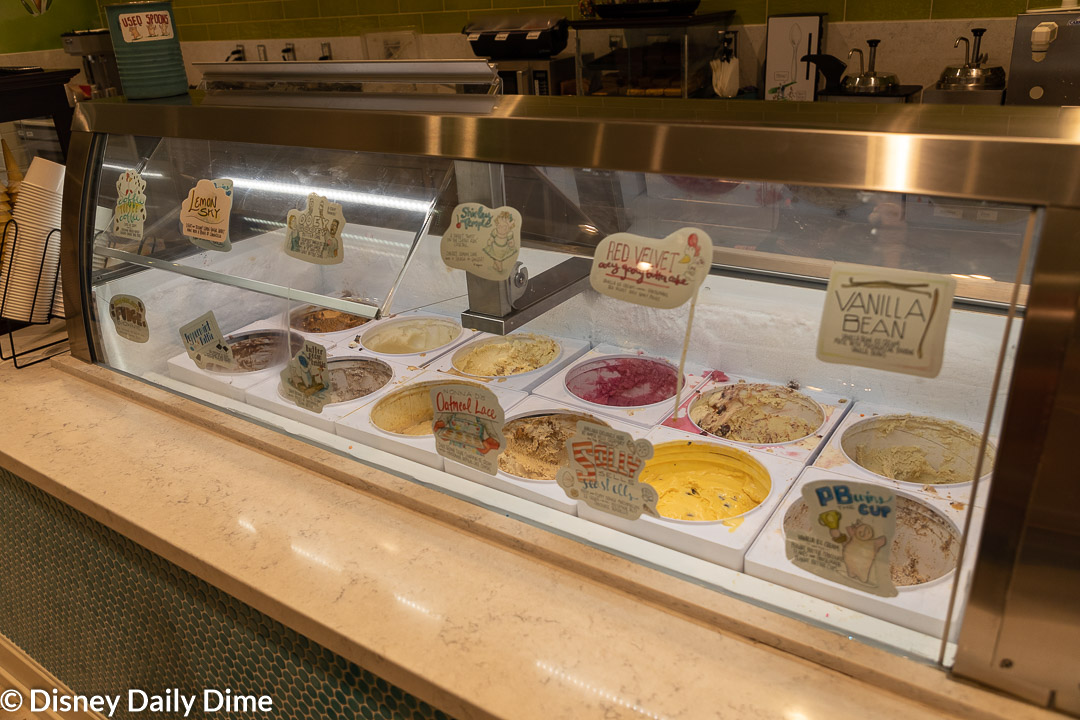 Desserts
The BoardWalk Bakery serves all sorts of baked goods and sweet treats throughout the day.  If you're wondering where some of those wonderful bread smells along the boardwalk come from, look no further.
The best place for dessert on the boardwalk is Ample Hills Creamery.  Featuring several custom flavors, I still have dreams about the ice cream I had there.
Recreation at Disney's BoardWalk Inn Has a Few Tricks Up Its Sleeve
Disney's BoardWalk Inn also features several recreation opportunities you may want to take advantage of.  Some are free, others are not.  These include:
Movies Under the Stars
Campfire with Smores
Surrey Bike Rentals
Finishing
Jogging Trail
Tennis
Yoga
Video Arcade
Beyond these more normal recreation activities, there are a couple of more unique things you can do at Disney's BoardWalk Inn.  First off there is Jellyrolls, which is a dueling piano bar.  Be advised that only people 21 and older are allowed in and there is a cover charge.
Lastly is Atlantic Dance Hall, where you can dance the night away.  You must be 21 or older to enter.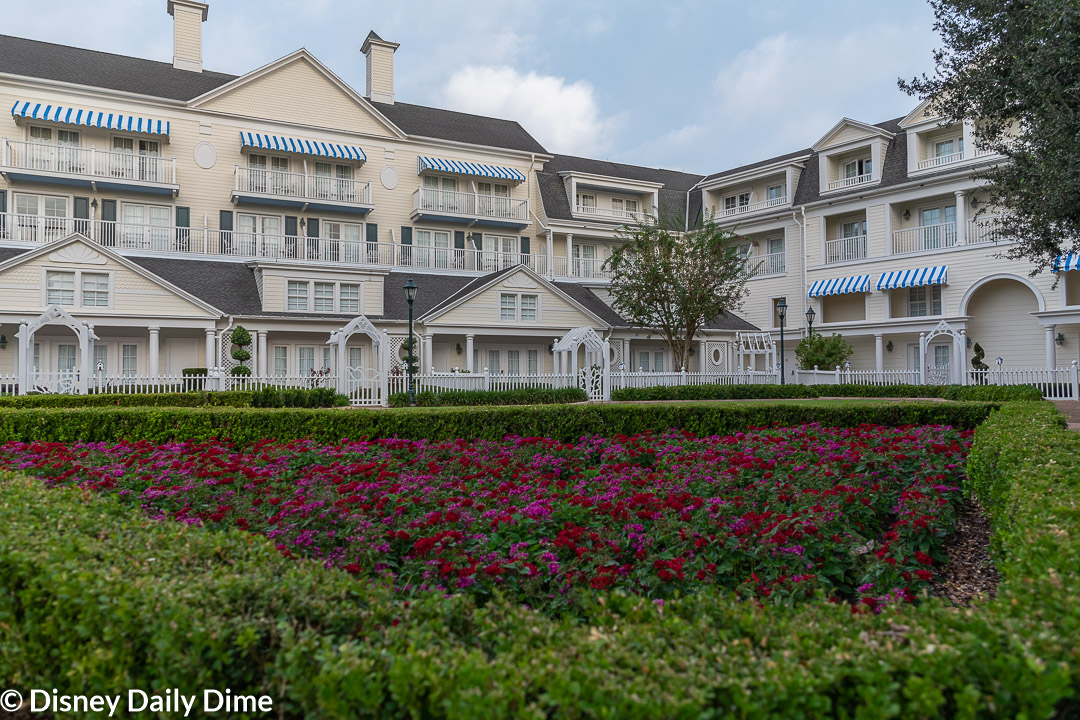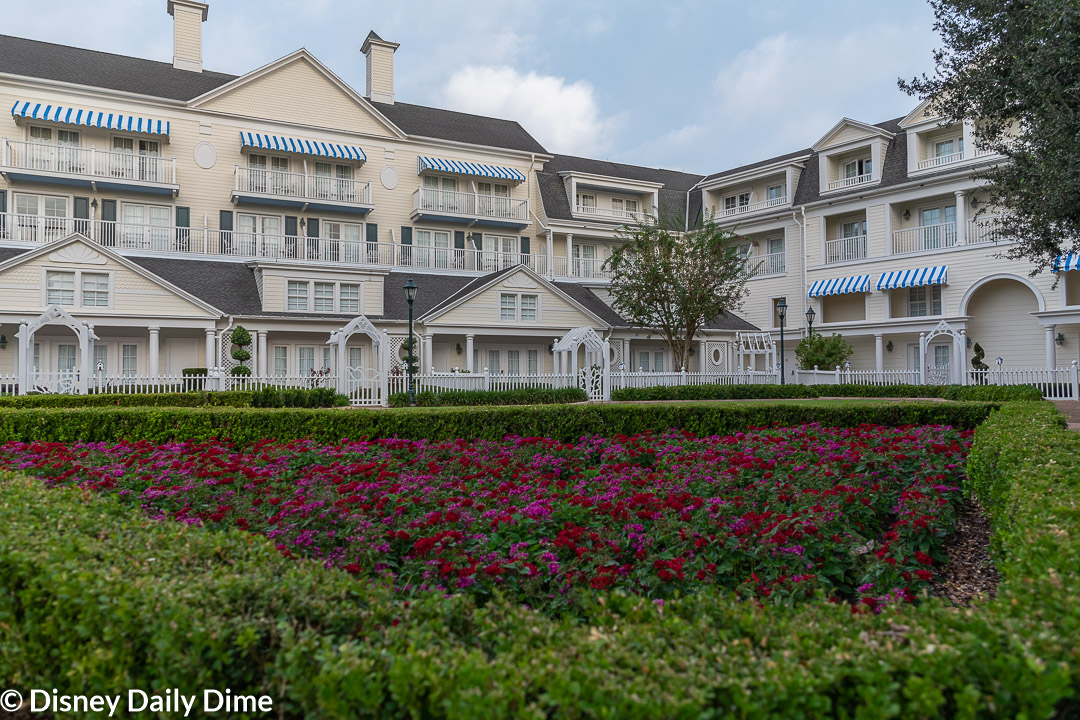 Disney's BoardWalk Inn Is Best for Adults
I think finishing up the last section talking about Jellyrolls and Atlantic Dance Hall is a perfect segue to wrapping up our Disney's BoardWalk Inn review.  Why?  Because it's illustrative of the only real problem we have with the resort.  And that problem is that we don't think it is overly kid friendly.  It's not terrible by any means, and the pool may be a big draw for kids, but the theme just isn't something that is going to interest kids.  Especially young kids, in our opinion.
This resort is more geared to adults.  When we were at Disney World last fall, we had a nice conversation with an older couple who said this was one of the reasons they picked Disney's BoardWalk Inn as their home DVC resort.  It's refined, well put together, and more adult oriented.
The stately little garden rooms, great entertainment for the 21 and up crowd (at least Jellyrolls, not so sure about Atlantic Dance Hall), and higher end dining, this is a resort for adults.  We think it is especially good for couples, honeymooners, or people on an anniversary trip like we were.  Frankly, I think it is one of the more romantic resorts at Disney World, on par or even ahead of Port Orleans Riverside.
Yes, the location is arguably one of the best in all of Disney World, but you can get an almost as good resort location across Crescent Lake at the Yacht and Beach Club resorts.  Plus, you pick up some fun kid dining at places like Beaches and Cream or Cape May Café.
Don't take this as we don't like the resort, we actually love this resort.  It's just not some place we will actively seek out until Anna and Elsa are slightly older.
The theme execution is fabulous, with some great touches throughout the resorts that carry all the way through to the rooms themselves.
Wrapping Up
So that's it for our Disney's BoardWalk Inn review.  A great resort, just maybe not so great for kids.  We'd love to hear what you think about this resort, especially if you have kids.  Did they enjoy it or was it a miss for them?  Tell us down in the comments section below!
We hope you found our Disney's BoardWalk Inn review helpful.  If you did we'd greatly appreciate it if you would share it on social media.  It helps get the word out on our blog and makes us feels like we're doing something right.  Just use the social media sharing buttons on this page.