If you are like us and have a little princess or two in your family, a stop at Bibbidi Bobbidi Boutique may be on your short list of things to do at Disney World.  We recently took Anna and Elsa there for a princess makeover.  We'll give you the lowdown on that experience and more here in our Bibbidi Bobbidi Boutique Review and Tips post.
One thing you may be interested in first.  As a point of reference, Anna and Elsa were 5 (almost 6) and 8 years old, respectively, at the time of we did the whole Bibbidi Bobbidi Boutique experience (or as some people call it Bippity Boppity Boutique).  That may or may not help you in case you are thinking about your own child's age.
Okay, now, let's get on with our Bibbidi Bobbidi Boutique review!
Bibbidi Bobbidi Boutique Basics
Before we get into our Bibbidi Bobbidi Boutique review, let's first go through some of the basics you may be interested in.
Bibbidi Bobbidi Boutique Prices
This is Disney World, so of course there are several different packages you can choose from at Bibbidi Bobbidi Boutique.  They are as follows:
The Crown Package
The Courtyard Package
The Castle Package
The Deluxe Castle Package
The Princess Signature Dress Collection
These prices range from modestly high (for what you get) to crazy high.  If you don't speak sarcasm, that translates into anywhere from $65 to $450, plus tax.  If you want to see what each package entails, you can click this link to go to Disney's Bibbidi Bobbidi Boutique website.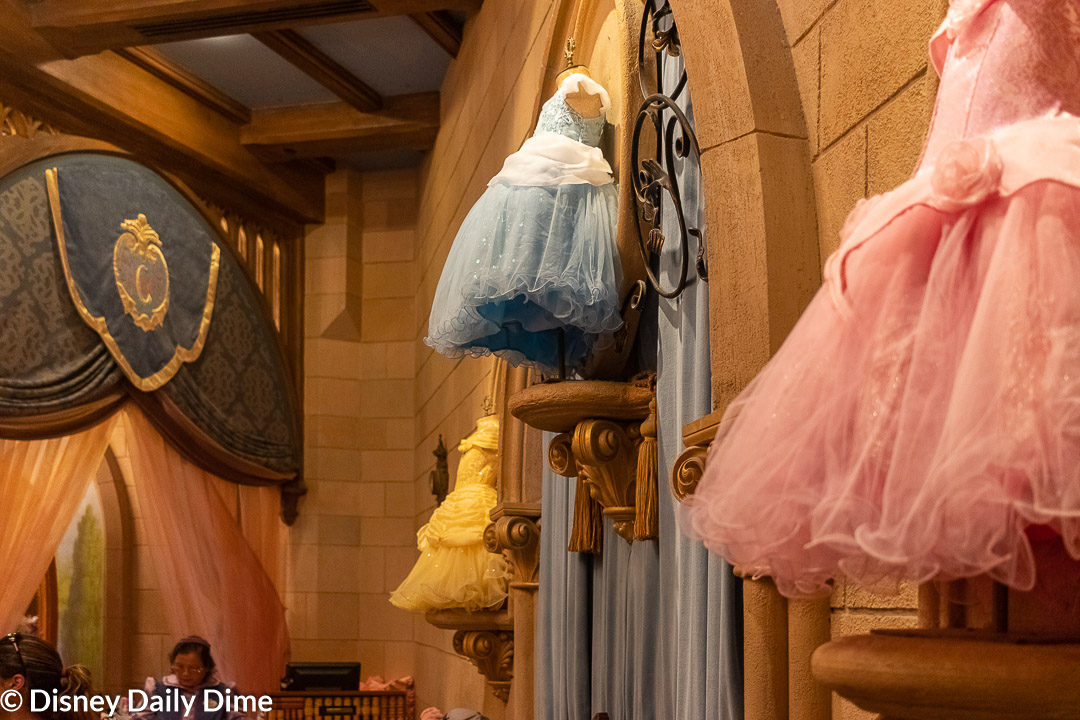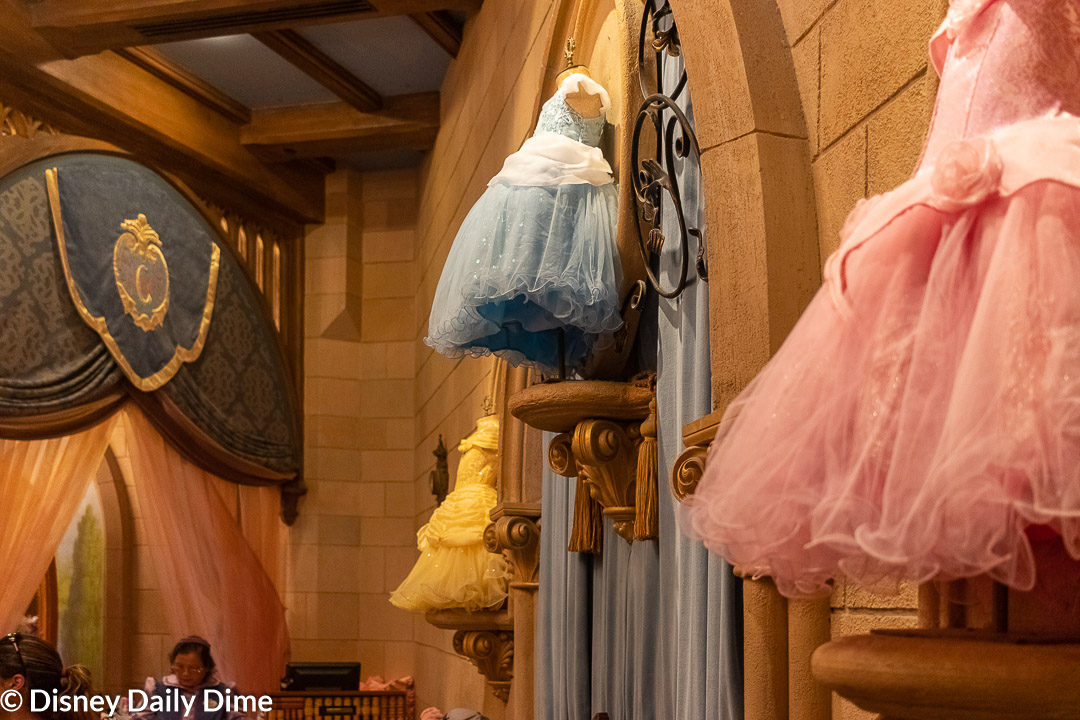 Locations
Most people don't realize this, but there are actually two Bibbidi Bobbidi Boutique locations at Disney World.  The one that everyone generally thinks of is in Magic Kingdom, inside of Cinderella Castle.  There is actually another location in Disney Springs.  The Disney Springs location is inside the Once Upon a Toy store.
We've read that the Disney Springs location is larger and generally isn't as crowded, but we also think there is a bit of an obvious reason for that.  It's not in the Magic Kingdom near the princesses themselves!  Isn't part of the point of the experience to go get dressed up in your princess finest and then go meet the real princesses?!
One clear advantage of the Disney Springs location is that you don't need a park admission to get into it.  Depending on your schedule and day you are going, this may make it a better option.
As a point of reference, we went to the Bibbidi Bobbidi Boutique location in Magic Kingdom.
Bibbidi Bobbidi Boutique Reservations
Bibbidi Bobbidi Boutique is not a type of experience where you want to show up the day of and try to just walk in.  You're very likely going to be told there is no availability.  And if you happen to luck into some availability, it will not be at a time of your choosing.
Therefore, make a reservation in advance so you can secure a good time slot.  You can call Disney at (407) 939-7895 to reserve a time.  They take reservations up to 180 days in advance.
If you are making reservations late and can't get into the Cinderella Castle location, you may still be able to get a reservation at the Disney Springs location.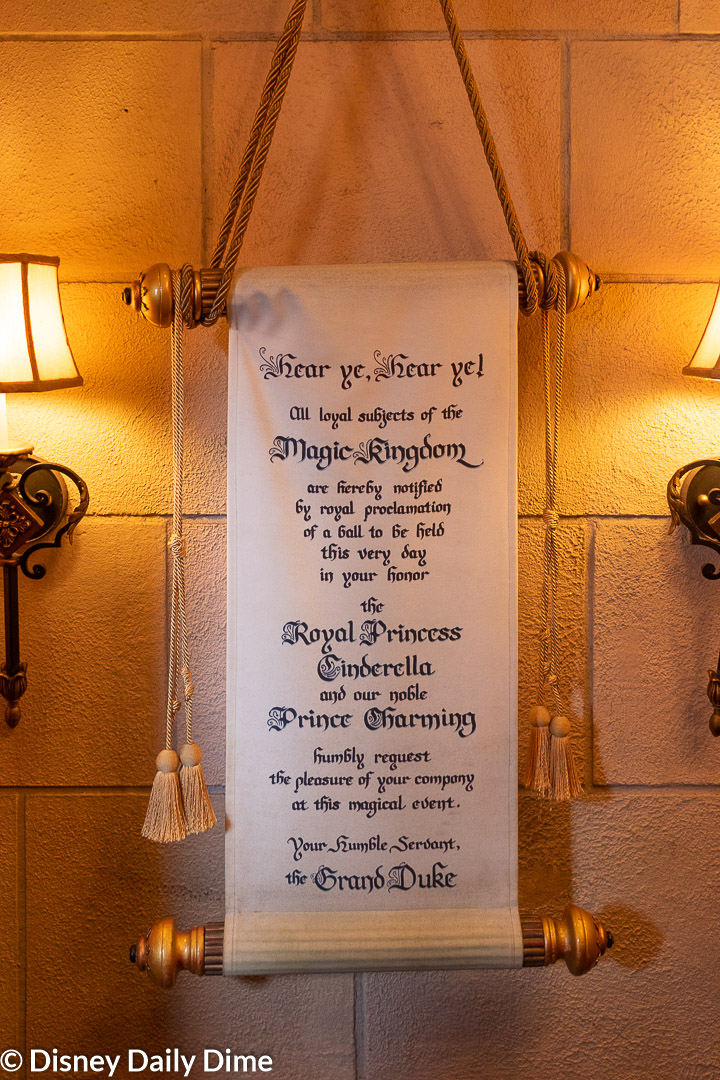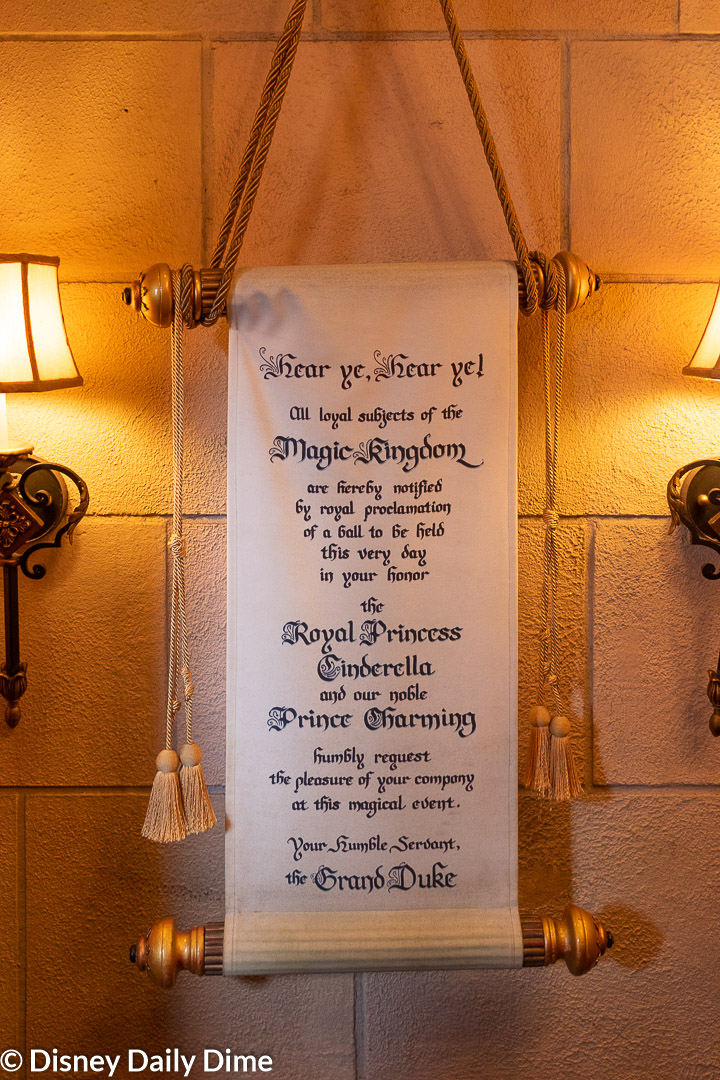 Ages
Bibbidi Bobbidi Boutique is limited to kids, ages 3 to 12.  Adults, you must stay with your kids throughout the experience.  You can't drop them off and then go have a little bit of adult only time in the park, but it would be fabulous if you could!
A Word About Boys
Believe it or not, Bibbidi Bobbidi Boutique does have some options for boys.  They can turn your handsome little man into a Knight/Prince.  Pricing is on the website we linked to earlier.
We only saw one boy when we were getting Anna and Elsa done up, so can't comment on the quality of the experience, outfit, etc.  But it's there if you're interested.  We will say that he seemed very happy.
Photopass Photographers
There is a photopass photographer roaming the hall of the boutique taking pictures of all the kids.  This will get you some photos of the experience, assuming you have the MemoryMaker option.  However, one photographer for roughly 15 kids spreads them pretty thin.  If you want to get lots of photos of the experience, make sure you bring your own camera.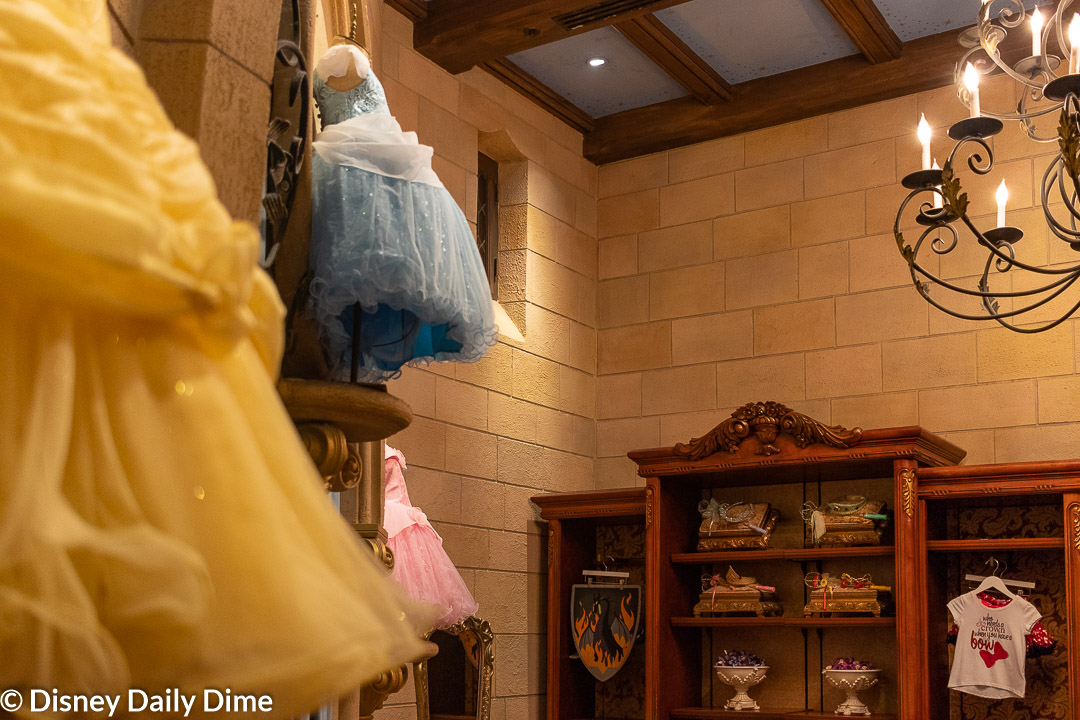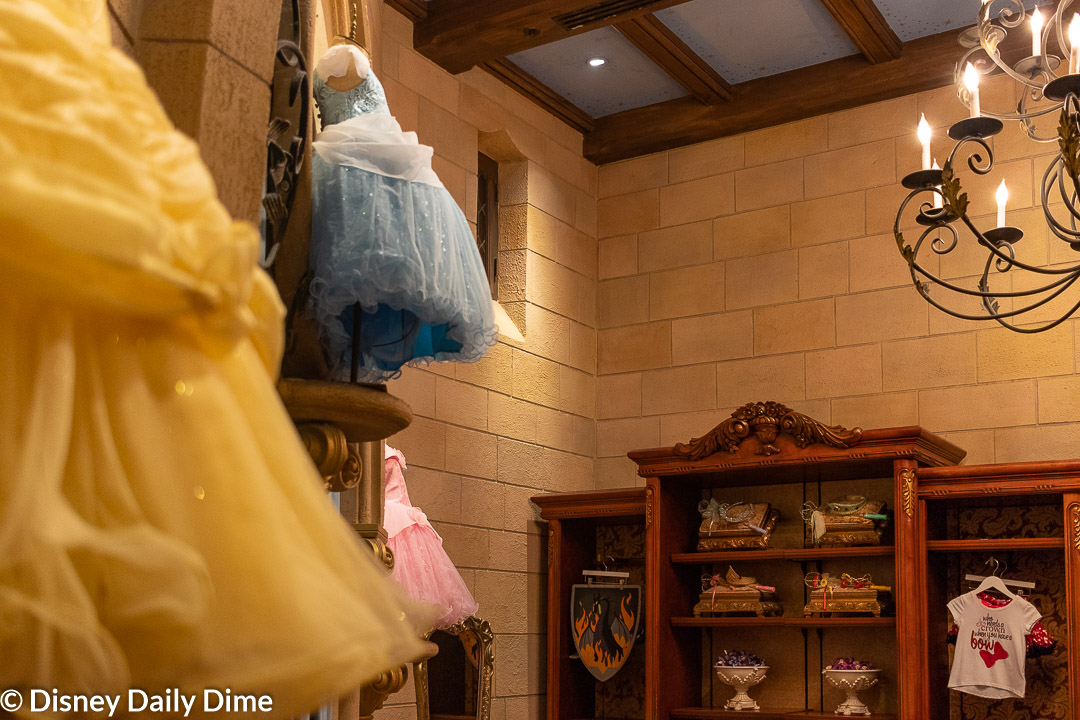 Bibbidi Bobbidi Boutique Review
Okay, now let's get on with our Bibbidi Bobbidi Boutique Review!
Let the Princess Times Roll!
For us, Bibbidi Bobbidi Boutique was going to be the beginning of an afternoon of princess fun.
Carla had scheduled it all out.  We'd start with our Bibbidi Bobbidi Boutique appointment and then follow it up with lunch at Cinderella's Royal Table.  That would be followed up by two princess meet and greets at Princess Fairytale Hall.  We had a FastPass for Rapunzel and Tiana, and were hoping for a short line for Cinderella and Elena.
We were hoping to run into some other princess related characters along the way.  Fairy Godmother, we're looking at you!
To round out the day, we were staying in the Royal Guest Room at Port Orleans Riverside.  The girls were definitely going to be princessed out!
Checking-In at Bibbidi Bobbidi Boutique
We arrived at our appointed time and check-in went smoothly.  Our reservation was for 11:30 and the girls were in a chair pretty close to on time.
When you are called, you and your daughter will get your very own Fairy Godmother in Training.  Her mission is to turn your sweet child into a princess, just like the real Fairy Godmother did for Cinderella.  No Prince Charming included in this story though.
When you booked your reservation, you should have selected your package.  They should confirm your package selection at check-in.  We selected the Crown Package, which includes hair styling, shimmering make-up, nail polish, face gem and a princess sash and cinch sack.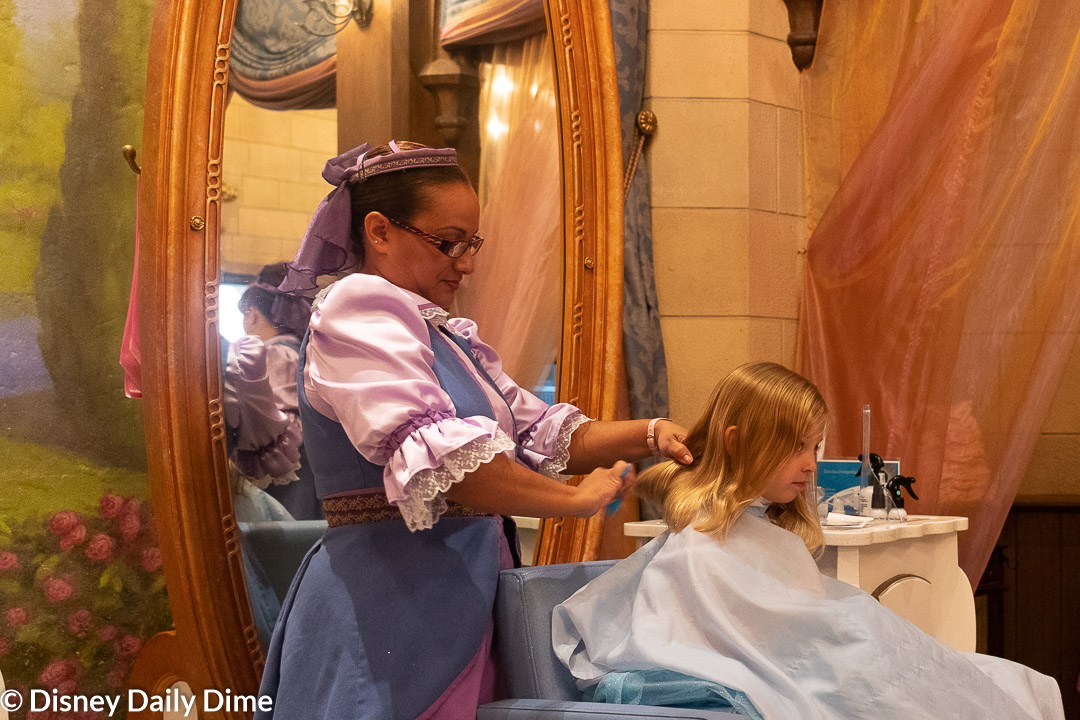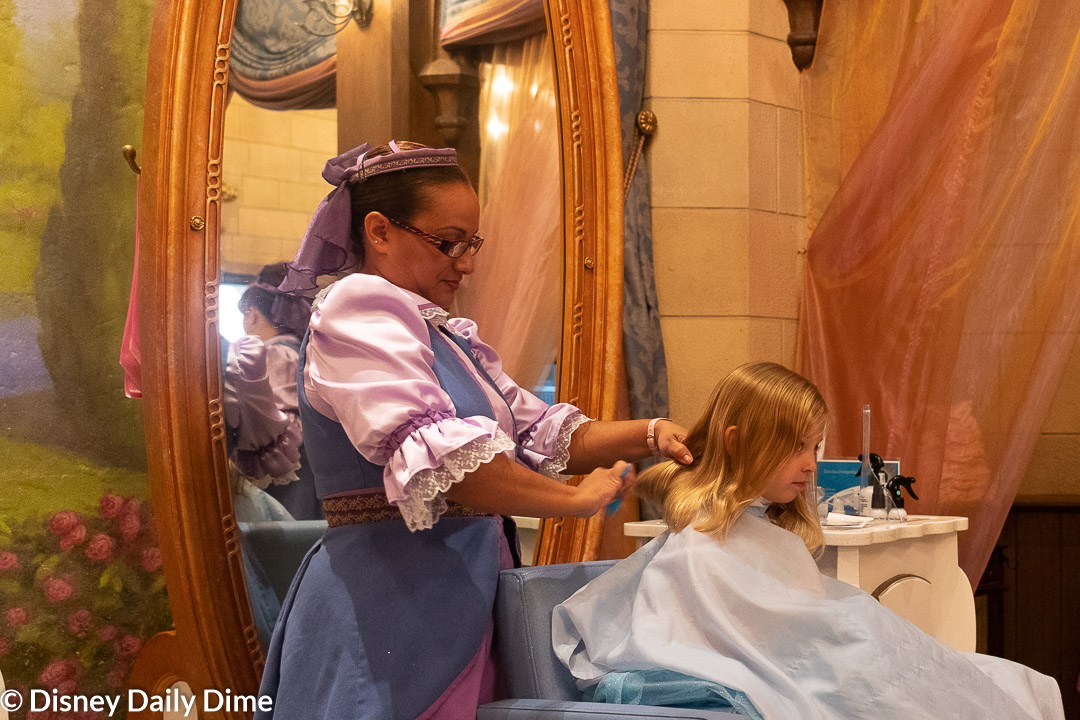 The Bibbidi Bobbidi Boutique Make-Over
To start your makeover, your princess will be whisked away to a dressing room in the back of the boutique.  There she will change into her selected dress (either the one you purchased there or the one you brought with you).
Once in her dress, your daughter will move to the makeover chair.   Here she will have one final choice to make:  her hairstyle.  There are three options to choose from:
Fairytale Princess
Disney Diva
Color Star
Anna selected Fairytale Princess and Elsa picked Color Star.  You can see the color star style in the pictures down below a few paragraphs.
Then the Fairy Godmother in Training went to work.
The first part of the makeover starts with the hair.  Remember, this isn't a haircut, just a style.  Elsa's Color Star styling took longer than Anna's Fairytale Princess because it is a little bit more involved.
After the hair was done, they quickly moved on to work on makeup.  Carla did talk with the Fairy Godmothers in training about the makeup colors they used.  You do have parental input on this, just make sure you are nearby when the time comes for makeup.
After the makeup was done, the nail polish was applied.  Elsa insists that she got to pick the nail polish, while Anna says she didn't.  Not sure if that is emblematic of their poor memory or just some of the variation in experience you may get from cast member to cast member.
A quick add of the sash, a sprinkle of pixie dust and it was done.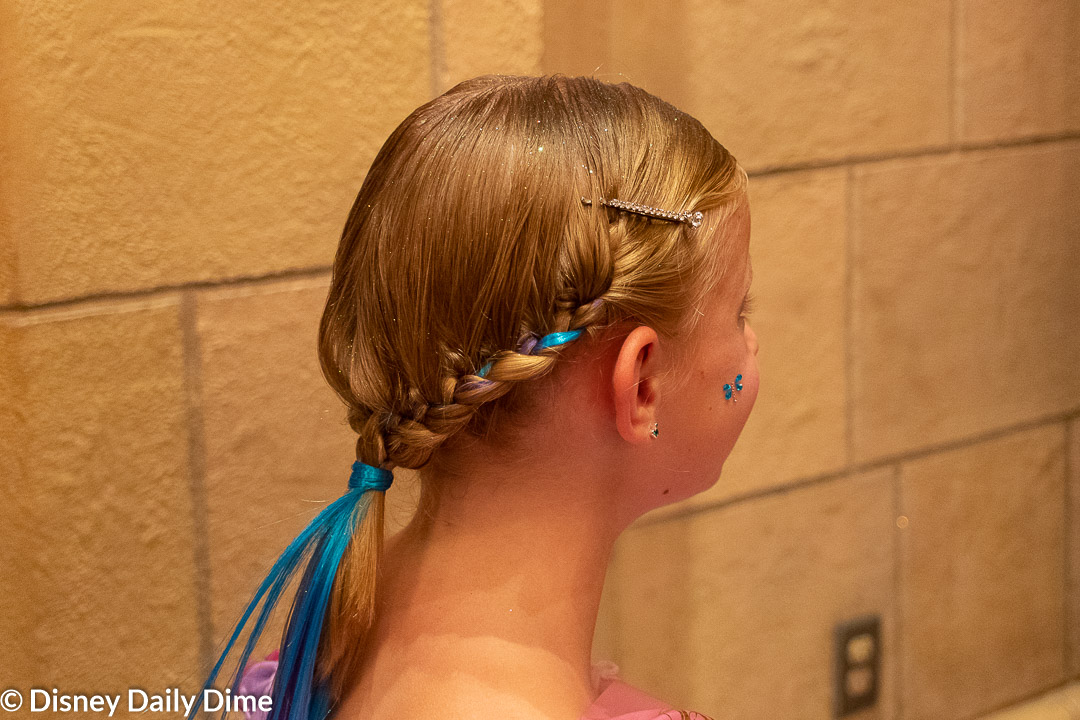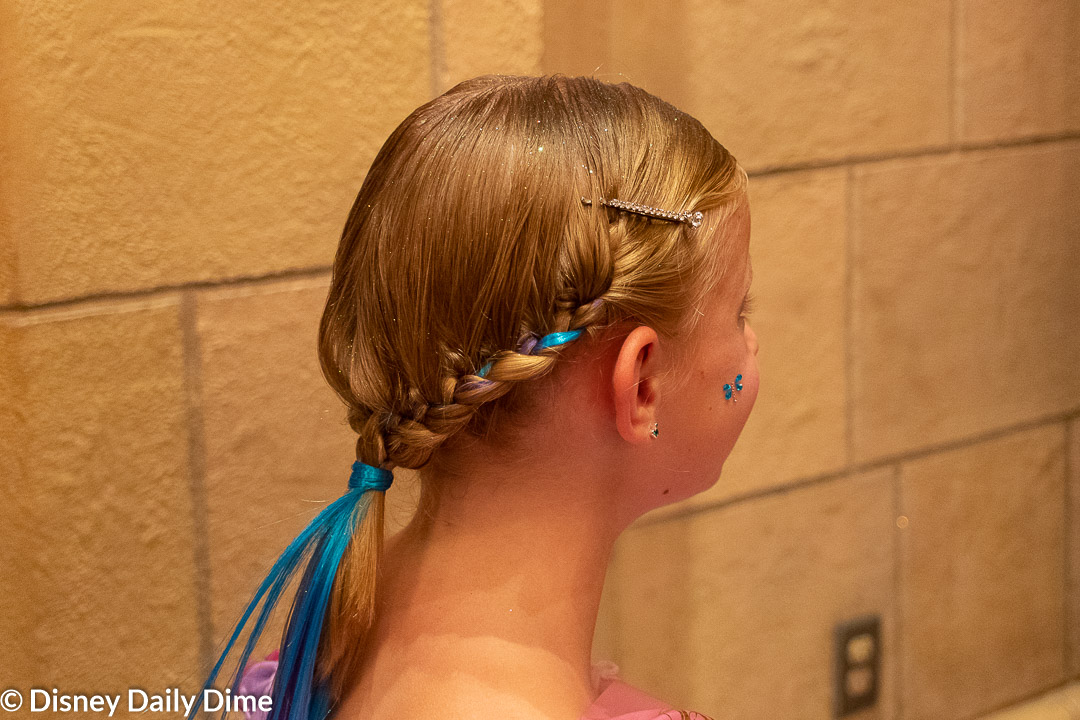 The "Reveal"
Part of the experience is the big "reveal" for the girls.  The girls' backs were to the mirror, so the Fairy Godmother in training could make a big presentation of the makeover and then turn their chair around, allowing the girls to see themselves.  The Photopass photographer should capture this moment, but you may want to have your camera handy for your own pictures or video.
All in all, the experience took about 30 minutes from the time the girls were in the chair until they were out.  Now remember, we got the most basic package.  Choosing the more involved package could extend the time to an hour or hour and a half.  We were actually told to plan for that long.  Consult with Disney about what to expect when you make your reservation.
The Cinch Sack
When we wrapped up the girls were given a cinch sack to help commemorate their time at Bibbidi Bobbidi Boutique.  Inside the sack was the nail polish used during the makeover, the makeup pallet, makeup remover and some helpful instructions for "removing the magic".
Off to See Princesses
After that we thanked our Fairy Godmother in training and were off to see princesses.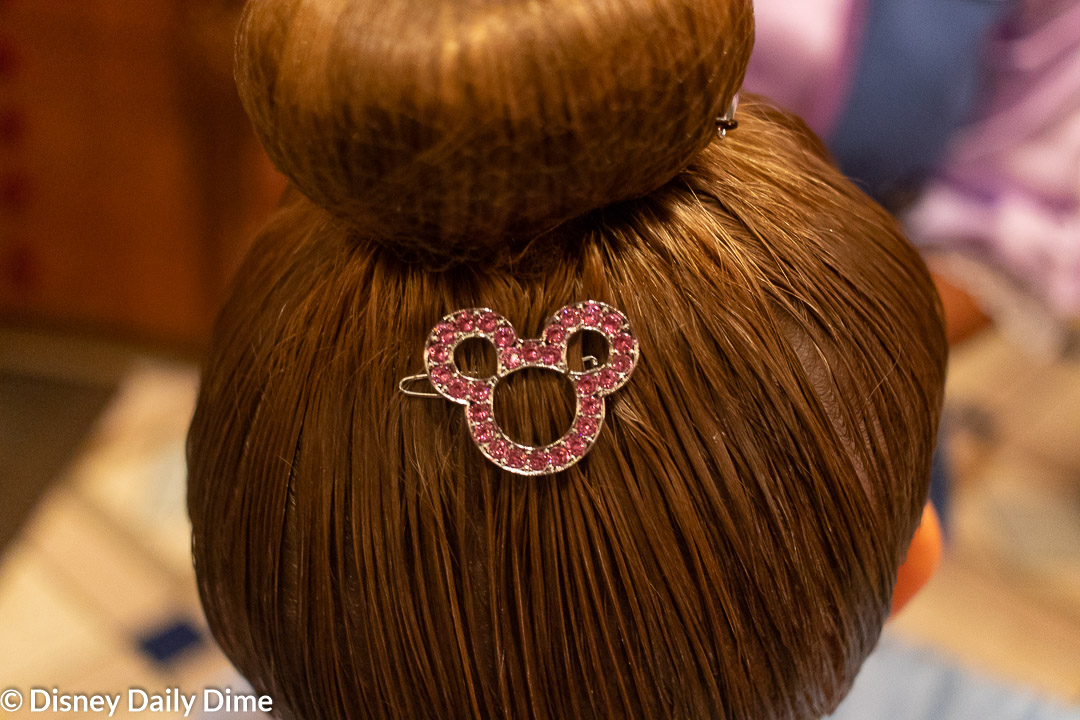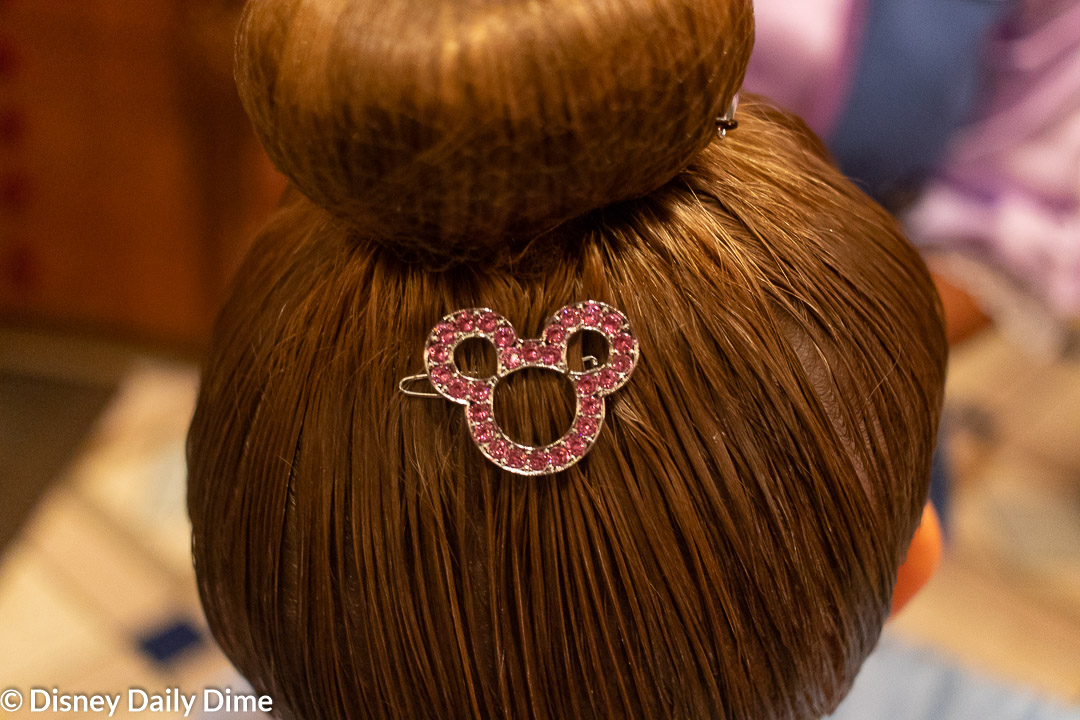 The Fairy Godmother in Training Experience
As part of our Bibbidi Bobbidi Boutique review, we thought you'd like to hear about the Fairy Godmother in Training.  We had two different ones, so we have at least two data points.  However, we do acknowledge that the experience can be different on any given day.
In general, we found the Fairy Godmothers in training to be very friendly.  They were accommodating to all the pictures that we took with our own camera, even helping position the girls.
They were engaging with the girls, making the experience for them unique and fun.
Elsa said that the hair styling experience was great because her Fairy Godmother didn't pull her hair or hurt her head.  They were very gentle in the process.  They even checked with the girls to make sure that the styling experience was good for the girls, asking if anything hurt, was too tight, too loose, etc.
Elsa said that her Fairy Godmother was very "chatty".  The Fairy Godmother asked her all sorts of questions to make the time go by.  Where was Elsa from, what did she like, who was her favorite princess, and on and on.  Anna said her Fairy Godmother was not as chatty.  She talked with her, just not as much.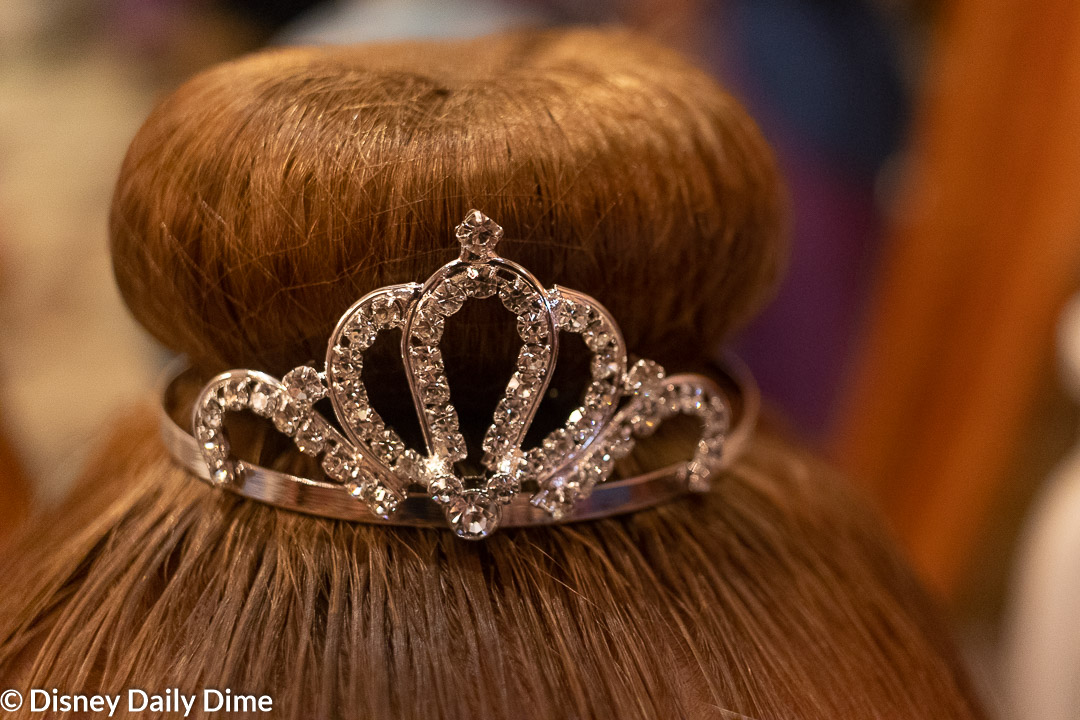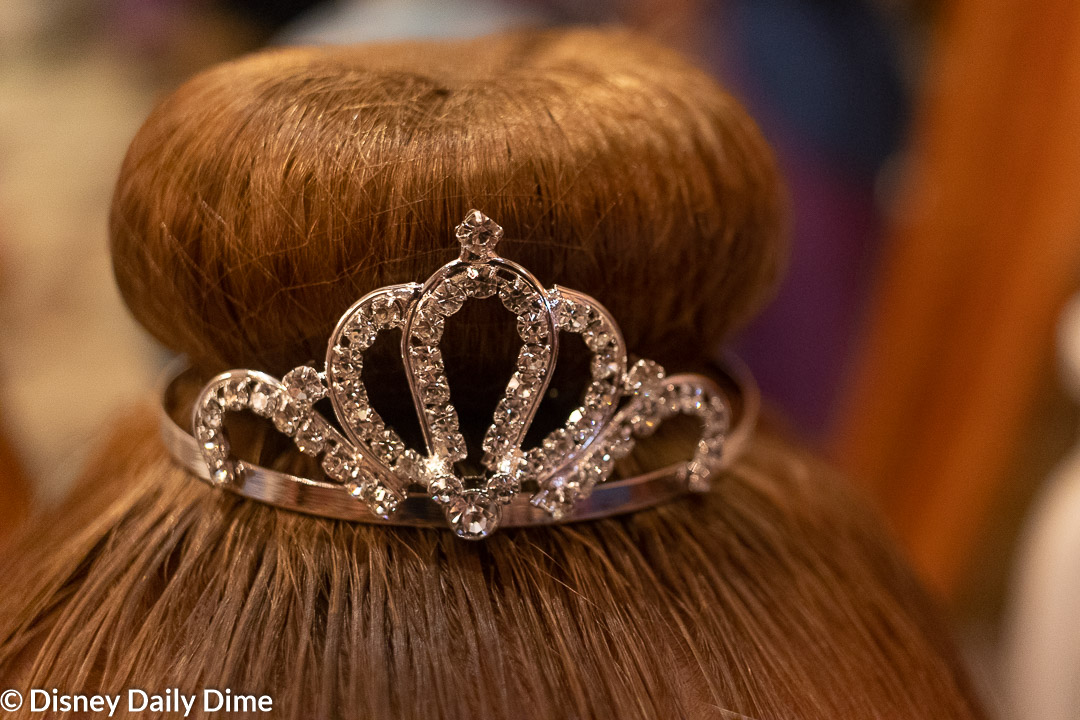 What Did Anna and Elsa Think?
Elsa said she loved the experience.  She described it as she felt like she was "in a land of beauty".  She said that the time at Bibbidi Bobbidi Boutique made her really feel something more.  Not the normal Elsa that she is at home, but transformed into something more.  A fairytale princess.
Elsa said she would absolutely do it again.
Anna said that her Fairy Godmother was very nice to her and appreciated that she talked with her.
Anna agreed that she would like to do it again.
What Did Mom and Dad think?
It was a great experience for the girls.  We enjoyed it too, but let's be real, it's all about them.
Where we differ with the girls is on doing it again (a second time).  We actually wouldn't.  Not because it was a bad experience, but rather because there are so many other unique experiences, like Disney's backstage tours,that you can do.  Doing it one time is just enough.  It seems like a waste to do this a second time, unless maybe your girls were about to age out of being able to do it.  Or maybe they did it when they were younger and would like to do it a second time so they can remember it more.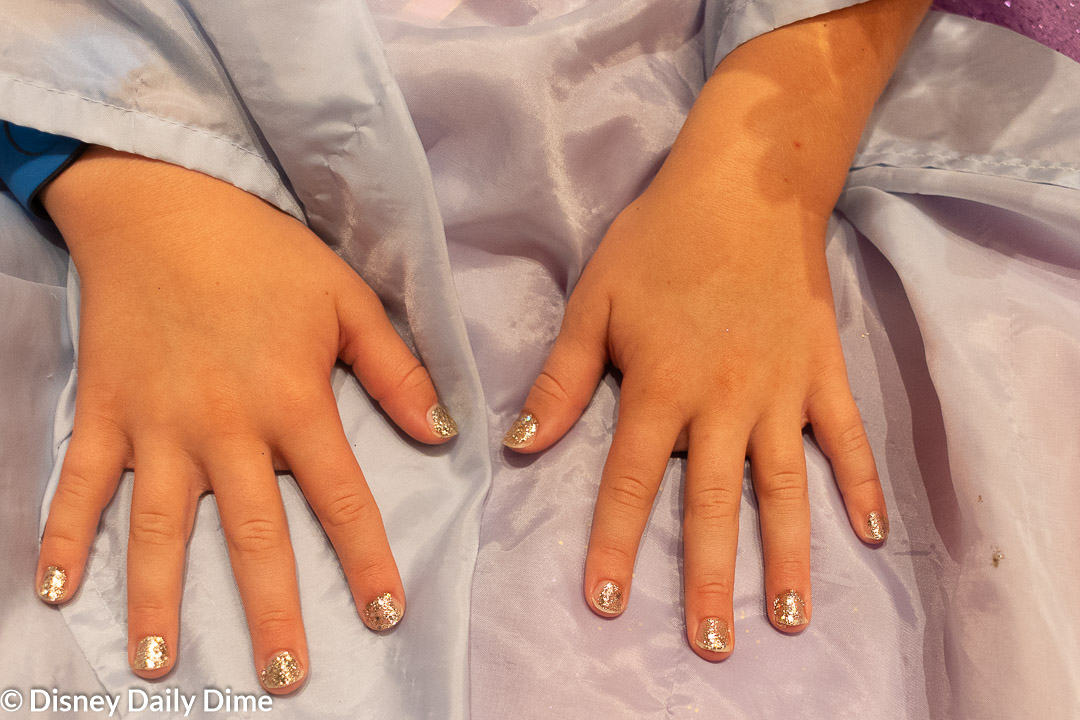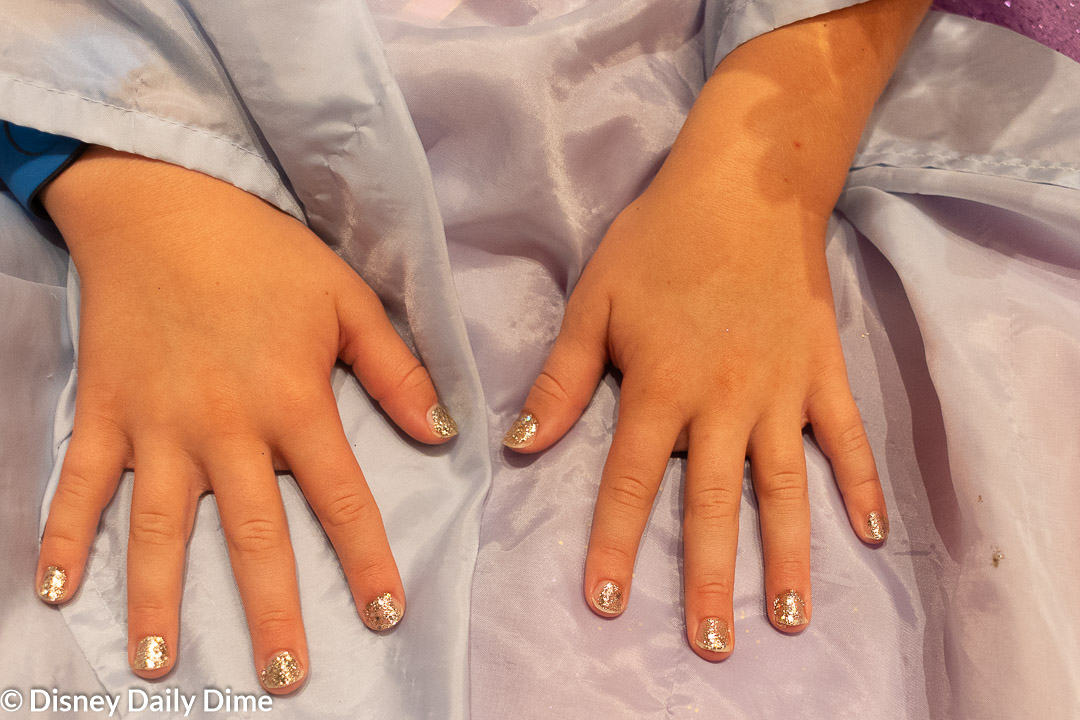 Bibbidi Bobbidi Boutique Review Tips
As part of our Bibbidi Bobbidi Boutique review, we thought we'd throw in a few tips on ways to make the experience the best it can be and not so expensive.
Bring Your Own Princess Dress
If you look at the package price differences, it shows that the low-end princess dresses will run you roughly $135.  Upgrade to the mid-tier princess dress and that will cost an extra $165.  Go all out and get the Princess Signature Dress and you're talking an extra $385.  These cost increases are all vs the Crown Package.  And yes, you do get more than just the dresses, but the dress is the big thing cost wise.
Save yourself the money and bring a dress with you.  You can land a great deal on the Disney Store website for a quality princess dress at much lower prices.  Plan early and you can find a sale for sure.  Even if you have to pay full retail, you'll still save money.
Carla paid about $28 (on sale) each for their dresses.  We saved them for this specific experience for Anna and Elsa, so they still had the excitement of a new dress just at a much more reasonable cost.
Carla gently rolled the dresses in our suitcase in a small garment bag to contain the glitter.  The dresses looked great after hanging them up and fluffing them out.  You will want to get the dresses hung up quickly when you get to the room with your luggage.
You can make this same case for accessories if you want to bring bracelets, necklaces and the like.
Stick to the Crown Package
Given the advice above, we believe that for 90% of you, the Crown Package will be more than enough for your girls to remember this experience.  Our girls never looked at another girl and said that they wanted something others had.  We think that will hold for most of you.  Save yourself the dough and just get the Crown Package.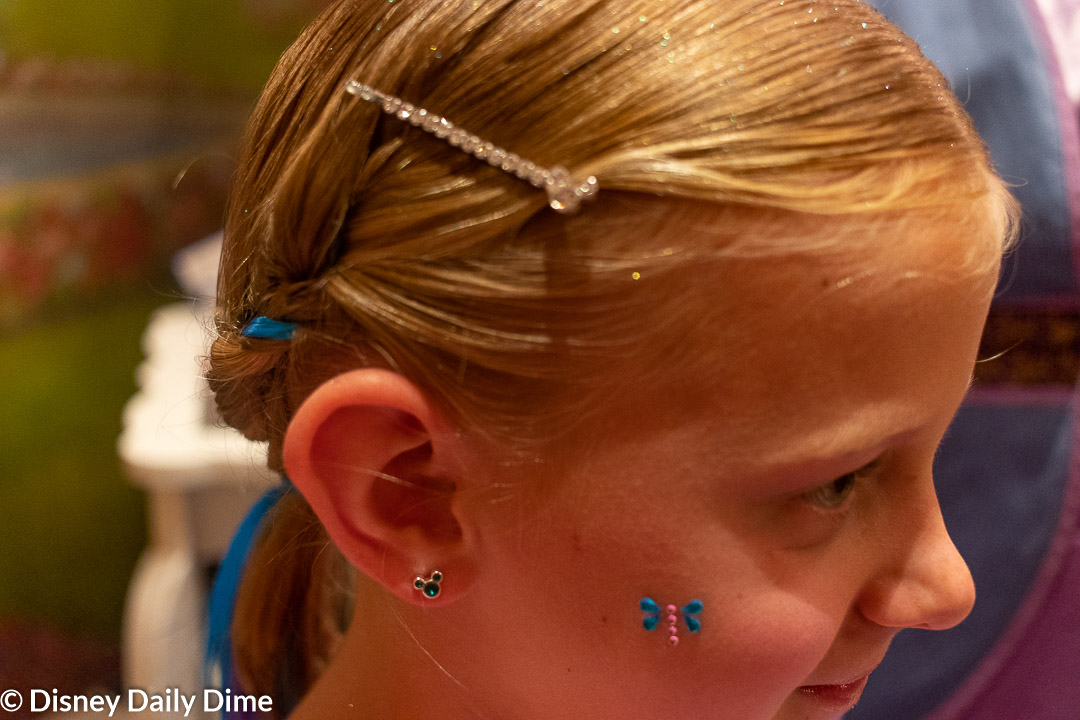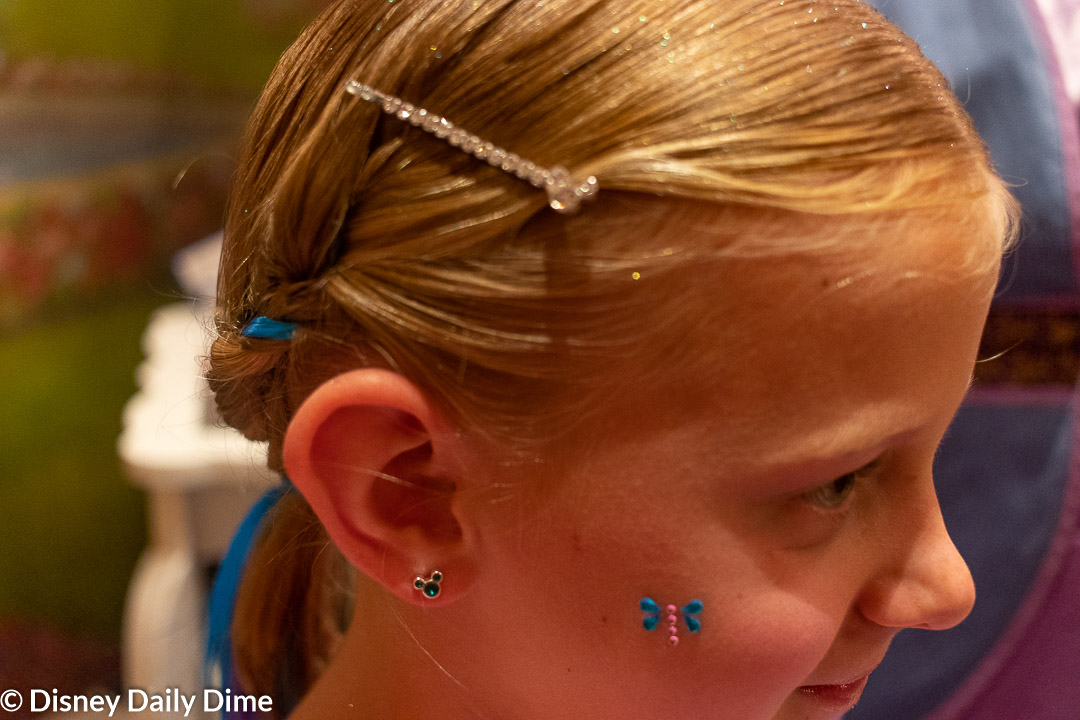 Put the Dress in a Locker
If you bring a dress with you to the park, don't carry it around.  It's cumbersome and could get wrinkled and messed up if you shove it in the bottom of a stroller or your park bag.
Rent a locker at the front of the park and store it there until you needed it.  Get one of the bigger lockers so you can lay the dress down or you only have to fold it over once.
Yes, this means you will have to back track to the front of the park to retrieve the dress when it's time.  However, we think it is worth it to not have to carry it through the parks.  Also, when you go retrieve the dress, don't drag the whole family along.  Just let mom or dad run and get it while you make your way to Bibbidi Bobbidi Boutique or squeeze in another ride.
Make Sure You Allow for Bibbidi Bobbidi Boutique Running Late
If you are planning to do something right after Bibbidi Bobbidi Boutique, like we did, make sure you give yourself extra time.  Bibbidi Bobbidi Boutique gets very busy and running behind is not all that unusual. 
Don't plan a lunch reservation or something you absolutely have to be on time for right when you think your Bibbidi Bobbidi Boutique appointment will be over.  We recommend giving yourself at least 30 minutes of cushion before having something else to do.  Disney says to allot an hour to hour and a half for your Bibbidi Bobbidi Boutique time.
Get an Early Reservation
Building on our last Bibbidi Bobbidi Boutique tip, book an early reservation.  Your reservation doesn't have to be bright and early, but going earlier will lower the chances that Bibbidi Bobbidi Boutique is running behind.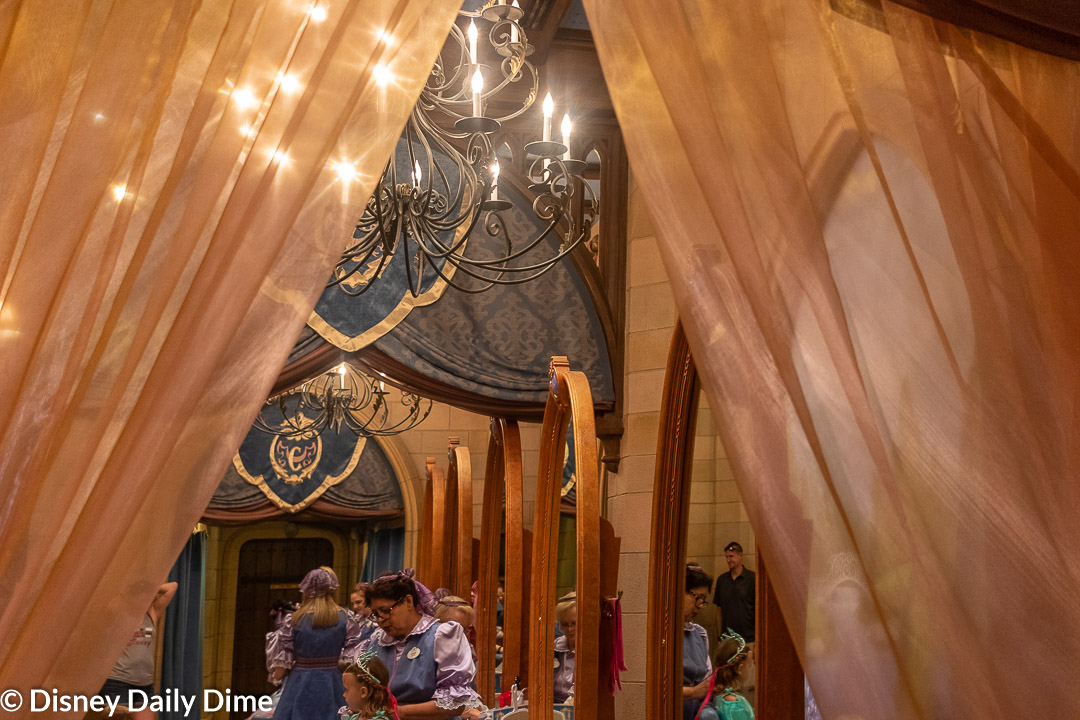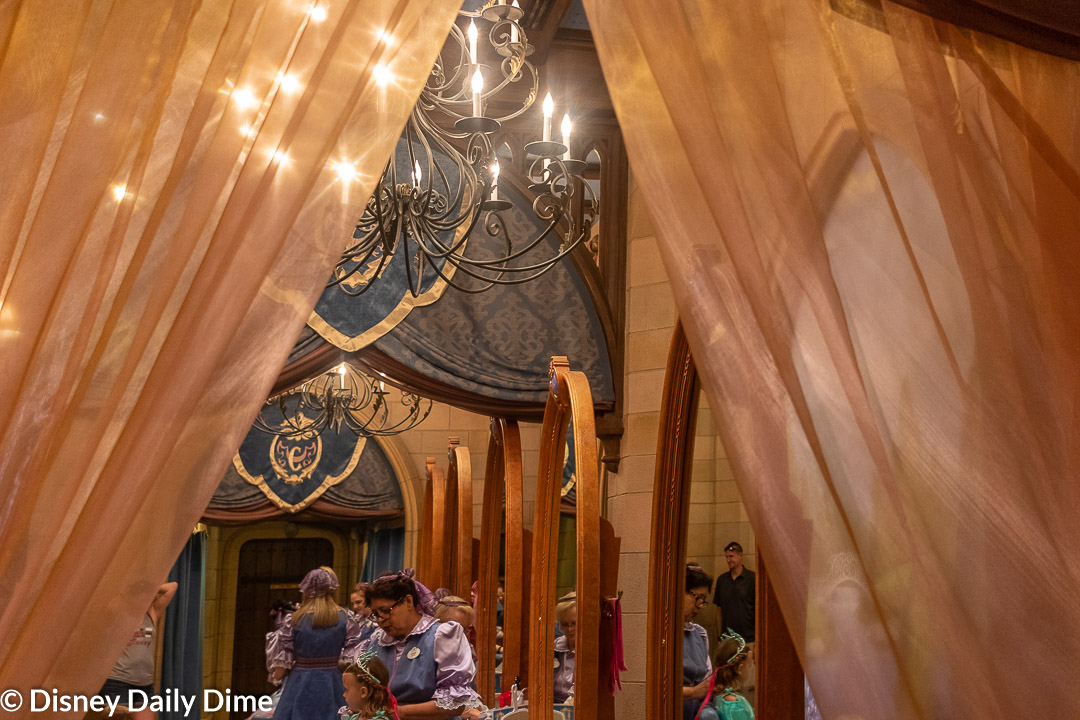 Bring a Comfortable Pair of Shoes for Your Child
If you're going all out with your daughter's dress, you will probably have a matching pair of shoes.  Lord knows we did.  However, these shoes aren't the best for walking around the parks.  Make sure you keep your kids regular shoes handy if you are going to have them walk to see princesses or attractions.  This will help their feet feel better.  You can throw the dress appropriate shoes back on when you get your photo op with that favorite princess.
Take Some Pictures Outside
Once the makeover is complete, consider taking pictures of your prince or princess dressed up outside.  There are several great locations outside that they can huddle around for a special photo.  First, you can stop by Cinderella Fountain for a picture.
Second, go get a picture with the Fairy Godmother, if she is meeting that day.  She meets right outside of Cinderella Castle on select days.  She is located on the back side of the castle, right against the wall across from Cinderella Fountain.
Lastly, you can go to Castle Couture after your appointment.  There is a photographer inside that will take more pictures of your princess.
Get a Cinderella's Royal Table Reservation
Your princess is all dressed up and ready to go right?  Book an ADR and let her meet a handful of princesses and dine inside of Cinderella Castle.  It's a great way to amp up the experience and memory for her, if your budget or Disney Dining Plan credits allocation allow it.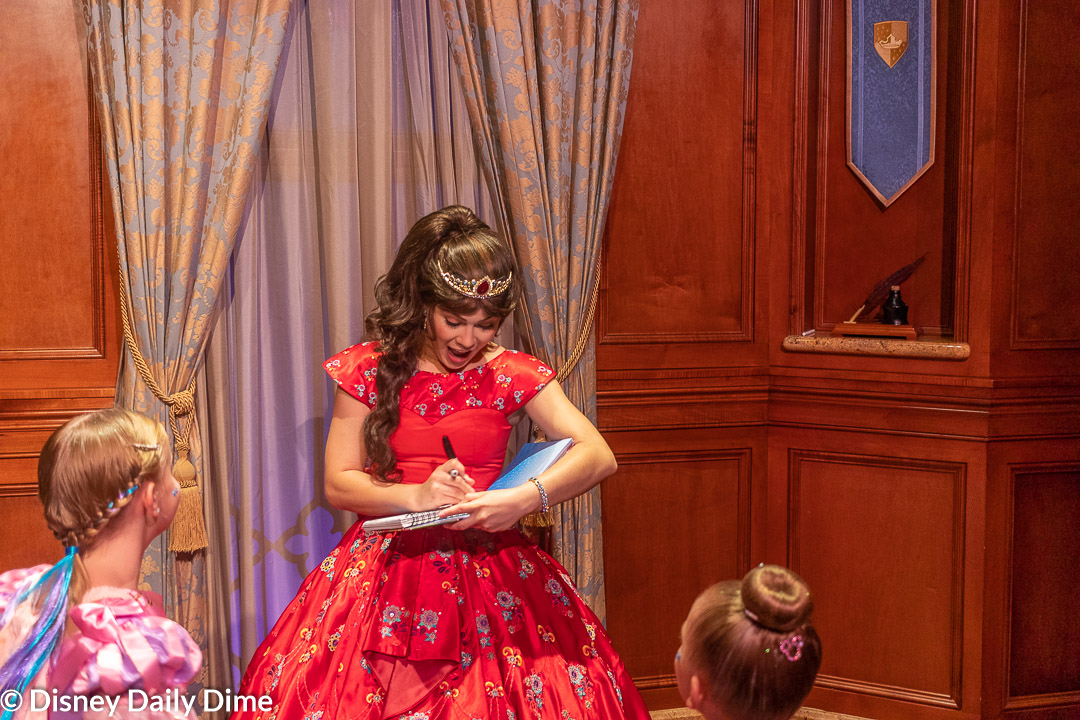 Was Bibbidi Bobbidi Boutique Worth It?
So, we gave you our thoughts on Bibbidi Bobbidi Boutique earlier, but that was in the context of service and if we would do it again.  But do we consider it "worth it"?
Because we bought the Crown Package, the answer is a clear yes.  If we bought any of the other Bibbidi Bobbidi Boutique packages, I think the answer would actually be no.  Great experience, yes, but the prices doesn't justify it at those higher package levels in our opinion.
At $65 per child, that was a good price point and we made memories that will last a lifetime for the girls and us.  We don't think the memories will be better had we gone with a $110, $200 or $450 option.  Just can't justify it.
What Anna and Elsa really remember about it are the Fairy Godmothers, meeting the princesses and lunch in Cinderella Castle.  Not that their dresses were brought from home, as opposed to chosen at Bibbidi Bobbidi Boutique.
Wrapping Up
We hope you enjoyed our Bibbidi Bobbidi Boutique review and tips article.  It was a great time for our girls and we think it can be a great time for yours.  If you enjoyed this article and found it useful in planning your Bibbidi Bobbidi Boutique adventure, we'd really appreciate it if you would share it on social media.  It helps spread the word on our blog and allows us to help more families plan their trips.  Just use the social sharing buttons on this page.