Disney World has five value resorts on property.  The most recently built property in this class is Disney's Art of Animation Resort.  Noted for their cost efficiency, value resorts achieve lower price points by offering a less developed theme, smaller rooms and fewer amenities.  This is our Disney's Art of Animation Resort review, where we cover all of these items, including the theme, general setup of the resort, the rooms and if we think the resort offers value that is worth considering.  As per usual, we'll have several pictures to accompany our review of Art of Animation Resort.  We even have a video tour of the resort at the end of this post.
Built in the early 2000s Disney's Art of Animation Resort had what you would probably consider an elongated construction period.  That is if you consider over a decade long.  Yes, this resort was under construction for over 10 years, but there's a back story here.  We'll give you the abbreviated version…
When construction started, the resort was originally intended to be the second half of Disney's Pop Century Resort.  If you've ever noticed, Pop Century's front sign labels it the "Classic Years".  The intention was to build a mirror resort across Hourglass Lake that would have been the "Legendary Years", which would have covered the first half of the 1900s.  However, after the terror attacks of 9/11 construction of the resort was halted with only the main building and a couple of guest room buildings completed.  Construction didn't resume here until 2010.  This is why some of the buildings look identical in layout to Pop Century, while others don't.  The resort formally opened as Disney's Art of Animation Resort in 2012.
From a layout and theme perspective you'll find the same general touches that you do at value resorts.  Large pools, oversized Disney characters and set pieces, along with a bright colors and graphics on the outside of the buildings, the value resorts feel similar in that regard.  With that, let's get into the details of our Art of Animation Resort review.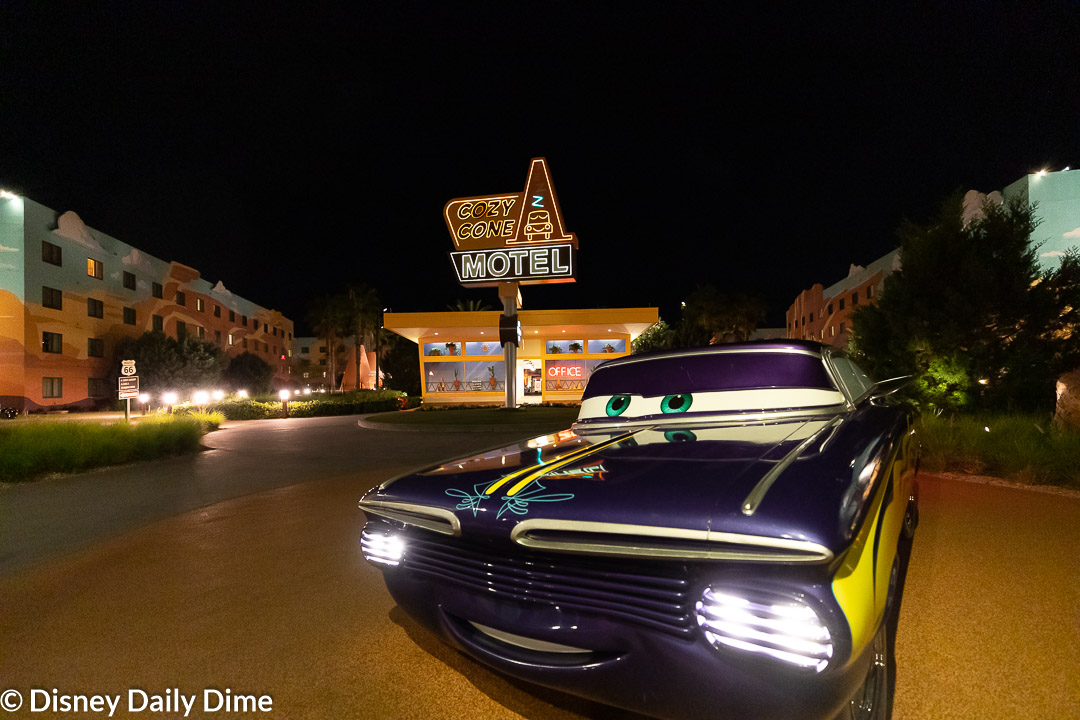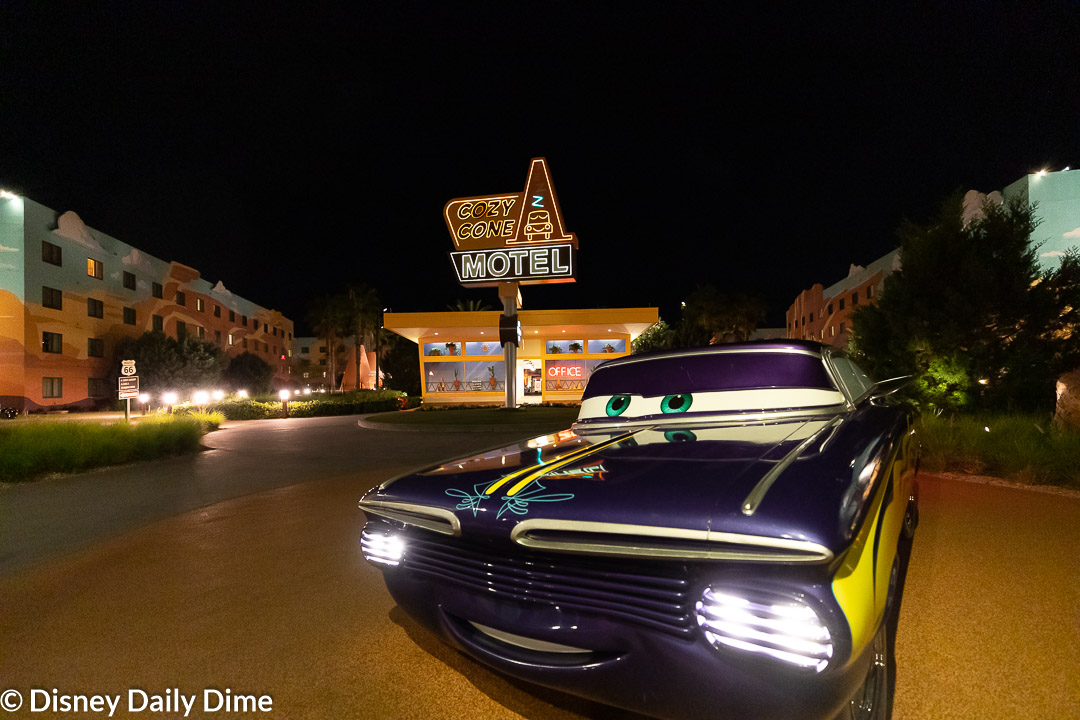 Disney's Art of Animation Resort Overview
Disney's Art of Animation Resort theme is focused on animated movies of a more recent vintage, those being: The Little Mermaid, The Lion King, Cars, and Finding Nemo.  It isn't just about the movies themselves, but also about the steps involved in creating the movies.  The lobby in Animation Hall is adorned with sketches that reflect these steps, from character development sketches to the final finished product.  You'll also find the background behind the lobby counter is reflective of a color pallet.  The lobby also boasts an impressive chandelier with sketches from the movies.   However, the touches that are emblematic of the animation process are light and the real theming involves recreating the movies themselves.
This resort will really resonate with kids, both young and old.  Anna and Elsa loved all of the animation related theming, while Carla and I really enjoyed the movie inspired set pieces.  The movies we grew up with like The Lion King and The Little Mermaid probably resonated more with us, however the Cars and Finding Nemo sections of the resort were also impressive from a theming perspective.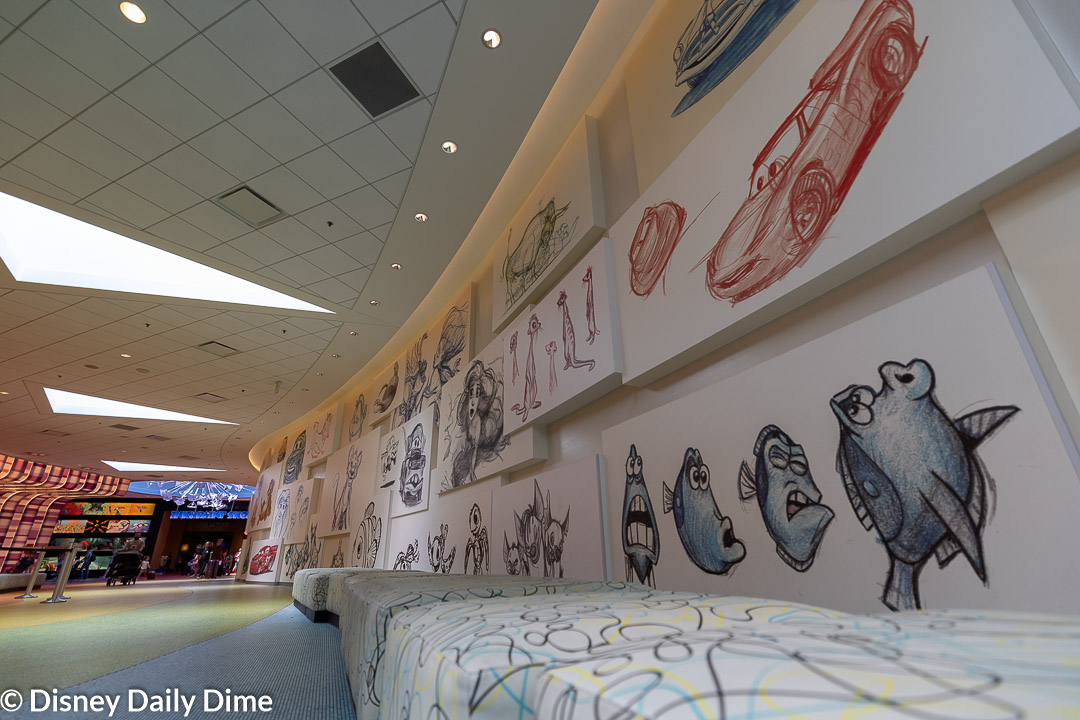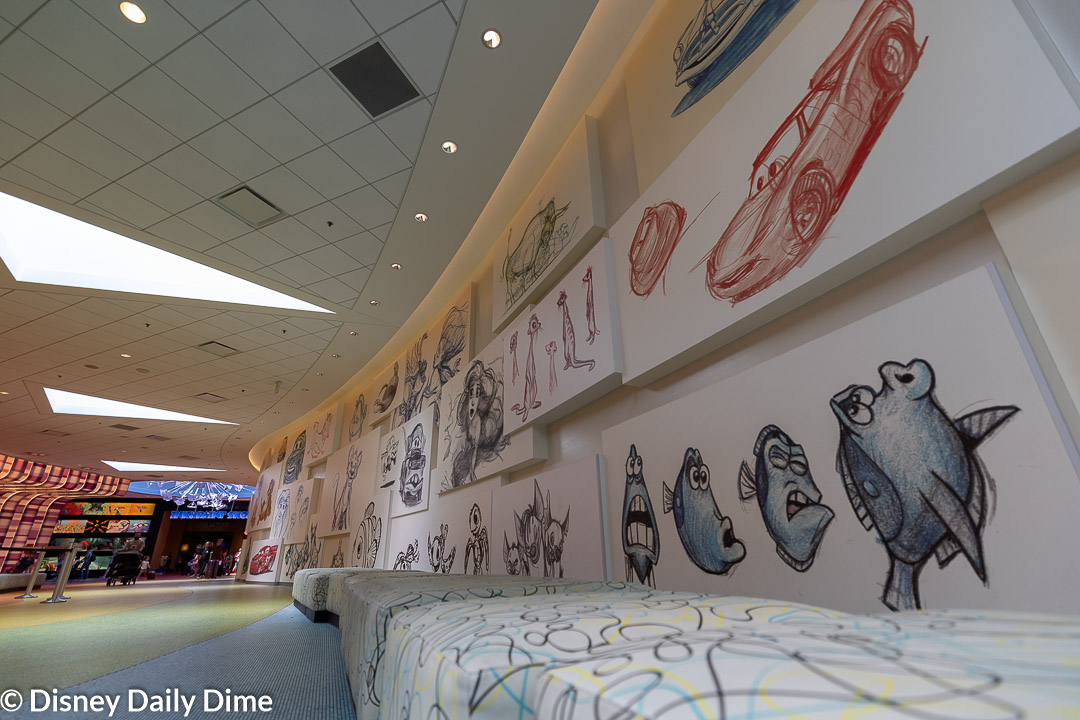 We found it to be a resort where all four of us connected better with it, compared to how Pop Century wasn't as interesting for the girls.  There's a great balance of things for kids and adults here (assuming these movies do something for you).  If you're not big into these movies, this resort is probably not for you.  We say that while acknowledging that this resort is firmly aimed at kids and any fans of these four movies.
The resort itself is divided into four sections; each section based on one of the movies.  The theming execution is a bit varied in these areas.  We found the Cars section to be done have the most authentic and immersive theming of the four.  The design makes it feel like you are walking the main drag, right into the heart of Radiator Springs.  All along the way, the various characters from the movie greet you as you head into town.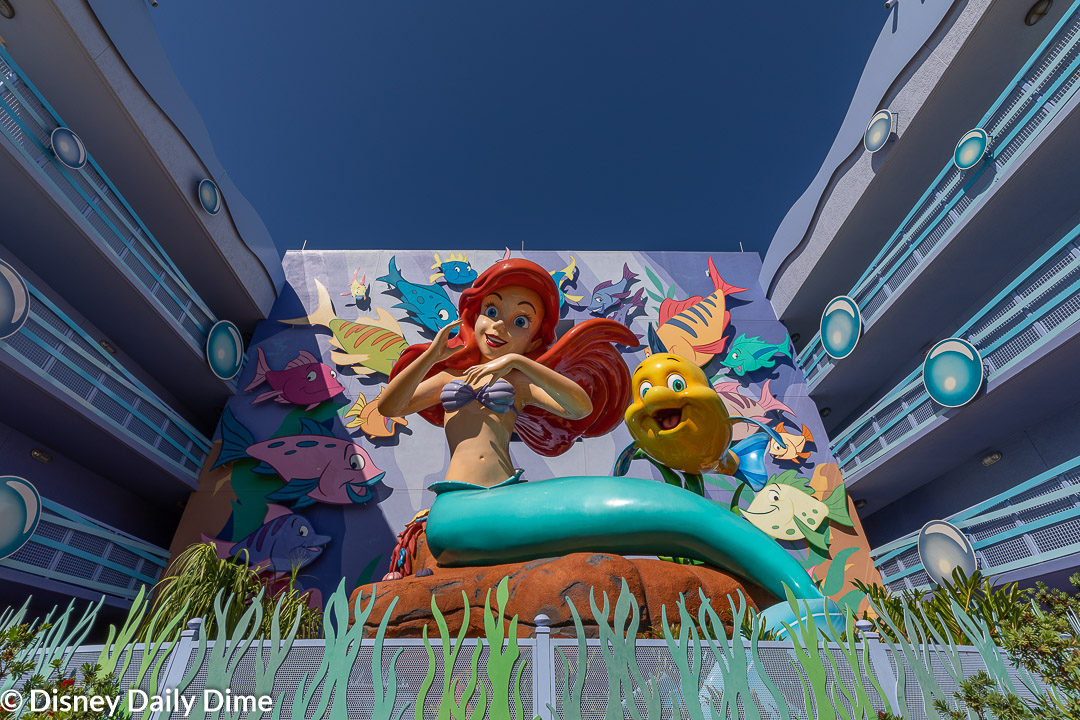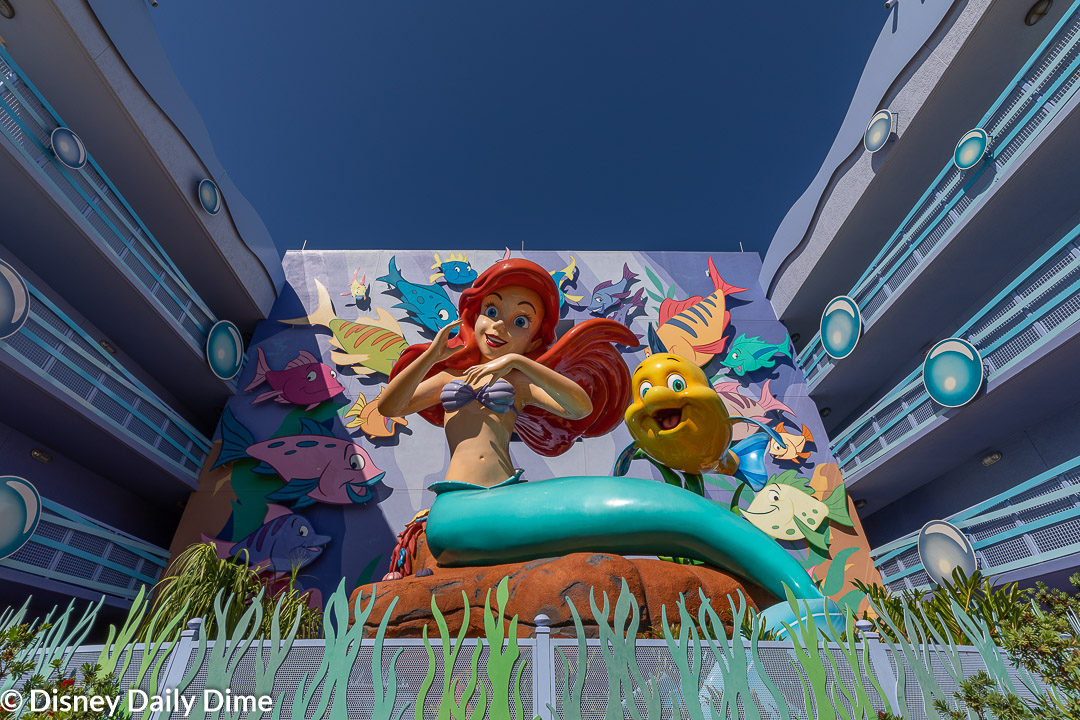 The next section we will discuss is themed to The Little Mermaid.  Featuring these same large set pieces like other resorts, recreating this movie lends itself to a pool, which is perfectly nestled into the middle of the three surrounding buildings.  The designers capitalized on the aquatic nature of the film and created nuanced touches that make this area true to its source material.  From the fish around the pool area to the ship crow's nest, the theming is spot on and any fan of the movie will appreciate the careful attention to detail put into this area.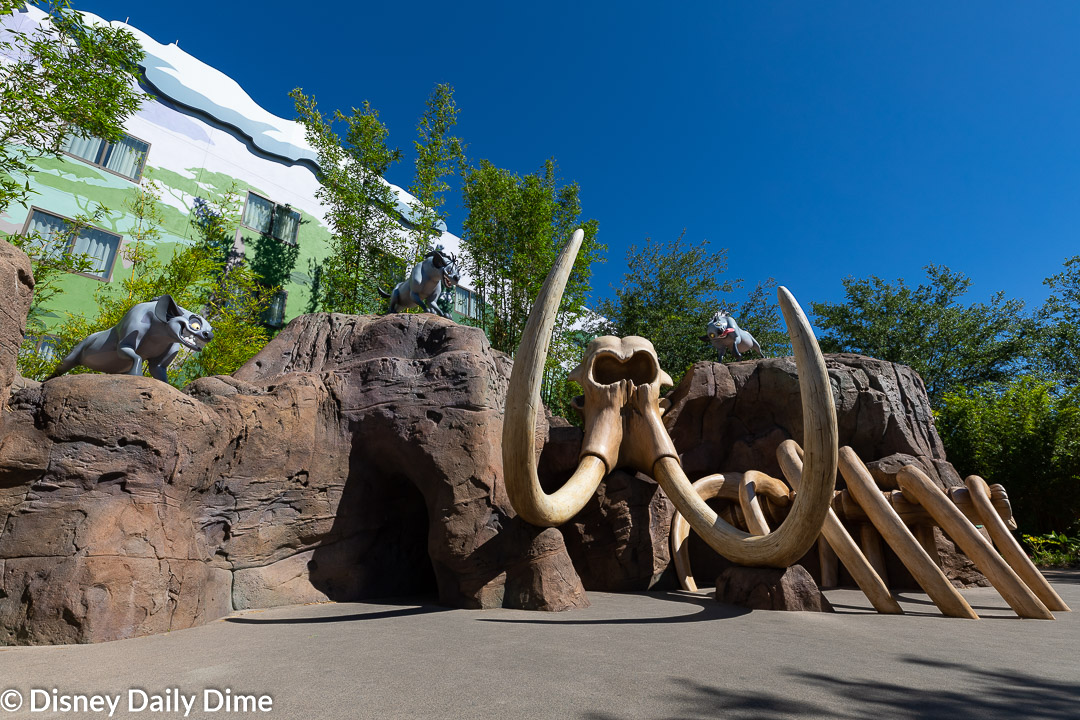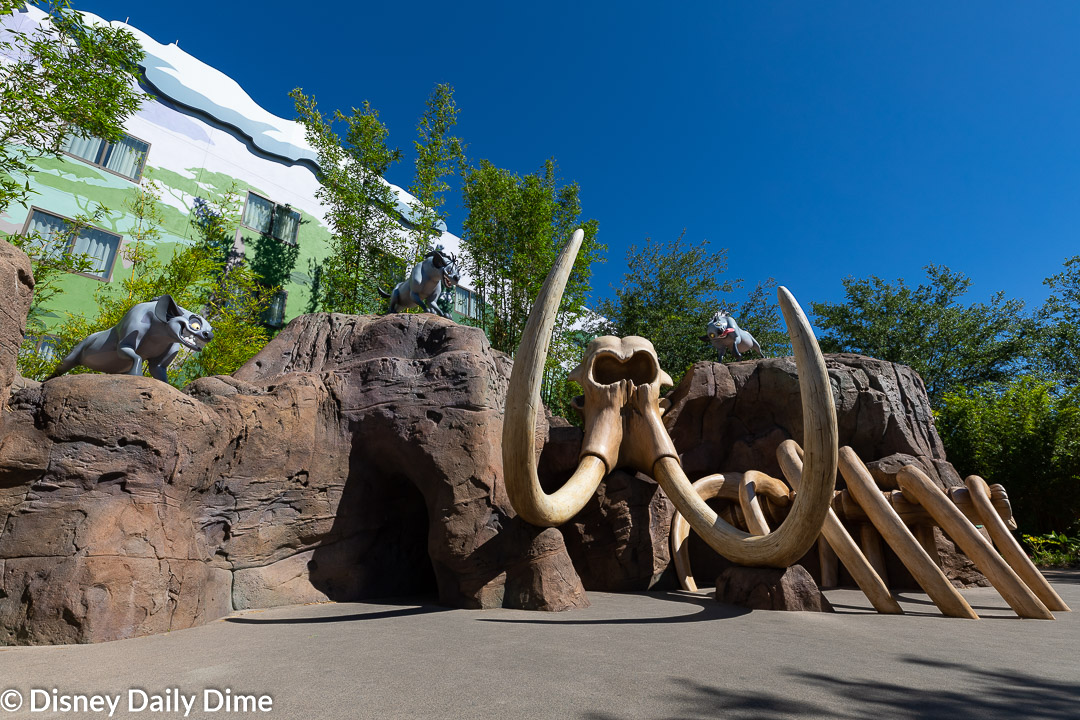 The Lion King section of the resort is a fun tribute to the movie but it doesn't capture the same feel of immersion that the Cars section truly captures.  There are several iconic scenes from the movie recreated and all the main characters are present, but the lush vegetation of Florida doesn't really work with the notion of an African savannah.  That said, I don't think it's going to bother any kids.  They'll enjoy seeing this treasured movie brought to life.
Lastly, the Finding Nemo section of the resort utilizes its ocean setting to feature the main resort pool.  With the scale of the Crush and Mr. Ray figures along with the ocean life represented in the pool area and splash pad, we felt like we were Nemo sized fish swimming in the ocean while in the pool and walking around the area.   We also loved the seagulls on the side of the building who would say "Mine, Mine, Mine" just like in the movie.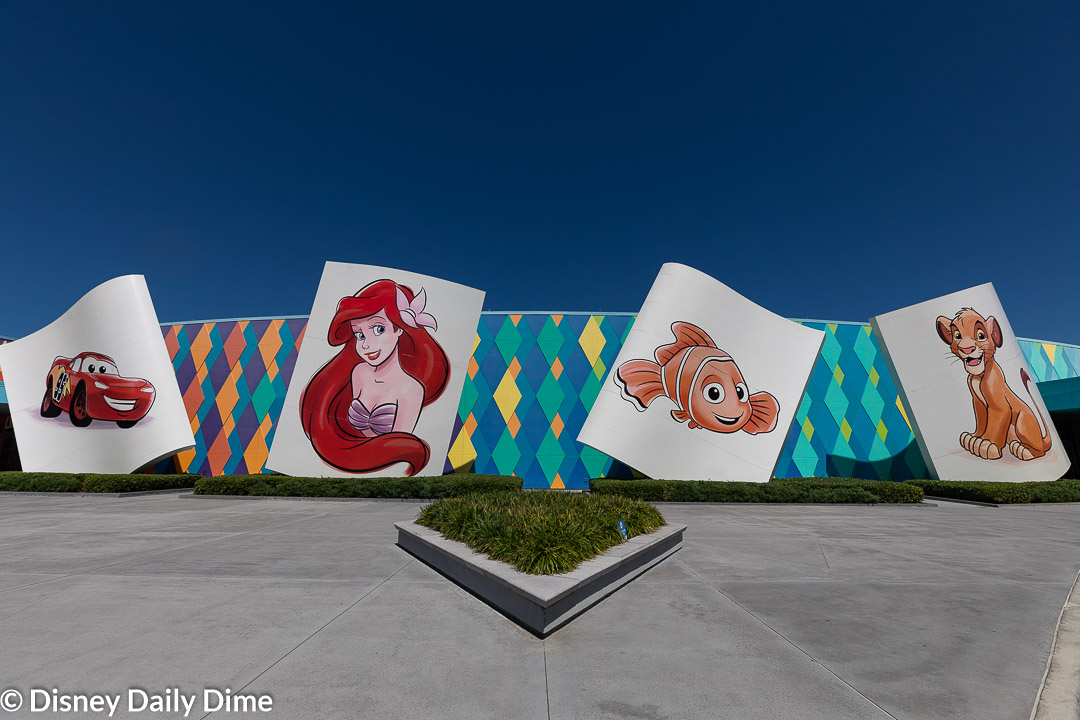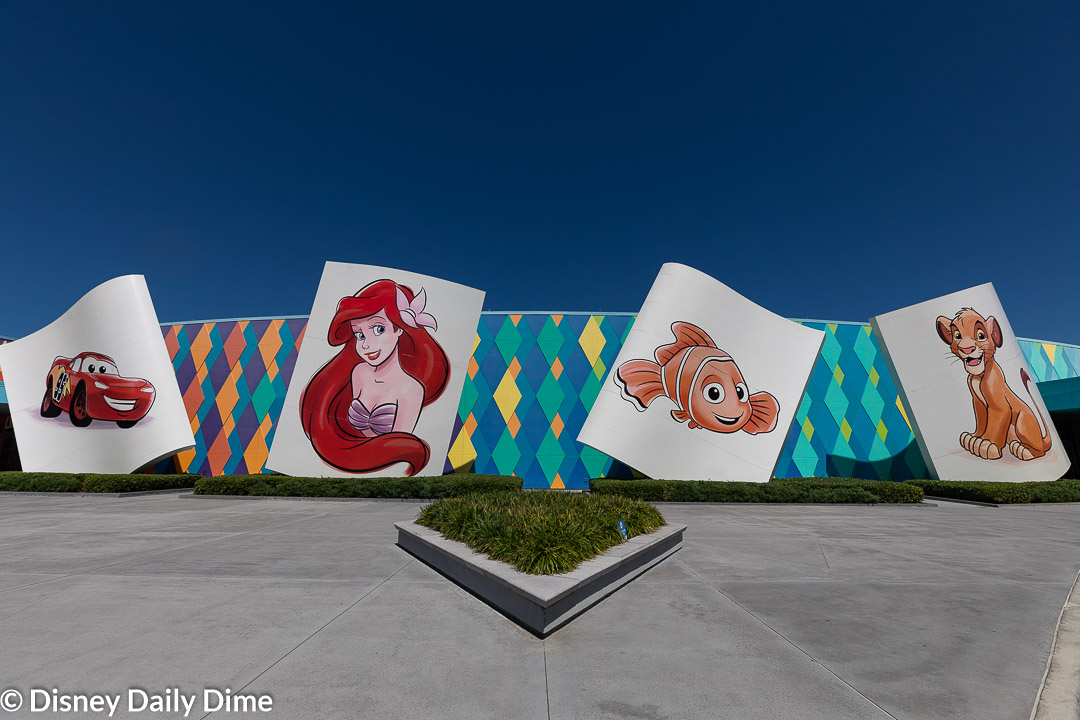 Overall, we all really enjoyed the theming at Art of Animation.  Some areas struggle more than others with nailing the immersion into their movie, but we found the theming impressive on the whole.  The resort may not have the same level of detail as we've found at resorts like Disney's Wilderness Lodge or Port Orleans French Quarter, but you're also not paying the price point that goes with those locations.  Disney's Art of Animation features some unique rooms though that may make this resort more or less appealing.  We'll cover those in a bit, but first let's talk about the resort amenities.
Disney's Art of Animation Resort Amenities
The amenities available at Disney's Art of Animation Resort are fairly standard for a value level resort at Walt Disney World.  You'll find pools, which we discuss in more detail below, along with a playground, and an arcade.
Pop Century also features a laundry area and general store.  You can park your personal vehicle at the resort, however you do have to pay for parking.  Right now, it runs $15 per night at value resorts.
The resort rooms come with a standard setup consisting of:
Dresser
Small table with 2 chairs (that folds down into a second bed in the family suites)
Wi-Fi Internet Access (access is free of charge)
Flat-panel TV
Mini-fridge
Coffee maker
Ironing board and iron
Hair dryer
In-room safe
Also, as our friend at The Wilderness Princess reminded us, Art of Animation is also pet friendly.  It's one of the select Disney resorts that allows dogs, although you will have to pay $50/night for this.  Note that this is not a deposit, it's a fee that you will never get back.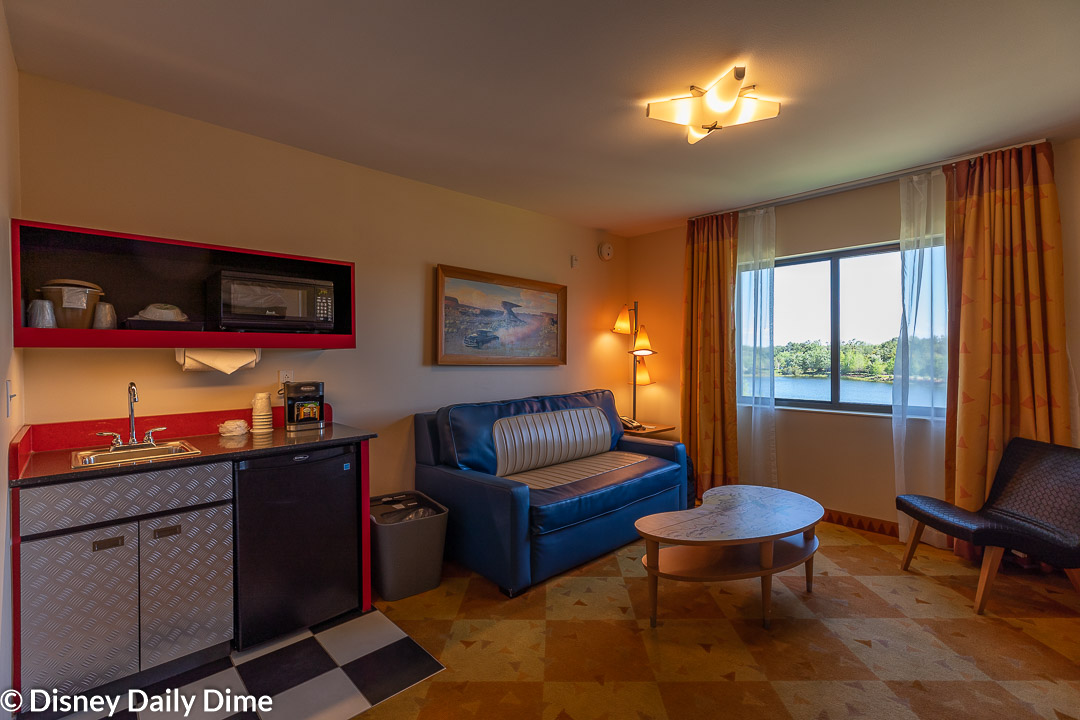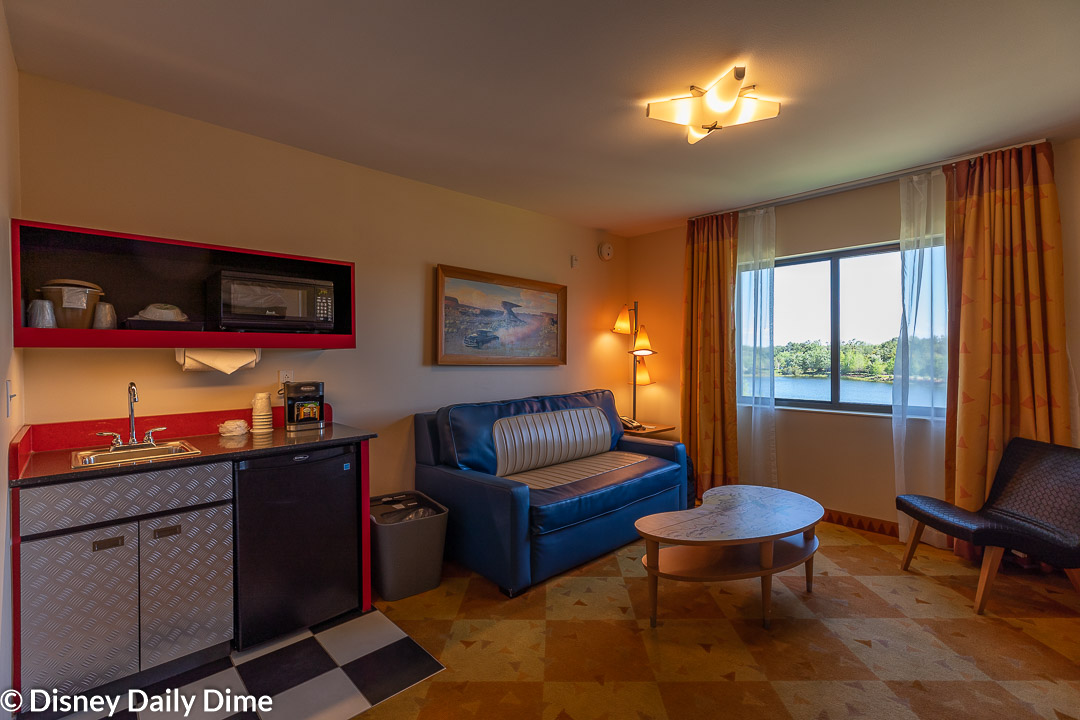 Art of Animation Resort Features Two Styles of Rooms
The rooms at Disney's Art of Animation Resort are not all the same.  There are essentially two styles, a standard room and a family suite room.
We'll discuss them in more depth in a minute, but pricing for these rooms ranges like this:
The Little Mermaid Standard Room – ($157 – $284 per night)
The Lion King Family Suites – ($348 – $612 per night)
Cars Family Suites – ($348 – $612 per night)
Finding Nemo Family Suites – ($361 – $629 per night)
All of the prices shown above are rack rate prices.  Disney frequently offers discounts that can get you in for less than this.  Do note that pricing changes from time to time, so check Disney's Art of Animation Resort website for the most up to date pricing.
So why are there two styles of rooms at Art of Animation?  Well, it all has to do with that elongated construction process we mentioned at the beginning.  Before the construction was halted, Disney had already built what would become the Little Mermaid rooms.  Since it was supposed to be the next section of Pop Century, the layout of that area of the resort mirrors that of other value resorts.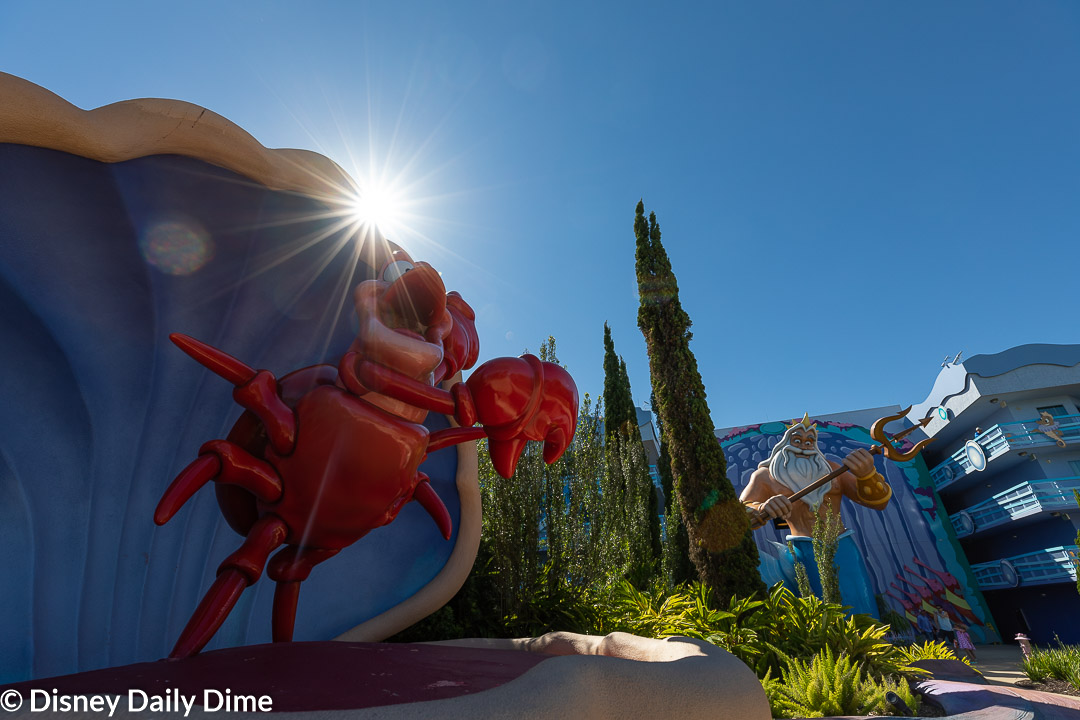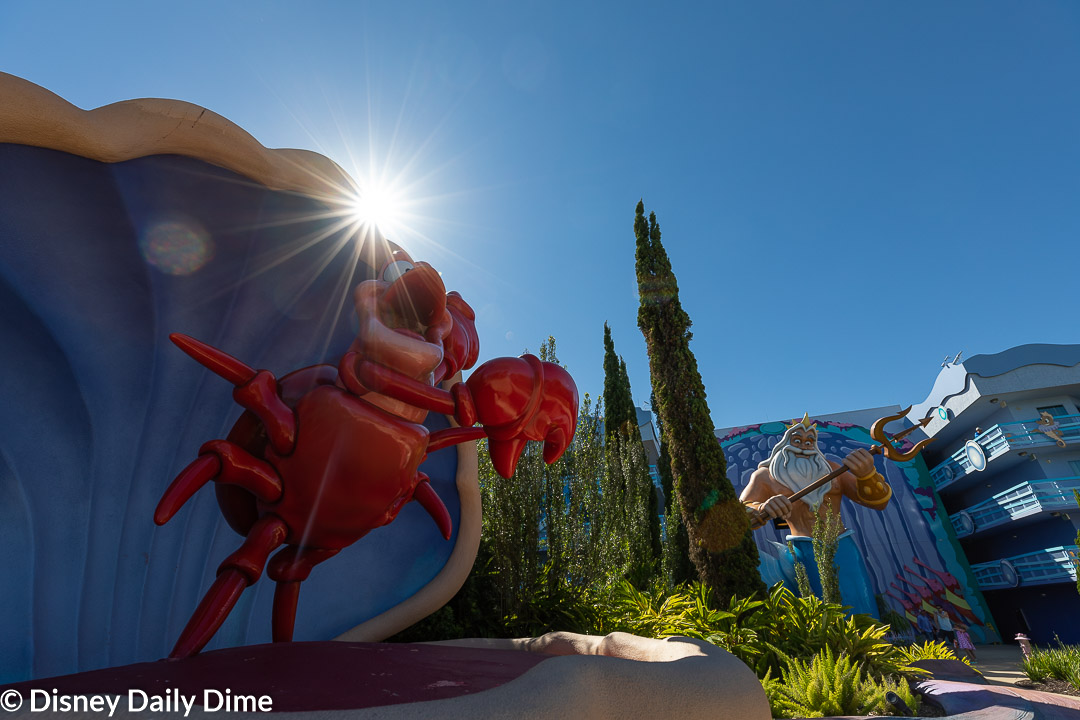 In the Little Mermaid section of Art of Animation, you will find the usual value resort room accommodations.  The rooms also have the same exterior facing door.  As you might expect, these rooms also come with a price that is similar to other standard rooms at value resort, or do they?  If you compare prices of standard rooms, you will probably notice the Little Mermaid rooms run around $20-$40 per night more.  This is because these rooms are in high demand and right near a pool.  The high demand is driven by the relative lack of the rooms themed to the Little Mermaid, so if you want to stay here, make sure you book your room early.
We stayed in these rooms on one of our recent trips.  You can find a more in-depth look at them as part of our Art of Animation Little Mermaid Room review.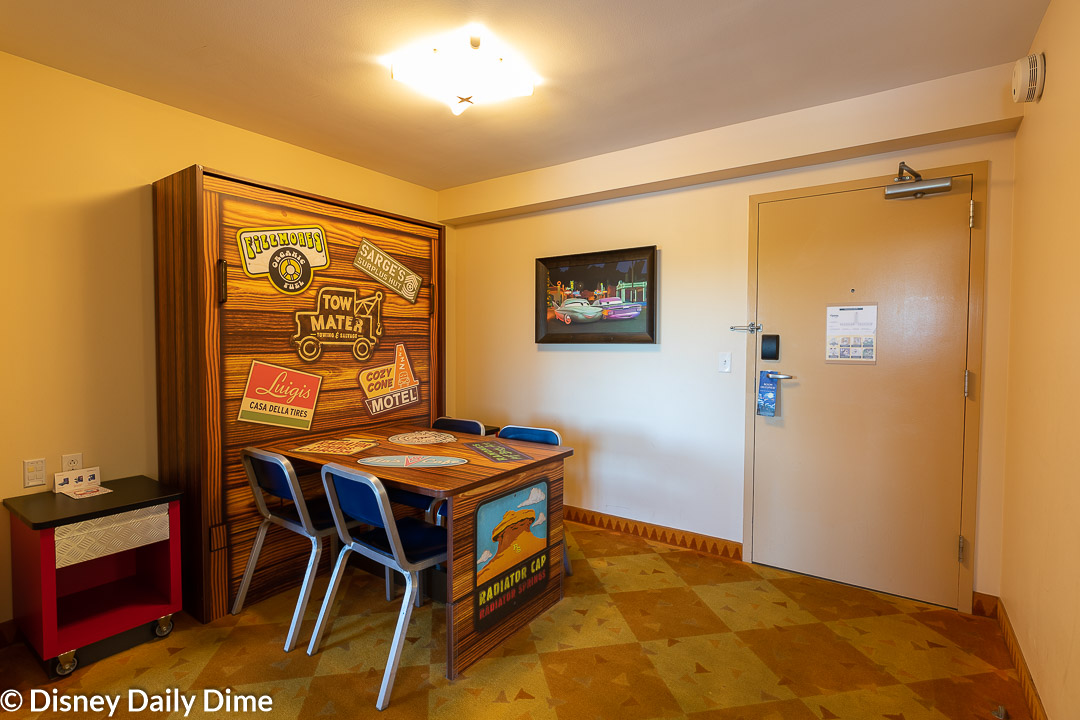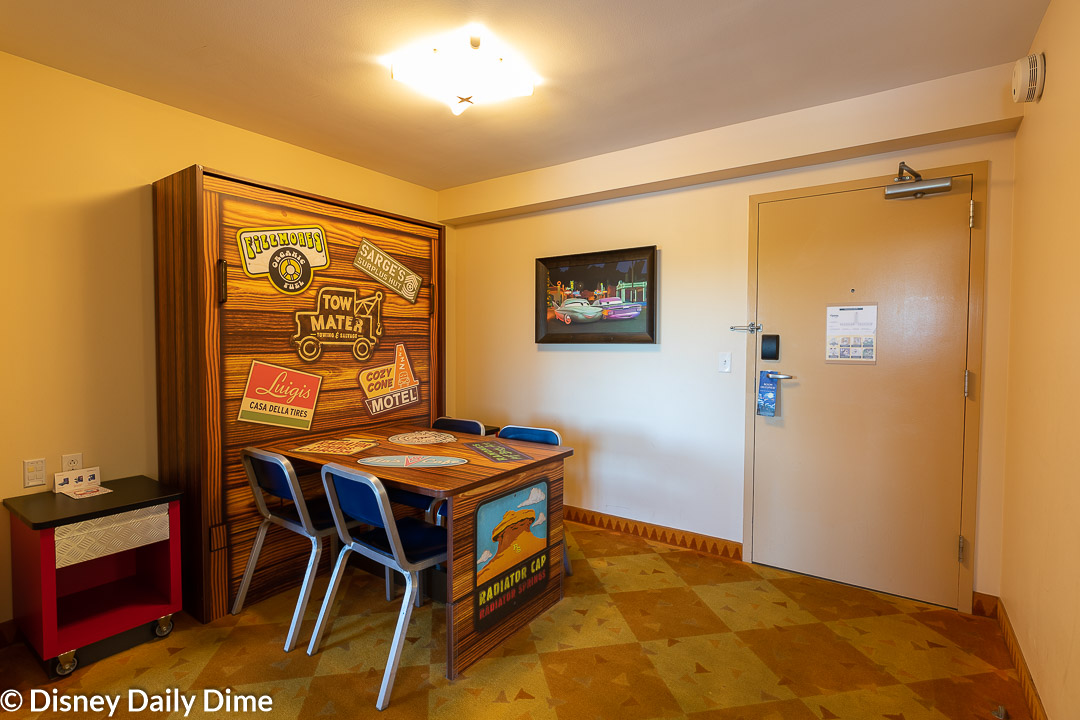 The room style we stayed in for our Disney's Art of Animation Resort review is known as the Family Suite.  As you can see in the pricing information earlier in this post, there are three types of suites.  They are themed to the Lion King, Cars, and Finding Nemo.  This is the only real difference here though.  The rooms are otherwise identical to each other in terms of beds, layout, etc.
You will notice on the pricing that the Finding Nemo Family Suites run about $20 more per night.  This is due to its central and preferred location.  Specifically, a location right next to the main pool of the resort and convenience to the main building, Animation Hall.
As for the rooms themselves, we stayed in the Cars section of the resort, so all our pictures will be in reference to that.  At some point we will circle back to the other themed family suites of Art of Animation.  Like we said earlier, from a room layout perspective they are all the same.  At some point, once we've hit all the suites, we'll do a full photo spread of the different themes.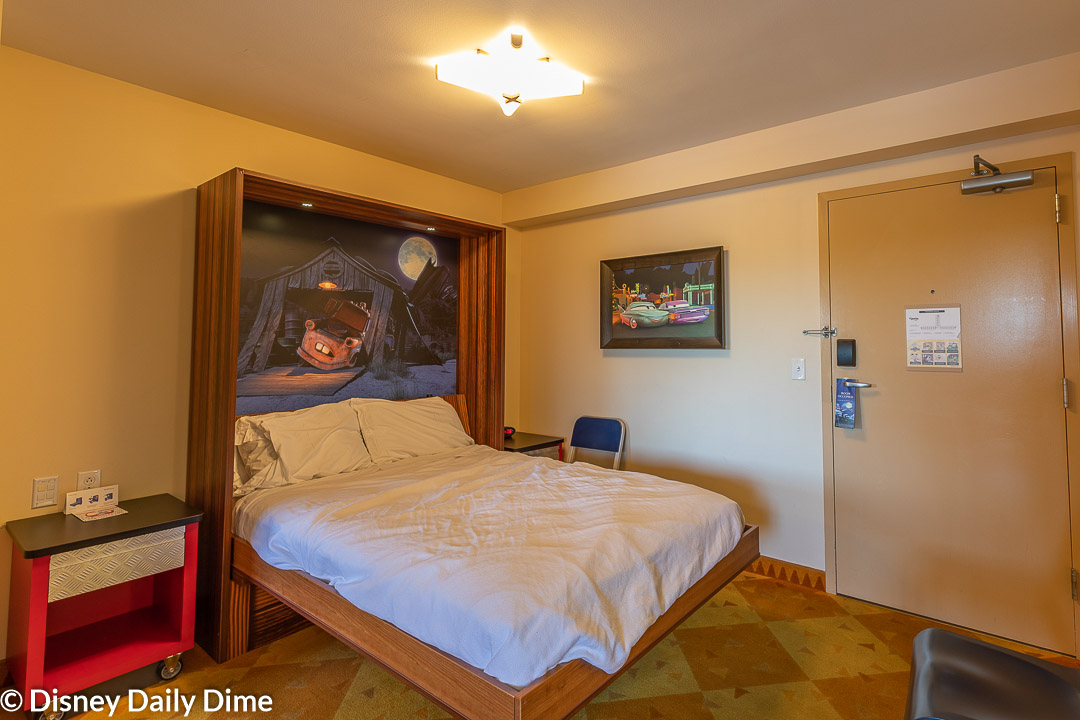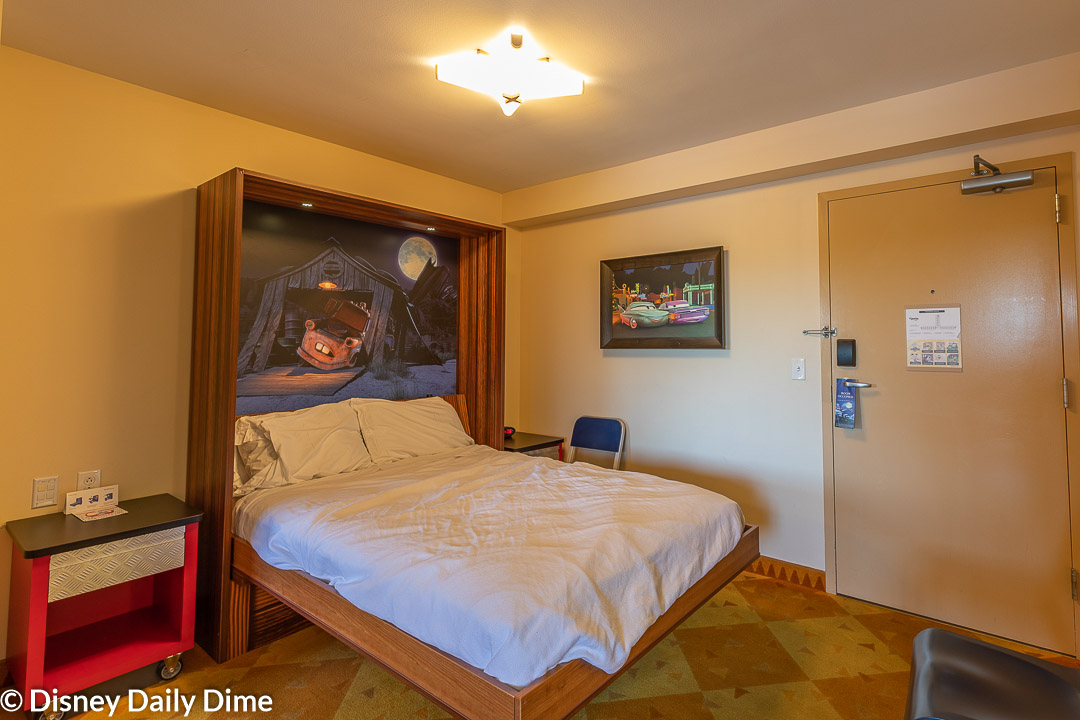 As you enter the family suites at Art of Animation, you'll be greeted by a set of tables and chairs.  The tables actually double as a murphy bed and can fold down like you see below. 
Across from the table/bed, you will find one of the two bathrooms of the suite.   This is a standard size hotel bathroom, featuring an area with the sink and a separate room with the toilet and shower.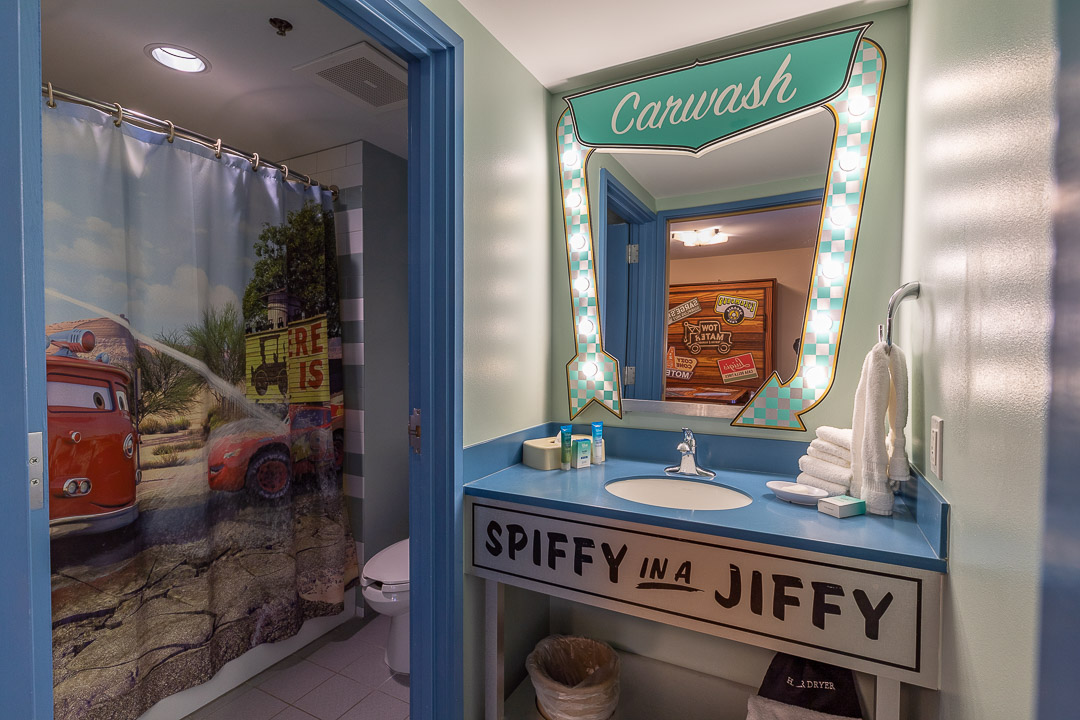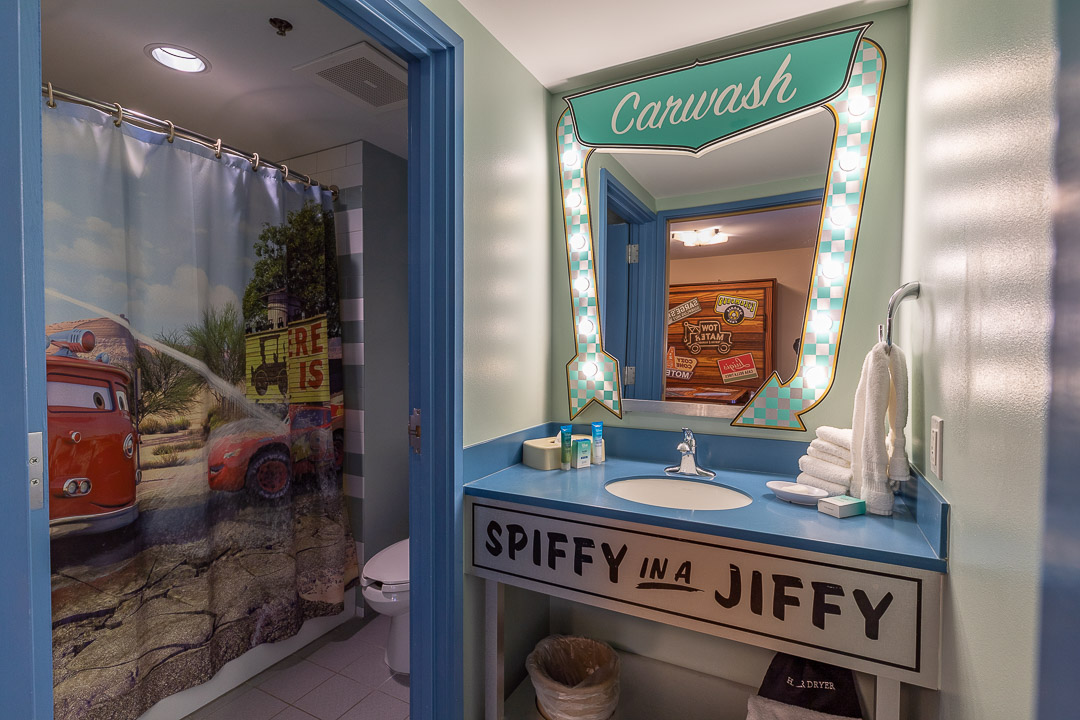 Towards the back of this room, you'll find the living area, complete with a kitchenette. The sofa in the room will actually fold out into a bed, which allows you to sleep up to six people total in this room.  I will say, Anna slept in the sofa bed and while it didn't bother her, it isn't something Carla or I felt like we could have slept comfortably on.  Elsa enjoyed the murphy bed and two kids or an adult and child could easily share this bed.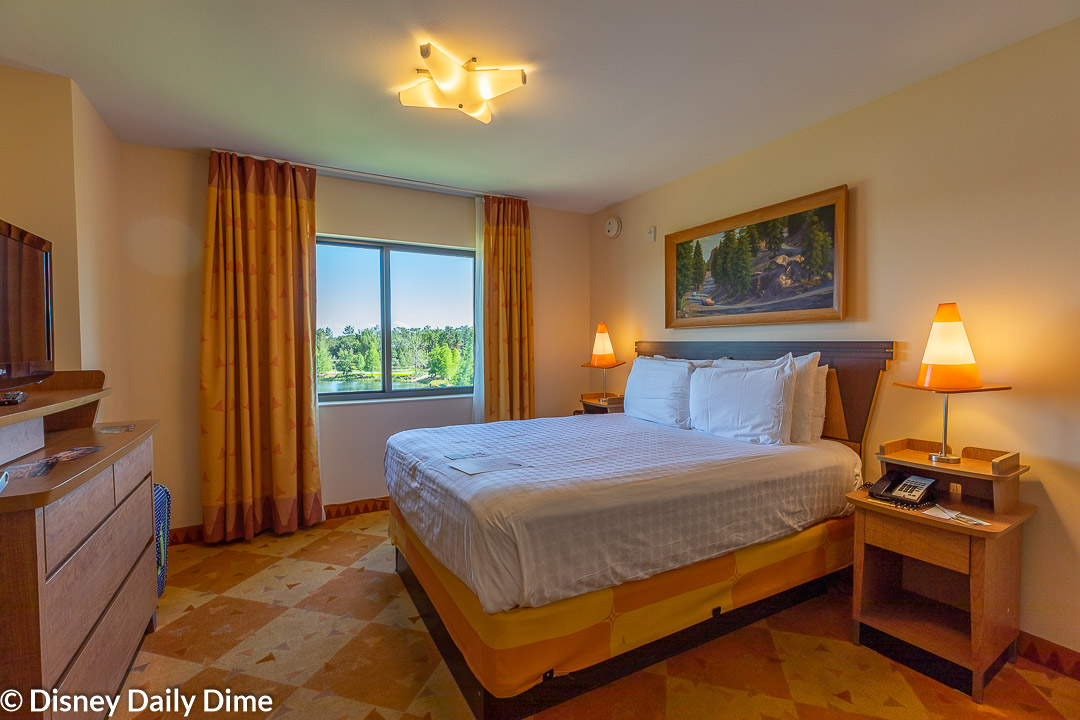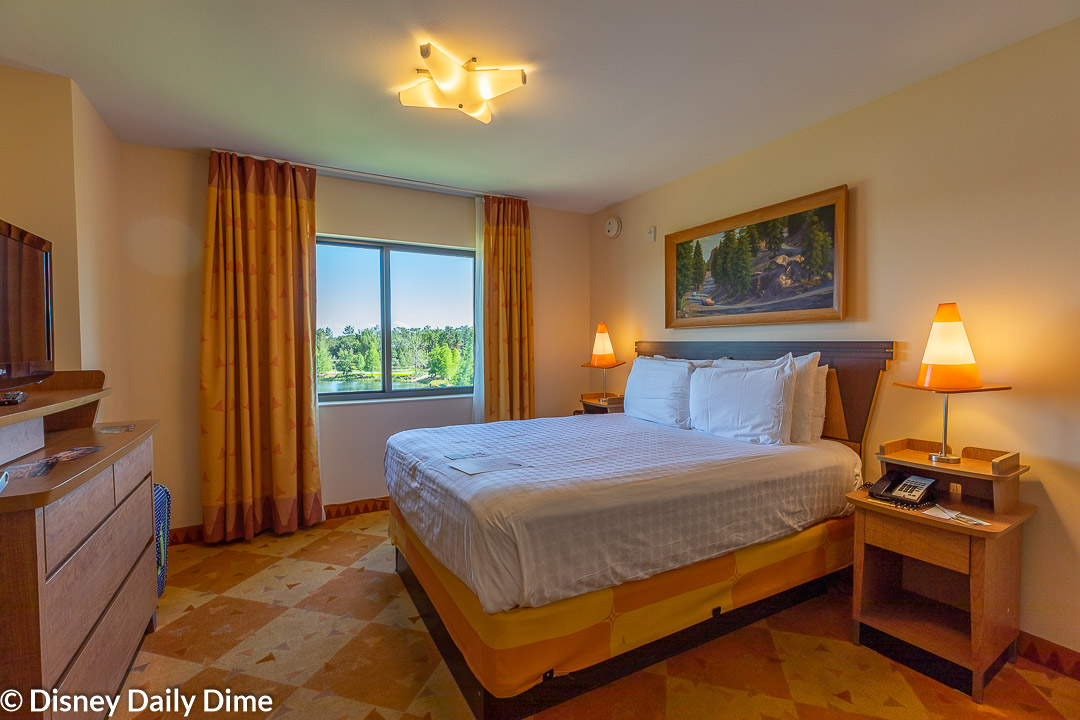 A doorway leads to a more private room where two more people can sleep.  Featuring a queen bed, this is probably the most coveted bed in the room.  The room amenities are basic and in line with a value resort, but what sets this room apart is its own large private bathroom with an oversized shower stall.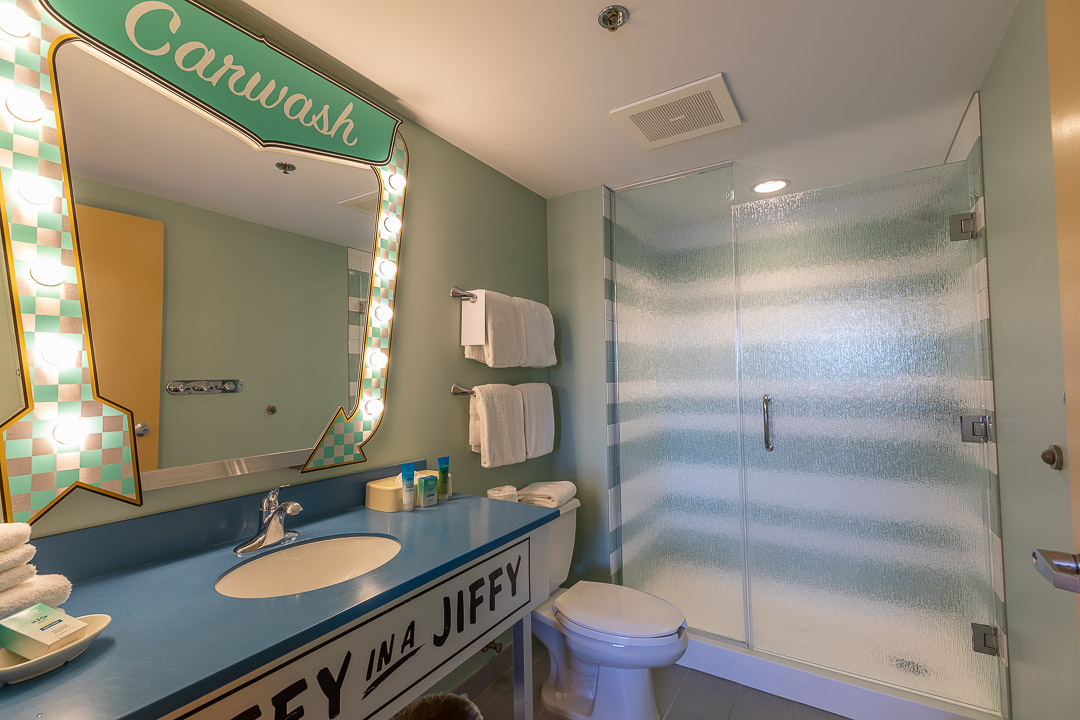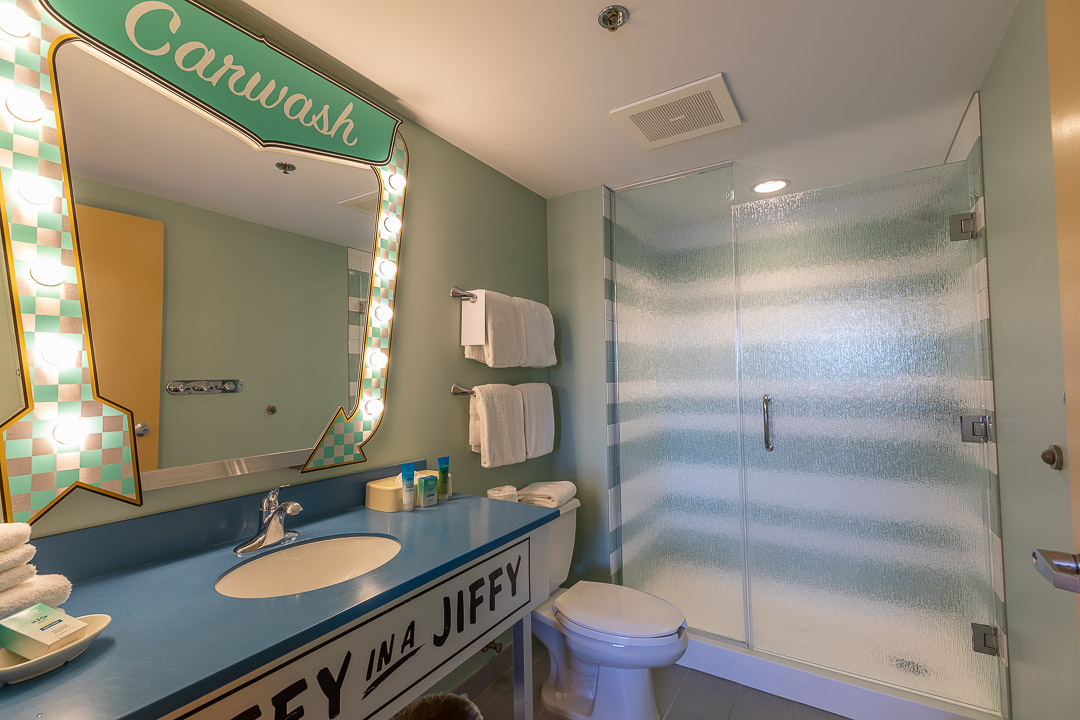 To better depict the layout of the room, I made a video showing all of the features of the family suite.  You can check it out below if you want to see more of the room.
When it comes to the family suites at Disney's Art of Animation Resort, I think there is a clear question if they are worth the price.  While we really liked having a room where Anna and Elsa could sleep on their own, it's a steep cost to pay if you don't really need the beds.  If we had the money available, I think we would get a standard room at a deluxe or moderate level resort to enjoy some of the better amenities.  However, the family suite can be one of the most economical choices if one room that fits a party of 5 or 6 is necessary.
Yes, there are other options for sleeping 5-6 in one room, but the prices of those particular rooms escalate quickly.  Only All-Star Music and the Cabins at Fort Wilderness have rooms that can sleep up to 6 and have prices that are in the vicinity of Disney's Art of Animation Resort family suites.  There isn't a right or wrong answer, it's more about what you budget is and what your priorities are.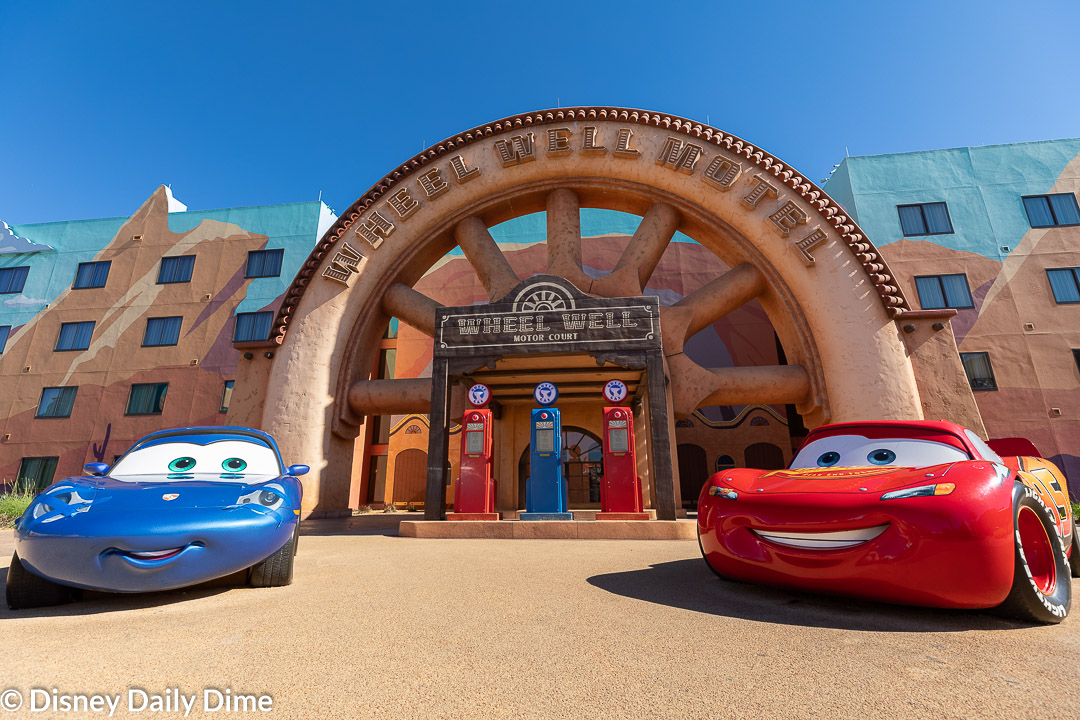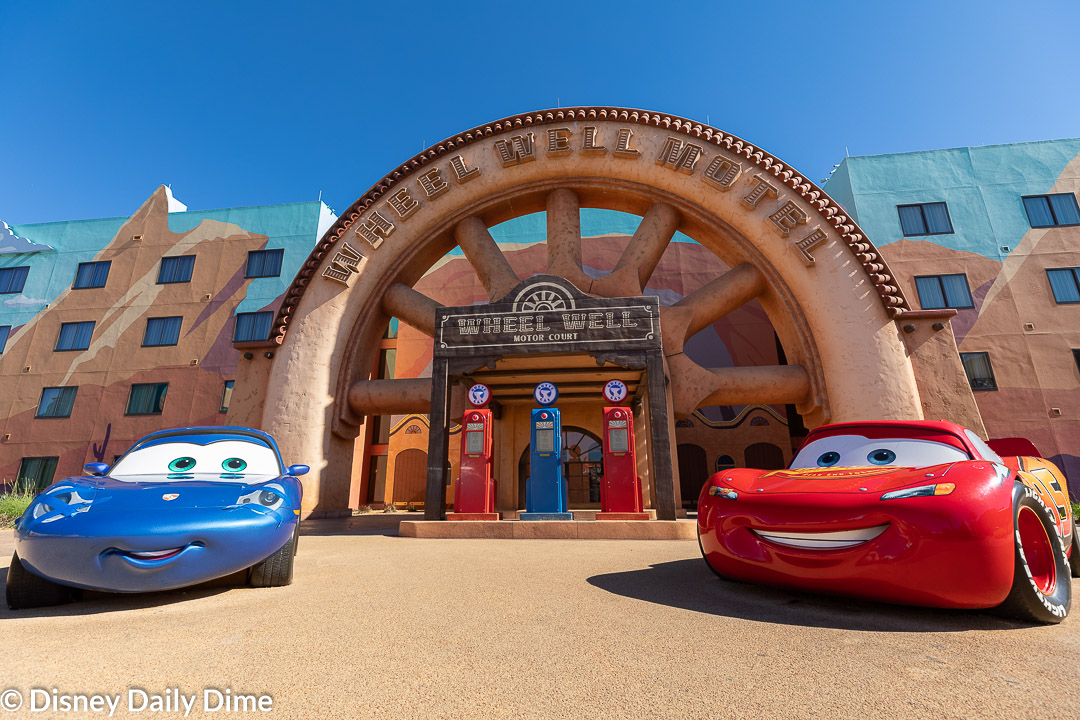 The other choice you could make is to stay in two standard rooms at a value resort like All Star Sports.  You can get two standard rooms for less than the price of a family suite.  Now, they wouldn't have the kitchenette and being in two rooms isn't as convenient as one, but it will save you money over the family suite.
I will say, if you choose to go with a family suite, I do recommend the Cars section of the resort.  Not because the rooms are better or feature more amenities, but because the theming of the resort in this area is by far the best of the resort.  If the theme doesn't matter as much to you or you aren't a fan of the Cars franchise, just disregard this viewpoint.
The Pools at Art of Animation are all Unique and Fun
Disney's Art of Animation Resort has three pools for resort guests.  There is a main pool located right behind Animation Hall and then two other smaller pools located in The Little Mermaid and Cars sections of the resort.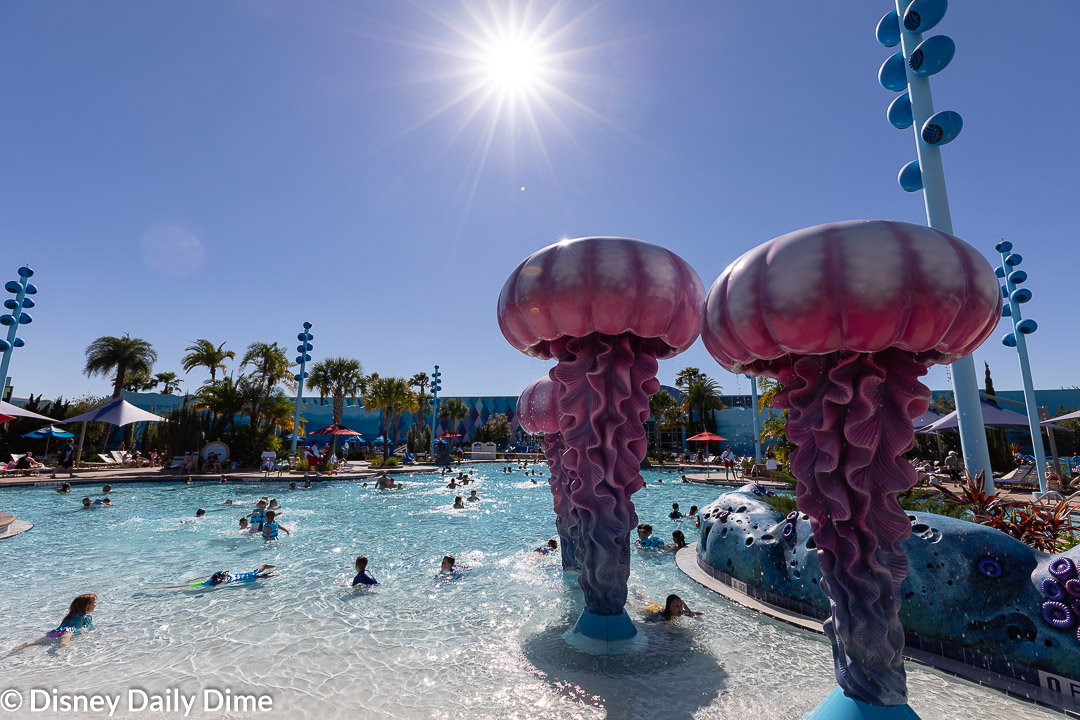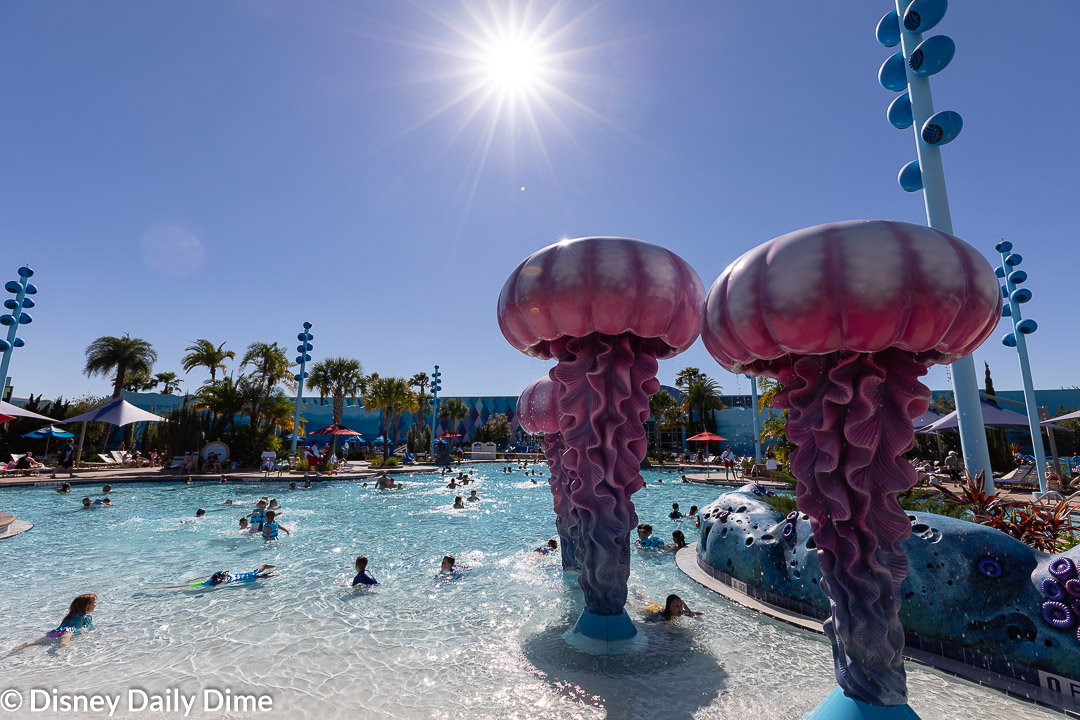 Big Blue Pool
The biggest pool in all of Art of Animation is known as the Big Blue Pool.  It's a nod to Finding Nemo, since this pool is in the that section of the resort.  The pool is large with a few big set pieces showcasing creatures of the ocean.  Those set pieces are mainly Jelly Fish, which is a bit of an odd choice given the pain they can inflict, but whatever.  It is the ocean, right?
The pool used to have underwater music you could hear while you swam, however it appears to have been discontinued.  When we inquired about this, we were told it had been turned off for a few months at that point.  This pool is going to undergo a renovation in the fall of 2020, so we'll see if this returns then.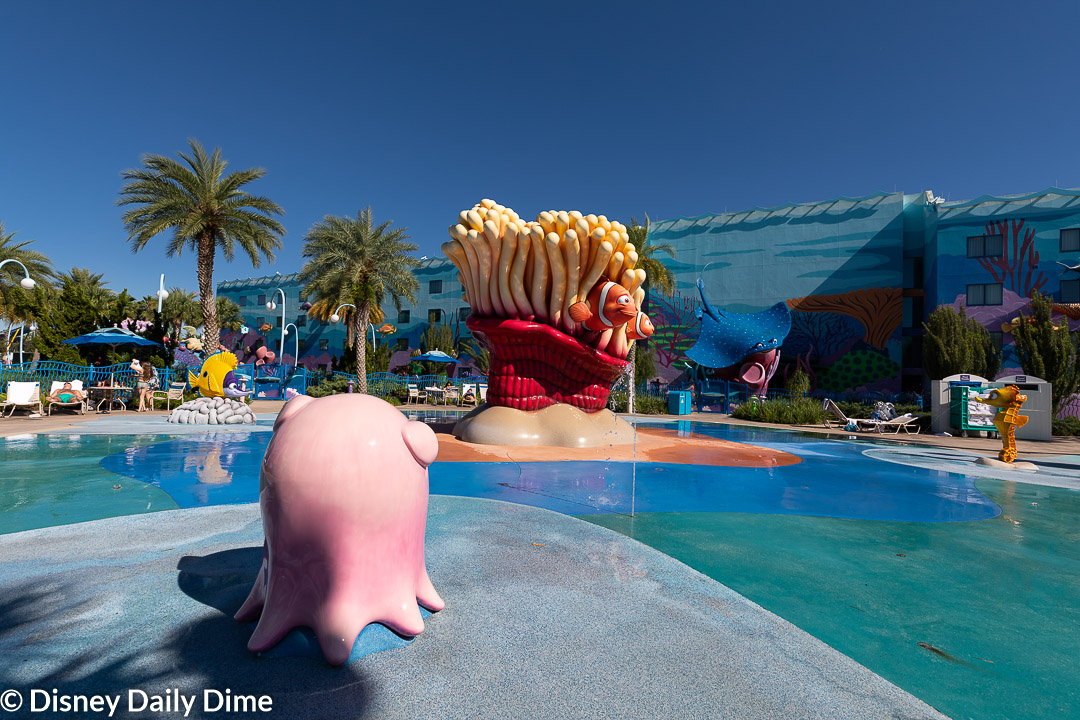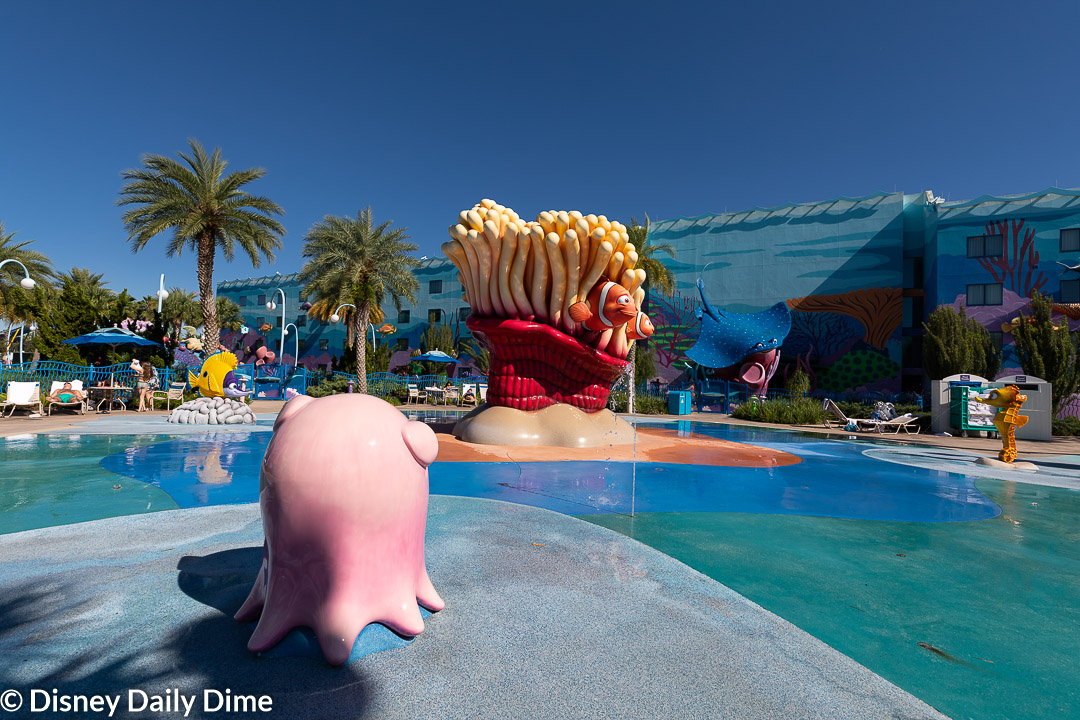 Tucked in behind the pool is the kid's splash area.  It's a bit different than most splash areas you'll find because there isn't much depth to the water.  The splash area largely a semi-wet spongey area, with little jets that squirt up water that kids can jump through.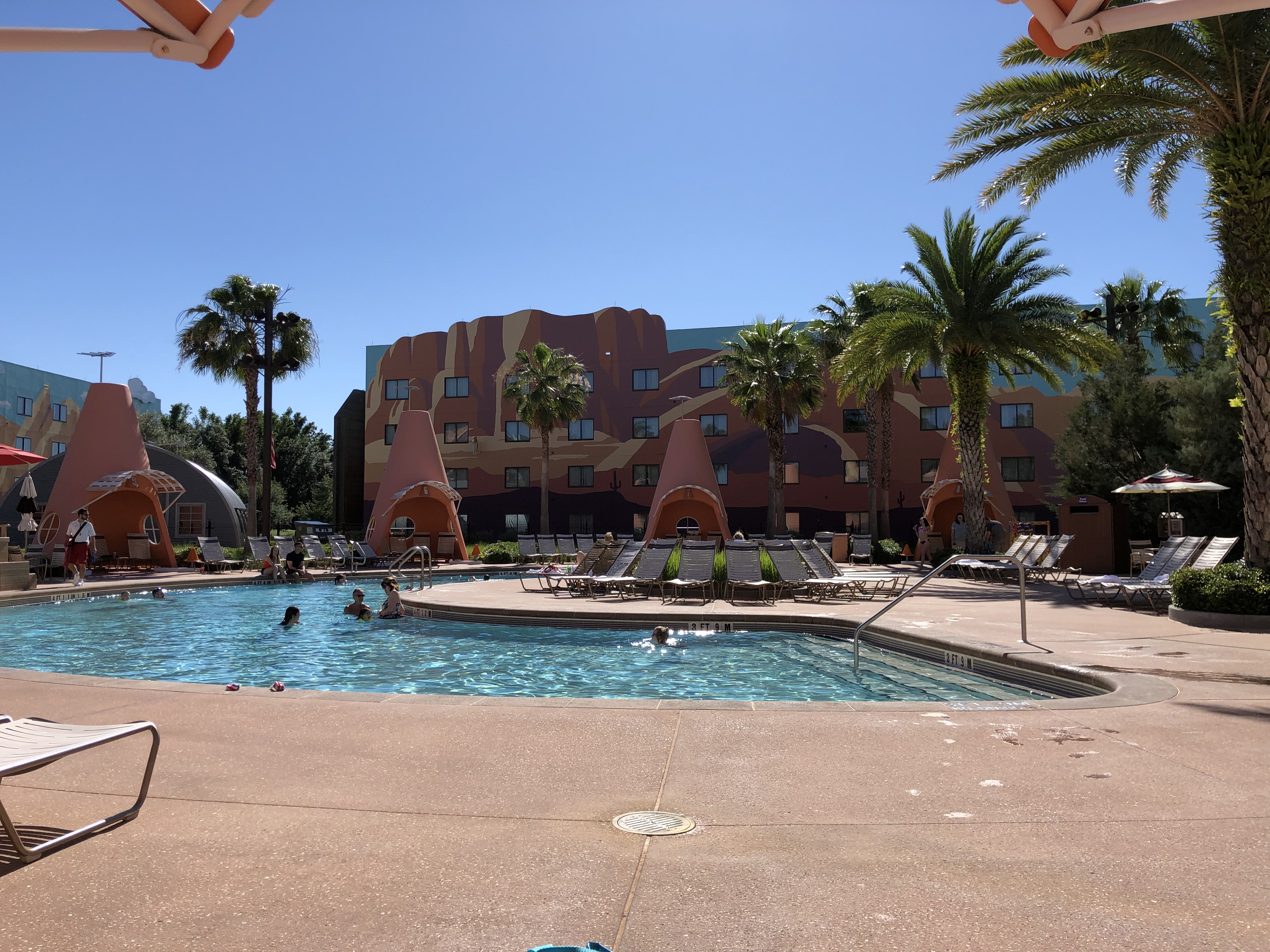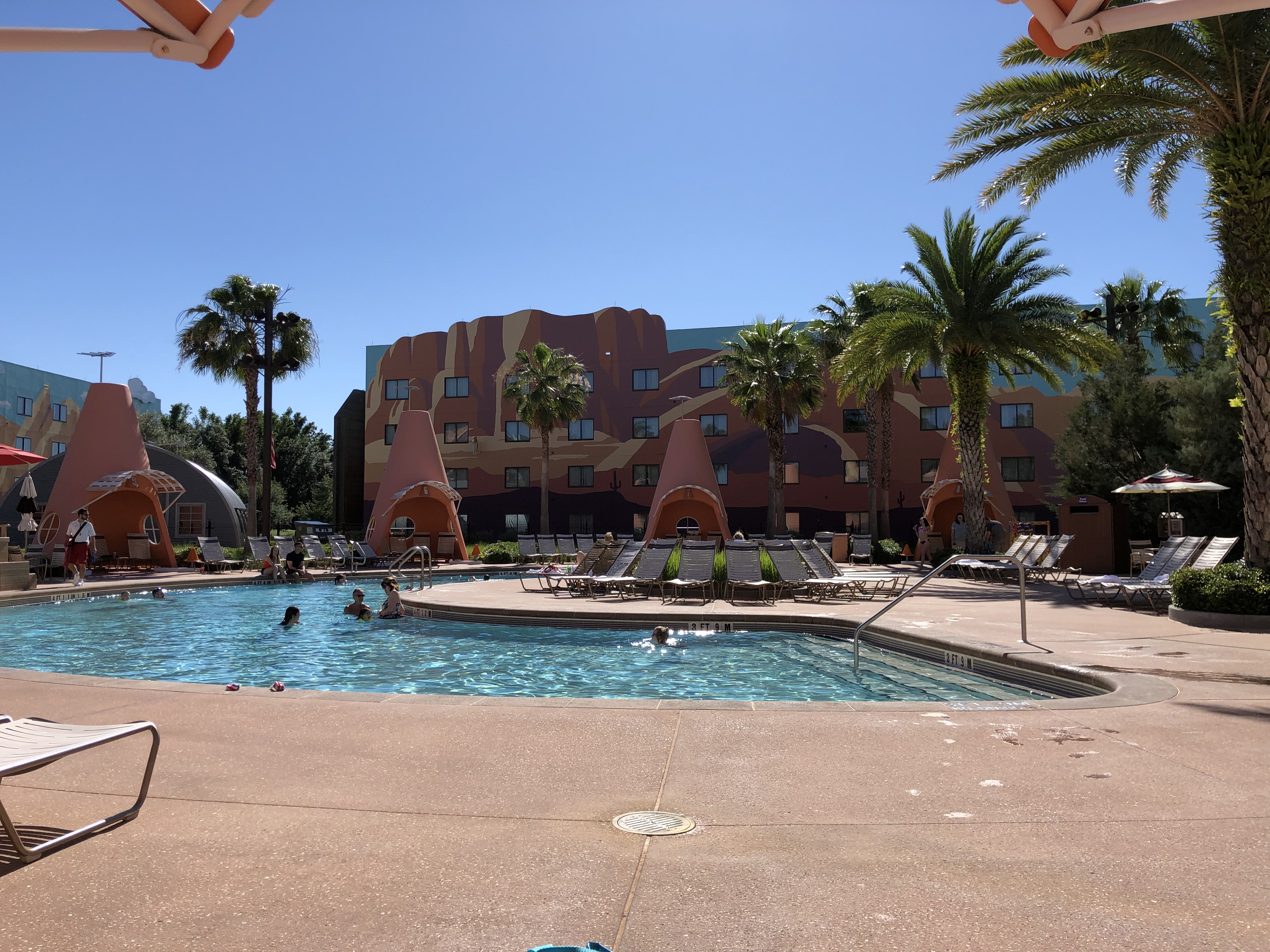 Cozy Cone Pool
If there was something akin to a "quiet pool" at Art of Animation Resort, the Cozy Cone Pool would be it.  As the name probably suggests, it is located in the Cars section of the resort.  While the pool itself isn't anything to write home about, the area around it is fantastic.  Featuring oversized orange cones that act as cabanas where you can lay back, relax and potentially get out of the sun, the theming around the pool continues the immersion into Radiator Springs even though this pool wasn't directly in the movie.  The Cozy Cone Motel greets you as you head to the pool and it's surrounded by some of your favorite characters.  I can't tell you how much I really enjoyed the look and the theming that went into this area.  It's everything that the computer pool over at Pop Century isn't.  This shows that a pool can be "plain", but have plenty going on around it that makes the pool feel like something more.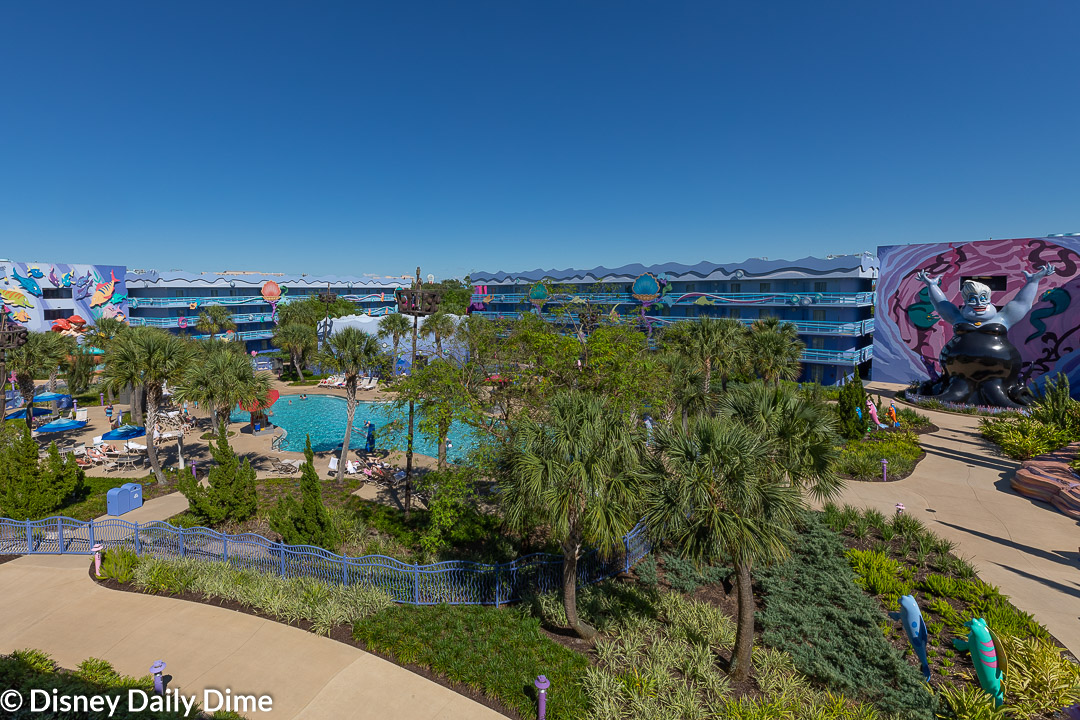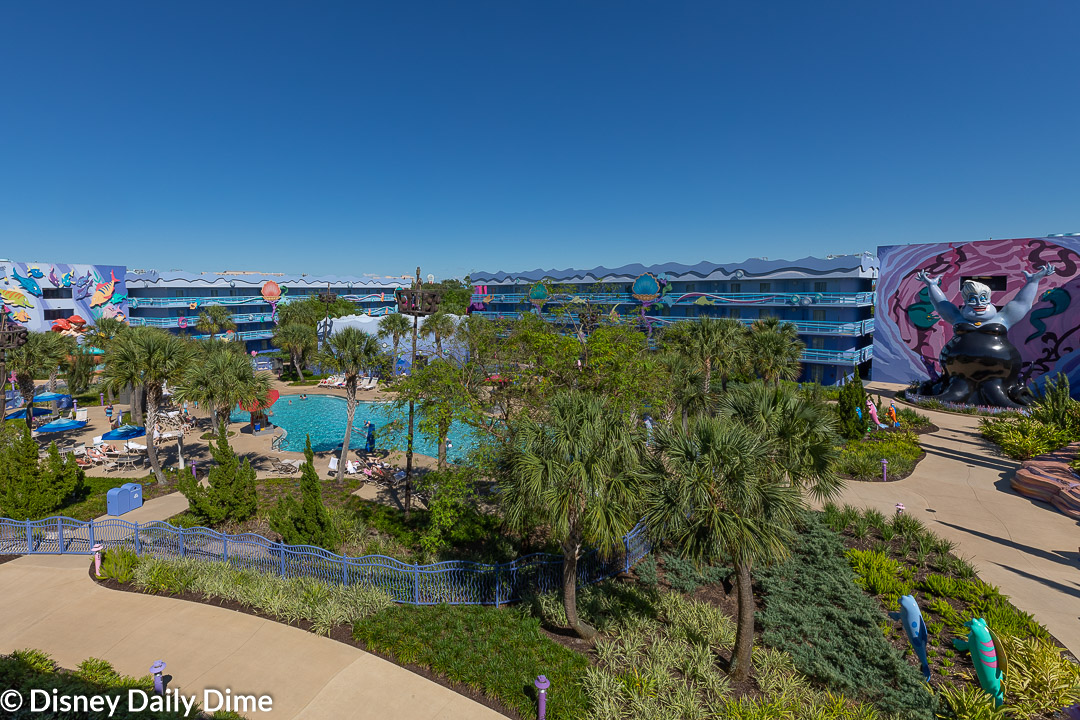 Flipping Fins Pool
Over in The Little Mermaid section of the resort, you'll find the Flippin Fins Pool.  Here Sebastian's orchestra is set around the pool area, showcasing their musical talents.  That is, if they actually played music.  They are all fun little touches that any fan of Ariel and friends will appreciate, but I don't think the theming here is done nearly as well as the Cozy Cone Pool.  Anna loved this pool, but that is to be expected given her love of the movie.  If you've got kids that are really into The Little Mermaid you absolutely have to stop here for a swim.
Because of the theme and demographic, it appeals to, this pool isn't something we consider "quiet".  Not nearly as busy as the Big Blue Pool, but it still has its share of kids running around.  If you are really focused on peace and relaxation, you'll probably have more success with that at the Cozy Cone Pool.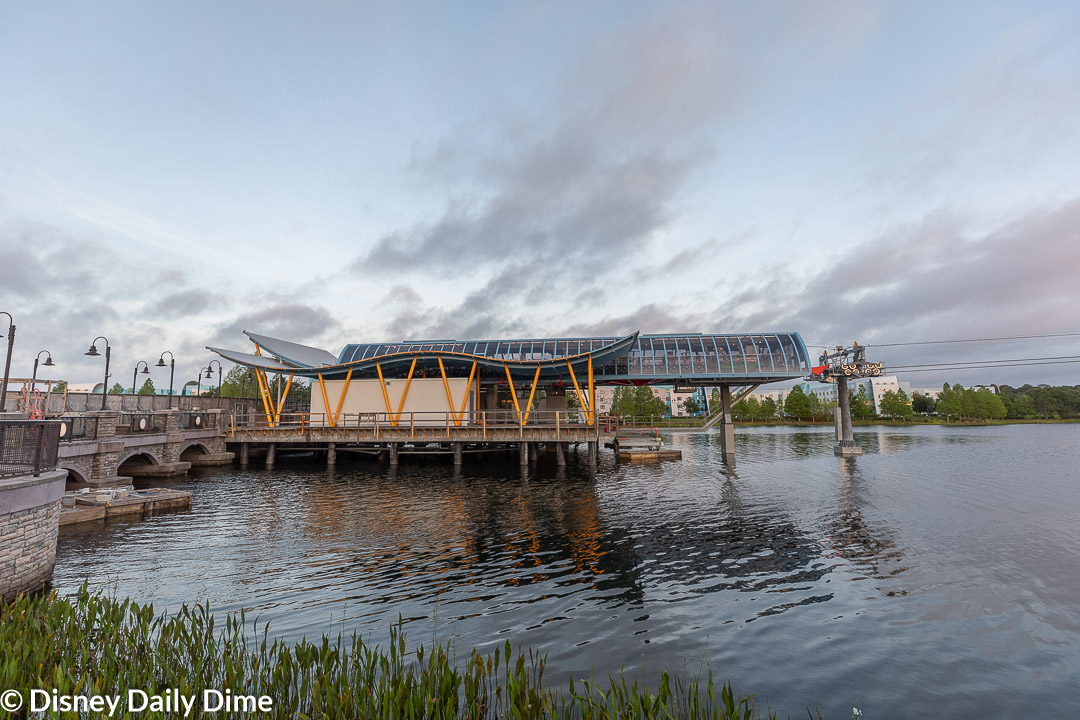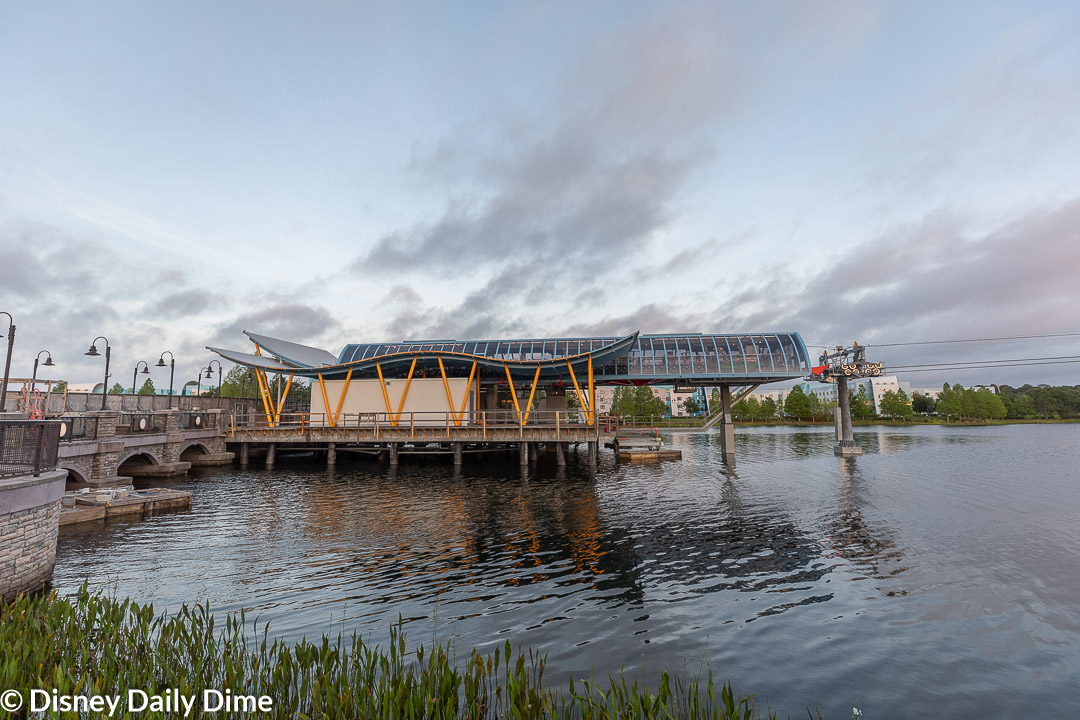 Disney's Art of Animation Resort Transportation Has Some Pluses Compared to Other Value Resorts
Currently featuring bus service, Art of Animation transportation options are basic, just like you will find at all value resorts.  However, Art of Animation (and Pop Century) are about to get a huge upgrade when the Disney Skyliner opens up.  There are two things we observed about the buses for this resort we think you should know about.
On the plus side. the bus service at Art of Animation offers a dedicated bus route.  There's no bus sharing, like you find with the All Star resorts at times, which is great for expedient transportation to and from your destination.
Art of Animation is located pretty close to Epcot and Hollywood Studios.  That means your bus ride time to these two parks will be reasonably short, usually around 15-20 minutes.  Magic Kingdom and Animal Kingdom are a little further away, so expect around 20-25 minutes to get to those parks.
The one downside of the bus system for Art of Animation is location, but not what you may be thinking of.  The location I'm referring to is that of the bus station when you are leaving the parks or Disney Springs.  If you were to travel to the point farthest away from when you enter the bus stop area, that is where you will find the Art of Animation bus stop.  While not a huge deal, there's nothing fun about leaving a park in a state of weary, only to realize you have the longest walk possible to get to your bus.
In addition to the buses, Disney World is currently building a new Gondola system that is anticipated to open in the fall of 2019.  Once open, it will provide a new way to get to Epcot and Hollywood Studios.  When Galaxy's Edge opens up on August 29th, this will be an excellent avenue for traveling to Hollywood Studios.
The station for the Skyliner is located on the bridge out on Hourglass Lake between Pop Century and Art of Animation.  This likely will be a future point of differentiation that will keep us staying at Pop Century or Art of Animation, over the All Star Resorts.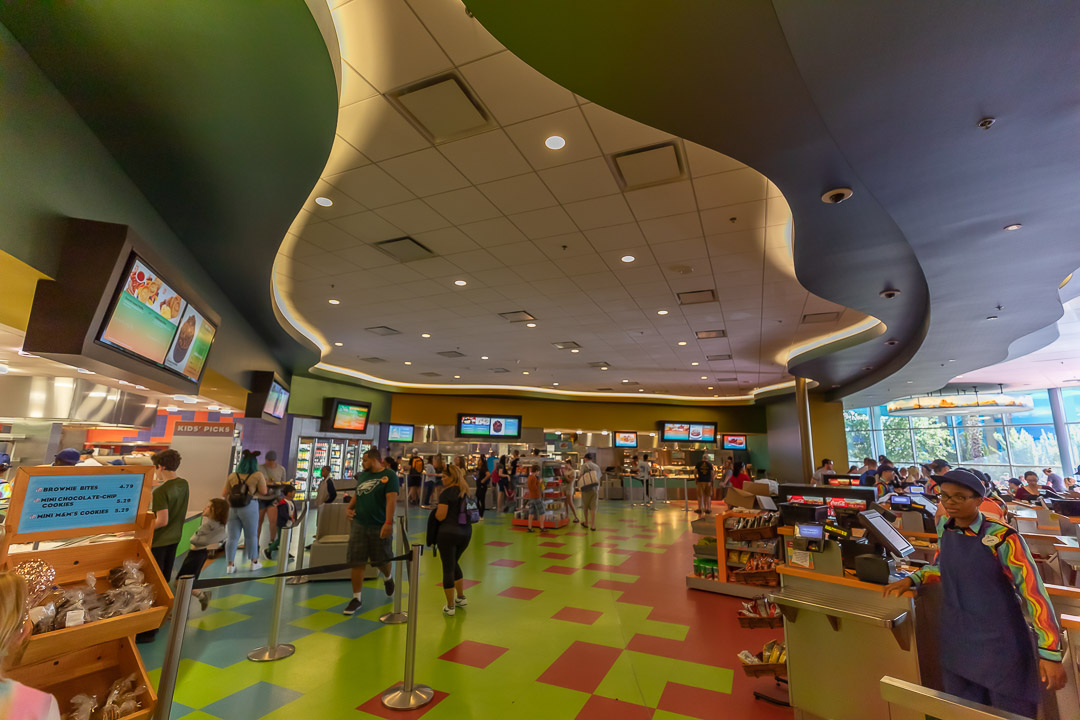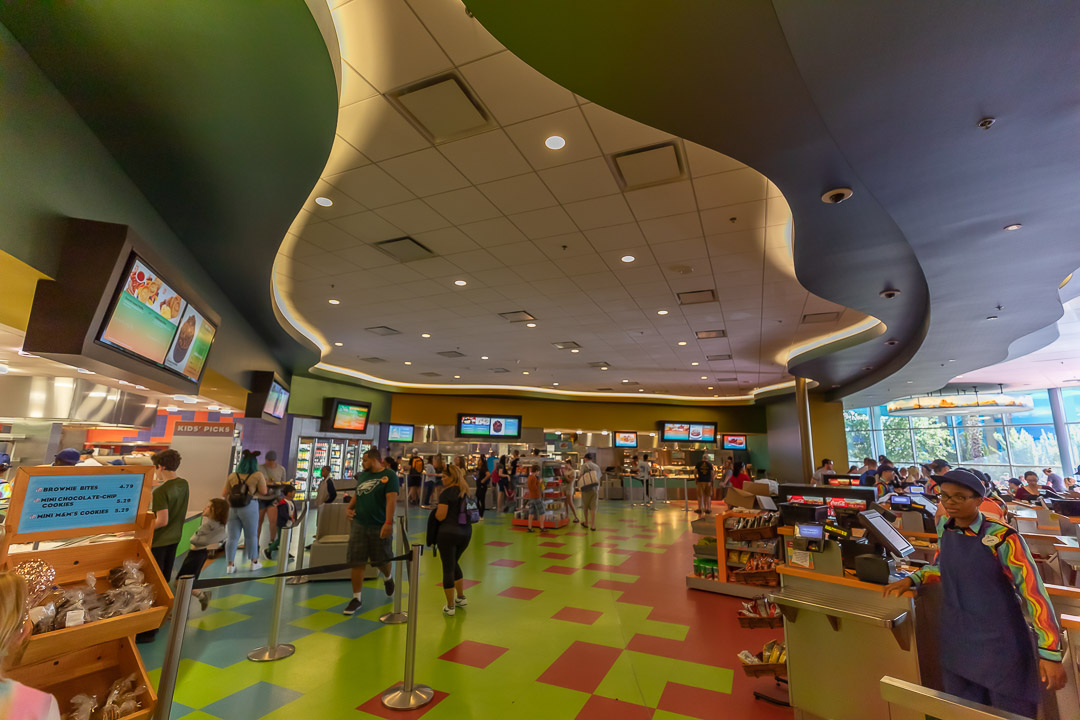 Disney's Art of Animation Resort has a Great Food Court
Like all of the other value resorts around Disney World, Art of Animation only has one dining option.  Known as Landscape of Flavors, it is one of the best counter service food courts we've eaten at in all of Disney World.
We have posted our breakfast and lunch/dinner review of Landscape of Flavors but for the purposes of this article, we'll say it was a significant upgrade over our experience at End Zone Sports at All Star Sports.  We even like it better than Everything Pop over at Pop Century, however that's not to say Everything Pop was bad.  It appears Disney has been working hard to provide a better dining experience at the food courts for these guests.  These better food options, at a lower price point, are a welcome improvement for those staying at the value resorts.
In addition to the food court hot serving stations, you will also find a smaller refrigerated section.  They have a variety of cold options that you can take with you, but what we love to look at is the cupcakes!  You've got to have something sweet, right?!  They usually have some fun options and sometimes unique cupcakes that are not found everywhere.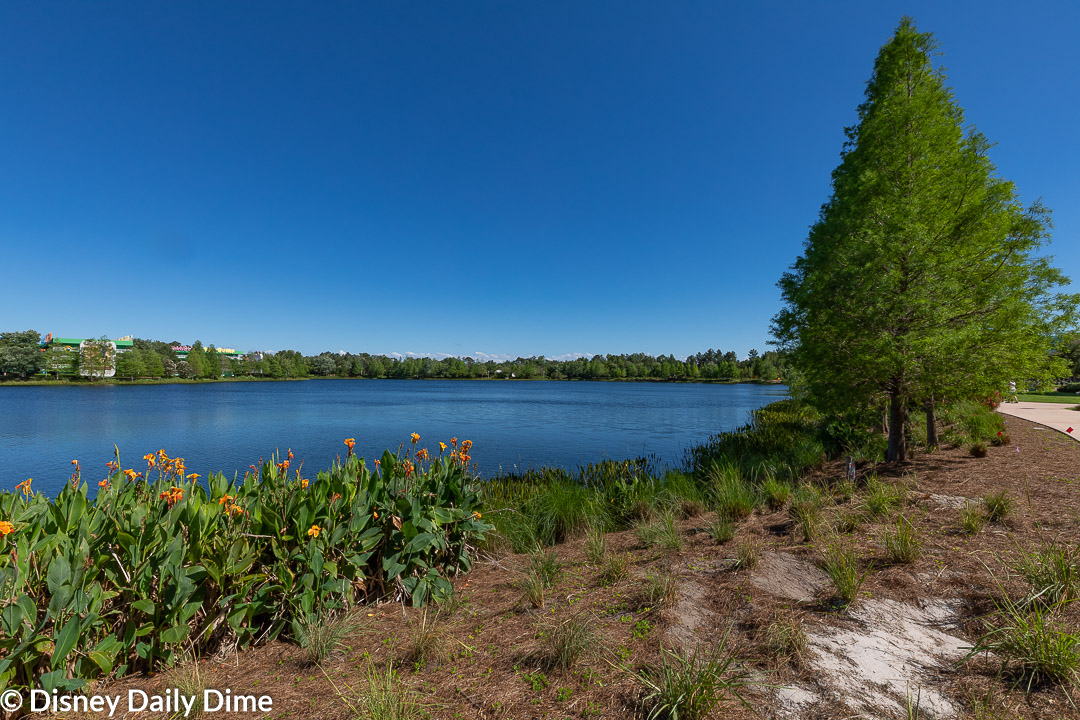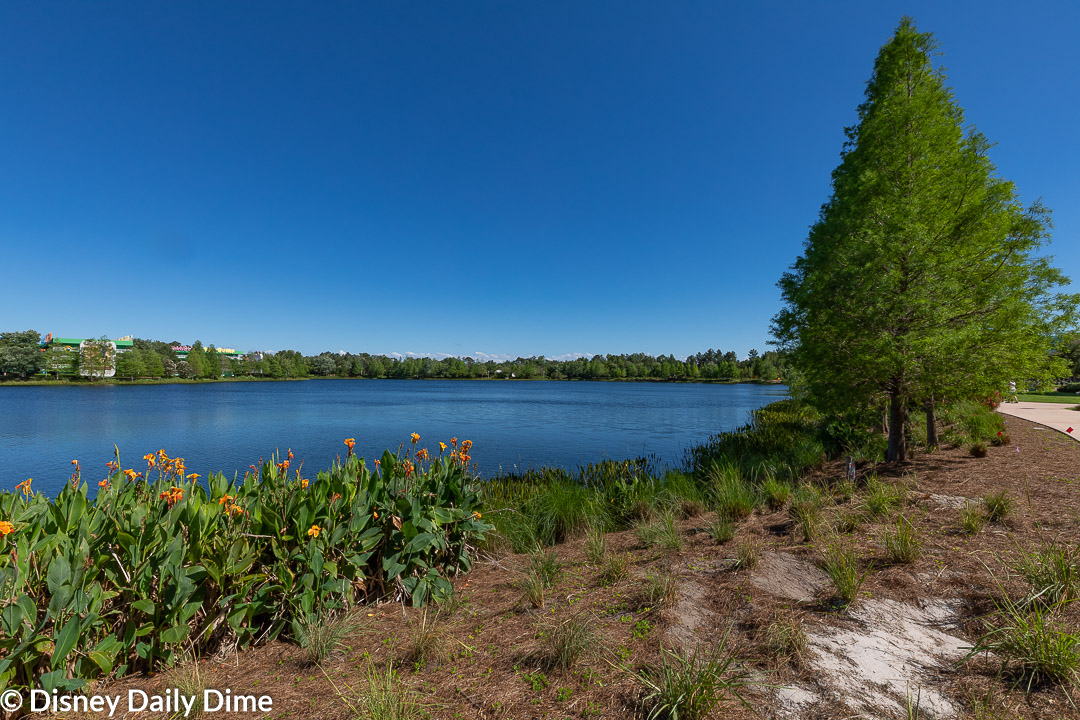 Recreation at Art of Animation Resort
Disney's Art of Animation Resort also features a few recreation opportunities you may want to take advantage of.  These include:
Movies Under the Stars
Jogging Trail
Playgrounds
Video Arcade
Poolside Activities
The recreation opportunities are pretty limited compared to the moderate or deluxe resort category.  One thing that is a plus is almost all of these are free, other than paying for the games in the video arcade and s'mores.
There is a fun and unique option that could be great for your kids or even you.  It's a teach to draw class and it is offered most days at 11AM, 2PM and 5PM.  You can find a sign for it in the Ink and Paint shop (the resort store) near the exit to the bus stop.  We didn't get a chance to do it this time, but will when we come back.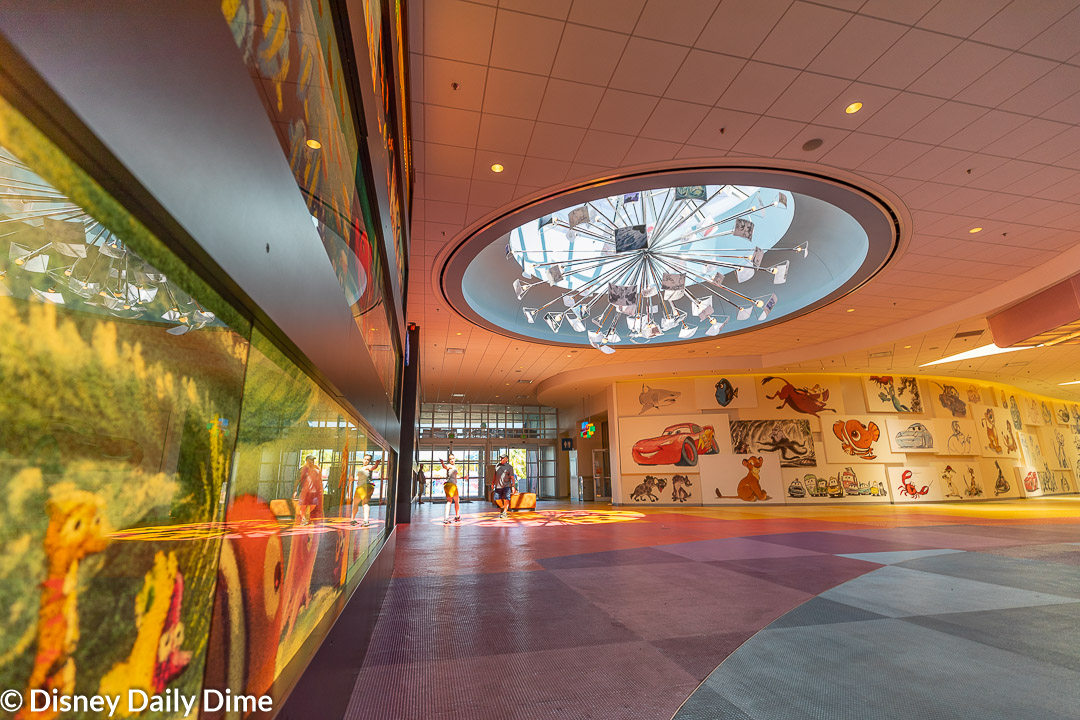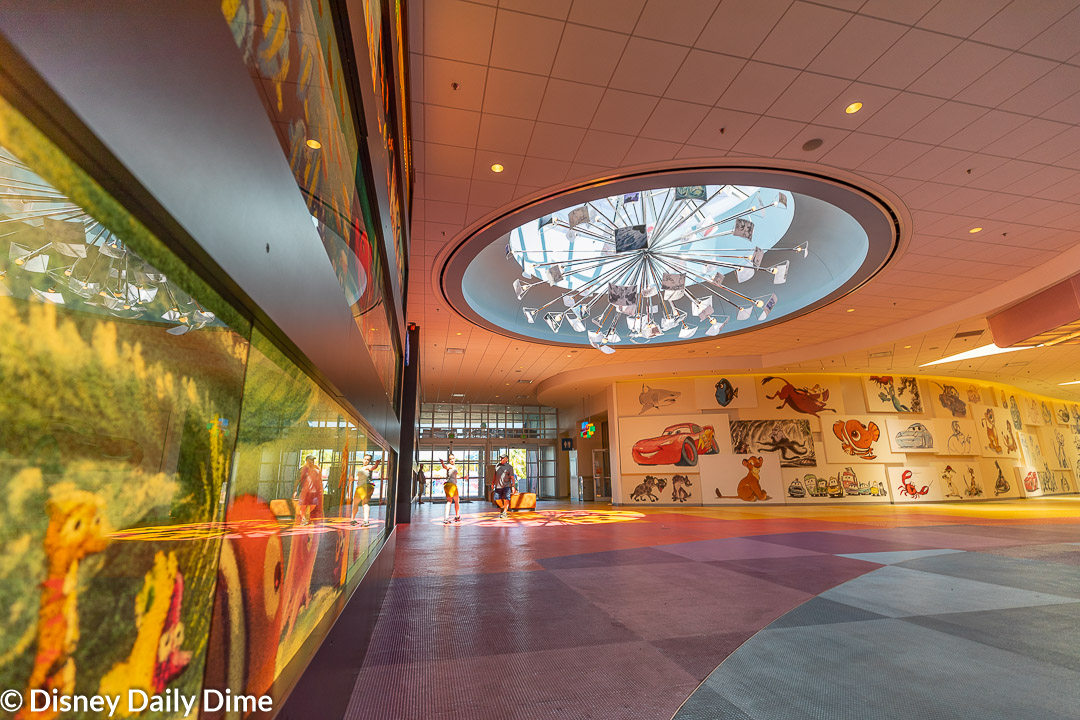 From a Theme Perspective, Art of Animation is a Great Resort, We Just Wish the Room Options Were Better on Price
When it comes to theming, we think Disney's Art of Animation Resort is quite possibly the best-themed value resort at Disney World.  It's very close with Pop Century, in our mind.  The way the animated characters are placed throughout the resort, along with the way the theming (mostly) integrates the with the buildings is impressive.  If you've got kids that are the right age for this resort, they will most likely love it!  There really isn't any question about this to us.
However, our view on the resort gets complicated when it comes to the room options.  Specifically, when it comes to price.  If you're a family of four, the family suites are expensive compared to other options at Disney World value resorts.  Yes, the ability to give each kid their own bed is nice, but it's not nice enough to justify the price.  Especially when you can get two value rooms for similar or less money.  That way at least provides a good third bed for the kids, as opposed to a mediocre one with the pull out couch.
Maybe money isn't a concern for you?  Then, I'd still be looking at a room are deluxe or moderate resorts for similar prices.  You'll find better theming and amenities at that price level.  Now, if the theming at Art of Animation is right up your alley, by all means stay here.
When it comes to The Little Mermaid room, we have the similar concerns.  Now, if you're choose these rooms, it's probably not because of cost.  You or someone in your group is probably an Ariel fan, and insisting that you stay there.  However, if it's not about Ariel, then the prices are harder to justify.  We would again be looking at standard rooms at the other value resorts for a lower price.
Beyond the pricing dynamic, there are plenty of pros to Art of Animation Resort.  The theming, décor, and transportation options make it really appealing.  At the end of the day, we will be back because we really enjoy the theming.  The kids did too, which makes them even more adamant about returning here.
Wrapping Up
With that, we'll wrap up our Disney's Art of Animation Resort review.  If the theme is something you love, you'll probably see your way around paying a slightly higher price.  Nonetheless, it is still a really great resort.  Do you have thoughts on things we missed in our Art of Animation review?  Is there a different value resort you prefer?  If so, drop down in the comments section and let us know your thoughts.
We hope you found our Disney's Art of Animation Resort review helpful.  If you did we'd greatly appreciate it if you would share it on social media.  It helps get the word out on our blog and tells us we're doing something right.  Just use the social media sharing buttons on this page.