While there is an abundance of table service restaurants at Disney's Grand Floridian Spa & Resort, it only has one counter service location.  At Gasparilla Island Grill, you'll find a 24-7 operation that never stops.  During our recent stay at the Grand Floridian, we had the opportunity to eat breakfast and dinner here.  So you get a two for one post here, as we'll cover both meals in our Gasparilla Island Grill review.
In general, if you're on the Disney Dining Plan, you won't find Gasparilla Island Grill is a good value.  One quick turn through the breakfast menu and you'll see that aren't any items on that menu that come close to approaching what that credit is worth.  If you are eating dinner here, you'll find the same issue one the dinner menu.
If you have the Tables in Wonderland card, it will do you no good here.  They don't take it, like most counter service locations at Disney World.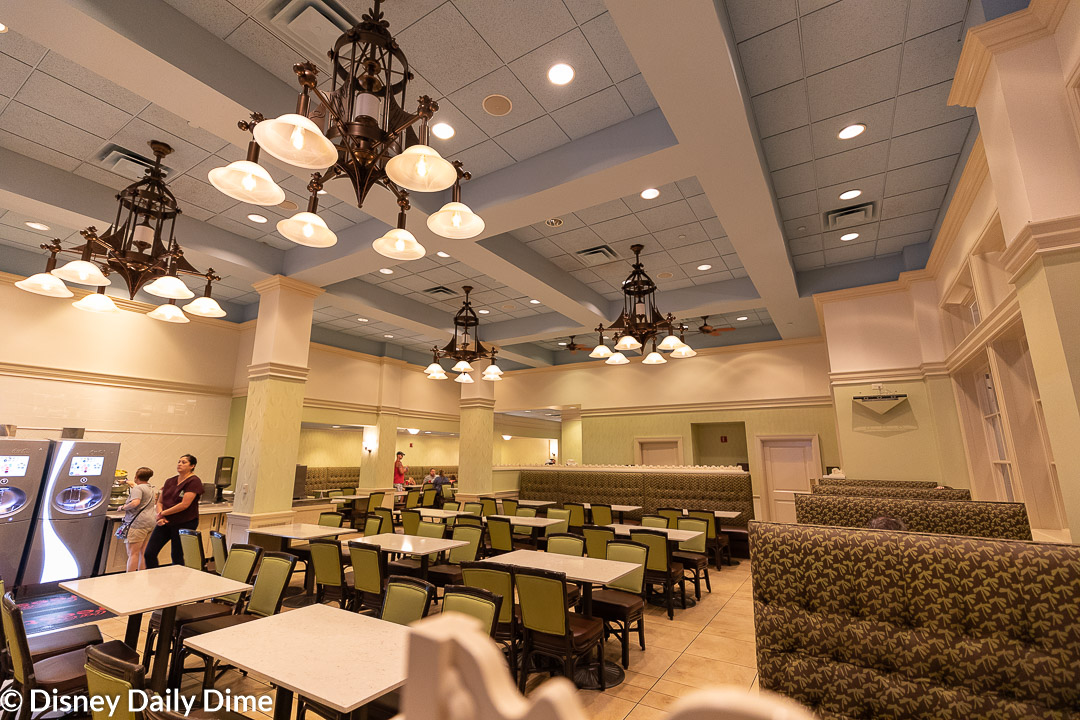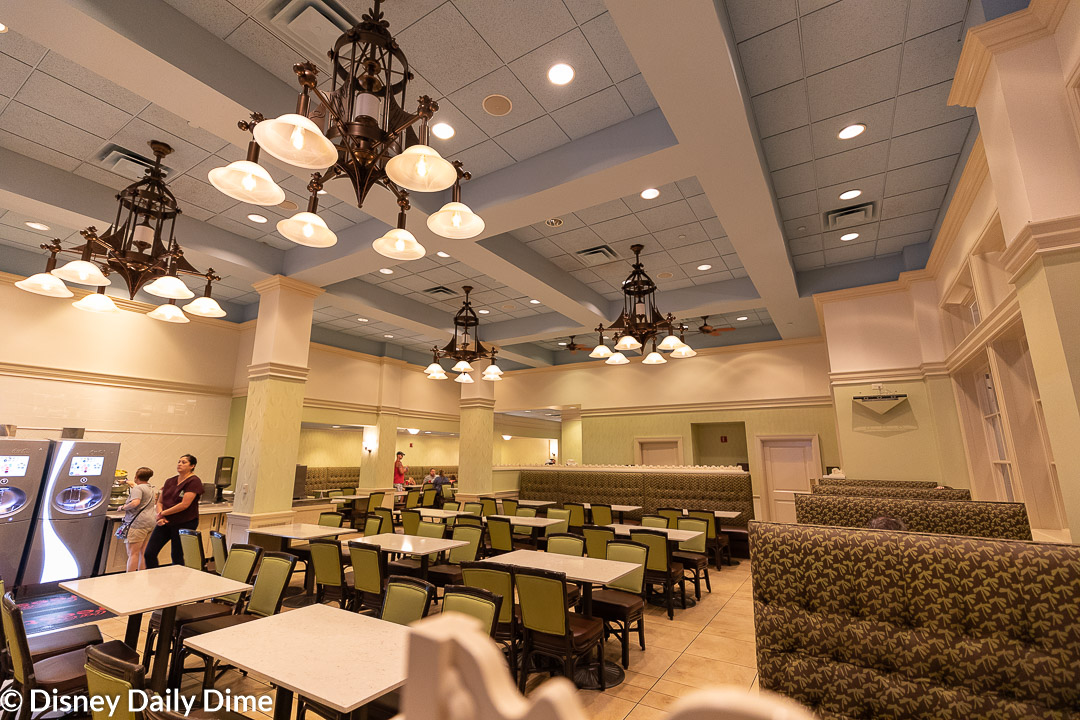 The Theming is Nice, if not Generic, but the Outdoor Seating Shines at Night
If there is one thing that is relatively consistent with our resort-based counter service reviews, it's the fact that the theming and atmosphere are generally reasonably benign.  Yes, there are exceptions to this, like Roaring Fork or Capt. Cook's, but there aren't many.
As you enter Gasparilla Island Grill, you'll find an open and airy feeling restaurant. Given that it is located in Disney's Grand Floridian Resort & Spa, we expected something with a Victorian feel.  I'm not sure I could tell that with what we found.  The light green color is coupled with some nondescript furnishings.  That's not to say they are cheap or ugly; they just don't have that Victorian feel.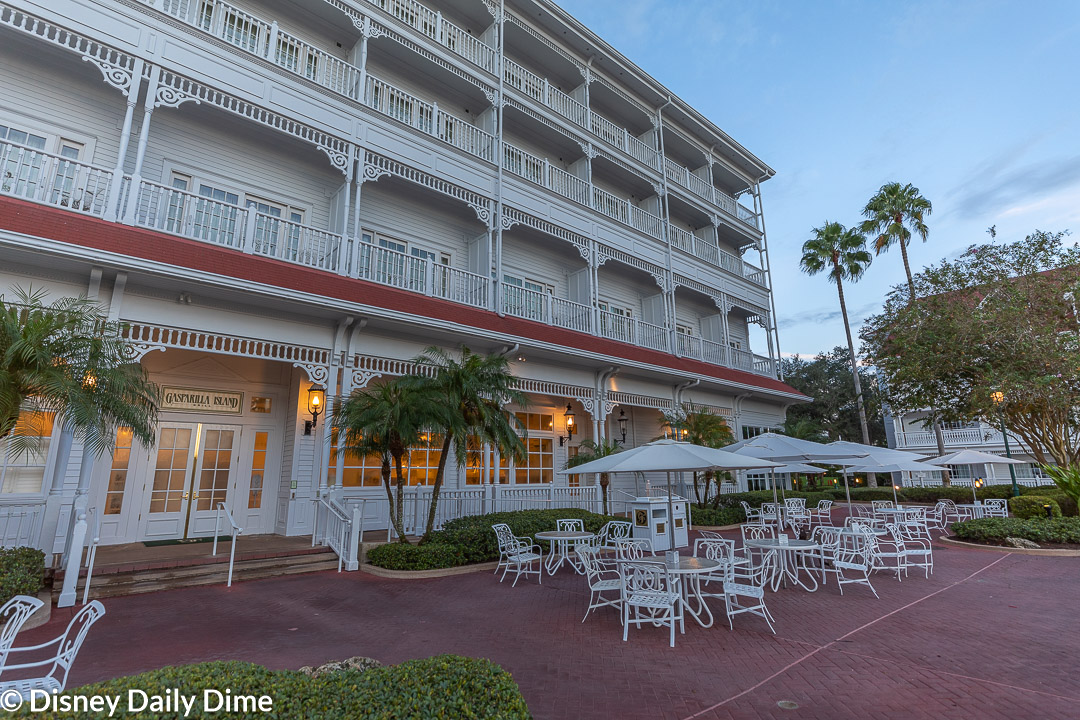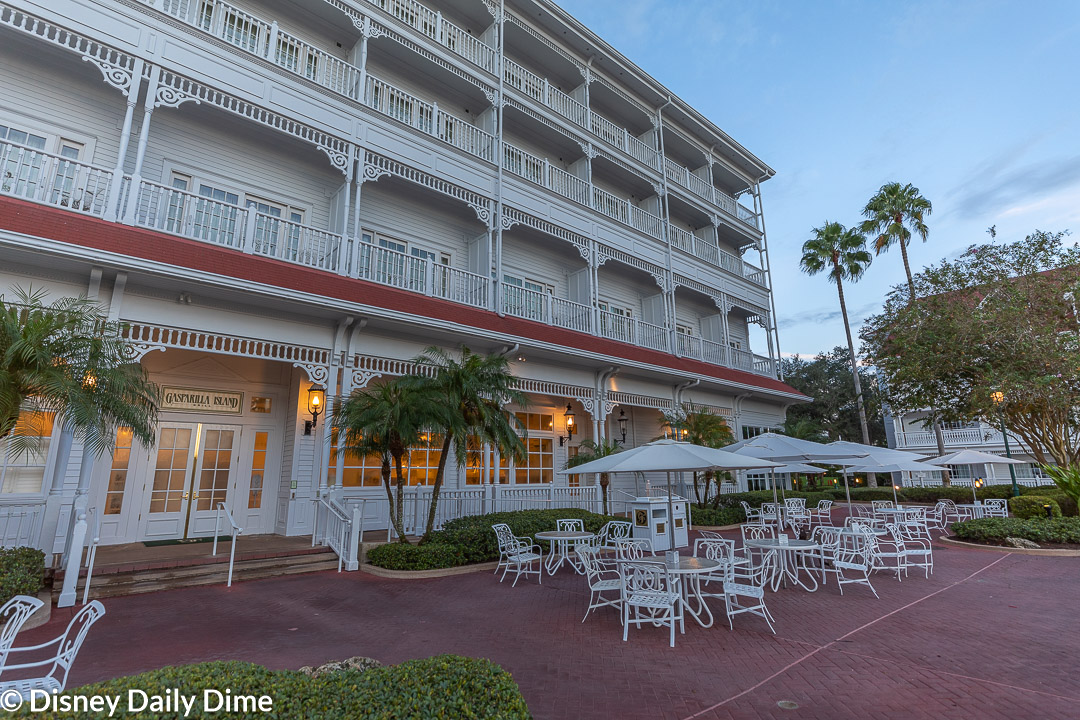 Where we do think Gasparilla Island Grill excels is in the outdoor seating that you can find right in front of the restaurant.  Whether you are out for an early morning breakfast or a late-night snack, it's an enjoyable place to sit and be outside.  Of course, that assumes it isn't in the middle of the oppressive Florida heat.  The evening meal is complemented by the perfect view of the fireworks at Magic Kingdom.  The show is enhanced because Disney plays the music associated with the show, so you can fully enjoy it.  You can see what the view looks like in the picture above.  We also have a video of the show from the seating area on our YouTube channel, if you want a better sense of the view!  We do apologize for the sound quality of the video.
Since the atmosphere isn't something notable, we want the food to be good and a solid value for counter service style restaurants.  So, let's talk about that.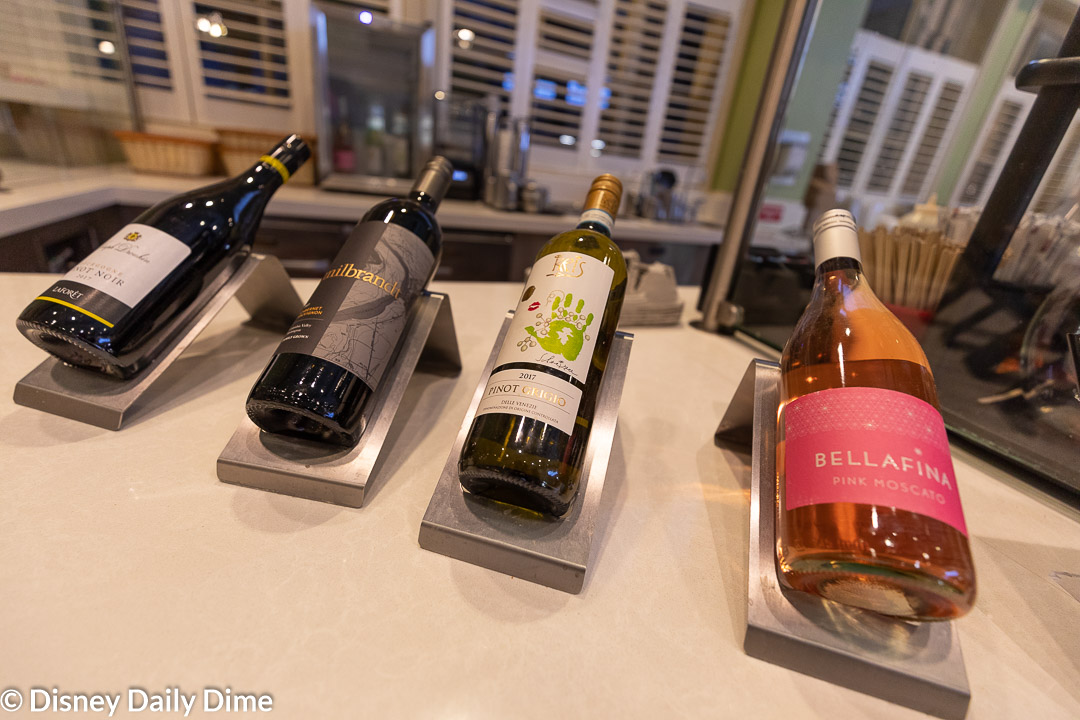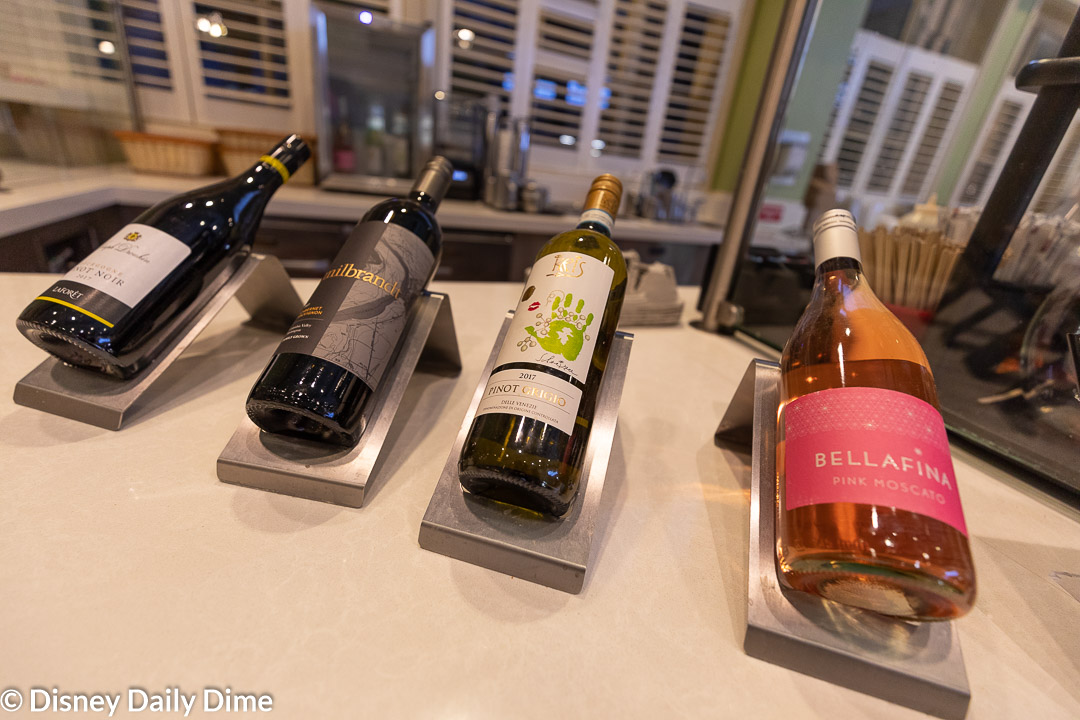 We Were Pleasantly Surprised by the Food at Gasparilla Island Grill
While we have not found a direct correlation between somewhat generic theming and generic food, we always worry about that happening.  Fortunately, we found some enjoyable and interesting dishes here.
When it comes to the food at Gasparilla Island Grill, I would say the overall quality is relatively good for a counter service location.  The value is above average.  As an example, the breakfast wrap I had only cost $8.50, but it is a large wrap.  While slightly expensive, you'd probably pay $6.00+ for something similar outside of Disney World.  That good value really helps this restaurant in our eyes.
As we laid out in the beginning, we had both breakfast and dinner during our stay.  We'll cover both of these meals here in our Gasparilla Island Grill review.
Breakfast at Gasparilla Island Grill
For the most part, eating counter service breakfasts around Disney World is a lot like eating breakfast at IHOP or dinner at Chili's.  You know what you are going to get.  Something safe and dependable, but not overly inspired.  There are certainly exceptions to this statement, but generally, I would say it is true.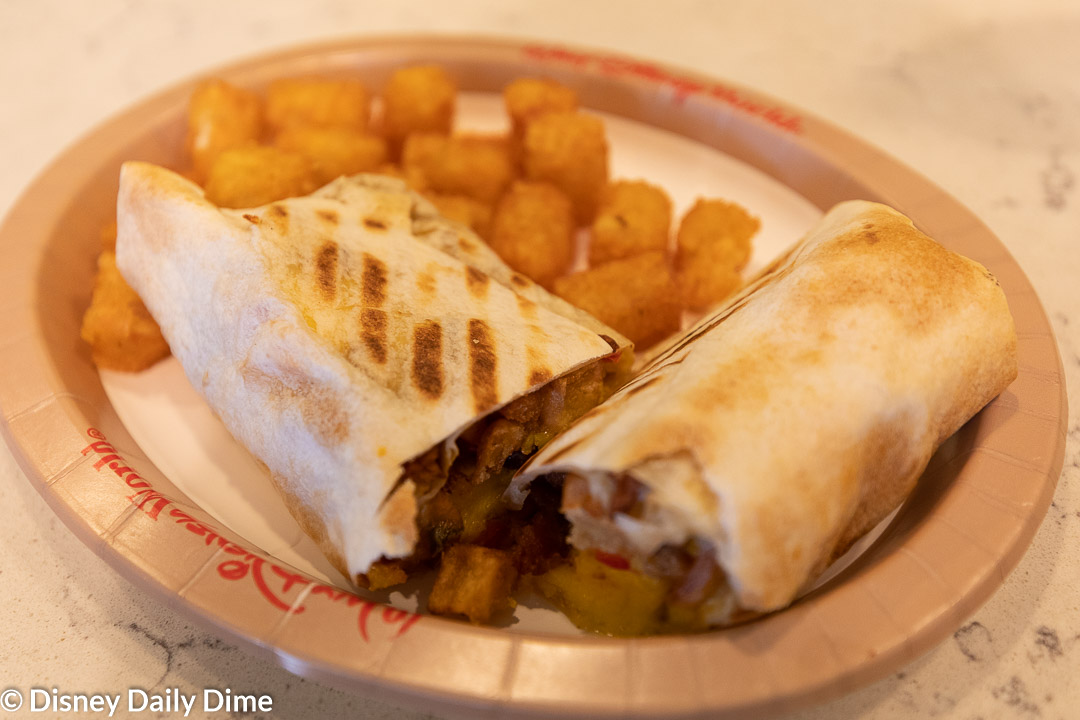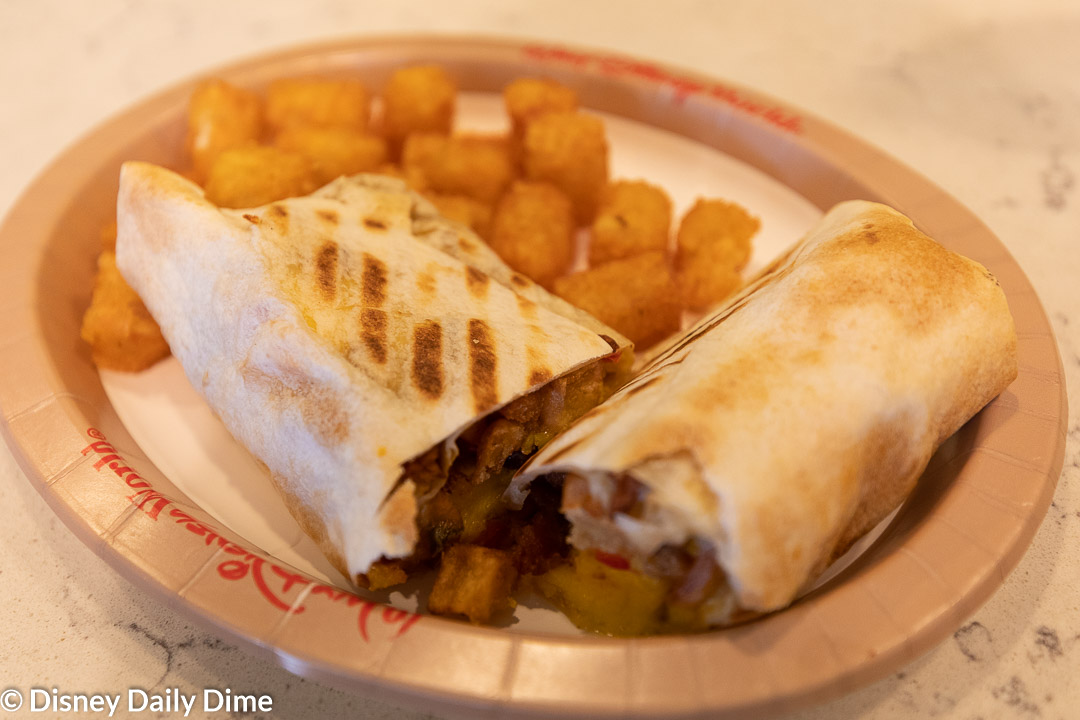 At Gasparilla Island Grill, there are plenty of dishes that fit this mold, but I'd also say there were some exceptions.  In our case, I found the breakfast wrap to fit this mold.  Well, maybe it didn't feel "inspired," but it was a pleasant change from the usual pancakes and Mickey Waffles.  The wrap is loaded with eggs, sausage, potato hash, and pepper jack cheese, and lightly toasted on a grill.  The combination of all these worked well for me.  It provided a hearty meal to start the day that I enjoyed.  I will say, the potato barrels were bland.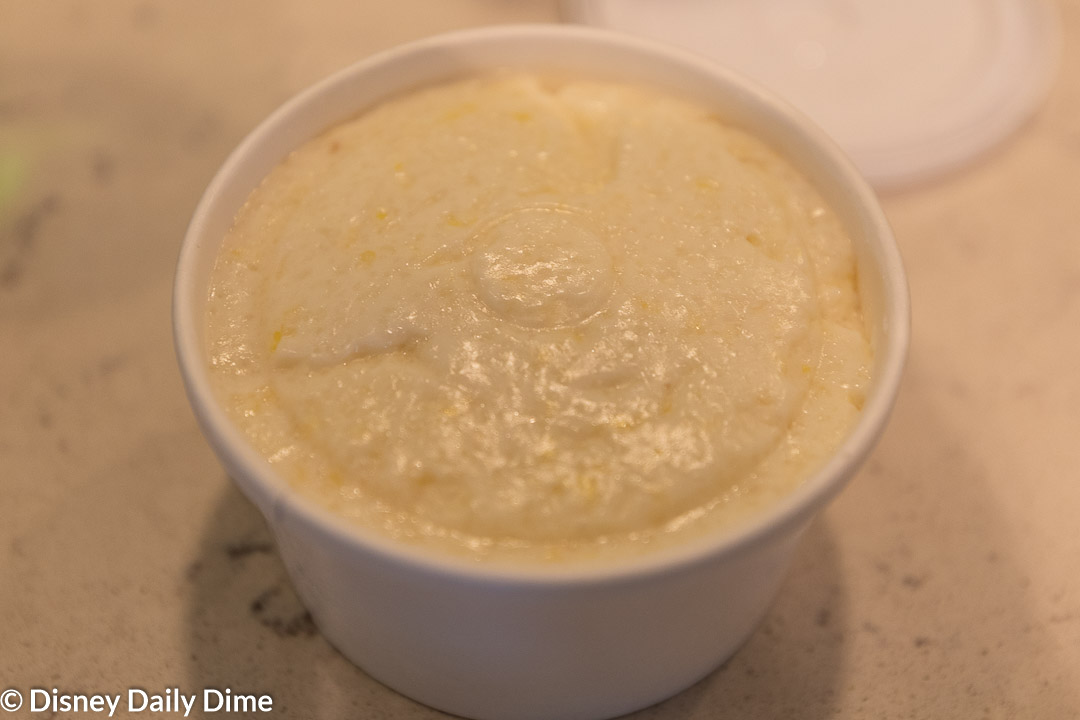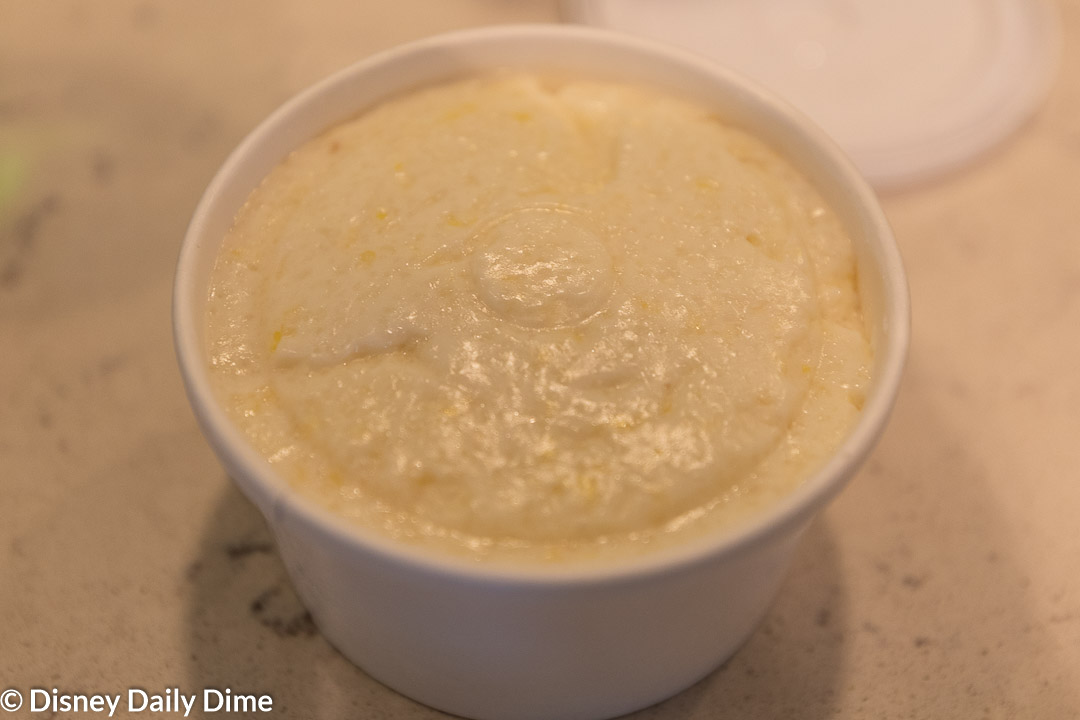 Carla continued her quest to eat better at Disney World and ordered the grits for breakfast.  She was quite thrilled to find grits, as they are one of her favorite breakfast meals.  Carla noted that the grits were kept in a large soup tureen, which kept them piping hot.  They were well-salted, but Carla had to add some butter for a little more flavor.  For a light, but hot breakfast, the grits hit the spot.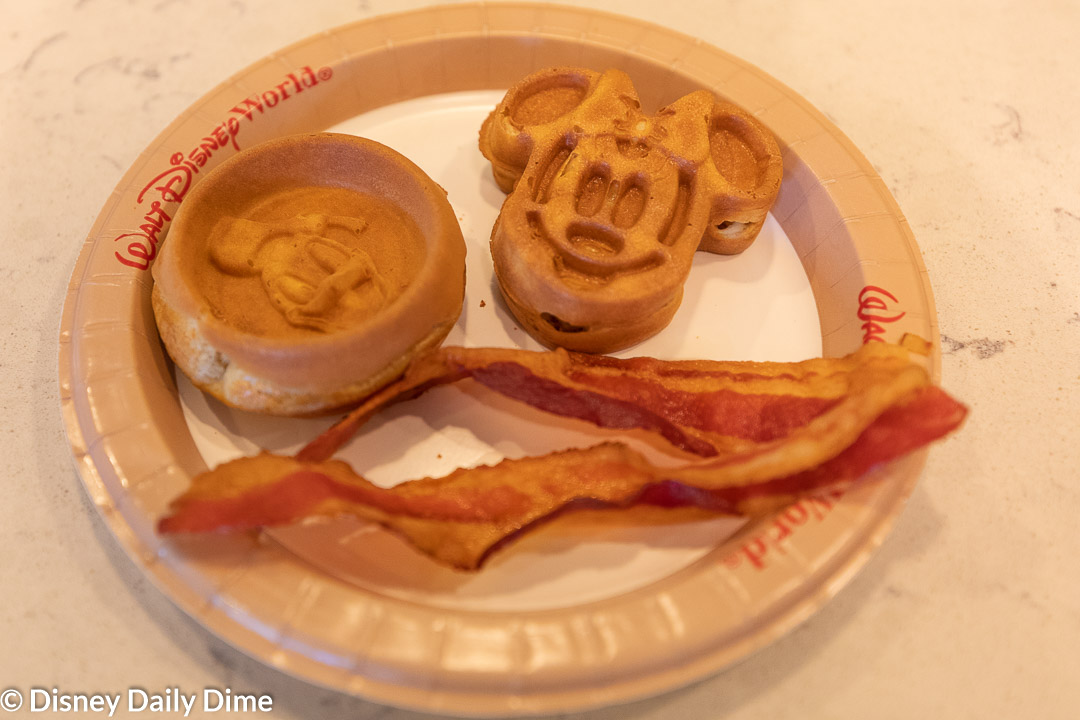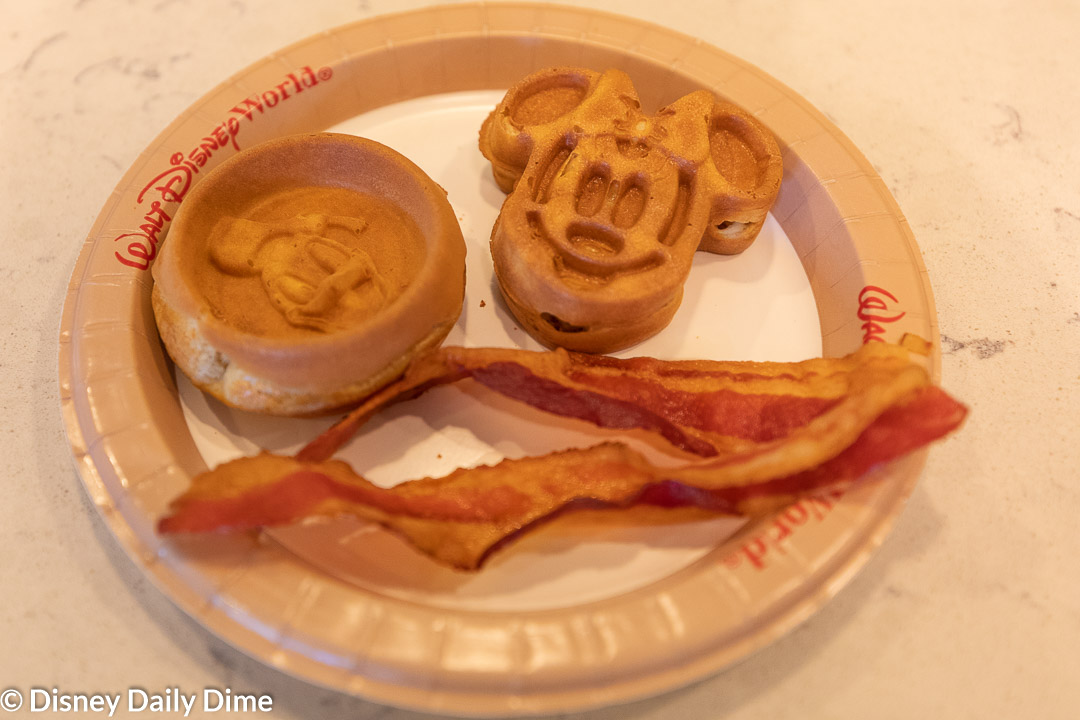 For her meal, Anna went with the aforementioned dependable waffles.  As you can see in the picture, they aren't Mickey Waffles; rather, these feature Minnie and Donald.  The waffles were standard fare for Disney World, but we were happy that they were not dried out and hard.  Anna was quite delighted with them.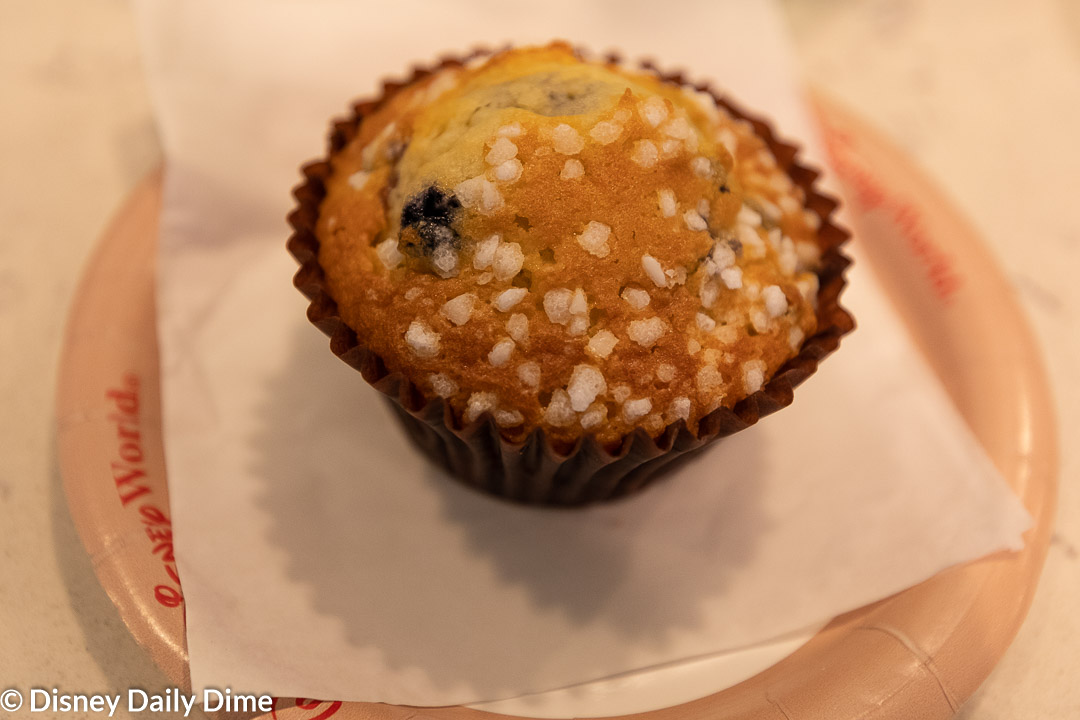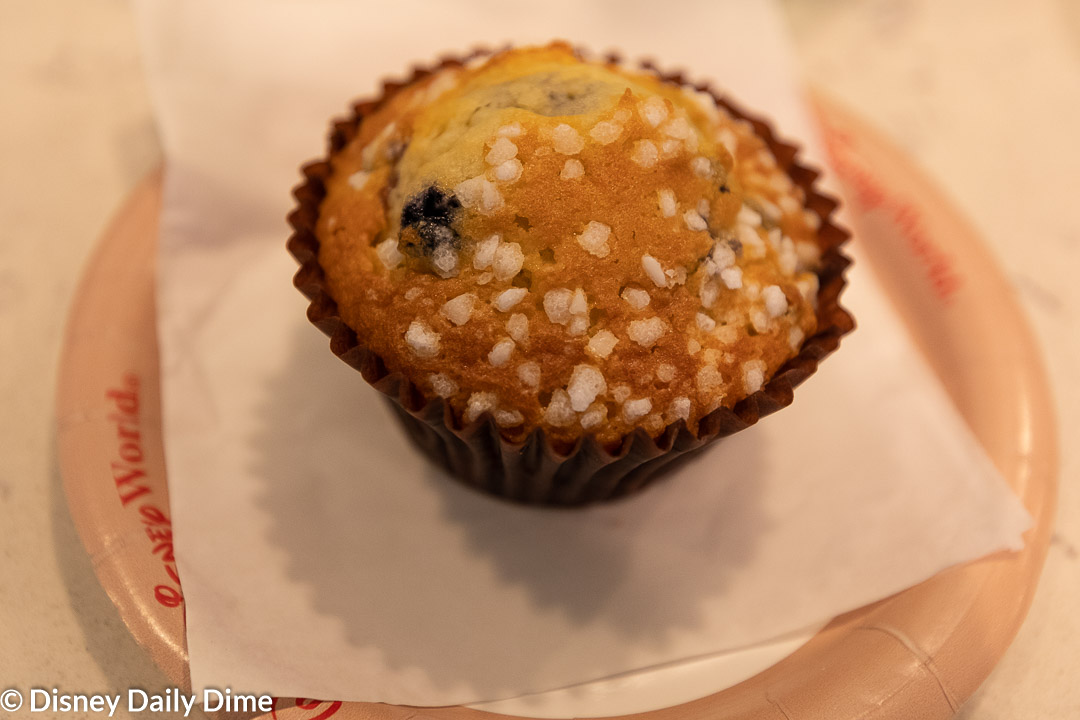 Elsa looked over all the plated food offerings and wasn't overly interested in any of them.  So, she opted for the pastry section of the restaurant, ordering a cinnamon roll and blueberry muffin.  The blueberry muffin was moist and had a good blueberry flavor to it.  Unfortunately, the cinnamon roll was dry and bland.  Even the icing on it didn't have much flavor to it.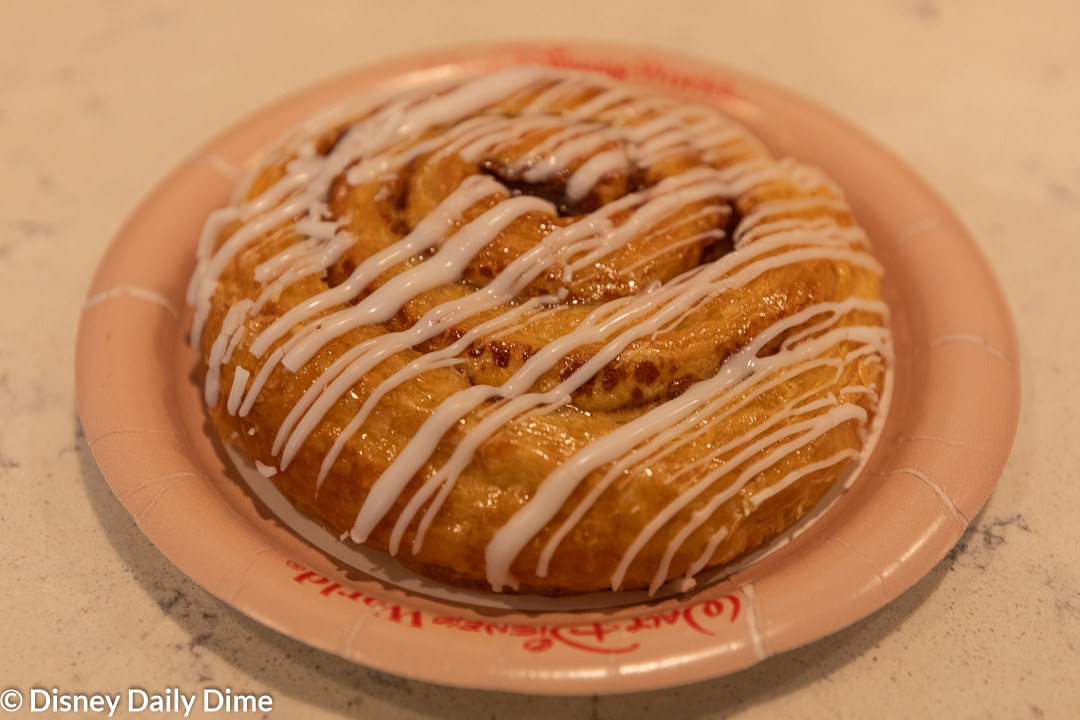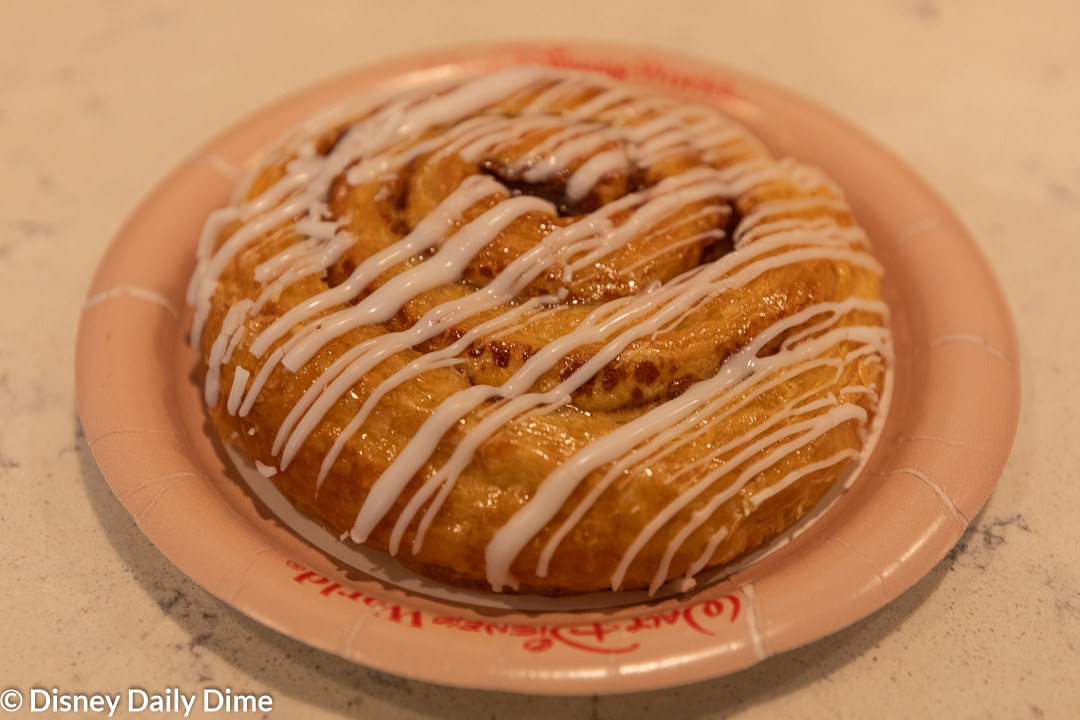 One thing I should note about Gasparilla Island Grill is that they have a coffee bar inside the restaurant.  Carla ordered a Caramel Macchiato this day for a little pick me up.  They serve up an assortment of drinks made with Joffrey's coffee, which is what you find around Disney World.
So, there were some hits, misses, and those dependable stables in the breakfast part of our Gasparilla Island Grill review.  Much like you would expect at a counter service breakfast at Disney World.  Let's move on to dinner!
Dinner at Gasparilla Island Grill
Our dinner review of Gasparilla Island Grill review will be somewhat abbreviated because Anna and Elsa were not feeling something like substantial this evening.  We flew into Disney World the evening of this meal and came to dinner almost right away.  Unfortunately, they were sort of wiped out.  As such, they elected to have the pre-packaged peanut butter and jelly sandwich and a bowl of cereal.  I have yet to figure out how to turn these items into some hard-hitting, review worthy material, so we won't review them.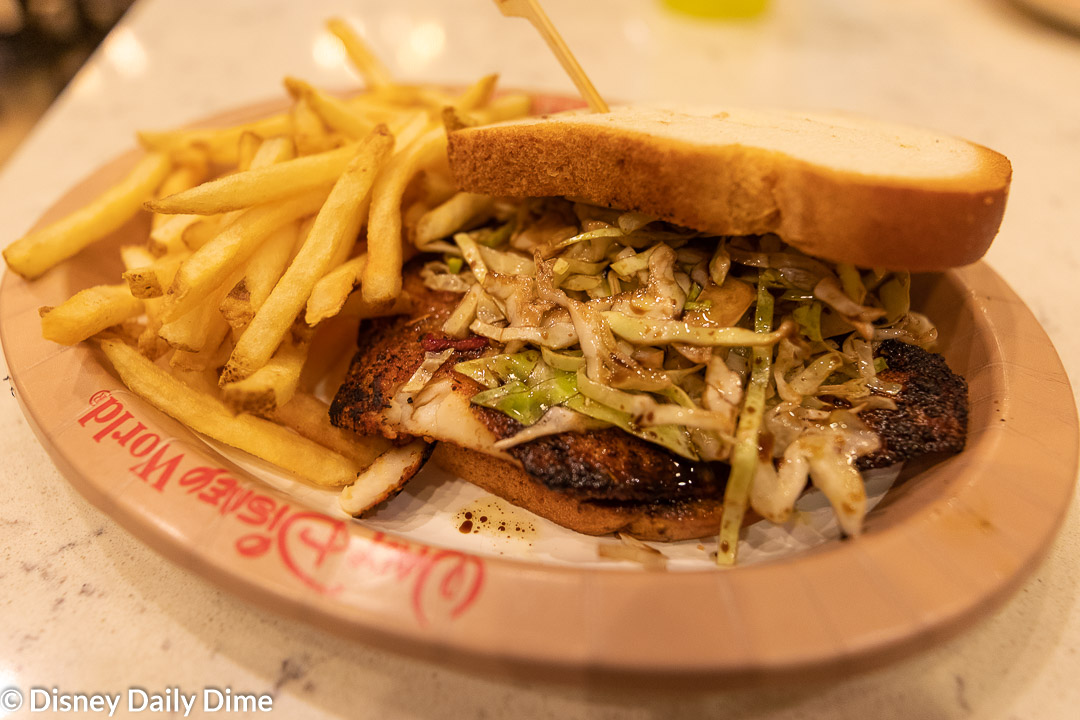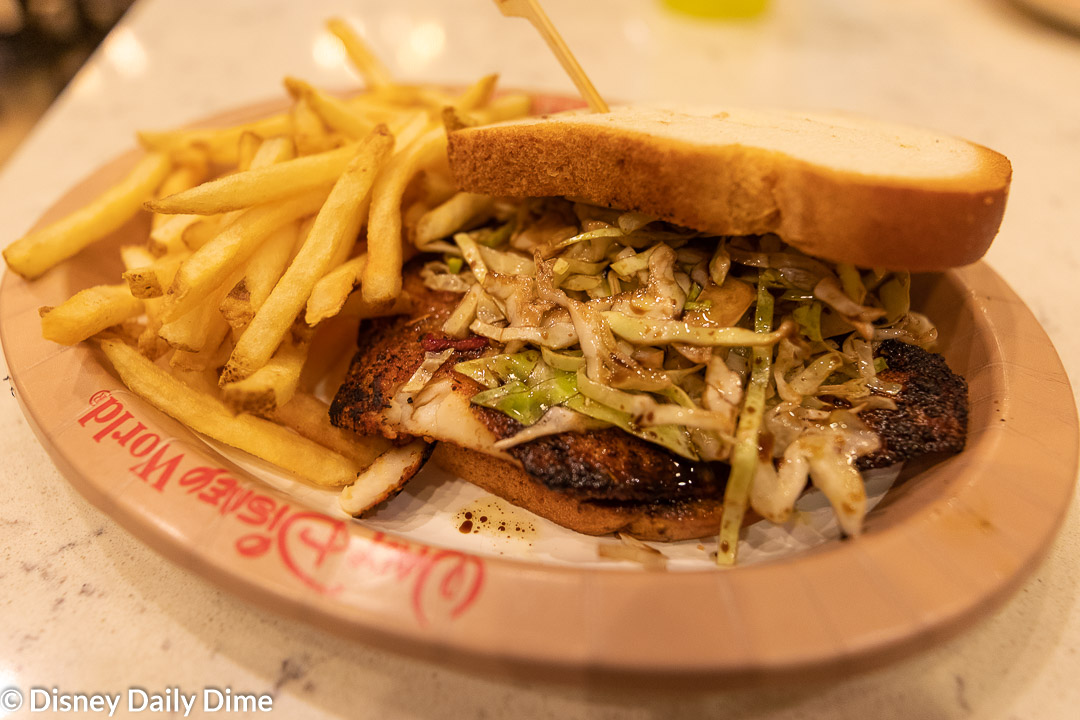 As for the adults, we were starving!  Carla ordered the Blackened Fish "Reuben."  If the bread looks odd for a sandwich like this, it is.  Remember, Carla eats gluten free to they had to sub in a gluten free bun from the usual Marble Rye that it is served on.  The blackened fish is topped with a house-made cabbage slaw.  Carla loved this sandwich.  The fish was light and flaky and the blackened preparation was on point!  The slaw was light and vinegary.  This is definitely something she would order again.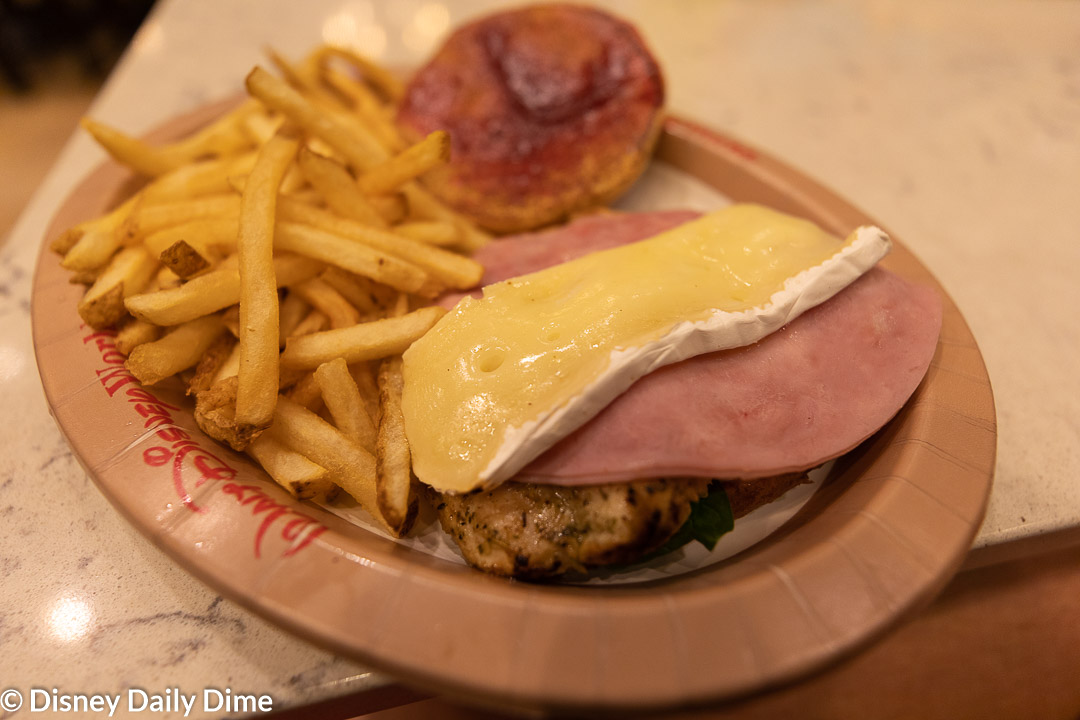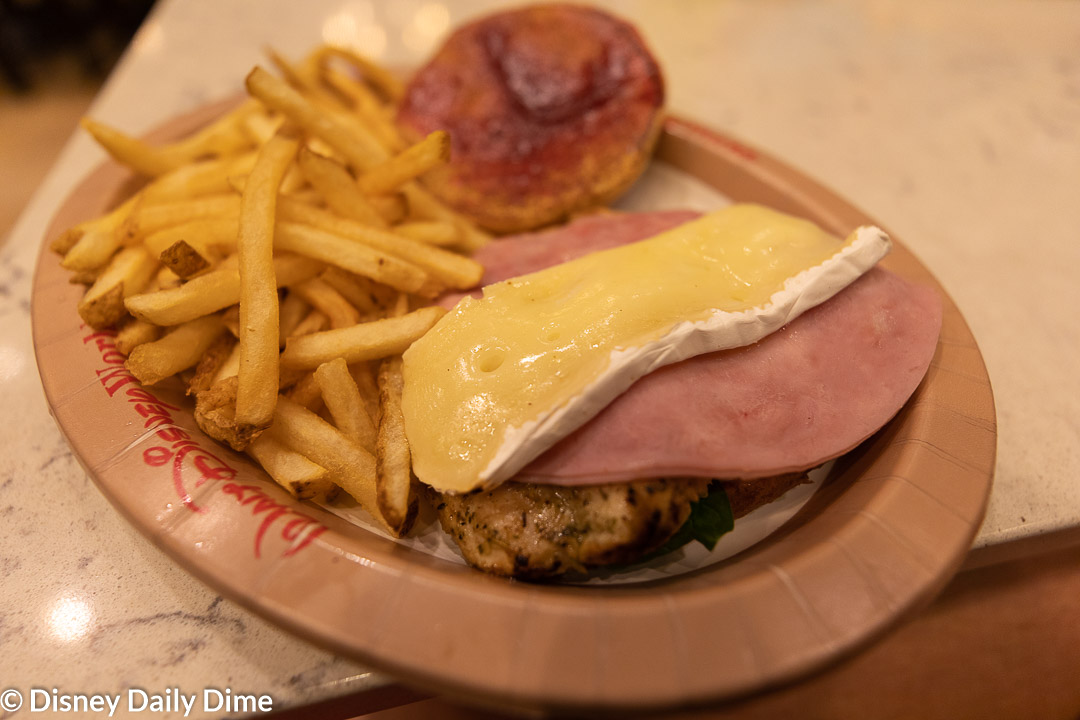 For my dinner, I went with the Chicken and Brie sandwich, and I was blown away with how good it was.  This sandwich features a healthy amount of chicken, topped by a couple of pieces of ham and slab of brie.  The Brioche bun is coated with a Raspberry Mustard.  I'm always suspicious of unusual spreads and condiments on my sandwiches, but this worked together well!
The brie was nice and warm, making it gooey and delicious.  Well, if you like brie, that is.  However, the real star of this dish was the raspberry mustard, which was excellent.  Rarely have I found a sandwich where the ingredients were so diverse but worked together so well!  I would get this again without hesitation.  The raspberry mustard reminded me of the cranberry sauce on the sandwich I had at Landscape of Flavors, which I loved too! Maybe I am more of a berry-based spread fan than I realized.
Both of these items are an example of the inventive and unique offerings that make restaurants like Gasparilla Island Grill a cut above many counter service locations at other Disney World resorts.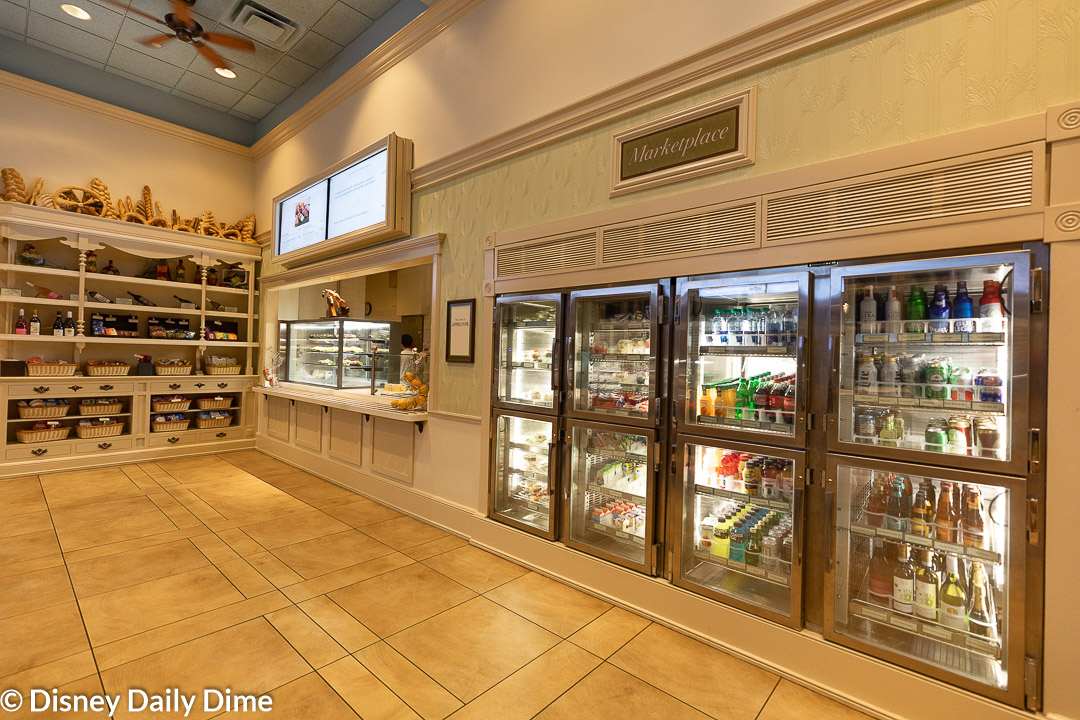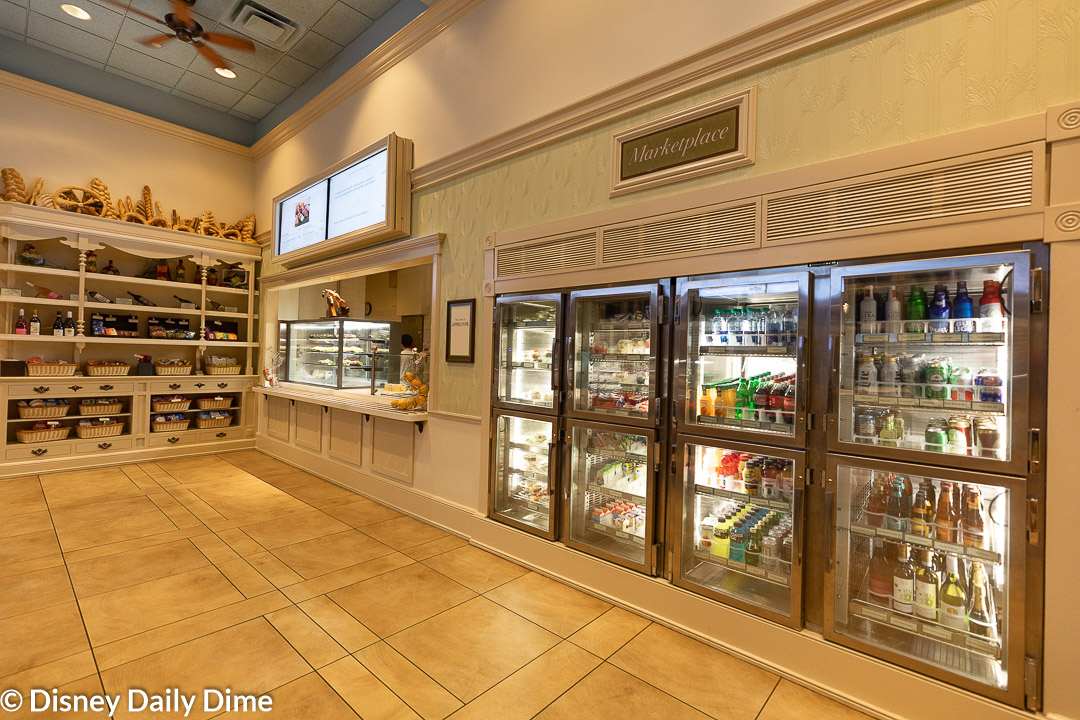 Wrapping Up Our Gasparilla Island Grill Review
All in all, we were pleasantly surprised by our dining experiences at Gasparilla Island Grill.
If the theming somewhat blah?  Yes.  But it's still a nice restaurant and watching the fireworks from the outdoor seating is something very few restaurants can offer.
When it comes to the food, this is one of the better counter service options we've eaten at.  Breakfast is delicious, but you need to know what you order.  If something looks dull, it probably is.  The food available for dinner features several quality entrees that won't break the bank.  There are several options we didn't have that we need to come back and try!
If our Gasparilla Island Grill review was helpful or at least entertaining, please like and share this with your friends or anyone you think will find it useful.  Just use the sharing buttons on the page.  If you're interested in more of our dining reviews, we have a complete list on our Disney World Restaurant Reviews page.
We always appreciate it when you share our posts, as it allows us to spread the word about our blog and hopefully will enable us to help others.