If you're looking for a table service restaurant that serves breakfast, lunch, and dinner at Disney's Grand Floridian Resort & Spa, the Grand Floridian Café is your only option.  We recently had lunch here, where we sampled several dishes.  Here in our Grand Florian Café review, we'll tell you about the food we had, along with the atmosphere of the restaurant.
If you are on the Disney Dining Plan, you'll need one table service credit to eat here.  That's true for breakfast, lunch, and dinner.  The value of that credit varies by meal and what you order at that particular meal.  When it comes to breakfast, we don't advise using a dining plan credit as the value is downright bad.  In general, you should review the Grand Floridian Café menu to see what is offered for lunch/dinner.  If you are going to order something like the NY Strip Steak or Sirloin Steak and Scallops at dinner, then there is some good value for your table service credit.  Order one of the other entrées that are lower priced and you should probably pay out of pocket for this meal.  Notice that the dinner and lunch menus are not the same.  While some entrées are available on both menus, the higher-priced steaks are not available at lunch.
You can use the Tables in Wonderland discount card at the Grand Floridian Café.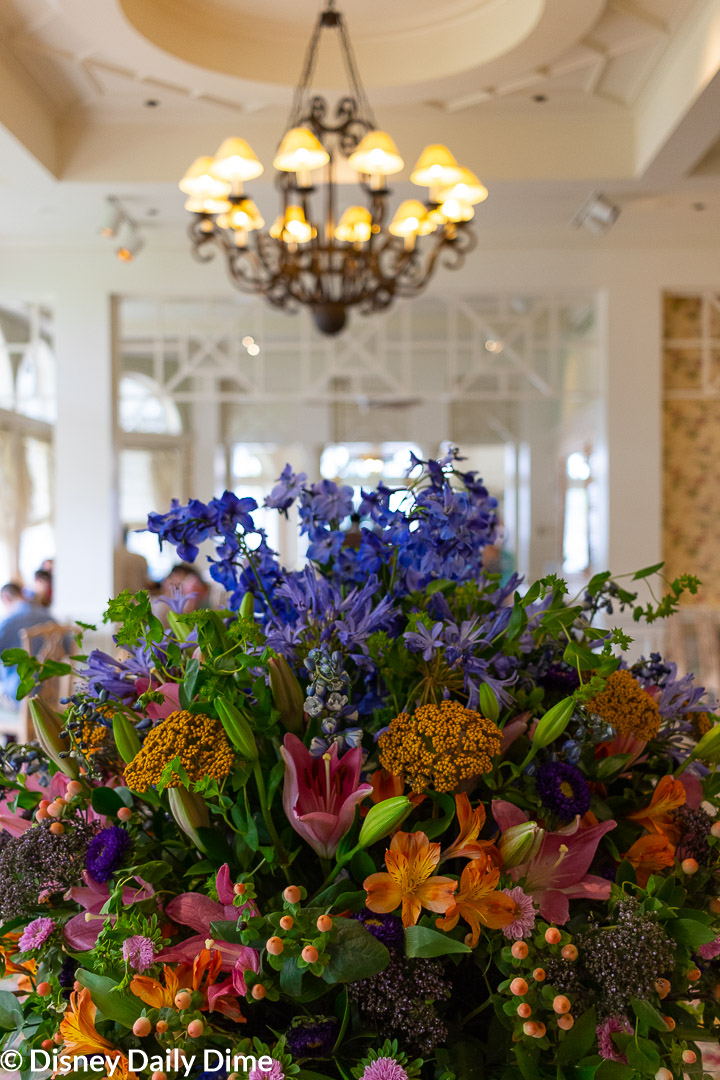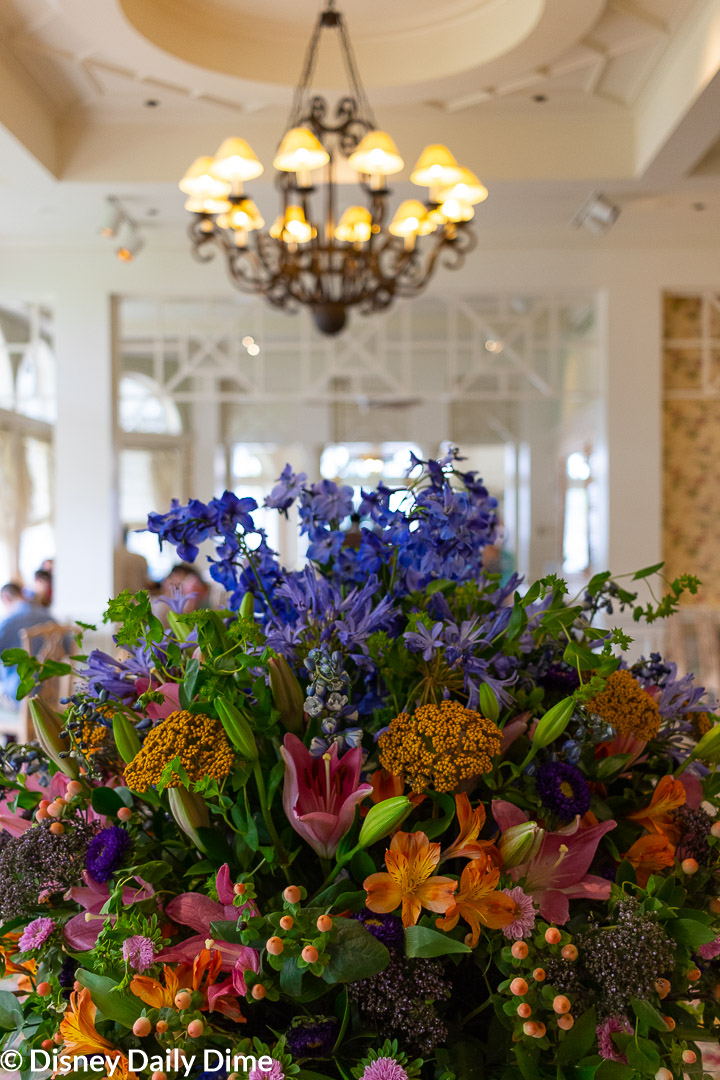 Grand Floridian Café Theming Invokes a Victorian-Era Home
The Grand Floridian Café continues the overall theming of the resort.   Victorian Era furnishings abound, including floral wallpaper and carpet, a pastel color scheme, ornate furniture and lacy curtains.   However, the restaurant definitely shows its intention to be a more casual table service dining location.  The furniture is more casual and inviting than what you would see in the signature restaurants.  Flowers and greenery are everywhere and some subtle animal-themed décor lends a slight farmhouse touch to the overall look of the restaurant.  All of this combines to remind us of what a casual dining area of a Victorian-era home might look like.   It feels like a place to settle in and relax to enjoy a less formal, homecooked meal.
A wall of windows offers views of the resort gardens and grounds, complimented by the floral arrangements and table setups.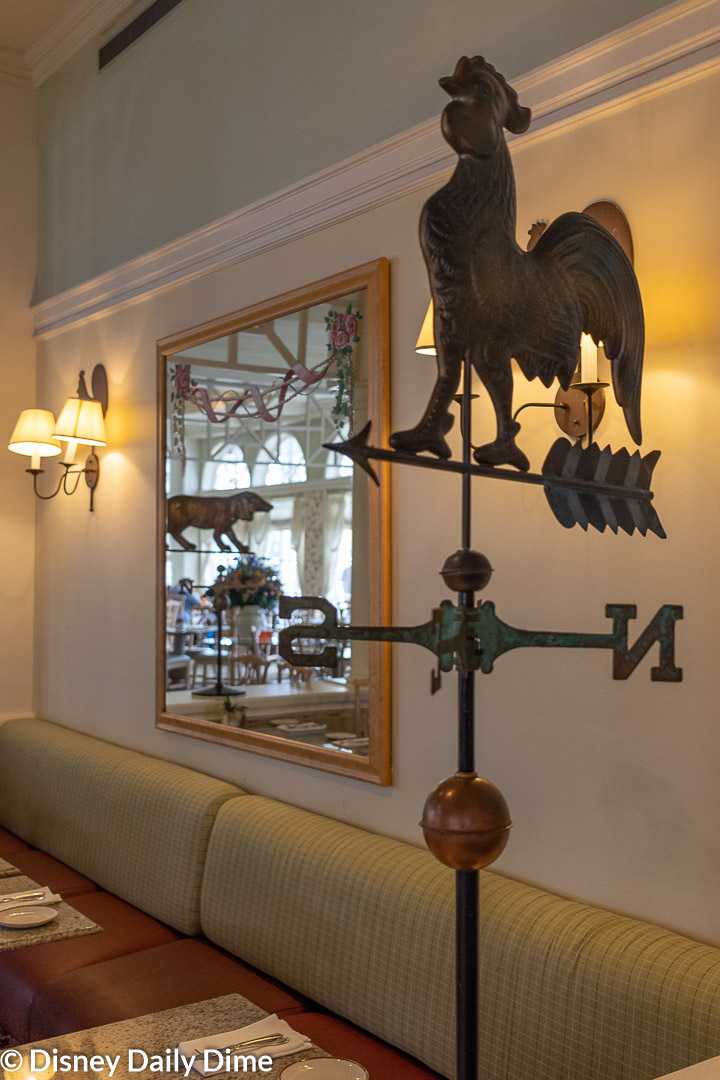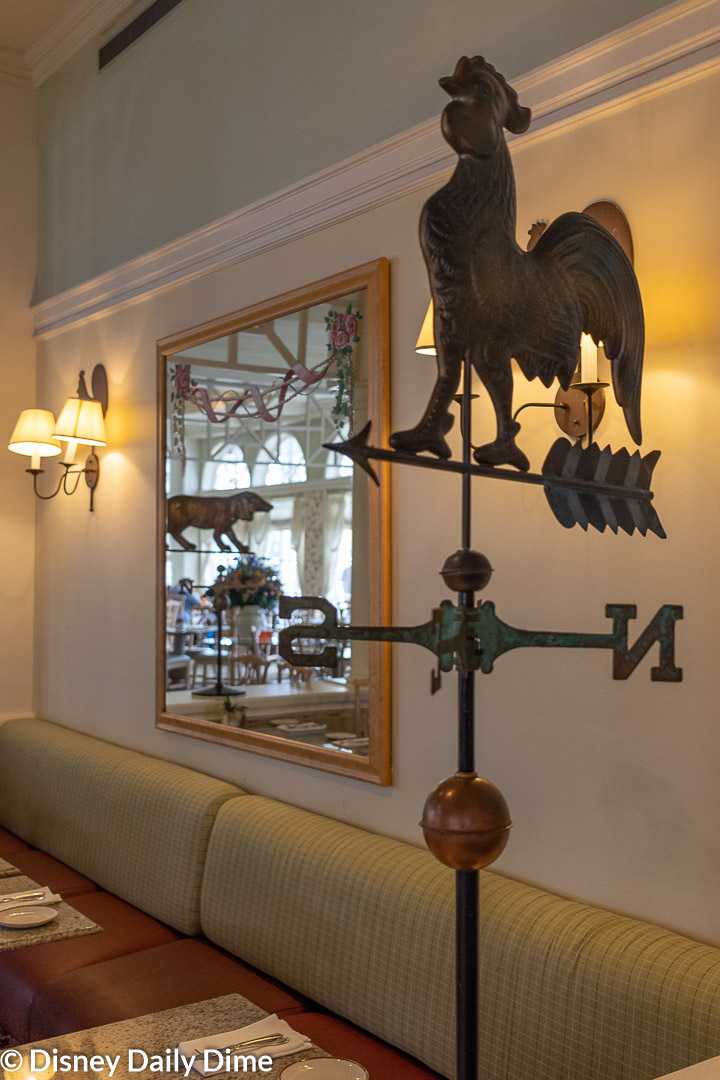 The Grand Floridian Café is a lovely restaurant, but it doesn't necessarily have a design that makes you go wow.  It's simply a comfortable, relaxing and meant to make one think of the turn of the century theming of the resort.  What really matters is the food, so let's talk about that in the next section of our Grand Floridian Café review.
Grand Floridian Café Food Provides a Solid Value
Before we get too far into the food section of our Grand Floridian Café review, it's worth repeating that we ate lunch here.  So that means you won't see some of the steaks that you will find on the dinner menu.  There are plenty of items that are shared between lunch and dinner, though.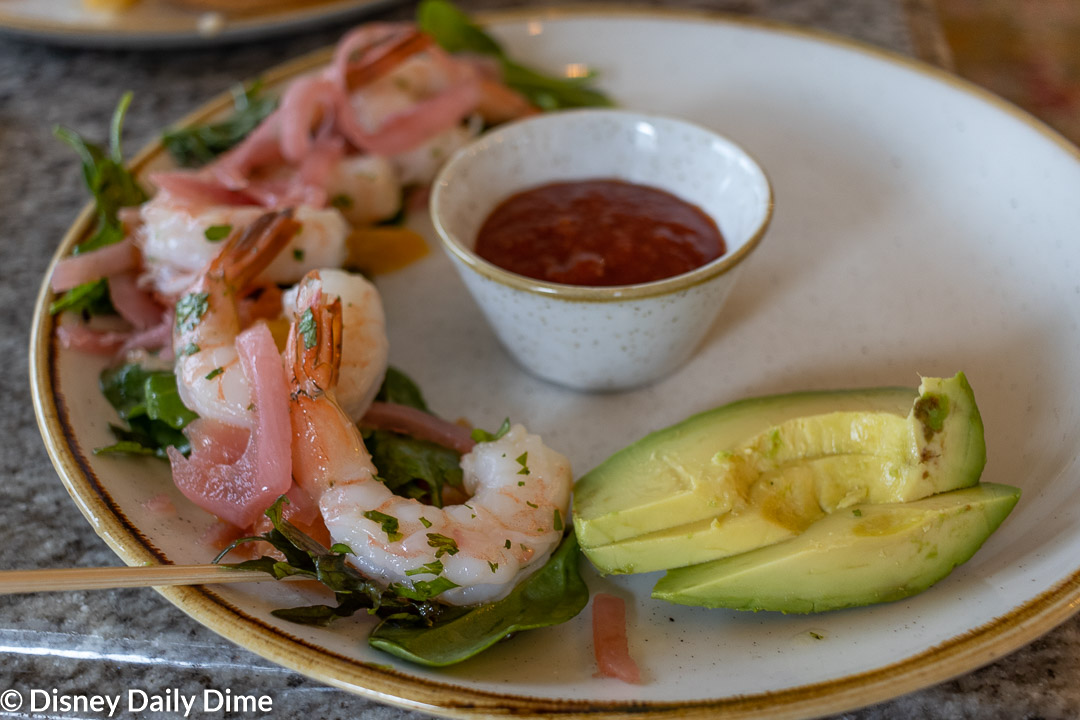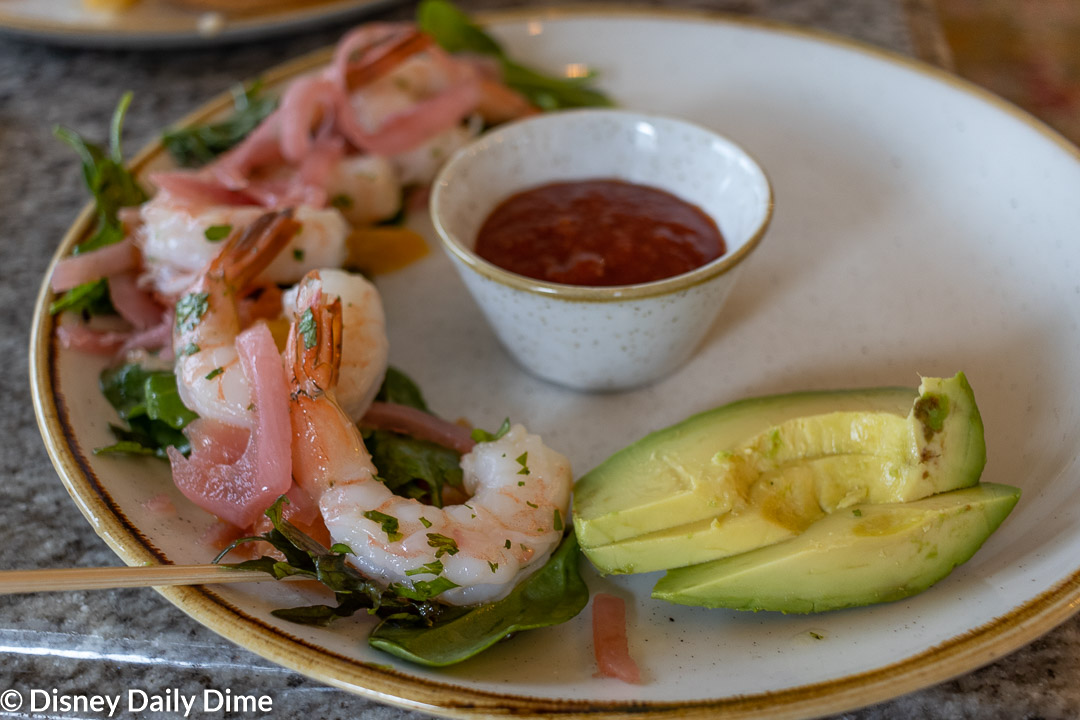 Appetizers
We ordered one appetizer for the table to share.  At this particular meal, what called to us was the Chilled Jumbo Shrimp Cocktail.  We're always fans of a good shrimp cocktail, and the Citrus-Avocado Salad that comes with it was intriguing.
While the shrimp portion of the appetizer wasn't anything I would consider unique or inventive, it was still excellent.  It was serviced with five shrimp, which seemed okay for the price.  The "Red Rooster" cocktail sauce had just enough horseradish in it to give it a nice kick.  I probably would have liked a little more, but for kids, it probably works well.  Anna and Elsa don't eat cocktail sauce, so I'm not able to provide their point of view on it.  The Citrus-Avocado was a hit with the table.  The sliced avocado had a slight drizzle of what I think was orange and lemon juice.  They worked well together and completed this light appetizer very well.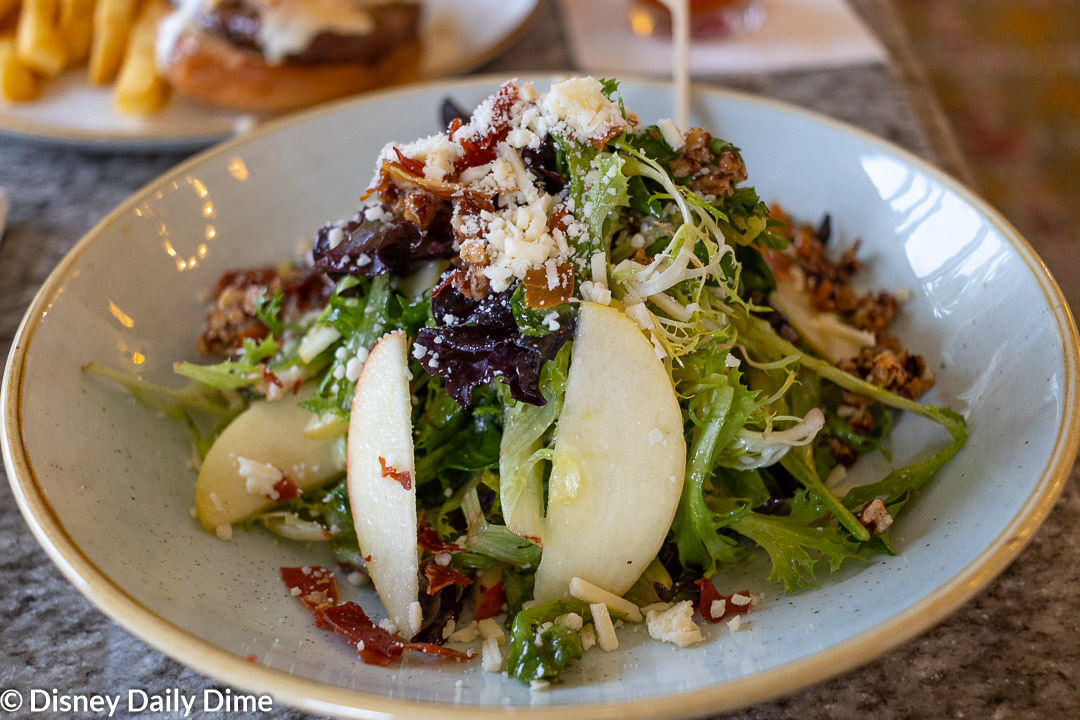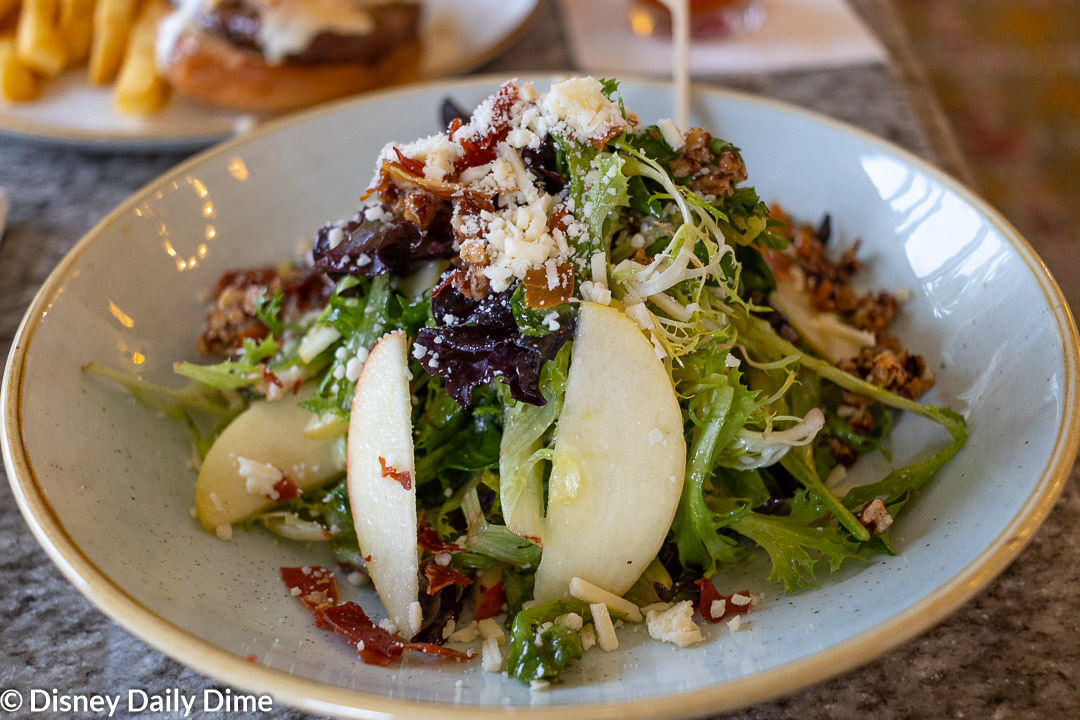 Adult Entrees
For her main entrée, Carla wanted to keep things light, so she selected the Heirloom Apple Salad from the appetizers for her main meal.  The salad features heirloom apples, sharp cheddar, and crispy prosciutto on a bed of organic baby lettuce.  Carla loved this salad.  She found the apples crisp and refreshing.  The vegetables overall were fresh and blended with the toppings very well.  When topped with the honey-apple vinaigrette, it completes the light and airy feel of the salad with a slight hint of sweetness.  If you want to eat like here, Carla would definitely recommend this salad.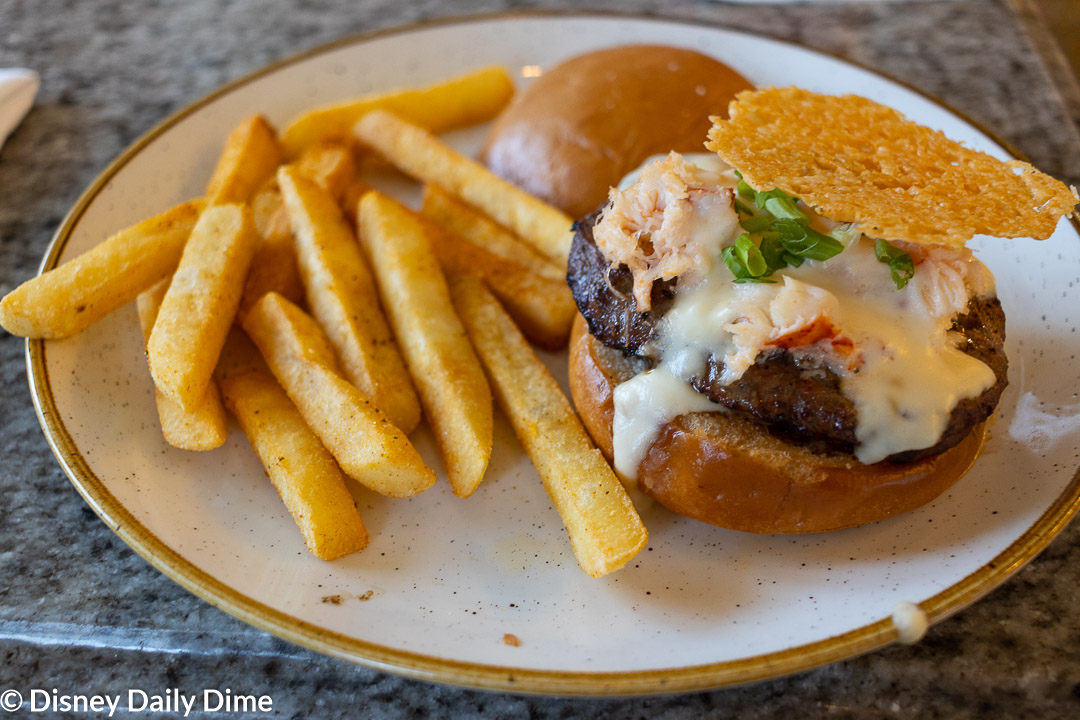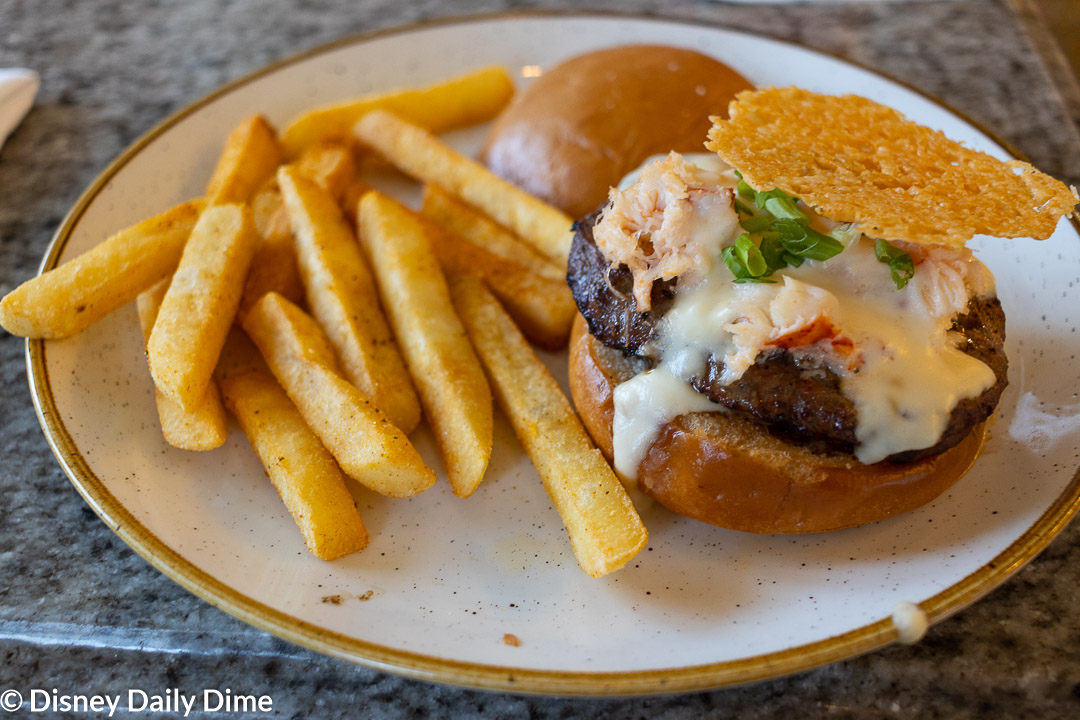 As for me, I ordered the Lobster 'Thermidor' Burger, which is served with Grand Floridian Café Signature Seasoned French Fries.  The burger is delicious, but I wouldn't call it unbelievable.  The meat is not the hockey puck burger meat you will find at most quick service restaurants around Disney World.  However, I will say that the beef didn't have any discernible flavor.  Fortunately, the hamburger patty is topped with a lobster-parmesan Thermidor sauce that made up for it.  In the sauce, I found generous chunks of lobster.  It added an excellent flavor to the hamburger.  I honestly was shocked by the amount of lobster I found on the burger.
While french fries are often an afterthought at most restaurants, I will admit these are not your average French fries.  They are a bit thicker cut than you will find most places, but I wouldn't consider them as thick as steak fries.  For me, the fries were cooked perfectly.  They were nice and crisp on the outside but still soft on the inside.  The seasoning on them added a great flavor.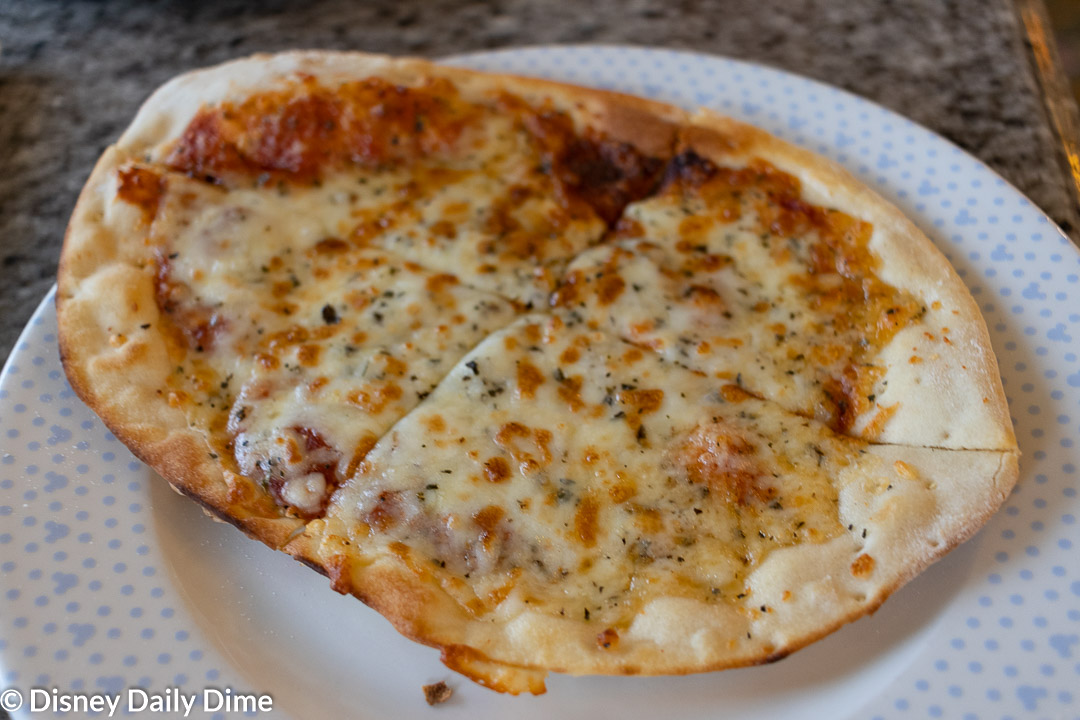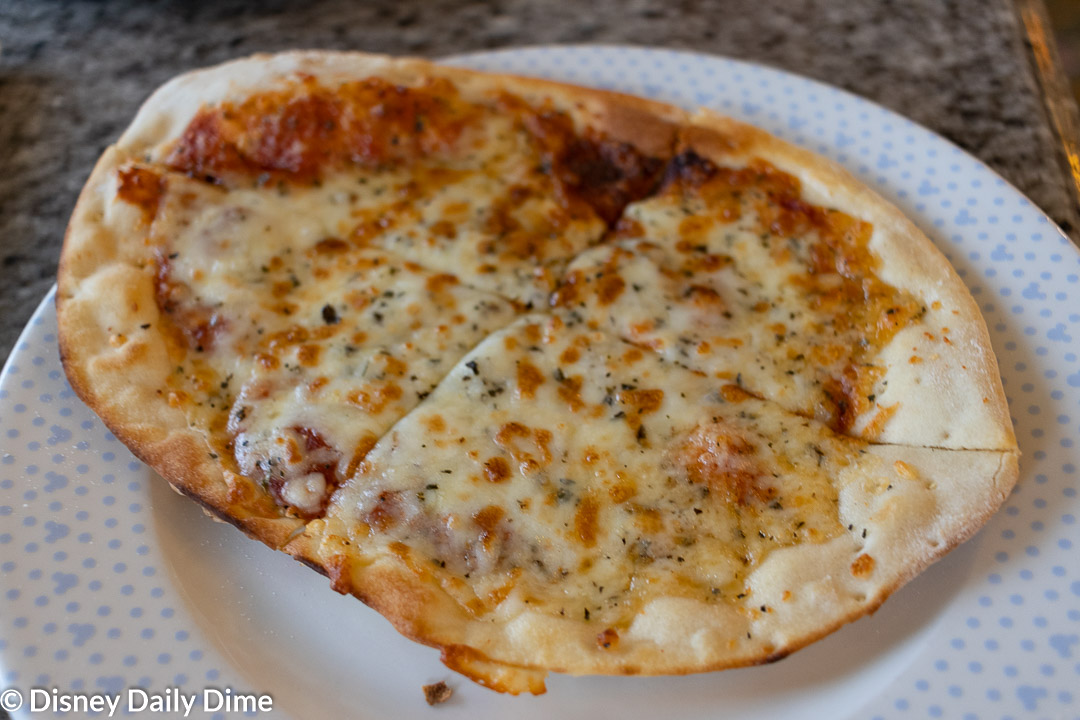 Kid Entrees
When the kids' time to order came, they didn't really surprise us.  Anna elected to have the kid's cheese flatbread.  Surprisingly, she did not like the flatbread.  Anna generally prefers a pizza with a thicker crust, which this wasn't.  It's thin like you would expect a flatbread to be.  Beyond the crust, though, she didn't like the flavor of it.  I ate a bit of the flatbread and found the sauce a bit bland.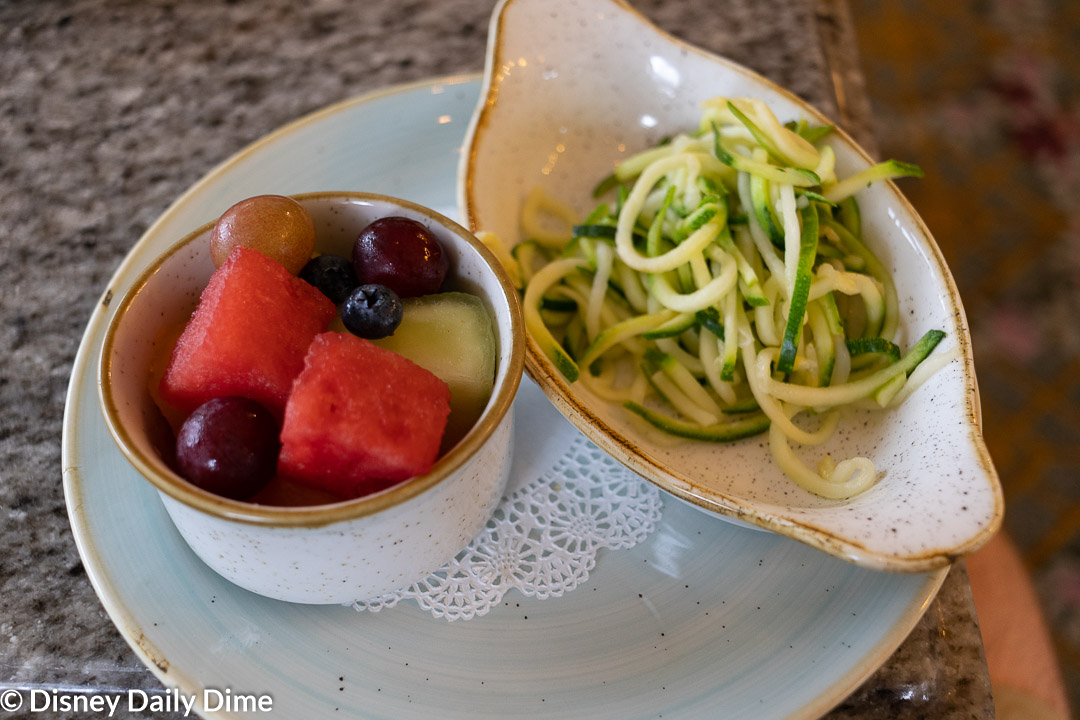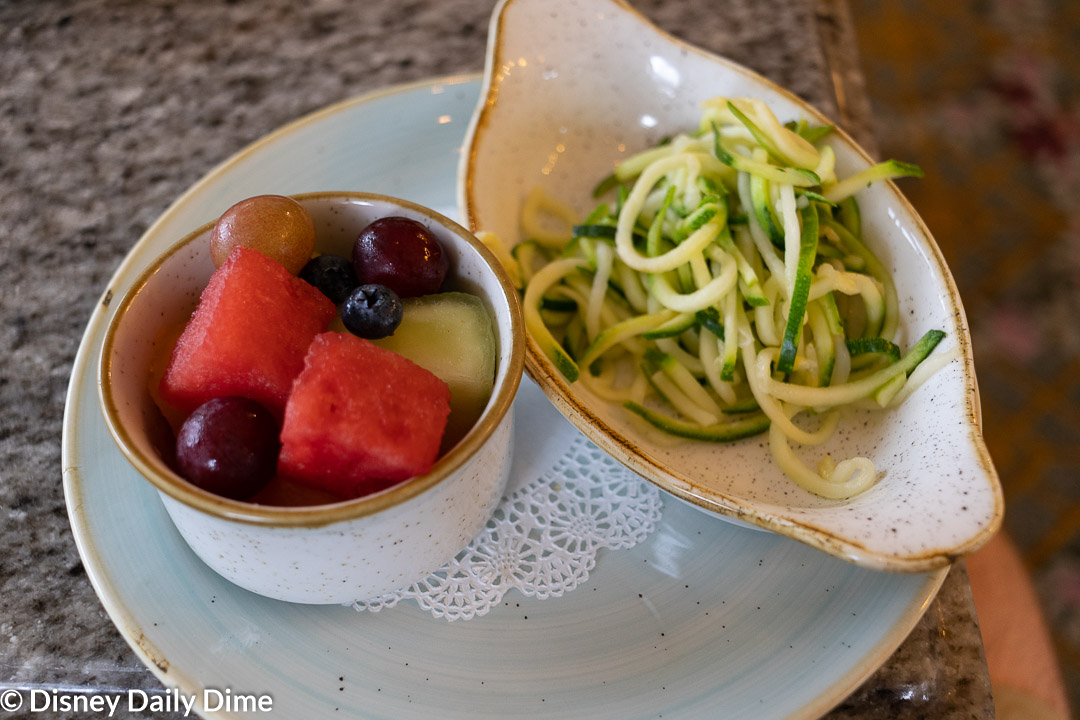 The kid's cheese flatbread comes with your choice of sides.  Anna selected fresh fruit and zucchini noodles.  The fruit was good; however, Anna didn't like the zucchini.  Carla and I were not overly surprised by this, but at least she tried something new.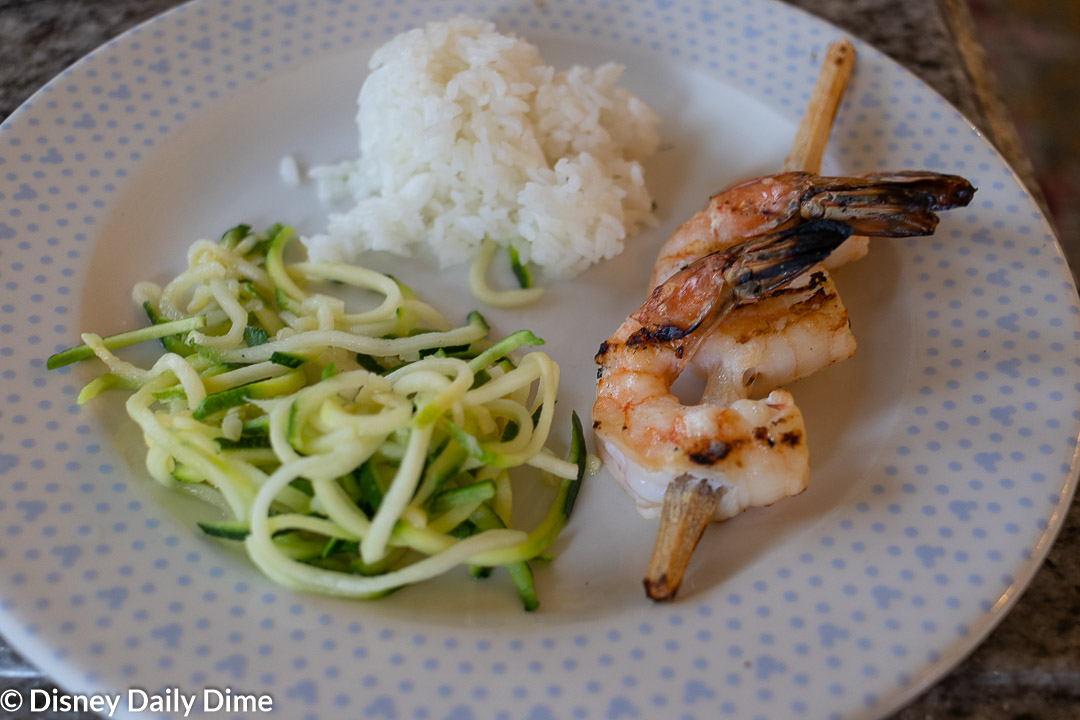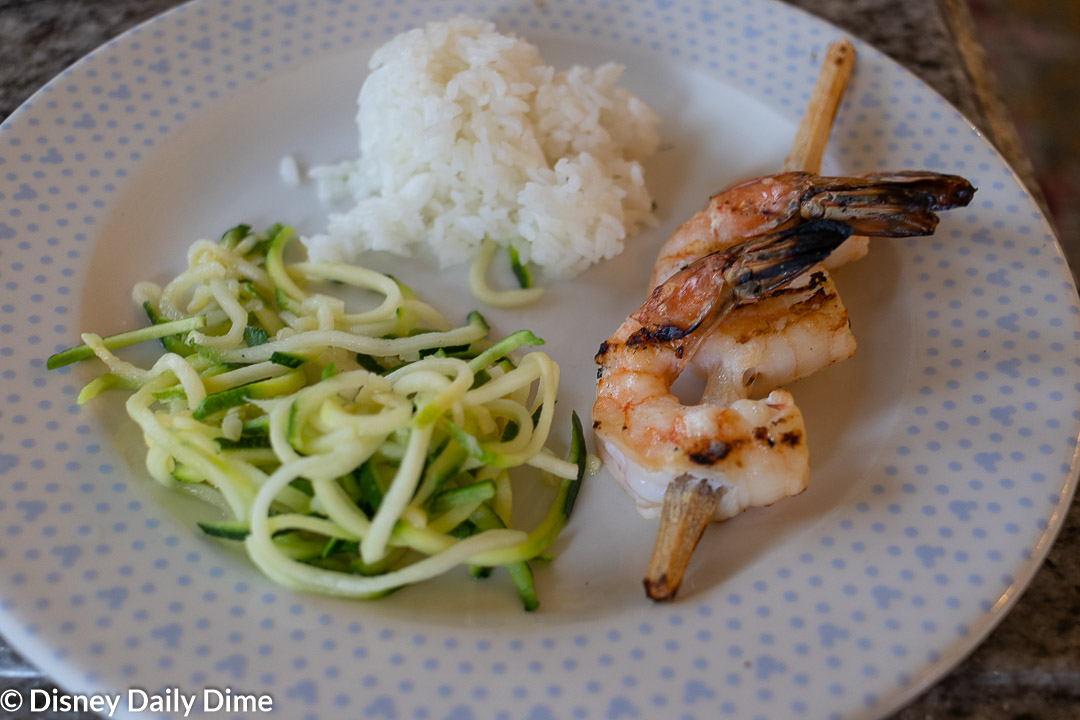 For her entrée at the Grand Floridian Café, Elsa selected the Shrimp Skewer.  If you look closely at the Grand Floridian Café lunch menu, you'll notice that there is no Shrimp Skewer option.  You will, however, find it on the dinner menu.  Elsa managed to nicely ask for that instead, which our server was happy to oblige.
As you imagine from the picture above, Elsa was quite disappointed to see only two shrimp on the skewer.  Because of that, she was not willing to share with anyone at the table.  That means I can't weigh in on the quality and flavor of the shrimp, but Elsa said they were delicious.
For her sides, Elsa went with rice and the same zucchini noodles that Anna had.  Not surprisingly, the zucchini was not a hit.  She did eat all of the rice, though.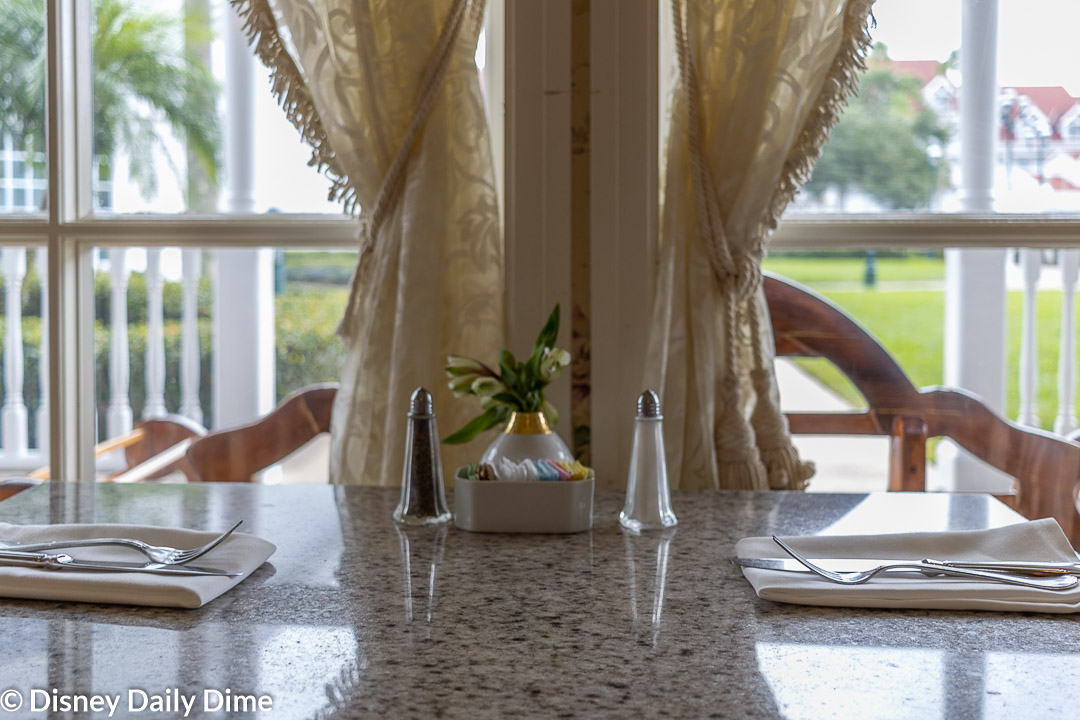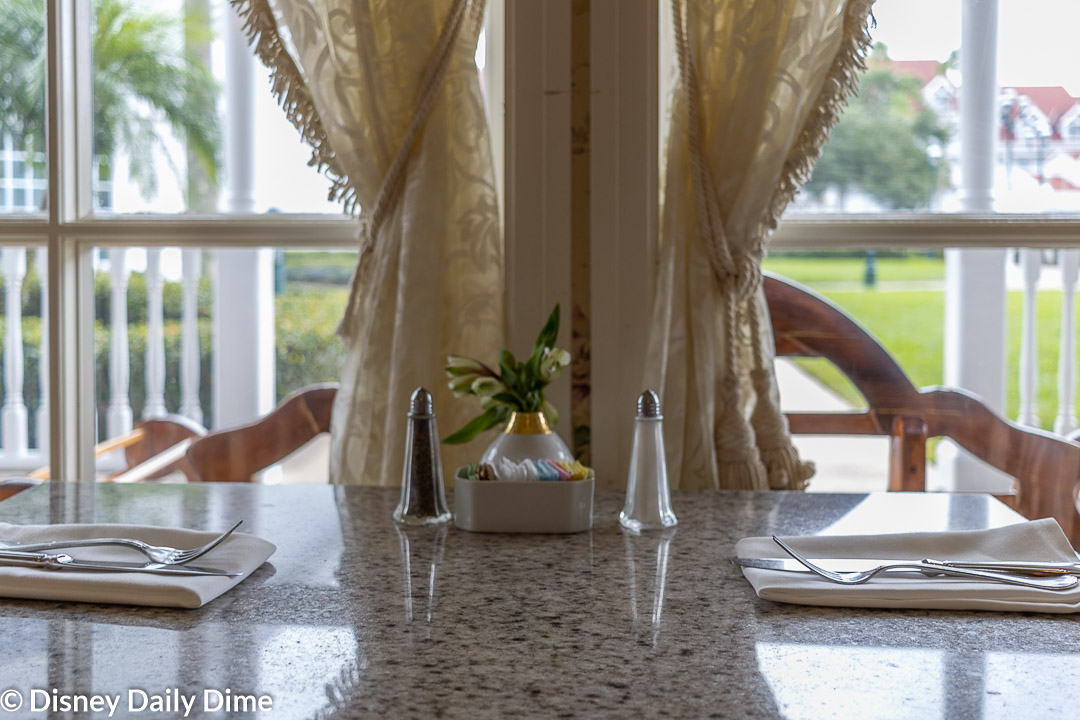 Wrapping Up Our Grand Floridian Café Review
While the theming and atmosphere for the Grand Floridian Café aren't something we think anyone will remember, the food is good and presents a good value in our opinion.  We didn't really discuss it, but the Grand Floridian Resort & Spa is dominated by high-end restaurants like Victoria & Alberts, Narcoossee's, and Cítricos.  Given that, it's nice to have a restaurant where you can have a quality table service experience, but not drop $50 per person.  We would not hesitate to eat here again, but I would go for dinner next time.  I want one of the steaks!
If our Grand Floridian Café review was helpful or at least entertaining, please like and share this with your friends or anyone you think will find it useful.  Just use the sharing buttons on the page.  If you're interested in more of our dining reviews, we have a complete list on our Disney World Restaurant Reviews page.
We always appreciate it when you share our posts, as it allows us to spread the word about our blog and hopefully will enable us to help others.