When the Christmas season approaches, Magic Kingdom becomes a joyous holiday-themed park.  In conjunction with this festive transformation, Magic Kingdom also hosts Mickey's Very Merry Christmas Party.  It's a hard ticket event that you have to pay for above and beyond your regular park admission.  But guess what, even paying for the party doesn't get you into everything.  Oh no, there is another hard ticket event known as Tony's Most Merriest Town Square Party.
This hard ticket event takes place in Tony's Town Square Restaurant.  I stopped by Tony's Most Merriest Town Square Party during our recent trip to Disney World to see if this is something that we found worth it.  If you've read my Cruella's Halloween Hide-A-Way review, you'll know I wasn't a big fan of that version of this event.  So why would I torture myself by going back here to do a Tony's Most Merriest Town Square Party review?  Because I'm a sick person….err, or maybe I've heard some good things about it so thought it was worth a shot.  Let's go with that.
Here in our Tony's Most Merriest Town Square Party review, we'll give you the lowdown on what this upcharge event is all about, including price, benefits, food, drinks, and of course, plenty of pictures.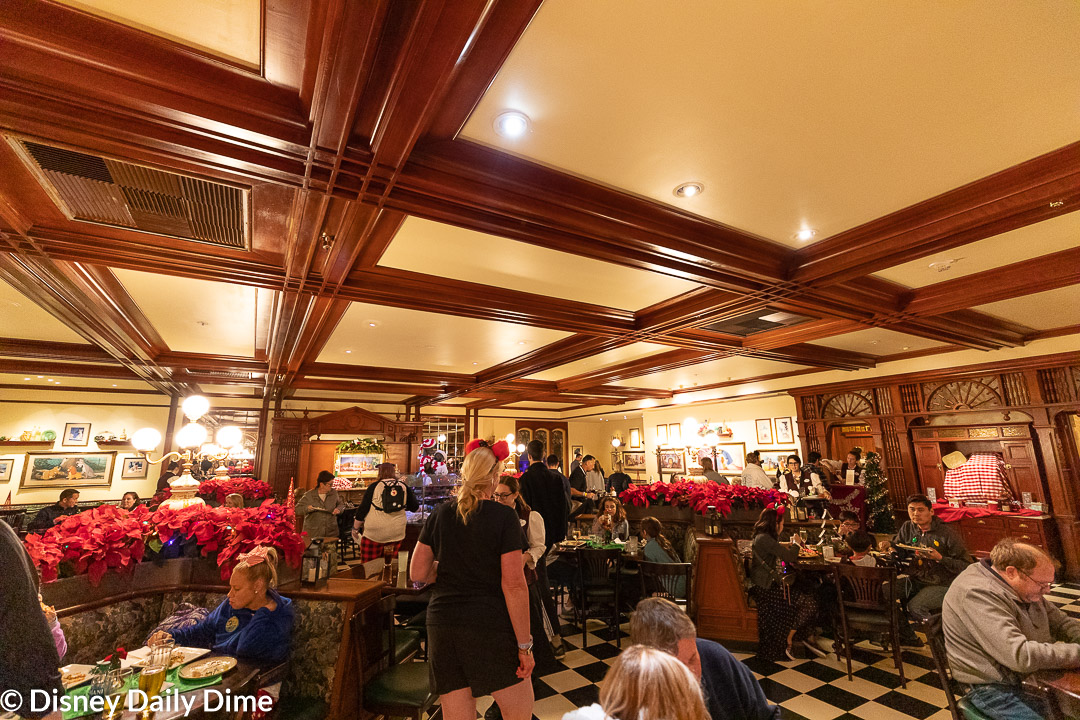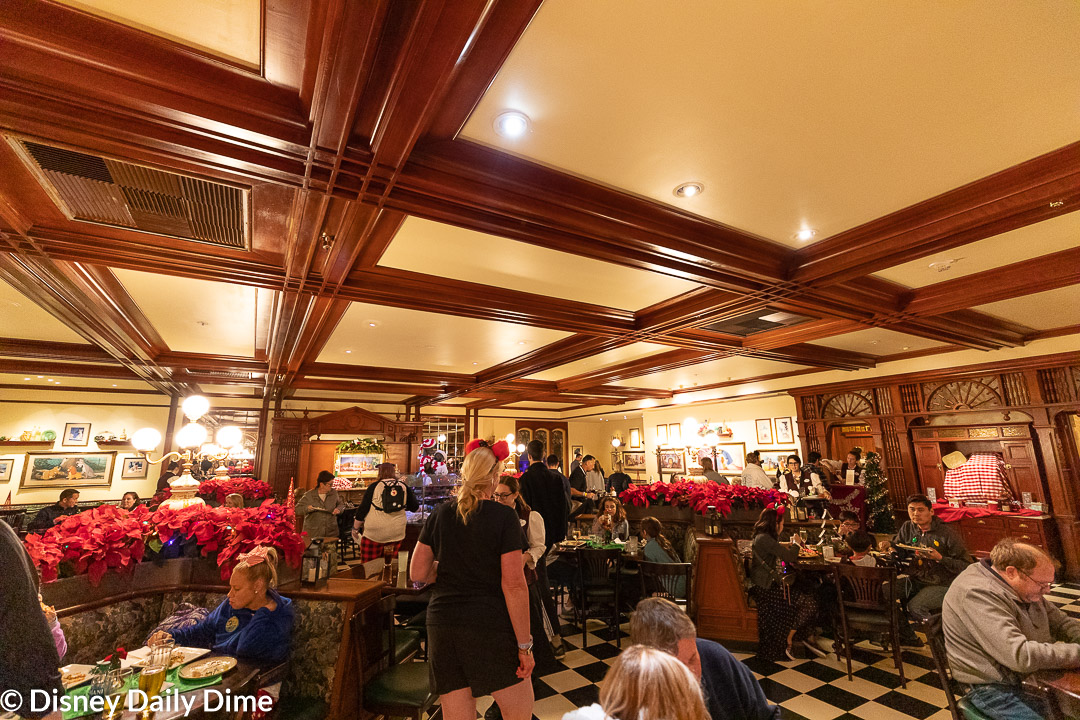 Tony's Most Merriest Town Square Party Cost
Tony's Most Merriest Town Square Party costs $99 per person, plus tax.  There is no kid's price for the event.  Because of this, we decided not to buy tickets for Anna and Elsa.  Unfortunately, that meant Carla didn't come either.  We couldn't exactly leave the girls roaming the park by themselves.
You do have to buy tickets for MVMCP separately to be able to get into Tony's Most Merriest Town Square Party.  If you don't have a ticket to the party, you won't be allowed into the park.
If you're interested in using your Disney Dining Plan credits to purchase admission to Tony's, you're out of luck.  That is not allowed.
If you want to book a ticket or two for Tony's Most Merriest Town Square Party, just go to Disney's Website for the event.
What do You Get as part of Tony's Most Merriest Town Square Party?
As part of paying the $99 price it takes to get into Tony's Most Merriest Town Square Party, you get the following "benefits":
Reserved viewing for the 11:00 PM Mickey's Once Upon A Christmastime Parade
First-come, first-served seating for guests within Tony's
All you can drink beverages, including select wines, hard cider, and one beer option. It does also include a few sodas and bottled water (the small bottles)
All you can eat appetizers and bite-sized desserts
While not exactly something we'd call a "benefit," you'll also have a chance to interact with Tony himself.
Tony opens up the joint for his party at 9:30 PM and closes it at 12:30 AM.  This does allow you to stay in Magic Kingdom past the midnight closing time of Mickey's Very Merry Christmas Party.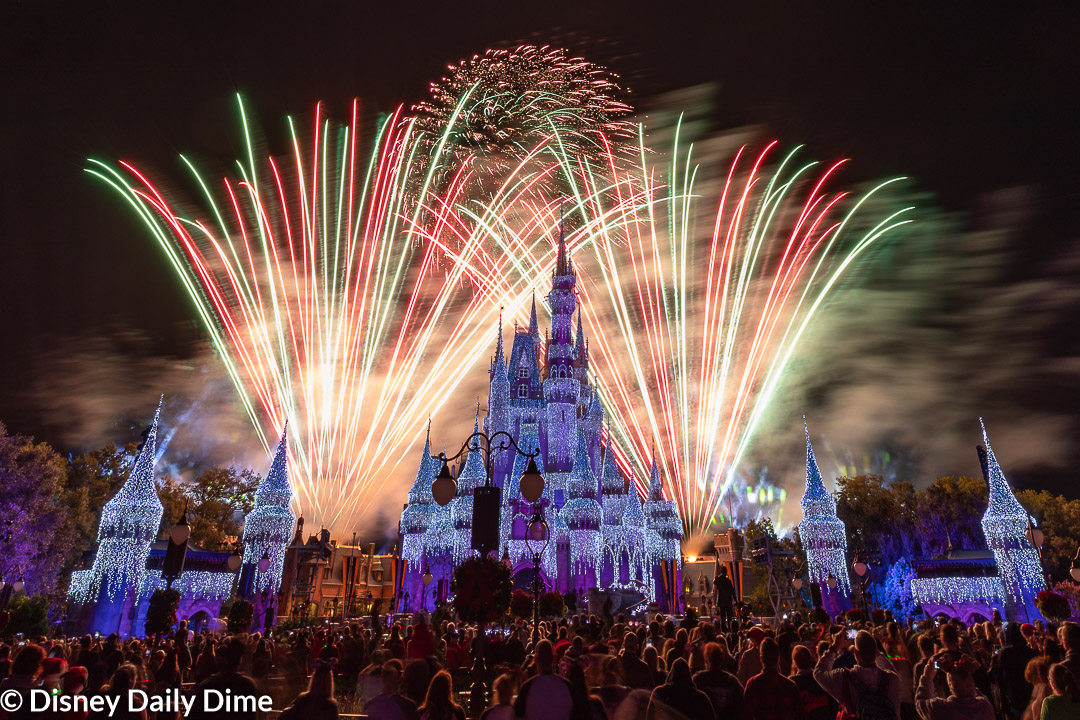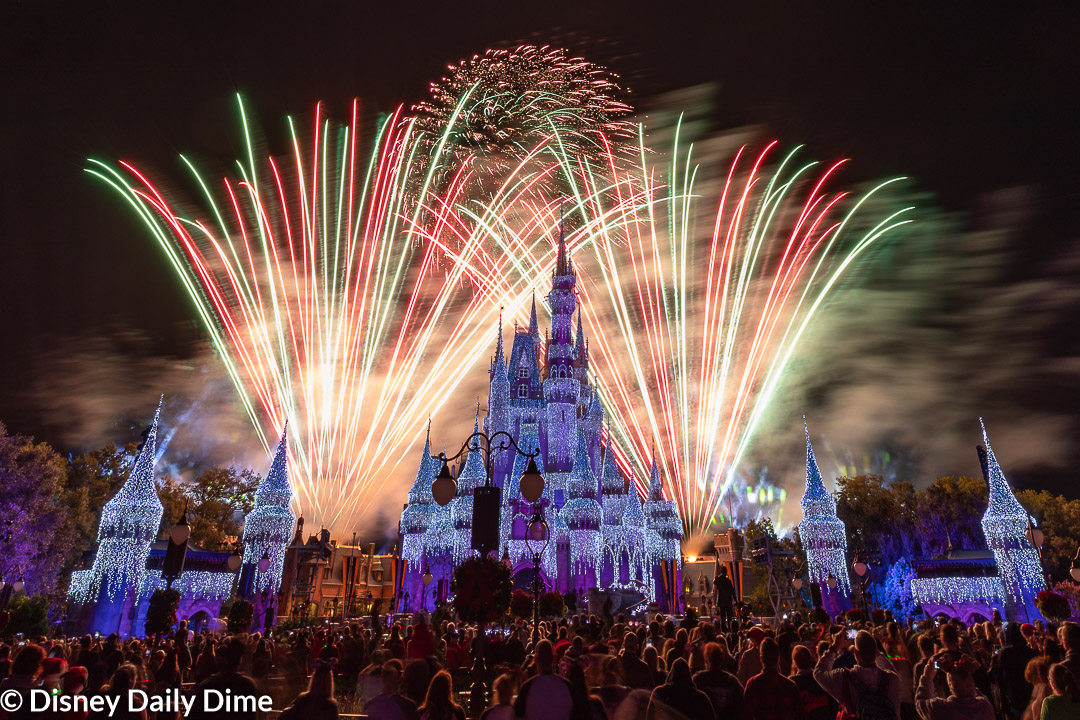 Tony's Most Merriest Town Square Party and Touring for Mickey's Very Merry Christmas Party
Not surprisingly, Tony's little party runs into the same issue that we found with Cruella's Halloween Hide-A-Way.  How do you maximize the value of your Christmas party ticket and Tony's party?  Remember, you are already forking out $100+ to get into Mickey's Very Merry Christmas Party.  Now you're shelling out another $100 for Tony's.  However, if you're living it up at Tony's, you can't be out enjoying the festivities of the Christmas part.  It's definitely a catch 22, and a pricey one at that.
I followed my touring plan from Halloween for this party.  What that translated into was watching Minnie's Wonderful Christmastime Fireworks show at 10:00.  However, if you try to watch the fireworks from Town Square, the buildings will limit your ability to see the projections on the castle and see the perimeter fireworks that are not directly behind Cinderella Castle.
In my case, that meant that we set up in the hub near Cinderella Castle to see the show.  If you go to a party on a sold-out night, as we did, you'll want to get your spot for the fireworks somewhere between 9:00 PM and 9:30 PM.
When the fireworks end around 10:20 PM, I then made my way down to Town Square, along with 5,000 of my closest friends…maybe more.  To say it was slow going would be an understatement.  Fortunately, not all of them were heading to Tony's.
Ultimately, this meant that I didn't get to Tony's Most Merriest Town Square Party until 10:30 or so.  Right away, I've missed over an hour of the event or a full one-third of it.
If your kids (or you) want to meet characters or do other things that are party exclusives, then you may miss even more of Tony's Most Merriest Town Square Party.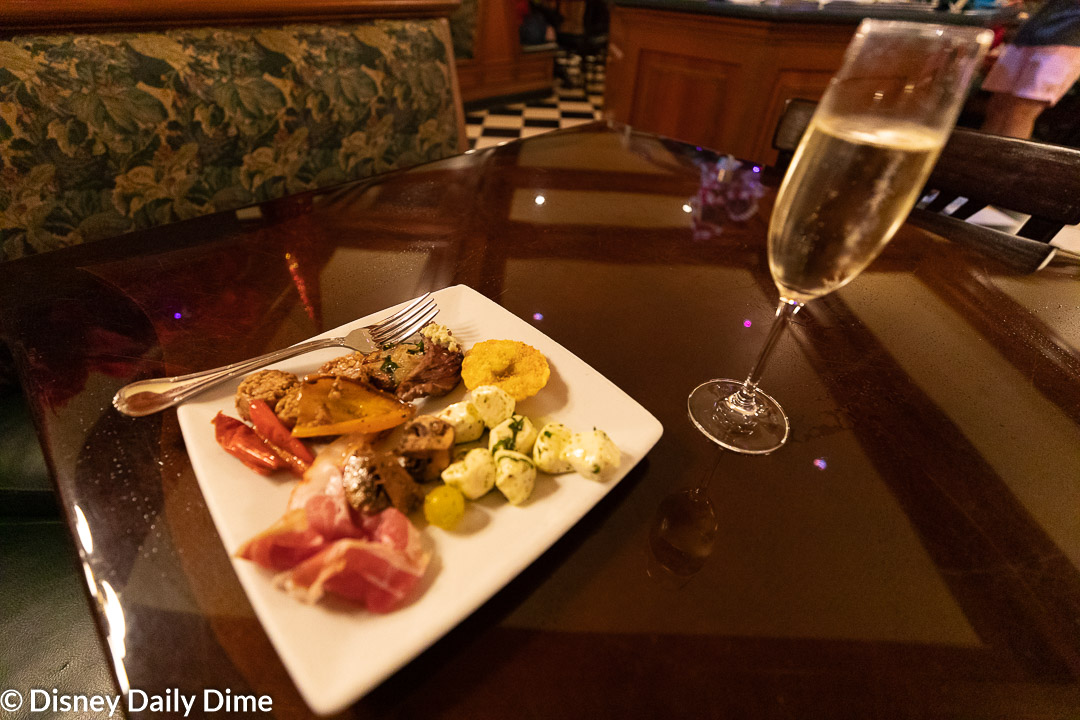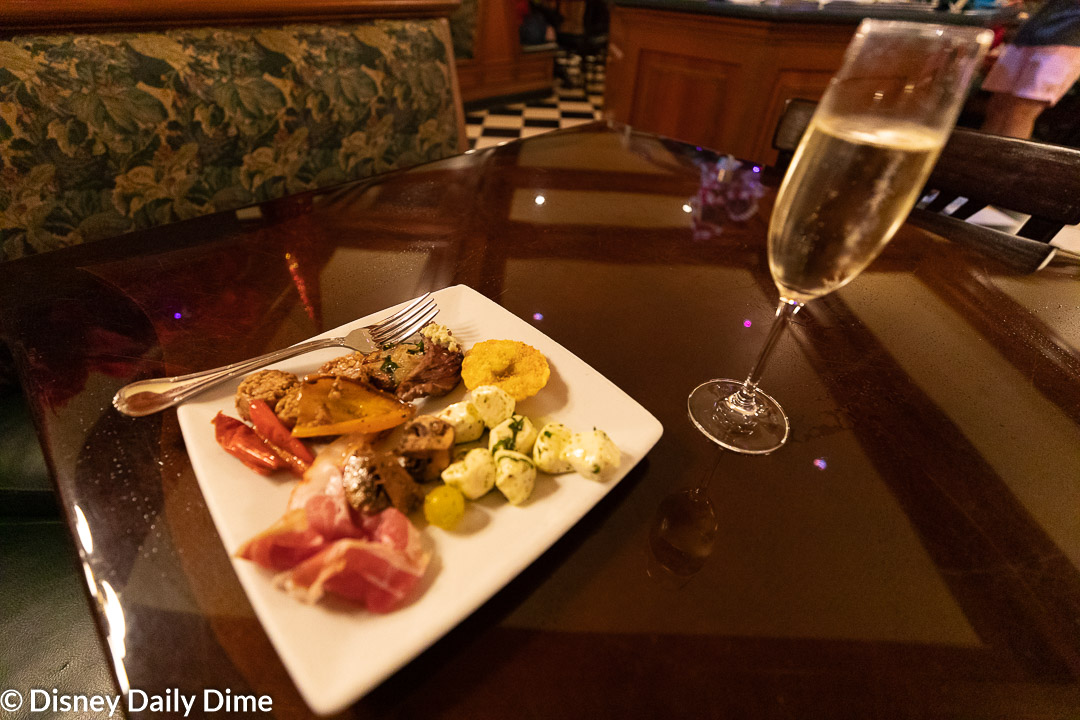 Tony's Most Merriest Town Square Party Review Food and Drinks
Appetizers/Food
When I got to Tony's, the wait to get in wasn't long.  I assume this was due to the conundrum that the event presents.  The party we were at was sold out, so there were plenty of people in the park.
Upon check-in, you will get a special wrist band for the party.  This is in addition to the wristband you get for MVMCP.  Don't take the band off, as it serves as your admission to the reserved Christmas Parade viewing area, as well as the dining area inside of Tony's.
One weird thing happened when checking in for the party.  I gave the cast member my name and she went looking through the list.  She found me, but oddly I was already checked in.  I assume that they made an error when checking off the list.  The hostess didn't give me any grief; it was just odd.
When you walk into Tony's, you'll find the seating area open.  You are allowed to sit wherever you would like.  I quickly grabbed a table and took a big gulp as I feared what I would find on the food buffet.  If you can't tell, the Cruella's Halloween Hide-A-Way Party experience scarred me a bit.
I was pleasantly surprised to find that the food was plentiful and didn't look like it had been mauled.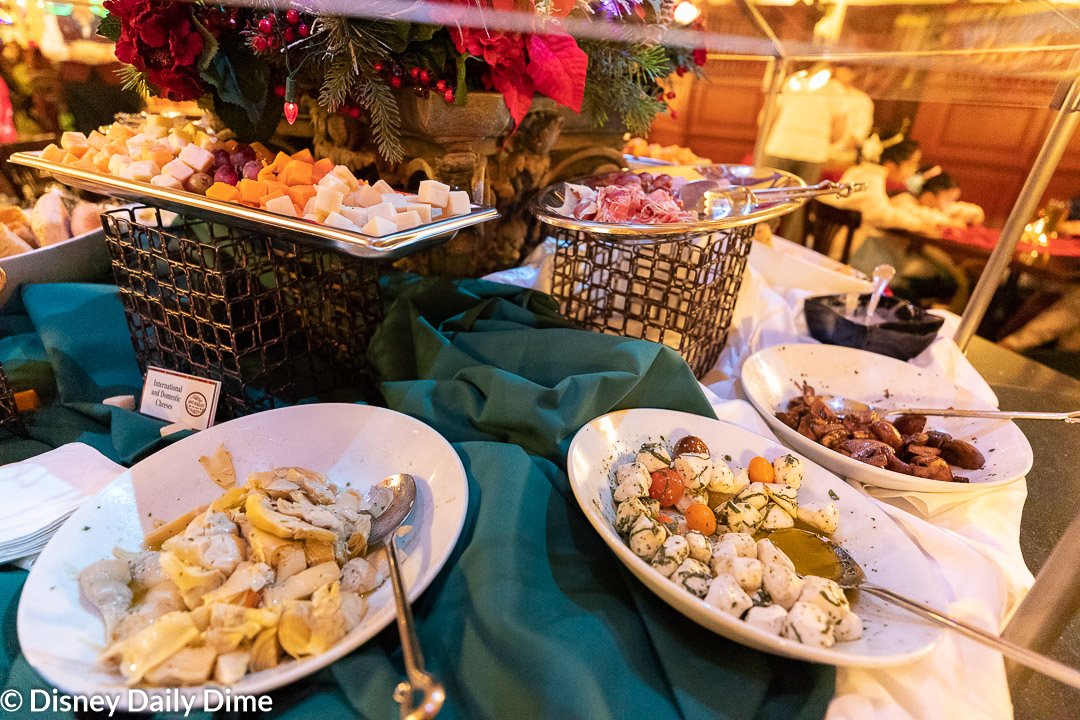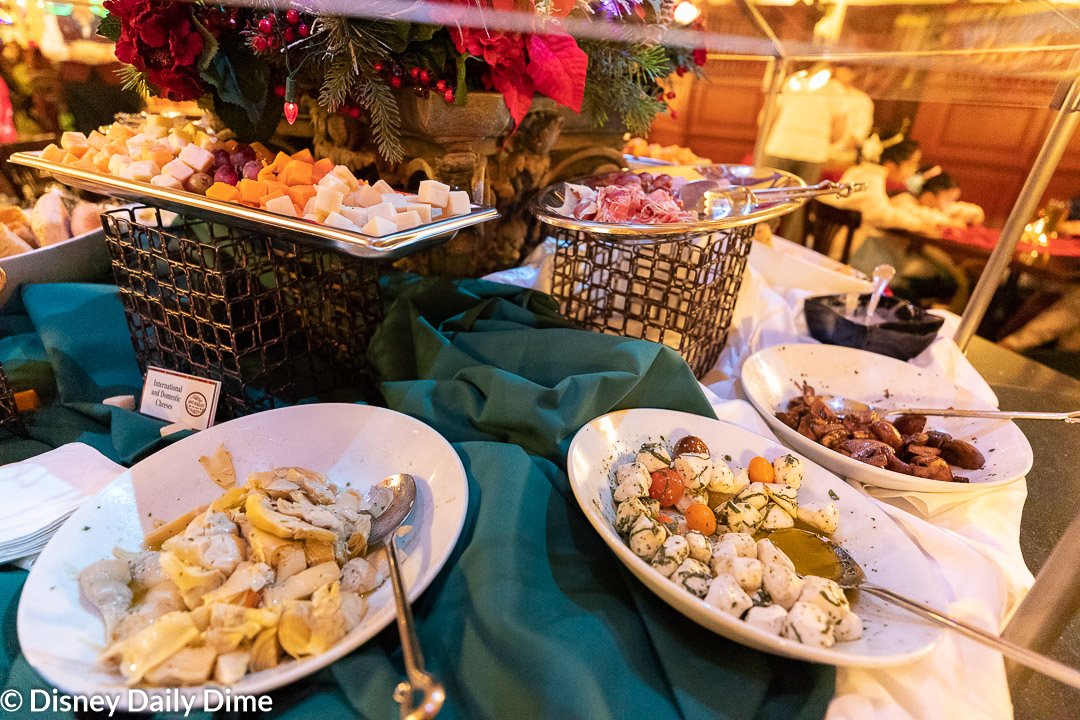 From a food perspective, you'll find cold food options, hot food, and then an assortment of desserts.  The cold food is in the center of the restaurant, and all tucked nicely under the statue of Lady and The Tramp.  You'll find an assortment of meats, cheeses, bread, and other items.
This part of the food was fairly innocuous.  I didn't find it bad or good; it was just fine.  Although I do always love getting to have some prosciutto, which is on the bar.  Beyond that, it's just meats and cheeses.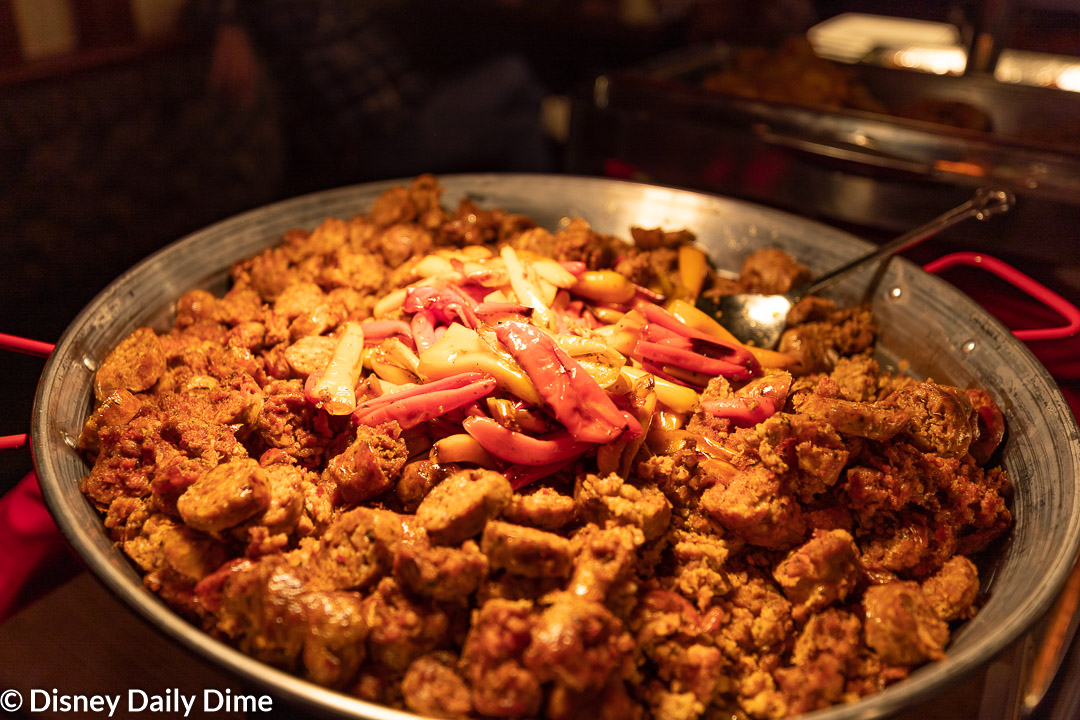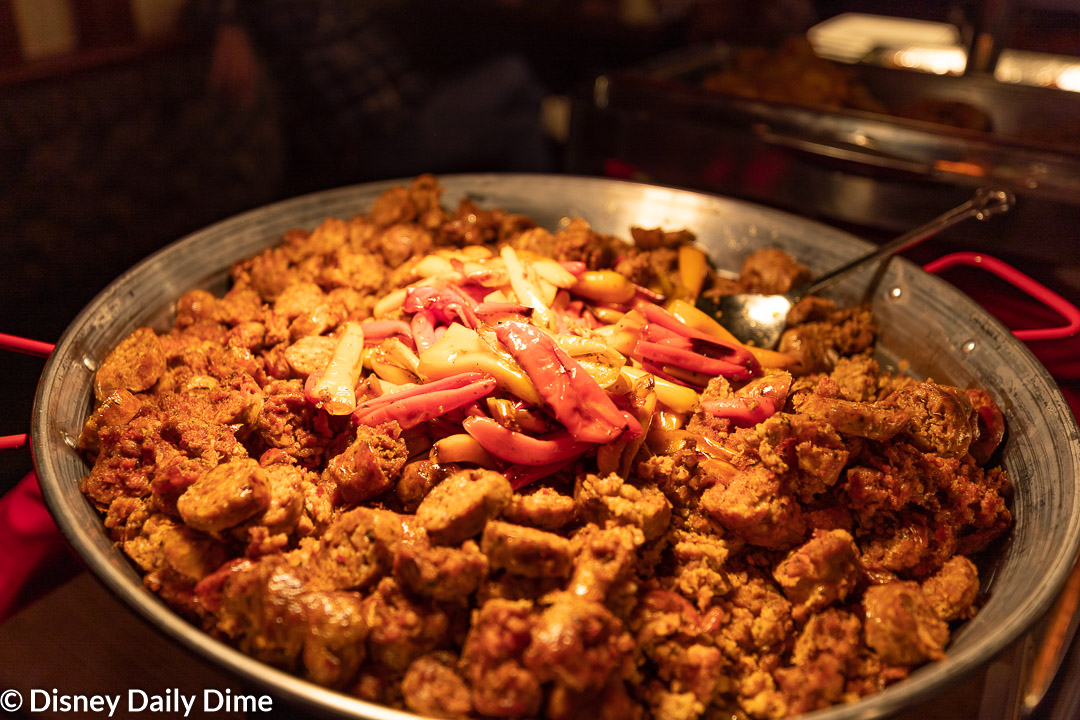 When I got to the hot selections, the food for our Tony's Most Merriest Town Square Party review stepped up a level.  You'll find the hot food located at the very front of the restaurant, near where you walk in.  It will be pretty hard to miss.
I started out with some of the Sweet and Spicy Italian Sausage, and have to say it was pretty good.  The grilled peppers added a touch of flavor to it that I appreciated, and the flavor of the sausage was excellent.  It was slightly dry, but it didn't bother me.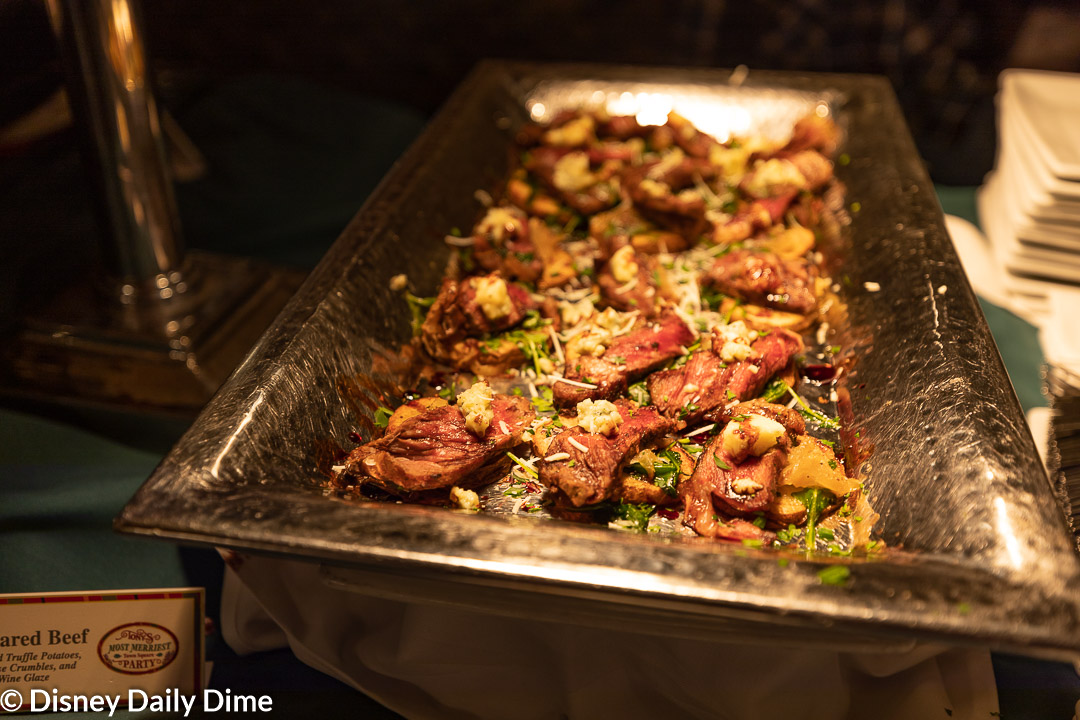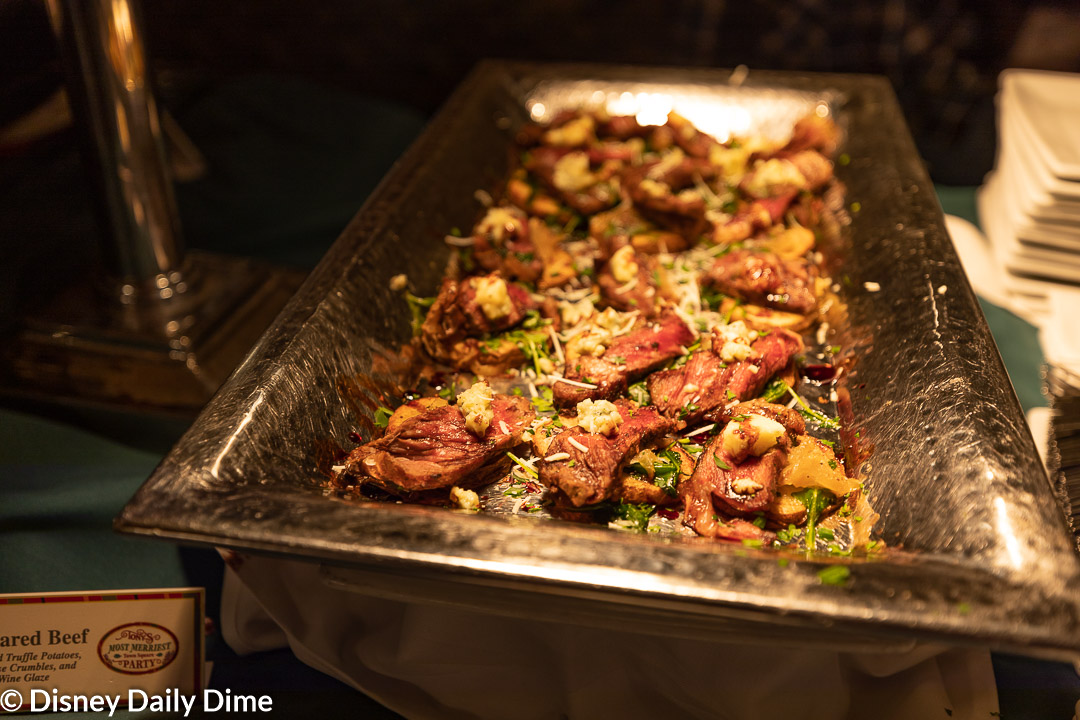 Next up, I had the seared beef that you see in the picture above.  It was cooked to a nice medium, which is a little more than I like, but when you're cooking for the masses, you've got to cook towards the middle.  The beef had a great flavor from the wine glaze.  This is something I would load up on.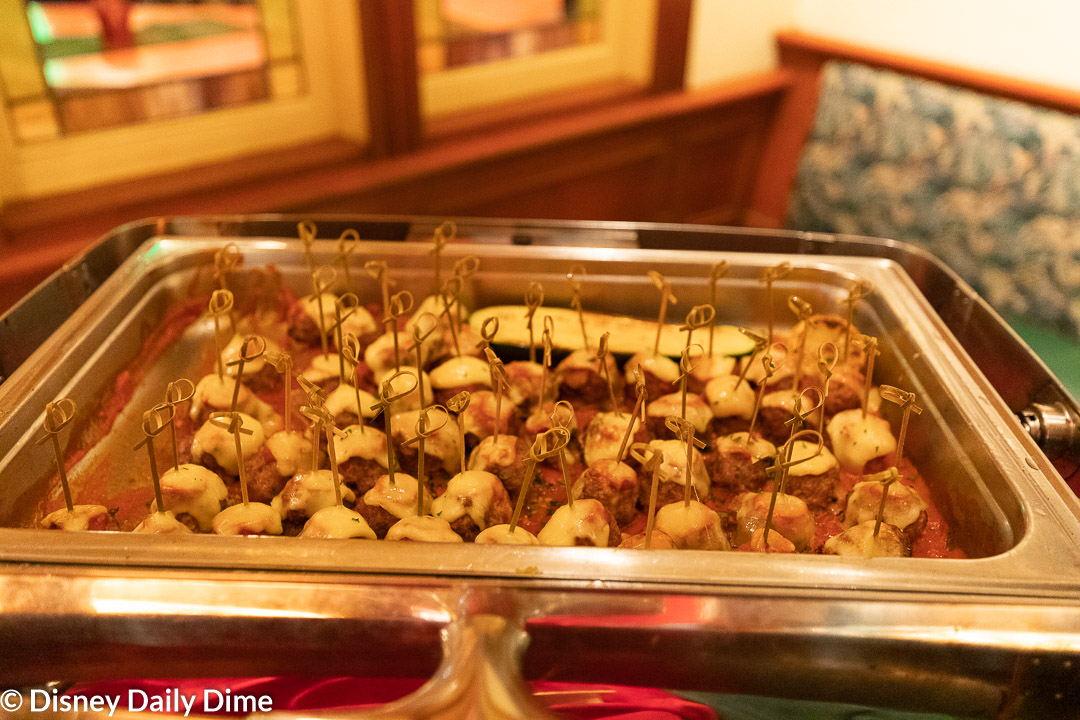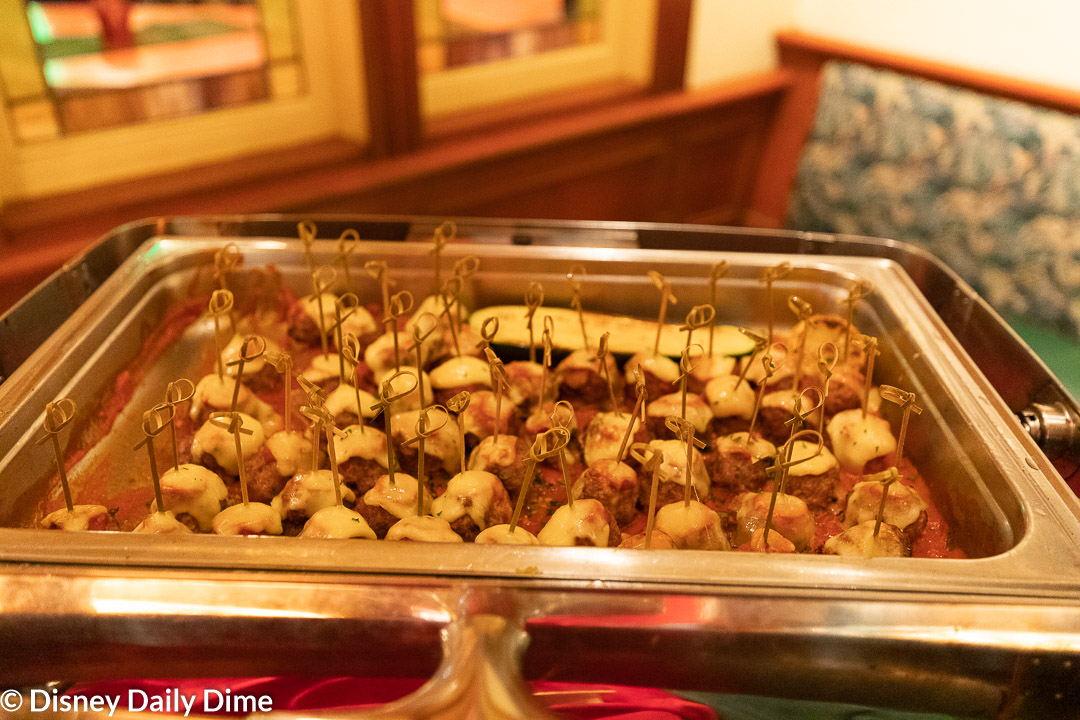 Above you'll see Tony's Famous Meatballs.  Or at least that's what they call them at Disney World.  I'm not sure they are good enough to be famous, but they were reasonably tasty.  I mean, this is a mass-produced meatball on a buffet, right?  With that as my expectation, I thought they were reasonably good.  I found them moist, and flavorful with the light red sauce they were served in.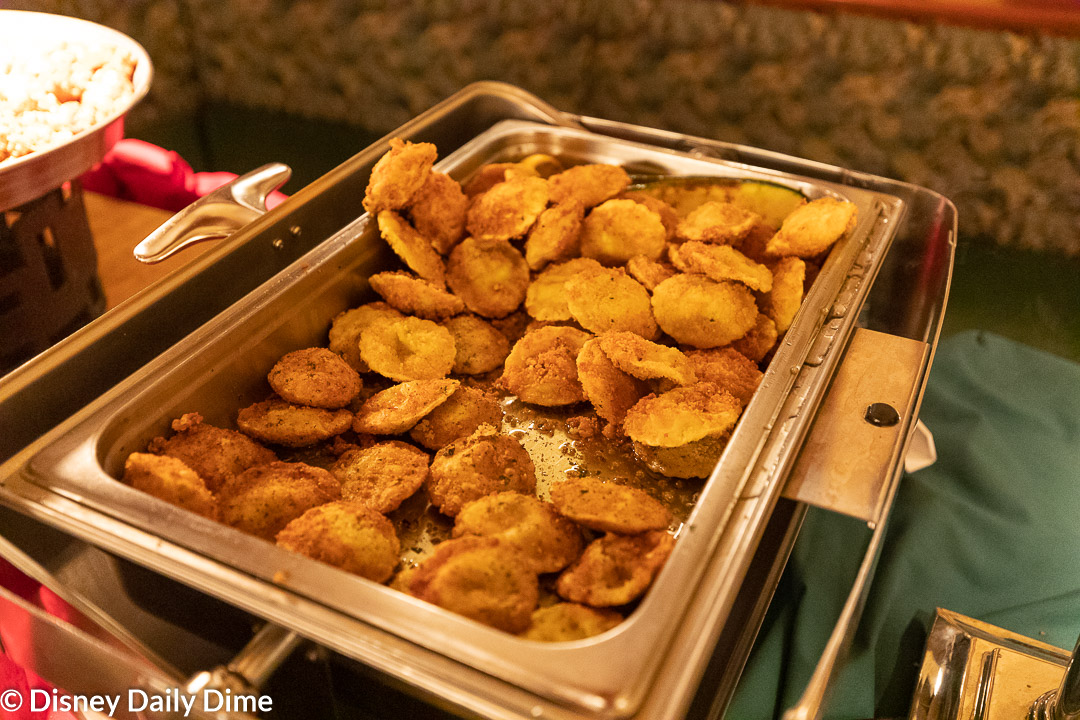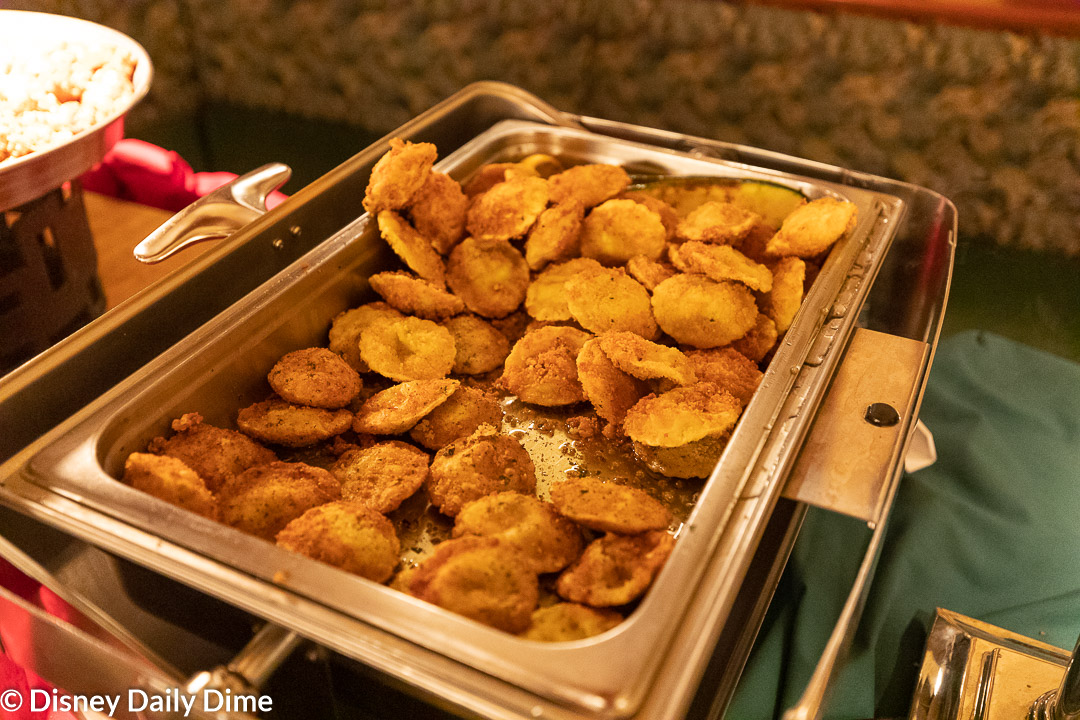 Now, I'm not going to lie, I can't remember what the food I have pictured above is.  I missed taking a picture of the label.  If my memory serves me, I believe it was a fried stuffed ravioli.  What I do remember was that I didn't enjoy it.  I found it hard and the breading off-putting.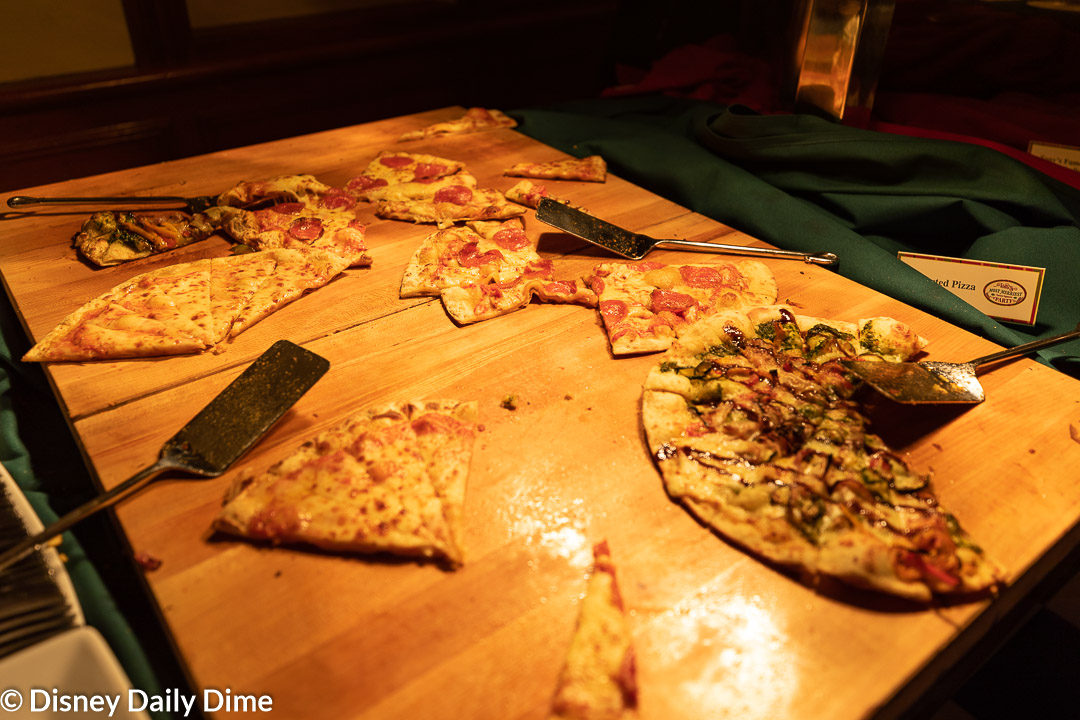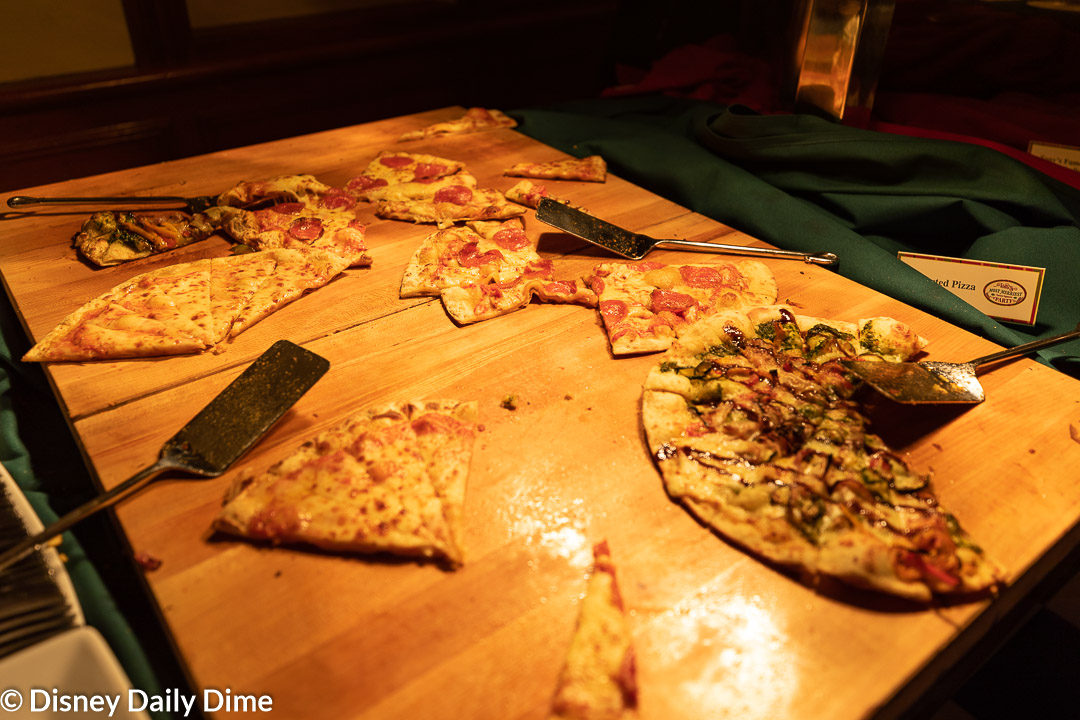 There is also an assorted set of pizzas available as part of Tony's Most Merriest Town Square Party.  This was another miss in our review of the party.  The pizza was greasy and didn't strike me as something I would even find on a buffet, a CiCi's.  It will, however, resonate with kids that come to Tony's for the evening.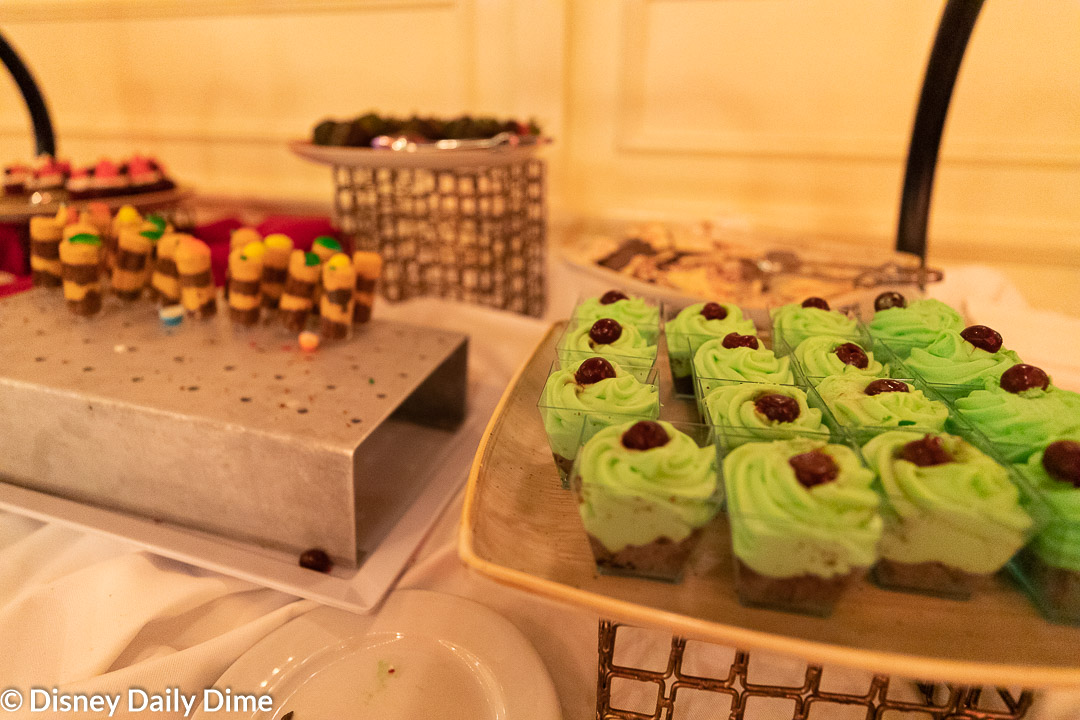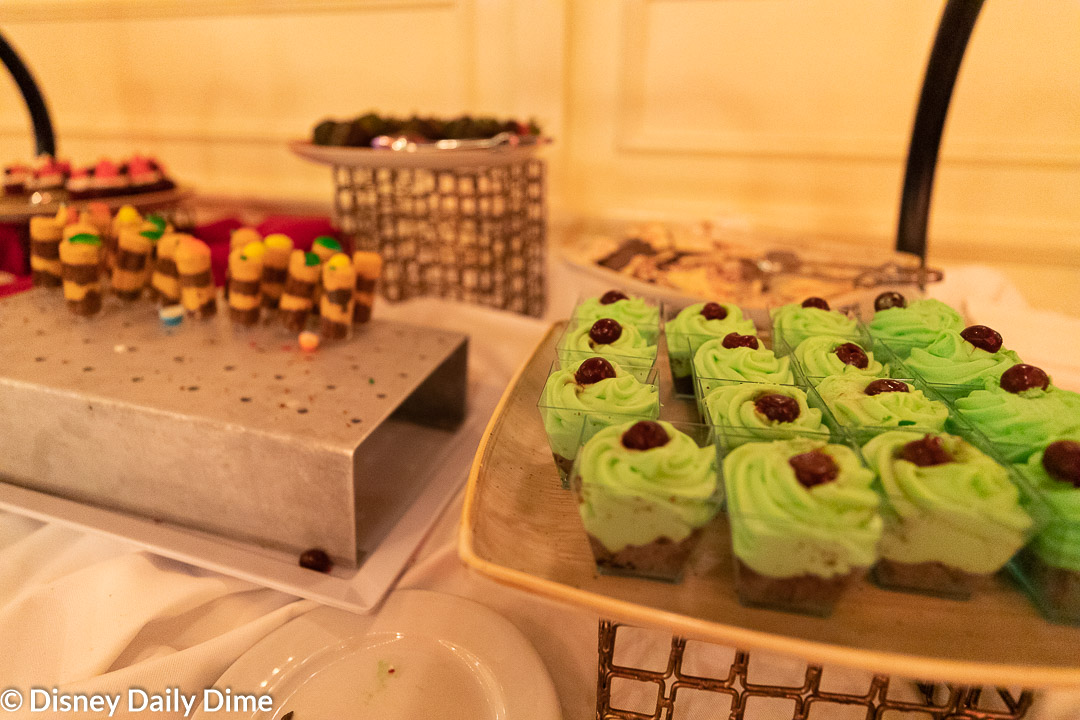 Desserts
When it comes to the desserts at Tony's Most Merriest Town Square Party, they were generally better than what I was expecting.  However, I didn't have most of them.  I ate at Tony's after a full day sampling the assorted Holiday Treats and Snacks at Magic Kingdom for that review.  The notion of stuffing another set of desserts into my body was pretty difficult at that point.
You can see the overall menu of desserts in the picture below.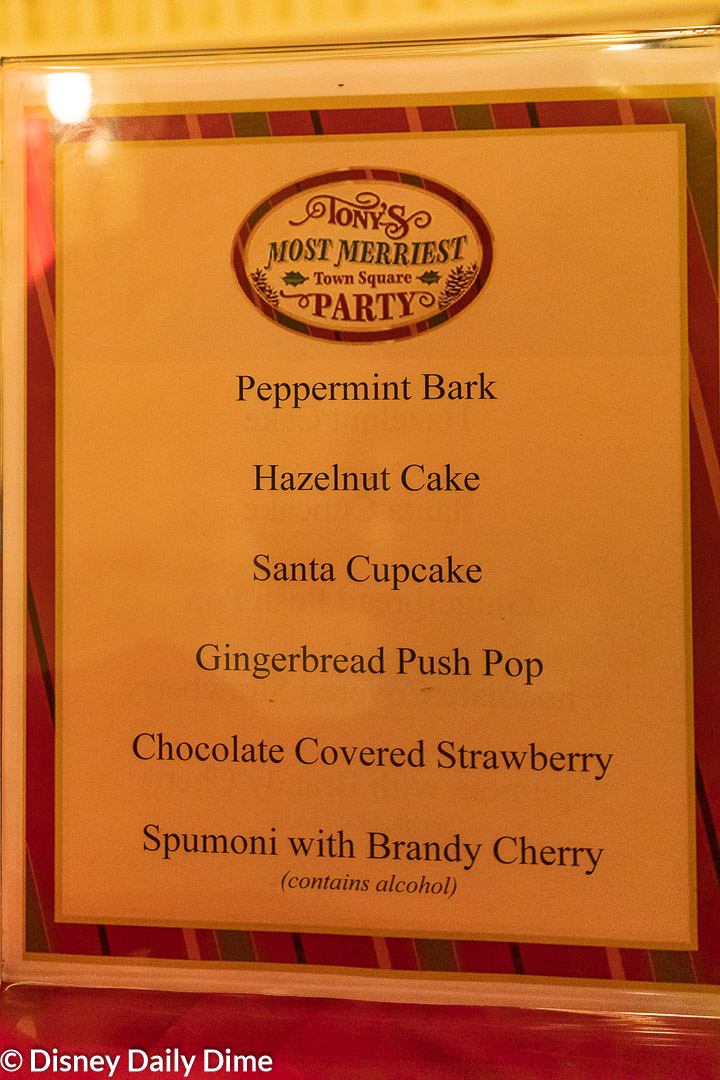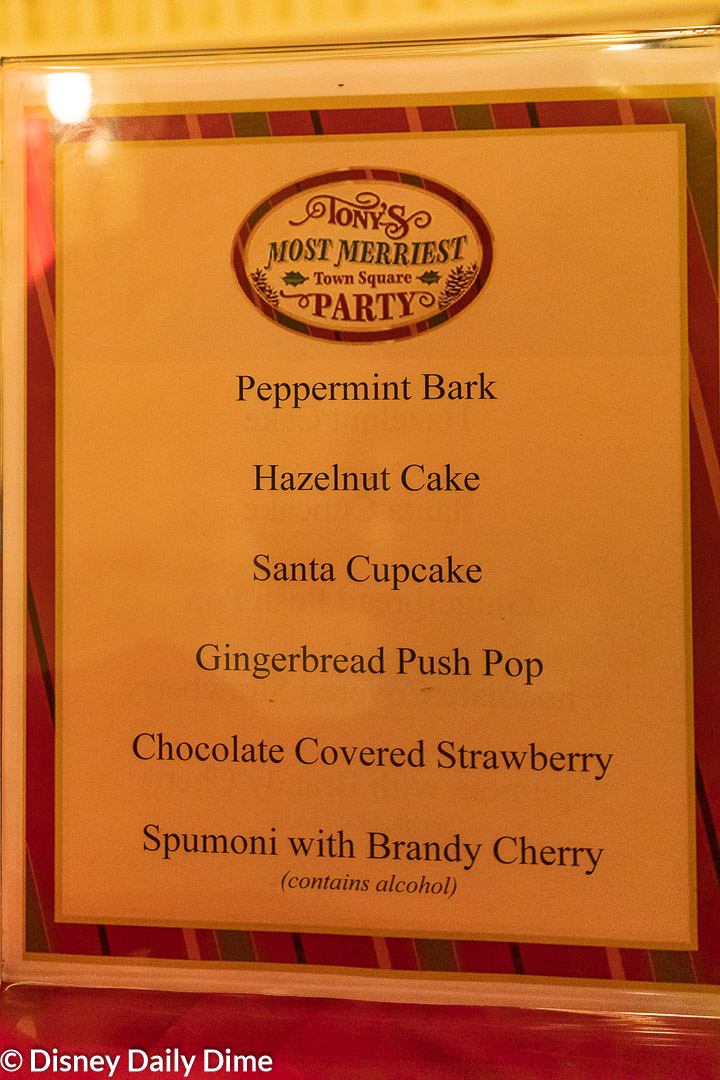 I did have the Gingerbread push Pops and found them to be as terrible as pretty much every push pop I have ever had at Disney World.  The cake was dry and not enjoyable.  I didn't enjoy the flavor of it either.
Because I apparently didn't take a picture of the peppermint bark, I'll say that it was a dessert that I enjoyed.  The peppermint flavor was great and very refreshing.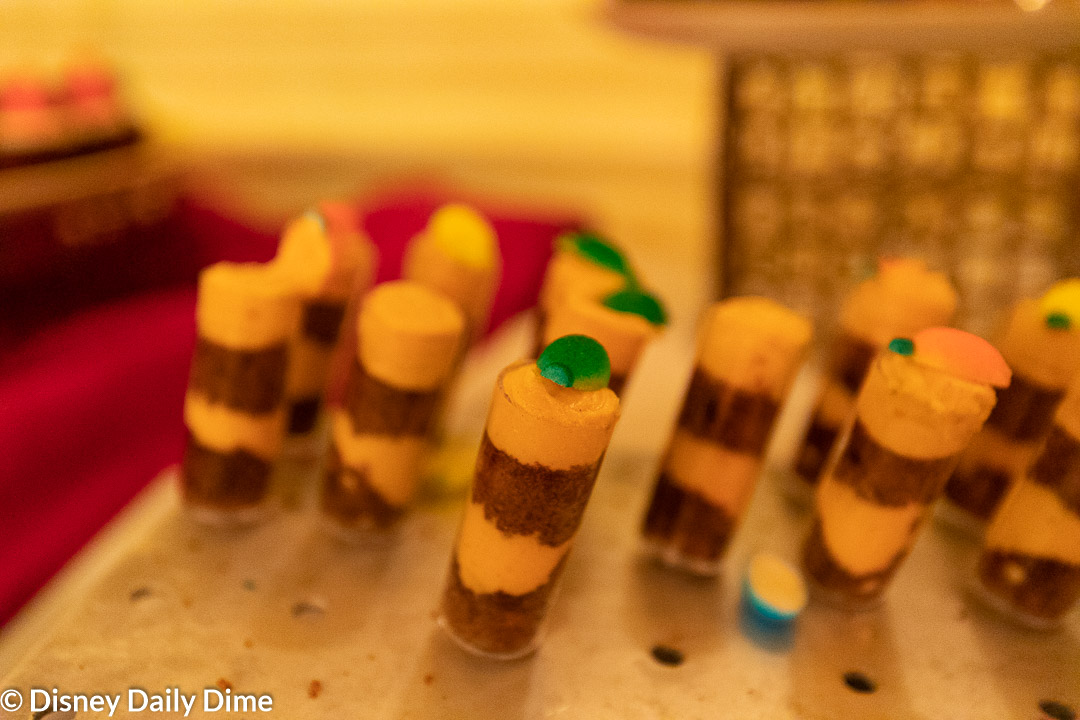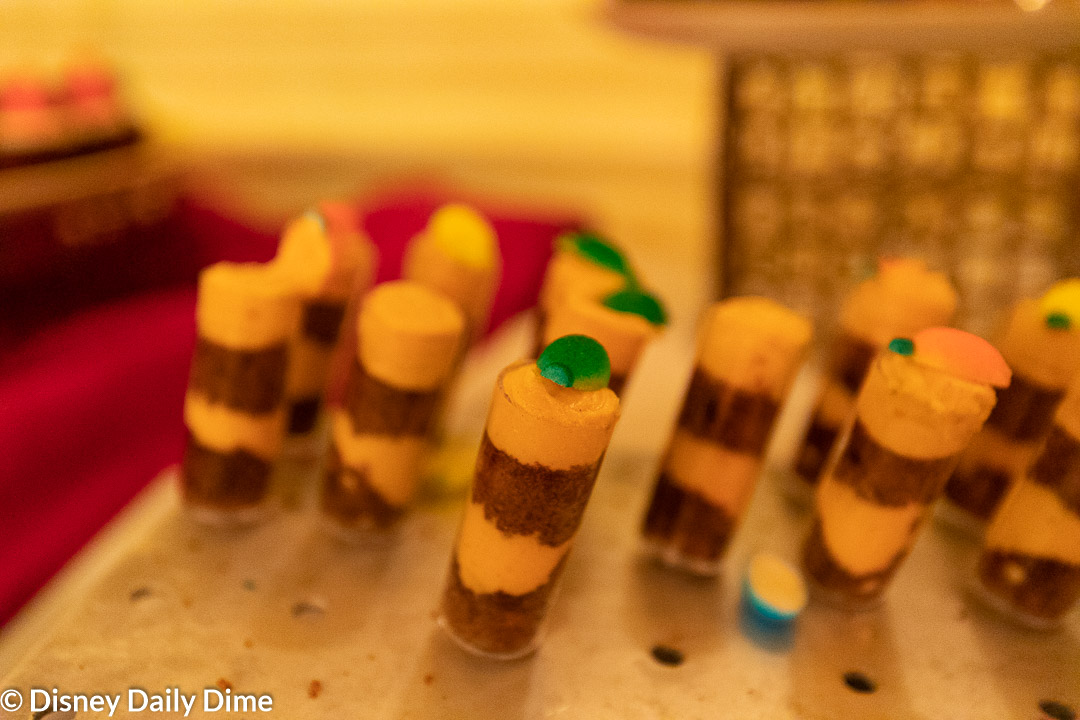 Drinks
By any objective measure, if your goal is to make Tony's Most Merriest Town Square Party have some sort of financial return, you're going to have to make hay at the bar.  Even then, you have to drink a lot.
On this particular night, I found the bar stocked with:
Allegrini Valpolicella
Folonari Pinot Grigio
Ruffino Chianti
Maschio Prosecco
Moncalvina Moscato d'Asti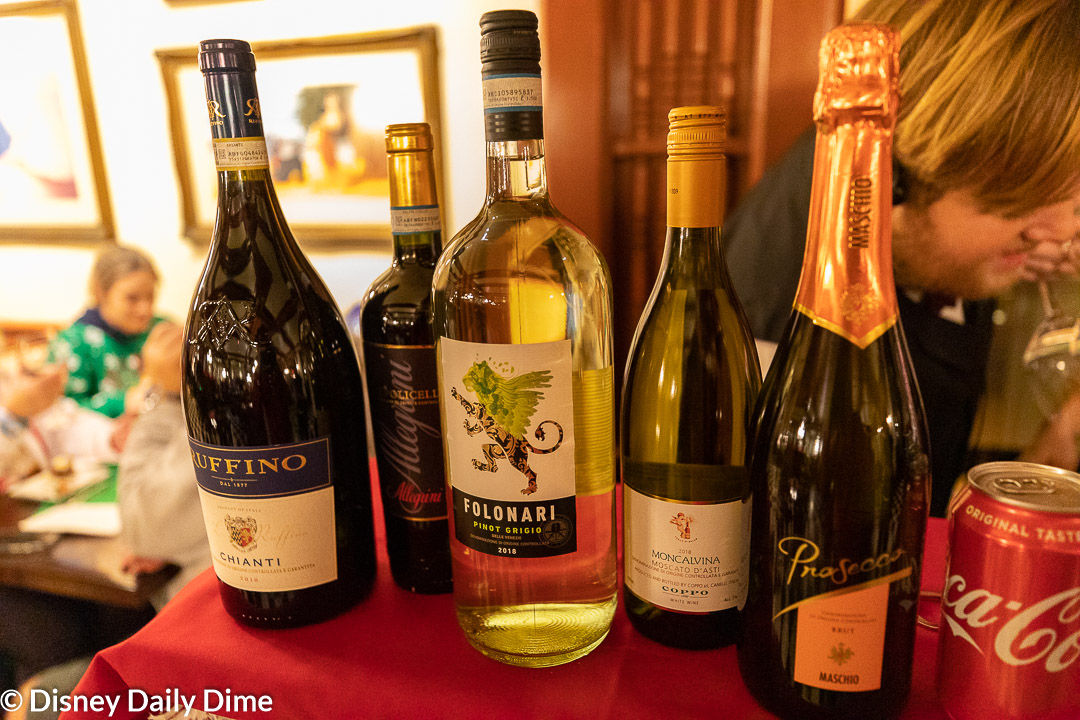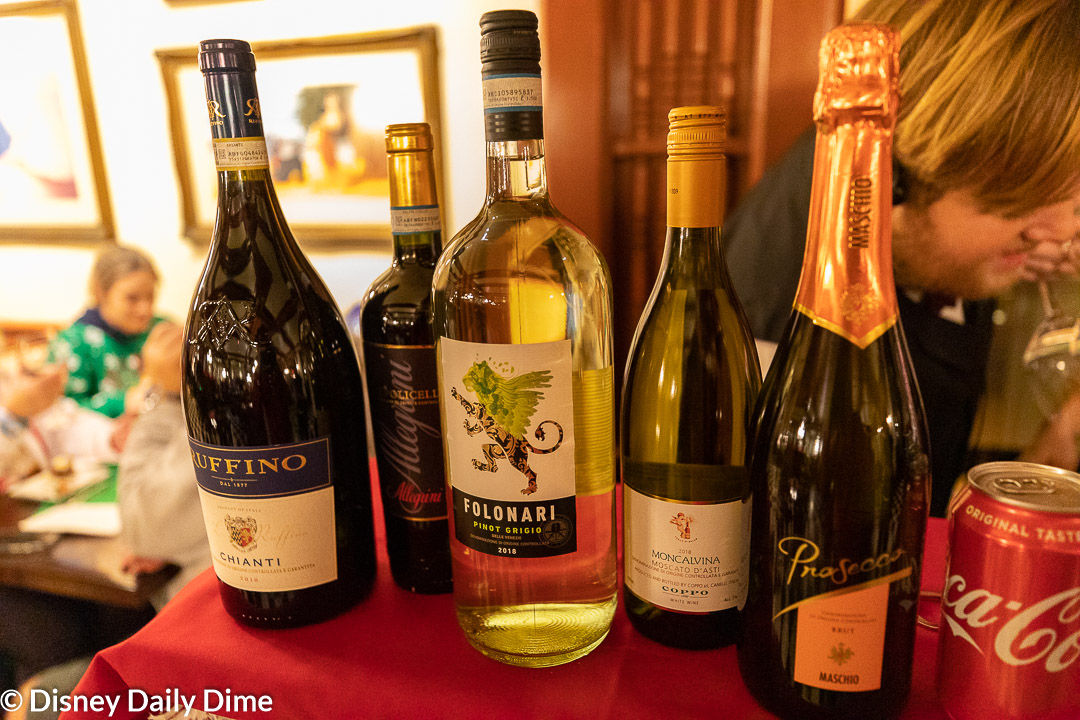 There is an Angry Orchard hard cider available, along with a Peroni Pale Lager.  I sample the Prosecco and Valpolicella.  Both were solid drinks, but not something I would characterize as making this event a must-do.
If you are doing Tony's Most Merriest Town Square Party with kids, you'll have a tough time recouping the financial investment since they can't have any of the alcohol.  Unless you plan on them having about 30 Coca-Colas.  Good luck getting them to bed that night, if that is the case!  So why would you want to do the party at Tony's?   The parade viewing…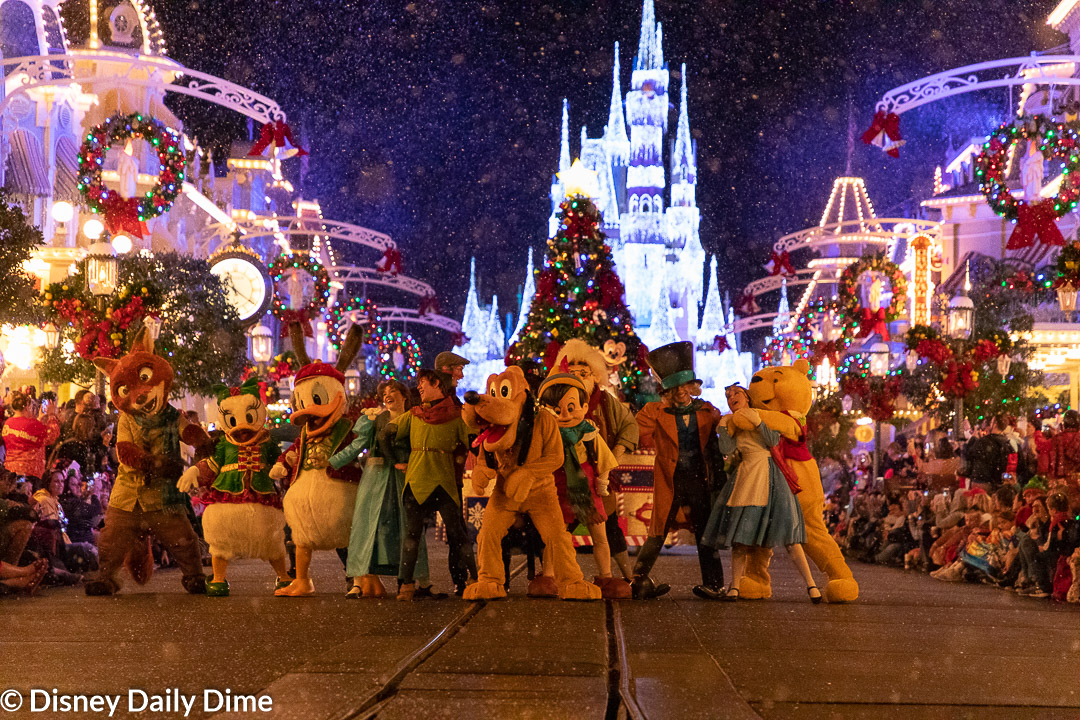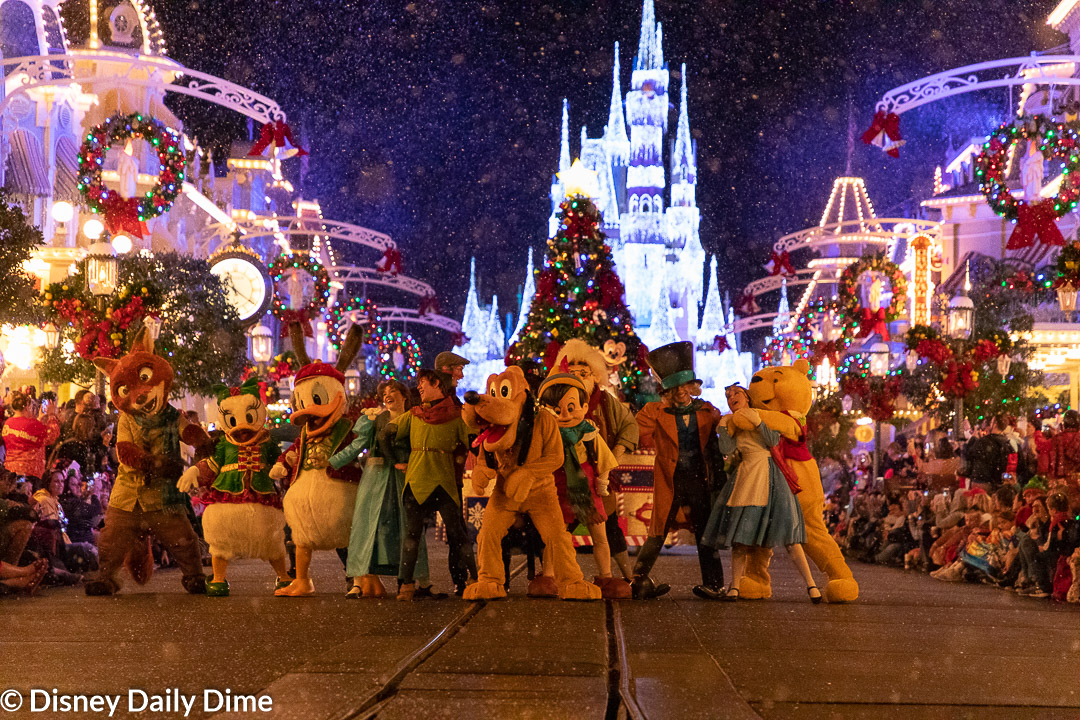 Parade Viewing
I left Tony's to head for the Mickey's Once Upon A Christmastime Parade viewing area around 10:50.  A quick flash of my band to the cast member as I got to the reserved seating area, and I was set up for parade viewing about 45 seconds after leaving Tony's.  This was a great benefit that allowed me to stroll into position minutes before the parade, in a prime viewing area.
In addition to the sheer convenience of the reserved spot, the viewing location is as good as it gets in Magic Kingdom.  As you can see in the picture above, you are looking right down Main Street with Cinderella Castle in the background.  It's a great location.  Maybe not $100 great, but it is not something you will get without paying for it.
The reserved viewing area was not packed.  If you have kids who don't like crowds or have other reasons to try and get them to a seat where they aren't surrounded, this may be helpful.  While there were 30 or so other people in the reserved viewing area, I never felt like I had people on top of me.
Where Was Tony?
After the parade was over, I went back over to Tony's to see if I could see the namesake host.  I did not see him during my first stop in the restaurant.
I got there and low and behold Tony was engaged with guests of his fine establishment.  He was making his way around the restaurant, ensuring everyone was taken care of.  He was a happy guy, joking and having a good time with guests.
However, shortly after I got back to the restaurant, Tony had to check on the food.  At this point, it was midnight, and Carla and the girls were ready to leave the park, so I went with them.  Unfortunately, I never got to have a personal interaction with Tony, which was a bit disappointing.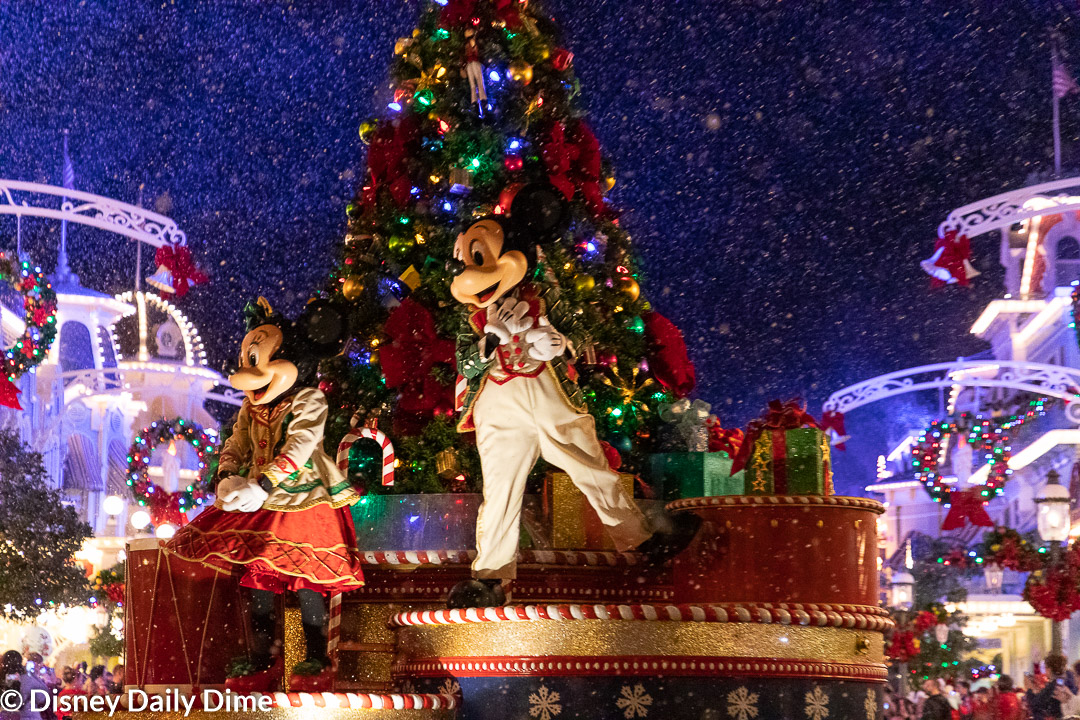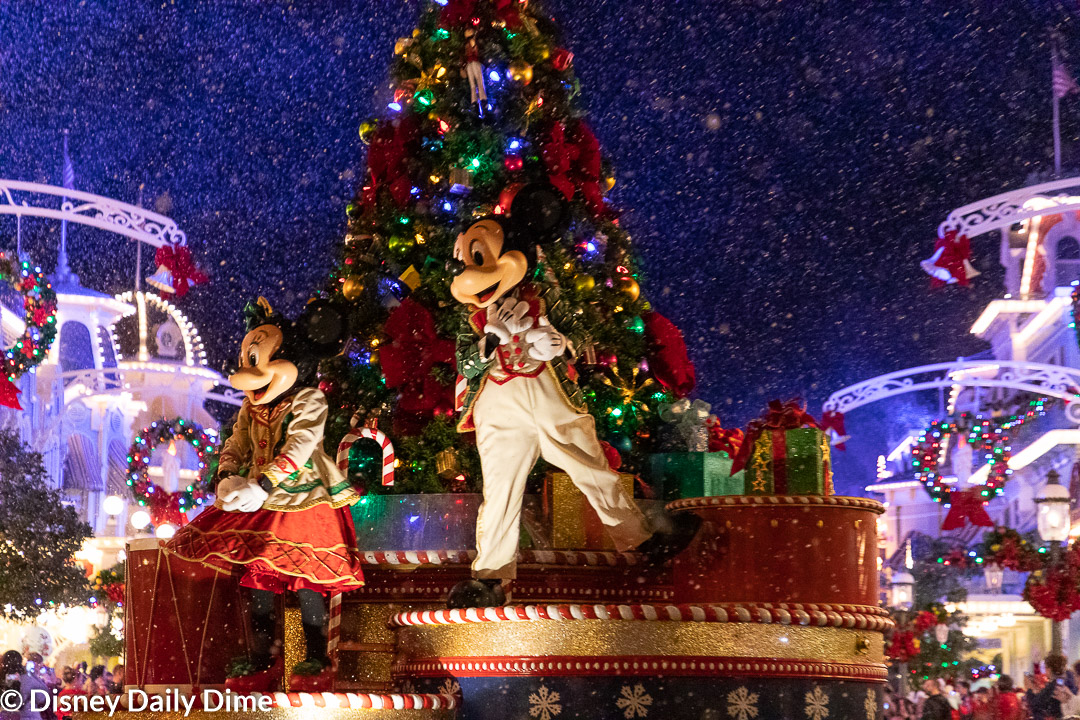 Is Tony's Most Merriest Town Square Party Worth It?
So knowing what I know now, the invariable question you are probably asking yourself is, "Was it worth it?"  It's a difficult question in absolute for everyone.  I know what my answer is for our family, but take it with a grain of salt.  If money is no object or if the reserved parade viewing is truly important to you, then it very well may be worth it.
In our particular case, the answer to the question is a resounding no.  A big part of the reason to not do this is that the price is hard to justify for us with the kids.  From a food perspective, I think Anna and Elsa would only eat pizza and desserts.  I can buy equally mediocre pizza and holiday-specific desserts out in the park at far less than the $99 per person price tag.
Yes, the parade viewing is incredible, but $400 for a family of four is a lot of coin.  Our suggestion is to save your money.  Or go spend it on one of the great backstage experiences that Disney World offers.  We just can't justify this party in our minds.
Wrapping Up Our Tony's Most Merriest Town Square Party Review
With that, we'll wrap up our Tony's Most Merriest Town Square Party review.  It's an expensive party that doesn't provide enough value in our minds.  That is especially the case with kids.  We hope you found our review helpful.  If you did, we'd greatly appreciate it if you would share it on social media with anyone else you think it might help.  Also, if you've done Tony's Most Merriest Town Square Party, we'd love to hear your thoughts.  Drop down in the comments and tell us what you thought of it.