Disney's Polynesian Village Resort at Disney World is a deluxe level resort that is themed in a Polynesian style.  At least a 1970s era style.  That's not to suggest the resort is dated, far from it actually.  As we'll discuss more here in our Disney's Polynesian Village Resort review, the theming around the resort is some of the best we have experienced at Disney World.
We're big fans of Hawaii, which is only one segment of the Polynesian culture, but not the only one represented here.  If you love the feel of the state, we think this hotel does a great job of bringing a slice of Polynesian life to you in Florida.  Unfortunately, in addition to a great Polynesian feel the resort also shares one other trait with Hawaii…a high cost.
Great appointments in the room, two stops on the monorail to Magic Kingdom, and did we mention the pool slide down a volcano?  There is truly something for everyone in this hotel.  If you are looking to splurge on your accommodations on a trip, this is a great option to consider.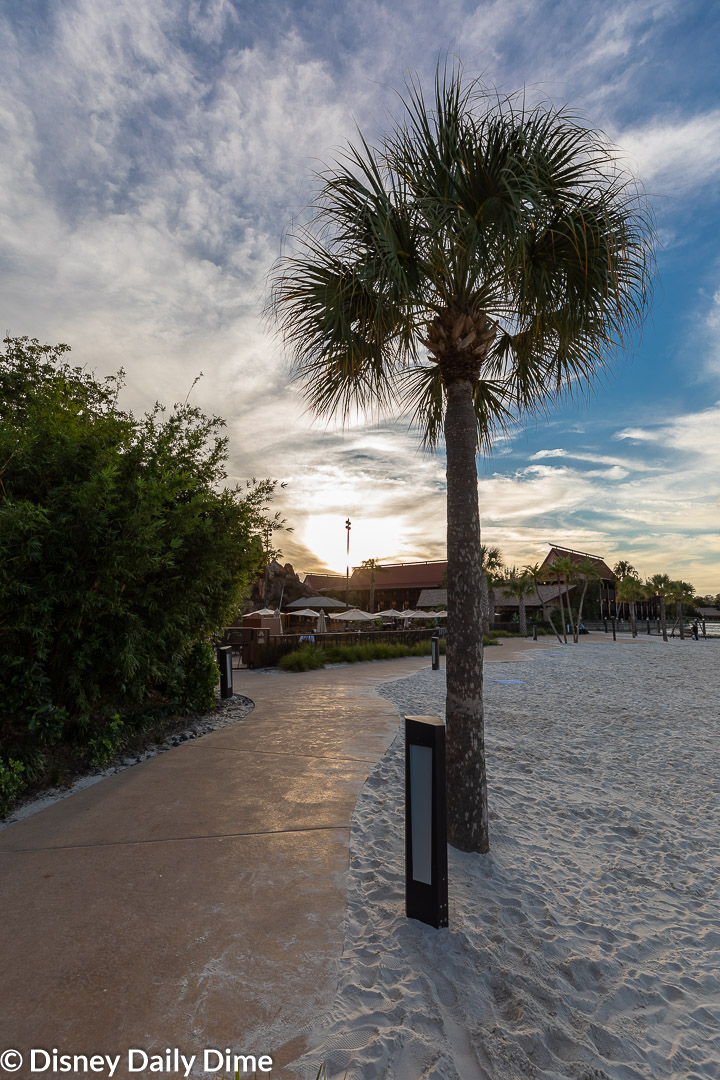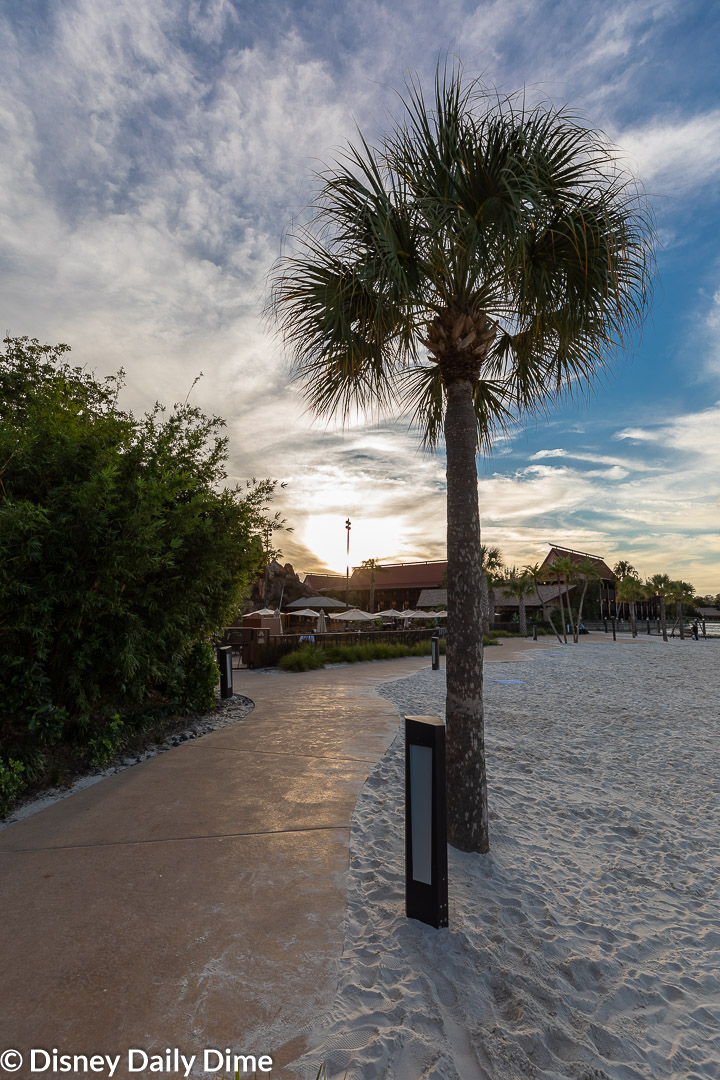 Disney's Polynesian Village Resort Overview
Nestled on the Seven Seas Lagoon, Disney's Polynesian Village Resort is one of the original Disney World resorts.  Built in 1971, it contains just under 500 guest rooms.
It's a bit of a sprawling resort, but not as large as Disney's Port Orleans Resort – Riverside.  If you're a fan of a resort that gives you room to explore, this will suit you nicely.
Like Riverside, there are several buildings on the Polynesian Village Resort grounds.  These buildings are called "Longhouses" and house the various guest rooms of the resort.  Each longhouse has a corridor down the middle, allowing for an internal entrance into your room.  Which longhouse you stay in will have ramifications related to your stay, so we'll actually talk about all 11 of them here in a bit.
The resort itself is anchored by the Great Ceremonial House.  This is the main building of the resort, that holds almost all of the shopping and dining options.  While it has a large lobby area, you won't find it as large as ones at Wilderness Lodge or Animal Kingdom Lodge.  Right in the heart of the lobby used to be a majestic waterfall, but unfortunately it was removed a few years ago in a large renovation of the resort.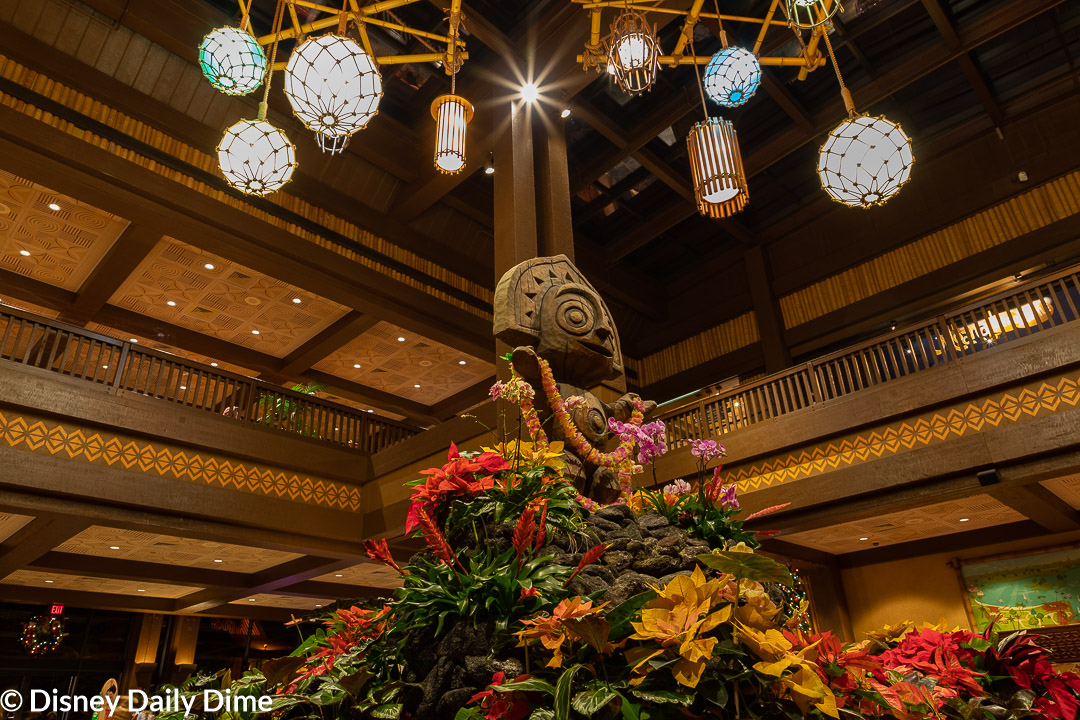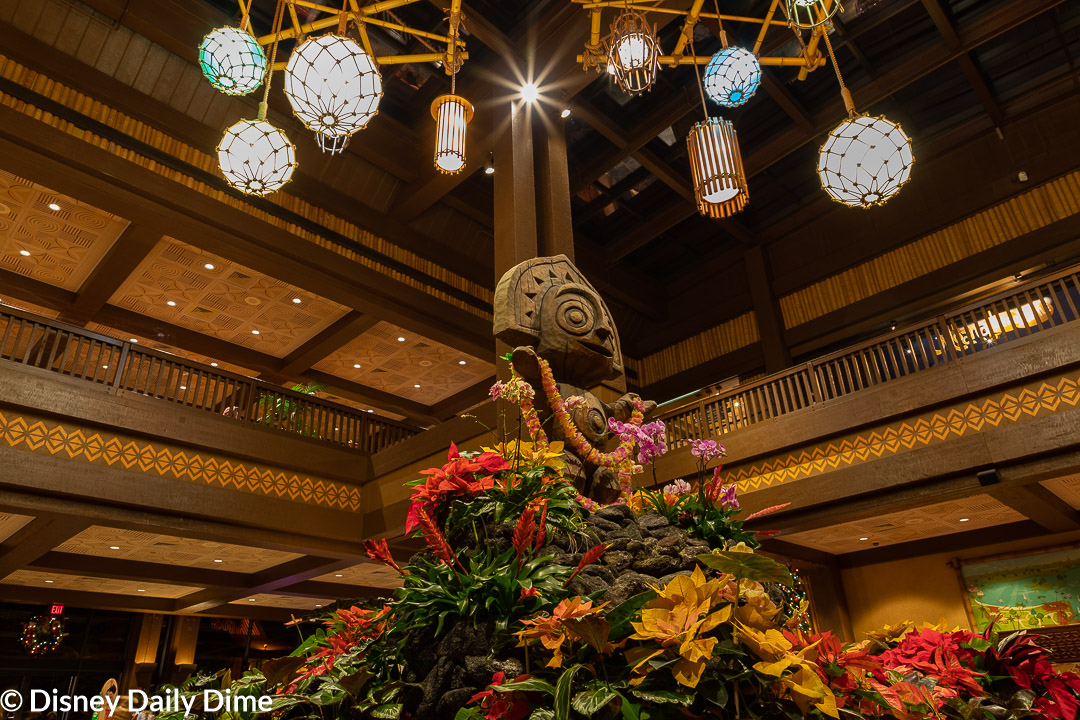 What truly makes the Polynesian Village Resort for us is the theme and ambiance.  The feeling of being on an island in the South Pacific is relaxing and unique to those of us within the other 49 states.  The theming is a bit of a dated look at island life in our opinion, but what do you expect for a resort conceived in the 1970s?  This sort of kitschy Polynesian look and feel actually serves to make it more endearing to us.
Although I do have to admit, when I'm walking around I do expect to find Magnum, P.I. strolling through the resort.  And I'm talking about the 1980s Tom Selleck version of Magnum, not the current incarnation on TV.  While I haven't watched the current show, it looks a bit ridiculous to me.  Maybe that's a bit of an old man rant…
In addition to the long houses scattered throughout the property, you'll find white sand beaches, lovely lush gardens and floral settings.  Head towards the shores of Seven Seas Lagoon and you can enjoy a beach view of Magic Kingdom and Cinderella Castle.  Much of the property is lined by tiki torches that add to the feel of island life.
If you're looking to really experience the ambiance and feel of the resort, you should get up and take a sunrise stroll around the property.  You can walk up to the Great Ceremonial House, get a cup of java at Captain Cooks and the go for a leisurely walk around the grounds.  You'll find the resort peaceful and almost serene, as there is relatively little foot traffic out and about early.  Take in the rising sun, stroll along the beach and imagine being somewhere in the South Pacific.  Well, outside of having Cinderella Castle off in the distance of course.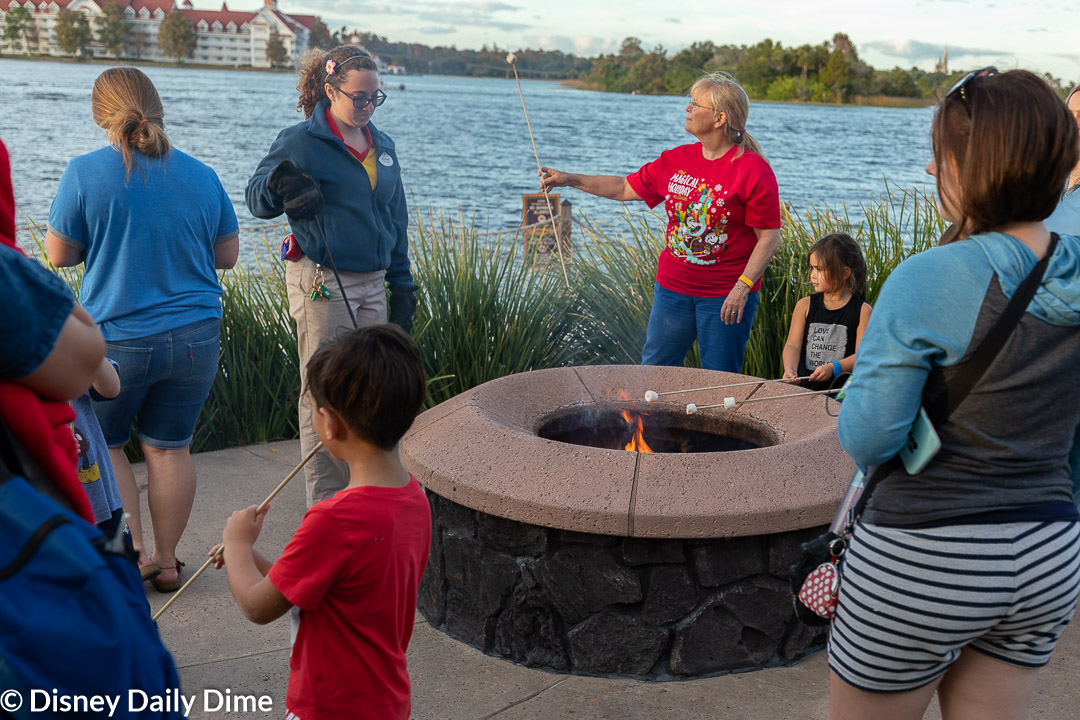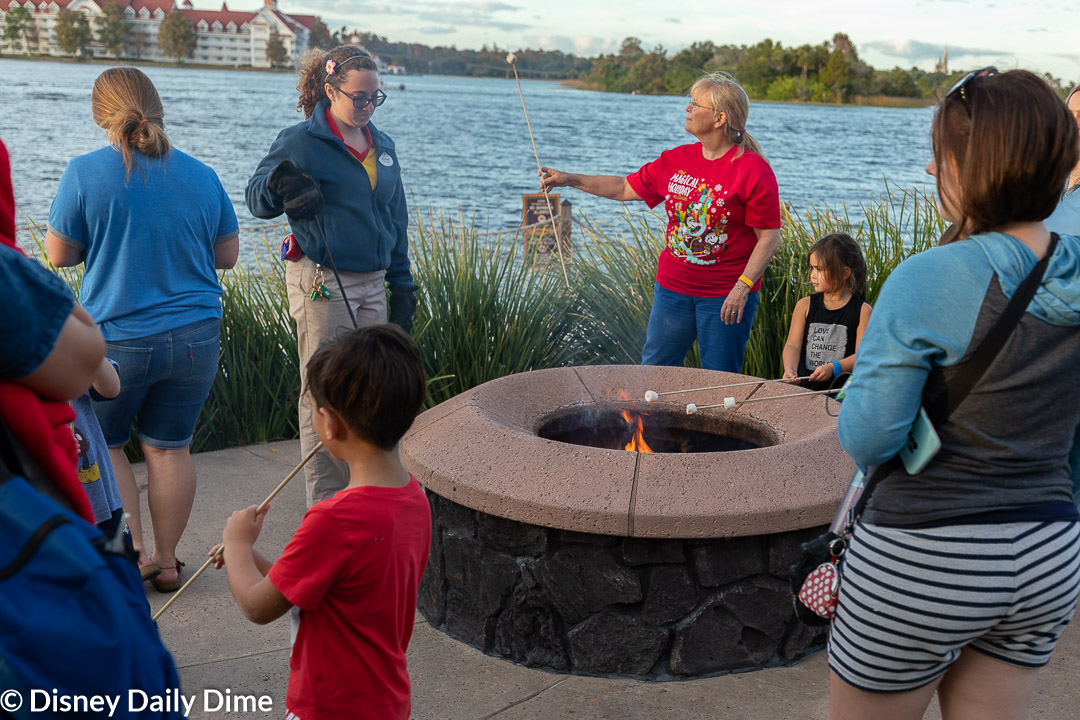 Disney's Polynesian Village Resort Amenities
The amenities available within Disney's Polynesian Village Resort are fairly standard for a deluxe level resort at Walt Disney World.  You'll find pools, which we discuss in more detail below, along with jogging trails, sand volleyball and more.
The Polynesian also features a laundry area and general store.  Monorail, bus and boat transportation are available.  You can park your personal vehicle at the resort, however you do have to pay for parking.  Right now, it runs $24 per night at deluxe resorts.
Oddly, there is not a fitness center available at the Polynesian.  If you want to go workout somewhere, you can go over to the Grand Floridian and use the facility located there.  In addition, if you're looking for a spa, you can head to the Grand Floridian for that too.
Like all the resorts on Bay Lake and Seven Seas Lagoon, you can watch the Electrical Water Pageant at night out on the water.
The resort rooms come with a standard setup consisting of:
Dresser
Small table with 2 chairs
Wi-Fi Internet Access (access is free of charge)
Flat-panel TV
Mini-fridge
Coffee Maker
Ironing board and iron
Hair dryer
In-room safe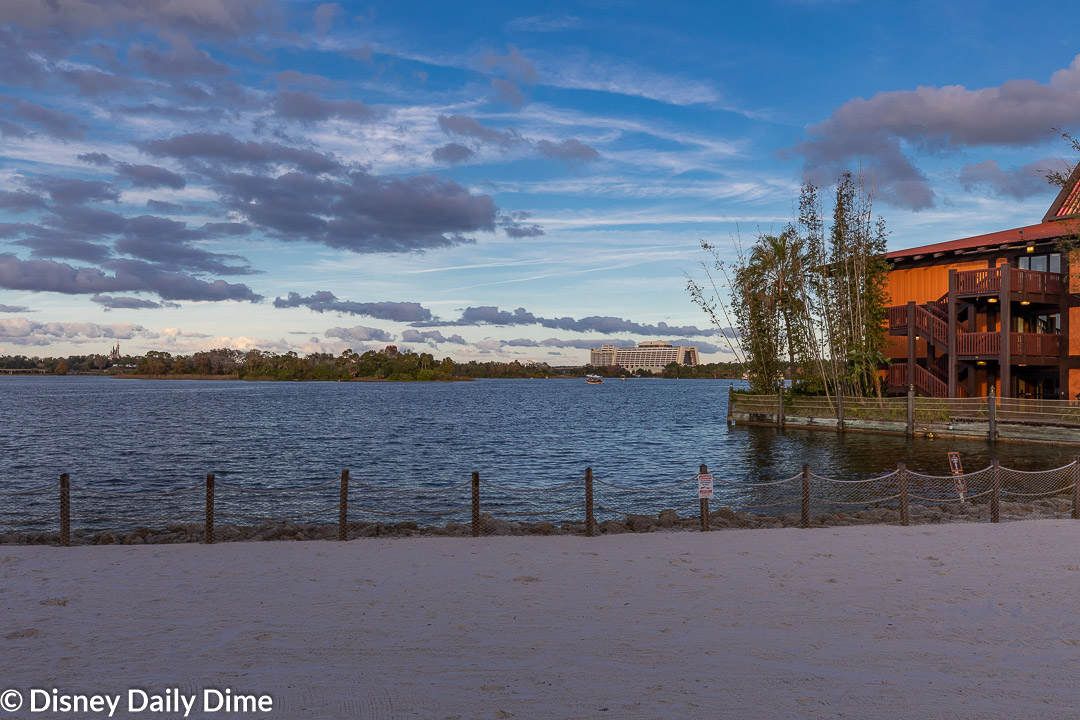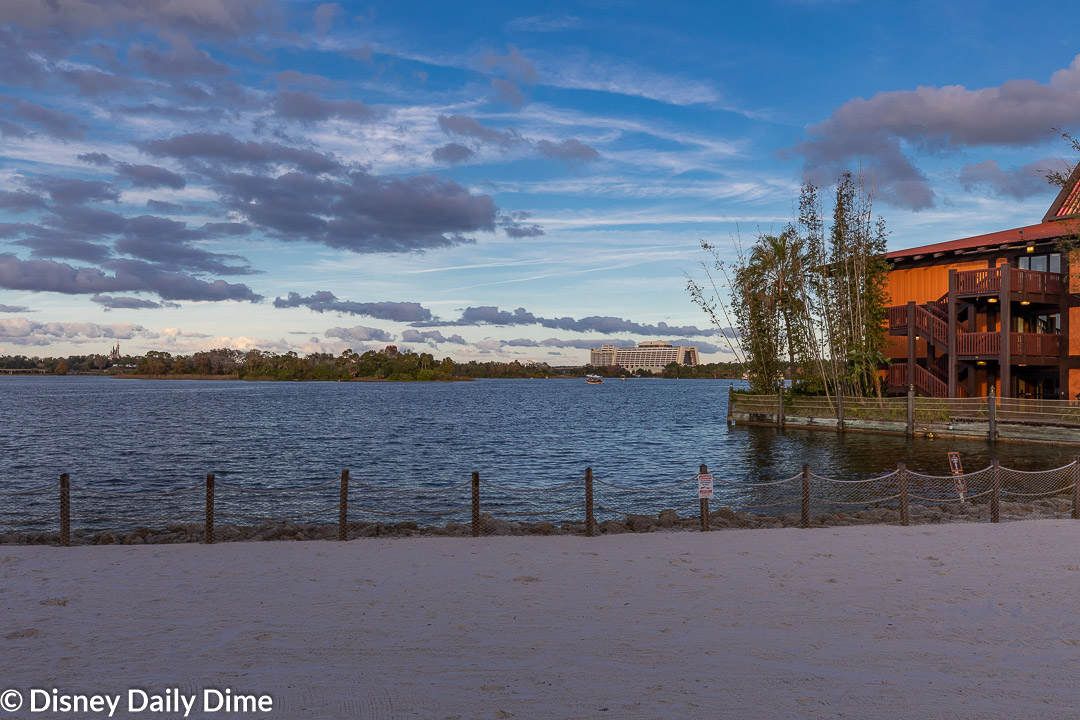 Disney's Polynesian Resort Features the Trifecta of Transportation
Normally we discuss the resort layout here, however we think it is important to understand the transportation situation first.  So, we'll cover that here and then move to the resort layout.
Disney's Polynesian Village Resort has a plethora of transportation options for you.  In fact, if transportation options are of utmost importance to you, the Polynesian is a place you will want to seriously consider.  You have access to the resort monorail, Epcot monorail, buses to all of Disney World's other parks, and the resort boat can carry you across to the Magic Kingdom.
Monorail
The monorail is located on the second floor of the Great Ceremonial House and can conveniently connect you to the Grand Floridian, Magic Kingdom, Contemporary Resort and the TTC.  That is the order of the loop around the resort area.  Once at the TTC you can catch a monorail that will take you to Epcot.  Keep in mind that the monorail around Seven Seas Lagoon has two tracks.  The inside track is the resort track, and stops at every single stop on the loop.  The outside track is the express line that connects the TTC and Magic Kingdom.
Like the other resorts on the Magic Kingdom monorail line, you have access to the monorail to get to Magic Kingdom and Epcot.  Unlike the other resorts on the monorail, you can easily walk to the Transportation and Ticket Center, which is a huge plus for getting to the Epcot monorail.  Taking the resort monorail to the TTC can easily take up to 15 or 20 minutes because the TTC is the last stop before you complete the monorail loop.  Rather than wasting that valuable time, you can walk to the TTC and hop on the Epcot monorail line directly. 
One thing to note, you will have to go through security at the resort before boarding the monorail.  Not any big deal, just be prepared for it.  If you walk over to the TTC to catch the Epcot monorail you can avoid the security check in the resort.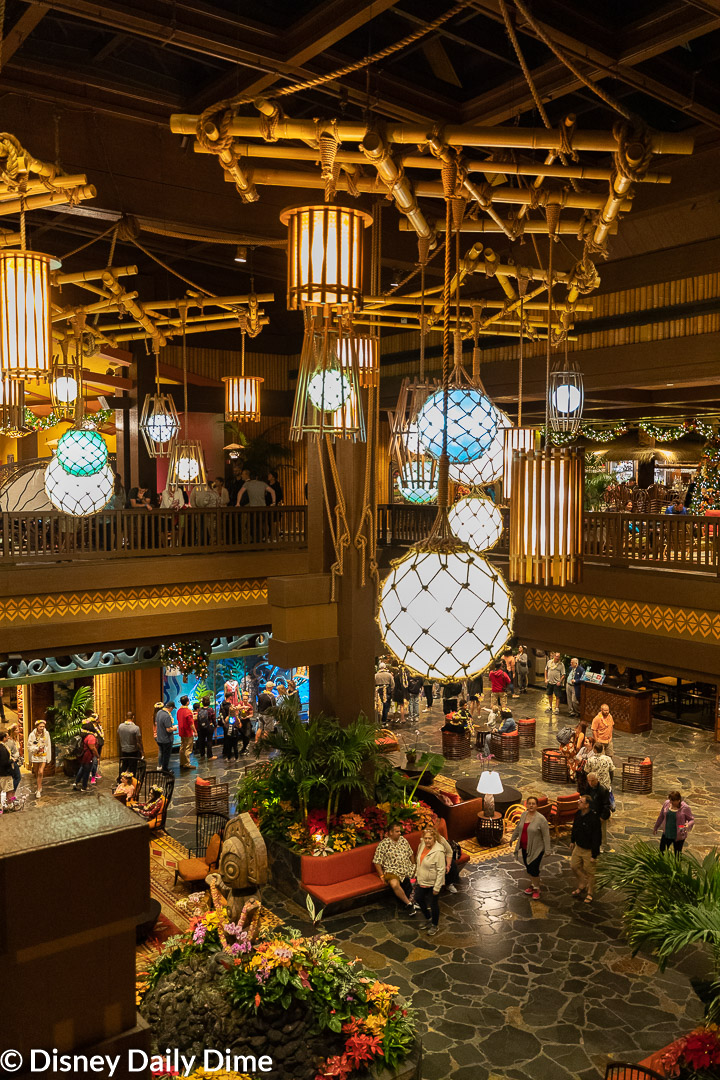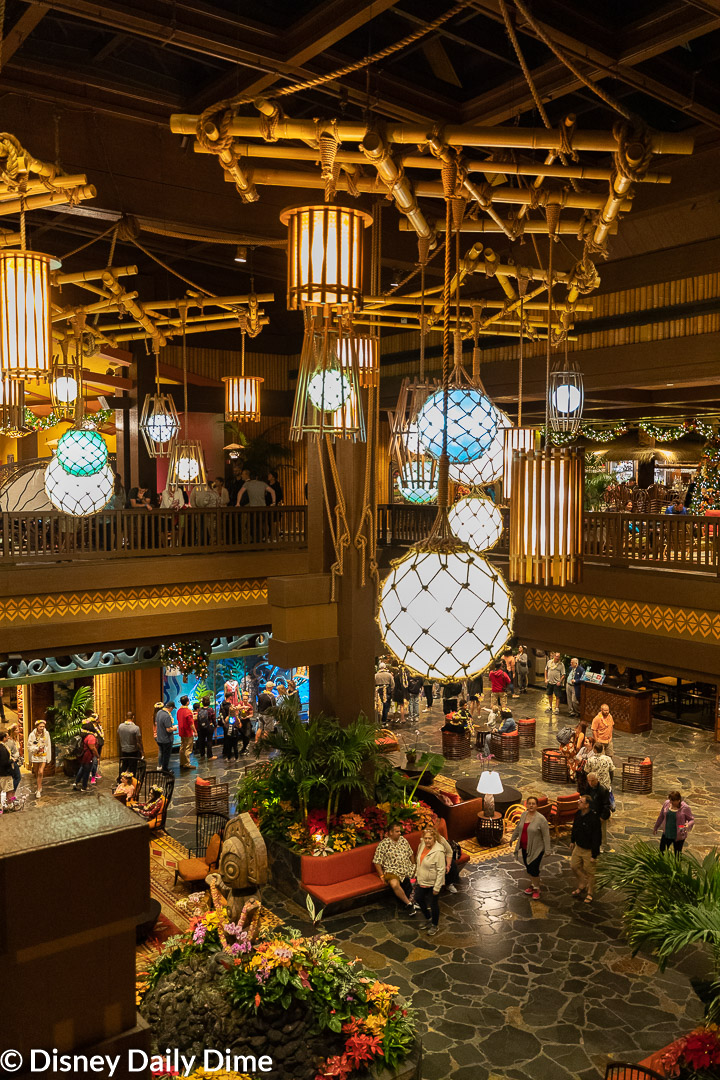 Buses
If you are going to Animal Kingdom, Hollywood Studios, Typhoon Lagoon, Blizzard Beach, or Disney Springs then you are going to need to take a bus.  The resort has only one bus stop that is conveniently located just to the east of the Great Ceremonial House on the front drive of the resort.  Some bus routes are shared with the Contemporary and Grand Floridian, so plan accordingly.
We have to admit, sharing a bus loop with other resorts is a bit odd, given that this is a deluxe resort with a deluxe resort price.  I'd expect a higher level of service when I'm paying some of these nightly room rates.
For any of the resorts that are not on the monorail line, you can only reach them via bus.  However, you will have to take make a connection somewhere.  There is no direct route from the Polynesian to the other resorts via bus.  You can do this one of two ways.  First you can take a bus to Disney Springs and connect to a bus line to your destination there.  The other option is to hop over to Magic Kingdom and catch a bus from there to a resort.  If you are at a Magic Kingdom monorail line resort (like the Polynesian), we recommend going to the Magic Kingdom bus stop and taking a direct bus from there.
Boat
In addition to buses and the monorail, you can also take a boat from The Polynesian to the Magic Kingdom.  If you're heading to Wilderness Lodge or Fort Wilderness, we actually recommend that you take the resort boat to Magic Kingdom and then catch the Wilderness Lodge resort boat to get there.  It will save you time a little time, compared to catching a bus and it is a beautiful view.
Transportation Flexibility
For a resort on the monorail, why is it good to have all of these options to get around?  Well the fun answer is, a boat or a monorail ride can be a different way to travel and give you a new experience.  The practical answer is that the monorail does breakdown from time to time.  If it does, having a simple backup to get you where you need to go could prevent you from missing out on valuable park time. 
Being able to access the boat and the TTC easily gives you options.  You can walk to the TTC and catch the express line to the Magic Kingdom or the Epcot line.  Having the boat also gives you convenient access to the Magic Kingdom.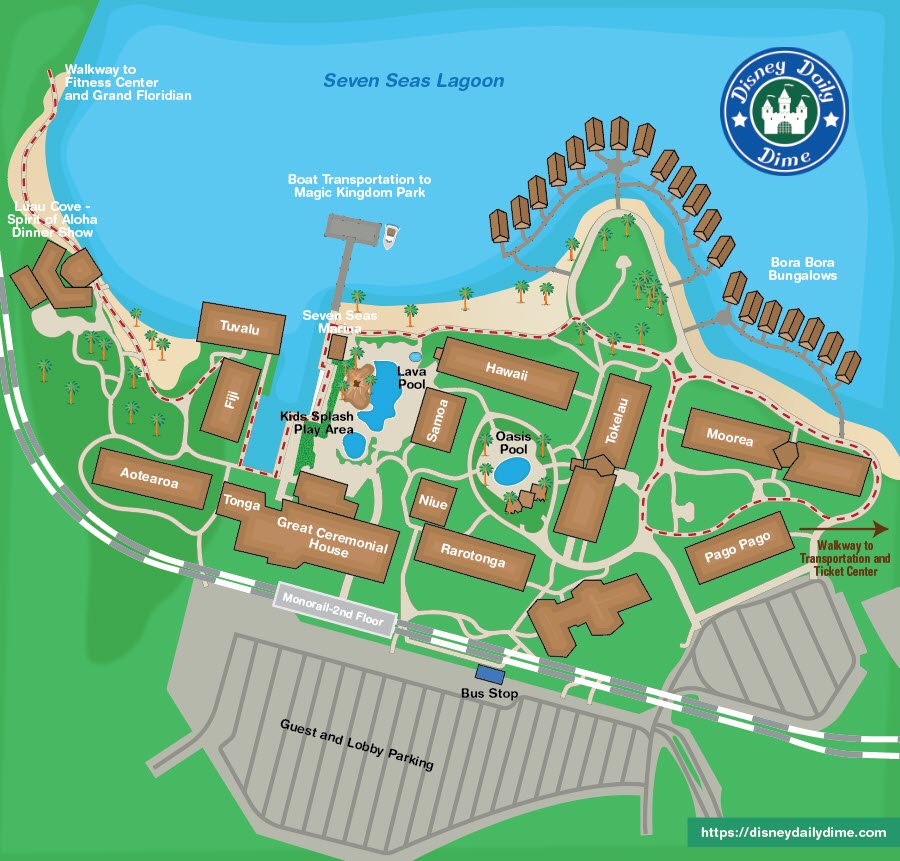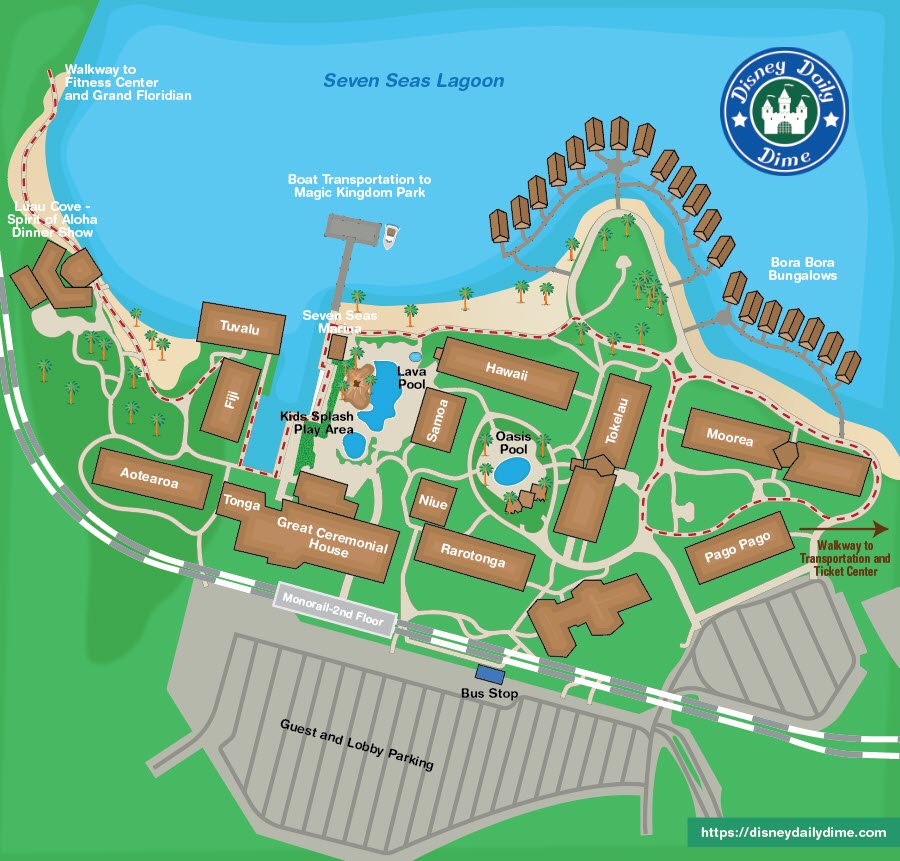 Longhouses at Disney's Polynesian Village Resort
What isn't consistent within the resort is your location on the property and what you are located close to.  We'll give you a house by house view of where things are and considerations for why you might or might not want to stay there.  You can reference the map above to see where each building is located on property.  Remember you can request certain locations on the property, but the requests are not guaranteed to be honored.  Also, not every room type is available in every longhouse.
Tonga House
We start with Tonga house because it is conveniently attached to the Great Ceremonial House.  This makes it a quick trip to get to all the dining options within the main building.  Being attached to the main building means this longhouse is also located close to the monorail.  You will catch some noise as it passes by, but nothing terrible.  The walk to the monorail is a breeze but the Transportation and Ticket Center (TTC) is a bit of a hike if you want to catch the Epcot monorail.
Fiji House
Located on the West side of the property, Fiji house contain all standard rooms.  If you are on the west side of the house you will have garden style view and the east side will give you a view of the marina.  We've stayed here before and like the location.  It's convenient to the Great Ceremonial House and Captain Cooks, if you are looking to really take advantage of the refillable mug program.
This house is also one of the most convenient to Luau Cove where the Spirit of Aloha Show is held.  It is a short walk to the beach if you are looking to watch the Magic Kingdom fireworks or the Seven Seas Lagoon Electrical Water Pageant.  The house is right across the marina from the Lava pool.
On the downside, this house is a relatively long way to the TTC, so if you plan on walking to the TTC a lot you may want to request a room on the eastern side of the property.  If it is only a time or two, I say you shouldn't worry about it, unless you have someone with a wheelchair or some other special need.  Being this close to the water, you can hear the fireworks from your room however we have never found it to be overly intrusive.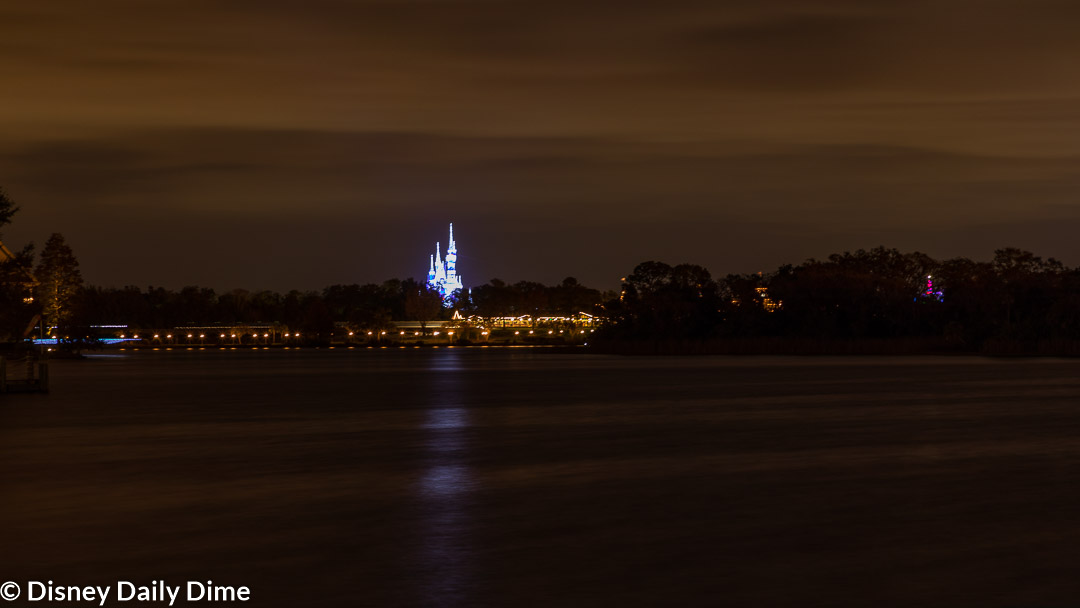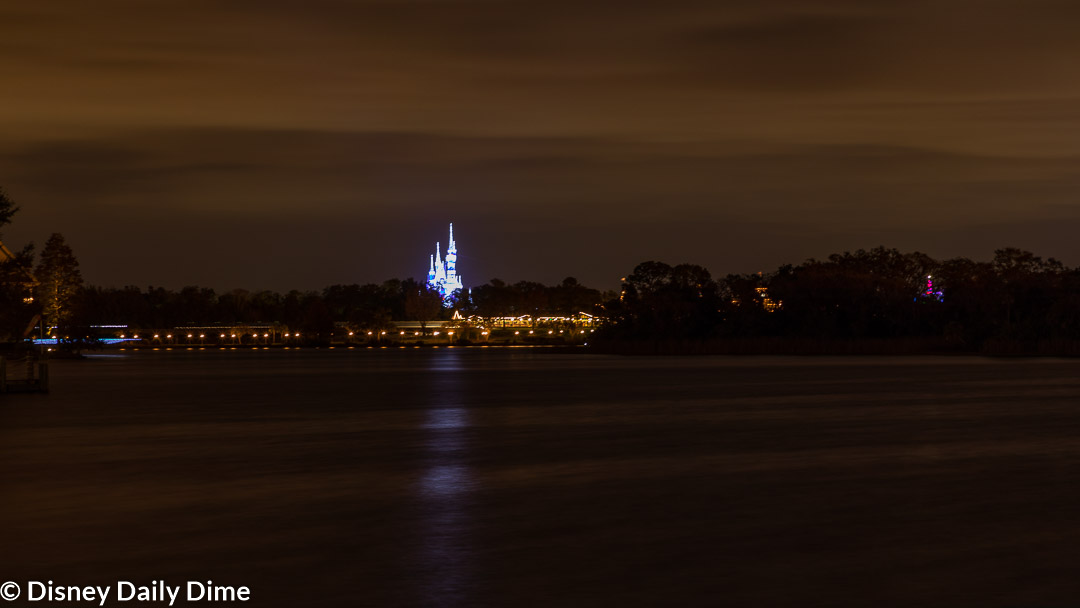 Tuvalu House
The last house on the western side of the resort is Tuvalu.  If you want a more remote feel and less foot traffic, this is a great house for you.  Another north/south facing house, you will get Magic Kingdom or Lagoon views facing north and a standard view facing south.  And by standard, we mean a nice view of Fiji house.  The north side of the house comes right up to the water front of Seven Seas lagoon.  As with all the west side houses, Luau Cove is very convenient.  In addition to being physically remote on the property, the more remote (or intimate depending on your point of view) feeling is aided by the fact this is one of the smaller houses on the resort.  Less foot traffic all around.
This is the house with the longest walk to the TTC.  If you have any sort of ambulatory issue, we recommend you request to NOT be in this house.  It is still a short, but slightly longer walk to the Great Ceremonial House.
Rarotonga House
Rarotonga house is the house for you if proximity to the Great Ceremonial House and the monorail is important.  Located just to the east of the Great Ceremonial House, this house contains 88 rooms, all with standard views.  Some views to the south can see the parking lot, but mostly it is obscured by the vegetation from the wonderful landscaping.
This house is great for those looking for convenience to transportation.  You are right by the bus stop, a quick walk to the monorail back in the Great Ceremonial house, and a relatively short walk to the TTC.  The tradeoff is, there is no ability to get an upgraded view.  Also, the house is 3 stories tall, but the 2nd floor rooms do not have balconies.  The 3rd floor does have balconies.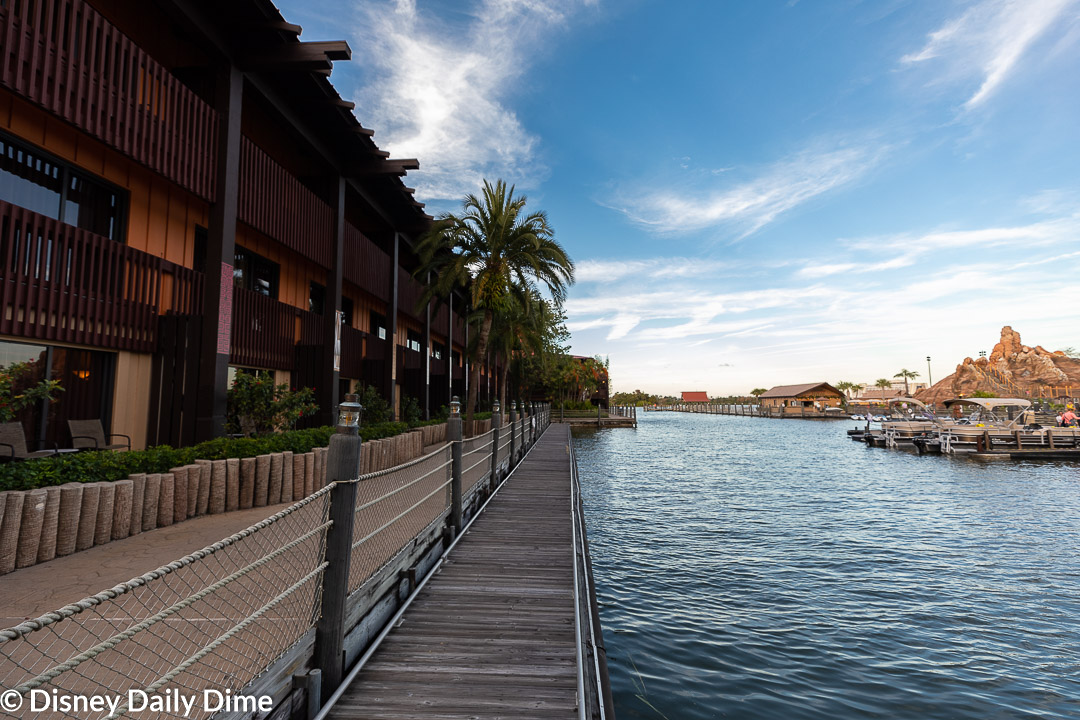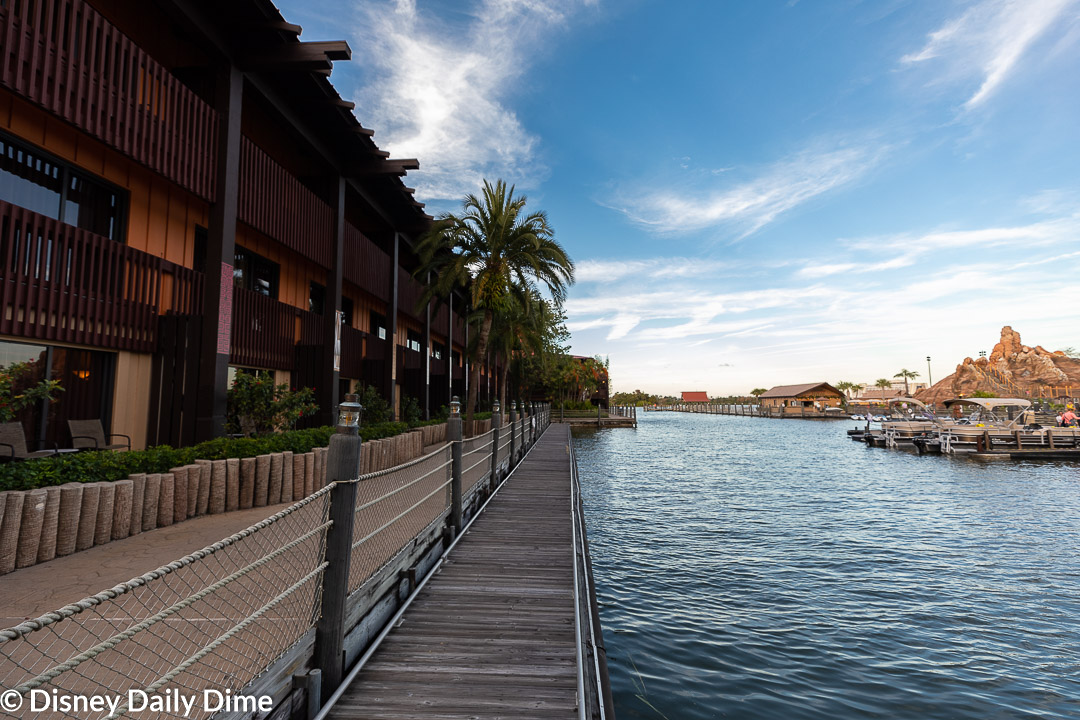 Niue House
Like Rarotonga, Niue house is very conveniently located near the Great Ceremonial House and the monorail.  Just a stones throw to the north of Rarotonga, Niue has the benefit of being a bit smaller building.  It has just 22 guest rooms and is the only house that is two stories tall.  It is actually attached to Rarotonga via an elevated walkway on the 2nd floor.  All rooms have a standard view.
If you get a room on the east side of the building, you can have a good, but not great view of the Oasis pool.  You can actually see the Lava pool from the west side of the house, but not a direct view.  You'll have to go to the window and look to the north a bit.
There are no balconies on the second floor.  Due to the central location to the Great Ceremonial House, the two pools, and the fact it is on the way to the TTC, there is a lot of foot traffic around this house.  Also, there is not an elevator inside the actual house.  If you need one, take the elevator in Rarotonga and use the 2nd floor walkway to cross into Niue.
Samoa House
If proximity to the pools is important to you, Samoa house is the place for you to stay.  It is still convenient to all the transportation options.  The combination of these two makes Samoa a very popular house with resort guests.  It has 54 guest rooms in the house, so get your requests in early if you want to stay here.  You'll have both pool and standard views here.  You can glimpse the Seven Seas Lagoon if you look to the north from your window or balcony in some rooms.
If you are lucky enough to get a first-floor room, you can just sit on your patio while you watch the pools on either side of the building.  This makes it where you don't have to fight for chairs in the actual pool area.  You're not actually in the fenced pool area, but close enough from our perspective.
Unfortunately, the second floor does not have balconies.  Like Niue, the location of the house also gives rise to lots of foot traffic around the building.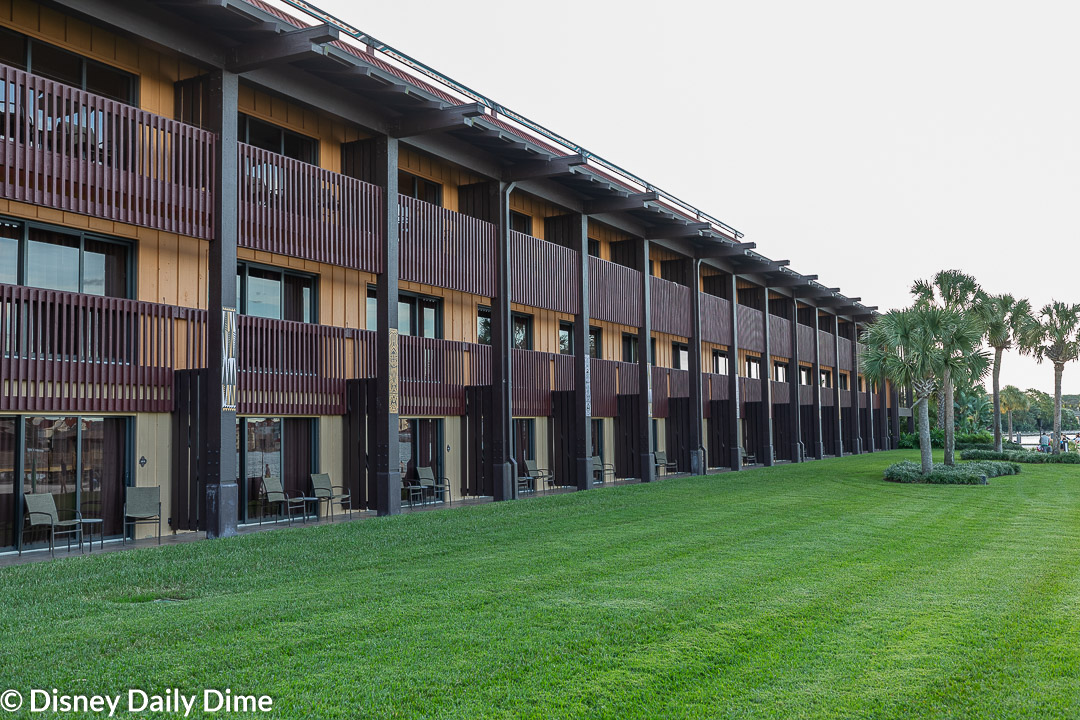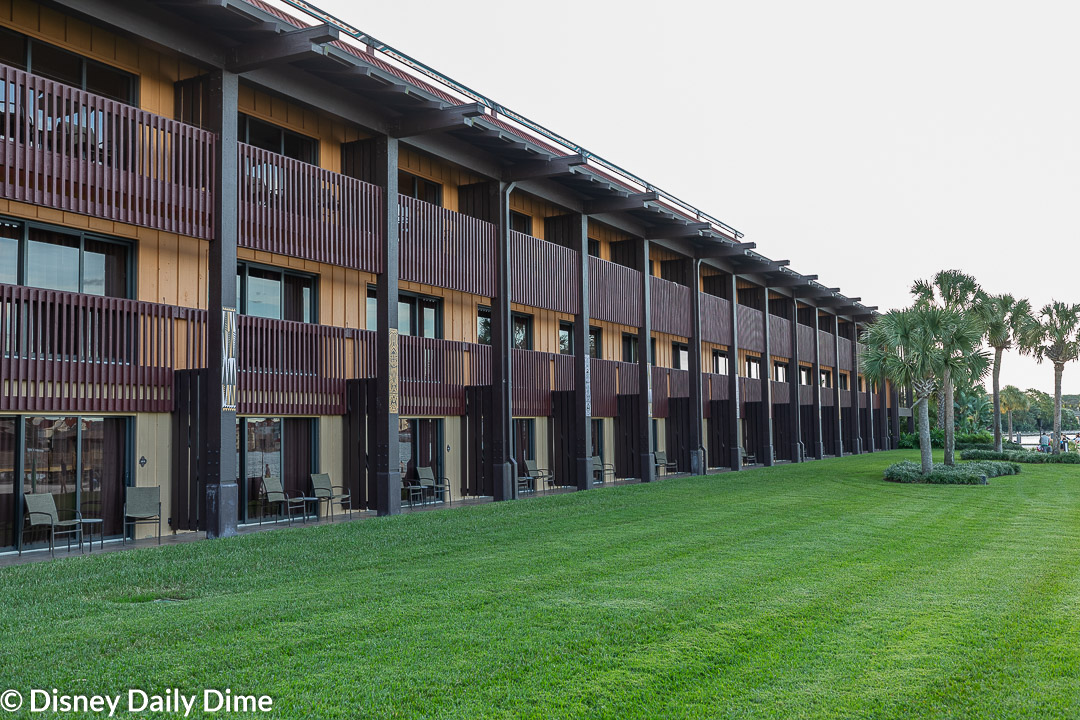 Hawaii House
Hawaii is just to the north of Samoa house, with 102 rooms.  It has a good location, convenient to the two pools, but not quite as convenient as Samoa.  However, this house is closer to Seven Seas Lagoon and rooms on the north side of the house feature lagoon and Magic Kingdom views.  Rooms on the south side of the house have a garden view which can see the Oasis pool.  All of the rooms in this house are deemed Club Level, so you have to make sure you book a club level room to be able to request this house.
The beach is basically right out your front door here and walks to transportation aren't bad.  The boat dock is especially convenient.  You are also getting further out on the property, so foot traffic will start to dissipate a little.
Again, the 2nd floor does not have a balcony.  Since all the rooms are club level, be prepared to pay more.  Club level rooms will usually cost $200-250 more per night.
Other Houses
There are three other houses on the property, however these houses are part of the Disney's Polynesian Villas & Bungalows.  Those are Pago Pago, Moorea, and Tokelau.  We haven't stayed in the Villas as of yet, but it's on our list of places for the future.


The Room Options at Disney's Polynesian Resort Are Diverse, but Pricey
As part of our Disney's Polynesian Resort review, we want to touch on the differing room options available to guests.  However, we'll be the first to say we haven't stayed in all of these room types.  Far from it, so much of what we'll discuss here are more just facts about the rooms.  If we've stayed in a room, we'll link to our more detailed review of that room once it is written.
Within Disney's Polynesian Village Resort, there are the following room types:
Standard View – ($485 – $765 per night)
Lagoon View – ($618 – $966 per night)
Pool or Marina View – ($564 – $822 per night)
Theme Park View – ($697 – $1,027 per night)
Garden View – Club Level – ($664 – $983 per night)
Do note that pricing changes frequently, so check Disney's Polynesian Village Resort website for the most up to date pricing.
Garden View rooms are only available in a club level set up.  That means they are in the Hawaii longhouse.
The renovations they completed back in 2015 were a definite upgrade to the resort and the rooms are great.  Some of the best appointments and theming in all of Disney World.  The updated look is more modern and elegant and not the same kitschy style of the main areas of the resort.
We prefer to stay on the western side of the resort to make it feel a little more intimate with the lower foot traffic levels.  We are willing to make the tradeoff of walking to places.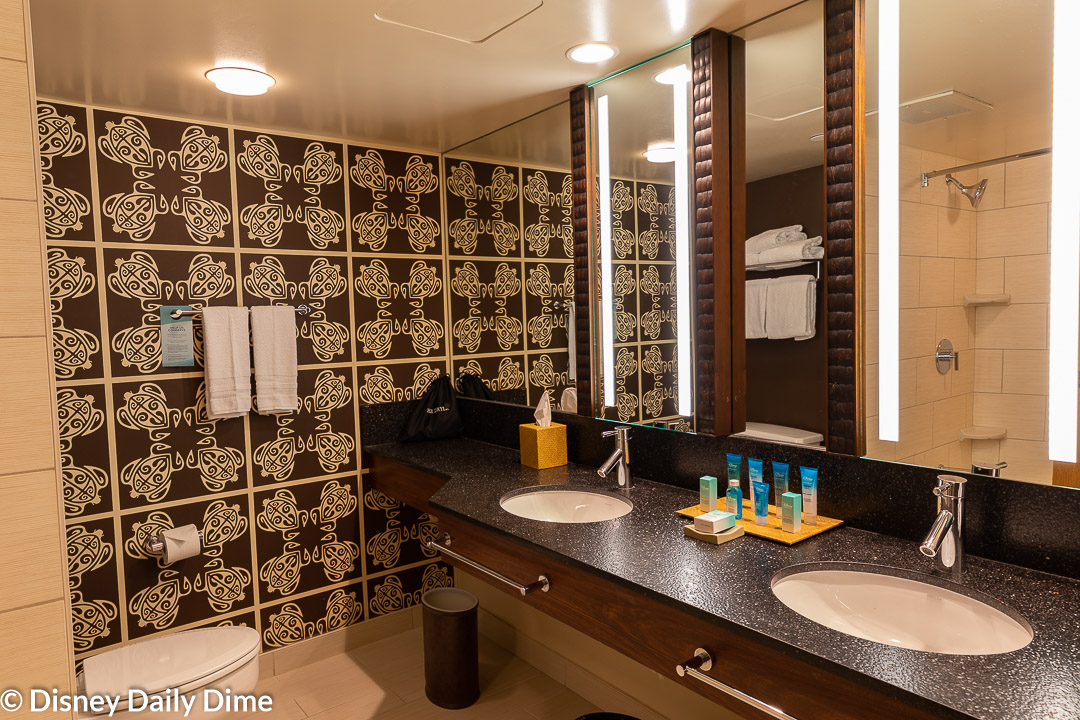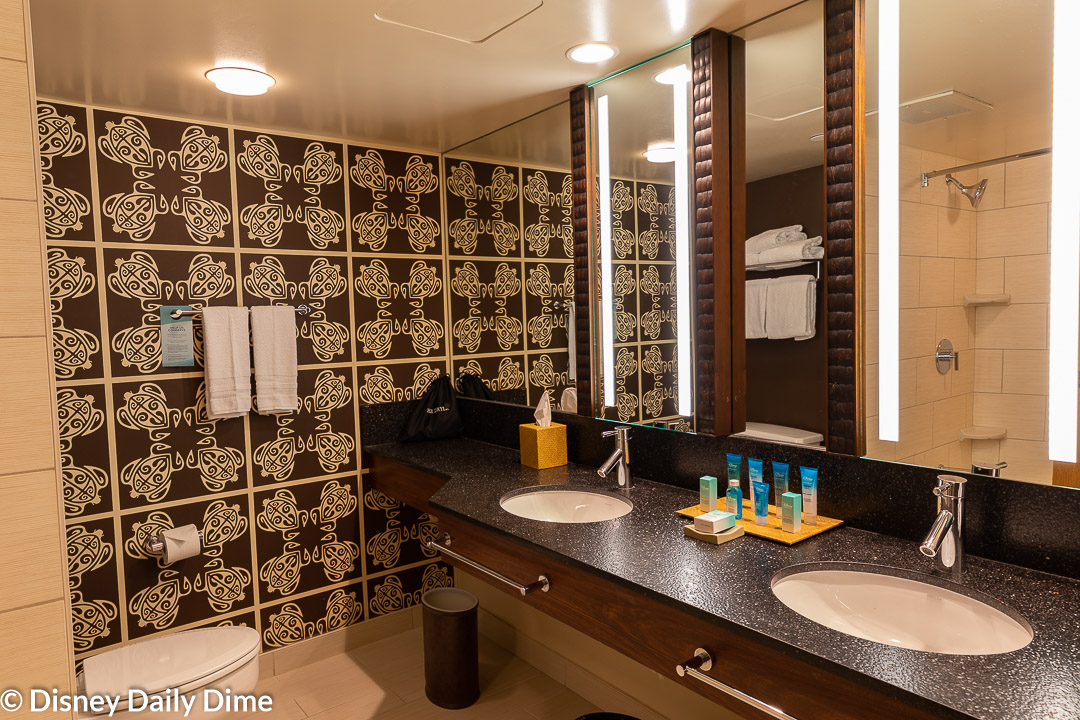 With a few exceptions, almost all rooms are designed to sleep up to five.  The general configuration is two queen beds and one day bed that can sleep a fifth person.  If you're looking for rooms that hold more people, you'll want to look into the Villas & Bungalows.
The size of the beds here (and other deluxe and moderate resorts) is a plus in our experience.  Our kids need to sleep with a parent each night (unless they are sleeping in a bunkbed), otherwise they will never get to sleep.  Having a queen-sized bed is great for this.  Sleeping in a full-sized bed when one of your daughters is sleeping sideways is never fun.  I'm looking at you Elsa!
At 415 square feet, the rooms at Disney's Polynesian Village Resort are a great size and some of the largest on Disney World property.  When we used to require a stroller, we found this very helpful.  The extra room meant we were able to leave it completely set up while in our room.  Yes, it took up some space, but again, we are hardly in here.  If you do have small kids requiring a stroller, request a first-floor room.  Elevators are tight and carrying the stroller up the stairs can be a pain.
Recently renovated, these rooms are much more technology friendly with ample plugs throughout the room.
One problem we do have with these rooms is the fact that the bathroom is all one room.  Unlike other resorts, you can't have someone in the toilet/shower area, while others use the sink area.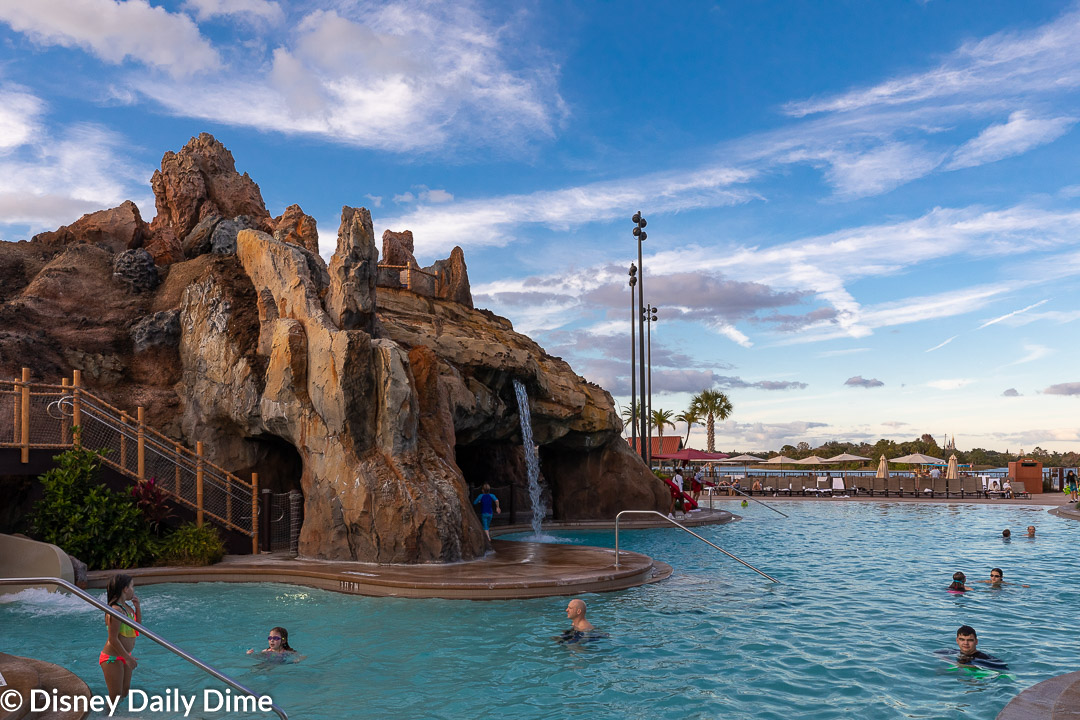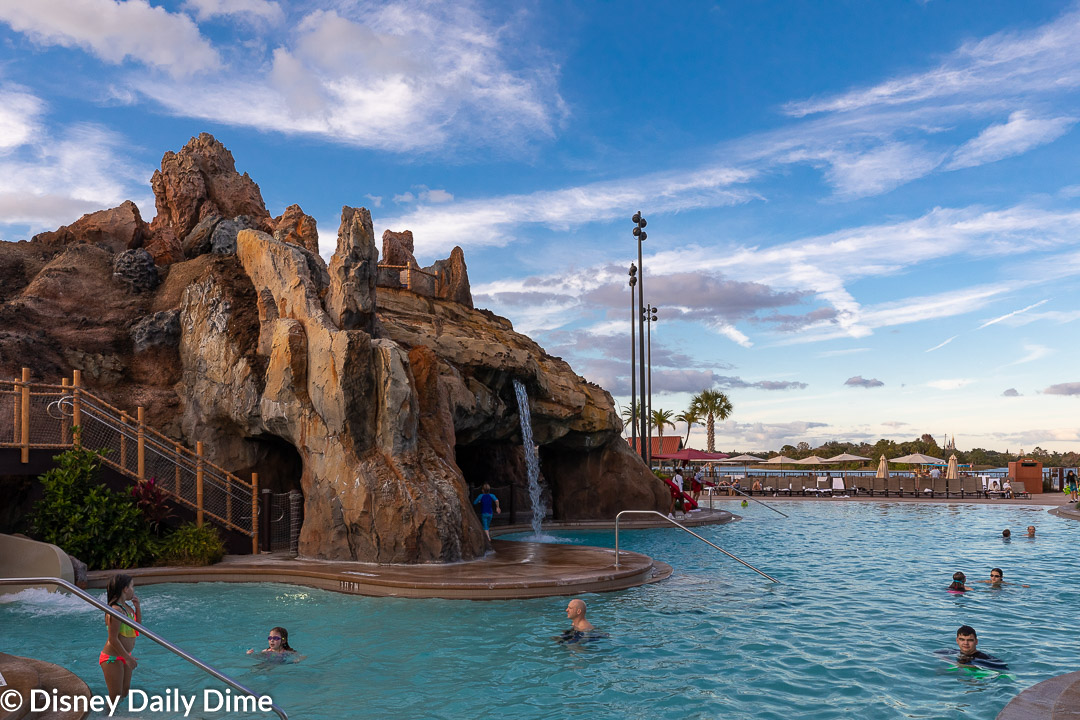 The Polynesian Features Two Resort Pools
Lava Pool
This is the pool that everyone flocks to.  A mountainous volcano, called Nanea, is nestled on the edge of the pool providing a great set up for all sorts of water fun.  Whether it be a waterfall you can play in or the giant slide that comes through the volcano, there is a lot of fun to be had here.
The Lava pool is one of the features we love the best.  Anna and Elsa are now at the age where we can let them loose and just run wild around the pool, while we sit back in chairs and watch.  They have found hours of entertainment navigating the waterfalls, slide and play area.
When Anna and Elsa were smaller the beach entry made it easy to sit back and relax in the water with them.  Staying in the beach entry area also helps keep the older, more rambunctious kids away as they tend to stay in the deeper water around Nanea volcano.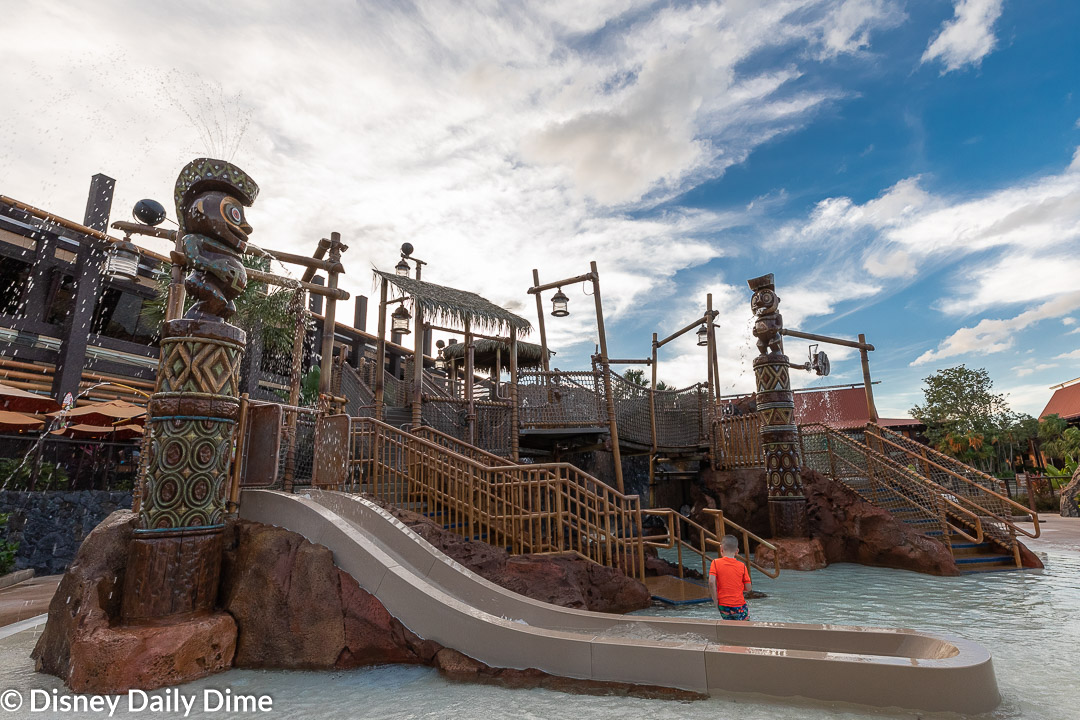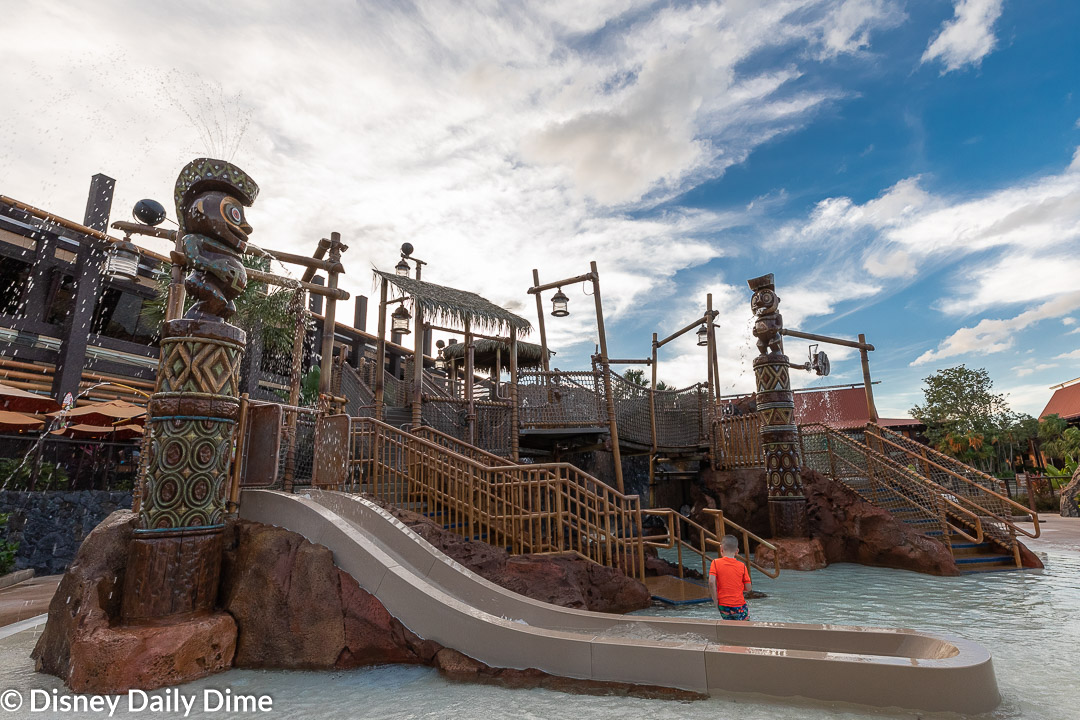 The splash area was put in when they did the big refurbishment.  This is one of the most impressive splash areas around all of the Disney World resort.  It's perfect for younger kids that may not be quite ready for the big pool.  You'll find two slides, water features that shoot water, and loads of fun for the little ones.
The pool has a good view of Cinderella's Castle to watch the fireworks show at night.
This pool is usually busy during most times of the day.  If kids running around and lots of activity isn't really what you looking for, have no fear.  Our next pool is for you!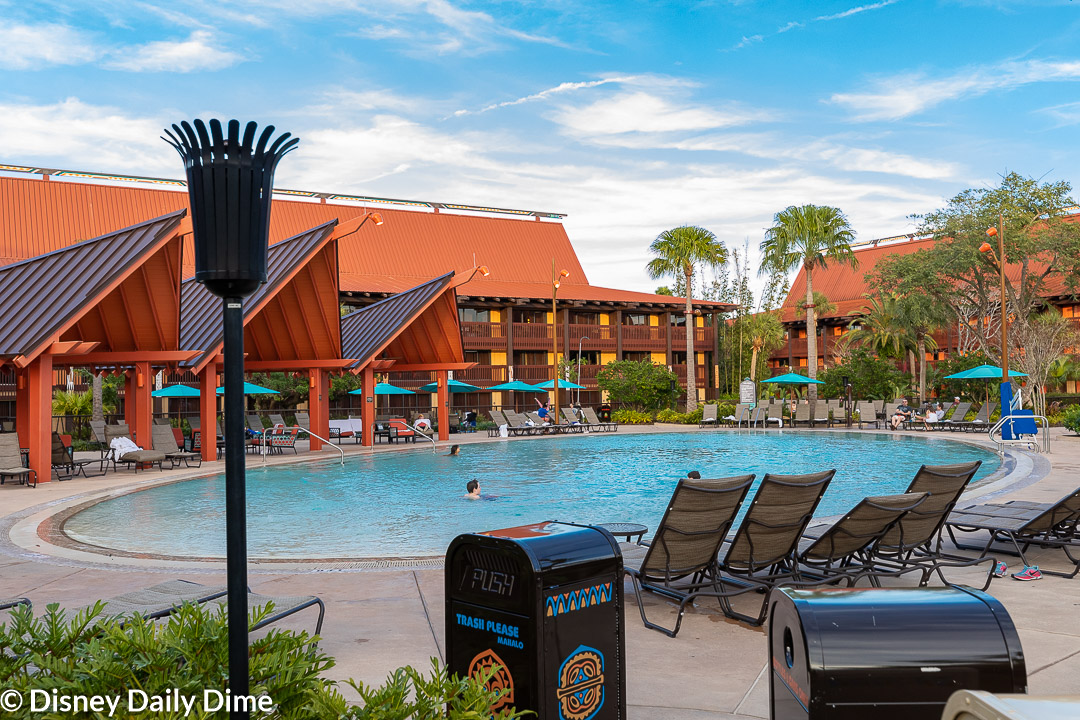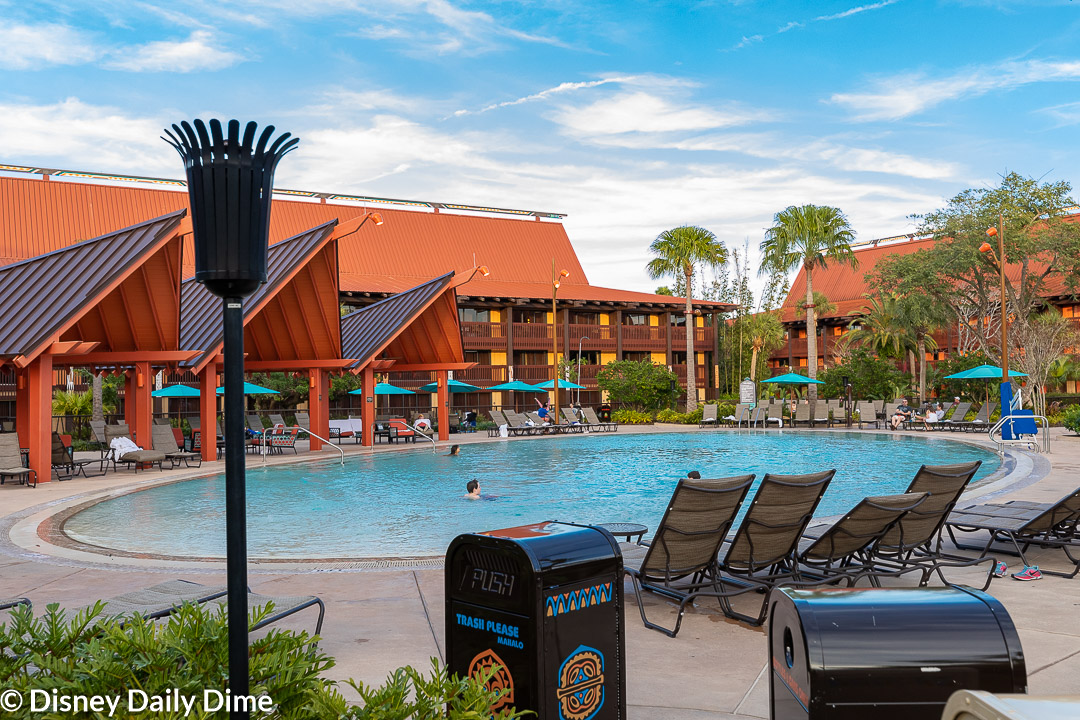 Oasis Pool
The Oasis pool is separated from the Lava pool by a single longhouse (Samoa), but it feels miles apart.  This pool is much more subdued and we never felt the frenetic pace of the Lava Pool when here.  It used to be called the "Quiet Pool".  It has its own bar, so you can stay in the area and keep the more serene feel.  Generally, the crowd here tends to skew older as well because the kids tend to stick to the Lava pool.  If you are looking for a bit of a slower pace, this is the pool for you.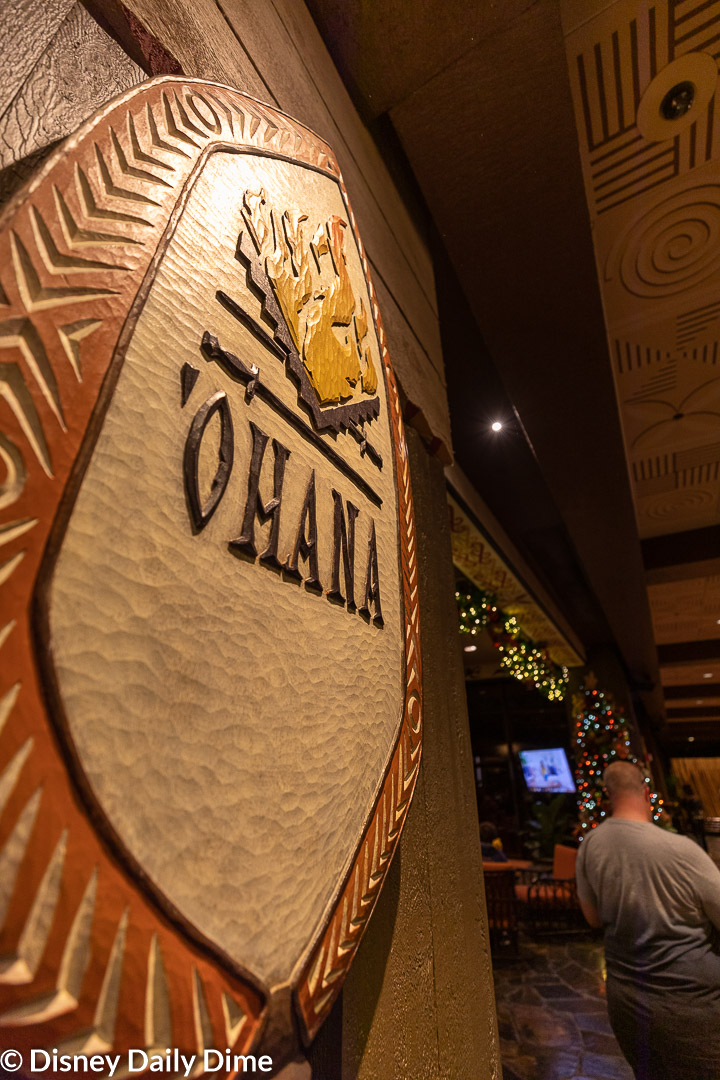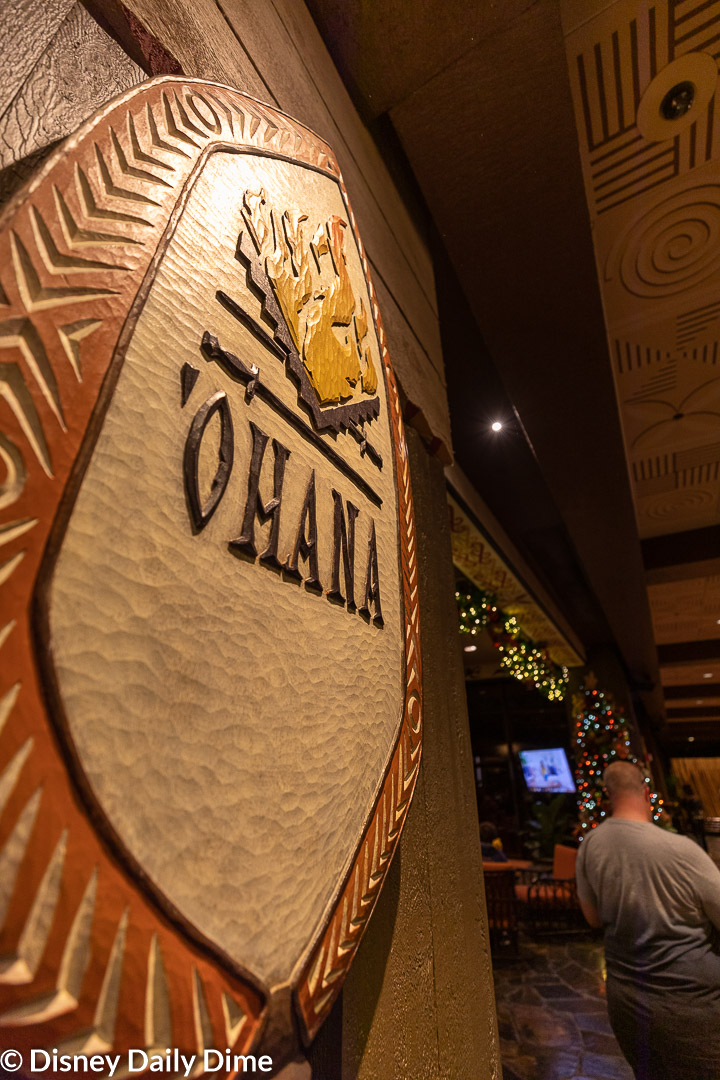 Resort Dining at The Polynesian Has Several Great Options
The Polynesian has several really good options for getting your grub on.  Here are some quick snippets on what options are out there.  There aren't any truly high-end dining locations at the resort, but you can go to the Grand Floridian or Contemporary if you're looking for that type of experience.
'Ohana
Open for breakfast and dinner, 'Ohana serves American and Polynesian style fare and comes served "family style".  Breakfast is a popular and fun character meal experience with Lilo and Stitch.  They are the headliners, but it also has Mickey and Pluto.  No characters at dinner, however they do have lots of fun and games.
This restaurant is very popular, so make sure to book your reservations as far in advance as possible.  If you eat later in the evening, you may be able to score a window view where you can watch the Magic Kingdom fireworks.  Be prepared to wait for a table though if you make this request.
Kona Cafe
Kona Cafe serves all three meals every day with cuisine consisting of American and Seafood styles.  This sit-down restaurant is on the second floor of the Great Ceremonial House and provides for some good seafood options.  Sushi anyone?  Since 'Ohana can fill up, this becomes a natural overflow for diners.  So, get reservations for here as well to be safe.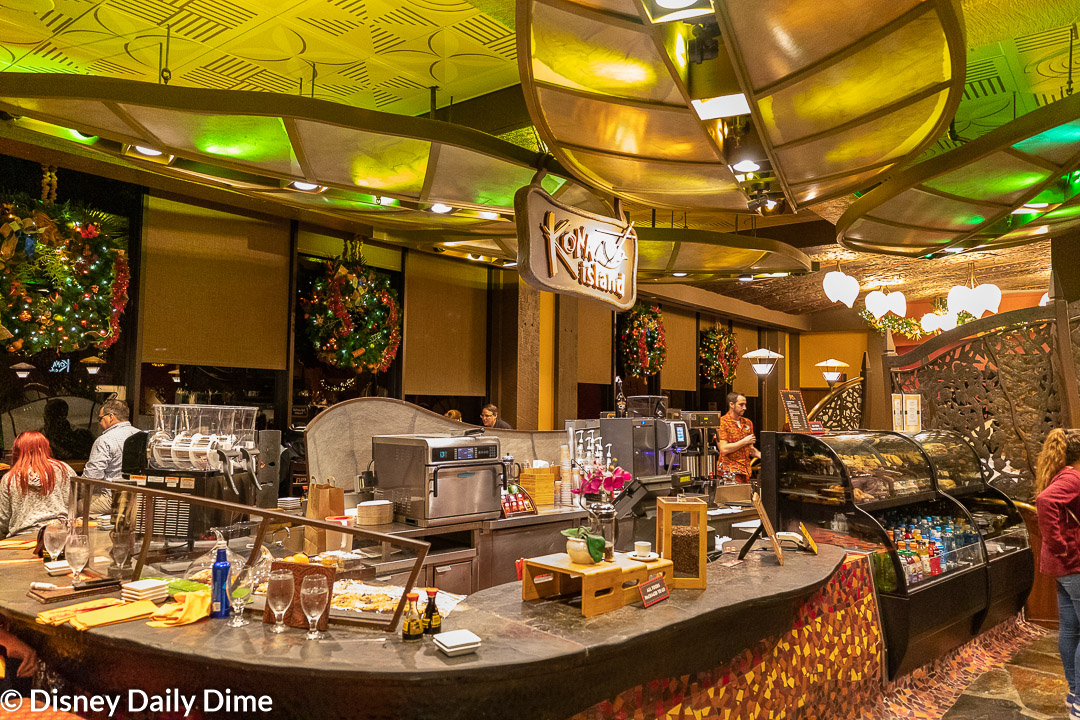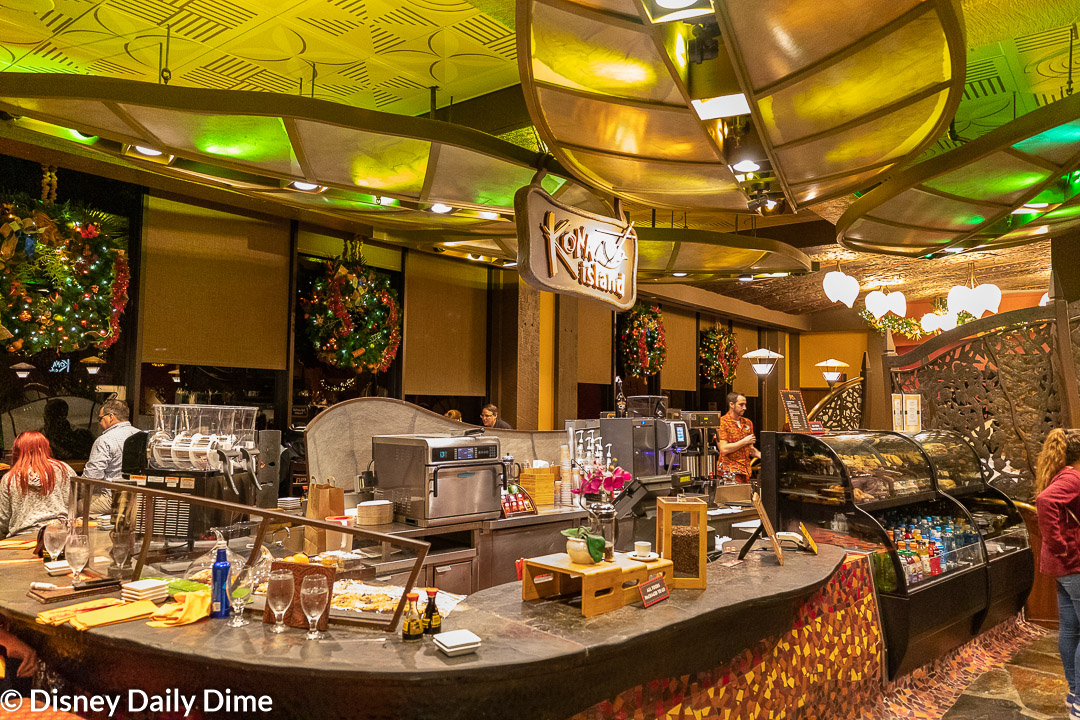 Kona Island
Kona Island is what Disney calls casual dining.  We think of it as more like bar top service.  Its not quite that, but close.  No true dining tables are available.  Your options are sitting at the counters or take your food to go.  You can pick up pastries and other baked goods for breakfast here, or dine on sushi for lunch and dinner.
Capt. Cook's
Capt. Cook's is a run of the mill quick service establishment.  It will do for what it is, but nothing to write home about.  This is where you go to get refills for your refillable mug.  It is very convenient if you are near the lava pool and looking for a burger or something quick to eat.  They serve breakfast, lunch and dinner.  Capt. Cook's is one of the few locations in all of Disney World open 24 hours a day.


Disney's Spirit of Aloha Dinner Show
The Spirit of Aloha Dinner Show takes place at Luau Cove.  You can take in dinner here, while catching a show featuring hula dancers, drummers and a fire-knife performer.  Be forewarned, the show is pricey.  It is all you can eat, serving authentic Aloha pulled pork, Polynesian ribs, roasted chicken and a vegetable medley.  Reservations are required and you must pay in advance.
Lounges and Pool Bars
Sprinkled around the resort are a few lounges, with their own menu array.  Most serve some adult cocktails of some sort, along with varying appetizers.  Tambu Lounge serves tropical drinks and Hawaiian-inspired appetizers, including sushi.  Trader Sam's Grog Grotto follows this same set up for the most part.  If you like Disneyland, you may recognize the Trader Sam's name, as it is imported from there.  There is also Trader Sam's Tiki Terrace, where you can find some live music and drinks on the patio outside.
There are two pool bars on property.  The Barefoot Pool Bar is at the base of the Nanea volcano in the Lava pool.  You can also find the Oasis Bar & Grill at the Oasis pool.
Lastly, if you want a fun sweet treat, check out Pineapple Lanai.  They are best known for their frozen soft serve known as DOLE WHIP.  Only pineapple and vanilla flavors.  Take the pineapple, you can thank us later!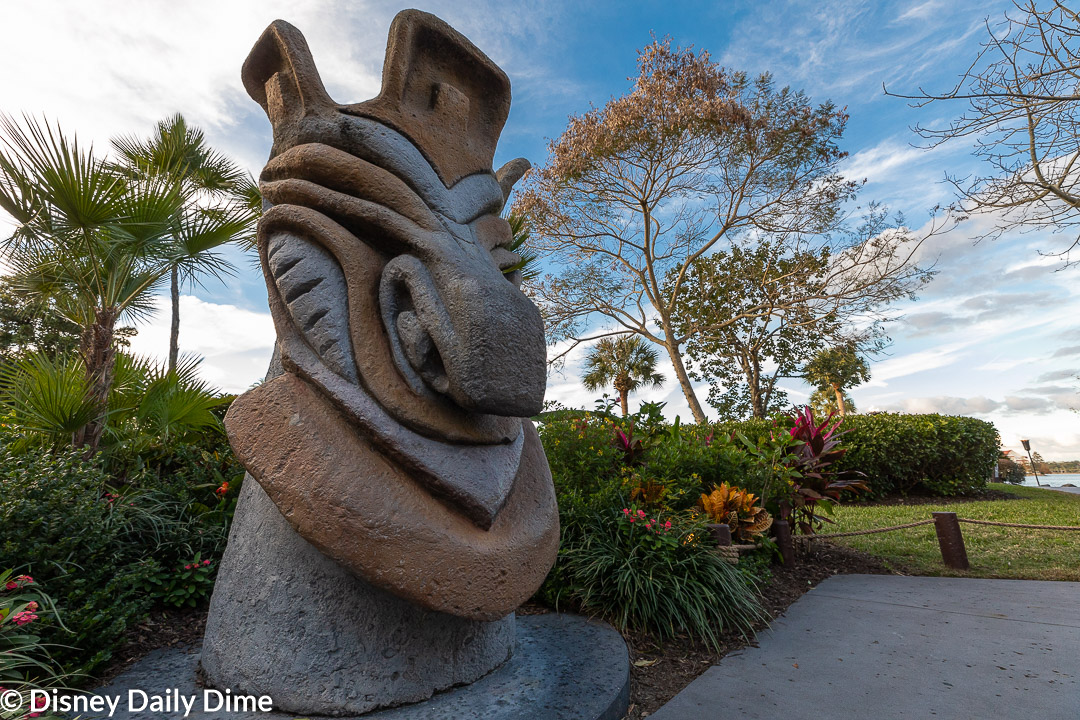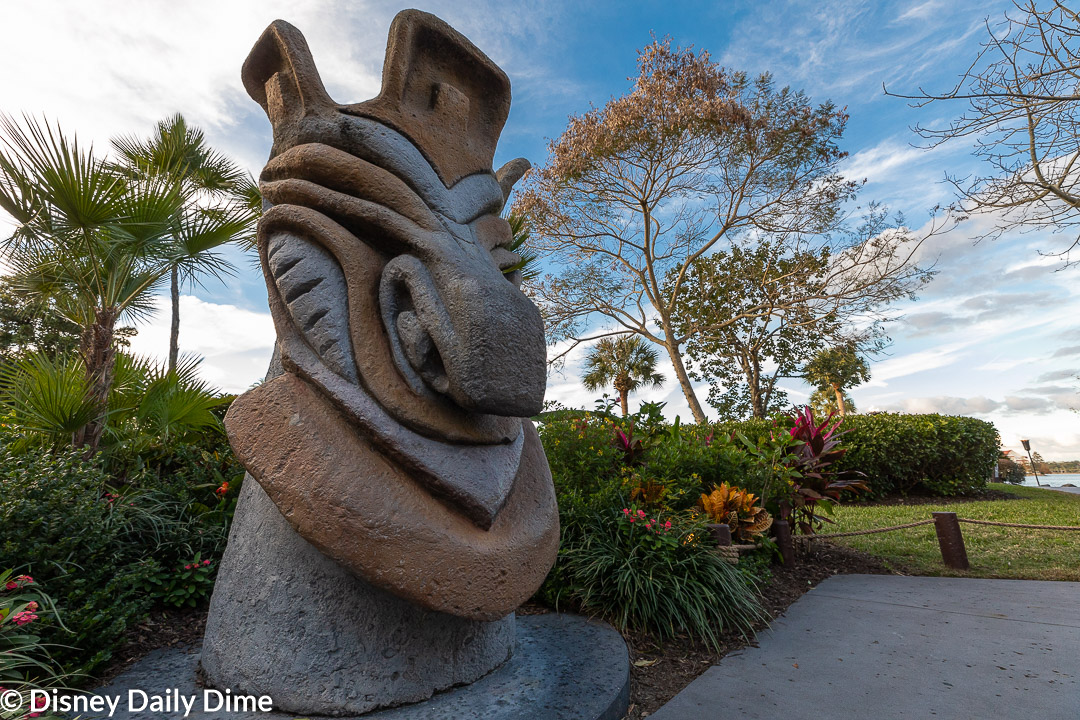 Recreation at Disney's Polynesian Village Resort
Disney's Polynesian Village Resort also features several recreation opportunities you may want to take advantage of.  Some are free, others are not.  These include:
Movies Under the Stars
Campfire with Smores
Boat Rentals
Finishing
Jogging Trail
Sand Volleyball
So is the Polynesian Village Resort Worth The Price?
We are huge fans of Disney's Polynesian Resort.  Now this comes with a caveat.  We are not necessarily a huge fan of the price and will only stay here when find good deals.  Just looking at rack rates, you can easily be spending $2,000+ for an off-peak stay of 5 nights.  If you go during peak times you could crack $4,000 or more.  And that's just for a standard room.  Go for a Magic Kingdom view or club level rooms and it will escalate quickly from there.
We would stick to standard rooms, but again, only if you can find a deal.  You should be able to find deals around $100 – $200 per night below rack rate, if you plan ahead early enough.  Generally, people spend relatively little time in their rooms, so paying up for views is not something we generally recommend (or do).  You can also easily step outside your longhouse and see the fireworks.  Feel free to step outside in your jammies….we won't judge!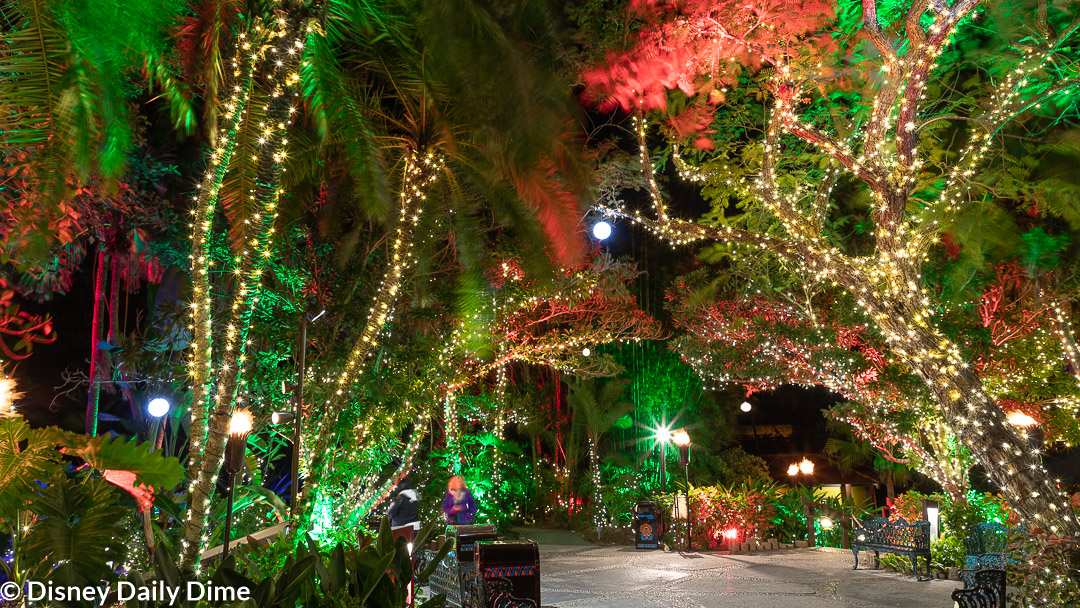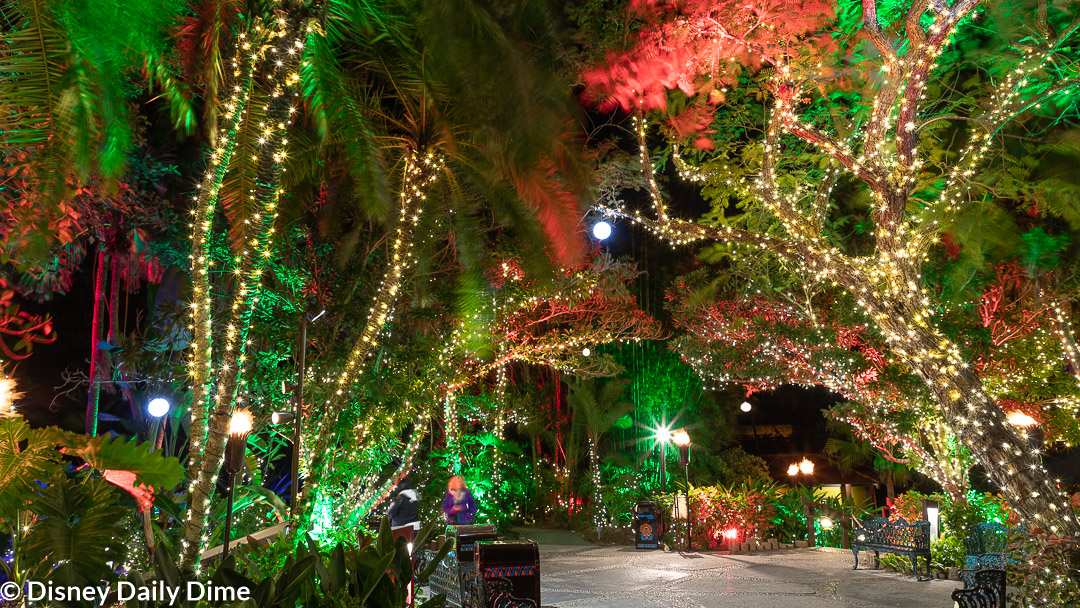 If you're looking for higher end finishes to a room, this is one of the better Disney World resorts.  However, the issue here still comes back to price.  Paying rack rate prices for a room for the finish just doesn't make sense.  You can stay at a place like the Four Seasons and find a better finish at a better price.
The dining options are great here, but you don't have to stay at this resort to eat here.  'Ohana's Lilo and Stitch character breakfast is a great way to start the day before heading off to the park and Anna and Elsa still ask to go back to it.  The dinner is also wonderful, although we haven't had it in a few years.  We need to get back for that.
If theming is of utmost importance to you and you're looking to get away to a South Pacific island that just happens to be in central Florida, then the Polynesian is hard to beat.  The ambiance of white sand beaches in the tropical islands is top notch.
With all of the transportation options, those with mobility issues may find this to be very helpful.  Just make sure you request a room on the east side of the resort.
When we think of this resort, the things that stick out are theme/atmosphere, room appointments, and transportation.  And for that, we LOVE the Polynesian.  Just find a good discount, as we can't justify the rack rate prices, when compared to a resort like Wilderness Lodge.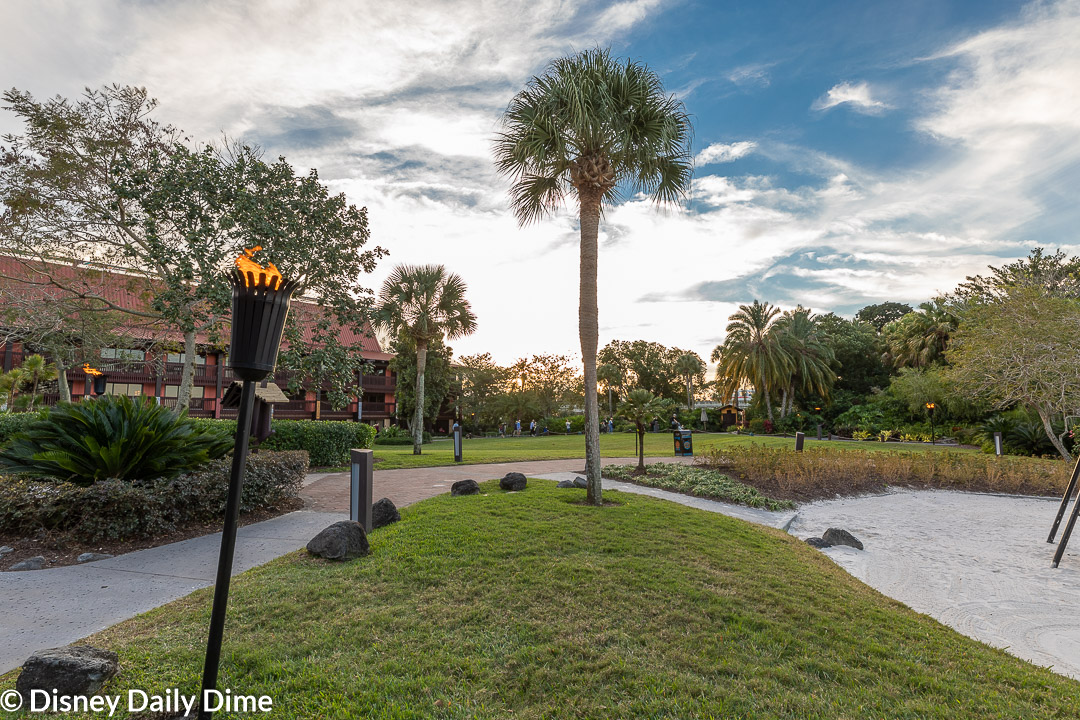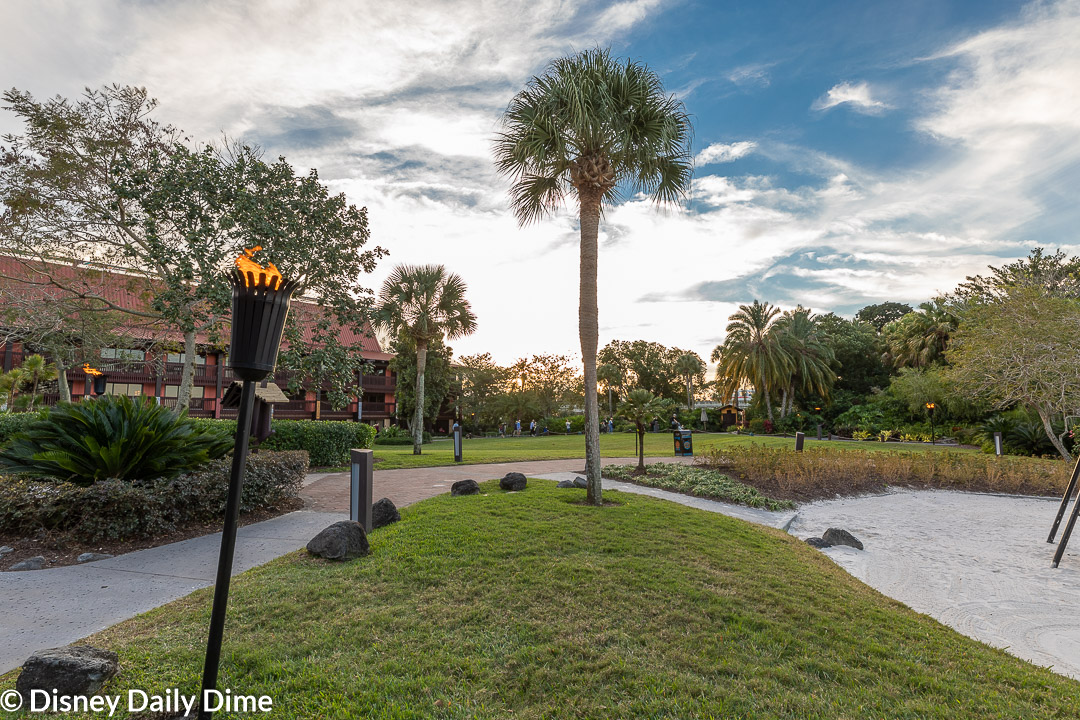 Wrapping Up
With that we'll conclude our Disney's Polynesian Village Resort review.  There are lots of fabulous resorts that you can stay at while at Disney World.  The Polynesian is worth your consideration, but only if you can find a good deal.  Do you have thoughts on the Polynesian?  Did we miss something or do you have a different point of view?  If so, drop down in the comments section and let us know your thoughts.
We hope you found our Disney's Polynesian Village Resort review helpful.  If you did, we'd greatly appreciate it if you would share it on social media.  It helps get the word out on our blog and makes us feels like we're doing something right.  Just use the social media sharing buttons on this page.  We can't ever fully express how appreciative we are when you share our posts!