Disney's Pop Century Resort is one of five value resorts within Disney World.  Noted for their cost efficiency, value resorts achieve lower price points by offering a less developed theme, smaller rooms and fewer amenities.  Here in our Disney's Pop Century Resort review, we'll cover all of these items, including the theme, general setup of the resort, rooms and if we think the resort offers value that is worth considering.  We'll also provide some comparisons of Pop Century to other Disney value resorts.  And of course, we'll have several pictures to accompany our review of Pop Century Resort.
As a little background, Pop Century recently completed a refurbishment of all the rooms on property.  We'll have pictures when we talk about the new rooms below, but we think you'll notice a definite step up in quality of the rooms when compared to the other value resorts like All Star Sports.
From a layout and theme perspective you'll find the same general touches that you do at the other value resorts.  Large pools, oversized Disney characters and set pieces, along with a fairly cheap décor on the outside of the buildings, the value resorts feel similar in that regard.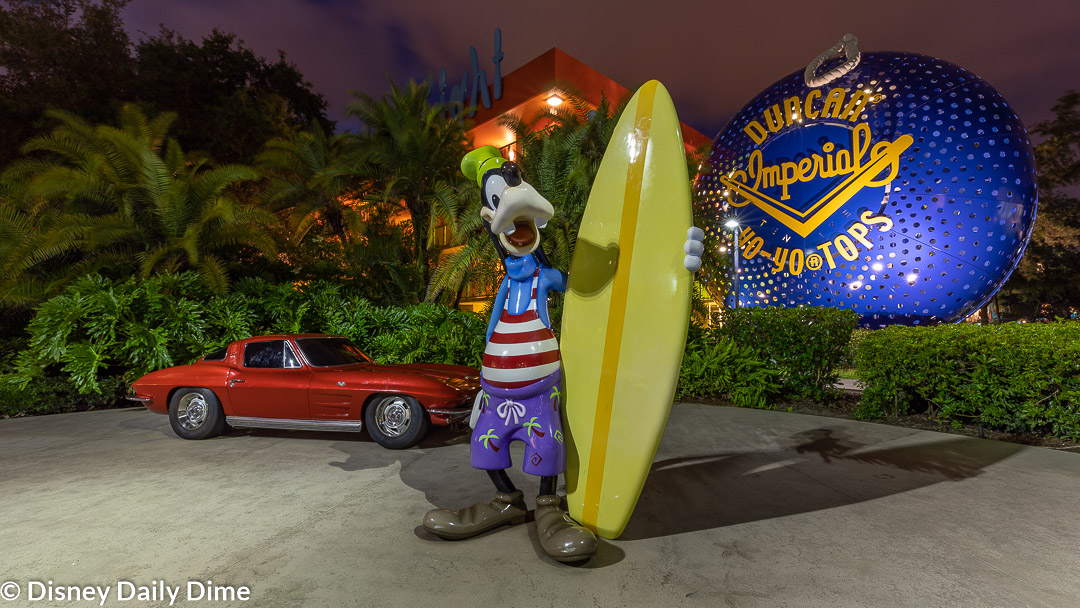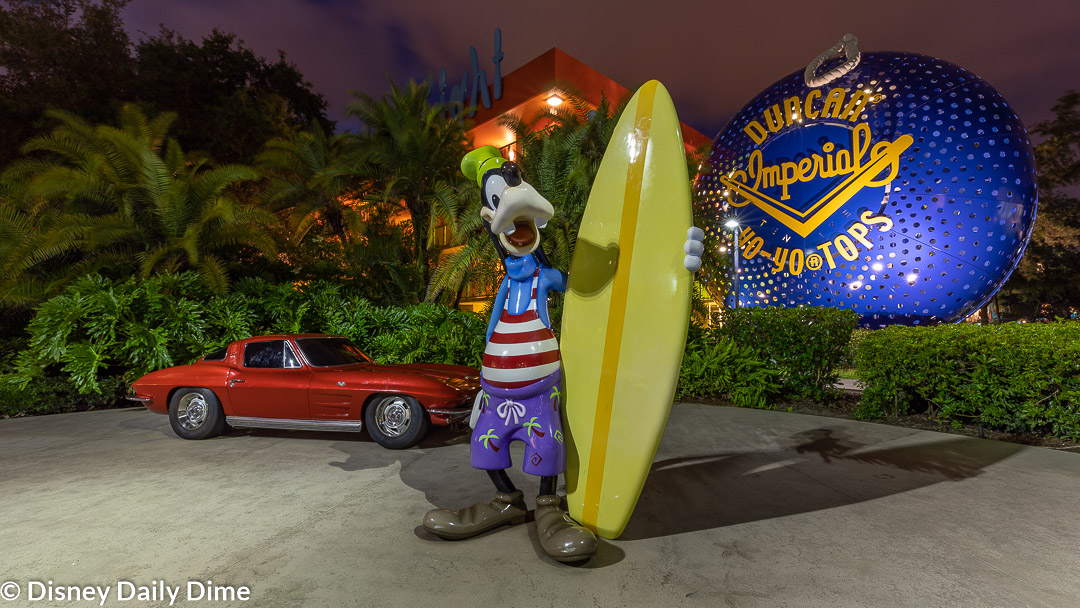 Disney's Pop Century Resort Overview
I feel like I've sort of jumped the gun with our Pop Century Resort review, so let's reset a little bit.
Disney's Pop Century Resort features a theme that celebrates pop culture from the 1950s through the 1990s.  Each of the building groups are decorated based upon one of these five respective decades.
Generally speaking, Pop Century tends to be a popular resort pick among Disney World guests.  In recent years, the choice of staying at Pop or the All Star Resorts has probably come down to theme.  We think the recent room renovation has made that choice a no-brainer.  However, Disney is currently in the process of refurbishing the All Star Resort rooms.  Once that is done, the choice will likely come down to preferred theme again.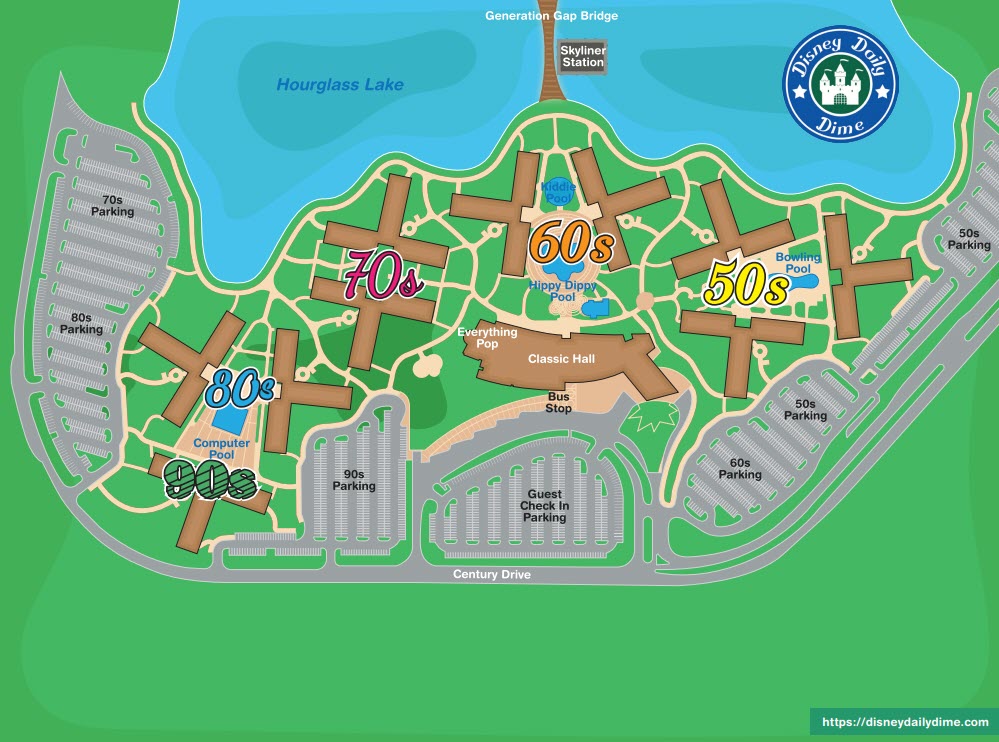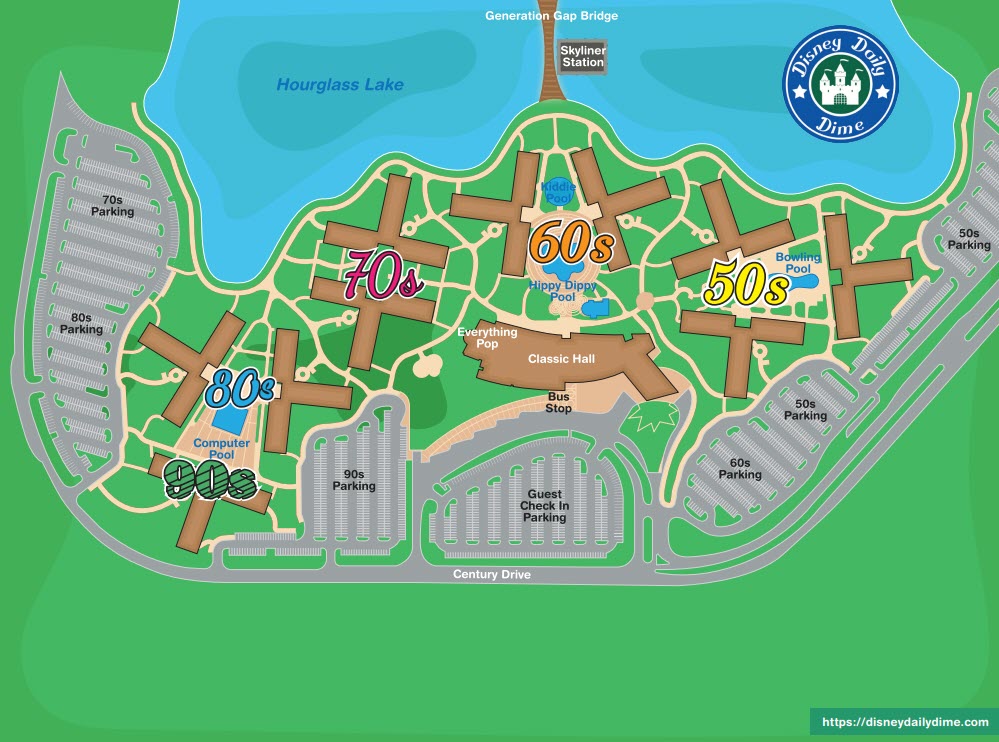 There are also the Little Mermaid rooms over at Art of Animation that offer similar sleeping accommodations.  Do note we consider the family suites so different from the normal value resort rooms, that they aren't comparable in our mind.  We'll save our review of that resort for later, but we will say the Little Mermaid rooms are not as well appointed and cost around $25 more per night than the new Pop Century rooms.  Unless you're a big Little Mermaid fan, like Anna, these rooms are probably not worth more than a Pop Century room.
From a theme perspective, we think that Pop Century is going to appeal to older adults, specifically anyone who has a connection to the decades the resort features.  As we walked around, Carla and I enjoyed some of the details of the 80s and 90s, but found the décor of the other decades less appealing because we don't have a connection with it.  Yes, we're children of those decades having been born in the late 70s.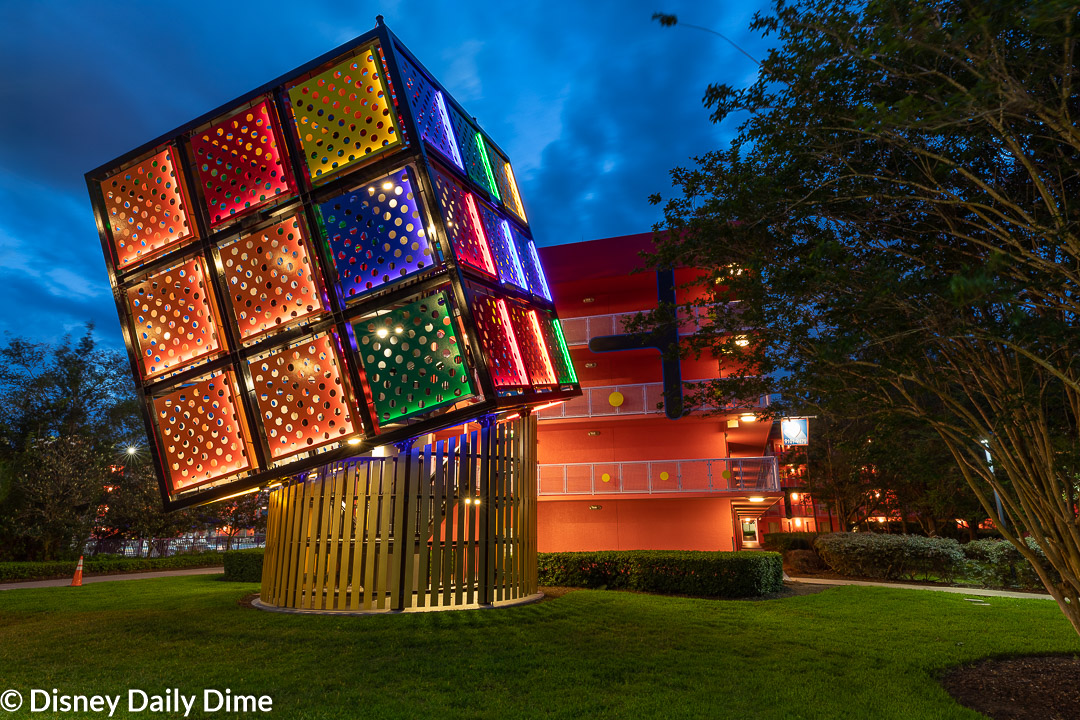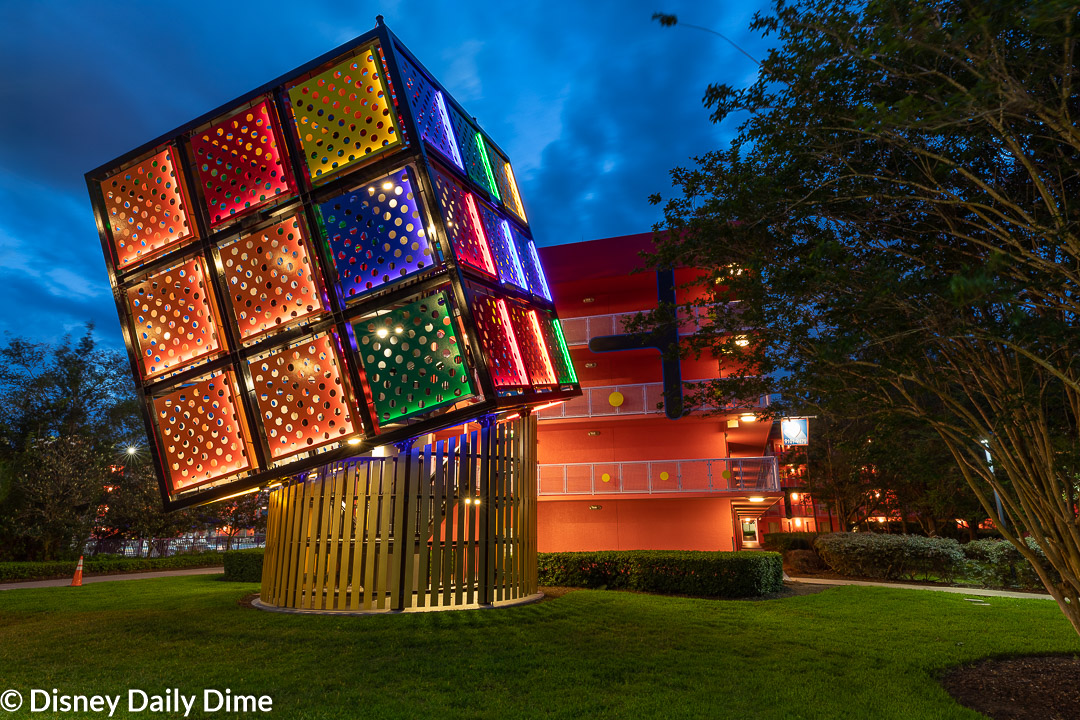 If we were somewhat disconnected with the resort theme, you can only imagine how Anna and Elsa felt.  Outside of knowing who Mr. and Mrs. Potato Head are and what a Rubik's Cube is, they were a bit blah about the resort.  Disney's Pop Century Resort is really not geared to young kids.  At this point, I'm not sure it's even geared to older kids.  You can contrast that with Art of Animation, which the girls love, because it features characters they've grown up with.
At one point we were walking around and Elsa asked me "who's the rabbit?".  That would be Roger Rabbit, who she knows nothing about.  When we were walking through the 70s section, the girls wanted to know what the big white boxes were.  Those would be 8 tracks.  That set off a whole conversation on how people used to listen to music, which blew their minds.  That type of conversation repeated through much of the resort and is emblematic of the gap kids have with the theme here.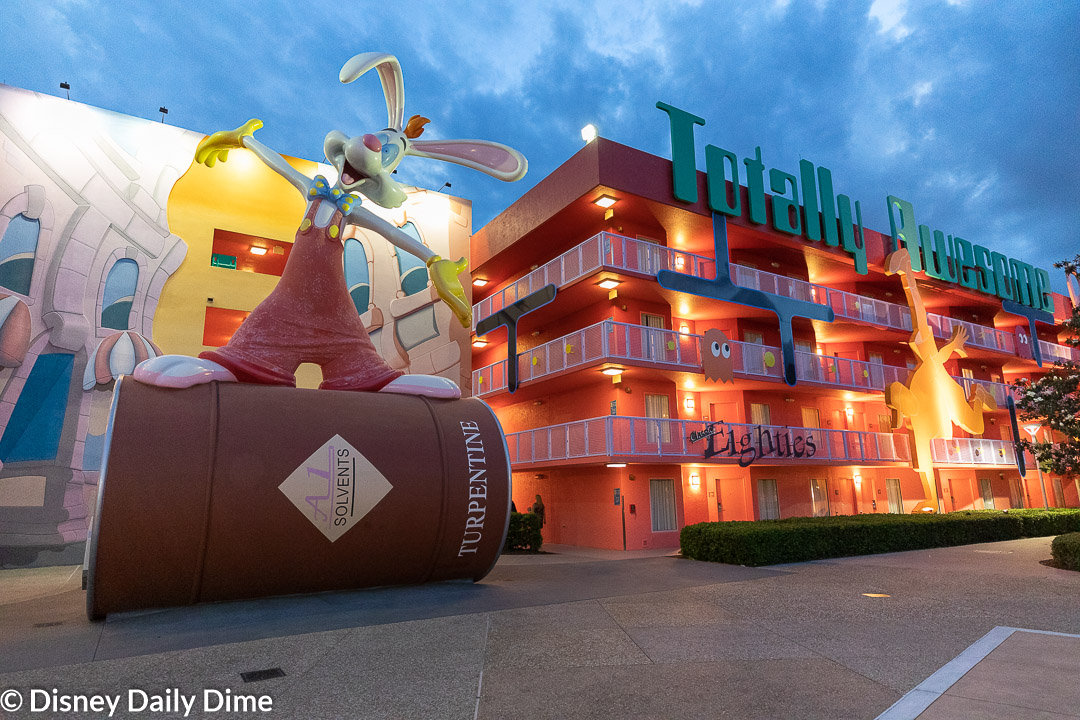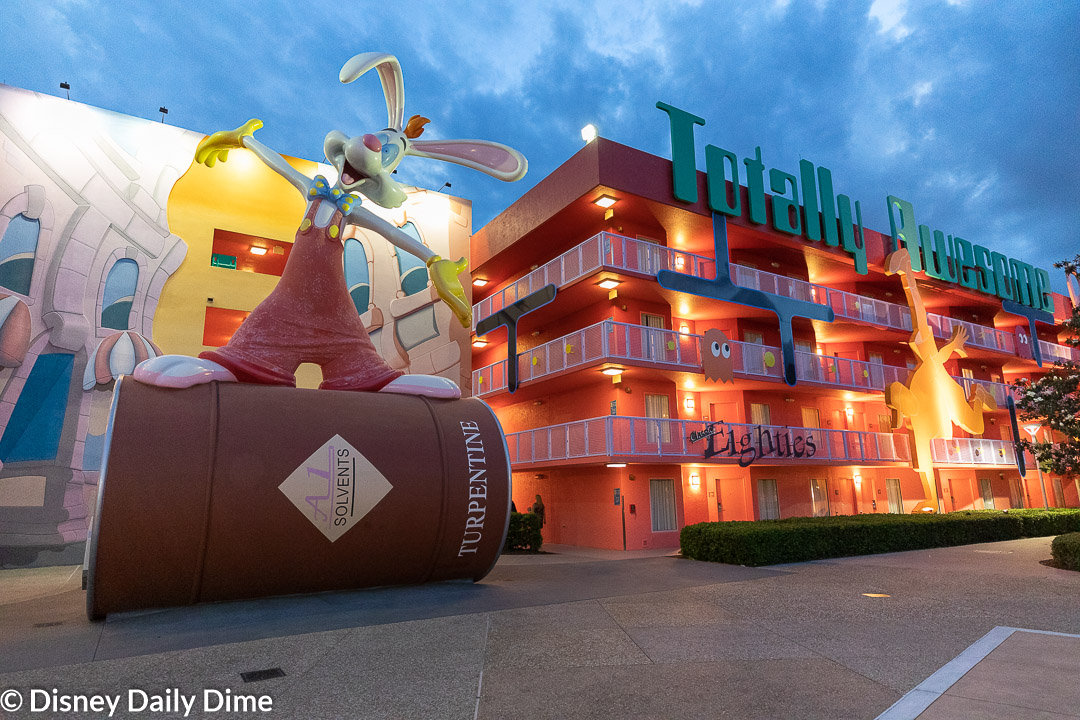 A feature of the resort that we LOVE is that it sits on Hourglass Lake.  If you like to take early morning strolls to start your day, there's a great path along the lake.  It is beautiful, relaxing and really enjoyable.
Disney's Pop Century Resort Amenities
The amenities available at Disney's Pop Century Resort are fairly standard for a value level resort at Walt Disney World.  You'll find pools, which we discuss in more detail below, along with a playground, and an arcade.
Pop Century also features a laundry area and general store.  You can park your personal vehicle at the resort, however you do have to pay for parking.  Right now, it runs $13 per night at value resorts.
The resort rooms come with a standard setup consisting of:
Dresser
Small table with 2 chairs (that folds down into a second bed)
Wi-Fi Internet Access (access is free of charge)
Flat-panel TV
Mini-fridge
Coffee maker
Ironing board and iron
Hair dryer
In-room safe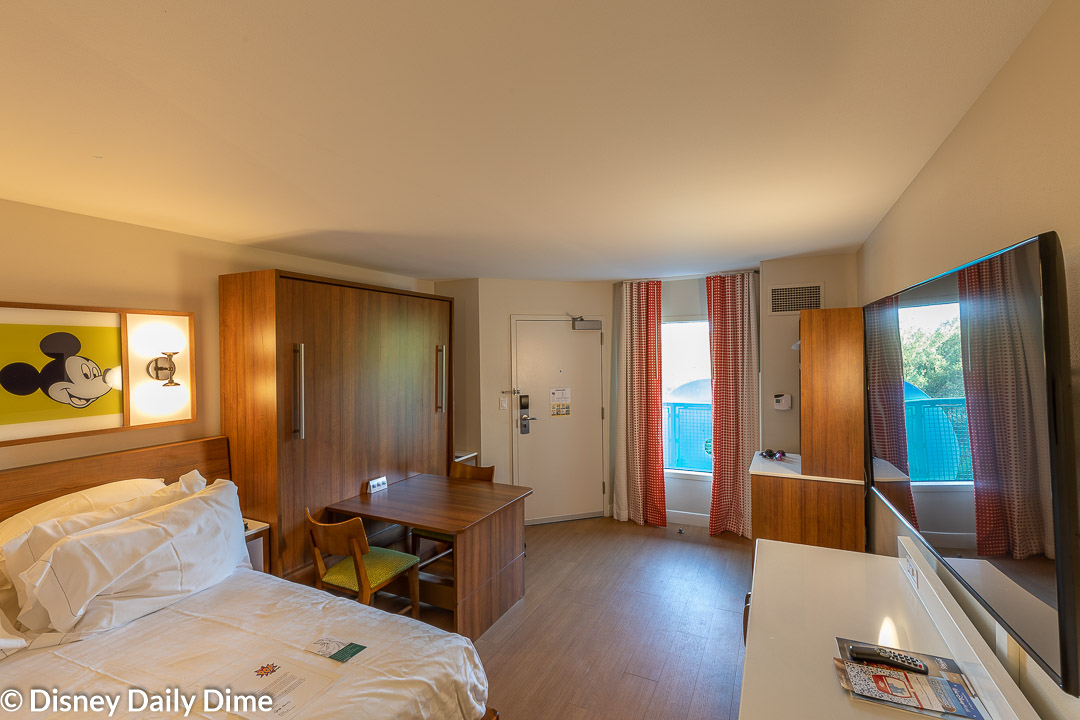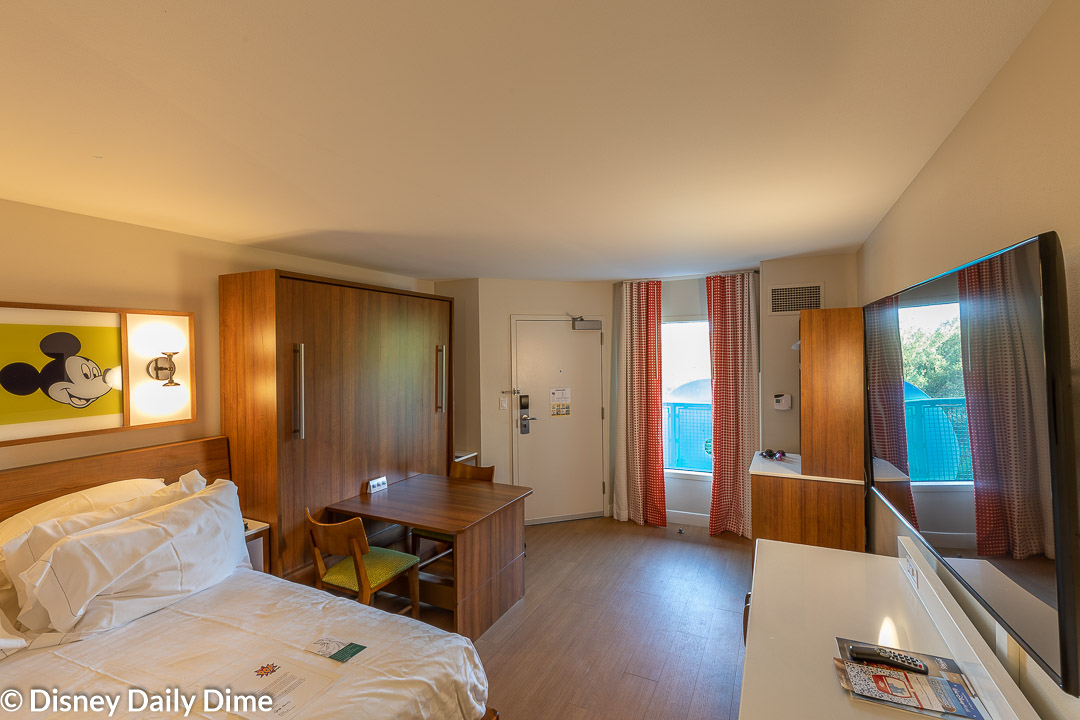 Pop Century Rooms Are Newly Refurbished
The rooms at Disney's Pop Century Resort are all the same, other than your location on the resort grounds, so our comments here are universally applicable.  You can get rooms that have either one king bed or two queen beds within the room types below.
Within the resort, there are the following room types:
Standard Room – ($131 – $246 per night)
Standard Pool View – ($136 – $257 per night)
Preferred Room – ($147 – $265 per night)
Preferred Room Pool View – ($158 – $272 per night)
All of the prices shown above are rack rate prices.  Disney frequently offers discounts that can get you in for less than this.  Do note that pricing changes from time to time, so check Disney's Pop Century Resort website for the most up to date pricing.
As we've already said, the rooms have recently been refurbished.  Because of this, we thought it would be helpful to go a little deeper with our pictures here in our Pop Century Resort review.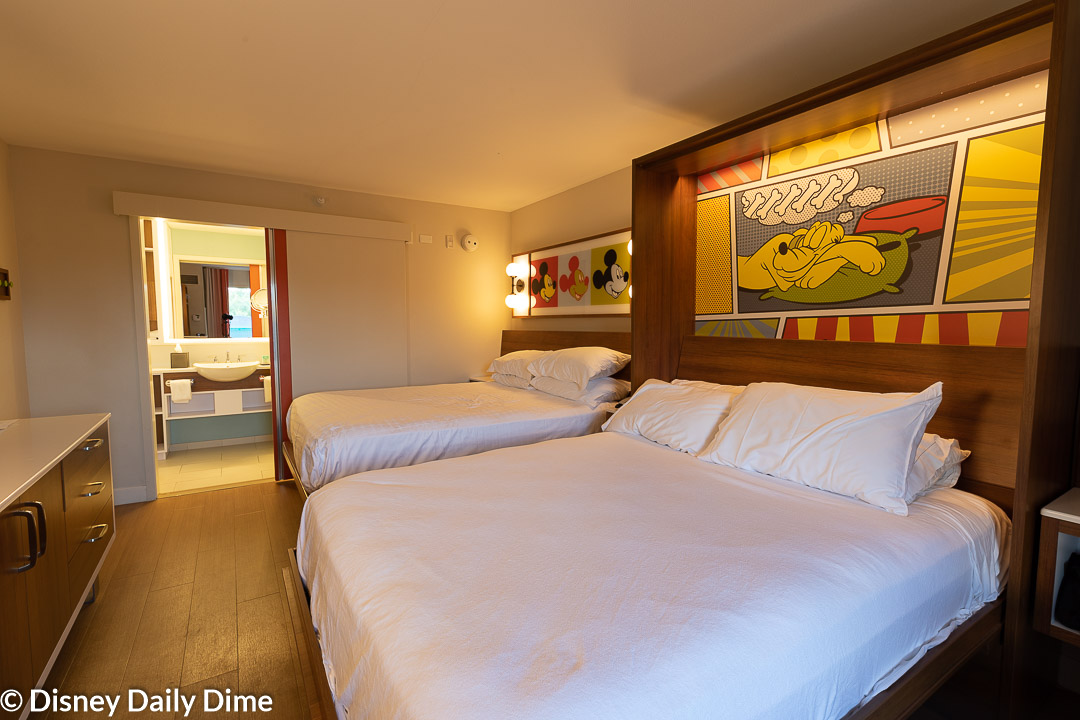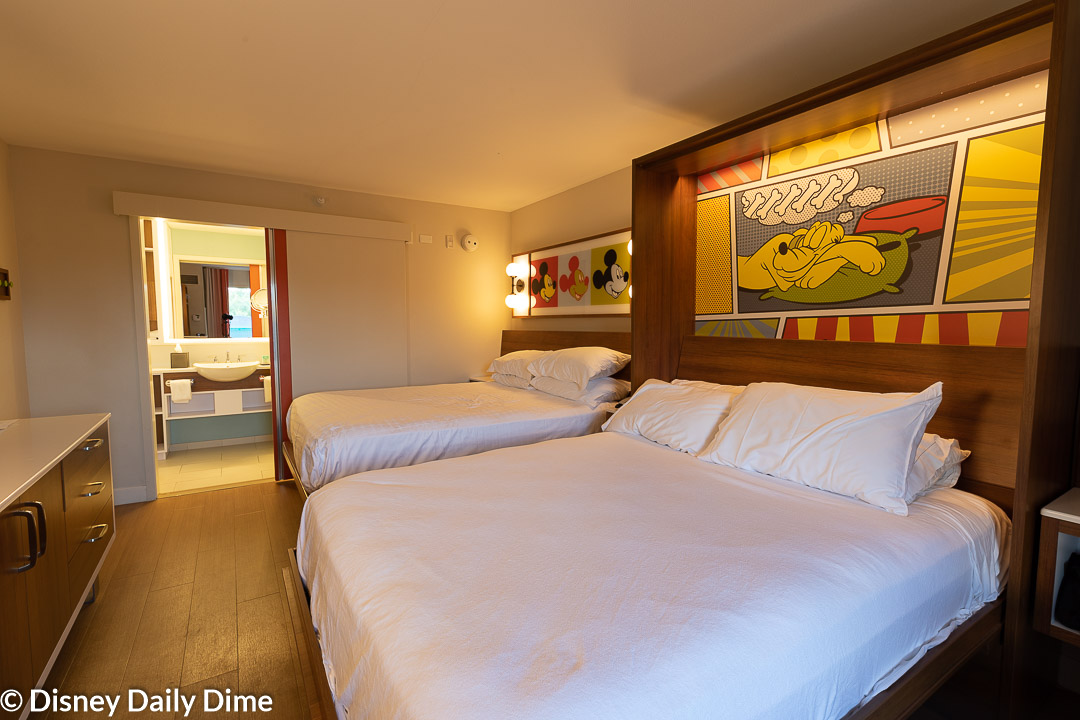 Within the rooms of Pop Century Resort, you'll find a standard setup.  The room size is 260 square feet.  They feature two queen-sized beds, which is a blessing for sleeping room.  As a point of comparison, the beds over at the All Star Resorts are all full-size.  At least until they complete the ongoing room refurbishments.  One of the queen beds is a murphy bed, that folds down where the table and desk is located.  The girls loved that Pluto was featured above this bed and both agreed to sleep in it because of that!  It was a Festivus miracle!
There are some people who would consider these rooms cozy.  With two kids and all of our luggage there is no cozy to be found.  They were just small.  The queen beds, while welcome, do make the rooms feel even smaller.  As one of our Instagram followers pointed out, make sure you watch out for your shins around these beds.  Walking space is tight.
Now we will say that being able to fold up one of the beds and get it out of the way is helpful if you are in the room and need to work or do other things.  The ability to store your empty luggage under the queen bed is helpful with the spaciousness of the room.
Arguably one of the best new features of the room is the plethora of plugs available for your devices.  If you've read our article on best tech gadgets to take to Disney World, you know we bring lots of gear with us.  That means we need to charge them at night.  The presence of several plugs, including USB plugs makes this much easier.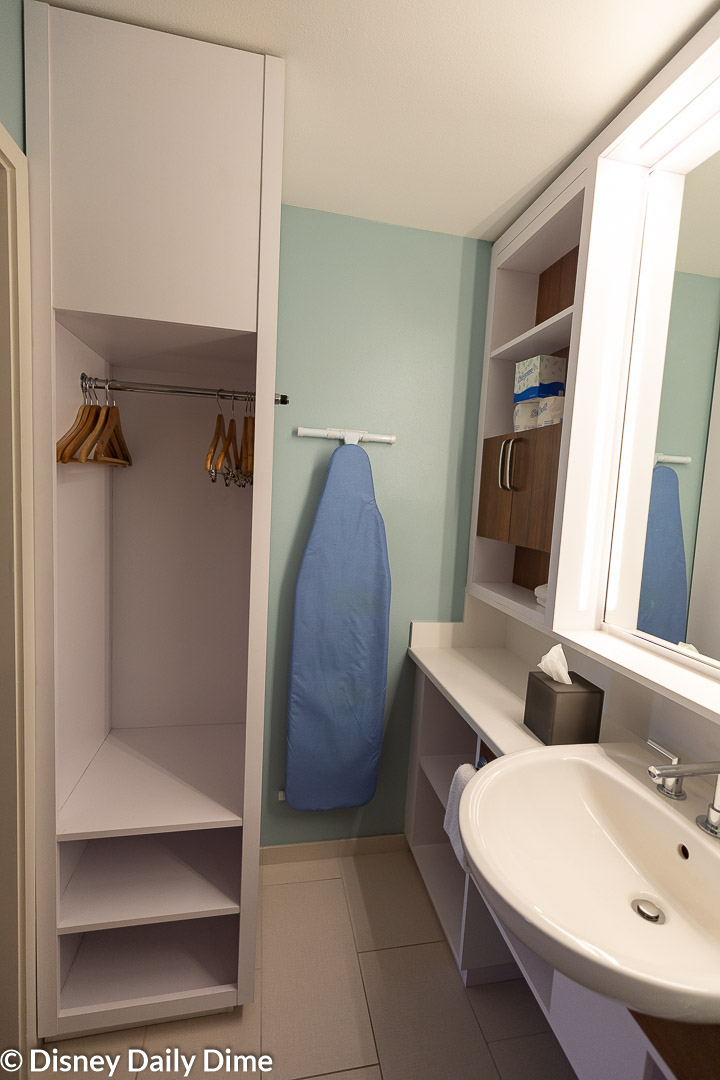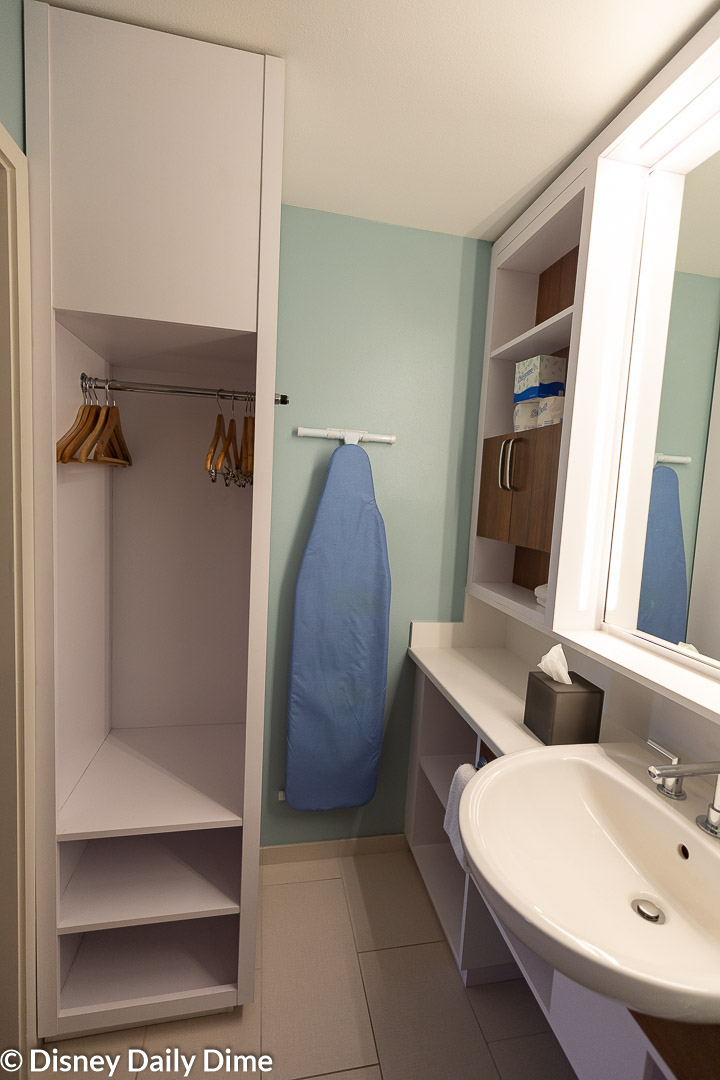 The vanity area is very small, but there was a significant improvement in the storage area.  With only one sink and a smaller counter area, you'll need that storage.  The setup was slightly challenging with an 8 and 5-year-old, but I can only imagine what it will be like when Anna and Elsa are teenagers.  The tradeoff to get the additional storage was that the "closet" area has been greatly reduced.  It is now only about two feet wide.  That's plenty of room for us, but if you need to hang up large amounts of clothes, this could be problematic.
One thing we appreciated about the vanity area is that it provides for a solid sliding door that you can close.  This provided more privacy for the girls to get ready, which I'm sure they will value more as they get older.  As a point of reference, the All Star Resort rooms only have a curtain you can close to separate the vanity area from the main living area of the room.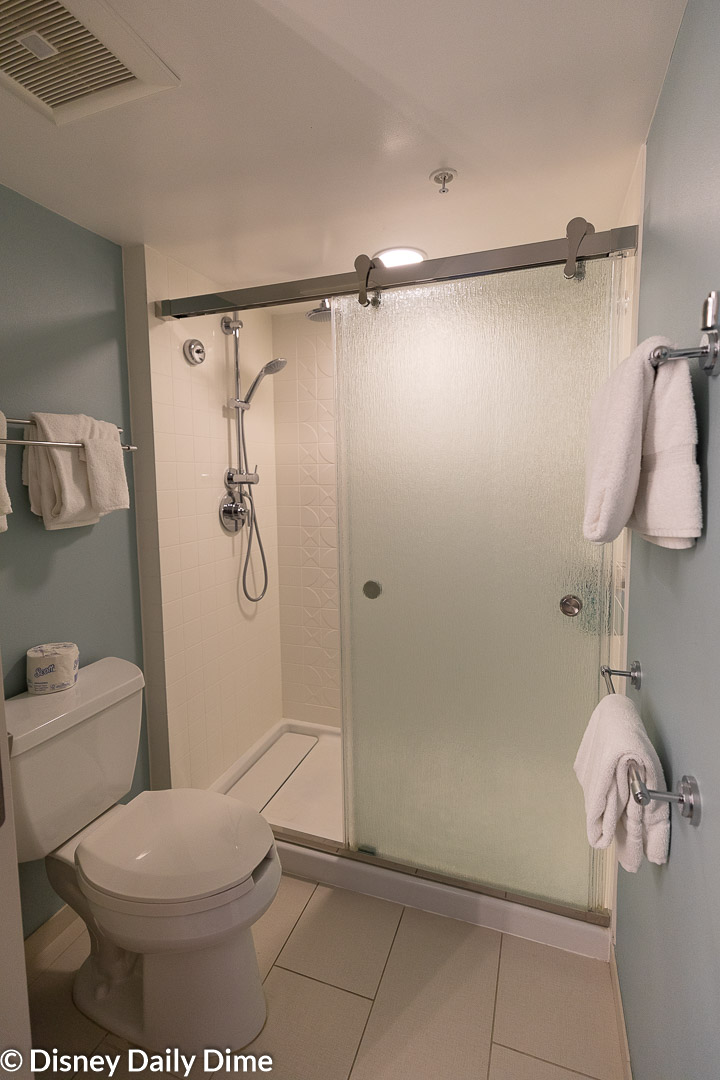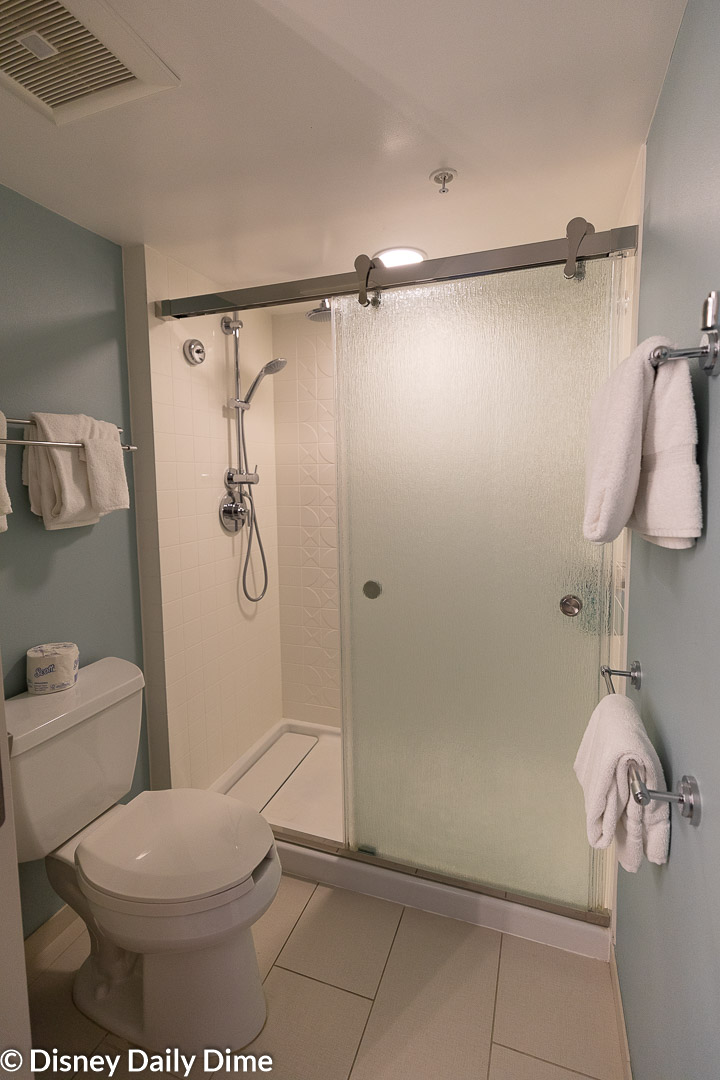 The bathrooms in the newly refurbished rooms at Pop Century Resort are a welcome change.  While the physical footprint isn't any different, having a walk-in shower was a plus to us.  The bathrooms are bright and are a definite upgrade from the original rooms.
If we had one real criticism of the newly refurbished rooms at Pop Century, it would be the theme of them.  Rather the lack of one.  If you're staying at a Disney World resort, you expect rooms that have a theme that ties in with the resort.  Admittedly the tie in at the value resorts has always been fairly light, but there has been at least something connecting the room and resort theme.  The new rooms don't really tie into anything, which is disappointing to us.  If it wasn't for the Mickey and Pluto art above the bed, you wouldn't know you were at a Disney resort.  Carla's view is that this is a continuation of a trend at Disney to de-theme the rooms and we view it as unfortunate.
Preferred rooms at Disney's Pop Century Resort are found in the 50s, 60s and 70s buildings.  These rooms will provide a shorter walk to the main lobby (known as Classic Hall) and some will even have a view of the pool area.  We stayed in the 90s building, which was a standard room and found the walk to be longer than we expected.  We didn't time it, but would estimate it to be about 5-8 minutes.  That's a long way when you want to refill your refillable mug.  The resort isn't nearly as large as Port Orleans Riverside, but if you're in one of the outer rooms you'll walk a ways to the lobby.
The Three Pool Options at Pop Century are Pretty Basic
Disney's Pop Century Resort has three pools for resort guests.  There is a main pool, centrally located behind Classic Hall, and then two other smaller pools located in the farther reaches of the resort.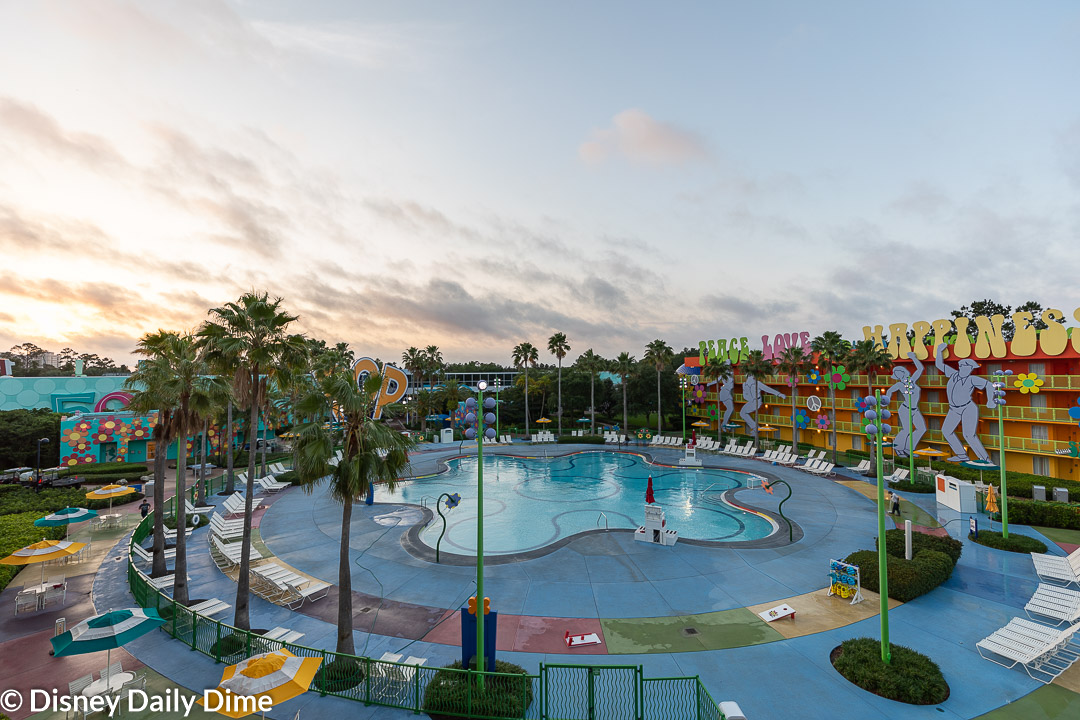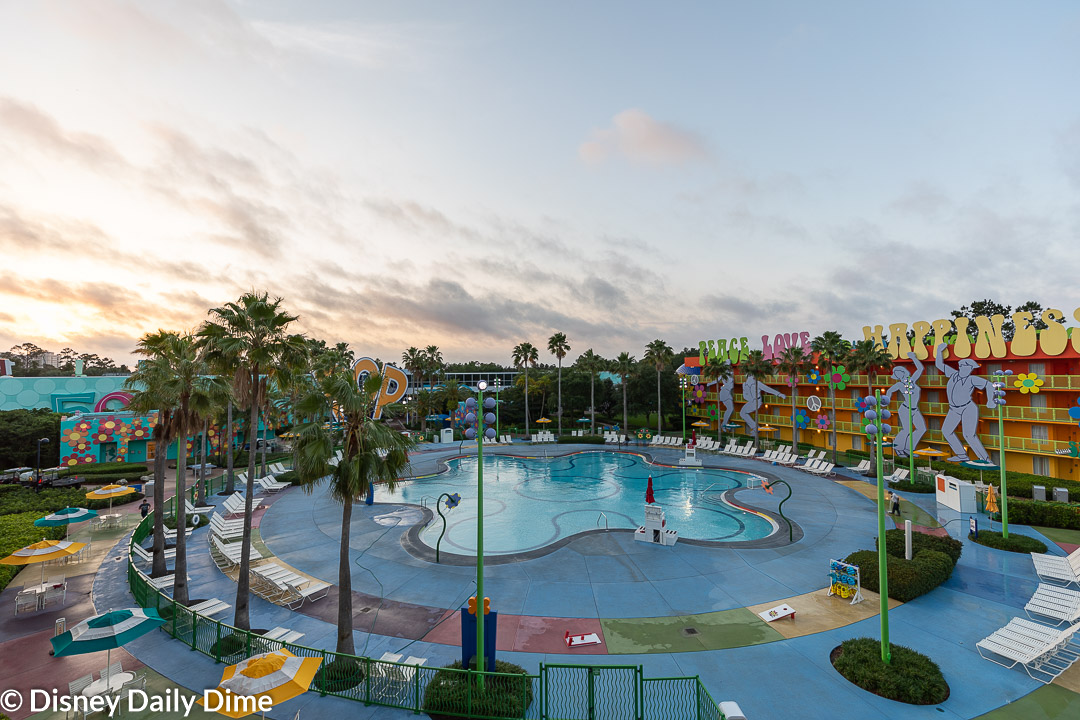 Hippy Dippy Pool
The larger and more active pool at Disney's Pop Century resort is known as the Hippy Dippy Pool.  It is located right outside the back of Classic Hall, tucked in between the 60s buildings.  Shaped like a flower, the pool is no frills.  There's no slide, diving board or the like.  They do have what they call flower-shaped water jets.  Jet may be a strong word, but yes, they spray water.
There is no jacuzzi or hot tub located at this resort.  That's the norm for value resorts.
We found the Hippy Dippy Pool to be the most active pool at Disney's Pop Century Resort, which is likely because of its size and central location.  It is also the pool where you'll find activities for the kids.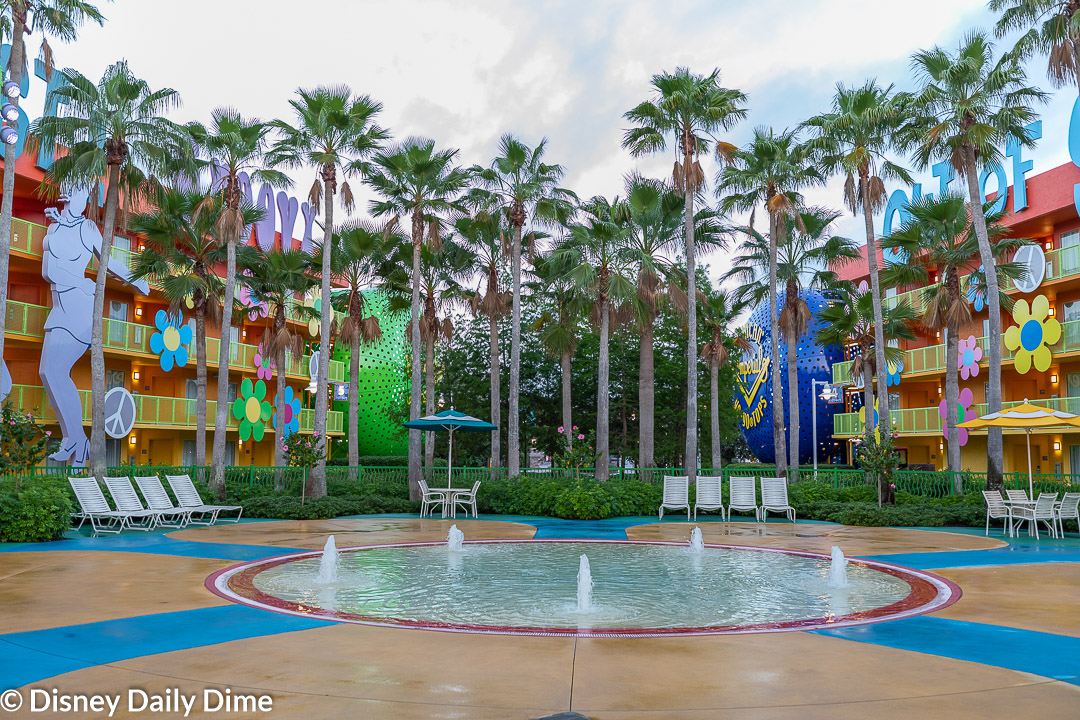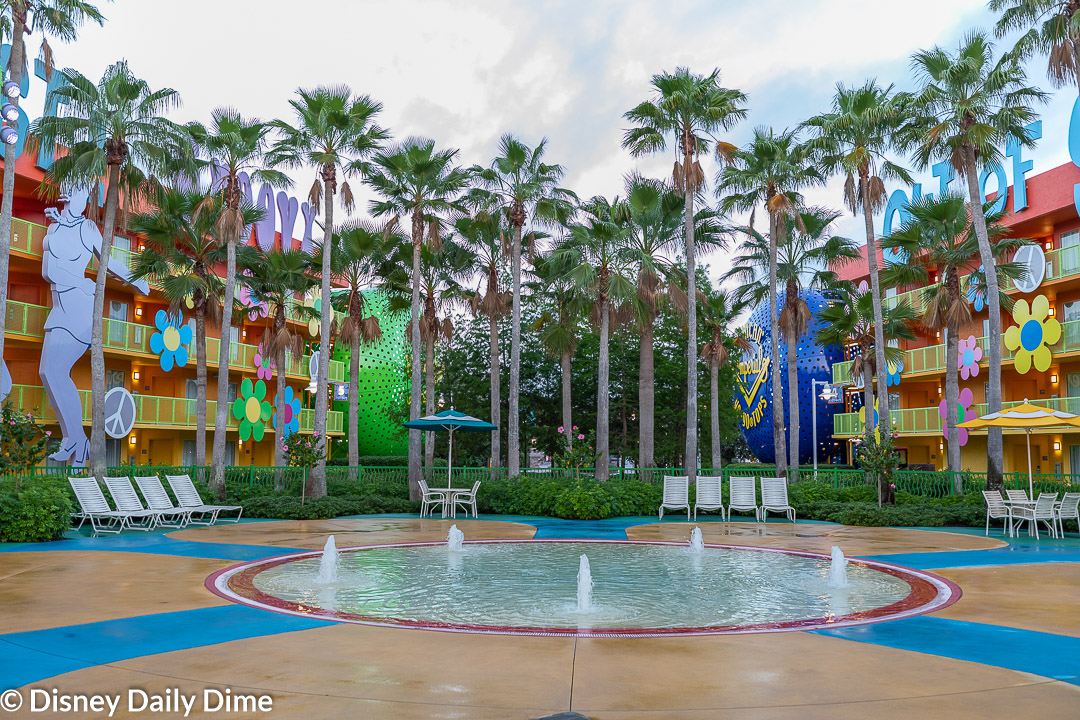 Right next to the Hippy Dippy Pool is a splash area for smaller kids and inexperienced swimmers.  It's nothing amazing, but when the girls were younger these splash areas were great to have around.  Little kids don't really care as long as it has water.  You can see a picture of it above here.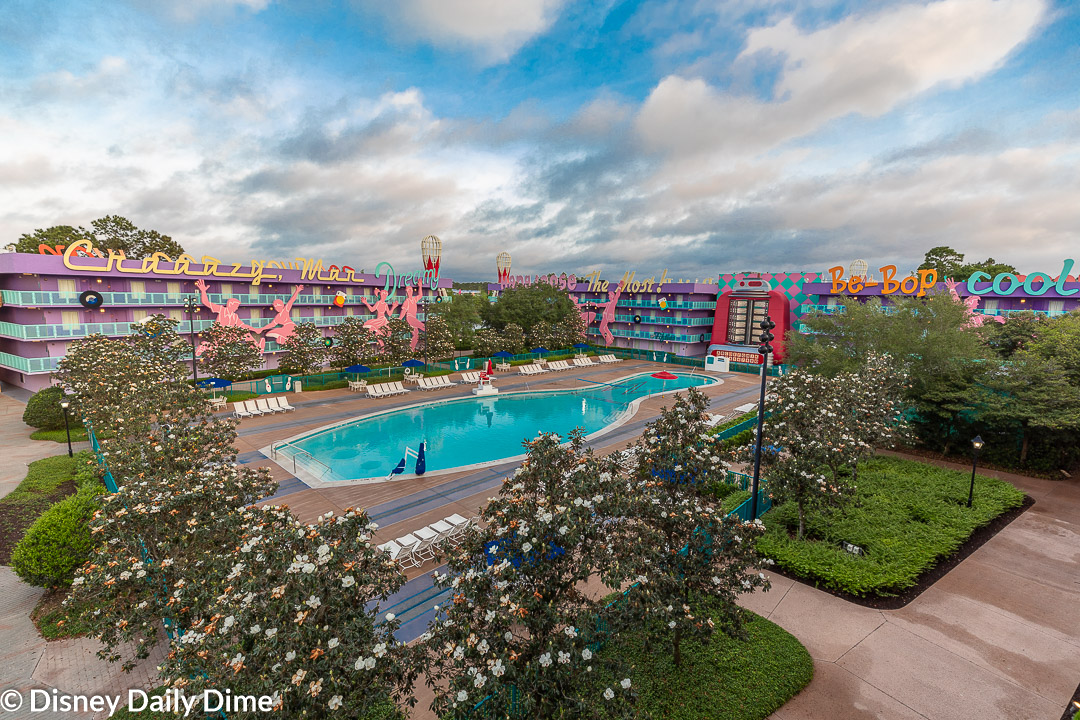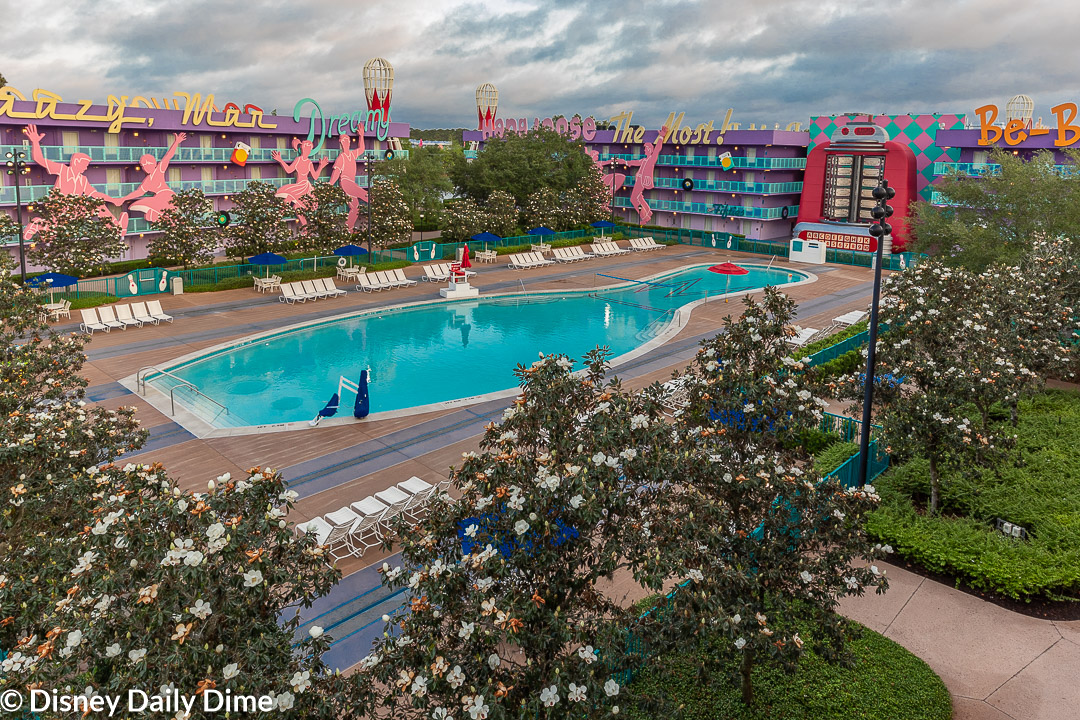 Bowling Pool
The Bowling Pool sits back in the 50s section of the resort.  It is shaped like a bowling pin and features a volleyball net.  There is some theming around the pool itself that enhance the bowling alley feel.   Beyond that it's a basic pool.  The Bowling pool is one of the quiet pools of the resort.
One aesthetic thing we like about this pool and the Computer Pool is that they are adorned with Magnolia trees nearby.  If you catch them while in bloom, they are beautiful, assuming you like Magnolia trees that is.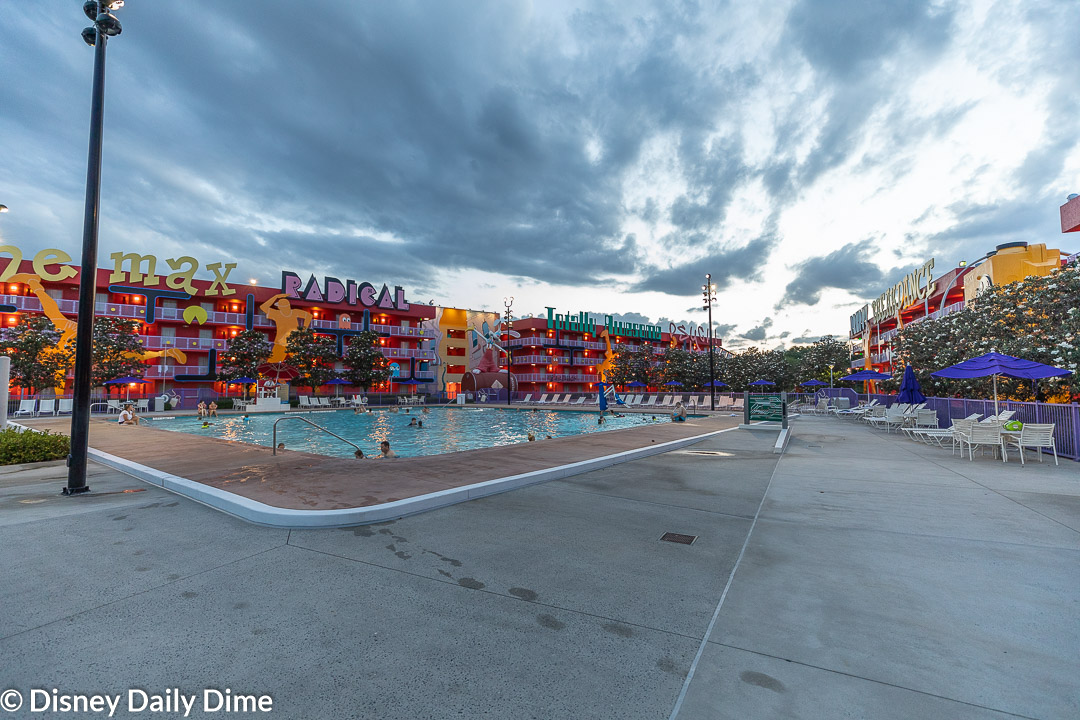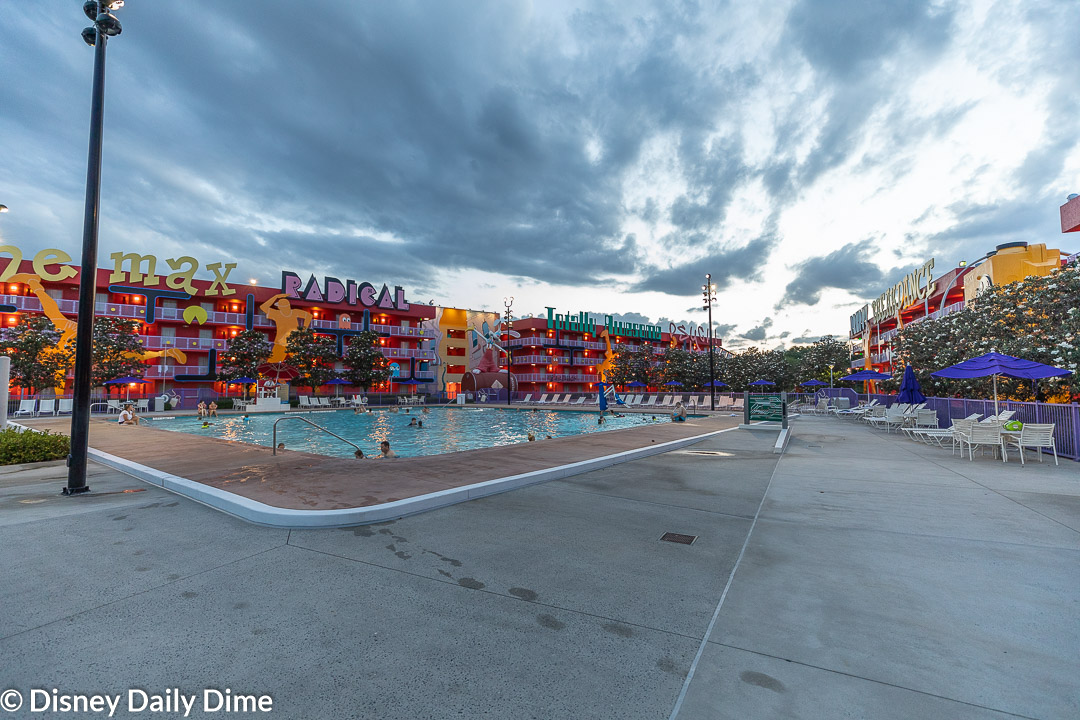 Computer Pool
At the far other side of Disney's Pop Century Resort is the Computer Pool.  If you think the Bowling Pool was basic, the Computer Pool might feel like a pond to you.  It is a pool and nothing more.  It's in a rectangular shape as the pool is the monitor while the keyboard of the computer is laid into the walking area outside of the pool.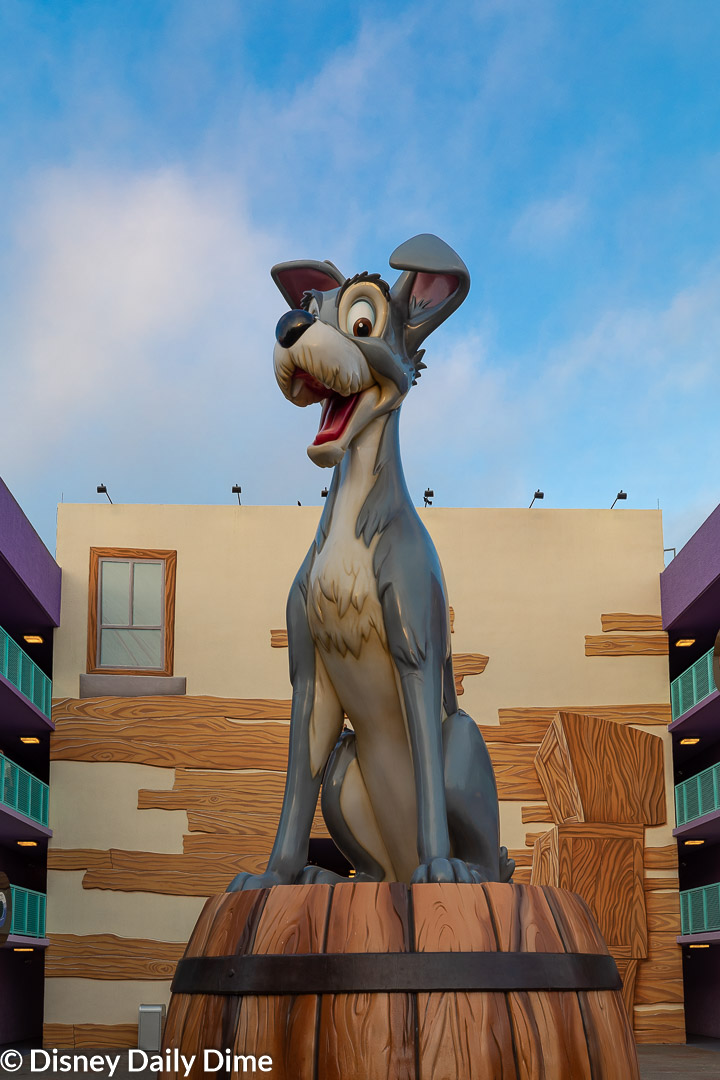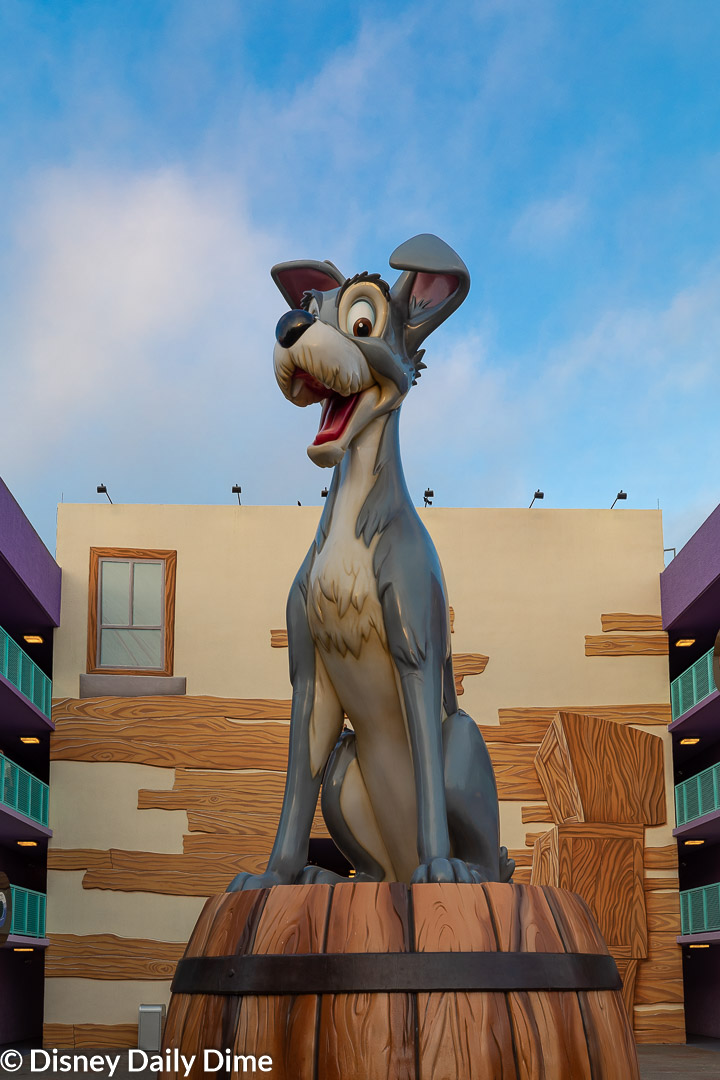 Disney's Pop Century Resort Only Offers Bus Service, but the Skyliner is Coming Soon
Like all value resorts, the transportation options at Pop Century are limited.  Limited may be generous, because right now there is only one option.  And that's bus service.
One of the plusses of the bus service is that you will find a dedicated bus route.  There's no bus sharing, like you find with the All Star resorts at times.
Pop Century is located pretty close to Epcot and Hollywood Studios.  That means your bus ride time to these two parks will be reasonably short, usually around 15-20 minutes.  Magic Kingdom and Animal Kingdom are a little further away, so expect around 20-25 minutes to get to those parks.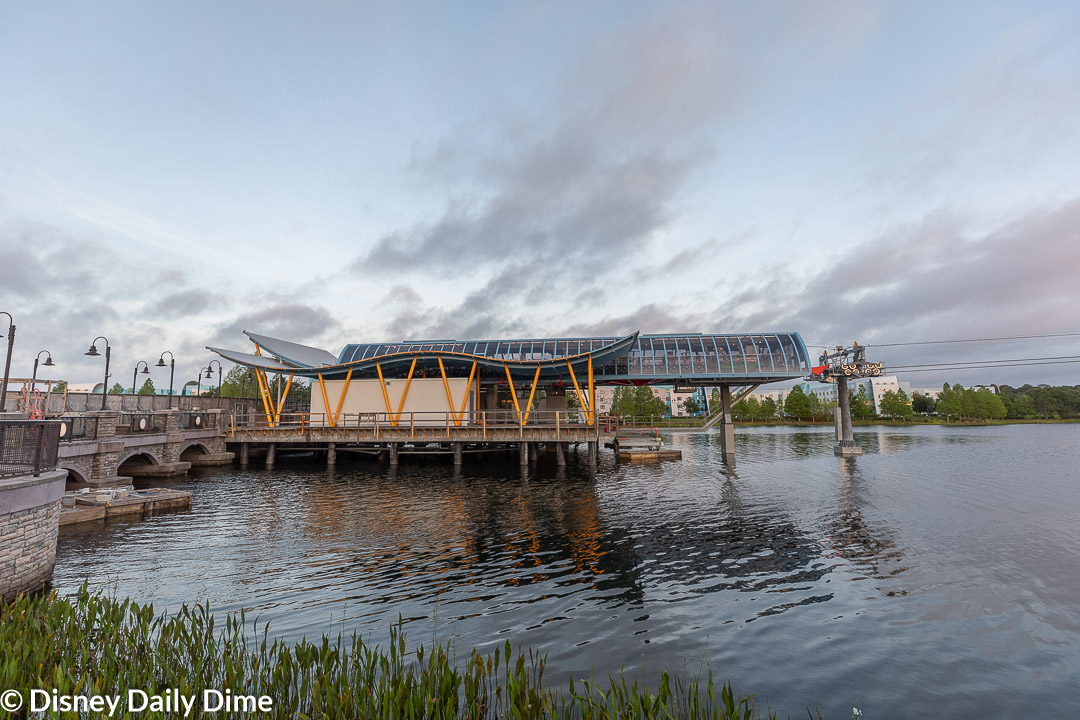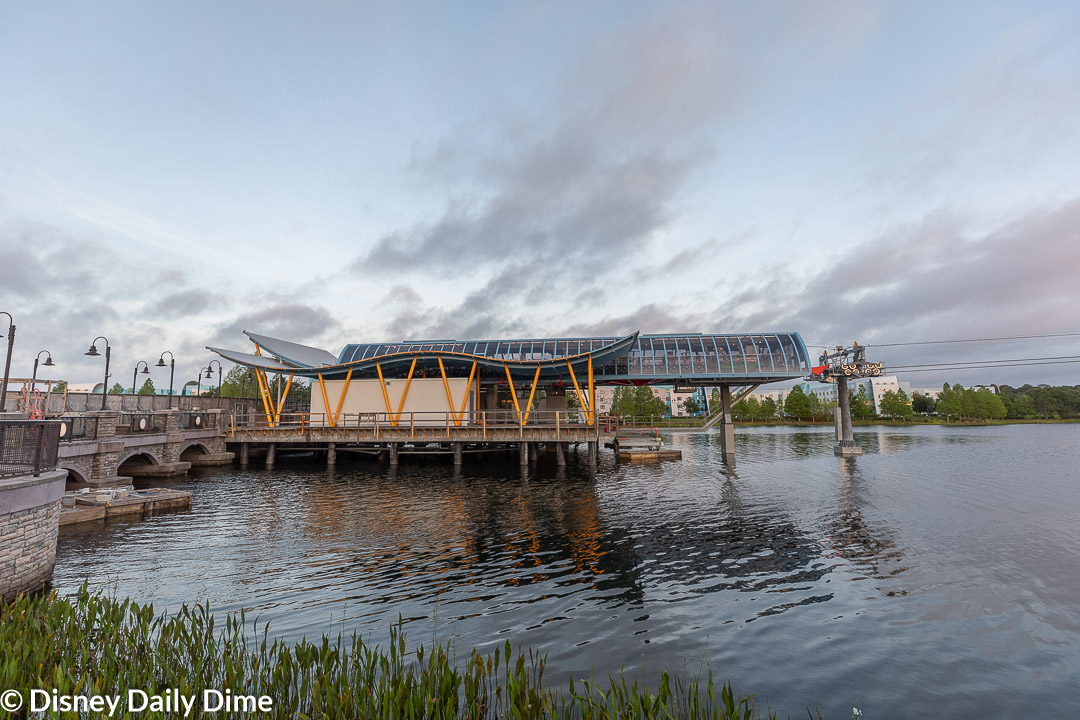 In addition to the buses, Disney World is currently building a new gondola system, known as the Skyliner, that is anticipated to open in the fall of 2019.  Once open, it will provide a new way to get to Epcot and Hollywood Studios.  When Galaxy's Edge opens up on August 29th, this will be an excellent avenue for traveling to Hollywood Studios.
The station for the Skyliner is located on the bridge out on Hourglass Lake between Pop Century and Art of Animation.  You can look at our Pop Century resort map to see where it is located.  This likely will be a future point of differentiation that will keep us towards Pop Century or Art of Animation, over the All Star Resorts.  The All Star Resorts will not have access to the Skyliner.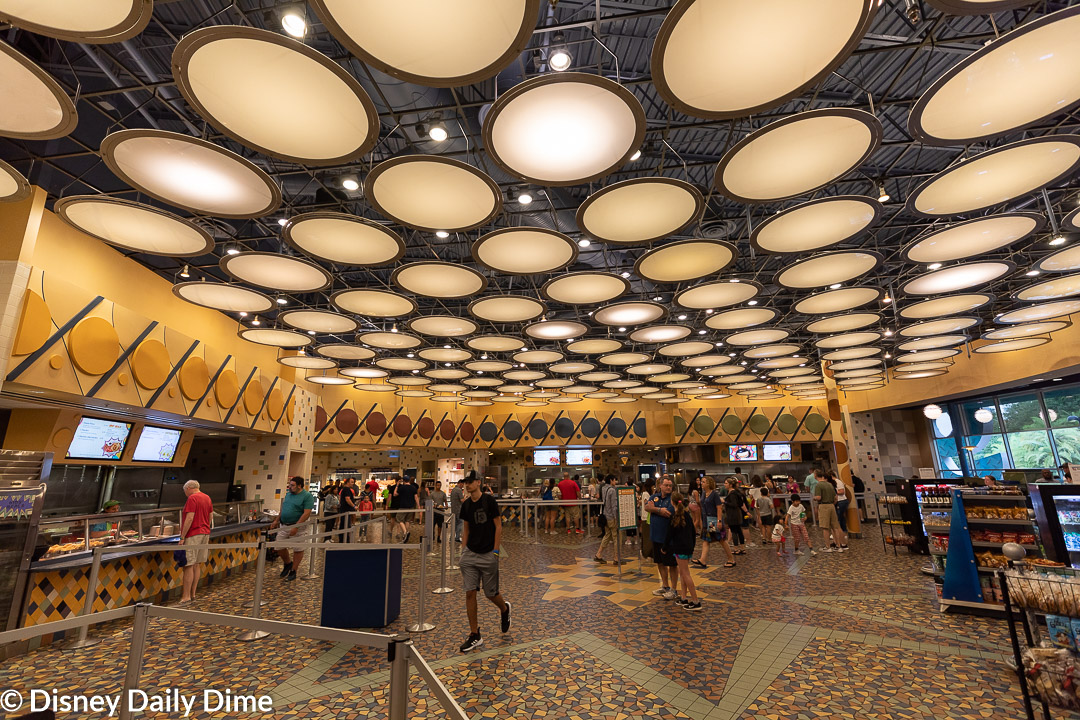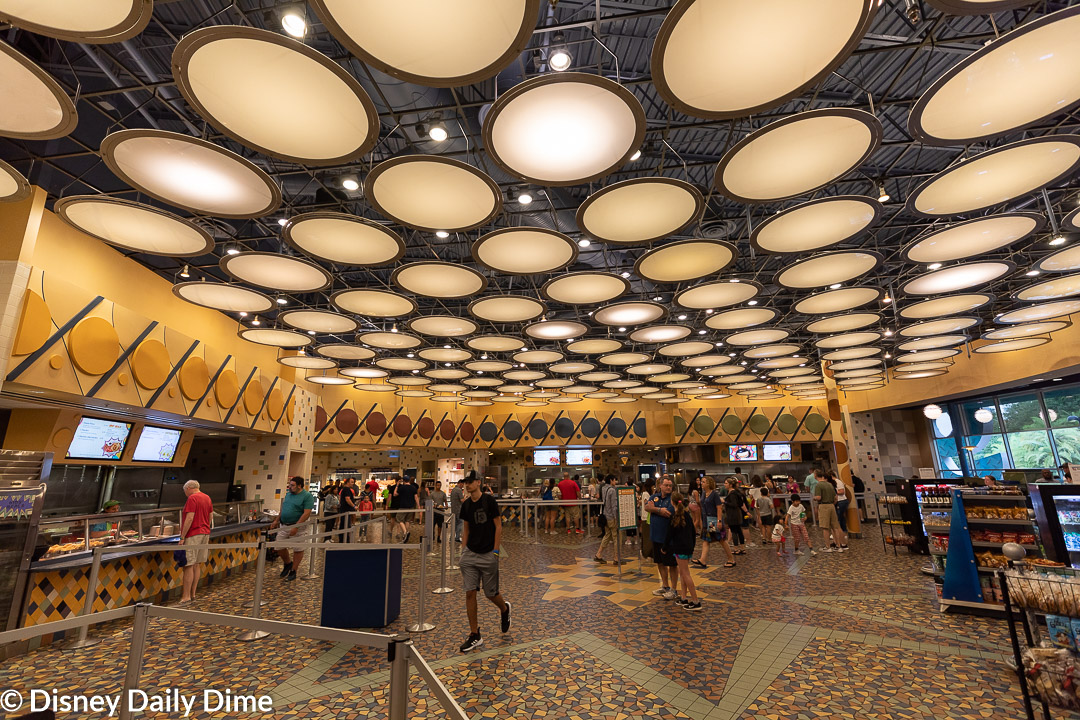 Disney's Pop Century Resort Only has a Food Court for Dining
Like all of the other value resorts around Disney World, Pop Century only has one dining option.  Known as Everything Pop, it's a spacious counter service location that features several options for eating.
We've done a complete Everything Pop review if you want more information, but for the purposes of this article, we'll say it was an upgrade over our experience at End Zone Sports at All Star Sports.  It appears Disney has been working hard to provide a better dining experiences at the food courts for these guests.  These better food options, at a lower price point, are welcome for those staying at the value resorts.
Our advice would be to be thoughtful about what you pick to eat at Everything Pop.  The premade pizza and hockey puck hamburgers are available for sure, but there are some better options available too.
In addition to the food court hot serving stations, you will also find a smaller refrigerated section.  They have a variety of cold options that you can take with you, but what we love to look at is the cupcakes!  You've got to have something sweet, right?!  They usually have some fun options and sometimes unique cupcakes that are not found everywhere.
There is also a pool bar available if you want a cocktail while swimming at the Hippy Dippy Pool.  Known as Petals Pool Bar, you'll find a basic assortment of mixed drinks, beer and wine.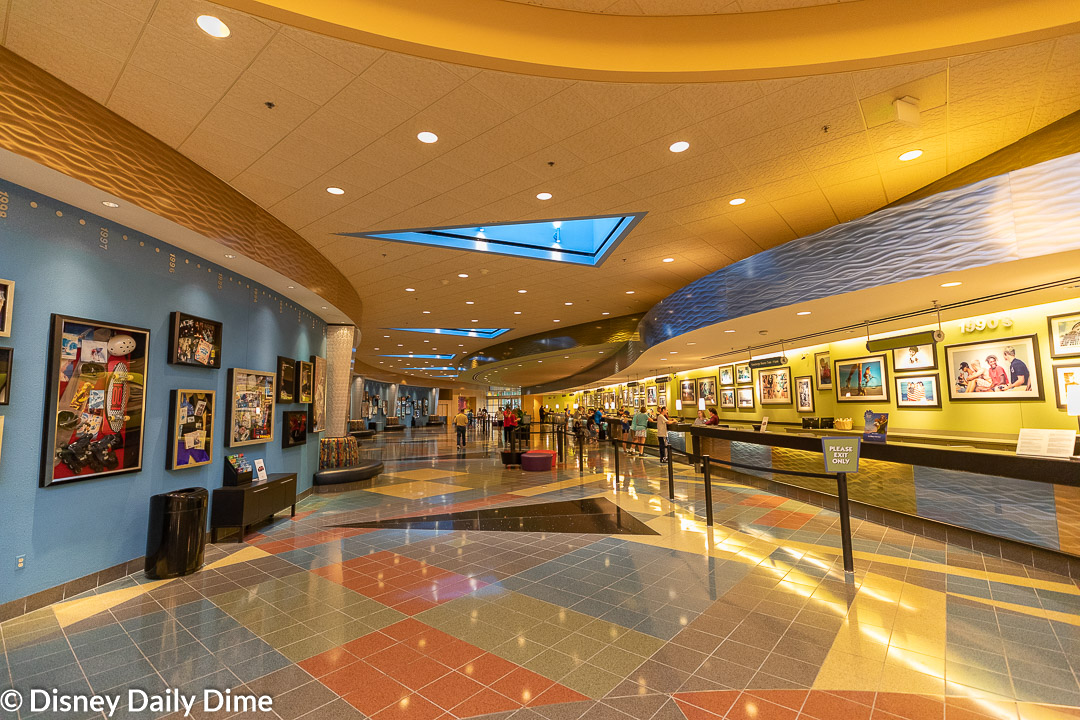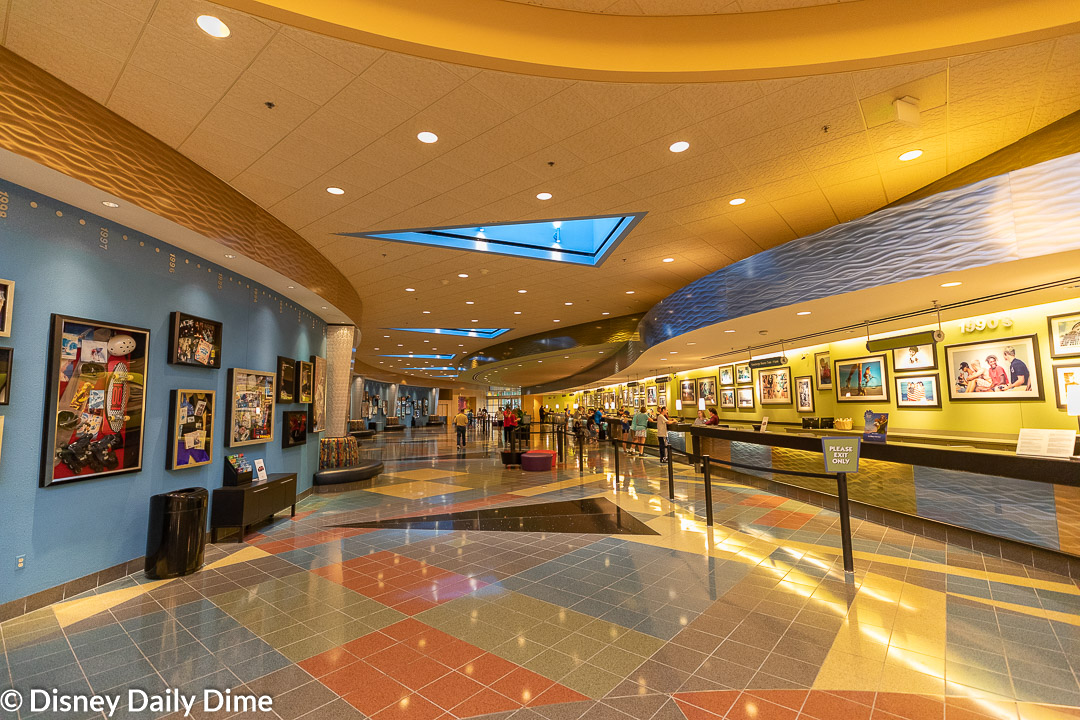 Recreation at Pop Century Resort
Disney's Pop Century Resort also features a few recreation opportunities you may want to take advantage of.  These include:
Movies Under the Stars
Jogging Trail
Playgrounds
Video Arcade
Poolside Activities
The recreation opportunities are pretty limited compared to the moderate or deluxe resort category.  One thing that is a plus is almost all of these are free, other than paying for the games in the video arcade and s'mores.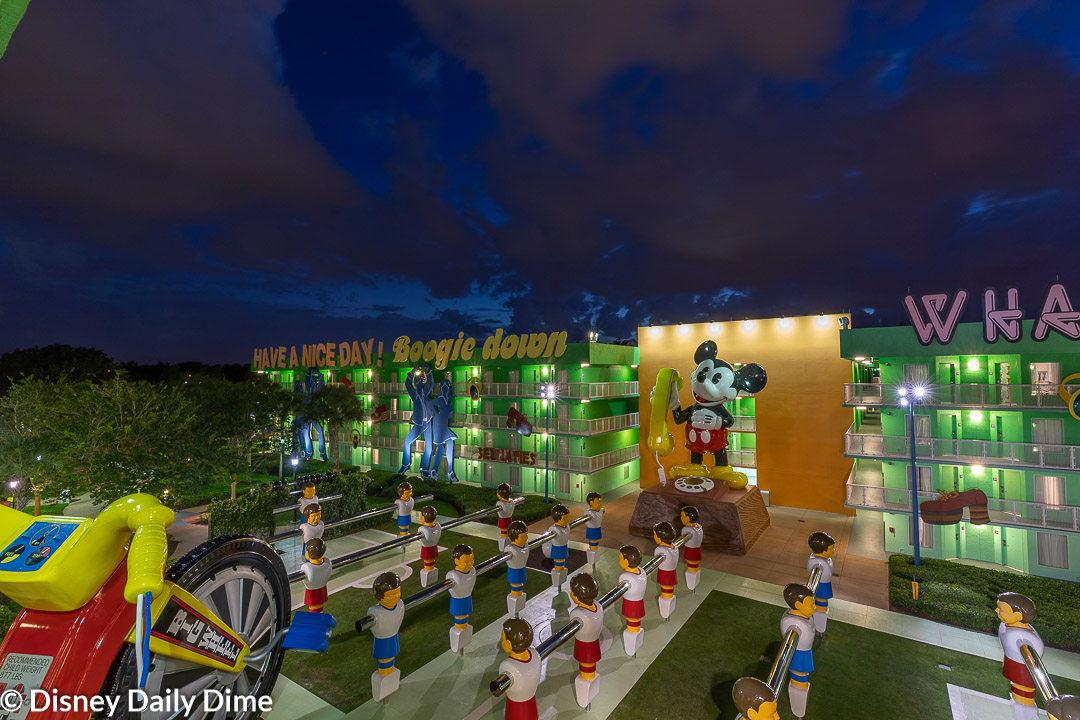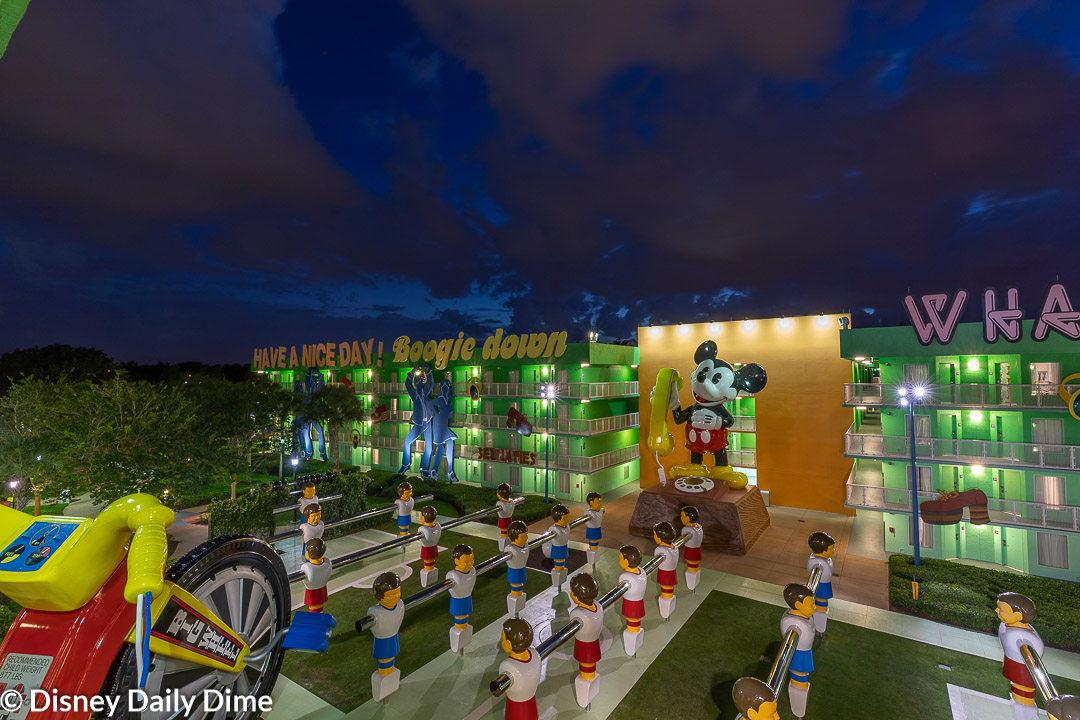 If the Theme is Something You Like, Disney's Pop Century Resort is the Best Value Resort for the Money…For Now
While people have varying reasons for staying at a value resort, price is probably the most common point of differentiation.  Paying somewhere between $110-150 per night at rack rate prices is a lot more appealing than paying the $225 or more it would cost you to stay at a moderate tier resort like Port Orleans French Quarter or $500 per night at a deluxe resort like Disney's Polynesian Village Resort.  If price is your main concern, we think that Disney's Pop Century resort is a great middle ground.  You get an upgraded room, with a lower price point compared to the higher end resorts.
The trade-off you make is the theme.  Value resorts are often criticized for a cheap theme, gaudy décor and a motel feel.  We don't think those criticisms are unfounded.  But that's the price you pay to get these nightly rates.
Whether that is worth it to you comes down to what you want in a resort.  If you take the view that a resort is "just where I sleep", then the value resorts are probably a great choice.  We think Pop Century is the best option in this case because of the upgraded rooms.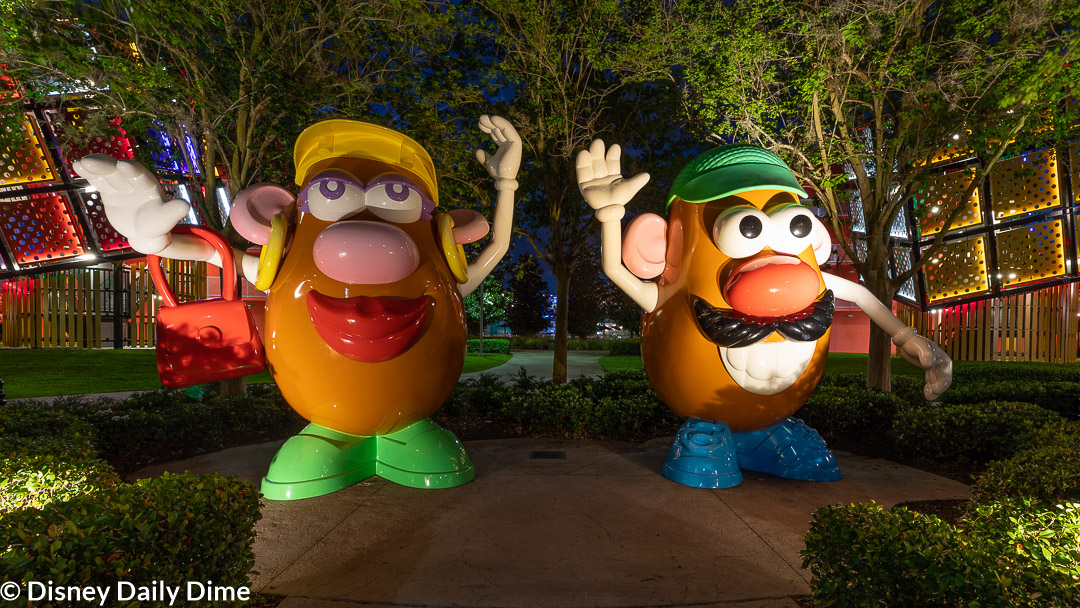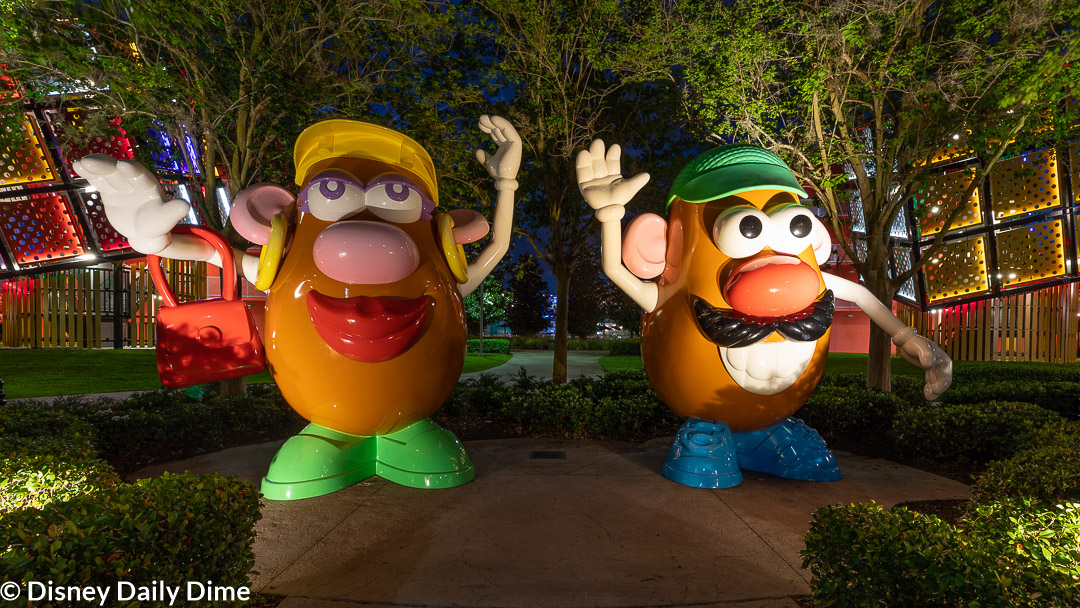 If the theme does nothing for you, then you may want to look at Art of Animation for a few dollars more per night.  As the All Star Resorts finish out their room refurbishments, they will once again be in the mix, in our opinion.
Getting access to the perks of staying at a Disney Resort, while keeping the price down may be another reason you want to stay at a value resort.  If the perks don't matter to you or you plan on renting a car while at Disney, then you may be better off staying off property to keep costs down.
If all things are equal, then I'd go with the resort theme that fits you and your family best.
Wrapping Up
With that, we'll wrap up our Disney's Pop Century Resort review.  If the theme is something you love, it is probably the best value resort at Disney World.  Do you have thoughts on things we missed in our Pop Century review?  Is there a different value resort you prefer?  If so, drop down in the comments section and let us know your thoughts.
We hope you found our Disney's Pop Century Resort review helpful.  If you did we'd greatly appreciate it if you would share it on social media.  It helps get the word out on our blog and makes us feels like we're doing something right.  Just use the social media sharing buttons on this page.