As we've made our rounds at every Disney World resort, we've noticed that almost every deluxe level resort has a character breakfast.  I think we've always intuitively known it, but never really pondered that fact.  At Disney's Grand Floridian Resort & Spa, that breakfast takes place at 1900 Park Fare.  Here in our review of this Disney character breakfast, we'll give you our thoughts on the ambiance, food, décor, and of course, the characters.
The 1900 Park Fare breakfast is officially known as the Supercalifragilistic Breakfast, but we rarely hear anyone refer to it as that.  It's a breakfast buffet, as most of the character breakfasts tend to be.
For those of you using the Disney Dining Plan, breakfast will cost you one table service credit.  Because of the cost of the meal, the 1900 Park Fare characters breakfast is an excellent use of your table service credit.
1900 Park Fare does accept Tables in Wonderland if you have that discount card.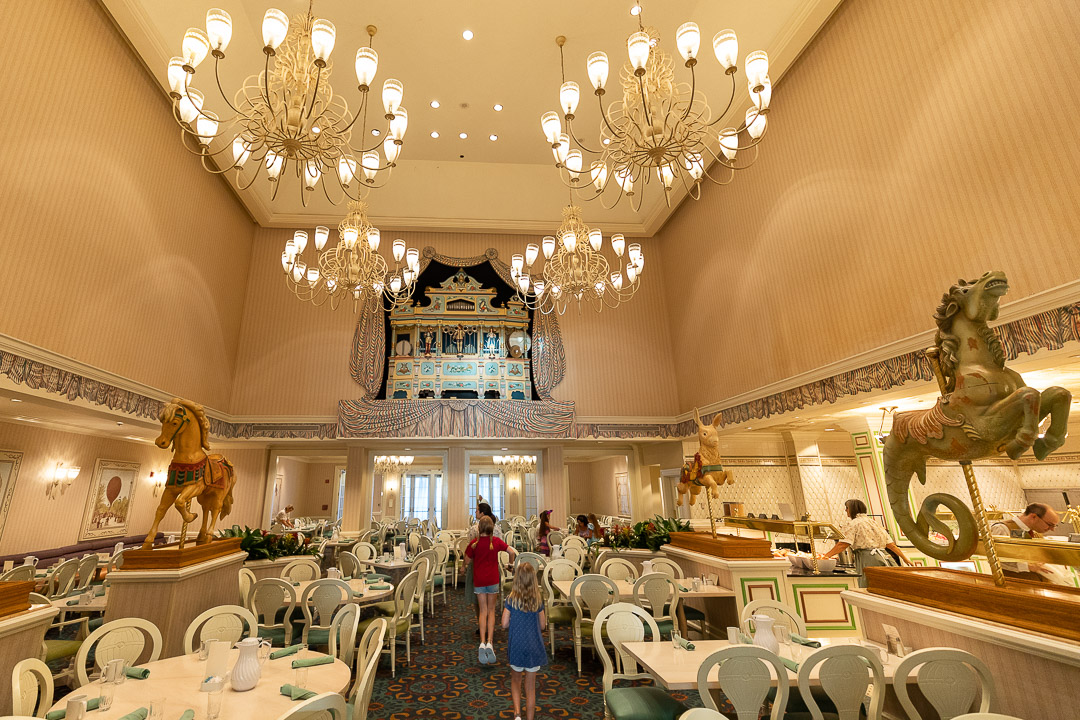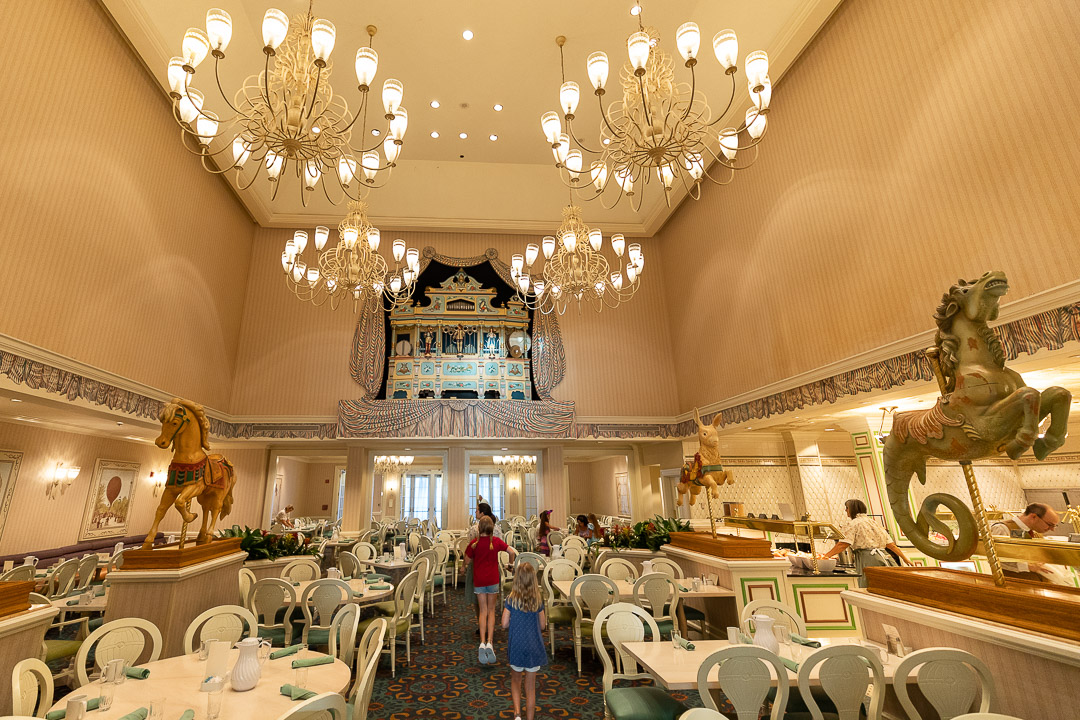 The Décor of 1900 Park Fare Fits with the Resort, for Better and Worse
If you've read our Grand Floridian Resort & Spa review, you know that the resort features a Victorian theme.  That theme carries over to 1900 Park Fare in both its good and not so good elements.  We found the décor and general feel of the restaurant a little dated.
It has a Victorian-themed amusement park décor spread throughout the room.  You'll find carousel "horses" on display throughout the main dining area.  I say "horses" because they aren't all horses; instead they are various animals.  They're a fun little touch in the room and something you should check out if the restaurant isn't too busy.
The headliner of the décor is the giant organ that is built into the back wall as you walk into the restaurant.  We had a reservation first thing in the morning and as soon as we walked in, the organ started blaring!  It was a bit jarring at first, but after we got over the shock, we actually enjoyed the music and it added a nice little bit of whimsy that paired with the characters very well.  If you are worried about the noise, there is nothing to fear.  It only plays for a minute or two and then stops.  The time it played was the only time we heard it during the duration of our 1900 Park Fare breakfast.
So while the décor has its hits and misses, this is character breakfast, right?  Let's talk about them!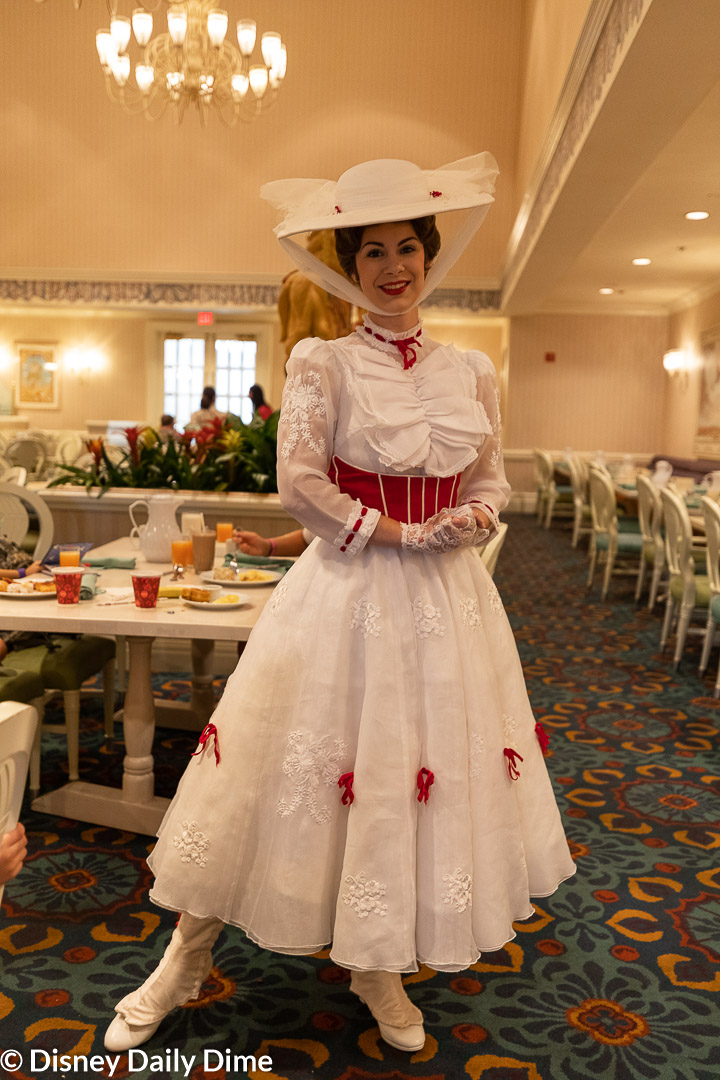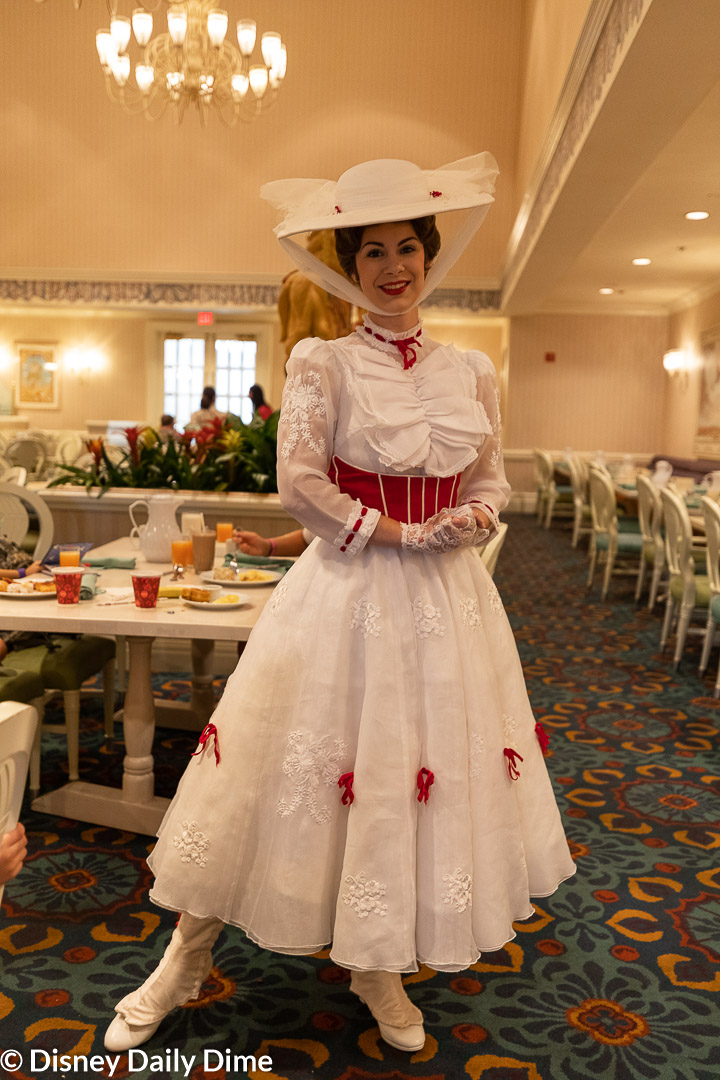 The 1900 Park Fare Breakfast Characters are a Hoot
The character lineup at our 1900 Park Fare breakfast was really robust.  We've seen other reviews and trip reports where people saw a far more limited rotation of characters.  I think we got the full line up!
Before we talk about individual interactions, I will say that as a whole, the characters were great!  If I had one criticism of the characters, it would be that they didn't interact with each other.  When you have characters at a meal that are from the same movie or universe, isn't that we say in the days of Marvel, it seems like they should play off each other.  Those are the types of interactions that make character meals amazing.  If you want to see some character meals where we felt this type of interaction was at its finest, check out our Topolino's Terrace character breakfast review or our Bon Voyage Adventure breakfast review.
Our meal started with our hostess, Mary Poppins.  As you would expect, she was practically perfect in every way!  She was stately, yet had a sharp wit about her.  Something she was more than willing to use on Anna and Elsa, which they loved!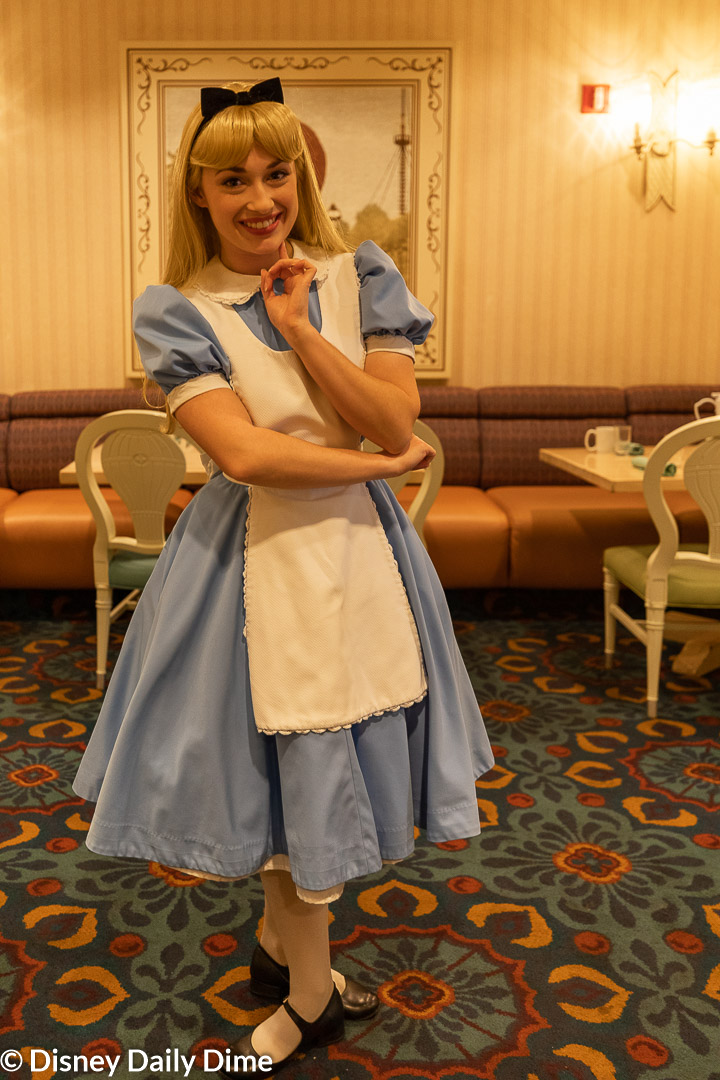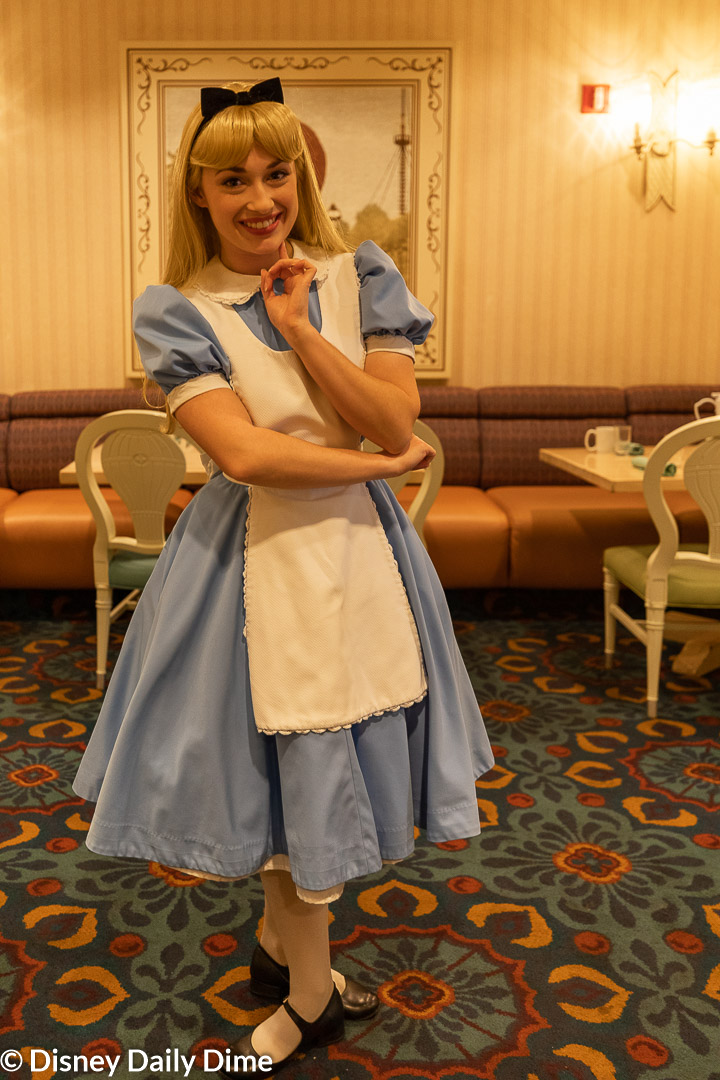 Next came Alice, who was cheery and joyful.  The girls always love meeting her.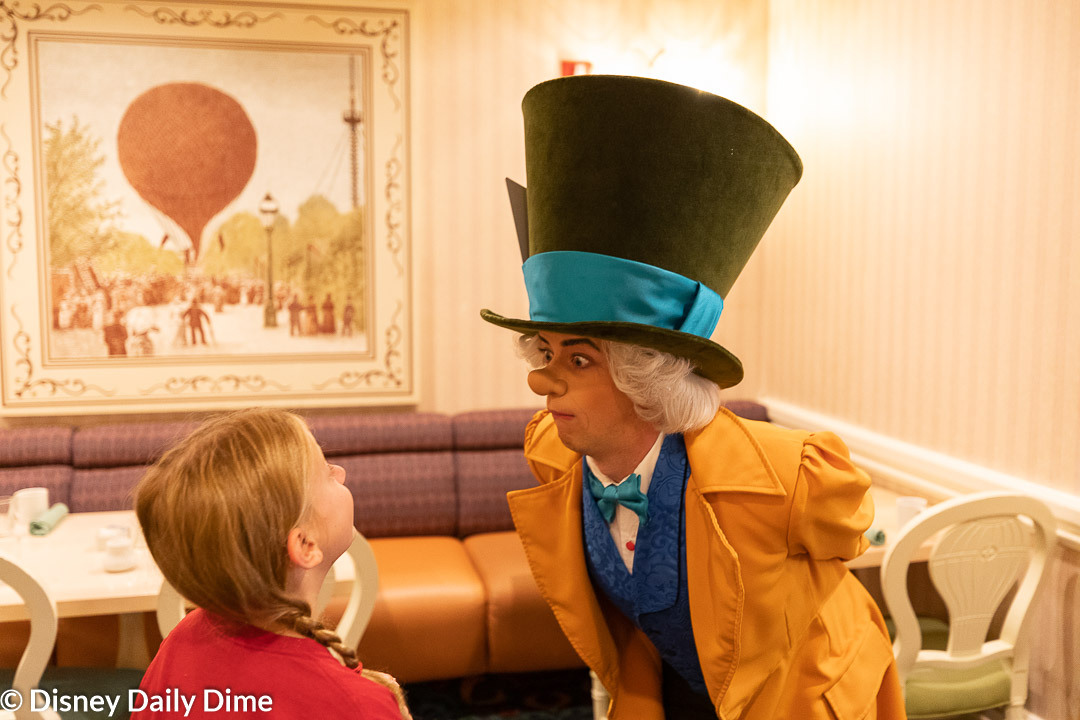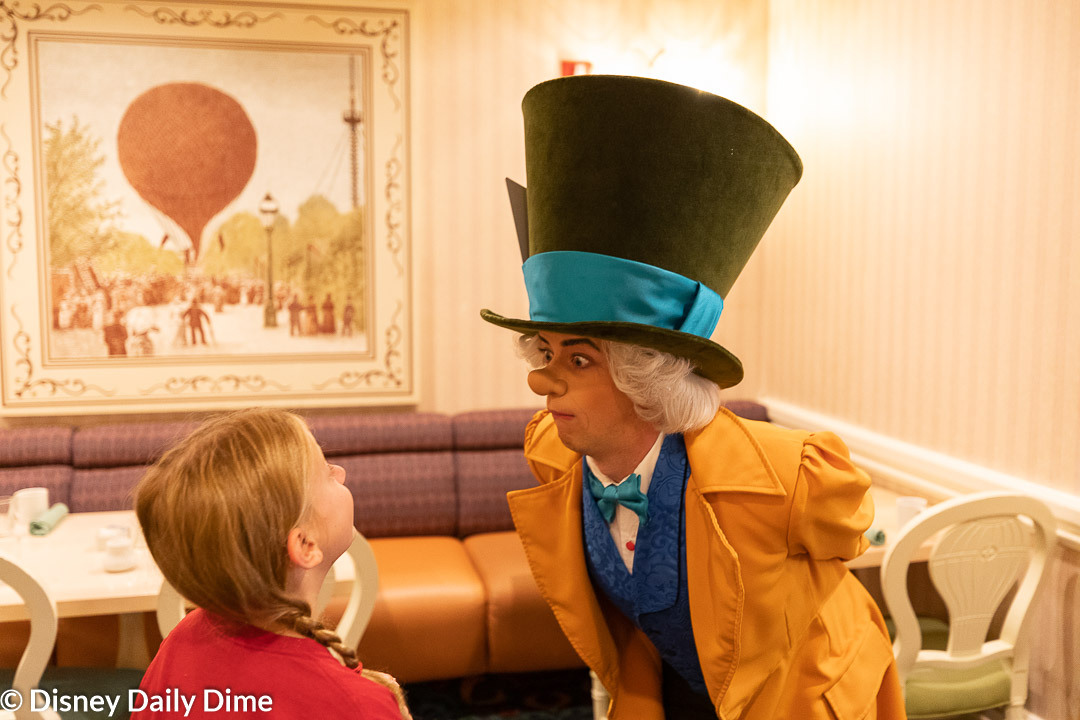 Then, one of the crazier character interactions we've had took place.  When I say crazy, I mean it with all the joy and fun you could imagine.  The Mad Hatter was excellent and so good with the kids!  He was zany and silly, but so personable with the girls.  They loved him.  In the picture above, you can see the Mad Hatter and Elsa making faces at each other.  This must have gone on for a couple of minutes!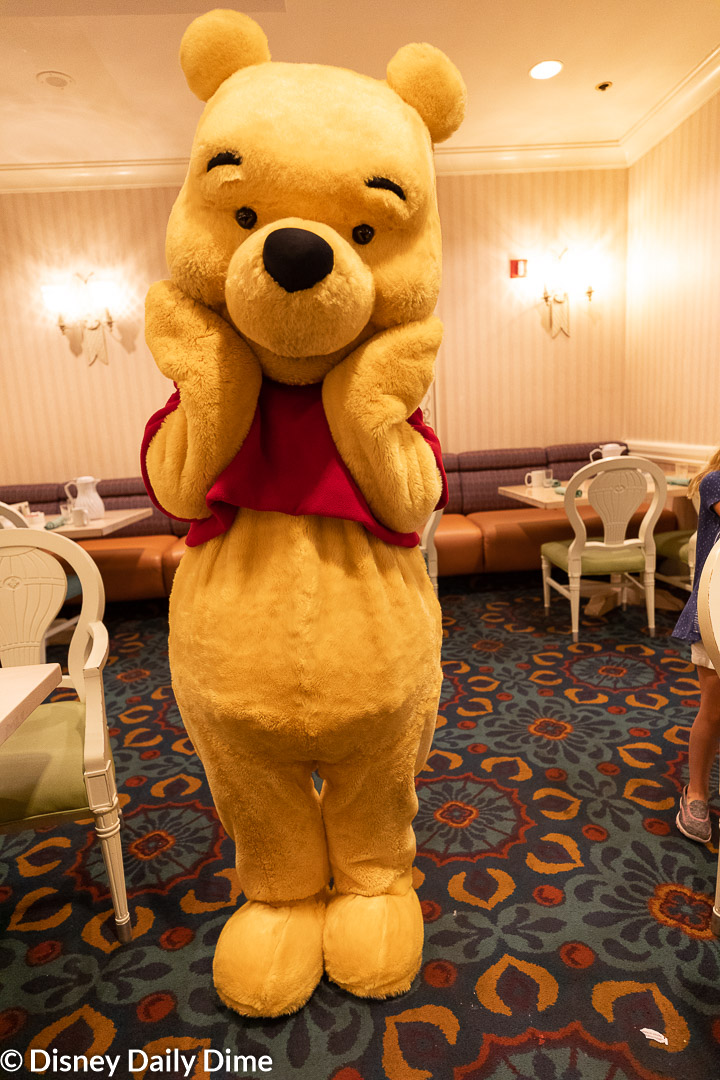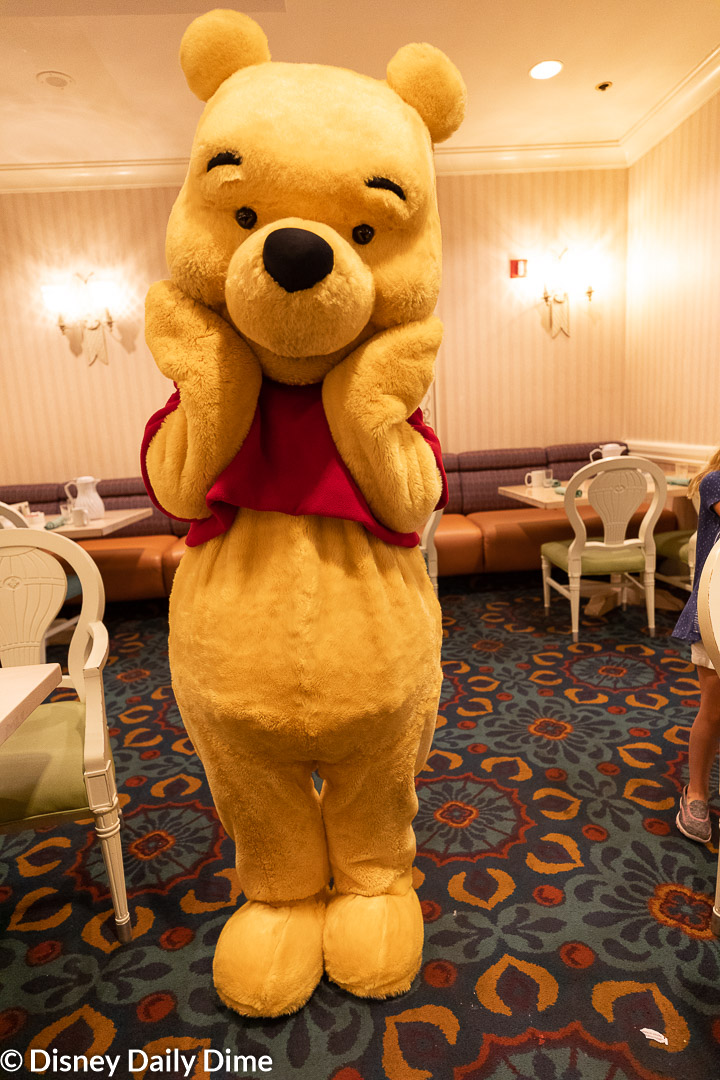 The character meet and greets at our table ended with Winnie the Pooh.  He's always a favorite for me, as I loved Pooh as a child.  I had a stuffed Pooh that I still have to this day if that gives you any idea how I loved him.  Pooh was great as always.  Loving, friendly, and fun, but I will admit he had a difficult act to follow after the fantastic experience we had with the Mad Hatter.
When our meal was done, we walked out of the back exits.  That is where you have your last 1900 Park Fare breakfast character meeting.  This one was with Tigger!  He was fun and loved interacting with the girls in his playful way.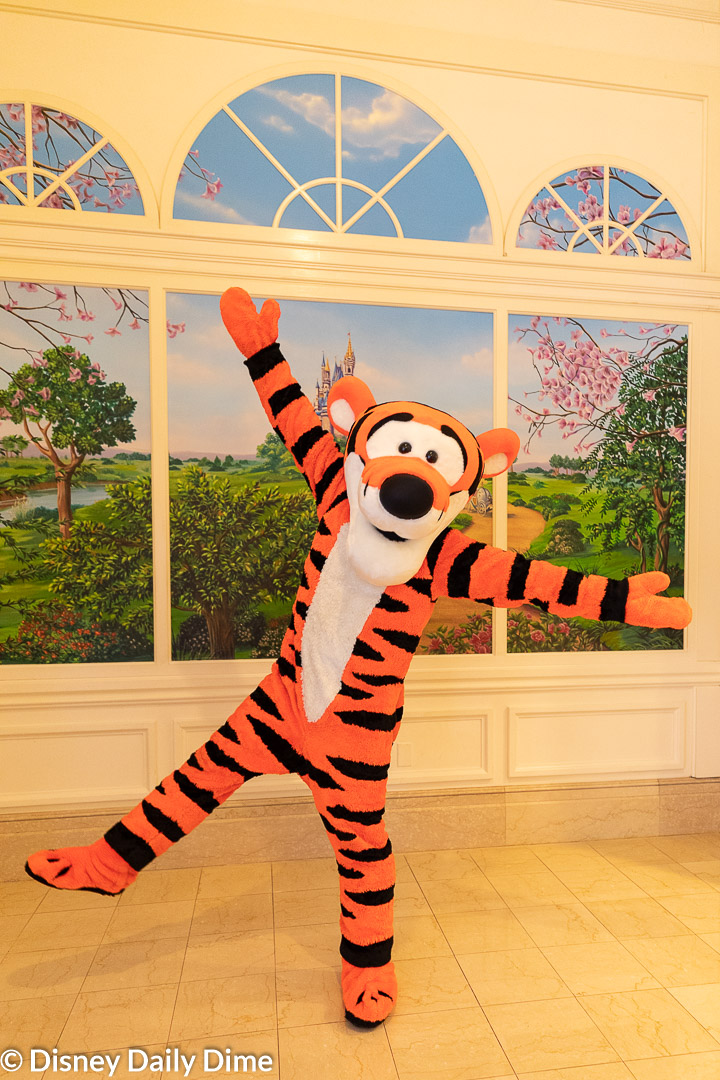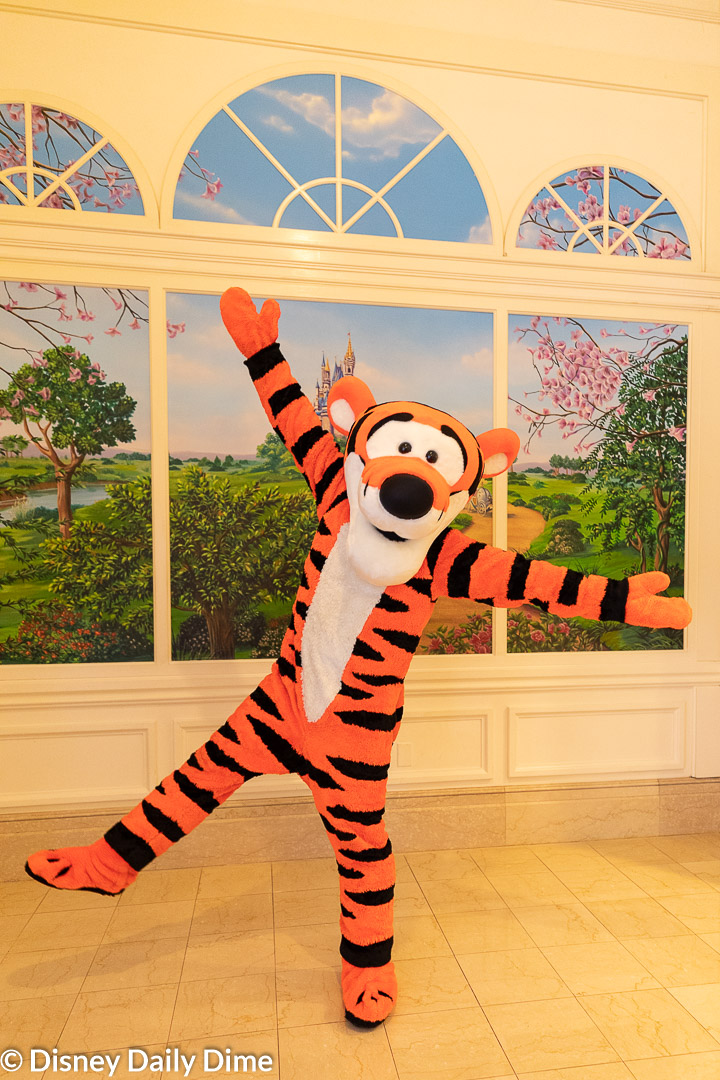 One thing that surprised me about the characters was the fact that they didn't make it back to the table a second time.  The restaurant wasn't bustling this day and usually, we have multiple interactions with a character or two at slower times.  Our Garden Grill dinner is a prime example of that.  It's not the end of the world, but I did think it was odd.
All in all, the character interactions at the 1900 Park Fare breakfast were outstanding.  They definitely made an impression on us, but how was the food?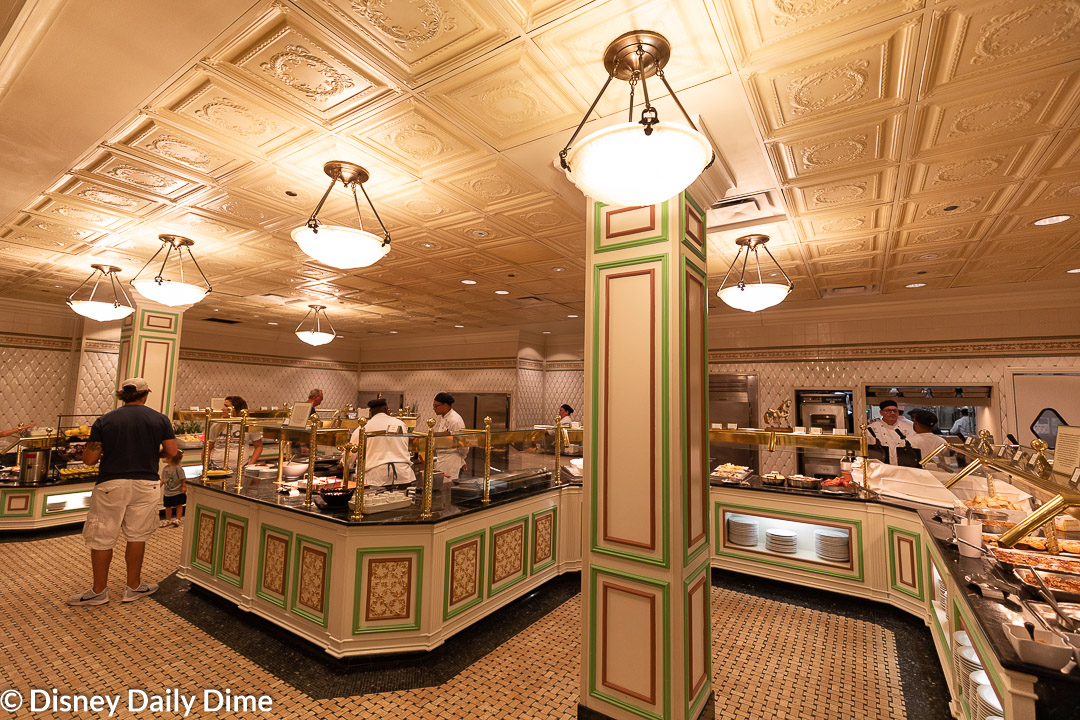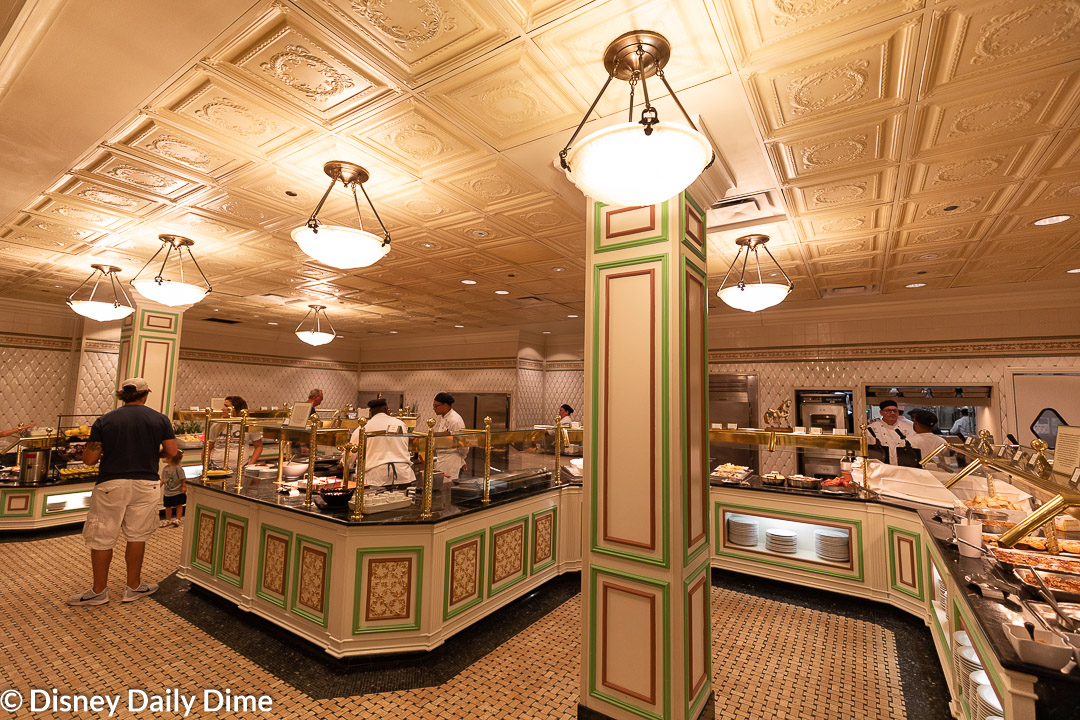 For a Breakfast Buffet, the Food Was Good, with some Unique Offerings
Like most character breakfasts at Disney World, the 1900 Park Fare breakfast is a buffet.  We've certainly had mixed experiences when it comes to reviewing these types of meals.  Even in the instances where we have had positive experiences with buffet food, we have yet to find an amazing breakfast buffet.  But we assume you aren't coming to this meal for the food.
When it comes to the food here, I would characterize it as mostly standard breakfast buffet food that you will find across Disney World.  There are a few exceptions to that, which we'll cover below.
On the buffet at 1900 Park Fare, you'll find the usual assortment of fresh fruit, pastries, eggs, bacon, and more.  Of course, there are Mickey waffles if you love them!
Because we were one of the first people through the door for our 1900 Park Fare breakfast, all of the food was very fresh.  We didn't find any instances of food being overcooked or stale as it sat under the heat lamps on the buffet.  That's one of the common issues we have with eating buffets and why we think eating early is beneficial.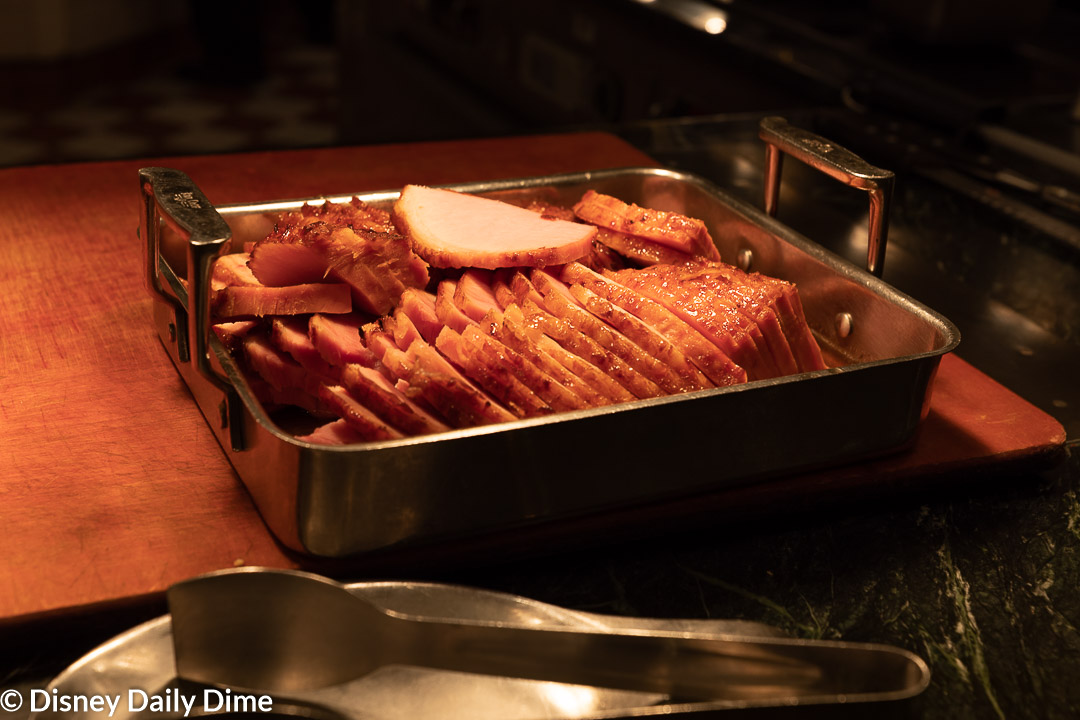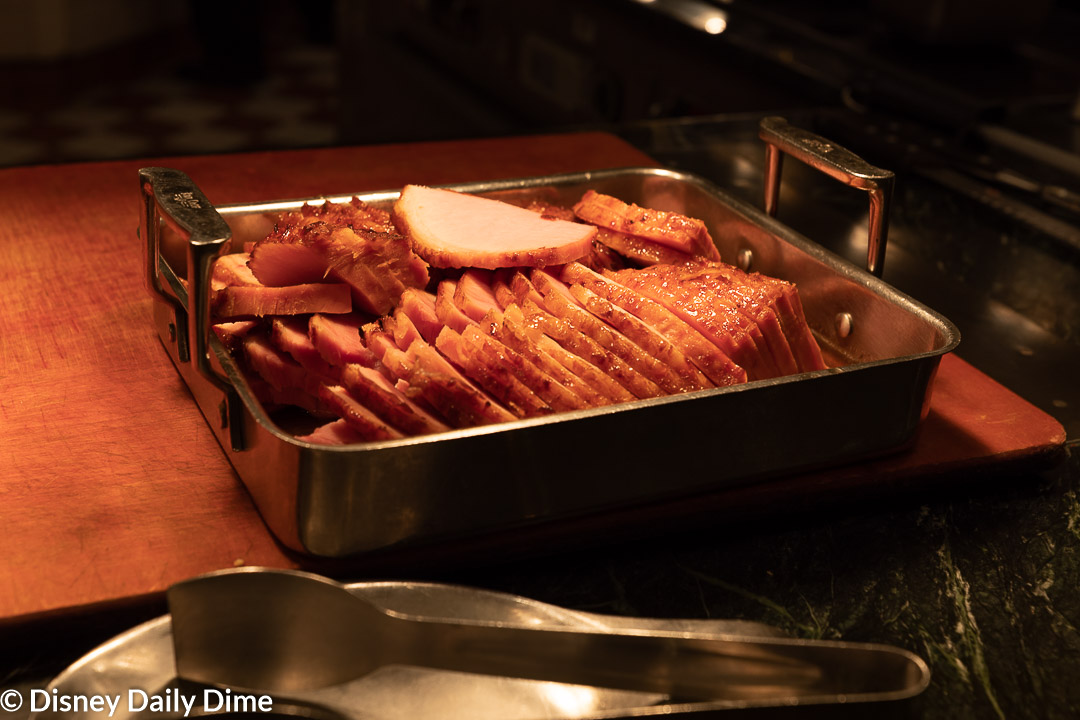 I particularly enjoyed the hickory-smoked ham, that has an excellent brown sugar-maple honey glaze on the outside.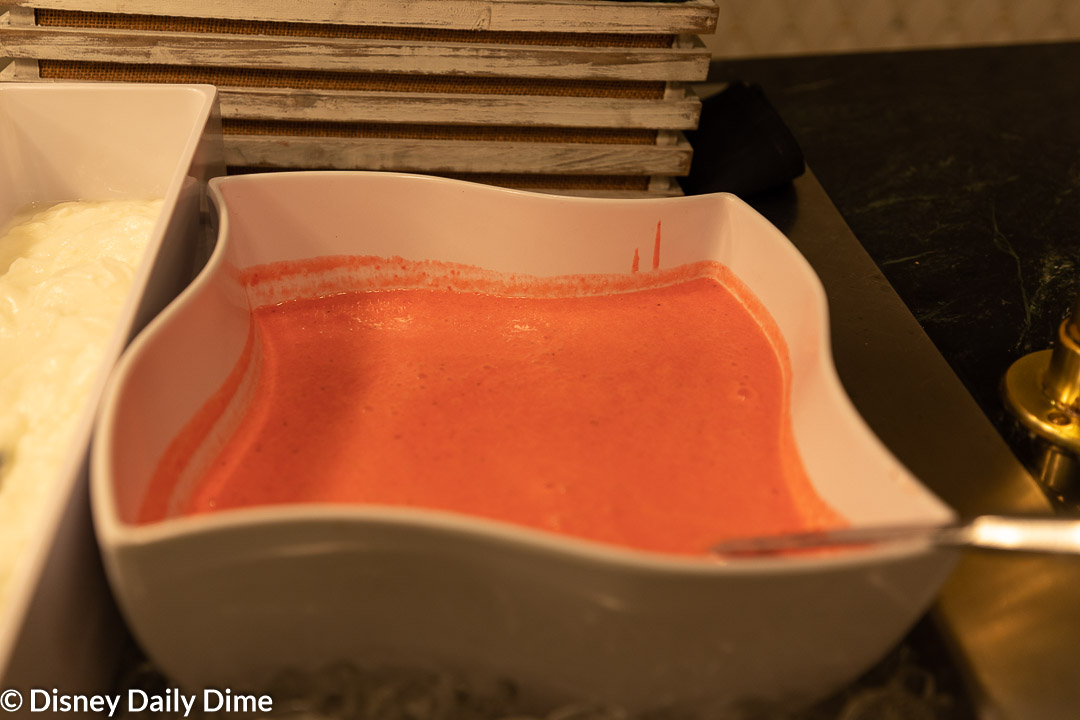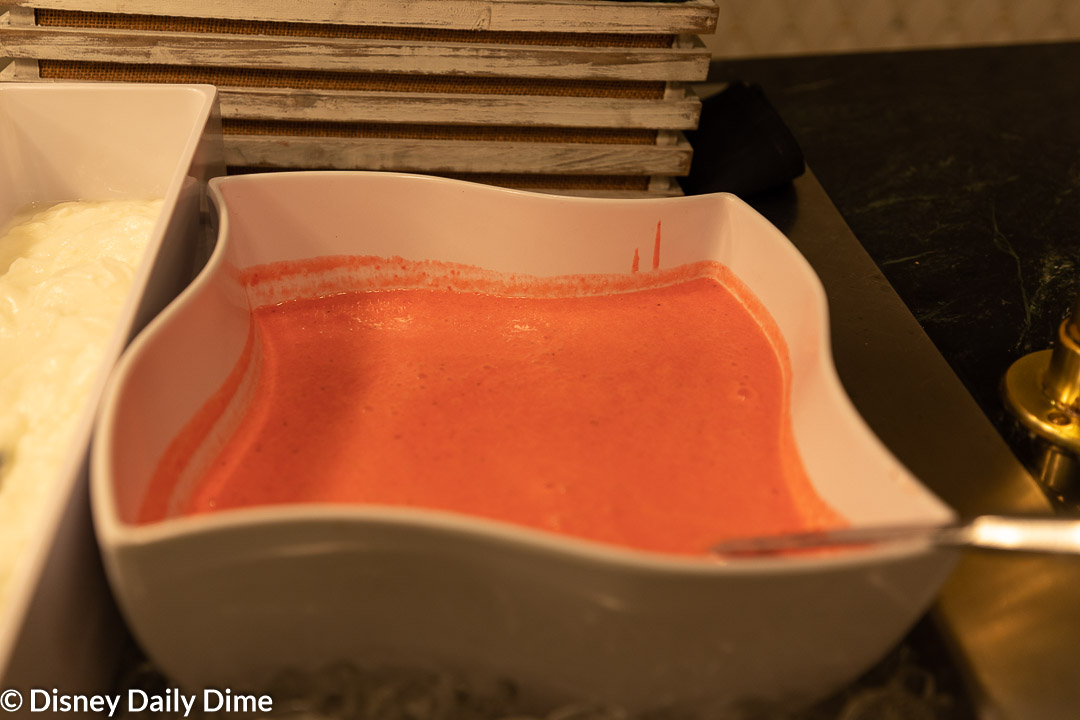 As I was walking the buffet and taking pictures, I asked Carla what the pink bowl was, and she told me it was the Strawberry Soup.  I could have figured that out, had I read the sign above it, but that would be a lot of work.  This is a staple signature item of the 1900 Park Fare breakfast and it was probably the hit of our review.  Well, at least for the adults.  Anna and Elsa snubbed their nose at this item and refused to try it.  Their loss, I guess because Carla and I found it fabulous!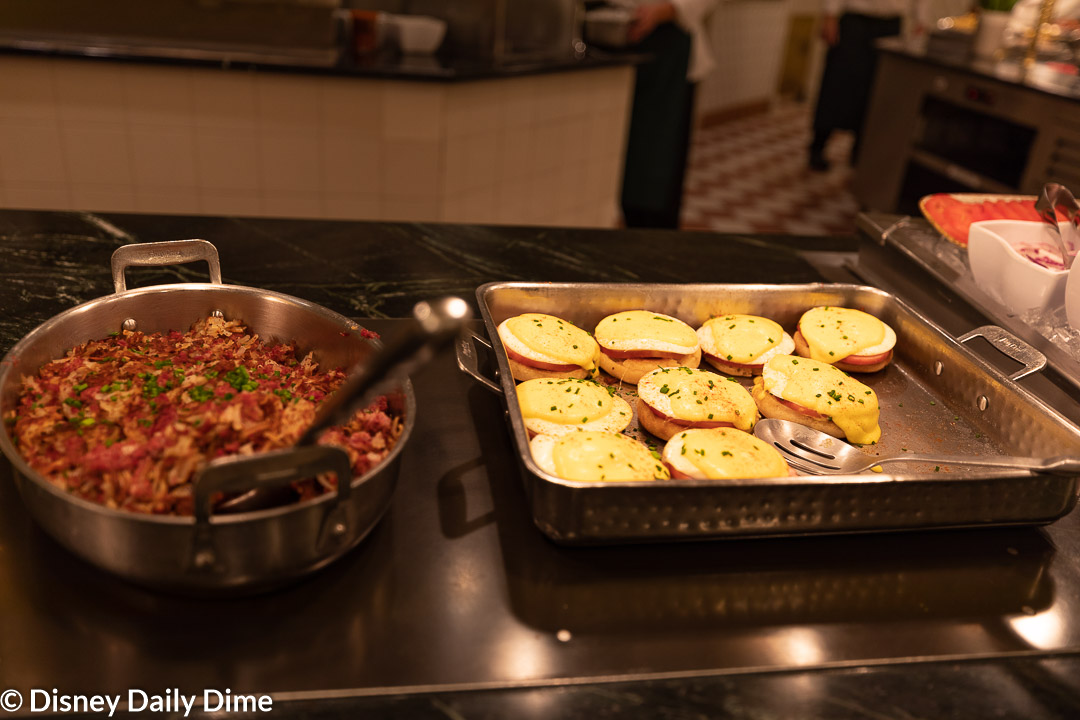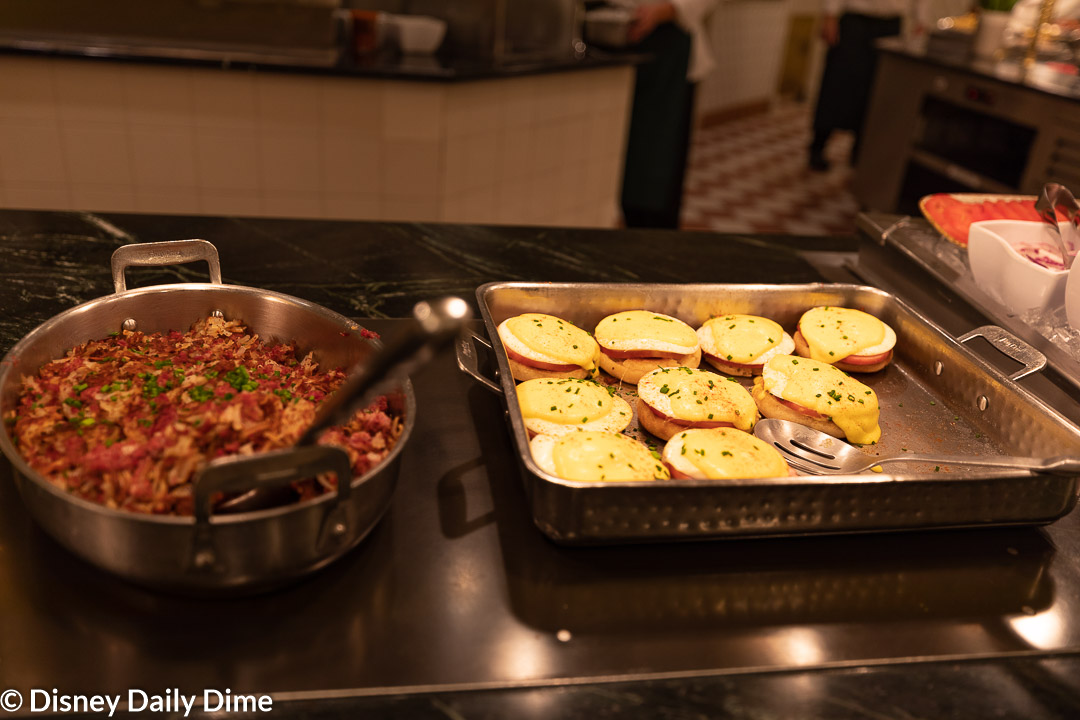 The eggs benedict was also done very well.  If you can nail an excellent Hollandaise sauce, then you'll have my attention.
Anna and Elsa went with more straightforward items.  Eggs, bacon, Mickey Waffles and the like.  Nothing too adventurous.  For what they had, they enjoyed it all.
Beyond those items, I'd characterize this as fairly standard breakfast buffet food.  There's something for everyone and will please most.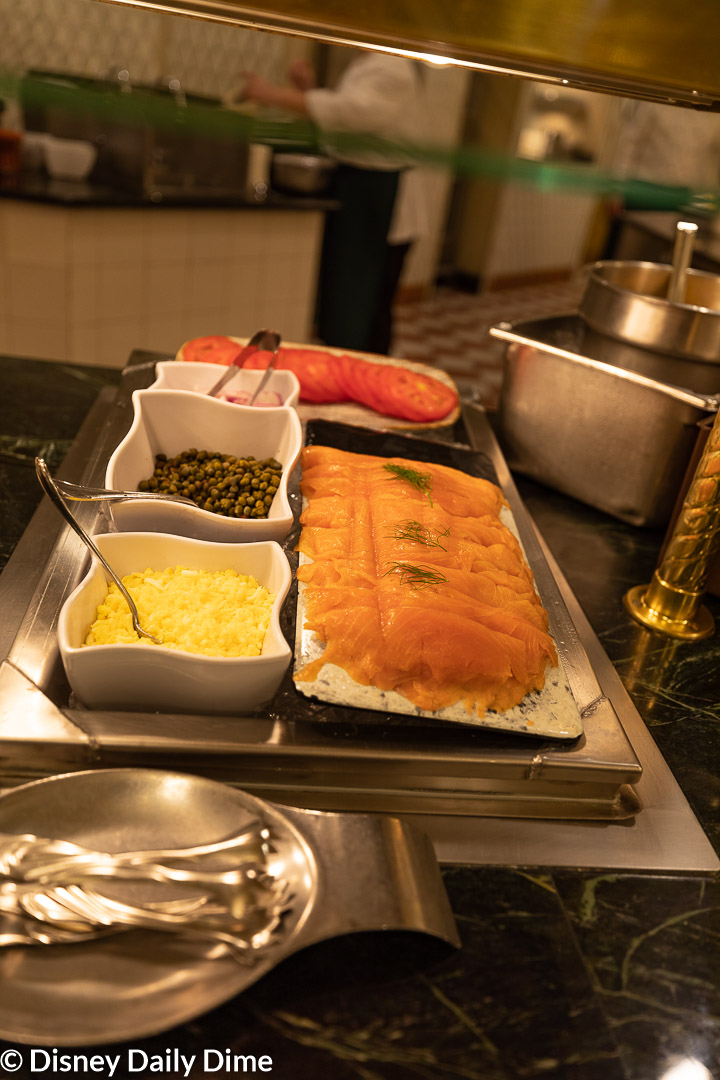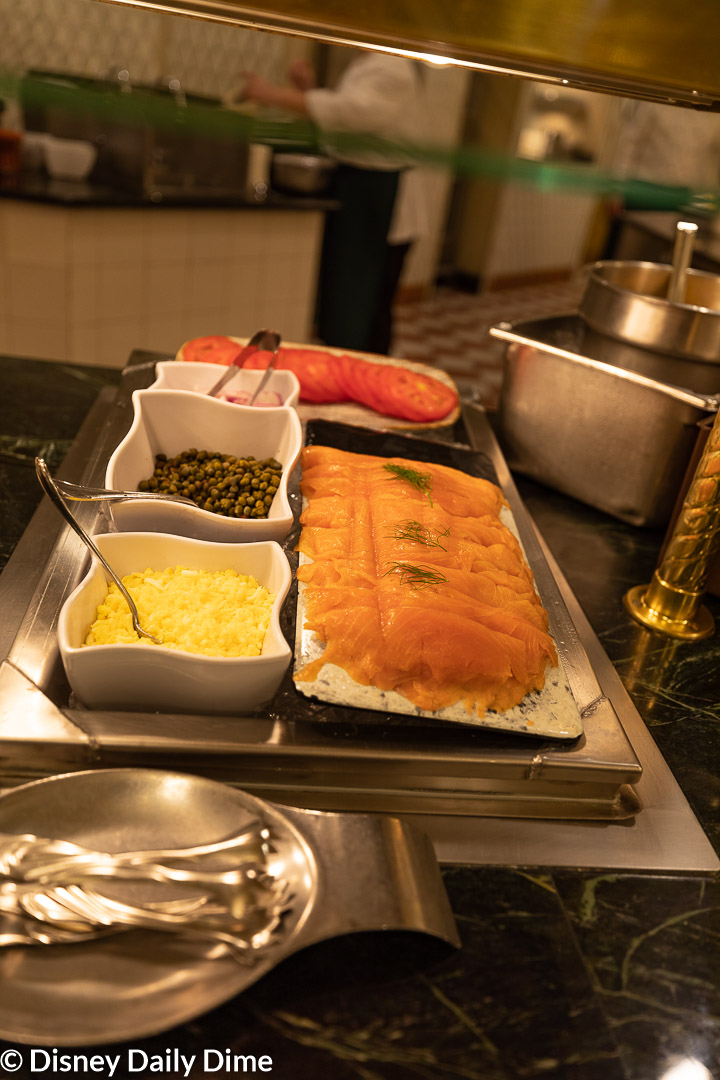 Wrapping Up Our 1900 Park Fare Breakfast Review
While I don't think the 1900 Park Fare character breakfast cracks our top two meals of the same ilk, it was still terrific.  The character interactions were well done, with only some minor nitpicks on them interacting with each other.
We found the atmosphere and décor to have plusses and minuses.  The organ was definitely my favorite, and the levity that it sets the stage for with the characters is perfect.
The 1900 Park Fare breakfast is a good time overall.  If you are staying at the Grand Floridian or really like these characters, this is a worthy character meal.  It's a great way to start your day before heading to Magic Kingdom.
If our 1900 Park Fare breakfast review was helpful or at least entertaining, please like and share this with your friends or anyone you think will find it useful.  Just use the sharing buttons on the page.  If you're interested in more of our dining reviews, we have a complete list on our Disney World Restaurant Reviews page.
We always appreciate it when you share our posts, as it allows us to spread the word about our blog and hopefully will enable us to help others.