Storybook Dining is the character dinner offered at the beautiful Artist Point restaurant at Disney's Wilderness Lodge.  This is a coveted ADR right now as this meal offers some character interactions that aren't offered anywhere else.   The characters at this meal are Snow White, Grumpy, Dopey and the Evil Queen, although don't tell her that she's evil!  While Snow White can be found in many other locations around the World, Grumpy, Dopey and the Evil Queen do not meet with any regularity outside of special events or parties.  Due to the opportunity to meet and interact with these beloved dwarfs and a renowned Disney villain, this meal is extremely popular.  If you're interested in meeting other Disney characters, make sure you check out our various Disney character related posts, like our Magic Kingdom character guide.
Here in our Storybook Dining at Artist Point review, we'll walk you though the meal, including the characters, food and atmosphere.  We'll include pictures of it all, offering our opinion of what works and what doesn't.
Artist Point has been around since the Wilderness Lodge opened in 1994.   It was a signature dining location featuring specialties from the Pacific Northwest.  As what seems to be a trend with dining in the World, many locations are starting to offer character meals to increase attendance and therefore, revenue.  This is somewhat controversial as there are many guests who look at signature meals as a break from the theme parks and characters, and truly want to enjoy a high-quality meal.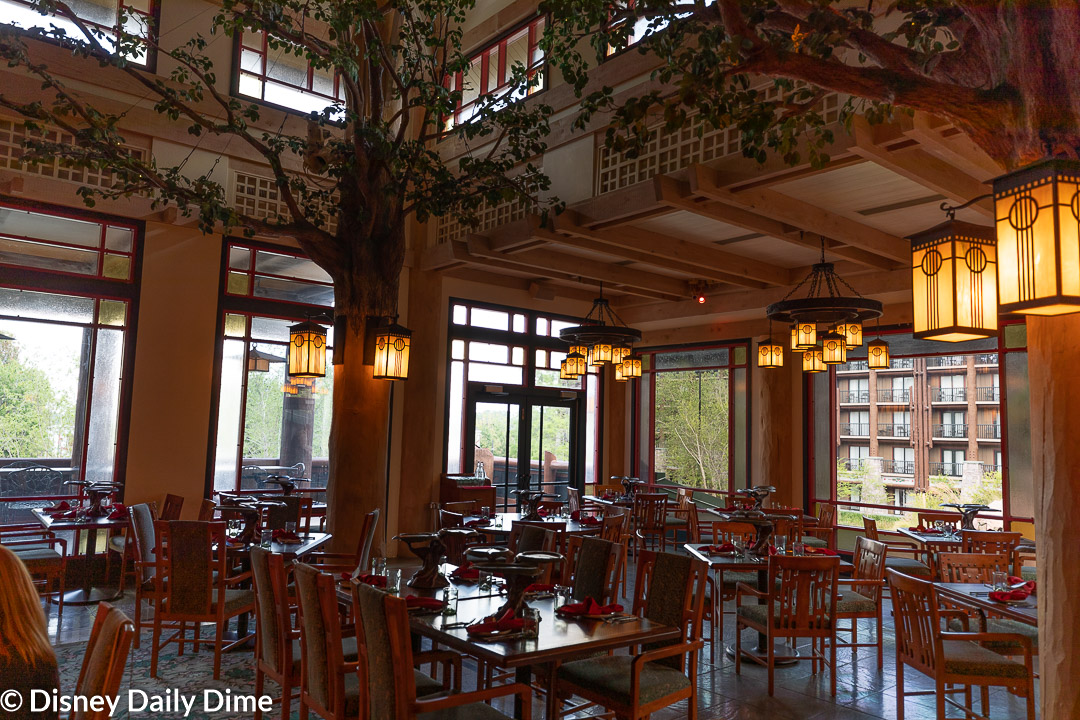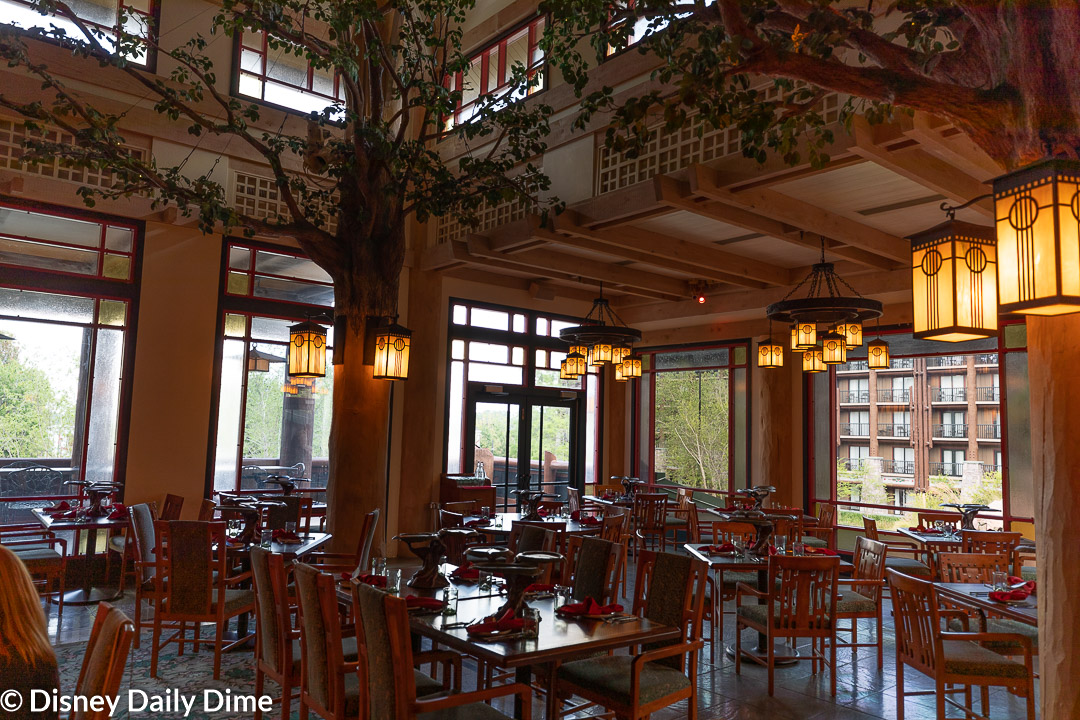 From a business perspective, taking a moderately popular restaurant, "revamping the menu" and adding some rare characters makes incredible sense for the bottom line.  This is especially true for Artist Point, which suffered from lower traffic level before the change to Storybook Dining.  It was not unusual to get walk up reservations at the signature restaurant.
Storybook Dining at Artist Point costs one table service credit on the Disney Dining plan.  It is a prix fix meal that costs $59/adult and $35/child so this is an excellent use of a dining credit.
Due to the high demand the restaurant experiences, make sure you book an ADR right at the 180-day mark.  We failed to do that on this trip and wound up eating at 4:15 in the afternoon.  That was what was left when we booked our reservation around the 90-day mark.  You should also note that Artist Point is only open for dinner.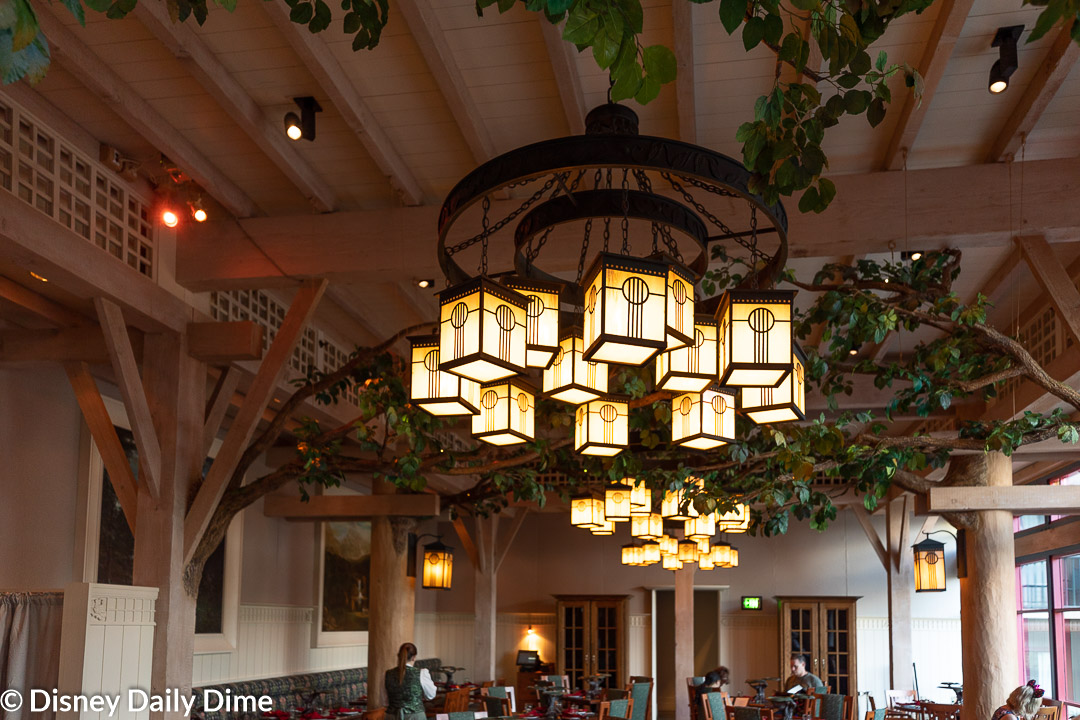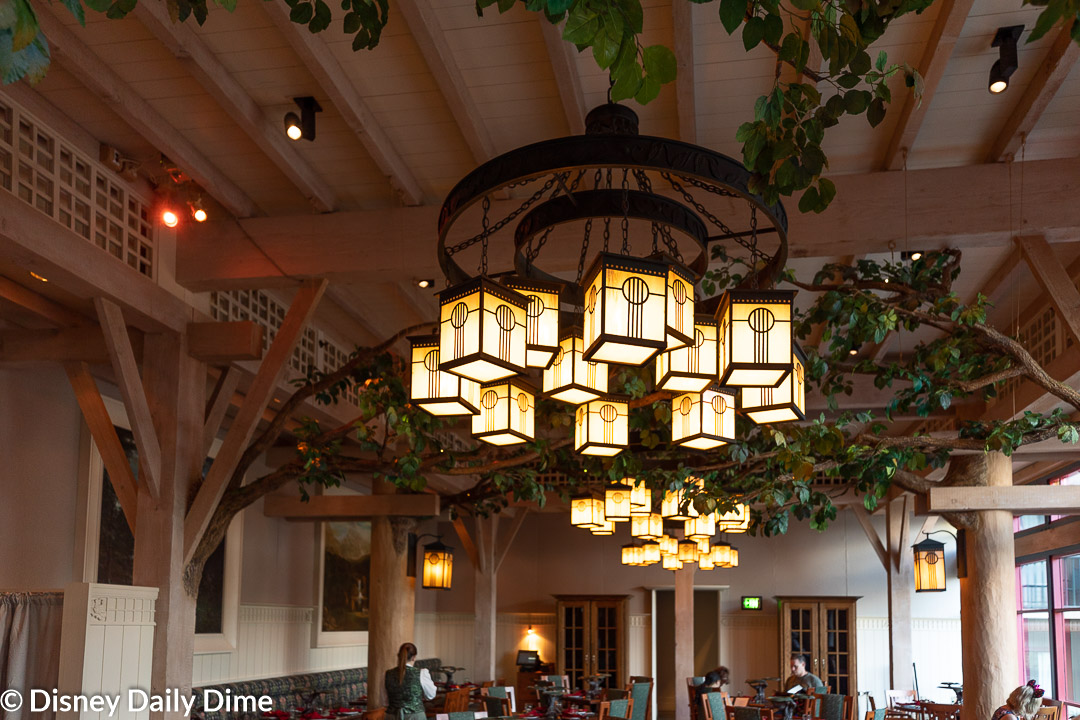 Storybook Dining Takes You to An Enchanted Forest
Artist Point's beautiful décor has been enhanced to make you feel like you are dining in a forest.   The columns throughout the room now look like tree trunks, with leaf covered branches extending all throughout the ceiling.  Of course, because this is Disney, this is an enchanted forest with the leaves and branches featuring twinkling and color changing light effects.  The tables are even adorned with mini trees that double as the place where the shared appetizers and desserts are placed.
As each character comes out, music and a special narration play and the lights change color.  Snow White will come out first, and she dances through the dining room in a grand entrance.   The Dwarfs will follow individually.   Periodically as the characters move around the dining room, a special song will play and Snow White and Dopey will dance and Grumpy will still be well….grumpy.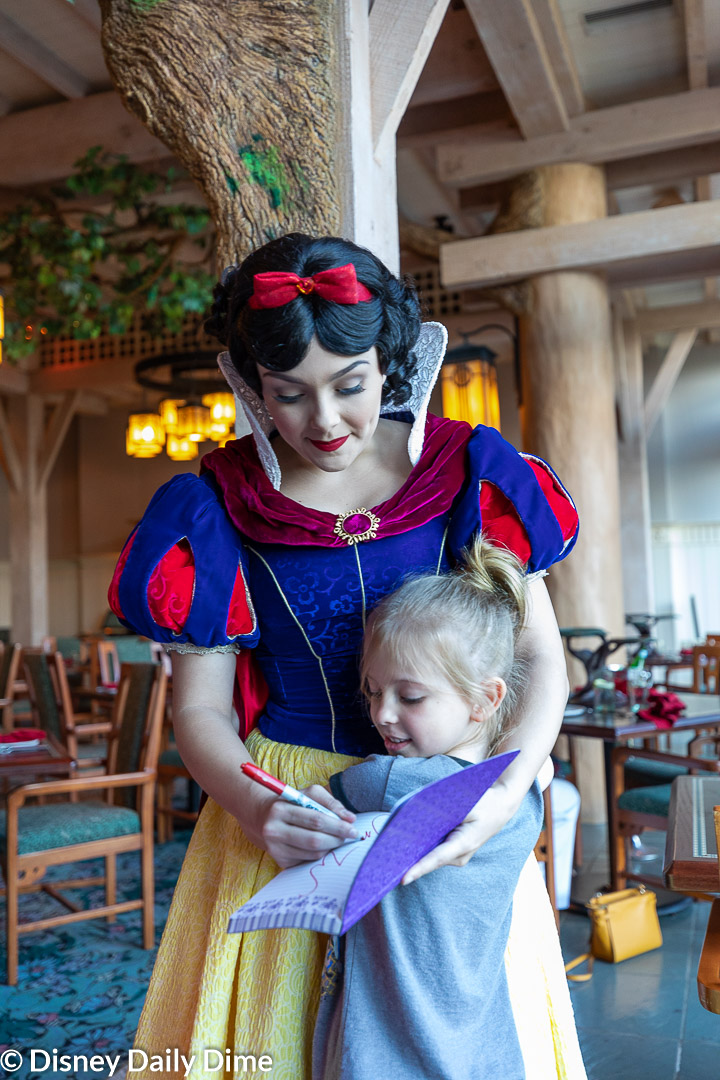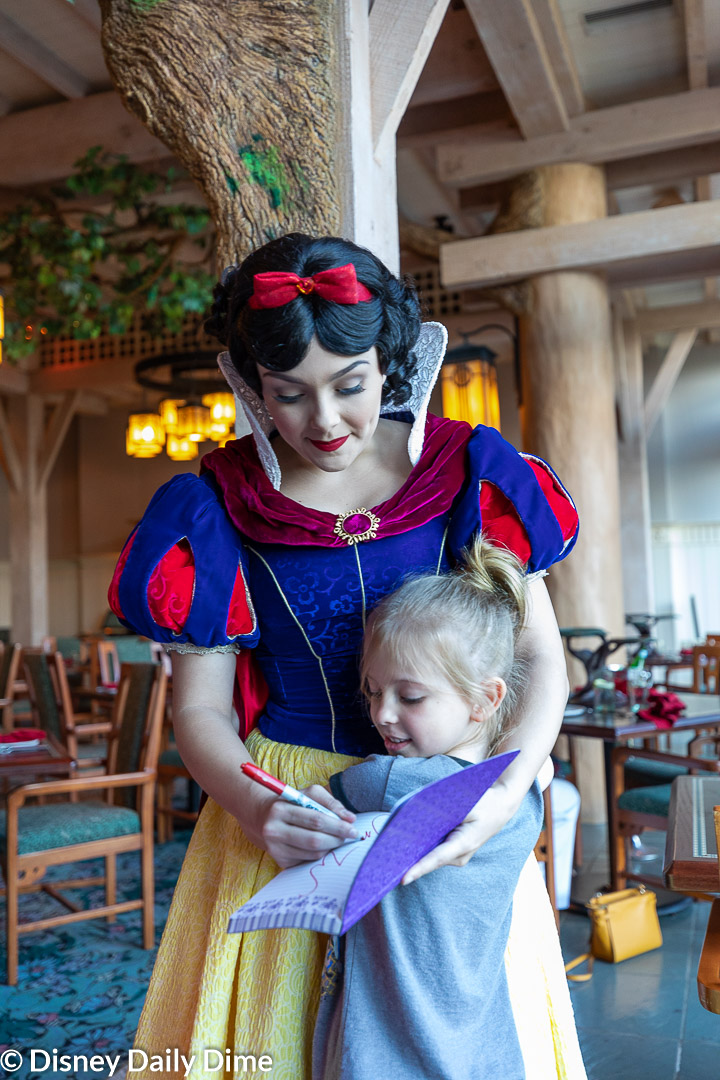 The Evil Queen will come out into the dining room after a special announcement.  She meets in a designated spot in the middle of the room, in front of a backdrop complete with her infamous mirror.   Throughout their time in the dining room, the characters will all occasionally interact and react to each other.   We were all amused to see Snow White "hiding" as the Evil Queen made her appropriately intimidating entrance into the room.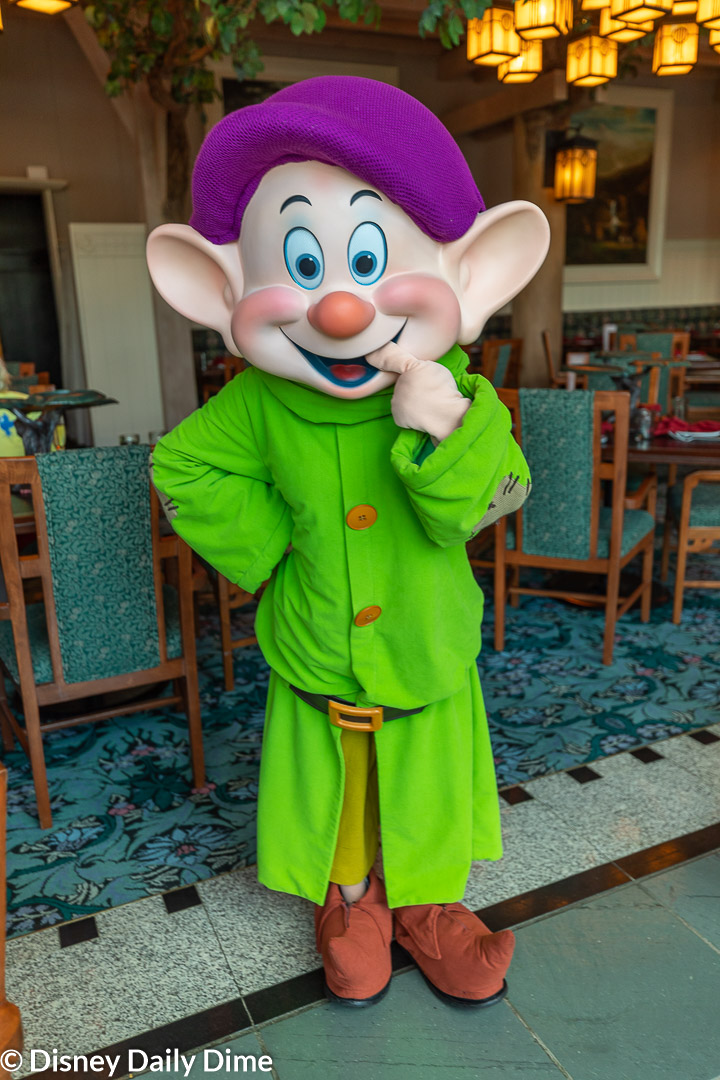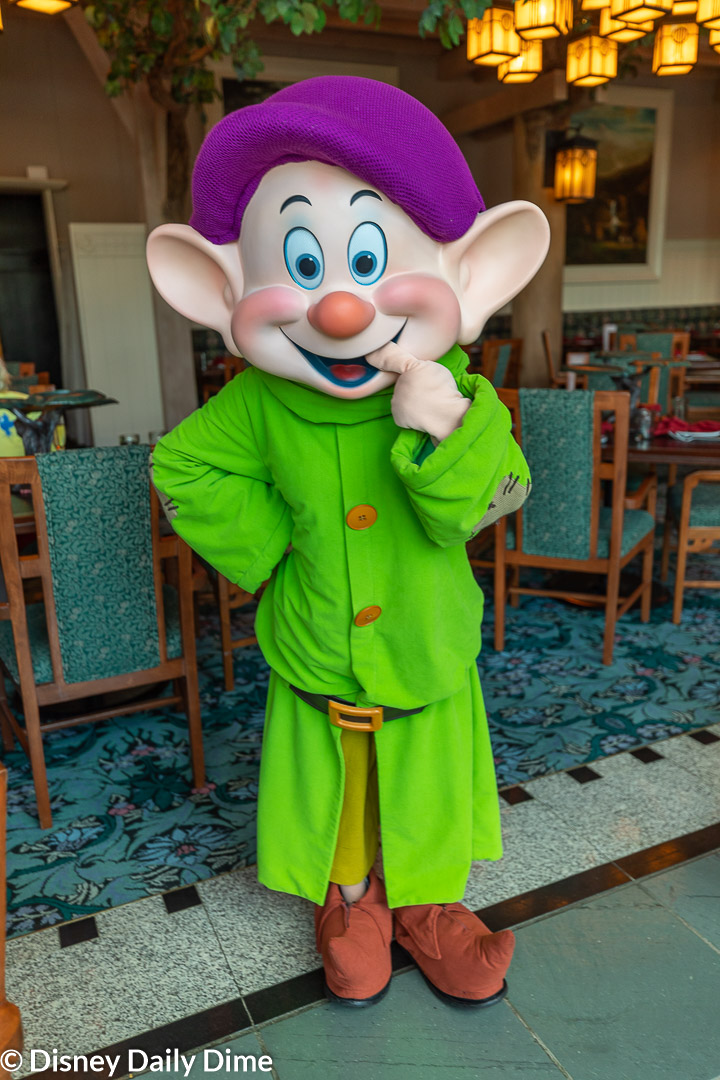 The character interaction with Snow White, Dopey and Grumpy were all fun and fitting each character's personality.    Snow White was her sweet and engaging self.  She carried on a great conversation with the girls, even talking about her favorite gooseberry pie.    Dopey was silly and goofy.   Grumpy was hilarious and perfectly in character.  He would not give hugs and posed for pictures with his arms crossed.  As you can see in the picture, while he wouldn't give hugs, that didn't prevent Anna and Elsa from giving hugs to him.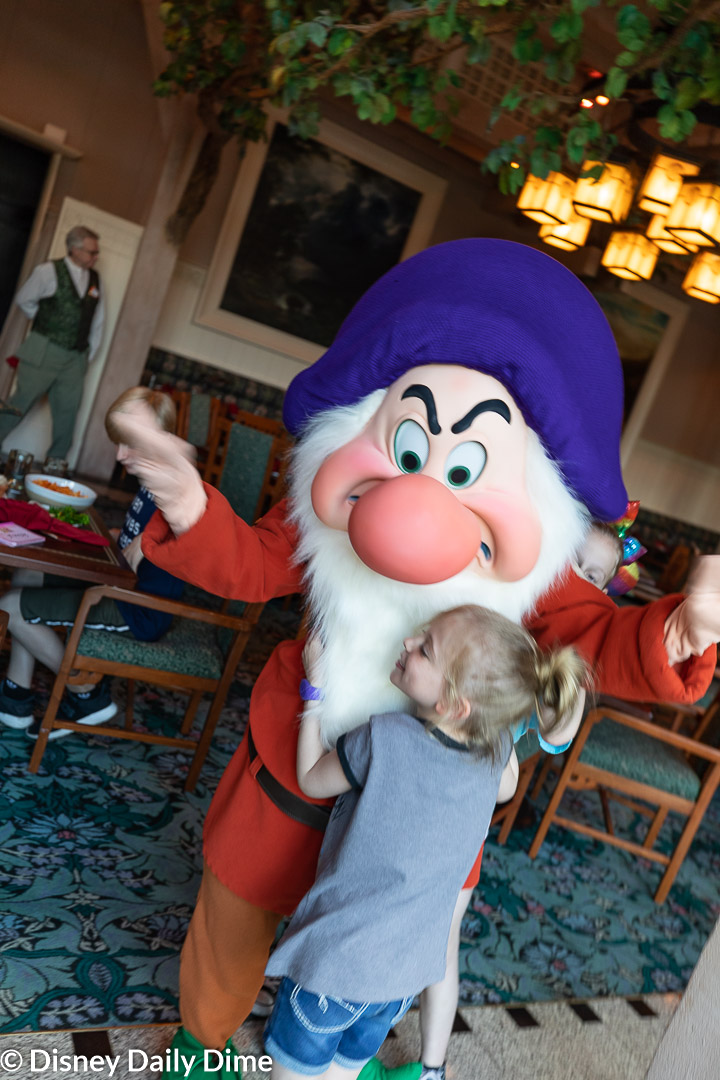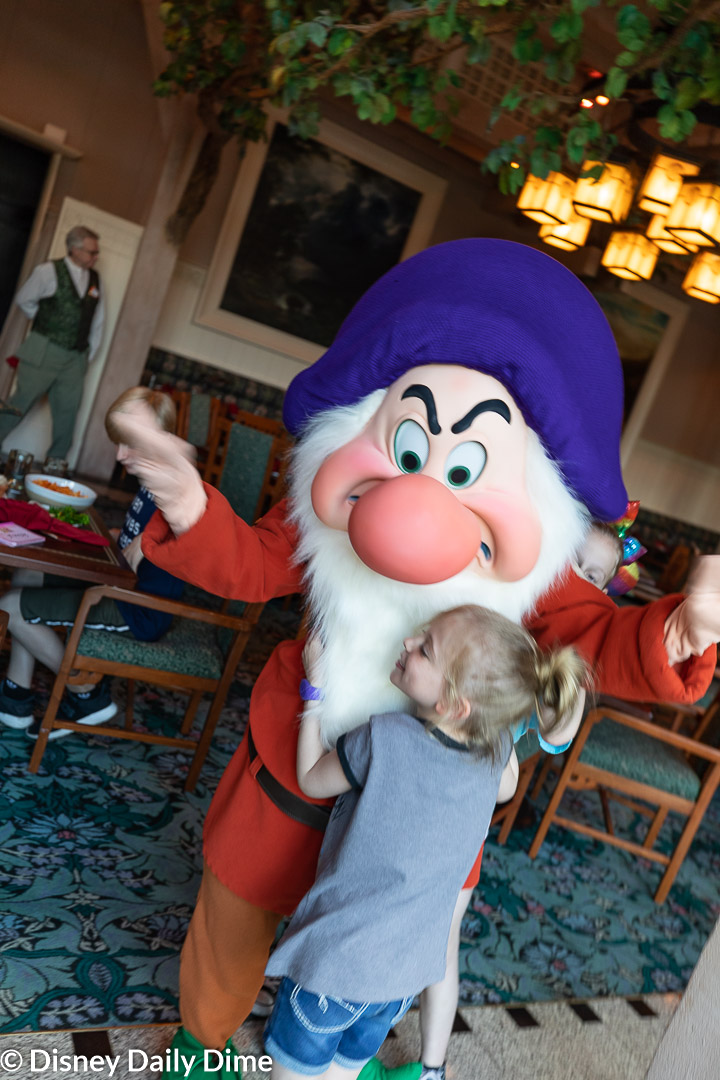 Hands down, the best interaction was with the Evil Queen.  She was cold, intimidating and regal all at the same time.   Even Mike and I were a bit humbled in her presence.   The girls had very different reactions to her.  Anna was scared and held back while Elsa engaged her by not being afraid and offering up some playful attitude towards her which created some very funny moments.  I wasn't sure what to think when the Evil Queen wished me "good luck" twice after her banter with Elsa!  Maybe she can see that we have some fun teenage years ahead! 
We did not feel rushed in our time with her.   This interaction clearly made the entire meal for us and created some fun memories that we still laugh about.   While not required, it is suggested that you meet the Evil Queen at the end of your meal while on your way out of Artist Point.
One thing to note here is that all four chacters will sign autographs.  There's also a presigned card on the table when you are seated.  Feel free to take that with you.  And yes, even the Evil Queen will sign an autograph book.
The Food at Artist Point is Wonderfully Themed and Generally Well Executed
The meal at Storybook Dining is prix fixe, with a set appetizer course, individually selected entrée and a set dessert course.    A variety of fun alcoholic and non-alcoholic beverages are also featured.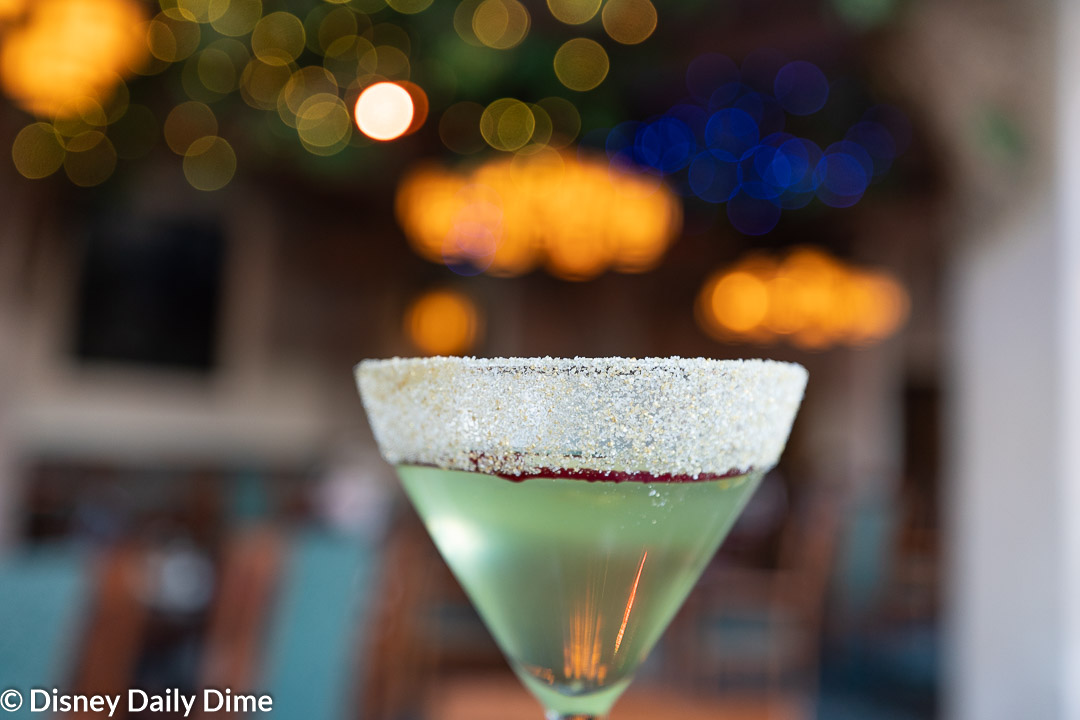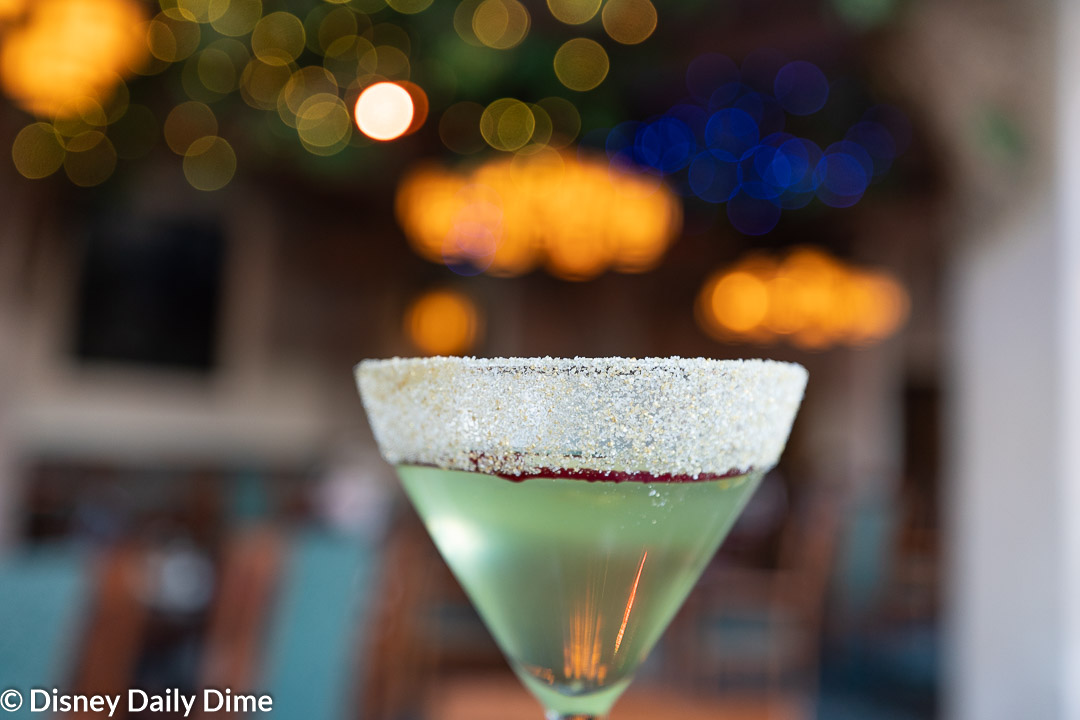 Drinks
Mike ordered the Enchanted Apple to accompany his meal.   The drink is comprised of Skyy Citrus Vodka and white cranberry juice topped with a sour apple slice and a sugared rim.   The sugared rim made the drink for Mike.  The sugar was comprised of both white granulated sugar and what we think was brown sugar.  It added an extra flavor to the sweetness and the rim really enhanced the drink.    The drink itself was smooth and the combination of the sugar, the drink itself and the touch of sour from the apple was "bliss" according to Mike.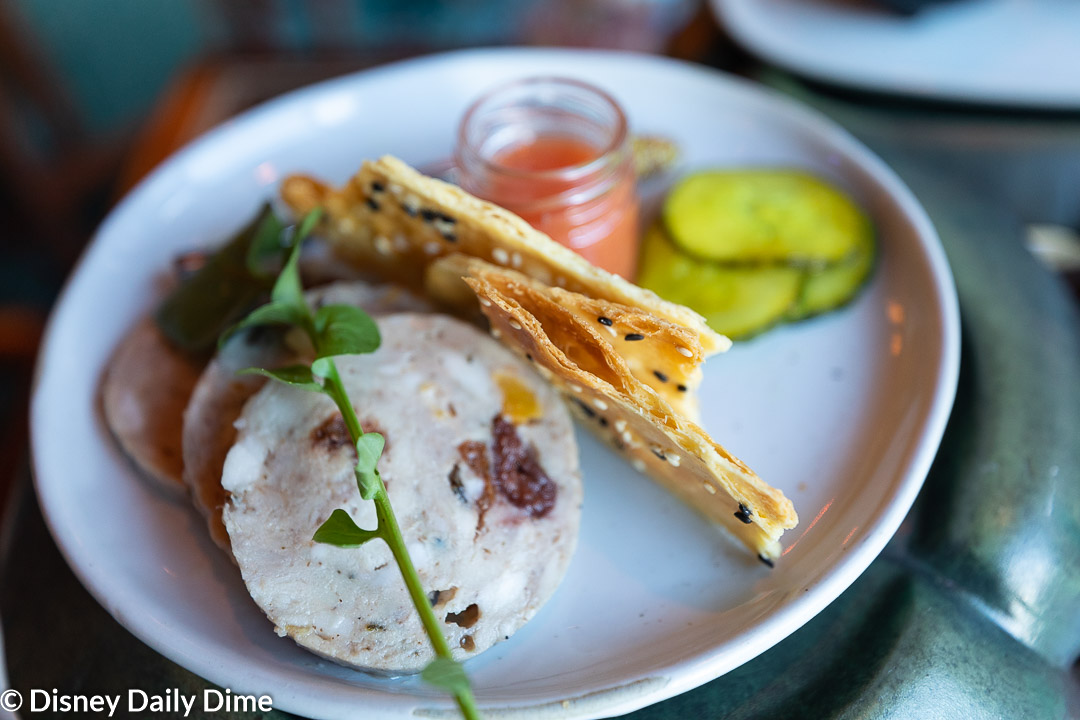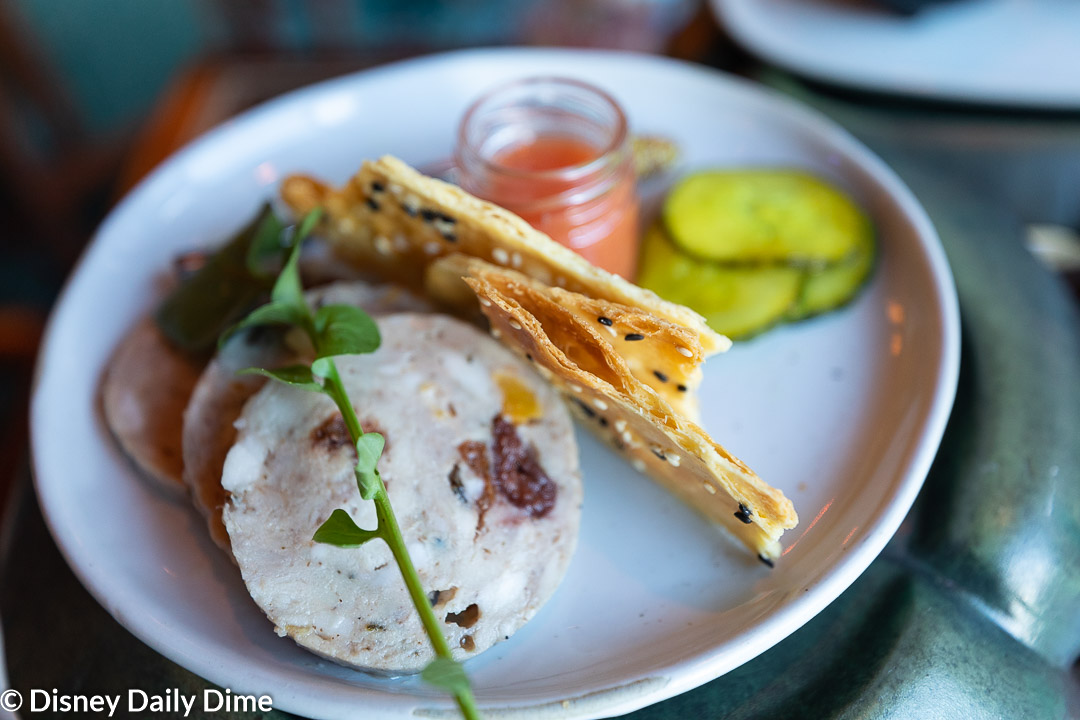 Appetizers
In the middle of the table is a beautiful tree centerpiece with three flattened "branches" that hold platters.   This is where the appetizer course is presented and placed on the table.   As Artist Point previously offered seasonal specialties on a changing menu, this trend appears to be continuing. Our menu was different from many of the reviews we read when the Storybook dining concept first began in the winter.   Our appetizers consisted of a mushroom bisque, Wicked Shrimp Cocktail and the Hunter's Terrine.
The Hunter's Terrine is comprised of lavosh bread, chicken terrine, house made pickles, and stone fruit preserves.  The chicken terrine can best be described as a chicken pâté and is served at room temperature.   Mike enjoyed it but wasn't wowed by it.  The flavors of the chicken terrine and bread were on the bland side.  The pickles and stone fruit preserves added a lot of flavor, however the servings were very small and Mike wished he had more of it.   Anna and Elsa did not enjoy this at all, although Elsa did enjoy the pickles!  Anna really liked the stone fruit preserves spread over the lavosh bread.  It was really the chicken terrine the girls had a disdain for.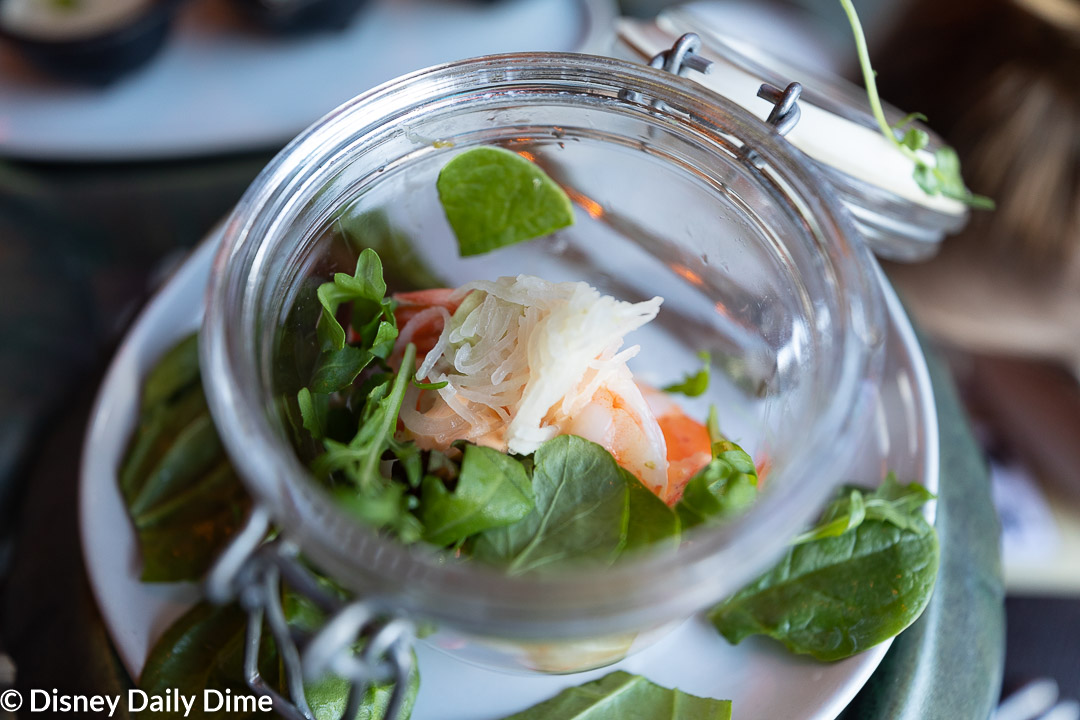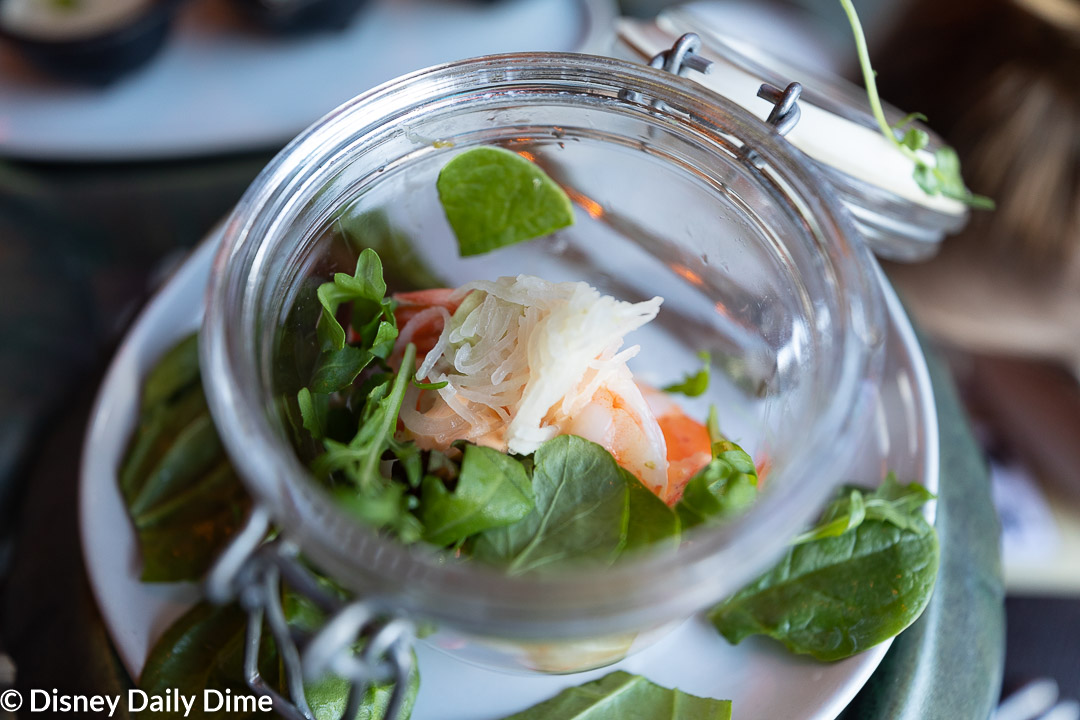 The "Wicked Shrimp Cocktail" was a favorite of our table.  Mike loved the spicy (but not too spicy) flavors of the soy, miso and Thai chile sauce that were served on the shrimp.  Elsa is our newly crowned shrimp lover and she thoroughly enjoyed this too.  The presentation in the glass jar was pretty but Mike noted it was a bit strange to dig out the shrimp from underneath the greens.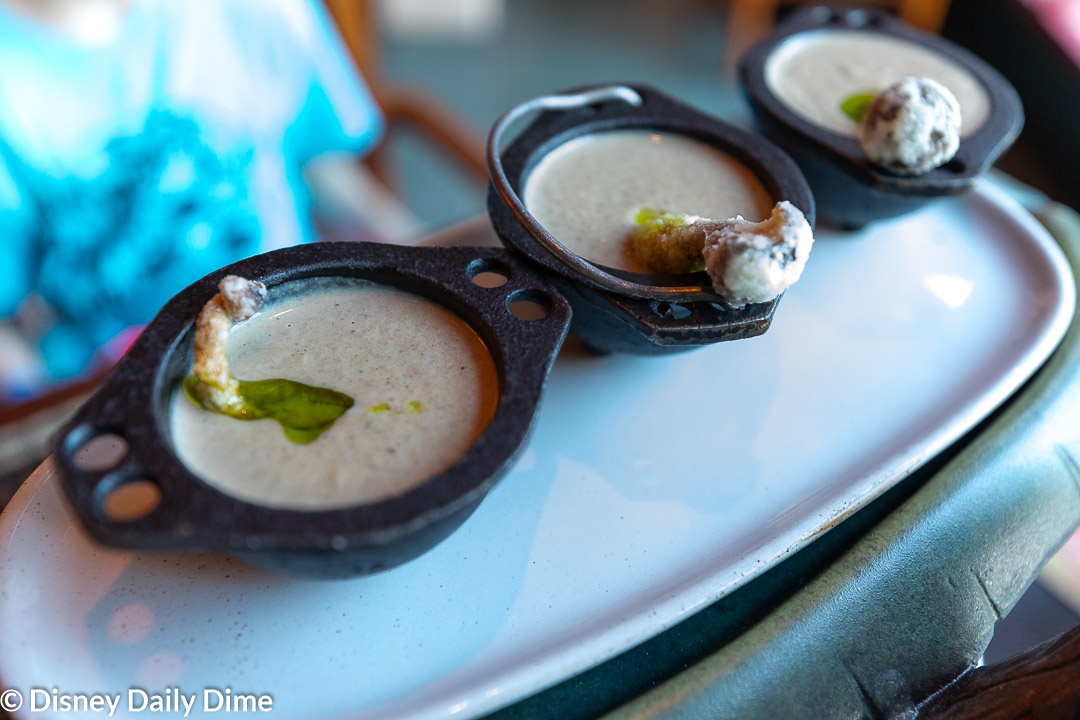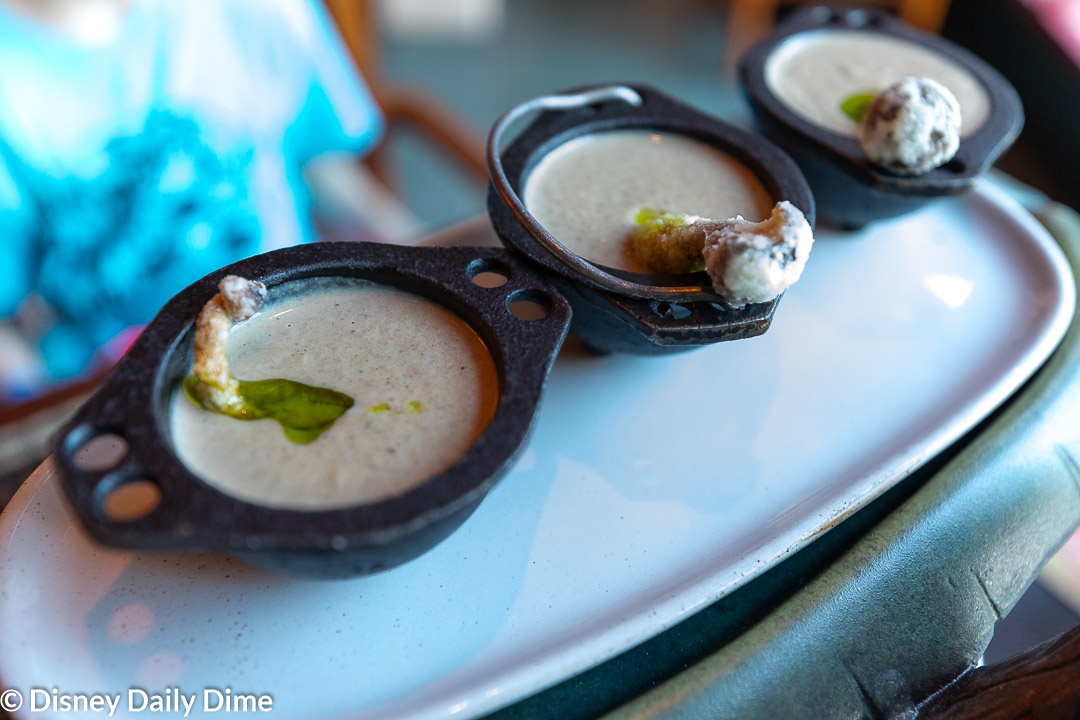 The mushroom bisque, at least to Mike, Anna and I, was far and away the best appetizer of the bunch.   Rich, thick and creamy with a wonderful mushroom flavor, this soup was excellent.   I will discuss this more in my gluten free review but for some reason my soup was only at slightly above room temperature while Mike's was more the appropriate hot temperature.    This took away from it slightly for me, but I honestly loved it so much I could have made a meal out of a large bowl of it and called it good for the night.  Mike love the bisque too.   If you are not a mushroom fan, your mileage may vary on this.   We believe this is the same mushroom bisque that was a featured specialty on the old Artist Point menu.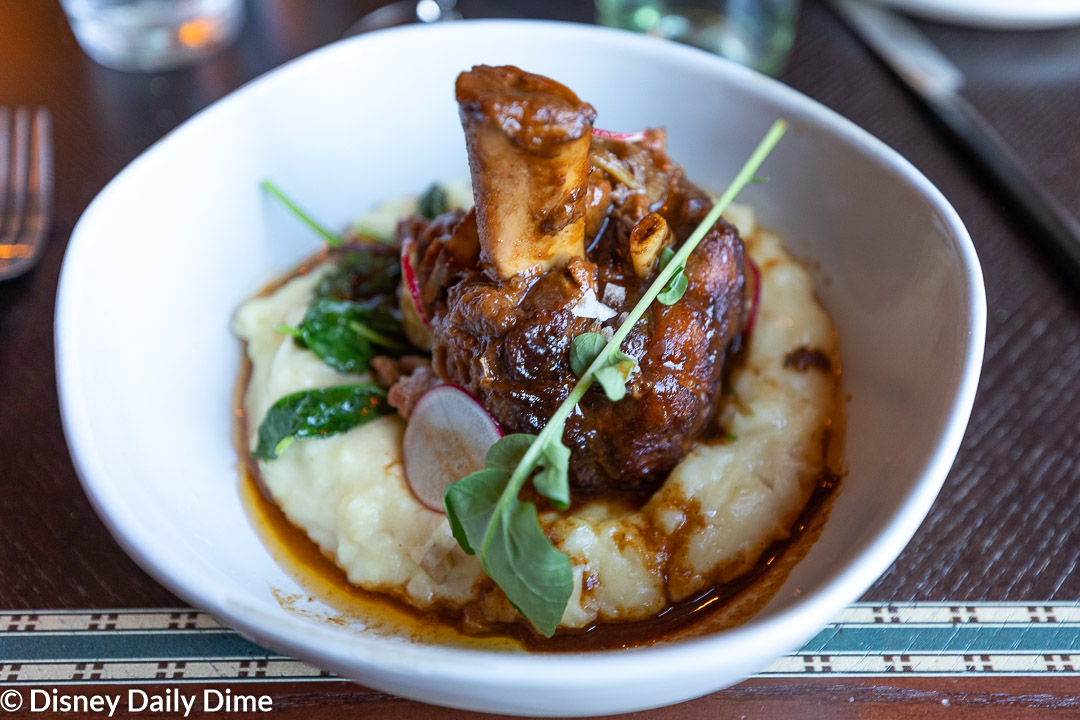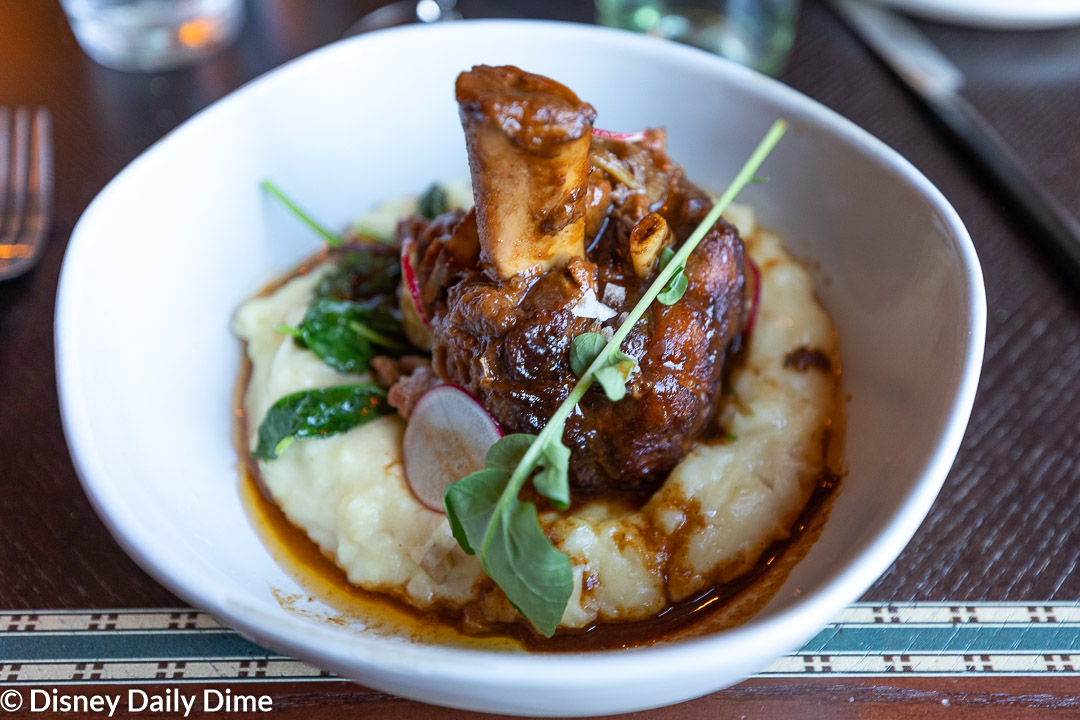 Entrees
Each diner can select their own individual entrée from the menu.   Mike chose the Magic Mirror Slow-Braised Pork Shank.  He really enjoyed the fork tender meat and the celery root mashed potato side.   His cut of meat had a few fatty areas but other than that he was very pleased with his selection, outside of the winter greens.  The winter greens served with it were cooked and not something he enjoyed.  They reminded him of cooked spinach and is not something he really ever wants to come into contact with again.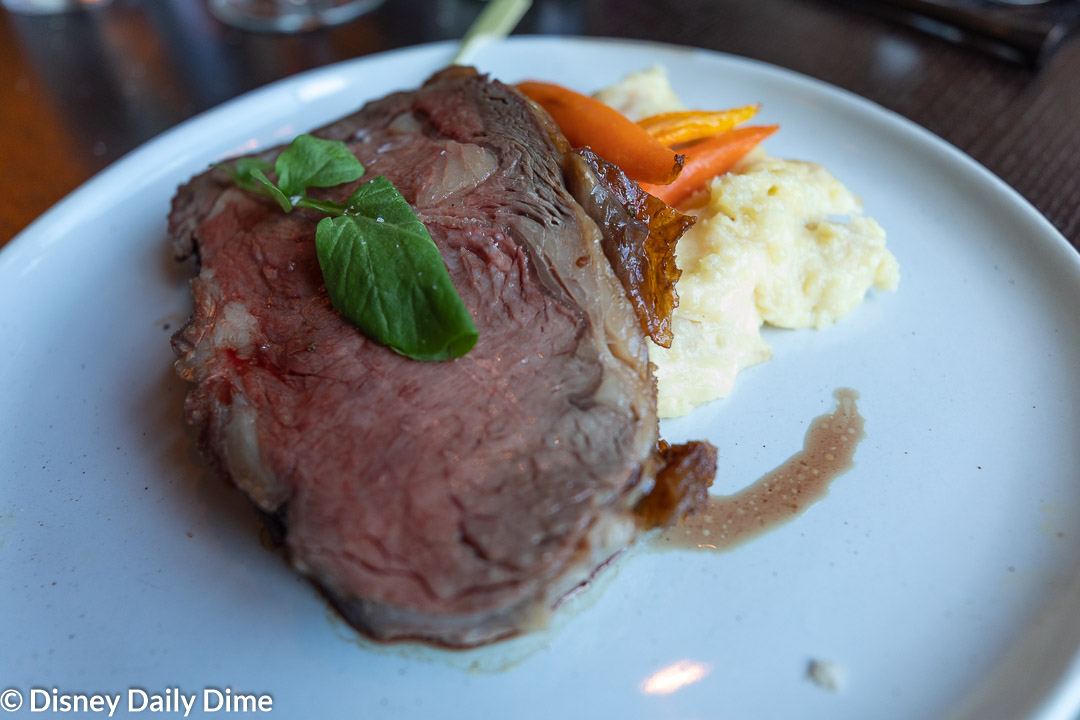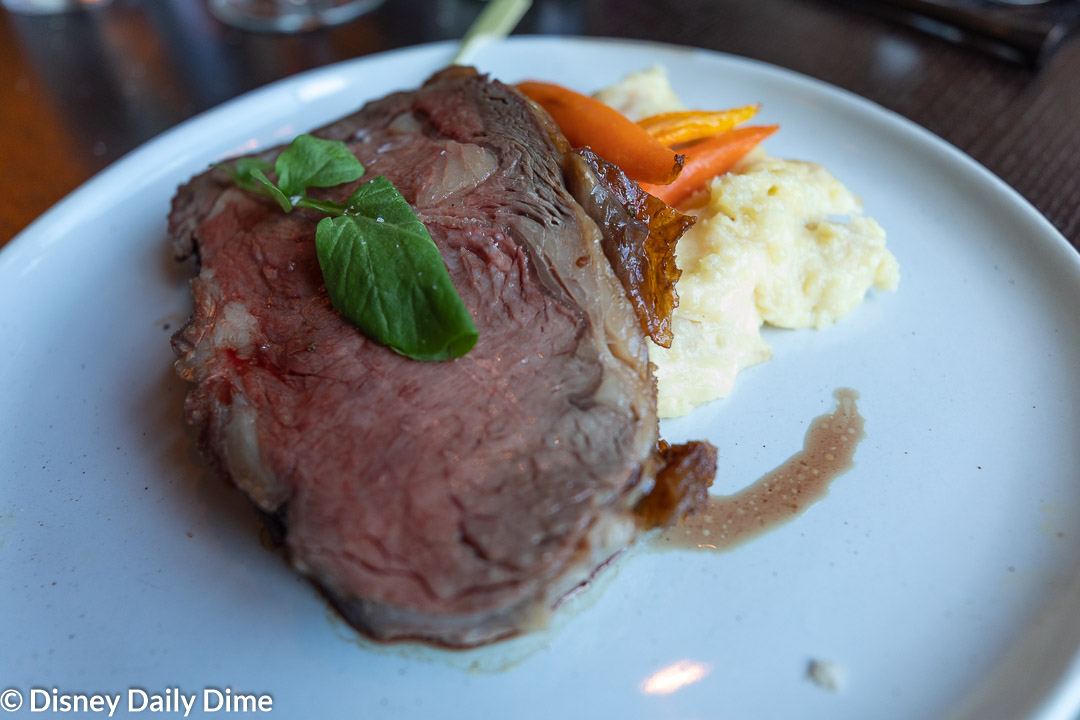 My choices were a little more limited due to my gluten sensitivity, however I was able to order the prime rib.  It is served with horseradish mashed potatoes and carrots.  The prime rib itself was serviceable, but I was not overwhelmed by it.  Maybe it was just my particular cut but I didn't feel like the prime rib had much flavor.  I'm a fan of prime rib but it just missed the mark for me this particular night.   I loved the horseradish mashed potatoes as the horseradish gave the potatoes wonderful flavor and spice.  It was a great accompaniment to the meat.  The carrots did not stand out, they were simply cooked carrots.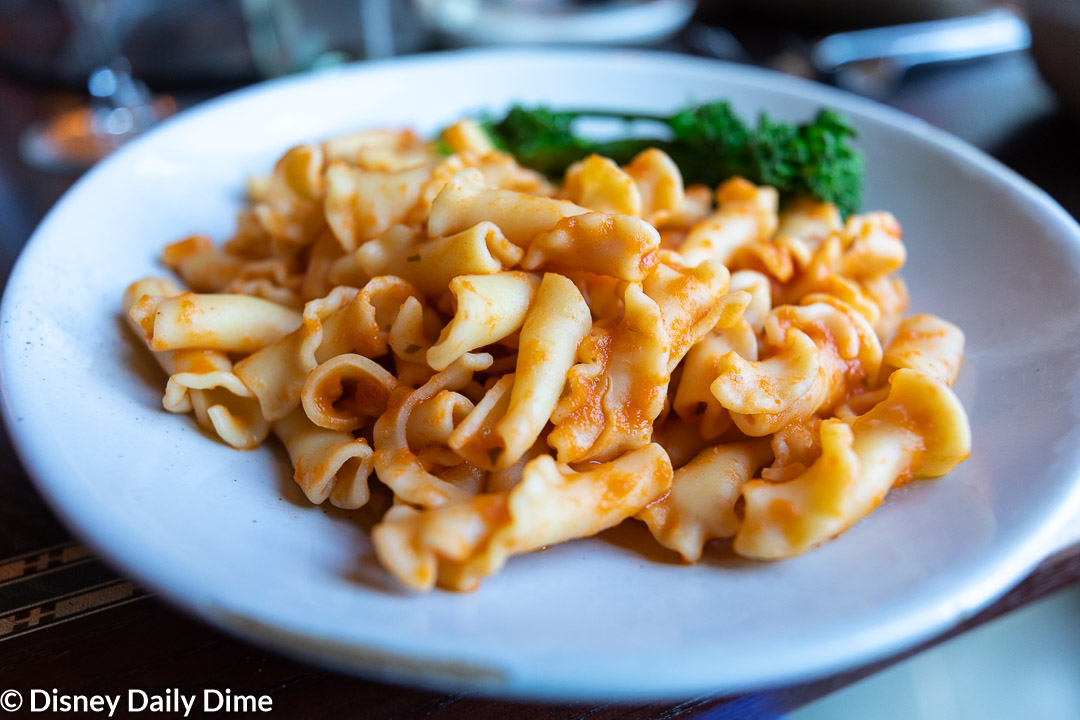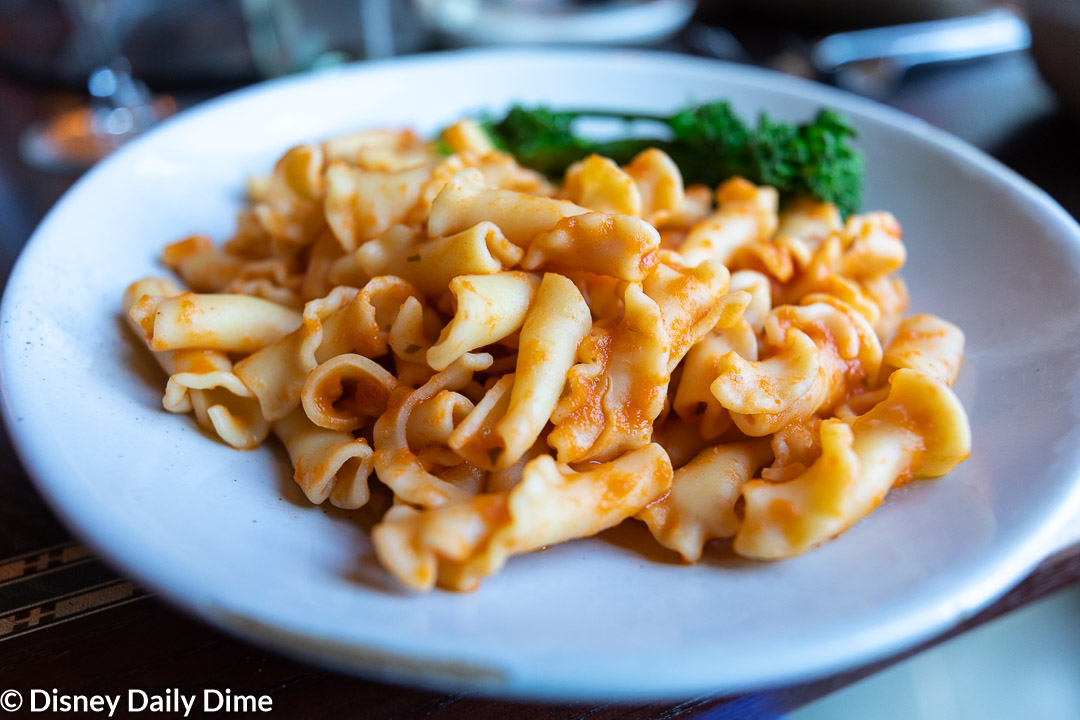 Elsa chose the "Prince and Princess Pasta".  Kids are given the choice of a red marinara-like sauce or a cheese sauce.  Elsa ordered it with red sauce.  She was pleased with her meal which was a relief to Mike and I because she isn't generally a big pasta eater.  She devoured it and noted that she really enjoyed it which I believe speaks to the quality as she can be very picky when it comes to pasta and marinara.   It came with a side of a broccolini, which she is a fan of.  The broccolini never stood a chance!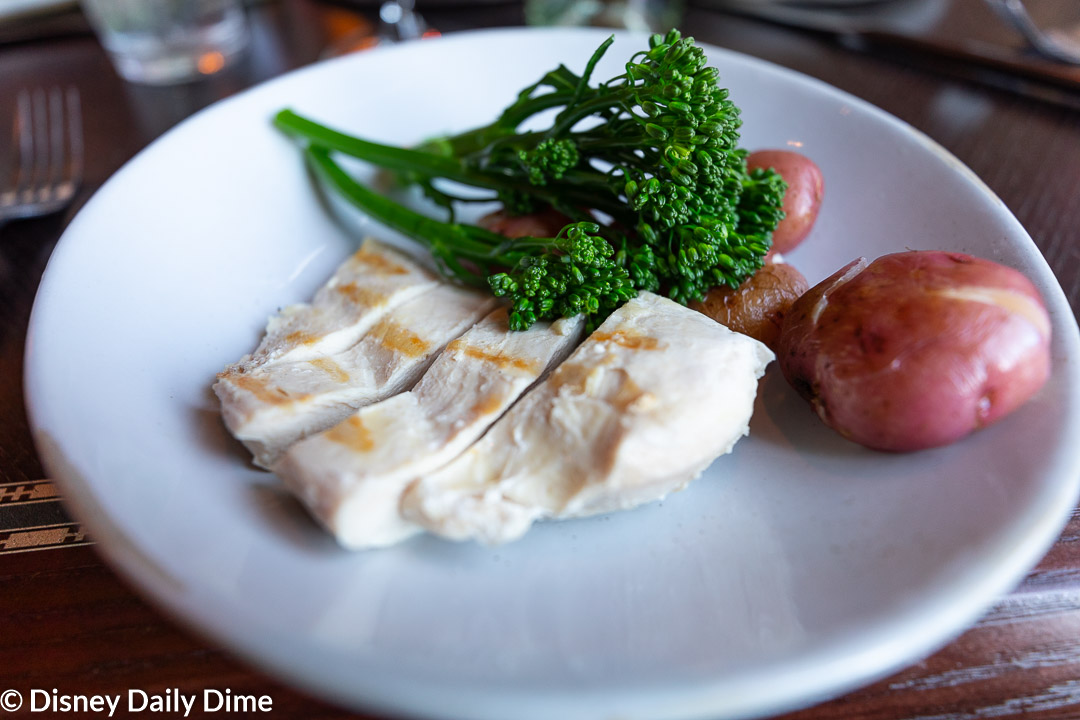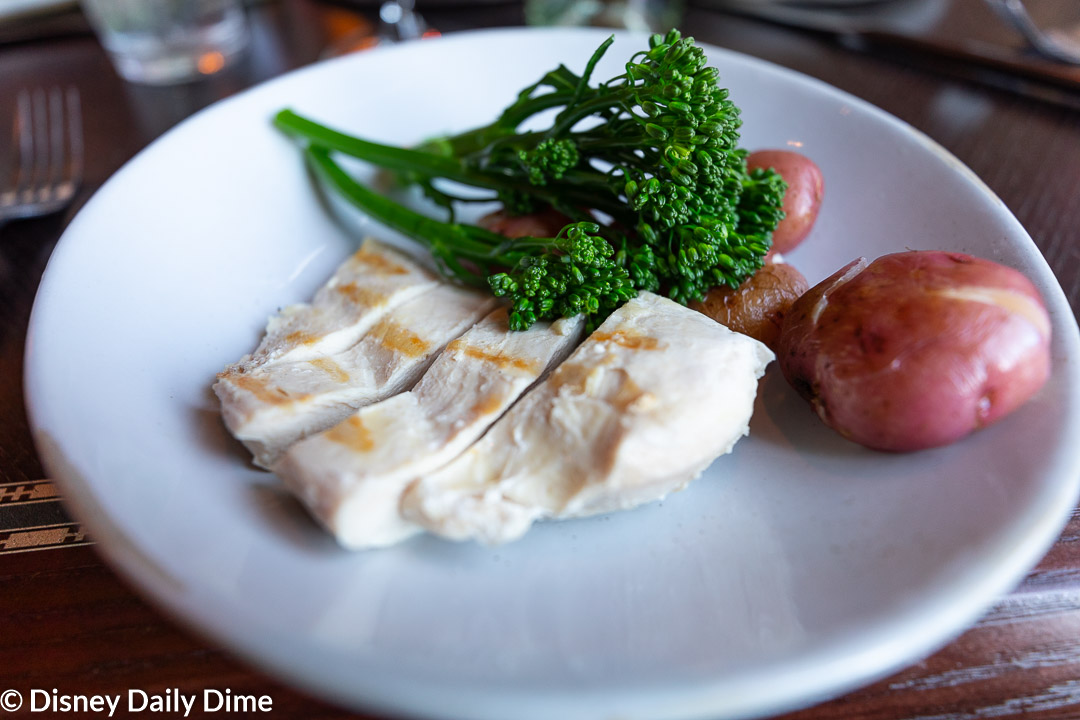 Anna ordered the kids' grilled chicken.   It was served with roasted potatoes and the broccolini.   There wasn't anything overly exciting about the meal but she ate it and said she liked it so we consider it a win.  Mike had a bite of the chicken and said it was very plain.
As a general comment, the kids' menu selections at this meal were definitely a "higher-end" than many of the kids' menus we have seen around the resorts.   Unfortunately, our girls didn't take advantage of this opportunity but Storybook Dining offers options for kid sized portion of the prime rib or a vegetarian steam bun.   This is a great chance for kids to maybe branch out of their comfort zone a little and try prime rib which isn't typically an option for kids.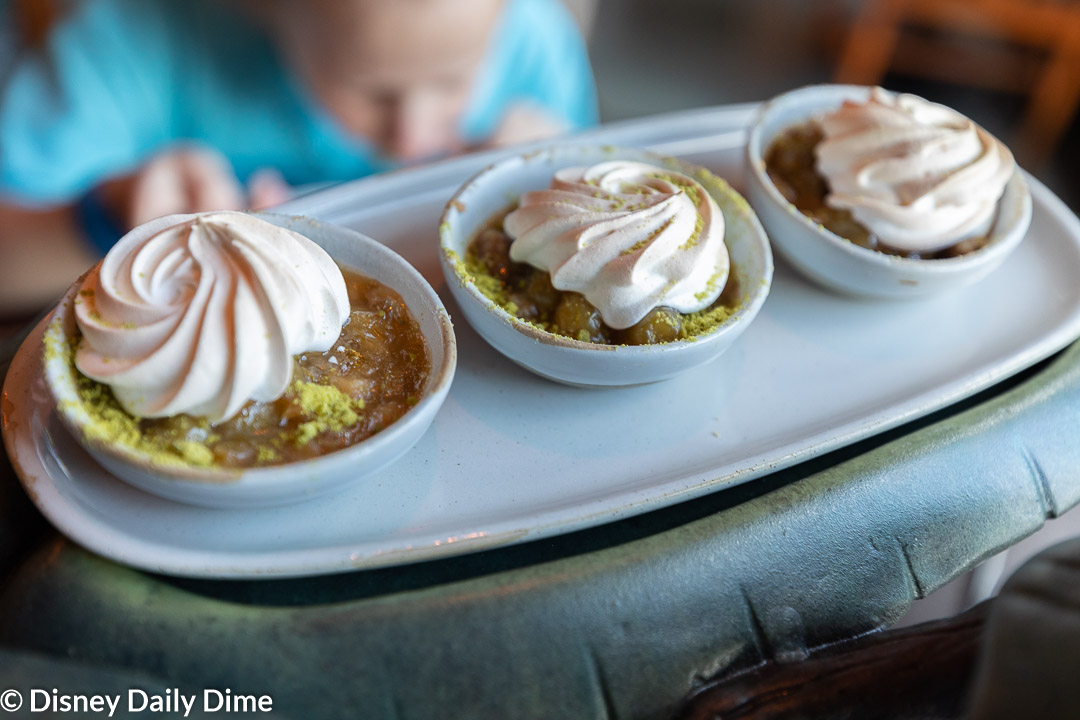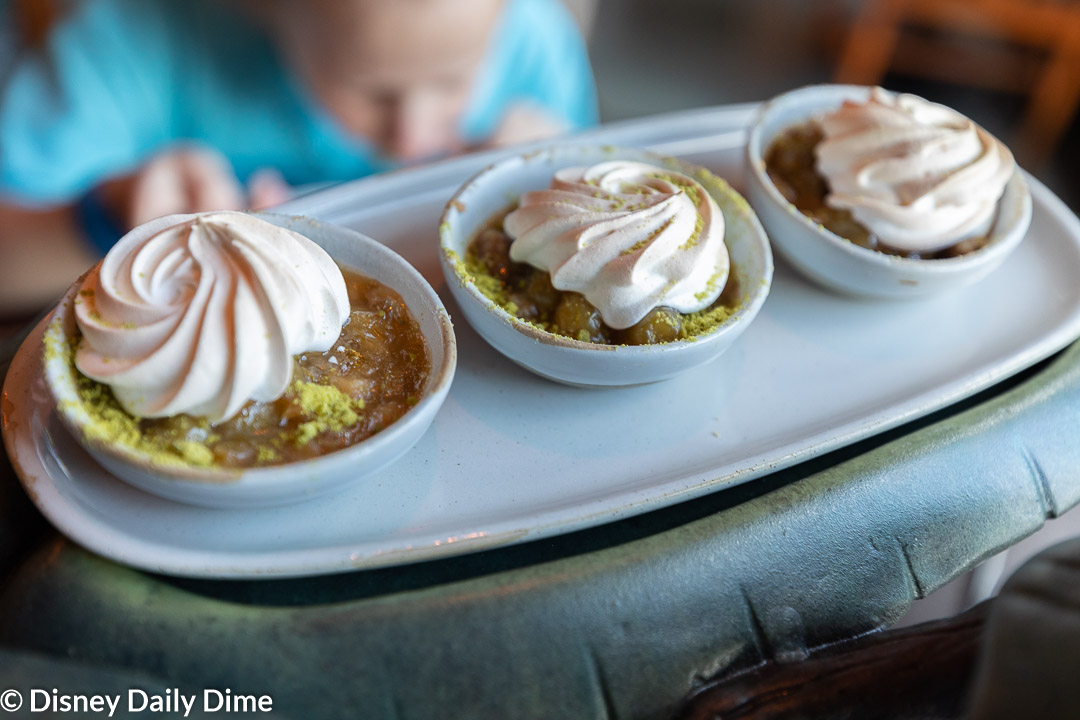 Desserts
The tree centerpiece is used again to hold the dessert platters which are for the table, just like how the appetizers are served.  There is one of each dessert for each member of the dining party.
The gooseberry pie is a direct homage to Snow White as she bakes one in an iconic scene from her movie as she sings about her prince coming to her someday.  The pie is served as individual tarts, not as a traditional slice of pie.  It is topped with meringue.  The girls were not a fan of it at all but Mike really enjoyed it.  It reminded him of apple pie and was his favorite dessert of the lot.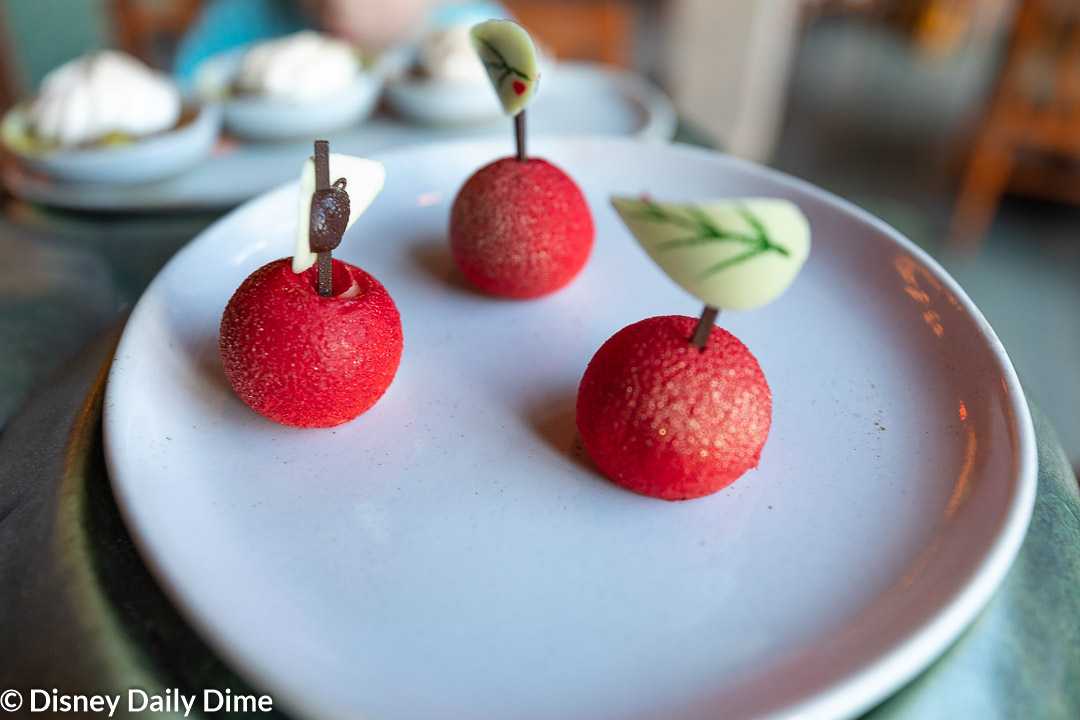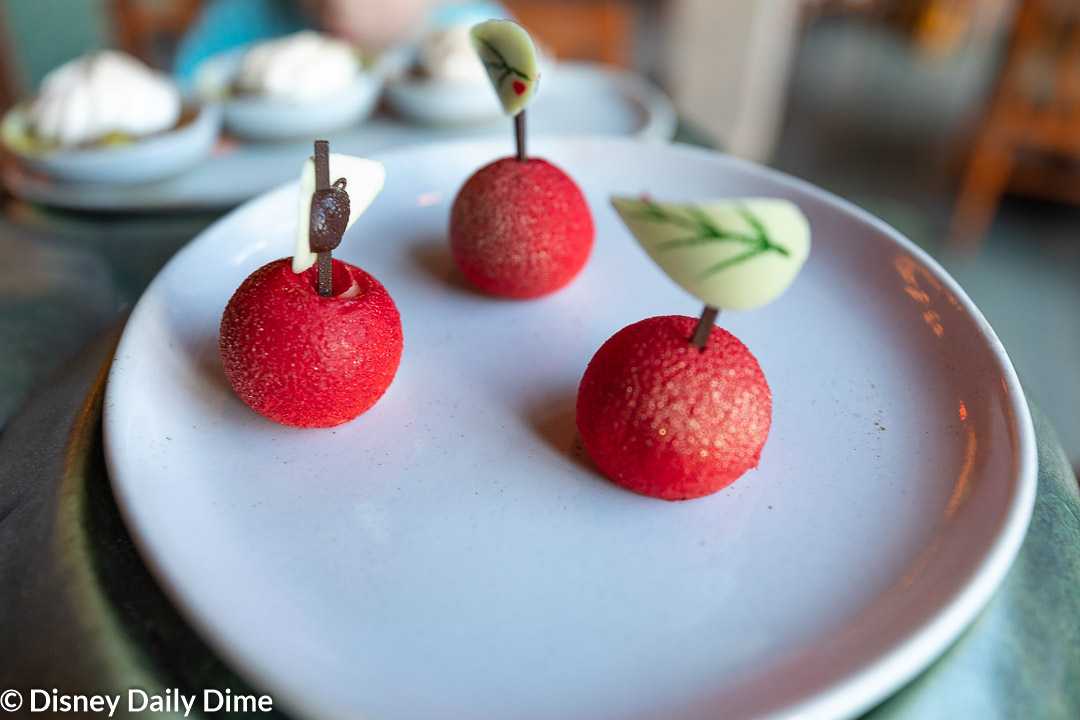 The Poison Apple earned mixed reviews from our group.   A unique dessert which is also an obvious nod to the movie, the apple has a sour apple center surrounded by chocolate mousse.  To Mike, the chocolate mousse was overly sweet and overpowered the sour to the point where it was barely discernible.  The girls are big fans of sweet chocolate and sour candies so this was their favorite of the whole dessert course.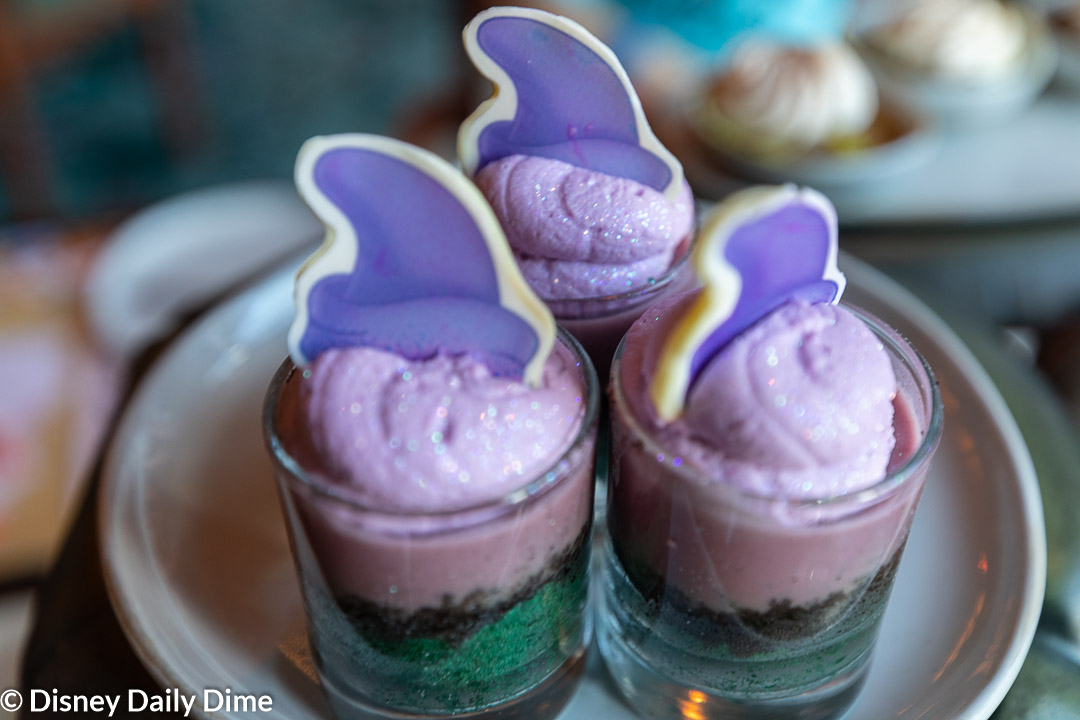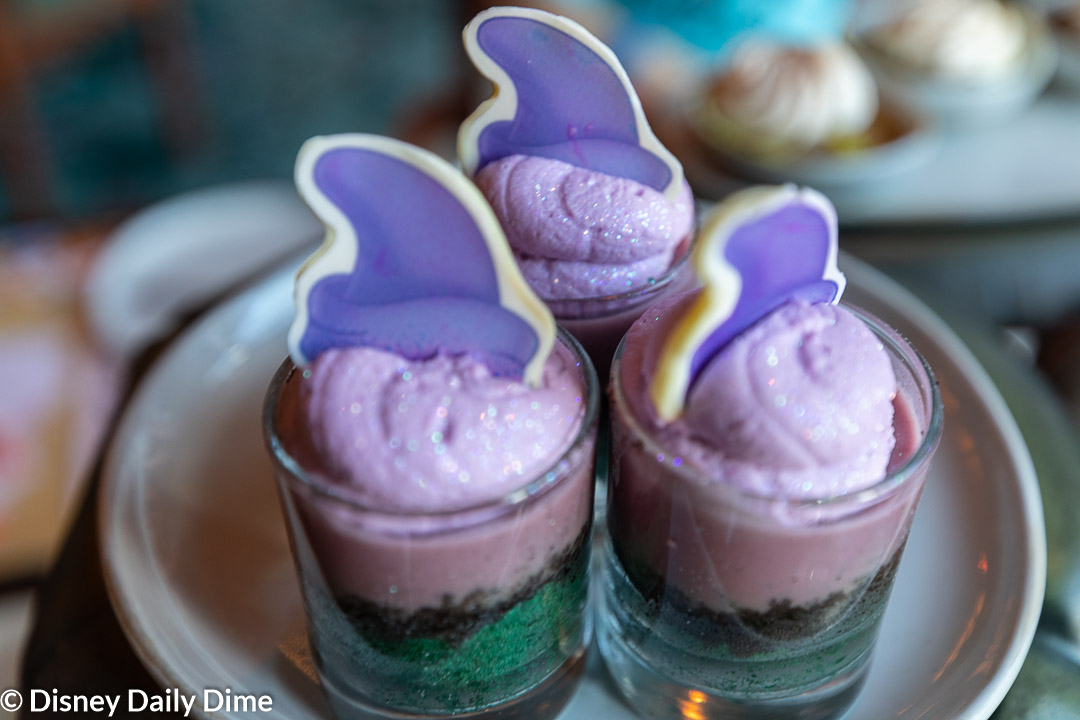 The Miner's Treasures is a layered dessert consisting of sponge cake, chocolate gems and berry panna cotta served in a small glass.  While it looks beautiful seeing all of the layers, this made it hard for everyone to enjoy.  The berry panna cotta had the consistency of frosting and while it tasted good, Mike and the girls all agreed there was too much of it.  They couldn't work their way down to the other layers to take a bite of everything mixed together.   Our suggestion is to scoop it out of the glass onto to your plate as the sum of the parts is probably better than each individual layer on its own.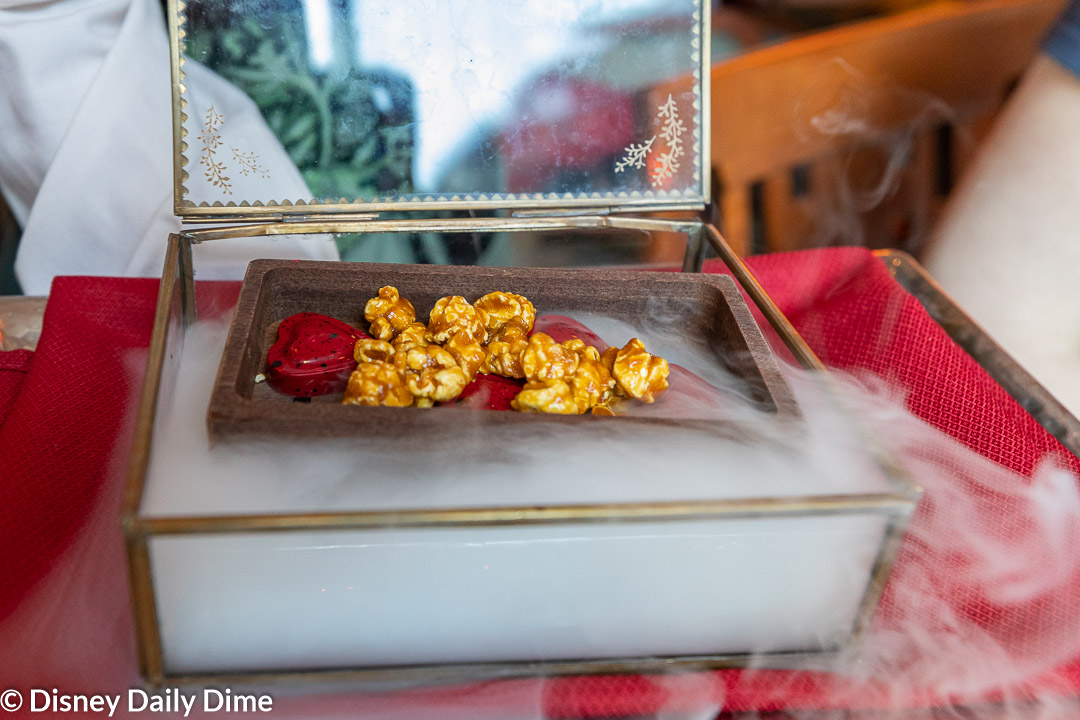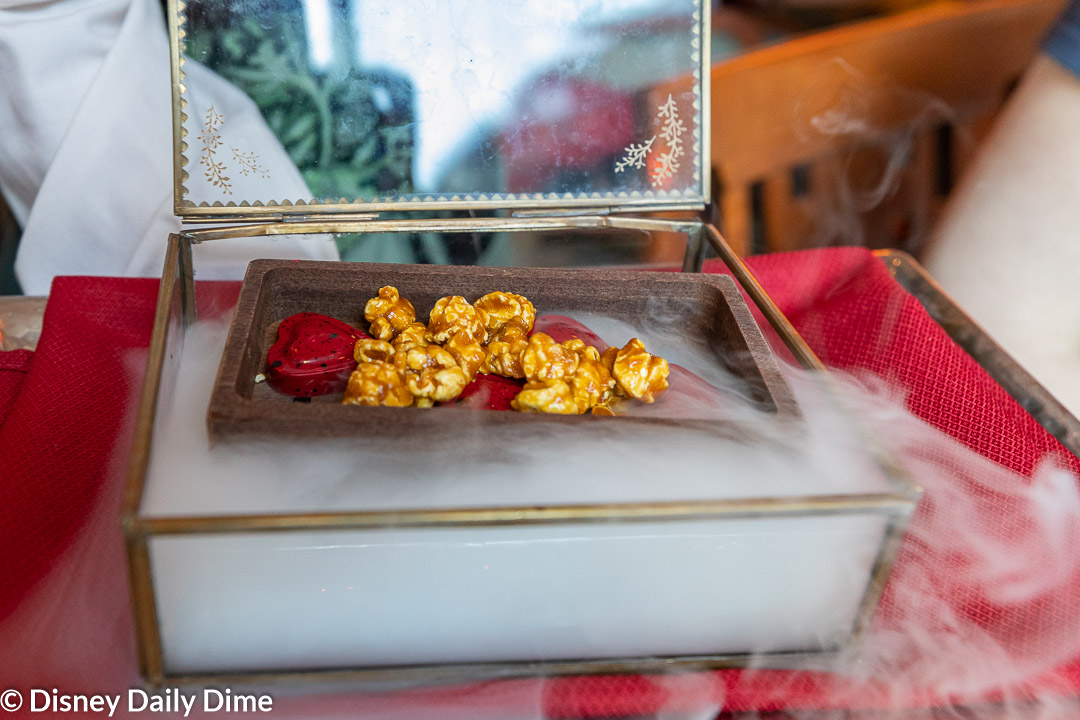 The final part of the dessert was the most creative and had an amazing presentation.  Our server came over with a large glass box and opened it, releasing dry ice-created "smoke" and displaying cracked maple popcorn and red chocolate ganache hearts.  The Hunters Gift to the Queen recalls yet another aspect of Snow White's story where the Queen sent the Huntsman out with orders to bring back Snow White's heart.   For me, I had to block out that part and just enjoy the fun presentation, as that part of the story was always kind of morbid and I didn't really want to think about that while I was eating!  Everyone really liked the popcorn and it was a fun sweet treat to end the meal.  The chocolate ganache hearts we a nice chocolate, but nothing overly unique.  The presentation is what really makes this Artist Point dessert special.
I will discuss my gluten free desserts in my separate gluten free dining review of Storybook Dining at Artist Point.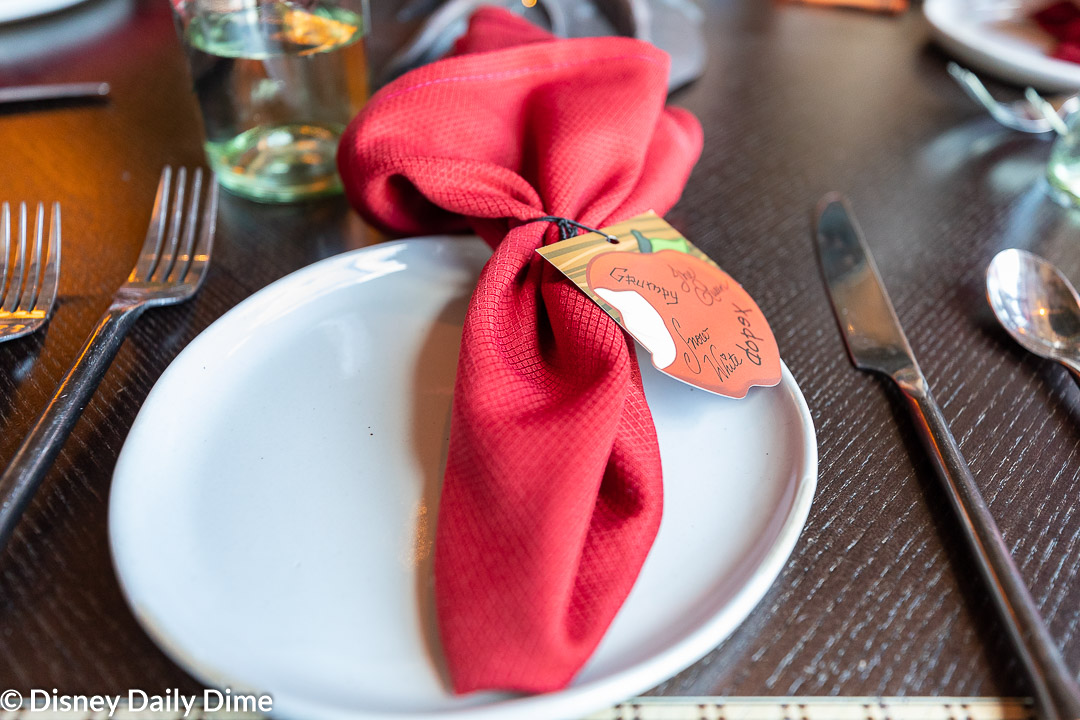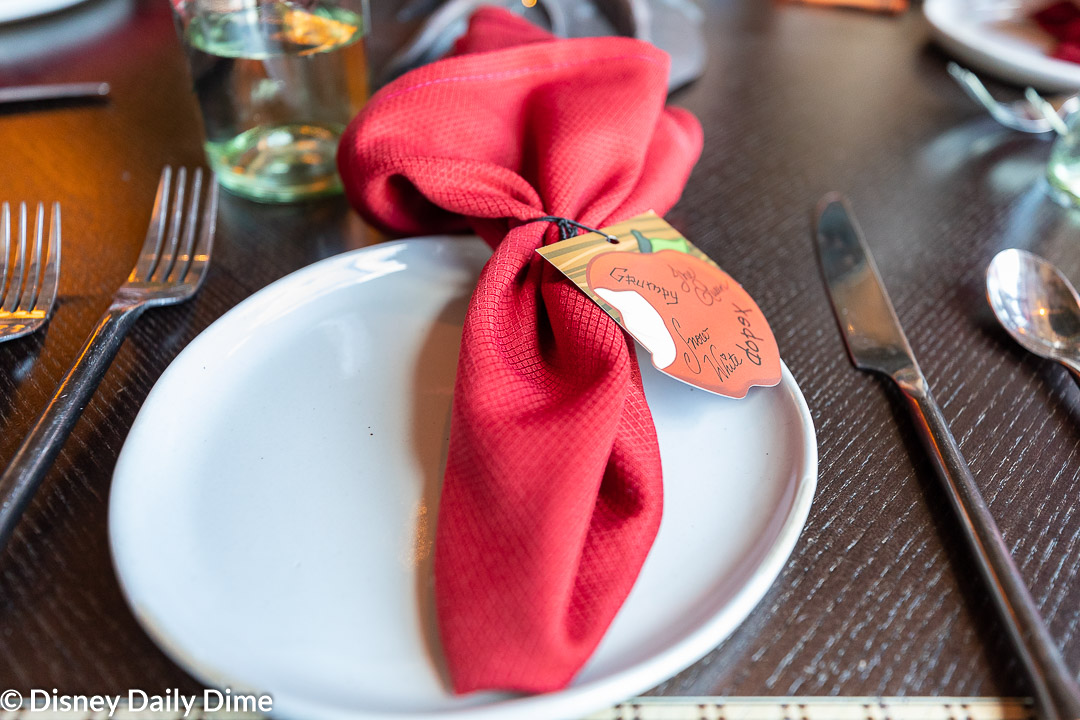 Storybook Dining at Artist Point Overall
Featuring some great and unique character interactions, we all enjoyed this meal.  Mike and the girls probably enjoyed it more than I did as my gluten free food wasn't as great.
The setting of Storybook Dining is also well set up and really works well with the overall Snow White story narrative.
Aside from the fun characters and the immersive setting, Storybook Dining at Artist Point features food that we think is above average for most Disney character meals and presents a really great value to us.  We'd rank it right up there with the Bon Voyage Adventure Breakfast we had over at the BoardWalk Inn.
It is no doubt an excellent use of one Disney Dining Plan credit at its price point, and while the food had some hits and misses, it was overall an enjoyable meal.  Plus, it also gives you a great excuse to visit Wilderness Lodge if you have never been there before.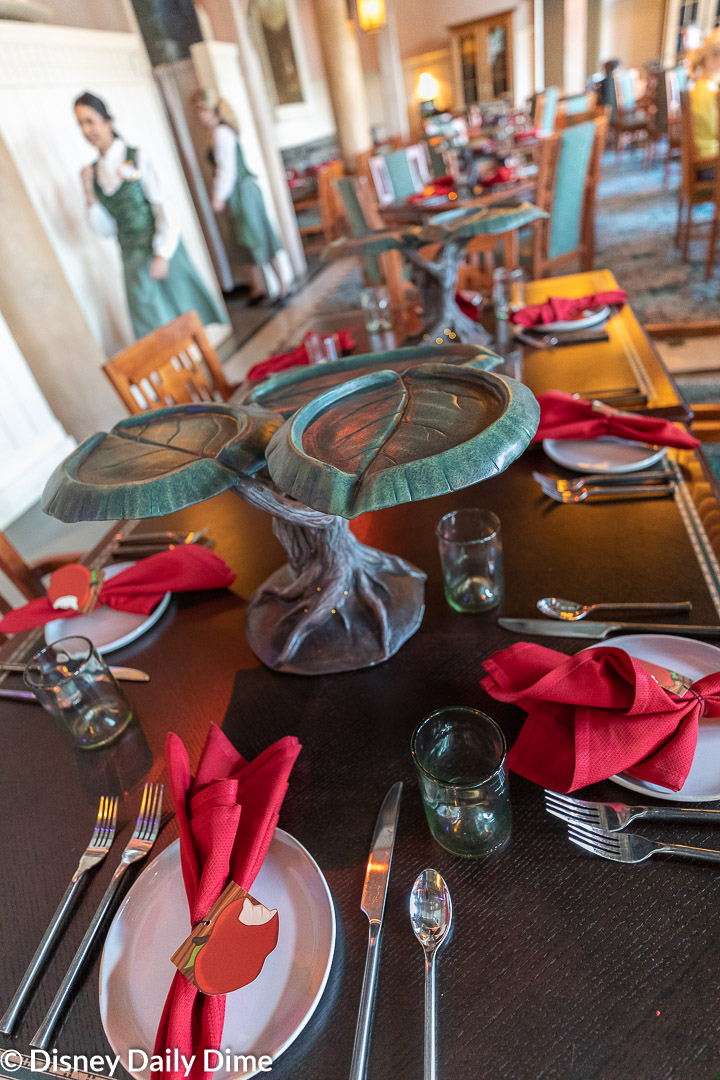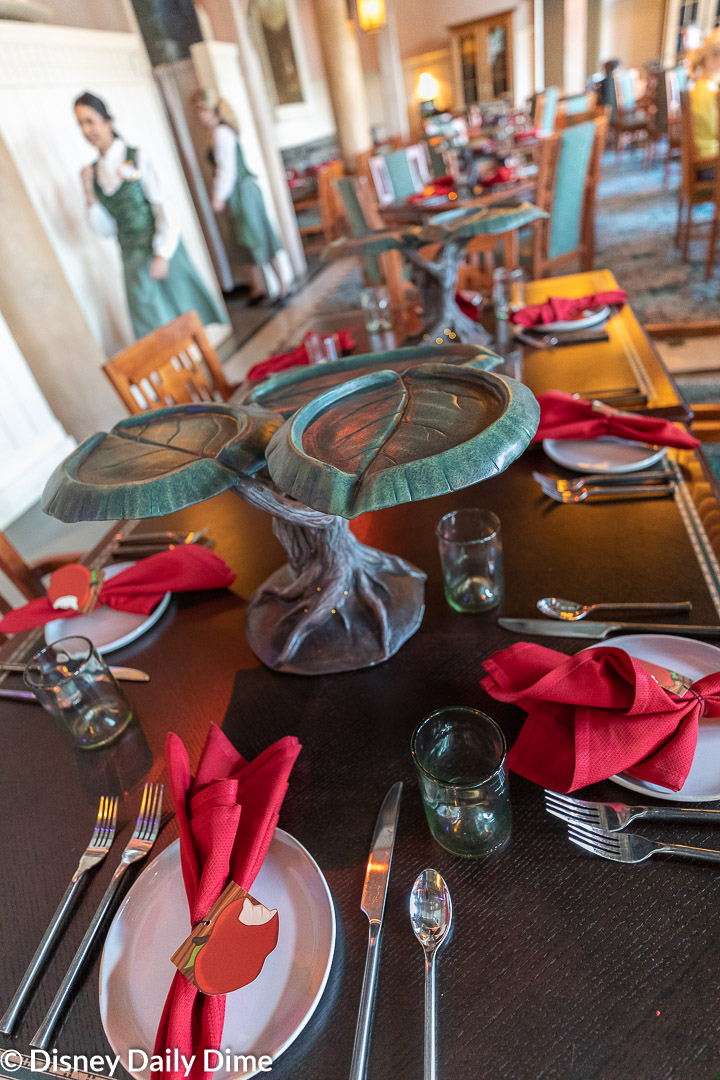 We think this meal could be a perfect break from an evening in the Magic Kingdom.  Take a water launch over to the Lodge, explore the beautiful resort and enjoy a fun character meal before heading back over for the rest of your night in the Magic Kingdom.   That sounds like a perfect Disney World evening to us.  
If you need to kill some time before your meal, we highly recommend dropping into Territory Lounge.  They've got some great non-alcoholic drinks for kids and the lounge has excellent theming to it.
Wrapping Up
With that, we'll wrap up our Storybook Dining at Artist Point review.   We all immensely enjoyed the character interactions, especially the Evil Queen, in such a beautiful setting.  Our time with the Evil Queen was hands down one of the best character interactions we have ever had.
If our Storybook Dining at Artist Point review was helpful, or at least entertaining, please like and share this with your friends or anyone you think will find it useful.  Just use the sharing buttons on the page.  We always appreciate it when you share our posts, as it allows us to spread the word about our blog and hopefully allows us to help others.