Within Walt Disney World there are five Moderate Level resorts.  One of those is Disney's Port Orleans Resort – Riverside.  In this post, we will give you our review of Port Orleans Riverside.  This will include an overall resort review, while also hitting the highlights of the room options, pricing, dining, pools, amenities, and more.
Our Port Orleans Resort Riverside review is part statements of fact so you understand what the resort is like, coupled with our opinion of the resort.  Sometimes that's a fine line to lay out in writing, but we think you'll be able to tell when we are interjecting our opinion into this review of Port Orleans Resort Riverside.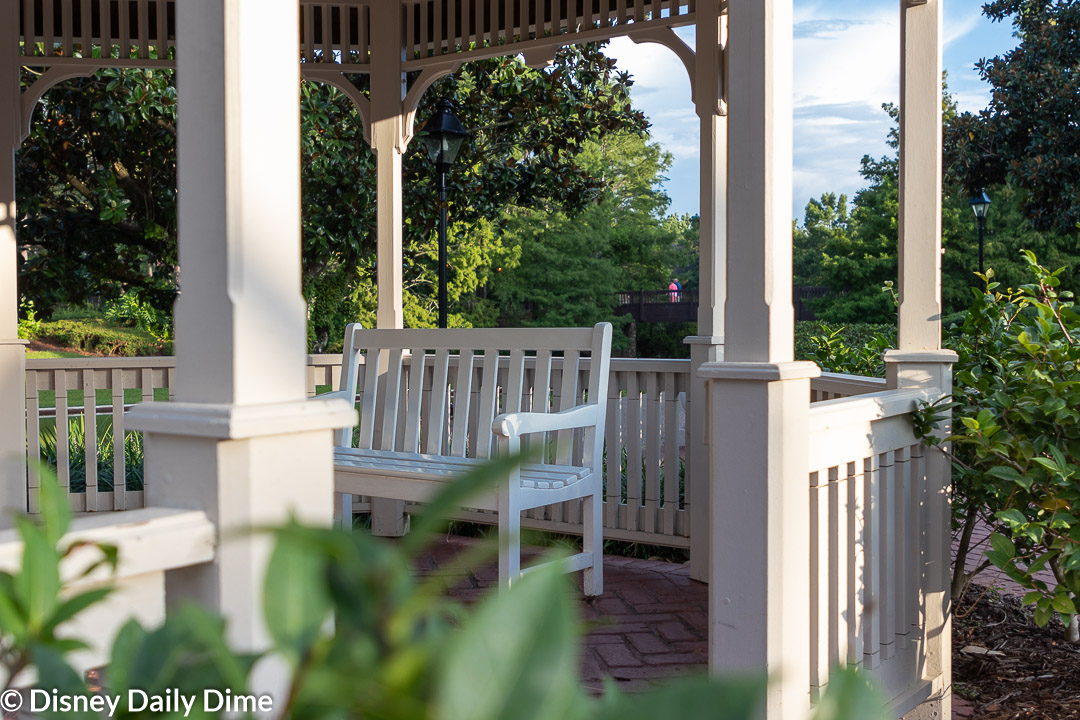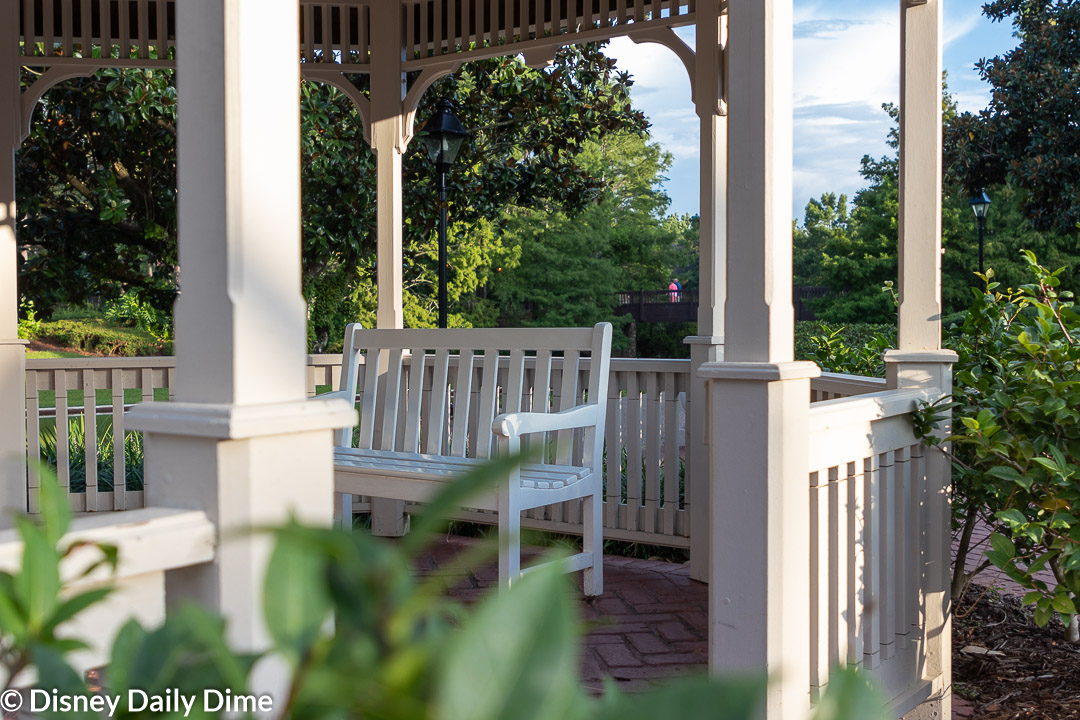 Port Orleans Resort Riverside Overview
Port Orleans Resort Riverside is a sprawling resort, covering around 200 acres.  It is home to over 2,000 rooms and is so large it even has two distinctly themed areas.  The size of the resort does lead to some pros and cons you should be aware of.  We'll discuss them as we go through our Port Orleans Resort Riverside review.
Disney's Port Orleans Riverside is designed to resemble a southern Louisiana river delta community.  It sits along the Sassagoula River, which serves as the centerpiece to the resort.  It anchors so many great views and opportunities to enjoy a unique experience compared to most other resorts at Disney World.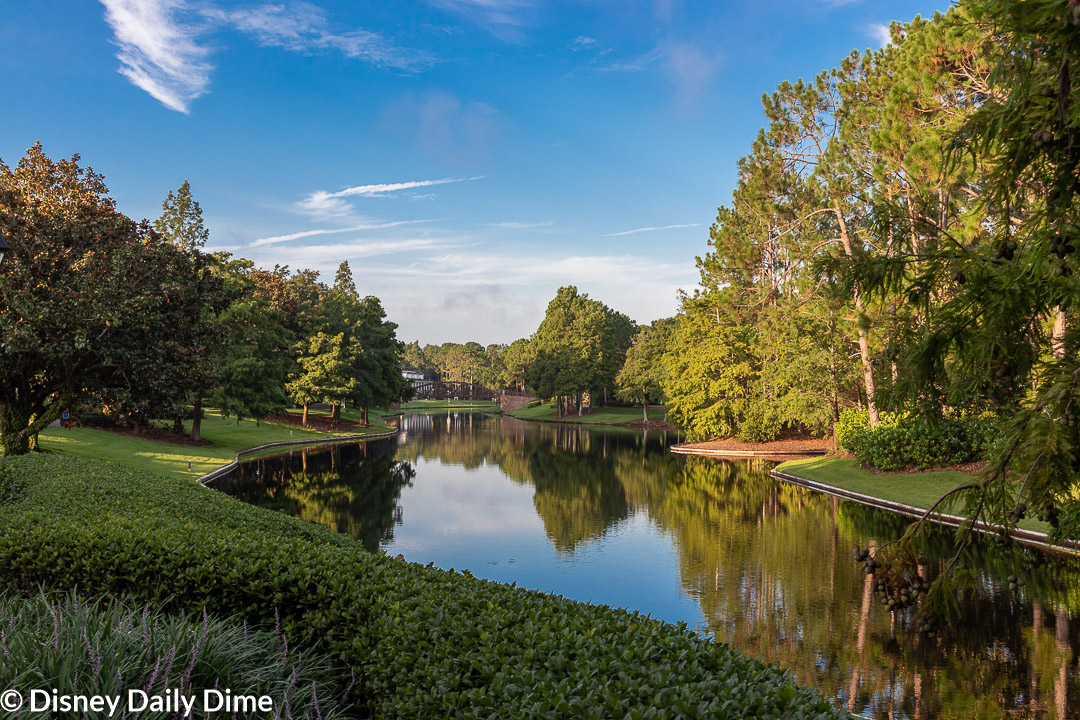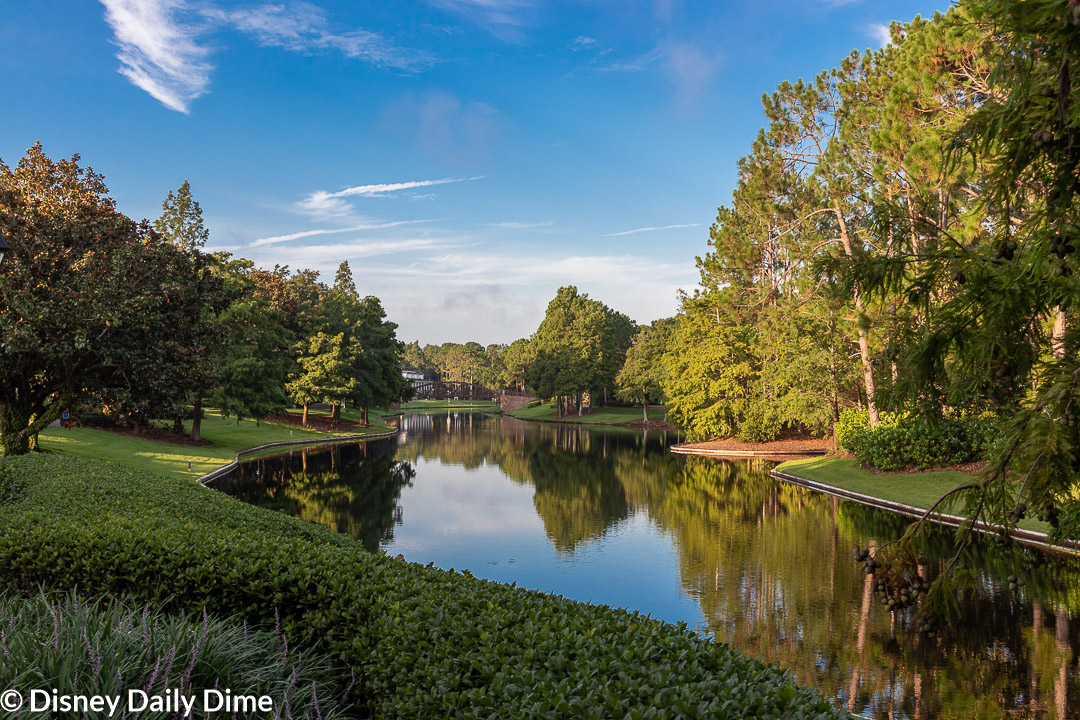 The main common area of Port Orleans Riverside includes the resort lobby, dining areas, and shops.  They tie in with the river community theme by incorporating various nautical elements.  The main lobby is designed to be a representative of a steamboat that would sail up the Mississippi river.  However, we would say that isn't 100% clear if you don't know what you are looking for.  Otherwise, it may just strike you as a nice plantation style home interior.


The dining options also carry forward the river theme, however, we'll discuss them more when we get to the dining options.
The two sections of Disney's Port Orleans Resort Riverside are Alligator Bayou and Magnolia Bend.  As you'll read below, these two sections are quite different from each other.  You might almost think they would clash with each other.  They only butt up against each other on the north end of the resort, but you never really notice the difference as the two styles blend seamlessly together.  Some may argue this is part of why the resort consumes so much space, which may indeed be true.  However, we think the sprawling nature of the resort is worth it.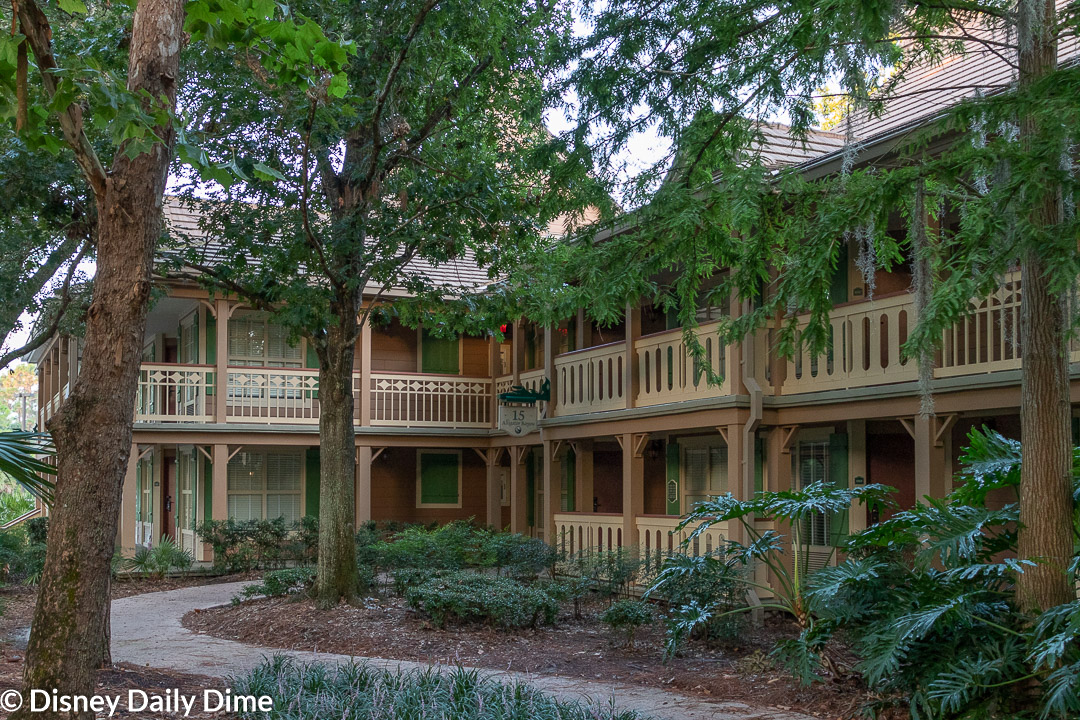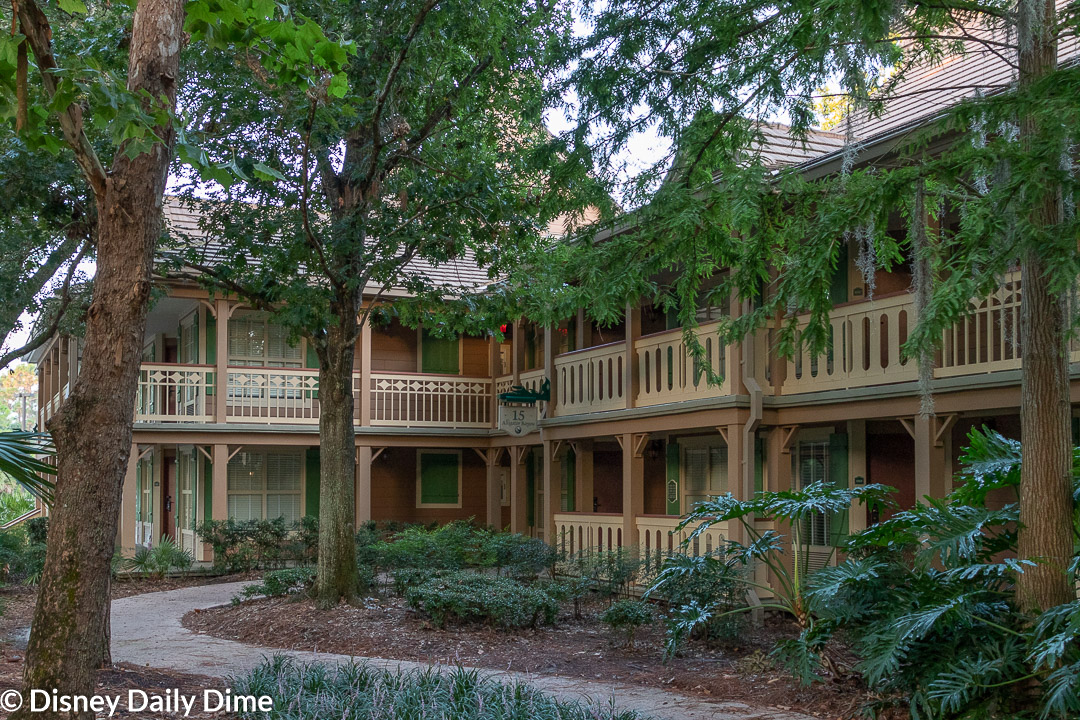 Alligator Bayou
The lodges within Alligator Bayou are designed to resemble rustic bayou cabins from the backwoods of the Sassagoula River.  Because of this, you'll find lots of large trees with "overgrown" vegetation.  We say "overgrown" because you know, this is Disney.  They only let things become so overgrown while still being well kept.  But they definitely make you feel like you're in the backwoods of a river delta.  At least, what we imagine one to be since you know, we've never actually been in a real wild bayou.  As we walked the grounds, Mike wondered if Swamp Thing was going to be around the next corner a couple of times.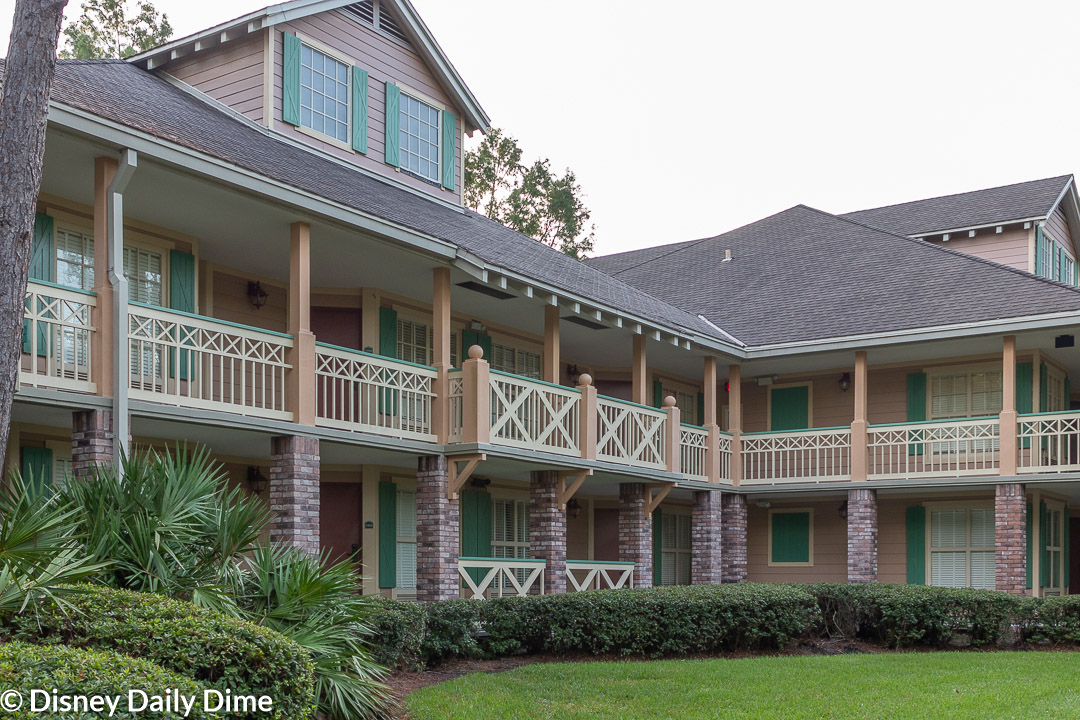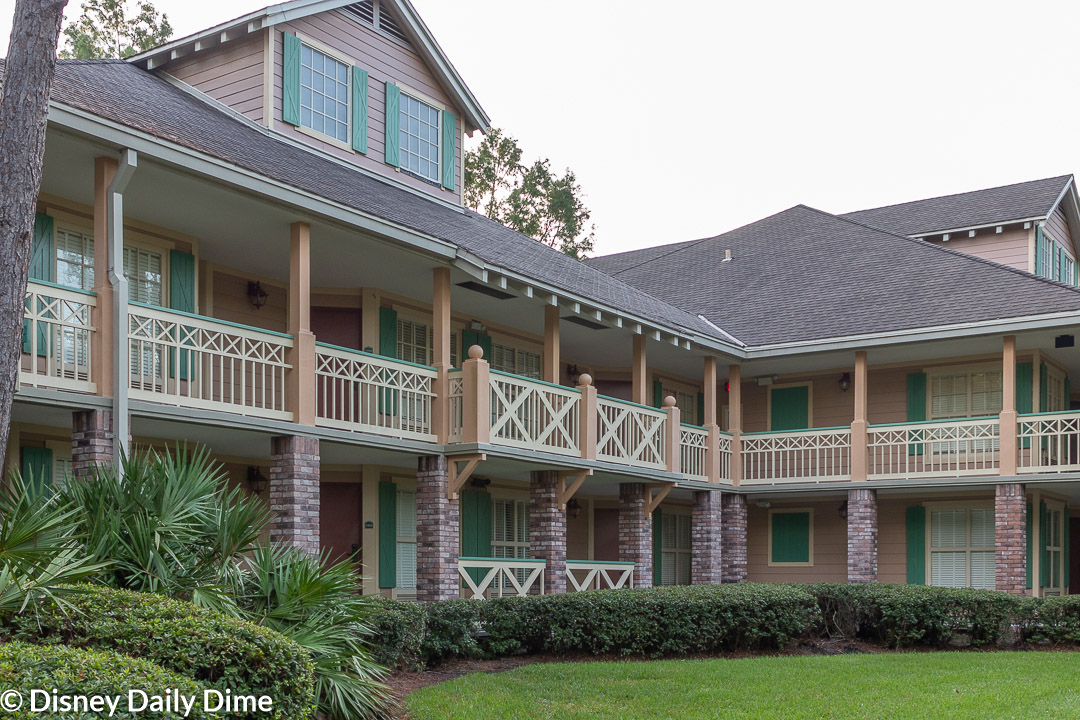 The outside of the Alligator Bayou buildings are made from more natural materials, mainly wood.  The buildings are smaller than what you find in Magnolia Bend.  Because of the smaller size, you'll find far more of them (16 to be exact).
The two-story buildings of Alligator Bayou have no elevators in them, so if you're on the second floor you will have to take the stairs.  If this is not feasible for you, make sure you request ground floor.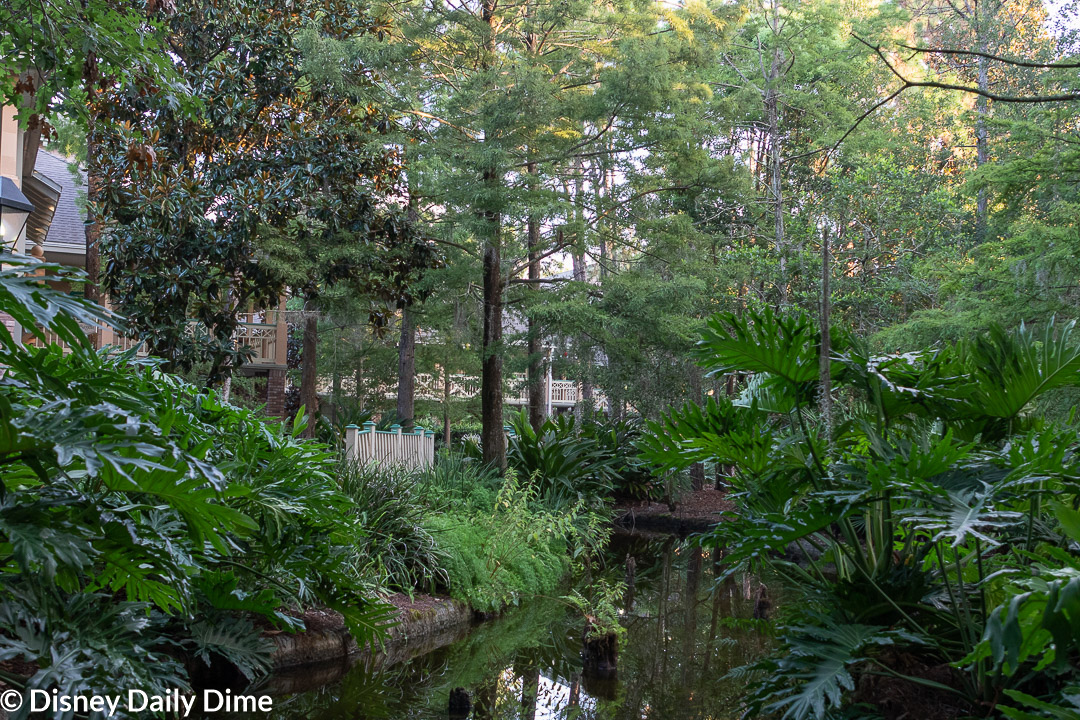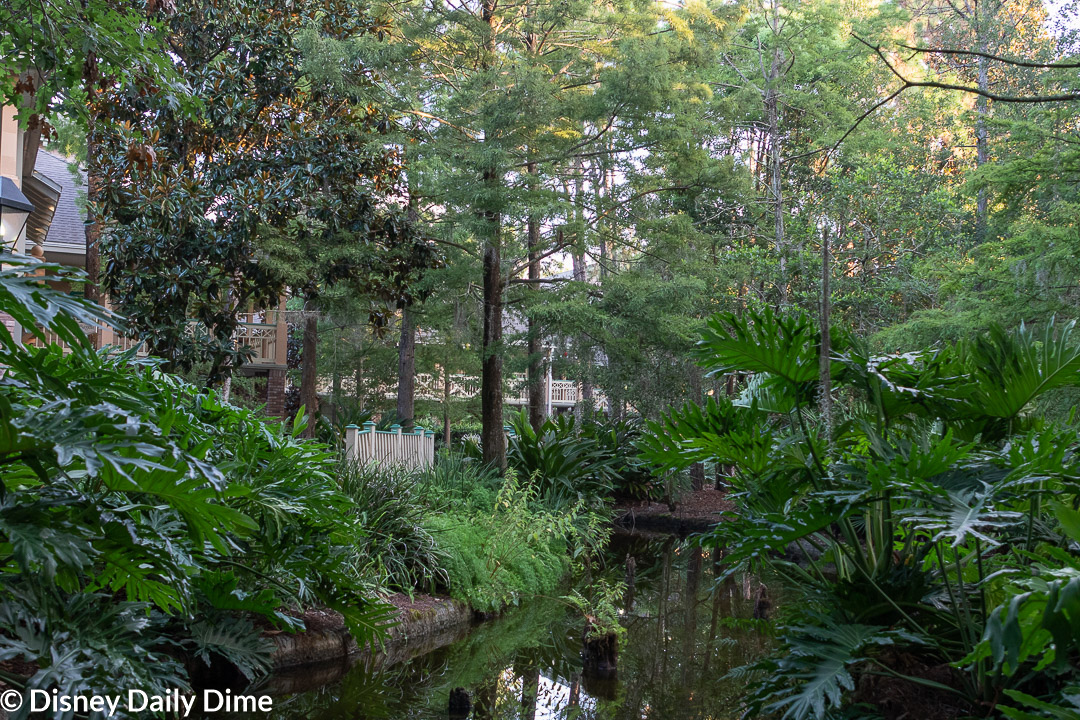 Within Alligator Bayou the combination of the Sassagoula River and the bayou design give rise to numerous secluded little paths around the resort.  These paths can provide some moments of solitude and a respite from the outside world.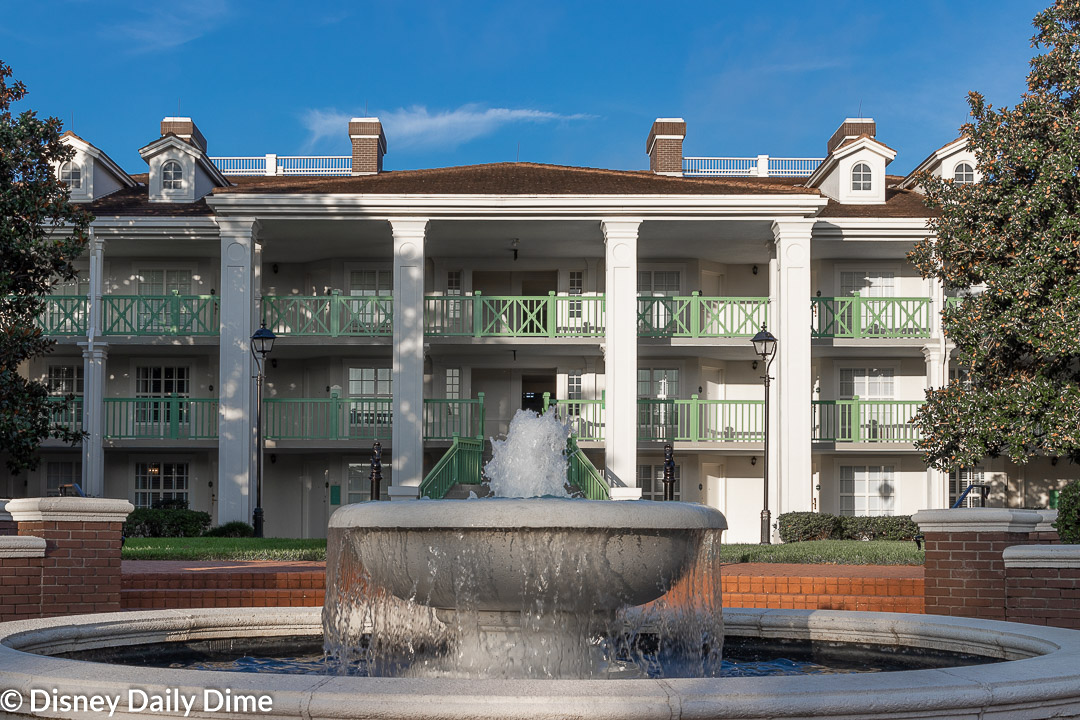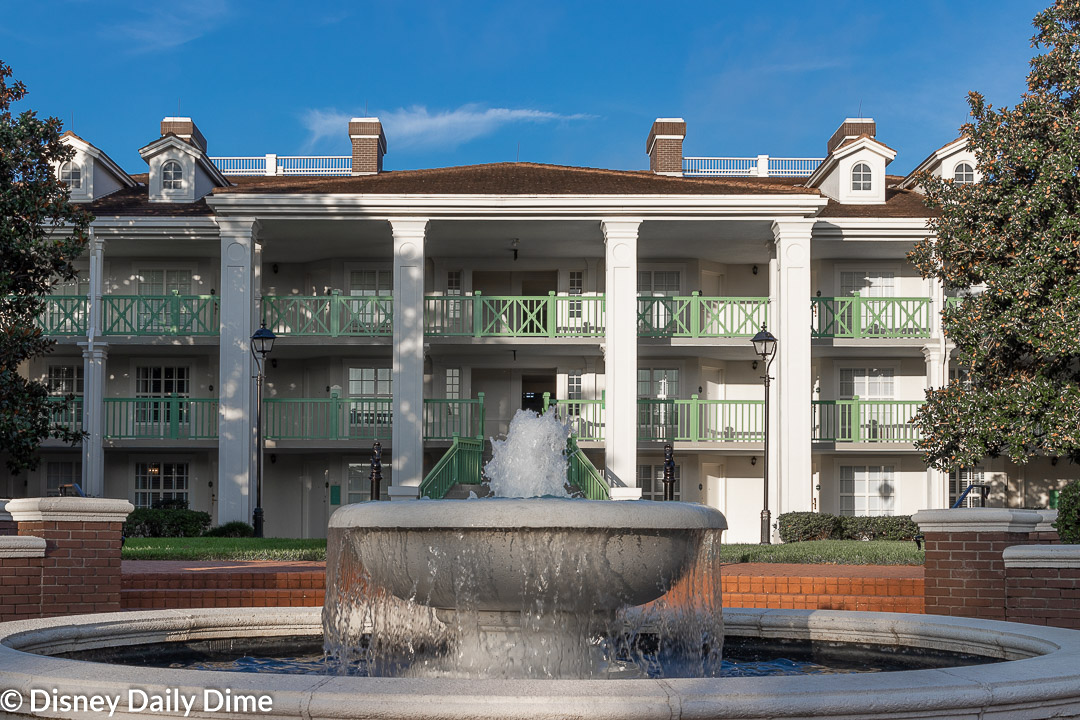 Magnolia Bend
The theming and overall structure of the lodging within the Magnolia Bend section of Disney's Port Orleans Resort Riverside is a stark contrast to Alligator Bayou.  You go from the wild of a backwoods bayou to the pristinely manicured lawns and buildings of Magnolia Bend.  The buildings themselves change from the small woodsy cabins of Alligator Bayou to large plantation style mansions in Magnolia Bend.
There are only four buildings within Magnolia Bend at Port Orleans Riverside.  However, they have three floors and far more rooms per building than Alligator Bayou.  The Magnolia Bend buildings do offer elevators.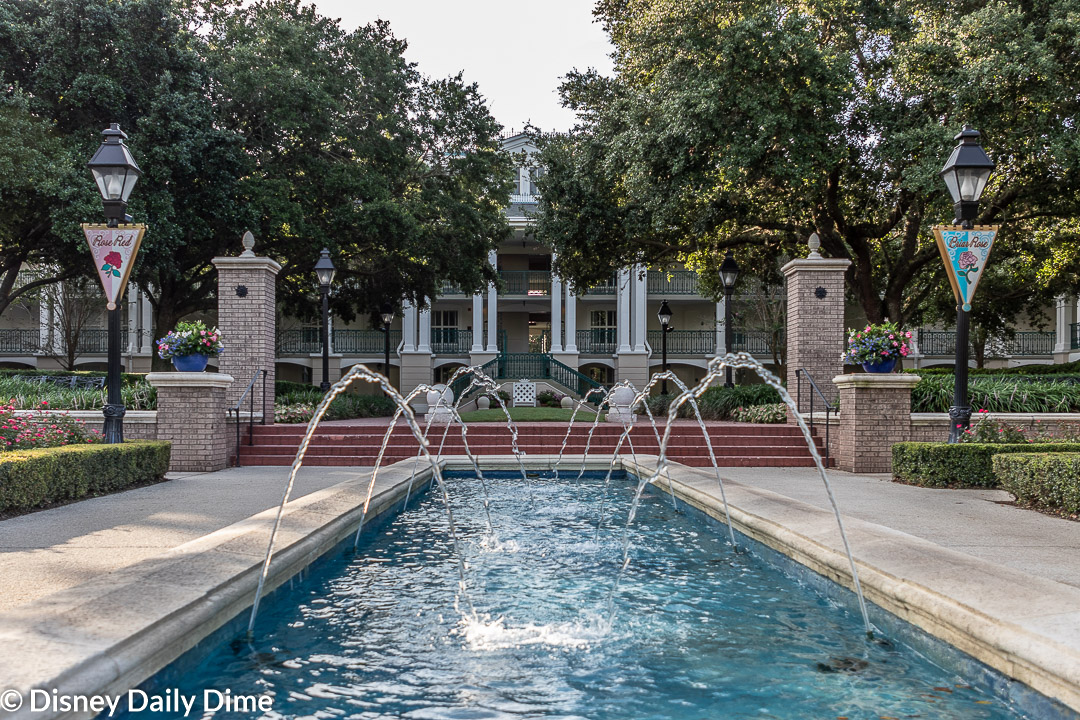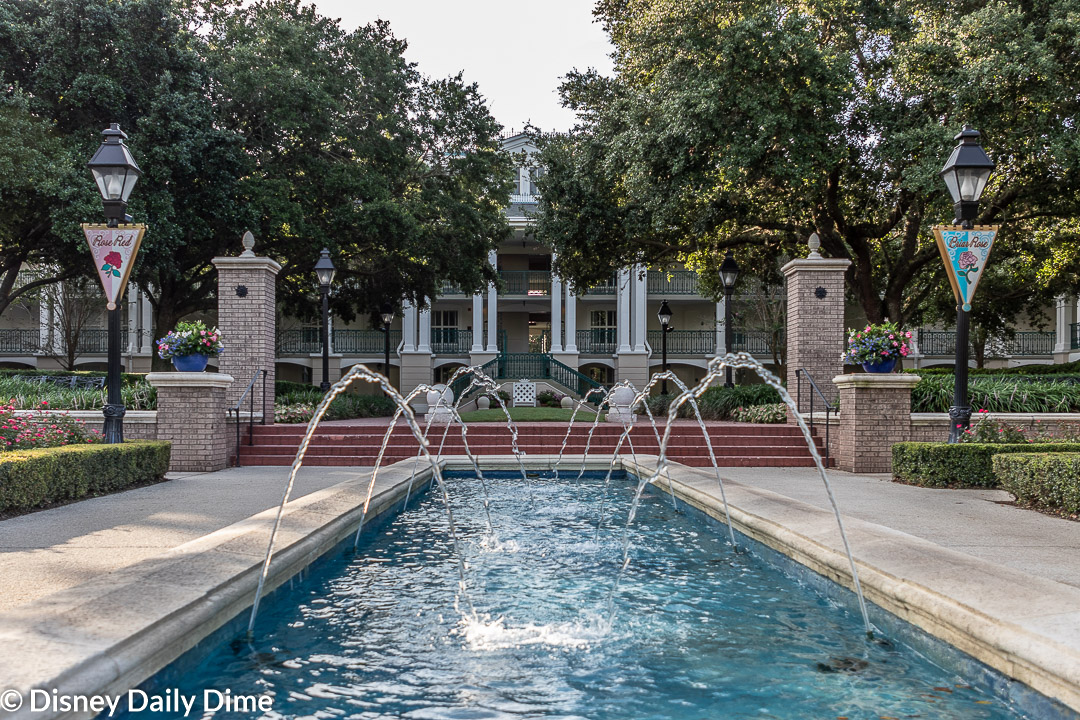 As you walk the ground of Magnolia Bend, you will see that the wild has been left behind in favor of elegance and refinement.  The mansions of Magnolia Bend are well kept and make you truly feel like you've stepped back into a different era.
You'll find sweeping staircases, fountains and opulent gardens throughout this section of Port Orleans Riverside.
Magnolia Bend is also home to the Royal Guest Rooms.  We reviewed the Royal Guest Rooms recently and found them to be a great option to stay in.  These rooms are located within the Oak Manor and Parterre Place buildings.  These buildings are colored in purple on our resort map.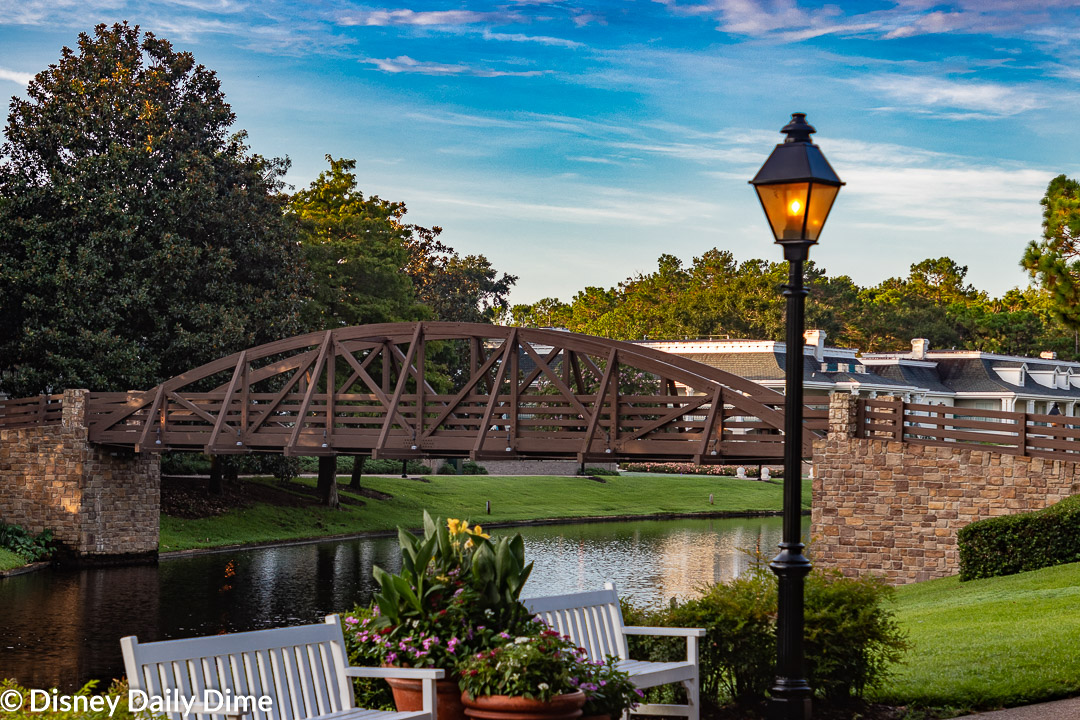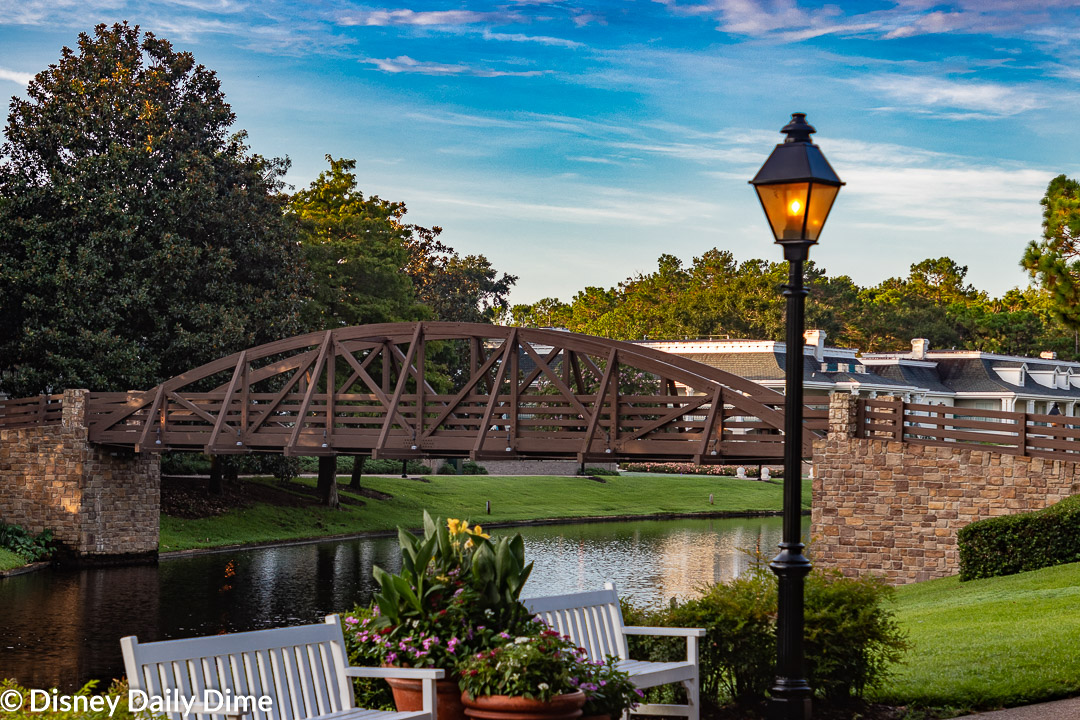 Port Orleans Resort Riverside Amenities
The amenities available within Port Orleans Resort Riverside are fairly standard for a moderate level resort at Walt Disney World.  You'll find pools, which we discuss in more detail below, along with bike rentals, jogging trails, horse drawn carriage rides and an arcade.
Like pretty much every Disney resort, they offer a nightly "Movie Under the Stars" where you can see a free Disney movie every night.
Port Orleans Riverside also features a laundry area and general store.  Bus and boat transportation area available.  You can park your personal vehicle at the resort, however you do have to pay for parking.  Right now, it runs $19 per night at moderate resorts.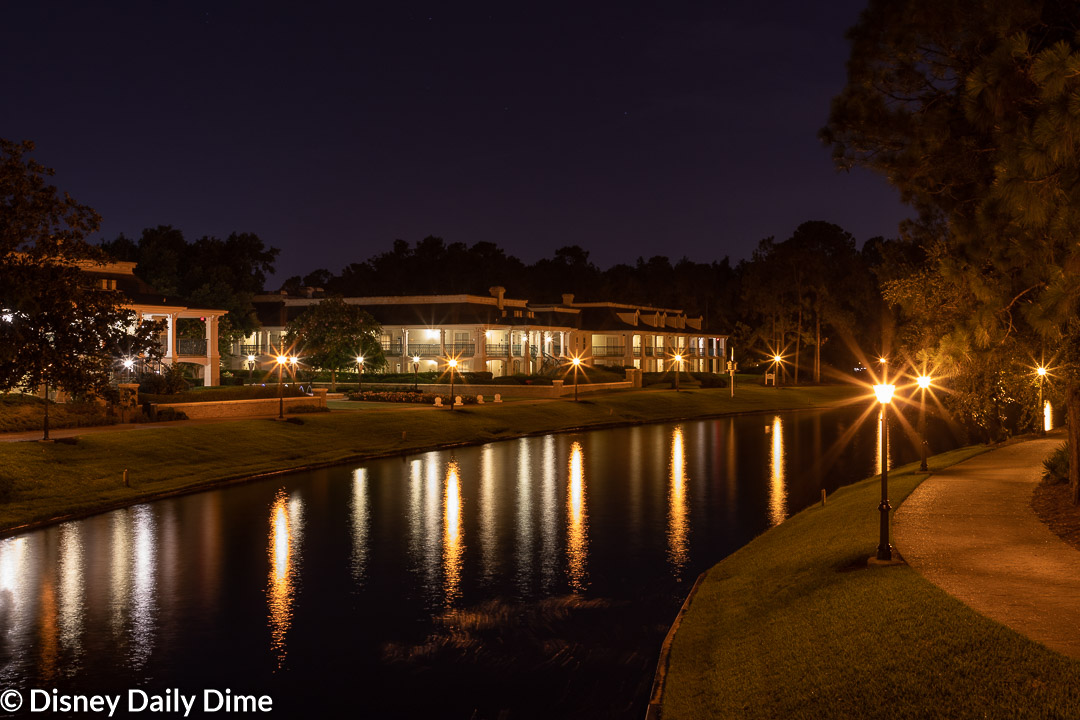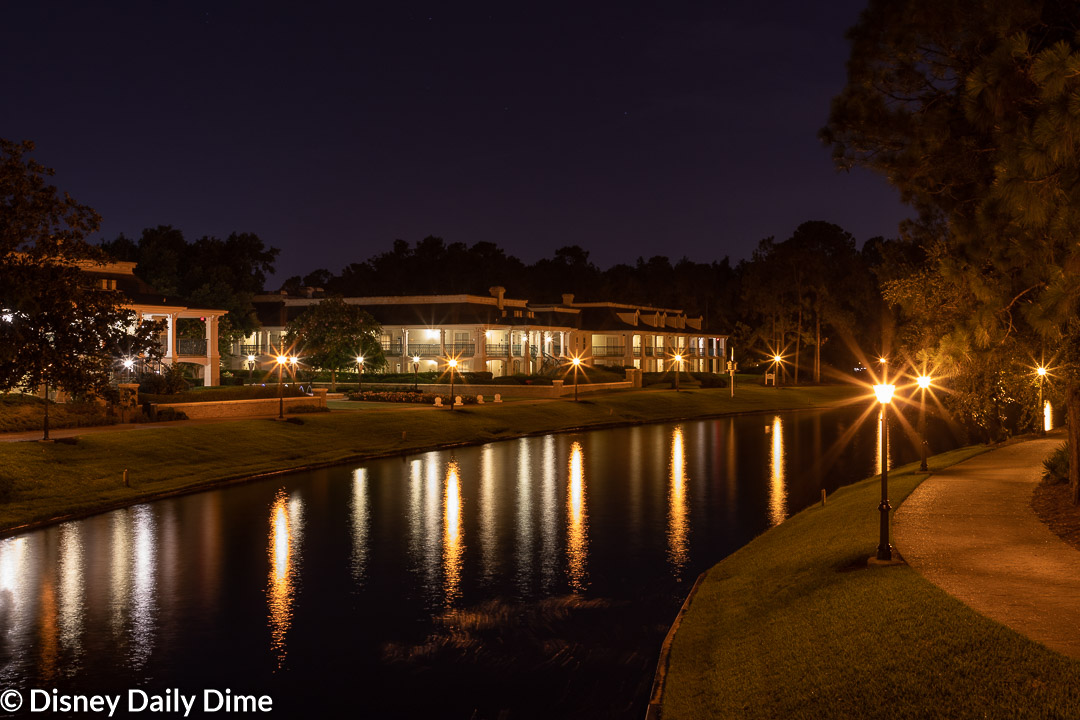 You are allowed to bring a dog with you to the resort, for an increased price of course!  You should consult with someone at Disney reservations if you plan to bring a dog with you.
The resort rooms come with a standard setup of consisting of:
Dresser
Small table with 2 chairs
Wi-Fi Internet Access (access is free of charge)
Flat-panel TV
Mini-fridge
Coffee Maker
Ironing board and iron
Hair dryer
In-room safe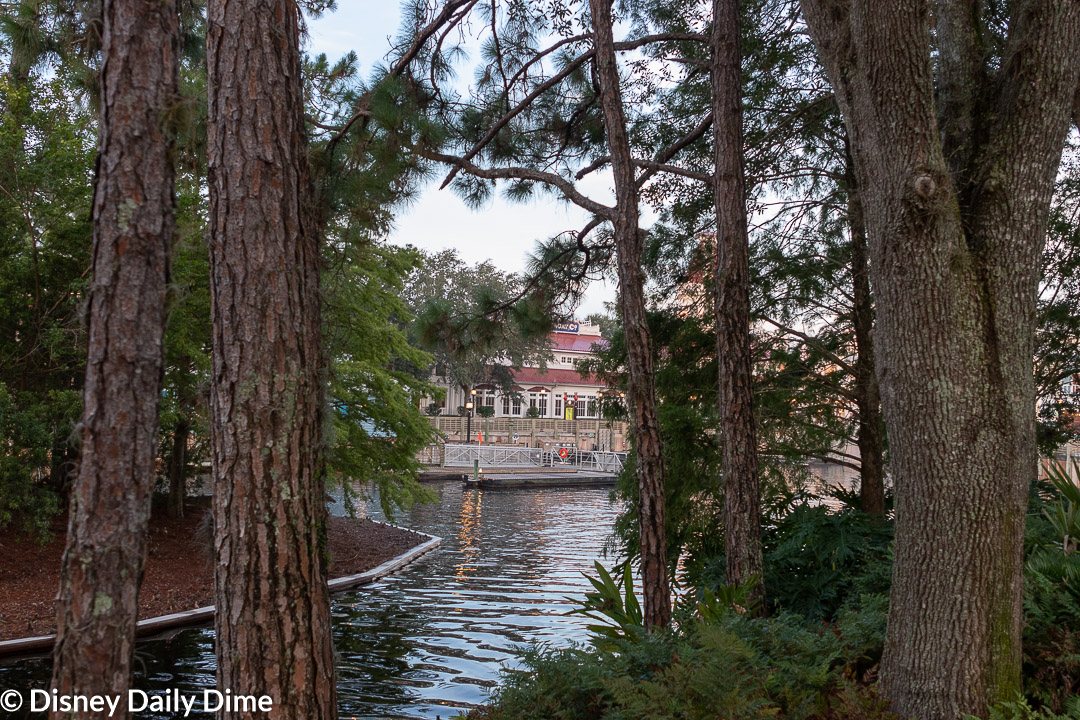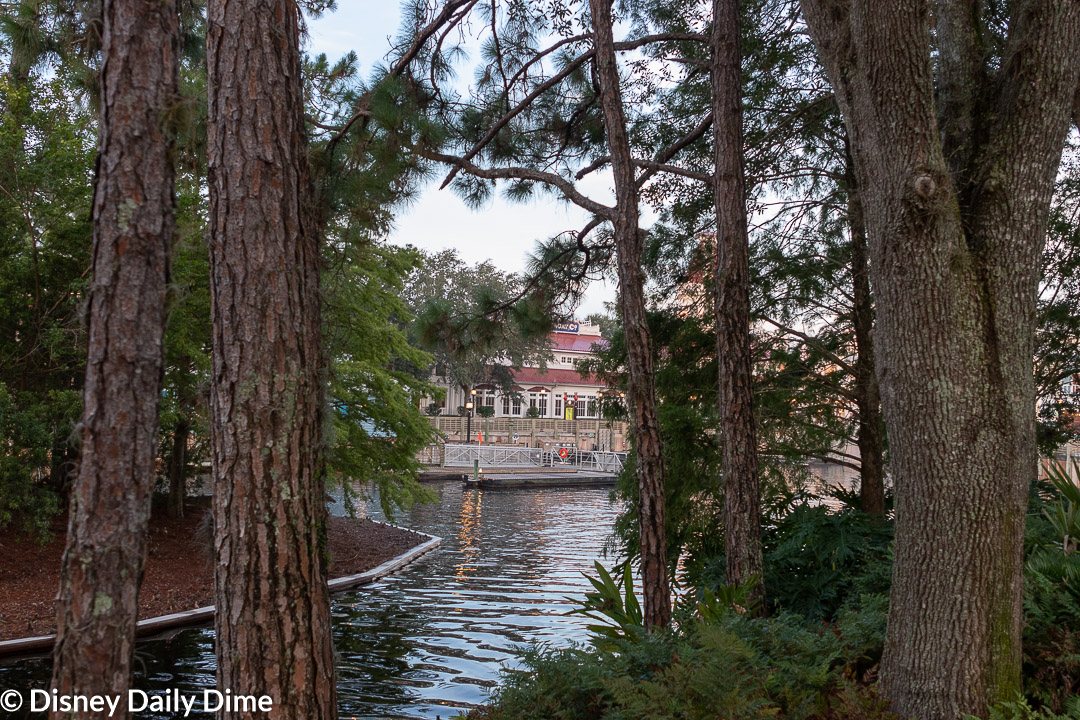 Port Orleans Riverside Offers Several Room Options
As part of our Disney's Port Orleans Resort Riverside review we want to touch on the differing room options available to guests.  However, we'll be the first to say we haven't stayed in all of these room types.  Far from it, so much of what we'll discuss here are more just facts about the rooms.  If we've stayed in a room, we'll link to our more detailed review of that room.  As of this writing we've only stayed in the Royal Guest Rooms at Port Orleans Riverside.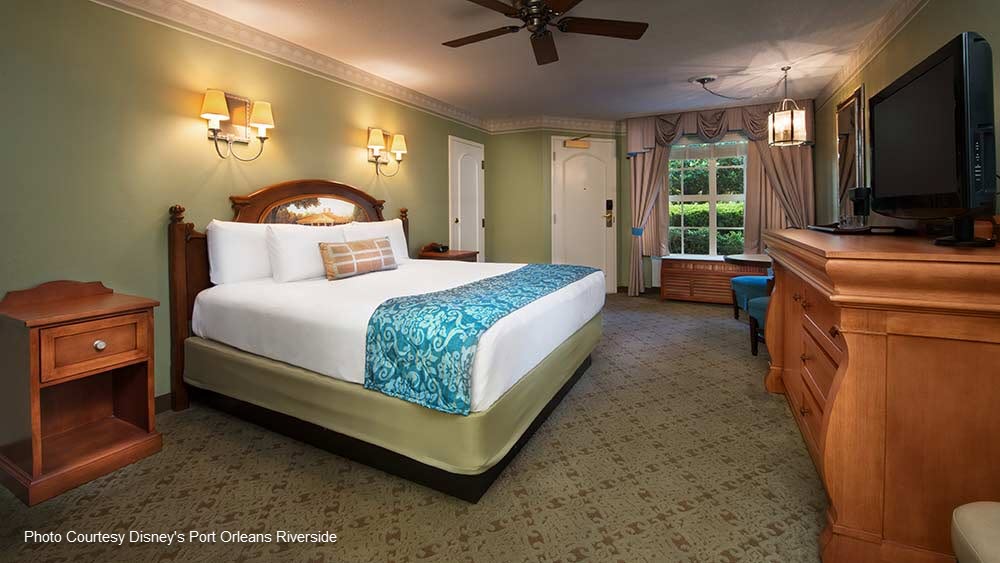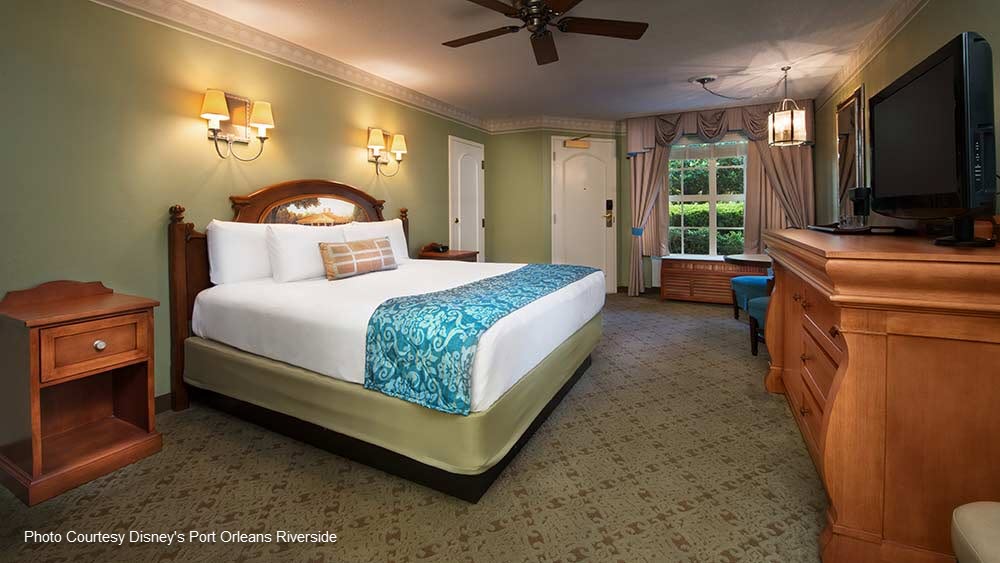 Within Disney's Port Orleans Resort Riverside, there are the following room types:
Standard View – ($199 – $302 per night)
Garden View – ($210 – $307 per night)
Preferred Rooms – ($245 – $334 per night)
Pool View – ($215 – $312 per night)
River View – ($245 – $338 per night)
Royal Guest Room – ($250 – $360 per night)
Do note that pricing changes frequently, so check Disney's Port Orleans Resort Riverside website for the most up to date pricing.
There are some sub-types within these rooms (like getting rooms that sleep 5 or have a king-sized bed), but we won't delve too deeply into that here.  You can find all the room types on Disney's Port Orleans Riverside website.
The preferred rooms are located within Alligator Bayou.  They are in the red colored buildings on our resort map below.


Outside of the Royal Guest Rooms, you'll find a fairly common setup here with some theming variations.  The rooms throughout Port Orleans Riverside are all 314 square feet.  Unless you request a king bed, you will get two queen beds in your room.  There are some rooms that can sleep five in the Alligator Bayou section of the resort.  The fifth bed is a murphy bed type pull out that as best we can tell is really designed for a kid.  Not something an adult would want to sleep on, unless absolutely necessary.
Overall you'll find the appointments of the rooms consistent with other moderate level resorts.  The quality of the theming is what sets this resort apart in our view.
If you get a room in Alligator Bayou, you'll find the interior furnishings to be more rustic.  That means the wood in the room is a little rougher and the overall touches bring the backwoods cabin feel to life.  The linens will have that more rustic look as well.  Fortunately, they won't feel rustic!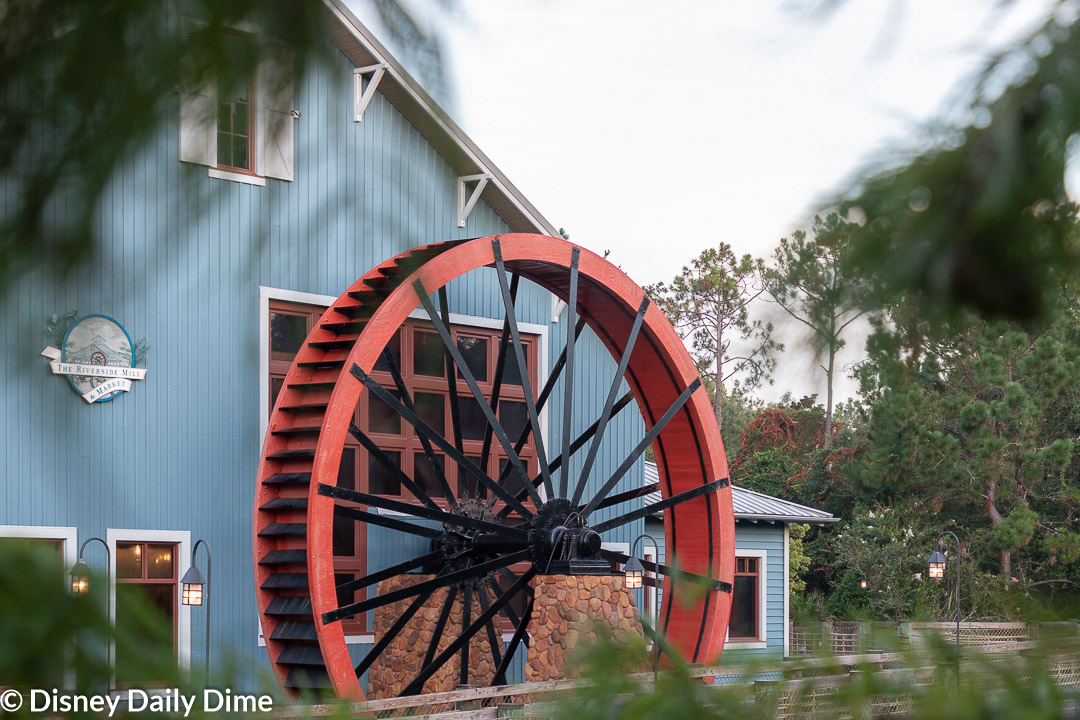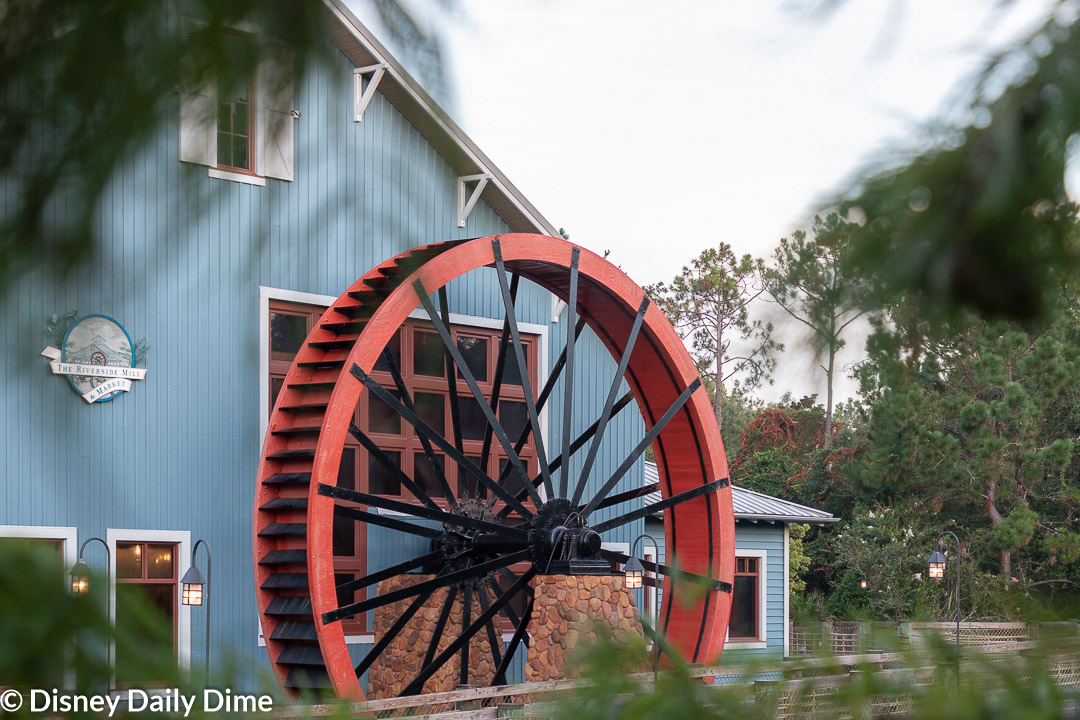 Rooms in Magnolia Bend are more finely finished, to sync up with the plantation style mansion design of this part of Port Orleans Riverside.
You should know that there is a light refurbishment of the rooms going on at Disney's Port Orleans Resort Riverside right now.  We'll go back as it is completed to see how the rooms look.  The main upgrades we've read about are installing wood/vinyl floors, updating the furnishings and expanding electric outlet availability.  It's about time on that last one.  We have so many devices, it's sometimes ridiculous trying to charge them all overnight.
In any case of whatever room you pick, the research we've done suggests they all fit thematically with the respective area of Port Orleans Resort Riverside that they are a part of.  Alligator Bayou will be more rustic and Magnolia Bend will be more elegant.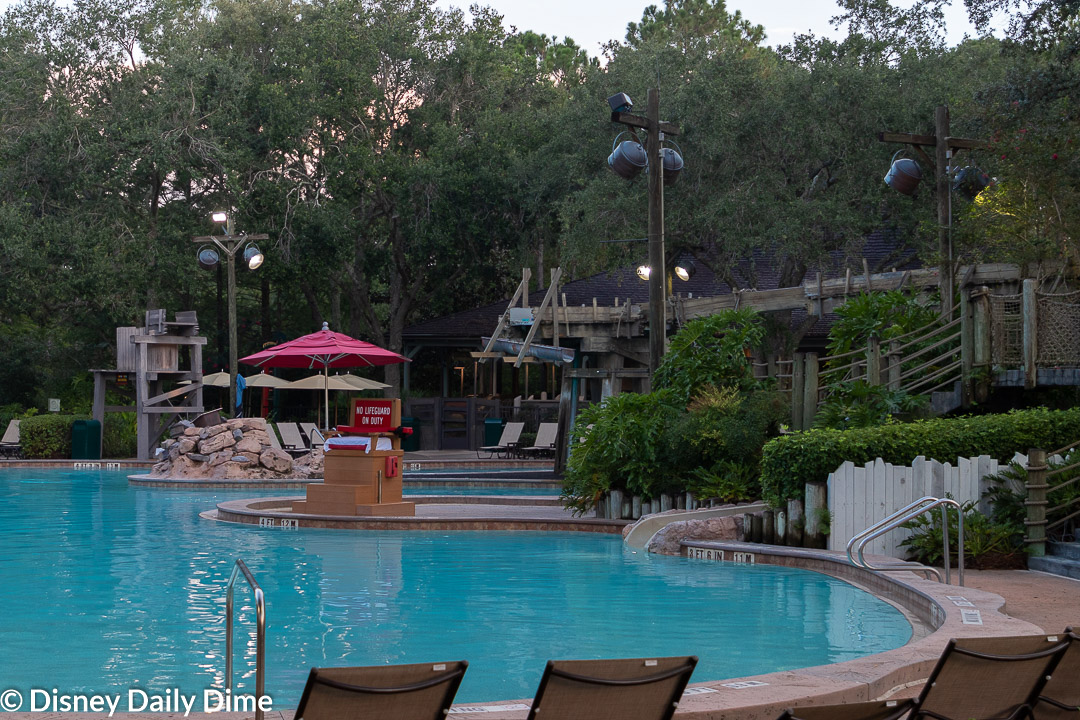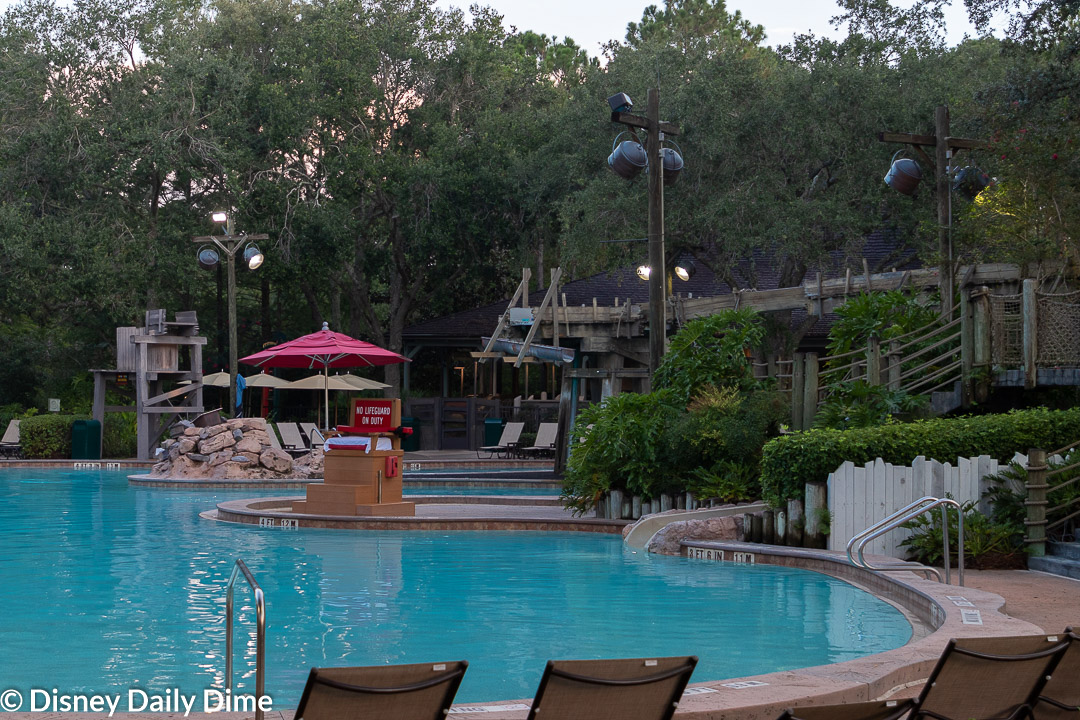 With Five Pools Available at Port Orleans Resort Riverside, there are Options for Everyone
Because of the size of Disney's Port Orleans Resort Riverside, the resort also has several pools on property.  Six of them to be exact.
The main pool is known as Ol' Man Island and features some of the upgraded attributes you would expect from a moderate resort when compared to a value resort.  Within its 3.5-acre confines, you'll find a waterfall and slide built into this themed pool.  In this case, the pool is meant to feel like an old backwoods swimming hole.  It might be just as at home on Tom Sawyer's Island in Magic Kingdom.  The slide is an impressive 95-feet-long and is the thing kids enjoy the most.
Overall, the pool is nice, but in comparison to the other moderate resorts, it falls short.  While direct comparisons to other resorts would take a while, we can tell you Anna and Elsa would much more prefer the fun of the pool over at Port Orleans French Quarter.  But we'll save that for another time.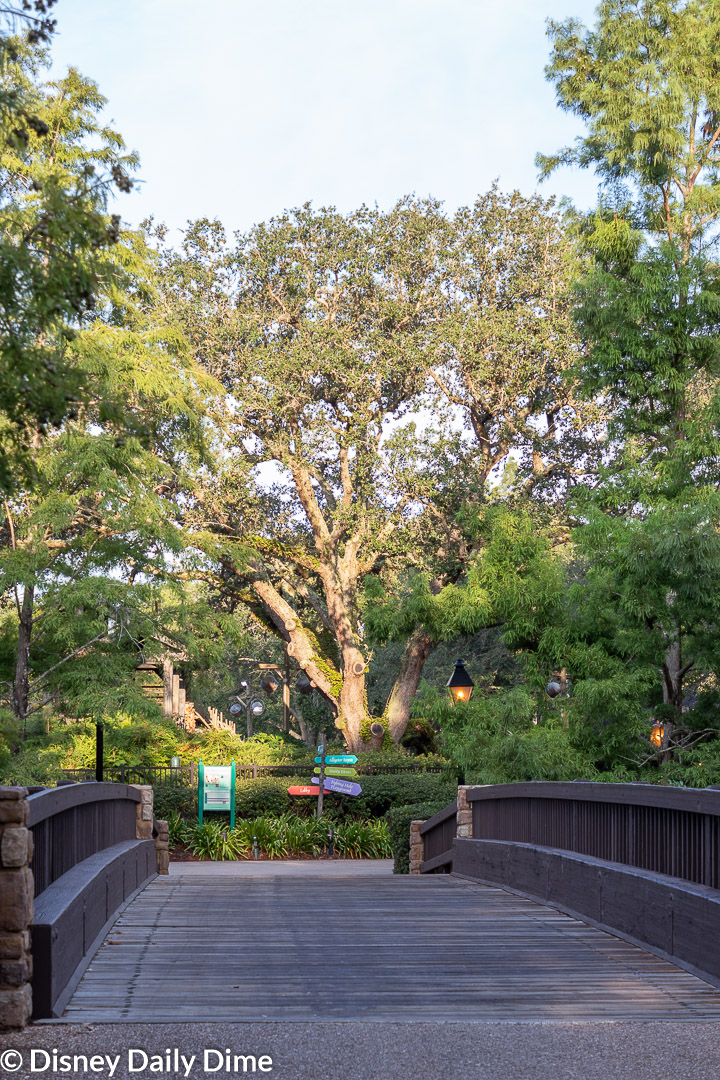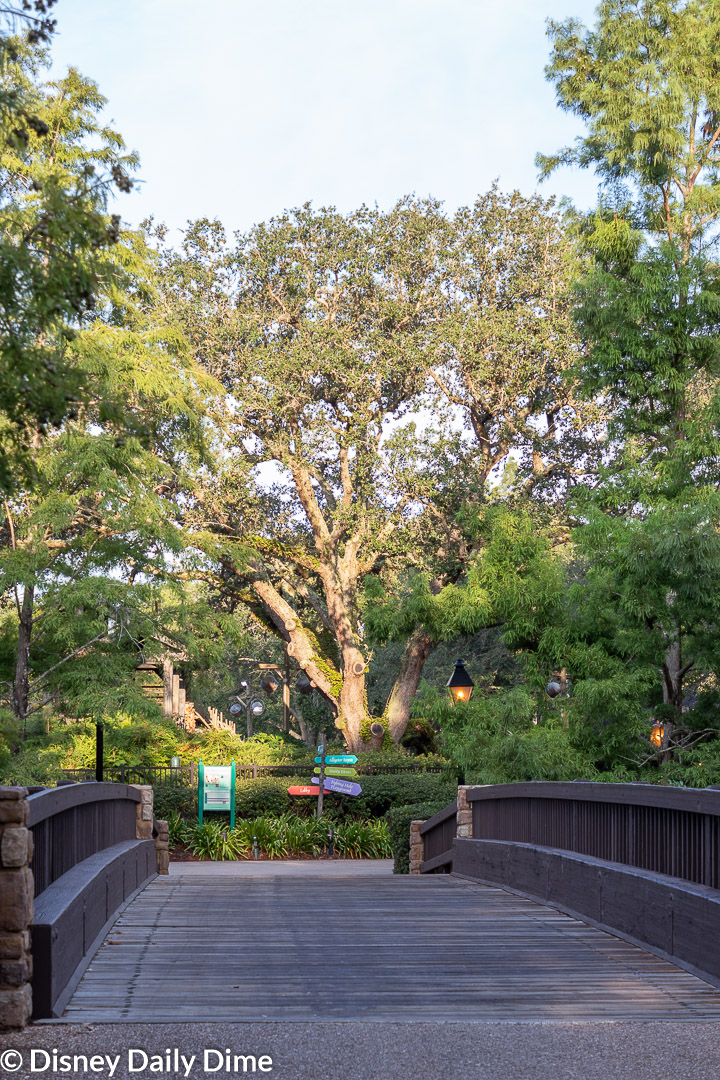 A little fun fact about the large oak tree around the pool.  In 1991, it was transplanted here from the area that would become Disney's Animal Kingdom.  At the time the tree weighed 85 tons and stood over 55 feet tall.  It was the largest living oak tree to ever be transplanted.  It has a sister tree at the front of the resort that was relocated too.  You can see a picture of it above.
Beyond Ol' Man Island, Port Orleans Riverside features five additional quiet pools that are more low key.  There are three of these pools in Alligator Bayou and two of them in Magnolia Bend.  Each of them allows you pool time, without the noise factor that you may find at the main pool.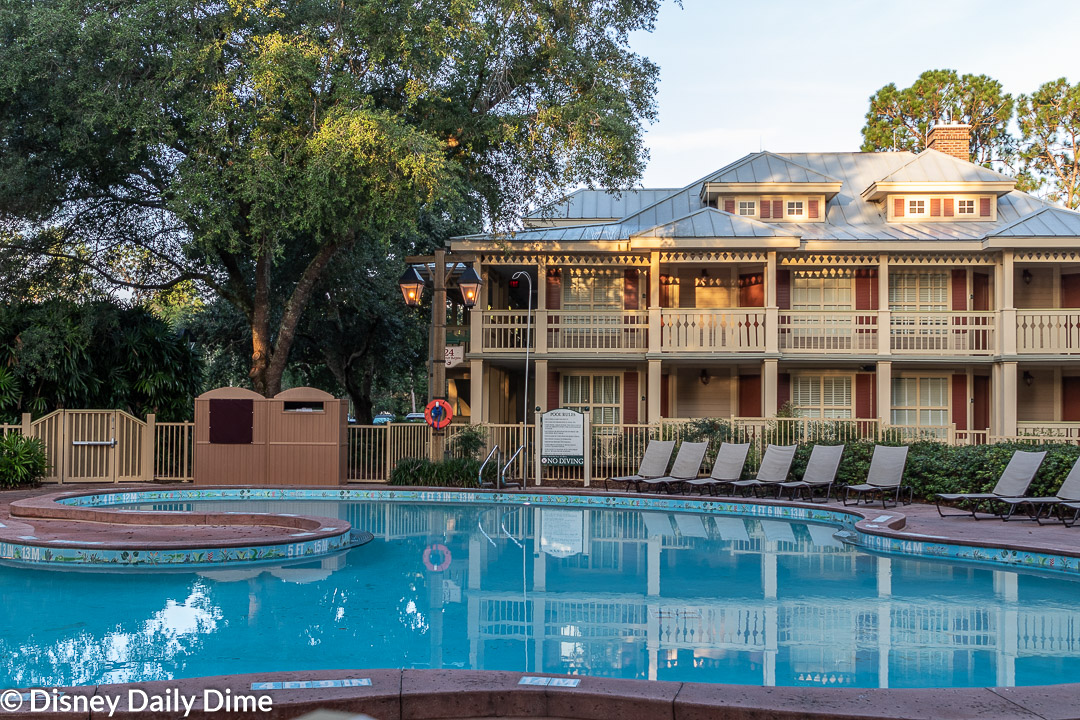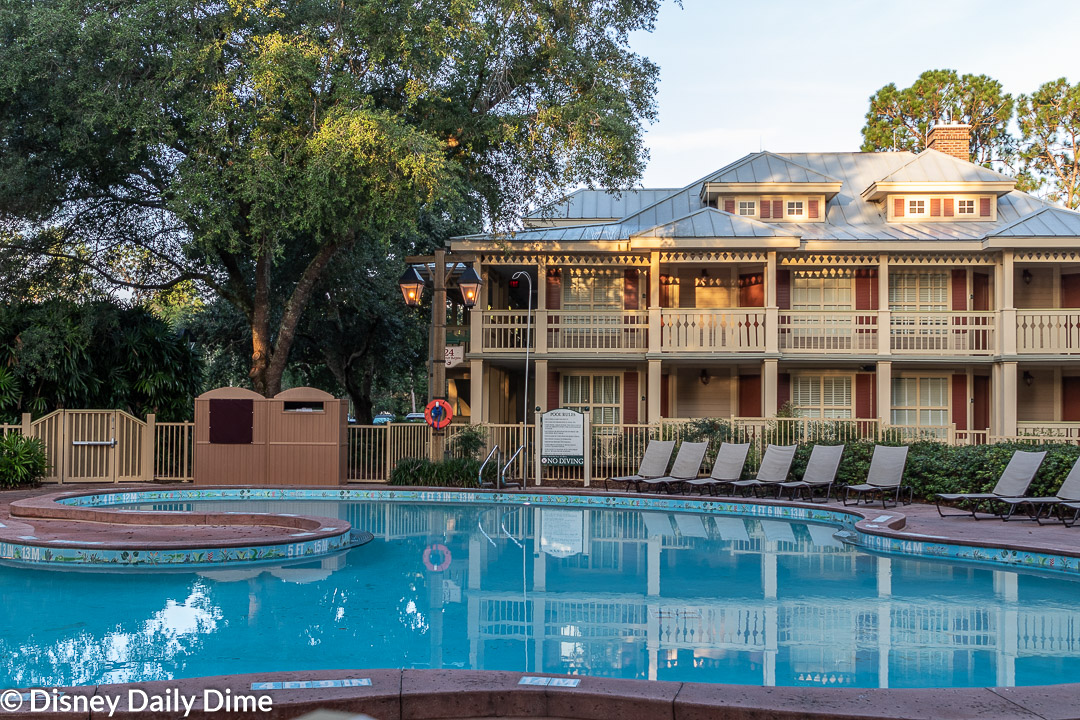 In Alligator Bayou, you'll find the pools similar to Ol' Man Island, where it is more like a swimming hole.  It has a flowing shape, emblematic of the backwoods bayou.  Over in Magnolia Bend, the two pools are more linear and becoming of a plantation style mansion setting.  Both styles work well thematically within the areas of the resort they occupy.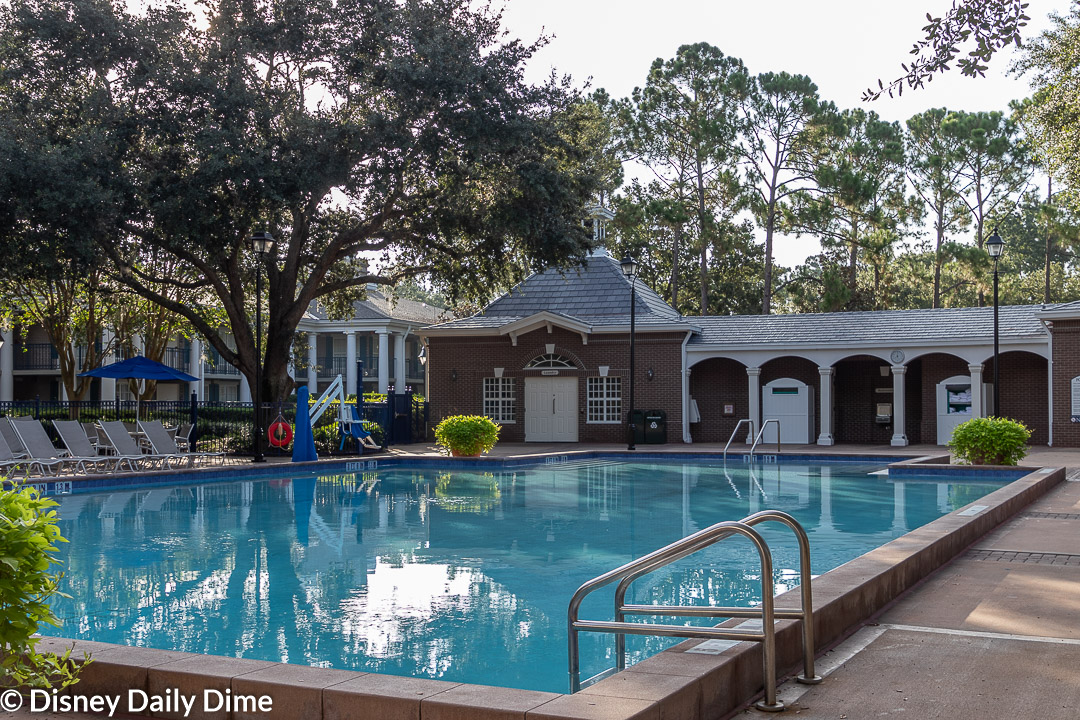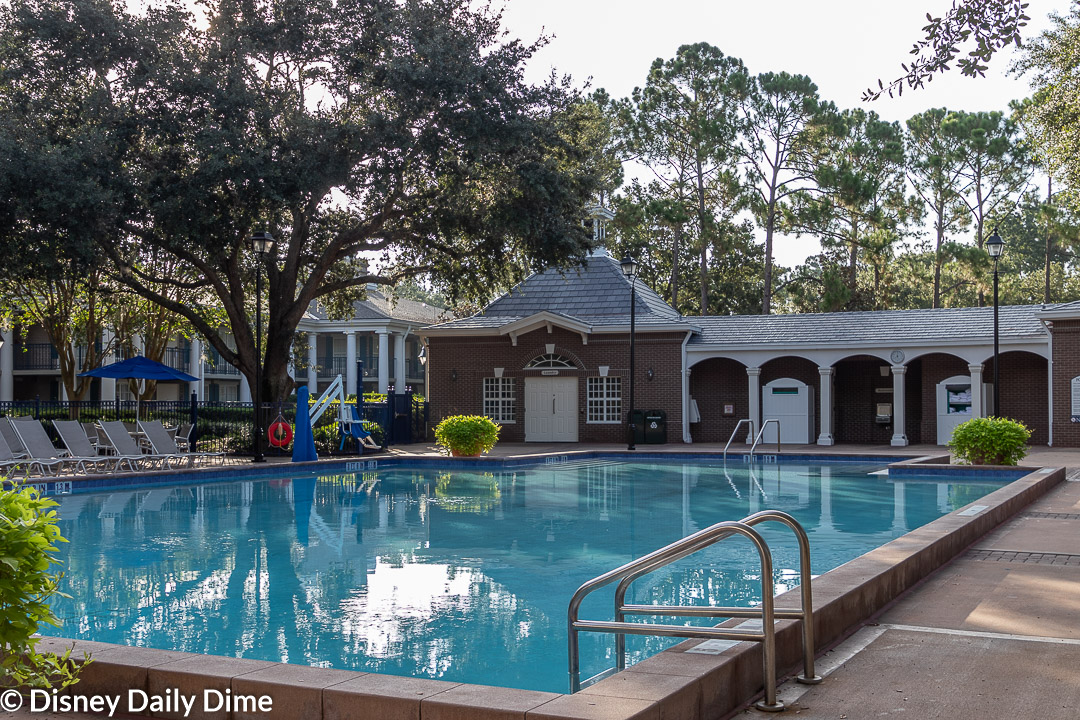 Disney Transportation Options are Basic, but There is Something You Must Know About the Buses
Buses
Remember when we said our Port Orleans Resort Riverside review would talk about some of the pros and cons of the resort's size?  We'll this is a place where you may want to pay attention.  One of the unique things (in comparison to most other resorts) about Port Orleans Riverside is that there are four Disney bus stops on property.
Why should you care?  Well depending on where you are on property could mean you are the first to be picked up in the morning or the last, when you are trying to get to the park.  During busier times at Disney World, if you're last to be picked up, there is a good chance that you will be standing on your bus ride.  That's because all the other guests who got on at the prior stops will snag all the seats.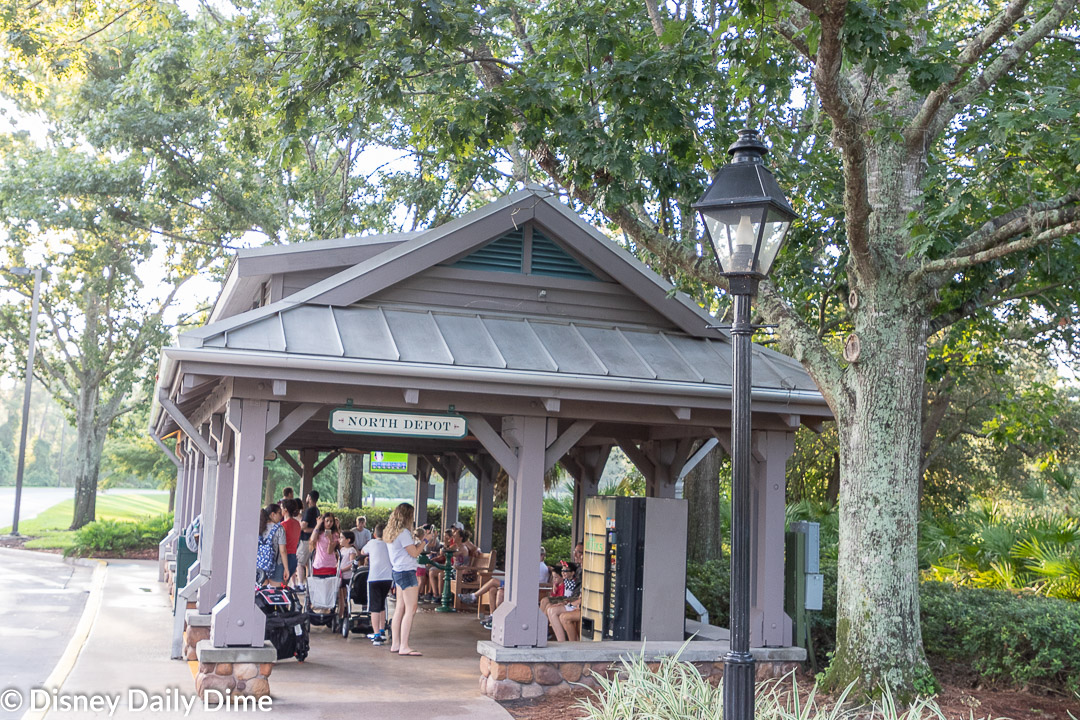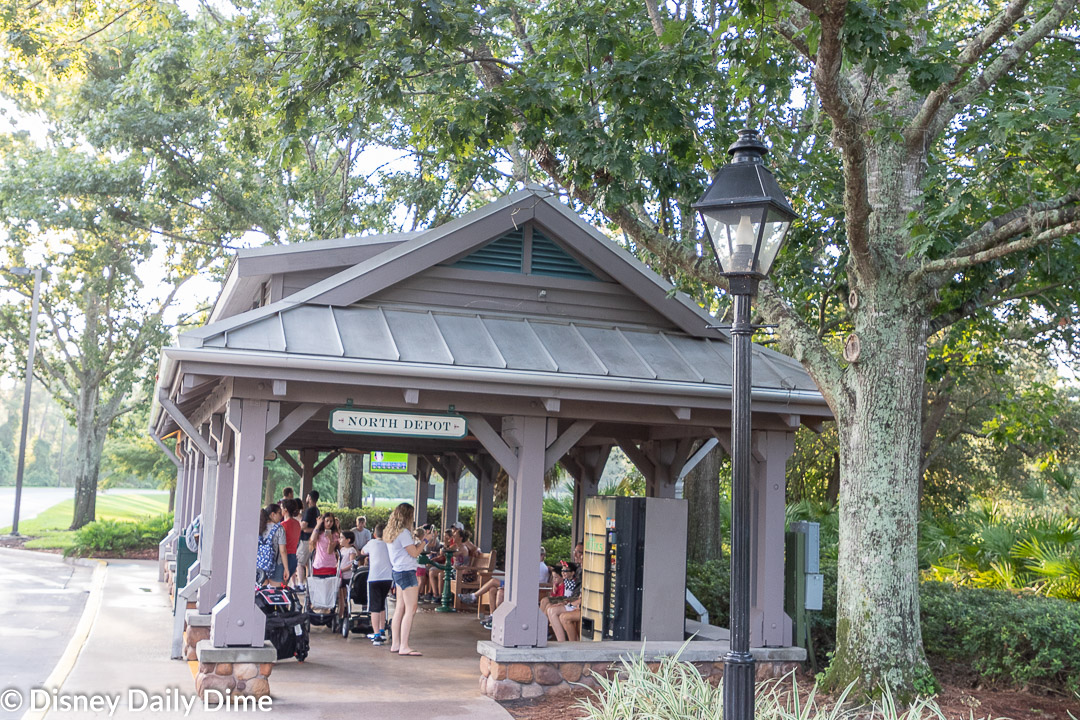 The bus loops through the property going from stop to stop in this order:
West Depot
North Depot
East Depot
South Depot
If having a seat is important to you, you may want to request a room that is further out towards those bus stops.  You can see the stops in blue on our resort map.
Overall walking time to the bus stops is not bad, with most rooms being a 5 minute or so walk to the nearest stop.
The location of Port Orleans Riverside within Walt Disney World means that the buses are within a 20 – 25-minute drive of all four parks.  Don't forget you have to connect at Disney Springs or Animal Kingdom to get to Typhoon Lagoon or Blizzard Beach, respectively.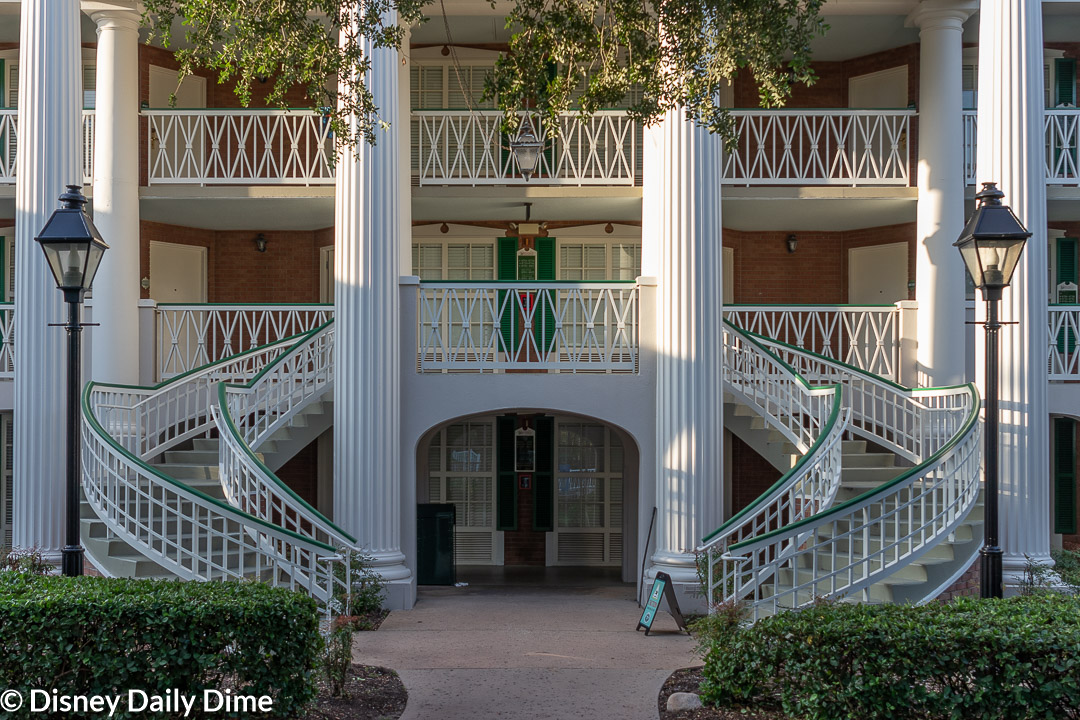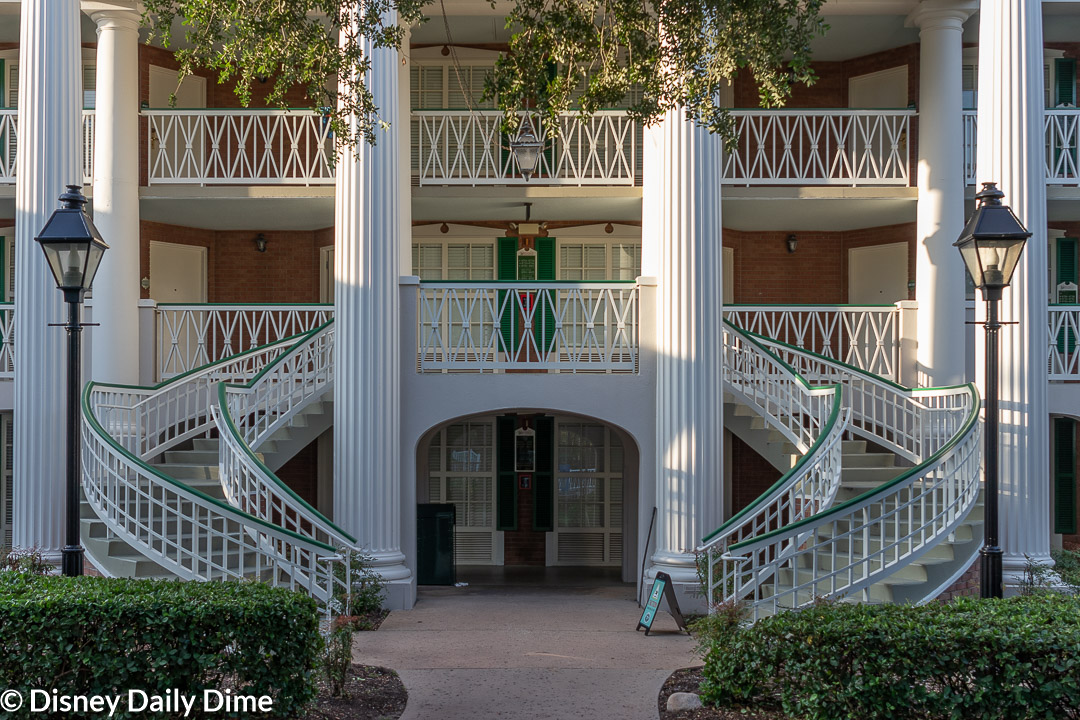 Boat
Beyond the bus system, you can also use the boat system to access Disney Springs.  It's a lovely ride down the Sassagoula River to Disney Springs.  It usually takes about 15 – 20 minutes.  You can also use the boat to take you to Port Orleans French Quarter, however it runs a more limited schedule, stopping service at 4:30 in the afternoon.  To us, walking is a better option to get to French Quarter.  It only takes about 10 to 15 minutes, depending on which side of the resort you are on.


Port Orleans Resort Riverside Features Several Dining Options
When it comes to dining, Disney's Port Orleans Resort Riverside has several solid options.  Each of the dining locations has good (but not great), food for their respective level of service, and features some fantastic river delta theme décor.  We'll hit the highlights on dining here, not do full on food reviews.
Let's start with the counter service food court location known as The Riverside Mill.  Thematically it works into the overall feel of Port Orleans Riverside very well.  Meant to represent a…wait for it…riverside mill.  With the large water wheel, dark wood tones, and large open spaces, the décor is on point.  The food is typical and consistent with other Disney counter service locations.  We won't say it will blow you away, but it works fine.  It's a fairly diverse menu, so you won't be stuck with just hockey puck hamburgers and chicken nuggets.  This is also the only location you can get breakfast at the resort.  Lunch and dinner are also available here.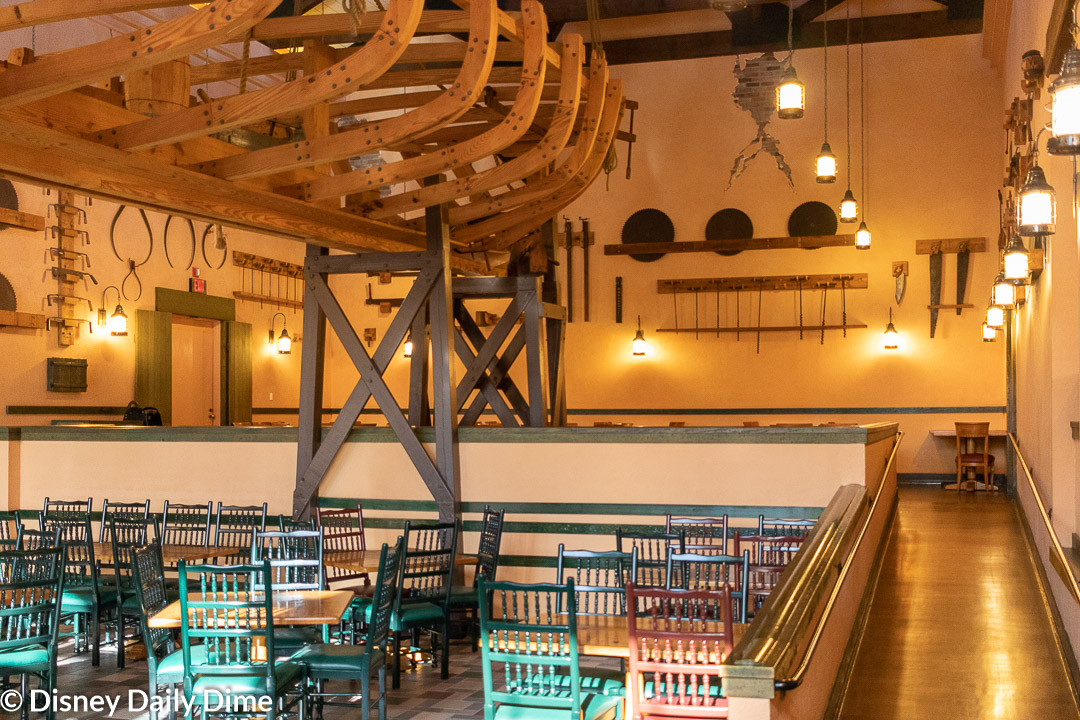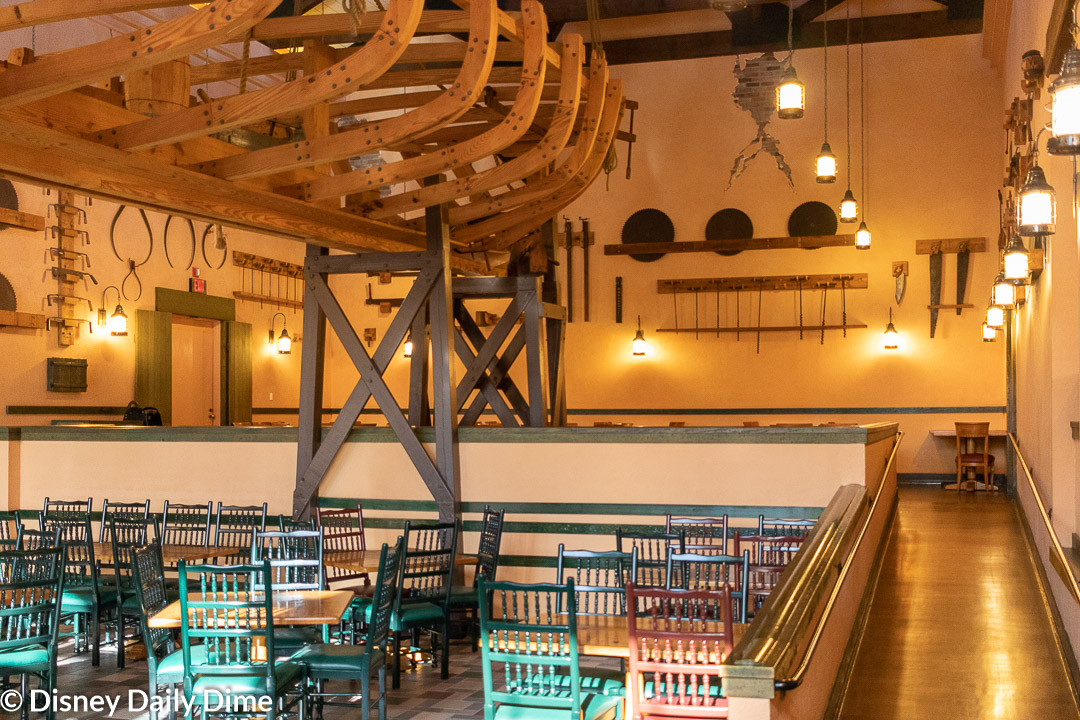 The table service restaurant within Port Orleans Riverside is known as Boatwrights.  Designed to have the feel of a shipyard, you'll find the hull of a ship hanging from the ceiling, along with tools that would be appropriate for a shipyard.  The menu here serves tried and true Southern and Cajun style food that goes right along with Port Orleans Riverside's theme.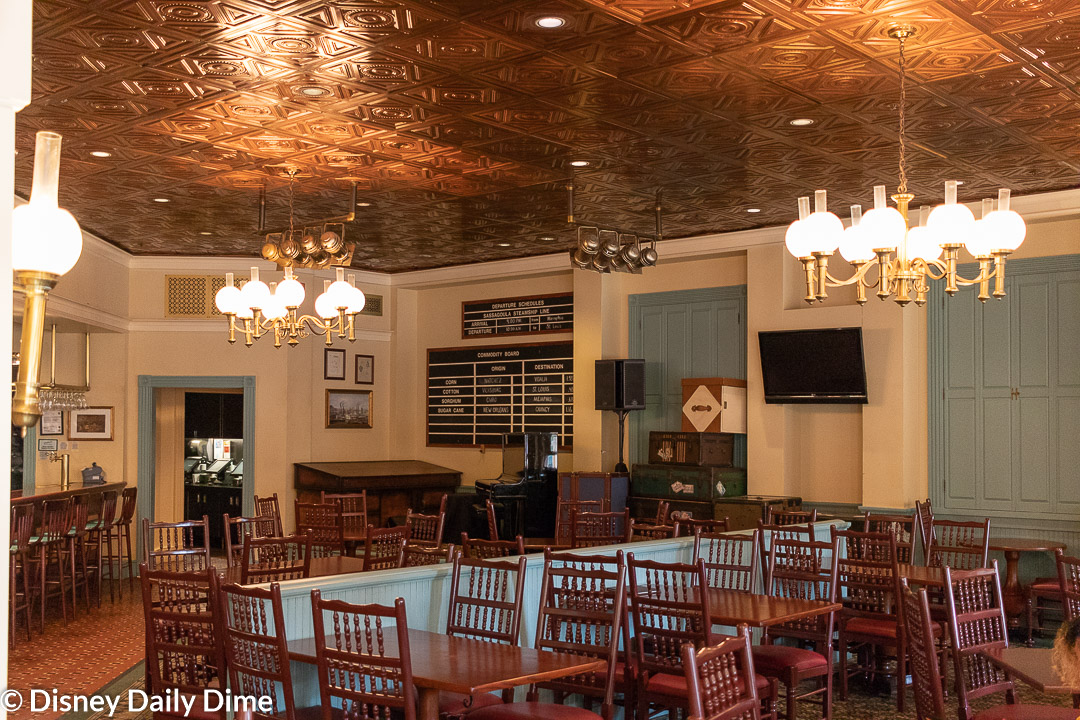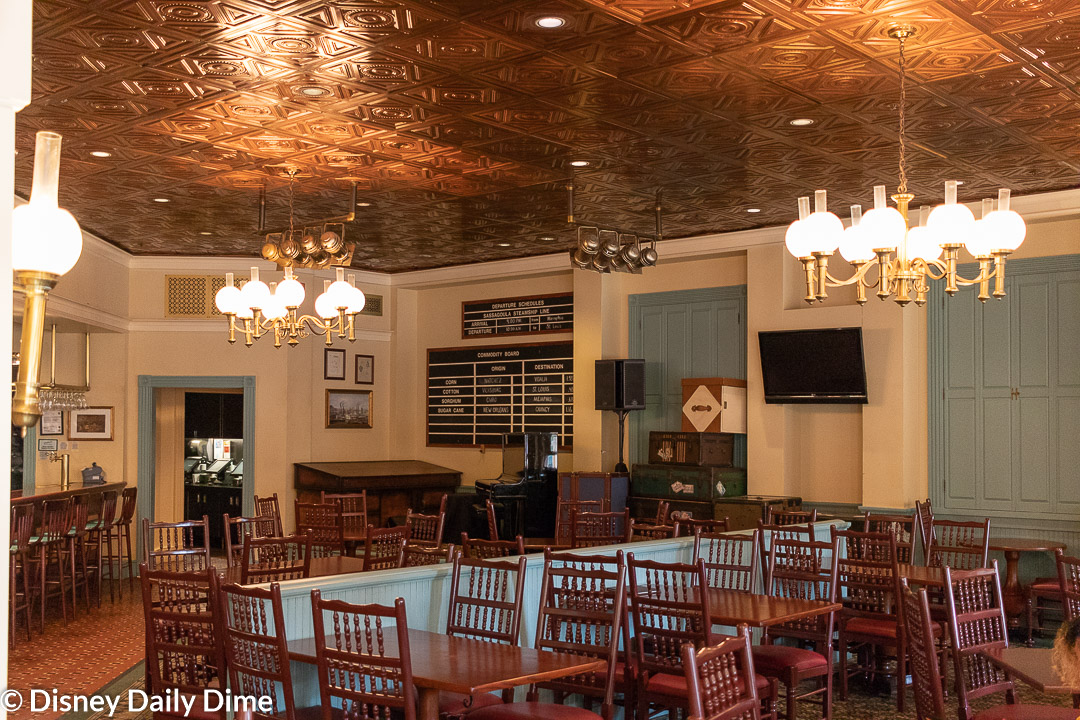 If you're looking for a place to have a cocktail or two, then head over to the River Roost Lounge.  As far as drinks go, it's your typical hotel bar.  What can make this a fun experience is Yeeha Bob.  Bob is a piano performer who sings, entertains and makes the night fun for all of those in the bar.  We're not overly into the loud bar scene, so this wasn't for us but may be something you want to try out.
We'd be remiss if we didn't mention Sassagoula Food & Floatworks.  While this dining option is technically at Port Orleans French Quarter, that short walk there may be worth it.  Why?  Two words…Mickey Beignets.  We'll let the pictures show you why.  Get the caramel sauce.  You can thank us later!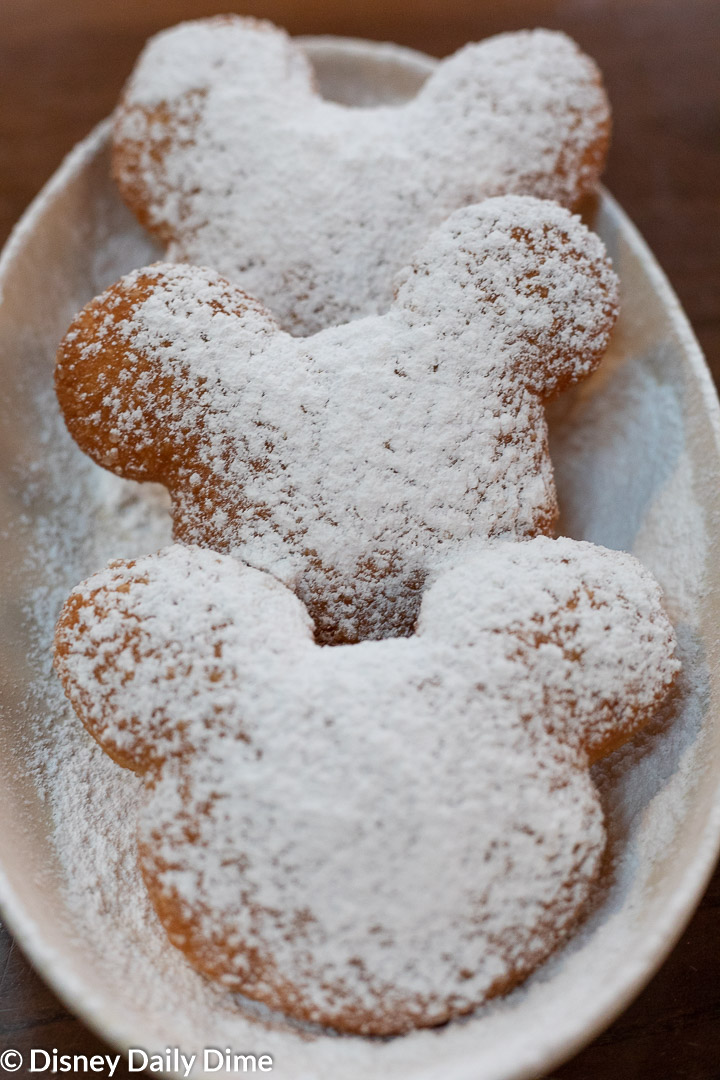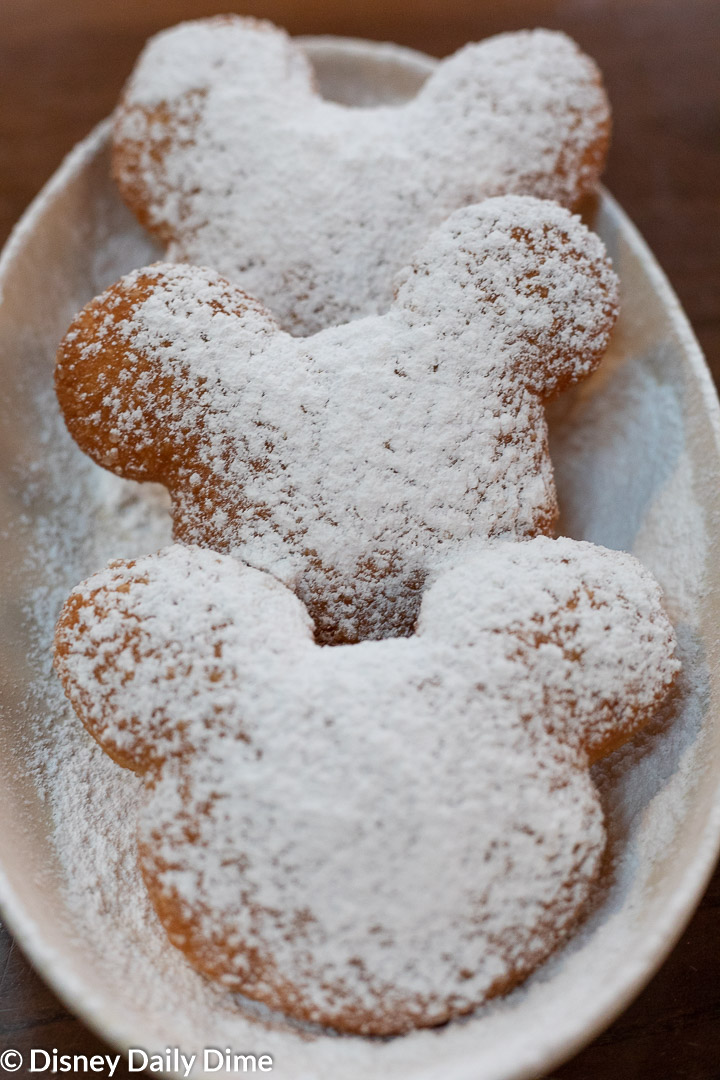 Lastly, there is a pool bar known as Muddy Rivers next to the Ol' Man Island pool.
Recreation at Disney's Port Orleans Resort Riverside
Disney's Port Orleans Resort Riverside also features several recreation opportunities you may want to take advantage of.  Some are free, others are not.  These include:
Horse-drawn Carriage Rides
Movies Under the Stars
Campfire on the Bayou
Bike Rentals
Surrey Bike Rentals
Bass Finishing
Jogging Trail
Kids Playground
Video Arcade
There is also a general store available where you can pick up different Disney merchandise.  Some if it is Port Orleans Riverside specific, some is general Disney items.  The shop also has food and other sundries you may need.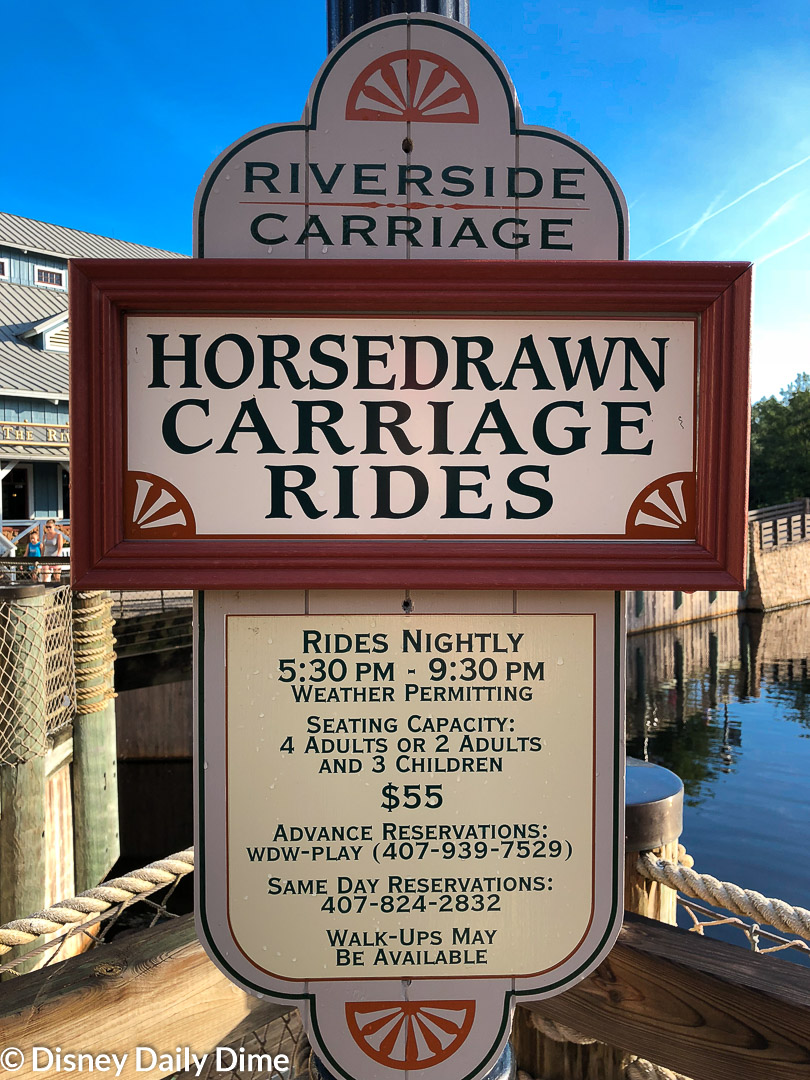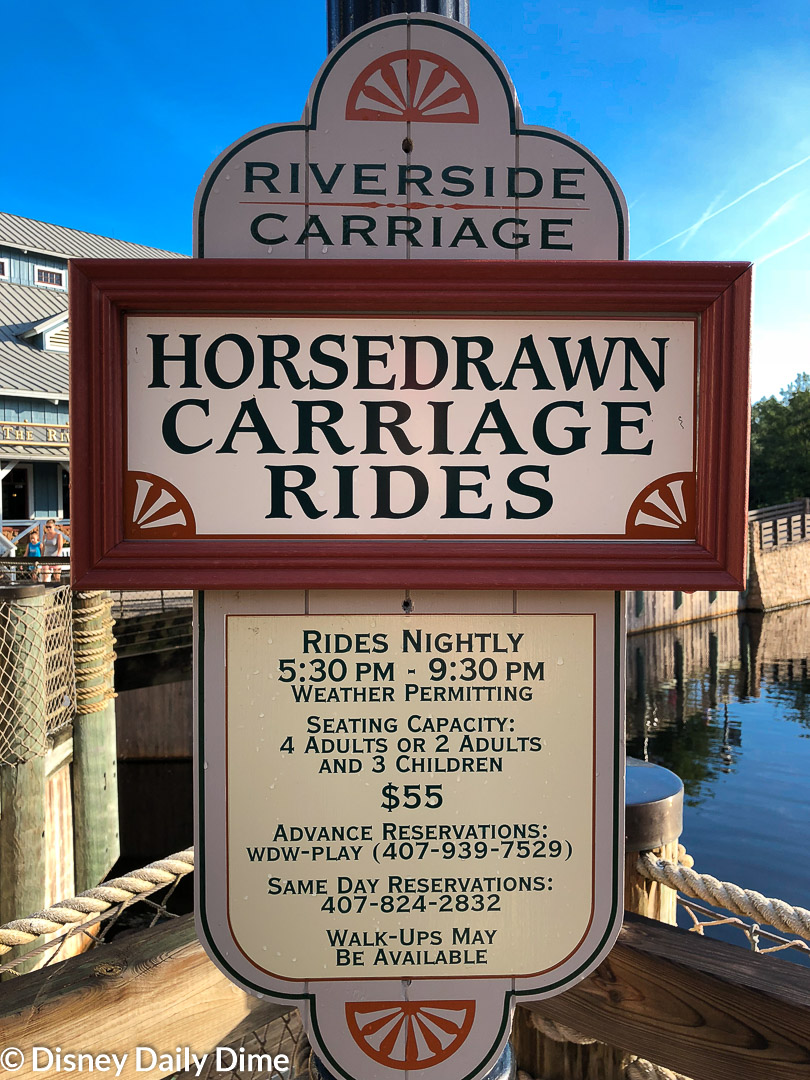 Who is Port Orleans Resort Riverside Geared To?
We think that Port Orleans Resort Riverside will have a pretty broad appeal to kids and adults alike.
For adults, the theming is some of the best around.  Some might say it has a more mature theme, geared towards adults.  We're talking both the overall exterior aesthetics of the resort along with the interior of the rooms.  We'd put the theming here on par with some of the lower end deluxe resorts.  When you couple getting great theming at a moderate resort price point, it makes Disney's Port Orleans Resort Riverside a great resort choice to us.  Kids or no kids.
We happen to be partial to the more refined look of the Magnolia Bend section of Port Orleans Riverside, but Alligator Bayou is also an excellent option.  It's really just a question of what theme suites your group the best.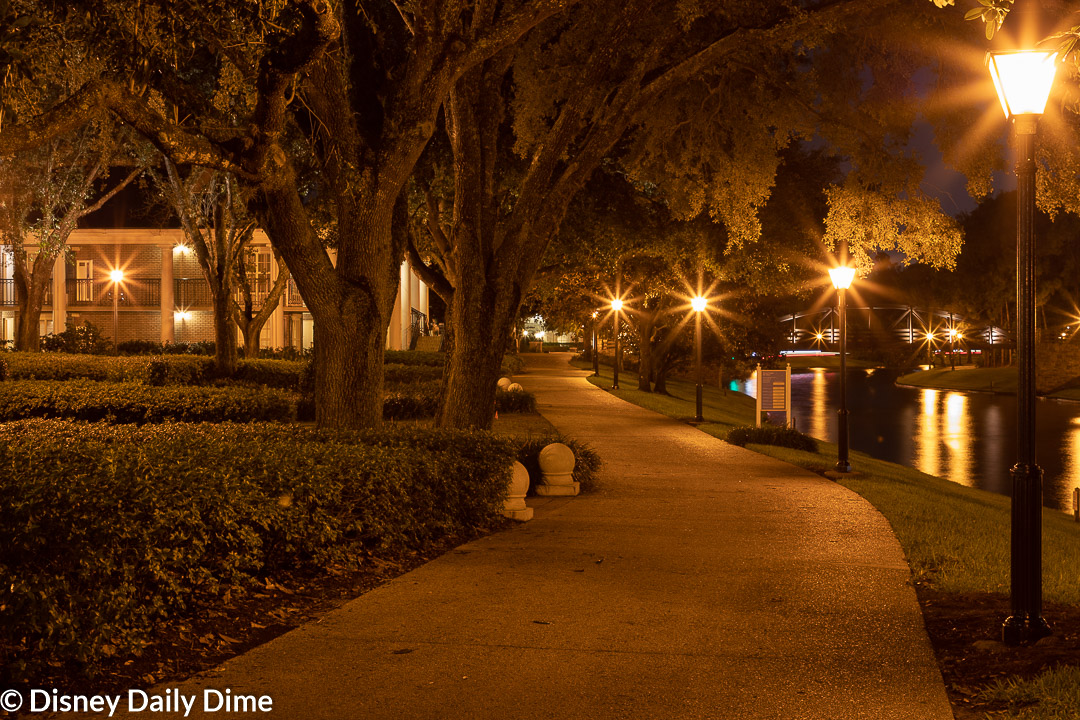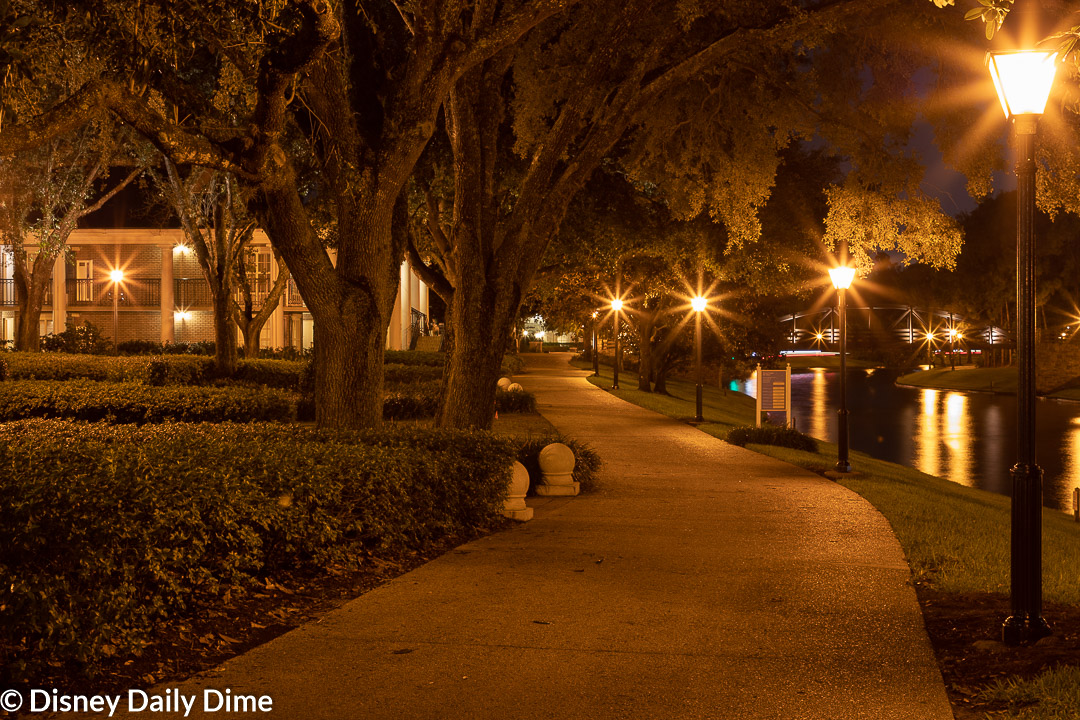 Some may (and will) argue that this resort isn't as kid friendly as say Port Orleans French Quarter.  And we absolutely get that from a pool point of view.  However, beyond that, kids can still have a plenty good time at the Riverside pool.  The pool is enjoyable enough and if you like outdoorsy type things the fishing and bike rentals may be a hit with your kids.  If you can get this resort theme and help keep the parents happy, while the kids still have plenty to enjoy, then we would call this a win-win.
If you're a couple looking for a romantic trip that won't break the bank, then Port Orleans Riverside is definitely for you.  We'd suggest you get a room in Magnolia Bend, maybe the Royal Guest Room.  Even if you don't do that, the little walking trails throughout the resort provide a place for some good late night or early morning strolls.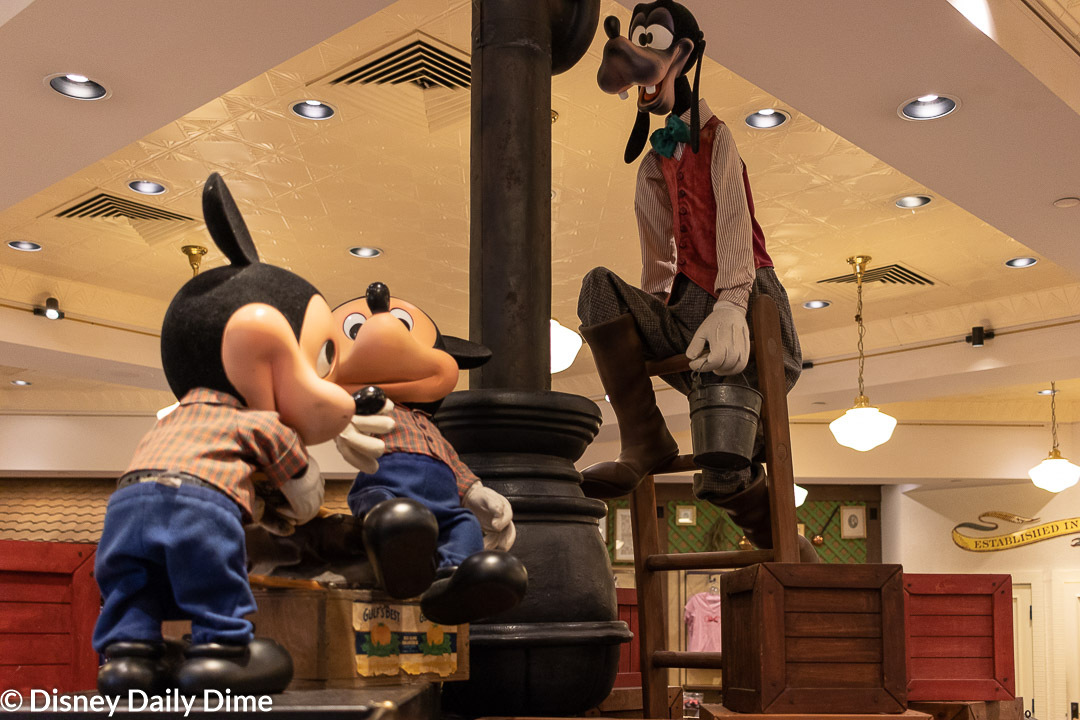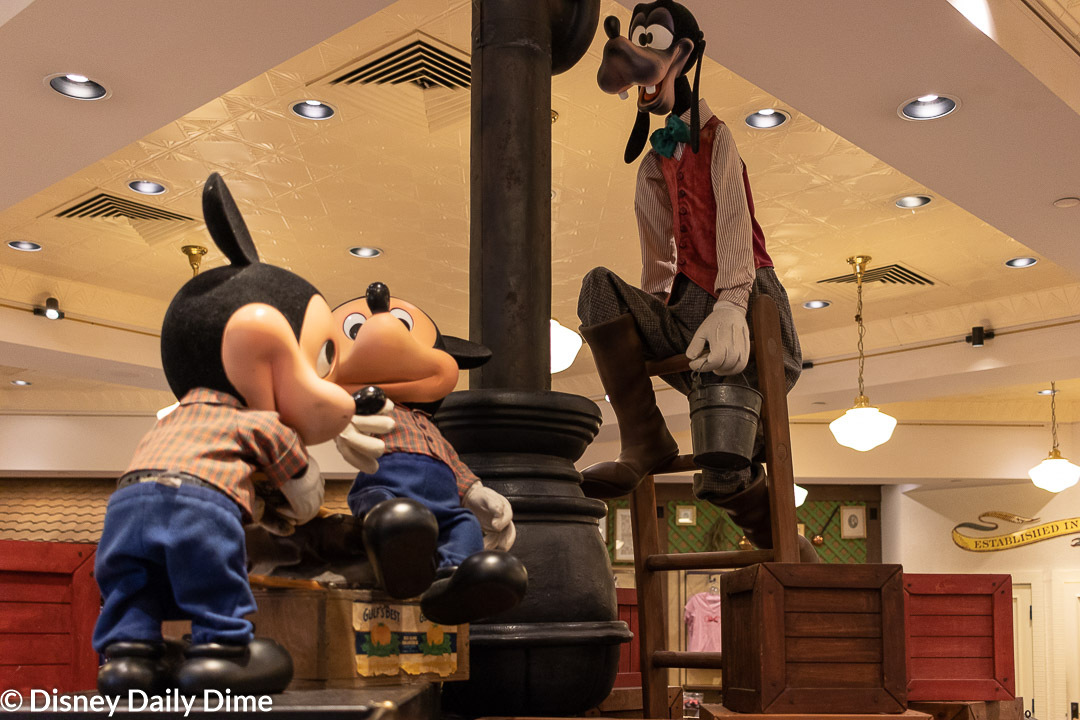 The one thing we would caution here is for those who have ambulatory restrictions.  Between a section of the resort with no elevators and the general sprawl of it, those who need assistance walking or getting around may find the resort does not meet your personal needs. Now this is Disney, so they can give you a first-floor room or a room near a bus stop.  Just make sure you choose this resort knowing what you need out of it.
Wrapping Up
So that's it for our Disney's Port Orleans Resort Riverside review.  We think it is a great option for adults and children, that gives each of them something to look forward to.  We'll be curious to see how the rooms evolve once the light refurbishment is completed, so we'll have to check back in somewhere down the road.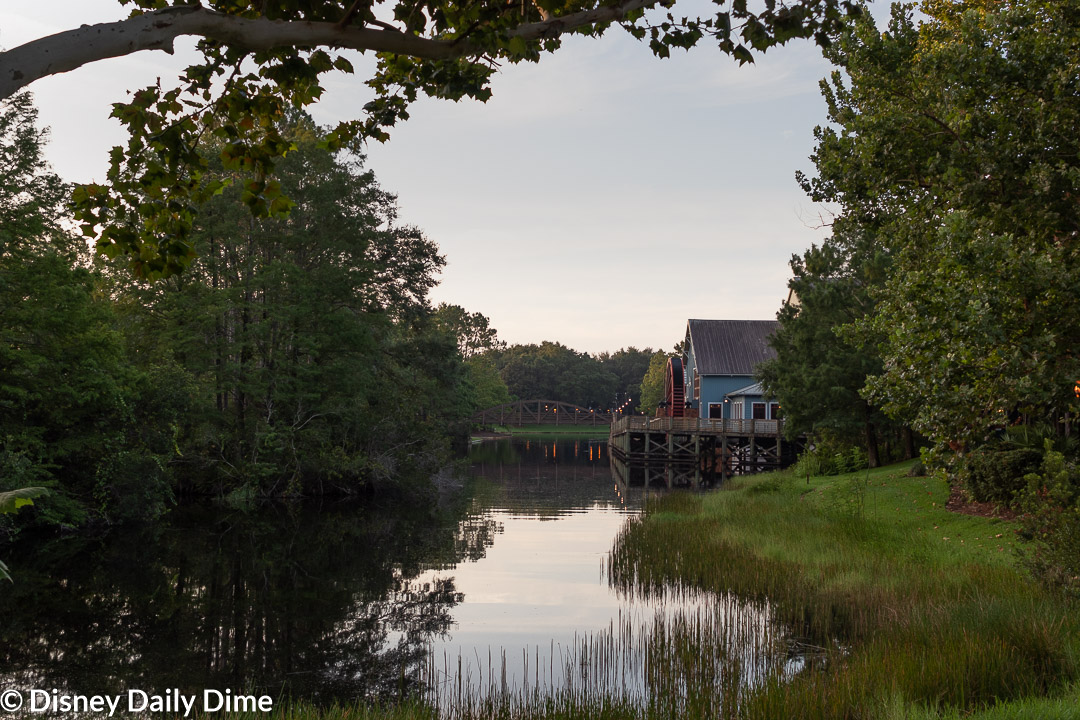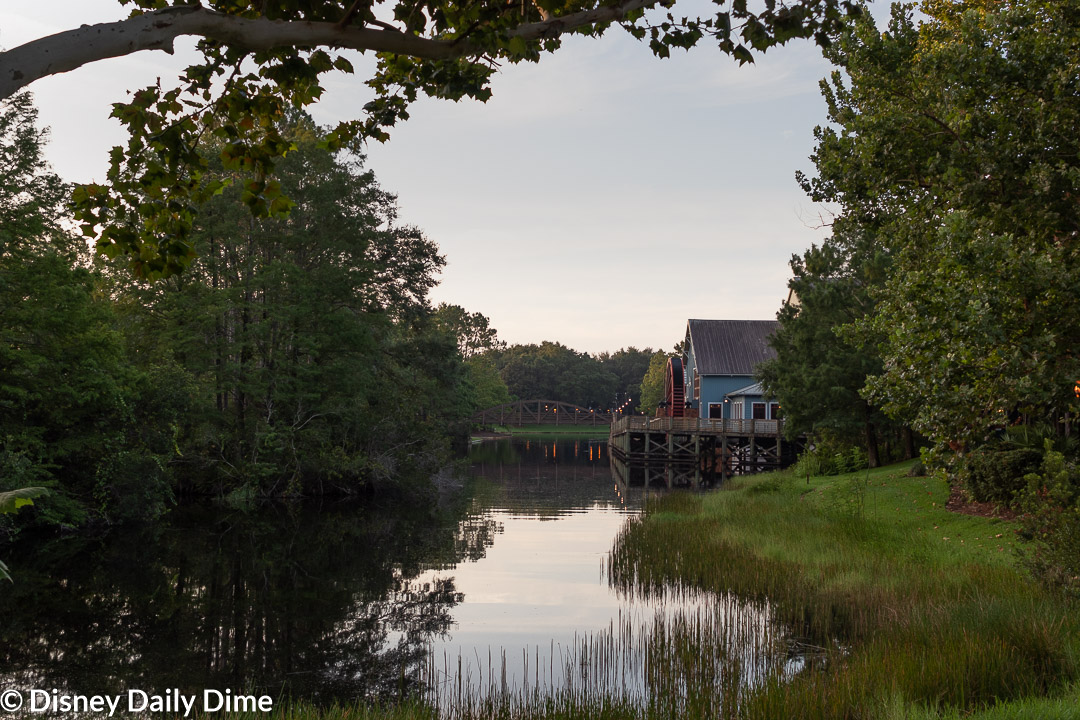 There are lots of fabulous resorts that you can stay at while at Disney World.  For the price point, Port Orleans Riverside is definitely worth your consideration.  Do you have thoughts on Port Orleans Riverside?  Things we missed or a different point of view?  If so, drop down in the comments section and let us know your thoughts.
We hope you found our Port Orleans Resort Riverside review helpful.  If you did we'd greatly appreciate it if you would share it on social media.  It helps get the word out on our blog and makes us feels like we're doing something right.  Just use the social media sharing buttons on this page.