When you head to Walt Disney World at Christmas time, one thing you may be looking for is a resort that brings the holiday spirit to you when away from home.  What Christmas is or isn't to people is probably as much a function of where you live (or grew up) and what your family traditions are.  Less so where you happen to be for the holiday.  So finding the right resort to make you feel at home while spending Christmas at Disney World is a must.  We recently stayed at Wilderness Lodge at Christmas and wanted to share our views of the Christmas experience there.
This won't be a full write up on the resort.  We'll have that posted in the next few weeks.  Rather we'll focus on the Christmas vibe of the resort with our thoughts and opinions, the activities that happened while we were there and any other tangent that might come to mind.  We'll pepper this post with Christmas themed pictures of Wilderness Lodge so you can see some of it for yourself.
Is the Wilderness Lodge at Christmas right for you?  Read on!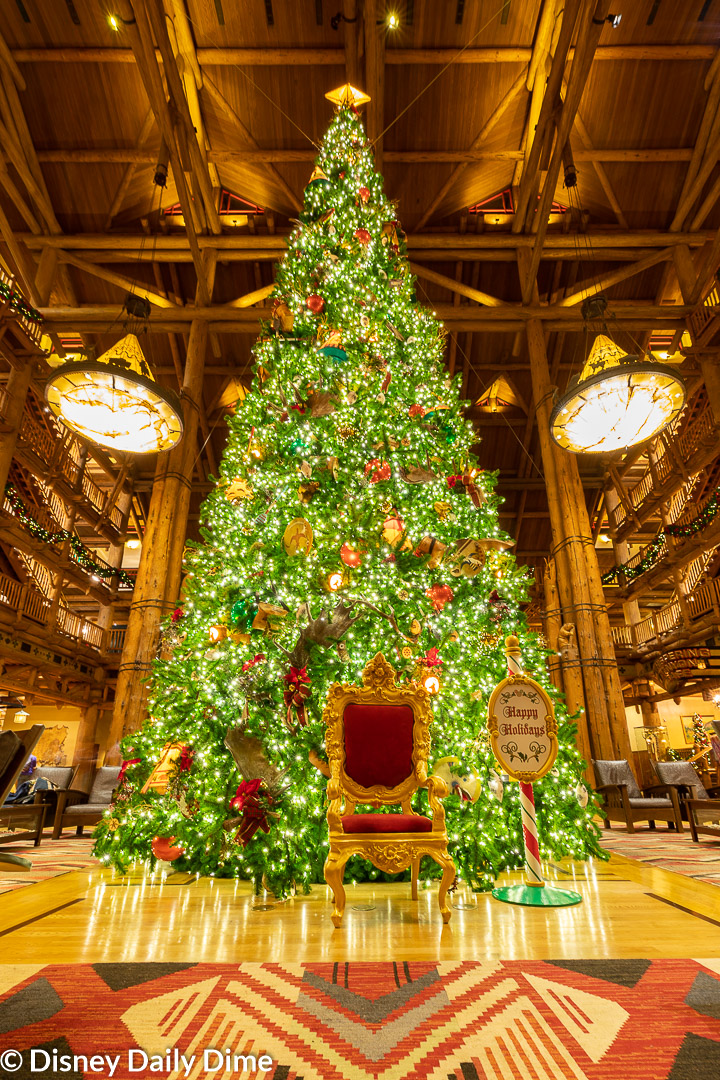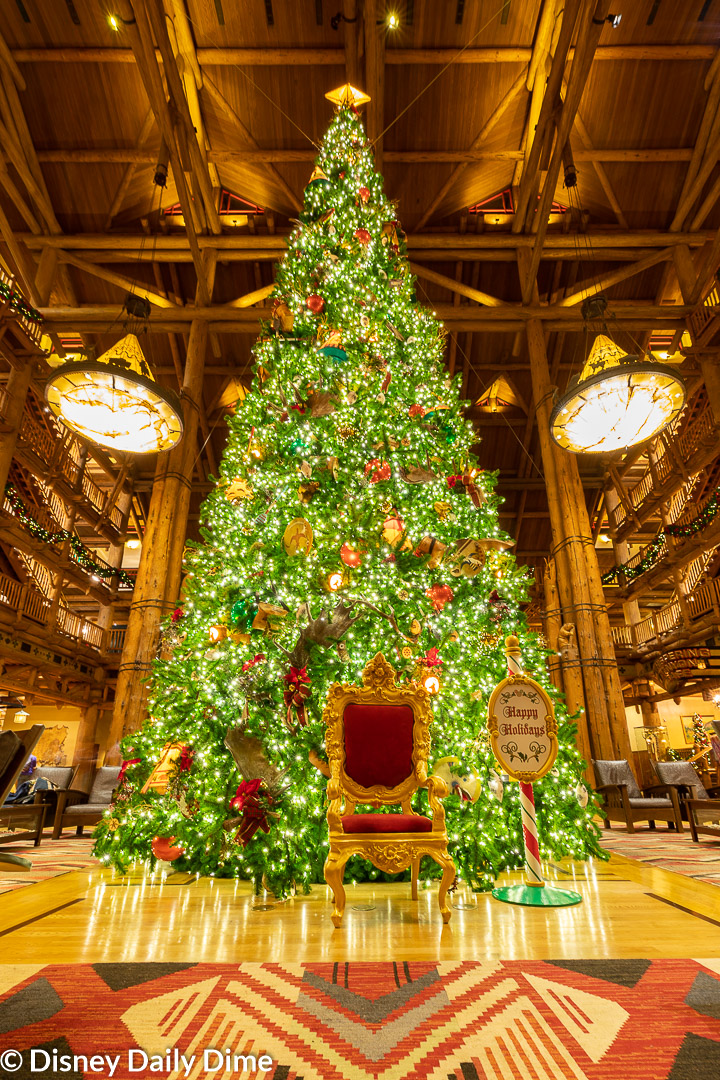 Wilderness Lodge Christmas Décor
The décor is a big part of what makes the Wilderness Lodge at Christmas feel so perfectly nestled within a holiday setting.  But it's not the only part.  More on that in a bit…
The resort itself is tailor made for a big Christmas overlay.  The lobby already has this monstrous open space that stands seven stories tall.  Evoking tones, textures and images from National Park lodges around the turn of century, the resort is perfect for pine trees, wreathes, and the like.  Wilderness Lodge just "fits" Christmas.
The wood carvings of animals, totem poles, and a gigantic fireplace in the Wilderness Lodge lobby all are accentuated by the Christmas décor.  The placement of garland, wreaths and the tree are natural extensions of the outdoorsy motif of the resort.  Add in some deer, bears and other common Christmas animals and it's a trifecta of perfect décor.
Throughout the main living areas of Wilderness Lodge, you'll find appropriately adorned decorations that feature wild animals, antlers, tee-pees, and more.  They are nestled into the trees, wreaths and other places that may surprise you.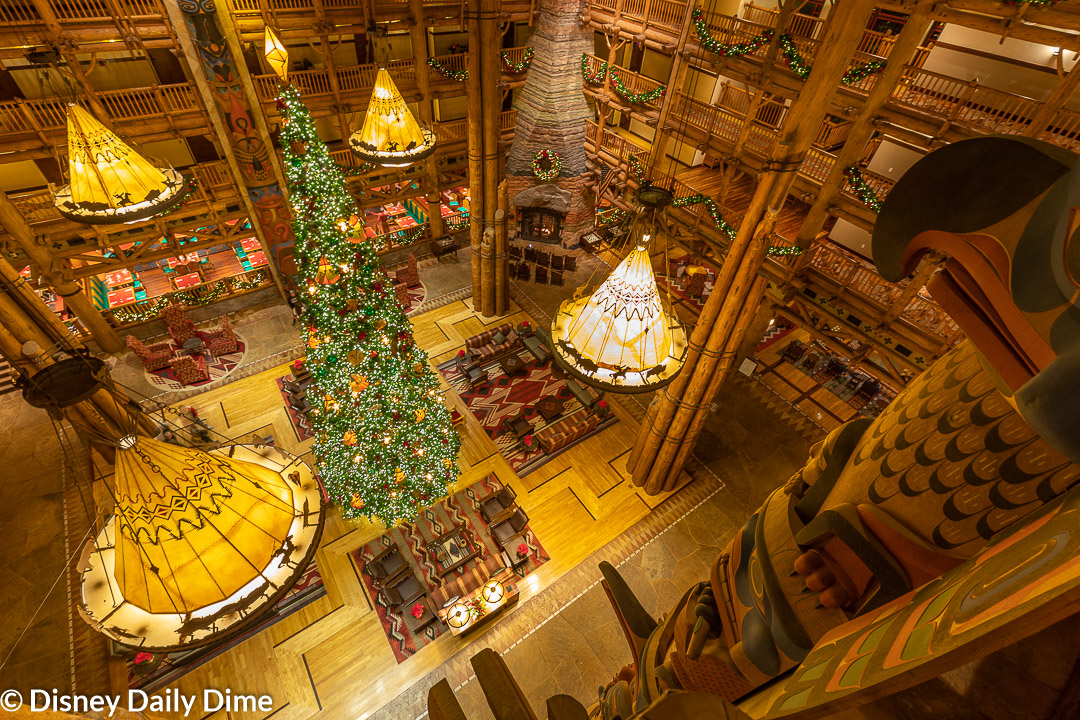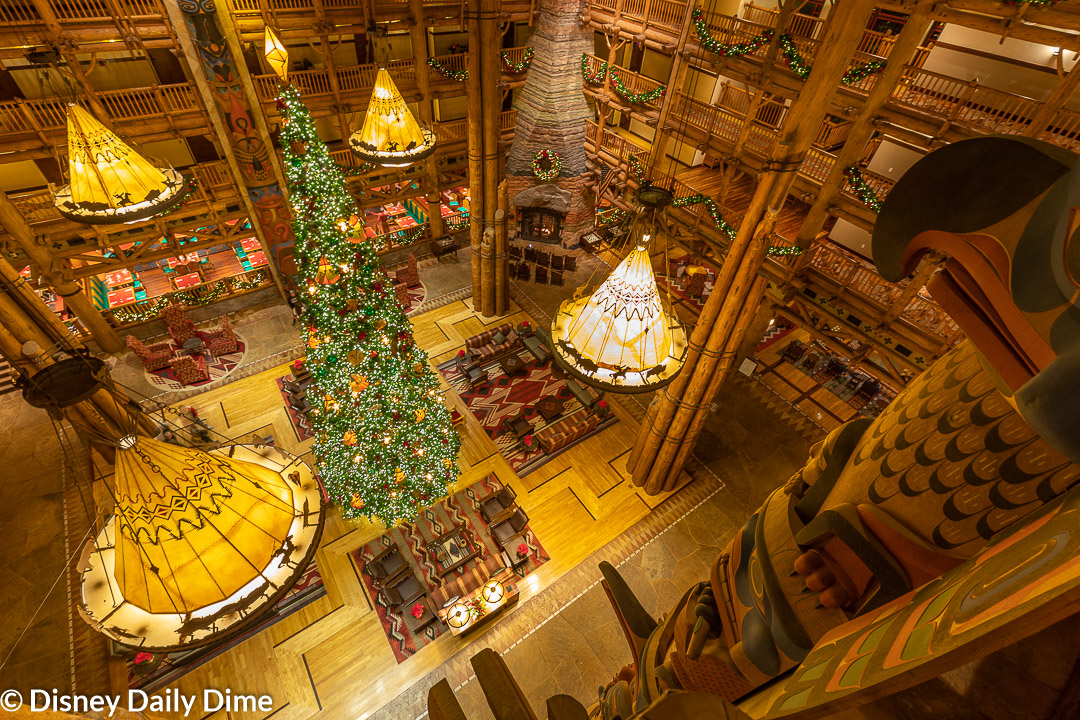 But beyond the Christmas décor at Wilderness Lodge is simply the basic setup of the resort.  A set up that is perfect for Christmas due to its natural theme.  This includes the décor, small seating spaces, fireplaces (yes there is more than one) and other touches.  Whether it be the two rows of oversized rocking chairs in front of the fire place or the large cozy seating areas in the main lobby and alcoves on the floors surrounding it.  These everyday furnishings and touches enhance the Christmas feel.
These last couple of paragraphs are what truly makes Wilderness Lodge at Christmas one of, if not the best, resort experiences in all of Disney World.  The seamless integration of Christmas and the base theming of the resort is so perfect that it doesn't feel like Christmas has exploded around you and taken you out of the resort.  It's there but without being overly in your face.  If that's possible with a giant Christmas tree in the lobby.
The theming is not something so jarring as the giant gingerbread house you'll find at the Grand Floridian.  Or the boat decorations at the Yacht Club, because you know what says Christmas more than a boat?  Not that those are poor resort décor choices, they just don't work as perfectly to incorporate a Christmas theme into the existing resort décor.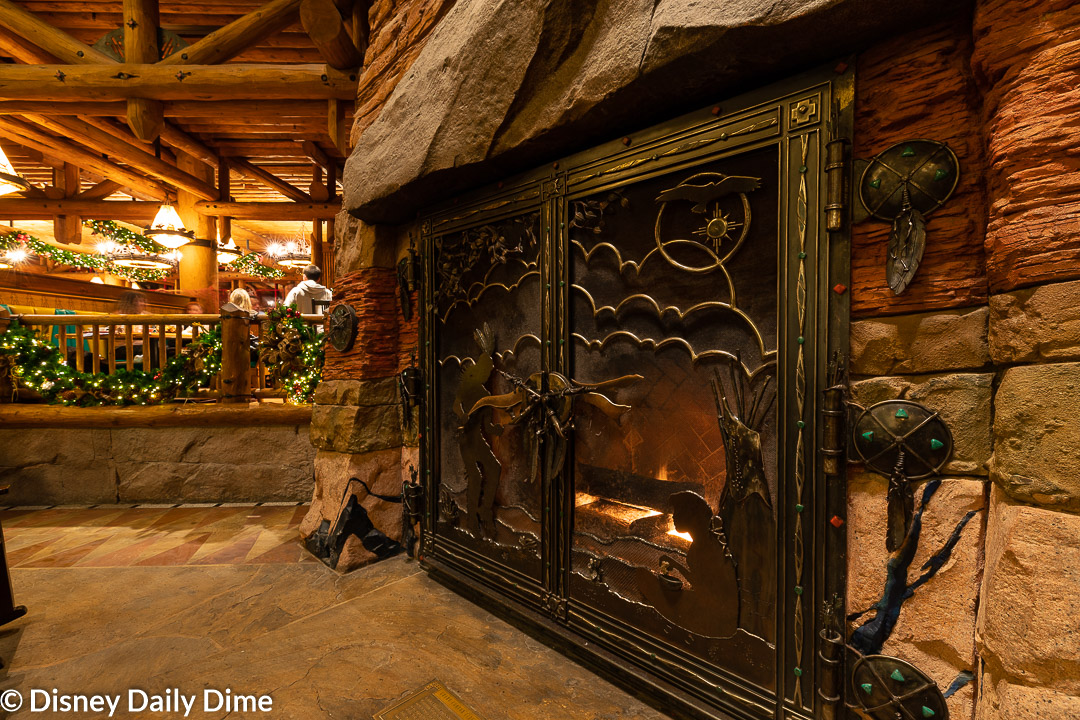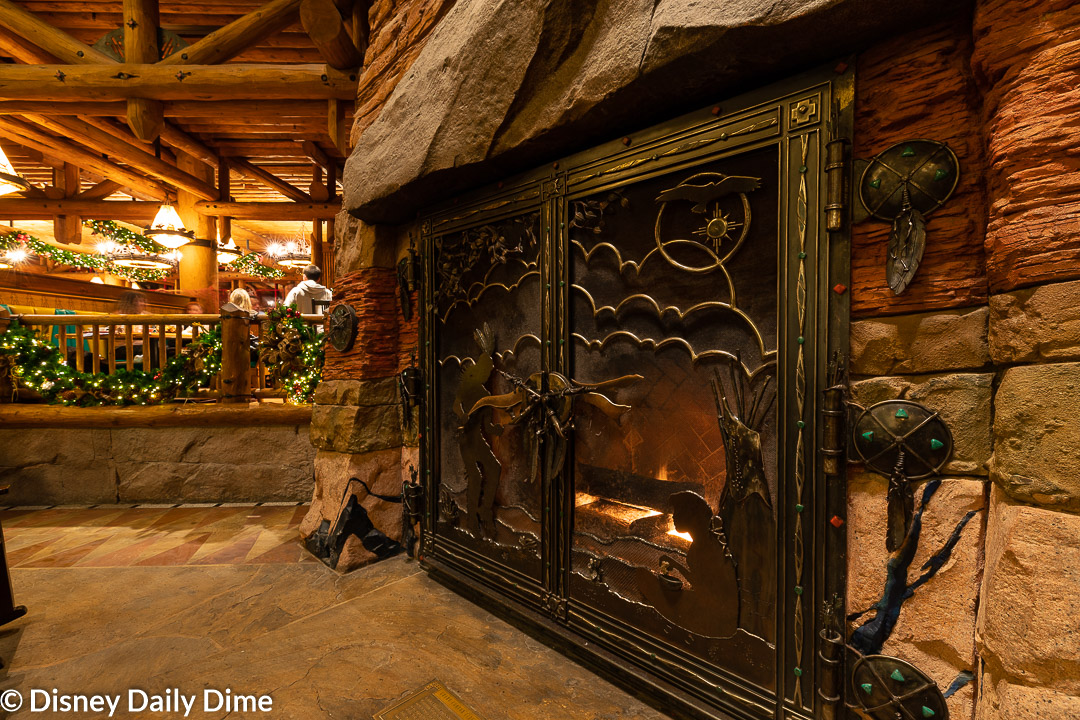 Bring on the Winter Feel
Christmas is almost synonymous with winter.  And while some would say snow would be required to make it feel like winter, those from southern states may say just slightly cold weather is enough.  But if we're being honest, there is a reason that Disney World creates fake snow during Mickey's Very Merry Christmas Party, right?
Alas, we are in Florida.  So if you can't have snow, you should have something that evokes a sense of cold on the outside and warmth on the inside.  Wilderness Lodge does that brilliantly.  Now, we will say that we had fairly cool weather while we were there, so maybe if it was 80 degrees at Christmas, we might feel differently.
In either case, what can make it feel like Christmas is curling up with your favorite warm cup of cocoa, coffee, tea, cider, you name it, in front of that gigantic fire place.  Sitting by the side of a roaring fire brings on the Christmas feel, even sans the snow.  Last comment on snow, I promise.  You'd think I live in the northern part of the country as much as I'm fixated on it.  Frankly, I've spent plenty of Christmases wearing shorts in the southern US.  But I'm off on a tangent here.  Back to the Wilderness Lodge at Christmas.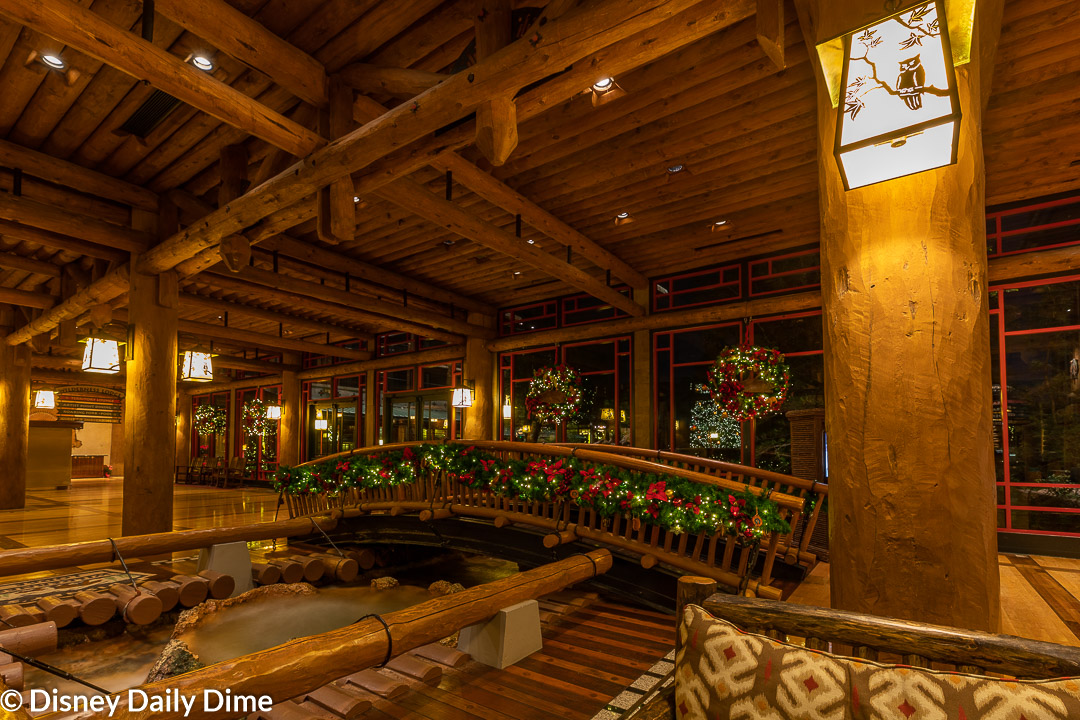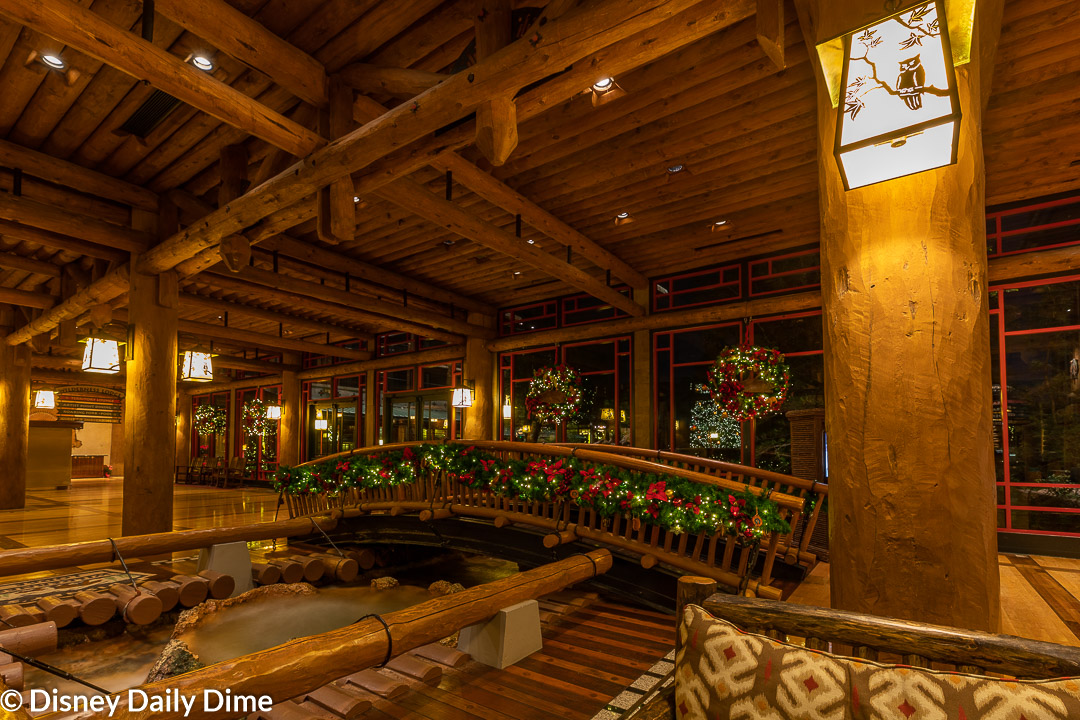 If you want something a little more intimate you can take that same warm mug of your favorite drink, and go to one of those oversize chairs and sit and relax with your friends and family.  On the other hand, they are equally great for finding some solitude and relaxing on your own.  The chairs are custom made to sort of disappear into.
Whether it's the décor or the opportunities to invoke fond Christmas memories, Wilderness Lodge excels at transporting you to that special place in your heart and mind.  And that is where the "Disney Magic" shines.  Very few of the Disney World resorts can take you out of Florida and plant your firmly in the Pacific Northwest or a Christmas home.  Disney's Wilderness Lodge does it with ease.  And with that, it makes your Christmas at Disney World even more special.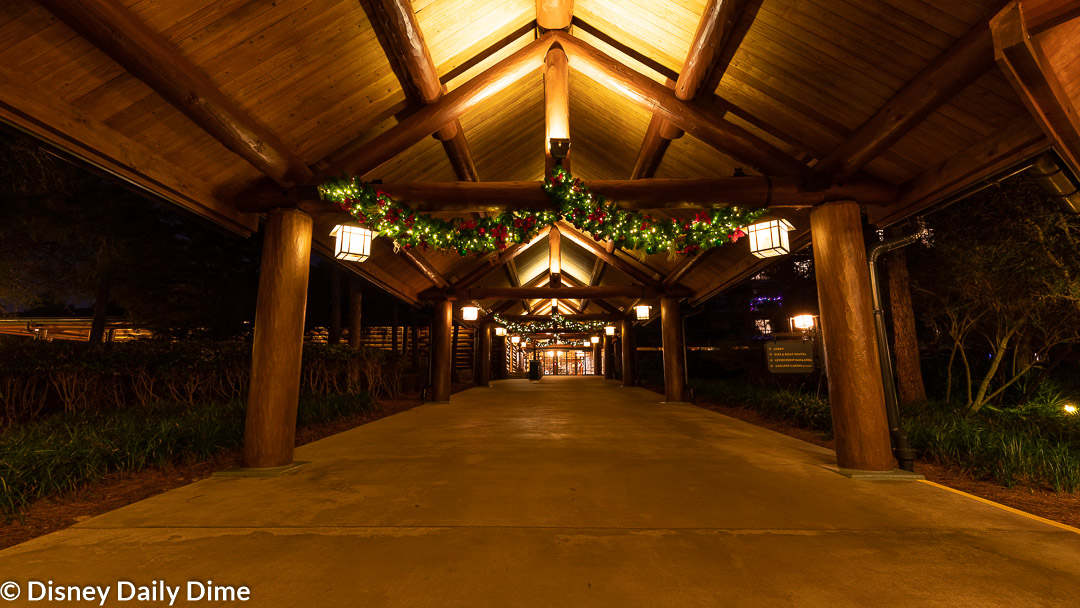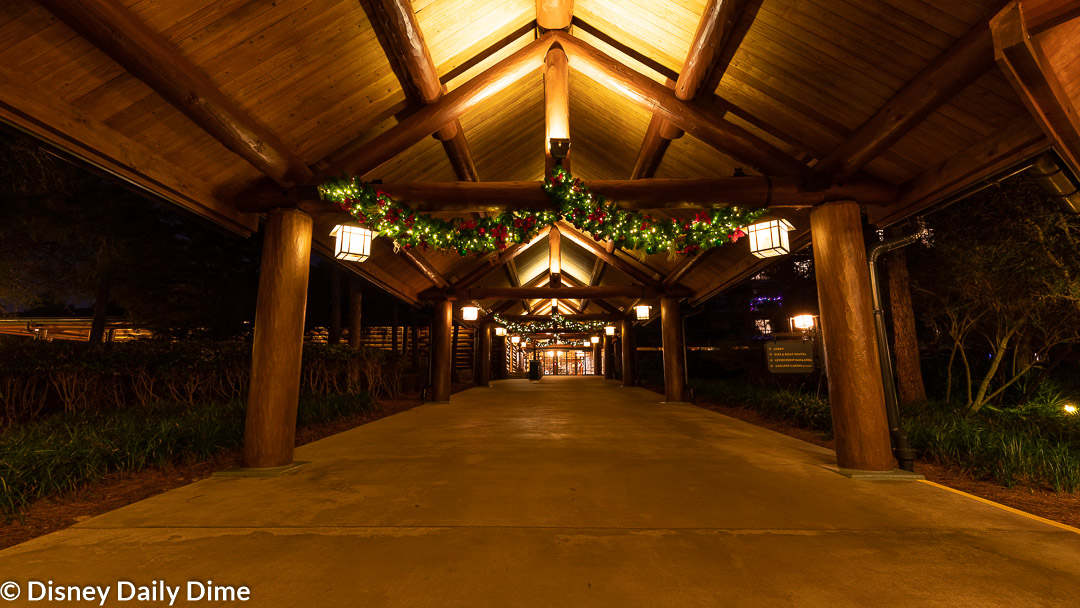 Find Your Happy Place in The Late Evenings
If you want to truly experience Wilderness Lodge at Christmas, we'd suggest taking it in during the late evenings.  Say somewhere after 10:00 pm.  As you get closer to Christmas Day, you may want to do it after 11:00 pm.
We know, either time is late especially after a full day in the parks.  However, this is when a Wilderness Lodge Christmas is at its best.  The crowds will have largely retreated to their rooms.  You and just a handful of guests will be left to have the massive lobby to yourselves.  The bustle disappears and you can quietly enjoy the low roar of the fireplace or just relax.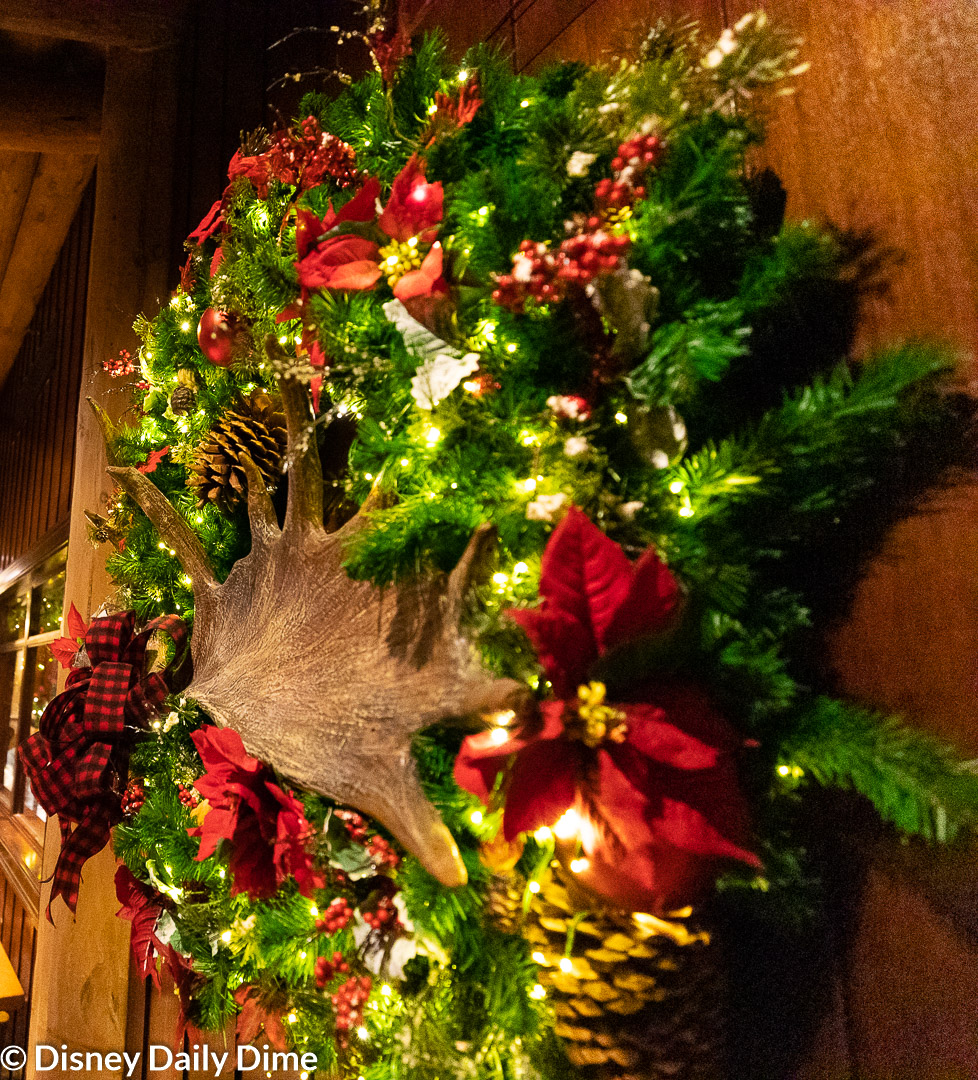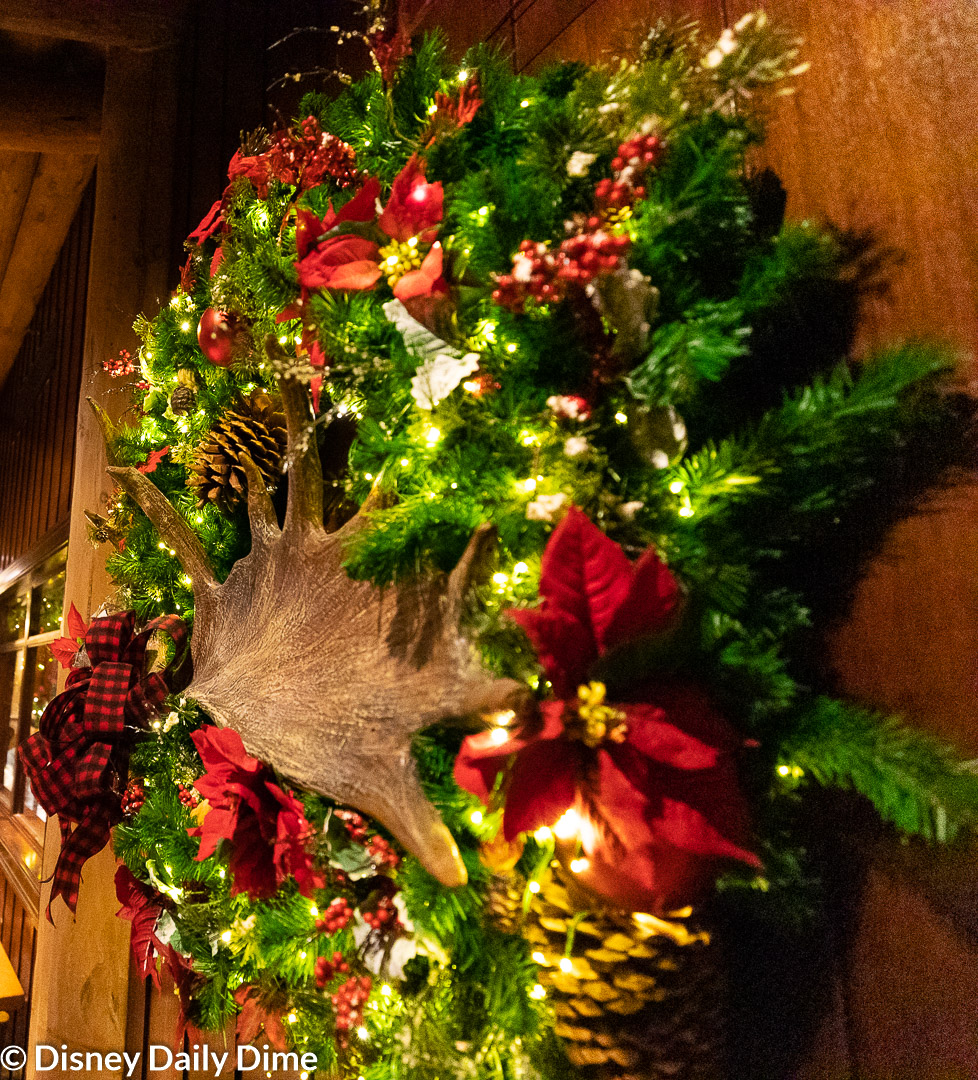 No kids going crazy in the lobby and possibly running into your chair.  Just peace.  And to me, this was bliss.  After a long day in the park, my kids were in bed and I could just be.  Even if only for a few minutes, it's a worthy few minutes that you should try and take for yourself.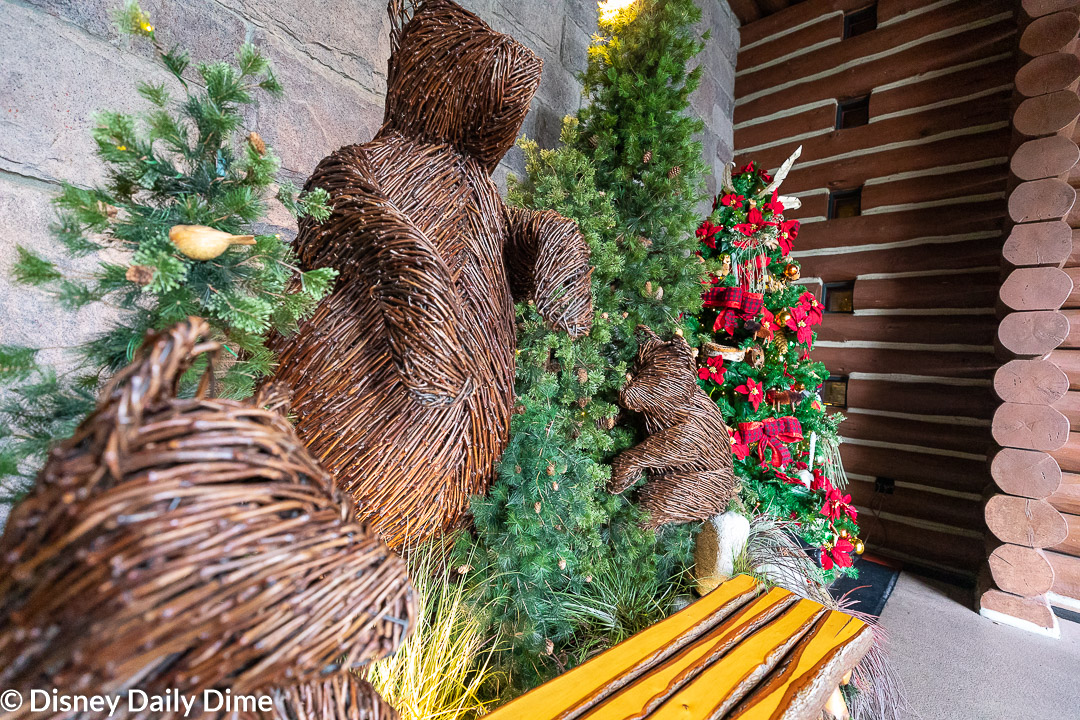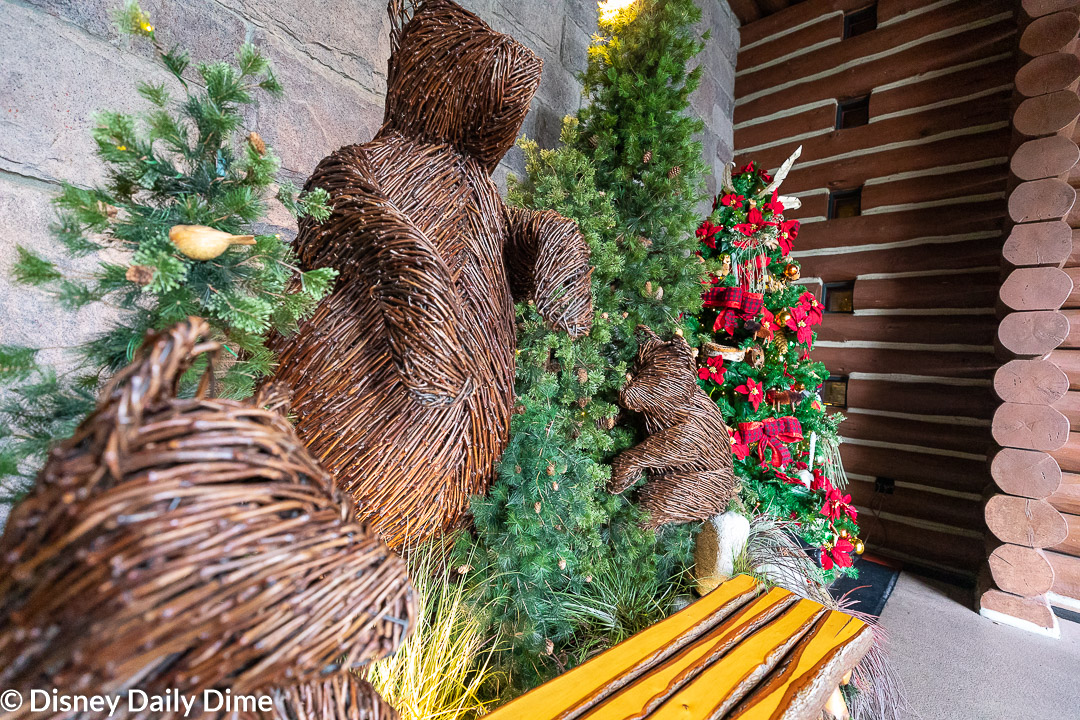 Wilderness Lodge Christmas Activities
In addition to the décor of the Wilderness Lodge at Christmas, there are also several great activities that happen at the resort.
The one we saw, and deeply regret not getting to, is the Chip 'n' Dale photo op in front of the Christmas tree.  Decked out in blue Christmas outfits, complete with a Santa hat, they looked very festive.  Chip 'n' Dale are a great fit for the resort, being chipmunks and all…
They were there every night leading up to Christmas Eve starting on December 21st.  We're not sure what day they start meeting, but keep your eye out for them or other characters in the lobby during the evenings.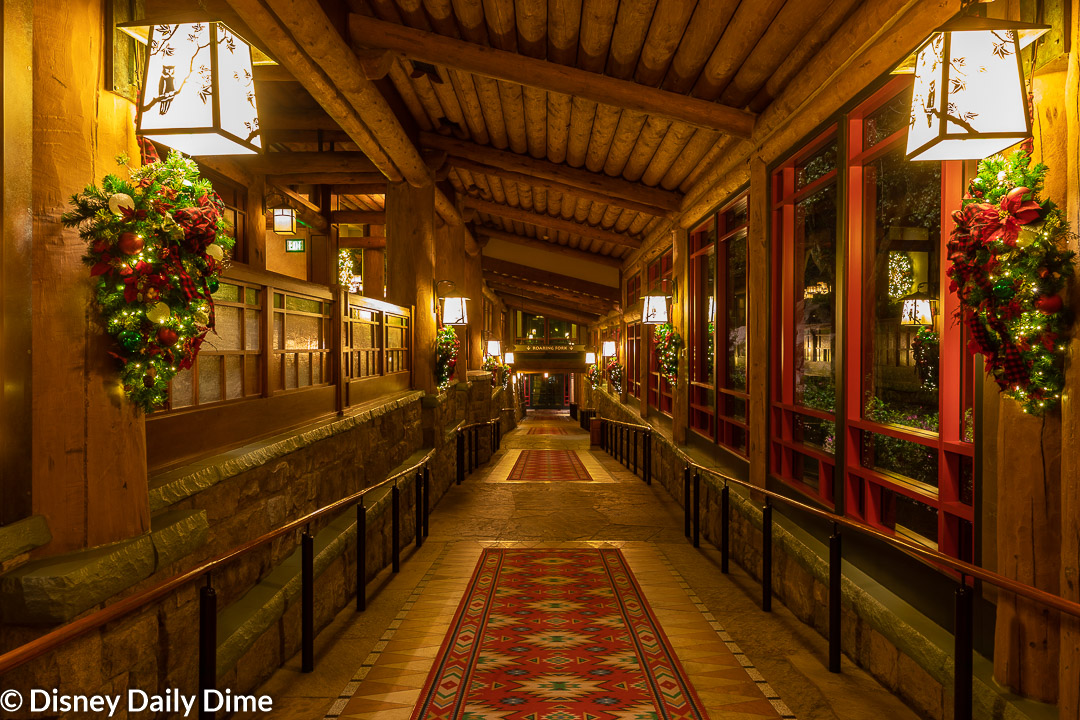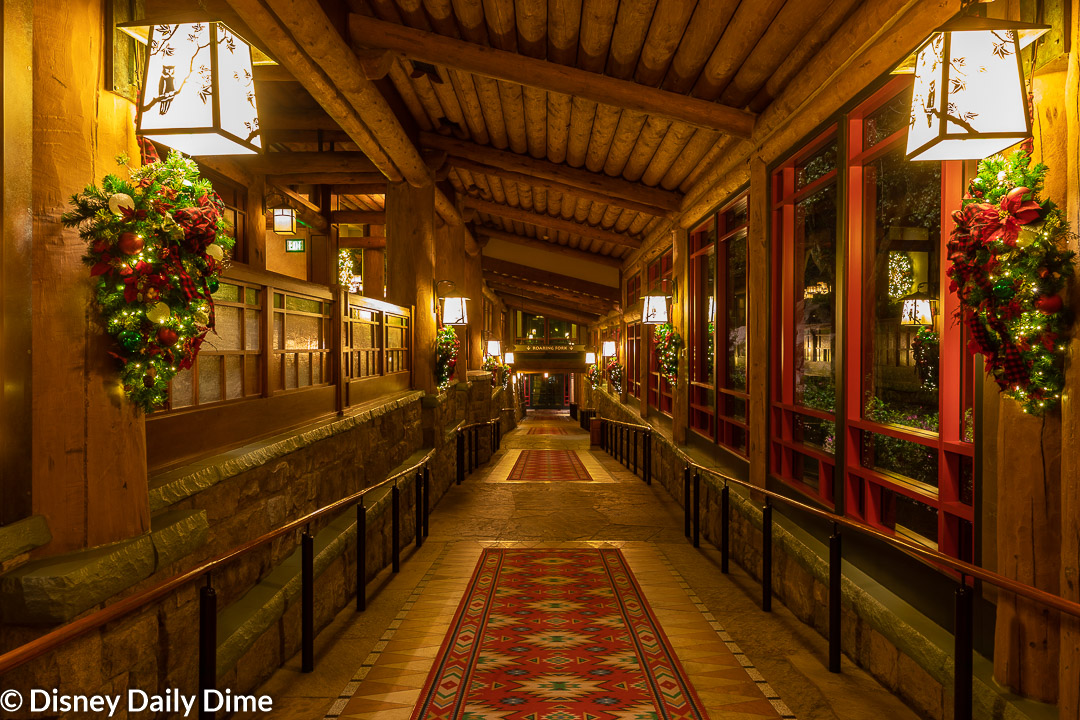 They don't meet on Christmas Eve though.  That night was reserved for Santa Claus.  He met in the lobby, taking photos with guests from 5:00 pm to 9:00 pm on Christmas Eve.  He then bid farewell to everyone as he had to start making his Christmas Eve rounds.
On Christmas Day, Wilderness Lodge has a slew of Christmas themed activities such as a hot chocolate bar, movies, and crafts.  They go on throughout most of the day.  Some of the activities are free, some were not.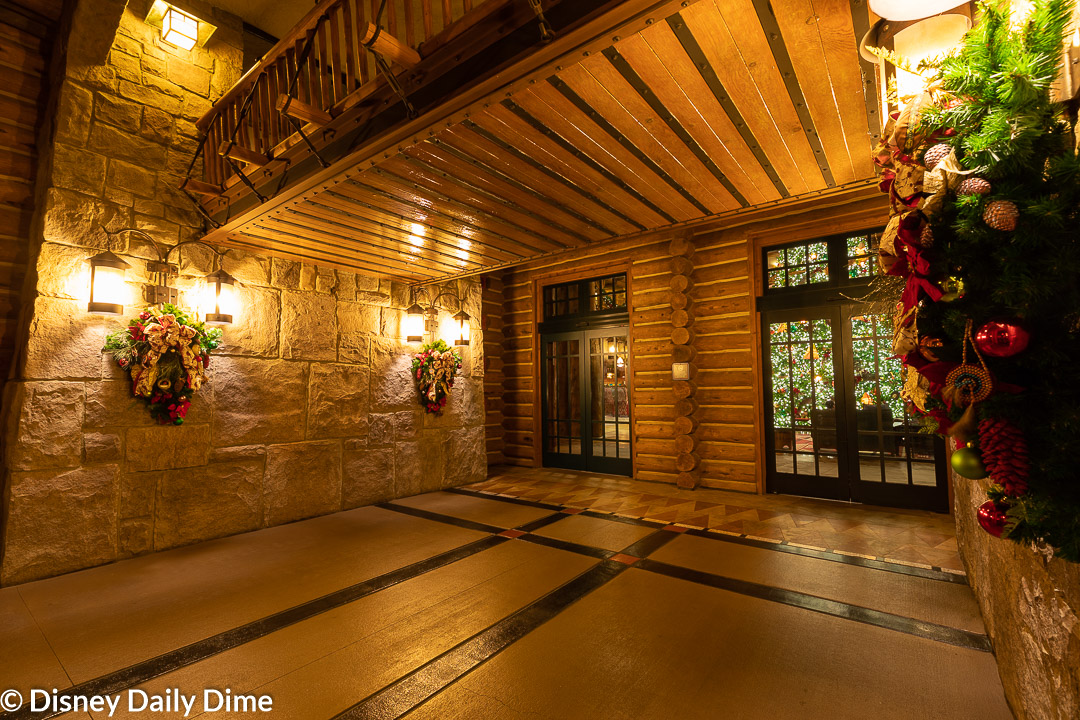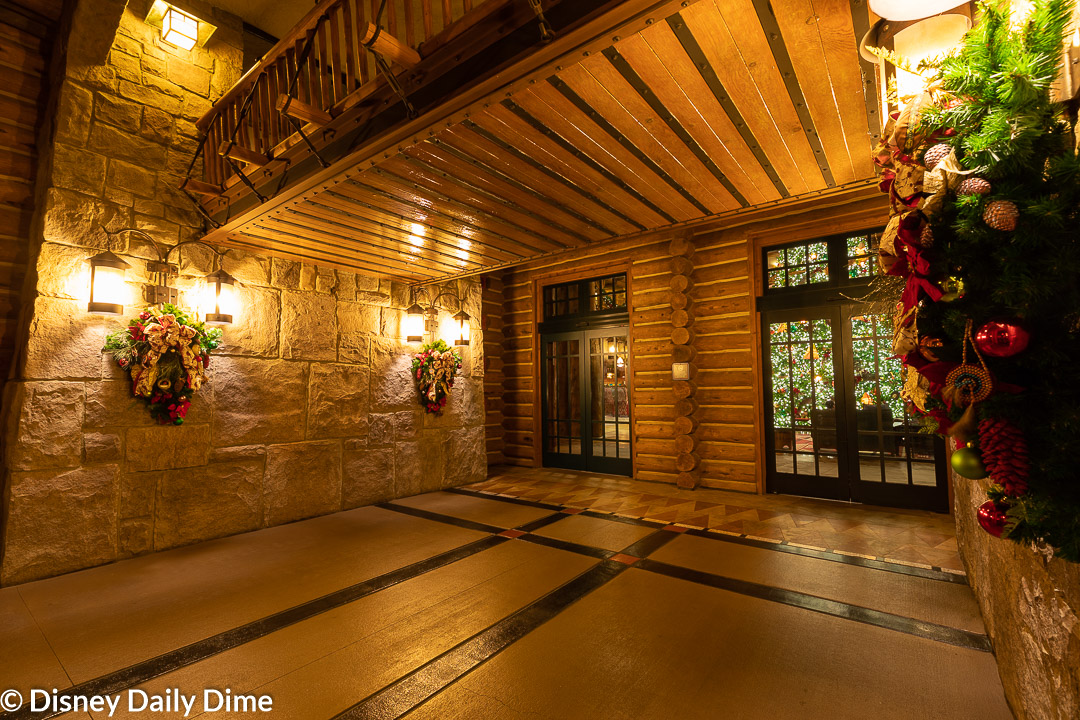 In addition to these activities at Wilderness Lodge, Christmas Carolers can be found at the resort at varying times of the day.  Adorned in period appropriate outfits, the carolers will regale you with many of you favorite Christmas tunes.  They don't sing for a long period of time, but it's a good chance to hear some cheerful songs.
There is one other activity we think we should mention, even though it isn't actually at Wilderness Lodge.  That activity is the Holiday Sleigh Rides over at Fort Wilderness Resort.  These are their horse drawn carriage rides, but with a sleigh looking carriage adorned with Christmas décor.  This one isn't free though.  It will run you $84 per 25-minute ride.  Fort Wilderness is a short bus ride, boat ride or mile walk from Wilderness Lodge.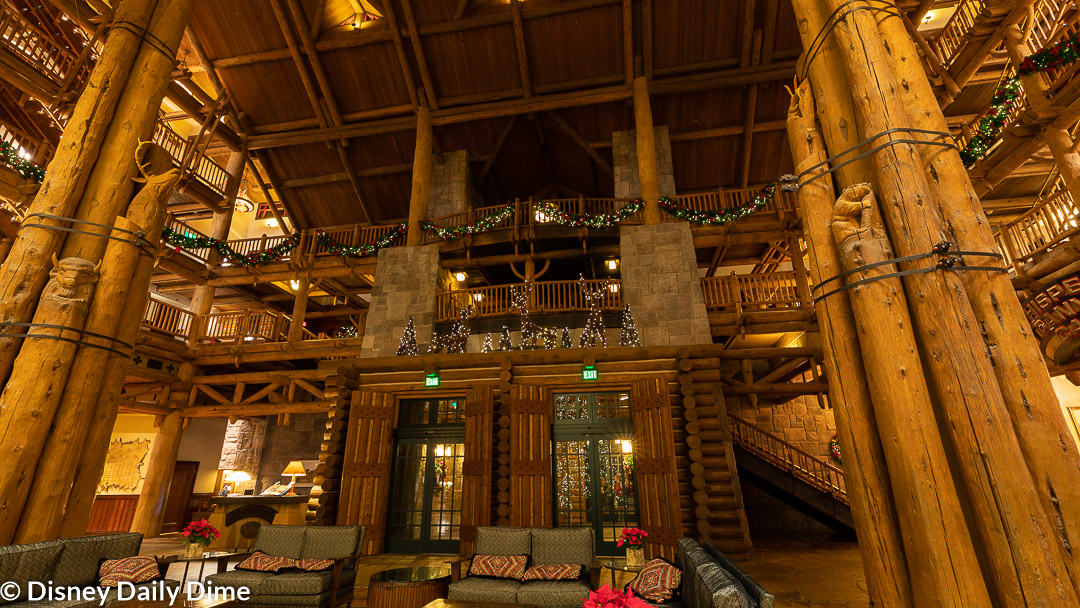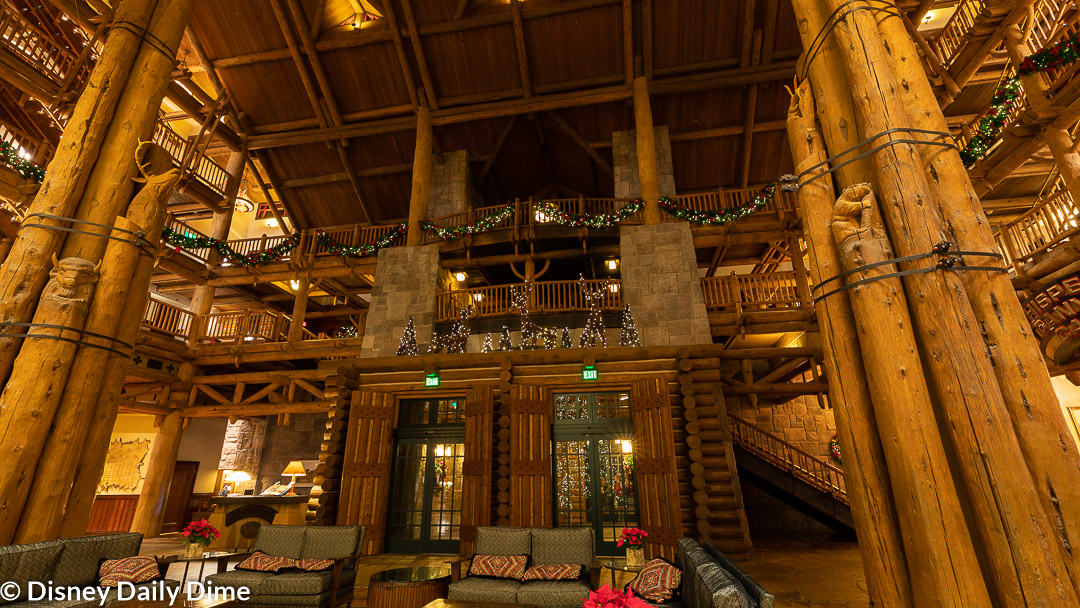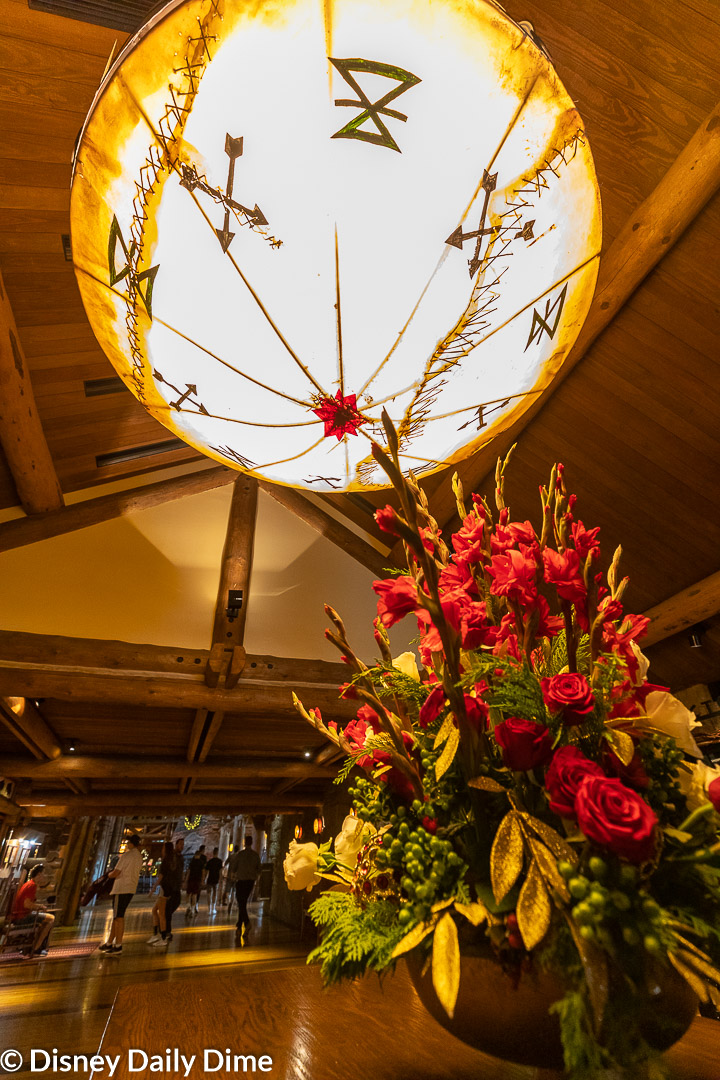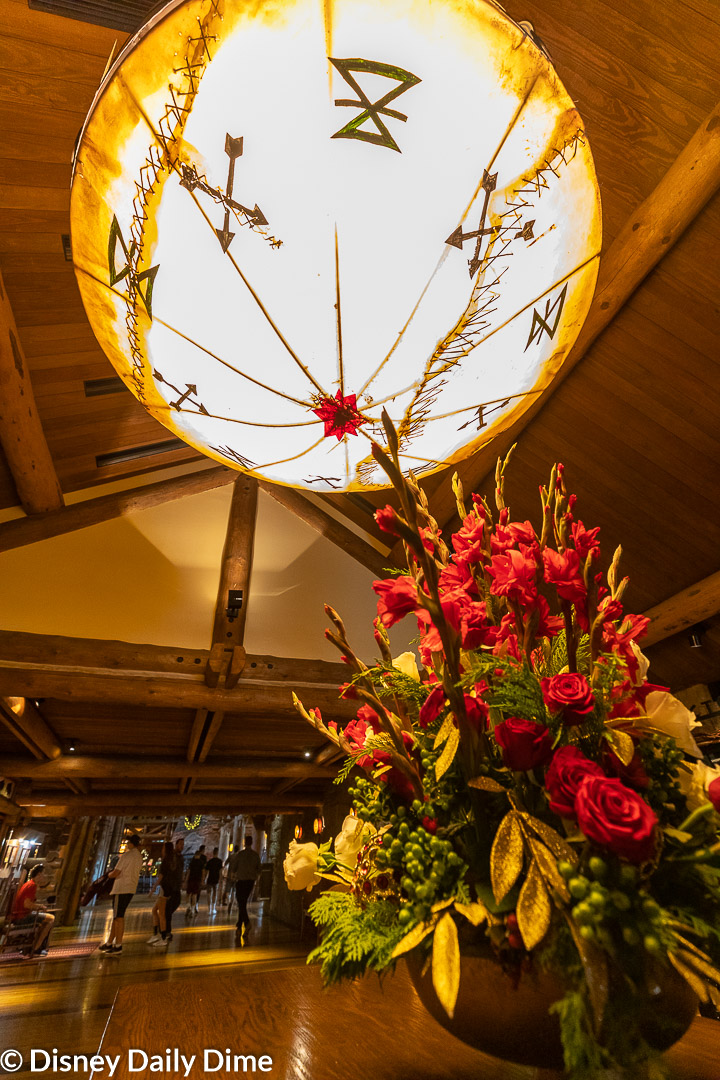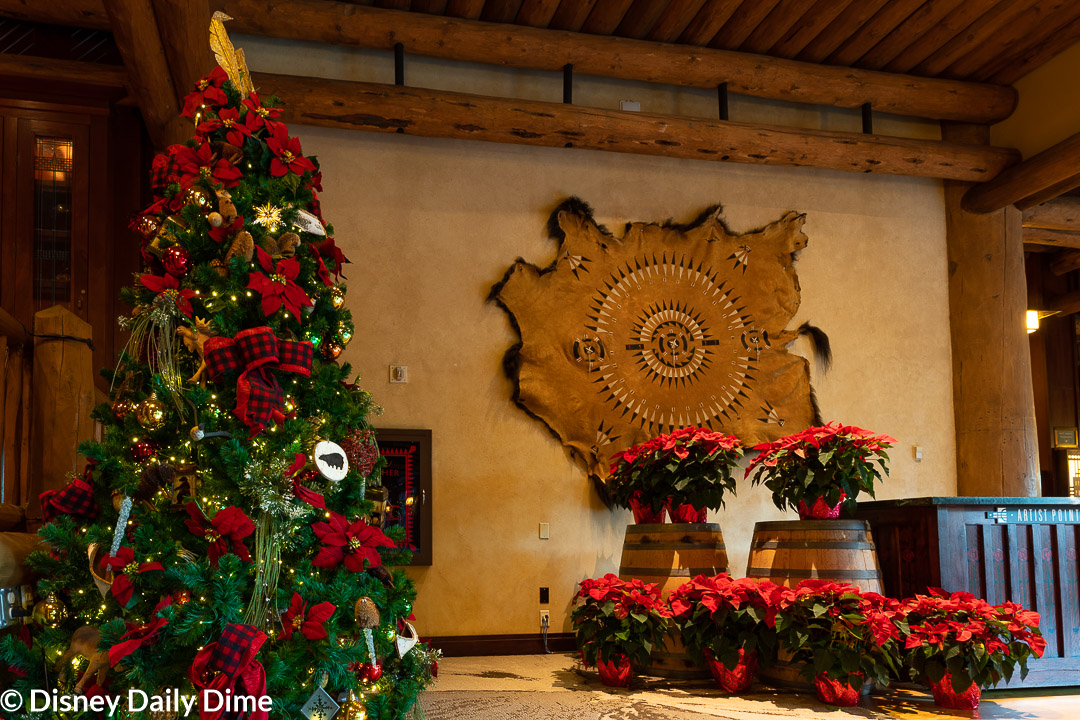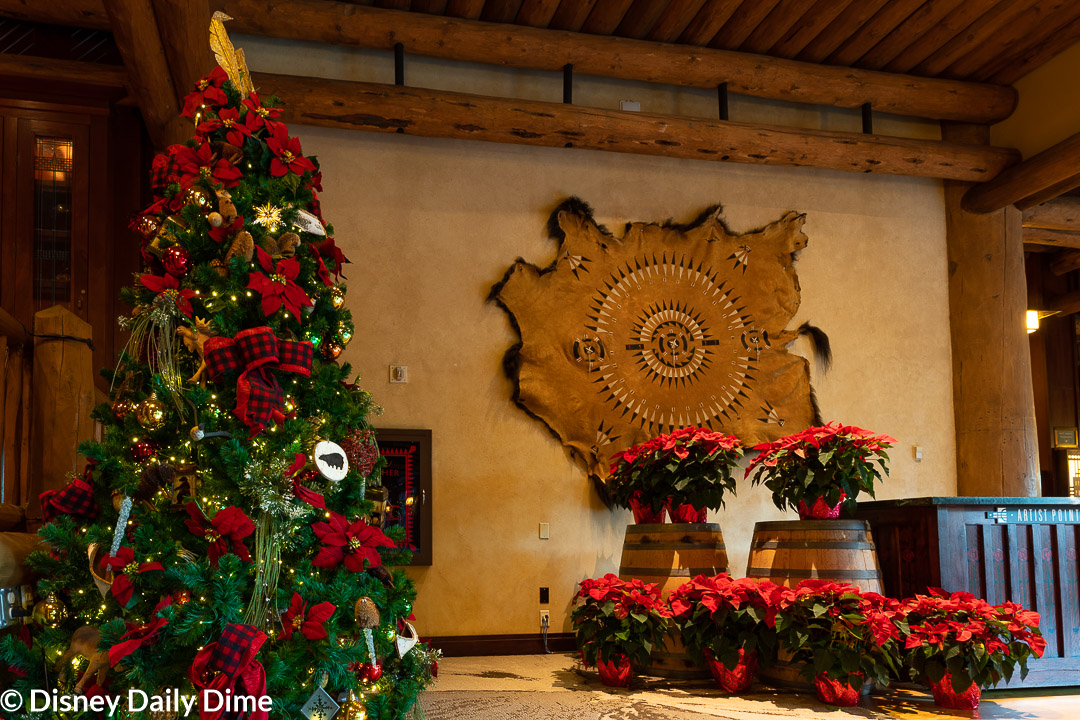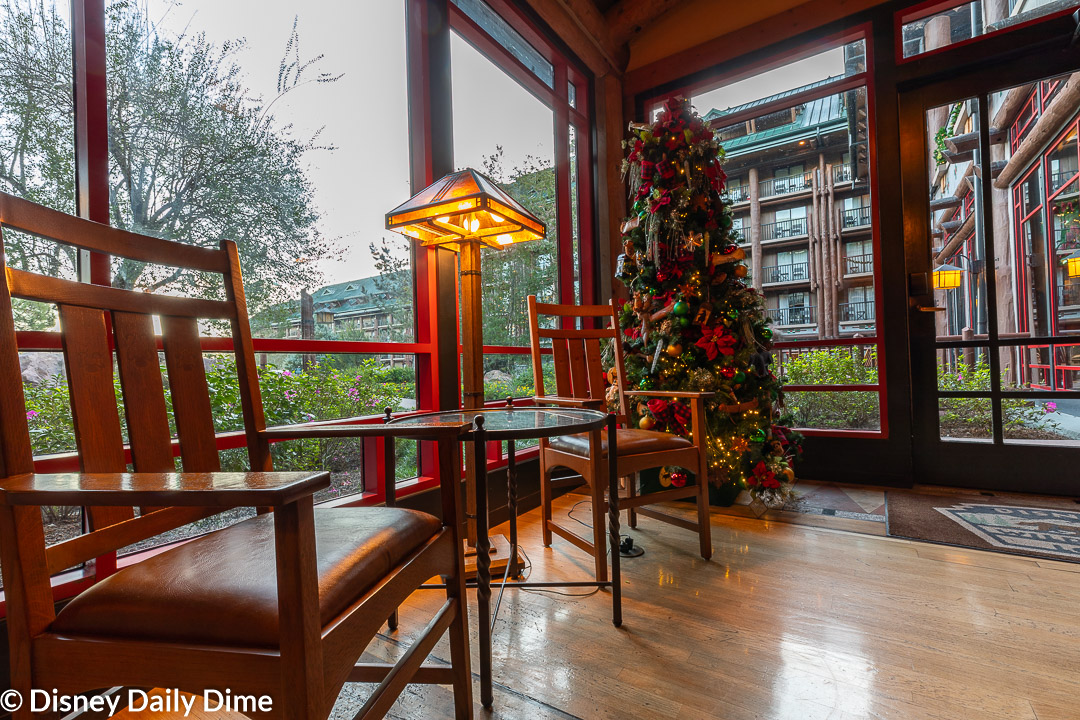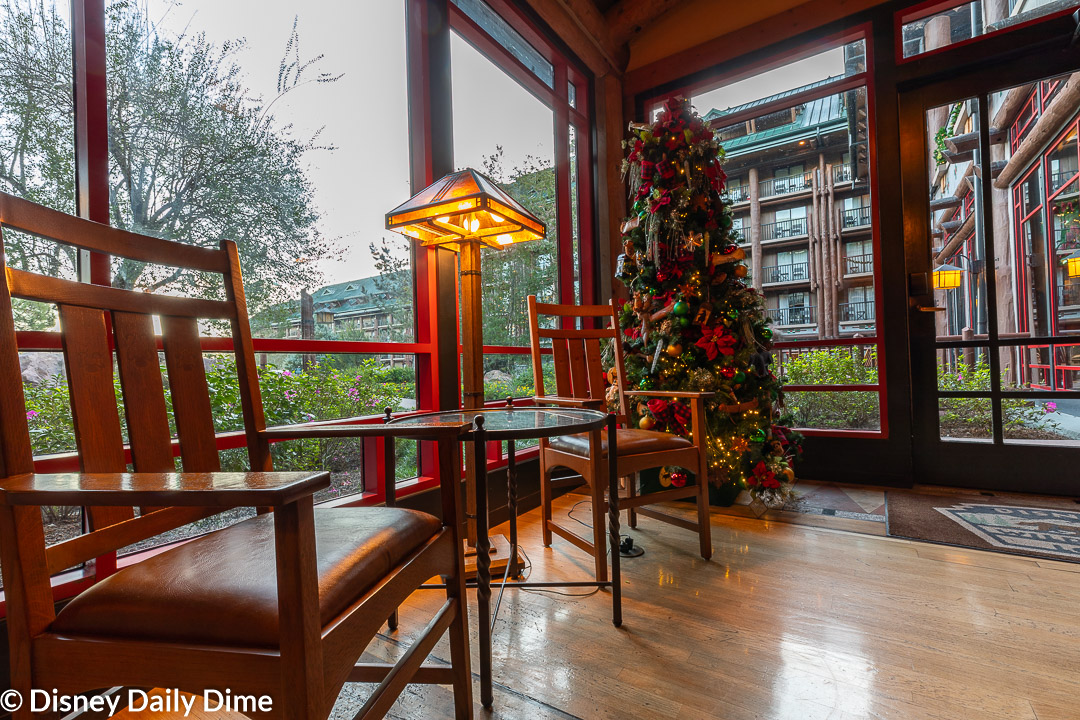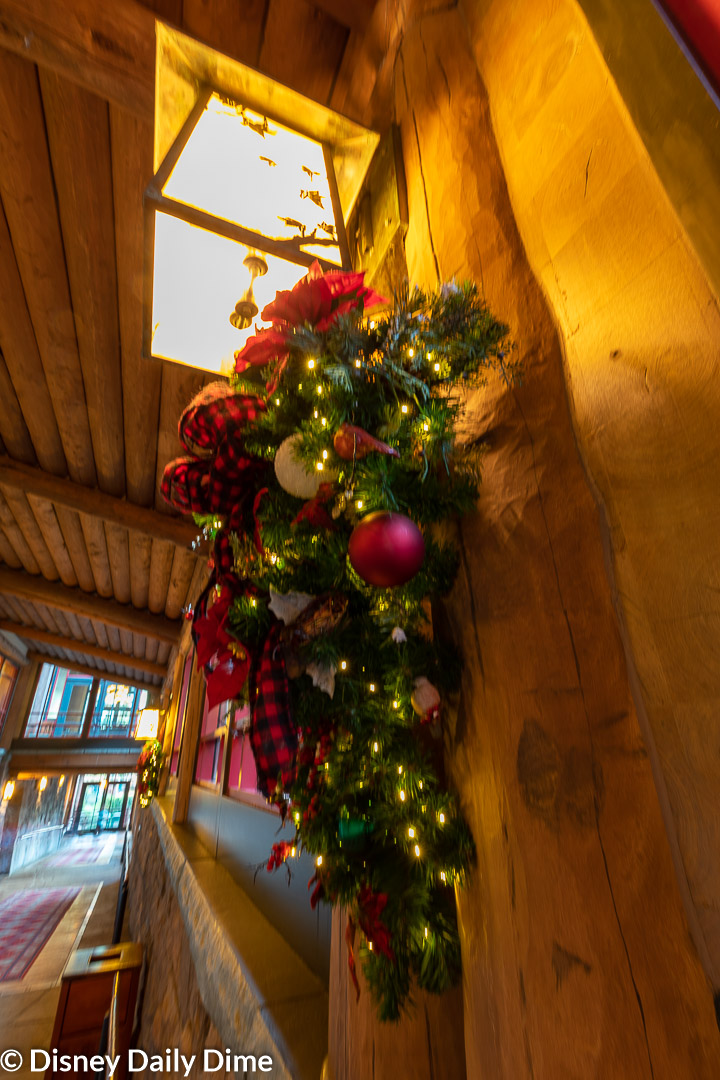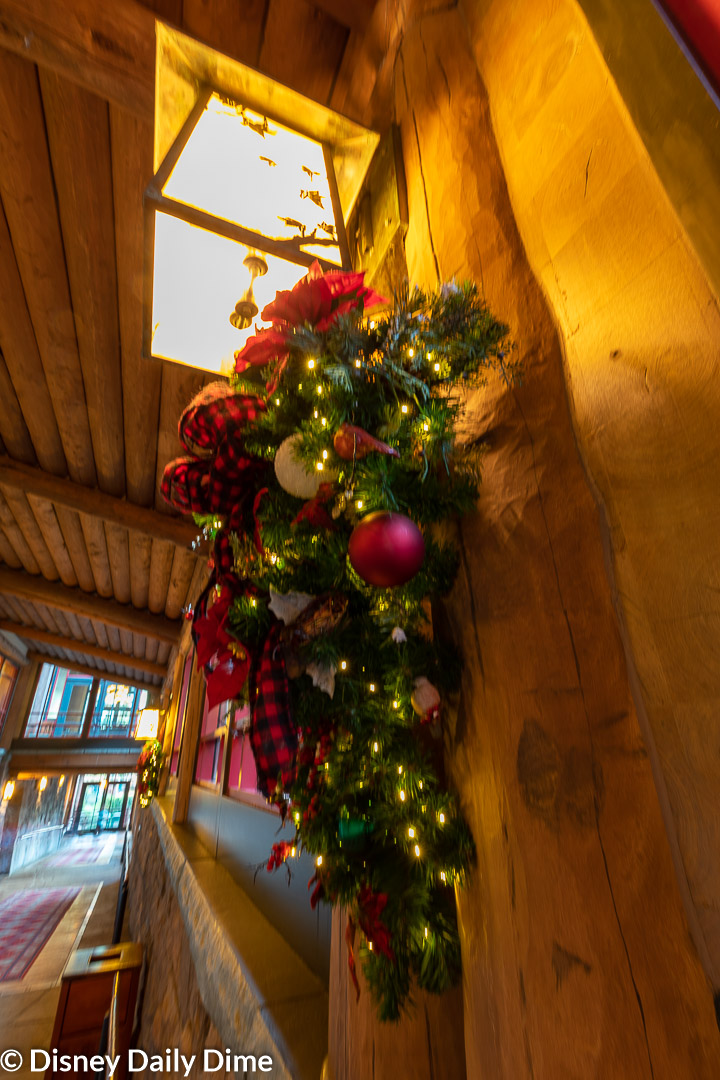 Wrapping Up
Wilderness Lodge at Christmas is a truly special experience to be had.  From the moment you walk into the lobby and see the 60-foot-tall tree to the moment you leave, it embraces you, transports you, and most of all makes you feel something.  Something that truly evokes Christmas.  A Wilderness Lodge Christmas is something anyone who wants to know what a Disney World Christmas is all about should make an effort to experience.  If you only have one chance to experience Christmas at Disney, staying here is a must in our opinion.
We hope you found our article about the Wilderness Lodge at Christmas helpful!  If you did, we'd greatly appreciate you sharing it with your friends and anyone else who you think might find it helpful.  Sharing on social media is one of the easiest ways to do that.  Just use the sharing buttons on this page!  We always appreciate your sharing these articles as it helps spread the word on our blog and introduces us to more readers.
To stay up to speed on all our posts, make sure you follow us on social media too!  You can also subscribe to our newsletter via the form on this page.  It is just down below.