Disney World's Roaring Fork is a counter service restaurant that serves up breakfast, lunch and dinner throughout the day.  Located within Disney's Wilderness Lodge, it is the main counter service location for the resort.  Here in our Roaring Fork review, we're going to do things a little different today.  Usually we have reviews of a restaurant that focus on either breakfast or lunch/dinner.  However, we actually ate here for both meals on our trip, so we're going to combine the meals into one supersized Roaring Fork review.
In our review, we'll give you our thoughts on Roaring Fork's food, atmosphere, and overall value for a counter service meal at Disney World.
Unfortunately, Roaring Fork does not accept Tables in Wonderland.  This isn't overly surprising, as most counter service restaurants at Disney World do not take the discount card.
On the Disney dining plan, it will cost you one counter service credit.  For adults, this can be an okay value when using the dining plan for any meal during the day.  We wouldn't say it is a screaming buy, but it also isn't a place we would avoid using counter service credits.  That view also applies to kids dining plan credits.  If you are on the dining plan, Roaring Fork is where you will come to refill your refillable mugs.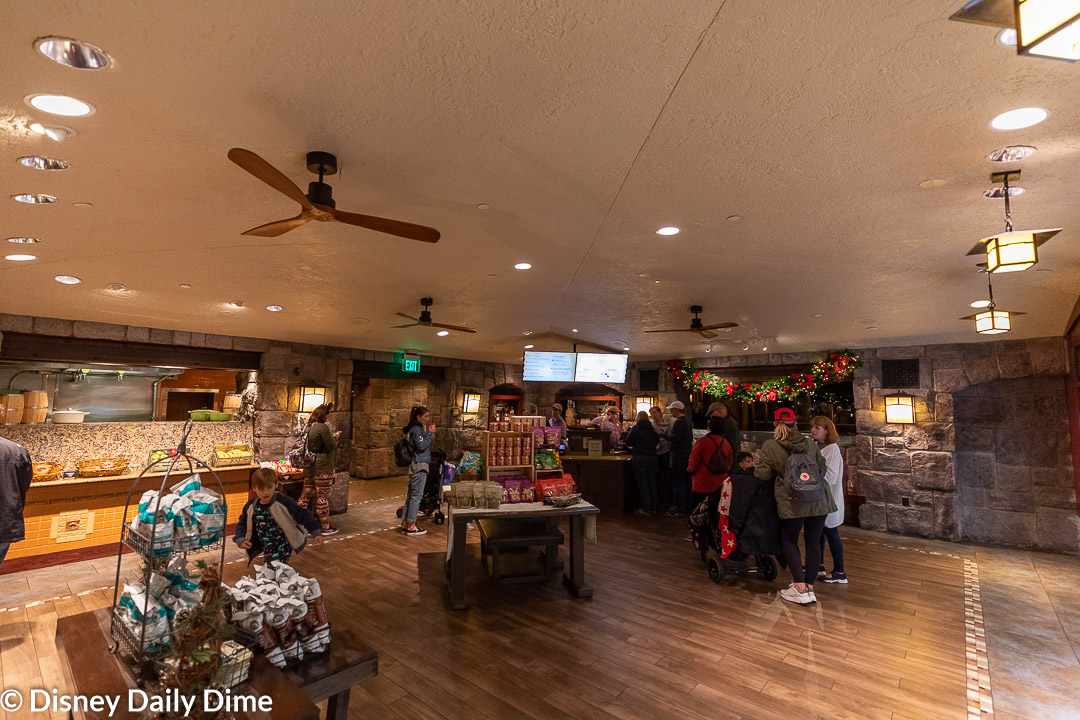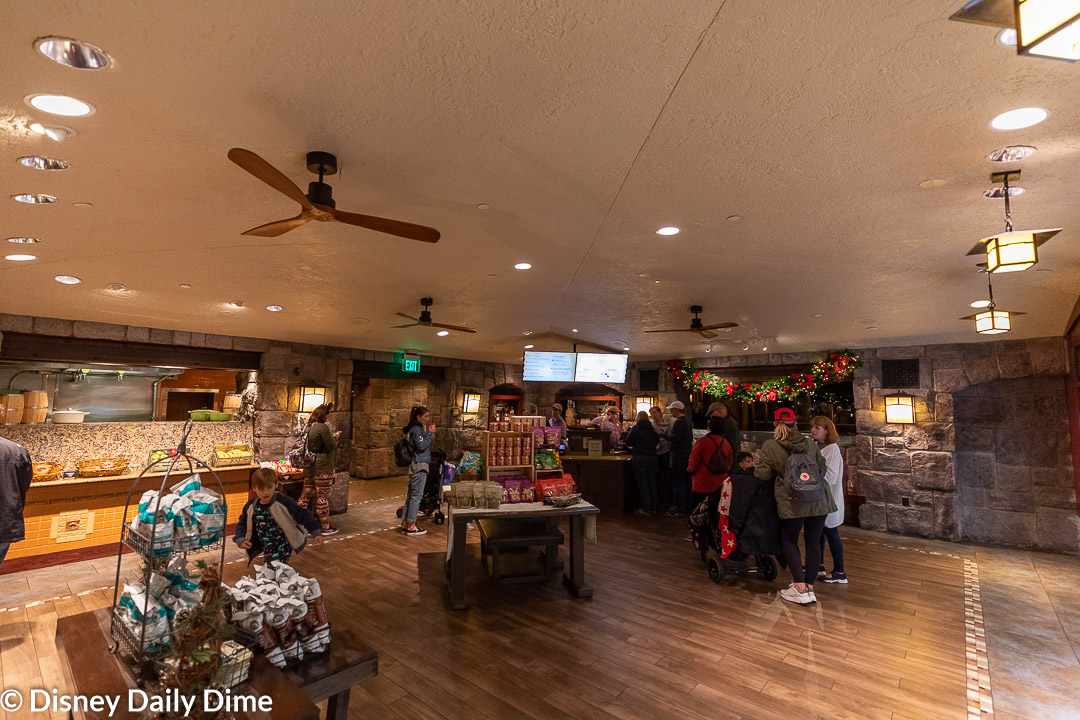 Roaring Fork at Disney Builds on the Wilderness Lodge Rustic Theme
If you've read our Disney's Wilderness Lodge review, you know we are huge fans of this resort.  The rustic décor and overall feel of the resort is something that we love.
True to Disney form, that rustic, National Park lodge feel extends to the dining experience of Roaring Fork.  Much of the décor in the dining area features a fishing theme.  Pictures of fish, along with assorted gear like rods and reels.  What I love is that they are precise enough that the rods look like something you would find as part of an olden times fly fishing excursion on the Snake River.  Of course, I'm no historian, so they may not be that accurate, but it's what I imagine in my head.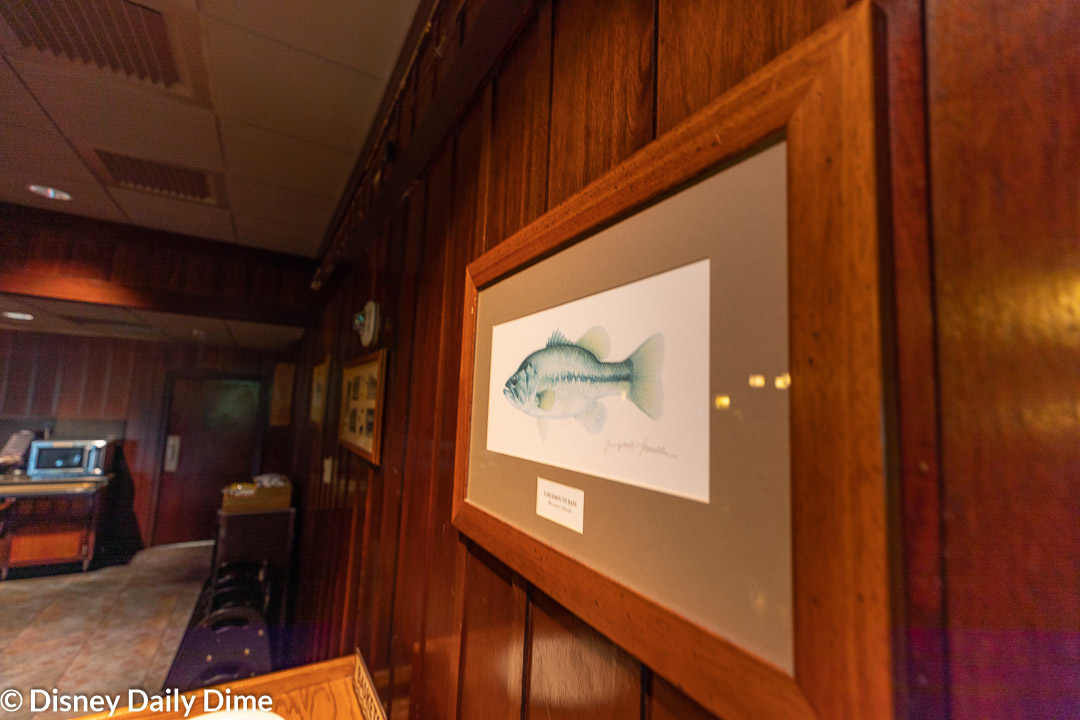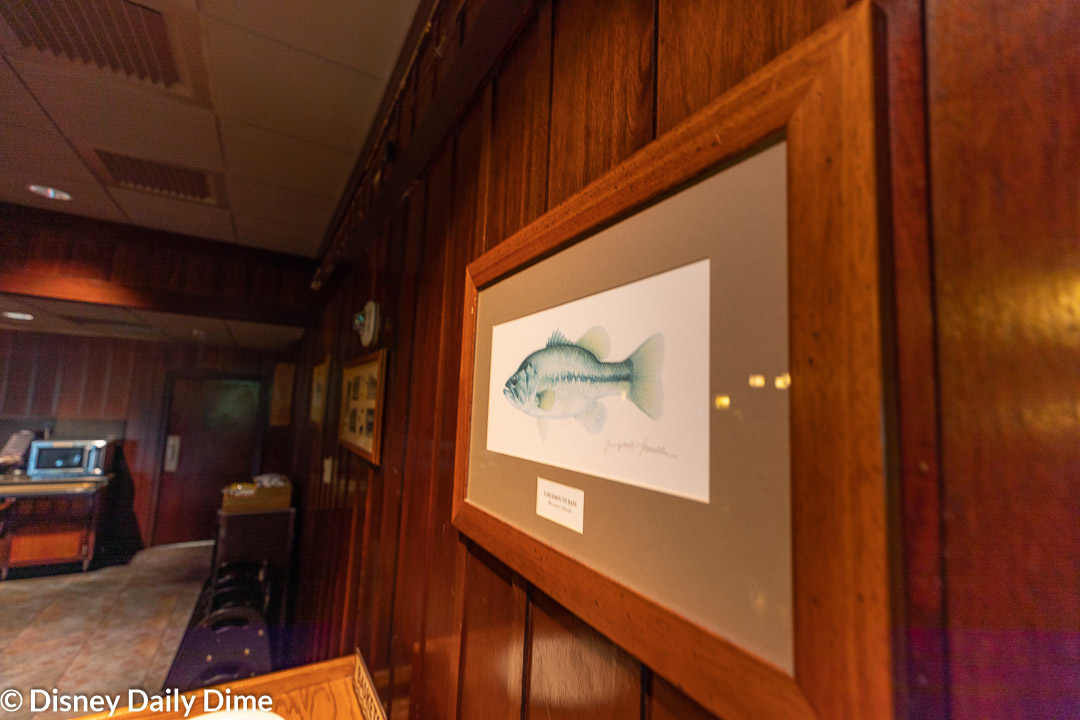 The actual area where you order features great touches that bring the theme of the resort out even more.  Featuring a healthy amount of (we think faux) stone work, the restaurant almost appears like it was carved out of the resort.
It's a small area, and the rock almost makes it feel a bit like a cave, which is great for theming, but if you catch it at a busy time, you may start to feel a little claustrophobic.
You might say to yourself that the dining area is on the smaller side and you would be correct.  However, there is a healthy amount of seating outdoors where you can watch the waterfall that is the centerpieces of the resort.  Additionally, you may want to get your food to go if you're headed to the bus stop, a resort boat or back to your room.
The Food at Roaring Fork Amplified Our Enjoyment of Wilderness Lodge, Especially Breakfast
Like we said earlier, we're going to cover breakfast and lunch/dinner meals at Roaring Fork, so the review will be a little longer.  Before we get into the details, we'll say that the food here was really a pleasant surprise to us.  Especially breakfast.  We've not generally heard many people raving about Roaring Fork.  Yeah, plenty of people enjoy it, but it doesn't feel like a sought our counter service location.  After eating here, we think you should consider stopping by for a bite.
Also, you'll see a few more entrees than normal in our Roaring Fork review.  That's because we ate here a few times for breakfast and we had Carla's parents and some close family friends with us.
As far as the food goes, we appreciate that Roaring Fork doesn't just have all the food sitting out on a line waiting to be plopped down on a plate for you.  No, they make your food fairly fresh and bring it to you.  When you order, you'll get a buzzer that the Disney World cast member will use to find you in the dining area.  Now let's start with the breakfast experience of our Roaring Fork review.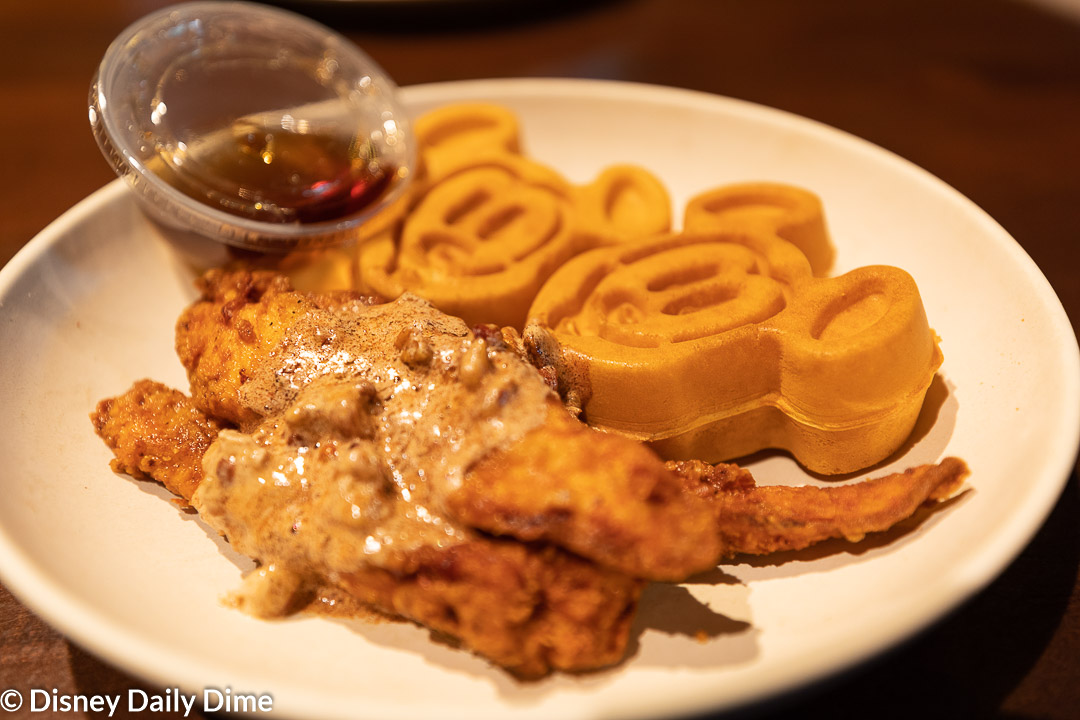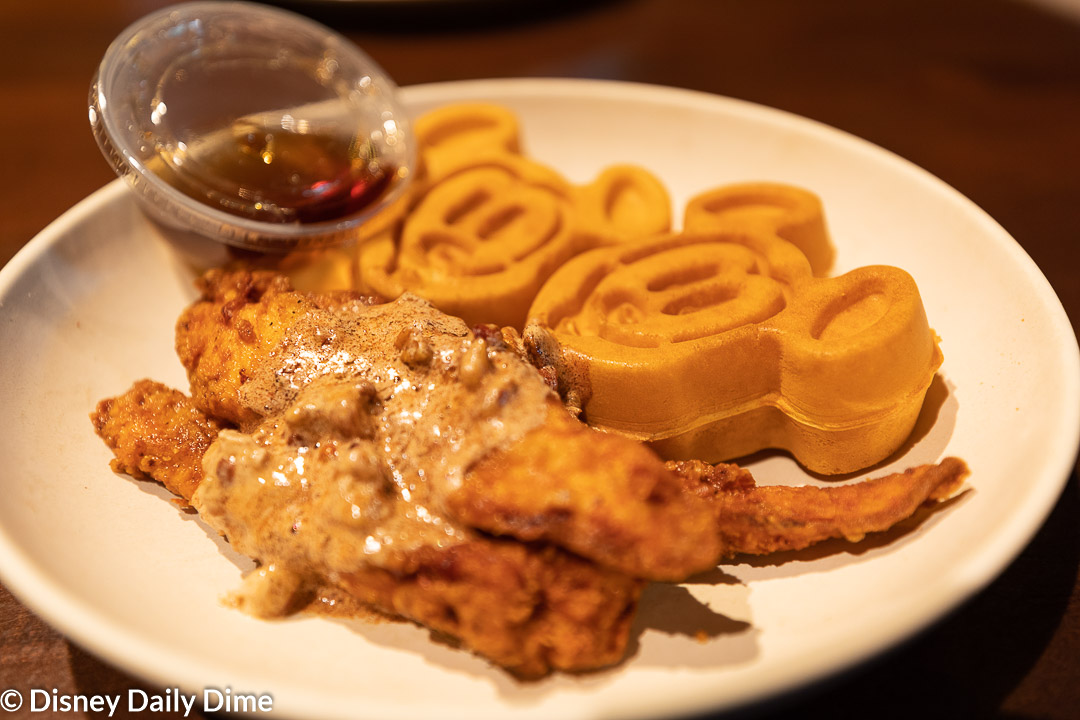 Roaring Fork Breakfast Review
For one breakfast, I ordered the chicken and waffles.  As you can see, it features the well-known Mickey shaped Waffles, which were tasty as always.  However, the real star here to me was the chicken, which took me by surprise.  Two breaded chicken strips, covered in a healthy amount of pecan butter made this chicken fabulous.  When I took a bite with the chicken, waffles and syrup, the mixture of salty and sweet was a perfection.  I devoured this dish in record time and wished I could have a second helping.  As a side note, this item is available for dinner at Roaring Fork too.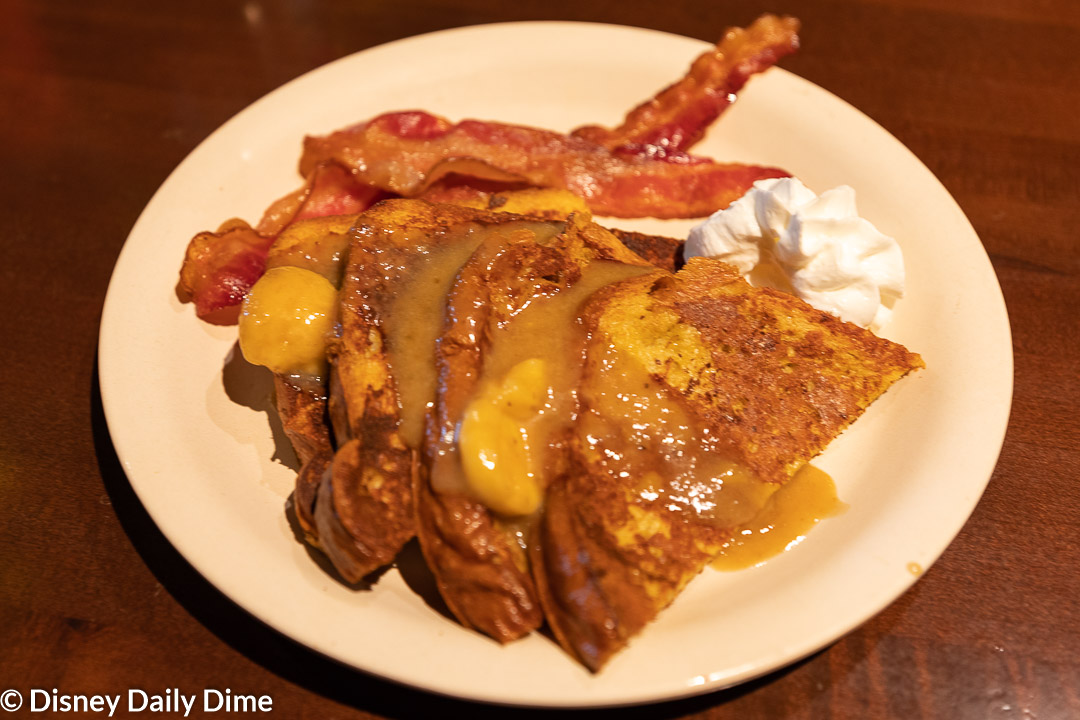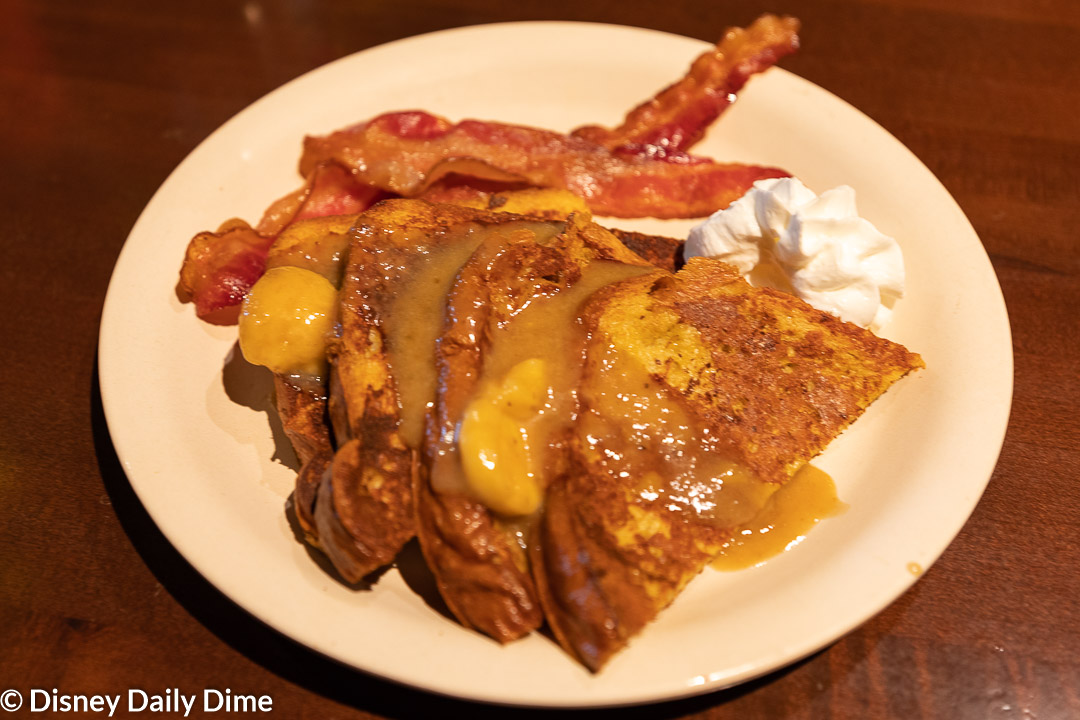 Next up, Elsa had the Bananas Foster French Toast.  The French Toast part of the meal, was just as you would expect: soft warm bread, cooked to a delicate crisp on the outside.  The inclusion of bananas foster sauce on it, just sent the meal over the top.  That is, if you like the flavor of Bananas Foster.  Elsa loved it and ate her whole plate, which in fairness isn't usually hard when you have a great dish like this.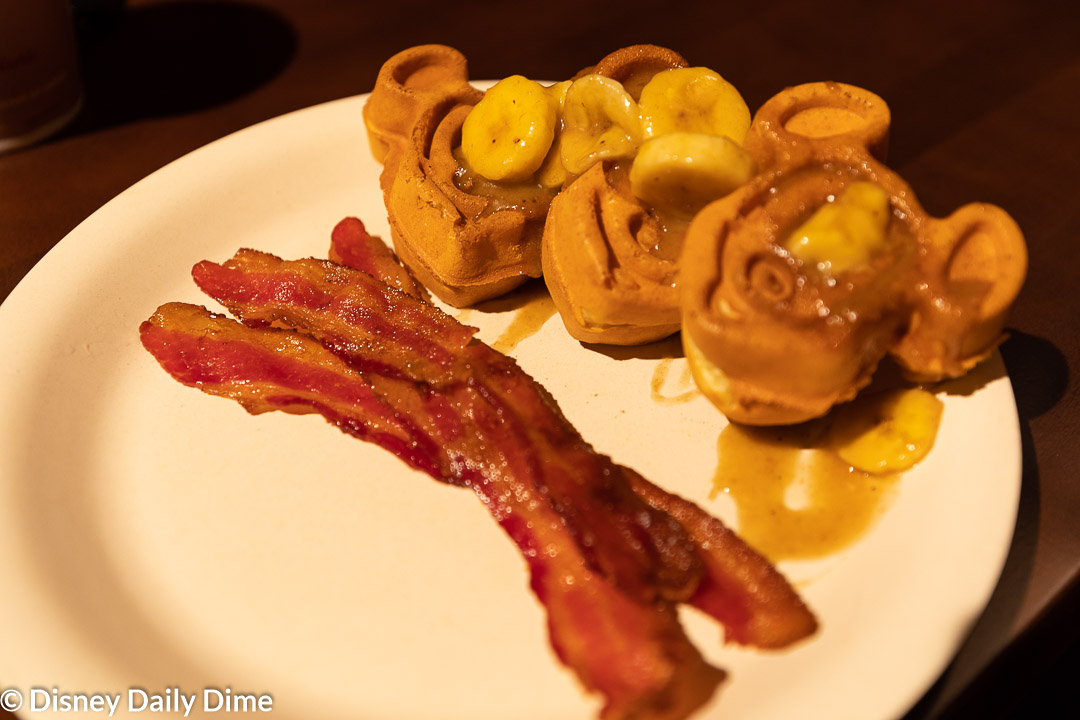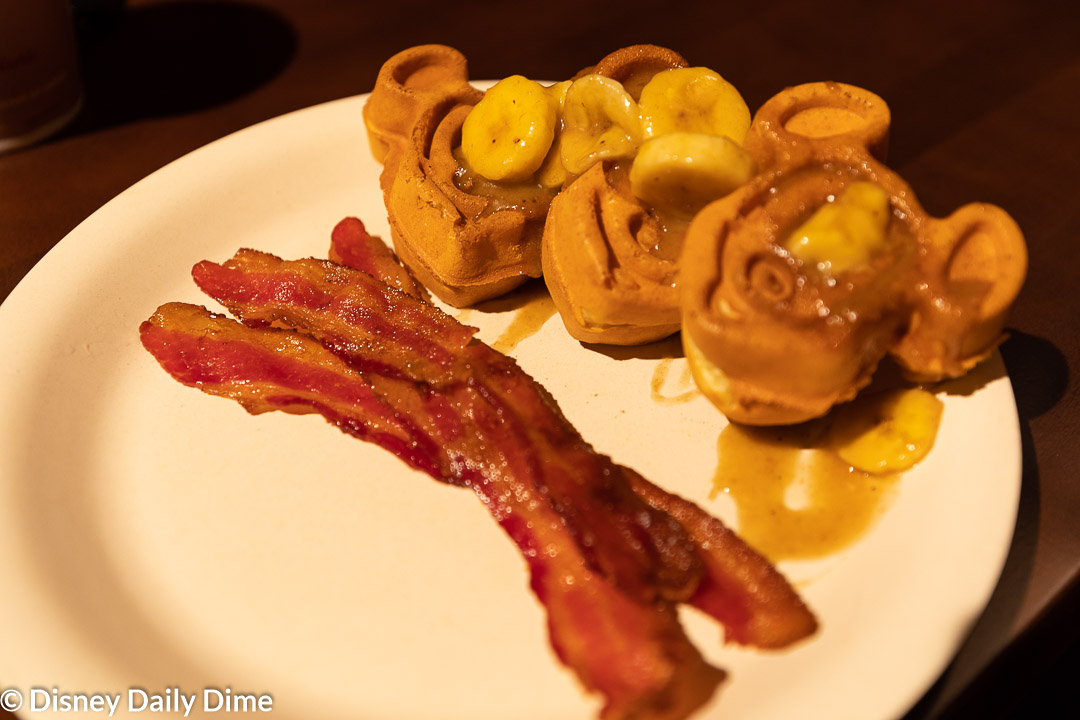 On a different day, I ordered the Loaded Mickey Waffles.  They normally come with strawberry sauce, chocolate-chips, bananas foster sauce, caramel sauce, chocolate syrup and whipped cream.  That had a bit too much going on for me, so I ordered it with just the banana foster sauce.  The waffles were good, but just like Elsa, I loved the sauce.  I wonder where she gets that from?!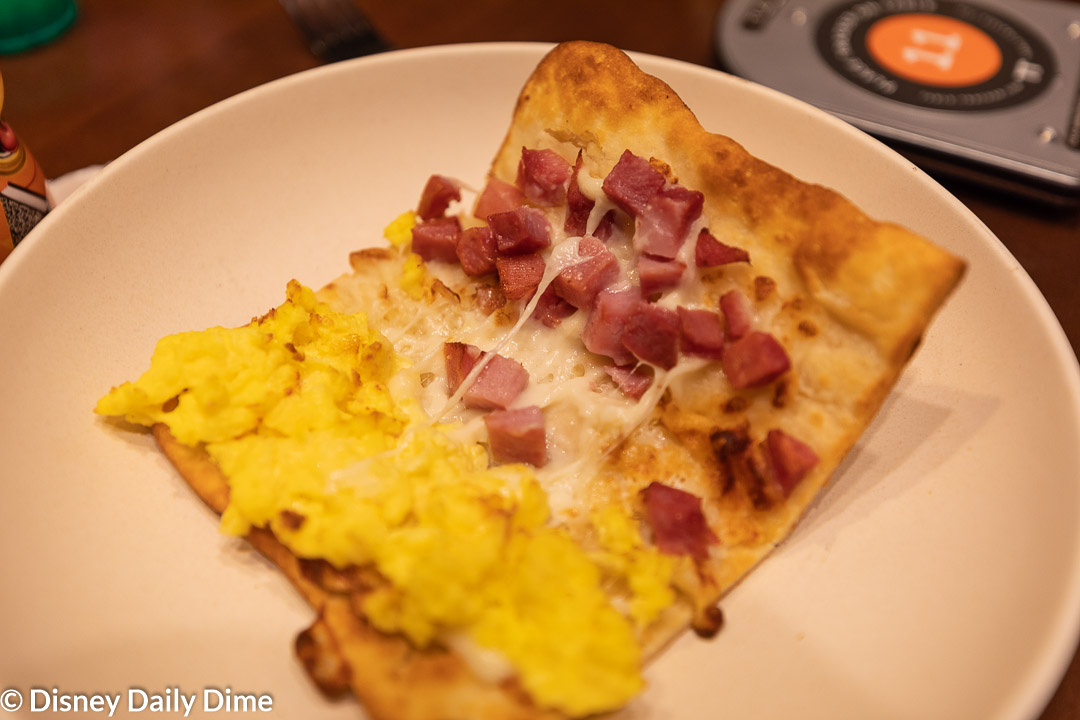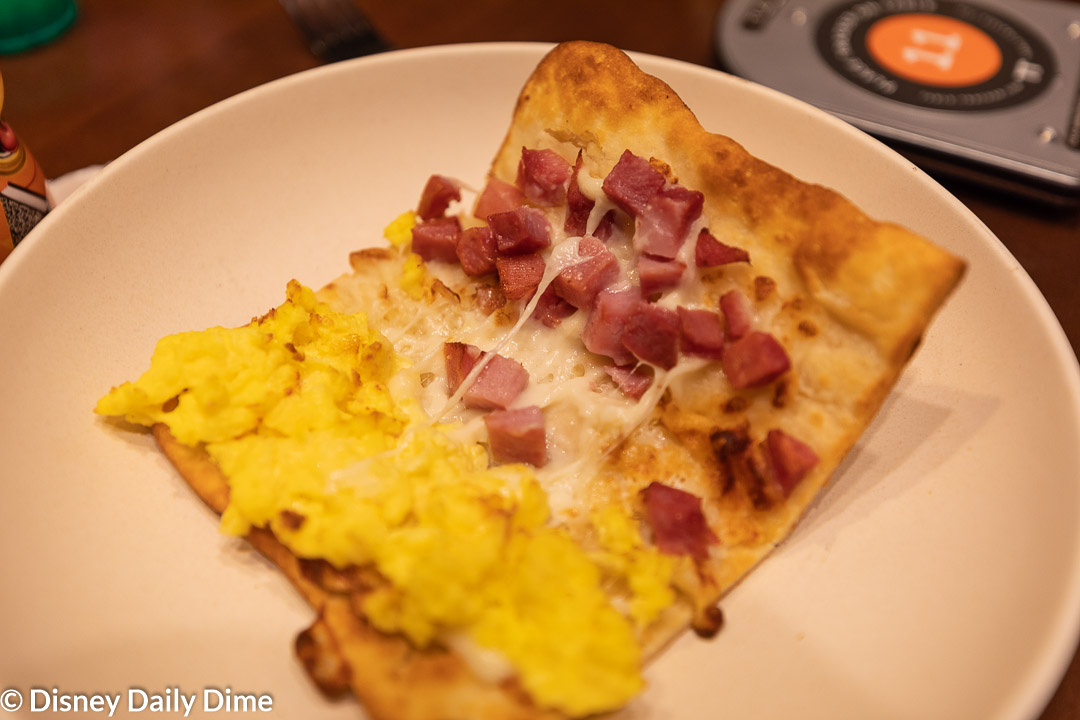 For one of her breakfasts, Anna ordered the Saddlebag Sandwich.  It's a simple, yet effective and delicious combination of ham, scrambled eggs and cheddar cheese.  It's actually a variation of the breakfast flatbread, just without the gravy.  While Anna originally ordered this, she decided she didn't like it.  Just too adventurous.  Bad for her, but good for me, because this was another really good item.  The ham and eggs worked together like…well, ham and eggs.  The flatbread was surprisingly good, with a nice toasted crunch to the outside and wonderfully soft inside.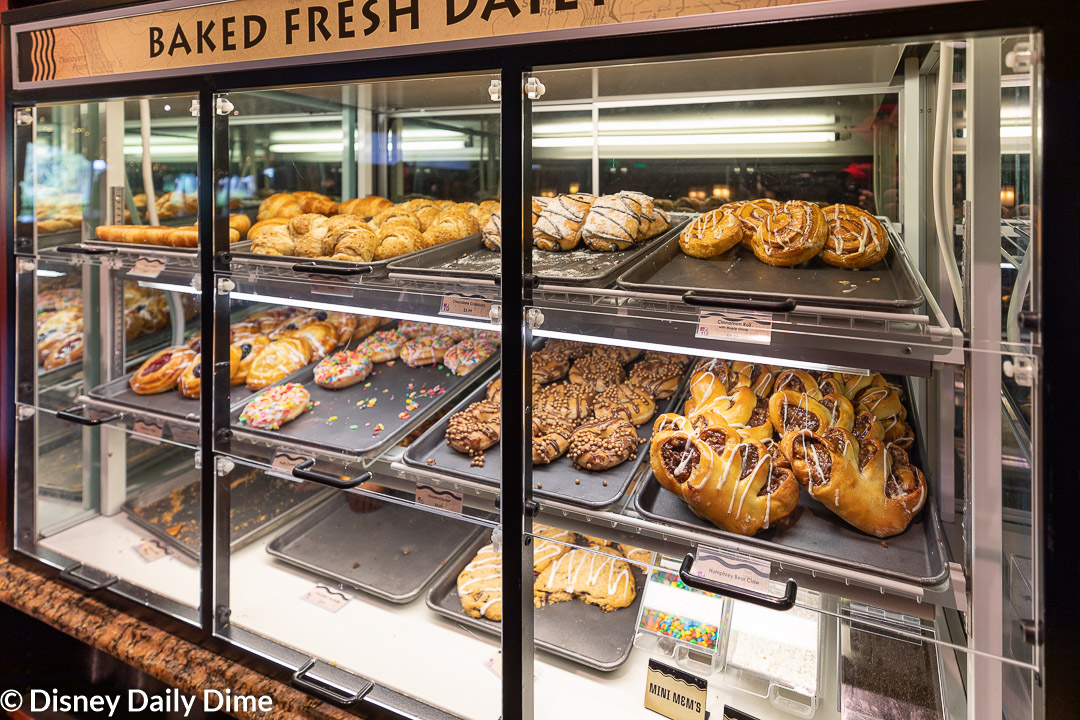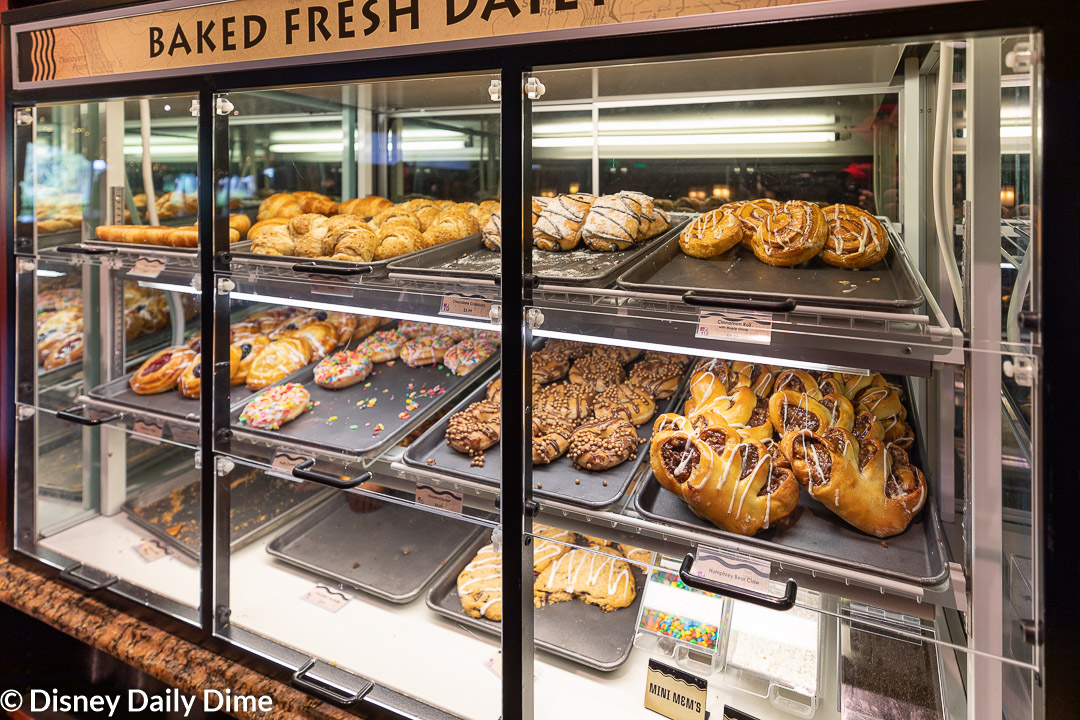 Not pictured here are a couple of pastries that the girls picked out for breakfast.  The sign says baked fresh daily, but I don't think they actually bake them at Roaring Fork, which is fine for Disney counter service dining.  I'd characterize the pastries as fine, but they aren't anything you're going to remember.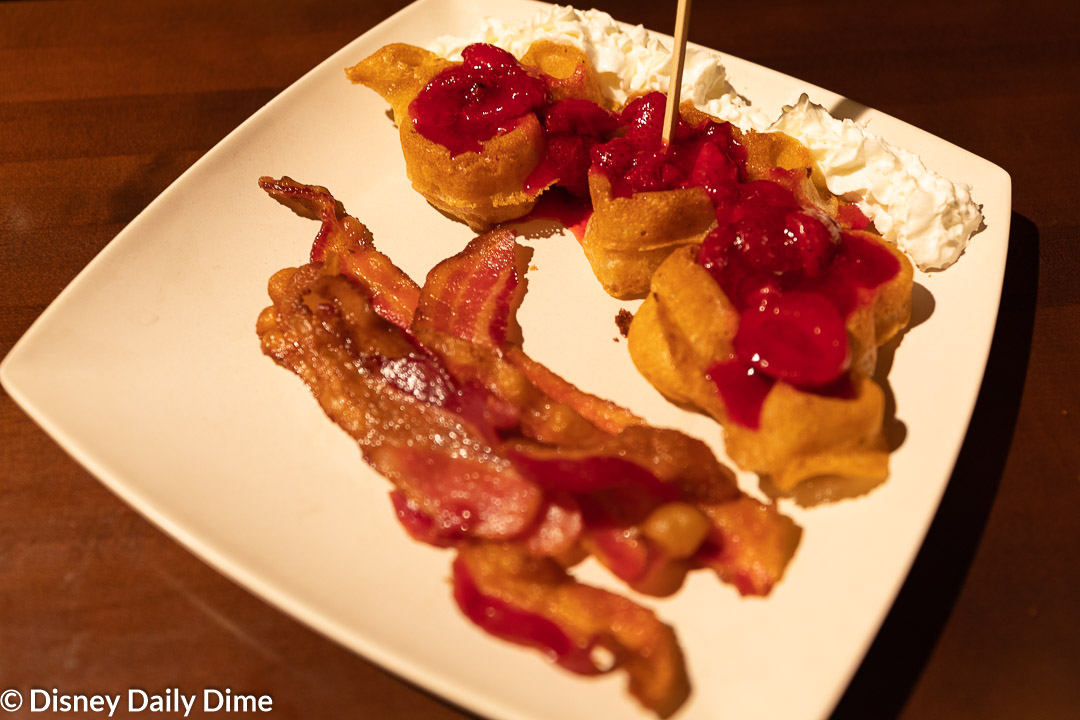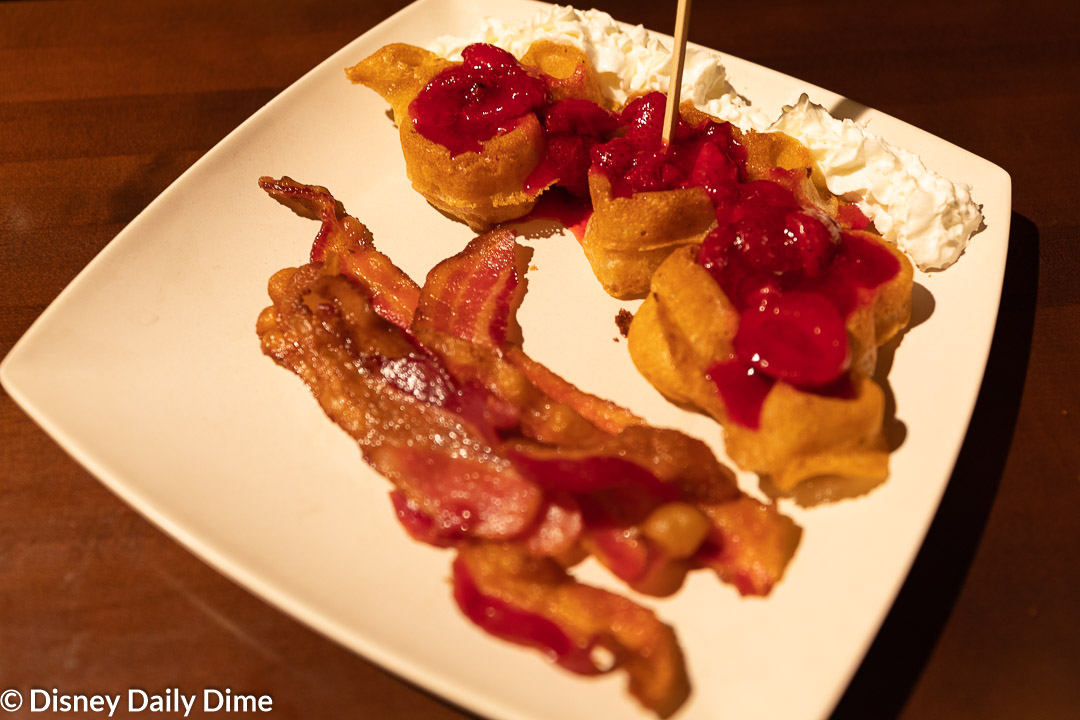 Carla ordered gluten free at Roaring fork, as per usual.  For her gluten free breakfast, she had the usual gluten free Mickey Waffles.  She requested the bananas foster sauce but was served strawberry sauce.  It wasn't clear if this was an error in the kitchen or if they determined the bananas foster sauce was not gluten free.  She enjoyed them greatly and was glad she didn't have a recurrence of her experience with undercooked gluten free Mickey Waffles, like she has the Bon Voyage Adventure Breakfast.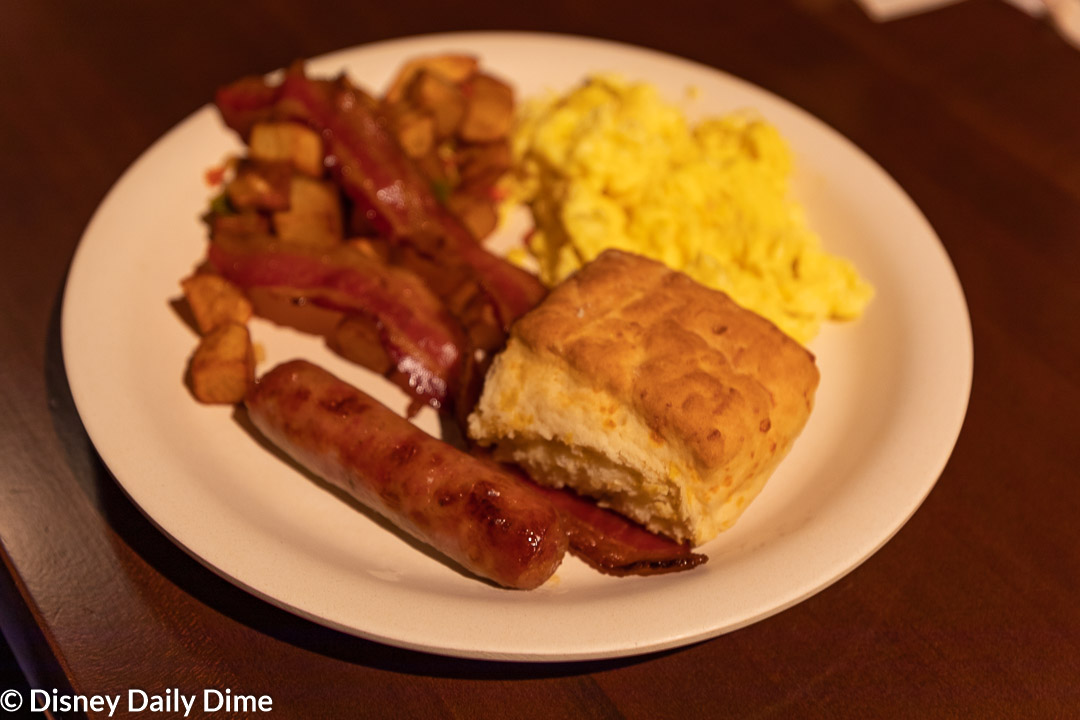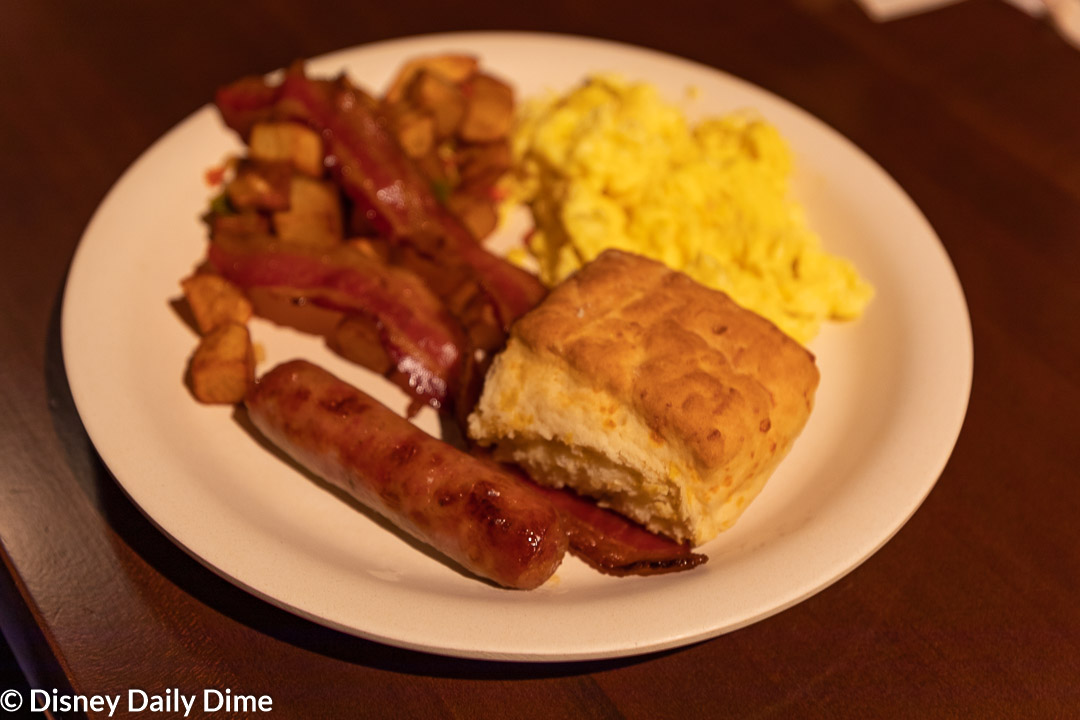 The last thing our party had was the Roaring Breakfast Platter.  The was ordered by Carla's dad.  As you might be able to tell from the picture, it was a basic platter featuring scrambled eggs, potato hash, sausage, bacon and a cheddar biscuit.  It wasn't anything to write home about and for the same price as the chicken and waffles, we'd order that instead of the platter.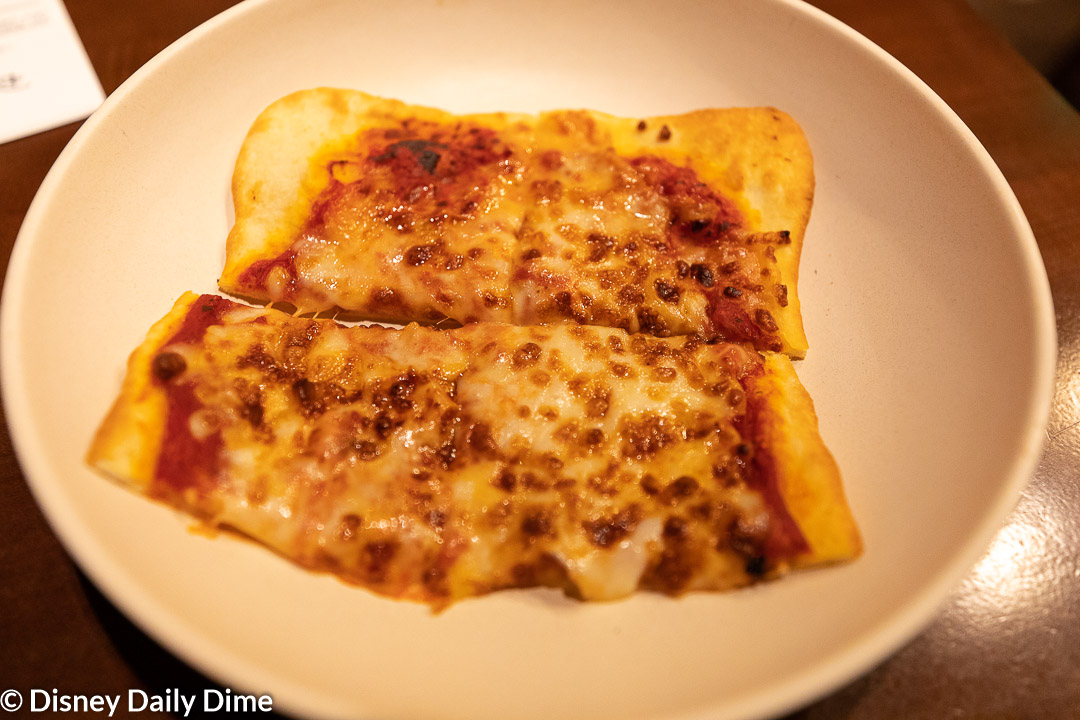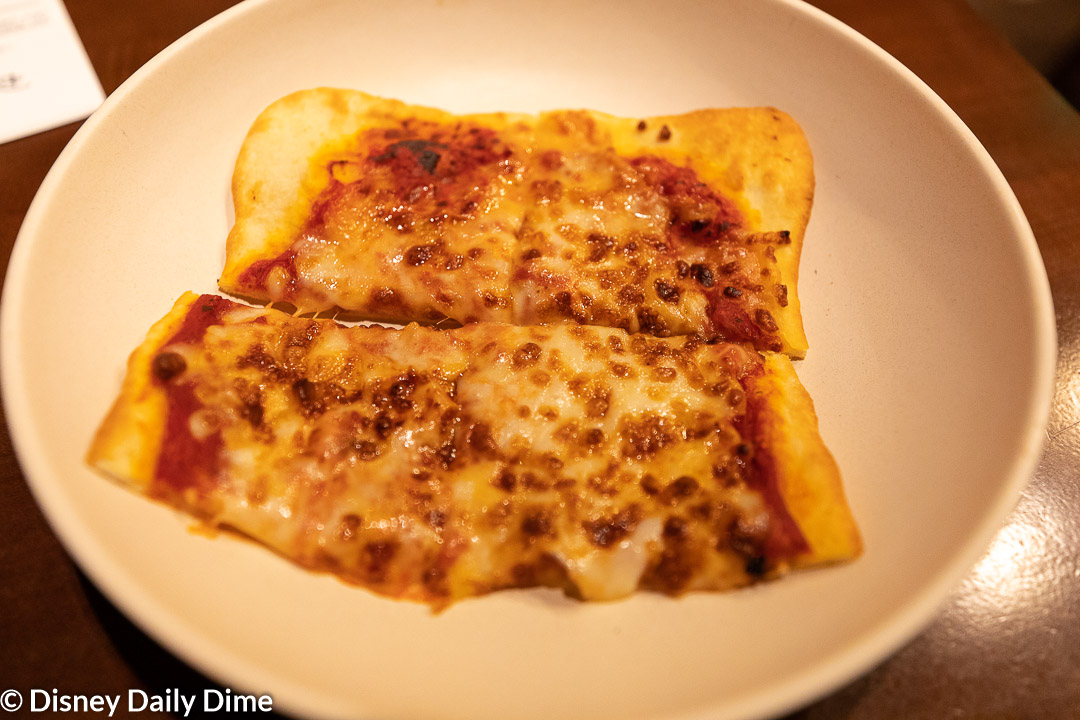 Roaring Fork Lunch/Dinner Review
When it came to having lunch/dinner at Roaring Fork at Disney World, we only have one stop in here.  While we aren't as high on this meal as we were on breakfast, it was still good.
The only kids' meal that was ordered during dinner was the pepperoni flatbread, sans the pepperoni.  Cheese pizza, a kid staple at Disney World or at home!  We were relatively pleased to see it was a nice flatbread, as opposed to some of the puffy pizza you get an many Disney counter service restaurants.  The flatbread was cooked just how you would want it with a crisp crust.  The kids really enjoyed the pizza.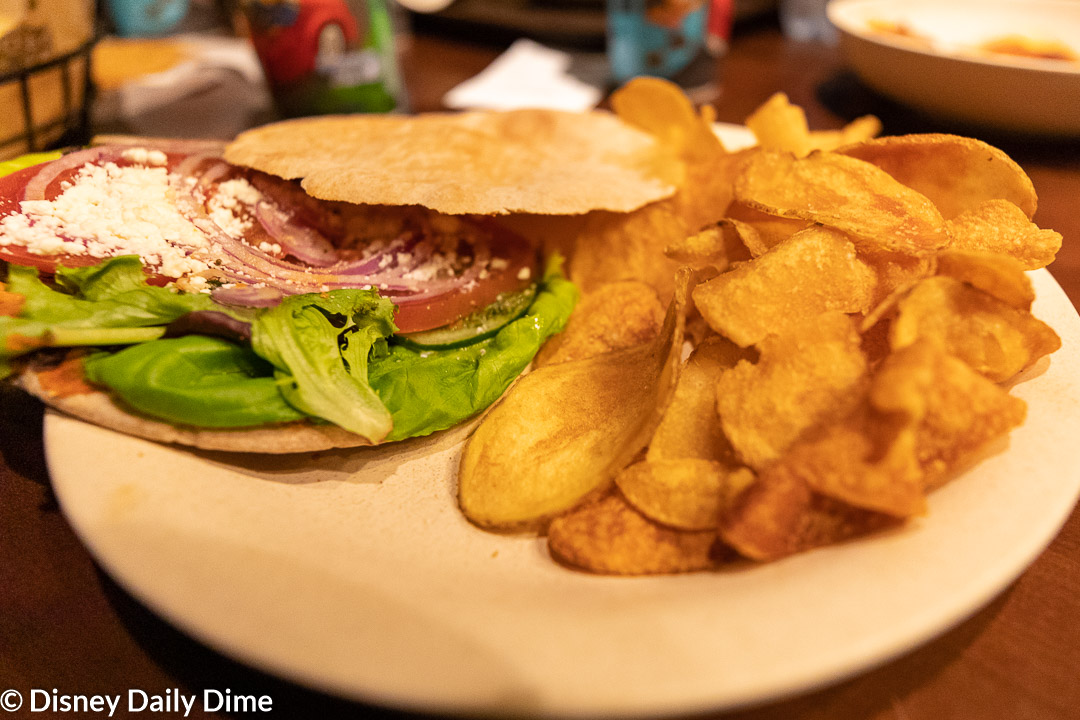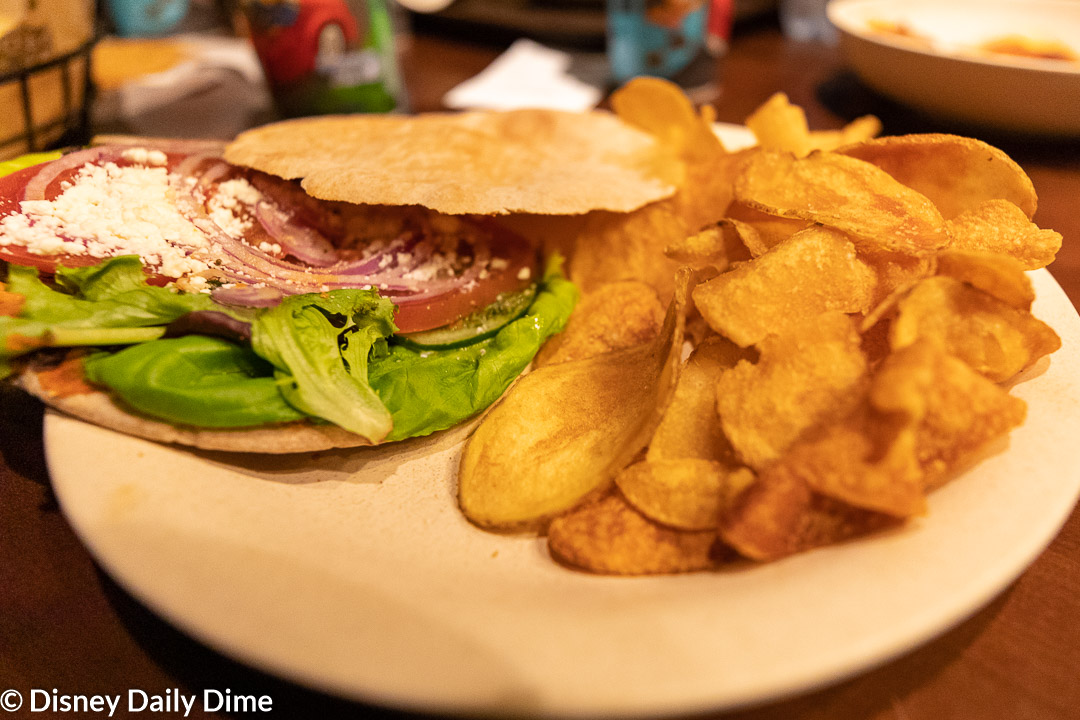 One of our friends ordered one of the vegetarian options on the menu.  The vegetarian pita features field greens, pepper hummus, cucumbers, tomatoes, onions and feta cheese, tucked inside a whole wheat pita.  She found the pita very good, with the vegetable fresh and crisp.  The chips were actually also very good in her opinion.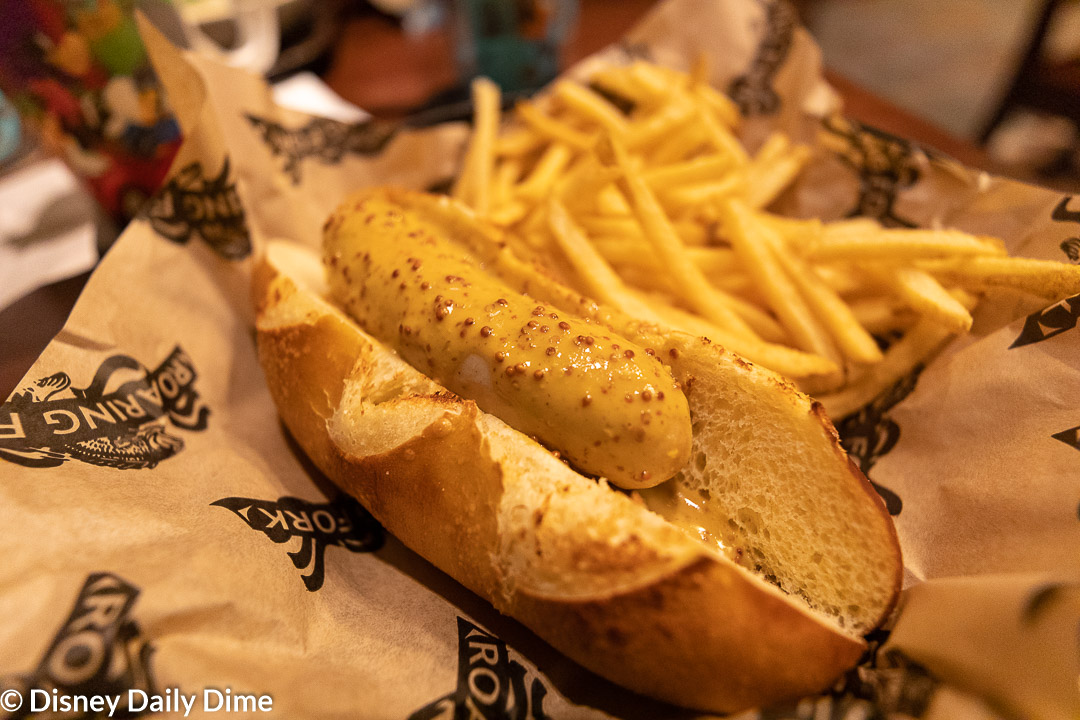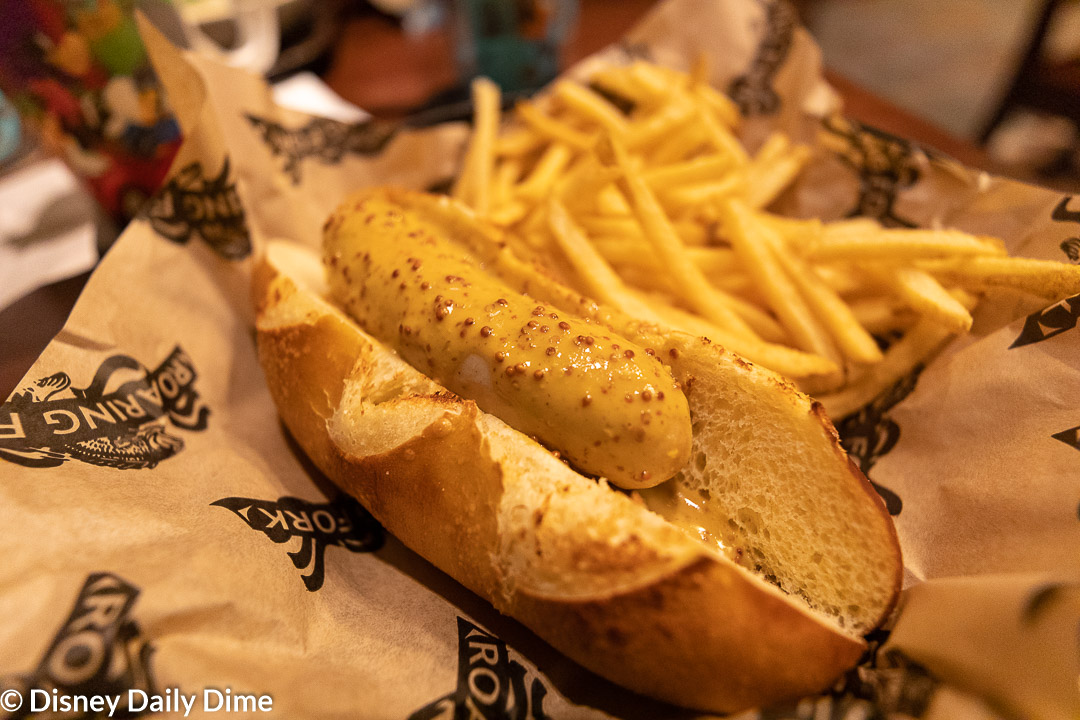 For my dinner, I saw something that I just couldn't resist, the bratwurst sausage.  A bratwurst with coarse grain mustard on a pretzel roll was just calling me.  I'm a huge mustard fan and found the coarse grain mustard was a great touch.  The pretzel roll was better than I expected, but I do wish it was a little less overwhelming.  The bread to bratwurst ratio was slightly off kilter here.  Not a big deal, but something I think they could scale down.  Disney's always looking to save money, right?  Give me less bread here.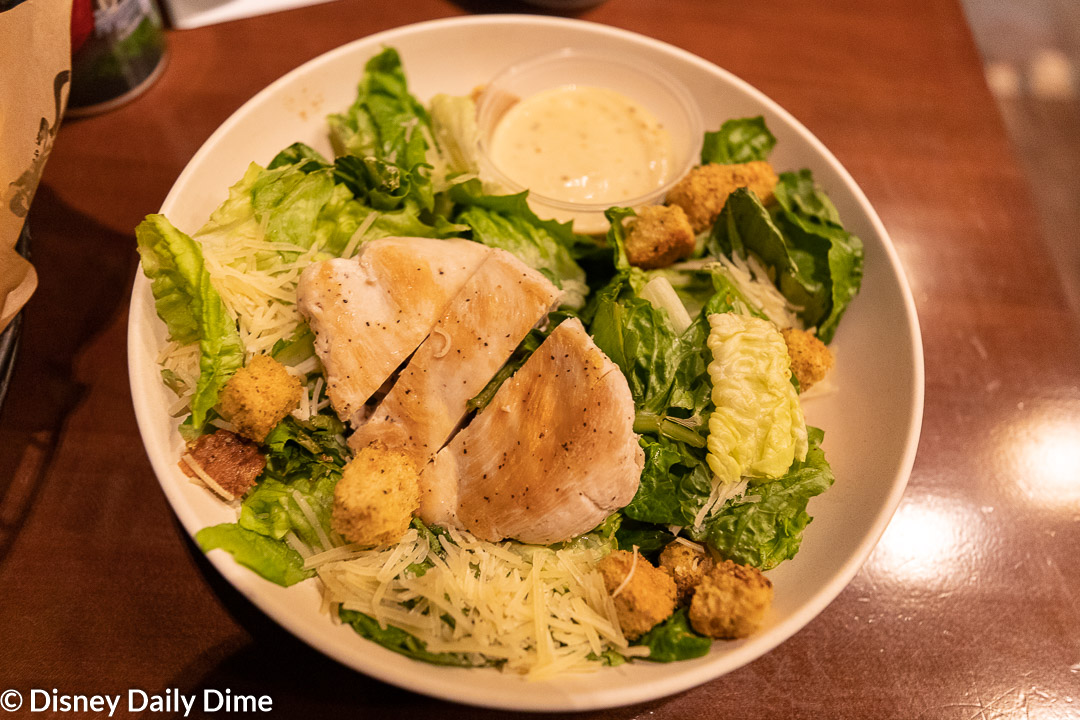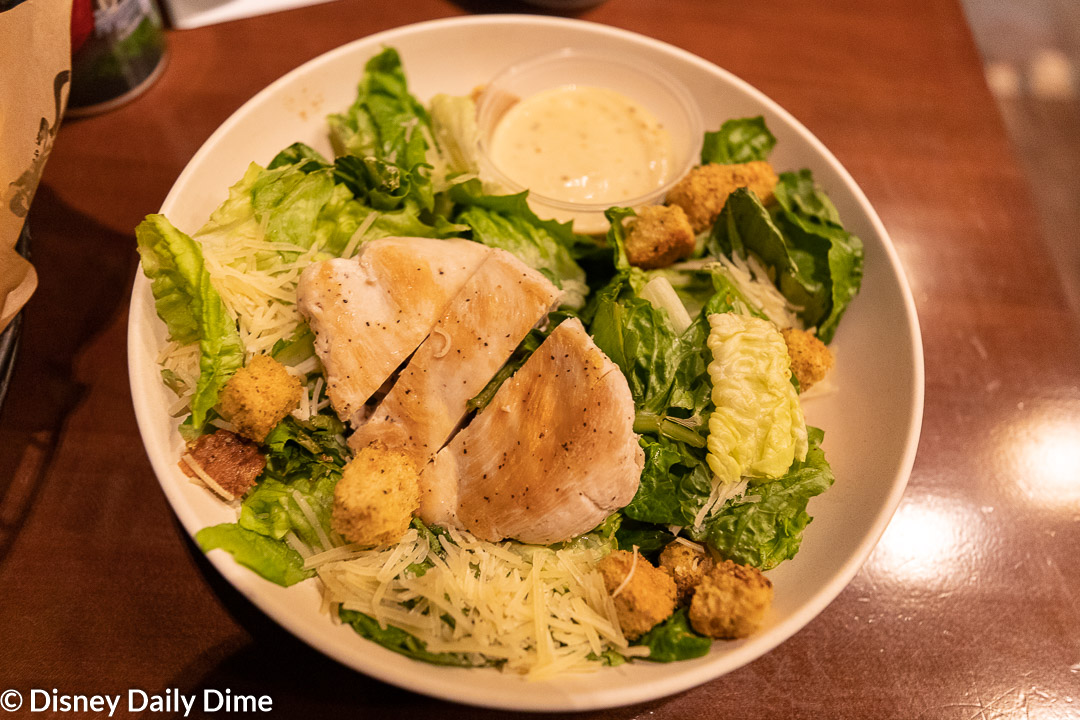 One of our other friends went light, since we were eating fairly late.  The Caesar salad with chicken was a basic salad.  There wasn't anything overly inventive here.  If you want something light, it will work in a pinch.  However, at a price that is within 50 cents of most other items on menu, we think there are better choices for your Disney dollars.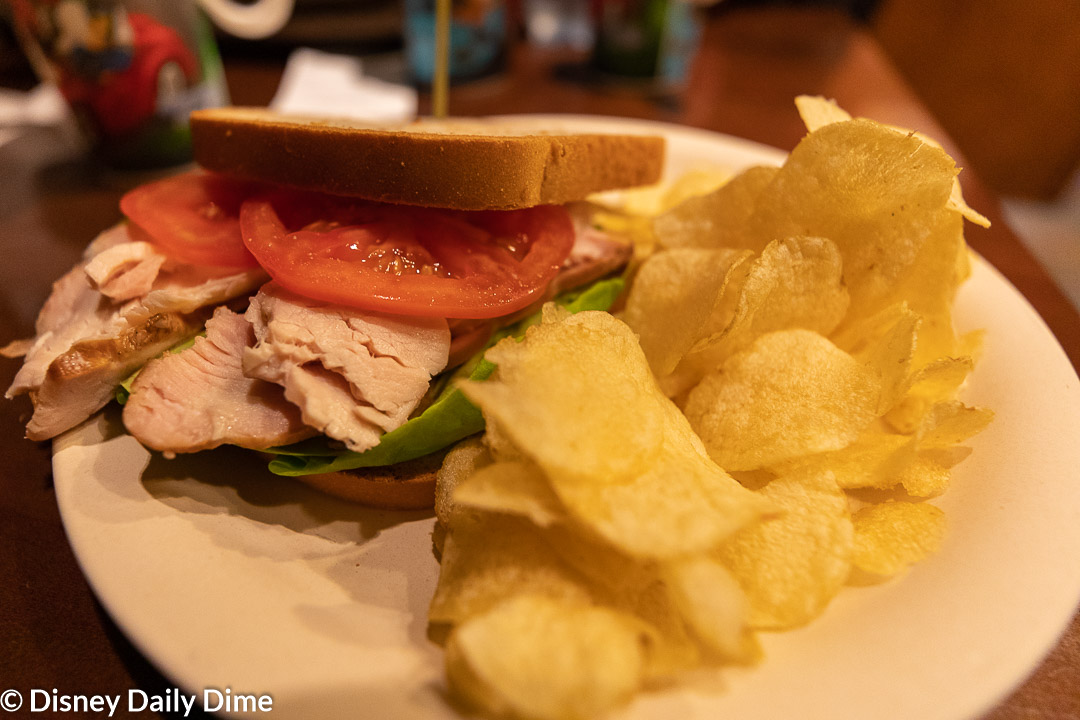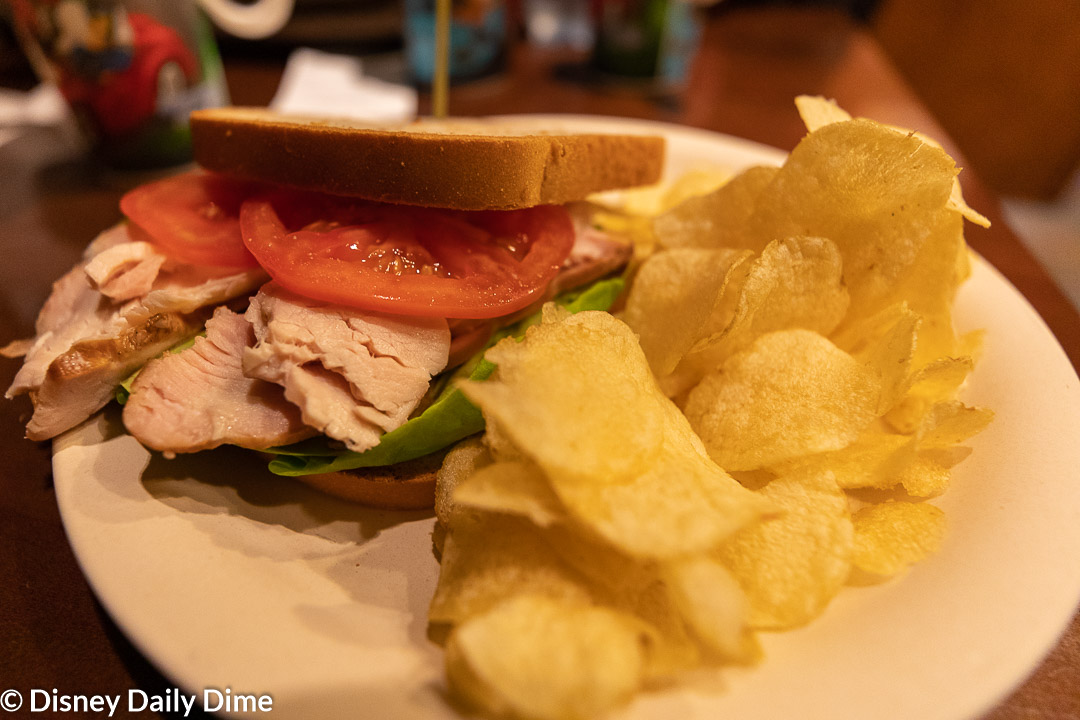 For our last meal, we'll cover Carla's gluten free turkey sandwich.  For lunch and dinner, Carla found the gluten free menu at Roaring Fork fairly limited and without great options.  The sandwich features tomato, bibb lettuce, and chipotle mayonnaise, all served on gluten free bread.  Carla was actually pretty disappointed with the sandwich.  For something with chipotle mayo and turkey that is supposed to be smoked in house, she didn't find much flavor in the sandwich.  Overall her gluten free dining experience was not great at Roaring Fork for this meal.
We have one thing we want to mention about the Roaring Fork lunch/dinner menu.  There are actually several items that are other bloggers have found to be excellent here.  Things like the Gourmet Grilled Cheese and the 10-Hour Smoked Pulled Pork Sandwich have received largely positive reviews.  Unfortunately we didn't get these items, as we were eating dinner pretty late and they are heavier meals.
Roaring Fork Overall Impressions
When you go to Roaring Fork at Disney's Wilderness Lodge, we think you'll find a counter service restaurant that has some really good options.  Much better than you may find at other counter service locations, but as this is a deluxe resort, you kind of expect better.
There's no question that breakfast was the big hit amongst our group.  Both adults and kids found things they enjoyed greatly.  Having a breakfast here before you head out to the parks is something we think you absolutely must do at least one time if you are staying at Wilderness Lodge.  Honestly, even if you aren't staying here, I'd suggest you check it out if the resort is a place you can find time to swing by.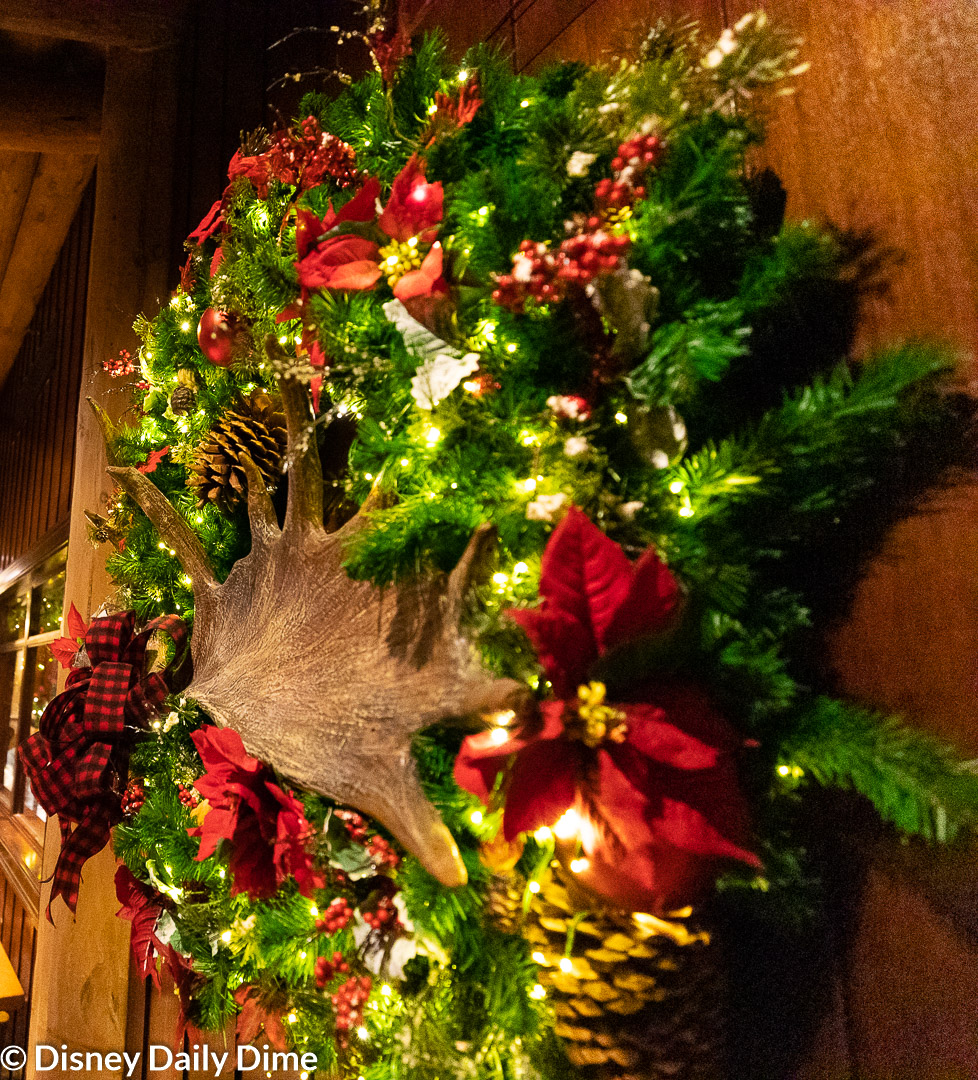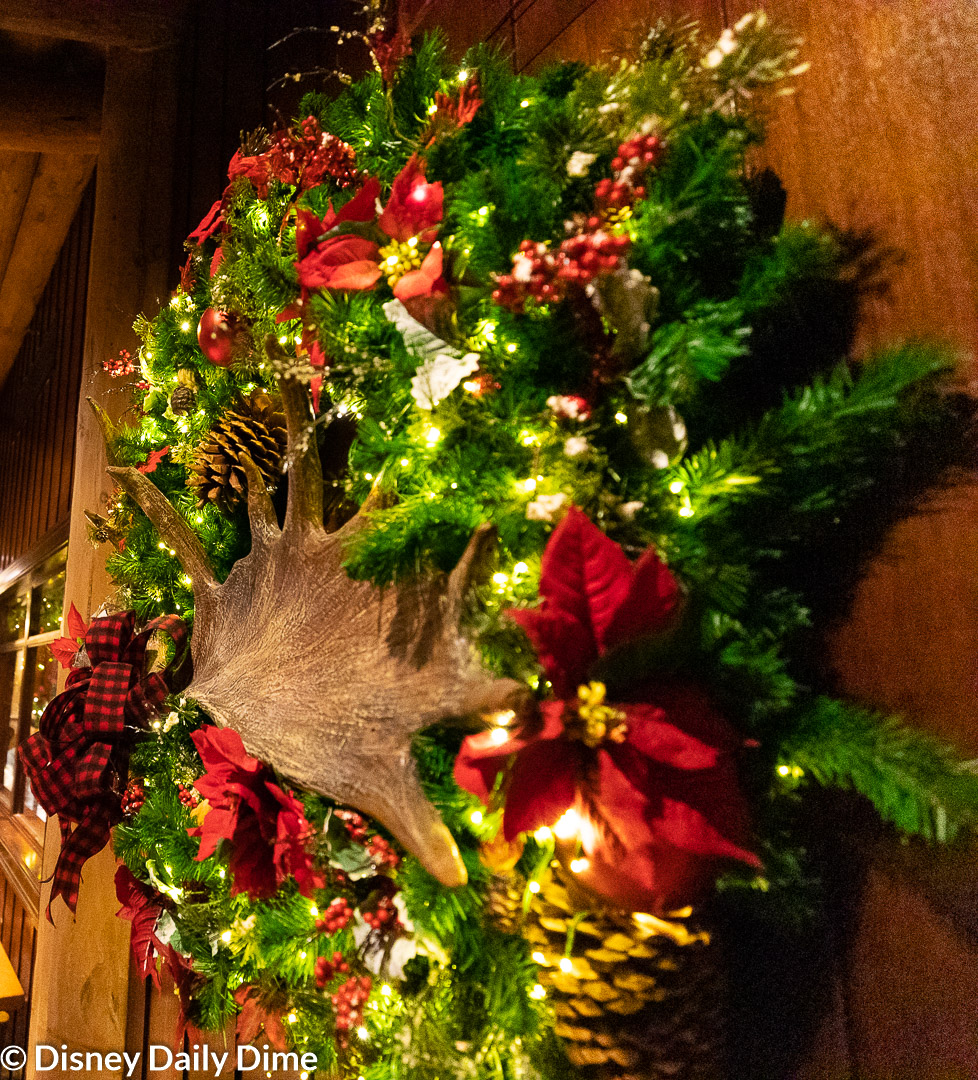 Dinner has some good options that can fill you up, at a reasonable price.  While it wasn't as good as breakfast, we'd still recommend it if you need a cost-effective meal and convenience while at Disney's Wilderness Lodge.
For both meals, the options for kids are somewhat limited.  Anna and Elsa found things they liked, but we'd say they picked the best looking and more unique options on the menu.  In addition to the pizza, the dinner menu has chicken nuggets and mac and cheese.  Fine meals for kids, but nothing overly interesting.
Wrapping Up
With that, we'll wrap up our Roaring Fork review.  If you're looking for a good counter service location at around the Magic Kingdom are, we think this is a place worth checking out.
If you're looking for more dining options, make sure you check out our main Disney World restaurant reviews page.  You'll find links to every restaurant we have reviewed there.
If our Roaring Fork review was helpful, or at least entertaining, please like and share this with your friends or anyone you think will find it useful.  Just use the sharing buttons on the page.  We always appreciate it when you share our posts, as it allows us to spread the word about our blog and hopefully allows us to help others.