During a stay at Wilderness Lodge, we were able to sleep in one of the bunk bed rooms.  It was our first time staying in any room that features a bunk bed at Disney World.  We thought it would be helpful to summarize our time in the Wilderness Lodge bunk bed room as there were some definite pros to it that we didn't anticipate.  There are also some things you should consider before booking that may be negatives depending on your family.
I'd like to say we had this tremendous plan that was all thought out, but it wasn't.  We just lucked into this with an unexpected upgrade.  As part of our Wilderness Lodge bunk bed room review, we'll have pictures of the room, our thoughts on it, and even a video of the Magic Kingdom fireworks show since we had a room facing that way!
Basics of the Wilderness Lodge Bunk Bed Room
Okay, before we get into some of the details of the Wilderness Lodge bunk bed room, we thought it would be good to cover some of the basics.
As you can see in the first picture of the post, the bunk bed room features a queen-sized bed and then a bunk bed, where the other queen-sized bed would normally be located.  Beyond that, the room is pretty much your standard layout.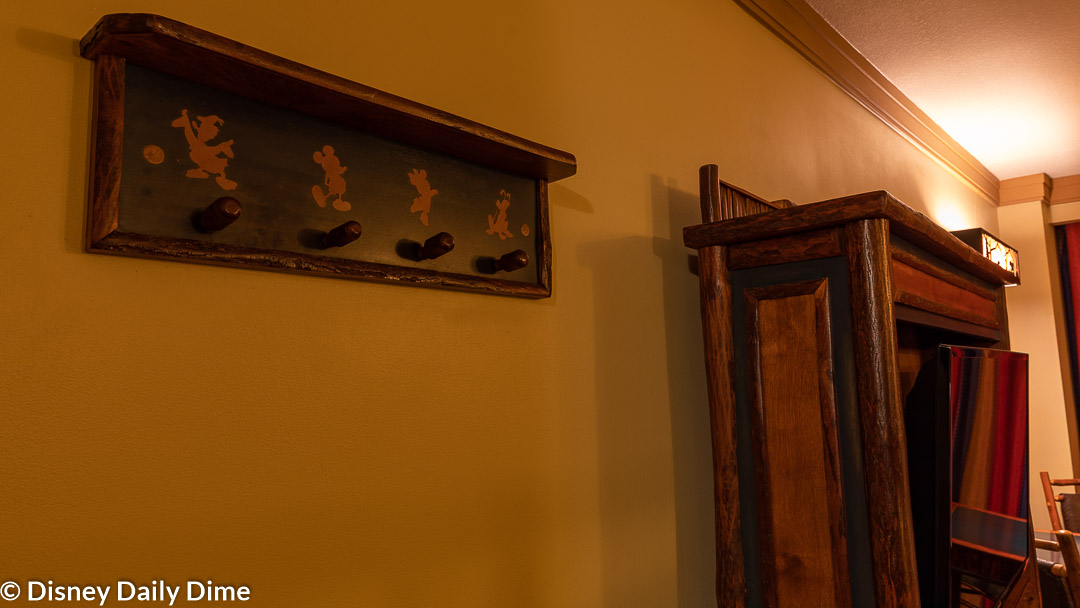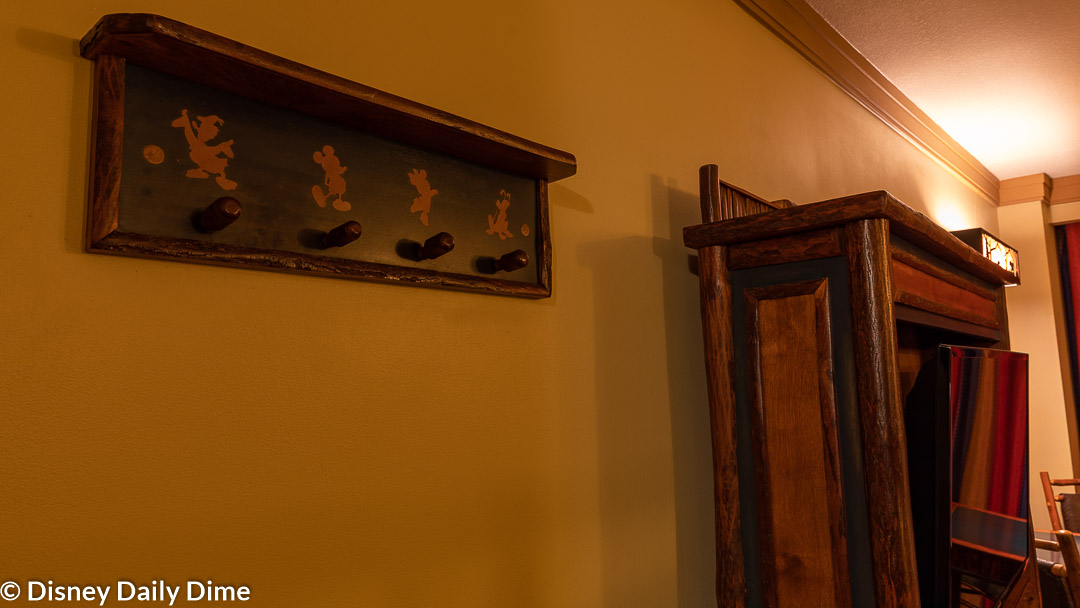 Most room sizes at the Wilderness Lodge are 344 square feet and the bunk bed room is no different.
The room features a basic setup for most deluxe resorts.  You'll find a mini fridge inside a cabinet with drawers above where we stored snacks.  The closet is a normal size and easily accommodated our clothes.  It also features a three-drawer dresser that we were able to fit a week's worth of clothes in.  There's also a small table with two chairs.
We will say that the desk and chairs were an adequate size for the room and allowed us to leave a bunch of our stuff on it, while still leaving room for my laptop when work called.
The Wilderness Lodge bunk bed rooms will run you somewhere in the range of $100 more per night than a standard room at the resort.  We've seen it as low as a $50 gap and as high as $120 per night.  Some of the gap is a function of view and less the bunk bed.  You'll want to look at prices for your specific dates on Disney's Wilderness Lodge website to get a better idea of pricing.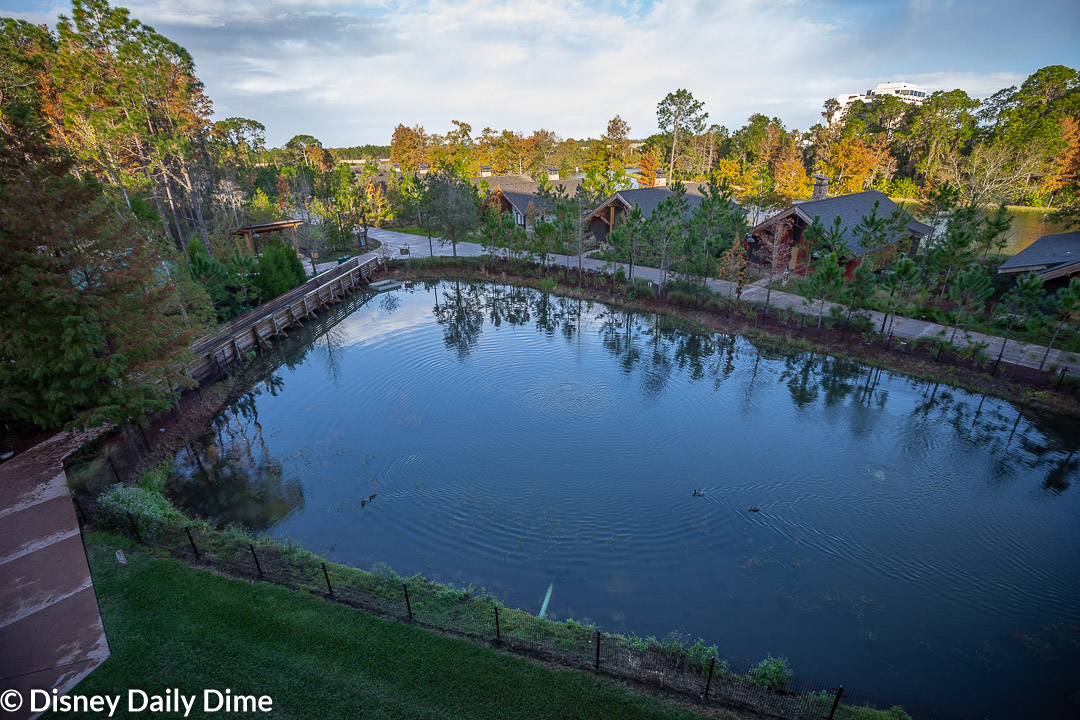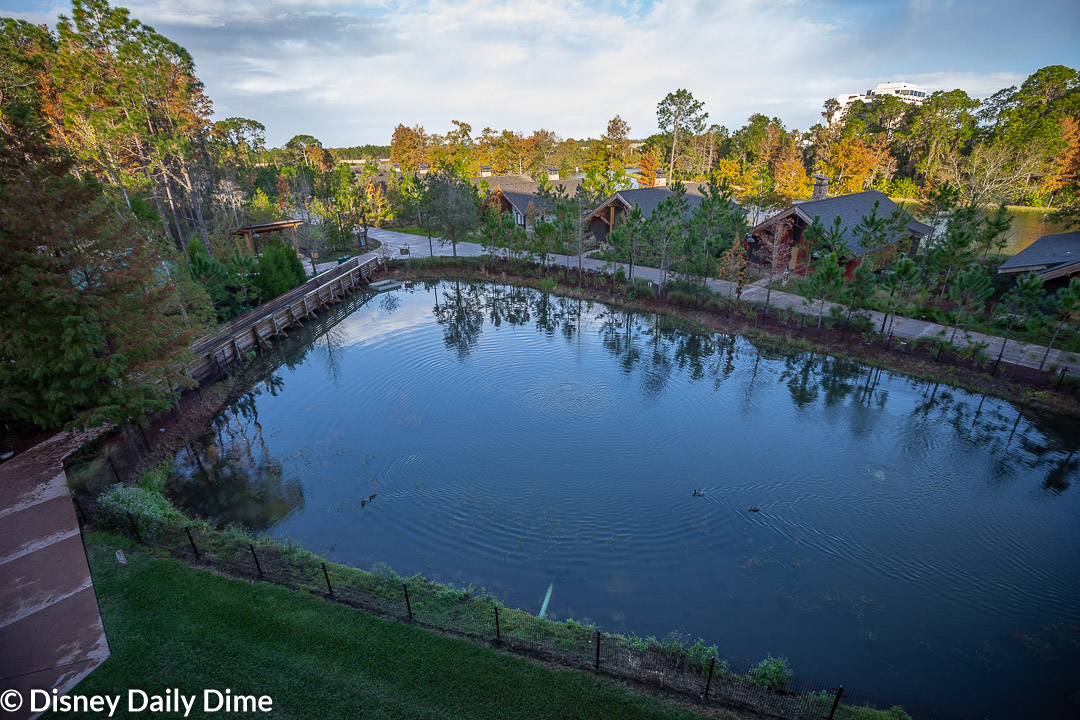 There are Two Views Available for the Bunk Bed Room
At Wilderness Lodge, the bunk bed rooms can be reserved with two different views.  You can either have a courtyard view or a nature view.  Both are options you can pick at time of booking.  Beyond that, it is a bit of a crap-shoot as to what those views look like.
If you go for the nature view room, there will be two options.  Option one is a view that looks towards the Magic Kingdom.  Not that you can see too much of the park.  As you can see in the photo above, you have to really squint to see Cinderella Castle peaking over the trees.  Your other nature view is from the opposite side of the building, where you will see more trees and greenery.  However, there is no "view" of Magic Kingdom.
You can request either of these views, however there is no guarantee you will get your choice.  If you do happen to score a view toward Magic Kingdom, you can watch the fireworks show at night from your room.  We took a video of the Christmas fireworks from our balcony.  You can see the video below.  Note you can't hear any of the music with the show.
For the courtyard view, you are going to have a view of the resort that looks out over the pool and other interior courtyard features of the resort.  One thing to note about the courtyard view.  The closer you are to the pool, the further you are from the lobby.  That makes you further from the bus depot, but closer to the boat dock for the Magic Kingdom boat.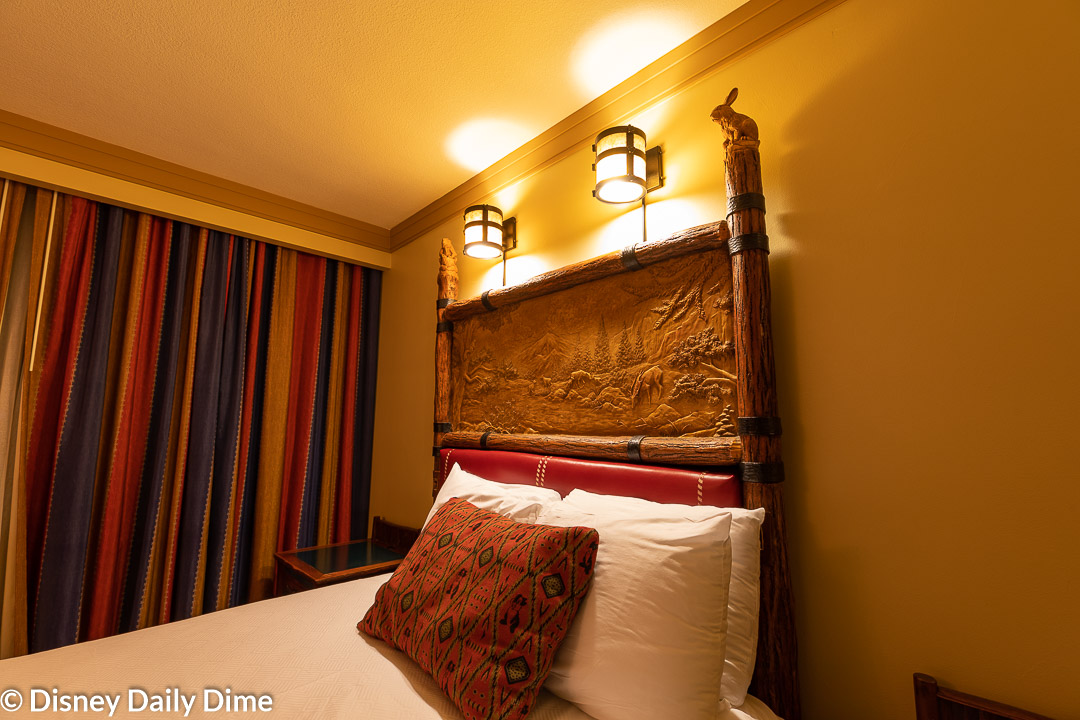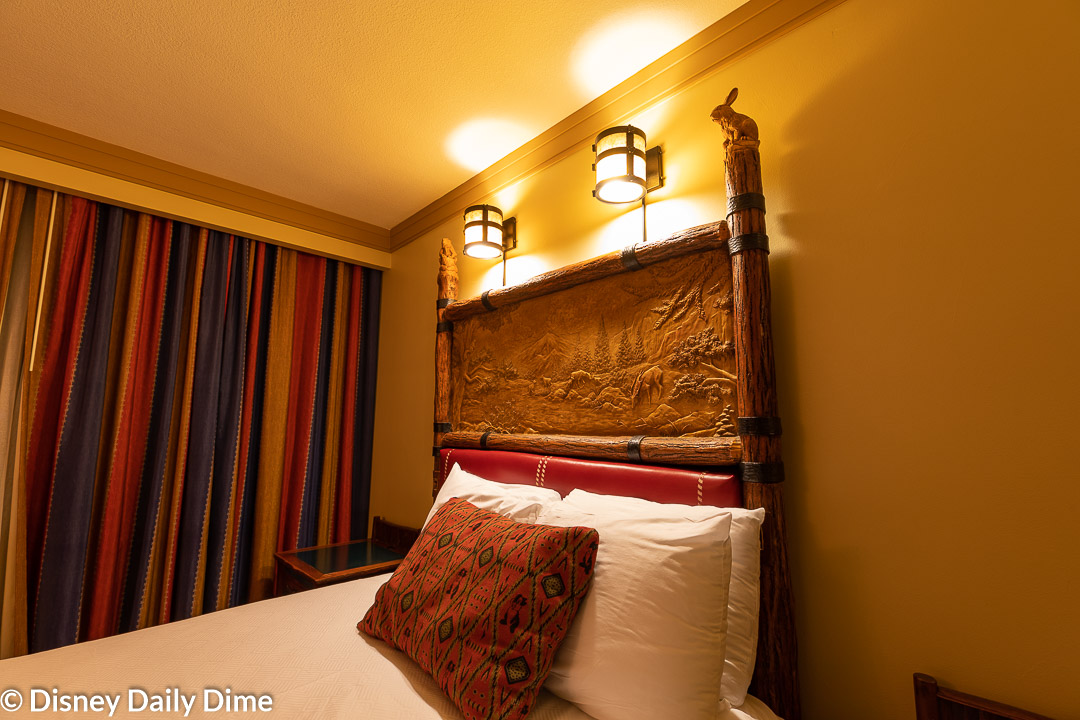 The Nature Theming of Wilderness Lodge Continues on Into the Bunk Bed Rooms
The Living Space
If you're not familiar with the resort and its theme, our Wilderness Lodge Resort review will fill you in.  In summary, the resort features a blend of National Park lodge, Pacific Northwest and western frontier themes.
This theme carries over into the bunk bed rooms where pretty much all the furniture is wood.  Rather than being smooth and fine, the wood is designed to have a more natural feel.  This is done by showing knots in the wood and bed posts that are not perfect.
The headboard of the queen bed has a nature scene "carved" into it that shows woodland animals.  There's also a nice touch on the posts of the bed.  They are topped by creatures that are carved into the top of the post.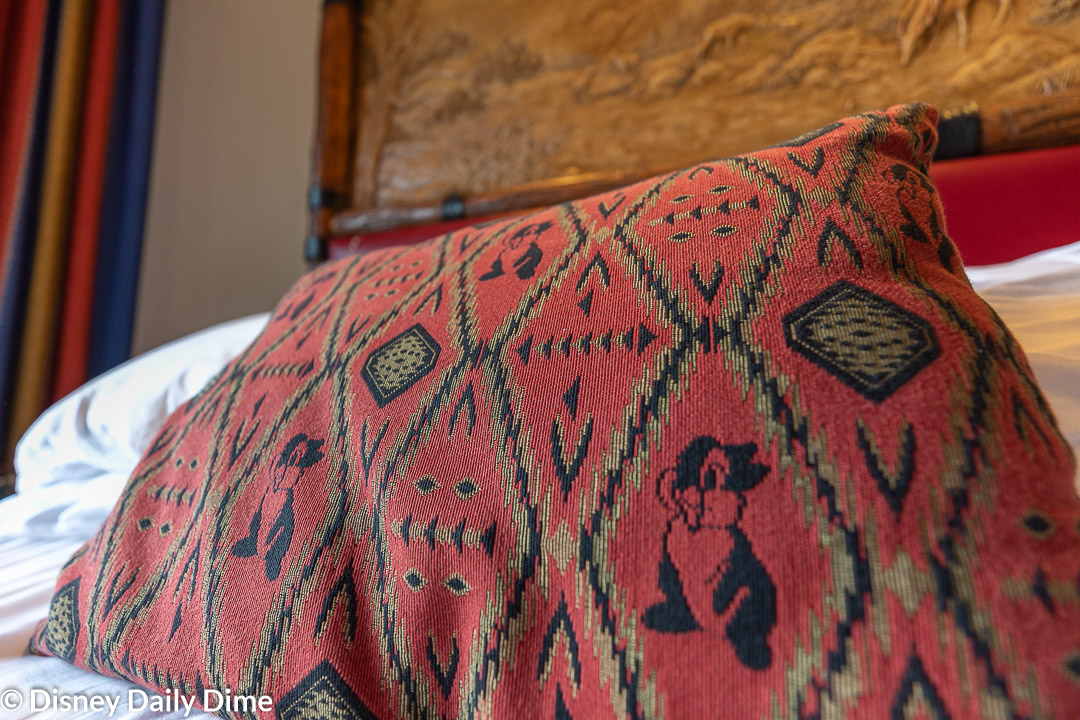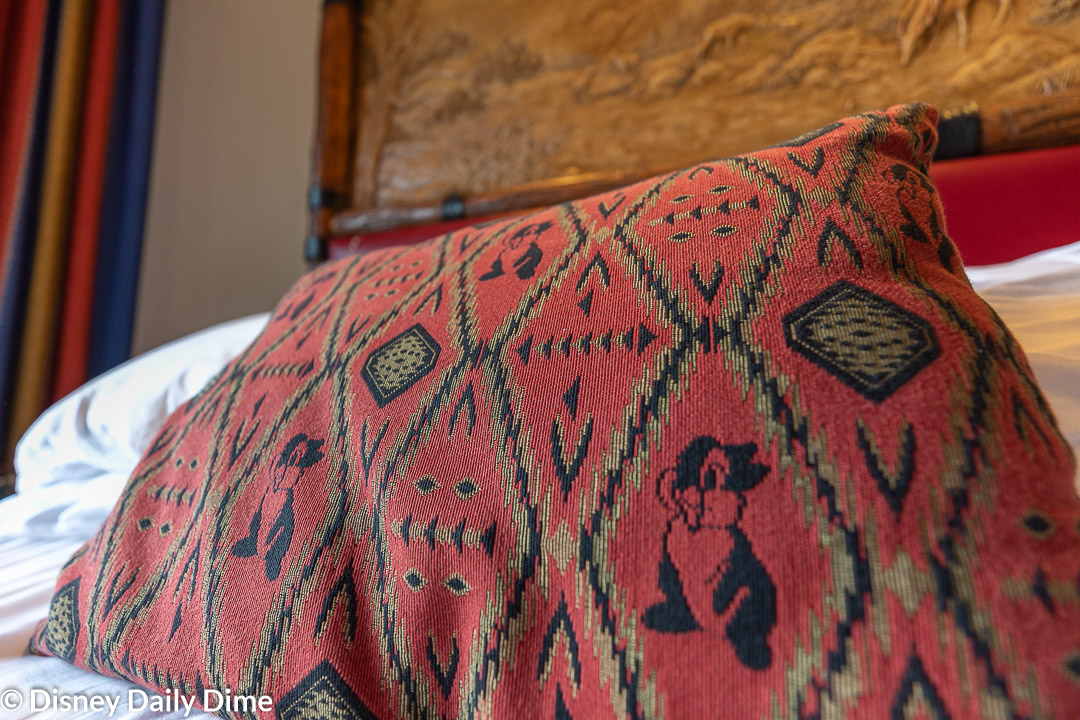 The bed linens have taken the approach that most of the Disney World Resorts have and gone with the minimalist white linens.  We've seen older pictures of these rooms where they used to have a more colorful comforter that somewhat tied into the theme of the room.  However, they were removed during a refurbishment of the resort a few years ago.
What the bed does feature is this singular red pillow, which Carla adored.  Why would you adore a pillow?  Because if you look closely, you'll find Thumper on it.  A small touch I know but something she enjoyed.
You'll notice that light fixtures continue the theming.  We especially liked the lights on the bunk bed as they featured more nature scenes that mimicked some of the light design elements in the resort's common areas.  The other thing we like was that there is a light for each level of the bunk bed.  This allowed Anna and Elsa to leave the lights on until they were ready to go to bed and not disturb the other girl.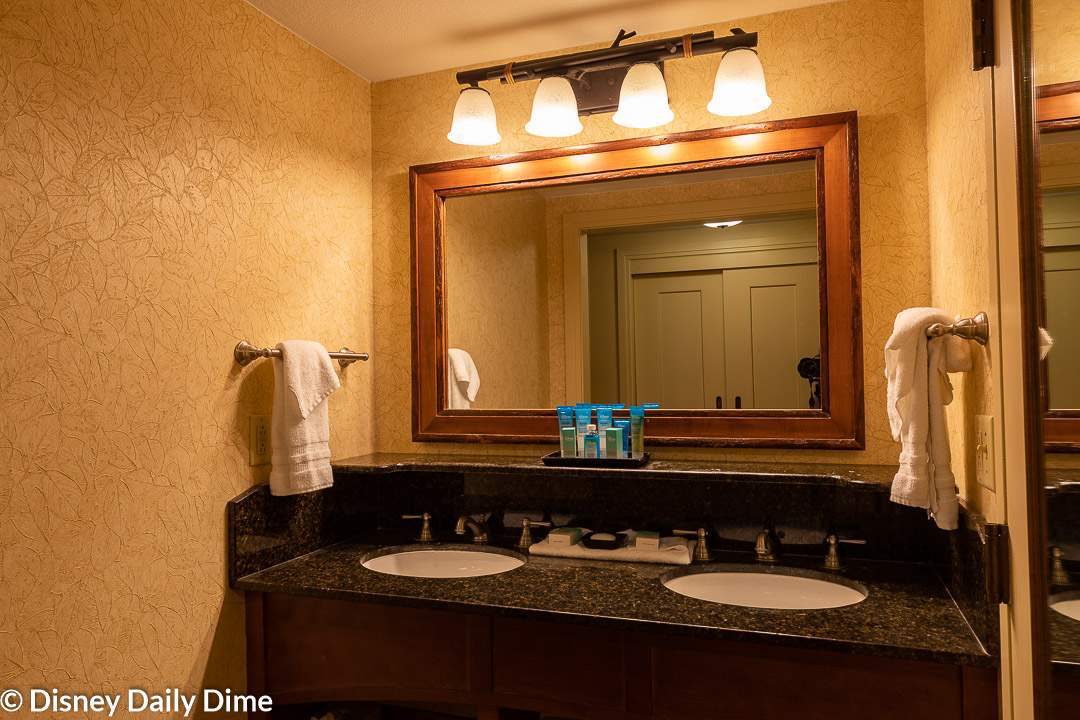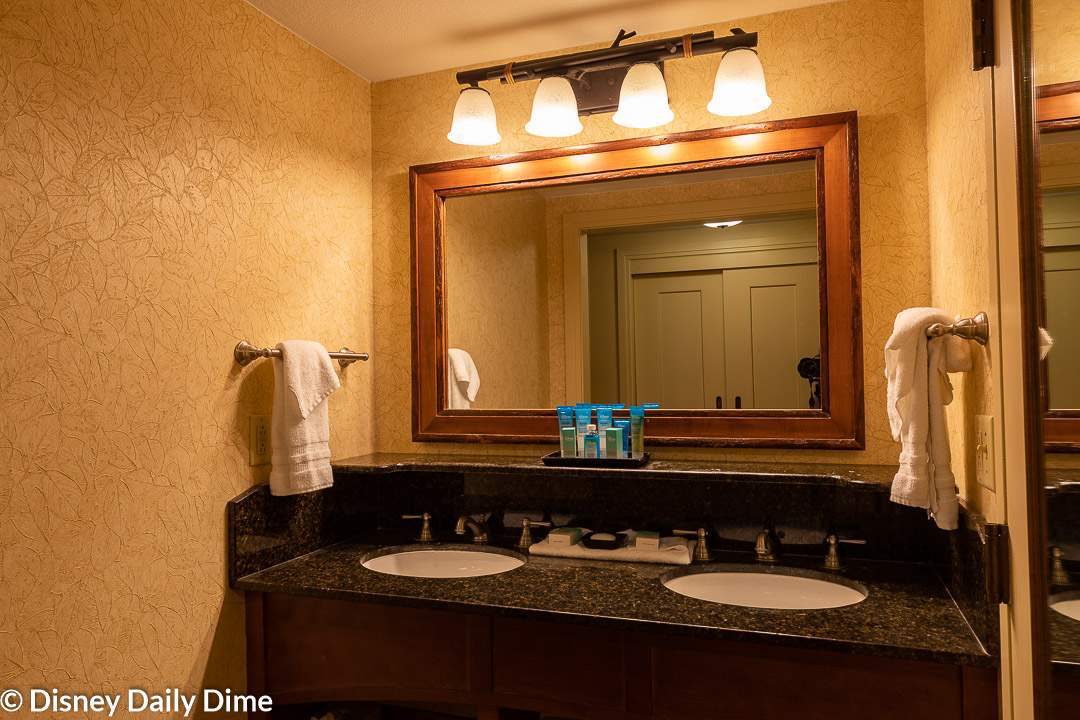 The Sink and Bath Area
The bathroom area of the Wilderness Lodge features some lighter touches of the resort theme, but also one of the more notable fun elements.
As you can see the vanity area is pretty plain.  It's certainly nowhere near as ornate as the bathroom area we found in the Sonora Suite over at the BoardWalk Inn.  You'll find brushed nickel fixtures for the faucets and towel bars that are contrasted against a woodsier looking light fixture.  It's a little bit of a weird clash, but it's probably hard to make things like faucets and towel bars have those uneven finishes and still be functional.  At least at a level that guests would be accustomed to.
In the shower area you'll find some fun whimsy that actually feels very well at home in the resort.  You can see the tiles featuring some of Disney's more "wild" characters.  Anna and Elsa loved seeing them in the room.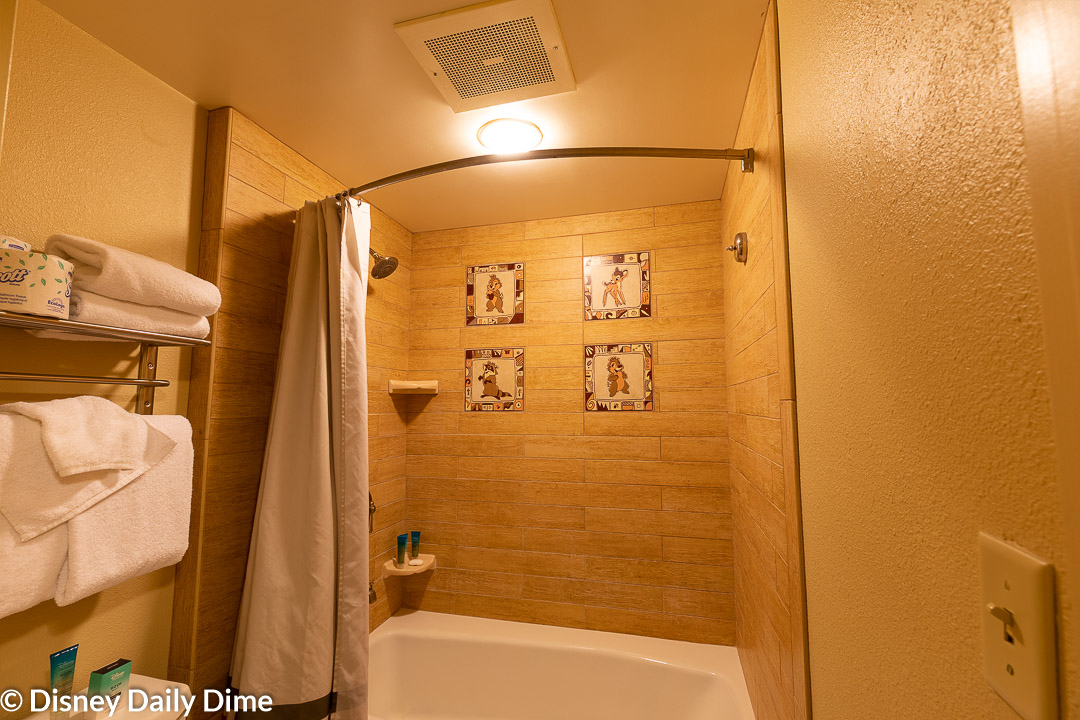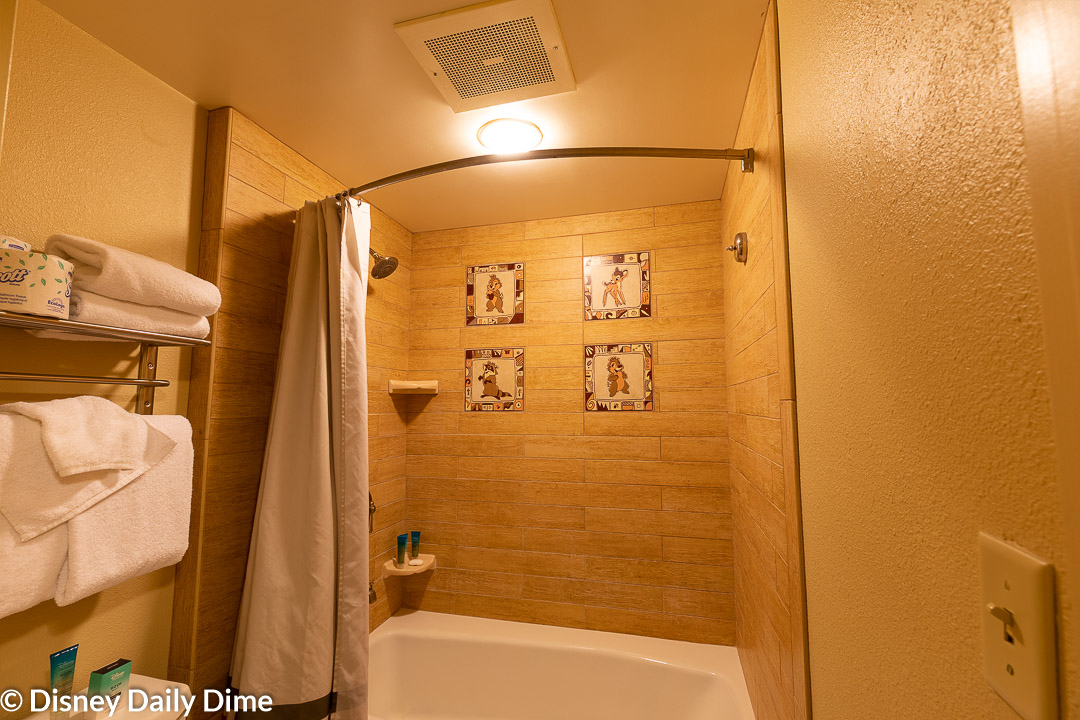 The Wilderness Lodge Bunk Beds Come with Some Benefits and a Big Potential Drawback
The Pros
We'll start by saying, we found the bunk beds to be a great benefit to our family for a few specific reasons.
Usually when we stay at Disney World, Carla and I take turns sharing a bed with Anna or Elsa at night.  The two of them just can't sleep together.  They toss and turn and keep each other awake, which makes them tired and cranky.  You can imagine how that translates into their mood for park days!
So they sleep in a bed with one of us, which allows them to sleep much better.  Generally, that means a not as great night's sleep for mom and dad.  That's especially true if you're the poor parent who sleeps with Elsa.  She's the kid who will press right up against you, tossing and turning until you are hanging right on the edge of the bed.  Parents, I know you've been there.
There is also the inevitable fight that happens to occur between the girls about who sleeps with which parent.
Both of the girls were very excited about sleeping in the bunk bed, which cured both of these problems.  Carla and I got to sleep in the queen bed!  That meant great sleep for us and them.  It also meant no fighting about who slept with mom or dad.  It did however introduce a squabble about who got to sleep on the top bunk.  That was relatively quickly solved by telling them they would take turns each night.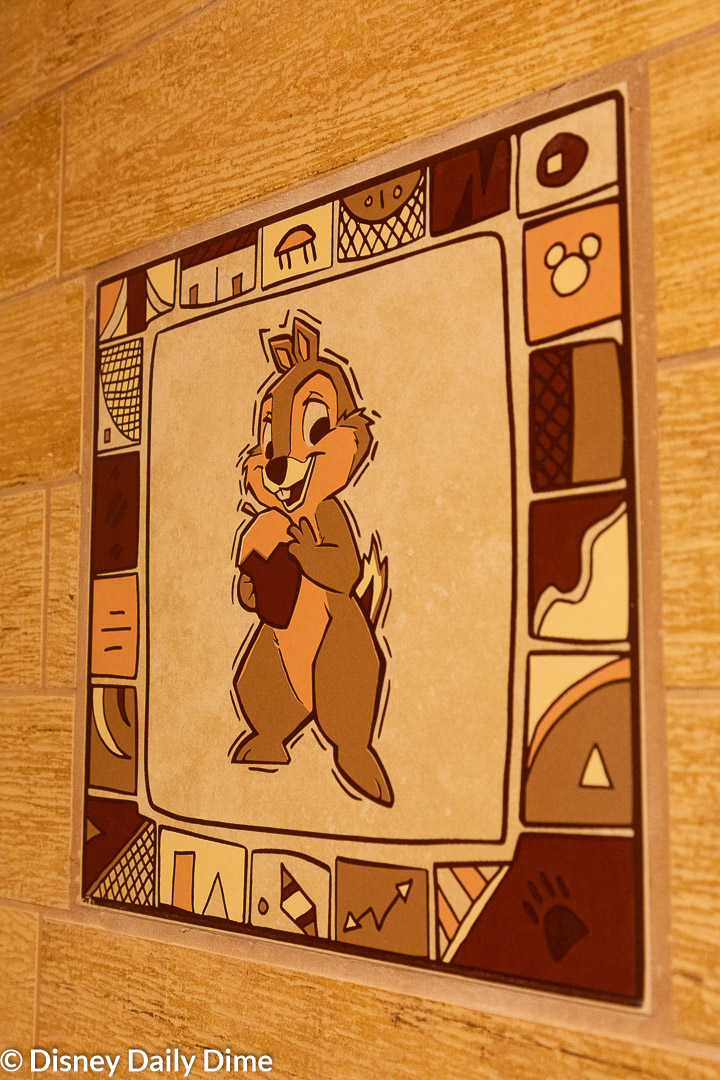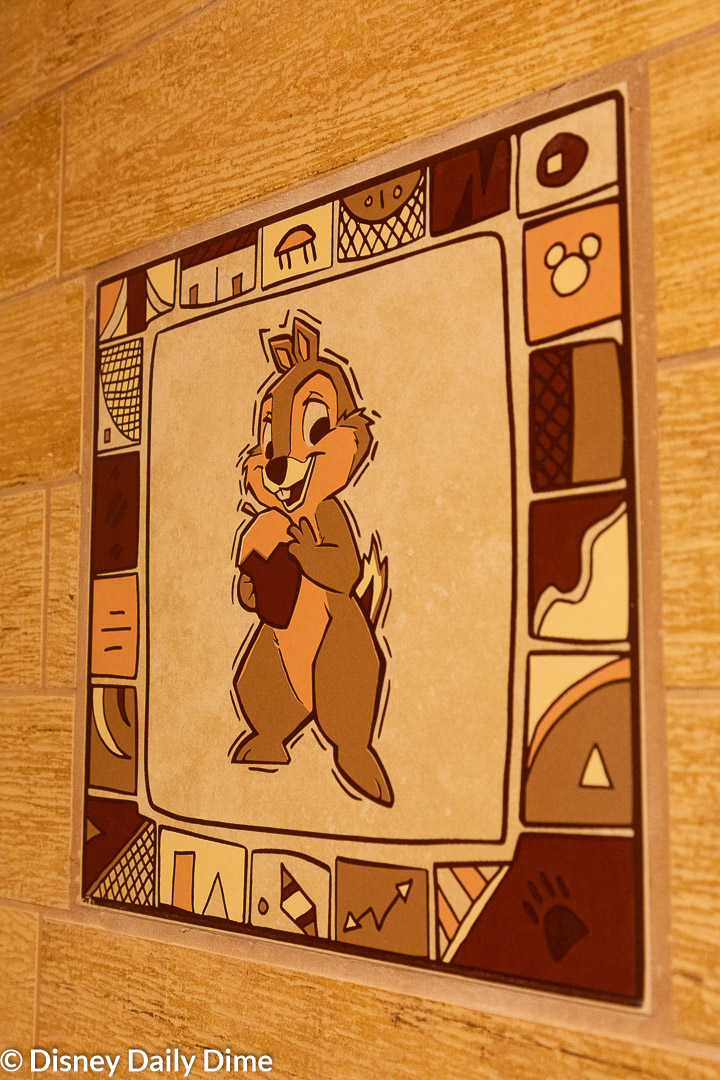 The Con
Now, while we found the bunk beds to be a great help with our stay, your mileage may vary.  There is a potential landmine with the bunk bed setup you should think about before booking these rooms.  If you have a kid that might be freaked out by a bunk bed, you could find mom or dad sleeping on the bottom or maybe even top bunk.
There are mainly two concerns that I see with the bunk bed.  The height of the top bunk could not sit well with a kid or the bottom bunk could feel claustrophobic.  As a point of reference, the top bunk of the bed is about 5 feet off the ground.
That means you'll have to know your kid.  The last thing you probably want to do is spend your trip sleeping in a bunk bed that you may not fit in as a full-grown adult.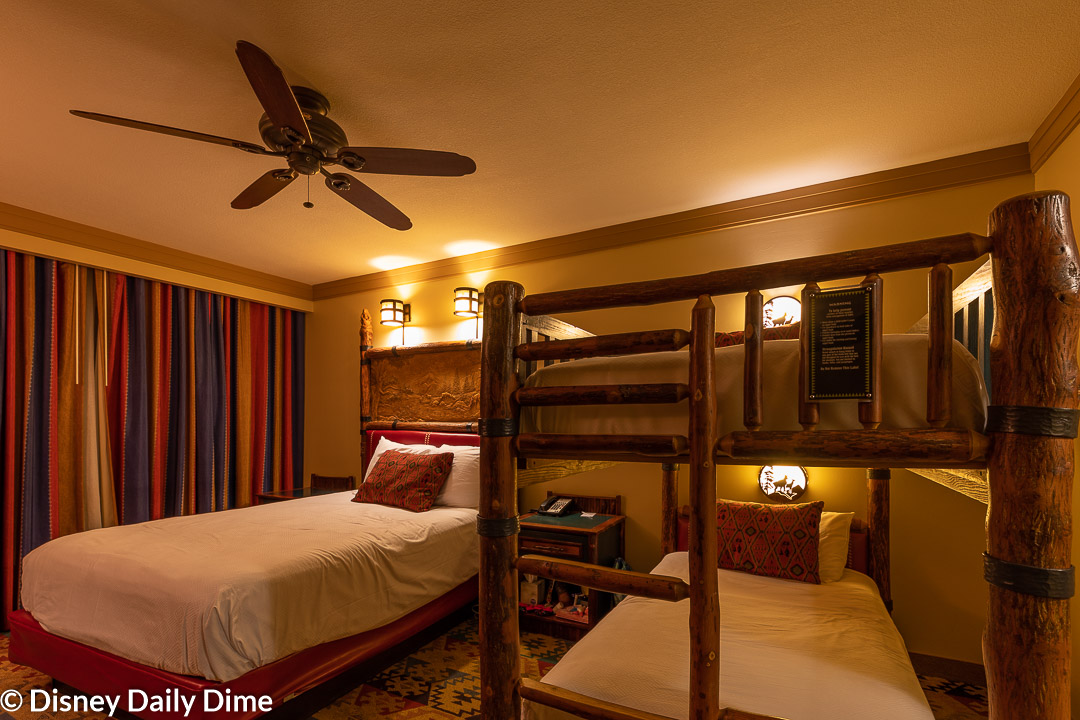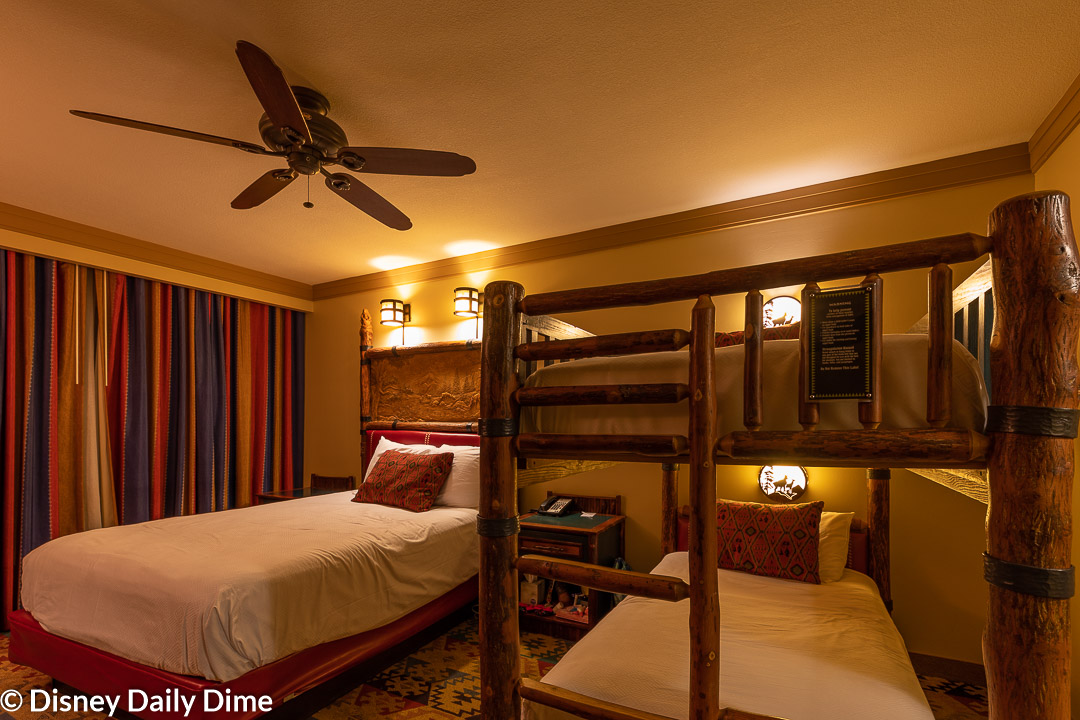 Is the Wilderness Lodge Bunk Bed Room Worth It?
We thoroughly enjoyed our stay in the Wilderness Lodge and part of that was due to how great the room was.  The view was fabulous, but being able to get a good night's sleep was worth its weight in gold.  It didn't hurt that we were staying there at Christmas and this resort shines at that time of year, but that's not really what this review is about.
If you can score a deal where it only costs you an extra $50-$100 or so for one of these rooms, we consider it worth it.  Push north of that and I'm not sure I can justify it.  Your threshold may be different.  Part of this also depends on how long you are staying at the resort.
If you go with the nature view room, we definitely suggest requesting the view towards Magic Kingdom.  If the kids poop out early, you can still let them see the fireworks from a distance and then put them right to bed.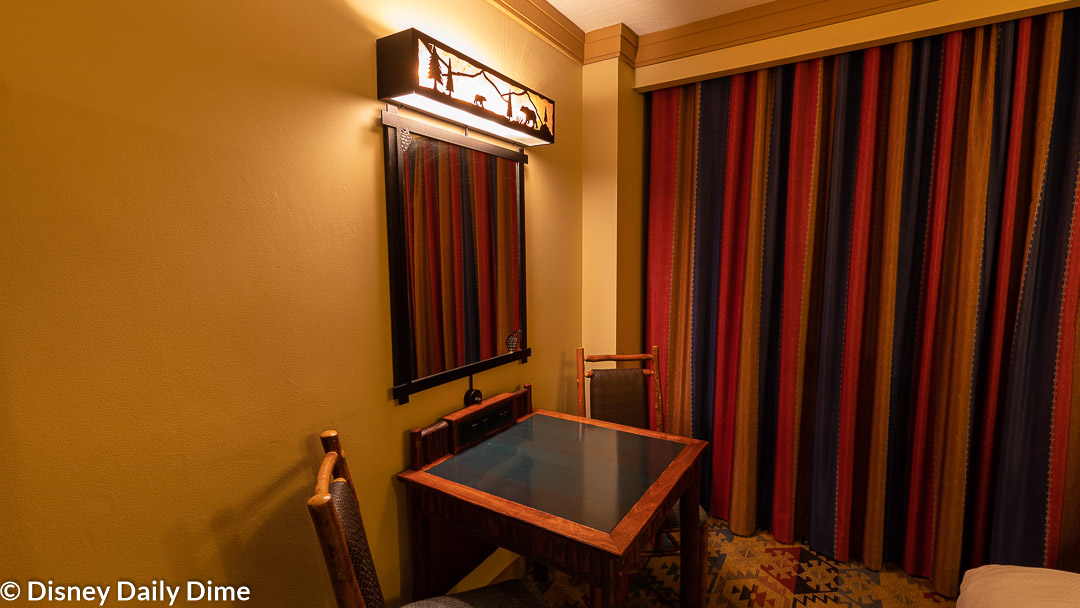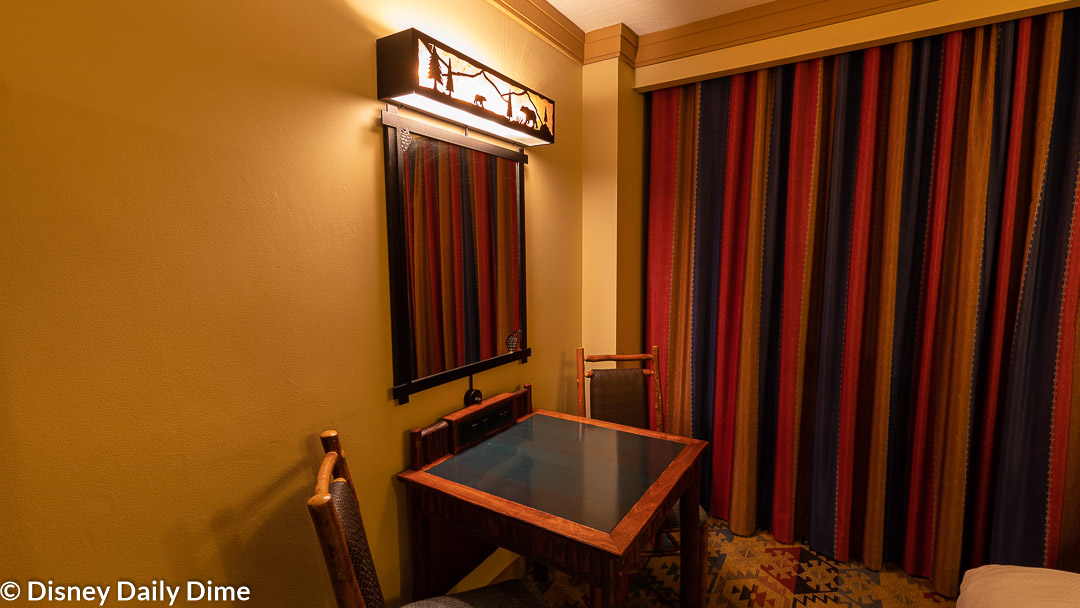 Wrapping Up
We hope you found our Wilderness Lodge bunk bed room review helpful.  There were several pros to staying in this room, but you should definitely be aware of the potential issues.  You'd hate to pay extra and then end up not getting a good night's sleep if you wind up in a bunk bed.
If you found this review helpful, we'd greatly appreciate it if you would share it on social media with your friends and other people who may find it useful.  You sharing this content tells us that we're doing something right and we can't tell you how much we appreciate it.  It's quick and easy, you can just use the sharing buttons right here on the page.