Territory Lounge is a bar located in Wilderness Lodge at Disney World.  We thoroughly enjoyed our time here and wanted to write a small Territory Lounge review.  We'll tell you about our experience in hopes that others will visit this cozy nook.  This is a wonderful place to enjoy a few precious moments of relaxation and maybe a cocktail at Disney World.
We stopped into Territory Lounge before our Artist Point for Storybook Dining dinner.  The lounge is adjacent to Artist Point, located just off the main lobby of the beautiful Wilderness Lodge Resort.    Our dinner reservation was very early at 4:30 so the lounge was empty.  Due to its proximity to Artist Point, and the fact Artist Point doesn't have a bar, Territory Lounge essentially functions as the bar area for the restaurant.  And honestly, we are perfectly fine with that.
Because it is a bar, Territory Lounge does not accept the Disney Dining Plan.  However, they do take Tables in Wonderland.  That's especially helpful because the Tables in Wonderland discount does apply to alcohol.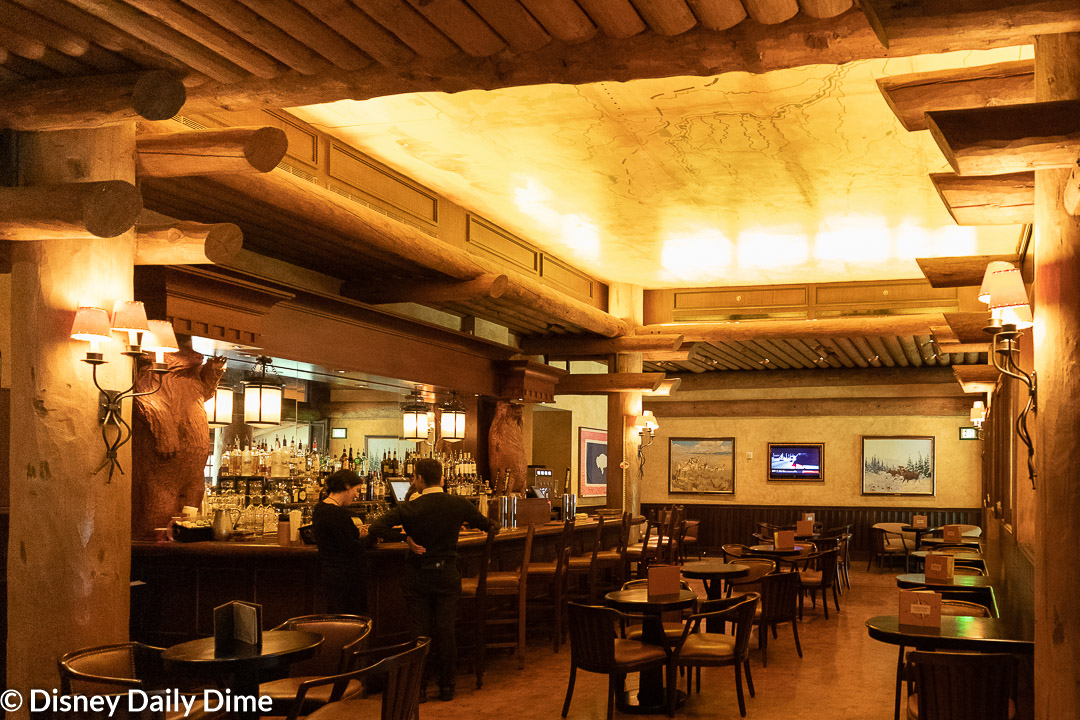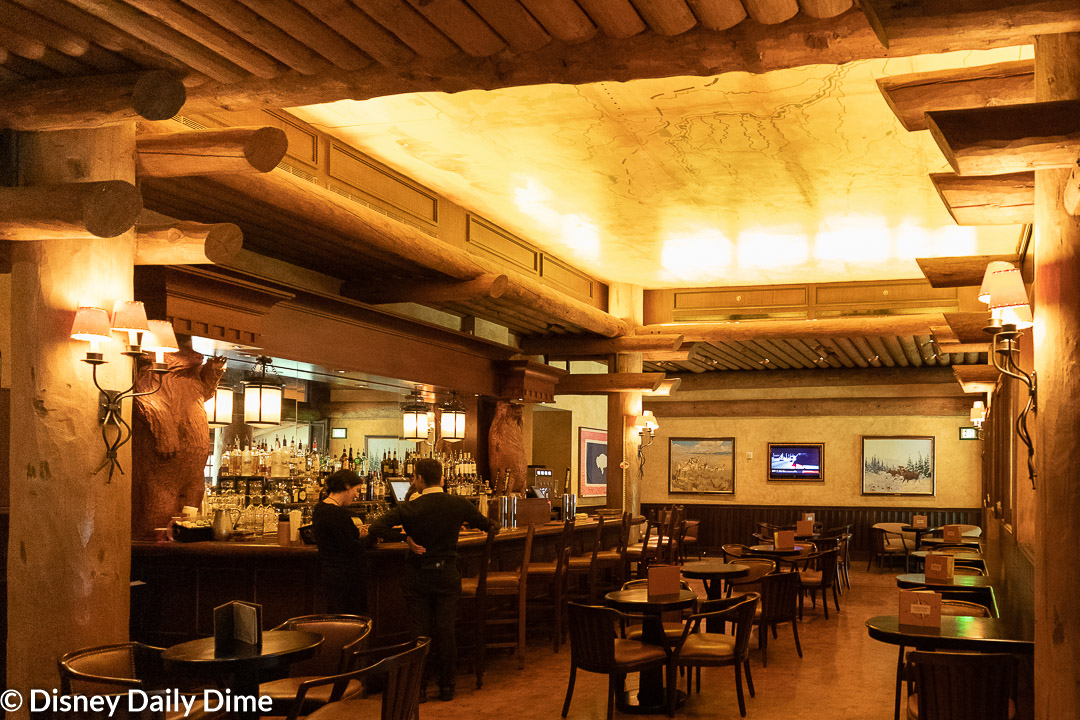 Territory Lounge Décor
The immersive theming of Wilderness Lodge continues right into Territory Lounge.  The beautiful wooden bar is the centerpiece of the room, but the use of art and décor make this lounge represent the beauty of the Pacific Northwest.   The bar itself is flanked by two carved statues of bears that are "holding up" the top of the bar. 
The art captured all of our attention, even Anna and Elsa.  The highlight was the oversized map painted onto the ceiling that depicts the journey of Lewis and Clark.  The girls especially loved walking around and looking at the places represented on the map and searching for any hidden Mickeys.  They also loved the shadowboxes filled with various antique and old fashioned items used for camping, hiking and exploring.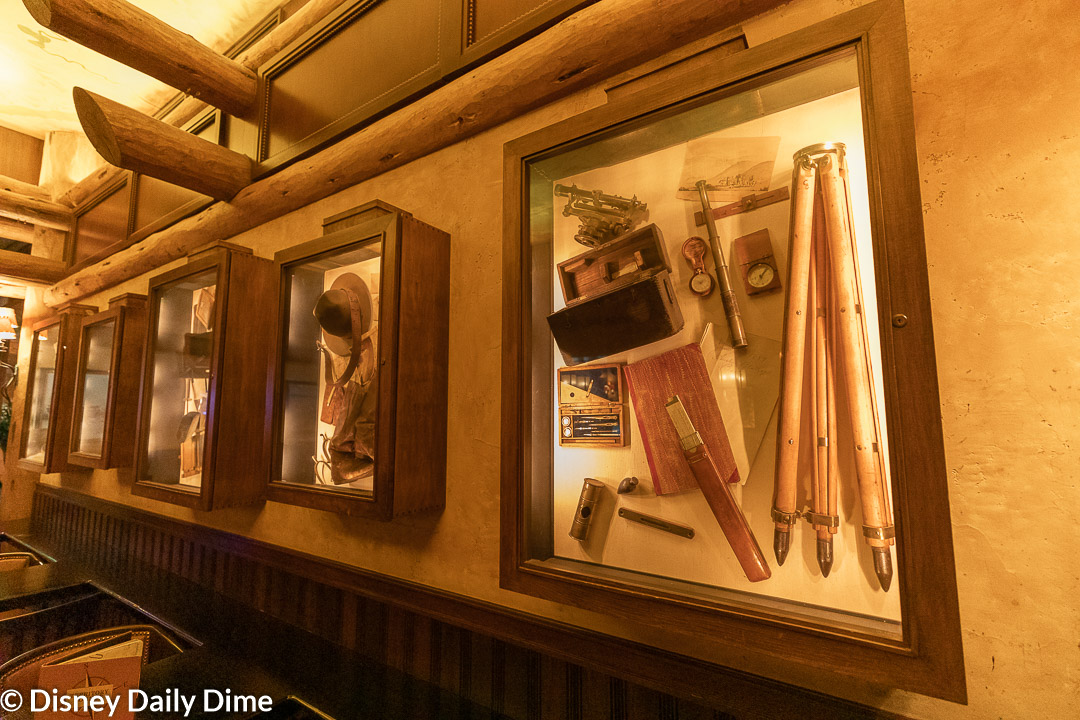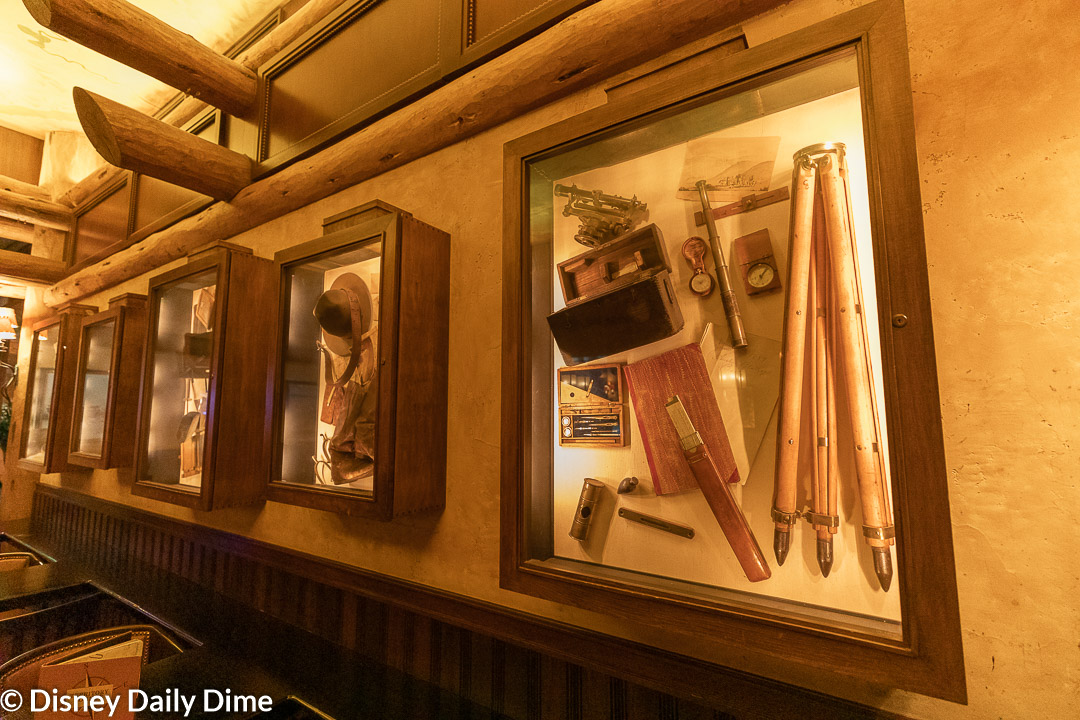 For such a small space, there is generous seating.  However, the seating isn't jam-packed to where you would be able to hear all the conversations around you.  Since we were the only ones in the lounge, we grabbed one of the tables that has a couch and comfy lounge chairs.    If this table is available, we advise you to take it!  After a long day walking around the Magic Kingdom, we all felt immediately relaxed when collapsing into this cozy corner of the lounge.
Territory Lounge Food and Drink
We were immediately greeted by the friendly cast members in the lounge.  They made sure to talk to the girls which we appreciated.  In general, we wouldn't take our girls into a resort lounge, but since this is Disney World, kids are welcome.
Mike and the girls each ordered a fun drink while I stuck to my boring but refreshing favorite of club soda with lime.  The girls loved looking at the bar menu at our table and choosing a non-alcoholic drink to enjoy.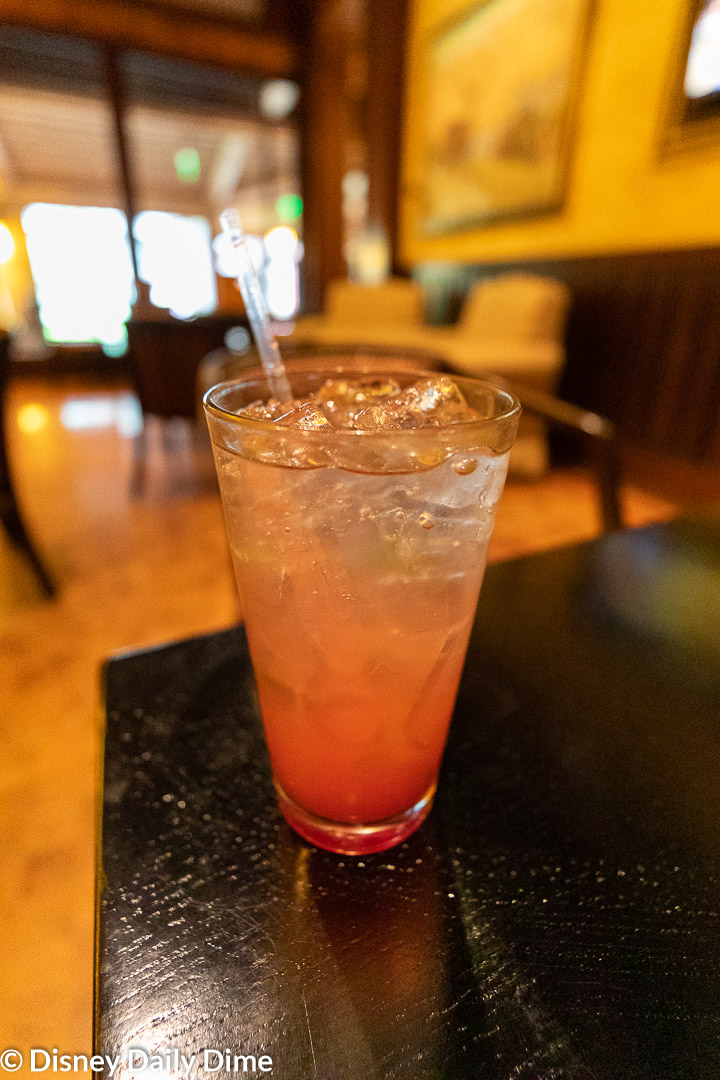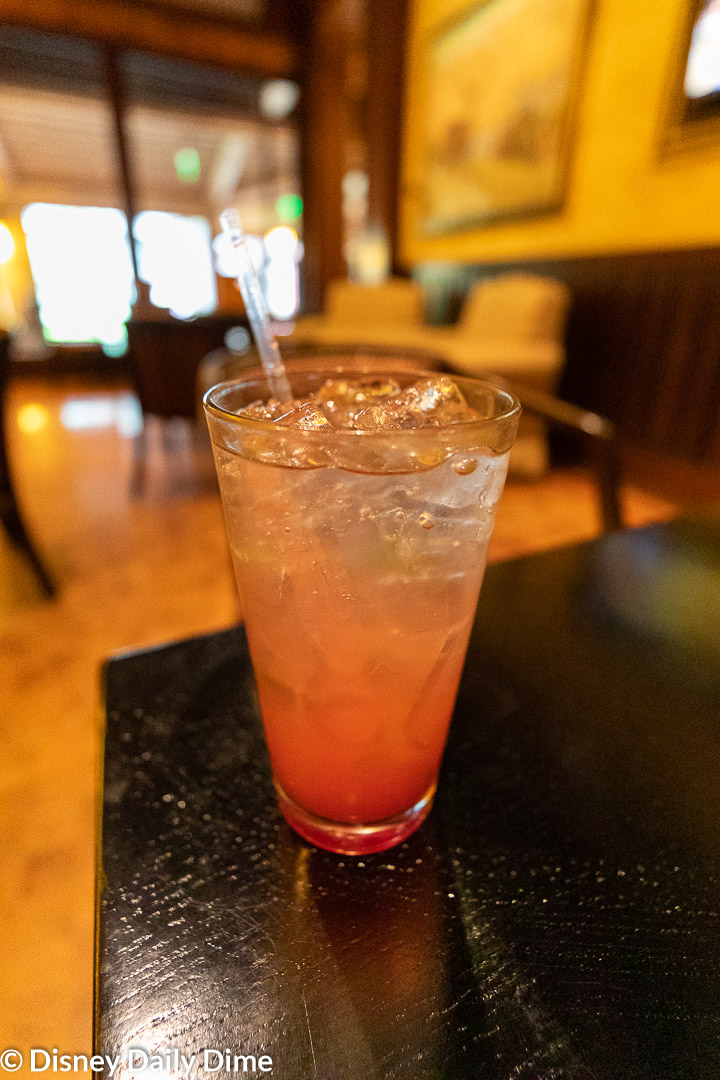 Anna chose a non-alcoholic Raspberry Mojito.   The drink was crisp and refreshing, but the raspberry flavor was a little on the artificial side.  It also had a slightly medicinal taste. Unfortunately, she didn't enjoy it.  I finished it off for her, and as much as she and I love raspberries, this isn't something I would order again.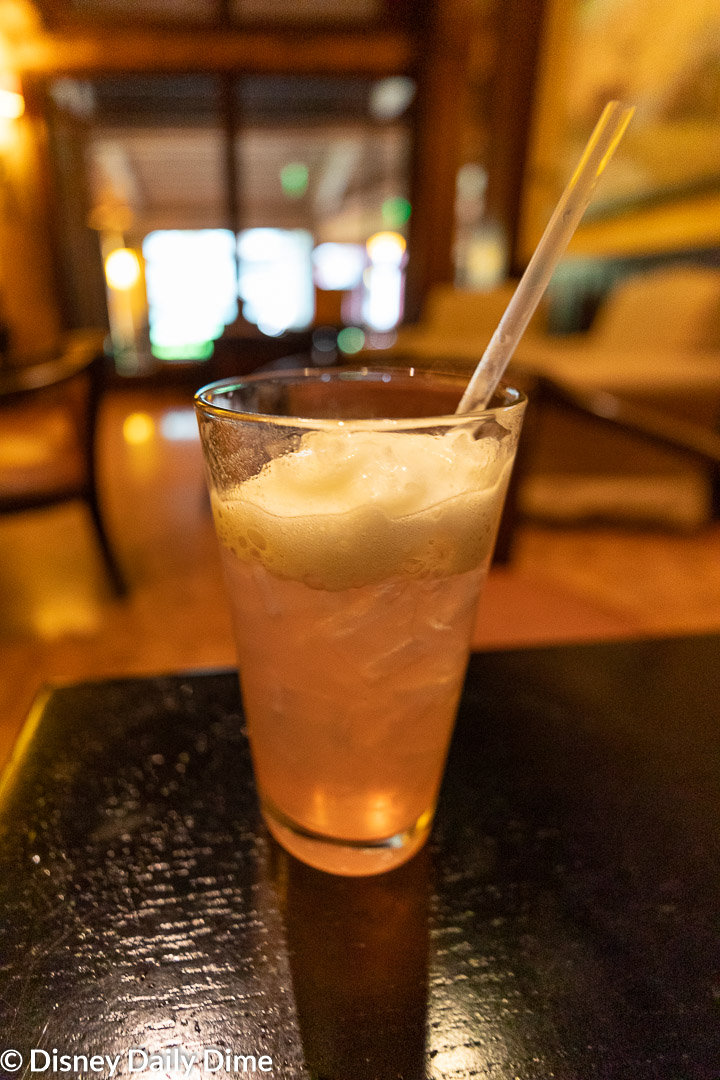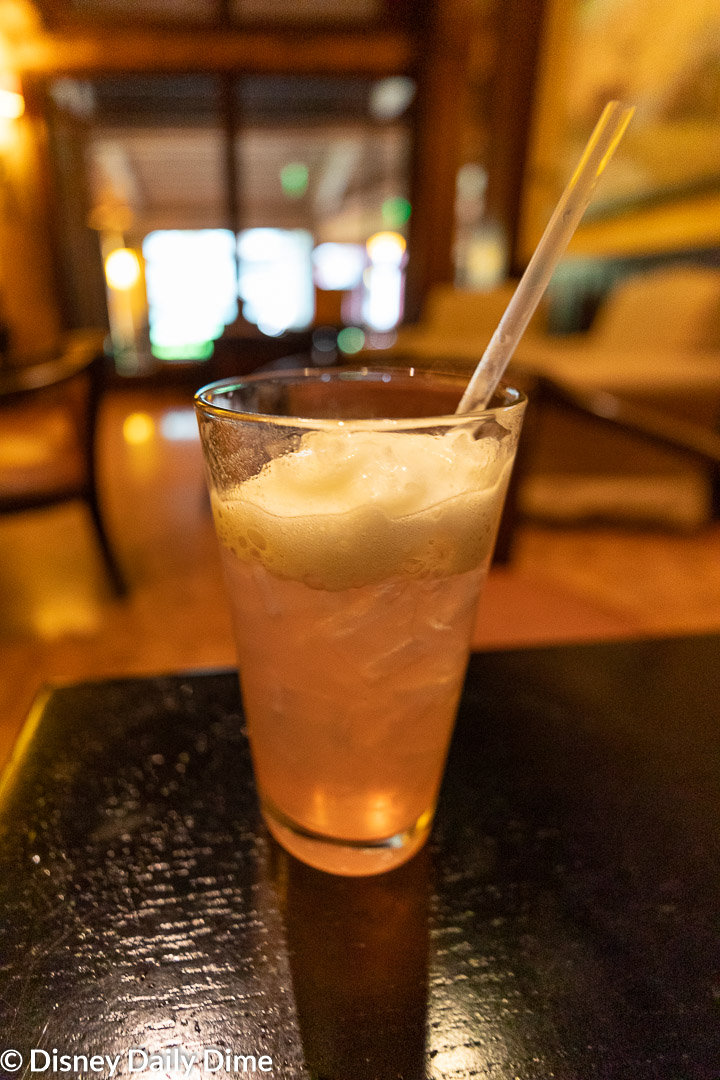 Elsa chose the watermelon lemonade, which is a mainstay of the standard Disney bar menu.   The drink features a tart and tangy lemonade sweetened by the watermelon juice.  The drink is topped with a wildberry foam.  Elsa loves this drink and often orders it at table service restaurants.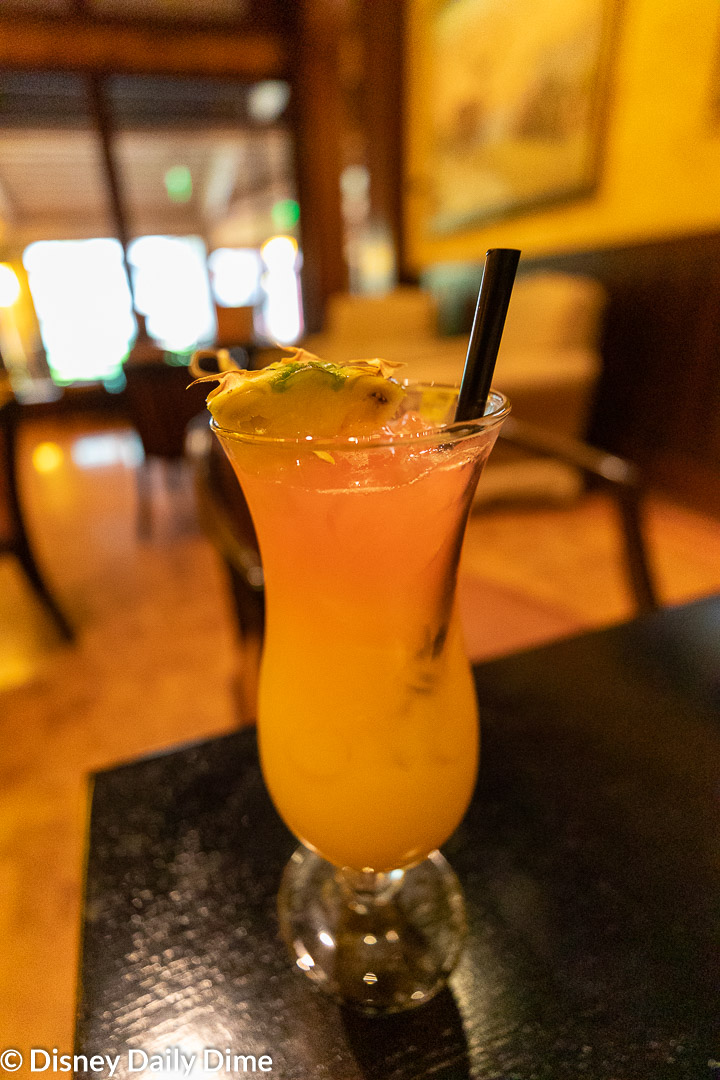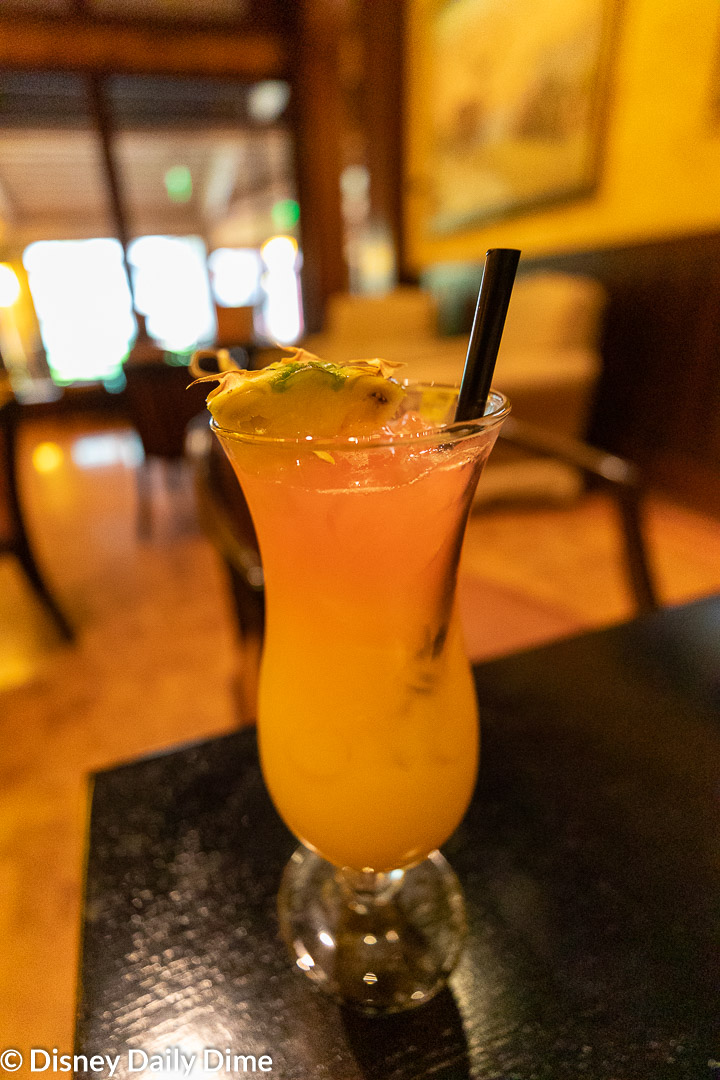 Mike ordered the Rum Swizzle.  This drink features "Mount Gay Eclipse Rum with Tropical Juices and flavors of Guava and Mango."  He loved this fruity drink.  I tried a sip and agreed it was tropical perfection.    The fruit flavors are very fresh and not artificial tasting, and the rum is subtle but not missing either.   Mike definitely will order this drink again.
Territory Lounge offers a menu of small plates and a couple of desserts if you want some food.  We really wanted to try some of the offerings but as we were about to eat a large meal in Artist Point, we opted not to.   We'll definitely return to Territory Lounge to try some of the items.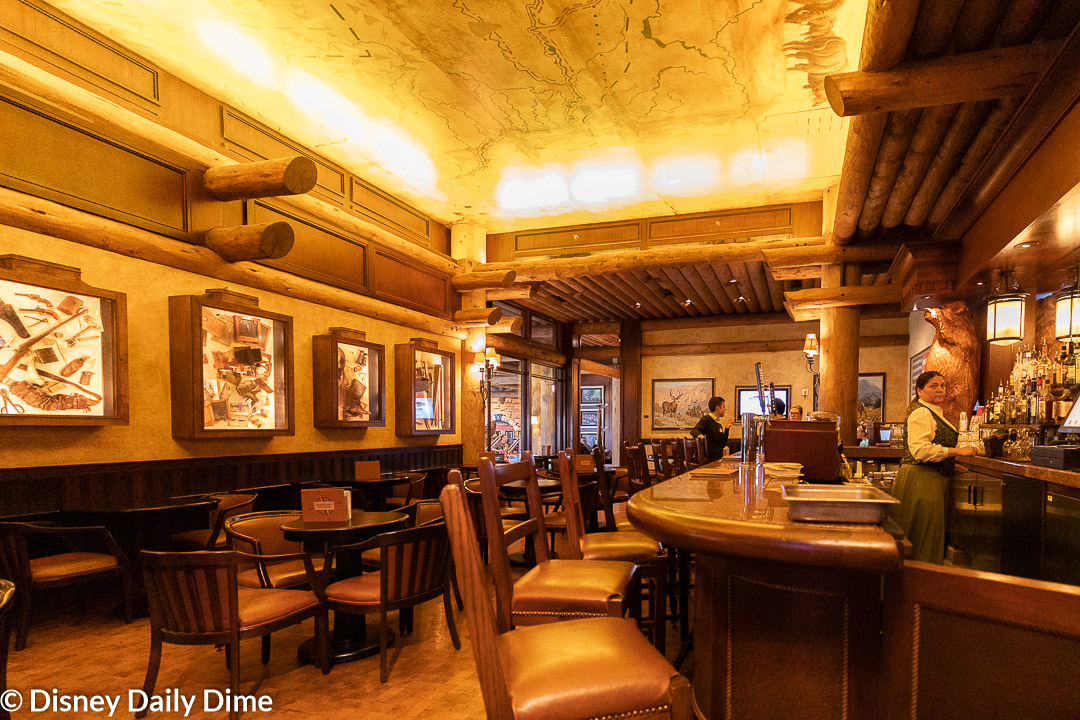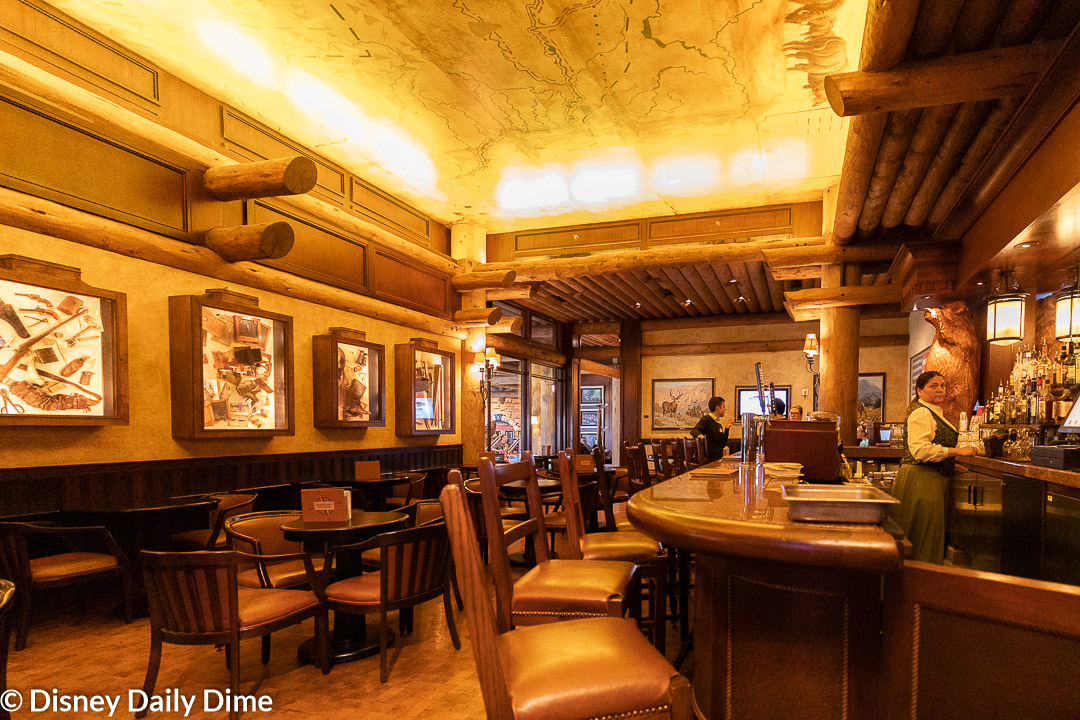 Territory Lounge Review Wrap-up
Admittedly, Mike and I have not taken much time to visit the resort lounges.   Our impromptu visit to Territory Lounge was so enjoyable that we want to make a goal of trying more of the resort lounges.   As huge fans of the Wilderness Lodge, it is not shocking that we loved Territory Lounge.   Aside from the food and drink offerings, the bar offers a relaxing spot to enjoy more of the incredible theming of the Wilderness Lodge and provides a quiet respite that is much needed as part of a Disney World vacation. 
If our Territory Lounge review was helpful, or at least entertaining, please like and share this with your friends or anyone you think will find it useful.  Just use the sharing buttons on the page.  We always appreciate it when you share our posts, as it allows us to spread the word about our blog and hopefully will enable us to help others.