On a recent trip to Disney World, we scored the mother of all upgrades!  Well that statement might have a bit of hyperbole in it, but not too much.  We had booked a standard room at Disney's BoardWalk Inn.  While we were on the Magical Express to the resort, we got a call from a cast member at the front desk of the resort.  He was calling to tell us that they were going to give us a complementary upgrade to Disney's BoardWalk Inn Sonora Suite!  It's also known as the Vice-Presidential Suite.
Not just to a pool view room or boardwalk view room.  Oh no, we're talking about one decked out suite, which honestly was way more room than we needed.  We didn't even have Anna and Elsa with us on this trip.
So, we knew we had to take a lot of pictures and let everyone know what this place was like.  Let's get to our review of Disney's BoardWalk Inn Sonora Suite.
Disney's BoardWalk Inn Sonora Suite Overview
Before we get knee deep into the pictures and room specifics, here's a general sense of what you get with Disney's BoardWalk Inn Sonora Suite.  The suite is a healthy 1,744 square feet in size.  It has two bedrooms on either side of the main living space.  The room is styled with a Victorian feel, although we would say that's more predominant in its walls and fixtures, less so with certain of the furnishings.  But we're also not Victorian era experts.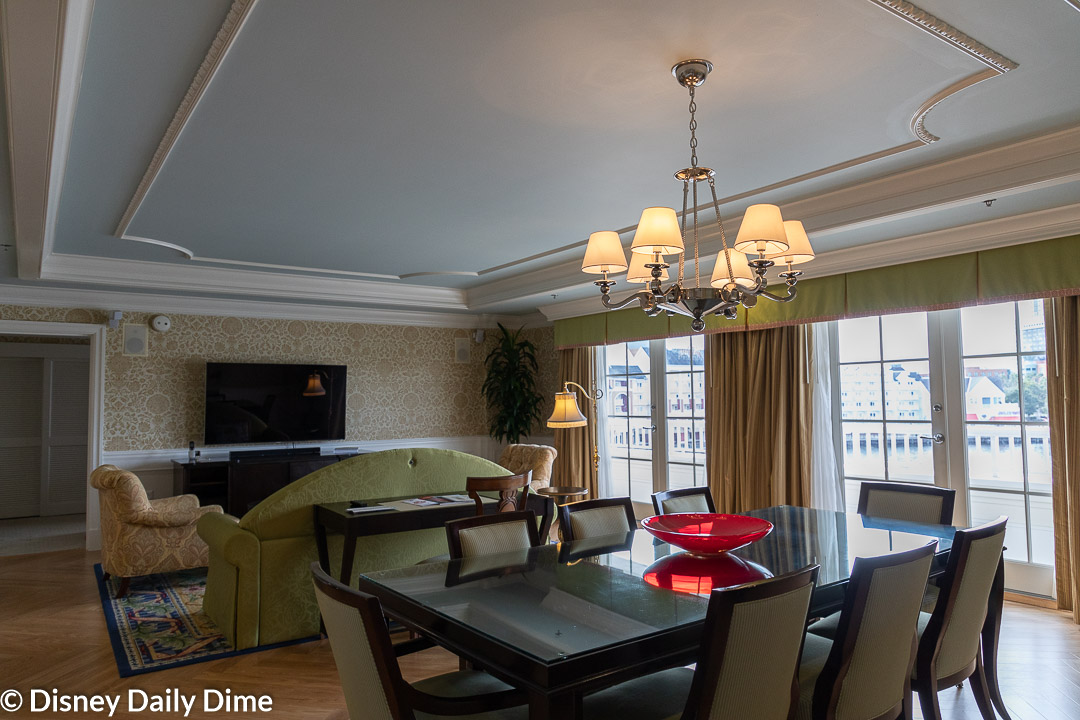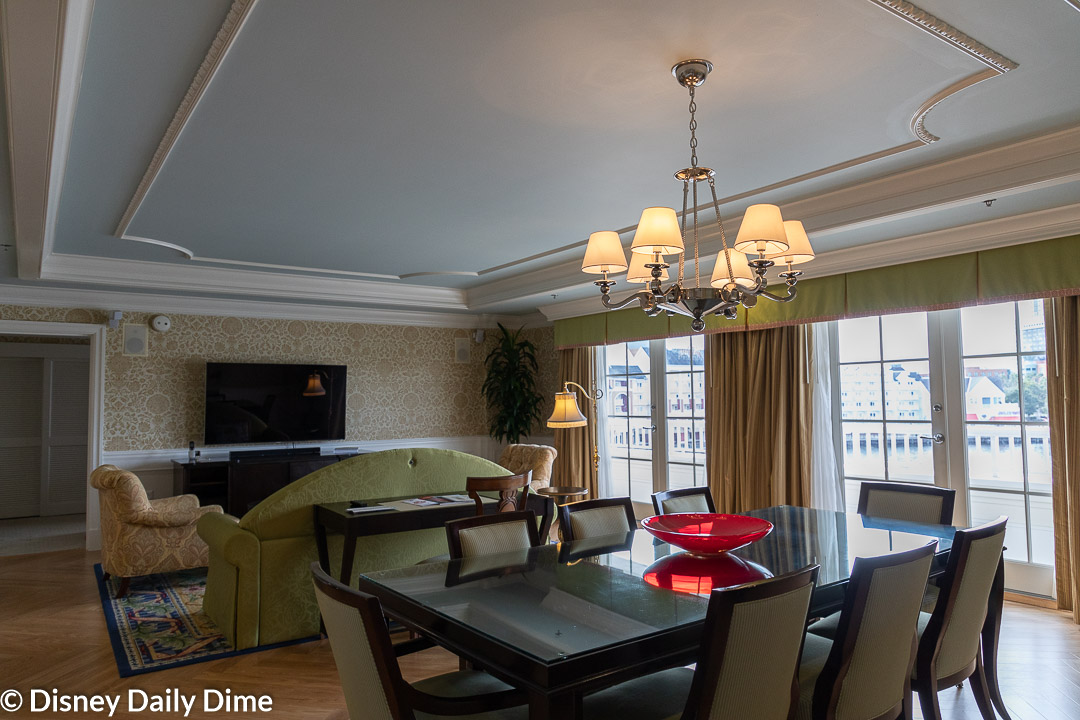 The Sonora Suite is located in the club wing of Disney's BoardWalk Inn.  To get to the room, you have to pass by a secured door that can only be opened by the club level concierge or by using your MagicBand, if the concierge is not around.  You have access to the club level (concierge) lounge, which provides you with food throughout the day.  A nice perk, but only if you are there during the day.  If you're out at the parks, you won't get as much of a benefit.  We did take advantage of it for breakfast, but that will be another article.
The suite supposedly sleeps 8-10, but we weren't sure how that would work.  The main beds can handle 6 people, but there isn't a fold out couch anywhere.  You could probably have guest services bring a roll-away bed in, but we aren't sure how else you would sleep more.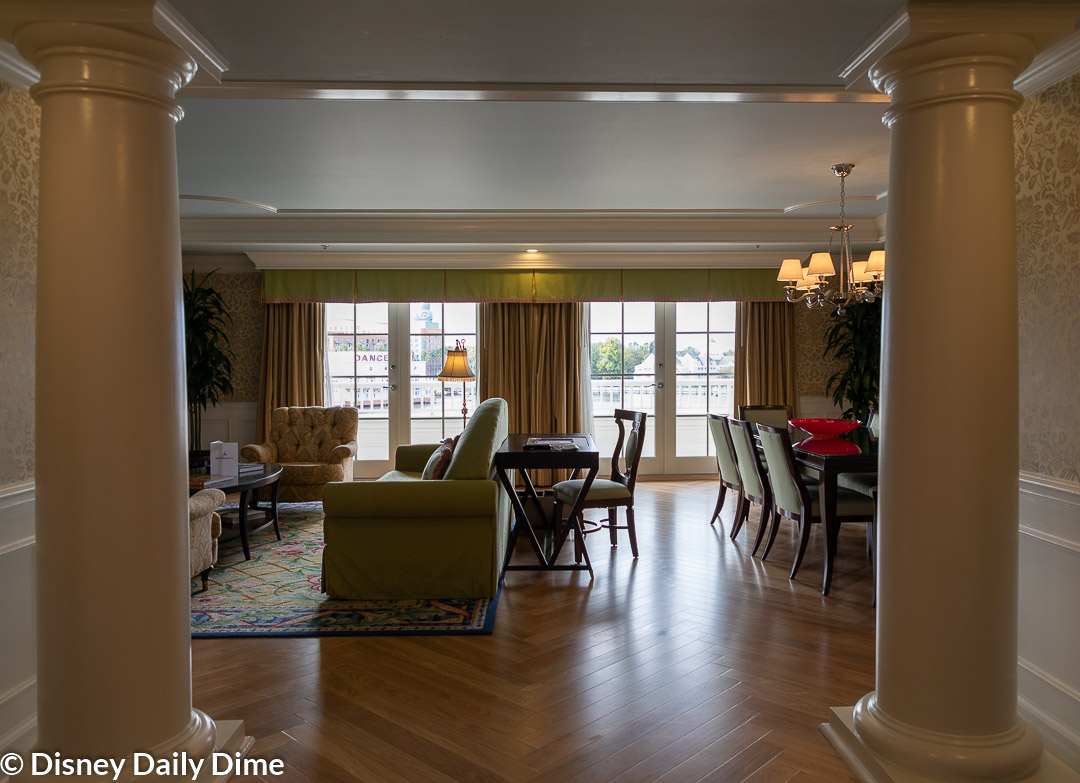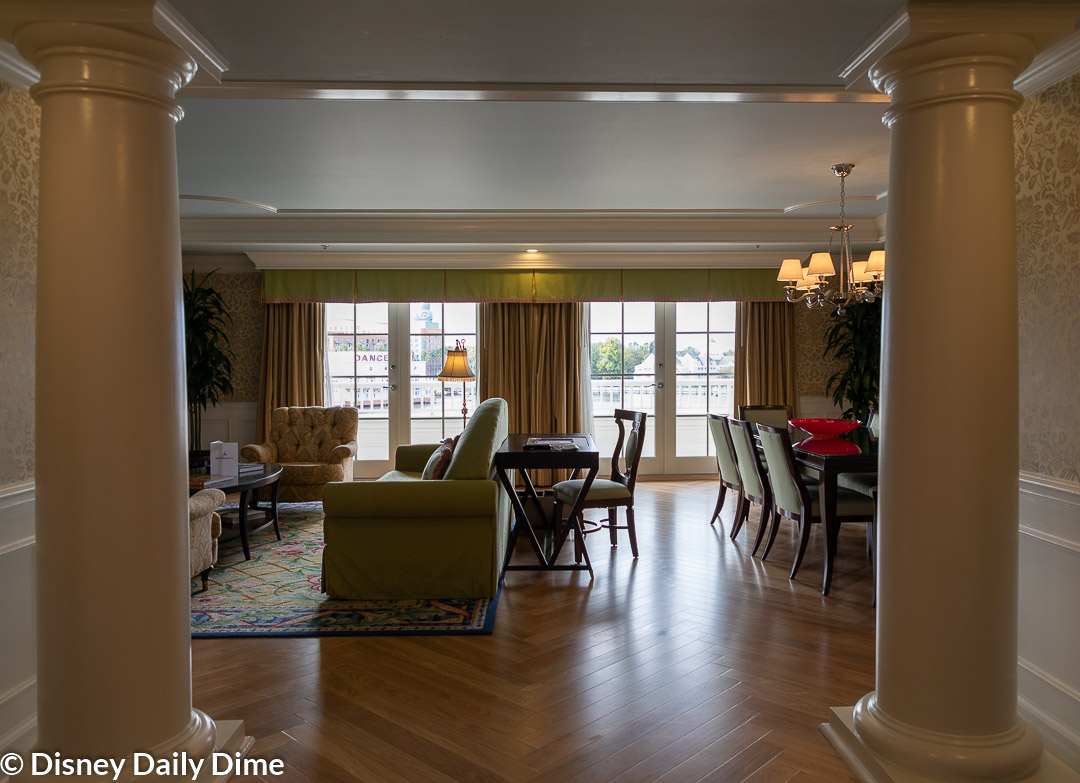 The Entry Way Area Will Grab Hold of You
Or at least the view will!  When you open the door to the Sonora Suite, you're greeted by a stunning view of a large open living space.  The main atrium is framed by two colonial style columns.  The doors out onto the balcony instantly give you a view out across Crescent Lake where you can see the Dance Hall on the boardwalk, along with the Swan, Dolphin and Yacht Club resorts.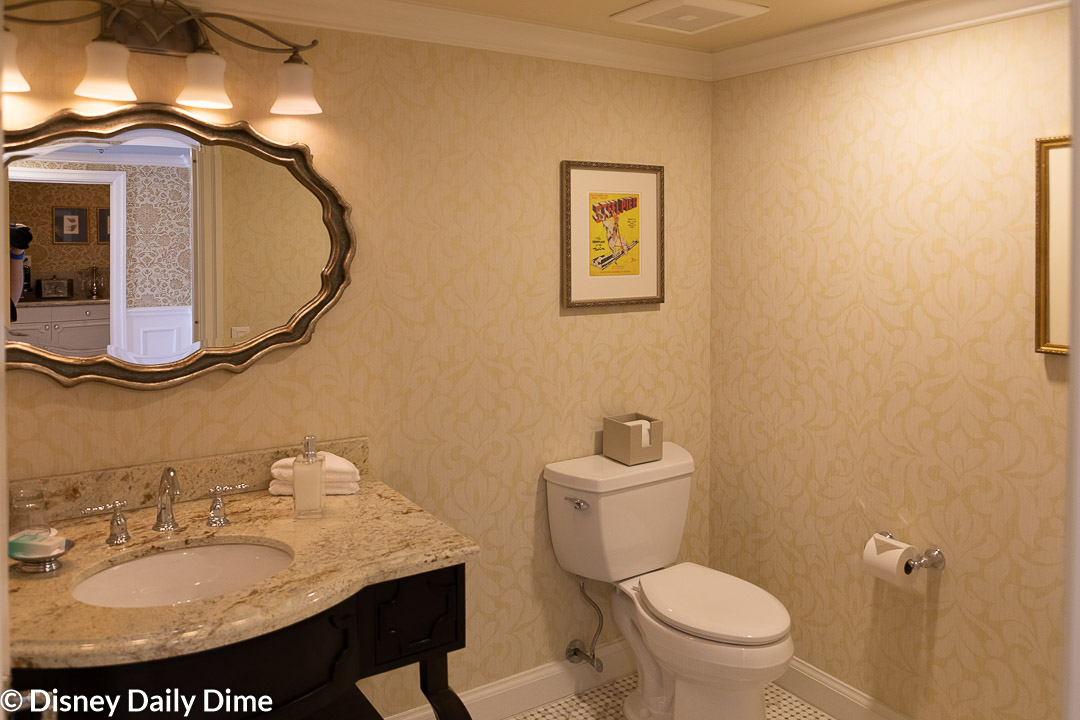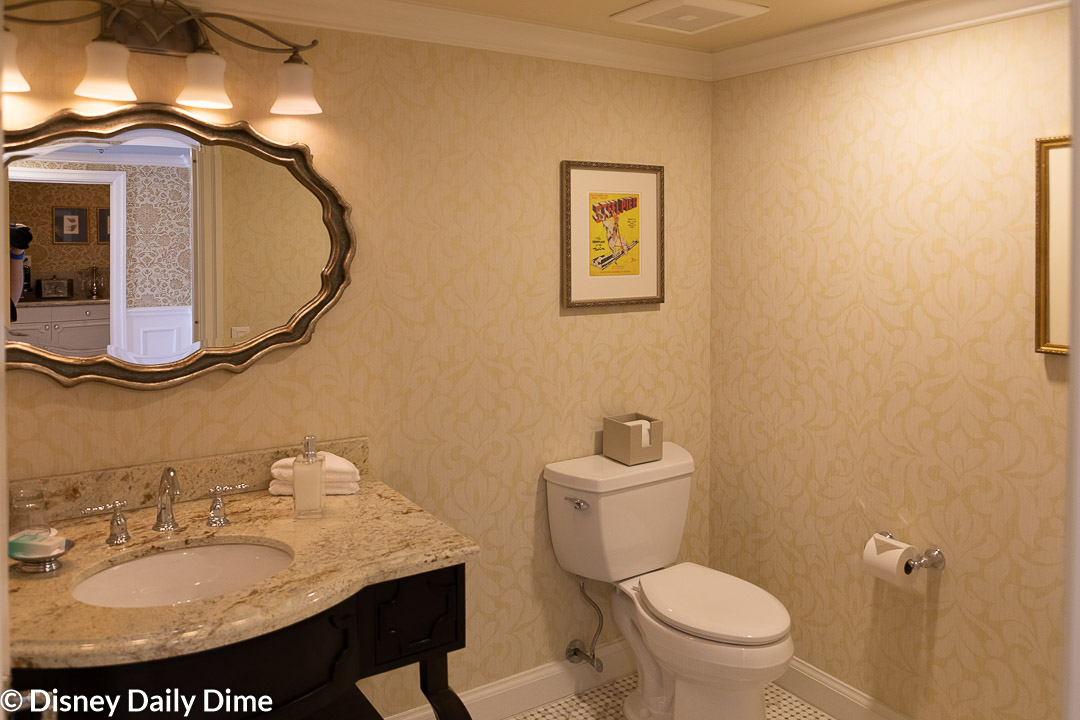 Before you even get to the main living area of the Sonora Suite, you will find two small rooms on the left and right side of the entry way.  On your right is a little half bath that is so big they could have gone ahead and put a shower in it.  Maybe a nice claw foot tub?  Not that this place isn't over the top already!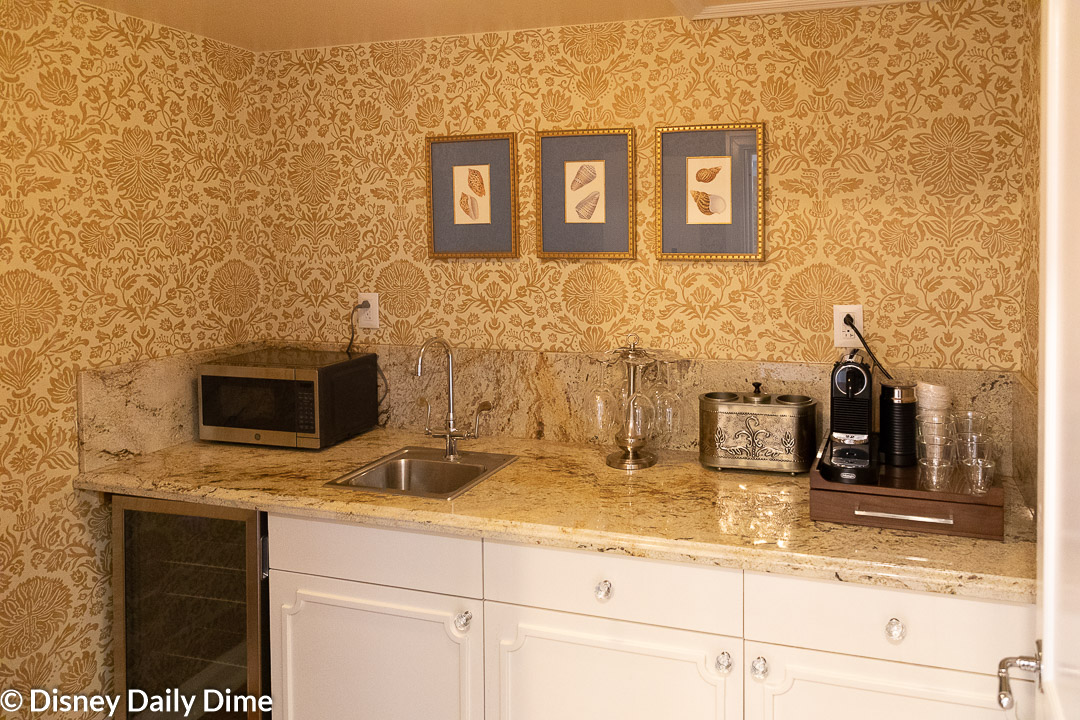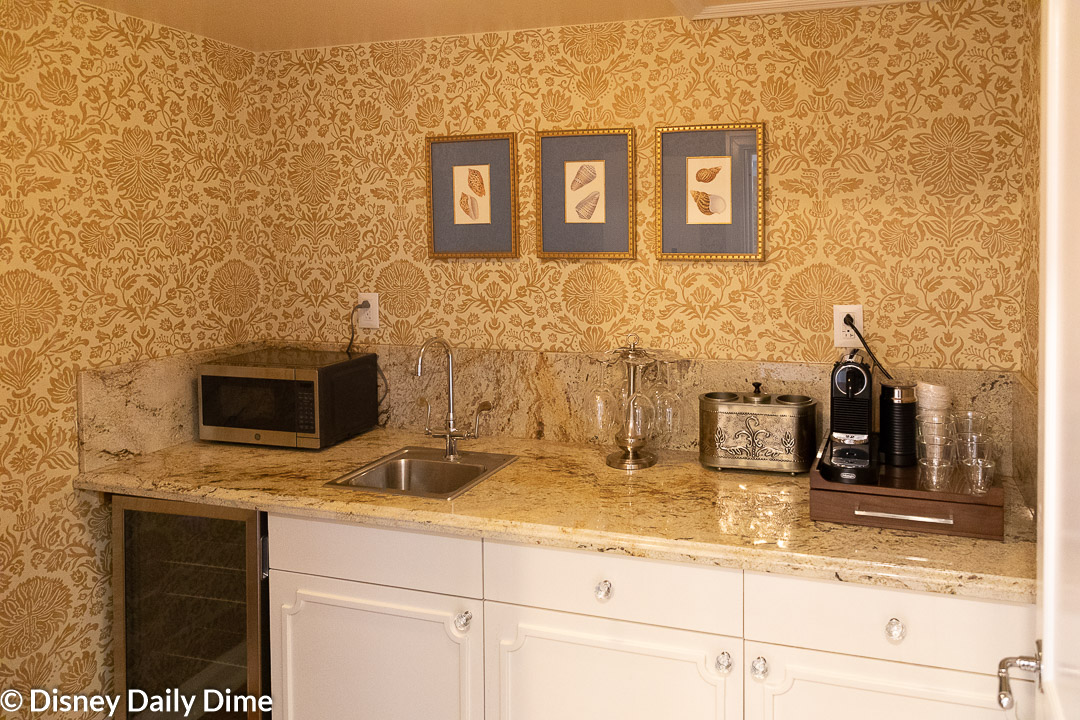 On the left side you will find a small kitchen.  You won't be cooking anything in here, but you will find various amenities like a wine refrigerator and a DeLonghi coffee/espresso machine that does far more than we probably know.  There's a microwave and some wine glasses, too.  The counter top is a beautiful light marble color that goes well with the space.
The Living Area Gives You a Great Space to Relax or Work
The living area of the Sonora Suite is divided into two main areas.  You have a small living room type set up and then a dining area.
The living room is framed by a large olive-green colored sofa and two deep, plush tan colored chairs on either side.  The chairs are slightly low and might be difficult to get out of.  The seat arrangement is nestled in around a nice dark wood credenza or entertainment center if you choose.  We didn't have a tape measure to get an official size on the TV, but would guess it's around 65 inches.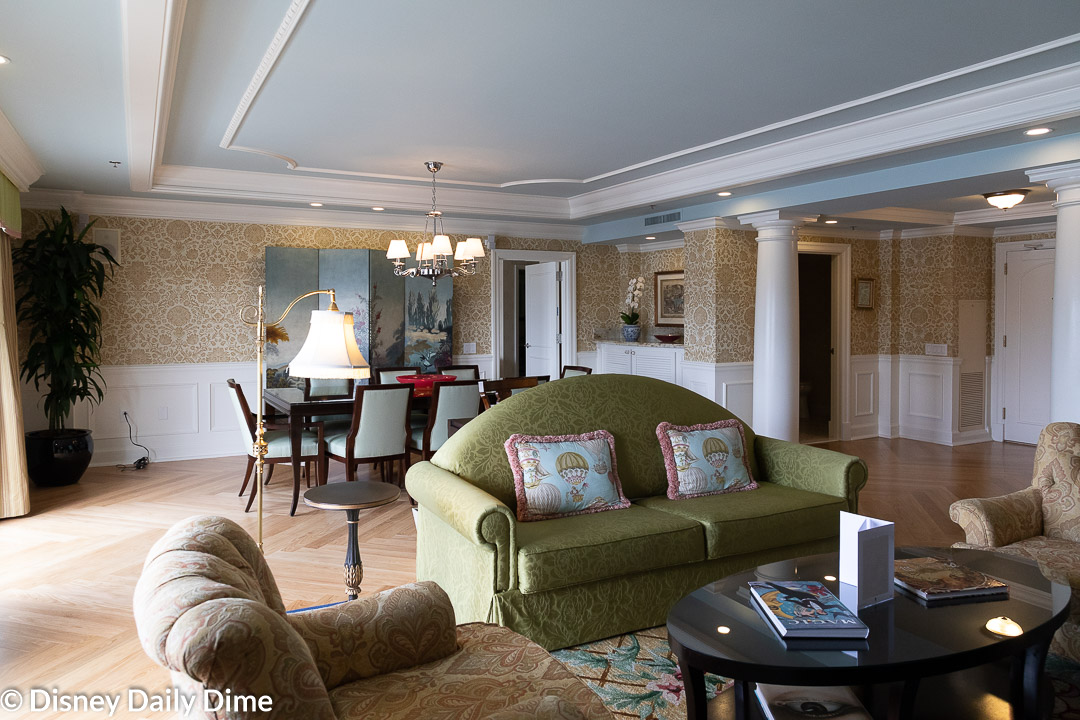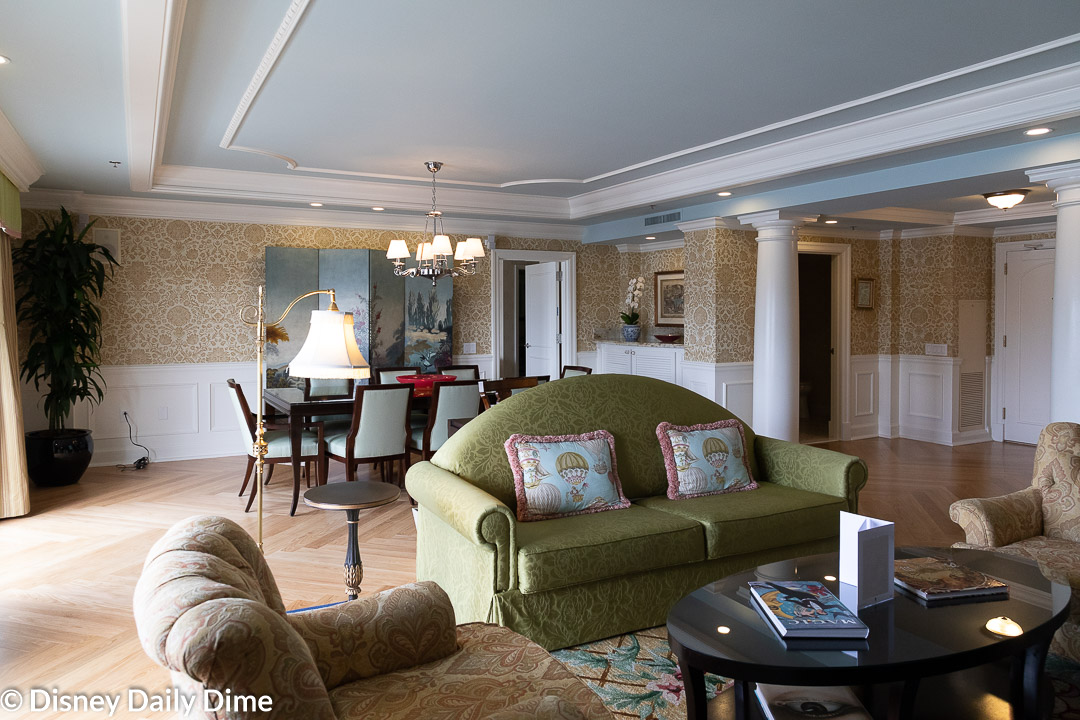 The coffee table in the middle of the living room rests on a nice area rug that provides much needed softness in a hard wood floored room.  The floors are slick, so if you know what the movie Risky Business is, you can totally recreate the Tom Cruise scene from that here!
The dining area has a nice sized 8-person table, with very comfy chairs.  It's plenty large, where you wouldn't feel crammed in at the table.  We didn't actually eat at the table, but Mike did spend a few late nights working on his day job at it.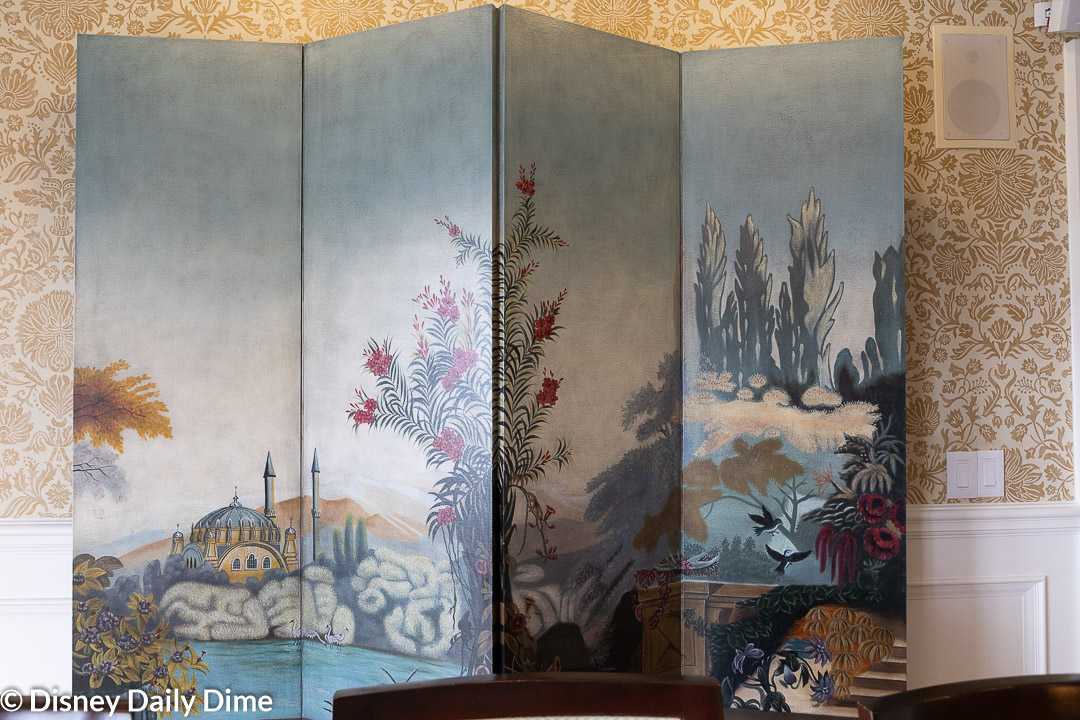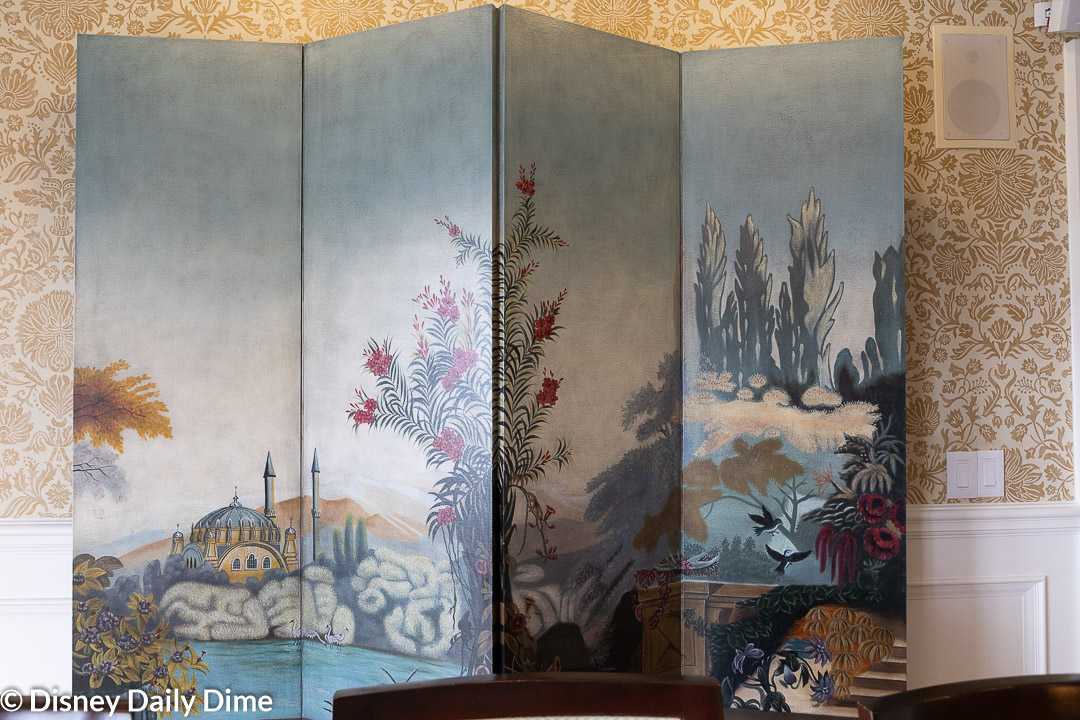 There's a nice decorative screen with a picturesque image.  Not sure really what we would describe the image as, but you can see it for yourself in the picture.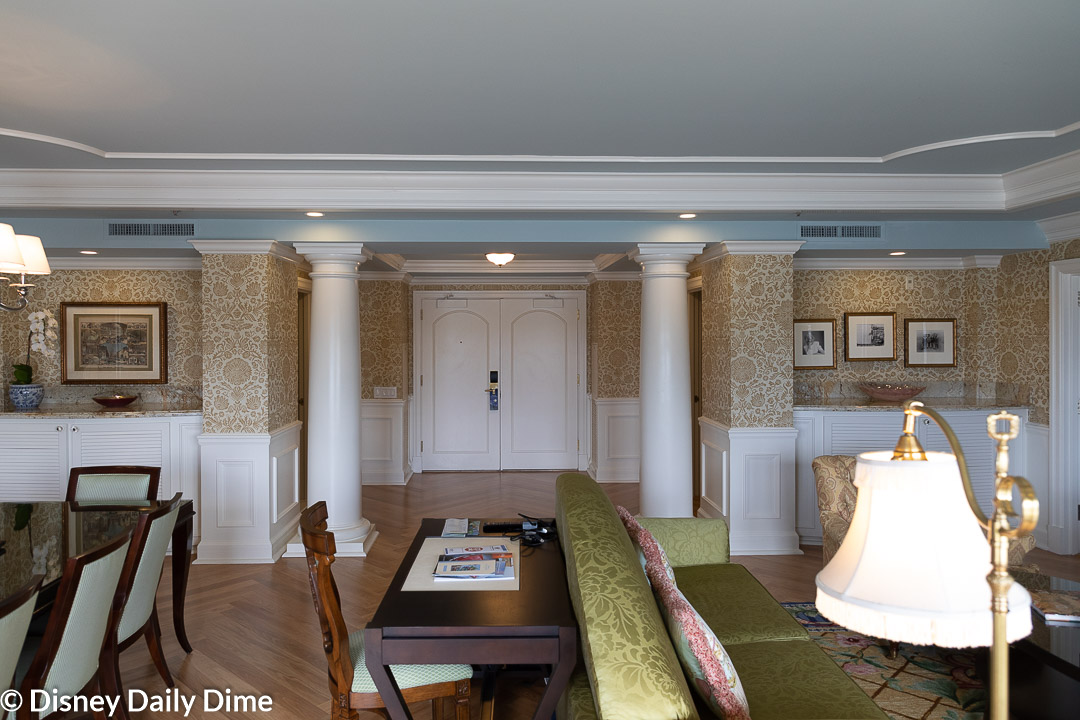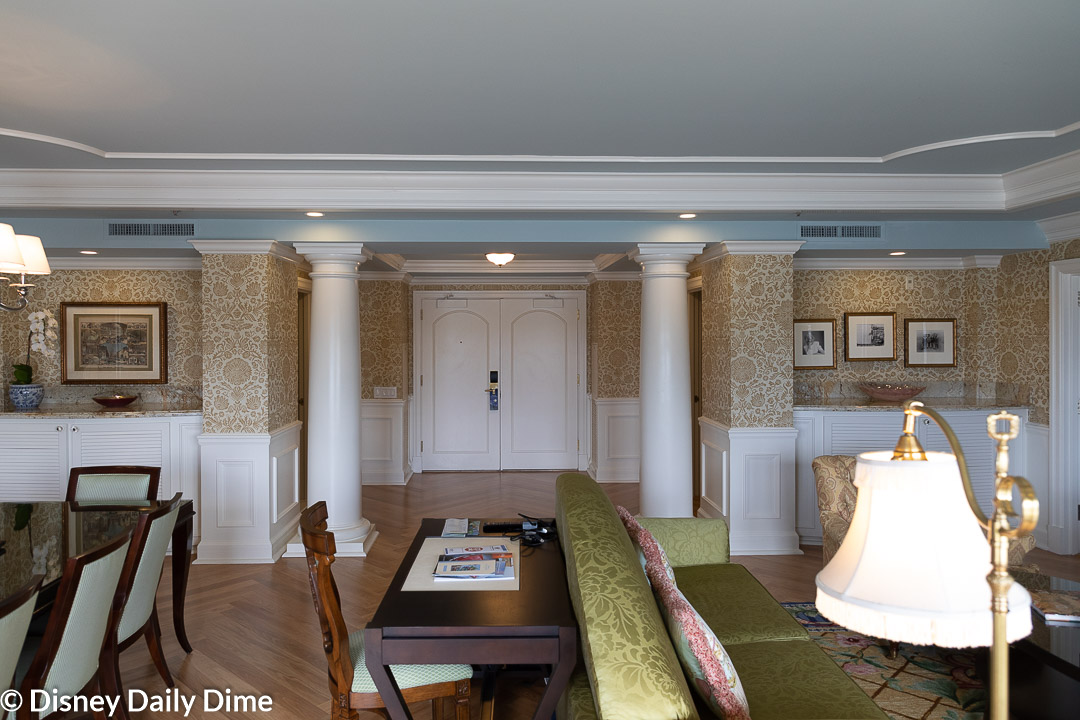 On the back side of the living area are these two serving areas.  At least that's all we could really consider them useful for, other than keeping all our loose junk on.  They look beautiful with the decorations and the marble tops, but don't really do all that much.  The cabinet space you see underneath them is empty.  You can use it for storage, if you have items you want out of sight.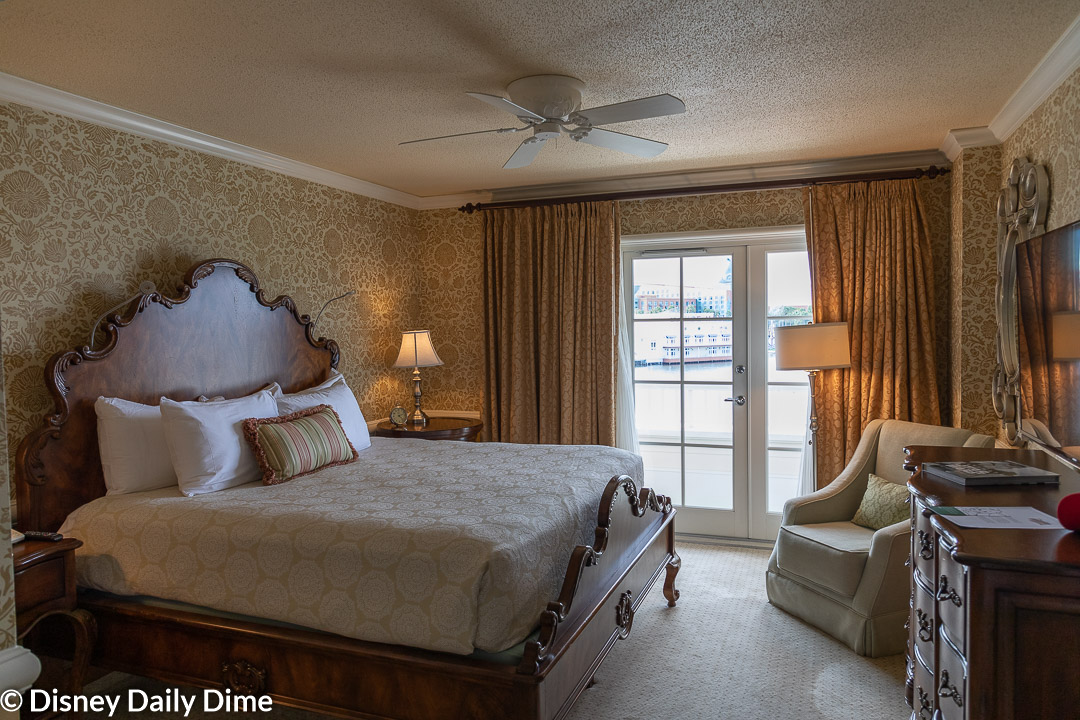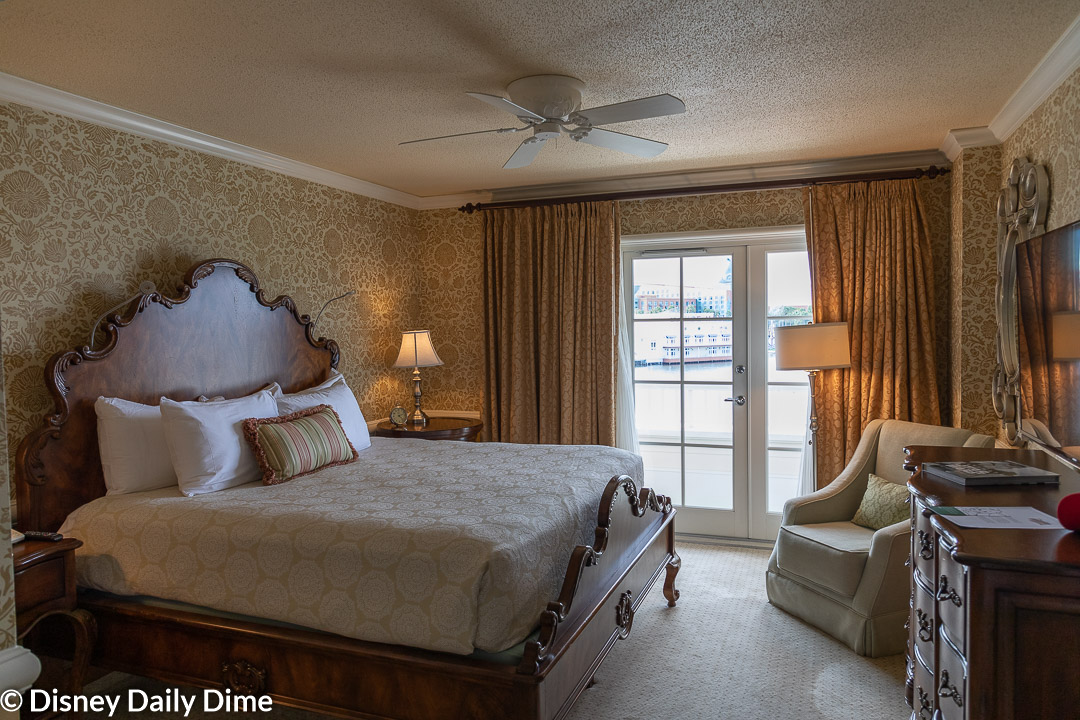 The Master Bedroom Lets You Rest in Luxury
The Master Bedroom of the Sonora Suite at Disney's BoardWalk Inn is truly luxurious.  You're greeted by a king-sized wood framed bed.  It sits up rather high, so you may be literally climbing into bed.  Mike's 6' 1" and even he had to sort of hike his leg up to get in the bed.  There are night stands on either side of the bed, however only the one on the left has plugs in it.  The bed was a little firm compared to our personal bed, but we didn't find it hard.  It's a good middle of the road mattress.
The balcony doors offer the same stunning view of Crescent Lake you get from the main living area.  They do open up to the balcony, so you can go out onto it directly from there if you choose.  The doors are framed by some very rich looking yellow (or gold) drapes, that have a sense of weight to them.  They help convey the feeling that you're in a place of substance.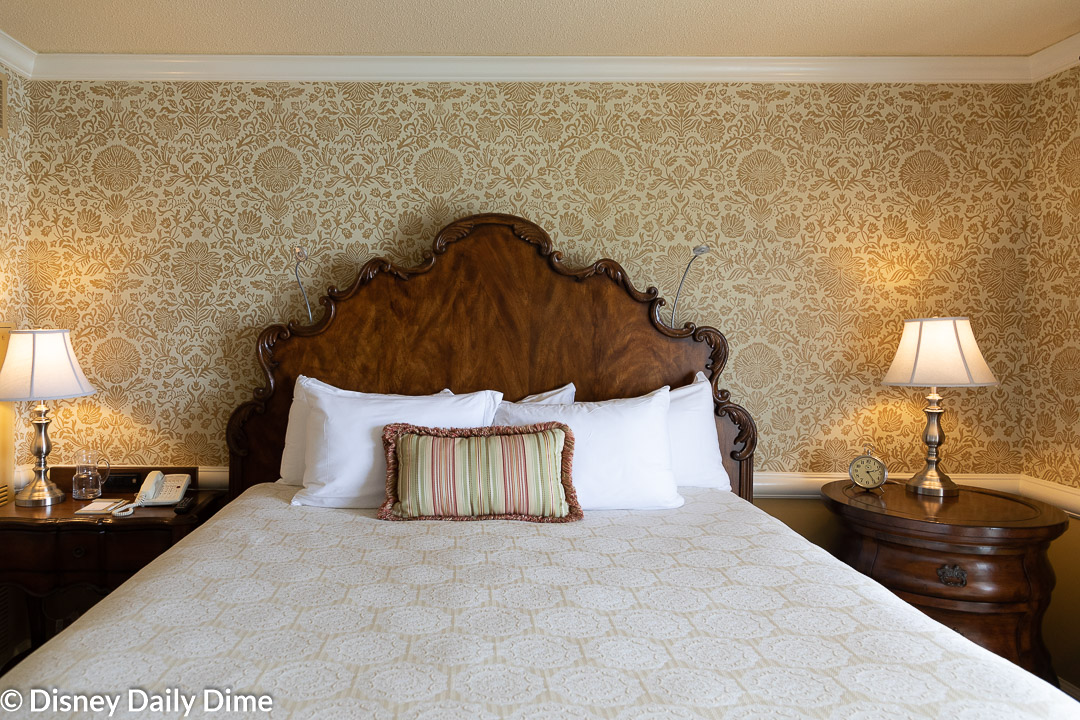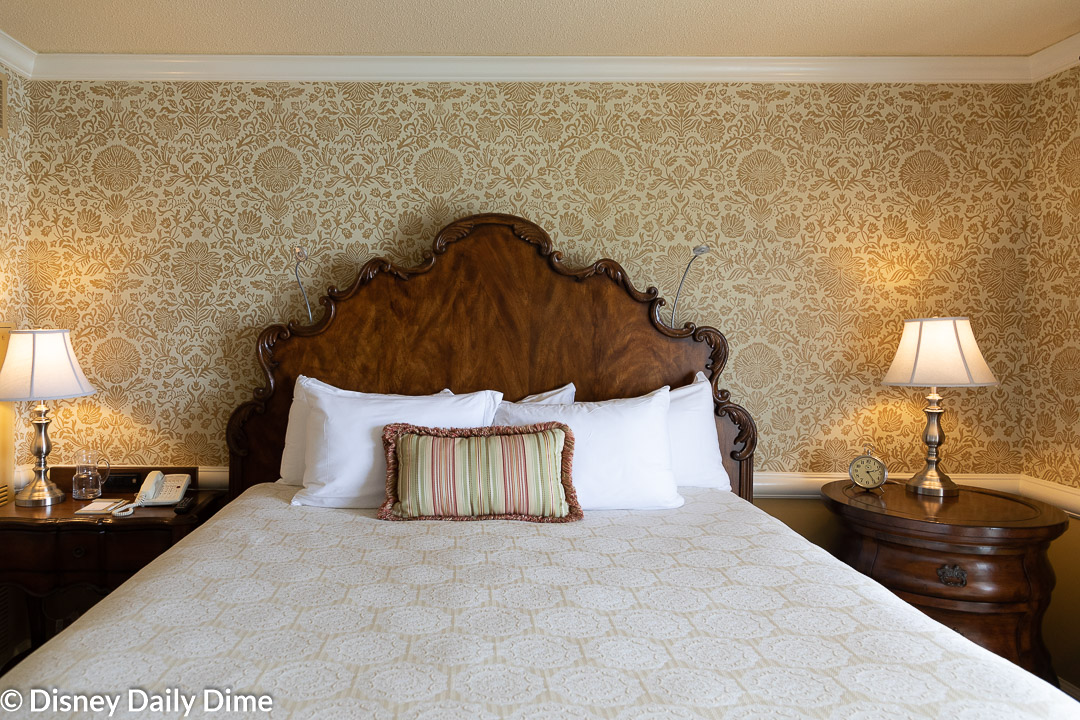 All the furniture is that rich hardwood the bed frame is made out of.  We've read in some places that the wood is cherry, but we have been unable to verify that ourselves.  In any case, it again adds to the feeling of luxury in the master bedroom.
The closet is a good size, allowing you to hang up the clothing for your trip.  It even has a little shelving set in it if you need to place items in there.  With the nice dresser, we're not sure you'd need to, but hey whatever works.   When we got to the room, there were two robes and slippers in the closet for use during our stay.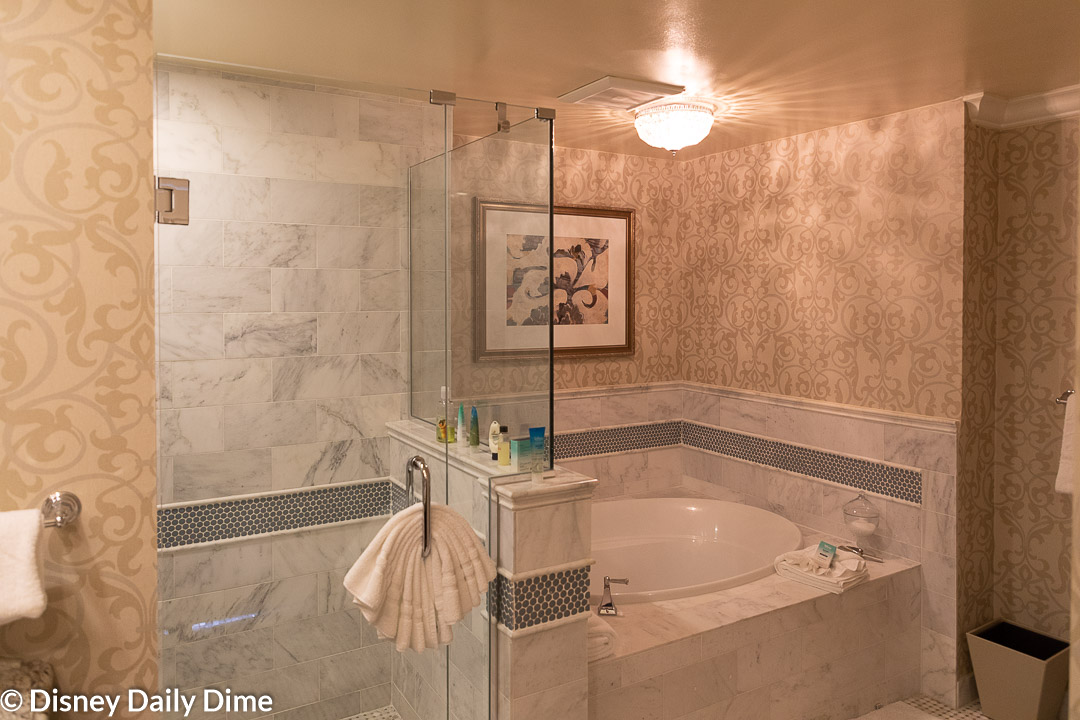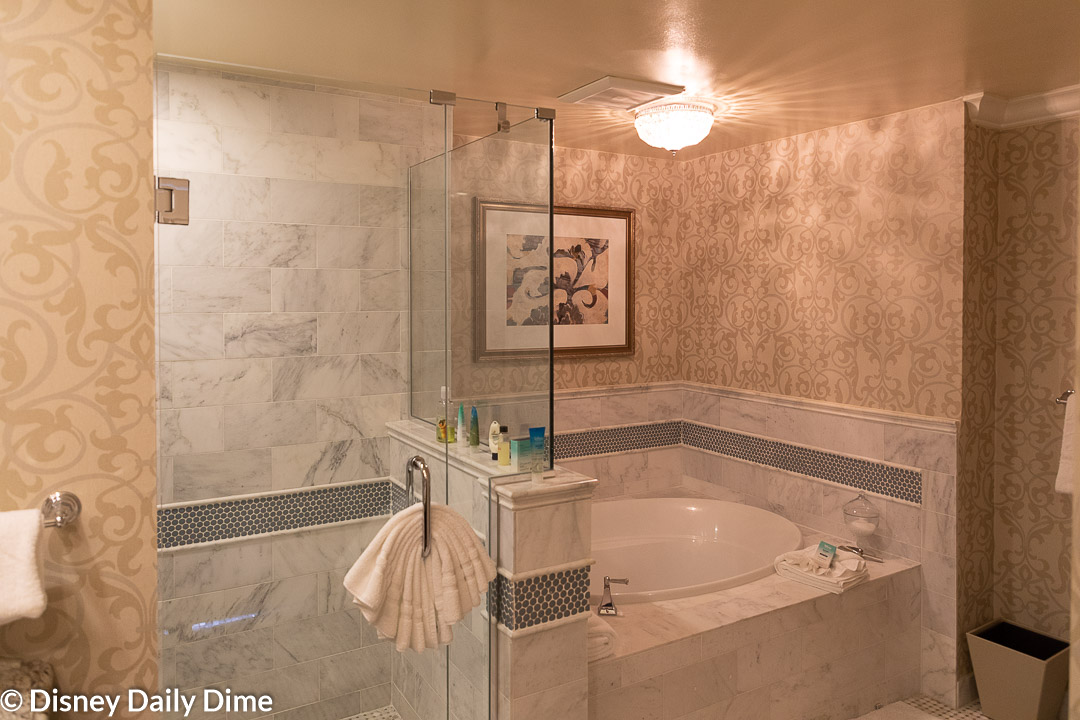 The Master Bath Will Allow You to Escape
The master bath in the Sonora Suite will give you opportunities to get away from the outside world.  You can hop into the deep bath tub, throw in some bath salt and just relax.  If you don't have time for that, you'll still find a nicely appointed shower.  Our only thought here is that it would have been nice to have two shower heads, but it still works.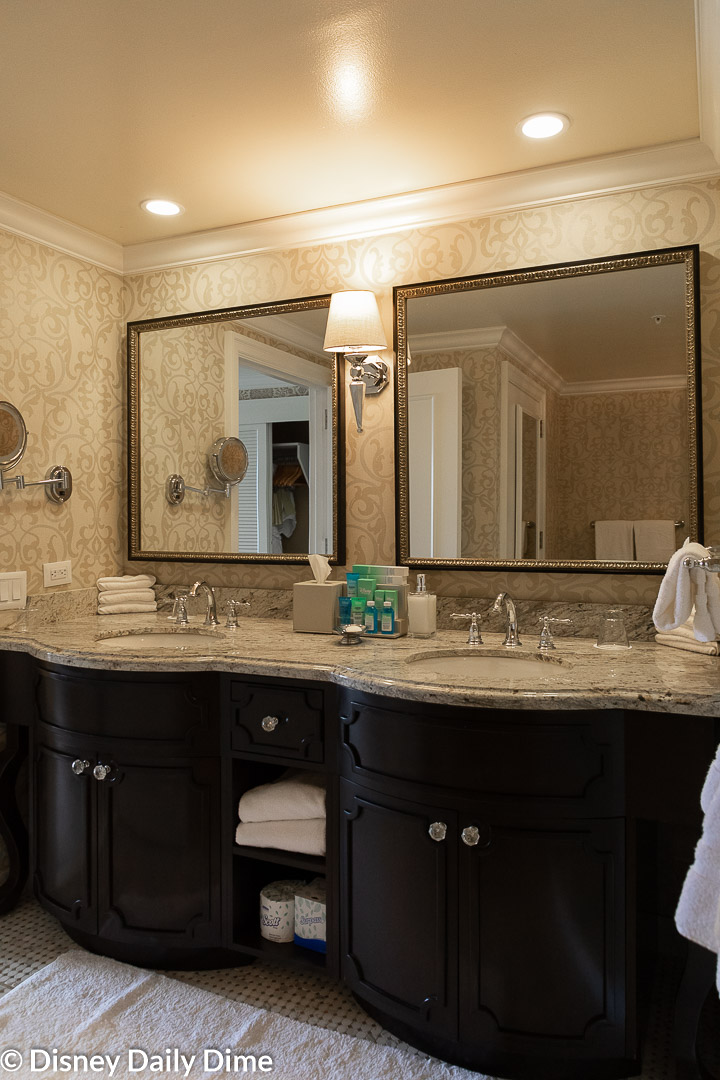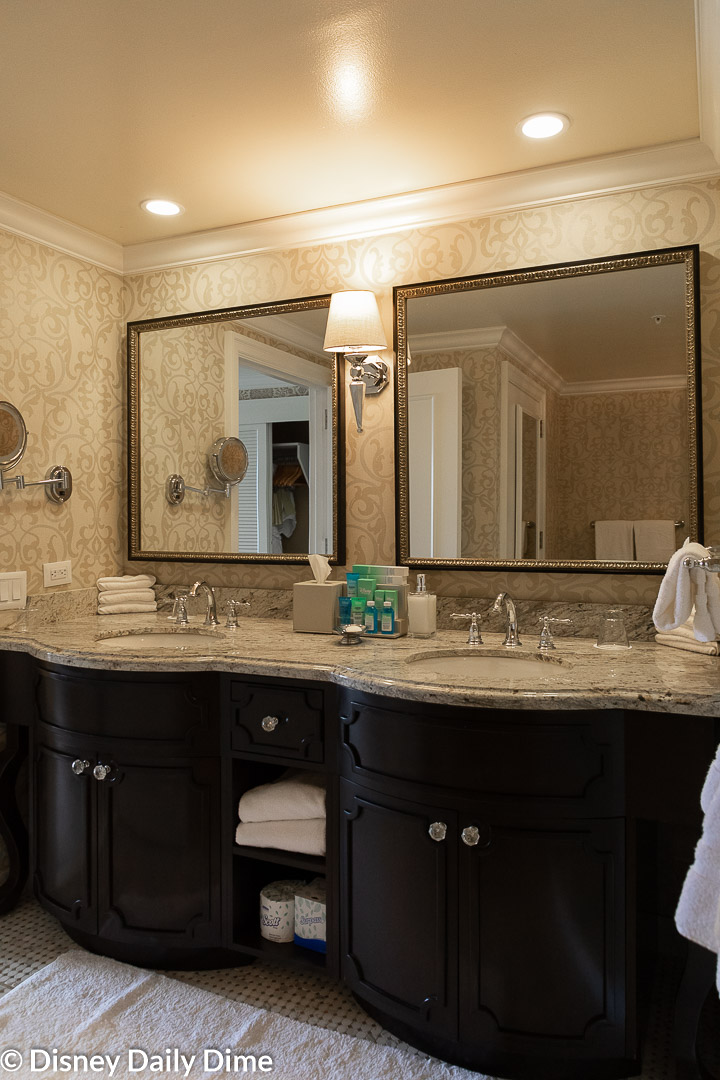 The master bath sink area is spacious with dark wood cabinets and topped by another marble counter.  They look great together and have more than enough room to hide all your toiletries.
We'll spare you the toilet picture, but rest assured there is one.  It has its own room in the bathroom that is isolated so you can use the toilet if someone is in the main bathroom area.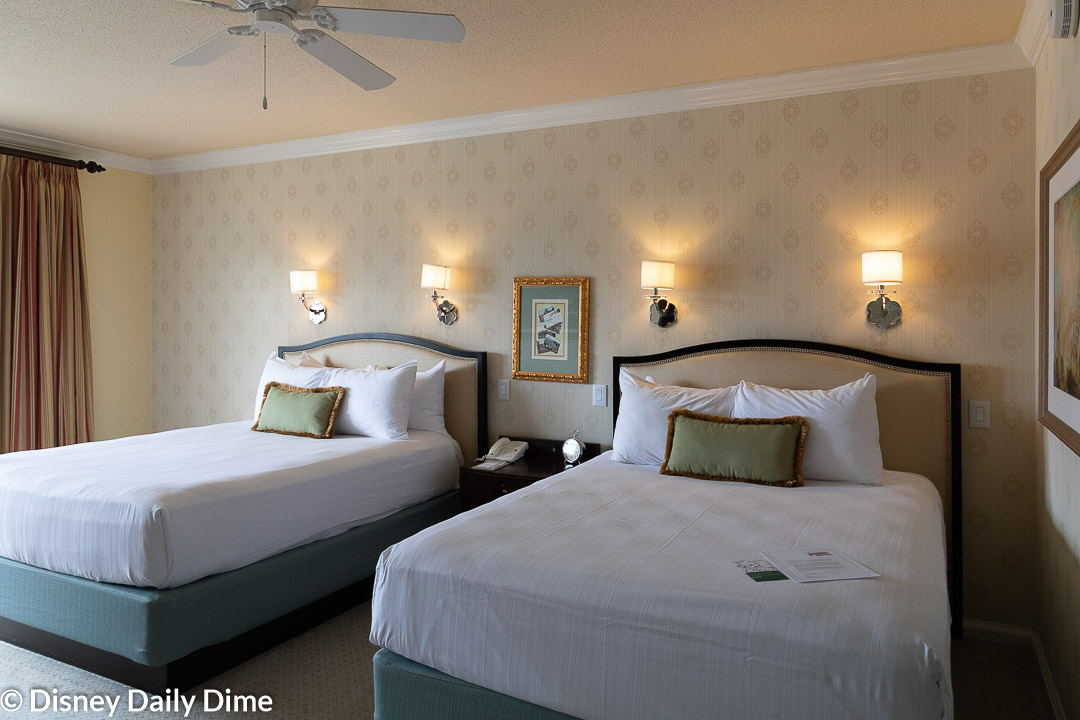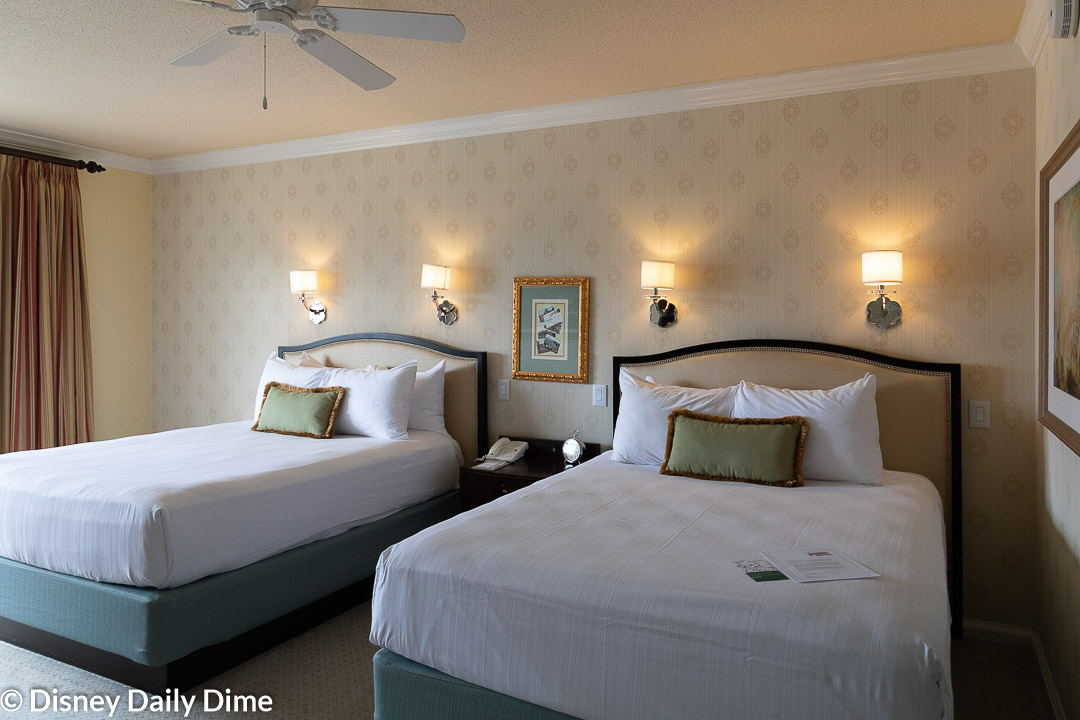 The Guest Bedroom Works Great for Kids or Adults
Not that we had the kids with us, but you get the idea.  Featuring two queen sized beds, the guest bedroom is essentially another full-sized resort room.  It has its own self-contained beds and bathroom, along with its own door out to the resort hallway.  While not quite as well appointed as the master bedroom, it will do just fine for most anyone.
It has its own set of dressers and a TV.  You can even go out on the balcony from this room.
To be honest, it almost feels like they took an existing suite and punched a hole in the wall for a door to make it connect to the room next door.  Nothing wrong with that at all, just an observation.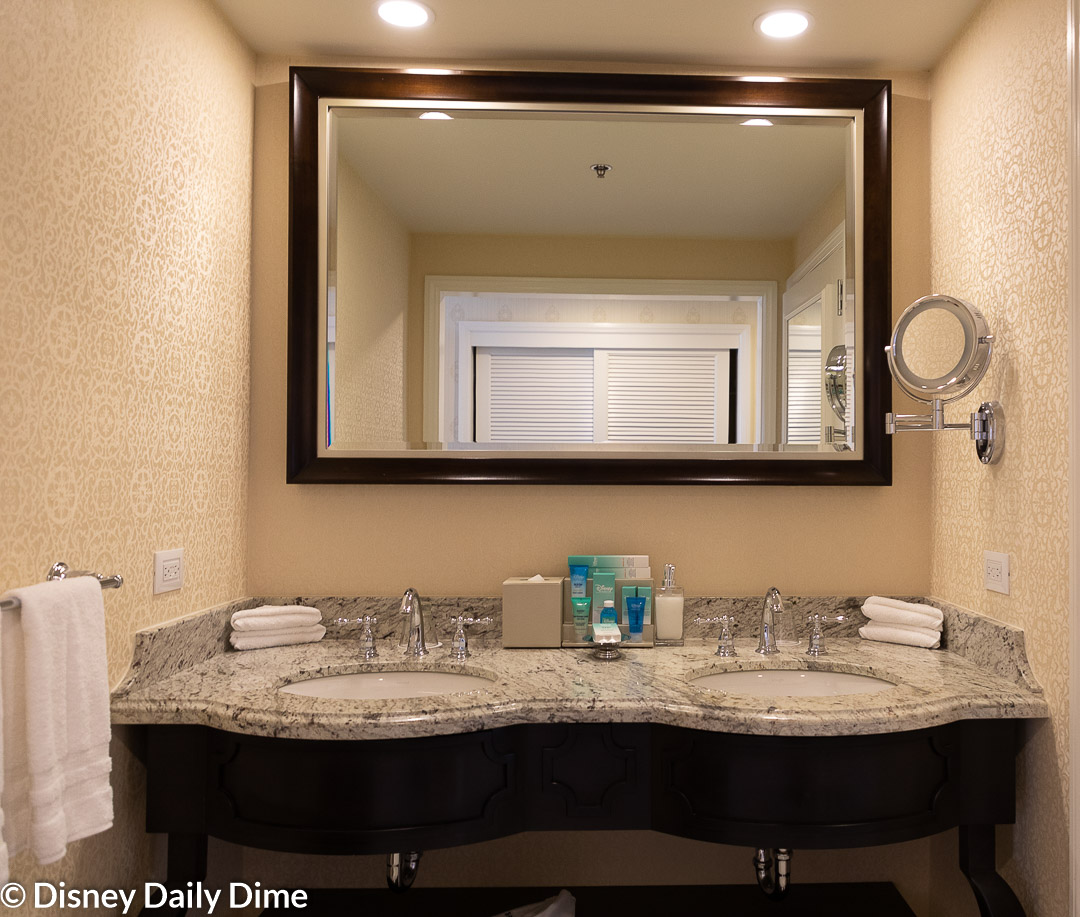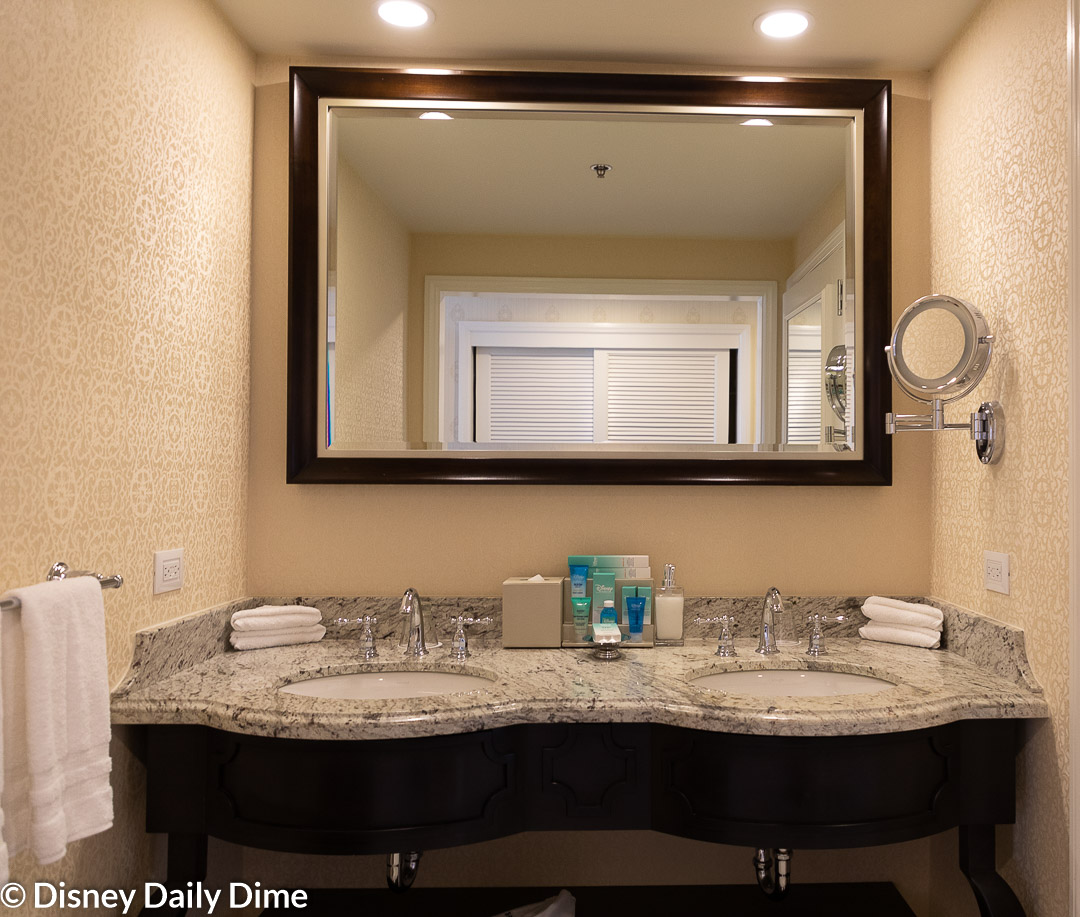 The guest bath is more of your standard bathroom set up.  The counters are fairly normal size, but the room they are in feels a bit more spacious than we are used to at Disney World.  We say feels, because we don't think it actually is.  Something about the mirrors and opening up to the walkway in the room makes it feel bigger to us.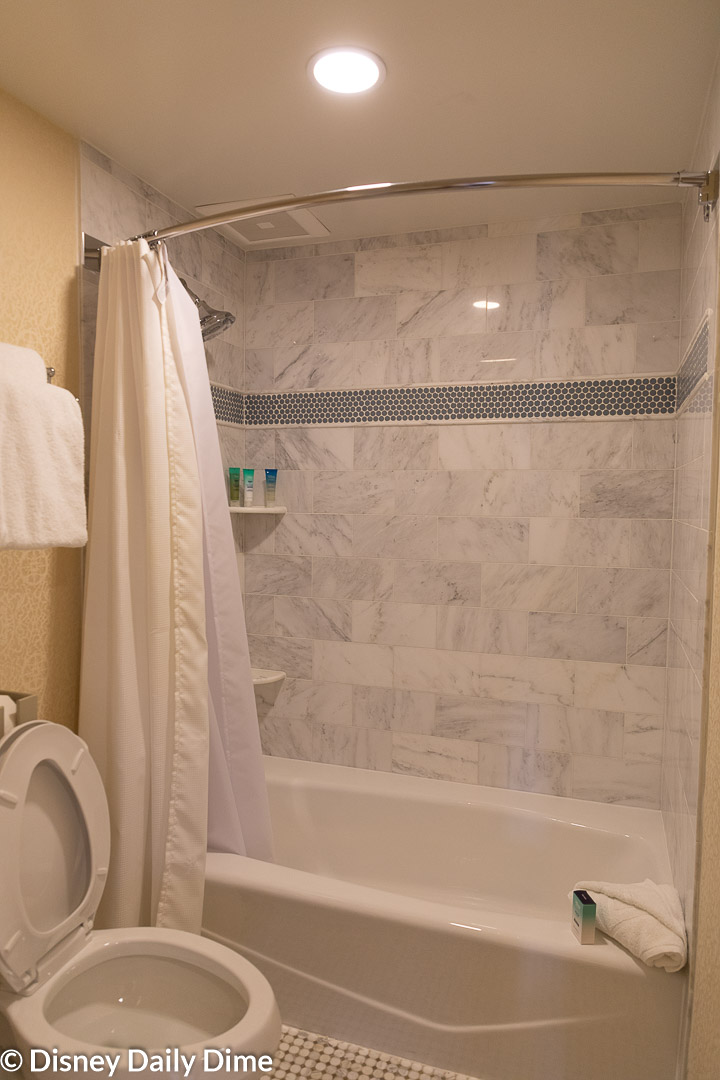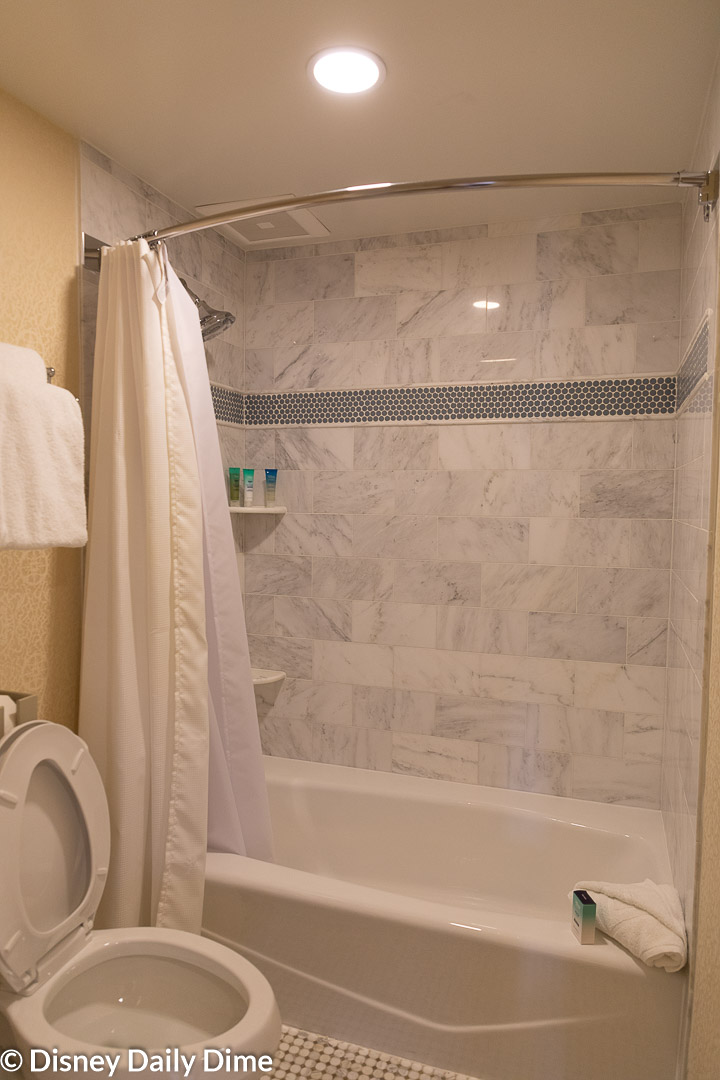 You'll find the actual shower area to be a familiar look and size.  Small, but the marble touches up the sense of luxury a bit.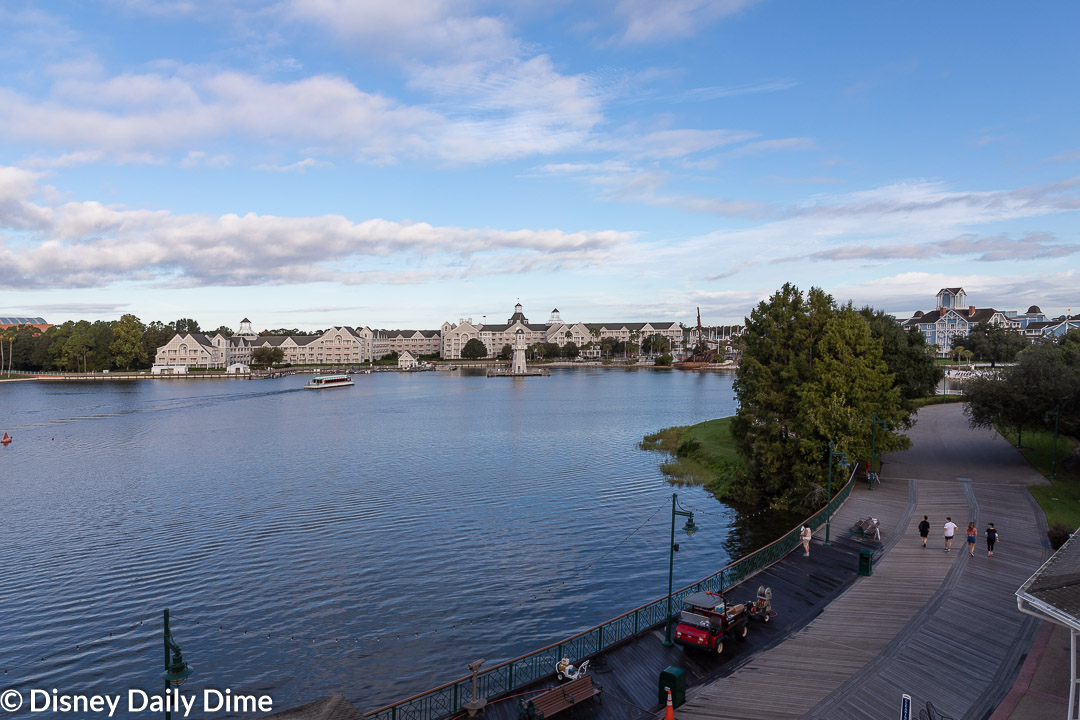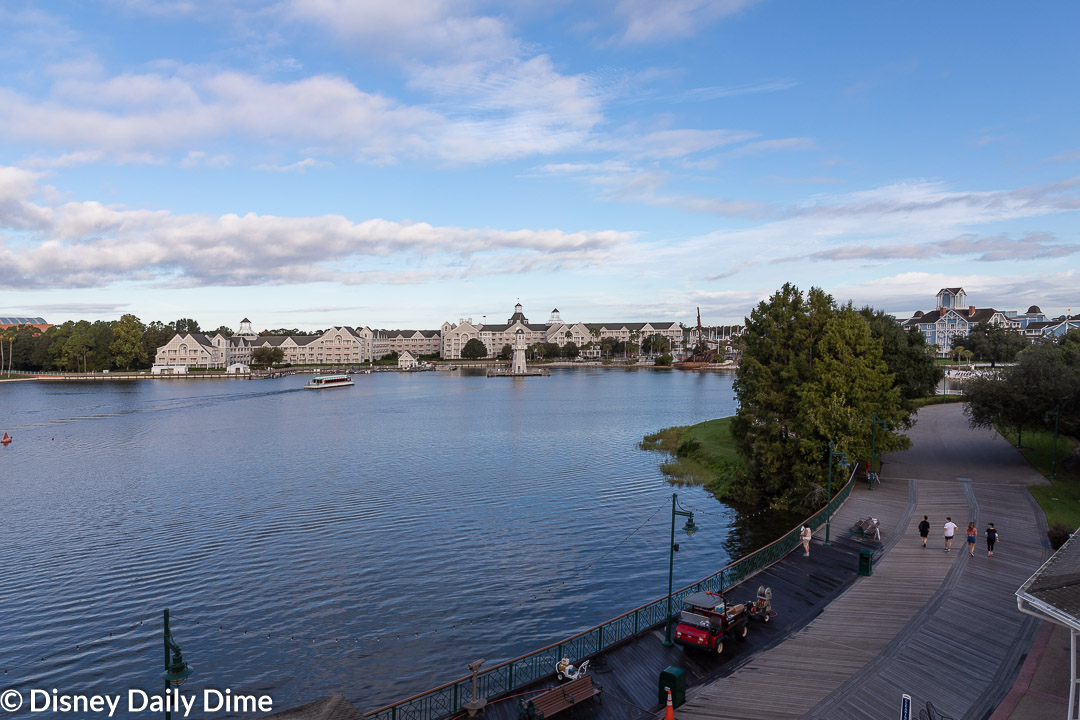 You Can Hang Out on the Balcony for a While
The balcony of Disney's BoardWalk Inn Sonora Suite runs the length of the suite.  Yep, from bedroom to bedroom.  And the views of the boardwalk and Crescent Lake are fabulous.  They are especially great early in the morning or late at night when the foot traffic is lowest.  It makes for a very peaceful and serene location.  You're far enough up that you can't hear much from the people on the boardwalk, so it gives you a sense of isolation.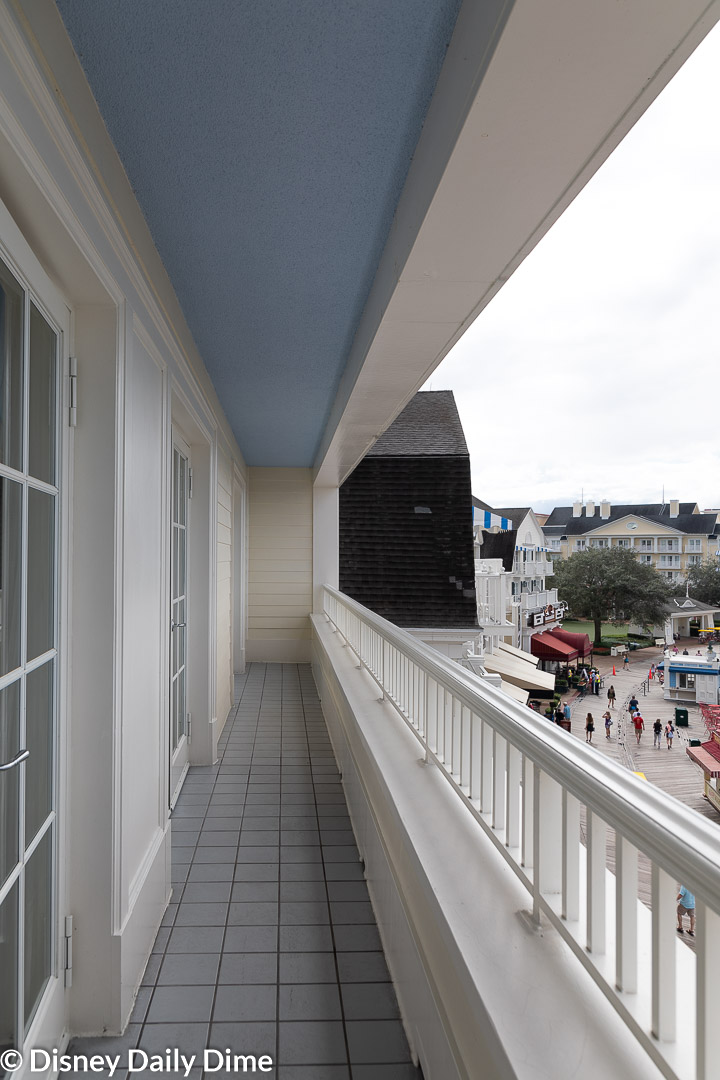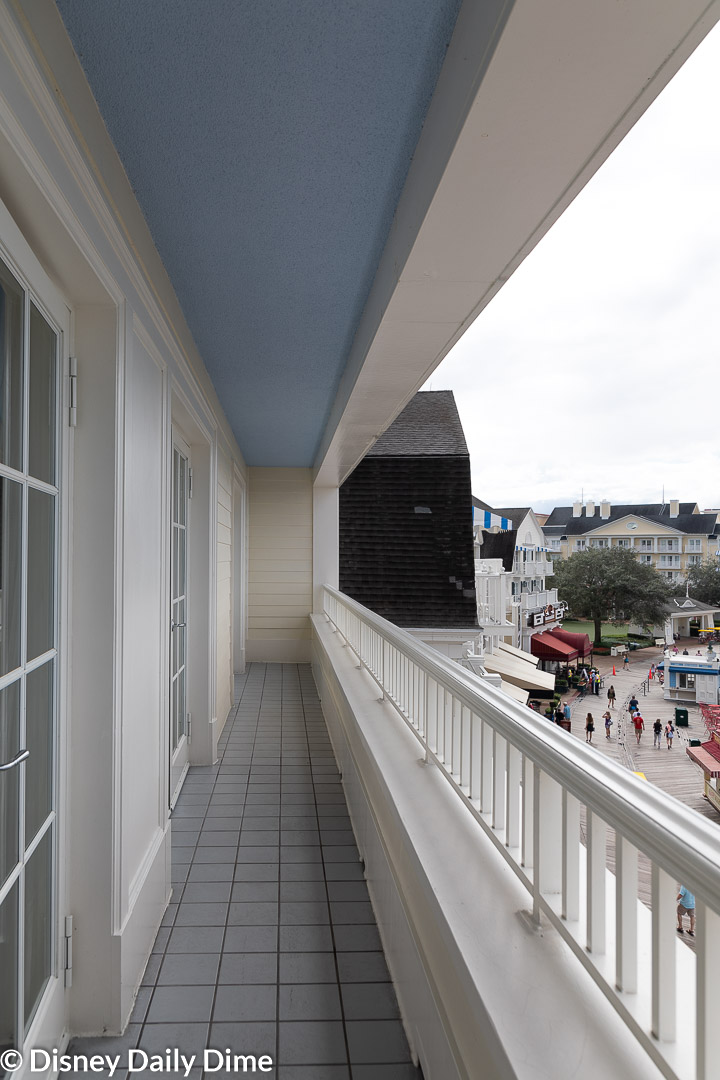 The only problem we see with the balcony is there are no chairs on it.  That's because it actually isn't wide enough to fit one.  It probably only has about three feet of width to it.  So, if you're going to hang out here, you have to stand.
How Did We Score an Upgrade to the BoardWalk Inn Sonora Suite?
We had someone on our Instagram page (feel free to follow us there or anywhere else on social media) ask us how we scored this awesome upgrade.  To be honest, we're not exactly sure, but we have some ideas.
First, we came at a relatively slower time of year.  It was the middle of October and crowds were light. 
Second, we checked in on a Wednesday.  This is the day that crowds are historically the lowest.  As we pointed out in our recent article on Disney's new ticket system, Wednesdays are when tickets are cheapest, which supports the notion of low crowds in the resorts and parks.  So, we had a better chance of the room not being used.
Lastly, we only stayed two nights.  This shorter duration makes it easier for the resort staff to fit us in to any availability they have for the Sonora Suite.
Combining these three factors, probably made us prime candidates for getting this room.  Most other guests are likely staying 4+ days, which would possibly interfere with a real paying customer.  Our short stay made it easier for Disney guest services to fit us into the room.  By checking out on Friday, we left before weekend arriving groups would get to the Sonora Suite.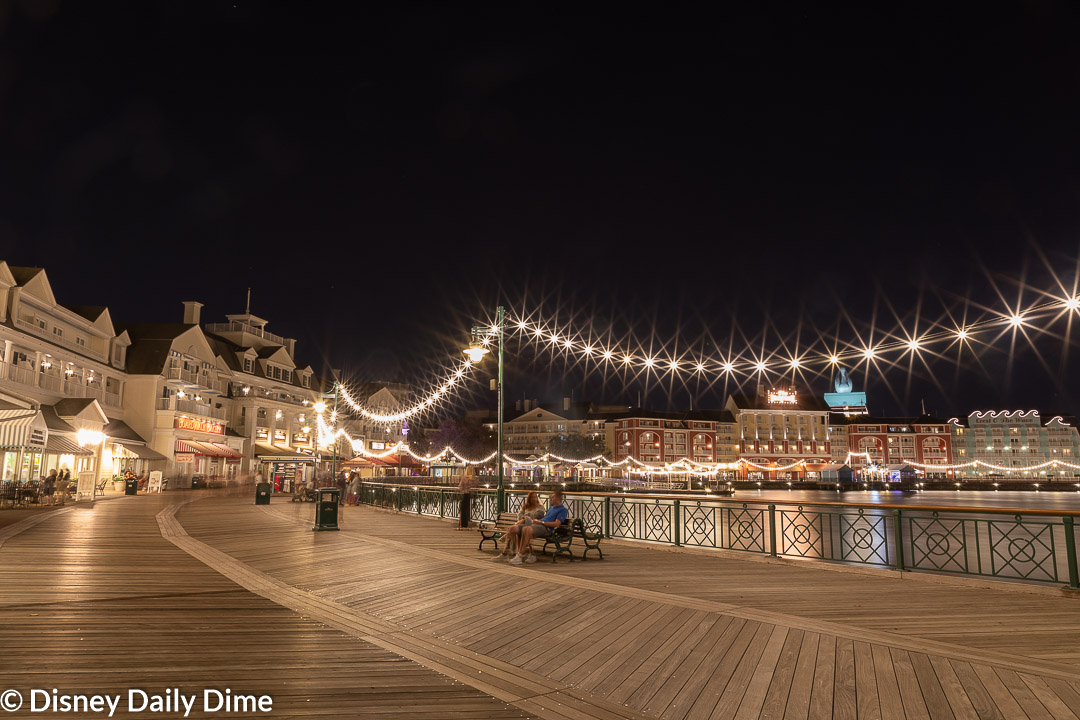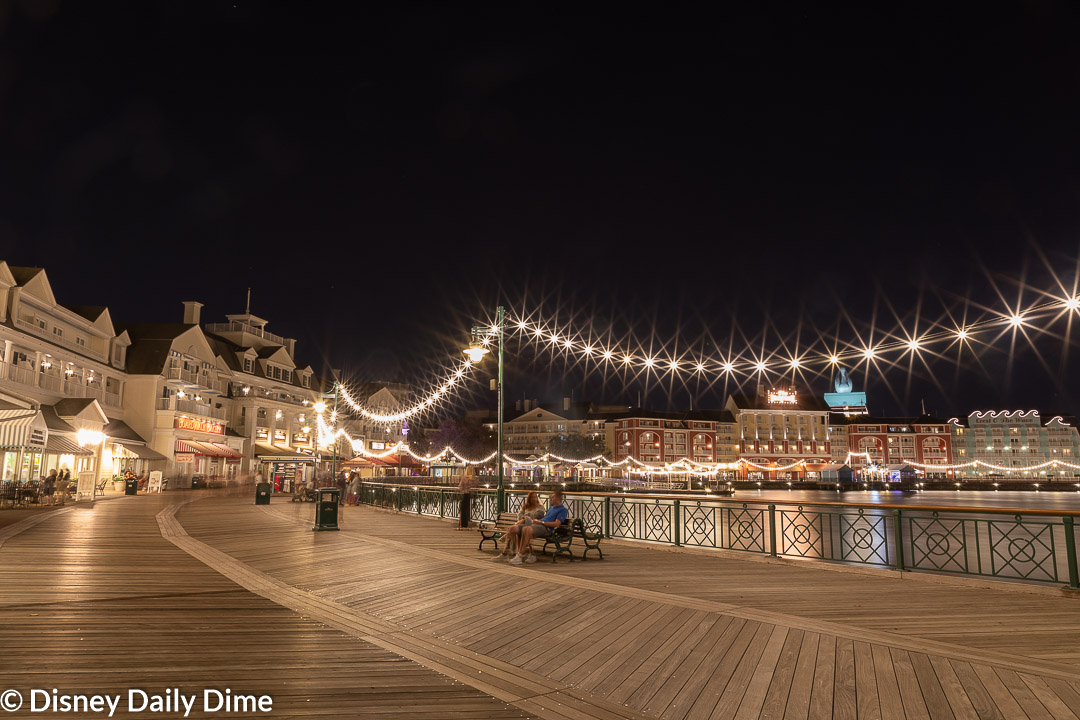 What Does the Sonora Suite Cost?
Okay, admit it, you're curious what this room costs.  So were we.  In general, the room is going to run somewhere around $2,000 per night!  Sometimes you might find it lower, other times higher depending on seasonal demand.
Note that you can't book the Sonora Suite online.  It doesn't even show up on the Disney Website for the BoardWalk Inn.  The only way you're getting this room is to call Disney directly.
If this room isn't opulent enough for your tastes, there is one other option for you.  There is a Presidential Suite at Disney's BoardWalk Inn.  It goes by the name of the Steeplechase Suite.
Is the Sonora Suite Worth It?
Well, for the cost of a standard room, of course it was!  Oh, you mean if we have to pay full price?  Uh, no.  We can think of a lot of better things to spend our hard-earned money on than this suite.  If you are trying to sleep 8 or 10, then maybe, but probably not.  It is fabulous?  Absolutely.  But that's a lot of cash.  You can use the savings of "downgrading" to a regular club room to come back to Disney a second time.  Or you can book some of the unique experiences and backstage tours that Disney offers.  Do that and we bet you will still save money.
But if money is not an issue, then by all means feel free.  Come stay in a room that the stars stay in (we're assuming, nobody actually told us that).
Wrapping Up
Like we said, Disney's BoardWalk Inn Sonora Suite is over the top luxurious for Disney resort.  However, the price corresponds with that.  If you ever get the chance, you can always ask if there is an upgrade available.  You never know!  The worst they can say is no.  Why not try?
Have any questions about the Sonora Suite we didn't answer?  Drop down in the comments section below and feel free to ask them.  We'll try and answer everything you throw at us.
We hope you enjoyed this post.  If you did, please help us out and share it on social media or with others you think might find it interesting.  Just use the social sharing buttons on the page.  We greatly appreciate it when you share our articles.  It helps spread the word on our blog and hopefully provides some useful or at least entertaining reading for everyone.