When Pandora – The World of Avatar opened in 2017, Animal Kingdom received a lot of attention for the two new signature attractions that came with it.  However, one overlooked aspect of the land that doesn't get enough focus is the dining that came with it.  The new dining came in the form of Satu'li Canteen, a counter service restaurant.  Here in our Satu'li Canteen review, we'll discuss the theme, atmosphere, food and anything else we think might be relevant (and sometimes not).
You'll find Satu'li Canteen near the back-right corner of Pandora, so you'll have to fight your way past the long lines of Flight of Passage to get there.  It's nothing terribly difficult to navigate, but you may have to wait for lines to move so you can pass by the crowd control.
As a counter service location, you'll find Satu'li Canteen requires one counter service Disney dining credit if you are on the dining plan.  While the official Disney website says they serve American cuisine, we'd say it is not your run of the mill American fare.  We'll discuss more in a bit, but for now let's get on with our Satu'li Canteen review.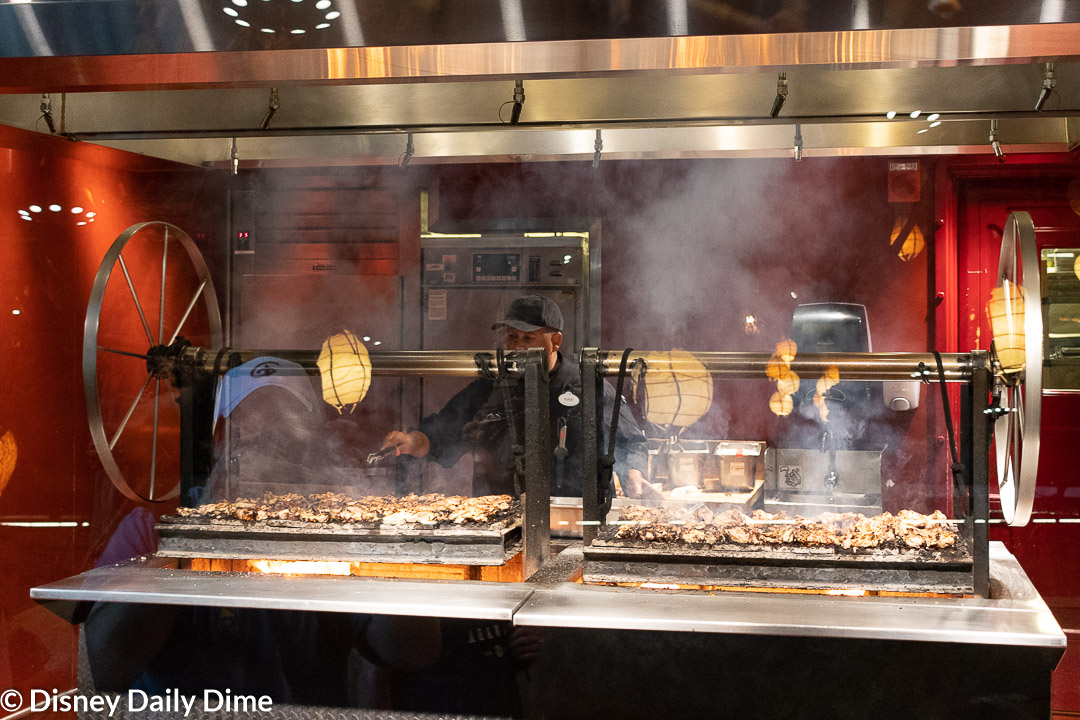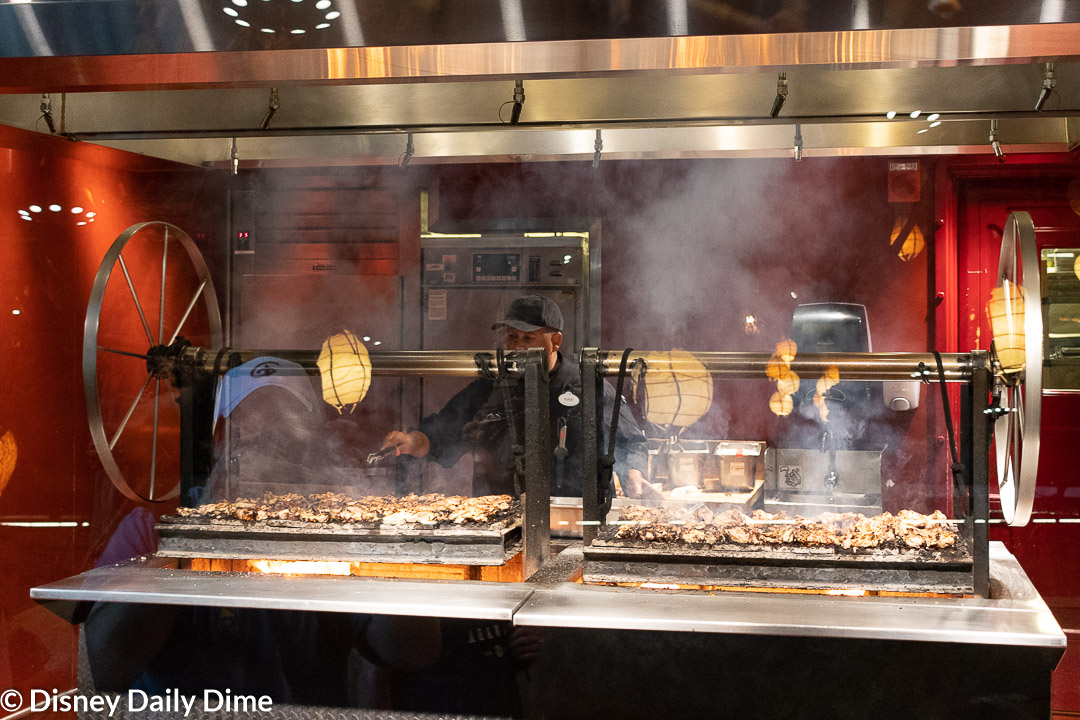 Welcome to an Old RDA Mess Hall Turned Tourist Trap
As you approach Satu'li Canteen, you will find a larger outdoor seating space for diners.  And while it outdoors, it is at least covered.  The exterior is covered in vegetation that is supposed to be native to Pandora, so it blends into the world.  And that it does, I'd say.  At least on the outside.
You'll enter the restaurant by walking through the outside dining area and find an open dining area inside the building.  The story goes that once the RDA left Pandora, a more tourist outfit known as ACE (Alpha Centauri Expeditions) commandeered the mess hall to use for their guests.  As you go through much of Pandora, you'll fine ACE to be prevalent everywhere.
The interior has an interesting design.  In the ordering queue, you'll find it to look a lot like parts of the interior queues for Flight of Passage, so that seems very consistent with the land if not a bit bland.
However, the interior dining area itself is a bit inconsistent with the militaristic feel of a mess hall.  There are some of the same grey tones and metal to be found for sure, but you'll also find native art of the Na'vi, seating that that is defiantly not that of a mess hall, and décor that looks like the space has been overgrown by the native vegetation.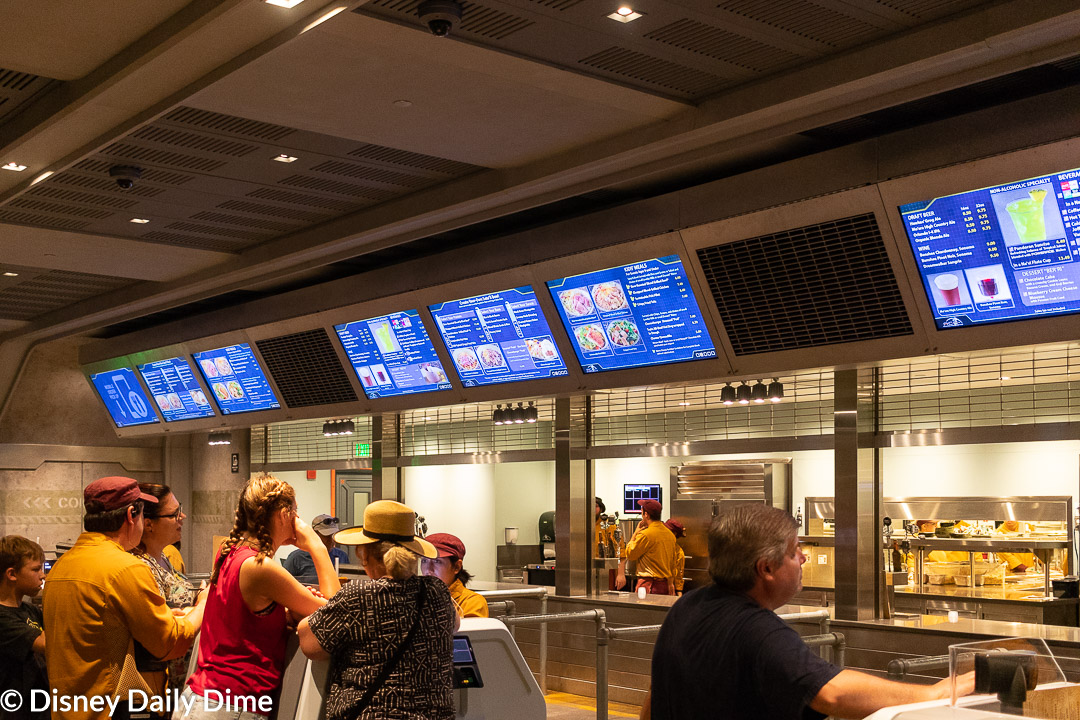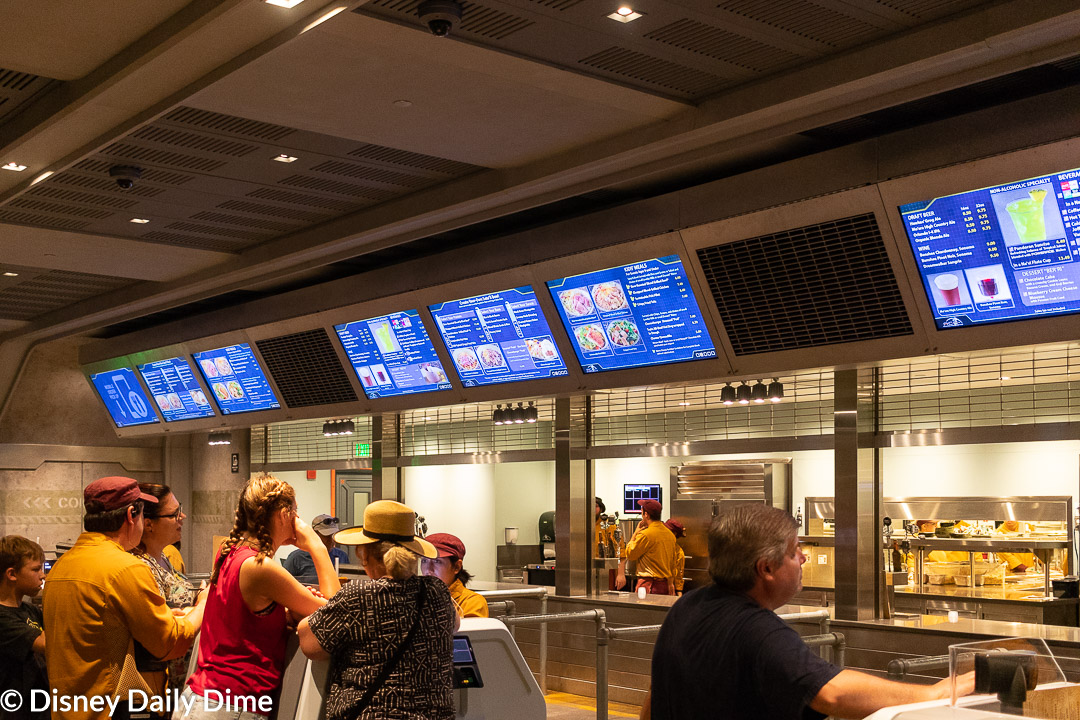 If you're not familiar with Pandoran history, the Na'vi are the natives of the Pandoran world.  So, artifacts, art and other items of cultural significant to them makes sense.
The thing I can't get out of my head though is that Satu'li Canteen feels like it is not so much re-purposed, but neglected.  And then ACE just decided to throw a restaurant down in the middle of it.  To me, it just feels weird, inconsistent and maybe confusing.  And for a land like Pandora that is so well themed throughout, it's a bit puzzling why this feels like a bit of a confused mess.  Maybe it's just different strokes for different folks.
But at the end of the day, the theme can be as confusing as it wants, as long as the food excels.  Hold that thought…
Seating is Plentiful and Much of it Air Conditioned at Satu'li Canteen
One thing that Disney got right here was to put plenty of seating in doors.  Unlike one of the newest land/counter service location to open, Woody's Lunch Box, seating is plentiful and climate controlled here.
Now some of that owes to this being a mess hall, I guess.  You should be able to seat lots of people.  And there is plenty of cover to give you a respite from the elements.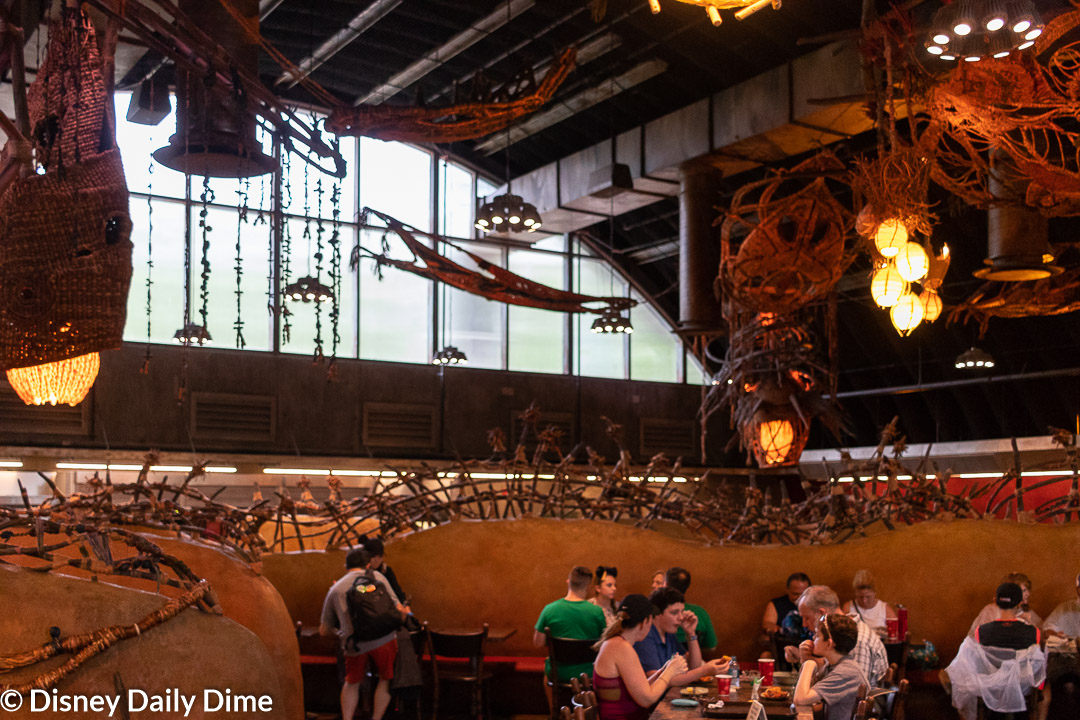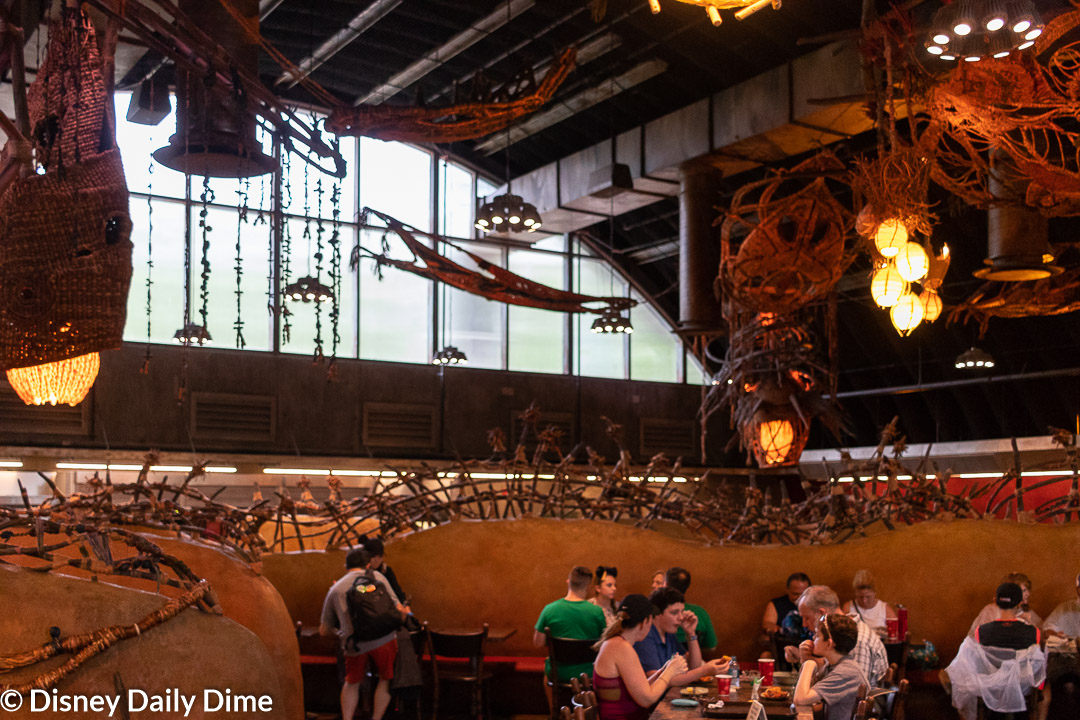 There is one thing you should be aware of.  There are several large tables within the restaurant's dining area.  These are designated as communal tables.  If you sit down at one of them, other people are highly likely to join you if the place is busy.  There are smaller tables that will accommodate your party, but be aware that you could be dining with others.
Featuring Fresh and Clean Ingredients, Satu'li Canteen Isn't Your Standard Counter Service Menu
Okay, so let's start to talk about the food.  Satu'li Canteen is a bit different than most restaurants at Disney World.  The main dish here is the build your own bowl feature.  In fact, as of this writing, it's the only dish.  It's a bit like Chipotle, but with less options to choose from and some better and worse ingredients.
Just in case you are wondering, I don't consider calling it like Chipotle a slight or insult.  I love Chipotle!  Now this isn't Mexican food.  I'm just more referring to the build your own bowl stylings.  If that isn't your thing, you may want to steer away.  But let's assume you're willing to give it a try.
Essentially, you build your own meal.  You do this by selecting among three different options.  They call it your 1) Protein, 2) Base, and 3) Sauce.
Starting with the protein, you have the option of sliced grilled beef, chopped wood-grilled chicken, fish fillet, or tofu.
Among the bases, you can choose from red and black beans, red & sweet potato hash, mixed whole grain & rice, or a hearty salad.
Finally, for sauces you will find three options.  They are a black bean vinaigrette, creamy herb dressing or a charred green onion vinaigrette.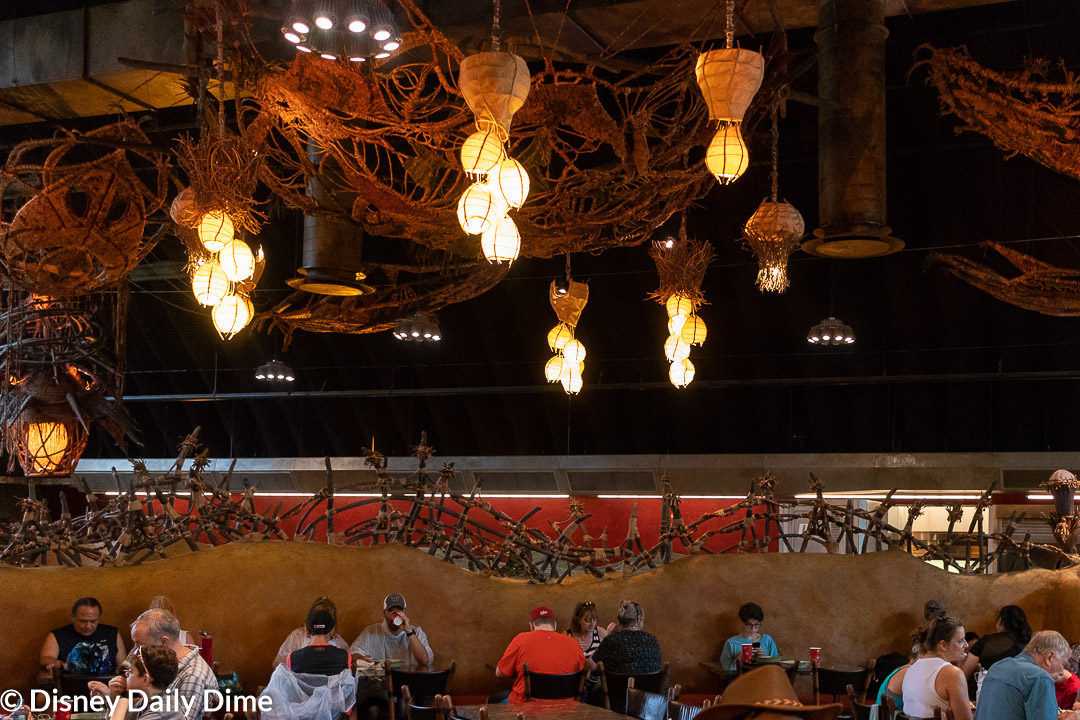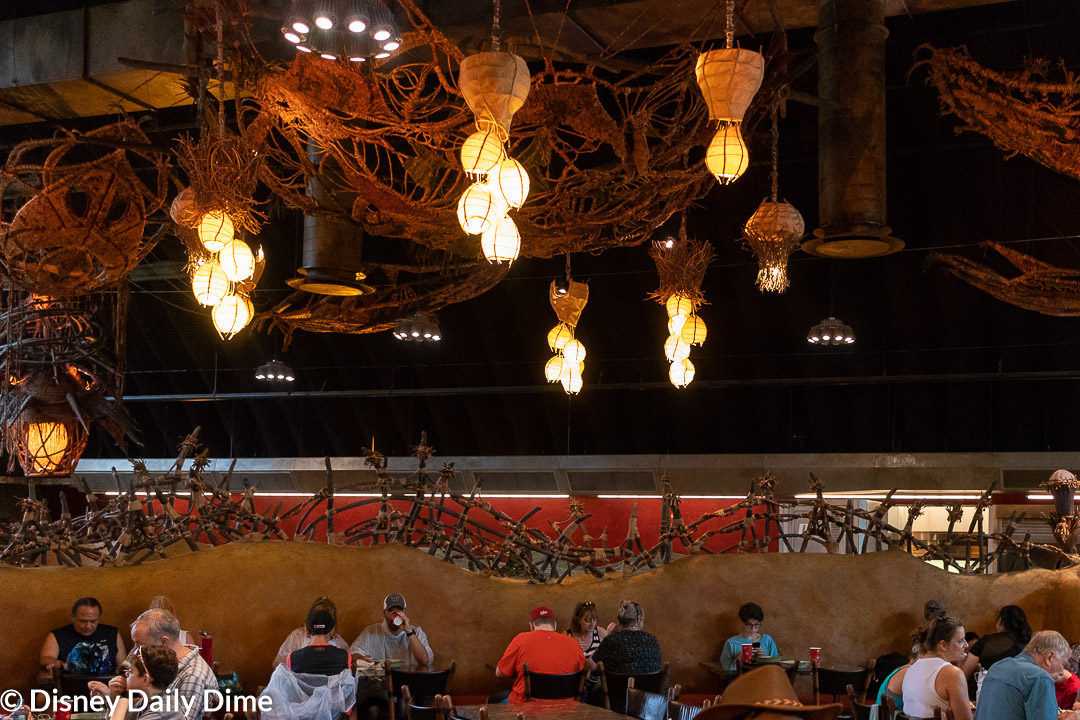 We'll talk about our food here in a bit, but the ingredients and options here really make Satu'li Canteen stand out amongst the array of boring counter service locations across Disney World.
If we wanted to get one thing across in our Satu'li Canteen review, it's that if you like to eat well but not pay a fortune for it, this may be one of the best options in all of Disney World.
A lot of this is born out of the theme behind the restaurant.  As Disney says, Satu'li Canteen features "A Menu Inspired by Pandora's Bounty.  And if you're going to have a menu that inspires thoughts of beautiful and majestic lands and native people that live off of that land, it better not be hamburgers and chicken nuggets.
The clean ingredients allow you to eat well and healthy, if you want to.  There are plenty of not so great for you item to continue your vacation indulgence.  To have a top flight, reasonably priced dining option like this was a real upgrade to counter service locations within all of Disney World, not just Animal Kingdom.
While this isn't our gluten free review, you'll find some of the best allergy friendly options within all of Disney World here too.
Now, if this build your own bowl concept option isn't your thing, then adults are kind of stuck.   Disney used to serve these things call Pods, however they were recently removed from the adult menu.  Think of them as hamburgers, in a puffy bun that completely surrounds the burger.  They are sort of like Bao Buns.  The Pods are still on the kid's menu, should you want to order from that.
The kid's menu has a bowl option along with some more standard fare like a cheese quesadilla, the hamburger Pod, or a hot dog wrapped in a thin bun, or as Carla calls it the "Mummy Dog".
So let's talk about our food now…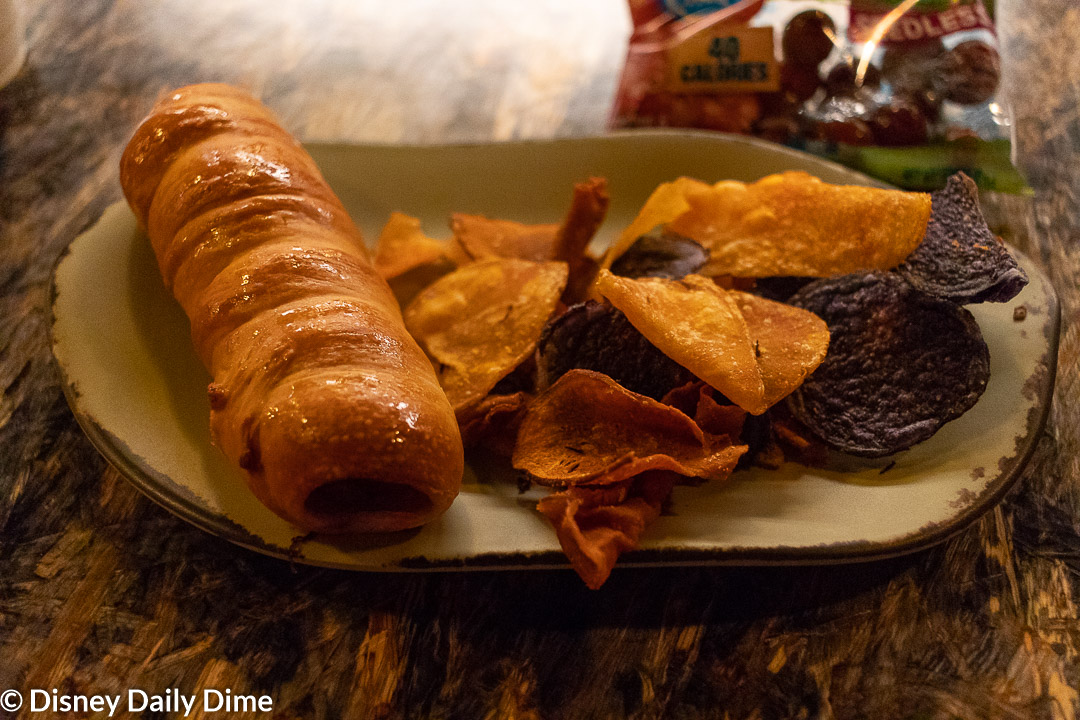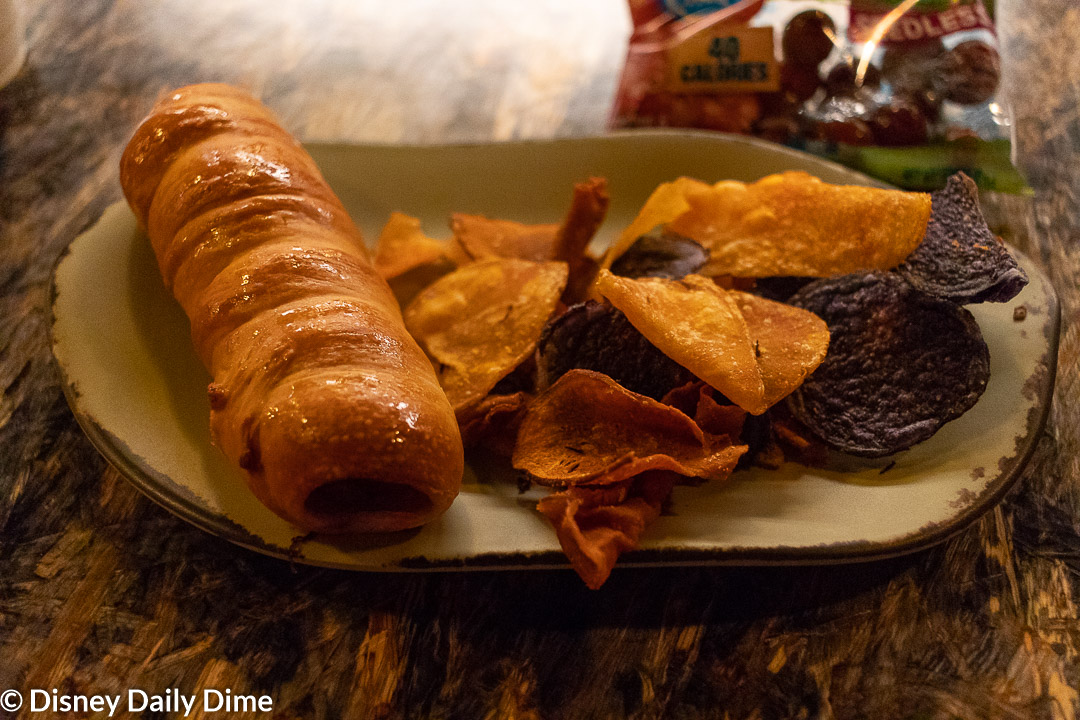 Satu'li Canteen Shines Amount Counter Service Location, at Least with Adults
Kids Entrees
We were really hoping Anna and Elsa would be more adventurous eating here and go for one of the kids build your own bowls.  Alas, it wasn't meant to be.  I have not been successful in getting either of the girls to be Chipotle fans, so they stayed away from something that remotely resembled it.
Anna, being predictable as every went for the "Teylu" All-Beef Hot Dog Wrapped in Dough.  As you can see in the picture, when they say wrapped in dough, they mean wrapped.  Surprisingly, Anna was not a fan of the dough.  It was just too thick for her liking.  It was one of those times where you want to ask, "would you like a hot dog with your bread?"
She ultimately asked us to take the bread off the hot dog, and then she devoured the meat.  I had a few bites of the bread and found it pretty tasty, but I do understand what she means about it being too much bread.
The meal came with grapes and vegetable chips.  The grapes were packaged, like you find at many quick service restaurants.  The vegetable chips were pretty plain and Anna didn't eat much of them.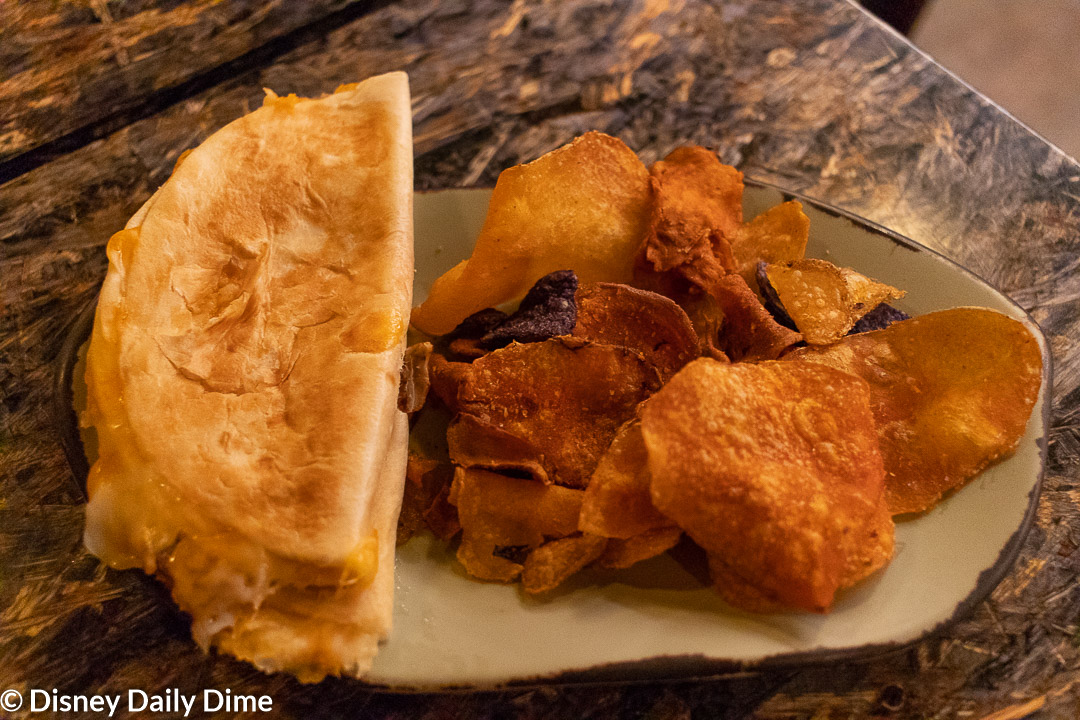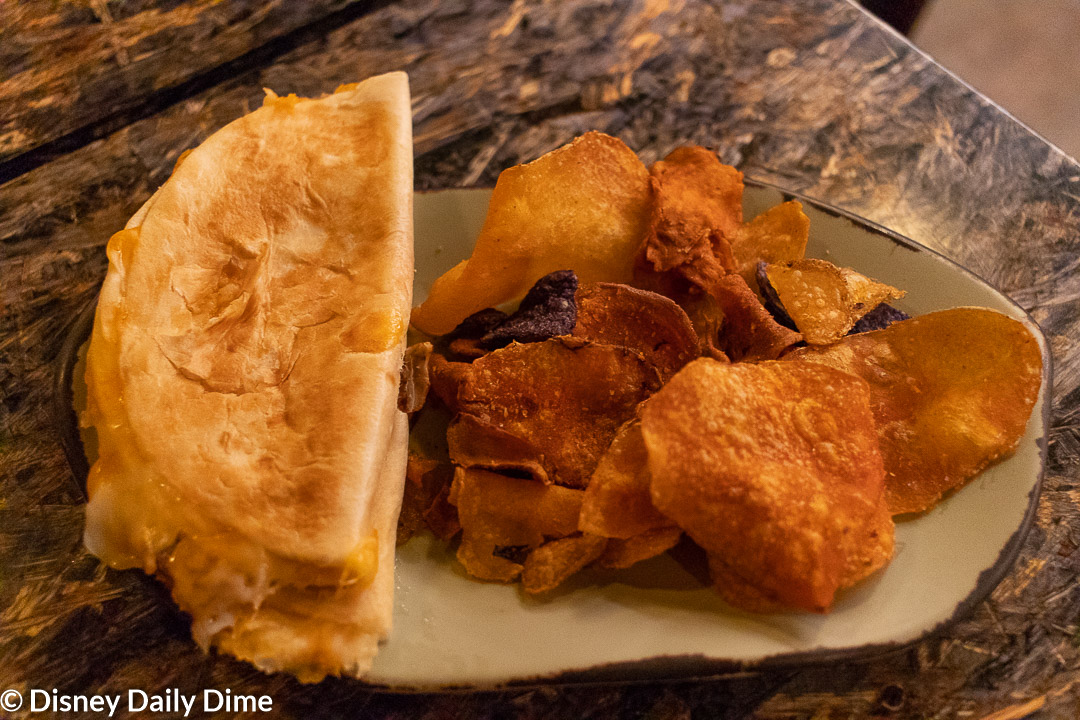 Elsa elected to go with the cheese quesadilla.  She enjoyed it, but what can we say.  It's cheese in a tortilla.  Not a whole lot going on.  Where Satu'li Canteen tried to upgrade the hot dog, this was just a plain old quesadilla.  Nothing to write home about.  She ate it and didn't complain, so we'll call that a success.
Elsa also got the vegetable chip and barely touched them.  While they like things like veggie straws at home, these chips didn't seem to impress them.
Adult Entrees
For the adult entrees, I ordered what else but a bowl.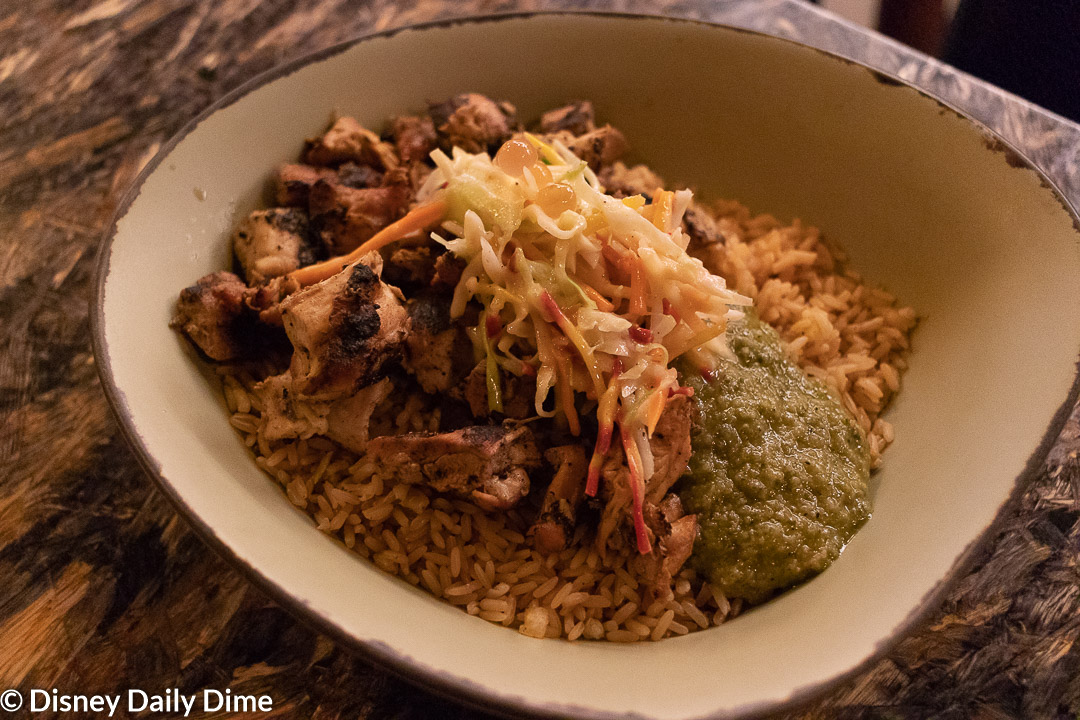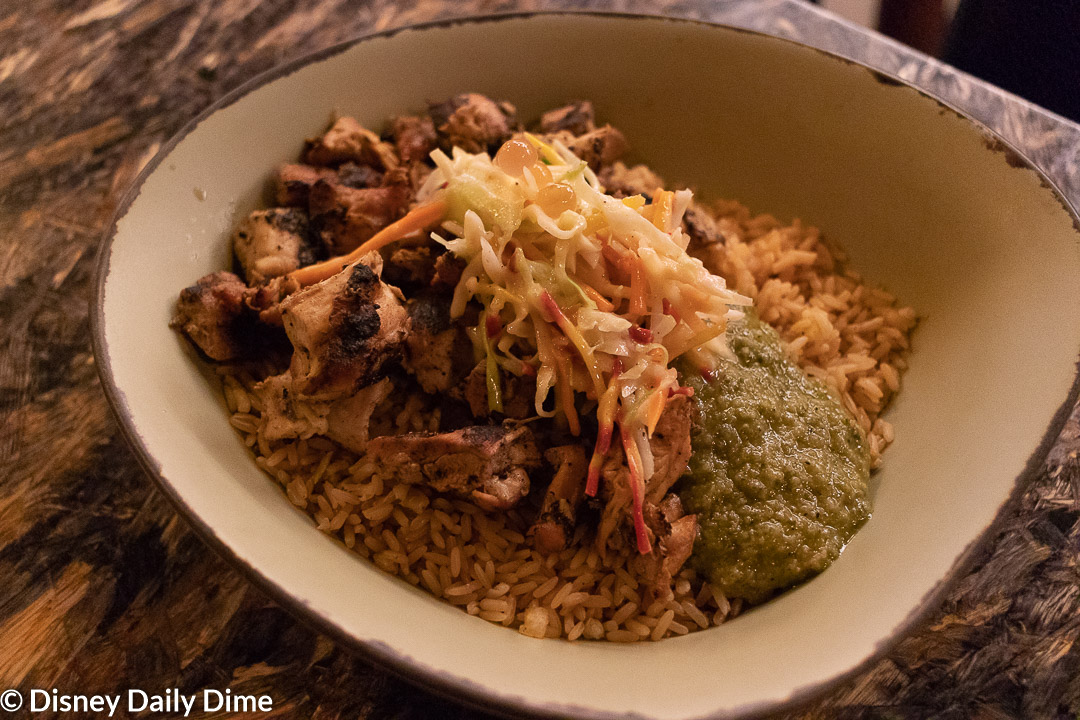 In my bowl, I got Chicken as my protein, a base of the whole grains and rice, and finally the charred green onion vinaigrette sauce.  On the whole, I would say the chicken was done well, but certainly nothing over the moon amazing.  However, the combined flavor of the green onion vinaigrette, coupled with the chicken and rice was fantastic.
Not only did I find that the flavors worked well together, but the restaurant delivered on its promise of promoting the bounty of the land.  While there are multiple combinations to choose from, we think it is well worth the time to try a bowl here.
Carla did the build your own bowl as well, but with gluten free ingredients.  We won't get into all the gluten free detail here, rather you can read it in her Gluten Free Satu'li Canteen review.
What I will say is that her bowl was excellent.  In fact, I preferred it over mine.  The beef was tender and flavorful.  Combining it with the red and sweet potatoes hash and creamy herb dressing was a winning combination.  The flavors blended beautifully and I quickly had buyer's remorse.  It wasn't that the chicken was bad, rather the beef was just that good.
Carla would tell you what she remembers most is the green onion vinaigrette on my bowl.  So go figure.  There's definitely something for everyone here.  We agree, both of our bowls we still very good.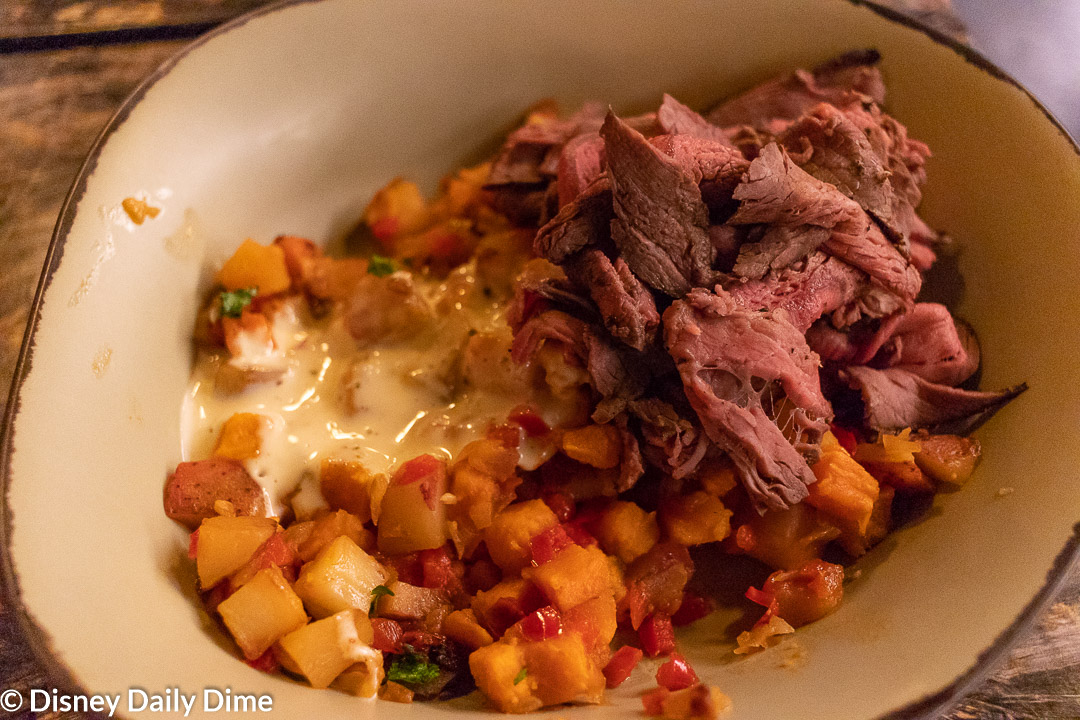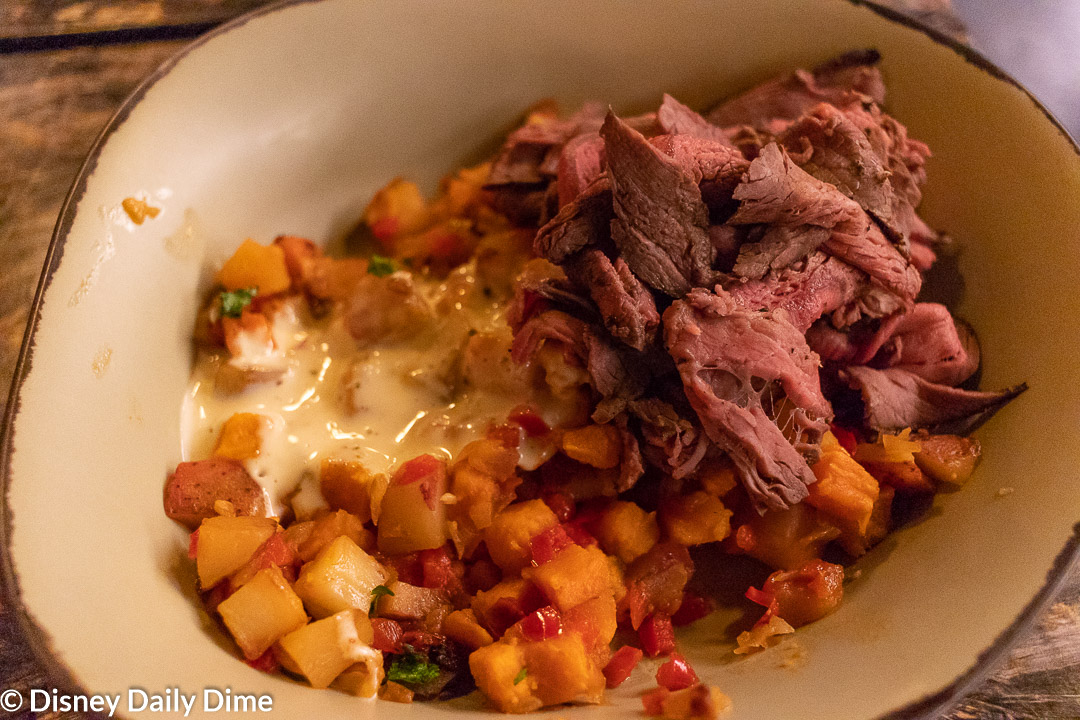 At a $15 or so price point and with a good-sized portion, that makes the value proposition here even better.
If you're less worried about calories and health, get the sliced beef protein option.
One last note on our food, we did try the controversial Pandoran Sunrise.  Despite many of the negative reviews out there, Carla and I both really enjoyed it.  Does it have a strong melon flavor?  Absolutely!  But it wasn't overpowering to us.
Now, many of the other reviews we've seen online are from when Pandora opened, almost two years ago.  And we know they have reformulated this drink at least once, maybe more.  So maybe the drinks are different now or maybe we just like terrible tasting drinks?  I did love me a Midori Sour in college, if that gives you a sense of some of the flavors I like.  Don't judge me!
We will also say that both Anna and Elsa tried the Pandoran Sunrise and both of them declared that they did not like it.
Dessert
Sadly, we didn't have any desserts here, so we'll have to catch up on this the next time we are there.
Satu'li Canteen Overall Impressions
Satu'li Canteen is a great counter service option at Animal Kingdom.  Wonderful flavors, coupled with more natural and clean ingredients that don't leave you feeling guilty after you eat, make it a place we believe you should absolutely check out.
We consider it one of our favorite counter service locations in all of Disney World.  It's a must-eat, in our opinion.
While the theme is a bit "meh" to us, we're willing to look past that because the food is that good.  Let's be honest, that's really what matters.
Wrapping Up
With that, we'll wrap up our Satu'li Canteen review.  If you're looking for counter service meals, without the counter service feel, you would be well served to check it out.  We think you'll be happy you did.
If our Satu'li Canteen review was helpful, or at least entertaining, please like and share this with your friends or anyone you think will find it useful.  Just use the sharing buttons on the page.  We always appreciate it when you share our posts, as it allows us to spread the word about our blog and hopefully allows us to help others.