As a day one resort at Disney World, Disney's Contemporary Resort holds a special place in the hearts of many.  Whether it is the monorail passing right through the middle of the building, the unique A-frame design, or the five-legged goat, there are many things that fans of the resort love.  Here in our Disney's Contemporary Resort review, we'll cover all of these items and more.
It is one of the deluxe resorts at Disney World, so you know it is going to come with some great amenities, which we'll talk about a little bit later on.  Like all deluxe resorts, it will also come with a hefty price.  We'll cover if it is worth the price or not at the end of our resort review!
We have two videos embedded in this review.  You'll find a tour of a standard room down in the room section of this review.  Towards the end, you'll find a resort tour that covers the common areas of the resort.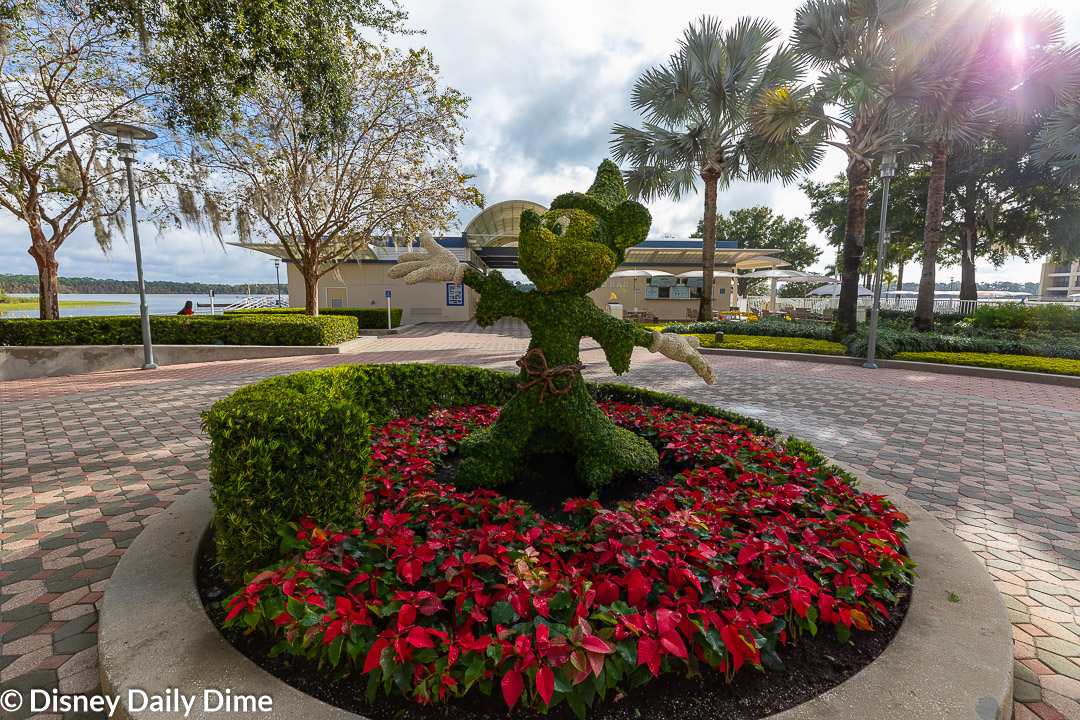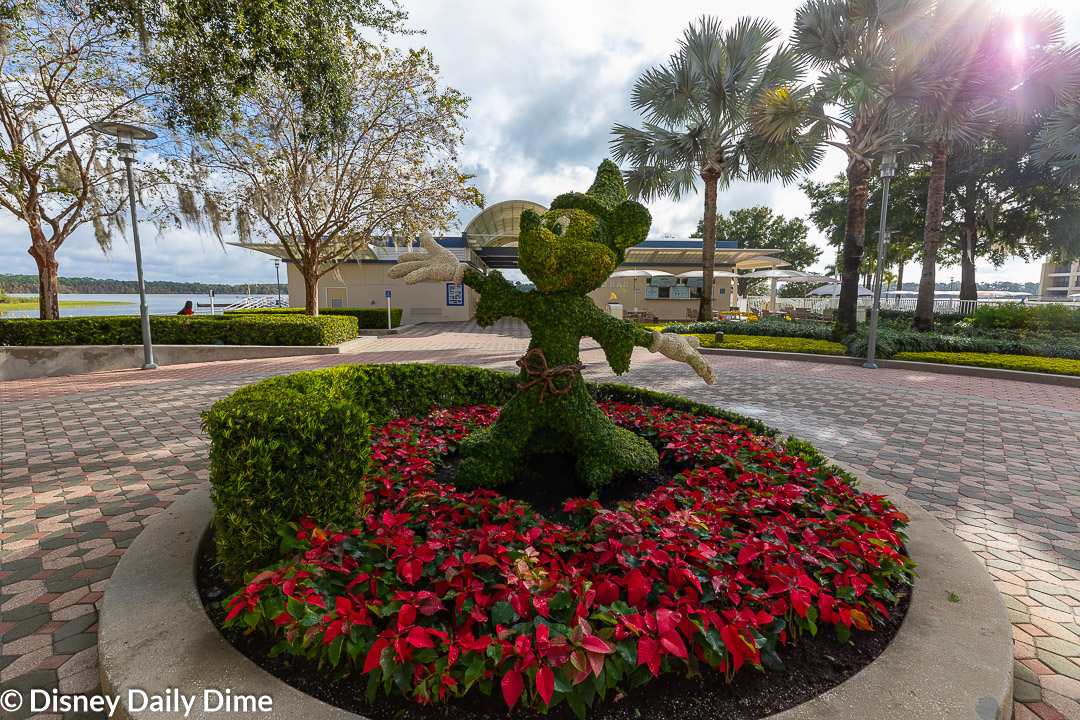 Disney's Contemporary Resort Overview
When it comes to the theme and design of Disney World resorts, we value a well-done Disney related theme.  That's not to say we insist on Disney related characters and décor being shoved in our faces at every turn.  Far from it actually.  In fact, we love how an ever-present, but a lighter touch theme was executed over at Disney's Riviera Resort.  This is one of the more divisive points of Disney's Contemporary Resort.  The theme doesn't have much that says Disney outside of the fourth-floor shopping and restaurants and some décor in the common areas, but the resort itself is very much Disney.  Hear me out.
If you were to walk into a room or potentially the lobby of the resort, I'm not sure you would think to yourself that you are at Disney World. Instead, you may only believe you are at a nice, higher-end hotel.  However, if you show an average person a picture of the Contemporary Resort, I bet at least half of them would know it is a Disney resort.  They may not know the name of it, or which Disney park it is at, but they'll recognize it as distinctly Disney.
Therein lies the conundrum of the resort.  There is little direct Disney theming in much of the resort, yet it is probably the most uniquely identifiable Disney Resort.


Beyond the quality of the décor and theming, one thing we harp on is how well a resort does at transporting you somewhere else.  Does it make you forget that you're at a theme park?  If it can't do that, you might as well stay at a Hilton.  Maybe that's a bit of an over-exaggeration because there are perks associated with staying on Disney property.  We gush about how well Disney's Wilderness Lodge does this.  If a resort can make you forget you're in the middle of central Florida, that is success in our book.
Unfortunately, the resort fails on this front, in our view.  The design of the resort only reinforces that you are at Disney World.  With the monorail passing through the resort on a regular basis, and no discernable specific theme, there is no real attempt to take you somewhere else (figuratively).  Not that this is a bad thing; you just need to know what you expect out of a resort and plan accordingly.


From a design perspective, Disney's Contemporary Resort has a very modern look and feels like you are staying at a high-end hotel.  This design will appeal to the business traveler who comes to Disney World for a work conference.  That's helpful, as the resort has a large convention center attached to it.  The aesthetics will also appeal to those that like a less is more Disney themed resort.  The elegance of the resort and rooms is undeniable.
Now just because we wish there was more to the theming, that doesn't mean that the resort doesn't have important features.  On the contrary, there are some real pros to the resort that we'll discuss more as we talk about aspects of transportation and dining.
Before we get to that portion of our Disney's Contemporary Resort review, let's talk about the rooms in more detail.


Disney's Contemporary Resort Rooms Vary Between the Garden Wing and the Tower
It's important to note that the resort has two main areas.  What everyone is usually familiar with is the A-frame tower that the monorail passes through.  However, there is a smaller section of the resort known as the Garden Wing, which is where we stayed.  While the rooms are mostly the same from a design perspective, you aren't able to look down into the 4th-floor concourse of the resort if you aren't in the A-Frame section.  Some people may care about this, and some may not.  As you'll see below, these different areas will affect the price you pay for a room.
Beyond whether you can see the interior of the resort, the tower rooms at the Contemporary Resort will also have markedly different views.  Rooms that come with a view of Magic Kingdom are going to cost $50-100 per night more than a room with a view of Bay Lake.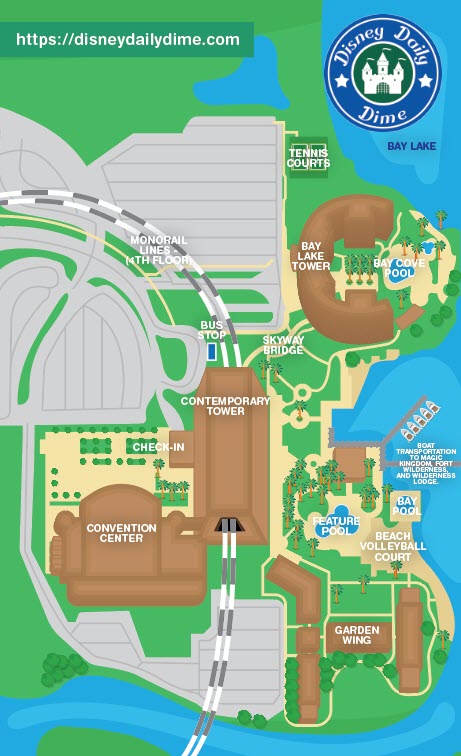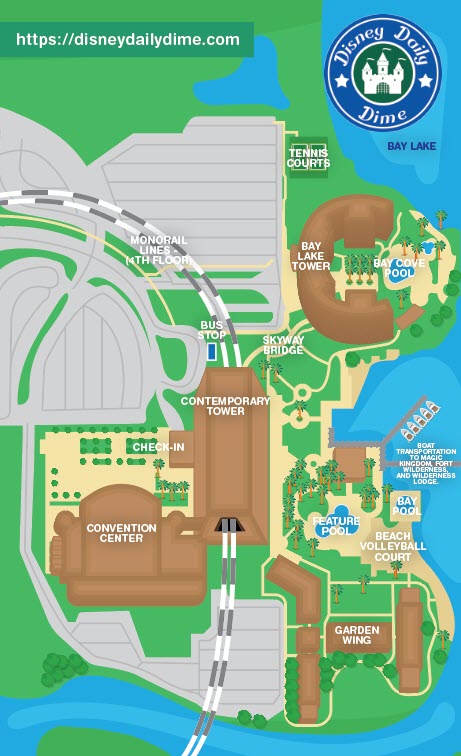 Most of the difference in the rooms come with the view you get and if you are in the main building or not.  Below are the various styles of rooms that are available at Disney's Contemporary Resort:
Main Tower – Theme Park View – ($686 – $1,029 per night)
Main Tower – Lake View – ($631 – $929 per night)
Garden Wing – Standard View – ($452 – $759 per night)
Garden Wing – Garden View – ($457 – $819 per night)
Garden Wing – Deluxe Room – (Couldn't find any availability to show price)
Garden Wing – King Bed – ($534 – $826 per night)
All of the prices shown above are rack rate prices, excluding taxes and fees.  Disney frequently offers discounts that can get you in for less than this.  Do note that pricing changes from time to time, so check Disney's Contemporary Resort website for the most up to date pricing.  In addition to the room prices we listed out above, there are club level rooms available for an incremental price.


We stayed in a Garden Wing standard view room at the Contemporary Resort.  So much of this review is written from that perspective.  Would staying in the tower room change our view?  Maybe, but I doubt it.  As you can see, the price difference between the garden wing and the tower is around $200 per night.  That's a lot of money for a room you are hardly ever in, but I'm sure the view is spectacular.
As you can see in the room pictures we have here, the rooms are incredibly well-appointed but dare I say somewhat generic.  As we noted earlier, there is nothing that says Disney World in the Contemporary Resort rooms.  Instead, they have a very nice JW Marriott vibe.  That's fine if that's what you are looking for; it just isn't what we look for in a Disney World resort.
The one thing we noticed quickly about the standard room is how spacious it is, or maybe I should say feels.  Roomy and open, the room was a welcome respite from the cramped quarters of many resort rooms.  The fact that the dresser is nestled next to one of the beds helps the room feel larger than it really is.
A standard room features two queen beds, which were large enough for us to share.  These rooms also feature a couch that doubles as a day bed.  We find these types of bed incredibly useful because it allows us to have Anna and Elsa sleep in different beds.  With a girl like Elsa that tosses and turns, having the girls sleep separately makes for much better park days.


As someone that often has to do real work on our trips to Disney World, I appreciated that the desk area is expansive.  It was much larger than the tiny desk we had in our room at Disney's Grand Floridian Resort & Spa.  This was a great help, although I wish it was not wedged in next to the bed so tightly.


The bathroom within the standard room continues the sleek, modern look of the room.  With the marble looking floor and large white sinks, you'll find lots to like if this is your design preference.  My only criticism of the vanity area is that it was a little small for our family of four.  Yes, there is adequate shelving below the sinks, but counter space at the sink level is severely lacking.  I'd also say, consistent with the living area of the room, there isn't much that says Disney in the bathroom.
Ultimately this is my biggest issue with the rooms at Disney's Contemporary Resort.  I want more Disney theming.  It doesn't have to be over the top flashy and obnoxious, but give me something.  I've embedded our Contemporary Resort standard room tour video below.
You'll Find Good, but not Great Pools Here
At Disney's Contemporary Resort, there are two pool options available to guests.  You have the feature pool, known as the Contemporary Resort Feature Pool, and then the quiet pool called the Bay Pool.  The pool setup is good, but it isn't the best pool situation we've found at a deluxe resort.  That award belongs to Stormalong Bay over at Disney's Beach Club Resort.


Feature Pool
The Feature Pool has a good slide and a beautiful design, but it isn't nearly as well done as the pools that you find at several other deluxe resorts.  It does have a good location near the volleyball court and just off of Bay Lake, which provides for a good view.  You won't be disappointed by it, but there are better options.
Bay Pool
The Bay Pool is a basic circular pool.  However, it sits right on the shore of Bay Lake, so you get a great view.


Kid's Splash Area
The kid's splash area is entertaining and continues some of the more modern elements of the resort.  Little ones that can't swim will have a good time splashing around in the water here.
Disney's Contemporary Resort Transportation is Some of the Best at Disney World
With the opening of Disney's Skyliner, there is now some competition amongst resorts for which one has the best transportation options.  Places like Disney's Riviera Resort have a strong position, but we're not sure it outshines the Contemporary.  While the Contemporary Resort doesn't have the Skyliner, it does have four excellent options for getting to the parks.


Monorail
Disney's Contemporary Resort is the third resort we have reviewed that resides on the monorail line.  The others are Disney's Grand Floridian Resort & Spa and Disney's Polynesian Village Resort.  Its location on the monorail line is excellent, where it is one quick stop to the TTC, and then you can be at Epcot within 15 minutes.
Bus
The bus service from the resort is standard Disney World transportation.  You'll find the bus stop along the walking path from the front of the resort heading toward Magic Kingdom.  You can see it noted on our resort map towards the top of this post.
Before I get into my criticism of the bus transportation, let me say right away that this criticism is valid for almost every deluxe resort.
The definite negative associated with bus service at Disney's Contemporary Resort is the lack of dedicated bus service.  The bus routes are shared with neighboring resorts.  Which resorts it is shared with depends on the time of year and sometimes even time of day.  During the busier times of the year, it may have dedicated service.  The most common shared bus stop is Disney's Wilderness Lodge.  As I've said in most of our other resort reviews, for the price you are paying, having dedicated service would be more appropriate.  There are value resorts like Art of Animation and Pop Century that have dedicated bus service.


This can make bus rides extremely long and possibly unpredictable.  Make sure you allow yourself enough time to get to the park if you have time-sensitive plans like an ADR or Fastpasses.
Buses are the best ways to get to Hollywood Studios and Animal Kingdom unless you are going to use Uber or maybe a Minnie Van.
Boat
There is a boat dock on the back of the resort.  If you don't want to walk to Magic Kingdom, you can get there via boat, which is possibly quicker than taking a monorail there.  It's also a more serene trip that can provide a fun little diversion, but we walked every time to Magic Kingdom.  Another benefit of taking the boat is a very short wait to clear security. 
Walking
The biggest perk on transportation is the ability to walk to Magic Kingdom.  This simple walk is unbelievably convenient.  During our stay, we attending Mickey's Very Merry Christmas Party, and the simplicity of being able to walk out of the park at 1:00 in the morning and just stroll to the Contemporary Resort was well worth it.  We think if you are going to the Christmas party or Mickey's Not So Scary Halloween Party, the Contemporary is well worth your consideration, just for the convenience.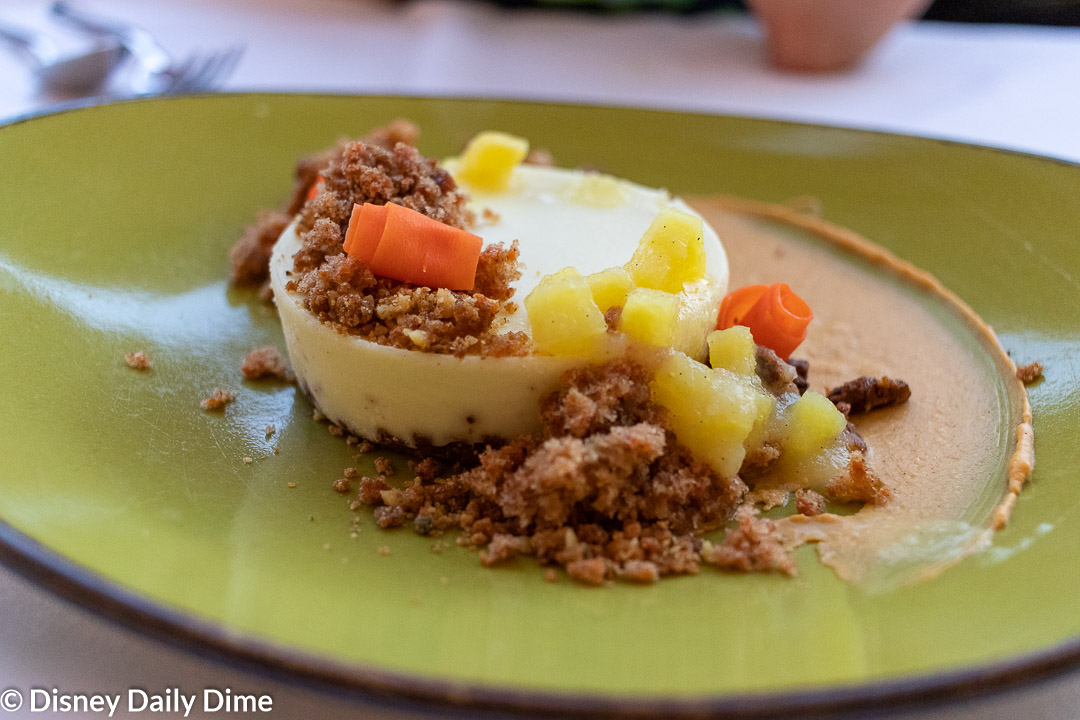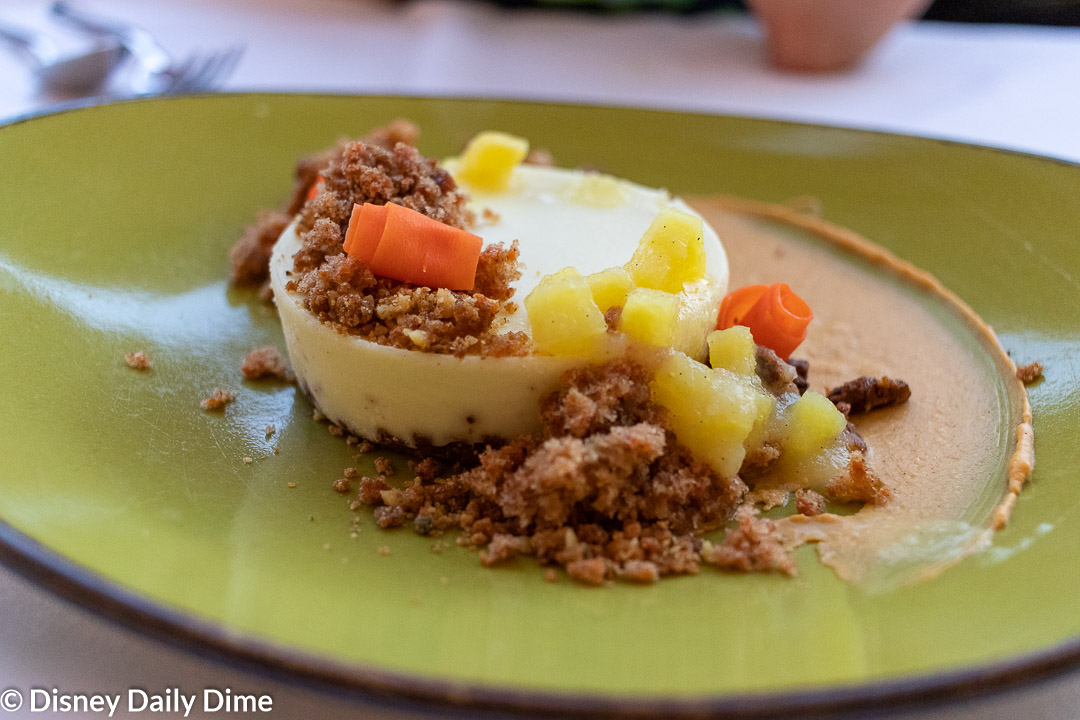 Disney's Contemporary Resort Dining Is Excellent, With One Exception
When it comes to resort dining, we found a diverse set of restaurants, where we mostly had a great time.  There is one notable exception that we'll talk about.  As far as resort dining goes, we'd put it on par with the quality dining options that you'll find at Disney's Riviera Resort, but it probably isn't quite up to Grand Floridian levels.  That is not a dig at the dining at the Contemporary, rather a testament to how excellent Grand Floridian dining is.
When it comes to dining at Disney's Contemporary Resort, I'll start with the signature dining restaurant that we love!  That would be California Grill!  I won't make any bones about it; we LOVE this restaurant.  It might be our favorite restaurant in all of Disney World, but there is some stiff competition.
At California Grill, you'll find a table-service restaurant with a diverse menu.  You can have anything from sushi to steak.  We've eaten here numerous times over the years, and every time we come away wowed.  We also come away with a much lighter wallet.  As a signature dining location, it is pricy, but worth it in our opinion.  Beyond the food, the restaurant has a beautiful view of Magic Kingdom and Seven Seas Lagoon.  You can even stay in the restaurant after eating and go out on the balcony to watch the fireworks!  For more, you can read all about the restaurant in our California Grill review.


There is a second table-service restaurant at the Contemporary known as The Wave.  It serves up classic American cuisine.  We only had breakfast here and really enjoyed it.  A full review of breakfast is forthcoming.
Much like other Disney Deluxe resorts, there is a character breakfast at the Contemporary.  Chef Mickey's is a restaurant that seems to be generally loved by Disney fans.  However, you won't find us among them.  As you can read more about in our Chef Mickey's character breakfast review, we thought the food was just okay and the character interactions were lacking.  We should note that Chef Mickey's is a character meal all day, even for lunch and dinner.


The quick-service restaurant at Disney's Contemporary Resort is called Contempo Café.  I feel like we've been on a streak of quality resort-based quick-service restaurants on our last few trips, and Contempo Café continues that streak.  We had several excellent entrées here, but the headliner here is the crazy good desserts that we ate.  To be honest, you should go here just to get the Peanut Butter Pie.  Amazing!  That is all.  I have spoken.
The dining options here are quality.  You would do well to pop into several of these restaurants.  The other great thing is that if you aren't feeling like any of these dining options, you can hop on the monorail and head to the Grand Floridian or the Polynesian Village Resort and eat at one of their quality restaurants.


Disney's Contemporary Resort & Spa Amenities
The amenities available within Disney's Contemporary Resort are relatively standard for a deluxe level resort at Walt Disney World.  You'll find pools, which we already discussed, watercraft rentals, jogging trails, an arcade, and more.
The resort also has a general store called Fantasia Marketplace.  The other shop, BVG, is one of the best resort gift shops we have encountered based on selection and variety.  You can park your vehicle at the resort; however, you do have to pay for parking.  Right now, it runs $25 per night at deluxe resorts.
While it isn't right at the resort, if you're willing to take the monorail to the Grand Floridian, you have access to a spa. You can get a facial, massage, and more at Senses. 
The resort rooms come with a standard setup consisting of:
Dresser
Wi-Fi Internet Access (access is free of charge)
Flat-panel TV
Laundry area
Mini refrigerator
Coffee maker
Ironing board and iron
Hairdryer
In-room safe


In addition to these in-room amenities, there is one other "amenity" that we think is worth knowing about.  As you probably know, every night Magic Kingdom features a fireworks show.
If you head to the fourth floor, you can go out of the exit doors to the right of Fantasia Marketplace and find a landing right beneath the monorail.  From here you can watch the fireworks!  The music is piped in so you can hear it all.  The view is excellent, although you do miss out on the castle projections.  Nonetheless, it's a great way to see the show without fighting your way through the crowd afterward.


Recreation at Disney's Contemporary Resort & Spa
Disney's Contemporary Resort also features several recreational opportunities you may want to take advantage of.  These include:
Movies Under the Stars
Jogging Trail
Campfire with Smores
Playgrounds
Video Arcade
Poolside Activities
Tennis Courts
Basketball Court
Sand Volleyball Court
Watercraft Rentals
Lakeside Yoga
The recreation opportunities are plentiful.  One thing that is a plus is that almost all of these are free, except the games in the video arcade, s'mores, and watercraft rentals.


Disney's Contemporary Resort Isn't Our First Choice of Deluxe Disney World Resorts
Disney's Contemporary Resort will absolutely appeal to a specific Disney World visitor.  If you're not concerned about how "Disney" the resort feels, then you will likely love this resort.  On the flip side, if you want some of the more overt Disney décor and theme, then you may not be a fan of the resort.
You'll find excellent dining options and transportation that is second to none. 
Because of that, I think people can have different points of view about the resort, and they would both be right.  This is truly a case where beauty is in the eye of the beholder. 


For us, we just can't get past the lack of theming at the resort, especially within the rooms.  You can stay in a beautiful resort near Disney World and pay a fraction of the cost for a similar, if not better, room.  If you want to stay on property, we think there are better deluxe level resorts, that will cost you less money.
Yes, its location is one of the best on property, which does have a significant value.  But for us, the resort just doesn't check enough other boxes to justify the price.
Below is our Contemporary Resort tour video.  Check it out if you want to see more of the resort grounds.
Wrapping Up Our Disney's Contemporary Resort Review
With that, we'll bring our Disney's Contemporary Resort review to a close.  It's a resort that hits many highs but has one major issue that recurs because of the premium price you pay for the resort.
We hope you found our review of the Contemporary Resort helpful.  If you did, we'd greatly appreciate it if you would share it on social media.  It helps get the word out on our blog and tells us we're doing something right.  Just use the social media sharing buttons on this page.