One of the most well-known character meals at Disney World is Chef Mickey's.  This character buffet takes place at Disney's Contemporary Resort.  While they serve breakfast, lunch, and dinner, we'll focus on breakfast in this post.   As part of our Chef Mickey's Character Breakfast review, we'll tell you about the character interactions, the food, décor, and if we feel like it is all a good value.
All of the meals at Chef Mickey's, including breakfast, are buffets.  As such, the breakfast menu is relatively generic because it is all centered around food you can serve yourself.  If you are eating on the Disney Dining Plan, a meal here costs one table service credit.  Given the out of pocket cost to eat here, this is a good use of your table service credit.  That's especially true if you eat at Chef Mickey's during the holidays as we did.  I can't lie, we paid around $180 to eat here for our family of four.  However, we generally recommend saving your credits for lunch or dinner character meals because they tend to be more expensive.
Chef Mickey's character breakfast does accept the Tables in Wonderland discount.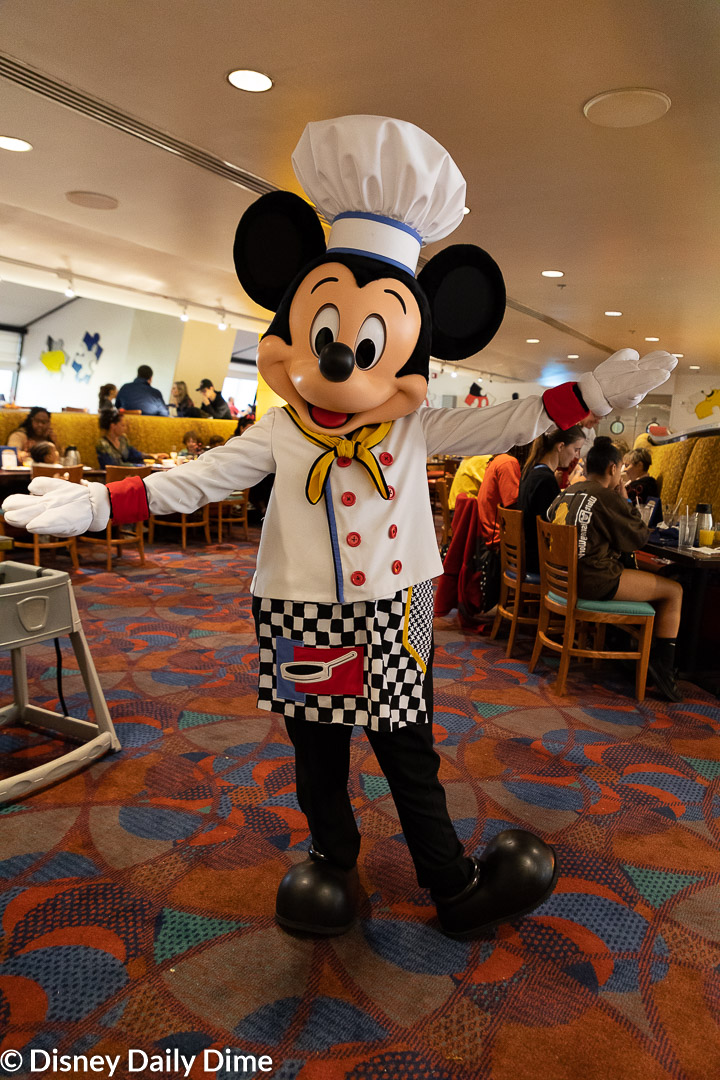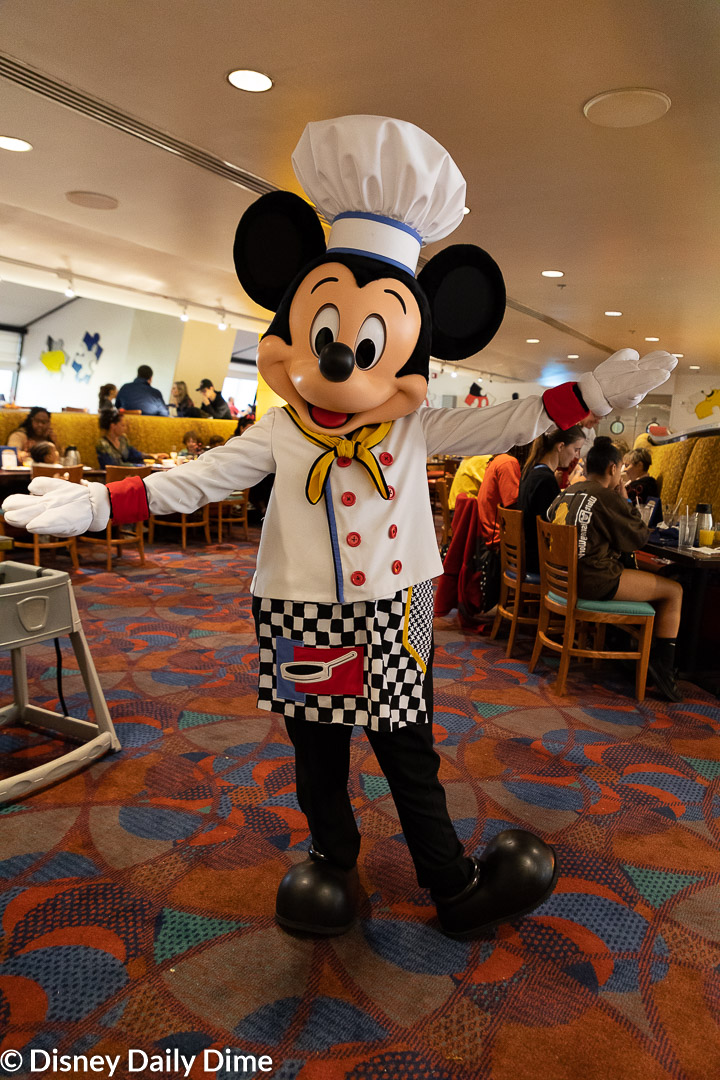 Maybe it Was the Time of Year, but Our Chef Mickey's Character Interactions Were Relatively Poor
Chef Mickey's features the fab 5 Mickey, Minnie, Donald, Goofy, and Pluto at breakfast, lunch, and dinner.  They are dressed in some very fun variations of a chef's coat, toque Blanche, and pants.  Well, except for Donald, who apparently still hasn't learned anything about modesty.
If you've read the blog for any amount of time, you know we love a good character meal.  That would be true even if we didn't have the girls with us, but they certainly up the experience level.  But to make a character meal great, the characters themselves have to be top-notch.  If you've read our Topolino's Terrace character breakfast review, you know what a high-end character experience can be.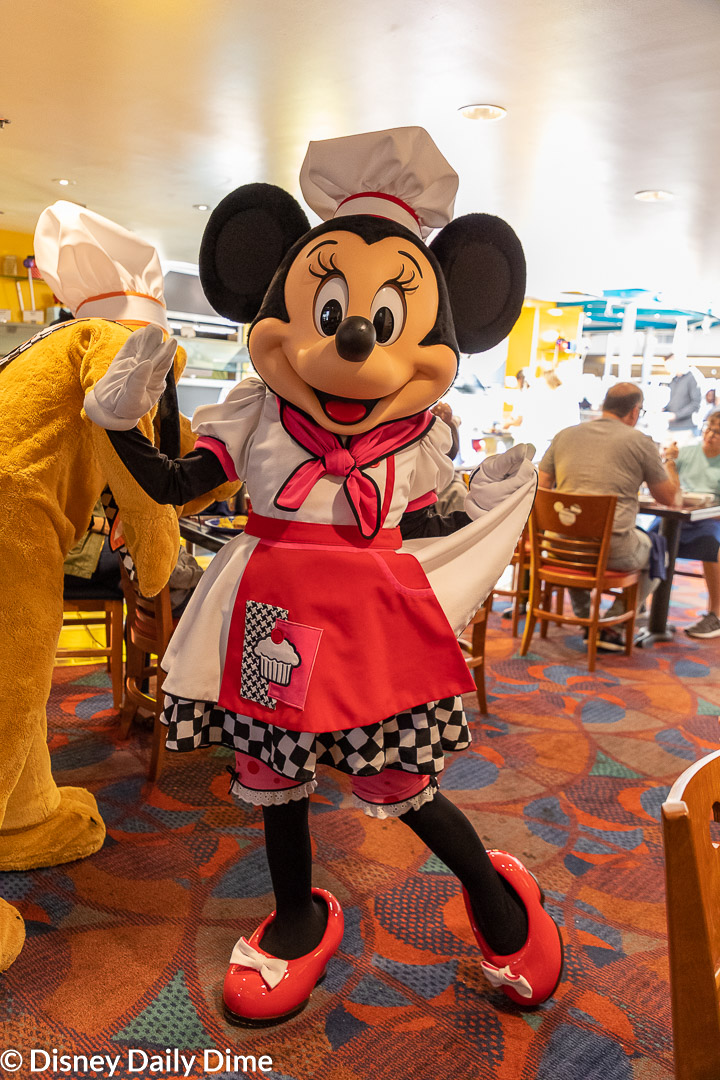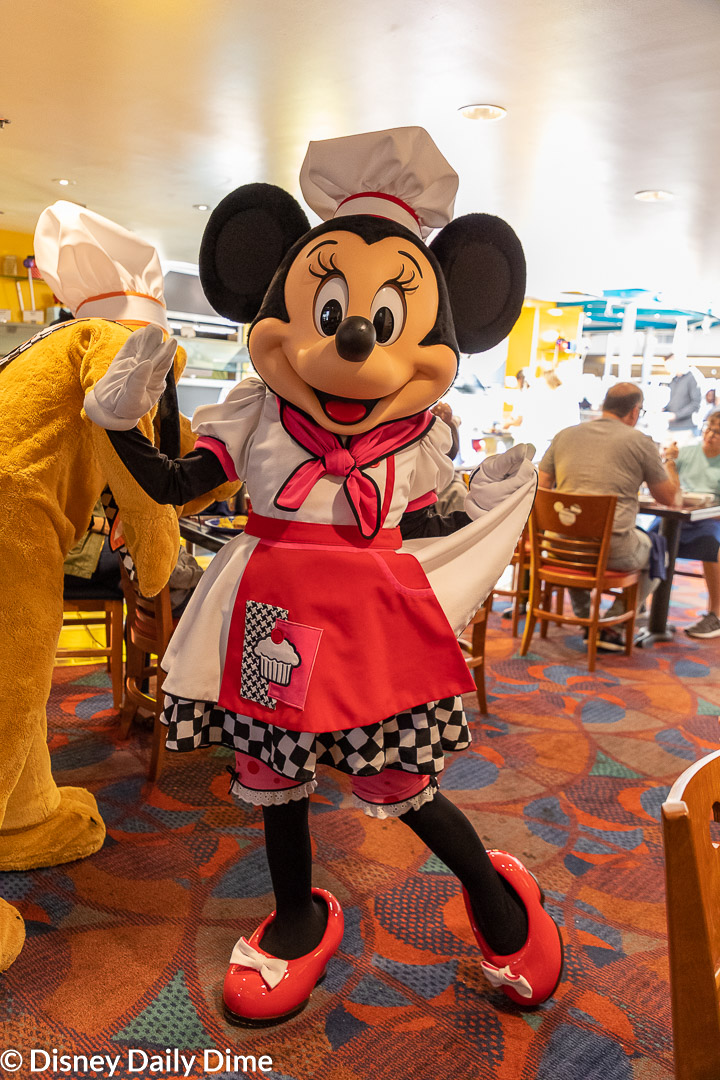 Unfortunately, the interactions during our Chef Mickey's character breakfast were not good.  It's one thing for them to feel routine.  We do eat a lot of character meals, after all.  But when you couple a pedestrian experience with a relatively short time interacting, it gets worse.  I think we've been to enough character meals at Disney World now to know when an experience feels rushed, and this was probably a prime example of it.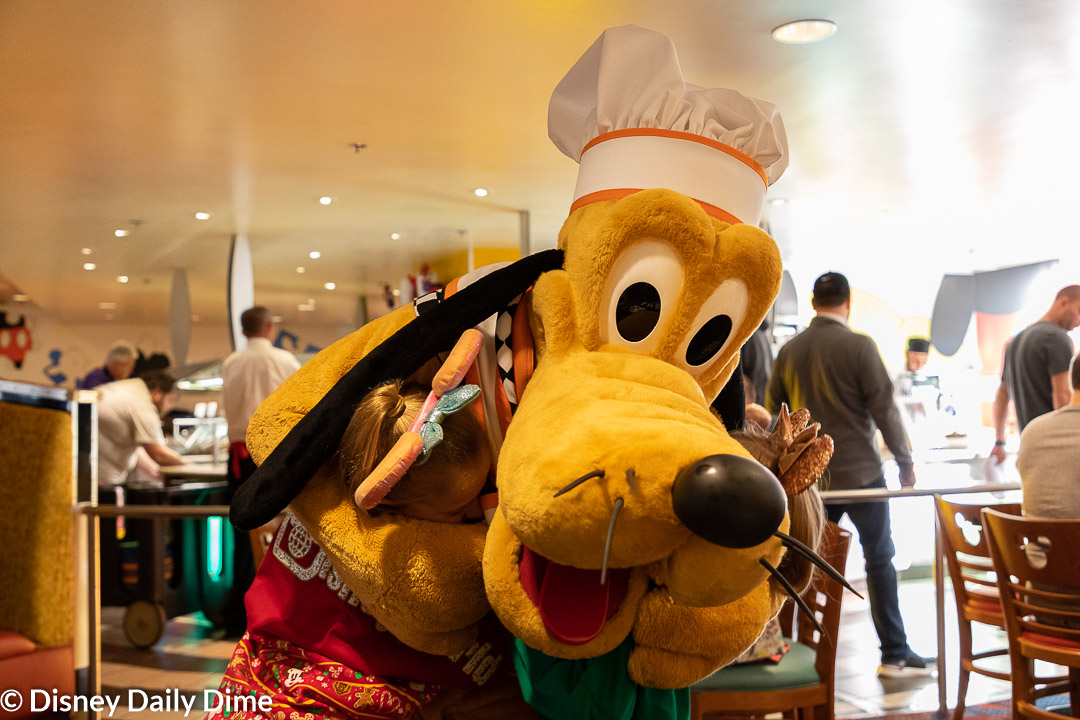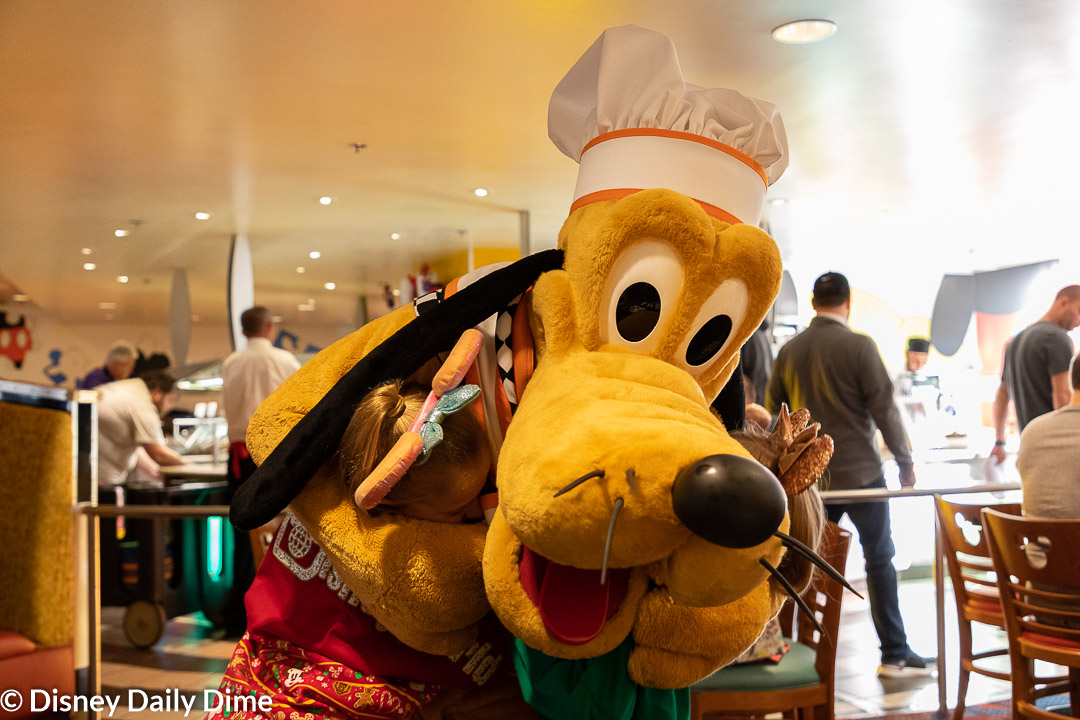 I won't go through every experience because of they all sort of went the same.  Any of the five characters would come to the table, and immediately the girls would run over and hug them.  After a minute, they would pose for a picture, and then off they would go.  I didn't have a timer, but I can't imagine any single character interaction took more than 3 minutes.
Some of the best interactions come when the characters interact with each other.  That was the case in our aforementioned Topolino's Terrace breakfast and one of our other favorite meals, the Bon Voyage Adventure Breakfast.  There were ample opportunities for characters to interact with each other as they passed right by our table routinely.  However, nothing ever happened.  Frankly, it was a bit disappointing.  To say our Chef Mickey's Character breakfast review wasn't off to a good start would be an understatement.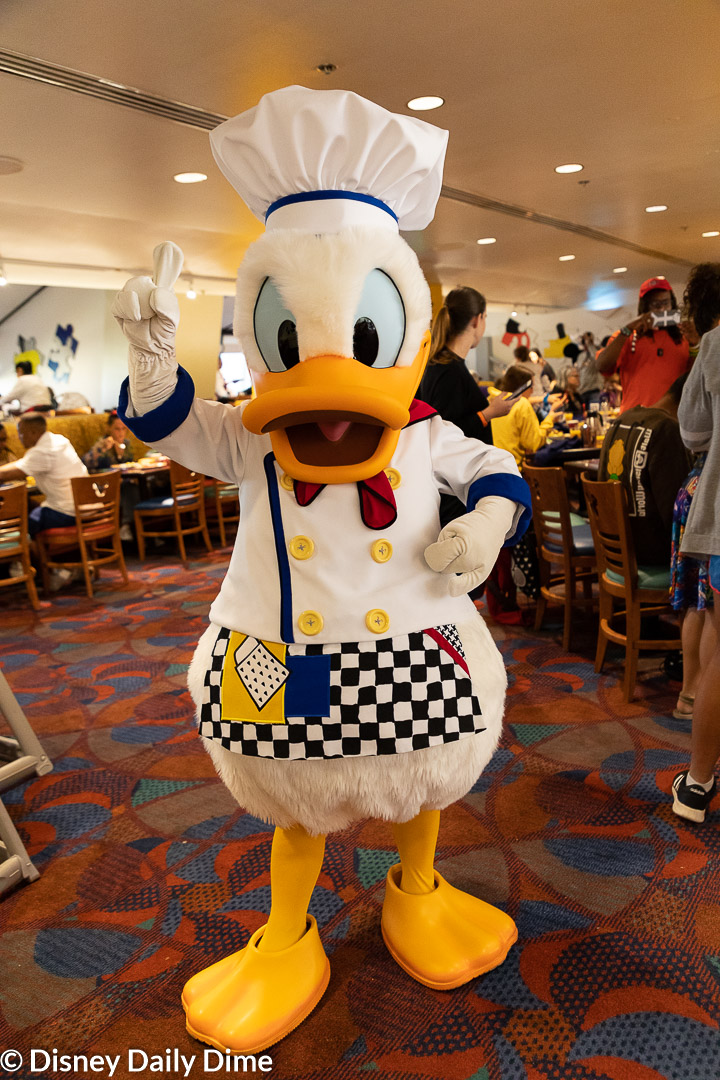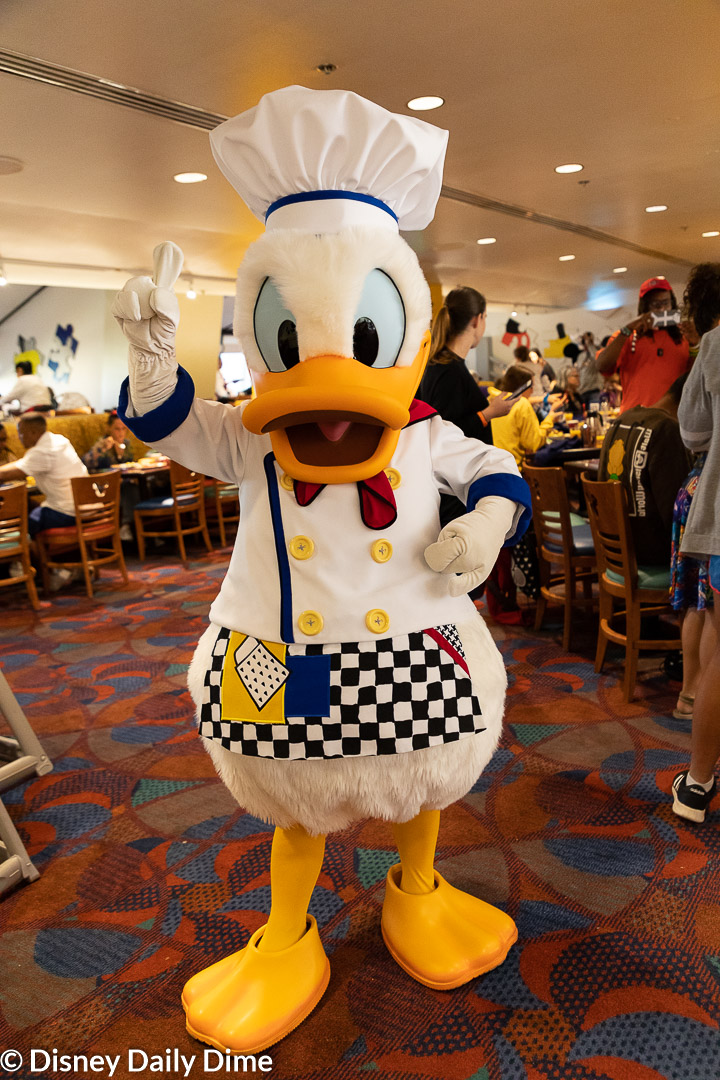 We have seen people rave about the character interactions here, so we are inclined to believe we just picked a poor time of year.  It was the week of Thanksgiving, so maybe try not to eat here around the holidays.  If the interactions were better, getting to see Mickey and friends in these outfits could be great, especially for younger kids.  I bet lots of people have fond memories of this as kids or with their kids.  We just aren't one of those people.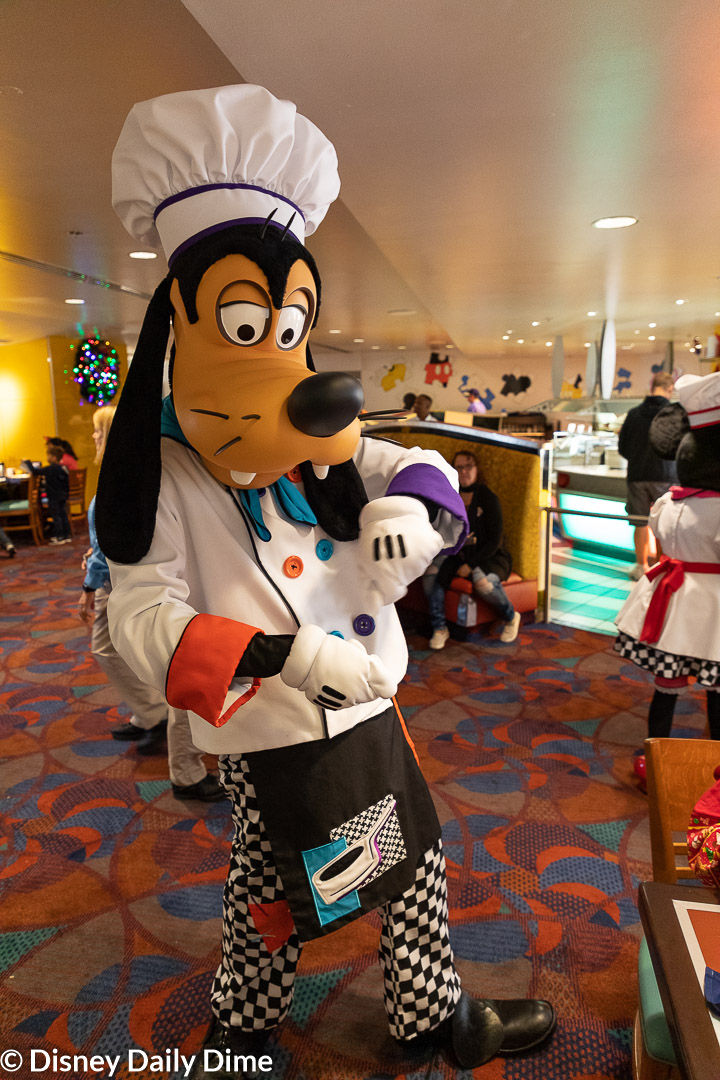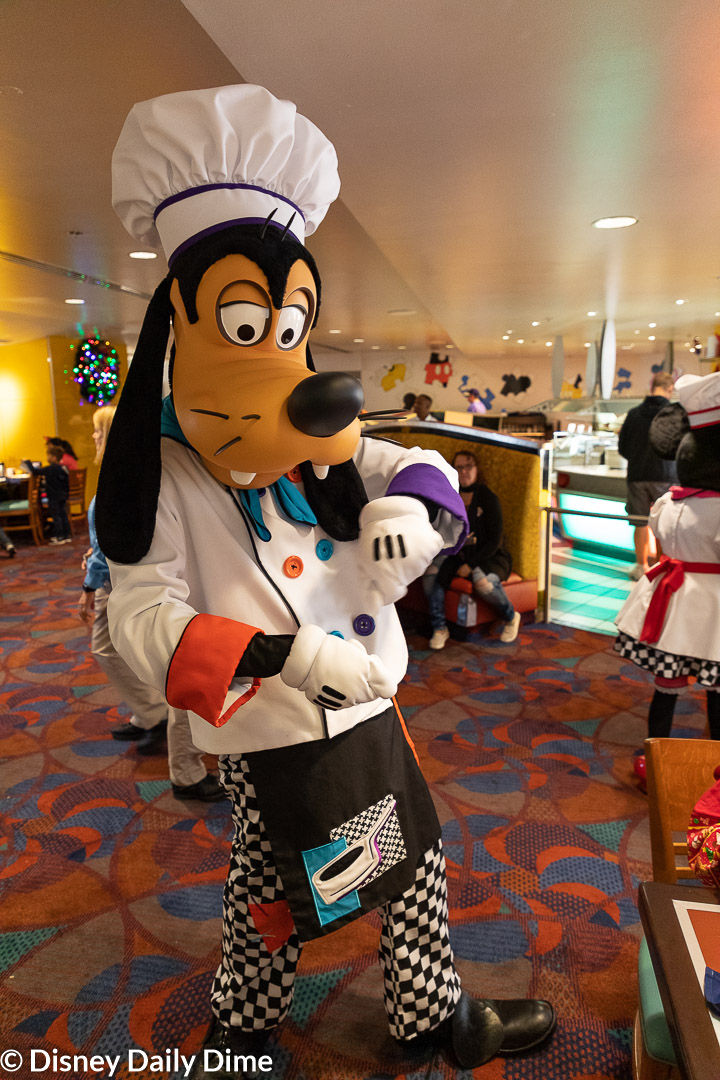 I guess that is something else we should touch on.  Anna and Elsa love some time with Mickey, Minnie, and the gang.  However, they didn't seem to have the same spark when it came to our Chef Mickey's character breakfast.  They just didn't connect this time in the same way we have seen at other meals.  I think it is because of the rushed experience, but I do believe this meal is more geared to younger kids.  Like I'd say three to five years old.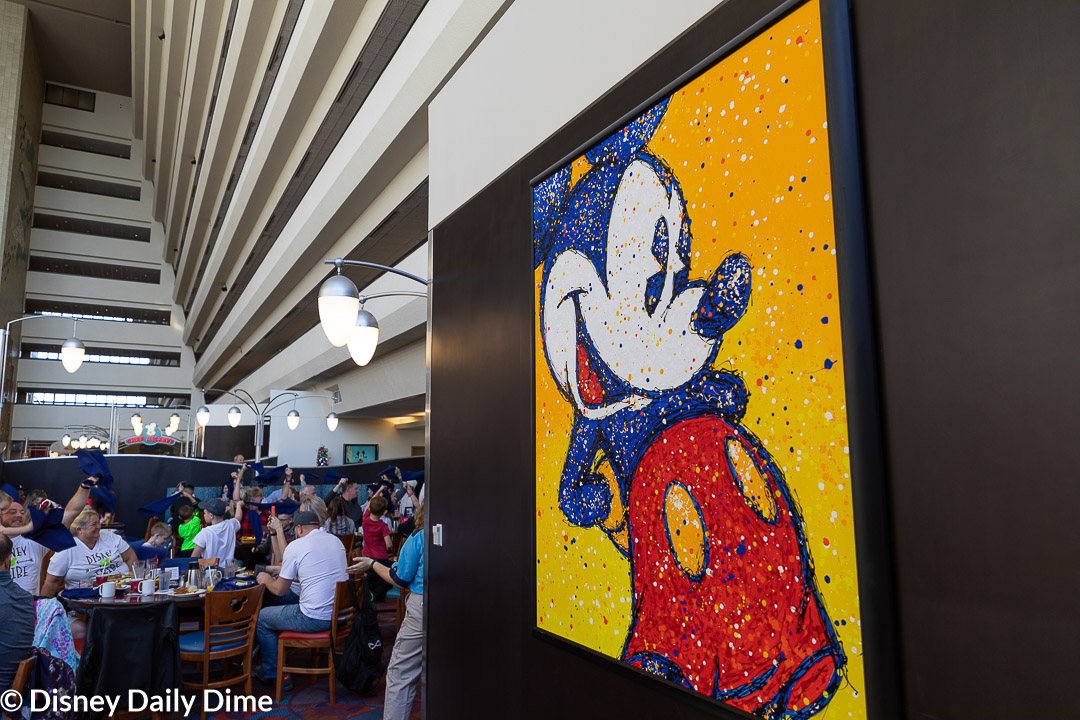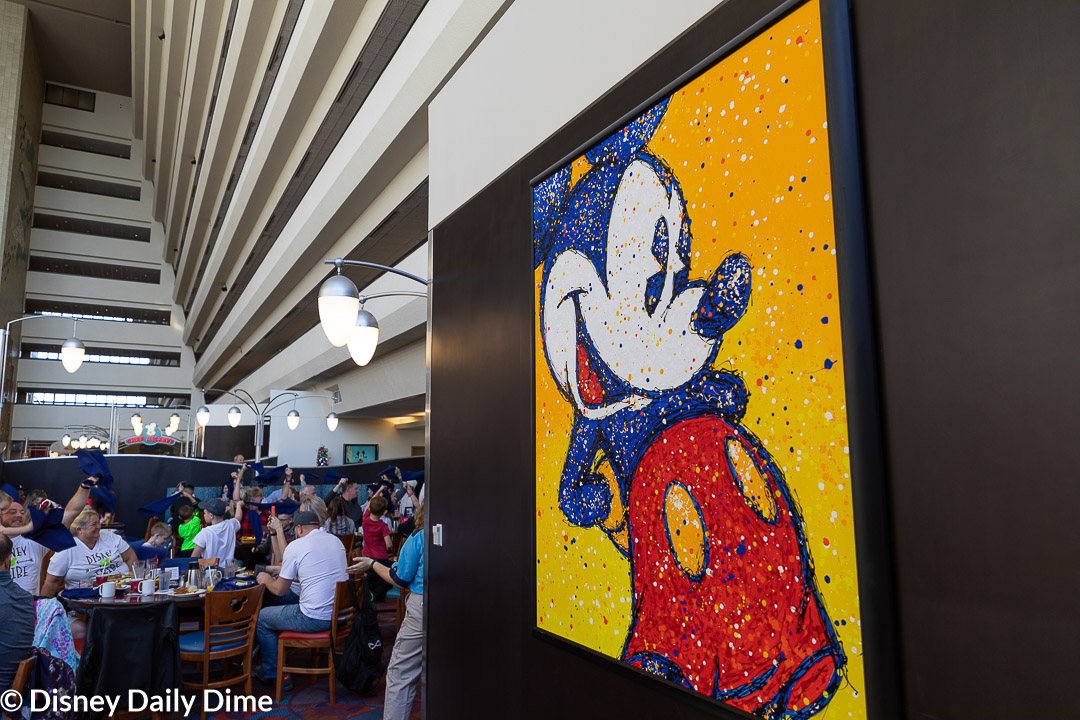 While We Are Mixed on the Décor, Chef Mickey's Setting is Excellent
Chef Mickey's is located on the fourth floor of Disney's Contemporary Resort, on what is called the Grand Canyon Concourse.  This setting is decidedly fresh and unique.  From certain parts of the restaurant, you can see the monorail passing by overhead, which adds a fun feel to the meal.  The only issue with the monorail is that you can't see it from all parts of the seating area.  In our case, the dining room we were seated in was directly under the monorail.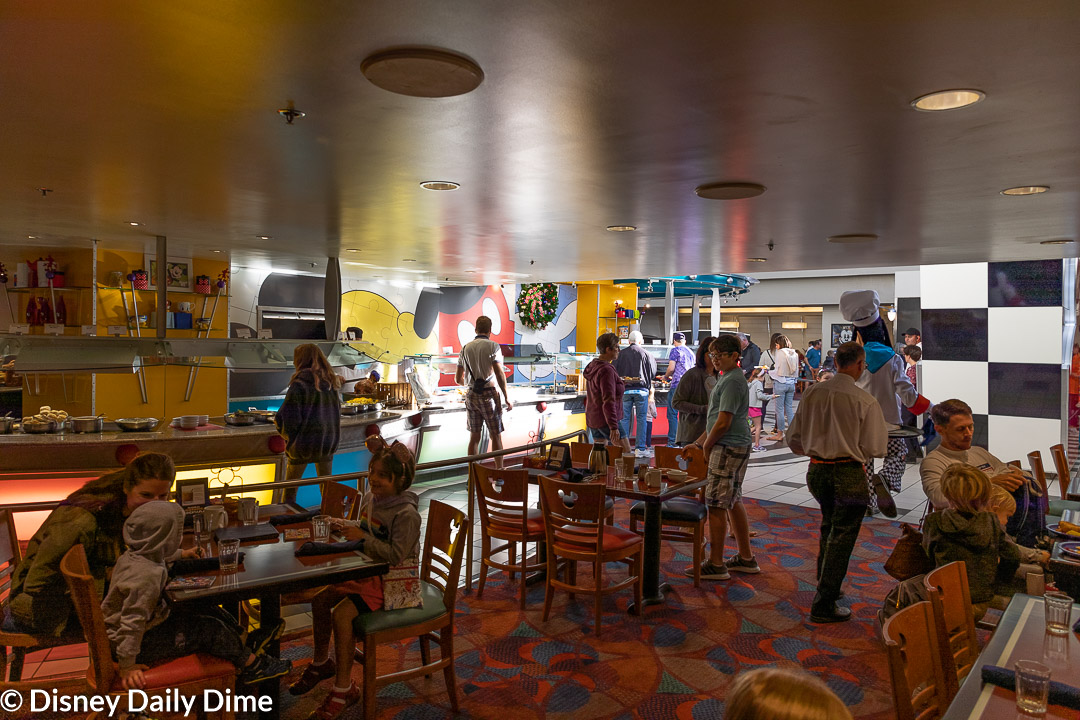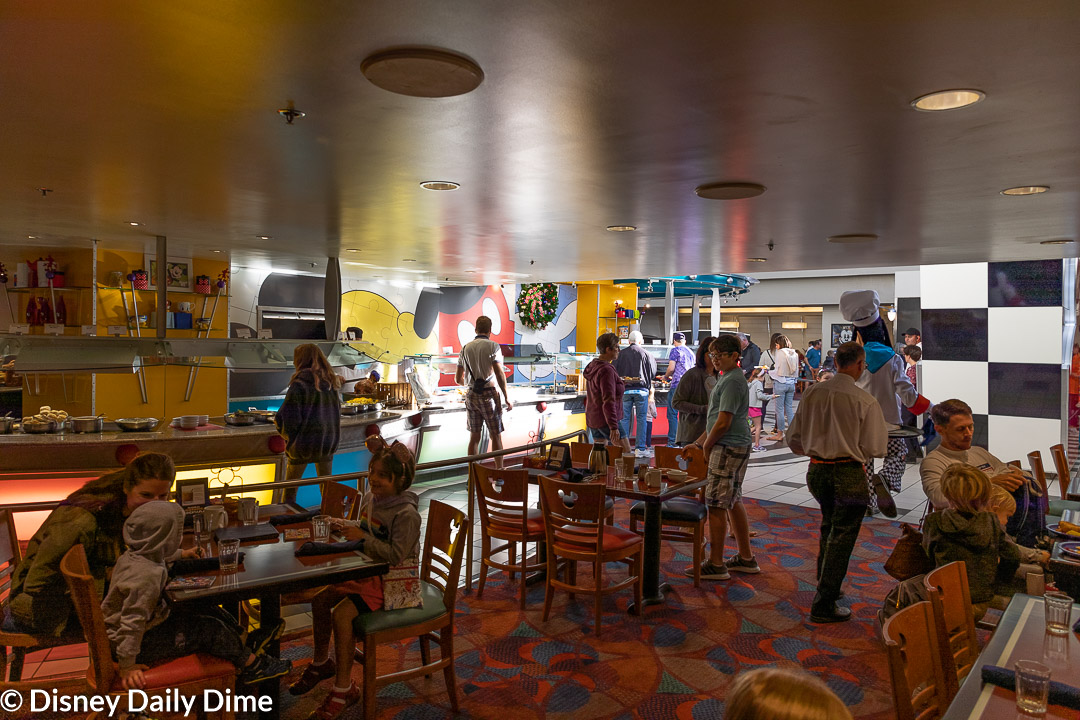 The interior décor features very bright paintings and splashes of color.  The art is Mickey-themed and worth checking out, as some of the depictions are not the typical likenesses of the main mouse.  There is a lot of fun décor touches behind the buffet too, so be sure to look past the food for some fun surprises.  The color pops off the walls and grabs your attention.  Carla and I were divided on the décor.  She enjoyed it and found it excellent.  I, on the other hand, thought it was sort of boring and over the top a bit.  That's a way of saying that some of you may like it, and some may not.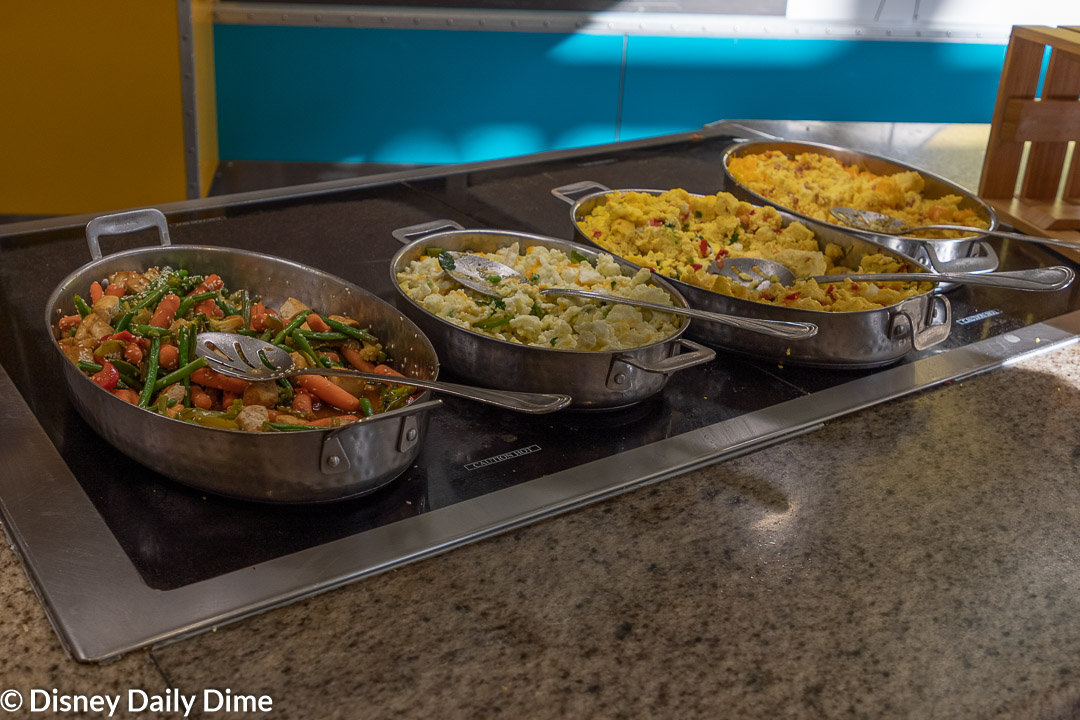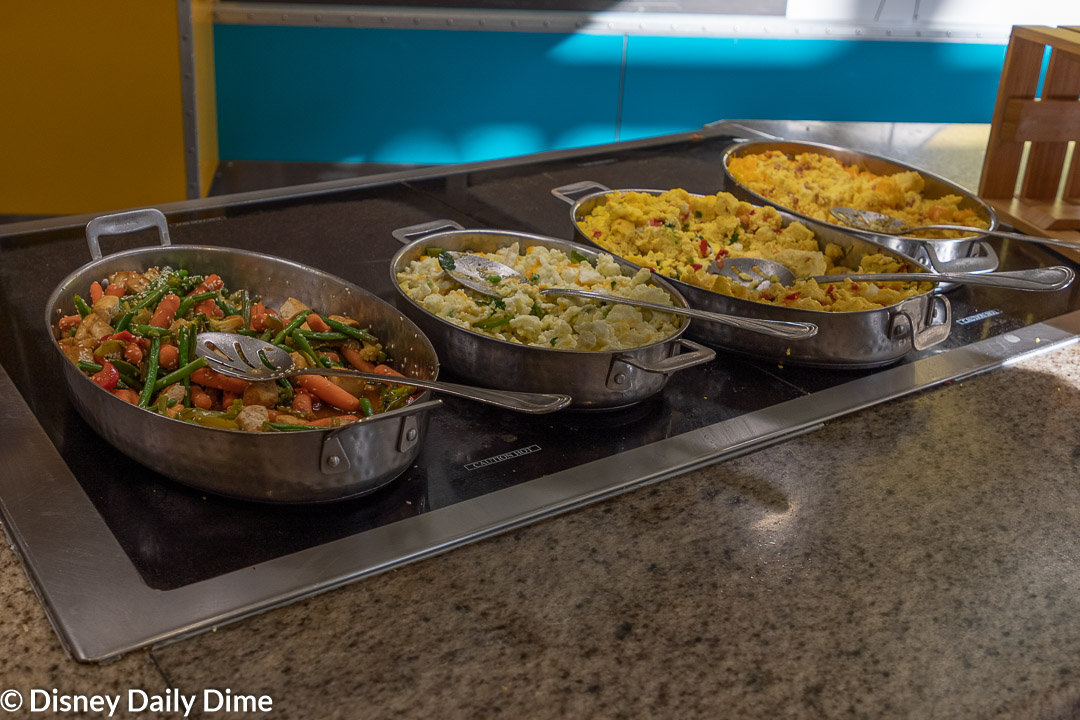 Chef Mickey's Character Breakfast Food Was Kind of Boring
Breakfasts at Disney World are a bit notorious for being bland, boring, and not a good value.  Character meals are where you might find an exception, but Chef Mickey's character breakfast isn't one of them.  This buffet features a plethora of standard fare like scrambled eggs, pancakes, and the like.  There are pastries, smoked salmon, fruit, and more.  But there isn't anything that strikes us as a signature dish at Chef Mickey's.  And let's be fair, I don't think we expect dishes like what you would find at one of the Disney World Signature Dining Restaurants.  We're not asking for that.  We just want a dish that is unique to the restaurant that has a higher level of quality to it.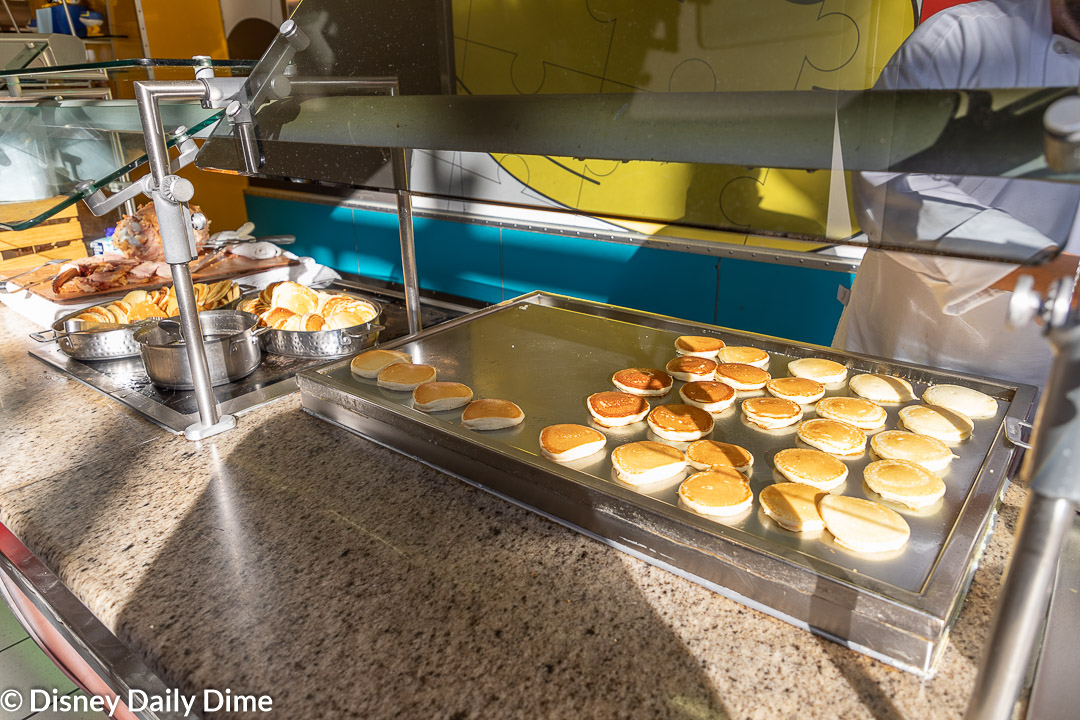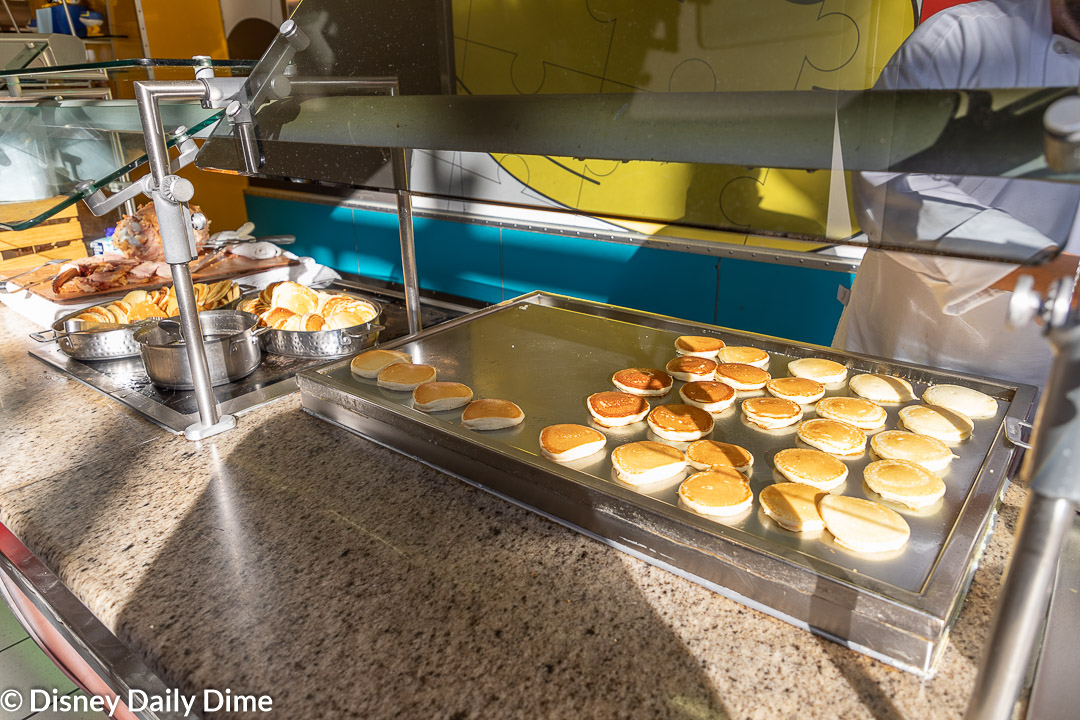 The closest thing I think they try to pass off as a signature menu item is a build your own waffle station.  That's right, get a premade waffle and cover it with all the toppings you want.  Below is a picture of one of the waffles that the kids made.  Yes, there is a waffle buried under than mound of candy, marshmallows, chocolate chips, and god knows what else.  Once again, it feels like a sign that this restaurant is designed to cater to young kids and adults are an afterthought.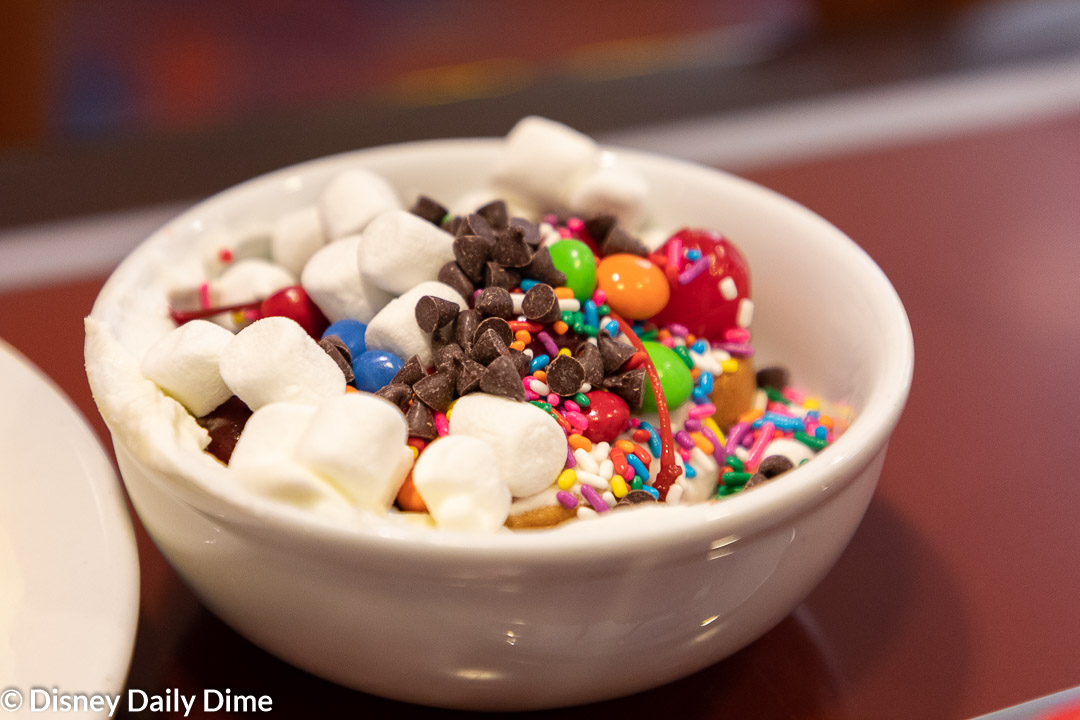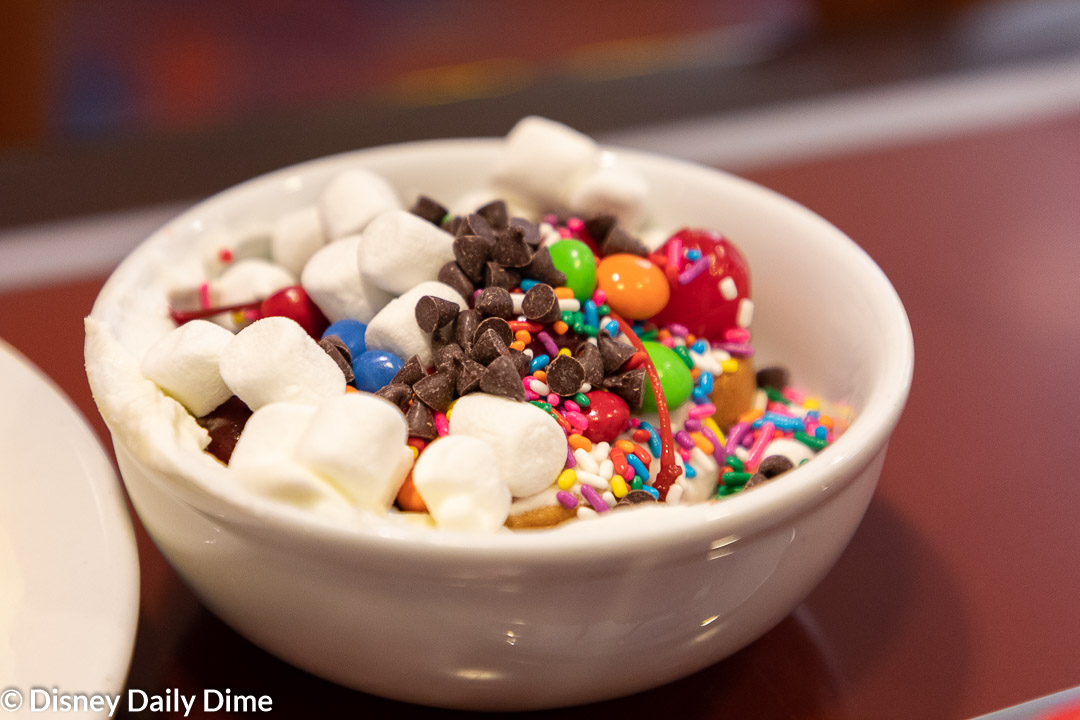 As a whole, the buffet features items that I would call adequate.  The pancakes were light and fluffy.  Getting to see them made right in front of you is a fun touch.  The eggs were dried out as they sat on the buffet for way too long.  I could go on for a while, but you get the idea.  There just wasn't anything that grabbed either of us and said, man, there is something fantastic here.
It's a bit odd when you think about the premise of the restaurant.  Mickey is the chef, yet the food is uninspired.  Maybe Mickey should spend some more time in the kitchen helping cook and less time mingling.  Or maybe Disney should try and provide a meal that has something for everyone.  Again, I'm not saying the food was terrible, it was just there.  And when you're paying $180 for a family of four, that's not good enough in our opinion.  Even with the characters at the meal, it isn't good enough.  Thankfully, Elsa isn't 10 years old yet.  Otherwise, it would have been a $200 meal!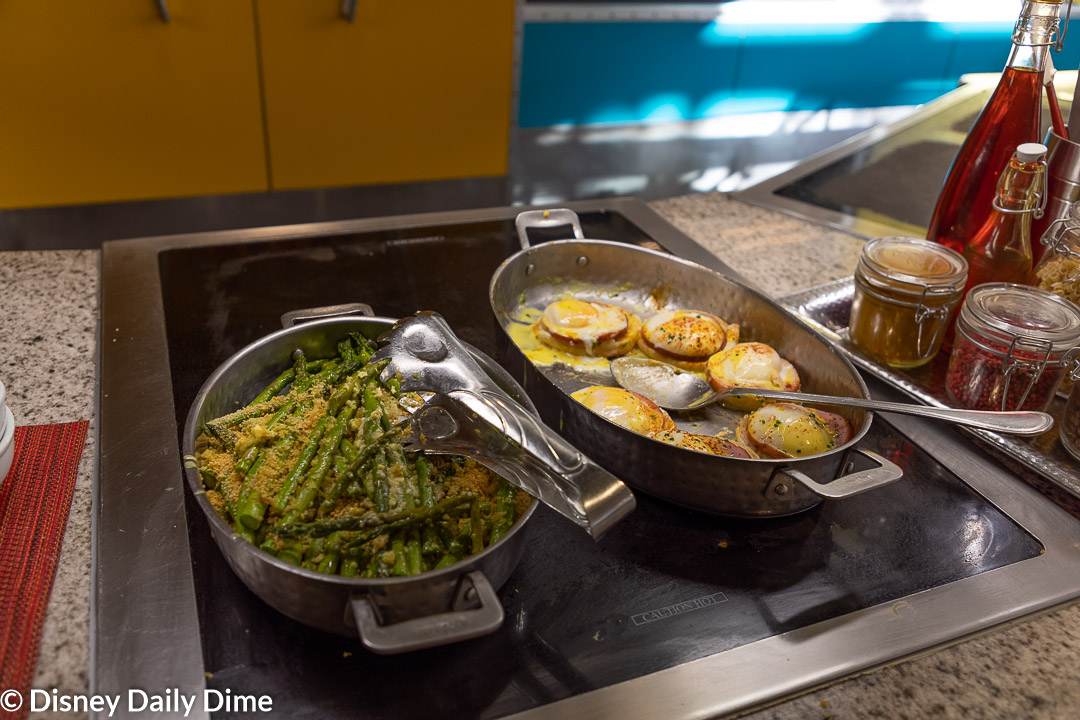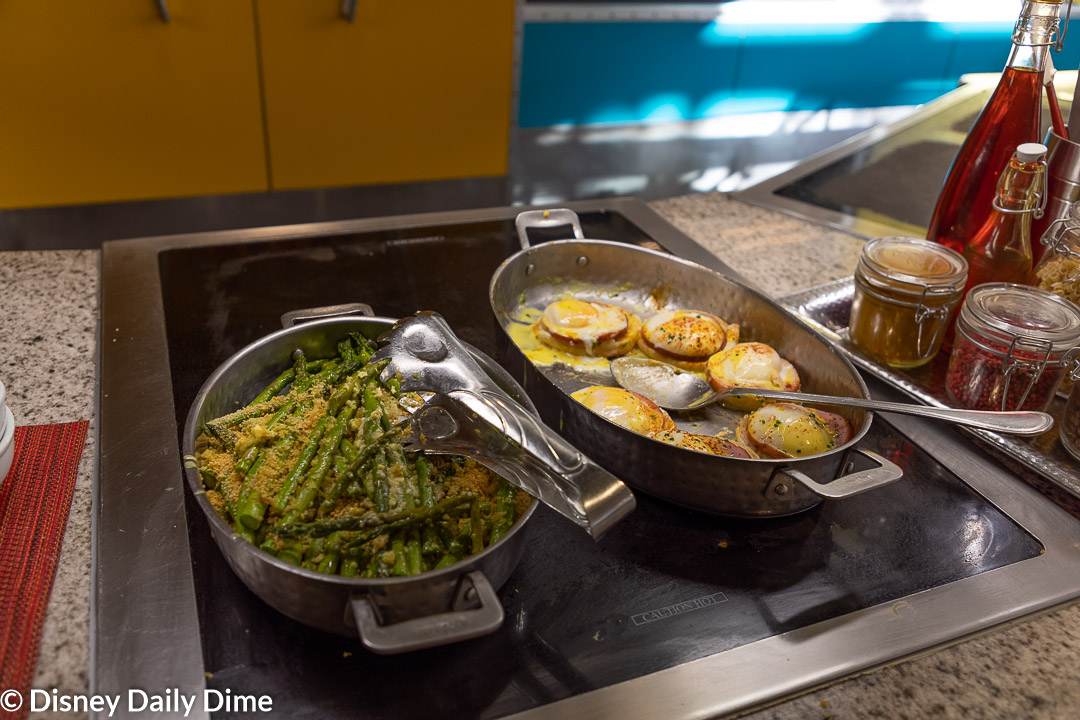 Overall Thoughts on Chef Mickey's Character Breakfast
If I'm completely honest, we'd be perfectly content going to Contempo Café and eating breakfast there for a fraction of the cost.  There isn't anything amazing on the menu there either, but it does have a set of solid breakfast foods.  Like Chef Mickey's, Contempo Café features basic waffles, pancakes, and the like.  However, we didn't pay $200 for our breakfast at Contempo Café.  For the price difference, there isn't a reason to eat breakfast at Chef Mickey's.
Now, I will say that Anna and Elsa did enjoy the food.  Shocking, when you consider the mickey waffle sugar rush that they gave themselves, I know.  So, if you're really concerned with catering to your kids, this breakfast may be perfect.  I'd recommend that you go to Topolino's Terrace, though.  You lose Goofy but gain Daisy there.  I'll take that trade, but we have a little girl that loves Daisy.  Oh, the food is also way better at Topolino's.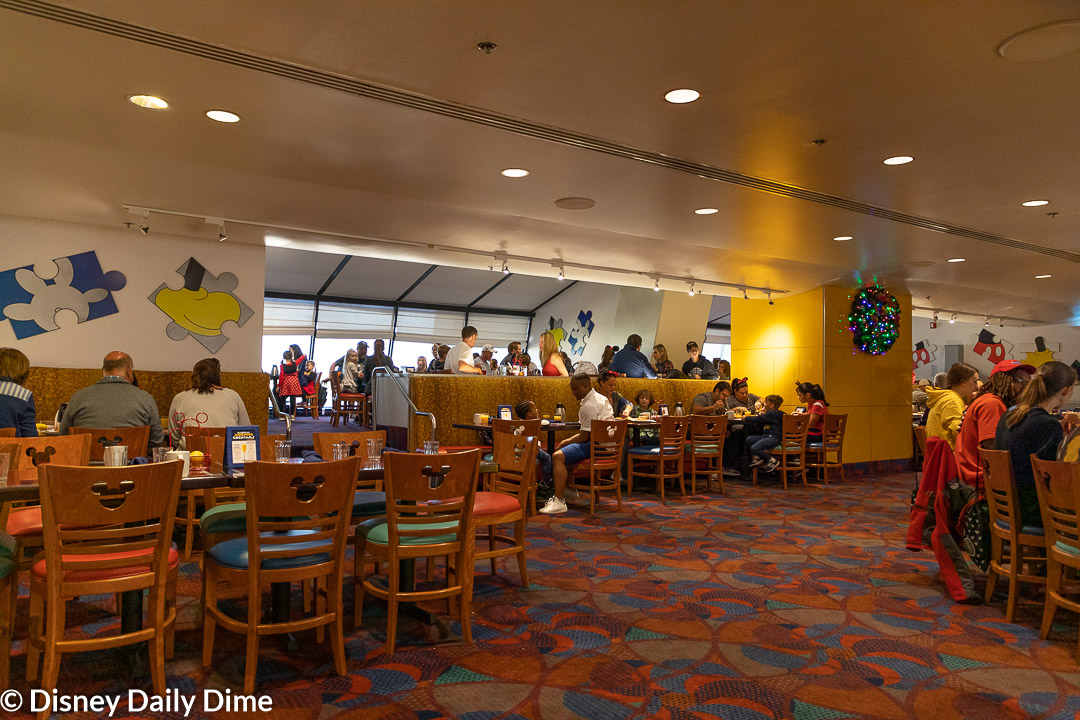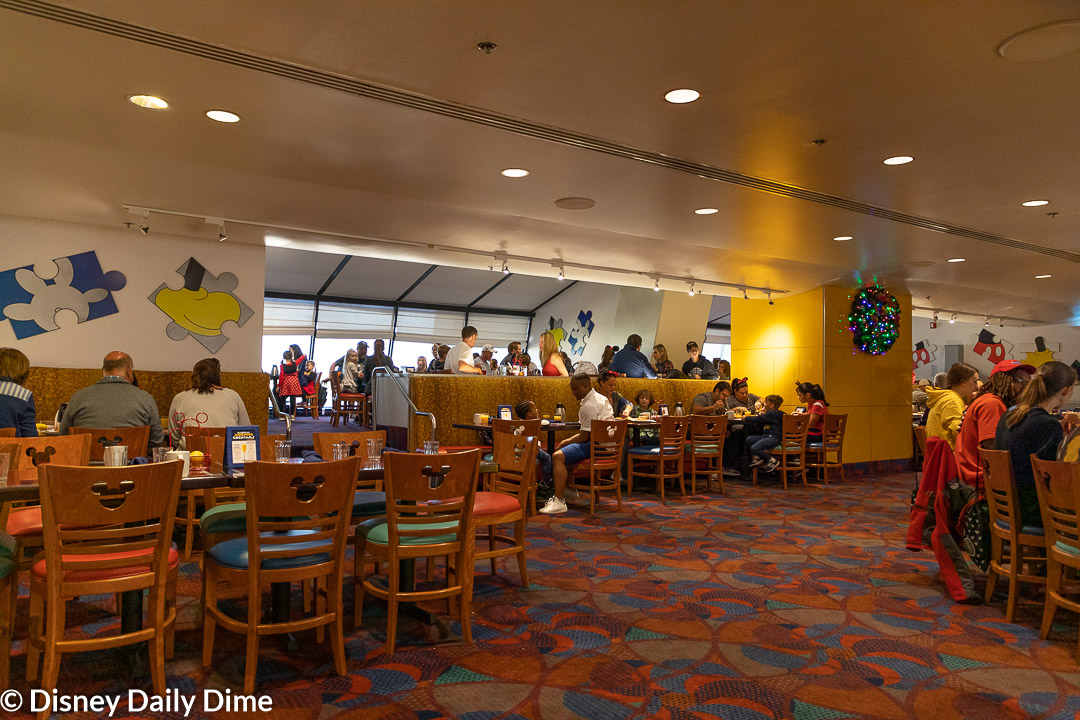 We do want to give Chef Mickey's another shot, but maybe for dinner.  Like I said earlier, we've heard very positive reviews of the character experiences here.  So, we'll chalk the poor experience up to a busy time of year.  Check out dinner, but we can't recommend breakfast.  We just didn't see the value, even if the character interactions were top-notch and better than what we experienced.
Wrapping Up Our Chef Mickey's Character Breakfast Review
With that, we'll wrap up our Chef Mickey's character breakfast review.  If our review was helpful or at least entertaining, please like and share this with your friends or anyone you think will find it useful.  Just use the sharing buttons on the page.  If you're interested in more of our dining reviews, we have a complete list on our Disney World Restaurant Reviews page.