We recently had the chance to stop by the new NBA Experience at Disney Springs.  The interactive experience is touted as a place you can "live out your hoops fantasies."  It has several interactive experiences where you can test your skill level and even compare your physical size to that of NBA and WNBA players.  Here in our NBA Experience at Disney Springs review, we'll talk about our experience as a family and how we felt it held up.
Before we get started, I think it is important to mention that your enjoyment of this experience may be somewhat impacted by your fandom of the NBA and basketball in general.  If you've never touched a ball, don't know who Adam Silver is, or don't really like athletic competition of any sort, our guess is this may not be the place for you.
We, as a family of four, love sports, and I even played basketball in high school.  Not that any of that experience helped me make a free throw.
I should mention that we also made a video of our time here.  We'll put it towards the bottom of this post if you want to see that.
Let's get on with our NBA Experience review!
What is the NBA Experience at Disney Springs?
The NBA Experience is an interactive playland for fans of basketball.  Within a facility that is meant to bring to mind many of the modern arenas of today, you'll find 13 unique experiences that are intended to give you a taste of the NBA life.
What Does the NBA Experience Cost?
Currently, prices for the NBA Experience are $34 for adults (ages 10+) and $29 for children (ages 3-9).  The NBA Experience does accept annual pass holder discounts.
What Can You do at the NBA Experience?
We'll group the activities at the NBA experience into a few parts that are at least somewhat related.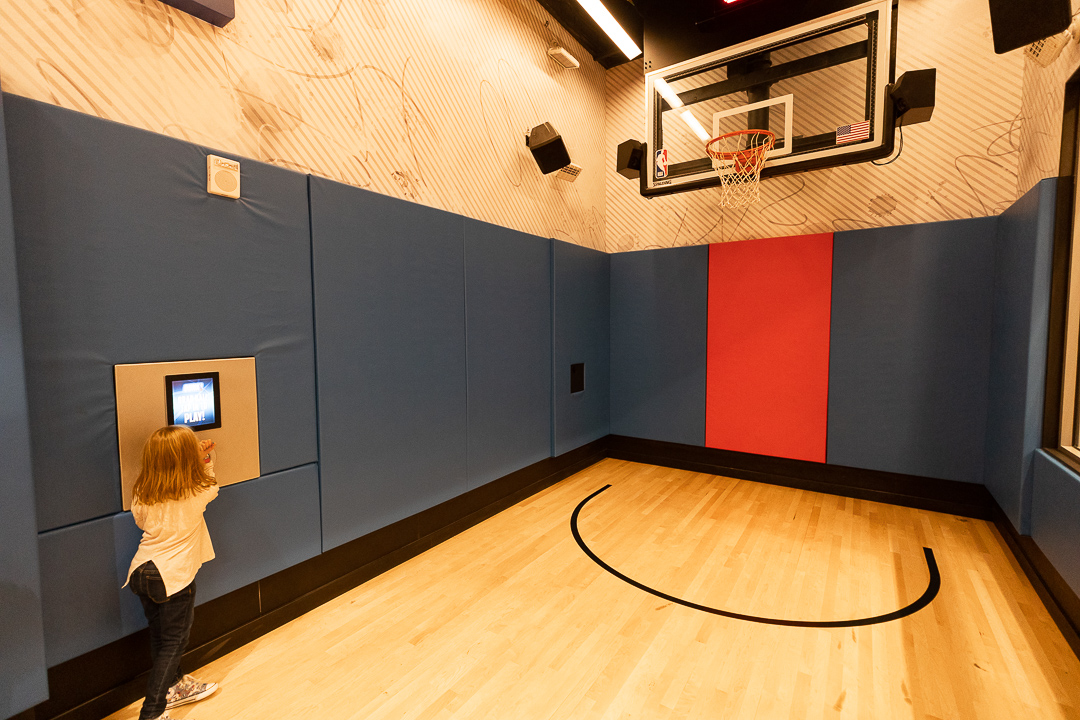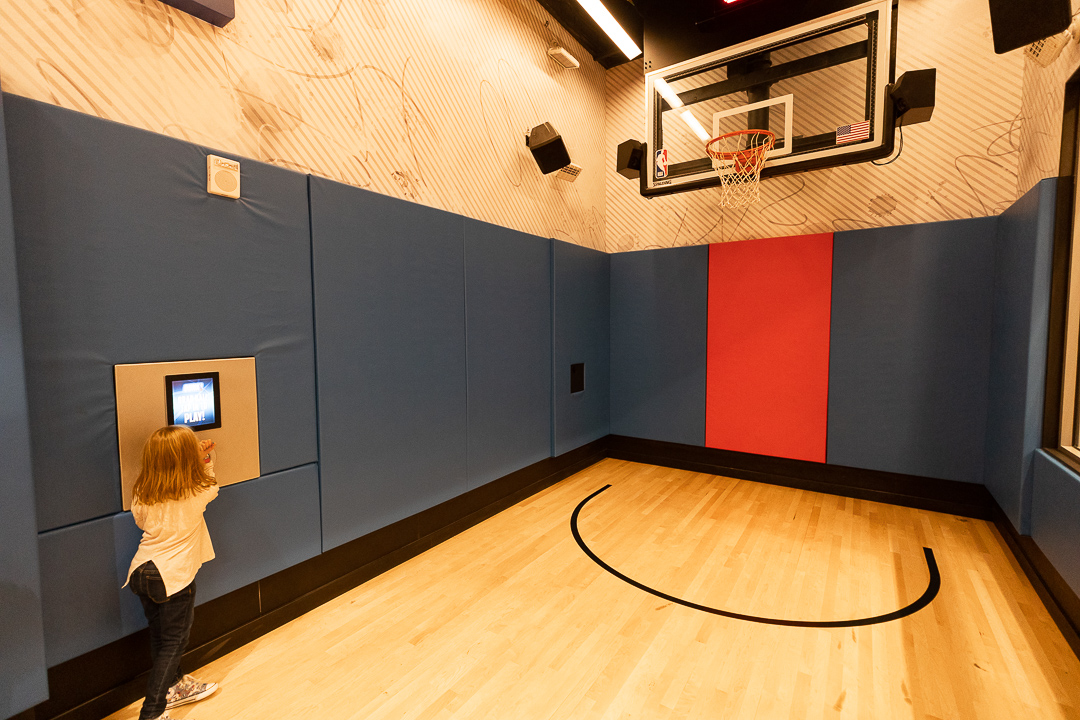 Skill Based Experiences
For us, the heart of the NBA Experience are the skill-based experiences.  These activities require only a small bit of physical skill and ability, so they are very much accessible to everyone.  You don't have to be in peak physical condition or have an extensive sports background to do them.
For us, the "Dunk!" experience was probably one of the most fun things we did as part of our NBA Experience at Disney Springs review.  For all the people out there like us, that weren't tall enough to dunk a basketball on a regulation 10-foot rim, this part was fun.  You can lower the rim down to an adjustable height and dunk to your heart's content.  You may find the biggest challenge in exercising your creative juices on what dunks try.
If you have younger kids, you should note that the rim can be lowered to about 7 feet tall.  For us, that meant I had to hoist Anna and Elsa up so they could dunk the ball.  If your kids are older and have more than a 10-inch vertical leap, they should be able to do just fine here.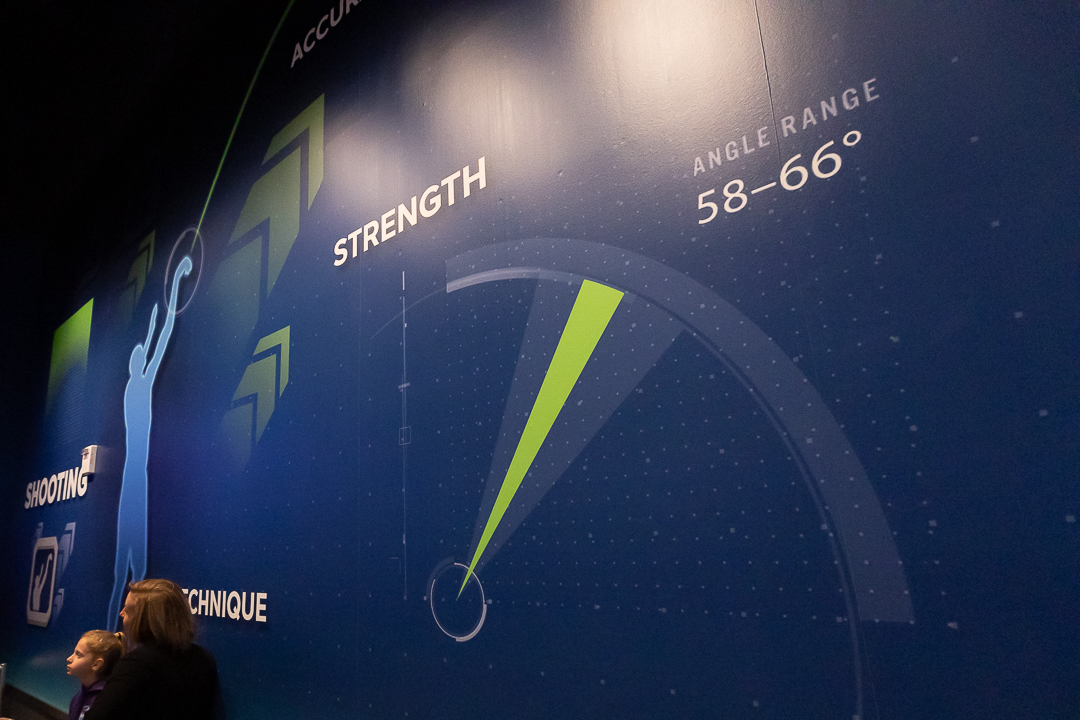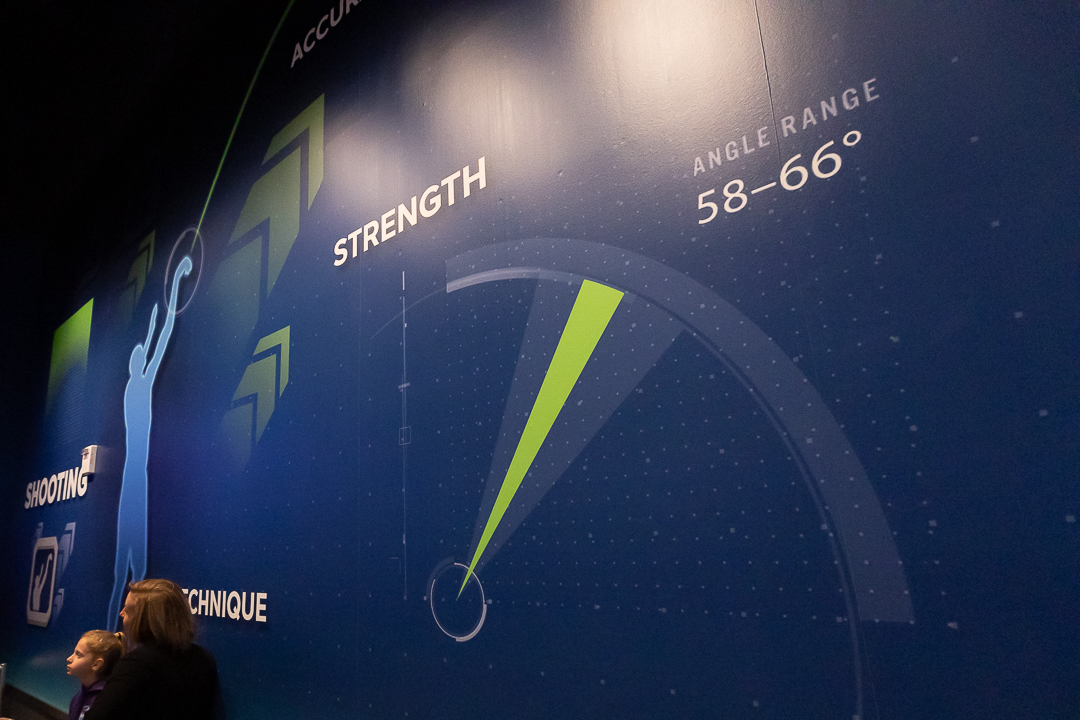 The other physical experience that I enjoyed was the Combine challenge.  In this experience, you are put through a couple of physical assessments and shoot some hoops.  You start by measuring your wingspan and your vertical leap.  If you are a former basketball player, you may be met with the jarring fact that you've lost 20 inches off your vertical jump from your peak athletic days.  Be prepared!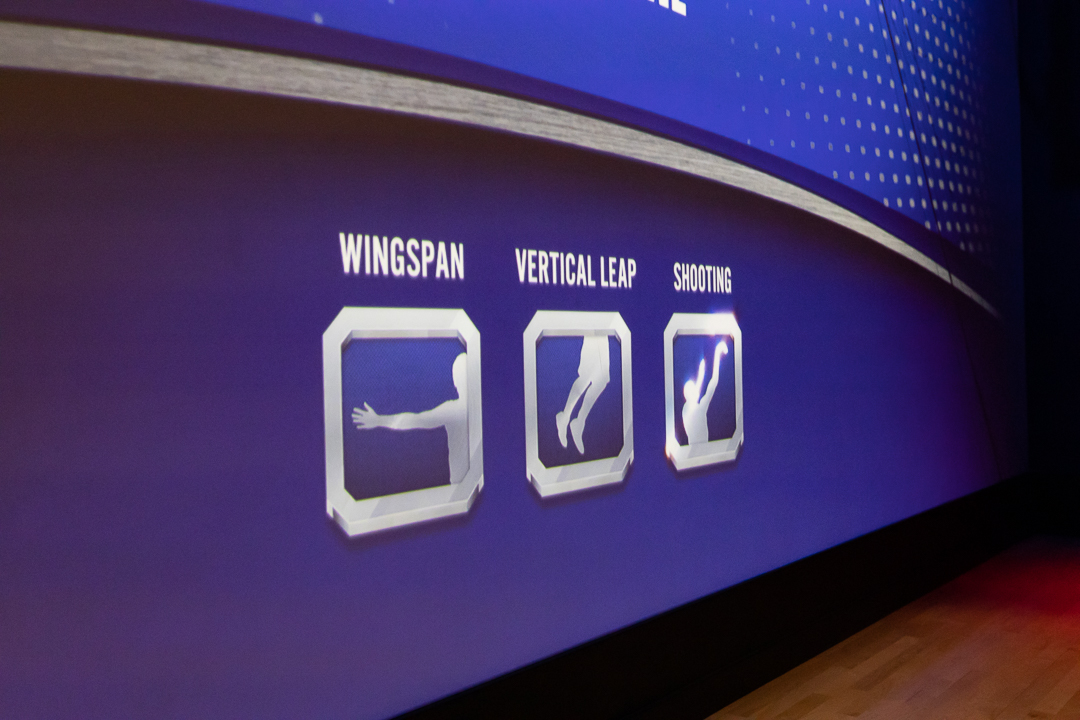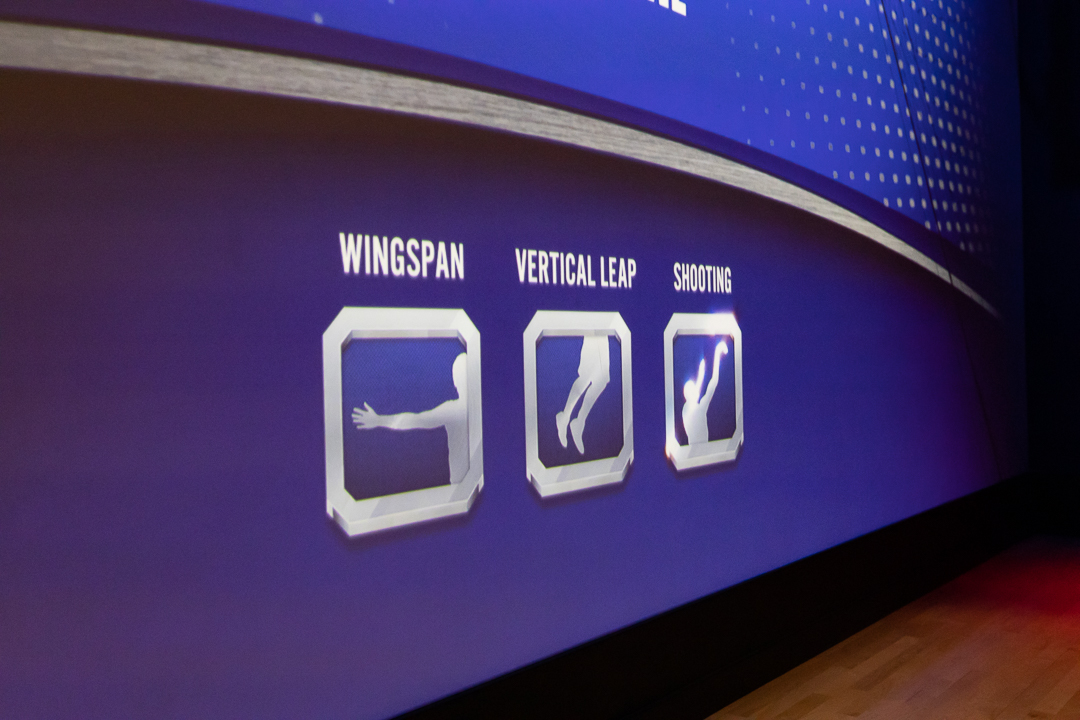 After the measurements are done, you then get to shoot free throws.  That in and of itself is fine, but what we really enjoyed as a family was the competitive aspect of the competition.  I proudly proclaimed beforehand that I would make the most free throws and promptly made a whopping zero!  Carla was the only person to sink a bucket.  I will say the shooting experience was made a little awkward by the large netting that is around the basket area.  Disney doesn't trust you to not take a ball to the face on a missed shot, I guess.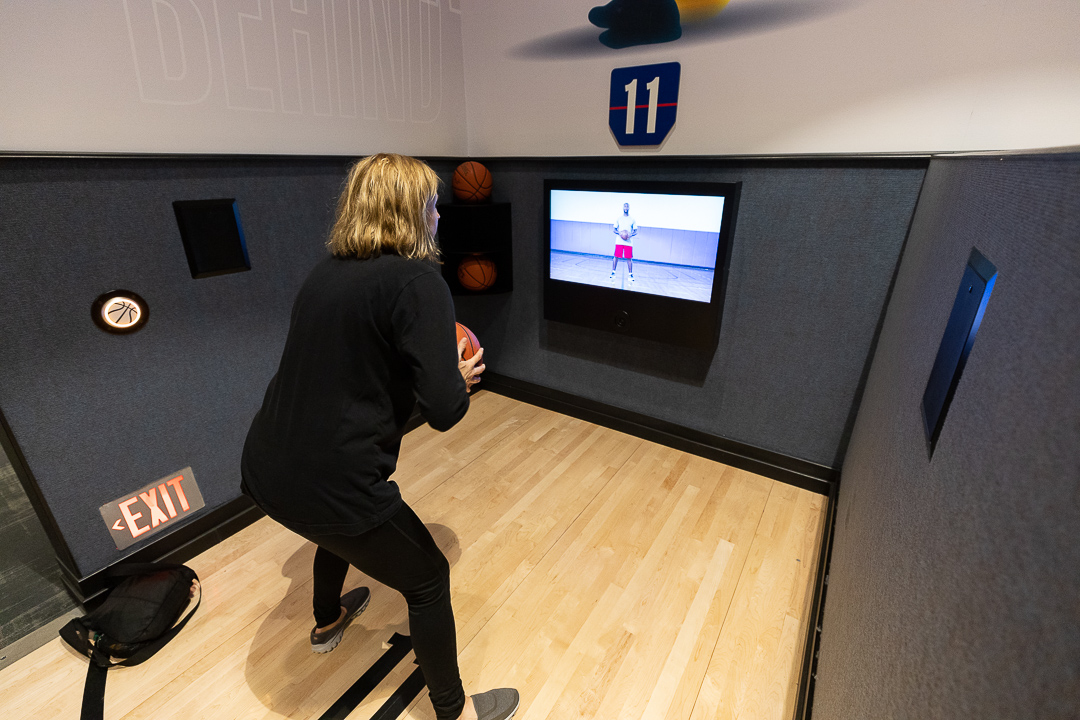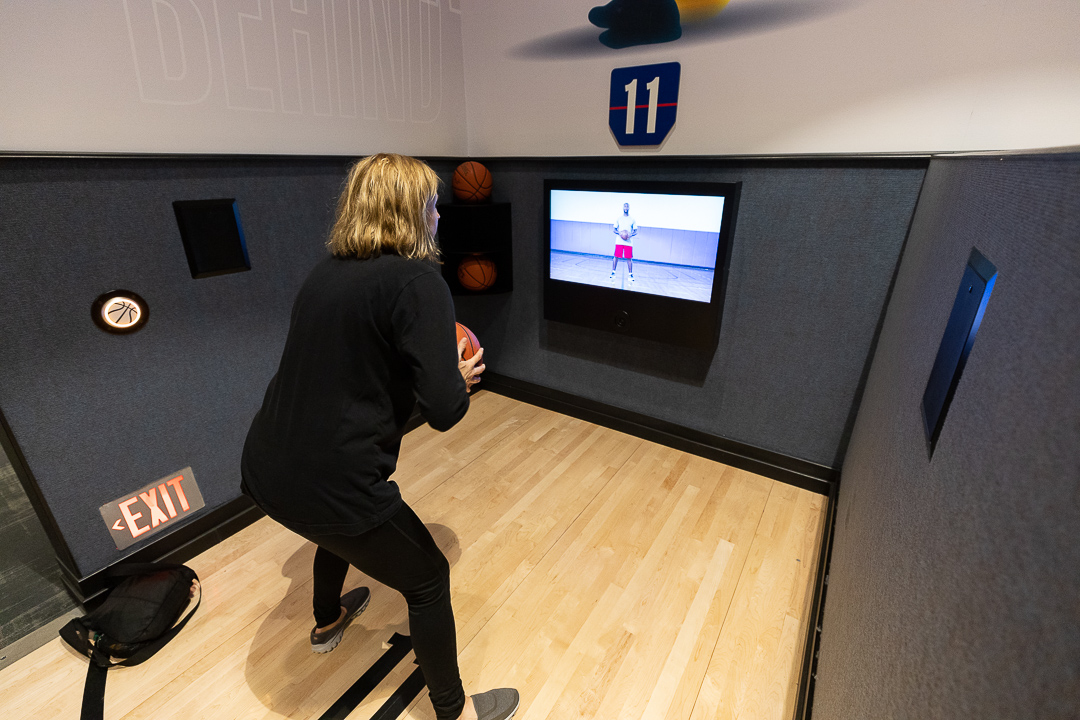 Next up is the "Dribble!" exhibit.  Here you have a virtual coach that will put you through the paces of dribbling a basketball.  This part of the NBA Experience skill-based activities was sort of blah to me.  To start, you take the ball and hit it between your hands.  Next, you dribble a basketball with one hand, then switch to the next, and finally dibble with both hands in an alternating fashion.  There wasn't much to it, and they tried to measure your power and accuracy, but I'm not sure how it was determining this.
Another skill-based experience is called "Shoot!".  We didn't actually do this because Anna and Elsa can't shoot on full regulation height hoops.  However, we can still tell you what this is.  Here you'll be guided through a series of shots that you need to make while beating the clock.  It's what every basketball playing kid lived out at home but within a large basketball court area.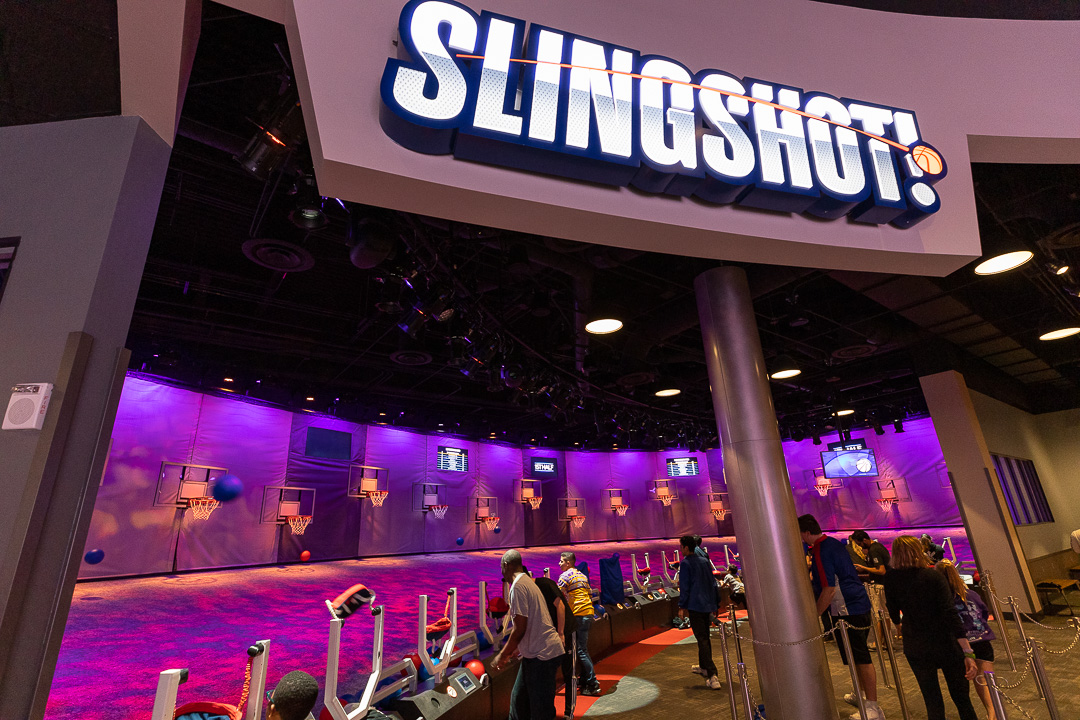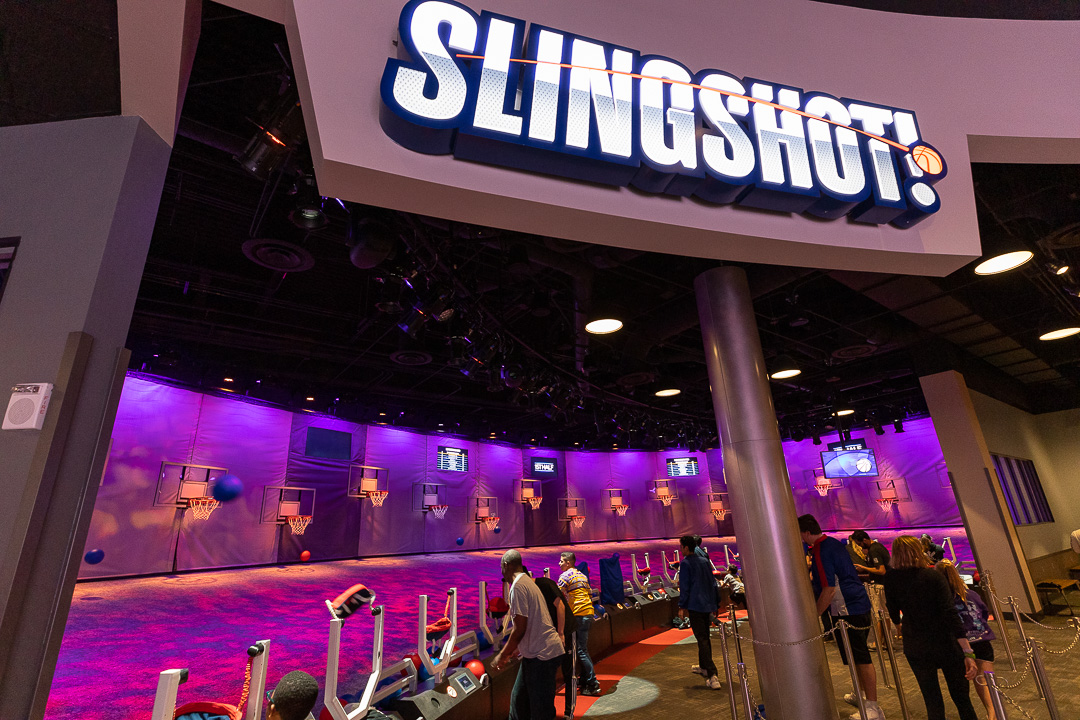 The experience that requires some physical skill is called "Slingshot."  This one is a little misleading as it doesn't really depend on physical skills like the other experiences.  In this one, you take small, lightweight balls and shoot them at basketball hoops from a slingshot.  That's certainly not a skill used in real basketball, but it was a fun challenge.  For smaller kids like Anna, this can be a challenge if they don't have the strength or coordination to control the slingshot.
Arcade Games
There are several arcade games available to play at the NBA Experience at Disney Springs.  The games include arcade classics like pop-a-shot and then a large setup to plan NBA 2K19.  Pop-a-shot is fun, but I can do that anywhere, and coming to play video games seemed a little odd to me.  Why would I come to play video games for the price the NBA Experience costs?  That said, the younger kids we saw here were all happy to play the games.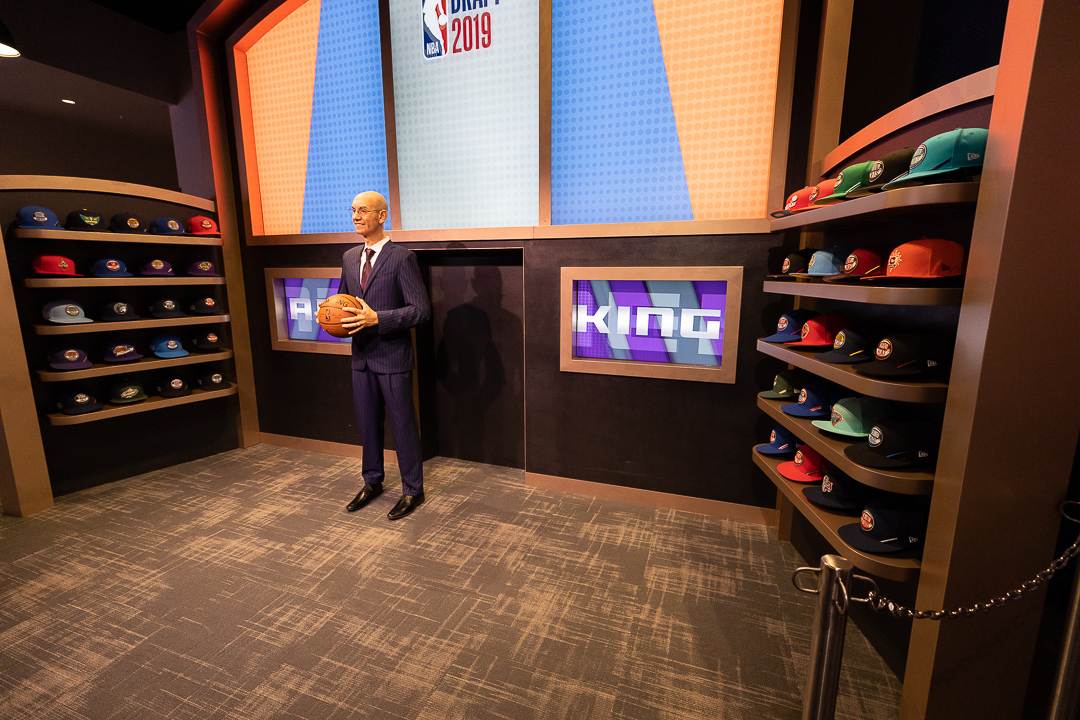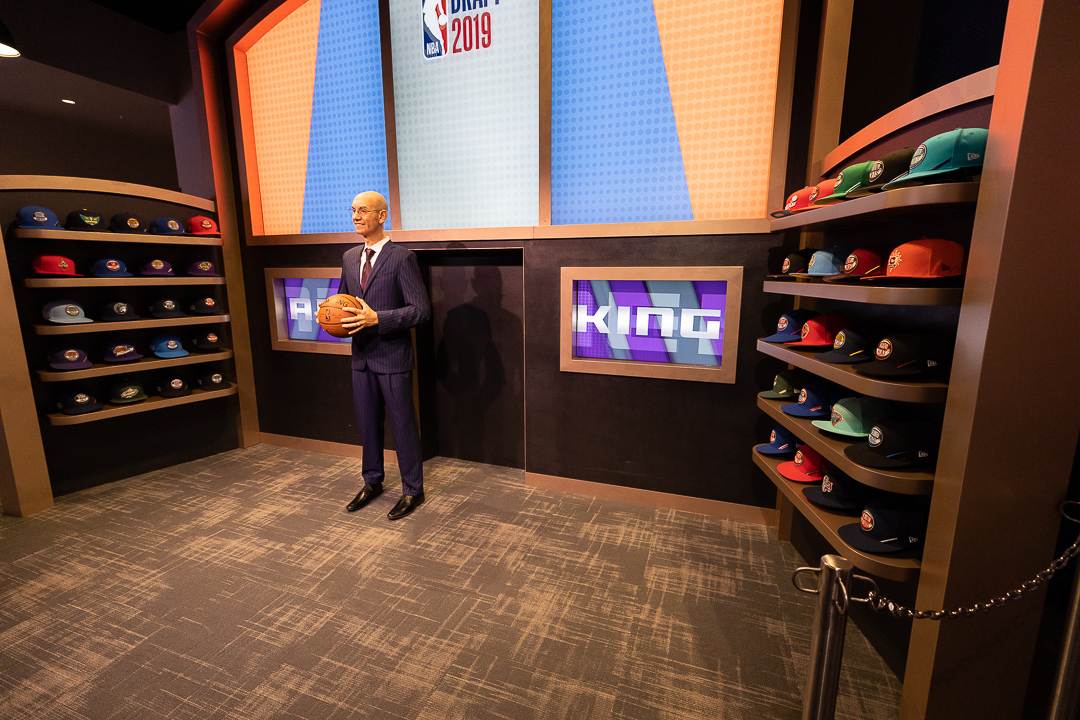 Photo Opportunities
Scattered around the various exhibits are photo opportunities.  You can take a picture with a life-size replica of NBA commissioner Adam Silver on draft day. 
If you're interested in some NBA hardware, there's also a place where you can raise the Larry O'Brien Championship Trophy and have your picture taken with it.  You can also have your photo taken with the MVP trophy.  I guess I should be clear, both of these trophies are replicas of the real thing.
Other Exhibits
Scattered around the NBA Experience building, you'll find other exhibits that don't neatly fit in with the groupings I laid out.  We'll cover those here.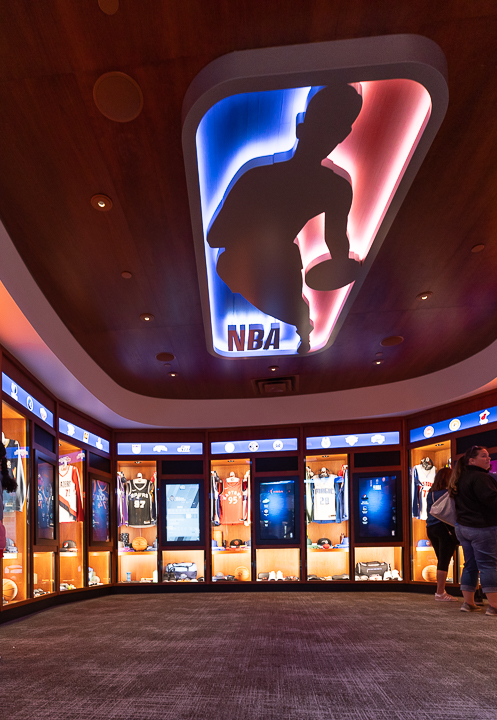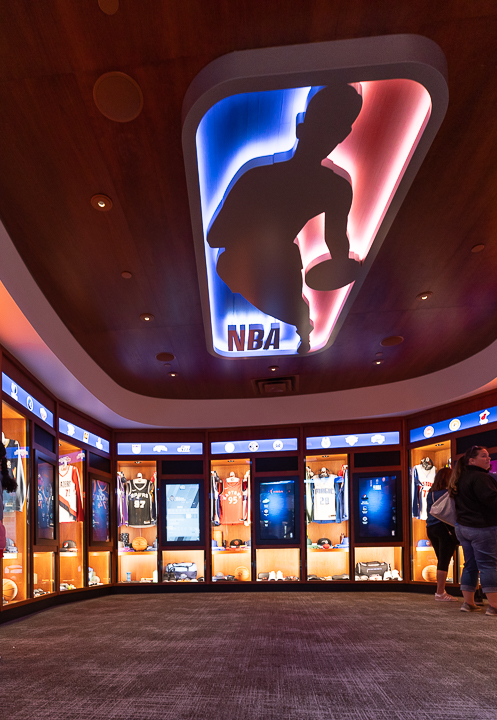 First up is the player's locker room.  The locker room in and of itself is just sort of okay.  What I really enjoyed was the interactive screens where you could dive deep into some of your favorite players.  You can get highlights of those player's most recent game, check the box score, or see what their stats are for the season.  I was really impressed by how well thought out the screens were.  If you want to see more of this, go down the page a little further and you can see the screen as part of our NBA Experience video tour.
If you wonder how you size up to a real NBA player, you can go to the physical measurements area.  Here' you can step in Shaq's shoes, or compare your wingspan with Mo Bamba.  It's impressive to see how large real basketball players are and how you compare to them.
There is a replay center within the NBA Experience.  Here you can step into the shoes of an NBA official and review a controversial play.  We didn't do this because Anna and Elsa were fairly meh about it.  If I'm honest, it wasn't all that interesting to me either.
You'll also find some NBA film rooms on the first floor.  We were walking towards them with Anna and Elsa and actually had a cast member tell us that kids will find the films very boring.  He suggested we go upstairs to the skill based activities that we have already talked about.  So, we didn't see the films, but if cast members are suggesting you skip it, that might be a sign that it is only for the true basketball diehard.
Is the NBA Experience Worth It?
This one is actually relatively easy for me.  If you are a fan of the NBA or at least come from a sports background, then I think it is worth your time to go to the NBA Experience.  There are several fun components, and there isn't a lot at Disney Springs (or the whole of Disney World) where you can get 2-3 hours of entertainment for $35 per person.
If you don't check the boxes in who we think will like this, then we'd say you should skip it.  There isn't going to be enough to keep you entertained.  You can take that money and invest it in one of the many Disney World Backstage Tours (link) that are available.
Wrapping Up Our NBA Experience at Disney Springs Review
We hope you enjoyed our NBA Experience at Disney Springs review.  If you did, please share it with anyone else that you think will find it helpful.  Just use the sharing buttons on the page!