Disney World has a knack for providing some unexpected experiences around their many themed resorts.  While these events are on always on theme to their resort, the level of execution can be bit all over the place in our experience.  During a recent stay at the Polynesian Village Resort we decided to check out Disney's Spirit of Aloha Dinner Show.  Here in our Disney's Spirit of Aloha Dinner Show review, we'll recap our thoughts on the show and dinner. 
There are two shows per day Tuesday through Saturday.  The first show is at 5:15 PM and the second is at 8:15 PM.  There are no shows on Sunday or Monday.
With one exception,  Disney's Spirit of Aloha Dinner Show will cost you two table service credits on the Disney Dining plan.  You can find more on this exception down in our section on seating options.  At two table service credits, you may be better paying out of pocket for this.  We'll show you a seating chart below, but the meal will run anywhere from $66-78 per adult.   Kids are $39-46 each.  You can use the Tables in Wonderland discount to eat here, but only for the 8:15 showing.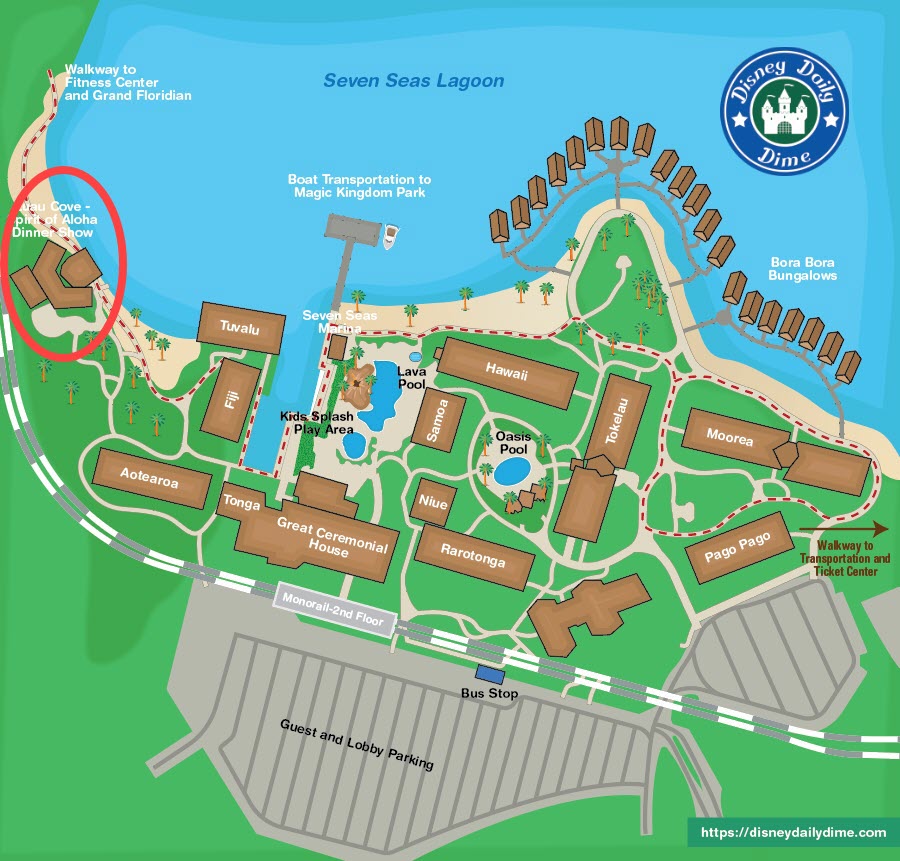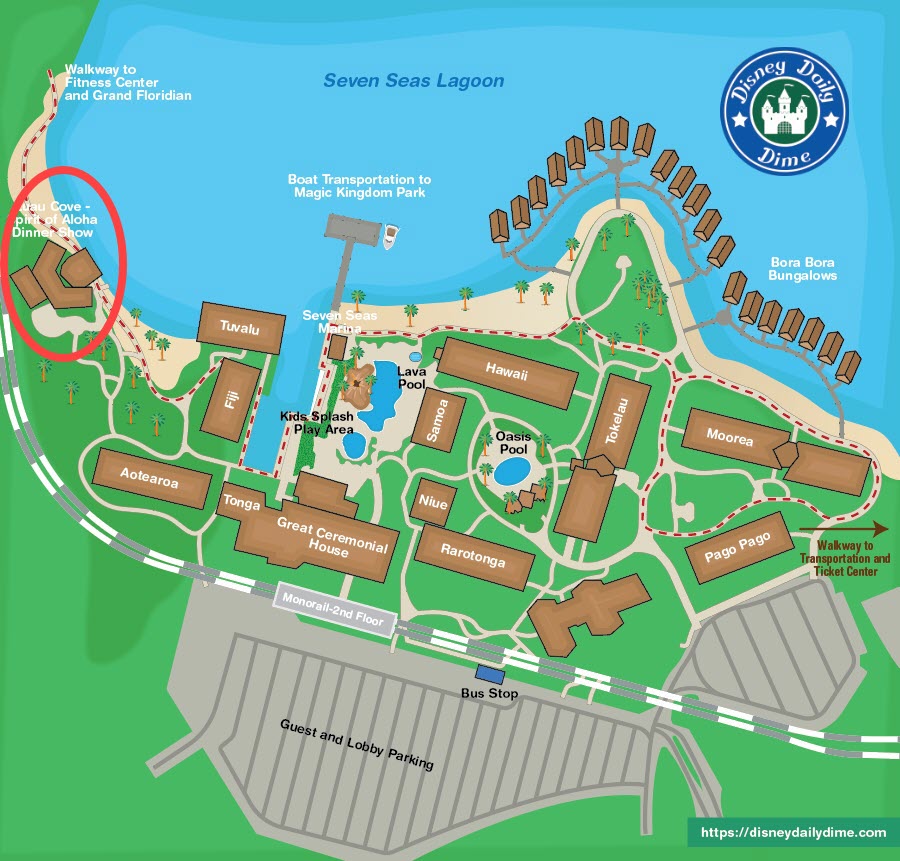 Disney's Spirit of Aloha Dinner Show Location
As we said, Disney's Spirit of Aloha Dinner Show is at the Polynesian Village Resort.  It's a little difficult to find if you don't know where you are going, especially if it is dark outside.  The show is held in Luau Cove, on the far western side of the resort.  You can see the map of the Polynesian Village Resort above, where we've circled Luau Cove in red.
From a practical standpoint, when you exit the back of the Great Ceremonial House, you'll want to turn to your left and go west.  If you get to the shoreline, you can follow the walkways and you'll eventually stumble upon the Luau Cove area.  It is fairly well concealed with vegetation, so keep your eyes peeled.  As you're walking to the west side of the resort, you'll probably see numerous other guests walking that way too.  You can just follow them and you should wind up at the right spot.  There is an off chance you may be following someone walking to the Grand Floridian, but hopefully you'll realize it when the crowds thin out fairly quickly!
How Long is the Spirit of Aloha Dinner Show?
You might be sitting there wondering how long is the Spirit of Aloha Dinner Show.  Fair question.  After all, you've paid a lot of money to have theme park tickets and this is cutting into that time.  Or maybe you want to make sure you are done in time to see the fireworks at Magic Kingdom.  Time is of the essence.
So how long is the Spirit of Aloha Dinner Show?  It is between 2 hours and 2 hours and 15 minutes.  That means you'll miss the Magic Kingdom fireworks if you book the 8:15 show, but the 5:15 show will leave you plenty of time to get a spot along Seven Seas Lagoon or even catch the monorail back to the park for the show.
The show does start promptly at these times and we recommend you check-in at least 30 minutes before the show start time.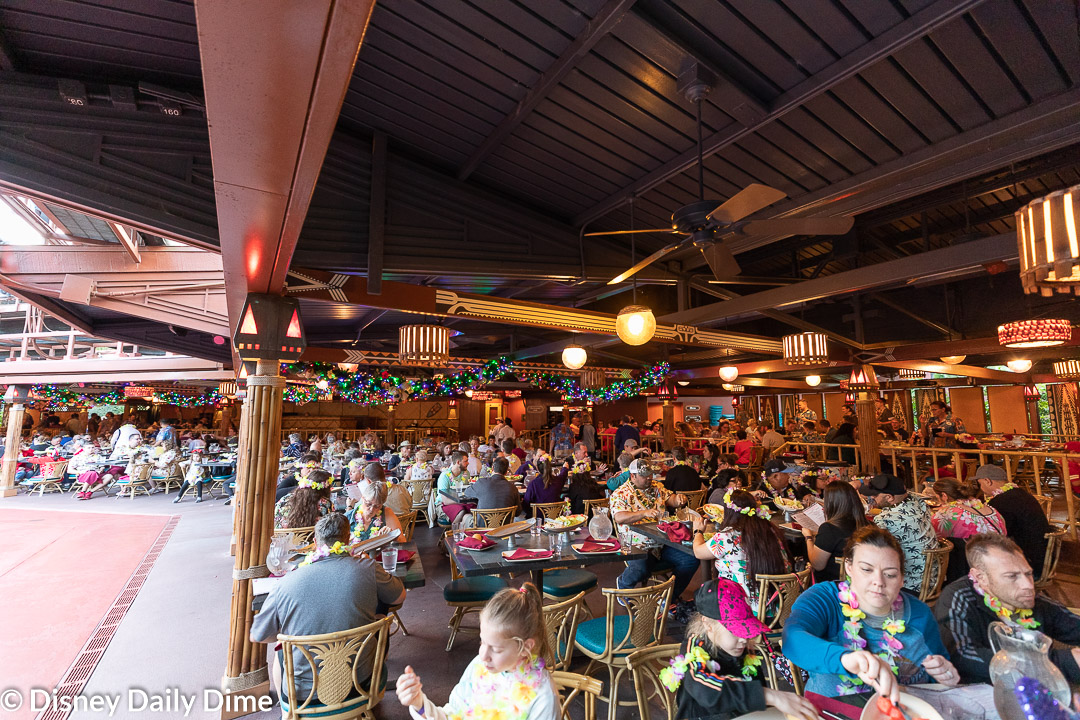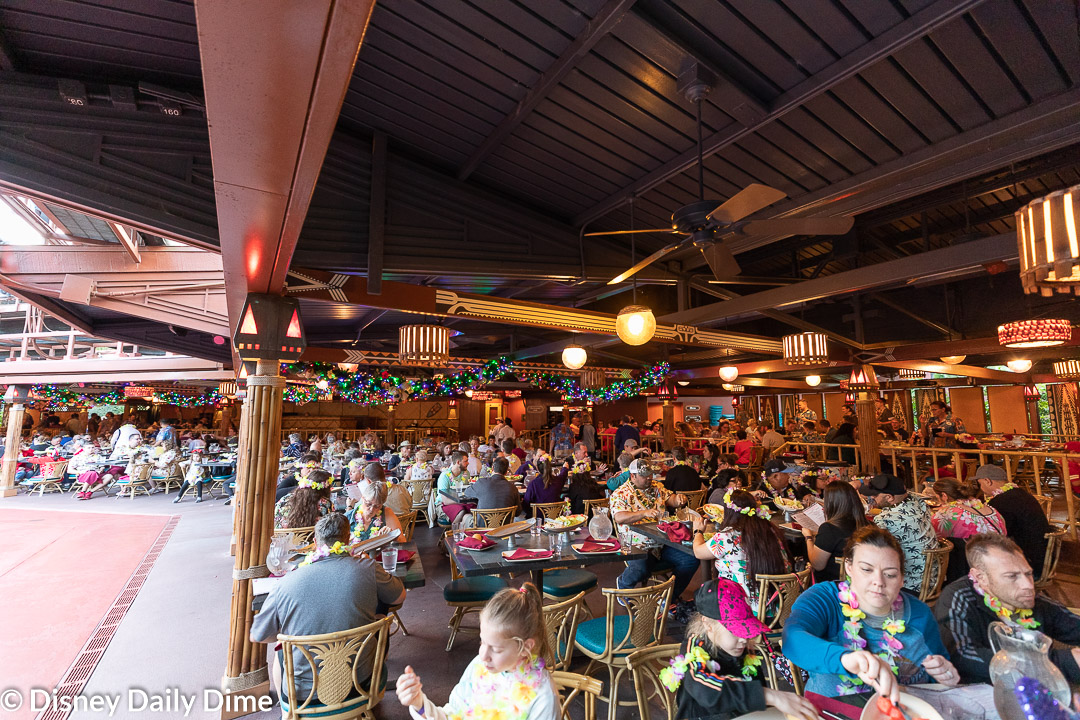 There are Three Seating Options You MUST Know About
So, you've decided you want to catch the show.  Time to make some reservations.  Much like any other dinner option, you can make reservations up to 180 days in advance.  You can do so on the Disney website at their Spirit of Aloha Dinner Show page.  One thing you will notice is that there are three seating categories available.  As you can see in the graphic below from Disney's Website, category 1 seating will give you the most central view of the stage, although it can be further back in the dining area than certain parts of category 2 or 3.
You can see the prices for the show in the graphic as well.  While not shown, kid's prices are $46, 44, and $39 each for categories 1, 2, and 3 respectively.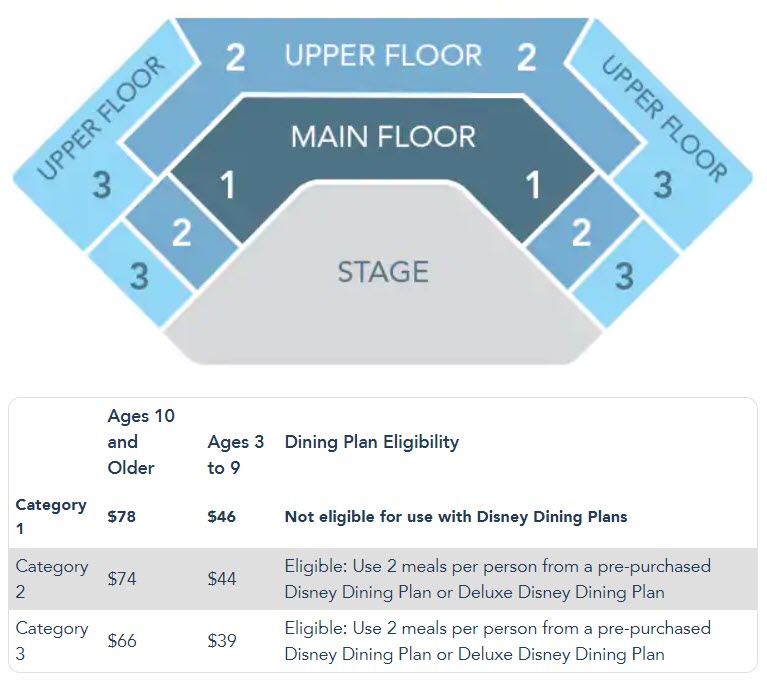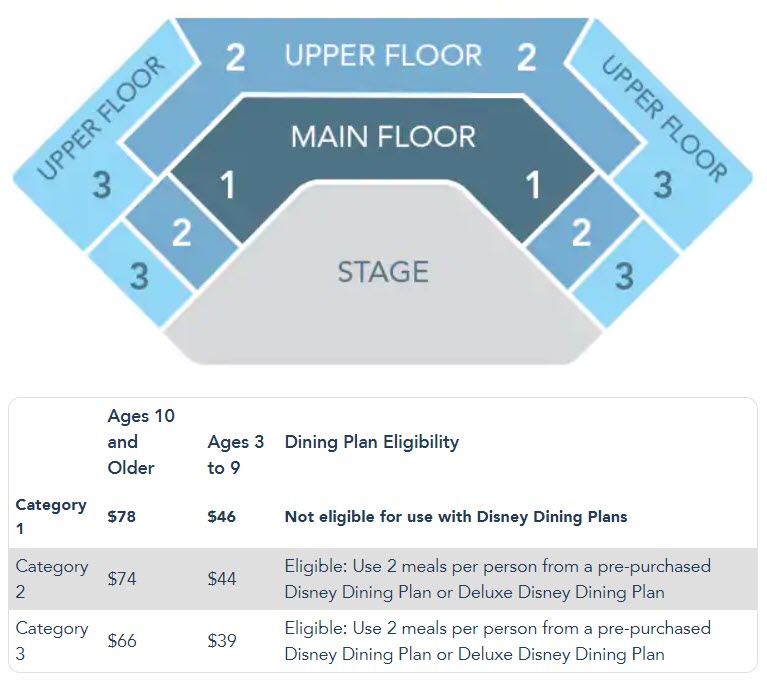 Seating for each category is a function of when you show up.  They assign seating for the show upon check-in, so it is worth it to get there early for check-in regardless of what category you book.  When we booked our seats, we decided to go for category 2 seating.  We got there early and were seated at the very front right of the venue, which worked out great.
If you have small kids with you like we did, we think it is even more important that you show up early.  Show up late and end up in the back sections with lots of adults between your kids and the stage and they won't be able to see much.  It will be a recipe for a wasted meal for sure.
Personally, we'd recommend going with either category 1 or 2 seating.  Just get there early to get a seat as close to the stage as possible.  We'd suggest arriving 45 minutes before the show if this is of importance to you, but there is no guarantee what seat you will get.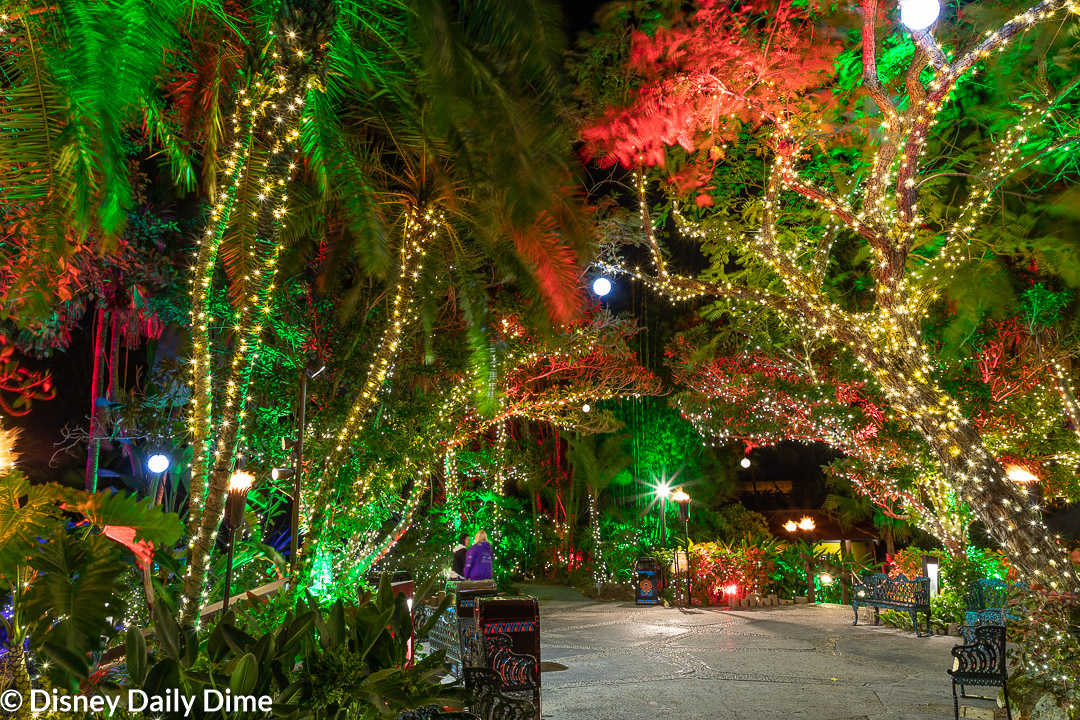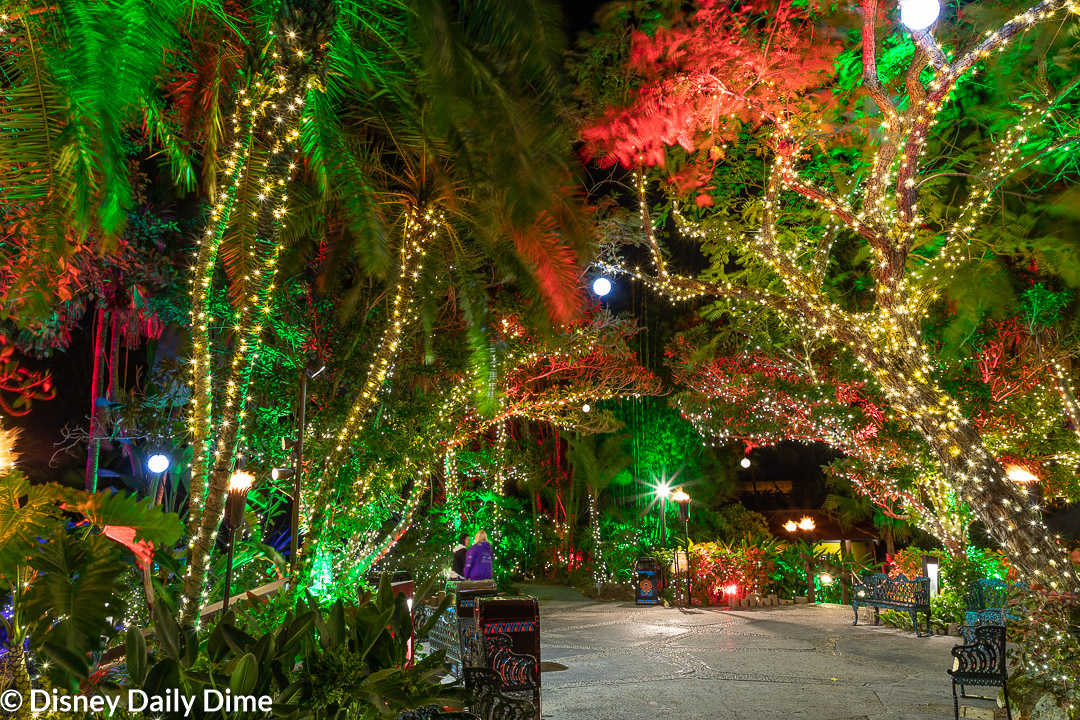 If you do get there early, you should know there isn't really anything to do in the immediate area.  You can see a picture of the waiting area below, after a show.  It's a beautiful area, although this is made even more picturesque by all the Christmas lights that were up when we were there.  It is a calm and peaceful area to enjoy some quiet time with your family.
Earlier I mentioned one exception to the Disney Dining plan.  That exception is that you can't use the dining plan for category 1 seating.  It is only available for categories 2 and 3.  Both categories cost two dining plan credits.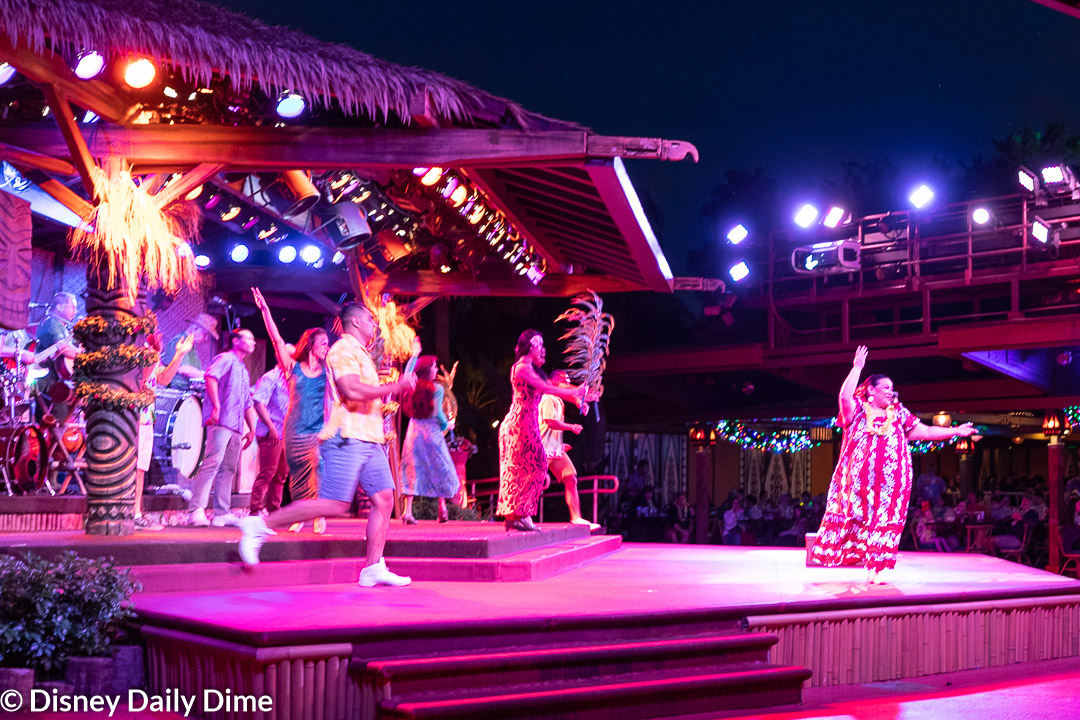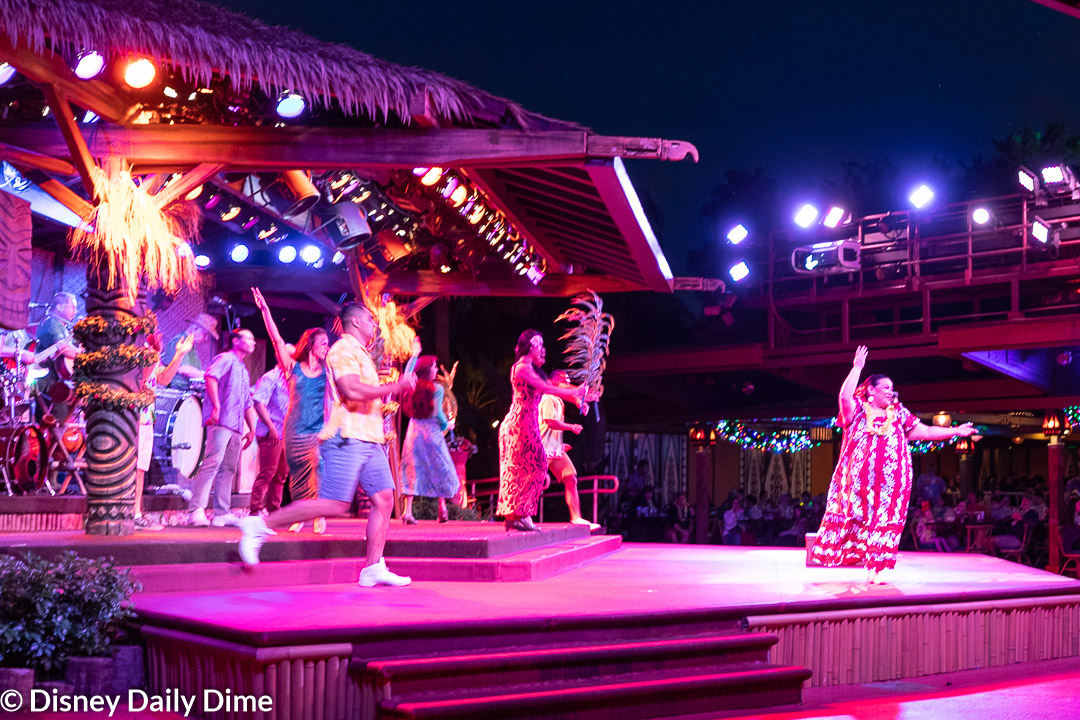 The Spirit of Aloha Dinner Show Has Some High Point and Some Really Low Points
Okay, let's get to the "review" part of our Disney's Spirit of Aloha Dinner Show review.  That's why you're here right?
The show itself is really divided into two parts.  First up is a bit of a play/skit.  Honestly, I'm not sure what to call it.  I'm confused in part because the show is a bit all over the place and confusing in and of itself.
The initial part of the show involves the story of Aunt Wini.  She is "hosting a fun-filled luau to say goodbye to one of the local girls who's headed to the "mainland" for college".  To be honest, if I didn't read that on the Disney website, I never would have known that.  I thought the two main characters were her daughter and a boyfriend that were trying to reconnect after some time away from each other.
This part of the show is pretty discombobulated and honestly, not all that great.  It's not terrible, but we're just kind of meh about it.  The kids were equally disinterested in it.
The one highlight here is the band.  The music is performed live by an in-house band and they are actually really good.
This part of the show carries on for about 30 minutes and when dinner is served to the guests, the show takes a brief break.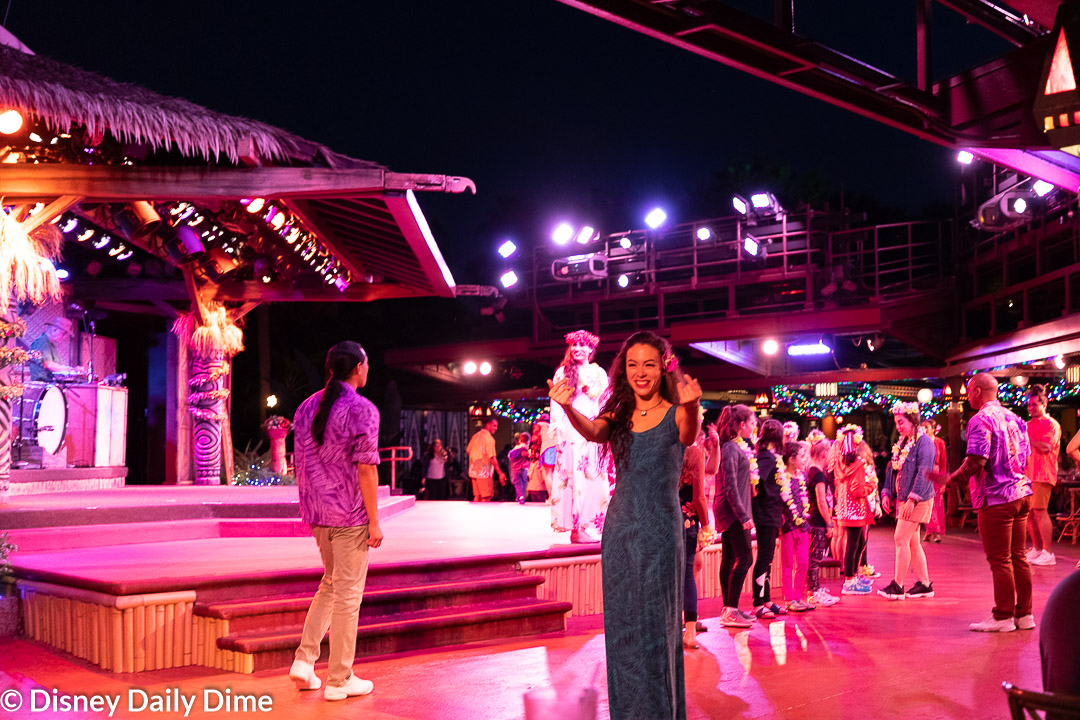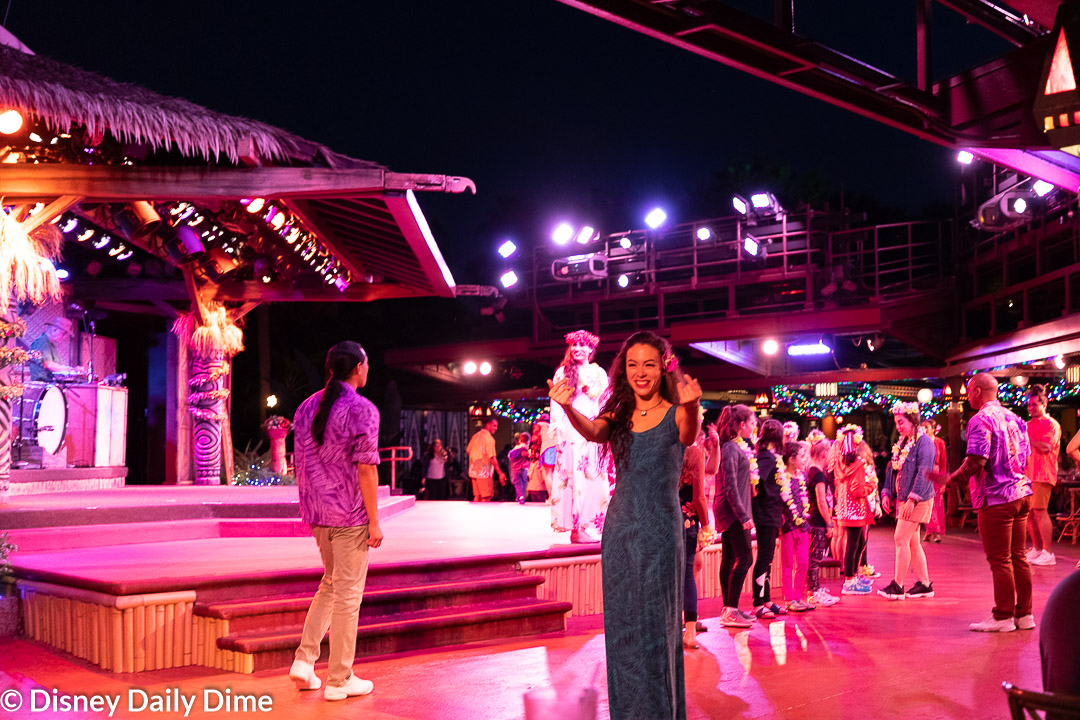 Once the main course is on the table, the show resumes with a continuation of Aunt Wini's luau.  And unfortunately, the show is as blah as the first part.  But there are some more interactive and fun things that occur in this section of the show.
First, the performers invite anyone interested to go out in front of the stage and learn to hula!  This was a huge hit with Anna and Elsa.  They really enjoyed it.
Next up in this segment of the show, they invite anyone with a birthday to come to the front of the stage and they sing a little song to them while doing a dance.
Lastly, they have a slow dance for anyone in love.  This takes place in conjunction with a sentimental part of the show.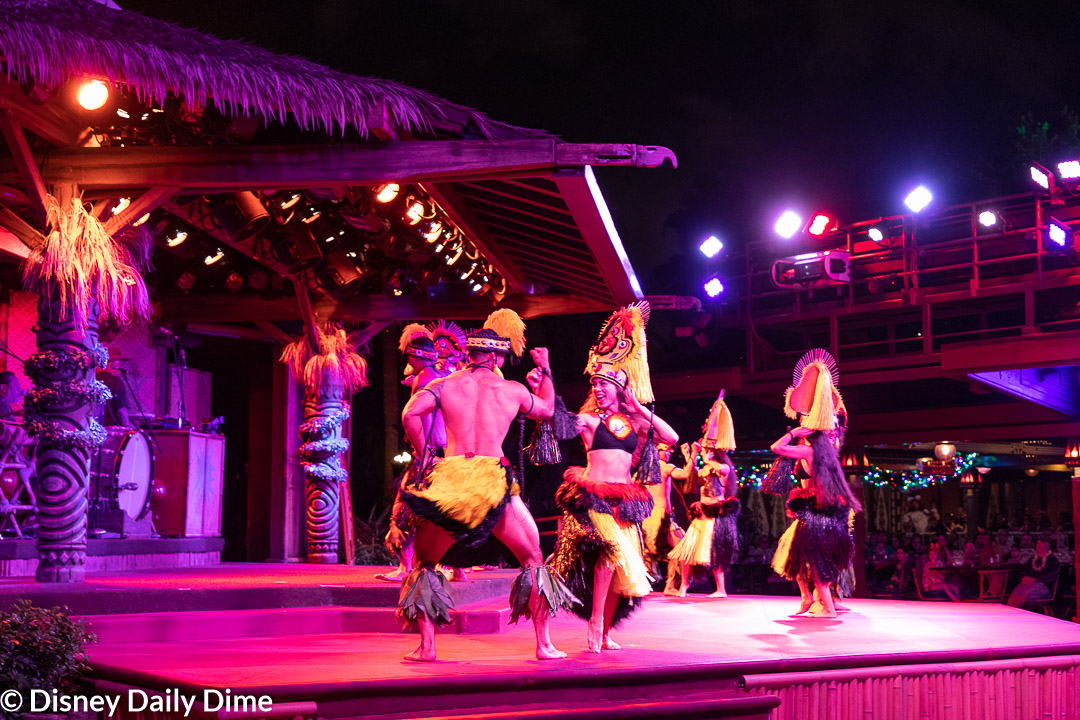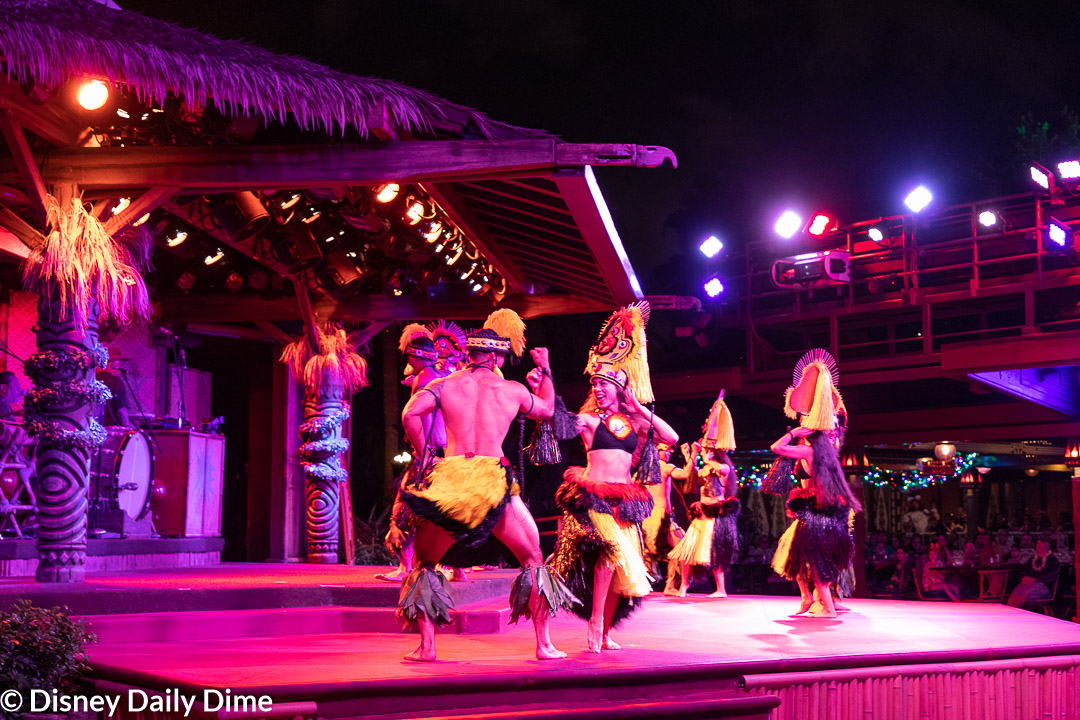 After this, most of the regular show is over and the fun is really about to begin.  The third act of the show is when the traditional Polynesian dancing begins and I have to say, it is fantastic.  Dancers perform traditional dances of Tahiti, Samoa, Tonga, New Zealand and Hawaii, all with the backdrop of the band banging out the supporting music.  Both the ladies and gents of the cast get involved here and it is truly a sight to behold!  To be honest, this is the one part of the night that made us really feel like we were at a traditional luau.  While it's been 10 plus years since we've been to one, it felt more authentic and not as contrived like the first two acts of the show.
The show stopping dance is the fire-knife performer.  It goes for about 7 minutes or so, and we were all enthralled by it.  It's the most still I think I've seen Anna and Elsa sit in a long time.  Nobody could take their eyes off of him.  There are another couple of numbers from Aunt Wini's luau and then the show ends.
You can give the first two acts polite but less focused attention.   Make sure you stop eating and talking with your tablemates and really watch the third act.  This is what one comes to this show to see. 
The Food at Disney's Spirit of Aloha Show Wasn't a Highlight
We'll cover the drinks, appetizers, entrees and desserts in their own section below.  One thing to note is that the food at Disney's Spirit of Aloha Show was served family style.  Also, this meal is "all you care to eat", so feel free to ask for seconds or thirds of anything you like!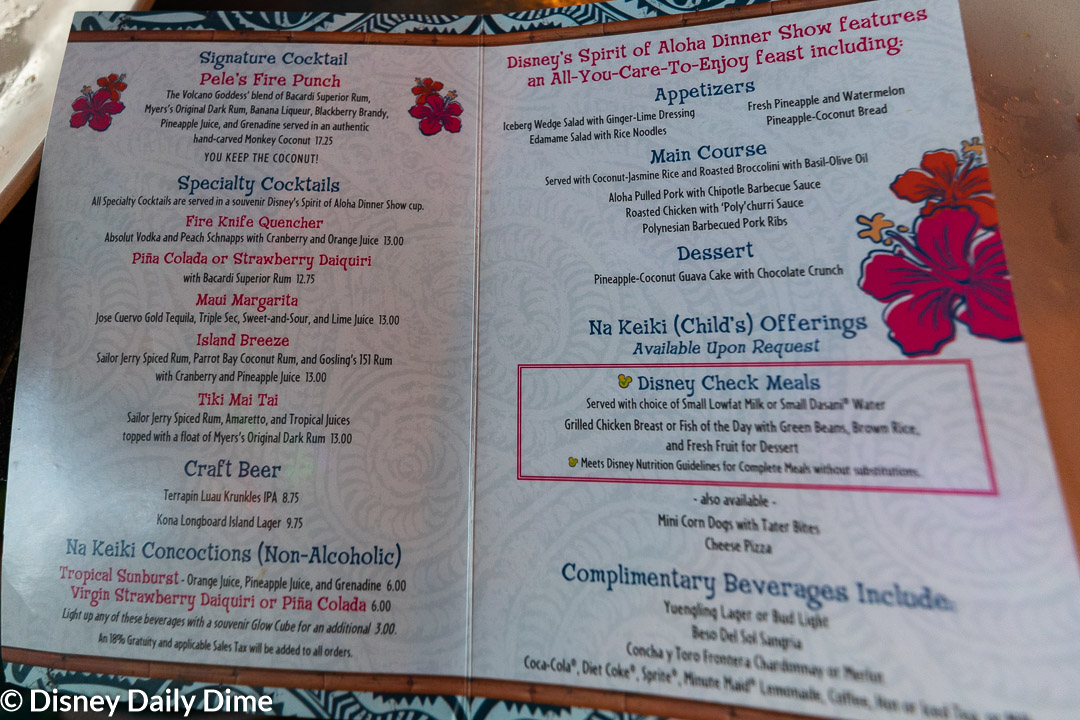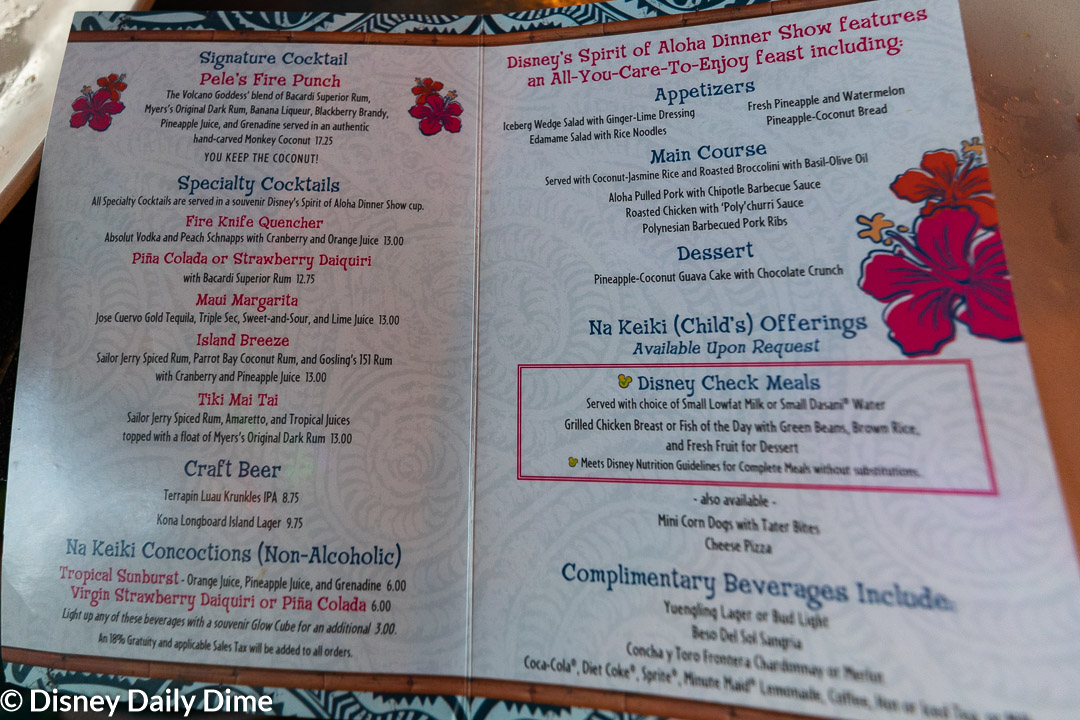 Normally Carla does a separate gluten free review for her dining experience, however almost everything on the menu here is inherently gluten free other than the bread and dessert.  Therefore, we'll just call out the separate gluten free items as we come to them.
Drinks
Included in your meal is your choice of typical Disney fountain drinks, milk, coffee, etc.  However, it also comes with your choice of beer or wine.  The free beer consists of Bud Light or Yuengling Lager.  There is a house merlot or chardonnay that you can order too.  You can even order sangria, free of additional cost.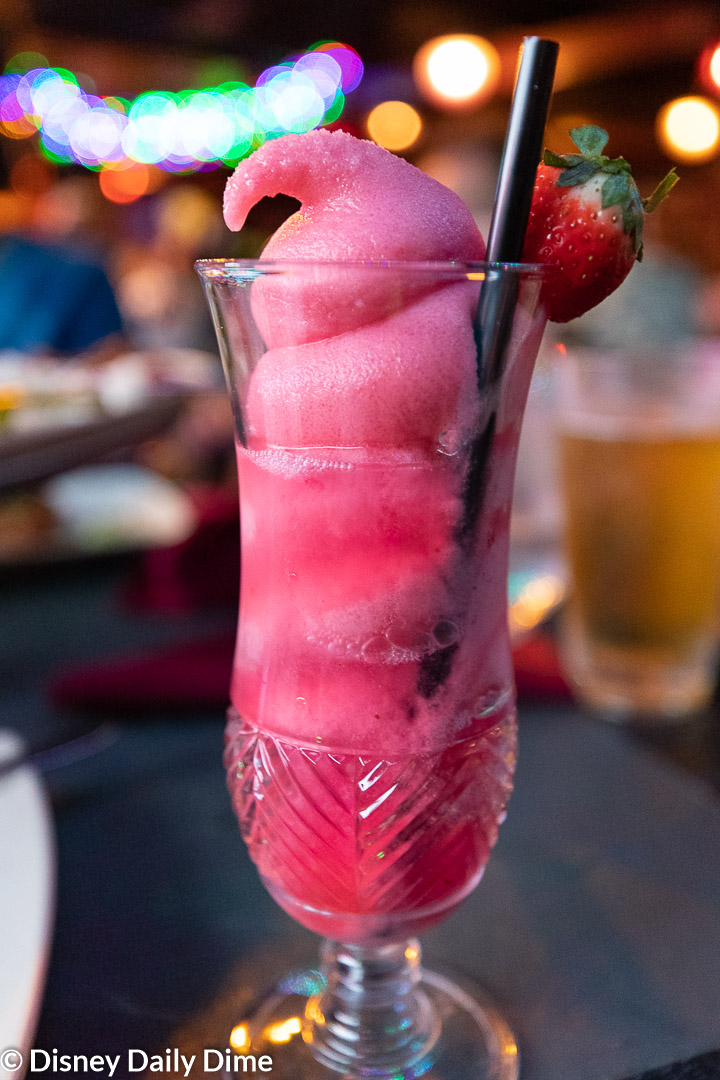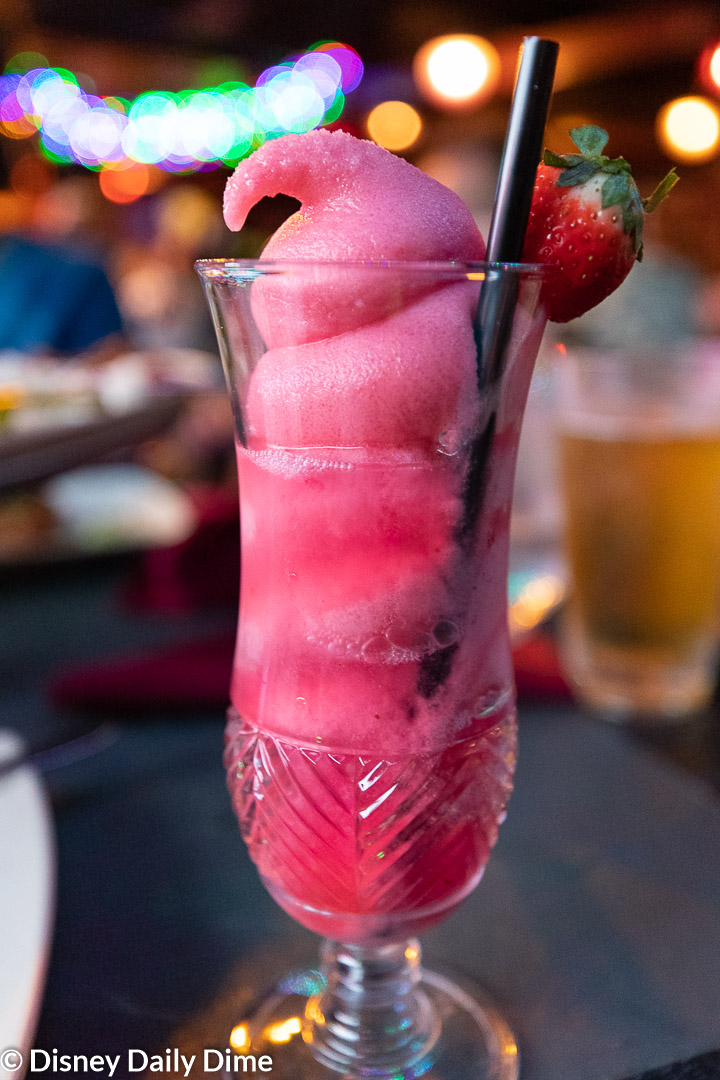 Sadly, when I think luau, I think of fruity cocktails and more citrusy drinks.  Yes, they are on the menu, however they are not included in the price of the meal so you have to pay extra for those.  I ordered the strawberry daiquiri and it had a fresh strawberry flavor, but it was a bit lacking in the rum department.  For $12.75, I was hoping for more.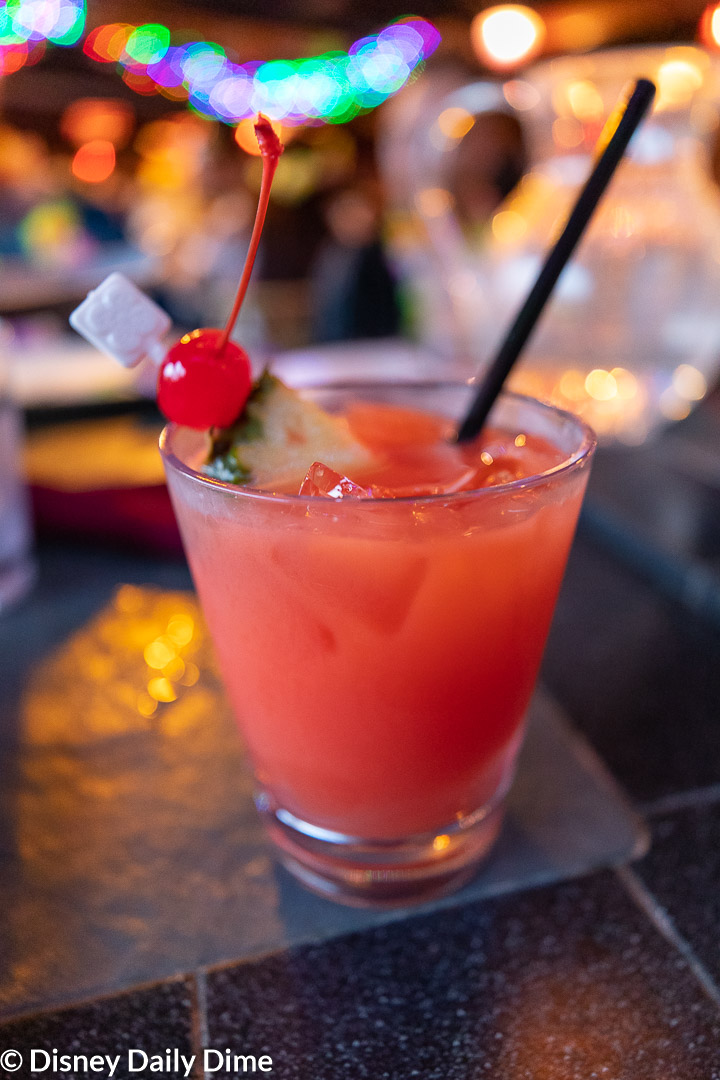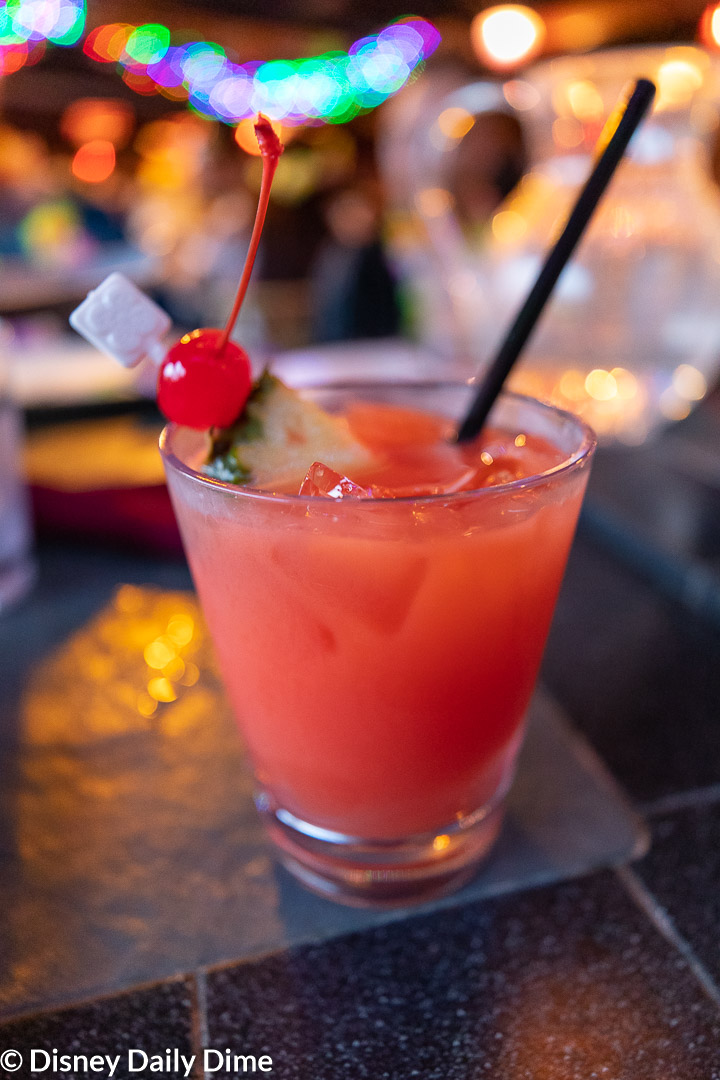 Carla got a fun fruity, but non-alcoholic drink in the form of the Tropical Sunburst.  A mix of orange juice, pineapple juice and grenadine, she thought it was excellent.  Showcasing some great tropical flavors, it was surprisingly not too sweet and a refreshing drink for her.
If these drinks don't strike your fancy, you can see the other drinks available on the picture of the menu above.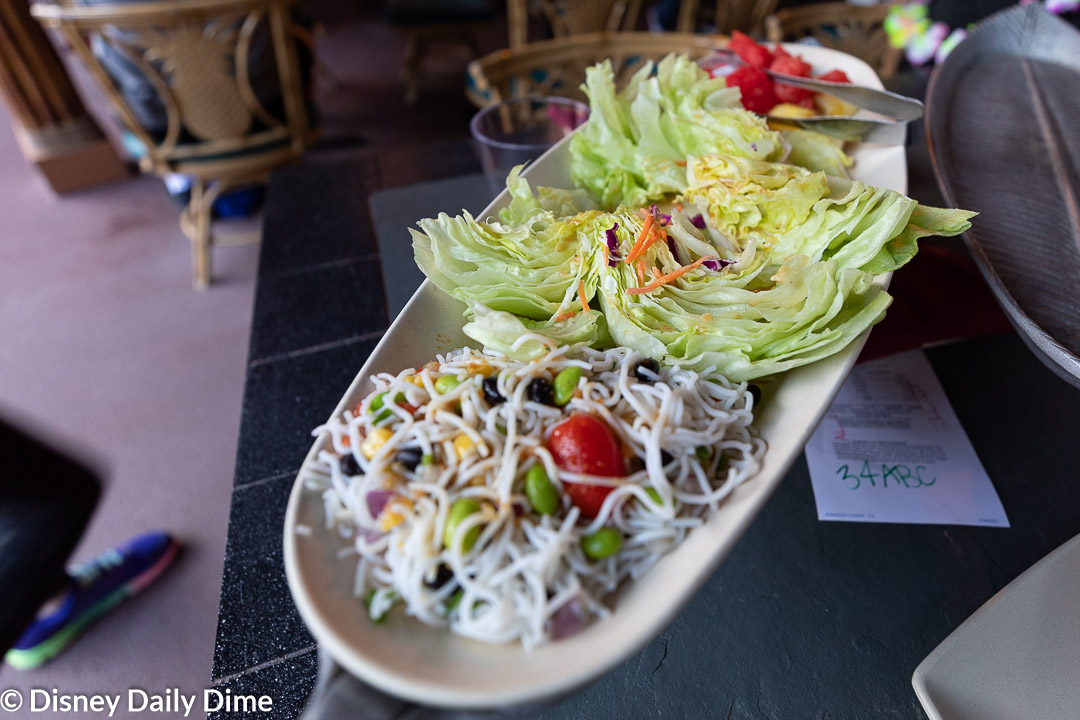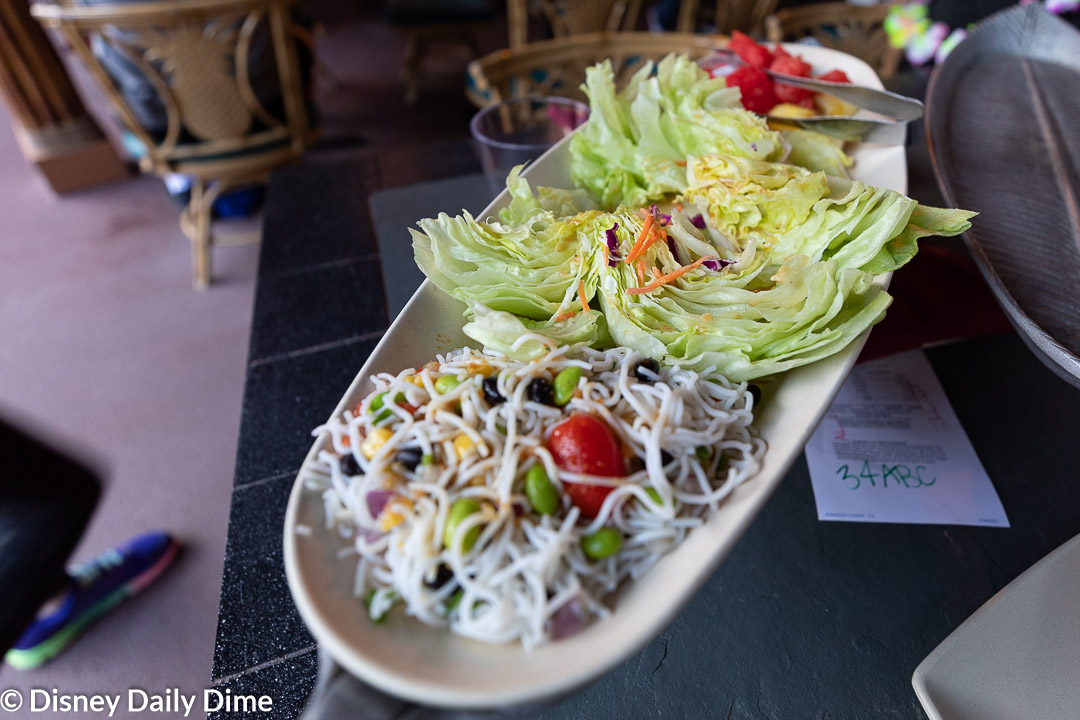 Appetizers
When our host seated us at the table, the appetizer dishes were already served and waiting for us.  This was great, as it meant the girls could start eating right away.  They were starving and unfortunately, they tore into the pineapple-coconut bread before I could get a good picture of it.  So alas, I get this sad picture of the one role that was left for me to eat.  If you're familiar with the bread served at 'Ohana, it is just like that.  The bread was great, with nice subtle flavors from the pineapple and coconut.  It wasn't something that I found overpowering.  The kids also really enjoyed the bread.
For Carla's gluten free bread, she got the standard Disney gluten free dinner roll.  It was nothing to write home about.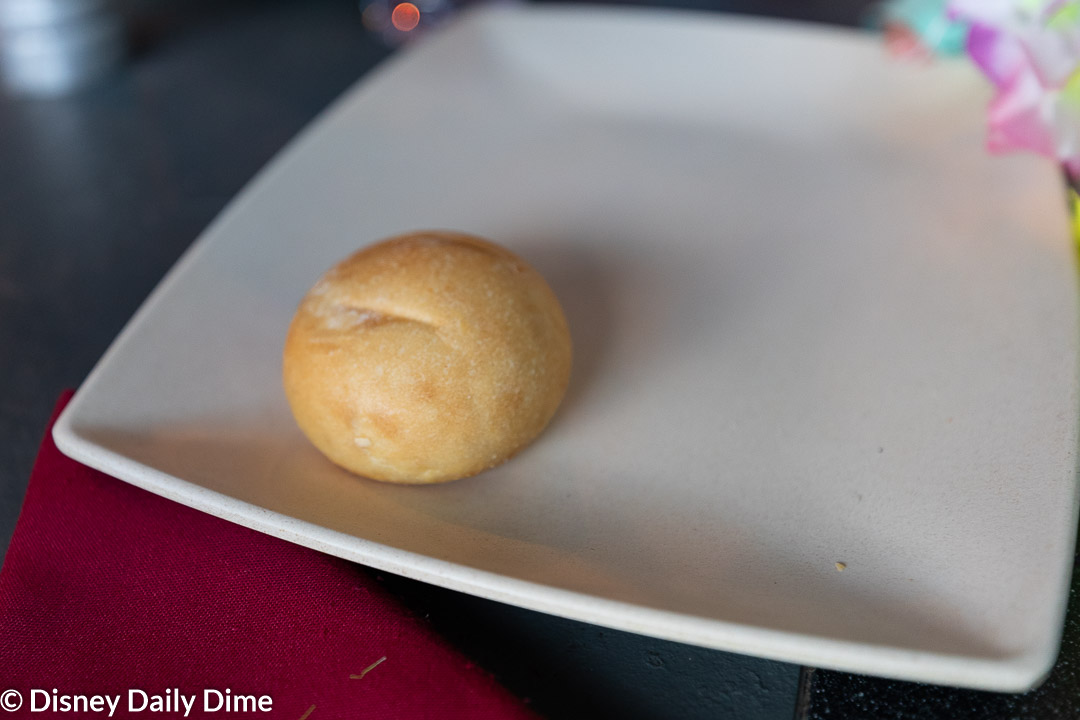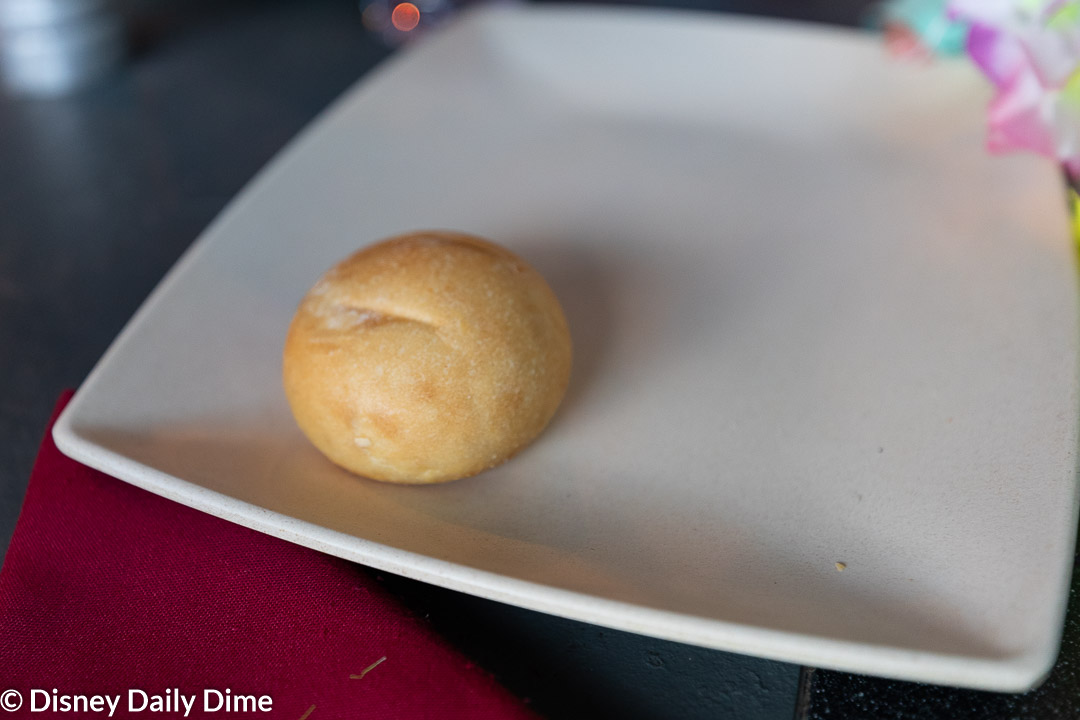 The appetizer plate includes three items.  If we work our way from front to back of the picture, you'll see the Edamame Salad with Rice Noodles in front.    The salad featured black beans, corn, edamame, tomatoes, and onions.  We really enjoyed this salad, with its light and refreshing flavors.  It was a nice alternative to the basic salad that came with the appetizers.  Anna and Elsa did not like this rice noodle salad appetizer.  It was a wee bit too adventurous for them.
Speaking of the lettuce wedge salad served with the appetizers, we found it to be pretty basic and ho-hum.  It features a ginger-lime dressing that I actually did not like because of the ginger flavors in it.  Not that they were too strong, but pretty much anything ginger is not going to sit well with me.  The salad feature iceberg lettuce, so they don't appear to be going for a high-end touch here.
The last part of the appetizer plate was an assortment of fruit.  Two fruits to be exact.  The plate features watermelon and pineapple.  We found the fruit to be fresh and good quality.  But at the end of the day, it is just a mixed set of fruit.  Nothing wrong with it, just don't expect some mind-blowing experience.  This is the appetizer that the girls devoured.  They ate so much of it, we actually asked for second helping.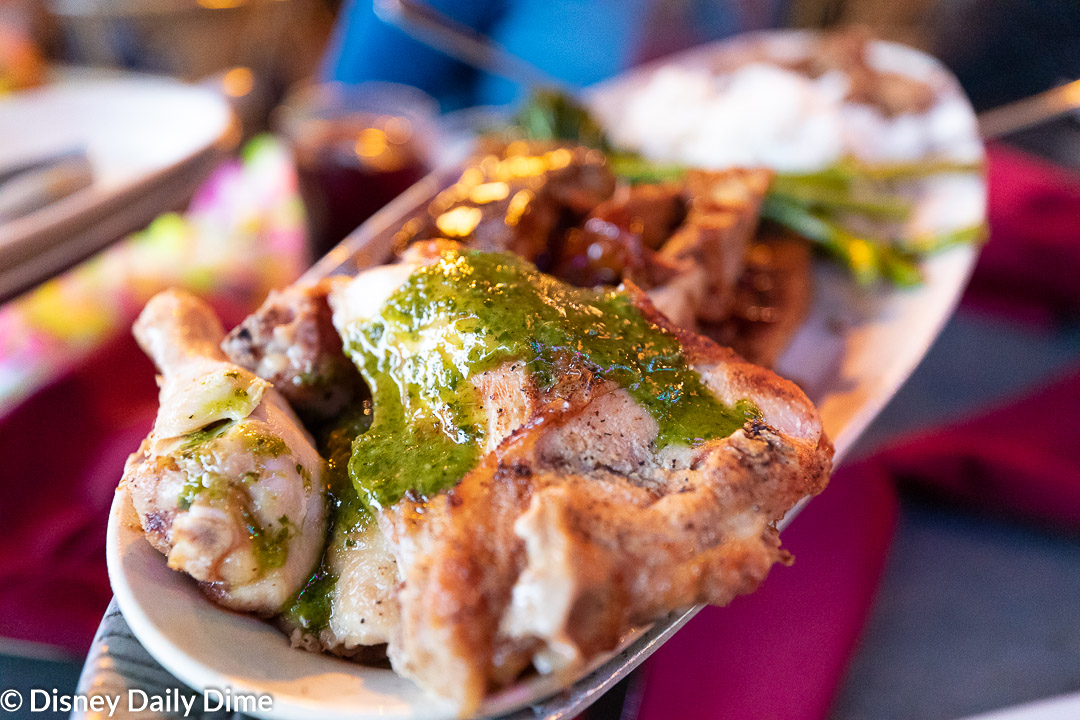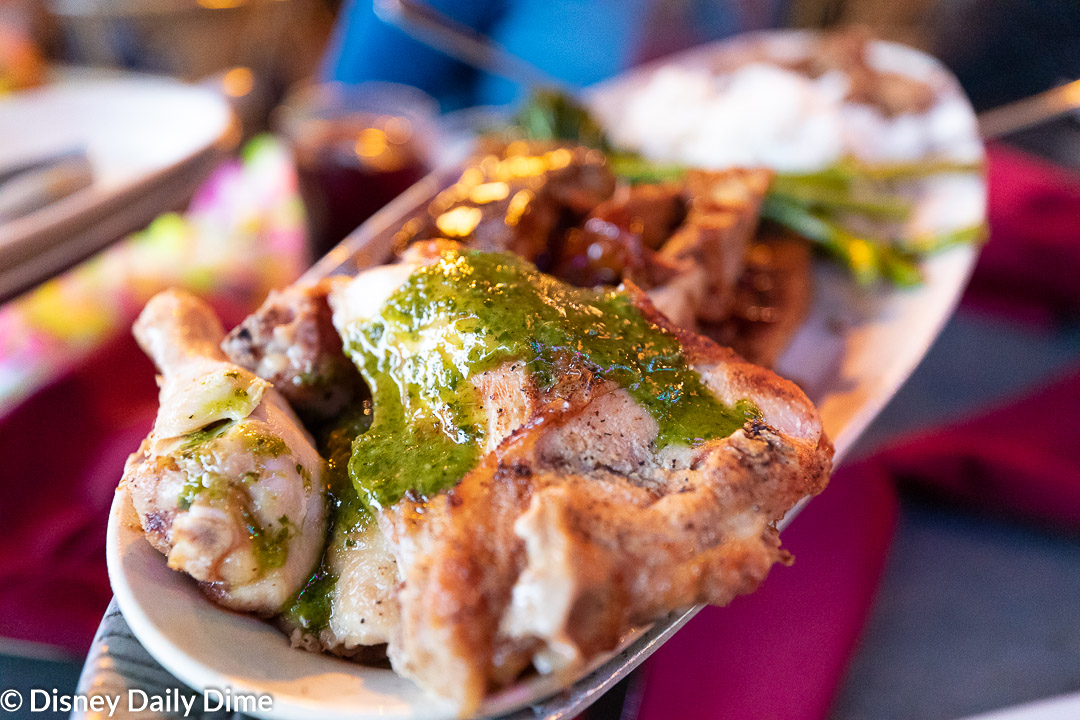 Main Course
The main course for Disney's Spirit of Aloha Dinner Show features three different meats, along with rice and broccolini.
The first meat I laid eyes on was the Roasted Chicken with 'Poly'churri Sauce.  The chicken was moist, tender and the 'Poly'churri sauce provided an extra layer of flavor to it.  The chicken was the most liked meat of our meal amongst all of us in our party.  This was the entrée that the kids latched onto and ate multiple helpings of.  If you order seconds, see if you can get all legs for the kids so it is easier for them to eat.  If you get breasts or thighs you could wind up having to help the kids cut it up.  Although you may want that if the show isn't to your liking!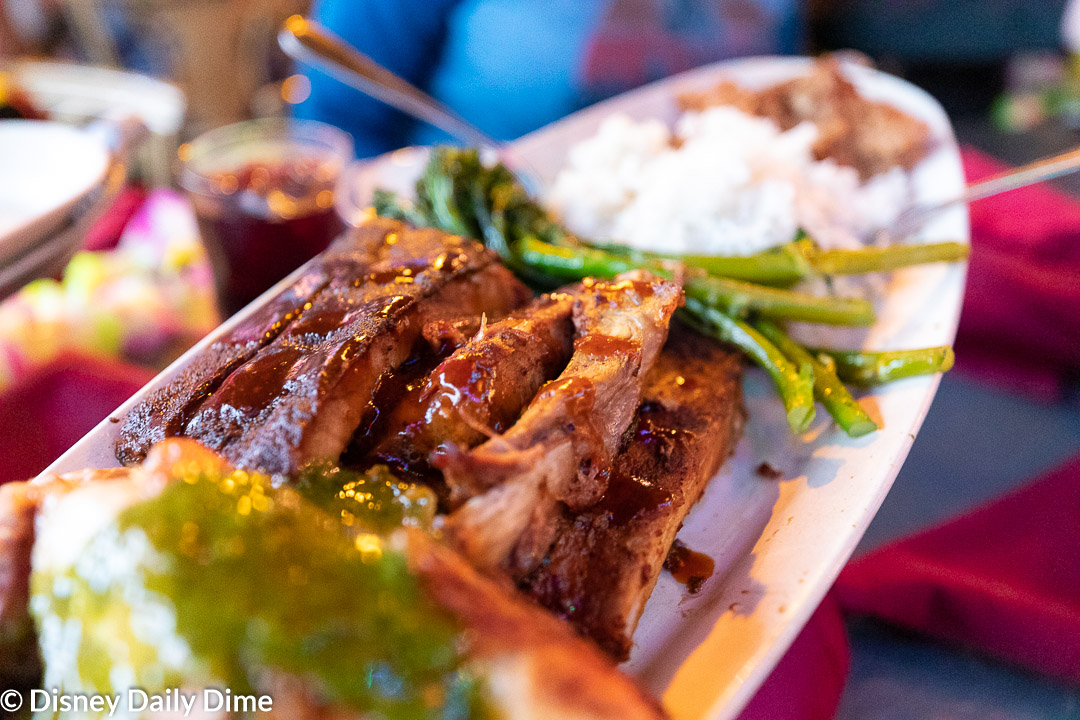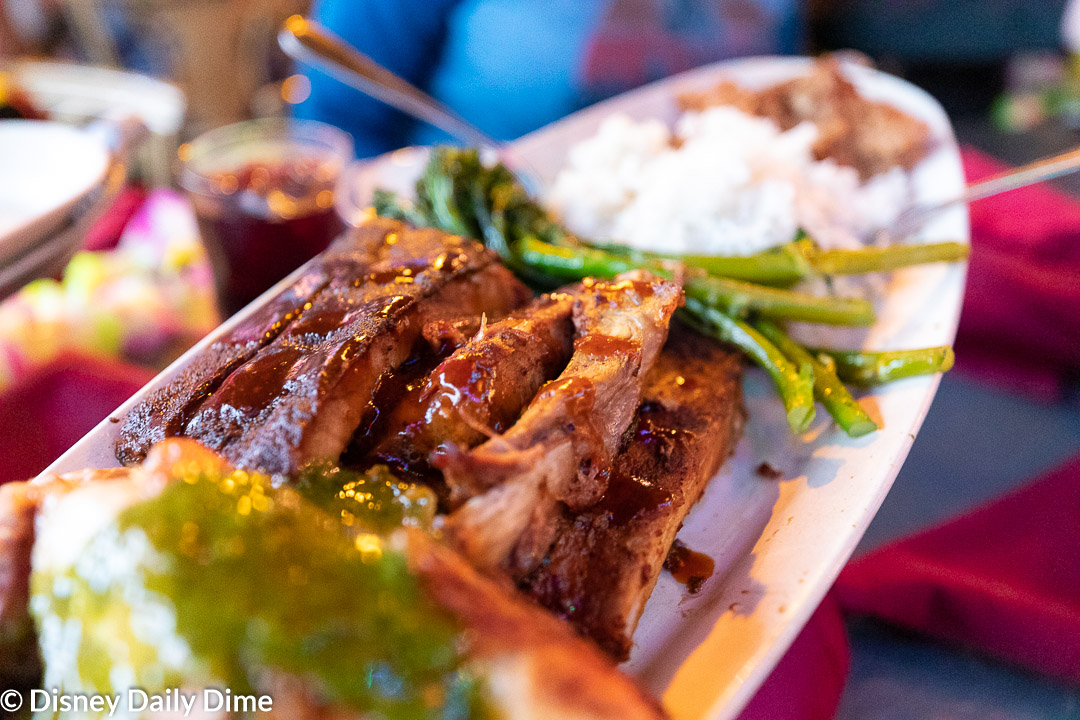 Next up on the main course was the Polynesian Barbecued Pork Ribs.  In a word, these were terrible.  The flavors we off putting and I'm frankly not sure what made them "Polynesian".  Everyone at our table universally did not like these.  They were tough and didn't have a ton of meat.  It was pretty disappointing.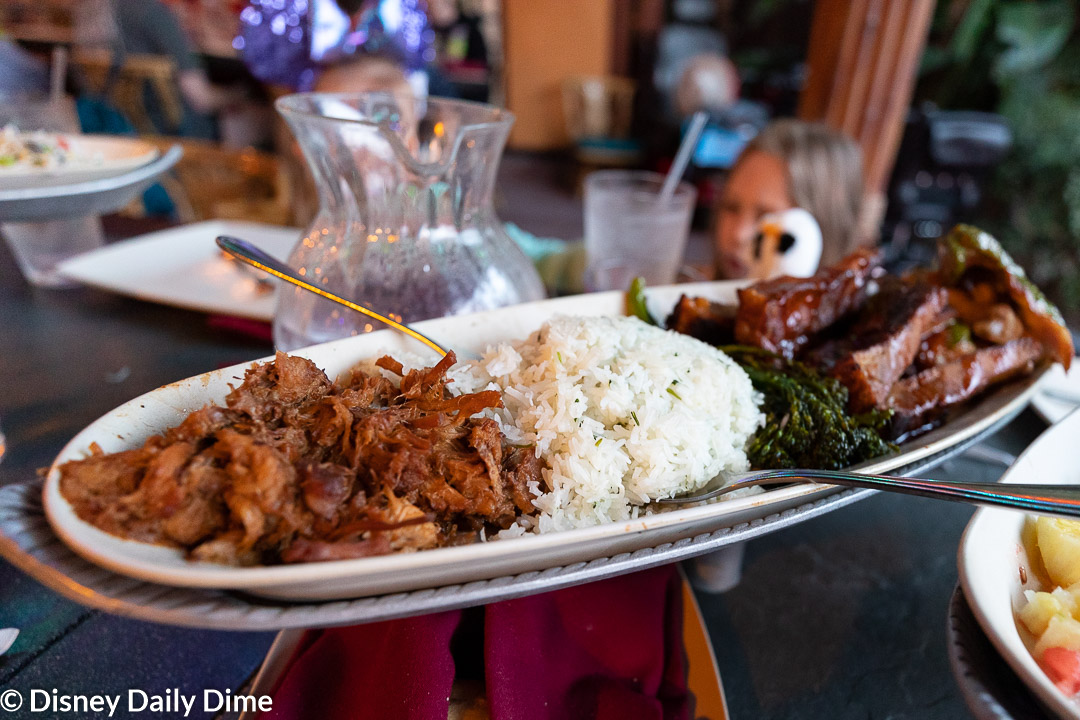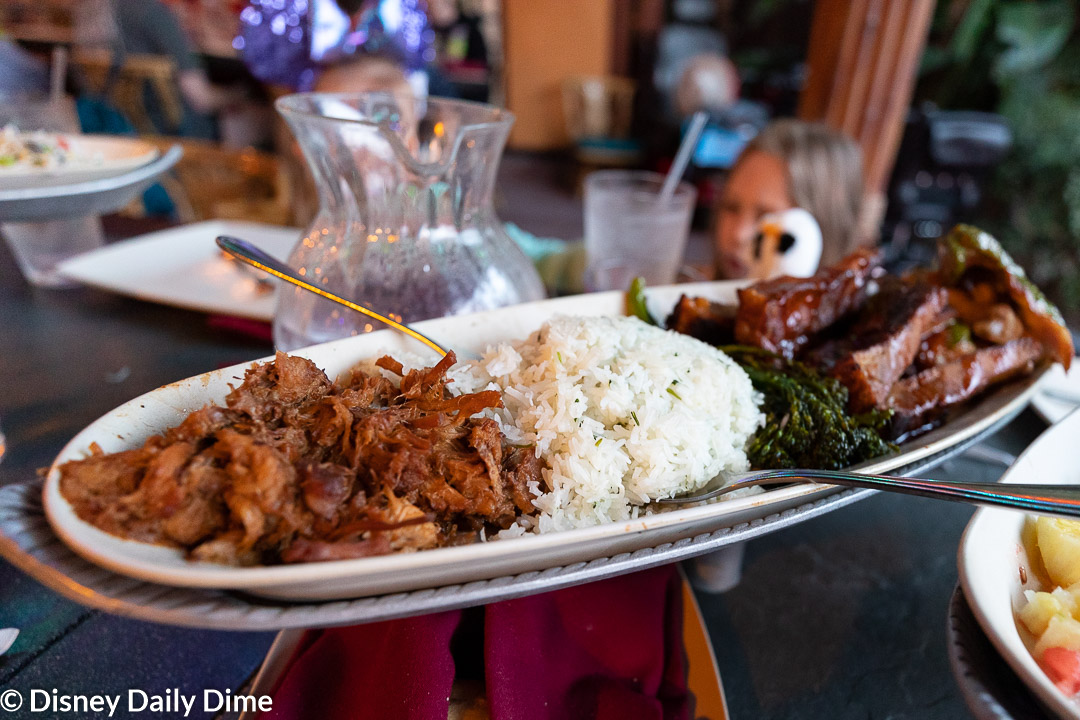 The last meat on the platter was the Aloha Pulled Pork with Chipotle Barbecue Sauce.  As Carla said while we were writing this review, "What?  There was Chipotle Barbecue Sauce on that?  It was incredibly bland!".  So needless to say, we weren't fans, but we didn't despise it like the pork ribs.  In addition to being bland, the meat was very dry and stringy.  If you look close enough at the picture above, you can see how it looks dry.  We're also not sure when Chipotle became a Polynesian inspired flavor profile.  Not good is as kind as we can be about the meat.
The two sides that you get as part of your meal were actually very good.  The rice had a nice flavor and texture, featuring a hint of coconut.  The broccolini was cooked well.  We wouldn't call it crisp, but it also wasn't soggy.  Both of these side dishes stood out and were a nice accompaniment to the chicken.
One thing to note here as it relates to kids.  If your kids aren't adventurous enough to dine from the regular main course, there are kid's entrees available.  There are four kid's options to choose from.  They consist of grilled chicken breast, a fish of the day, mini corn dogs or cheese pizza.  While our girls didn't have any of this, we've seen other pictures/reviews and the chicken and fish appear to be a better meal.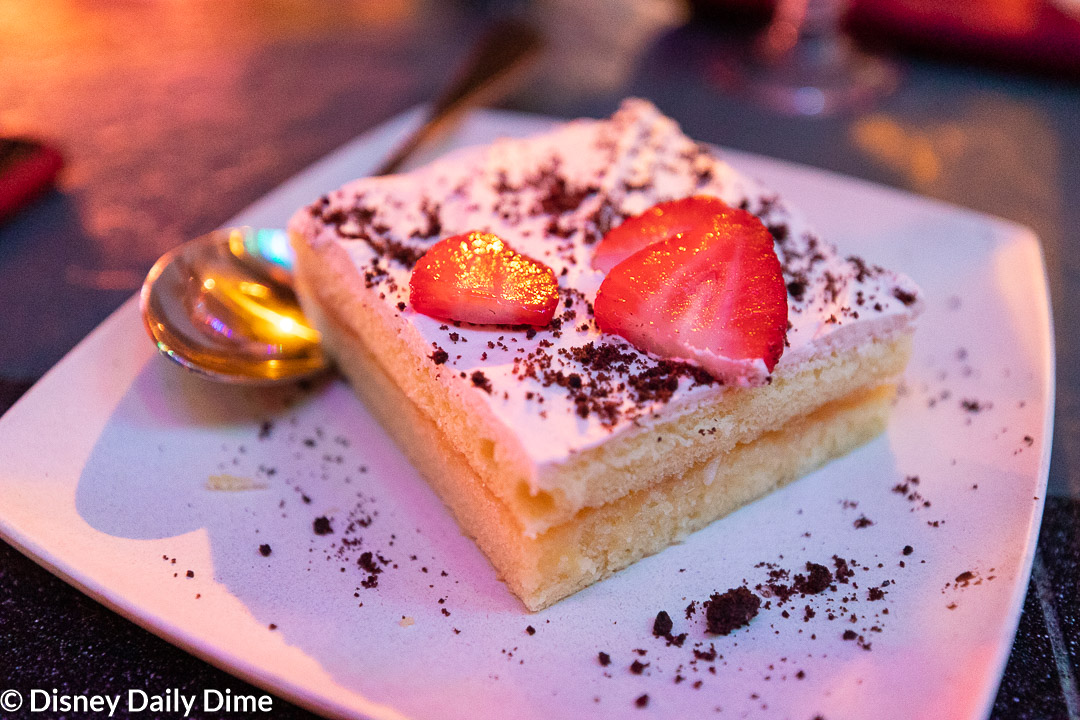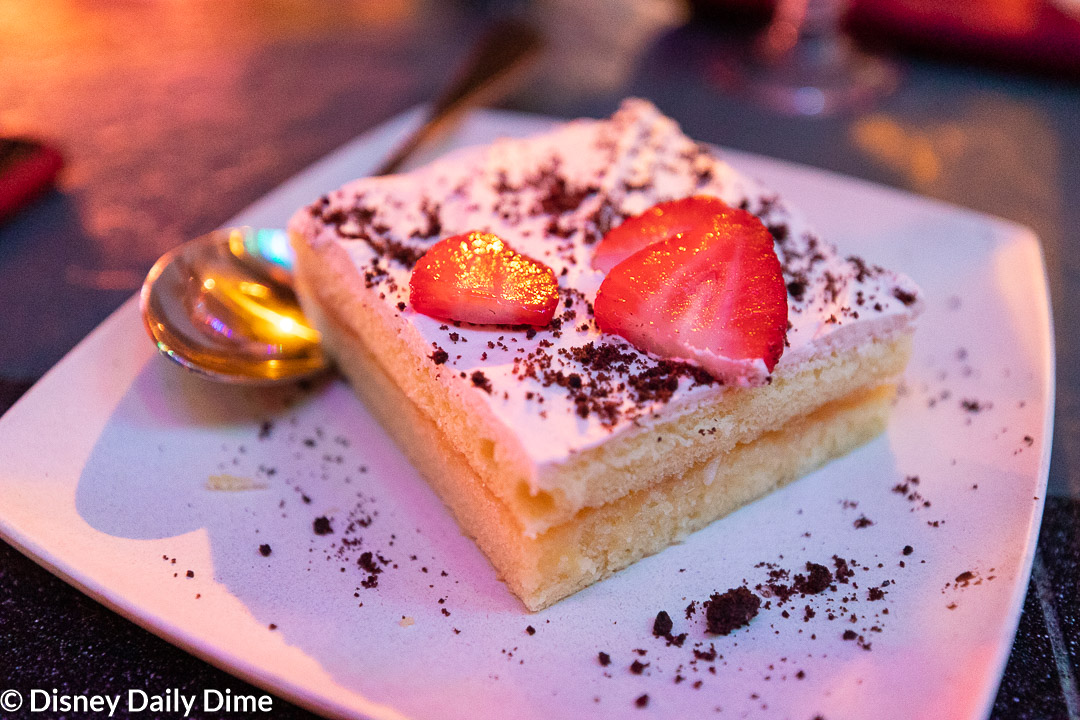 Dessert
There is one dessert available at the show.  The Pineapple-Coconut Guava Cake with Chocolate Crunch was actually a pleasant way to finish off the show after the not so great experience with the main course.  The cake was light and fluffy and the pineapple was the showcase flavor to me.  I didn't get as strong a coconut flavor, which is better in my opinion, but I'm not a huge coconut fan.  The kids and everyone at our table enjoyed it.  In fact, we liked it so much we ordered a second helping of it.  The kids actually preferred this over their dessert, the rice crispy treat pictured below.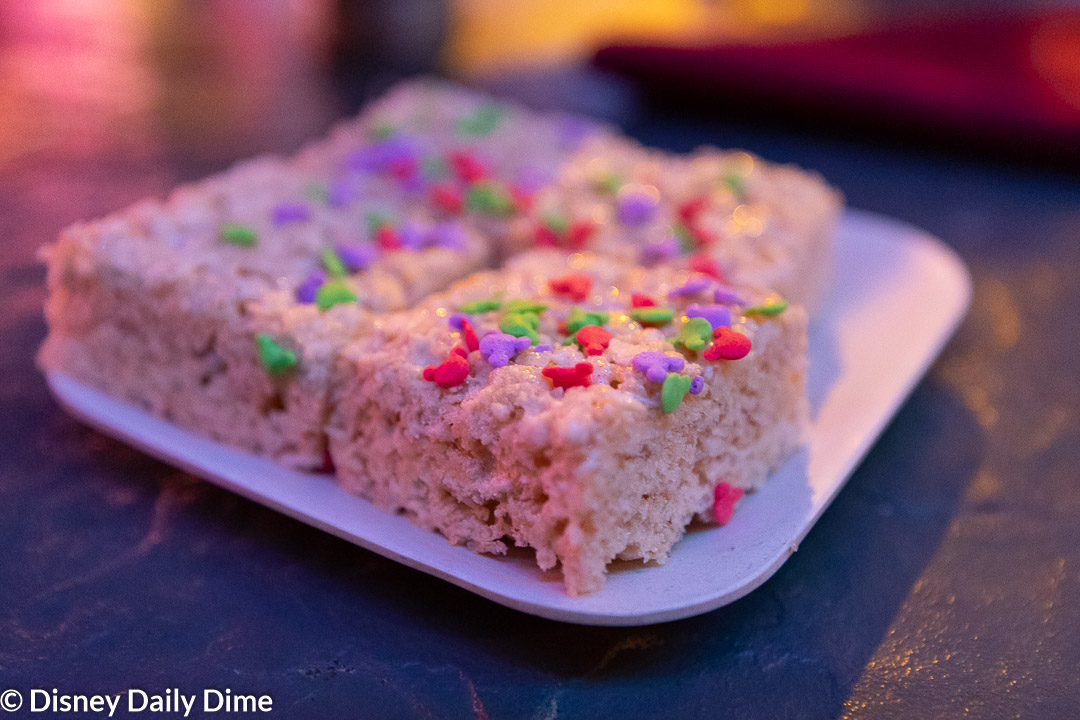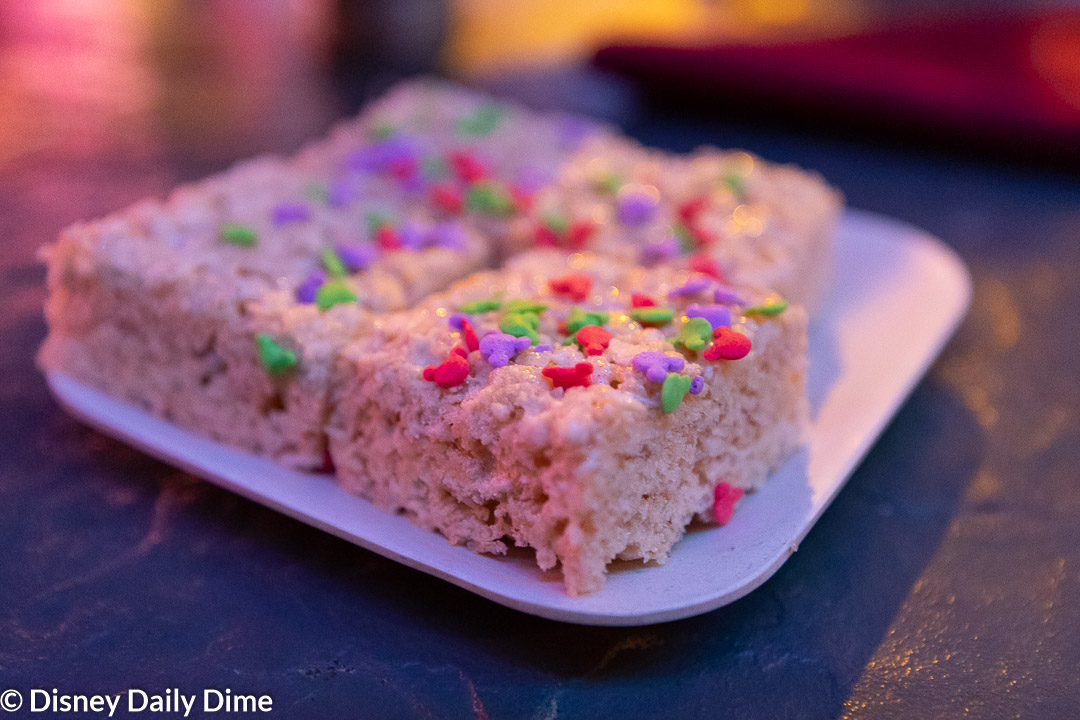 For her gluten free dessert, Carla got a small plate of gluten free treats.  It included a chocolate chip cookie, brownie and some fruit.  Carla enjoyed the brownie, finding it to be moist and tasty for something gluten free.  The cookie however was dry and lacking in flavor.  The fruits were good, but it's just fruit.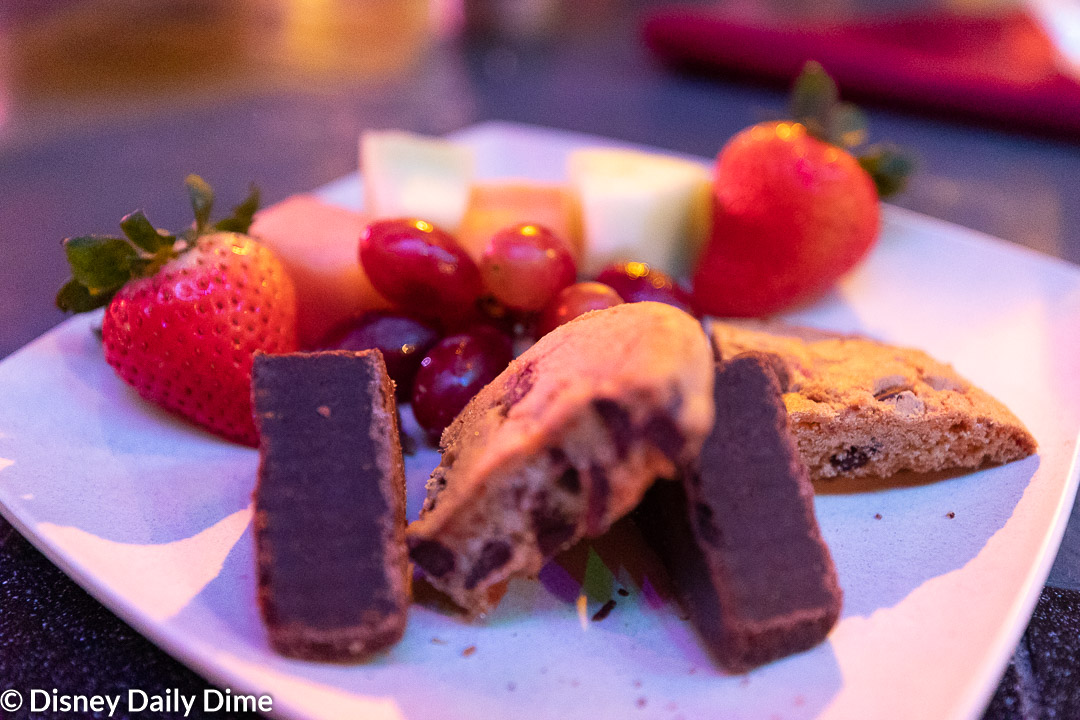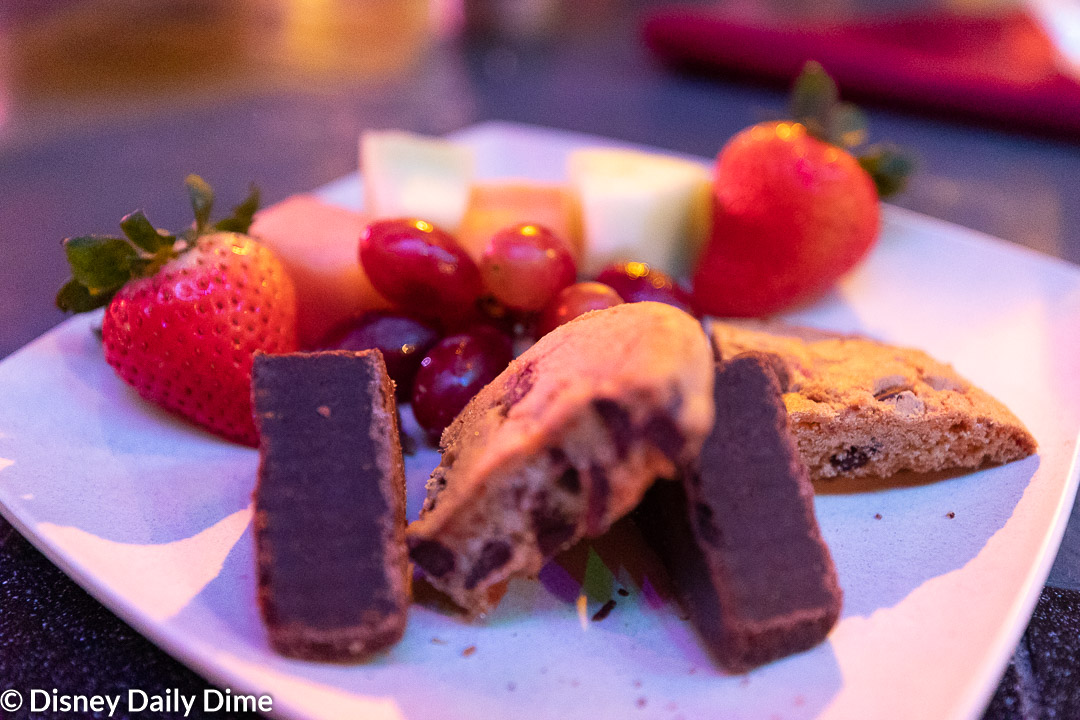 Disney's Spirit of Aloha Dinner Show Overall
So, if I had to summarize our experience at Disney's Spirit of Aloha Dinner Show,  we'd say the lows outweighed the highs.  Yes, the traditional Polynesian dancing was fantastic.  I could watch two hours of just that.  However, you have to sit through almost an hour of other mediocre show content before you get to the good stuff.
The food was pretty disappointing to us.  Yes, there were some highlights like the Roasted Chicken with 'Poly'churri Sauce, but you can't have one good meat out of three.  That's an average that is great for a baseball player, but terrible for a restaurant.  Beyond that, the food doesn't strike us as the type of food we enjoyed at the luau we actually attended in Hawaii.
One last word on the food.  On this trip we had Carla's parents with us and her dad is generally a pretty easygoing guy when it comes to food.  He'll eat almost anything and not complain.  This was the one meal on the trip that he said he did not like.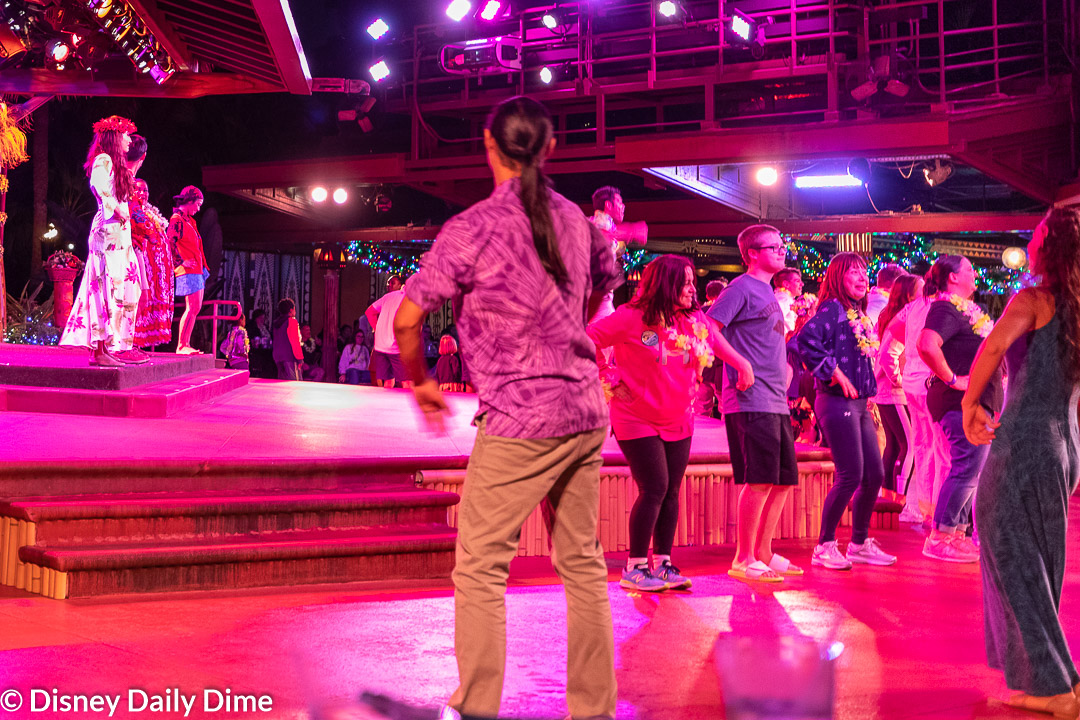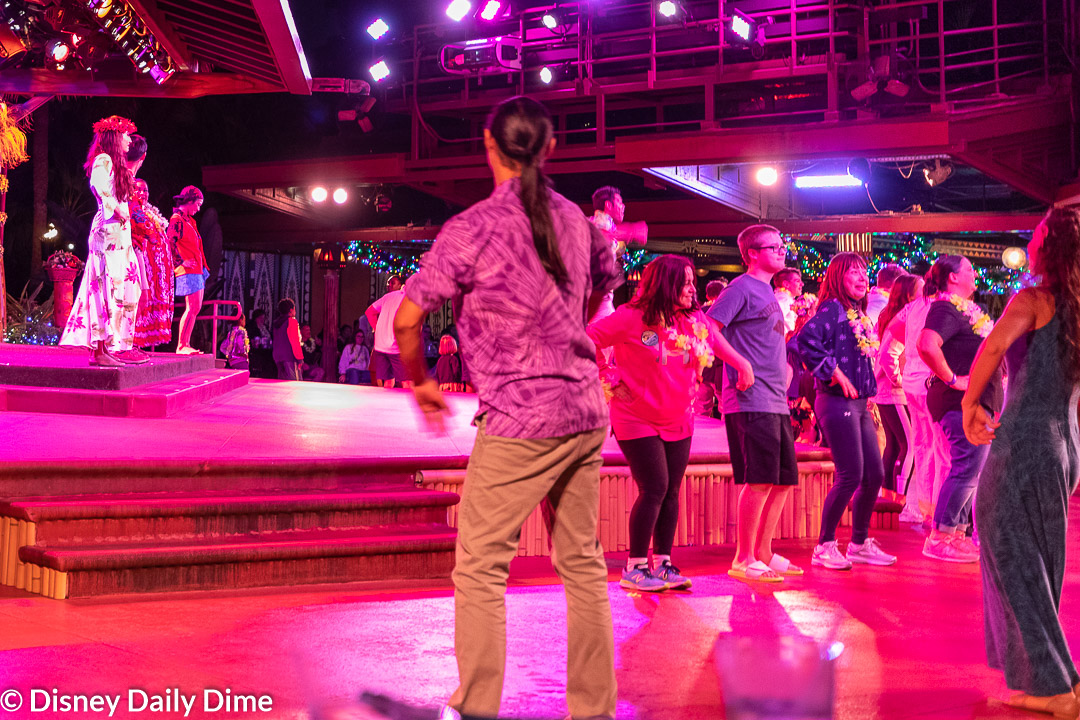 Overall, we'd say if you think you will never go to Hawaii where you can see a better luau, in our opinion, then this could be worth your time for just the traditional dancing.  But we wouldn't suggest this for a first or even second trip to Disney World.  No, if you're going to Disney's Spirit of Aloha Dinner Show save it for a 4th or 5th trip.  We think there are better things for you to do on your earlier trips to Disney.  Just make sure you know what you are signing up for…mediocre food, two acts of mediocre and confusing story, and one act of fantastic traditional Polynesian dance.
Wrapping Up
With that, we'll wrap up our Disney's Spirit of Aloha Dinner Show review.   A show that unfortunately felt like it had so much potential, but ultimately fell short of our expectations.  We hope Disney explores some changes to liven up the show and focus more on the traditional Polynesian style dancing and less on the contrived and confusing story.
If our Disney's Spirit of Aloha Dinner Show review was helpful, or at least entertaining, please like and share this with your friends or anyone you think will find it useful.  Just use the sharing buttons on the page.  We always appreciate it when you share our posts, as it allows us to spread the word about our blog and hopefully allows us to help others.