The norm with all of the value resorts at Disney World is to have one dining option.  These dining options are food courts, which allows the value resorts to cater to a wide array of taste preferences.  Within the confines of Disney's All Star Sports, the food court option is known as End Zone Food Court.
Normally when you're talking counter service food court dining, you might think that that the options are going to be cheap and bland.  In this case of End Zone Food Court, you're right and you're wrong.  Very definitive isn't that?  Let me explain.
End Zone Food Court has plenty of "typical" food court meal options.  Take a look at the menu on Disney's website and there are a few dishes that just scream boring.  Chicken nuggets, chili-cheese hot dog…your blah food radar will be going crazy. But…
However, there are actually several good meal options that are a little more creative.  We certainly haven't tried everything, but we think you'll find at least a few to several options that you'll like.  Warm sandwiches, flatbread pizzas, and a pasta bar are places you may want to look.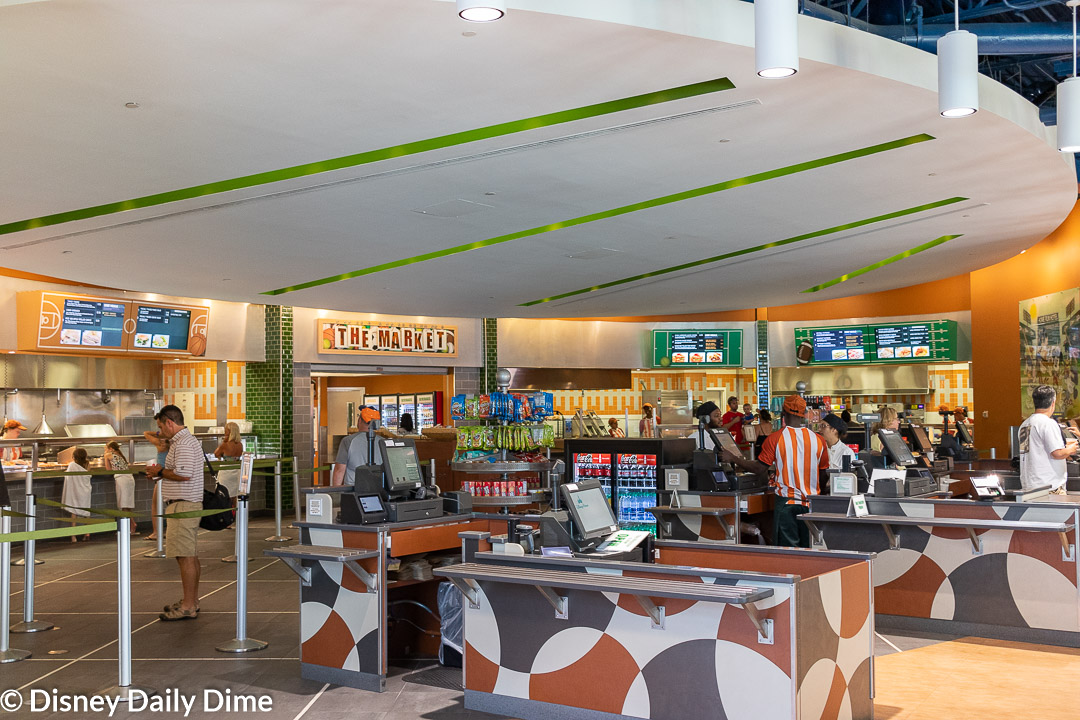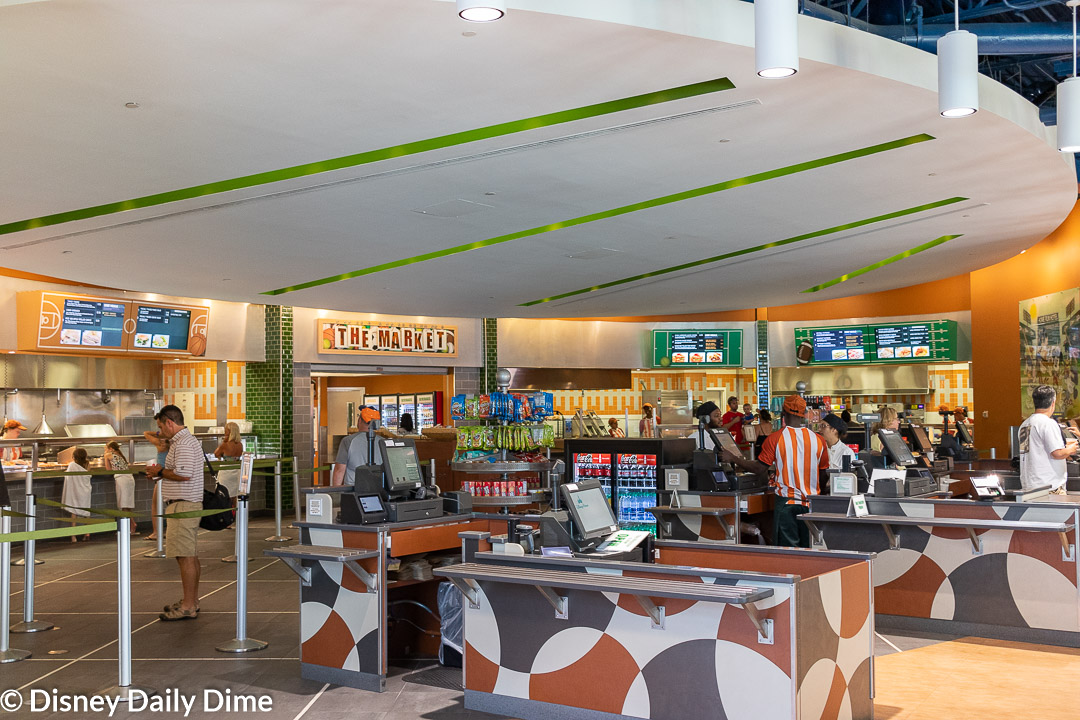 End Zone Food Court Has a Handful of Serving Stations with Various Options
Within the End Zone Food Court, you'll find five main serving stations, plus a refrigerated area with drinks and food to take with you.  If you're facing the middle of the food court area, here's what you'll find.
On your very left is where they serve ice cream, shakes and other specialty drinks.
Working our way from left to right, you'll next find yourself at the bakery.  You'll want to check this place out as they have some fun cupcakes here among other treats.  As we mentioned in our All Star Sports Resort review, the All Star family of resorts usually have a unique cupcake option or two.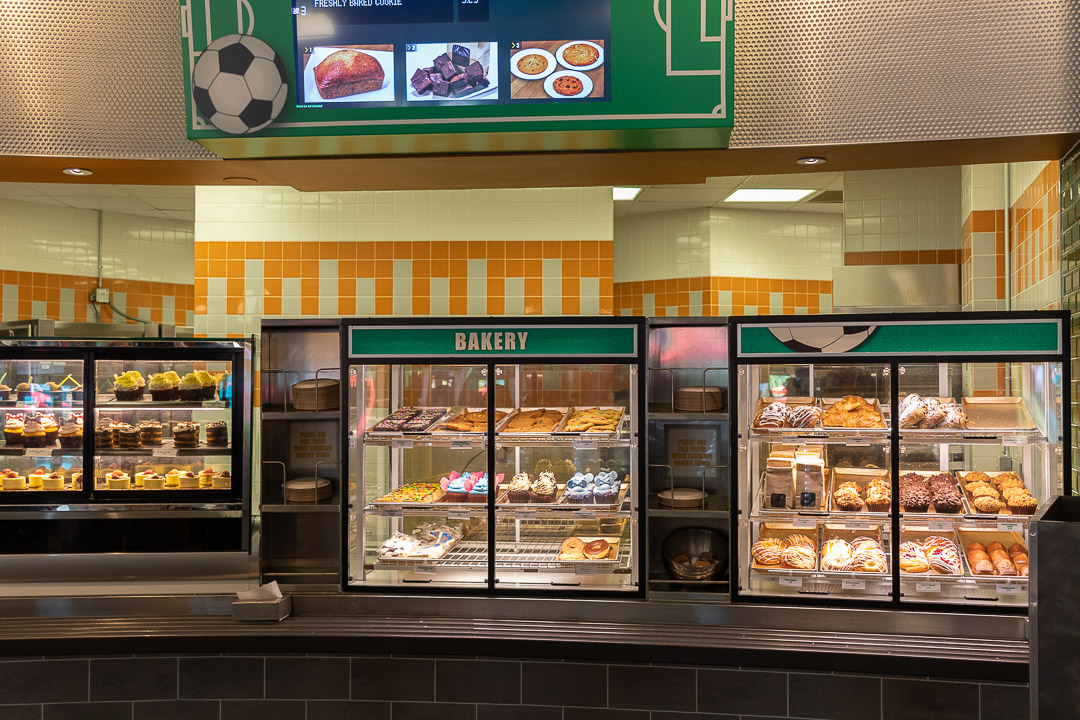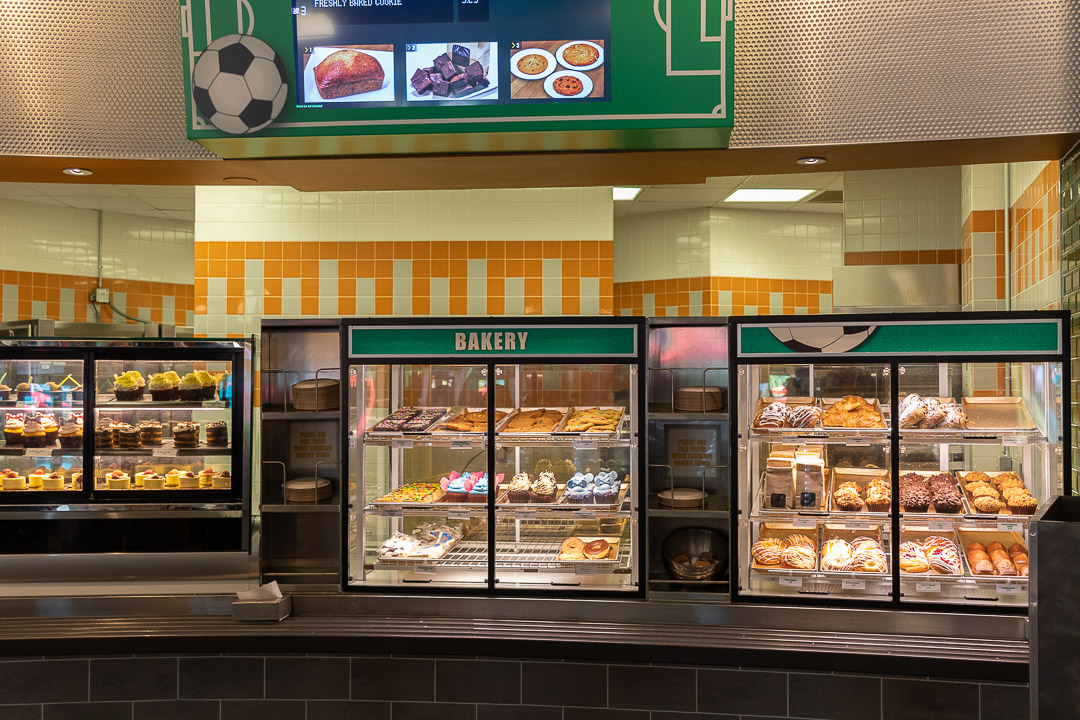 From there you move to the specialty sandwich station, where you'll find an assortment of hot and cold sandwiches to try.  This was probably the most interesting area of the restaurant to us.
In the middle is "The Marketplace", where they have a variety of refrigerated drinks and grab and go food options.  You'll be able to find juice boxes, milk and the like for kids in this area.
Next over is the grill station, where you'll find items like hamburgers, chicken nuggets and more.
Lastly is the pizza and pasta station, including the create your own pasta option.  On the pizzas the serve both the traditional Disney "puffy" pizza and flatbread style pizza.
We should mention that in the middle of End Zone Food Court you will find snacks, fruit and other small items.  This is where you can find the refillable drink mugs too.
Your drink service bar is outside of the food serving area at a large island in the seating area.  This is where you can bring your refillable mugs to get some drinks.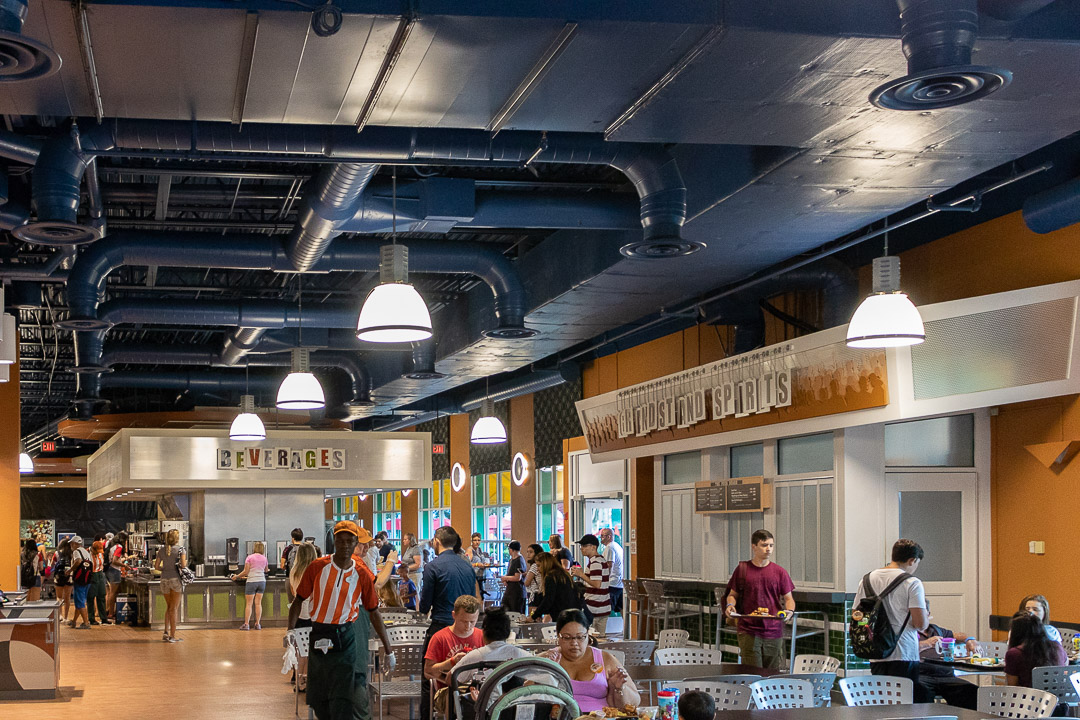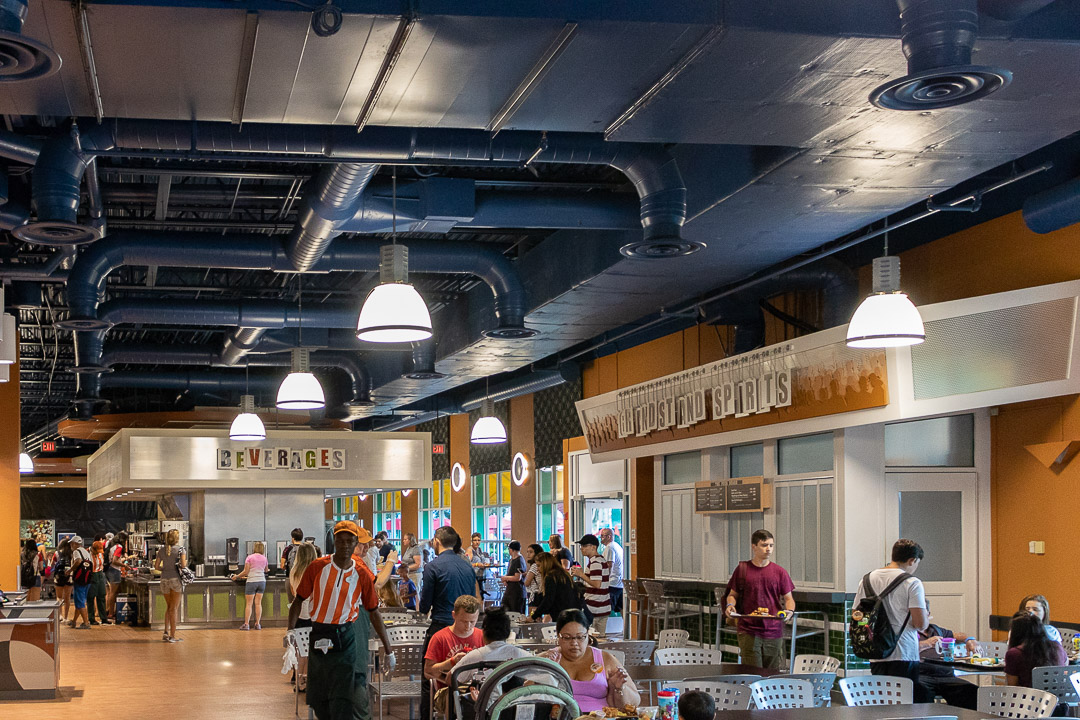 The Restaurant Has a Light Touch Sports Theme
Much like the All Star Sports Resort itself, End Zone Food Court has a pretty light theme touch.  Actually, the food court may be even lighter.
You'll find some basketball courts on the walls, the Fab 5 playing various sports, and sports related light fixtures.
I actually didn't mind the more muted theming.  It's a food court and if you're eating here you probably want to get in and out as quick as possible.  Keep the touches light.
We found the seating pretty spacious and did not have any issues finding a table for our group.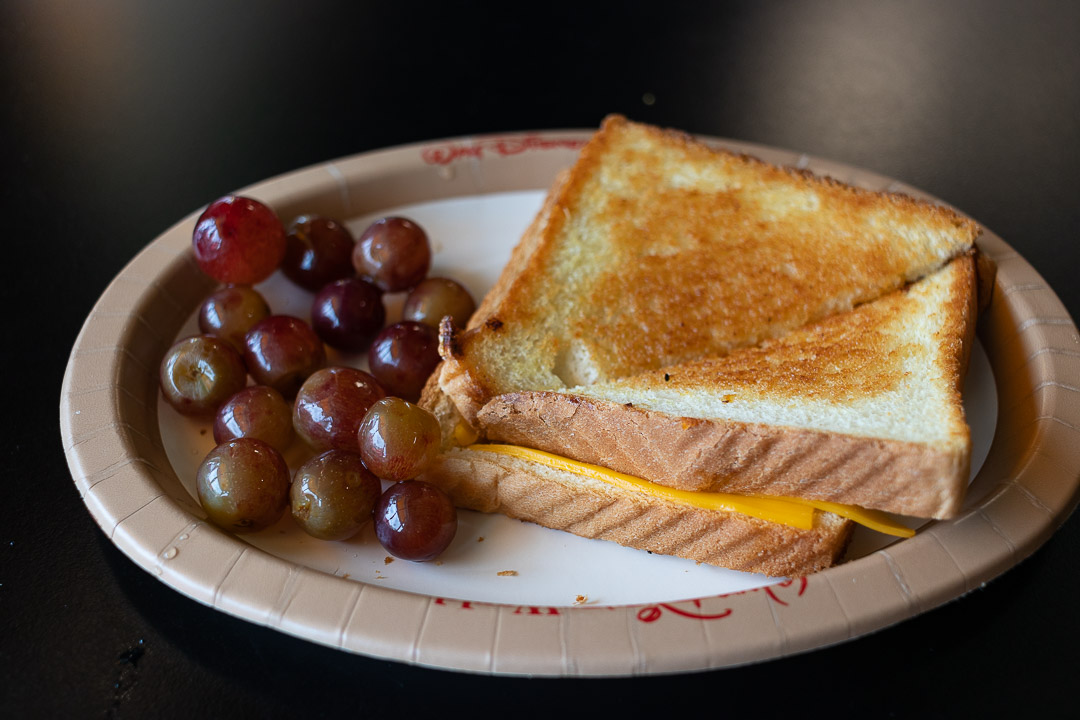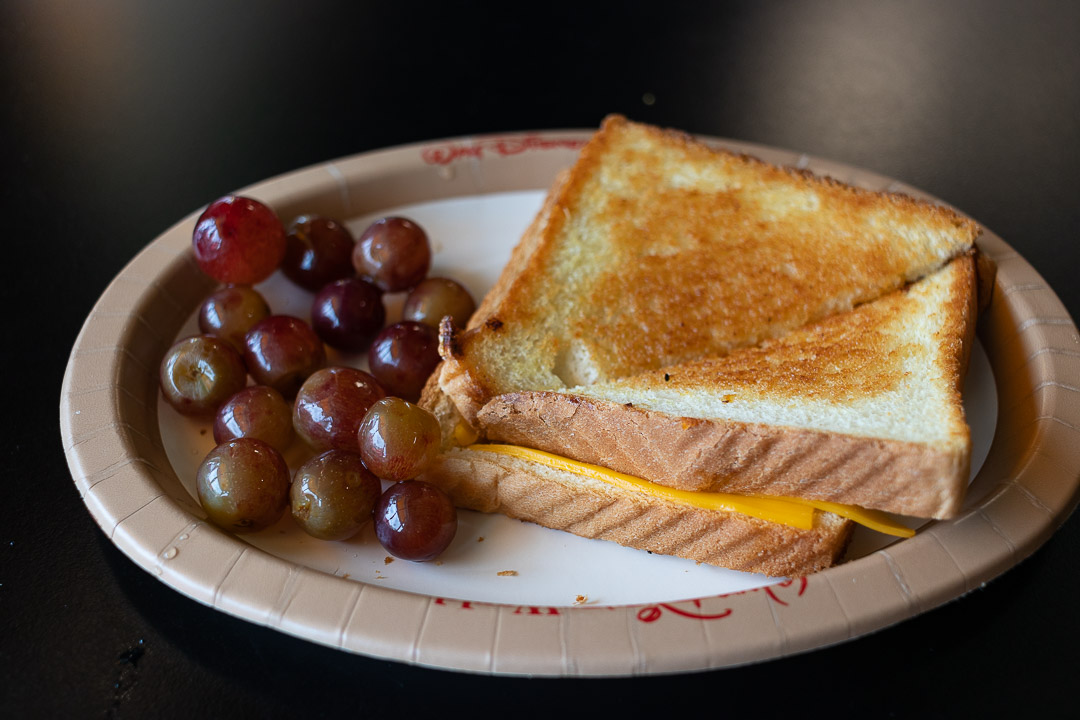 Remember When We Said That There Are Good and Bland Options Here…We Found Both
Entrees
So yeah, I might need to take some of my own advice here.  When it comes to what you order at the End Zone Food Court, go with your gut on what you think will be appealing to your palate.  We'll get back to that thought.
For the kids, Anna went pretty plane jane here.  She ordered the kids grilled cheese with grapes.  As you can see in the picture above, the cheese was surprisingly not very melted.  Warm and somewhat gooey, yes.  Just not fully melted.  It didn't stop Anna from eating all of it.
Her meal actually came with a cherry jello cup.  Believe it or not, Anna did not like it.  But she's not usually into sweet things.  Your kids' mileage may vary on this dessert.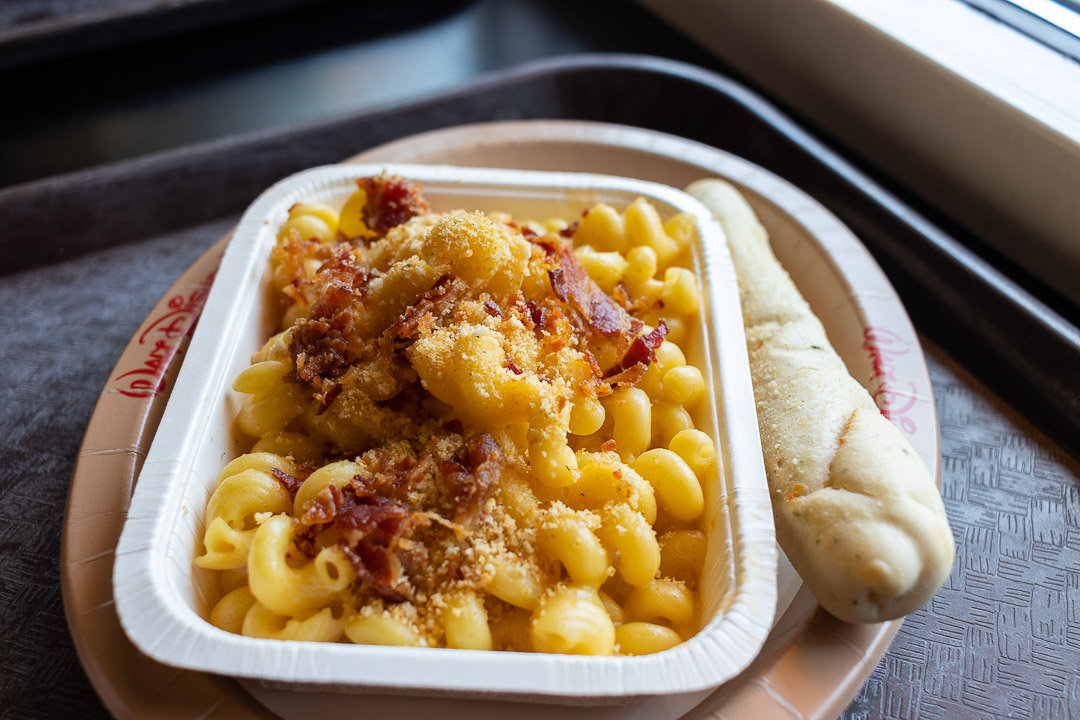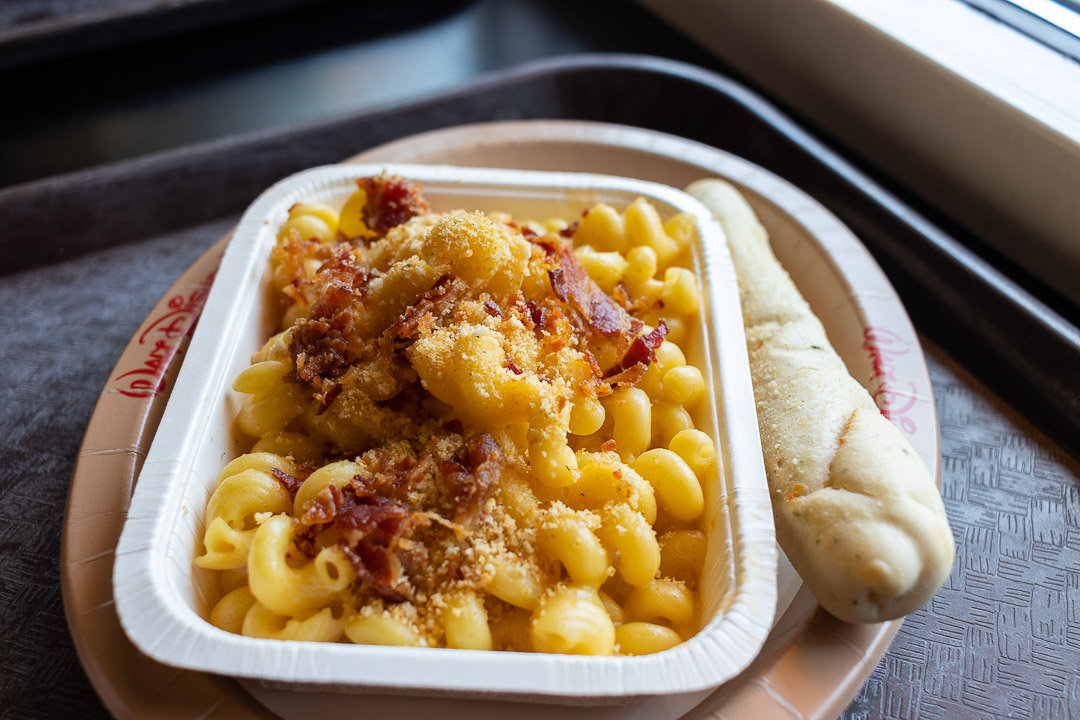 Elsa decided she wanted no part of a fairly boring kid's menu.  It was a pretty easy choice for her when she got to the serving station and saw the bacon mac and cheese.  I think she decided what she wanted before anyone else.  Made with cheddar, smoked gouda and muenster cheeses, Elsa loved every bite.  The bacon merely put the dish over the top.
Given how large it was, Elsa did not finish it though.  We should have had Anna and Elsa share this to save some money.  However, it did allow me a chance to share in some of it.  I don't normally eat much mac and cheese these days, but for what it is I really enjoyed it.
The mac and cheese came served with a breadstick and side salad that were both pretty forgettable to me.  Elsa loved the bread stick.  Have I ever mentioned she isn't the pickiest eater?  Her sister makes up for that though.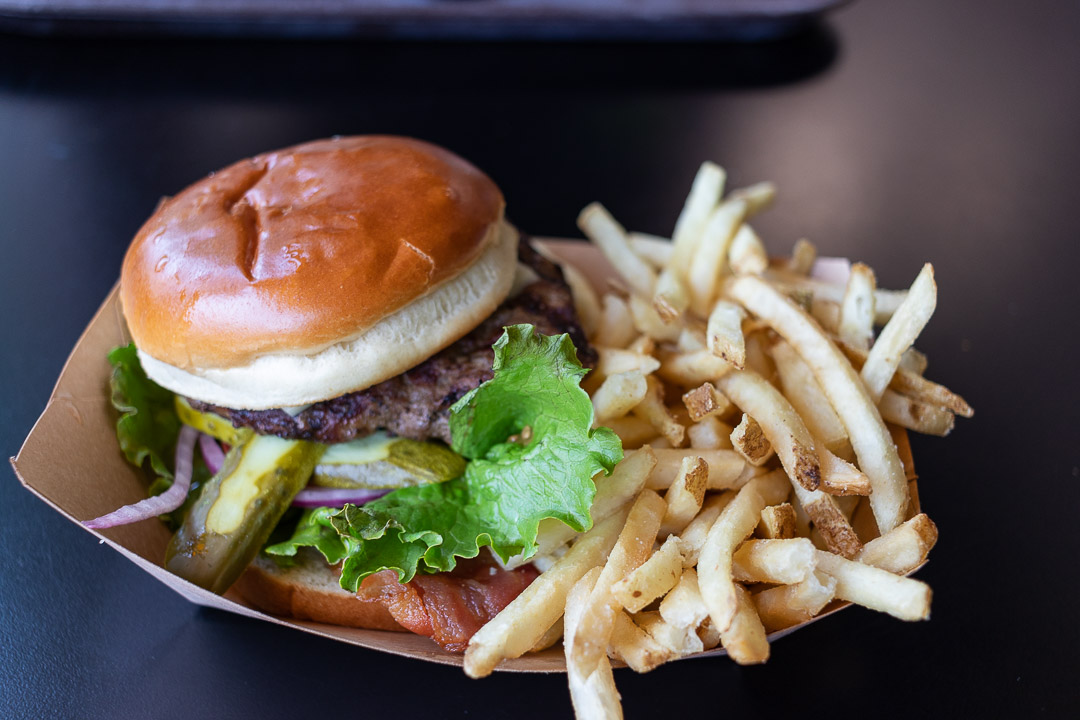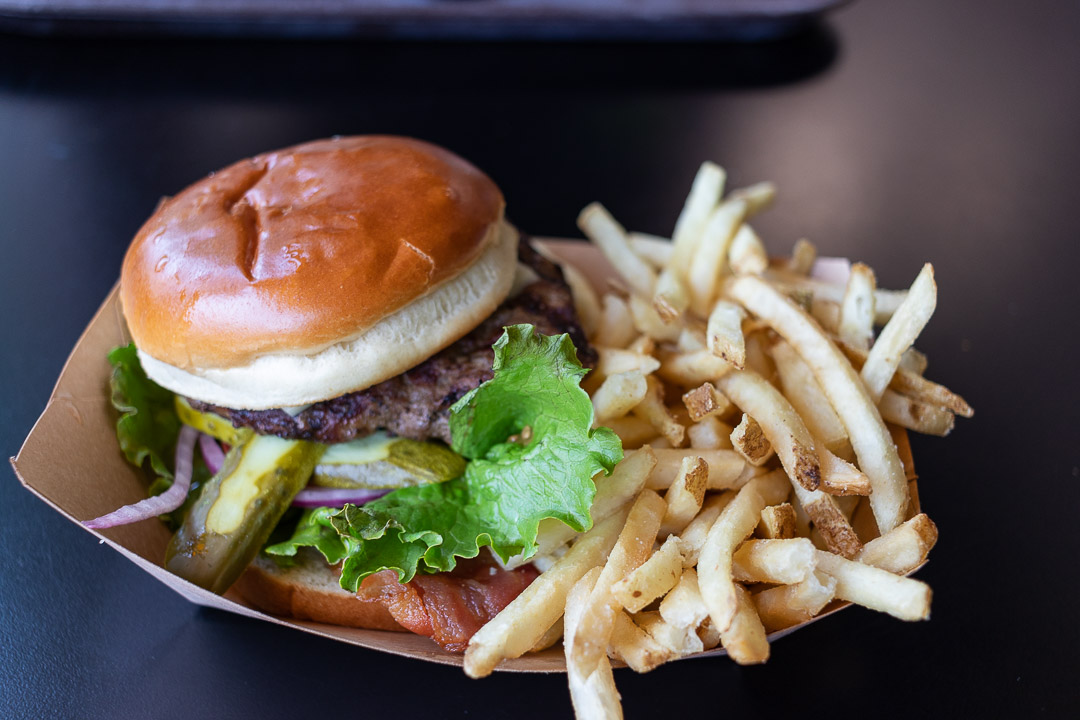 For the adult meals, I just wasn't feeling it this day.  We had just flown into Orlando and basically went straight to the food court and my appetite wasn't there.  Nothing looked overly great to me and I succumbed to making a bad choice.  I had one of the hamburgers and it was a typical Disney park hockey puck.  Next time we go back, I will make sure to get something else.  I will say the fries that came with it were very good.  Crisp on the outside, soft on the inside.  They had just the right amount of salt.  I actually enjoyed them.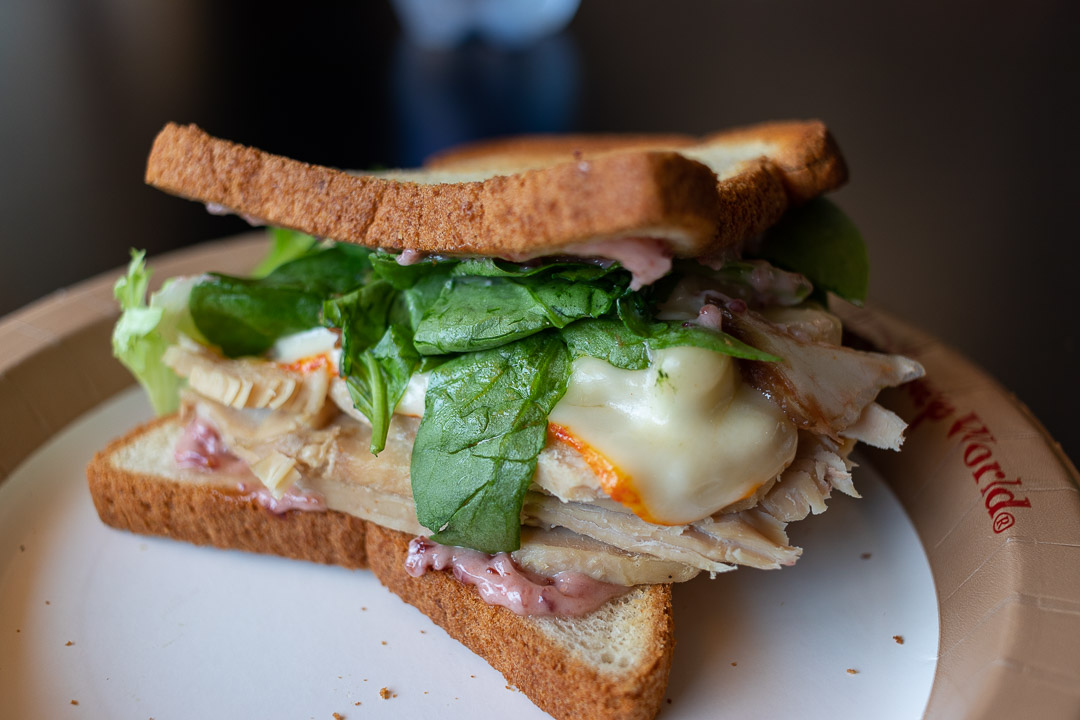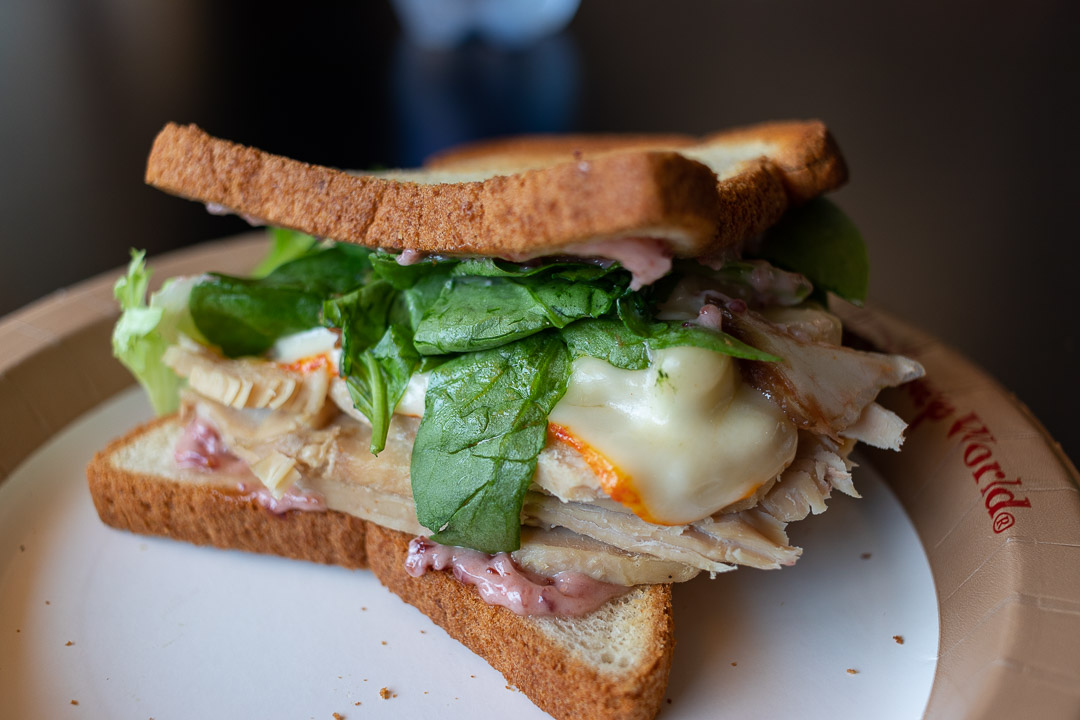 For her meal, Carla ordered a gluten free version of the turkey panini.  We'll save a more fulsome review of the meal for her gluten free post, but overall Carla found it excellent.  It was freshly made, with high quality turkey.  The panini had a tasty cranberry mayonnaise on it that made it a cut above just a regular turkey sandwich.  This is a section of the food court we want to explore more of if we go back after the room renovations.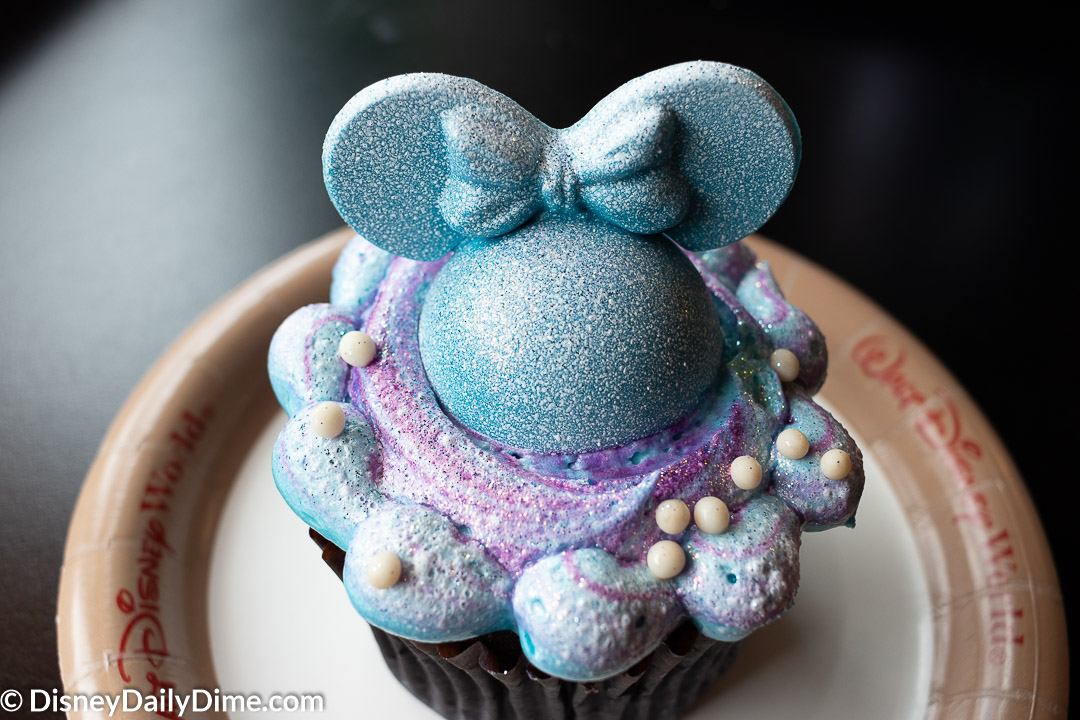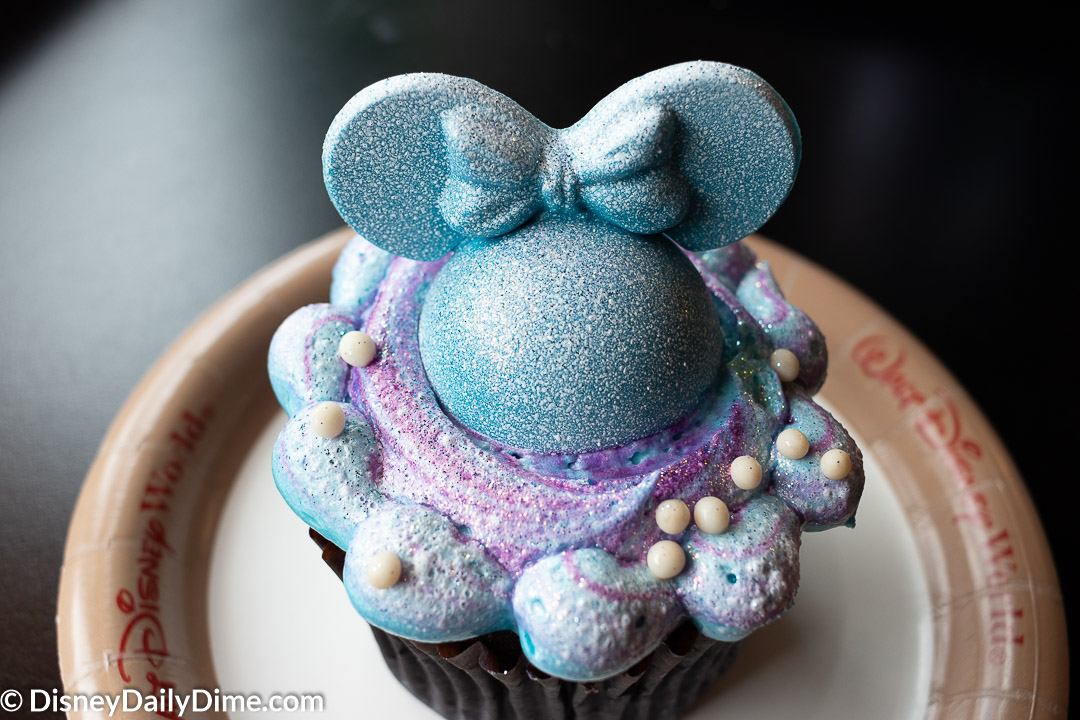 Dessert
When it came time for dessert, we were in the process of doing the Disney Food Blog cupcake challenge.  On this day we stumbled upon the Iridescent Cupcake.  It was the aforementioned specialty cupcake at the End Zone Food Court, so of course we had to try it.
Unfortunately, the cupcake was pretty boring to us.  Even Anna and Elsa were sort of meh about it.  The cake was dry and the chocolate base overwhelmed the filling in the middle of it.  We'll still keep trying other cupcakes here though!
End Zone Food Court Overall Impressions
We found End Zone Food Court to actually be better than what I anticipated.  Despite my own poor choice, there were lots of good options beyond hamburgers and chicken nuggets.  The stations we'd recommend looking at are the specialty sandwich station and the pizza and pasta areas.  They look to have the most variety and potential upside.
Wrapping Up
With that, we'll wrap up our End Zone Food Court review.  If you're looking for a reasonably priced counter service location at All Star Sports Resort this will give you a wide array of choices to eat.  Be mindful of what you select for your meal and you'll probably be just fine.
If our End Zone Food Court review was helpful, or at least entertaining, please like and share this with your friends or anyone you think will find it useful.  Just use the sharing buttons on the page.  We always appreciate it when you share our posts, as it allows us to spread the word about our young blog and hopefully allows us to help others.