Disney's Port Orleans Resort – French Quarter is one of five moderate resorts in all of Walt Disney World.  In this post, we will give you our review of Port Orleans French Quarter.  We'll touch on the resort as a whole, while hitting the highlights of the room options, pricing, dining, pools, amenities, and more.
Our Port Orleans Resort – French Quarter review is part statement of fact so you understand what the resort is like, coupled with our opinion of the resort.  Sometimes that's a fine line to lay out in writing, but we think you'll be able to tell when we are interjecting our opinion into this review of Port Orleans Resort – French Quarter.
Port Orleans Resort – French Quarter Overview
When you journey to Port Orleans French Quarter, you'll be traveling to a rendition of a somewhat romanticized or as some call it a "sanitized" version of the Crescent City, otherwise known as New Orleans.  I mean, let's be real, New Orleans has never been as clean as a Disney World resort and at this point, we haven't found any of the sometimes-lewd behavior that New Orleans can be known for.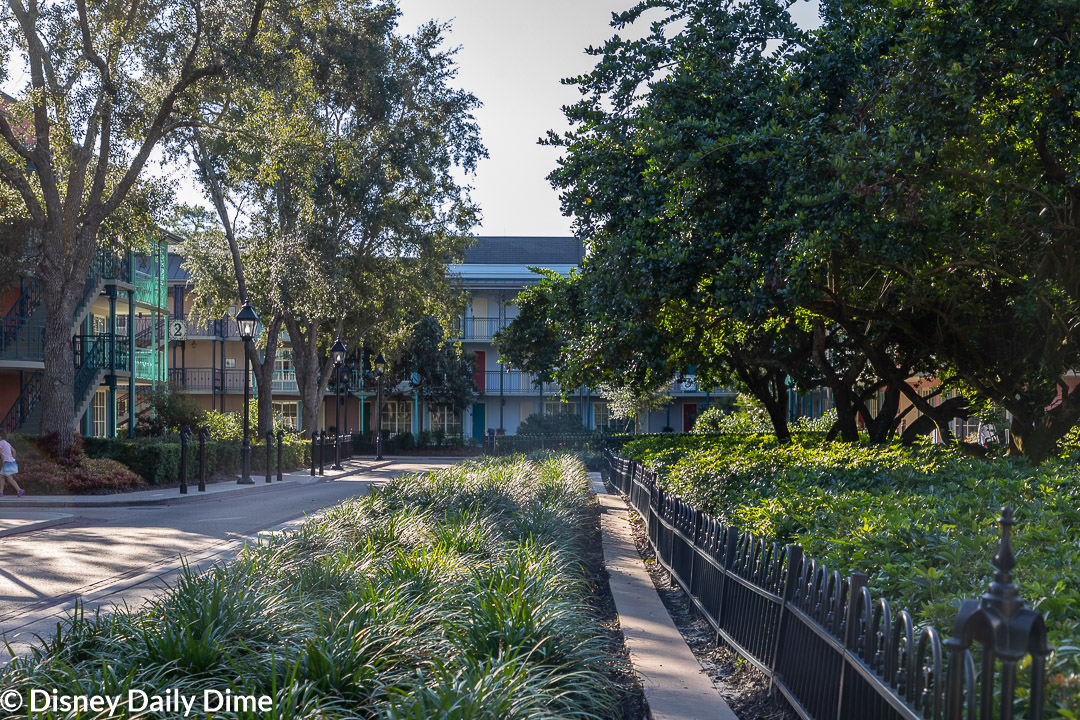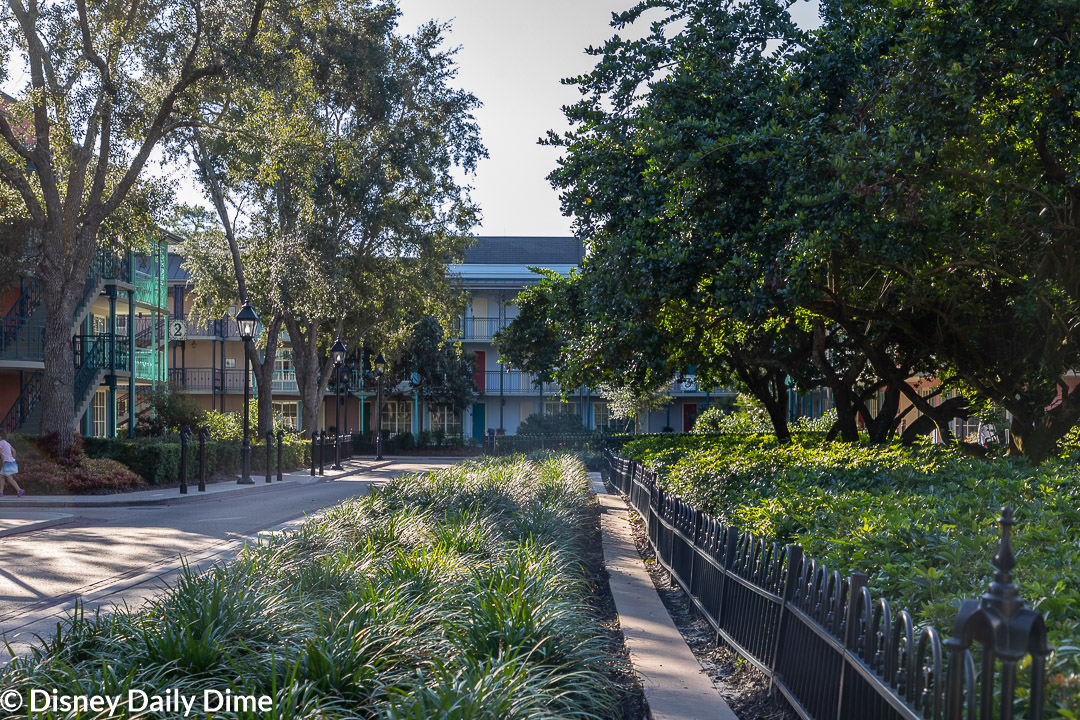 And for these facts, we're actually appreciative.  There can be a point where a true to life representation for a Disney World resort may be more than you're looking for on your vacation.
As for the resort, it features the architectural design elements of New Orleans you would expect to see, like wrought iron, cobblestone streets, fountains, gas lamps and a plethora of Mardi Gras theming.  You'll get a real sense of immersion into New Orleans as you take in these elements.
Disney's Port Orleans Resort – French Quarter is one of the smaller resorts from a geographic footprint and stands in stark contrast to its sister resort, Port Orleans Riverside.  It only contains seven buildings and is technically divided up into two areas:  North Quarter and South Quarter.  However, besides a couple of resort directories and maps showing this designation, you wouldn't really know there were different areas.  Thematically, they are the same.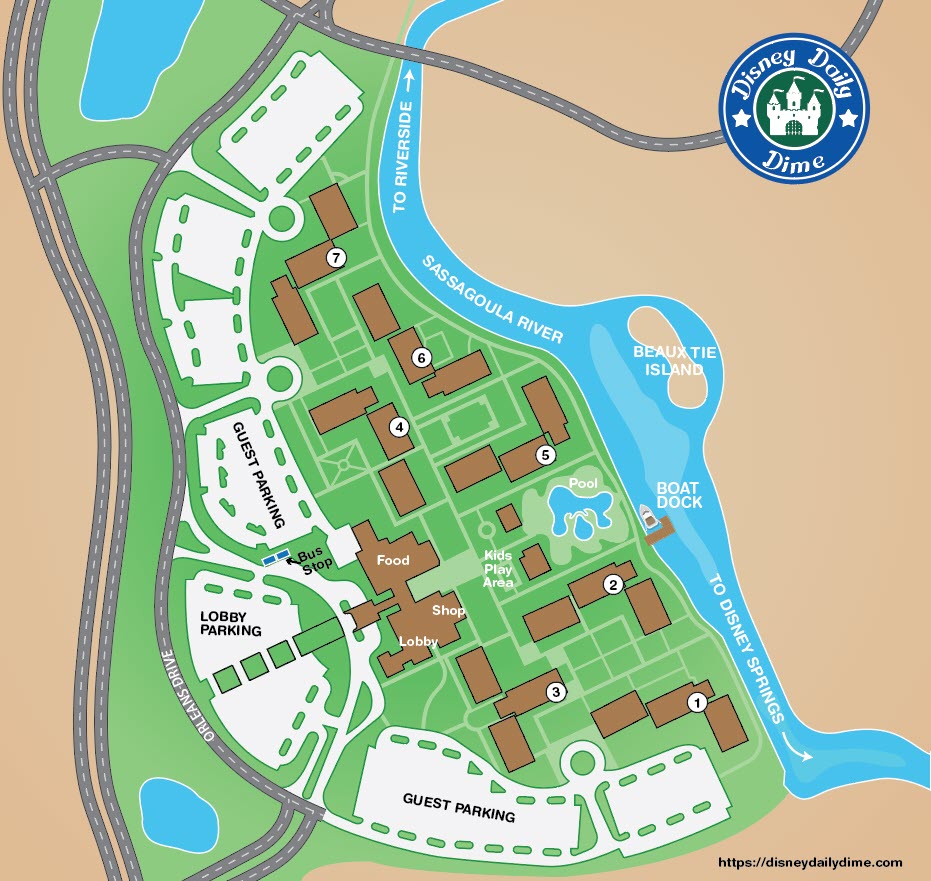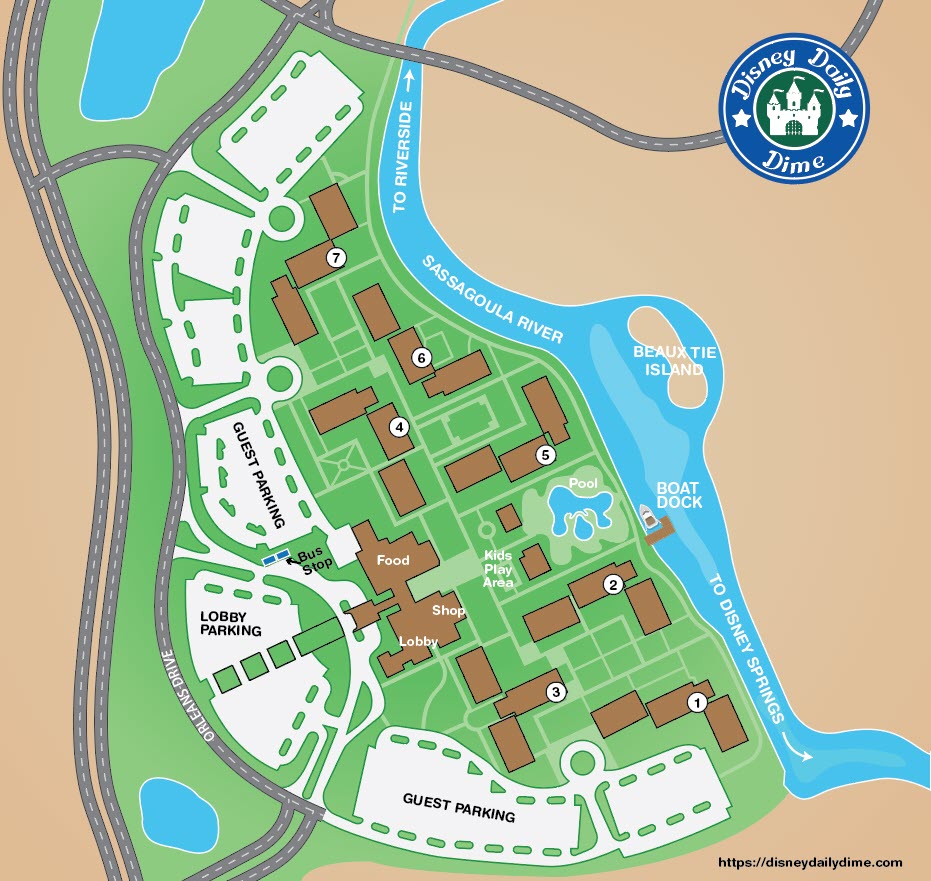 If you look at the map above, buildings 1-3 are South Quarter and buildings 4-7 are North Quarter.
Much like the real "Big Easy", this resort sits upon a river.  In this case though, it's the Sassagoula River, not the Mississippi River.  It makes for a lovely view whenever you might walk the river front or take one of the boats to Disney Springs.


One characteristic we appreciate that the resort has is peace and quiet at night.  While the real city of New Orleans goes pretty much 24-7, this resort does slowdown in the late evening.
The cozy little streets and intimate setting make Disney's Port Orleans Resort – French Quarter a resort that many will find to be a romantic place.  There's something comforting and nostalgic about it to us, especially at night.  However, if we're looking for a romantic moderate resort, we're probably headed to the Magnolia Bend section of Port Orleans Riverside.
Now that's our preference, but we also get why others might prefer French Quarter.  The risk you run in booking a standard room at Riverside though is there is no guarantee your room is in Magnolia Bend, unless you get a Royal Guest Room at Riverside.  But that comes with a hefty cost increase.  If we're just getting a standard room, we're going to stay at French Quarter.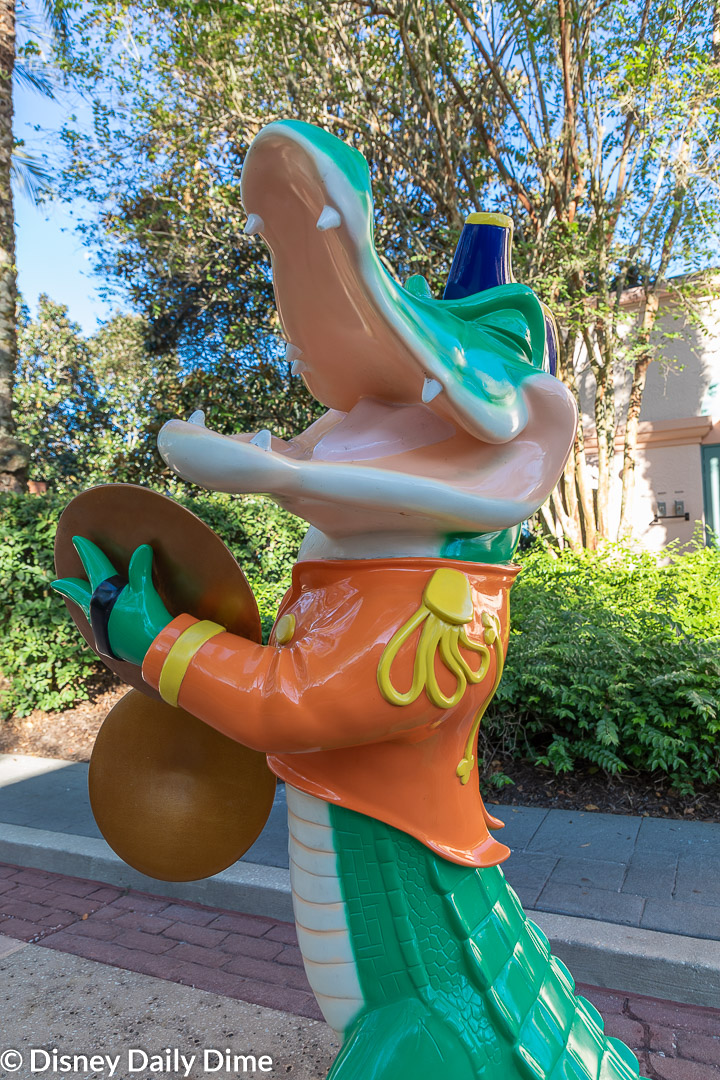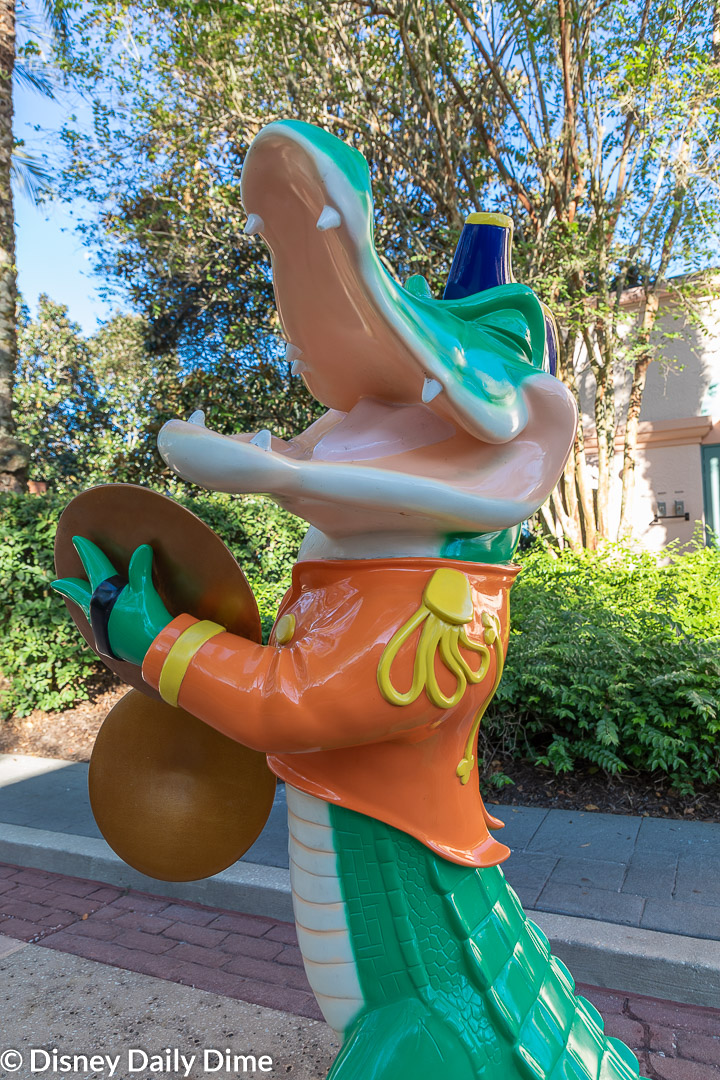 The resort does feature these random alligator statues through much of the central section of the property, mainly around the back side of the lobby and towards the pool.  They are designed to tie into the Mardi Gras theme that is prevalent in these areas, however we have to say they just sort of feel random.  Not that they aren't fun to look at or play with, but they feel a little out of place.  However, kids find them fun and entertaining.
Port Orleans Resort – French Quarter Amenities
Here in our Port Orleans Resort – French Quarter review, you'll find some unique aspects among the amenities.  The main one is the lack of multiple pools.  Yep, there is only one pool in all of French Quarter.  Therefore, there isn't really a quiet pool for adults.
There is one kickin' little splash pad/kids water play area that you'll probably find right up your kid's alley.  We'll touch on the pool in that section of this post, down below.
Beyond that, the amenities at French Quarter are your fairly standard items for a moderate level resort at Walt Disney World.  In the main building of the resort, you'll find a general store called Jackson Square and a food court known as Sassagoula Float Works & Food Factory.  There's also small lounge called Scat Cat's Club.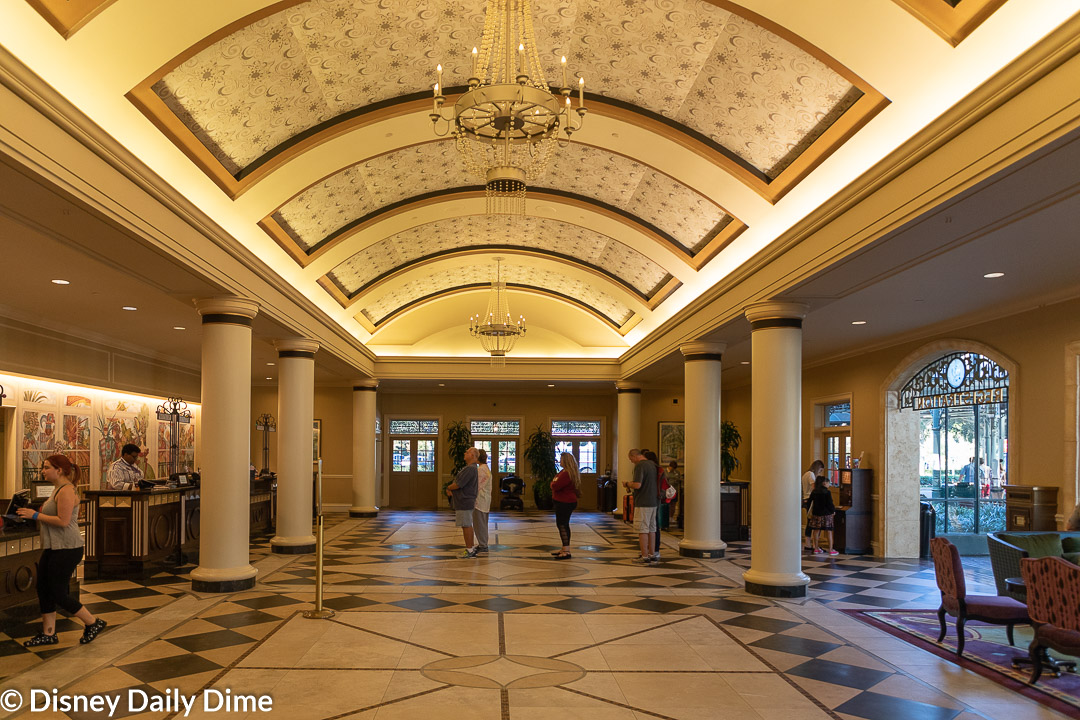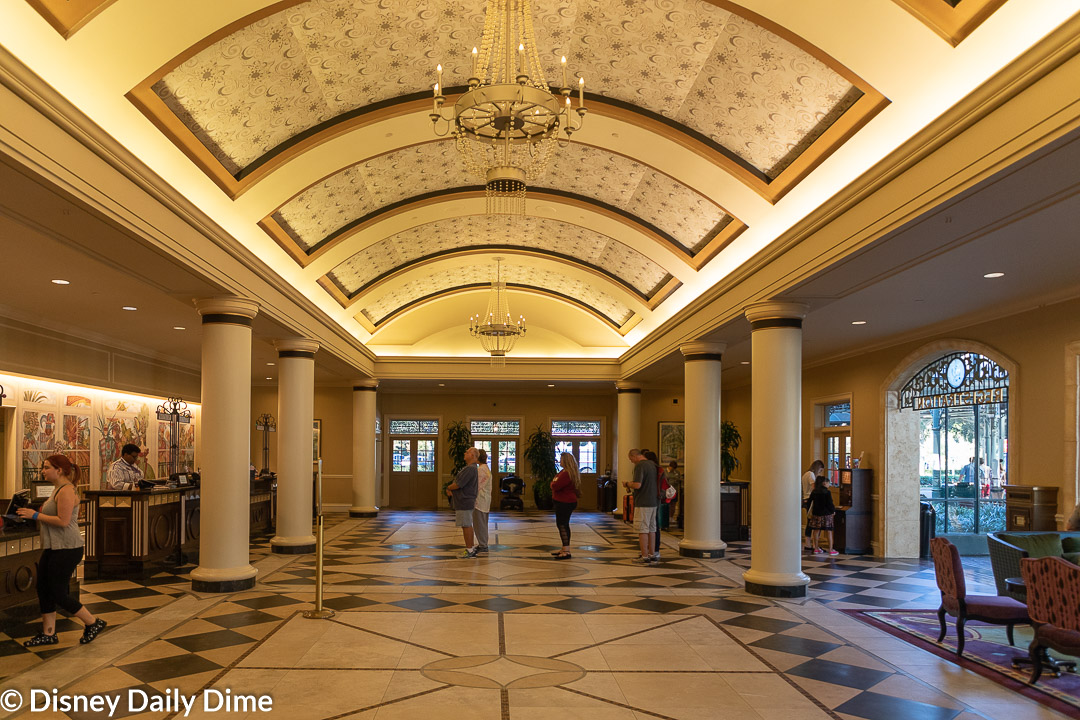 Transportation will feature bus and boat options.  If you bring your own car, be prepared to fork out $19 per night for parking at the moderate resort.
Unlike its sister resort, Riverside, Port Orleans French Quarter does not currently allow dogs in the resort.
The rooms themselves come with a fairly normal setup consisting of:
Dresser
Small table with 2 chairs
Wi-Fi Internet Access (access is free of charge)
Flat-panel TV
Mini-fridge
Coffee Maker
Ironing board and iron
Hair dryer
In-room safe
Port Orleans French Quarter Offers Several Room Options
Much like our other resort review, we have not stayed in every room offered at the resorts.  We try to stay in the standard room to start and we'll branch out over time.  That said, we do want to give you an overview of the different types or rooms available at Disney's Port Orleans Resort – French Quarter.  If there is link on the room name below, it will take you to a more fulsome review of that room.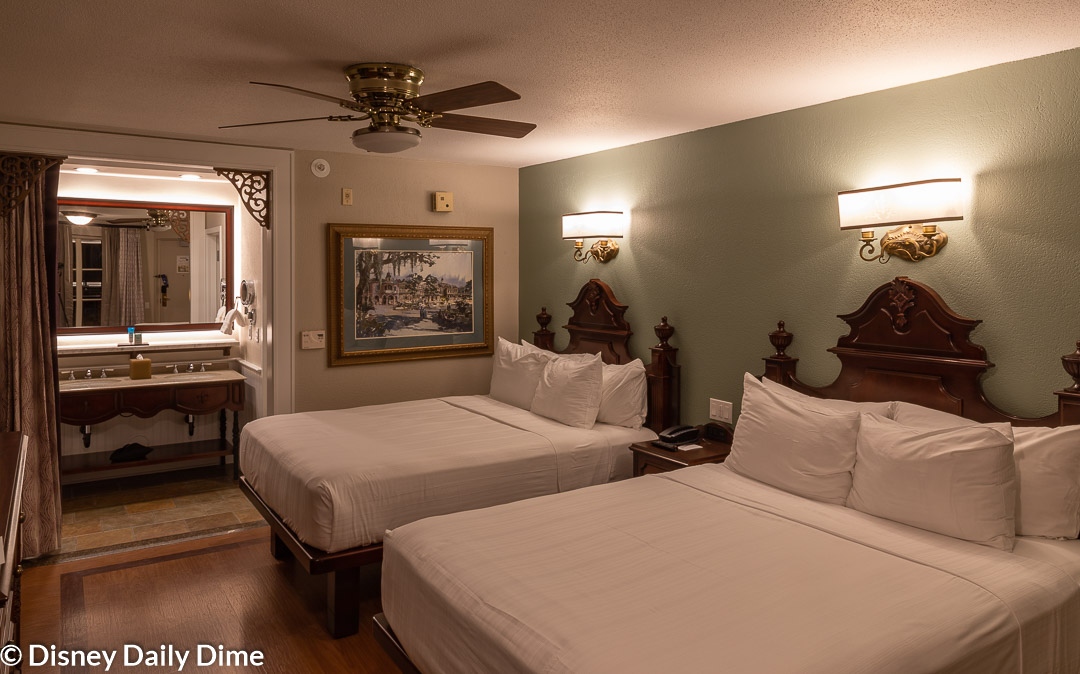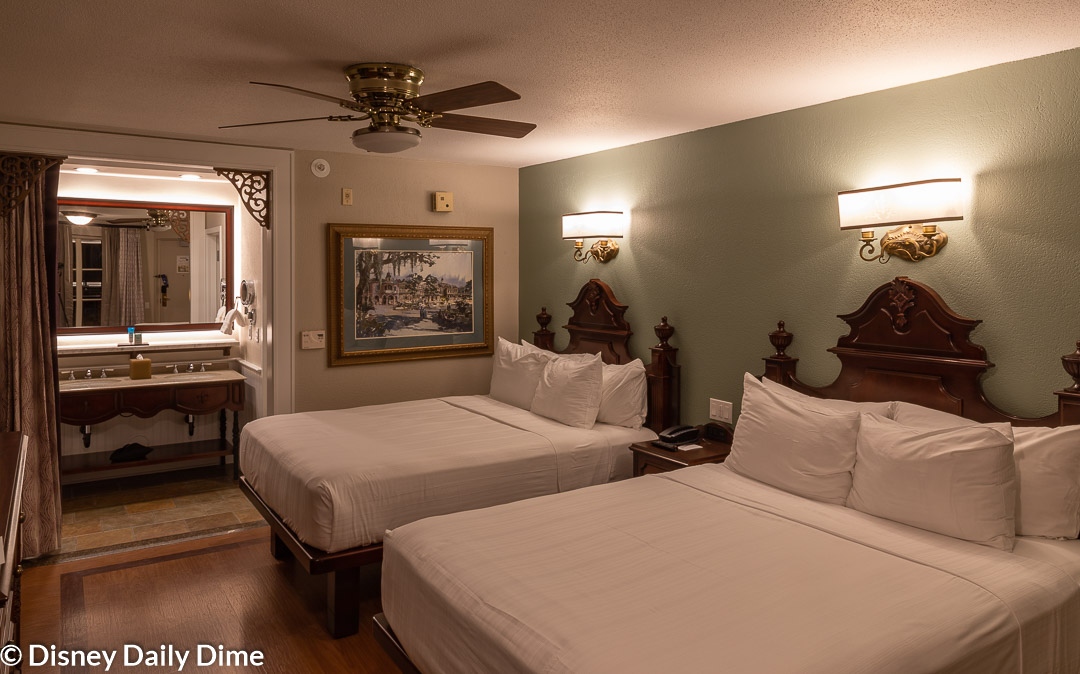 Port Orleans – French Quarter offers five different room options:
Standard View – ($199 – $302 per night)
Garden View – ($204 – $307 per night)
King Bed Rooms – ($226 – $330 per night)
Pool View – ($217 – $325 per night)
River View – ($217 – $317 per night)
Do note that pricing changes frequently, so check Disney's Port Orleans Resort –French Quarter website for the most up to date pricing. 
You'll note that there are no "preferred rooms" at French Quarter.  This is due to the compact size of the resort.  On our stay we were "out" in building seven and the walk to the lobby of the resort was less than 5 minutes.  Given the compact nature of the resort, there's truly no need for a preferred room.
The rooms throughout Port Orleans – French Quarter are all 314 square feet.  Unless you book a king bed room, you will get two queen beds.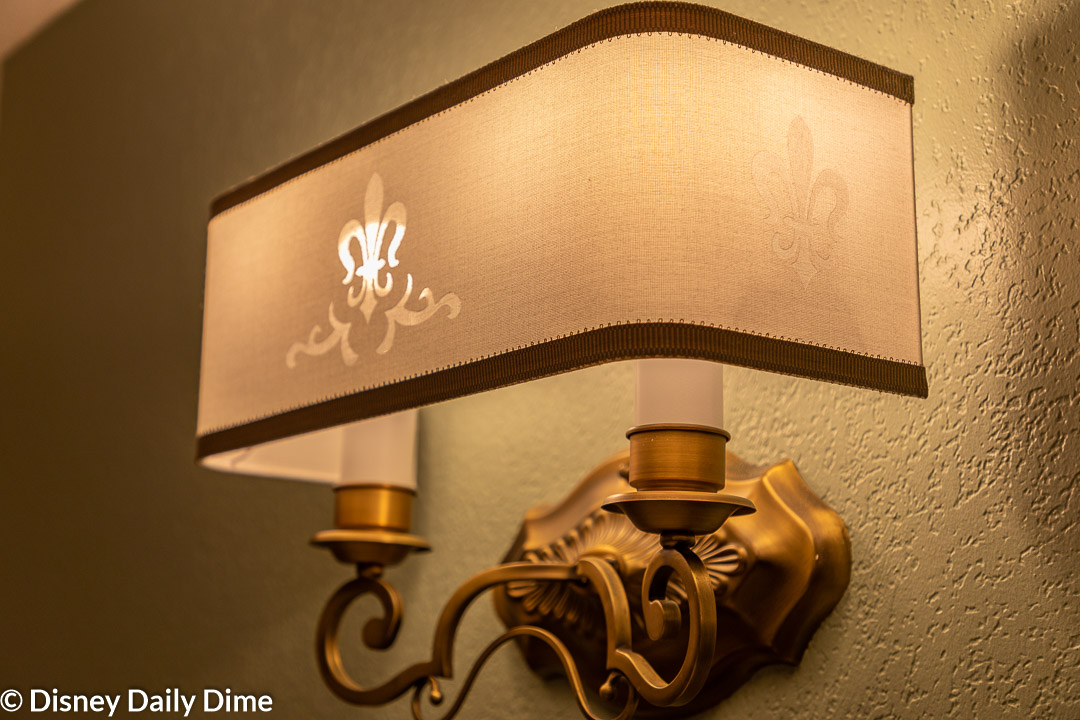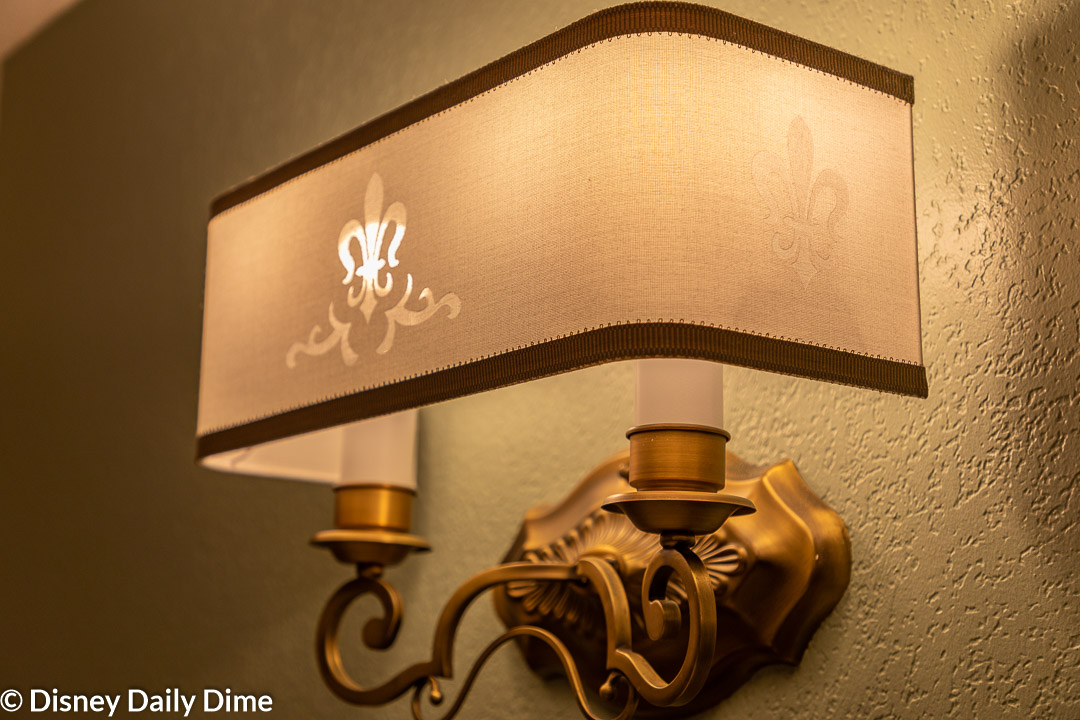 We think you'll find the appointments of the rooms consistent with other moderate level resorts, post refurbishment.  Nice touches like laminate floors, well-appointed furniture with wood headboards and a dark wood dresser all make the room feel very modern and elegant, but not ornate.
The bathroom sink area come with two sinks, a tile floor and wainscoting around walls.
The rooms all are well appointed, but outside of the fleur-de-lis that adorn various parts of the furniture, the room doesn't scream New Orleans to us.  Just an solid hotel room, but you could tell me I was in Jackson Hole, Wyoming and I wouldn't necessarily disagree with you.  If you're wanting something distinctly New Orleans, you may be disappointed with the room.  But the resort will probably make up for it.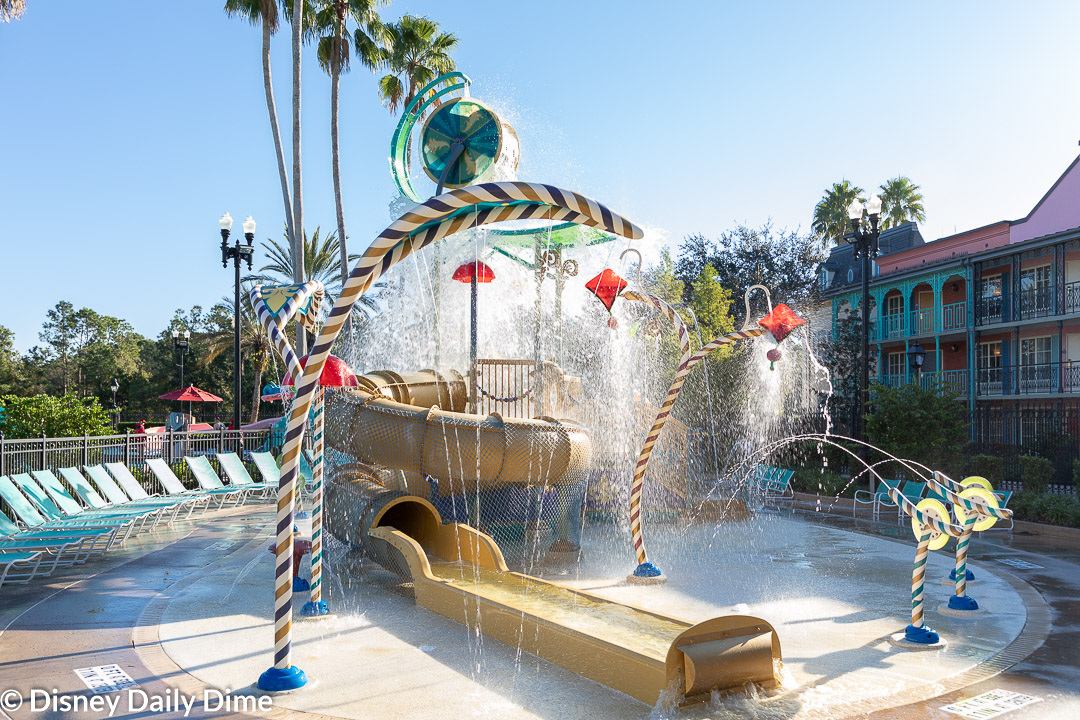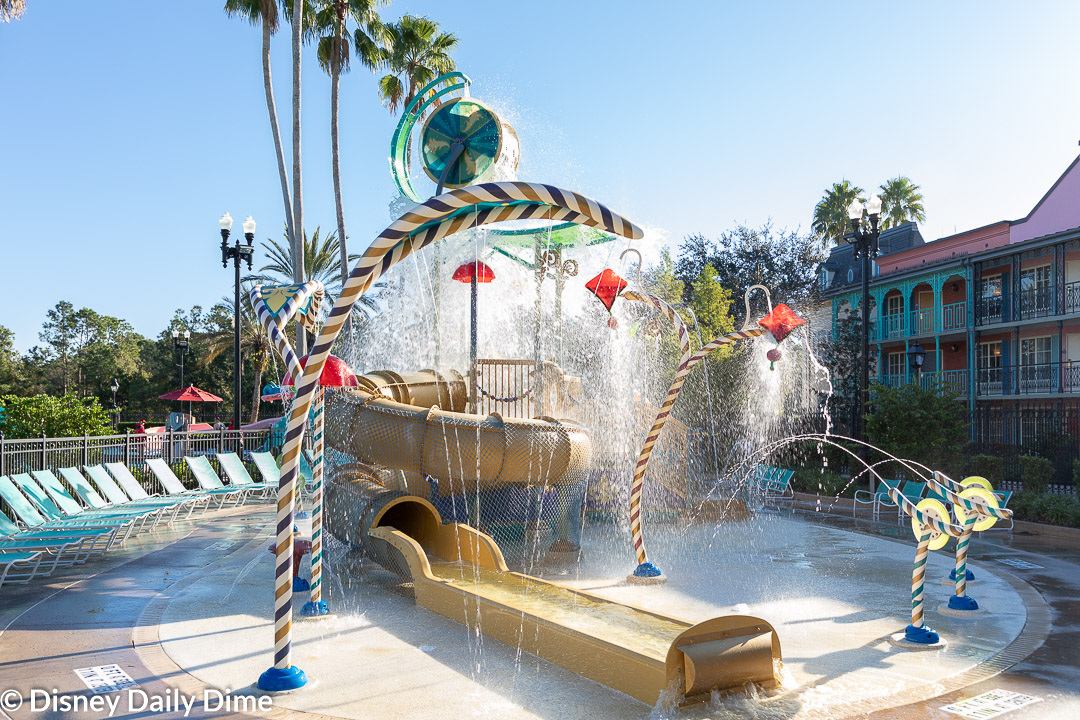 The Pool at Disney's Port Orleans Resort – French Quarter is a Kid's Paradise
As we said earlier, in our Port Orleans Resort – French Quarter review, the pool situation at the resort is very unique.  At least unique compared to other moderate resorts.  The lone pool within the entirety of the resort is known as the Doubloon Pool.
But, rest assured, what it lacks in quantity, it more than makes up for in features and fun.  Now the theming is a little odd to us for a New Orleans themed resort.  You'll find a sea serpent being ridden by what some might think of as King Triton from The Little Mermaid.  However, we think this is actually supposed to be the Roman God Neptune, the God of the Sea.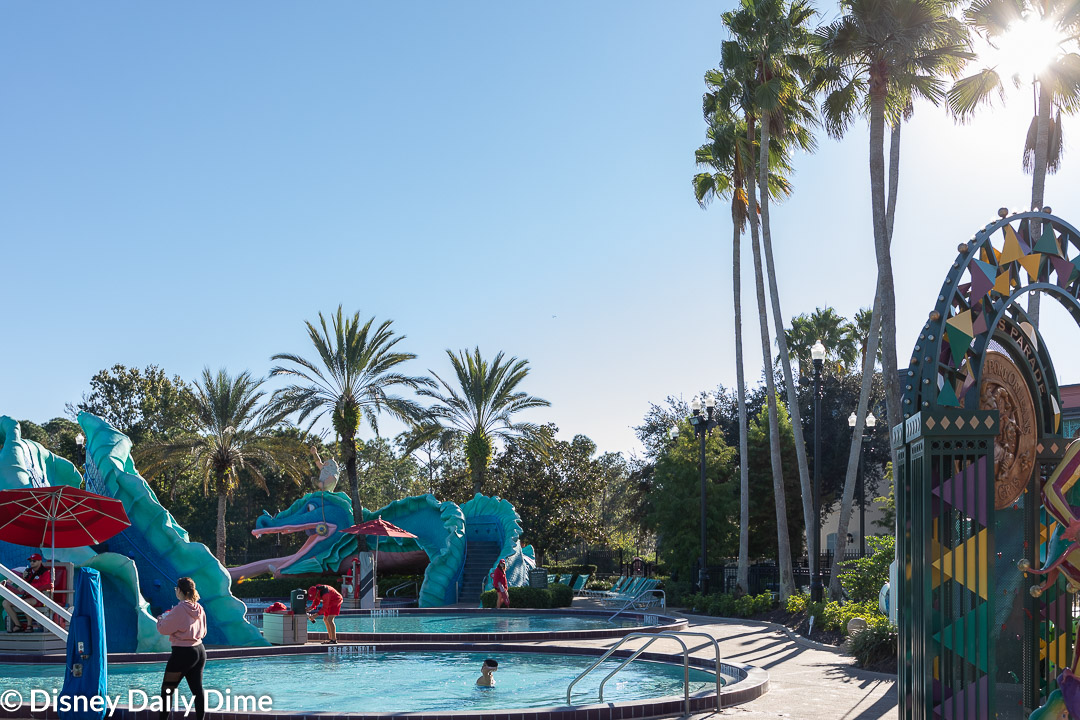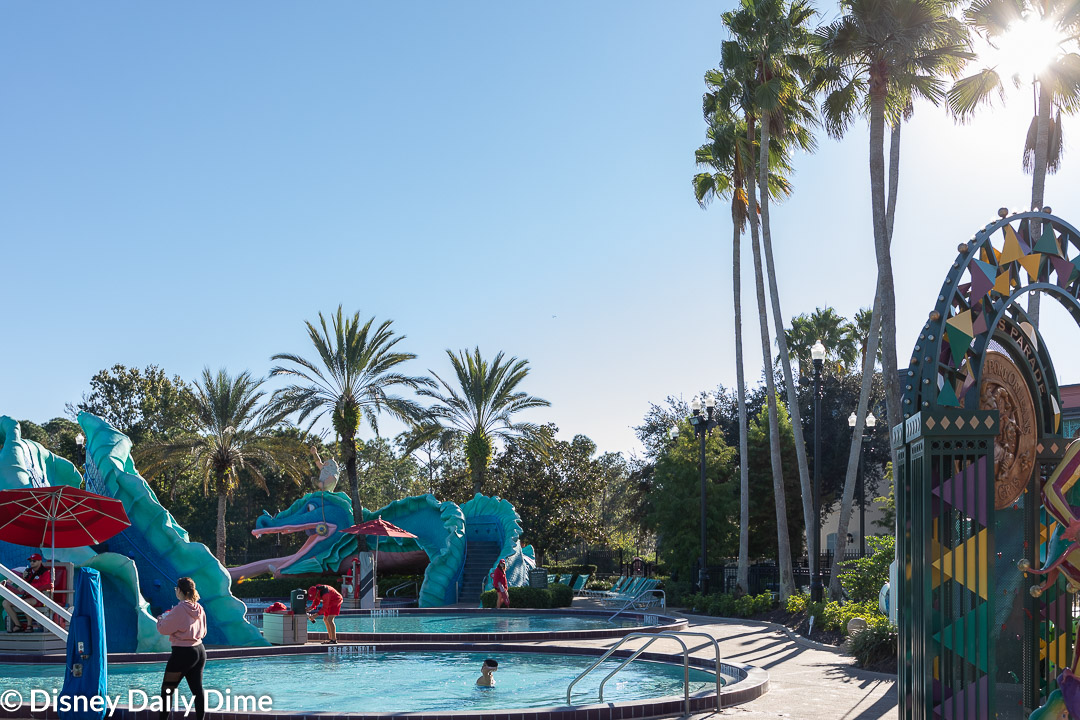 In either case, I'm not sure Neptune or King Triton make a clear connection to New Orleans, but the sea serpent is fun.  I'm sure there is a deep cut connection, Disney doesn't just throw random things into their resorts.  This is also where the alligators are heavily featured, as the band helps you celebrate Mardi Gras around the pool area.
None the less, we aren't theme purists like some and these features add some fun and light-hearted whimsy to the pool area.
The sea serpent doubles as the pool slide.  While not as long as the slide at Riverside, it still comes in at a lengthy 51 feet.
The big hit at this pool for younger kids will be the play area/splash pad.  Splash pad is probably under selling this, as you can see in the picture.  There's a small slide, along with water shooting all over the place.  It's a great feature of the pool area and really takes it up a notch when compared to Riverside.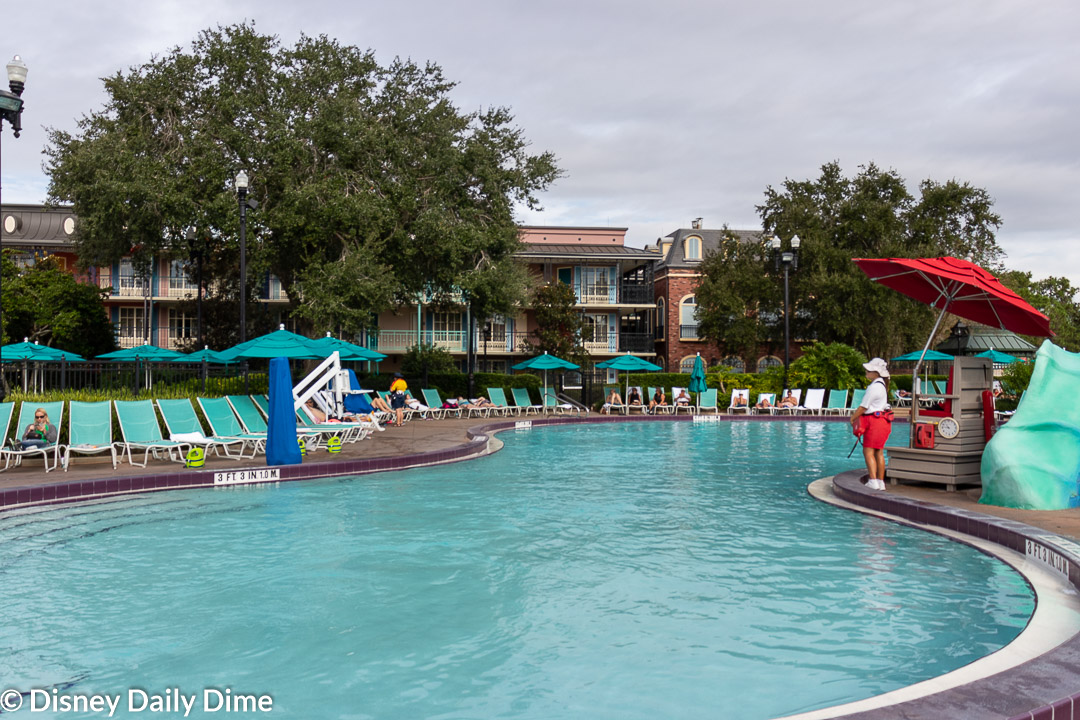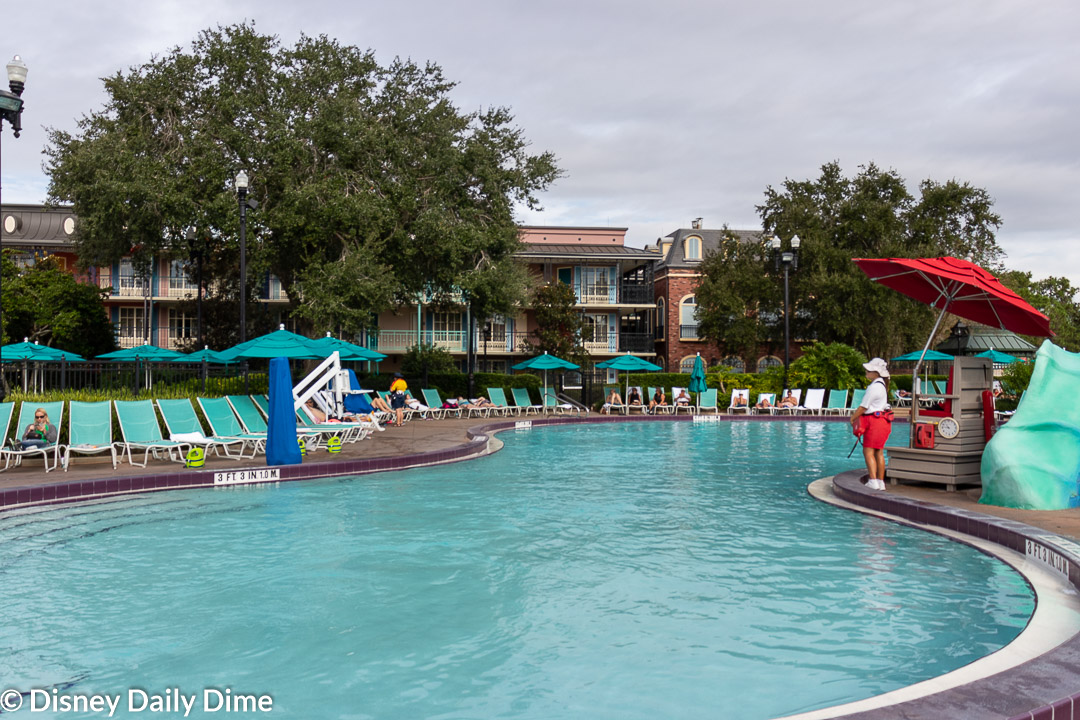 Because there is only one pool, if you're looking for the typical "quiet" pool for the adults, this resort may not be for you.  Not that we've seen people going crazy here, but there isn't a more isolated pool to be found.
Buses and Boats are Your Disney Transportation Options at Port Orleans – French Quarter
Buses
With the compact size of the resort, there is only one bus stop for the entire resort.  Much like everything in the resort, it is convenient to all the rooms, with the longest walk taking around 5 minutes.
The bus stop is located out to the front right of the lobby, after exiting the main lobby door.  You can see it marked in our resort map.
During the busier times of the year, Disney runs a dedicated bus route from French Quarter to the four parks and Disney Springs.  However, you should know that during the slower times of the year, this bus route is shared with Port Orleans Riverside.  This can greatly slow down your commute to the parks, so plan accordingly.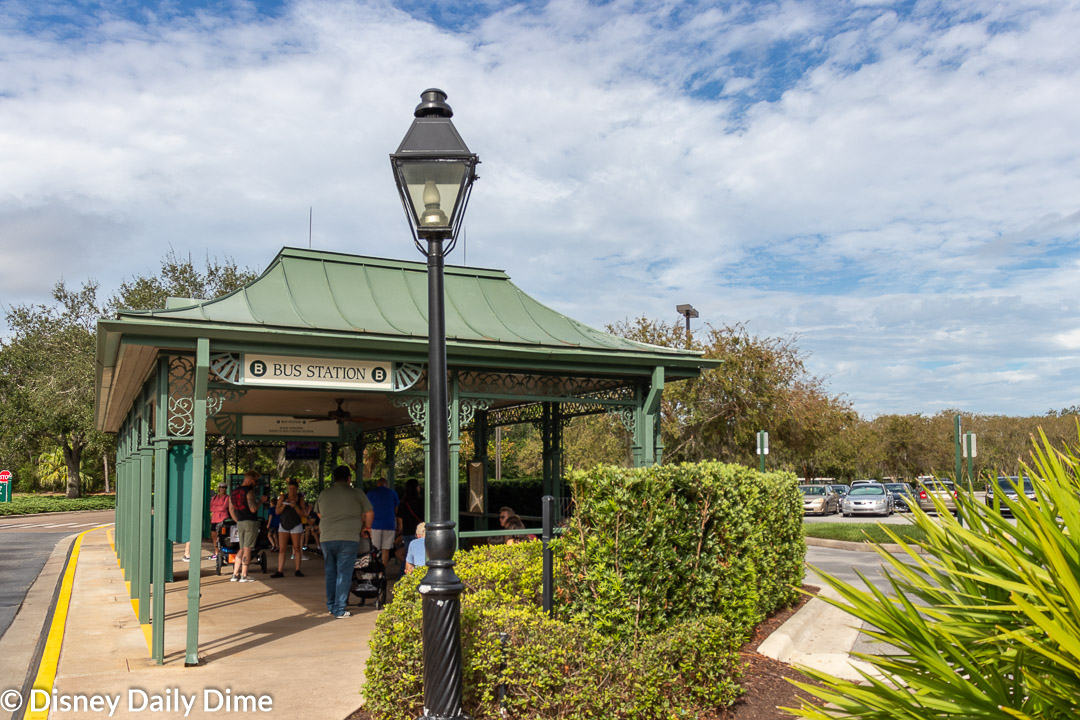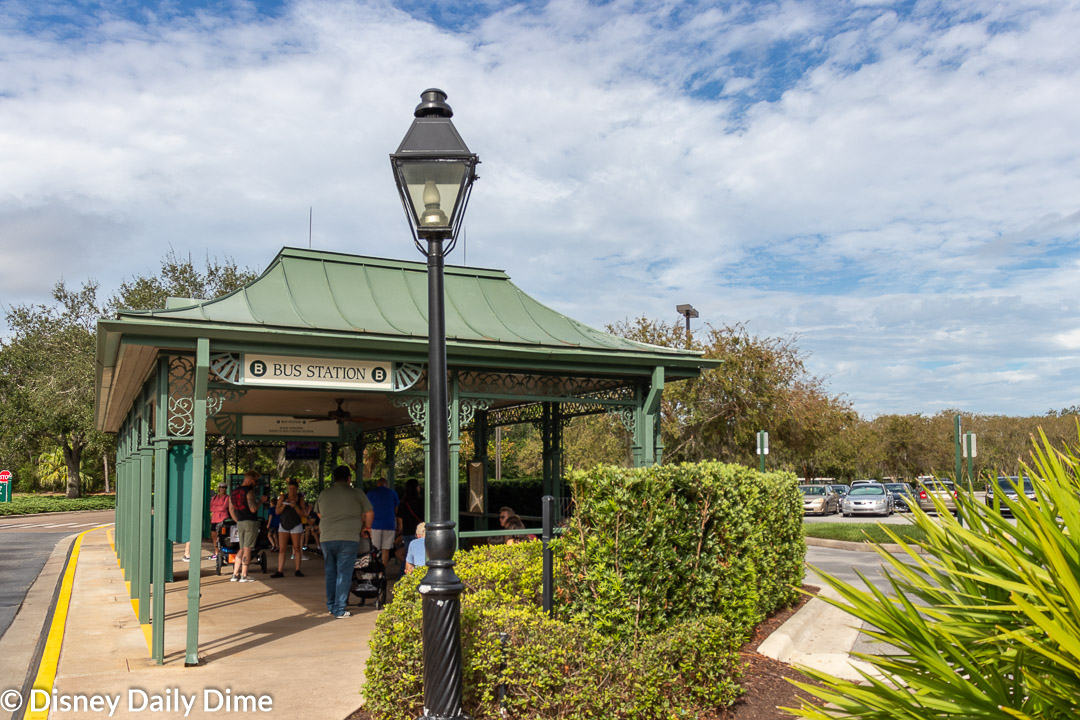 Boat
If you want to go to Disney Springs, you can actually take a boat there from the resort.  It's a peaceful ride down the Sassagoula River to Disney Springs.  It should take around 15 minutes.  You can also use the boat to take you to Port Orleans Riverside, however it runs a more limited schedule, stopping service at 4:30 in the afternoon.  To us, walking is a better option to get to Riverside.  It only takes about 10 to 15 minutes, depending on which side of the resort you are on.
Port Orleans Resort – French Quarter Features Limited Dining Choices
Disney's Port Orleans Resort – French Quarter only has one real place to eat at.  (We're not counting the pool bar or Scat Cat's Club).  But once again, what it lacks in size it makes up for in quality.
No, you won't get table service level food here, but the food court options are plentiful and delicious.  And when it comes to breakfast options, you can score the mother of all treats….Mickey Beignets!  Yes, we had to put a picture of them below, because we love them so much.  Even the gluten free ones that Carla had were impressive!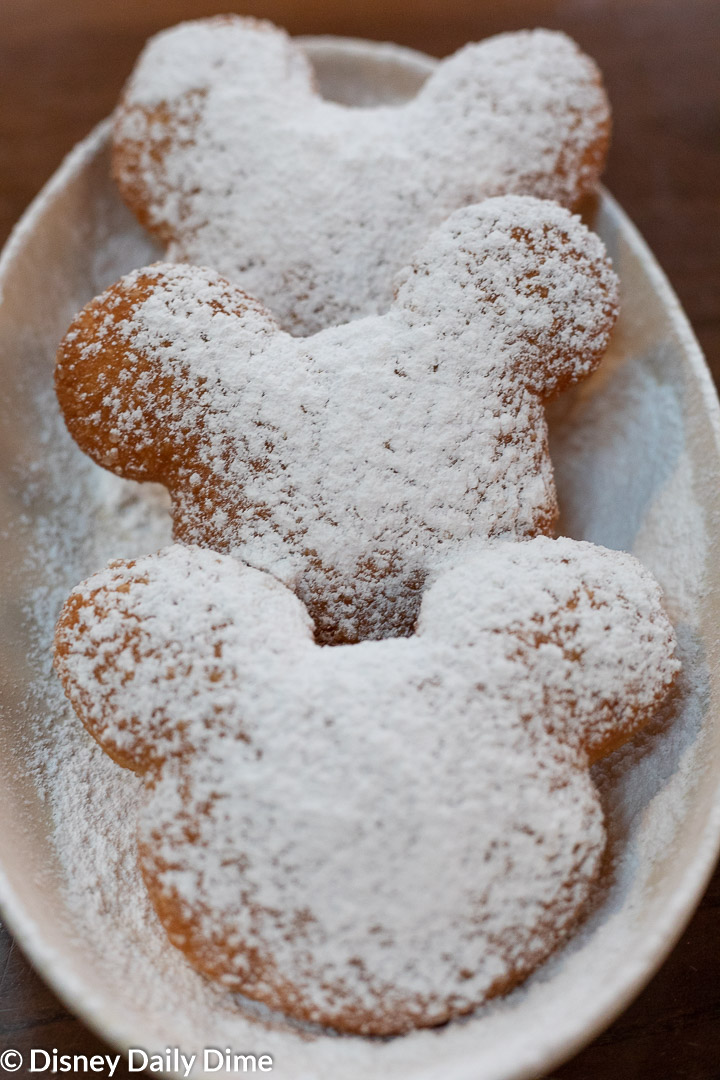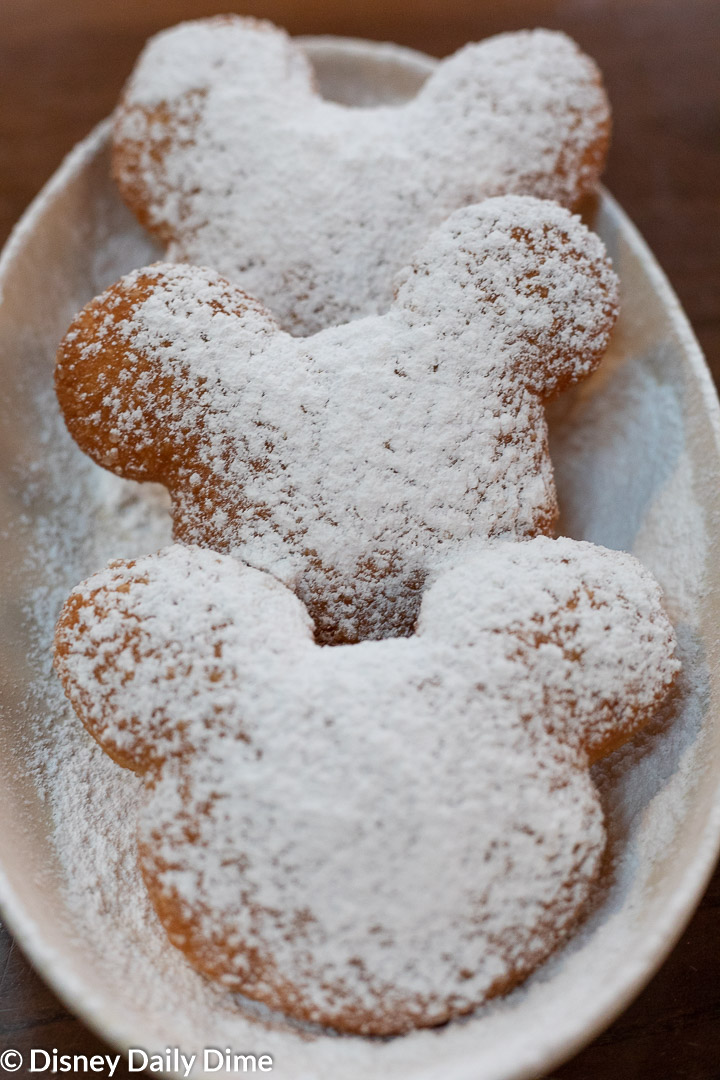 Now, we will say that it is somewhat disappointing that they don't have a table service dining option here.  The theory we've seen floated is that Disney treats Riverside and French Quarter as one resort for dining purposes, so they consider Boatwright's to be the table service location for the resort.  While it is a good dining option, it is certainly not a convenient one, since it is located at Riverside.
Recreation at Disney's Port Orleans Resort – French Quarter
There are several recreational opportunities at Port Orleans Resort – French Quarter.  Make sure you know what day you will be there though, as not all of them are available every day.  Also, remember that not all of the recreational events are free!  Here are some of the things you may be interested in doing:
Horse-drawn Carriage Rides
Movies Under the Stars (located between buildings 5 and 6)
Painting on de' Bayou
Cajun Campfire Activities
Bike Rentals
Surrey Bike Rentals
Bass Finishing (at Riverside)
Beignet Fun Run
Jogging Trail
Kids Playground
Video Arcade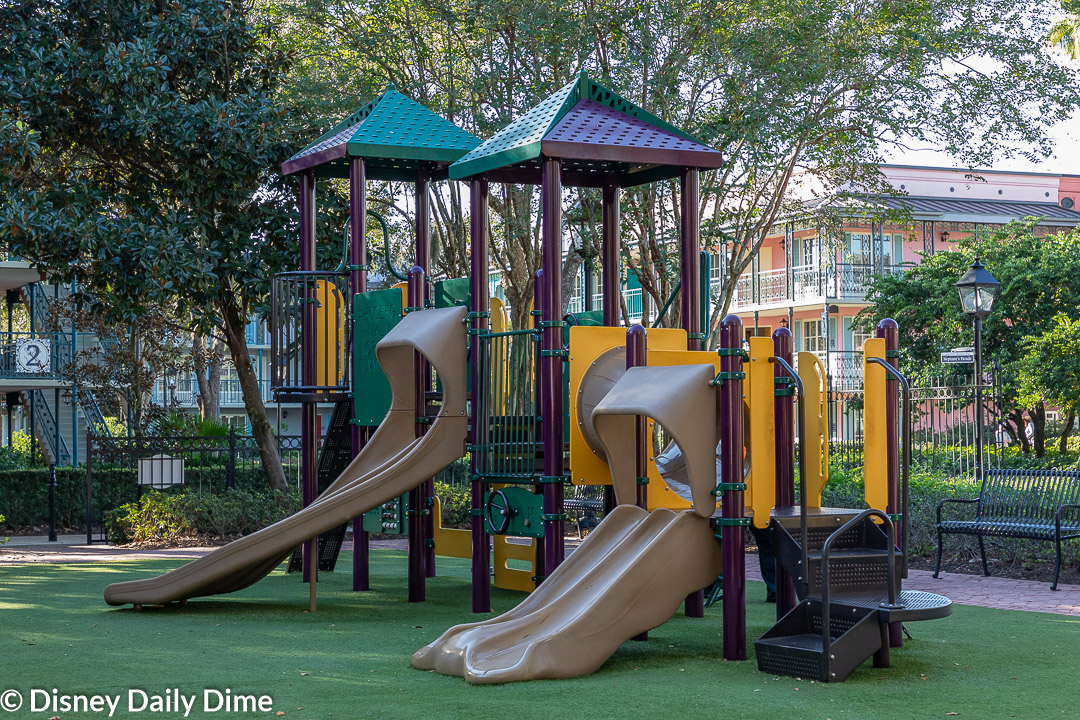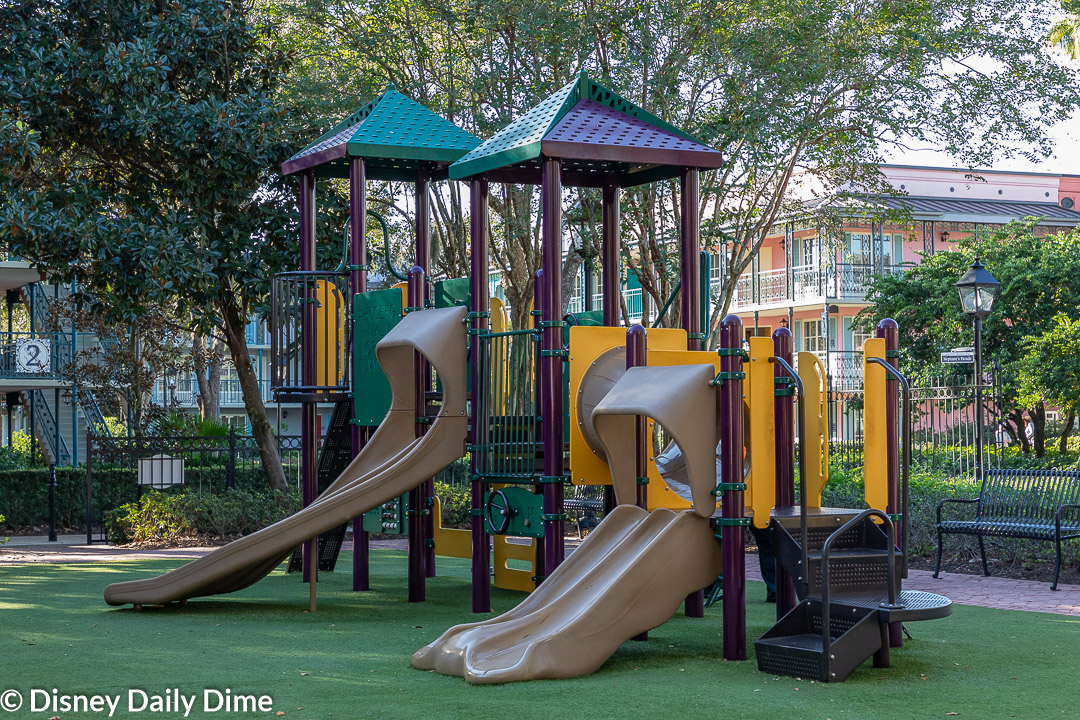 Who is Port Orleans Resort – French Quarter Geared To?
Port Orleans French Quarter is a diverse resort, with a theme that adults will truly appreciate and a pool that kids will swoon over.  Do kids swoon these days?  Don't really think Anna and Elsa do, but maybe our girls are the anomaly?
Sorry, back on topic.  The New Orleans French Quarter and Mardi Gras theming will attract adults for sure.  While the rooms don't feel distinctively New Orleans to us, they are still very nicely appointed.  We're big fans of those laminate floors.  We think that most adults will find the rooms appealing too.  At least until your kids start sliding in their socks around the room.
This resort probably won't hold a ton of appeal to kids from a theming perspective.  They won't understand what makes it so beautiful and have the background of why New Orleans is looked upon so fondly by many.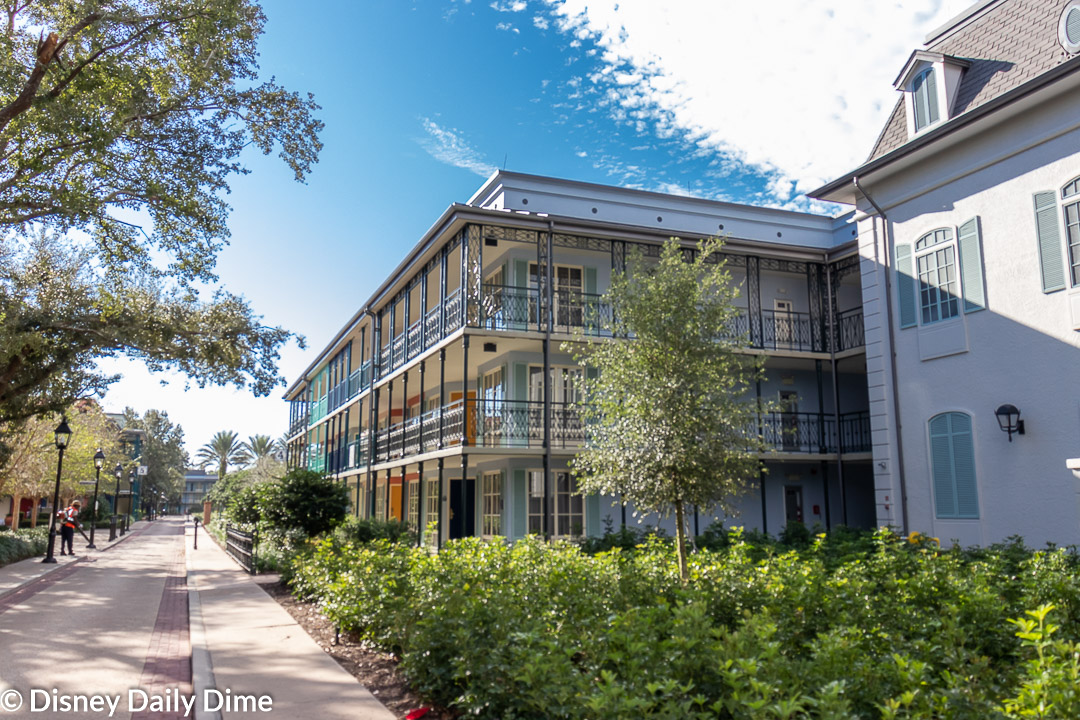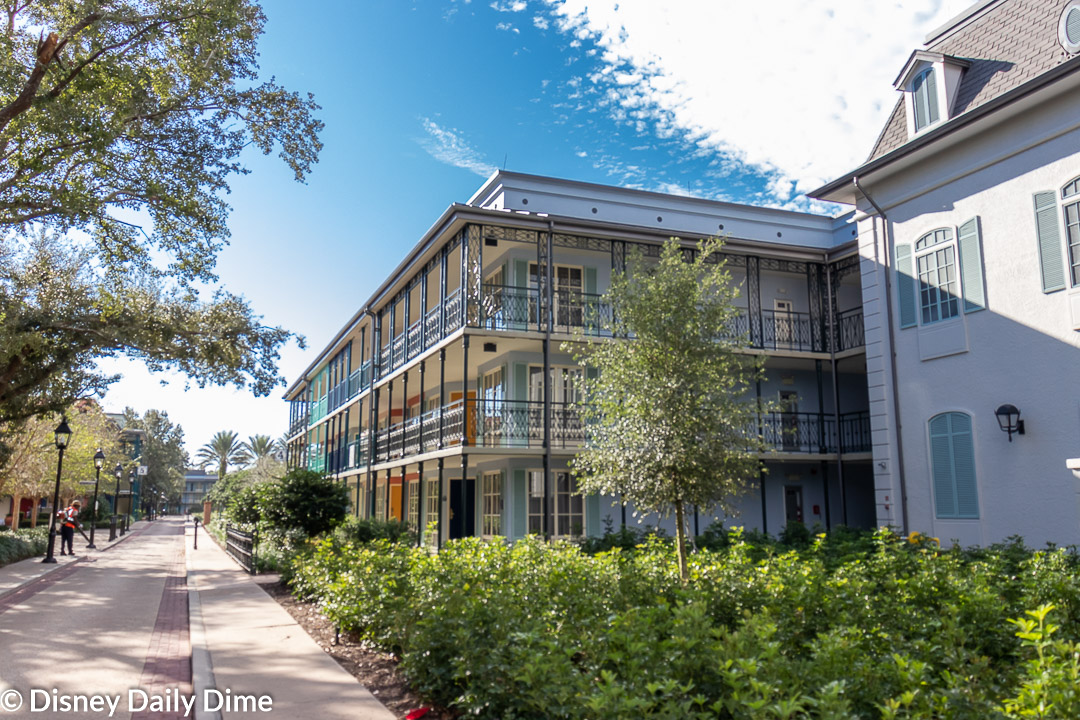 The pool is highly likely to be a smash hit with your kids, though.  Especially if they are on the younger side and will find the play area fun.
That all said, we think this resort has something to offer everyone.  This probably is a contributing factor in the popularity of the resort among park goers.  Especially those with kids.
The compact nature of the resort will also be appreciated.  When it comes to moderate resorts, it is unique in its size.  The convenience of getting to the lobby or the bus stop will be a big draw for many.
If you're a big New Orleans fan and want to have an immersive experience in this romanticized version of the Big Easy, this will be an excellent resort for you.  The architectural tones and theming of the resort is on point.  It will make you feel like you have been ushered out of Disney World and to another time and place.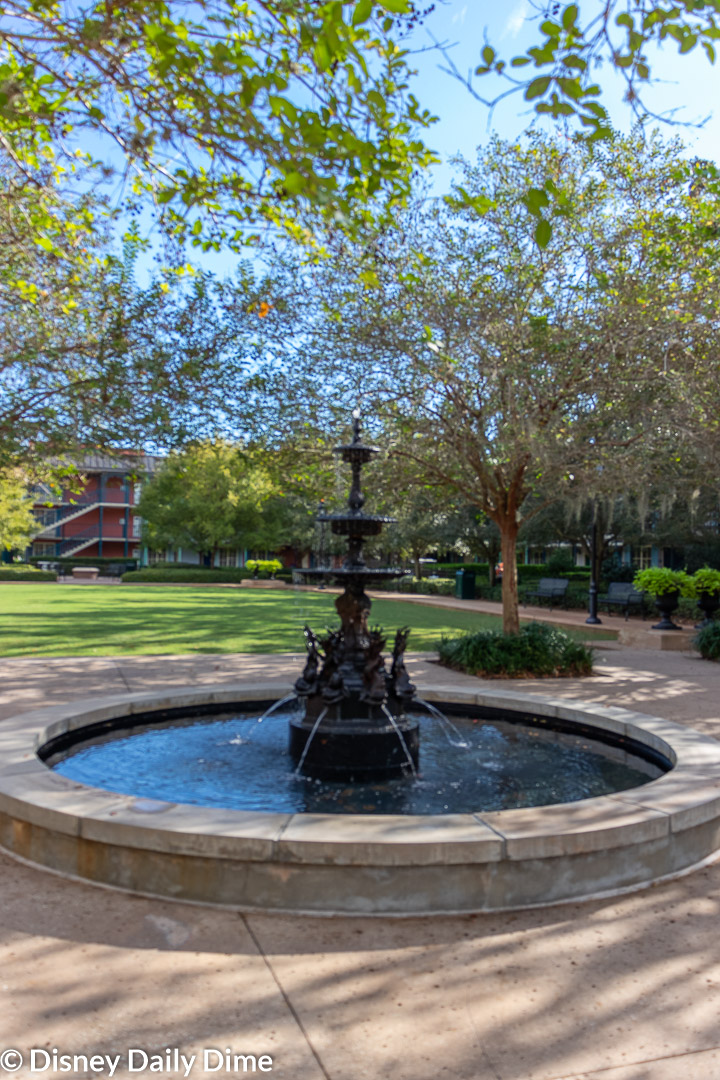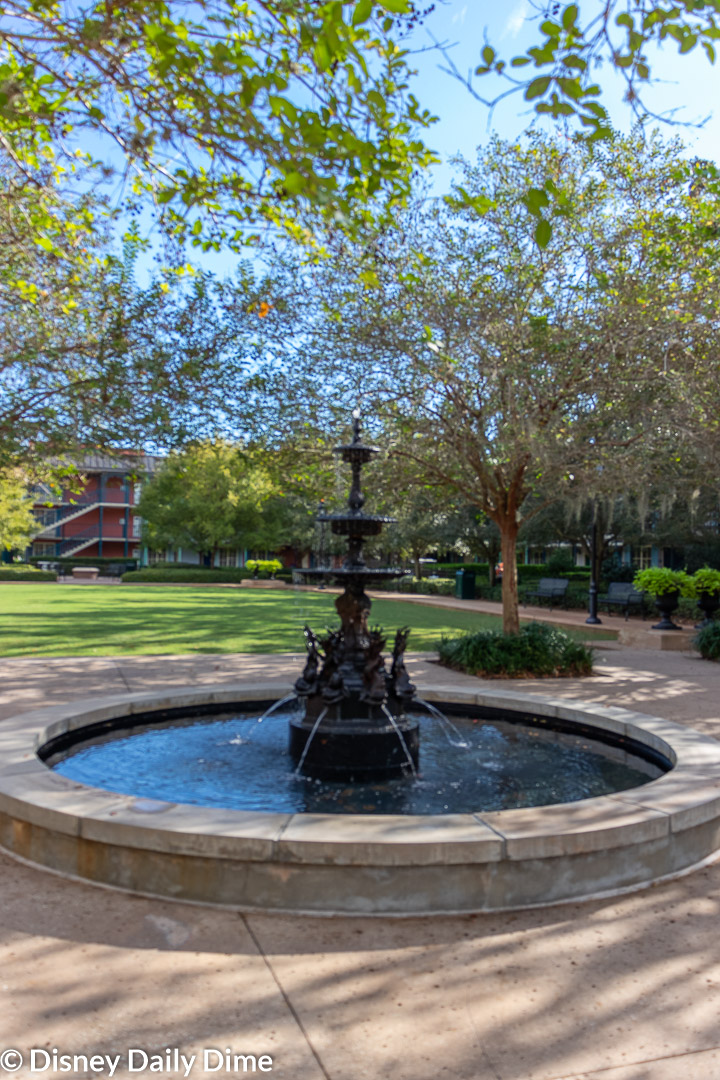 We've seen some people say this resort is perfect for a romantic getaway and while we get that notion, it feels exclusionary to us.  The resort is so well rounded, it isn't just for couples on a romantic retreat.  There are also other resorts that can fit the romantic bill on property.  Plus, families of all ages can come here and have a great time.
Wrapping Up
That wraps up our Disney's Port Orleans Resort – French Quarter review.  A really well put together resort, that features several signature elements that will keep kids and adults coming back to it.  It's especially nice if you are considering it when compared to other moderate level resorts.
Now, let us and our other readers know what you think of the resort!  Drop down in the comments below and tell us how you feel about Port Orleans – French Quarter.
We hope you found our Port Orleans Resort – French Quarter review helpful.  If you did, we'd greatly appreciate it if you would share it on social media.  It helps get the word out on our blog and makes us feels like we're doing something right.  Just use the social media sharing buttons on this page.