The norm with all of the value resorts at Disney World is to have one dining option.  These dining options are food courts, which allows the value resorts to cater to a wide array of taste preferences while keeping prices down.  The food court at Disney's Pop Century resort is called Everything Pop.
As we have been making a tour of the Disney World value resorts, we have noted many similarities among the food courts as far as menu selection, layout, and basic décor.  While each food court is slightly different, we felt Everything Pop was reasonably similar to other food courts we have seen, aside from a few themed food items that are unique to this location.
Here in our Everything Pop review, we will discuss the breakfast and the lunch we enjoyed, the décor and theme of the food court and our general thoughts on the food court itself.
Everything Pop does participate in the Disney Dining plan, requiring one counter service credit to eat here.  If you look at the Everything Pop menu, most entrées cost $10-13.   Given that, the value on the dining plan isn't great.  Yes, they do have whole pizzas that cost around $16, but you'll notice they require two counter service credits.  You're probably better off paying out of pocket here.
Everything Pop is a rare counter service location that accepts the Tables in Wonderland discount card.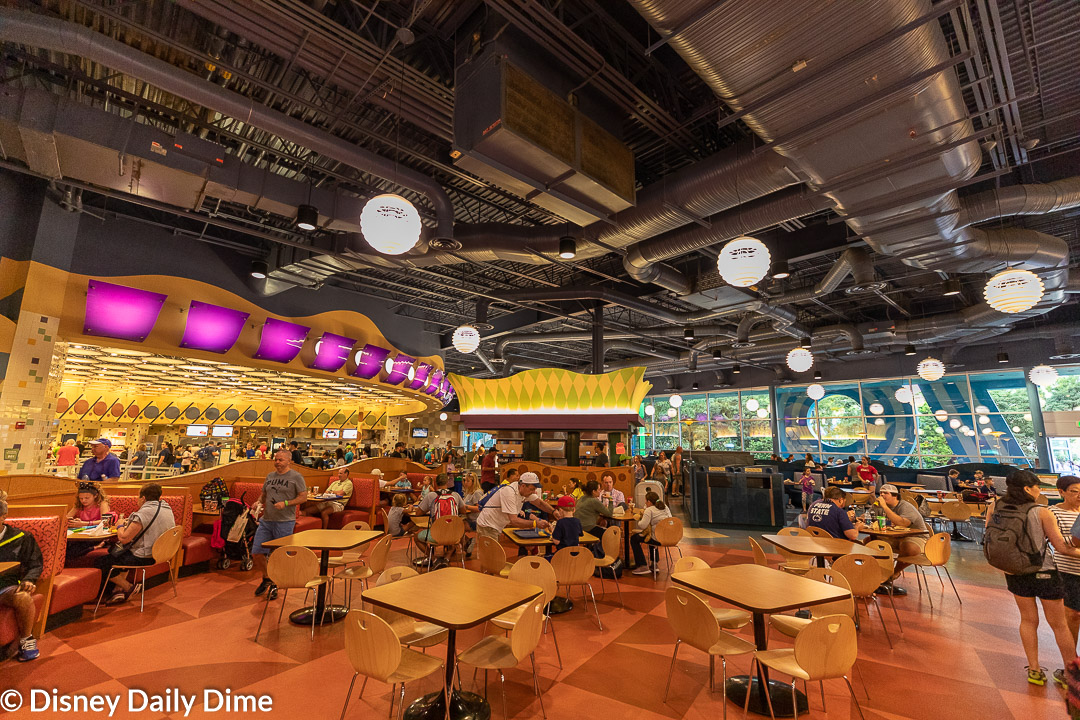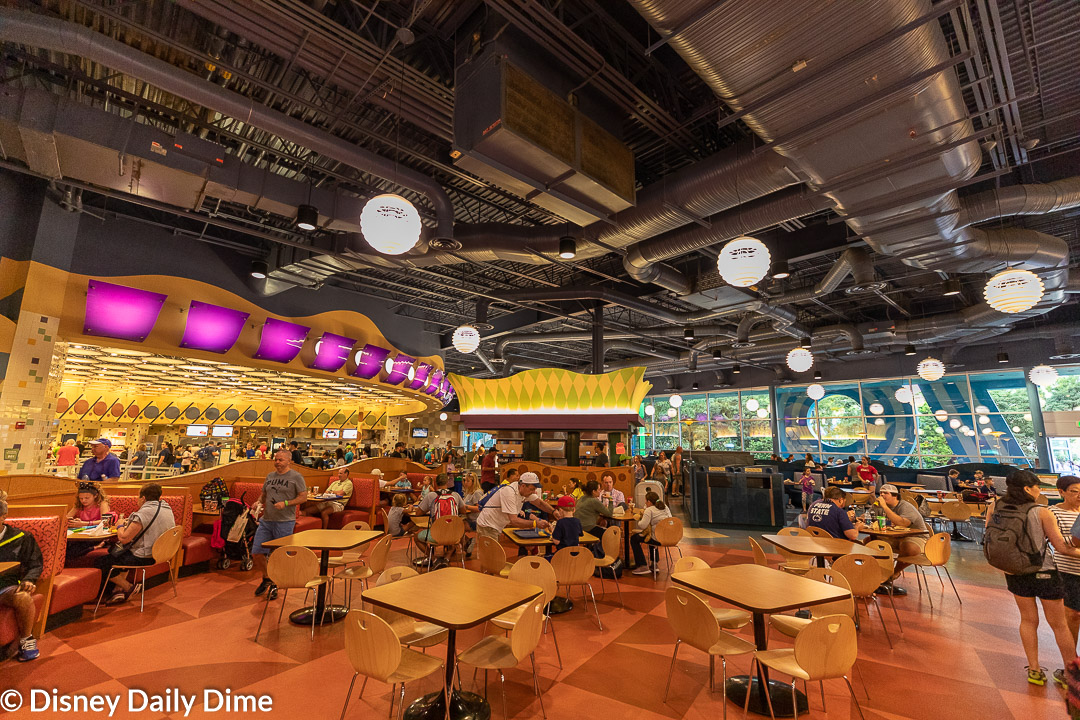 Everything Pop Features Splashes of Color, but the Theme is Almost Nonexistent
As Pop Century celebrates popular culture from the 1950s – 1990s, the resort features a lot of vibrant colors, playful touches, and over the top décor to highlight each decade.   Everything Pop continues the trend with a fun aesthetic that is bright, cheerful, and inviting.  To say there is a clear tie into the resort feels like a bit of a stretch.  In fact, there isn't much (anything?) that ties into the various decades the resort represents.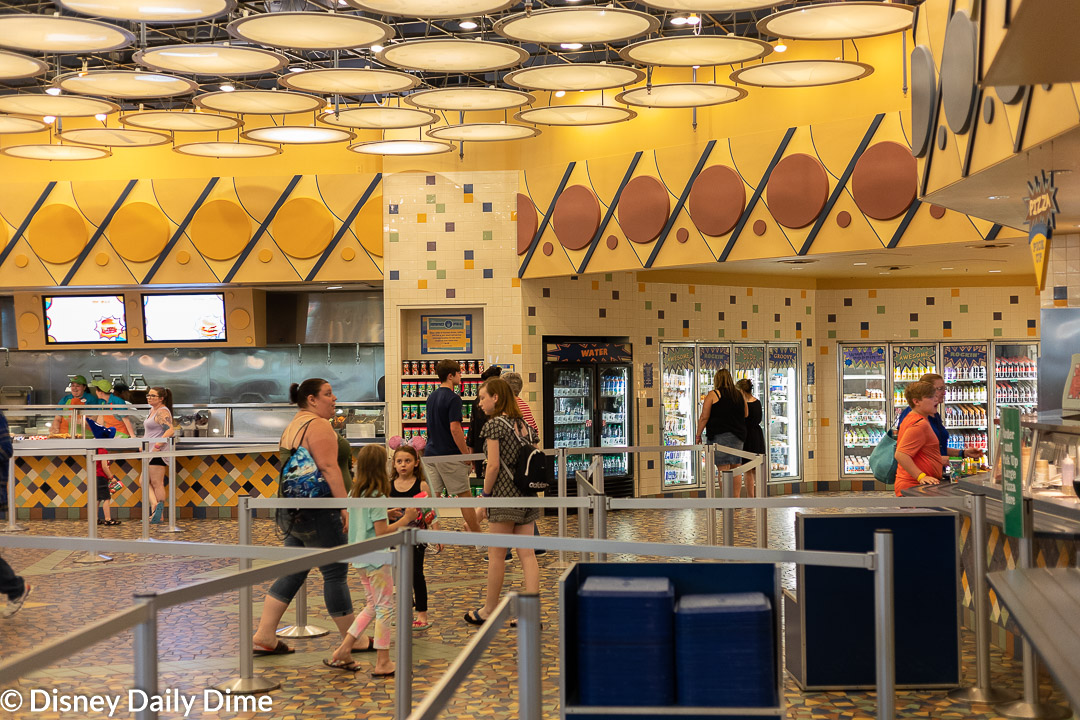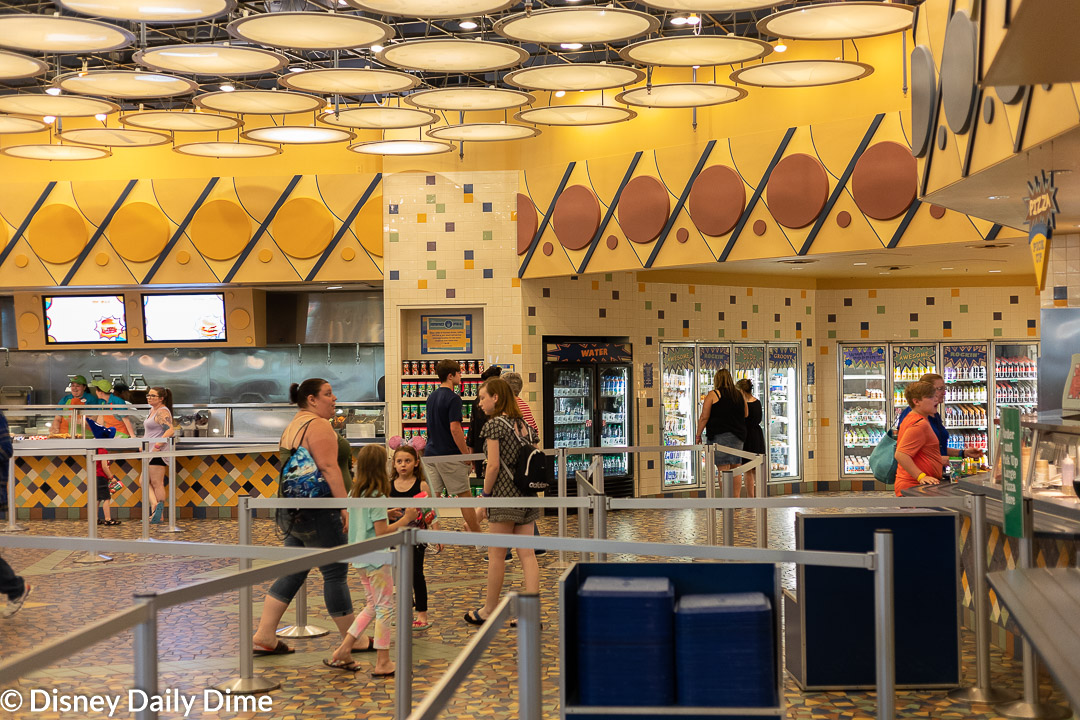 The theming in the food court is much more subtle than the resort buildings.   You won't find any period-specific kitschy décor, just a lot of colors, patterns, and lights.   A glass wall overlooks the pool area and provides some natural light.  There is a row of tables just outside this wall if you wish to eat outside.  The paint and décor are pleasant and not a shock to the system; however, we do wish there is a better integration with the Pop Century theme.  It's not the end of the world by any means, just a nice to have.
There are TVs around, but they are not intrusive.  Fun pop music from the decades represented around the resort adds to the atmosphere.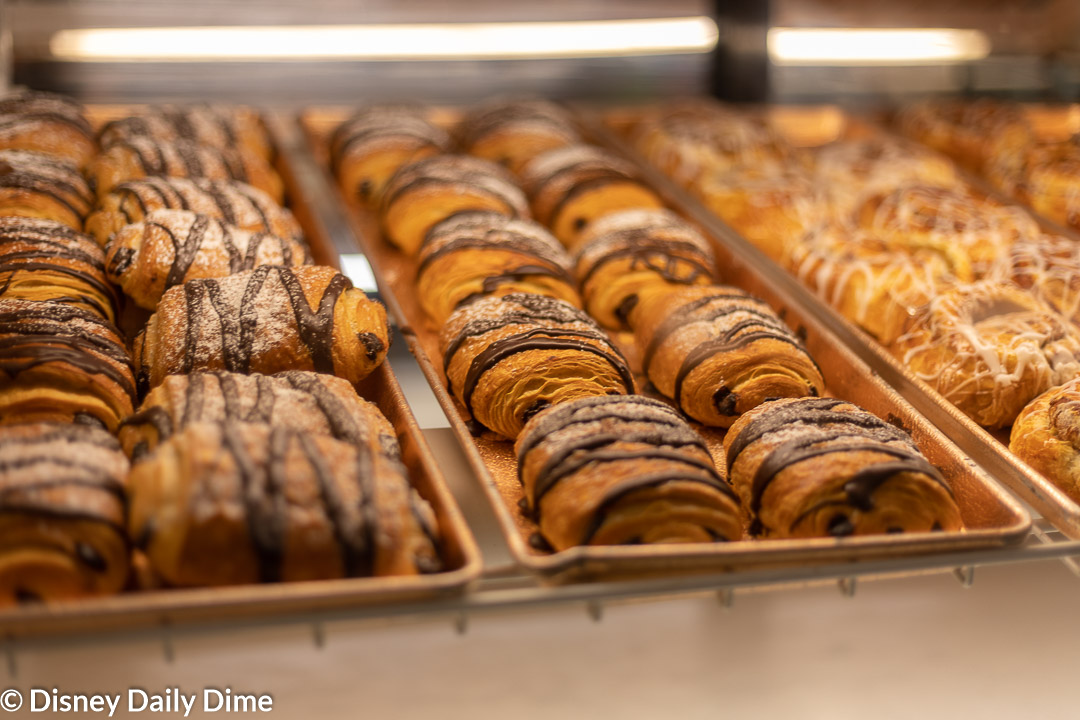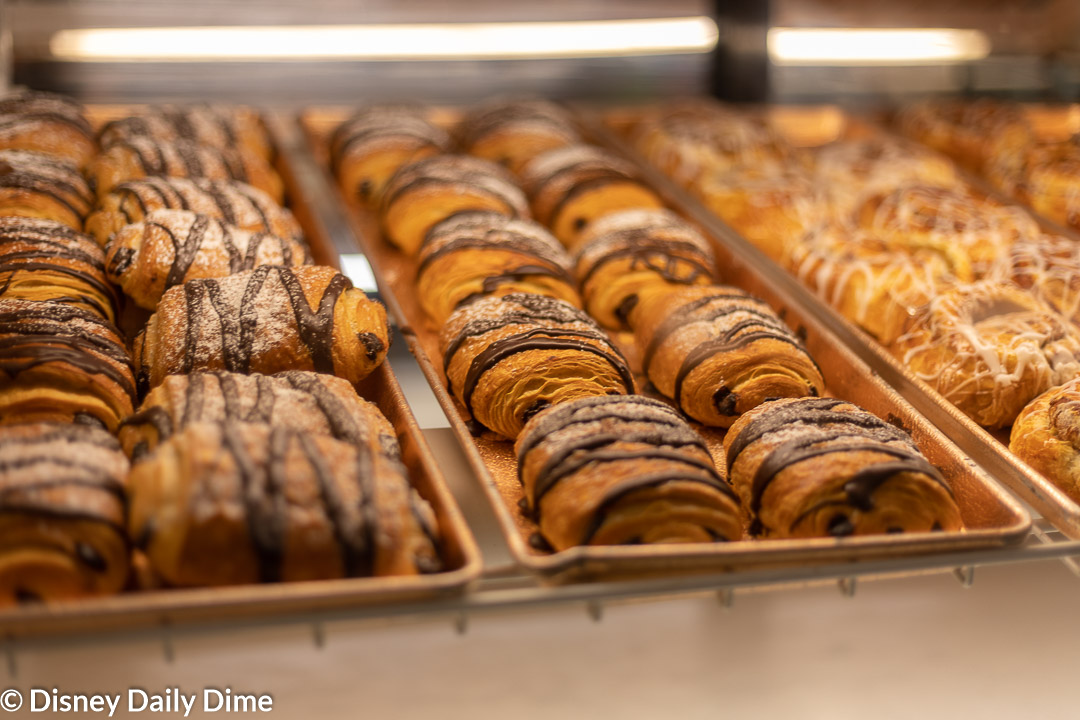 Everything Pop Features Many Food Court Specialties with Some Interesting Twists
Breakfast
The breakfast offerings at Everything Pop are reasonably straightforward and run-of-the-mill breakfast offerings.  The popular "Bounty Platter" is offered featuring eggs, bacon, potatoes, and sausage with either pancakes or Mickey waffles.  Pancake and waffle platters, omelets and a breakfast sandwich on a bagel round out the hot entrée offerings.  The grab and go area offers a selection of pastries, muffins, and baked goods, along with cereals, yogurt parfaits, fresh fruit, and the like.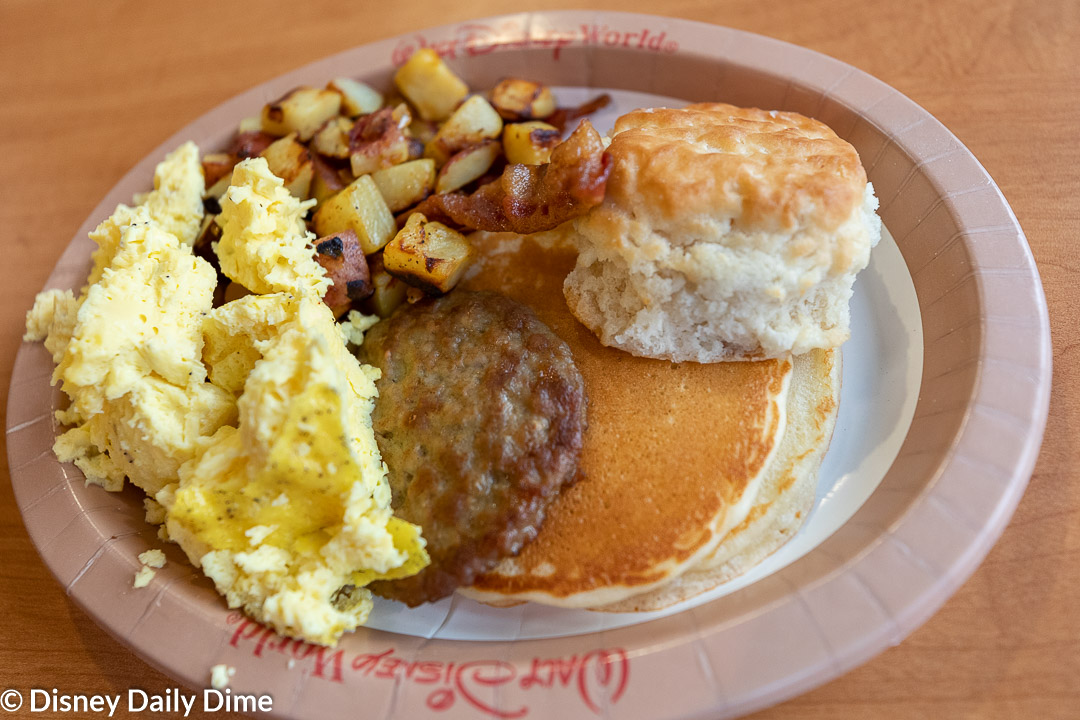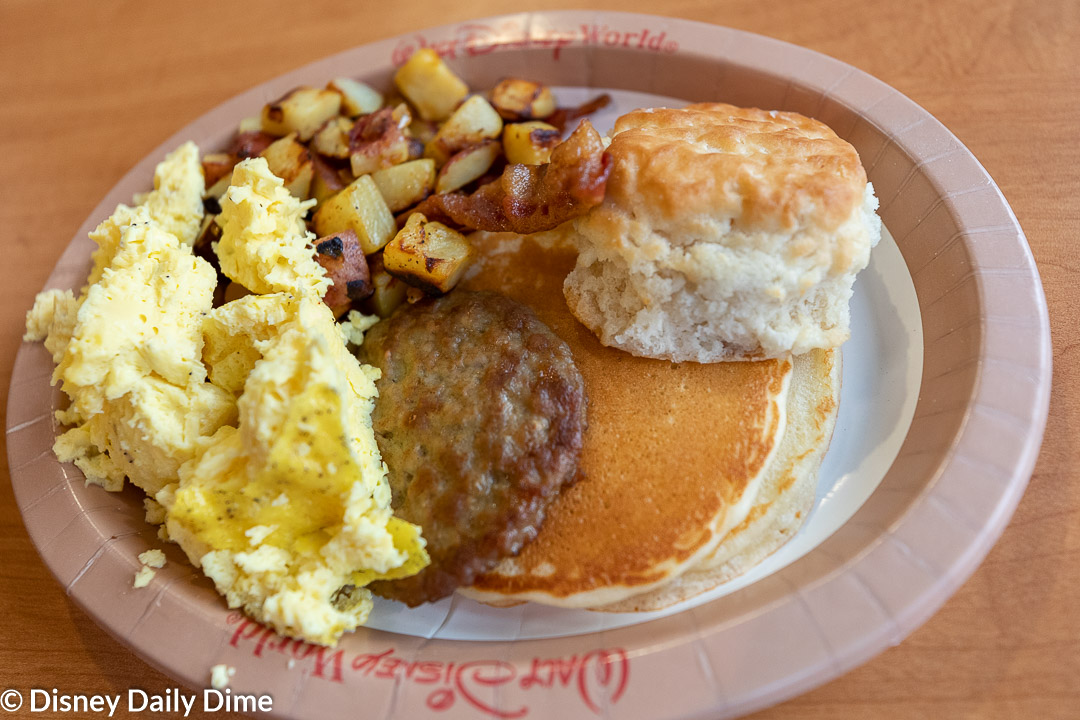 Mike selected the Bounty Platter with pancakes for his meal.  Although the menu did not list it, he was served a biscuit along with the eggs, bacon, sausage, potatoes, and pancakes. The quality of the breakfast food is relatively standard amongst all of the quick service resort offerings and Everything Pop's platter was really no different.  As with most Disney World breakfasts, the eggs aren't freshly made but are mass-produced.  Mike's portion included some from the outside edge of the pan, so he had some "crispy" eggs.   The bacon is thin-sliced, not too salty, and cooked well.  The potatoes are crispy homestyle hash brown potatoes and were quite tasty.   A cast member told Mike the pancakes are freshly made in-house.  This helped ensure they were light and fluffy.  Unfortunately, the same can't be said for the biscuit.  While the inside was flakey and light, the outside had hardened to the point where we couldn't enjoy it.   The pancakes were easily the highlight of the meal for Mike, and he stated next time he would just get the pancake platter, which comes with the breakfast meats.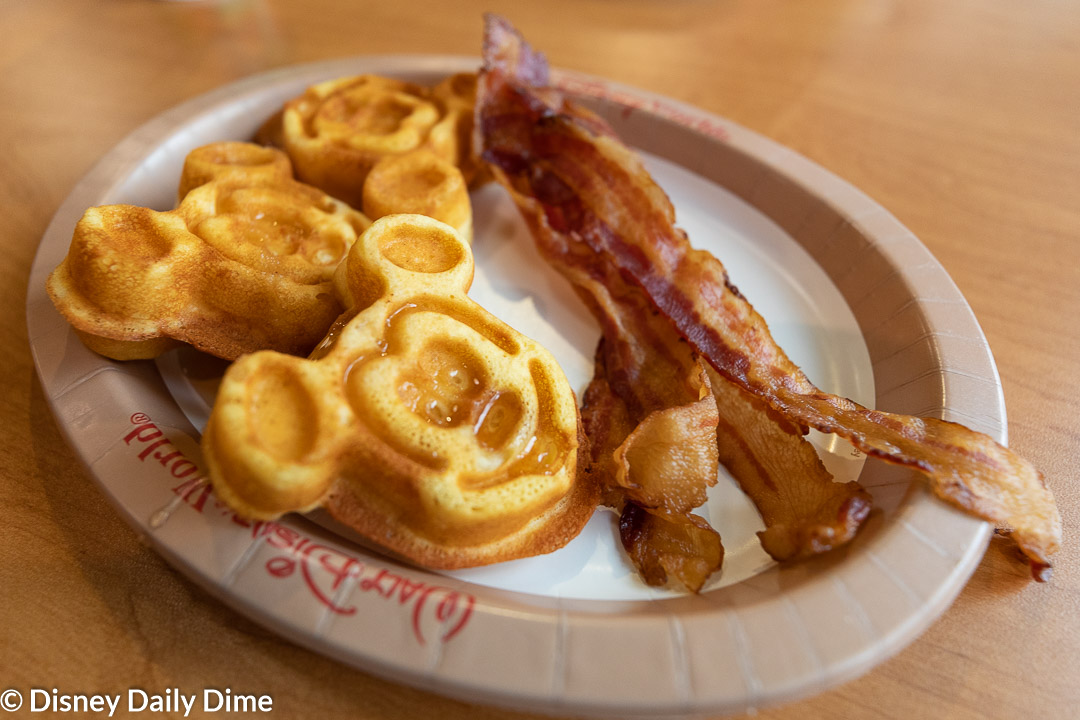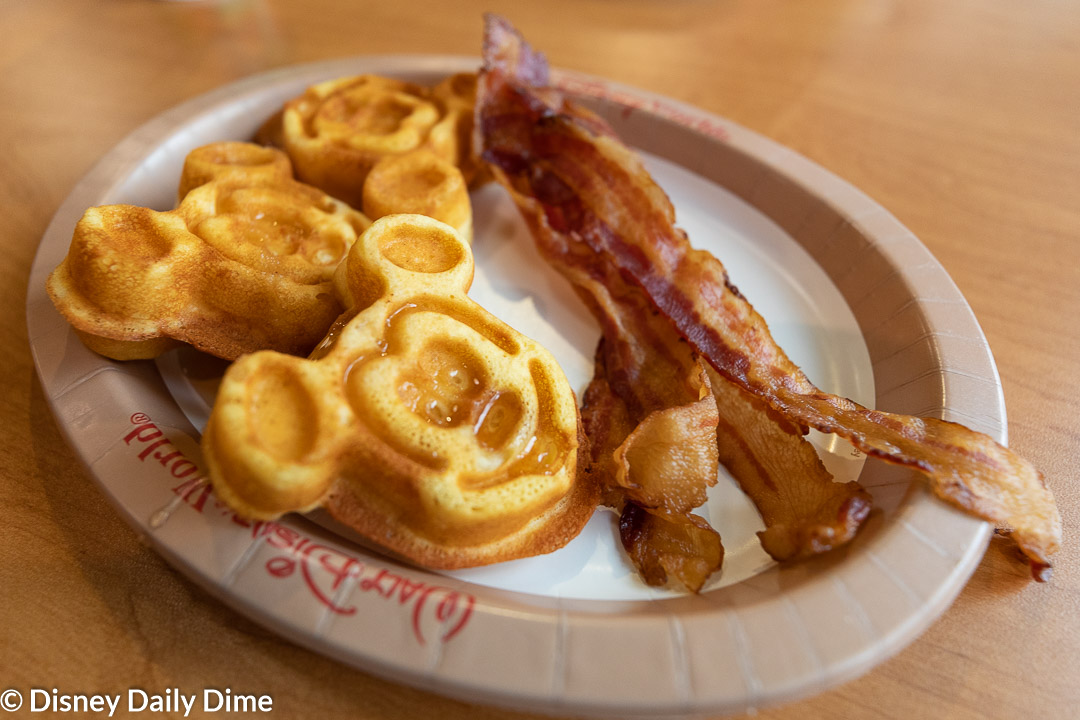 I special ordered an allergy-friendly version of the waffle platter that includes Mickey waffles, bacon and sausage.  I will cover this more in my gluten free review but in a nutshell, it was a good, hearty breakfast.   The Mickey waffles are always a treat.  I had a "magical moment" as the chef felt like it took too long for my order to come out as he got pulled in another direction.  I did have to wait about 15 minutes, but since I greatly appreciate the measures the Disney chefs take to provide allergy-friendly food, I won't and didn't complain.  Due to my long wait, he insisted on comping my meal for me, which was a sweet and thoughtful touch.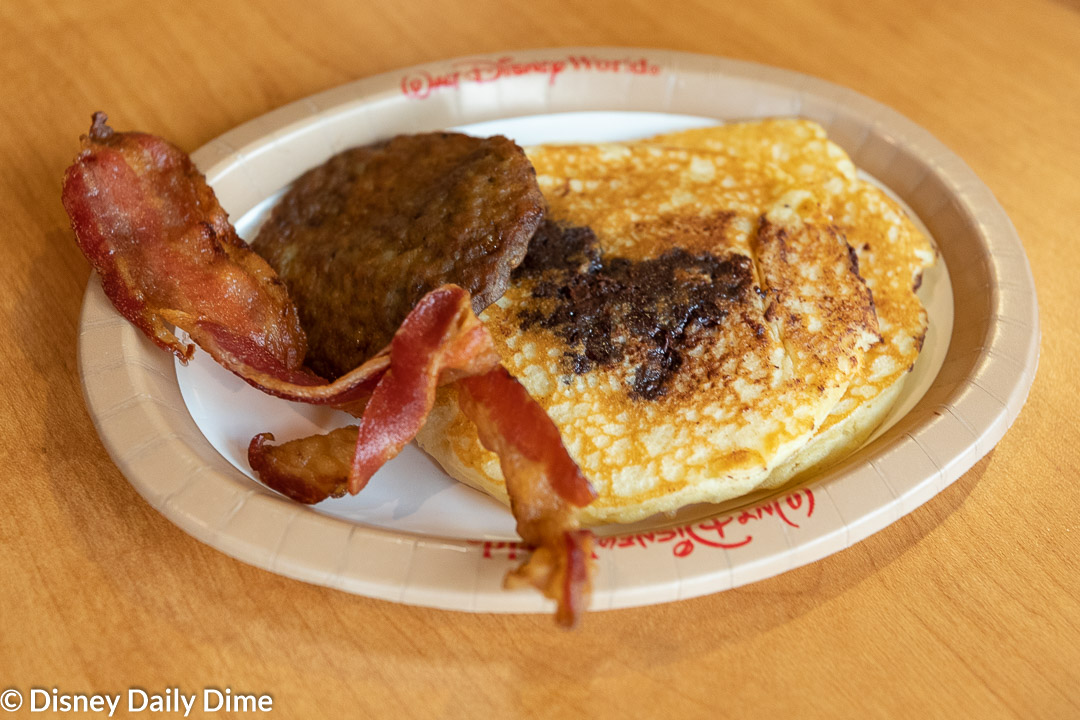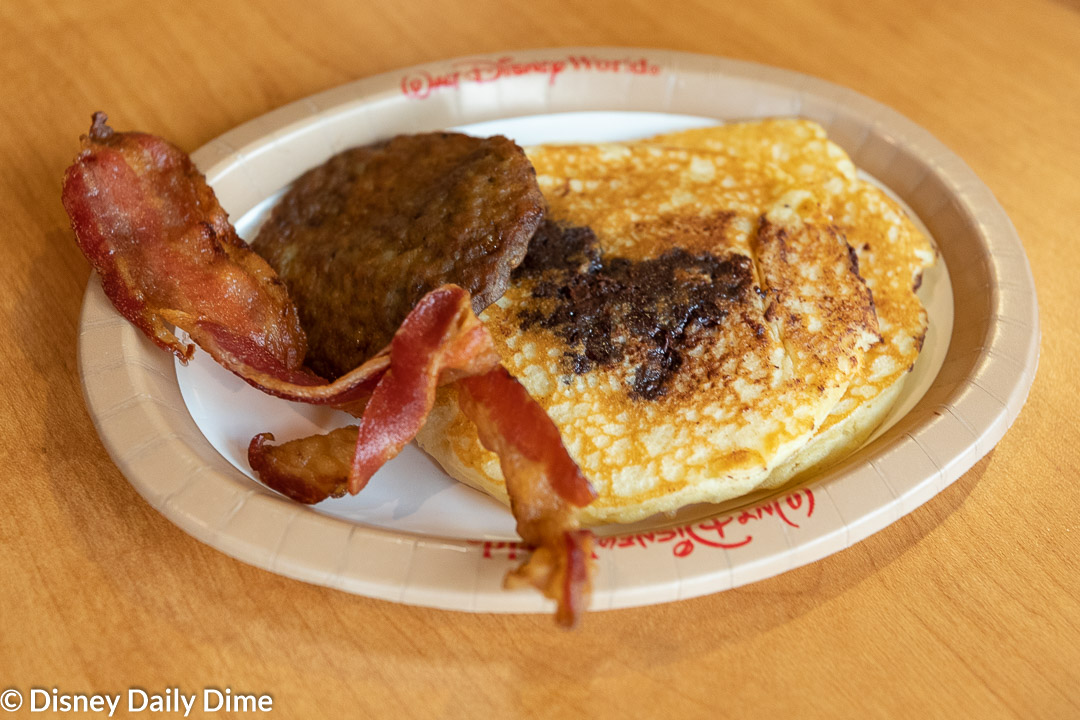 Anna ordered a kids' chocolate chip pancake meal which came with a sausage patty and a couple of slices of bacon.  She loved the pancakes, and Mike noted that they were somewhat freshly made like his and were light, fluffy and lightly sweetened by the chocolate chips.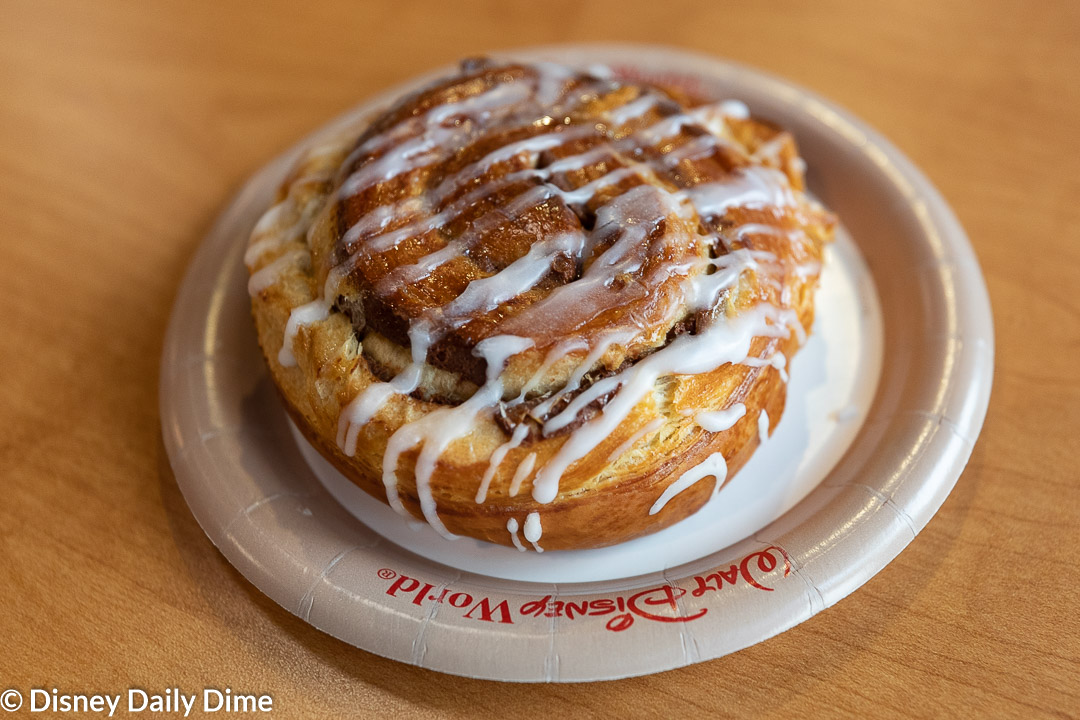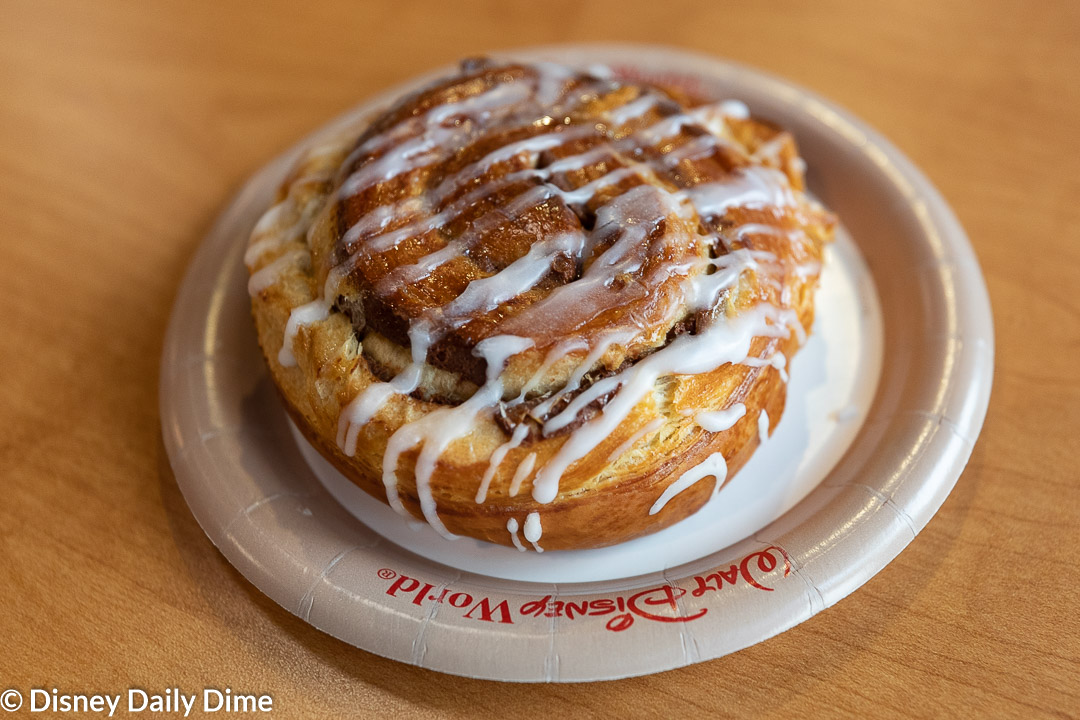 Elsa wasn't feeling a full breakfast this morning, so she ordered a side of eggs and a cinnamon roll.  The side of eggs was extremely generous and Elsa enjoyed the flaky, sweet cinnamon roll.
Lunch
Like breakfast, the lunch offerings at Everything Pop appear to be more generic food court options, with a few exceptions.  It was certainly lacking in the creativity and uniqueness of many of the offerings we covered in our Landscape of Flavors review.  In case you are wondering, Landscape of Flavors is located across Hourglass Lake at Disney's Art of Animation resort.
The serving stations feature burgers, a variety of sandwiches, chicken strips, pizza, pasta, and salads.  The dessert offerings include the infamous tie-dyed cheesecake, a Pop Century staple that has been around for many years.  The most unique items are family dinner staples like fried chicken platters, turkey dinners, pot roast, and meatloaf.  Everything Pop features fun specialty cupcakes that are always worth checking out, especially since some designs may be unique to the resort and not available anywhere else.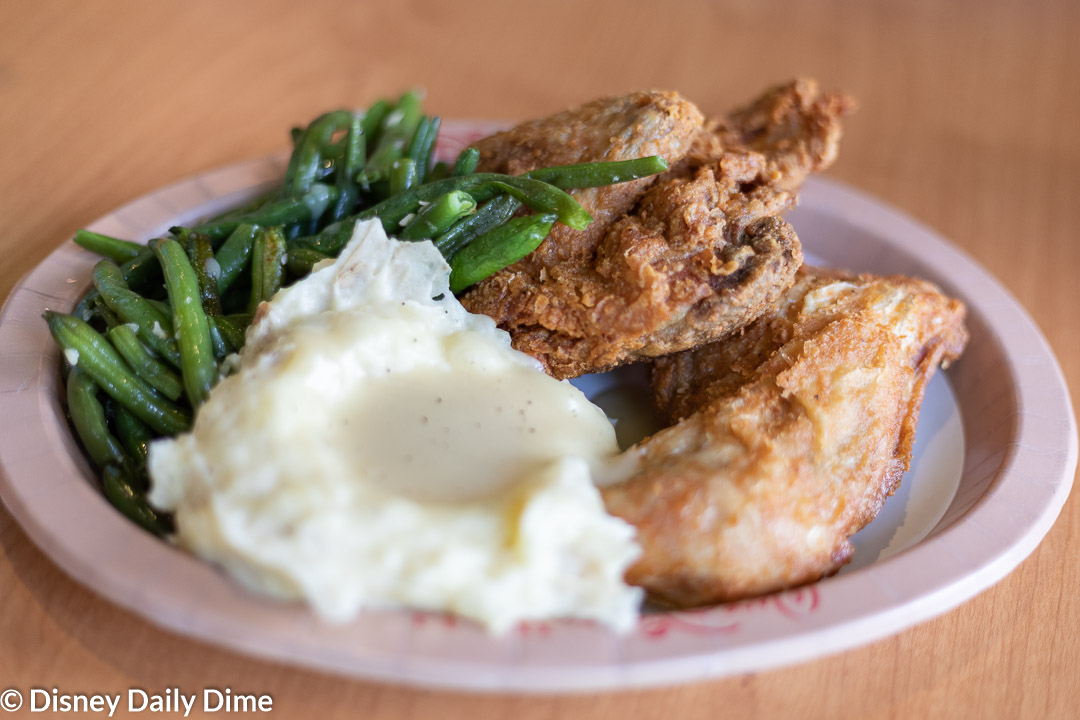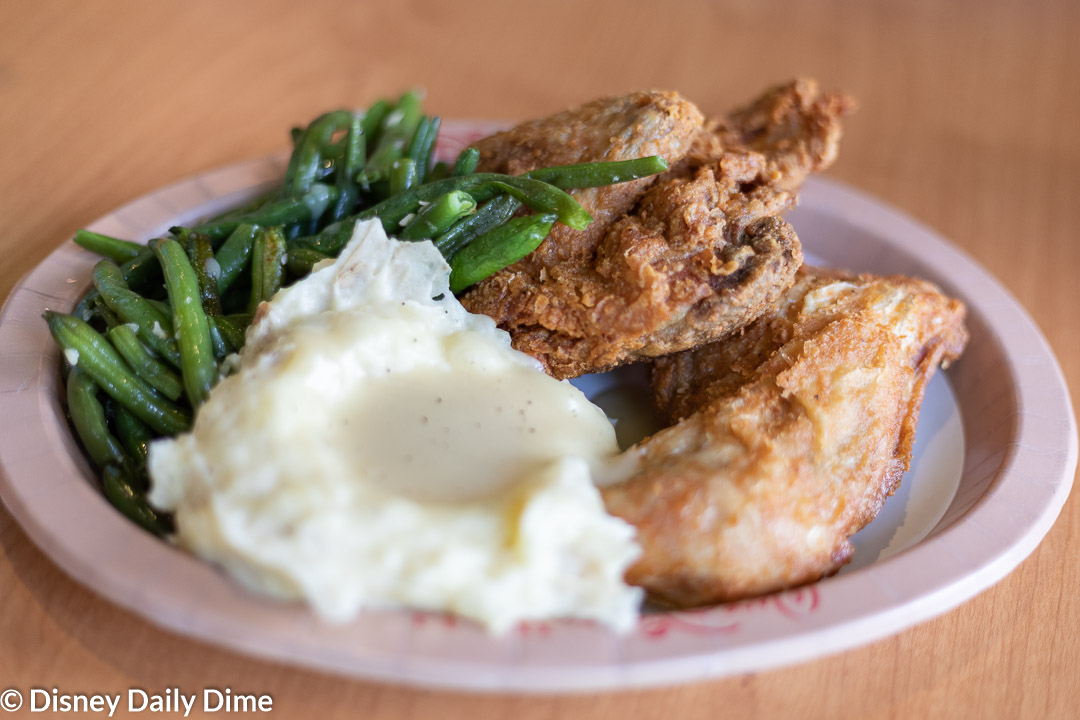 Mike ordered the House-made Fried Half Chicken, which came with mashed potatoes and gravy and green beans.  He was very impressed with the chicken – the crispy skin was well seasoned and had a great crunch.  The chicken itself was moist and had great flavor.  The mashed potatoes were pretty bland and generic, tasting more like instant mashed potatoes than fresh homestyle potatoes.  The green beans were fresh, crisp, but tender.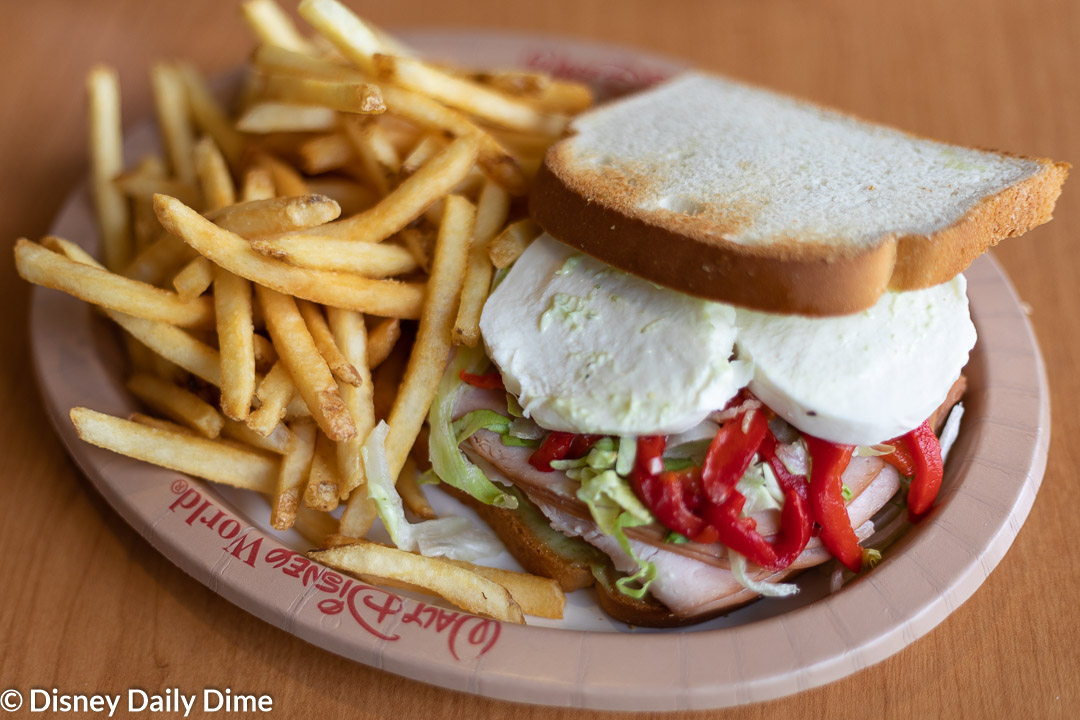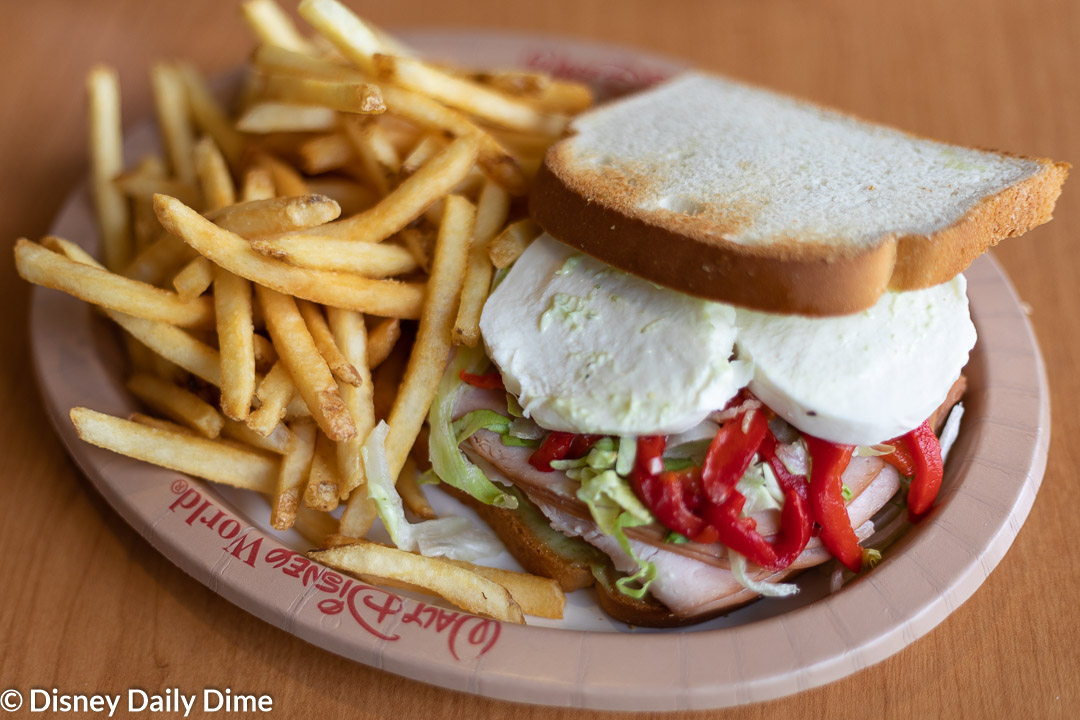 I chose a turkey sandwich which I was able to special order on gluten free bread.  The bread was toasted, which was a great touch that I appreciated as I like toasted bread and it helps keep the gluten free bread from crumbling.   The turkey was regular deli-style cold cuts, but the addition of the roasted red peppers, mozzarella cheese, basil aioli, and balsamic vinegar made this an excellent sandwich.  This definitely was not a typical turkey sandwich and I loved the flavor combination.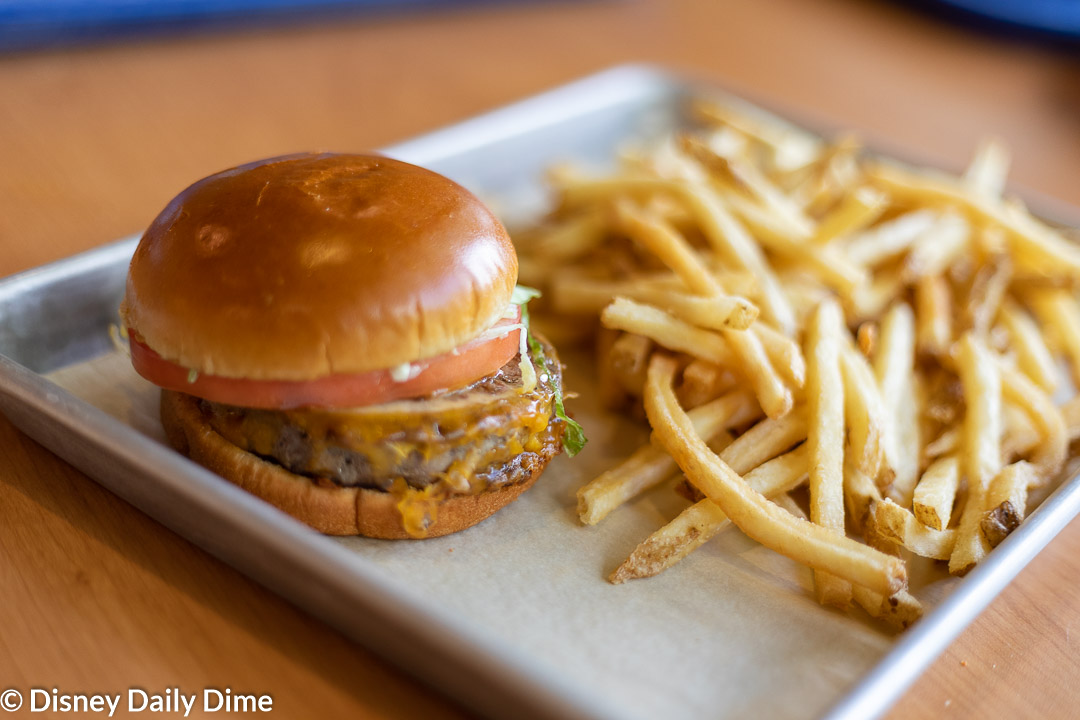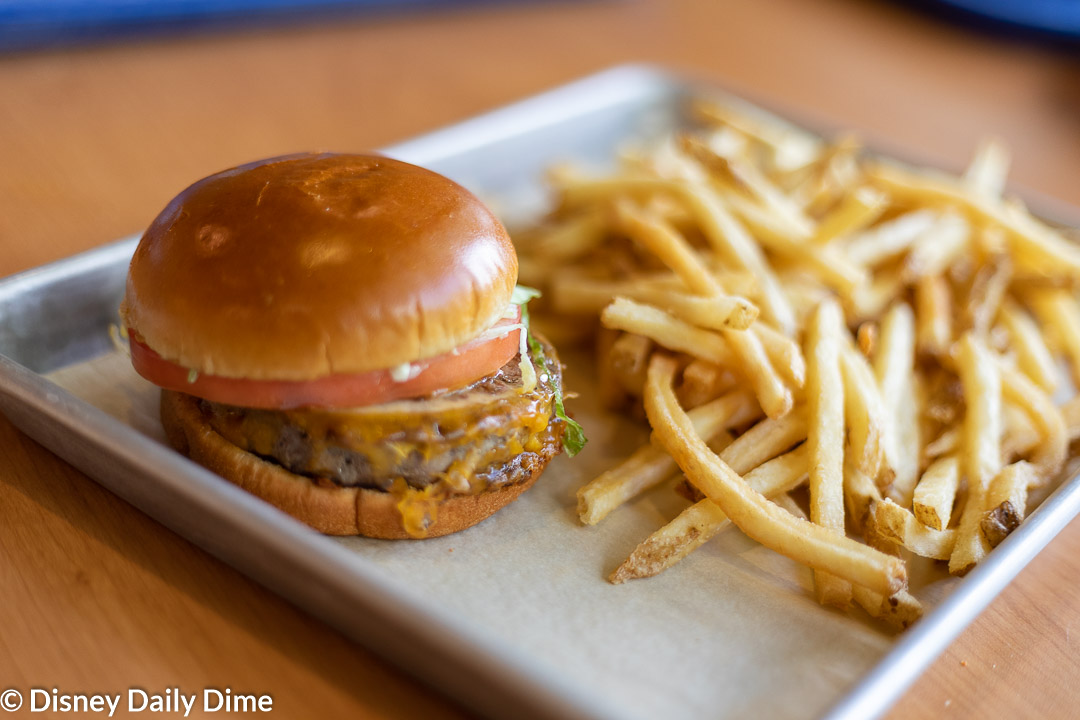 Anna had the cheddar cheeseburger meal off the regular menu, not the kids' meal.  The brioche bun was excellent but so buttery that it made it almost too greasy.   It is topped with lettuce, tomato, and a garlic parmesan sauce.  Mike noted that the entire burger was premade, wrapped in foil and served straight off the line like that.   Despite that, Anna's burger was still relatively fresh and not completely dried out, but your mileage may vary on that.   The fries were perfectly cooked and nicely salted.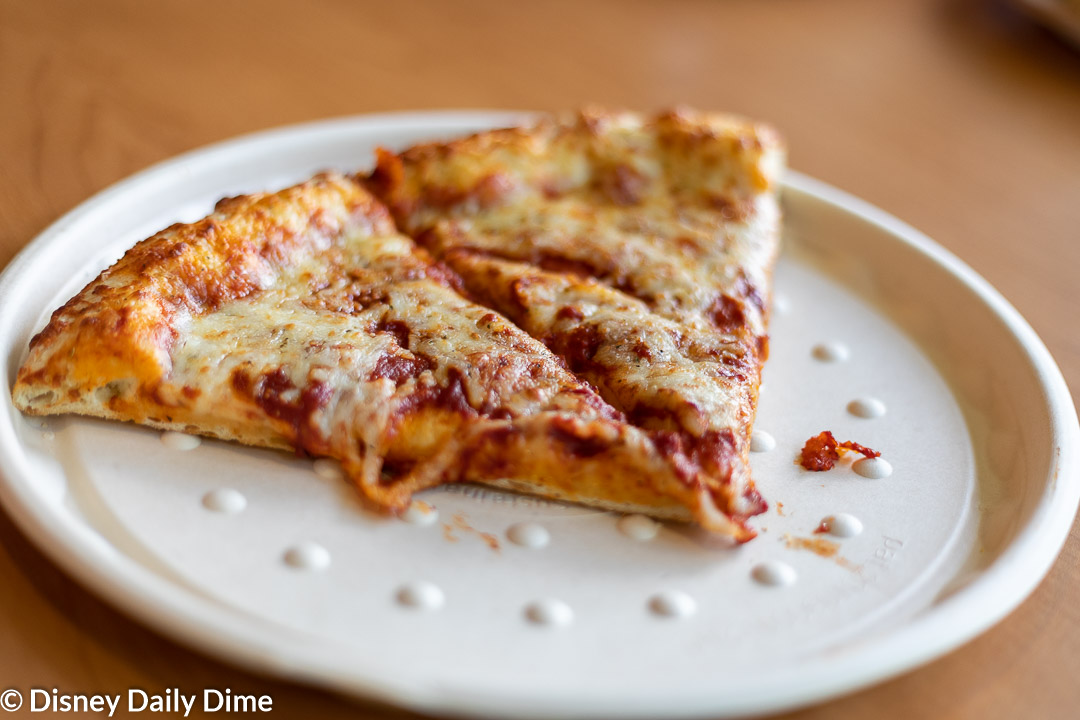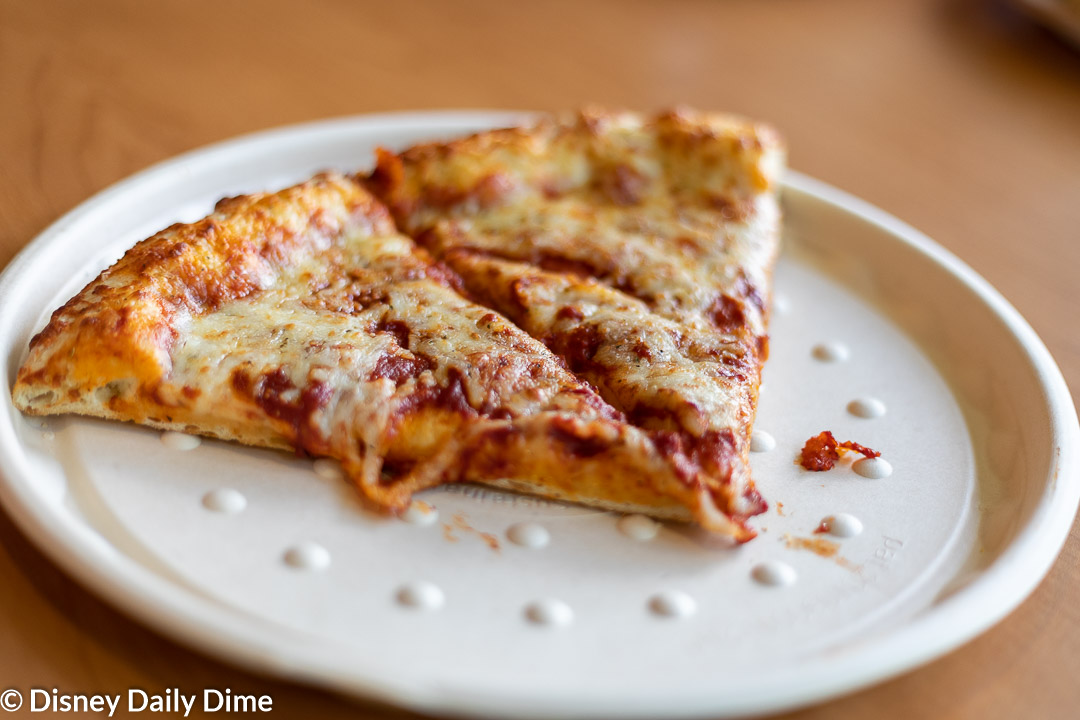 Elsa ordered the monster slice of cheese pizza which is about a quarter of the pie; it was that big.  She enjoyed the pizza, especially since they were very generous with the cheese topping.  It had a good ratio of pizza sauce to accompany the cheese.  The crust wasn't thin but wasn't deep dish, and it was light and pillowy on the inside with some crunch on the outside.  It sits out on the serving line too so the freshness can also vary depending on when you are ordering.   We will say that Mike took a bite of the pizza to get an adult's perspective, and he found the pizza pretty blah.  There wasn't much flavor in the sauce, and you could tell it had been sitting on the serving line for a while.  We'd say it may be okay for kids, probably not so much for adults.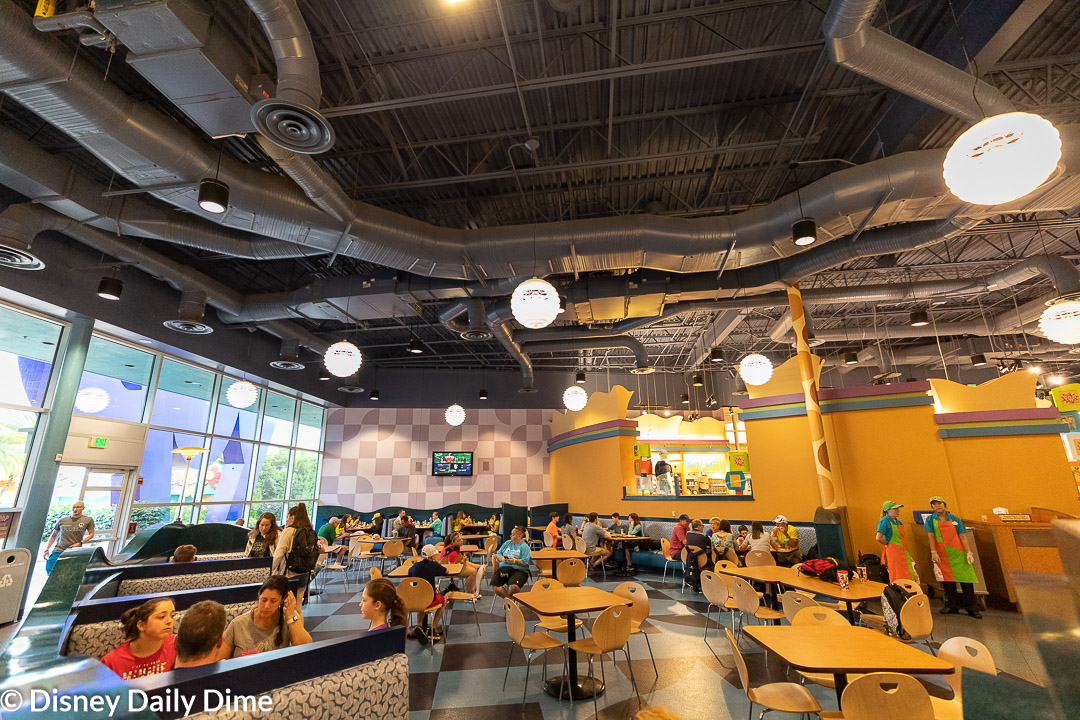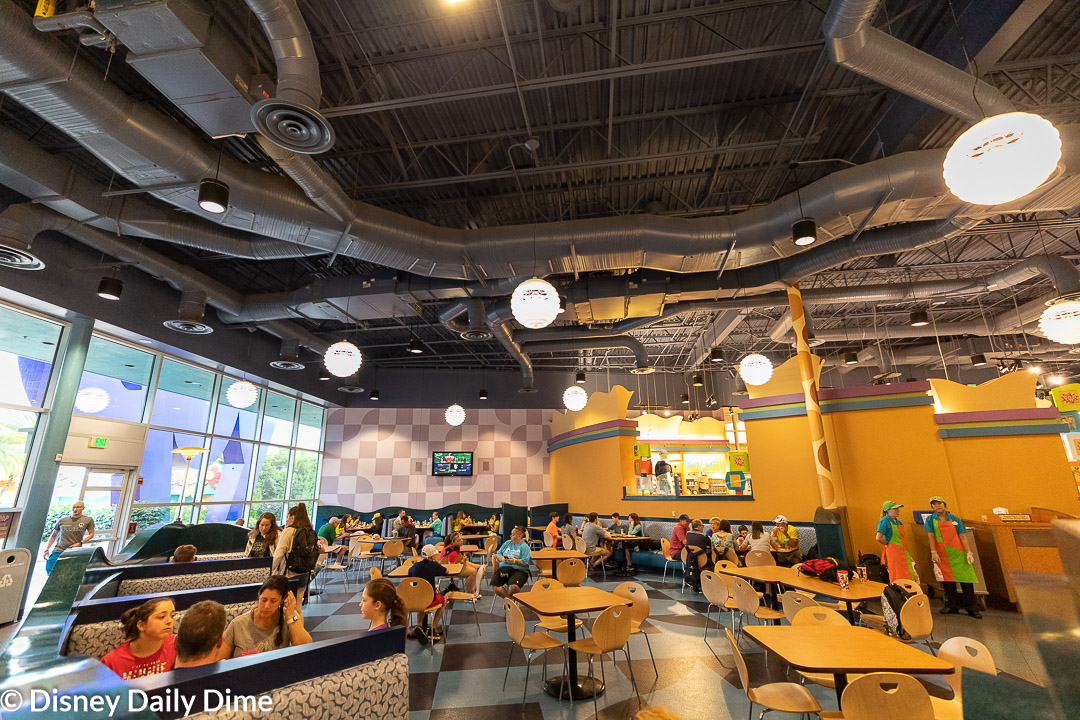 Everything Pop Review Overall Impressions
While we did hit some highlights, overall we thought Everything Pop was relatively mediocre and was virtually exactly what you would expect from a value resort food court.  While we would rank it higher than All Star Sports' End Zone Food Court, later in our trip, we were absolutely blown away by Art of Animation's Landscape of Flavors.  That places Everything Pop firmly in the middle of those two.
It has no real hint of a theme that ties into the resort.  It probably has the weakest tie in of all the value resorts we have seen.  That said, the restaurant is open, light, and visually appealing.
We appreciated the enhancements to the typical menu items by way of sauces and toppings but still wished there were more unique offerings.  Given how busy this food court is, the food turns over quickly, which should help with the freshness factor of the food you are served.   This may not be the case in off-peak hours during the day.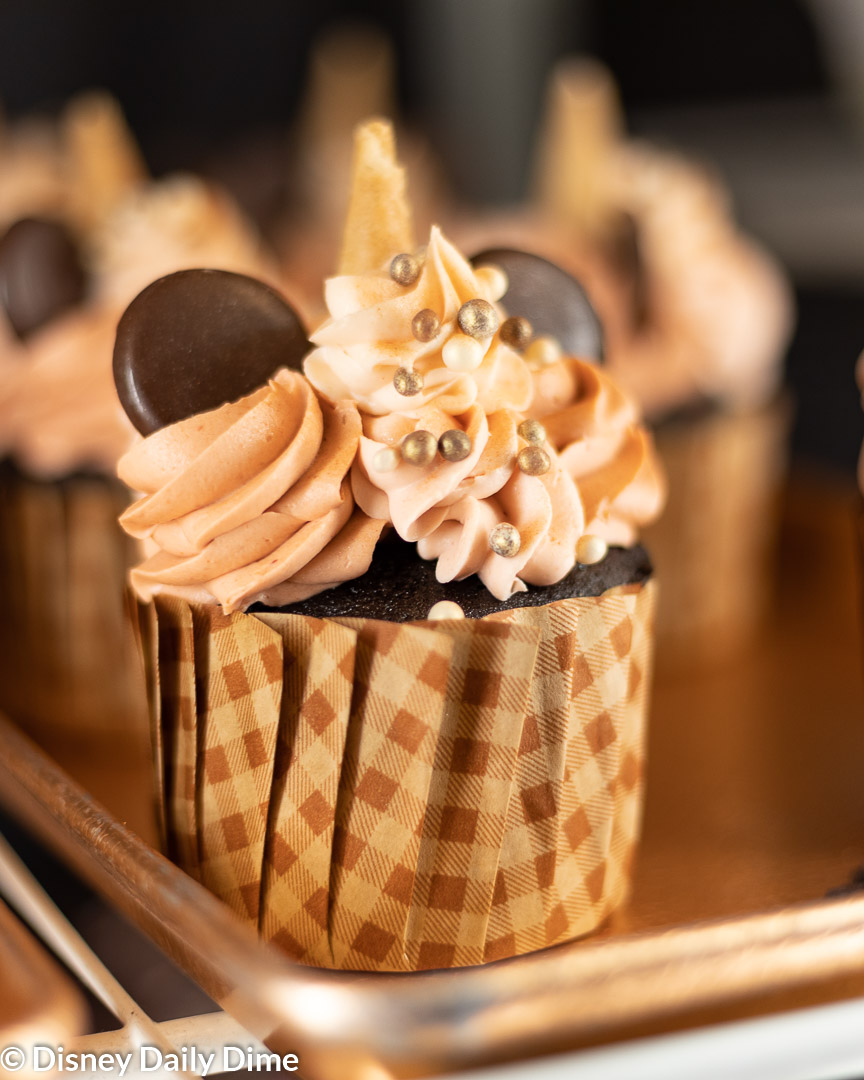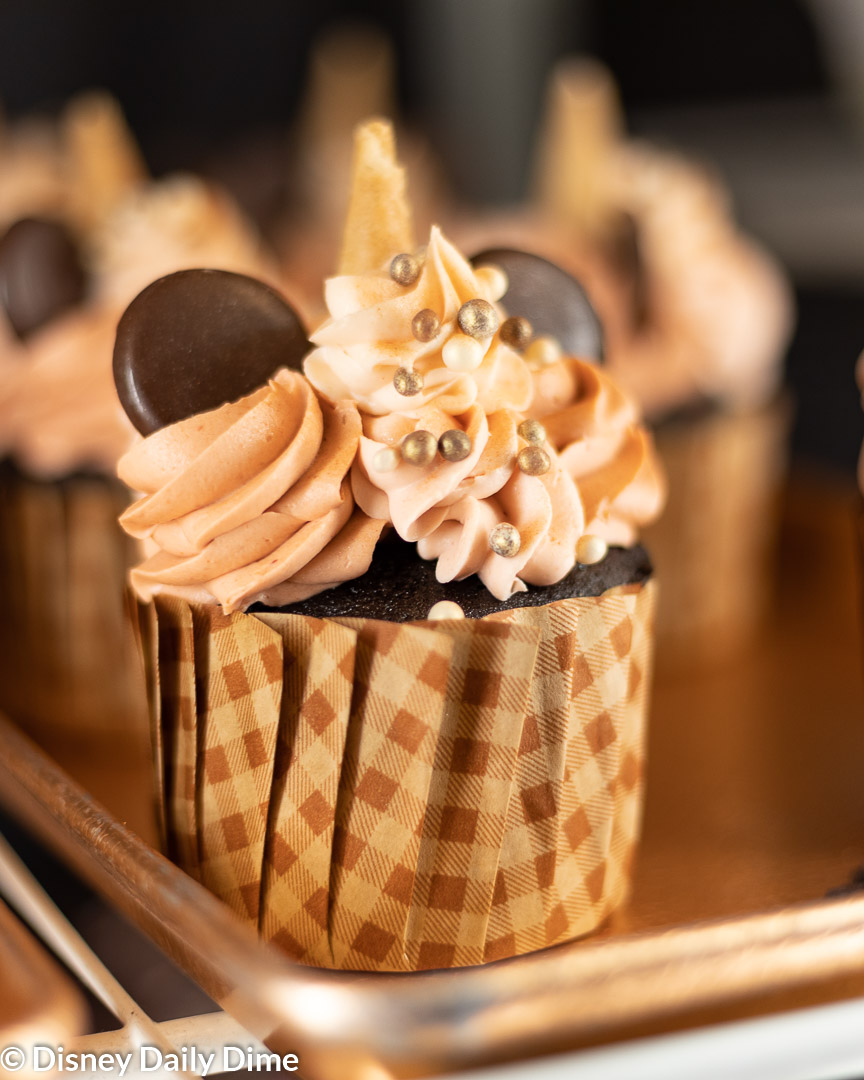 We enjoyed our stay at Pop Century and look forward to staying there again.   We definitely preferred the lunch and dinner offerings at Everything Pop over breakfast, but we would eat either meal here again.  You just have to be thoughtful about what you order.  If an entrée looks premade or that it sat on the line for a while, you probably want to avoid those items.  Given the short walk across Hourglass Lake to Art of Animation, we wouldn't hesitate to eat at Landscape of Flavors over Everything Pop, if we don't see something to our liking on the menu.
Wrapping Up
With that, we'll wrap up our Everything Pop review.  It's a middle of the road Disney World value resort food court.
If our Everything Pop review was helpful, or at least entertaining, please like and share this with your friends or anyone you think will find it useful.  Just use the sharing buttons on the page.  We always appreciate it when you share our posts, as it allows us to spread the word about our young blog and hopefully allows us to help others.