Within the confines of Disney's Polynesian Village Resort there are a handful of different rooms available.  While the rooms may be slightly different, they all have two important common traits.  First, they are at one of the best themed resorts in all of Disney World.  Second, they all come with a hefty price tag.  Given that, we think you have an easy choice of which room you should book if you stay at this resort.  But everything is in the eye of the beholder, so we'll do a more detailed Polynesian Village Resort room review in this post.
This review will largely focus on the aspects of the room we like or didn't like, the differences between the room options, the price of each room and of course several pictures of a Polynesian Village Resort room.  We'll also give you our thoughts on the value and merits of the different room view categories.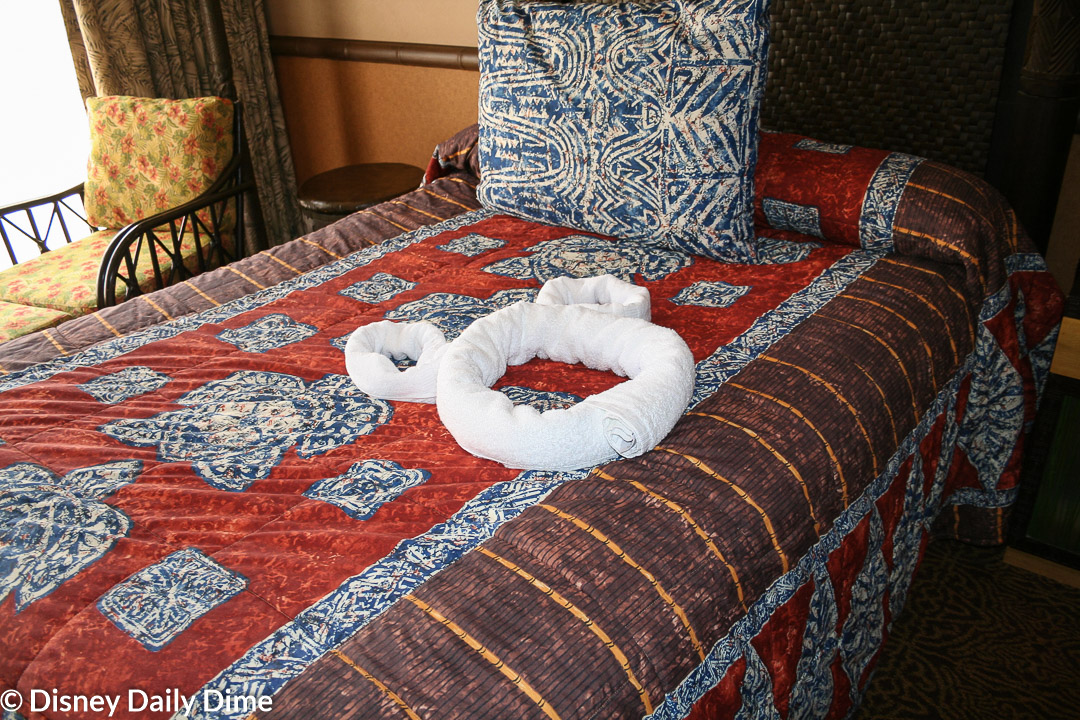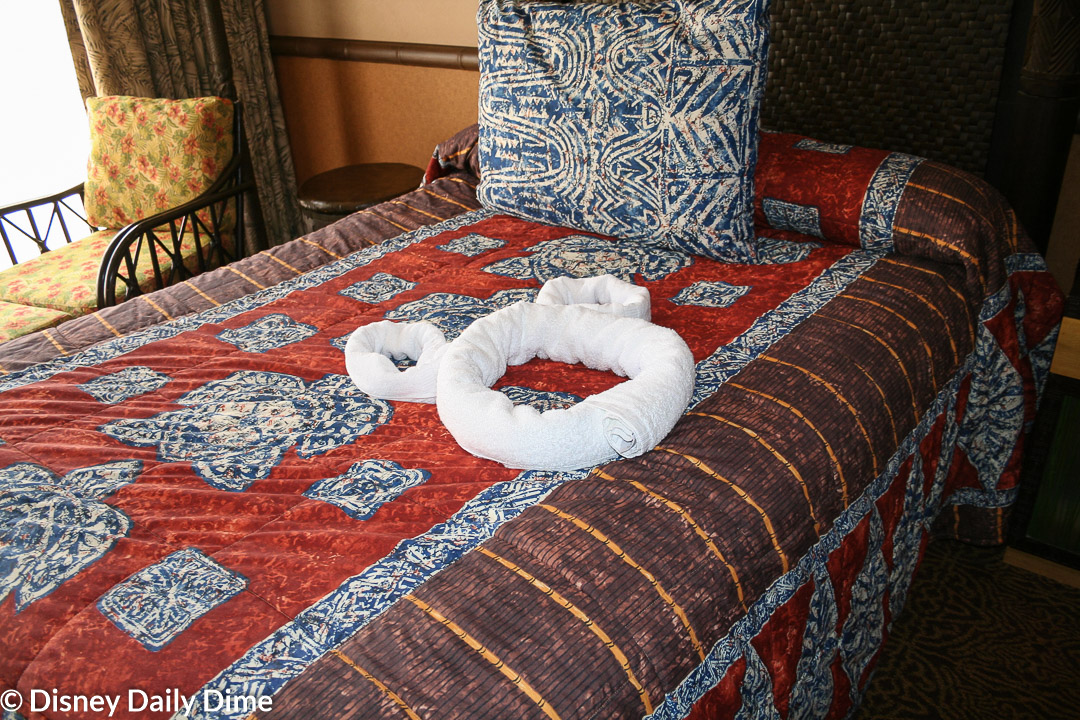 The Polynesian Village Resort Rooms Were Refurbished a Few Years Back
The Polynesian Resort received a major refurbishment that was completed in 2015.  As part of this refurb, the Polynesian Village Resort rooms all received major upgrades.  Above you can see a picture of what the rooms roughly looked like back in 2011 before the refurbishment.  Not the best picture, but it's one of the better ones I could find from our earlier trips to the Polynesian.  What can I say, it was long before we thought of a blog.
Before I get into specifics on the room, I wanted to point out that almost all of the rooms within the Polynesian are similar from a room design and style perspective.  The main differences are associated with the room views and where the rooms are located on property.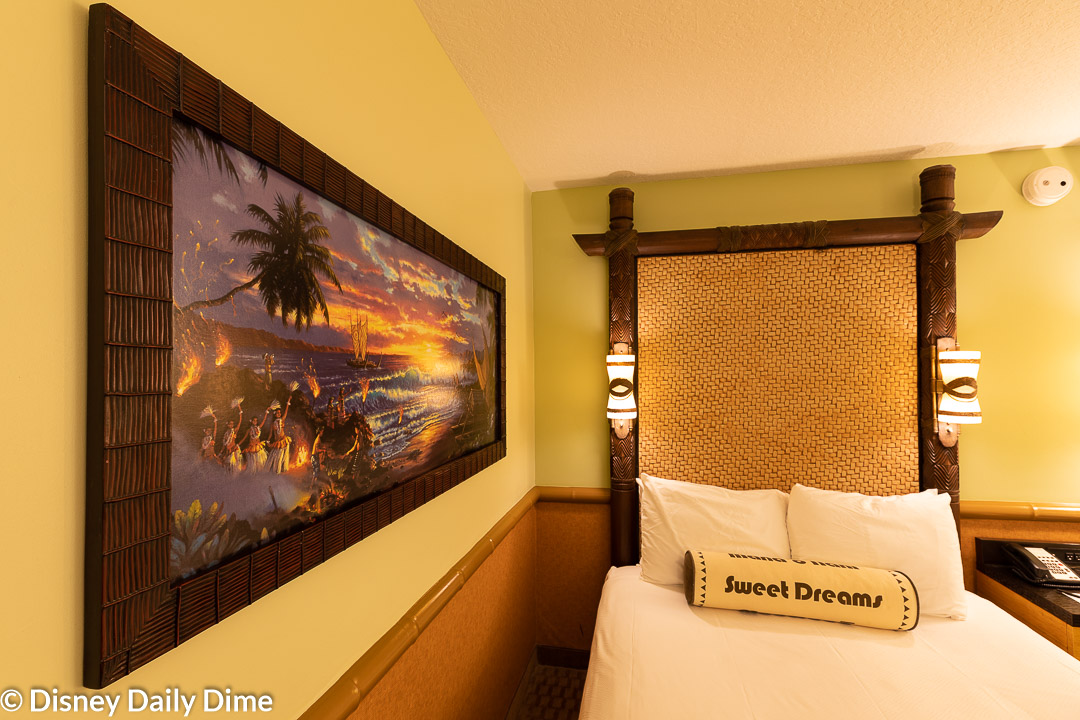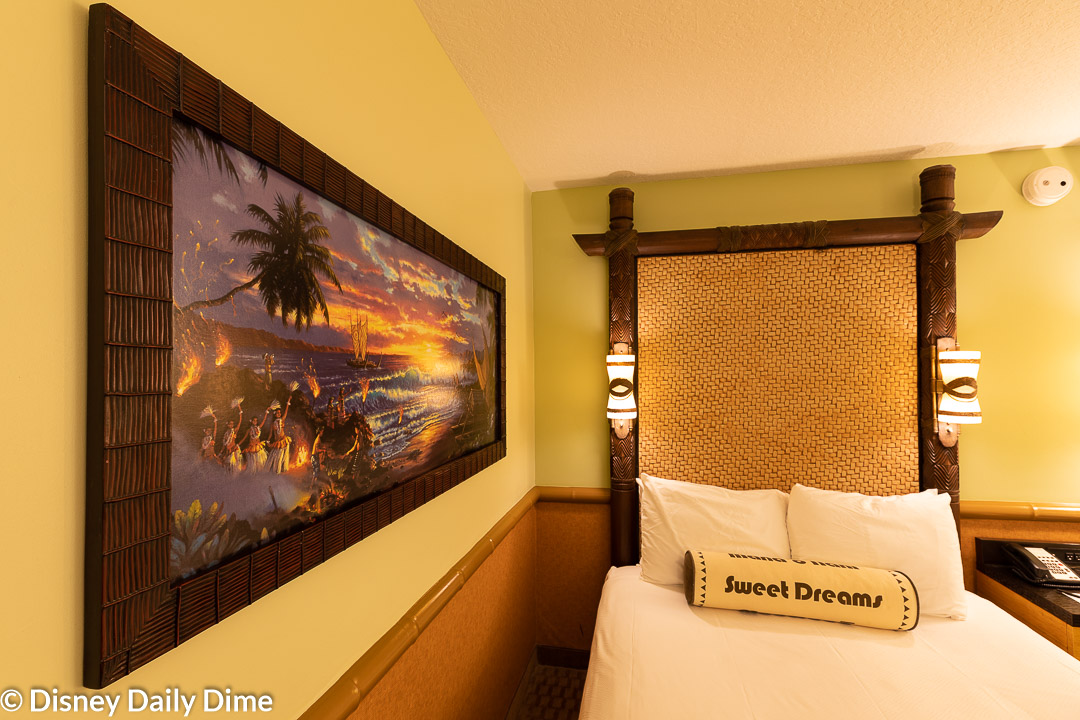 Living Area
As part of the refurbishment, the Polynesian rooms were significantly upgraded.  Gone were the red linens and dark tones of the carpet, walls and headboard.  What replaced that was a much lighter, bright and more vivid room.
You'll find the interiors have walls that sport a light green color.  The headboards on the queen beds have a light-colored wicker look.  The feel of the room is so much more improved from what it used to be.  And if you have two kids you are sharing a bed with, the queen beds are nice options, but not a reason to choose this room or the resort.  All deluxe resorts have queen beds.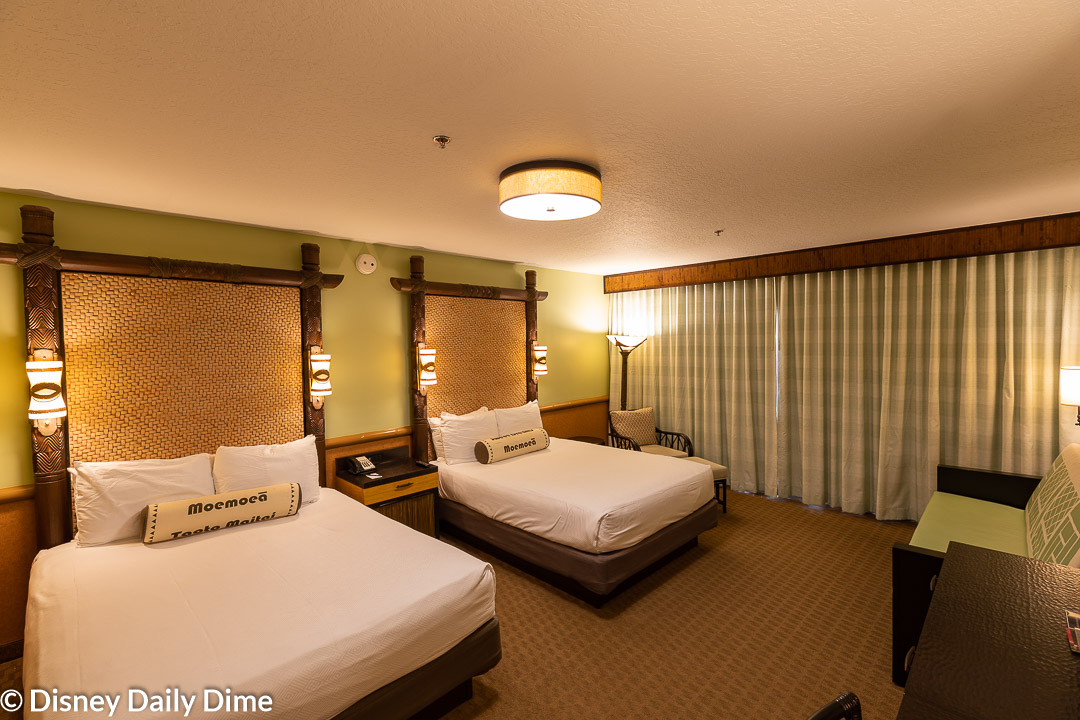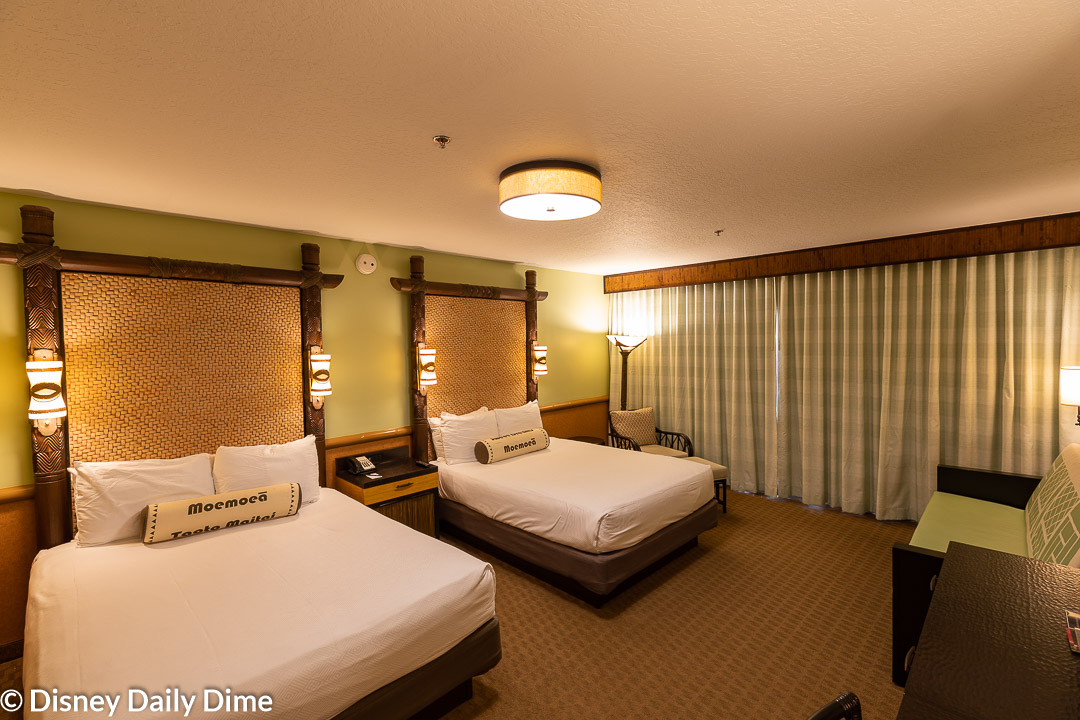 The rooms are 415 sq feet, which is a good-sized room for Disney World.  You'll find a room with a sense of space and depth.  While we didn't have a stroller with us on this trip (thankfully, we've moved past that stage), we have had one here before.  Having the extra 50 or 100 square feet that this room gives is very helpful if you do have a stroller.  Carla and I found that we didn't need to collapse the stroller completely and still felt like we had space.
One of the things I really appreciated about this room was the presence of numerous plugs for electronic devices.  I'm not sure about you, but we have lots of devices, cameras and more with us when we travel.  Some of the plugs are straight USB jacks.  It was almost the antithesis of our stay at Wilderness Lodge, where plugs were hard to come by.  Still love that resort, just not the plug situation.  For a resort that is almost 50 years old, the Polynesian feels like it is ready for the next 50 years.  Well, maybe 20 years.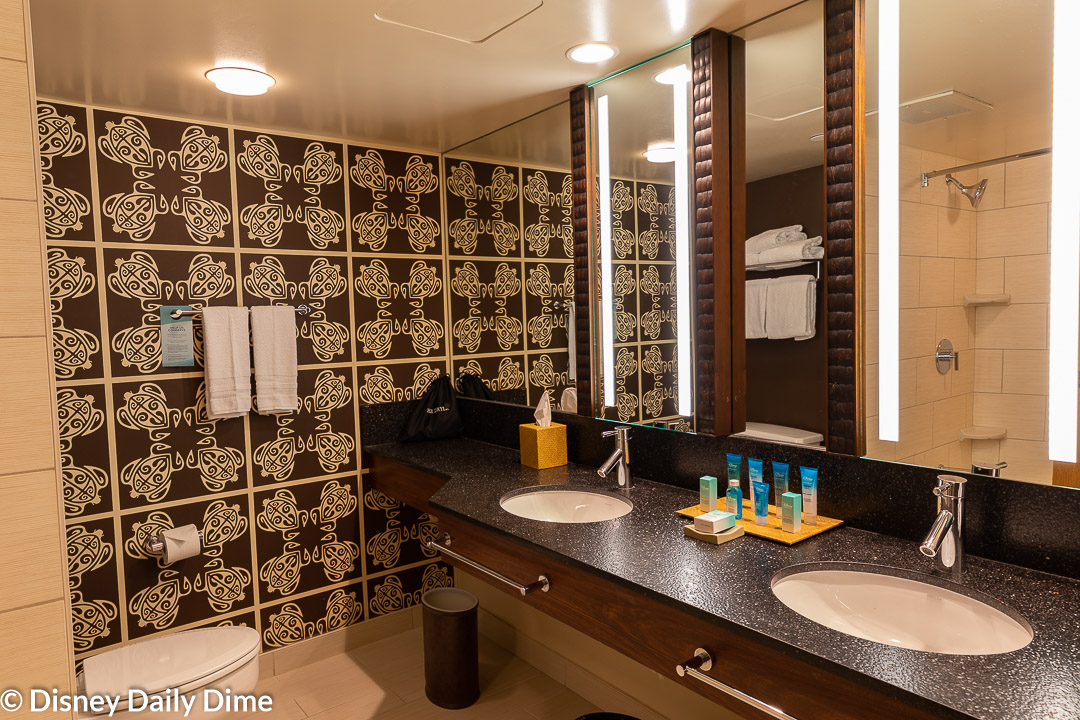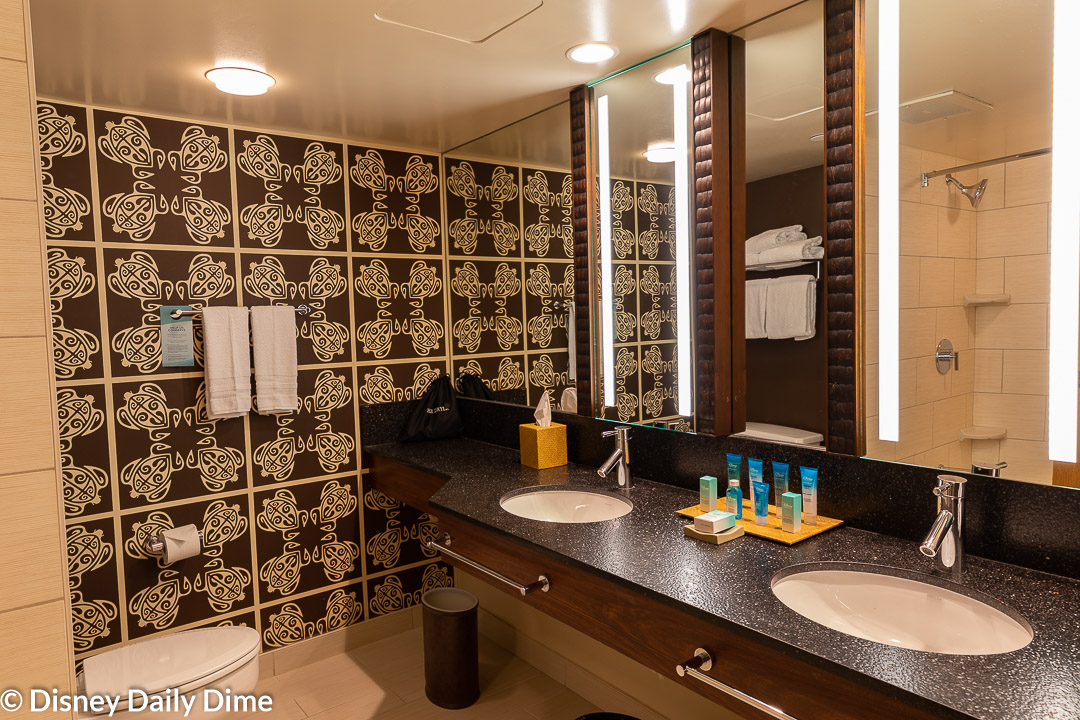 The Bathroom and Sink Area
The one downfall for us in this room comes with the bathroom and sink area.  Not because it isn't well appointed.  It actually is.  Rather because the sink area is in the room with the toilet and shower.  This makes it impossible to do simple things like brush your teeth if someone is using the facilities or showering.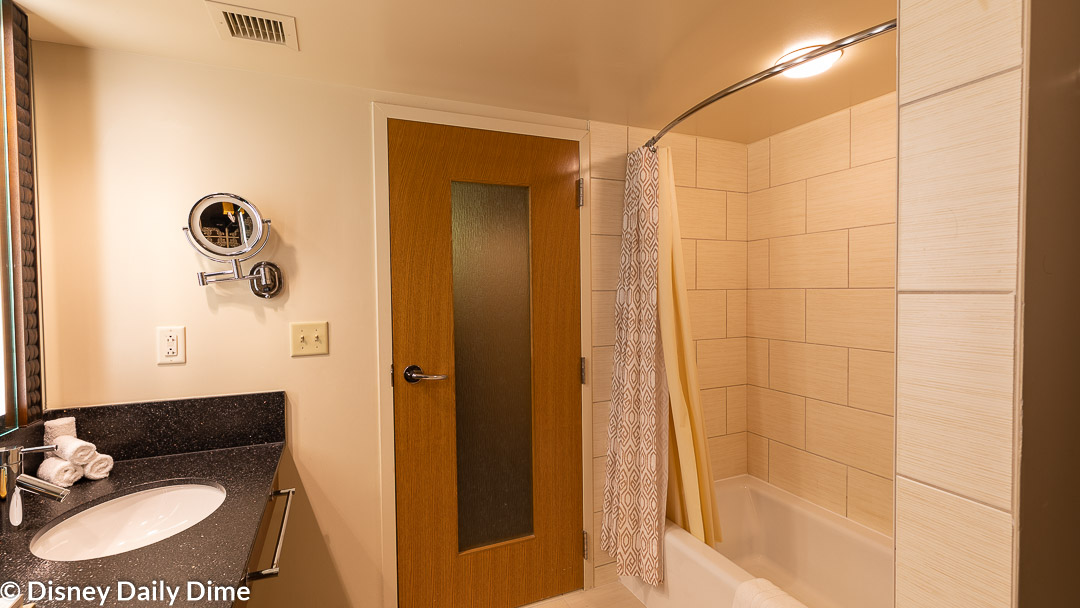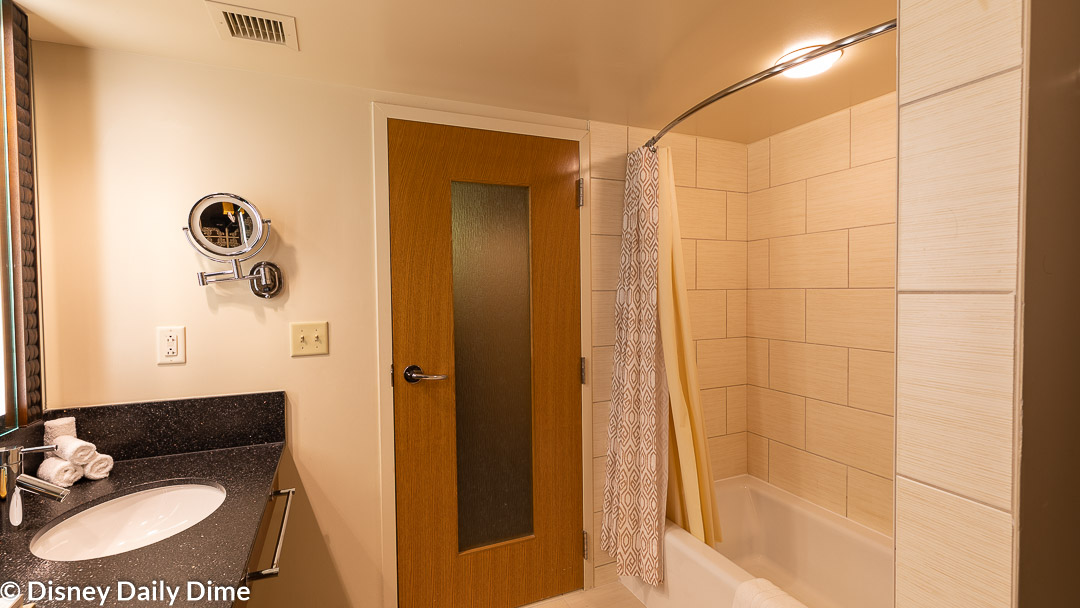 As far as styling and finish, the bathroom has a sleek and modern feel to it, with huge mirrors.  The shower is a good size but it still leaves plenty of room in the bathroom to hold more than two people if you're all trying to brush your teeth.
When Anna and Elsa were smaller, we used to sit them on the counters so they could brush their teeth.  There's ample counter space to do that and still get yourself ready for bed.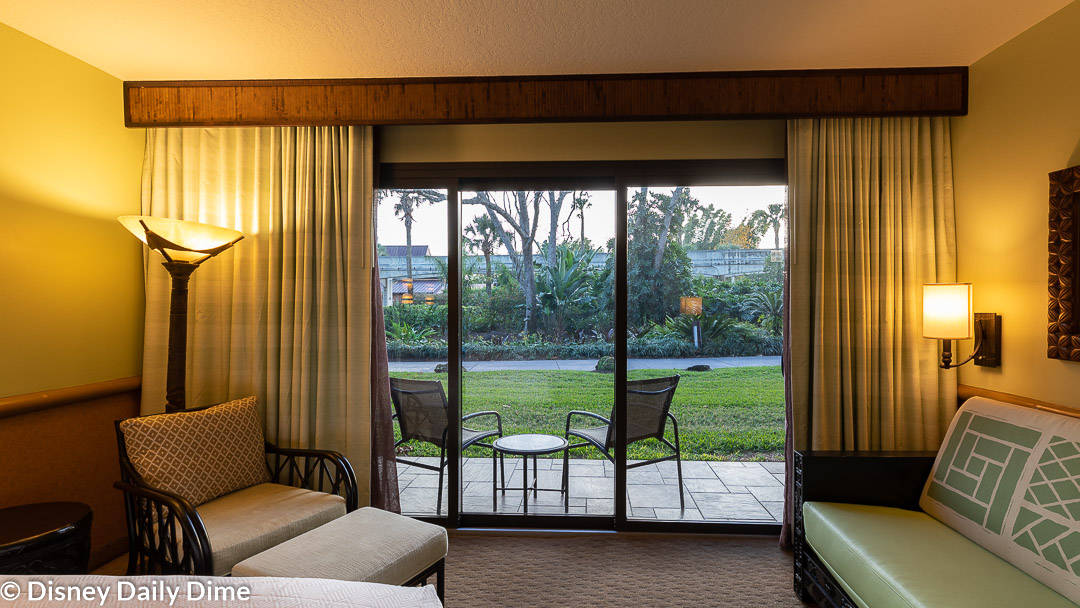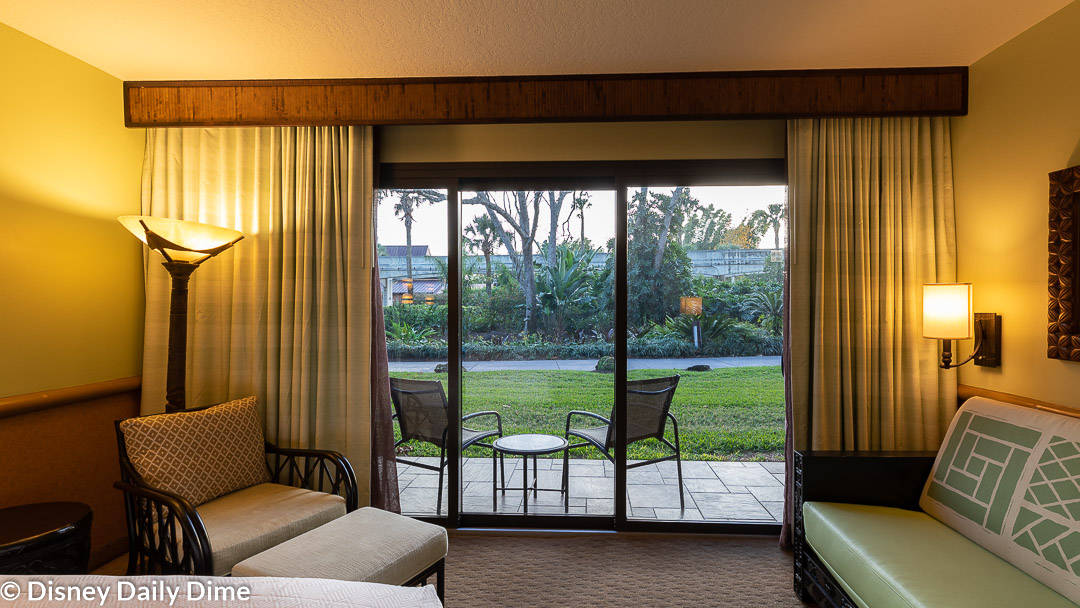 There Is Truly No Bad Room View at The Polynesian, But You'll Pay For The Better Views
If you know much about Disney World, you probably know that standard room views can be pretty blah.  However, at the Polynesian these rooms have lush landscaping and greenery that makes the view still appealing.  Yes, you can see parking lots, monorail lines and sides of other buildings, but it's all softened by the presence of the vegetation.  As you can see in the above picture, this room had a lovely view of the monorail line, which was partially camouflaged by some greenery.
If you want to move up the food chain on room views, your next option is a Pool or Marina View.  This view will give you just that, a view of either the Lava Pool, Oasis pool or looking out over the marina.  To give you an idea of what the marina looks like, you can see it in the picture below.  You should know that at rack rate prices, this room view option will cost you around $80 per night more than a standard room view.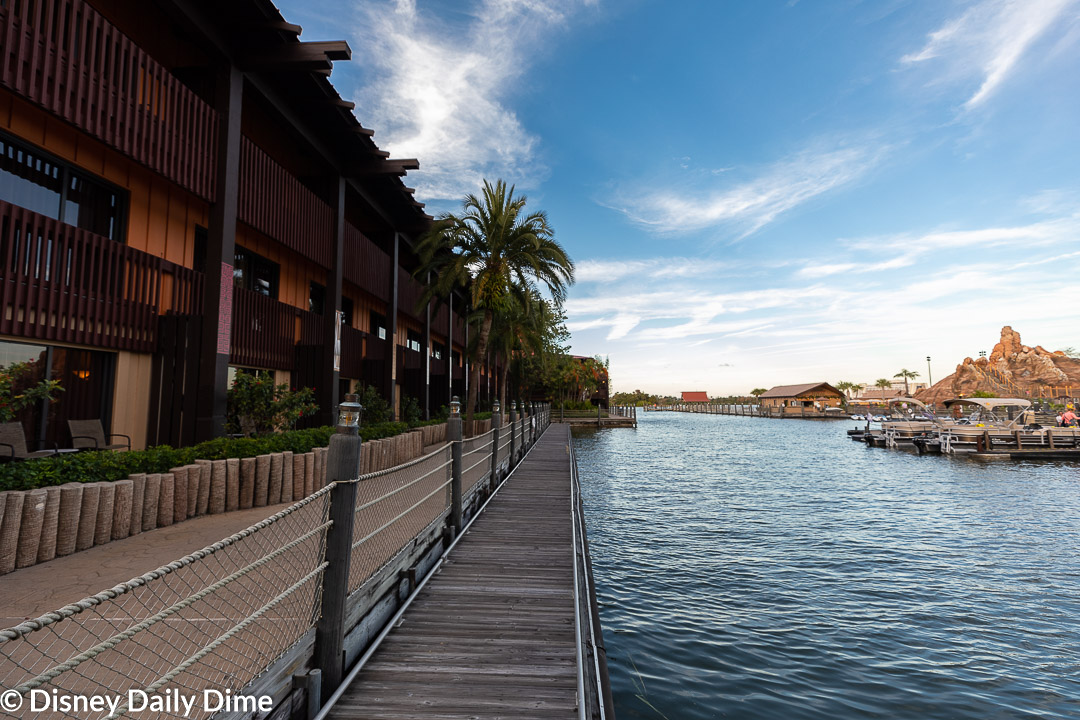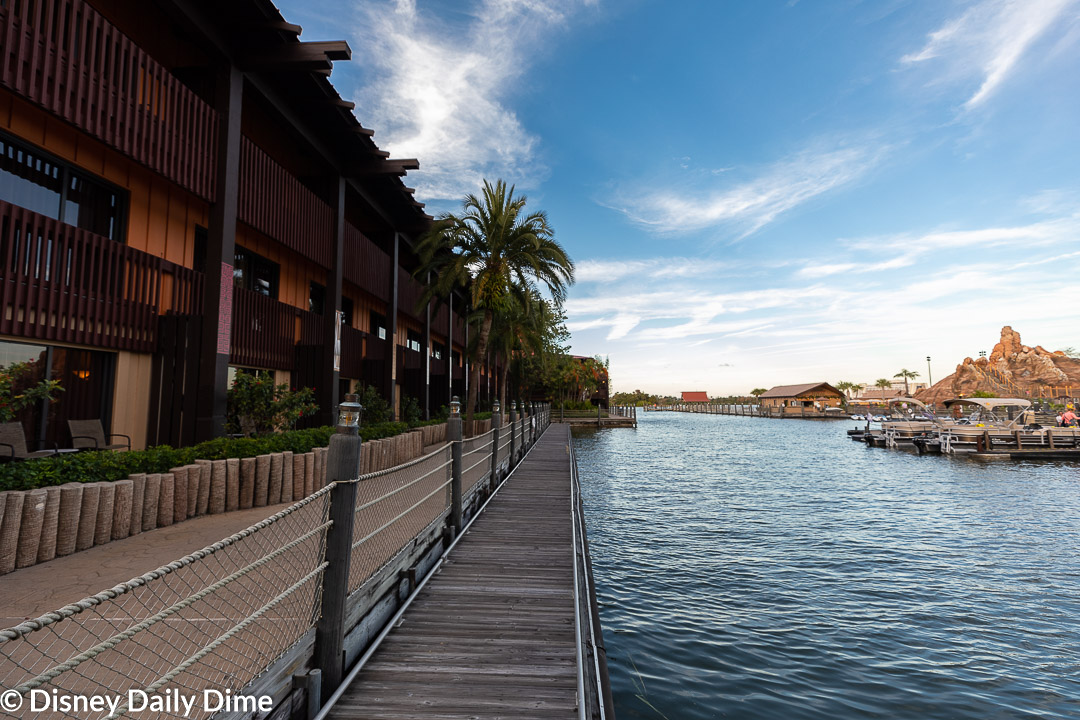 The next view option is a lagoon view.  These rooms are oriented so that you face towards Seven Seas Lagoon, however they are pointed in a way that you don't have a direct view of Magic Kingdom.  Some of the views can be partially obstructed by a palm tree.  The lagoon views will run you somewhere in the range of $140 – 200 per night more than a standard room view.  Do note that there are club level rooms with a lagoon view available.
There is a garden view room available also.  These views are part of the club level at the Polynesian Village.  Based upon our research these rooms face to the south of the resort and look out towards the Oasis pool.  These rooms will run you around $200 per night more than a standard room.  Remember, this isn't just room view difference.  You also get access to the club level concierge amenities.  This includes a club lounge, where they serve food throughout the day.
The "granddaddy of them all" room views are the theme park rooms.  As you might guess from the name, these rooms have direct line of sight towards Magic Kingdom.  It's an awe-inspiring view towards Cinderella Castle to wake up to.  It may be even more impressive to watch Happily Ever After from your room right before you put the kids to bed.    Equally impressive is the price of these room.  In the range of $697 – $1,027 per night, these rooms are $200 – 250 per night more expensive than a standard view room.  At that price, you better watch the Magic Kingdom fireworks show from your room every night!  Similar to the lagoon view rooms, you can also get a club level room with a theme park view.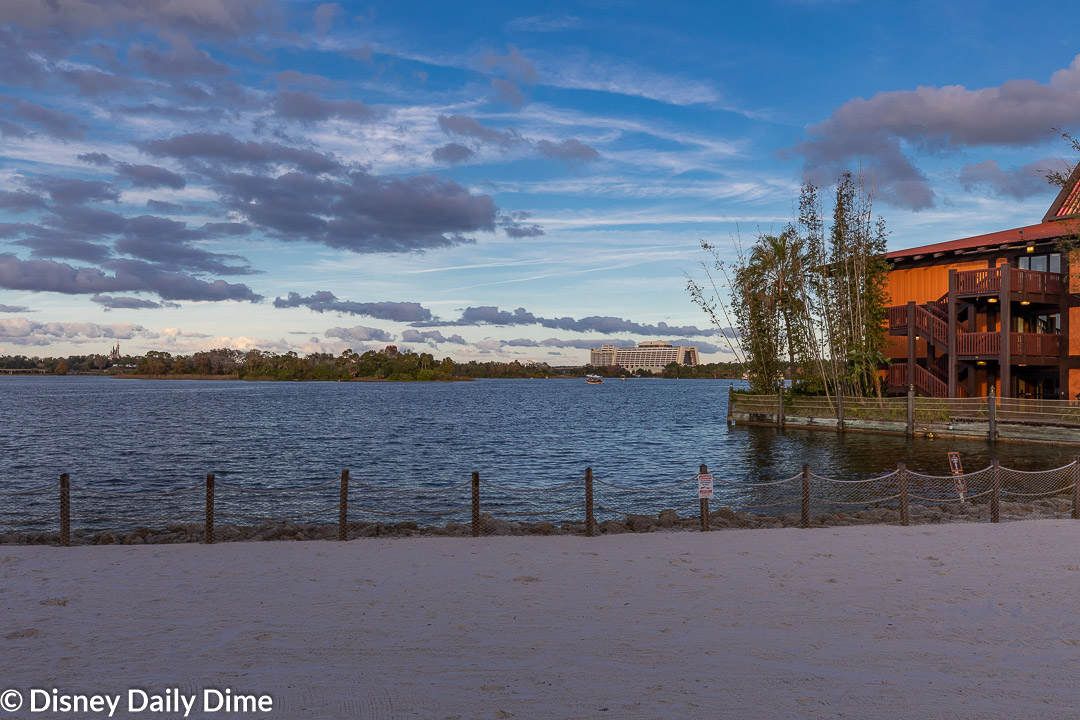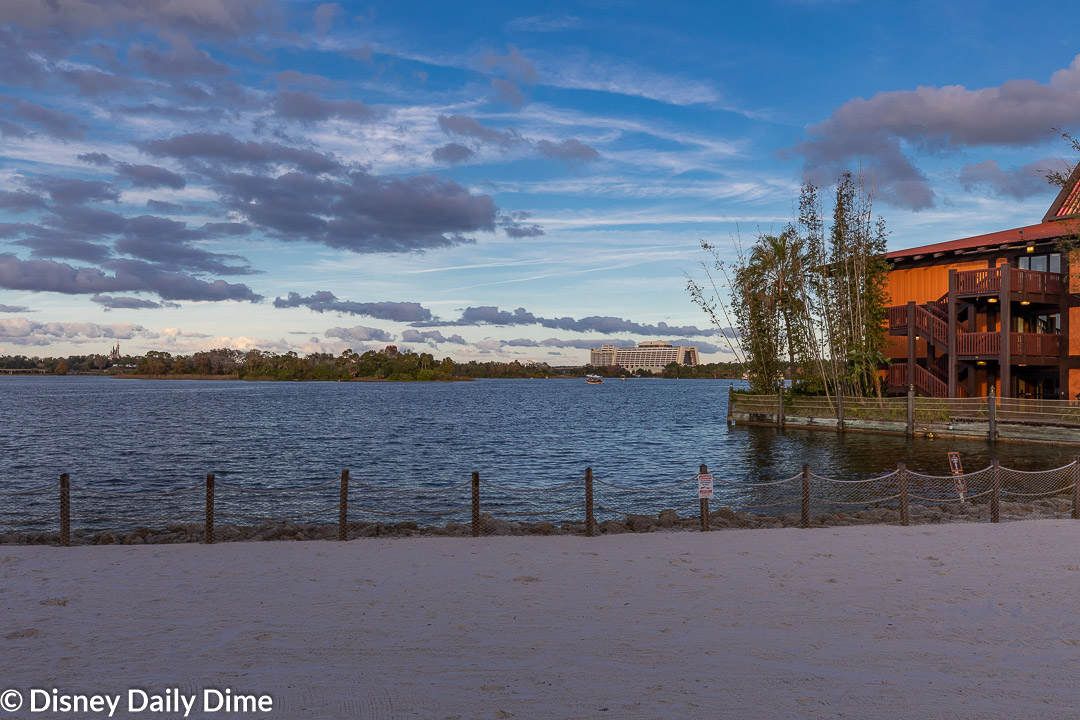 The View You Choose Will Impact Where Your Room Is Located
If you've read our Polynesian Village Resort Review, you know that we spent a lot of time talking about the longhouses on property and the implications of them.  We won't rehash that conversation here, but we do think you should know where the various Polynesian Village Resort rooms are located.  By booking a standard view room at the Polynesian you will limit where you can be on property.
As a point of reference standard rooms are available in Niue, Rarotonga, Fiji, Tuvalu and Aotearoa longhouses.  This doesn't include the standard rooms that are park of the DVC longhouses.
The plus of these longhouses is that they almost all sport a central location in the Polynesian Resort.  The exception is probably Aotearoa which may feel a little far out if you're on the far western side of it.
The lagoon and theme park views will generally get you closer to Seven Seas Lagoon.
Pool and Marina views will have you fairly centrally located on property.
The Garden View rooms are all in the Hawaii longhouse.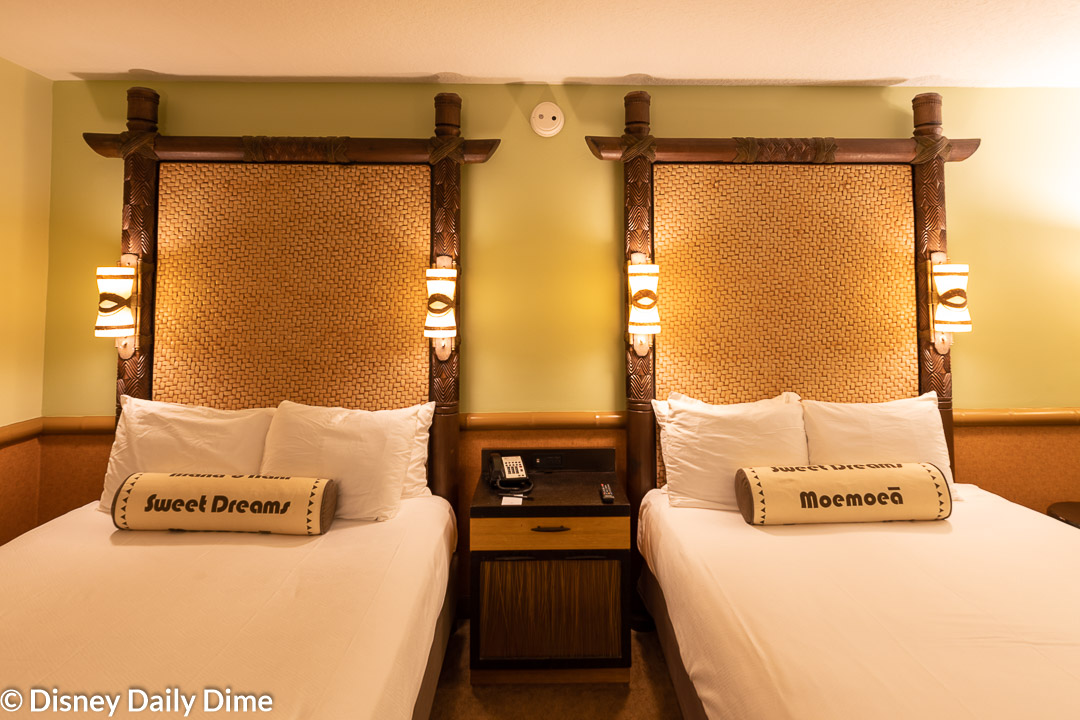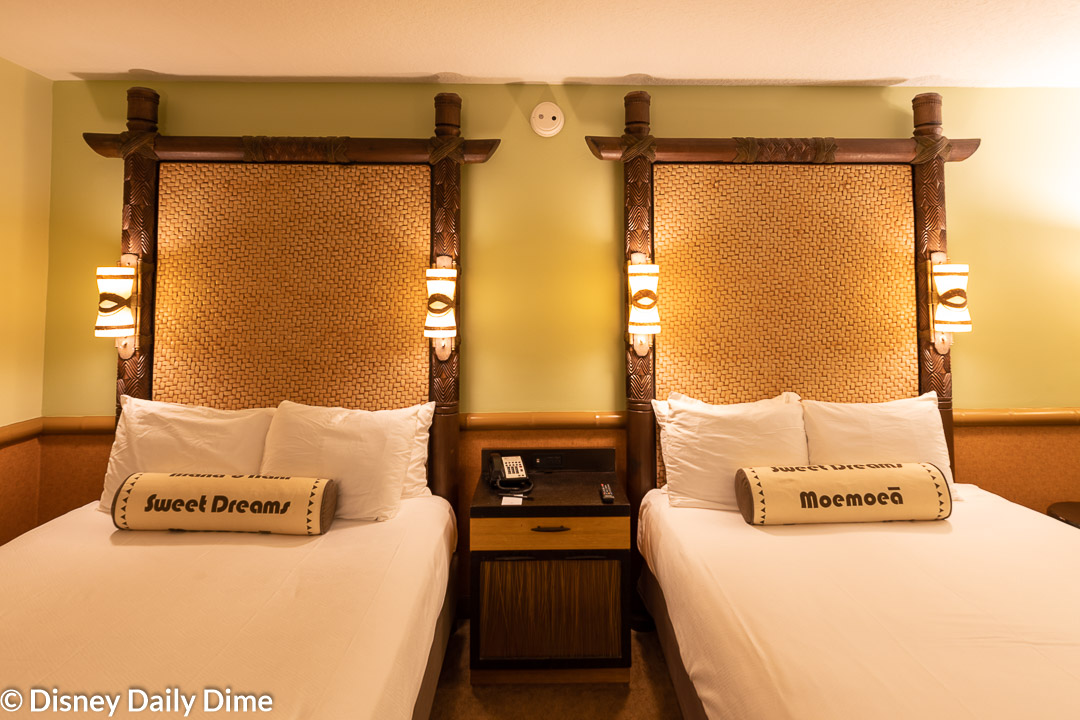 The Polynesian Village Resort Rooms Are All About Price
If you're staying at the Polynesian Village Resort you've already committed to paying a hefty price for a stay there.  And we'll be the first ones to admit that the theme, pool, and overall ambiance of the resort make it worth staying here.  We do recommend you not pay rack rate prices to justify it though.  Make sure you find a deal.
Now, the size of the price you pay can vary depending on which room you choose to book.  Depending on time of year, a standard room can run you as $485 per night (on cheaper nights).  Other rooms at the Polynesian Village can escalate to almost $700 per night (again on cheaper nights).  Why pay that higher costs when you can experience all of the things we love about the Polynesian Village resort in a standard room?  We personally don't think there's value in the higher end rooms.
So, if you're looking to save a smooth grand (or more) on your stay, we think it makes the most sense to get a standard room.  Yes, the theme park views are awesome.  However, how often are you going to be in your room so you can watch Magic Kingdom fireworks at night?  Even if you happen to be back at your room, you can just step out of your longhouse to catch the fireworks at night.
Wrapping Up
We hope you found our Polynesian Village Resort room review helpful.  The resort is one of the best at Disney World and we think you can have a great time while booking a stay here.
If you found this review helpful, we'd greatly appreciate it if you would share it on social media with your friends and other people who may find it useful.  You sharing this content tells us that we're doing something right and we can't tell you how grateful we are that you would share it.  It's quick and easy, you can just use the sharing buttons right here on the page.