Frontera Cocina is a Mexican inspired restaurant that you will find in the Town Center section of Disney Springs.  Beyond the food, the most notable thing about Frontera Cocina is that the restaurant is the vision of celebrity chef Rick Bayless.  Here in our Frontera Cocina at Disney Springs review, we'll cover our experience dining here, including thoughts on the food, atmosphere.  We'll pepper in several pictures along the way too!
Rick Bayless doesn't seem to get the same name recognition that other celebrity chefs on The Food Network or Bravo do,  but his chef chops should not be underestimated.  Based upon this Chicago Magazine interview from 2012, it sounds like Rick might be okay with that.  Now I will admit, there was a time where all I could think of when I heard Rick's name was of his (in my opinion) annoying sports journalist brother Skip.  If you aren't familiar with Skip Bayless, consider yourself fortunate.
As for Rick himself, he's carved out quite a career as a celebrity chef, launching several well-regarded restaurants, including one that has a Michelin star.  He has also won a James Beard award along the way. 
From a TV perspective, he's probably most well known for his PBS series Mexico: One Plate at a Time.  He's also won the Top Chef Masters competition on Bravo.  If you want to know more about Rick, you can check out his website.  Oh, did I mention that he's also written several cookbooks?  They're all focused on Mexican cuisine, of course!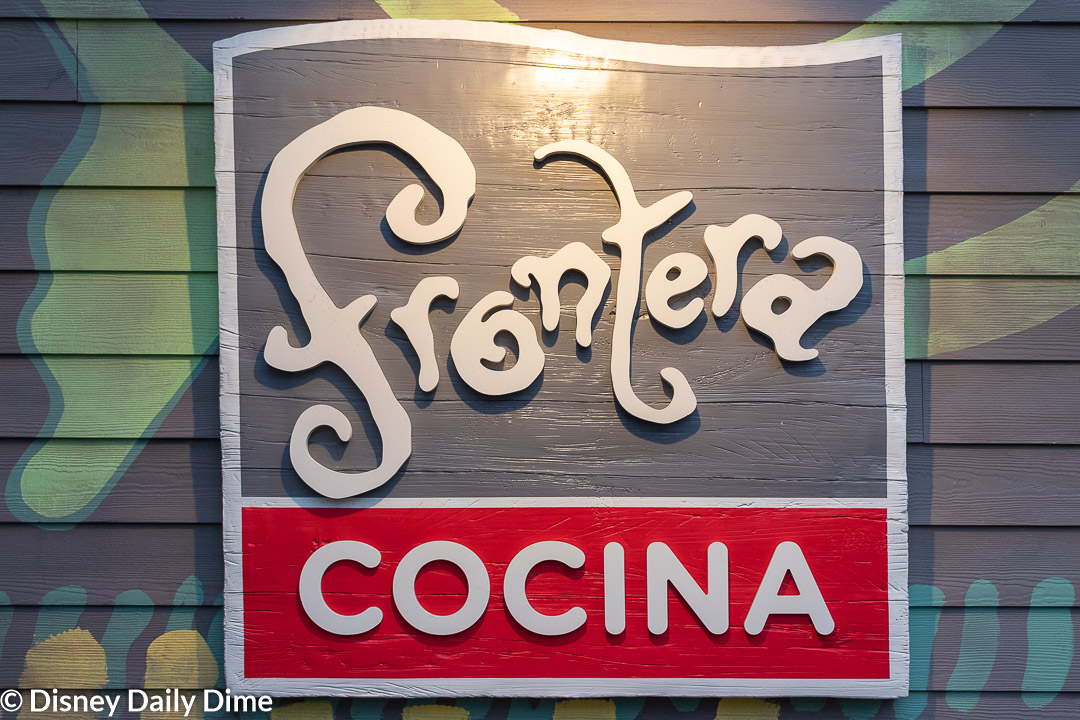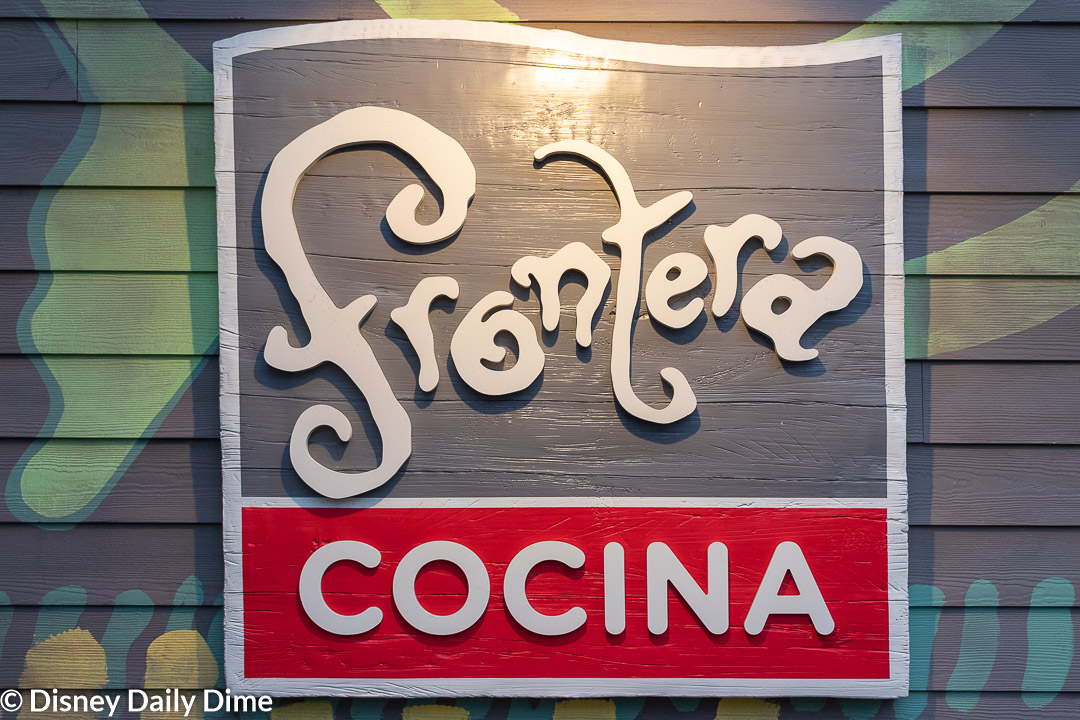 From a restaurant perspective, Rick runs several different concepts.  You'll find every one of his restaurants in the Chicago area, except for Frontera Cocina at Disney Springs.  Given his background, we all had high hopes for our meal here.
If you're looking to use the Disney Dining plan to eat at Frontera Cocina, we encourage you to look over the menu for the restaurant.  Familiarize yourself with what you think you might like, because there are several cheap entrees, at least by Disney World standards.  If you're getting one of them, the value on the Disney Dining plan is likely not great.  For these, you're better off paying out of pocket.  However, if you're going for the $38 Carne Asada, then, by all means, use your dining plan credit.  In general, it is probably not the best use of a table service credit, but it is very meal dependent.
You should note that Frontera Cocina actually has one menu for lunch and a more expansive one for dinner.
Frontera Cocina does take Tables in Wonderland, but only for lunch.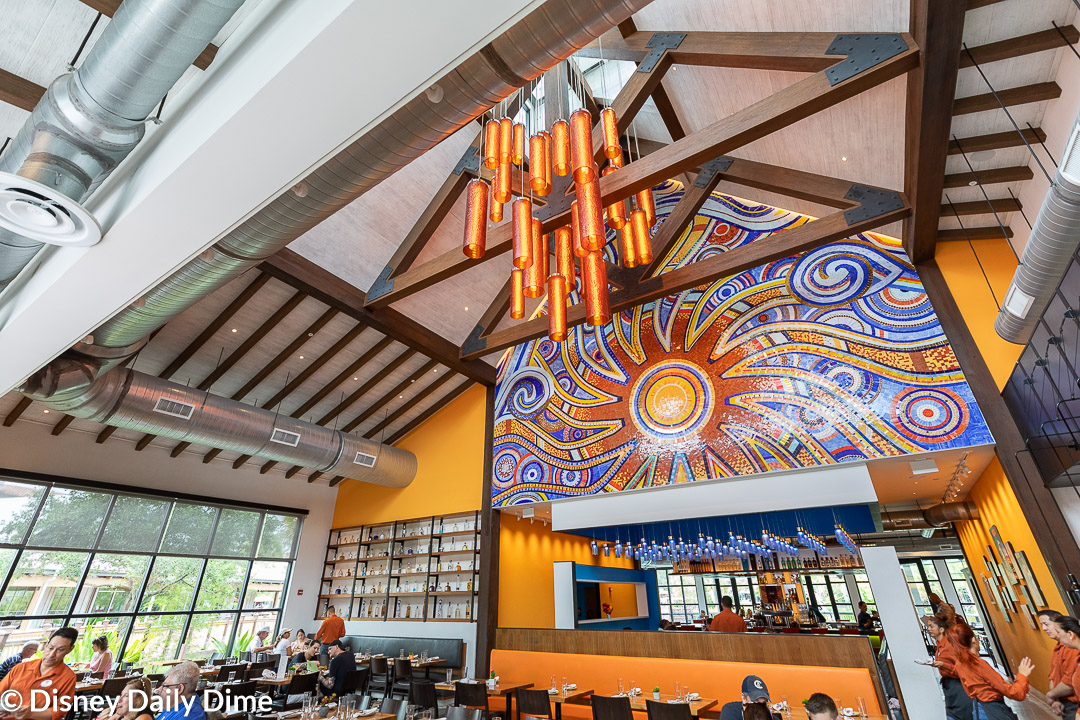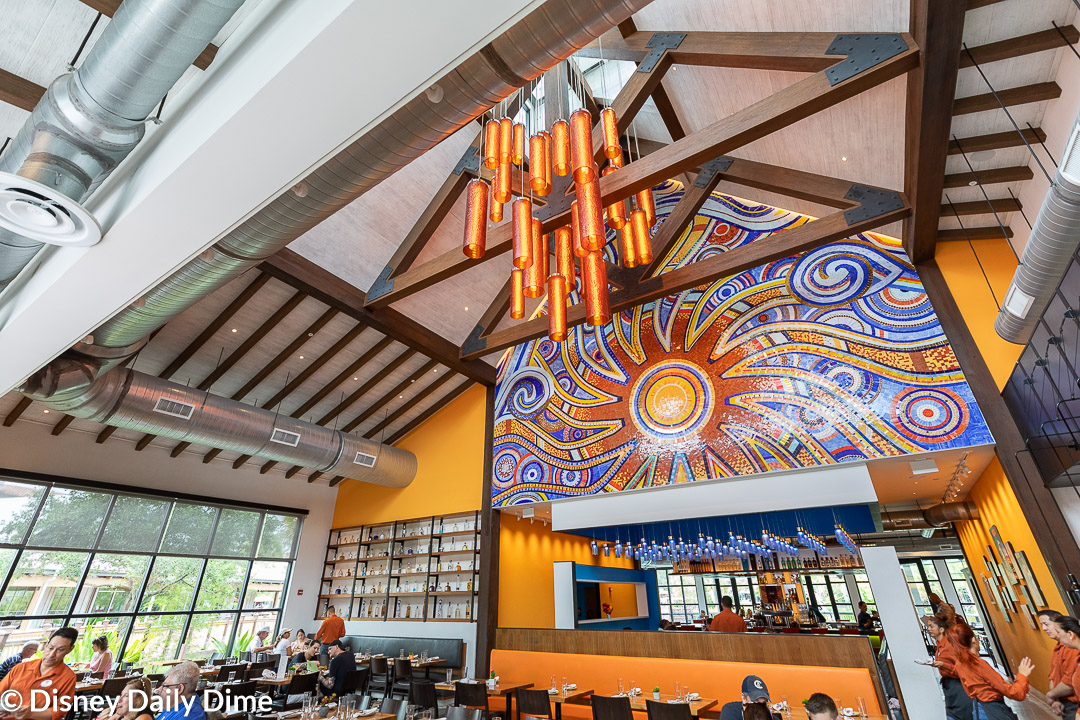 Frontera Cocina at Disney Springs Atmosphere is Something You'll Find At Most High Quality Restaurants (and That's Okay)
Knowing that we were going to do this Frontera Cocina at Disney Springs review, I had very high expectations for the food but wasn't sure what to expect for the atmosphere.  When dining at Disney Springs, most of the restaurants we have eaten at have the same general experience.  Great food, but an atmosphere and décor that is like something you would find at a well-done restaurant in most major cities.  That's generally true when it comes to restaurants run by celebrity chefs in Disney Springs.
That's not to say the design is bad; on the contrary, these restaurants have fabulous designs.  You can look right across the water at Disney Springs to Morimoto Asia or down the way to Jaleo and see this play out.  Then there are places like Raglan Road, which have no celebrity chef and the atmosphere is top-notch and the food is excellent too.
Now don't take me as a theme snob; I think it's hardly the case.  But I do appreciate it when restaurants in Disney Springs can bring something a little extra to the design and ambiance of a restaurant.
Upon entering Frontera Cocina at Disney Springs, you are greeted by this somewhat cavernous, but well-appointed main dining area.  As you can see in the picture above, it features these bright orange colors and the unique chandelier in the middle of the vaulted ceiling.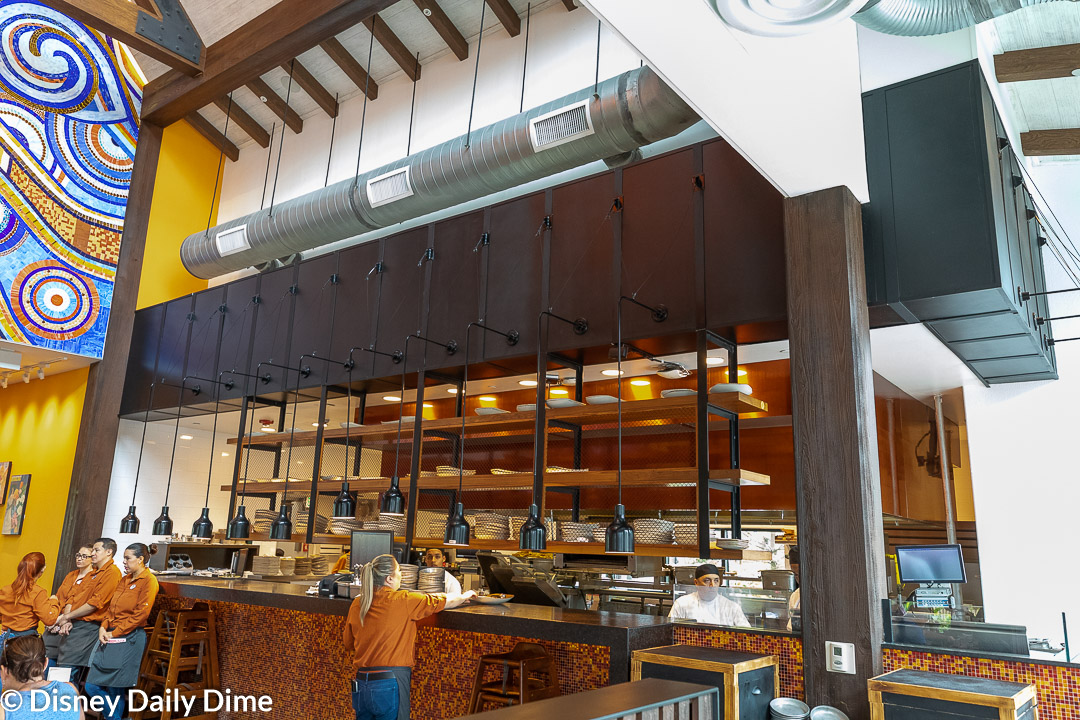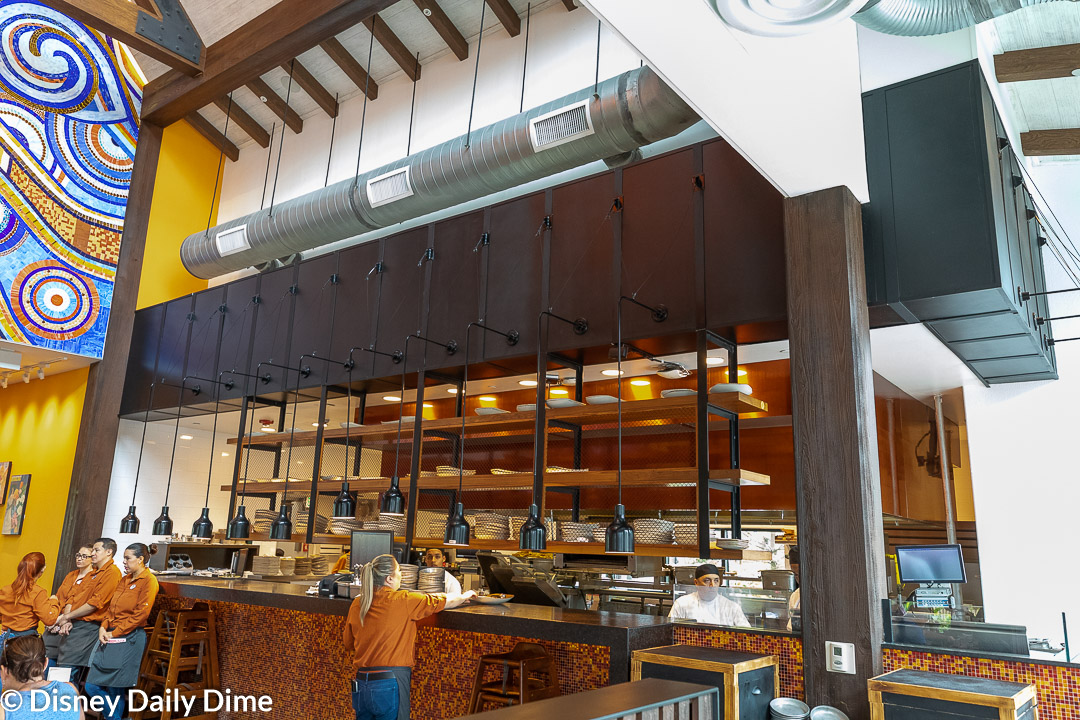 Off to the right, you'll find the kitchen where you can see chefs preparing your food.  It's not as interactive an experience as what you can have at Jaleo, where you could walk up and interact with the chefs to some degree.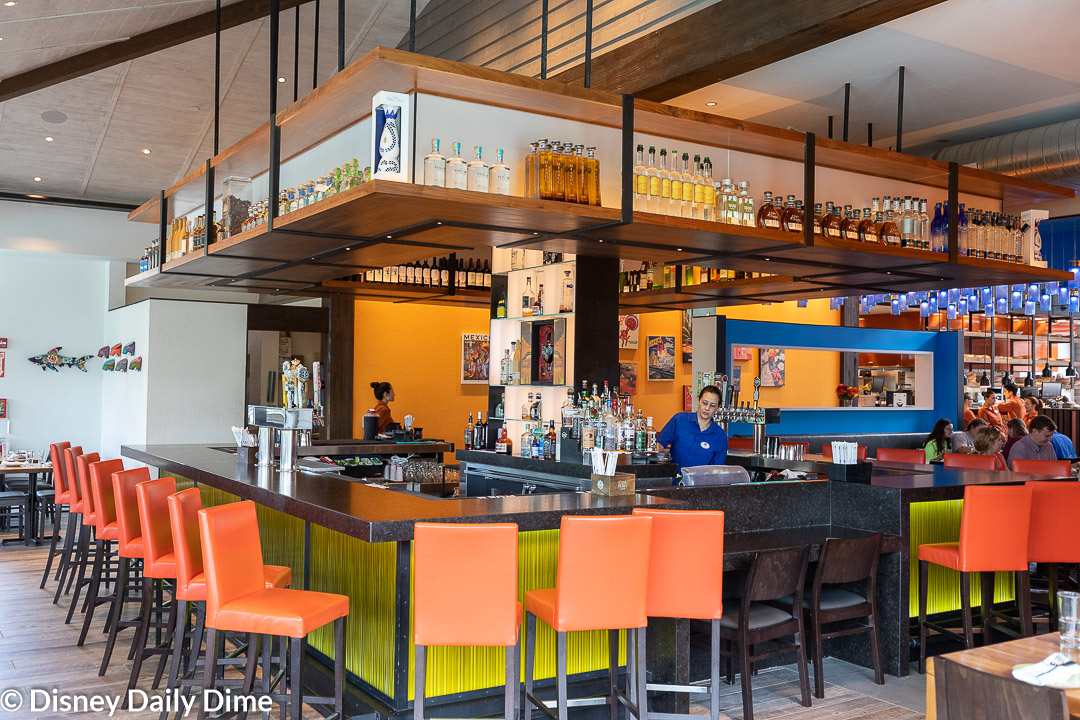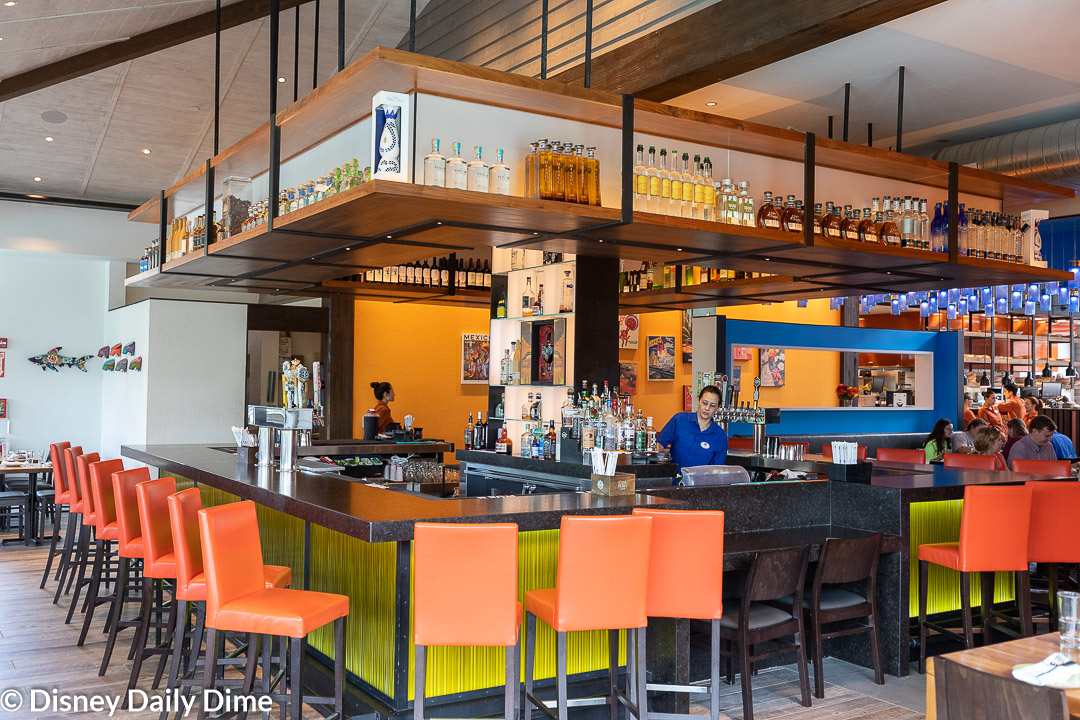 The area with the blue lights in the back is more of the dining area, with a bar behind it.  On this particular day, the bar was exceptionally slow.  That might be because we were eating lunch.  We can only imagine what it might be like on a Saturday night.  The bar seems like a place to see and be seen.  Again it has that big city, nice restaurant vibe.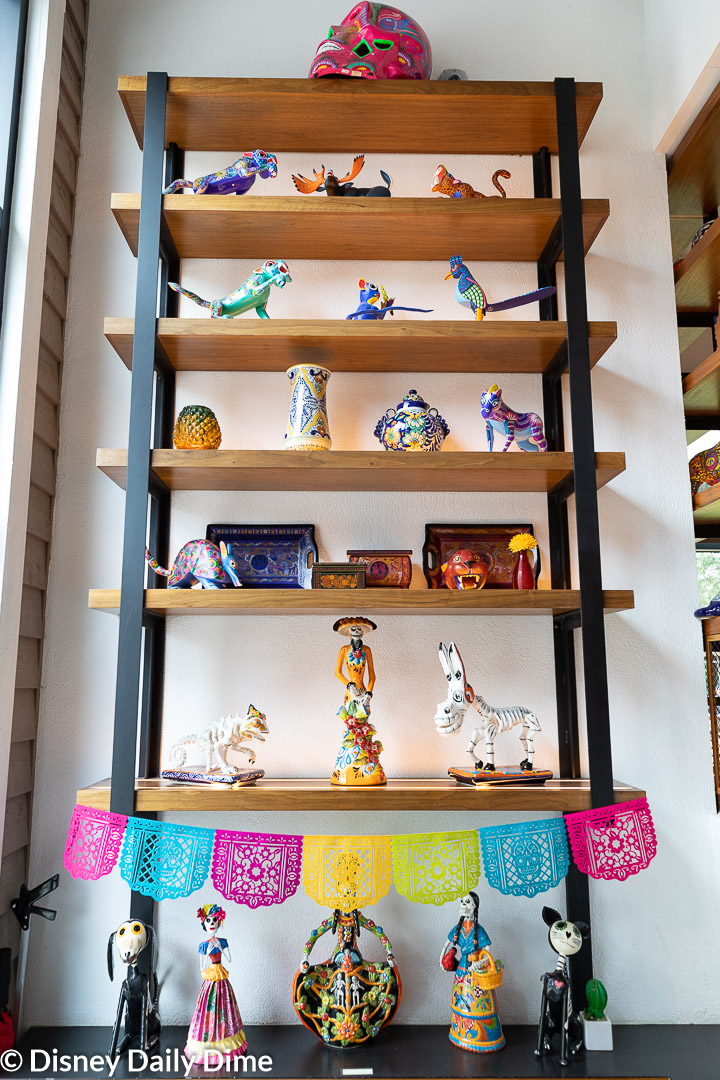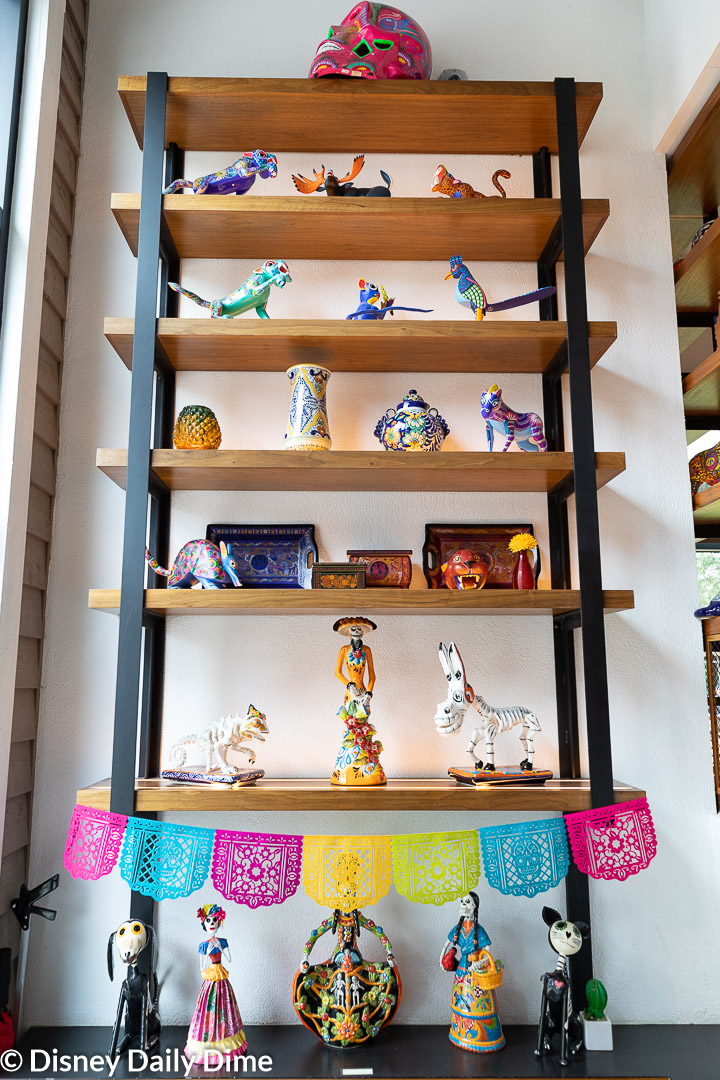 Beyond that, the décor features some fun Mexican themed items like what you see in the picture above, but how they relate to the restaurant is somewhat unclear.  However, beyond that, much of the décor consists of empty tequila bottles that line the back wall.  It definitely has the high-end restaurant vibe going on.  Not that that is a bad thing, but I do wish it had more theming to it.  It doesn't have to be like San Angel Inn over in Epcot, but just a little touch that tells me we're at Disney World.
When preparing for our Frontera Cocina at Disney Springs review, I went back and looked at some of my older photos of Disney Springs to reacquaint myself with the area.  Then it dawned on me that the restaurant has an awesome looking patio that sits right on the waterfront.  You can see the patio in the picture below.  Sadly, the patio was closed the day we ate here, so we just had to imagine what it would be like to dine out on the water.  Josh over at EasyWDW has a review of Frontera Cocina, and he's got a cool night time picture from the patio as part of the review.  I want to come back, just for that.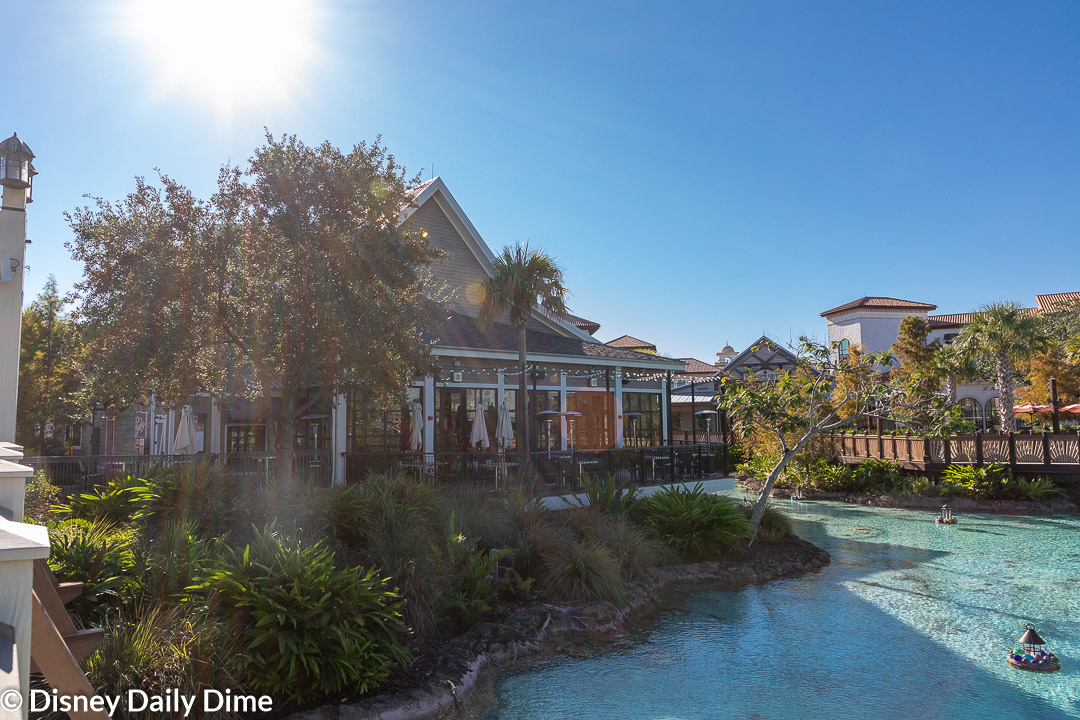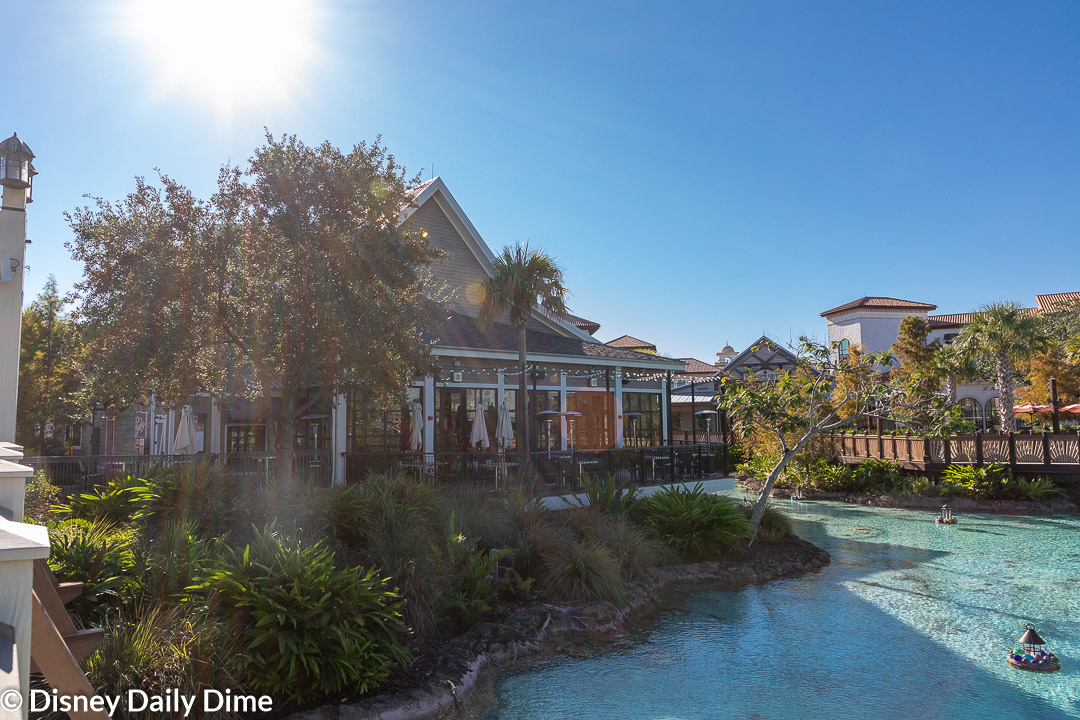 At the end of the day, Frontera Cocina has a trendy design and feel that it would fit right in with dozens of restaurants in any city.  And frankly it fits with several of the great restaurants in Disney Springs.  I just wish it had more to it than a trendy, upscale Mexican restaurant feel.  That said, it is a very nice venue.  As for the food…let's get to that part of our Frontera Cocina at Disney Springs review!
Frontera Cocina Features the Best Mexican Food in Disney Springs and Maybe all of Disney World
With the pedigree that Rick Bayless has, you have to assume the food at Frontera Cocina is going to be good, and I have to say, it did not disappoint.  While the dinner menu is a little different than what we had for lunch, we'd assume the additional choices you get with dinner are excellent too.
When we say this is a Mexican food restaurant, we mean Mexican.  It isn't Tex-Mex or some other variant of Mexican food.  Given Rick Bayless' focus on Mexico in his television and writing endeavors, this isn't overly surprising.  This is similar to what you'll find at San Angel Inn over in World Showcase in that respect.  Now, let's take a look at the food we had as part of our Frontera Cocina at Disney Springs review!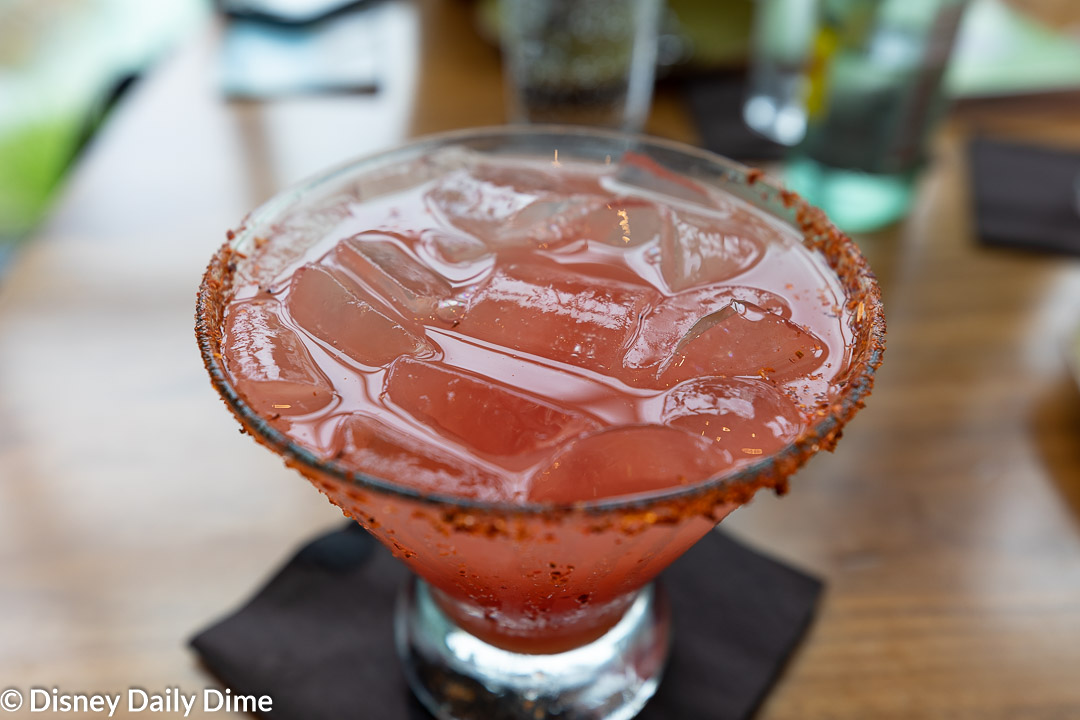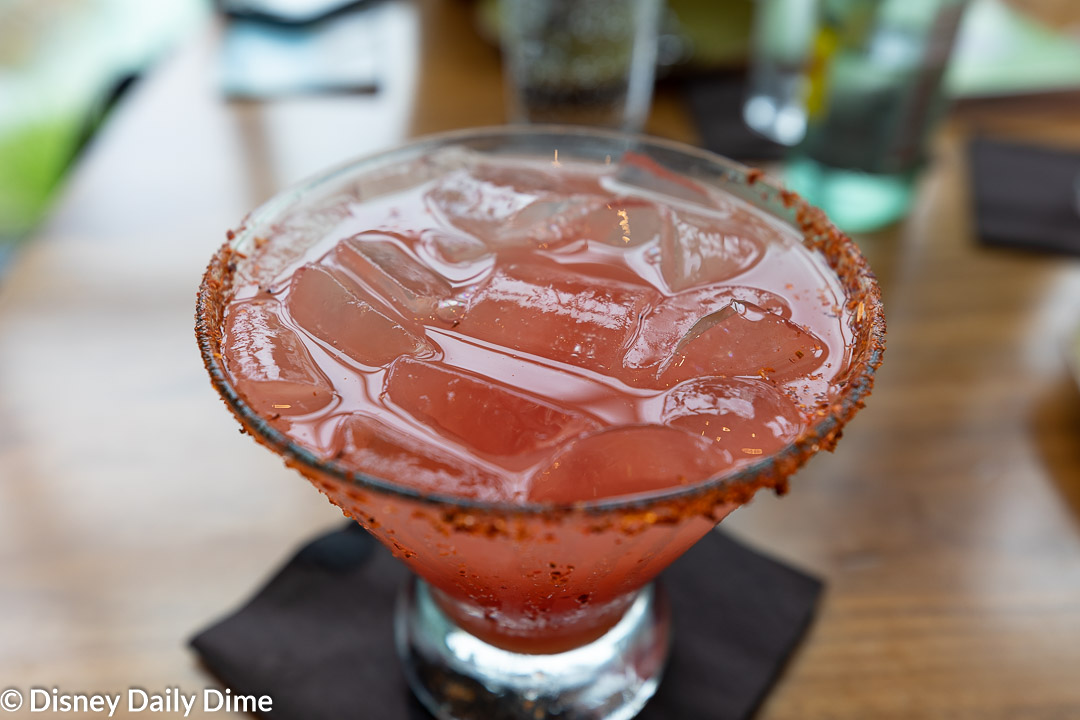 Drinks
If you've learned anything in our food reviews, you can probably guess that I had to try one of the unique margaritas that they offer.  Even if that drink happened to cost $15.  For that reason alone, I'm not sure I would recommend you get the Watermelon Pink Flamingo margarita.  It just seems a little crazy to pay that price, even by Disney World standards.  If you look at the Frontera Cocina menu, you'll notice that most margaritas run about this same price.
Outside of cost, the margarita itself was quite good.  The Watermelon Pink Flamingo Margarita is a blend of El Velo tequila, fresh watermelon and lime juice, orange liqueur, Tajin Chile powder rim.  The flavors blended together so well I didn't even notice the tequila in it, but I could feel it later.  It was smooth, and the chili powder didn't take away from the great flavors.  On taste, I would get this again, but at $15, I'll have to pass.
One very tangential note about drinks here.  Carla was quite happy when she asked for soda water to drink, and the waiter said they had Topo Chico.  If you're a fan of that drink, they have it!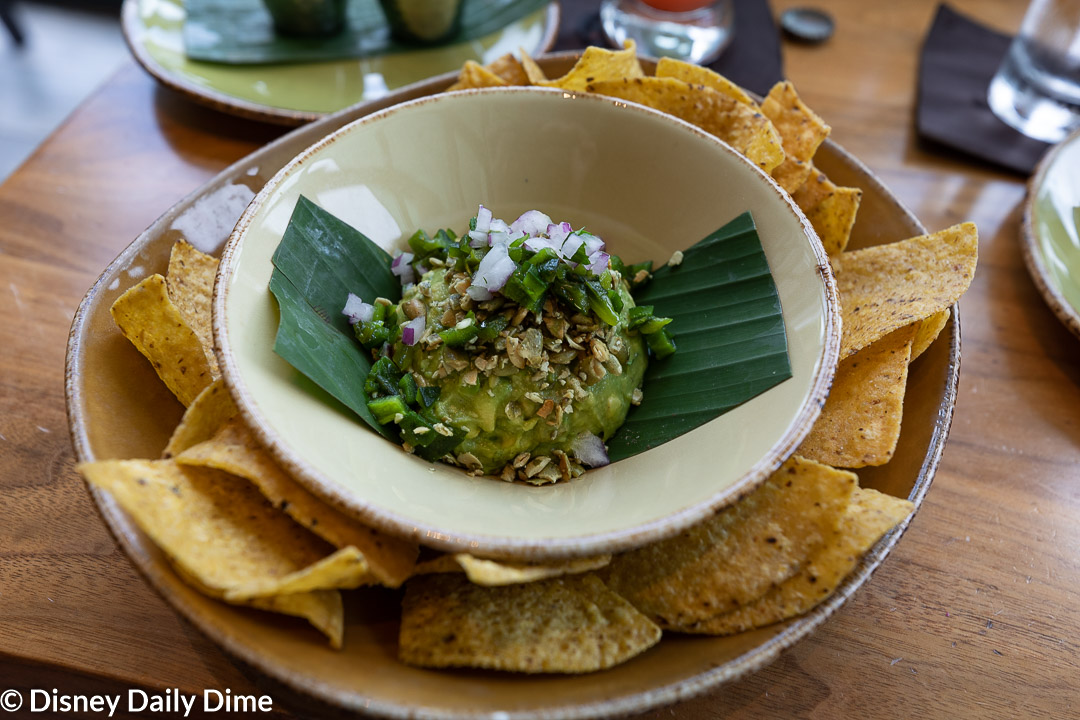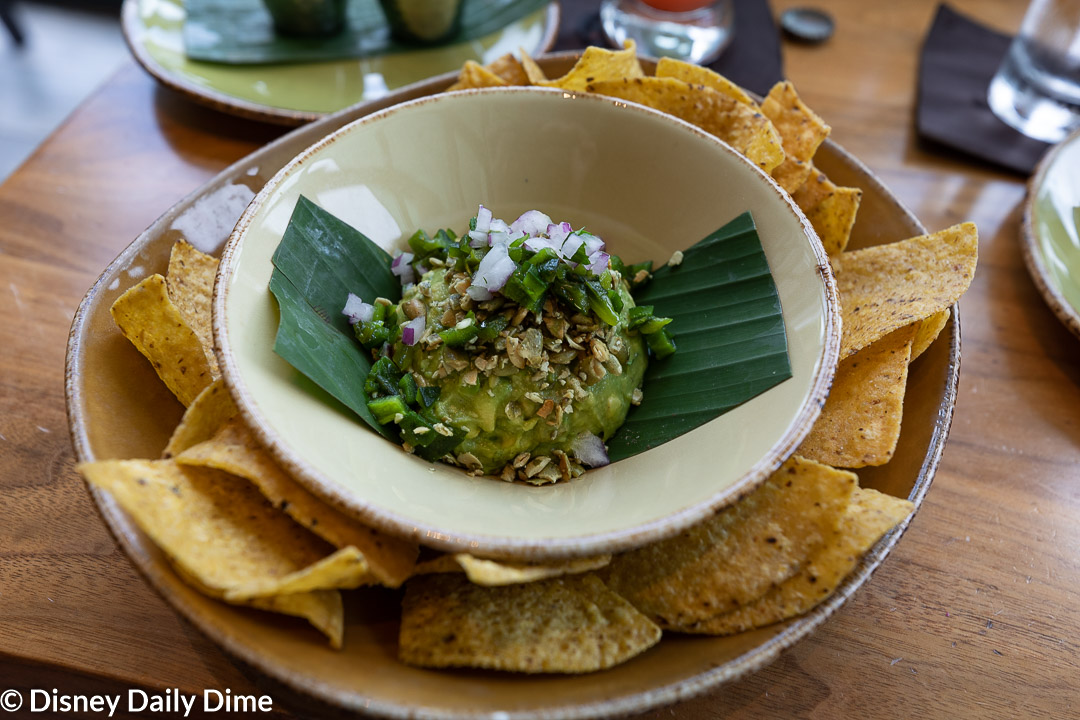 Appetizers
Okay, this will be a bit of a philosophical rant about what you should get at a Mexican food restaurant.  I expect complimentary chips and salsa.  I just do.  Does this make me a bad person?  I hope not.  In any case, you can only imagine the disappointment, if not horror on my face when we got to Frontera Cocina to see that you have to pay for chips and salsa here!  They want you to pay $5, no less.  We did not order chips and salsa, but we did find a way to back door yourself into some.
We ordered two appetizers for our Frontera Cocina at Disney Springs review.  Both are Mexican staples, but not with unique twists.
First, we ordered the Verde Guacamole.  Don't mistake this for a garden variety guacamole, as it features roasted poblanos, roasted tomatillo, toasted pepitas, cilantro, and onions.  The star of this appetizer is the toasted pepitas.  If you aren't familiar, pepitas are pumpkin seeds.  They add a fabulous little crunch and flavor to the guacamole.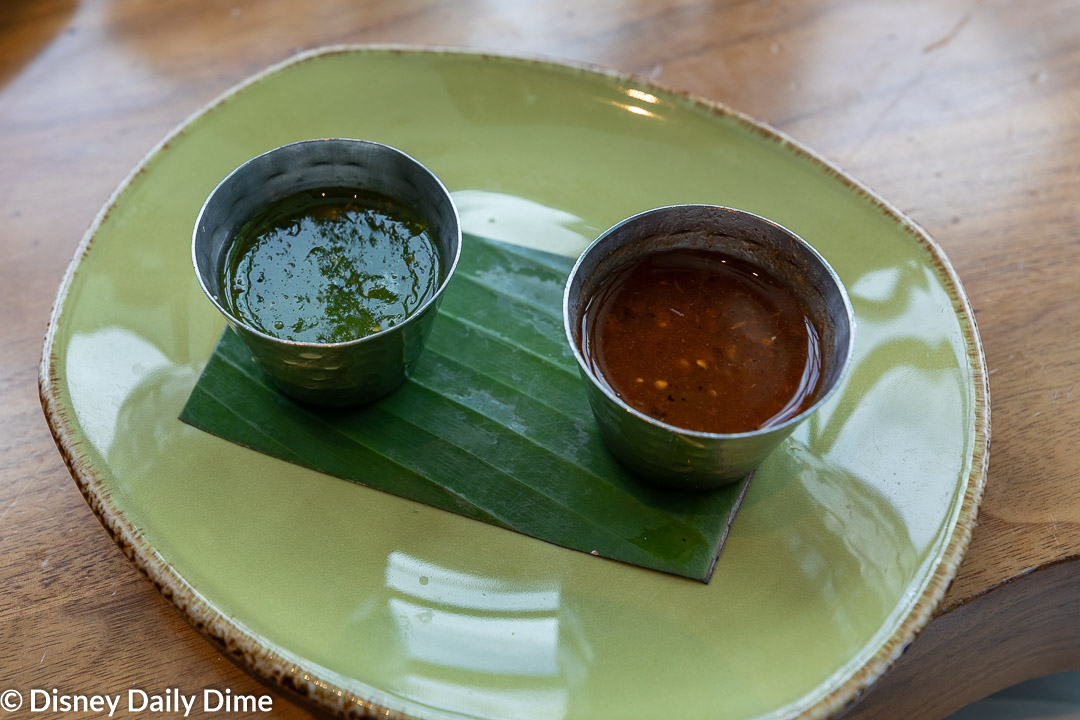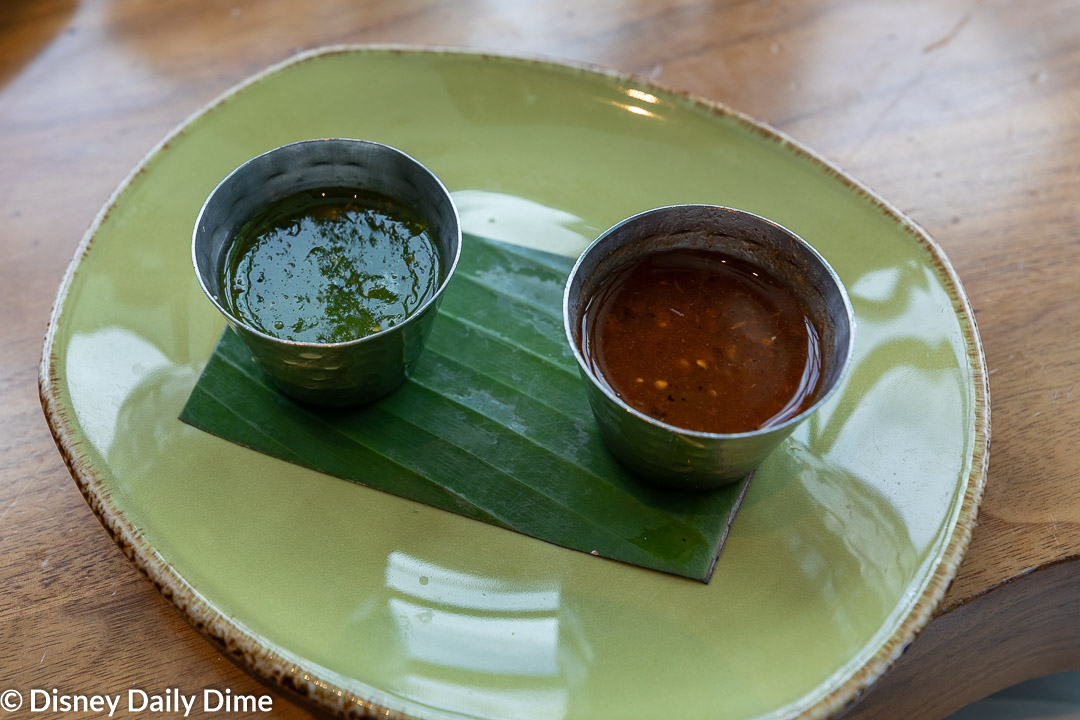 When you order the Verde Guacamole, you also get smoky chipotle and herby salsa verde, which are the two salsas that come with the chips and salsa.  To me, paying the incremental $7 to get both the guacamole and the salsas was well worth it.
The smoky chipotle was my favorite of the two salsas, but the herby salsa verde was no slouch.  Carla liked the herby salsa verde more.  Make no mistake; this isn't Chili's salsa here.  The Frontera Cocina salsas are more complex and flavorful, but I will admit, I do like Chili's salsa.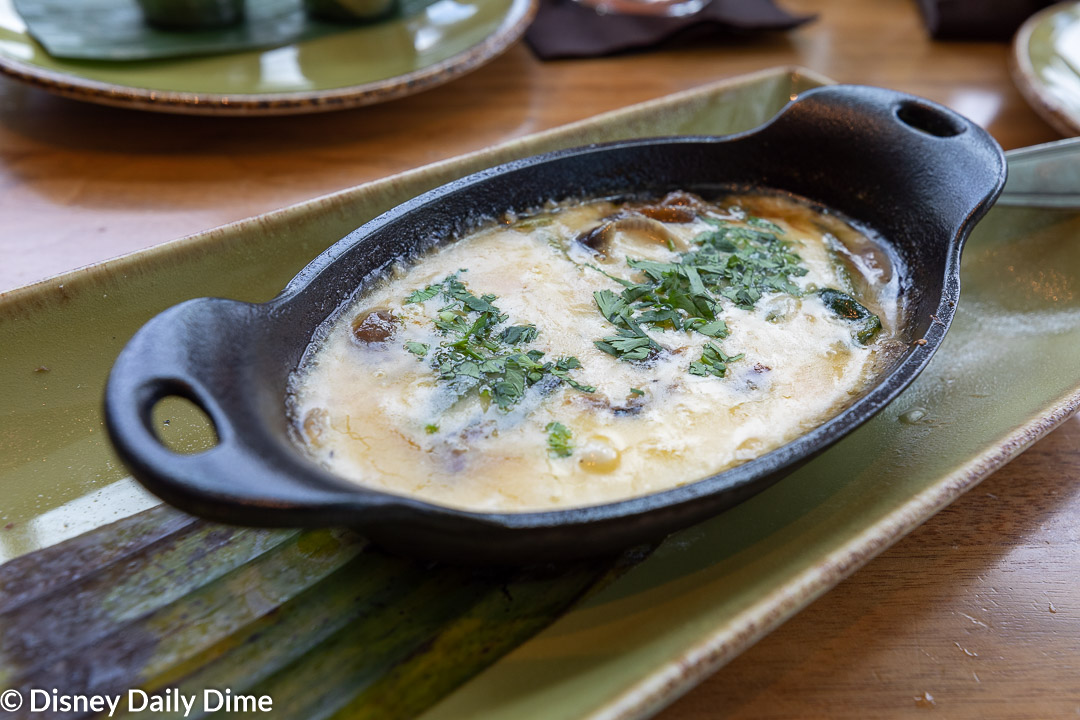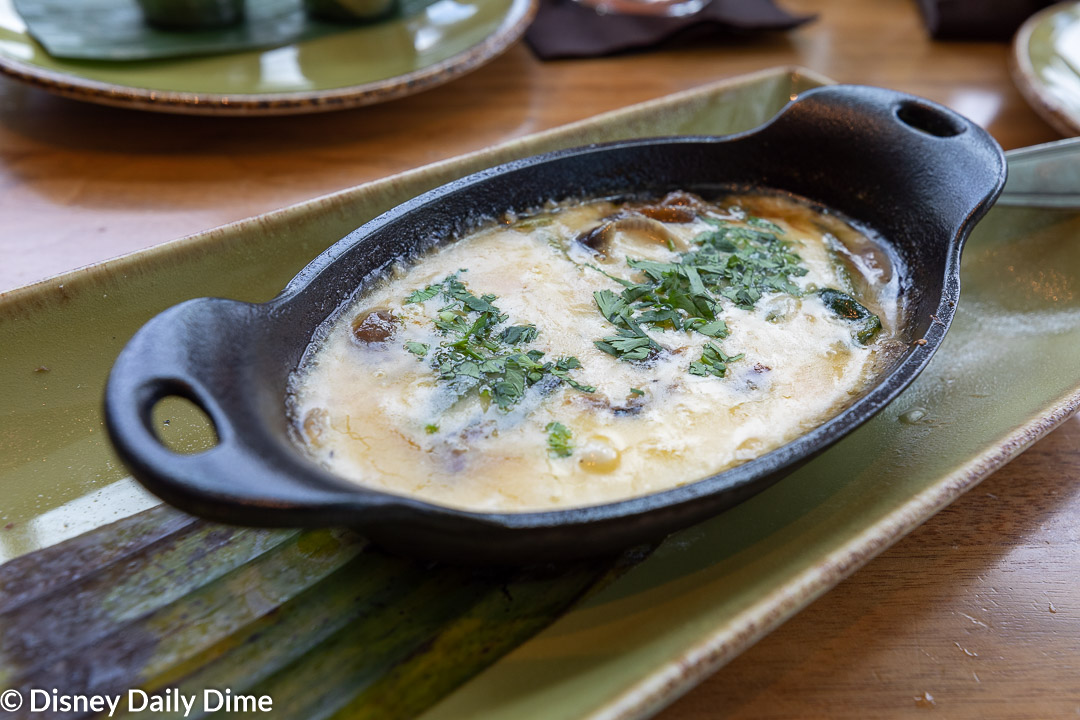 For our second appetizer, the girls wanted to try the Queso Fundido.  Much like the queso we had at San Angel Inn, the Queso Fundido is very thick.  This isn't traditional soupy style queso that you find at a Tex-Mex restaurant.  The other interesting thing is that this is served with corn tortillas, not chips.  You can request chips though.  I will say, given how thick the queso is, the tortillas do make sense and work well with it.  You can make yourself a mini cheese taco, but it's much better than that sounds. Why?  Glad you asked.
The Queso Fundido is made with melted queso Chihuahua with roasted poblanos and caramelized onions.  The cheese itself has a great flavor, but mixing in the roasted poblanos and caramelized onions adds a wonderful touch.  The poblanos bring a hint of smokiness (from the roasting, I assume), while the sugar of the caramelized onions gives it a slightly sweet touch.  Anna and Elsa enjoyed the queso, although they did pick out the poblanos and onions.  That made it a bit messier than normal.  They did like having the corn tortillas with the queso, but they love eating tortillas.
If I had to pick only one, I would get the Verde Guacamole because I enjoyed it more, plus it came with the salsas.  Anna and Elsa were not impressed by the guacamole, so they prefer the queso.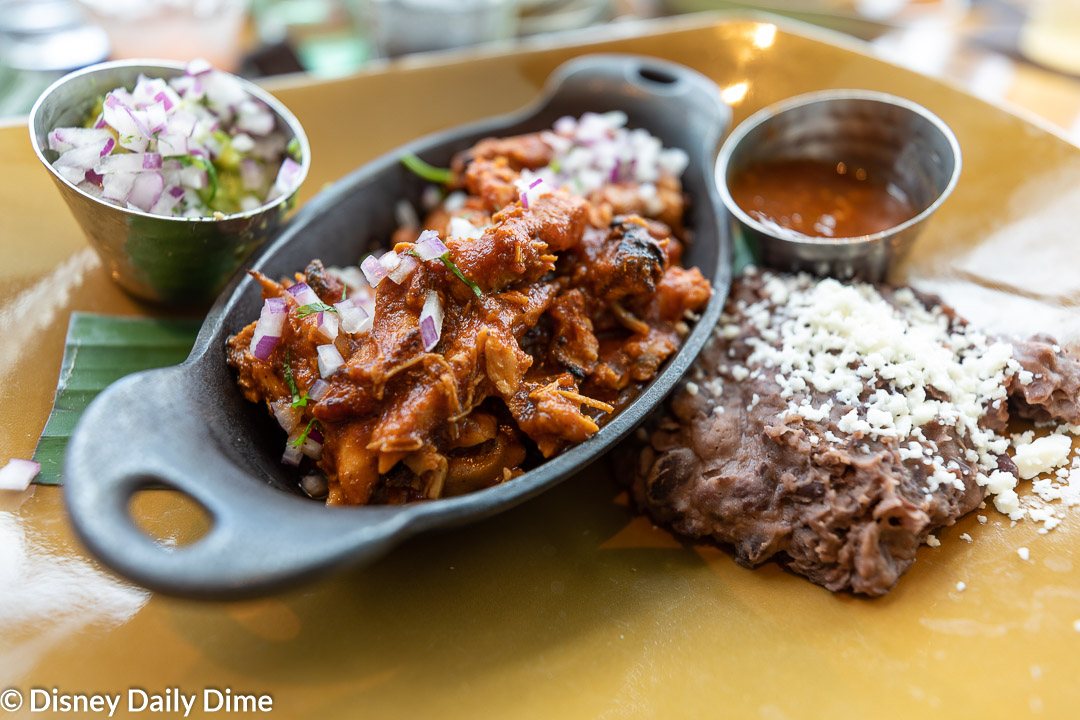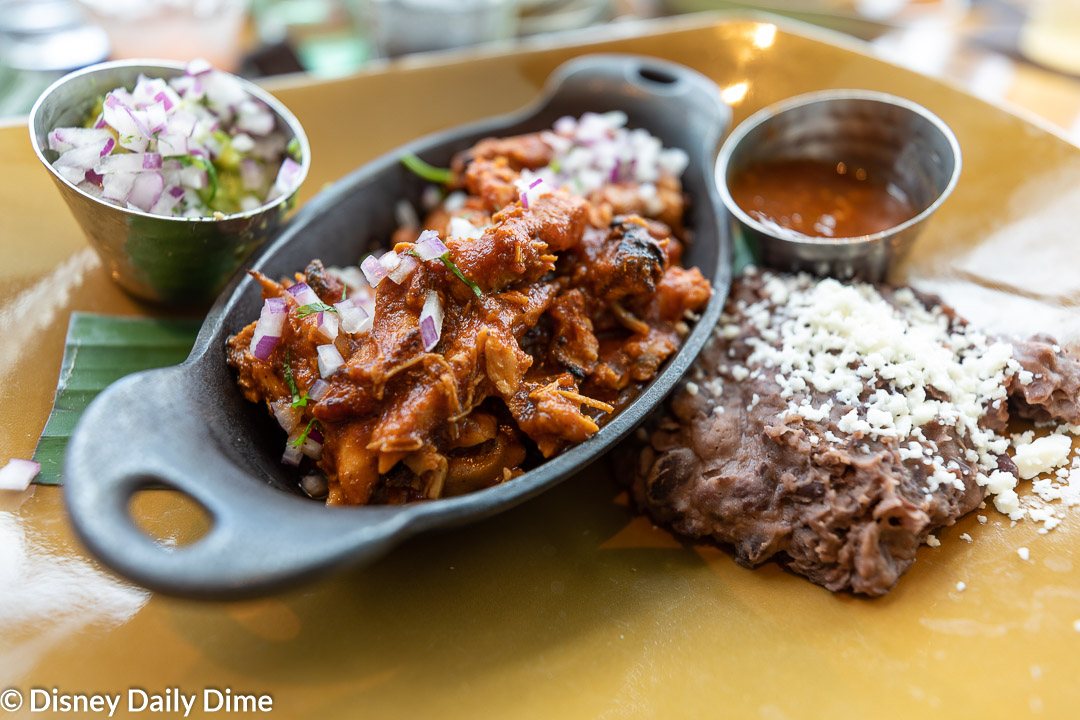 Adult Entrées
As for the entrées we had during our Frontera Cocina review, I elected to go with the Grilled Chicken Chipotle tacos.  I'd say these are like chicken fajitas but feel that the only thing that makes them "like" fajitas is the chicken and the tortillas.  What makes these tacos unique is that the grilled chicken is covered with a tangy chipotle sauce and mixed with caramelized red onions.  Once again, you taste a great smokiness from the chipotle, balanced by the slight sweetness of the caramelized onions.  These tacos were excellent!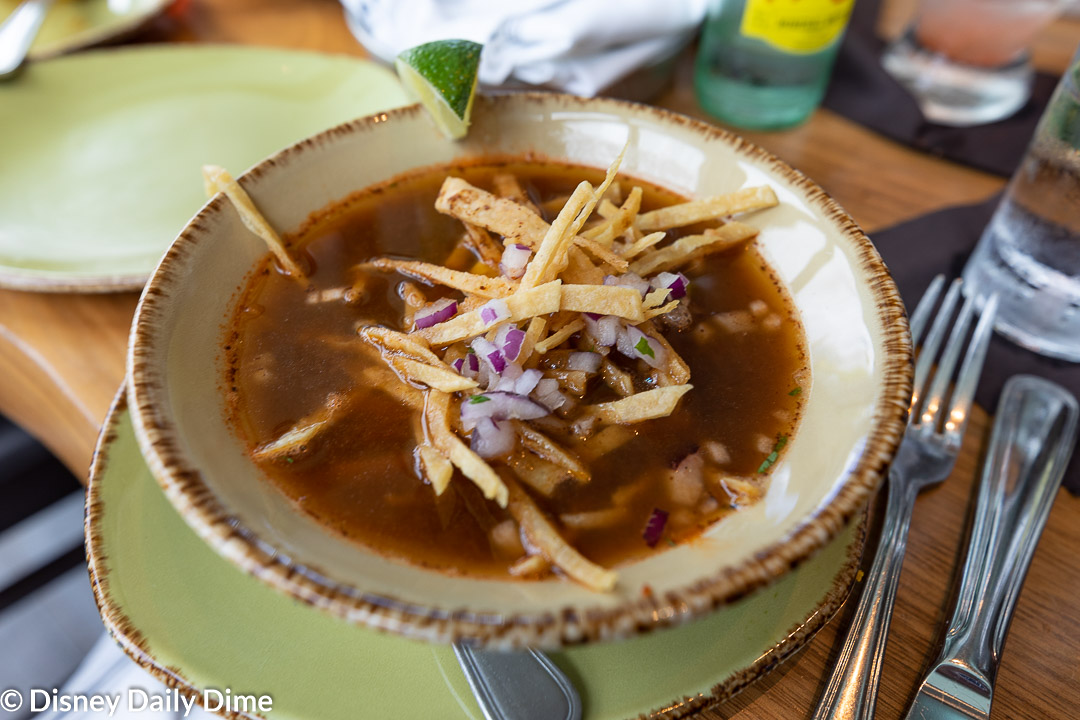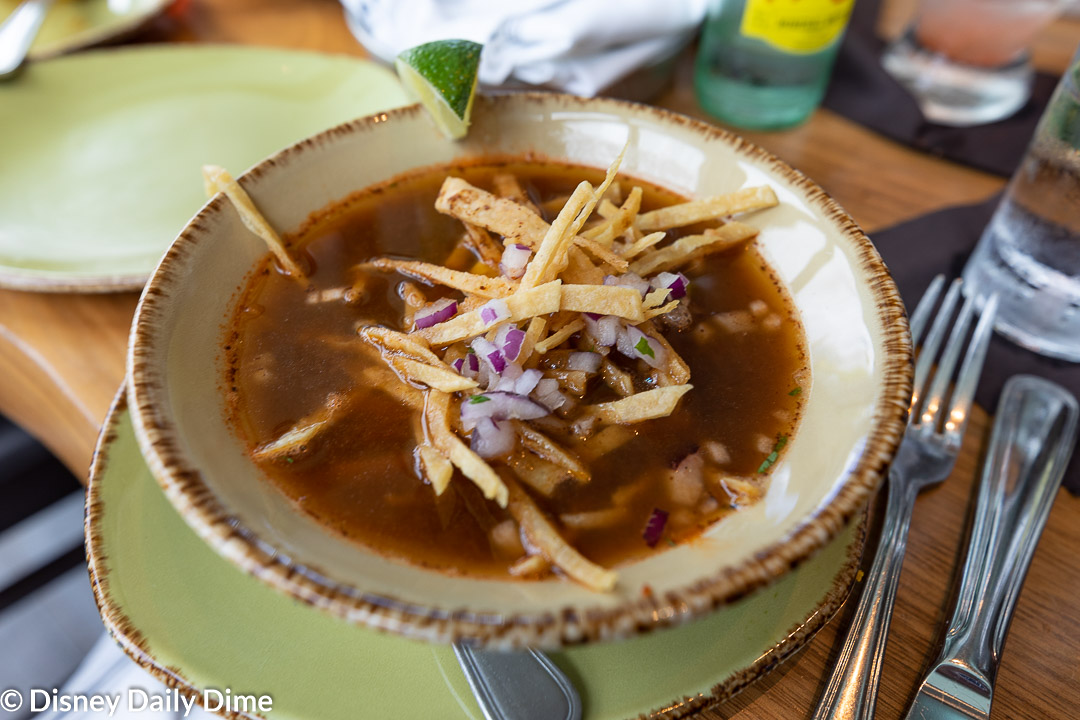 When we ate here, we had just finished a good-sized breakfast over at Olivia's Café a couple of hours prior, and Carla wasn't feeling overly hungry.  By the time she finished devouring the guacamole, she really didn't have any room left.  So, she exercised self-restraint and ordered the Tortilla Soup as her meal.  While it's called soup, it eats like a meal.  I know that's some soup company's slogan, but can't remember whose.  Oh, Carla tells me it is Campbell's chunky soup.
The portion size of the soup was quite large, at least compared to what we expected.  The presentation of the soup was fun.  They bring the main ingredients in the bowl already prepared, but the broth is on the side in a copper serving cup.  They pour the broth into the bowl right in front of you.  It's not the first time we've had the broth poured right in front of us, but the copper cup made it unique.
As for the soup itself, it was fantastic.  There was ample avocado in the soup, coupled with a good-sized serving of chipotle chicken.  Carla loved this and would absolutely get it again.  If you're trying to manage a budget here, this is a reasonable way to get a meal at Frontera Cocina without breaking the bank.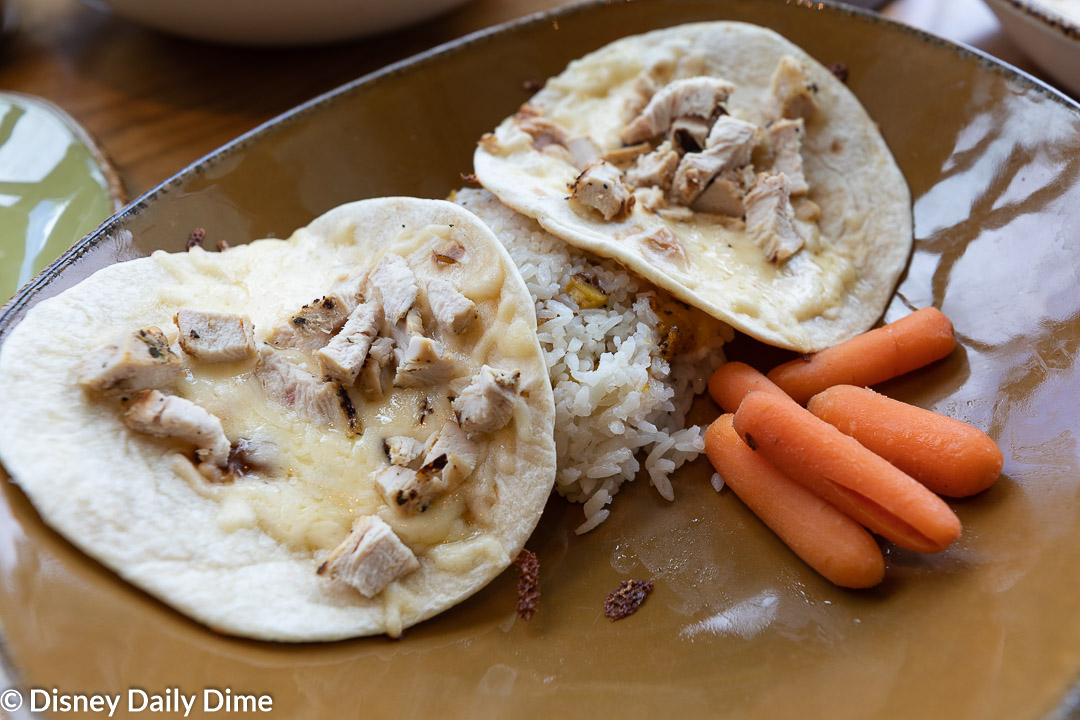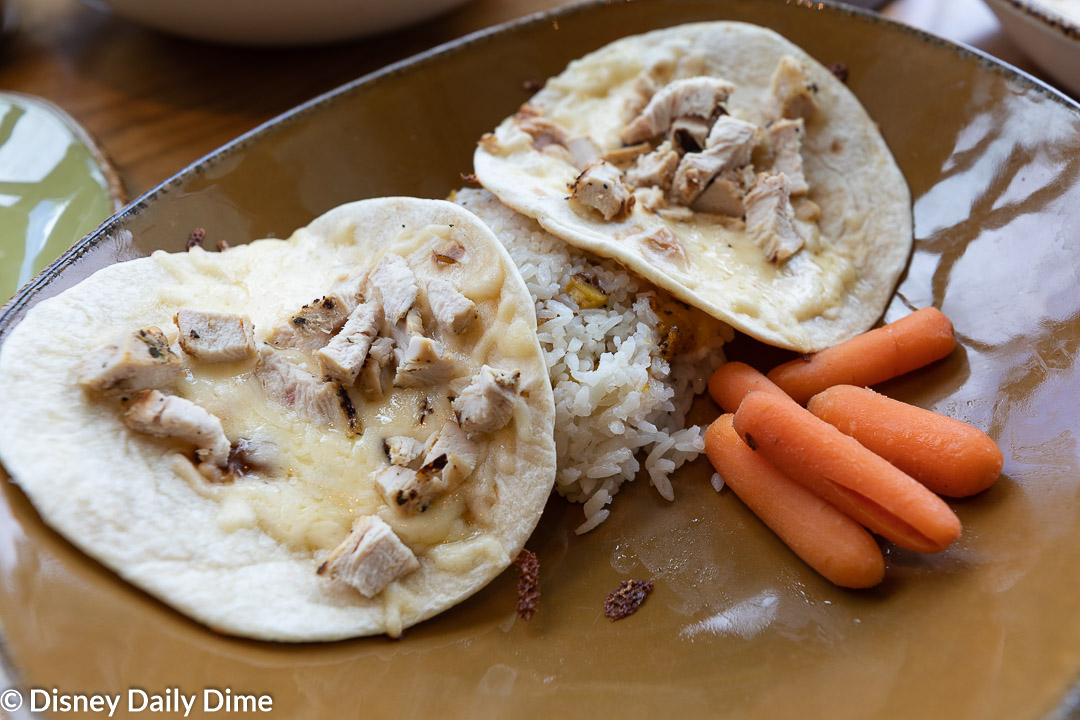 Kids Entrées
Anna and Elsa weren't feeling very adventurous this day.  I'd also say the kids' menu at Frontera Cocina is relatively limited.  And by limited, I mean there are only two options.  Chicken tacos and quesadillas.  Fortunately, the girls got one of each.
Elsa had the chicken tacos.  As you can see in the picture above, the bold flavors that we've shared from our meal disappear when it gets to the kids' menu.  While I understand why I also find it disappointing.  If you want to have more plain food for the picky eaters know as kids, I get it.  Can't we have one or two more adventurous options?  The tacos themselves were fine.  Elsa ate them, which I consider a success.  Lately she's been pickier about her chicken tacos, so I wasn't sure how it would go when she ordered them.  I will give the chefs at Frontera Cocina credit for the fun plantain rice that comes with the tacos.  Elsa ate that up.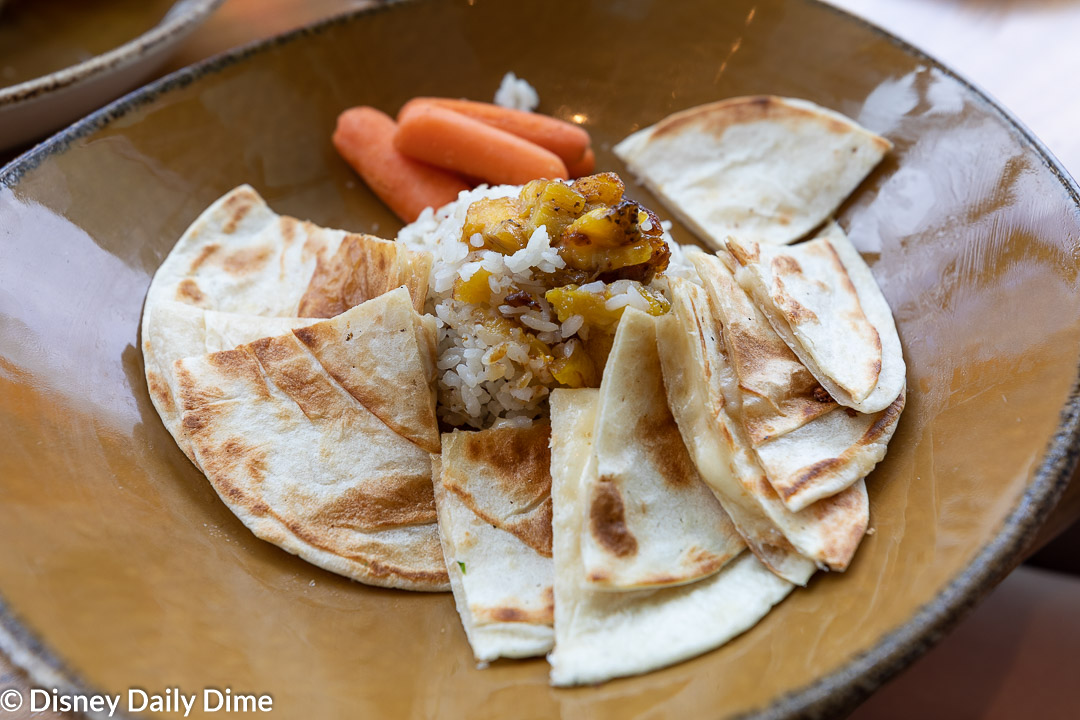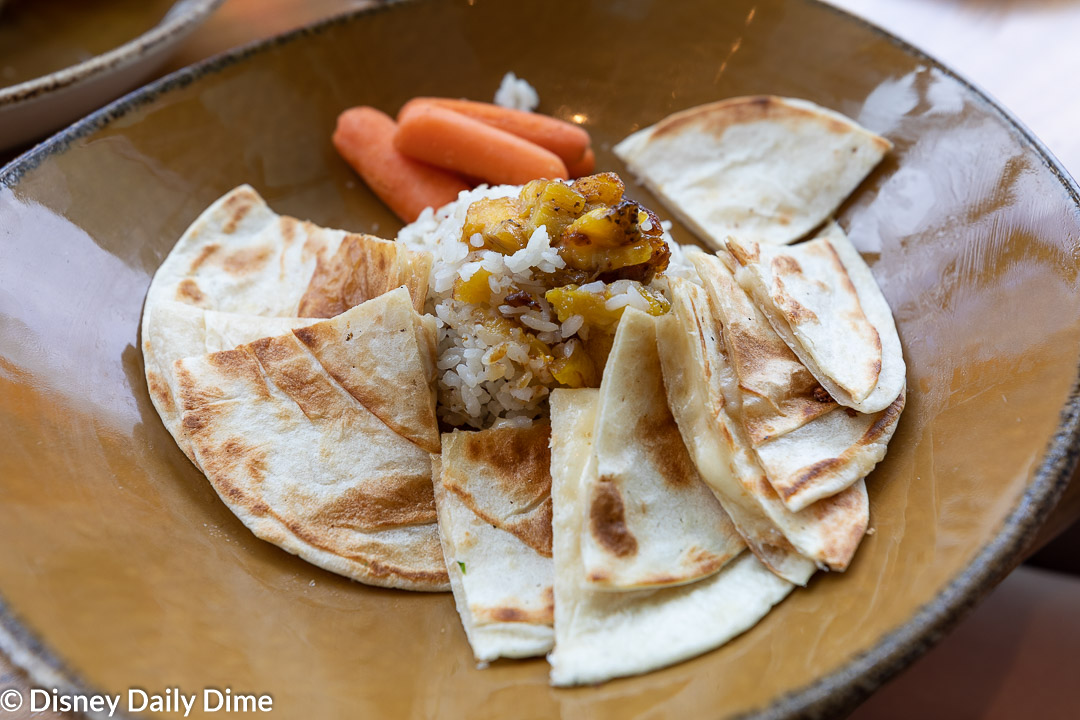 Anna elected to order the quesadillas for her meal.  The quesadillas were relatively plain, but Anna thoroughly enjoyed them.  It's hard to mess up cheese and tortillas, but we've seen it done, so this was another successful kids' entrée.  She, however, did not like the plantain rice, which I was okay with as I could have some of it.
Frontera Cocina at Disney Springs Overall Impressions
Frontera Cocina at Disney Springs is a bit of a tale of two cities, you could say.  The food is fantastic!  Like over the top good.  I want to come back here for the food.
When it comes to ambiance and décor, it just doesn't live up to what I want out of a Disney World restaurant.  Now, I get it's at Disney Springs, which really is just an outdoor mall.  Maybe it's too much to expect some of the good Disney atmosphere when you bring celebrity chefs into the fold?  It seems to be the norm in Disney Springs; however, I will say that the atmosphere at places like Morimoto Asia and Jaleo is a notch above what you find at Frontera Cocina.  But even they can miss the mark when it comes to high-level Disney World atmosphere.
If I had to pick, though, I would always take great food and a good atmosphere, so at least it tilts the right way.  For food as high a quality as we found here, I can look past the ambiance issues.  And for that reason, we'll definitely come back here.  Plus, I need to eat at night on the back patio!
Wrapping Up Our Frontera Cocina at Disney Springs Review
With that, we'll wrap up our Frontera Cocina at Disney Springs review.  It's a restaurant with great food, but an atmosphere with something to be desired.
If you're looking for more dining options, make sure you check out our main Disney World restaurant reviews page.  You'll find links to every restaurant we have reviewed there.
If our Frontera Cocina at Disney Springs review was helpful or at least entertaining, please like and share this with your friends or anyone you think will find it useful.  Just use the sharing buttons on the page.  We always appreciate it when you share our posts, as it allows us to spread the word about our blog and hopefully will enable us to help others.