If you're looking for a more elegant and refined dinner away from the Disney World parks, you may think about eating at Yachtsman Steakhouse.  The steakhouse is located at Disney's Yacht Club Resort, which also adjoins Disney's Beach Club Resort.  Here in our Yachtsman Steakhouse review, we'll tell you our thoughts on dining at this Disney World signature restaurant, covering the food and atmosphere of the restaurant.
Since Yachtsman Steakhouse is a signature location at Disney World, it does cost a bit more than your average table service meal.  That's true whether you are paying with cash or using the Disney Dining Plan.  You'll have to cough up two table service credits to eat here.
As with all things dining plan and Disney World, what you're eating will determine if using the dining plan is a good value or not.  As you can see on the Yachtsman Steakhouse menu, there is a wide range of cost associated with the various entrees.  Generally, you are going to find the assortment of steaks to have the best value on the dining plan.  If you order something like chicken, then the dining plan is a poor value.  If you're maximizing what you're having to eat and getting steak, dessert, and a drink, then the value is much better and probably worthwhile.  Just do your own math!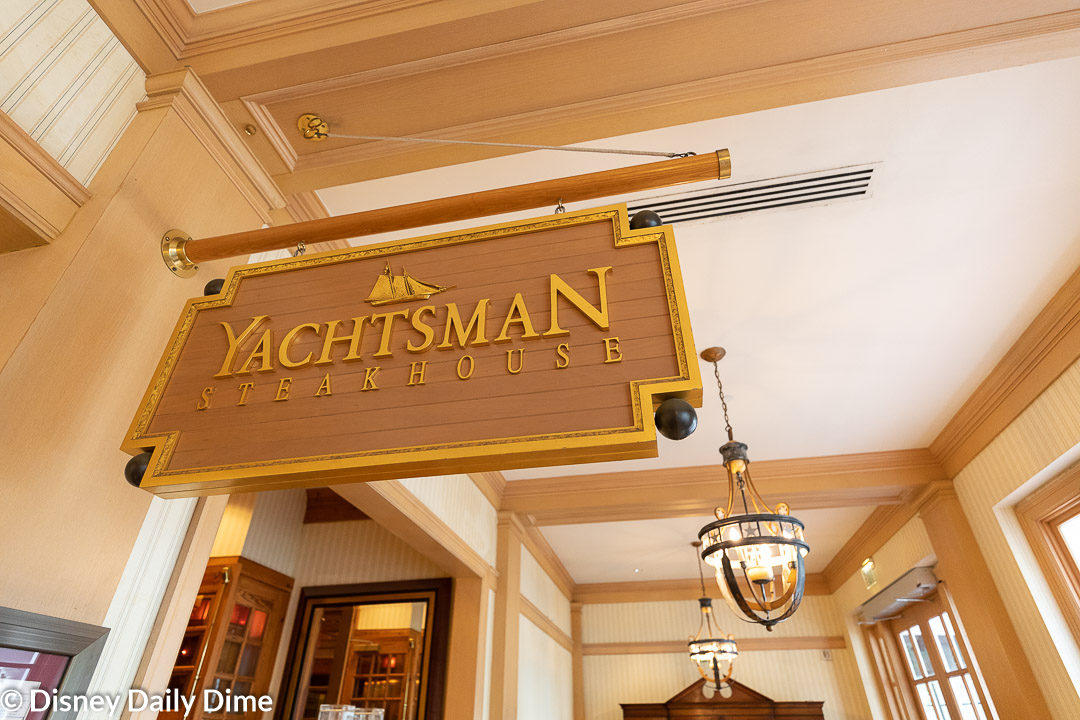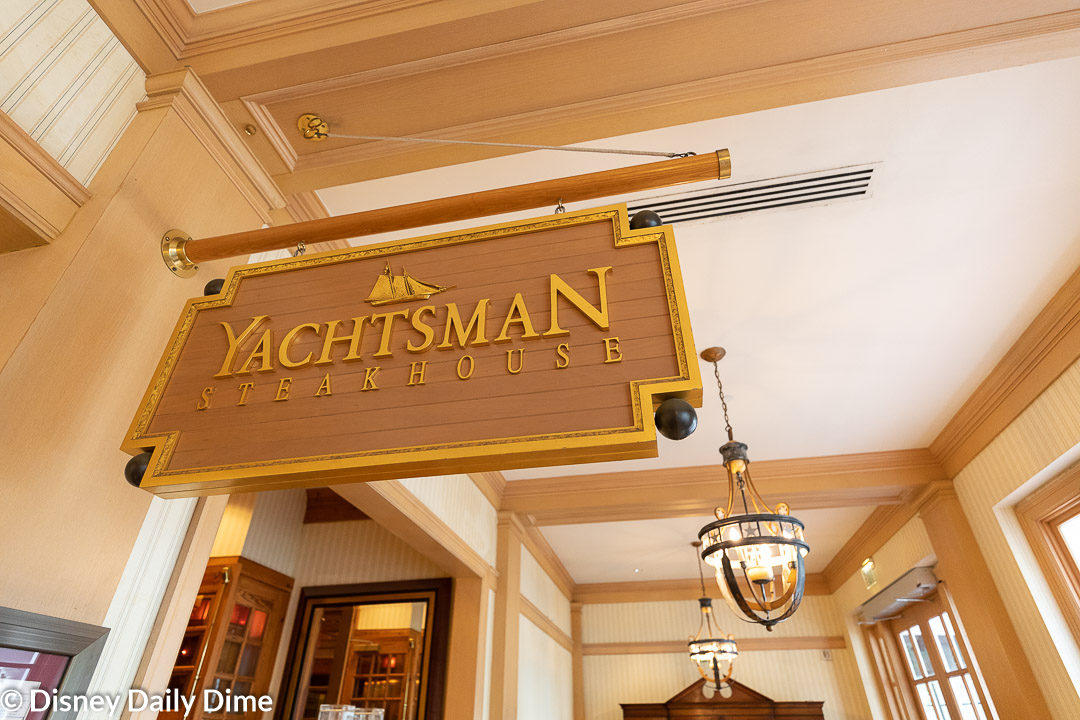 Yachtsman Steakhouse does accept Tables in Wonderland.  We actually used it for this Yachtsman Steakhouse review!  We love saving 20%.
One thing unique to Yachtsman Steakhouse (and most other signature dining restaurants) is the presence of a dress code.  You can't just walk into the restaurant in your flip flops, t-shirt, and shorts.  You can click this link to see more about the Yachtsman Steakhouse dress code. 
Okay, let's get to the meat of the review!  And yes, that pun was intended.  Please forgive me!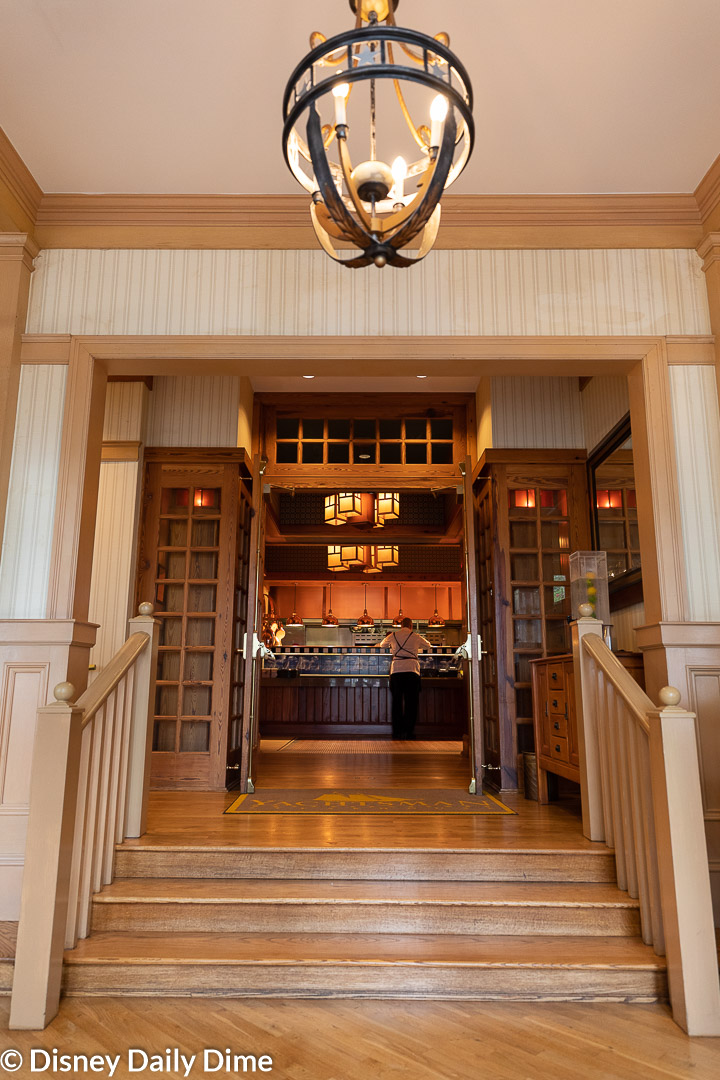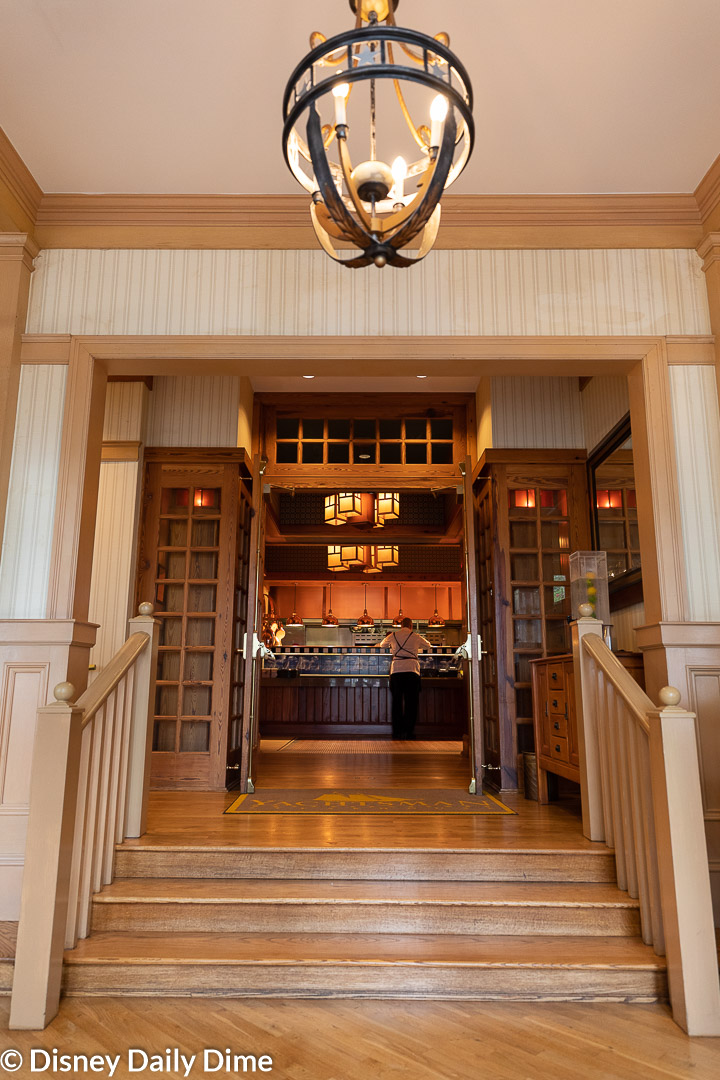 Yachtsman Steakhouse Features Old School Steakhouse Refinement and Décor
Given the name of this steakhouse, Yachtsman is something I would call a New England themed steakhouse with nautical touches.  As far as steakhouses go, you'll find some fairly standard décor touches.  With wood beams, tables, and chairs, Yachtsman features a classic steakhouse feel.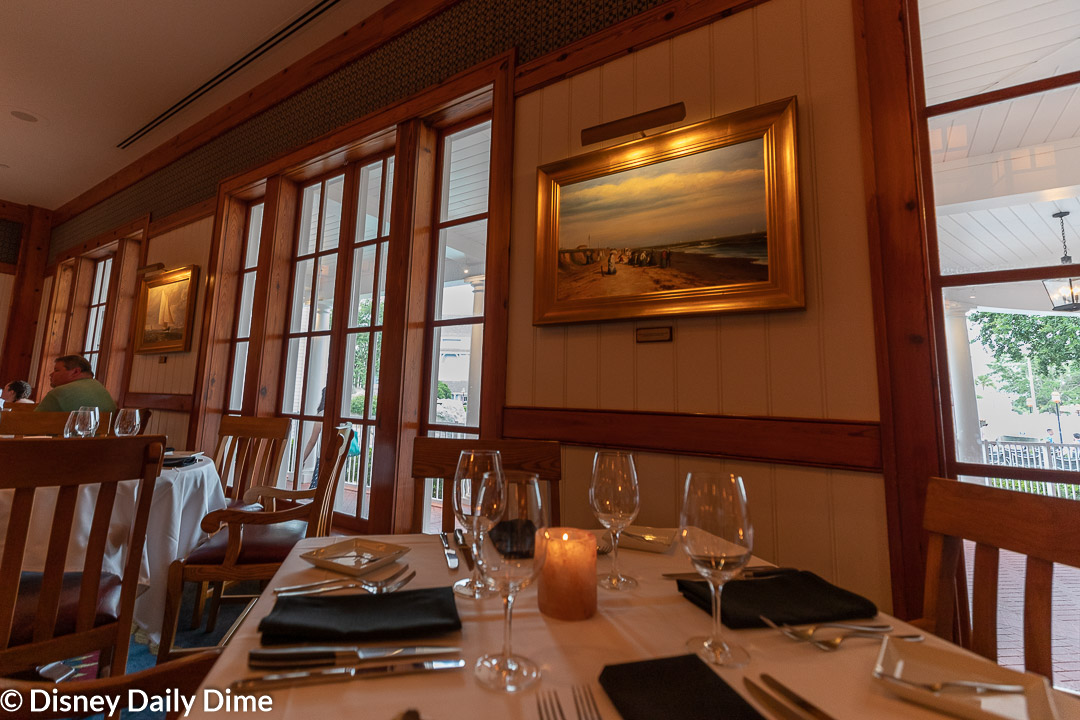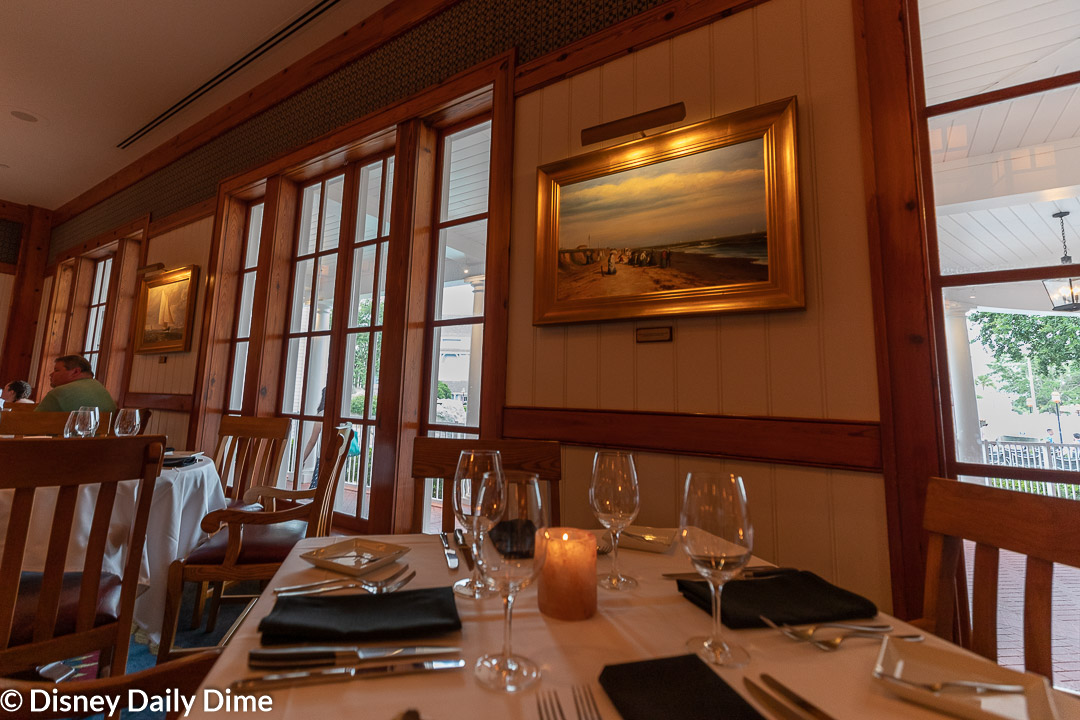 You're greeted by an encapsulating entryway that gives you a glimpse of the kitchen and large amount of wood surfaces that are prevalent throughout the restaurant.  You'll also find the first hints of the nautical theme that adorn most corners of this steakhouse.  But more than that, you'll find the meat dry-aging room where the butchers cut and prepare the steaks.  Sadly, I was so distracted, it appears I didn't get a picture of the room.  Bad oversight on my part, so I guess we'll have to go back.  Twist my arm!  You must stop by and take a look in here, especially if the butcher is working.  It always amazes me how easily butchers can work a cut of meat.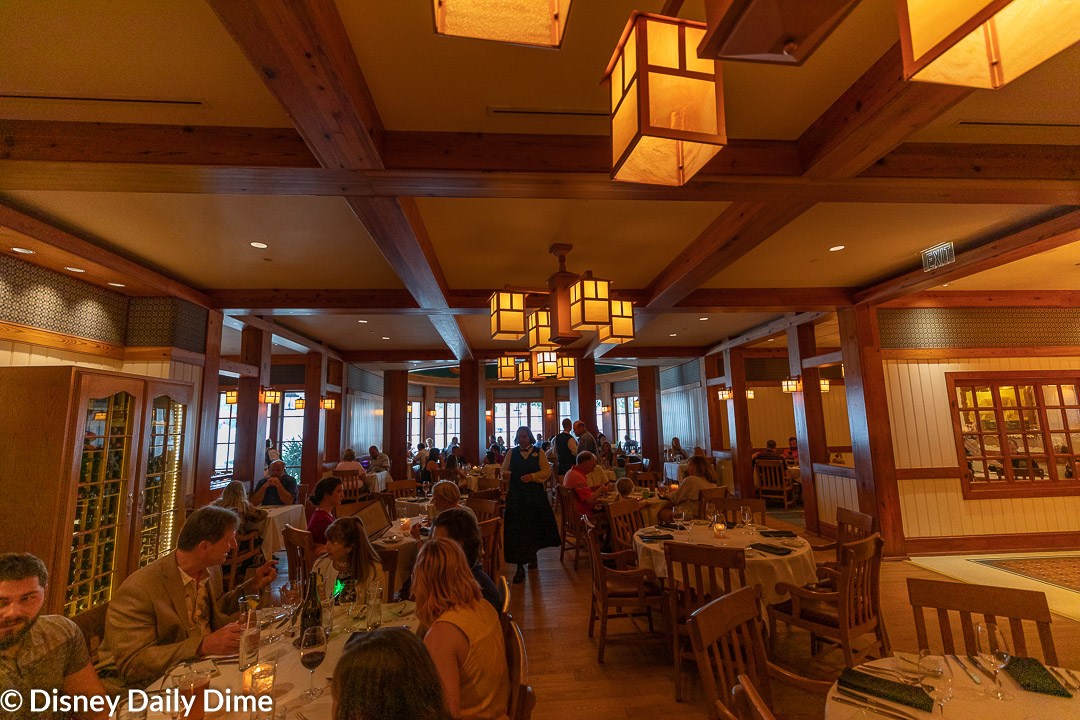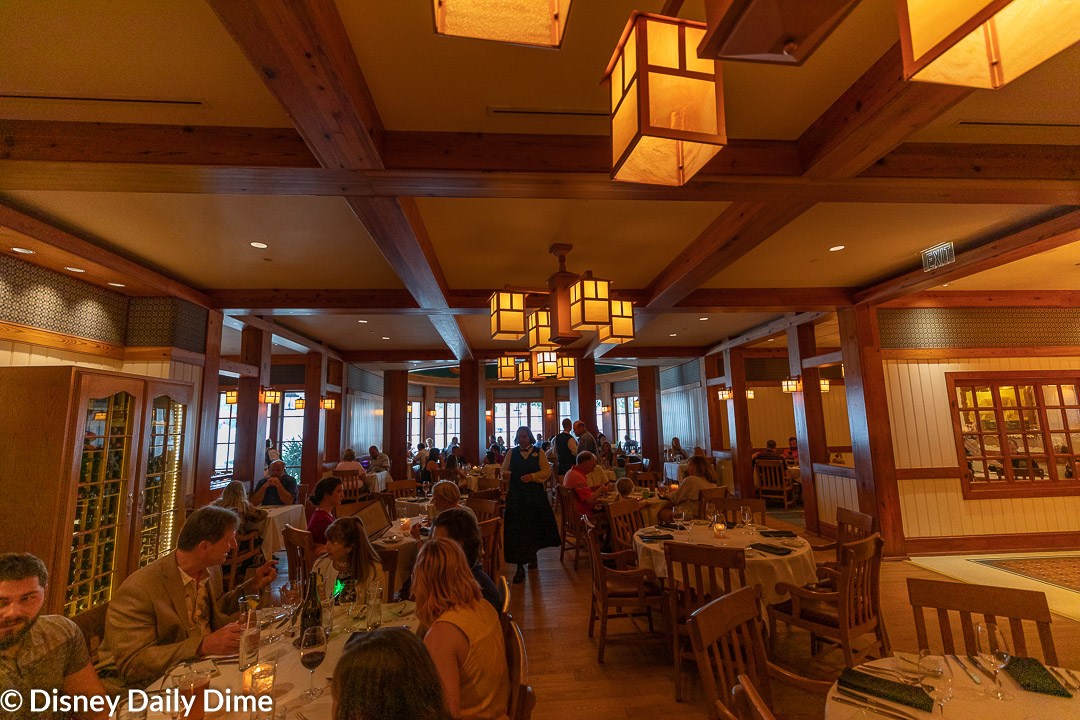 The wood accents and tones are something you will likely either love or hate.  Your personal preferences will decide how you feel.  We loved the design of the restaurant.  I appreciated that the wood touches are done with lighter colored woods.  It helps the restaurant not feel so dark and dank.  This is especially nice because, at one point during our meal, they dimmed the lights, making all of Yachtsman Steakhouse darker.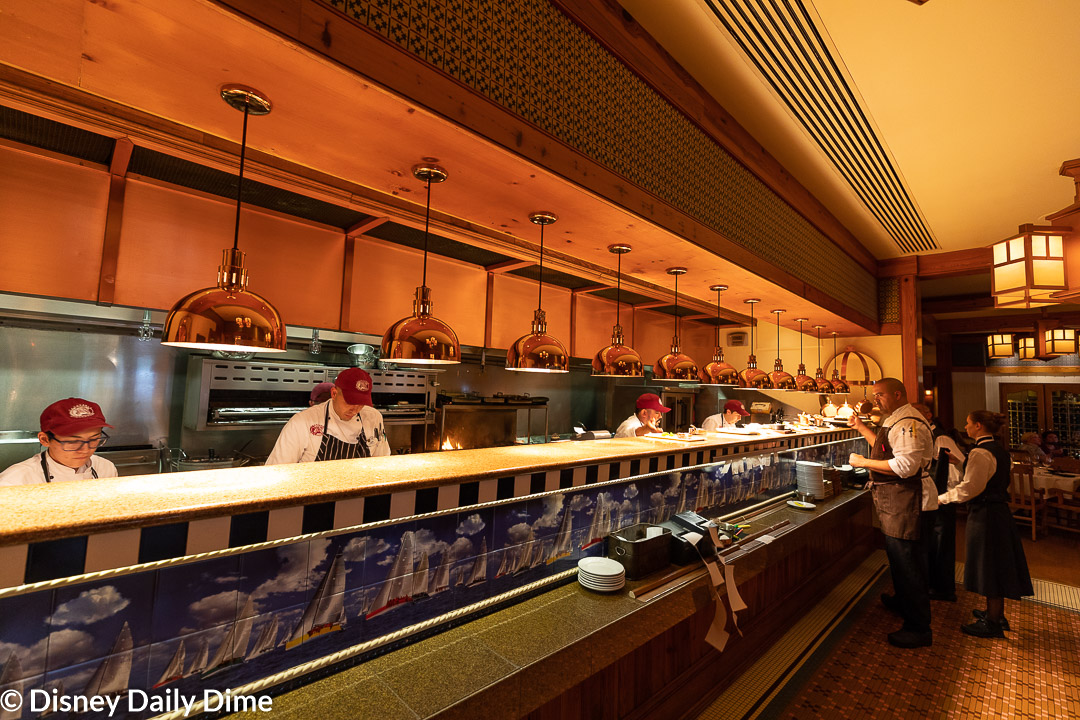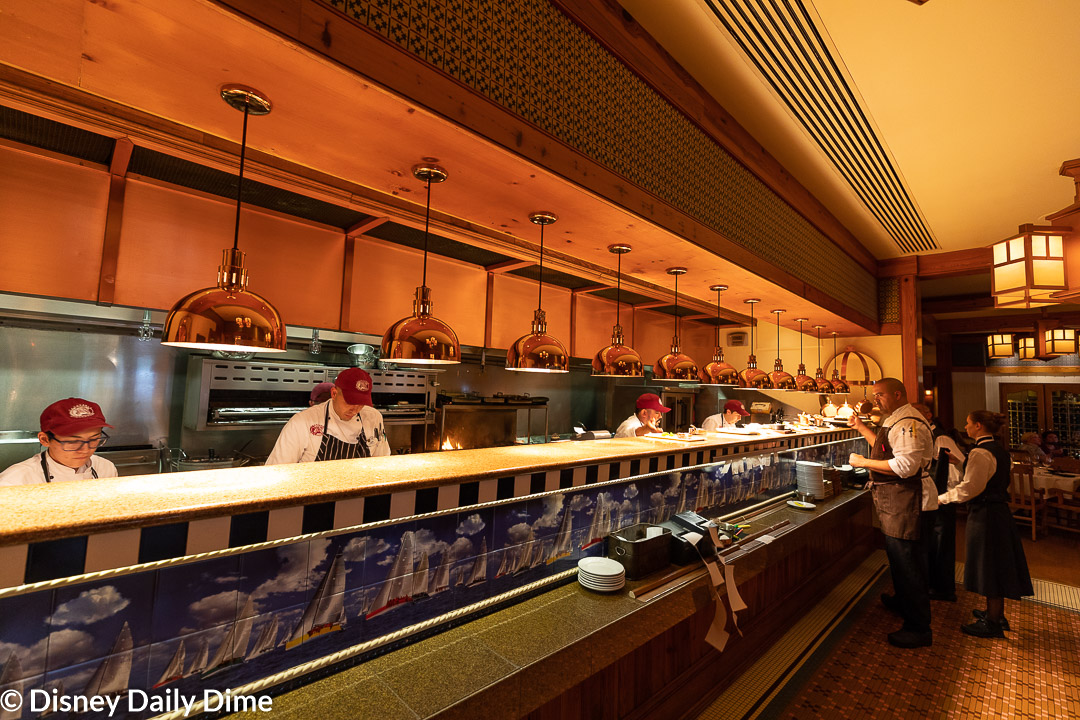 I will say that I thought the nautical theming that is present throughout the restaurant was generally well done, but there were a few elements that I thought didn't fit.  If you look at the picture of the kitchen area above, you'll notice these very out of place tiles that feature yachts.  The yachts aren't actually my issue; it's more the significant clash that they have with the entire area.  Contrasting the lovely copper tones and granite countertops with the bright blue tiles is just odd.  Admittedly, if this is my most significant criticism of the décor, I think we're doing okay on the décor component of our Yachtsman Steakhouse review.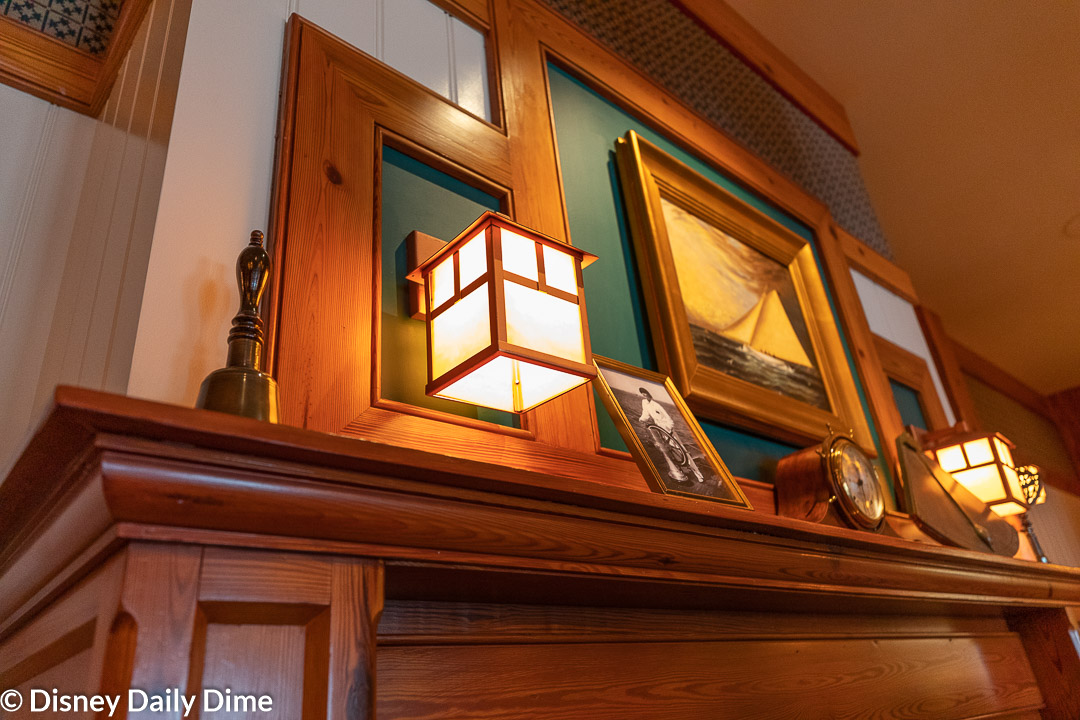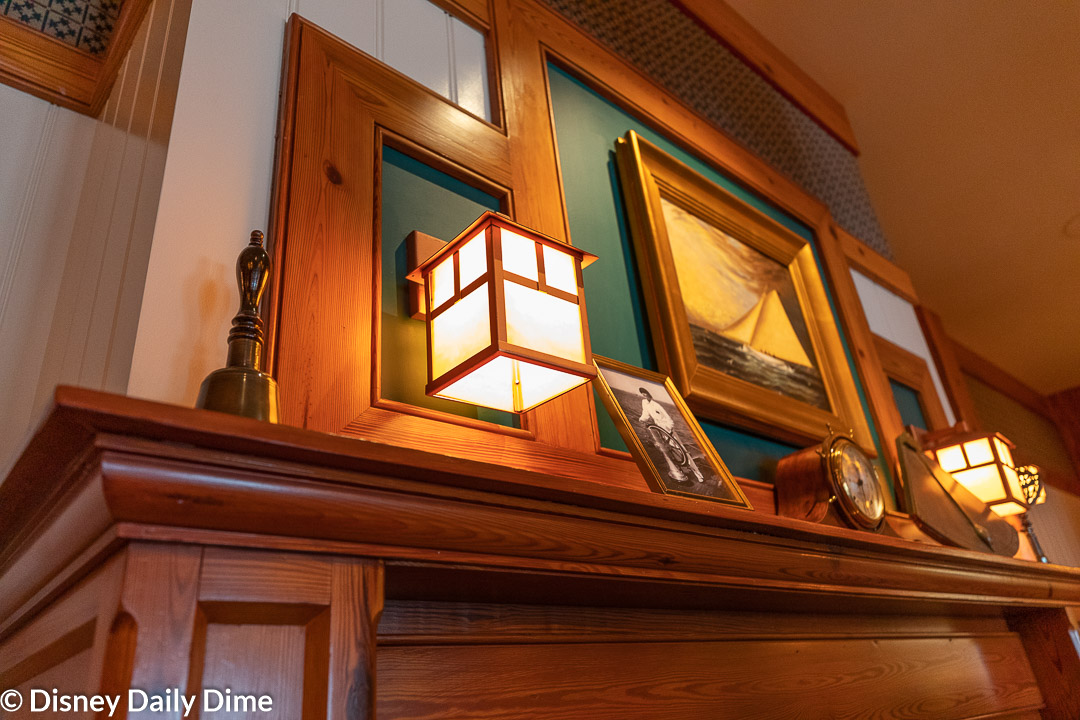 Service During Our Yachtsman Steakhouse Review Meal Was Top-Notch, As It Should Be!
Generally, in our Disney World restaurant reviews we don't talk about the service too much unless it is integral to the meal.  Think about something like 50s Prime Time Café.  Otherwise, we think the service can be hit and miss, like most restaurants that you would venture to wherever you live.
However, when dining at a Disney World signature restaurant like Yachtsman Steakhouse, there's a higher expectation for service.  This is especially true if you're coughing up that amount of money to eat here.
I will say our waiter was phenomenal.  He was attentive, very helpful with Carla's gluten-free questions, and helped me pair a great wine with my steak.  Anna and Elsa also really liked him.  He was engaging, funny and treated them with as much respect and attentiveness as Carla and me.  This is the type of service you expect when eating at a high-end restaurant.  That's not to say you can't have a bad experience here, but we'd wager that the odds of that happening are much lower.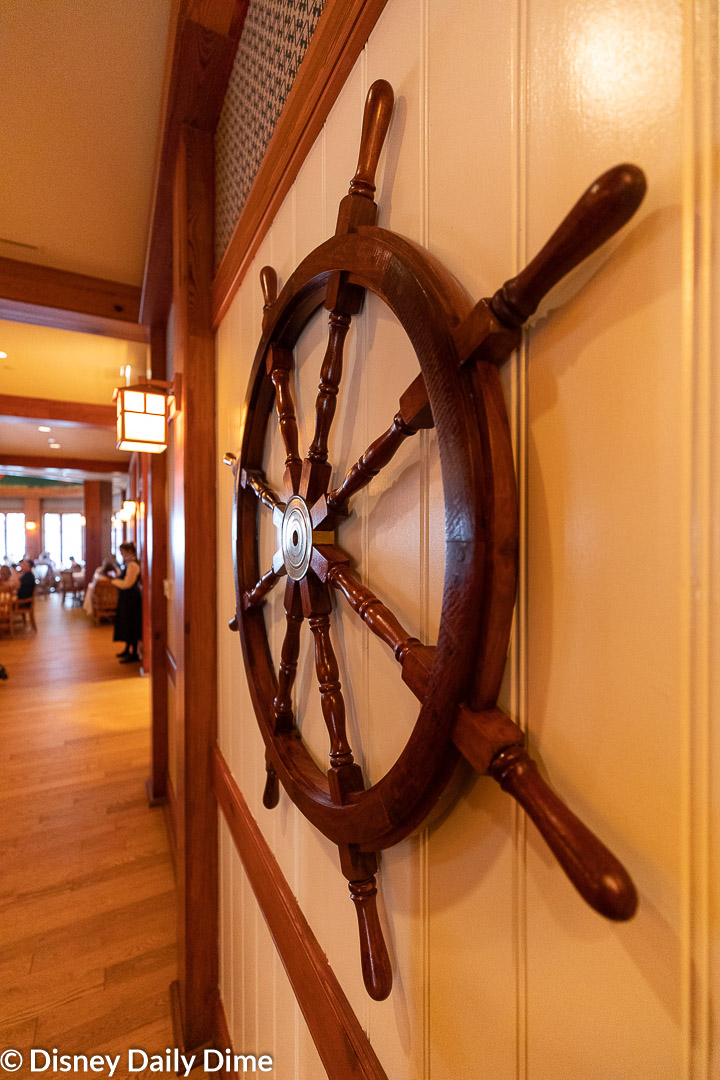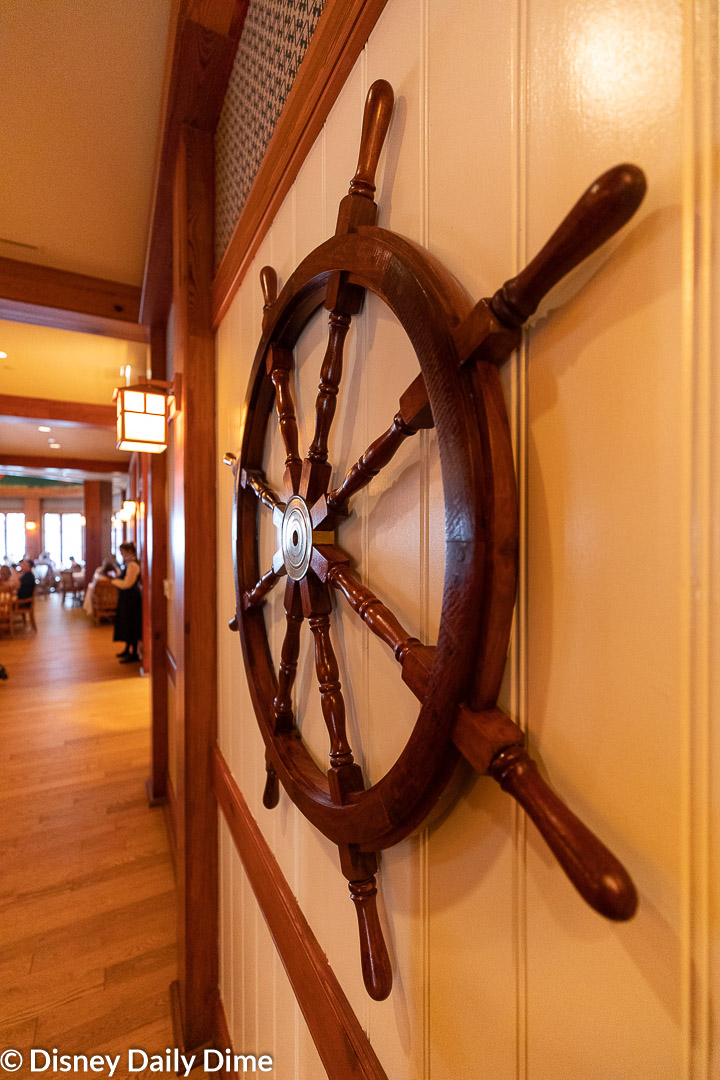 At Yachtsman Steakhouse, Come for The Steak, Stay for the Dessert..and the Bread
So Carla and I LOVE steak.  It just has to be a good cut and cooked the way we like it.  In our case, that's somewhere between rare and medium-rare.  Even if you don't like our preparation style, we think you'll be able to find something you'll enjoy.  That's assuming you love the yummy goodness of steak.  If you aren't really into that, you'll probably want to steer away from Yachtsman Steakhouse.
But to be a great steakhouse, Yachtsman has to do more than just steak well.  We expect great sides, appetizers, desserts, and bread.  When you're paying this much for a fine dining meal, it has to be on top of its game.  And Yachtsman Steakhouse is.  In our opinion, if you're looking for a steak at Disney World, Yachtsman is far superior to the experience you get at Le Cellier.  Enough of the preamble, let's get to the food we had as part of our Yachtsman Steakhouse review!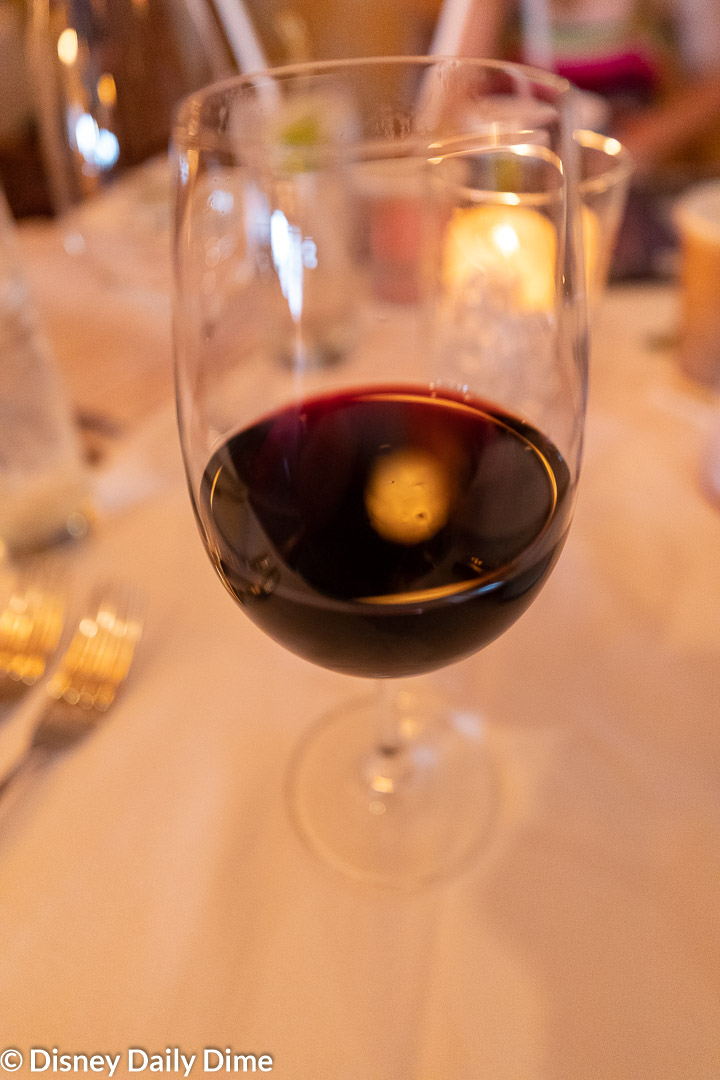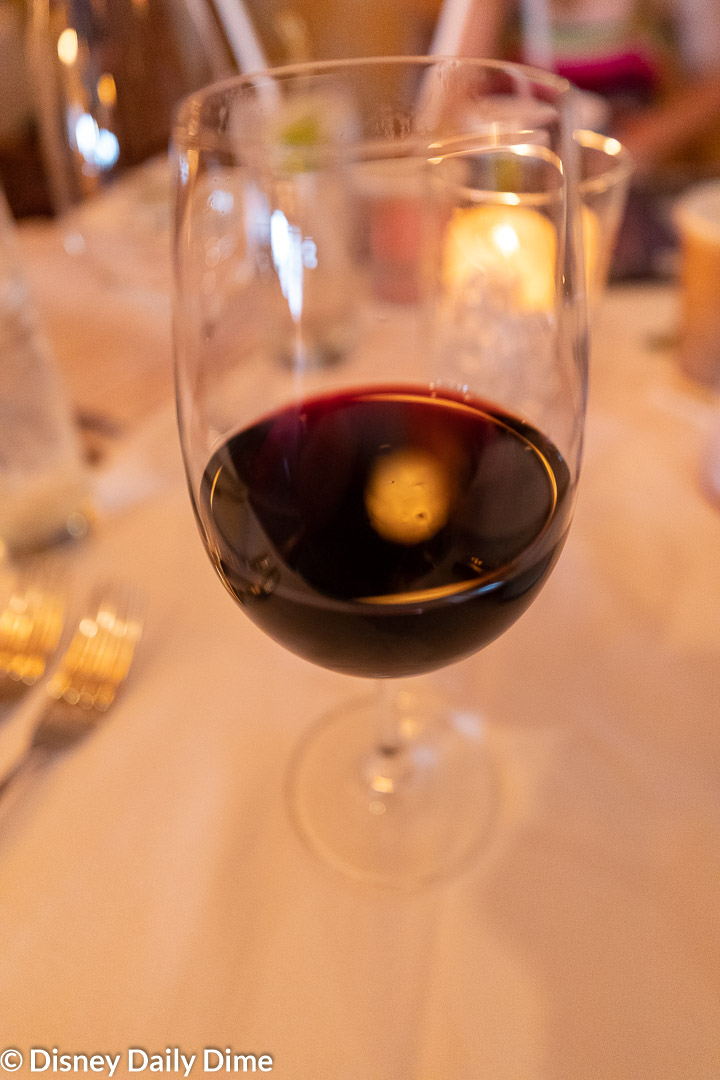 Drinks
With most any steakhouse, you do expect a great set of wines.  Yachtsman's wine list did not disappoint.  But better than not disappointing, you'll find a range of wines that will fit a broad set of tastes and budgets.  While I am certainly not a sommelier, I do know what I like.  In my case (and with the help of our waiter), I ordered a Row 11 Pinot Noir that paired wonderfully with my steak.  Get yourself a glass or something here.
They do have some specialty cocktails as well, however I did not try one.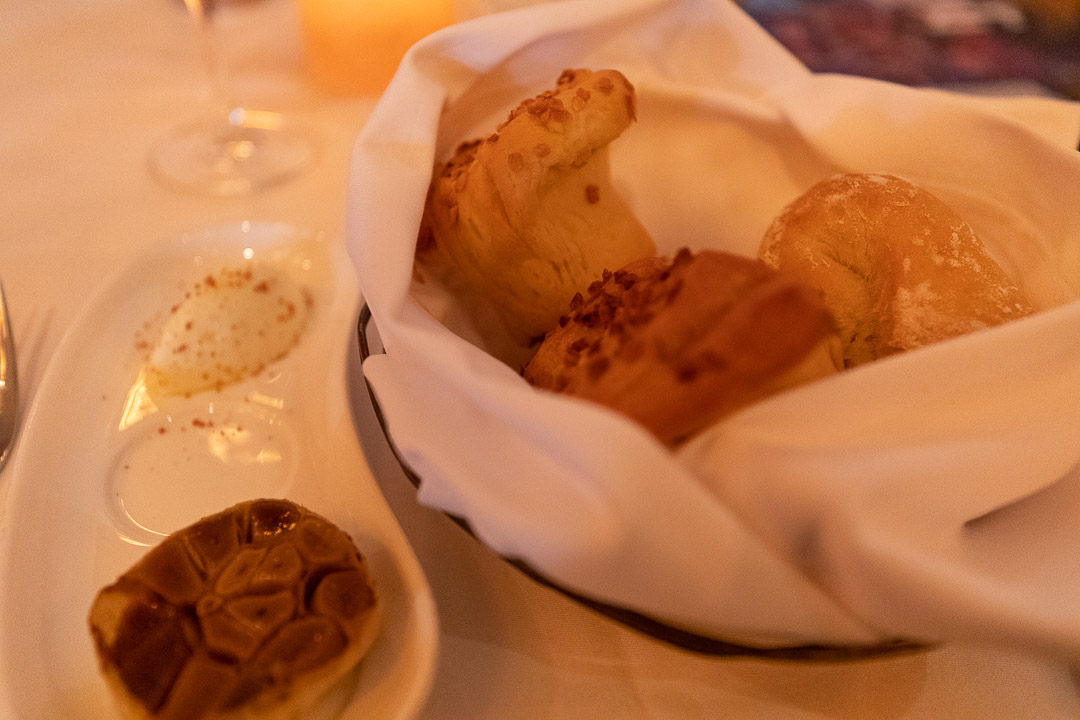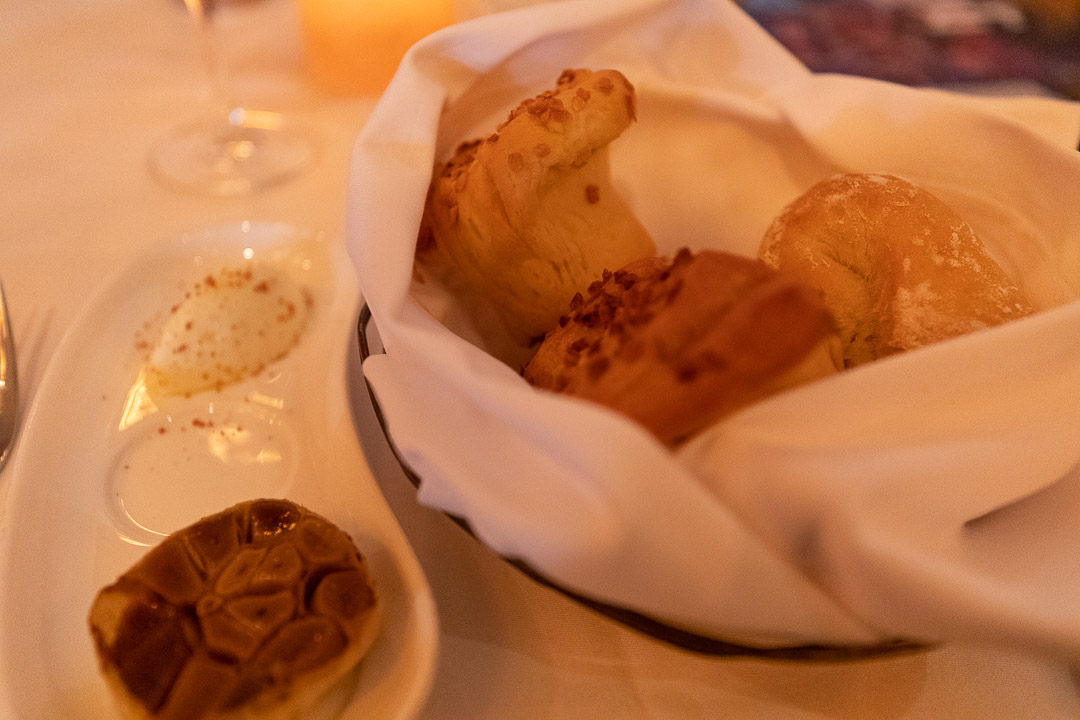 Appetizers
When dining at Yachtsman Steakhouse, you are treated to a bread service before the meal.  There is a wonderful onion bread in the basket, but the real surprise to me was the roasted garlic.  I don't dislike garlic, but whole cloves of it aren't something I usually eat.  I will make an exception for this because it was fantastic.  Combine the onion bread, a little butter, and the roasted garlic, and the kidsand I ate the basket in a heartbeat!  Then we ordered another one.  Sadly, Carla had to watch on and eat her very sad looking gluten free bread.  Fortunately, she could have the roasted garlic, so she only missed out on the onion bread.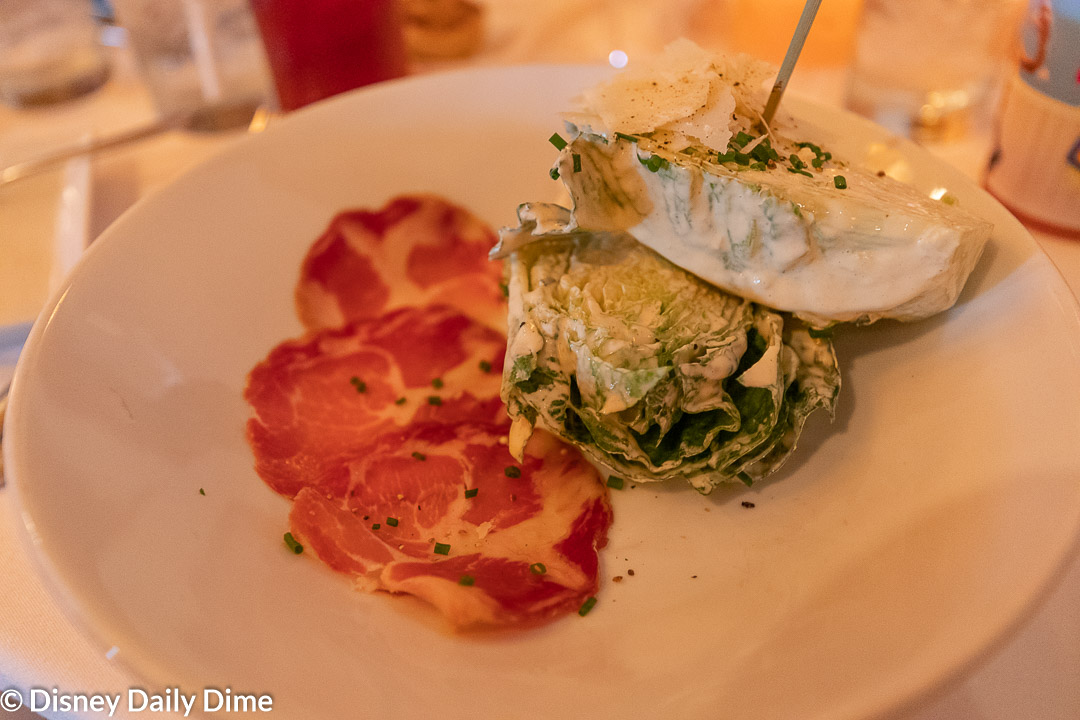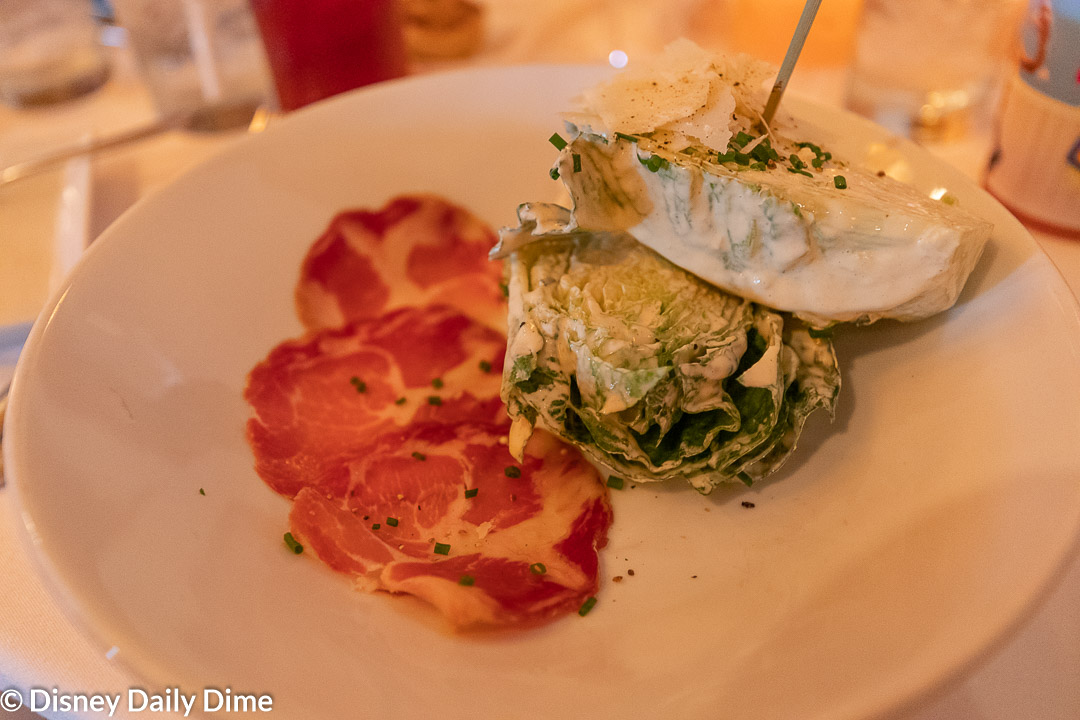 For her appetizer, Carla ordered a steakhouse staple in the Caesar Salad.  Featuring Crisp Romaine, Parmigiano, and Coppa Secca, Carla loved the salad.  She did have to leave the crouton off, though.  The Coppa Secca is what made the salad.  If you aren't familiar with it, Coppa Secca is a traditional Italian cold cut that almost tastes like a very finely cut prosciutto.  It was a great touch to the salad.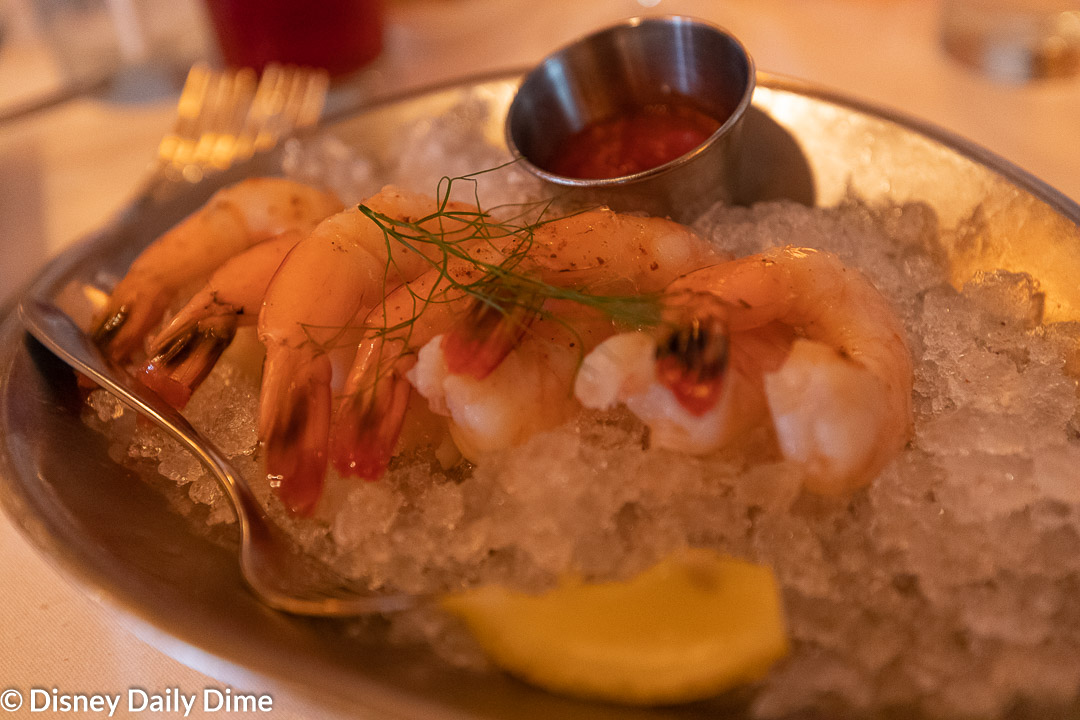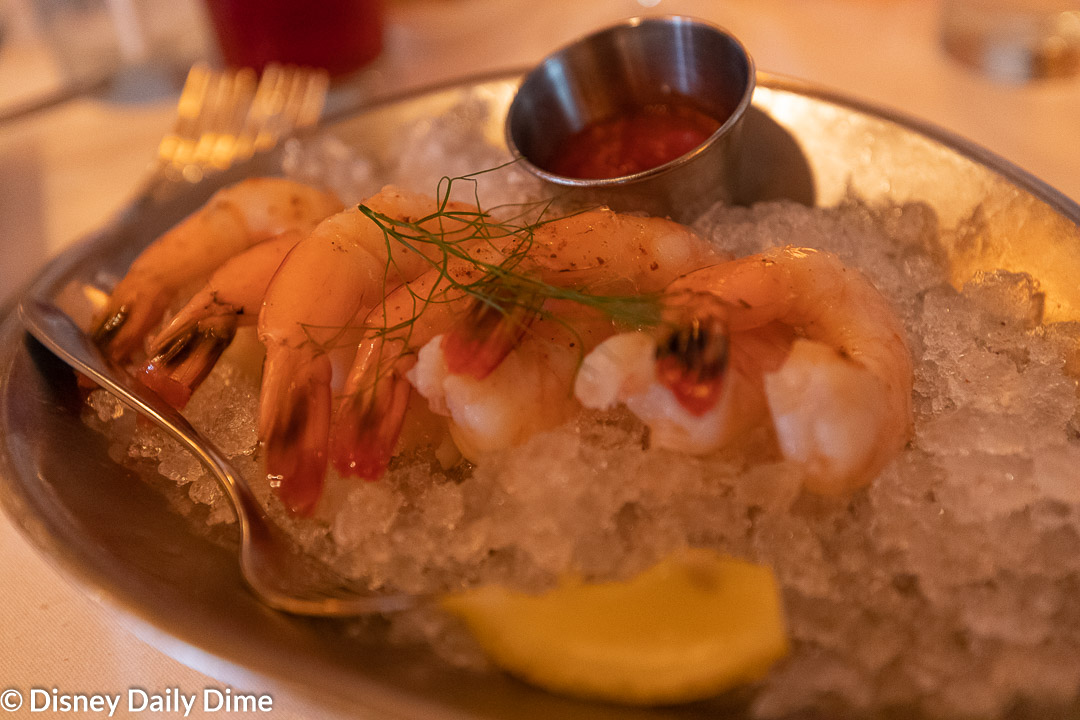 I elected to go with the Jumbo Shrimp Cocktail.  This was probably the thing I would call closest to a disappointment that we had.  Not because it was terrible, but it was pretty much a run of the mill shrimp cocktail.  I would have liked a little more spice in the cocktail sauce as well.  The portion size of the shrimp was a welcome surprise, but for something called "Jumbo Shrimp," they were not a large as I would expect.  Maybe they were compensating for the lack of size with the number of shrimp?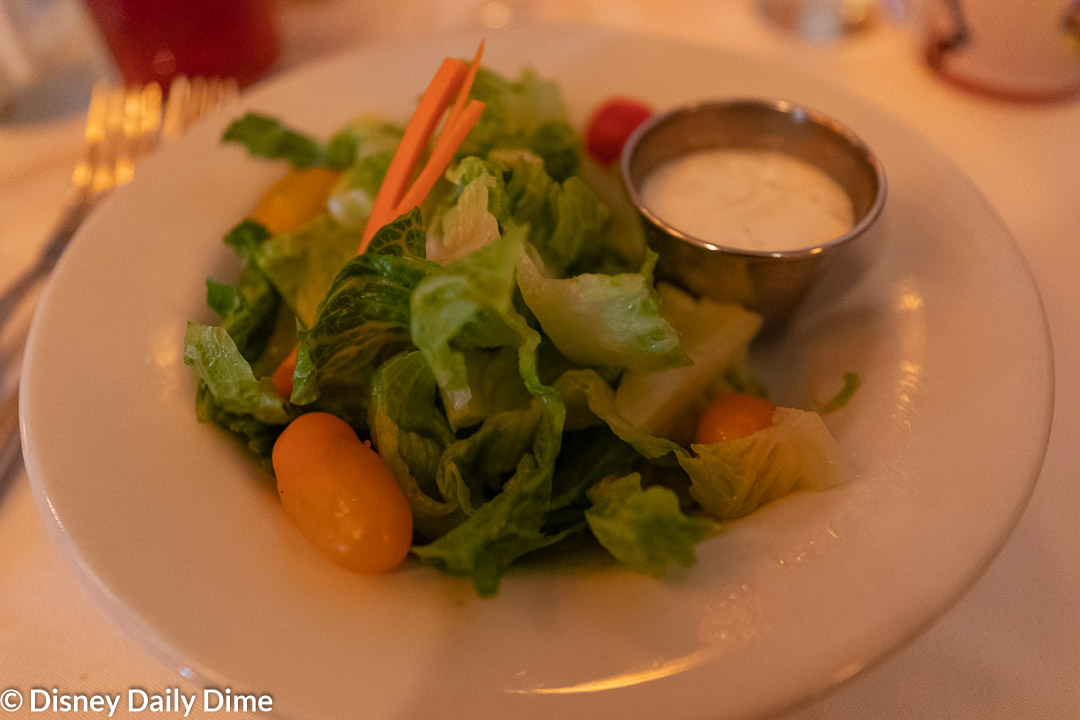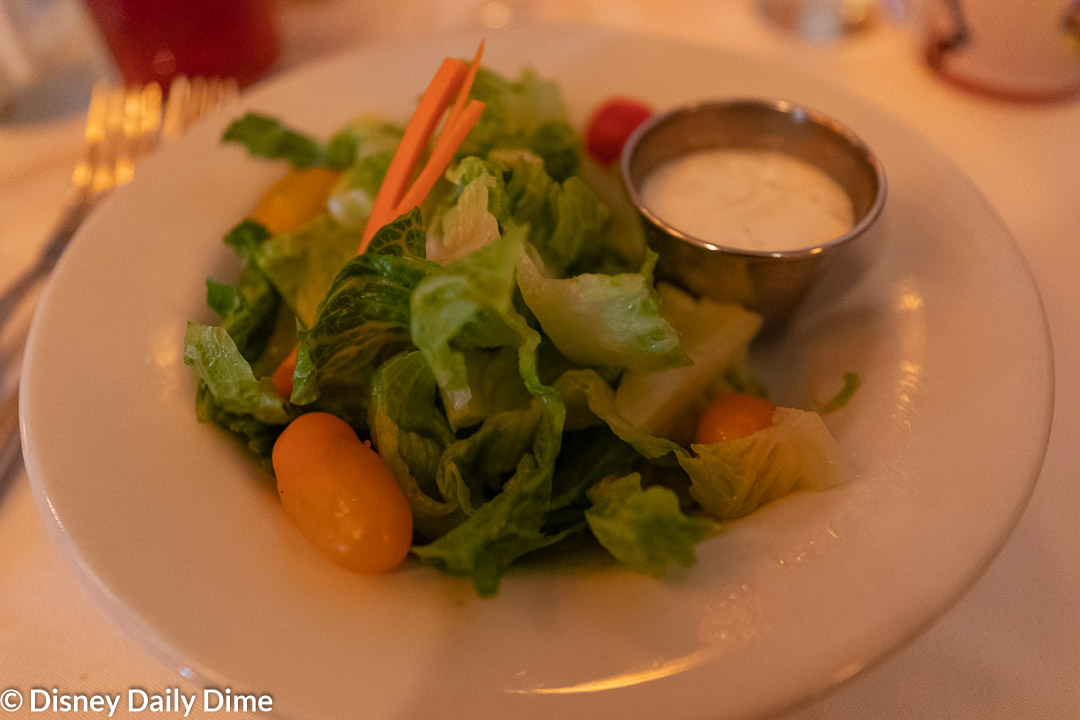 The kid's menu at Yachtsman Steakhouse features a couple of appetizers, and surprisingly, both the girls wanted to try something.  Elsa had the Mixed Green Salad with ranch dressing.  She ate plenty of lettuce with ranch, but avoided the baby tomatoes like the plague.  That's just kid pickiness, not a sign of the tomatoes tasing bad.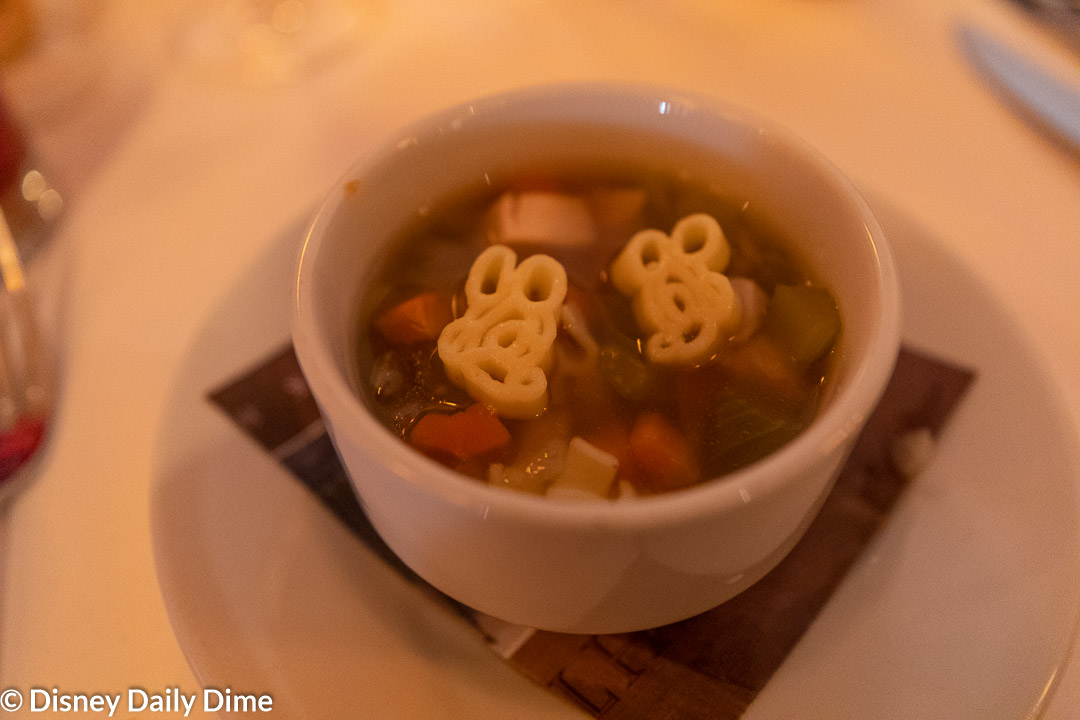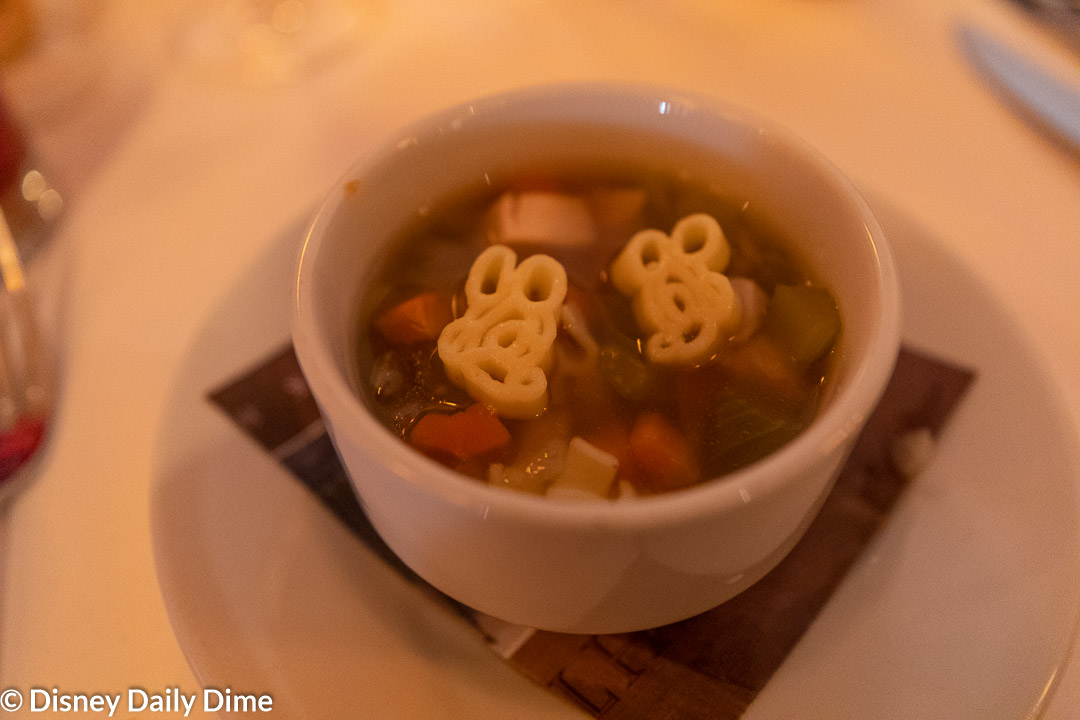 Anna went with the kids Chicken Noodle Soup.  As you can see in the picture above, the noodles in the soup look like Mickey mouse.  But this was a bit more of an advanced chicken noodle soup, as you can see there are lots of carrots and celery in it.  Anna didn't like the soup because of all the extra stuff in it.  She just wanted chicken and noodles.  I took a bite of it and thought it was fine, but nothing amazing.  I do get why Anna wasn't a fan though.  It is more of an adult style Chicken Noodle Soup, and just wasn't for her.
Okay, so that's all the appetizers we had.  Let's get to the entrées of our Yachtsman Steakhouse review!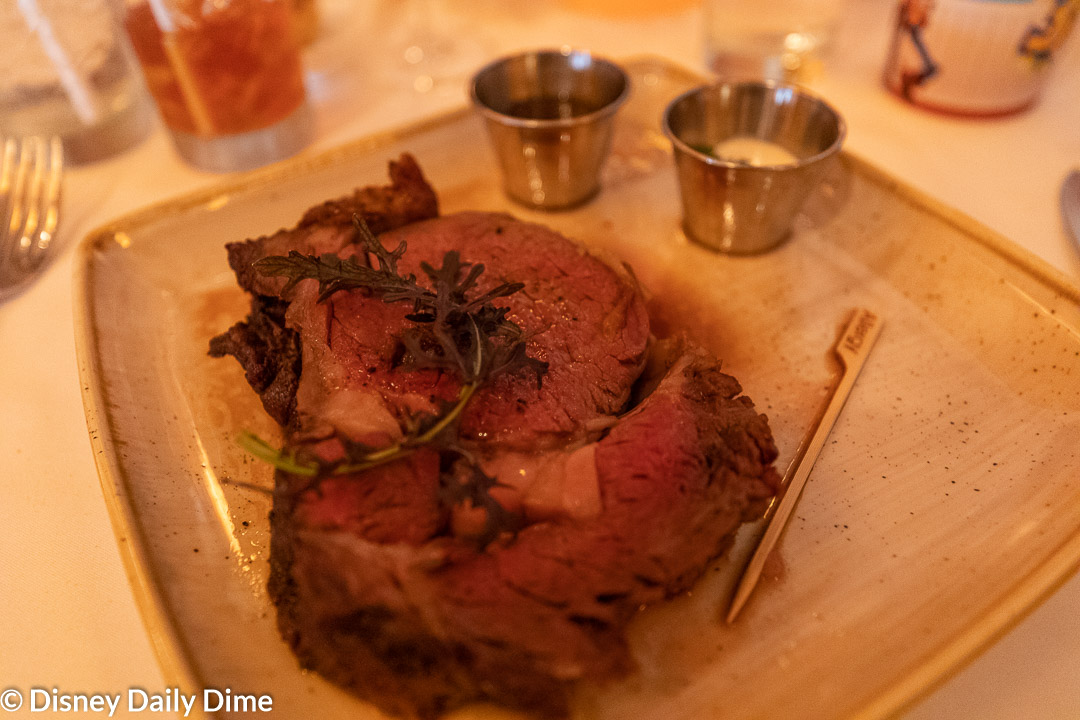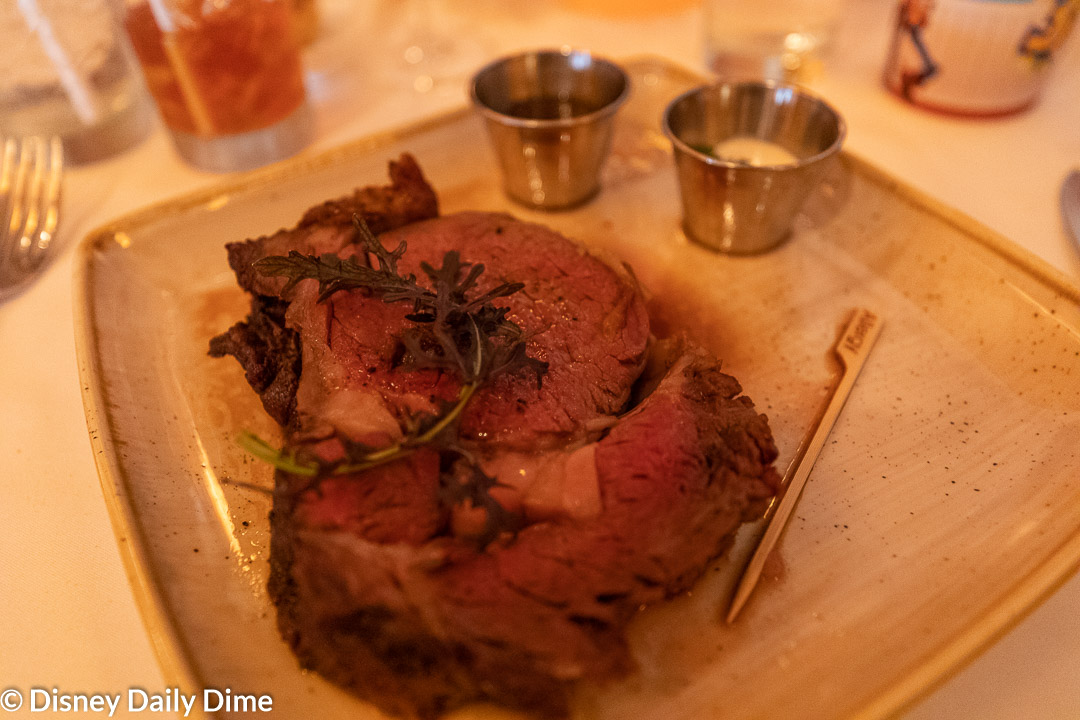 Adult Entrées
For her meal, Carla went with the Roasted Prime Rib, which is her favorite type of steak.  Served with Horseradish Cream and Au Jus, Carla was in heaven.  The steak was cooked perfectly, and Horseradish Cream had a great bite to it, making it perfect for Carla.  If you're a prime rib fan, this is something you will probably love.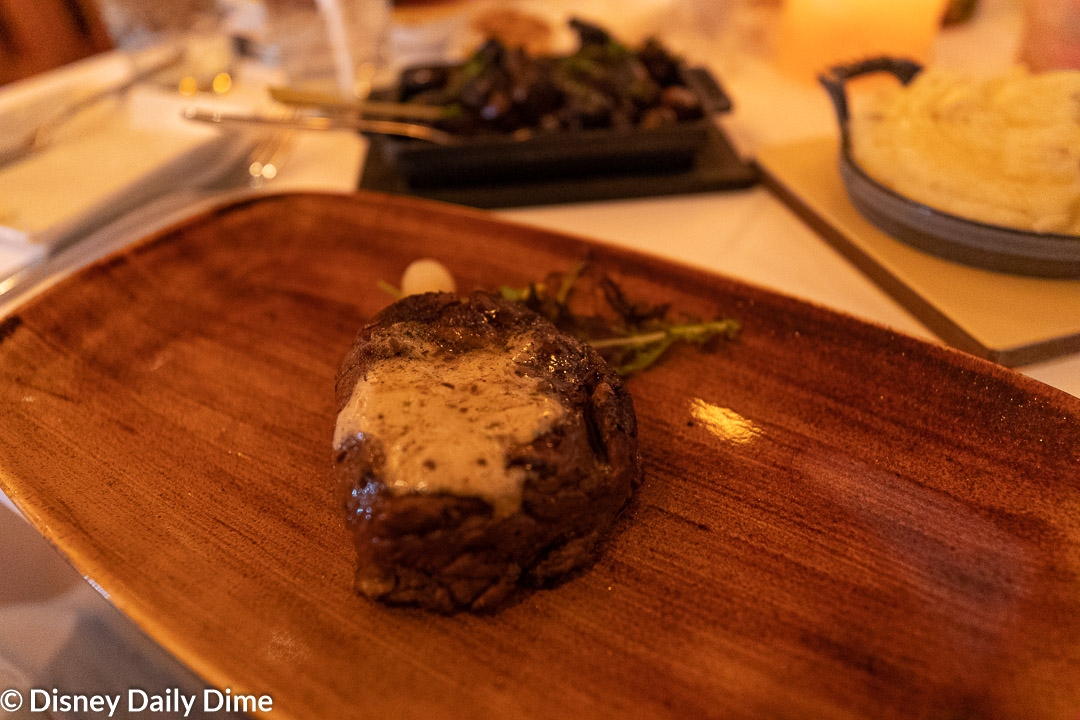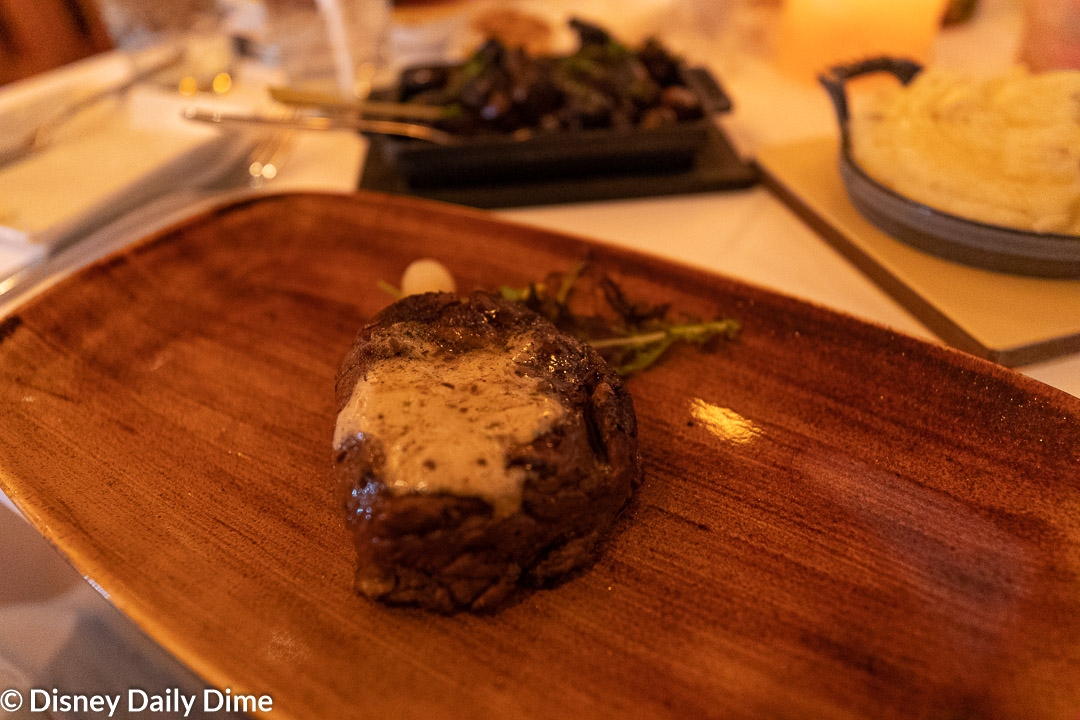 I elected to go with the Black Angus Filet Mignon.  It's an 8 oz portion, and it was fantastic.  The cut of meat was cooked exactly as I want it.  It's topped by a Cognac-Truffle Butter that added a tremendous buttery flavor to the meat.  Seasoned well, I could have eaten another portion of the filet.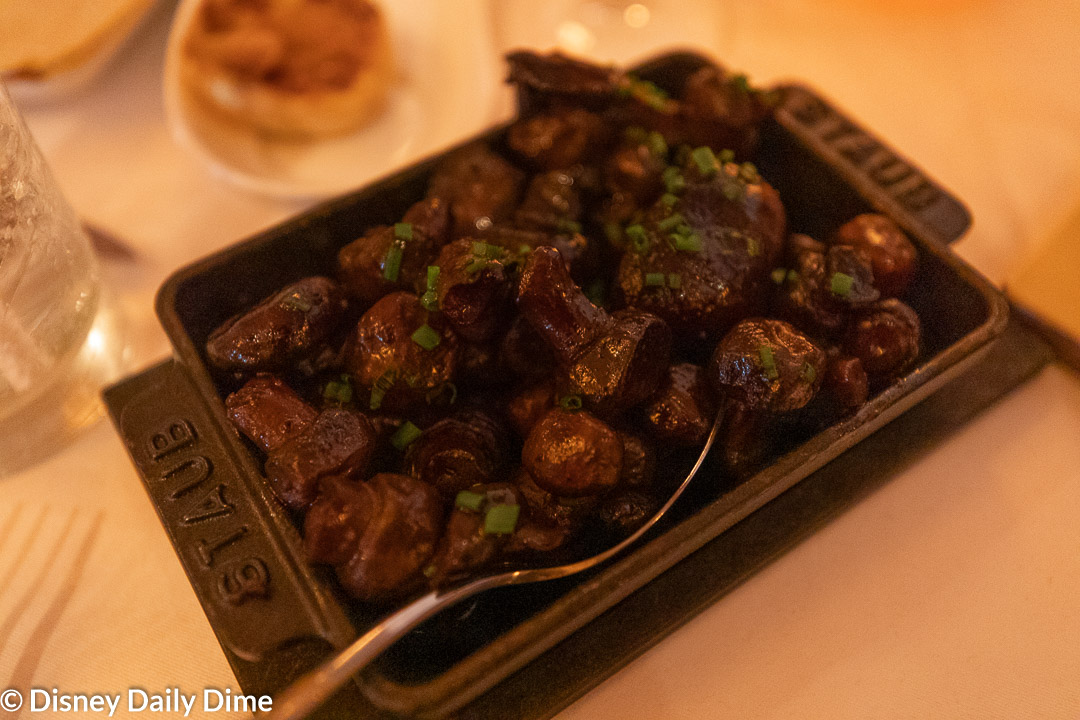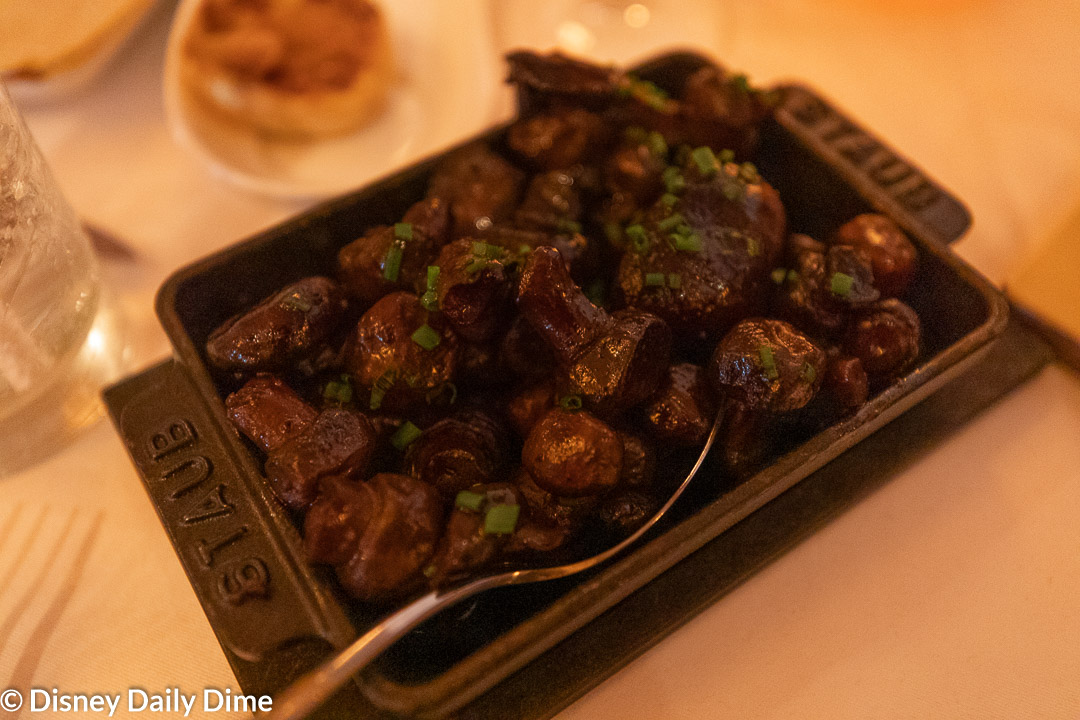 You'll notice in the pictures of our steaks that there are no sides.  That's because the sides are served family-style on the table at Yachtsman Steakhouse.  We elected to go with the Braised Mushrooms and Mashed Potatoes.  I'd call both of these sides solid steakhouse caliber dishes, but there wasn't anything particularly innovative or unique about them.  We enjoyed both of them and would eat them again, but they don't make the meal.  That's what the steaks are on the menu for.  There are several other sides available on the menu that may be of interest to you.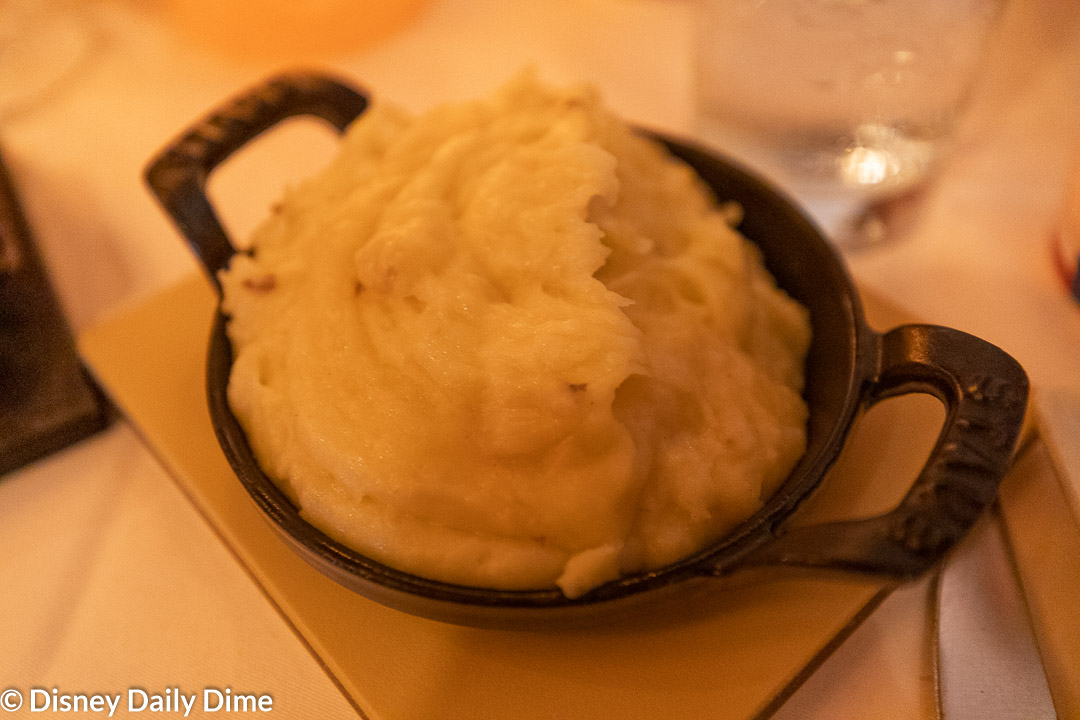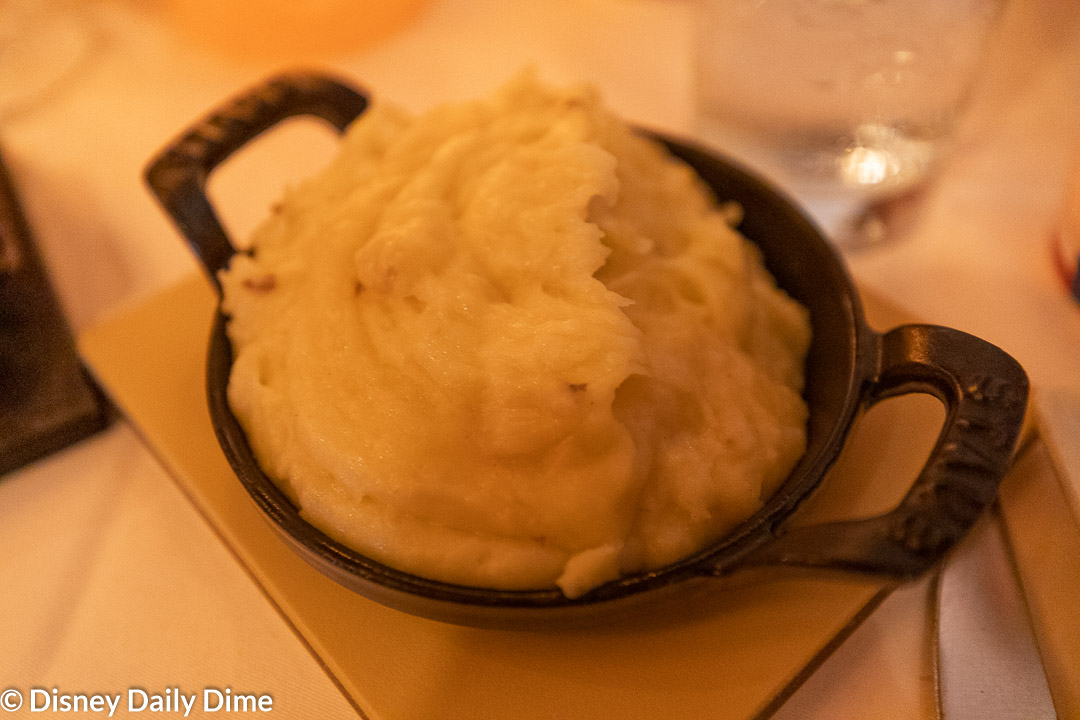 Kid Entrées
The kid's menu at Yachtsman Steakhouse featured options from steak skewers to grilled chicken breast to mac and cheese.  It's a good variation and provides for something that will probably appeal to the pickiest of kids.  All of that at prices that won't break the bank.
For their meals, both Anna and Elsa selected the Orecchiette Pasta and Meatballs.  It was a bit of a surprising selection to Carla and me, but you never know what the girls are going to want.  The name of the pasta originates from Apulia, a region of Southern Italy.  The pasta resembles a small ear, which the girls didn't even notice.  They dug in, devouring the meatballs quickly.  Both said the meatballs were the best part of the dish, and given that is what both of them ate right away, I believe them.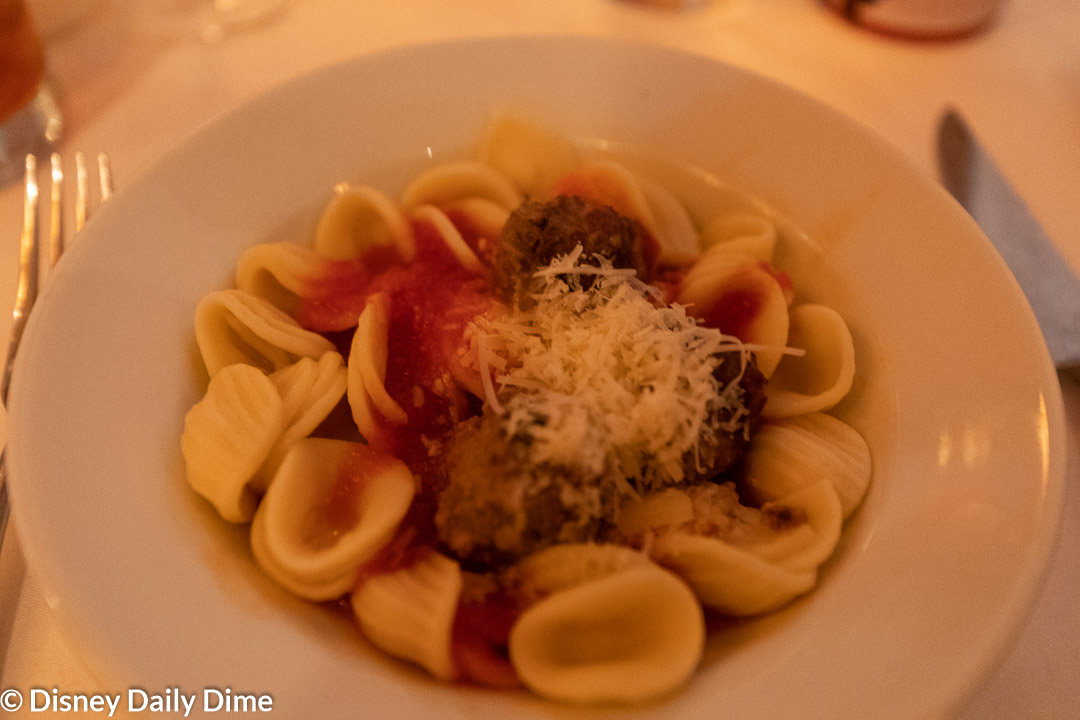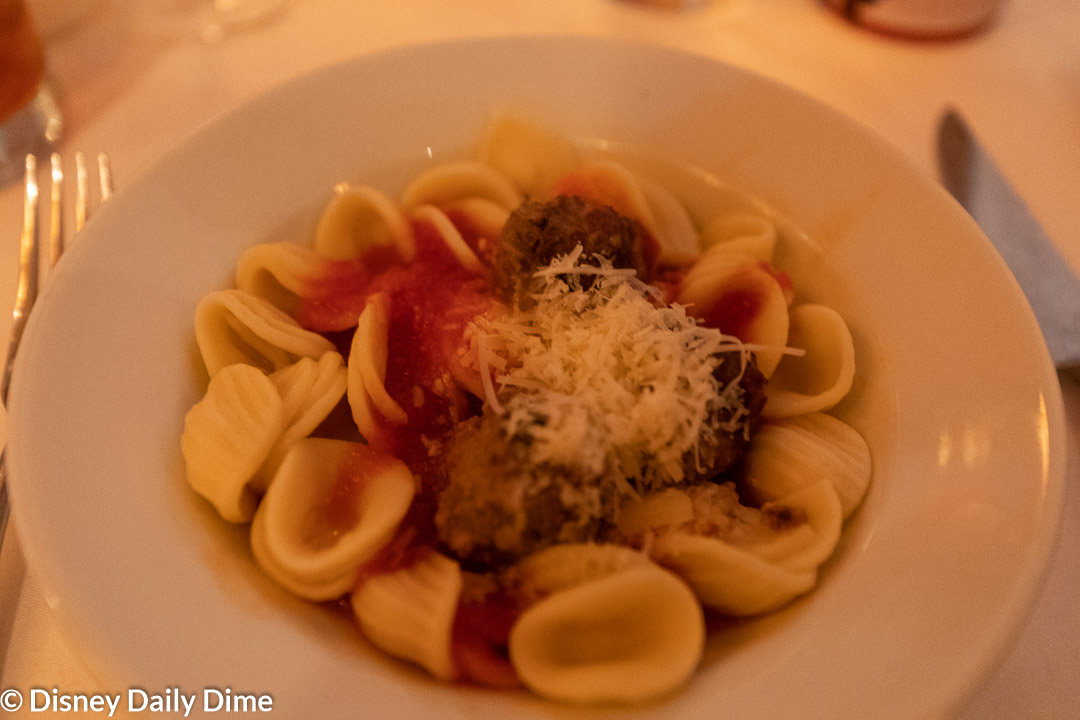 As for the pasta, marinara sauce, and parmesan cheese, they ate it without any problem, which Carla and I consider success at almost any meal!  Anna thought there was a bit too much parmesan, but that was her only criticism.  Elsa found the meal to be "perfection" in her estimation.
I tasted the pasta and thought the marinara was a bit bland, but that probably makes sense for a meal geared towards kids.
Both of the girls said they would get the pasta again, so I guess it was good enough for them.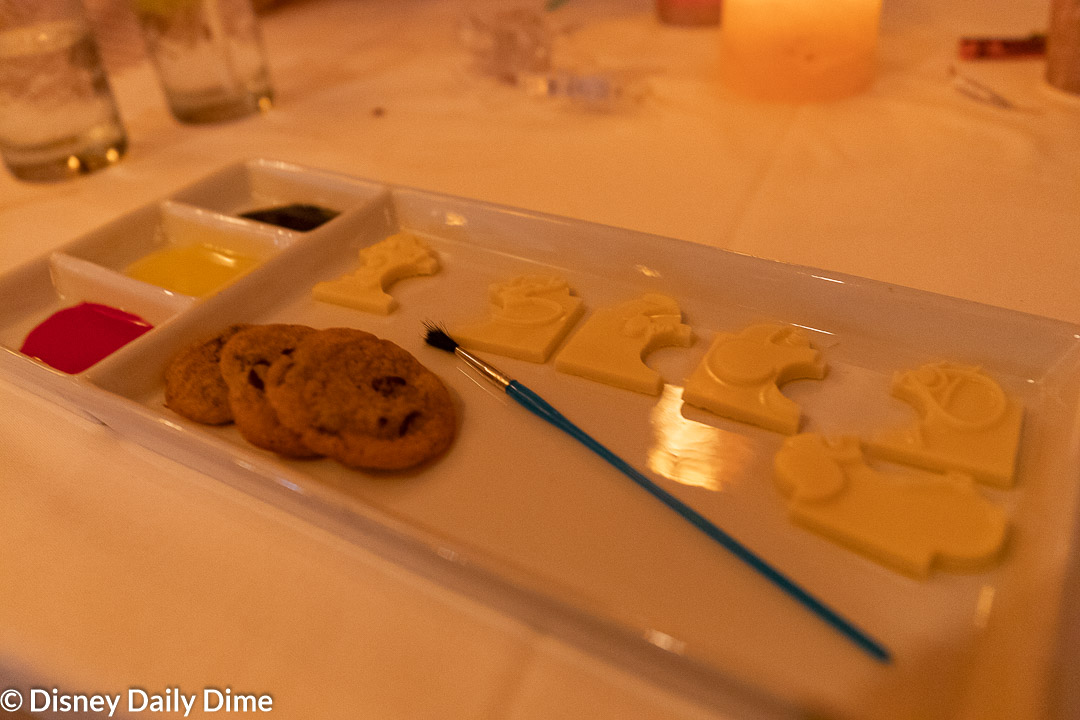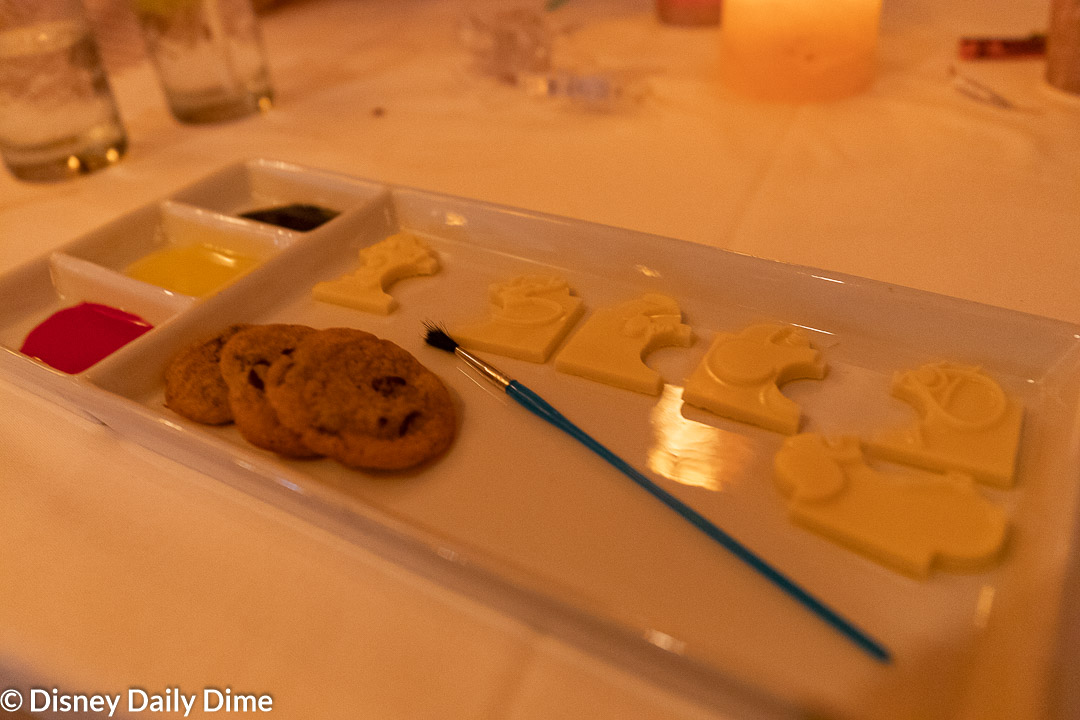 Desserts
We, of course, had to try some of the desserts here.  Otherwise our Yachtsman Steakhouse review would be incomplete, right?  The most interactive dessert was actually the kids one.  Both girls got the Mickey Puzzle.  This dessert is made up of six pieces of white chocolate, which put together form a picture of Mickey Mouse.  Accompanying the puzzle are red, yellow, and black "paints," which the girls used to paint the picture.  You can see what Anna's take on painting looks like below.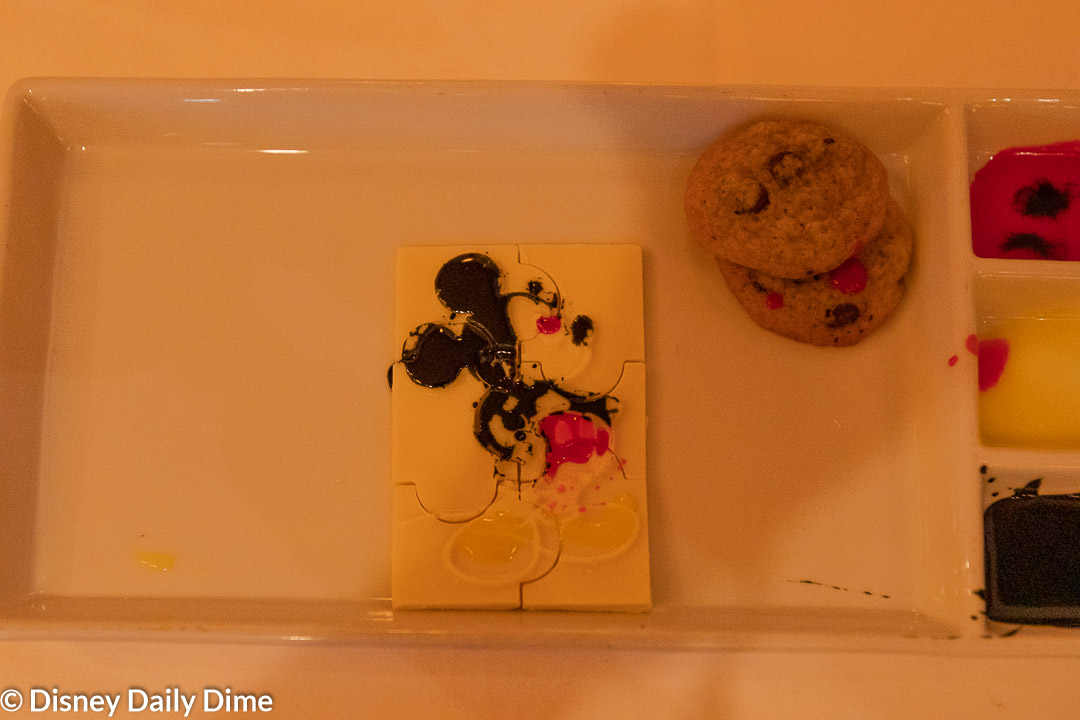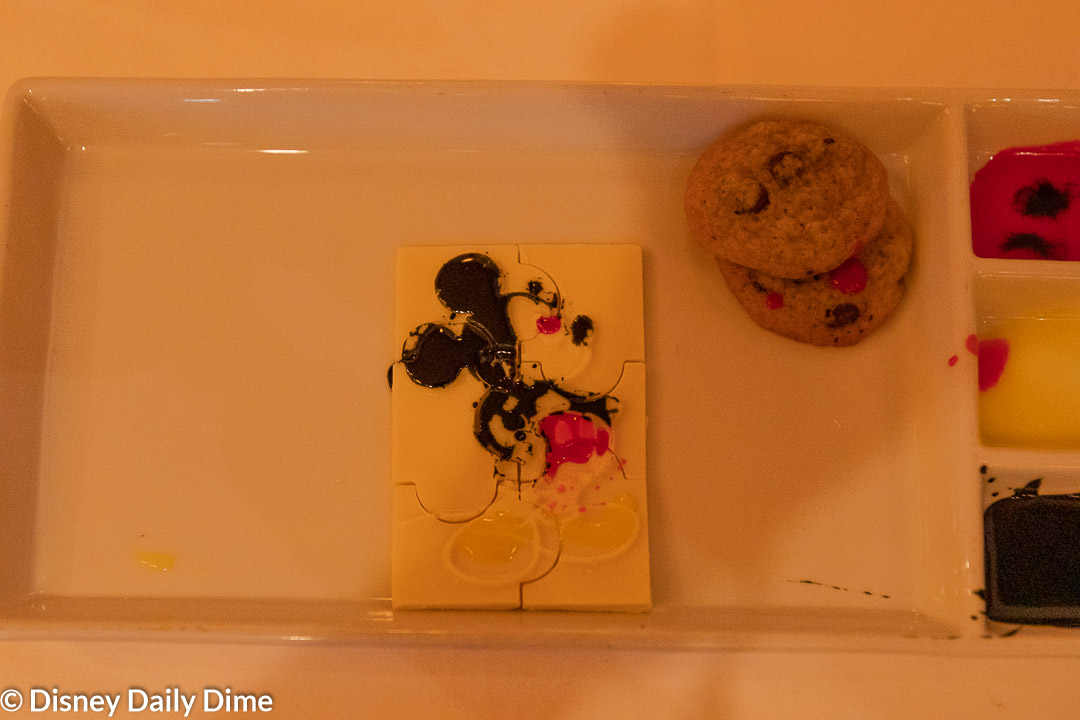 It's a fun dessert, and the girls both agreed that they liked it better than the create your own cupcake that the girls had at Cinderella's Royal Table.  This isn't the only way that Yachtsman Steakhouse is better than CRT.  It's a fun dessert for kids and was an excellent way for them to end the night.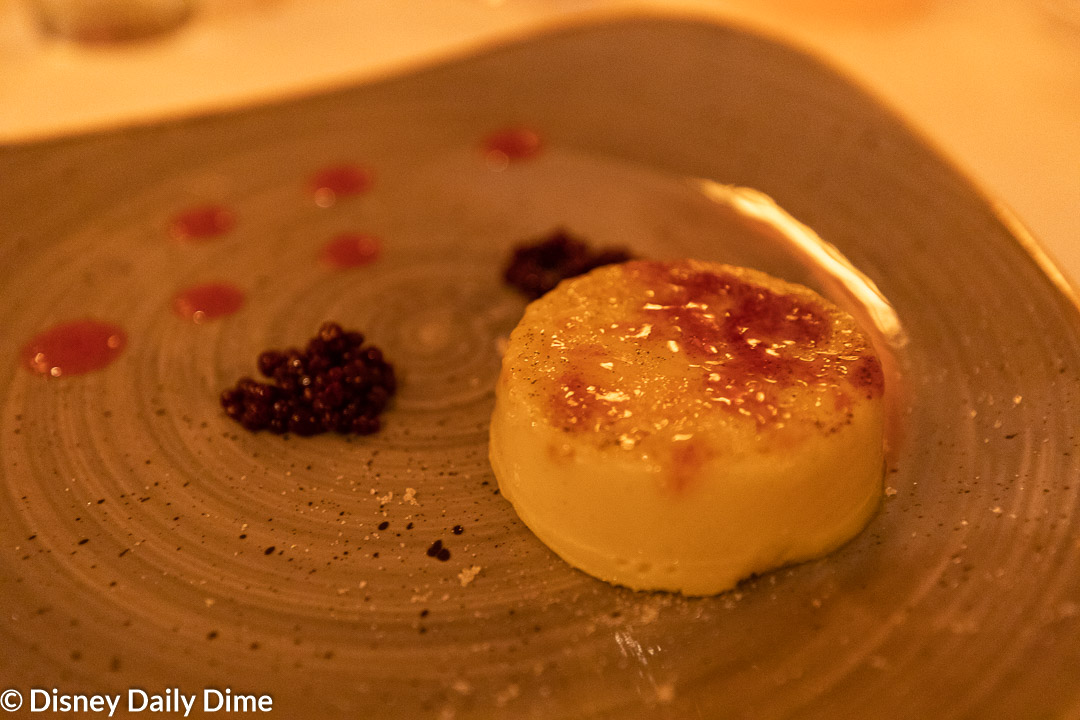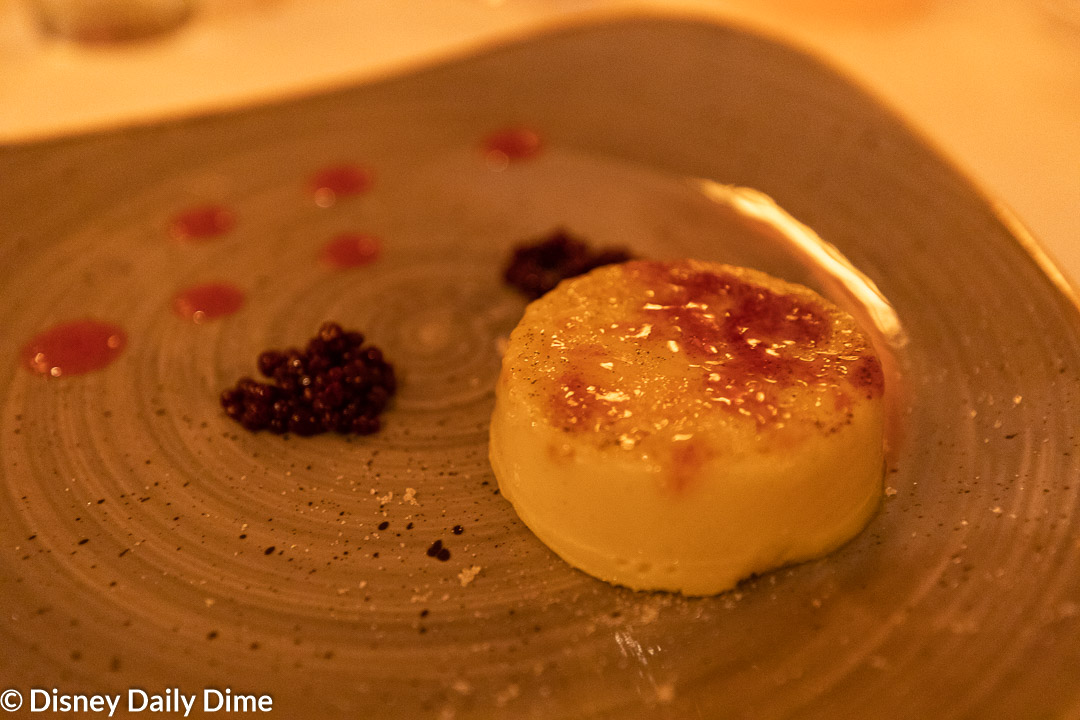 As for the adult desserts, Carla went with a steakhouse classic (in my opinion) by ordering the Crème Brûlée.  The presentation was a bit different than the normal Crème Brûlée, as you can see.  However, the flavors were excellent.  If you're a fan of Crème Brûlée, you can order this dessert with confidence.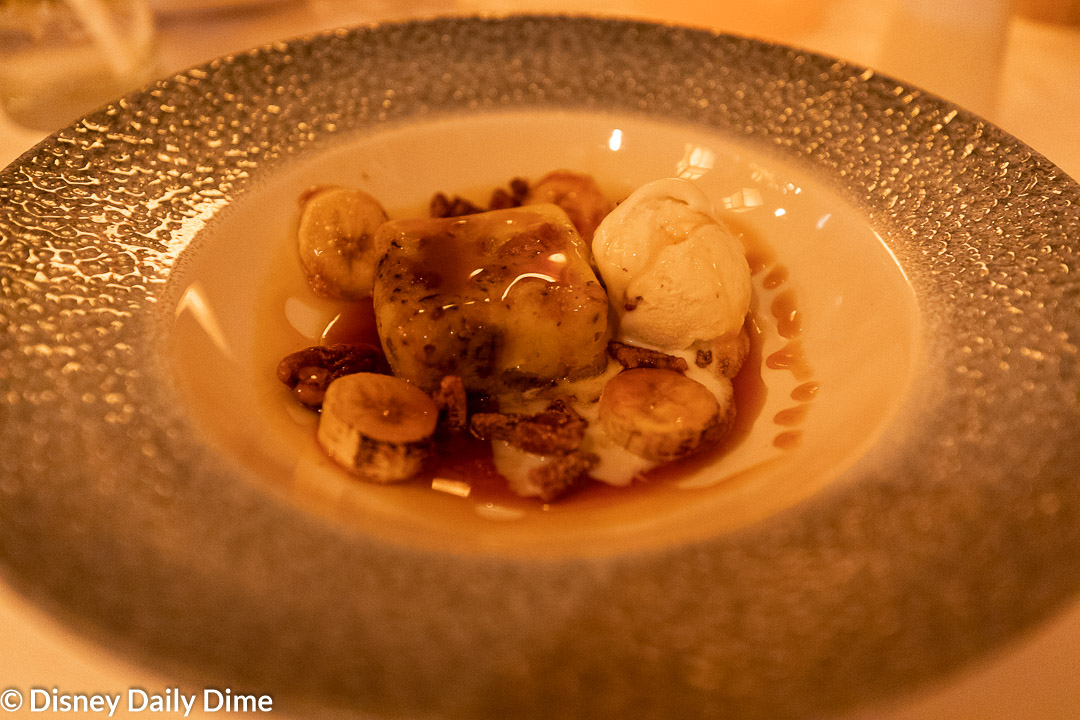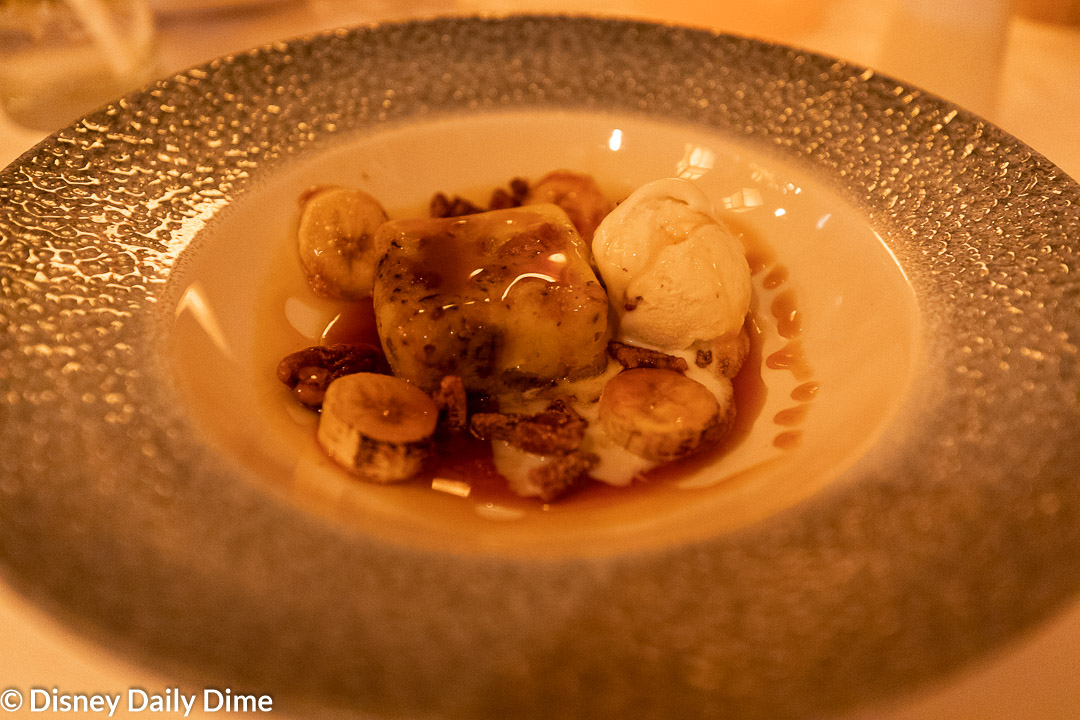 I decided to go with the Banana Bread Pudding.  Oddly it was the second banana bread pudding that I had this trip.  The bar was already set pretty high because I loved the banana bread from Olivia's Café.  Fortunately, Yachtsman Steakhouse delivered.  It was especially great because there were subtle touches that made this pudding excellent in different ways.  The candied pecans and butter pecan ice cream gave the dessert a distinct and unique feel.  I only wish the portion was a little bit bigger.  But at this point I was full, so it probably was good that it wasn't!
Yachtsman Steakhouse is the Steakhouse You've Been Looking for at Disney World
When it comes to a signature dining location at Disney World, Yachtsman Steakhouse is what we expect.  Great food is what I consider to be table stakes.  A fun atmosphere and excellent service for both the adults and kids make it a higher-end experience.
Yachtsman Steakhouse delivered on all of these aspects of dining.  I contrast it with our experience eating at Le Cellier, where the service was fine, but not nearly as good as what we experienced here.
When I think of steak and Disney World, Yachtsman is our go-to place for now.  There are still a couple more steakhouses we have not eaten at or at least not eaten at recently.  We'll have to compare them somewhere down the line.  For now, we can't recommend eating at Yachtsman enough.  We think you'll be pleased.
Wrapping Up Our Yachtsman Steakhouse Review
With that, we'll wrap up our Yachtsman Steakhouse review.  Have you eaten at Yachtsman before?  We'd love to hear what you think of it.  If so, drop down and tell us your thoughts in the comments!  Do you have a different place you prefer to eat steak at when at Disney World?  Tell us where!
If you are looking for more Disney World restaurant reviews, this link will get you to our catalog of them.  We're quickly building quite a library of them.  We hope you find the reviews helpful.
If our Yachtsman Steakhouse review was useful or at least entertaining, please like and share this with your friends or anyone that you think can use it.  Just use the sharing buttons on the page.  We always appreciate it when you share our posts, as it allows us to spread the word about our young blog and hopefully allows us to help others.