When it opened in 1991, Disney's Old Key West Resort was the first-ever Disney Vacation Club (DVC) resort.  Over the years, Disney has added numerous other DVC resorts, but Old Key West is the original.  Here in our Disney's Old Key West Resort review, we'll talk about how this resort is different from most of the other resorts on Disney property.  Some of those differences are for the better; you may find some for the worse.  It all depends on what you are looking for in your Disney World resort.  As usual, we'll cover all aspects of the rooms, theme, dining, transportation, and more as part of this review.
Old Key West Resort is a deluxe level Disney World resort.  When it opened, Old Key West was known as Disney's Vacation Club Resort.  Like it was the one and only.  The name strikes us as though they thought it would be the only one of its type.  Who knew a time-share program would take off, right?
Fortunately for all of us who aren't DVC members, we can stay here too.  That's right, DVC rooms are available to book for commoners like you and me.  Although I will say, Carla really wants us to be DVC members.  We probably will someday, but not yet.
All that said, let's get on with our Disney's Old Key West Resort review.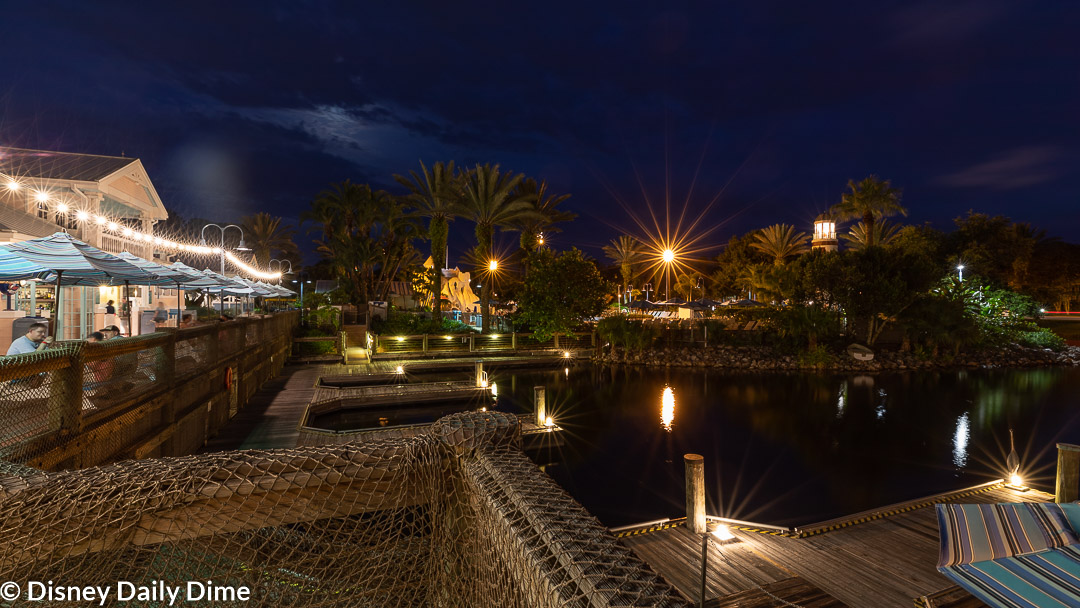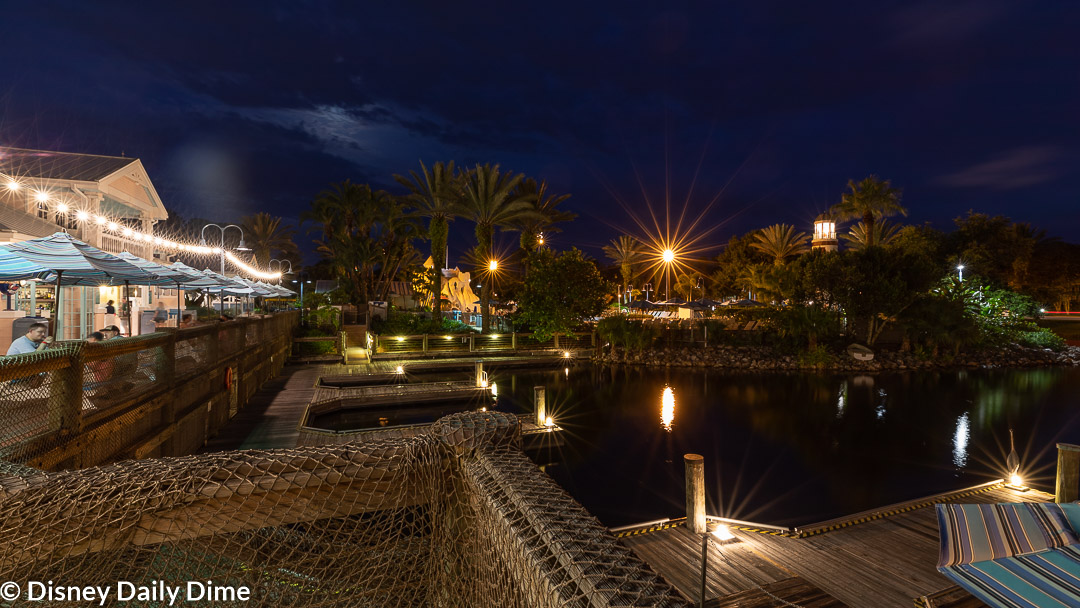 Disney's Old Key West Resort Overview
Since it was the original DVC location, Old Key West features some unique touches that you won't find in many other resorts.  At least not on the wide-scale that they are found at Old Key West.
The first big difference is the room size and layout.  We'll talk more about the rooms in a little bit, so we won't go too deep here.  For now, we'll say that the rooms are significantly larger than you will find in your standard rooms at almost every Disney World resort.  They are designed this way to accommodate more people in an environment that is a little bit more like staying at home, as opposed to a typical hotel.
We also think you will notice a considerable difference in the size of the resort overall.  Part of this is due to the resort sitting amid a gold course.  The course is known as Disney's Lake Buena Vista Golf Course if you're interested in playing.  I have played this course before and enjoyed it, but it doesn't have the name value that the Palm and Magnolia courses do.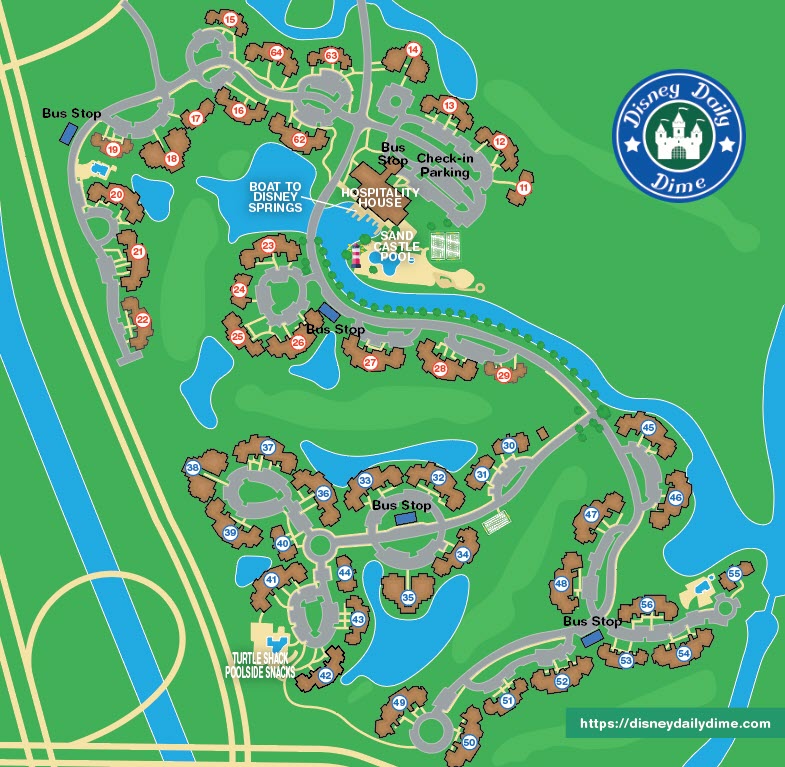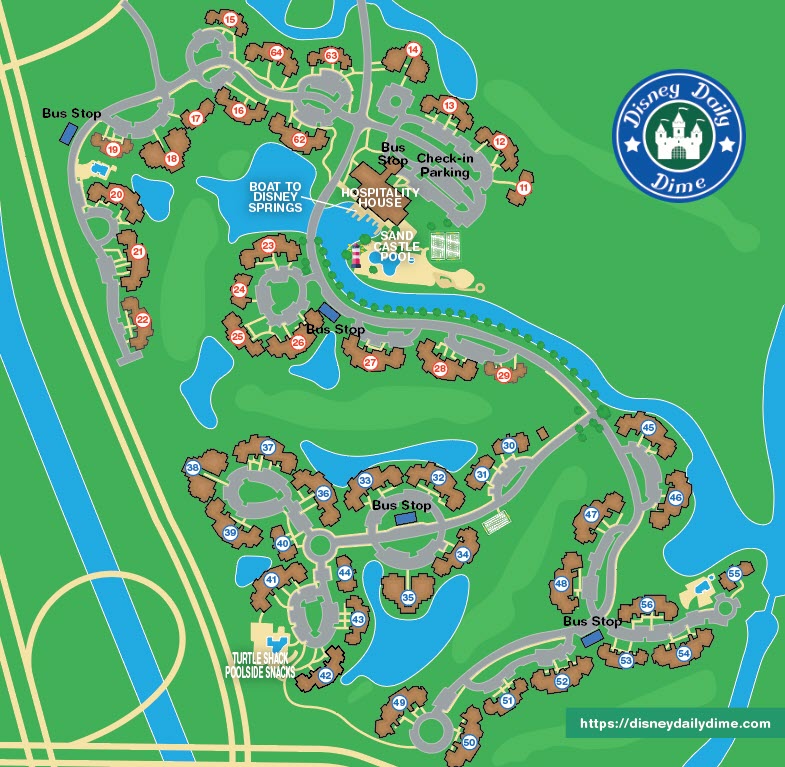 Because of the large size of the resort, it requires a lot of walking.  Old Key West reminds us of Port Orleans – Riverside in this regard.  Because of this, Disney's Old Key West may or may not be for you.  As we discuss in the transportation section below, there is an internal bus system that makes getting around a little easier, but does have some drawbacks.  We enjoyed the wide-open spaces and the ability to stroll.
If ease of getting around is of utmost importance to you, make sure you stay close to the Hospitality House.  You can see it on the Old Key West Resort map we have above.  The Hospitality House is where you check-in and where the restaurants are located, along with the general store.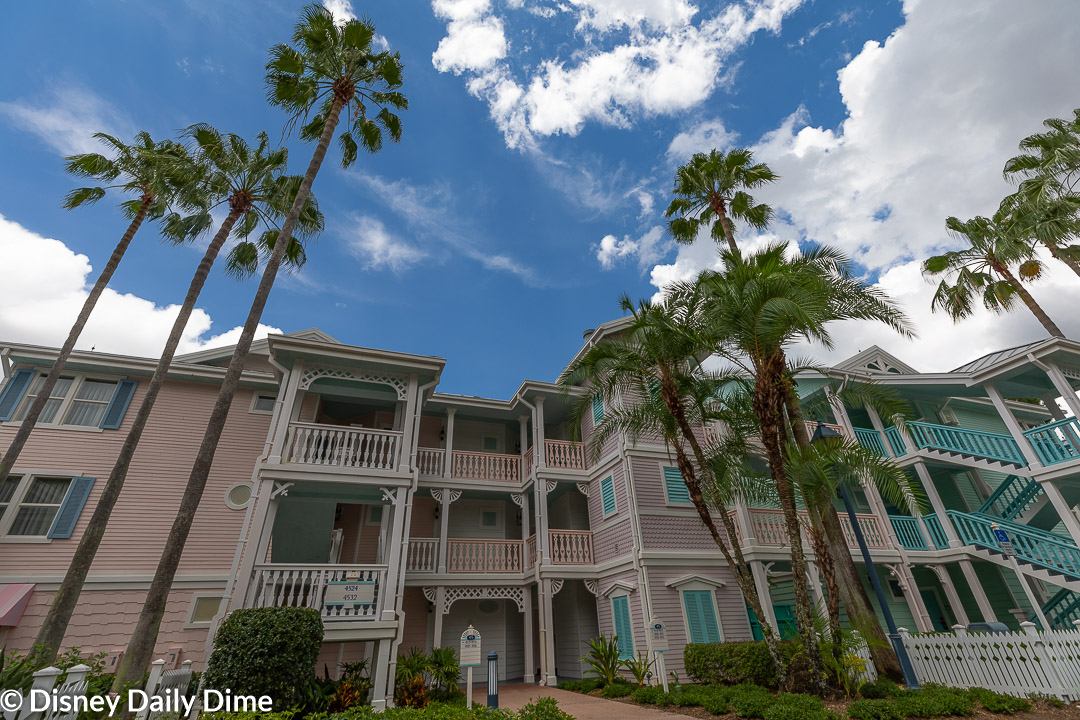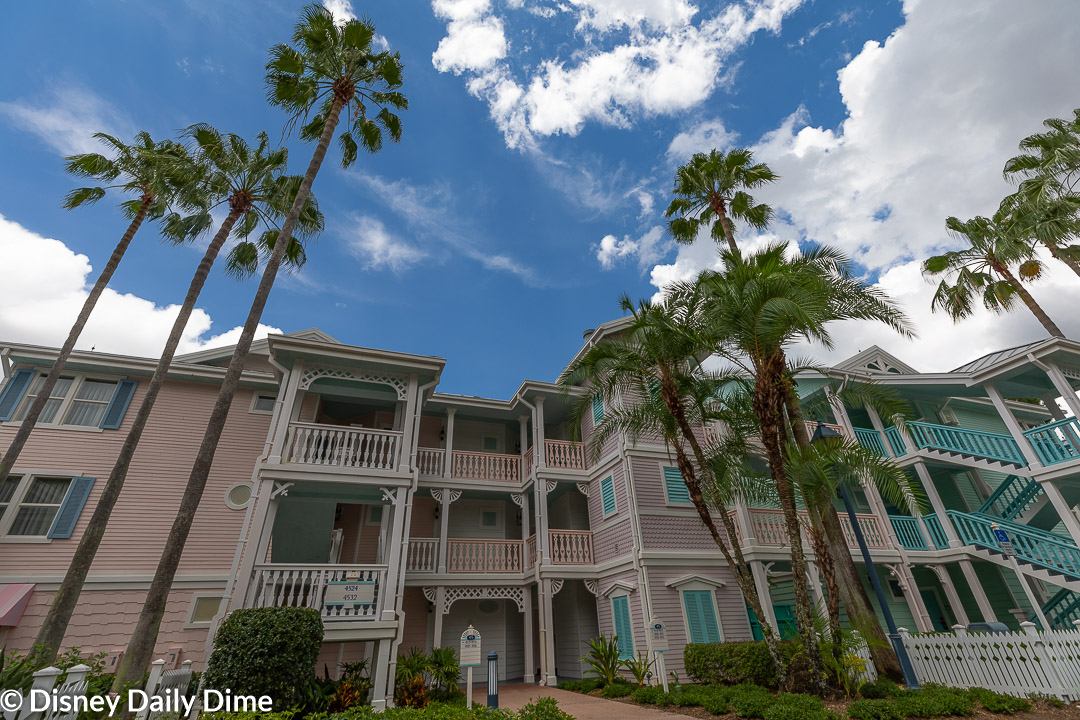 As far as theming and design, the buildings of Old Key West feature what's called a Gingerbread style.  Whenever I hear this, all I can think of are the Gingerbread houses we decorate with Anna and Elsa (and our neighbors) each Christmas.  Fortunately, these are not cookie-built houses.  You'd probably have a hard time getting guests to pay a deposit if they eat part of their room.  I won't bore you with what Gingerbread styling is, but you can read this Wikipedia link if you are so interested.
The resort itself is supposed to be the setting of a fictional town known as Conch Flats.  The town is meant to represent all of the best of the Florida Keys, and I think it accomplishes that goal.  As someone who has only been to Key West, I can assure you this resort is far cleaner than anything I found there.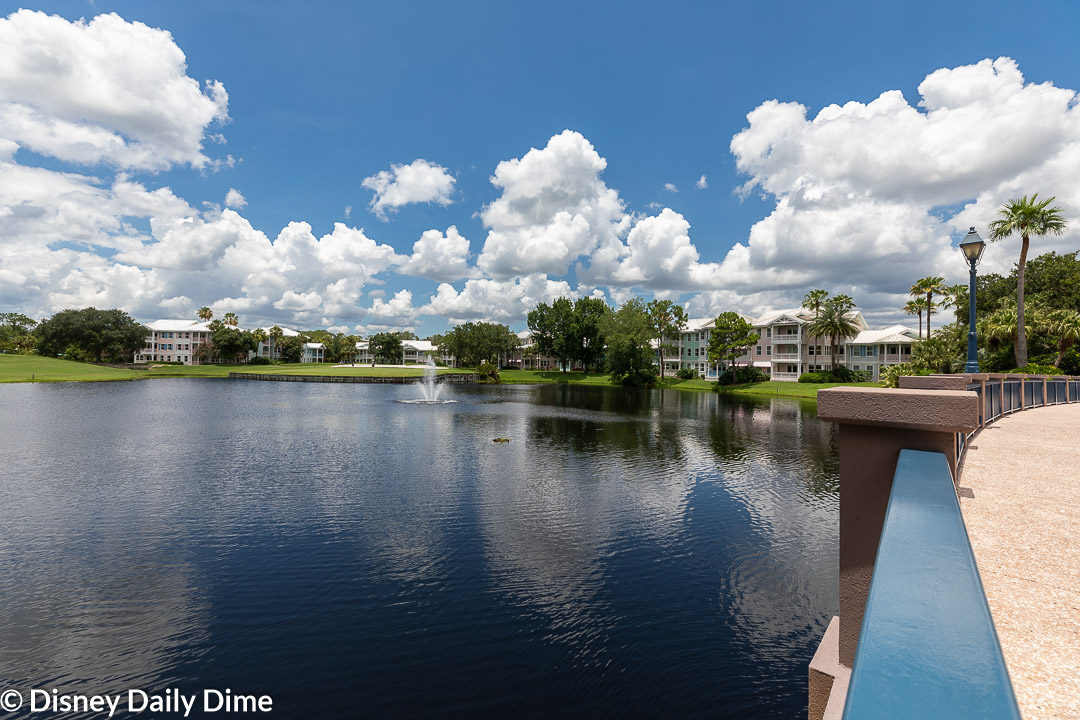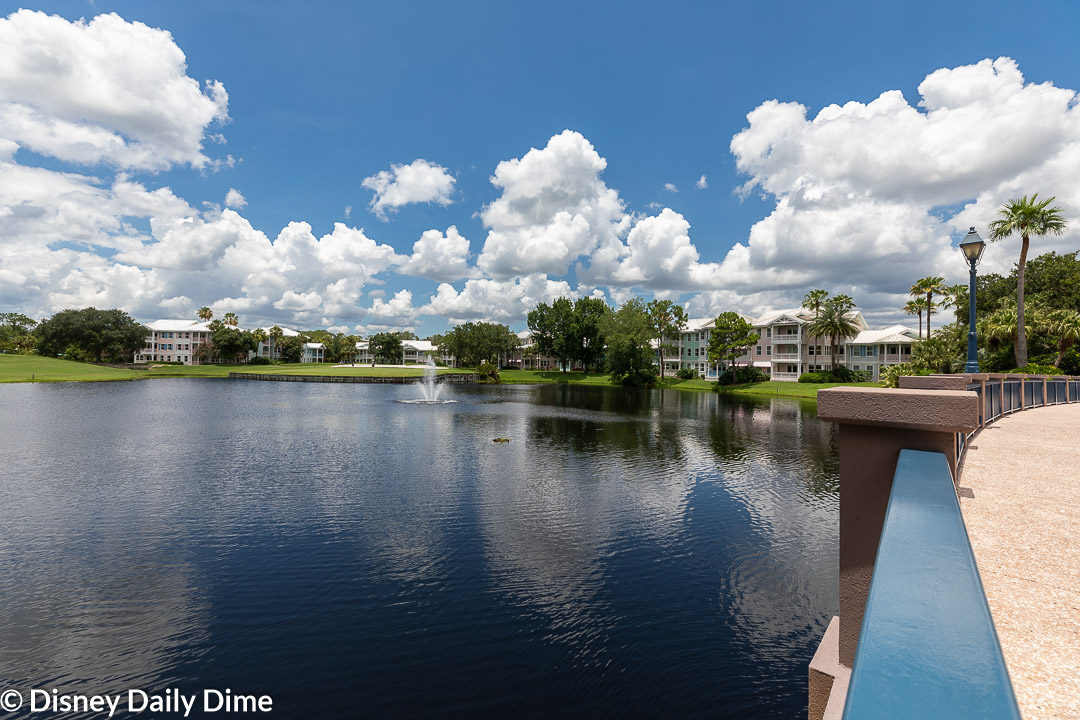 When it come to the theme, Carla and I have slightly differing opinions.  While we both think highly of the resort, Carla LOVES this resort.  I think it has overtaken the pole position of favorite Disney resort for her.  The Florida Keys theme and feel of the resort ooze Carla.  Frankly, I could have told you she would love it before we ever stepped foot on property.
For me, on the other hand, I liked the resort, but to quote Anna when she talks about her food, "It wasn't my favorite."  Because you are in Florida, I didn't find the theme as unique as what you'll find at other Disney World resorts.  I'm also not particularly in love with the Florida Keys motif.  I do think if this resort were in California or pretty much anywhere outside of Florida, I would rank it a little bit higher.  That would add to the transportive quality I love to find in Disney resorts.  Make me feel like I am somewhere else.  It's one of the things I love most about resorts like Disney's Wilderness Lodge.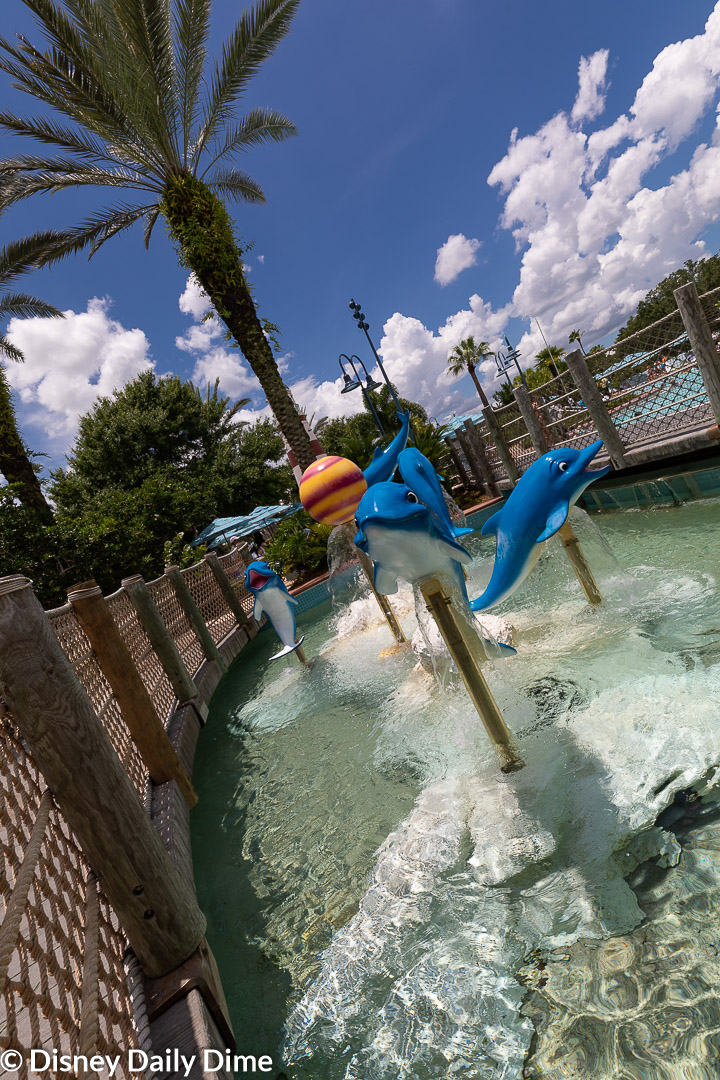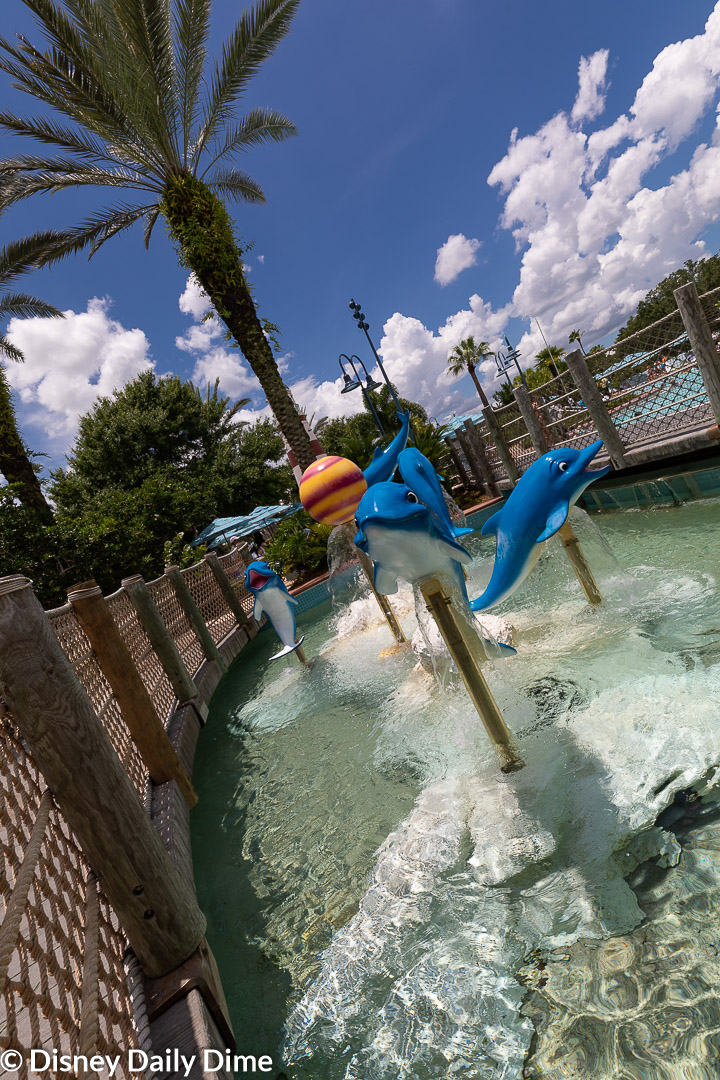 That said, it's not a bad resort at all.  If you're into this theme, I think you will love Disney's Old Key West Resort.  For what it is, the theming is very well done.  You'll find beautiful and intricate architecture work.  The colors pop off the buildings and the lighthouse by the pool is a unique touch I liked.  Walking down the palm tree-lined Peninsular Road provided great views.  There is so much beautiful greenery, coupled with the waterway that borders the main drag.
If you grab some time at the sand volleyball court or in one of the nearby hammocks, you could waste away an afternoon there.  It's got a laid-back vibe that pulls you in and says, sit awhile and just relax.  Be careful, or you may wind up never going to the parks on your Disney vacation.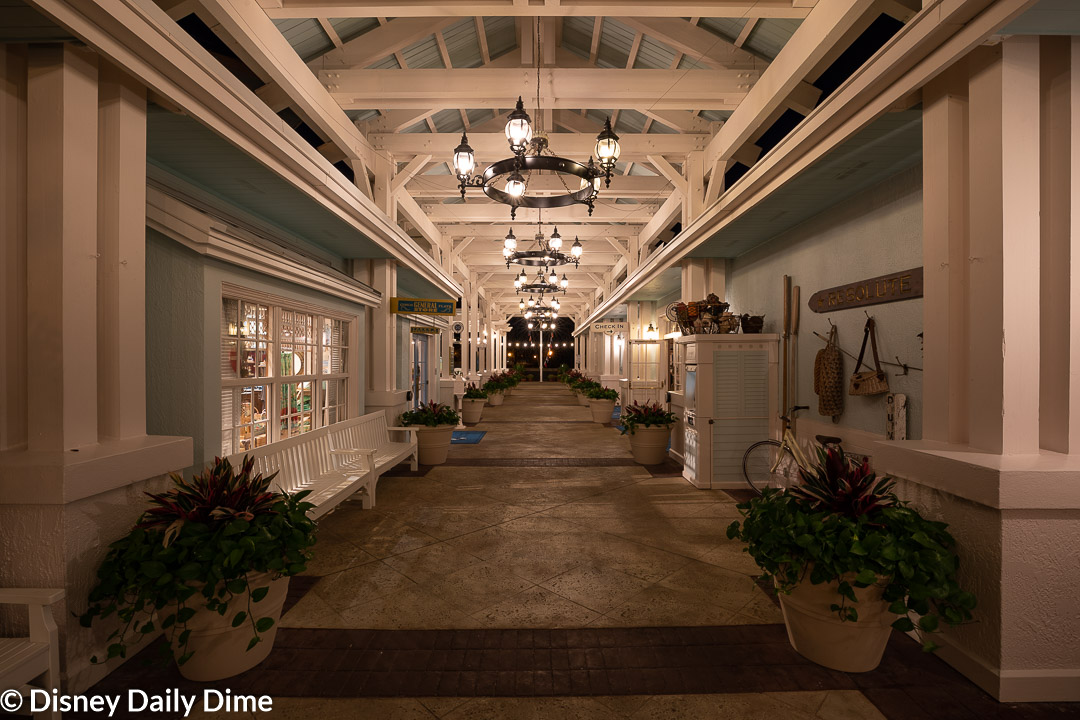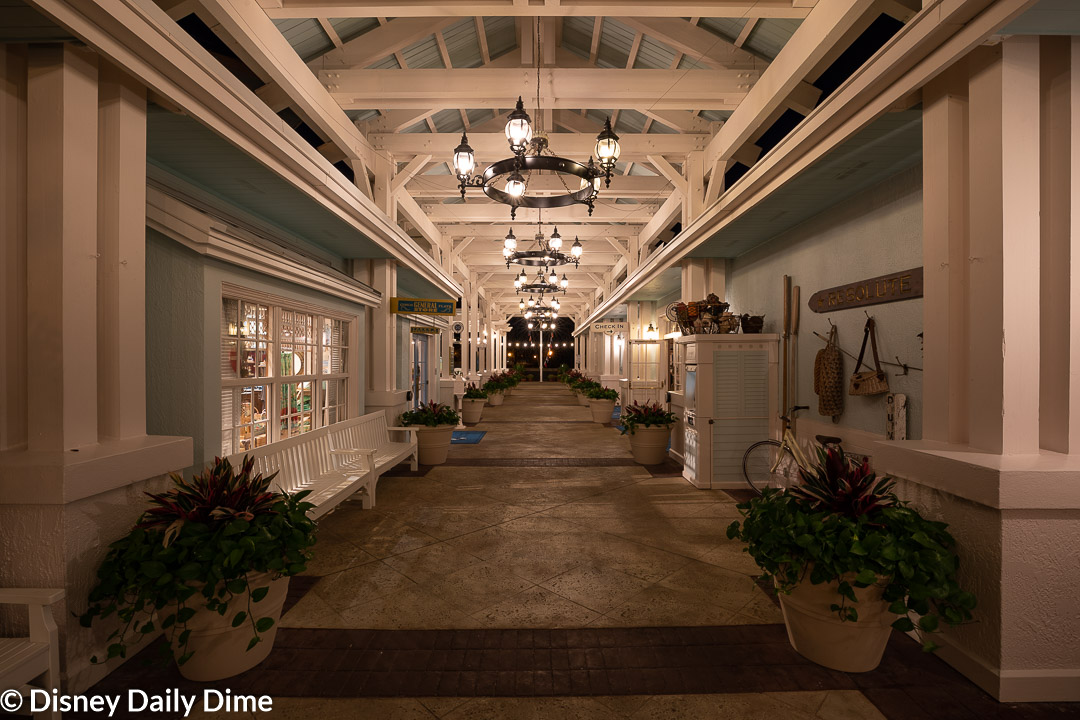 Disney's Old Key West Resort Amenities
The amenities available at Disney's Old Key West Resort are different from room to room, so take this as a guide that is generally true of the Villa style rooms.  We'll highlight where the studio rooms are slightly different.
The resort also has a general store.  You can park your vehicle at the resort; however, you do have to pay for parking.  Right now, it runs $25 per night at deluxe resorts.
The resort rooms come with a standard setup consisting of:
Dresser
Wi-Fi Internet Access (access is free of charge)
Flat-panel TV
Laundry Washer and Dryer (not in the Studio Rooms)
Laundry area (near pools)
Full-size refrigerator (Mini refrigerator in the Studio Rooms)
Full-size oven (not in Studio Rooms)
Microwave
Dishwasher (not in the Studio Rooms)
Coffee maker
Ironing board and iron
Hairdryer
In-room safe
While not an amenity per se, you should note that Old Key West resort has a limited number of elevators available.  There are generally three stories to each building of the resort, and there are only elevators in three of the buildings.  In case you need to know, the buildings with elevators are 62, 63, and 64.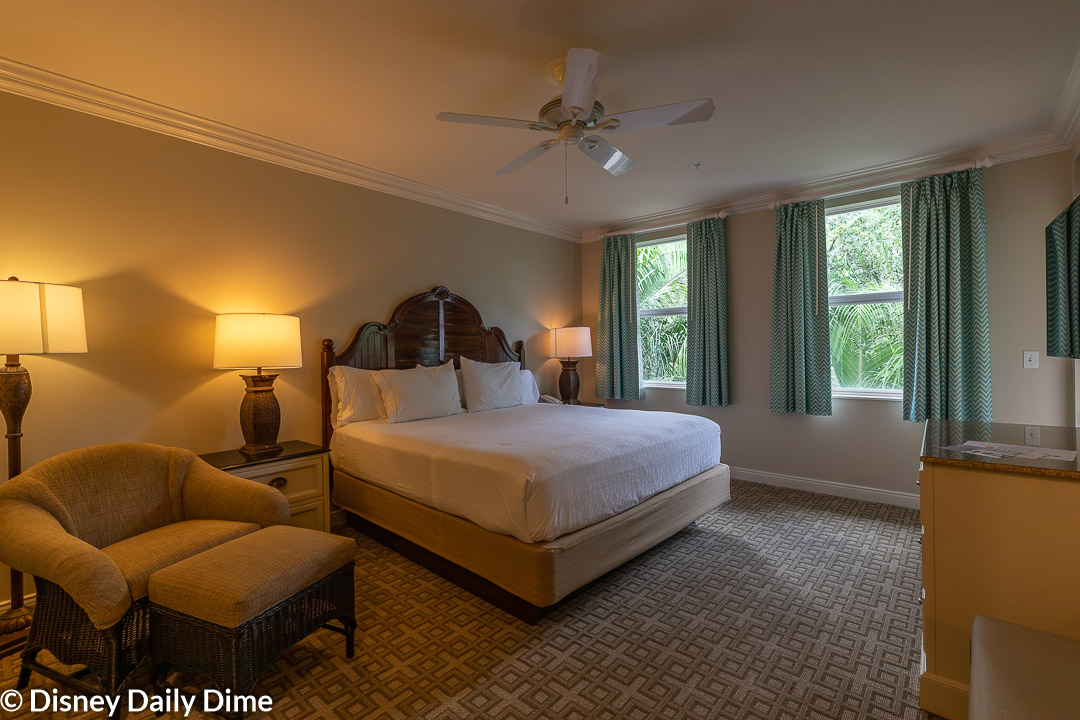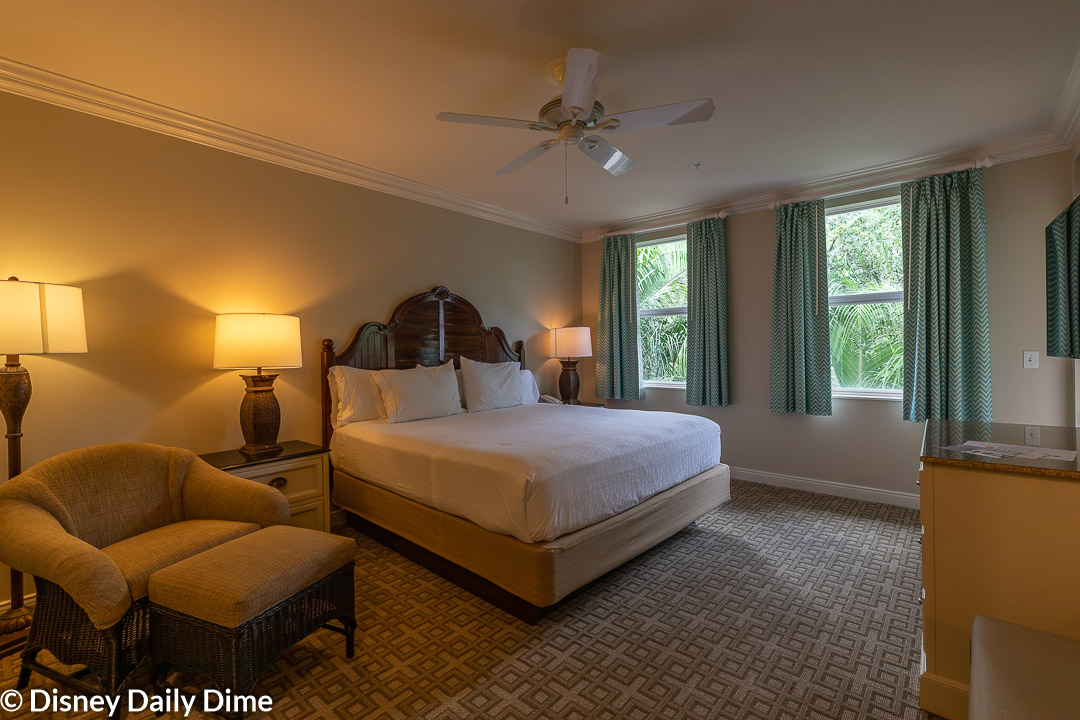 Old Key West Resort Features Larger Villas and One Bedroom Studios
The rooms at Disney's Old Key West Resort are all different.  We'll discuss them in more depth in a minute, but pricing for these rooms ranges like this:
Deluxe Studio – ($354 – $537 per night)
1 Bedroom Villa – ($481 – $755 per night)
2 Bedroom Villa – ($695 – $1,172 per night)
3 Bedroom Villa – (unknown, I couldn't find any availability on the Disney Website)
All of the prices shown above are rack rate prices.  Disney frequently offers discounts that can get you in for less than this.  Do note that pricing changes from time to time, so check Disney's Old Key West Resort website for the most up to date pricing.  We will also say that there are strategies people use to rent DVC points, that can bring the room cost down significantly.  This isn't our area of expertise, but Tom and Sarah at Disney Tourist Blog have a great post on renting DVC points.
When we stayed here for our Old Key West Resort review, the rooms were recently refurbished.  As you can see in the pictures, we found the rooms to have a classic beach house feel.  They would fit right in with some of the places along 30A.  Wood headboards, beautiful countertops and cabinets, juxtaposed with comfortable couches that are perfect for a beach house, the refurbishment was on point.  These rooms integrate into the vibe of the resort with ease and made me feel like I could go from lounging in a hammock at the Hospitality House to laying out on the couch in the room without missing a beat.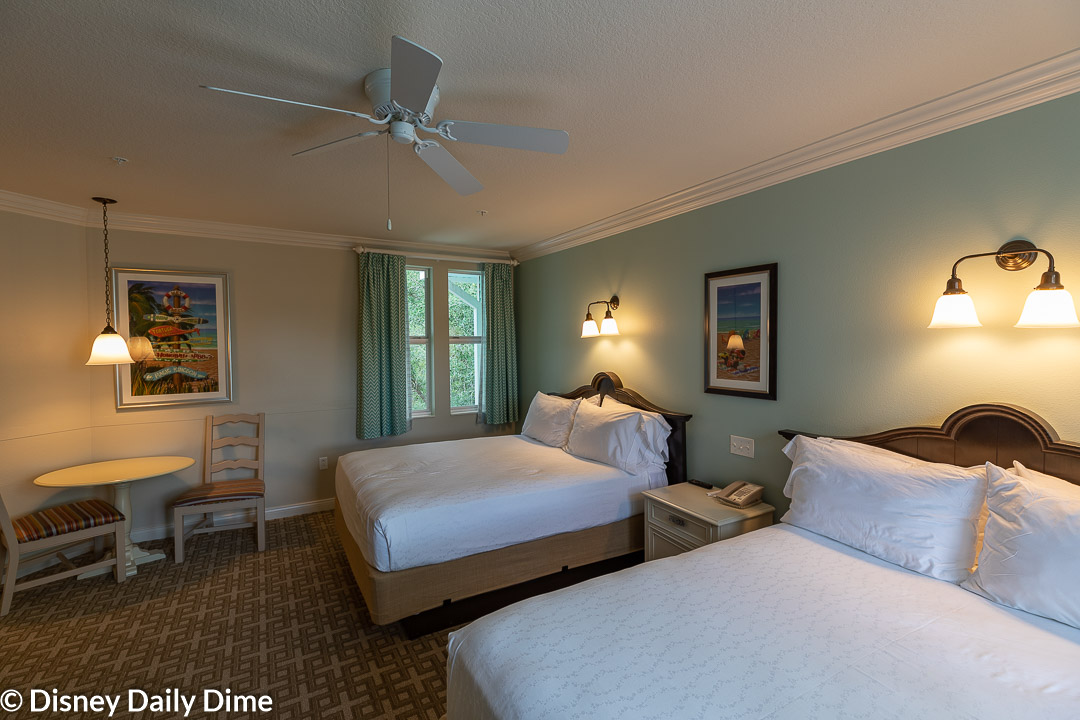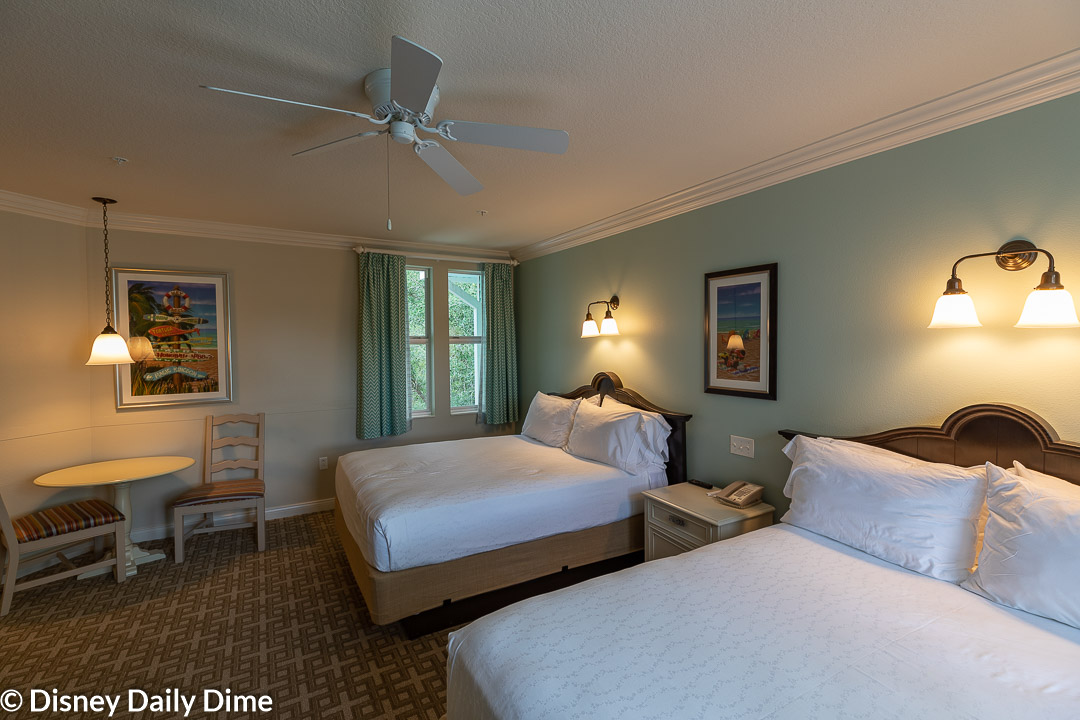 The bedroom setup varies by type of room, so we won't spend a lot of time on this.  You can see the master bedroom of our suite at the top of this section and the second bedroom with two queen-sized beds right above this paragraph.  They are both unbelievably roomy and allow you to stretch your legs.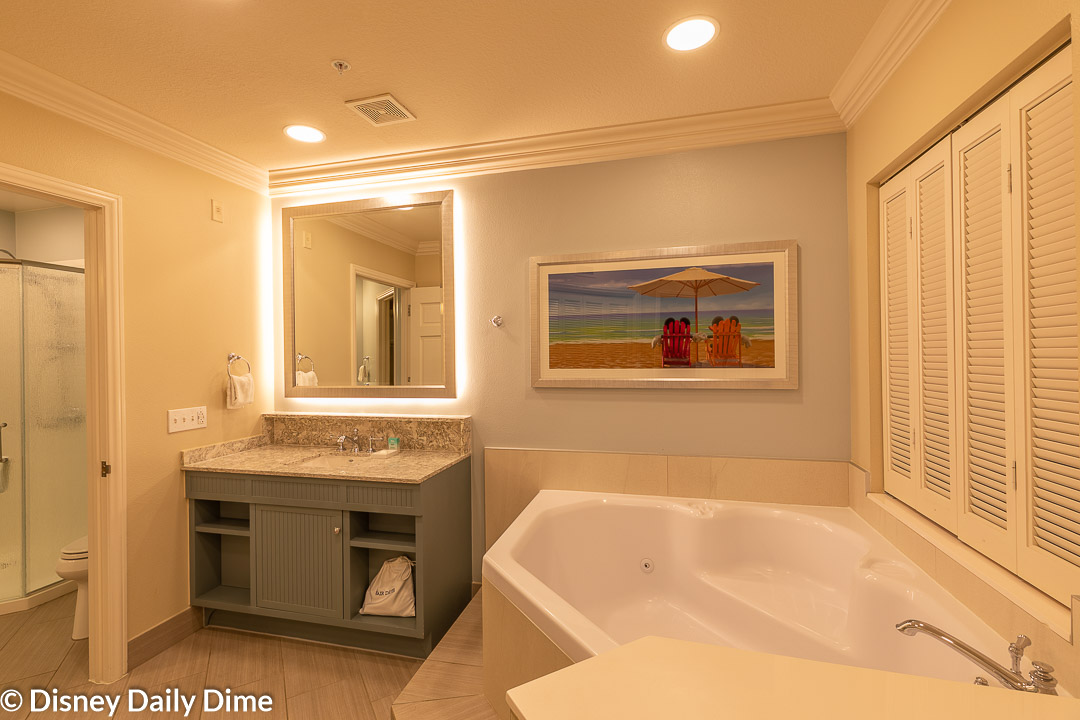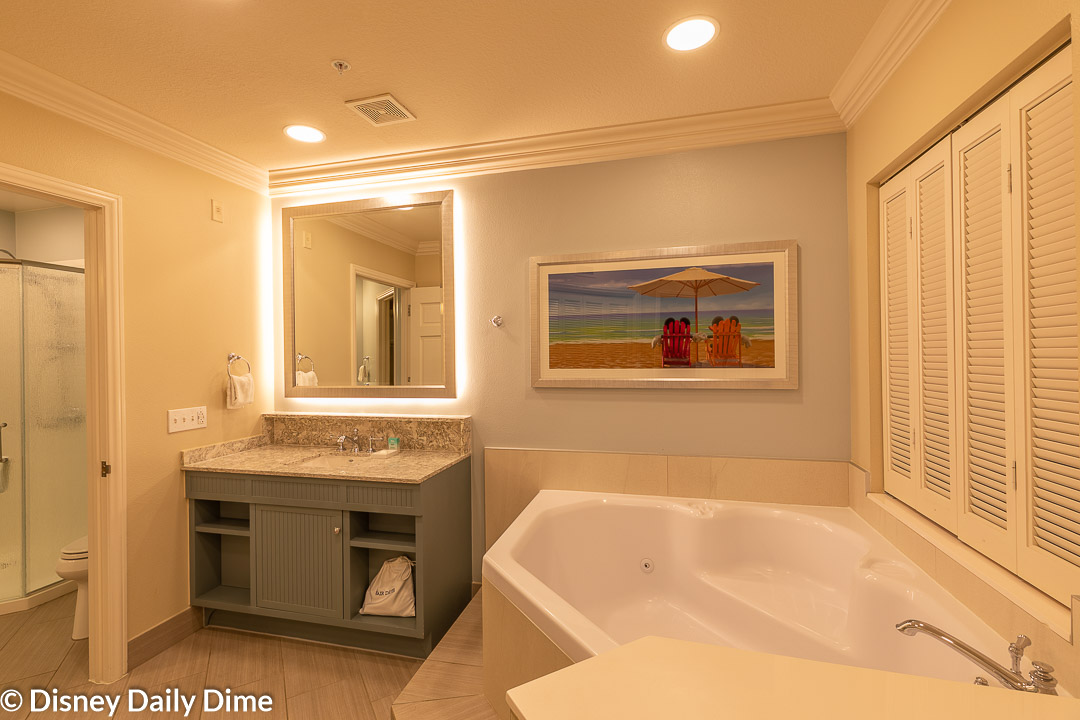 The bathrooms in these villas are as spacious as the bedrooms.  You'll even find a Jacuzzi tub, with two separate sinks in the master bedroom.  There is a well-sized walk-in shower that Carla found to be a little weak on water pressure.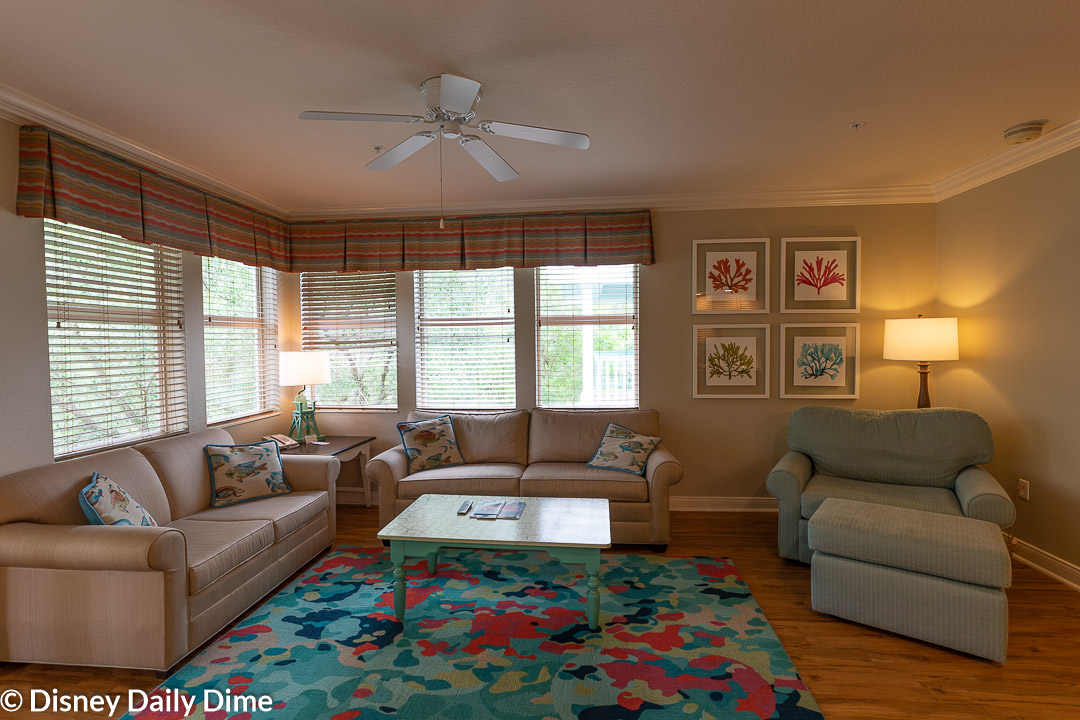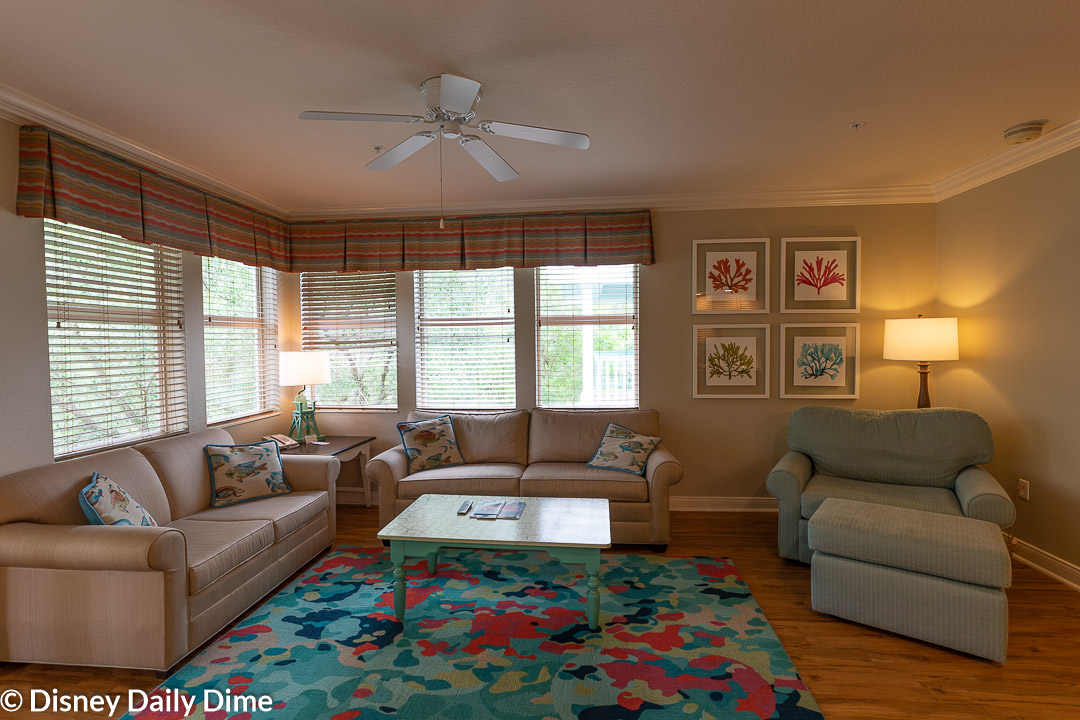 The living room features a very casual set of couches and a chair with ottoman.  The chair and sofa can pull out to create more beds to sleep additional people.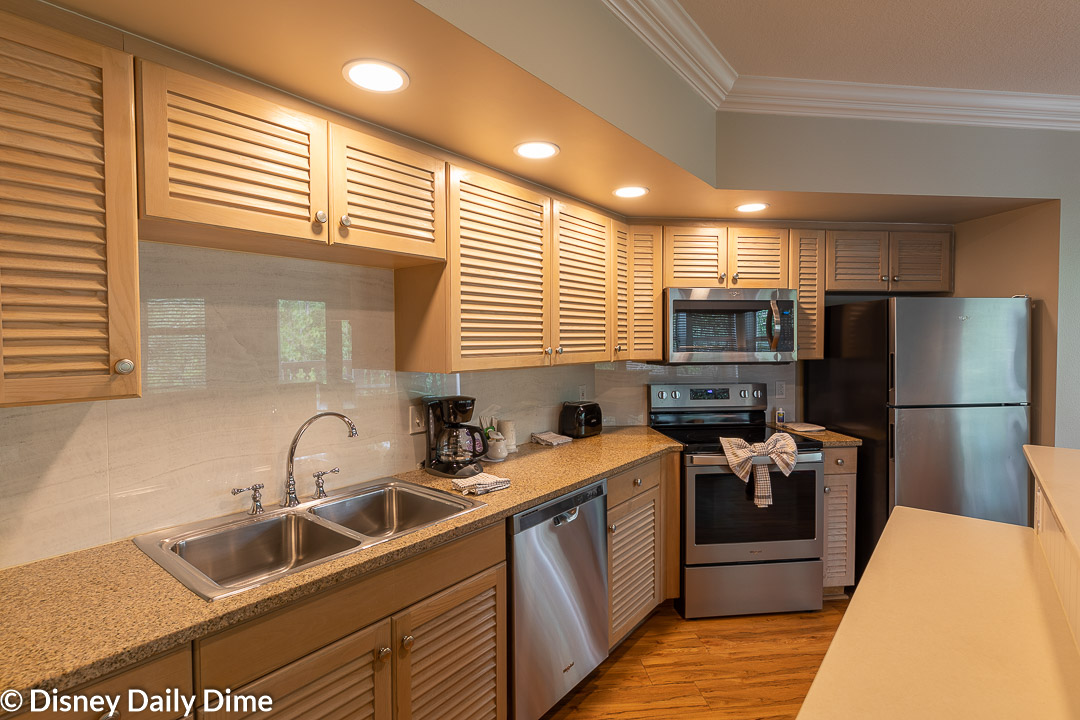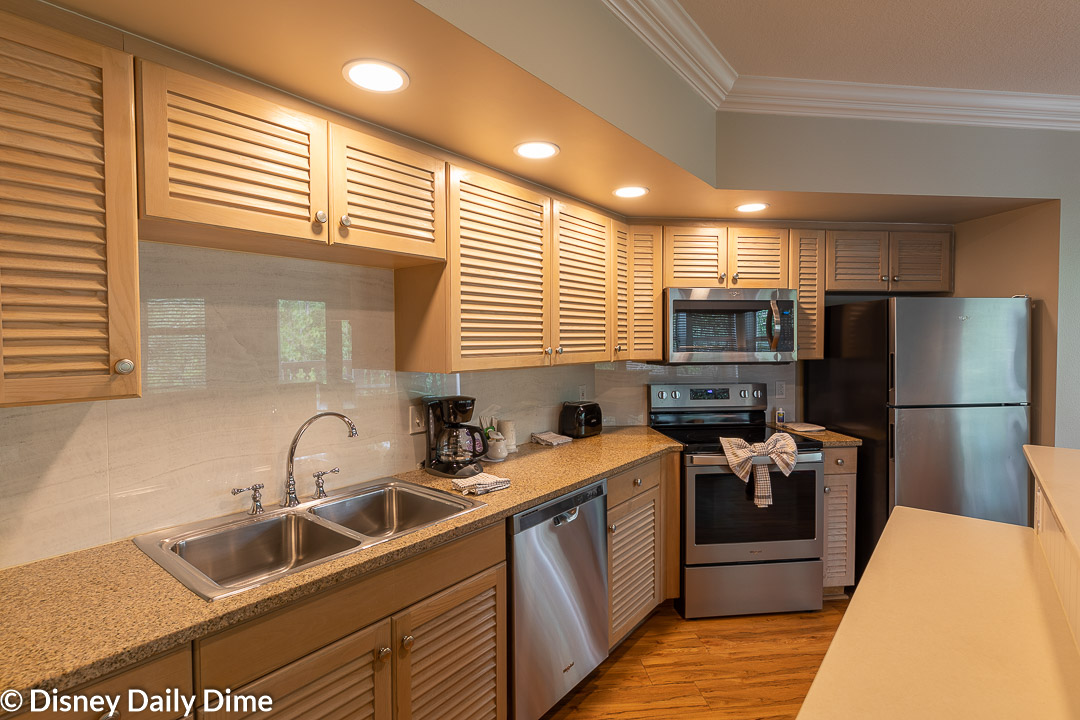 Adjoining the living area is the kitchen, which provides ample room to cook and live like you are at home.  The kitchen is fully furnished with all the pots, pans, silverware, plates you could need.  Once you finish eating, you can throw all the dirty dishes into the dishwasher and let it run.  No handwashing is happening while we're on vacation!
If you're interested in a more detailed room tour, below we have embedded a video we put together of the 2-bedroom villa.
The number of bedrooms differs for each villa, but beyond that, they follow a similar format.  The villas feature a central living area and kitchen, coupled with one to three bedrooms.  The unique thing you may want to know about the 3-bedroom villa is that they are two-story floor plans.  There's a master bedroom on the lower level and two bedrooms on the upper level.  If climbing stairs is an issue, this may not be a room or resort for you.
You may notice that we couldn't find any available dates on the 3-bedroom villa.  Based upon what we've read, it appears that there are not many of these villas available, and they are reserved quickly by DVC members.  If you want to book a 3-bedroom villa, make sure you do it early.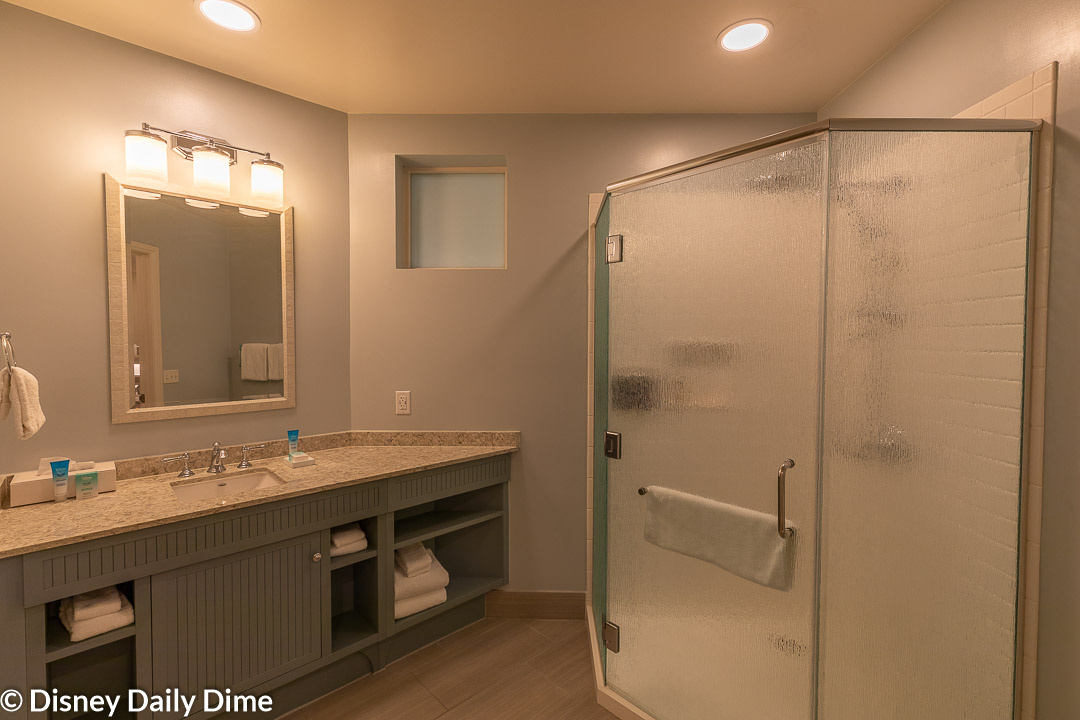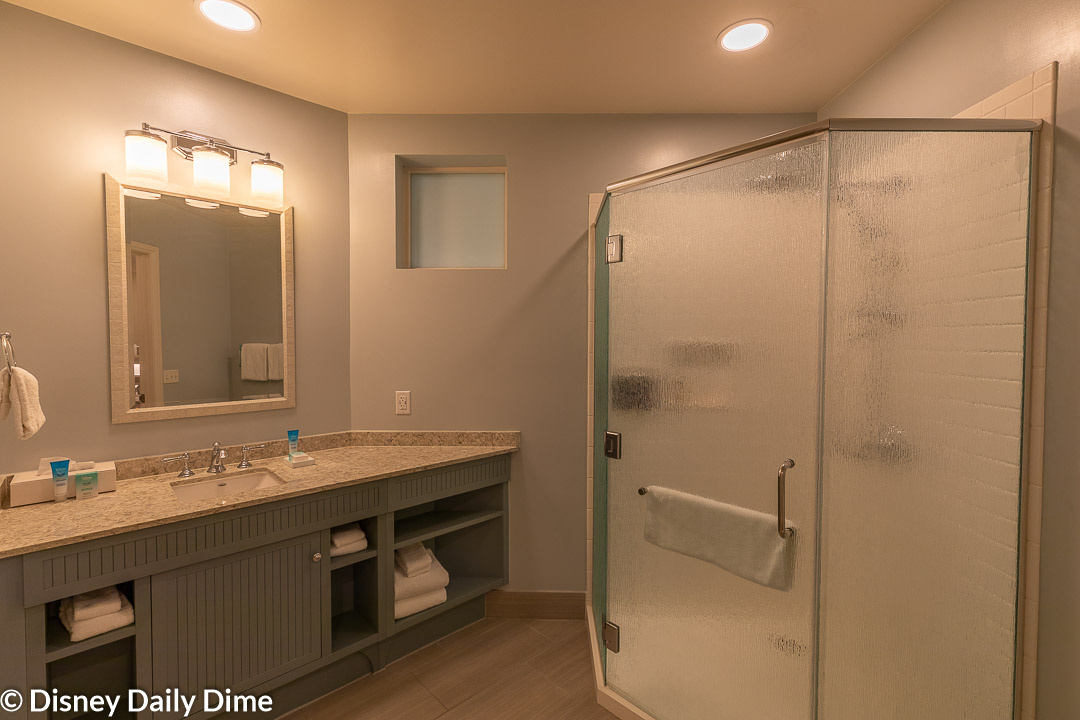 We'll briefly comment on the prices of the rooms.  You may initially have price sticker shock, but we'd say you should think of this as a cost per person.  The 3-bedroom villa can accommodate up to 12 people, while the 2-bedroom villa can accommodate up to 9.  If you can score a good deal on these rooms and have a large party, your actual cost per person to sleep may be some of the lowest on property for a deluxe or moderate resort.  You'll have to do the math for yourself to see.
You should also factor in if you really will cook while at the resort.  If you do, you could potentially save a lot of money compared to other resorts where you may have to eat out more frequently.
The Main Pool Is Worthy of a Deluxe Resort and Complemented by The Quiet Pools
Disney's Old Key West Resort features four pools for resort guests.  There is the main pool located right behind the Hospitality House and then three smaller pools situated within the resort room areas.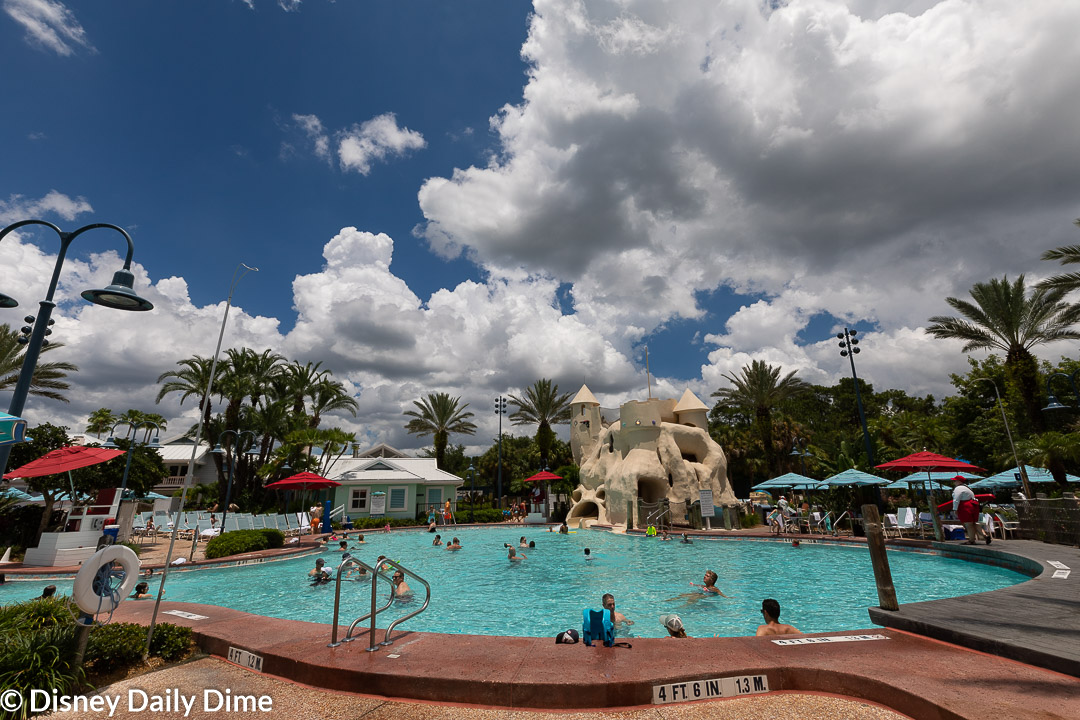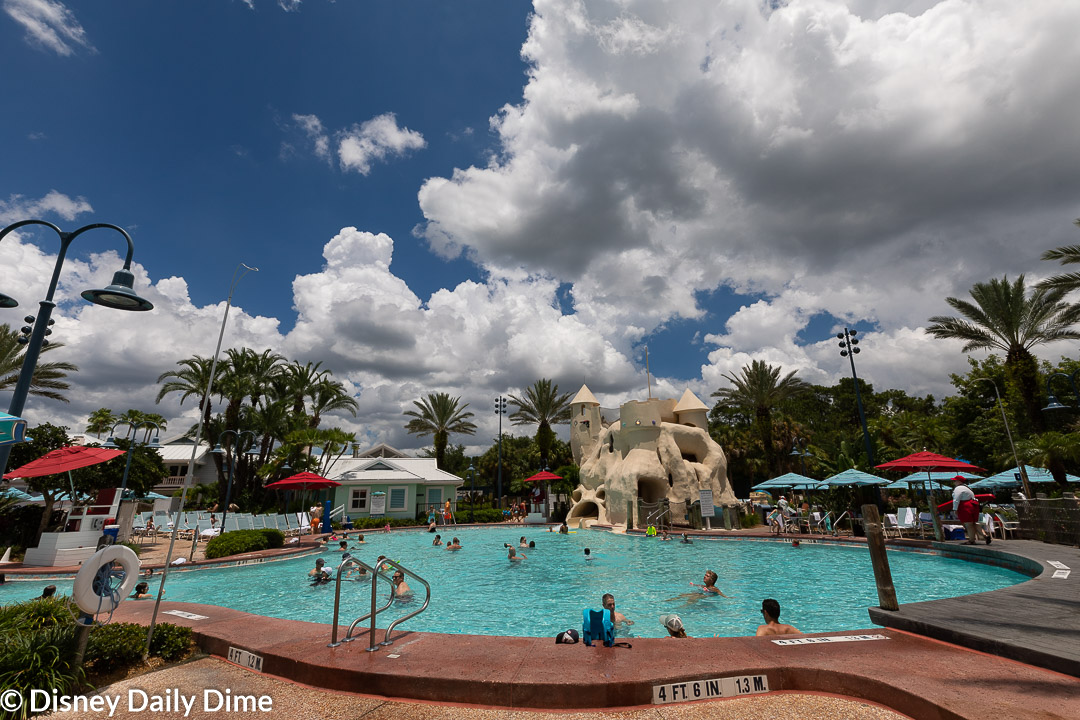 Sandcastle Pool
As you might have guessed, the Sandcastle Pool features a sandcastle.  Now this one happens to be a giant sandcastle, that doubles as the resort pool slide.
The pool is enhanced by several fun areas that cater to kids and adults.  There is a large lighthouse, but it isn't just for decoration.  Inside of it, you will find a sauna that you can use.  We didn't partake in this, but it's a unique option within Disney World if that appeals to you.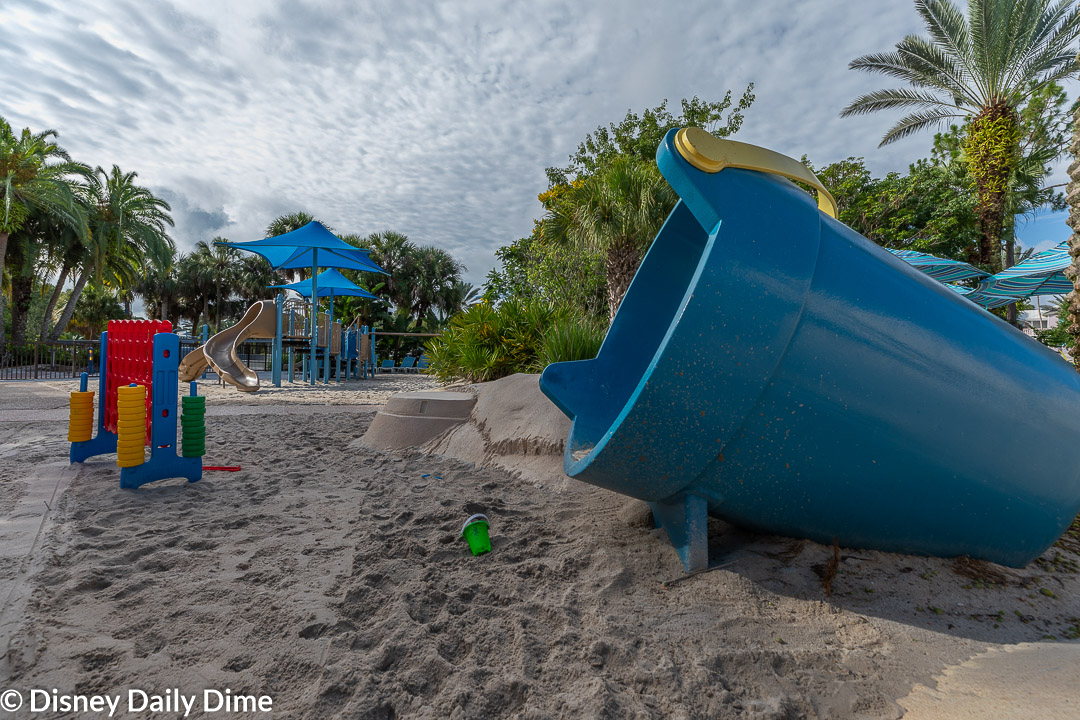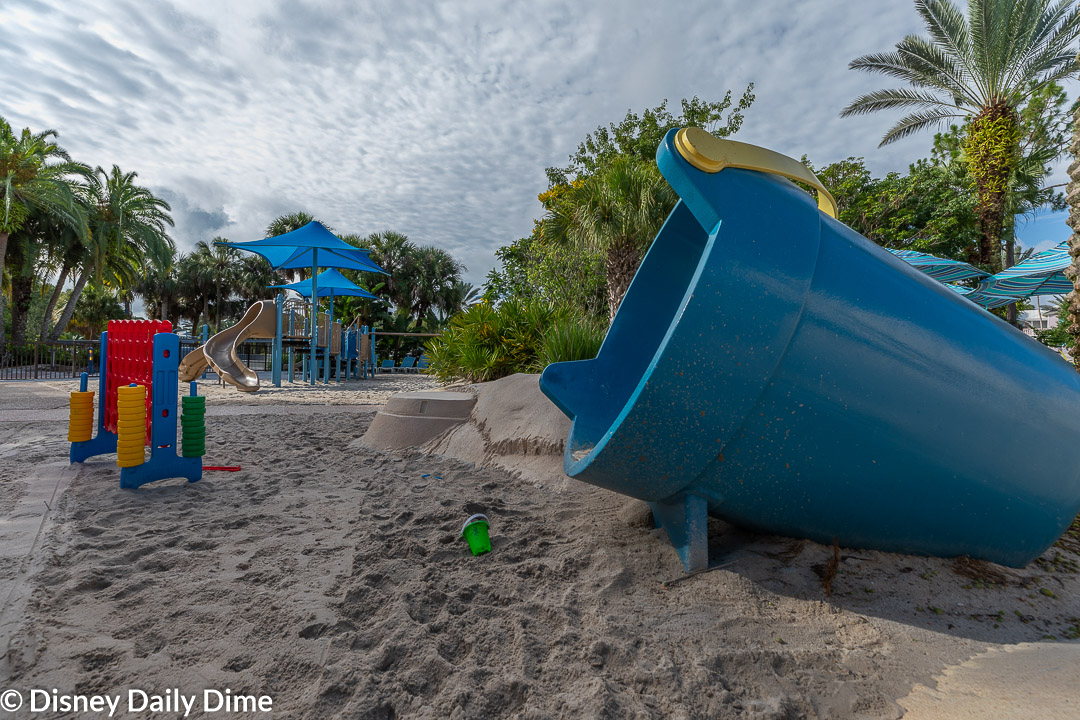 In addition to the main pool, there's a relatively basic and small kiddie pool tucked behind sandcastle slide.  It's a small pool that kids can hang out in, but it's not a sizable place.  What will get the attention of kids is the sandy area behind that where they can build their own sandcastle.  It also features beach toys and games that kids can enjoy playing.  This is a clever touch for the Sandcastle Pool and was something the girls really enjoyed playing in.
But if we're honest, the slide here was the big hit with Anna and Elsa.  They went up and down it repeatedly.  For all intents and purpose, they ignored the rest of the pool for swimming.  It's a great slide for sure.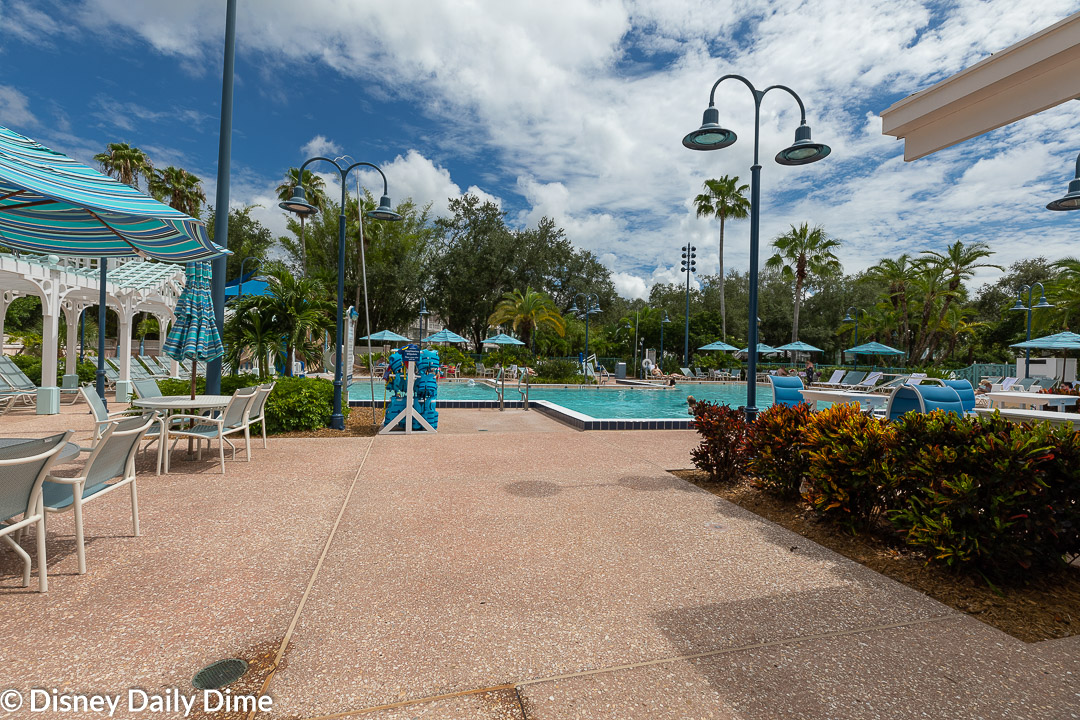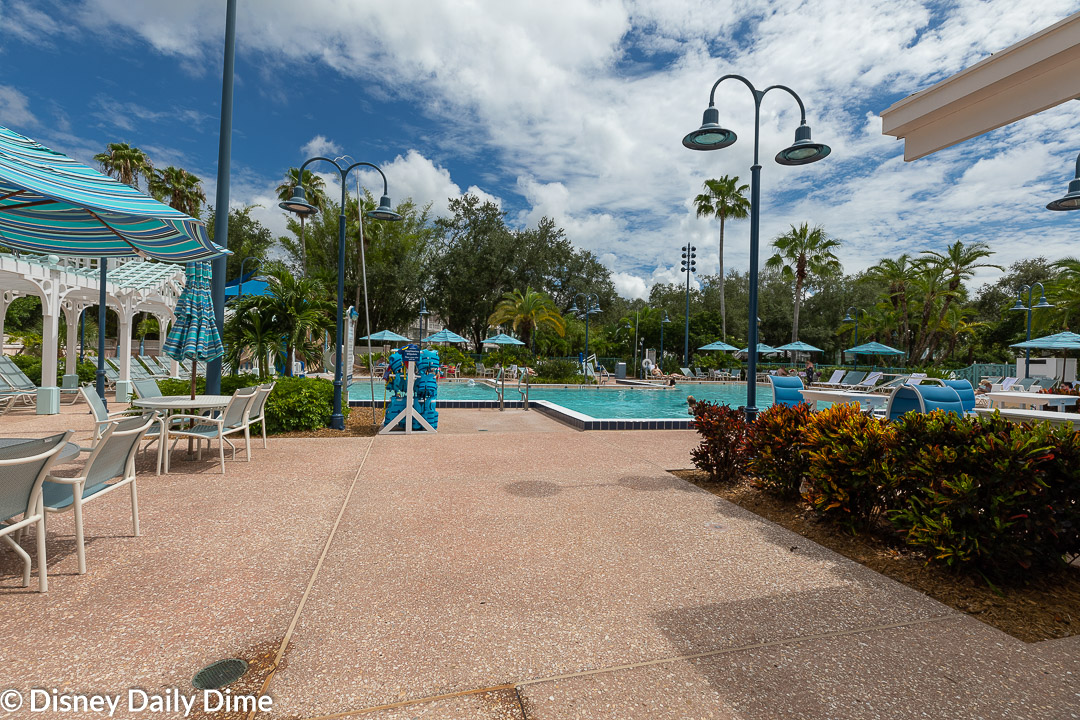 Old Turtle Pond Pool
The first quiet pool at Old Key West Resort is off of Old Turtle Pond Road.  When compared to the other quiet pools, it has the most going on around it.  You'll find Turtle Shack Poolside Snacks that will serve up food and drinks.  There is also the Flying Fish Gameroom adjacent to the pool, which is an arcade.  The pool itself is a typical quiet pool, but it is larger than what you'll find at most similar pools.  There are a large number of chairs here for getting some sun, so if you want to tan in peace, this may be an excellent spot for you.
South Point Pool
The South Point Pool is more your typical quiet pool.  It's a good bit smaller than the Old Turtle Pond Pool.  There are also fewer chairs available for guests.
Millers Road Pool
We weren't able to see the Millers Road Pool because there was scaffolding up all around it when we were at the resort.  The exterior of the rooms in the building next to the pool were still being renovated, and the pool wasn't accessible.  That said, we've seen pictures of the pool and it is another basic quiet pool.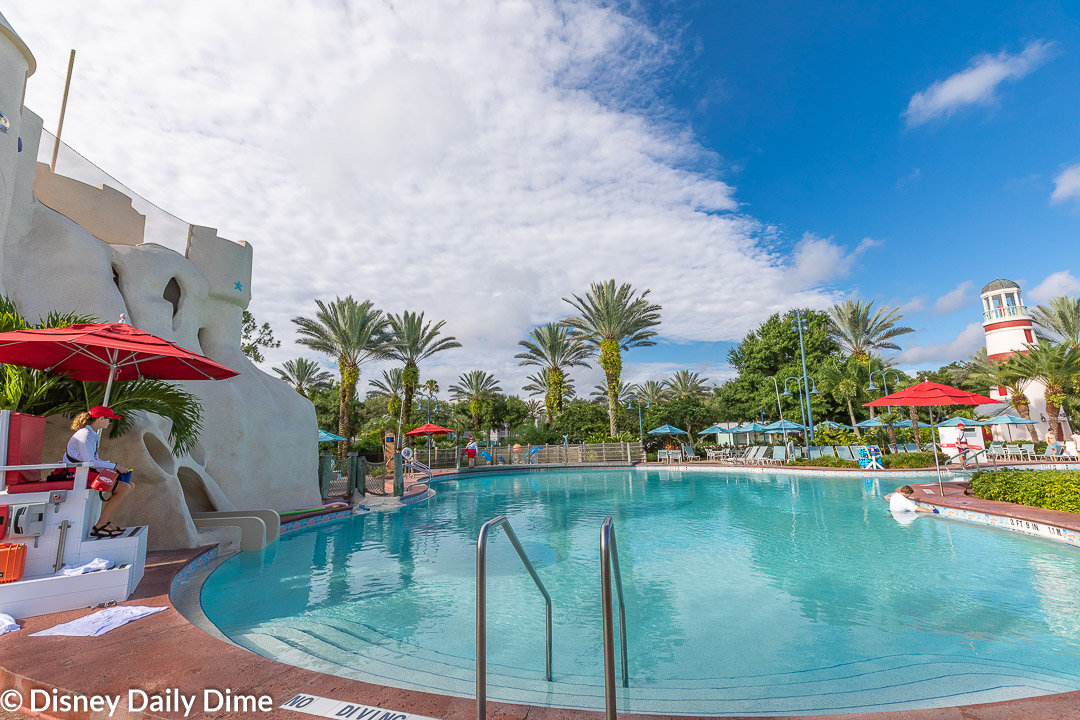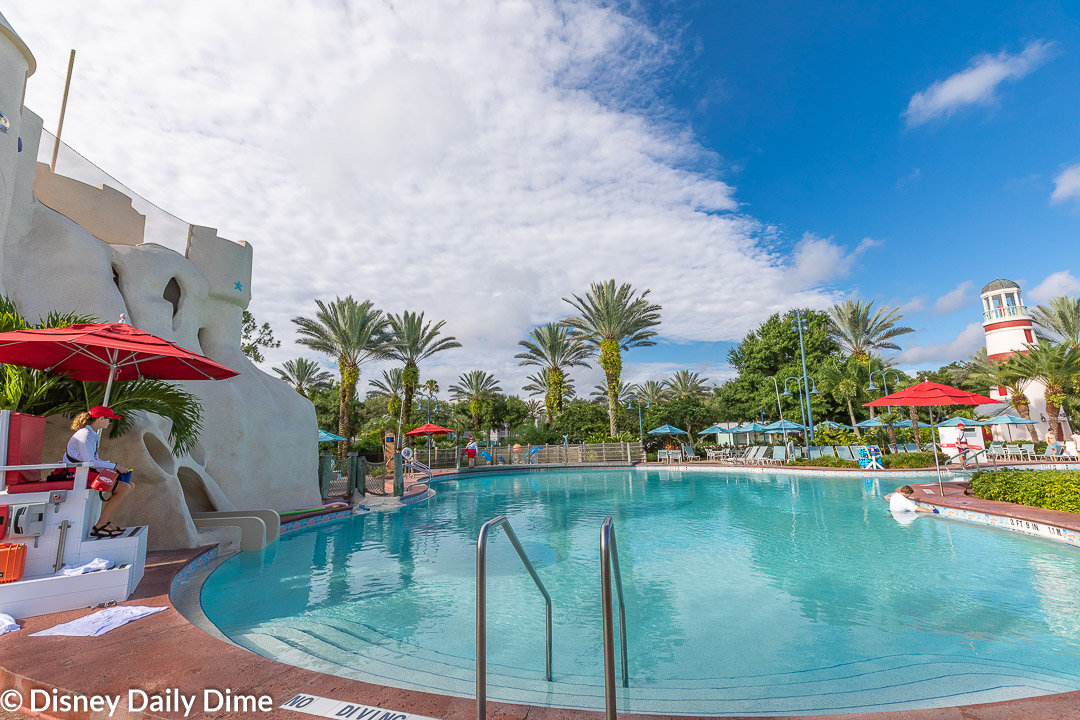 Disney's Old Key West Resort Transportation Features One Option and One Big Drawback
In addition to the sheer size of the resort, Old Key West Resort shares one other trait with Port Orleans – Riverside.  That would be the transportation options.  You'll only find a bus system for getting to and from the park, just like Riverside.
Yes, there is a boat that can take you to Disney Springs, but that's as far as it can take you.
Having a bus system only isn't a terrible thing, but it definitely puts it at a disadvantage when compared to most other deluxe level resorts.  Heck, with the opening of the Disney Skyliner, it's at a disadvantage to value resorts like Pop Century Resort and Art of Animation Resort.
The real issue we have though is that the resort is so big that it has an internal bus loop.  That's great for getting around the resort without walking, but it also means it can take you up to 15 minutes to leave the resort and head towards a park, depending on which bus stop you pick up the bus.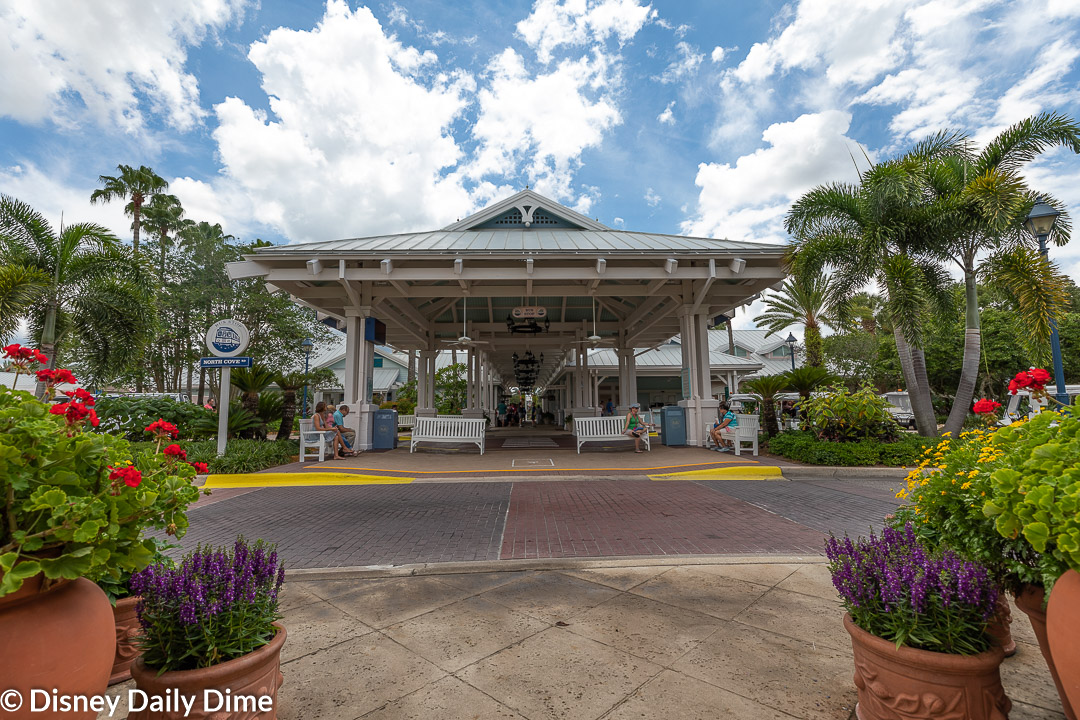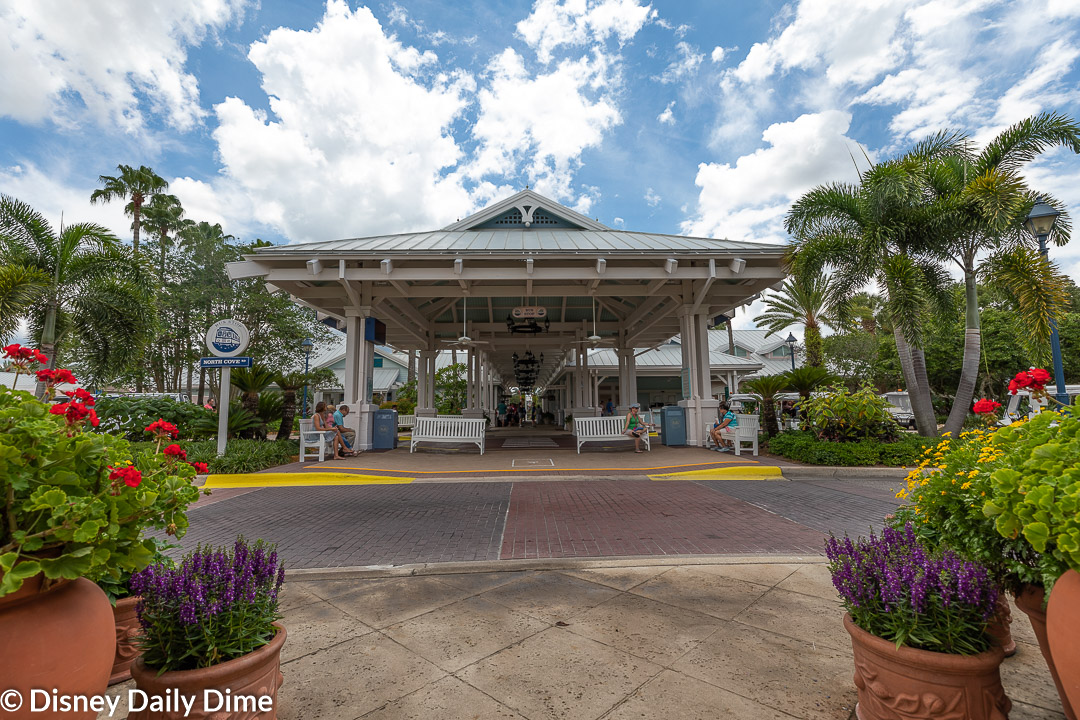 If you look at the resort map from earlier in the post, you'll see the five bus stops marked.  The last bus stop on the loop before you head to the parks is at the Hospitality House.  That stop is pictures above.
There is a bus that only makes a loop around the resort.  When we stayed here, it didn't appear always to be running.  If you're only trying to get to the Hospitality House, you can hop on any bus, and it will stop there before departing the resort.
One informal transportation option within the resort is the random resort cast members who seemed more than willing to share their golf cart with us.  It was usually the bellhops that did this.  There was one particular cast member that was so unbelievably helpful and fun.  He made some of the best voice impression of Disney characters!  Anna and Elsa loved this, especially his Goofy impression.  His name was Evel.  If you are staying here, keep an eye and ear out for him.  You may hear him before you see him!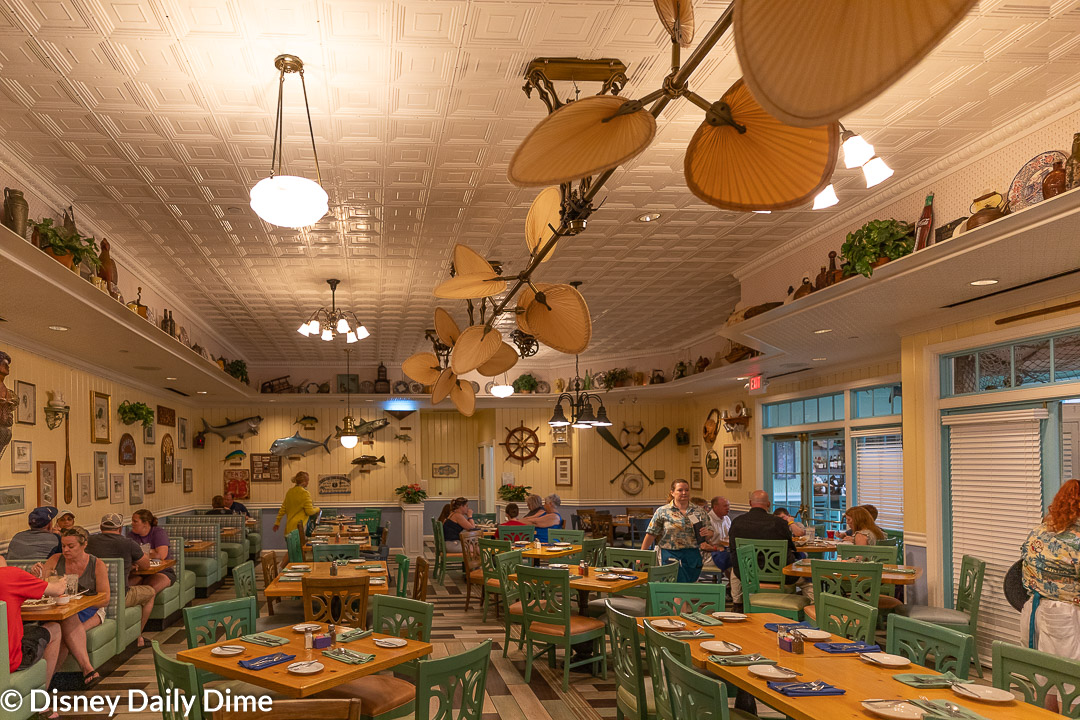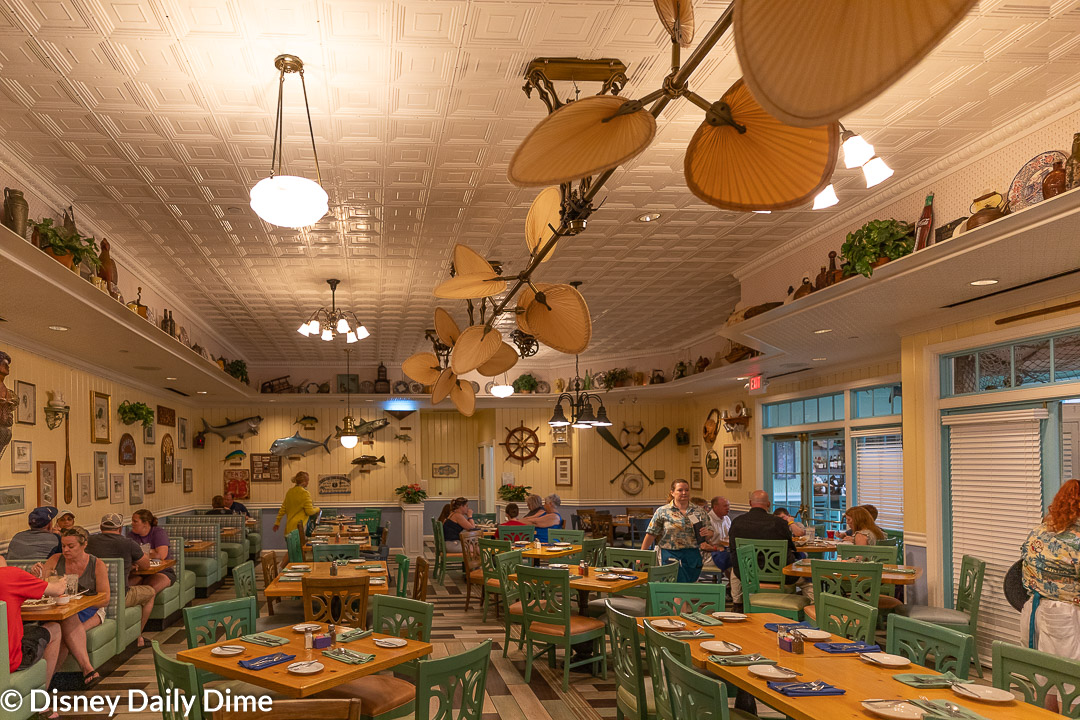 Disney's Old Key West Resort has a Hidden Gem for Dining
When planning for our Old Key West Resort review, we noticed that the dining options were somewhat limited when compared to other deluxe level resorts.  This makes sense when you think about it.  Much of this resort's purpose is to allow guests to cook in their room.  If that's the point, why would you have a plethora of dining options available?
What it lacks in quantity, Old Key West makes up for with quality, especially in the table service restaurant category.
That headliner table service location is known as Olivia's Café.  We had both breakfast and dinner here and loved them both.  You can read more about those meals here in our Olivia's Café review, but for now, we'll say our food here was way above our expectations.  Olivia's Café is the type of restaurant you go to, even if you aren't staying at the resort.  It's that good.  Even breakfast, which is notoriously ho-hum at Disney World, was excellent at Olivia's Café.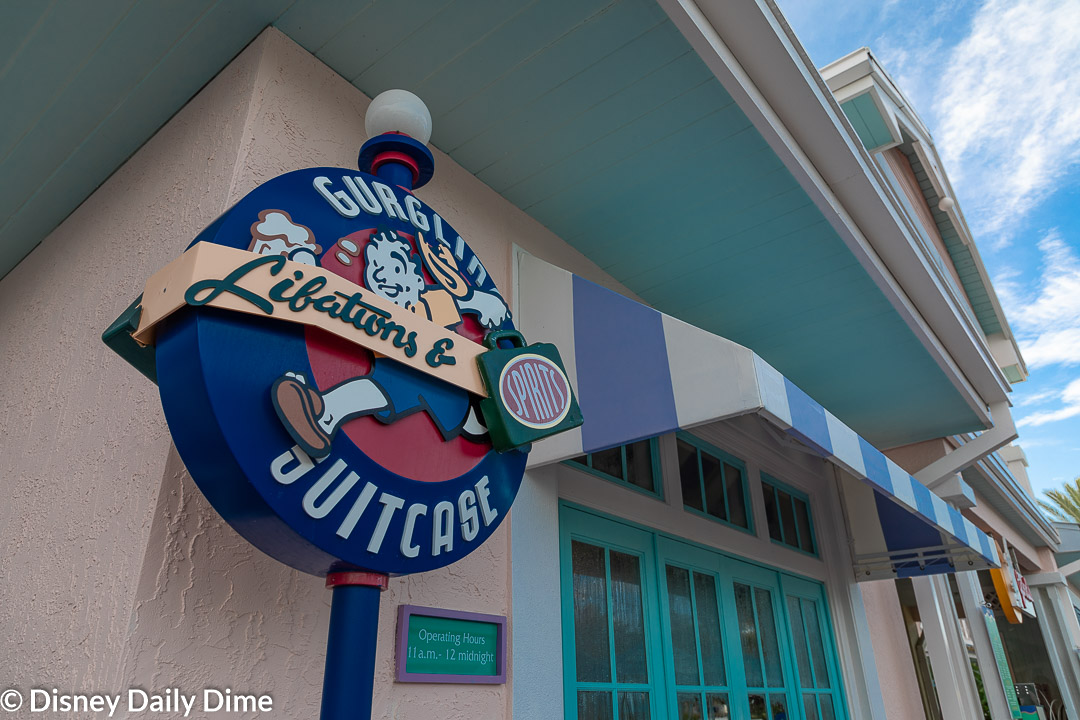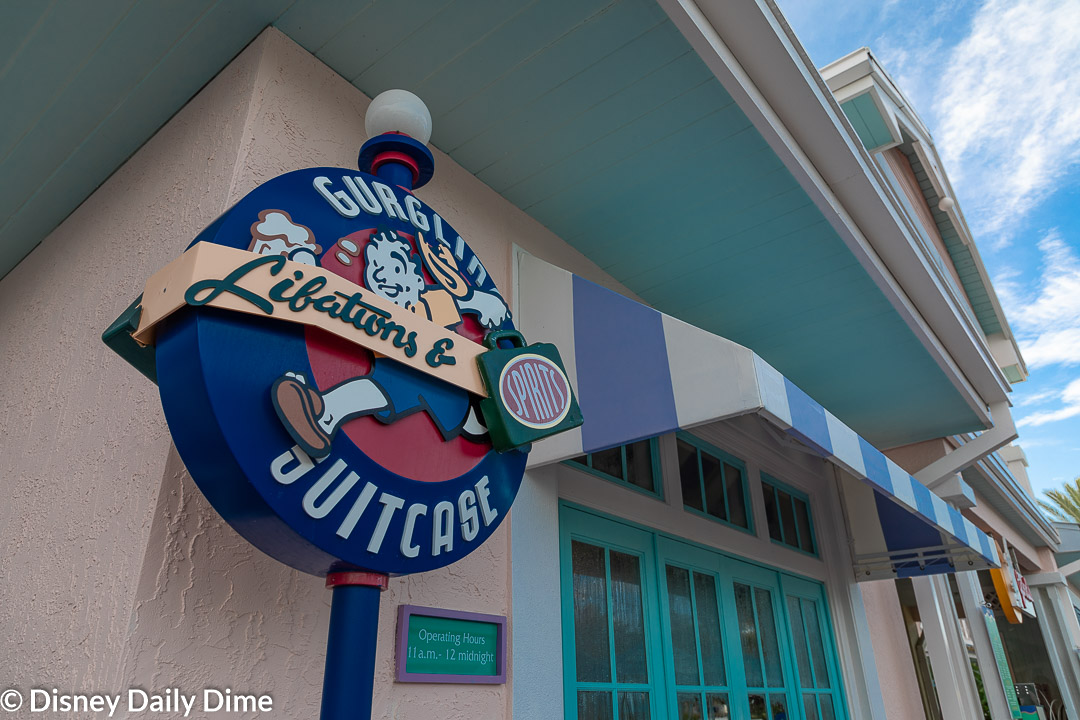 Good's Food to Go is the counter service location at the resort.  It has an assortment of entrees for breakfast and lunch/dinner available.  We only had breakfast here and enjoyed that, but wouldn't characterize it as anything overly notable.  There is no indoor seating here.  It's a window where you order your food and take it with you.  There are picnic tables right next to the building where you can sit and enjoy your meal.
There is a lounge at Old Key West Resort.  The Gurgling Suitcase is right between Olivia's Café and Good's Food to Go.  You'll find assorted, beer, wine, and spirits for your drinking pleasure, along with various foods.
Turtle Shack Poolside Snacks is next to the Old Turtle Pond Road Pool.  They have cocktails and pool bar type food.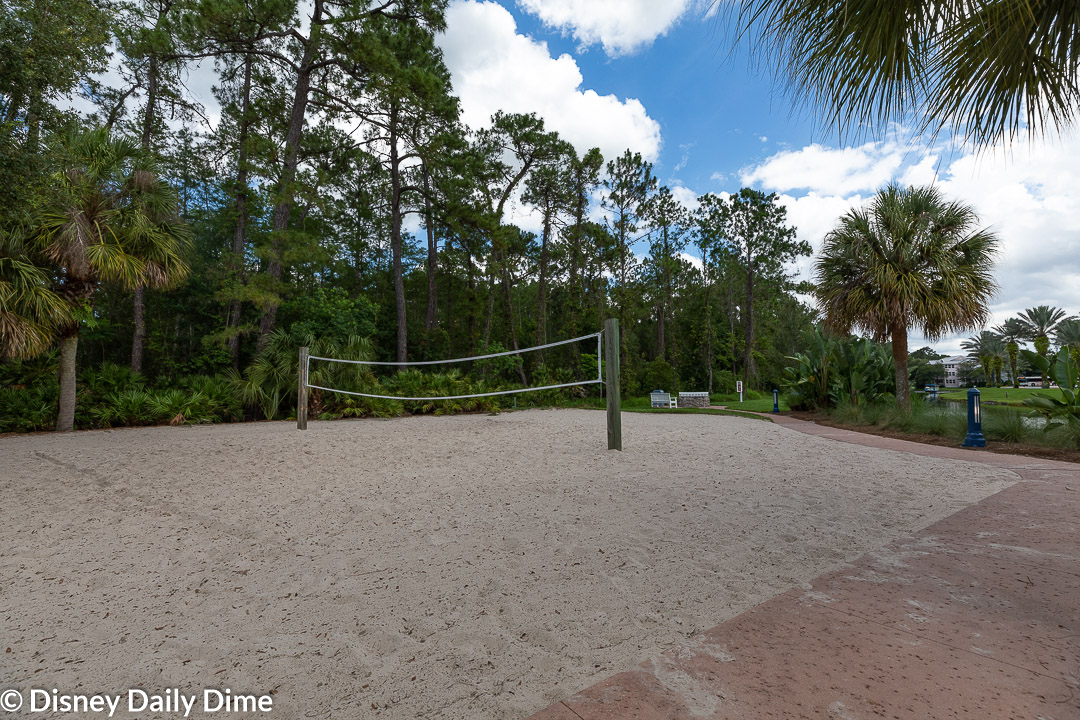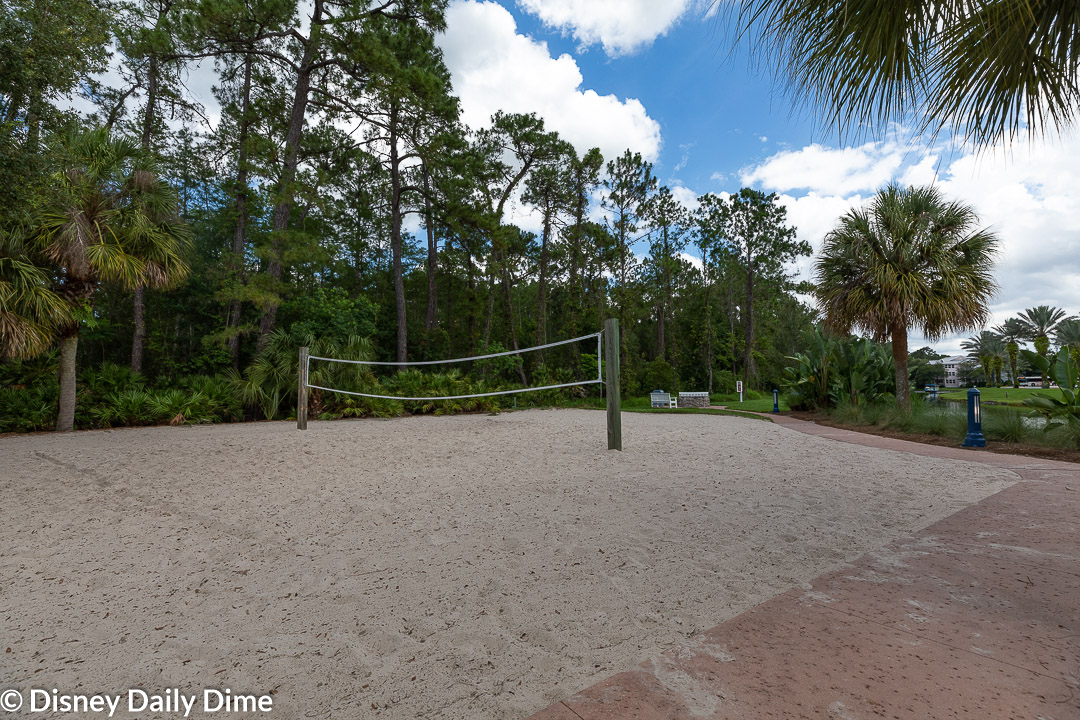 Recreation at Old Key West Resort
Disney's Old Key West Resort also features several recreational opportunities you may want to take advantage of.  These include:
Movies Under the Stars
Jogging Trail
Campfire with S'mores
Playgrounds
Video Arcade
Poolside Activities
Tennis Courts
Basketball Court
Sand Volleyball Court
Surrey Bike Rentals
Bike Rentals
The recreation opportunities are plentiful at Old Key West.  One thing that is a plus is that almost all of these are free, except the games in the video arcade, s'mores and bike rentals.
Don't forget the golf course that is right next to the resort.  If you want to sneak in 18 holes, there isn't a more convenient option.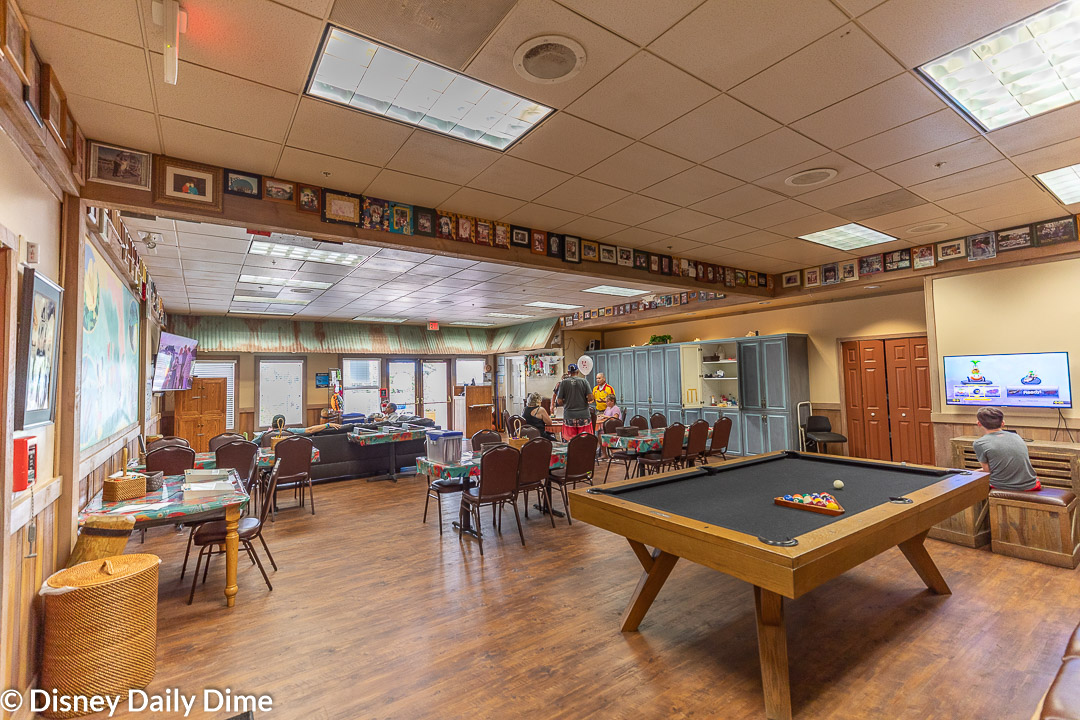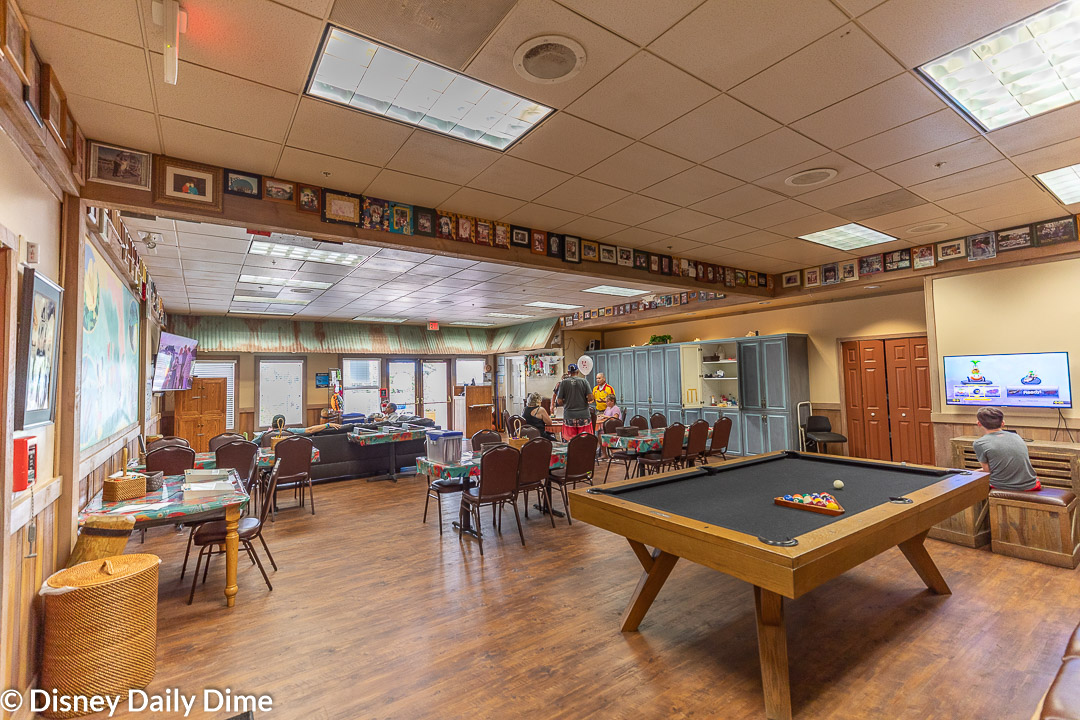 There is one recreation option we wanted to highlight here.  Old Key West is one of just a handful of resorts at Disney World that features a Community Hall.  In here you'll find games, crafts, movies and more.  Anna was especially interested in the oversized checkers board they had.  You can see a picture of the interior of the Community Hall above this paragraph.
Old Key West is a Great Resort, Just Get a Good Price
I think you can gather that we are pretty big fans of Old Key West Resort.  While Carla is more of a fan than I am, there is no mistaking that it is a great resort.
Does it have some things that may make it less appealing to certain guests?  For sure.  The lack of transportation options relative to other deluxe resorts and the internal bus system would be chief amongst my criticism of it.  I also wouldn't overlook the climbing of stairs to get to your resort room, if that is a challenge for you.  Would I personally prefer a different theme? Yes.  That doesn't mean you won't love it here though.
On the plus side, we really enjoy the space of the resort.  Being able to take leisurely strolls and enjoy the palm trees is bliss, especially for Carla.  The kids loved the slide at the sandcastle pool.  Olivia's Café is excellent at too!  If you're looking for a resort where you can sleep a large party in one villa, Disney's Old Key West is one of the few and best options.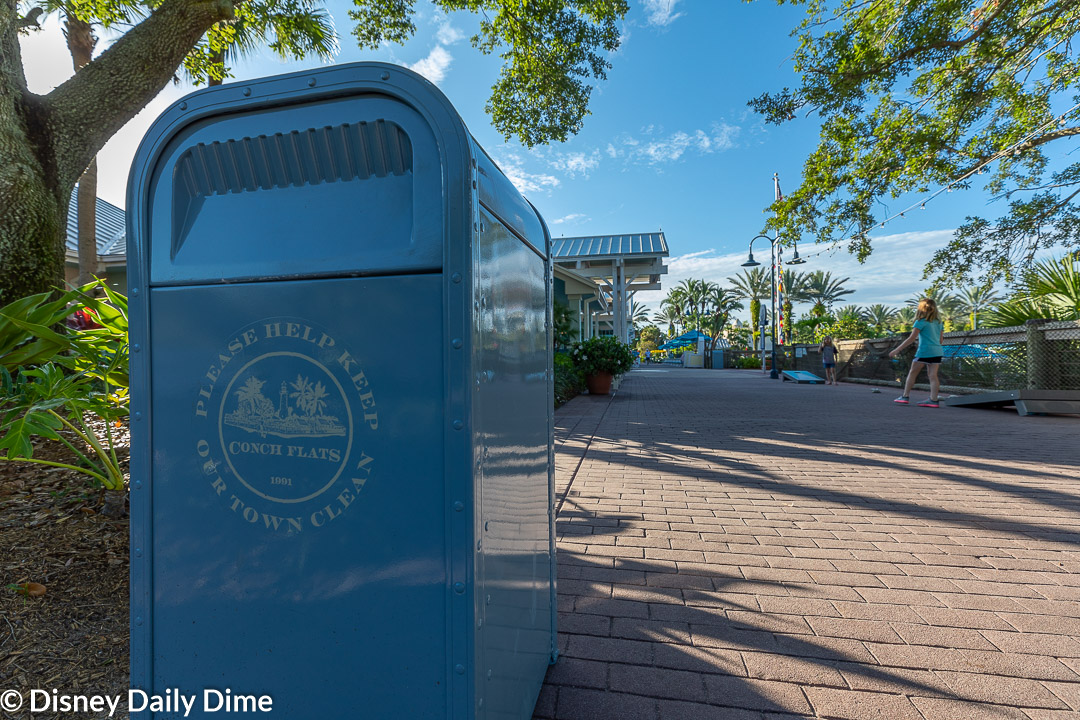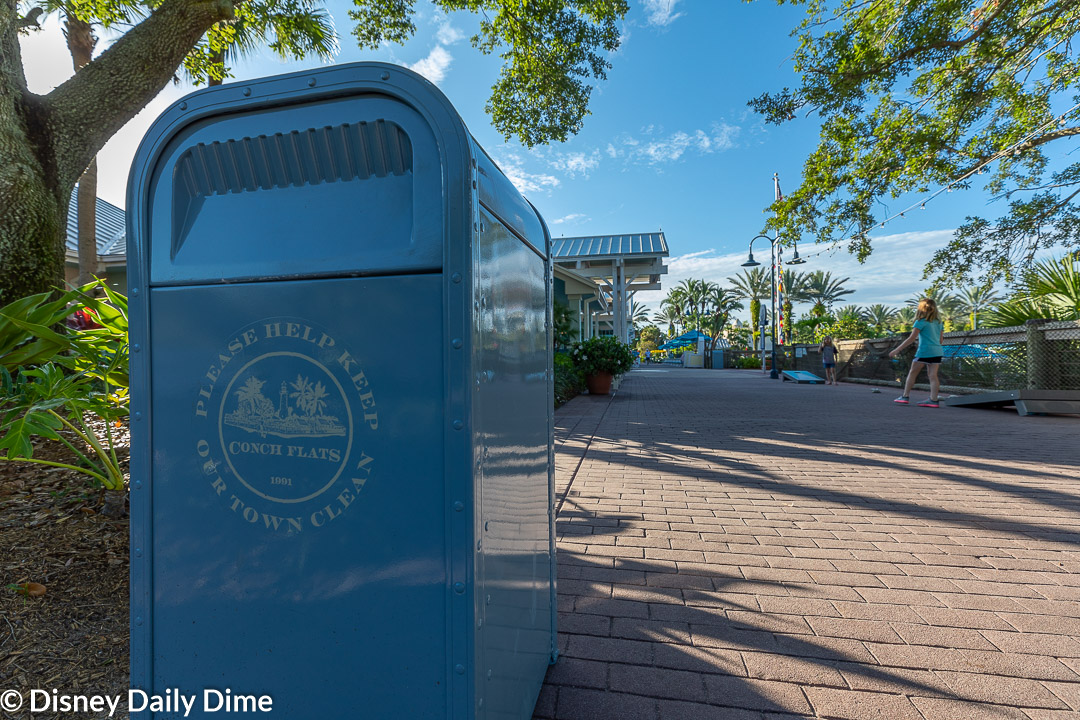 If you're trying to keep your stay economical, make sure you do the math here.  As we laid out in the rooms section above, these accommodations are not cheap.  Make sure you find a deal or rent DVC points.  Otherwise, you may end up paying way more than you want to for a room at Old Key West Resort.  It may be cheaper for you to stay at a different value resort, depending on the size of your group and the price you can find.
Will we be going back to Old Key West?  For sure.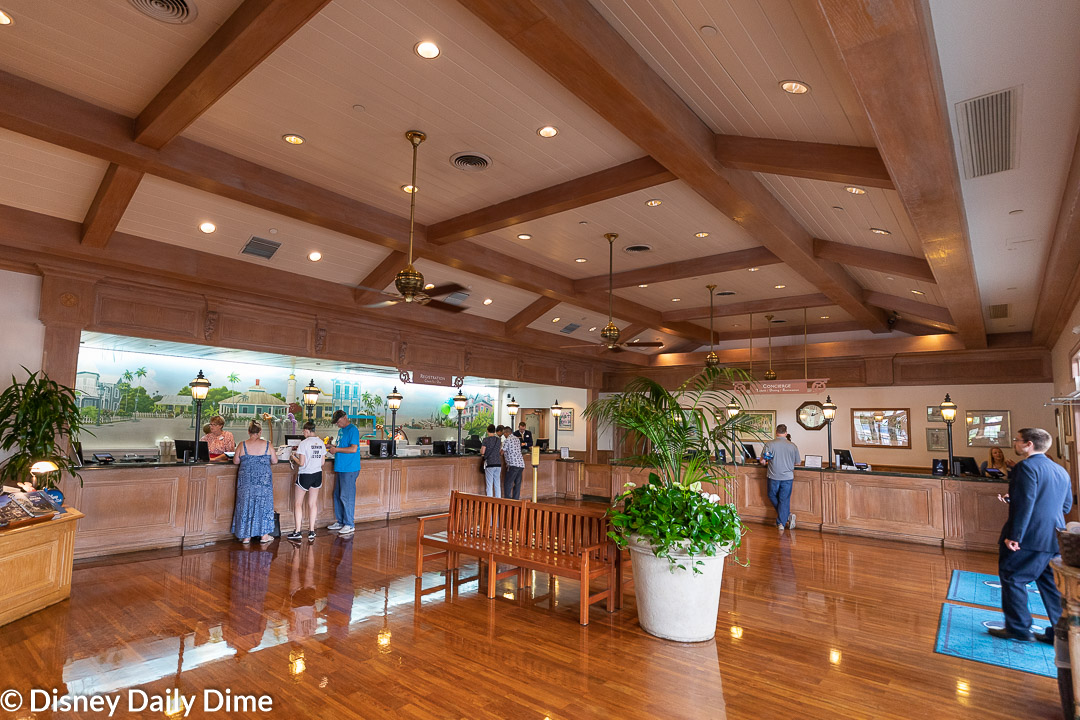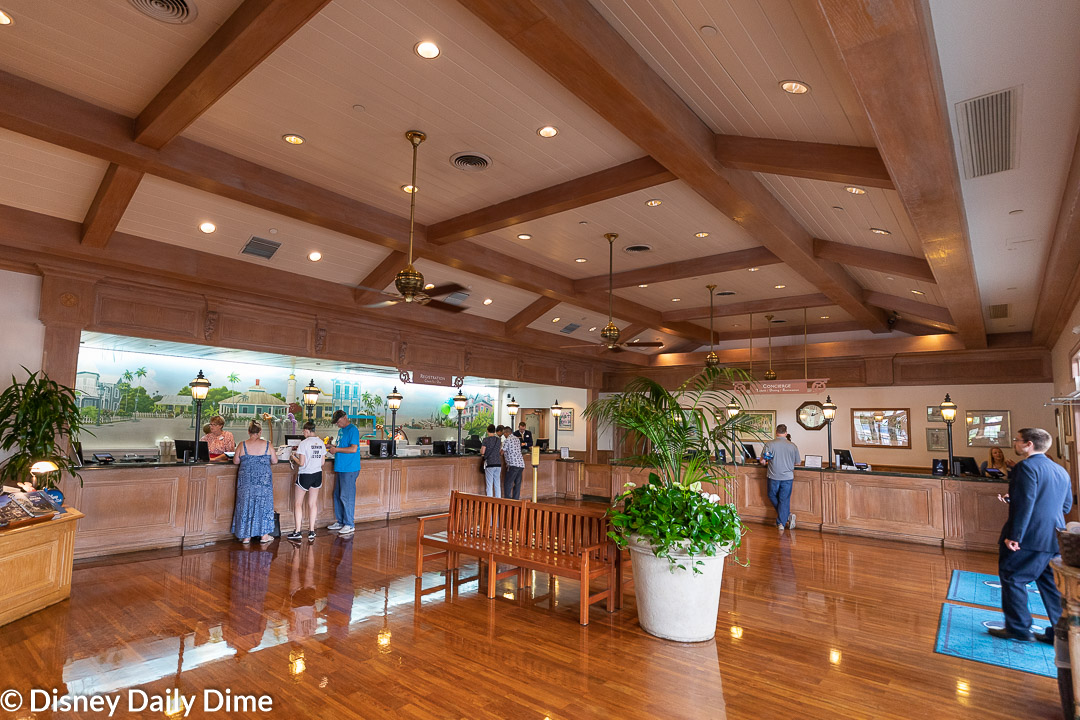 Wrapping Up
With that, we'll wrap up our Disney's Old Key West Resort review.  If the theme is something you love, or you're looking for more space or need more beds, it is a great option.  Now it's your turn!  Tell us why you love Disney's Old Key West!  Or maybe you don't; we always want to hear other points of view!  In either case, drop down in the comments section and let us know your thoughts.
We hope you found our Disney's Old Key West Resort review helpful.  If you did, we'd greatly appreciate it if you would share this post on social media.  It helps get the word out on our blog and tells us we're doing something right.  Just use the social media sharing buttons on this page.