Tucked away inside of Disney's Beach Club Resort is a quick service option known as the Beach Club Marketplace.  This Disney World restaurant serves all three meals of the day and provides snacks for late-night dining options.  Here in our Beach Club Marketplace review, we'll provide our thoughts on this dining location, covering the lunch we had here.  We'll throw in some thoughts on the other meals you can have here too.
Now, about the location of the Beach Club Marketplace.  When we say tucked away, we mean it.  This isn't a quick service location that you'll just stumble across.  Oh no, you'll need to go looking for it.  It is on the first floor of the Beach Club Resort.  As you walk into the resort from the front entrance, it will be to your left.  However, you'll have to wander back a little way.
If you're using the Disney Dining Plan, the counter service credit you'll use to eat at the Beach Club Marketplace is not a great value.  You can review the Beach Club Marketplace menu to see what you might be interested in eating.  As far as the dining plan goes, paying out of pocket is the better use of your money.
Beach Club Marketplace does not accept Tables in Wonderland.  This is relatively normal for quick service locations at Disney World.  Not many of them take this discount card.
Now that we've covered some of the basics associated with our review, let's talk about the ambiance of Beach Club Marketplace.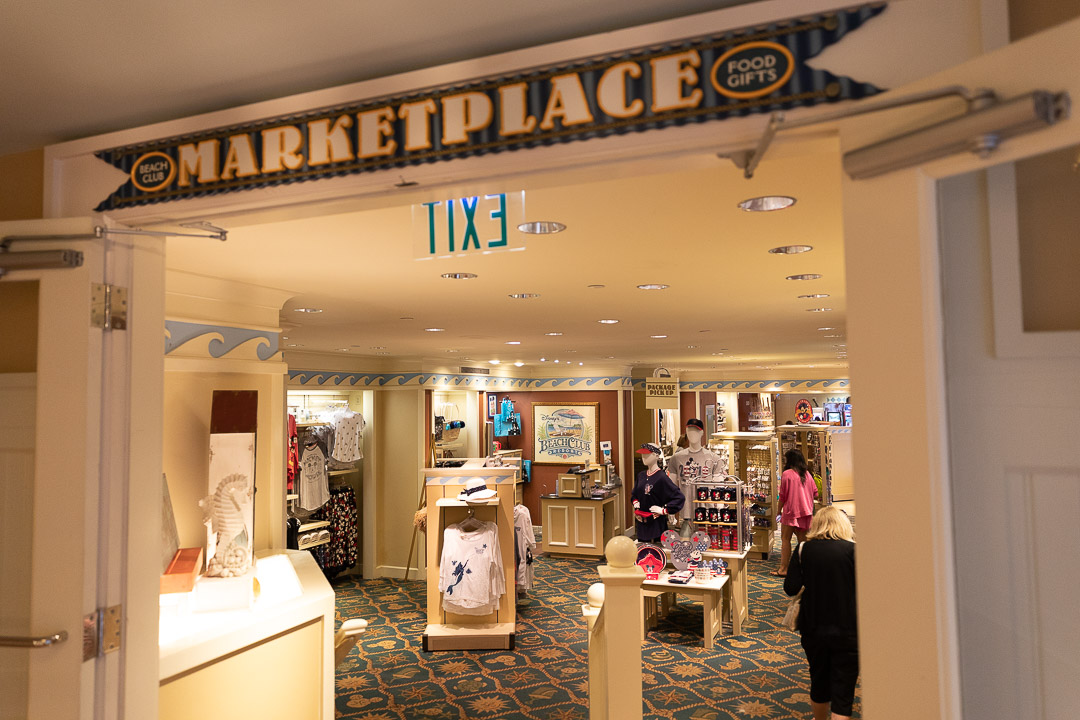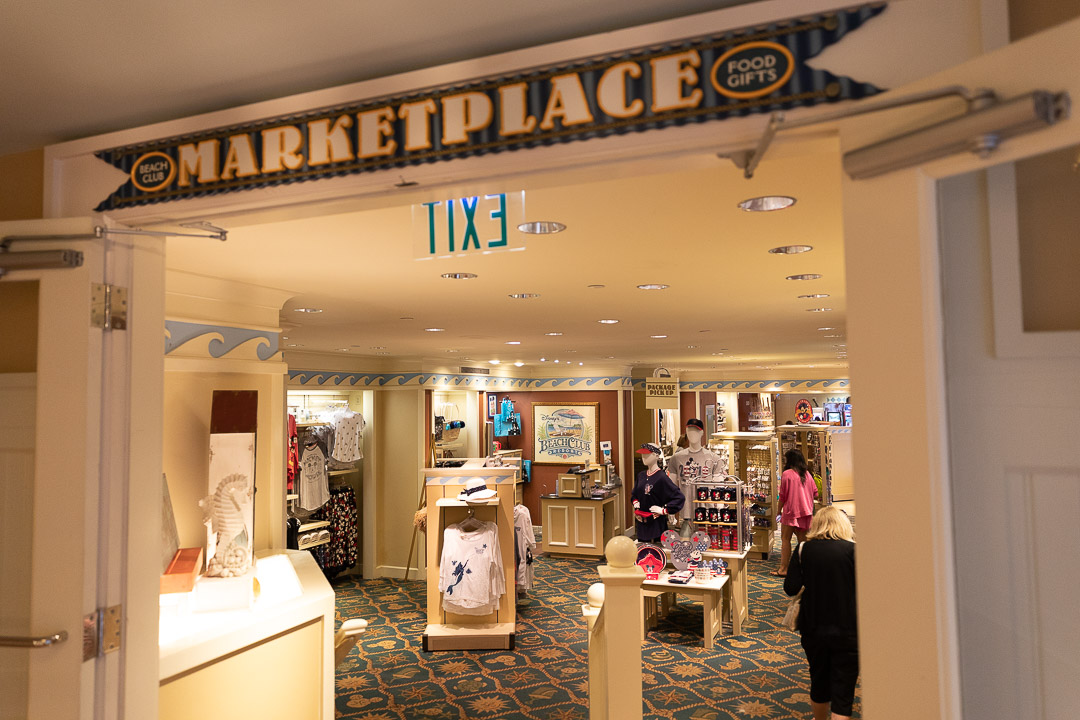 We'll Keep This Short and Sweet; Beach Club Marketplace Doesn't Have Any Ambiance
Walking around the Beach Club Marketplace, you'll find it serves as a restaurant and a bit of a shop for sundries, snacks, and souvenirs.  As you can see in the picture below, there is an entire area dedicated to non-food items.  It's a bit odd, to be honest.  We were a little confused at first when we say the store sign, but no food.  We were not sure if we were going the right way.
That said, this is a resort counter service location, so we won't hold it against the restaurant.  We'll just say, we've seen better efforts at deluxe level resort counter service locations.  Roaring Fork at Wilderness Lodge is an excellent example of this.  It's one of my favorites.
Inside the restaurant, you'll find a serving area, where they make hot food.  On the perimeter are coolers that house all sorts of item, including premade food, cupcakes, and other snacks.  These are the items that you'll be able to get late at night.  The hot serving station is only open between 7 AM and 11 PM.
Beyond this, there isn't a whole lot that we found notable with the restaurant set up.  So let's get to the food at Beach Club Marketplace.
To Quote Anna, Beach Club Marketplace Food Was Just "Okay"
Well, I guess I've already tipped my hand on my feelings about Beach Club Marketplace food.  As I said earlier, we only had lunch here.  Given the somewhat limited menu, there aren't a lot of entrées to pick from.  We'll talk a little bit about breakfast and dinner at Beach Club Marketplace at the end of this section.  Let's get to the food.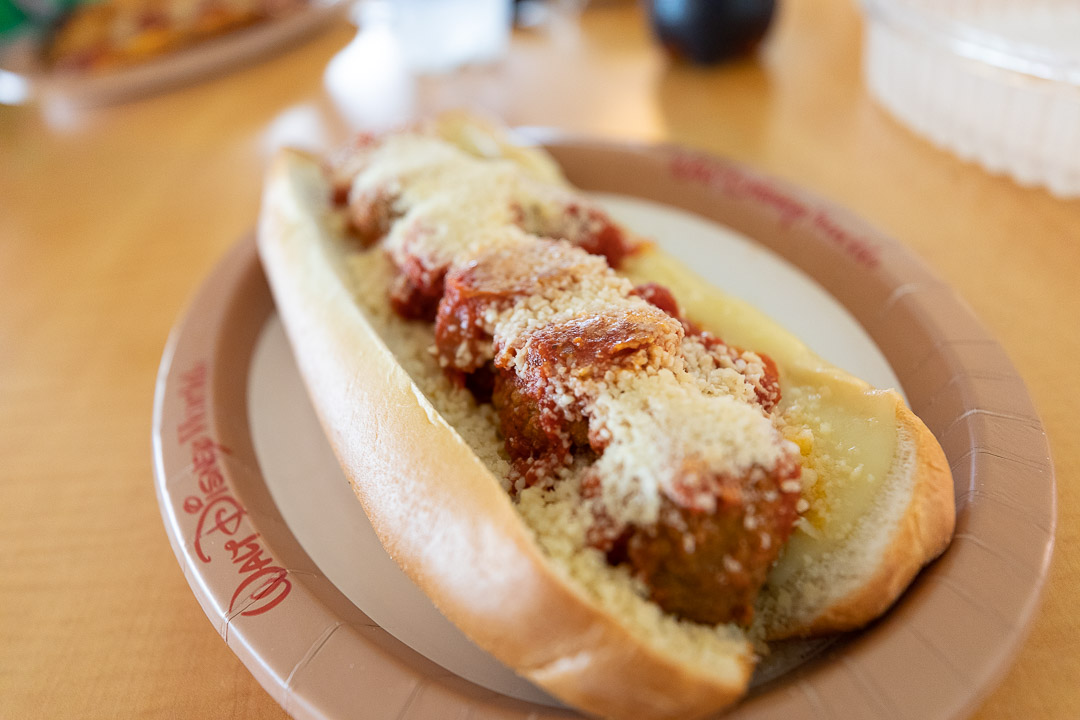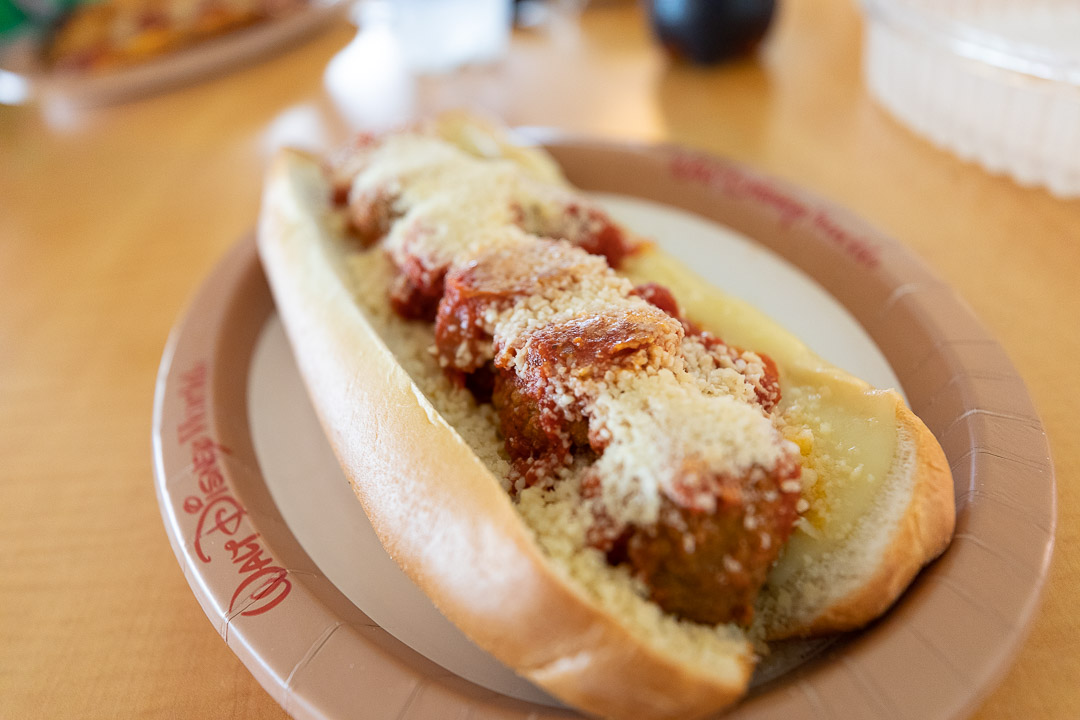 For my meal, I ordered the meatball sub.  This item features six good-sized meatballs covered in a marinara sauce and parmesan cheese.  I found the sub sort of middle of the road counter service food.  The bread was okay but basic.  There wasn't anything interesting here.  The meatballs were so covered in sauce that I couldn't find any discernible flavor in the meat.  It filled me up, and that's about all I could say.
Anna and Elsa didn't feel like eating a hot meal here, so they went with a combination of Uncrustables and Yogurt Parfaits.  They are all foods that are pretty hard to mess up but took the edge of their hunger.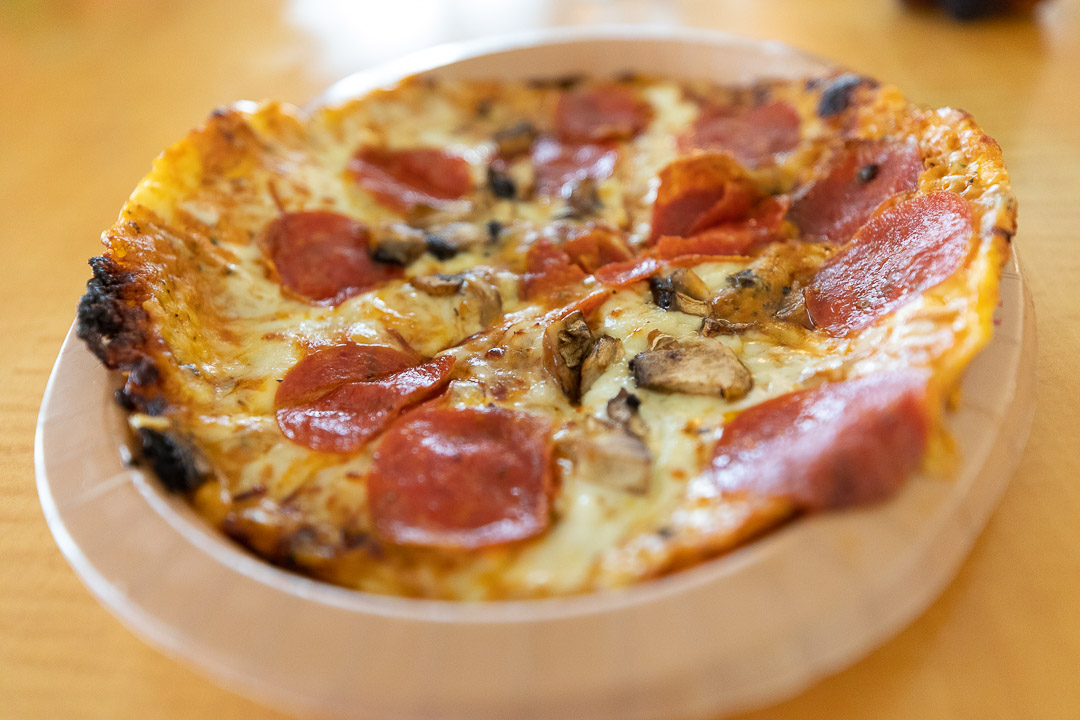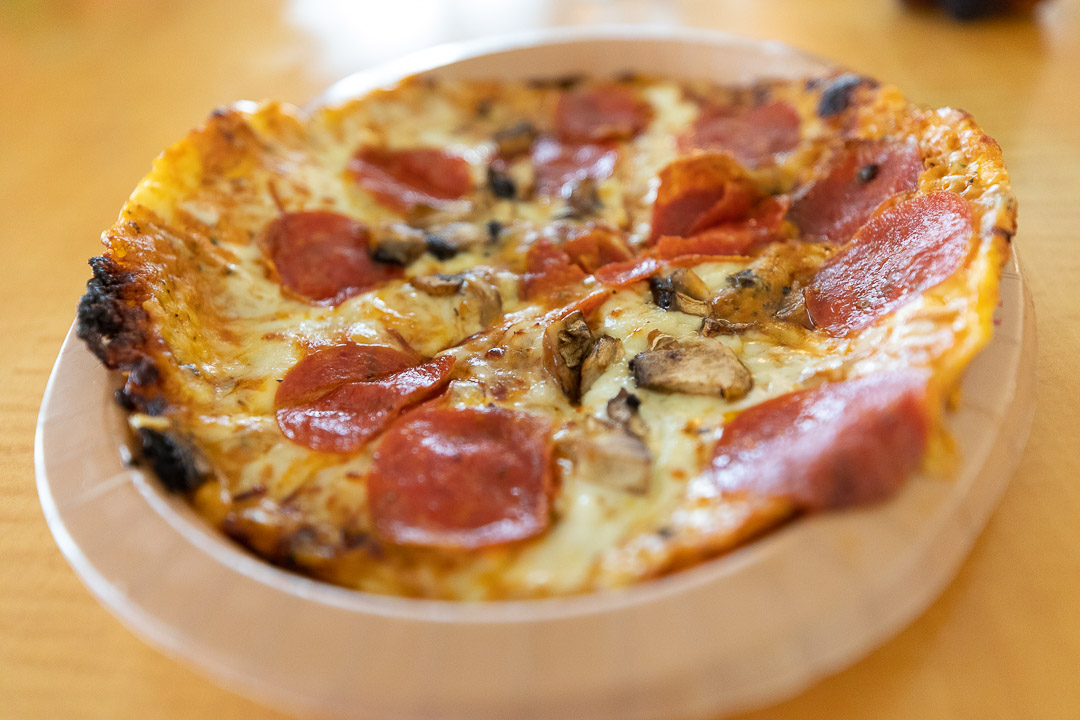 Carla had a gluten free flatbread pizza.  She found it to be of relatively high quality, at least for something that was gluten free.  It was made with a Udi's crust and topped by her selection of toppings.  In her case, Carla chose pepperoni and mushrooms.  For a counter service gluten free pizza, Carla said she would get it again.
If you're looking to have breakfast here, the menu features standard Mickey Waffles and other assorted items, like eggs and bacon.  We'd suggest going to Cape May Café for breakfast if you're looking for a breakfast meal at Disney's Beach Club Resort.  We'll have a review on that meal soon.  In case you aren't familiar with it, Cape May Café is a character meal at breakfast.
Dinner features some more substantial plates that will make it a complete meal.  Since we didn't have them, we can't opine on quality.  We'd suggest that you should expect typical counter service caliber food.  Not excellent, not terrible, but it will get you full.
Beach Club Marketplace Review Overall Impressions
I'll keep this short and sweet.  Beach Club Marketplace is an alright place to eat at if you're in a pinch.  If you have other options, we'd suggest dining there.  Epcot isn't too far away, with lots of great dining choices.  We'd recommend going there.  That said, the food isn't terrible, it's just okay.
Wrapping Up
With that, we'll wrap up our Beach Club Marketplace review.  If you just absolutely have to eat, this is a place that can take the edge off your hunger.  Just don't expect an unbelievable meal.
If you're looking for more dining options, make sure you check out our main Disney World restaurant reviews page.  You'll find links to every restaurant we have reviewed there.
If our Beach Club Marketplace review was helpful or at least entertaining, please like and share this with your friends or anyone you think will find it useful.  Just use the sharing buttons on the page.  We always appreciate it when you share our posts, as it allows us to spread the word about our blog and hopefully will enable us to help others.