Cape May Café is located just off the lobby of Disney's Beach Club Resort.   This restaurant serves only breakfast and dinner, but both meals have unique elements not found in other restaurants around the World.  Minnie's Beach Bash Breakfast takes place in the mornings with Minnie, Daisy, Donald, and Goofy dressed in vintage beach attire.   In the evenings, a special "seafood and more" buffet is offered.   Here in our Cape May Café character breakfast review, we'll cover the décor of the restaurant, the character we met, and the food.  We'll pepper in pictures throughout, as usual.
Cape May Café opened with the resort back in 1990.
Breakfast at Cape May Cafe will cost one table service credit on the Disney Dining plan.  As it is a character meal, there is a "premium" price attached to this meal, which almost always makes it a good use of a credit, especially for kids.  Breakfast will cost around $41 adult/$24 child.  Tables in Wonderland is accepted here.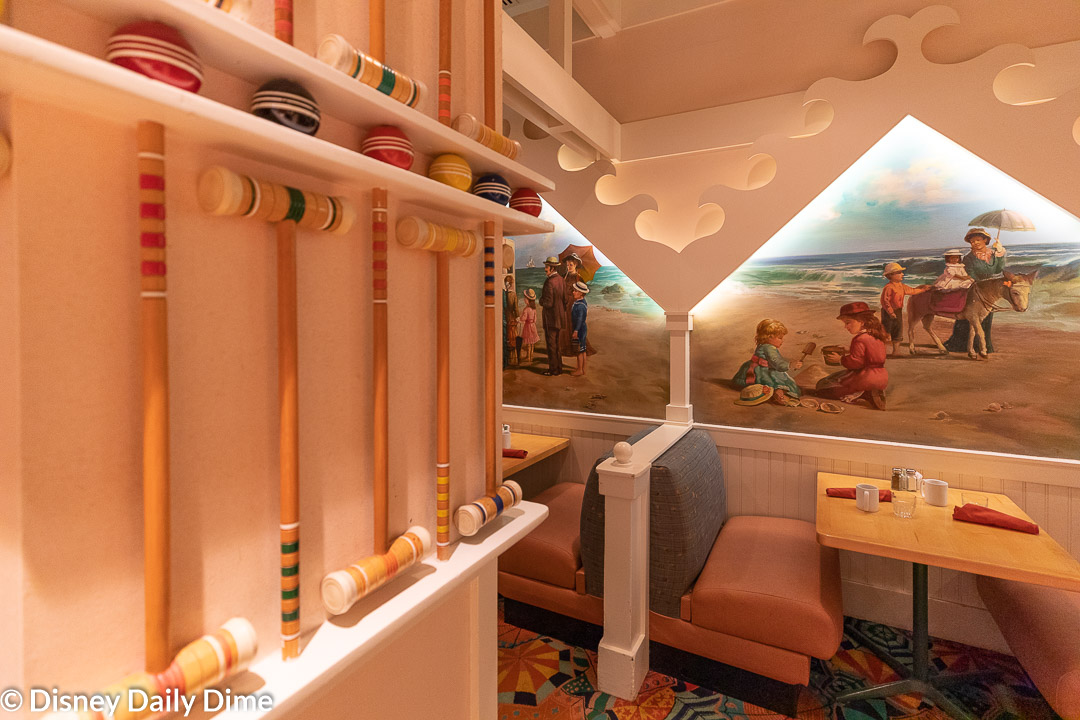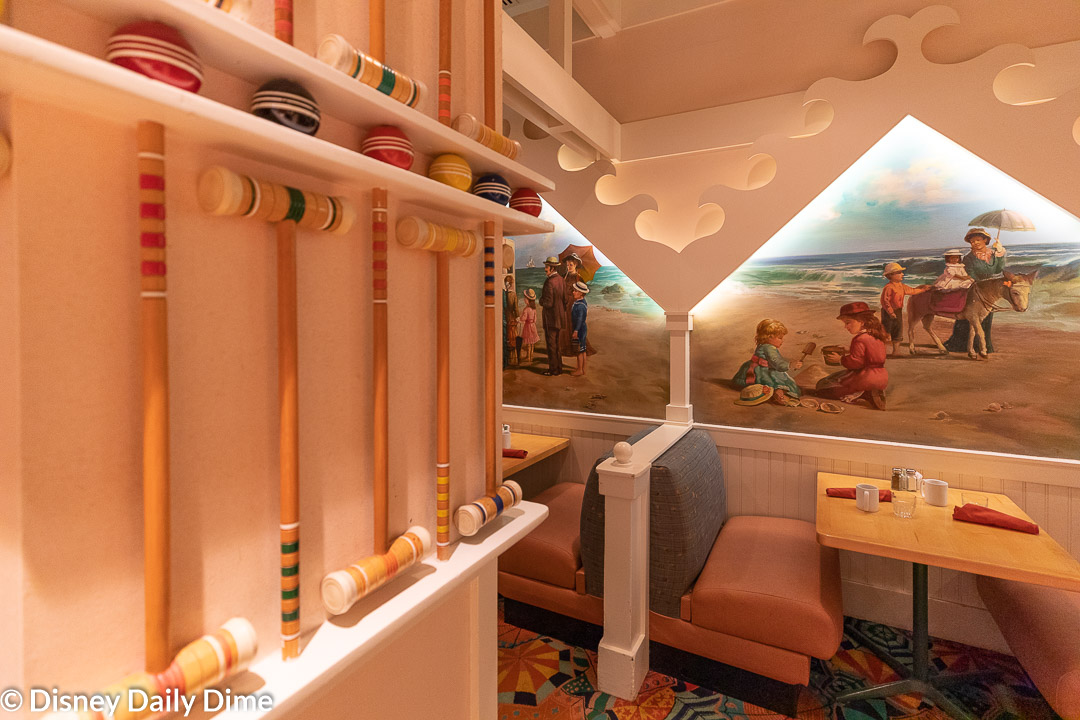 Cape May Café Continues the Theming of Disney's Beach Club Resort
Disney's Beach Club resort is themed to the mid-late 1800s beach resorts in New England.   The relaxed and whimsical vibe of the Beach Club resort carries right into Cape May Café.  Décor, such as brightly colored beach umbrellas and chairs, croquet mallets, and replica sandcastles, decorate the restaurant.
Some tables are under an open cabana-like structure.   (We were lucky enough to be seated at one of these fun booths under the cabana).  The color scheme blends both pastels and brighter corals, pinks, and aquas to really make you feel like you are eating at a beachside homestyle restaurant of yesteryear.   There are also murals showing scenes where the beachgoers are wearing period-appropriate beach attire, which is a far cry from what we wear today!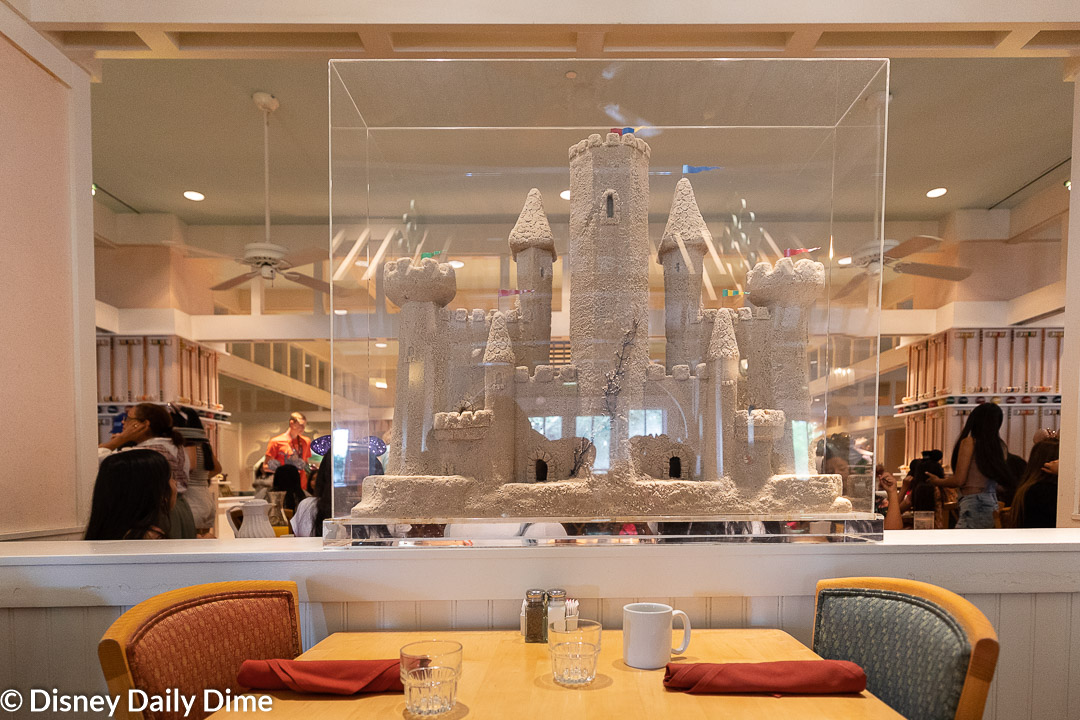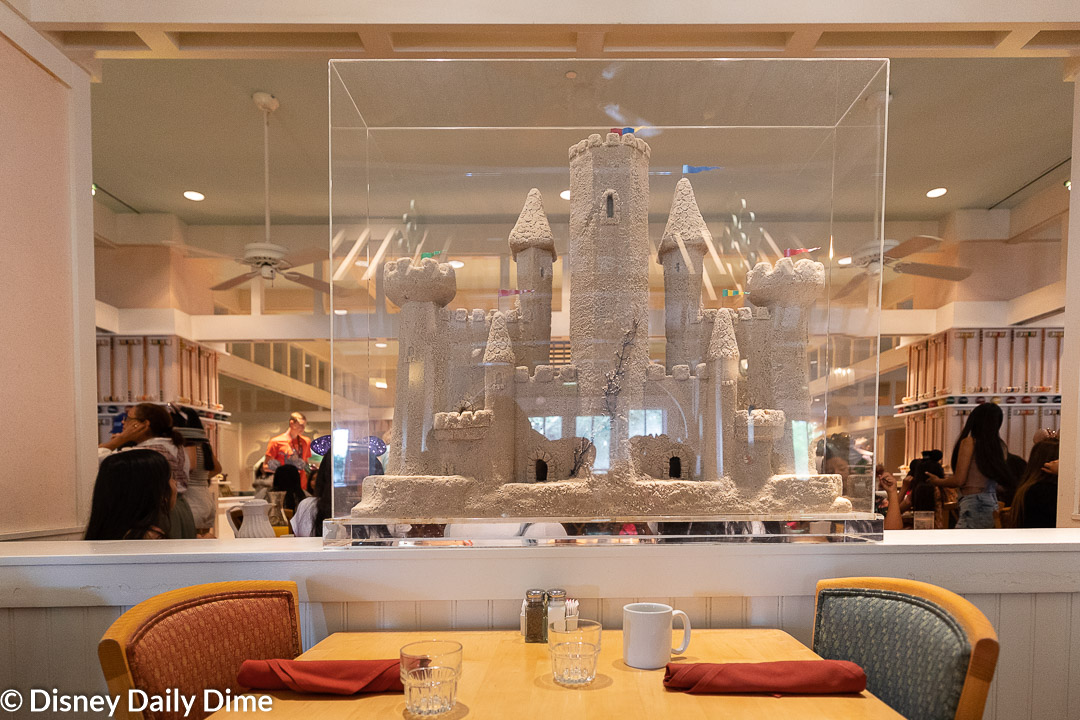 One thing to note that this is a "lobby" restaurant and is surrounded on almost all three sides by walkways.  However, the restaurant is elevated above the walkways as one side is a ramp to get to the main walkway around the restaurant.   People won't be walking by and staring at you as you eat, but do note that it can impact the noise level.
Character meals tend to be loud and can feel somewhat frantic, particularly the buffets.   However, the relaxed vibe the resort tries to convey seems to carry into this meal.  I never felt rushed, and there is plenty of walking room around the tables, so it didn't "feel" jam-packed.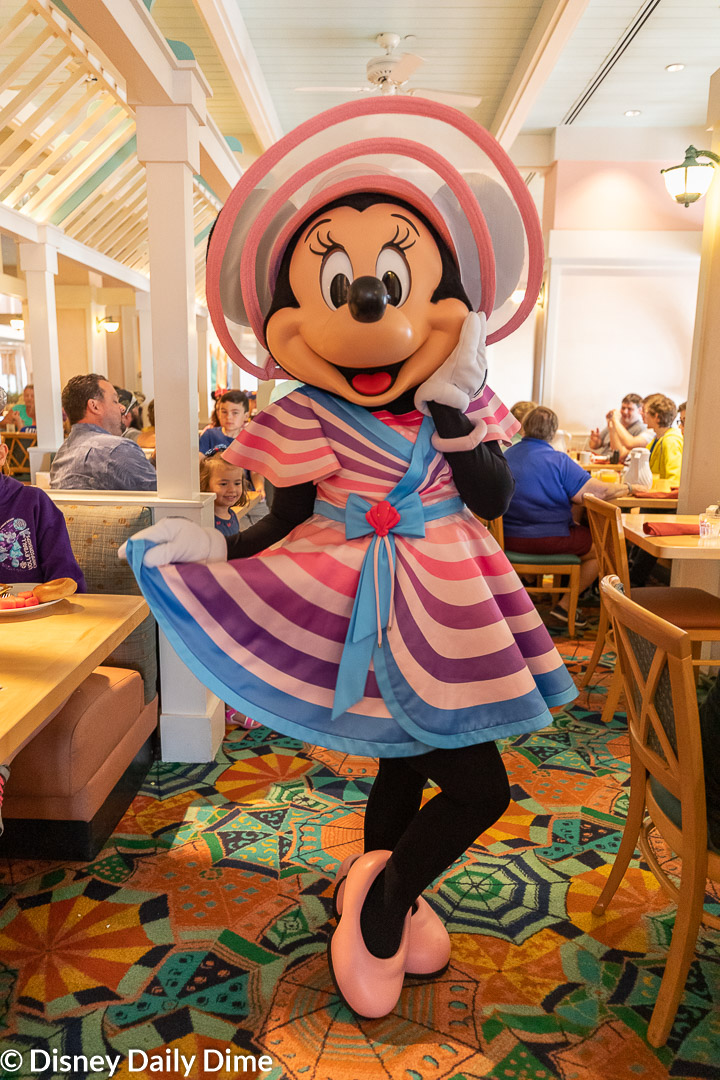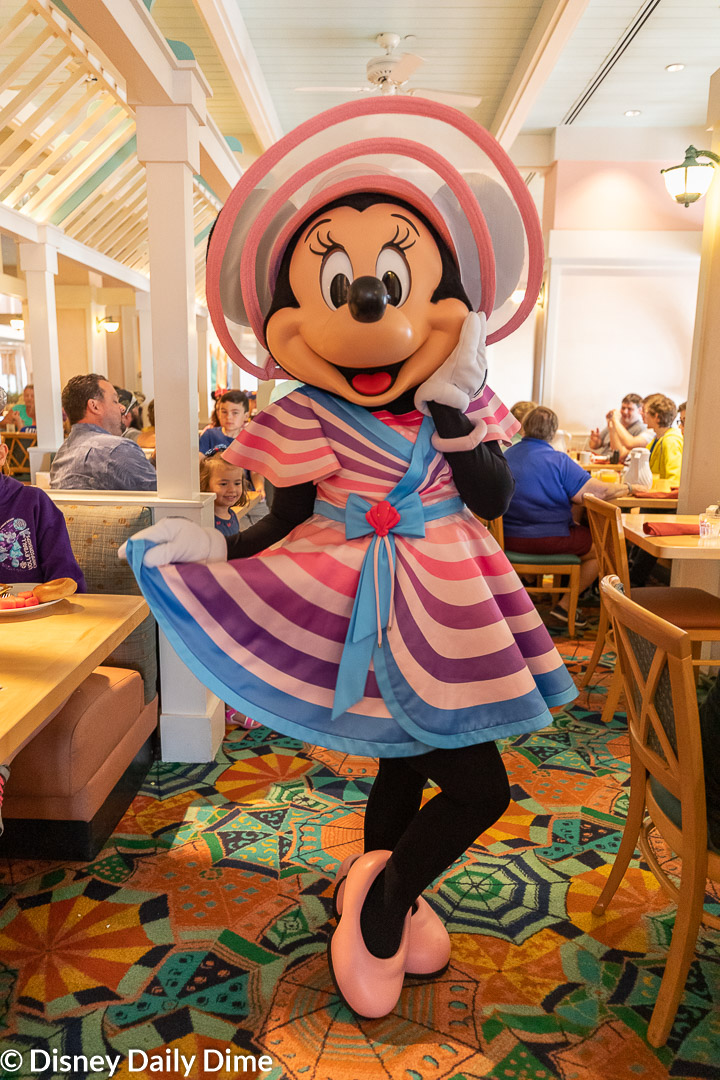 Minnie's Beach Bash Breakfast at Cape May Café Features Minnie and Friends
As this meal is called "Minnie's Beach Bash Breakfast," you probably figured out that Minnie is the hostess of this character breakfast at Cape May Café.  She recently created a new look for her beach attire.  The girls and I loved her new outfit with all of the blue, pink, and purple stripes, complete with a bow.  She also dons a beautiful matching sun hat.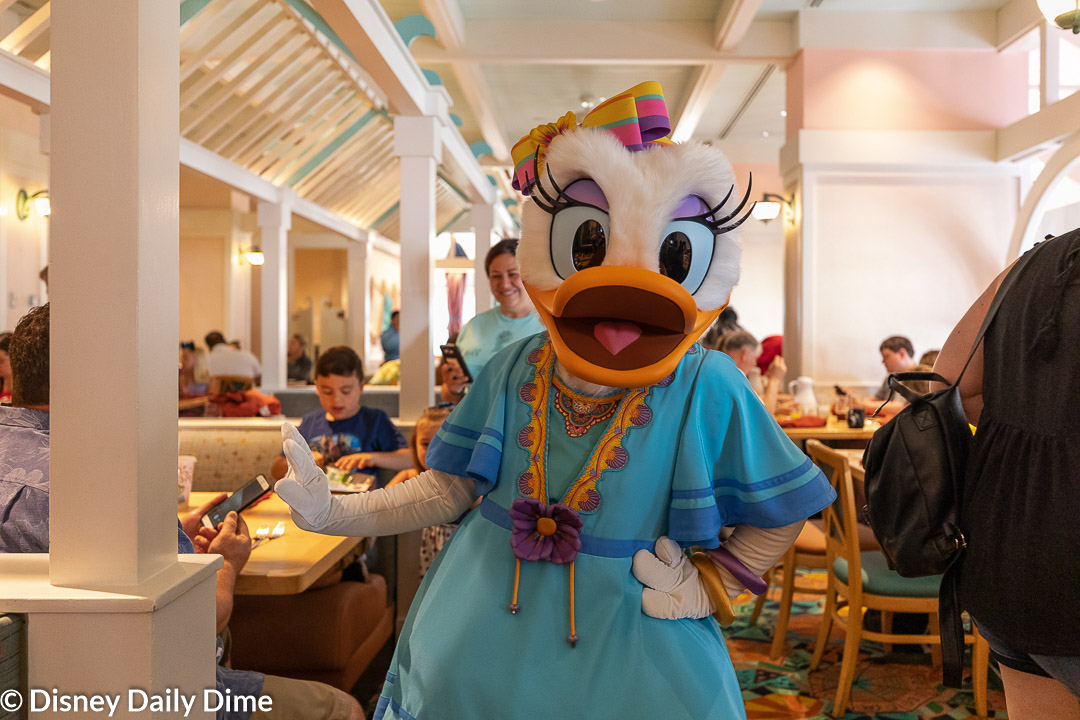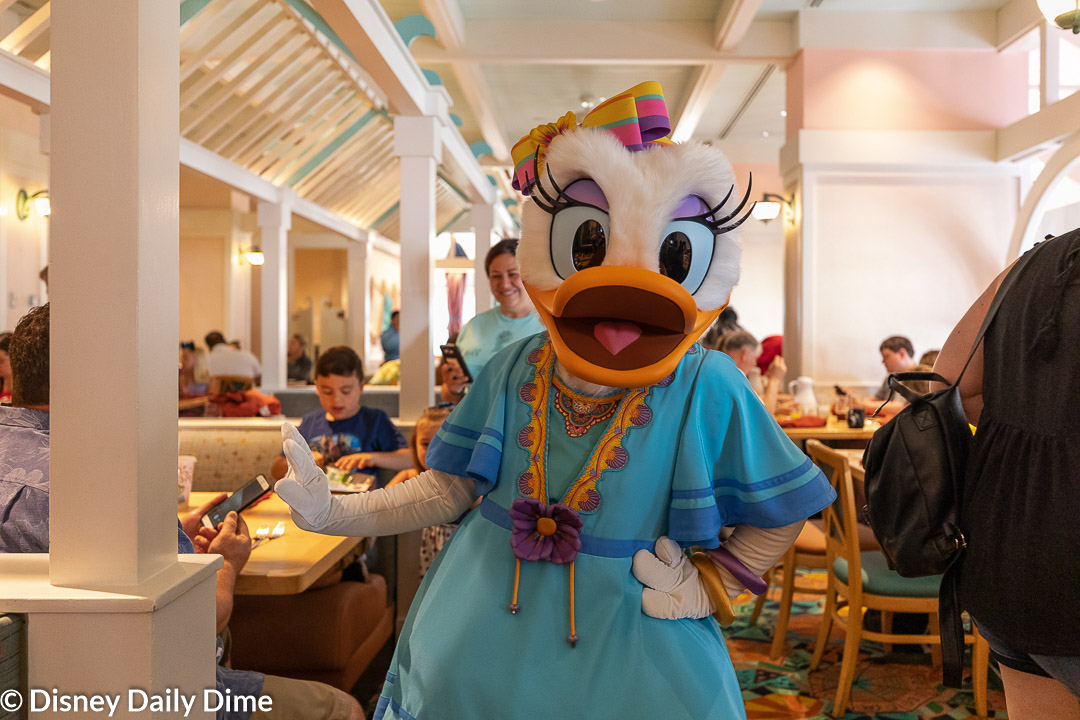 Our favorite ducks, Donald and Daisy, also come to visit your table at this meal.   Donald sports a straw hat and Hawaiian-style shirt over a striped shirt.   Daisy also wears an adorable swim dress like Minnie in shades of blue with a purple daisy.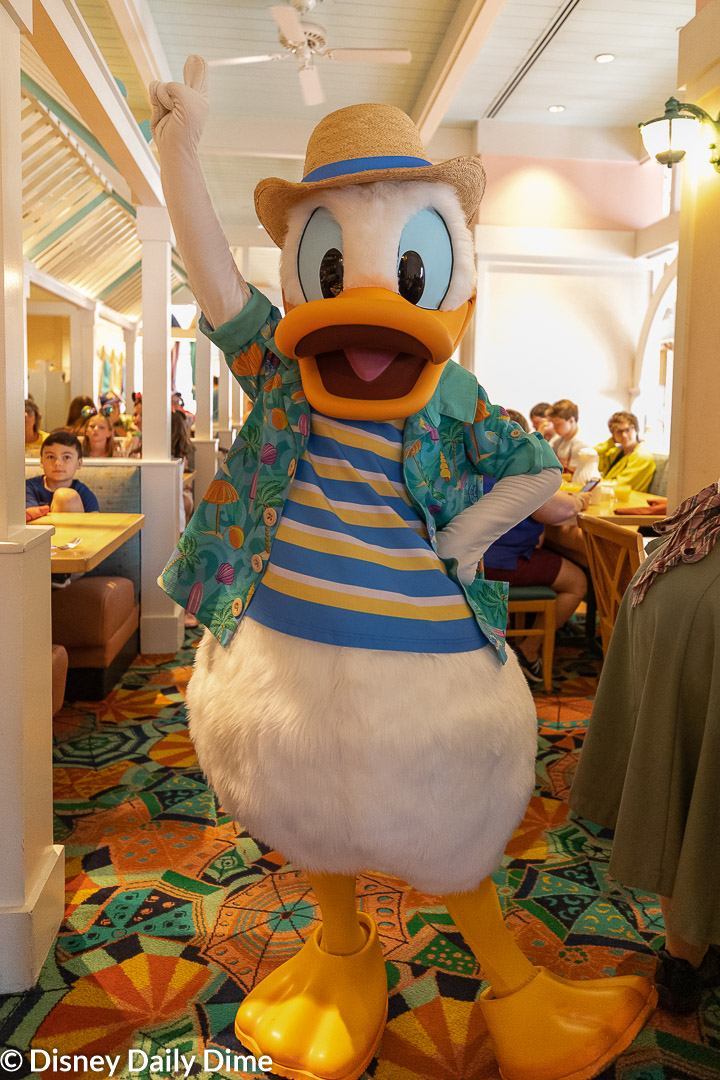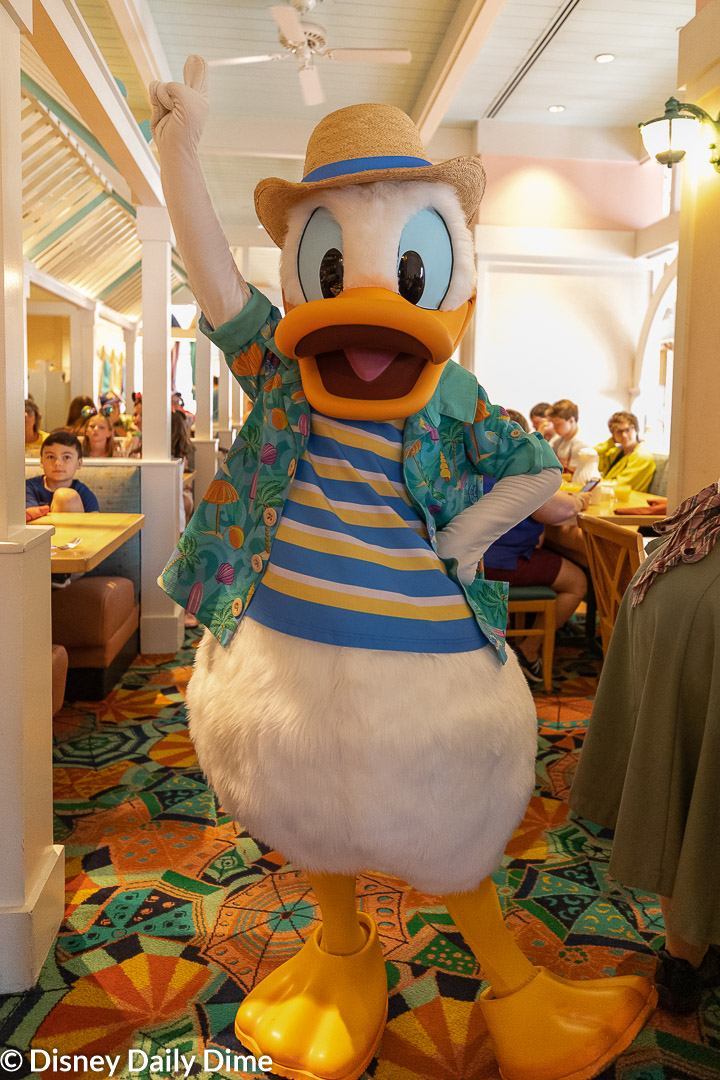 Goofy also attends this breakfast, dressed in a swim shirt and trunks and a sun hat.   His shirt has a picture of a sandcastle that looks similar to the sandcastles decorating the restaurant.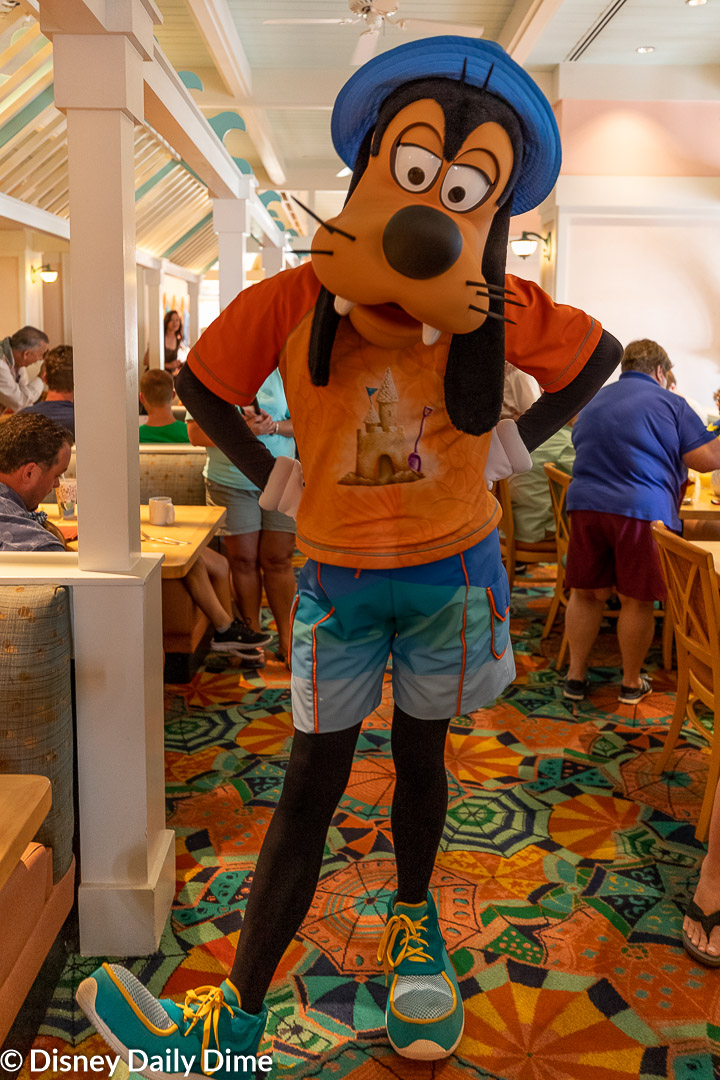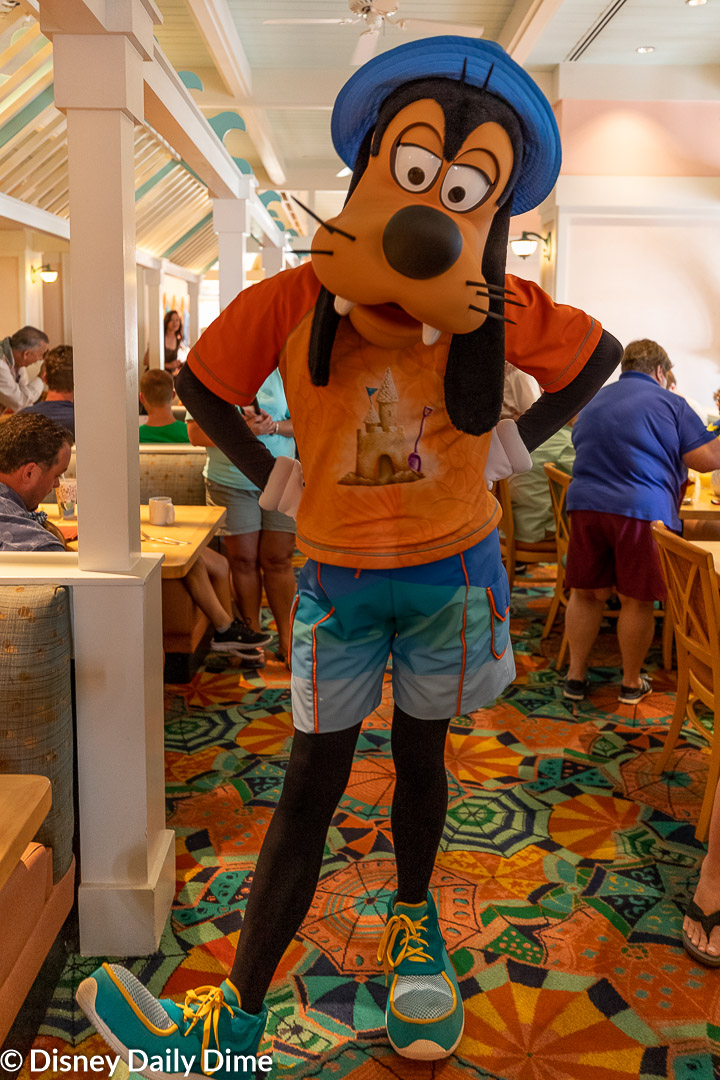 All four characters come to the table.  We always ask our server what their pattern through our area is so we can watch for them to arrive.  If you ever miss a character or they accidentally miss your table, just ask your server or the character attendant, and they will circle back to you.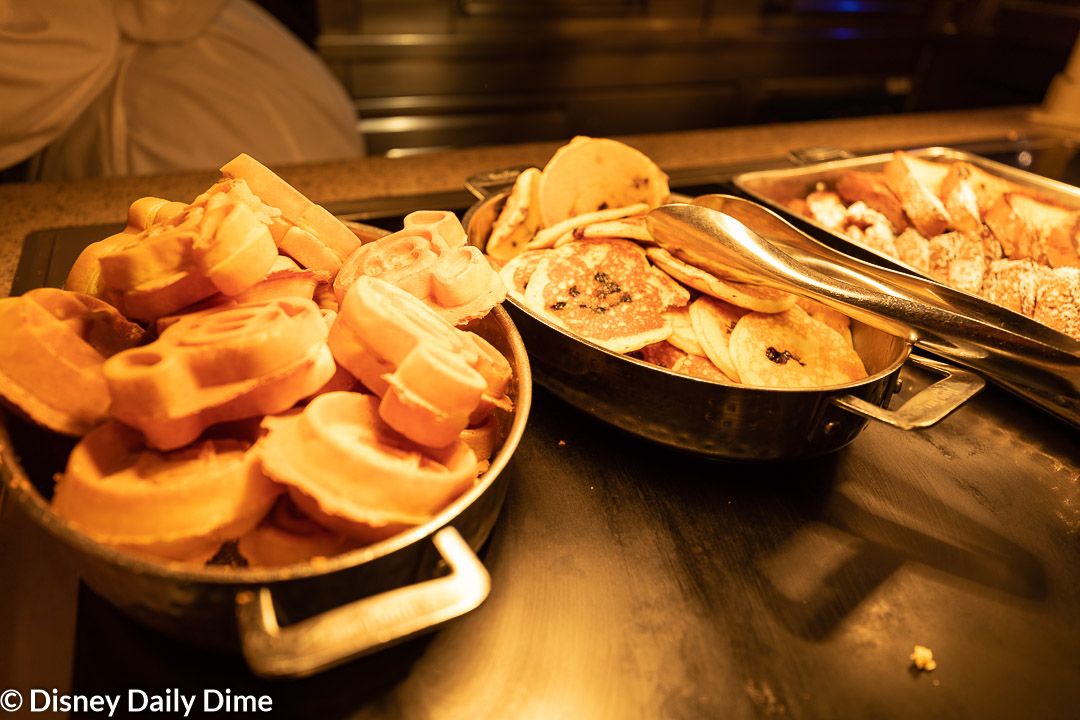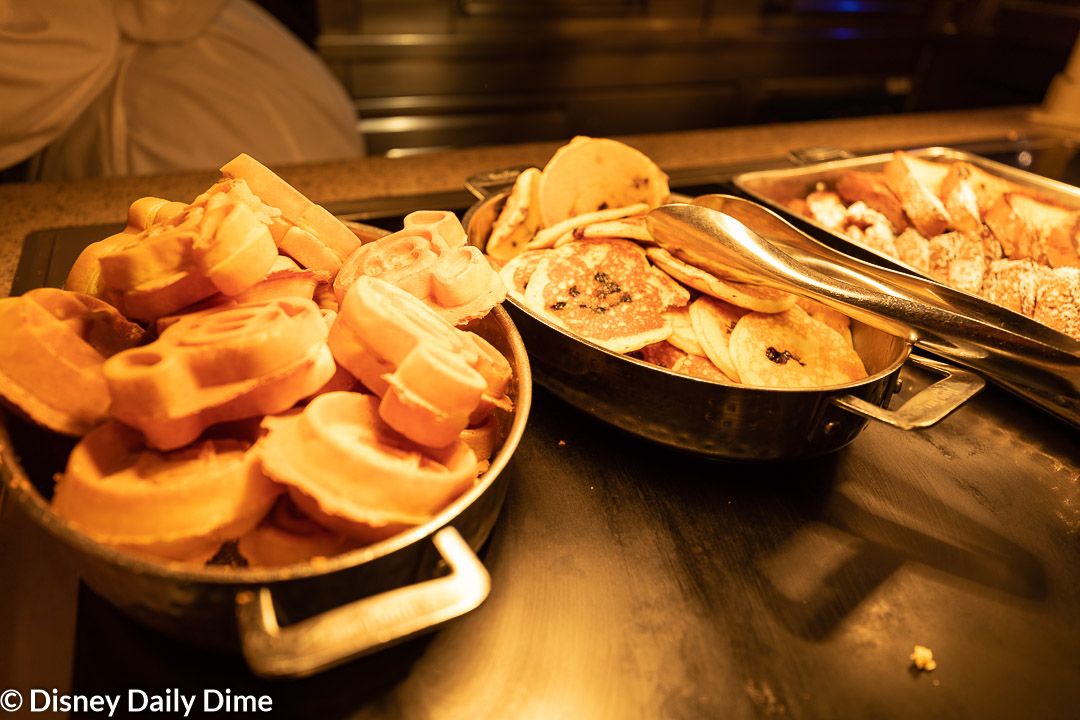 Minnie's Beach Bash Breakfast Buffet Provides a Hearty Meal to Start Your Day
While the Cape May Café buffet area looks small, it is well organized and packed with a variety of offerings.  I liked the 4-sided layout; it made maneuvering fairly easy.   It did help to make a lap to see all the offerings and plan your strategy. 
Tucked back over by the entrance is the omelet station.    A fresh, omelet is made for you while you wait.  There is the typical array of meats, cheese, and vegetables to build your omelet.  This is such a treat and something I almost always get a buffet.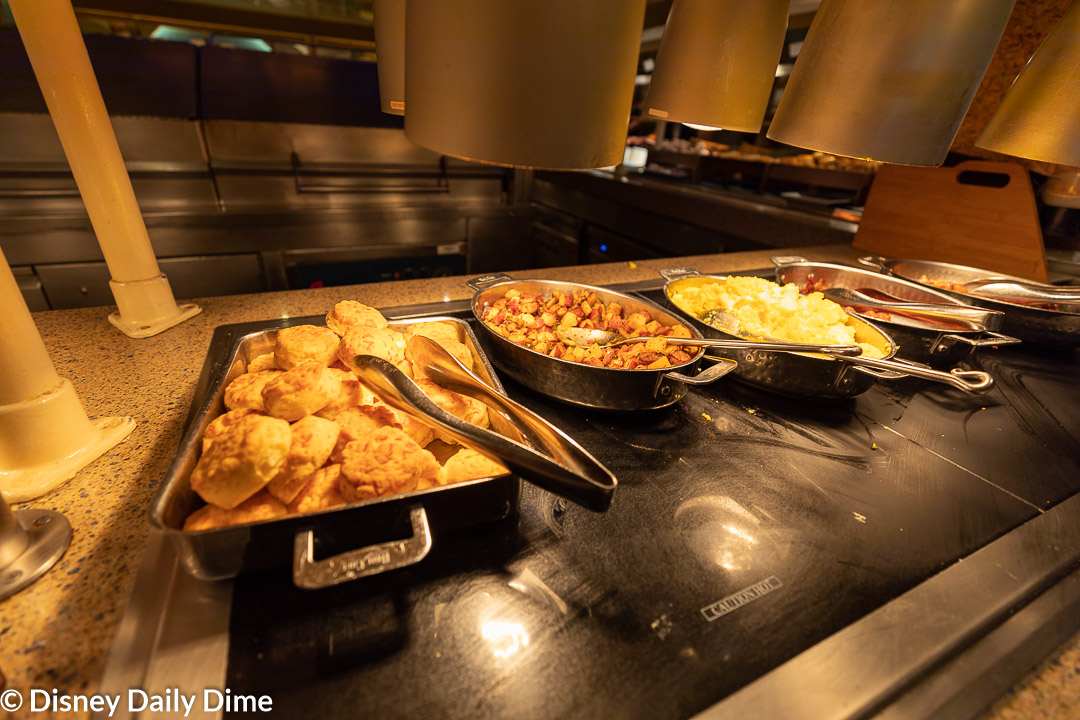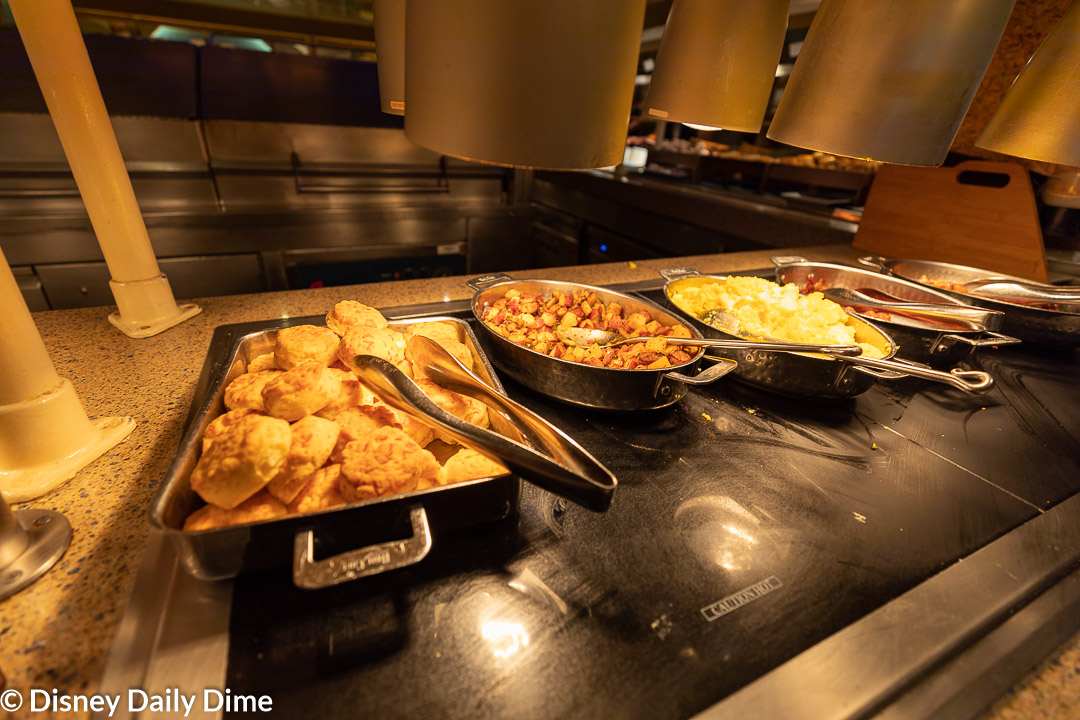 You will find the usual breakfast foods: eggs, meats, potatoes, breakfast breads, and pastries, etc.   A section is devoted to pancakes, French toast, waffles, and toppings, including an excellent banana foster sauce.  Café May Café serves not only the beloved Mickey waffles but also has waffles sporting Donald in the middle!  If you haven't cut into yours yet when he visits your table, be sure to point out that you have a waffle with his face! As we all know, Donald gets a little jealous of all the attention Mickey gets, and he made a huge deal out of the girls having his waffle!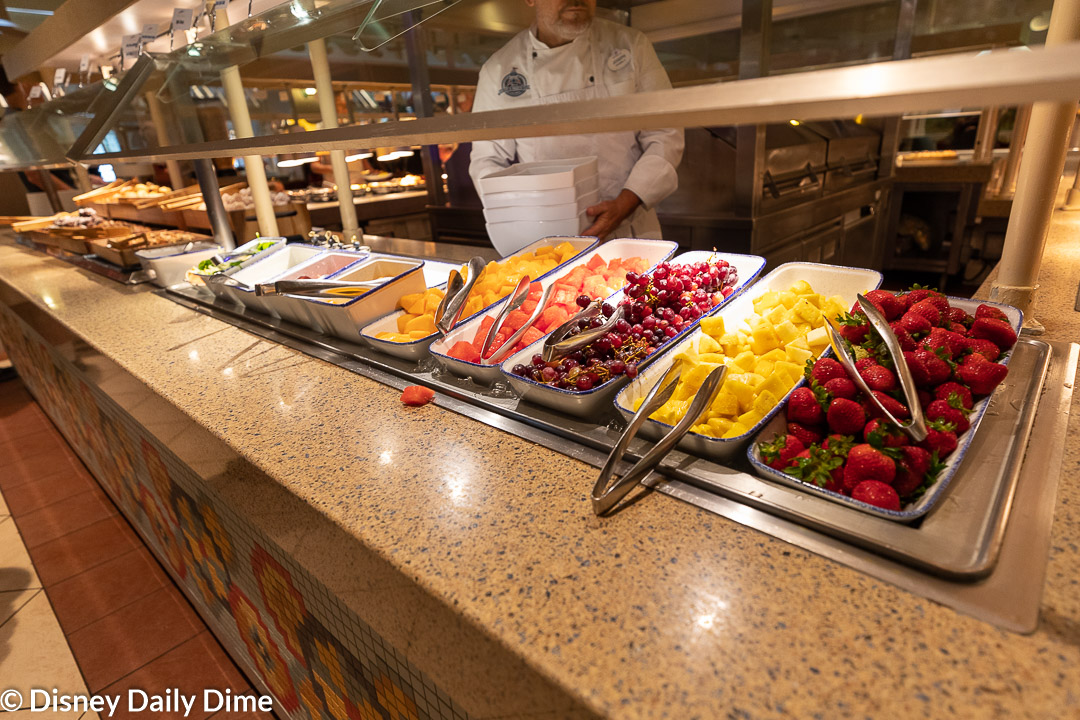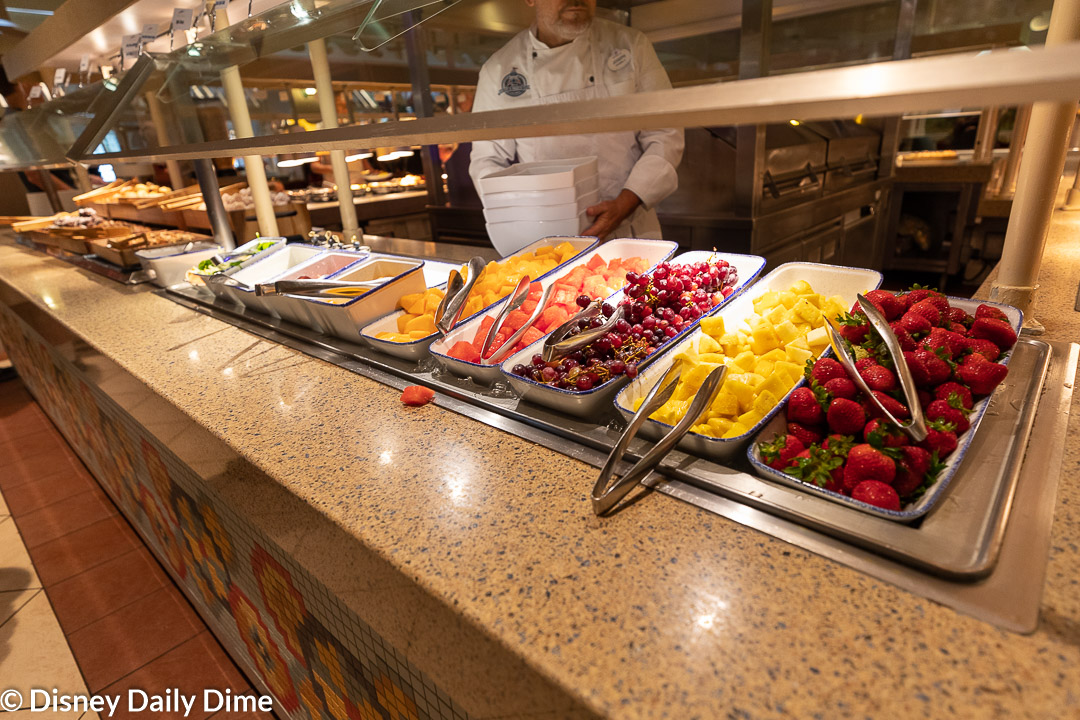 Cold offerings include fruit, sliced meats, and cheese, smoked salmon, yogurt, and applesauce.    Grits and oatmeal are served in large tureens and are piping hot.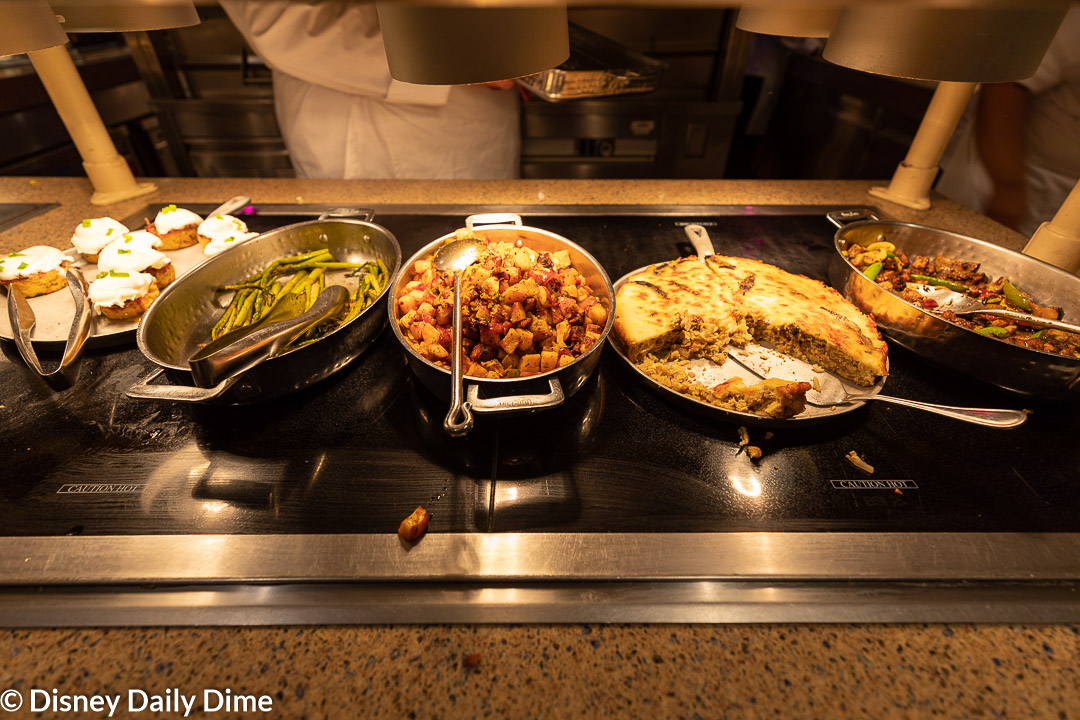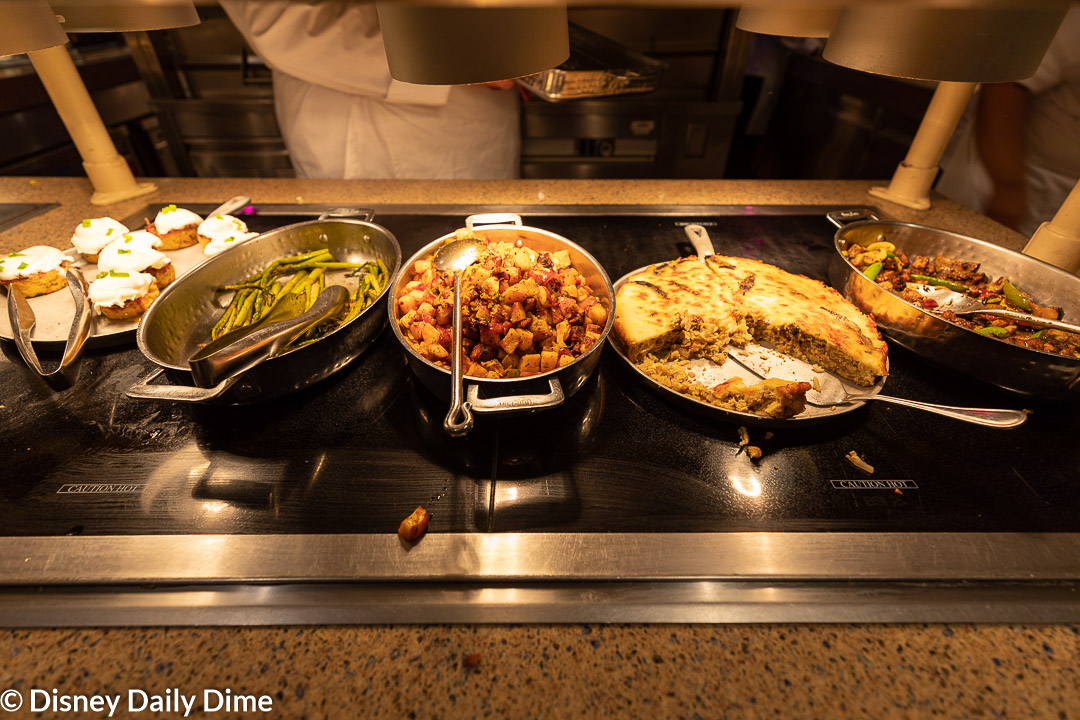 Some specialty items not found in every Disney buffet included servings of eggs benedict, a mushroom frittata, breakfast vegetables and shrimp, potato and scallion cups.   We always appreciate seeing offerings that are outside of the usual suspects and feel like these add some flair and individuality to each buffet.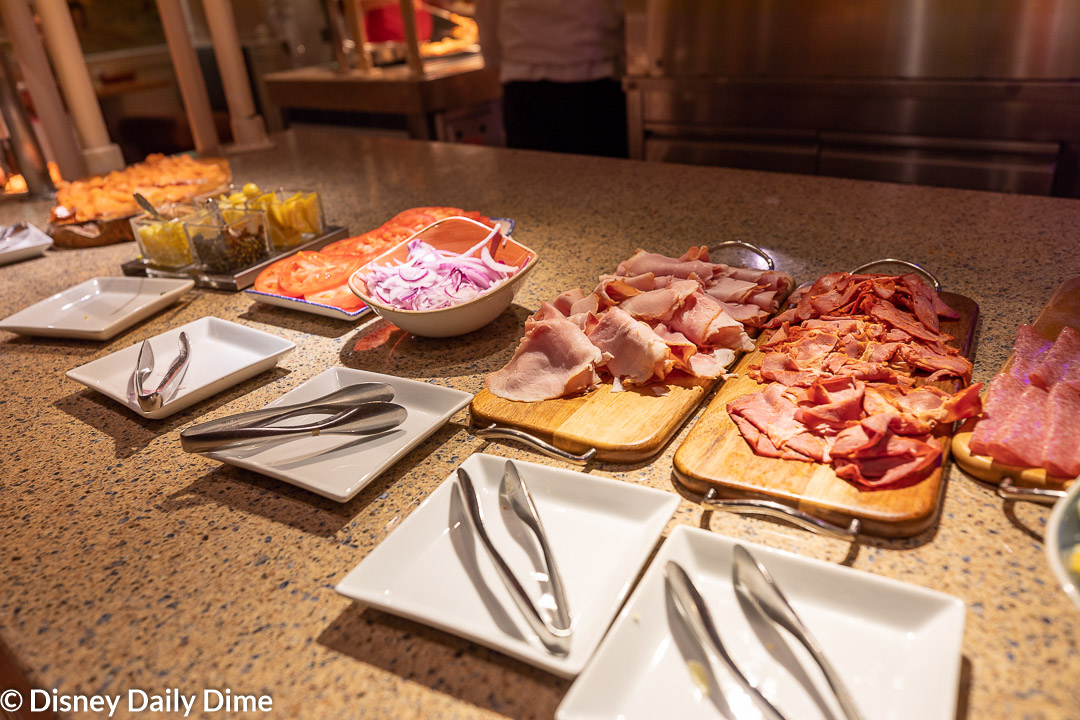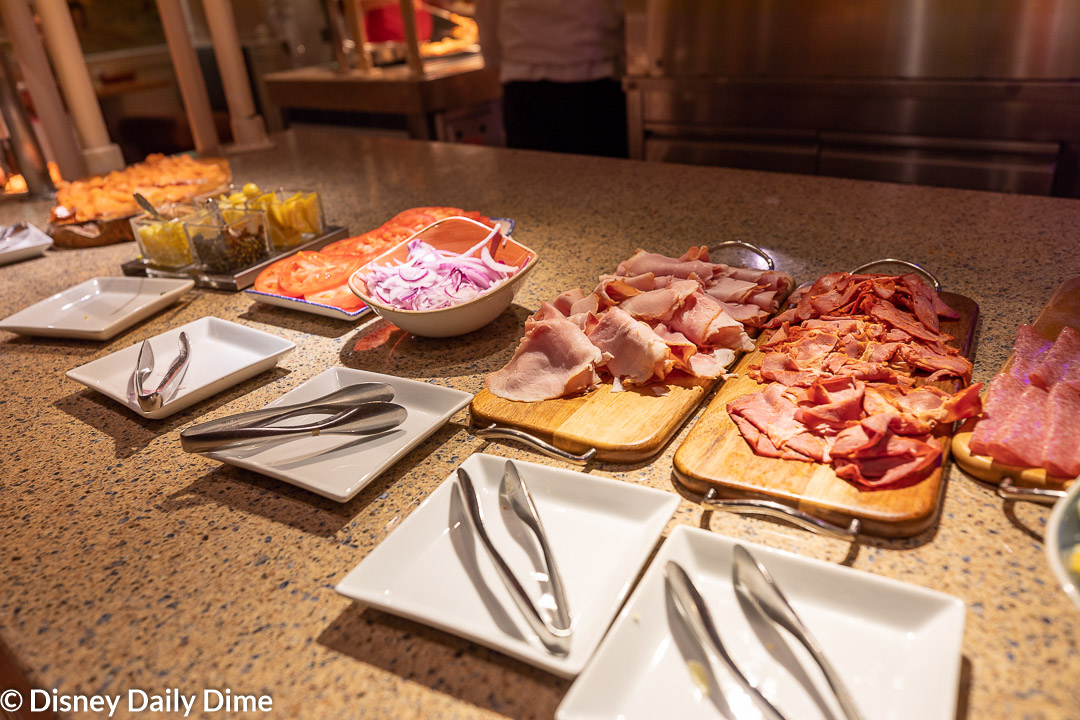 Beverages such as juice, coffee, and tea are included, and some specialty cocktails and mocktails are also offered for an additional cost.   We were delighted that our favorite – the passion, orange, guava juice blend (known as jungle juice at Tusker House, Lilloko'I Juice at the Polynesian Resort restaurants, and also available at the Garden Grill breakfast) is served here.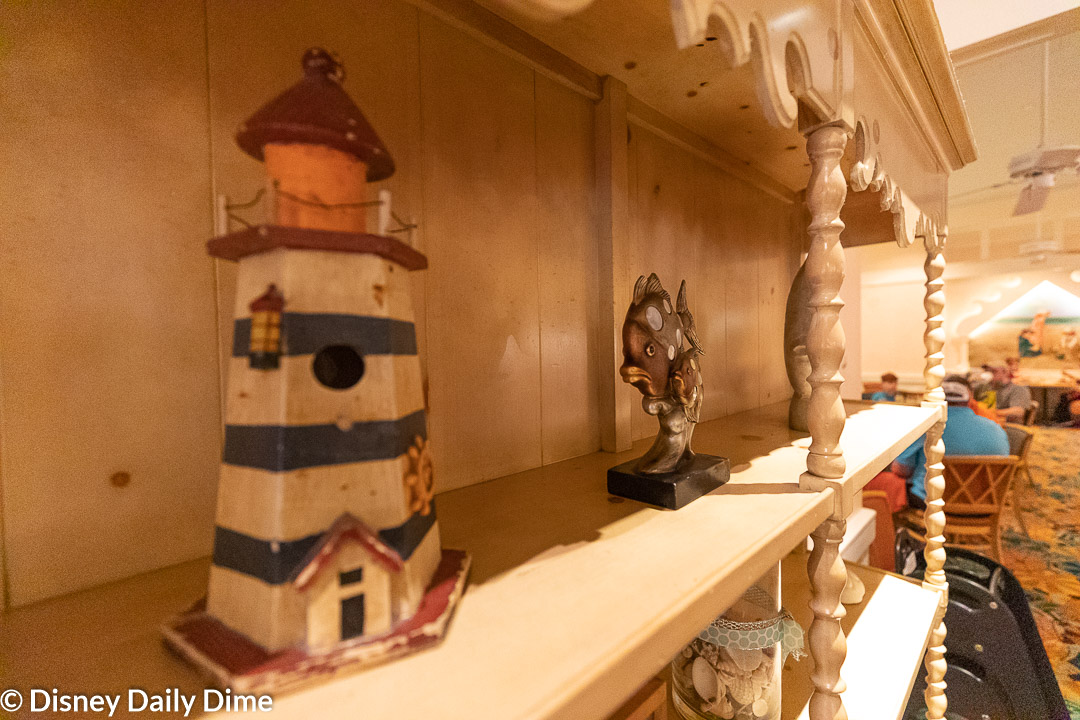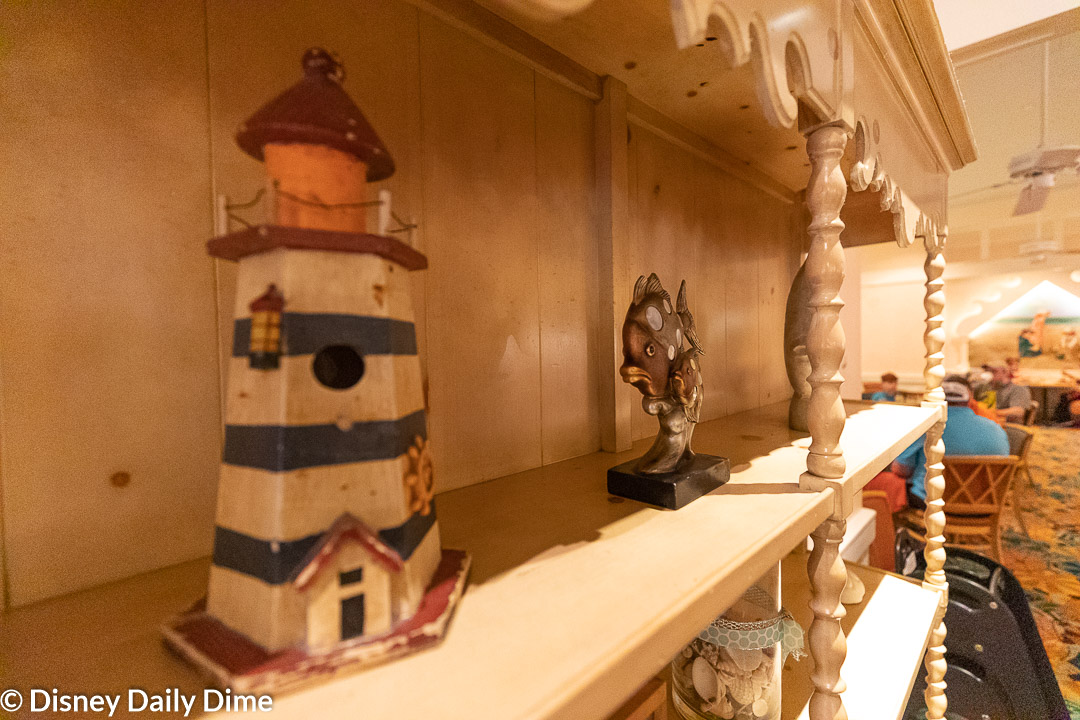 Café May Cafe Character Breakfast Overall
All four of us enjoyed the Cape May Café character breakfast.  Honestly, the Disney World resort breakfast buffets are all somewhat comparable.  If you're looking for a character breakfast that isn't just a buffet, and that we love, you should check out the Bon Voyage Adventure breakfast over at the BoardWalk Inn.  As far as character buffets go, the variations are really in the theme, location, characters, and some of the food offerings.
Since we are huge fans of the Beach Club resort itself, as you will read in our resort review, we loved Minnie's Beach Bash Breakfast atmosphere.  The characters do not wear these outfits anywhere else in Disney World, so this provides some unique photos with these beloved characters.   For the fun kid "feature" of the breakfast, the characters all danced to a special beach-themed song which had the kids "swimming," "surfing," and "wiping out."   Anna and Elsa got to dance with Goofy, so as you can imagine, he was really into it.
We don't spend too much time on service as this can always vary from day-to-day and server-to-server, but I would like to give a shout out to our server this day, Larry.  If you can request him, I highly recommend it.   Not only did he take care of us, but he serenaded us with a few stanzas of his rendition of "Be Our Guest" upon seating, doted upon the girls, and even danced with them and Goofy.   He offered that extra level of service that we love to see at Disney.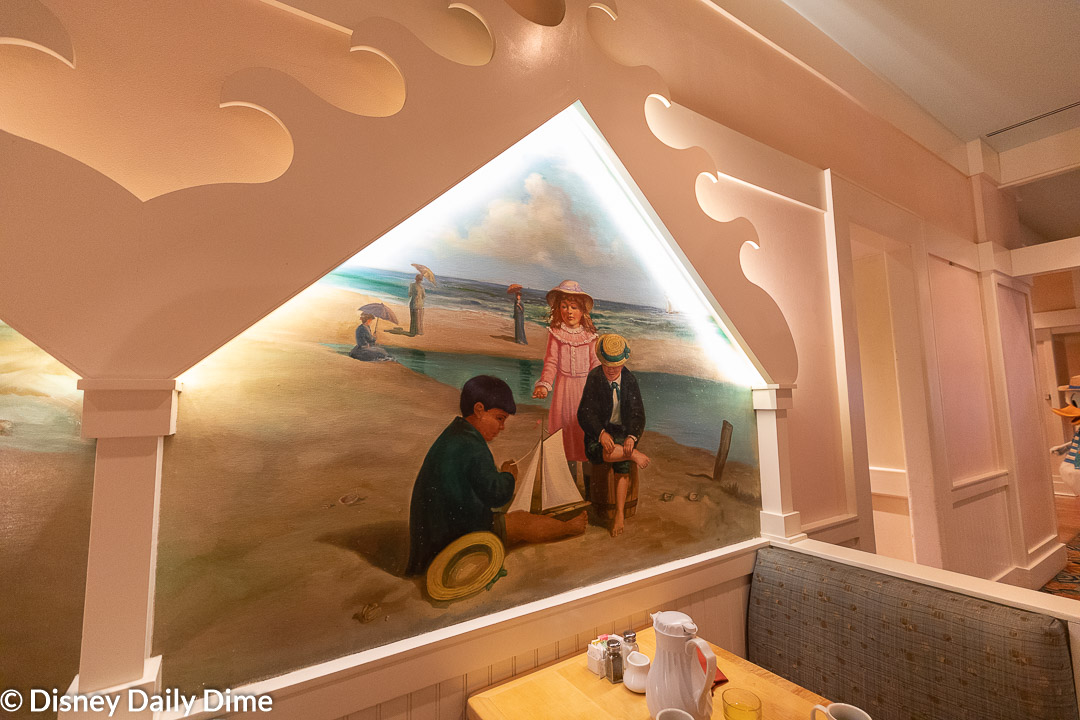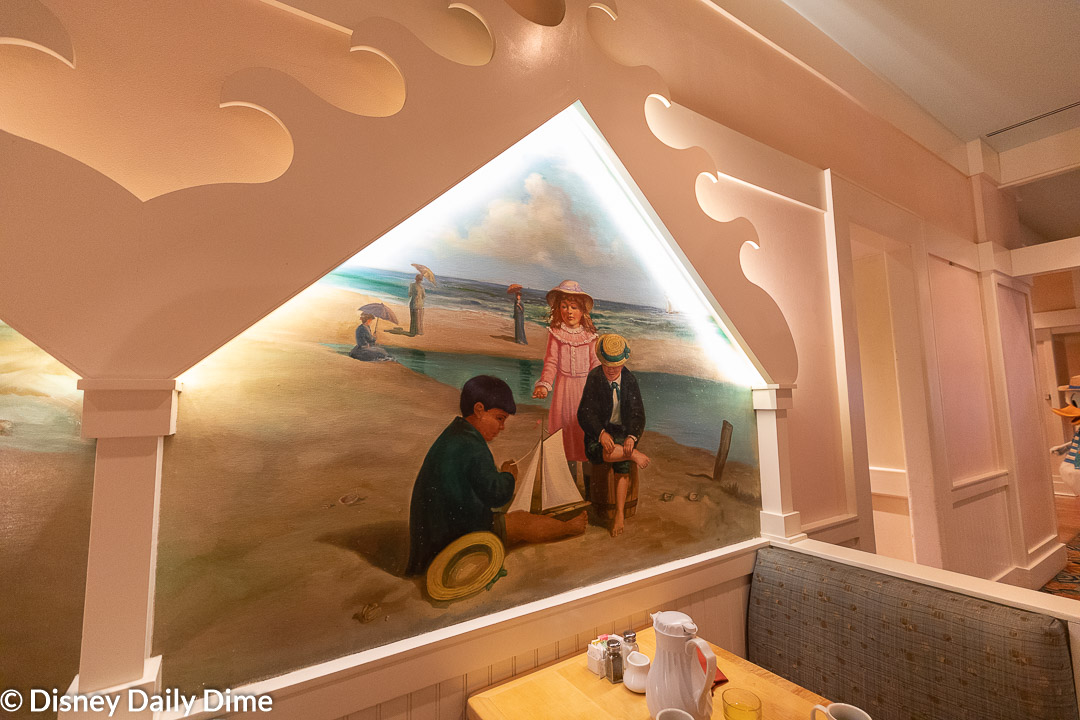 We are a "beach family" and enjoy all things beach-themed, so this meal really was our aesthetic.  You don't have to love the beach to love this meal, though, but it is a perfect accompaniment to your stay in at any of the Crescent Lake area resorts.   Since it is a short 5-minute walk to Epcot from the Beach Club, this would also be a perfect way to start your Epcot day and visit the resort in the process if you aren't staying here.
Wrapping Up Our Cape May Cafe Character Breakfast Review
With that, we'll wrap up our Cape May Cafe character breakfast review.   A charming restaurant with delicious food, characters in fun and unique outfits, and a relaxed theme all combined to create a great breakfast to begin our Disney day.
If our Cape May Café character breakfast review was helpful, or at least entertaining, please like and share this with your friends or anyone you think will find it useful.  Just use the sharing buttons on the page.  We always appreciate it when you share our posts, as it allows us to spread the word about our blog and hopefully allows us to help others.