Tucked on the northern side of Disney's Art of Animation Resort, you will find the Little Mermaid rooms.  These rooms feature everyone's favorite mermaid and her friends.  More importantly, these are the most expensive standard rooms in all of Disney World.  Here in our Disney's Art of Animation Little Mermaid Room review, we'll talk about their history, why they are so expensive, and if we think they are worth it.  Of course, we'll have pictures of the interior of the rooms and the whole Little Mermaid section of the resort.  As a bonus to this review, we have a video tour of the room that we'll share below.
We first stayed at the resort about a year ago.  You can read our full Disney's Art of Animation Resort review if you want to know how we feel about the resort as a whole.  During that stay, we were in the Cars Family Suites.  When Anna found out there were these things called the Art of Animation Little Mermaid rooms, she would not rest until we came back to stay here.  She was actually pretty upset that we didn't stay there during that trip.
History of the Little Mermaid Rooms
One thing you will notice about Disney's Art of Animation Little Mermaid rooms is that they aren't like the rest of the resort.  Most of the resort features what are called family suites.  They feature larger rooms with a separate main bedroom.  The Little Mermaid room is your typical Disney World value resort standard room.  You'll also notice that the exterior of the Little Mermaid resort looks different than the other sections.  Why so?
The full story is in our resort review, but the short answer is a construction delay.  The Little Mermaid section of the resort was under construction when 9/11 occurred.  At that time, the resort was going to be a mirror image of Pop Century, which is just across Hourglass Lake.  Given the drop in tourism after those events, Disney World ceased construction on the resort.  When they started construction back up again, Disney rethemed the resort and changed its design.  That is when Disney went to the family suite for the other three sections of the resort. Since the construction of this wing of the resort was complete, they left it as is.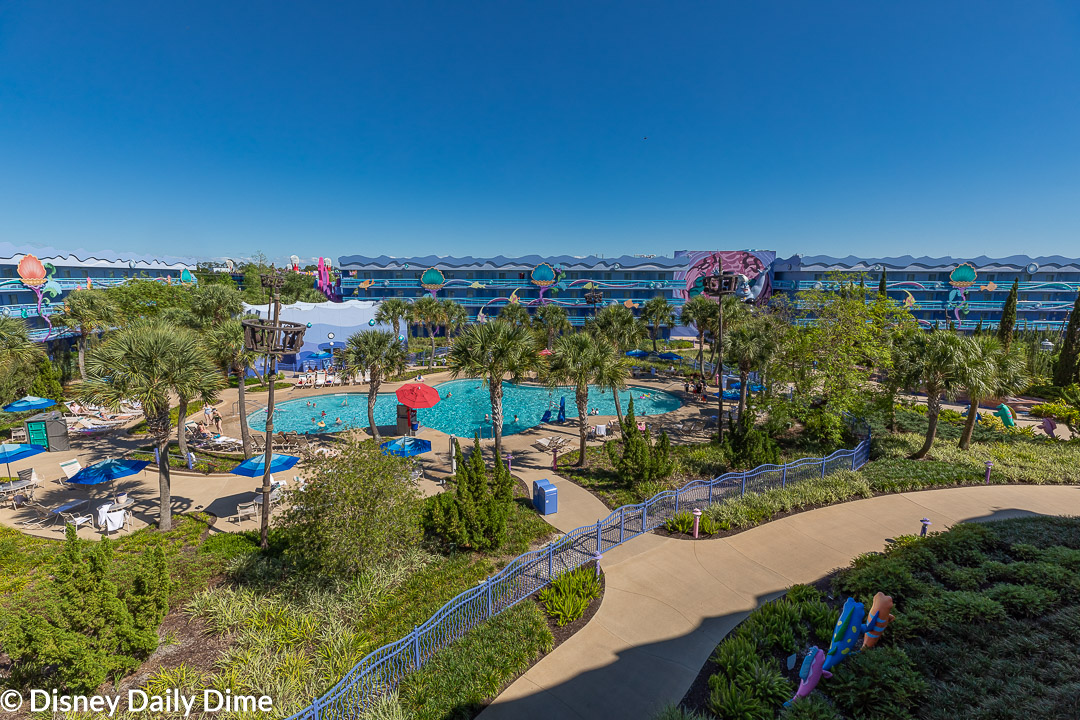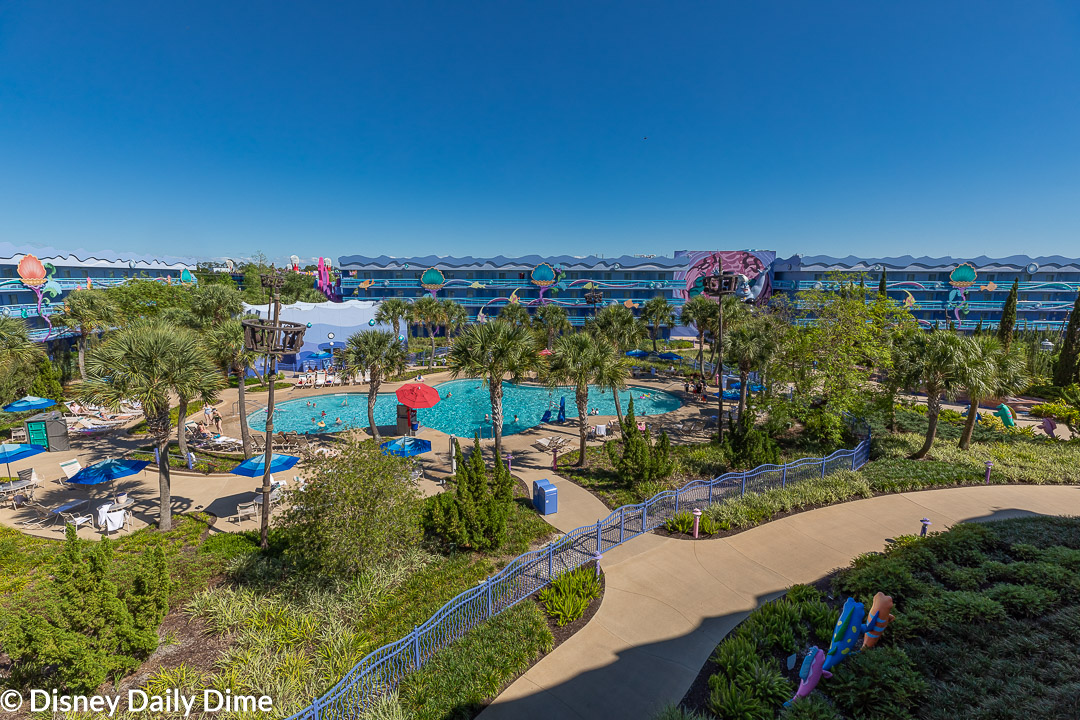 Why are the Little Mermaid Rooms So Expensive?
As we said in our intro, these rooms are the most expensive standard rooms you will find at a Disney World value resort.  They are 35% more expensive than the same standard rooms at any of the All-Star Resorts.  When compared to standard rooms at Pop Century, the gap is a little less, with the Little Mermaid rooms running about 15% more.  That comparison is based upon resort prices at the cheapest time of year.  If you were to make this comparison at the most expensive time, it would be worse.  You can got to Disney's Art of Animation Resort room rate page to see current prices.
That premium price may be surprising since the Art of Animation's Little Mermaid rooms have not been refurbished (outside of soft goods) recently.  It presents a stark comparison to Pop Century and All-Star Movies whose rooms have been refurbished in the last few years.  Those rooms have a more modern look, queen-sized beds, to name a few advantages.  So why are the Little Mermaid rooms so expensive?
We'll there are a few reasons.  In comparison to the All-Star Resorts, one of the big pluses of Art of Animation is the availability of the Disney Skyliner.  This gondola system makes transportation to Hollywood Studios and Epcot very simple, so there is a reason for the premium here.  Is it worth a 35% premium?  Only you can decide.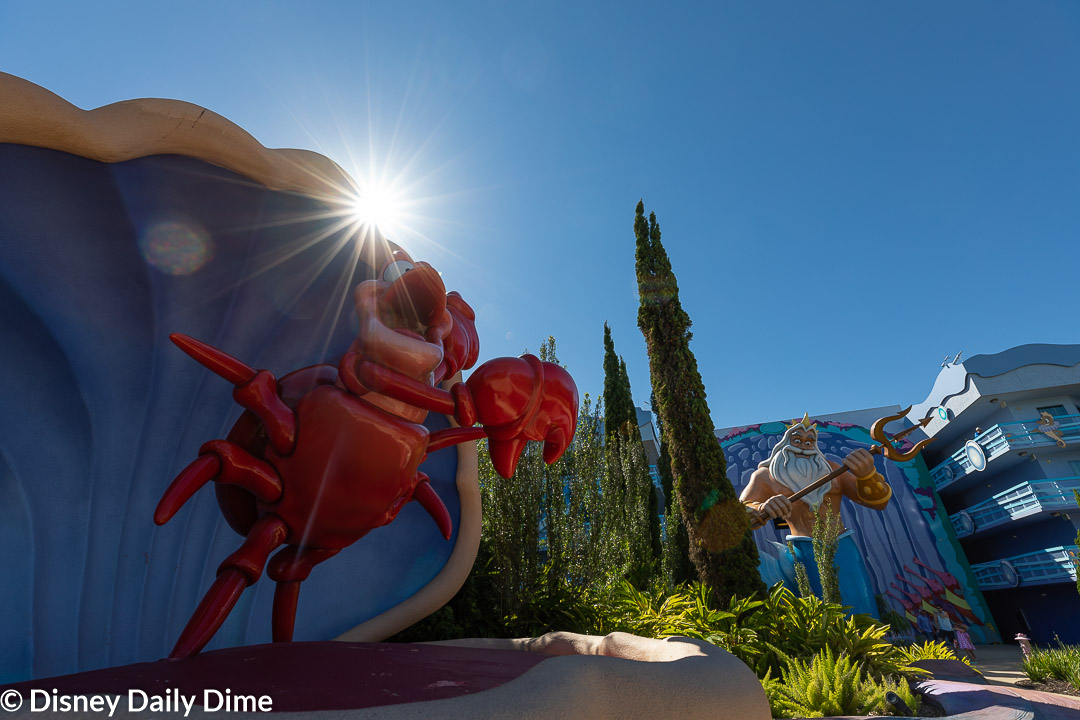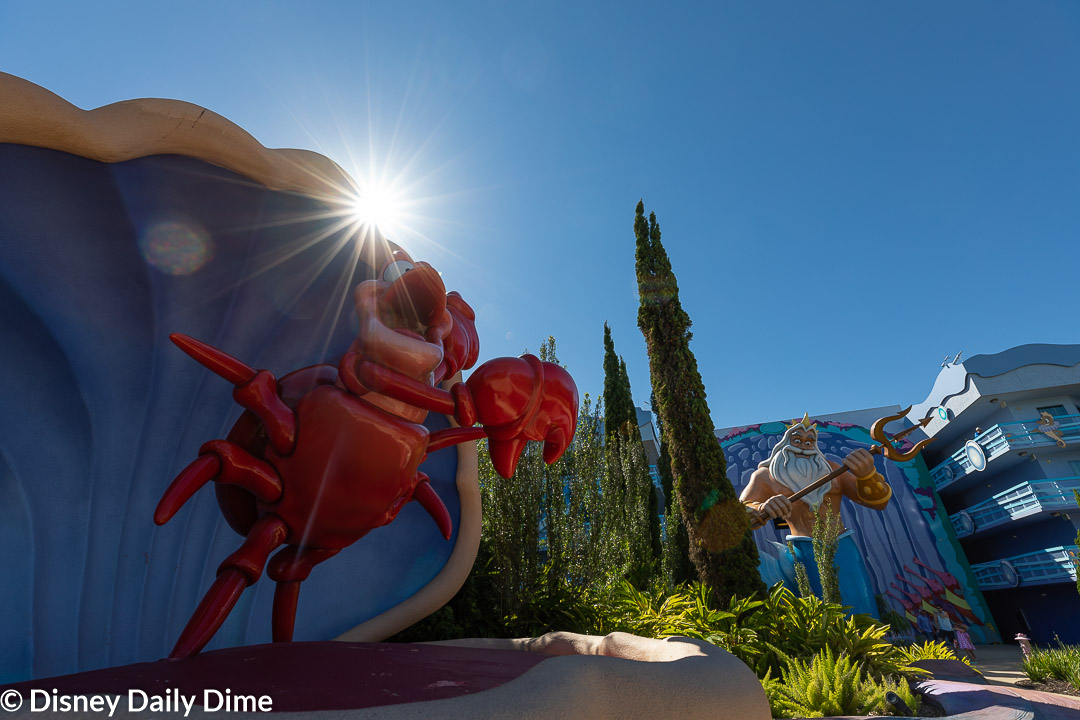 The second reason for the pricing difference is the simple economics of supply and demand.  With only one wing of Art of Animation featuring this Little Mermaid style, rooms are limited.  While 864 rooms may sound like a lot, in the grand scheme of the millions of guests that stay at Disney World, it isn't.  As you can imagine, and as we experienced firsthand with Anna, families with kids that love The Little Mermaid boost demand for these rooms significantly.  It's hard to find standard rooms at a value resort that so prominently feature a beloved character like her.  Yes, other resort exteriors have strong Disney character theming like All-Star Movies, but that doesn't translate to the room interior like these.  Now, if you want to step up to a moderate resort, the Port Orleans Riverside Royal guest rooms have a similar following due to the characters they feature.  We readily admit that the price is significantly higher though.
The last thing that we think puts a premium on these rooms is that they are the only standard rooms at Art of Animation.  If you love the theming of the resort, but don't want to pay the higher price that comes along with the family suite, Art of Animation's Little Mermaid rooms are your only option.
Enough about the price, let's get to some specifics on Disney's Art of Animation Little Mermaid rooms.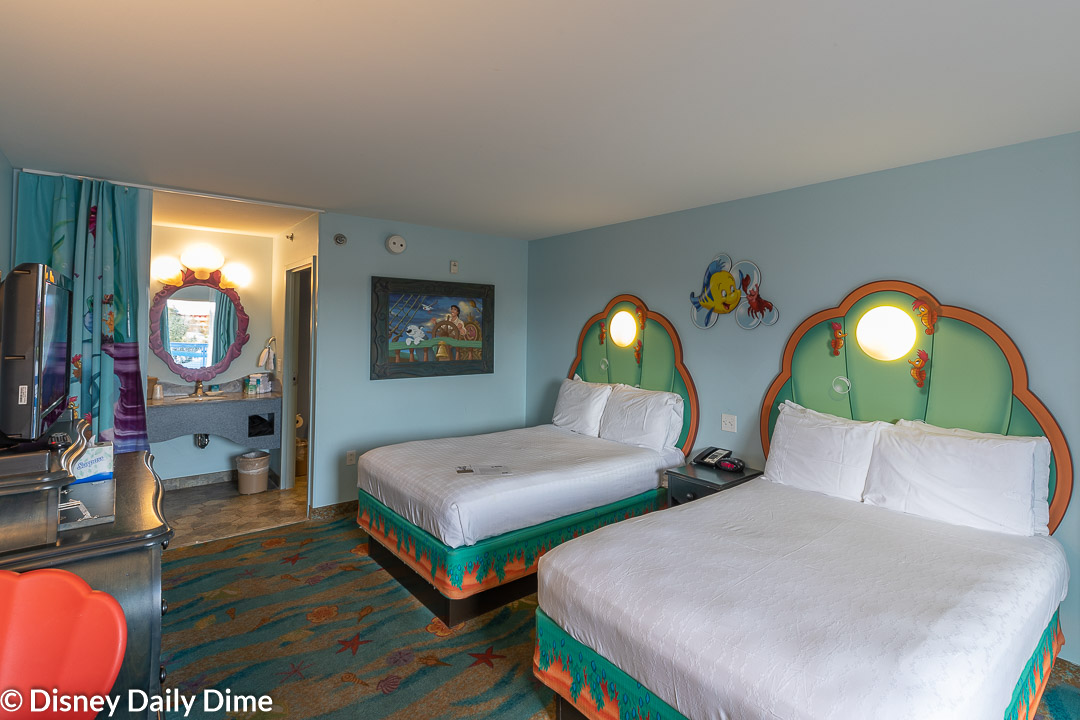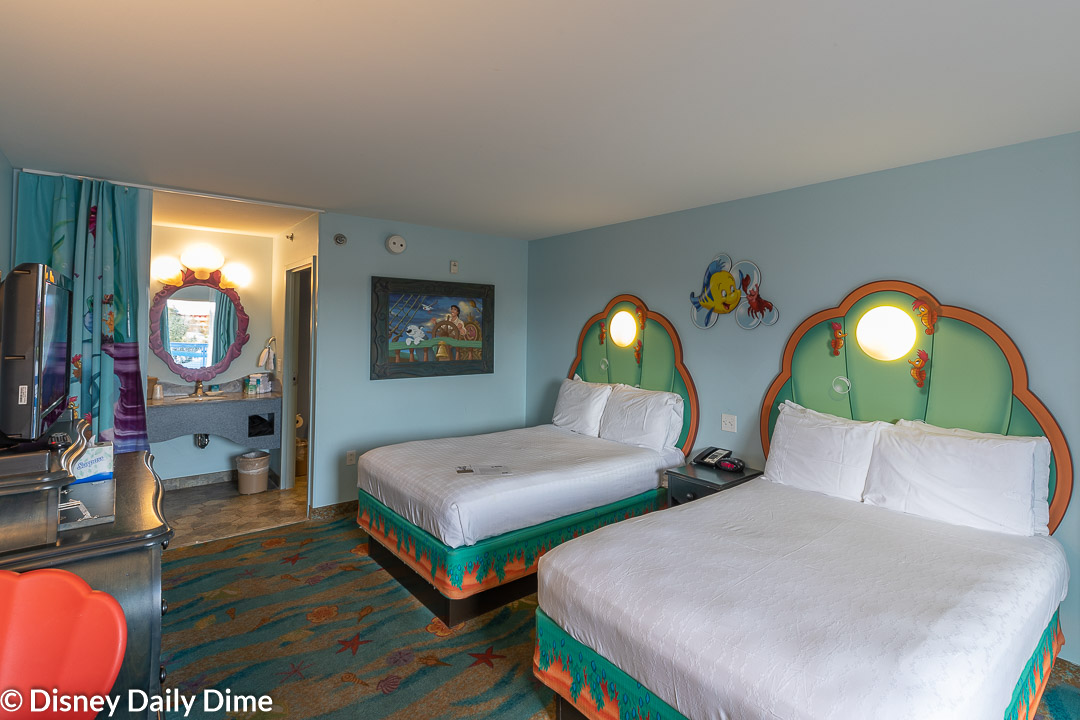 The Rooms Are Ariel to the Max, but As Dated as it Gets
As can see in the picture above, Art of Animation's Little Mermaid rooms feature two beds.  What you may not be able to tell is that these are full-sized beds, not the standard queen beds you'll find at pretty much every other Disney World Resort.  That will make sleeping quarters a little tight.  If you have a kid that likes to toss and turn in the middle of the night, like Elsa, it's doubly problematic.
Beyond that, you'll find a room that feels like a lot of the old, pre-refurbishment, standard rooms that most value resorts feature.  If you look at our All-Star Sports Resort review, you will find rooms that look relatively similar.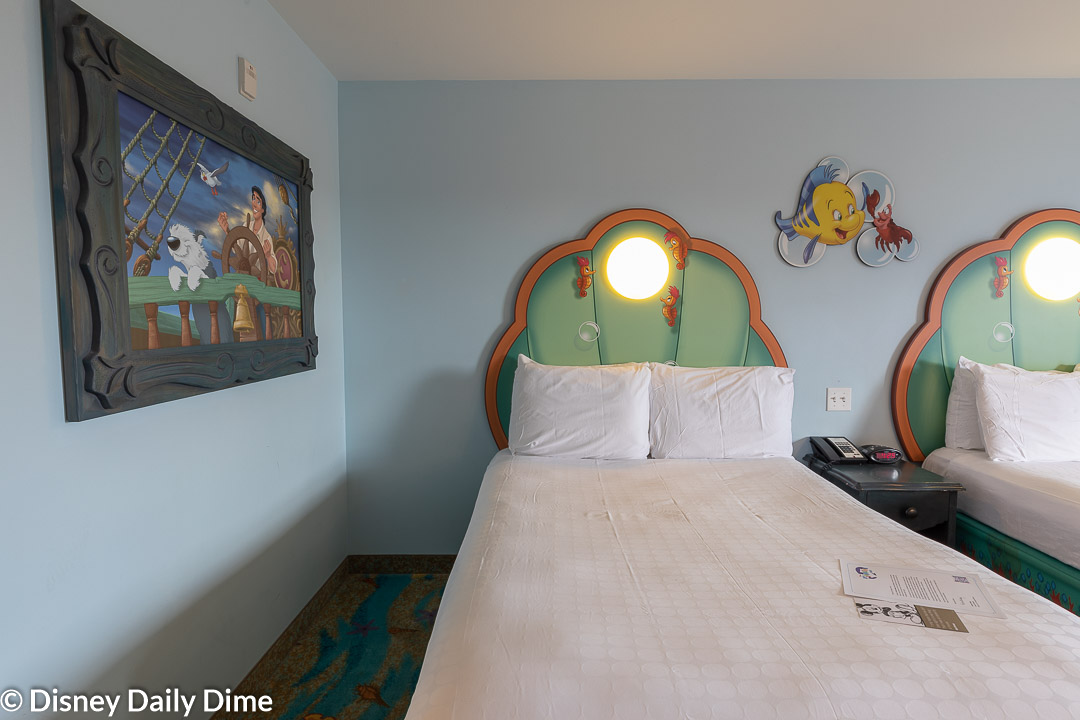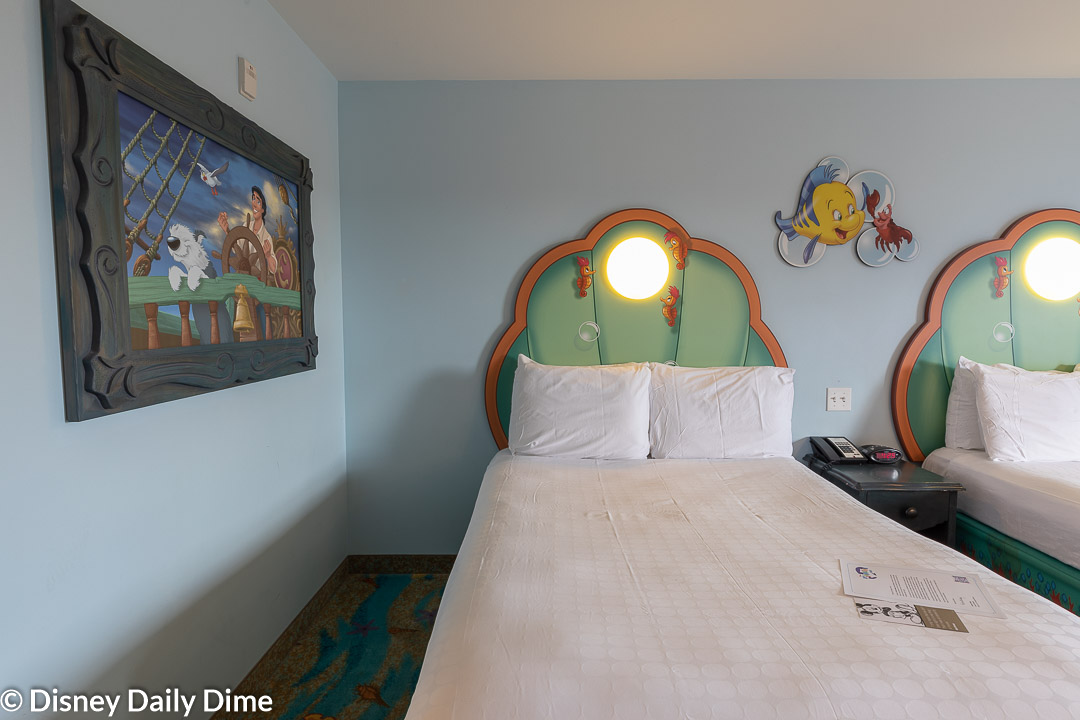 The rooms have sea-themed carpet on the floor, which was probably great back when the flooring was installed.  As of now, let's say it has seen better days.
The vanity area of the Little Mermaid rooms features a single sink, which we don't overly care for.  Having a second sink is useful for us as we all try to get ready in the morning.  That's not a criticism unique to the Little Mermaid rooms, as all value resort standard rooms have this issue.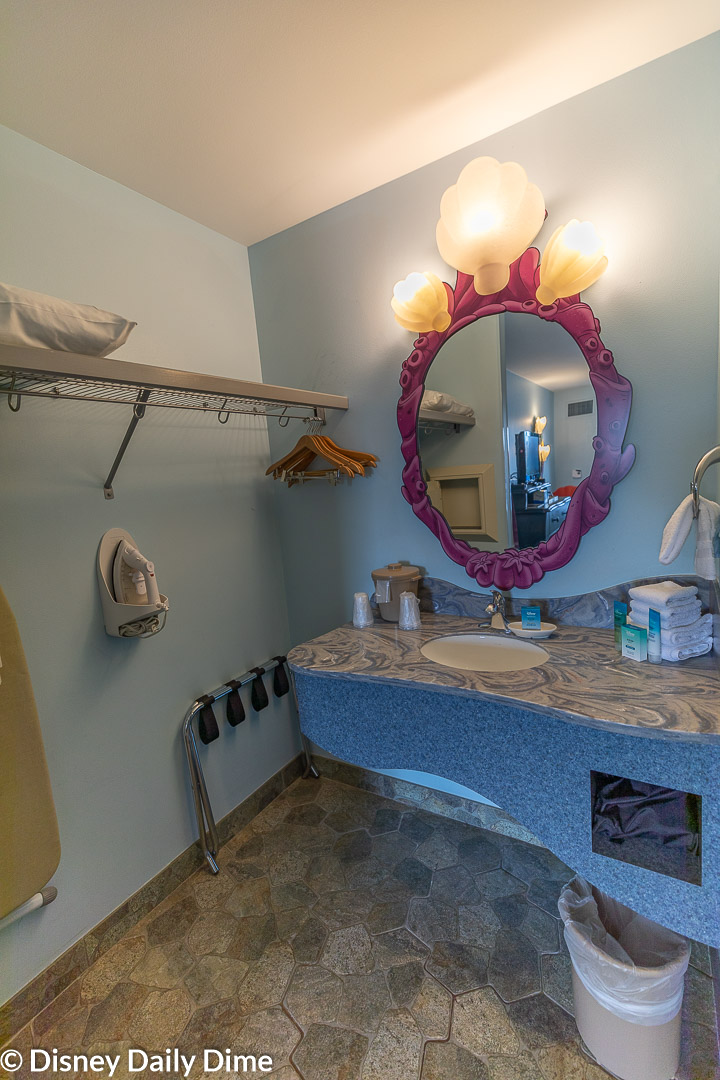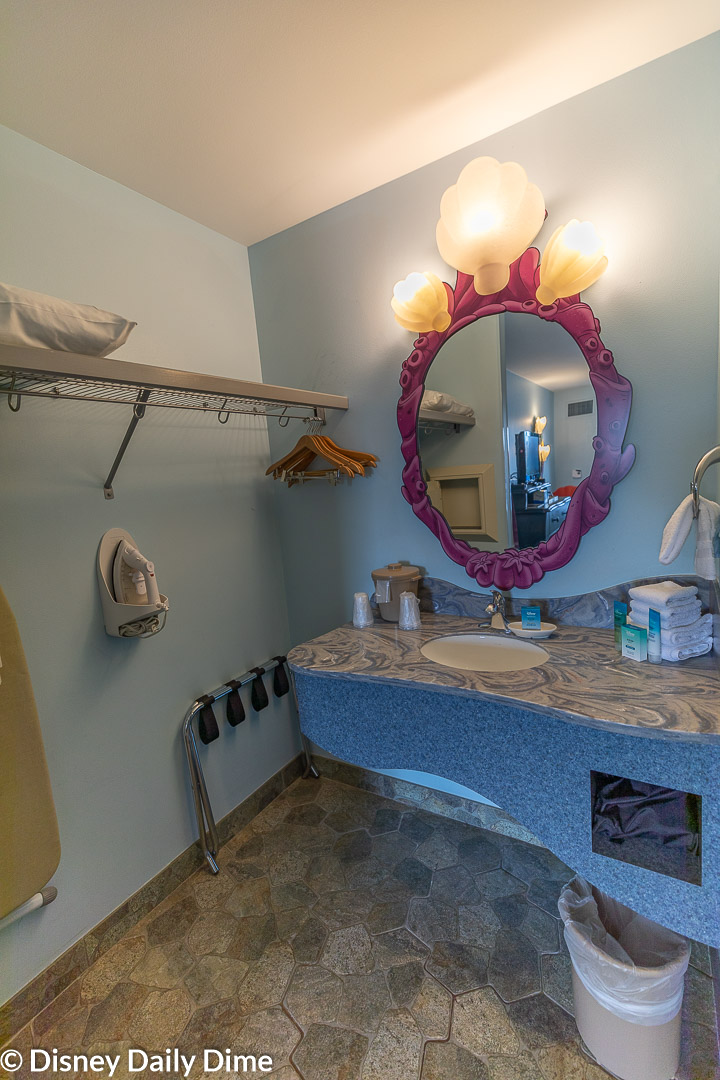 Usually, bathroom areas of value resort standard rooms are plain vanilla, but the Little Mermaid rooms are an outlier here.  Tucked inside the Ariel shower curtain is a set of shower tiles that put you squarely inside Ariel's grotto.  It didn't do much for me, but for a 7-year-old girl, this was a huge hit.  Make sure you look for the hidden Mickey.  Anna found it in about 30 seconds, while it took me five minutes of searching.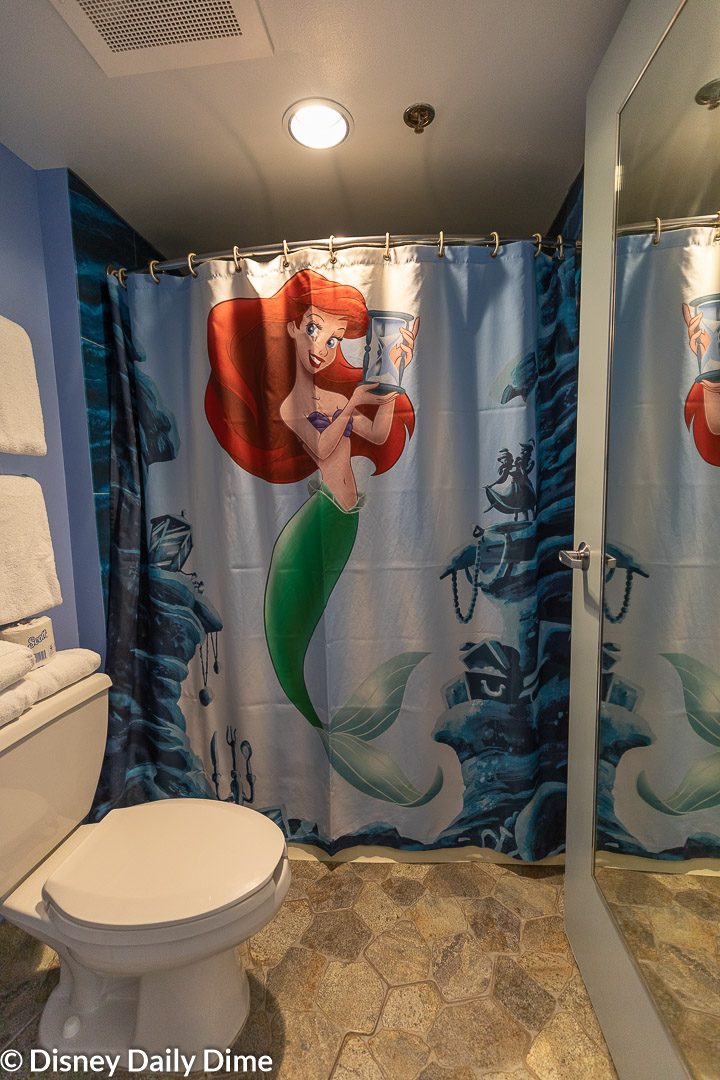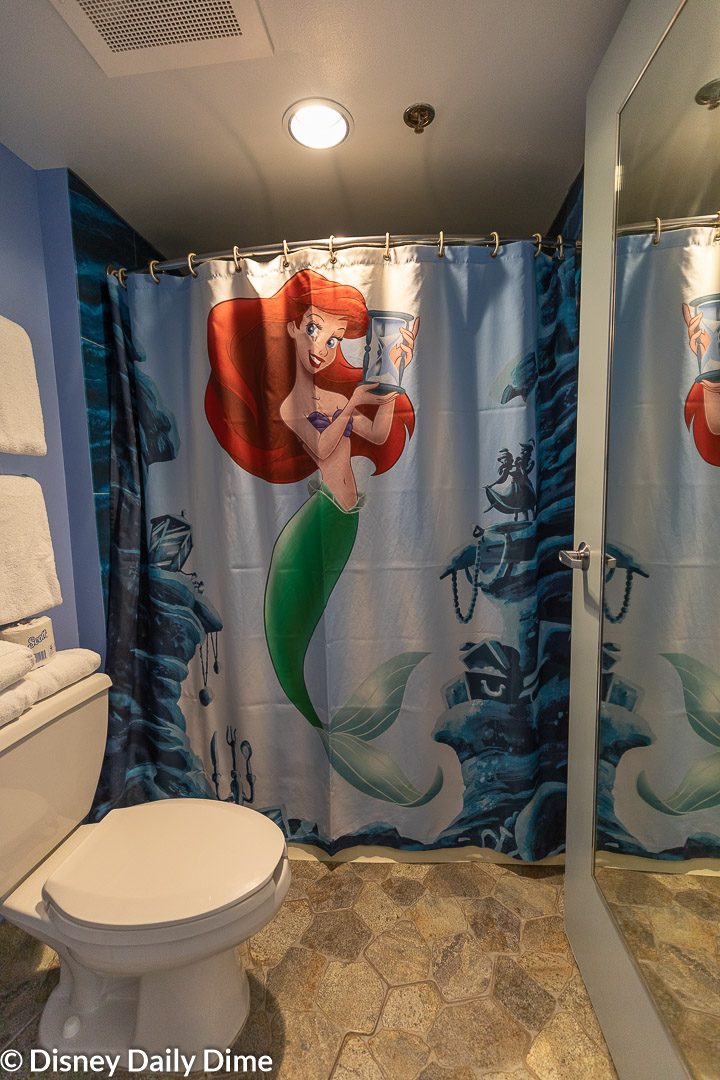 All in all, we found the theming of the room relatively cheap, even by value resort standards.  There is no depth or feeling to any of it. Instead, it feels like Disney just slapped some preprinted décor on the wall and ran with it. If you want a video tour of the Art of Animation Little Mermaid rooms, we've embedded ours right below here.
But staying in the Little Mermaid rooms isn't just about the room.  It's also about the resort, so let's discuss the plusses of that.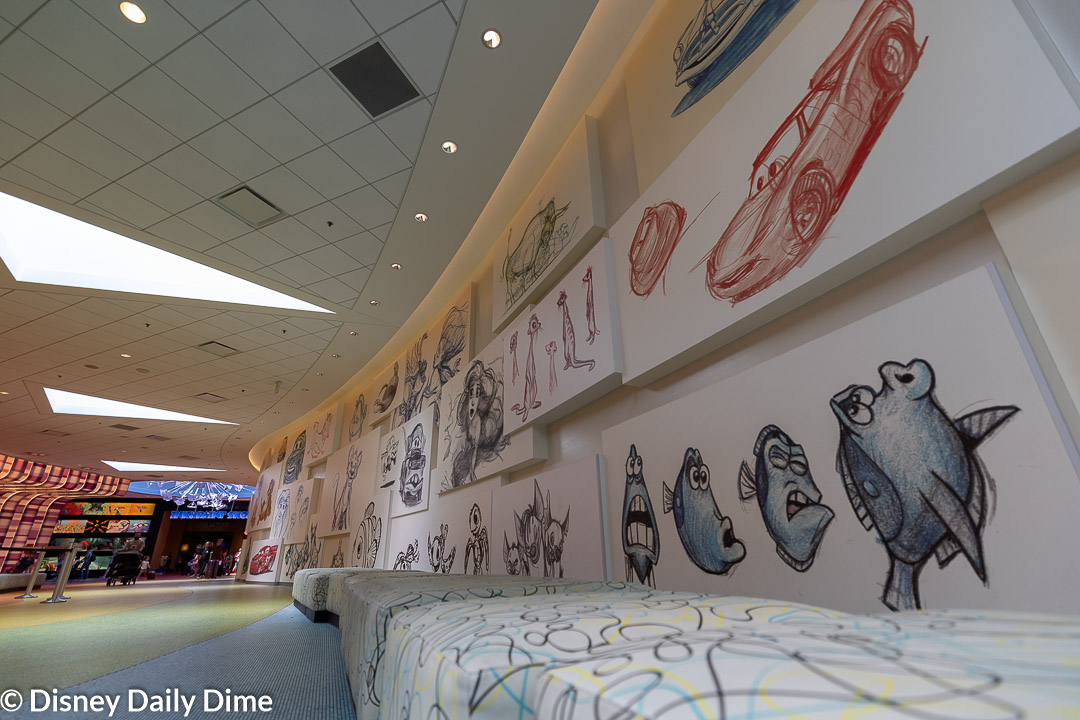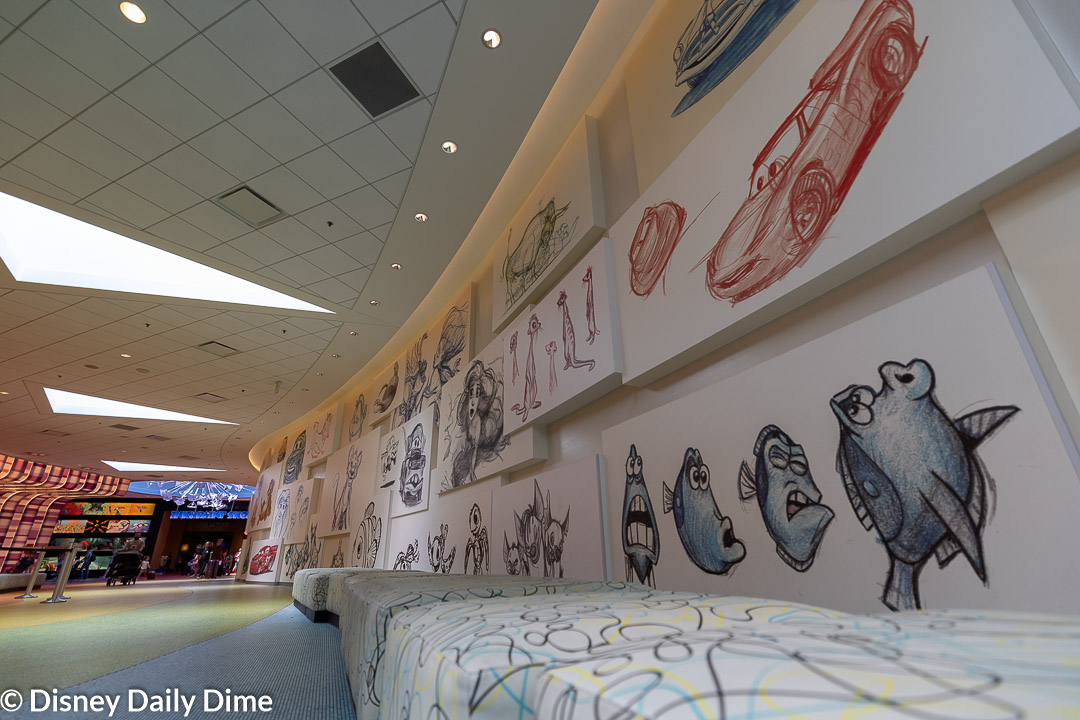 There's More to the Resort When You Aren't Under the Sea
If you've read any of our reviews or other posts that involve Disney's Art of Animation, you know that we are big fans of the resort as a whole.  Not to rehash all of that here, but several things make it one of our favorites.
The first thing is the overall theming of Art of Animation.  There are such detail and nuance to the artworks and theming throughout the resort; you could spend a few hours taking it all in.  I'd be the first person to admit the resort isn't like moderate or deluxe resorts that generally do well in taking you to a different time and place, but that's not what you should expect for the price you pay here.  That said, you can experience a lot of fun touches centered around The Little Mermaid, Cars, The Lion King, and Finding Nemo.  The use of these classic movies strikes a chord with me, but I'm also a perfect age for them.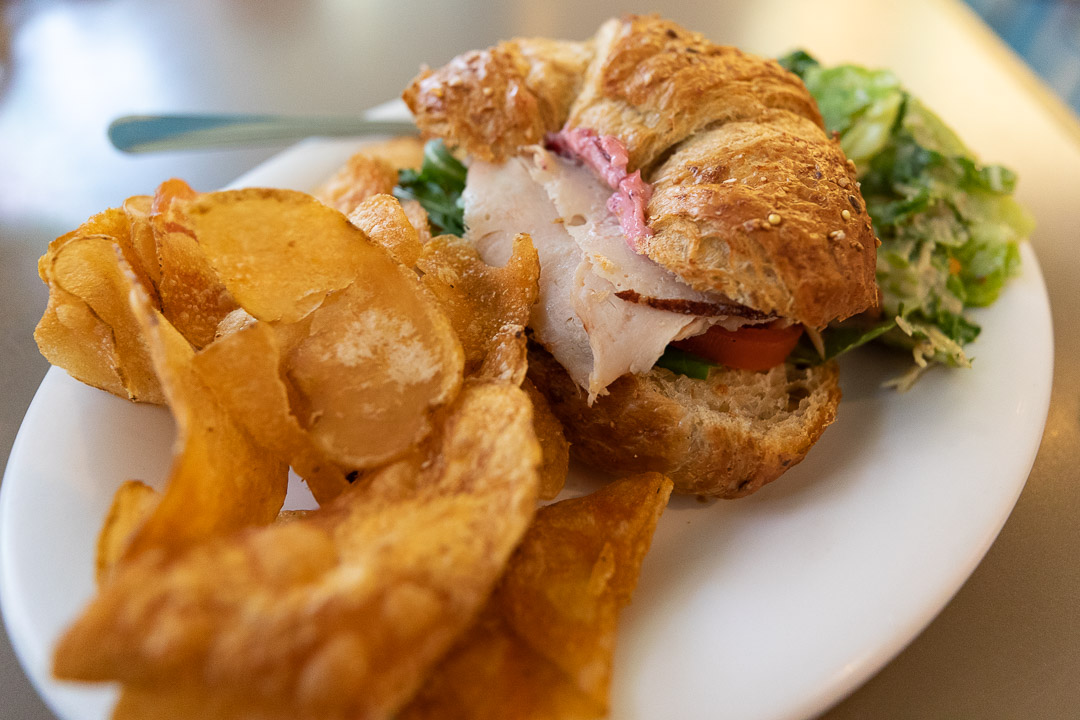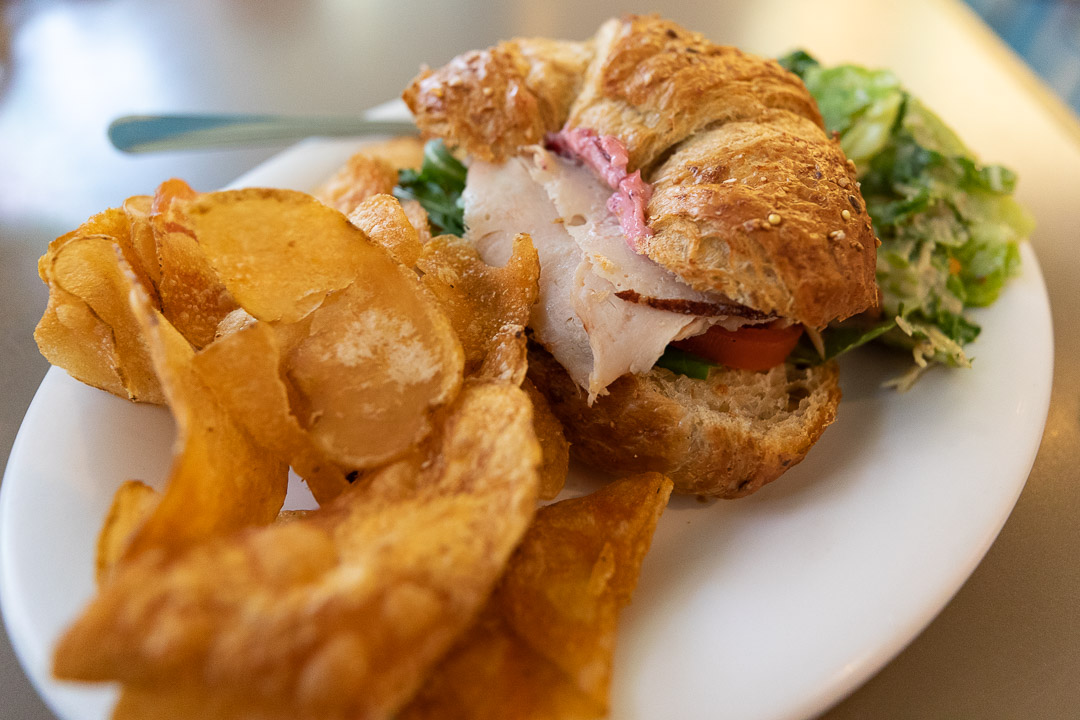 One of the significant advantages of Art of Animation is the dining.  We are big fans of the food court here, which is called Landscape of Flavors.  We've had mixed results with value resort food court dining, and as you can see in our Landscape of Flavors review, this is one of the better options.
The last thing we should mention about Art of Animation is the pools.  You'll find three pools at the resort, including on nestled right in the middle of the Little Mermaid rooms.  These pools have better theming than what you'll find at many of the other value resorts.  If you're a parent and looking for a more relaxed pool experience, you should make your way over to the Cars pool at the Cozy Cone.  We did this on our first trip, and it was just what the doctor ordered.  Peaceful, calm, and not a hint of kids going crazy.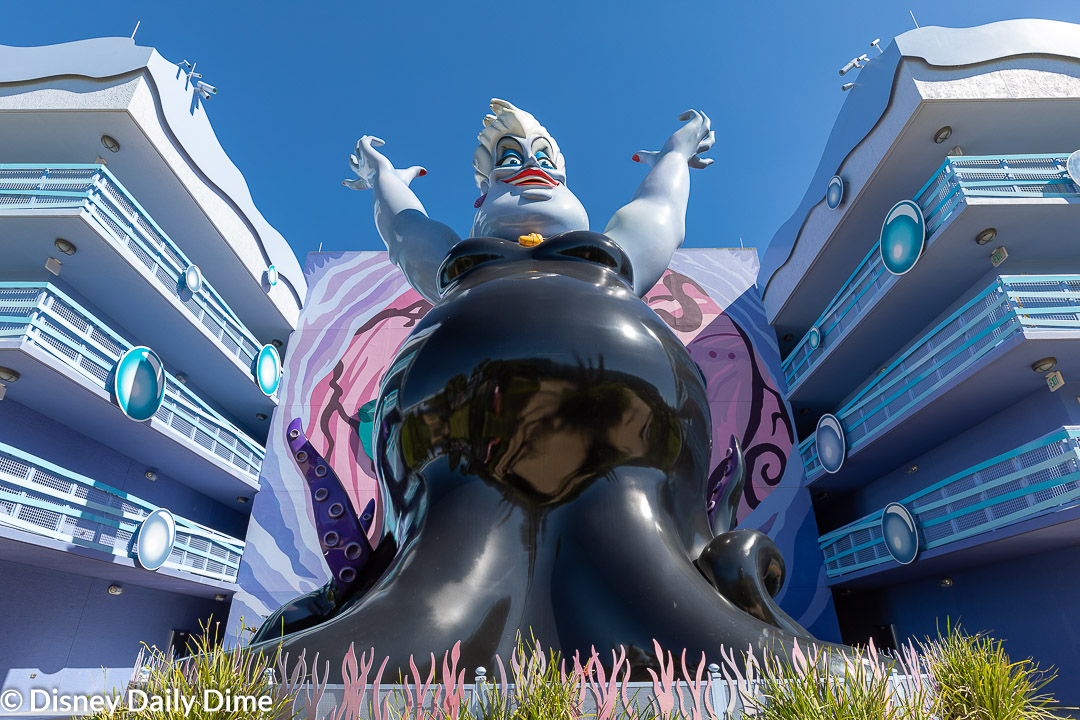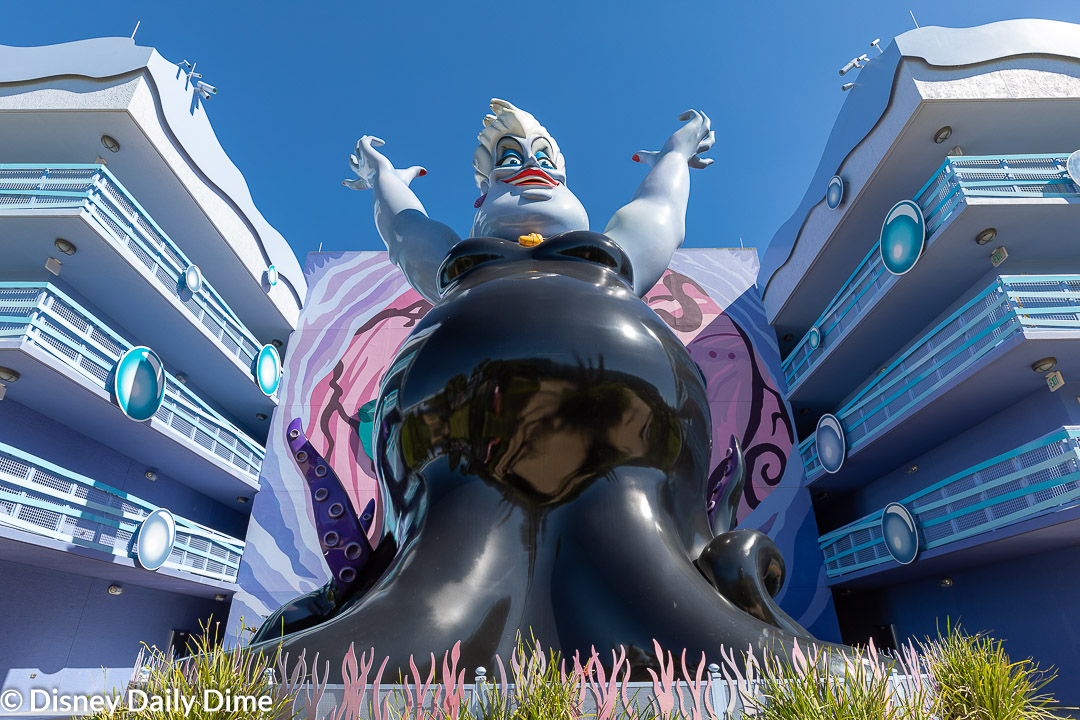 Are Disney's Art of Animation Little Mermaid Rooms "Worth It"?
At my core, I'm a very rational guy.  That's why I deal with numbers for a living.  Because of that, I can unequivocally say there is no way that these rooms are worth the price you pay.  You might be asking yourself why we stayed there then?  It's a good question, and actually, that is the point.
Staying in Disney's Art of Animation Little Mermaid rooms is not a decision rooted in rational thought or logic.  It is rooted in the eyes of a 7-year-old girl; at least it was in our case.  Maybe you grew up loving The Little Mermaid movie, and that's all that matters to you.  Whatever it is, there is something in each person that stays here, which ultimately overrides any logic.
I can tell you that if you asked Anna, she would love to stay in these rooms every time we come to Disney World.  She wants to know when we are coming back.  Sadly, not anytime soon.  But I think we will be back because there is no rational thought here.
We should mention that Disney just started refurbishing these in early 2020.  So, we'll check back in after they finish up in late 2020.  There are some videos out there of the new rooms, and I have to say they still aren't as well done as what I've seen in other refurbished value resorts, but that ultimately won't matter in most decisions to stay here.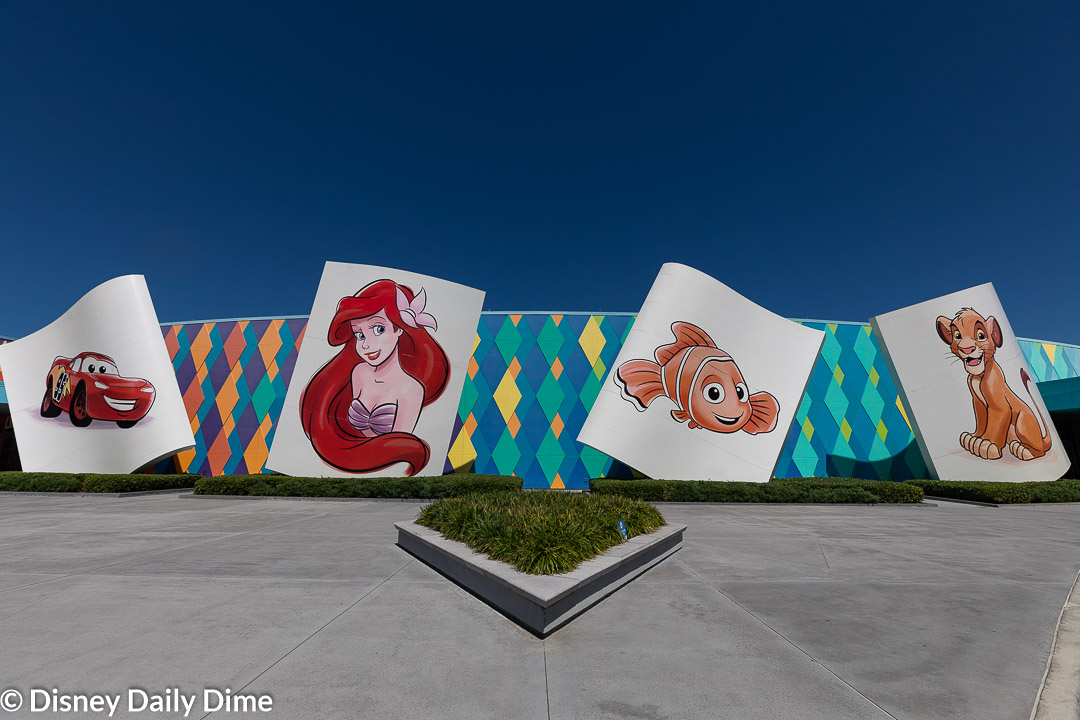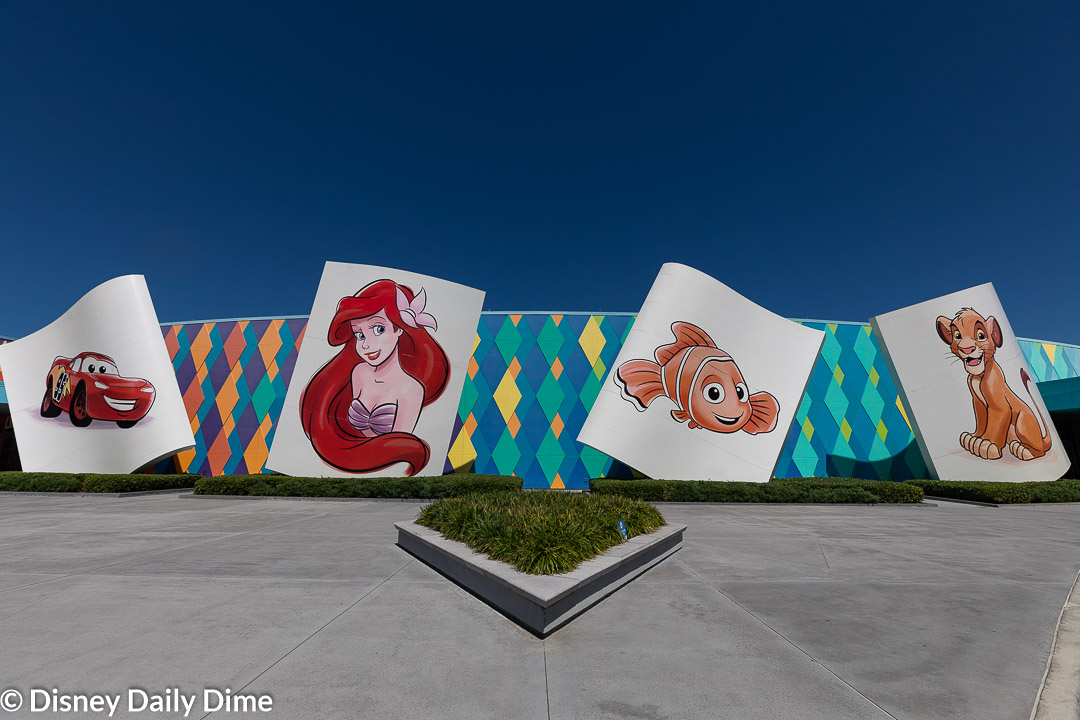 There is one other thing that didn't neatly fit into any other section of our review that makes these rooms worth a little less, in our opinion.  That would be their location.  The Art of Animation Little Mermaid rooms are located as far away from the bus stop and Disney Skyliner as you can be.  Depending on how fast you walk, you are a 10+ minute walk to both transportation options.  For something that is premium priced, I'd like to see premium features.
Wrapping Up Our Disney's Art of Animation Little Mermaid Room Review
With that, we will wrap up our Disney's Art of Animation Little Mermaid room review.  They will be something you either love or that, and that feeling will likely depend on your connection with everyone's favorite mermaid.
We hope you enjoyed our Little Mermaid room review.  If you did, please share it with anyone you think will find it useful.  Just use the sharing buttons right here on the page!  Sharing the article also helps tell us that we are doing something right and we always appreciate that feedback or any feedback really.
If you've stayed in Disney's Art of Animation Little Mermaid rooms, we'd love to hear what you thought.  Tell us in the comments below!