The norm with all of the value resorts at Disney World is to have one dining option.  These dining options are food courts, which allows the value resorts to cater to a wide array of taste preferences.  The food court at Disney's Art of Animation resort is called Landscape of Flavors and this is our review of it.
As we have been making a tour of the Disney World value resorts, we have noted many similarities among the food courts as far as menu selection, layout and basic décor.  Just as we feel Art of Animation is a "step-up" in the quality of a value resort, we feel like Landscape of Flavors is superior to the various food courts we have encountered. 
Upon inspecting Landscape of Flavor's menu, it will probably become apparent why we feel this way, due to the sheer number of options and creative options outside of the typical burgers, chicken, pizza and the like.
Here in our Landscape of Flavors review, we will discuss the breakfast and the lunch we had, the décor and theme of the food court (yes, there really is some décor and theming here!), and why this is the best value resort food court we have tried.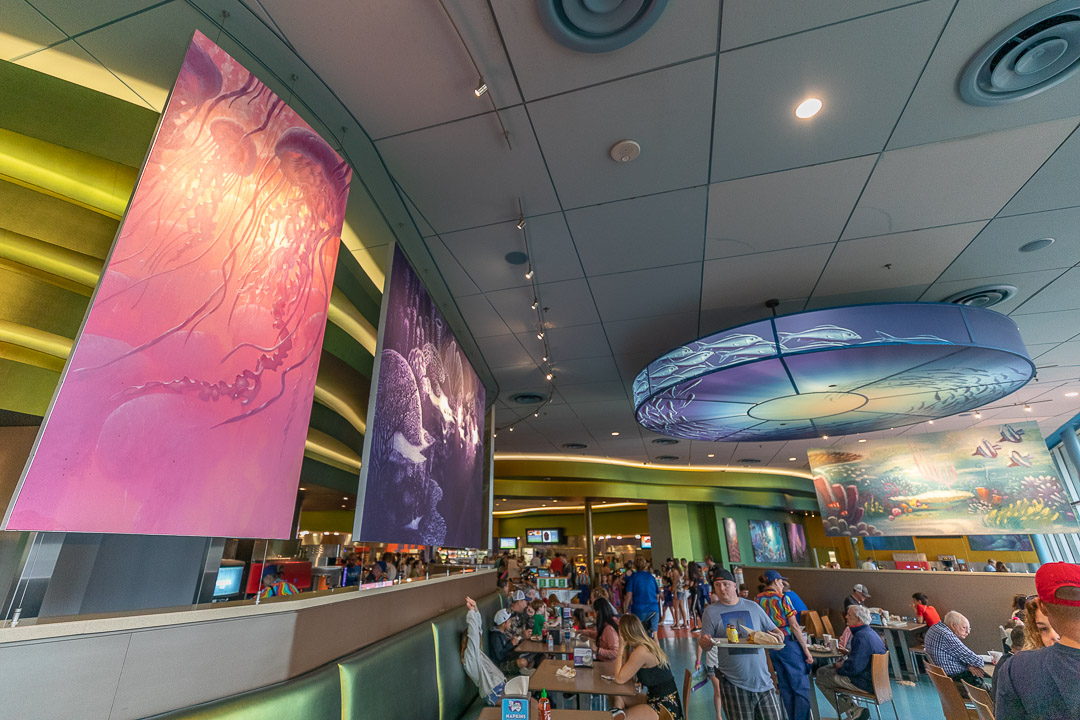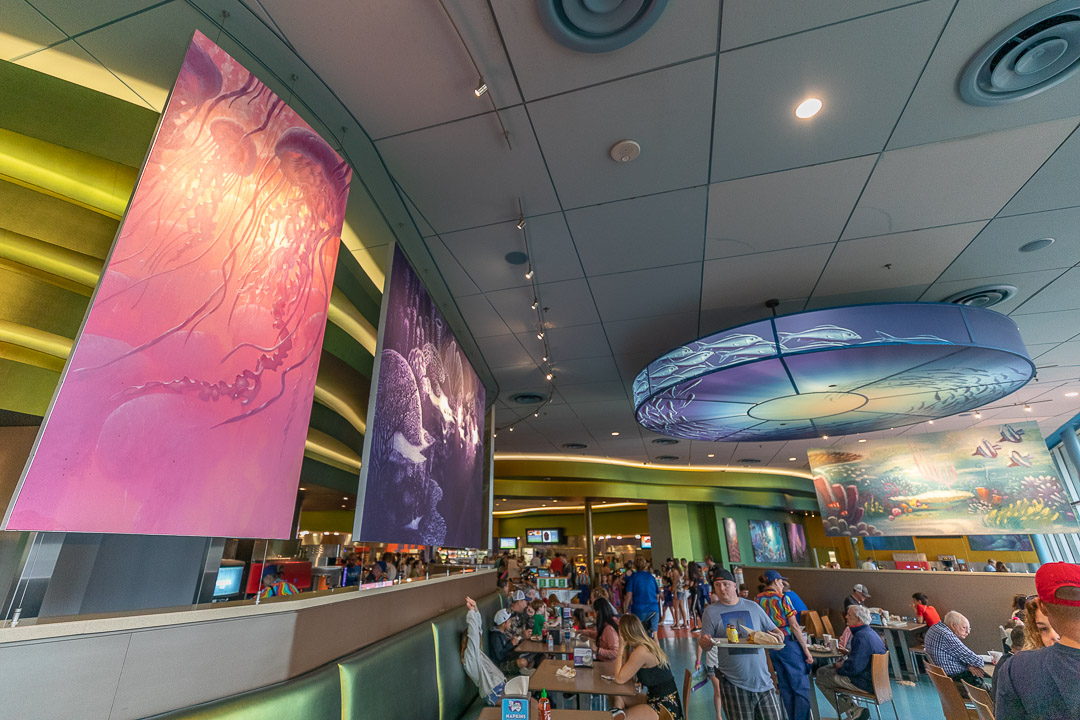 Landscape of Flavors Features Clever Nods to the Movies
As we discuss in our review of the Art of Animation Resort, it is themed to four movies and the process of animating these movies: Cars, The Lion King, The Little Mermaid, and Finding Nemo.   This carries into the food court but in a much more subtle way than what you will see around the rest of the resort. 
The dining area of Landscape of Flavors is loosely divided into four areas, each one with décor that invokes the four movies of the resort.   However, you won't see any of the beloved characters of the movies.  Instead, you will see the background landscapes from the film represented in paintings on the wall, in the lighting fixtures and on art "walls" around parts of the dining area.   This scenery is beautiful and it was fun for us to identify each movie while we ate.    It is incredibly subtle and frankly almost easy to miss.   This ties in beautifully to the animation process theme of the resort too as it draws attention to the landscapes and their part in the overall movie. 
Lest you forget where you are though, the music loop plays both the original movie versions and catchy pop versions of songs from the four movies.  Fair warning, the music may get stuck in your head!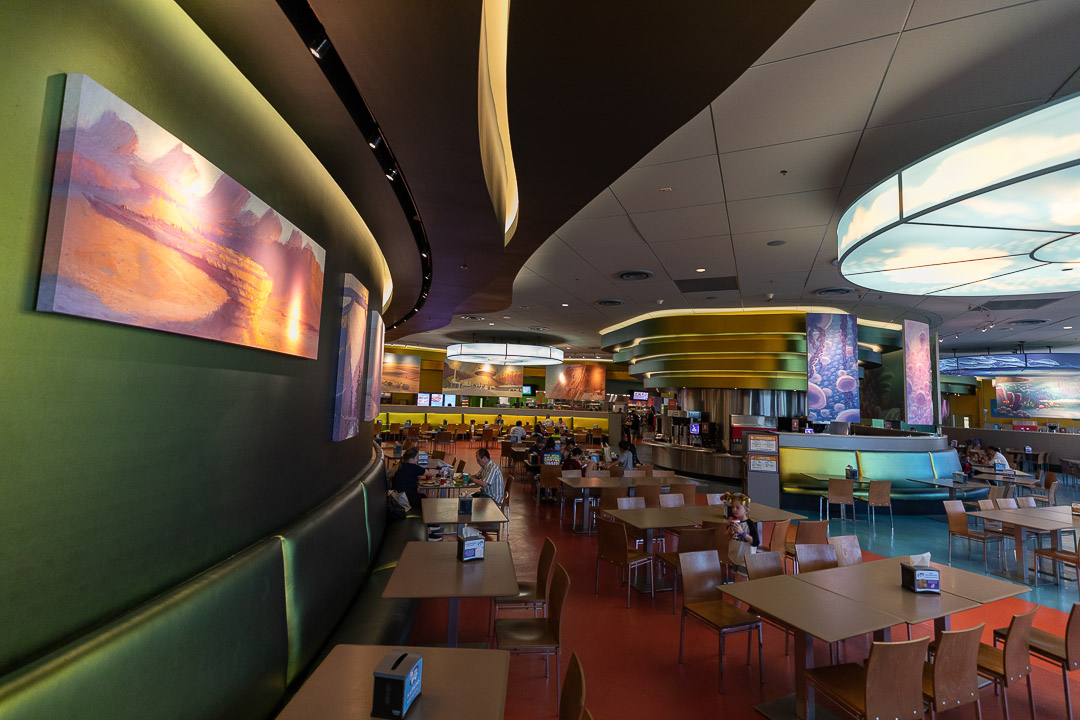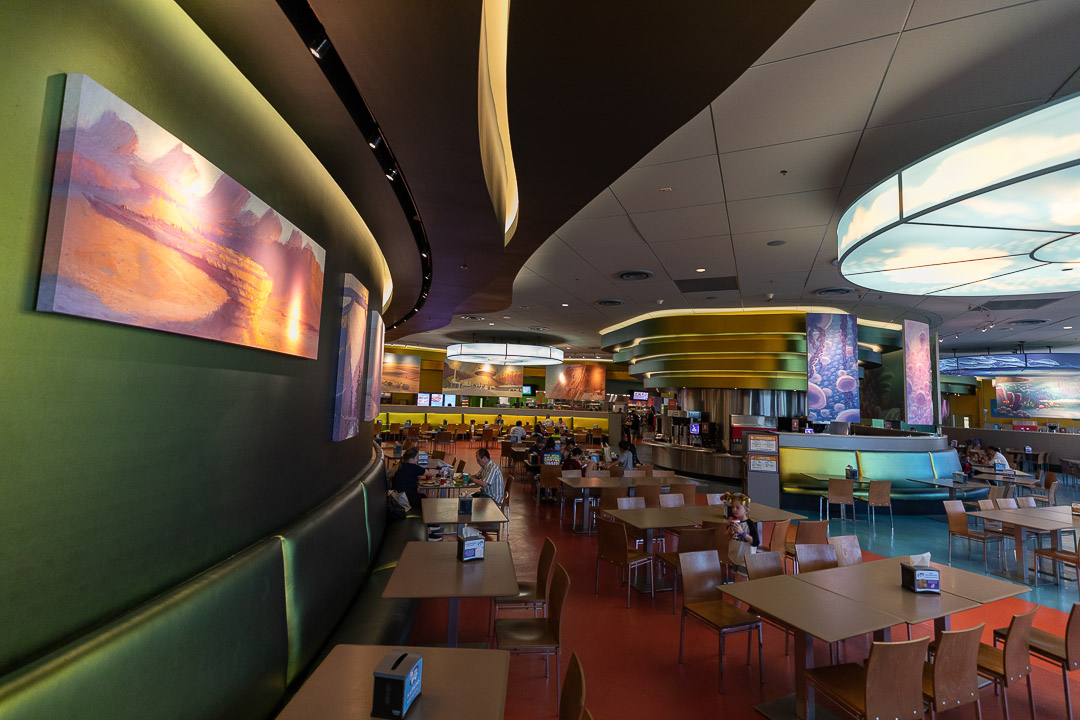 Landscape of Flavors Offers Some Unique Options All Day
Breakfast
Landscape of Flavors is set up like all other value resort food courts with multiple serving stations.  The floor plan is slightly different here than some of the other food courts we have encountered but the end result is still the same with multiple serving areas and a refrigerated "grab and go" section.
The first serving area to the left is the Waffle Shop.  Here you will find the ever-popular Disney Waffles but with a fun Art of Animation twist.  Instead of Mickey, your waffles will feature characters from the four movies represented in the resort, like Nemo, Lightning McQueen, Simba or Ariel.
The second area is the French Toast shop, but this station offers more than just French toast – it offers the largest and most widespread breakfast menu.   Freshly made French toast on challah bread is made in the grill area behind the counter.   In an excellent variation on the standard breakfast breads of biscuits or toast, Landscape of Flavors features house-made Naan bread in their breakfast sandwiches and as a side on the breakfast platter.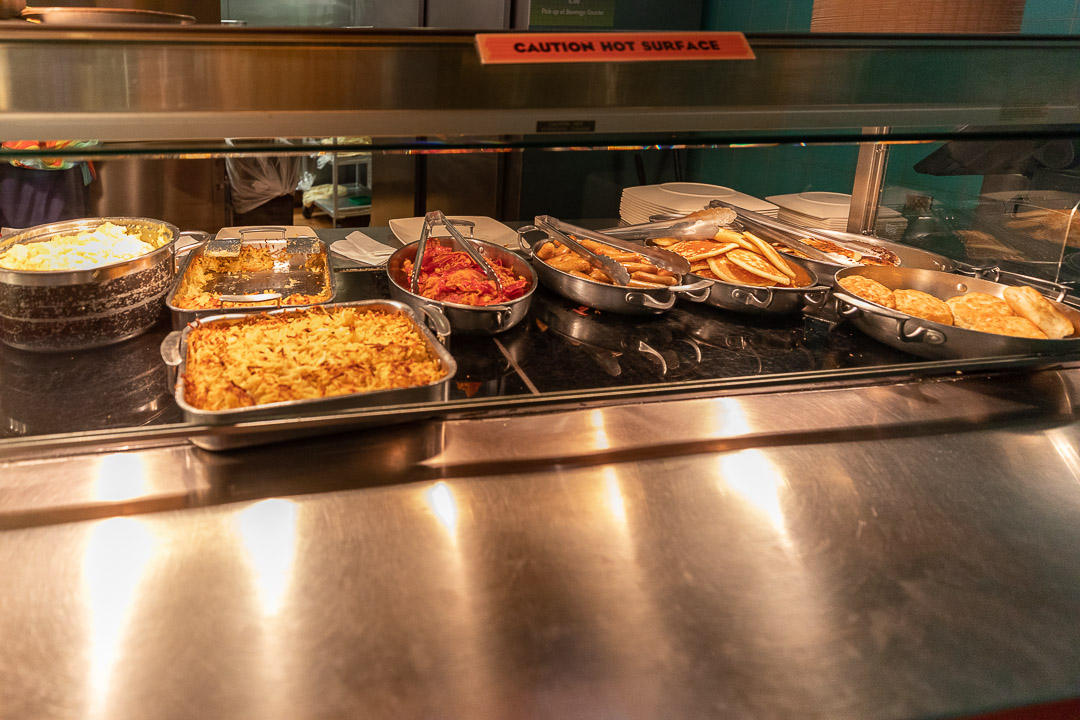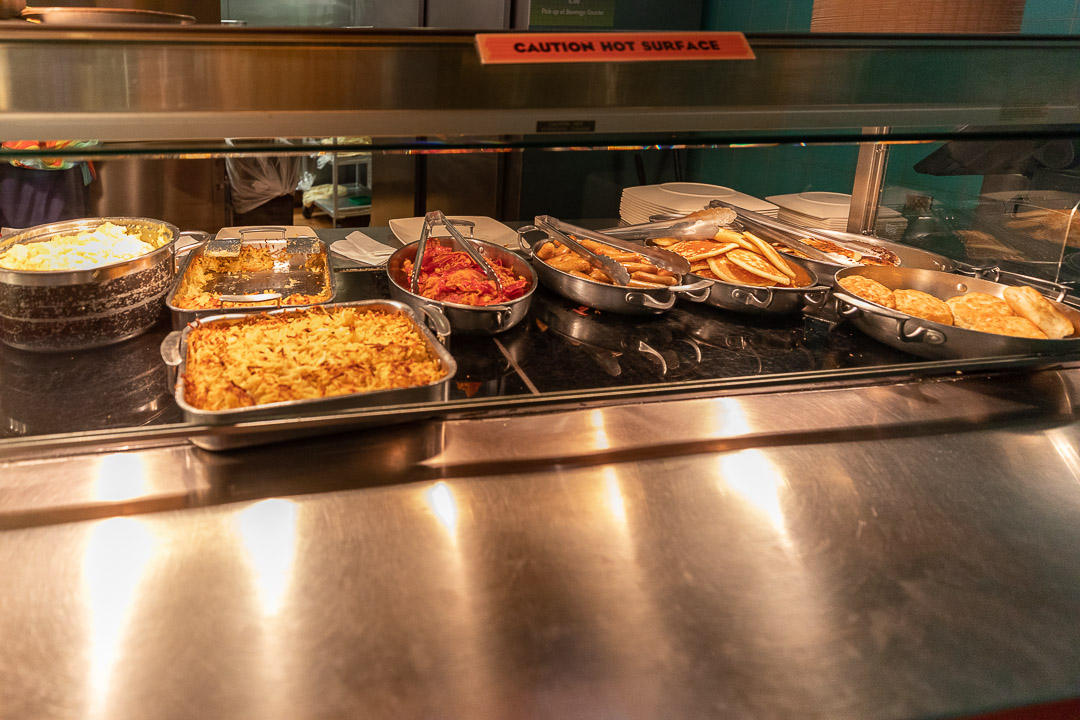 Next to this station is the refrigerated grab and go area and bakery cases.  Landscape of Flavors often features fun decorative and seasonal cupcakes so if that is of interest to you or your travel party, it is always worth a look.  
The next stop on our tour of the food court is the custom made to order omelet station.   While they do offer a variety of pre-made omelets, you can also build your own with your choices of protein, cheeses, and vegetables. 
Finally, the last area is the pancake shop, offering both plain and chocolate chip pancakes.   Also featured here is a chicken fried steak breakfast platter.   This was another unique offering that we noted as it is not found frequently around the World.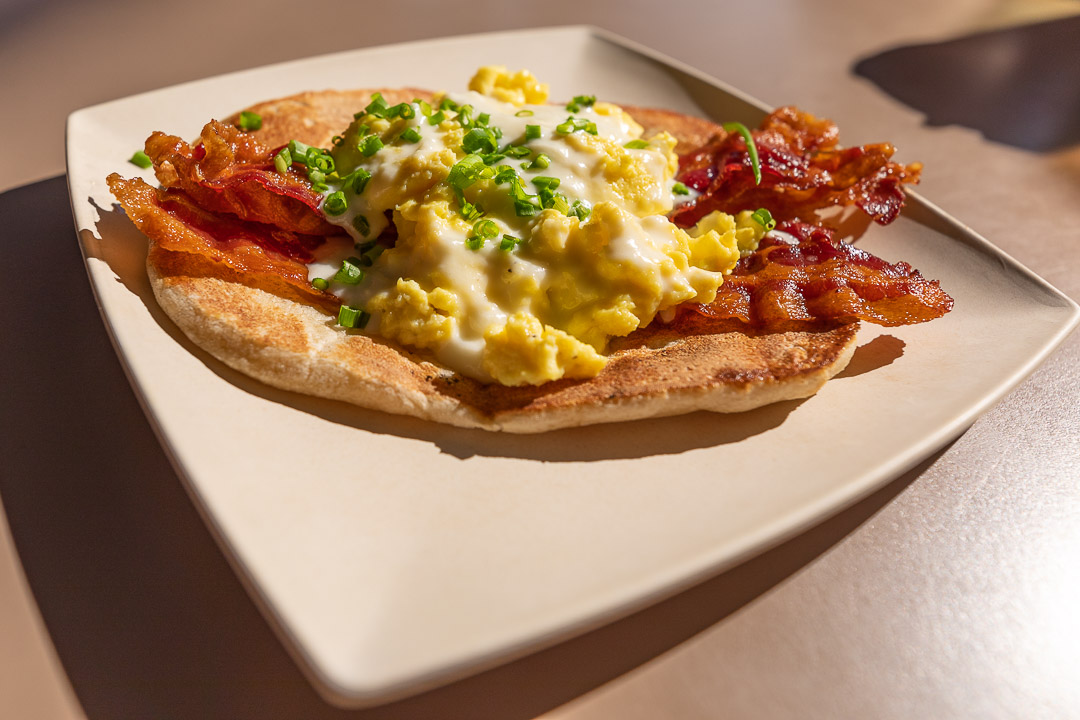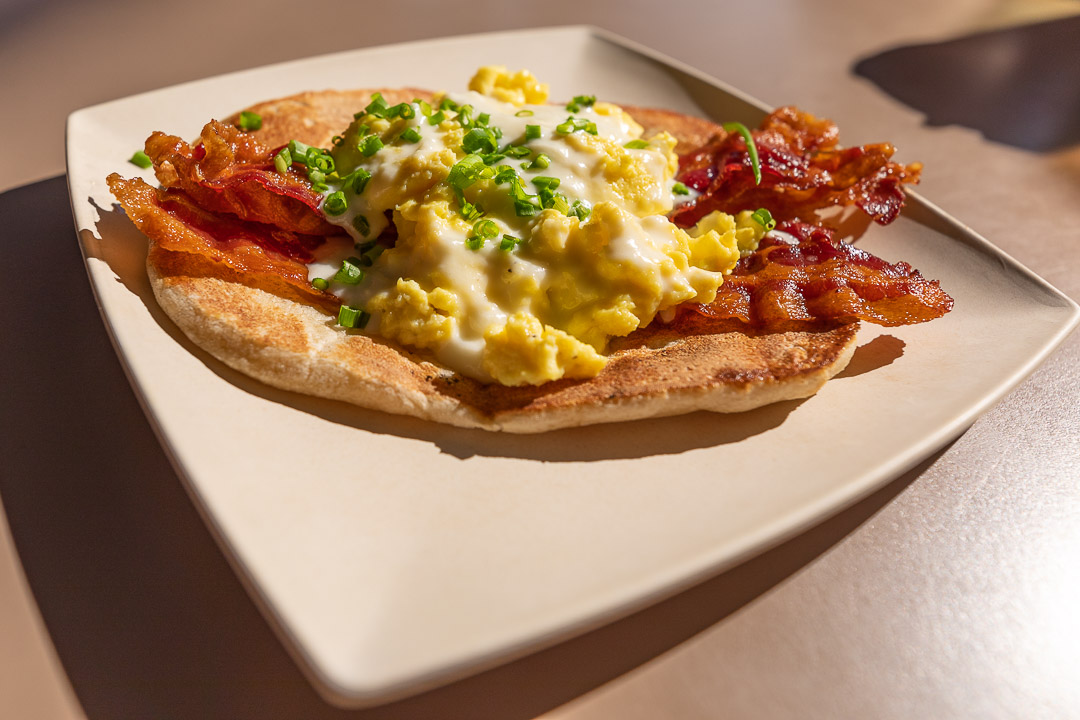 Mike was intrigued by the freshly made naan and accordingly chose the breakfast sandwich.  This is comprised of eggs, bacon, and cheese on the naan bread.   Mike thoroughly enjoyed the naan, describing it as perfectly soft and chewy and cooked to a beautiful light golden brown.   The cheese was a light and tasty cheese sauce rather than just a handful of shredded cheese.   This elevated the standard eggs and bacon providing some creaminess and richness.  A sprinkling of chives rounded out the sandwich.    Mike wholeheartedly loved this sandwich and calls it "one of the best quick service breakfast items I have had on property."  Strong praise indeed.   The closest item that Mike has tasted that came close to being as good was the breakfast flatbread or the chicken and waffles at Roaring Fork.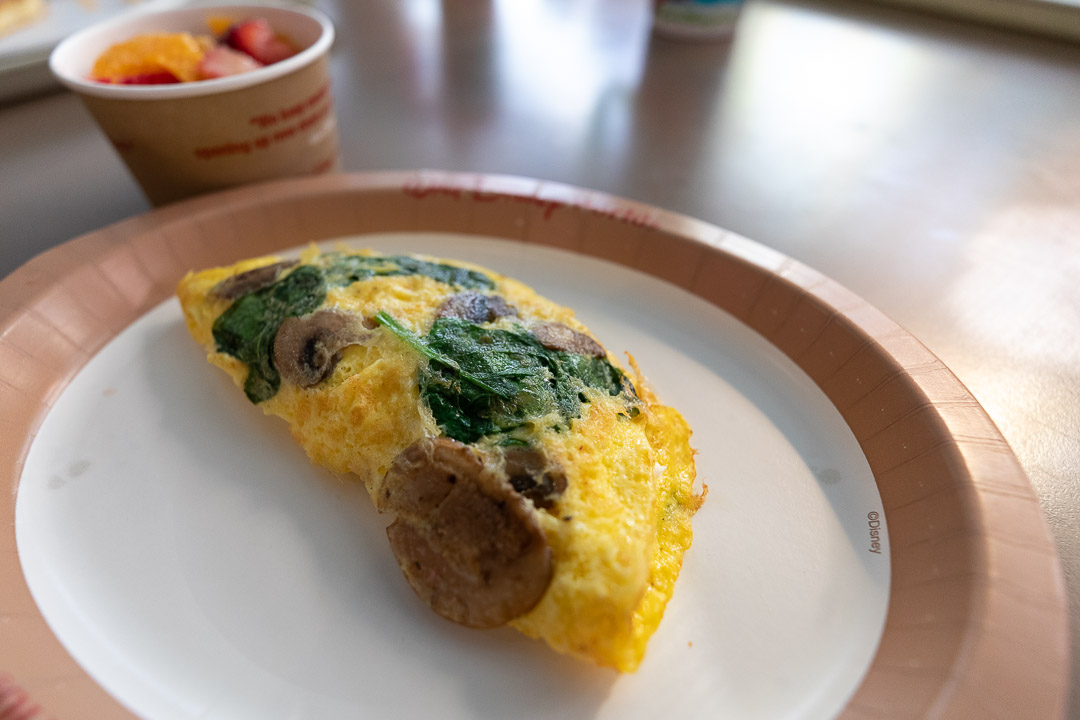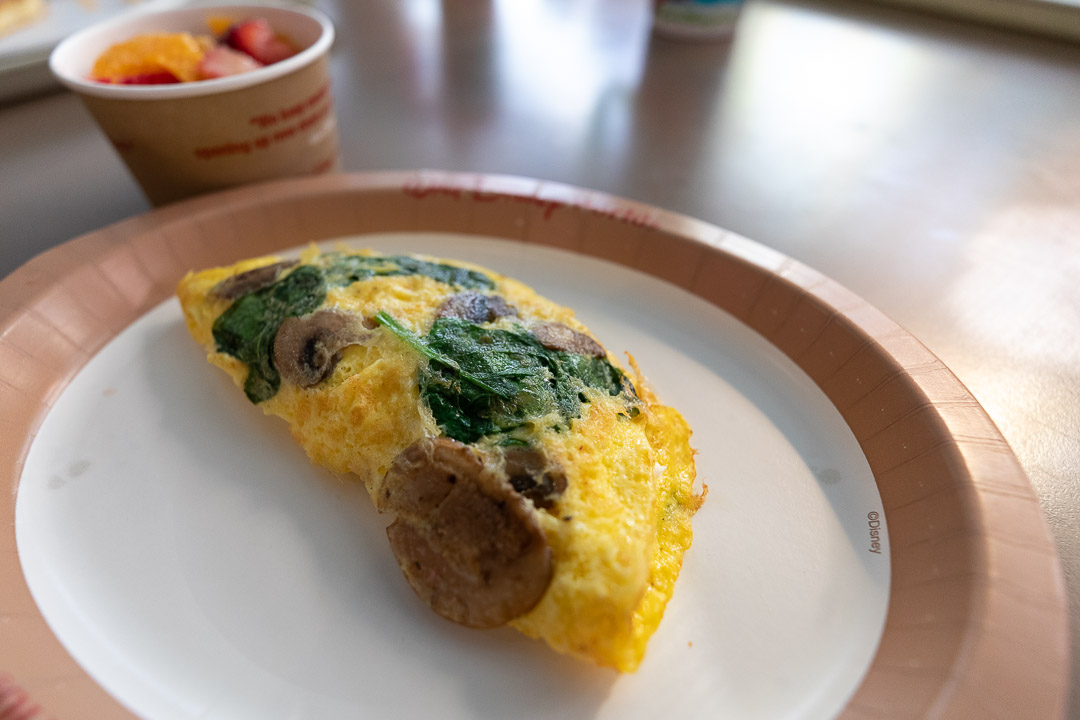 I chose the omelet station for my breakfast this day.  Since I eat gluten-free, I confirmed its safety for my needs and chose an omelet with cheddar cheese, spinach, and mushrooms with a side of fruit.   Watching the prowess of the chef preparing and cooking multiple omelets at once was a delight and I enjoyed my piping hot and fresh omelet.   My only complaint is that it was a bit of a wait to even order the omelet, but it was well worth it.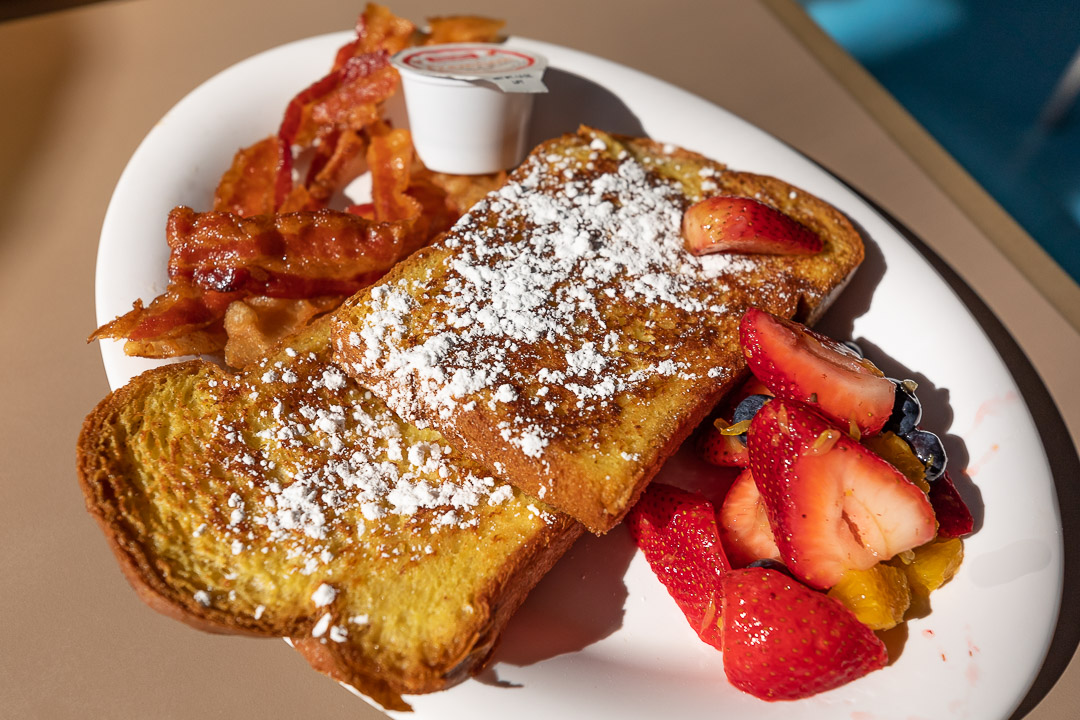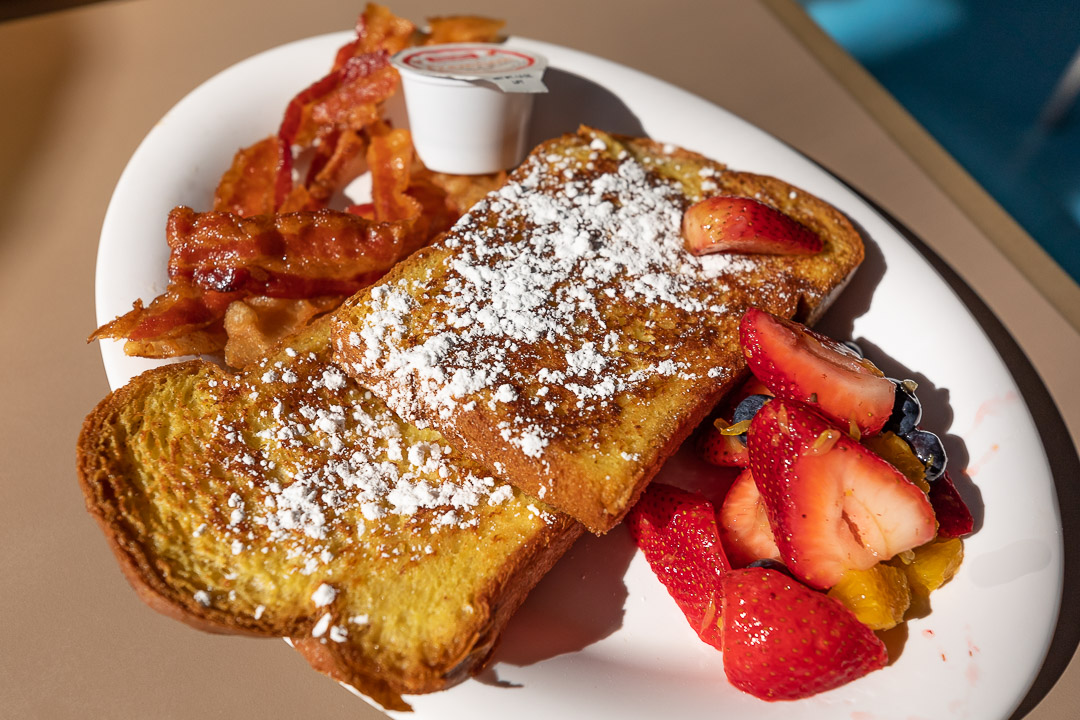 The girls had a harder time choosing what they wanted so they shared a French toast platter, some cereal, and a blueberry muffin.   The girls loved the French toast, the challah bread provided a wonderful texture to the French toast.   Even though it was sitting on the serving line, the French toast was being made almost to order and didn't appear to be sitting long.   The serving they were given was still soft and freshly made.   The muffin was just average though, the French toast was the clear winner.
One last thing we noted that also made Landscape of Flavors unique was the selection of made-to-order smoothies and juices available.   This is on our list for our next stay!
Lunch/Dinner
Lunch and dinner at Landscape of Flavors continues to provide a wide variety of entrée selections, with many only available at this location.   Upon entering the food court, it is hard to miss the impressive selection of gelato to tempt you to save room for dessert.
The first station on the left features soups, salads and sandwiches.  Here you can build your own salad, or choose from chicken or shrimp Caesar salad or a cold Asian noodle salad.   A variety of hot and cold sandwiches are also available.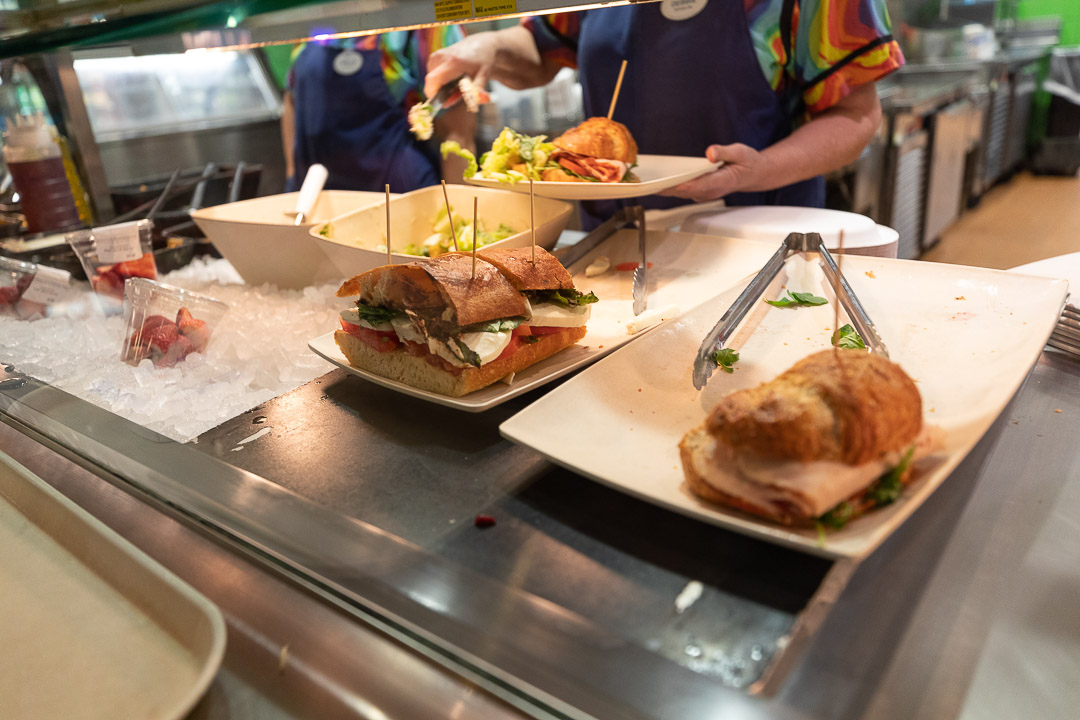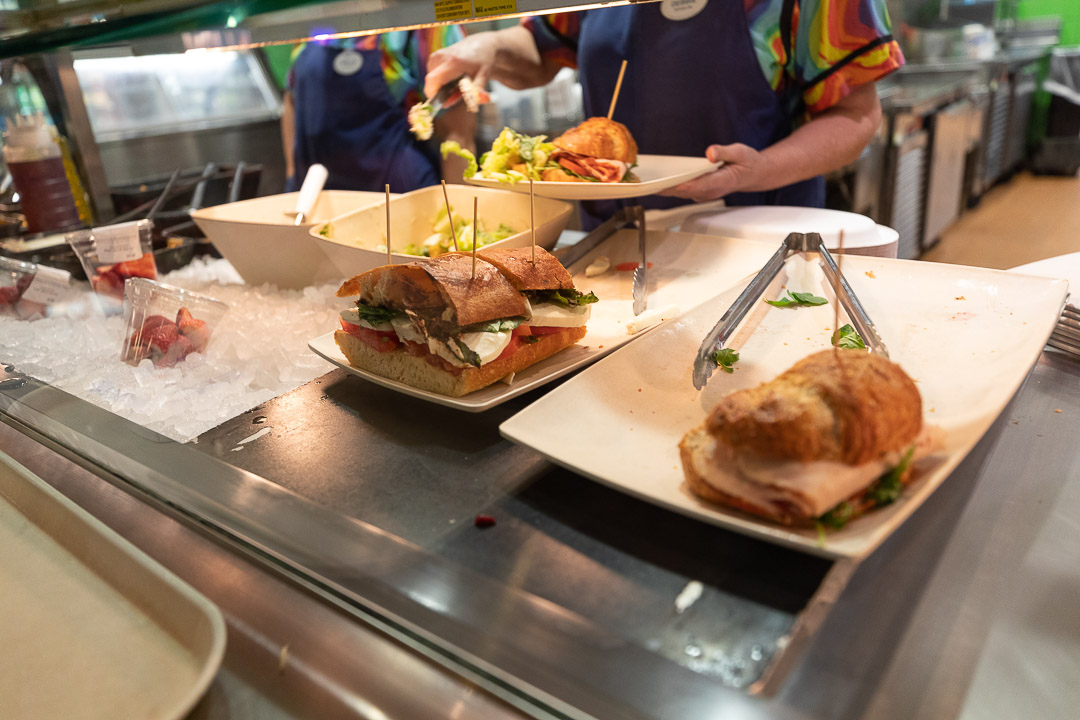 The next station is the "World Of Flavors" Shop and certainly where Landscape of Flavors presents its most unique entrée choices.  Mongolian Grilled Fish, a Jumbo Stuffed Meatball, Tandoori boneless chicken thighs, and an Asian Chicken Bowl round out the creative offerings at this stand. 
The custom omelet station in the morning gives way to a create-your-own pasta station for lunch and dinner.  A variety of sauces, pastas, and proteins are available. Seitan is even offered in order to create a vegan pasta dish.   Pizza is also available at this station either by the slice or a made to order whole pie.
Finally, the last station features burgers, chicken sandwiches and the like.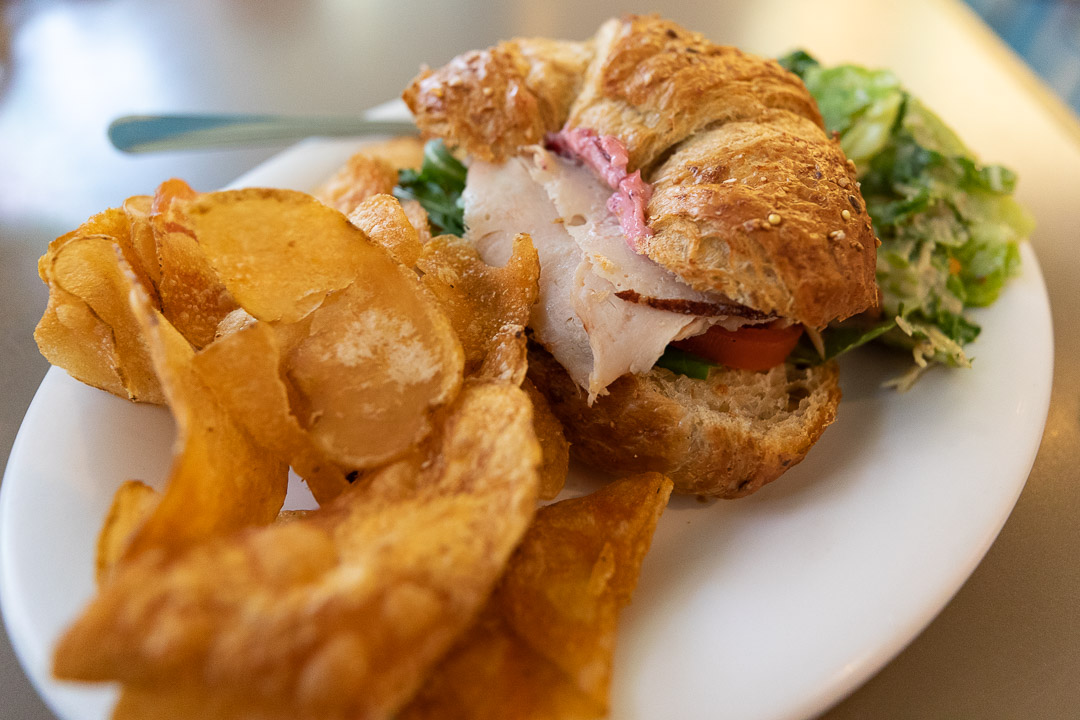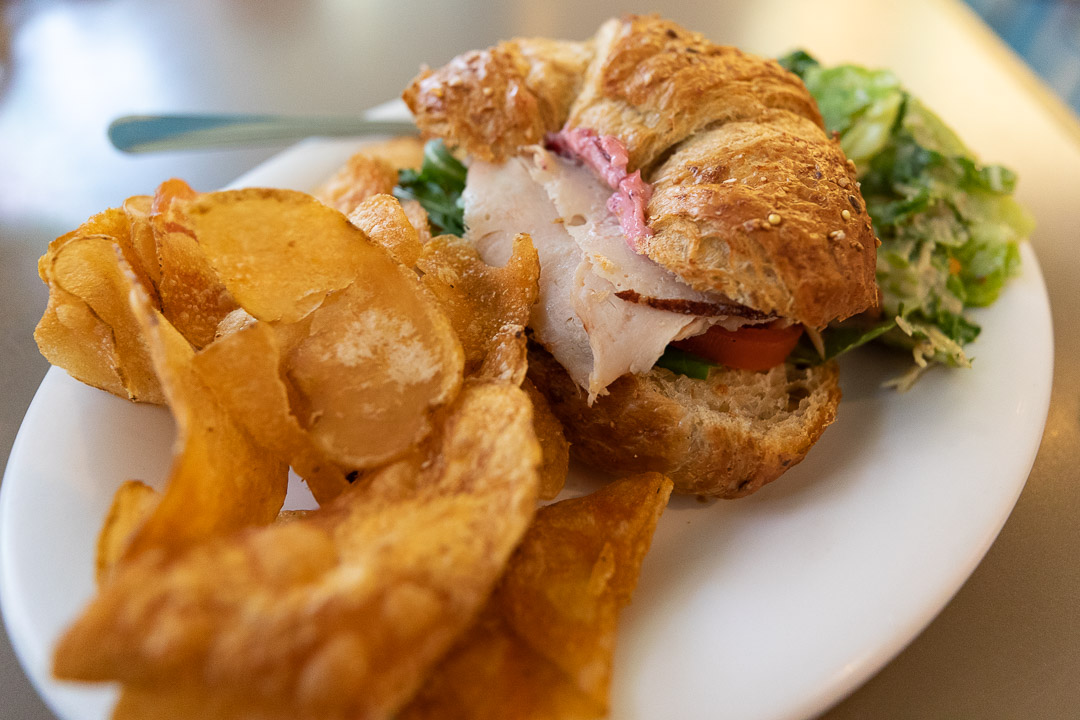 Mike selected the roasted turkey sandwich for his lunch.  I was not surprised as he is a big fan of croissants, however, I was slightly shocked he ordered it with the featured "cranberry mayonnaise" as he doesn't like cranberries and he doesn't like mayonnaise.   It was a risk worth taking though as he called this sandwich "phenomenal".     The cranberry mayonnaise did not have any discernable mayonnaise flavor to it, instead, it added a light, creamy texture to the sandwich.  Mike found the cranberry flavor light and not overpowering and it added a touch of sweetness that complimented the turkey.   The croissant was just as you want a croissant to be – fresh, light and airy.   The turkey was a step above regular thin-sliced deli turkey slices.  This appeared to be more like a fresher, carved turkey.  Mike chose the house-made potato chips and side Caesar salad for his two sides, both of which he noted he enjoyed.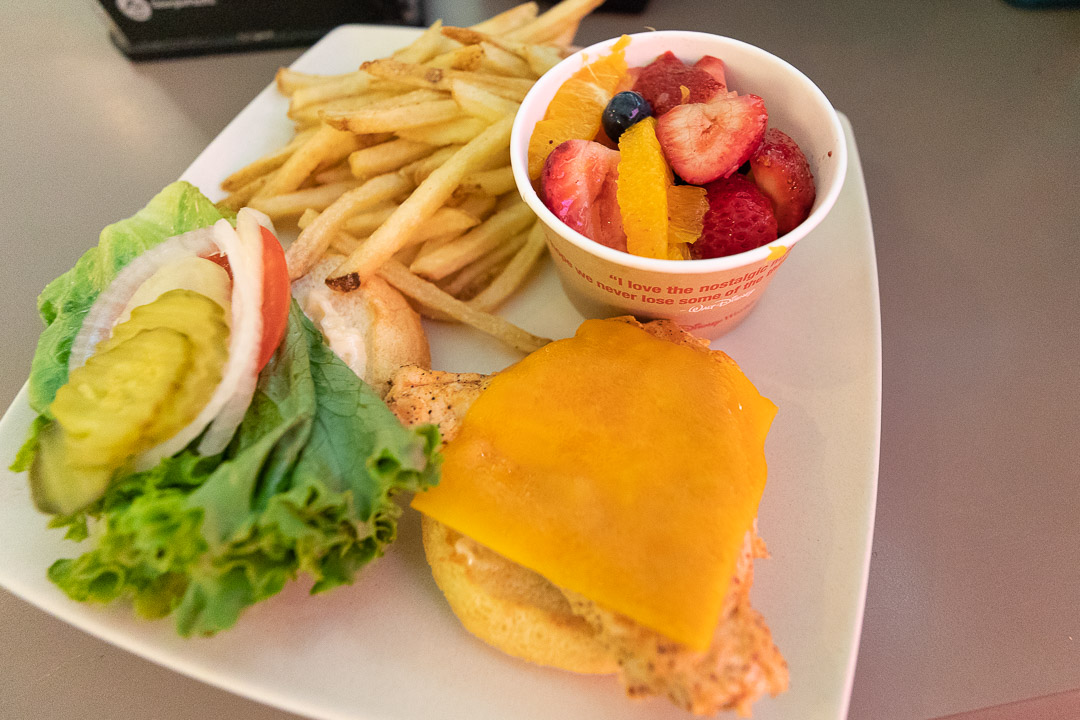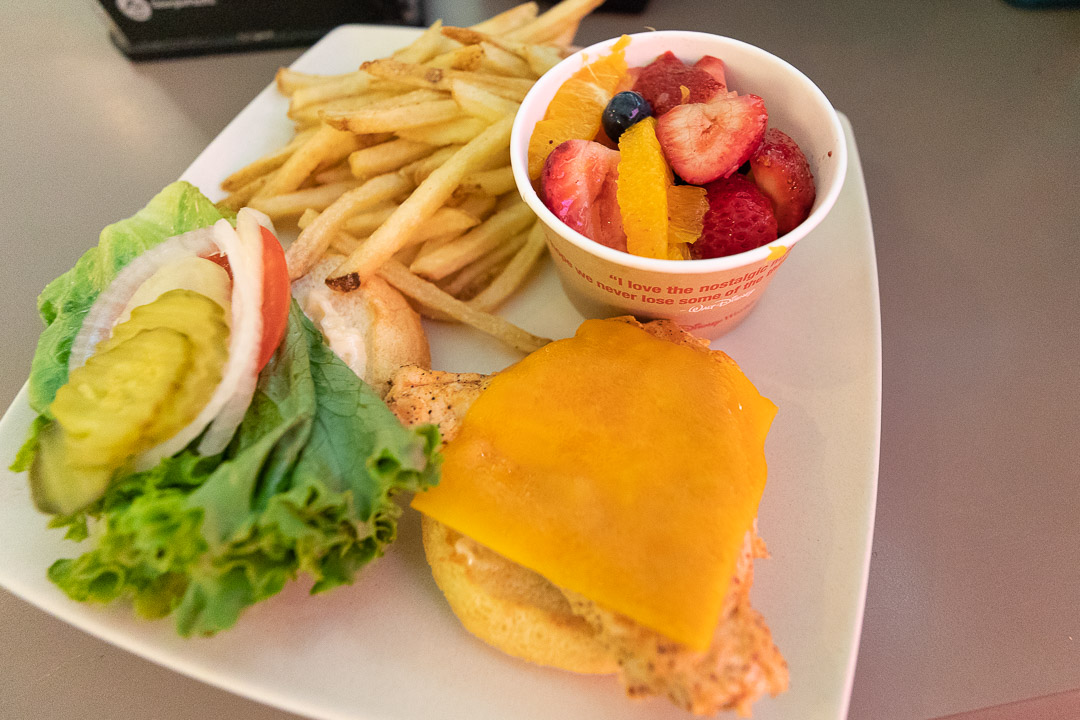 I talked to the chef about my options and chose the grilled chicken sandwich which was prepared on a gluten free bun.  The sandwich features a garlic aioli which provided amazing flavor to what can often be a bland piece of chicken.   This made the sandwich better as a whole.  The bacon and cheddar cheese also enhanced the sandwich.  The fries were freshly cooked to perfection.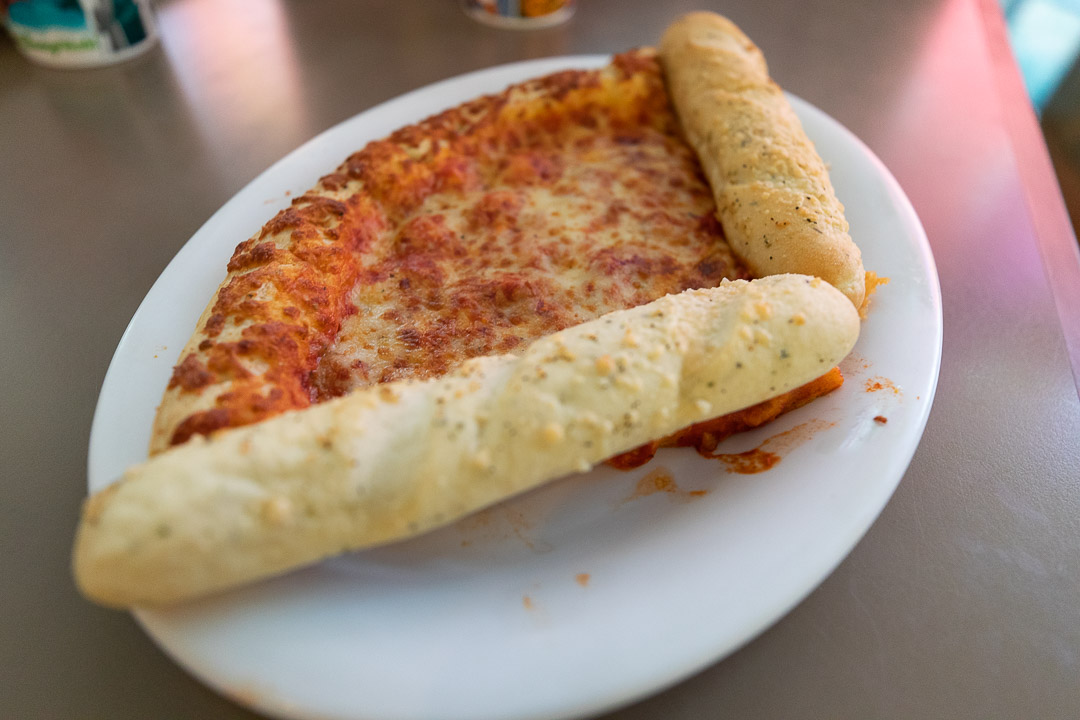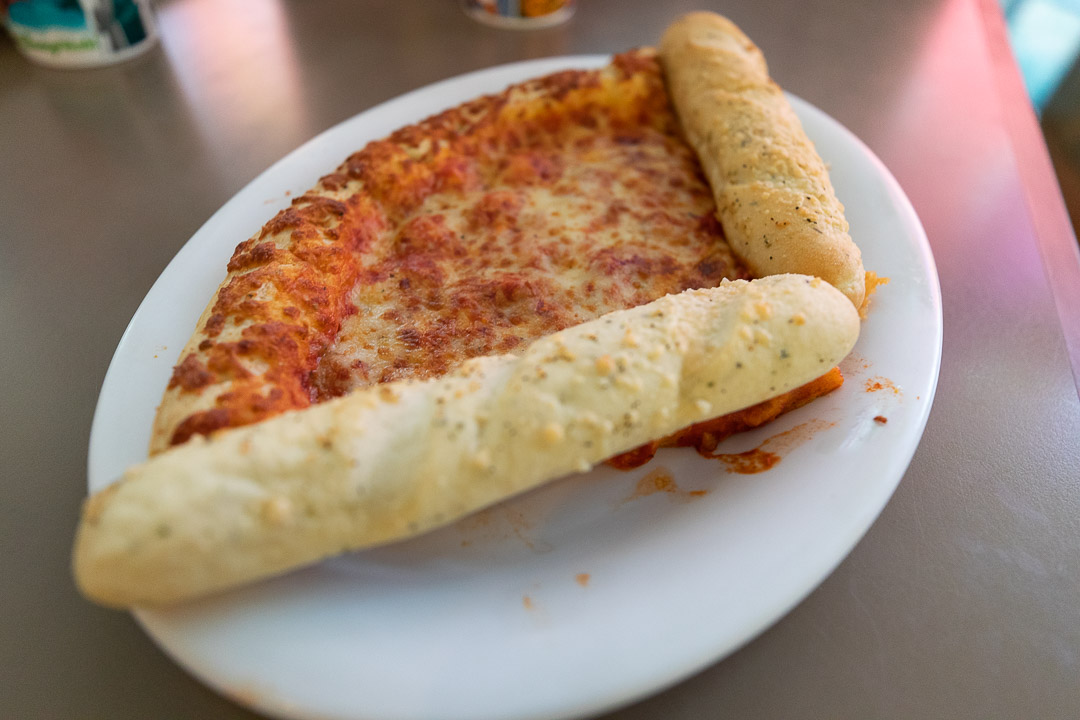 Elsa chose a slice of the premade cheese pizza.  While she loved it, Mike also tried it and thought it was pretty terrible – it tasted like it had been sitting under the lamp for a while.  The pizza had the pillowy, airy crust seen in many quick service pizzas around Disney World.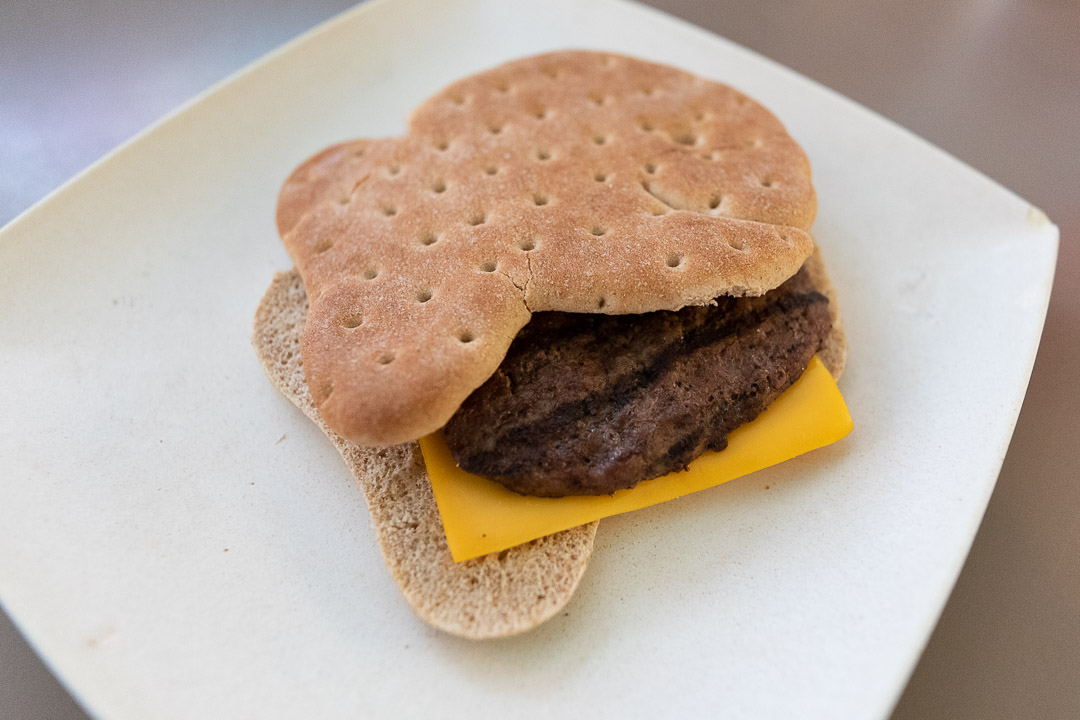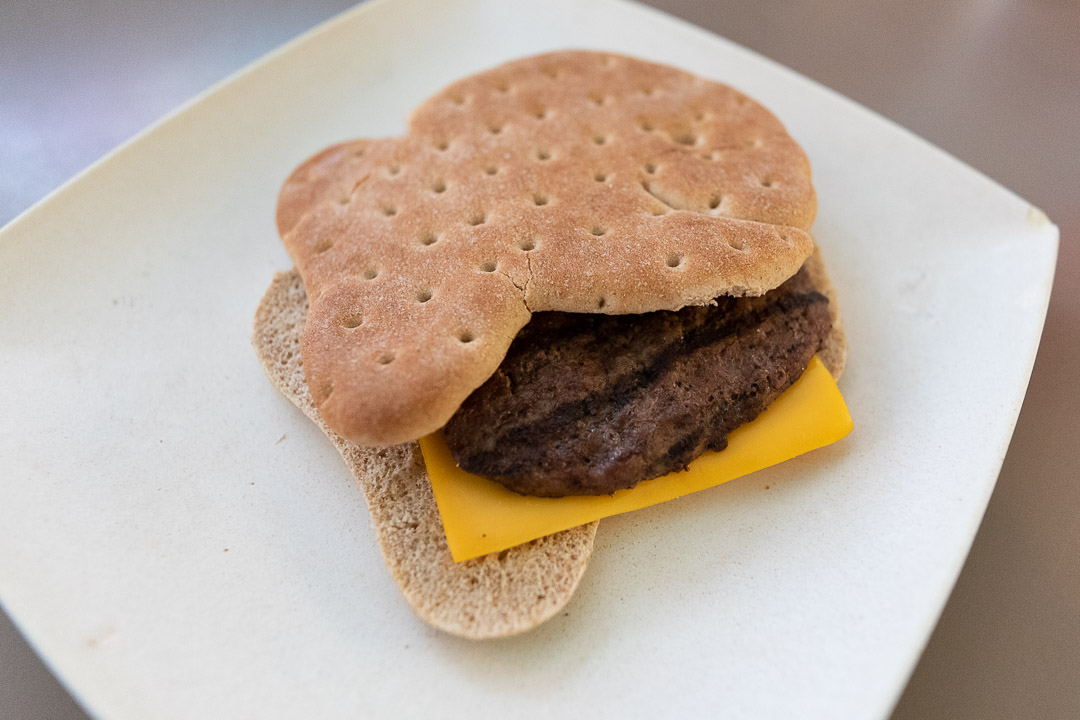 Anna chose the kids cheeseburger meal.  In lieu of a traditional bun, the burger was served on the cute goldfish shaped sandwich bread that she was also served at her dinner at Coral Reef.   The burger was definitely the traditional quick service food court "hockey puck" burger.  She seemed to like it but it is not something that we would consider a quality entree.
Landscape of Flavors Overall Impressions
It is not often that I leave a resort quick service food court looking forward to my next meal there because there were too many things I wanted to try.   This was precisely the case at Landscape of Flavors.   Mike and I were blown away at the quality and variety of the items offered and felt like it shows this resort is really striving to elevate the overall food court dining experience.  Of course, there were some usual food court suspects as far as the pizza and hockey puck burgers, but with so many items made fresh to order it is easy to avoid those items and choose a higher quality meal. 
We are looking forward to our next stay at Art of Animation in order to try more items, and possibly reorder some favorites (the naan breakfast sandwich better look out, Mike is coming for you).  When we stay at Pop Century again, I highly believe we may make the walk across the Generation Gap bridge just to eat at Landscape of Flavors over the Everything Pop Food Court.   We can't recommend eating here enough if you are staying at one of these two resorts or just making a trip over to Art of Animation to check it out. 
Wrapping Up
With that, we'll wrap up our Landscape of Flavors review.  Between the décor, variety, emphasis on freshly made items and featuring items outside of the typical quick service "box", we rank this as the best food court of the value resorts that we have tried.  It set a new standard of Disney World resort quick service fare.
If our Landscape of Flavors review was helpful, or at least entertaining, please like and share this with your friends or anyone you think will find it useful.  Just use the sharing buttons on the page.  We always appreciate it when you share our posts, as it allows us to spread the word about our young blog and hopefully allows us to help others.