Epcot's World Showcase is known for showcasing (no pun intended) the culture and food of 11 countries around the world.  Situated in the Mexico pavilion at Epcot, you will find the San Angel Inn Restaurante.  We've seen some people describe the food served here as Tex-Mex and I have to say that can't be anything further from the truth.  I say that as someone who grew up eating real Tex-Mex every week…or maybe every day.  Here in our San Angel Inn Restaurante review, we'll talk about the atmosphere, theming and food at this decidedly Mexican restaurant.
In many circles, San Angel Inn Restaurante appears to be loved for the ambiance and hated for the food.  Hated may be a strong word, maybe disliked is a more appropriate descriptor.  In any case, we haven't seen a lot of love for it in the Disney community.  We think you'll be surprised with some of our opinions here in this review of San Angel Inn.  Whether you'll agree with us, well that remains to be seen.
Epcot's San Angel Inn is a one table service credit meal on the Disney Dining Plan.  Most entrees will cost you between $20 and $35, which means it is an okay to good, but not great, value for your table service credit.  For that reason, it will likely make sense to pay out of pocket here.  Make sure you take advantage of the free beverage that you get as part of the dining plan here, otherwise you are leaving some value on the table.  That could include a margarita!  Make sure you review the San Angel Inn Restaurante menu before deciding to use the dining plan as some entrees cost only $13-24.  If that's what you're ordering here, the value is less compelling.   Tables in Wonderland is accepted.
One quick note here about dining at San Angel Inn Restaurante in Epcot.  There is a sister restaurant called La Hacienda de San Angel, which is situated on the waterfront side of World Showcase Lagoon.  Make sure you know which restaurant you booked a reservation for.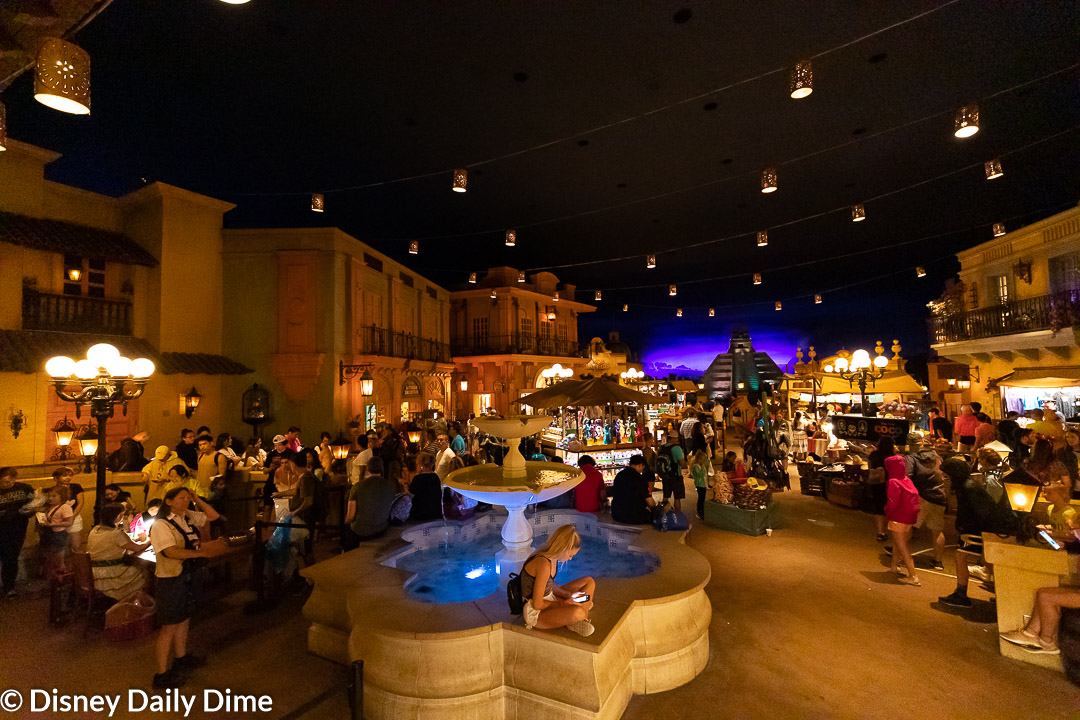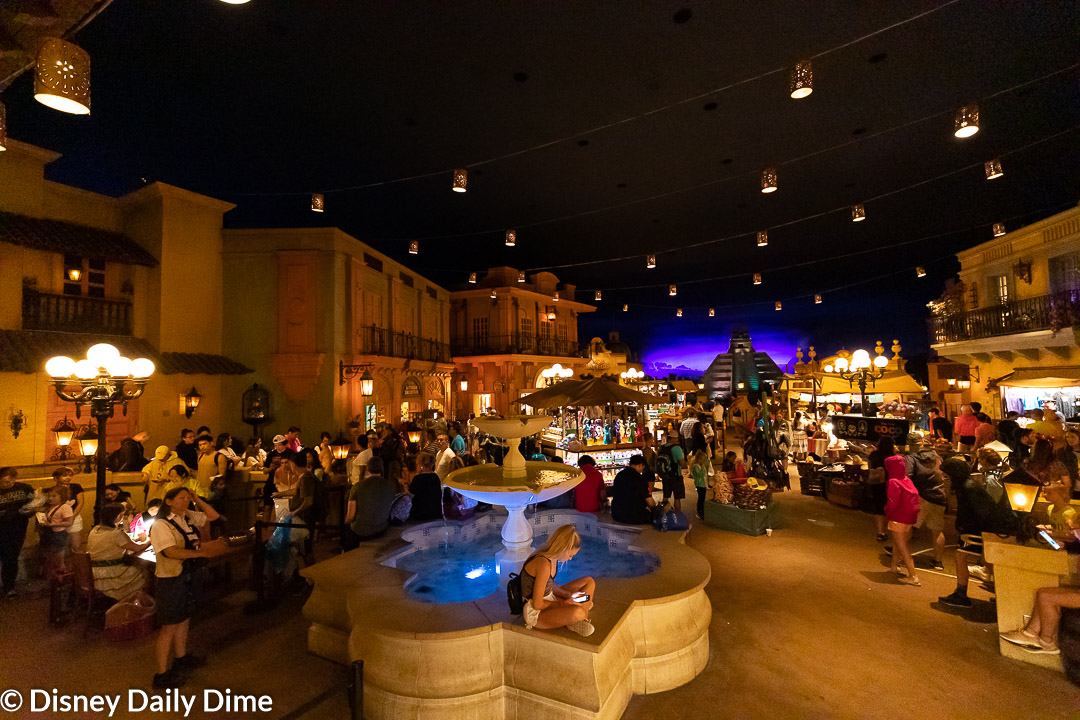 San Angel Inn Restaurante Welcomes You to a 17th-Century Hacienda
As you walk into the Mexico pavilion you will feel like you've been transported from day to night and from Florida to a small town in the heart of a Mexico.  With the Mexico pavilion itself making you feel like you've stepped into a Mexican hacienda, the theme engulfs you before you even get to the restaurant.  At the back of the hacienda, you'll find the entrance to San Angel Inn Restaurante.
The restaurant sets up like a small courtyard set on the edge of a hacienda market place.  It would make for some excellent people watching if the restaurant was on the same level as the shopping area, but alas it is not.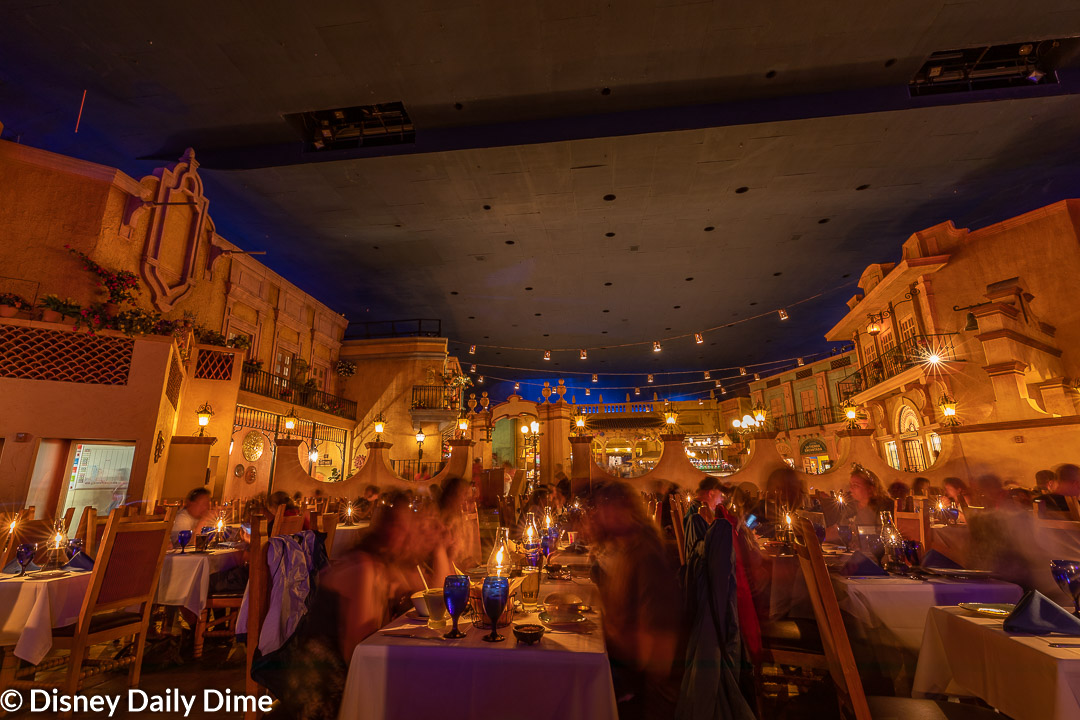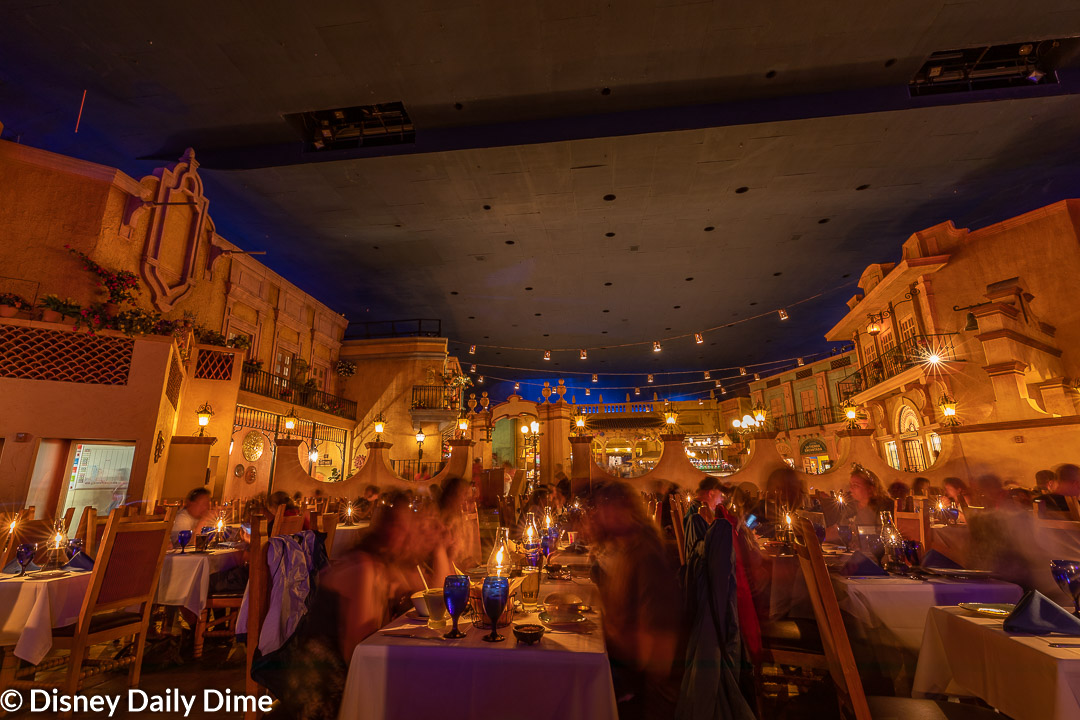 The restaurant and all of the Mexico pavilion interior is meant to be part of an intimate twilight setting.  While it is very intimate, we'd say it is definitely dark inside the restaurant area.  It doesn't feel so much like twilight as it does night time.  If you don't like eating by oil lamp or your food not being perfectly lit, you may want to find a different restaurant in Epcot.
What adds to the theming and intimacy of the restaurant is the fact that it sits on the side of the river that is part of the Three Caballeros attraction (Gran Fiesta Tour).  You have a large Mayan temple on the far side of the river that is situated next to a volcano along with vegetation.  The river adds a nice layer of peace and quiet for people sitting next to it.  It's contrasted with the buzz coming from the shoppers flowing through the market place like its own river of people.  The contrasts are like a dessert that is both salty and sweet.  You get two things you like and each makes the other better.  In some ways, the buzz here reminds me of what you will find at the Biergarten over in the Germany pavilion of Epcot.  Not quite the same, but close.
While this restaurant definitely is intimate, I will say the seating is incredibly tight.  We've eaten here twice in the last year and both times found ourselves working our chairs around those at the tables next to us.  The area along the river had a little bit more room, so you may want to request that seating area if tight quarters aren't for you.  There's limited seating along the river, so you may have to wait for a table.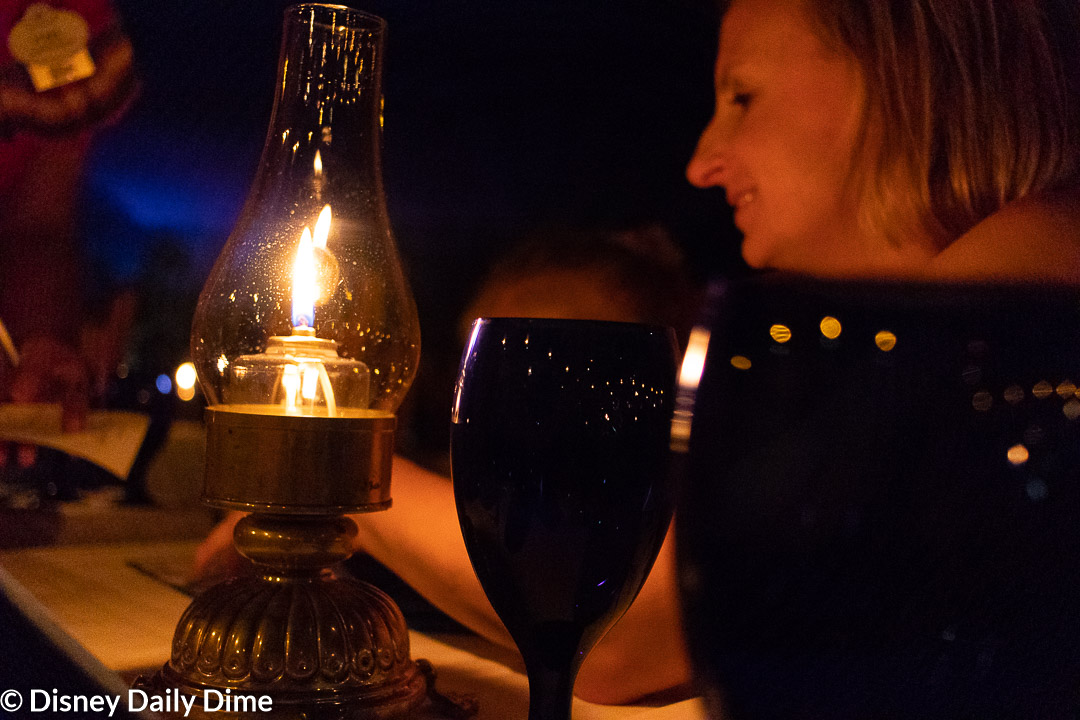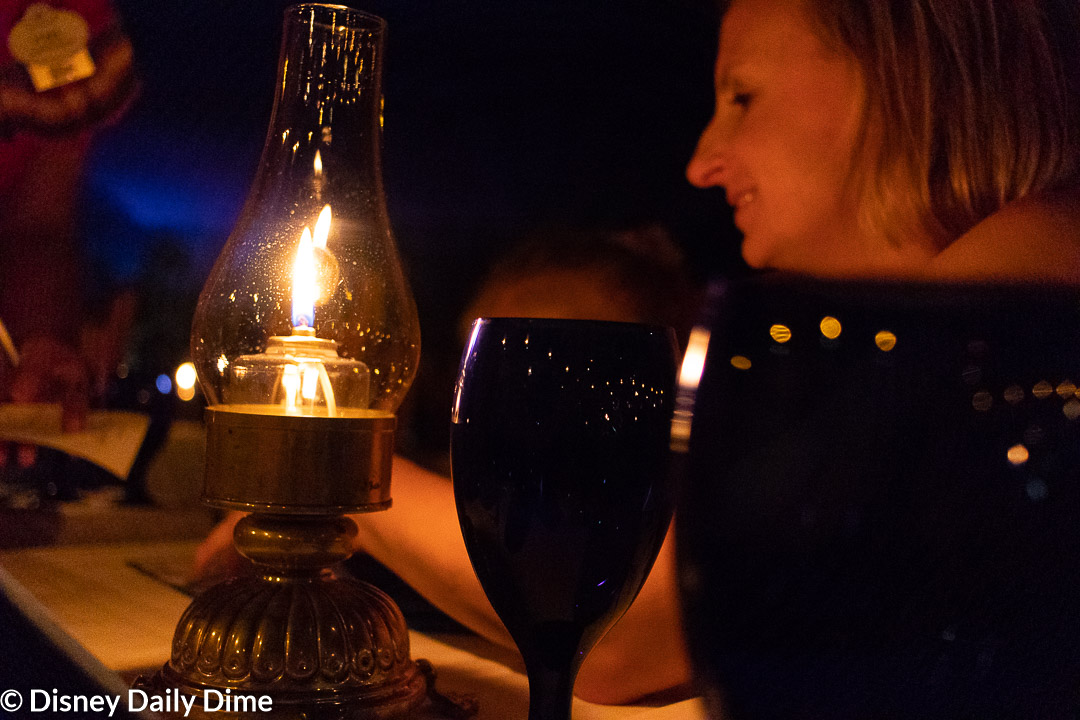 San Angel Inn Restaurante is meant to be more than just a casual dining experience.  While it can be tight in the seating area, you'll find beautiful lamps lighting tables that feature white table cloths.
From a theming and ambiance perspective, we have to say that we love this restaurant.  We really enjoy the life and activity that it picks up by sitting on the edge of the shopping area.  But that viewpoint isn't overly unique, most people do like the theming.  The food on the other hand…
The Food at Epcot's San Angel Inn Was (Largely) a Welcome Surprise
Not to spoil the headline of the food section of our San Angel Inn review, but we did want to add a few words on the food before we talked about our individual dishes.  As we said, the food here has been panned quite often by other Disney fans.  Not that there aren't exceptions to that, but we don't find tons of positive reviews around.
One thing we will say when reading those reviews, look for dates on them.  San Angel Inn has undergone a pretty extensive menu rehab the last several years.  Maybe Disney does listen to their customers???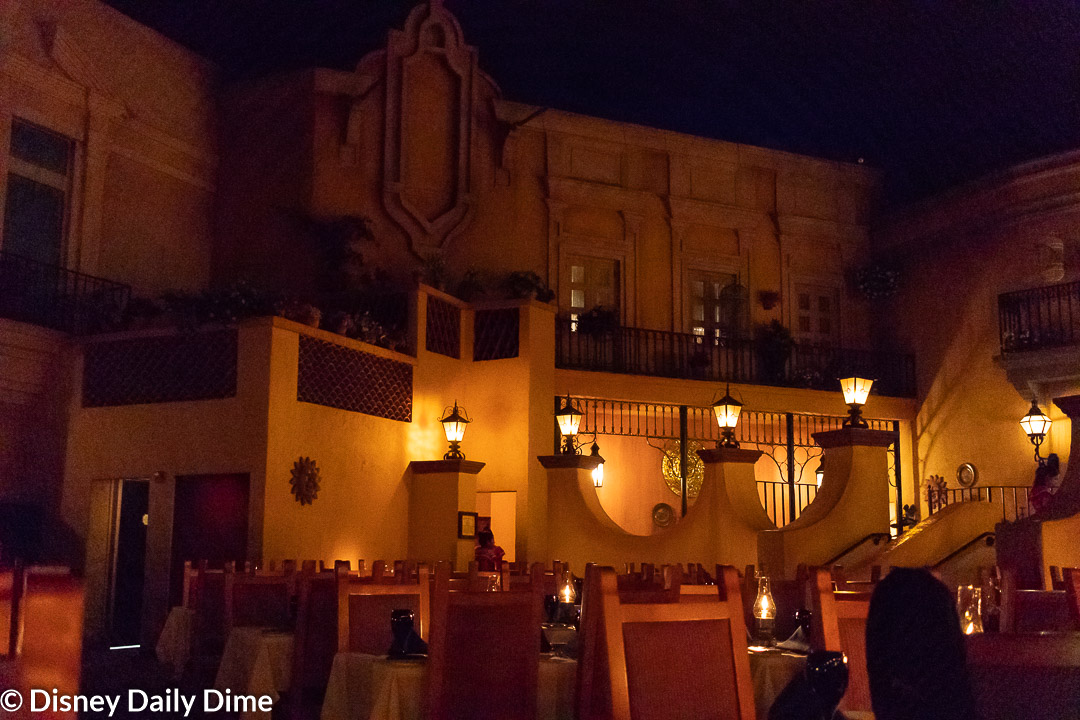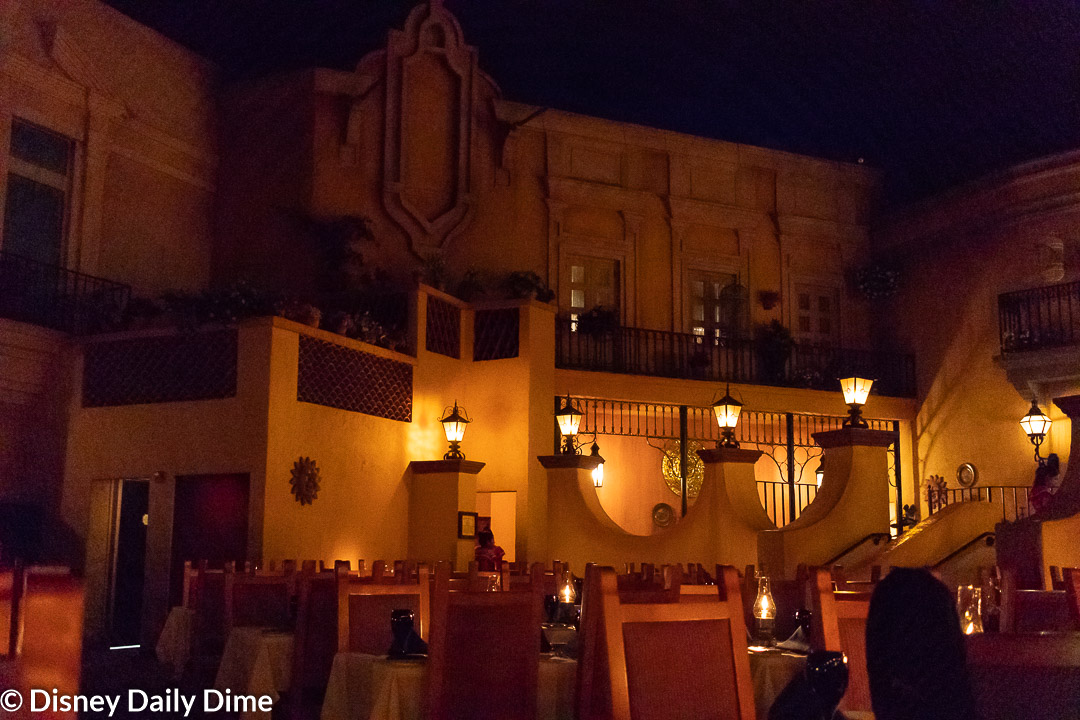 Now, we do think if you don't enjoy more traditional Mexican food, this restaurant will likely not be for you.  We found it features several bold and strong flavors, which mostly hit the mark.  A few didn't.  As we said earlier, this is definitely not Tex-Mex.  Don't come here if you are looking for fajitas and the like. 
If you're not sure about some of the more significant differences between Tex-Mex and Mexican food, here's a good article that goes into some good detail.  To simplify, it's all about not using tons of cheese, having dishes made with corn tortillas, using chicken and pork instead of beef, and the use of spices and peppers. 
One other quick comment on the food.  Sorry for the quality of some of the pictures.  The first time we ate here, I didn't have a tripod I could put on the table.  That means I don't have as high a quality set of photos for those dishes.  This largely affects a few appetizer and dessert pictures.
All that said, let's talk about our food.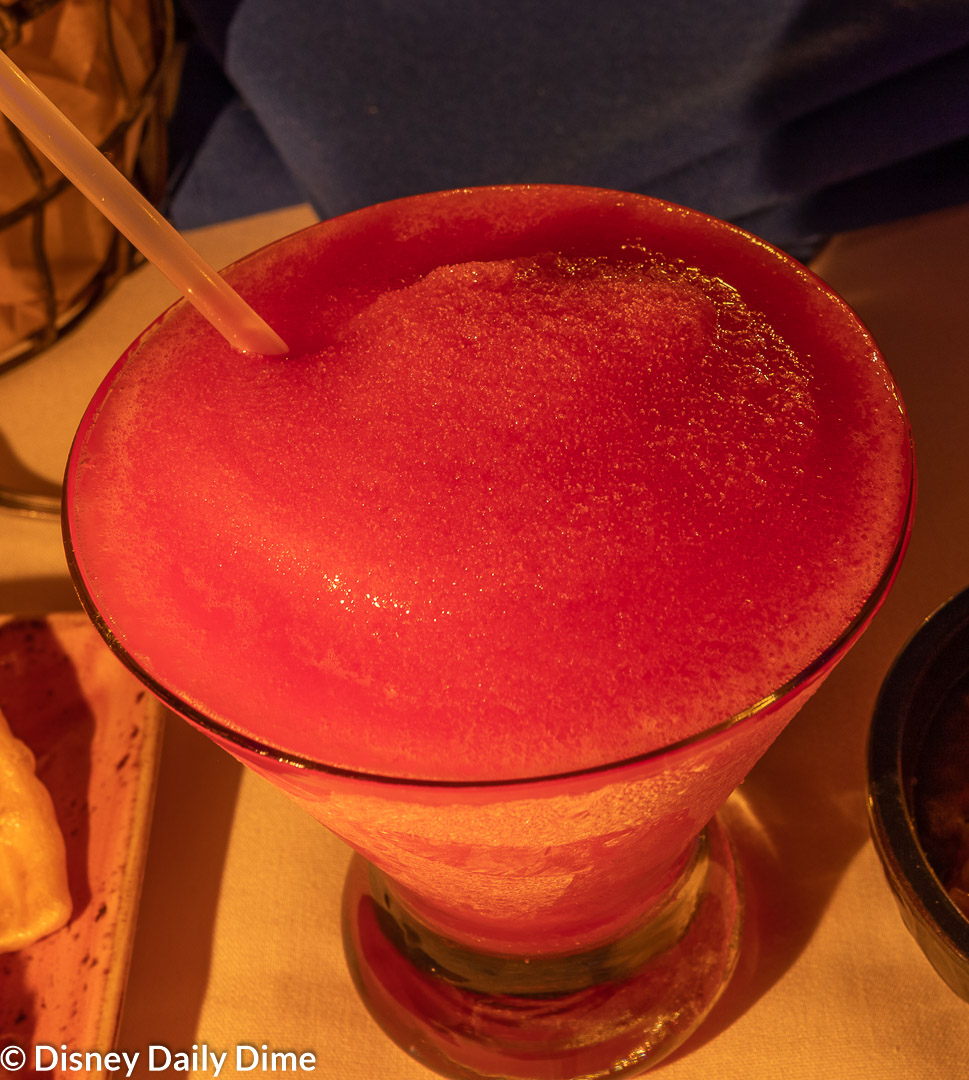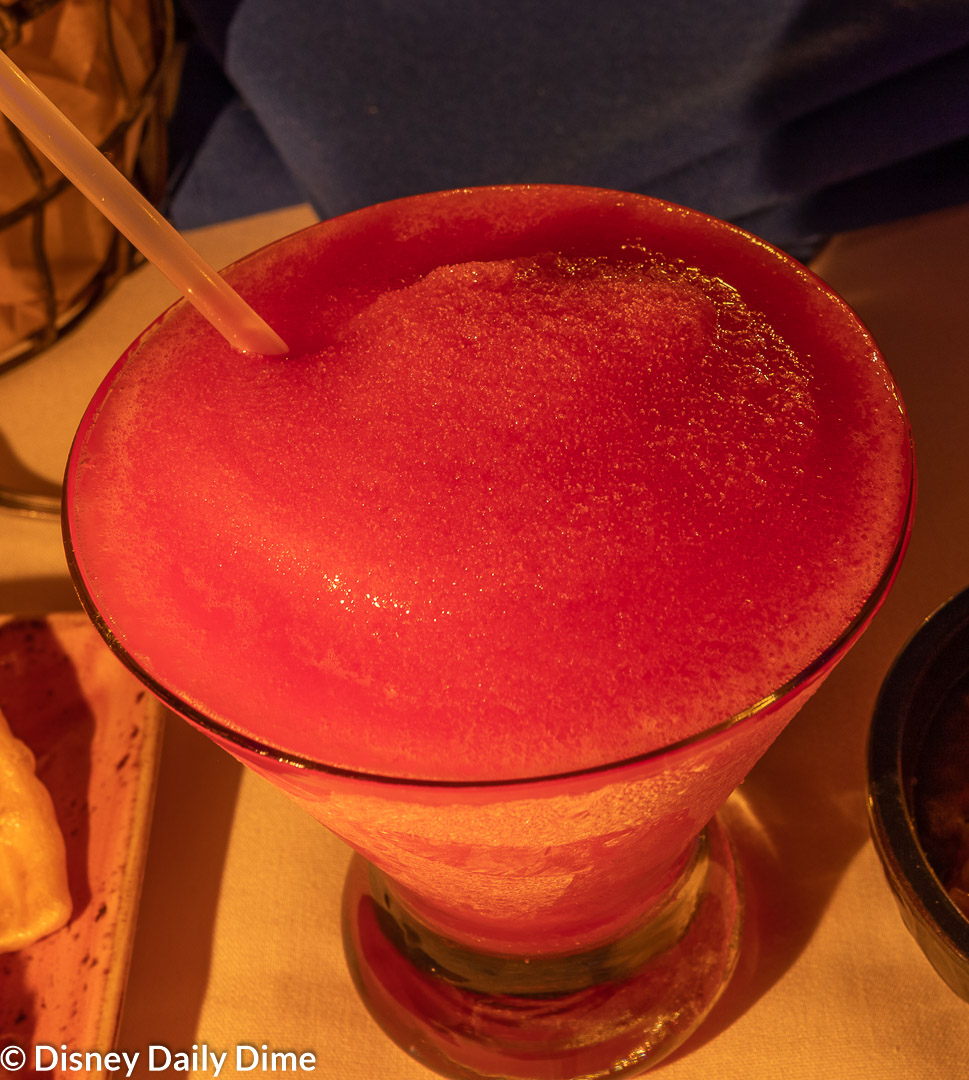 Drinks
On this particular day, I actually didn't feel like a margarita.  Ironic, given I have them quite a bit, right?  Instead, I opted for a strawberry daiquiri.  I'd say it was "fine", but for something that was $12.50, I probably wouldn't get it again.  The strawberry flavor was refreshing, but the drink itself was a little light on the rum.  Go for a marg with your meal, get something at La Cava del Tequila before you eat or maybe enjoy a margarita at Choza de Margarita while walking around World Showcase.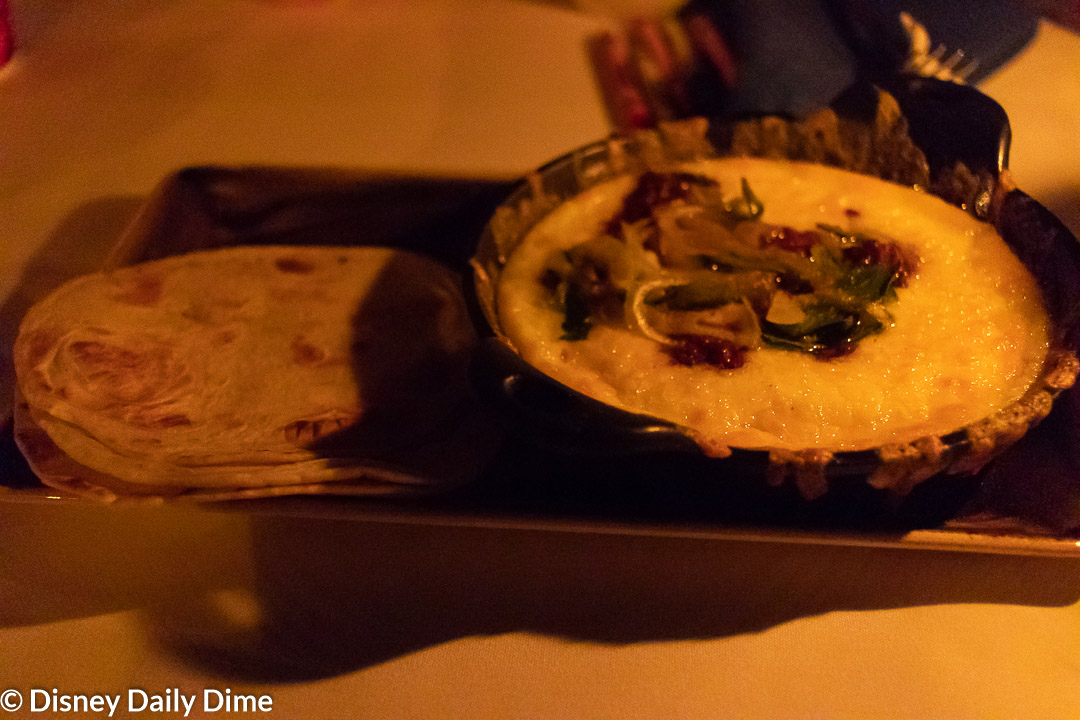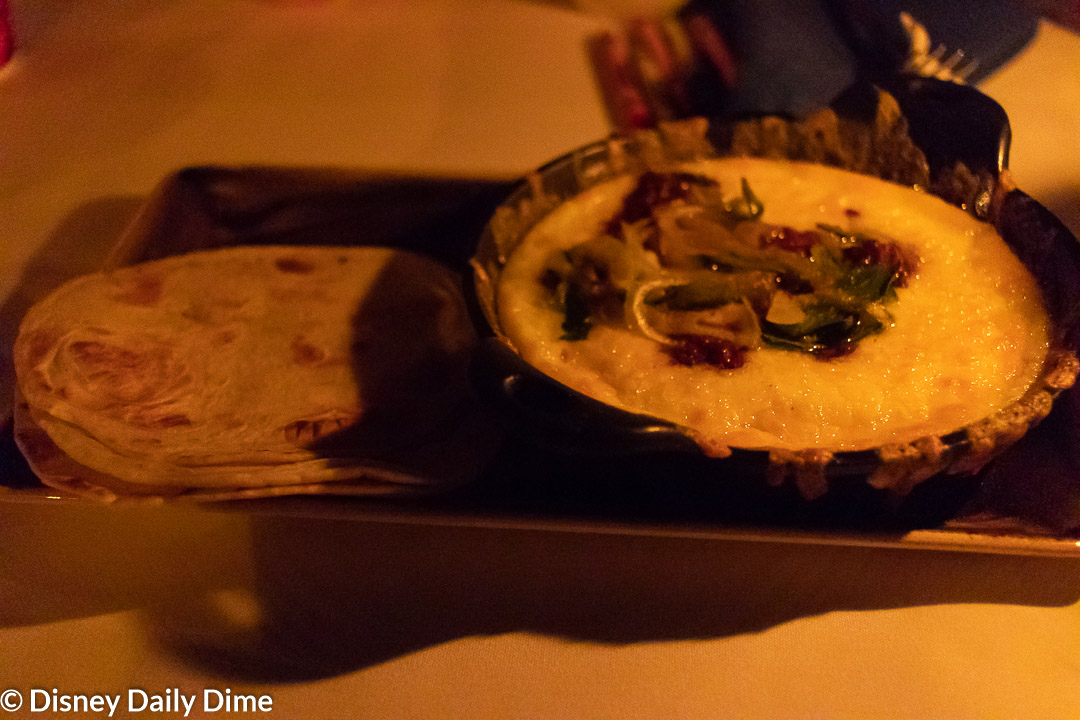 Appetizer
One of the appetizers we tried was the Queso Fundido.  Featuring melted Monterey jack cheese topped with chorizo, poblano peppers and onions, this queso was fabulous.  This was real cheese, melted down and seasoned.  When that type of cheese melts it becomes a bit string and clumpy.  Don't take that as a deterrent, rather it's indicative of the authenticity of the food.  It is perfect for the tortillas that are served with it, but this doesn't work as a dip for your tortilla chips like Tex-Mex queso. We all really enjoyed this appetizer at San Angel Inn.  I do wish the cheese didn't overpower the chorizo and peppers, but that's a minor desire.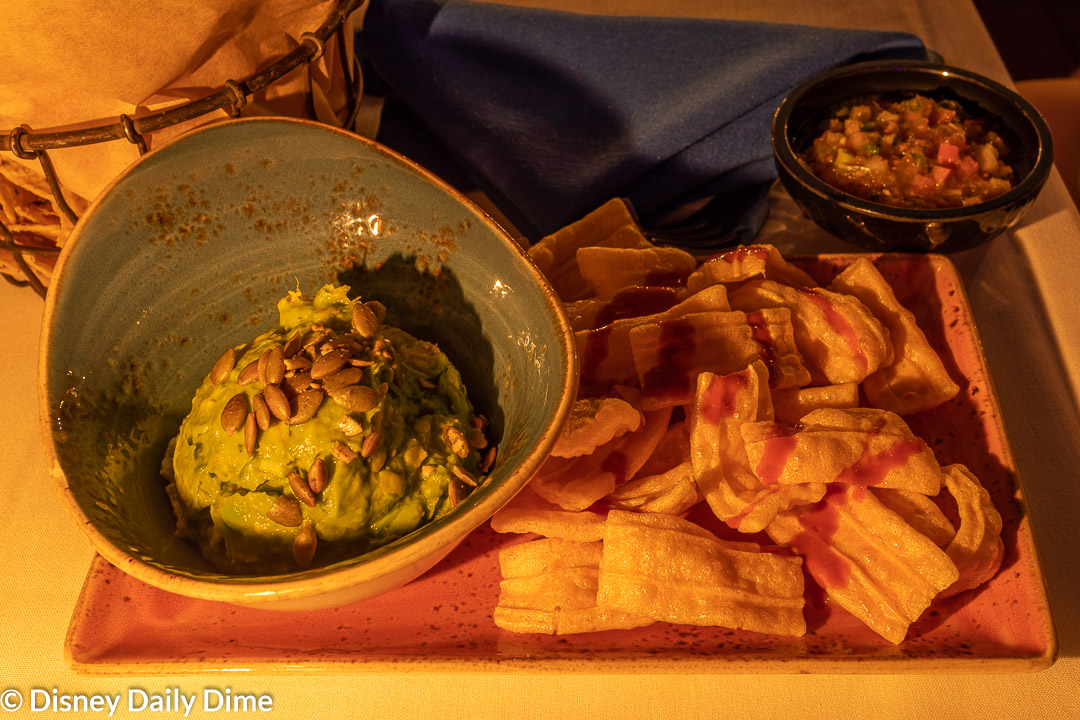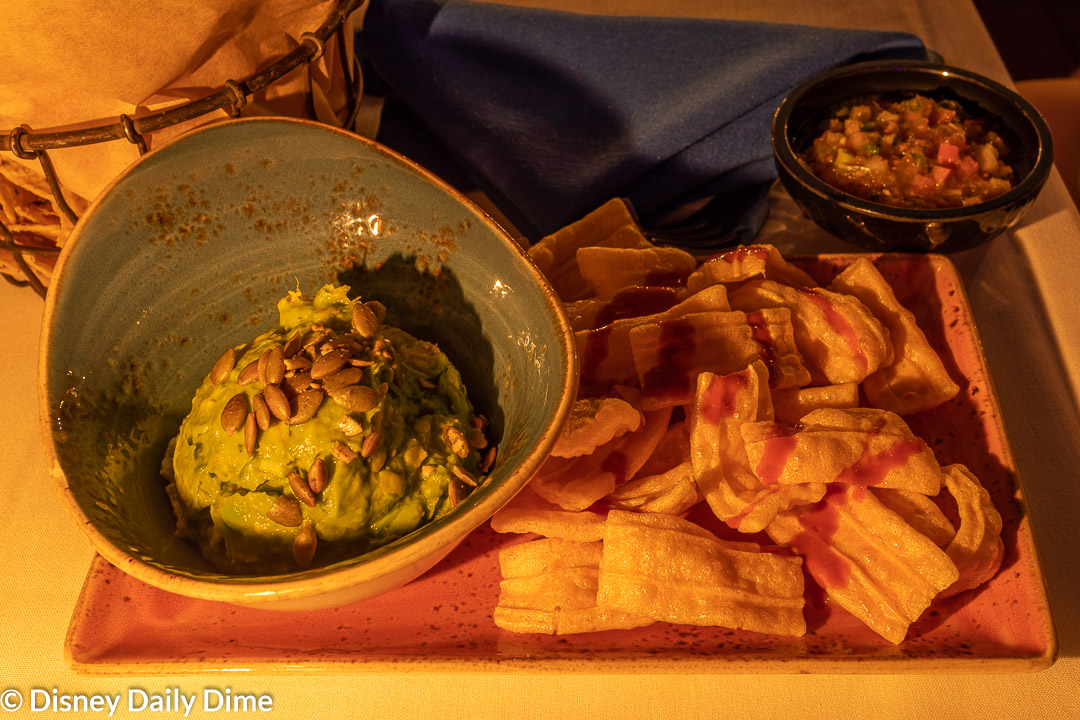 Next up was the guacamole.  While I wouldn't characterize this as anything revolutionary, there were some nice twists on from your typical chips and guacamole.  The first part was the pumpkin seeds that you can see topping the dip.  This added a nice little bit of crunch and texture to the appetizer.
You may be asking why guacamole needs crunch when you have chips?  Normally you would be correct, but that's not what comes with this appetizer.  Instead, you'll find the Chicharrónes on the right side of the plate.  These are fried pork rinds or pork belly.  They are lighter and airier than any regular chip and a great twist on something that could be very plain.  You'll notice that the Chicharrónes have a red sauce on them.  This is known as Valentina sauce.  San Angel Inn was the first restaurant Carla or I have ever found Valentina sauce at.  For this, we are forever grateful, as it was fabulous.  With more flavor than some bland salsa, it was great was to spice up the Chicharrónes.  We like it so much that Carla bought a bottle of it for the house.  Here's a link if you're interested in the Valentina sauce.
In case you are wondering, yes, they did serve chips and salsa with the meal.  Apparently, I didn't take any pictures of it.  Sorry about that, but I will say the chips and salsa were pretty straightforward.  I didn't find them overly interesting or unique.  They were good, but just not different from something you would find somewhere near where you live.  The chips are paired with both a red sauce and a green sauce.  If you like spice, the green sauce is what you want.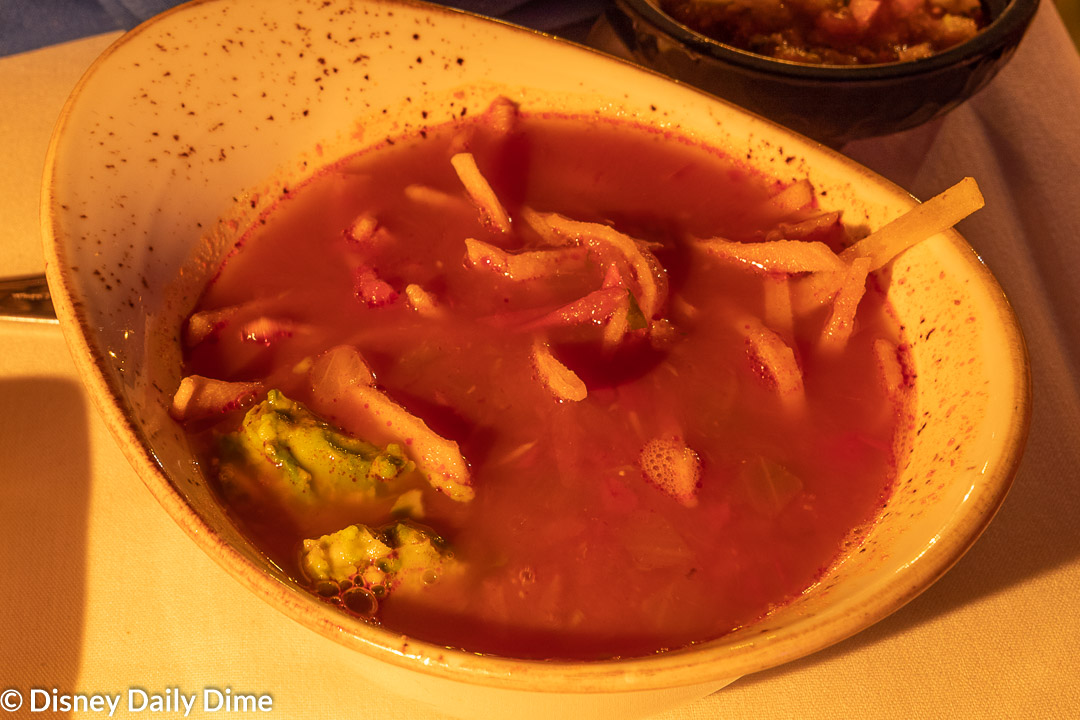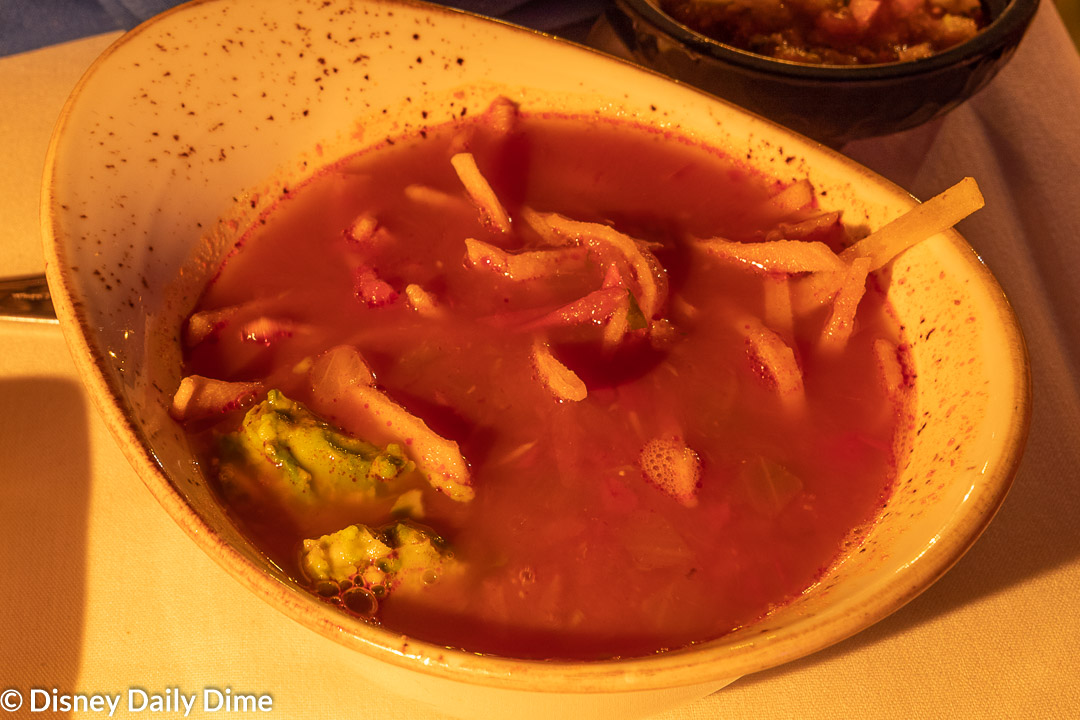 While not exactly an appetizer, we'll cover the Sopa Azteca that Carla ordered here.  You probably know this dish as tortilla soup.  Carla loved this soup.   The rich, slightly spicy broth was filled with chunks of avocado, chicken, cheese and tortilla strips.   If you are looking for a lighter but filling meal, this would be an excellent option.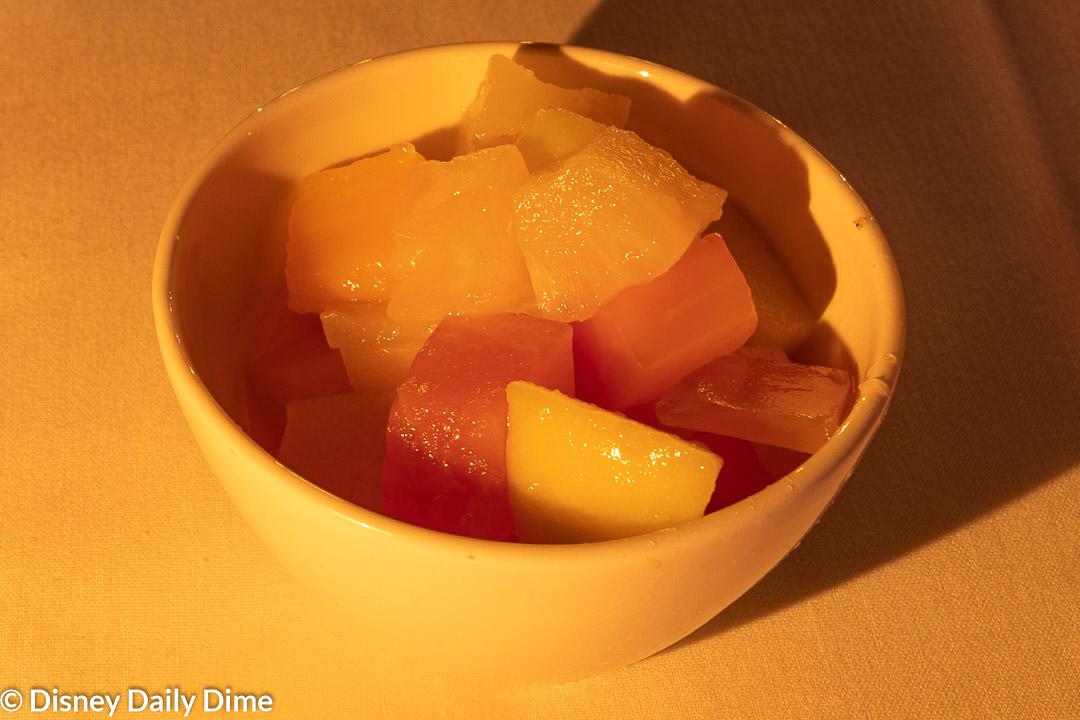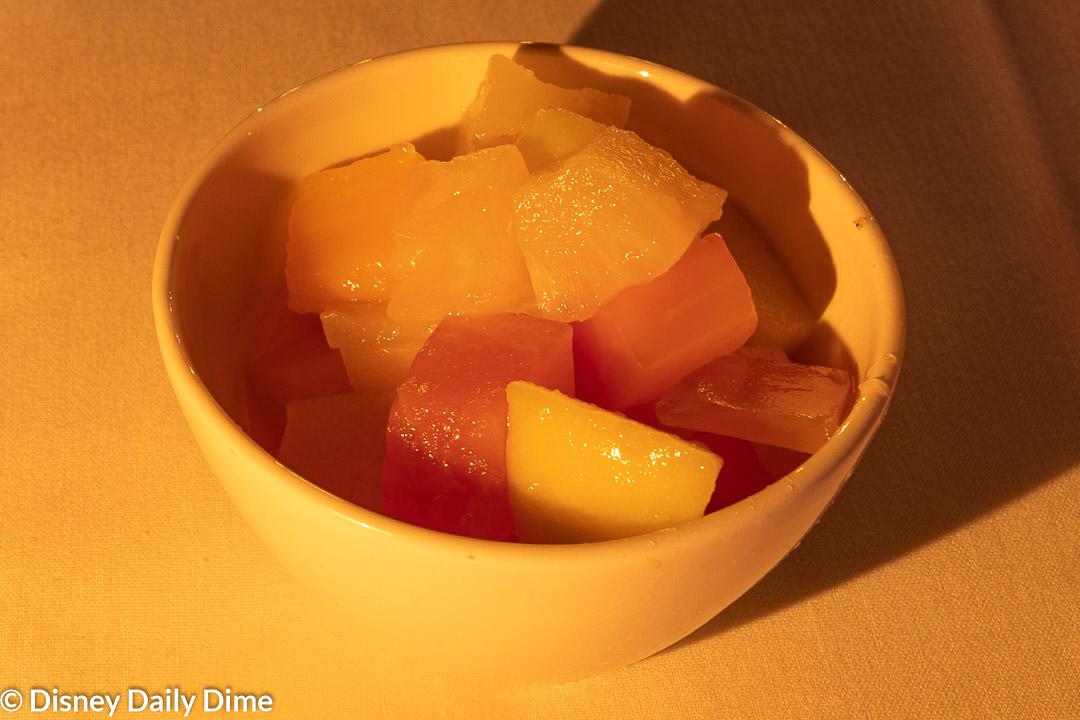 The girls actually got appetizers along with their meal, so we'll cover them really quick.  Elsa had the fruit cup, while Anna ordered the kids' salad.  The fruit cup was similar to a tropical fruit cup that you can find at the grocery store.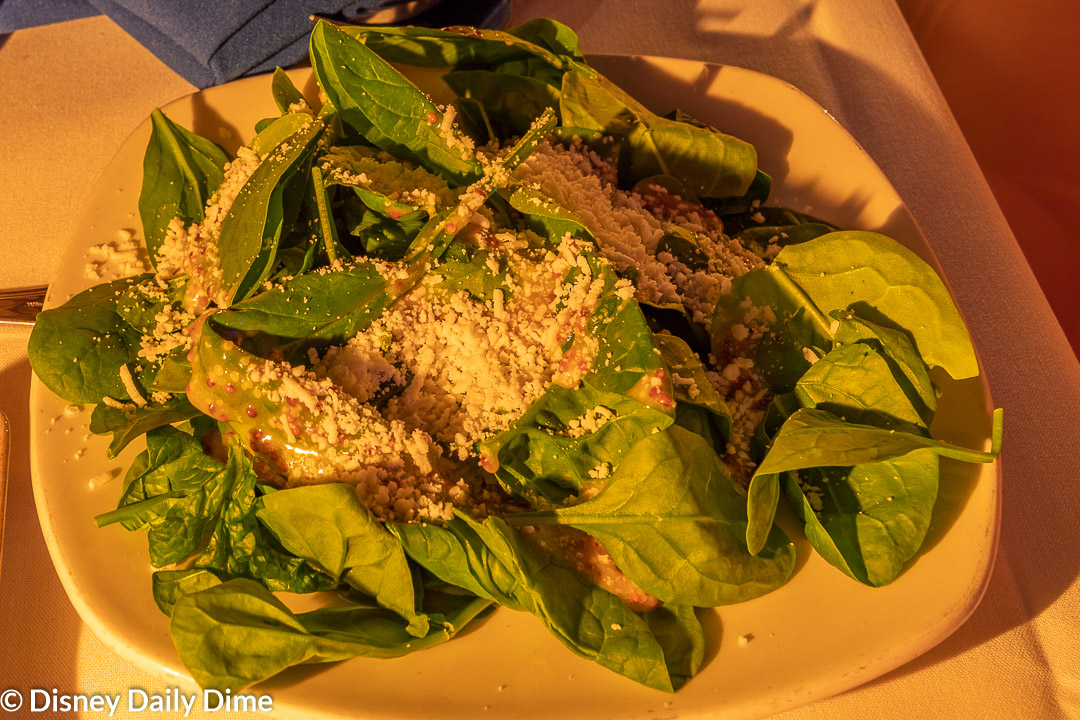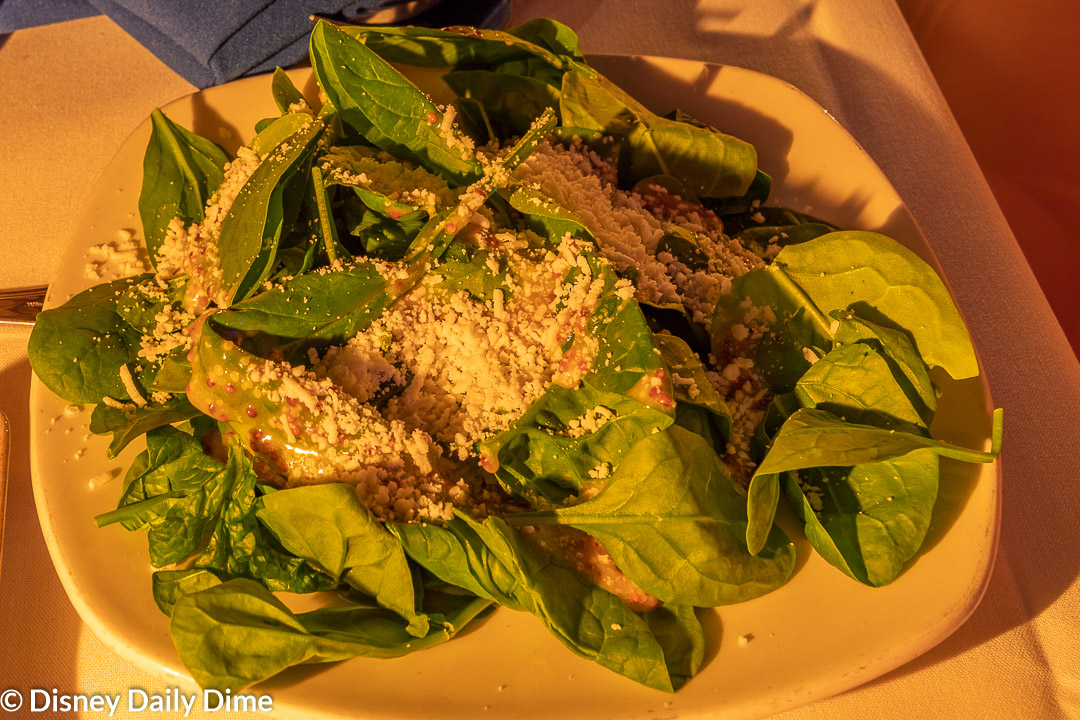 The salad was much more interesting as it was spinach tossed with honey mustard dressing and topped with queso fresco.  Anna is normally a big salad fan; however, she didn't like this particular one.  That largely had to do with the fact that the honey mustard dressing isn't something she is accustomed to.  In retrospect, we should have asked for ranch dressing on the salad.  The salad was excellent though.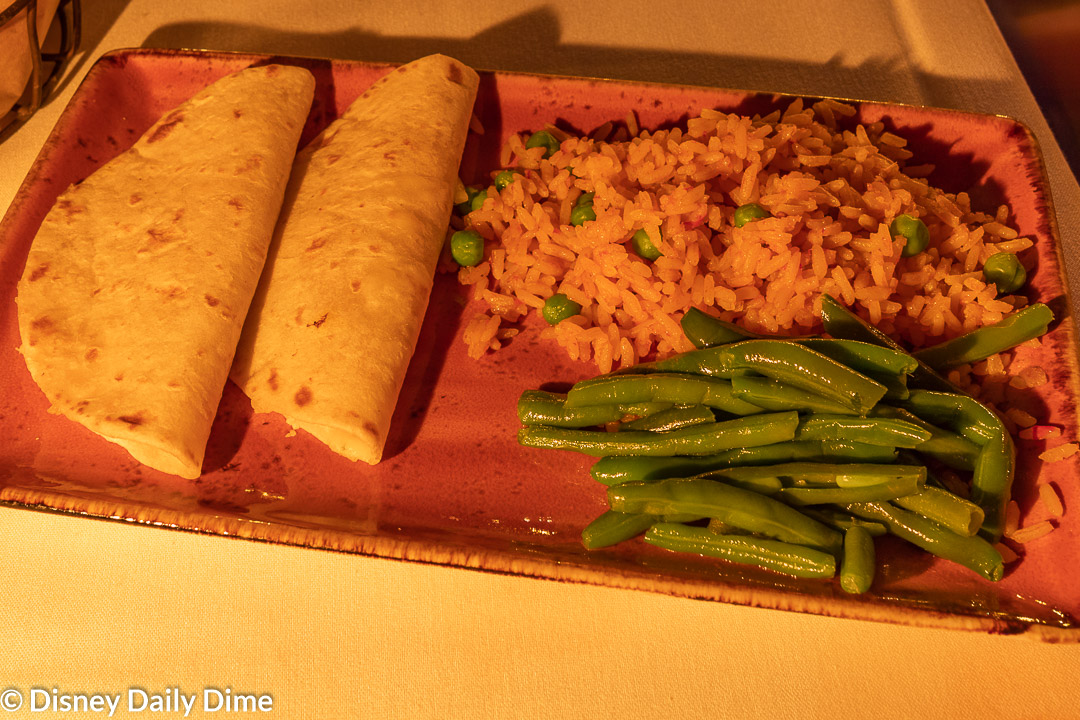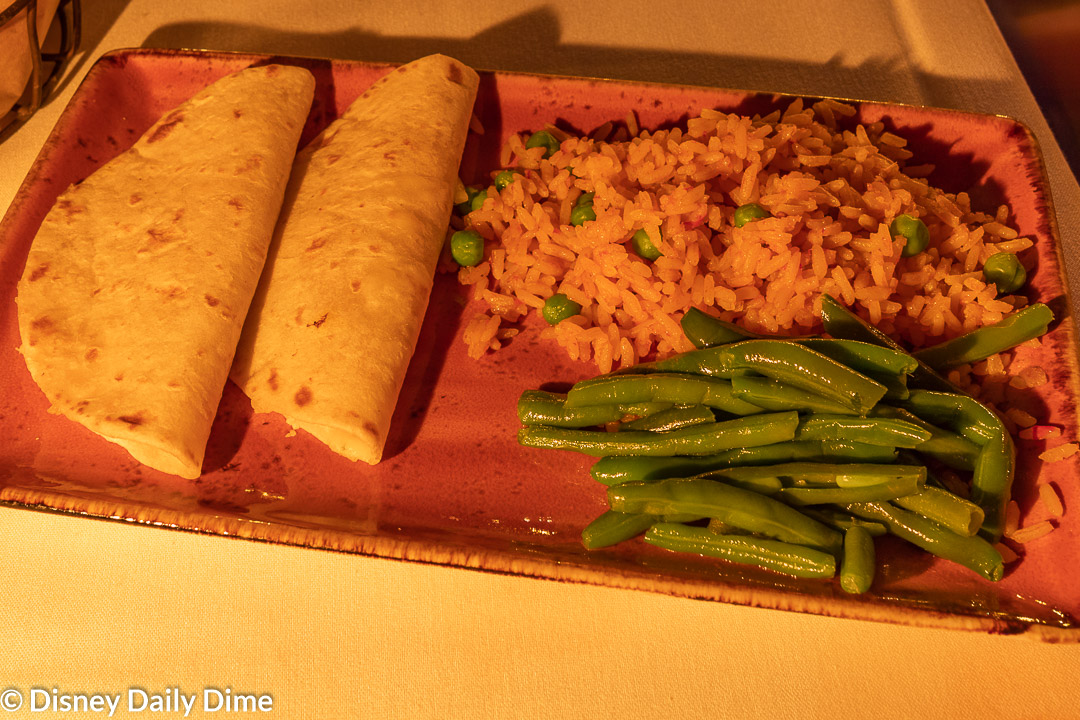 Kids Entrees
For the kid's entrees as part of our San Angel Inn Restaurante review, Elsa at least had something that was quasi in line with the Mexican theme of the restaurant.  She ordered the cheese quesadillas, which were served with rice and green beans.  While fairly basic, Elsa really liked the quesadillas.  The cheese was something akin to the queso, using Monterey jack cheese for the filling.  It was melted just the same as the queso we had, which was perfect for her.  The rice and greens beans were fine, but nothing overly notable.  Elsa's not a big fan of Spanish rice, so she didn't eat much of it.  As parents of kids, it was nice that they at least had something green to go along with the meal.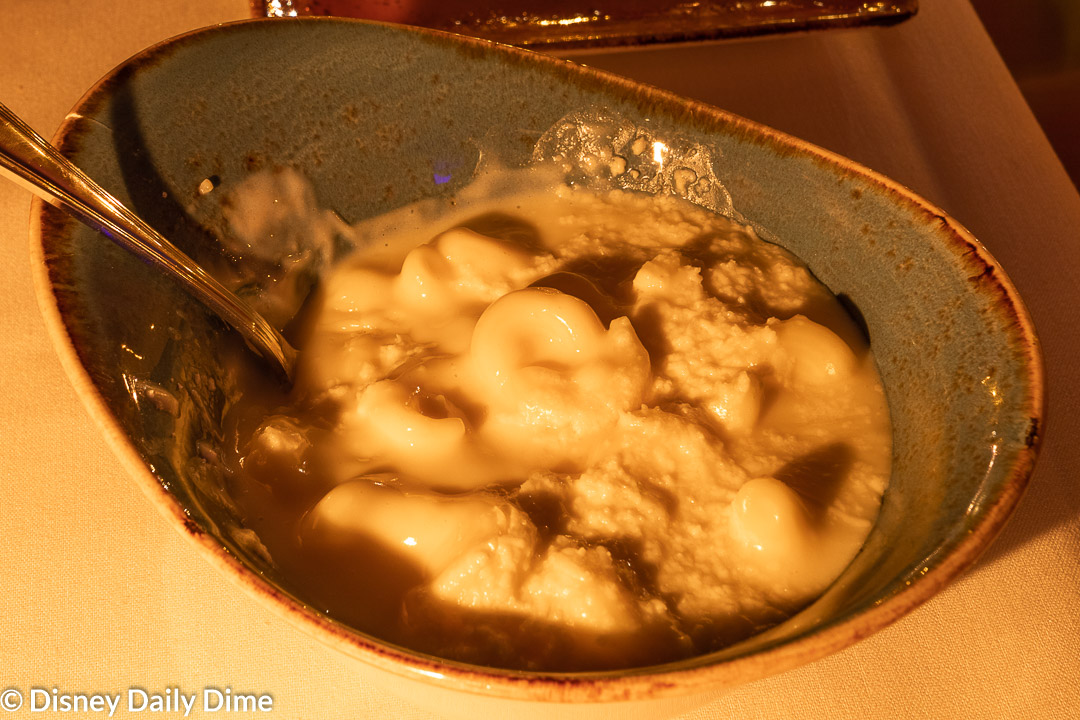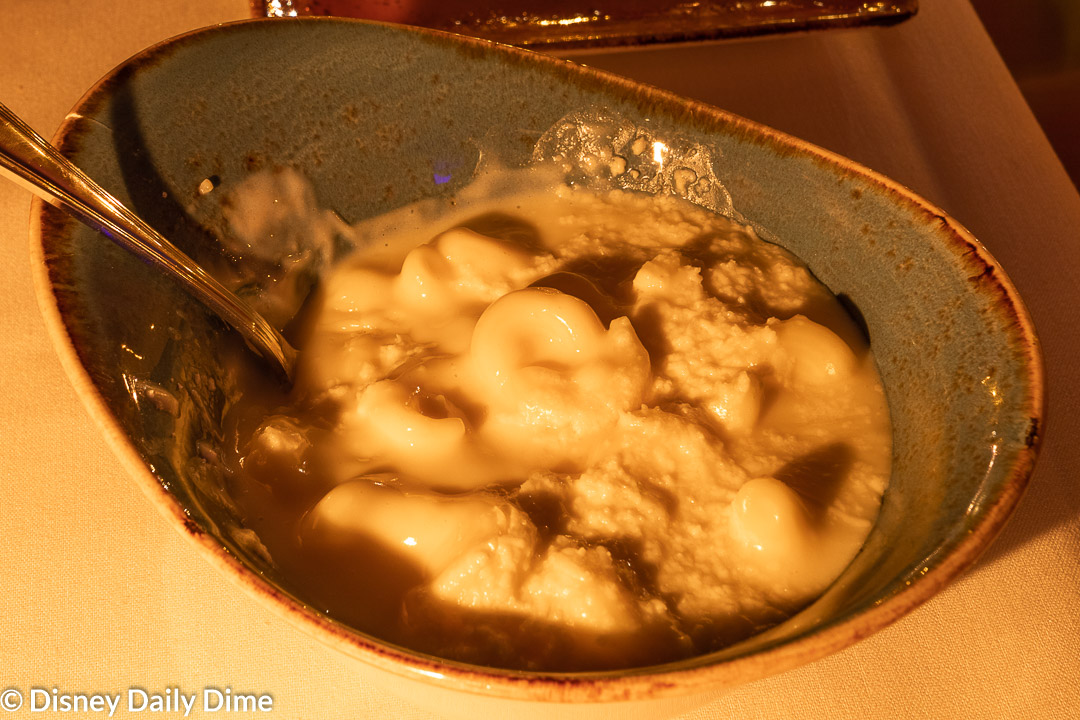 Anna ordered the Macaroni & Cheese for her meal.  Featuring cavatappi pasta in a white cheddar cheese sauce, the mac and cheese was surprisingly good.  When she ordered it, I thought it would be your typical theme park mac and cheese.  Fortunately, I was wrong.  The cheese was creamy and thick and much higher quality than we were expecting.  Anna really enjoyed it and ate most of the bowl, which is a large accomplishment for her given how she eats like a bird.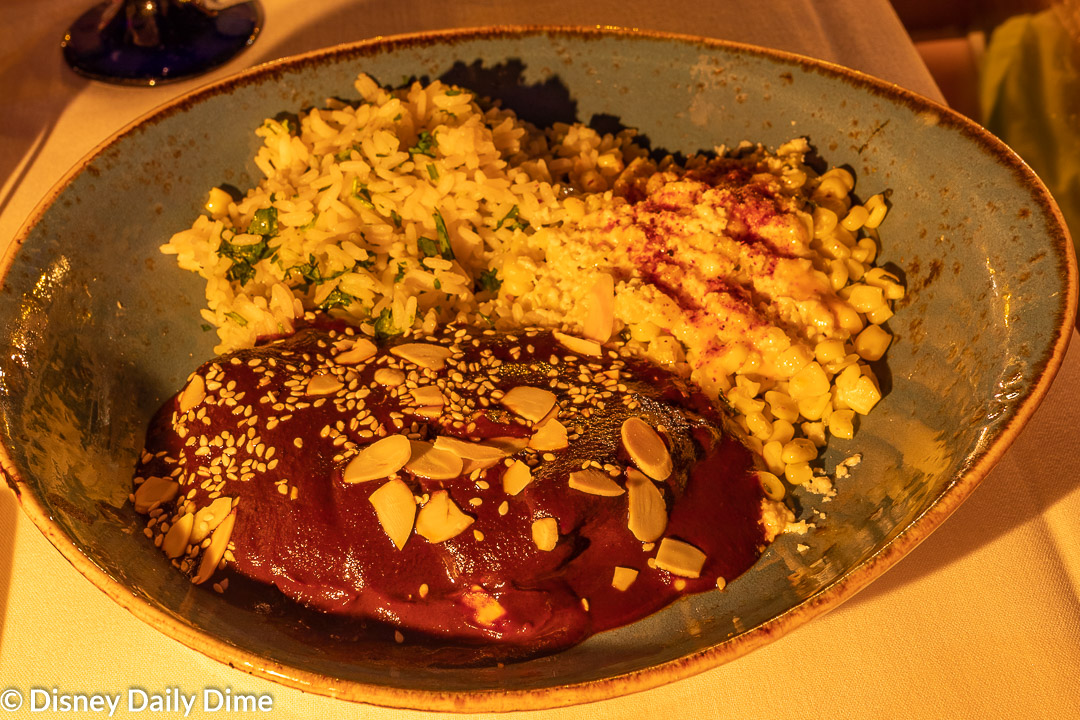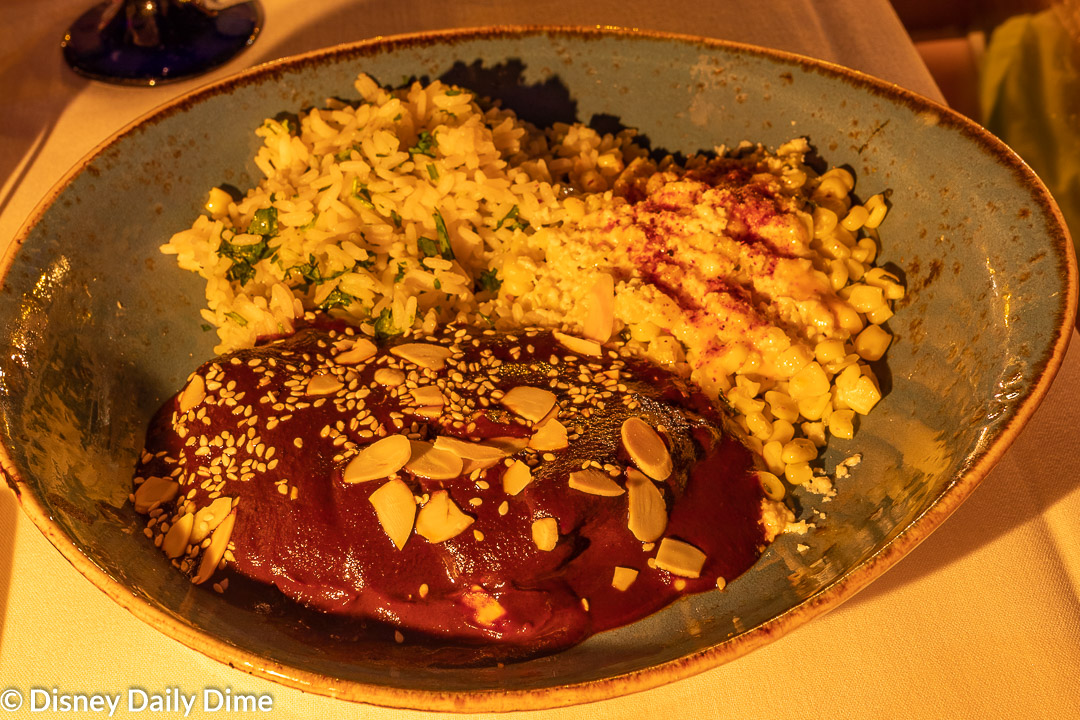 Adult Entrees
For my entree at San Angel Inn Restaurante, I went with the Mole Poblano.  Mole is a really complex sauce in my experience and is less a sauce and more of a gravy.  It's thick and rich, with a strong flavor profile from the chilis that they use to make it.  It features a slight, and I mean very slight, hint of chocolate.  If you love mole sauce, you will likely love this dish.  If you don't like Mole or similar strong chili pepper flavors, this won't be for you.  As for me, I really enjoyed it but will say that because the mole was so rich and dense I wasn't able to finish the chicken.  On a side note, the mole was not spicy at all.
I found the rice and corn sides gave the dish great balance and helped mitigate the richness of the mole sauce.  The corn was especially good because it was mixed with what I think was queso fresco.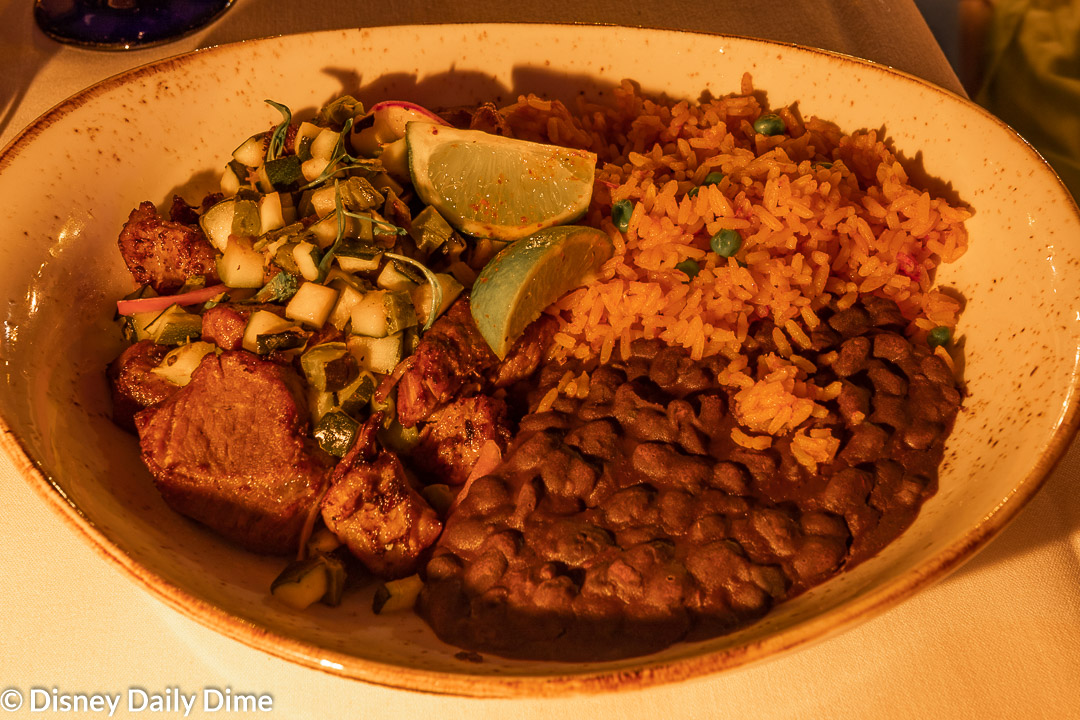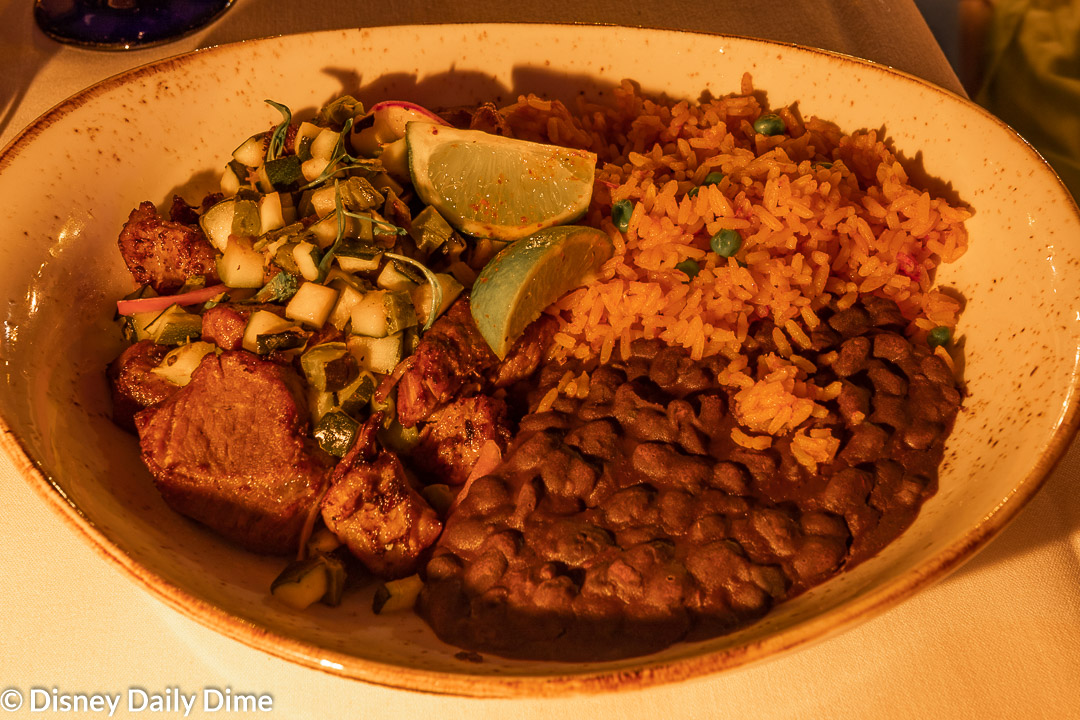 Carla opted to have the Carnitas de Puerco for her meal.  This was a naturally gluten free dish, which was perfect for her.  The pork was tender and cooked well, which is probably a byproduct of the slow cooking process. It's served with roasted zucchini, rice, and beans.  I tried a little bit of the pork and thought it was fabulous.  The marinade was excellent and added a lot of flavor to the pork.
Unfortunately, this item left the menu at Epcot's San Angel Inn right after we ate here.  If you like the way it sounds, there is now something similar called the Puerco en Salsa Verde.  It's still braised pork.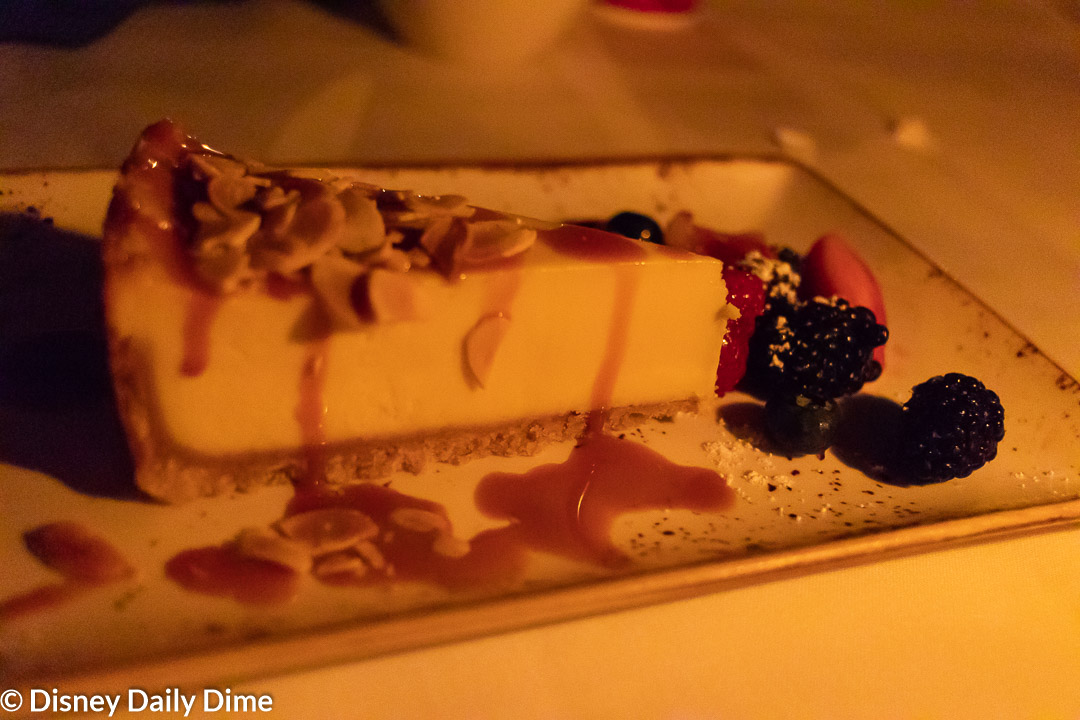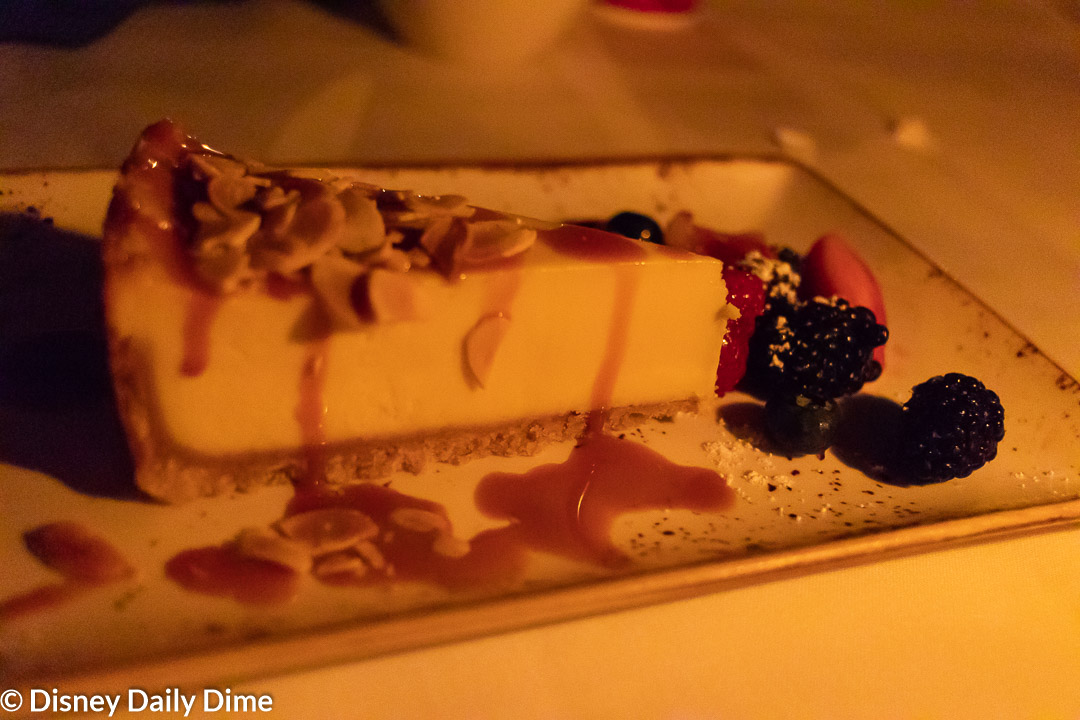 Desserts
Of course, we had to have a couple of desserts as part of our San Angel Inn Restaurante review!  I opted to have the Pastel de Queso con Cajeta, which is a cheesecake.  Topped with caramel sauce cajeta and sliced almonds, the dessert was a delicious cheesecake with a few unique twists.  Of course, I'm a huge caramel fan and the cajeta is a type of dulce de leche that is made from goats' milk.  It was a good change from just pouring some kind of caramel sauce out of a jar on the cheesecake.  The almonds gave the dessert a nice bit of crunch and texture.
For her dessert, Carla opted to have the Traditional Vanilla Flan.  Carla enjoyed the flan, but we won't go into too much depth here as it too was removed from the menu shortly after our meal here.  The vanilla flan was replaced by the Flan de Coco.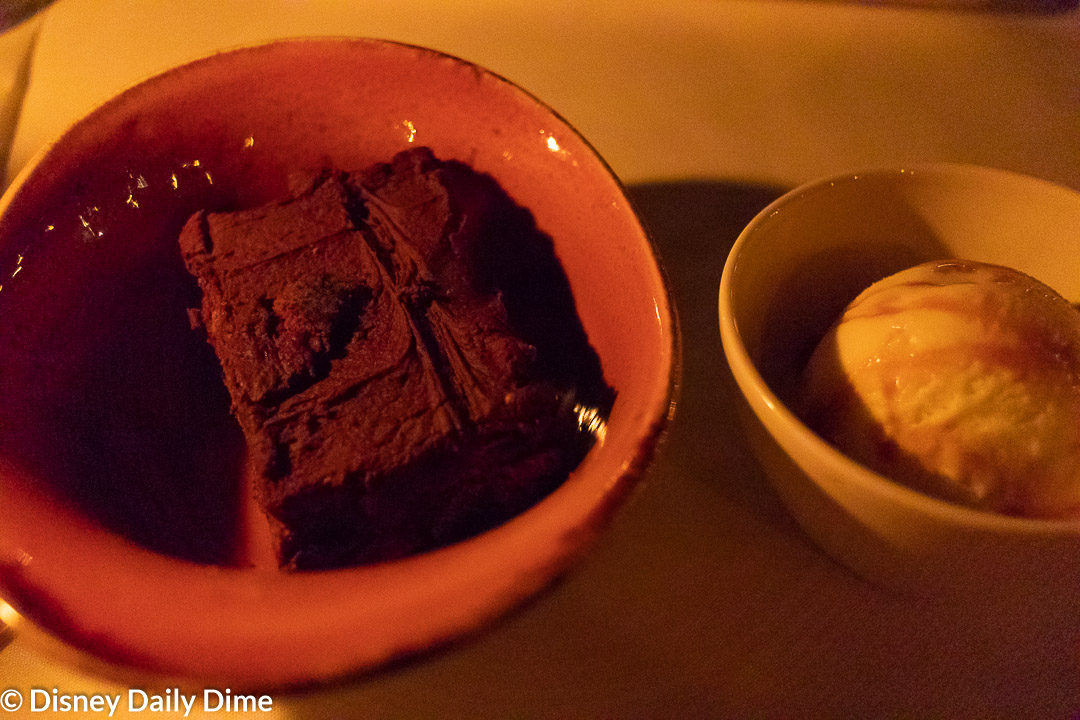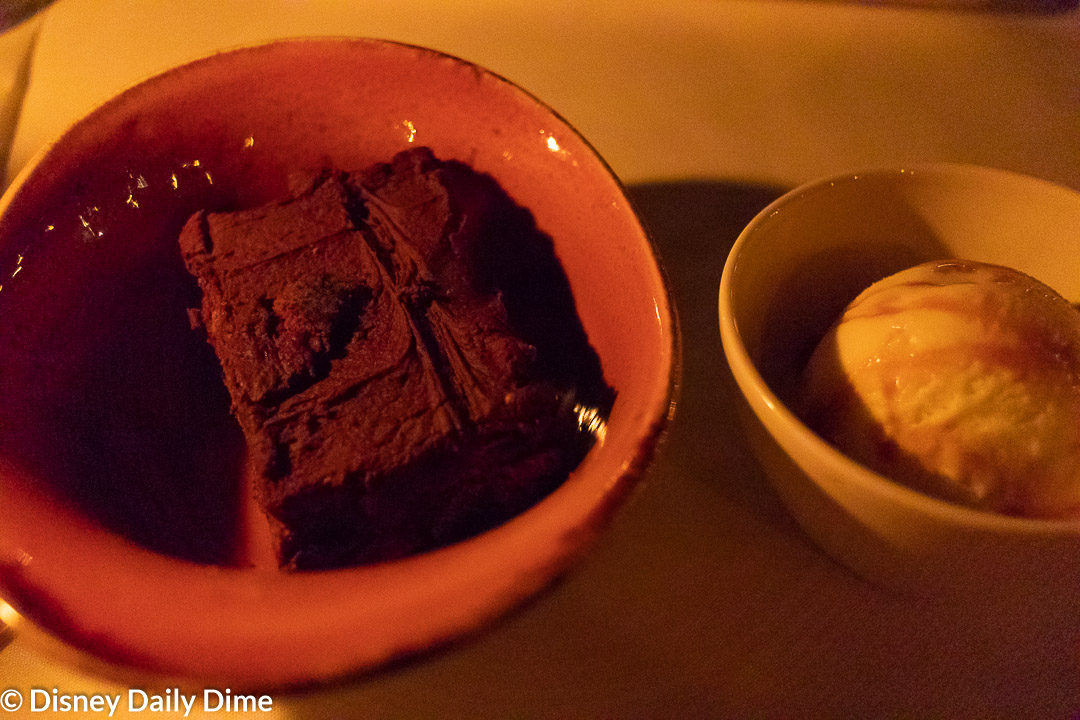 Anna and Elsa also got the kids' desserts.  You can see the two options in the picture above.  Kids can choose between the Chocolate Brownie or the Dulce de Leche Ice Cream.  They're basic desserts, but the girls enjoyed them.
San Angel Inn Restaurante Epcot Overall
We were all pleasantly surprised by our meal at San Angel Inn Restaurante in Epcot.  Having seen some of the negative feelings espoused by Disney World guests and bloggers alike, I was prepared for the worst.  These meals weren't just "not bad", but we all really enjoyed them.
The atmosphere and overall theming is excellent and immersive.  You really do feel like you have left sunny Florida and are seated outside at night in Mexico.  Yeah, I wish there was more space between the tables, but other than that, it's a really good setup.  Getting a table along the water is a far better experience.  It gives the dining experience a little bit of a respite from the flow of people in the market place but allows you to not feel completely removed for the "nightlife" of the Mexico pavilion.
The food is true Mexican food and that's something I appreciate.  I can get Tex-Mex whenever I want.  The reason I come to Epcot is that I want to experience the food of other countries.  Especially things that I can't get just all the time.  If you remember, that was my chief criticism in our Le Cellier review.  I don't think San Angel Inn suffers from that issue.  Depending on where you live and what food is available, you may think differently.
If you're looking for true Mexican food, we think the San Angel Inn is maybe unfairly maligned.  Maybe it has been unable to shake its reputation of the past?  Not sure.  In any case, we think it warrants a new look with fresh eyes and it's definitely worth your consideration.  We'll dine here again in the future!
Wrapping Up
With that, we'll wrap up our San Angel Inn Restaurante review.  Featuring the unique flavors of Mexico, it is another country with a great theme in Epcot's World Showcase.  Don't let what others say sway you here.
If our San Angel Inn Restaurante review was helpful, or at least entertaining, please like and share this with your friends or anyone you think will find it useful.  Just use the sharing buttons on the page.  We always appreciate it when you share our posts, as it allows us to spread the word about our young blog and hopefully allows us to help others.