When Disney announced that Iron Chef Masaharu Morimoto would be bringing a Signature restaurant to Disney Springs, there was certainly a great deal of buzz about this news.  Now, Chef Morimoto is hardly the first celebrity chef to bring a restaurant to Disney World.  You could look at the likes of Wolfgang Puck, but we'd also suggest you go back to the opening of Chefs de France in 1982 to find some "OG" celebrity chefs opening a Disney restaurant.  However, with celebrity chefs going mainstream nowadays, 2015 is very different from the early 1980's.
Despite the excitement surrounding the announcement, there were also many concerns in regards to this restaurant.  Would the restaurant be "Disney-fied"?  Or would it be so true to its roots that kids wouldn't be able to eat there?  How involved would Chef Morimoto be in the development of the Signature dining location?  Yes, questions abound!  Well rest assured, one of the most beloved Iron Chefs crafted a restaurant for all and developed a great location that is possibly as popular amongst the locals as it is with the tourists.
Morimoto Asia isn't Morimoto's first restaurant by a long shot, so there was a bit of a blueprint to build off of.  He has several other locations around the world, however there is only one other carrying the "Morimoto Asia" designation.  What is unique to this restaurant, as their website says, is that it is the first "Pan-Asian" dining experience.  You'll find flavors from across all of Asia, not just a Japanese focused restaurant.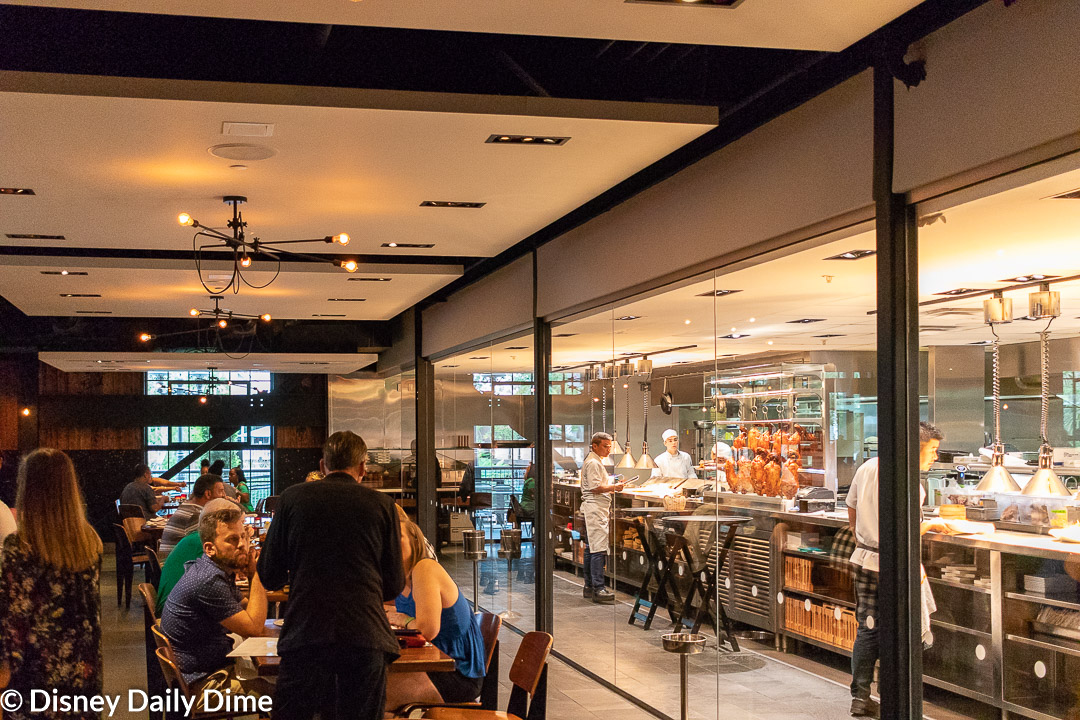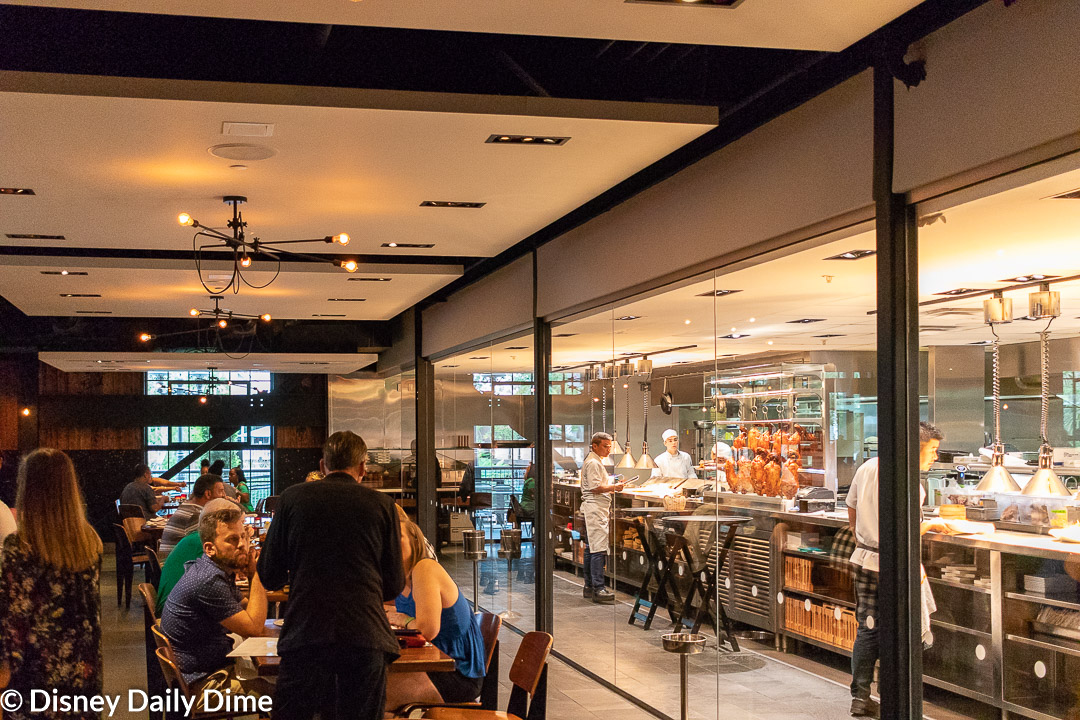 Given that Carla and I are HUGE fans of Iron Chef and just about any cooking show on the Food Network, we had to eat here!  It is highly likely that this will be the closest we will ever get to the Iron Chef.  Unless someone has a hook-up?  We'd love to chat!  In any case, while we wouldn't consider ourselves foodies, we do love to eat great food.  We thought this would be our chance.
While our review will talk about the food, of course, we'll also hit on the atmosphere, service and anything else we think is relevant!  We'll do a much better job with the pictures here we promise, after some of our failings during our Chefs de France review!  Also, during this trip, Anna and Elsa were with us, so you'll get to hear their perspectives too.
If you're interested in the restaurant from a Disney Dining Plan perspective, Morimoto Asia is a table service restaurant that requires one credit in the afternoon for lunch.  However, in the evenings, meals will run you two table service credits!  Interestingly, the menu at lunch is very similar to dinner.  This can make lunch here a bargain if you want the Morimoto Asia experience, but not the cost.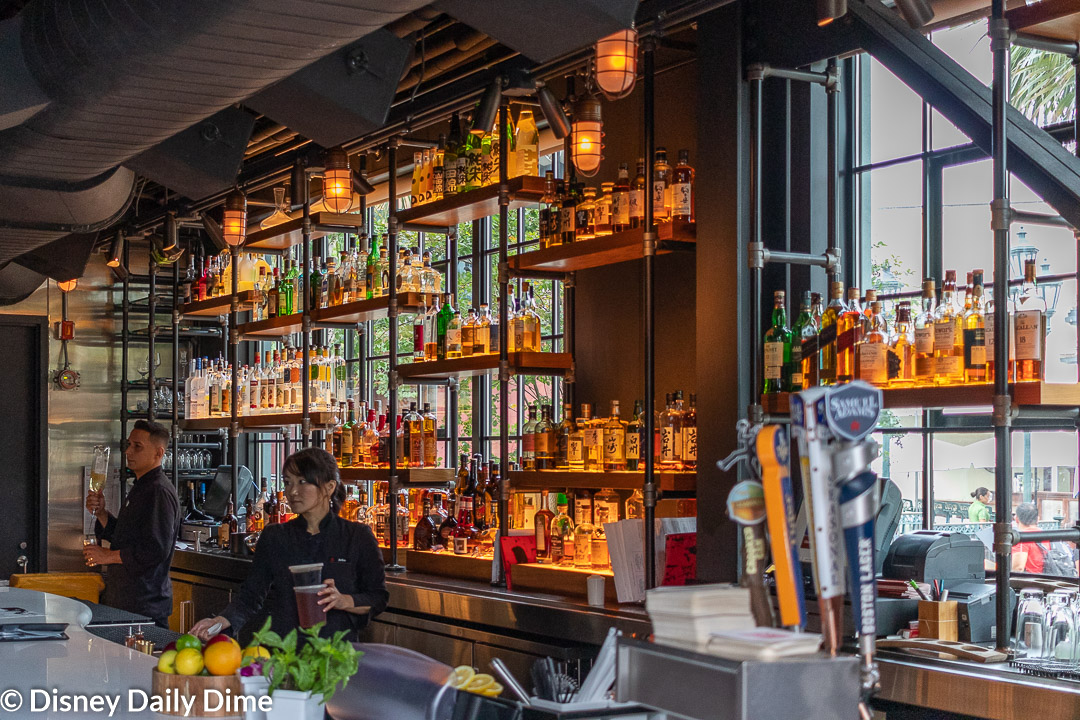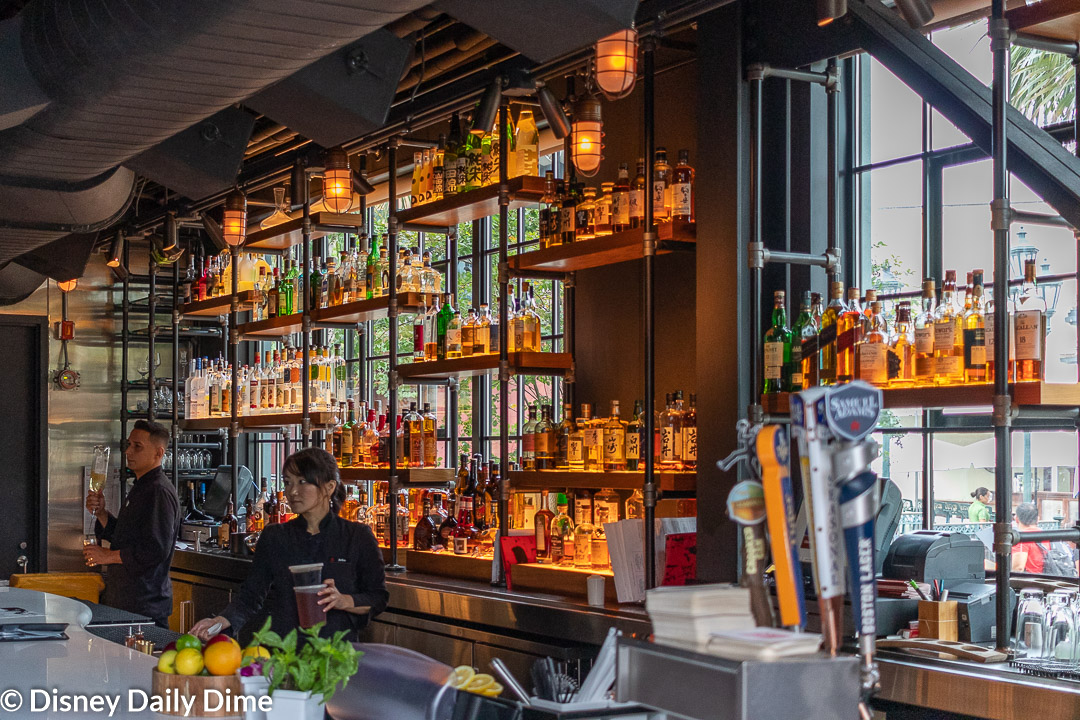 The Atmosphere at Morimoto Asia is Trendy and Hip
Upon arriving at Morimoto Asia, we quickly noticed that this wasn't going to be your run of the mill Disney restaurant.  You can actually tell this before you even enter the restaurant.  The outside is sleek and modern, featuring stunning 3 story glass windows, against a backdrop of a gray exterior.  The gray is partially paint and what looks to be an aluminum siding.  At least aluminum in appearance, we assume it is probably not actual aluminum due to the rusting that could occur.
The vibe was clearly different on the inside too.  While certainly modern, we would not consider it a minimalist or "clean" design.  We wouldn't say it had a night club feel to it, but there is definitely a more "hip and trendy" feel to the place than your average Disney World restaurant.  If this was anywhere but Disney World, the restaurant would be a place to see and be seen by locals.
We witnessed a wide array of people in the restaurant.  Especially if you went into one of the two bar areas.  Yes, this location has TWO bars – one upstairs and one downstairs.  In these bar areas, there were some obvious tourists, but also people we believed may be locals there to have a great night out.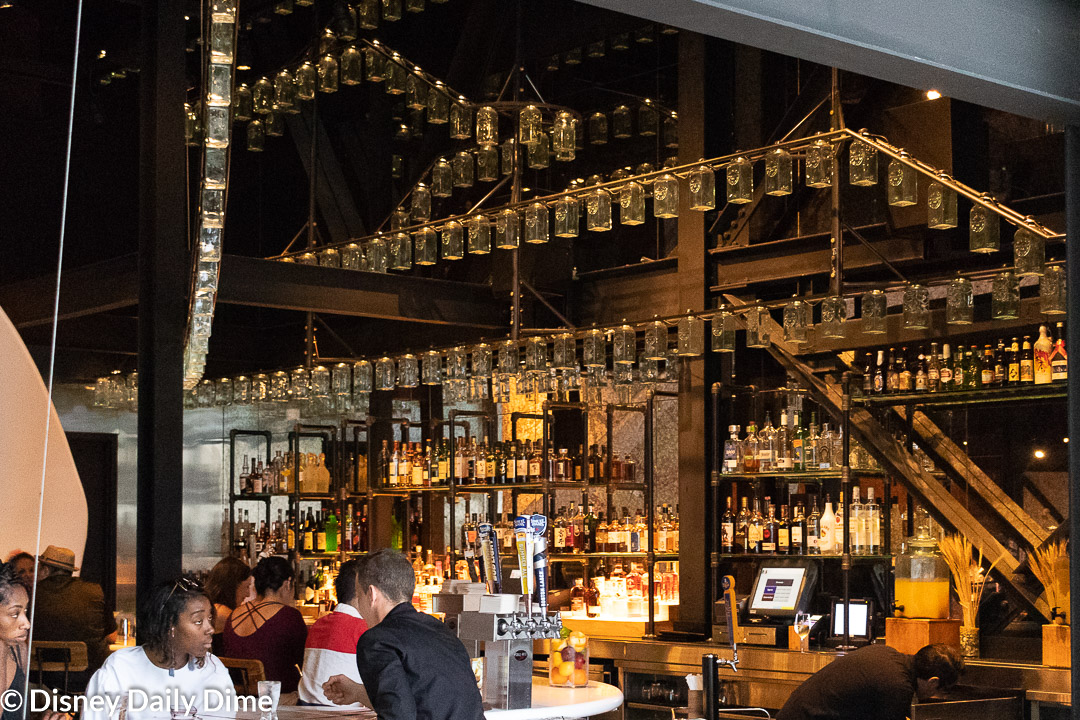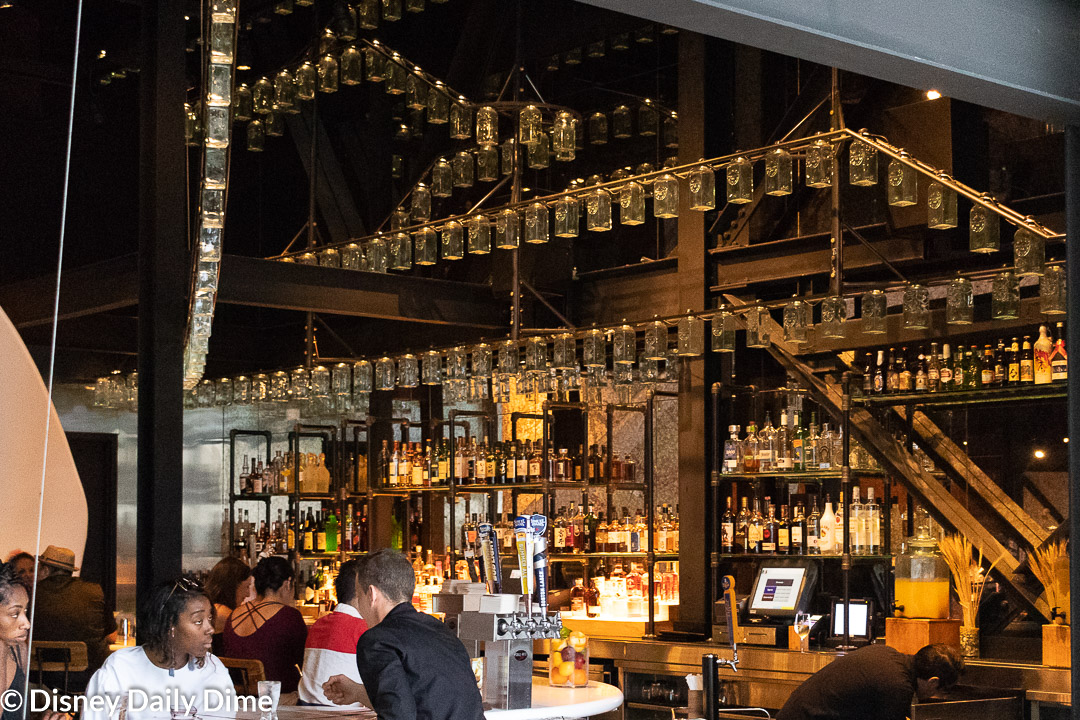 We will say that we noted that night a smaller amount of kids here than most other Disney restaurants.  Part of that probably has to do with the food style, as Asian cuisine doesn't have as broad of an appeal with young kids.  You'll find there are no hamburgers or chicken nuggets to be found on the kid's menu.  And for that, we are truly thankful as we often encourage Anna and Elsa to "branch out" once in a while!  In addition to the kids' menu selections, the price range will also keep many kids away.  This is not a cheap date.  Do you want to risk paying $12 or more for a meal and have them say they don't like it?  Many won't.
The lack of kids also contributes to the trendy feeling you'll find at Morimoto Asia.  When there aren't as many kids running around, you'll start to feel like maybe you are in a place for adults.  And you can do adult things, like dress a little nicer, have a cocktail or two and cut a little loose.  Adulting can be fun here!
Here you will find very unique décor aspects like the lights falling from the ceiling like a jellyfish tail and the large black and white photos along the back wall.  The design elements all work in a cohesive nature to reinforce that this isn't your typical Disney World restaurant.
The bar areas are designed as such that they could be their own stand-alone establishments, and are reminiscent of popular bars in most major metropolitan cities. 
As two parents, we were not put off by this at all and the kids were not bothered by it in the least.  Nor did we feel out of place or intimidated as a family dining here.  We were all able to have a great time and take in an experience that we wouldn't ever really find in our normal home lives.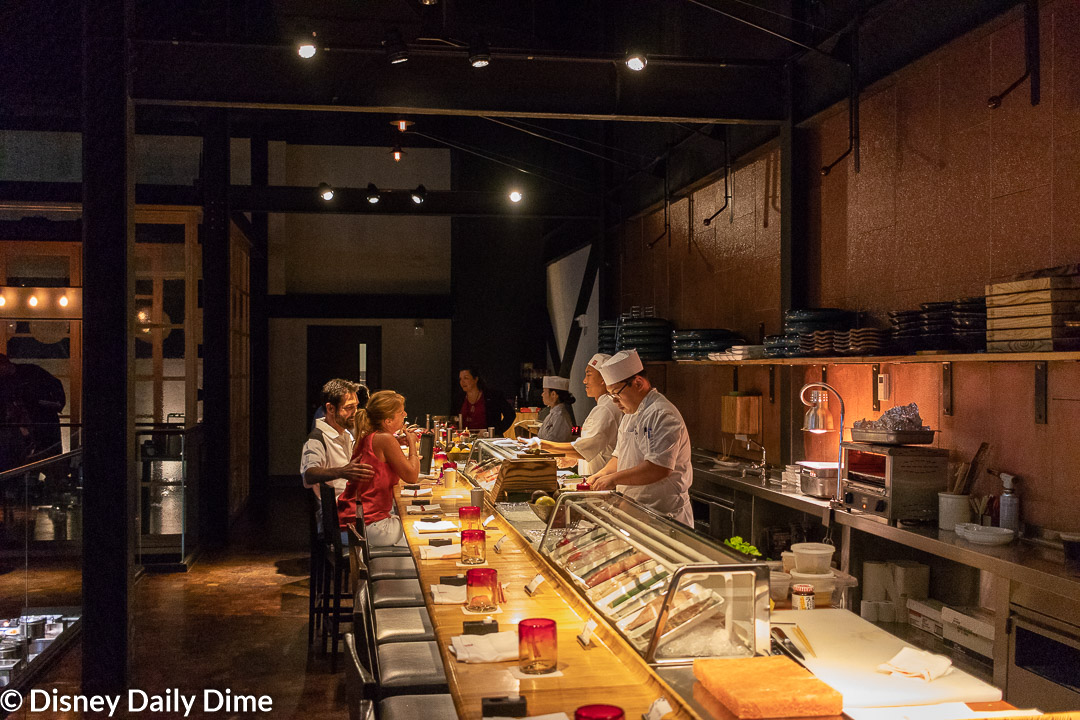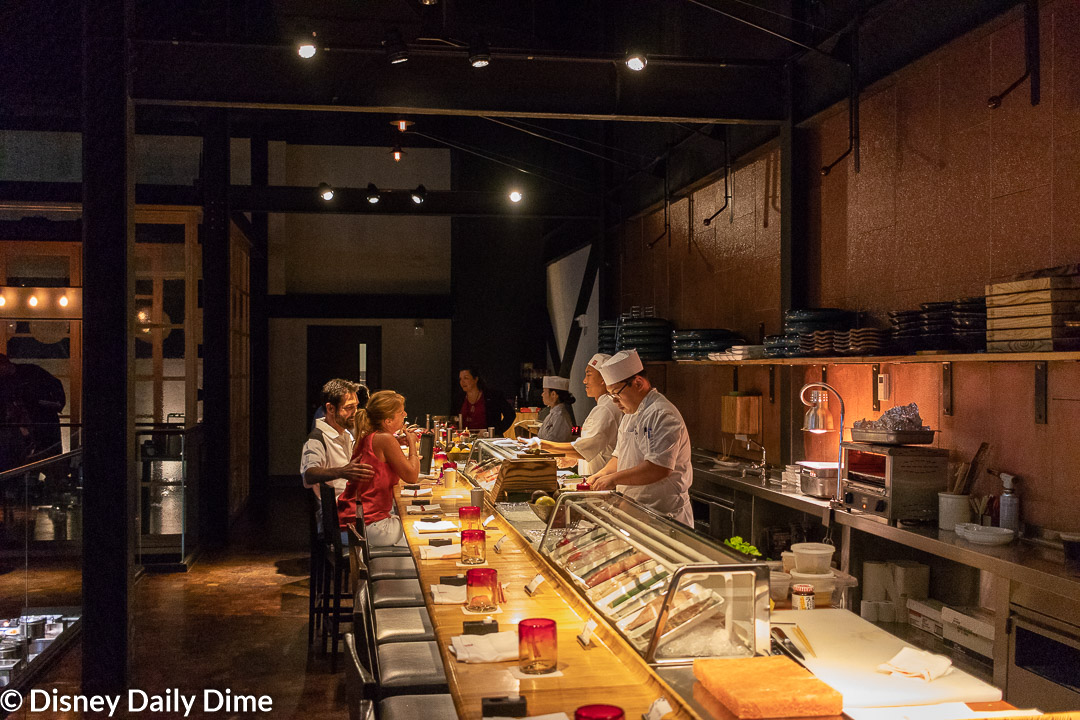 Service Here Was Excellent
When you're dining at a Signature location within Disney World, you expect the service to be top notch.  Not to spoil it, but Morimoto Asia did not disappoint!
From the moment we stepped into the restaurant, the hostess was warm and friendly.  She quickly looked up our reservation and we had a table within 15 minutes.  While we waited, we hung out in the waiting /1st floor bar area.
Once seated, our waitress quickly greeted us and took care of drinks.  She was friendly, knowledgeable and great with the kids.  This contributed to the feeling that kids are most definitely welcome here.
One thing that will be a stark contrast at Morimoto Asia when compared to most other Disney restaurant is the menu size.  Why does that matter?  Well for one, you're going to have a lot of choices to sort through.  It may be beneficial for you to look at the Morimoto Asia menu before going to start to familiarize yourself with it.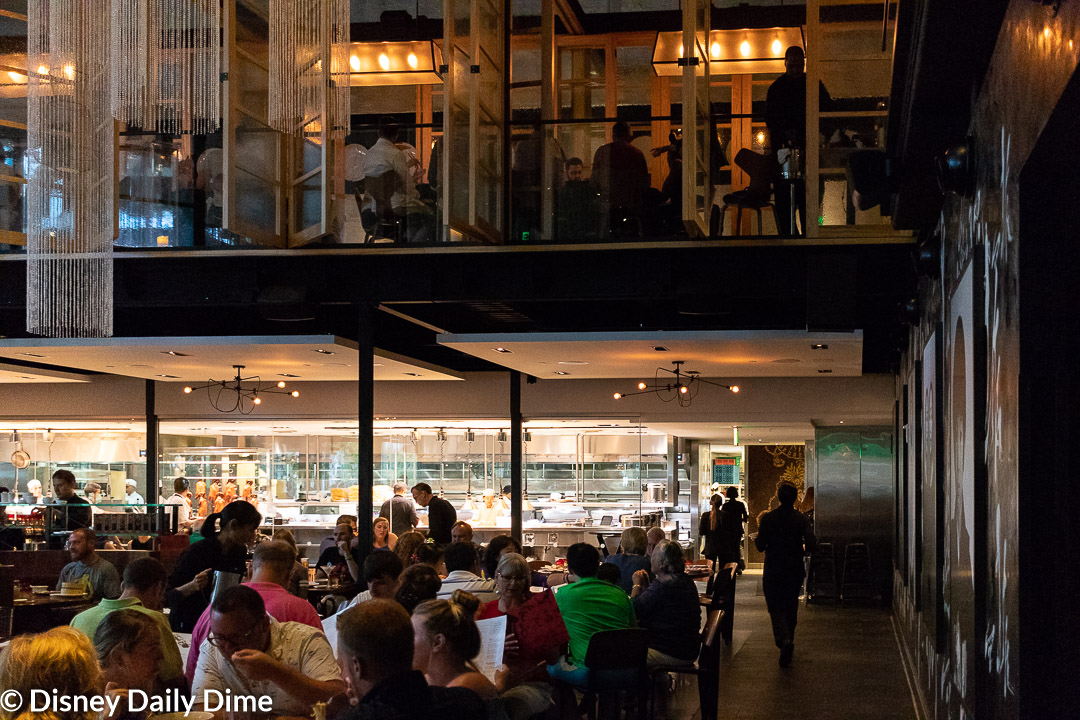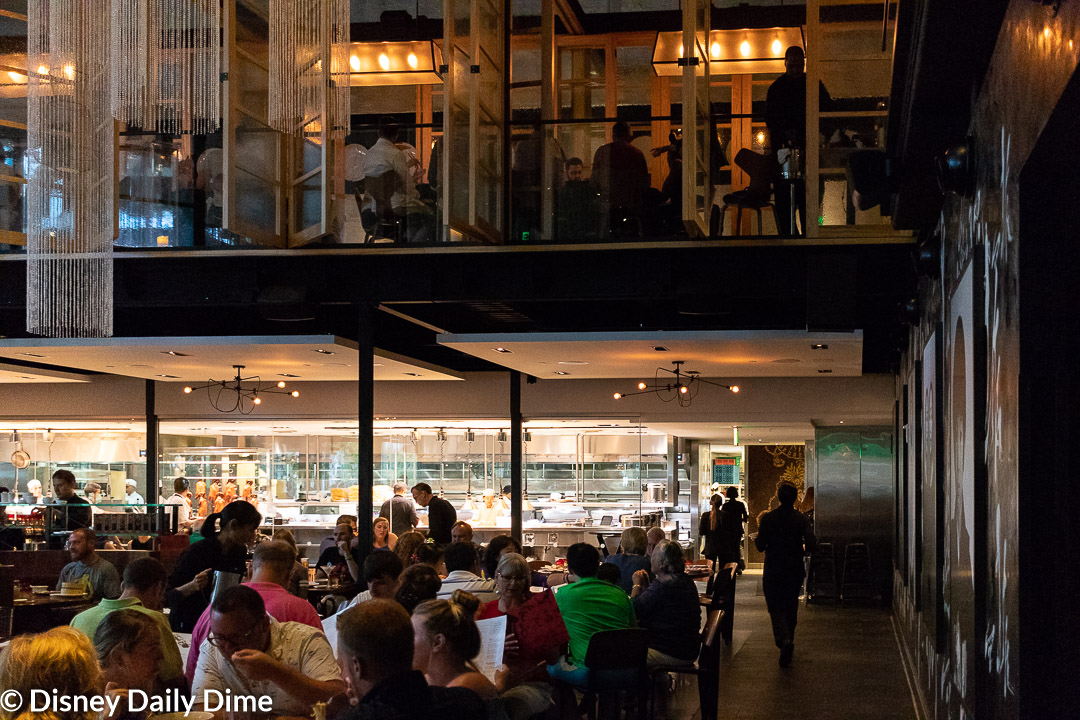 Second, your server may be key in helping you navigate the culinary delights on the menu.  Depending on your knowledge of Asian food, having a server who is well versed in the menu can make selecting an entrée much easier.  Our waitress was very helpful with the few questions we had and with the girls too.  That said, we have seen reports out there of servers who are less familiar with the menu, so your mileage may vary.
All of the food came out quickly and at a good pace.  We didn't feel like we had just started our appetizers only for the entrees to come out.   We will say that the tables are of a reasonable size where you can have your appetizers and entrées on it at the same time without having everything crammed together.
In addition to our waitress, we had a variety of other servers and food runners come by the table.  Each time they were friendly and contributed to the overall experience.
Okay enough about the service, let's get to the food!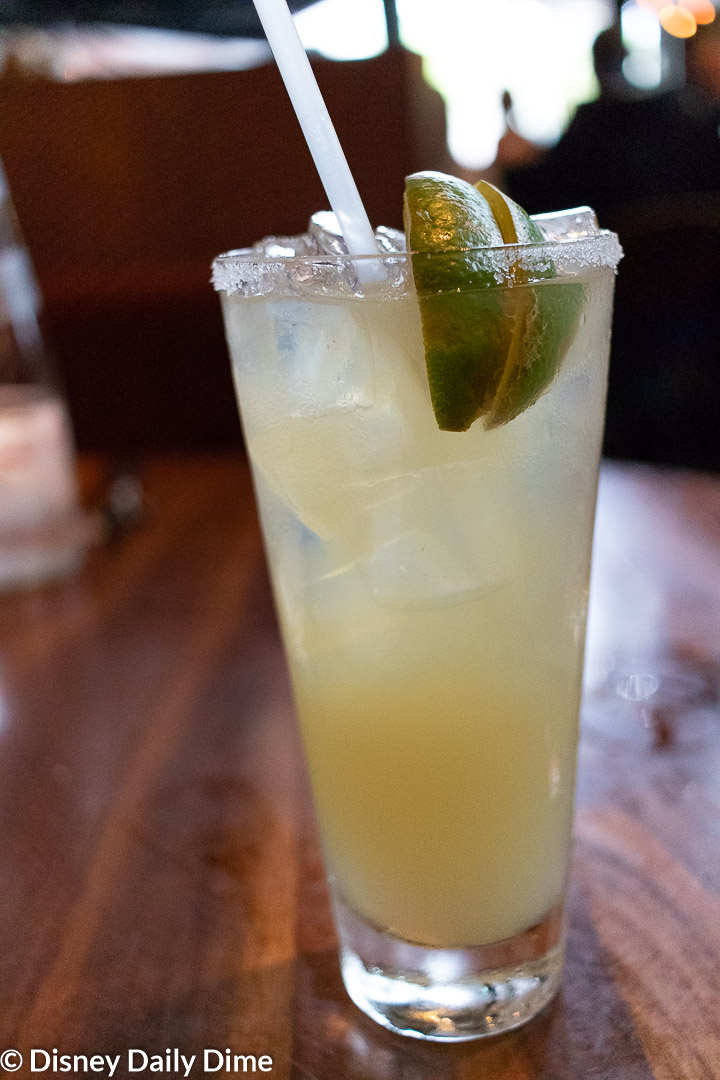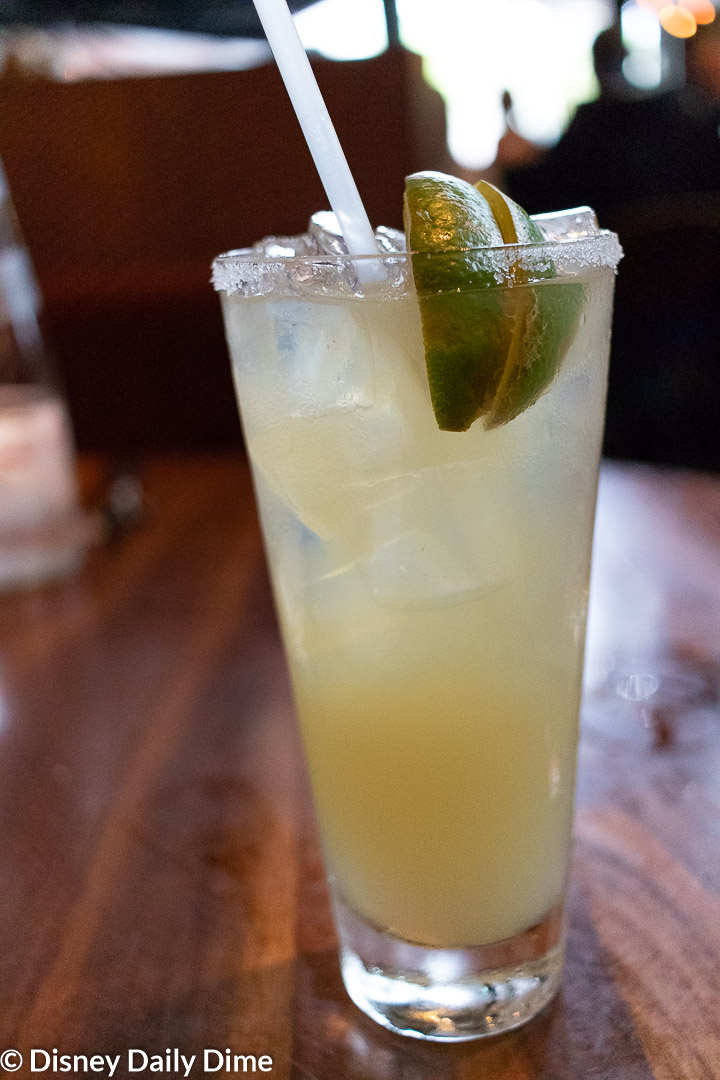 The Food at Morimoto Asia is Worthy of its Namesake Chef
Cocktails
I did enjoy a margarita when we first sat down at the table.  While not a particularly (or at all) Asian cocktail, it's my favorite drink.  So I just had to give it a whirl.  It was fine.  Wouldn't call it the end all be all of margritas by any stretch, but it will do.  If we weren't on the dining plan through, I would pass.
Appetizers
To start our meal, we decided to try some appetizers.  Now, we don't go too crazy so the girls can try some of the food.  We ordered edamame with sea salt and two sushi rolls, the spicy tuna and the spicy salmon.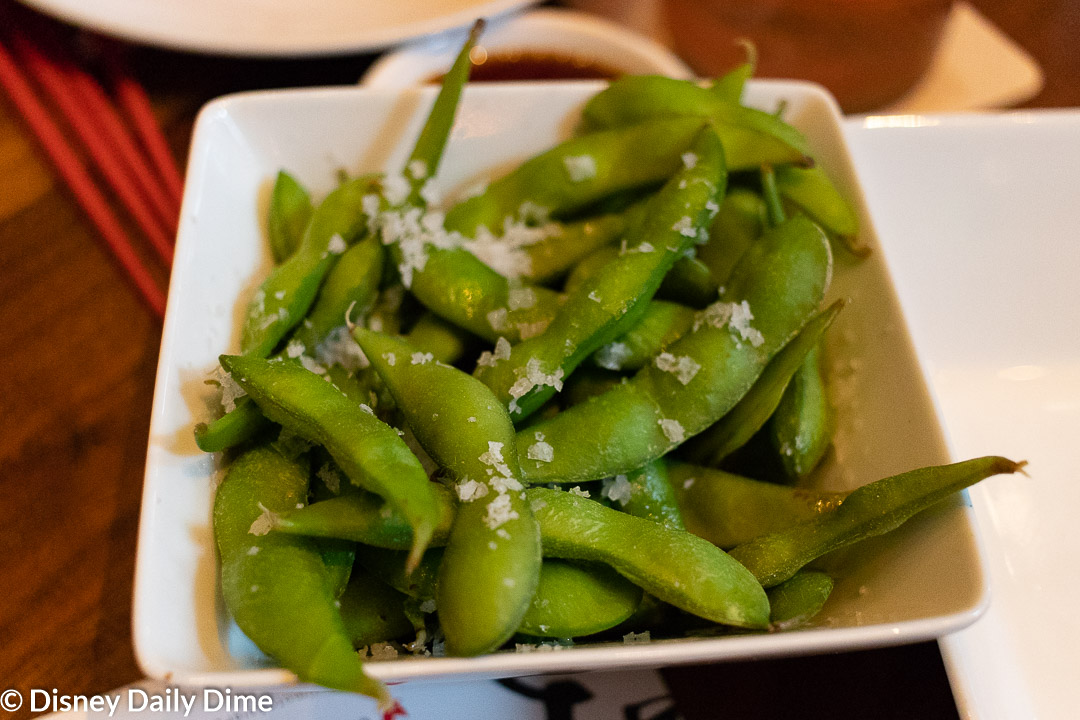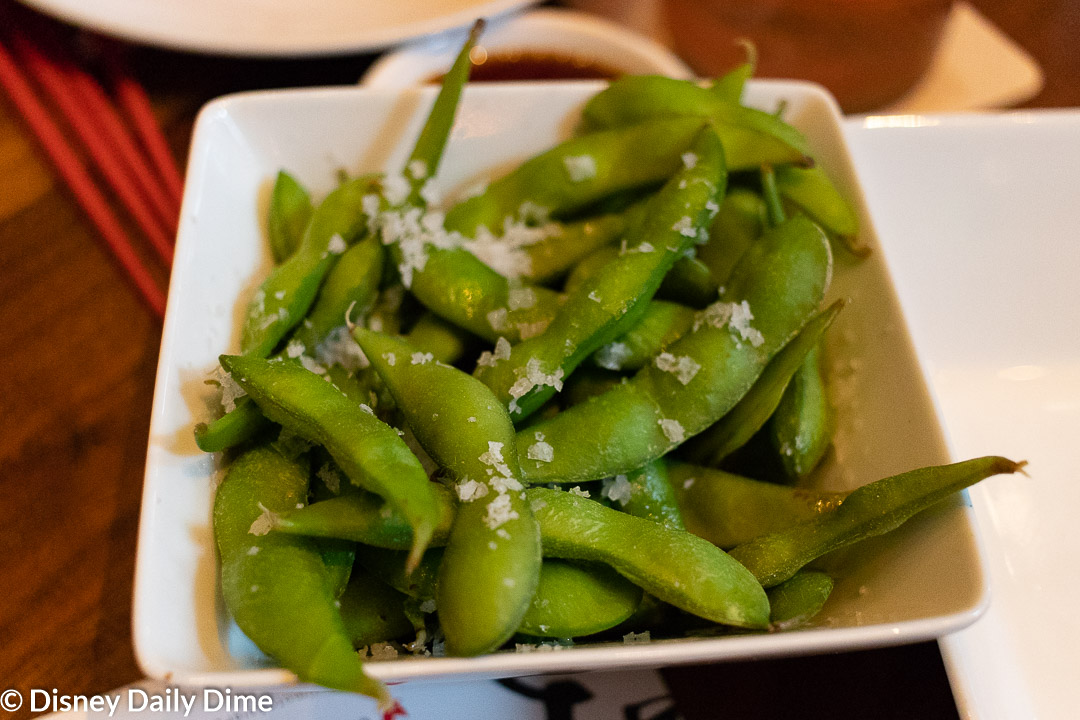 As for as the appetizer course went, we'd call it "fine".  Wasn't bad by any means, but it also wasn't mind blowing either.  In fairness, how much can you really do with edamame.  It was well cooked, and perfectly salted.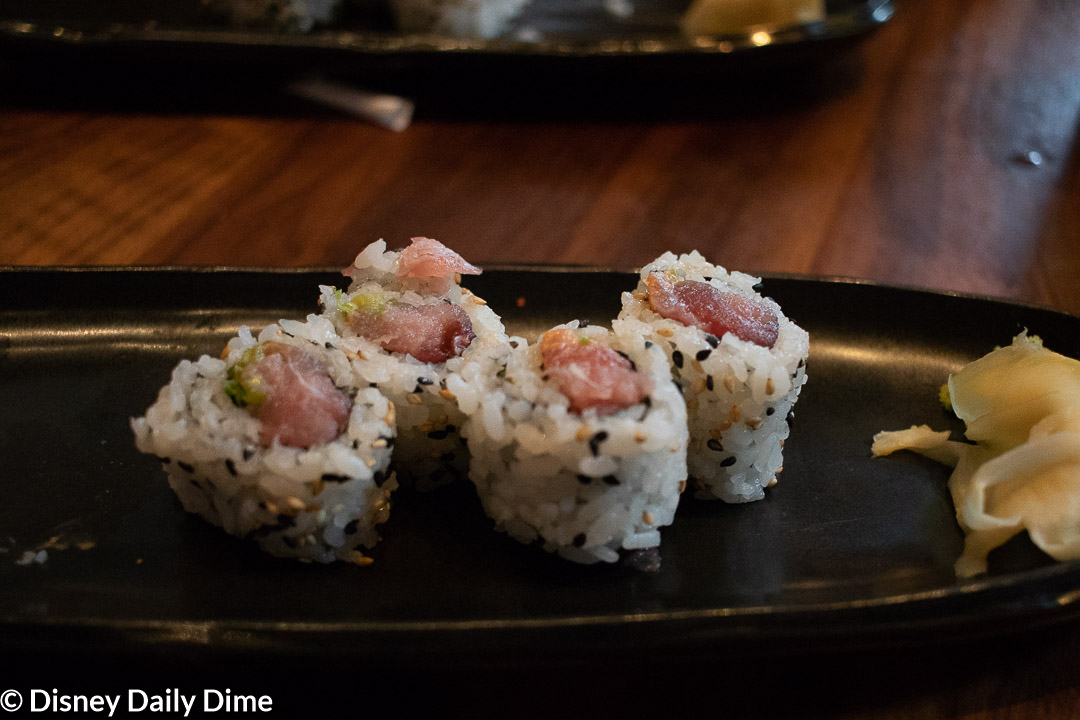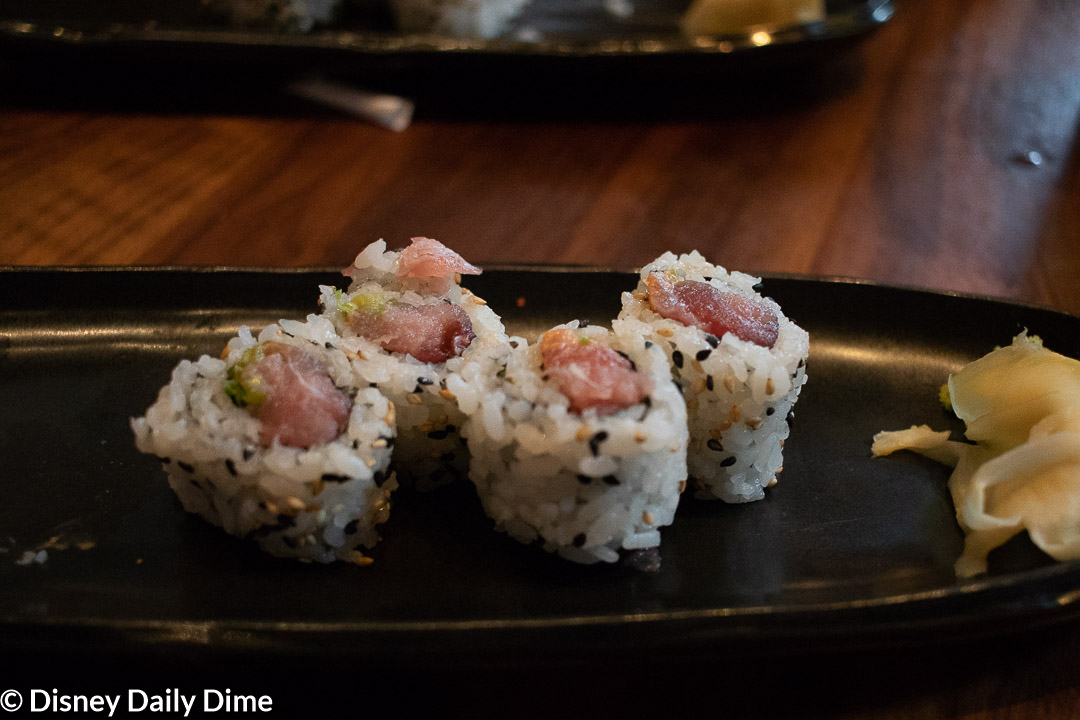 The sushi rolls are in that same vein.  Good, but not great.  However, the exciting part for us is that for the first time we were able to encourage Elsa to try a roll.  Once she had one piece, she devoured a few more.  Now she considers herself a sushi connoisseur.  When we are at our favorite sushi/Asian restaurant back home in our "normal life", she now insists on ordering a couple of rolls for her meal.  EVERY TIME!  So be careful.  By eating here, you may inadvertently increase your home dining spend when you kid starts ordering sushi rolls.
One other comment on the rolls.  Don't let the name "spicy" fool you or your kids.  These rolls were not spicy at all, which was a bit of a disappointment to me.  Even Elsa commented how they didn't have a lot of spice.  Next to eating raw fish, the spicy designation was her biggest objection to trying the roll.  Maybe if you try it, just tell your kids that it's a tuna roll and leave the spicy part out.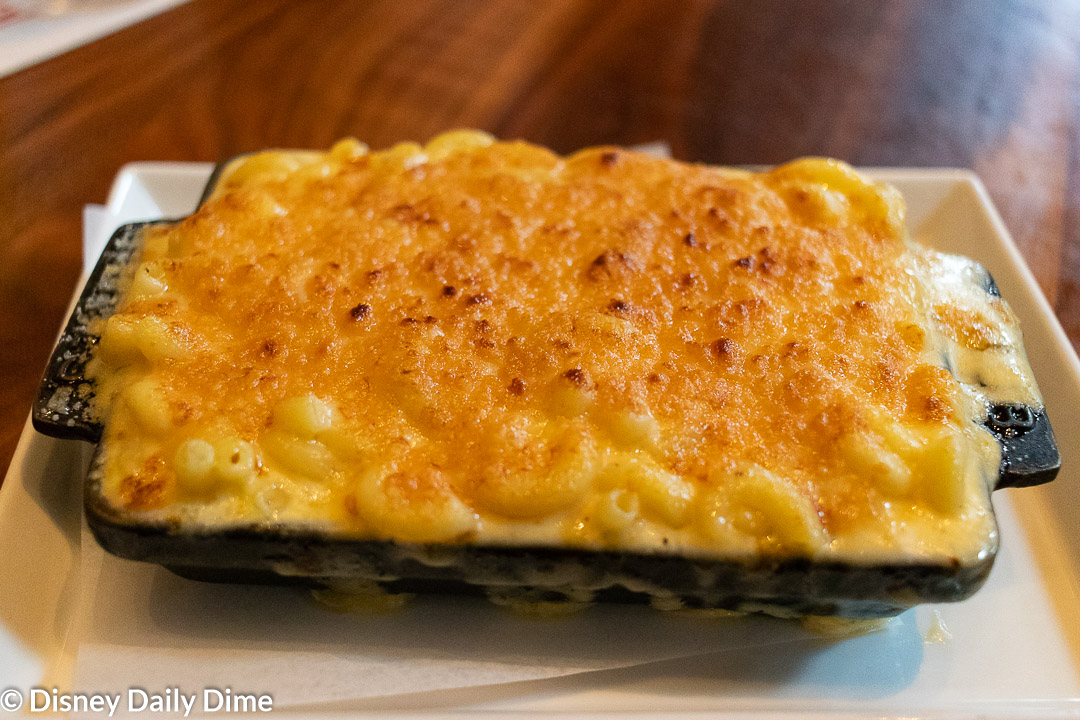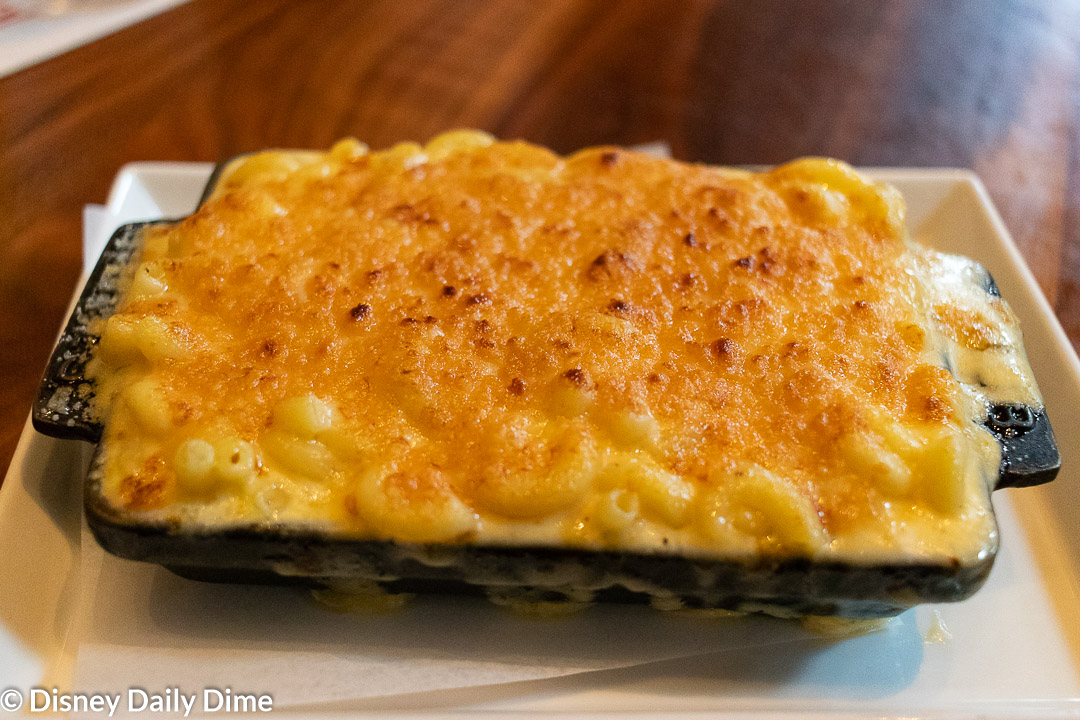 Kids Entrées
The kids each got to choose and order their own entrées.  As per usual Anna was not overly adventurous.  She ordered the kids Macaroni and Cheese dinner.   Made with a blend of white and yellow cheddar, the mac and cheese was actually very good for a kids meal.  Anna ate it up.  I had a few bites and found it to be fairly good.  Cheesy and yummy.
One thing to know here.  As you can see in the picture above the mac and cheese came out in this black baking pan.  That thing was HOT!  Make sure you allow adequate time for it to cool so you don't risk having your kid burn themselves.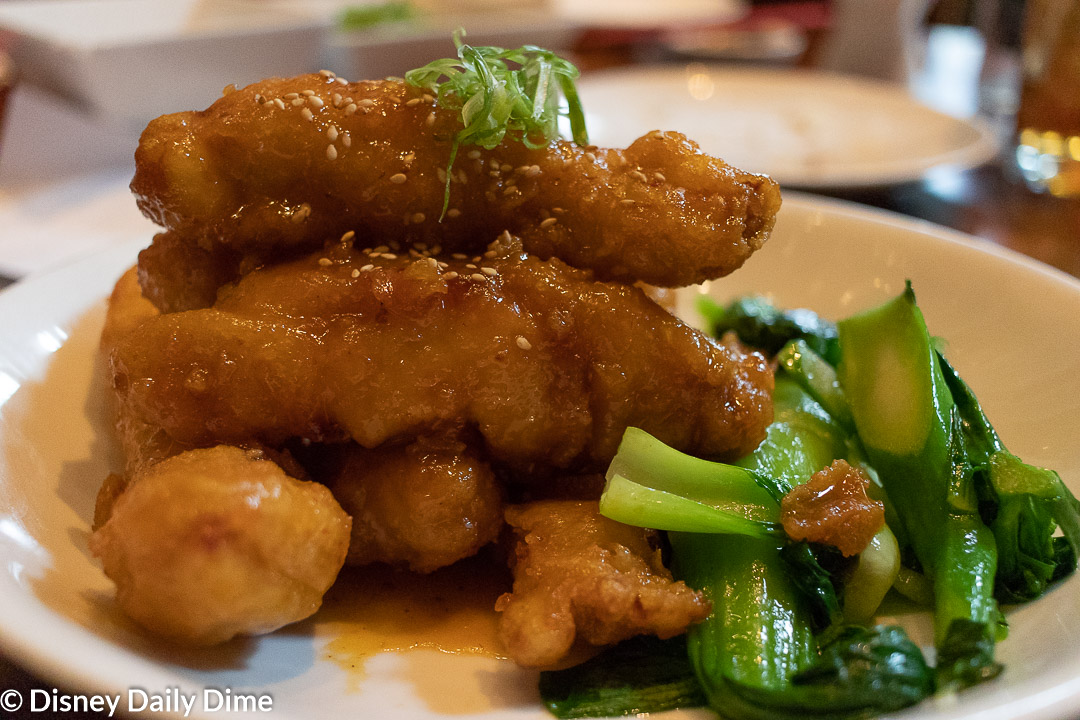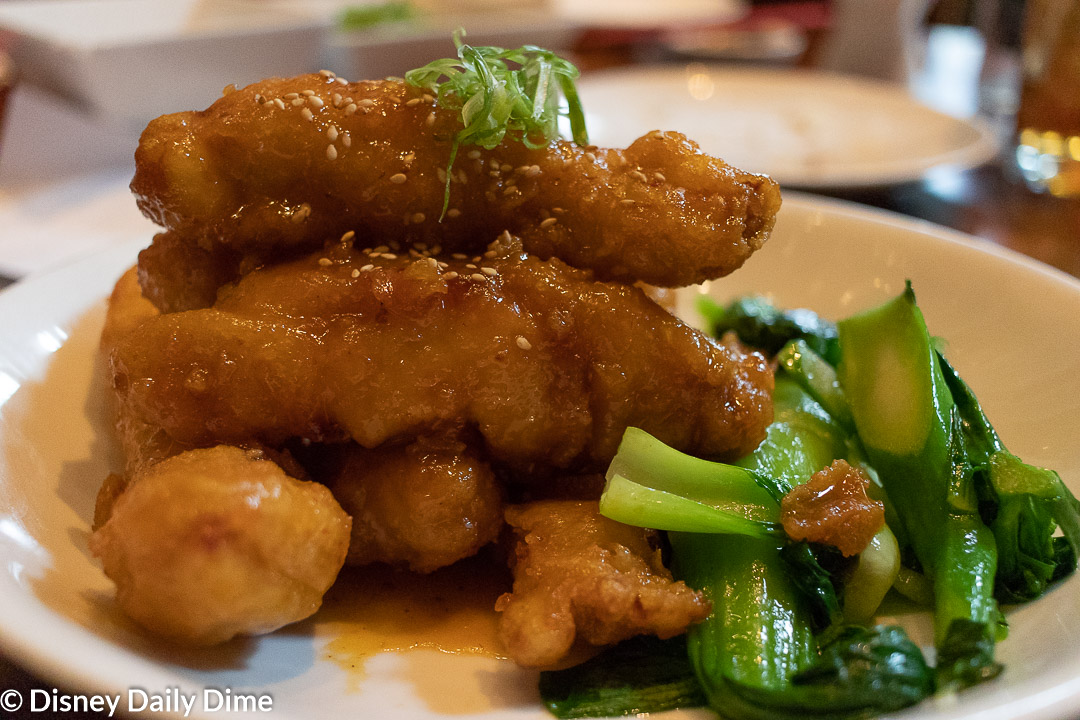 Feeling emboldened by her sushi appetizer experience, Elsa ventured out a little bit and ordered the Orange Chicken.  This dish was phenomenal!  Both Elsa and I ate it up.  The chicken was crispy on the outside, while tender and moist on the inside.  The orange sauce was sweet but not overpowering.  If we would let her, Elsa would have licked the sauce off her plate when she was done.
You'll notice the Chinese Broccoli on the plate because we actually ordered her the adult plate, shown in the picture above.  This chicken is prepared in a tempura style, but we wouldn't characterize the outside as light and flaky as typical tempura.  The chicken has an excellent outside crust on it, with a good amount of crunch.
Because we were using the Disney Dining Plan on this meal, our server suggested ordering the adult Orange Chicken entrée rather than the kids' meal so that we could share it with her, which maximized the value of her two dining credits required for this meal.   In addition, she also advised us that we could pay out of pocket for Anna's macaroni and cheese meal, which we did to avoid essentially wasting two dining credits.    We highly recommend doing this for any kid's meal purchase if you are using the Dining Plan for dinner.
Overall, both girls really enjoyed their entrees and said they would eat them again.  They also wonder why we don't go to Morimoto Asia more often when at Disney World.  Maybe we aren't doing a good job at teaching them what things cost?  Need to work on that.  Add it to our ever-growing list of parenting improvement needs.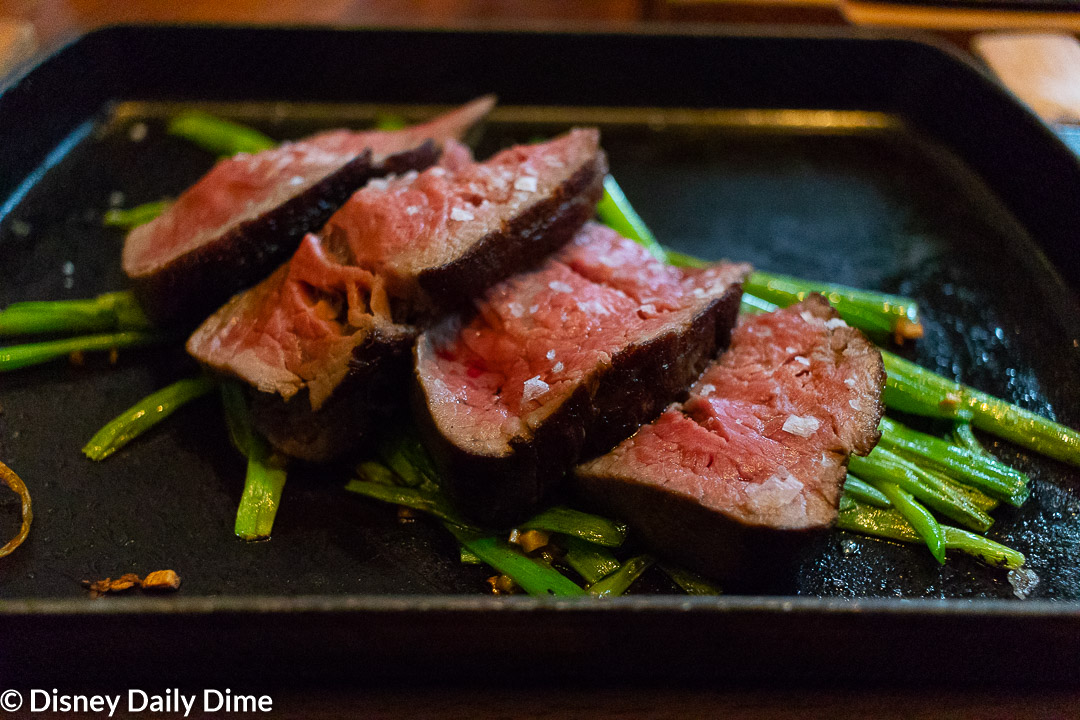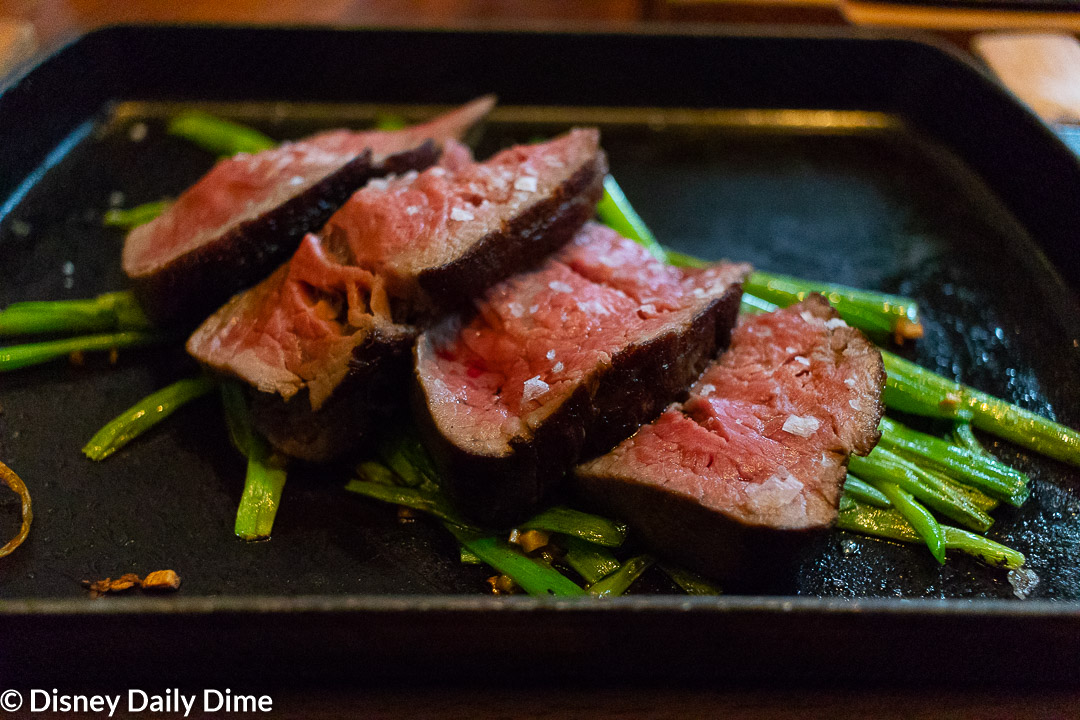 Adult Entrees
On the adult dining side, we had two entrées.  As usual, Carla selected from the Morimoto Asia gluten free menu.  We'll leave the details of her overall gluten free dining experience for another post, which will come in the next couple of weeks.
She decided to have the Mongolian Filet Mignon.  Carla described it as outstanding.  I would say it was cooked to perfection and melted in my mouth when I took a bite.  The wok sautéed scallions and enoki mushrooms that were served with the steak were fabulous.  They added just enough flavor to make the steak feel like it wasn't something I was just cooking at home.  My only critique would be that I wish the mushrooms weren't so finely diced.  But hey, I'm not a food critic, just a personal preference.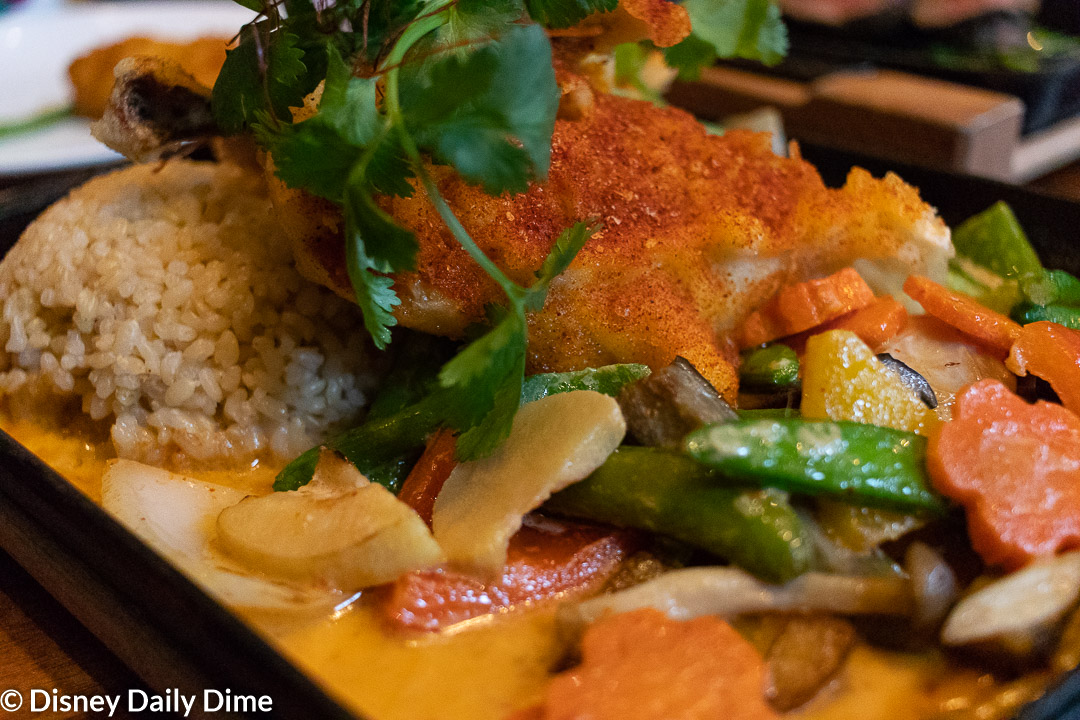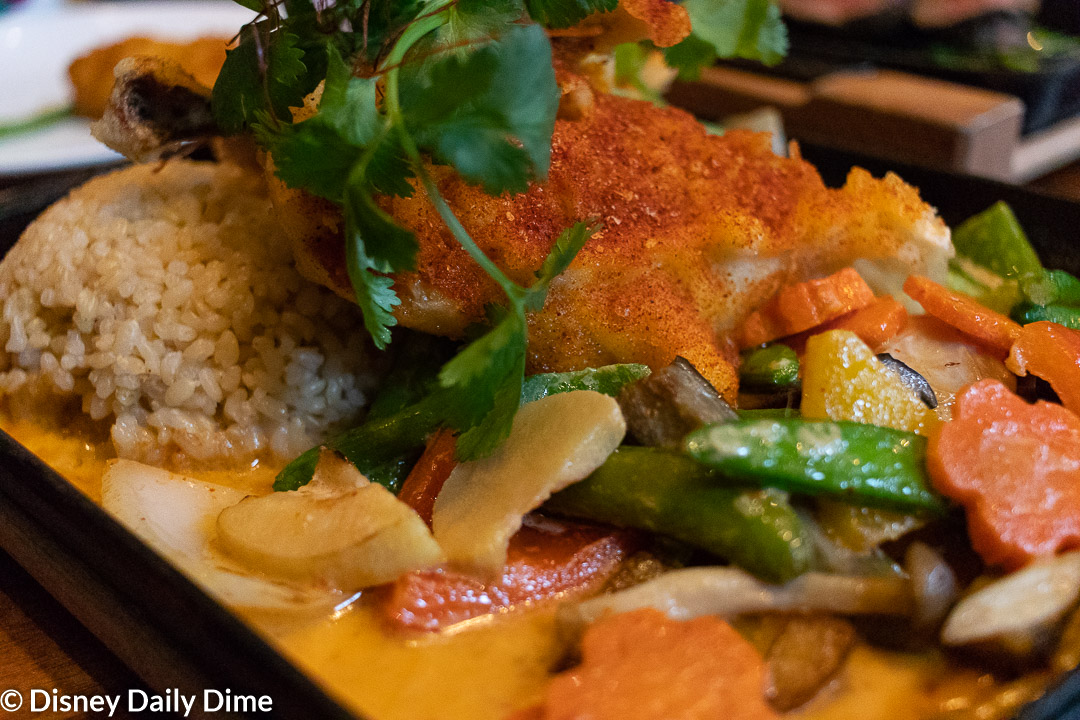 I decided to have some fun with my meal and ordered the Angry Chicken.  I wasn't sure if that meant it was going to come out to the table and try to peck my eyes out or something else, but I liked how it sounded.  It's a roasted half chicken, that has this amazing crunch on the outside.  Usually I am not a big fan of skin on my chicken, but the crunchy seasoned skin was remarkable.  I ate every last bit of it.  The chicken inside was cooked to perfection.  Moist and tender, with unbelievable flavors bursting from it.
I think the chicken is marinated in some mixture of chili powder, cumin and other spices.  The interesting part was the heat you tasted was this nice slow and low burn.  I never felt like my mouth was on fire.  It was just this pleasant smoldering heat and flavor.
The meal was rounded out with rice and a vegetable medley comprised of bell peppers, bamboo, green beans, Japanese eggplant, and carrots.  It all sat in a pool of Thai red curry sauce.  The sauce was a delicious compliment to the vegetables and chicken.  Again, not crazy heat, just a nice slow burn.
I ate the whole chicken and would eat this dish again every time I eat there.  It was spectacular and was by far the best thing I ate on this particular trip to Disney World.  And maybe most importantly, well worth the $29 I paid for it.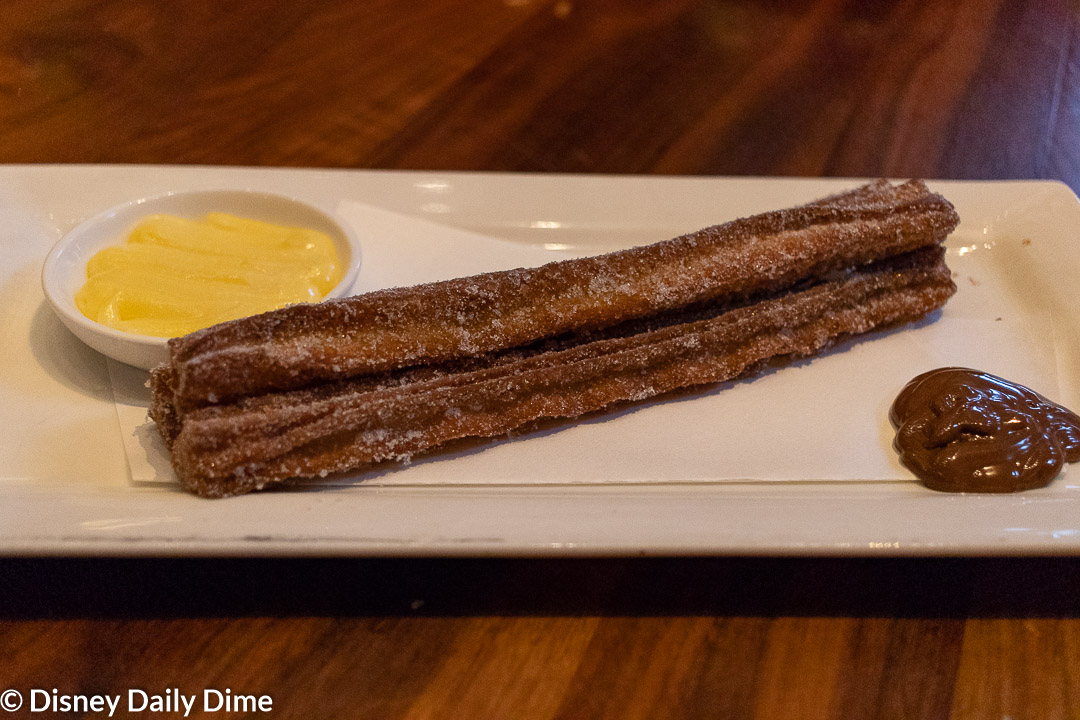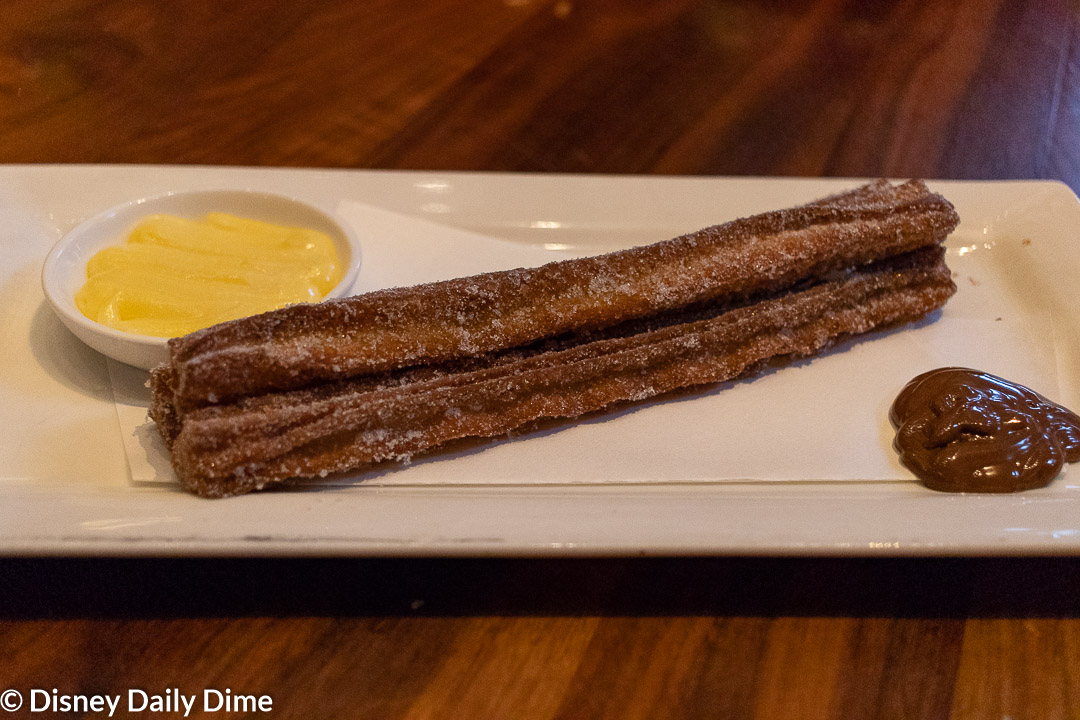 Dessert
We finished up the meal with three different desserts.
We'll start with Anna's Churro Fondue.  Honestly, not sure what a churro has to do with Pan-Asian cuisine here at Morimoto Asia, but as good as it was…. I don't care.  This churro is CRAZY good.  Crispy on the outside, warm and soft on the inside.
What makes it a "fondue" is that they provide a vanilla dipping sauce and a little tube of Nutella for some chocolate taste.  The vanilla paired the best with it in my opinion, but I'm not a big chocolate fan.  Anna much preferred the Nutella as her dipping sauce of choice.
The girls and I agreed this was the best dessert of the night and that we would all get this the next time we came.  This is not like the churro you find in the Disney World theme parks.  Sadly, Carla could not partake in it, though she did look longingly at it!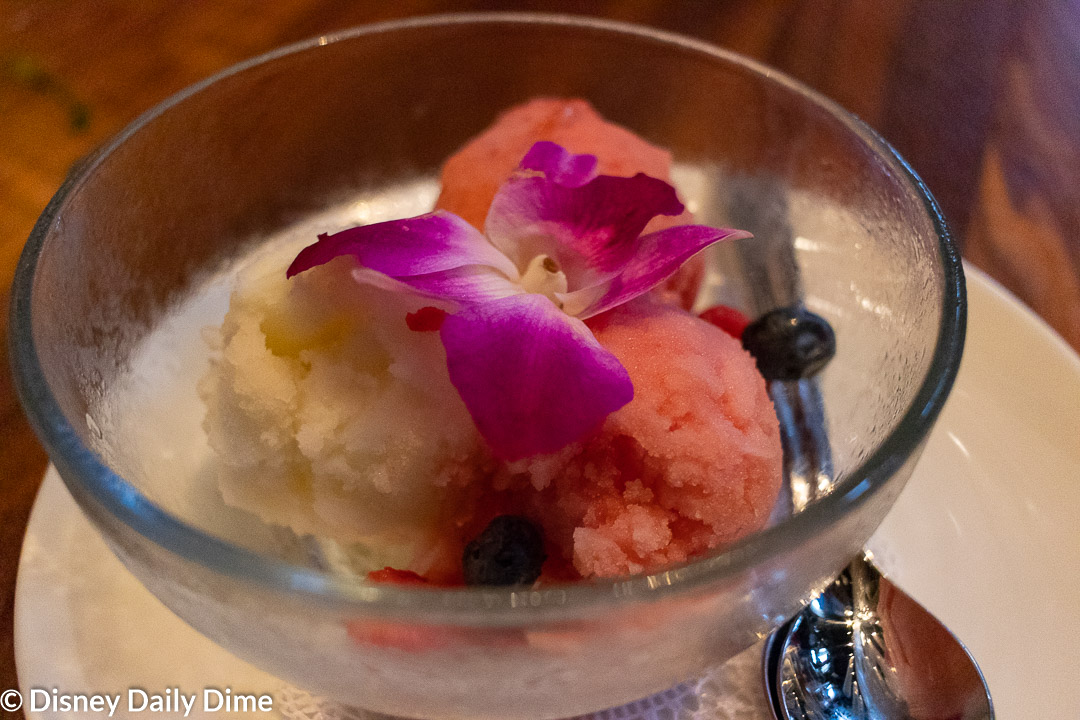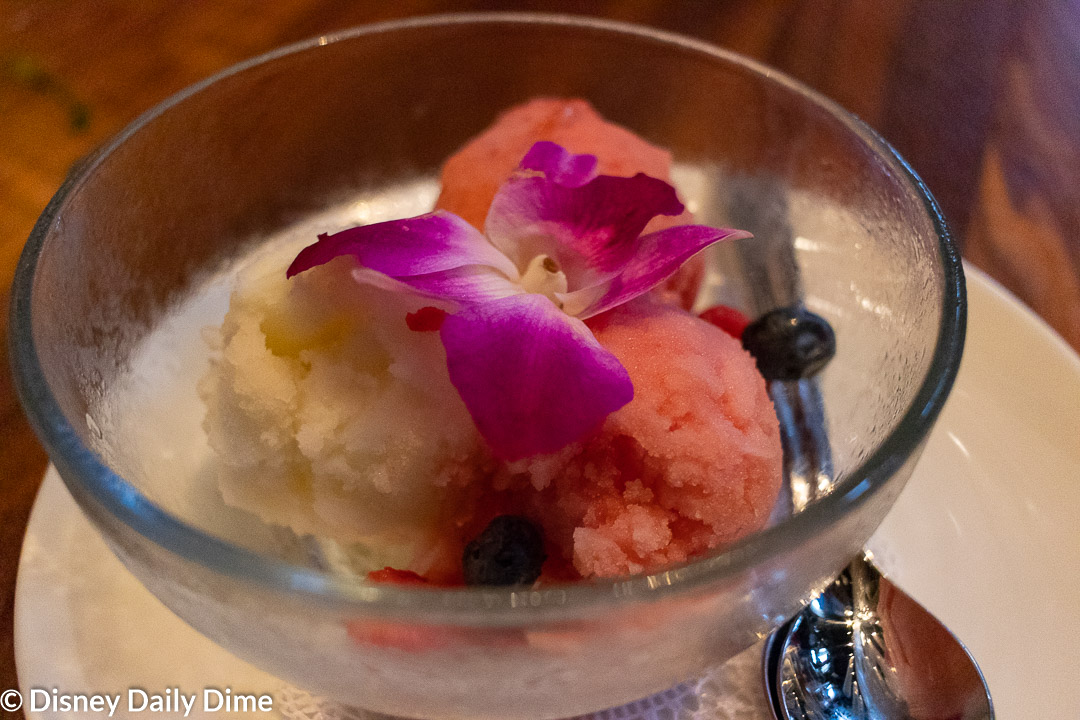 Next up, Carla ordered the Chef's Choice Sorbetto Trio.  It was styled nicely and a perfectly sized portion.  The three flavors she received that night were yuzu, strawberry and watermelon.  The yuzu was light, crisp and refreshing, at least that's how she described it.  I did not like the taste of the yuzu.  But in Carla's view, it was the perfect flavor to end the spicy meal.   Both the strawberry and watermelon were a little disappointing as they were overly sweet.  She wished that the natural fruit flavors were more predominant.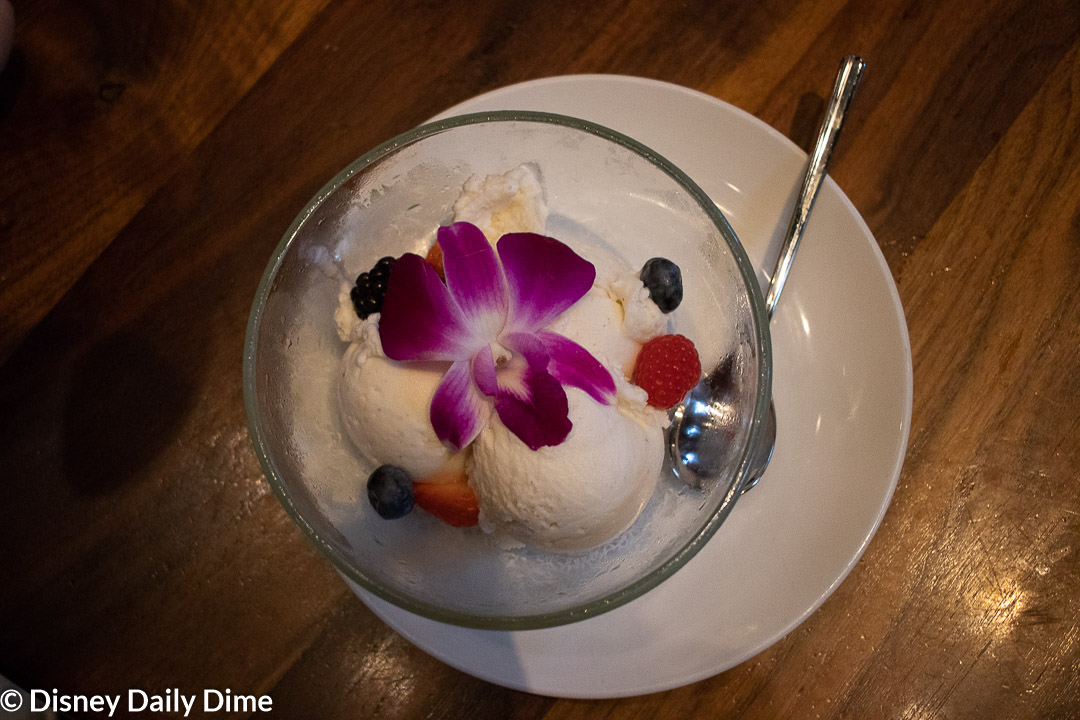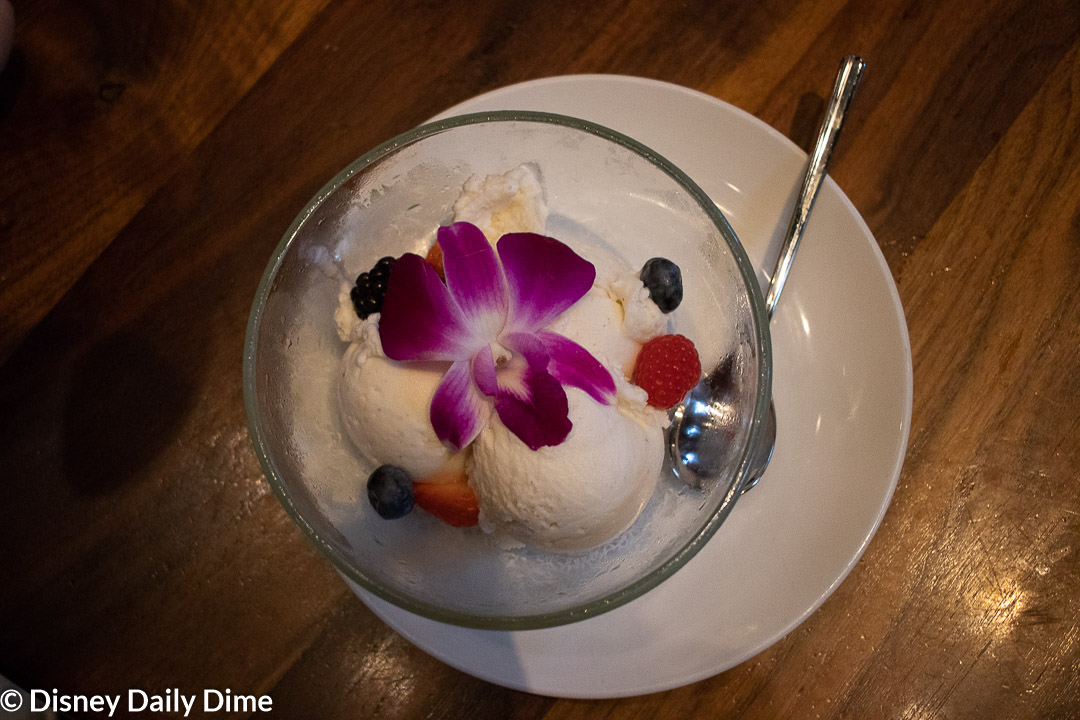 Lastly, we got the Chef's Choice Gelato Trio.  Again, not something that we think of Pan-Asian, but as gelato fans were looking forward to trying their take on it.  The gelato was smooth and creamy.  The kids and I shared this and agreed it was great.  There is a bit of roulette here as the flavors change from time to time.  Your server will tell you what they are before you order.
In my case, the flavors were vanilla bean and lemon.  There wasn't a 3rd flavor that interested me.  The texture was great on all of them, feeling light and creamy.  The vanilla and lemon were great ways to finish of the meal and balance out some of the saltiness from my Angry Chicken.  But we also wouldn't say they were anything outstanding.  You can find equally good gelato in other places.
Morimoto Asia Overall
To say that our evening at Morimoto Asia was just an excellent dinner would not do this meal justice.  It was truly a culinary experience.   We were thrilled to be able to take our girls to someplace unique and unlike exactly what they are used to, but while in the Disney "bubble" so as to make the experience more kid-friendly and comfortable for them.  For Carla and I, we enjoyed the opportunity to dine at one of Morimoto's restaurants and taste some incredible entrees.  While the appetizers and desserts had some hits and misses, the strength of all of the main course dishes we chose make this a restaurant that we will definitely come back to again. 
Wrapping Up
With that, we'll wrap up our Morimoto Asia review.  This is a high-end restaurant and a welcome addition to Disney Springs, or maybe even all of Disney World.  If you're looking for a place that is a cut above, you'd be hard pressed to find something better at Disney World.  We think it should be on your must eat list if you are wanting a top-flight dining experience.
If our Morimoto Asia review was helpful, or at least entertaining, please like and share this with your friends or anyone you think will find it useful.  Just use the sharing buttons on the page.  We always appreciate it when you share our posts, as it allows us to spread the word about our young blog and hopefully allows us to help others.