As you will see on the "Our Story" page of our website, I've (Carla) developed a gluten sensitivity that is pretty strong so I eat entirely gluten and wheat free.  This is the next in post in a series on my experiences eating gluten free around all of Disney World.
These reviews won't be just about the food.  I'll also talk about the experience I had, service, options and anything else I think others trying to eat gluten free may care about.  This one, as the name implies, is a gluten free Morimoto Asia review.
As a huge fan of Morimoto, Iron Chef and Food Network in general, I couldn't wait to try Morimoto Asia when it was announced.  However, my new gluten free lifestyle makes dining at Asian restaurants a little more challenging.   This was an opportunity though that I couldn't pass up.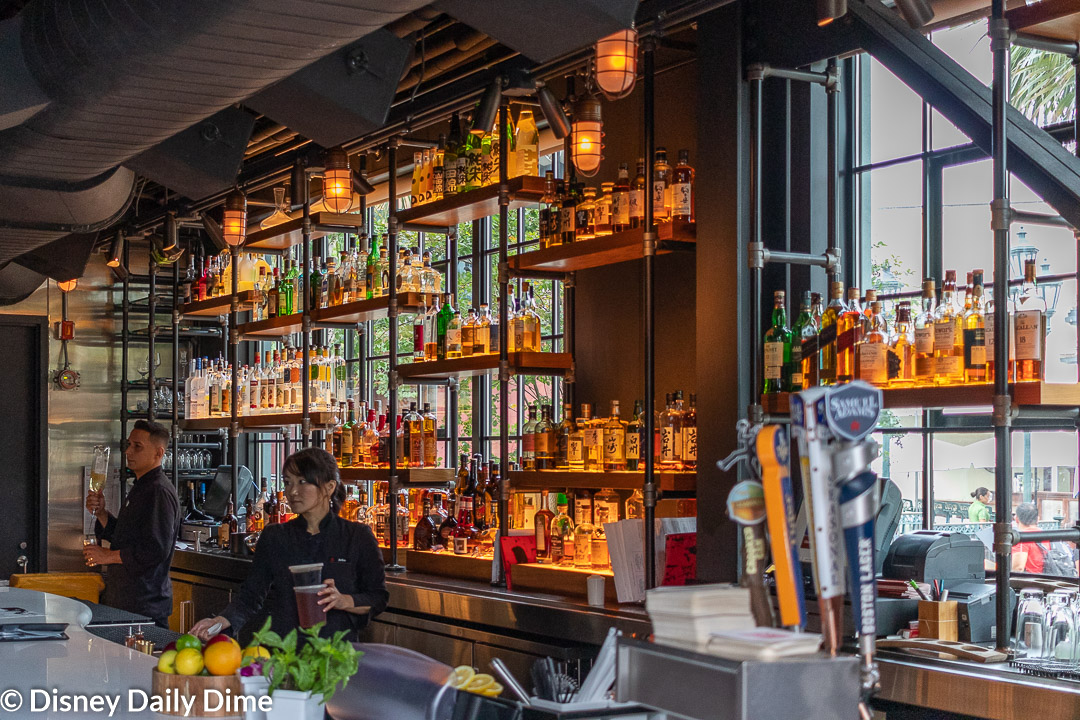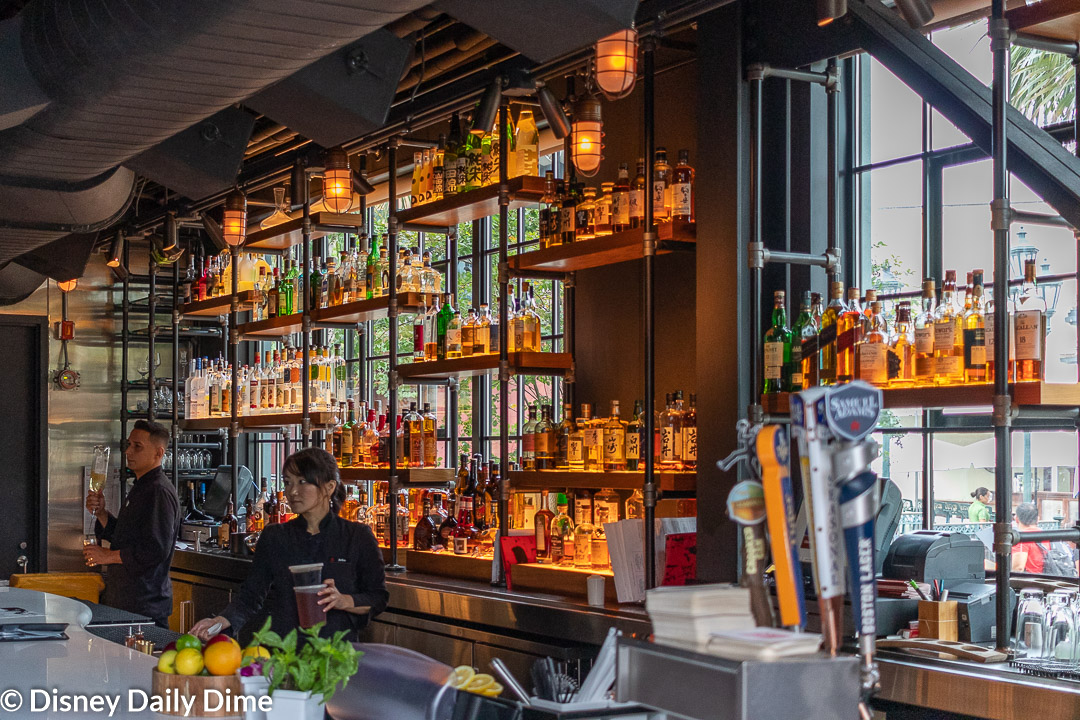 Morimoto Asia Gluten Free Menu
As always, I try to review the gluten free options available at any restaurant we plan on going to in advance if I can.  Fortunately, the main restaurant website displays the gluten free menu.
As you can see by the menu, there aren't a ton of options compared to the main restaurant menu especially in regards to the entrée selections.    I am always thrilled to see sushi selections available and I thought it would be a great chance to try the fried rice as I no longer order that from local Chinese restaurants.  (My first week officially gluten free I learned a lesson the hard way about the wheat content in soy sauce.  Oops). 
Morimoto Asia Gluten Free Food
Our server was helpful and knowledgeable about the gluten free options.   Since this was a two-credit meal on the DDP, she recommended and encouraged us to try the Mongolian Filet and the Angry Chicken to get the most bang for our credit "buck".  The filet was right up my alley as Mongolian Beef was one of my favorite entrees at P.F. Chang's and Pei Wei.  Mike wanted the Angry Chicken so it was a perfect way to get the best of both worlds by sharing the two entrees.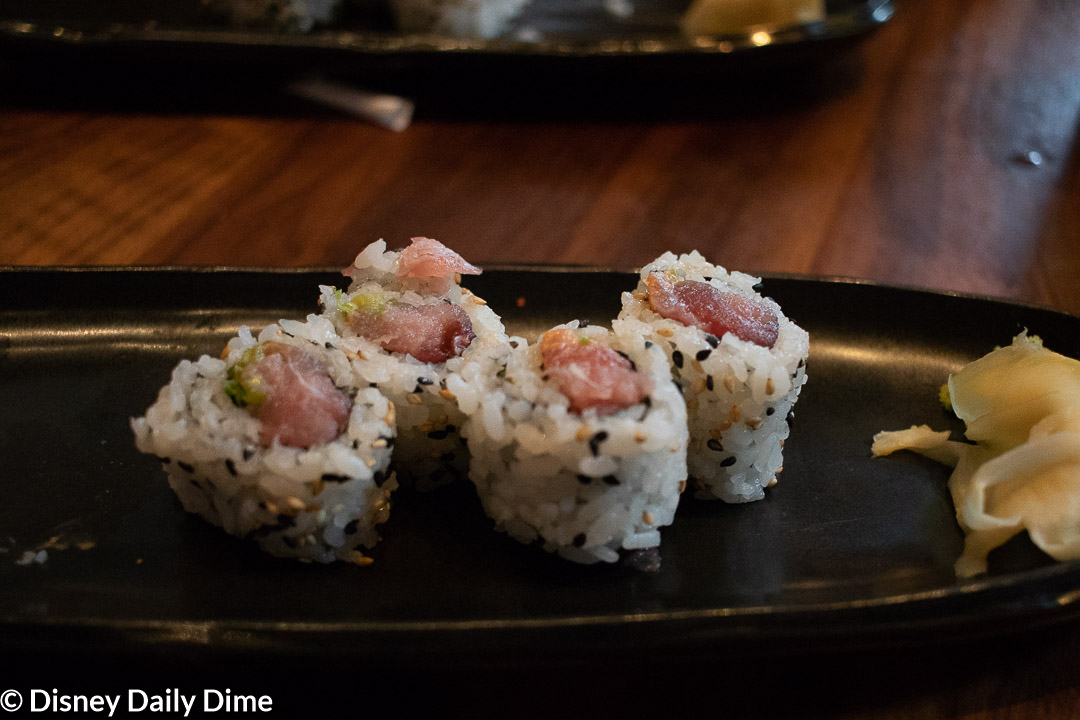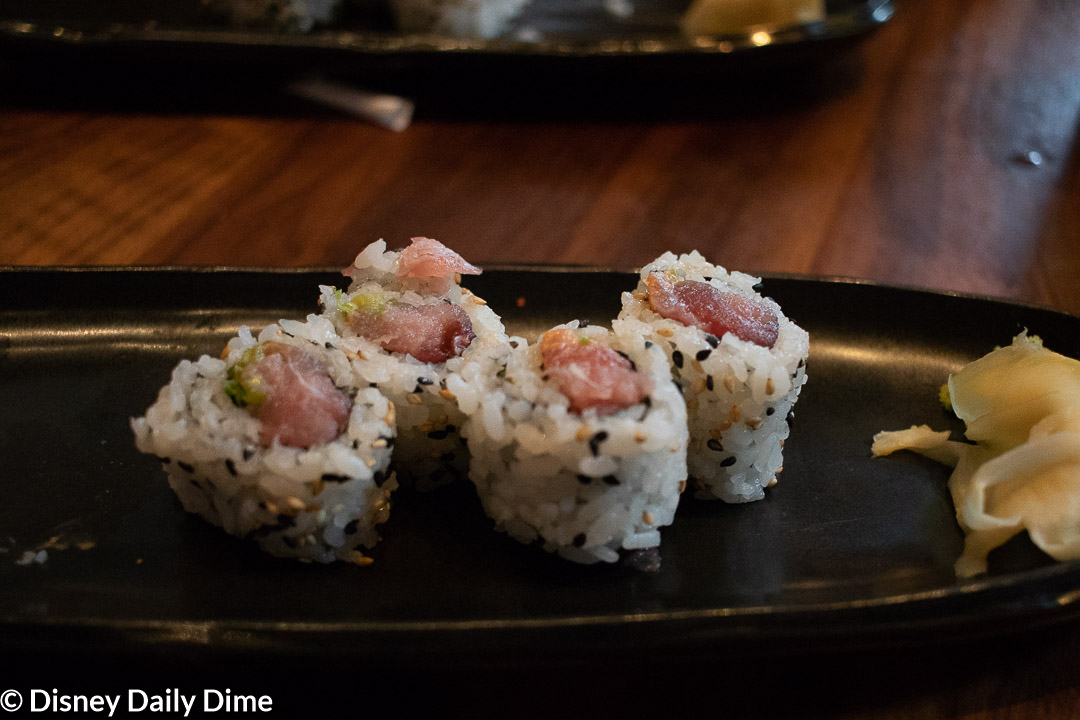 Appetizer and Entrees
We ordered the spicy salmon and spicy tuna rolls to try and while they were good, they definitely weren't the "top of the line" sushi I was hoping for.  However, if you read our main Morimoto Asia dining review, you will find that Elsa was a big fan.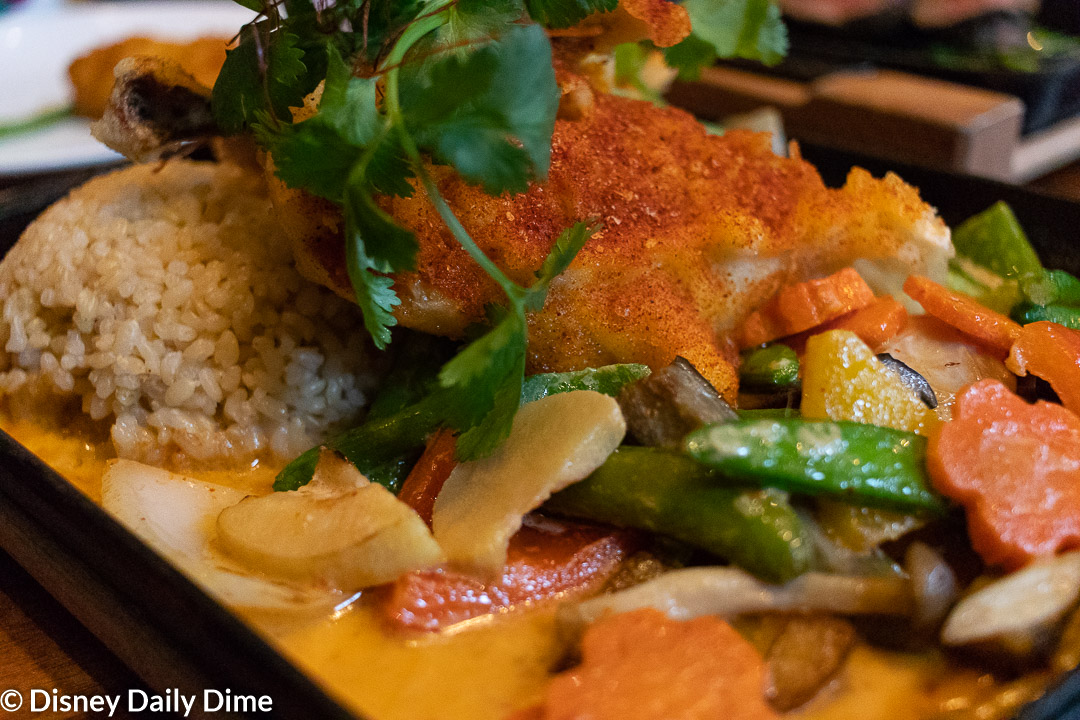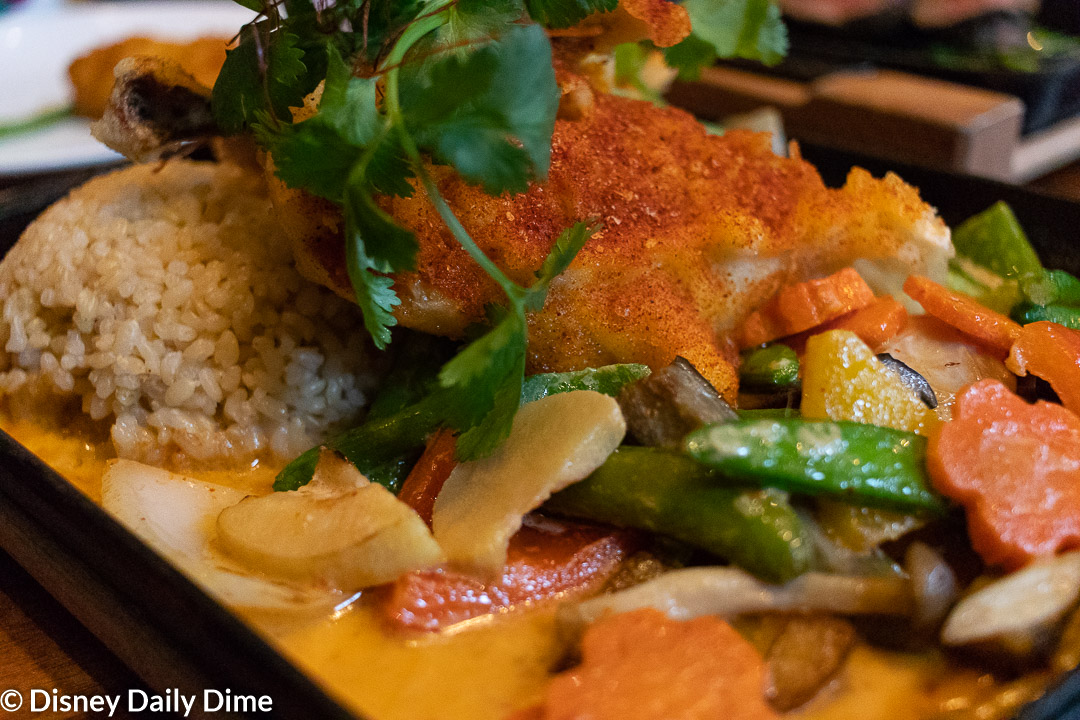 The minute the filet and chicken were placed on the table I knew I was in for a real treat.  I can't speak highly enough about these entrees.   While I initially wasn't overly interested in the Angry Chicken, after a couple of bites I was in absolute heaven.  I savored the delicate crunch to the chicken and the crisp vegetables!  The highlight may have been the absolutely delectable Thai red curry sauce on top of it all.   I could have drank that sauce it was so good.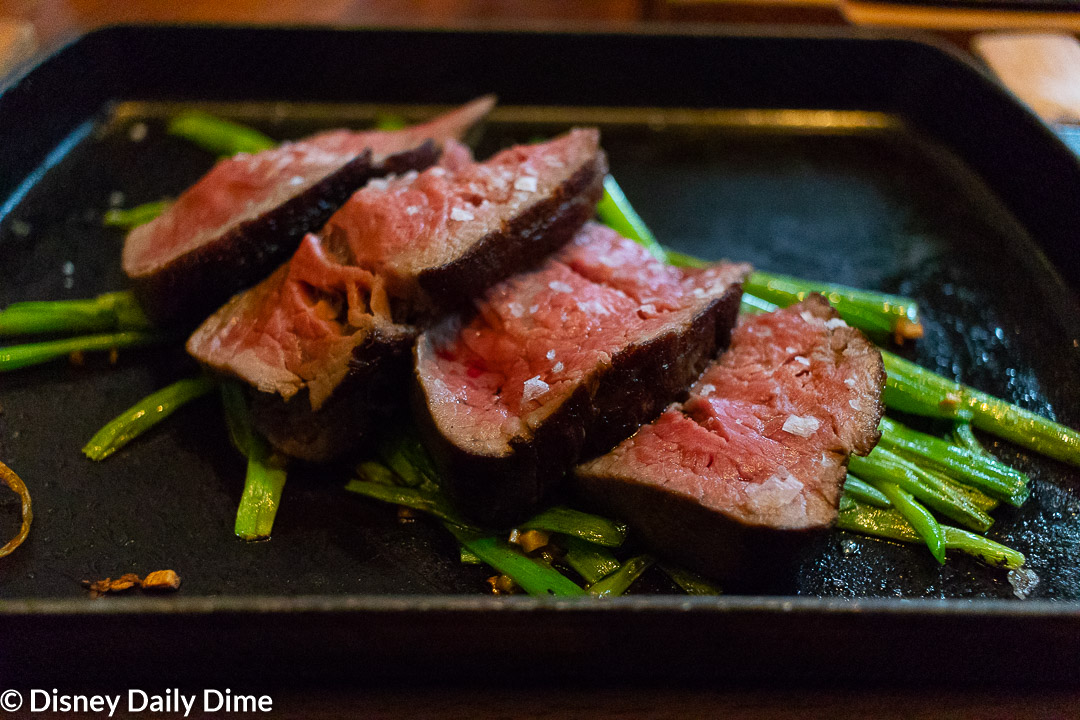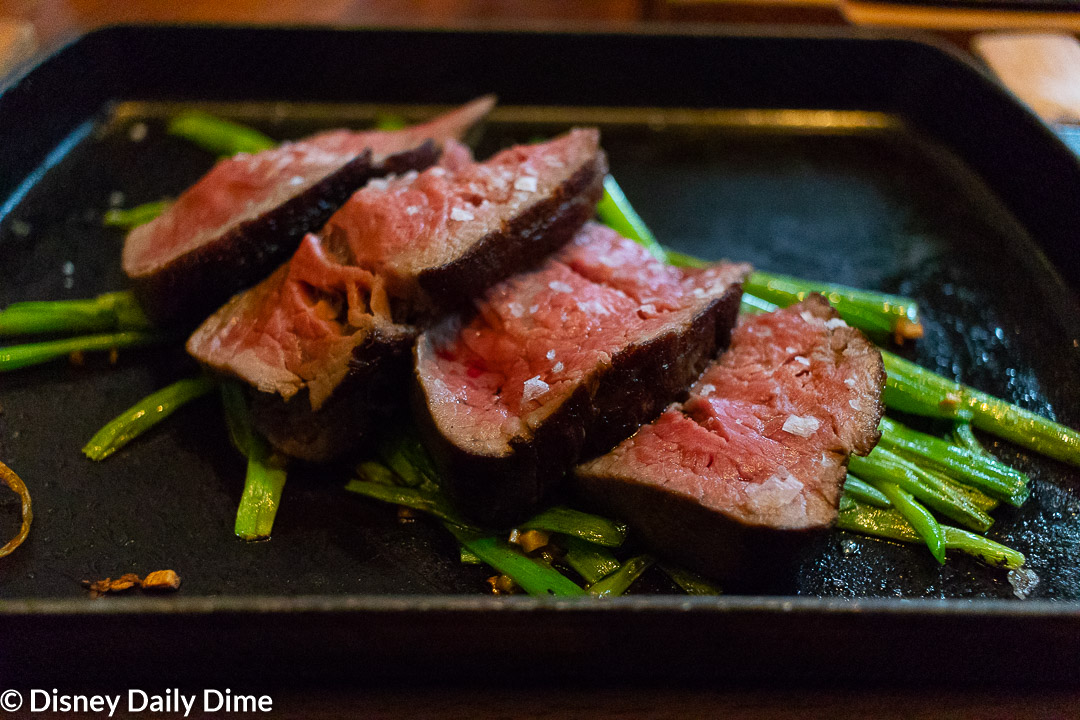 The filet was incredible, perfectly cooked and well-seasoned.   Had I only had the filet I would have still be in food heaven.  However, the Angry Chicken was the part of the meal I keep thinking of to this day.  I will absolutely order it the next time we go back.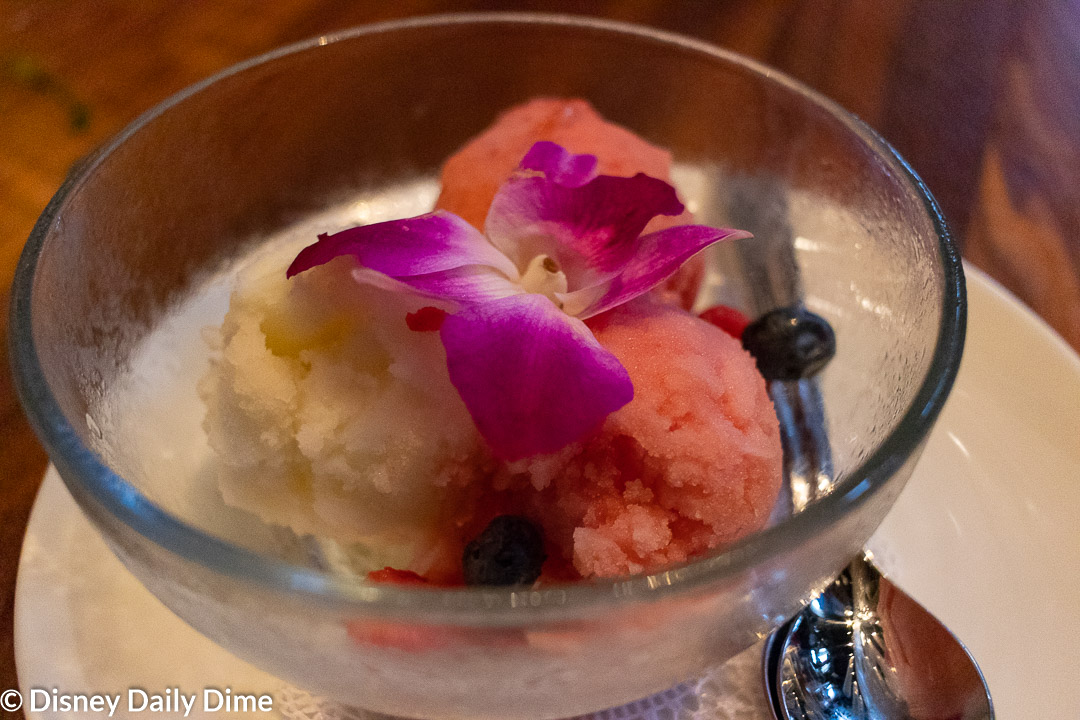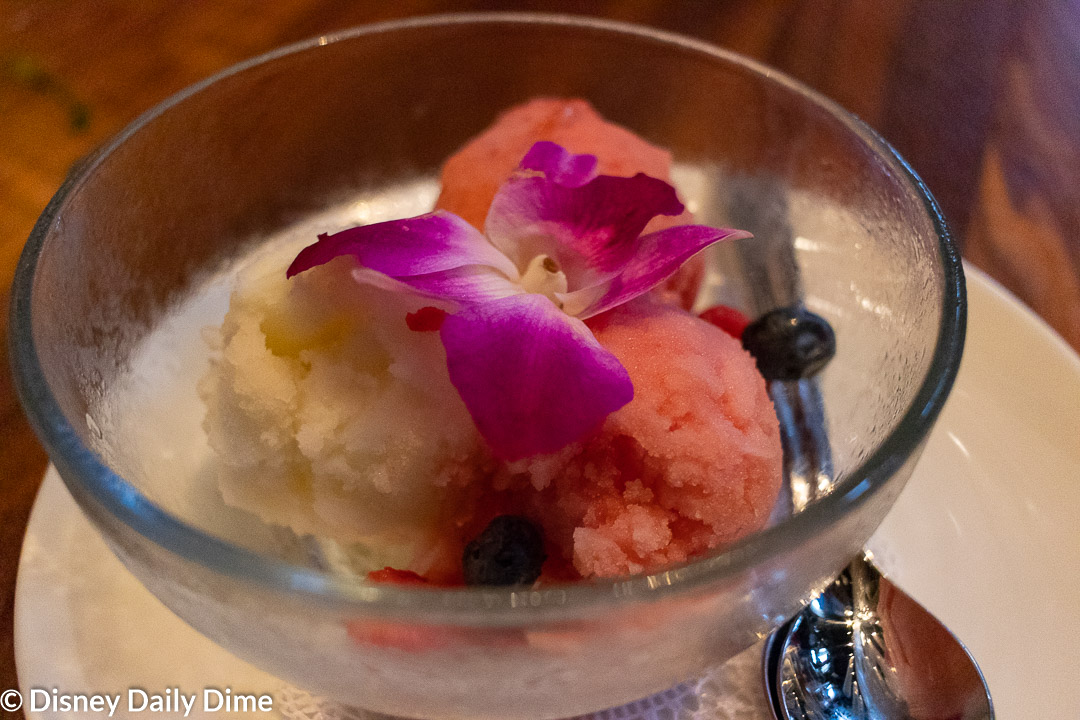 Dessert
The gluten free dessert offerings were a little disappointing as they only offered gelato and sorbet.  I chose the sorbet in hopes of having a lighter option as I stuffed myself with the filet and chicken.  The flavors of the night were strawberry, watermelon and yuzu.  I could tell the sorbet was house made as advertised, it was fresh and "authentic" as house made items are.   However, I was disappointed that the strawberry and watermelon were overly sweet.  It was as if a lot of sugar or some other sweetener was added heavily.  I'd rather it have just a touch to enhance the natural flavors of the fruit.  The yuzu was light, crisp and refreshing.  While it isn't a familiar flavor, I ended up enjoying it most of all.
Overall Impression of Eating Gluten Free at Morimoto Asia
As can often be the case when we really anticipate and hype something up in our minds, we are often left a little disappointed in the end.  For all of my excitement about eating at one of Masaharu Morimoto's restaurants, I did not leave disappointed at all.
The experience was everything I was hoping for – a fun, trendy atmosphere and excellent cuisine.   While the appetizer and dessert courses weren't as strong as the entrée, I would still highly recommend Morimoto Asia (and the Angry Chicken) for anyone wanting a gluten free meal with Asian flair.
Wrapping Up
We hope you found our gluten free Morimoto Asia review helpful.  If you did, please share it with others you think may find it useful.  Just hit the social media sharing buttons on the page!  We always appreciate it when our readers share our content with others, as it allows us to help more people and spreads the word about our blog.