At long last, the highly anticipated Jaleo restaurant at Disney Springs opened up about a month ago.  On our recent trip to Disney, we made reservations for the hot new restaurant to check it out.  We're hardly the first bloggers to eat at Jaleo in Disney Springs, so we had a general idea of what to expect, but there were definitely some things we should have planned out better.  We'll cover that, along with photos of the food, our thoughts on value, ambiance and how to possibly navigate the menu here in our Jaleo Disney Springs review.  There was also one weird thing we had not see in other reviews.  More on that in a bit.
If you're not familiar with it, Jaleo Disney Springs is now the 5th restaurant of the same name to open in the United States.  However, it's only the 2nd to open up outside of the Washington, DC area.  The other location is in Las Vegas.  Jaleo is a Spanish Tapas restaurant by renowned chef José Andrés.  Given chef Andrés' Spanish heritage, you're going to find truly authentic Spanish food at Jaleo in Disney Springs.  But as you'll see in his profile on the linked Jaleo website, chef Andrés is more than a chef.  He's won the "Humanitarian of the Year" award from the James Beard Foundation and has even been nominated for a Nobel Peace Prize, in large part due to him leading his humanitarian organization known as the World Central Kitchen.   Much more than a chef indeed.
The opening of Jaleo at Disney Springs marks the addition of another signature restaurant at Disney World.  It's also another feather in the cap of the transformation of Disney Springs into a culinary delight.  Between Jaleo, Morimoto Asia, Wolfgang Puck Bar & Grill, and other restaurants, Disney Springs continues to add the restaurants of world famous chefs to the food line up.  It really is remarkable what they have been able to do.  The days of Downtown Disney are truly a distant memory.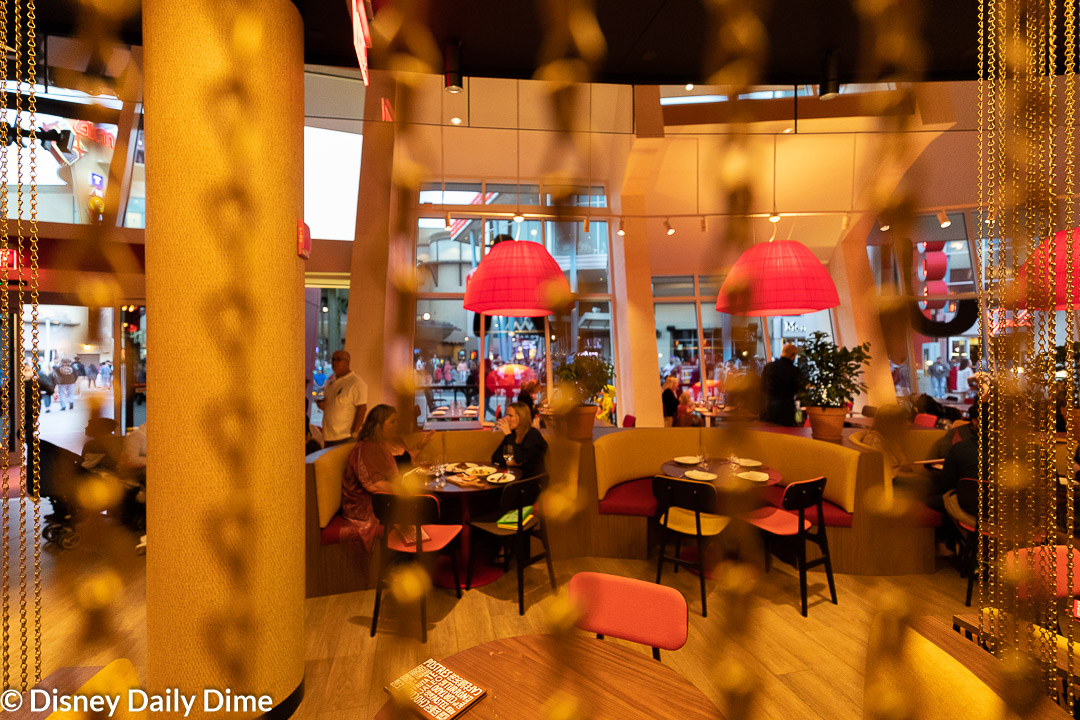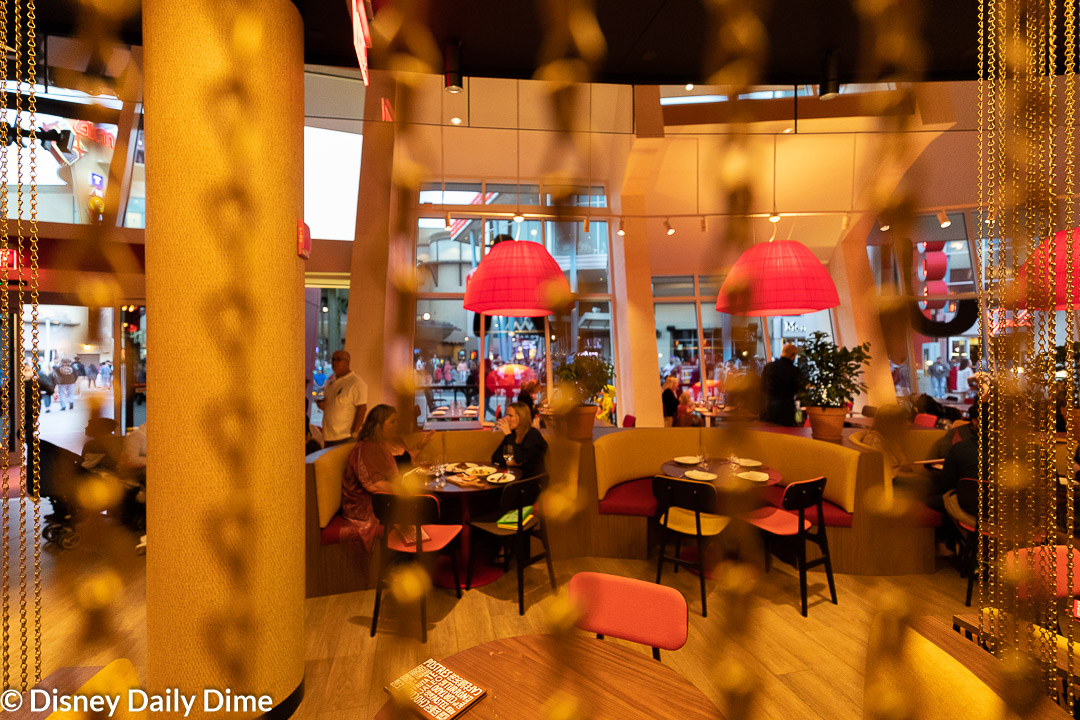 About the Disney Dining Plan at Jaleo
Normally, we only have a short blurb about value of restaurants on the Disney Dining Plan.  However, given the complexity of the Disney Dining Plan at Jaleo, we've devoted more space to it.
As we said, Jaleo is a signature restaurant at Disney World, so it requires the use of two table service credits.  However, since this is a tapas restaurant, you don't just get an appetizer, entrée, dessert and drink like you would at most other Disney World restaurants.  To make it more complicated, what you can order depends on if you are on the Deluxe Dining Plan or the Basic Disney Dining Plan.
On the Basic Disney Dining Plan, you can order two of the "regular" tapas or one of the tapas that are intended for two people.  Alternatively, you can order one paella.  You can also order one dessert.  Depending on what you order, this probably isn't the best use of your dining plan credits.  Many of the tapas at Jaleo will run you from $10 to $20.  Most likely what you get from a complete meal perspective on the basic dining plan will run you $50-60 per person.  For two table service credits, that's pricey when each table service credit is worth $40-50.  We think it's better to pay out of pocket.
If you're dining on the Deluxe Dining Plan, you get the same options as shown above for the Basic Disney Dining Plan, plus you get to select one more tapas plate.  You get an extra $10-20 worth of food, but it still doesn't seem to justify using two table service credits.  Plus, I'm not sure you really need three plates.  It just depends on how hungry you are.  We recommend paying out of pocket if you are on the Deluxe Dining Plan.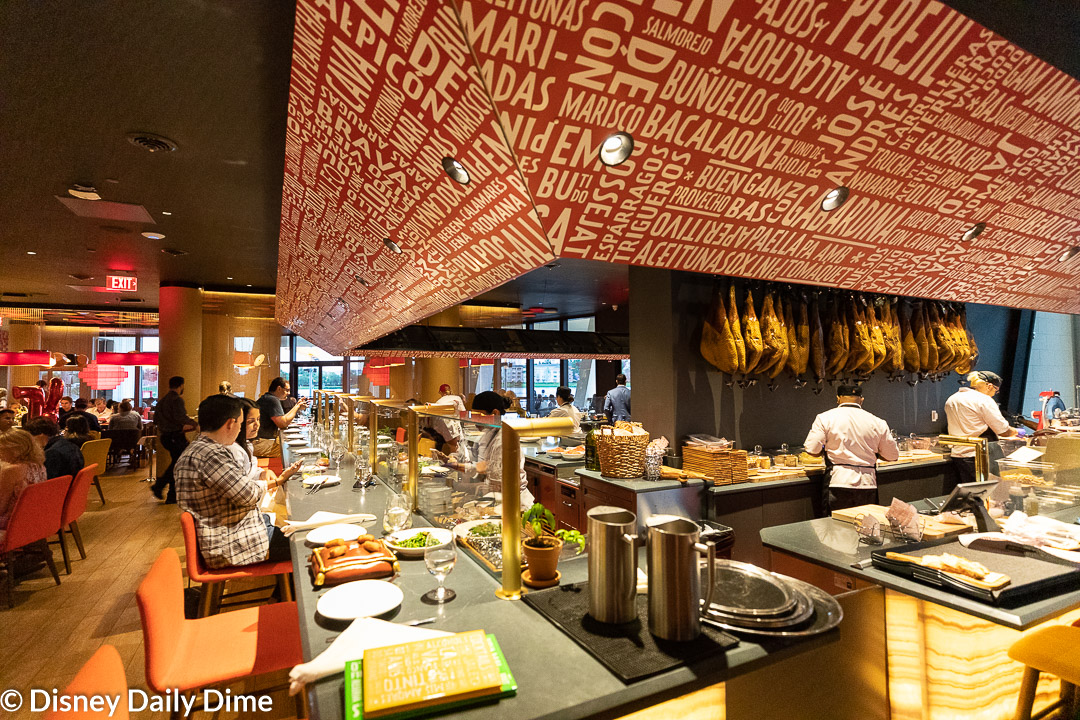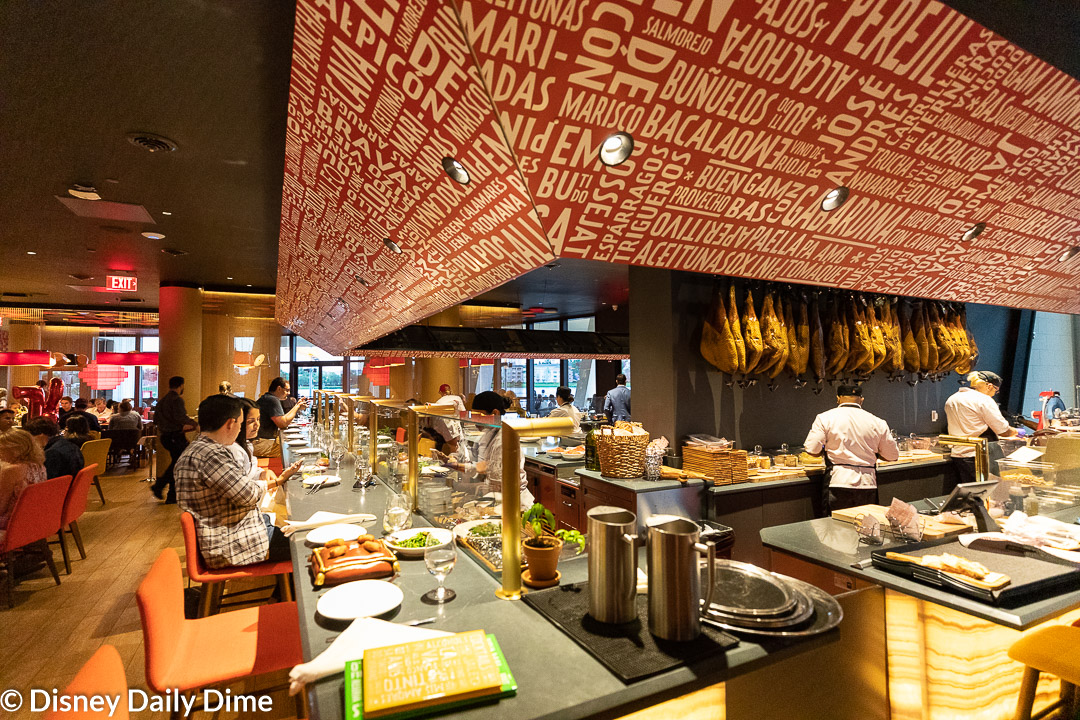 When you walk into Jaleo at Disney Springs, you'll find a bright, vibrant yellow/gold and red décor throughout the restaurant.  The color really pops and brightens up what could be seen as a somewhat dark interior during the evening.  More than that, it makes the restaurant inviting.
As you make your way into the main dining area, we found it to be abuzz with life and fun.  We were relatively happy to find it actually reasonably kid friendly.  I didn't feel like we were out of place taking an 8 and 6-year-old into the restaurant.  It definitely has a hip and trendy feel to it, but it was very much approachable for the kids and us.  And it wasn't crazy loud, which is always a plus for us.
Even with it not being crazy loud, you still got the sense of enjoyment and fun that everyone was having.  There was a birthday party of 10 people celebrating the 75th birthday of someone in their dining party.  We also found families with their kids, people that looked like locals out for a good time, and more.  There was a little slice of all of Disney World that made it feel very inclusive.
Jaleo also has fun touches like foosball tables that you can eat your dinner on (via a glass top on the table).  Sadly, I couldn't get a picture of this as they were both taken.  Additionally, you can saddle up to the kitchen area where there is a bar top you can dine at, while you watch the chefs prepare certain (but not all) tapas entrees.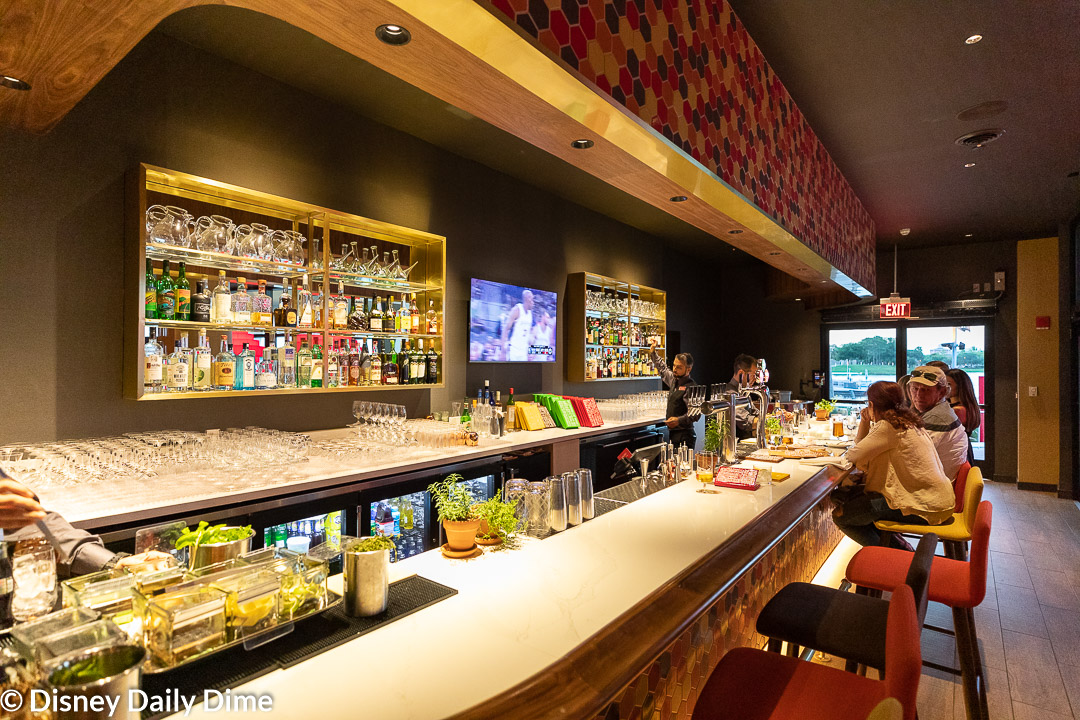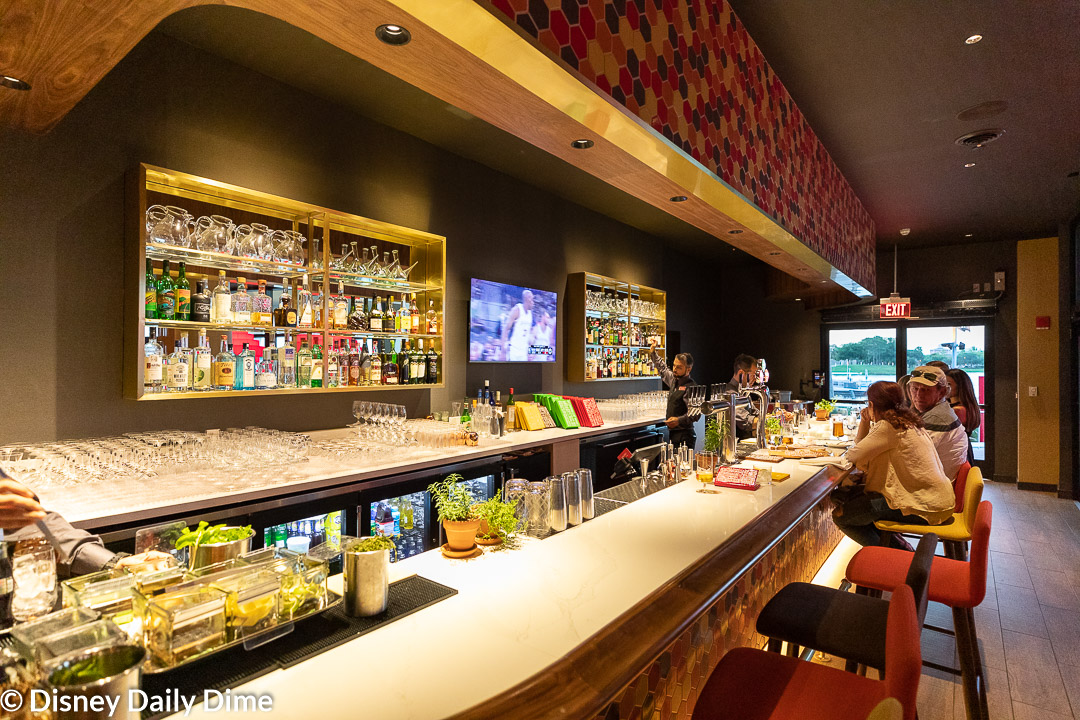 There's an excellent bar area in the back of the restaurant and as a parent I have to say I really appreciated that the bar wasn't front and center.  Tucked away in the back, you can isolate some of the noise that may come from it.  The bar scene was actually quiet on the night we went there, which was odd considering it was a Saturday evening.
Overall, we really enjoyed the feeling of Jaleo with one exception.  Before I dive into this, I will say we did show up about 10 minutes late for our reservation.  What can I say, even the Minnie Van can't save you from kids that take forever to get ready.  I know you've been there, right?  I did call the host stand before we even left our resort to make sure they could get us in if we were late and the hostess said it would not be a problem to accommodate us.
When we arrived we were seated almost immediately.  However, we were escorted to the side dining area that is really for Pepe, the counter service restaurant that is attached to Jaleo.  It is actually a José Andrés restaurant too.  At first we didn't think anything about this, but as the evening went on we notice we were the only party that was seated in this area.  It sort of gave us a complex about if the place was not really kid friendly, which wasn't the case as we saw several kids in the main dining area.  Maybe it was because we were late?  In any case, we almost felt like we were singled out and cast aside.  It was a little weird.  Worse, I felt like it detracted from the experience of the restaurant.
But we eventually moved on when the food started showing up.  Speaking off, let's look at what we ordered!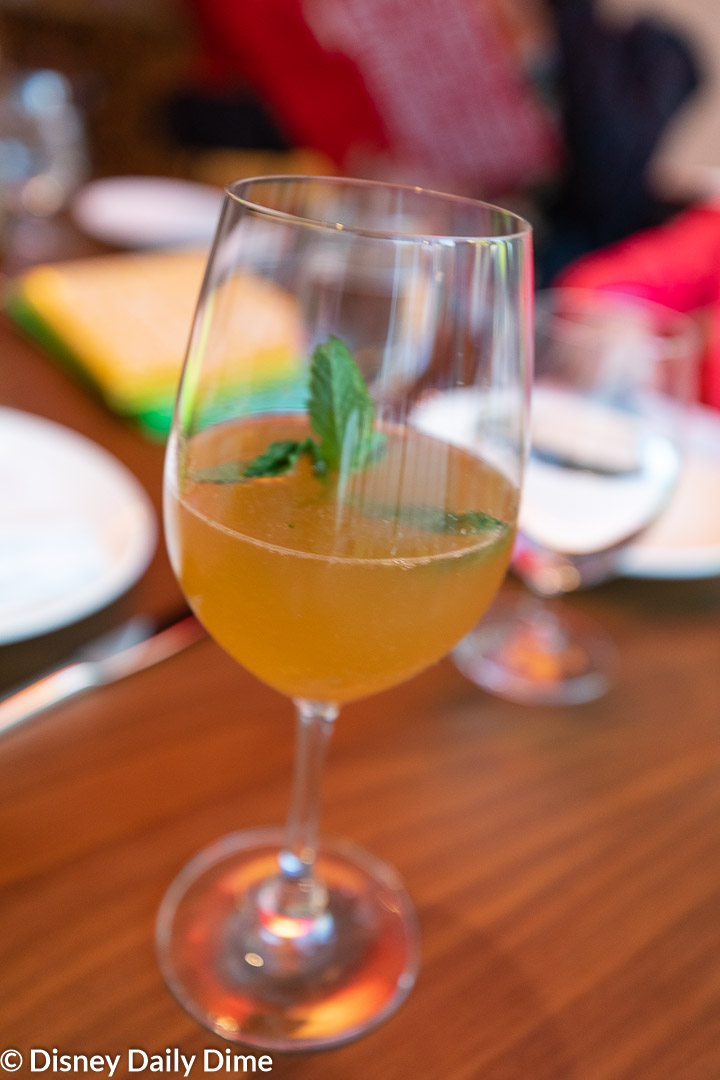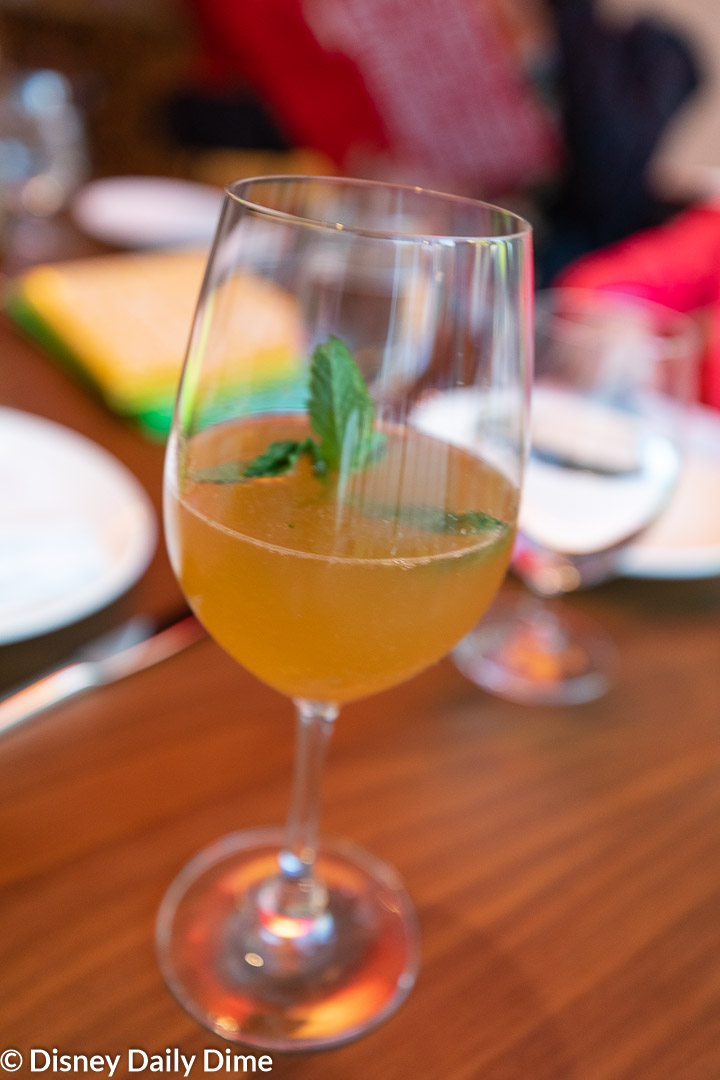 The Food and Jaleo Disney Springs is Fantastic, but Really Expensive
Drinks
Of course, I had to sample a cocktail with our meal!  I wanted to try something a little outside of my normal repertoire.  That led me to the Castaway Old Cuban.  Pineapple rum, lime, sherry vinegar, mint and Cava!  Yes, sign me up.  I actually enjoyed the drink as it was light, sweet and tasty.  As for price, the drink ran $15 and as you can see in the picture it was only a few ounces of a drink.  It seems a bit pricey to me, but not surprising for a signature restaurant at Disney World.
Now let's talk about the what you really care about, the food!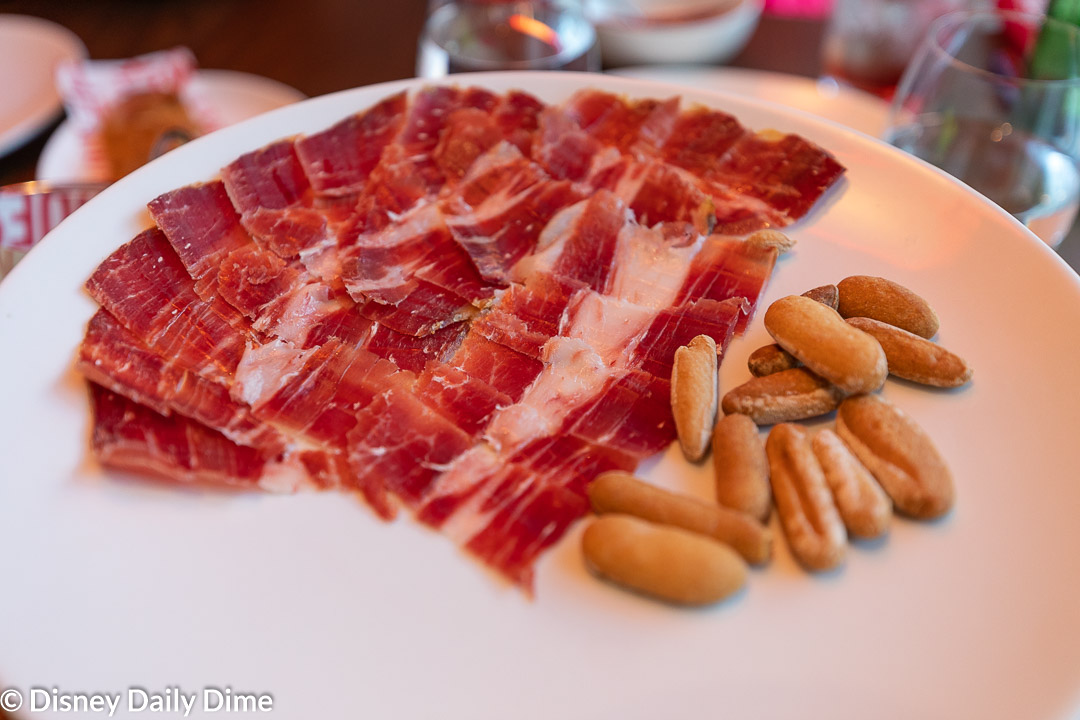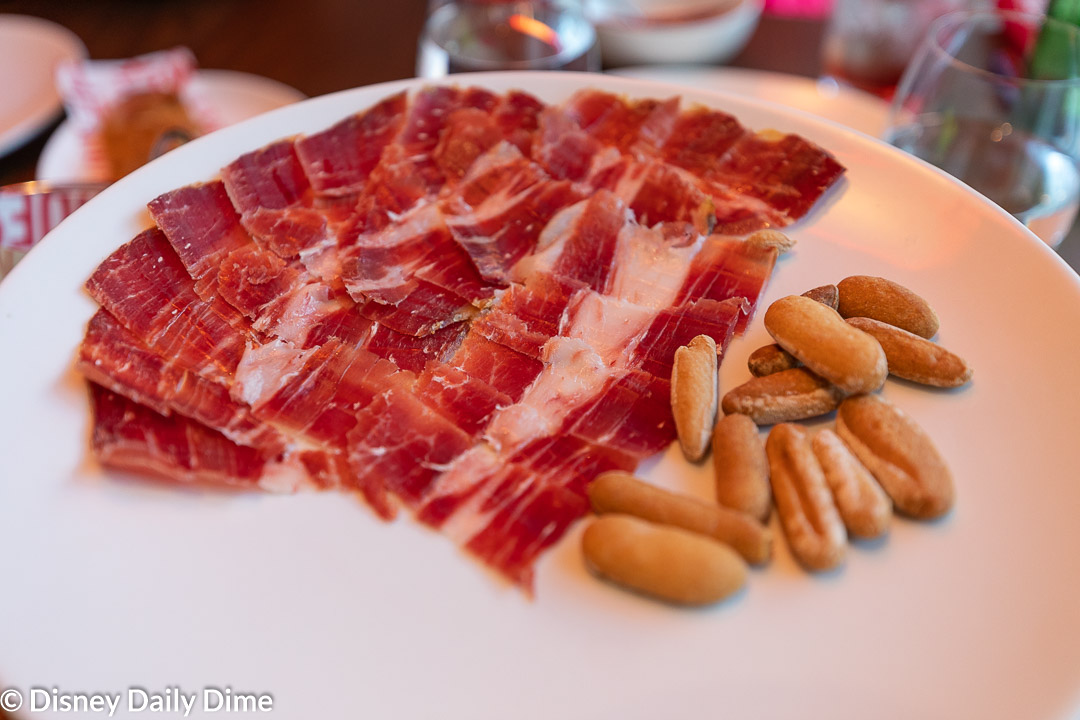 The Tapas
So as you'll see below, we went a little crazy ordering tapas.  I'd encourage you to take your time and order a little and wait to see how full you are before ordering another round of food.  We largely ordered everything at once and didn't pace ourselves.  This resulted in us over ordering and spending far more than we should have.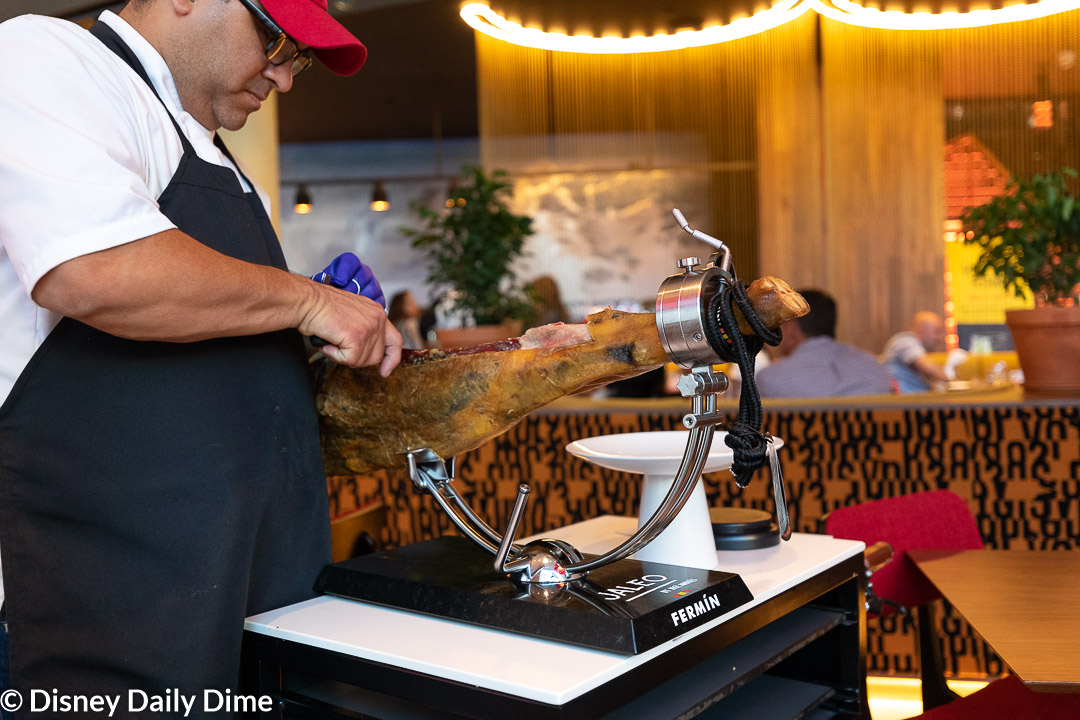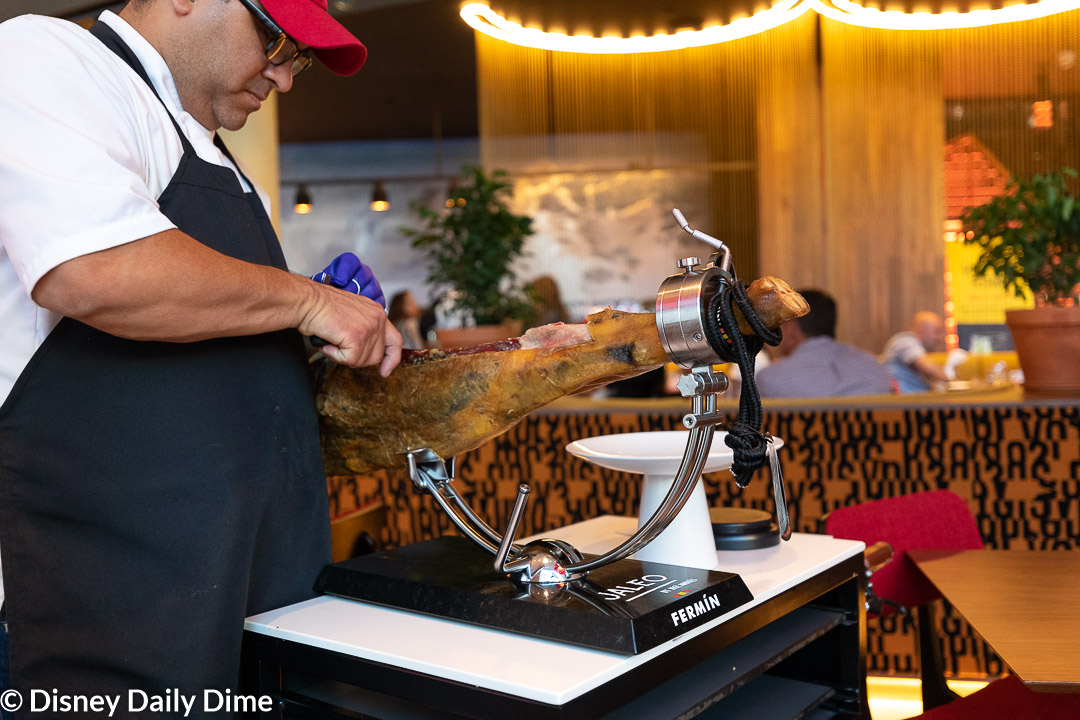 Our first tapas from Jaleo at Disney Springs was the Jamón ibérico de bellota cortado a mano, which is a 36 to 48-month cured ham from the legendary free range, acorn-fed, black-footed ibérico pigs of Spain.  The ham is actually carved table side for you, which is quite the thing to watch.  I will say the ham was fantastic and the small crunchy bread served with it was a perfect touch.  It wasn't overly salty and the thin cut made it melt in my mouth.  I loved this dish, but at $36, I'm not sure I would order it a second time.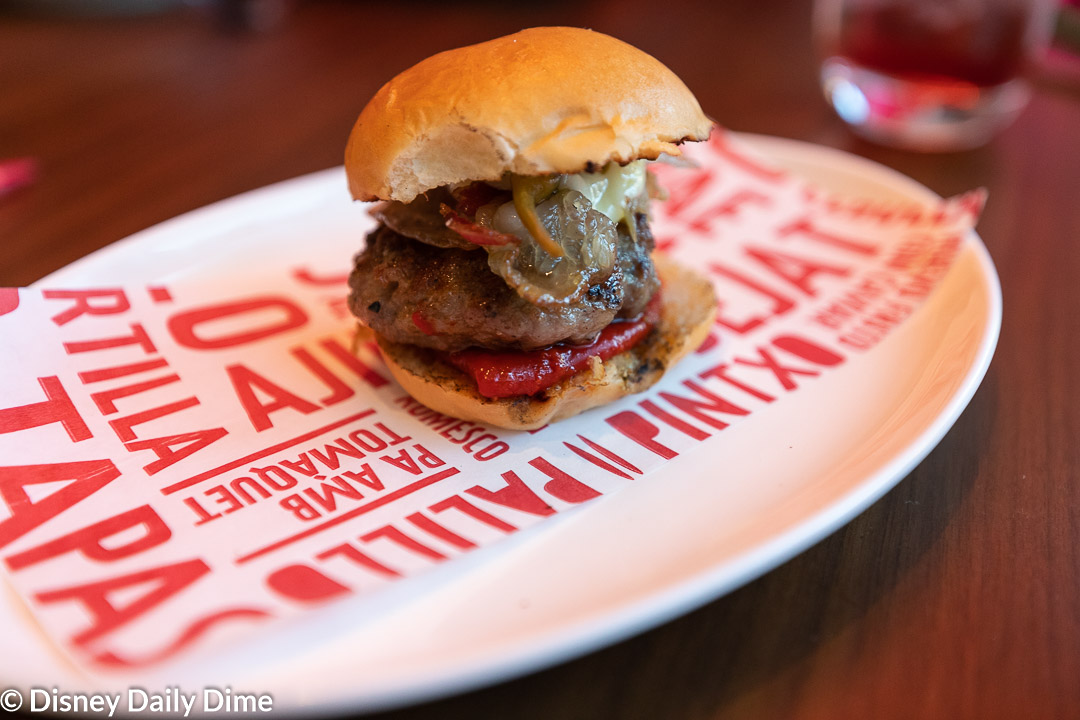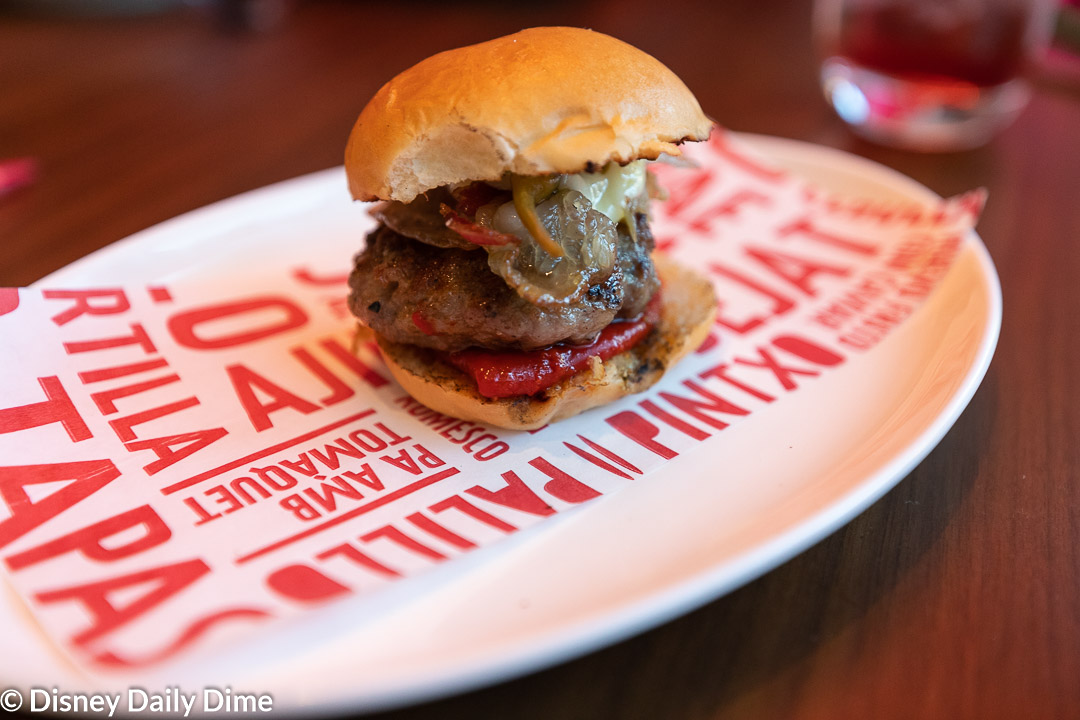 Next up, Anna ordered the Ibérico de bellota mini hamburguesa which is basically a really well-done pork-based slider.  It's made from the same black-footed ibérico pigs of Spain that our first tapas is  made from.  It was topped with a pepper and was delicious.  In fact, it was so good that Anna ordered a second one.  Of course, when it got to the table she declared she was full, so I ate some of it.  We were stunned that Anna loved this because she's a plain meat, cheese and bun hamburger girl.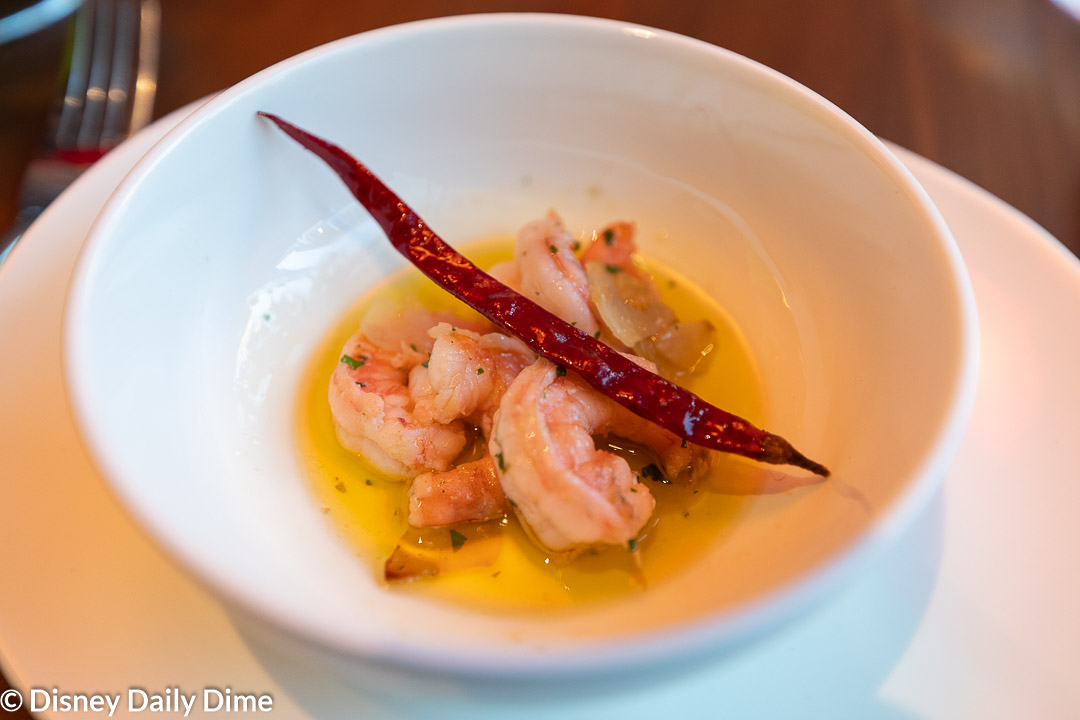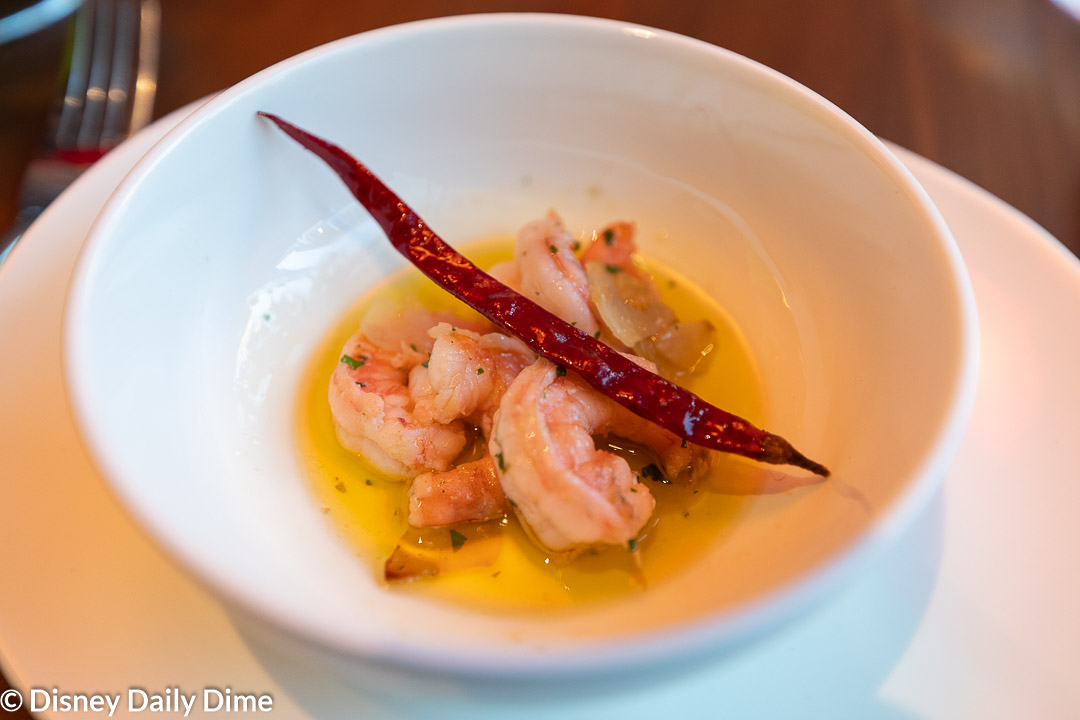 For her individual tapas Elsa ordered the Gambas al ajillo.  It's a basic tapas of shrimp, sautéed with garlic.  Else loved this dish so much she ate the first plate before I could try a bite.  She then ordered another one which I tried.  I would characterize it as one of the more boring dishes we had.  It wasn't bad, but I think there are better things to be had on the menu.  The portion size is also very small considering it will run you $18.  I wouldn't suggest getting it, but Elsa certainly does.  To each their own.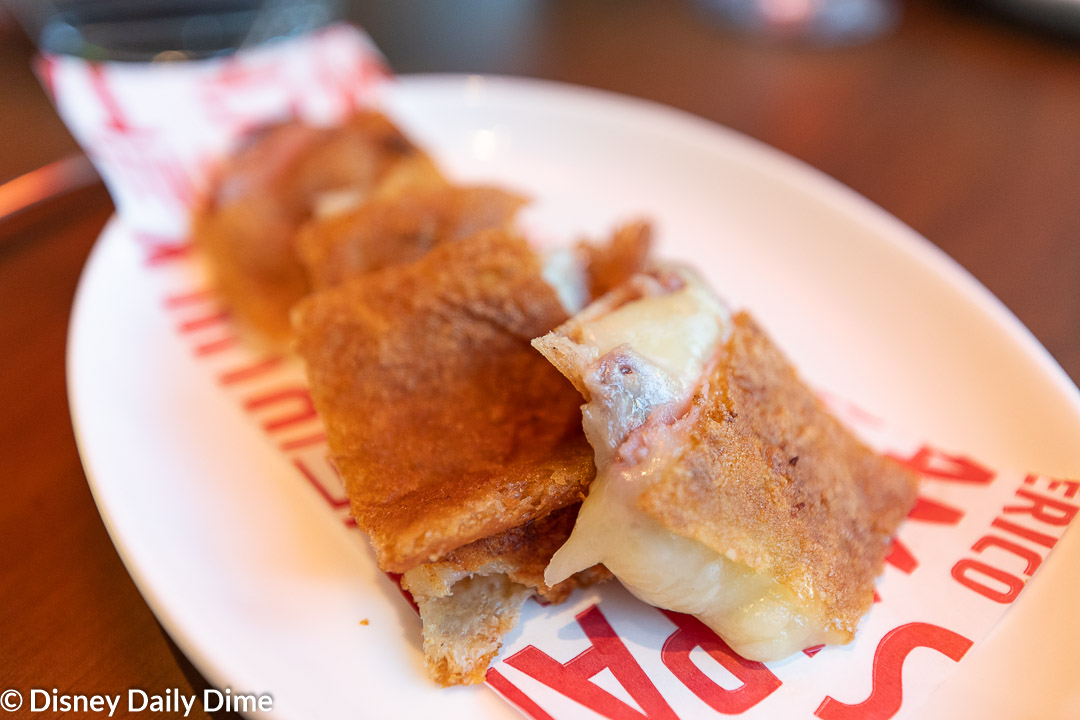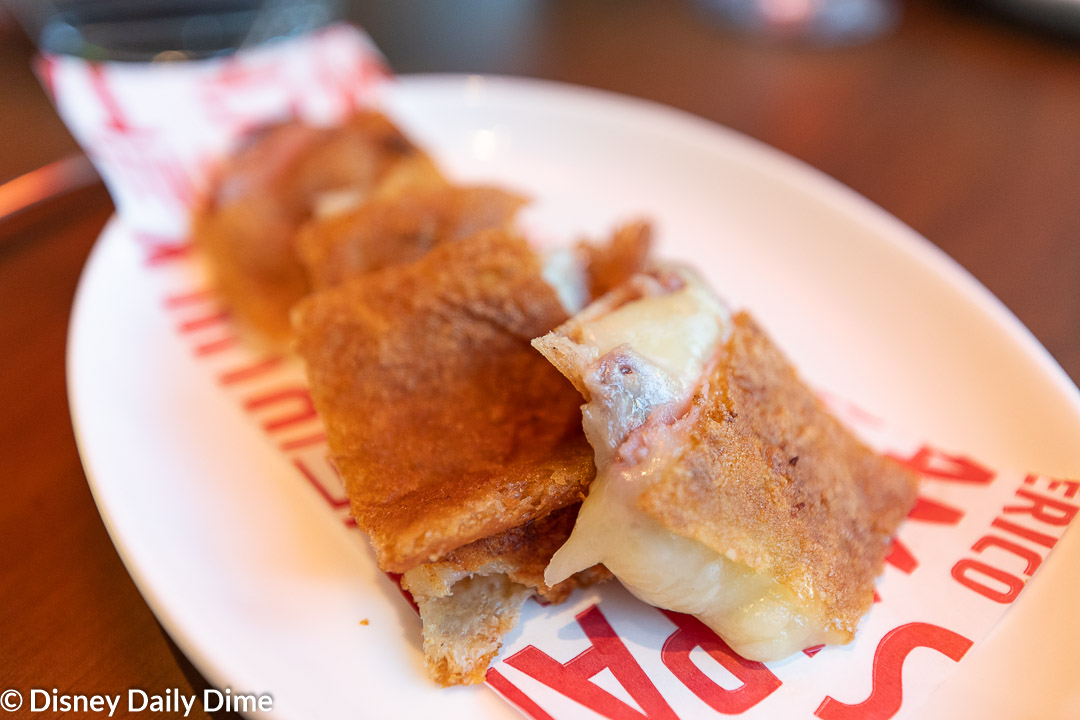 Next up Anna and Elsa both wanted to try the Bikini de jamon con queso Manchego.  It's a pressed sandwich made of serrano ham and Manchego cheese.  Both of the girls really liked the sandwich, which was fairly basic in flavor making it a good fit for kids.  At $14, you get a lot more food here than you do with the shrimp dish Elsa ordered.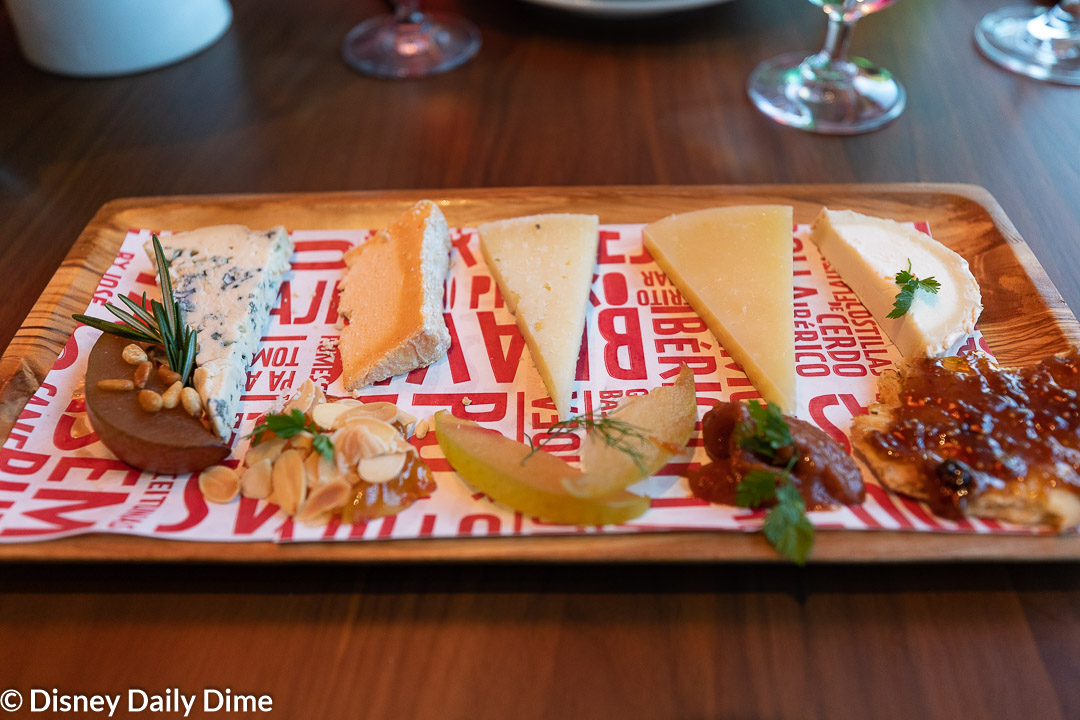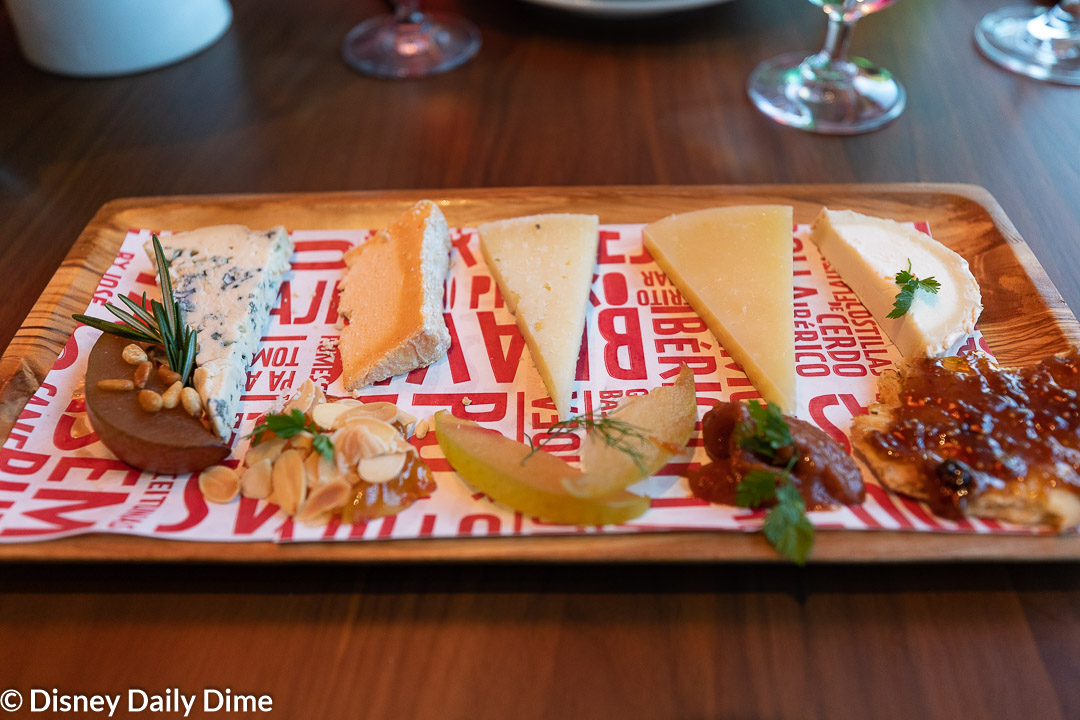 Carla really wanted to try the Quesos.  As you can see in the picture above, this isn't like chips and queso at your local Mexican food restaurant.  At Jaleo you get your choice of three or five different cheese.  You can find all the options on the menu.  In our case we picked five.  I'll just say there were some we liked and some we didn't.  If I were to go in depth on each of them, this review would be over 4,000 words long.  Stick with flavor profiles you know here.  At $28, I think we could find better value on the menu.
(A note from Carla: I am more adventurous when it comes to cheese and appreciate the accompaniments that are paired with the cheeses.  I thought they were fantastic, especially the Manchego.)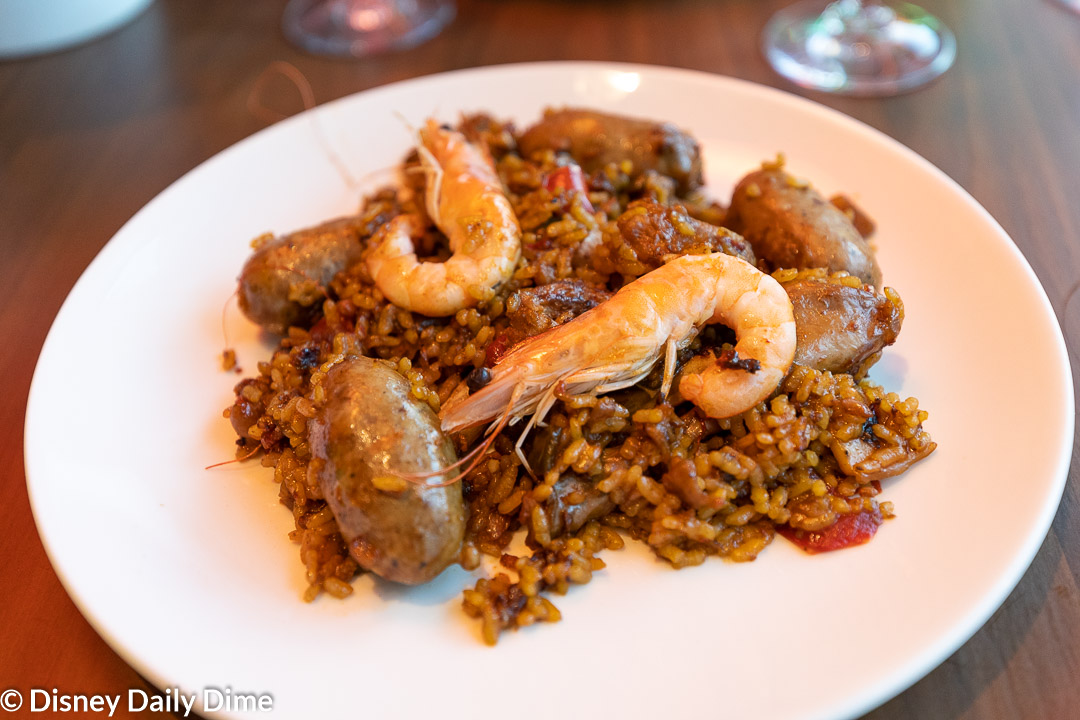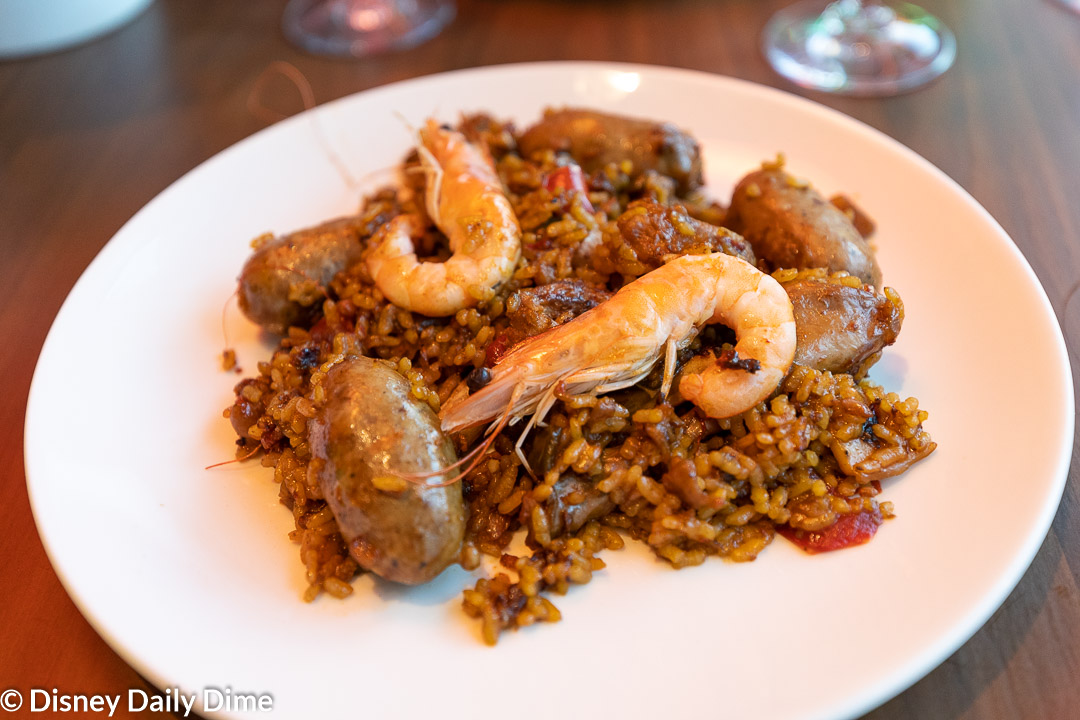 Next up, I wanted to try a Paella.  One thing to note here, if you look at the menu you will notice it lists five different paellas.  However only two of them are available on any given night.  In my case, I ordered the Arroz a banda con gambas.  This is a mixed paella of different meats.  It was fabulous!  Flavorful, with great textures I could have just had this as my meal because it was a very hearty plate.  At $32, I would have been content with this alone.  I would definitely would get it again.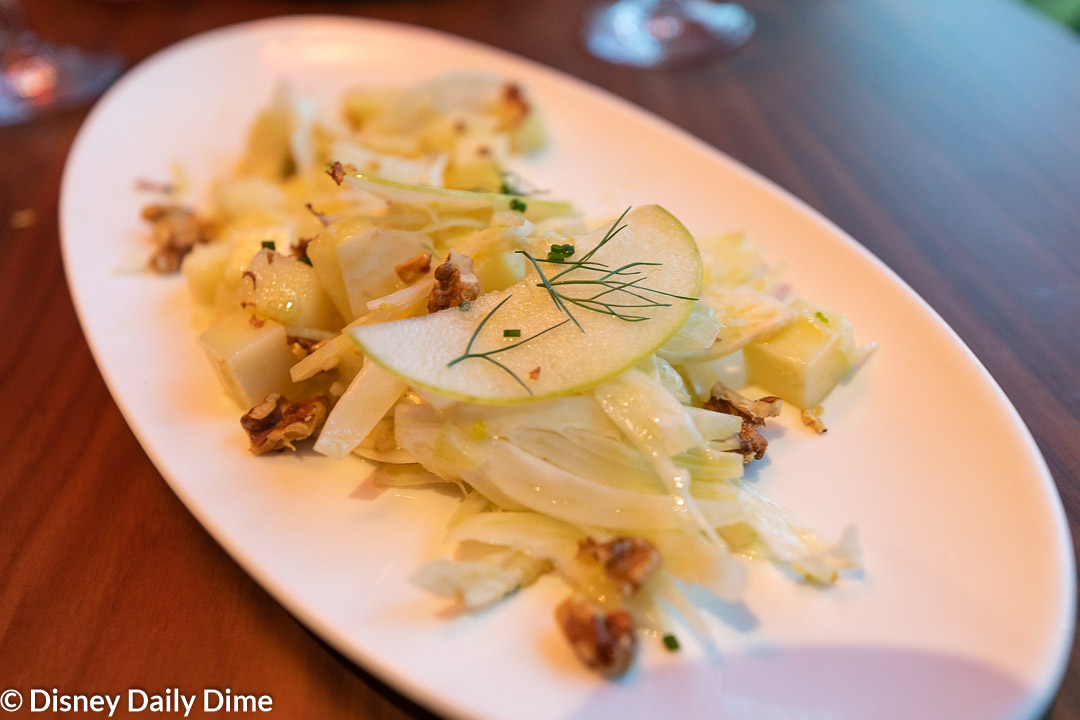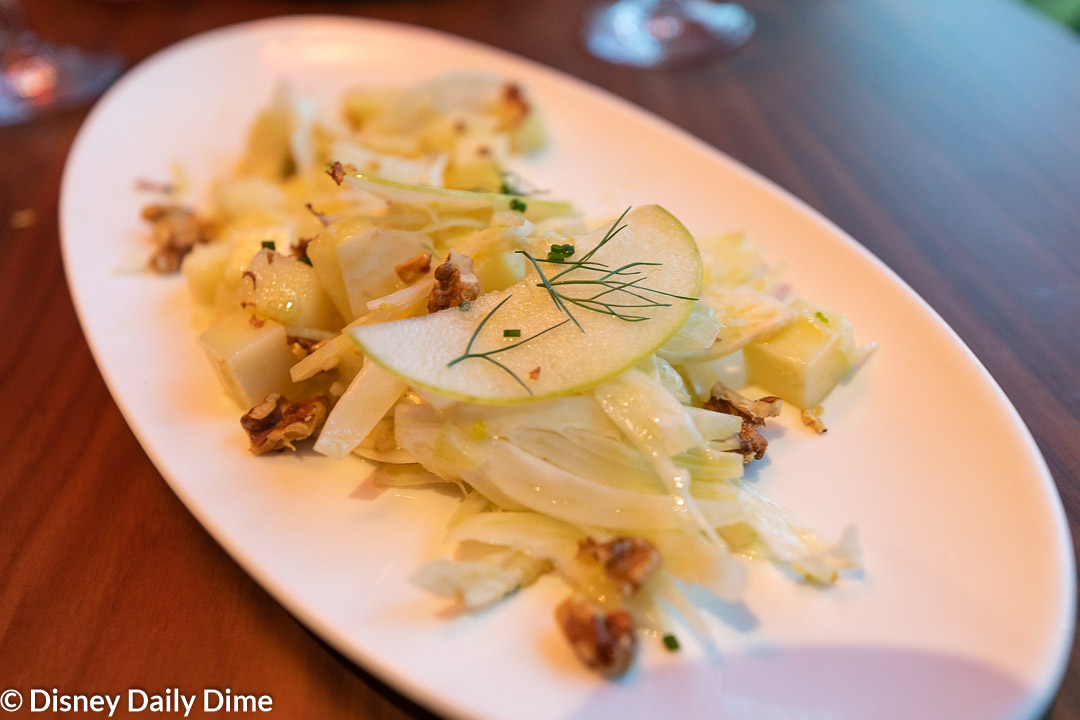 If you're looking for something a little bit lighter at Jaleo, they do offer small plates of different salads.  Carla decided to try the Manzanas con hinojo y queso Manchego.  It's a fennel salad with Manchego cheese, walnuts, and sherry dressing.  Carla loved this salad.  Between the salty cheese, and the crunch of the walnuts and apple slices she found a little piece of heaven.  For me, I was sort of blah about it.  I actually found the Manchego cheese to be a bit overpowering.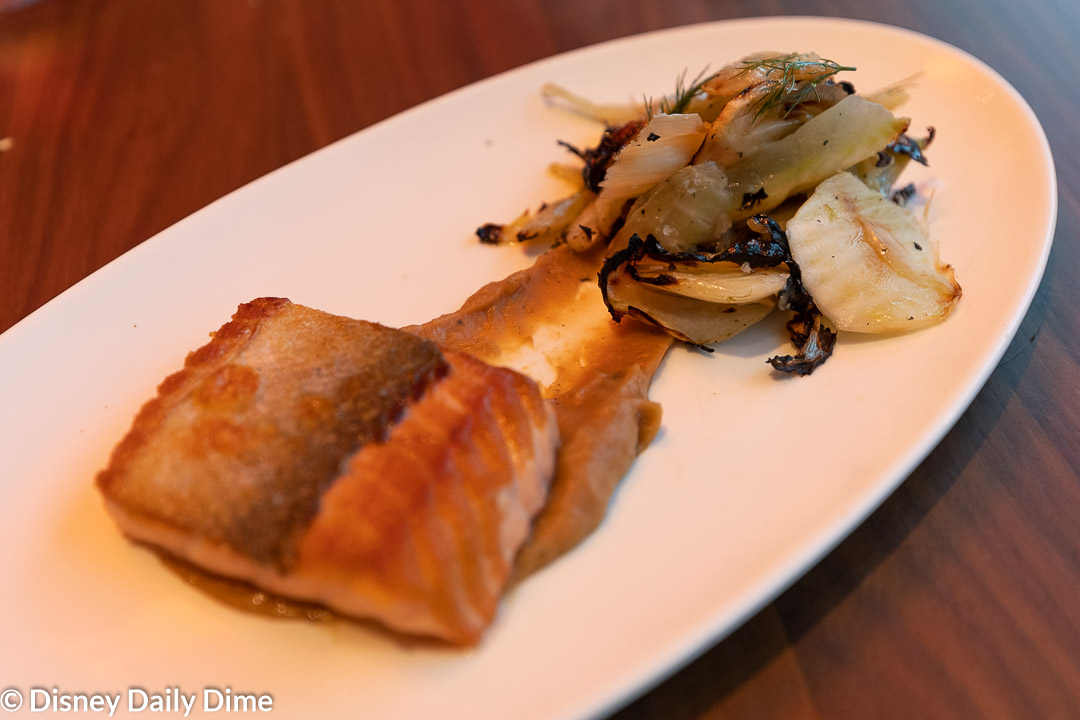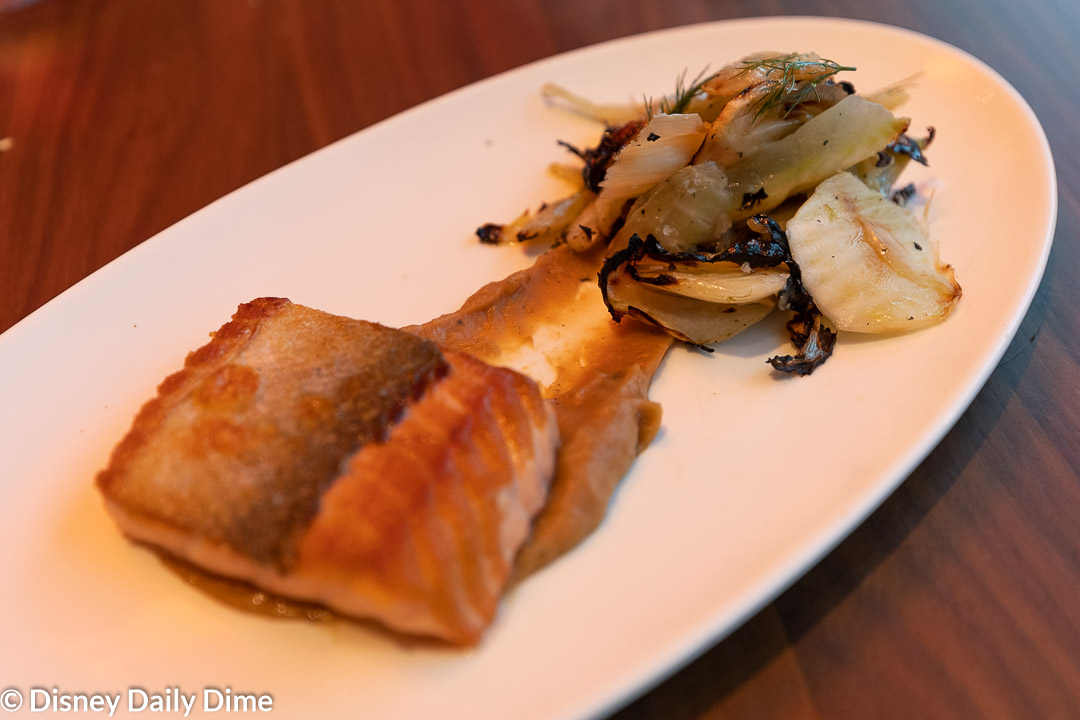 Next up was the Salmón con puré de manzanas, which is a Josper-grilled Atlantic salmon with apple purée.  The salmon was cooked to a flaky perfection.  Anna and Elsa were put off by the fact it still had the skin on one side, so maybe it's for adults only.  The apple purée was an excellent compliment to the salmon.  At $15, this was a much better value to us than the garlic shrimp, as it was a good-sized portion.  We'd get this again for sure.
At this point in the meal, we were pretty stuffed….but the food kept on coming.  Like I said, take your time in ordering.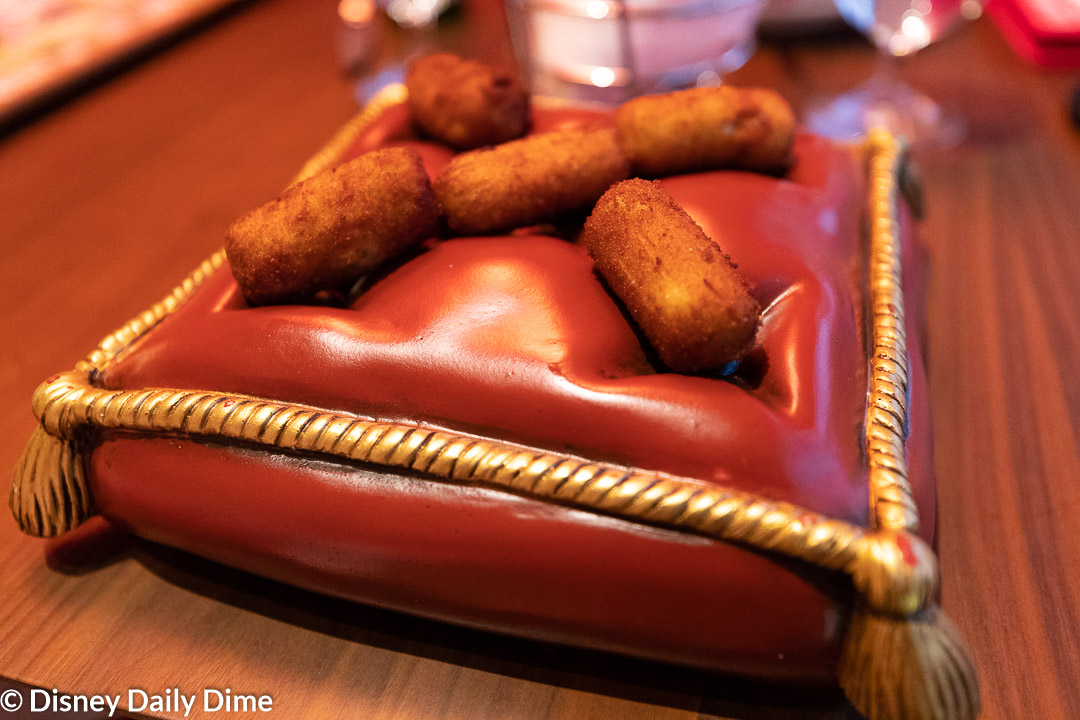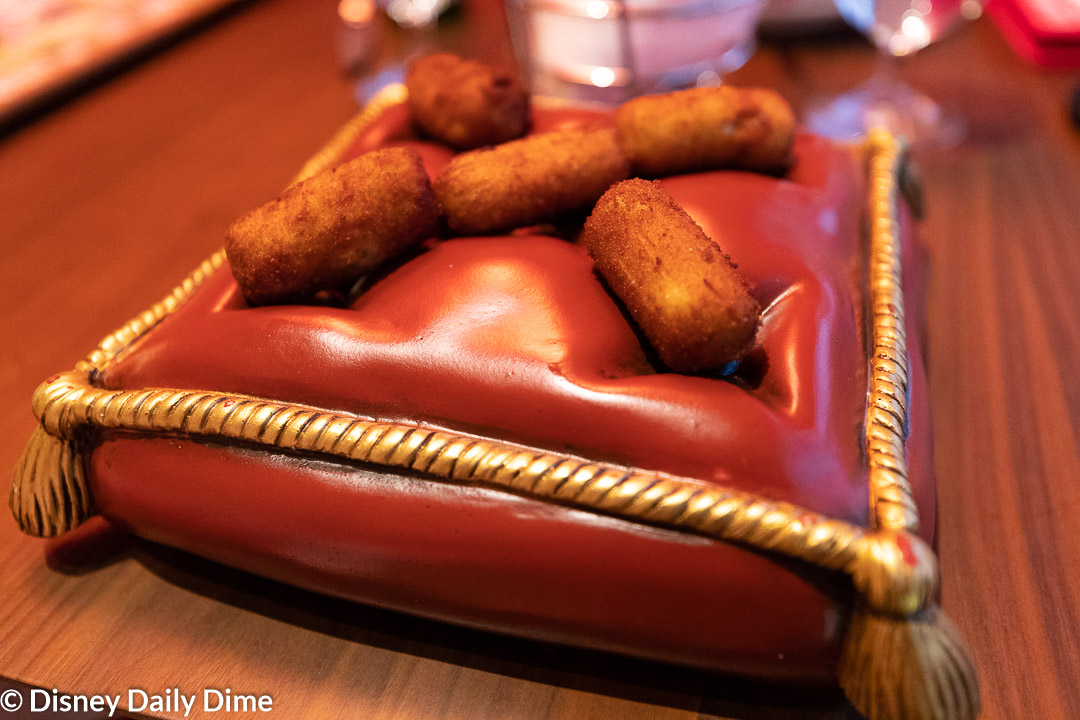 One of the signature items at Jaleo in Disney Springs, we had to have the Croquetas de pollo.  A chicken fritter makes this item sound pedestrian, but it is anything but.  The fritter is nice and crisp on the outside, but the creamy chicken on the inside is the real star.  When I bit into it, I wasn't expecting the flavors to come shooting out of the fritter, but that's just what happened.  And oh my, was it glorious.  I regretted the fact that they came so late in the meal.
The fritters are served on a pillow that is meant to resemble the pillow than Cinderella's glass slipped is held on which makes the presentation even better.  For $12, the price starts to be a little borderline to me, but as good as they were, I'd get these every time we go here.  These are supposed to be one of the more kid friendly items on the menu, but neither of our girls enjoyed it.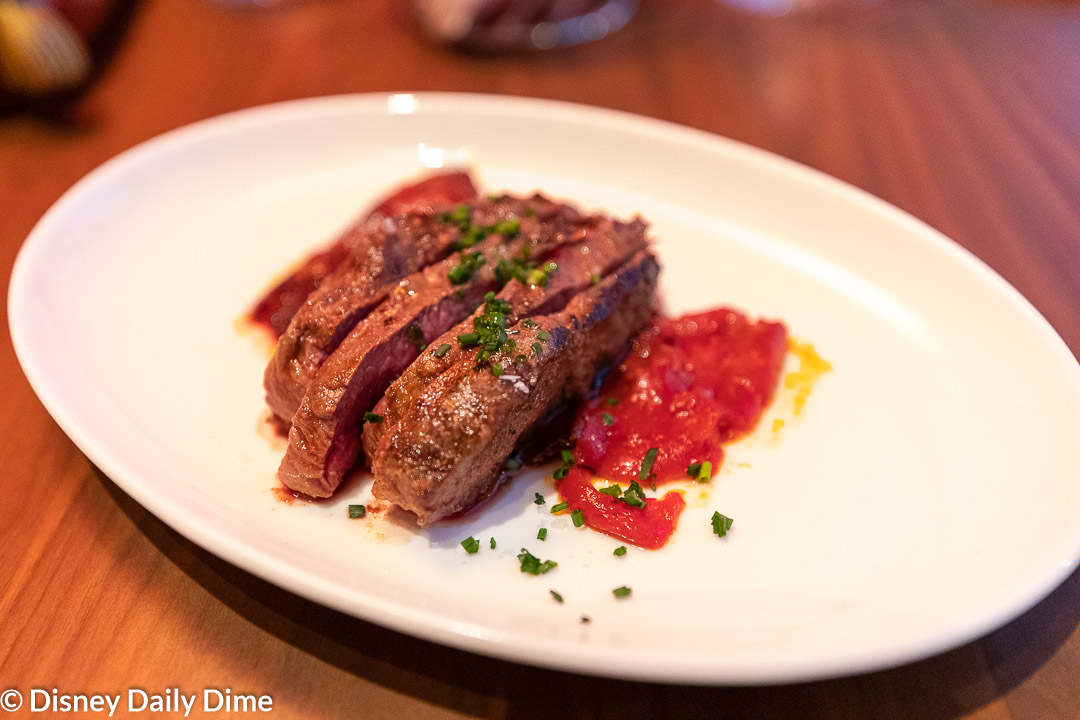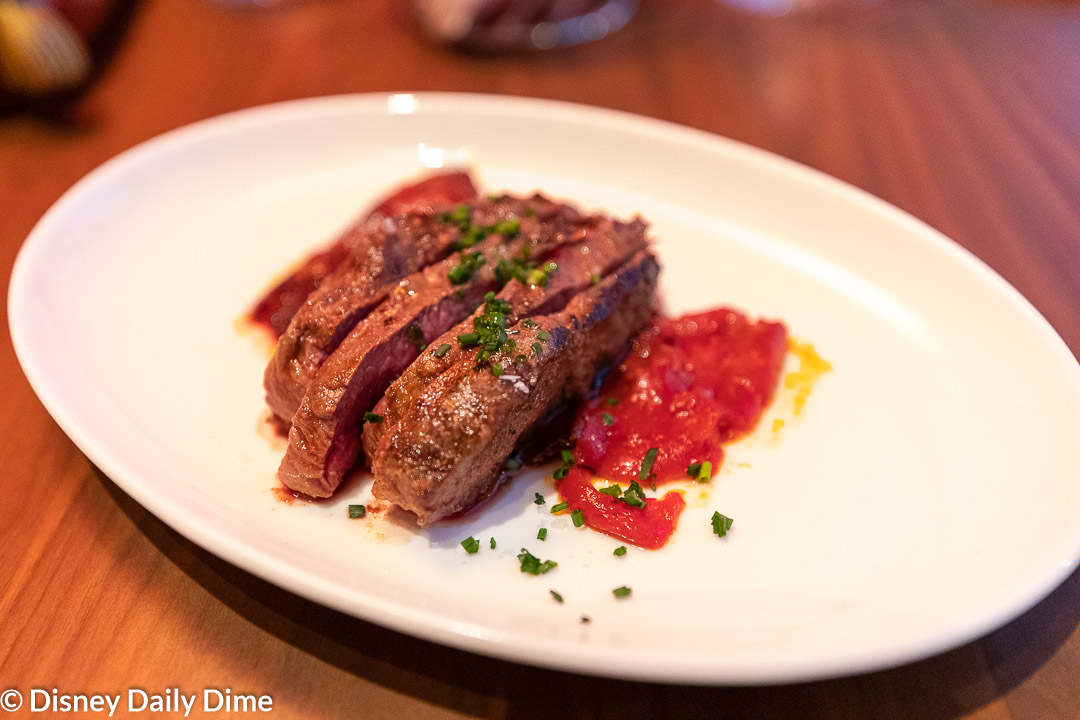 Our last entrée was the Carne asada con piquillos.  And once again, it was fantastic.  Six slices of flat iron steak with confit piquillo peppers underneath it.  The steak is cooked to a beautiful medium rare and great on its own, but grabbing some of the peppers with your bite makes it excellent.  It was so good that even in my completely stuffed state at the end of the meal, I at the whole thing on my own as the girls had tapped out.  Or in Anna and Elsa's case they were waiting for dessert.  Speaking of…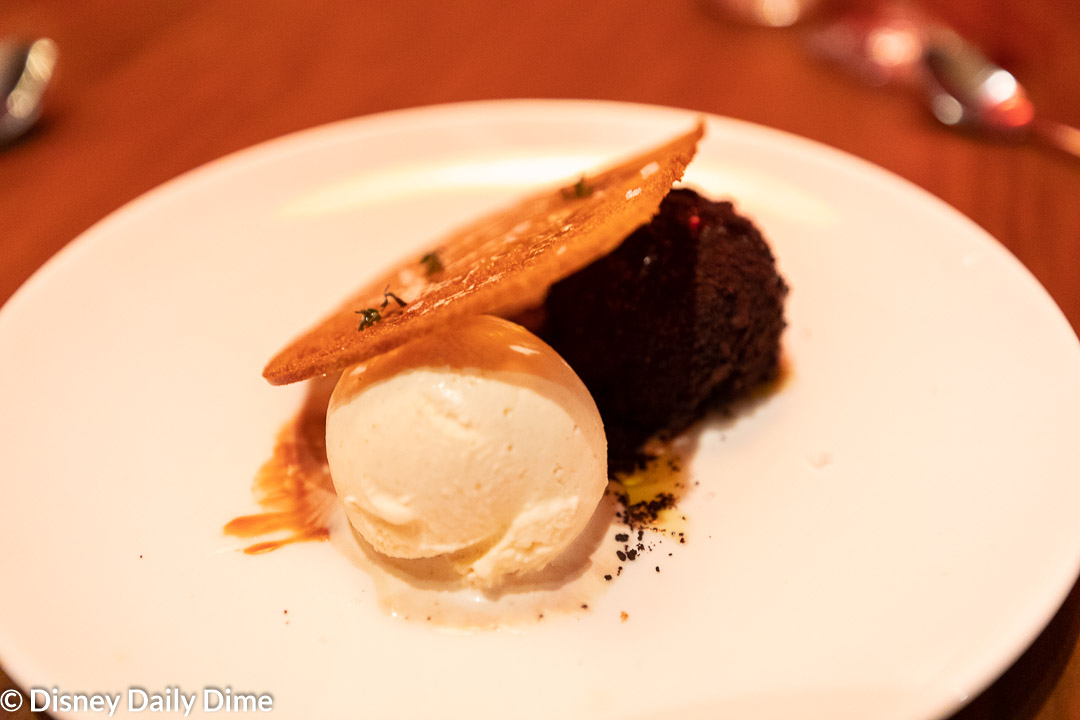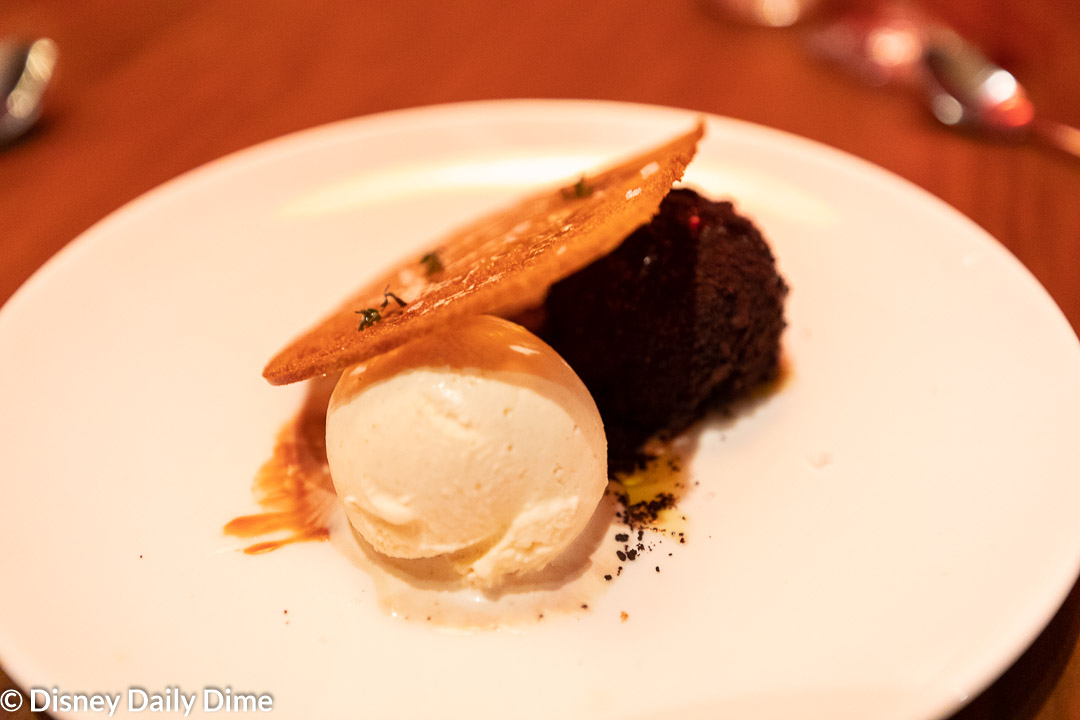 Dessert
We only ordered one dessert to share.  It was the one that the chef that came out to check on our table recommended as the best they have.  It probably has the best margins as well, but we'll overlook that fact.  We ordered the Pan con Chocolate, which is a chocolate custard with caramelized bread, olive oil and brioche ice cream.  I have to say the notion of olive oil on my dessert was a little odd, but it worked wonderfully.  It was a great way to cut the sweetness of the ice cream and custard.  The chocolate in the custard and the brioche ice cream balanced each other out perfectly for me, since I'm not a huge straight chocolate fan.  The dessert was creative and delicious.  Anna and Elsa were quite happy that they saved room for this too.   In fact, they were a little annoyed they had to share it with me.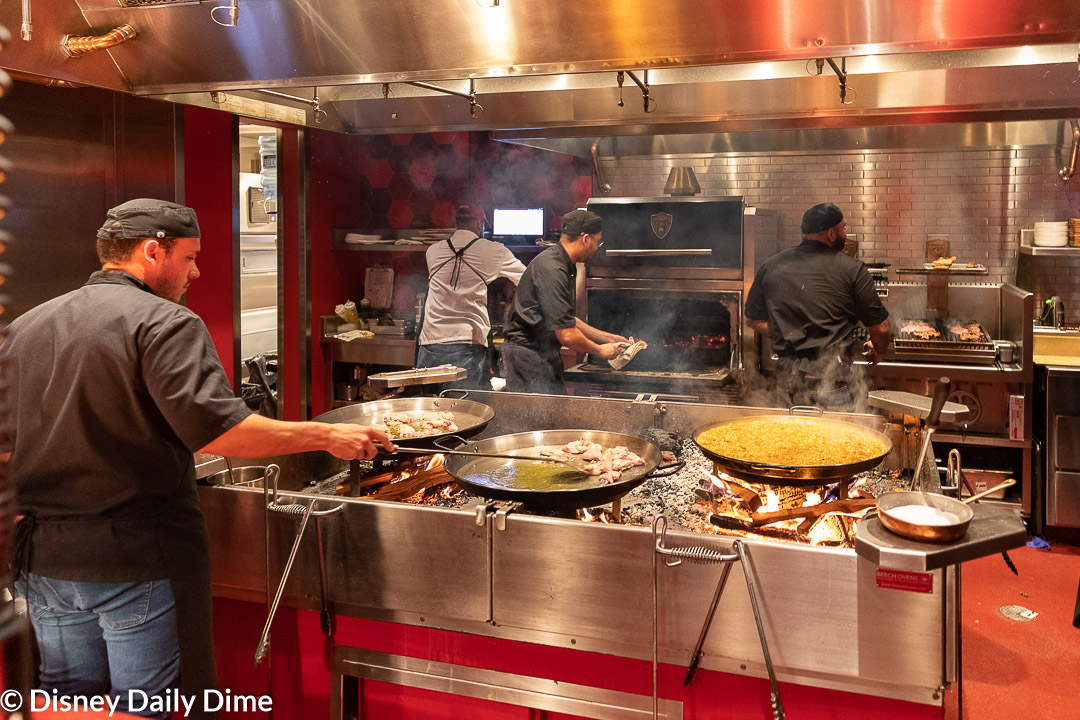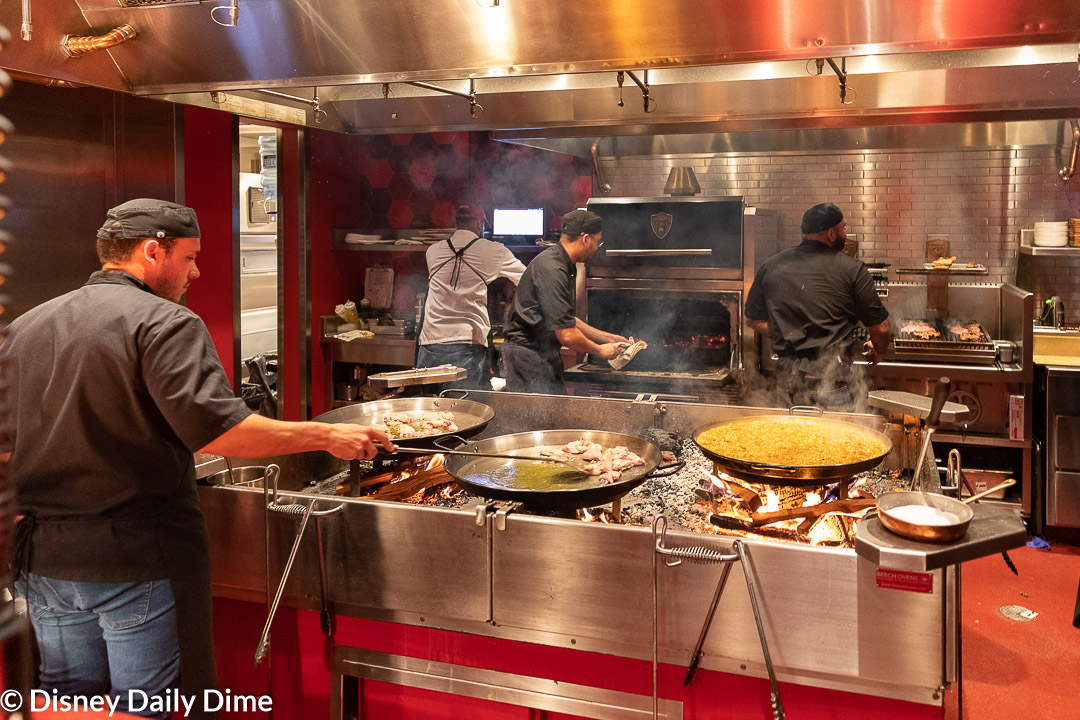 Jaleo Disney Springs Overall
When thinking about writing up our Jaleo Disney Springs review, I was a little torn.  The food here is top notch, but the cost is still challenging to us.  For all the dishes, drinks and dessert that we ordered, it cost almost $350 (including tip).  That equates to almost $90 per person, which is a bit high to us.  Now, I will say that we could have easily brought the tab on this meal down to something more like $40 per person if we weren't ridiculous with our ordering.  If you get to that level of pricing per person, it's a much more compelling value.
One thing to watch out for is the drinks.  If you pare back the tapas and just replace a few dishes with a few cocktails, you aren't going to lower your tab at all.  These drinks are not cheap.  Be careful if you like to tie one on.
The atmosphere and set up was much better than I imagined.  Being able to take the girls in with no real challenges around the set up was a welcome surprise.  The fact that Anna and Elsa found foods they really like and that they didn't cost all that much (by Disney standards) was even better.


When I think about the pantheon of restaurants at Disney Spring, Jaleo is clearly a worthy addition.  Heck forget Disney Springs, I'd say all of Disney World.  I'm not ready to proclaim it the best restaurant in all of Disney, partly because there are lots of places we haven't been to still and partly because I still prefer a few other places, like Morimoto Asia and California Grill.
Overall, I'd say if you can control how you order (unlike us) and keep the cost down in that $40 per person range, then this is a worthy dining experience.  Anything more than that and I'm not sure about it then, especially if you have kids.  For adults I could justify maybe up to $50 each, but still think you can keep it down to around $40 per person.
Wrapping Up
With that, we'll wrap up our Jaleo Disney Springs review.   It's a great new signature dining experience at Disney World for sure, but you've got to be careful how you order here.  Otherwise, you may break the bank without even realizing it.  At least until the check comes.
If our Jaleo Disney Springs review was helpful, or at least entertaining, please like and share this with your friends or anyone you think will find it useful.  Just use the sharing buttons on the page.  We always appreciate it when you share our posts, as it allows us to spread the word about our blog and hopefully allows us to help others.