With the opening of Toy Story Land at Disney's Hollywood Studios, all Disney fans were interested to see what dining options would come with the new land.  Some of that curiosity was due to this being a new area within the park.  However, if we're being honest, some of the curiosity was because the food situation in Hollywood Studios is pretty weak, especially on the counter service side.  Woody's Lunch Box was announced as the new counter service offering located in Toy Story Land, serving breakfast, lunch and dinner.
Some people were a little disappointed that Toy Story Land only brought us one new dining location.  Having now been to Toy Story Land a couple of times, we now know why.  The land actually has a pretty small footprint.  Finding a place to wedge in another counter service restaurant would be pretty difficult.  And forget about a table service location, there isn't even enough room for a dedicated gift shop!
Woody's Lunch Box features basic American style food.  Although, many of the offerings come with a creative twist.
In our Woody's Lunch Box review below, we'll cover the theme of the restaurant, ways to navigate this counter service location, and of course the food.
The Theme and Restaurant Setup Follows the Toy Story Land Pattern Well
In case you're not familiar with the overall idea behind Toy Story Land, let's have a brief primer.  It matters for understanding the theme of Woody's Lunch Box.  The premise is that Andy has set up Toy Story Land in his backyard.  Andy has personally designed and built the whole set up, including the restaurant.  We guests of Toy Story Land are all "Andy's toys".
In Andy's wise 8-year-old brain, he knew his toys would need to eat.  So, he used his favorite toy Woody's lunch box to craft a place of nourishment.  And heat exhaustion, but we'll get to that…
As you can see in the picture above, Woody's Lunch Box is just that.  A lunch box, much like the old metal ones many of us used to take the school as a young child.  Mine was a Transformers theme, but unfortunately Universal has the rights to them.
Ordering Can Take A While, Use the Mobile App
When you first get to Woody's Lunch Box, you may very well be greeted by a line that looks ridiculously long.  Based upon our experience and others we have read about, it is not uncommon to find waits of 20-30 minutes just to order.  That doesn't even count getting your food.
We highly recommend you use the My Disney Experience App and use the mobile ordering functionality to order your food.  This will save you large amounts of time.
However, there are a few things you should know about mobile ordering.  First, the app is much like the rest of the Disney World IT infrastructure.  In a word, glitchy.  It isn't unusual for it to crash on you as you try to order.  Just keep trying.  It will work eventually.
Second, during busier times, Disney may remove Woody's Lunch Box from the mobile order app and force all patrons through the long queue.
If you do order using the mobile order feature, don't wait in the main queuing line.  You can skirt around to the right side of Woody's Lunch Box and pick up your food there.  You can actually see the sign for mobile order pickup on the right window in the picture at the top of the page.  When we were there, they had someone calling out orders, so you don't have to guess what was coming out of the window.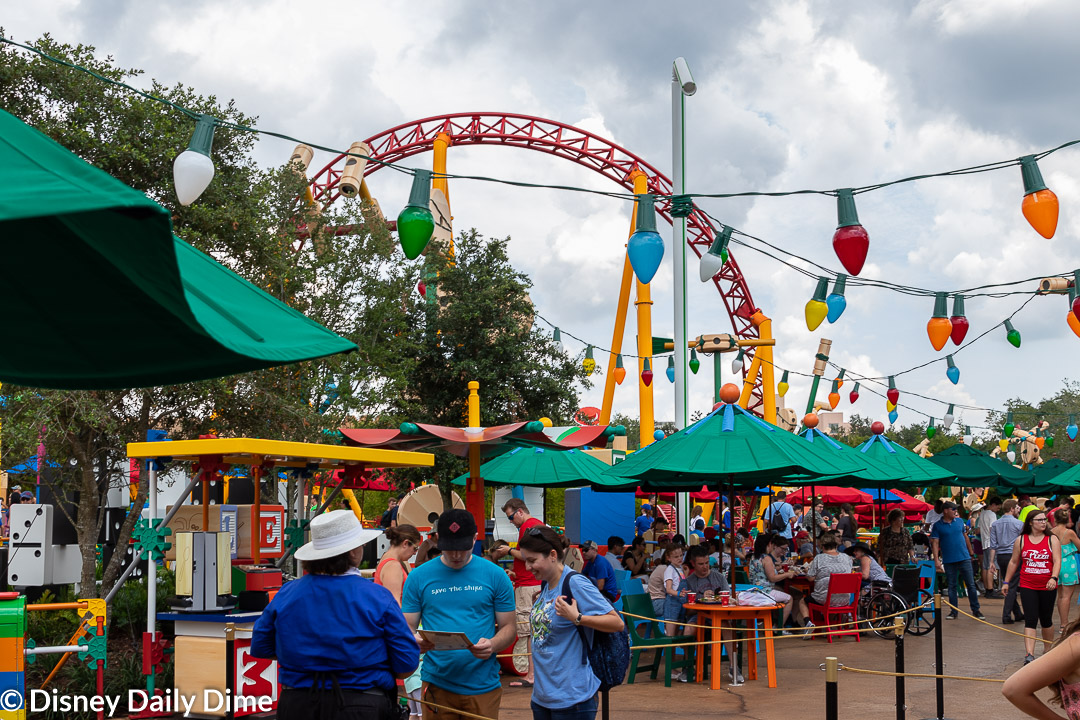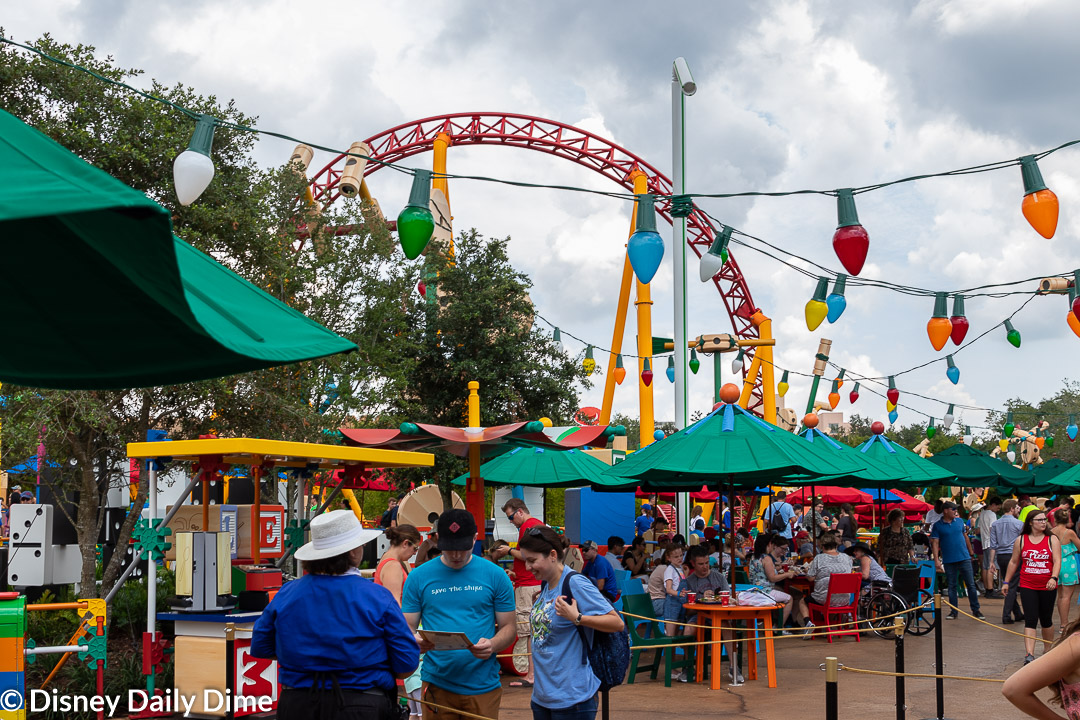 Seating is Bad and Shade from the Heat is Almost Non-Existent at Woody's Lunch Box
The other thing you will notice when you get to Woody's Lunch Box is that the seating area is very small.  Compared to the number of people they are serving, we can't understand the math of how Disney determined to put in this few tables.
If you can find a table to sit at, you will be one of the lucky few.  Otherwise, you may be standing at a high-top table or just have to take your food with you out into the park.  Or you can do like Anna and Elsa and just sit on the ground.
Along with the lack of seating is a lack of shade.  Most of the tables have umbrellas on them, but they're fairly small and if the sun is shining the wrong direction, they will do you little to no good.
If we're being blunt, the seating is ridiculous.  Nothing like a blazing hot sun, hot food and no shade.  The lack of shade is a general Toy Story Land problem and is a puzzling design choice to us.
You'll also notice a lack of shade in the queue to order.  You will have to stand in the hot sun until you make it to the first couple of rows of the queuing line.  It could be a long wait in blazing heat if the line backs up.  Another reason to use mobile order, if possible.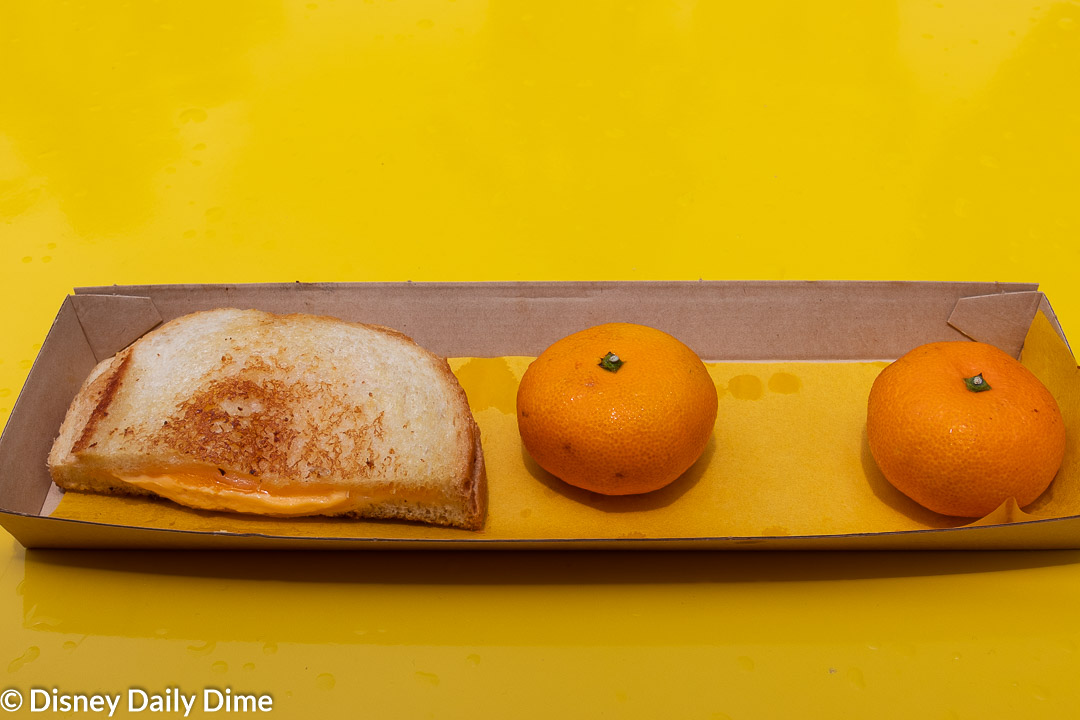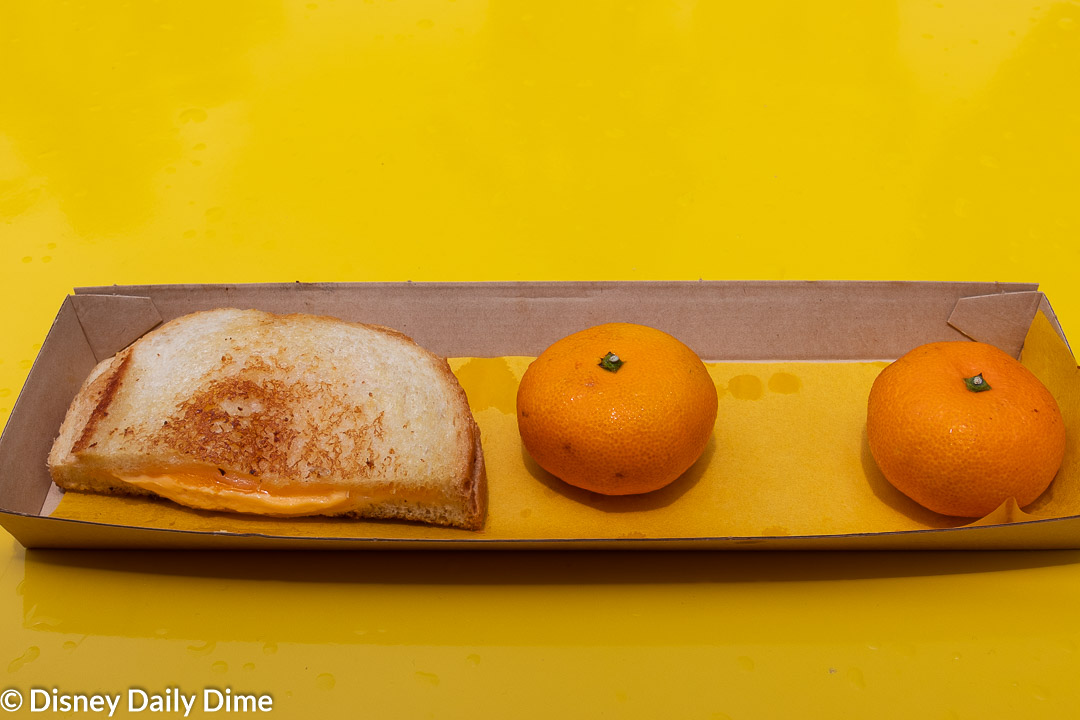 The Food at Woody's Lunch Box Had a Few Hits and a Couple of Bad Misses
Kids Entrees
For this dining experience, Elsa elected to get an adult entrée, so we'll review that in the adult section below.  The only real "kids" item we ordered was the kids grilled cheese for Anna.  That was one of two options for kids, with the other being a turkey sandwich.
As you can see above, the grilled cheese is actually only a half sandwich, served with Mandarin Cuties.  In case you aren't familiar with cuties, they are the small oranges.    Anna is a big fruit fan, so having the option for the Cuties was a hit with her.  This was fortunate because the grilled cheese was not.  She took all of about 3 bites of it and said she didn't like it.  I tried it as well, and will say that while it wasn't terrible, I wouldn't call it great.  As you'll see shortly, Carla disagrees with this opinion.
I think the biggest problem Anna had with the grilled cheese was that it had a mixture of cheddar, provolone and a cheddar cream cheese spread inside.  Also, the bread is buttered with a light garlic butter.  If I had to pinpoint it, the cream cheese spread was thing she liked the least, but it isn't 100% clear.  This was definitely more of an "adult" grilled cheese.
Like we said earlier, everything they serve is classic American food, with a twist.  In this case, the twist didn't sit well with Anna.  If your kid is used to traditional grilled cheese, with just basic cheddar, they could have this reaction too.
All in all, it was a disappointing sandwich for a kid.  Picky eaters beware.
As a side note, we did order the 3 pack of Mini Babybel cheese for us to share.  Anna and Elsa loved this.  Nothing unique about them, but it was something to help fill their tummies.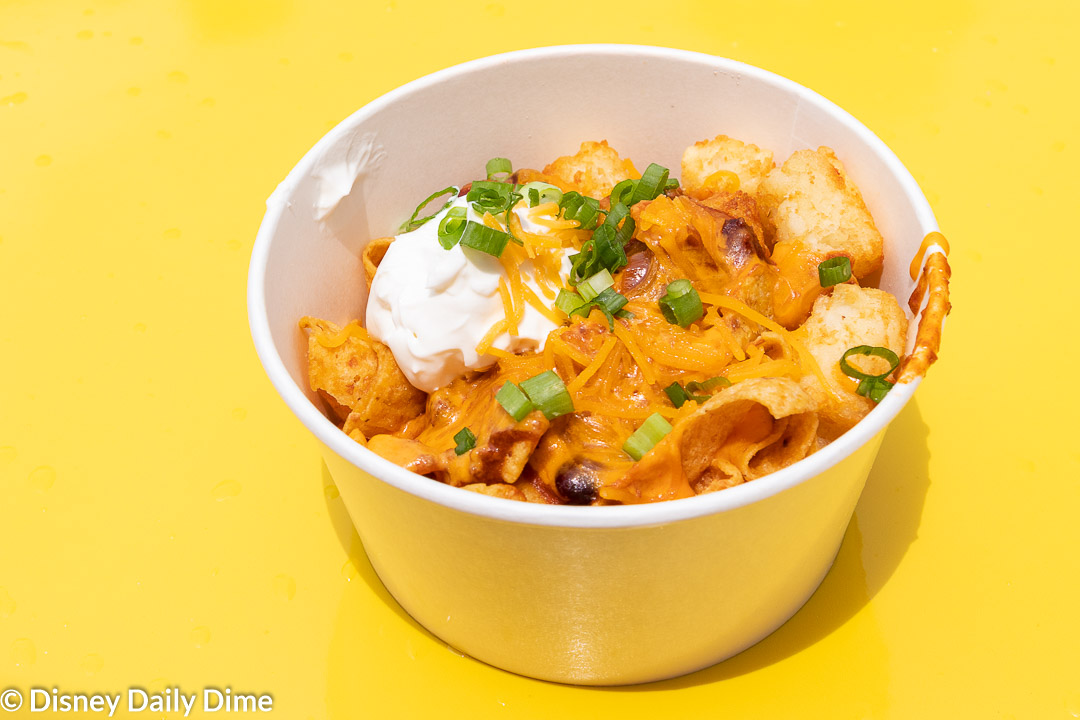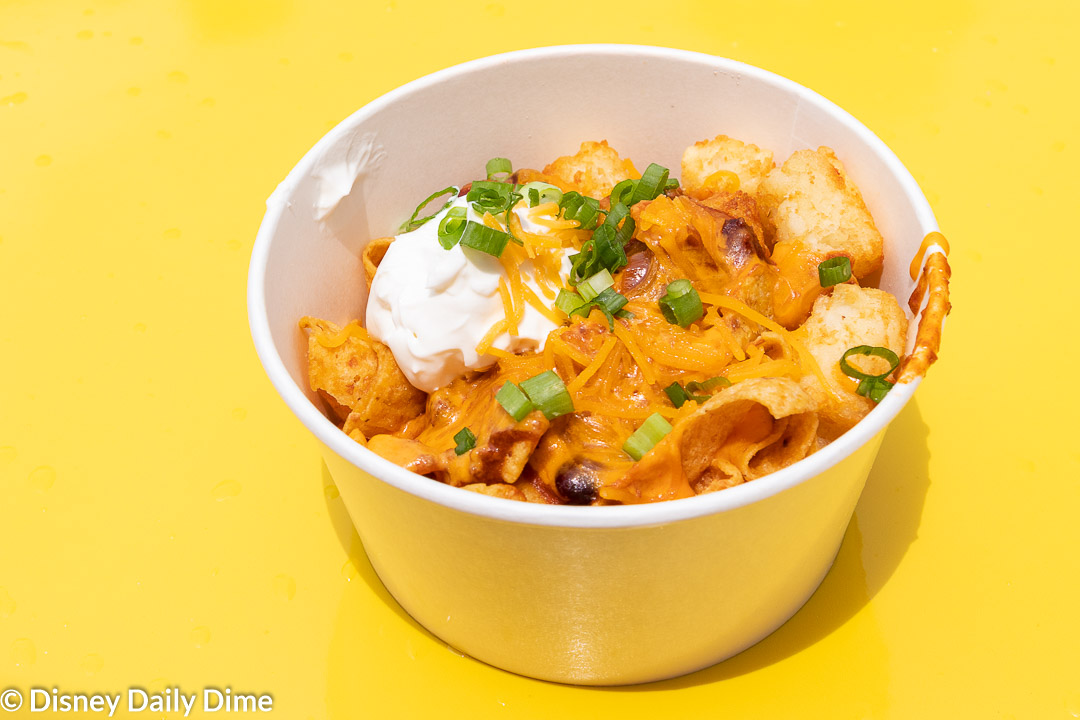 Adult Entrees
For the adult entrees, we had three different items.
Elsa decided to branch out and ordered the "Totchos".  As the name implies, it's a play on nachos, with tater tots in place of the chips.  The menu actually refers to the tots as potato barrels.  The tots are covered in beef and bean chili, shredded cheese, and queso.  They are lightly topped with green onion, sour cream and tomatoes.  Oddly we couldn't find any tomatoes on ours, but the menu says they are supposed to be there.
The Totchos were awesome.  They were by far the best thing we ate at Woody's Lunch Box!  The tater tots remained crisp on the outside, despite being covered by the chili.  Oh, and about that chili.  It was excellent with great hearty flavors.
Elsa really enjoyed the Totchos too.  Her only complaint was the sour cream.  Make a mental note to ask for that to not be on there if you kid doesn't like sour cream.
A brief word of warning here.  This is chili, beans, and cheese, oh my!  It's a gastronomical feast, which could lead to a bathroom trip or two.  So maybe you'll want to share this with someone as more of an appetizer.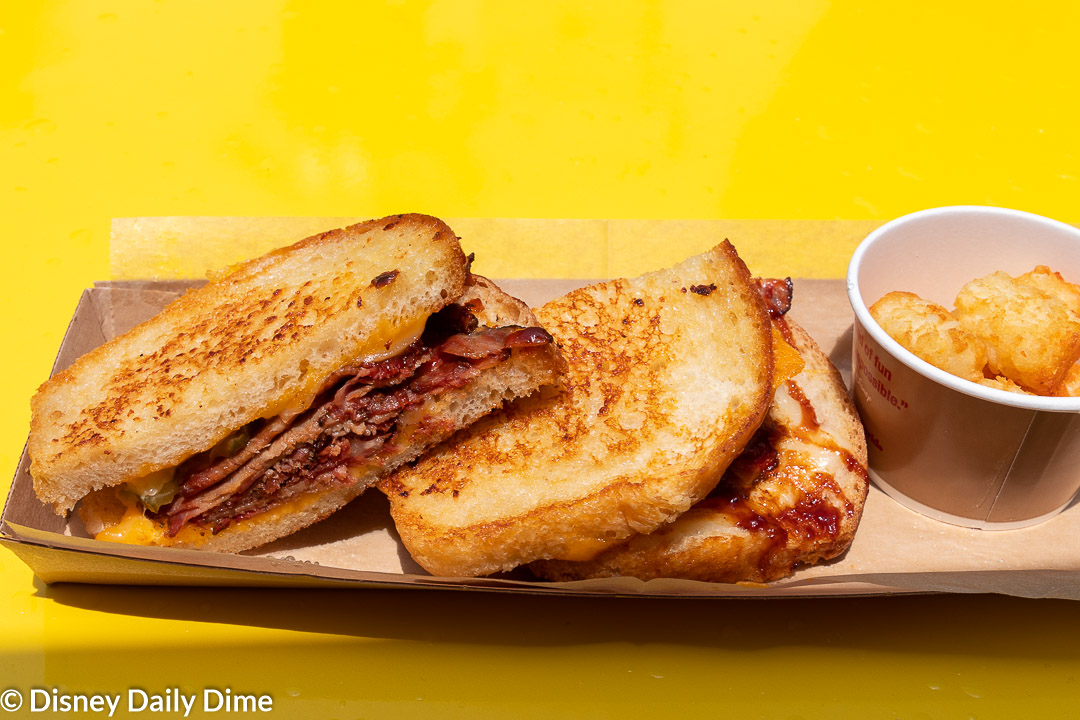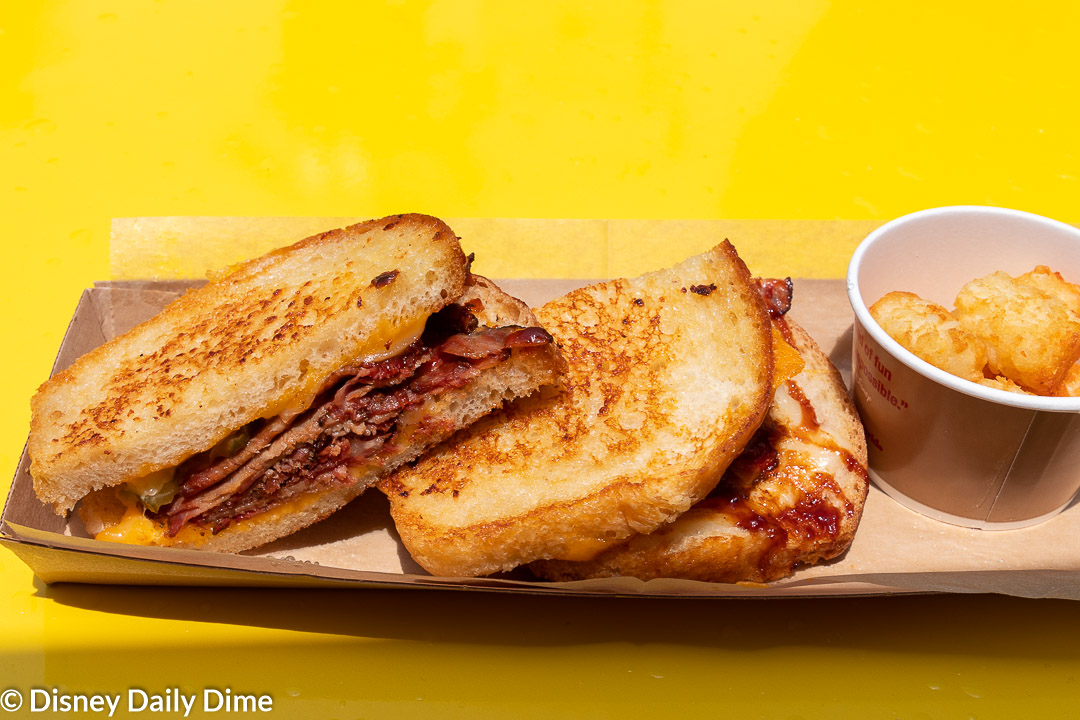 I had the BBQ Brisket Melt and I'm not going to lie, it was terrible.  It was by far one of the saltiest meals I have ever had in my life.  And that is saying something, considering my affinity for Mexican food.  It was so salty and overpowering, I only ate one half of the brisket melt.  I couldn't get much of the flavor of the brisket because of how overpowering the salt was.
Now, maybe I got a bad batch or something was just off in the kitchen that day, but it was barely edible.  If I hadn't paid $13 for it, I may have just thrown it in the trash after the second or third bite.
We've read several other reviews, all of which praised the BBQ Brisket Melt, so we're inclined to give it another try at some point.  However, it was a big miss for this particular meal.
Lastly (and not pictured), Carla had a gluten free grilled cheese sandwich.  The sandwich came on gluten free bread, and featured the same three cheese blend we discussed on Anna's grilled cheese.  Carla loved the blend of cheese and found the sandwich great.  The garlic butter on it is right up her alley too.  As we said, this is an adult grilled cheese and Carla really enjoyed it.
Carla's big issue is that the gluten free request seemed to bring the place to a figurative standstill.  After she ordered, it took 15 minutes for the food to be served.  At the time, she had to order separately from us because the mobile app didn't support ordering gluten free items.  It does now though, so hopefully some of this will be fixed.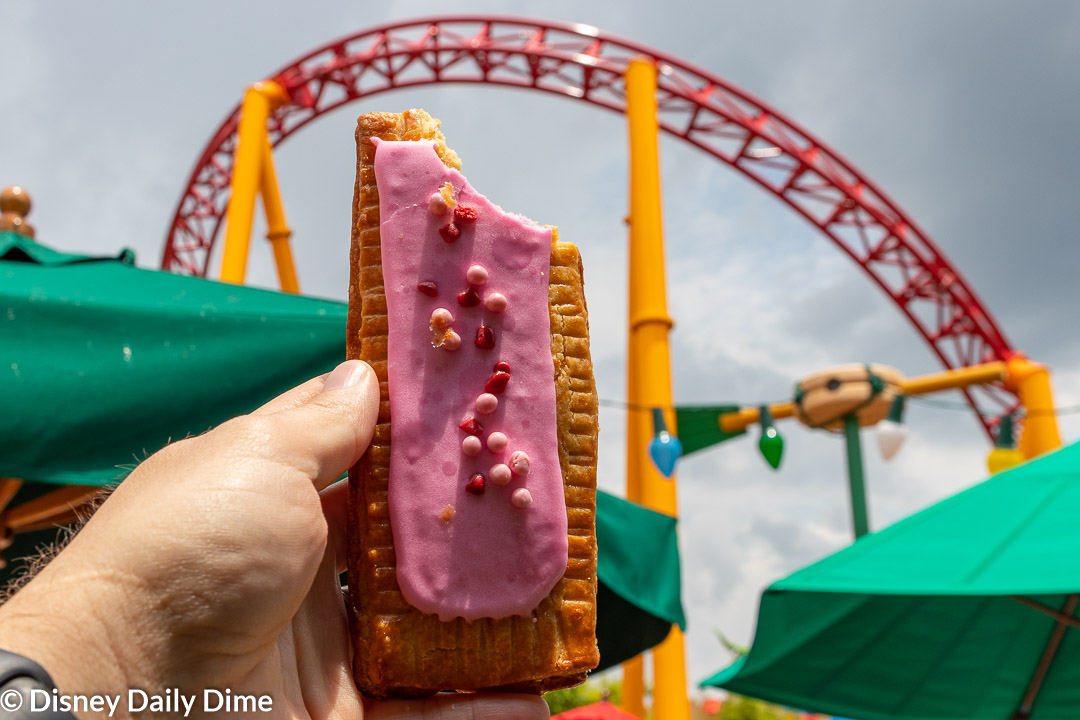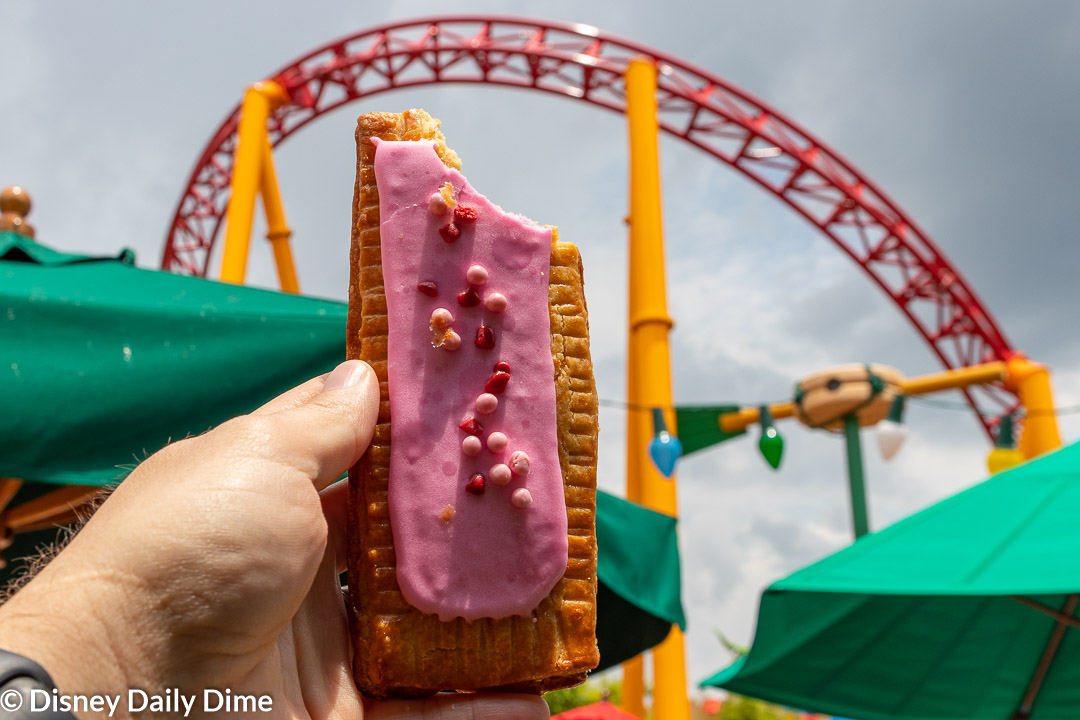 Dessert
For dessert, we ordered the Raspberry Lunch Box Tart.  This was a very popular treat for myself and the girls.  In fact, Elsa like it so much she ripped a piece off of it before I could take a picture.
The pastry was light and flaky, with this wonderful raspberry marmalade inside.  The outside frosting on it is actually a strawberry flavor.  The crispy pearls on the outside provide a nice crunch to a soft pastry.
All three of us agreed that we'd definitely get this again.
Woody's Lunch Box Overall Impressions
Our meal at Woody's Lunch Box definitely had some high points and some very low points.  We are still willing to try it out again to see if we have a different experience.  We've seen enough other positive reviews to keep an open mind.
The seating situation needs to be remedied, but we're not sure how that is possible given the physical footprint limitations of Toy Story Land.  There really isn't anywhere else to go.
All that said, Woody's Lunch Box is a worthy addition to the counter service scene at Hollywood Studios.  Granted it isn't the highest bar to get over.  Hopefully our next experience dining here is representative of all the good things we've read about it from others.
Wrapping Up
With that, we'll wrap up our Woody's Lunch Box review.  If you're looking for a reasonably priced counter service location with Hollywood Studios, it's worth your consideration.  it is not without its challenges, but it could hit the spot for you if you want some American food with a a creative flair and a moderate price.
If our Woody's Lunch Box review was helpful, or at least entertaining, please like and share this with your friends or anyone you think will find it useful.  Just use the sharing buttons on the page.  We always appreciate it when you share our posts, as it allows us to spread the word about our young blog and hopefully allows us to help others.