The Hollywood Brown Derby is located at Disney's Hollywood Studios.  It is near the end of Hollywood Boulevard near the studio arch.    
The Hollywood Brown Derby was an opening day restaurant when the park opened 30 years ago.  It is a replica of the real Brown Derby restaurant in Hollywood.  This fits perfectly into the theming of the Studios park as the whole Hollywood Boulevard recreates many famous or notable locations in Hollywood.  This is the park's signature dining restaurant. 
A meal at the Brown Derby will cost two table service credits on the Disney Dining plan.  Given the pricing of lunch, this is not a good use of credits.  We always have a hard time devoting two credits to one meal, but your mileage may vary depending on your tastes and allocation of credits.  Entrees will run anywhere from $20-$50 at both lunch and dinner.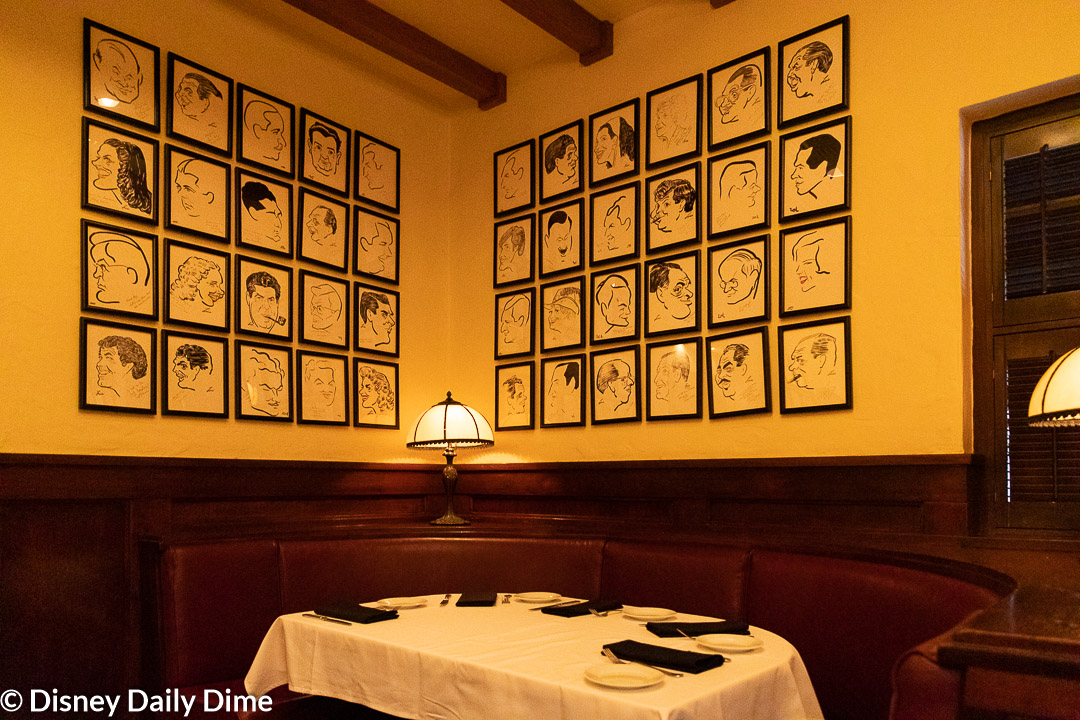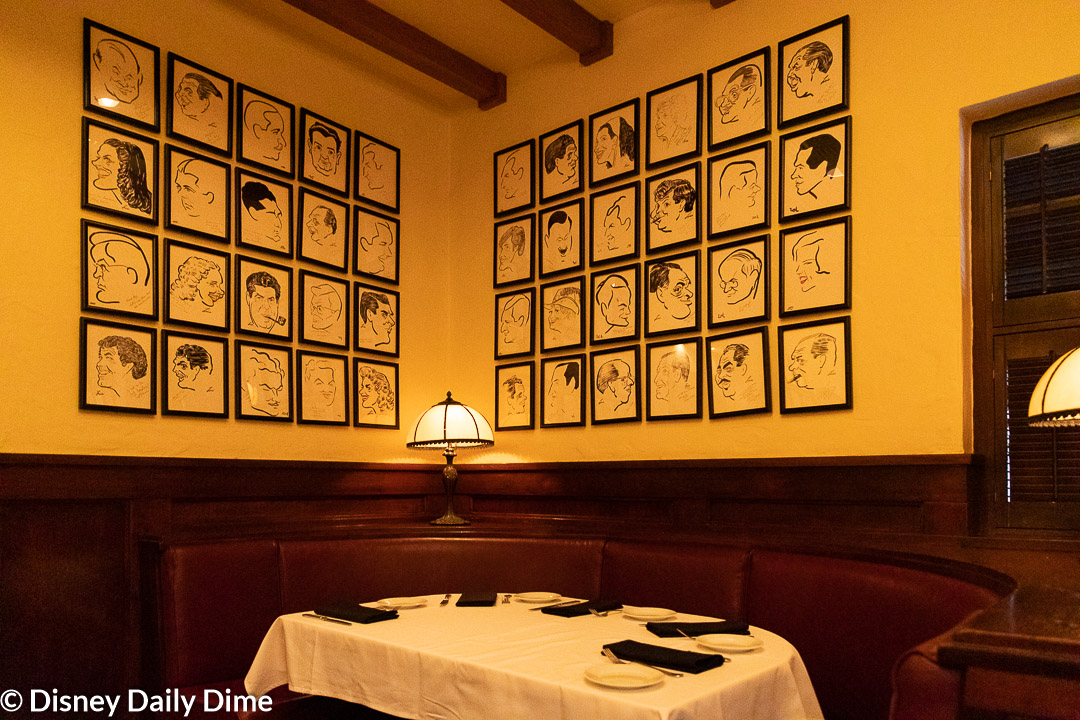 The Hollywood Brown Derby Brings Hollywood to Florida
The décor and theming of the Brown Derby certainly invokes its signature status within Disney World restaurants.  Rich wood accents, leather seating, lamps and light fixtures shaped like derby style hats are a definite nod and tribute to its real predecessor that was built in the 1920s.  Hundreds of celebrity caricatures decorate the restaurant. It is a fun way to pass the time to look at all of the old celebrities.  All of the booths are semicircular and face into the interior of the restaurant, no doubt a reminder of how this was a restaurant people went to in order to see and be seen back in the glamourous golden days of Hollywood.    The servers are all smartly dressed in black tie.  
A few years ago, the Hollywood Brown Derby Lounge was added just outside of the restaurant.   It offers an extensive drink menu and a menu of small bites.  Note that the Brown Derby specialties such as the Cobb Salad and Grapefruit Cake can be ordered at the Lounge.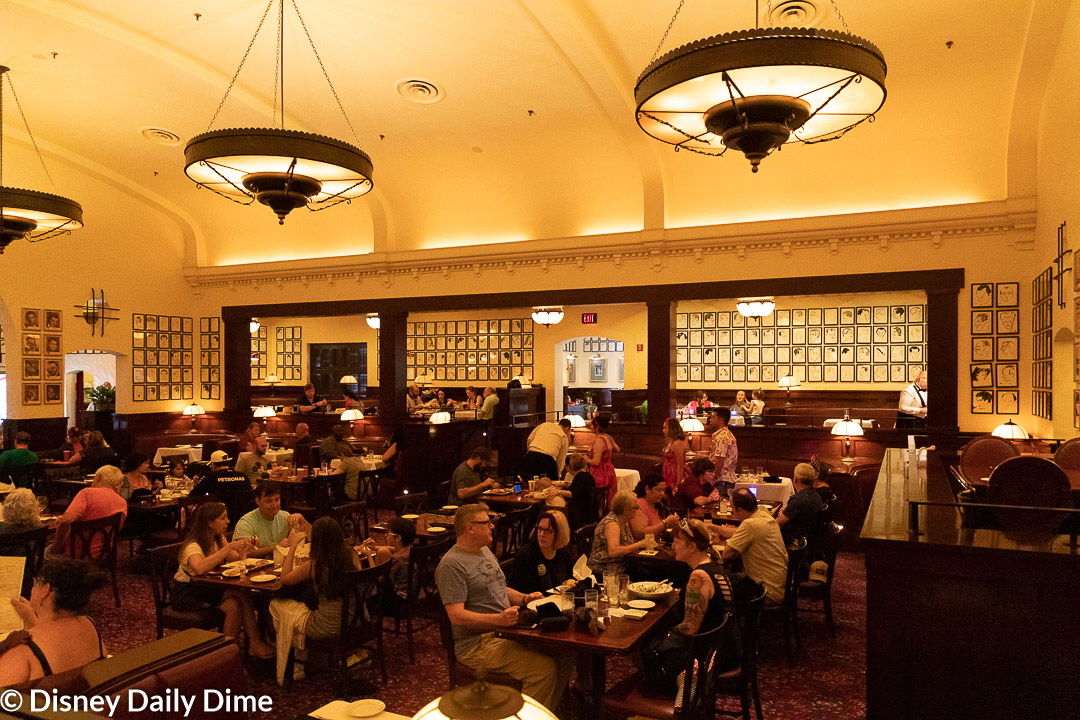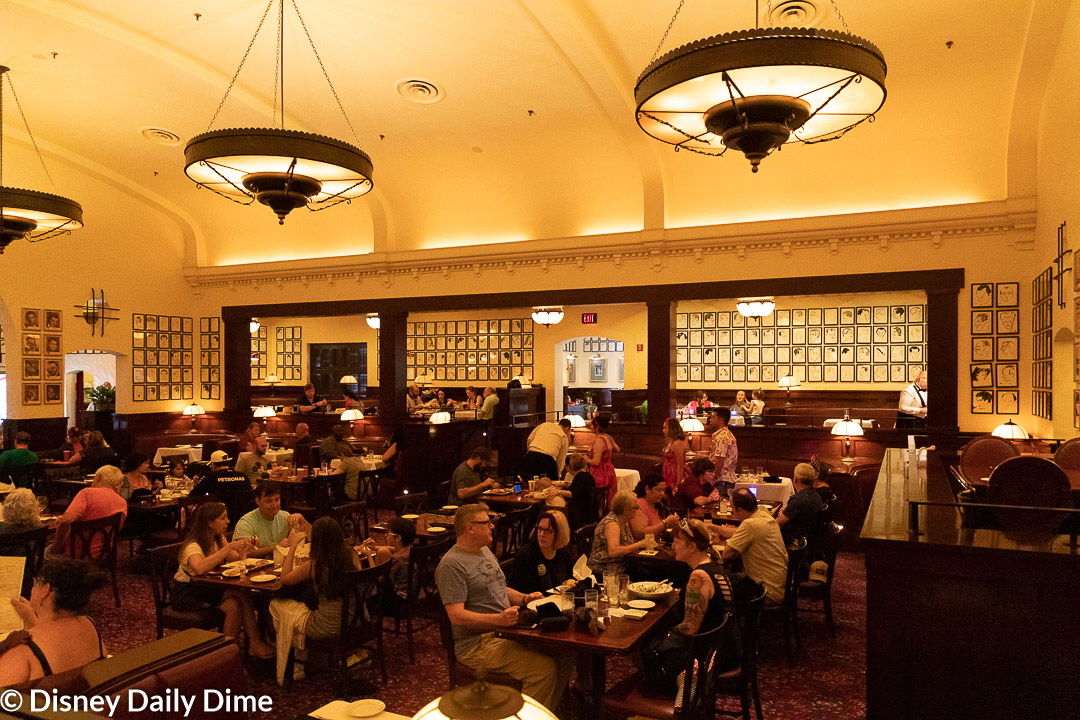 The Hollywood Brown Derby Offers Fine Dining with Classic Dishes
At this meal, it was just Mike and I as we were on a trip to celebrate our wedding anniversary and Anna and Elsa were home with my parents.  As it turned out, this was the perfect place for he and I to visit together as I feel like the girls would have been a little bored with the restaurant.  The décor probably wouldn't be very appealing to the younger crowd and it is definitely had more a formal (albeit noisy) vibe due to its signature status and dressed up waitstaff.   The restaurant is essentially one large room divided into small sections, so it wasn't necessarily a quiet meal.    We saw plenty of children here, so don't feel like you can't bring kids here, just note that this may not be the most whimsical and entertaining choice where they are concerned. 
Mike and I were eating here for a late lunch, which happened to be a same-day ADR that I snagged while we were watching the Indiana Jones Stunt show.  Depending on the season, a same day ADR may be hard, if not impossible, to come by.  We chose to have a late lunch around 1:30-2, so that probably contributed to our luck in getting a last-minute table.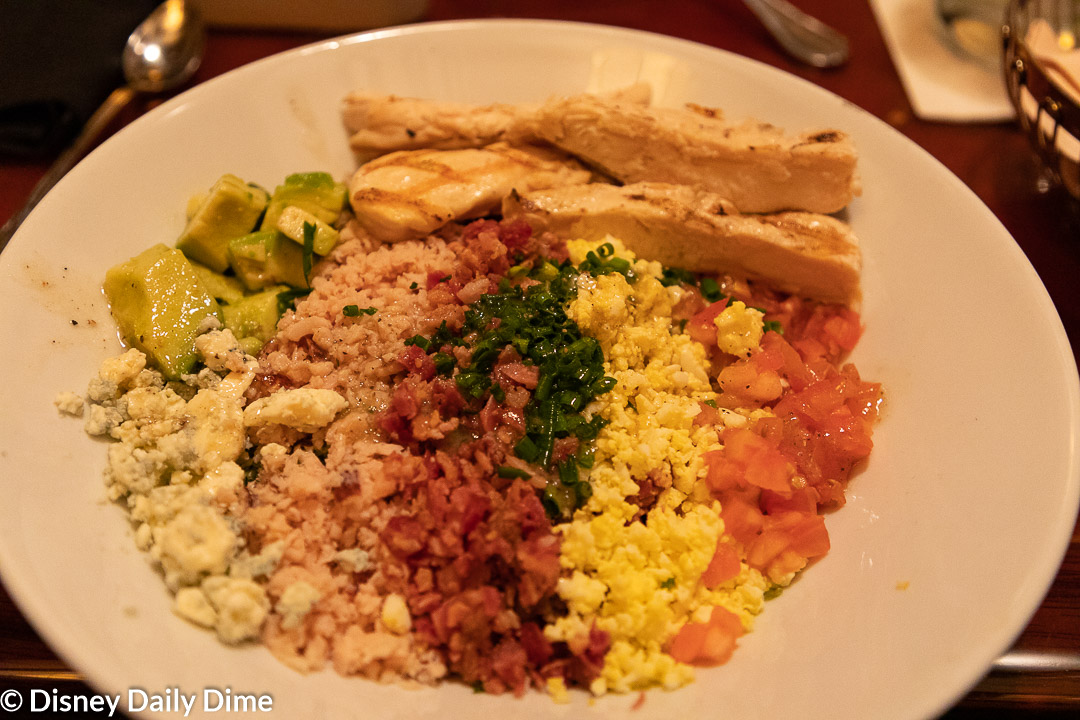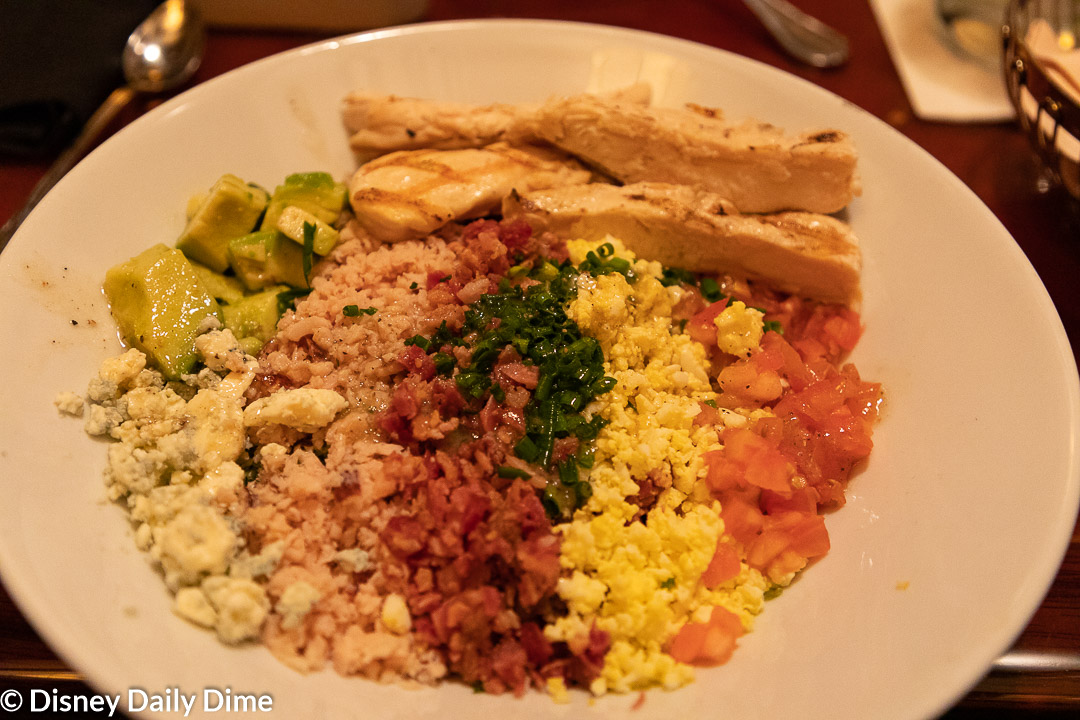 As this was lunch, the day was rather warm and we had dinner plans, we chose to eat on the lighter side.  Mike chose the "Famous Cobb Salad", a signature dish that has been on the menu since it opened.  The salad was served at the original restaurant is named after the Brown Derby's owner.  Our server asked if there was anything Mike wished to leave off of the salad, which was a nice touch as not everyone may want the complete salad.   She offered to chop and mix it tableside, which was a fun presentation.
Mike enjoyed the refreshing salad.   Note that the portion is generous and with the blue cheese, bacon, turkey, eggs and avocado, this is not the lightest salad.  It can easily make a substantial meal for everyone.  Mike is not a fan of blue cheese but since it was chopped and mixed into the salad, he noted that he didn't mind it as it brought a nice salty touch to the greens.  
As always, I ordered off the allergy menu due to my gluten sensitivity.  I couldn't get past the appetizer selections, so many of them sounded good.   So I decided I would make two of them my meal this day.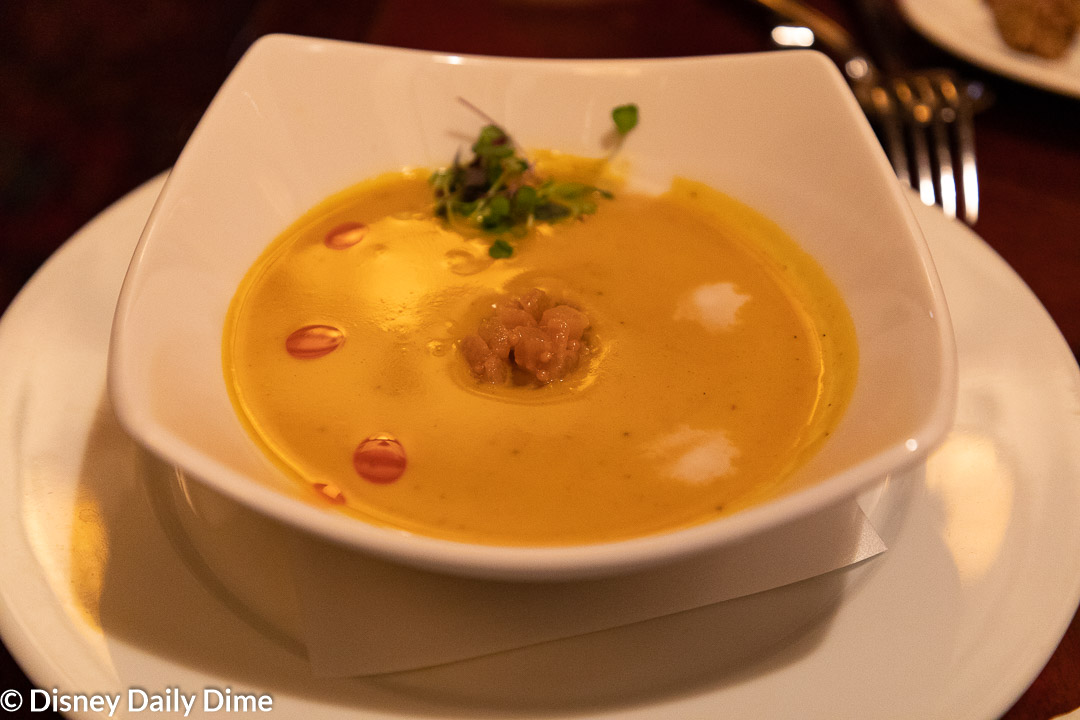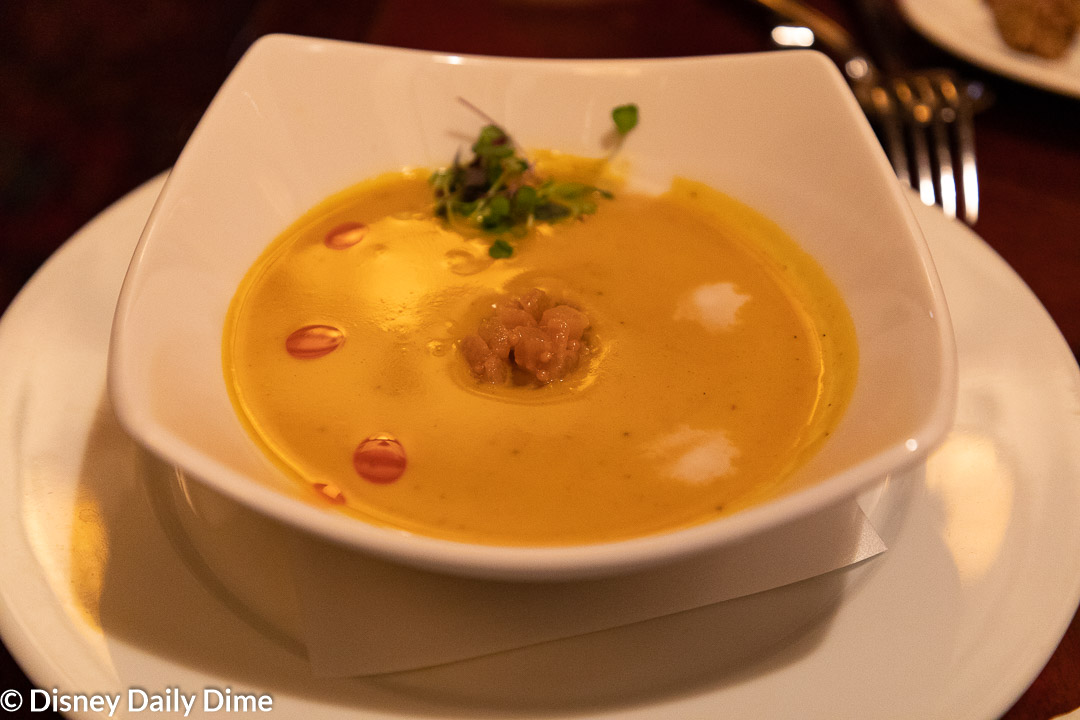 I started with the Curried Butternut Squash Soup which was gluten friendly.  It was topped with a Granny Smith apple chutney was I thought sounded so intriguing.  The soup was delicious; rich and creamy with a hint of spice from curry notes.   The chutney provided texture to the soup without adding extra sweetness.  It was a great balance of flavors and even on a hot day, I enjoyed this hearty soup.  I was sad when I reached the bottom of the bowl.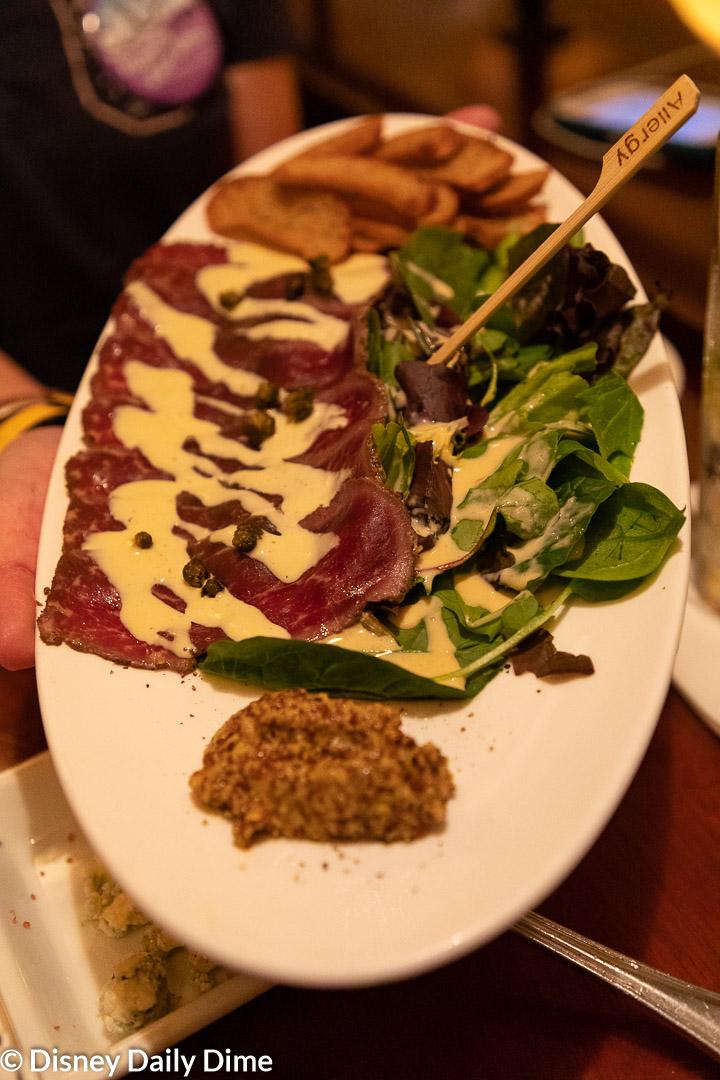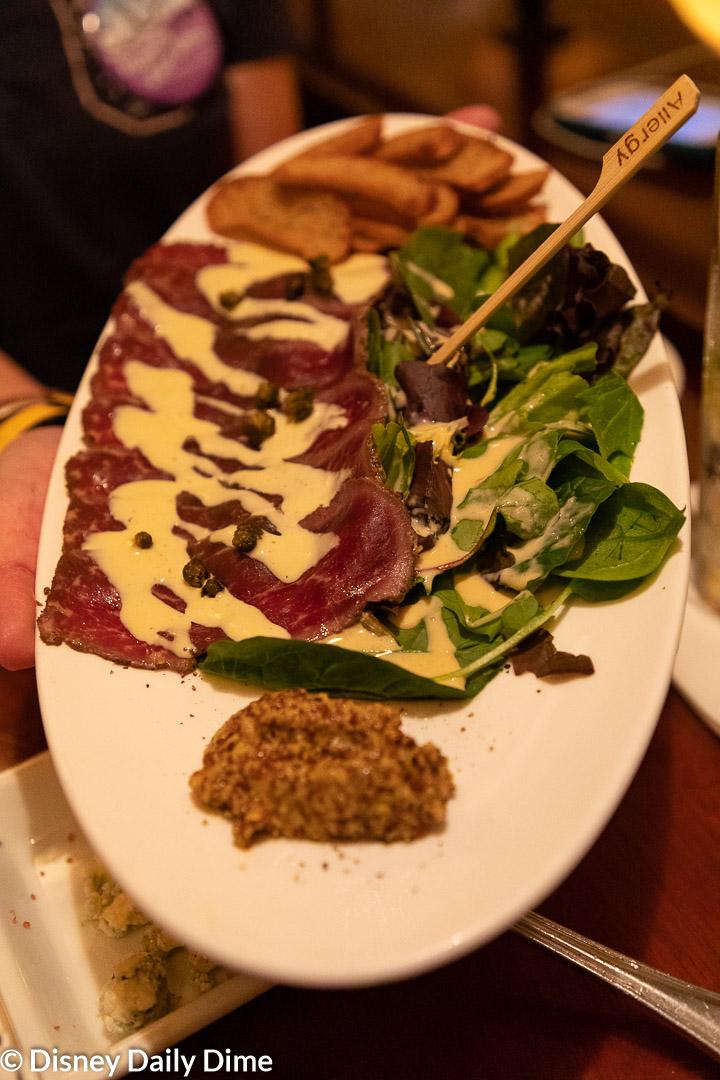 For my second appetizer, I chose the beef carpaccio.  It was served with allergy-friendly bread in order to earn its gluten friendly status (among other allergies it was safe for).  I fully recognize this may not be an appealing to dish to all, but if you enjoy carpaccio, I do recommend this one.  The lemon-mustard aioli provided a refreshing flavor to balance the richness and saltiness of the meat.  I thoroughly enjoyed this appetizer and it made a great lite lunch.  Mike tried some as well and agreed with my thoughts on how delicious it was.   The beef was clearly high quality, and the aioli, capers and salad served with it all made for an outstanding dish.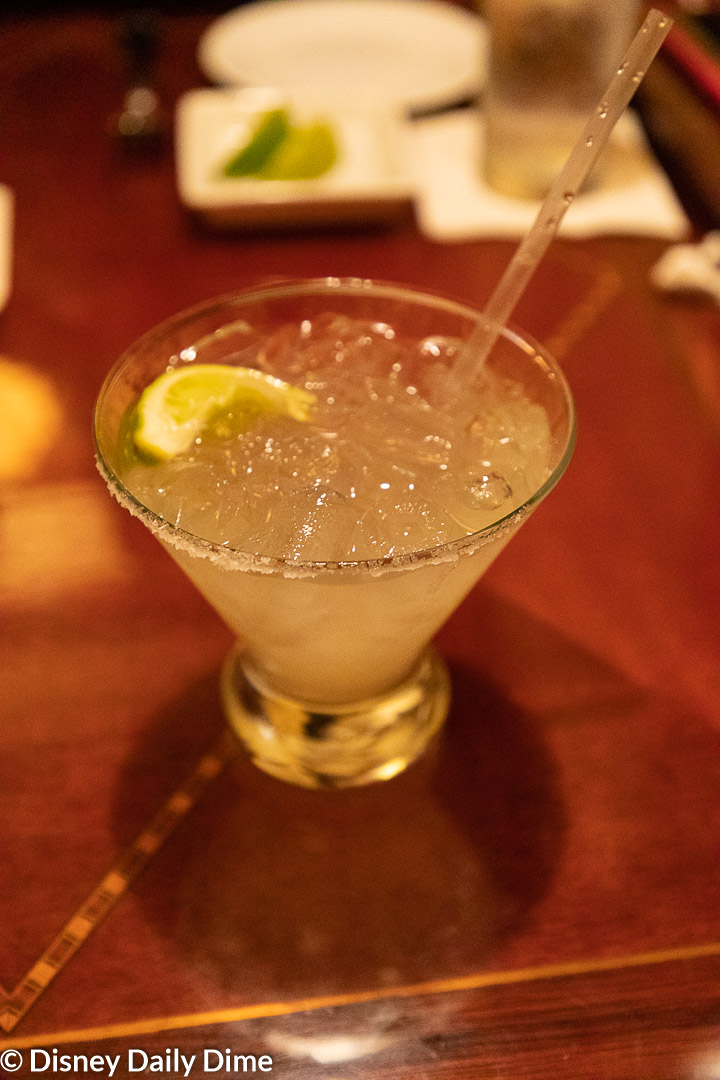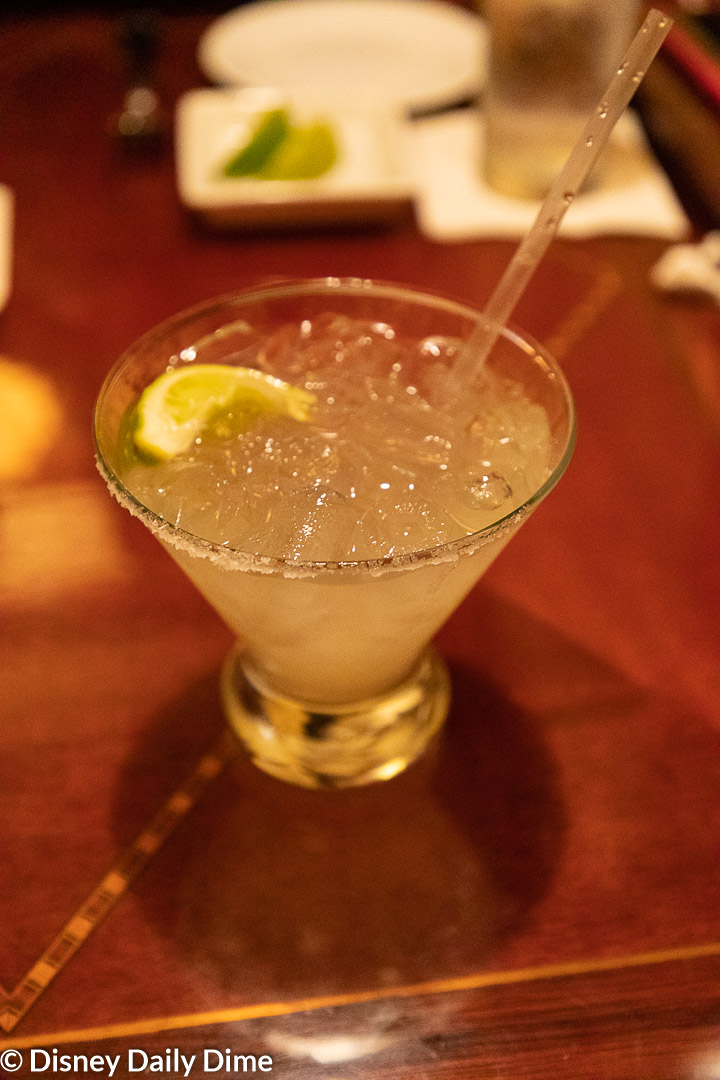 We chose not to have dessert, but Mike did enjoy a margarita with his meal.   He was disappointed with it, he felt there was too much sweet and sour mix and not enough tequila.   Also, the rim was over salted to where it detracted from the drink itself.   Mike is not a huge drinker but enjoys a glass of wine or mixed drink with a meal, and if he says the drink was weak, that means it was very weak.   Your experience could be totally different depending on who is mixing the drinks. 
Since this was a special trip to celebrate our anniversary, we were wearing the complimentary "Happily Ever After" pins that the cast member who gave them to us excitedly wrote "15 Ears" as this was our 15th wedding anniversary.  Our server congratulated us at the beginning of the meal, as many cast members did upon noticing the pins.   At the end of the meal, she surprised us with two champagne flutes, complete with a strawberry, to have a special toast.   This was an amazingly thoughtful touch that we really appreciated.  
To illustrate a point, based on what we ordered you can clearly see we were paying out of pocket.   If you are choosing one of the less expensive entrees like the Cobb Salad, do not waste two credits on the meal.  My two-appetizer meal would not be an option on the dining plan.   This is definitely an example when the dining plan may not be the best choice.   While we have clearly enjoyed the dining plan in the past and feel like it provided a great value on character meal heavy trips, we would have lost the value and flexibility to order what we truly wanted if using credits for this meal.  Just food for thought…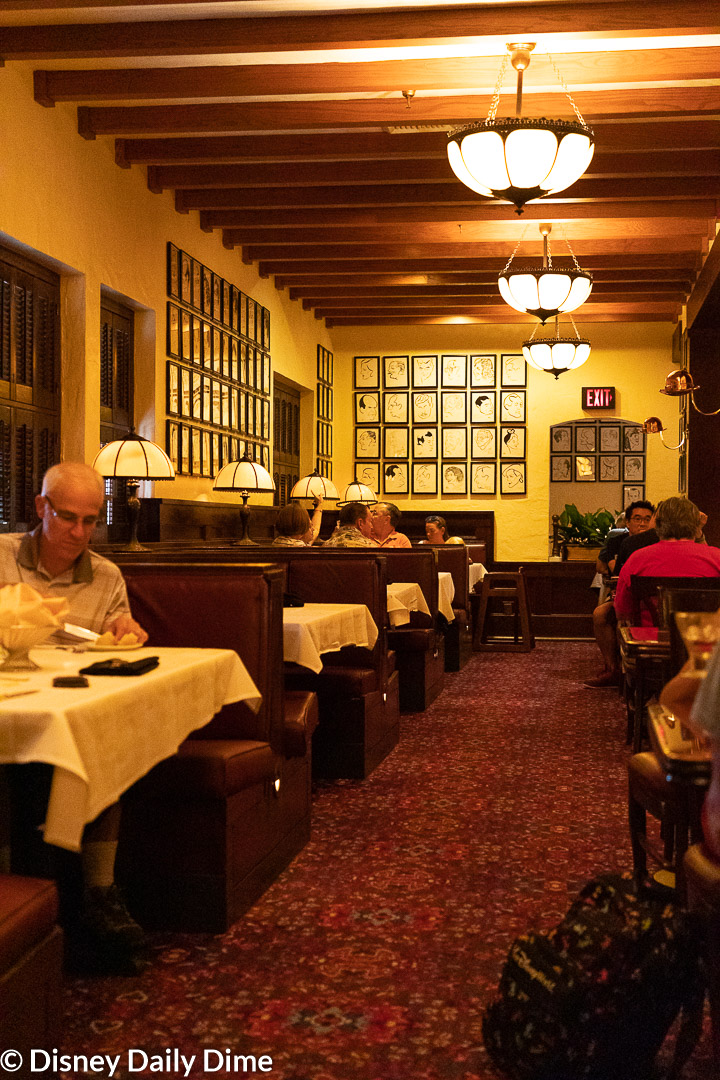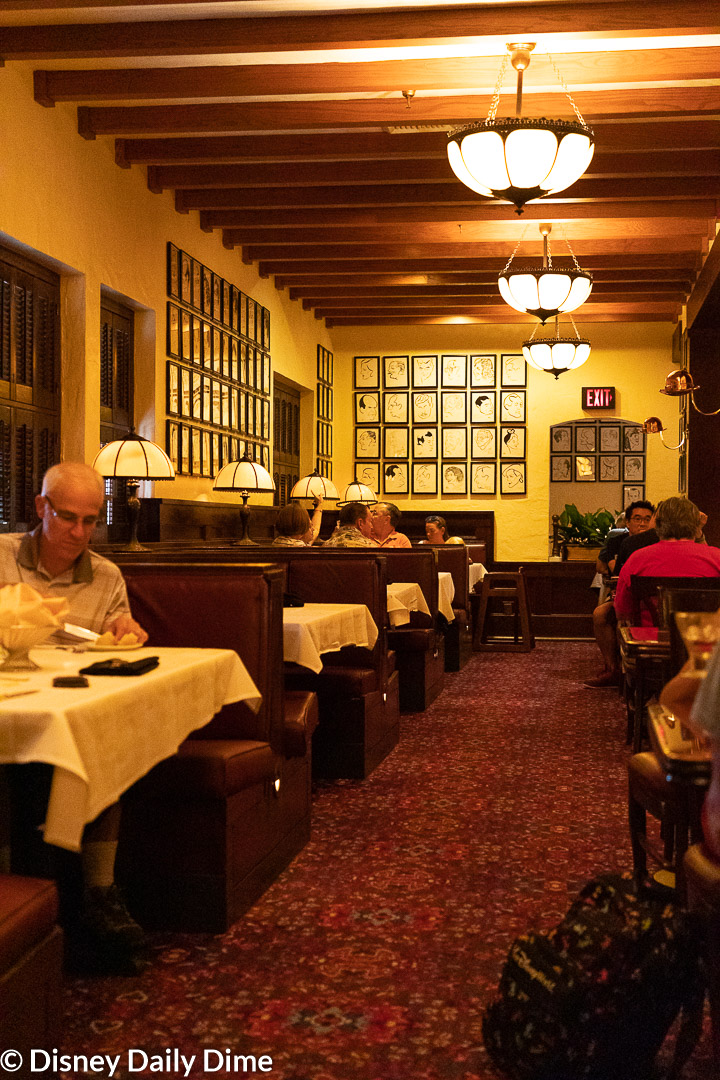 The Hollywood Brown Derby Overall
Based on what we chose to eat this day, Mike and I didn't have the full Brown Derby experience as we didn't order any of the fancier, more impressive entrees.   We will be back someday, but honestly, we aren't in a huge rush.  While we thoroughly enjoyed the quality of the appetizers and Cobb Salad, the theming of the restaurant is just frankly kind of boring to us.   Not that we need characters, whimsy and over the top theming at every meal, but this is really not much different than any other fine dining restaurant in our hometown (but with premium Disney prices).   We personally would rather enjoy the creative, over the top décor of the 50s Prime Time Café or the Sci Fi Dine in Theater restaurants while at the Studios and save our fine dining dollars or dining plan credits for an experience like California Grill, Morimoto's or one of the amazing restaurants around Epcot's World Showcase if you wanted a nicer meal inside of a park.   
Wrapping Up
With that, we'll wrap up our Hollywood Brown Derby Lunch review.   While we enjoyed this signature restaurant at the Hollywood Studios, we feel like your dining money or credits can be better spent at a different signature experience. 
If our Hollywood Brown Derby lunch review was helpful, or at least entertaining, please like and share this with your friends or anyone you think will find it useful.  Just use the sharing buttons on the page.  We always appreciate it when you share our posts, as it allows us to spread the word about our young blog and hopefully allows us to help others.