When you step into Les Chefs de France, it will almost  feel like walking into a street side French bistro.  We say almost, because the restaurant lacks a few things that make it distinctively French.  At least based upon our whopping one trip to Paris.  However, it's still not a bad representation.    Here in our Chefs de France review, we'll talk you through our experience at the restaurant.  We won't focus on just the food, but also discuss the atmosphere and service.
You'll also get some of the kids' views on eating here.
This table service restaurant focuses on….you guessed it, french food.  It will run you one table service credit.
The Atmosphere at Chefs de France is Bistro-light
Located in Epcot's France Pavilion in World Showcase, Chefs de France is trying to mimic the feel of a French bistro.  We'd say it comes close in two sections of the restaurant, while the third section feels nothing like the bistros we dined in while in Paris.  Of course, we are not French bistro experts by any means but let me explain where we are coming from.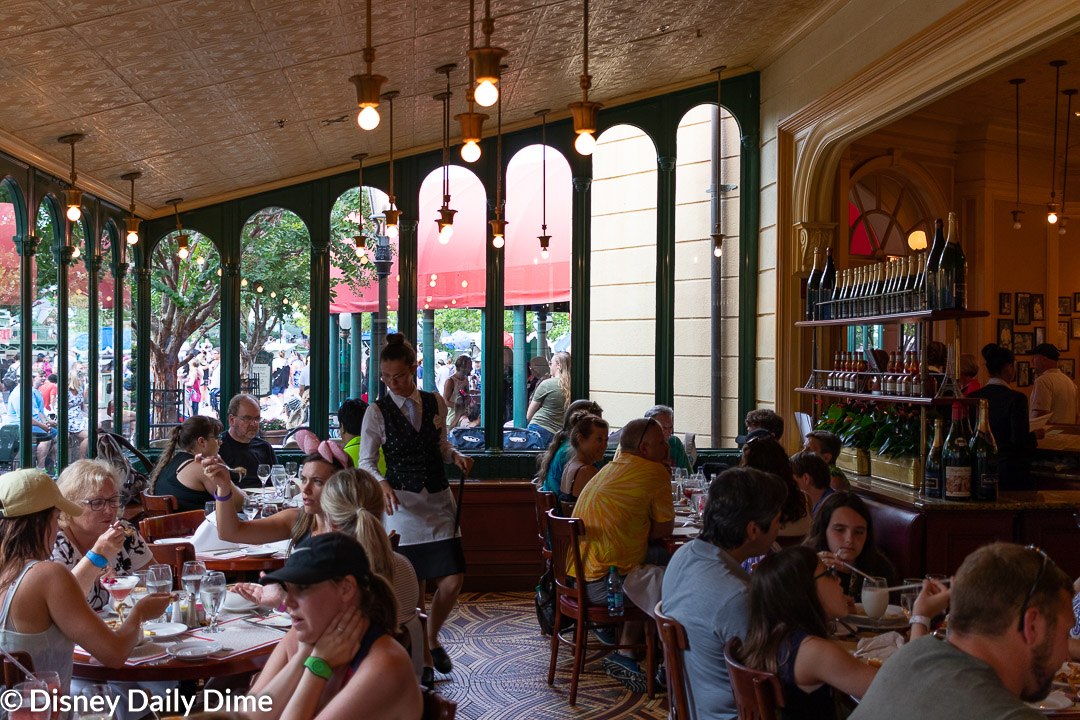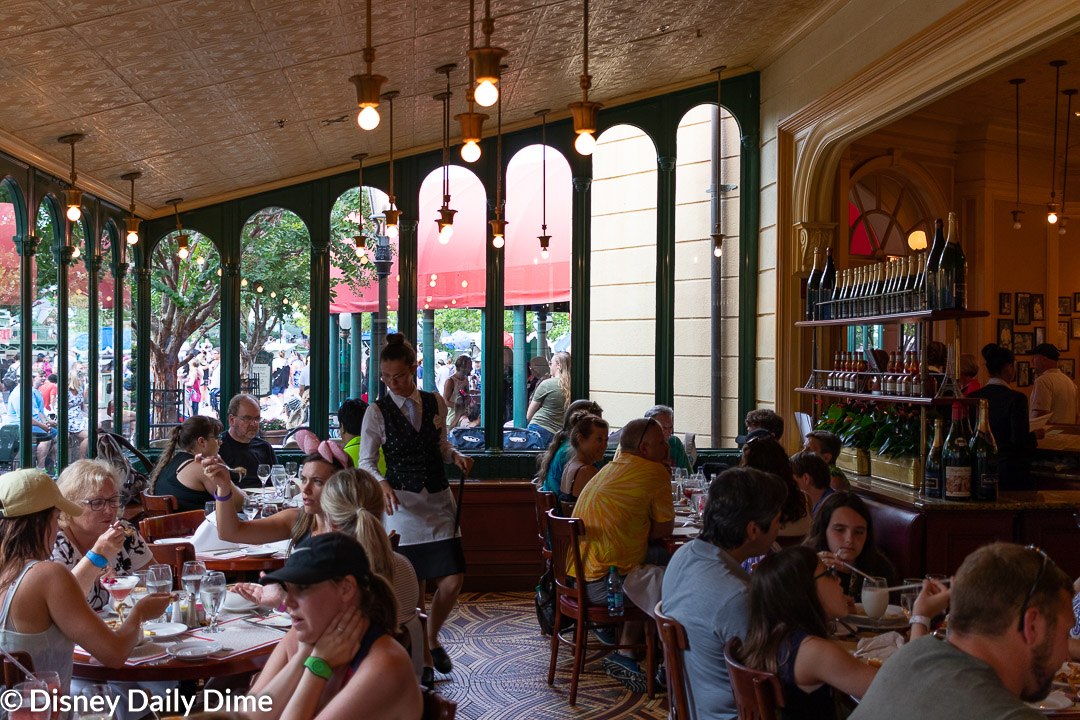 Part of the appeal of the bistros we experienced in France was the ability to sit back and people watch from the restaurant.  In most but not all cases, that involved sitting outside on a patio in Paris.  Unfortunately, there is no outside seating at Chefs de France.  Rather you will find two rooms in the restaurant that are largely contained unto themselves.  You can see a picture of one of them above and one below this paragraph.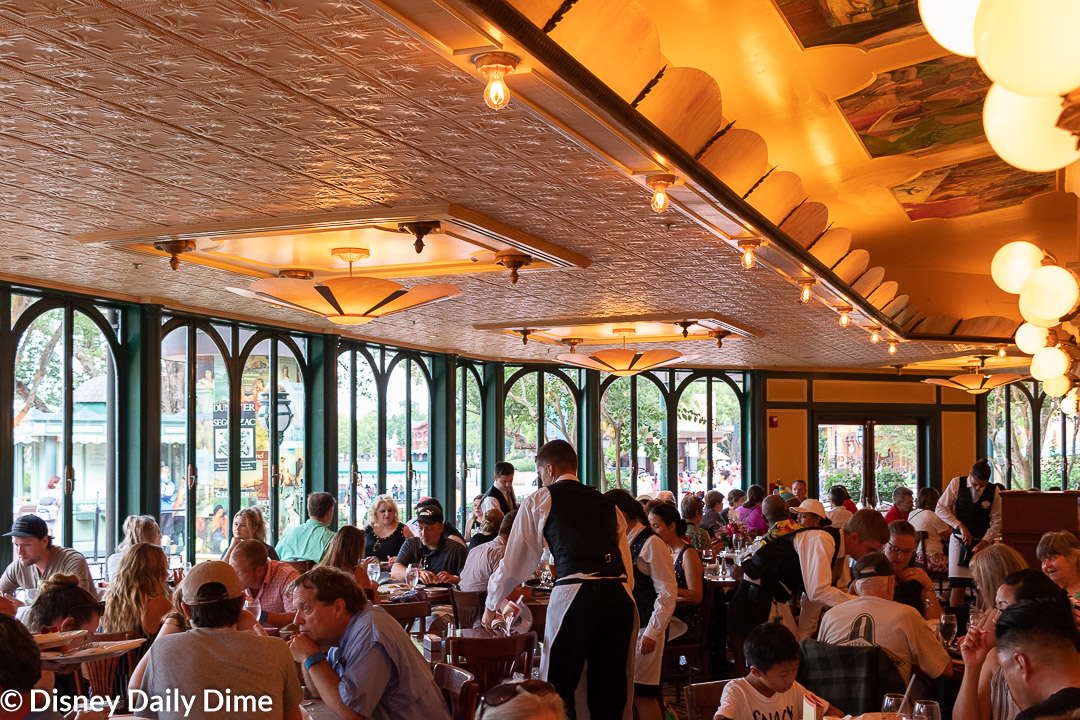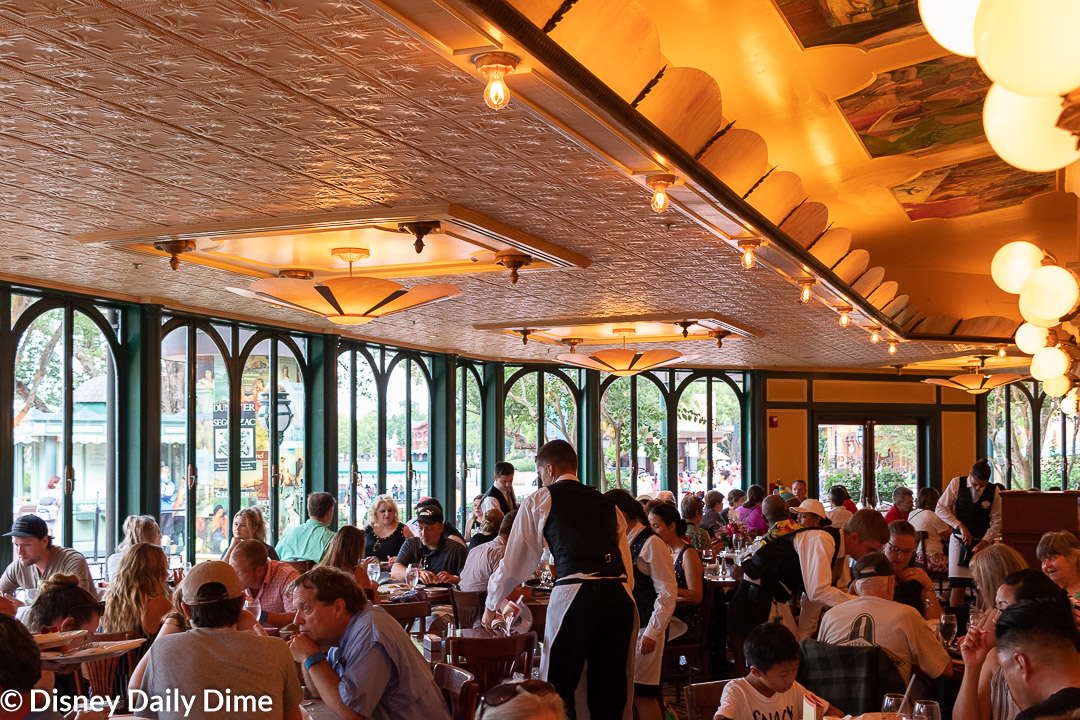 While these rooms don't have the open-air street vibe, you can still do some decent people watching especially if you are right on the window.
Where the vibe is completely thrown off for us is the interior of the restaurant.  It doesn't feel much like a bistro to us, as these seats have pretty much no view of the "street" and the restaurant becomes darker.  It almost feels like two different restaurants.  You can see an interior image of the dining area below.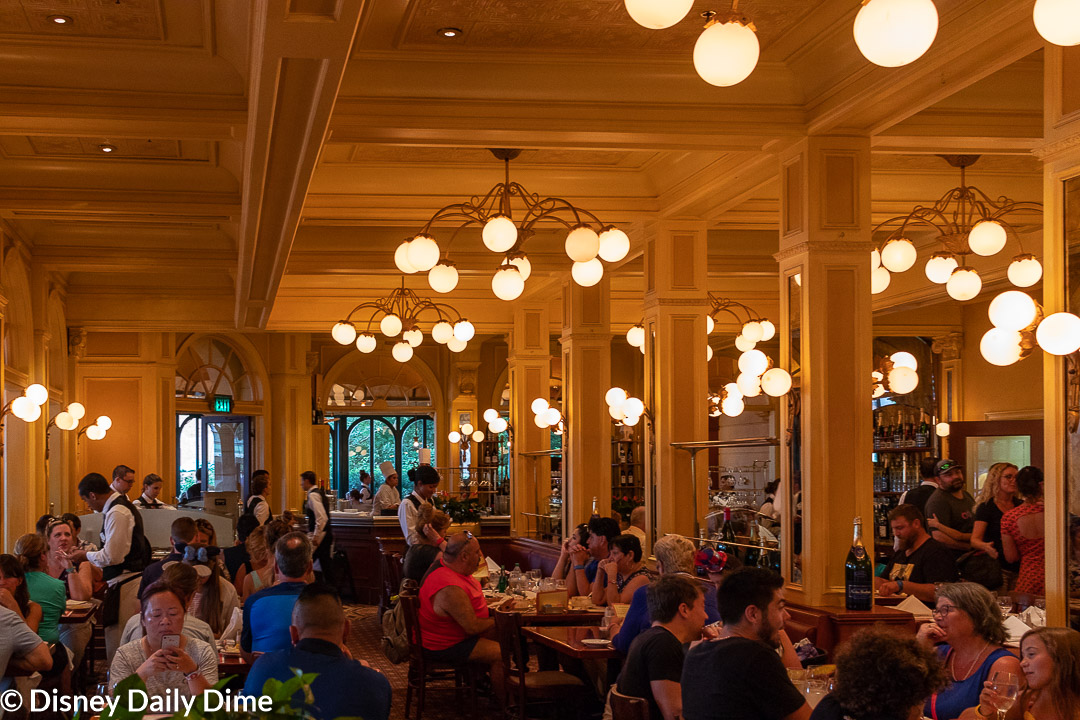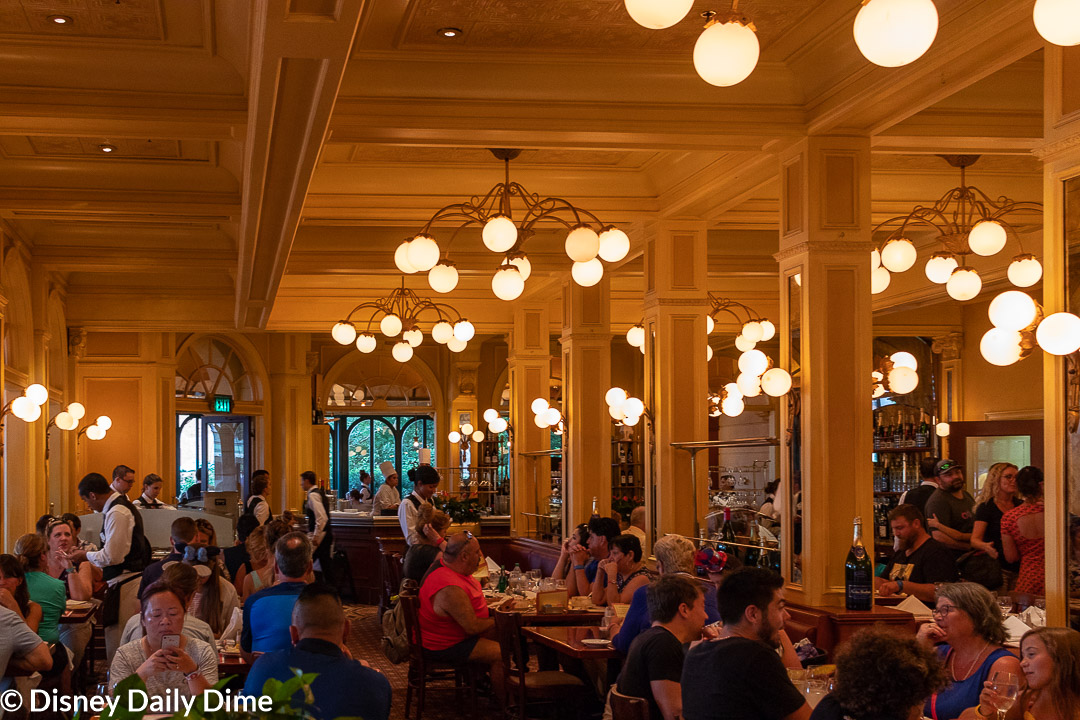 The other thing we'd say about the lack of a bistro feel is that the restaurant is hurried.  The few Parisian bistros we've visited were very laid back.  Parisians are known for their extended meals, right?  Well this is Disney World and the need to turn the tables was ever-present.  We get it, but must acknowledge it takes away from the experience just a touch.
Now we're not saying that the atmosphere is terrible, by no means.  We just think it would feel a bit more like we were expecting had the street view been more prominent.  It could also be more amplified if you could actually sit on the "street" for your people watching.
Do take some time to stroll the restaurant and look at some of the photos on the wall.  You'll spot some of the renowned French chefs that helped launch the restaurant.  In case you're wondering, those chefs were Roger Vergé, Gaston Lenôtre, and Paul Bocuse.
Chefs de France Service was Very Good, but not Great
Anytime you have a table service meal at Disney World, the service needs to be really good if not great in our opinion.  Why?  Simply put, the high cost of Disney sit down meals.  We want to experience a level of service that feels like we are getting value for our money.
In the case of Chefs de France, we'd say that the service was very good but not quite great.
It may feel like maybe we're nitpicking here a bit, but at the end of the day, the line between very good and great has to be drawn somewhere.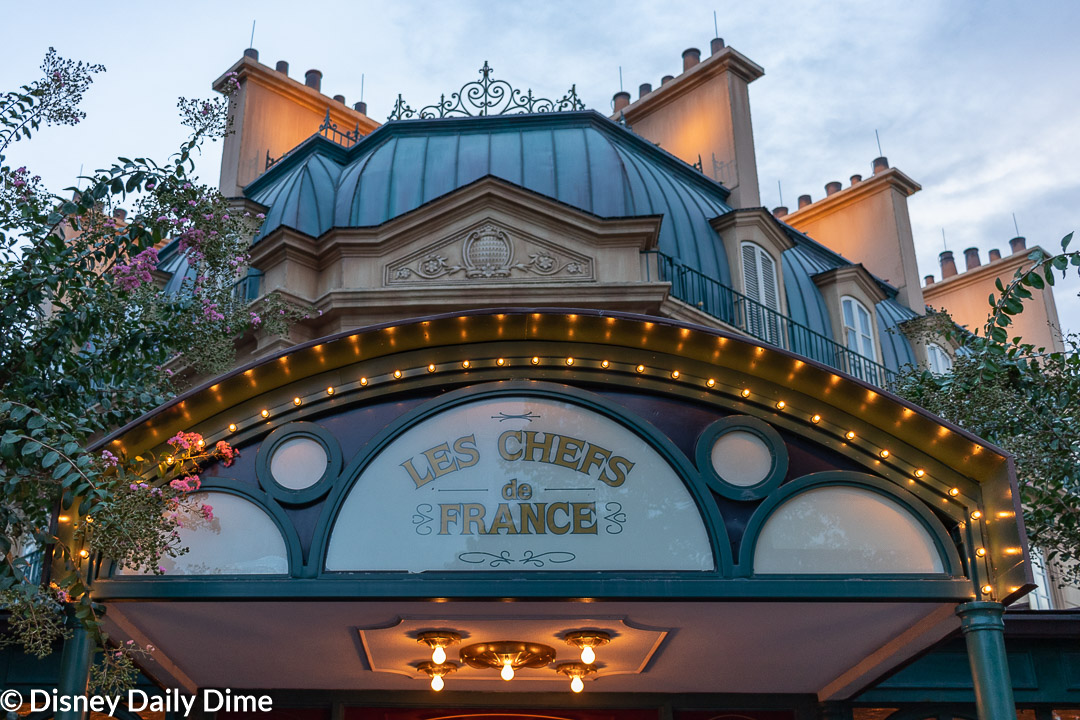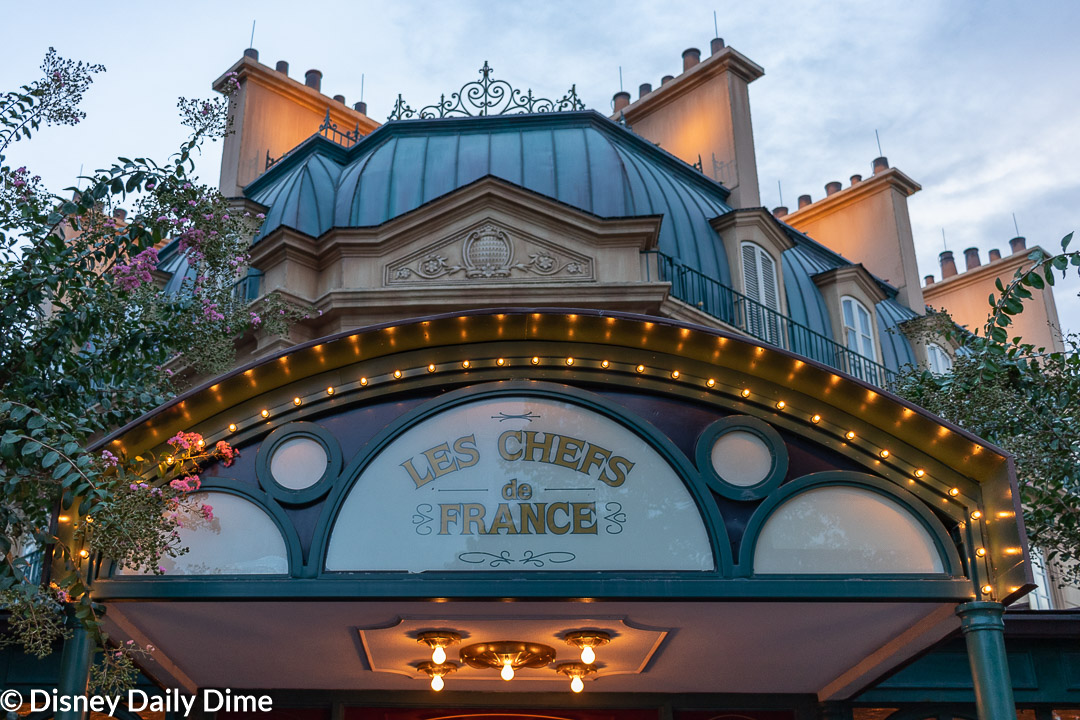 Our waitress at Chefs de France was very friendly and true to World Showcase style, she was from France.
The waitress was also excellent at handling the kids' requests and questions.  She was even kind enough to discuss France with Anna and Elsa and to talk to them about where she was from.  The kids greatly enjoyed being able to discuss this far off country with her and learn more about her hometown of Nice.  Paris is a city that Elsa is somewhat obsessed with right now, so it was a thrill for her to meet a real French person (even if they weren't from Paris).
Carla felt like she was very good at handling her gluten free requests and making sure all of that was taken care of quite well.  You can read more about her gluten free experience and observations if that's of interest to you, in her Chefs de France Gluten Free Experience Review.
Where the service was a little clunky for us was on the drinks and how the table was rushed.  As it relates to drinks, there were a few times where our drink glasses went without a refill.   In fairness, I drink tea like there is about to be a mass shortage.  Who knows, I may cause a shortage with how fast I consume it.  However, some of the waits were longer than they should have been.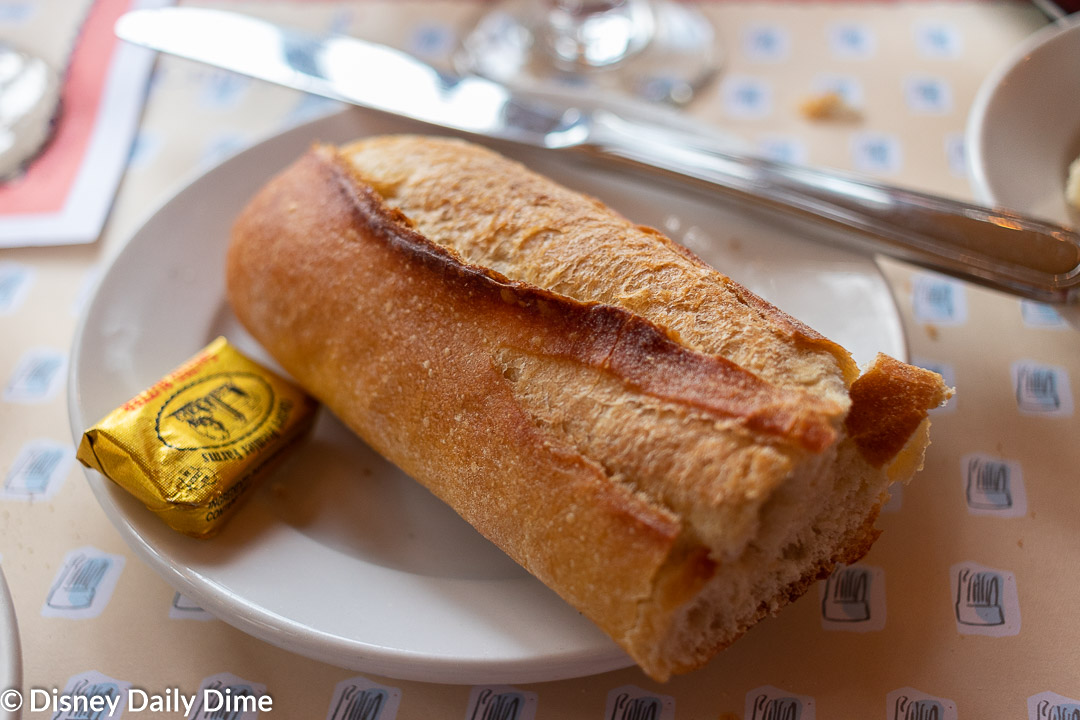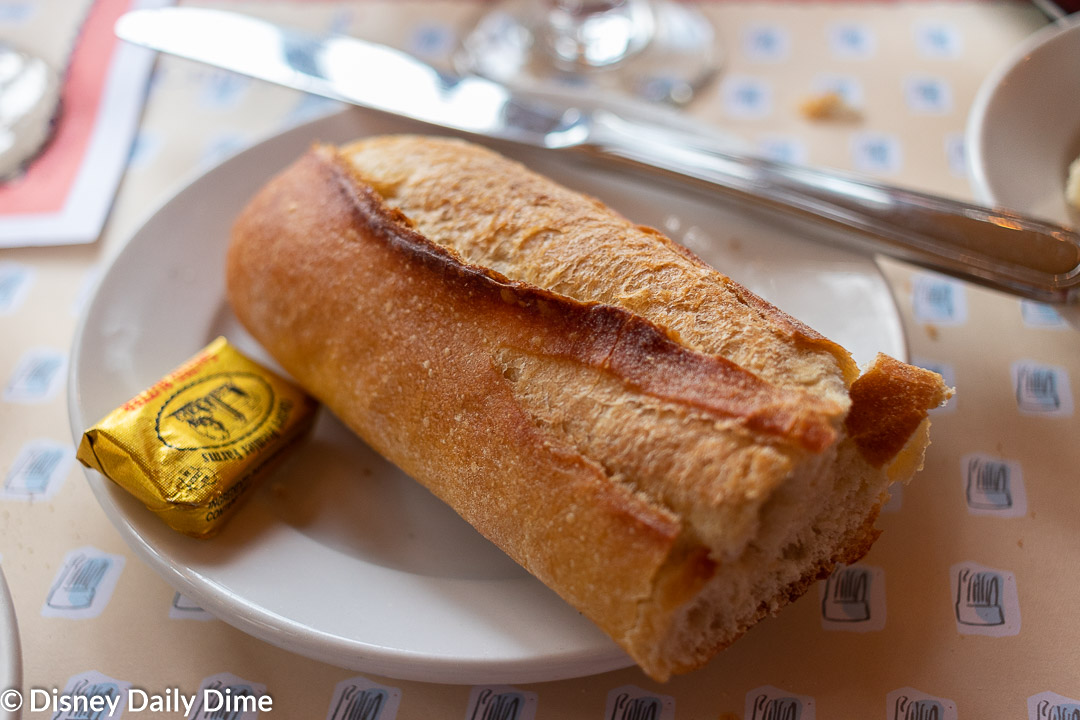 In regards to the meal, we felt like the food could have come out with a better flow.  At one point, we had the girls' appetizers and dinner out on the table at the same time.  Given the small size of the tables (true to bistro form), this made maneuvering food around a little challenging.
Again, not big things but just some small items we noted.
The Food was Good for Adults, Pretty Plain for Kids
Appetizers
To start our meal we were given a nice French baguette, which we promptly tore apart and made a giant bread crumb mess on the table.  We might have looked like ravaged maniacs tearing the bread apart, with the crumbs left as the only evidence of our crime.  But the baguette was very good.  Light and fluffy on the inside, with a nice bit of crunch on the outside.  Carla was given an order of gluten free bread which she said was tasty.  At least as tasty as bread without gluten can be.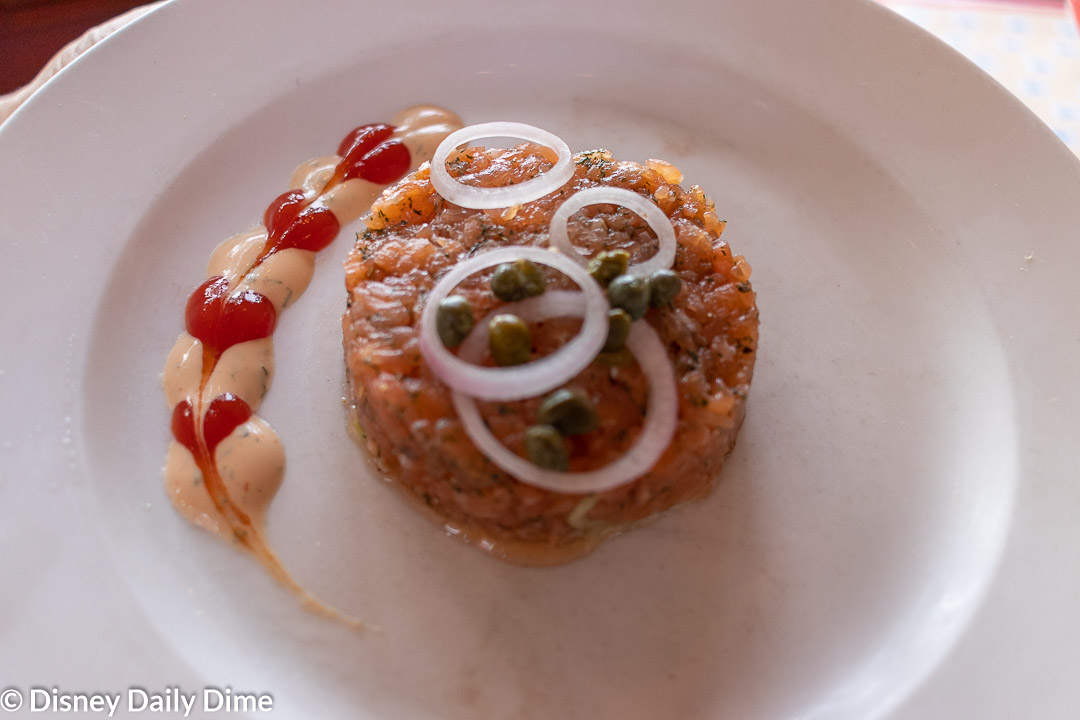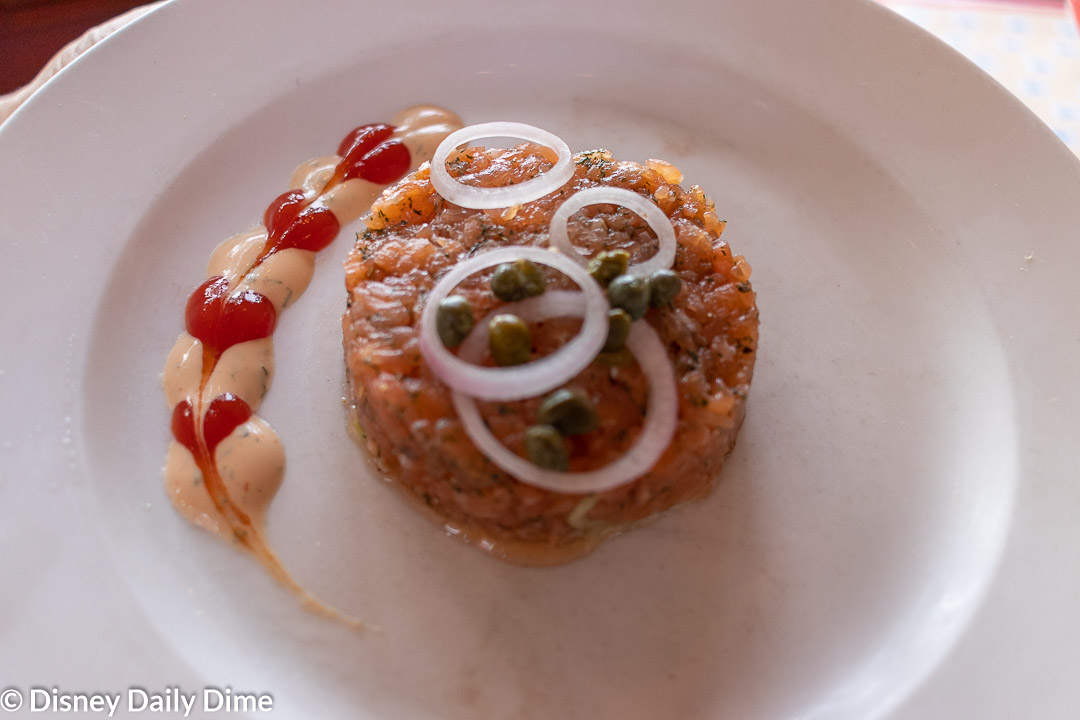 We each ordered an appetizer.  Carla ordered the Salmon Tartare (we'll spare you the French menu name).  It was excellent.  The tartare was well presented, and the dill and honey mustard paired well with it.  It normally comes with a brioche bun; however, it was not served to keep it gluten free.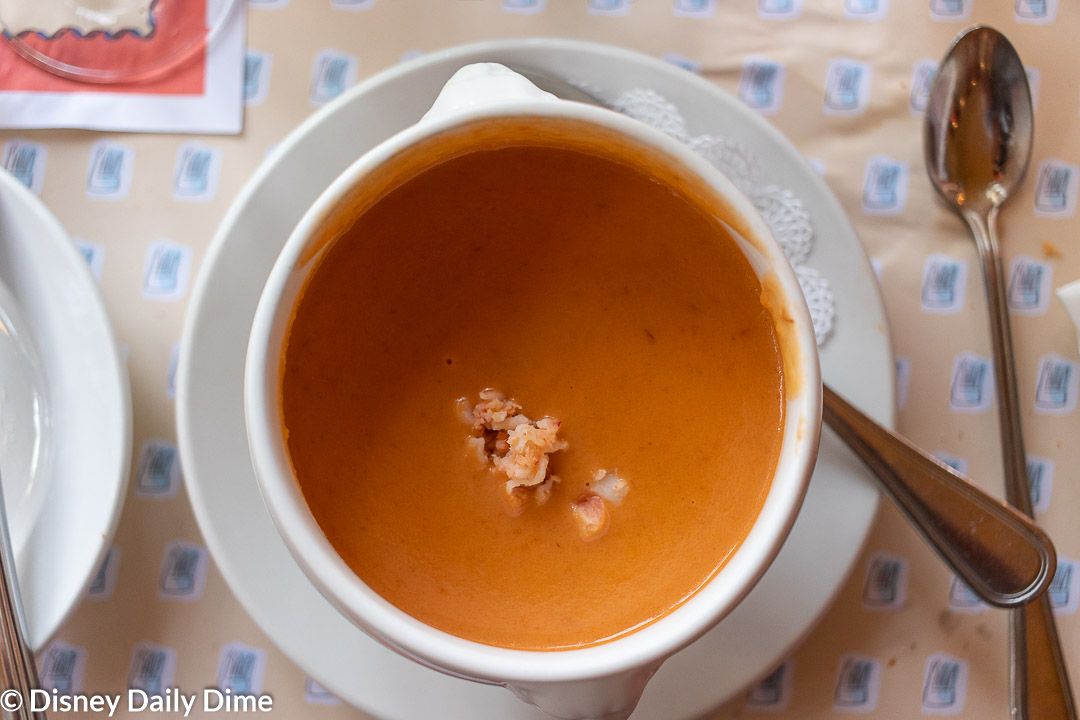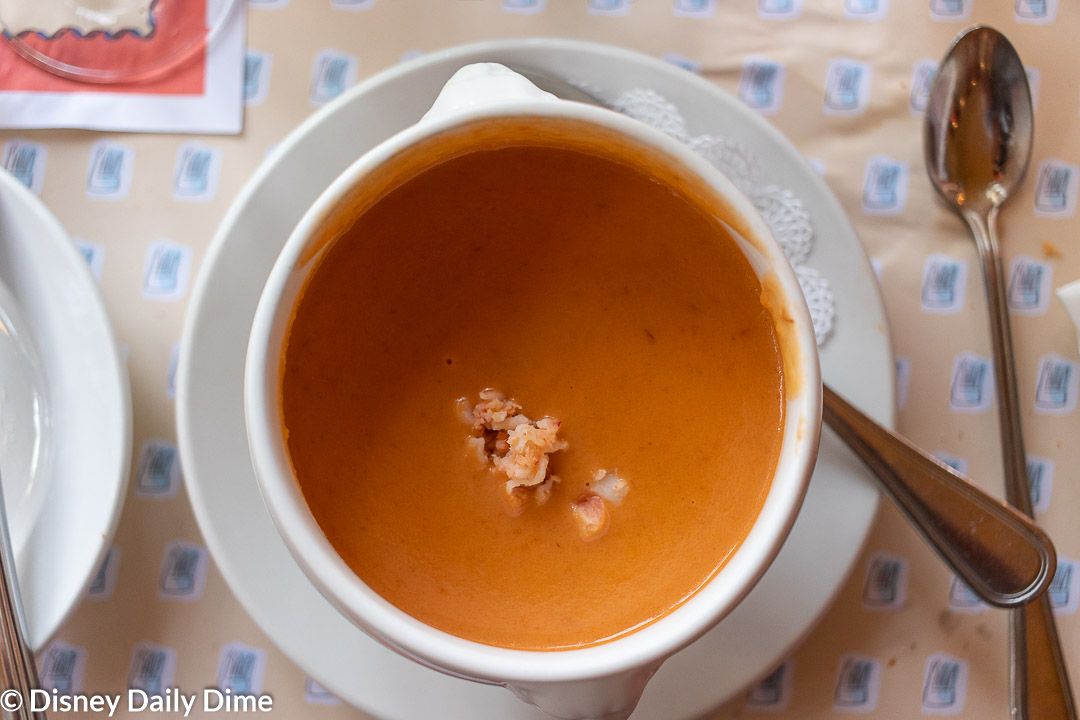 I had the Lobster Bisque.  Despite how it looks in the picture, there was more lobster in the bisque than I thought when our waitress put the bowl down.  The bisque was creamy, but I didn't find it heavy.  There was nothing left of the bisque once I started in on it.  It was excellent!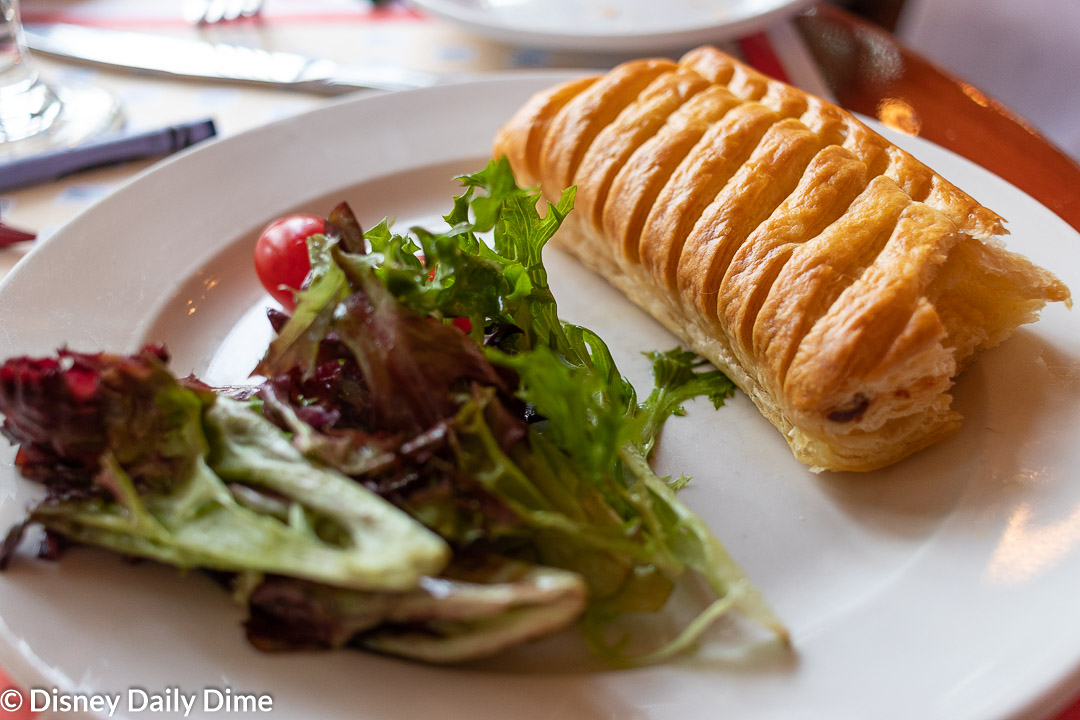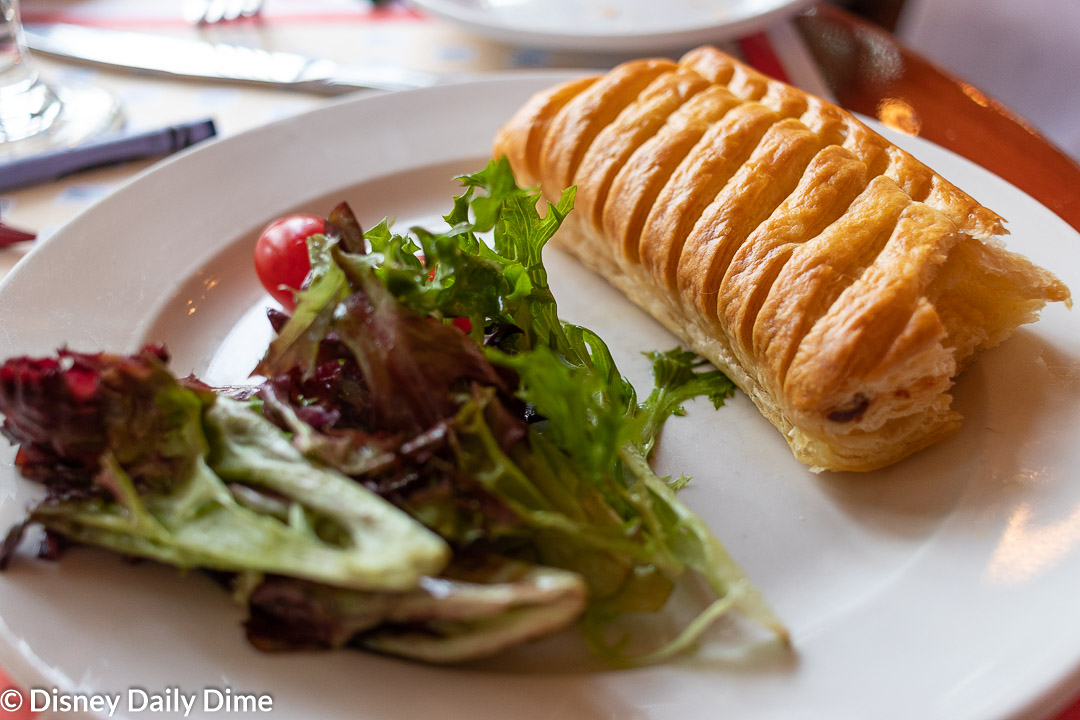 Elsa ordered an appetizer from the kid menu.  In her case, she got the Cheese Puff Pastry.  It was served with a small salad.  The salad came with ranch dressing, at Elsa's request.  So very French, isn't she?!  She ate a little bit of the cheese puff pastry, but wasn't actually a big fan of it.  It was more puffy pastry and less cheese.  I think Elsa was expecting something more like bread or even a pop tart, and less like the flaky pastry it was.  There wasn't a lot of flavor in it and she probably only had about 4 bites of it.  Overall it was a dud.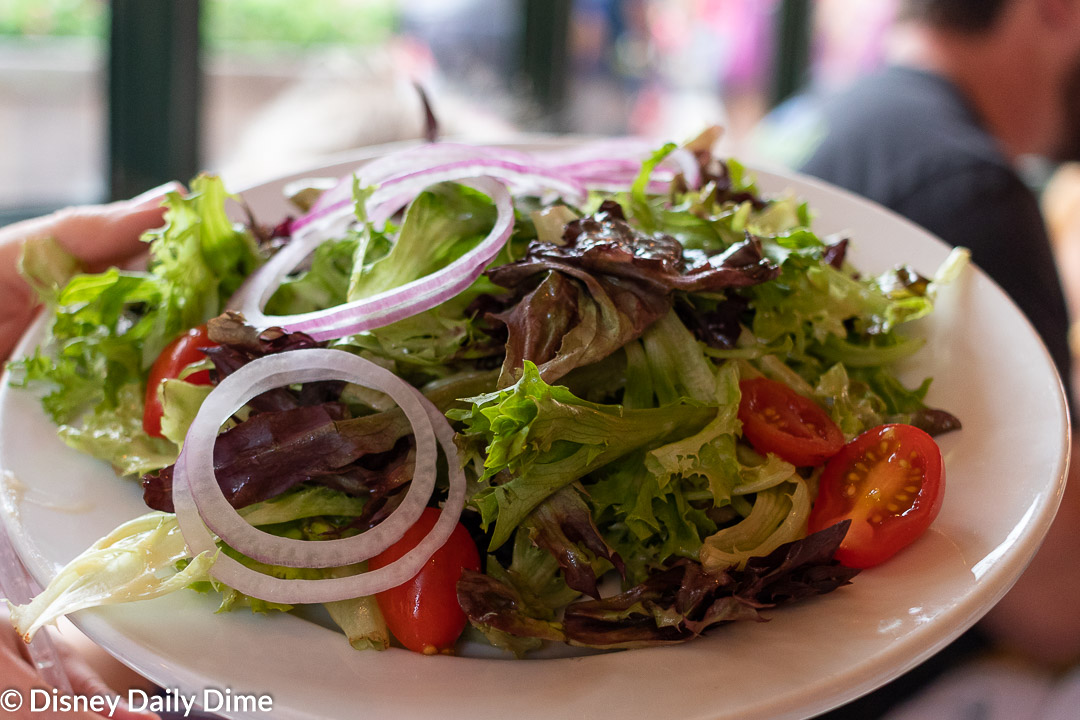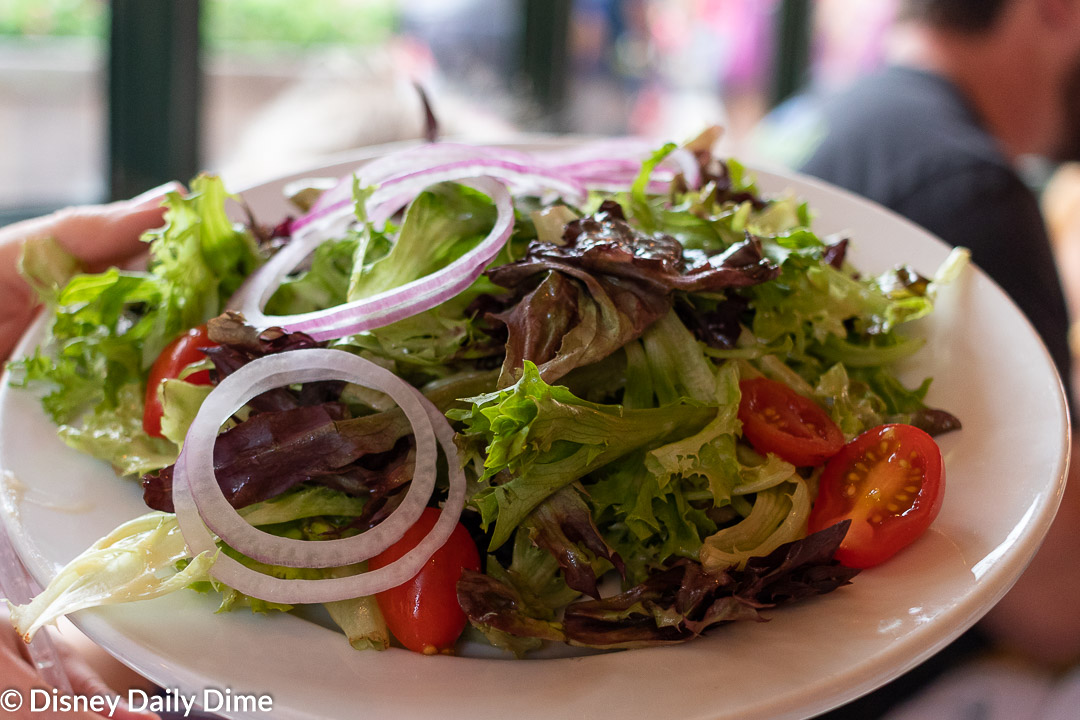 Lastly, Anna didn't want the cheese puff pastry so she just got the Mixed Green Salad.  The portion size on this was huge for a 5 year old.  Anna only ate about a quarter of it.  Again, with ranch.  It's a pretty garden variety salad, if you pardon the pun.
Kids Entrees
We'll start with the kids' entrees, but before that a quick word about the kids' menu at Chefs de France.  The menu is fairly limited in comparison to adult entrees when it comes to kids, but they do provide a decent array of  semi-French meals.  It at least makes you feel like they have options besides stock mac and cheese and chicken nuggets.  Now the execution is a different discussion, but the options are there.
At the time we ate at Chefs de France, the kids' menu featured four kid dishes.  They were salmon, pasta with ham, grilled chicken and a Croquette de boeuf, which we think is a French way of saying hamburger.  Neither of the girls ordered it, so we weren't sure, and a google search turned up no real information on it.  Go figure.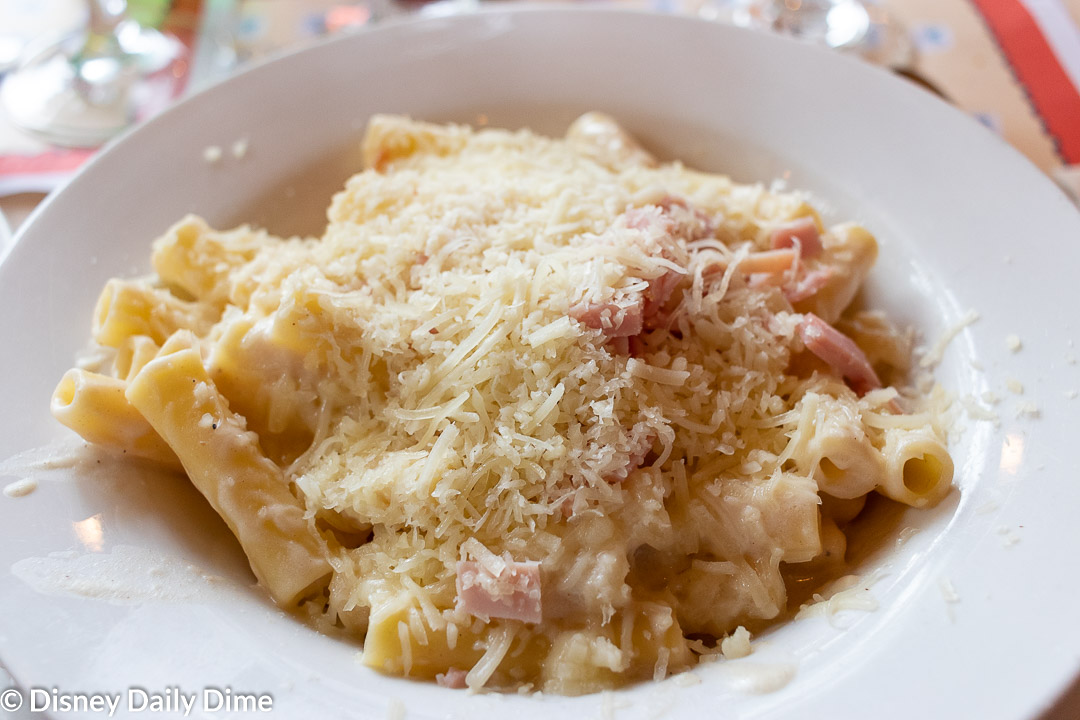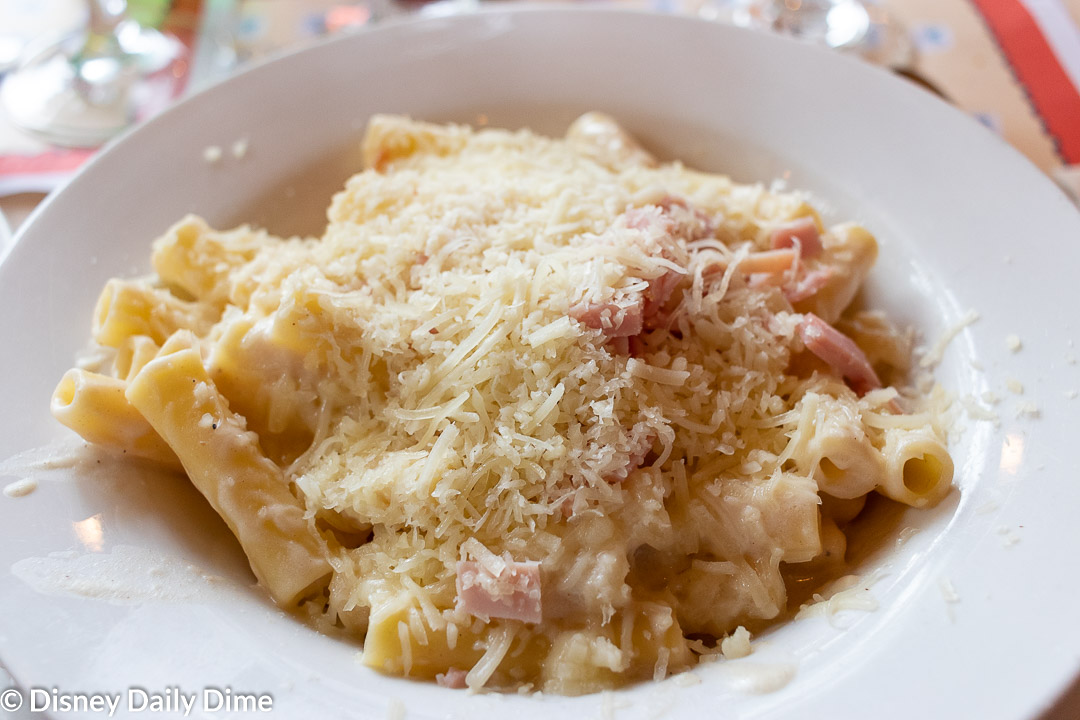 Elsa ordered the pasta with ham, cheese, and bechamel sauce.  Not going to lie, it didn't look all that appetizing to Carla or me.  The portion was huge for an 8-year-old.  She gave it a great effort to eat as much as possible, but ultimately had less than half of it.  However, for $7.50, it's a good-sized meal.
As far as taste, Elsa loved this.  She's a big mac and cheese fan at home, along with ham and cheese roll ups (think a tortilla, with ham and cheese in the middle).  I did take a bite of it and thought it was very blah.  A very bland dish, but that may be why it's on the kids' menu and not the adults.  Elsa said she would absolutely have this again.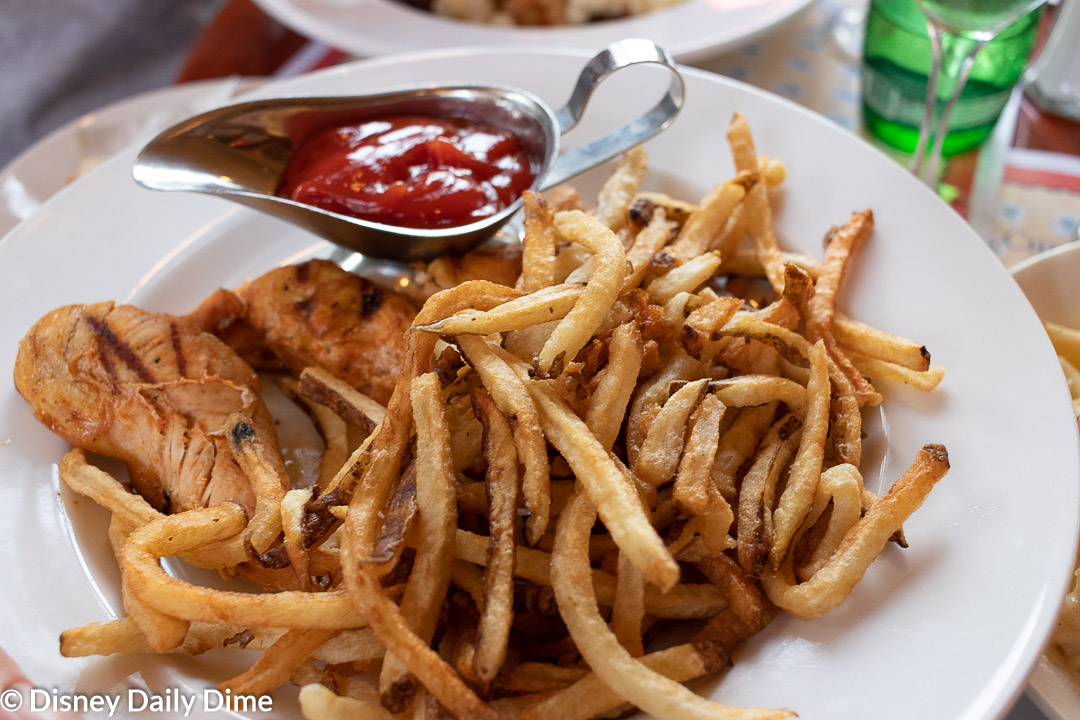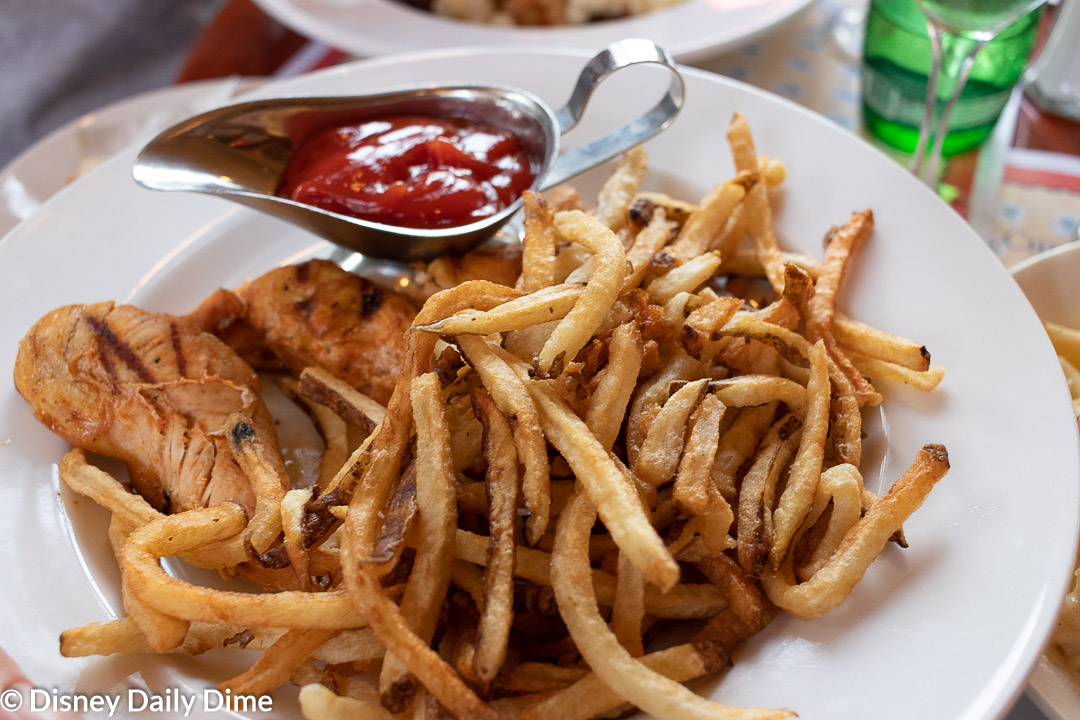 Anna is our less adventurous eater of the kids.  So, no surprise, she went with the grilled chicken and fries from the Chefs de France kids' menu.  This was a pretty plain jane dinner entree.  We'd liken them to grilled chicken strips, not quite small enough for chicken nuggets.  Why she ordered the fries, we're still not sure as she had the option of green beans.  She isn't a big french fry eater.  Given that she only ate a handful of fries, they were clearly not her thing.
As for the chicken, Anna said she didn't really like it all that much.  She isn't completely able to verbalize why and at 5 years old, we get it.  She tried to tell me that the ketchup was spicy, if that gives you an idea.  Suffice it to say this meal "wasn't her favorite" as she likes to say.   I had a taste of it and the chicken was bland and boring, while the fries were more of a homestyle cut, which I don't prefer.  It made them a bit soft for my liking, but I do prefer a good hard crunch on the outside of my fries.  This may or may not suit your preference.
Adult Entrees
Carla and I were very excited to eat at Chefs de France.  We poured through the menu before going and more or less knew what we were going to get.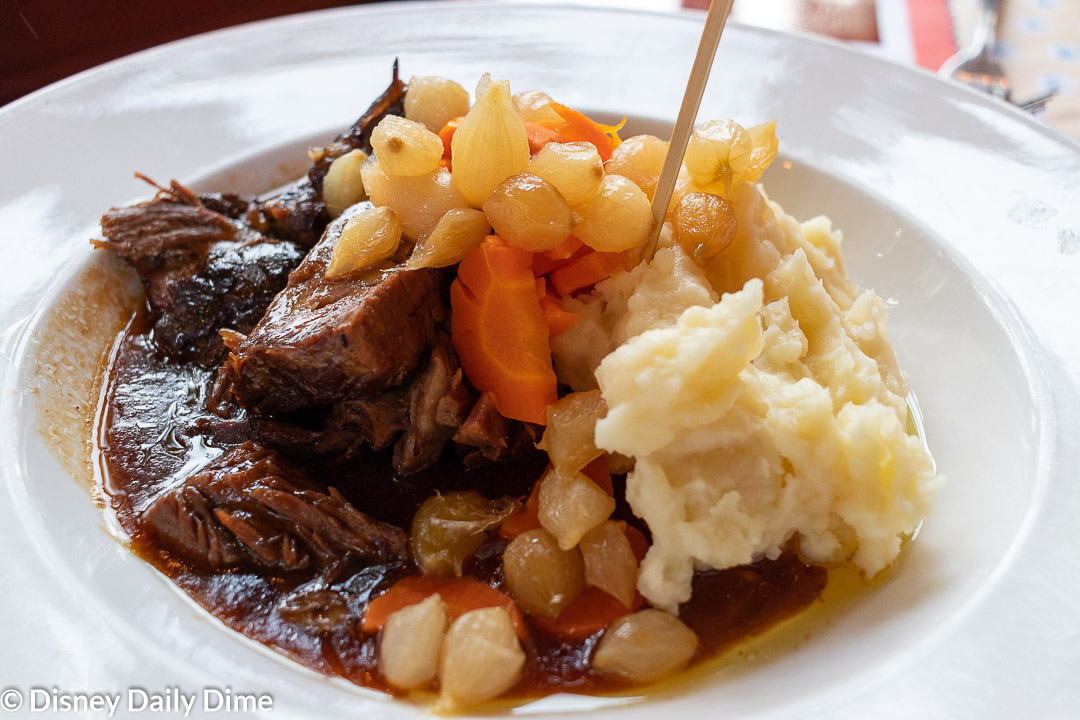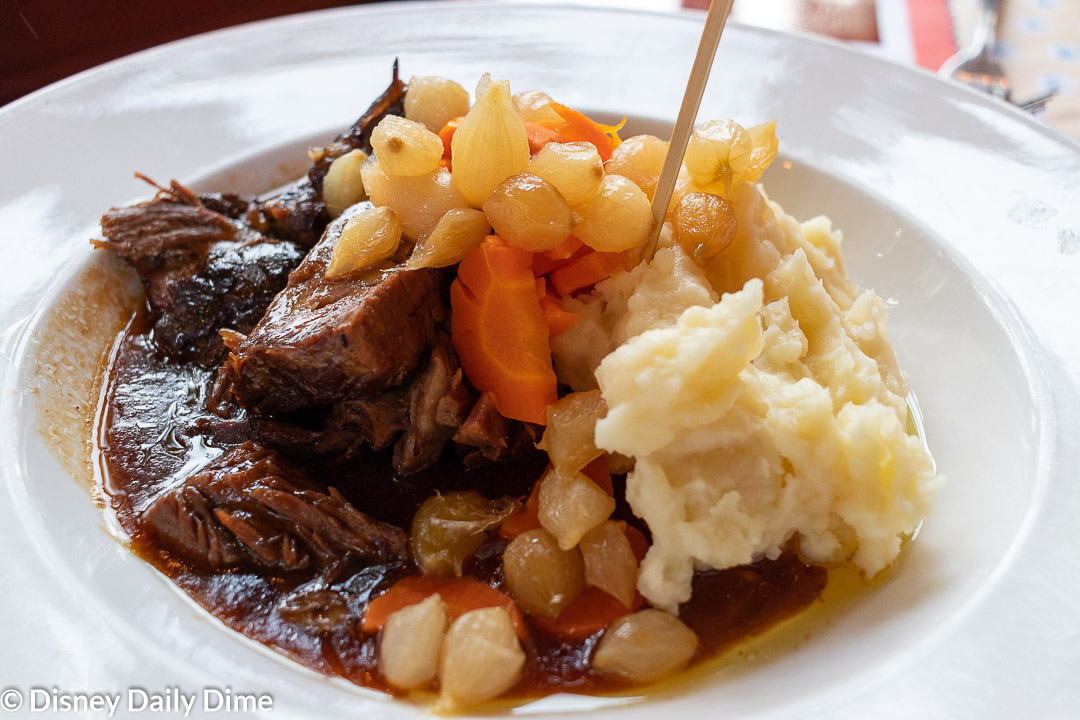 Carla had the Boeuf Bourguignon, however she substituted out the linguine for mashed potatoes to make it gluten free.  She described the beef as fork tender, the onions and carrots were cooked through but not soggy and the potatoes were light and fluffy.  We both agreed that this was  by far the best dish on the table and it wasn't even close.  For almost $30, it better be one of the best!
The one thing I will say is that this entrée was so rich we couldn't finish it between the two of us.  At some point we just sort of gave up and said "no mas".
I ordered the Gratin de Macaroni (Baked Macaroni).  This was something I was looking forward to trying as I don't usually eat a lot of pasta, but I do enjoy baked pastas like this.  This was a dish where I'd say it started strong for me, but finished sort of just okay.  The layer of nicely browned cheese on top made the dish tasty with some great texture, but once you got below that it sort of fell flat for me.  Below that top layer of cheese was just more melted cheese and pasta.  It wasn't something that struck me as distinctly French or that I would say took me to Paris.  It was fine, but I wanted something great.
Maybe I'm being unfair with my criticism given it is just baked pasta.  But at the end of the day when you're forking out $20 for it, it needs to wow you.  This dish didn't.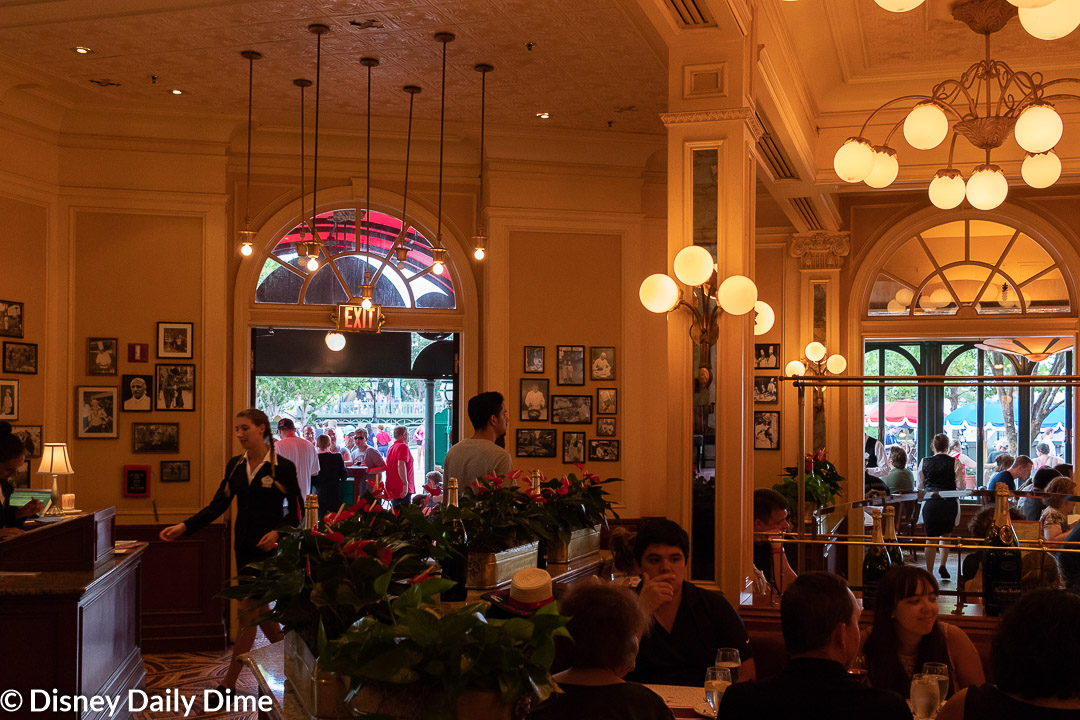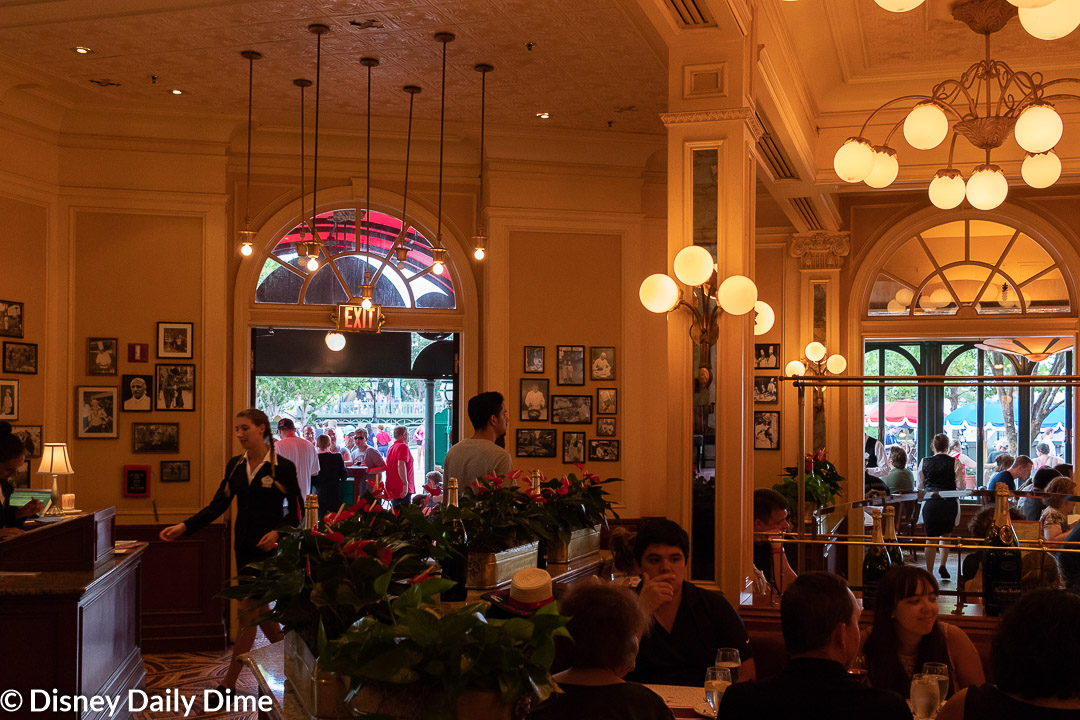 If you're wondering why there isn't a picture of the baked macaroni, you can chalk it up to my failure as a photographer.  I was so busy taking pictures of everyone else's food, I apparently forgot to take a shot of my own.  So, here's a picture from a review on Disney Food Blog's website, if you want to see what it looks like.
Dessert
We went pretty light on dessert at Chefs de France.  And by light, the only thing we ordered was a Crème Brûlée that was only for Carla.  The kids and I went over to L'Artisan des Glaces for ice cream, so we didn't get anything for ourselves.  Carla described the Crème Brûlée as excellent, but not anything you can't find at another decent dining experience.  Nothing unique to it.
Once again, we failed on the picture because I had taken the camera off to our ice cream adventure and Carla didn't think to snap a picture with her phone.  We promise to plan better going forward.
Chefs de France Overall
Overall, we'd consider our visit to Les Chefs de France fairly positive, but more based upon the service, less on the food.  We look for restaurants where we as adults can try interesting flavors, while getting the girls to try something different too.  To have our girls eat something that we'd call "French for kids", it was a success.  At least for Elsa.
On the entrée side for the adults we had one huge hit and one marginal miss.  It was good enough though, that we would all go back and give it another try.  Even Anna and Elsa said they would try it again, altough we're not sure what Anna would actually eat.
The service issues were minor in the grand scheme of things and our waitress' willingness to spend time with the girls and educate them was a big plus.
When we go back, we will definitely request a room in one of the side areas so we can get that French street side bistro feel.  The interior of the restaurant isn't what we're looking for in our dining experience there.  You should do the same, in our opinion.
Wrapping Up
There you have it, our Chefs de France review.  We hope you enjoyed it.  It's our first dining review, so we'll continue to refine how we do things.  If there are things you'd like us to add to our dining reviews going forward, feel free to drop down in the comments and let us know.  If this was helpful, please like and share this with your friends or anyone you think will find it useful.  Just use the sharing buttons on the page.  We always appreciate it when you share this, as it allows us to spread the word about our young blog and hopefully allows us to help others.