When Be Our Guest Restaurant opened as part of the Fantasyland expansion in 2012, it instantly because a smash hit restaurant to dine in at Magic Kingdom.  As a counter service meal for breakfast and lunch, Be Our Guest offers an incredible themed experience at a relatively good price.  If you didn't know already, based upon the name you can probably surmise that Be Our Guest Restaurant is themed to the Disney classic Beauty and the Beast.  While we've eaten here several times over the years, we recently had lunch at Be Our Guest for the first time since we started the blog.  We figured it was time for a review of one of the most popular restaurants in all of Disney World.
Here in our Be Our Guest Restaurant lunch review, we recap our meal while giving you our thoughts on the atmosphere, food, and general vibe of this restaurant.  As usual, in addition to our thoughts, we've got a lot of photos sprinkled into the review.
Be Our Guest Restaurant requires one counter service credit on the Disney Dining plan at lunch.  Most entrees will cost you between $14 and $19, which makes it a really good value on the dining plan.  The one exception to that is if you get one of the two soups on the Be Our Guest Restaurant menu for your lunch.  In that case you are better off paying out of pocket.  Be Our Guest Restaurant does not accept Tables in Wonderland for lunch, however it does for dinner.
There is one thing we should point out about our Be Our Guest Restaurant lunch review.  That is the fact that this is truly just a lunch review.  Just lunch you ask?  Why you ask?  Well, Be Our Guest actually turns into a prix fixe table service meal at dinner time.  The menu is different and so is the experience.  We're going to stop by for dinner at some point later this year, but for now, this review only focuses on the lunch experience.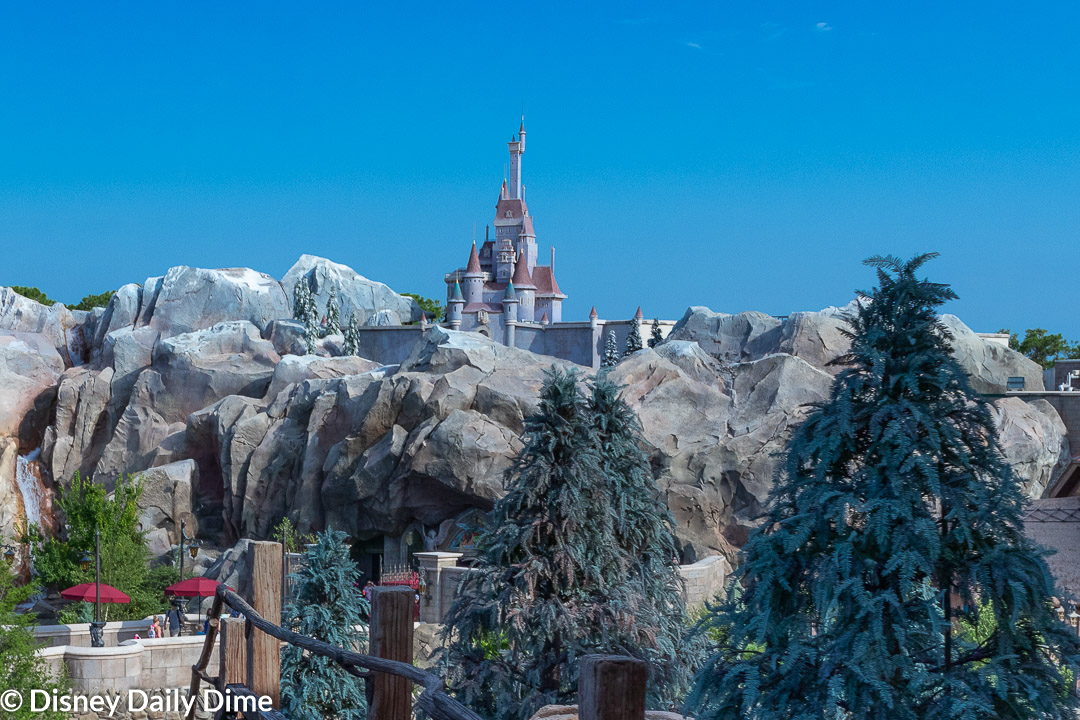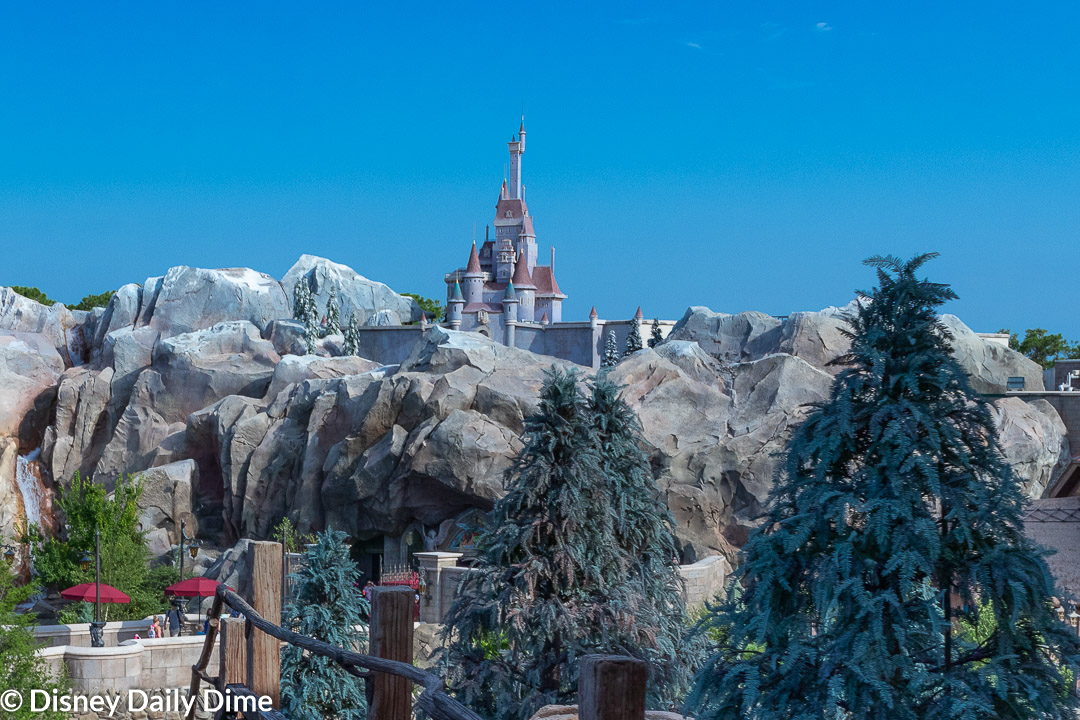 You'll Dine in the Luxury of the Beast's Castle at Be Our Guest Restaurant
The theming associated with Be Our Guest Restaurant starts before you even enter the front doors.  In fact, I'd suggest the best place to set the stage is actually from Seven Dwarfs Mine Train, which is just a stones throw from the restaurant.  As your mine car exits the mine portion of that attraction, you get a view looking right at the restaurant and Beast's Castle ominously sitting back from the entrance.  That's where the picture above is from.  I will admit that the castle would work better if it was larger.  It feels like it is out of proportion to the rock of the entrance, but that's a pretty minor criticism in the grand scheme of it.
You'll check in for your lunch outside of the restaurant.  Given the popularity of the meal, this counter service restaurant is somewhat unique in the fact that it actually accepts ADRs.  If you want to eat here, it's essential that you book one.  Try and do it at the 180 day mark.  Finding a same day walkup reservation is difficult, and you will likely have to eat at 2:00 in the afternoon.  After you check in, it will probably take five to ten minutes for you to be escorted to the entrance.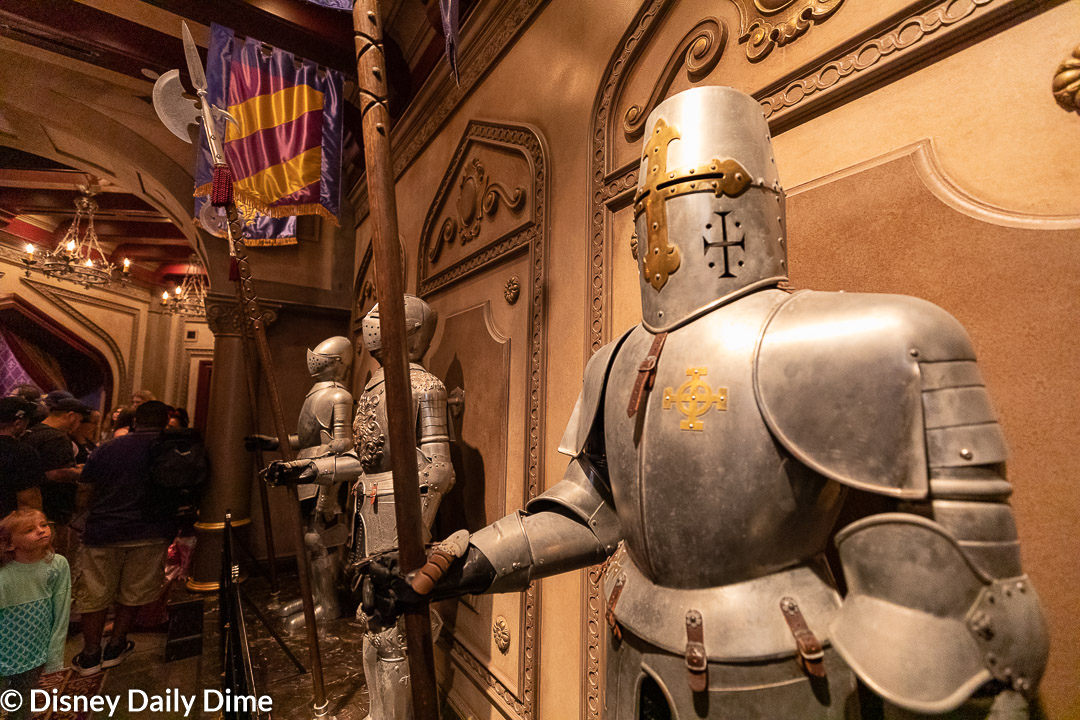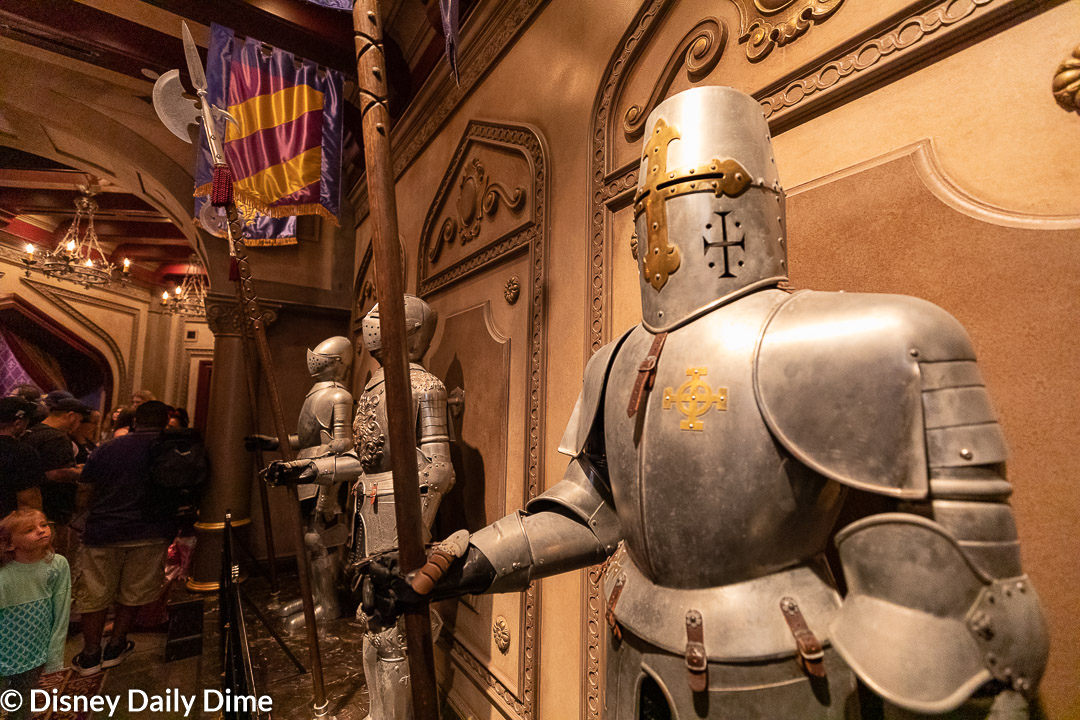 Once there you'll enter the castle and be directed to a queue where you can order your meal.  The line to order will be to the right as you enter the restaurant.  Here you can easily order your meal right at a kiosk, but waiting to get to the kiosk will take 5-10 minutes.  You can see Carla in the picture below working on her meal selections.  After you place your order, you're given a little rose that actually serves as a tracking device for where you sit.  This allows you to grab any table you want and the food runners will still be able to find you.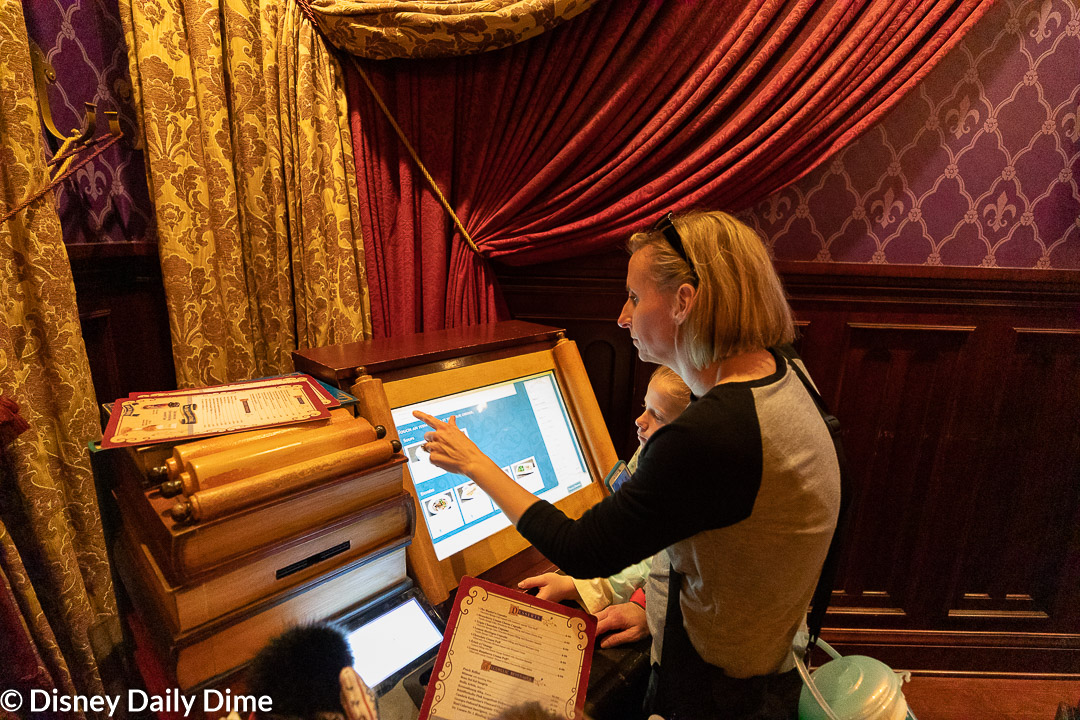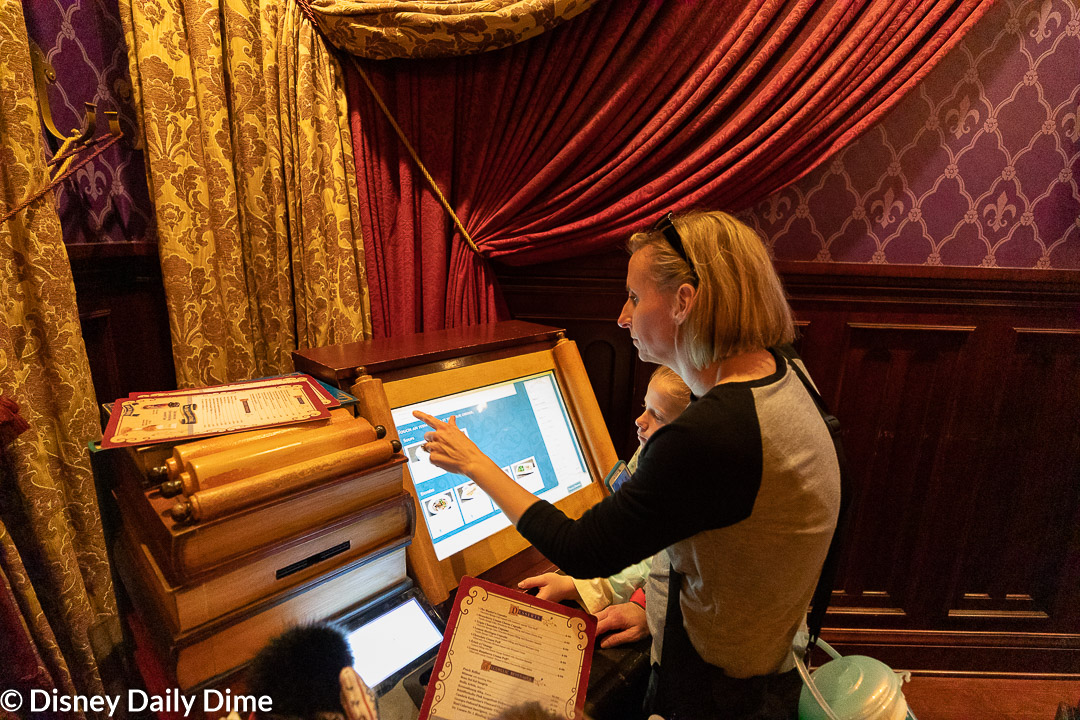 Disney World actually gives you the ability at pre-order your lunch at Be Our Guest Restaurant.  You can do this via the My Disney Experience platform.  If you've pre-ordered you will be directed to the left line, thus avoiding the longer line for those actually ordering at the restaurant.  A quick check in with a Cast Member inside the restaurant and you'll be off to your table.  We recommend using the pre-order option to save yourself some time.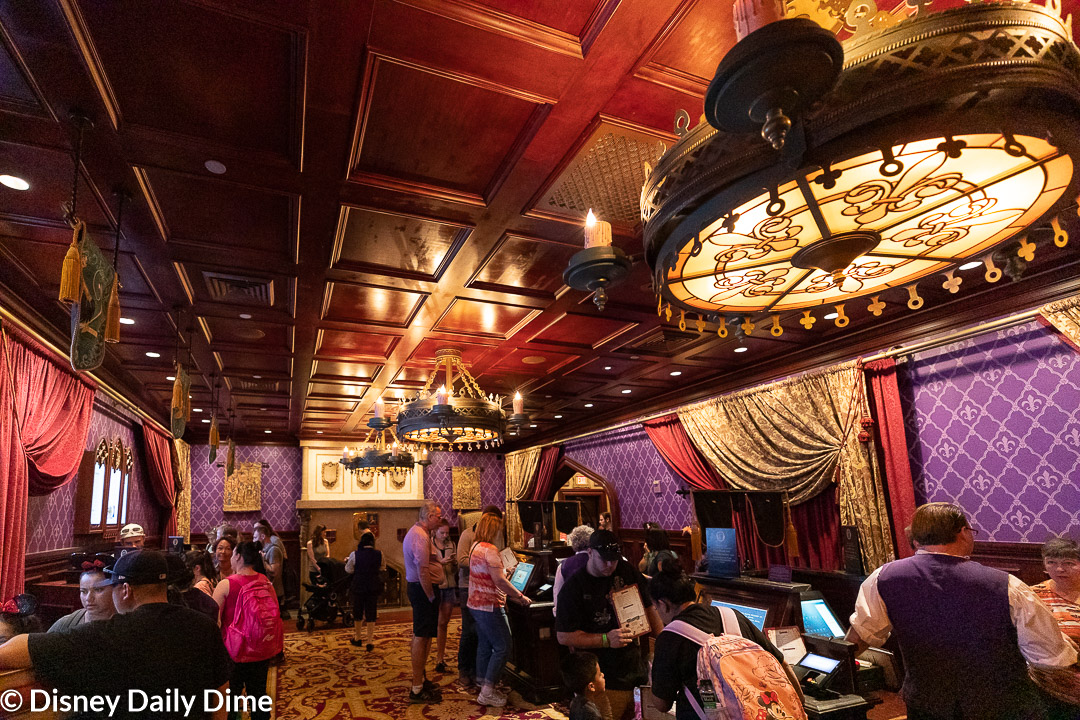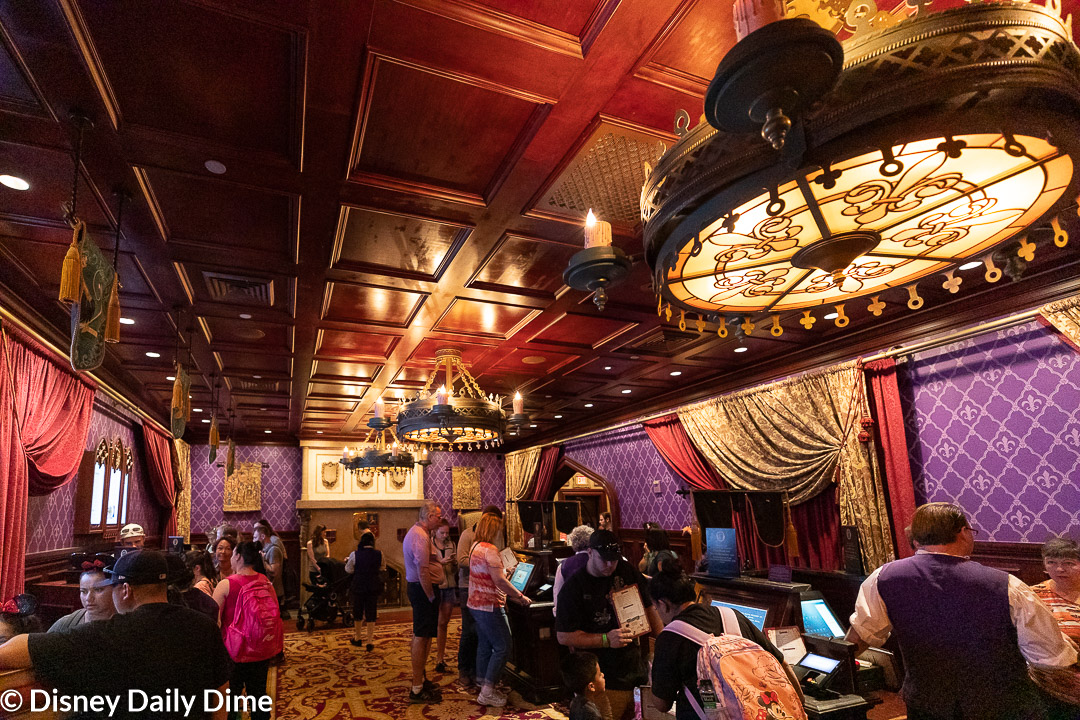 If you weren't convinced of the immersive theming at Be Our Guest Restaurant already, we think you will be as soon as you step into the main dining area.  This isn't your run of the mill counter service restaurant at Disney World.  Oh no, far from it.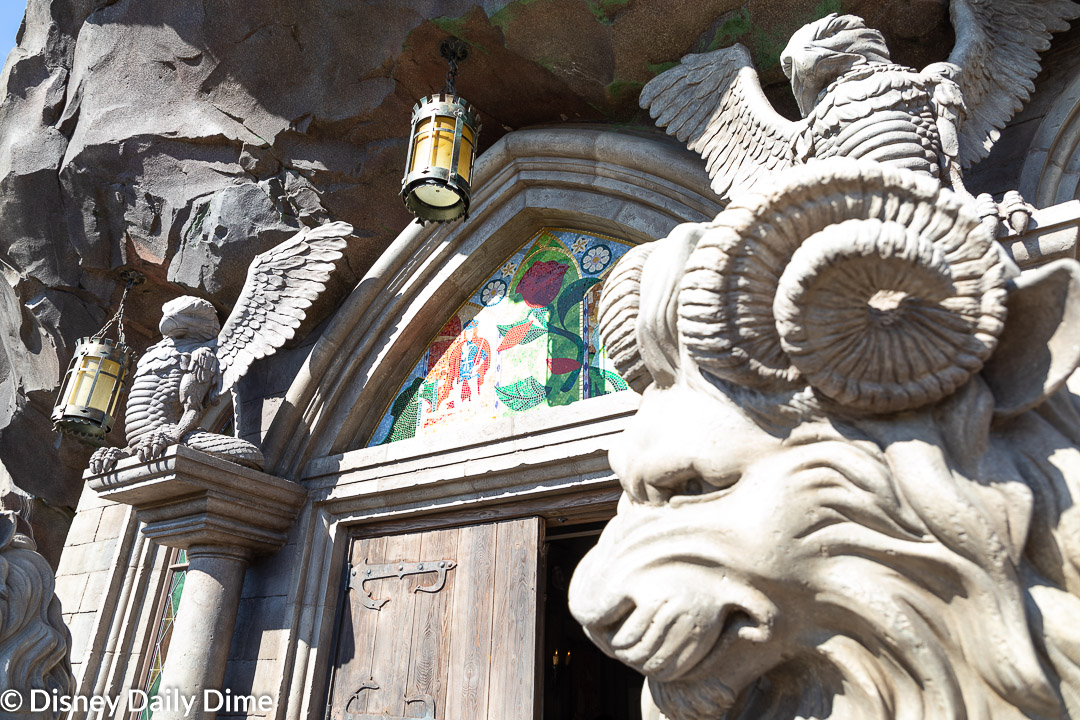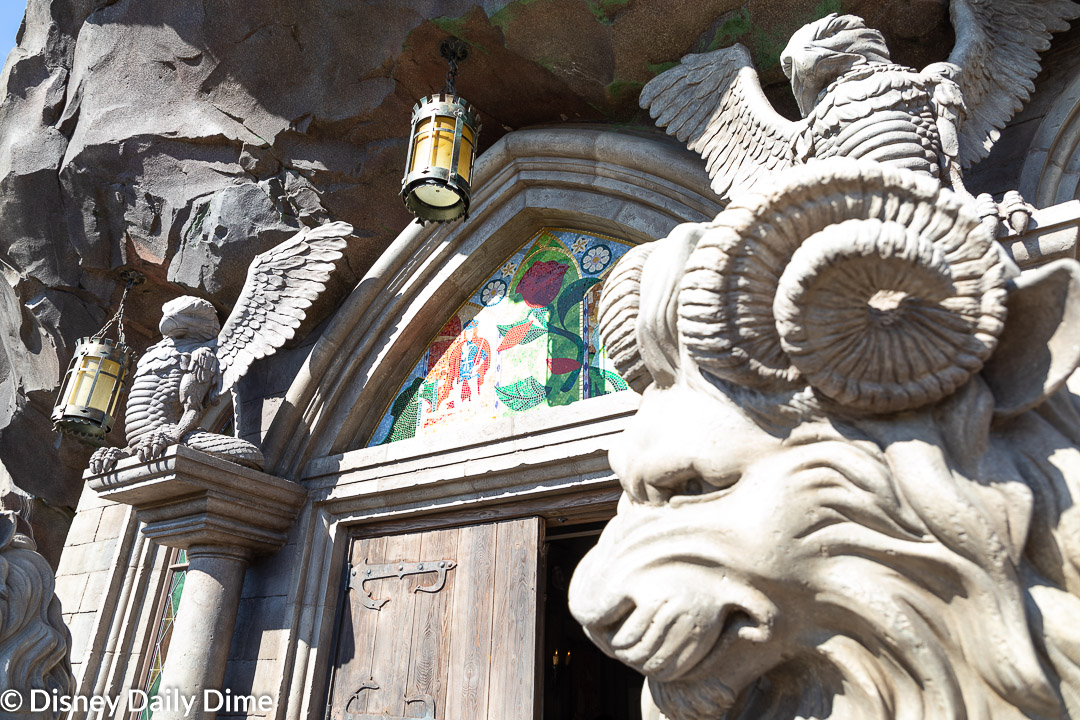 The main dining area of Be Our Guest Restaurant is one of three dining areas you can sit in.  During lunch you can choose to sit where ever you like.  We'll talk you through the three dining areas in a minute, but wanted to comment on the design on the rooms in general.  All three dining areas at Be Our Guest Restaurant are some of the most intricately detailed and thought out areas of any Disney World restaurant.  The level of detail is actually quite amazing.  At some point before, during or after your lunch at Be Out Guest, you absolutely must walk through all three of the dining areas and take in all the different elements of each room.
The first dining area you are greeted by is also the largest.  It is designed to replicate the ballroom of the Beast's Castle.  Featuring beautiful chandeliers and a ceiling that looks like it was painted by Michelangelo, this room is beautiful.  The glass windows at the back of the room feature a view outside towards the harsh cold winter perpetually found at Beast's Castle.  There are some great effects happening through those windows, make sure you take a second to look out them.  Just don't disturb people that are eating at the tables next to the windows.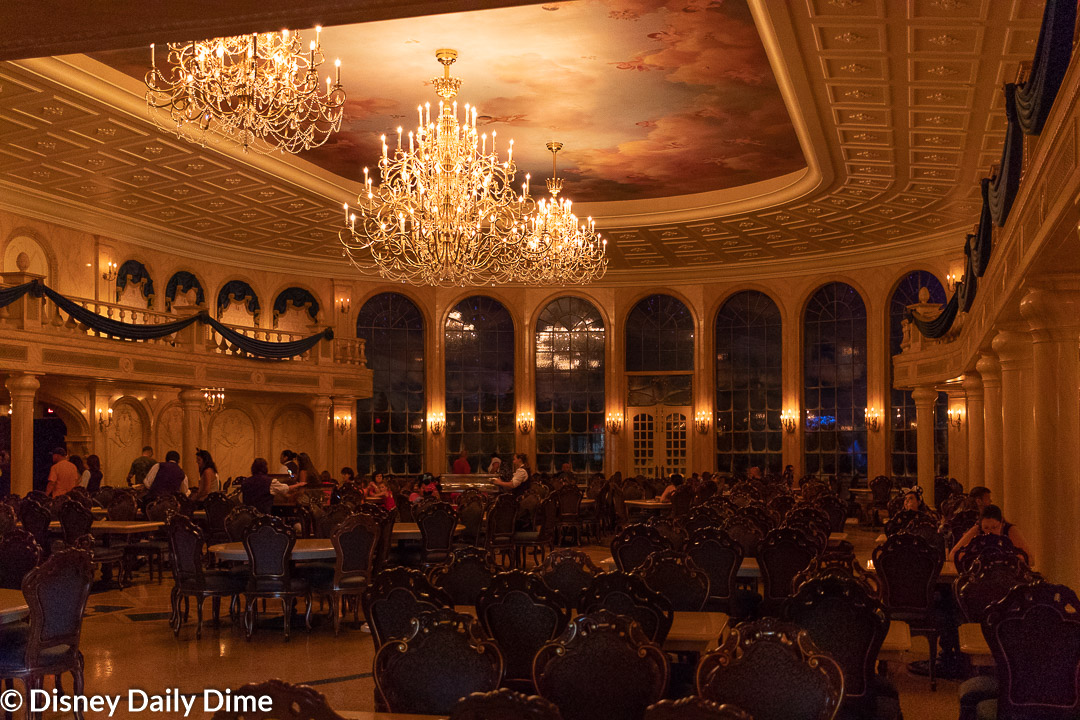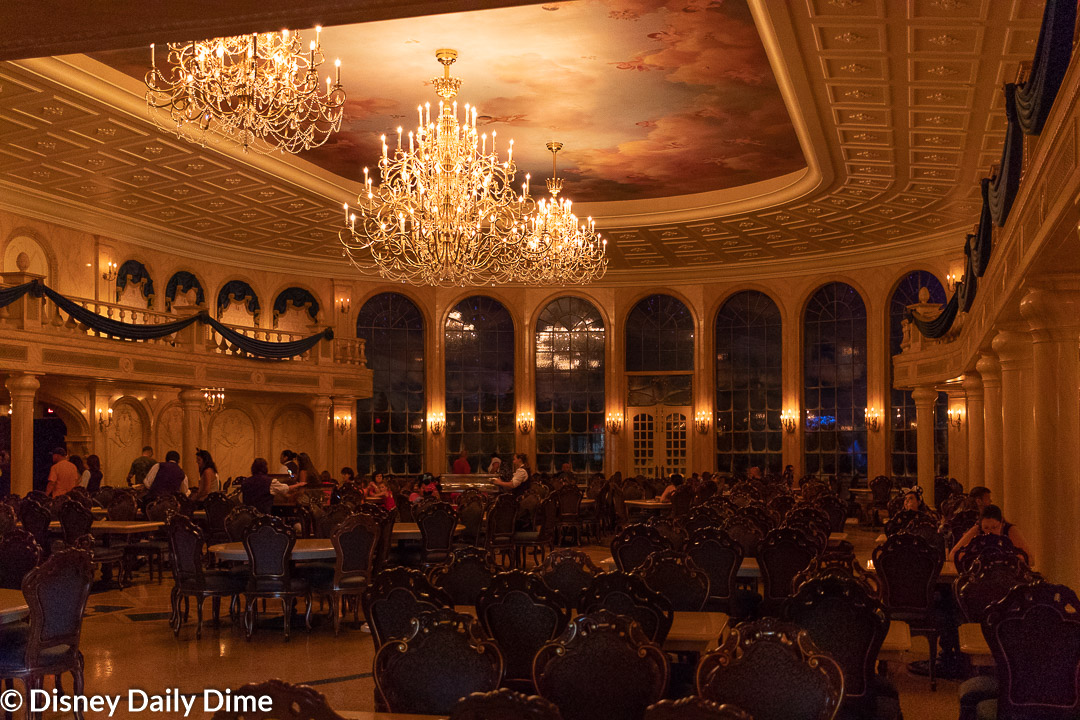 If I had one criticism of the main dining area, it would be that it can get quite loud in here as there are tons of people dining and voices are bouncing off the ceiling because it is a bit cavernous.  It's a large sweeping ballroom, so it does well in keeping the Beauty and the Beast movie look and feel, this is just a downside of the room.  This also makes this dining area a far less intimate setting when compared to the other two rooms of the restaurant.  Speaking of…
If you go to the west (left) side of be Our Guest Restaurant you will find none other than the dark, foreboding and somewhat creepy West Wing of the castle.  In the movie, the West Wing is supposed to be for the Beast alone.  However, I guess Disney paid him a royalty or is giving him a piece of the lunch revenue to allow guests to sit in here.  Even Beasts have to make some money for the castle upkeep, right?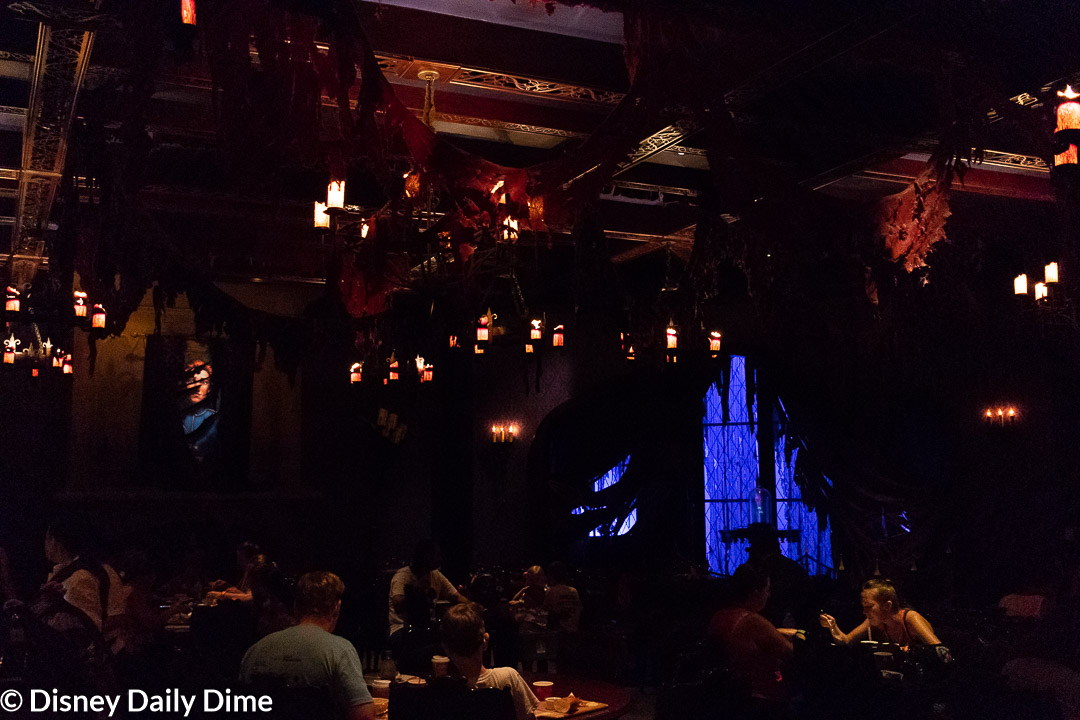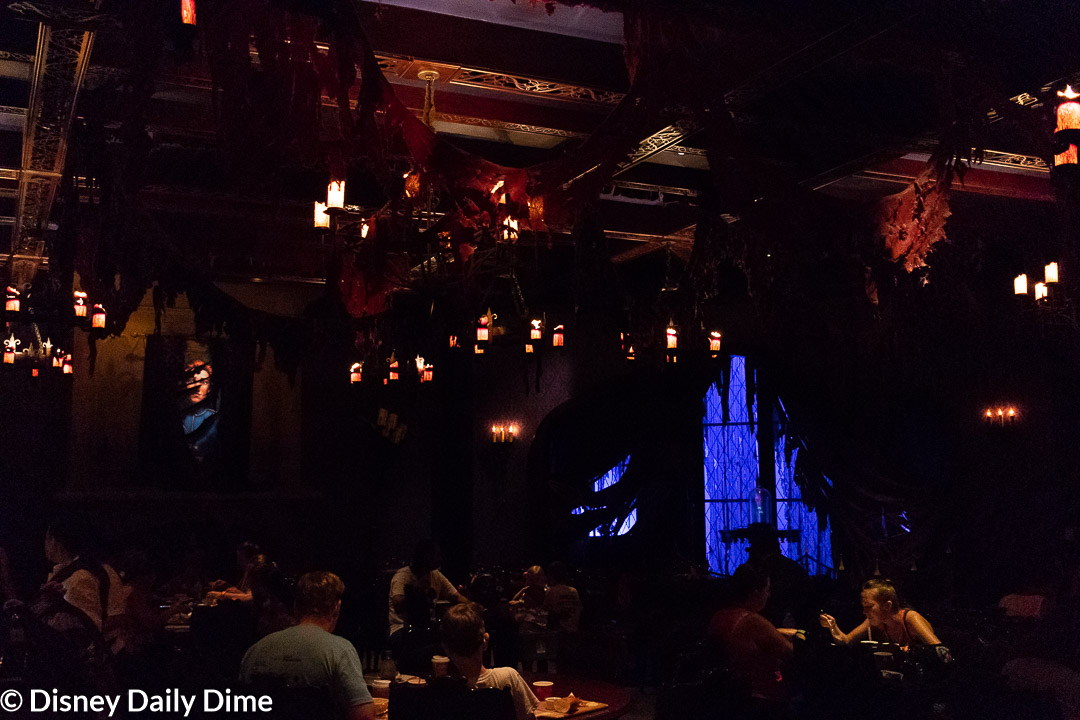 As you can see in the picture above the West Wing dining room is dark.  Like real dark.  I tried not to brighten the picture too much so you can get a sense of how dark it is, but still see some of the details in the room.  Those details are fabulous.  From the picture of the Prince that turns into the Beast, to the rose, there's lots to take in.
The West Wing may not be a place you want to take smaller kids, as there are lightning and thunder effects that routinely go off in the room.  In our case, Anna wanted no part of dining in here, saying that the darkness of the room and weather effects scared her.  We haven't actually eaten in this section of Be Our Guest Restaurant for that reason.  Maybe someday…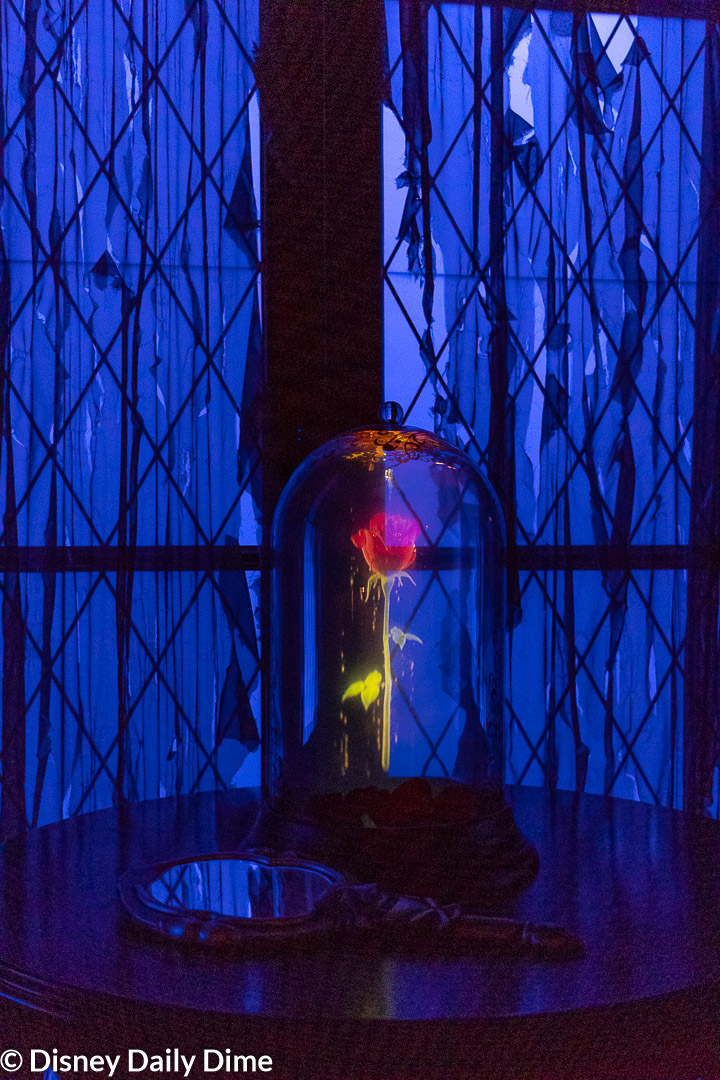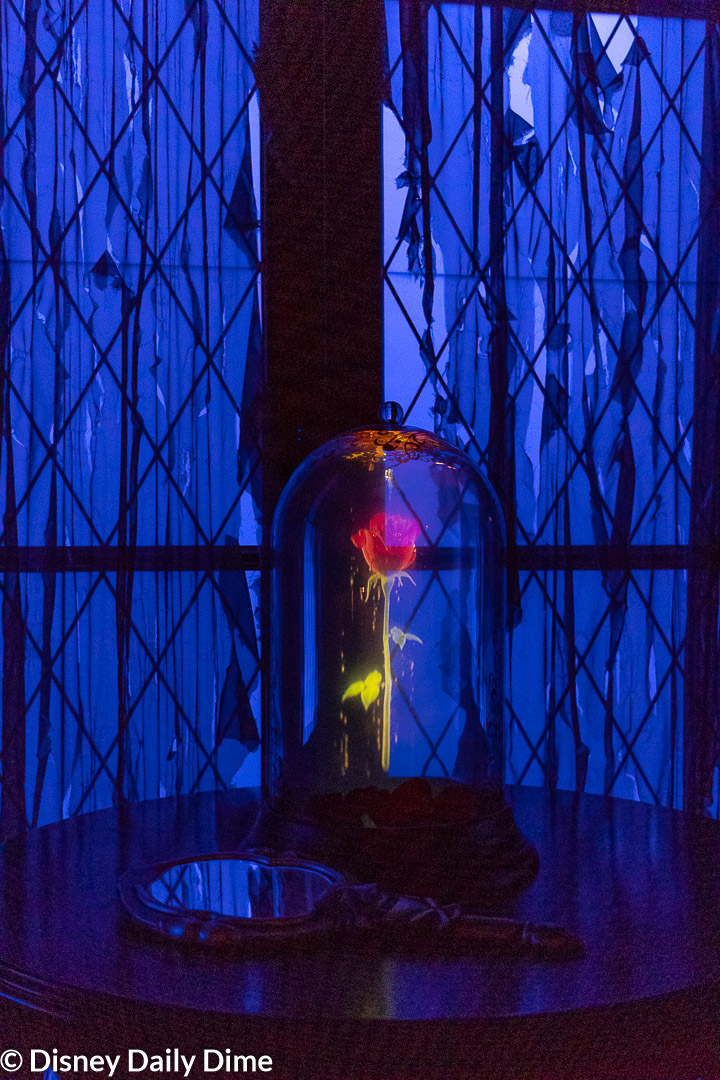 Speaking of eating in the West Wing, getting a table in this room is a bit of a challenge.  The room always seems to be packed.  Book your ADR early or late in the lunch time so the crowds are "lighter".  This should improve your odds of landing a table in the West Wing.  Alternatively, you can just wait at the entrance to the West Wing and leer at the people dining.  Okay, maybe don't leer.  Do know that you may have to wait a bit for a table to clear.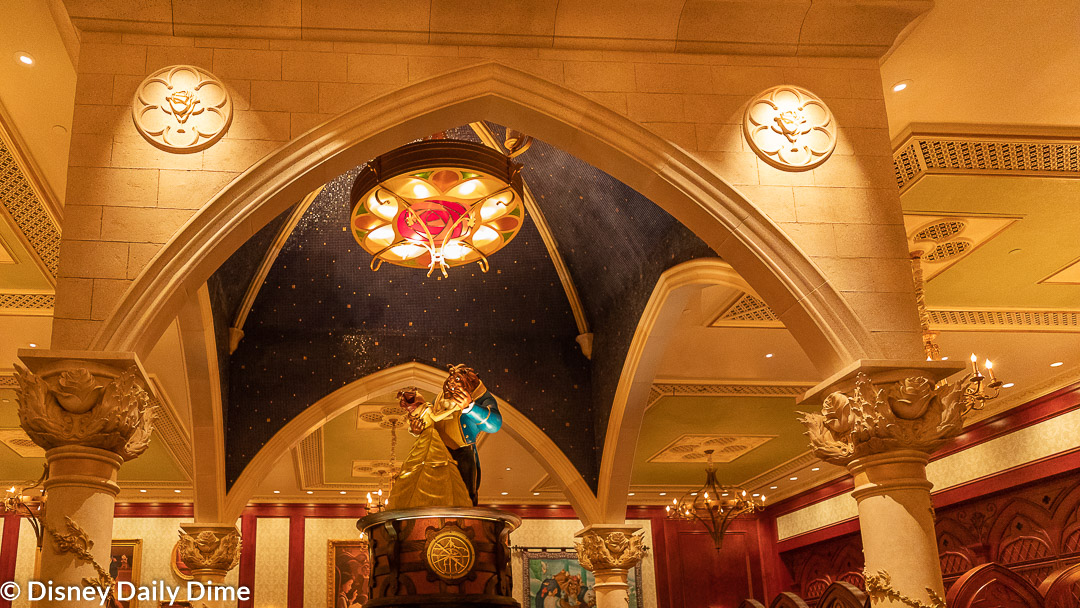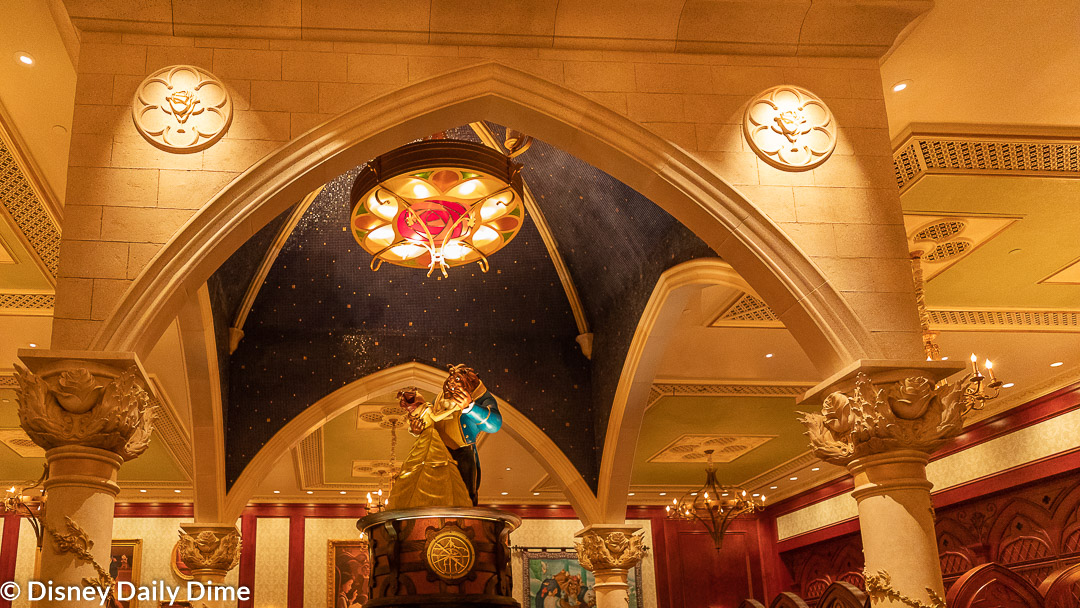 The last dining area, and Anna and Elsa's favorite, is the Castle Gallery.  Adorned with a music box that features the iconic dance between Belle and the Beast, this room is lovely.  The walls of the Castle Gallery showcase artwork that tell parts of the Beauty and the Beast story.  This is another room where you should go and check out the theming if you can't get a table in here.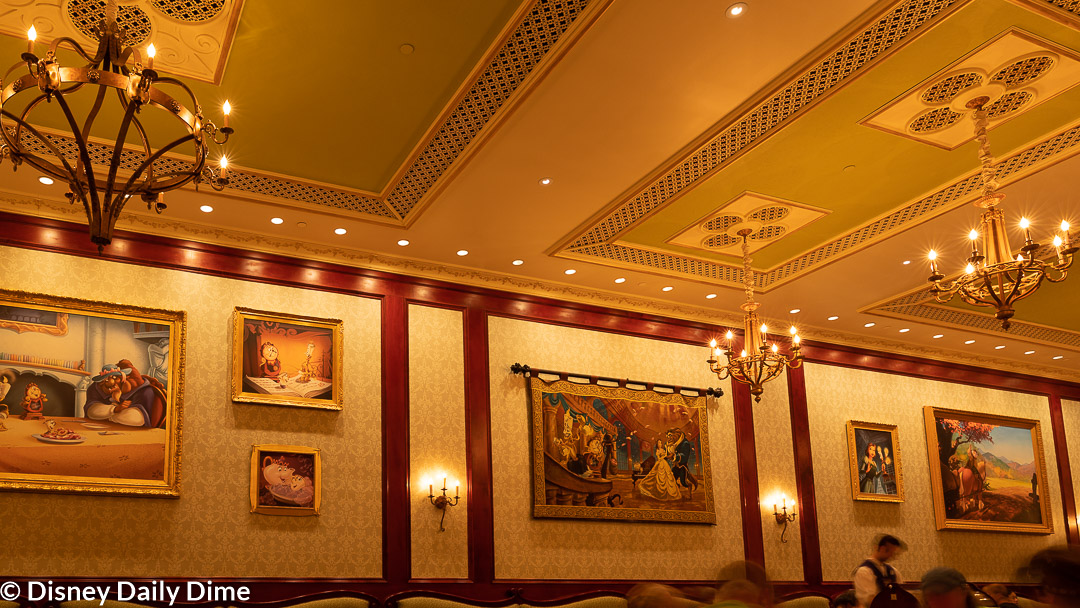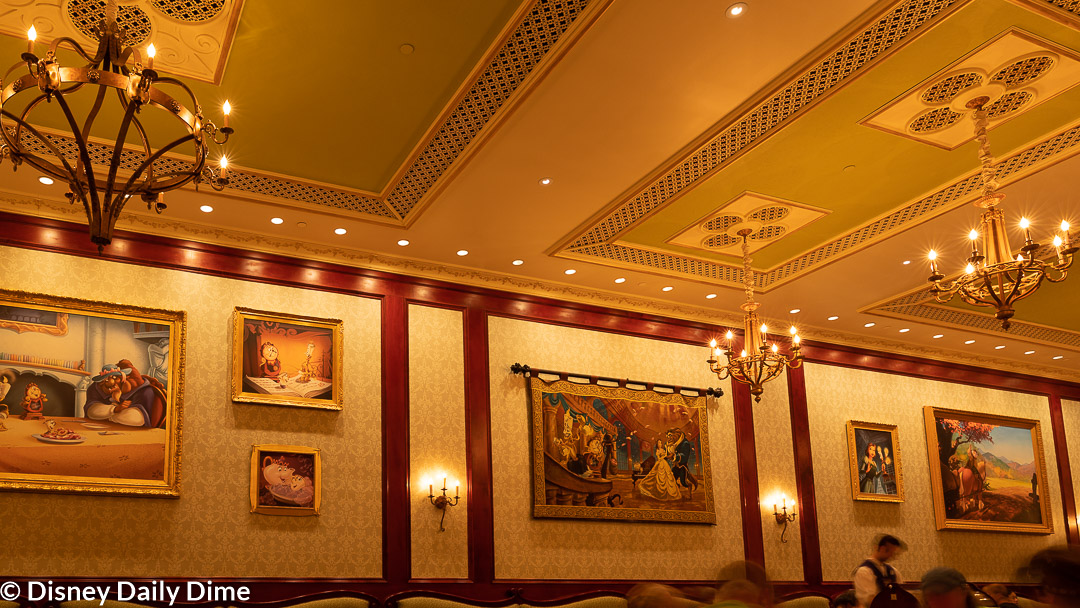 I could go on and on about the quality and depth of theming here, but since I've already burned about 1,000 words on it, I'll wrap up this part of our Be Our Guest Restaurant lunch review.  Suffice it to say, Disney really outdid themselves when they conceived of this restaurant.  At this point we'd say it's the best themed counter service restaurant in all of Disney World.
Be Our Guest Restaurant Lunch is a Welcome Improvement on Disney Counter Service Food
The food at Be Our Guest Restaurant is largely French inspired, with some American style fare.  Don't be concerned about the food being "French".  The dishes are not anything we consider too adventurous.  You're not eating at Monsieur Paul.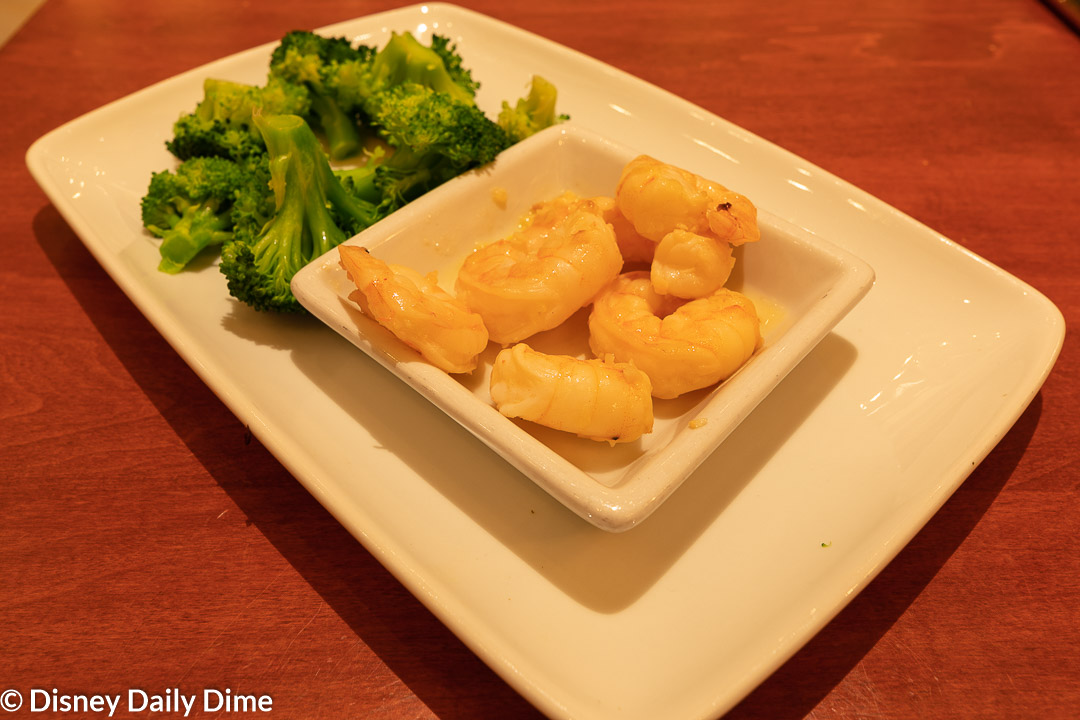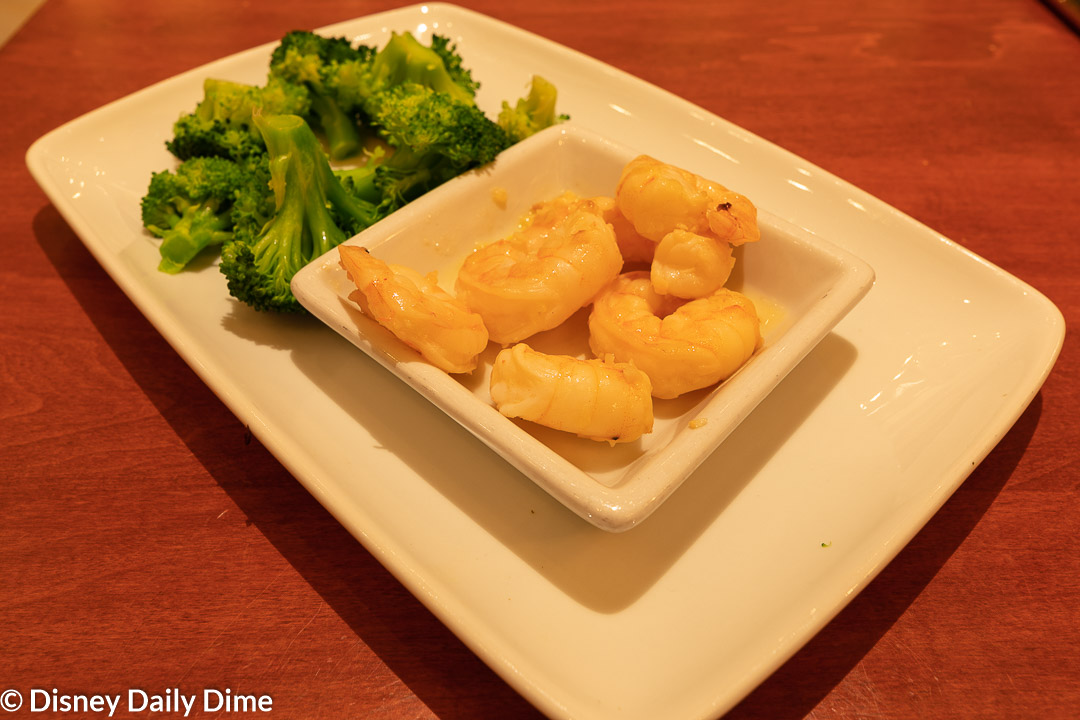 Kids Entrees
The kid's menu at Be Our Guest Restaurant features some basic kid staples, but we were also surprised to find a few unique options for kids.  The Mickey Meatloaf and the Feast à la Beast, which is a slow cooked pork, stood out to us, but unfortunately the kids didn't order either one of them.  Even if your kids don't want to be that adventurous, there are still better-quality options here than the standard chicken nuggets or hamburgers that are prevalent at many counter service locations.
Elsa's choice was "semi adventurous" as she continued her shrimp eating binge here, ordering the Lumiere's De-Light.  If you are somehow interested in shrimp meals for your kids, you can check out Elsa's other recent shrimp eating exploits in our Skipper Canteen review or our Jaleo review.
As far as her shrimp goes, they were cooked well, but I'd say a little bland.  There wasn't any discernable seasoning on the shrimp I could find.  That didn't bother Elsa in the least, as she devoured all the shrimp, broccoli and apple sauce.  As is the case with kids, more flavor isn't always better.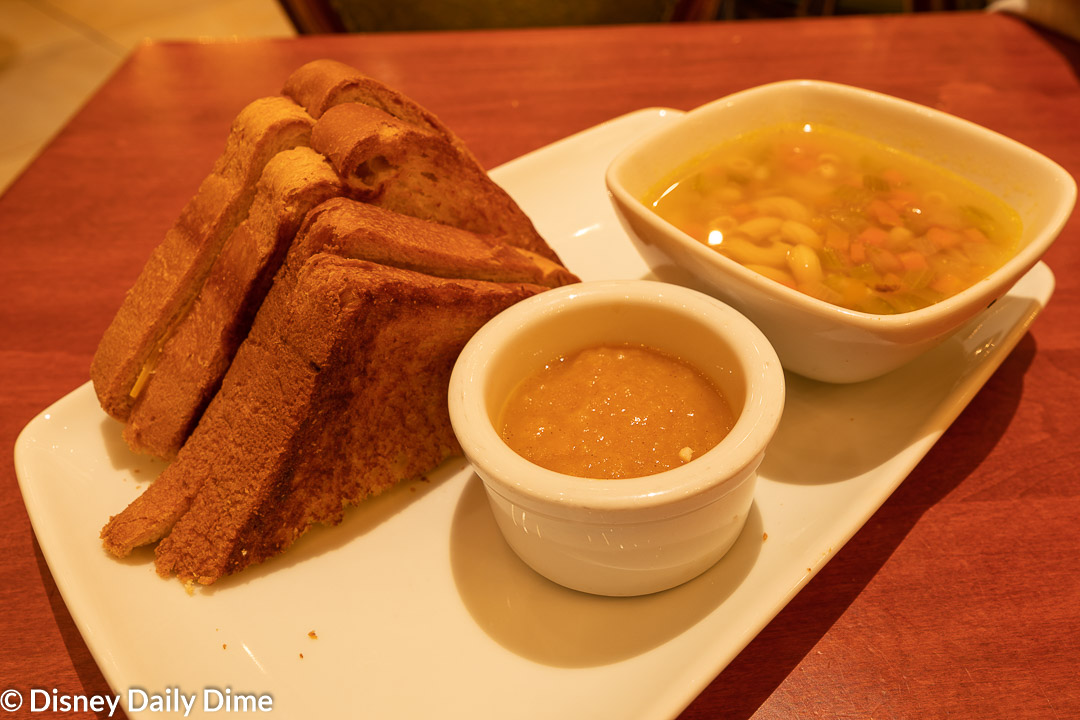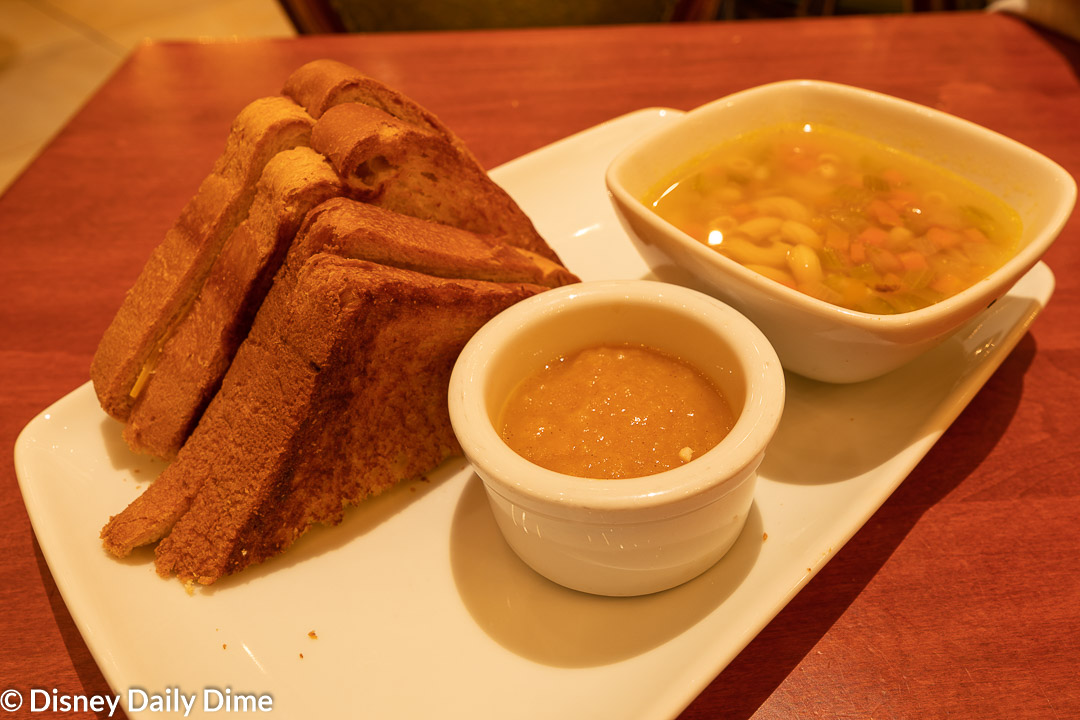 For her lunch, Anna went with the Chip's Delight entrée.  This was a surprisingly hearty meal, especially when compared to the shrimp Elsa ate.  Featuring a grilled cheese sandwich, turkey noodle soup and apple sauce this was a lot of food for her.  While she didn't finish it off, she ate well and really liked the grilled cheese.  Not surprisingly, she liked the turkey noodle soup, but I wouldn't say she loved it.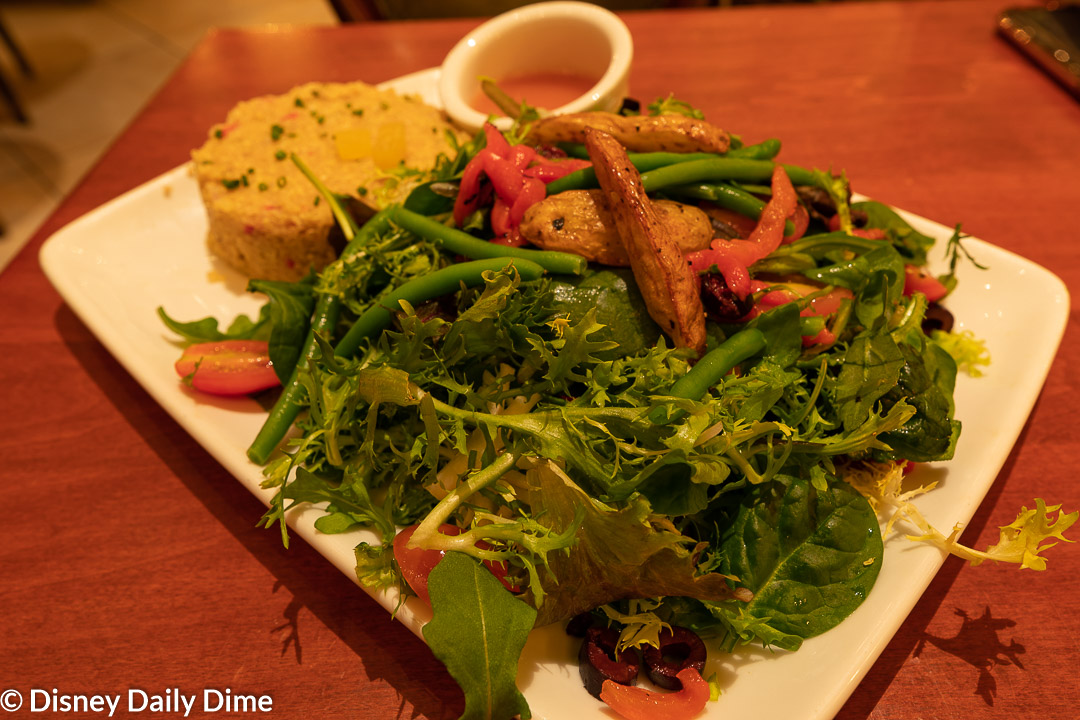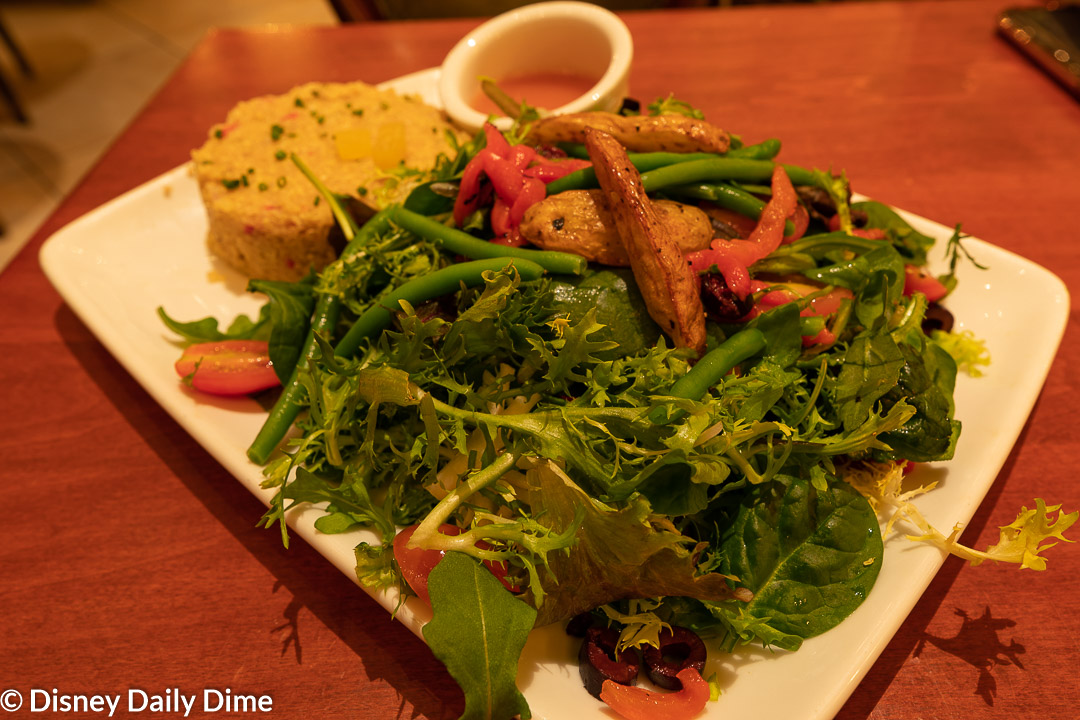 Adult Entrees
For our Be Our Guest Restaurant lunch Carla honed in on something that I knew she would like and I would not.  That would be the Quinoa Salad.  Featuring chilled green beans, potatoes, olives, roasted bell peppers, golden beets and tomatoes.  Carla loved this salad.  The vegetables were fresh and worked well together.  The quinoa was good, if you like quinoa, I guess.  It was not for me, but again, Carla really enjoyed it.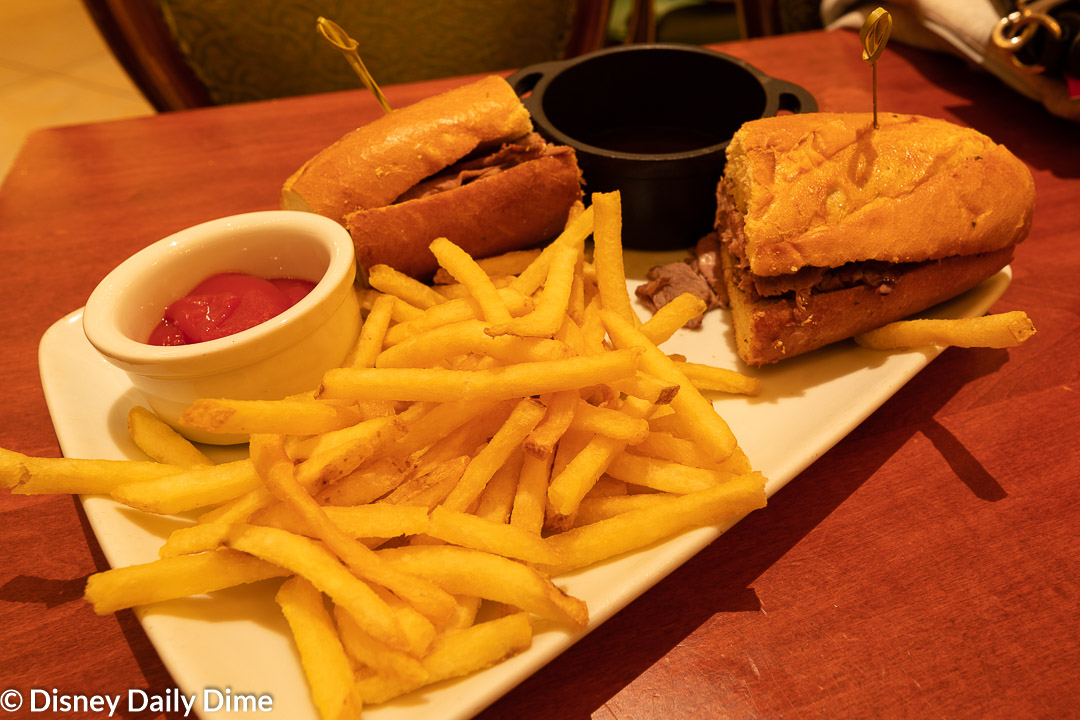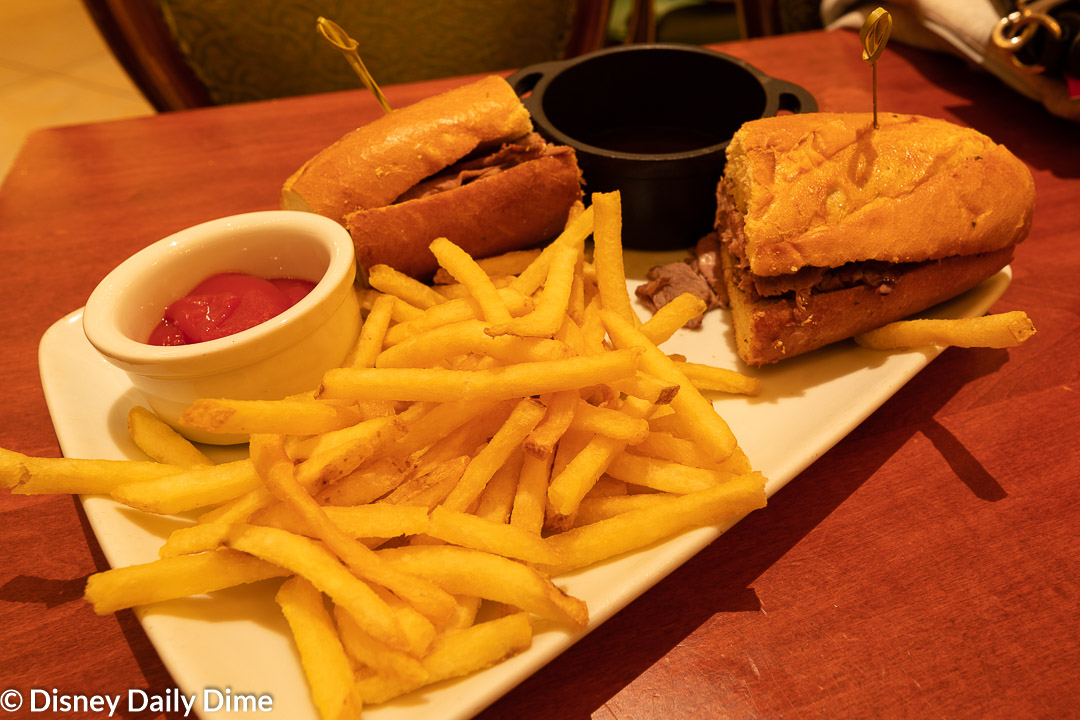 For my lunch, I went with the French dip sandwich.  I'm a sucker for a good French Dip, so I had to try it.  Fortunately, I have to say I was not disappointed.  The roast beef was cooked well and appeared to be reasonably good quality for a counter service meal.  What I always love about a French dip is how the Au Jus, bread and meat all work together.  That was the case here, with the Au Jus blending well with the roast beef.  The Pommes Frites were better than standard Disney fries to me.  I'm not actually sure they are different that the standard fries, maybe the overall experience caught up to me.  They were crispy and went well with the French dip.
In addition to the entrées pictured here, Carla's dad ordered the Braised Pork.  Unfortunately, I didn't get a picture of it because he started eating before I was ready.  Who can blame him?  It can take a while to photograph all the food!  As for the pork itself, he loved that meal.  The pork was tender and full of flavor.  It's served with vegetables, mushrooms, and bacon with mashed potatoes and green bean jardinière.  By the time he was done, there was nothing left.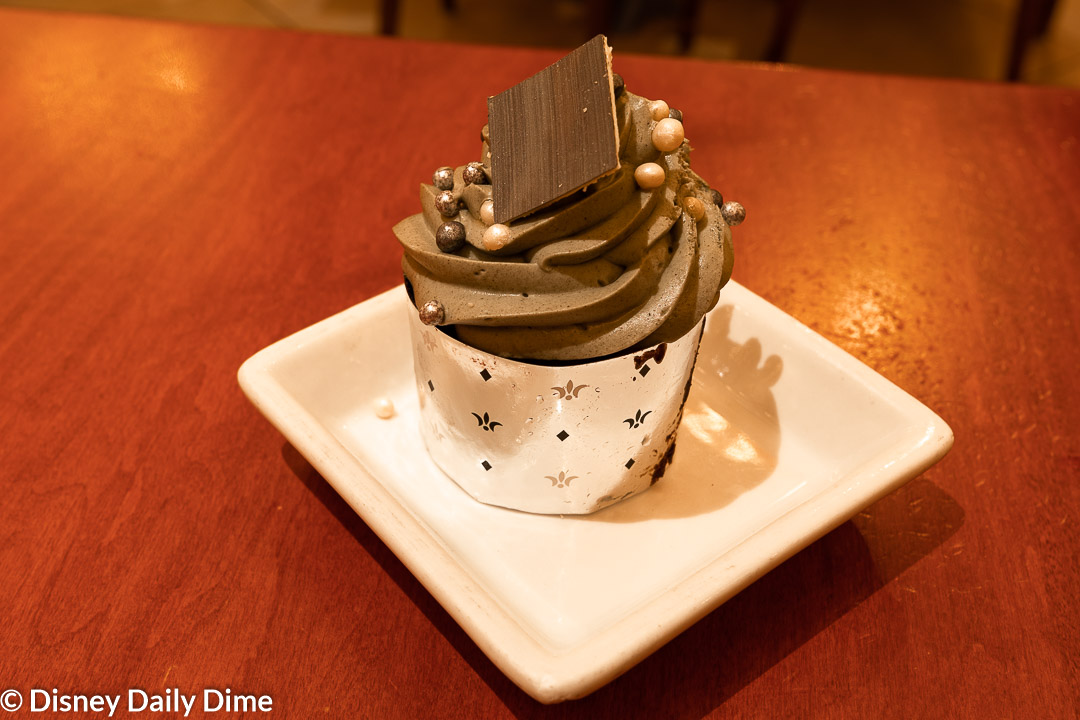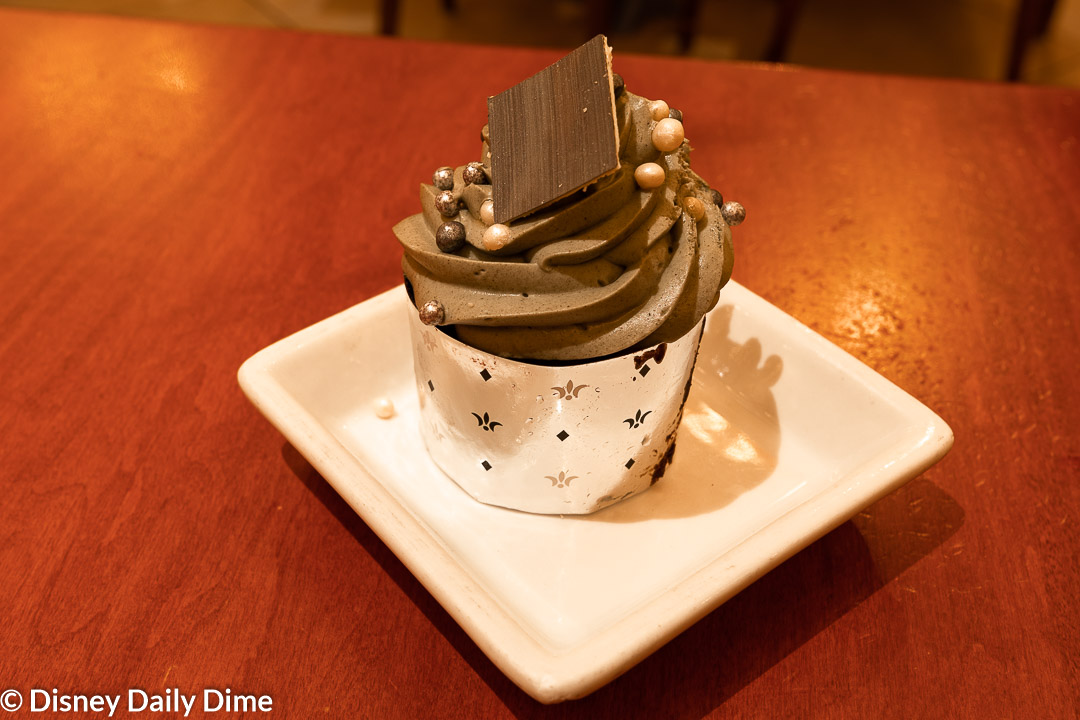 Desserts
One of the things Anna and Elsa were looking forward to as part of our Be Our Guest Restaurant lunch was dessert.  If you've looked at the menu, you'll see that there are several sweet treats to choose from, but cupcakes are the dominant dessert here.  We ordered an assortment of desserts.
Probably the most well known and biggest novelty item on the menu at Be Our Guest Restaurant is the Master's Cupcake.  This is the one with Lumiere's special "Grey Stuff".  I actually didn't enjoy this cupcake, but I'm also not a big chocolate fan.  Beyond that, the sweet was overpowering to me.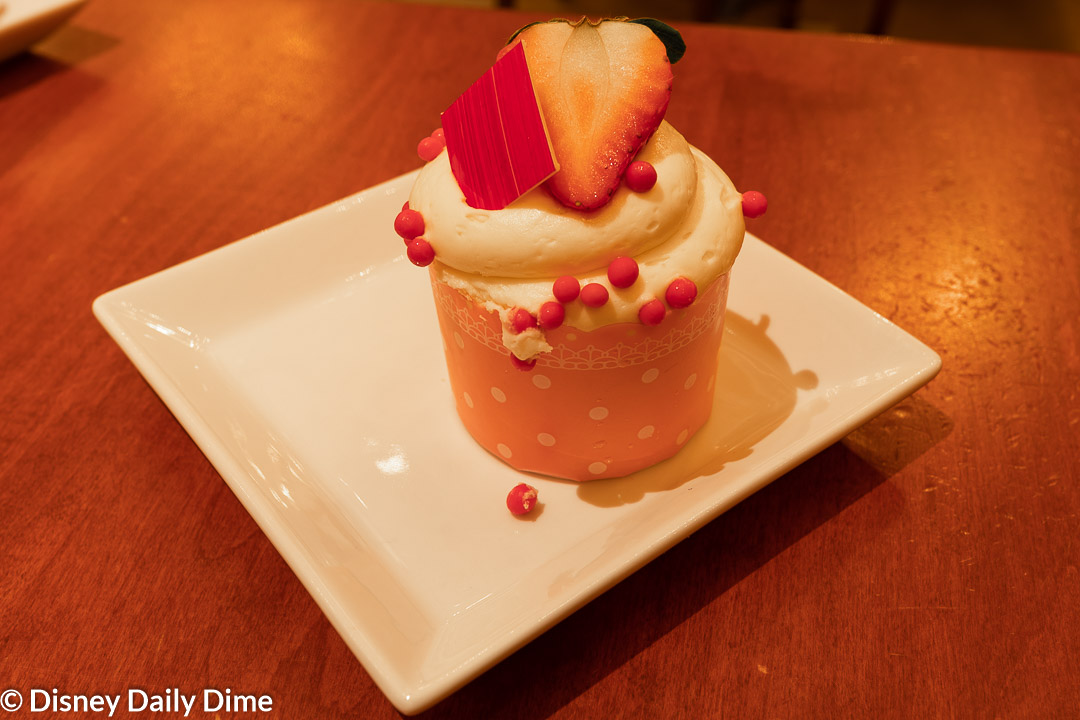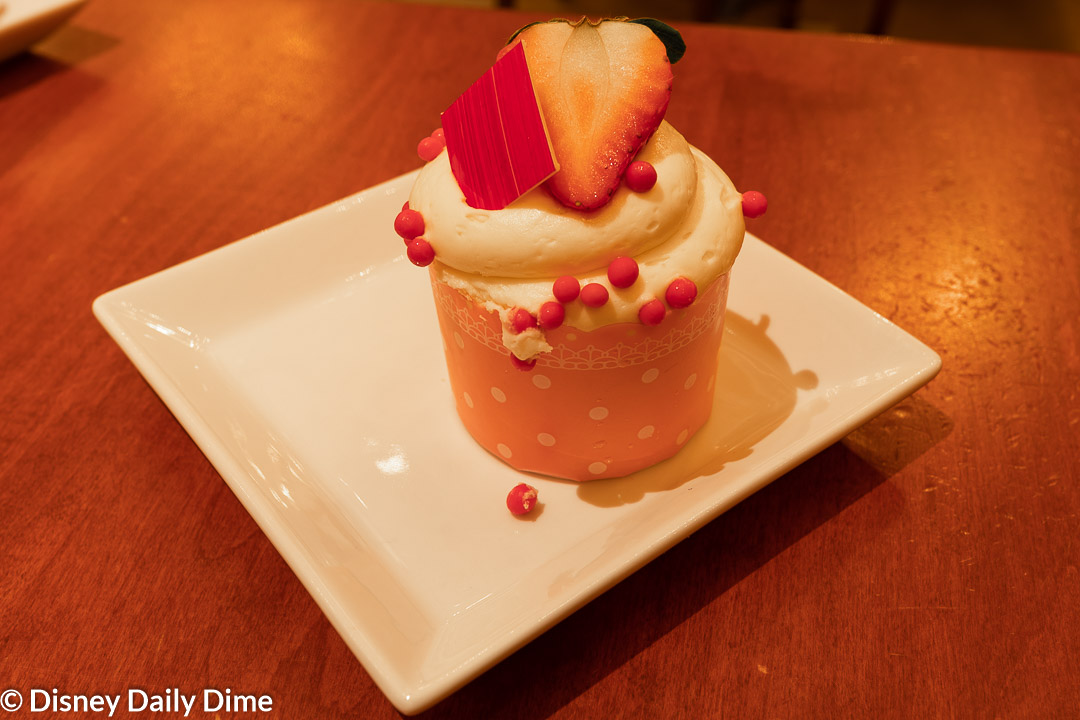 Next up, we have the Strawberry Cream Cheese Cupcake.  Featuring a vanilla sponge cake, strawberry mousse filling and cream cheese icing, Anna and Elsa both loved this cupcake.  In fact, they loved it so much, neither of them wouldn't share it with anyone.  So unfortunately, I didn't get to taste it, but the girls both said they loved the strawberry flavor of the filling the most.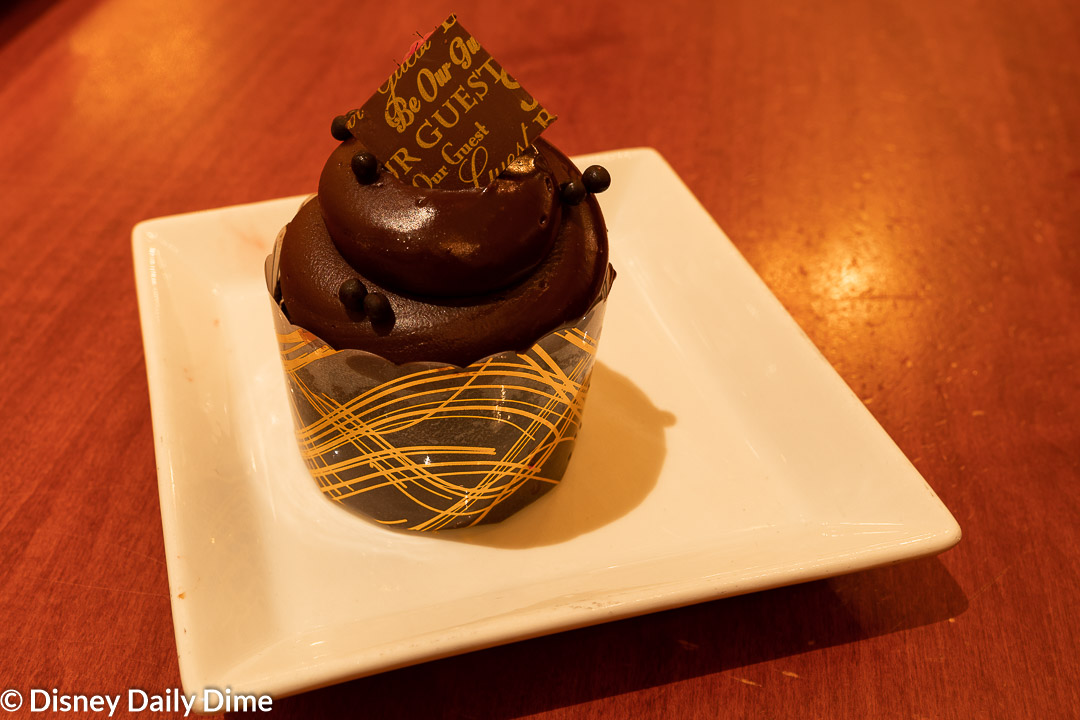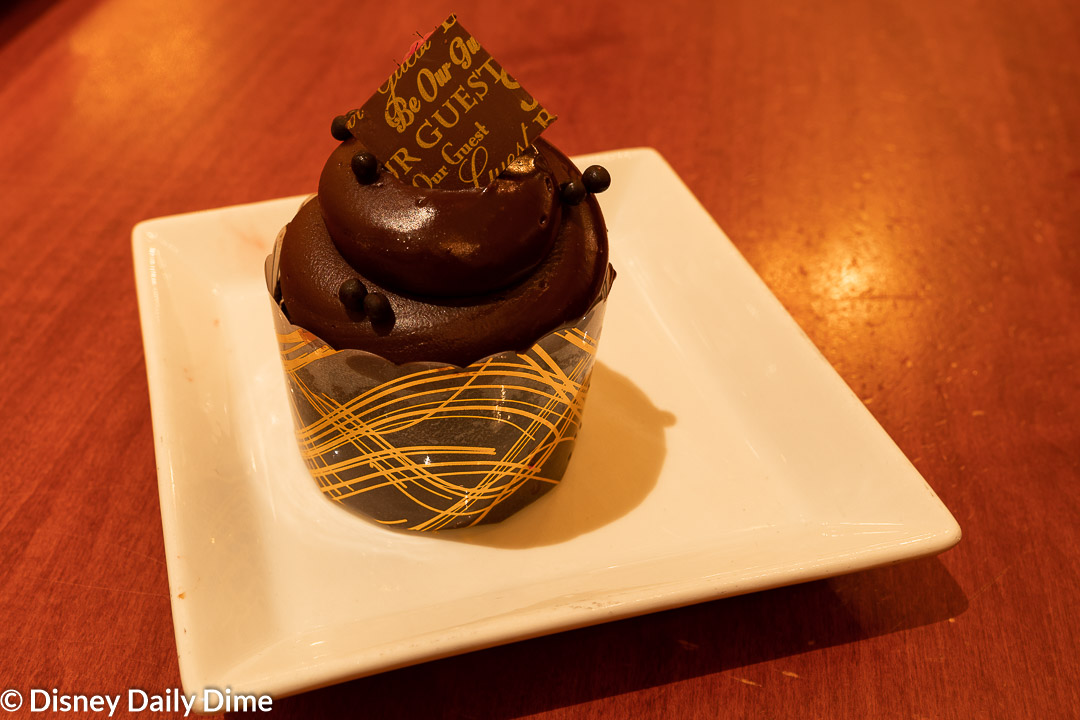 The next cupcake we ordered was the Triple Chocolate Cupcake.  This cupcake belonged to Carla's dad and he enjoyed it a lot.  The cupcake has a chocolate sponge cake base, with a chocolate mousse filling and chocolate ganache frosting.  A chocolate lovers dream I'd say.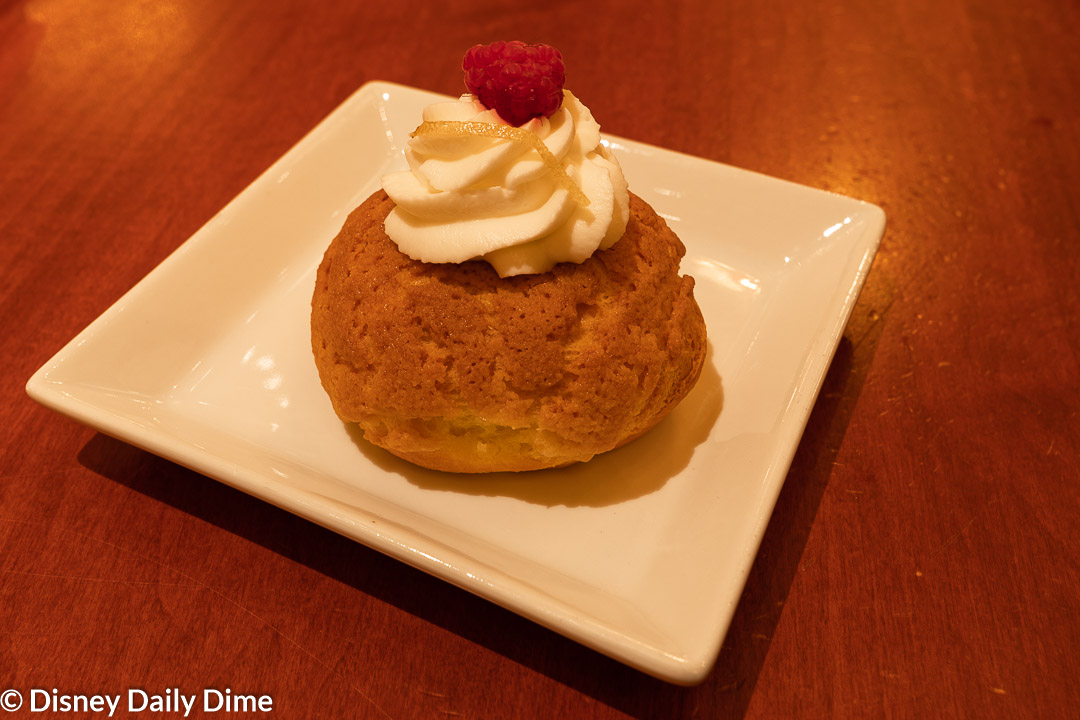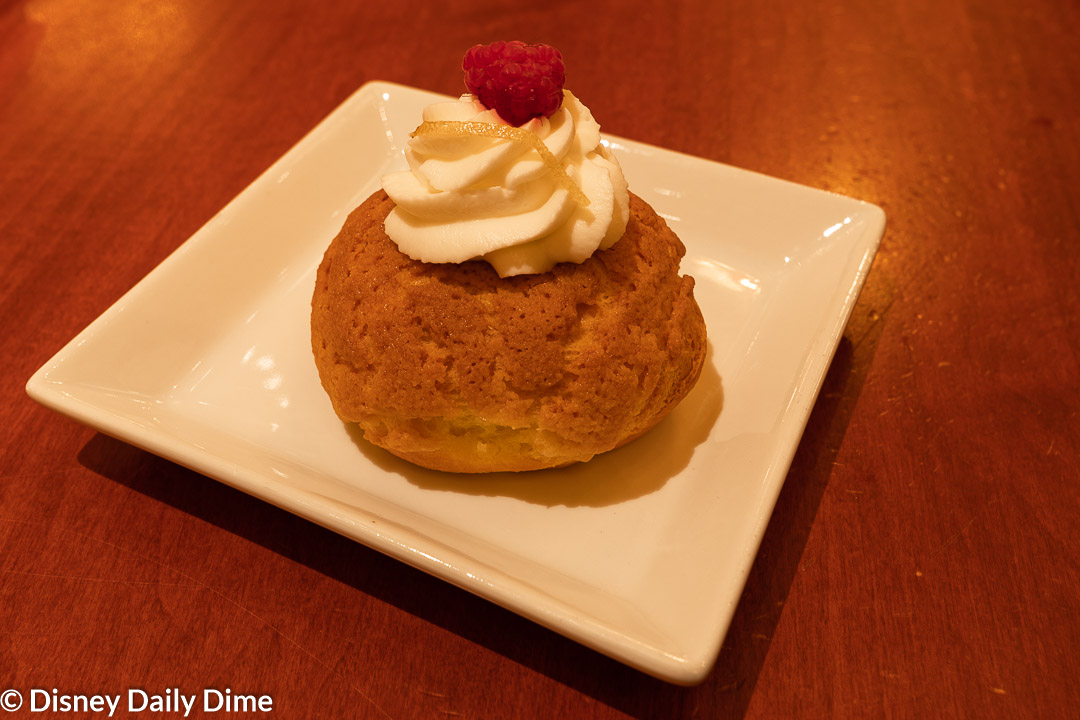 For her dessert Carla ordered the Lemon – Raspberry Cream Puff, as it was the lone gluten free dessert on the menu.  As a side note, this dessert is also no-sugar added if you're concerned about that.  As for the dessert itself, Carla was very impressed by it.  To her, the sign of a good gluten free dessert is that it doesn't taste gluten free.  On that measure, the cream puff gets great marks.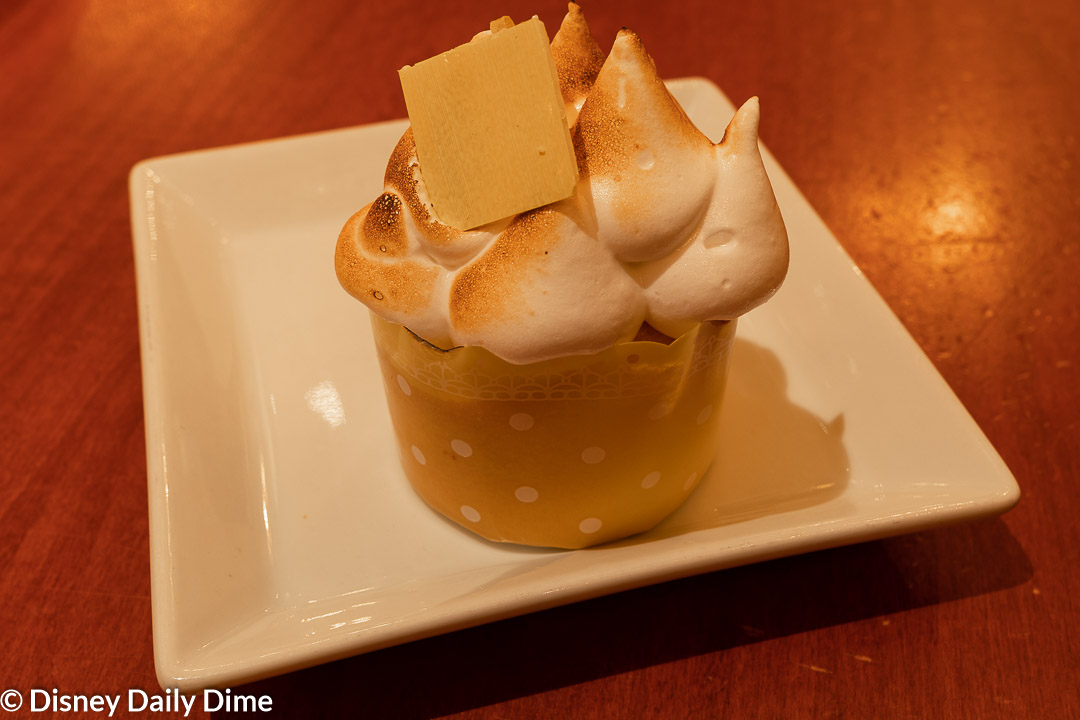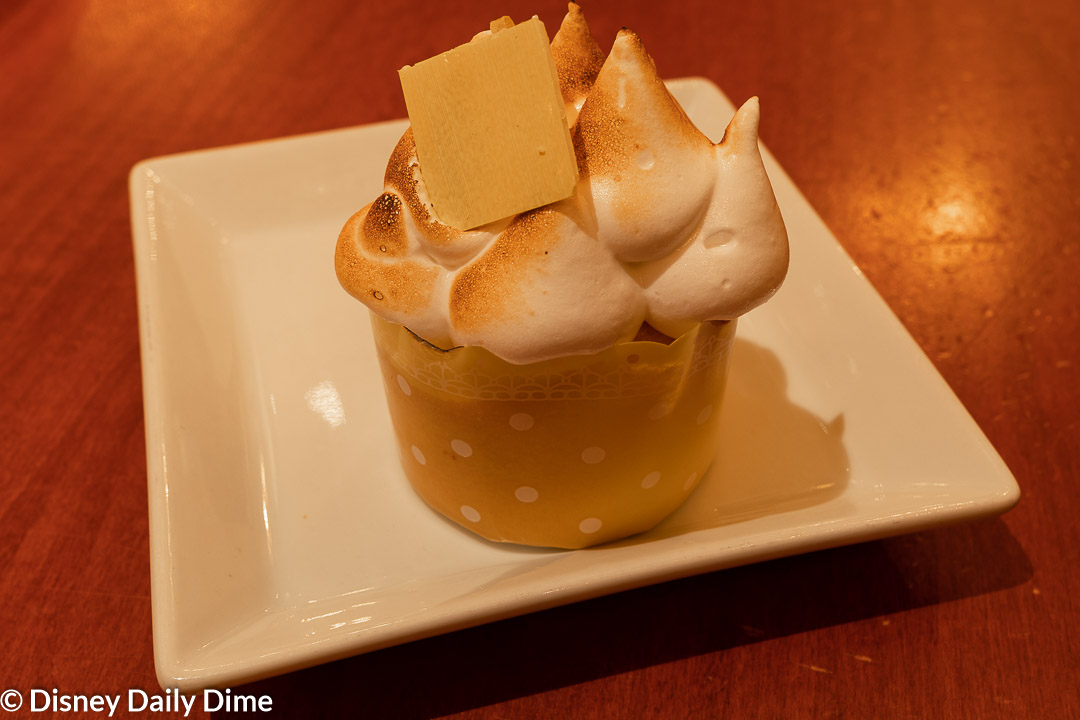 For my dessert, I ordered the Lemon Meringue Cupcake.  I did it with a bit of trepidation, as I'm not a big meringue fan, but I like lemon.  As we've already established, none of the chocolate base cupcakes do it for me.  The cupcake was just as I thought.  The vanilla sponge cake base with a lemon custard filling was actually good.  I always love it when cupcakes have a filling in them.  However, I had to remove the flamed meringue icing as I didn't enjoy the flavor at all.  If you like meringue, you'll probably love this cupcake.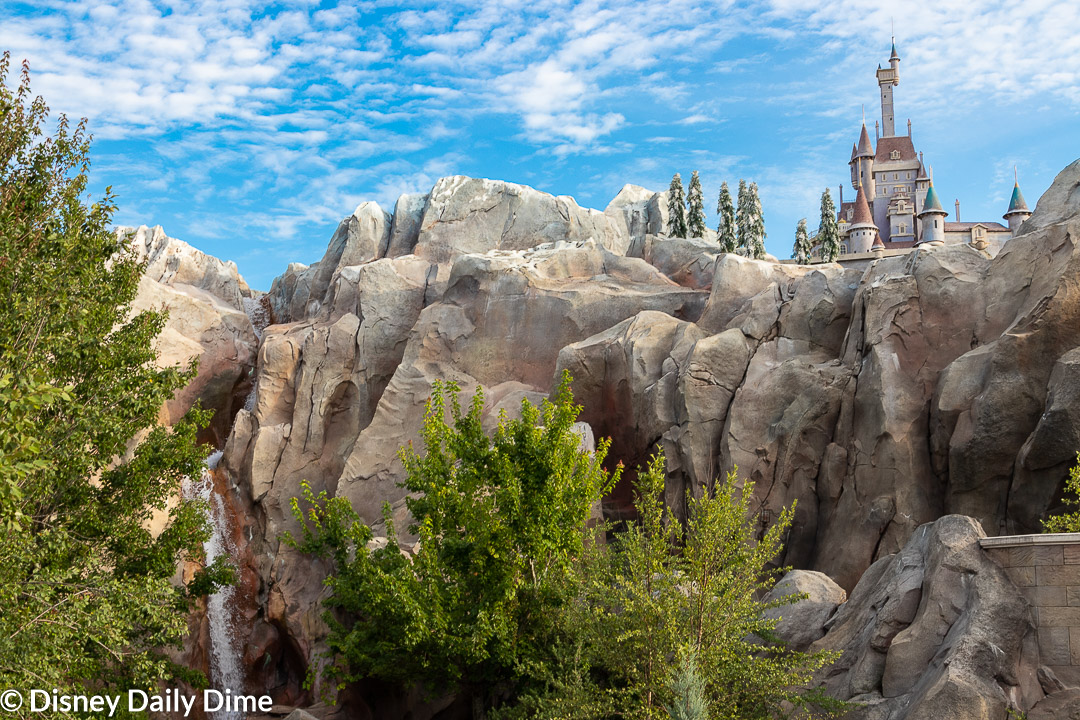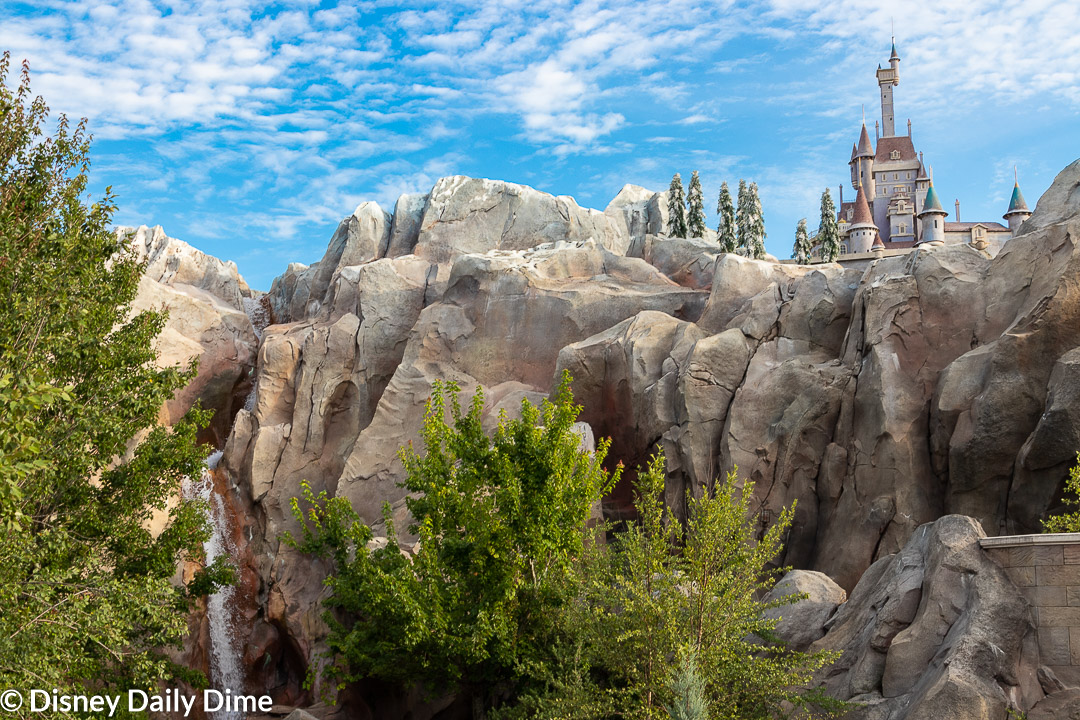 Be Our Guest Restaurant Lunch Overall
If you haven't figured it out by now, we're huge fans of Be Our Guest for lunch.  We also love it for breakfast, but more for the touring advantage it gives you.  We cover that as part of our How to Get Into the Parks Early post.  Between the exquisite theming and very good food, Be Our Guest Restaurant is easily one of the best counter service restaurants in all of Disney World.  Some would argue it is THE best.  We've still got lots of room to cover before we can make that claim for ourselves.
Because of these huge plusses, we can see why traffic at Cinderella's Royal Table went down when Be Our Guest Restaurant opened up with new Fantasyland.  While it lacks the princesses found at Cinderella's Royal Table, the value it delivers is tough to beat.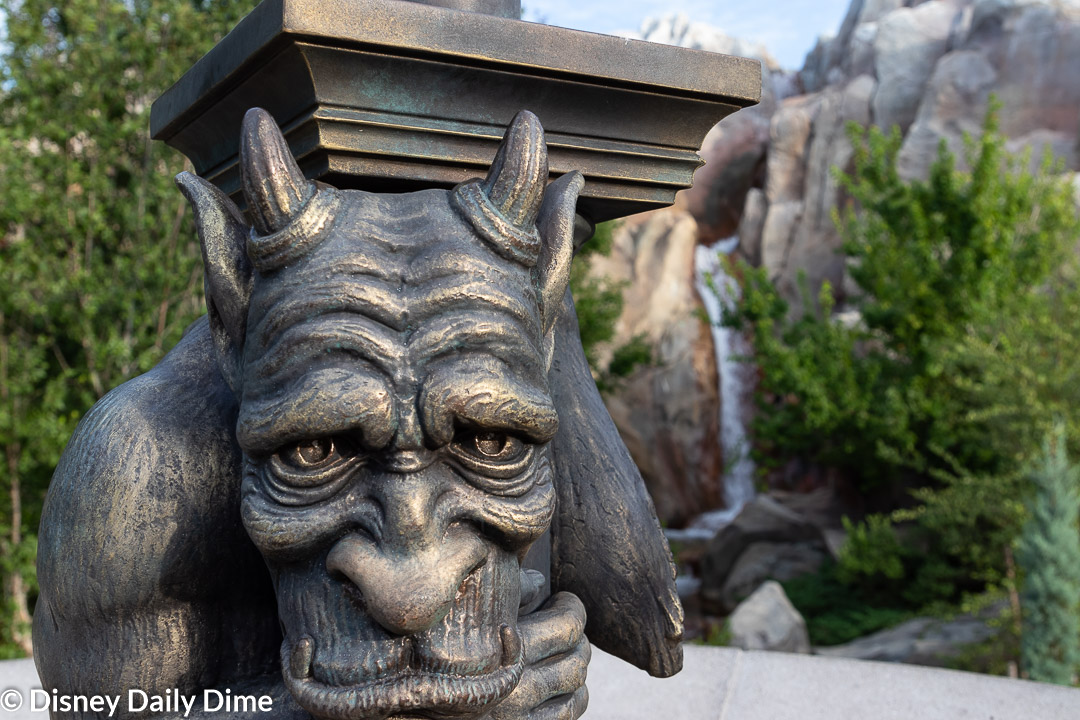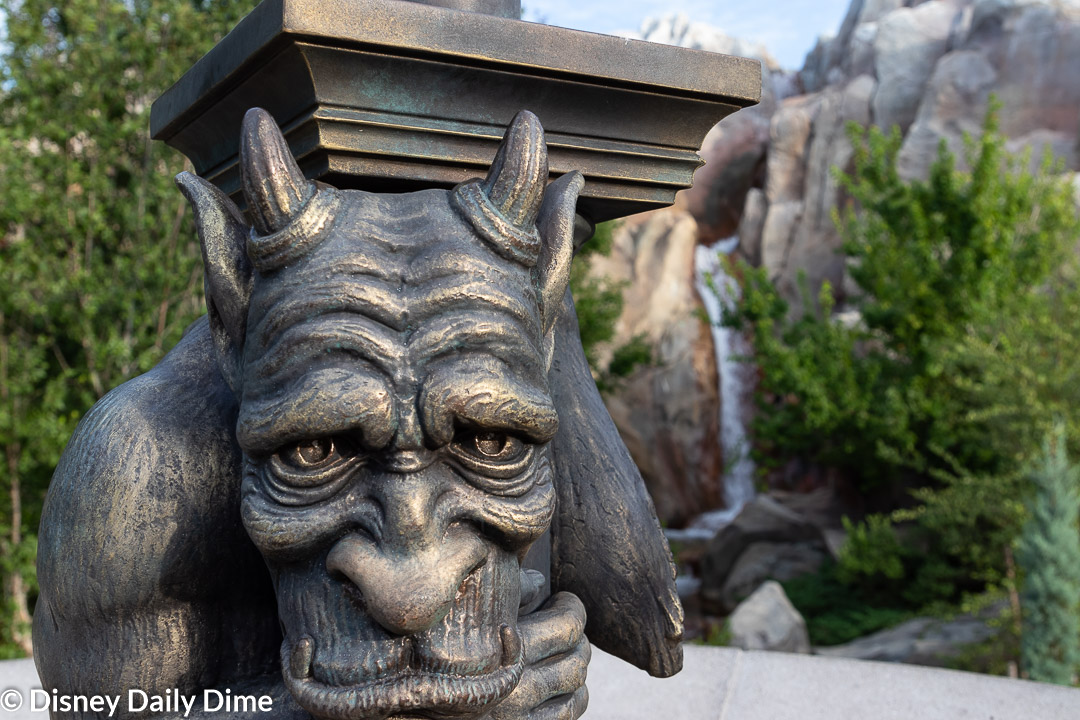 In terms of eating at Magic Kingdom, it is easily the best counter service lunch you will find in the park.  For first time visitors to Magic Kingdom, we think this is a place you absolutely must eat at.  Even if you aren't a first-time visitor, it's always worth a return trip to Be Our Guest Restaurant in our mind.
Wrapping Up
With that, we'll wrap up our Be Our Guest Restaurant lunch review.  You'll find a great theme, good food and an experience that is hard to beat.  Make sure you eat here!
If our Be Our Guest Restaurant lunch review was helpful, or at least entertaining, please like and share this with your friends or anyone you think will find it useful.  Just use the sharing buttons on the page.  We always appreciate it when you share our posts, as it allows us to spread the word about our blog and hopefully allows us to help others.  Sharing also lets us know we are doing something right.