For those that have been to Disney World before, you probably know the style of humor that is on display on the Jungle Cruise.  If you enjoy the nature of the humor then we have got a restaurant for you.  The Jungle Navigation Co. LTD Skipper Canteen is known more commonly as just Skipper Canteen and it features the same humor as the Jungle Cruise itself.  We've stopped in here twice in the last year, once with Anna and Elsa and once without.  We thought it was worth it to bring them along for this review as the humor is something we wanted to see them react to.
Skipper Canteen features flavors from Asia, South America and Africa but isn't something we would consider unapproachable.  Rather there is a good balance of flavors and textures that are likely to please most everyone.
Here in our Skipper Canteen review, we'll give you our review of these two meals, focusing on the atmosphere, food, and of course the humor.  We've got a full set of photos to go along with our review.  You'll find a few more dishes than normal because of the two different dining occasions.
Skipper Canteen is a one table service credit meal on the Disney Dining plan.  Most entrees will cost you between $25 and $35, which means it is a good, but not great, value for your table service credit.  For that reason, it will likely make sense to pay out of pocket here.  Make sure you take advantage of the free beverage that you get as part of the dining plan here, otherwise you are leaving some value on the table.  Before deciding to use the dining plan, you may want to look at the menu as there are some entrees that are only $18-23.  If that's what you're ordering at Skipper Canteen, the value is less compelling.   Tables in Wonderland is accepted.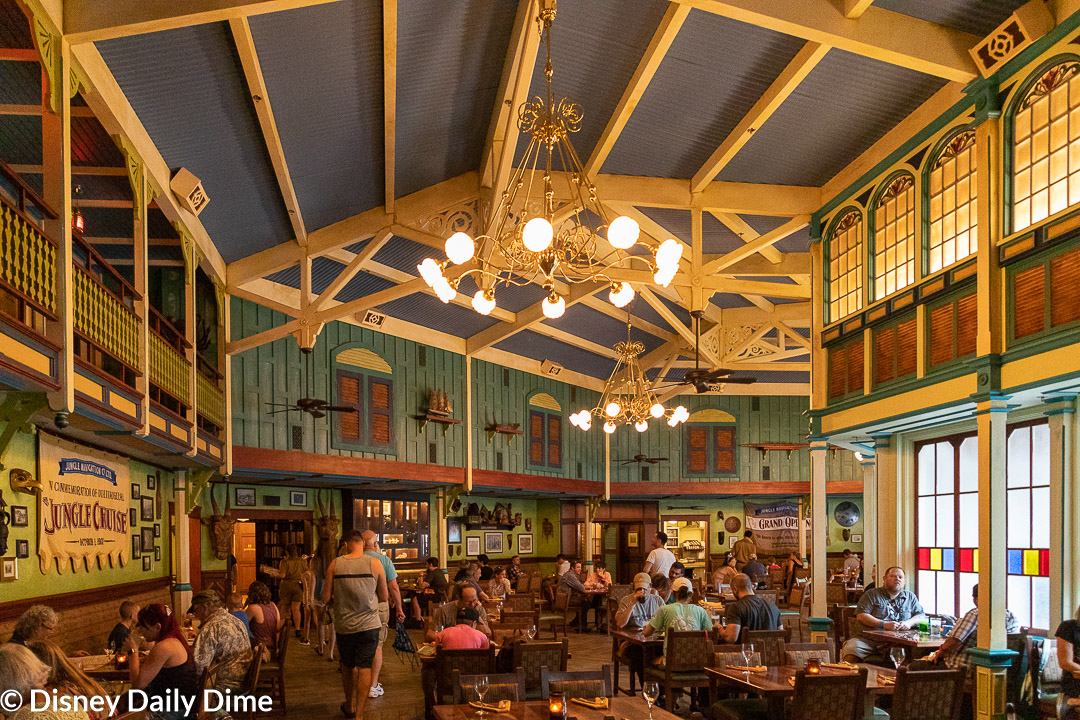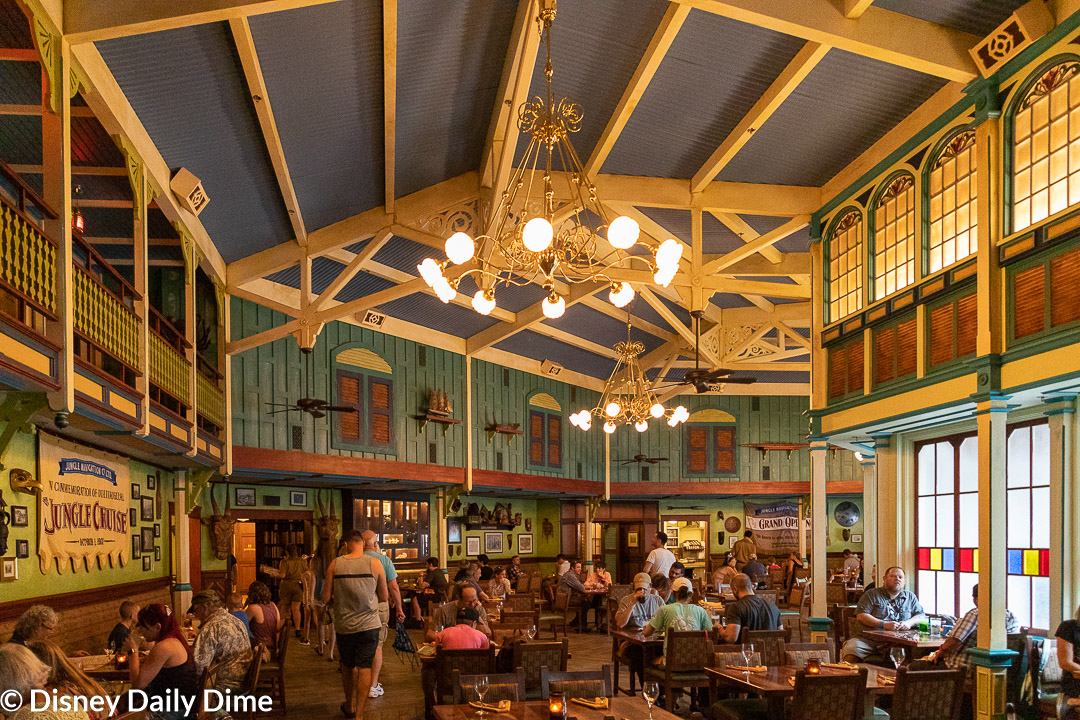 Bring on the Wry and Dry Humor at Skipper Canteen
Skipper Canteen does more than build off of the humor of the Jungle Cruise, it's actually directly tied to the attraction.  You'll find servers that wear the same attire as the ship captains of the Jungle Cruise.  But beyond that tie-in to the Jungle Cruise, there is actually a deeper thematic connection.
The restaurant is meant to tell the backstory of the famous Jungle Cruise, by bringing you the history of Dr. Albert Falls, the legendary founder of Jungle Navigation Co. (and the namesake of Schweitzer Falls which you pass by twice on the Jungle Cruise).  The Jungle Navigation Co. is the operator of the Jungle Cruise, however the cruise was actually started by his granddaughter Alberta.  
From a thematic perspective, Skipper Canteen is divided into three different areas.  First, you'll find the main and largest dining area known as the Crew's Mess Hall.  It's a very airy, two story high section of the restaurant.  You'll find all kinds of décor celebrating the Jungle Cruise and its history.  From banners announcing the beginning of the Jungle Cruise to artifacts that were collected on the various cruises, there is tons of fascinating décor to look at here.
This area of Skipper Canteen is very bright, with colors that pop more than in other two areas of the restaurant.  We were relatively happy to find the seating spacious and not cramped, which sometimes feels like the norm at Disney World restaurants.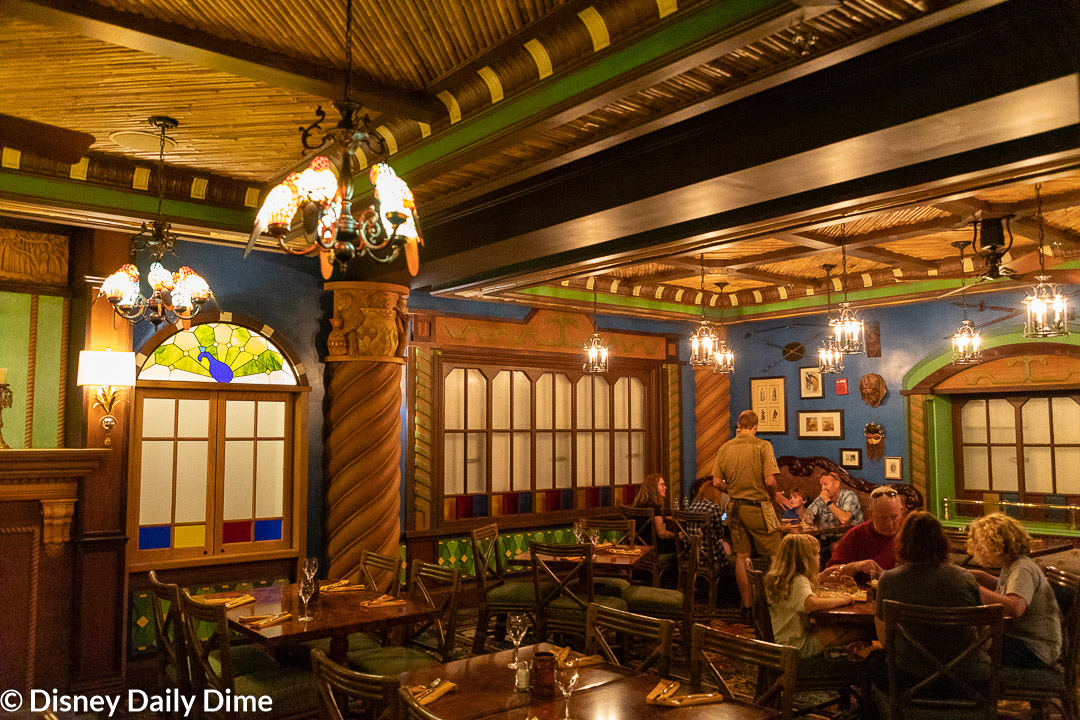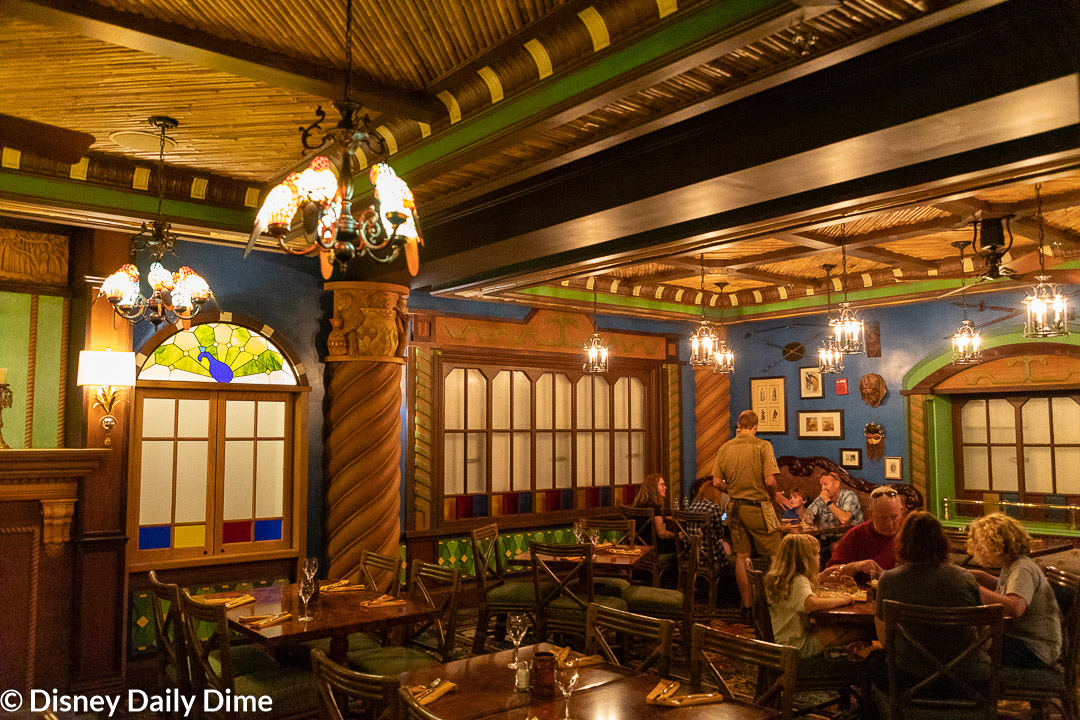 The second seating area in the restaurant is the Jungle Room, which is the former family parlor of Dr. Albert Falls.  The room comes with a tropical vibe via the colorful pallet and fun light fixtures that features parrots.  The carpet pops and is a bit of a stark contrast to the bamboo looking wood roof, and just extends the tropical feel.
The last dining area of Skipper Canteen is known as the S.E.A. room.  S.E.A. stands for the Society of Explorers and Adventurers and Dr. Falls was secretly a member of it.  The Society was originally first introduced at Tokyo Disney and has been slowly incorporated into more Disney parks and the cruise line.  If you want to know more about the Society just click the link above.
As far as the room goes, it was a place for the secret meetings of the Society.  As you would expect with a secret Society of the early 1900s, the room is refined and elegant.  I could see all the members standing around, sipping their brandy or having a cigar while they discuss their various adventures.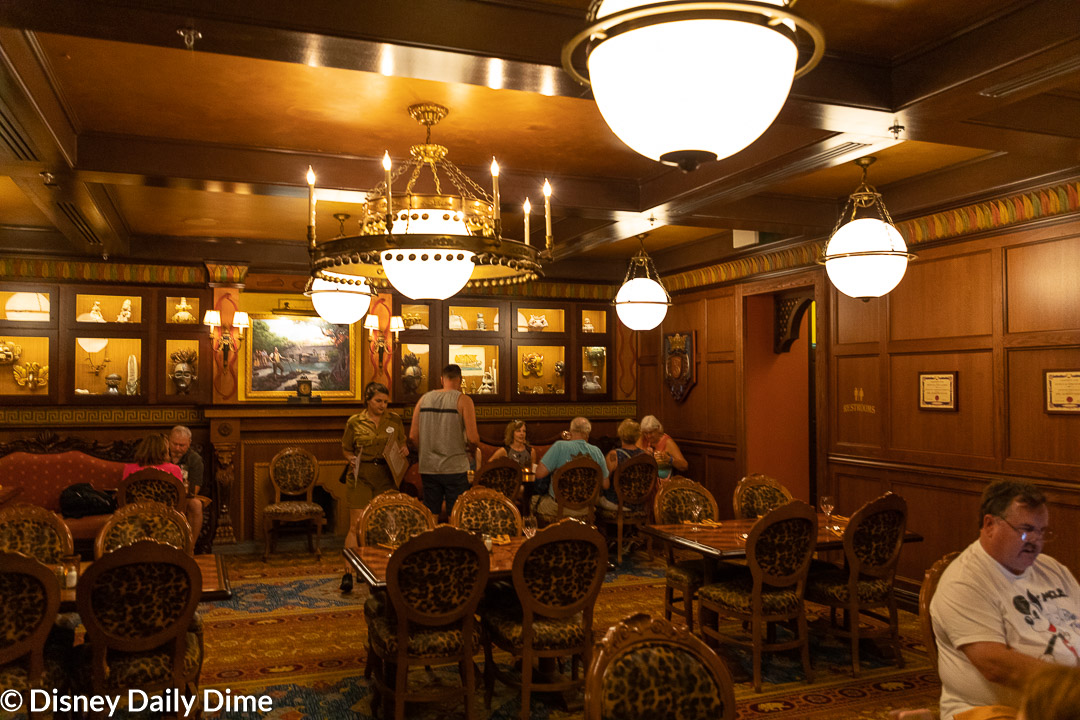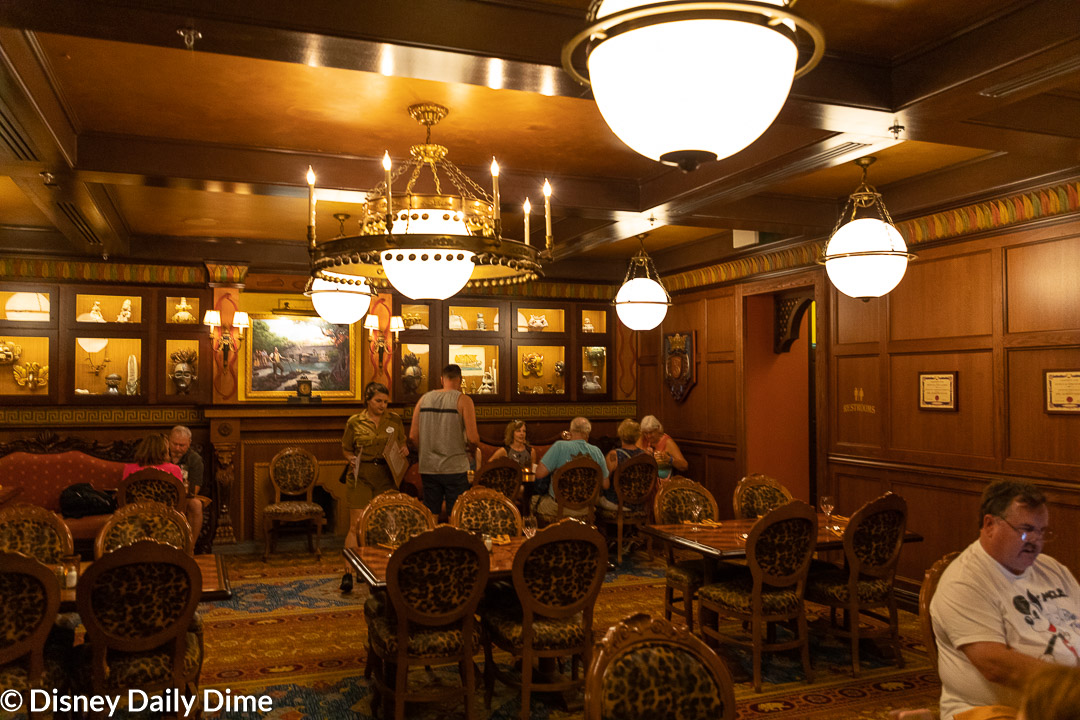 All in all, I think both the S.E.A room and the Jungle Room are better rooms than the Crew Mess Hall, not because of the theming though.  I think they are smaller and more intimate settings.  The Crew's Mess Hall is so cavernous, much like you would expect to find in a mess hall.  Thematically it's on point, but next time we eat here, we're going to ask to dine in one of these other rooms.
As a general comment, I have to say Carla and I were both really surprised by the depth of theme and general ambiance at Skipper Canteen.  In comparison to some of the other table service restaurants around Magic Kingdom, this is really well done.
Beyond the décor and theme of the restaurant, you'll find a great experience with your server.  The subtle, wry and dry humor of the Jungle Cruise is on full display with your server.  We all enjoyed it, including Anna and Elsa, although there were a few jokes that were over their heads.  Now, that isn't hard considering they are both less than 5 feet tall!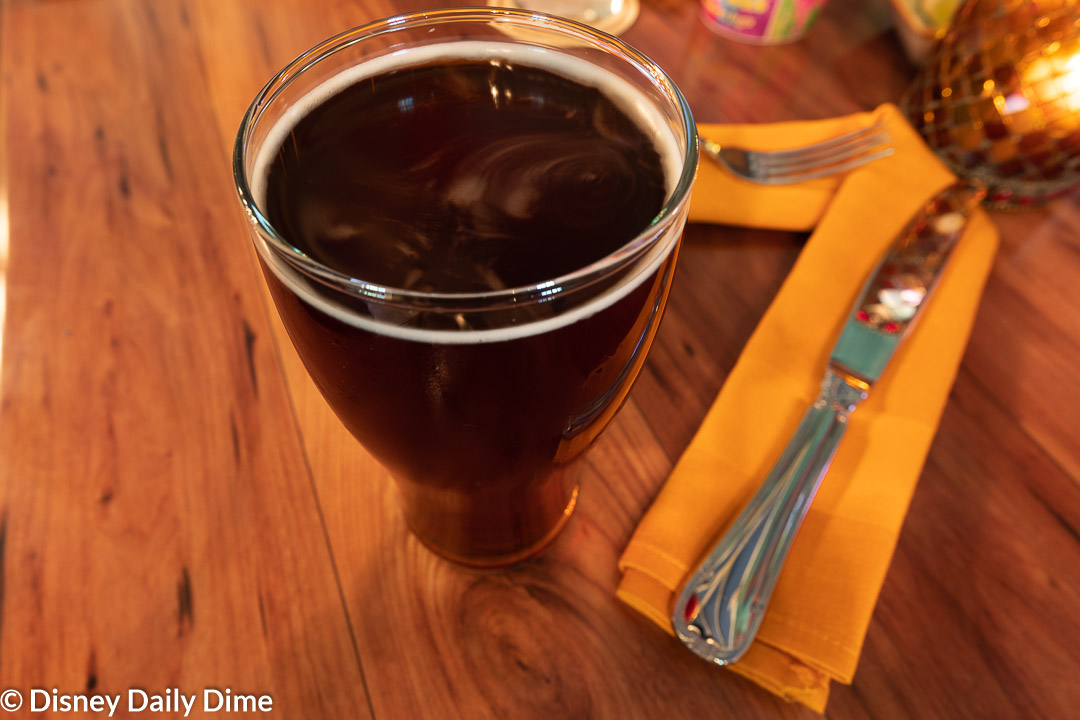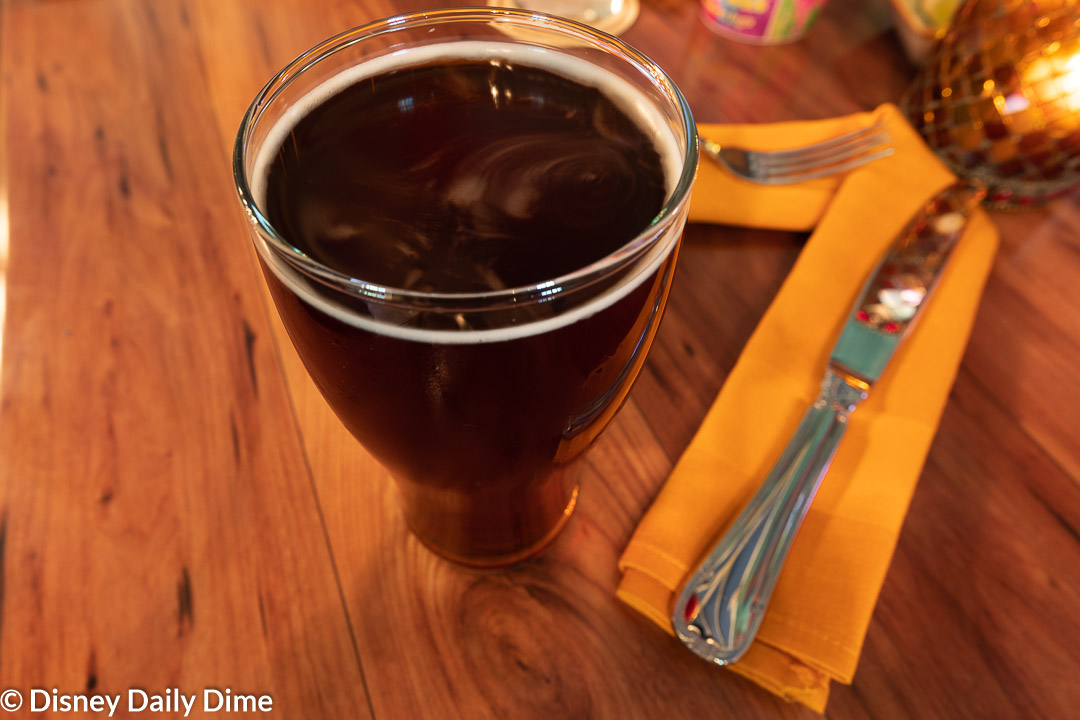 The Food Made Skipper Canteen One of Our Favorite Table Service Locations in Magic Kingdom
Drinks
I wanted to try the Kungaloosh Spiced Excursion Ale.  I went with this drink because it is brewed exclusively for Disney World.  Now, I did this knowing that I don't generally like dark beers and I was partially rewarded.  Partially?  I found it to be fairly good for a dark amber beer, but I won't say I loved it.  For me though, that's success.  If you like dark beer, you'll probably enjoy this.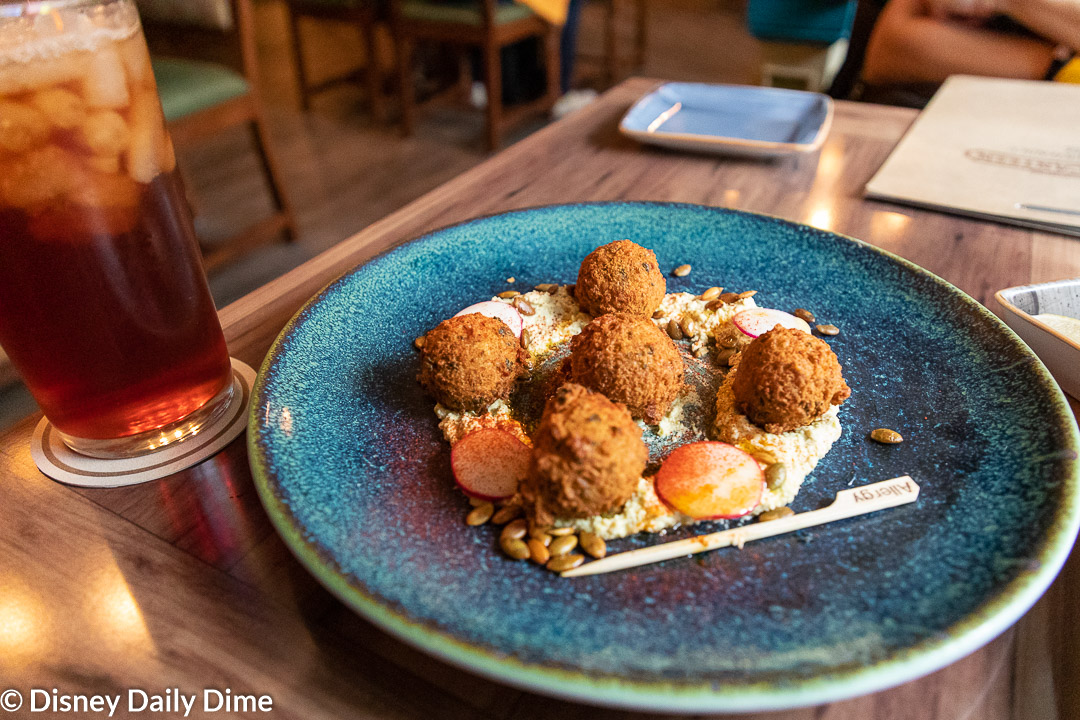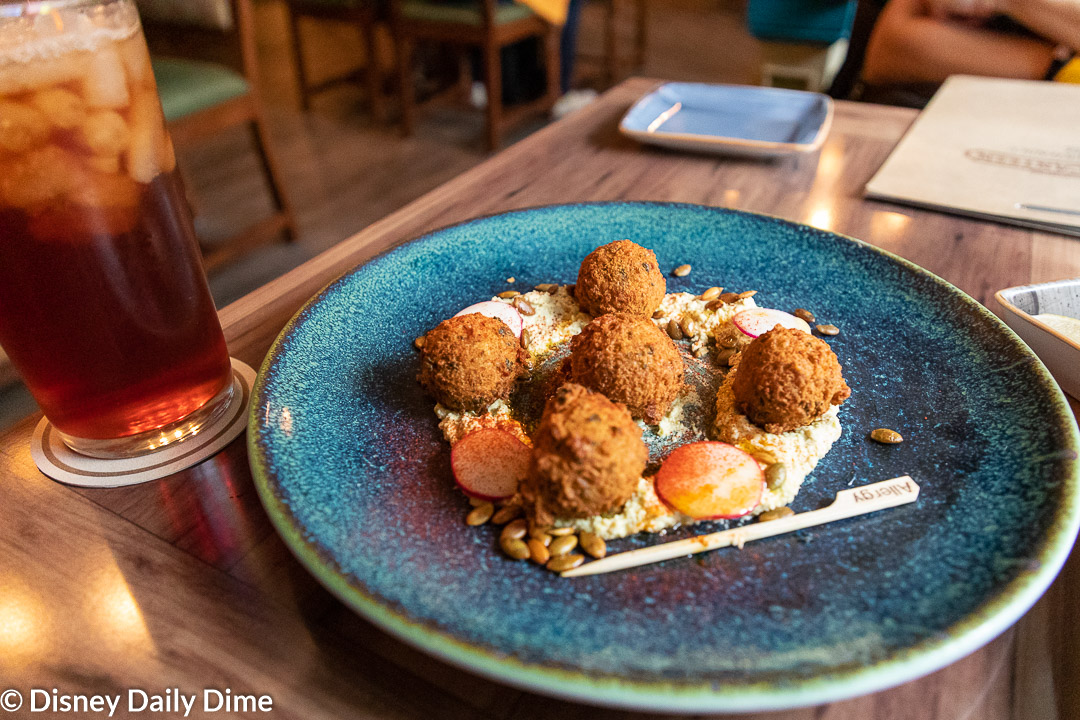 Between both of our meals, we only ordered one appetizer for the table.  That's because we selected the Falls Family Falafel twice.  Carla and I really enjoyed this at our first Skipper Canteen meal, so we wanted to see how the girls felt about it.  The falafel has an excellent crunch on the outside, with a soft flavorful center.  The house-made edamame hummus and toasted pumpkin seeds that came along with it added another level of flavor to the appetizer.  The texture of the creamy hummus and crunchy pumpkin seeds paired well together with the falafel.  As for how the girls felt, they were not huge fans of this appetizer.  It's kind of odd, but they did not like the hummus which is the combination of two things they love, edamame and regular plain hummus.  They also didn't particularly care of the texture of the falafel.
Carla also ordered the Lost and Found Soup, which is a seasonal soup.  At the time we were there, it was Butternut Squash.  However, the food runner brought out chicken noodle soup, which was still gluten friendly so she could eat it.  When our server noticed the mistake, he apologized and insisted on making it right.  However, Carla was enjoying the chicken noodle soup so much she was okay with keeping it.  Our service still insisted on bringing out the butternut squash soup, so we wound up with both at the table.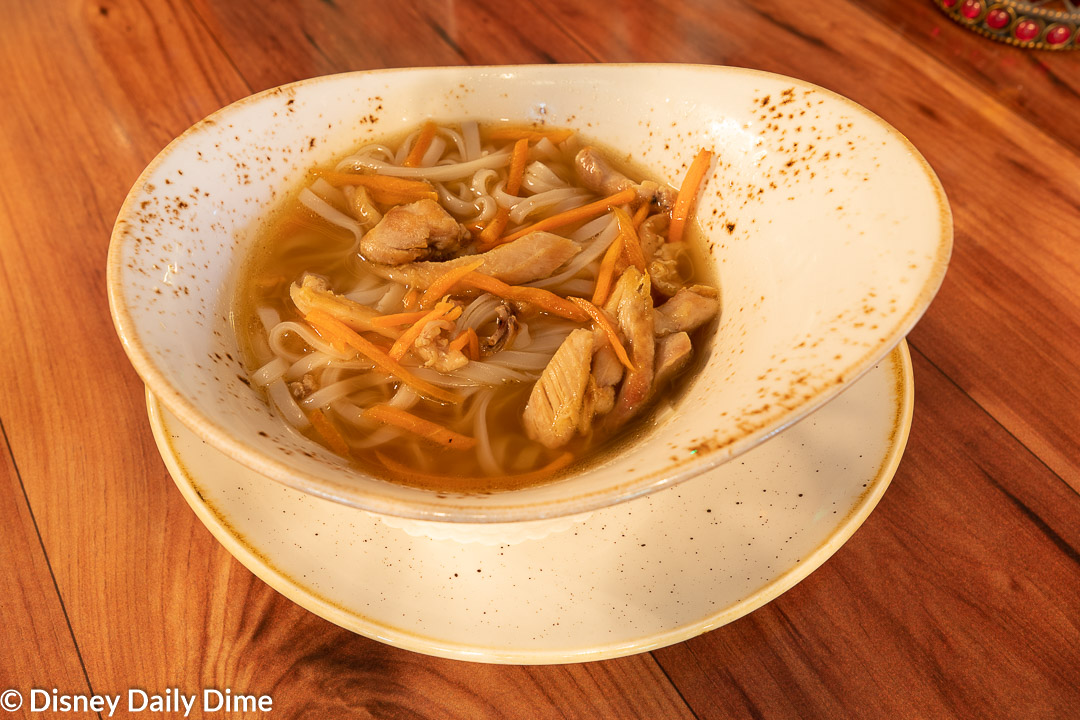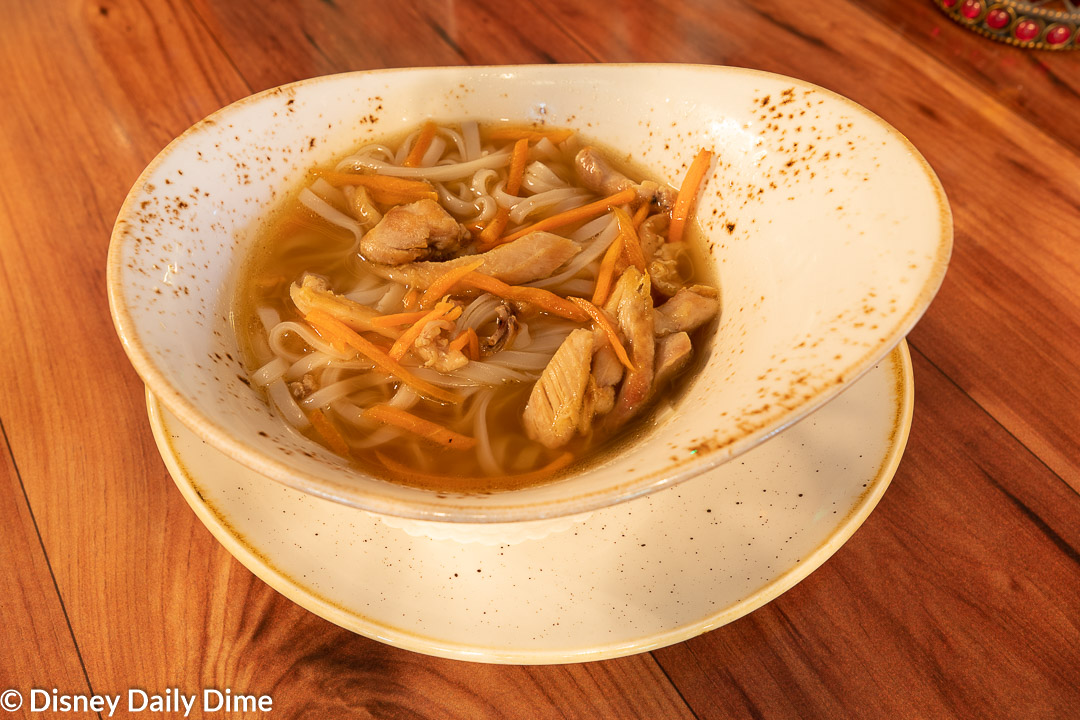 The chicken noodle soup was a surprising hit for everyone at the table.  Since we had so much soup, everyone shared in it, including Anna and Elsa.  The broth had a homemade, fresh flavor to it.  The delicate rice noodles stood up to the broth and did not become mushy like many rice noodles tend to do.  Even Elsa, who is not a big soup fan could not get enough of this soup.  Carla actually preferred the chicken noodle over her original order of the butternut squash soup.  I now describe it as the soup we didn't know we needed.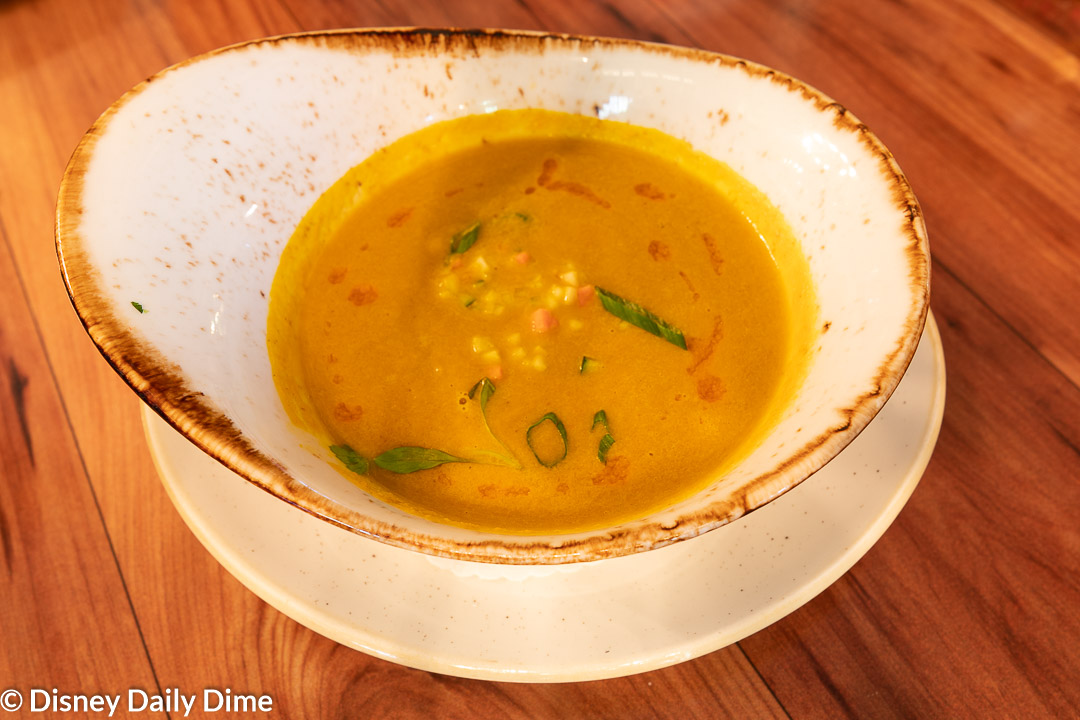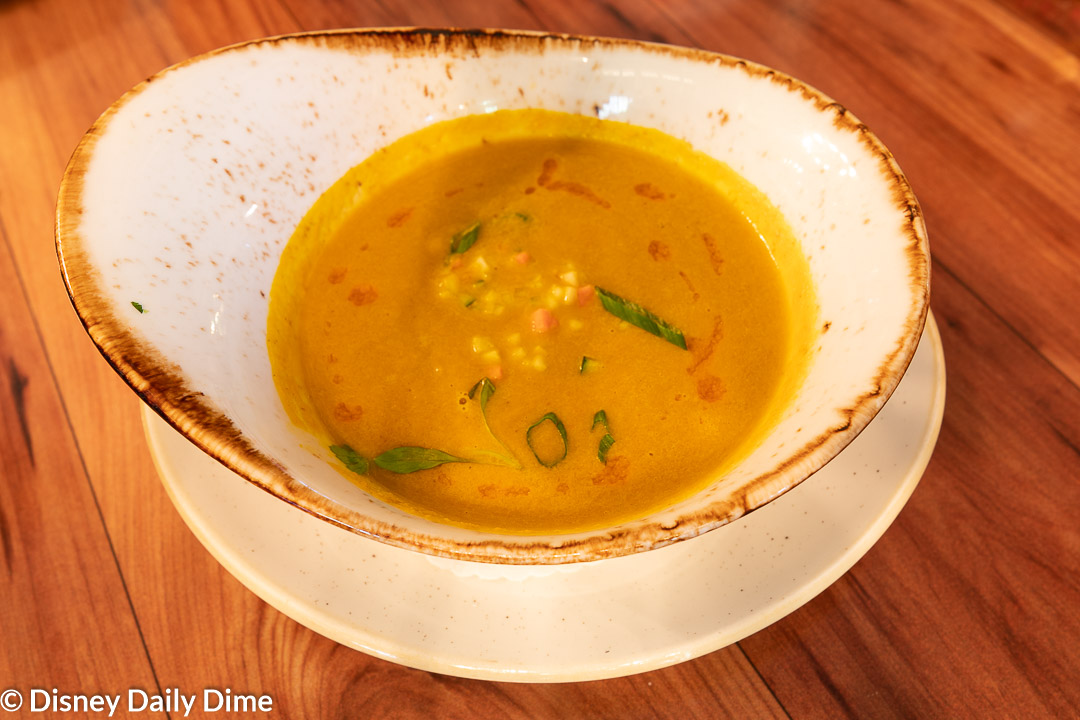 However, the butternut squash soup was not a poor choice by any means.  The soup was rich, thick and creamy with savory and spicy notes that cut the sweetness of the butternut squash.  This is a soup that's custom made for Carla, but not for the rest of us.  I'm not a big butternut squash fan and Elsa didn't really care for some of the spicy elements of the soup.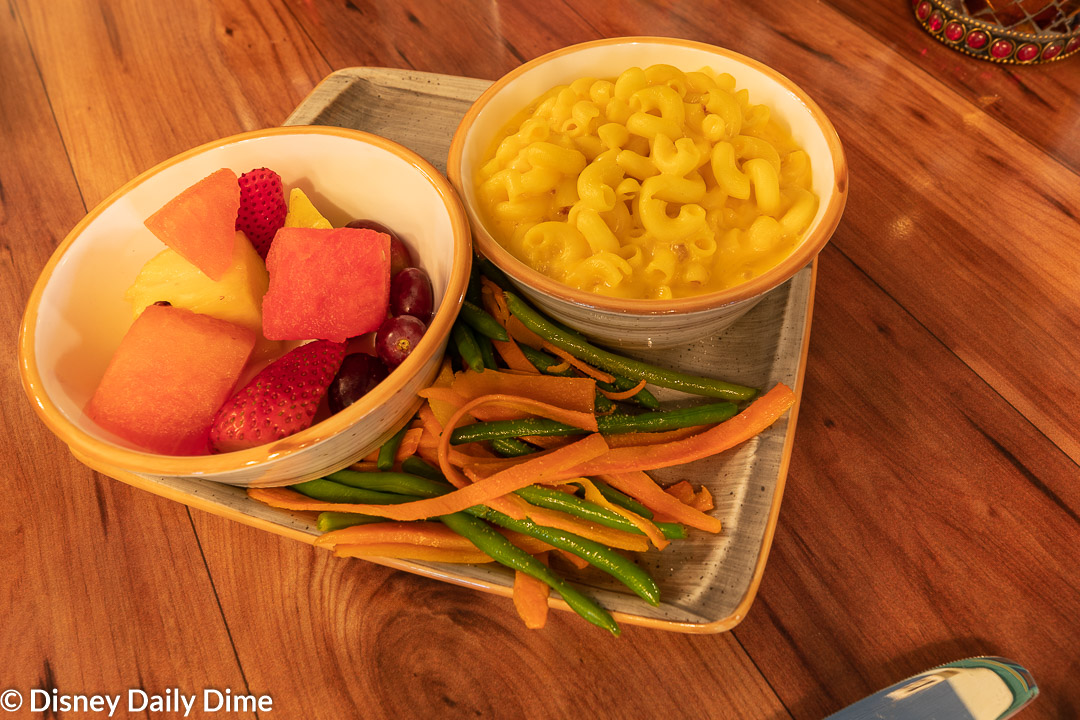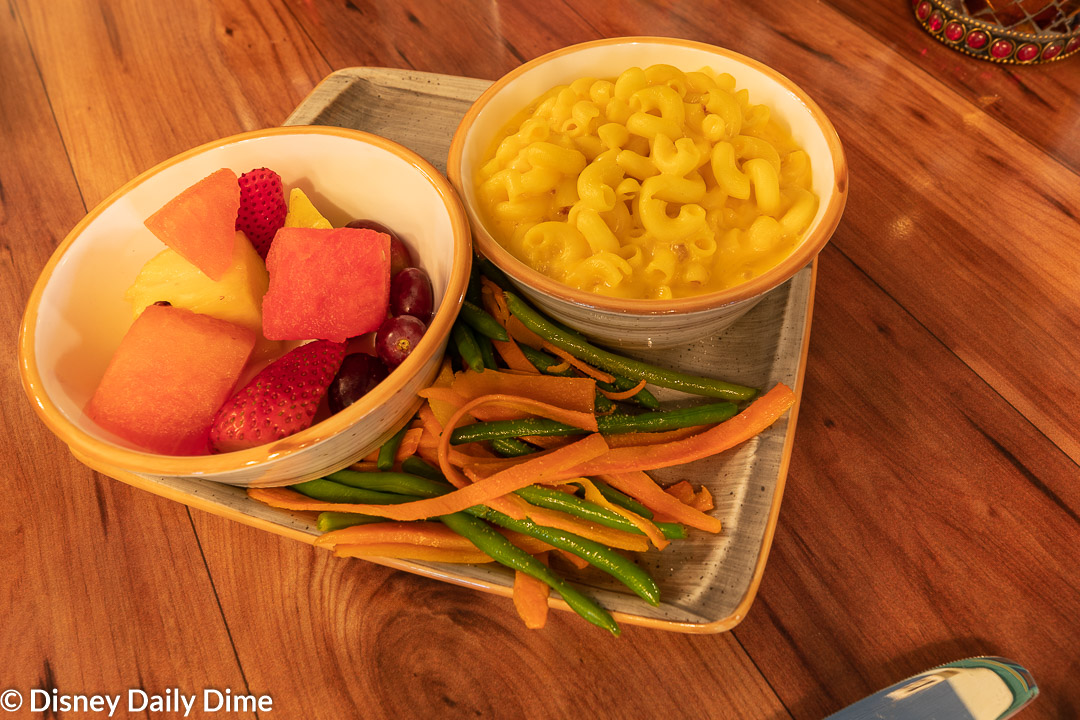 Kids Entrees
Once again, we ventured to a restaurant with some more adventurous foods and the girls went with the basic entrees.  We had this happen at Storybook Dining at Artist Point too.  Maybe someday we'll get them to be more adventurous.
For her actual meal at Skipper Canteen, Anna ordered the Junior Skip's Macaroni & Cheese.  The creamy macaroni & cheese was creamy and rich.  I'd consider it good quality table service mac and cheese.  It's definitely above what you'll find at most counter service locations.  Kids get their choice of two sides.  In Anna's case, she selected the seasonal fruit and vegetable sides.  The fruit consisted of a generous portion of grapes, strawberries, pineapple and cantaloupe.  The vegetable was green beans mixed with carrot ribbons.  Anna ate most of this meal and enjoyed it.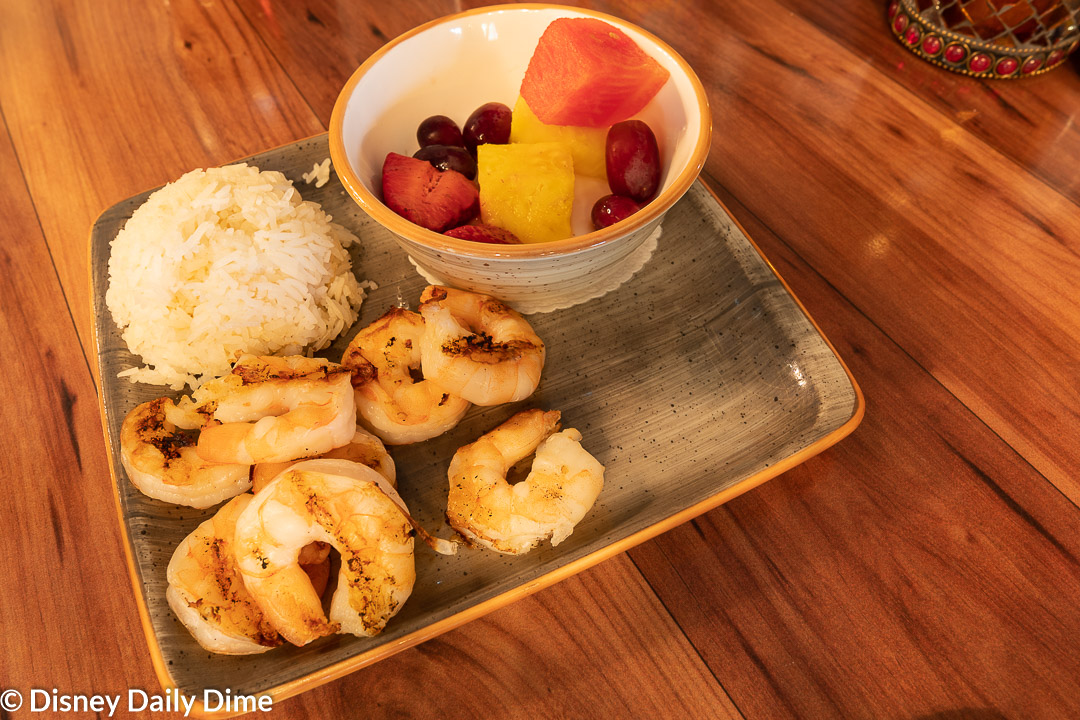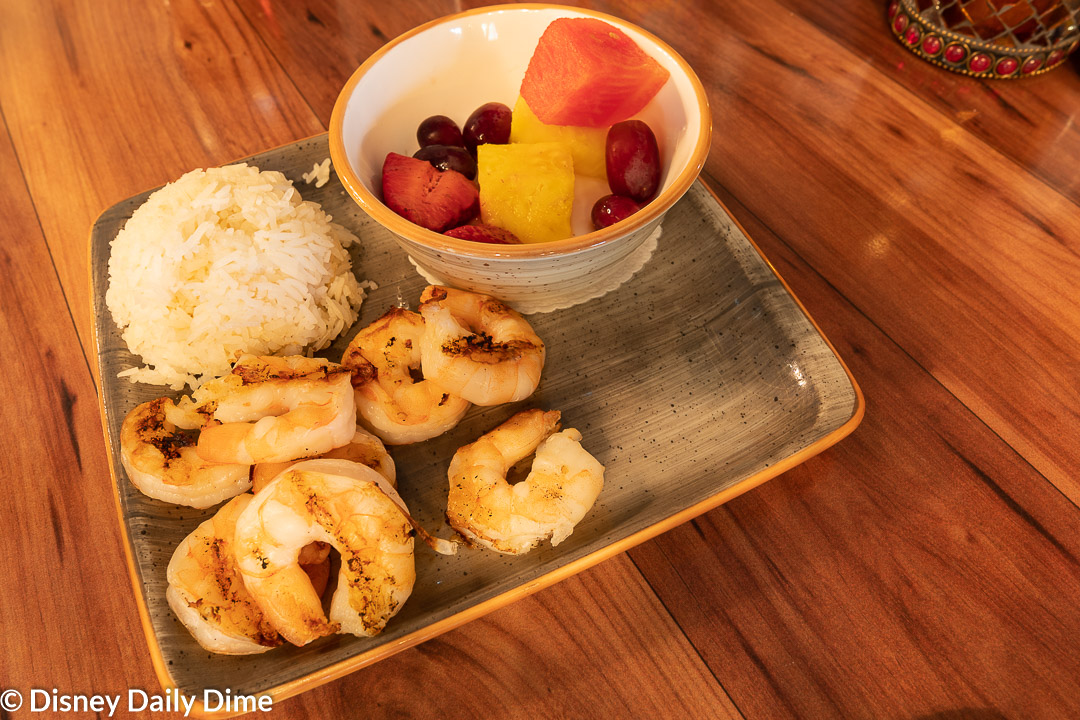 Elsa continued her obsession with shrimp and ordered the Tiki Tiki Shrimpy Shrimpy.  Our server pointed out that the portion of shrimp is fairly small on this dish and offered to bring Elsa some extra shrimp to make sure it was a fulsome meal for her.  As you can see from the picture, the meal came with eight shrimp.  Normally it comes with four.  It was an example of great service (and an upsell) by our server.  For me, the shrimp was a little bland, but ultimately Elsa loved it and ate all of the shrimp.  She ordered sides of the seasonal fruit and jade rice, which were gone at the end of the meal too!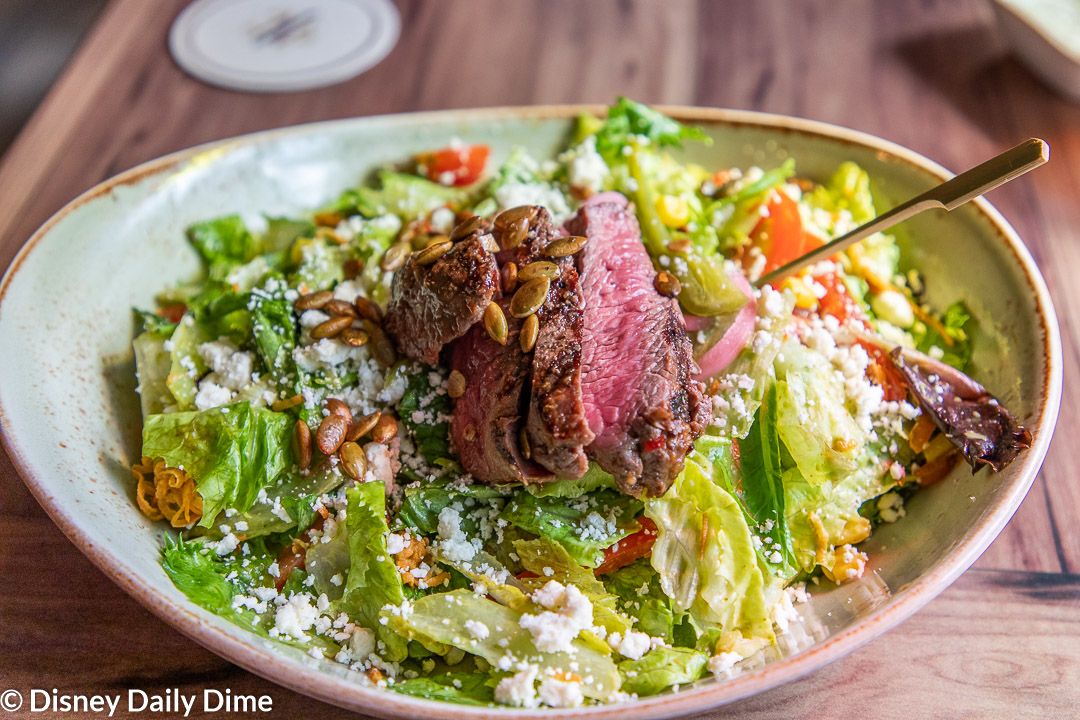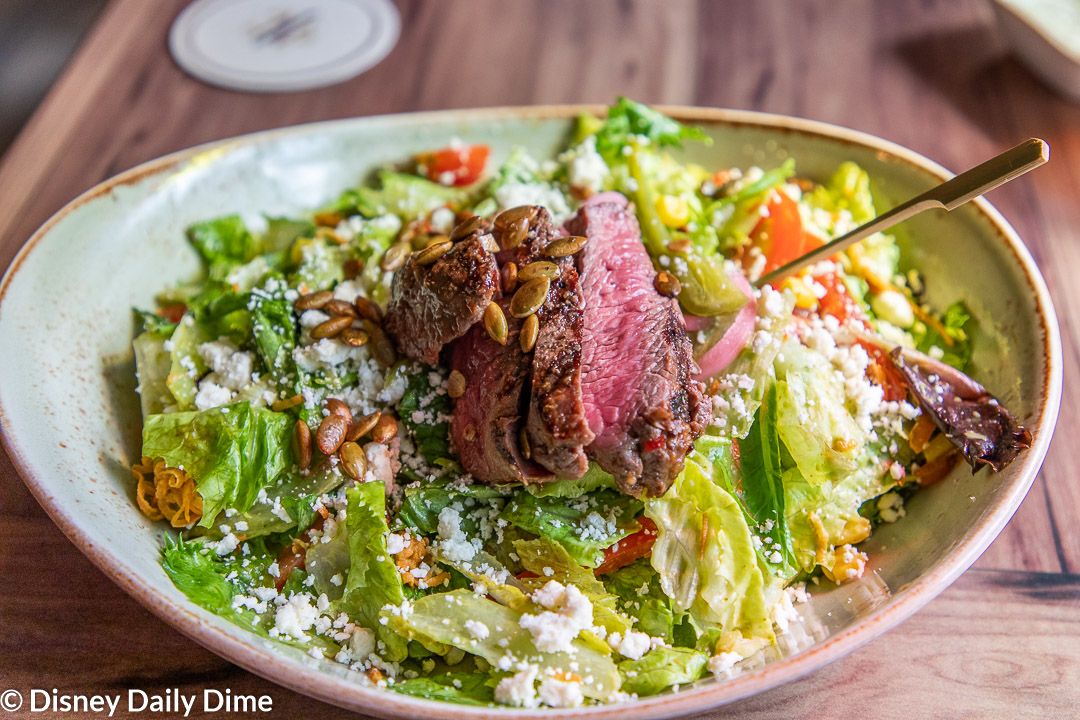 Adult Entrees
For the adult entrees I ordered the "A Lot at Steak" Salad at our first Skipper Canteen meal.  When I saw it on the menu, I knew it would be a salad that is perfect for me.  Featuring steak, pickled jalapeños, and queso fresco tossed in a Chimichurri Vinaigrette I felt really good about this choice.  Fortunately, I was not disappointed.  The steak was cooked just the way I like it, medium rare, with a great flavor.  The mixture of the vinaigrette paired well with the steak and jalapeños.  This was a great light meal, that I think is a perfect option for lunch.  Just don't use a dining plan credit on it as it's not a good value for the credit.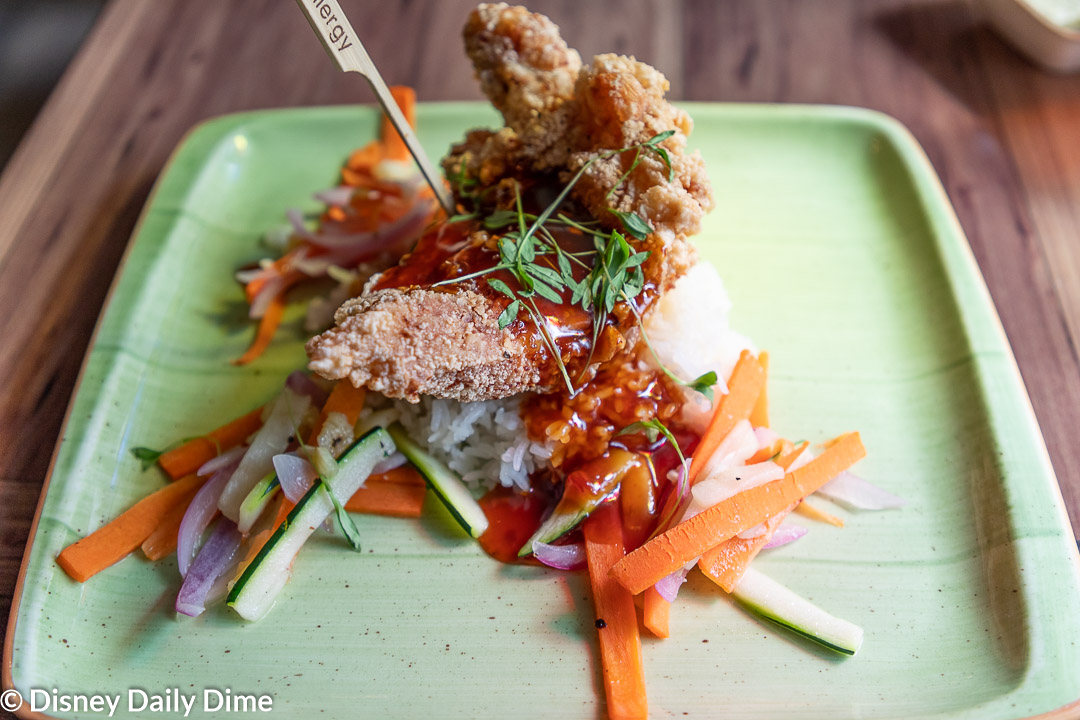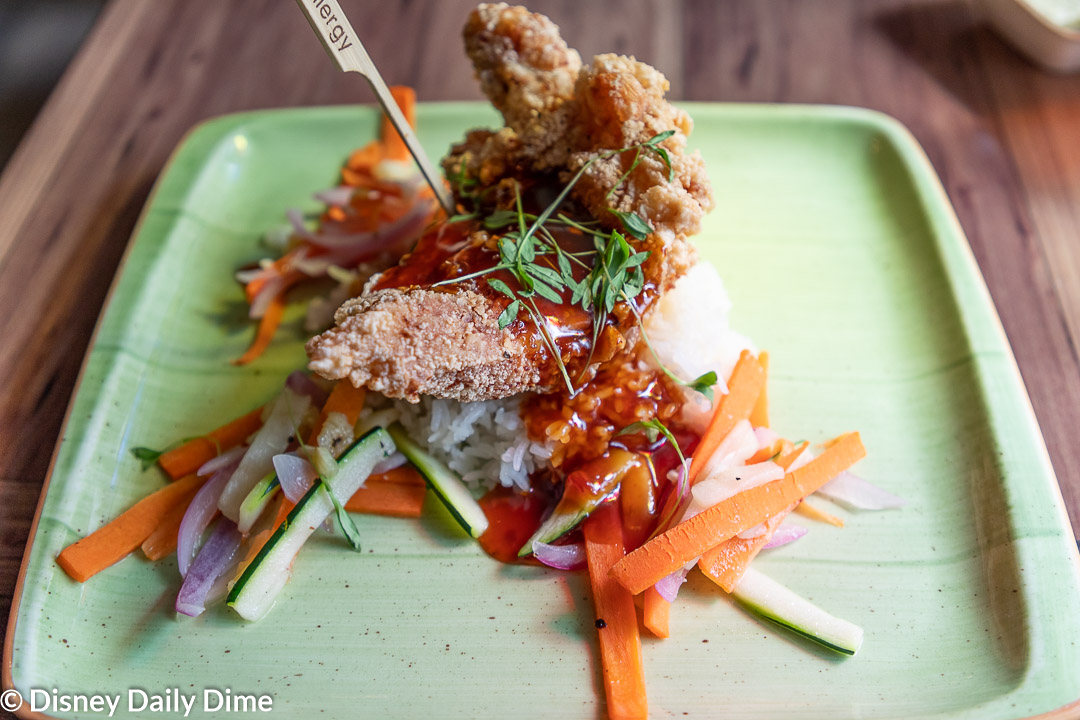 For someone who has been deprived of one of her favorite foods (fried chicken) after several years of eating gluten free, Carla described the "Tastes like Chicken Because it is!" entrée as "fabulous".  The chicken was moist on the inside, with a wonderful crunch on the outside.  The chili glaze added both spice and a hint of Asian flavors to this dish.  I tried some of it and loved it too.  I was really surprised by how great the chicken was.  The vegetables were cooked well, still retaining a nice crispness to them.  We'd both get this dish again.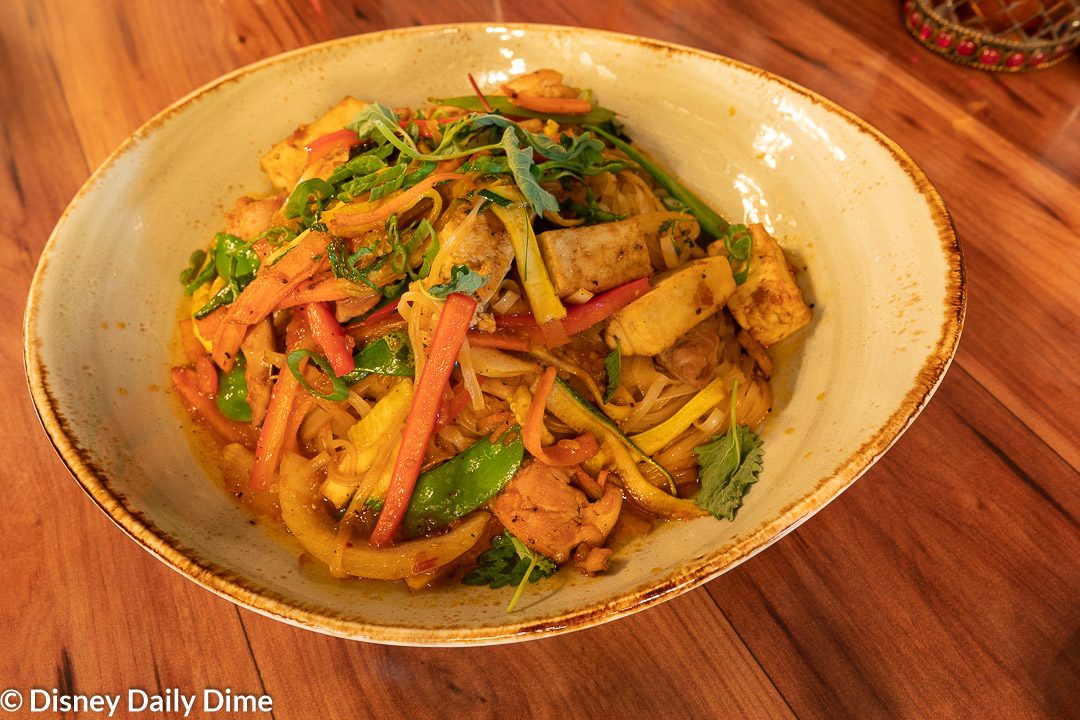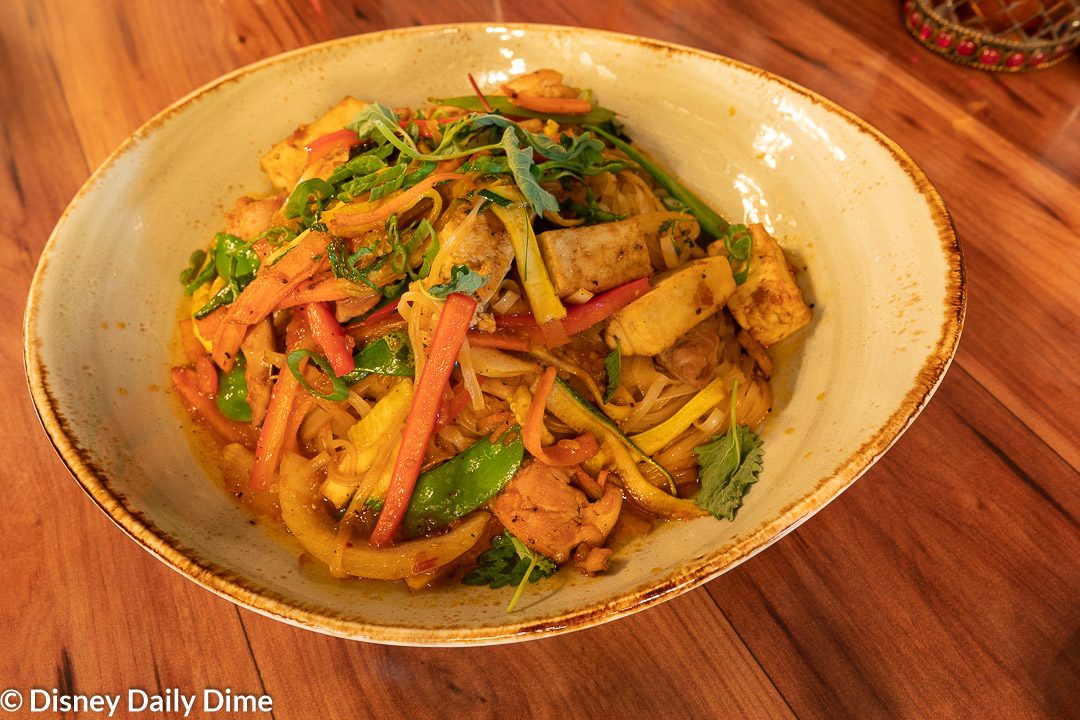 Carla didn't think that she would find a dish that could rival the chicken at Skipper Canteen, but she did just that at our second meal here.  She ordered the Perkins Thai Noodles this time.  If you are looking for a truly spicy dish at Disney World, this is the one for you.  Carla feels she has never had a dish with this level of heat at a Disney World meal.  The combination of the chicken, tofu, rice noodles and spicy soy-chili garlic sauce was amazing.  The portion was overly generous for a Disney meal and would be great for sharing.  Carla didn't want to stop eating it, but had to because she was so full.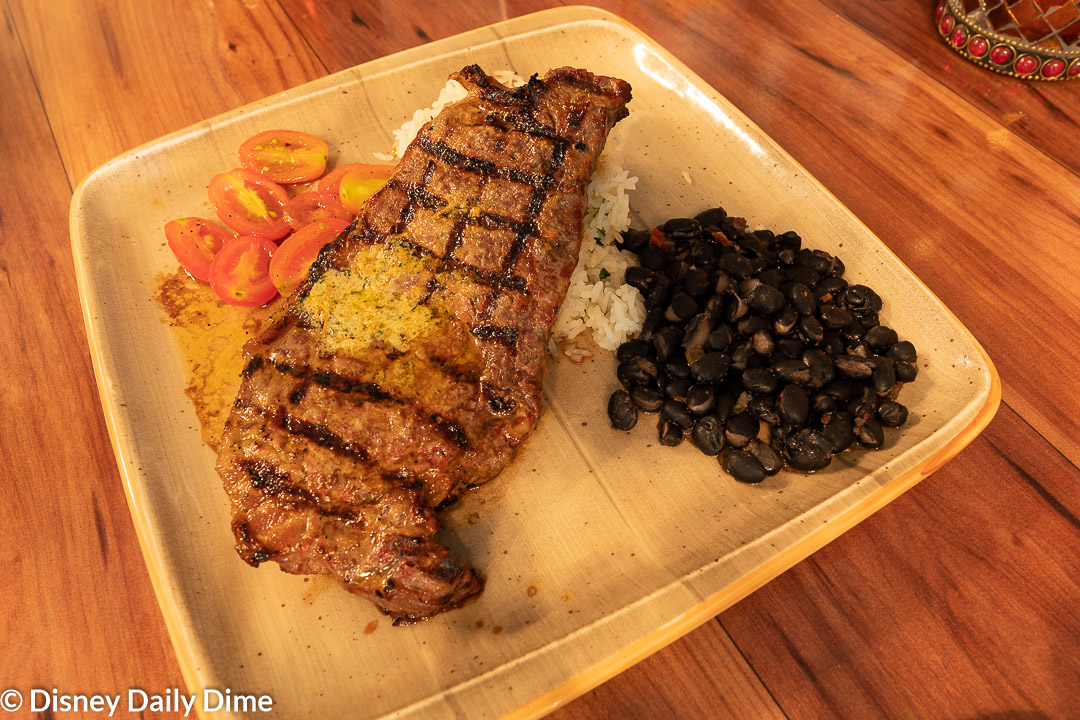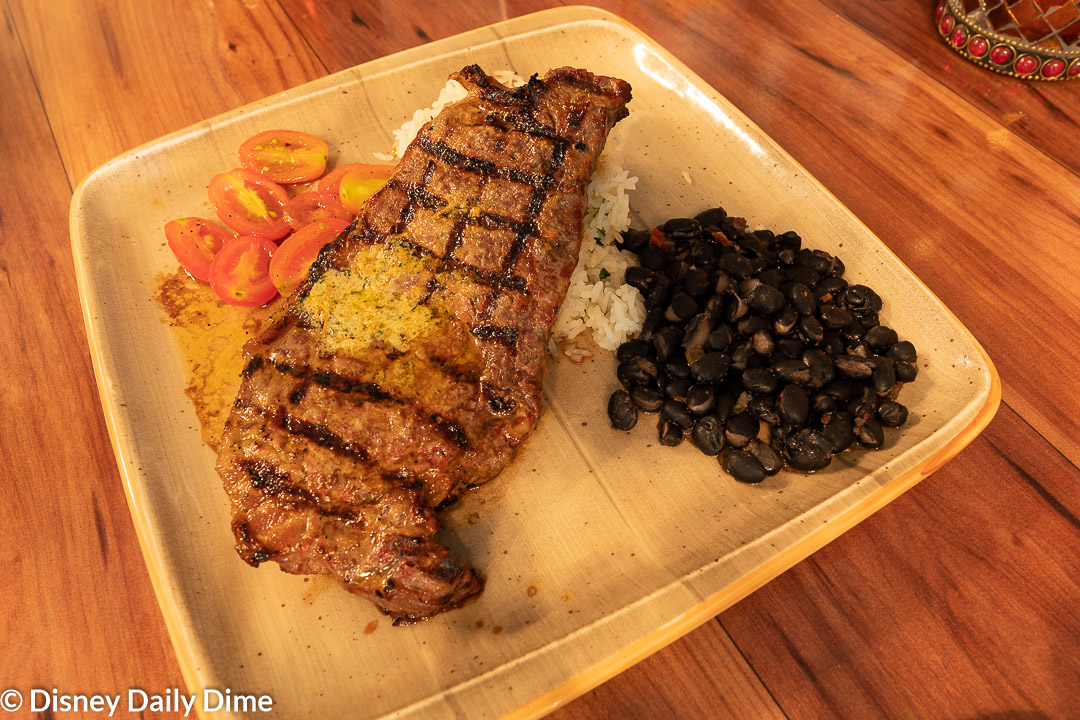 For my second meal I ordered the Dr. Falls Signature Grilled Steak.  The steak was once again cooked perfectly, medium rare.  The steak is an adobo-seasoned New York Strip, which missed the mark for me.  I found the cut of meat fine, but I didn't find it as flavorful as I expected.  Maybe I was seeing the steak through a biased vision because of the great flavor profiles we had experienced here, but I just didn't get the eye-popping flavor I was expecting.  The sides were good, but when I'm paying $36 for a steak, I expect it to wow me and unfortunately it just didn't.
I haven't heard Carla rave about meals like the two she had a Skipper Canteen in a long time.  She clearly out ordered me both times.  Carla is already asking when we are going back here to eat.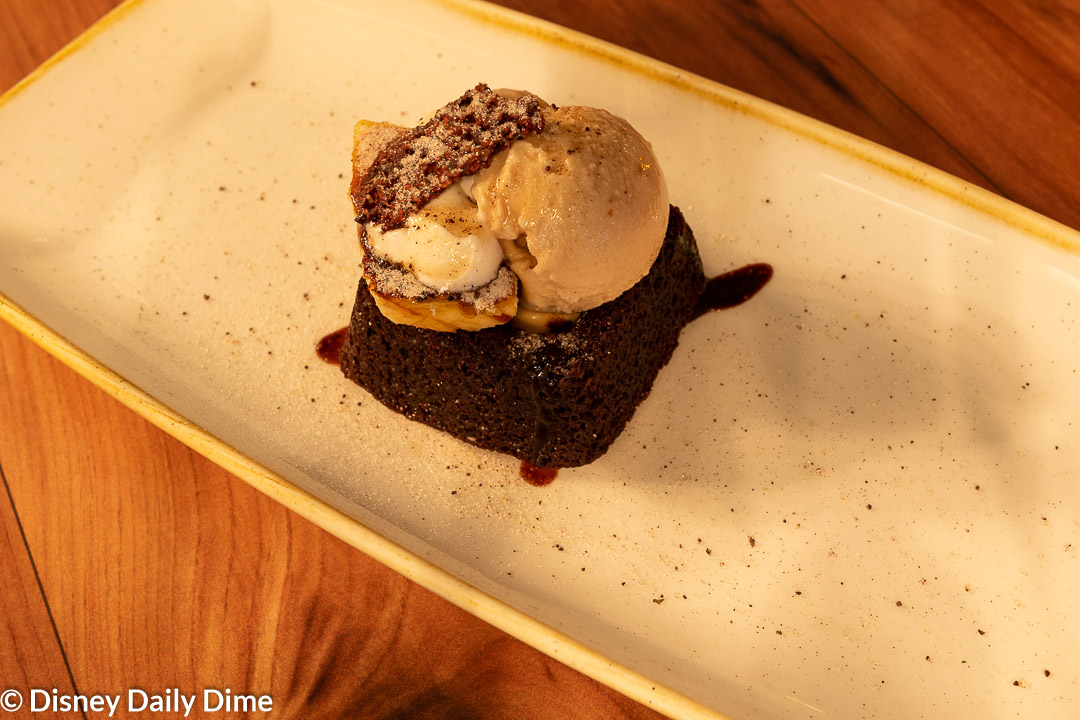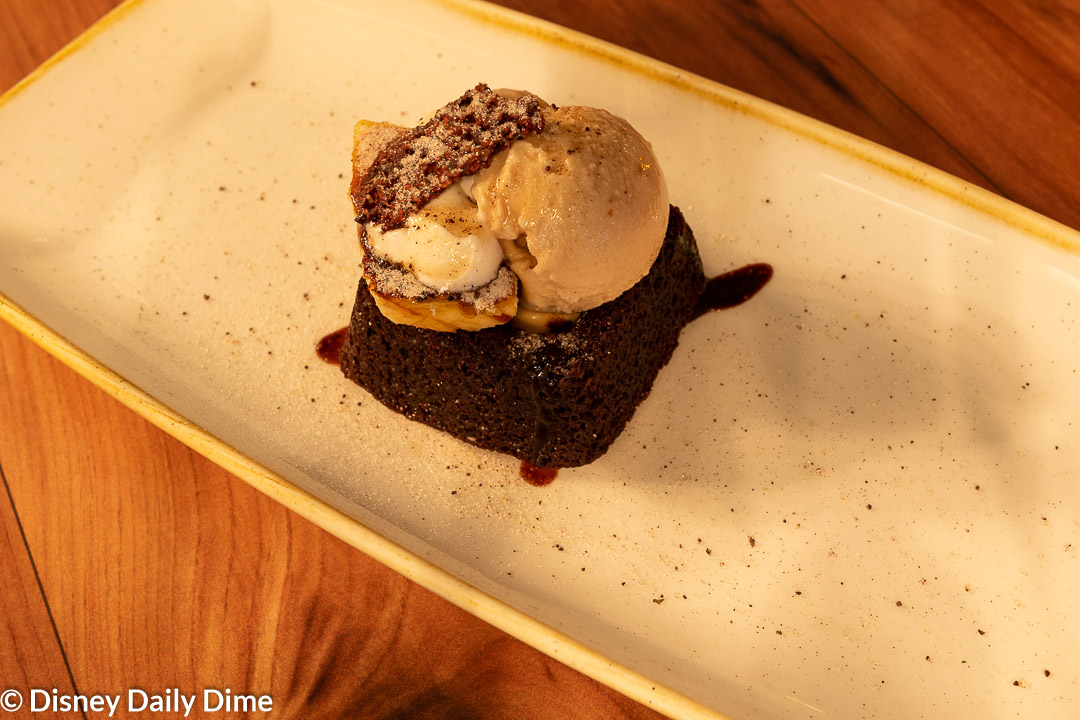 Desserts
We ordered a couple of desserts to finish off our meal at Skipper Canteen.  The first one we tried was the "Kungaloosh!".   A chocolate cake topped with caramelized bananas served with cashew-caramel ice cream, this dessert was excellent.  I'm not a huge chocolate cake fan, but the combination of the ice cream and caramelized bananas was delicious.  It's almost like this dessert was custom made for us.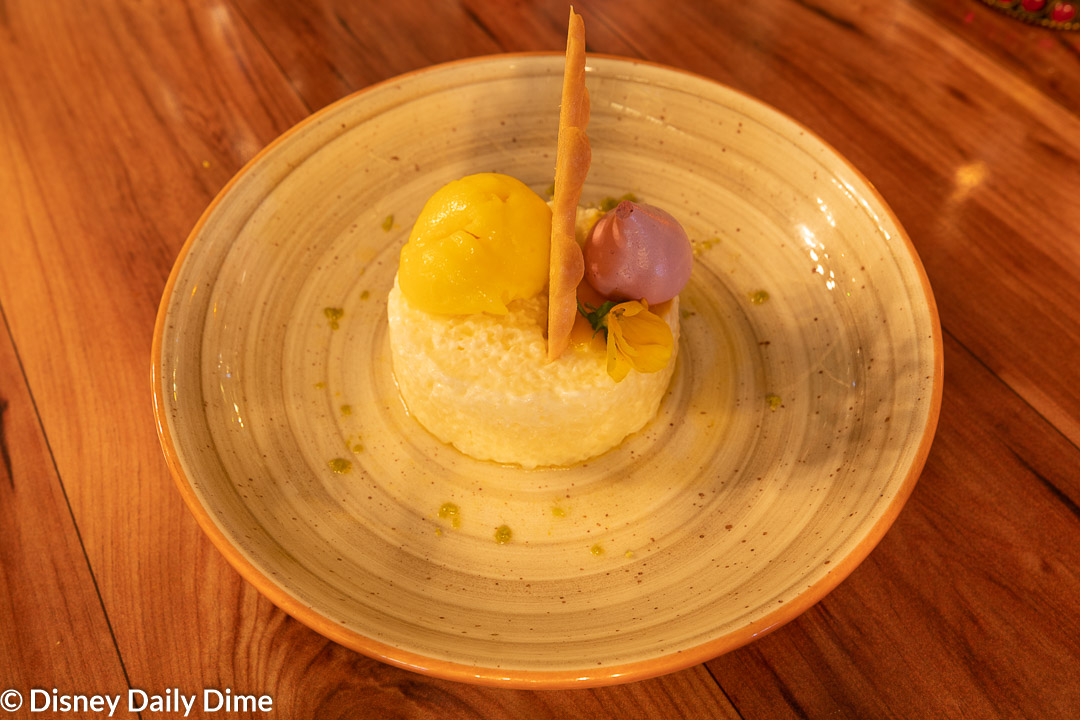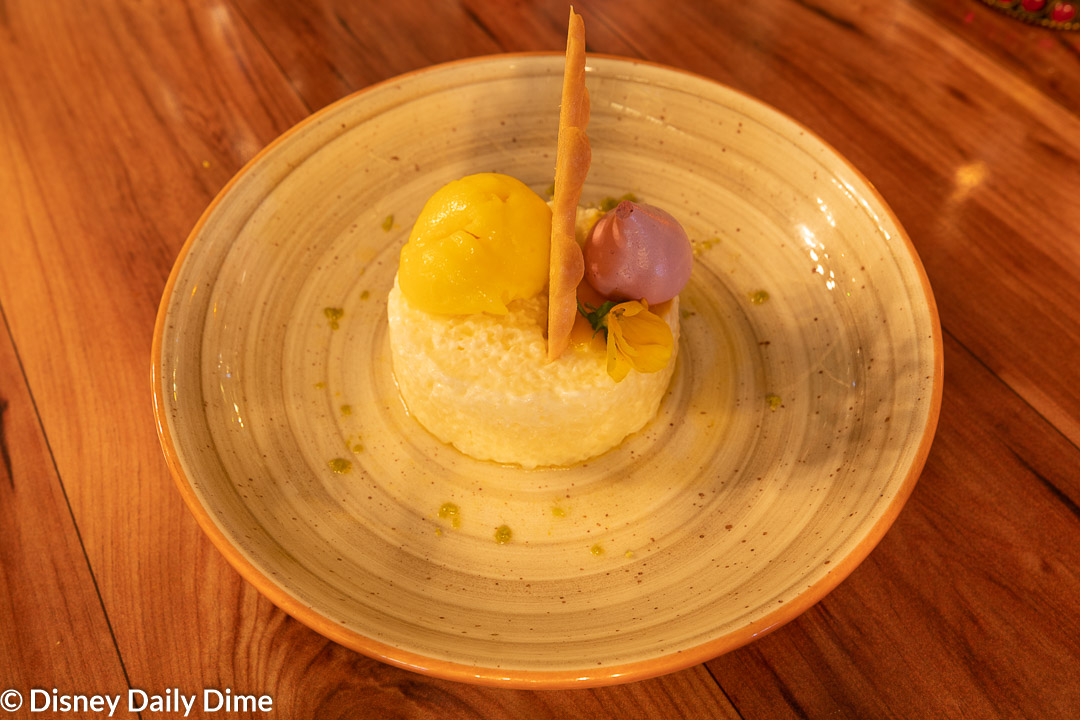 Carla ordered the rice pudding known as "Quick Sand!!!".  The rice pudding had a smoother texture than the rice cream she had in the Norway pavilion at Akershus Royal Banquet Hall.  The tropical flavors were a nice change from the berries that seem to be featured in most fruit-based desserts.  Both Anna and Elsa really enjoyed this dessert as did Carla.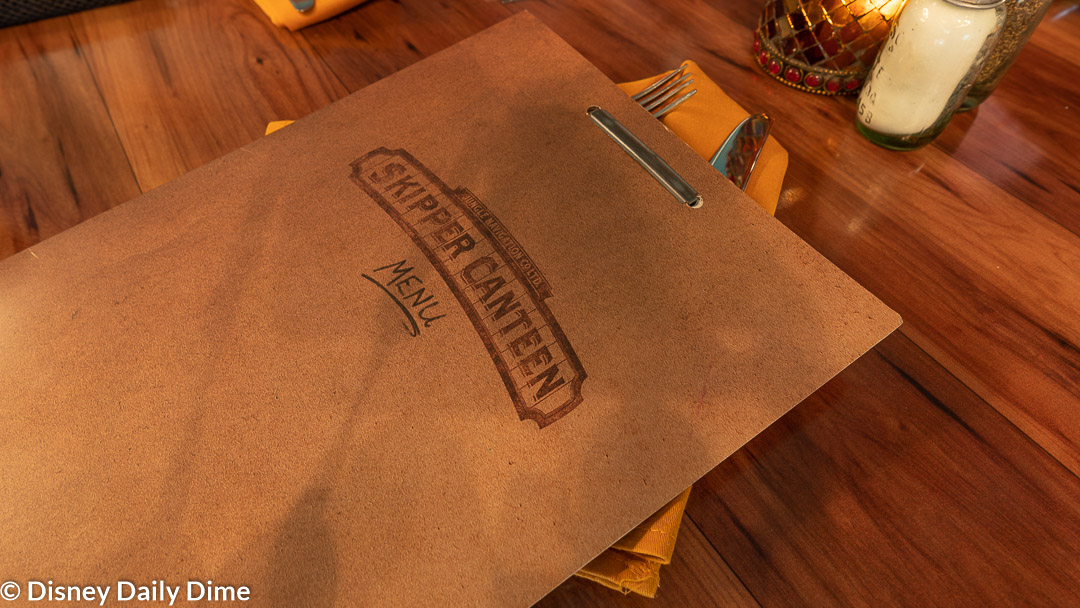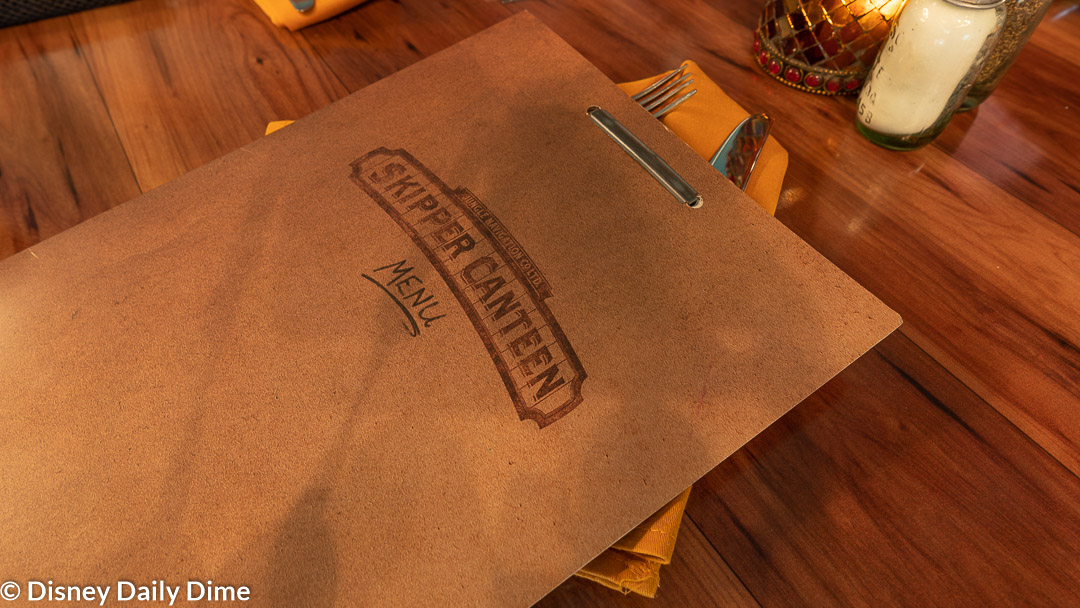 Skipper Canteen Overall
Carla and I we both really surprised by Skipper Canteen.  We came in expecting a decent, but maybe somewhat campy theme with okay table service food.  What we found was better than we were expecting food, coupled with an experience that was fun and refreshing.  We are hooked.
I'd now describe it as "come for the humor and stay for the food".  I'm not sure when we'll stop here next, but it will be soon.  We've just got to get through some more of the other Magic Kingdom restaurants first.  When we look at the cost of these dishes in comparison to other table service locations the value becomes that much better to us.
It provided a few good entrees for Anna and Elsa and they enjoyed the humor of our server.
We feel like we've barely scratched the surface on the entrees as there are numerous fabulous looking meals on the menu we have yet to try.
Wrapping Up
With that, we'll wrap up our Skipper Canteen review.  Featuring great flavors, fun humor and a really well-done theme, it's a great table service option at Magic Kingdom.
If our Skipper Canteen review was helpful, or at least entertaining, please like and share this with your friends or anyone you think will find it useful.  Just use the sharing buttons on the page.  We always appreciate it when you share our posts, as it allows us to spread the word about our young blog and hopefully allows us to help others.