Probably the most famous character meal in all of Disney World, Cinderella's Royal Table features everything a princess could want.  Top tier Princesses, dining inside Cinderella Castle…what more could you ask for right?  We recently took Anna and Elsa to the castle for a meal, which we will cover here in our Cinderella's Royal Table review.
As part of our review, we'll give you our thoughts on the food, ambiance, theming, princesses and wrap it up with our opinion on the value of dining here.  Before we get into the meat and potatoes of this review, we'll hit on some basic blocking and tackling.
Cinderella's Royal Table is a table service meal, located within the Magic Kingdom.  Because it is considered a signature meal, it requires the use of two table service credits if you are on the dining plan.  It may make sense for you to pay out of pocket for this meal.  Cinderella's Royal Table does actually accept the Tables in Wonderland card, if you're looking for a discount.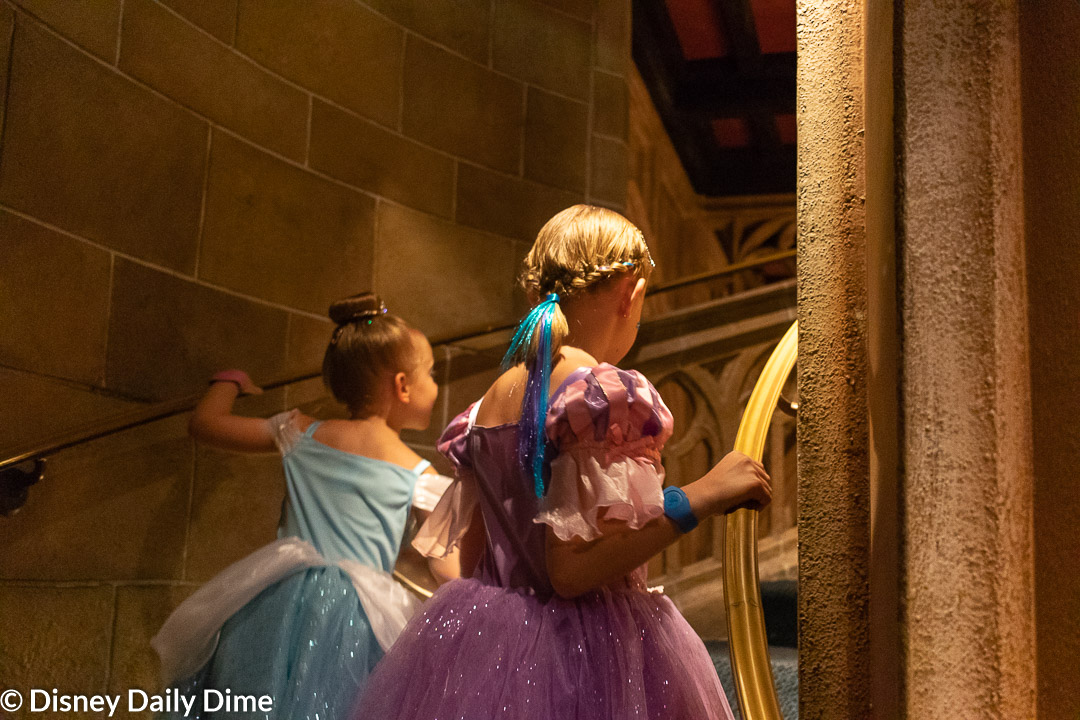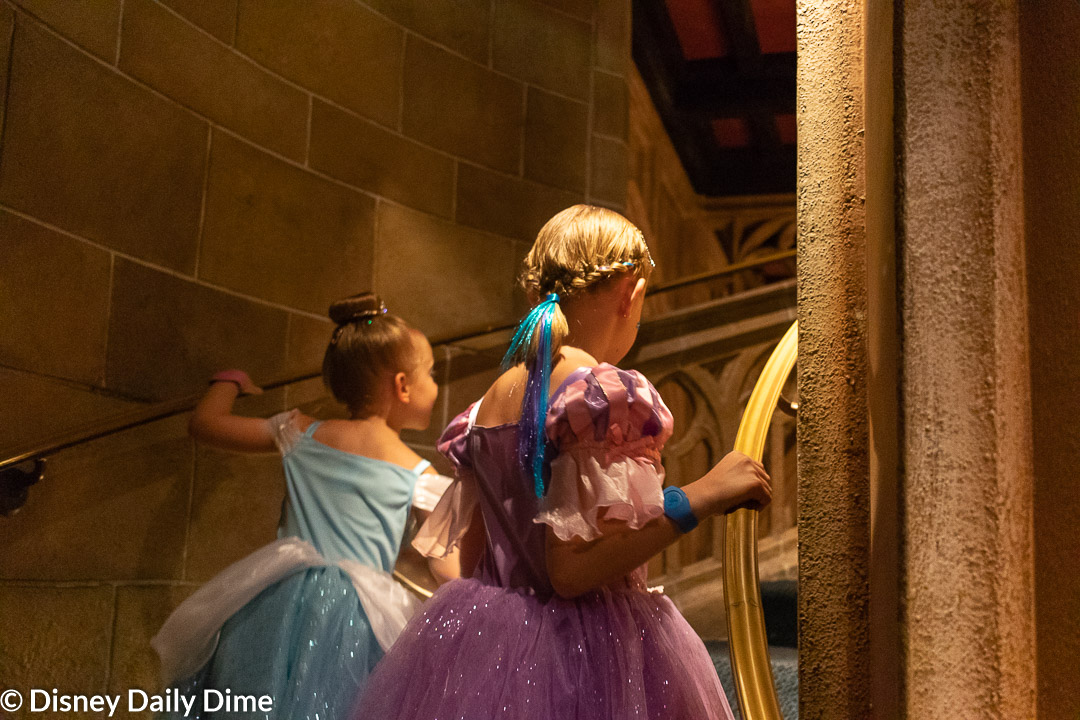 One other thing you should note about our meal.  We ate at Cinderella's Royal Table as part of a princess day of fun.  It started with a late morning reservation at Bibbidi Bobbidi Boutique where the girls dressed up as two of their favorite princesses.  We then went to meet the Fairy Godmother outside of the castle and Cinderella and Elena at Princess Fairytale Hall. That was followed by lunch at Cinderella's Royal Table.  To top it off for good measure, we then went back to Fairytale Hall to meet Rapunzel and Tiana.
By the time we were done, I have to say I was princessed out.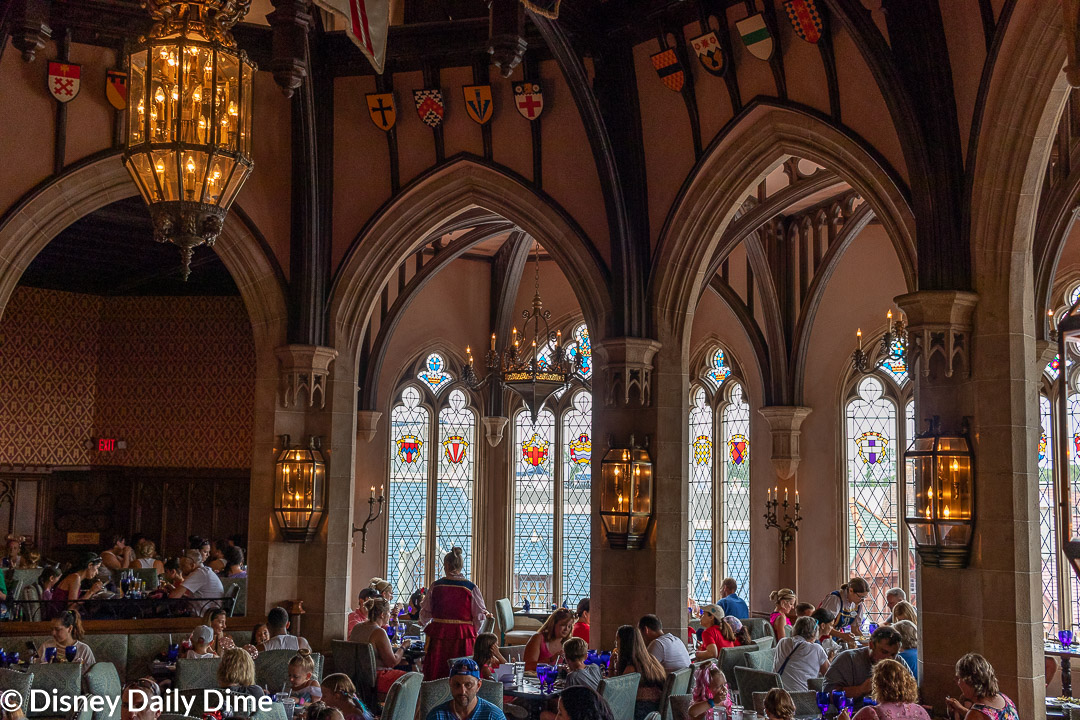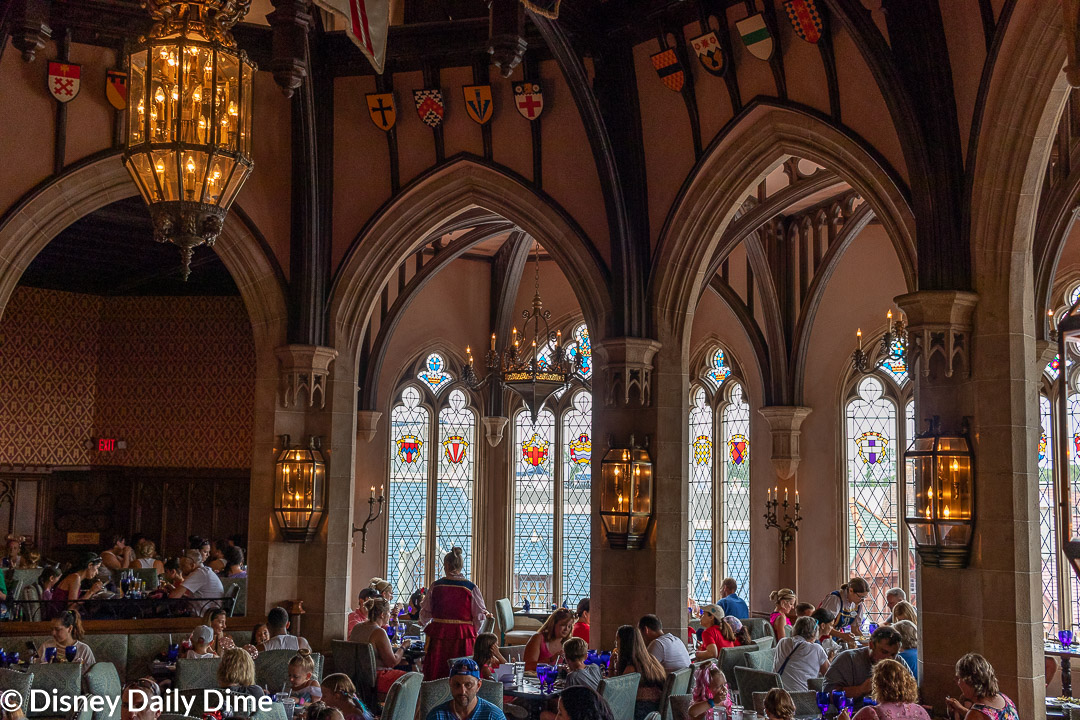 Reservations and Pricing
Before we discuss the food and characters there are a few things you need to know.
The first is about reservations.  Make them early.  If at all possible, make them at the 180-day mark before your trip.  Once upon a time scoring a reservation here was very difficult if you weren't planning that far in advance.  With the opening of Be Our Guest, there appears to be some lightening of the load on Cinderella's Royal Table demand.  Nowadays you can score a reservation closer to your trip date, but you will have to be more flexible on day and time.
The second thing you need to know about is the price.  As you may have guessed from it costing two table service credits on the Disney Dining Plan, it's expensive.  Lunch and dinner will run you between $65-80 per adult and $40-50 per kid.  Breakfast costs less but still requires two credits.  For our family of four, it cost us over $200 to eat lunch here.  That's pretty rich for a meal at Disney, princesses or not.
One last thing on pricing.  You will have to pay for your Cinderella's Royal Table meal at the time you make the reservation.
With that all said, let's talk about the characters.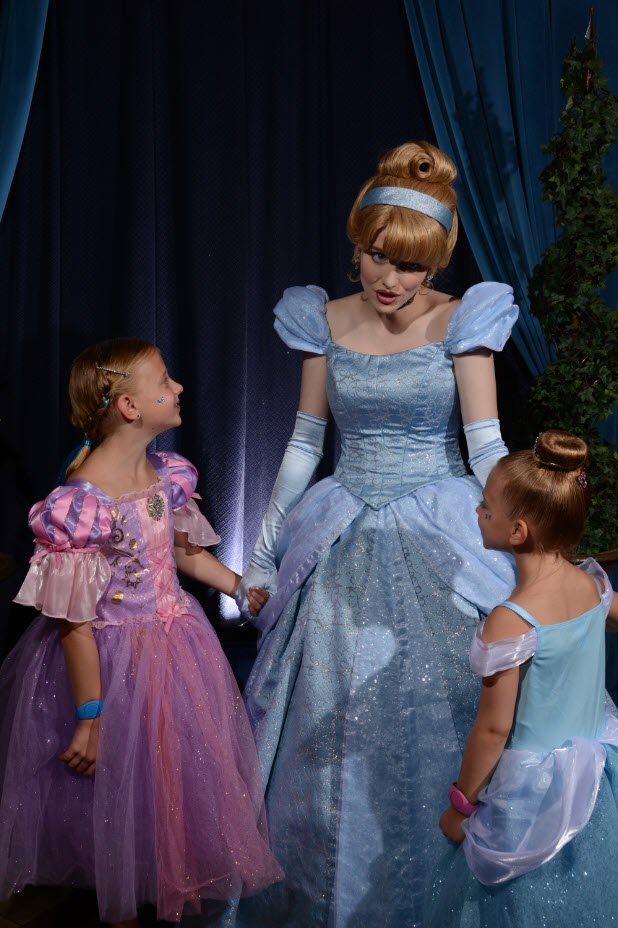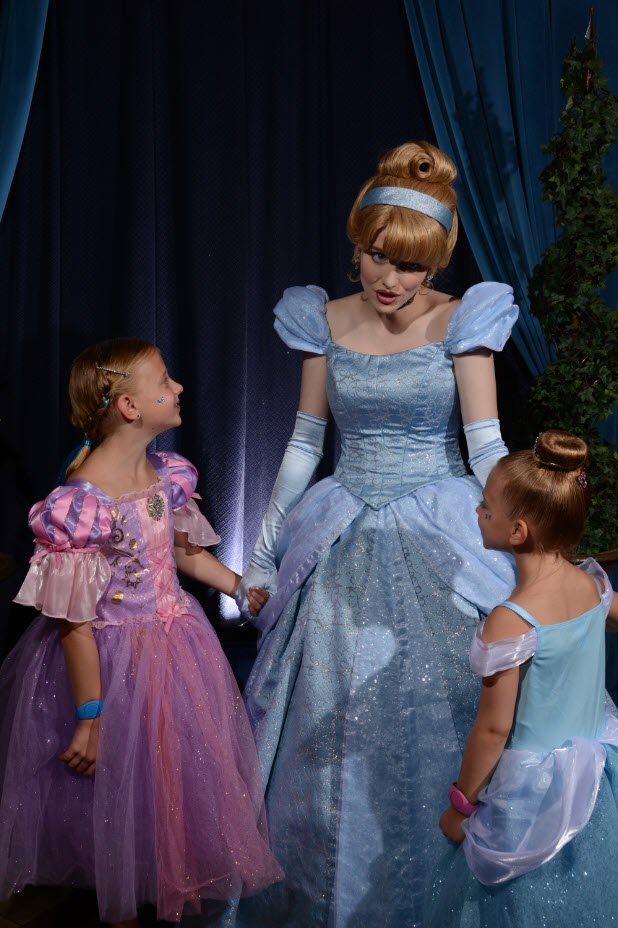 The Princesses at Cinderella's Royal Table Are Fabulous For Kids
As part of this signature dining character meal, you get to wine and dine with royalty.  Cinderella has been gracious enough to invite you to break bread with her and four other friends.
Your princess interactions begin before you ever sit down to eat.  You are actually greeted by Cinderella in the downstairs level of the castle.  It's a bit of a regal welcoming to her palace.  There is a photopass photographer here that can capture several images of the meeting with your host.
Cinderella was her usual sweet self.  I was a little surprised that the interaction with Cinderella lasted as long as it did.  Sometimes when there is a photopass photographer present, the interactions can be rushed.  Especially when there is a line of other guests waiting to get somewhere.  In this case Cinderella took her time with the girls and engaged them in real conversation.  She was especially enamored with Anna who dressed up in her Cinderella best at Bibbidi Bobbidi Boutique.
Cinderella is really the only guaranteed princess that you will have on the rotation here.  During our particular meal, we were also greeted by Jasmine, Snow White, Aurora, and Ariel.  Based upon the numerous other reviews and websites we've read, it appears this is the most common group of princesses.  On occasion we have seen note of Rapunzel or the Fairy Godmother here.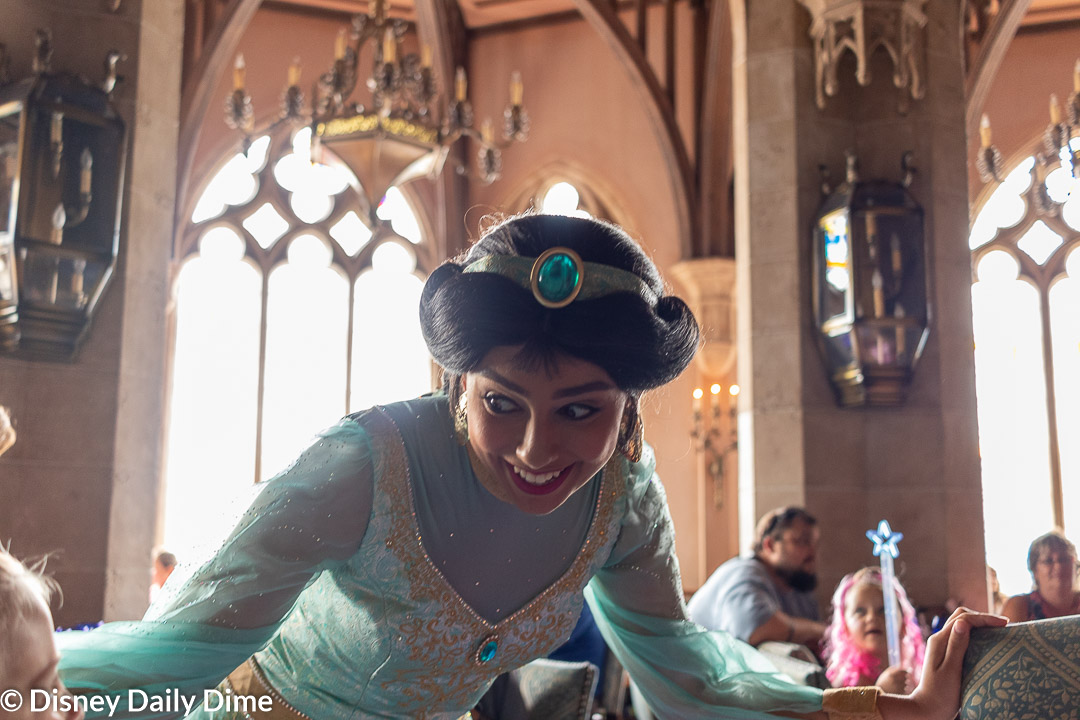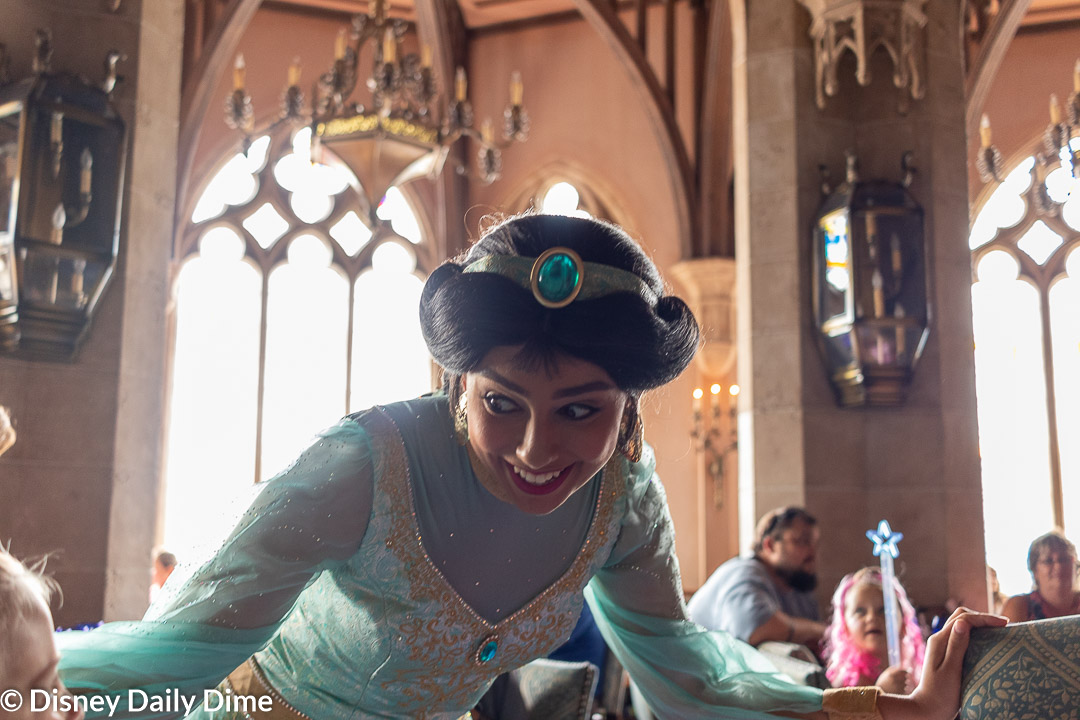 All of the other princesses meet in the upstairs dining area of the Castle.  They roam the dining area while you eat.  The whole process is very regal.  Each time a princess is about to enter the room, they are formally announced and then enter to a round of applause.
As for the princess interactions themselves, our family usually rolls well with the princesses that know how to have some fun.  That's probably why we enjoyed the Bon Voyage Adventure breakfast with Rapunzel and Ariel so much.  The character interactions at this meal were true to that dynamic.
The girls, Carla and I really enjoyed Ariel and Jasmine.  They are a bit more fun and can play fast and loose with some of their humor.  It doesn't hurt that Anna LOVES Ariel.  I don't think we've ever mentioned that on the blog.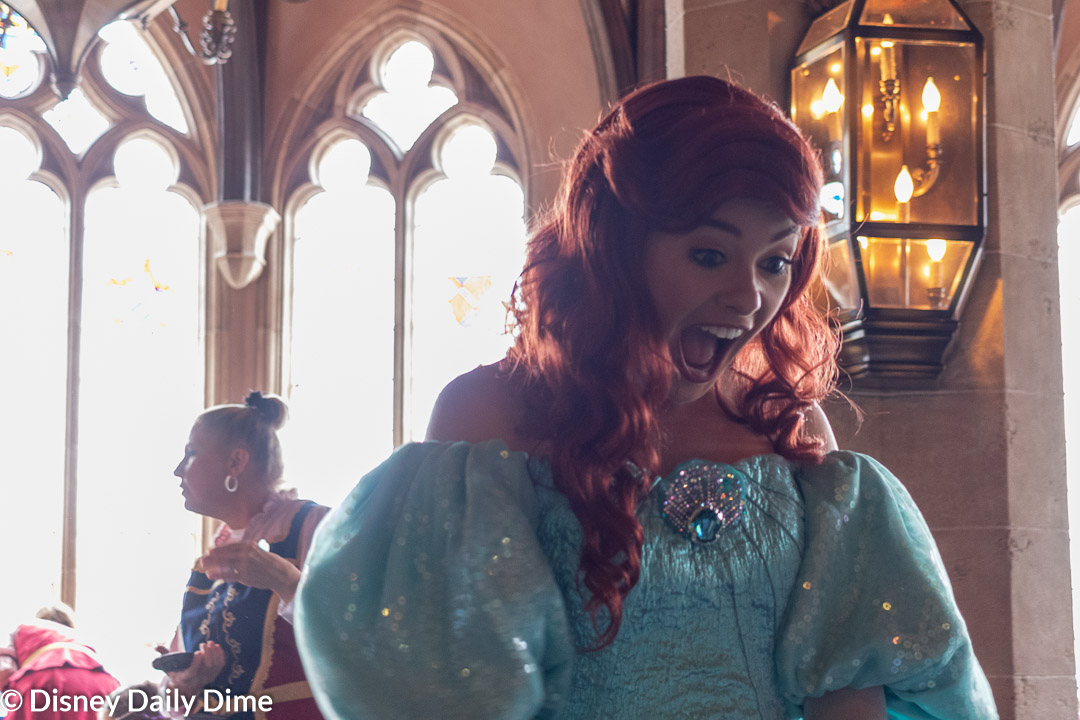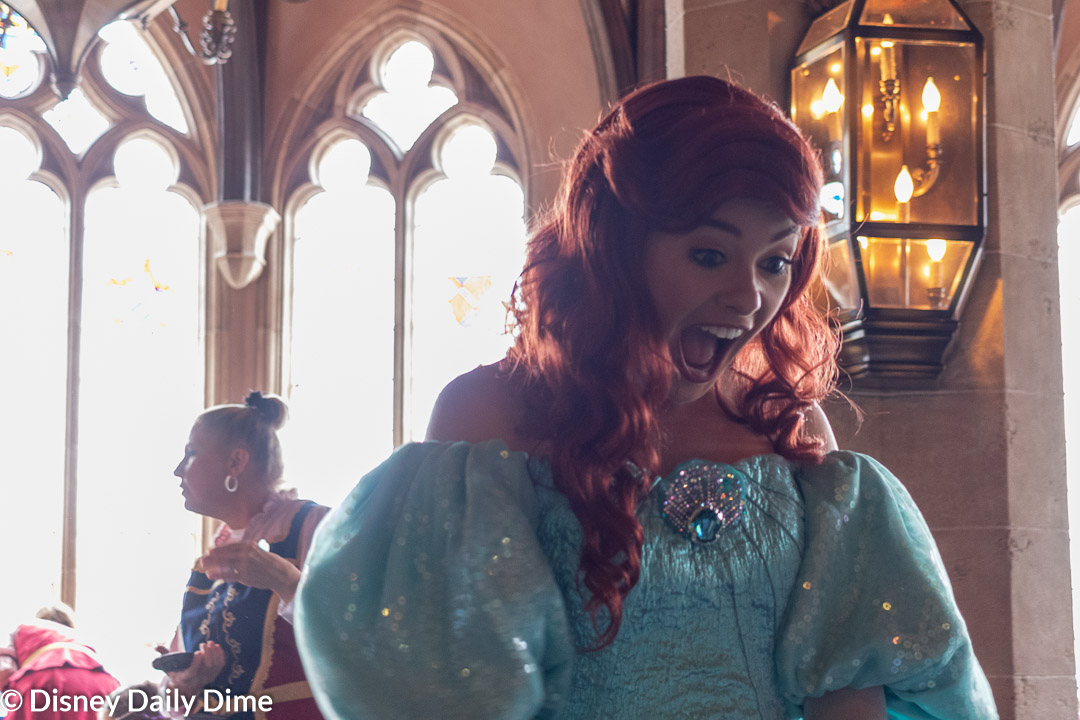 On a side note, Anna also loves Jasmine.  But not just any Jasmine.  When she was about 4 years old, she proclaimed she loved Jasmine "in her red outfit".  Oh really?  So you're clearly going to be our girl to keep our eyes on.  She also has proclaimed she loves "gold Princess Leia", if that gives you any idea.  Yes, the one from Return of the Jedi in the skimpy bikini.  Color dad concerned.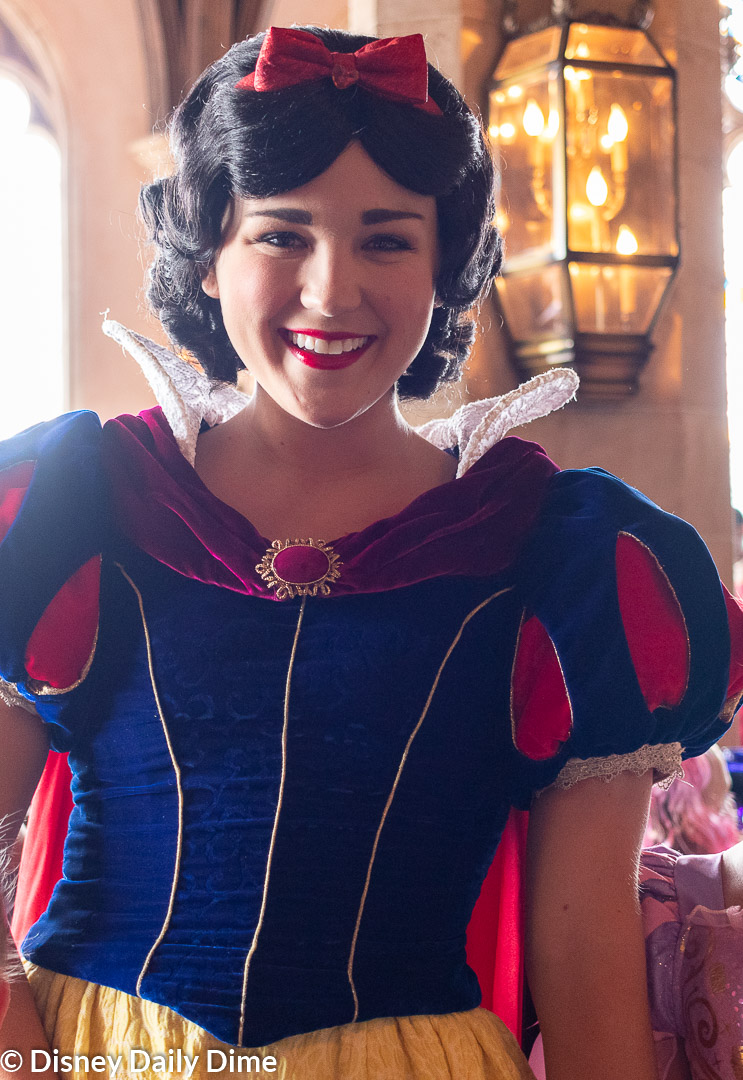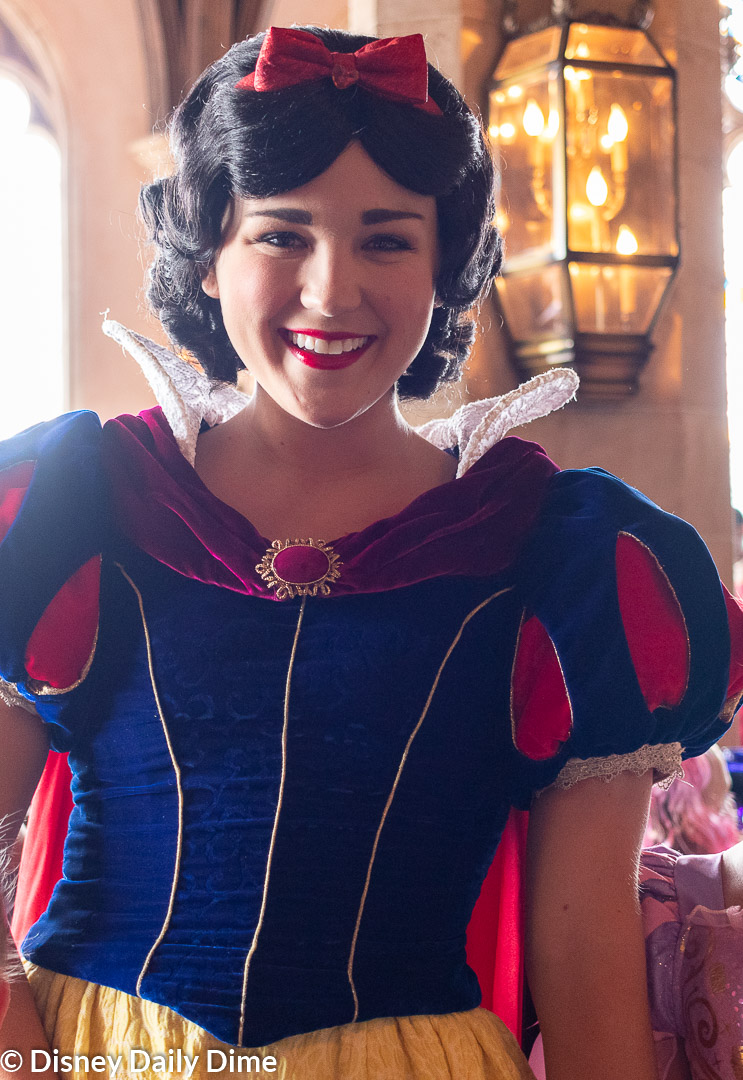 As for Snow White, she was relatable, witty, and sweet.  She's almost like the girl next door.  Anna and Elsa enjoyed her immensely.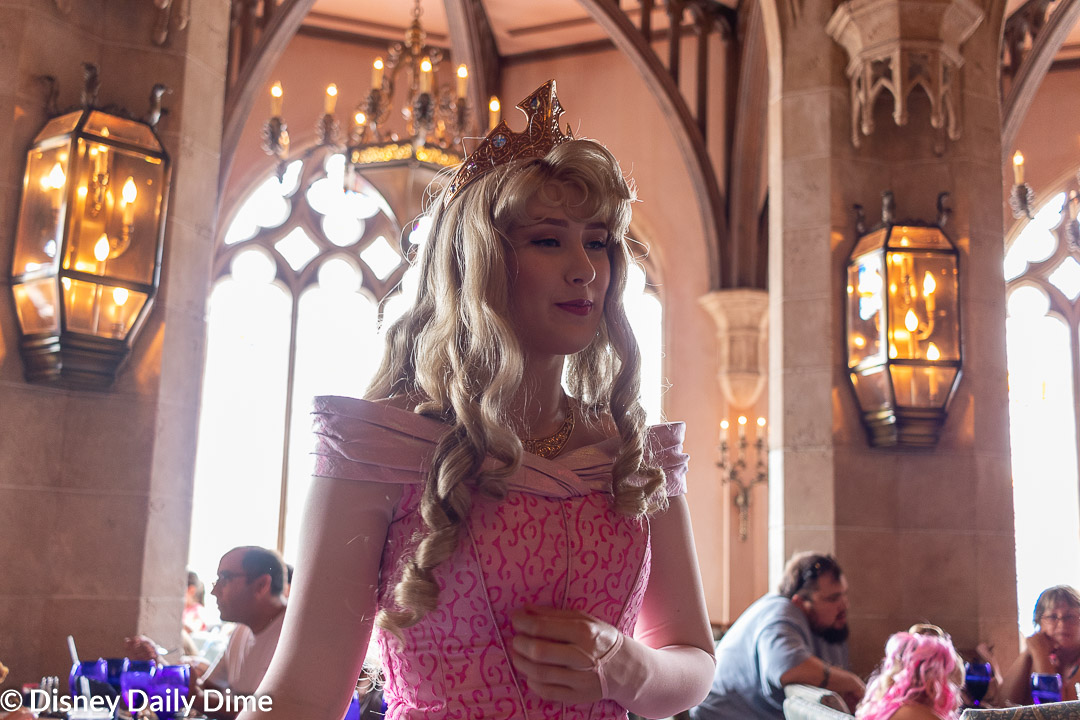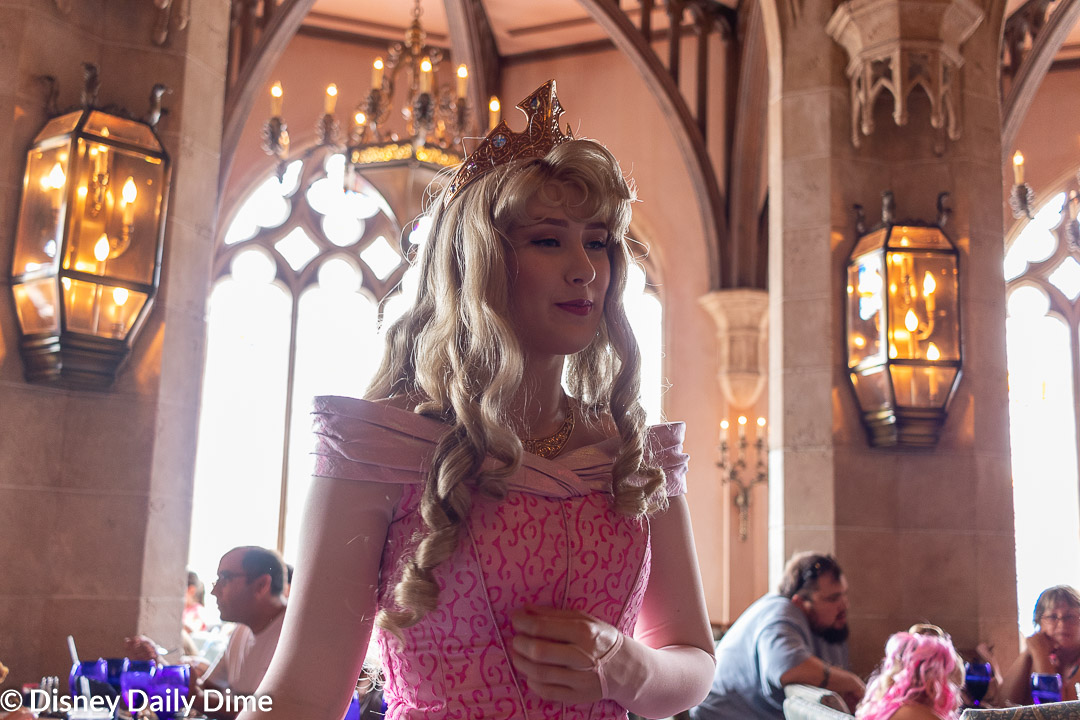 Aurora was well….Aurora.  Regal, stately and a bit stiff.  I don't think that's a criticism of the cast member playing her, rather it just feels like who Aurora is.  Carla and I have this ongoing discussion that the interactions with her are just stiff, no matter where we meet her.
Now, the girls never really noticed this and loved meeting all the princesses.  It was the high point of the day for them.
One thing to note about the princesses that are roaming the dining area.  There is not a photopass photographer with them.  If you want pictures with the princesses, make sure you have a camera handy.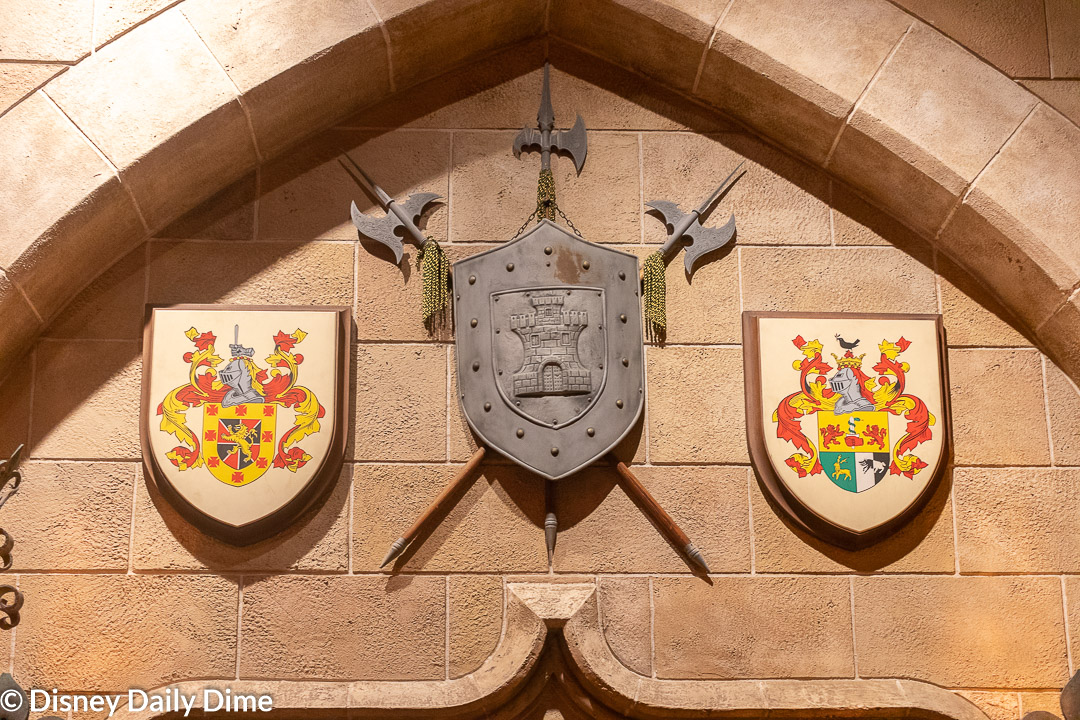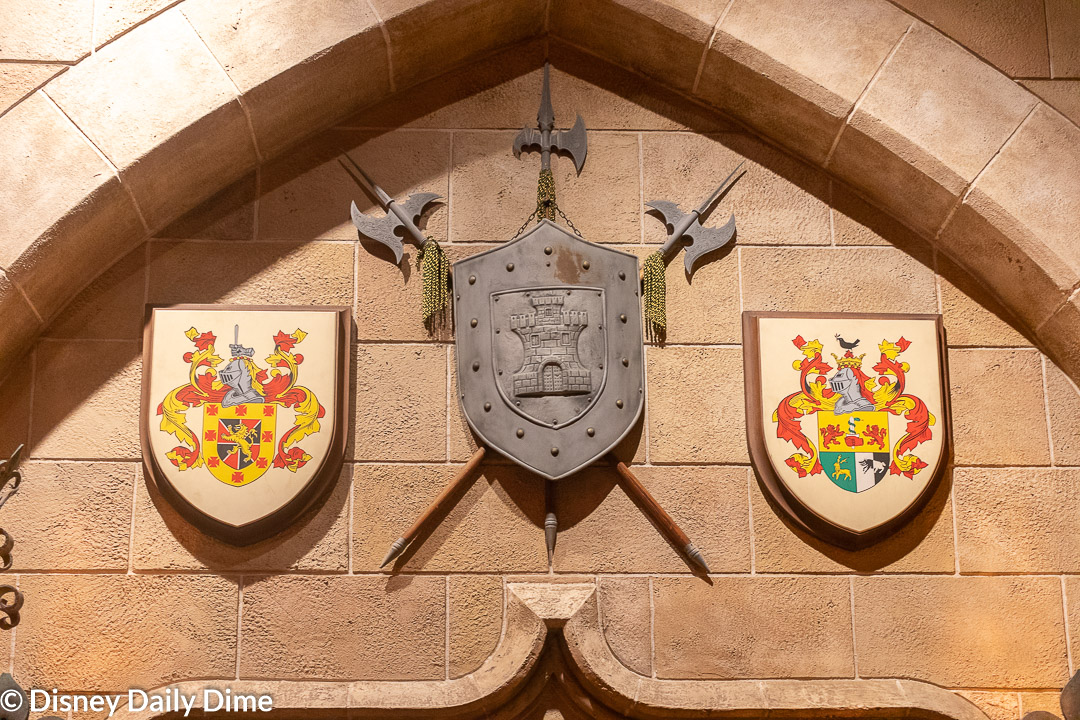 The Theme and Ambiance of Cinderella's Royal Table is Top Shelf
You're probably saying to yourself that no duh, of course it is.  The restaurant is inside Cinderella Castle!  So, it has location going for it, but that doesn't assure you of a great feel.  Even with this built in advantage, it still has to deliver on the promise of a restaurant in the castle.  And deliver it does.
As for theme, this restaurant evokes a medieval-style.  Within the numerous stained-glass windows, you'll find great Cinderella related art.  That coupled with the numerous knights' armors and coats of arms really bring home the medieval feel.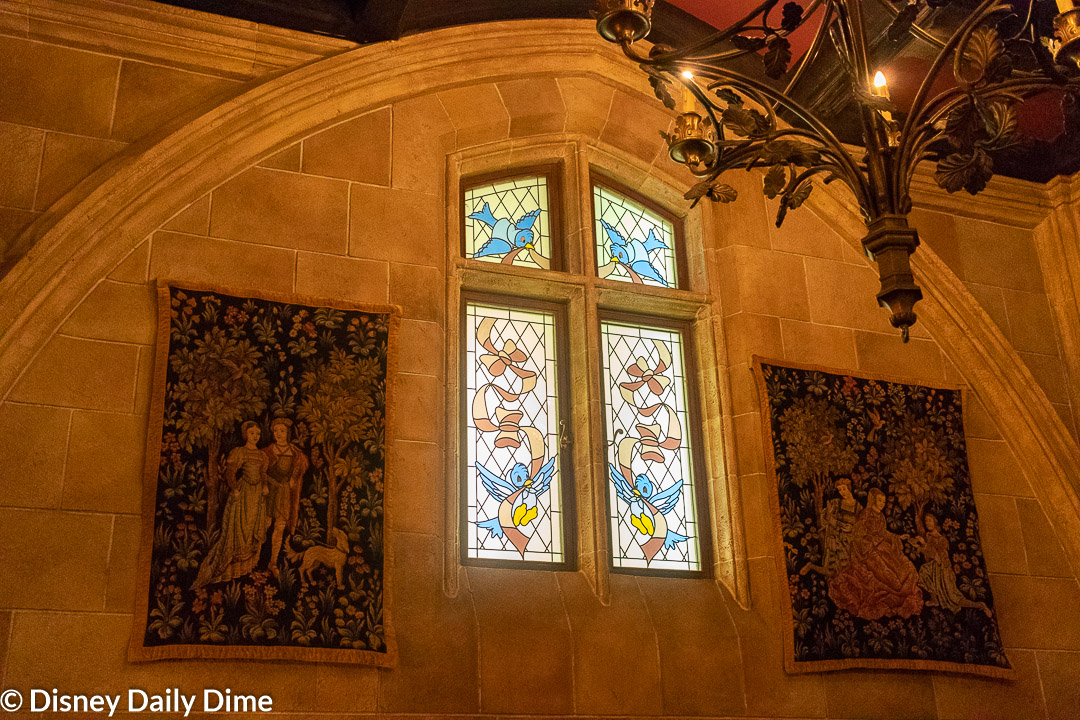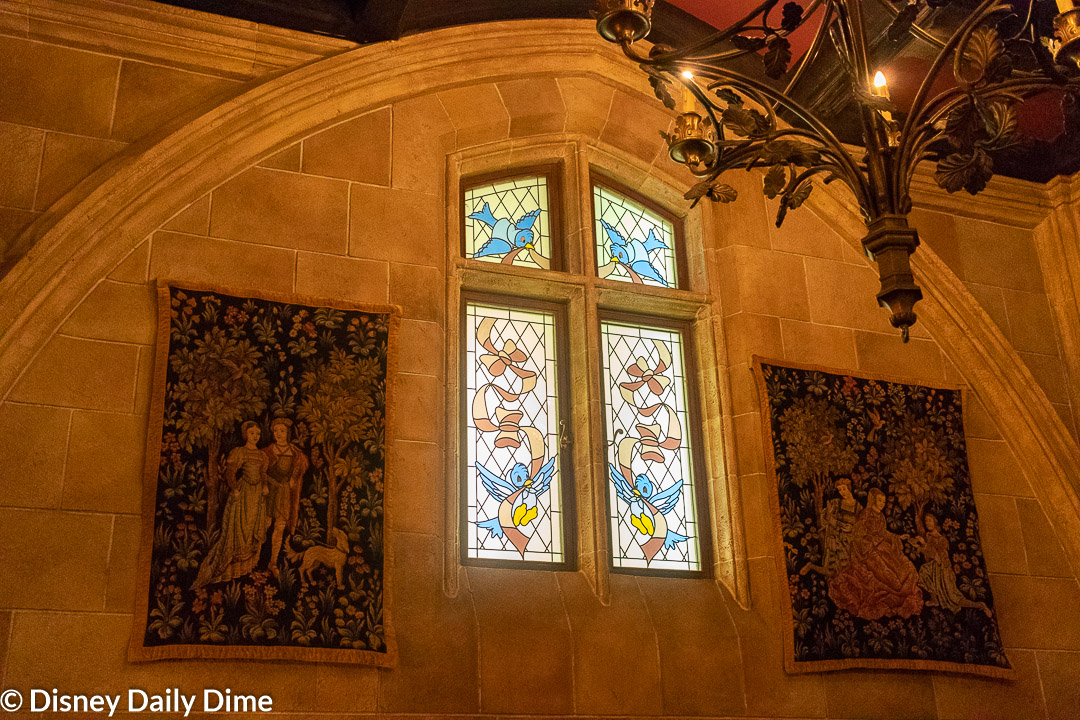 Beyond the décor, the actual architecture of the dining area and really of the whole castle is spectacular.  Large and majestic stone archways, an elegant curved staircase, light fixtures that are meant to look like candles, and the expansive vaulted ceiling, it all works together.
This all sets a foundation for a special ambiance.  It starts when you are greeted by Cinderella, but that is just the beginning.  As you climb the curved stair case and reach the dining area, you are announced to the room.
From there the cast member serving you calls the kids prince and princesses, and mom and dad the lords and ladies.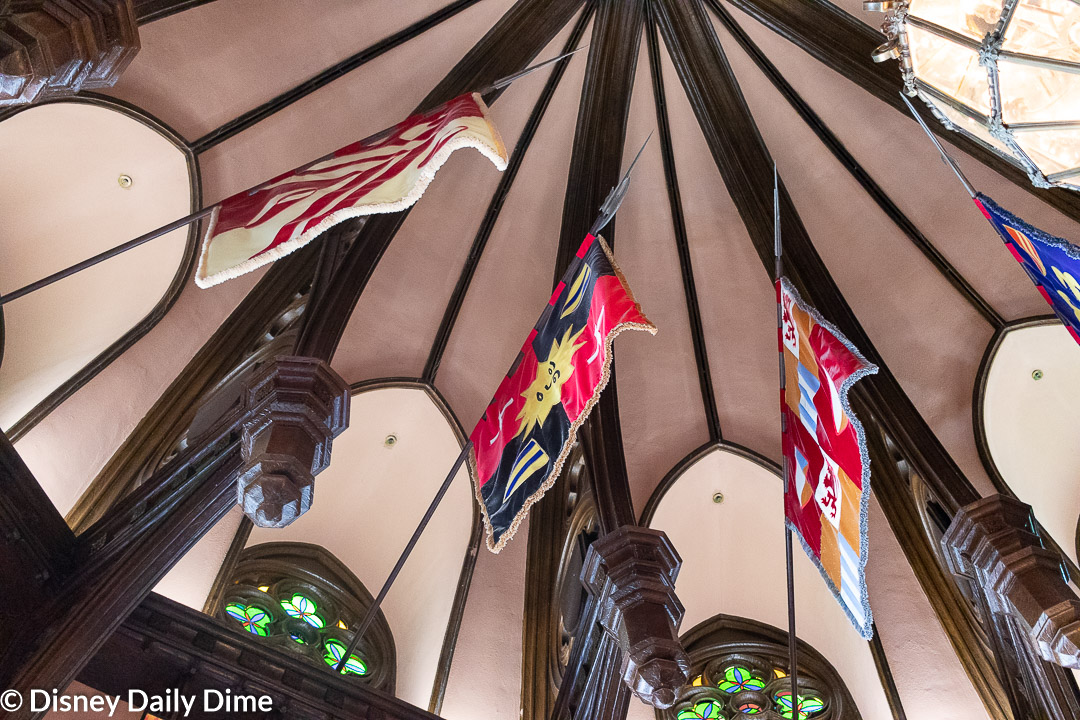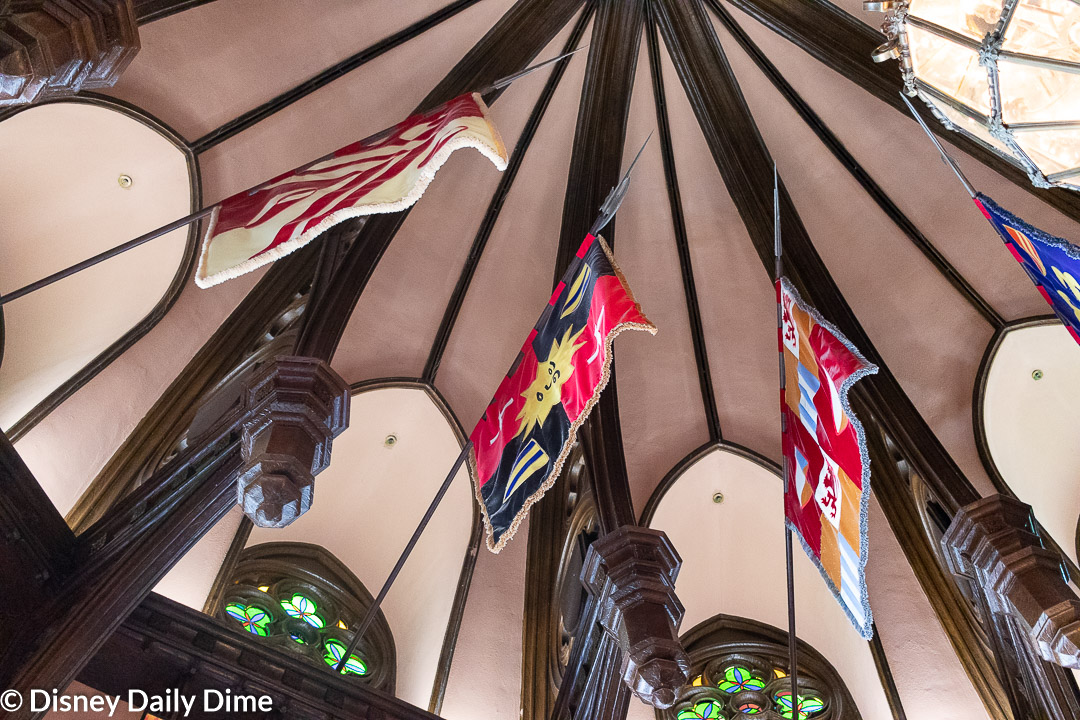 For a very large and sometimes cavernous appearing restaurant, it wasn't actually all that loud.  I was concerned that voices would be bouncing off the walls and ceiling and making the place difficult to hear.  Fortunately, that was not the case.  Carla does not share my point of view here.  She thought it was very loud.  It all depends on what you think "loud" is, I guess.
The piece of the restaurant I didn't really care for was how close the tables were to each other.  We're not sure that this was the norm for Cinderella or medieval era dining, but we're guessing not.  Our seating area felt very cramped next to the tables near us.  I think this feeling is associated with our particular table as I saw many others that looked more spacious.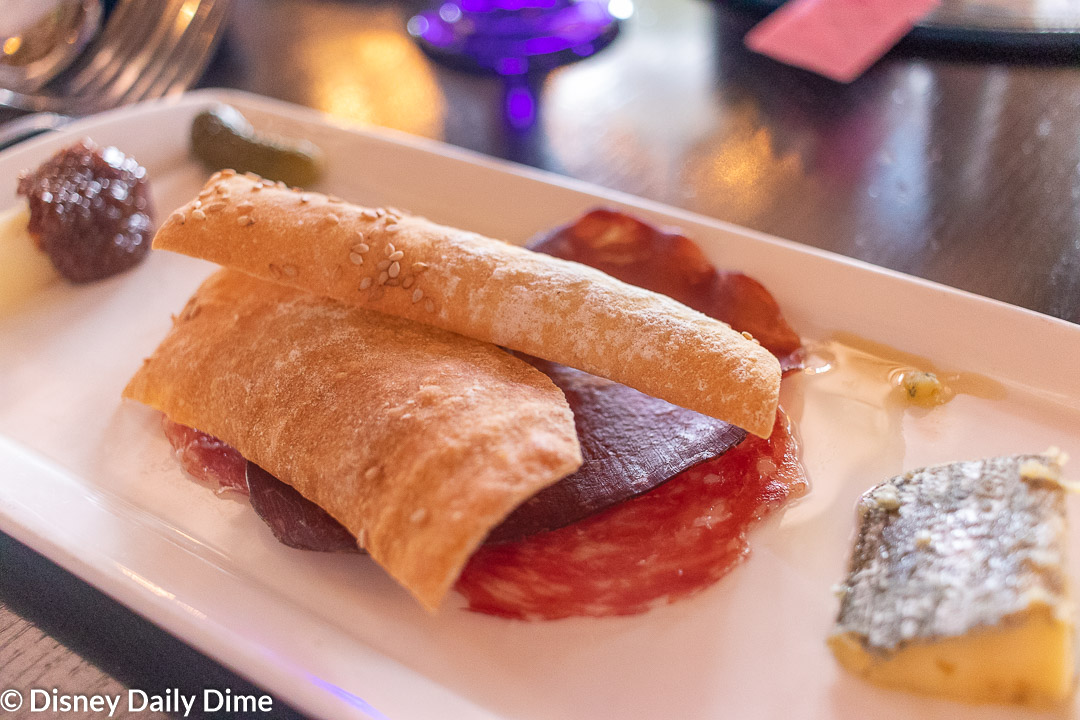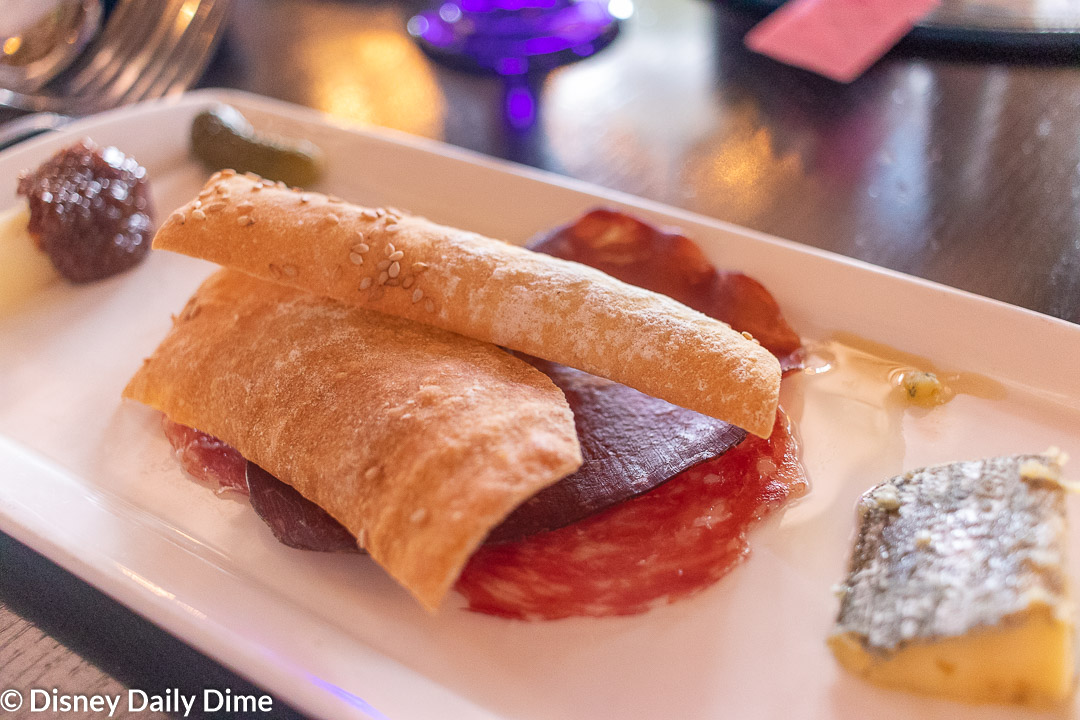 The Food at Cinderella's Royal Table Was Not Quite Fit For Royalty
Appetizers
We started our meal at Cinderella's Royal Table with a round of appetizers for everyone, including the girls.
I ordered the Charcuterie Plate, which was pretty average.  Wasn't bad, but wasn't great.  The best thing on the plate for me was the dollop of jelly on the plate.  The meats were fine and the bread was nothing notable.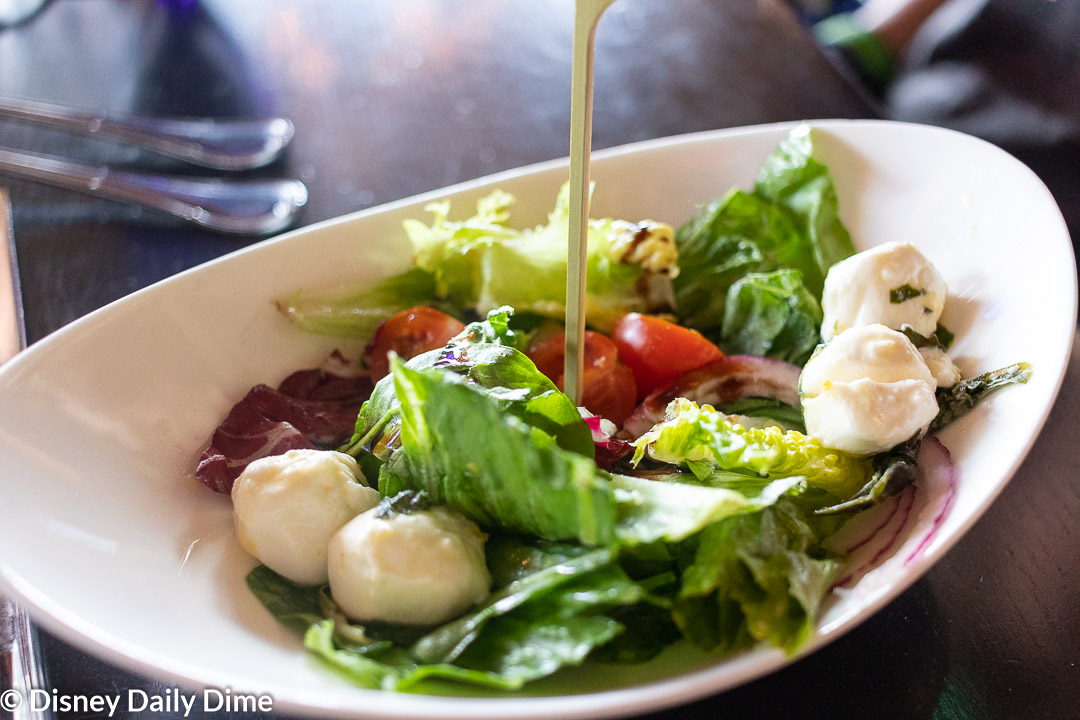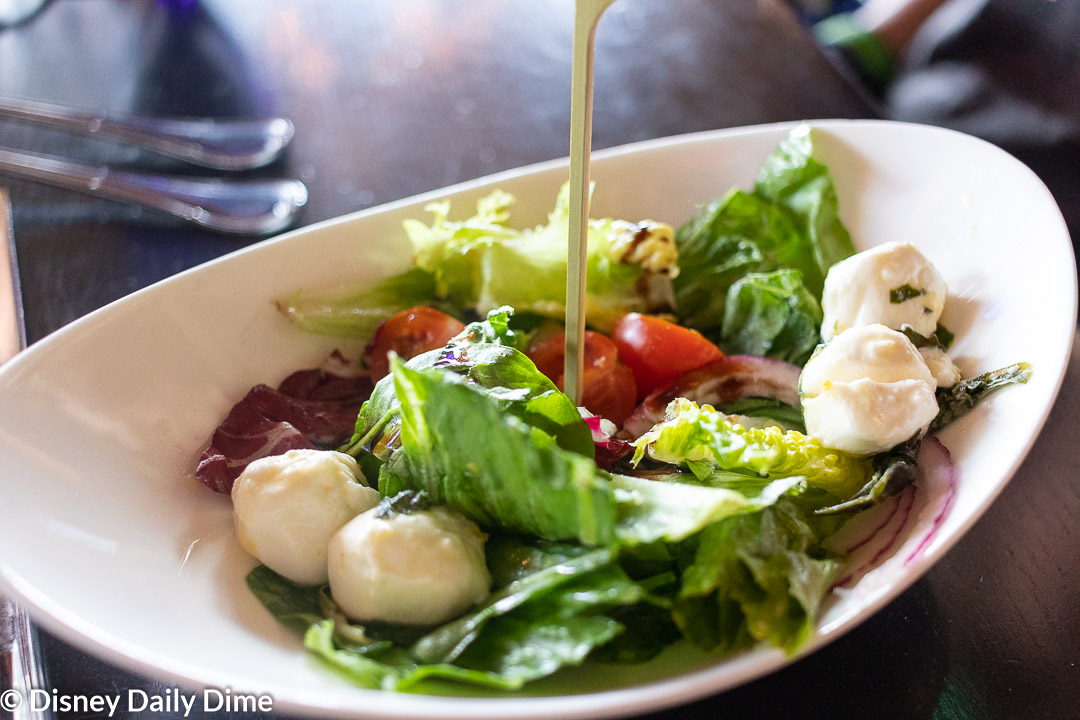 Carla ordered the Castle Salad, gluten free style of course.  The salad was on the smaller side and while fresh was not overly flavorful.  You can read more about her gluten free dining experience here.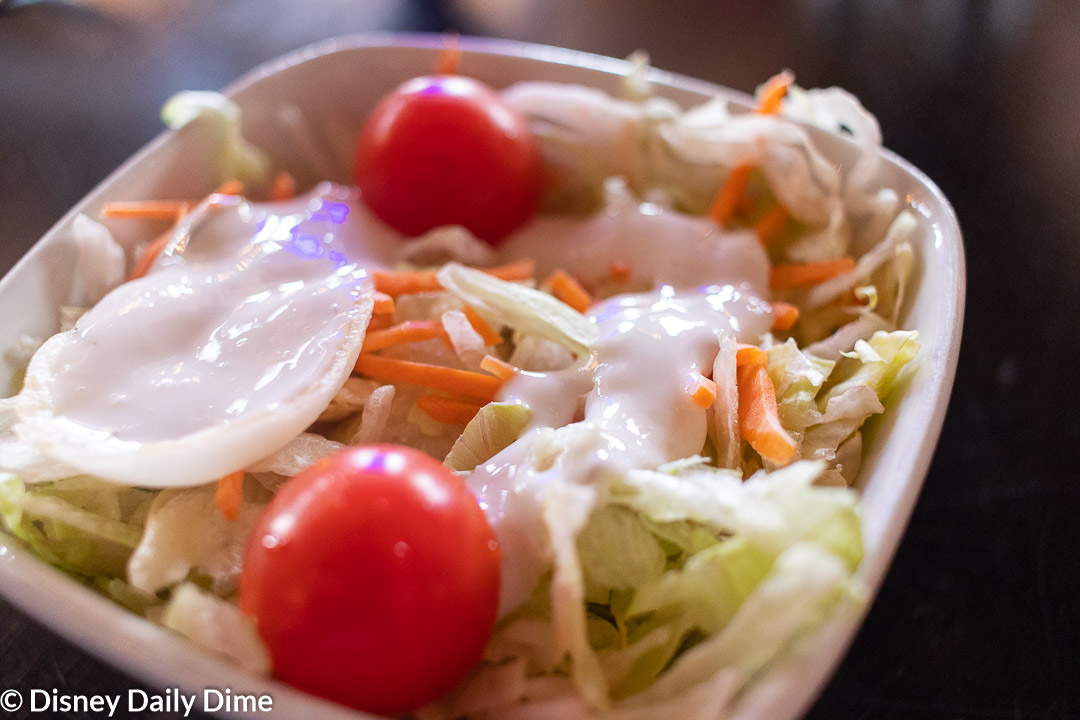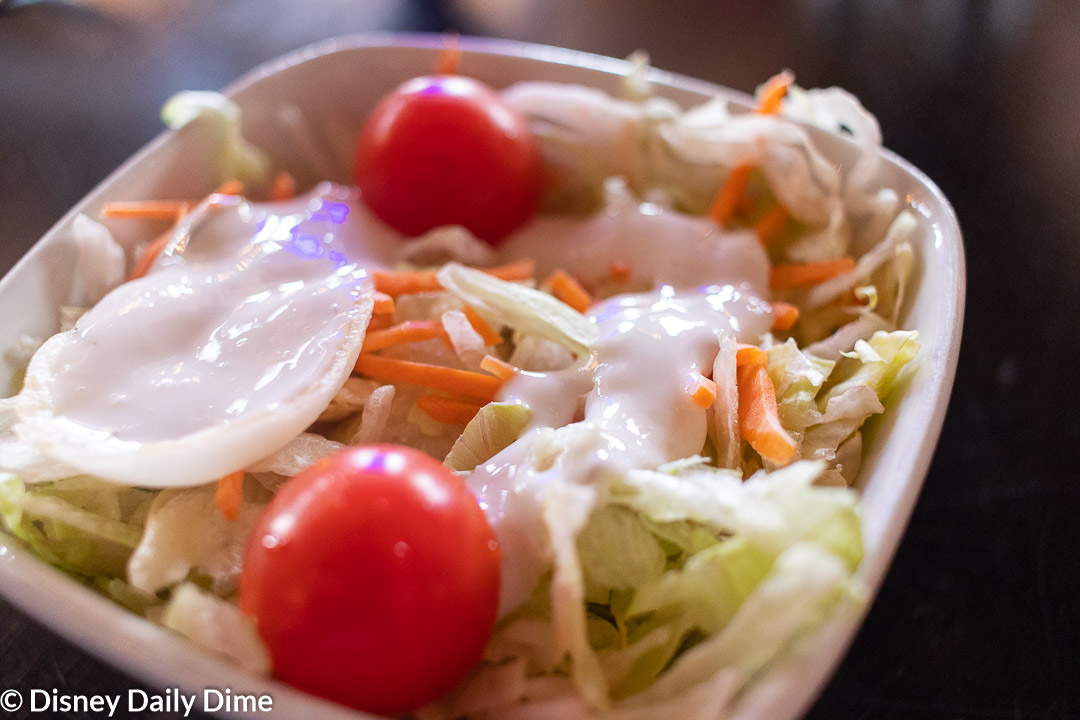 Anna ordered the kids salad to start.  Featuring lettuce, shredded carrots and tomatoes it was not loved by her.  As she says, it's "not her favorite".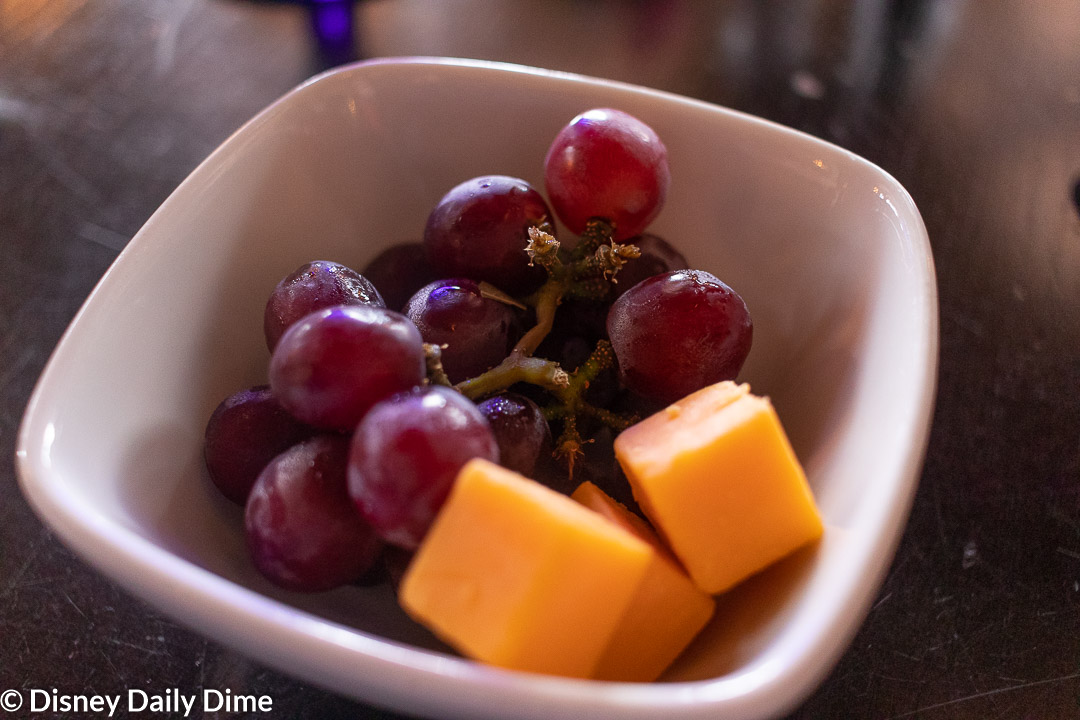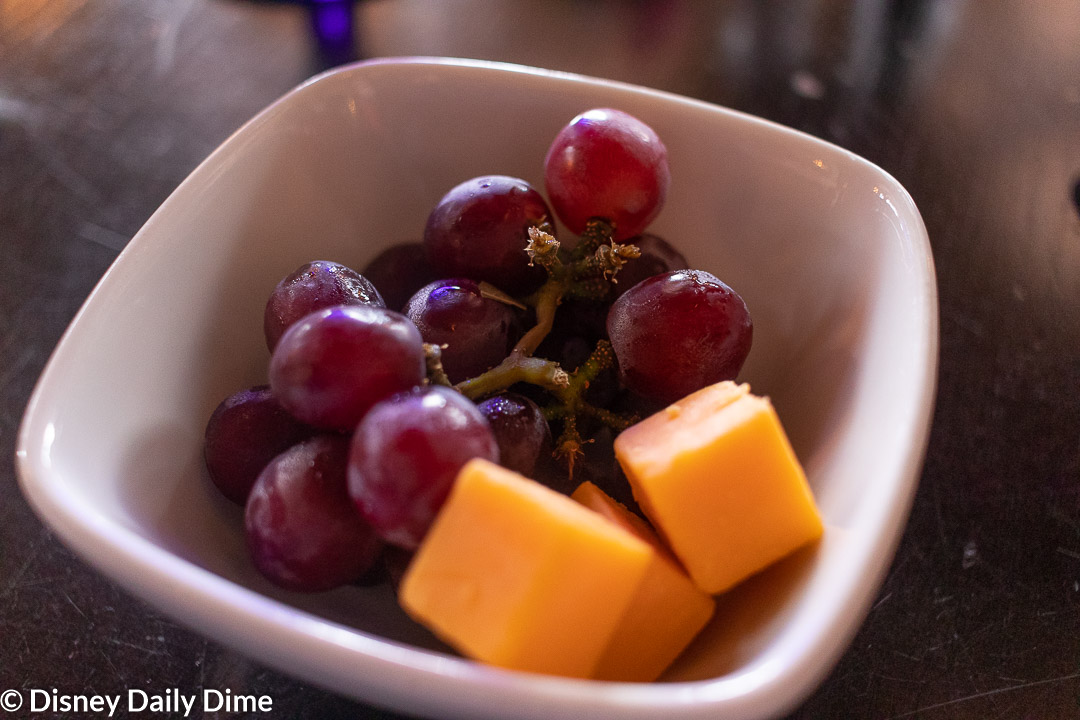 Elsa ordered the Bite-sized Cheddar Cheese and Grapes starter.  She devoured it, as this was an appetizer this couldn't have been more tailor made for her.  It was grapes and cheddar cheese, pretty hard to mess up.
As parents we do appreciate that there are kids' appetizers for the girls to eat that aren't straight junk.  Even if they are pretty basic.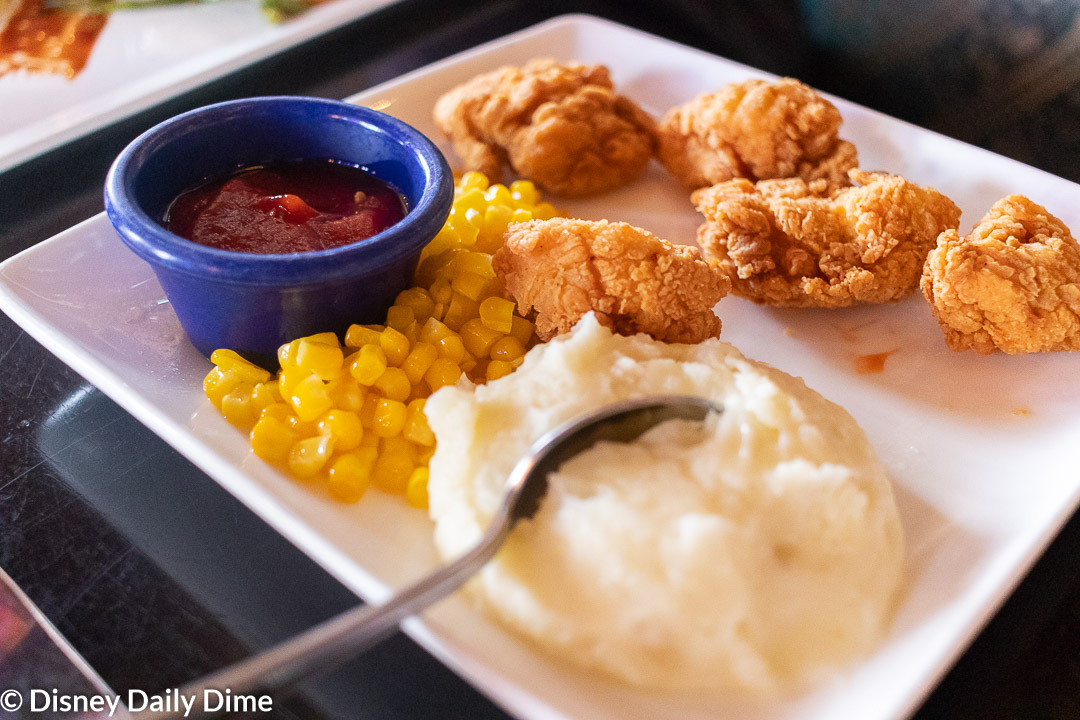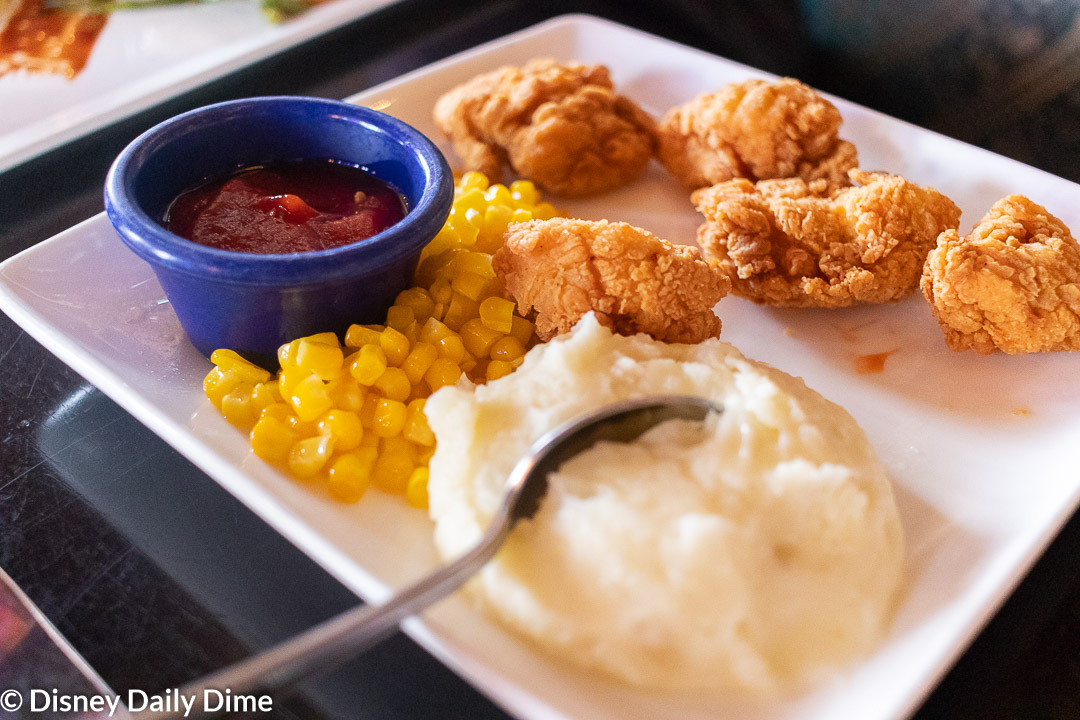 Kids Entrees
Despite us trying to get the girls to eat different entrees and branch out, they both ordered chicken nuggets.  Their choice was actually disappointing, because the Cinderella's Royal Table Menu actually had some good sounding options for kids.  Oh well, at least they ate.  $40 chicken nuggets are a bit rough…we are here for the princesses, I know, I know.
As far as the chicken nuggets go, these were pretty basic.  That worked great for the girls.  They both ate until they were full, with no real drama.  At this point in their food pickiness, that's about all we could ask for.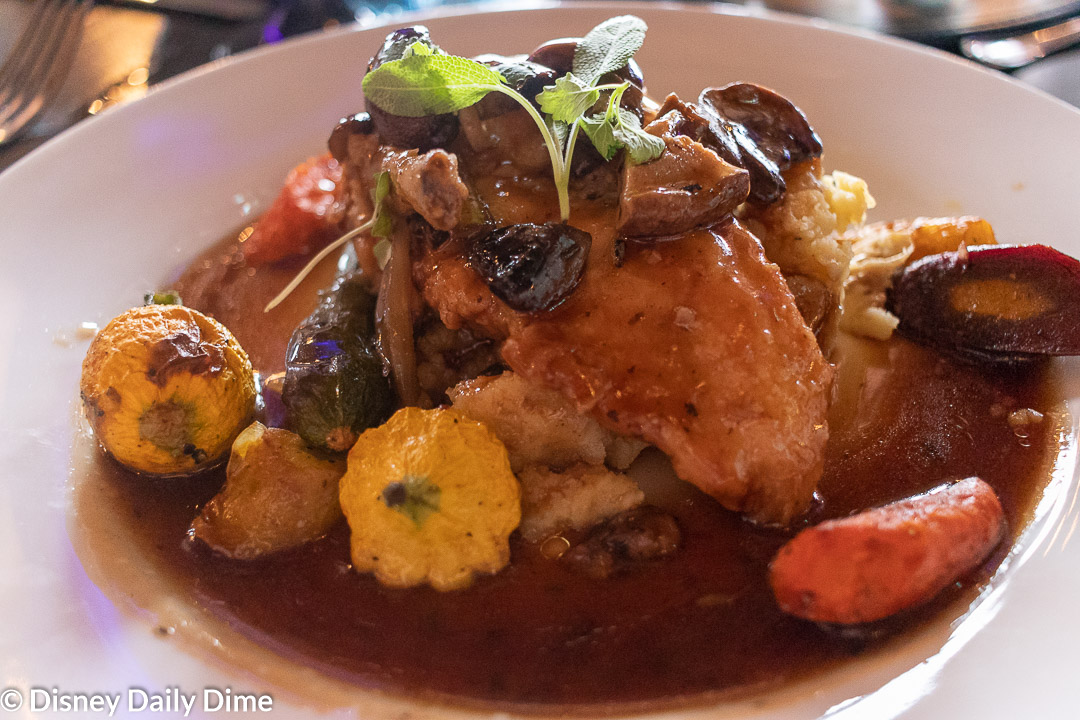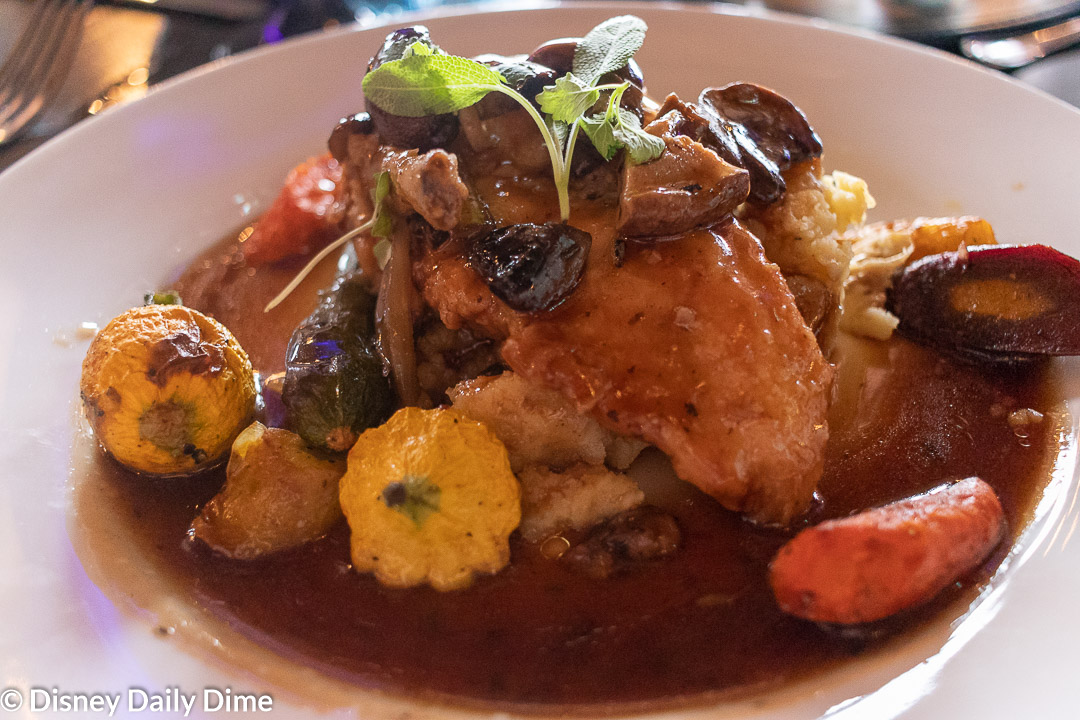 Adult Entrees
For the entrees, I ordered the Pan-seared All-Natural Chicken.  This consisted of a seared chicken breast, plated over potatoes and then covered with a Madeira-Mushroom Sauce.  It's then paired with an assortment of roasted vegetables.
I found the chicken to be a bit dry, but dipping it in the sauce fixed that quickly.  The sauce frankly is what made this dish for me.  Beyond that, there wasn't anything particularly memorable.  Dry chicken, non-descript vegetables, but dipping in the sauce saved it all.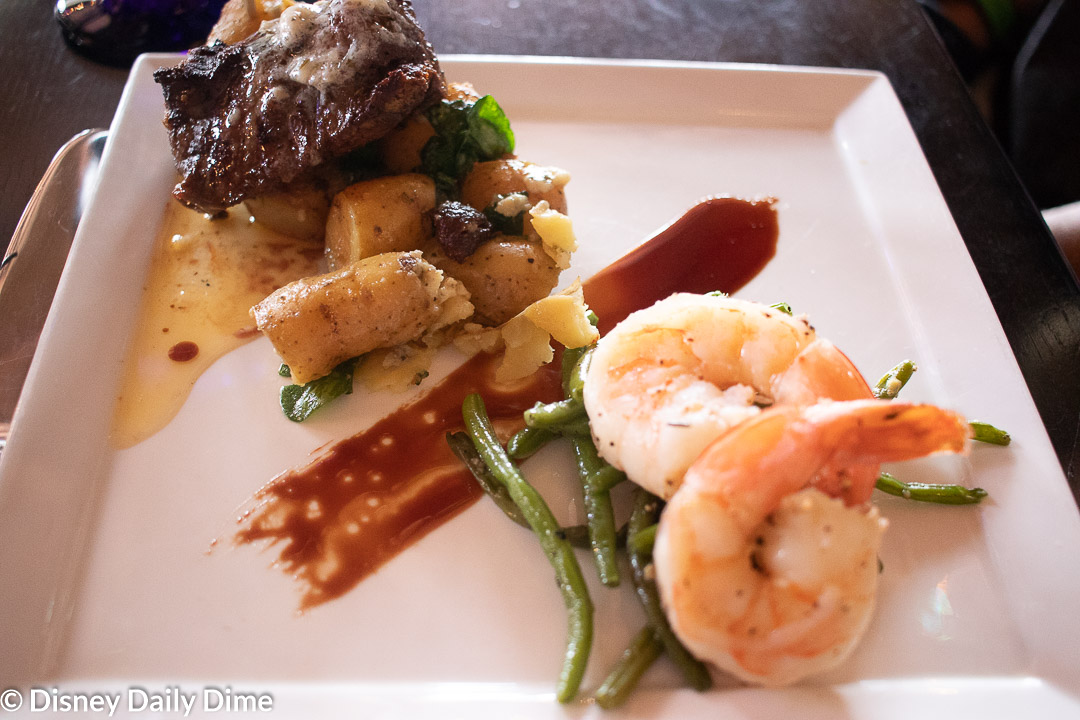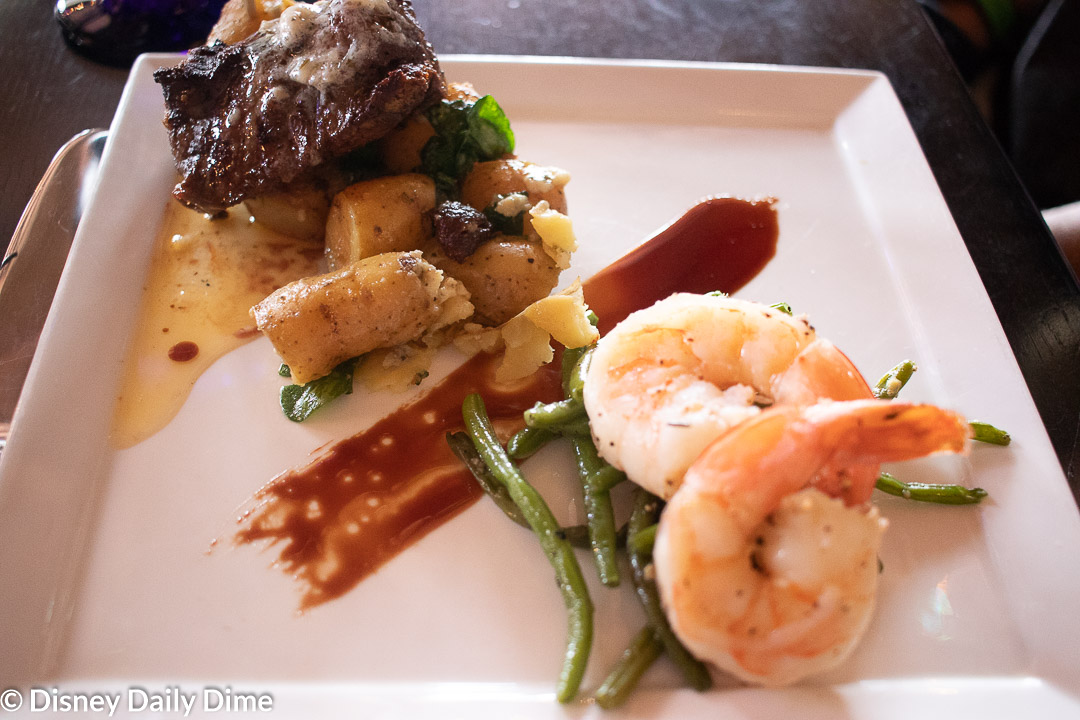 Carla had the Beef and Shrimp entrée for her meal.  The portions of the shrimp (exactly 2) and the beef were on the smaller size.  She felt the shallot-herb butter on the steak provided flavor to a pretty average cut of meat.  The shrimp were fairly plain.  The side dishes of green beans and potatoes definitely added to the meal, both were cooked well and tasted great.  Overall, she was not impressed with the quality of the dish, especially for the cost.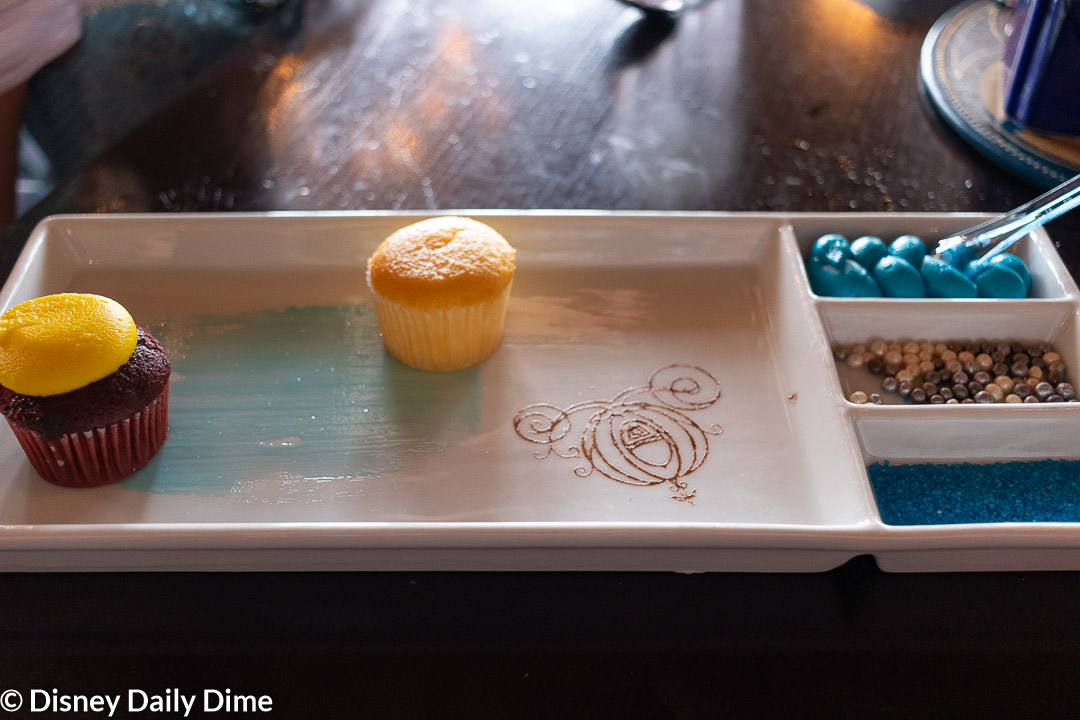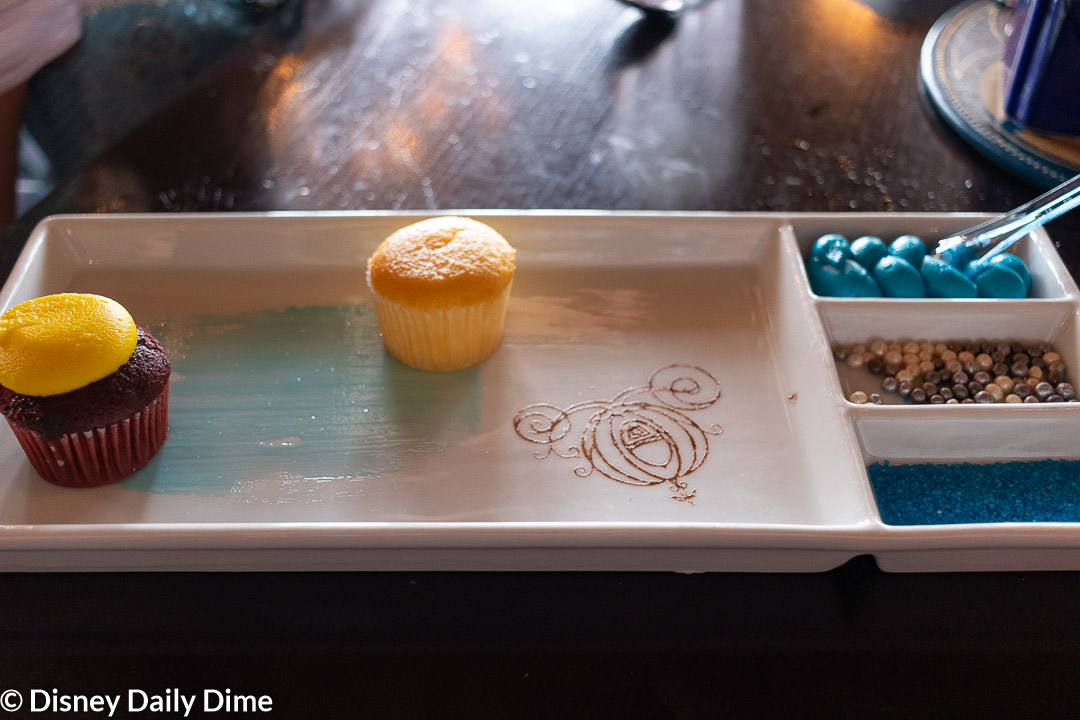 Desserts
For dessert Anna and Elsa went with the build your own cupcake kids' dessert.
The cupcake itself was pretty boring.  Overly sweet icing and a bit of a dry base, there wasn't much here from a culinary perspective.  However, the experience of the girls being able to put the icing on and decorate the cupcake was fun for them.  It's not often you get to make your own food.  Must be a Disney cost cutting thing here.  In either case, the girls really enjoyed the interactivity of the dessert.
Just be aware of what your kids are wearing.  I've come to realize girls are probably as messy as boys.  At least mine are.  Having the girls dressed in their princess gowns before heading out for more pictures with princesses made the cupcakes a tricky endeavor.  Carla and I had to watch them like a hawk to make sure blue icing wouldn't fall on their dresses.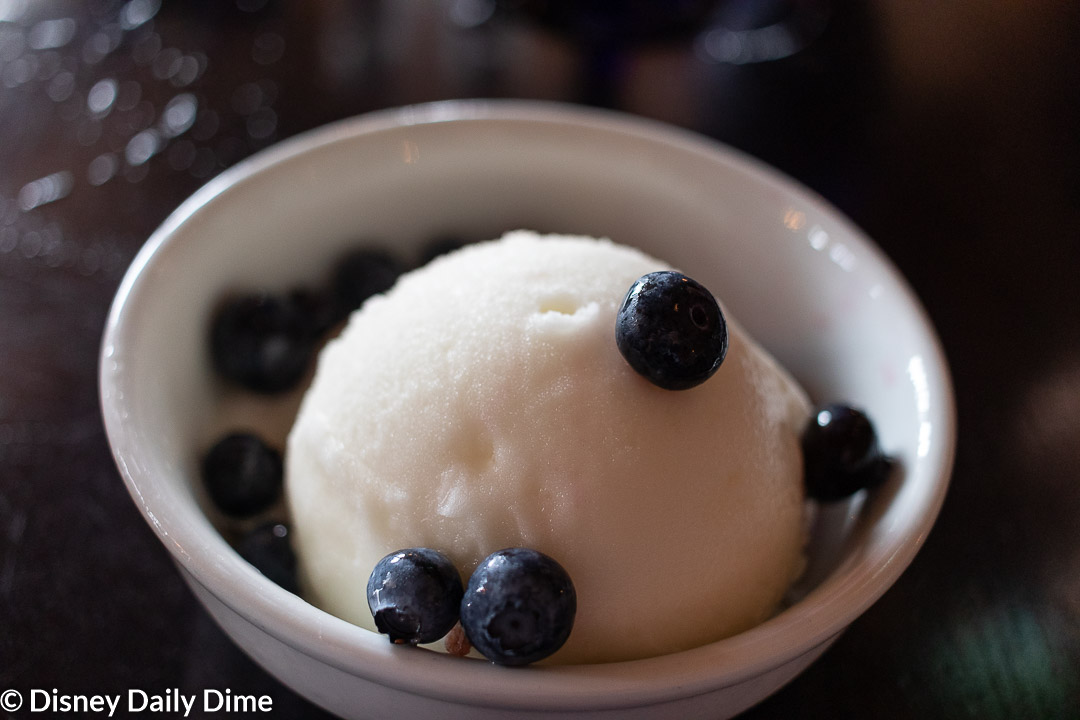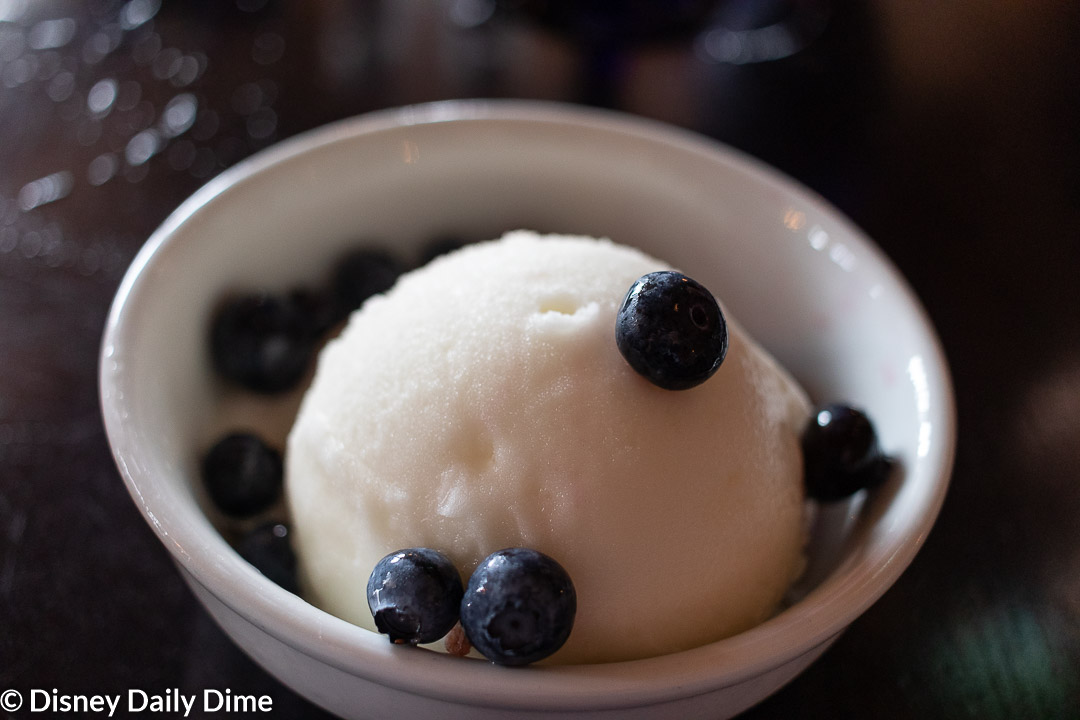 For my dessert I ordered the Lemon Sorbet.  It was a good tart treat, with a light touch to finish off the meal.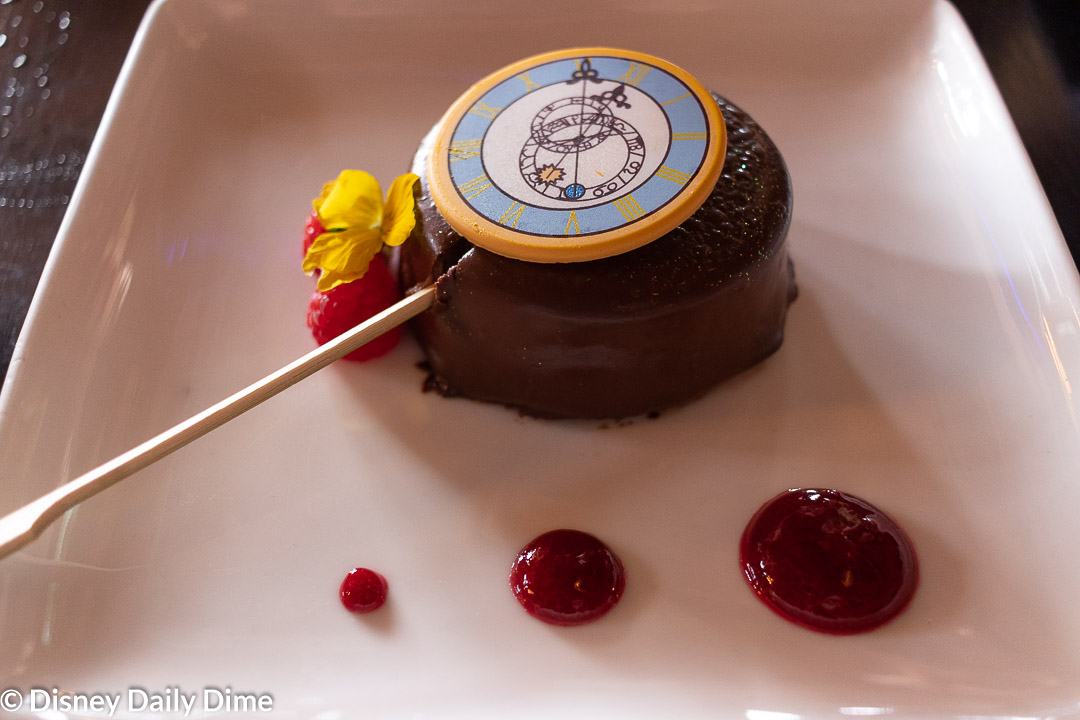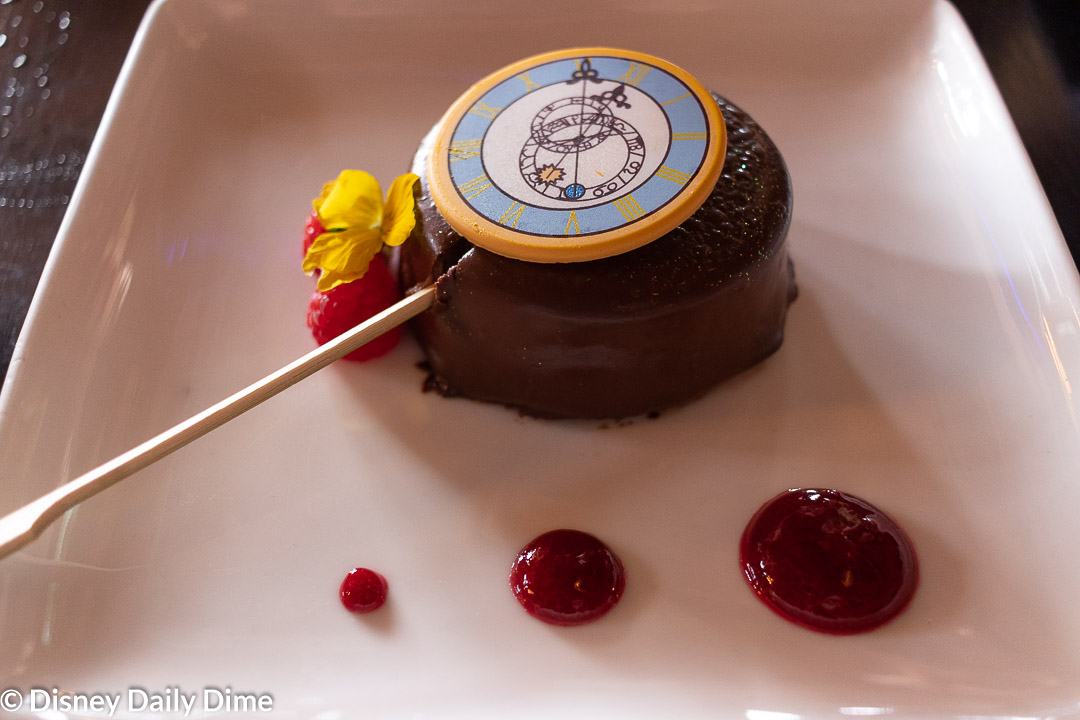 Carla finished her meal off with The Clock Strikes Twelve dark chocolate mousse.  This was definitely the highlight of the meal for her.  The mousse was rich and flavorful and enhanced with the raspberry coulis on the plate.  She wished it was served with more raspberry as the flavors blended so well together.
Overall Thoughts on the Cinderella's Royal Table
For us, Cinderella's Royal Table was a probably a once in a lifetime time experience.  The whole day we orchestrated was something truly memorable…and truly expensive.
The character interactions were good, but not great.  I don't know that I think of them as overly unique either.  Certainly not on par with the interactions we had at Bon Voyage or Hollywood & Vine.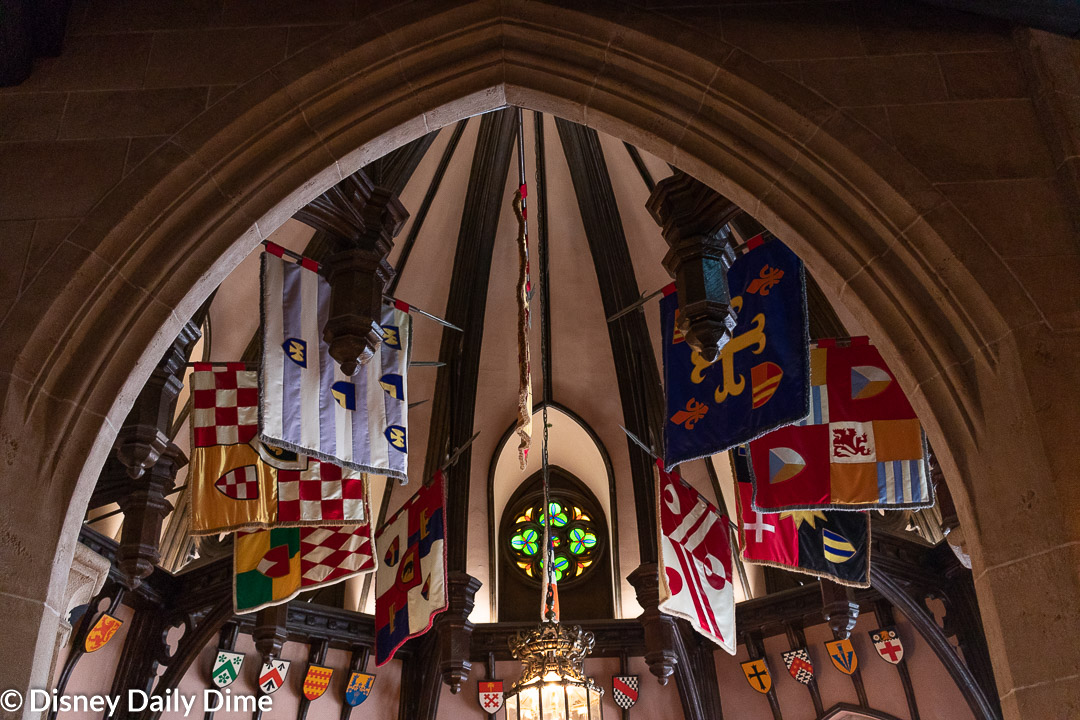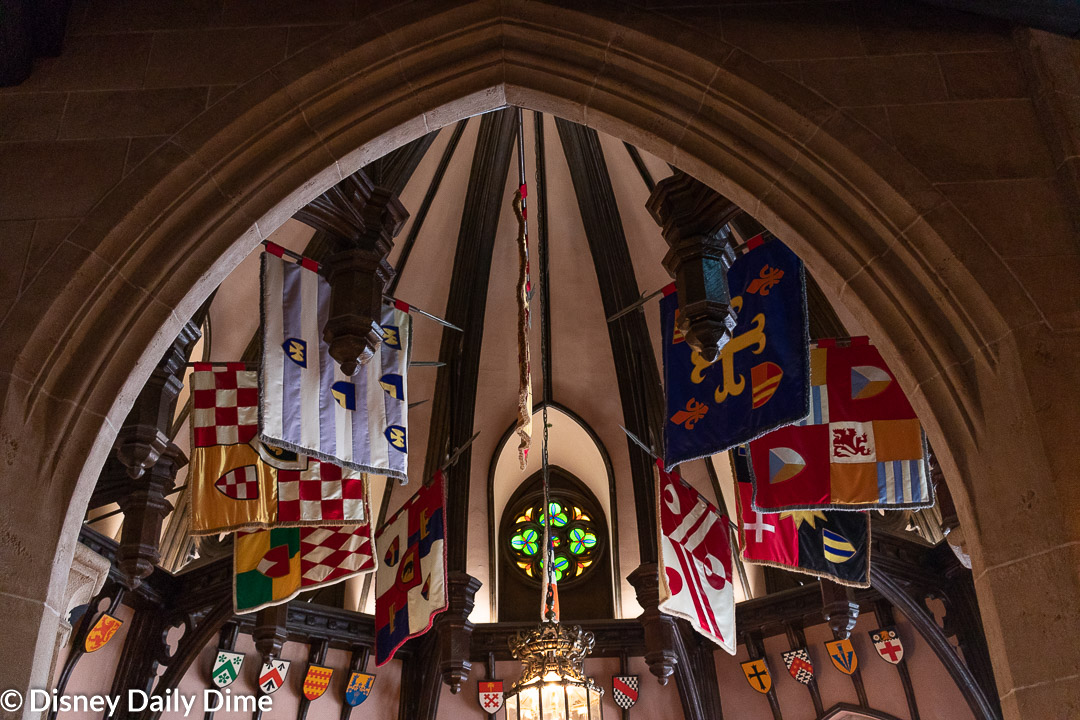 What made this meal was the whole theme we put together for the day, coupled with the amazing theming and ambiance of Cinderella's Royal Table.
If we're looking at the meal on the merits of the quality of the food and the price you pay, the value is probably borderline.  However, I think for anyone who loves the magic of princesses, Disney, and fabulous theming, this meal is a must do.  Just don't go there for the food.  I also think dining here one time for the experience is probably enough.
Wrapping Up
With that said, we'll wrap up our Cinderella's Royal Table review.  While it is no doubt one of the most special locales on property for a meal, the food itself was a letdown for us.  If you are looking to make a life long memory, it still does the trick.  Solely looking for a princess meal?  We would recommend the princess meal at Akershus Royal Banquet Hall over in Epcot.
If our Cinderella's Royal Table review was helpful, or at least entertaining, please like and share this with your friends or anyone you think will find it useful.  Just use the sharing buttons on the page.  We always appreciate it when you share our posts, as it allows us to spread the word about our blog and hopefully allows us to help others.