Time is precious at Disney World.  Getting into the Disney World parks early, will help you maximize your time getting through attractions.  If you can be at an attraction 15 minutes before the normal park opening time, you'll get to bypass the mad dash of rope drop.  As an added benefit, some attractions may start up a few minutes early.  If this happens, you could ride one or two of the hard to get on attractions before much of the crowd gets back into the deeper areas of the park.
Below we will tell you a few ways you can get into the Disney world parks early.   Some of the options (okay one) are free, but the rest will cost you, so you'll have to balance that out.  There are trade offs to be made and this is no different.
Extra Magic Hours
This is pretty much the only way you are going to get into the Disney World parks early for free.  Unless you know a guy on the inside or have some sway with someone like Bob Iger.
Extra Magic Hours are the select days each week, where Disney opens up the park early.  Now this is done for all guests, so you'll still be with all the regular paying customers.  However, Extra Magic Hours usually start around 8:00 AM (sometimes 7:30 AM).  This means that many park guests don't make it because they are slow to get at it in the morning.  As we talk about in our article on deciding what days to go to each park, the tradeoff here is that you could see elevated crowds later in the day at the parks with Extra Magic Hours.
Do note that some of the parks do Extra Magic Hours at night.  Make sure you know what time the hours cover.
The Pre-Park Opening Disney Dining Reservation
Our first paid way to get into the Disney World parks early involves eating.  So that's a plus in our eyes.  What is the pre-park opening dining reservation you ask?  It's breakfast at one of the restaurants within the Disney World parks.  Every park has at least one location that is open for breakfast.  These restaurants open at 8:00 AM, an hour before the park officially opens.  Make sure you check to see if a park has morning Extra Magic Hours, because this advantage will be somewhat negated if you are going to a park that opens early.
Why would you want to get in the park early, you ask?  In our mind, a couple of reasons.  One, we find it to be a great experience to walk in and have the park be semi-empty.  Well, at least empty compared to the hustle and bustle of normal park hours.
Second, if you get your reservation right at 8:00 AM, you can usually move fairly quickly through your meal and get out into the park.  Take advantage of this and head to attractions with notoriously long wait times and get in line for them.  This should allow you to get on these hard to hit rides, with no or minimal wait times.  Sometimes you can ride them twice before the influx of rope drop guests gets into the depths of the park.  Or you can choose to hit another hard to get ride and know some things off your list quickly.
If you get reservations at after 8:30 AM, you will likely not be able to finish your meal and get in line for an attraction before the park opens to all of the guests lining up at the front of the park.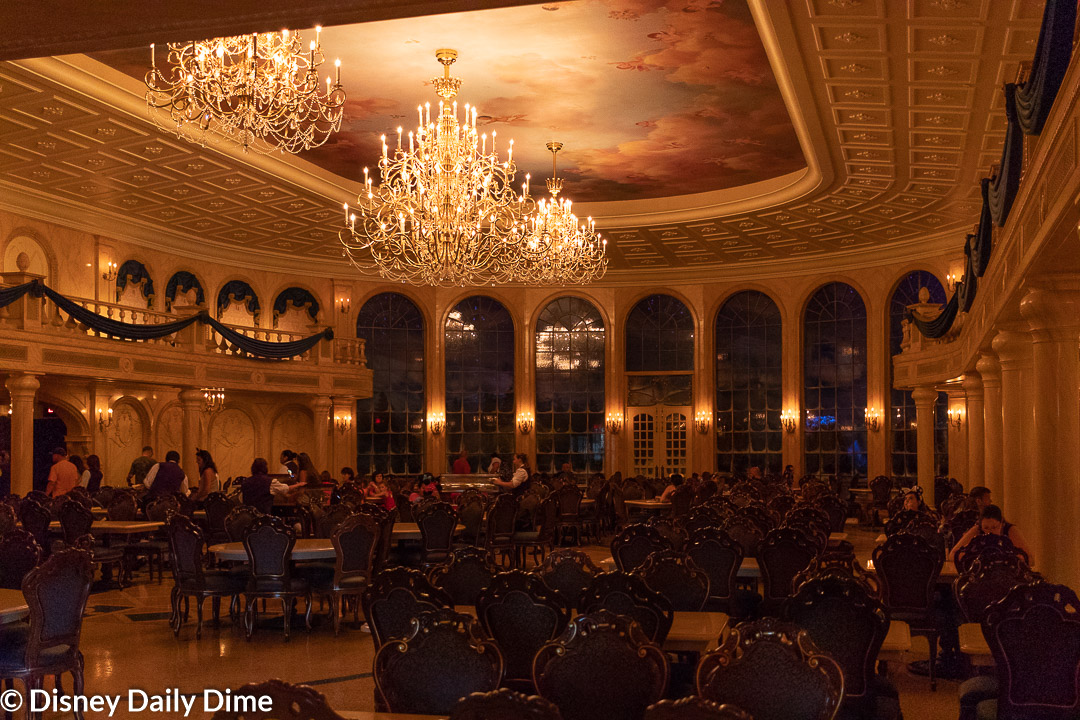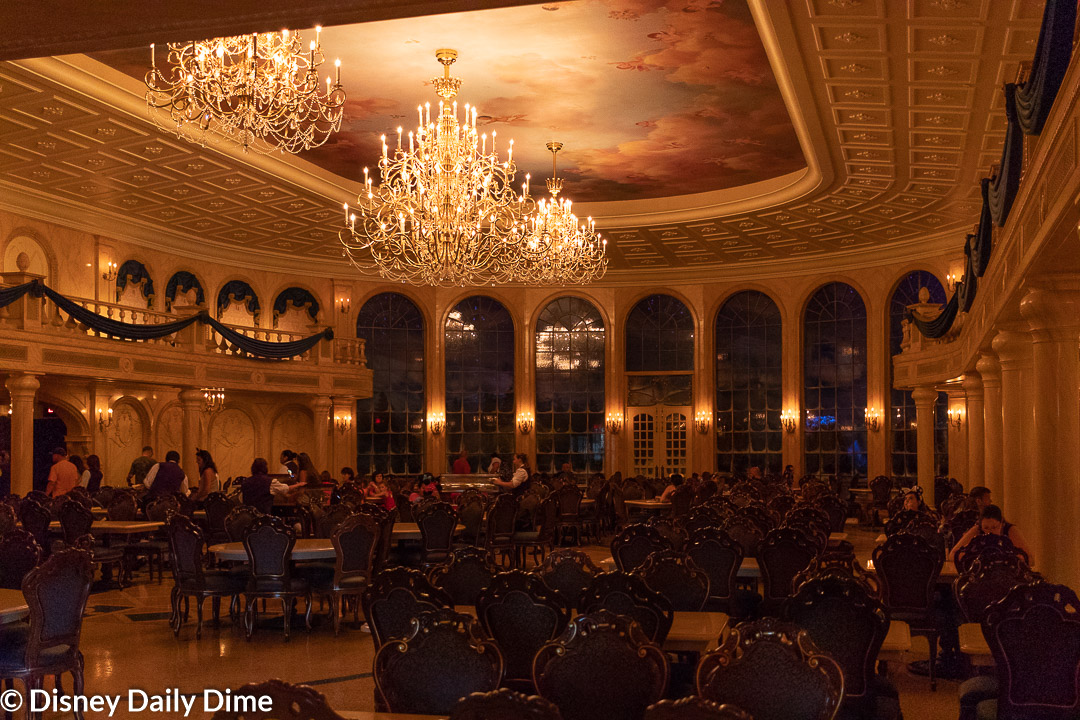 A Word About Breakfasts in the Parks
Before we get to the breakfast options in the parks we felt we should give you a general comment on the meals themselves.  Breakfast food at Disney is very boring.  You're not going to find great flavors or unique plates.  For the most part, it is pretty basic.  That does make justifying the price a little harder.  Especially for some of the higher priced meals.
This is probably why almost all the breakfasts are character meals.  It gives Disney another reason to raise prices and entice guests to dine here.
You'll have to decide if it is worth it.  Ultimately, when we employ this strategy, its why we like Be Our Guest.  Low cost, quick meal, and it gets you deep into the park.
Below are your options in each of the parks.
Magic Kingdom
Be Our Guest – A Beauty and the Beast themed restaurant, you can catch French inspired cuisine here for breakfast. They do also have some run of the mill eggs, bacon etc.  Breakfast here is not a character meal.  The only one of all the pre-park opening dining options without characters.  Food runs $24/adult and $16/child.  We like this option best in Magic Kingdom because it gets your deep into the park.  If you are trying to get in line early for anything in Fantasyland or Frontierland, this is the location for you.
Cinderella's Royal Table – Cinderella welcomes you to her castle, where you will dine on a fixed menu. The breakfast features character interactions with several of the Disney princesses.  A little pricier than Be Our Guest, this will run you $58/adult and $36/child.
We don't recommend this location if you are trying to get in line for attractions early.  Depending on where you sit and if you are trying to meet all the princesses, you could easily be looking at an hour-long meal.  Even if you get the first reservation at 8:00AM, beating the crowd and getting in line by 8:45AM is a challenge.  Do this for the experience of meeting princess, not for getting to attractions quickly.
Crystal Palace – This Winnie the Pooh character breakfast is a great way to meet Winnie and his friends. We wouldn't characterize the experience as overly unique as you can meet Pooh and friends all day at Crystal Palace.  Breakfast is served buffet style and will set you back $27/adult and $15/child.
 If you are doing this breakfast for the express purpose of trying to score an advantage by getting into the park, don't do it.  You don't get deep enough into the park as you are still right on Main Street U.S.A.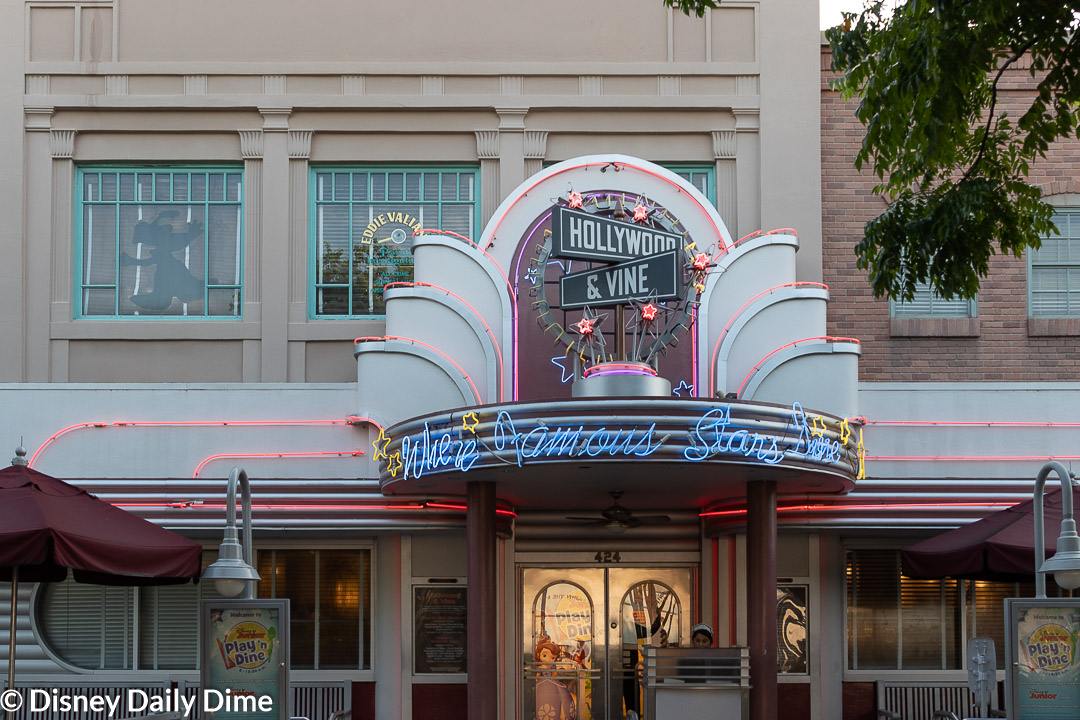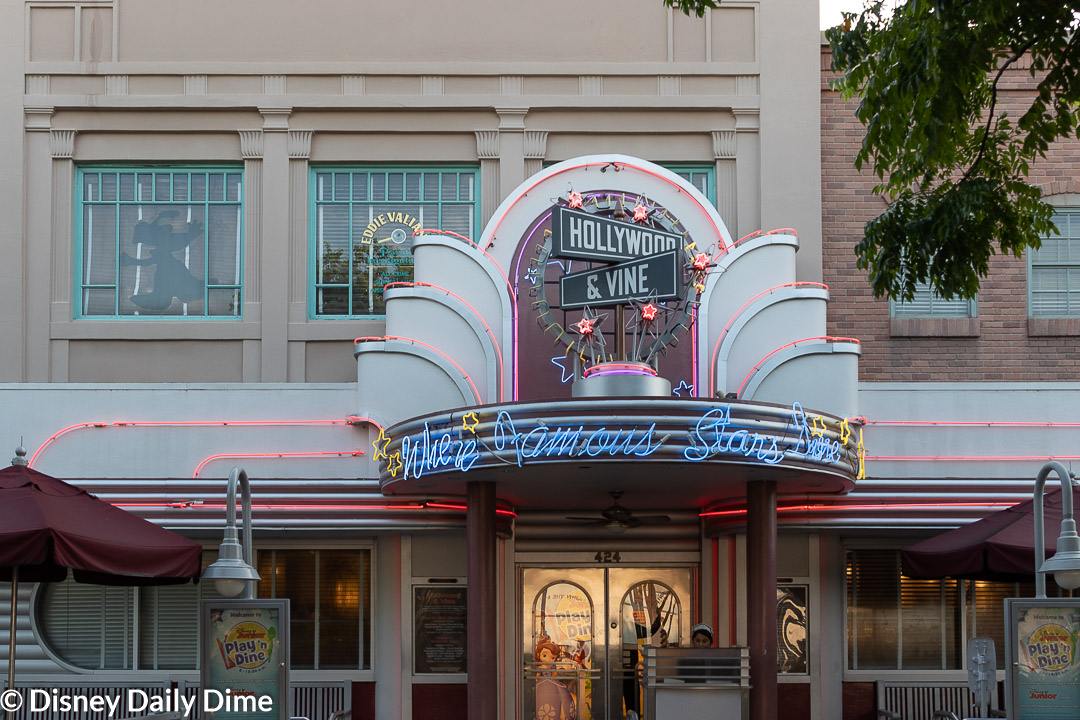 Epcot
Akershus Royal Banquet Hall – The second princess character breakfast on our list, Akershus Royal Banquet Hall has a Norwegian flare to its breakfast buffet. Not to worry, you can get plenty of eggs, bacon and sausage.  However, you can also pick up some more adventurous dishes like Peppered Mackerel or Dilled Salmon Gravlax.  This is the cheaper of the princess breakfasts, costing $50/adult and $30/child.
 The real attraction is your ability to meet several princesses.  The banquet hall is located in the Norway pavilion of World Showcase, so it is a good location if you are wanting a relatively quick walk to Test Track, Frozen Ever After or MISSION: SPACE.  Like Cinderella's Royal Table, if you are truly wanting to dine quickly and get out to get in line for an attraction, this may not be the best option.  Given the number of princesses, you could easily burn an hour eating breakfast here.
The Garden Grill – The Garden Grill breakfast is what we think of as your traditional heartland of America breakfast. Mickey waffles, eggs, bacon, and potatoes.  This gets you fed right if you are going to go work the land for the day, or if you are going to walk 10+ miles around a theme park.
 This character meal features Chip 'n' Dale, along with "other" Disney characters.  In reality "other characters" mean Farmer Mickey and Pluto.  This is a much more affordable, albeit still expensive breakfast at $35/adult and $20/child.  The restaurant is ideally located to get you on Soarin'.
Hollywood Studios
Hollywood and Vine – For those of you with younger children that are into Disney Junior, this is the character breakfast for you! Doc McStuffins, Jake, Sophia, and Goofy mingle with customers, while dining on the breakfast buffet.  Do note that Jake will be leaving in October 2018.  He'll be replaced by Vamparina.  Breakfast will run you $35/adult and $20/child.
This is your only Hollywood Studios breakfast option to get into the Disney World parks early.  So, location isn't really a choice.  However, it is a great location if you are trying to get in line for Jedi Training: Trials of the Temple.  It's less than a minute walk to the sign-up spot from here.  Rides like Slink Dog Dash, Tower of Terror and Rock 'n' Roller Coaster are on the other side of the park from here.  Not ideal for them.
When Galaxy's Edge opens in 2019, this will be a good spot for that.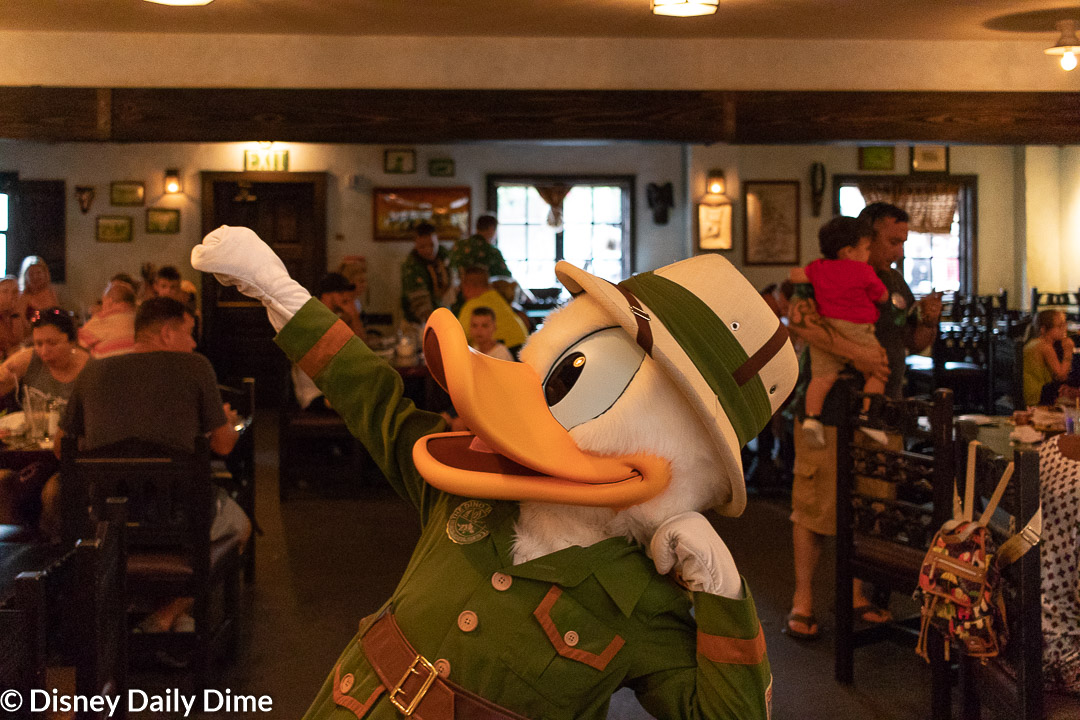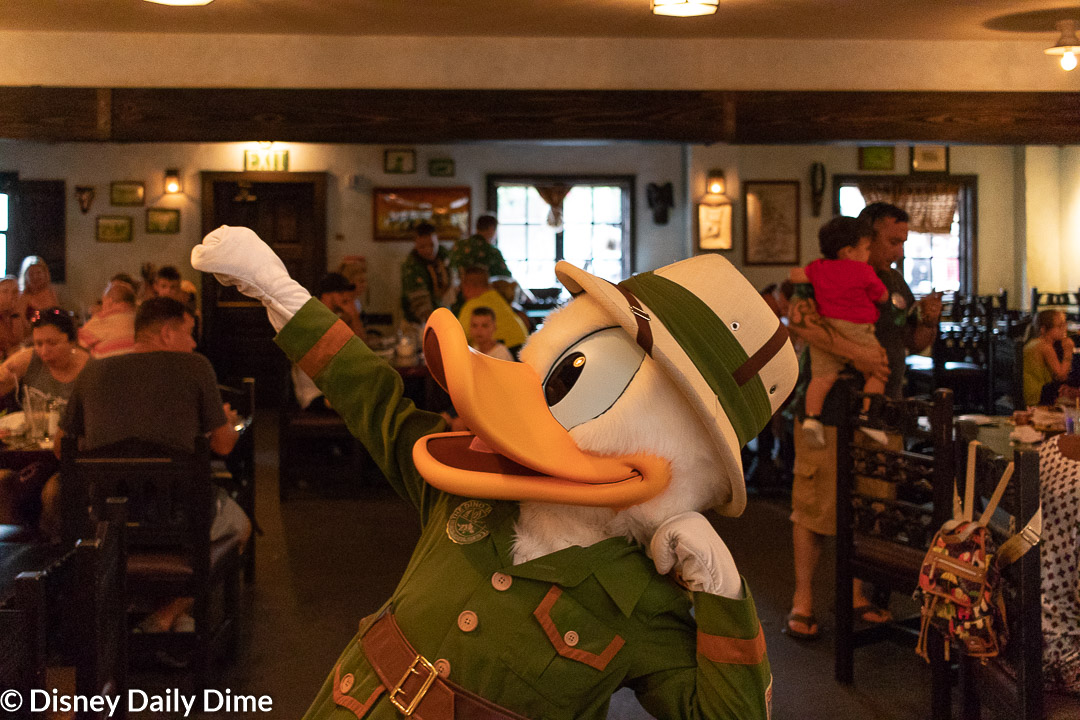 Animal Kingdom
Tusker House Restaurant – Tusker House features Mickey, Donald, Daisy and Goofy. Each is decked out in their own African safari themed wardrobe.
Another buffet style meal, you'll find your normal menu of eggs, potatoes, sausage, bacon and of course, Mickey waffles.  It comes with the standard buffet breakfast price of $35/adult and $20/child.  The location is okay, but slightly out of the way.  It's a few minutes walk to get back to Pandora or Expedition Everest.  It's a better location for Everest, not as good for Pandora.
We've found the characters can get hung up making the rounds here, so if you are wanting to get in line for the high demand rides, you should be prepared to skip on meeting a character or two.
You should note that prices shown are for breakfast only and may vary based on the day of the week or time of year.
Early Morning Magic
Another option that will let you get into the Disney World parks a early is Early Morning Magic.  Not to be confused with Extra Magic Hours.  It's fairly similar, but has a few key differences.  Do note that currently only Magic Kingdom and Hollywood Studios offer Early Morning Magic.
The first, and maybe, most important difference is that it will cost you.  Tickets generally run $69 per adult and $59 per child, plus tax at Magic Kingdom.  Tickets for Hollywood Studios run $79/$69 for adults and children, respectively.  Remember Disney defines an adult as pretty much anyone 10 years of age or older.  The pricing does keep the crowds down.  The parks open at between 7:30 AM and 7:45 AM, depending on the park.  This makes it a better opportunity to ride attractions continuously.
About those attractions, the park is not completely open.    Only select rides are available during Early morning magic.  In Magic Kingdom the available rides are The Many Adventures of Winnie the Pooh, Seven Dwarfs Mine Train and Peter Pan's Flight!.  Hollywood Studios rides are focused on the newly opened Toy Story Land.  That means you get to ride Slinky Dog Dash, Alien Swirling Saucers and Toy Story Mania! until your hearts content.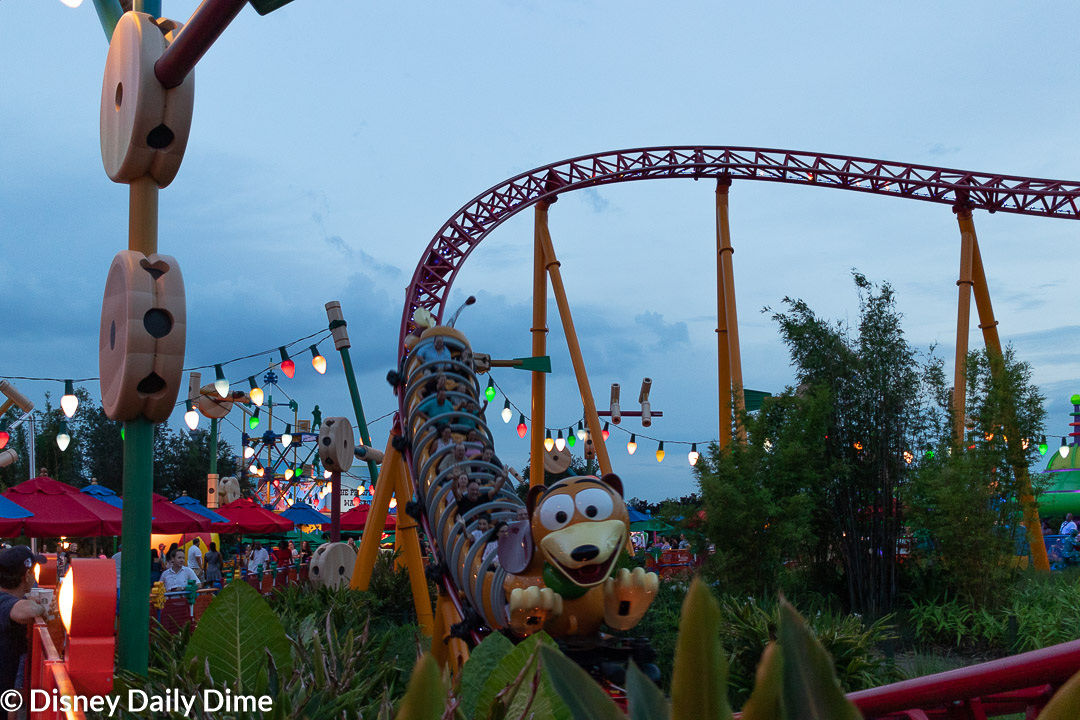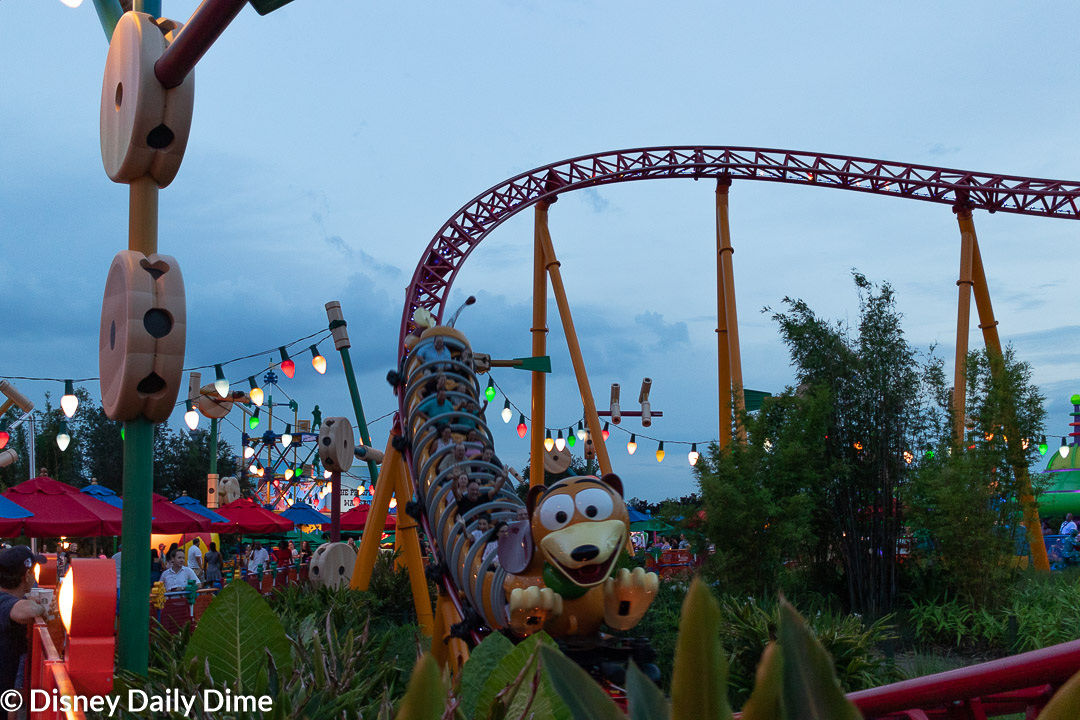 In addition to getting to take in the select attractions, Early Morning Magic comes with breakfast.  The Magic Kingdom is held at Pinocchio Village Haus.  Hollywood Studios breakfast is at ABC Commissary, which isn't the most convenient location.
Now whether, this is worth it to you, you'll have to decide.
Wrapping Up
There are three different options on how to get into the Disney World parks early.  Are they all worth it?  Maybe, but it really depends on what you are trying to accomplish.  If we're going with a paid option, we still prefer eating at Be Our Guest and heading to rides early.  However, early morning magic at Hollywood Studios may save you hours waiting in line if you can't score a FastPass for Slinky Dog Dash.  Its up to you ultimately to balance your three-legged trip planning stool.
Do you have any tips or tricks on how to get into the Disney World parks early?  Other ways you get a jump on crowds?  Drop down in the comments section and let everyone know!