A recent trend at Disney World is to offer "hard ticket" events outside of normal park hours that give you a chance to tour the parks with limited crowds.  Sometimes these 'hard ticket" events include special character meet and greets, parades and other entertainment.  The most well-known events are Mickey's Not So Scary Halloween Party and Mickey's Very Merry Christmas Party, but there are other events.  Most special events are held in the evening, which isn't always suitable for everyone, particularly the demographic of families and groups with small children.    While either trying to create offerings for all guest demographics or simply trying to figure out different ways they can get extra money from their guests, Disney began offering "Early Morning Magic" at both the Magic Kingdom and Disney's Hollywood Studios. 
This review will cover our recent experience at the Early Morning Magic at the Magic Kingdom.  We will discuss what is offered, our touring strategy for this event, a review of the included breakfast and whether we think Early Morning Magic at the Magic Kingdom is worth it or not.   We'll also opine on who we think could truly benefit from this hard ticket event.


What's Included in the Price of Early Morning Magic at the Magic Kingdom?
Early Morning Magic at the Magic Kingdom runs from 7:45-9:00 a.m.  Ticketholders are allowed into the Magic Kingdom starting around 7:30 to make their way back towards Fantasyland.  The following attractions are open for Early Morning Magic:
                Seven Dwarfs Mine Train
                Peter Pan's Flight
                The Many Adventures of Winnie The Pooh
                It's A Small World
                Mad Tea Party
                Under the Sea – Journey of the Little Mermaid
                Princess Fairytale Hall
Also included is breakfast at Cosmic Ray's Starlight Café.   We will discuss the breakfast more below.
This is a limited entry event meaning that Disney will only sell a certain number of tickets. They do not publish any attendance info.   An important note is that regular park admission is required in order to book this event.  You are not "kicked" out after this is over as it overlaps with the normal park opening at 9 a.m.  Therefore, you must have park admission for the day in addition to your ticket for this event.
To attend Early Morning Magic at the Magic Kingdom, adults must pay $79 and children 9 and under are $69 (plus tax).   The Disney Dining Plan is not accepted during the event.  Early Morning Magic at the Magic Kingdom is offered Tuesday and Sunday mornings as of this writing.


How Early Morning Magic Works
To book Early Morning Magic online, you can pick your day via the Early Morning Magic page link we gave earlier in this post.  If you prefer, you may call the Disney Reservation Center and book it over the phone.  In order to secure your tickets, you have to pay in full at the time of booking.  There is however a 1-day cancellation policy in order to receive a full refund.   You will not get your money back if you try to cancel within one day or do not show.
Upon arrival at the Magic Kingdom, you will check in over to the left side of the entrance plaza before you go through the touchpoints.  They will confirm your tickets and issue you an Early Morning Magic special wristband that must be worn during the entire event.  Cast members will be checking your wrist for the band before you enter Fantasyland.   They will also check as you enter Cosmic Ray's for breakfast.  I did notice cast members at the rides also glancing at our wrists occasionally.
After checking in and receiving your wrist band, you will enter the park through the touchpoints as usual.  If you arrive after the 7:45 start time, you will enter the park first and then check in for the event near the bridge into Fantasyland on the right side of Cinderella Castle that leads you to the Teacups.
Once you have crossed the wristband checkpoint into Fantasyland, you will have an hour and 15 minutes before the park opens to the regular admission guests for the day.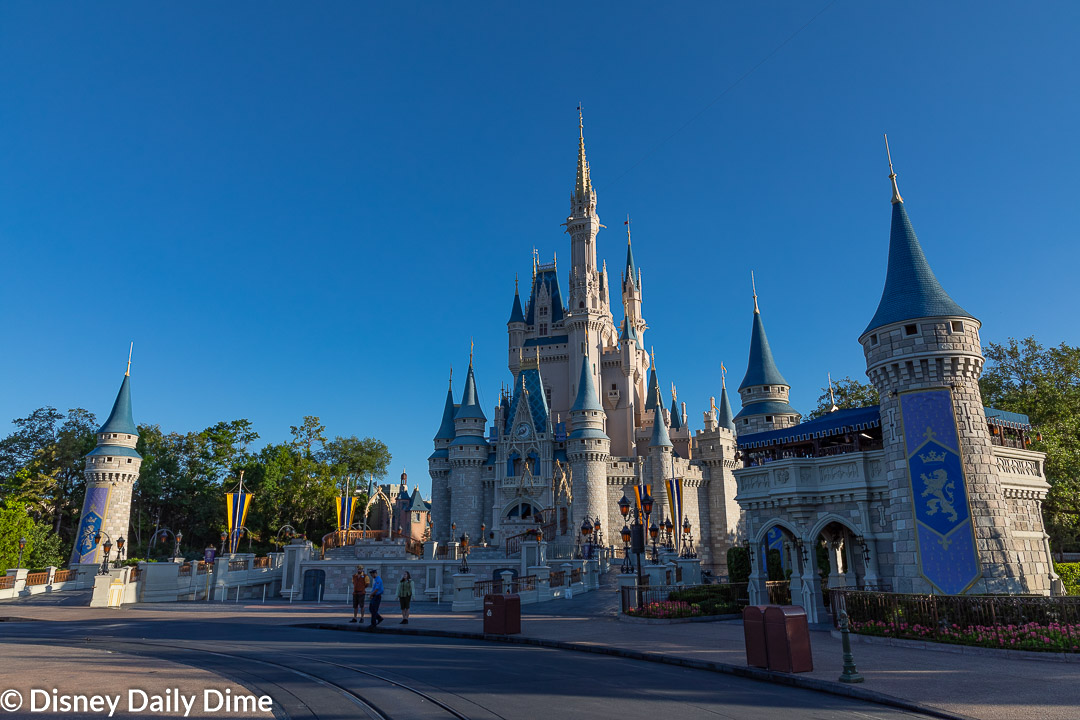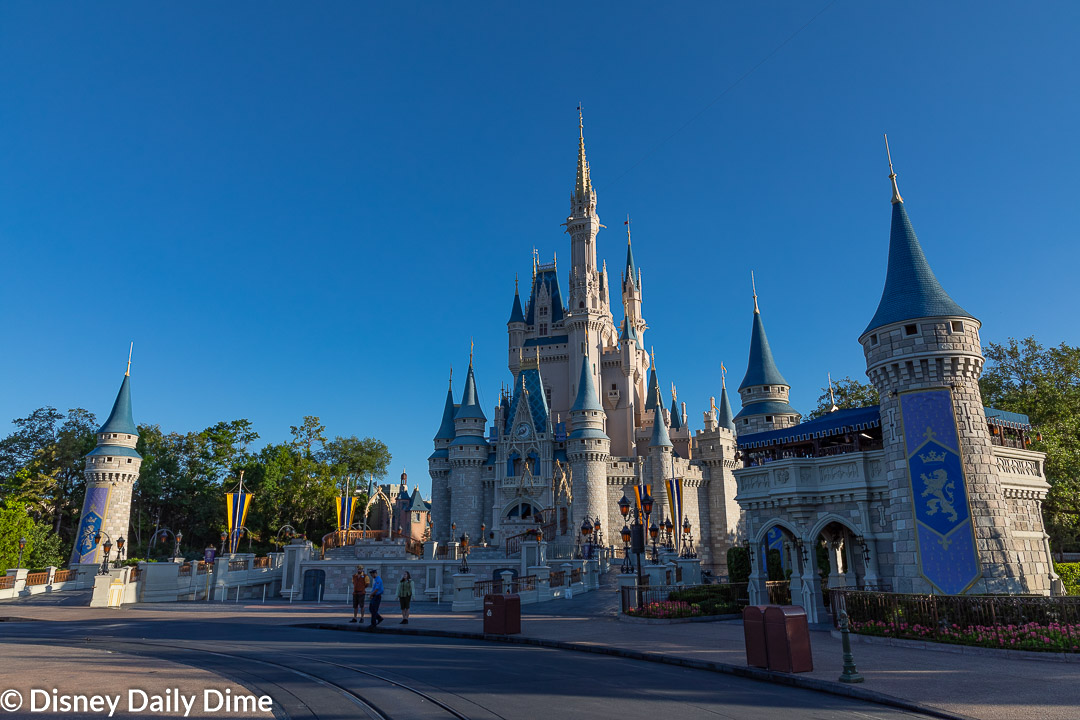 Make the Most of Your Time and Money with Early Morning Magic
While breakfast is a nice perk, the whole point of Early Morning Magic is access to the whole of Fantasyland with a very limited number of people in the land at the same time.  Truth be told, an hour and fifteen minutes before park opening is not a ton of time but if you use your time wisely, you can accomplish a lot in this valuable and precious time.
It goes without saying the headliner attraction of this event is Seven Dwarfs Mine Train.  This ride can easily achieve 90+ minute waits even on "slower days" in the Magic Kingdom.  Many people will book this event for the sole purpose of getting in as many rides as possible on Seven Dwarfs alone.
The second priority attraction is hands down Peter Pan's Flight.  This nostalgic attraction also draws massive wait times and it is typically a rope drop/fastpass priority in the Magic Kingdom.
The other Fantasyland attractions can generate extensive waits depending on the time of year and how busy the park is that day, but we wouldn't say they are a "priority."  However, if you are doing this event on the only Magic Kingdom day of your trip or if this is your once-in-a-lifetime trip to the World and you wish to experience these attractions, there is no better time to see these than at this event.  They will be virtual walk-ons or have possibly only a 5-10 minute wait.  You can conceivably "check-off" Fantasyland from your touring plan during this event.


Our Early Morning Magic at the Magic Kingdom Touring Plan
Before we talk about ride touring, let's address when to eat during Early Morning Magic.
Cosmic Ray's Starlight Café is where the Early Morning Magic breakfast is served.  They will open their doors at 8, but as the event lasts until 10, we think the best strategy is to have breakfast around 9:30 or so.   This way you are not wasting any valuable touring time eating when this can be done later after rope drop for the regular day guests.  We say push it to 9:30 as the first half hour after park open can still be incredibly valuable touring time.   Just make sure you have gotten your fill of Seven Dwarfs Mine Train BEFORE the rope drop "cavalry" as I like to call it hits the attraction.  A 60-90-minute wait will form within minutes.  It is actually quite fascinating to watch this transpire.
We noticed the same phenomenon on a MUCH smaller scale for this event.  Most of the crowd did head to Seven Dwarfs Mine Train first, so we decided to circle back later.  Our goal was to get at least two rides on Seven Dwarfs Mine Train, as we wanted to see if we could cover all of the land AND get multiple rides on the Mine Train.
The following is how we approached Early Morning Magic at the Magic Kingdom.   Your touring strategy may be very different depending on what attractions you wish to experience and how many times you want to ride Seven Dwarfs Mine Train.  Our goal was to also not "double back" and crisscross Fantasyland to hit all the attractions.


We headed straight for Peter Pan's Flight first.  Quite a few people had the same strategy but we were never waiting per say, we just walked through the fastpass queue with the line that formed and boarded our pirate ship off to Neverland
Since we were all the way over on the west side of Fantasyland, we decided to ride It's a Small World next.   Now I know many of you will be groaning inside, and frankly, I was too.  This was ALL Anna and Elsa's doing.   As this is a long ride, it did slow us down a bit.  However, the girls absolutely loved the novelty of running down the queue ramp where there was literally no one waiting and walking right onto our boat.  Plus, there was no one behind us coming in at that point so we were the only people in our train of boats making its way through the ride.  I have to admit it was a very cool experience having what was essentially our own "private" ride on It's A Small World. 
After that the girls wanted to meet Rapunzel and Tiana at Princess Fairytale Hall.   This was a good use of our time as the waits for the Princesses can easily be 45 minutes during the day.  Meeting the princesses was another walk-on as we walked right into the room and had some quality time with Rapunzel and Tiana.  The Cinderella and Elena meet and greet side of the Hall was not open.


At this point the event was well underway and we could see that the crowds had dispersed around Fantasyland more than when it started.  So we immediately declared it Seven Dwarfs Mine Train time!  We had about a 10-minute wait to board.  After we enjoyed that first ride, we walked right back into the queue for a second ride.  This time we only had to wait about 5 minutes.
We debated riding a third time but since 9 o'clock was fast approaching, we decided to head over to Prince Charming Regal Carrousel.  While it wasn't advertised as part of the event, the carrousel was running so we let the girls hop on for a quick ride since we were right there.  You can see a video of the ride below.  Mike and the girls were one of probably 10-15 people on the ride.
At this point the park was open for everyone so we decided to take a trip to the Hundred Acre Wood and ride The Many Adventures of Winnie the Pooh.   With another 5-minute wait, this wrapped up our "alone time" doing Early Morning Magic at the Magic Kingdom.
To summarize, we rode Peter Pan's Flight, It's a Small World, met Rapunzel and Tiana, rode Seven Dwarfs Mine Train TWICE, then the Carrousel, and finally rode the Many Adventures of Winnie the Pooh. 
While we didn't get to ride the Tea Cups or Under the Sea – Journey of the Little Mermaid these rides often have some of the lowest wait times of the entire park so we weren't concerned.  We watched the rope drop crowd converge on Seven Dwarfs Mine Train and then quickly made our way over to Ariel's Grotto so we could walk in and meet Ariel with no wait.  (If you have been reading our other blog posts, you will know that this was Anna's request).
We could have approached the 9 – 9: 30 window many ways.  One thought was to dart over to Haunted Mansion, Big Thunder Mountain or Splash Mountain but we didn't want to cross the park and then have to come all the back over to Cosmic Ray's for breakfast.  In retrospect,  skipping the rides with little to no waits to have breakfast may have been a terrible idea, but we'll get to the quality of the food here in a minute.
Alternatively, we could have made a dash for Space Mountain and tried to get into the rope drop crowd for that ride and hopefully had achieved a short wait for that ride as well.  By this point though we were very hungry so checking Ariel off our list was good for us. A smart strategy would have been to ride Under the Sea at this point too with little wait but we opted to head over to Cosmic Ray's for breakfast after spending time with Ariel.
Before we wrap up our touring during Early Morning Magic at the Magic Kingdom, we though it made sense to give some thoughts on what is possible with this hard ticket event.  Did we end up doing everything?  No.  Part of that is because our little girls wanted to do Small World which burned valuable time and we think that's okay.  We know some who advocate a go hard pace here, but we think you should do what you want to do.  Could we have gone faster and done everything?  Without a doubt.  However, we wanted to see what a normal family (Disney bloggers are normal, right?) could do with two little kids.  You may do more or less, just do what is right for your situation.


How was the Food at Early Morning Magic?
With Early Morning Magic touring time up, we headed over to Cosmic Ray's.  There a cast member was holding an Early Morning Magic sign.  He checked our wrists for the wristbands as we entered.  Cosmic Ray's is only open for breakfast for Early Morning Magic guests and not for the general public.   It will open later in the day to everyone for lunch.
The serving bays were serving the hot meal items and beverages while the toppings bar was set up with breads, pastries, fruit, oatmeal, yogurt and meats and cheeses.
The hot meal plate consisted of scrambled eggs, pancakes, potatoes, bacon and sausage.  It was the same for everyone – there wasn't a differentiation between adults and kids.  Beverage choices included orange and apple juice, coffee, hot tea, and 8 oz bottles of water.  
We had a magical moment as Anna and Elsa spied the strawberry smoothie machines that were already prepped for lunch and dinner service. The cast member who loaded up our trays graciously filled small cups of the smoothie for them.  Please note this is not included and your mileage may vary on a special request like this.  You can see the smoothie below.


I have always believed that it is hard for restaurants to screw up breakfast but that sentiment didn't hold true here.  Generally, breakfast isn't overly notable unless it is a character meal.  We've had some great experiences at these types of meals, like at the Bon Voyage Adventure Breakfast or the Disney Junior Play 'n Dine.
Unfortunately, this meal has no characters, but worse the food was pretty awful.  It was clearly mass-produced and the quality was probably the worst food we have ever been served in our many trips to Disney World.  This wasn't even comparable to the good-but-not-great quick service breakfasts at the resorts.  Elsa noted her eggs were cold, the potatoes and bacon were overcooked and the pancakes were pretty bland.  Mike had similar sentiments.


The selections at the toppings bar did make up somewhat for the hot plate of food.   The girls thoroughly enjoyed their oatmeal topped with brown sugar, the build your own yogurt parfait and the selection of pastries, meats and cheeses.   Mike noted that many of the pastries were picked over by the time we had our breakfast, so that was one downfall of waiting until later in the event.  However, we may have just had bad timing and hit that area before they refilled the pastry platters. 
As far as my gluten free experience at the Early Morning Magic breakfast, one of the chefs came out to speak to me.  He offered me the choice of allergy friendly Mickey waffles or French Toast in addition to all of the other items on the plate.  My potatoes were different from Mike's, Anna's and Elsa's but everything else was the same.  Bacon was left off for some reason but I believe that was an oversight.  The French toast was clearly some pre-made, frozen item that was simply heated up. It wasn't very good.  My thoughts on the food matched the rest of my family's as it was pretty bad.


We took advantage of the water bottle distribution and asked for four on our way out.  This provided us with some cold water as we continued touring the rest of the morning. 
Was Early Morning Magic at the Magic Kingdom Worth it???
This is the million dollar question…or in the case of our family of four, the $315 dollar question.  (Yes, that is how much it cost two adults and two children including tax for Early Morning Magic at the Magic Kingdom).  Of course, everyone's finances and touring priorities are different.  This event is an upcharge that is a splurge on top of what is already a splurge vacation.  What we can offer is who we think this event is best suited for as listed below:
Families with small children who can't stay up late for the longer after hours events and to whom Fantasyland is a priority
Guests who have only one day at the Magic Kingdom
Guests who only plan on coming to Walt Disney World once and are trying to do as much as possible in one trip
Guests who couldn't score fastpasses to Seven Dwarfs Mine Train and that ride is an extreme priority
Guests who really despise crowds or have party members with special needs, anxiety, etc.
We would have liked to assign some value to the breakfast but the food was of such poor quality, it is hard to use that as part of a justification for doing the event.  I would look at the food as more of a "you are paying for the access to Fantasyland and a meal is included for free."  Lord knows I wouldn't want to think I put any of my hard-earned vacation dollars towards food that bad.

Touring Fantasyland with such a small amount of people was ridiculously fabulous though.  It is hard to put a price tag on such a special experience that doesn't exist during regular park hours.  Besides riding Seven Dwarfs Mine Train twice in less than half an hour and touring almost all of Fantasyland in just a little over an hour, we were also able to save our three pre-booked fastpasses for other rides at the Magic Kingdom and didn't have to use them on Seven Dwarfs Mine Train or Peter Pan's Flight.  What we accomplished that morning certainly impacted our entire day as we were basically done with Fantasyland and we were able to fastpass other rides that were important to us.
Fortunately, the early start didn't really impact the end of our day.  We stayed all day, finished up with dinner at Skipper Canteen and took in Happily Ever After.  While the girls were definitely tired when we left after the show, they didn't appear to be any more tired than we have seen on other days.  Your experience here will depend on your own kids, but you should take it into consideration when you think about booking Early Morning Magic at the Magic Kingdom.
Wrapping Up
While we don't regret doing it, we probably would call Early Morning Magic at the Magic Kingdom a one-and-done experience for our family and we would not do it again.   We enjoyed it immensely but have a really hard time justifying the price.  If you are intrigued by the concept and have room in your vacation budget, we do recommend it as a unique way to experience Fantasyland with non-existent crowds and little to no wait for some of the most popular Magic Kingdom attractions.