One of the perks of dining at Epcot is the authenticity that you often find while eating in the various countries of World Showcase.  Over in the Norway pavilion, you'll discover Akershus Royal Banquet Hall, which is modeled after the Akershus Castle in Oslo, Norway.  We stopped by to have breakfast at this Disney World favorite recently.  Much like our other dining reviews, our Akershus breakfast review will cover all things, including the food, atmosphere, and princesses.  We'll document it all with pictures, of course.
When it comes to cost, Akershus breakfast is not a cheap meal, but what character meals are these days?  If you have a look at the Akershus breakfast menu you will find a mixture of traditional Norwegian food with some run of the mill American-style breakfast food.  More on that in a bit.  If you are on the Disney Dining Plan, Akershus requires one table service credit to eat here.  Because of the cost, it makes eating here on the dining plan a great value, although we always say you get better value by eating lunch or dinner at any restaurant.  That said, there are far worse lunch/dinner places you could spend a table service credit, at least from a monetary perspective.  How you'll feel about value based upon the food…well, we'll touch on that in a bit.  We will say that the Akershus breakfast is a better value than Cinderella's Royal Table, which requires two table service credits.
As far as Disney World discounts go, Akershus Royal Banquet Hall does accept Tables in Wonderland.  If you aren't familiar with Tables in Wonderland, it saves you 20% at select Disney World restaurants.  We have used the discount over the last year to save a ton of money, the catch is that you have to be an annual passholder, Florida resident, or DVC member.  Carla has promised to write a summary of our experience with the discount, so hopefully, that will come sometime soon!
Okay, enough of the intro related stuff.  Let's get to the meat (or, more specifically, bacon?) of our Akershus breakfast review.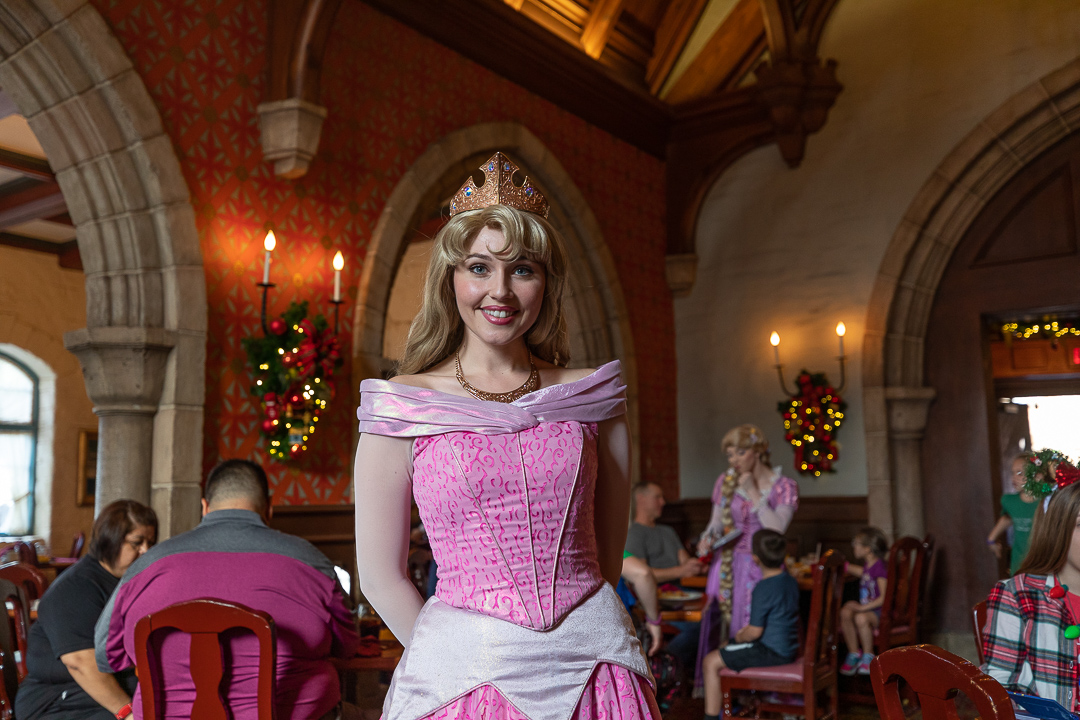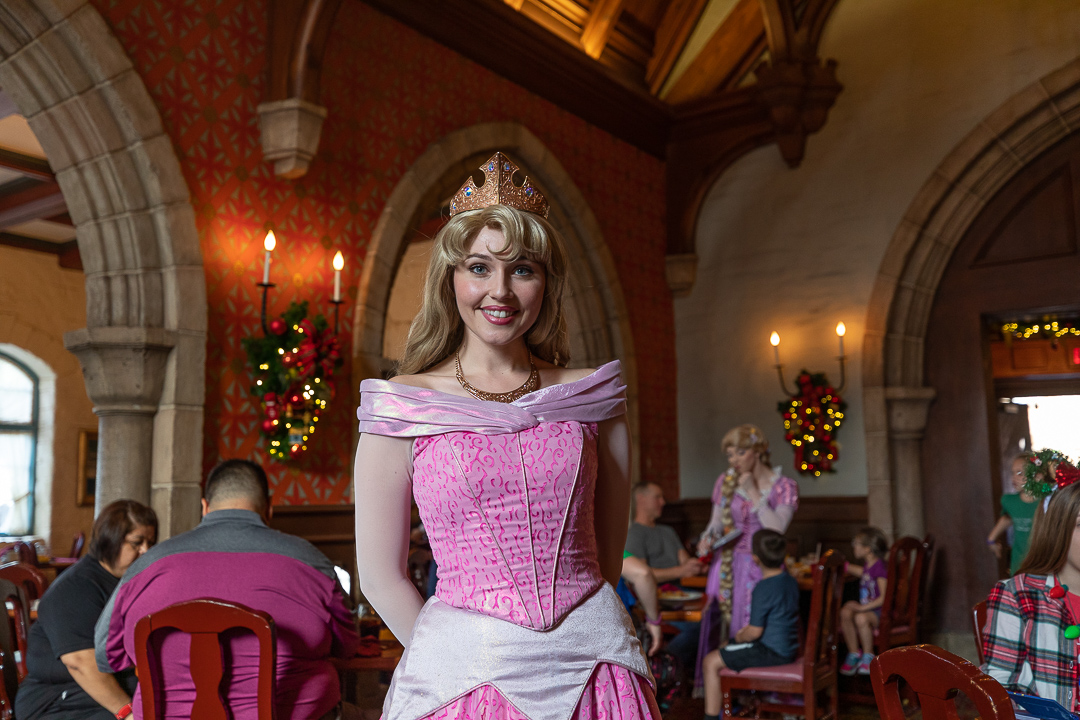 Pre-park Opening Touring Advantage
As we highlighted in our post about how to get into the Disney World parks early, pre-park opening breakfasts are a great way to get the jump on crowds.  Akershus breakfast provides this benefit. Due to its location, it's only a benefit for Frozen Ever After.  If you are looking for a pre-park opening breakfast that is a great touring advantage for Soarin' Around the World, we highly recommend the Garden Grill Breakfast.
If you have your breakfast at Akershus at the first possible seating time, 8:00 AM, you'll be let into the park around 15 minutes before your reservation.  This gives you a little bit of time to get there, but not a lot of time to dawdle.  If you eat quickly, meet the princesses, and finish up, you should be done shortly before 9:00.  You can then make a beeline for the ride entrance to Frozen Ever After.  If you don't have a FastPass for this ride, eating at Akershus may make your life a lot easier.
On a side note, we have a complete Epcot FastPass Guide that may help you think about how to prioritize your FastPasses.
There is one risk with this strategy you should be aware of.  The later your breakfast is, and the more crowded the restaurant gets, there is a chance you will have to make a choice.  See all the Akershus breakfast characters or get in line for Frozen Ever After?  If you choose to stay and meet all the princesses, it may negate some part of the touring advantage.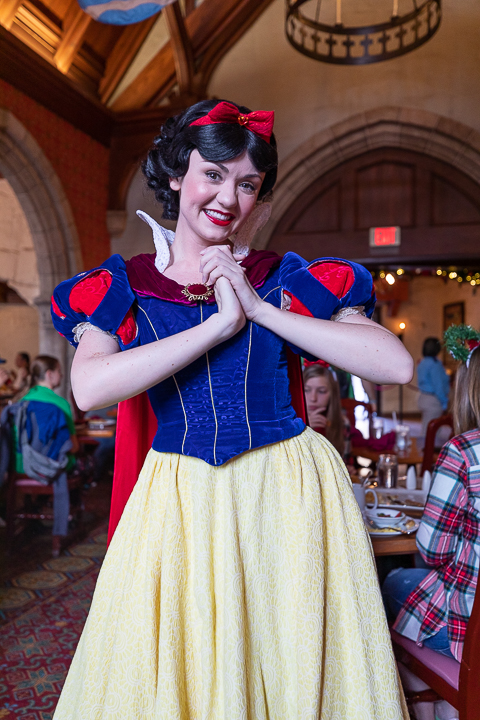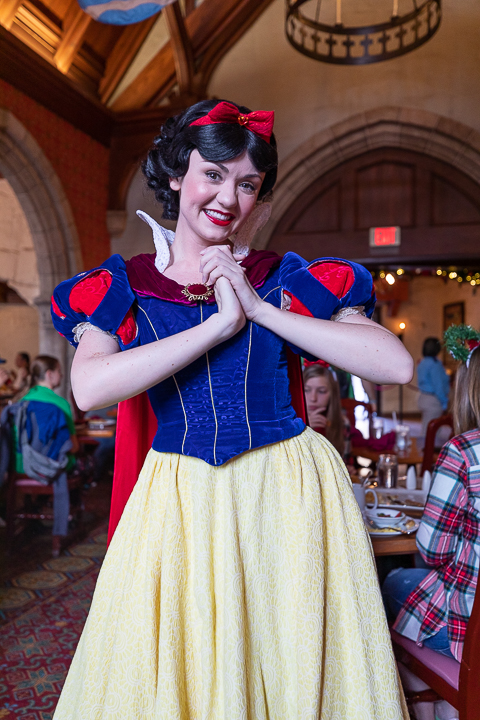 Akershus Breakfast Characters
You may have noticed we said princesses in the introductory paragraph.  Yes, Akershus breakfast is a character meal!  Actually, breakfast, lunch, and dinner are all character meals here.  We should mention that last year we ate lunch here.  You can read all about it in our Akershus Royal Banquet Hall review.
Belle hosts the breakfast.  She meets all guests in a small greeting area, near the front of the restaurant.  You should note that Belle does not wander the restaurant meeting guests as the other princesses do. 
As for the rest of the princess rotation, the usual slate of Akershus breakfast characters includes Snow White, Cinderella, Ariel, and Aurora.  We say usual slate because Disney always caveats their character meals to say the characters are subject to change.  The Akershus review we linked to above is a perfect example of that.
During our Akershus breakfast review, we saw all of the usual princesses, except for Ariel.  You can only imagine the disappointment of Anna since she once again didn't get to see her favorite princess at a princess meal.
As disappointed as Anna was, Elsa was equally enthused because, in place of Ariel, we saw Rapunzel!  She is Elsa's favorite princess.  The odd thing is that Ariel was not at our Akershus lunch either.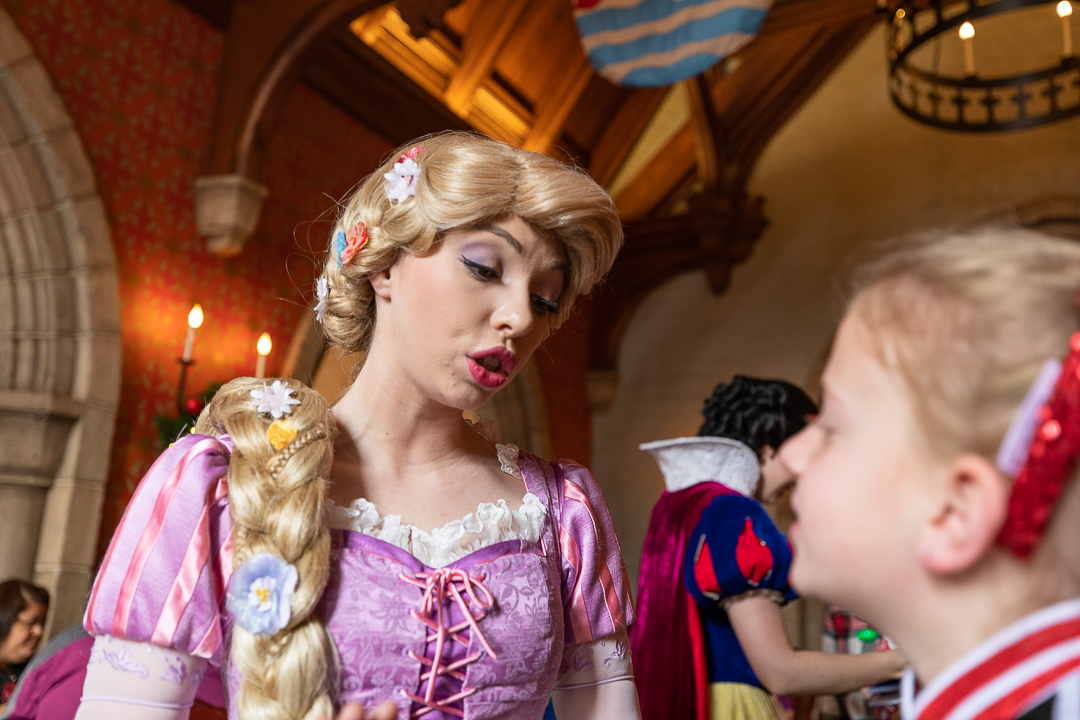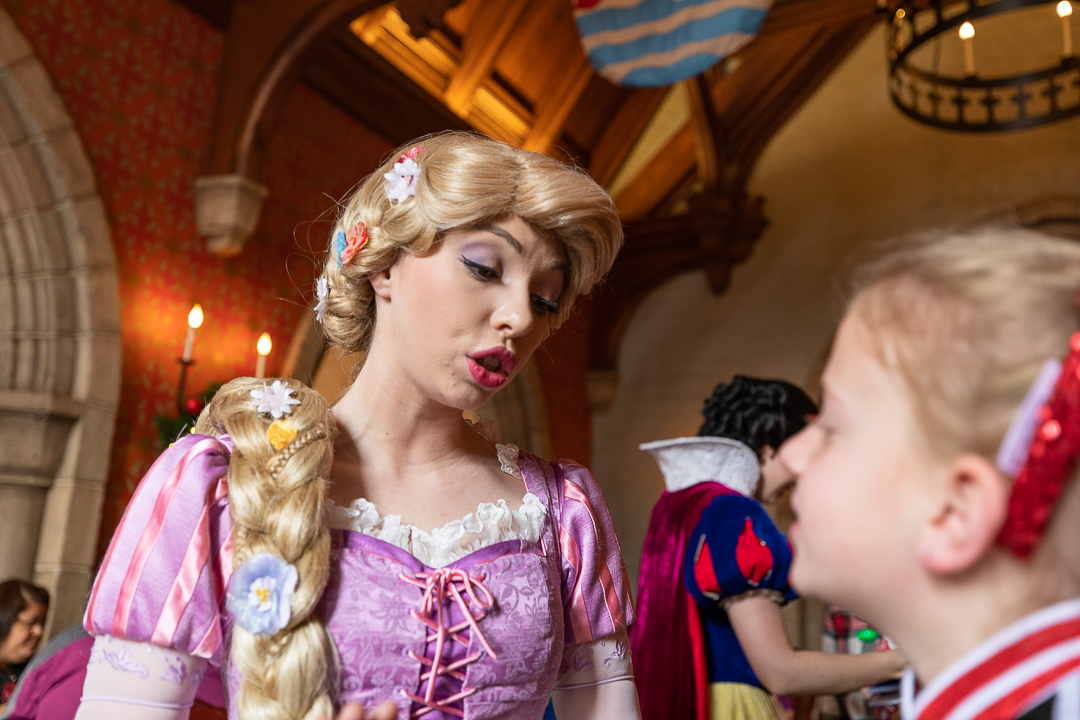 Like we said in our Akershus lunch/dinner review, we will say again, the character interactions were fabulous.  Each princess took their time with the girls and make the interactions feel special.
One of the things I always appreciate about the princess interactions when compared to meeting fur characters like Mickey Mouse, Minnie Mouse, etc. is that the princesses can truly interact in unique ways from visit to visit.  After a ton of character meals, you can only see Pluto put the girls' Minnie Ears on his nose so many times.  However, Disney princesses can talk and have discussions with the girls that always go off in exciting and somewhat tangential conversations.  Our interactions with the Akershus breakfast characters were no different.
Beyond the princesses roaming the dining area, there is also the fun and interactive Princess Procession.  This involves the princesses inviting all of the kids to join in on a fun procession around the restaurant.  It gives the kids a chance to feel a little more regal and spend a bit more time with the princess of their choosing.
All in all, these are the quality interactions that we look for during our Disney World character meals.  Based on this, the restaurant delivers.  Does it deliver on the food?  Hold that thought.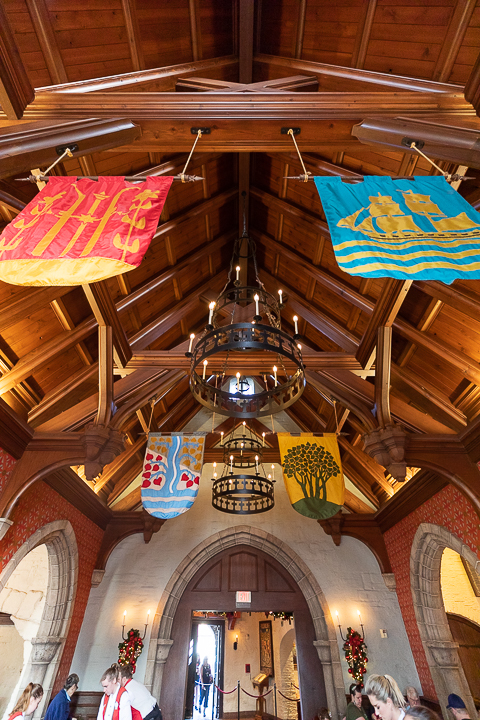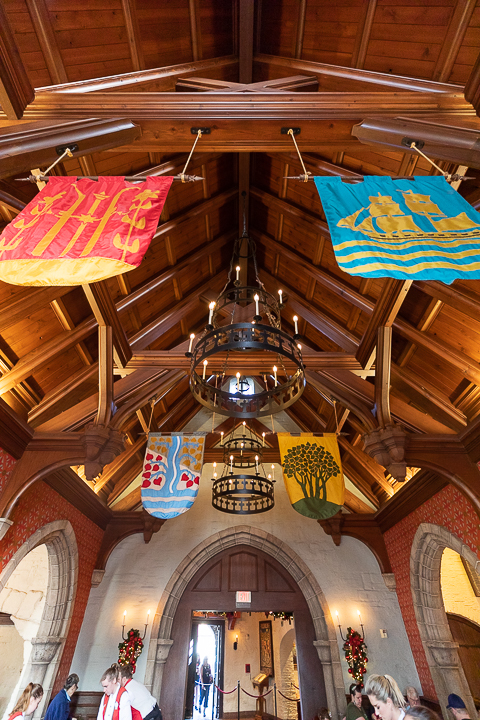 Akershus Ambiance
When it comes to the ambiance of Akershus Royal Banquet Hall, we are huge fans of it.  It feels like a classic castle that you could walk into today while visiting Europe.  With high ceilings and hardwoods, it brings home a very Norwegian vibe.  As we said, Akershus is designed after a real castle in Norway.  It feels regal, yet rugged, and gives you a taste of Norway without leaving Florida.
We will say it is not always the most intimate environment if you are sitting in the main dining area.  The high ceiling and stone décor elements can make sounds bounce all over the place.  If you want something a bit quieter and more intimate, there aren't really any options at Disney World.  The only other princess meal is over at Cinderella's Royal Table, and it has the same issues with noise.
We should note that Ariel and Rapunzel host the Bon Voyage Adventure Breakfast over at Disney's BoardWalk Inn.  However, instead of additional princesses, you actually meet them with Flynn Rider and Prince Eric.  This is one of our favorite character meals in all of Disney World.
Beyond the noise issue, we are big fans of the overall look and feel of Akershus.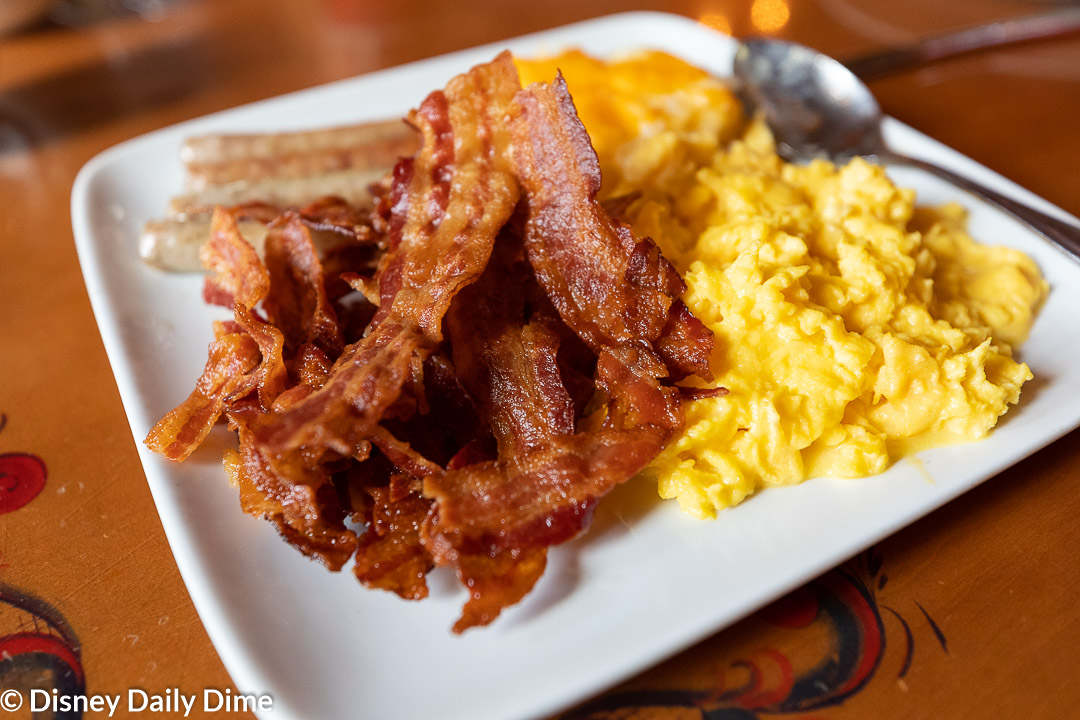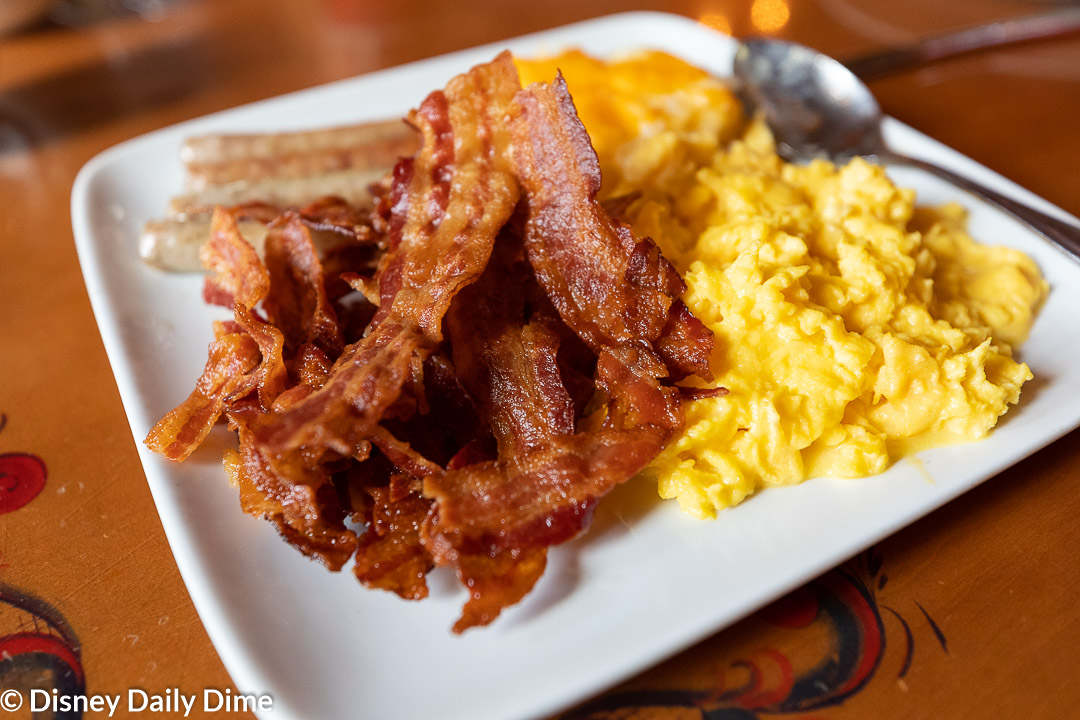 Akershus Royal Banquet Hall Breakfast Food
When it comes to breakfast at Disney World, I think we've been pretty consistent that it is often the least inspired meal of the day.  Yes, some restaurants do it well and make a meal there worth it, but the vast majority are pretty basic.  Unfortunately, the food we found during our Akershus breakfast review fits this generalization to a tee.  But before we get to that, we should point out a few things.
They serve breakfast at Akershus in two different ways, making it a bit of a hybrid service style.  You will find the hot food served family-style at your table.  This plate encompasses scrambled eggs, bacon, sausage, and a cheesy potato casserole.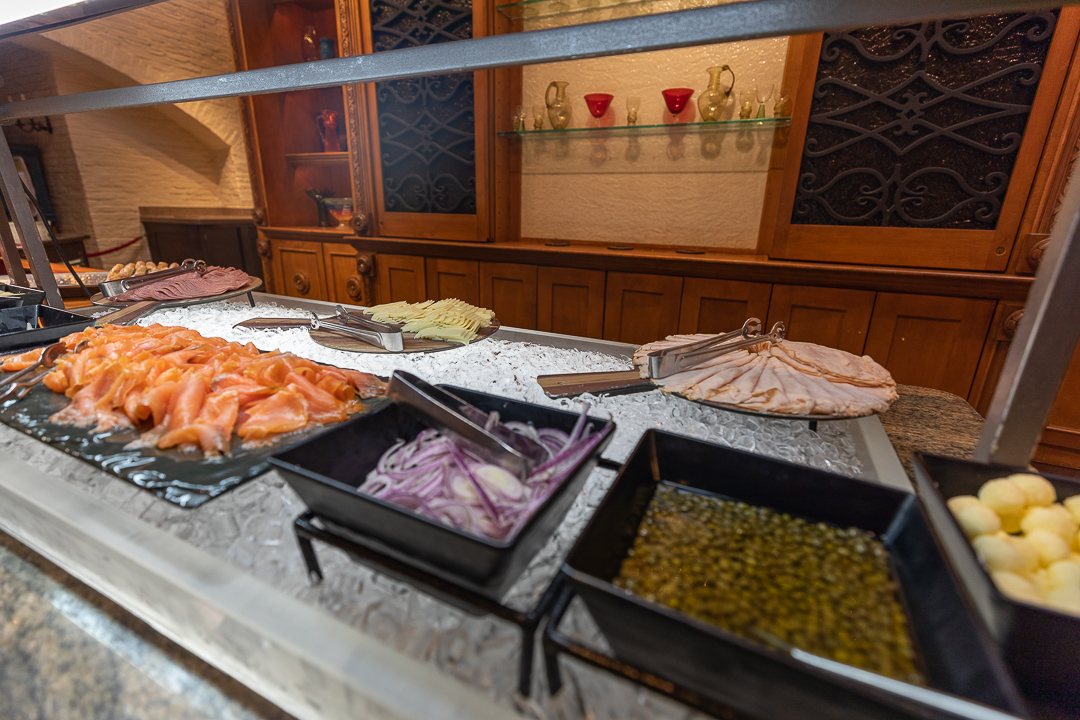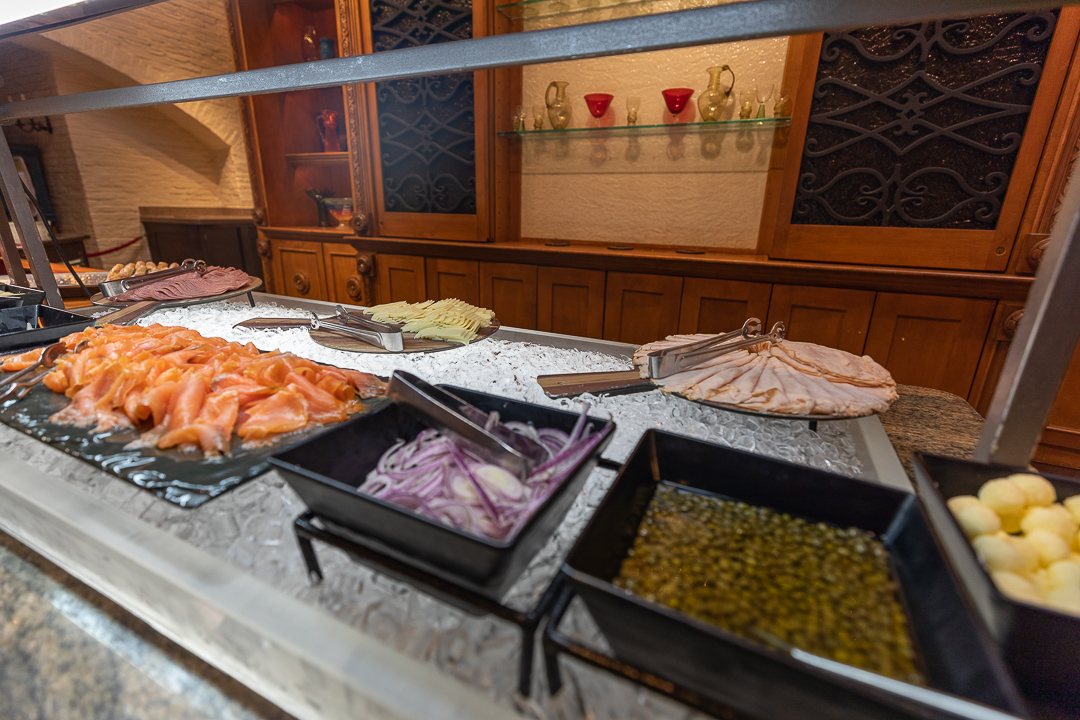 There is also a cold offering, which you will find at the buffet bar serving area.  Here you will find some traditional Norwegian style foods like Dilled Salmon Gravlax and Peppered Mackerel.  The cold meats are paired with cheeses, yogurts, danishes, and fruits.  You will find warm Mickey waffles on the Akershus breakfast buffet, so I guess it isn't 100% cold foods.
I'll start of Akershus breakfast food review with the hot items.  I thought the potato casserole was the best thing on the plate, by far.  Cheesy and well cooked, they were delicious.  However, they are not something I would say you have to come here just for this.  Everything else on the family-style hot plate was just sort of meh to not good. Everyday Disney World breakfast food at its (not) finest.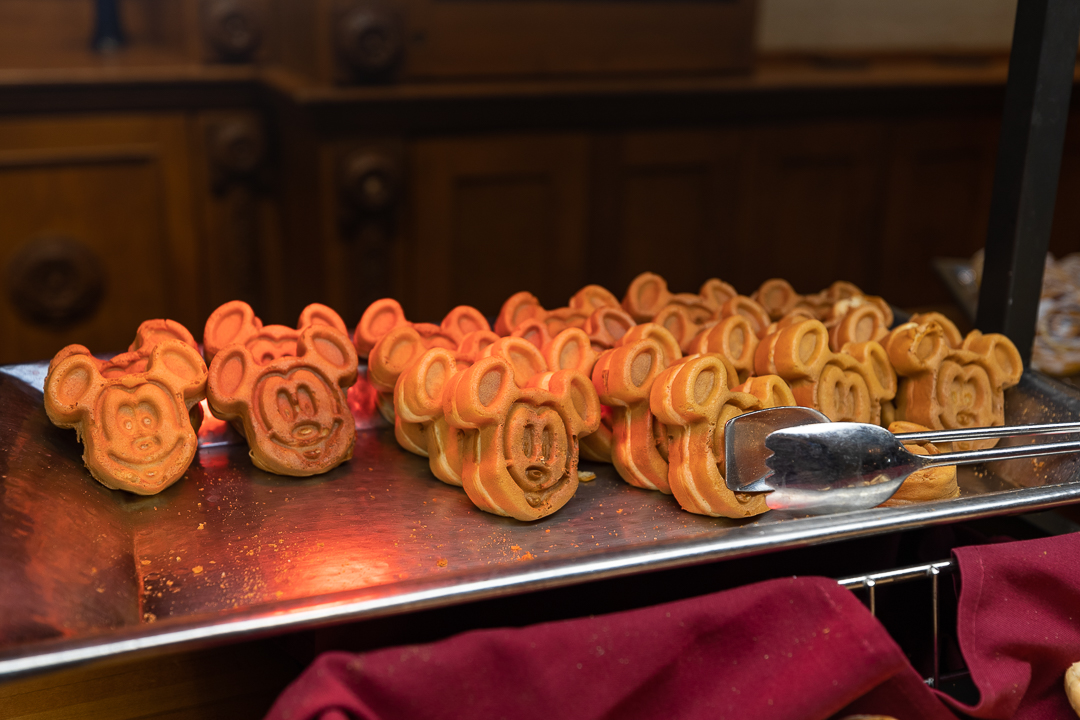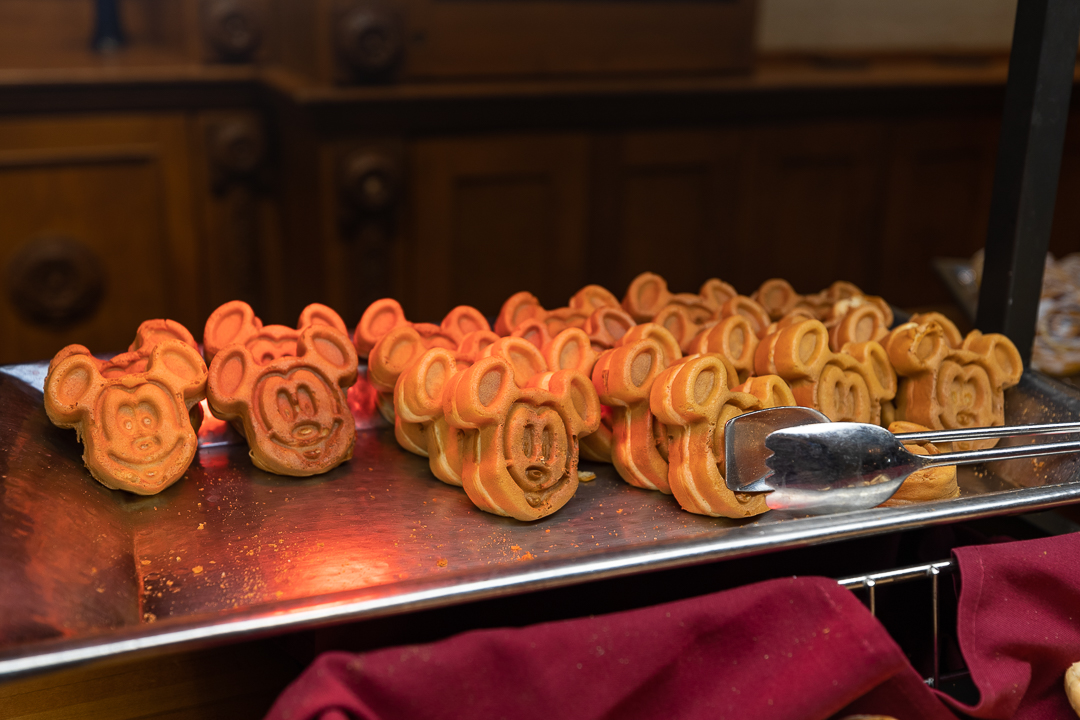 Since the Mickey waffles are technically a warm food, I will tack them onto our review here.  They were also standard Mickey waffles.  For a buffet, I was pleasantly surprised that they weren't stale or hard.  However, you can get these waffles anywhere at Disney World, so again, they aren't something we think you have to seek out at Akershus.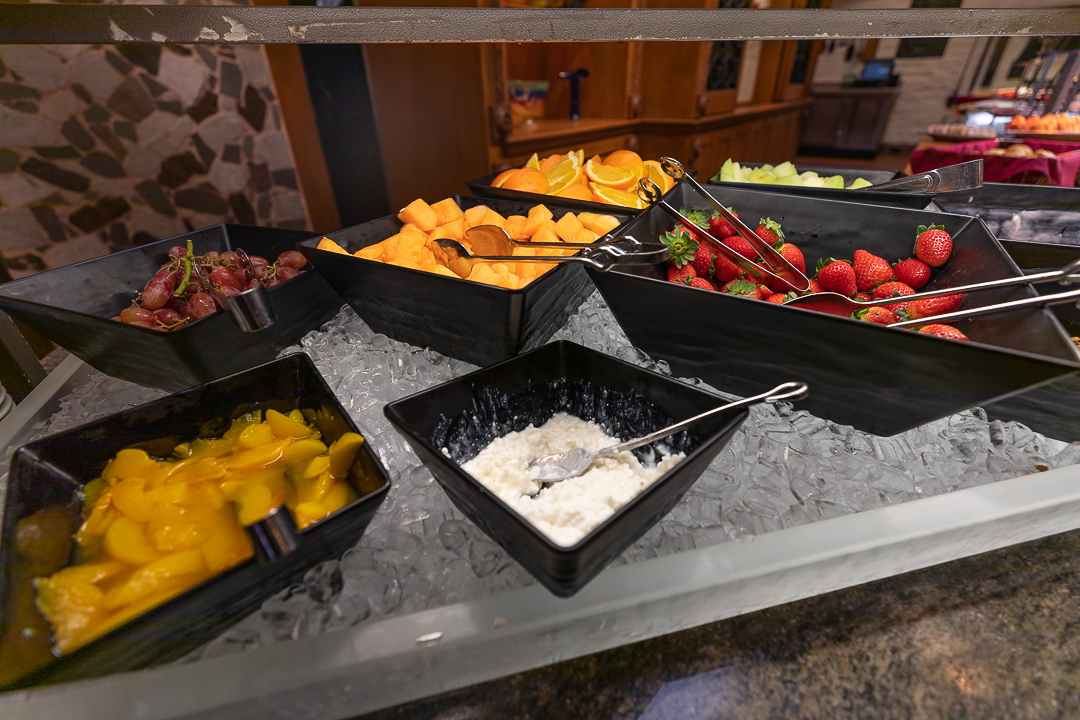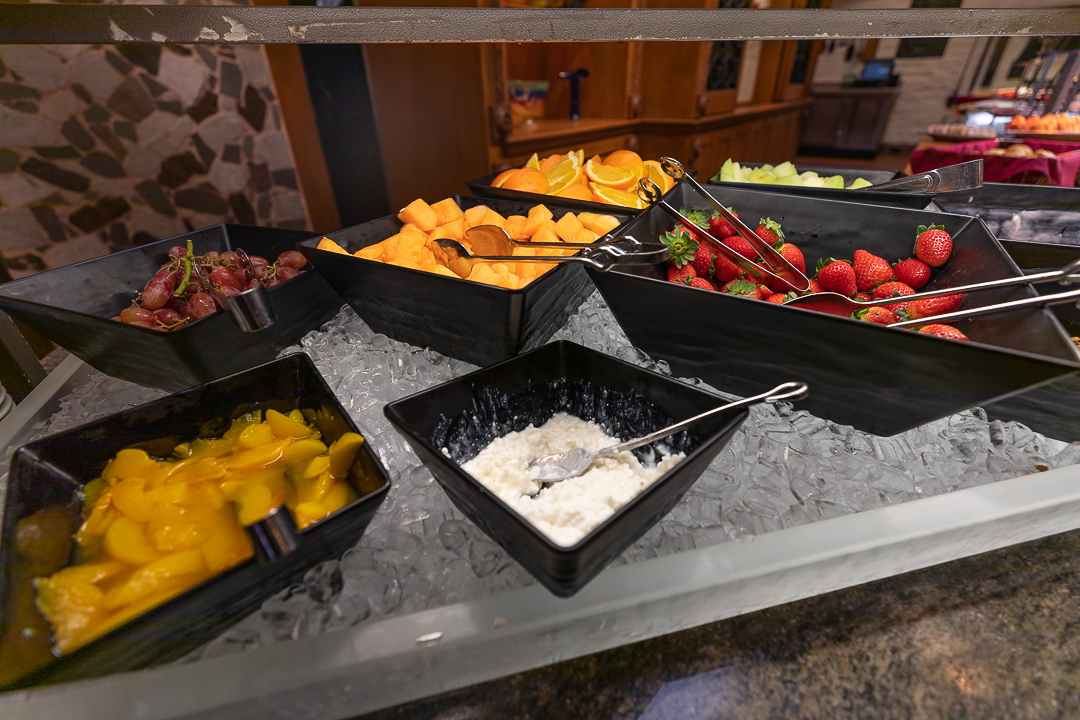 As for the cold items, the salmon was excellent, while I thought the other assorted meats and cheeses were tasty, but not at the same level as the salmon.  Everything else was fine, but nothing memorable.  I'm not sure how remarkable you can make yogurt, fruit, and pastries, so what else would you expect?
And therein lies our most significant issue with the Akershus breakfast.  Nothing in the food lineup makes us feel like telling you that you must go here.  A handful of food items are good but not memorable.
Our Overall Thoughts on the Akershus Breakfast
For a breakfast that pushes over $50 for adults and $30 for kids, we don't think the food justifies the price.  Yes, you get a wonderful meeting with the Akershus breakfast princesses, but that can be done at lunch or dinner too.  Too often, what you eat is just fine for breakfast, which isn't good enough in our opinion.  Even with the premium that you pay to meet the princesses, it's hard to recommend eating here.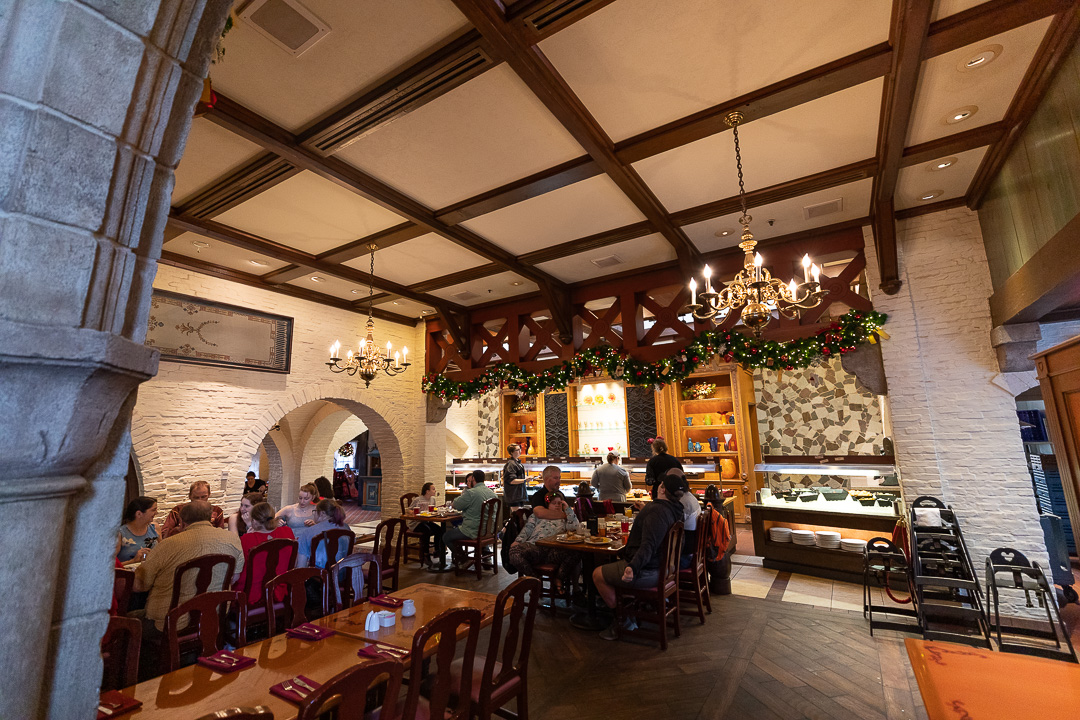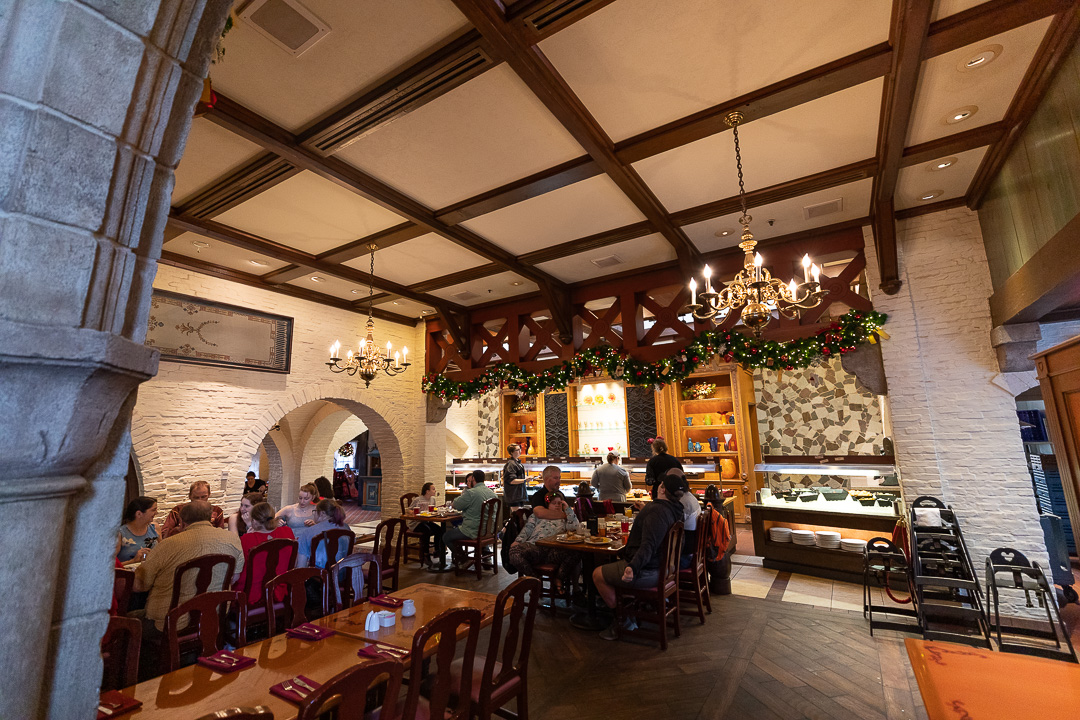 Frankly, we think you should skip breakfast and have lunch or dinner at Akershus.  You get the same quality character interactions but paired with a vastly superior meal, in our opinion.  It is a bit more eclectic because it features a more substantial Norwegian influence on the menu.
If you're eating here for the touring advantage it offers for Frozen Ever After, then that has its own merit since it is your only option.
I do acknowledge that if you are dead set on having breakfast with princesses, then nothing I said will probably matter to you.  The lifelong memories you make with Belle and her friends will be the only thing you remember in 20 years.  If that's what matters to you, then feel free to eat breakfast at Akershus.  We think the complete package is just a touch better at lunch or dinner.
 Wrapping Up Our Akershus Breakfast Review
With that, we'll wrap up our Akershus breakfast review.  It's a Disney World character meal with lots to like; we just don't think the food is one of these things.
If our Akershus breakfast review was helpful or at least entertaining, please like and share this with your friends or anyone you think will find it useful.  Just use the sharing buttons on the page.  If you're interested in more of our dining reviews, we have a complete list on our Disney World Restaurant Reviews page.