Ahhhh….Old Key West.  Disney's Old Key West had me at hello (to borrow a line from Jerry Maguire).   The architecture, landscaping, and theming spoke to my Florida loving heart (We lived in Florida for almost eight years when I was a kid).  You'll find the restaurant at the Hospitality House at Old Key West.
Olivia's Café is the only table service restaurant at Old Key West.  Due to the nature of the resort having rooms with full kitchens or kitchenettes, the lack of options is not surprising.  As we'll cover more here in our Olivia's Café review, this restaurant is more than worthy of being the only choice for sit-down family dining.   It is open for all three meals with different menus for each meal.  We were able to enjoy both breakfast and dinner at our recent stay.
Here in our Olivia's Café review, we'll give you our review of both breakfast and dinner, focusing on the atmosphere and food, with photos to accompany it all.  You'll find a few more dishes than usual in our review because of the two different dining occasions.
When it comes to using the Disney Dining Plan at Olivia's Café, make sure to consider what meal you are having here.  Olivia's Cafe is a one table service credit meal on the dining plan.  If you look at Olivia's breakfast menu , you'll notice that the most expensive entrées will run about $18.  Even with a drink, your total bill will be around $20-25 per person.  Given what a table service credit is worth on the dining plan, we recommend you pay out of pocket for breakfast here.  Otherwise, you are basically throwing away $10-20 per person.
Now, dinner at Olivia's Café is a more compelling option on the Disney Dining plan.  As a point of reference, here is a link to the Olivia's Café dinner menu.  As you can see, most entrees will cost you between $25 and $35, which means it is a good to great value for your table service credit, depending on how expensive your entrée is.  If you get a dessert and a cocktail and you will definitely recover what you paid for that credit.  Given this, we think it is a good value to use a table service credit for dinner at Olivia's Café.
Olivia's does accept Tables in Wonderland.
In many of the reviews I read in advance of our meal, Olivia's is described as a "hidden gem."  I am happy to say that for us, it lived up to this high praise.  But I'm getting ahead of myself, so let's get to the meat of our Olivia's Café review.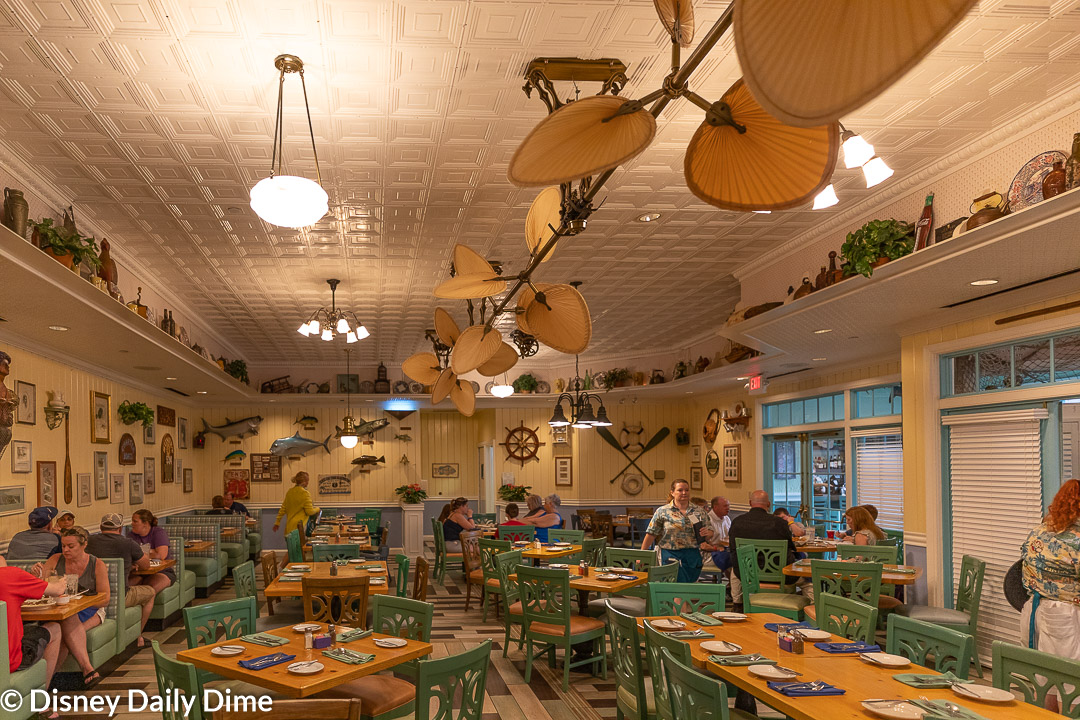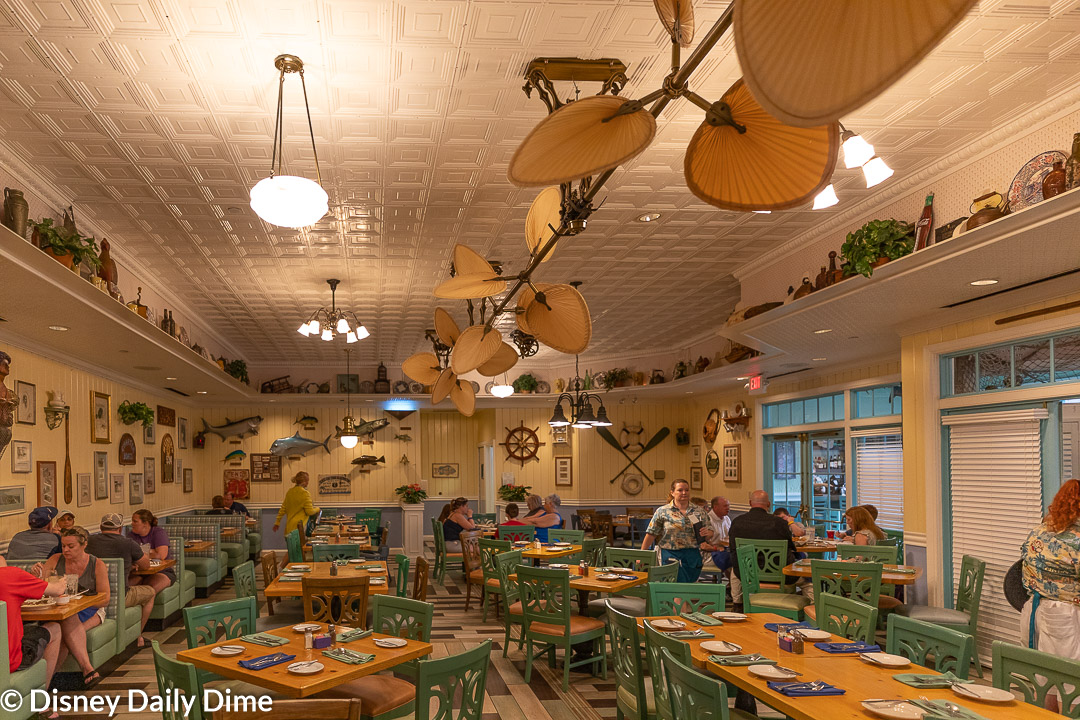 Olivia's Café Continues the Rich Theming of Disney's Old Key West Resort
The backstory behind Olivia's per Disney's website is that Olivia herself is a resident of Conch Flats, the fictional town that comprises the Old Key West resort.   The restaurant itself is definitely on the smaller side, which lends itself to its cozy and homestyle feel.  It consists of the main dining room, a smaller alcove-type room, and then the patio, which overlooks the boardwalk and waterfront.
The entire restaurant is decorated in a theme-appropriate island and homey way.  If your home is a Florida beach house, that is.  There are large paddle fans, mismatched chairs at the tables, cozy booths, and a lot of ocean-themed décor such as mounted fishes, nets, model boats, etc.
A unique touch at Olivia's is the collection of family photos of the first Disney Vacation Club families that bought into the program when it began with the opening of this resort (back then known as Disney's Vacation Club Resort).  This adds to that homey feel that the resort and the restaurant go for.  While we didn't count them, we'd guess there are 150-200 photos of the families that bought into DVC at Old Key West here.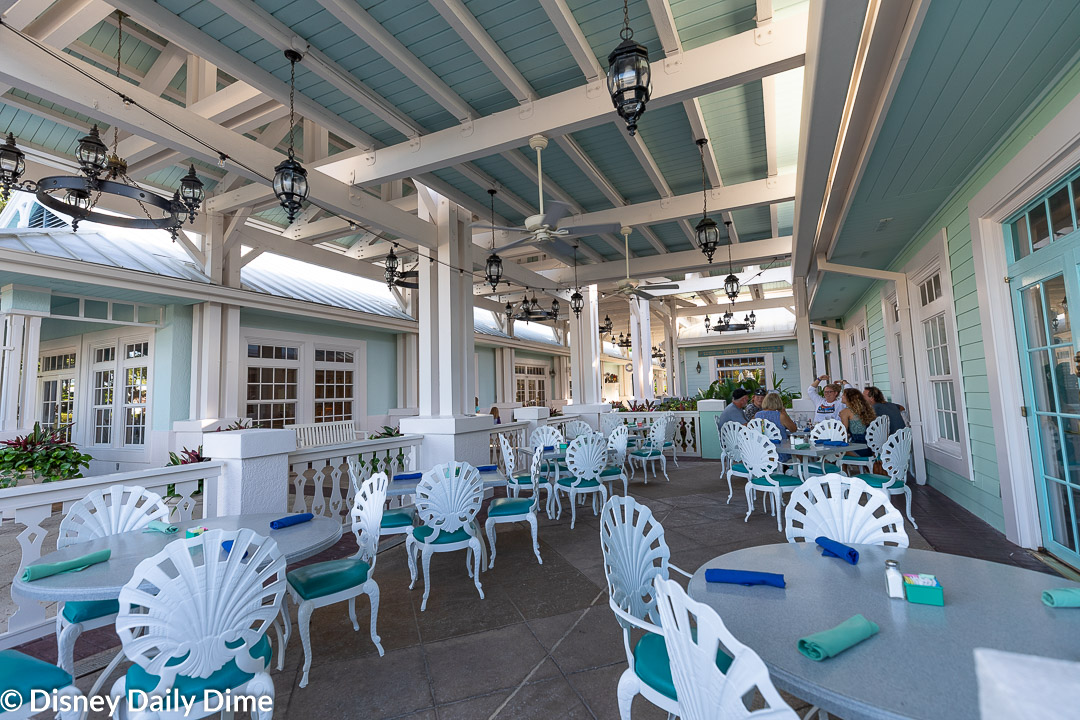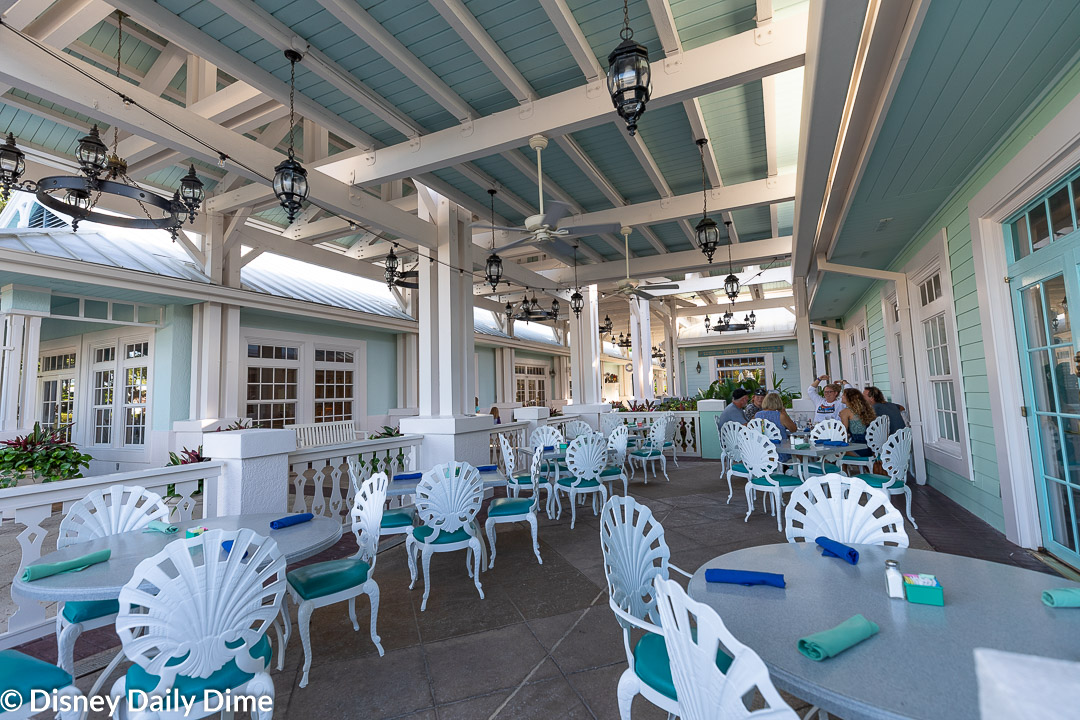 Between the theming of the restaurant and all the family photos, Olivia's Café feels like a neighborhood eatery.  Maybe it isn't quite Cheers, where everyone knows your name, but I felt at home here.
Olivia's Café Breakfast Goes Above and Beyond the Standard Disney World Breakfast
Olivia's Café breakfast menu may not be expansive, but it goes above and beyond just the breakfast basics by putting a twist on some classic dishes.  The Eggs Benedict includes crab cakes in place of Canadian bacon.  The French toast is made with banana bread and topped with Bahamian Banana-Rum syrup and coconut whipped cream.  The hollandaise is made with key limes instead of lemons.  These creative and fun offerings provide some unique flavors not found often around Disney World, especially at breakfast.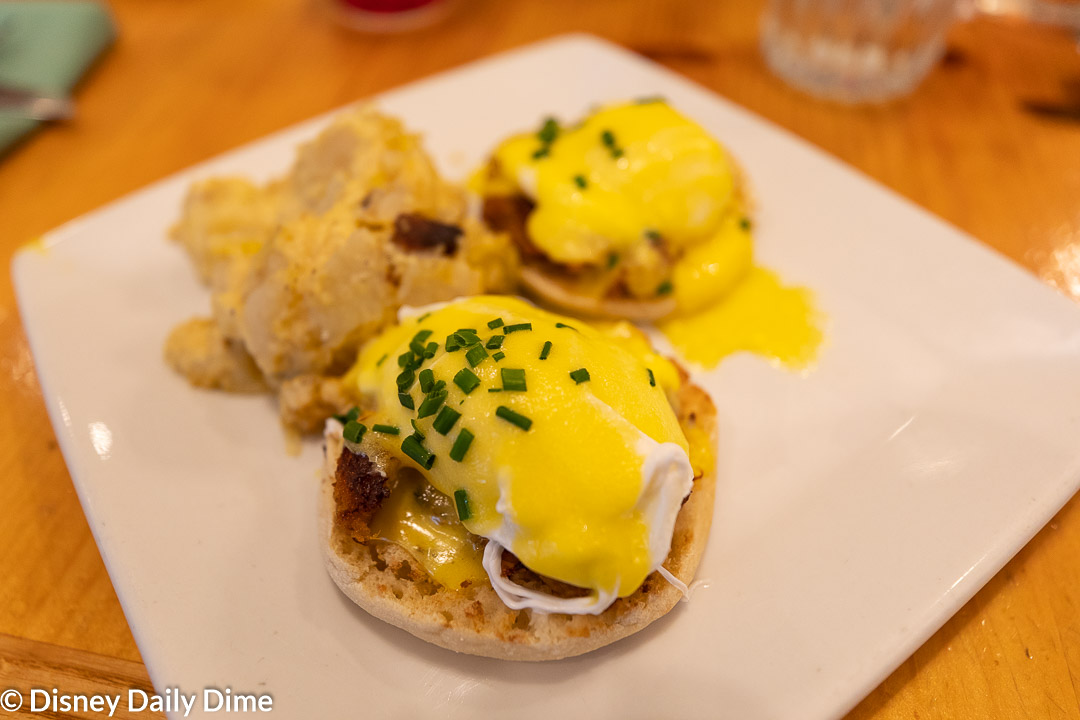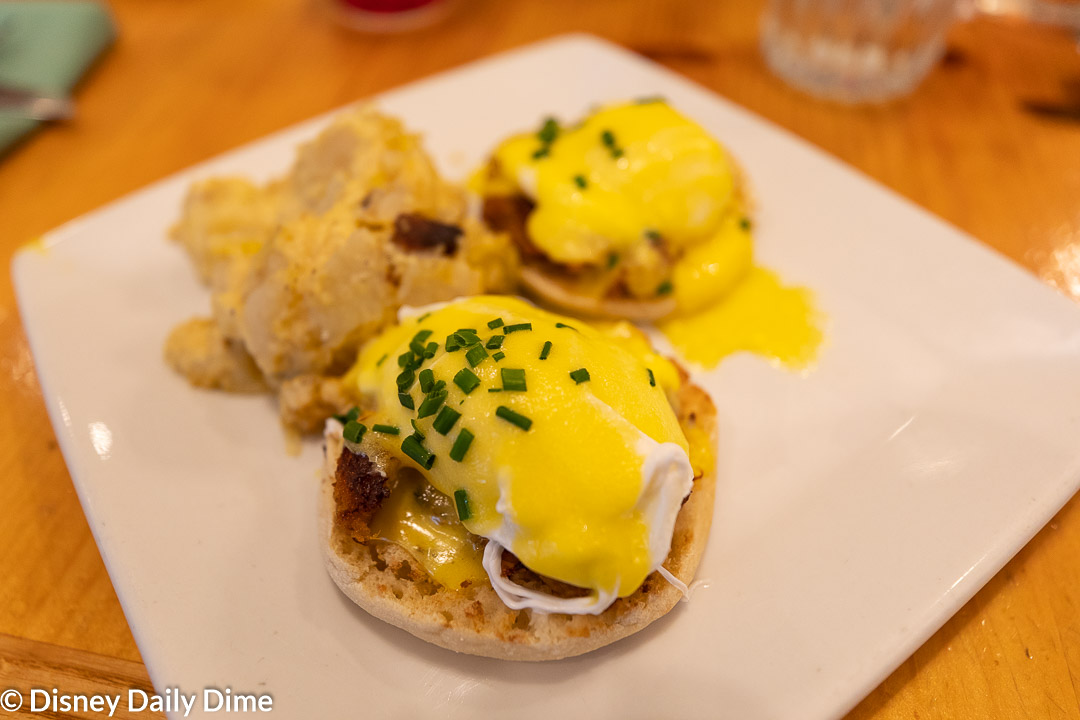 Adult Breakfast Entrees
Mike loves crab cakes, so the Crab Cake Eggs Benedict piqued his curiosity.  He enjoyed this different approach to eggs benedict.  The crab cake had a great crunch on the outside and was filled with a good-sized amount of crab.  He loved the key lime hollandaise and the perfectly toasted English muffin that was the base of the benedict.  His only regret was that there wasn't another one to eat!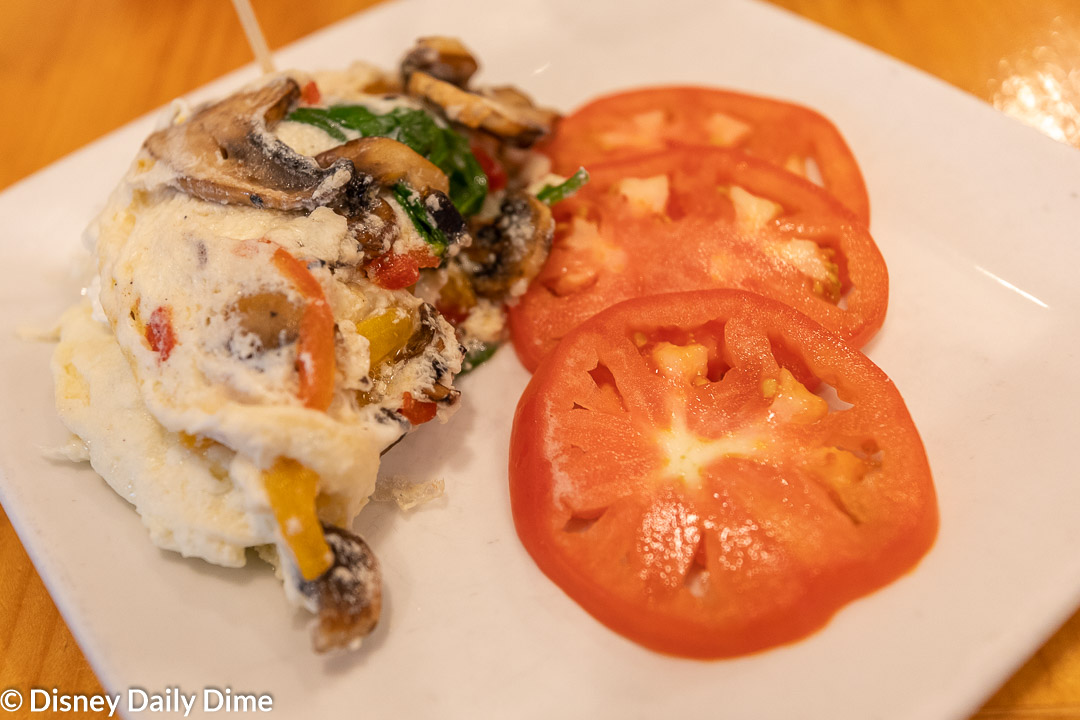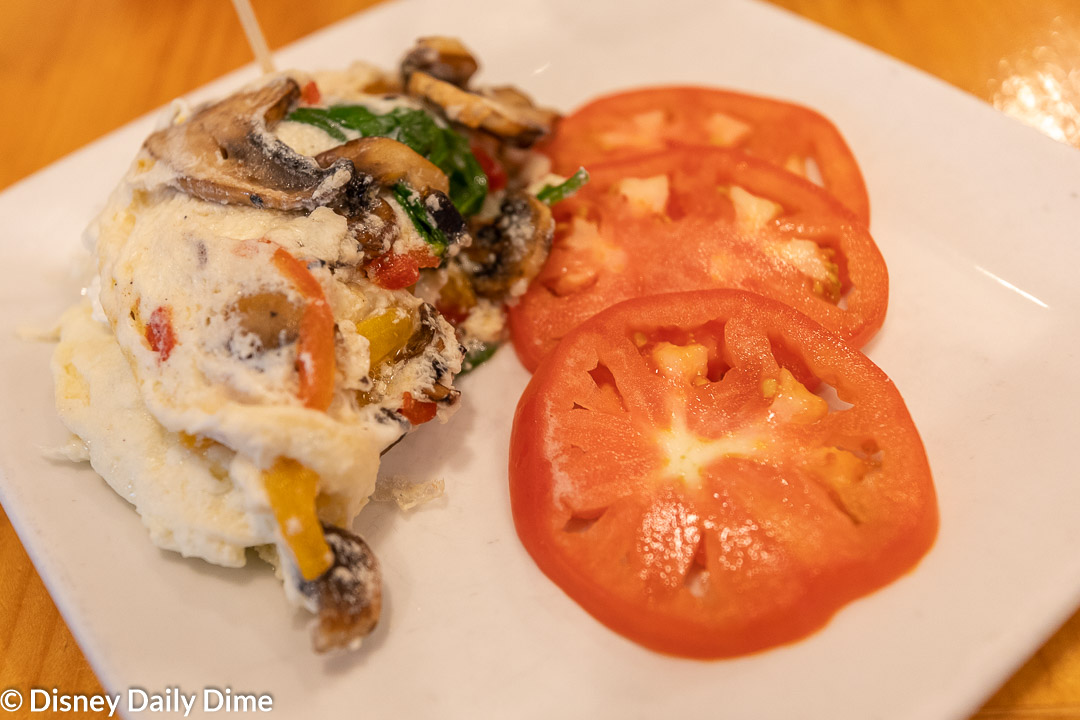 Due to my gluten sensitivity and health issues, I am always trying to balance splurging on fun Disney vacation foods and eating healthy like at home while avoiding gluten/wheat.  The Monroe Egg White Omelet sounded like the perfect meal.  An egg white omelet filled with veggies and rich goat cheese, it was an excellent and light but filling meal to start the day.  It was served with sliced tomatoes and toast (mine was gluten free bread). It usually comes with a buttermilk biscuit.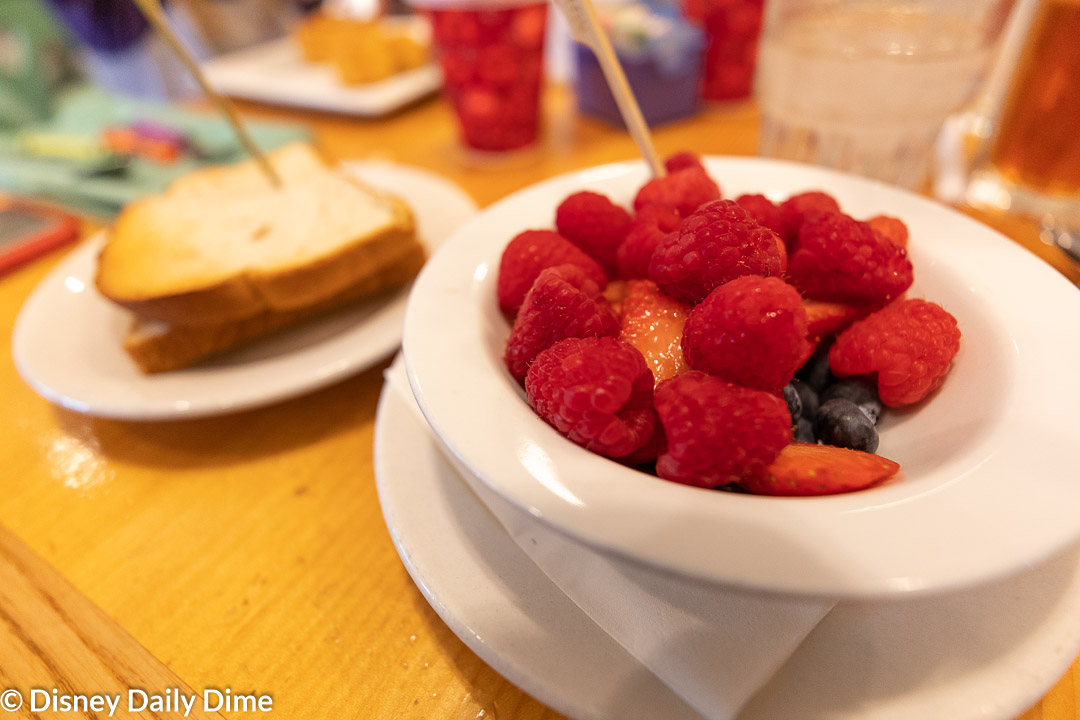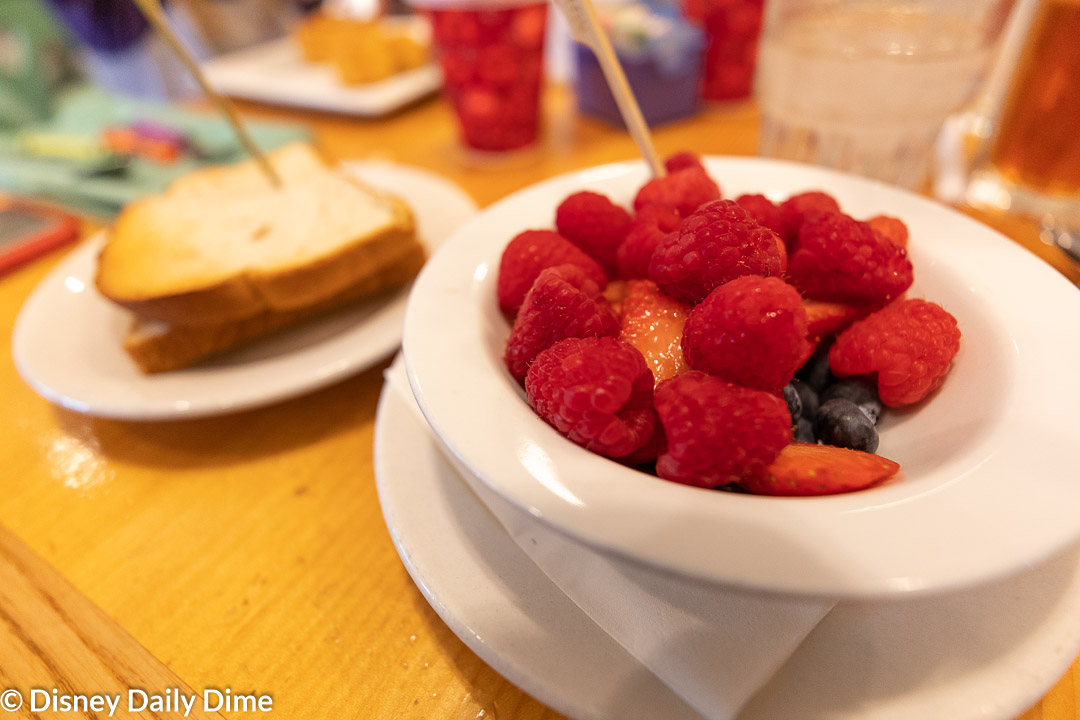 I ordered a berry fruit bowl on the side, in part for myself and also to share with the girls.  The portion was huge and was filled with fresh berries.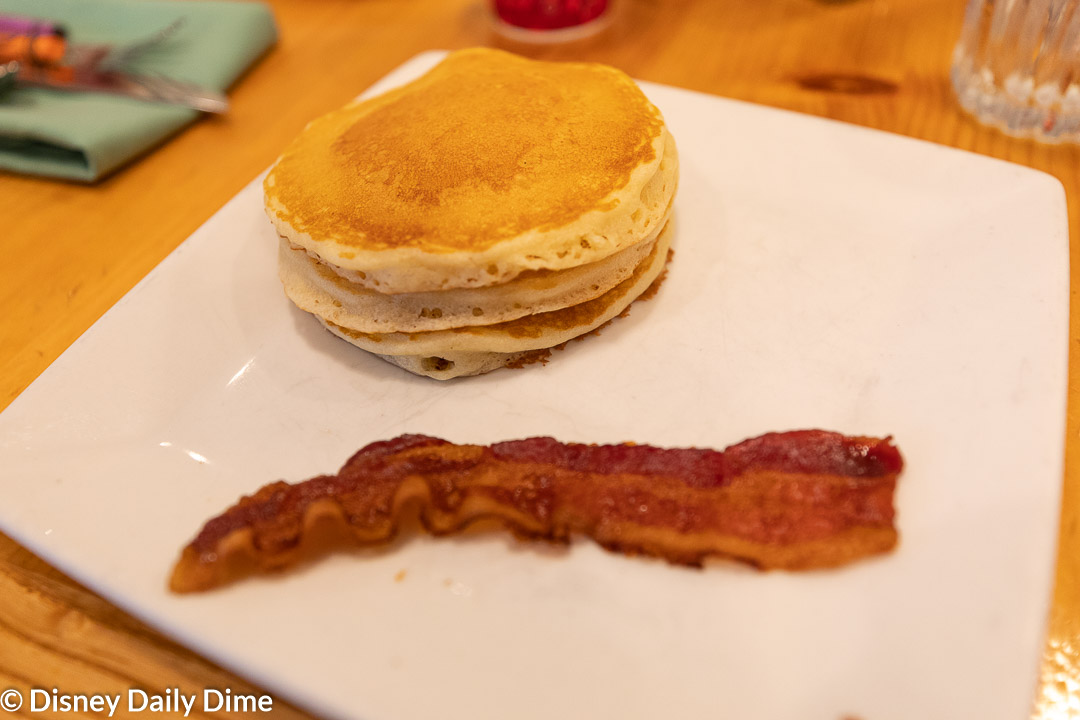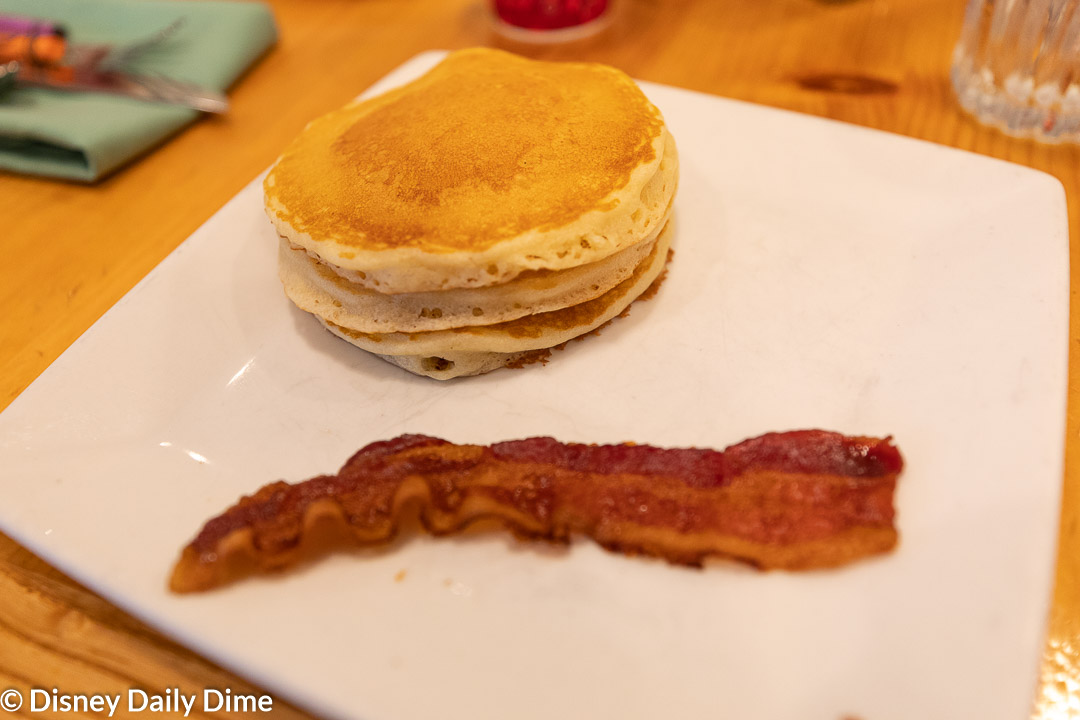 Kid Breakfast Entrees
Elsa ordered "Daisy's Sand Dollars," which is the kids' portion of pancakes.   She had her choice of bacon, sausage, or a fruit cup.   She loved the freshly cooked and fluffy pancakes.  Mike agreed that they were delicious!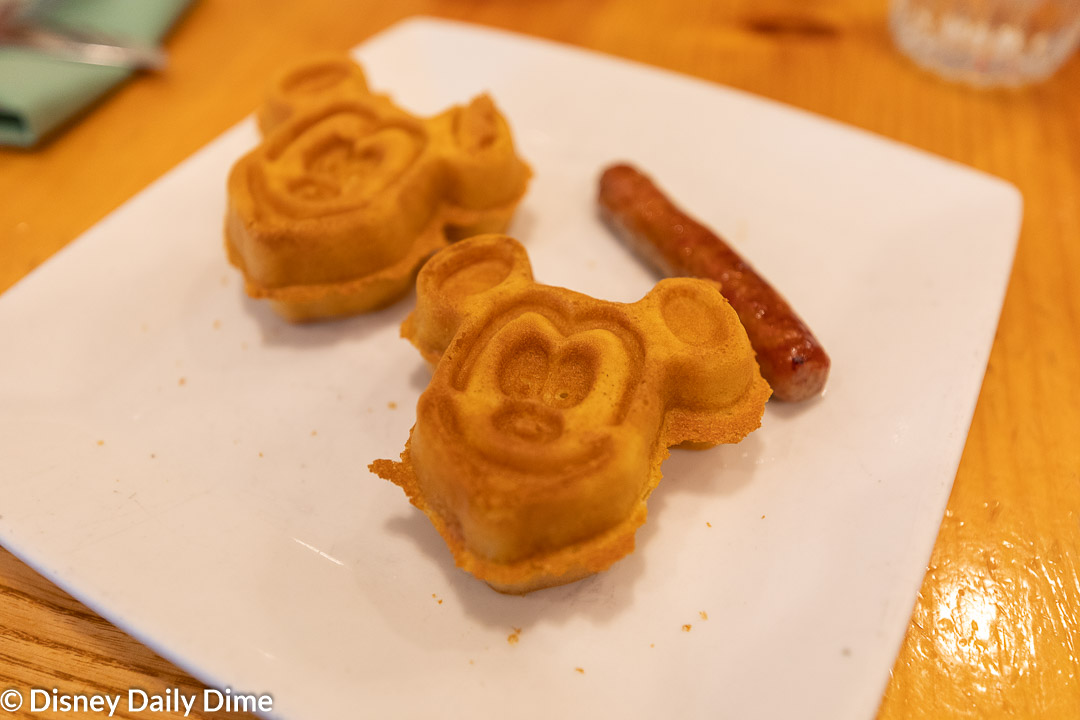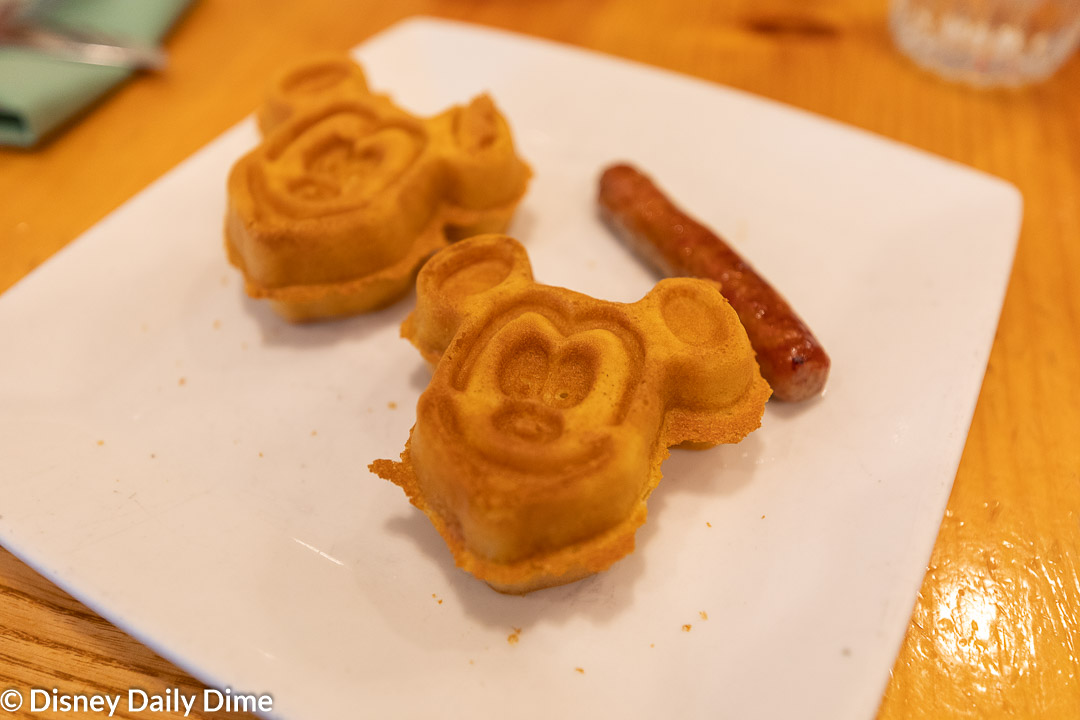 Anna chose the Mickey waffles, something the girls look forward to on every trip.  Also freshly prepared, she loved this Disney staple.
Olivia's Café Dinner Provided a Relaxing and Comforting Meal to End our Disney Day
Our first experience at Olivia's was actually our dinner.   We were seated in the alcove to the main dining room and loved looking at all of the DVC member photos that decorate the walls.  Mike and I particularly enjoyed the 90s fashions! 
Similar to the breakfast menu, the menu isn't expansive, but there is a wonderful variety of what is offered.   I appreciate restaurants that don't have an extensive menu because usually it means the dishes they offer receive extra attention and are done well.  Based on our experience, I would venture to say this applies to Olivia's as we were very impressed with the food.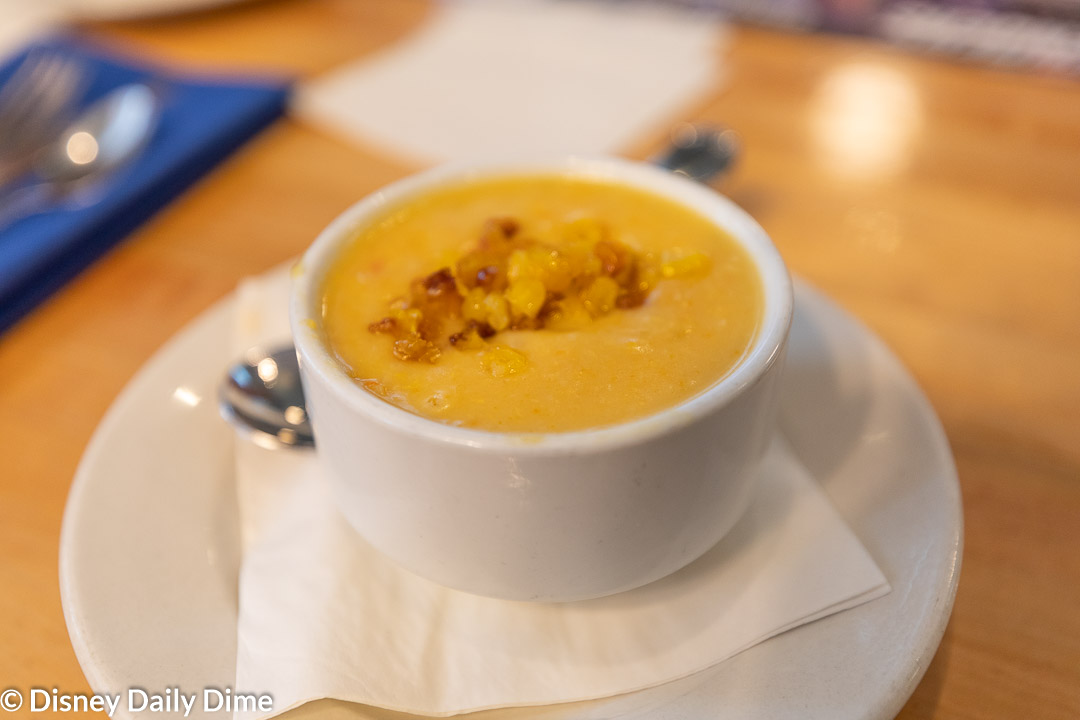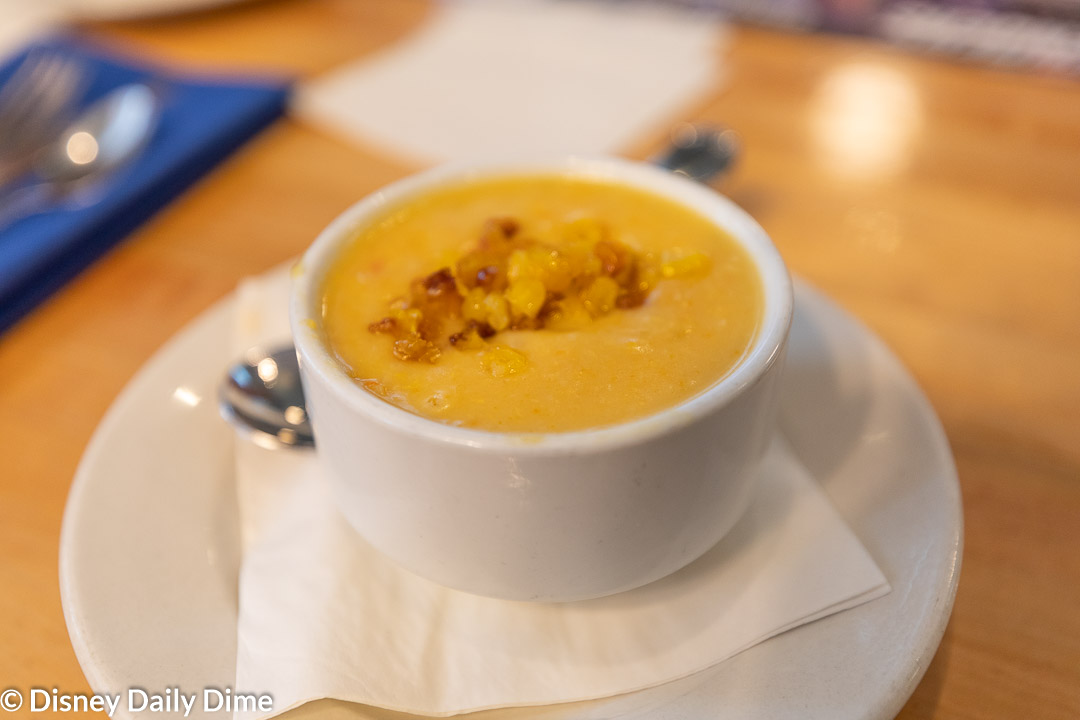 Appetizers
Mike started his meal with a cup of corn chowder.  Rich and very creamy, the corn chowder is topped with roasted corn.   This gave the chowder great texture as the chowder itself was well blended.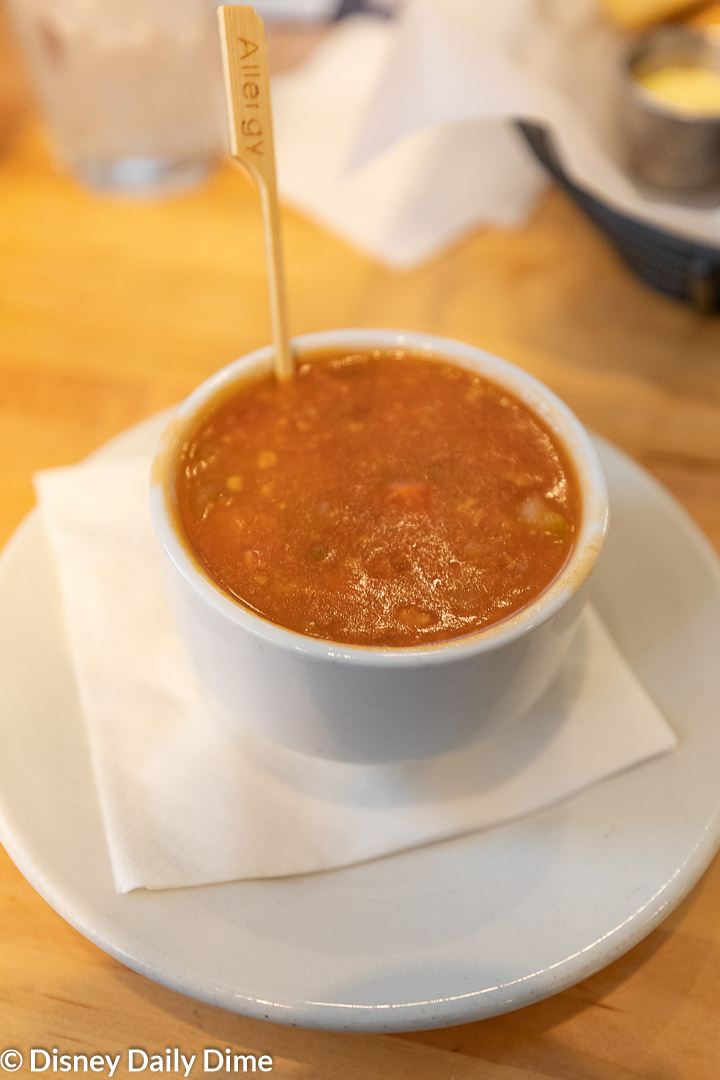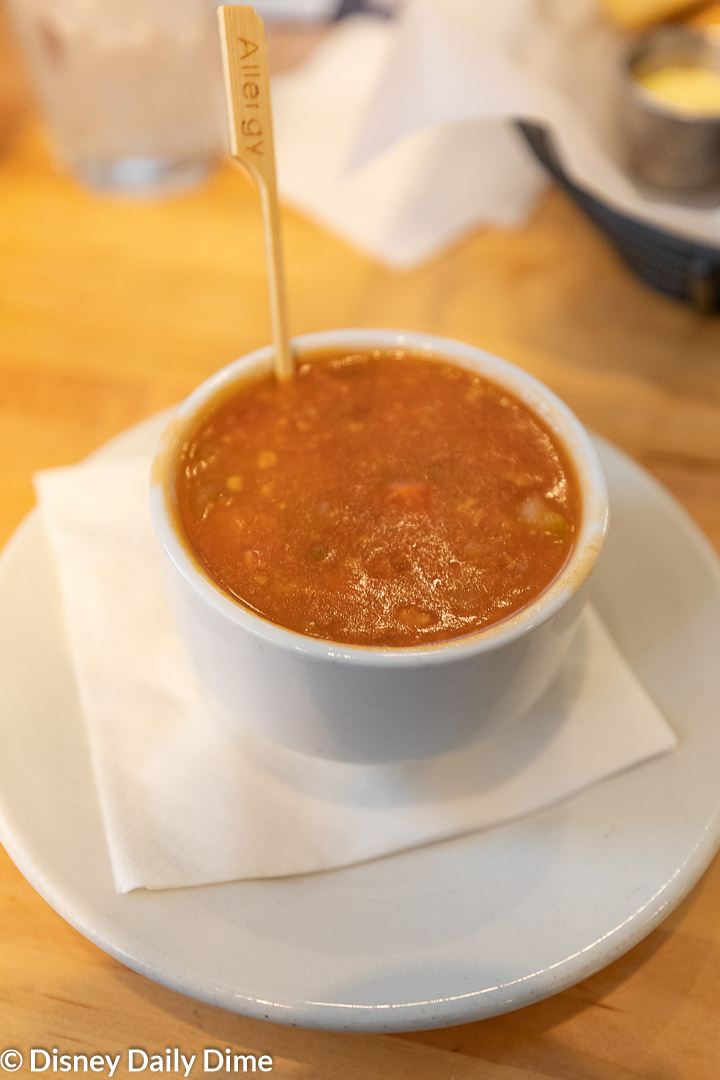 I opted to start dinner with a cup of Olivia's Conch chowder.  The chowder was filled with vegetables and pieces of conch.   It had a delicate hint of spice to it as well, which I appreciated as so much of the food across the resort is not overly spicy.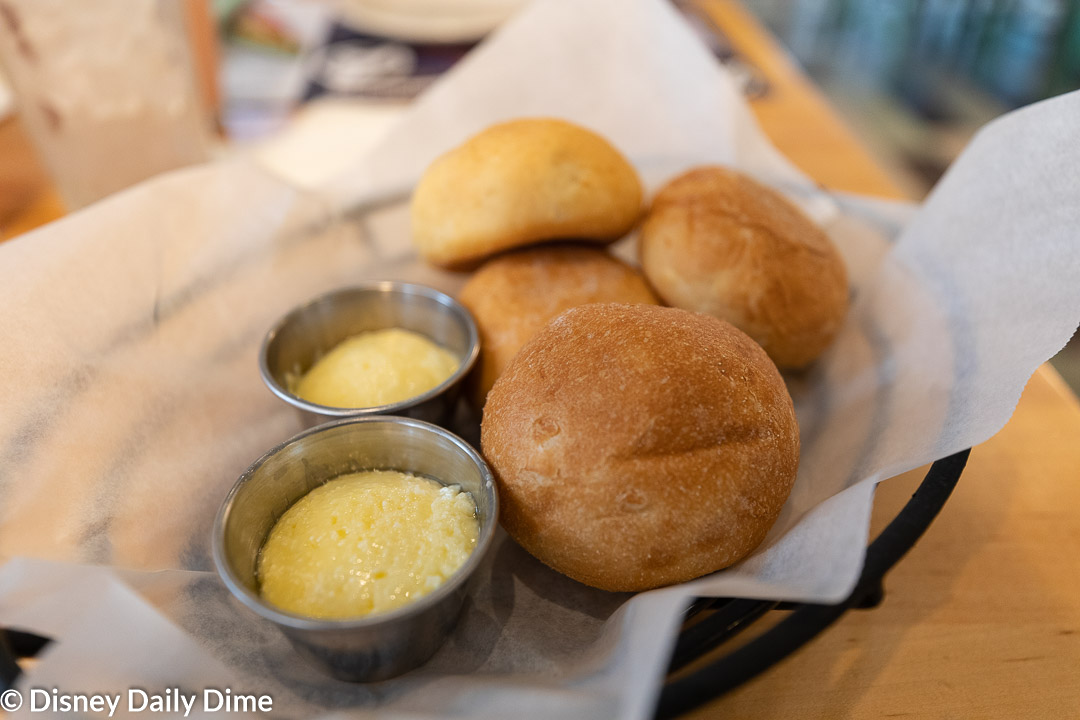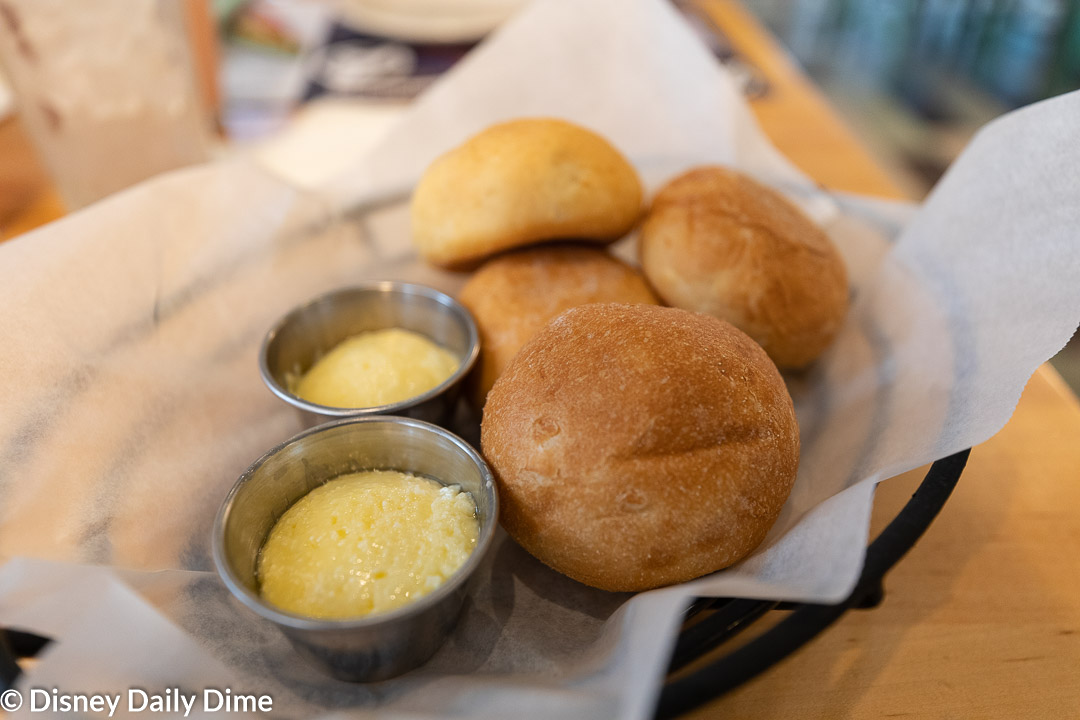 In addition to the two chowders we ordered, we also received bread service.  While the bread was good, according to Mike (I couldn't eat it), it wasn't anything amazing.  You might be better served saving the room for your entrees and appetizers.  As we always say, if you want fantastic bread at Disney World, you have to go to Sanaa!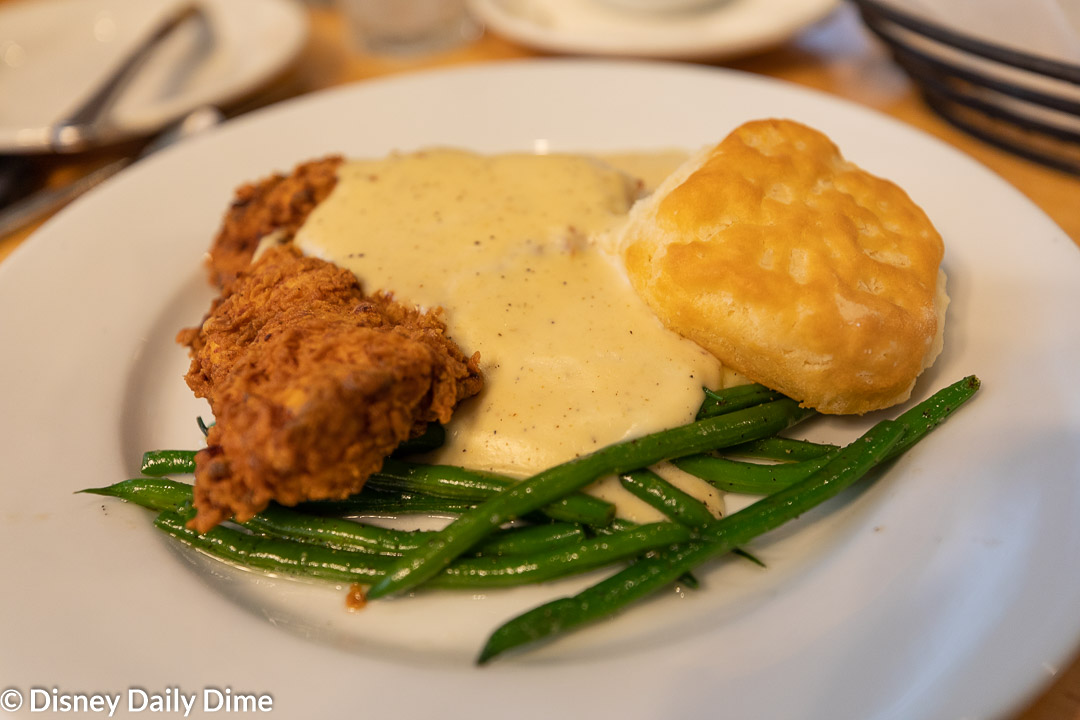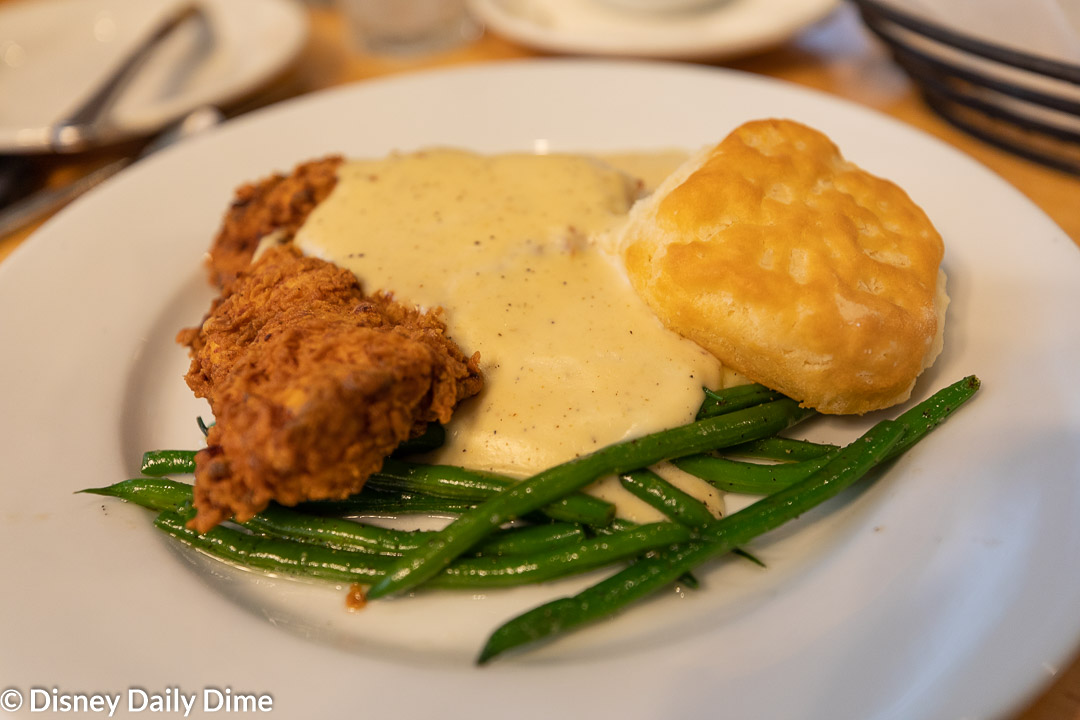 Adult Dinner Entrees
On the day that we ate dinner here, we enjoyed lunch at 50's Prime Time Café.  This left Mike in a bit of a quandary because he wanted to try the fried chicken at both places as they are both known for their takes on this classic.   Olivia's Café won the battle, and he waited until dinner to enjoy the "Southernmost Buttermilk Chicken."  (Side note – love the reference to Key West being the southernmost point in the United States!!!).   Mike was in food heaven with this dish.  Served with mashed potatoes, gravy, vegetables, and a biscuit, he couldn't get enough of the moist interior and crispy exterior of the chicken.  The gravy is a must, in Mike's eyes.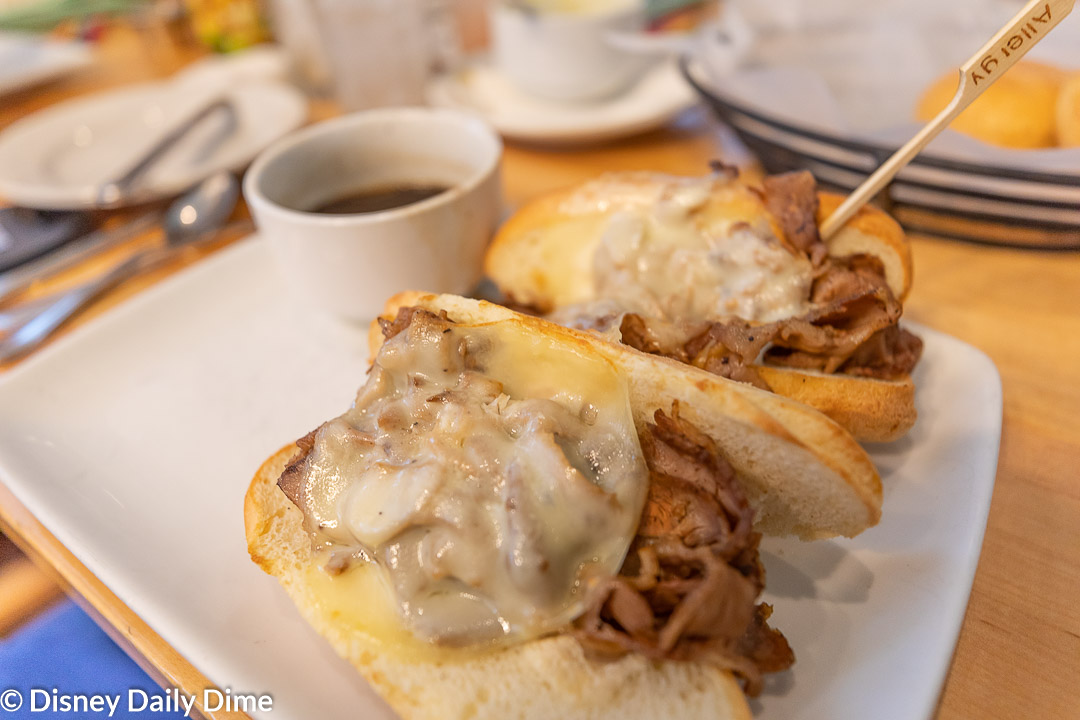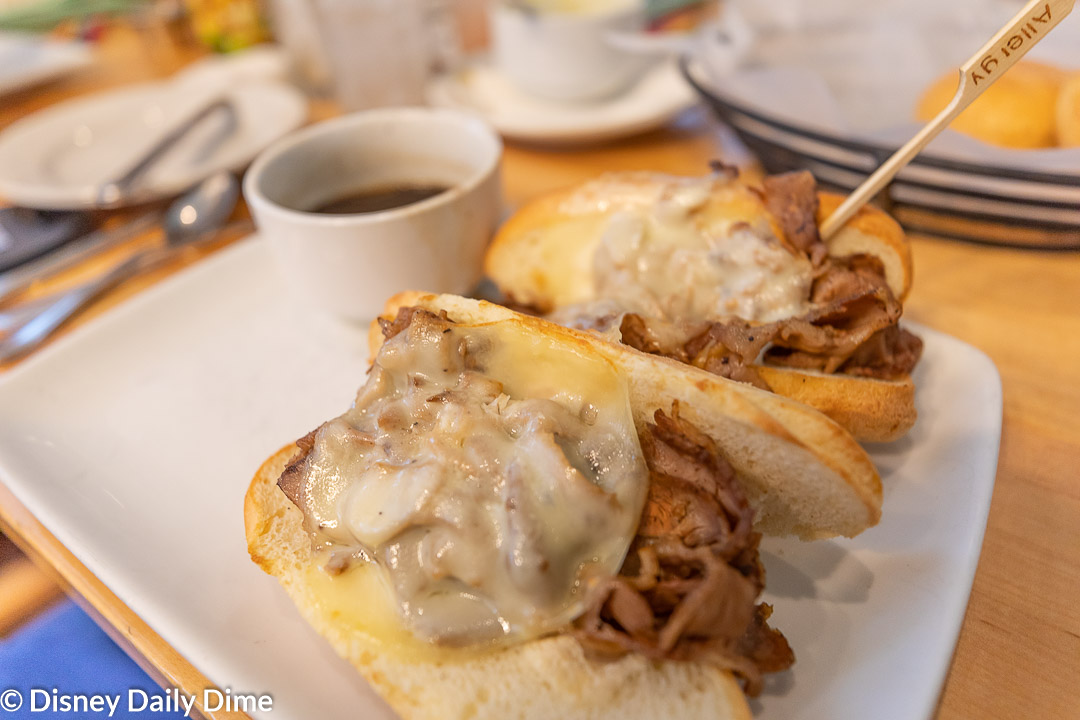 I was ecstatic to see a gluten friendly French Dip sandwich as an option on the allergy menu.  This was a favorite of mine, and I have missed savoring this hot sandwich with warm au jus and a generous amount of horseradish.  Olivia's version did not disappoint at all.  The meat was perfectly cooked, and the au jus was well seasoned and had a rich beef flavor.  The serving was huge, and I lamented that I couldn't finish it all.  It didn't help that I started the meal with a cup of Olivia's Conch chowder.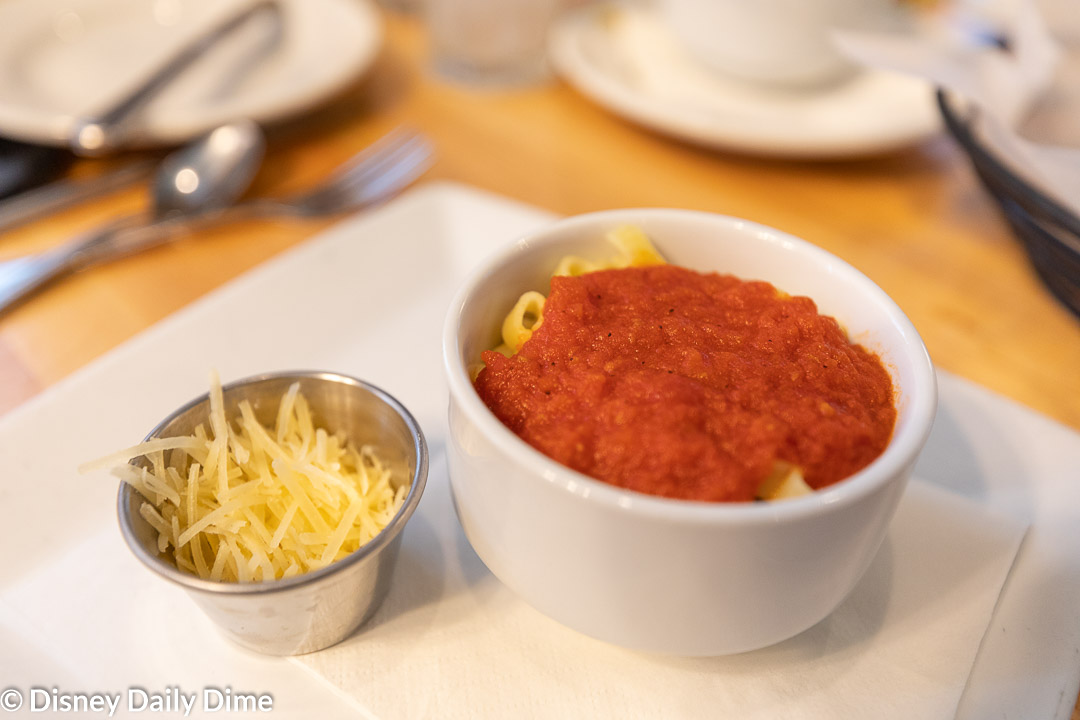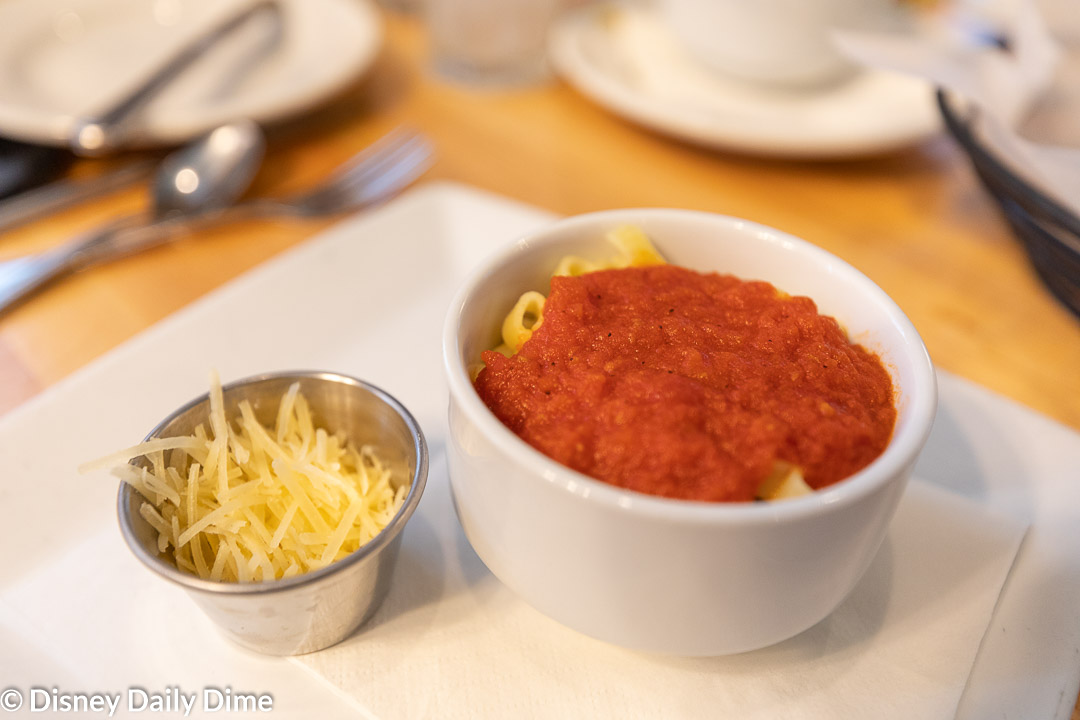 Kids Dinner Entrees
Elsa ordered the kids pasta off the children's menu.  Served with marinara, this was a good-sized portion for a kid's meal.  We are definitely starting to see where Elsa's nine-year-old appetite is "growing out" of kid's meal portions, like at Skipper Canteen where we had to add additional shrimp to her meal.  With the bread service to start, this was an excellent meal for an older child.  She is not a huge pasta eater, and she loved this and finished every bite, so that is a ringing endorsement!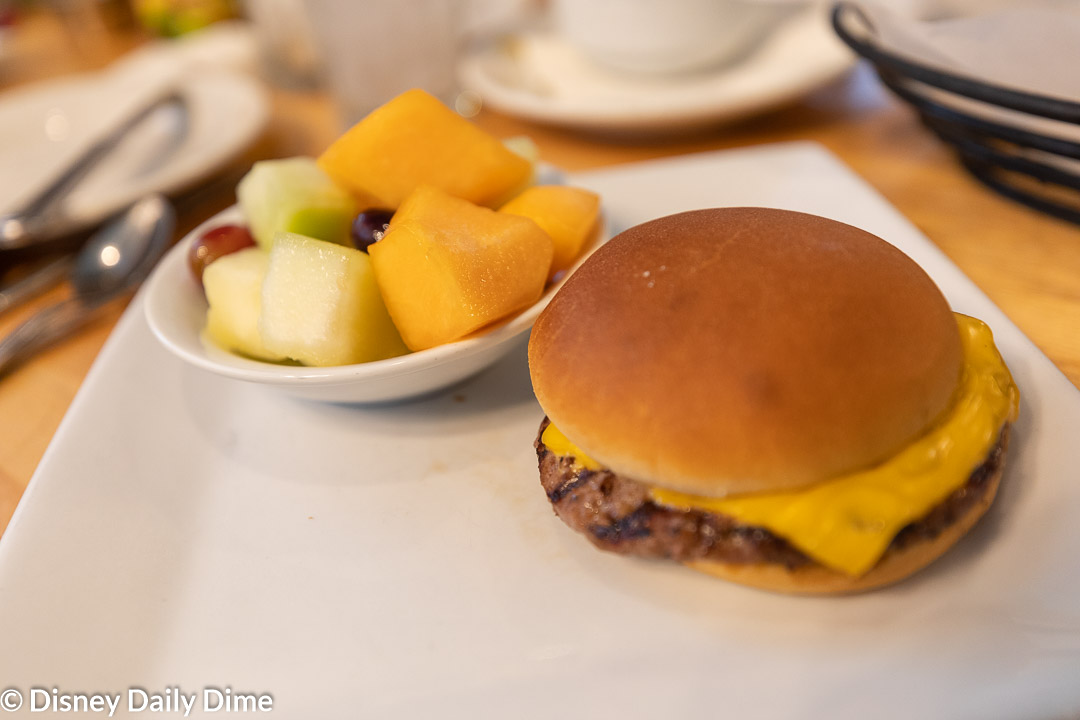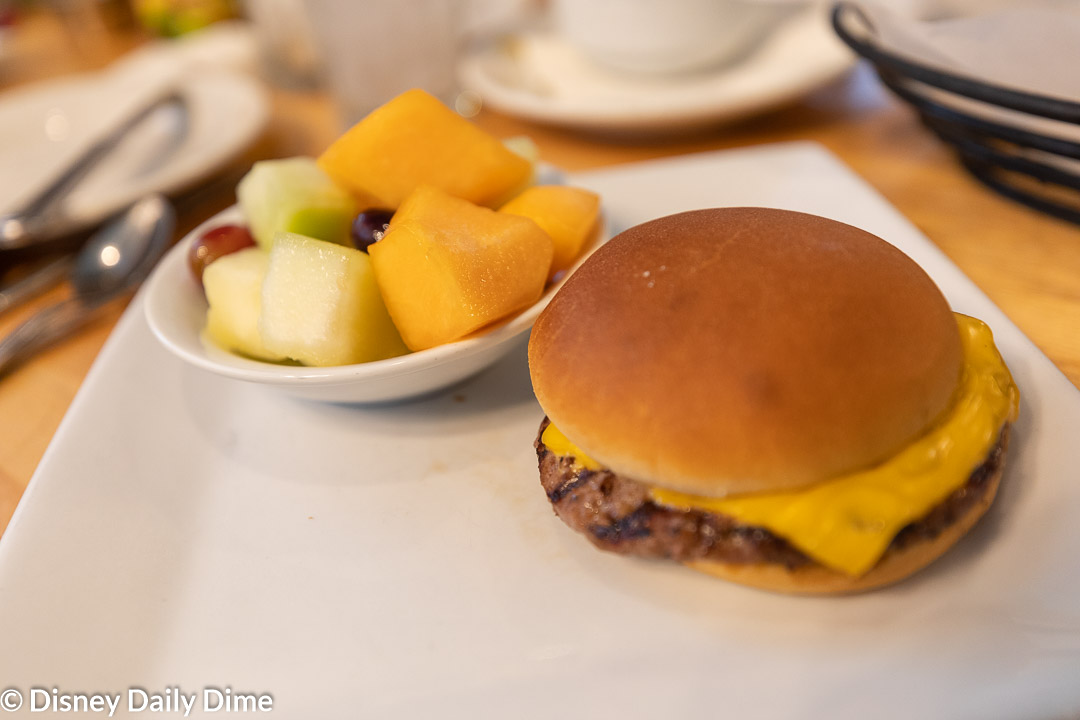 Anna chose a cheeseburger, and unlike her more adventurous-side with the slider at Jaleo, she ordered this one plain and dry.   She was able to substitute the fries for a side of fresh fruit.  This was a step above the quick service hockey puck burger.  She was pleased with her choice.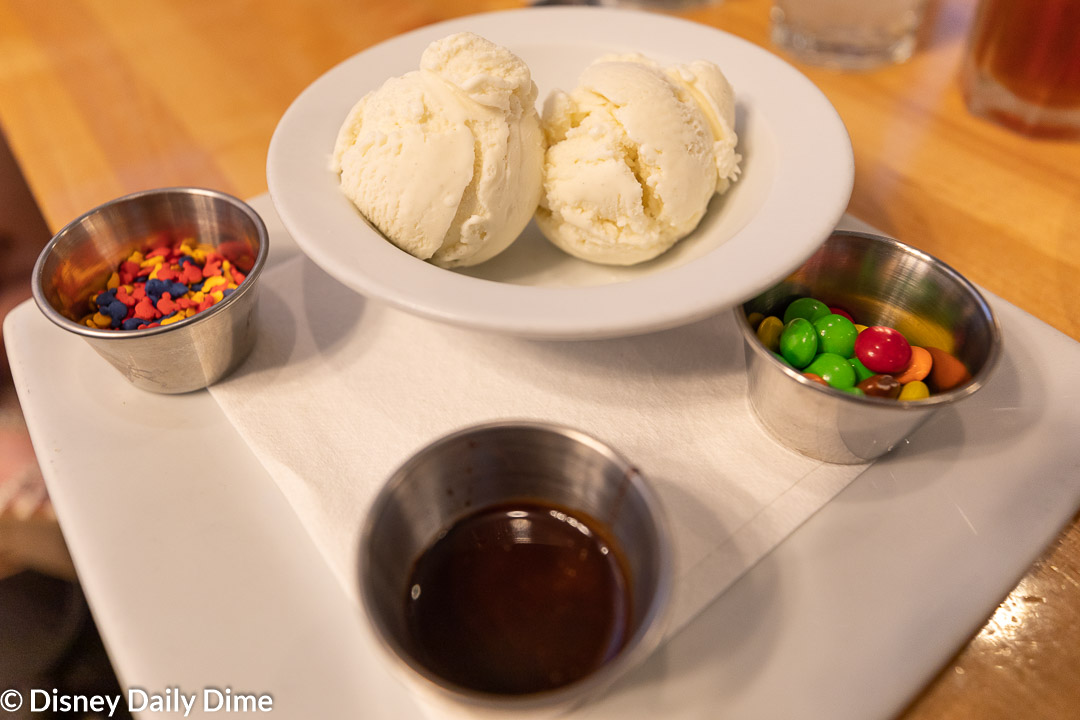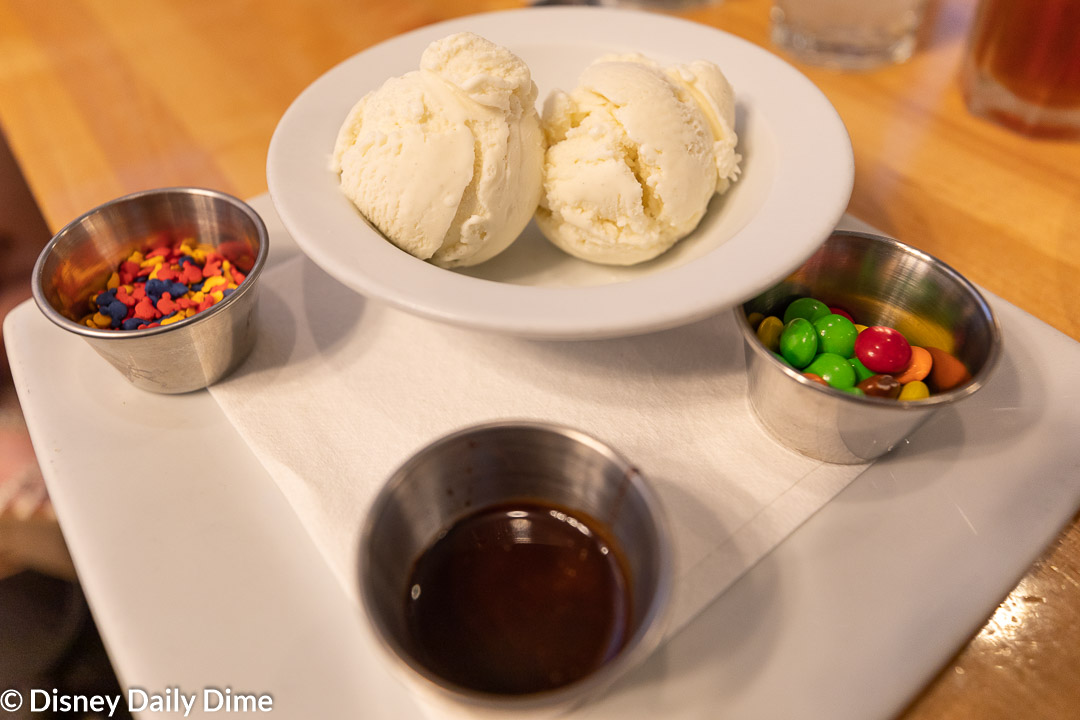 Desserts
While we were all full, the dessert menu was too tempting.   At the suggestion of our delightful server, the girls both ordered the kid's ice cream sundae.  As you can see in the picture above, the sundae is served with all the toppings on the side, so the kids can build it themselves.  She said this is the most popular choice for the kids AND the parents for their kids because it occupies the kids and allows the parents some time to relax at the end of the meal!  The girls were served two enormous scoops of ice cream, Mickey sprinkles, M&M's and chocolate syrup.  Anna and Elsa were only able to eat a small portion of it, but they loved every minute of decorating their own sundae.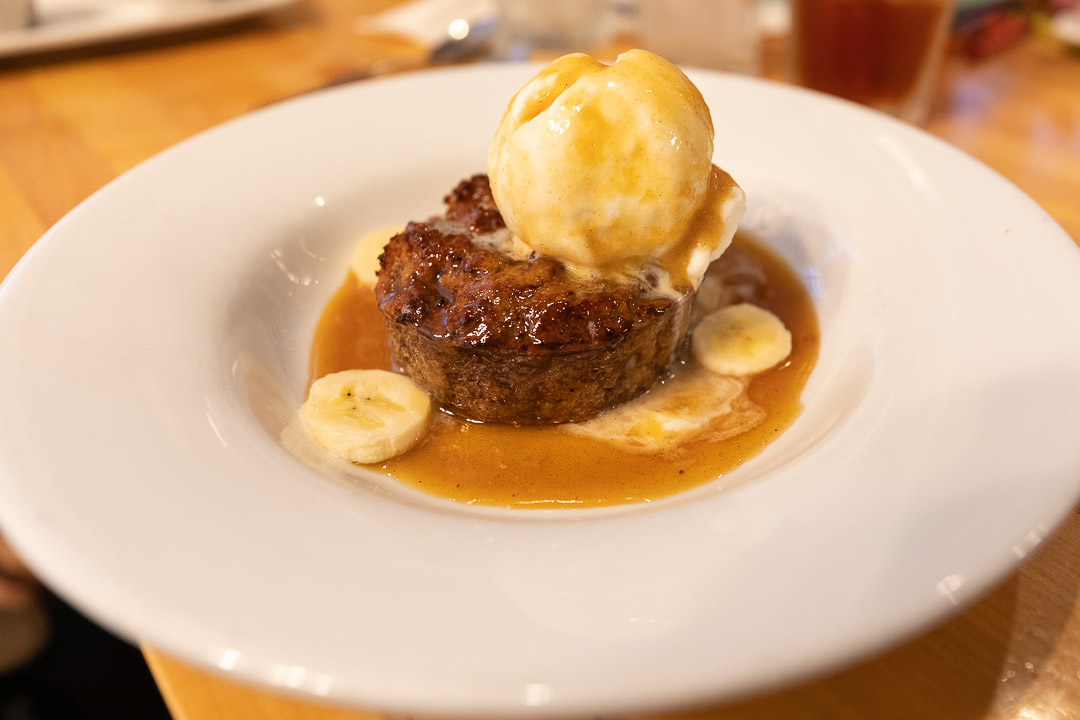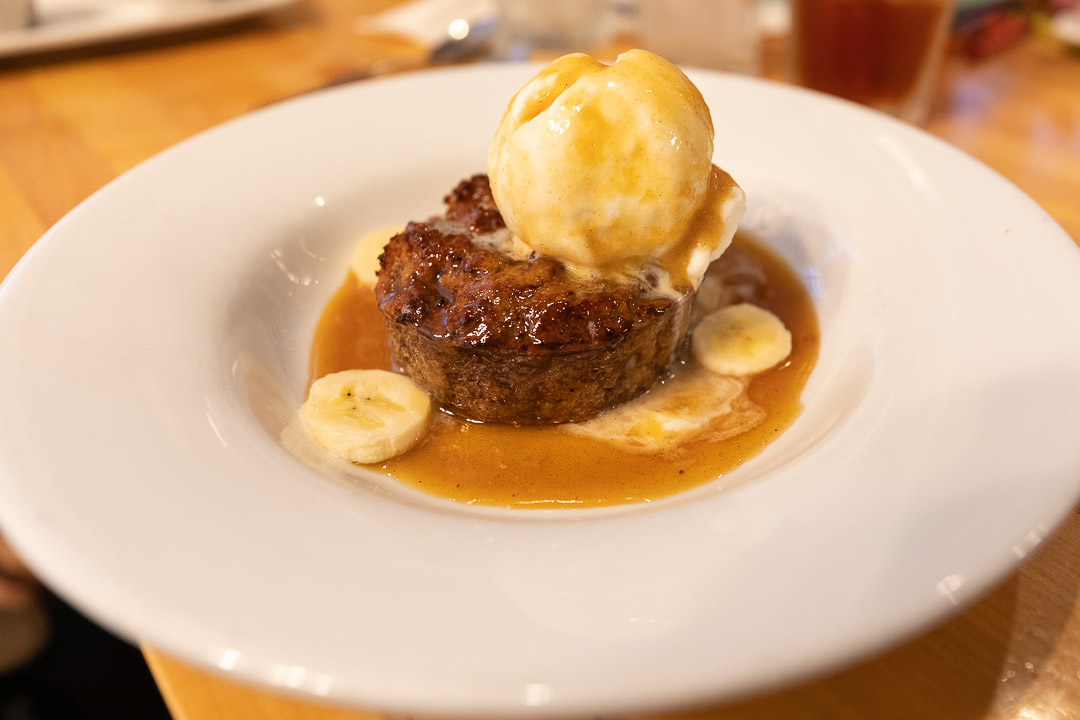 Mike selected the Banana Bread Pudding.  Served hot with a generous scoop of vanilla ice cream, and on top of a Banana Foster sauce, this dessert was a comforting, homestyle type dessert.   Mike noted the bread pudding itself was not dried out at all, and when combined with the sauce and the ice cream, it was perfection.  He wishes he could have eaten another one; it was that good.   I have no doubt he will order this again when we go back.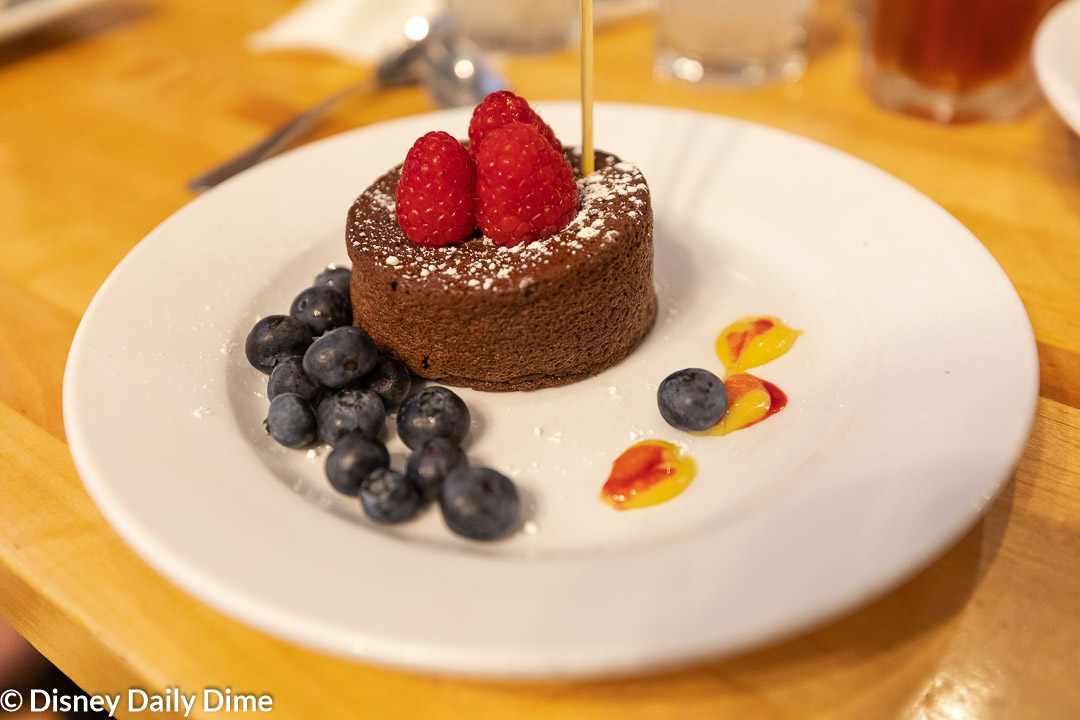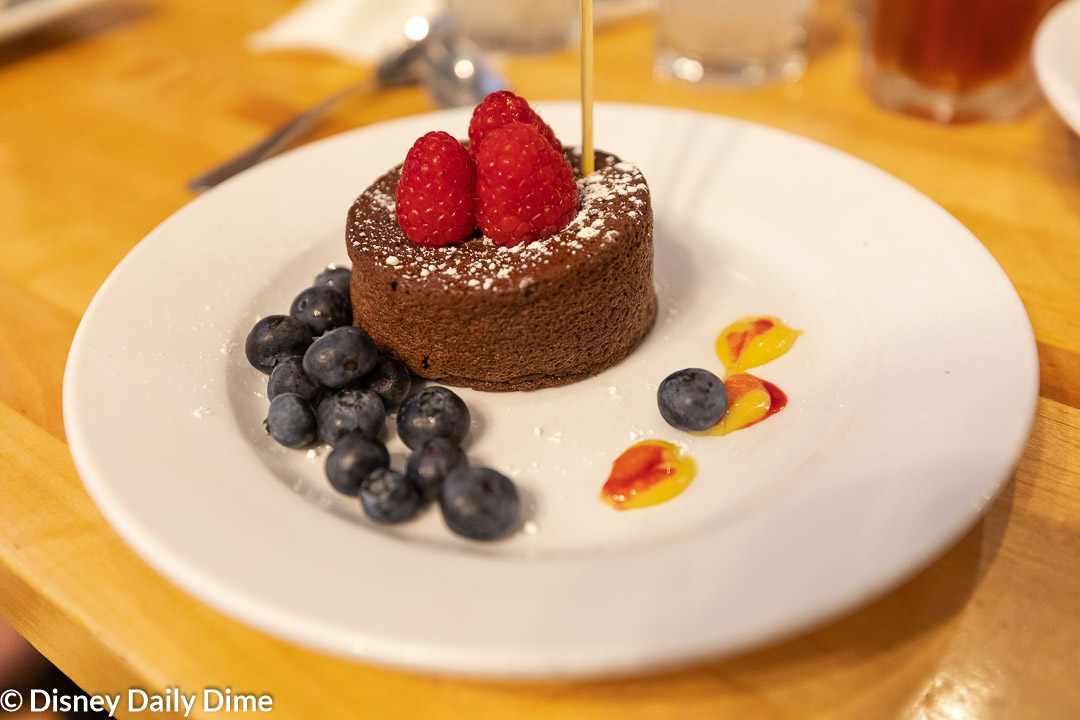 I chose a gluten-friendly molten chocolate cake.  This was my only disappointment of the meal, as it appeared to be a frozen cake heated to serve.  While I appreciate when restaurants carry a gluten friendly option that isn't just ice cream or sorbet, it makes a huge difference when one or more of their signature desserts happen to be gluten friendly versus just having gluten friendly baked goods on hand.  The cake itself was bland and dry, but it provided a sweet ending to the meal.  I would not order it again.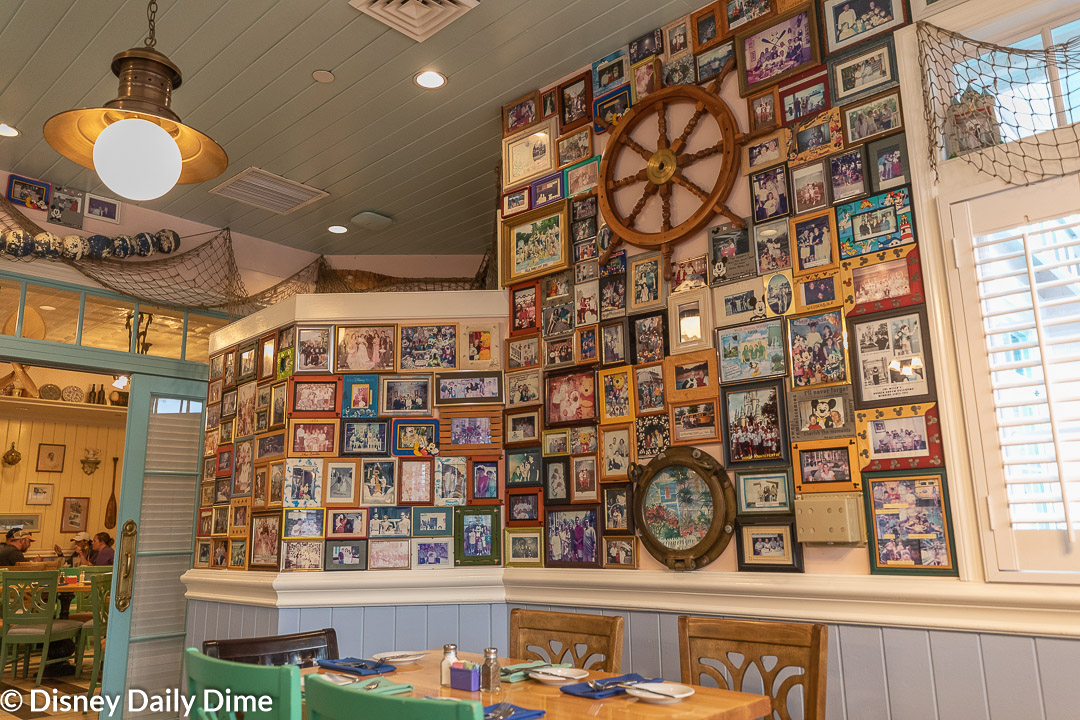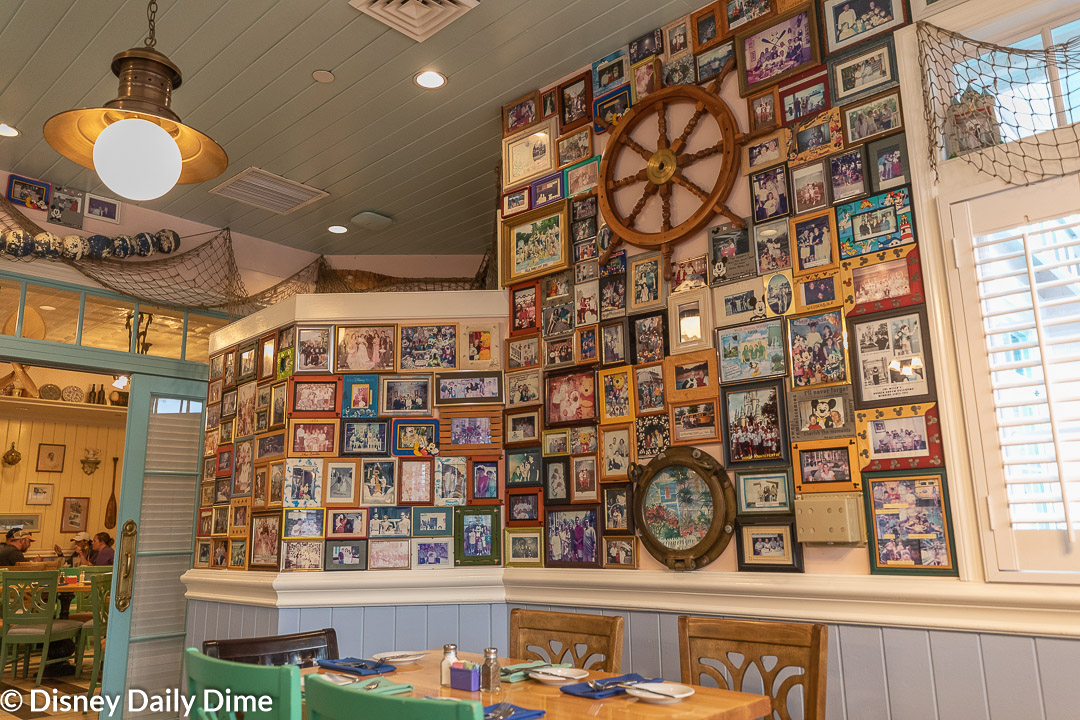 Olivia's Truly Is a Hidden Gem Amongst Disney World Dining Choices
I know I keep using the "hidden gem" moniker, but I genuinely believe that Olivia's Café fits that description perfectly, based on our experiences.  Both breakfast and dinner were excellent here, and there was only one disappointing item.  I'm sure you can tell based upon our review of Olivia's Café, we'll be coming back here.
It is such an unassuming little restaurant, but it delivers on both the food and atmosphere.   While we don't talk a lot about service since everyone's experience can vary, Mike and I noted that we had two friendly and delightful servers that went out of their way to take care of us.  They were engaging with the girls and were attentive without being intrusive.  
Olivia's carries the relaxed, home-like "vibe" of Old Key West.  I truly felt like I was living in the little resort community of Conch Flats, which is the backstory to the resort.  And Olivia's fits into the story perfectly.  The restaurant itself feels like a relaxed neighborhood restaurant that the locals eat at, and no one is a stranger.   It is a whole different aesthetic than a typical resort hotel, and I loved how it carried into our two meals at Olivia's.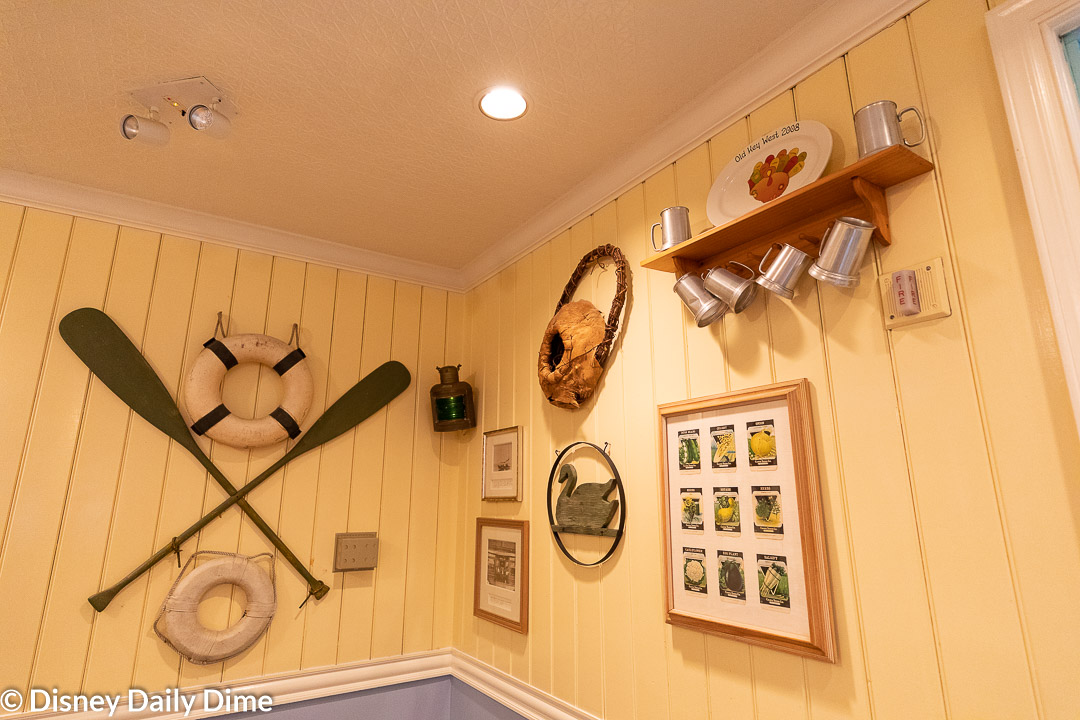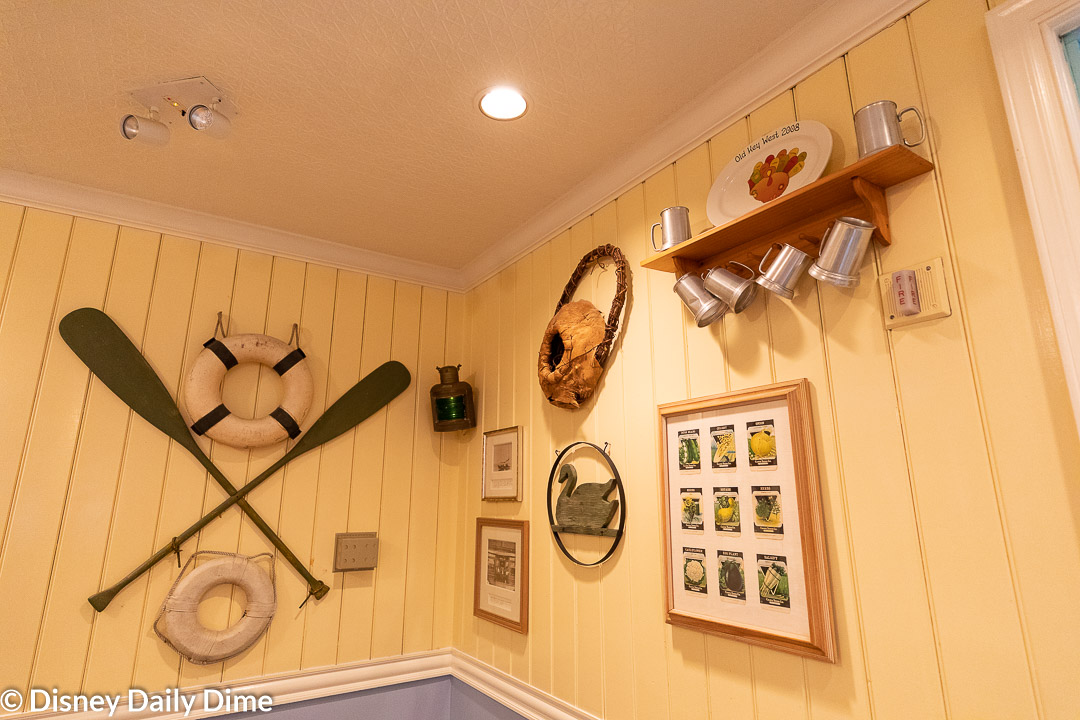 If you aren't staying at old Key West Resort, it is obviously a little off the beaten path to get to, but an easy way to get there would be to go to Disney Springs and then take the Sassagoula boat over.  In the hustle and bustle of a Disney World vacation, Olivia's and Old Key West gave us a chance to take a deep breath and relax.  We all could use those moments, and I can't think of a better place to do that than at Olivia's.
Wrapping Up Our Olivia's Café Review
With that, we'll wrap up our Olivia's Café review of breakfast and dinner.  Have you eaten at Olivia's?  We'd love to hear what you think of it.  If so, drop down and tell us your thoughts in the comments!  Looking for more dining reviews?  You can check out of library of all our Disney World Restaurant Reviews.
If our Olivia's review was helpful or at least entertaining, please like and share this with your friends or anyone you think will find it useful.  Just use the sharing buttons on the page.  We always appreciate it when you share our posts, as it allows us to spread the word about our young blog and hopefully allows us to help others.